Amtrak Silver Meteor Sleeper Service Review [Washington, D.C. to Miami]
Train: Amtrak Silver Meteor
Type of Cars: Amfleet II and Viewliner II
Train #: Southbound Train #97
Route: Washington, D.C. Union Station to Miami
Date: January 8, 2020
Duration:' Approximately 23 hours
Seat Type: Viewliner II Bedroom
Miles That Can Be Used: Amtrak Guest Rewards points
Typical Retail Cost: $425 one-way for 1 person and 1 Bedroom
Introduction
Though Amtrak is known for its bread-and-butter train routes in the Northeast, such as the Northeast Regional, and in the West, such as the Pacific Surfliner, it also operates many long-distance services across the United States. These trains feature overnight accommodations for travelers and are a throwback to a bygone era when planes weren't the primary way to get between 2 points.
What is the Silver Meteor?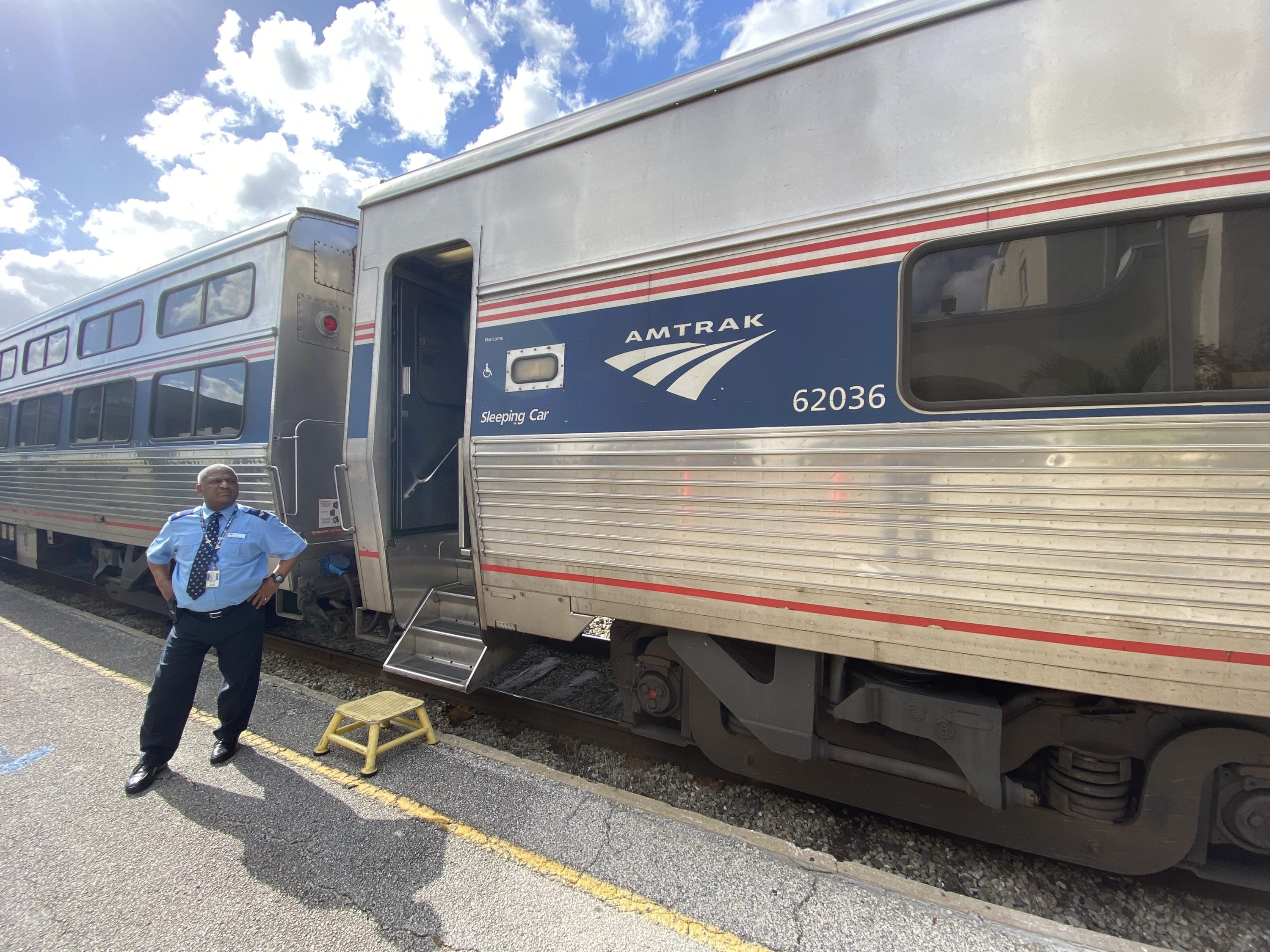 The Silver Meteor originated in 1939, and over the years has evolved to serve different cities and stations, taking different routes up and down the Northeast. Throughout this time, the train itself has changed, too.
It was once operated by the Seaborn Air Line Railroad, and later the Seabord Coast Line, before moving over to what is now present-day Amtrak in 1971.
The Silver Meteor is one of Amtrak's more famous long-distance trains and is part of the "Silver Service." Along with its sister train, the Silver Star, it operates daily to Miami, FL, and back in a roughly 24-hour journey one-way (click here for its schedule as of February 2020).
The train uses single-level Viewliner cars, which are different than the double-level Superliner cars mostly used in the Western portion of the U.S. The train varies in length but traditionally carries per TrainWeb.com:
2 GE P42DC Diesel Locomotives (or 1 ACS-64 Electric Locomotive on the Northeast Corridor)
5-6 Amfleet II Coaches
1 Amfleet II Cafe/Lounge
1 Viewliner II Dining Car
3 Viewliner Sleeping cars
1 Viewliner II baggage car or baggage-dorm
Best Ways to Book
Amtrak offers 2 ways to book this train — either using its points system or a traditional cash fare.
To use points, you simply log in to Amtrak.com and search the journey using points. Amtrak's Guest Rewards points program is tied to the revenue cost of the ticket, so it's impossible to get any real outsized value from your points. 
Alternatively, you can search for a purchased ticket, which will usually hover in the ~$300 range for a one-way fare in a Roomette to all the way over $1,000 for a Bedroom.
Hot Tip: Those with Amtrak Guest Rewards status in the Select, Select Plus, and Select Executive tiers receive points for travel and a number of benefits and special deals.
Classes of Service
Onboard, there are 2 classes of service — traditional coach seating and Sleeper Service rooms. The coach seating comes in a 2×2 formation in cars very similar to those on Amtrak's commuter routes.
These seats have power outlets, footrests, and more legroom than Amtrak's busiest Northeast Regional trains, but also come with the disadvantage of little to no privacy, communal restrooms, no showers, and no included food.
For these passengers, they must use a restroom at the end of the car, and there are no shower facilities — which can make for some smelly passengers, especially on the longer distance trains Amtrak operates.
One of the biggest downsides of being in coach class is the lack of food — nothing is included in the fare, despite it being over a day's journey, and everything would need to be either brought onboard or purchased in the cafe/lounge car located in the center of the train.
As you can imagine, purchasing food from the cafe/lounge car can be very expensive, so if you're looking to save money, it's best to pack a small cooler with some sandwiches and drinks.
It's worth noting there are 2 separate food cars on the train: the cafe car, selling a la carte items, and the dining car, providing complimentary meals to sleeping car passengers.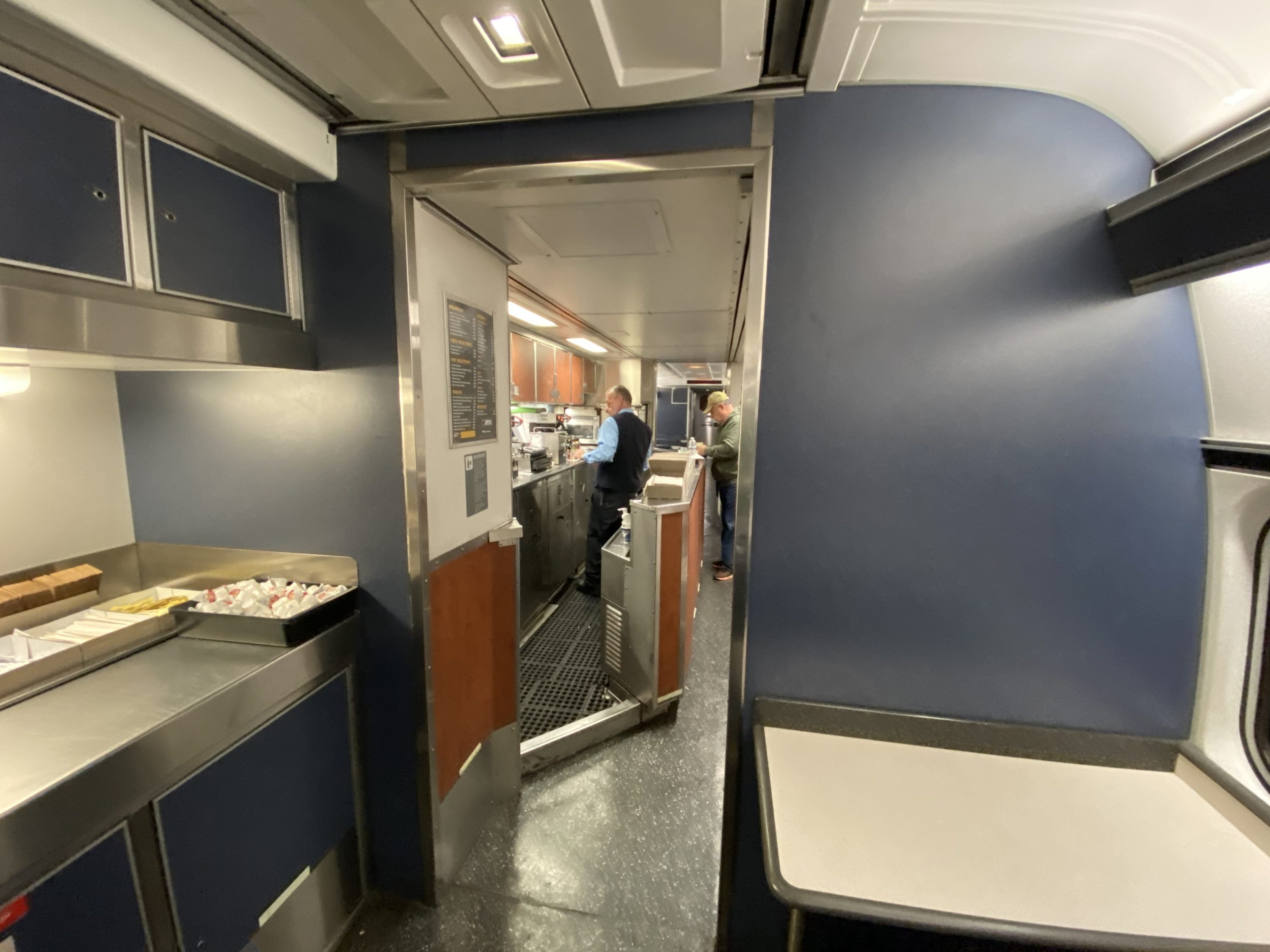 There are 2 different main types of rooms in the Sleeper Service cars. One is a Roomette which fits 2 people and includes an in-room toilet. The other is a Bedroom, which fits 2 adults and a child and includes an in-room shower and toilet.
The Bedrooms are usually significantly more expensive than the Roomettes but also include a lot more space. In either case, no matter which room you go with, it will include meals in the dining car. 
There is also a Family Bedroom for larger families on the end of the car, which can accommodate more people in a single space, but shares similar characteristics like the traditional Bedroom.
Hot Tip: While the Roomettes are labeled to accommodate 2 people each, they are small and can be tight depending on the size of the passengers.
For this review, we'll focus on the larger Bedroom and the included amenities.
Washington Union Station ClubAcela Lounge
Upon arriving at Washington Union Station, I was permitted to use the ClubAcela lounge, which is being rebranded into the Metropolitan Lounge. This lounge is accessible to Sleeper Service passengers on any long-distance train.
As you enter the lounge, an attendant checks your ticket to ensure that you qualify for access and then informs you that boarding of the train will be from one of the side doors from the lounge and that you don't need to go back out into the station to board from the general queues. 
The lounge is nothing special — and considerably less equipped than even a domestic lounge in the worst U.S. airport. The lounge has several seating options, but everything feels very sterile.
While there is some new furniture, it was placed in what is otherwise an unmemorable lounge and looks out of place.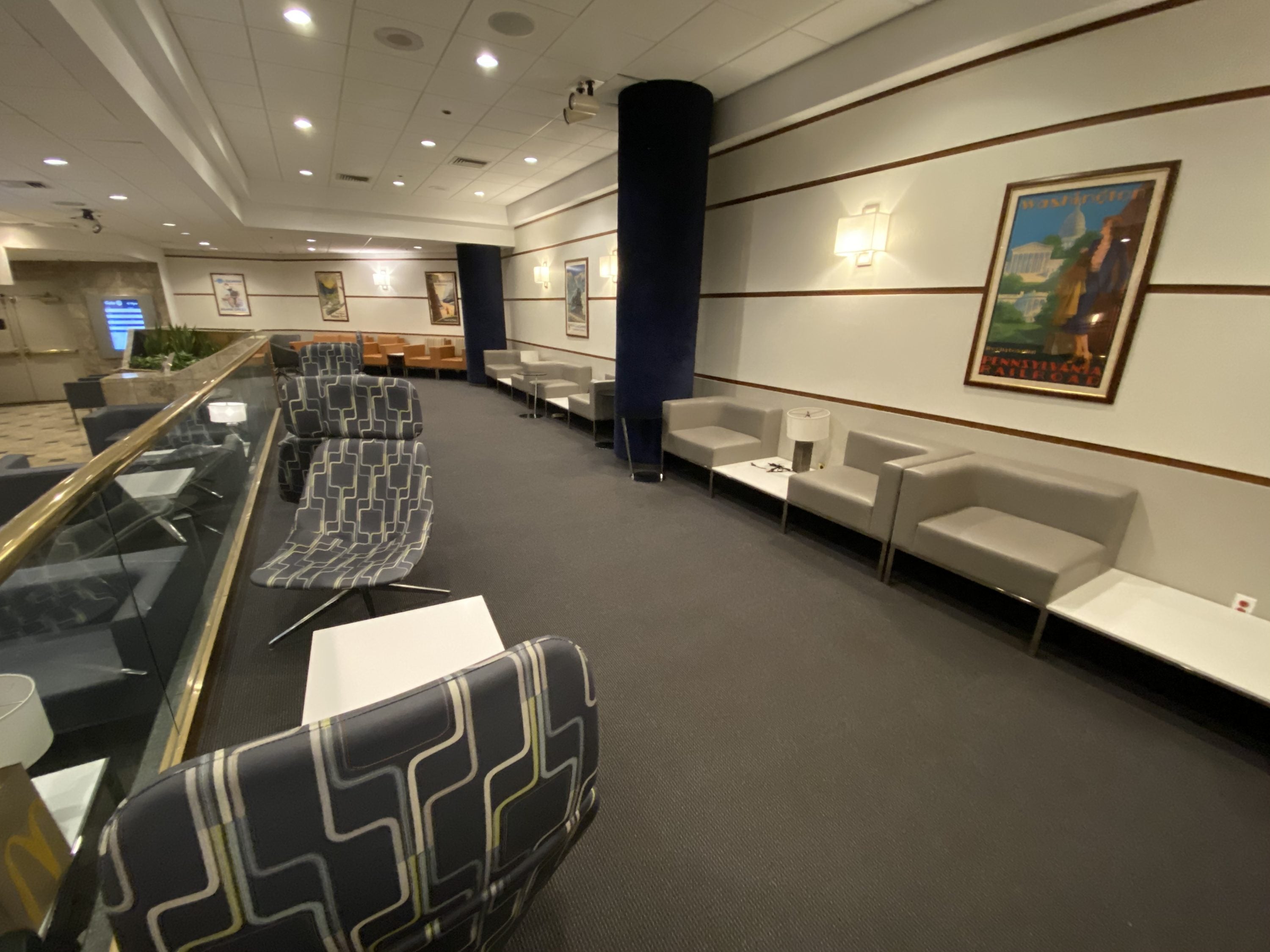 Restrooms and a small business center are located on 1 side of the lounge, and on the other side there is a conference room and a refreshment area.
The refreshment center can be put to shame by even the smallest of Priority Pass lounges. You'll find a few packaged snacks, usually of a single variety, and then a soda machine, where not all of the flavors are working.
Every time I've visited this lounge the soda machine has had some issue, and it's rare to find a beverage with the right amount of carbonation — everything tastes flat.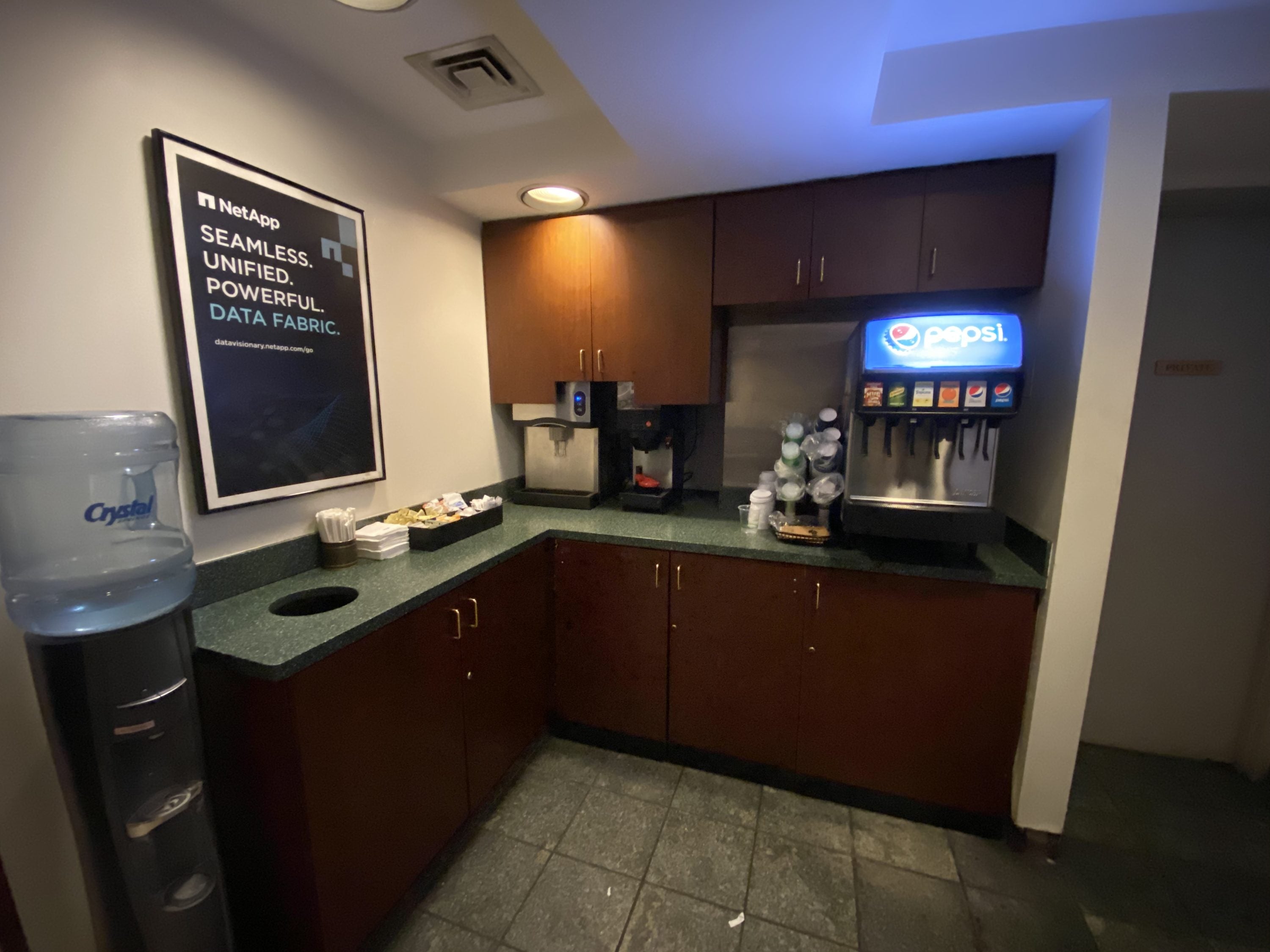 While the lounge is nothing to write home about, it's much better than hanging out in the main station, and there's certainly something to be said for having a quiet place to charge phones, use the bathroom, and watch the latest national news.
Boarding
About 20 minutes prior to departure, you're directed out of one of the side double doors and pointed toward where your train is sitting. 
Once out on the train platforms, it's really up to you to find which car you're in, and for this journey, the car with my assigned bedroom was at the far end of the train — what seemed like a good mile's walk away.
Once arriving at the right train car, the sleeping attendant for it was standing outside greeting passengers and letting them know which way to go.
Hot Tip: Board from the lounge for the fastest possible way to the train. The doors open directly onto the tracks and you beat having to stand in line in the terminal.
The Sleeping Car
The style of sleeping car that serves the Northeast to Florida is 1 single level, unlike some of the trains on the west coast that are 2 levels high.
On the train to Miami, there were 3 sleeping cars, each equipped with 2 rows of Roomettes (taking up most of the car), followed by 2 Bedrooms and a Family Bedroom at the other end.

The Bedroom
Inside of the bedroom compartment, there is a long bench-style seat (that folds into the larger of 2 beds at night), top bunk bed (which folds against the wall during the daytime), armchair, fold-out table, sink, closet, several storage compartments, and bathroom equipped with a shower and toilet.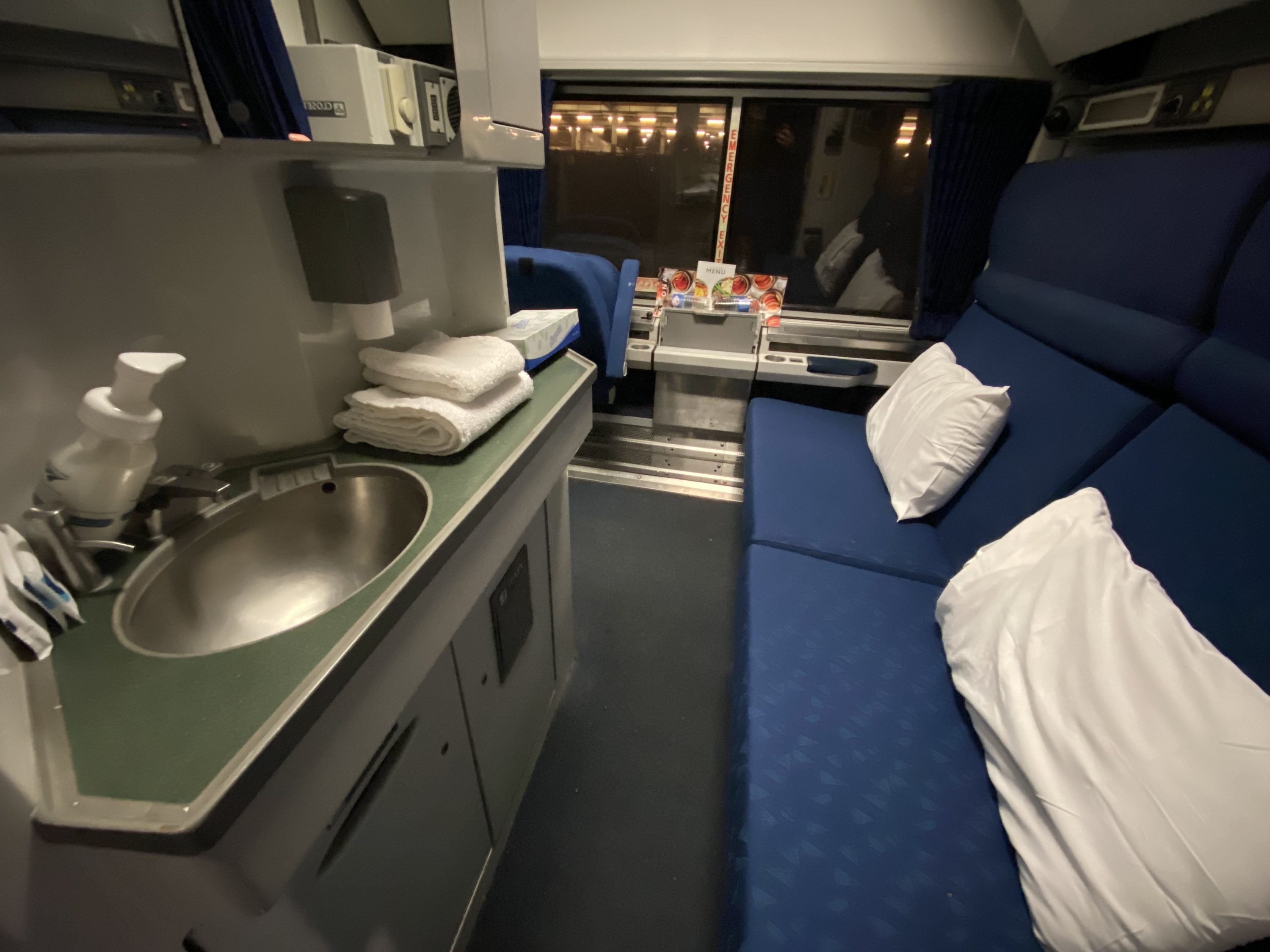 What makes these bedroom units unique is their in-room shower, something the nearby Roomettes don't have. In addition to the shower, because the bathroom is private, with a separate closing door, it allows the user to use the bathroom with complete privacy.
In the Roomettes, the toilet is within the room itself, so if you're traveling with a companion, they'll have to step out each time you need to go. 
The showers are located above the toilet, so as you shower you nearly feel like you're using the toilet at the same time. As the train rocks along, it can definitely be an awkward experience. To avoid this, consider showering when the train is stopped at a station, that way you avoid the rocking back and forth.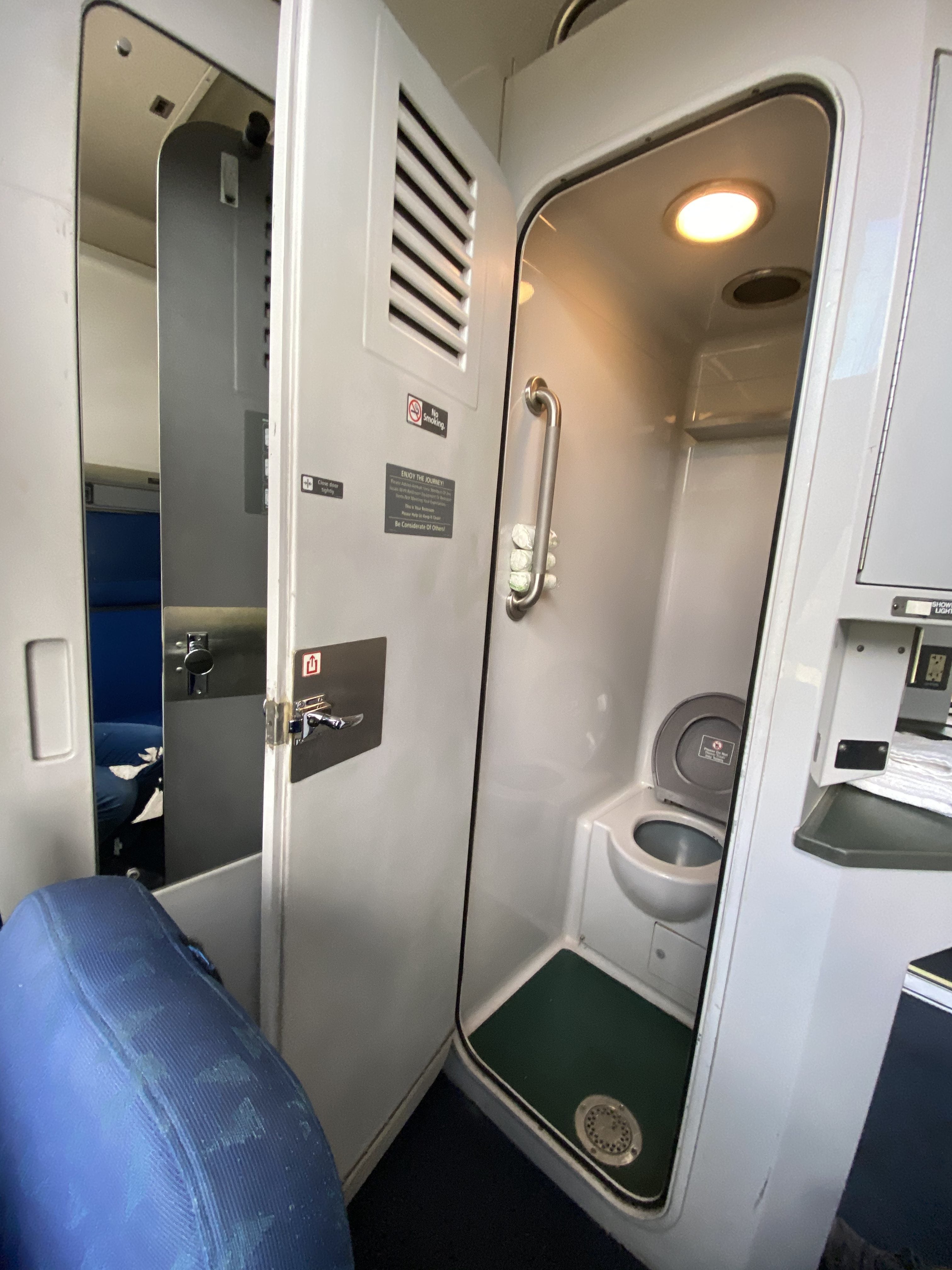 Along with the private bathroom, Bedrooms have a considerable amount of space compared to the Roomettes. The bottom bunk bed, when folded out, can fit 1 adult and 1 small child. There's also the nearby armchair that provides a convenient place to sit if someone wants to lie down on the bottom bunk during the day.
The room is equipped with several lights, a thermostat, and a speaker to hear conductor announcements.
In the evening, your train attendant will make your room upon your request. As part of this turndown service, the attendant will place a ladder up to the top bunk so that whoever is sleeping up there can climb up without stepping on the person on the bottom bunk.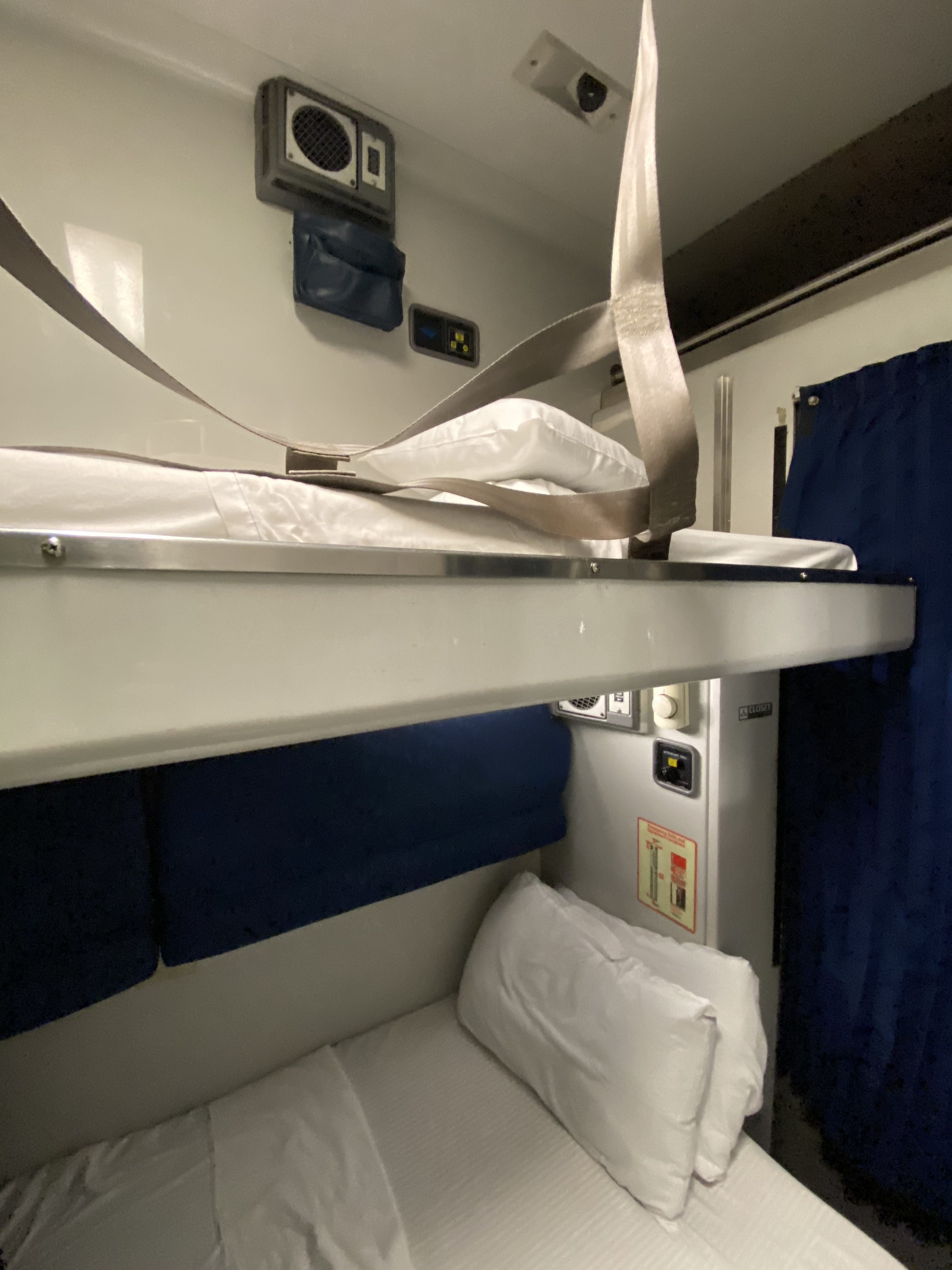 I usually sleep well in these rooms, but those who don't like to be rocked asleep by the train proceeding along the tracks will have a difficult time for sure.
Hot Tip: If you get cold, be sure to grab a few extra blankets from your train attendant as these cabins tend to run on the cooler side. I tend to run cold, so I asked my attendant for more blankets and the request was promptly accommodated. 
Welcome Aboard
As the train rolled away from Union Station, the train attendant (who would be responsible for making the beds), stopped by to introduce himself and explain a little about the room and journey.
During this spiel, he also took meal orders for dinner — and it was advised that dinner could be picked up about an hour later from the dining car, several car-lengths away.
The meal service on the Silver Meteor is the new Flexible Dining offering, where you order in advance and pick up a to-go style meal from the dining car to either enjoy there or take to your room.
Gone are the days of being waited on or being seated at a table covered in cloth. The new meal service options are meant to be faster, but more importantly, much cheaper to Amtrak. 
The Food
Amtrak's new flexible dining package features hot and ready options for all-day dining without the need for reservations. A selection of wine, beer, and spirits are offered (with the first drink being complimentary) and unlimited soft drinks are available.
Passengers in a sleeper car have access to complimentary room service as well as exclusive onboard lounge space for dining and socializing.
The new flexible dining menu offers entrees such as these, per Amtrak:
Lunch and Dinner: Asian noodle bowl, red wine braised beef, chicken fettuccini with broccoli, Creole shrimp and andouille (a children's menu offers pasta and meatballs)
Breakfast: deluxe continental breakfast will be served buffet-style with a selection of muffins, yogurt, fresh fruit, hard-boiled eggs, cereal, oatmeal, and breakfast sandwiches
Dessert: blondies, brownies
Here are the times that meals run from and when you must be onboard to receive them:
Breakfast: available 6:30 a.m. – 10 a.m.; board by 9:30 a.m.
Lunch: available 11:30 a.m. – 3 p.m.; board by 2:30 p.m.
Dinner: available: 5:00 p.m. – 9:30 p.m.; board by 8:30 p.m.
Once you're done with your meal, you simply throw out everything in the nearby trash cans. Unlike a traditional dining car service, you don't need to wait to be seated next to other couples or show up at a particular reservation time.
On one hand, flexible dining truly is more flexible, however, it is a significant downgrade in terms of food quality, portion sizes, and overall experience.
In general, the food felt as if it was a frozen TV dinner or something reminiscent of a hospital cafeteria.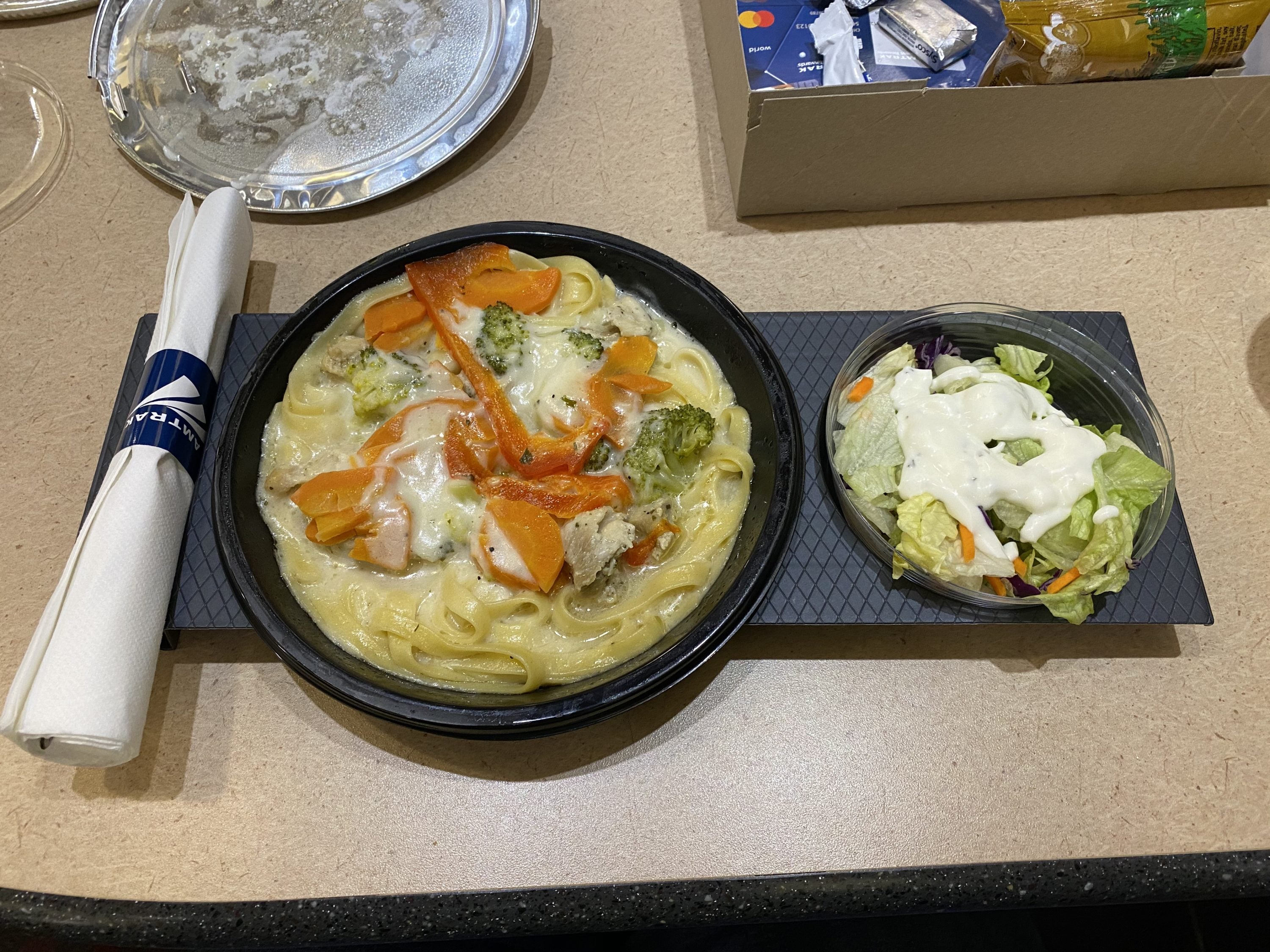 Other Amenities and Services
Past the dining car is a cafe and lounge car where you can sit at large tables. This is the 1 area of the train that is exempt from the overnight quiet hours — so if you need to take a phone call, this is the place to do it.
During the day, the cafe car is open and sells snacks, drinks, and sundries, all available for purchase to both coach and Sleeper Service passengers (who may be a bit hungry after a meal).
Throughout the journey, the train will make occasional "smoke station stops" where you can step off the train and stretch (or, as the name alludes, smoke) for a few moments.
Don't go too far, though — the train will leave without you if you're not onboard when it departs!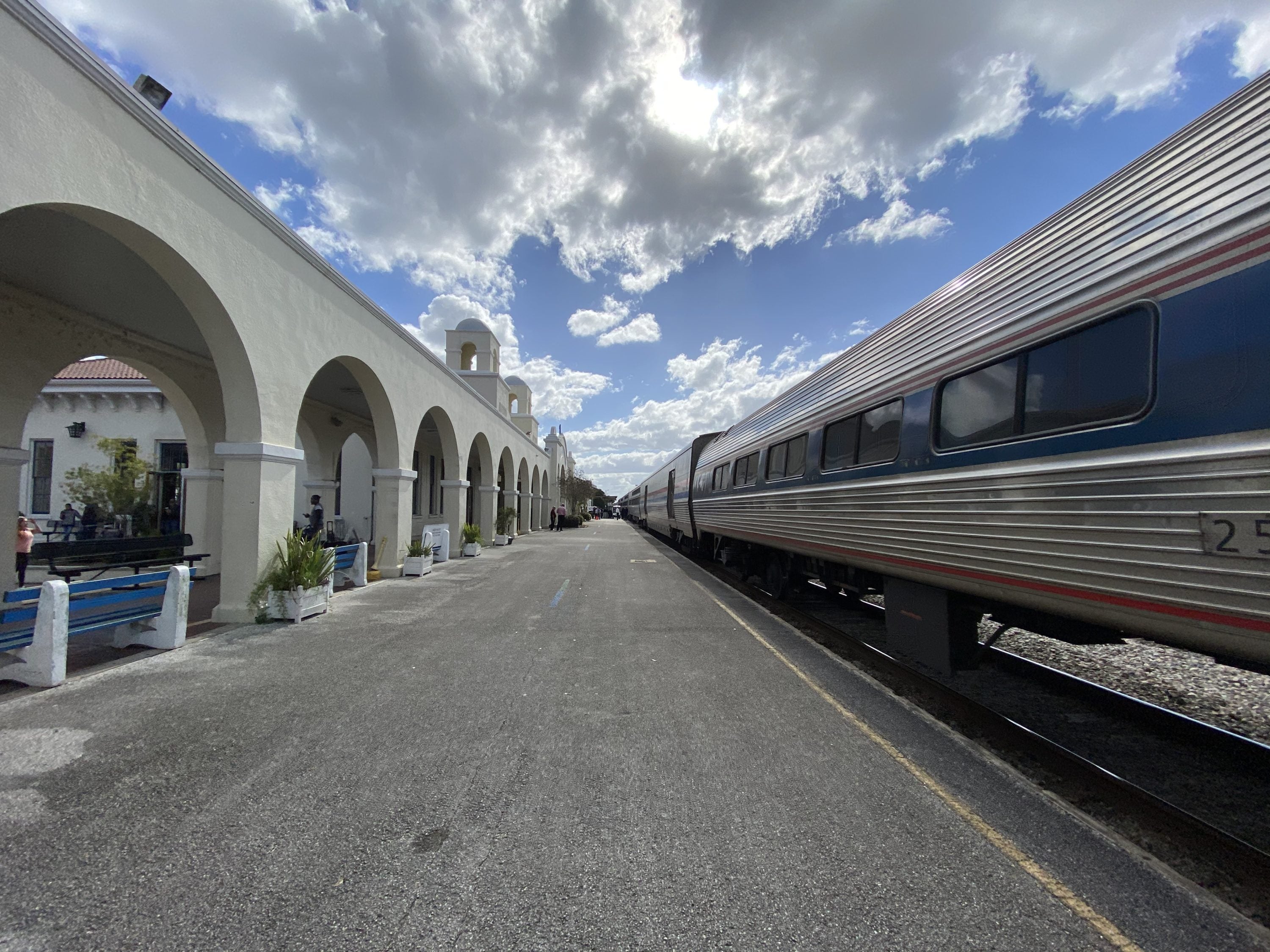 The Service
My cabin attendant was extraordinarily friendly and willing to accommodate any requests, such as a run for iced tea from the dining car.
I sensed most train personnel enjoyed their job, but I couldn't help but feel that there was a change in the feel onboard for meal service — I think even the staff thought the new changes weren't up to the standards they used to live up to.
Arriving in Miami
After West Palm Beach, the train's services end — so you won't be able to purchase anything from the cafe car or grab an extra drink from the dining car. In the 2 hours that follow, the train crews begin to wrap up their duties, so you'll notice your car attendant folding linens and collecting trash.
Arriving in Miami was very pleasant, and surprisingly, the station is near public transit options to get into downtown Miami or South Beach, which is very convenient.
Hot Tip: Once in South Florida you can utilize Brightline's new train service between Miami, Fort Lauderdale, and West Palm Beach, offering downtown to downtown service with first class amenities.
Final Thoughts
The Silver Meteor is definitely a fun way to travel to Florida — what is ordinarily a 2-hour flight becomes a 24-hour adventure, but it's certainly worth it to see the country go by, and be able to get a night's rest while still being on the ground and staying connected.
If you're going to travel by rail, definitely make sure you're in a Roomette or Bedroom — you can get a full night of sleep and not have to worry about bringing on food or spending an obscene amount of money to purchase food onboard.
When you travel by train, life slows down just a little bit — enough to really make the Silver Meteor a fun and unique way to travel to Florida.