The Ultimate Guide to Amtrak Guest Rewards Select Plus Status
Amtrak's Select Plus status is their second highest tier in the Amtrak Guest Rewards program.
There are three levels to the Amtrak Guest Rewards loyalty program:
Comparable to a mid-tier status on an airline, the Select Plus status offers members the opportunity to upgrade, take companions along for free on select journeys, and access major station lounges throughout the system. That's the level we'll be discussing in this post.
In this post, we'll cover:
What the status is
How to earn Amtrak Select Plus status
What the benefits are and how they differ from other tiers
How to maximize this status and make the most of Amtrak travel
How to Earn Amtrak Select Plus Status
To earn Amtrak Select Plus status, you need to earn 10,000 Tier Qualifying points in a calendar year.
Let's break this down:
You can earn 2 points per dollar on every dollar you spend with Amtrak. So, if you were to just hit this status based on this spend alone, you'd need $5,000 spent over the course of the year with Amtrak.
You earn a 25% bonus on Amtrak Acela Express Business Class travel, and 50% bonus on Amtrak Acela Express First Class travel. Both of these percentages calculate into your tier point qualification summary, so, if you travel Acela Express even just several times throughout the year, you'll hit Select Plus status faster.
Bottom Line: To earn Select Plus status, you need to spend roughly $5,000 throughout the year with Amtrak, not including additional bonuses that you may incur from Acela travel.
The Benefits
Four One-Way, One-Class Upgrade Certificates
These upgrade certifications are valid for one direction of travel on most local services where there's a Business Class or First Class. These upgrades cannot be used on long-distance Sleeper Class services.
These are the trains you cannot use a one-class upgrade on:
Adirondack®
California Zephyr®
Capitol LimitedSM
City of New Orleans®
Empire Builder®
Keystone Service®
Silver Star®
Southwest Chief®
Sunset Limited®
Texas Eagle®

 
Bottom Line: Upgrades are available to the next class of service, and only on shorter, non-long-distance trains.
To apply an upgrade, call Amtrak within 12 hours of departure and reference the coupon number of your voucher. If space is available, they'll upgrade you. You can also seek the assistance of an Amtrak agent at any staffed station.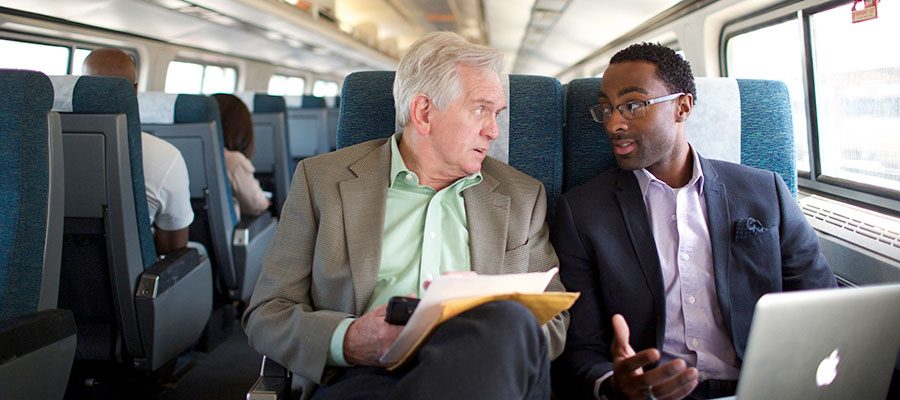 Unlimited Access to Amtrak Clubs and Lounges
Unlike Amtrak Select status where you receive only 2 club passes a year, with Select Plus, you have unlimited access to all of Amtrak's Clubs and Lounges.
These include:
Boston, Massachusetts, South Station ClubAcela
New York, New York, Penn Station ClubAcela
Philadelphia, Pennsylvania, 30th Street Station ClubAcela
Washington, D.C., Union Station ClubAcela
Chicago, Illinois, Union Station Metropolitan Lounge
Los Angeles, California, Union Station Metropolitan Lounge
Portland, Oregon, Union Station Metropolitan Lounge
Inside each of these clubs, you'll find basic amenities such as salty or sweet snacks (think packaged goodies), soft drinks, water, coffee, restrooms, a television playing one of the major news networks, and an Amtrak agent to help with any last minute or future ticketing needs.
If you travel Amtrak regularly, lounge access is a huge benefit. With lounge access, you get to skip waiting around in the crowded terminal.
Bottom Line: Probably the biggest benefit of Select Plus status is the complimentary Amtrak lounges access.
Point Bonus
As an Amtrak Select Plus member, you receive a 50% off point bonus on all Amtrak travel.
This is in addition to the 25% bonus you receive when you ride Amtrak Acela Express in business class, or the 50% off you get for traveling Acela in first class.
These points can add up quickly and can be used for a multitude of offerings, the best of which is redemption towards Amtrak train travel (points are a great way to travel cheaply on Amtrak).
Priority Handling
When you call in for any ticketing assistance, you'll move to the top of the queue, ensuring you receive prompt service.
Generally, Amtrak's phone lines aren't busy enough to get full value from this benefit, but it's nice to have in case of severe weather that may affect on-time departures and arrivals.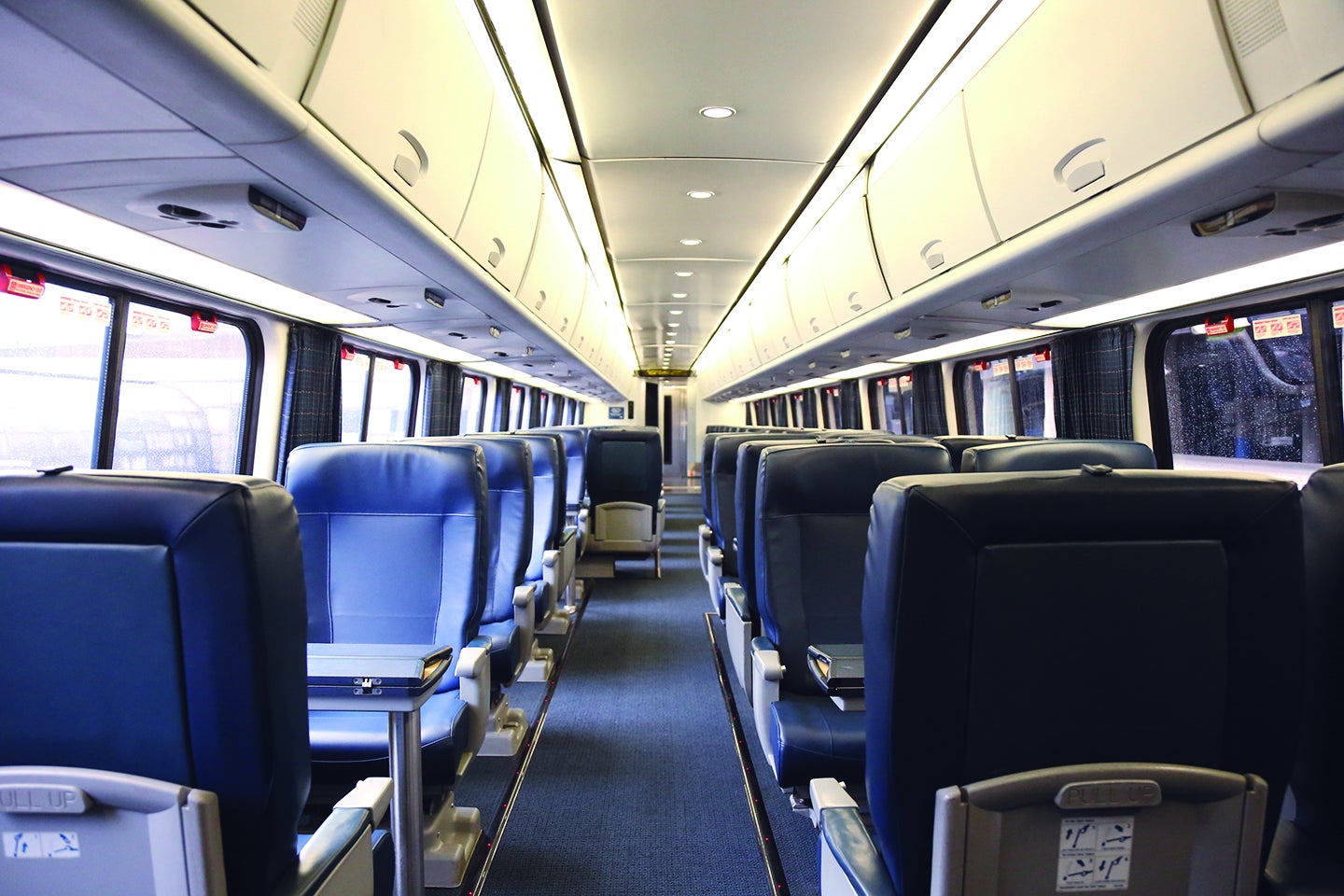 Two Companion Coupons
Every year, you'll receive two companion coupons that can be, interestingly enough, used on any one-way or round-trip journey (so you're best saving them when you have round-trip plans).
You can only use them for coach class seating, however, you can upgrade to Sleeper Class, or any other premium service by paying the applicable upgrade fare or accommodation charge for both people.
You cannot have one person in a Sleeper Service and the other in coach, but you can have both in coach or both in a premium seating option.
Bottom Line: If you play this benefit right, and purchase your original coach fare on an ordinarily expensive route, such as the Acela, you'll maximize your value for your complimentary companion.
Exclusive Discounts
As a Select Plus member, enjoy some exclusive discounts at major retailers worldwide:
Earn 20 points per dollar at 1-800 flowers
Save up to 25% off Budget car rentals, plus earn 750 points
Earn double points on every Enterprise rental car

 

Save up to 25% off Hertz rental cars, plus earn double points
When you stay at La Quinta Inns and Suites, earn 750 points
Earn up to 10,000 bonus points when you book hotels through Rocketmiles
Earn up to 500 bonus points with SurveyPointsClub
Earn up to 20 points per dollar at Teleflora
Earn 4,500 points for a 6-wine shipment at Vinesse Wines
Final Thoughts
Amtrak Guest Rewards Select Plus Status is certainly a step up from the baseline Amtrak Select status.
With complimentary lounge access, this is a unique tier level, even when compared to what airlines are offering as their middle of the road option.