The Ultimate Guide to Amtrak Guest Rewards Select Executive Status
Select Executive is the highest status that Amtrak offers members of their Select Executive program.
There are three tiers to Amtrak's loyalty program:
In this post, we'll be looking at the top tier status, Select Executive.
The perks are numerous, and if you are a frequent rider of Amtrak for work or leisure purposes, the Select Executive membership program entitles you to a large number of benefits and special offers, as well as ways to earn travel points.
All you have to do is sign up. You'll get benefits such as:
Unlimited access to Amtrak's private lounges: Club Acela in Philadelphia, New York, Boston, and Washington, D.C.; the Amtrak Metropolitan Lounges in Chicago, Portland, and Los Angeles; and first-class lounges in St. Paul/Minneapolis, St. Louis, New Orleans, and Raleigh.
An upgrade for every 3,000 Tier Qualifying Points (TQPs) you earn.
The ability to buy and share any amount of points with no limit.
Availability to transfer any number of points from your account with no limit.
Access to special events and redemption opportunities.
Automatic registration for promotions.
A special customer service phone number for just Select Executive members.
In this post, we'll take a look at each of those perks and how to maximize them.
Guidelines for Amtrak Membership
Anyone in the United States or Canada can become a Select Executive member by enrolling on Amtrak's rewards website and completing an enrollment form or by calling 1-800-307-5000. You'll then supply basic information such as your name, address, and email.
Upon enrollment, members are provided with a membership number. This number is extremely important as it's how you earn Tier Qualifying Points (TQPs). Be sure to provide the number when making a reservation, when purchasing a hotel stay, or creating car reservations with points.
Your Amtrak member number is unique to you and is nontransferable.
What Are TQPs and How Are They Earned?
This is the basis of the Select Executive Program — tier qualifying points.
Your tier or status is based on how many TQPs you've earned in a calendar year. To qualify for Select Executive membership, you must earn at least 20,000 TQPs in a calendar year.
This means you need to spend $10,000 a year on Amtrak travel to get this top tier status. Keep in mind, most domestic airline programs require $15,000 for top tier spend, so Amtrak is still one of the "cheapest" highest tier programs within the U.S.
Bottom Line: For every $1 you spend on Amtrak, you earn 2 tier qualifying points.
Amtrak Points
As a traveler on Amtrak, you earn 2 points for every dollar you spend, as well as a 25% point bonus for all business class tickets, and a 50% point bonus for all First Class Acela travel. You can also earn 2 points per dollar spent on an Amtrak monthly or a multi-ride pass or ticket.
Amtrak travel can be redeemed starting at 800 points. The price you pay in points is based on the cash price of a ticket. You can get up to 2.9 cents per point redemption value — which is extremely valuable.
For example, you can get a fare valued at $100 for about 3,448 points. Blackout dates and times may apply to point use; peak travel may cost more in points.
Using points is a great way to book cheap Amtrak tickets.
Hot Tip: Make sure that you're purchasing tickets directly from Amtrak because tickets purchased from a secondary travel source or discount portal won't earn you points.
Best Ways to Earn Amtrak Points
Select Executive members are entitled to offers from Amtrak partners that includes earning points for hotel stays, car rental, and more.
Amtrak also hosts a shopping portal, which allows members to earn points by shopping at select retailers. Gift cards for restaurants and other Amtrak partners can be purchased and redeemed with Amtrak points, as well.
At 6,000 points, Select Executive members can get free car rentals. Some companies, such as Hertz, Budget, and Enterprise, also offer members the chance to earn Amtrak points if they reserve cars with them. When members use their Amtrak membership number, points are credited to their account.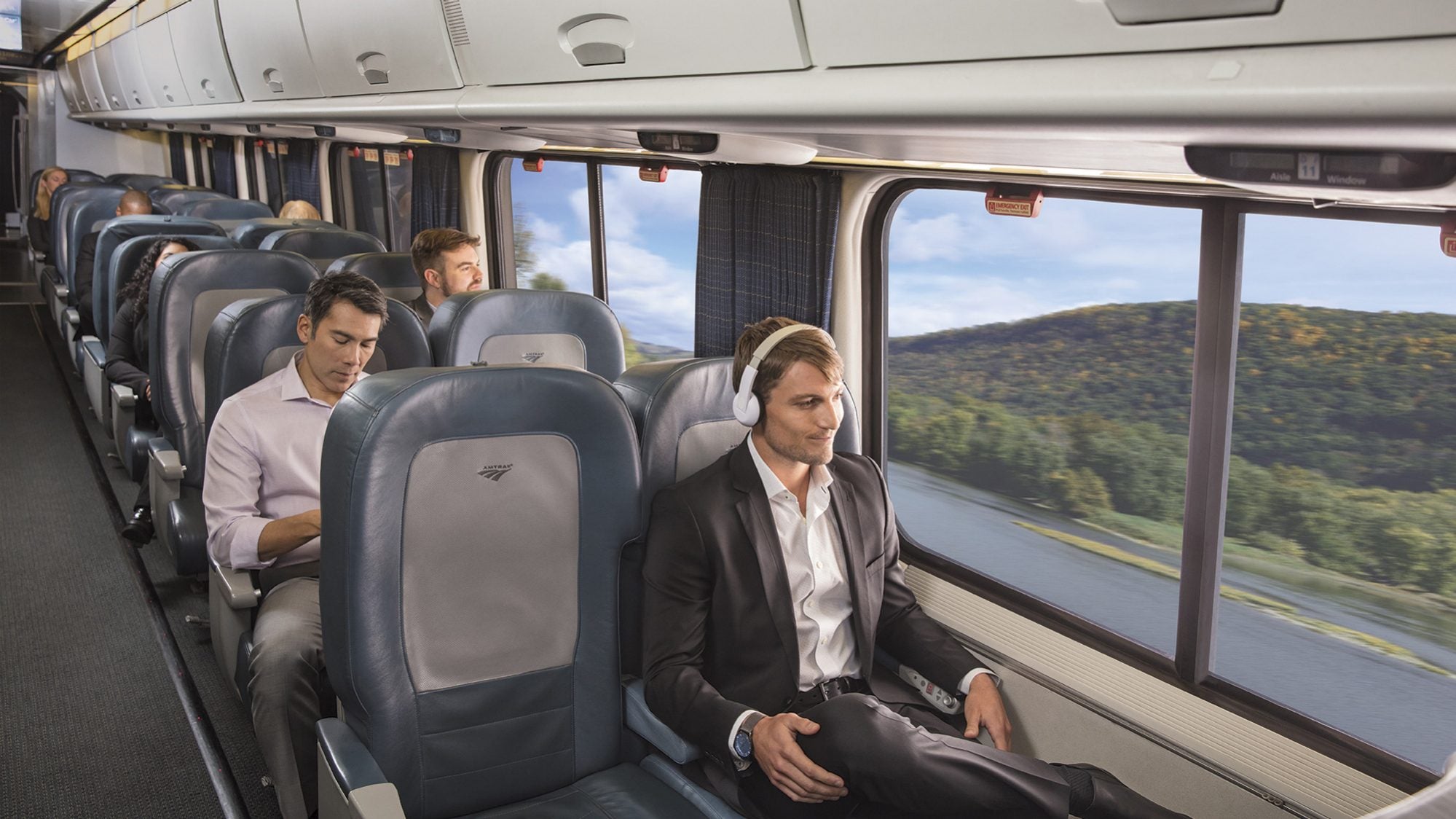 Member Benefits
Let's take a look at each of the Select Executive member benefits in detail.
Unlimited Access to ClubAcela and Metropolitan Lounges
Select Executive members get unlimited access to ClubAcela and Metropolitan Lounges.
These lounges are located in:
Washington, D.C.
Philadelphia
New York City
Boston
Chicago
Portland
Los Angeles
Each lounge has light snacks, non-alcoholic drinks, ticketing agent assistance, bathrooms, and live television or newspapers.
The benefits are basic — much more basic than airline clubs — but when you consider that stations such as Penn Station in New York City are some of the most crowded in the country, having a couch to sit on with a cup of complimentary coffee doesn't seem so bad.
100% Points Bonus on Amtrak Travel
Any travel you take on Amtrak earns you a 100% point bonus, which means your points can add up faster. Because Amtrak's redemption system is based on the cash cost of a ticket, this means you'll have more points to cover the cost of your ticket you decide to redeem for.
Four One-Class Upgrades
Amtrak Select Executive members get 4 one-class upgrades. These can be used on any train except long distance overnight services in sleeping car classes.
The best uses of these certificates are on Amtrak Acela Express trains when you purchase a business class fare, and can upgrade to first class for free.
For full clarity, these are the trains you cannot use a one-class upgrade on:
Adirondack®
California Zephyr®
Capitol LimitedSM
City of New Orleans®
Empire Builder®
Keystone Service®
Silver Star®
Southwest Chief®
Sunset Limited®
Texas Eagle®
Thruway series 7000-8999.
To redeem your one-class upgrade, contact Amtrak either over the phone or at the station within 12 hours of departure. If there's a business class or first class seat available, it's yours.
Bottom Line: The best use of one-class upgrades is on Acela Express First Class seating, since this includes larger seats, complimentary meals and drinks, and lounge access.
Earn One-Class Upgrades Faster
For every 3,000 tier qualifying points you earn, you'll earn an additional one-class upgrade which is about $1,500 worth of spend on Amtrak.
However, you can earn this faster by traveling Acela Express Business Class where you earn a 25% point bonus or Acela Express First Class where you earn a 50% point bonus. The more you travel Acela, the faster you'll earn these TQPs toward one-class upgrades.
Priority Call Handling
When you call Amtrak's call center, your call will be handled before other Amtrak elites. Since the call centers usually don't receive a ton of traffic to begin with, this is a fairly useless benefit.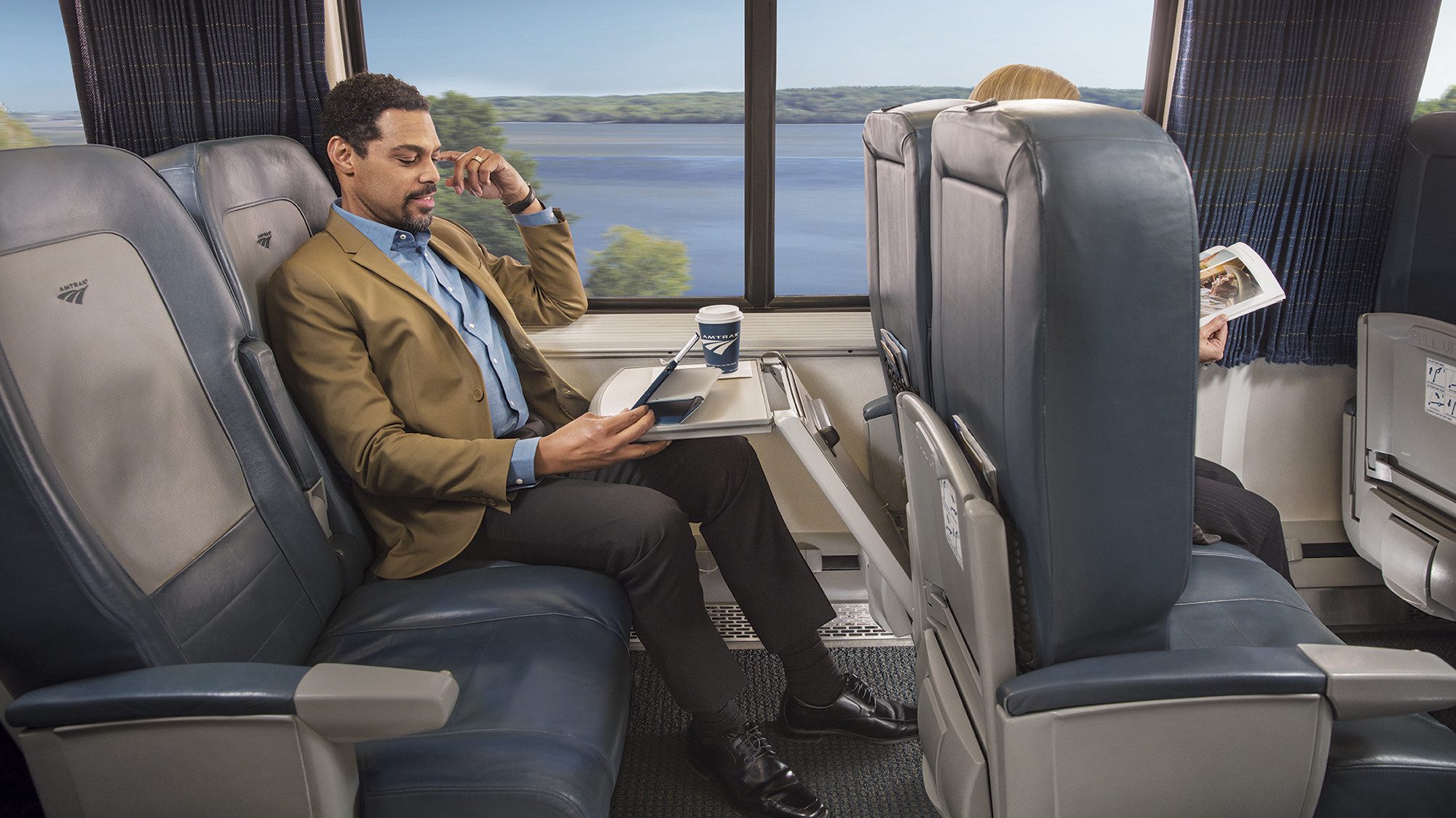 Two Companion Coupons
When you travel in any non-premium cabin, you'll be able to upgrade two companions for free. These upgrade vouchers are for one-way or round-trip travel, so you're much better off using them for round-trip trains where you'll end up getting much more bang for your buck.
If you want to upgrade to a premium cabin, you need to purchase coach first for yourself, upgrade your companion, and then both pay whatever the up-fare is into business class, first class, or the sleeping accommodations.
Auto Registration for Promotions
File this in the "fairly useless" category, but unlike lower elite levels where you need to manually register for promotions, as a Select Executive member, you'll be registered automatically.
Bottom Line: This is a great benefit for people who forget to register for promotions. Remember, these promotions contain valuable free points!
Other Information Select Executive Members Should Know
Sleeping car points: When sharing a sleeping car there's only one accommodation charge for all passengers, but each person pays a rail fare. Points for the sleeper car are rewarded to the account of the member making the reservation. Points for rail fares can be awarded to multiple accounts, so make sure you add member numbers if this applies.
Auto train points: In addition to a rail fare, there's a fare for bringing a vehicle or a motorcycle on an auto train. Points for vehicles are awarded only to the member making the reservation. Points for rail fares can be awarded to multiple accounts.
Sharing Points: To share your points with another member, you must have the member number of both people – you and the recipient of the points. Points can be shared in 1,000-point increments. When you share points with another member, it can take up to 72 hours to post on the recipient's account. As a Select Executive member, you can transfer an unlimited amount of points every year. Lower elite levels have restrictions on this amount.
Buying Points: To purchase points, you must have your Amtrak Guest Rewards member number, the recipient's member number, and a valid credit card. Points may be purchased in increments of 500 points. It can take 72 hours to post the points to your account or the account of the recipient you're buying the gift points for. Amtrak Select Executive members can buy an unlimited amount of points, unlike lower elite levels where there are caps.
Running Out of Upgrades?
It's doubtful you'll run out of upgrades as a Select Executive member, but if you do you can purchase 5 upgrade passes for 10,000 points. The upgrades move you from coach to business class, business to first class on a single travel leg.
Redeeming Your Amtrak Points
Hotels
Amtrak points transfer to two hotel chains: Choice and Hilton. For every 5,000 Amtrak points, you can get 10,000 Hilton Honors points and 15,000 Choice Privileges points. Choice redemption is 1 Amtrak point for 3 Choice Privilege points, while Hilton is 1:2.
How does this transfer into value? For example, a hotel might cost $100 a night, which equals 6,000 Choice points. That would be only 2,000 Amtrak points. For that little redemption, you can stay at a hotel for free.
As a Select Executive member, you can transfer these points to Choice or Hilton for free. Lower elite levels are restricted from doing this.
Trips
Another option for Select Executive points is to use the Amtrak guest rewards for cruise certificates.
For example, a 7 or 8-day premium Carnival Cruise costs 175,000 points (a total of 21,000 to 25,000 Amtrak points) and you can redeem 10,000 Amtrak points for a $100 Celebrity Cruise gift certificate.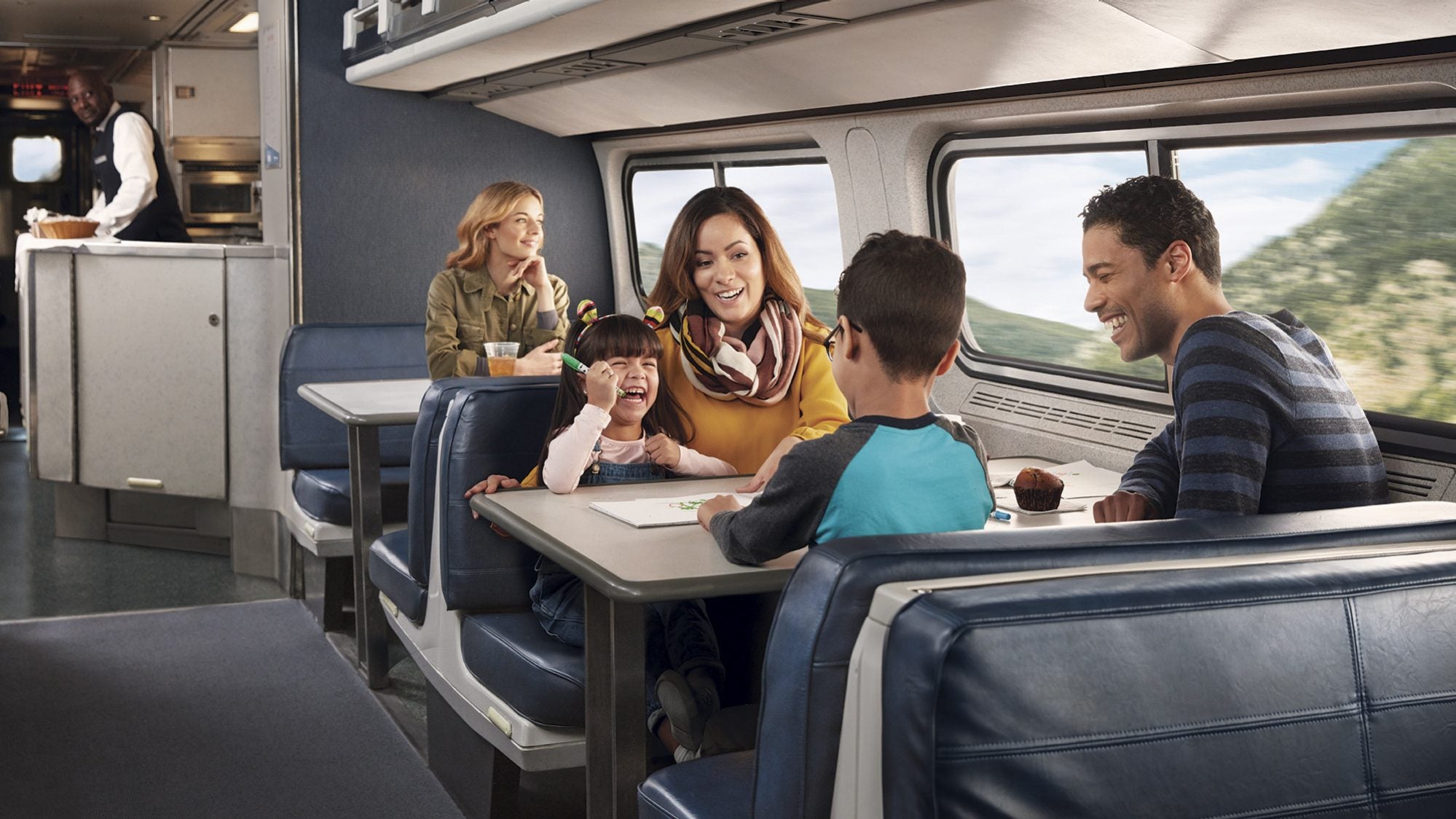 Other redemptions include:
Budget Rent-A-Car: $100 rental certificate for 10,000 Amtrak points
Best Western Hotels: $50 travel card for 6,000 points
Fairmont Hotels & Resorts: $100 gift card for 10,000 points
Celebrity Cruises: $50 gift card for 6,000 points; $100 gift card for 10,000 points
Disney: $100 Disney gift card for 10,000 points
Applebees: $50 gift card for 6,000 points
Brinker International: $50 gift card for 6,000 points
Darden Restaurants: $50 gift card for 6,000 points
Outback Steakhouse: $50 gift certificate for 6,000 points; $100 gift certificate for 10,000 points
Panera Bread:$50 gift card for 6,000 points
Red Lobster: $50 gift card for 6,000 points
Ruth Chris Steak House: $50 gift card for 6,000 points
Starbucks: $50 gift card for 6,000 points; $100 gift card for 10,000 points
AMC Theaters: $50 gift card for 6,000 points
Regal Entertainment Group: $50 gift card for 6,000 points
iTunes: $50 gift card for 6,000 points.
Final Thoughts
By far, this is the best Amtrak status — you can really see with the benefits. If you travel Amtrak often, you'll find the upgrades plentiful.
If you typically purchase of business or first class fares, you may find Amtrak Select Plus status cheaper (and just as valuable), but for the regular rider, Amtrak Select Executive is full of great benefits to help you ride the rails.
If you're wanting to see more about an Amtrak Business class, explore our Amtrak Northeast Regional Business Class review.