Updated Dining Options on Amtrak Long-Distance and Acela Trains [2021]
Amtrak now offers more premium food on some of its long-distance trains and flagship Acela service in the Northeast. While the food on Amtrak has evolved quite considerably over the years, most recently there was a steep decline in the products offered onboard due to the COVID-19 pandemic and financial cuts.
In this post, we're going to explore the changes to the Amtrak food service on eligible routes and share what you can expect when dining aboard Amtrak.
Traditional Dining on Long-Distance Routes
On all routes west of the Mississippi (essentially routes starting in Chicago and San Antonio, going west), you're going to find a new dining car experience onboard.
Previously, due to the COVID-19 pandemic and Amtrak having to survive financially, onboard food service was significantly reduced to what was essentially microwaved, packaged meals on board. At breakfast, lunch, and dinner, you'd make your selections from a limited, defined menu and receive a meal (like a plastic-wrapped entrée) with a side salad and bread roll. These items were less than appealing, and the complaints about Amtrak food service raged throughout the entire pandemic.
Now, Amtrak is restoring full dining car service onboard, complete with sit-down meals at normal meal times. Eligible services include the California Zephyr, Coast Starlight, Empire Builder, Southwest Chief, Sunset Limited, and Texas Eagle (for service between San Antonio and Los Angeles). Services east of the Mississippi will receive the updated dining program at a later time.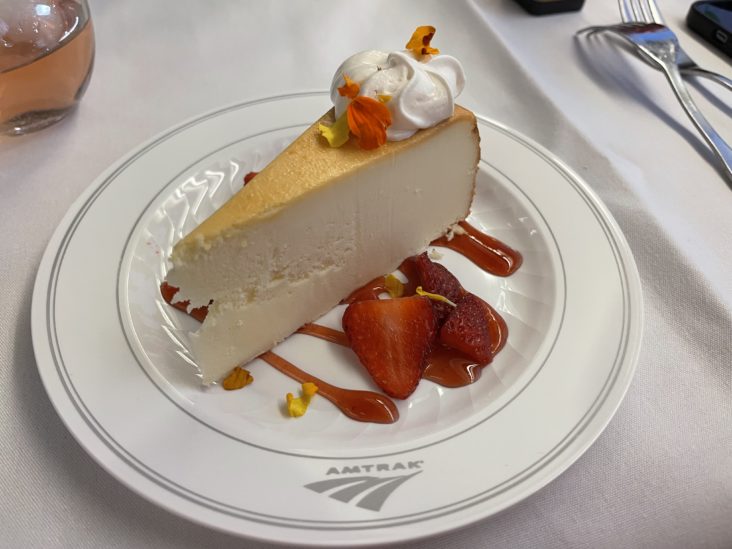 Here is a sample of the current menu on long-distance services as of August 2021:
Traditional Dining Menu

Lunch is served with your choice of dessert from Dinner Menu

Breakfast
Continental Breakfast
Amtrak Signature Railroad French Toast
3-Egg Omelet
Scrambled Eggs
Lunch 
Caesar Salad
Artisan Grilled Cheese
Natural Angus Burger
Savory Chili
Children
Classic Grilled Cheese
Roasted Chicken Breast
Homestyle White Cheddar Mac & Cheese
Hebrew National All-Beef Hot Dog
Sides
Hardwood smoked bacon – 3 pieces
Breakfast pork sausage links – 2 pieces
Chicken sausage links – 2 pieces
3-Course Dinner Menu

Served with a complimentary alcoholic beverage; soft beverages are complimentary for the duration of your journey

Appetizers
Lobster Crab Cake
Green Chile Cheese Tamale
Mixed Green Salad with Baby Brie
Entrées

Entrées can be substituted for lighter selections from the lunch menu

Amtrak's Signature Flat Iron Steak
Pan-Roasted Chicken Breast
Grilled Atlantic Salmon
Tortellini With Pesto Cream
Desserts
Flourless Chocolate Torte
Philadelphia Cheesecake
Carrot Cake
Here's what you can expect on board when you travel on a long-distance service:
Dining car meals are currently only being offering to sleeping car passengers; coach class passengers can still purchase individual items from the Café Car or bring their own food on board.
Dining car seating is communal. You'll be seated with other travelers to complete a 4-party table. The only exception to this is if you come in with 3 or 4 diners in your party — you'll generally be seated together without anyone else at your table.
At dinner time (and only at dinner time), you're allowed to enjoy 1 alcoholic beverage per person if you're of age.
Non-alcoholic beverages are unlimited and complimentary.
If you wish to enjoy your meal in your private room, you can speak with your car attendant and they can prepare a to-go option for you. Essentially, your food will be plated, wrapped, and served in a to-go-style bag with the drinks included. Eating in your room is great if you prefer to eat with your companion and don't want to participate in the traditional communal dining car service.
Depending on the train's arrival on the final day, a continental breakfast may be served instead of a hot breakfast.
Hot Tip: Some long-distance trains tend to run out of items as the train nears its final destination, so if there's a particular item you want to order off of the menu, ask for it early on in your journey and don't wait until the end.
Here are the meal times of service for long-distance routes, per Amtrak:
Breakfast: Available from 6:30 a.m. to 9:30 a.m. (final seating at 9:30 a.m.)
Lunch: Available from 11:30 a.m. to 2:30 p.m. (final seating at 2:30 p.m.)
Dinner: Available from 5 p.m. to 9 p.m. (final seating at 9 p.m.)
Hot Tip: If an Amtrak train is delayed, you may see the meal times adjust reflecting that delay. In addition, as you pass through different time zones, you'll want to pay special attention to the fact that some trains utilize a consistent time zone across the route versus constantly changing along the way.
Acela First Class Dining
Amtrak's Acela route is its flagship offering from Washington, D.C. to Boston, primarily geared toward high-paying business travelers who expect a premium experience. In the first class car, complimentary food is offered throughout the day, and you're treated to a plated meal, complimentary drinks, and personalized attendant service.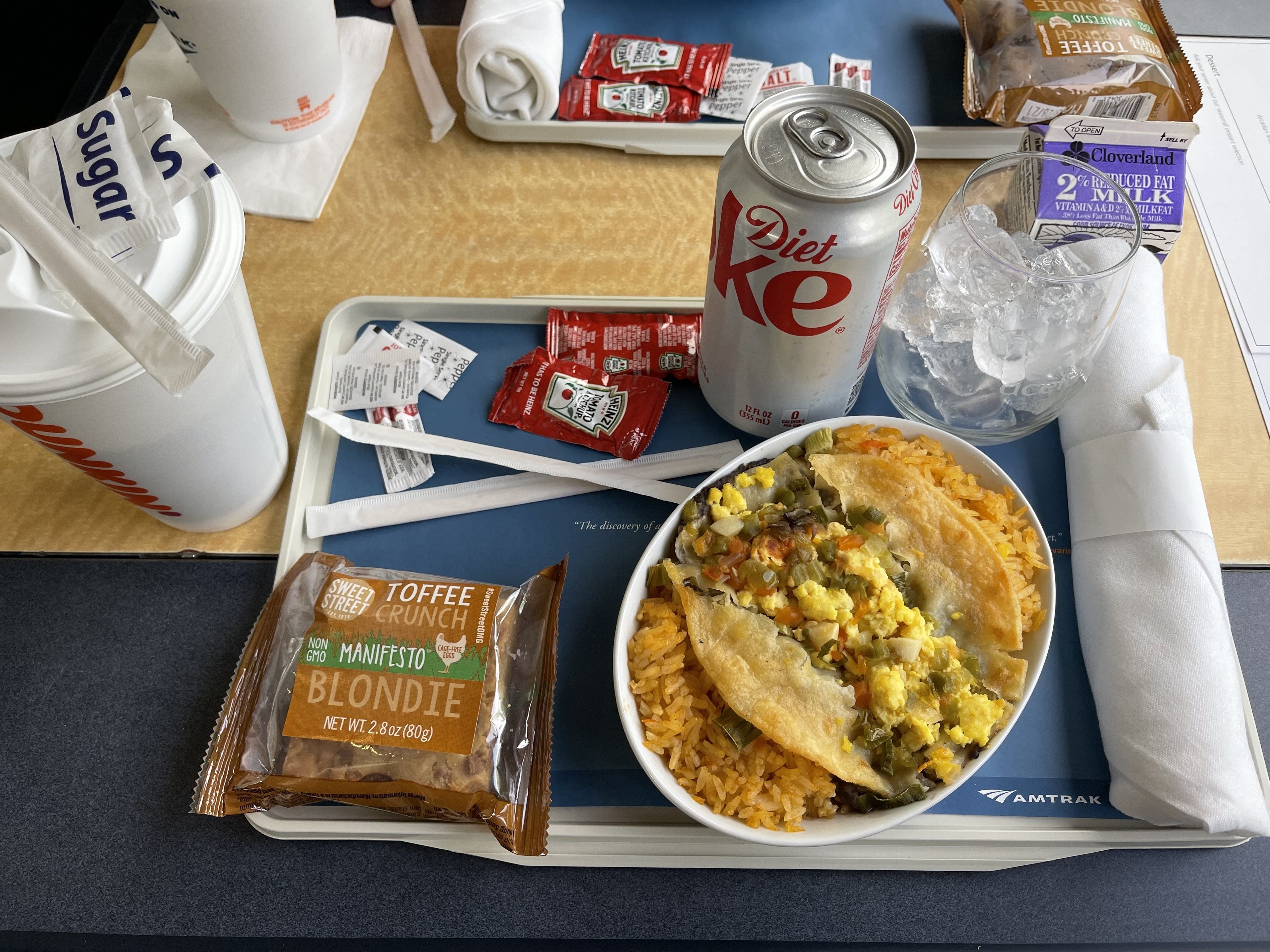 Here is a sample of the current menu, as of August 2021:
Acela First Class Dining
Breakfast
Fresh Seasonal Fruit Plate
Bacon & Swiss Omelet
Huevos Rancheros
Lunch and Dinner
Cheese & Fruit Plate
Chicken Tandoori
Lobster Crab Cake
Strawberries & Goat Cheese Salad
Dessert
Ask your server about the seasonal dessert selection 
Here's what you can expect when you travel in Acela first class:
After departure, an attendant will serve you the beverage of your choice, followed by a snack mix at lunch and dinner meal hours.
You can order off of the menu, and for trains that cross multiple meal windows (such as breakfast and lunch), you can choose from either set of entrées.
All meals are served on 1 tray, and you can continue to ask for beverage refills throughout your journey. In Acela first class, all drinks, including alcohol, are complimentary and unlimited.
Unlike Amtrak's long-distance routes, there aren't set hours for dining in Acela first class. At the origin of the train, both breakfast and lunch/dinner options are loaded, and as passengers board at subsequent stops, they're offered the meal most appropriate to the time of day. For late morning departures, you can choose from either the breakfast or lunch menu.
Hot Tip: Select Amtrak Guest Rewards elite members, passengers traveling on an Acela first class ticket, and those in a sleeper car can access any of Amtrak's lounges when departing or arriving.
Flexible Dining
Amtrak still operates what they call "flexible dining" on routes east of the Mississippi, featuring to-go-style meals for breakfast, lunch, and dinner. You can either eat these items in the dining car or have them brought to your private room for consumption.
In all cases, the meals are packaged in disposable containers, situated on a hard plastic tray, and come with everything prepackaged. These meals are among some of the most unappetizing meals that Amtrak offers, so you'll definitely want to consider this before booking.
Here's a sample of what you can expect on menus offering flexible dining, as of September 2021:
Flexible Dining Menu
Continental Breakfast
Oatmeal (Maple Brown Sugar, Apple Walnut)
Muffin (Blueberry)
Yogurt (Strawberry)
Cold Cereals
Jimmy Dean Breakfast Sandwich
Breakfast Omelet
Entrée

Red Wine Braised Beef
Enchiladas
Chicken Marsala
Creole Shrimp & Andouille
Pasta & Meatballs
Here are the flexible dining meal times of service, per Amtrak:
Breakfast: Available from 6:30 a.m. to 10 a.m. (board by 9:30 a.m.)
Lunch: Available from 11:30 a.m. to 3 p.m. (board by 2:30 p.m.)
Dinner: Available from 5 p.m. to 9:30 p.m. (board by 8:30 p.m.)
Hot Tip: If you need to know allergen details, ingredients, or nutrition facts for any menu items, visit Amtrak Food Facts for complete details by train.
Final Thoughts
Amtrak's dining program has gone through many evolutions, but its latest iteration is definitely a step in the right direction. Full plated meal service has returned to Acela first class, and the traditional dining concept is back on long-distance services for sleeper car passengers.
The food has greatly improved, and trains are now offering something that reflects a premium product. While Amtrak continues to refine its offerings for the future, diners can at least be rest assured that things are headed in the right direction.
If you're planning your next ride on the rails, check out our ultimate guide to Amtrak routes (regional and long-distance) as well as the best ways to book cheap Amtrak train tickets.