The Best Ways to Book Cheap Amtrak Train Tickets [Advance Bookings, Rail Passes, and Promo Codes]
Train travel can be an enjoyable experience, kicking back and watching the scenery whizz past as you relax with a good book. Avoiding airport security queues and road congestion are just a couple more bonuses, but you still want to make sure you bag yourself a deal when riding the rail.
Getting your hands on cheap Amtrak tickets is not difficult — it just requires a bit of planning to know when and where to book. As well as booking direct, Amtrak tickets are only available on a select number of partner websites, but all have price parity. Sometimes, these websites provide handy calendar views, to check when the cheapest time to travel is, and others have filters to narrow your search criteria.
Book Cheap Amtrak Tickets in Advance
With Amtrak, the further in advance you can buy your ticket, the better. Fares are released 11 months before the departure date and work on 5 fare levels, with prices rising with demand. Amtrak has different thresholds for booked capacity, that once reached will bump fare prices up to the next level.
Unfortunately, Amtrak doesn't display how many tickets are left at a specific price, so the only way to ensure the cheapest rate is to book as early as possible.
On some routes, Saver fares are available when booking coach at least 14 days in advance of your departure. These fares are non-refundable but can be canceled up to 24 hours to receive travel credit. When searching for a train from New York to Boston, a Saver ticket was $39 compared to a Value ticket at $69. That's quite a chunky saving if you're confident that your journey will go ahead as scheduled.
Join Amtrak Guest Rewards
Joining Amtrak Guest Rewards won't give you instant savings, but if you travel regularly, it's worth signing up for the long-term gains. Membership is free, and every time you travel, you'll earn 2 points per dollar spent to redeem against free tickets for regular services, Auto Train, Acela, and sleeper services.
Frequent travelers can work their way up the membership tier statuses to receive further benefits, such as bonus point earnings, complimentary class upgrades, and companion coupons. Members can earn tier qualifying points in a calendar year through Amtrak travel, or by using their Amtrak Guest Rewards® World Mastercard®.
Hot Tip: Amtrak Guest Rewards bonus points are also earned through business class and first class bookings on regular services and Acela services.
Book Cheap Amtrak Tickets Online
Don't wait until you get to the station to book your ticket, as Amtrak says the best rates can be found online. It's also a good idea to avoid purchasing a ticket on board, as only the more expensive flexible fares are available to purchase. The best available rates can be booked online or via the app, and you also can make changes to your reservation online, view your e-tickets, and avoid long queues at the station.
Register for Promotions and View Deals
Register for promotional emails from Amtrak to hear about flash sales and exclusive Amtrak Guest Rewards offers.
You can also check the Deals tab on the Amtrak website for regular offers. At the time of writing, Amtrak was offering fares between Boston and select upstate New York stations from $13 and buy one get one free fares for any routes between Virginia and Boston.
Get an Amtrak Rail Pass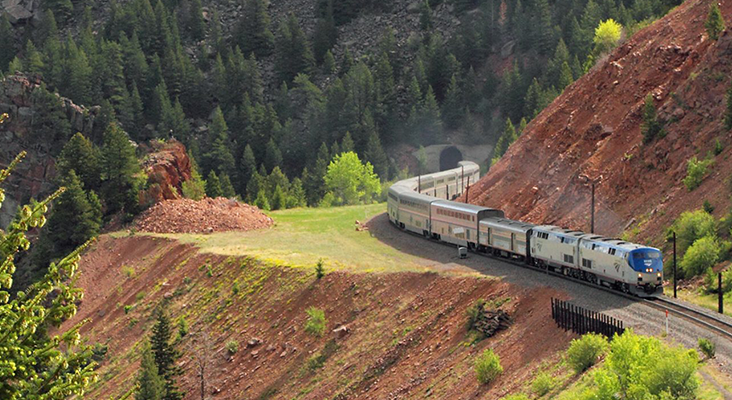 Passengers looking to embark on an Amtrak adventure through the U.S. can purchase a rail pass that includes a set number of segments that must be completed during a set number of days. You still need to book your seats along the way, and the duration starts from the departure date of your first segment.
Amtrak offers the following USA Rail Passes:
15 days with up to 8 segments: $459
30 days with up to 12 segments: $689
45 days with up to 18 segments: $899
To see how much you could save with a rail pass, we priced an 8-segment journey with the California Zephyr from Chicago to the San Francisco Bay area and returning via the Southwest Chief from Los Angeles to Chicago.
| | | |
| --- | --- | --- |
| Route Segments | Saver Fare | Value Fare |
| Chicago to Omaha | $63 | $79 |
| Omaha to Denver | $67 | $84 |
| Denver to Salt Lake City | $69 | $86 |
| Salt Lake City to Emeryville (San Francisco) | $84 | $105 |
| Emeryville (San Francisco) to Los Angeles | $56 | $67 |
| Los Angeles to Albuquerque | $69 | $86 |
| Albuquerque to Kansas City | $98 | $122 |
| Kansas City to Chicago | $57 | $71 |
| Total | $563 | $700 |
With this particular route, a rail pass saved over $100 compared to purchasing separate Saver fares for each segment. If you were booking within 14 days of the departure, Saver fares wouldn't be available, and the lowest ticket would be a Value fare giving you savings of over $240.
We searched for travel dates 3 months in advance, so bear in mind that the closer to the departure date, the greater your savings would be using a rail pass, as ticket prices increase for individually purchased fares.
If you're only looking to explore California, there's a dedicated rail pass that is valid on Capitol Corridor, San Joaquins, Pacific Surfliner corridor trains, and Coast Starlight between Los Angeles and Dunsmuir. The pass is also valid on most connecting Thruway bus services that operate along these routes.
The pass costs $159 and allows travel on any 7 days during a consecutive 21-day period.
Hot Tip: Not sure where Amtrak can take you? Check out our detailed guide to all of the Amtrak routes including regional and long-distance options.
Book an Amtrak Multi-Ride Ticket
Booking a multi-ride ticket can save you money if you know you'll need to travel the same route over a certain duration. Students may book a 6-ride pass that is valid within 365 days, and all passengers may book a 10-ride pass that is valid for 45 days, 60 days, or 180 days, depending on the route.
We checked out the price of a 10-ride ticket between Los Angeles and San Francisco and compared the cost of purchasing 10 separate tickets.
| | |
| --- | --- |
| Individually Purchased | 10-Ride Ticket |
| $60 per one-way ticket = $600 | $542 (to use within 60 days) |
Purchasing a 10-ride ticket would save $58 (almost the price of 1 ticket) compared to buying these tickets separately, so a multi-pass would save you money if you are confident you'll be making the journey enough times within the required duration.
There are restricted trains that multi-ride tickets can't be used on, so check out this list to confirm before you purchase your pass.
Everyday Discounts
Consider whether you're eligible for any of Amtrak's everyday discounts:
Find & Use a Promo Code
Amtrak releases monthly promo and coupon codes to third party websites that you will rarely find on the Amtrak website. Promo codes consist of 4 digits that typically offer savings from 10-50%. Railserve.com updates this page monthly to reflect new and ongoing promo codes valid for different regions within Amtrak's route network.
If you're traveling long distances or overnight, you might want to upgrade to a bed to get some shut-eye along the way. If you're traveling with another person, booking a sleeper car for be much more cost-effective than if you were traveling alone. Meals are also included when booking a sleeper car.
Hot Tip: If you book yourself a Roomette, passengers can enjoy the views out of the 2 sweeping picture windows next to both beds.
Book Amtrak Tickets With Omio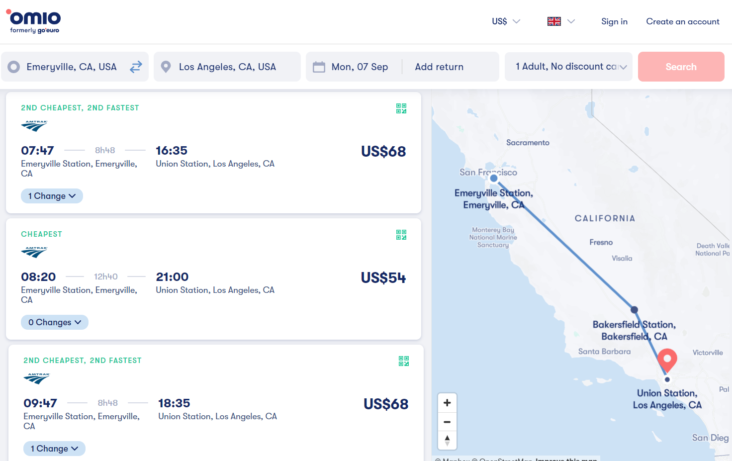 Omio is an official partner of Amtrak that sells tickets without the need to go directly to the Amtrak website. Omio displays the same rates that you would find on Amtrak.com, but Omio doesn't permit passengers to purchase sleeper cabins.
When searching, you can filter whether you want only to see direct services or with a maximum number of stops. You can also filter by price or journey time.
Book Amtrak Tickets With Wanderu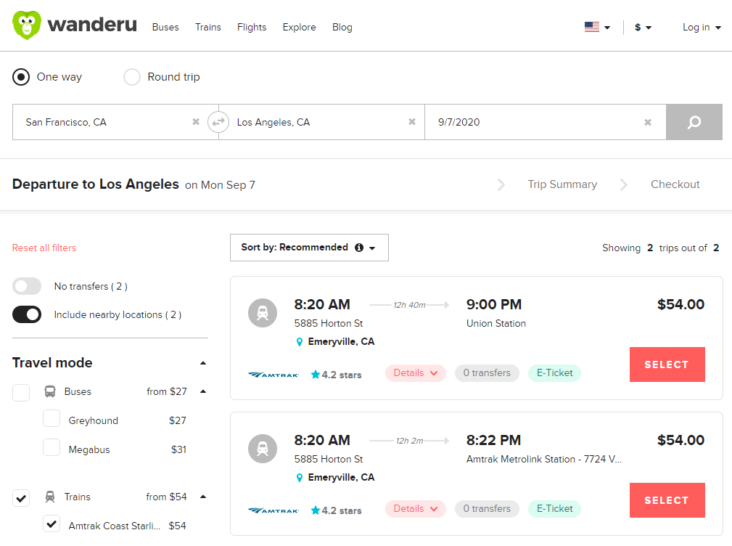 Wanderu is another partner of Amtrak and provides a useful platform for passengers to search for cheap travel, including Amtrak tickets, as well as other train and bus providers.
Although the pricing will be the same as booking directly with Amtrak, Wanderu allows visitors to filter by particular train providers and then by price to view the cheapest rates. For some popular routes, the calendar will display the cheapest ticket for each date of the month, so if you're flexible, you can choose to travel at the most affordable time.
There's also the option to switch on Include nearby locations, where cheaper rates might be available to other stations not too far from your original choice.
Final Thoughts
With over 500 stations on the continental U.S., Amtrak is an excellent option for getting from A to B for business or pleasure, or for embarking on a train adventure across the country. Although traveling by Amtrak is often cheaper than flying, it can take considerably longer, so passengers want to get the very best deal to justify this additional time.
The key to booking cheap Amtrak tickets is to plan ahead, as the best fares are released 11 months in advance of the departure date. Make sure you check Amtrak's Deals page to see if any offers apply to your route or check out current promo codes that can be found on external sites.