Amtrak Northeast Regional Business Class – Full Review
Amtrak is one of the most popular transportation methods in the Northeast region, with trains serving cities from south of Washington, D.C. to Boston. These Northeast Regional trains run Amtrak's most traveled route at near hourly frequencies and offer both a coach class and business class seating option.
Here's a look at Amtrak's Northeast Regional business class:
The boarding process for Amtrak business class
The onboard services for Amtrak business class
How to maximize your business class ticket
It's no secret that Amtrak's most profitable route is their Northeast Regional service — in fact, this route is what keeps Amtrak afloat. For business travelers, and those looking for a little more legroom, having a business class product is key, and Amtrak offers 1 on every Northeast Regional service.
What Does Amtrak's Northeast Regional Business Class Include?
When you purchase a business class ticket, here's what is included:
Discounted lounge access
Priority boarding at select stations
Extra legroom, which means a greater pitch between seats than the coach class seats.
Complimentary non-alcoholic drinks
Assigned seating
A dedicated car, usually located at 1 end of the train which is quieter and has less traffic
A 25% point bonus in the Amtrak Guest Rewards program for paid business class tickets
Hot Tip: Amtrak Guest Rewards program offers 3 status levels, and we've created guides for each: Select, Select Plus, and Select Executive. Read about the variety of benefits, including upgrades and lounge access.
How to Book Business Class
There are a few ways you can book business class on Amtrak:
Visit the Amtrak app or website and purchase business class outright. You cannot use points to upgrade an individual ticket, but you can purchase a ticket either entirely with cash, or with all points.
If you are an Amtrak elite member, use one of your annual upgrade certificates within the specified time.
On the Amtrak Guest Rewards website, you can spend 10,000 points for 4 upgrade vouchers, which you can then keep in your account to use on any eligible train. Keep in mind, you must purchase this bulk package which includes multiple upgrade certificates — there is no way to use points to upgrade a single journey.
Types of Amtrak Business Class
Before delving into the specifics of the business class product, there are a few variations of the product that are important to highlight. You may find different types of business class services operating different routes, and while this review will specifically focus on the Northeast Regional, having an understanding of what seat may be operating your train is important. 
Per Amtrak, the services that offer 2×2 business class seating include Northeast Regional (including trains to/from Newport News, Norfolk, Richmond, and Roanoke in Virginia), Carolinian, Palmetto, and Pennsylvanian.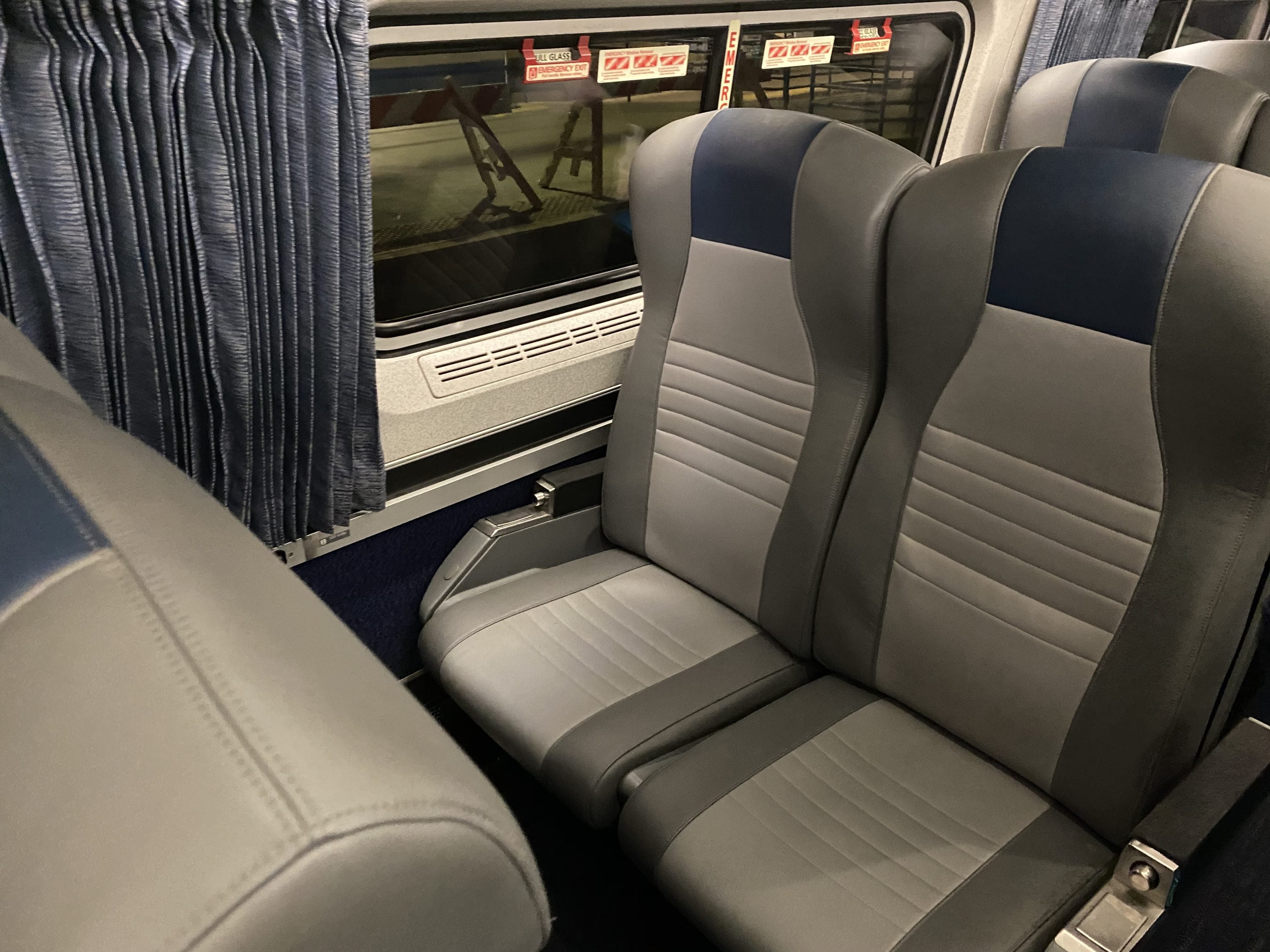 Services currently using 2×1 business class seating include long distance services Cardinal and Lake Shore Limited, as well as state-supported services, including Vermonter, Downeaster in northern New England, Empire Service (including Maple Leaf to Toronto) in New York State, Wolverine and Blue Water in Michigan, Illini, Saluki, Illinois Zephyr, Carl Sandburg, and Lincoln Service in Illinois, and Missouri River Runner service across Missouri.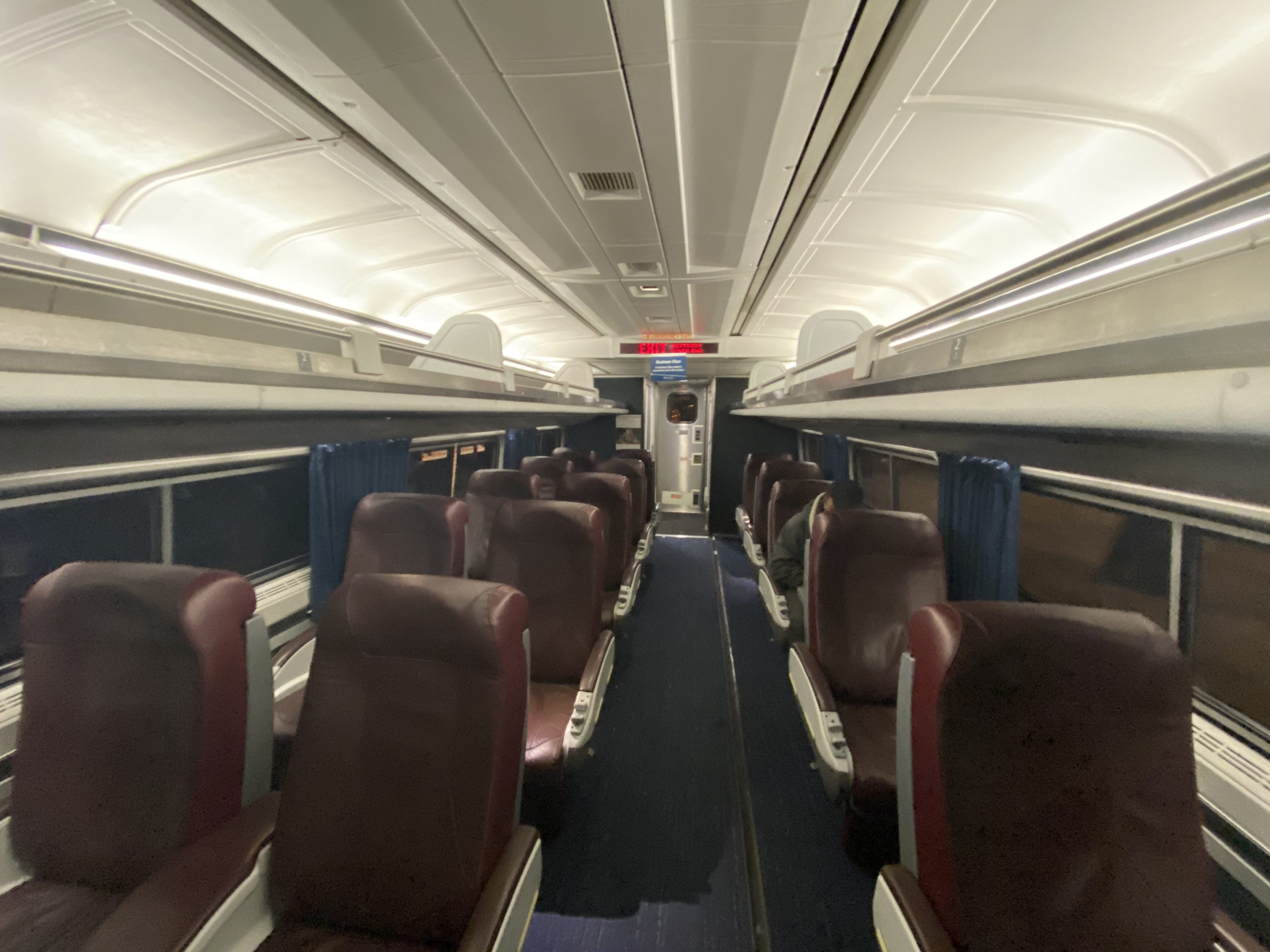 Pacific Surfliner service in California offers business class seating, as well. The majority of business class seating in this service is 2×2, although there is a limited amount of 2×1 seating.
Acela Express business class is always in a 2×2 configuration, with the more premium first class seating in a 2×1 layout.
The Benefits of Amtrak Business Class
Purchased Lounge Access
Amtrak Northeast Regional business class does not include lounge access in any station, however business class customers have access to a discount at 2 stations.
For $25, a business class customer can purchase a day-pass to the Metropolitan Lounge at Philadelphia 30th Street Station and Boston South Station. This paid access is not available to coach class customers. The Boston lounge is open from 5:30 a.m. to 9:30 p.m. and the Philadelphia lounge is open from 6:00 a.m. to 9:00 p.m. 
Lounge access includes:
Complimentary non-alcoholic drinks
Complimentary light, packaged snacks
Complimentary Wi-Fi
Comfortable seating with places to plug in your devices
Amtrak ticket agent assistance

 
Priority Boarding at Select Stations

 
At major station locations along the Northeast corridor, such as Washington, D.C. Union Station, Philadelphia 30th Street Station, New York Penn Station, and Boston South Station, there may priority boarding for Amtrak Guest Rewards elite members and business class passengers.
Typically, there will be 2 queues by each track and gate, one for coach and one for priority boarding (which business class can use). At busier stations, such as New York Penn Station, priority boarding can rarely be discerned from the regular boarding, so both types of passengers end up boarding at the same time.
Once you're on the tracks or platform, you'll want to make sure you're standing where the business class car will pull in — this is usually at one end of the train or the other, but rarely in the middle.
For non-major stations, such as Trenton, NJ or Wilmington, DE, for example, there is no priority boarding and you'll simply have to stand on the platform where the business class car will pull in. Typically these stations are much less crowded than their big-brother counterparts, so having a priority boarding queue really isn't necessary.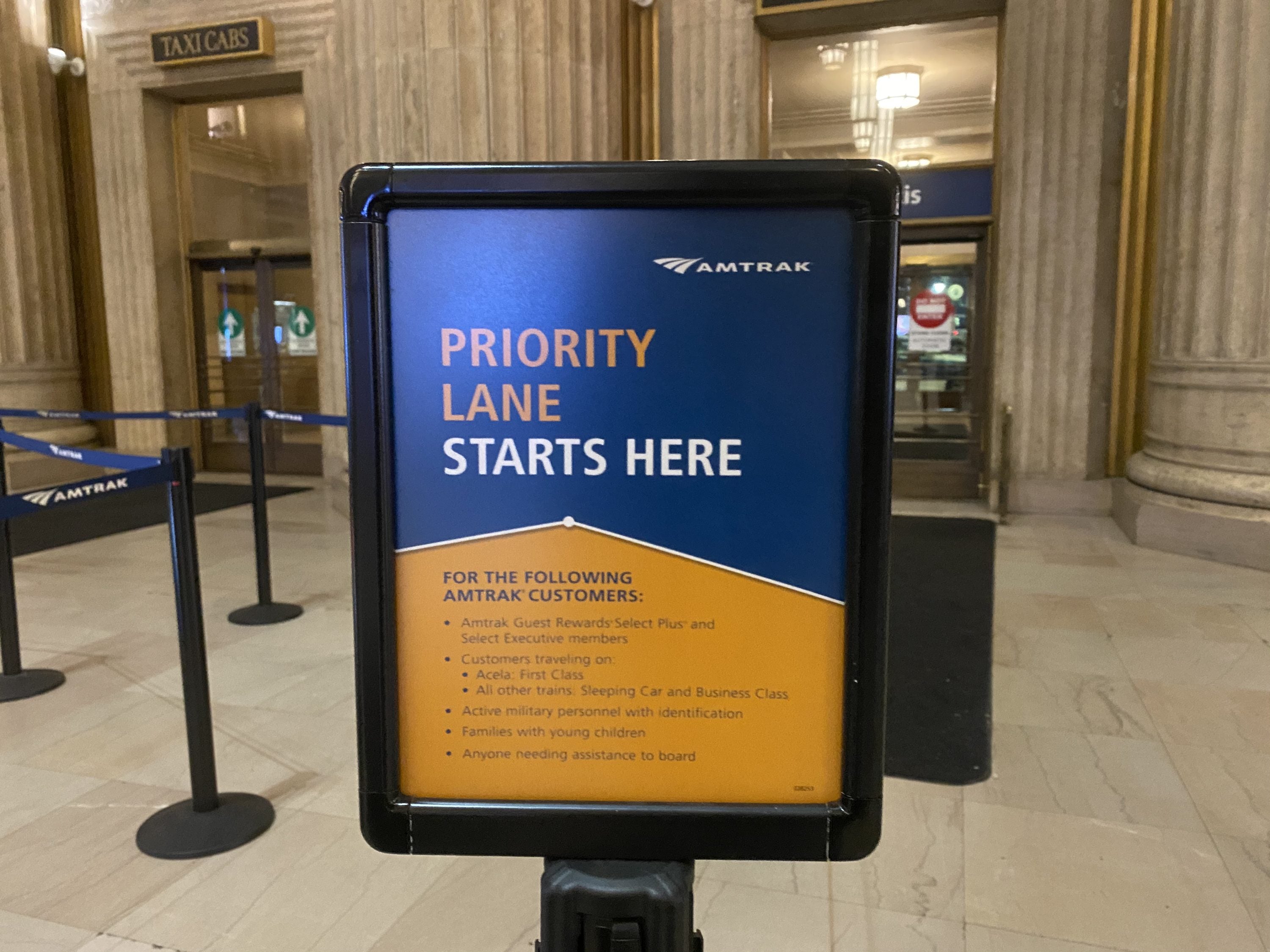 Extra Legroom
Business class seats feature additional legroom over their coach counterparts. On most trains, there's room to be able to cross your legs, and there are footrests that extend from the seat in front.
In addition, business class cars come with window shades that you can draw closed, which adds privacy and also reduces the glare from the sun as the train moves along the tracks. These are differences that you won't find in the coach class cabin.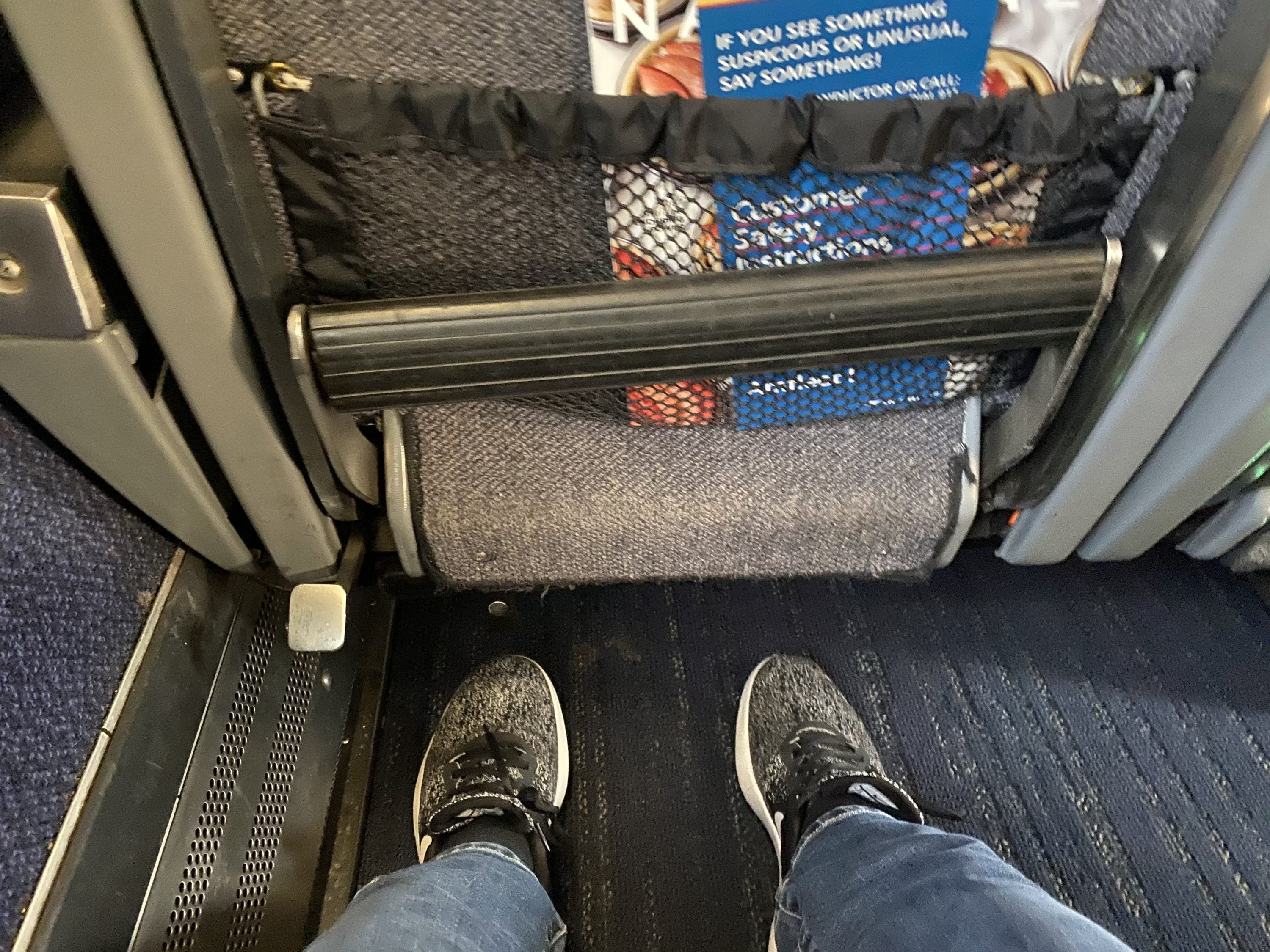 Complimentary Non-Alcoholic Drinks
With your ticket, you receive an unlimited amount of complimentary non-alcoholic drinks throughout your journey. To receive these drinks, you must visit the Cafe Car, which is usually located in the center of the train.
Here are your choices of drinks:
Milk 2%
Fresh-brewed Dunkin' Donuts coffee, regular and decaf
Tea and hot chocolate

 

Coke, Diet Coke, Sierra Mist
Bottled water
Club soda or Dasani Lime Sparkling Water
Orange, apple, or cranberry juice
Hot Tip: Some drinks, such as bottled iced teas and iced coffees are not complimentary per policy, but oddly enough, some Cafe Car attendants are savvy enough to know how to ring these items up so they code in such a fashion for them to be complimentary.
Unfortunately, no food items are free, so anything food-wise that you purchase must be paid for. When you're checking out with your complimentary beverages, simply show the attendant your business class paper ticket or mobile boarding pass and they'll waive the charges.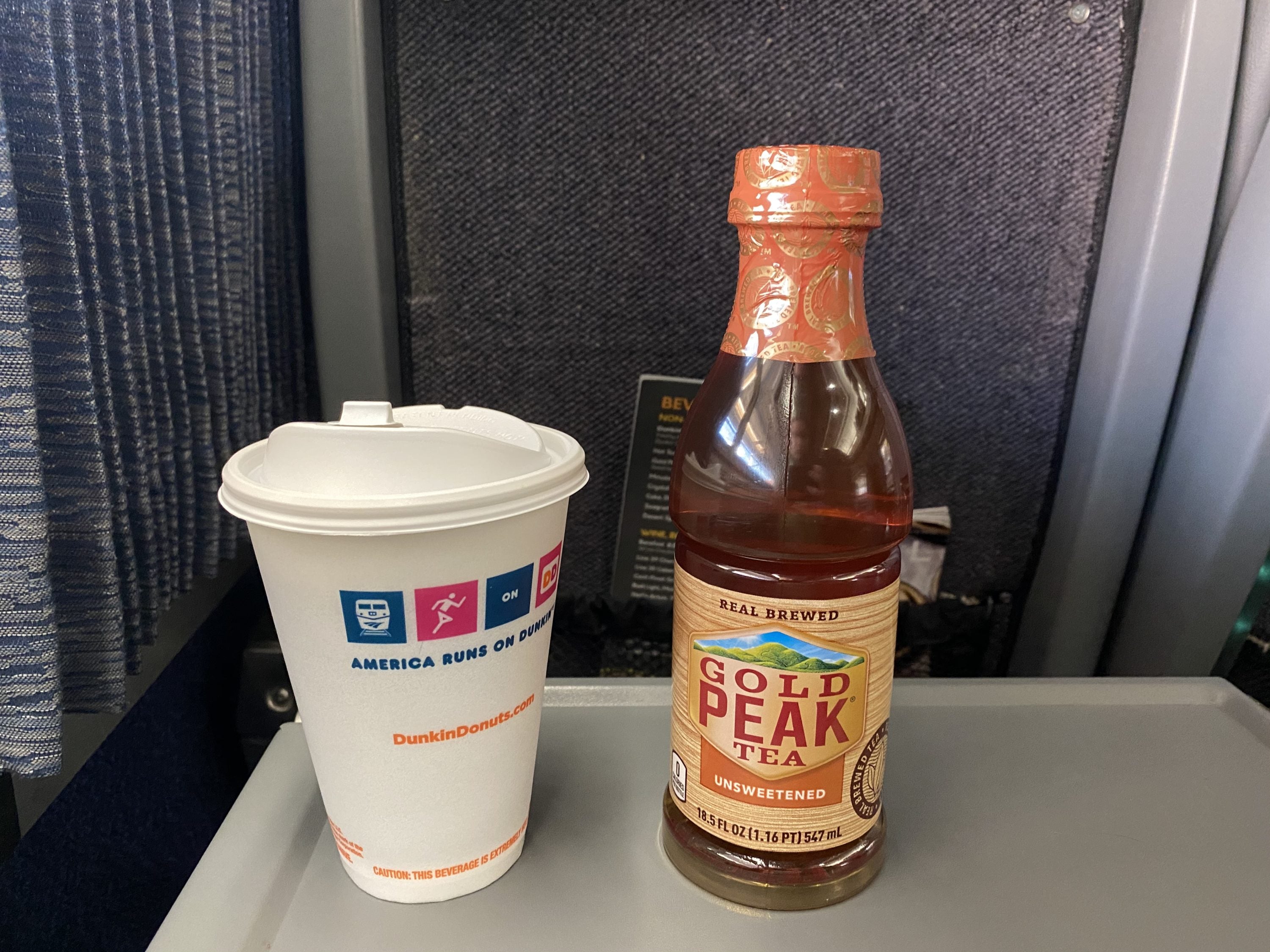 Assigned Seating
New for 2020, you can now assign seating in the highest class of service onboard Amtrak trains. On Northeast Regional trains, this means business class is eligible for assigned seating, and on Acela trains, first class is eligible.
During the booking process (and even after you purchase your ticket), you'll be prompted to select your seat on a seat map. This is perfect for travelers who want to select a specific window or aisle seat, or may want to select the conference table available in some business class cars.
On especially busy trains, it is nice to be able to select a specific seat so you can ensure that there's no confusion onboard.
Unlike most airline apps, Amtrak allows you to change your seat throughout the journey. So, if you get on board and you don't like your seat, simply go to the Amtrak app and move it.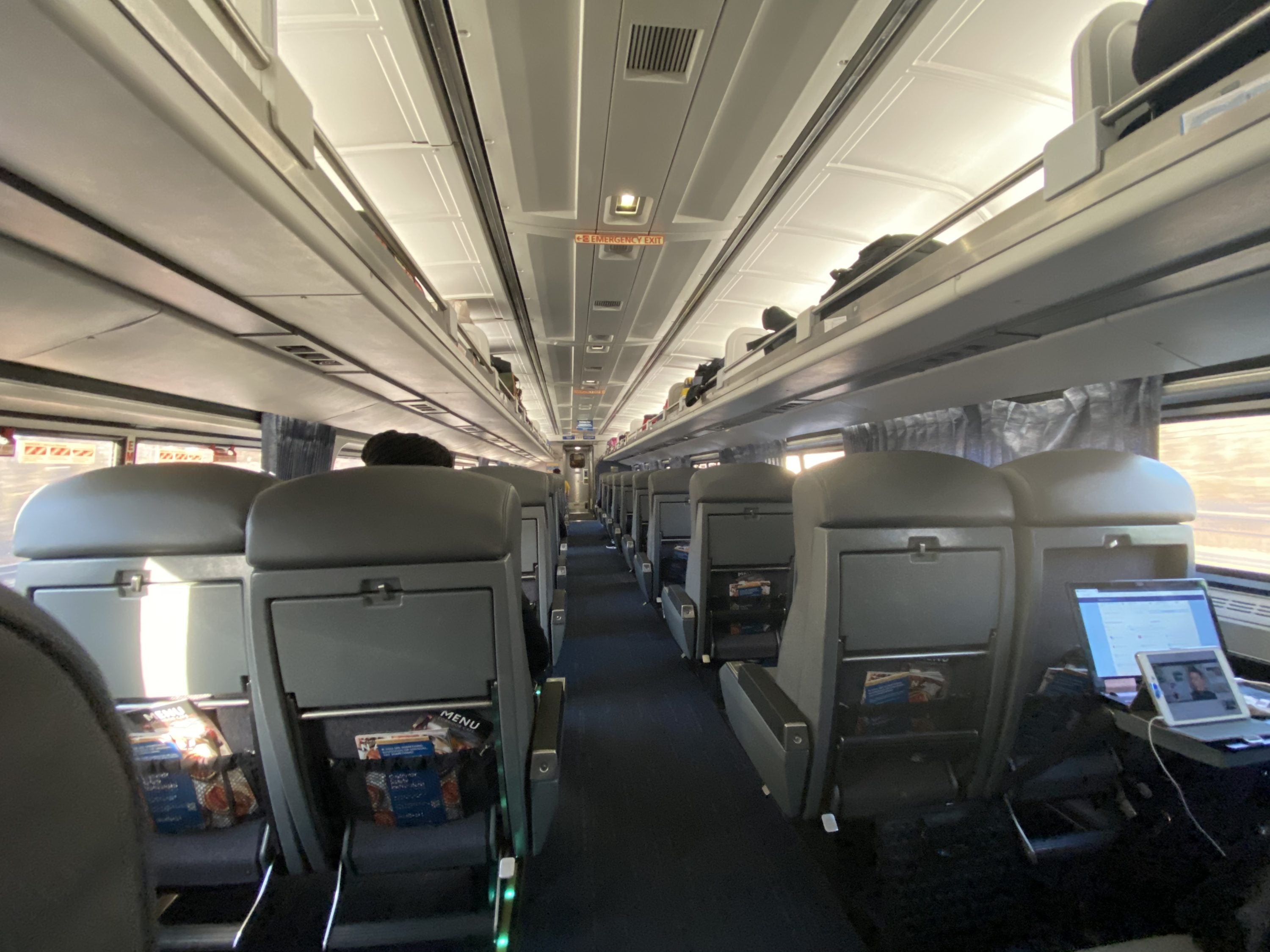 Dedicated Car
Business class is usually located at one end of the train or the other. Most often, it is at the rear of the train, farthest from the engine, for the quietest ride.
This does mean that it may be 3 or 4 cars away from the Cafe Car, so when visiting for your complimentary beverage, it may be quiet a hike, but having business class at one end reduces the number of people walking through and makes for an overall more quiet experience.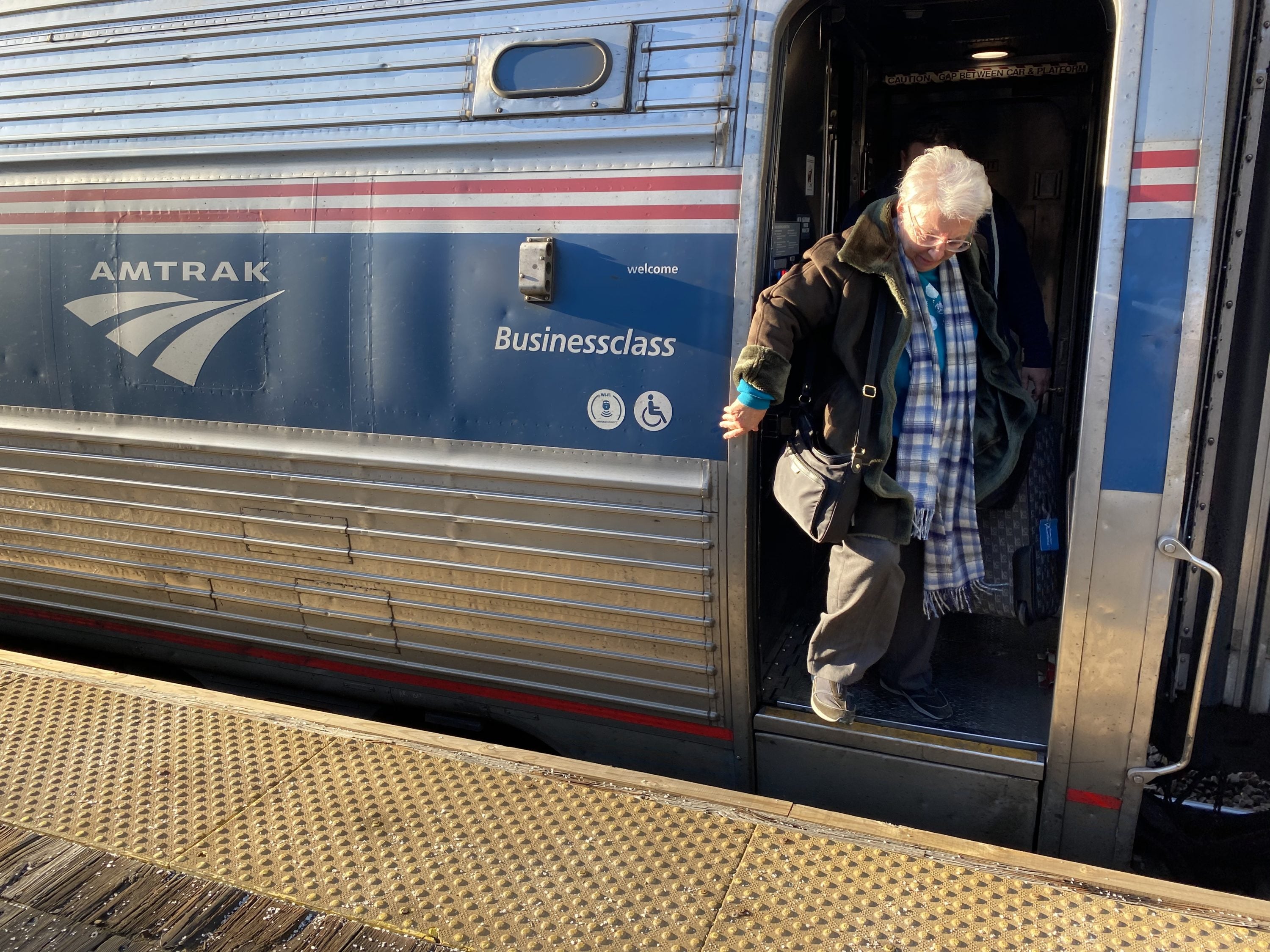 25% Point Bonus
Amtrak Guest Rewards members earn 2 points for every dollar spent on rail travel. If your ticket is in business class, you earn a 25% point bonus, which gets you that much closer to elite status.
Amtrak point bonuses count for earning status, which is nice since if you typically purchase premium class fares, you won't have to travel as often to earn even an entry-level status.
Final Thoughts
Amtrak's Northeast Regional business class definitely has some perks that separate it from coach class. Assigned seating is nice so you can select your favorite seat, and the complimentary beverages keep you well hydrated throughout your journey.
If the price difference isn't too much, it's very worthwhile to upgrade, but if the price difference is, say, more than $75 more than your coach ticket, it probably isn't worth it to splurge. Before booking any ticket be sure to familiarize yourself with the best ways to find cheap tickets on Amtrak.