Marriott Bonvoy Moving to Dynamic Pricing, Removing Award Charts
Marriott has announced that its Marriott Bonvoy loyalty program will eliminate its existing award charts and transition to "Flexible Point Redemption Rates" in March 2022.
This means, starting next year, guests can expect dynamic award pricing, similar to Hilton Honors and IHG Rewards, where award rates reflect more closely the cash rate of a hotel night.
For the last several years, Marriott Bonvoy has been using a redemption chart with off-peak, standard, and peak rates which has given guests an idea of how much to expect to spend on an award night. This will no longer be the case when these changes are fully implemented.
Let's take a look at the details.
Marriott Bonvoy Moving to Dynamic Award Pricing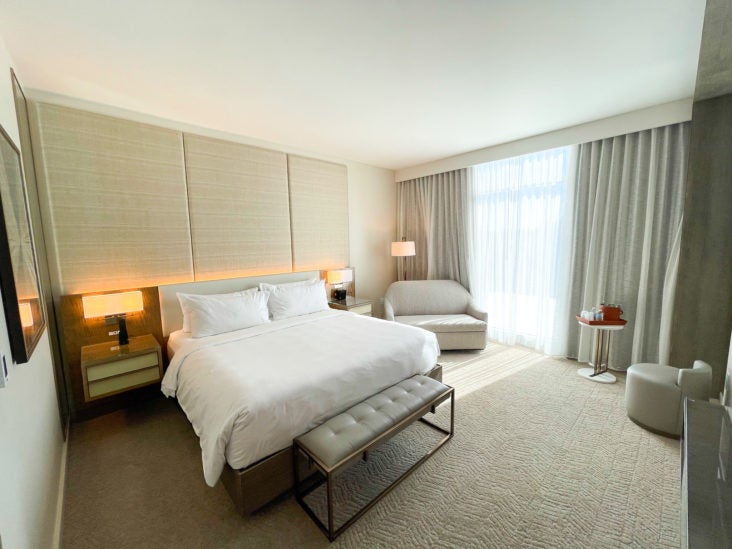 Marriott Bonvoy's award charts will go away in March 2022. However, according to the chain, more than 97% of its hotels and resorts will continue to use the range between off-peak and peak redemption rates for booking through the end of 2022. 
This means there will still be a minimum and a maximum amount of points guests will need to redeem for a free night in 2022. However, starting in 2023, those limits will be removed and prices will go up and down on a daily basis to reflect current room rates.
For guests who like to save their Marriott Bonvoy points to redeem at high-category (read: expensive) properties, this is bad news as those nights are most likely going to become much more expensive — especially during popular travel periods.
If you can plan ahead, it's worth booking some nights at the current award rates.
Current Award Chart
You can book the following rates until March 2022 (the exact date has not been announced yet).
| Category | Off-Peak | Standard | Peak |
| --- | --- | --- | --- |
| 1 | 5,000 | 7,500 | 10,000 |
| 2 | 10,000 | 12,500 | 15,000 |
| 3 | 15,000 | 17,500 | 20,000 |
| 4 | 20,000 | 25,000 | 30,000 |
| 5 | 30,000 | 35,000 | 40,000 |
| 6 | 40,000 | 50,000 | 60,000 |
| 7 | 50,000 | 60,000 | 70,000 |
| 8 | 70,000 | 85,000 | 100,000 |
Hot Tip: Want to get the best value for your Marriott Bonvoy points before these changes happen? We detail the best Marriott hotels and resorts to book with points for maximum value.
Good News vs. Bad News
These changes are obviously bad news for most travelers — and especially for those who like to maximize their points at high-end properties. But, Marriott Bonvoy did try to balance out the negatives by mixing in some positive developments.
The chain announced that elite status will be extended through February 2023, and points expiration has been paused until December 31, 2022. However, if there has been no account activity in the previous 24 months, points will expire immediately after that.
Guests with free night certificates earned with certain Marriott co-branded credit cards will now have until June 30, 2022, to redeem them.
But that's not the only good news when it comes to Free Night Awards — more on that below.
Free Night Award Certificates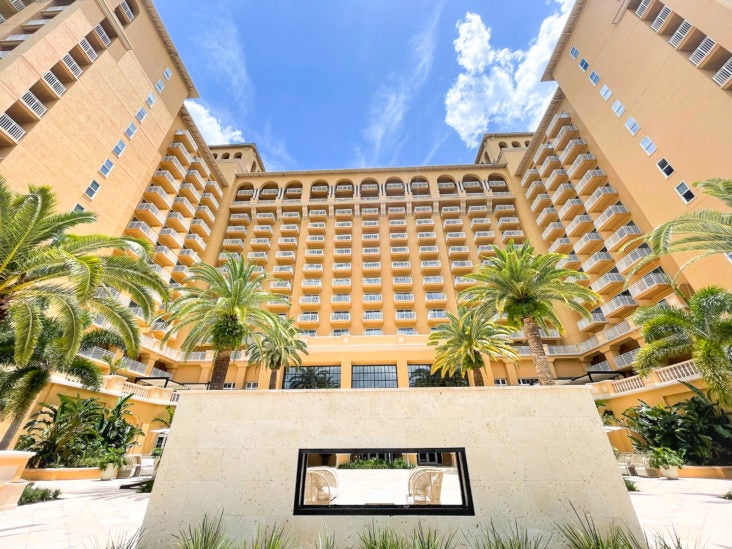 If you have a Free Night Award certificate, starting in early 2022, you can add up to 15,000 Marriott Bonvoy points to it in order to redeem it at a more expensive property.
The Marriott Bonvoy Boundless® Credit Card is a popular card, but the annual Free Night Award (up to 35,000 points) can be difficult to redeem. Soon, guests will have the option to upgrade it and then and redeem it somewhere nicer, like The Ritz-Carlton Orlando, Grande Lakes.
We're still waiting to hear about how this will impact travel packages.
Important Dates
The most important date to put in your calendar is actually unknown at the moment. All we know is that sometime in March 2022 the Marriott Bonvoy award chart will go away.
For the rest of 2022, most hotels are expected to continue pricing award nights within the bounds of the peak and off-peak limits, but they won't be fixed award rates. Starting in 2023, however, award prices will be known as Flexible Point Redemption Rates and will be more closely aligned with the cash rate of the hotel night.
Final Thoughts
At the end of the day, this is bad news for guests who like to book Marriott properties with points.
While there will certainly be rates in the future that are close to what we know now as "off-peak," it wouldn't be a surprise if they are a rarity.
For travelers who like to get the most value out of their Marriott Bonvoy points at aspirational properties or during busy times like sporting events, Spring Break, or holidays, Marriott Bonvoy's move to dynamic award pricing means stays are going to get more expensive.
Although the new changes to Free Night Award certificates are nice, they're overshadowed by this devaluation.
Dynamic pricing is making its way through the travel industry — now's the time to start booking any properties you've been holding out on!