The Ritz-Carlton Orlando, Grande Lakes [In-Depth Review]
As part of a recent family vacation to Orlando, I decided to book a couple of nights at The Ritz-Carlton Orlando, Grande Lakes.
After a couple of days at the theme parks in the infamous Florida summer heat, my wife and kids were looking forward to some relaxing time by the pool.
When it comes to luxury hotels that can be booked with points from the major chains in the Orlando area, there aren't too many options. There is the JW Marriott Orlando, Grande Lakes (right next door), JW Marriott Orlando Bonnet Creek Resort & Spa, and Hilton has the Waldorf Astoria in Bonnet Creek, but that's about it.
Hyatt has some Hyatt Regency locations which are nice and IHG has a bunch of Holiday Inn properties, but for luxury on points, The Ritz-Carlton Orlando, Grande Lakes is your best option.
So it's clear that paying with Marriott Bonvoy points was one of the booking factors for me, however, The Ritz-Carlton Orlando, Grande Lakes is also a Virtuoso hotel, which means that if you are going to pay cash, you can get some extra benefits as well.
For the sake of this review, I booked 1 night with points and the other on a Virtuoso rate to get both experiences.
Let's take a look at how my 2-night family vacation at The Ritz-Carlton Orlando, Grande Lakes went.
Hotel Location
The 582-room Ritz-Carlton Orlando, Grande Lakes is a large luxury resort that shared a campus with a convention center, The Ritz-Carlton Residences, and a golf course, as well as the JW Marriott Orlando, Grande Lakes and Marriott's Lakeshore Reserve (a Marriott Vacation Club property).
The Grande Lakes area is located on a main, busy road, but it was quite removed from the movement of the theme parks and International Drive.
The resort is located just 11 miles from Orlando International Airport (MCO), so it should be a quick 15-minute drive after you pick up your rental car.
If you are heading to the parks, SeaWorld is only 7 minutes away, Universal Orlando Resort is about a 15-minute drive and Walt Disney World should take about 20 minutes without traffic. The hotel shuttle, included in the resort fee, offers transportation to these parks.
Hot Tip: Whether you are looking for the best place to stay in Orlando for your Disney vacation, how to use your points to visit Disney on the cheap, or how to make your next trip to Disney as "stress-free" as possible, our specialty guides can be a lifesaver. Don't miss our article on the best things to do in Orlando, as well!

Booking
Virtuoso Cash Rate
I had mentioned that I decided to pay cash via Virtuoso for 1 night and pay with points for the other; both were very easy to do and were noted seamlessly by the hotel.
If you're not familiar with Virtuoso, it is basically an online travel agency that helps book luxury hotel properties. The rates are the same as the published rates on the hotel website, you can still earn loyalty points, and you can often get extra benefits.
So if you are going to pay cash and your hotel is available on Virtuoso, it is a no-brainer to book with a Virtuoso agent.
I reached out to Leigh Rowan who works with us here at Upgraded Points and he was able to get me the cheapest available rate (about $415 before taxes and resort fees), but it came with breakfast, a $100 resort credit, and a few other perks.
Hot Tip: If you want to book a Virtuoso rate, feel free to reach out to Leigh at [email protected].
Marriott Bonvoy Points
The Ritz-Carlton Orlando, Grande Lakes is a Category 6 Marriott property which means that you can book a standard room for anywhere between 40,000 and 60,000 Marriott Bonvoy points per night.
For the night that I needed, rates were 50,000 per night, so I used my annual 50k certificate that comes with my Marriott Bonvoy Brilliant™ American Express® card.
Unfortunately, Marriott still charges taxes and resort fees on award stays (unlike Hilton and Hyatt), so even a free night here would still cost at least $50 even without parking a car.
Here were the other available award rates for the night of our stay:
Newly Renovated, Guest room, 2 Queen — 50,000 points (what I booked)
Newly Renovated, Guest room, 2 Queen — $190 + 25,000 points (Cash + Points Redemption)
Newly Renovated, Guest room, 1 King — 50,000 points
Newly Renovated, Guest room, 1 King — $190 + 25,000 points (Cash + Points Redemption)
Newly Renovated, Guest room, 2 Queen, Lake view — 60,000 points
Newly Renovated, Guest room, 2 Queen, Lake view — $50 + 50,000 points (Cash + Points Redemption)
Newly Renovated, Guest room, 1 King, Lake view — 60,000 points
Newly Renovated, Guest room, 1 King, Lake view — $50 + 50,000 points (Cash + Points Redemption)
Newly Renovated, Guest room, 1 King, Lakefront — 70,000 points
Newly Renovated, Guest room, 1 King, Lakefront — $100 + 50,000 points (Cash + Points Redemption)
Newly Renovated, Executive Suite, 1 King, Bathrooms: 1.5, Lakefront — 110,000 points
Newly Renovated, Executive Suite, 1 King, Bathrooms: 1.5, Lakefront — $300 + 50,000 points (Cash + Points Redemption)
Checking In
The Ritz-Carlton Orlando, Grande Lakes was located on Central Florida Parkway, but most of the time the GPS had us arriving via S. John Young Parkway (State Road 423), which is a busy 6-lane surface road.
If you are arriving via Central Florida Parkway you will see a big sign for the Grande Lakes complex, however, there were no signs if you were arriving via S. John Young Parkway, so keep an eye on your navigation.
Once you pull off the main road, you will follow signs to The Ritz-Carlton and make your way past stunning water features along a charming stone driveway up to the main building.
The hotel itself is rather unassuming from the front with its yellow façade, and you may not notice much difference from other hotels in the central Florida area.
However, as you get closer, the details, amount of marble, and, of course, the cars valeted out front quickly let you know you are at a luxury destination.
There is no self-parking available and valet parking is $40 per night, plus tax. Keep in mind that there is no parking garage, so your car will be in the Florida sun — so make sure your kids don't leave any chocolate in the back seat!
Walking into the lobby you can clearly see the Italian inspiration with the grand columns and gorgeous marble work. The lobby is large, comfortable, and impressive.
The subtle cream colors are both calming and cooling and were both a welcome escape from the Florida summer.
The main lobby had a concierge desk on the left, and the front desk on the right, with some couches in the middle.
In the right side corner of the lobby, there was an extremely charming "ritz kids check-in" where our little guests hung out while I got our room keys.
Straight through the main entrance was The Lobby Lounge that stretches almost the entire width of the main floor and overlooks the entrance to the pool area.
My family and I arrived around 1 p.m. and the lobby was pretty quiet with only 1 other party checking in at the same time. The valet quickly unloaded our car and told us that our bags would meet us in the room.
The check-in process was smooth and polished (as most things were at the hotel), the front desk agent thanked me for my loyalty, acknowledged the 2 separate reservations, and said we could stay in the same room for the entire stay.
Without asking, the agent told me that we had been upgraded to a room with a lake view, which represented a 1 level upgrade — which we were more than happy with!
Elite Benefits
As a Marriott Bonvoy Gold member, there really aren't many perks to look forward to besides the 500 welcome points and enhanced internet.
Of course, having status didn't hurt when it came time to get a small upgrade, but I credit that to the Virtuoso rate.
Virtuoso Amenities
The Virtuoso rate for The Ritz-Carlton Orlando, Grande Lakes came with a list of benefits, and we received them all.
The Virtuoso amenities included:
Room upgrade
Daily breakfast for 2 people in the restaurant (this was processed as an $80 credit)
$100 resort credit
Early check-in and late checkout
Free Wi-Fi
Room Upgrade
As I touched on above, we received an upgrade from a newly renovated standard room with 2 queen beds, to the same room, but with a lake view.
This was a 1 level upgrade, and if you were to book it directly, it would have cost an extra $50 or 10,000 Marriott Bonvoy points.
The upgraded view was much appreciated because that meant we now had views of the pool area, kids' splash zone, and the Walt Disney World fireworks in the evening!
Welcome Amenity
A nice, unexpected, surprise was the delivery of a welcome amenity to our room on the first night.
Room service delivered a beautiful fruit bowl and a handwritten note from the area general manager thanking me for my brand loyalty, which was a nice touch.
Resort Fee
All guests, regardless of the rate booked, are subject to a daily $40 resort fee.
The daily resort fee at The Ritz-Carlton, Grande Lakes includes:
Enhanced in-room internet (but not the premium internet that Marriott Bonvoy members receive)
Mountain bike rental from Grande Lakes Sports
Driving range privileges
2 pool floats from the JW Marriott lazy river next door
Shuttle transportation to SeaWorld, Walt Disney World, and Universal Orlando Resort
Fitness center class for 2 guests
1 hour of tennis court access for 2 guests
Access to the PressReader app
Complimentary amuse-bouche at Highball & Harvest for Marriott Bonvoy Elite members
Late Checkout
Checkout is normally 11 a.m.; I was asked at check-in if we needed anything later and I requested a noon checkout, which was easily accommodated.
Amenities
The main reason I chose this hotel for my family's final days in Orlando was due to its great amenities and the famous Ritz-Carlton level of service and luxury.
We were certainly looking for some low-key days by the pool and options for good dining without having to leave the property if we didn't want to.
After only 2 days at the resort, I can easily say that the amenities at The Ritz-Carlton Orlando, Grande Lakes are excellent whether you are visiting with kids or on an adults-only getaway.
Here is an overview of the most-used amenities:
Valet Parking
As I mentioned previously, there is no self-parking, so valet was our only option.
At $40 per night, the fee is pretty similar to most full-service hotels in the Orlando area.
Wireless Internet
Wireless internet was free and easy to connect to throughout the resort. My family and I had no problems surfing the internet and posting on social media while hanging out by the pool.
In the room, Marriott Bonvoy Elite members can select Premium Internet (which normally costs $20 per day) for free. The Premium Internet was really fast, consistently providing over 150 Mbps during our stay.
Hot Tip: If you want the Premium Internet, be sure to scroll down to the bottom of the login page to select it. Otherwise, it is likely you will select the standard internet speed and then need to go through a process to get your device to reset the connection and select again. 
Ritz Kids
One thing that my family learned is that when The Ritz does something, they do it well. And that was perfectly highlighted at the kids club, Ritz Kids.
During our stay, Ritz Kids was open from 10 a.m. until 11:30 a.m. for an "open house" and then kids ages 4 to 12 could participate in structured activities from 12 p.m. until 3 p.m.
The afternoon session is a drop-off program and reservations are required. There were no spots left for my daughter on the day we tried to bring her. We did, however, swing by for the open house, which was excellent.
Ritz Kids is located on the bottom floor of the hotel near the pool area.
Inside, kids can play with a variety of toys, books, video games, and more.
But the real attractions are the animals, including 2 rabbits who enjoyed a good ear scratch.
As well as some other reptiles like turtles and lizards.
Outside there was a chicken coop and some space to run around.
Of the many hotel kids clubs that I have brought my little ones to, this was one of the best due to the quality and variety of the entertainment and educational aspects.
Fitness Center
The Ritz shares a campus with the 934-room JW Marriott Orlando, Grande Lakes, and both hotels share the same gym and spa.
That means that there was only 1 gym for over 1,500 rooms.
Although the gym was a decent size, it was quite busy both mornings that I worked out. I can only imagine how busy it gets when both hotels are at full occupancy. I had to come back in the afternoon to get some pictures without too many people in them.
That being said, the equipment was all top-notch and appeared to be quite new.
The good news — there was a Peloton bike. The bad news — there was only 1 Peloton bike.
Pet-Friendly
The Ritz-Carlton Orlando, Grande Lakes was a pet-friendly hotel. Guests could bring dogs or cats that are less than 40 pounds but must make a reservation in advance.
There was a $150 non-refundable fee for up to 2 pets per room.
Theme Park Shuttle
Guests who wanted to visit the theme parks could make a reservation for the hotel shuttle which went back and forth to SeaWorld, Universal Orlando, and all Walt Disney World parks.
The shuttle was at no additional cost as it was built into the daily resort fee.
Pools
Guests at The Ritz-Carlton Orlando, Grande Lakes have access to 3 different pools: the main resort pool, a lap pool at the spa, and the lazy river at the JW Marriott Orlando, Grande Lakes next door.
Resort Pool
The resort pool was where we spent most of our time because it was the nicest and most relaxing. There was a nice mix of families with well-behaved kids and adults enjoying themselves.
When we arrived at the pool, one of the attendants (who actually felt like pool chair concierges) greeted us, asked us what we were looking for in a pool chair location, and then escorted us to one of the available options before preparing our chairs with towels and umbrellas.
While some people preferred to be more secluded, we requested chairs closer to the water and stairs so that we could easily keep an eye on the kids. As expected, the attendant found us the perfect spot each day.
Once we got settled, we ordered food and drinks from our waiter from Bleu, the poolside restaurant.
There was also a pool shack with assorted pool accessories and ice cream for sale.
One of the nice perks of the pool at The Ritz is the complimentary sunscreen and bottled water — which can represent huge savings for families.
Splash Pad
For kids looking for a playground and a splash pad, there was an excellent one located right near the main pool.
Parents will like the fact that it is enclosed and there are some day beds that can be used for no charge (unlike those by the pool that need to be reserved).
The splash pad area had a soft floor with water spouts and the surrounding synthetic grass was even softer and bouncier.
Additionally, there was a large play structure which was quickly approved by my kids.
Lazy River
If you are looking for a little entertainment, grab the kids and take the 4-minute walk along the lake to the JW Marriott to use the lazy river.
As part of the resort fee, we borrowed 2 pool floats to use to float around the pool.
The lazy river itself was very nice, however, the pool was quite busy (remember, the hotel has over 900 rooms) with a few groups of rowdy guests.
After a few laps, we decided to head back to The Ritz which was a more relaxing atmosphere.
Cabanas
For guests looking for a little extra relaxation and luxury while hanging by the pool, there were cabanas available for rent.
With 3 different cabana sizes, guests can enjoy:
Butler service
Cooling fans
HDTV
Refrigerator
Snacks
Security safe
If you have some extra cash, this is a nice place to relax. Prices start at $450 per day and go up based on dates.
Spa
The 40,000 square foot spa was located in its own building in between The Ritz and the JW Marriott. This was also where I (finally) found the fitness center.
With 40 treatment rooms, a full salon, and a barbershop, if you are looking to get pampered, this is the place to be.
Get some exercise in the lap pool and then eat a healthy meal at Vitale to really cap off your day of wellness.
Sports
Grande Lakes Sports
Grande Lakes Sports is an outdoor activities program located on the lower floor of the property near Ritz Kids.
Guests can rent kayaks, go fishing, and even try out some falconry on-site for a small fee.
Mountain bike rentals were included in the resort fee, but since there were no bicycle options for kids, we didn't get to try them out.
Golf
Florida is known for many things, and one of them is the spectacular golf courses.
Guests staying at The Ritz have an 18-hole championship golf course right outside their door. The course was designed by Greg Norman and features a clubhouse, restaurant, and lessons for both adults and kids.
As part of the resort fee, guests can use the driving range for no extra charge.
Tennis
Guests looking to play some tennis while at the resort can use the courts for 1 hour per day as part of the resort fee.
Additional time, lessons, and clinics are available for an extra cost.
Bocce
Families looking to have some fun on the bocce court will find 2 beautiful options behind the pool area heading towards the JW Marriott Orlando, Grande Lakes.
There are also 2 free cabanas to relax in while you play, and they were both empty when we passed by during our stay.
This is a nice place to hang at the end of the day while family members get ready for dinner.
COVID-19 Protocols
Despite COVID-19 cases increasing in Florida, you won't find many precautions throughout the state. That being said, The Ritz did feel safer than the other hotels we visited on our trip.
Most of the hand sanitizing stations were full, which was a rarity on our travels throughout Orlando.
While masks were not required indoors, there was a fair number of staff and guests who wore them when near others.
This was also the only hotel that we visited that had masks available upon request. In fact, if guests needed more than 1, the hotel would provide a Wellness Kit that included:
Hand sanitizer
Disinfecting wipes
Face masks
The Room
As mentioned above, I received an upgrade to a Newly Renovated, Guest room, 2 Queen, Lake view.
While the size and footprint of the room were the same, the upgraded room had great views of the pool area and even the evening fireworks from the theme parks.
I was assigned room 460, which was located at the end of the hallway on the fourth floor.
The room was listed on the website as 480 square feet (45 square meters) and was certainly roomy enough to spread out a bit as a family of 4 for 2 nights.
Upon walking into the room, there was a small (yet very convenient) key shelf on the wall with 2 bottles of water waiting.
On the right side was a large bathroom.
Across from the bathroom was a large closet that easily accommodated 4 large suitcases.
Bedroom
The guestrooms had been recently renovated and it shows. The room was modern and classy with multiple shades of white, cream, and brown.
The 2 queen beds were comfortable and the sheets were very soft, but the pillow top on the mattress was a bit too soft for my liking. I like a soft bed, but my wife and I sunk so much that we were barely laying flat.
The room featured a massive 65-inch television with a minibar and Nespresso machine underneath.
There was also a decent-sized desk and lamp which was comfortable enough for working and serving the kids some snacks during our stay.
In the corner, there was a very comfortable reading chair and lamp that more than one of us fell asleep in!
Balcony
Off the back of the bedroom were big sliding doors that led to a very nice balcony overlooking the pool and splash pad area.
The balcony had 2 chairs and a table and would be a nice place to relax if the weather hadn't been so hot. Ultimately, with kids and chairs, it didn't feel safe enough to enjoy anyways.
Bathroom
The bathroom had a nice combination of white marble and wood features, which gave off a very clean vibe — even though it wasn't (more on that below).
Double sinks are always welcome when sharing a room with 3 other people.
There was a separate shower and tub, and although we normally use the tub for the kids, the shower did a good job thanks to the separate showerhead and handle.
Amenities were provided by Asprey and were of great quality.
Cleanliness
As perfect as the rest of the resort was for us, unfortunately, there was a relatively simple, but ultimately frustrating housekeeping issue.
When we checked in to the room, it was very clear that the floor had not been swept or vacuumed properly. There was an unacceptable amount of hair and dirt throughout the entire room.
I have worked in housekeeping and at the front desk of hotels, so I know very well that a stray hair here or there can happen. This was more than that.
On top of that, there were used amenities in a drawer and a big coffee stain in the middle of the room, which honestly wasn't a big deal by comparison.
Since we had arrived early, I stopped by the front desk and asked to have housekeeping visit the room while we were at the pool.  I was assured they would be sent right up — 4 hours later when we returned to the room, it had still not been serviced.
So when we were going out to dinner, I stopped by the desk again to request service. I wasn't upset, nor did I ask for anything, but the manager apologized profusely and proactively credited me 20,000 Marriot Bonvoy points. Great service recovery, right? Meh.
When we got back to the room at 11 p.m., housekeeping still hadn't visited the room. I called the front desk, simply to let them know that their/my request hadn't been fulfilled, that I wasn't looking for anything else, nor did I want housekeeping to come to the room that evening.
The agent again took full responsibility, apologized, and said she would "make a note for the executives."
At this point, my wife and I had spent enough energy trying to get housekeeping to clean the floor, so we just pushed all the gross stuff off the side and enjoyed the rest of our stay without mentioning it again to the desk.
The following day, which was technically a new reservation, housekeeping did provide turndown service but did not touch the floors.
Again, something simple, but left us with a negative impression because it wasn't handled properly.
Food and Beverage
Like almost everything at The Ritz-Carlton Orlando, Grande Lakes, the dining options were excellent.
Whether you want something light and easy by the pool or a fine dining sit-down dinner in the restaurant, the hotel has plenty of options.
Knife & Spoon
Knife & Spoon was the hotel's signature steak & seafood restaurant led by award-winning Chef John Tesar.
The menu looked delicious (and cheaper than my meal at the Bull & Bear at the Waldorf Astoria Bonnet Creek), but with 2 young kids in tow, we opted for more casual dining options.
Highball & Harvest
Highball & Harvest is a "rustic & refined" dining experience that serves breakfast, lunch, and dinner, and this is where my family and I ate twice during our brief stay.
The restaurant had a relaxed vibe with plenty of comfortable seating, a shuffleboard table, pool tables, and a gorgeous bar with an impressive cocktail list.
Highball & Harvest was open daily for breakfast from 7 a.m. until 11 a.m., lunch from 11:30 a.m. until 4 p.m., bar bites from 4 p.m. until 5:30 p.m., and dinner from 5:30 p.m. until 10 p.m., and digital menus were available.
Breakfast
As part of the Virtuoso rate, the included breakfast was at Highball & Harvest. The amenity is listed as "breakfast for 2 guests per room," but in practice, it shows up as an $80 credit.
For my family's breakfast, we each ordered à la carte instead of the buffet as the breakfast menu was quite tempting. The bill came to about $120 before the $80 credit.
Before ordering, I did check out the buffet — and it was pretty good-looking, but ultimately nothing special.
There were fresh pancakes,
bacon and eggs,
donuts,
and plenty of fruit, cereal, yogurt, and an omelet bar. The breakfast buffet was $15 for kids and $30 for adults. 
As nice as the buffet looked, once I saw "Red Velvet Chicken Waffle" on the menu, there was no way that I could order anything else — and I was not disappointed with my decision.
Dinner
Since we spent most of our day by the pool, we didn't have time for lunch at Highball & Harvest, however, we did stop in for some appetizers from the dinner menu.
We ordered the kids some chicken fingers to hold them over until our reservation at Disney Springs, and my wife and I shared the H&H Loaded Fries, which may have been the greatest value at the Ritz-Carlton Orlando, Grande Lakes. For only $9 we received a huge plate of curly fries covered in duck confit — and it was delicious.
Bleu
Bleu is an open-air, poolside restaurant that serves burgers, sandwiches, light meals, and cold drinks during the day.
This is also the restaurant that served guests who order from the pool.
During our 2 days at the pool, we ordered some delicious dishes, including the Vegetable Grain Bowl with Grilled Chicken.
And of course, some frozen beverages to keep cool.
Bleu was open daily from 11 a.m. until 4 p.m., and a digital menu was available.
Vitale, Spa Café
Vitale, Spa Café is an outdoor cafe located in the spa building offering healthy bites, including salads, power bowls, and smoothies.
Unfortunately, I wasn't eating very healthy during this trip, so I didn't make a point to stop by for a meal.
Vitale, Spa Cafe was open daily from 11 a.m. until 4 p.m., and a digital menu was available.
Fairways Pub
Fairways Pub is a clubhouse restaurant with views of the 18th hole on the hotel's golf course.
With "inspired clubhouse fare" and plenty of beer options, this is a great spot to hang after hitting the links.
Fairways Pub was open daily from 11 a.m. until 6 p.m., and a digital menu was available.
The Lobby Lounge
The Lobby Lounge is The Ritz's version of the standard hotel lobby bar.
With a solarium to enjoy the views during the day, and a stunning bar to hang at in the evenings, having a couple of cocktails and something from the raw bar is a good idea.
The Lobby Lounge was open Monday to Thursday from 4 p.m. until 12 a.m., Friday and Saturday from 11 p.m. until 1 a.m., and Sunday from 12 p.m. until 12 a.m., and a digital menu was available.
First Drop
First Drop is the lobby cafe and should not be missed if you are a coffee lover.
With locally roasted coffee, handcrafted drinks, smoothies, pastries, sandwiches, desserts, and more, this is a great spot to grab a quick breakfast or snack.
First Drop was open daily from 6 a.m. until 7 p.m.
Additional Dining Options
The restaurants listed here were the options on The Ritz-Carlton side of the resort; there are additional restaurants next door at the JW Marriott Orlando, Grande Lakes.
Between the 2 hotels, there are 10 dining options, not including room service.
Service
Taking away the housekeeping hiccup, the service at The Ritz-Carlton Orlando, Grande Lakes was impeccable.
From the moment we arrived and valeted our car, to the pool where we had (what felt like) a lounge chair concierge, every interaction that we had with the staff was impressive.
Despite an obvious employee shortage, service never felt rushed or lacking and our needs were almost always proactively met.
The Ritz-Carlton brand charges a premium price for a more luxurious guest experience, and the service aspect is a very large part of that experience.
Final Thoughts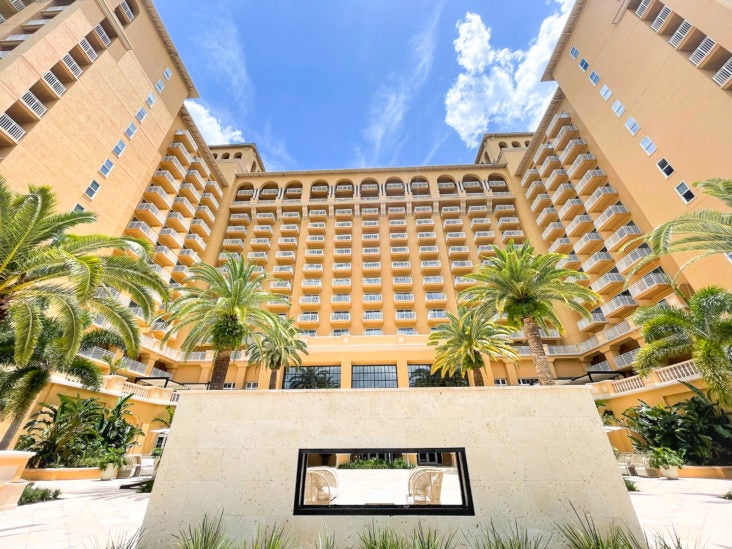 Overall, our stay at The Ritz-Carlton Orlando, Grande Lakes was excellent, and my family and I really enjoyed spending our final days in Florida at this luxury resort.
The property is beautiful and has everything that you could need without having to leave if you didn't want to. The main pool is a great place to relax and hang out, but if you want a little more activity, the JW Marriott Orlando, Grande Lakes is just a quick walk away.
With great dining, renovated rooms, top-notch service, and plenty of activities for kids, The Ritz doesn't offer much to complain about.
Yes, rates can get expensive, and resort fees are a bummer, but being able to pay with Marriott Bonvoy points or booking with Virtuoso can help you get some extra value out of your reservation.
If it wasn't for the dirty room and lack of follow-up, this would have been a perfect stay. That being said, I would not hesitate for one moment about staying at The Ritz-Carlton Orlando, Grande Lakes again in the future.
If you have any questions about this resort, let me know in the comments!