How To Book Luxury Virtuoso Hotels Online – Get Free Upgrades & Perks at Luxury Properties
If you're a deal-seeker and you're always trying to get extra benefits for your travel, particularly at luxury hotels, then you've probably come across Virtuoso at some point.
And while you might think you need to have some special connections to access a Virtuoso travel advisor, it's actually super easy to make Virtuoso bookings online!
In this guide, we'll walk you through what you need to know to make Virtuoso bookings completely online!
What You Need To Know About Virtuoso
What Is Virtuoso?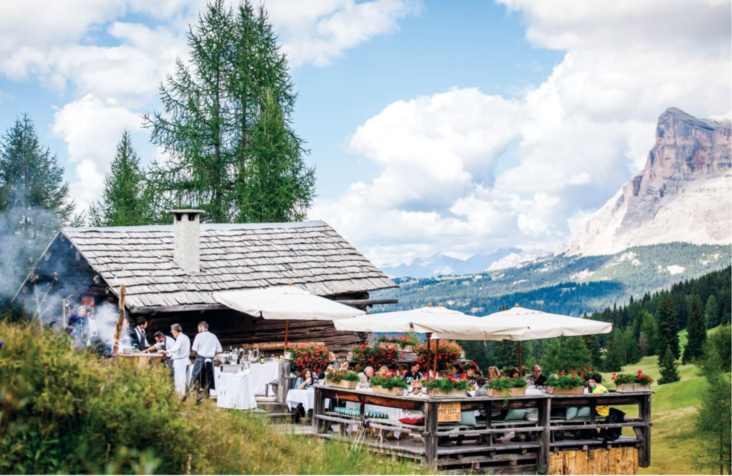 Virtuoso is the world's largest luxury travel consortium. Basically, Virtuoso connects thousands of travel agencies worldwide and offers a set of exclusive benefits to each member agency.
In turn, anybody who makes Virtuoso bookings through these member agencies or travel advisors enjoys value-added benefits that might not be available anywhere else.
In doing so, these member agents can more easily convert potential travelers by offering benefits without any additional costs.
Virtuoso Travel Benefits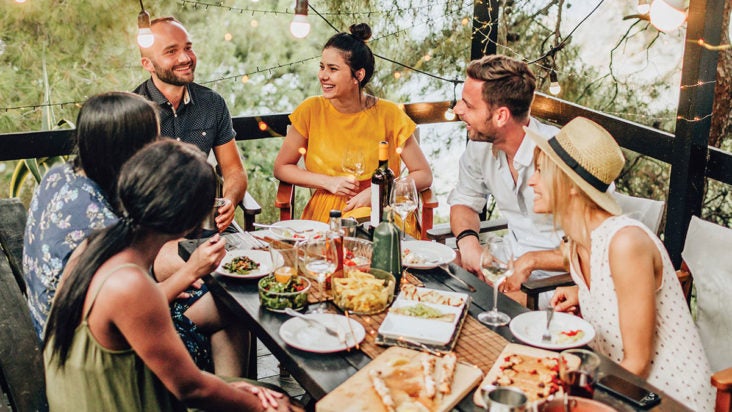 When you book Virtuoso hotel stays through a travel advisor or a member agency, you will almost always receive the following benefits:
Daily breakfast for 2 guests per room
Room upgrade (subject to availability)
Early check-in (subject to availability)
Late checkout (subject to availability)
A special amenity like a $100 property credit or a 60-minute massage
Virtuoso Rates
Normally, if you booked a room rate with breakfast and these benefits directly at a hotel, you'll see a massive mark-up compared to the best available rate.
What makes Virtuoso exceptional is the fact that for the most part, you'll pay the same price as the best available flexible rate when booking directly with the hotel.
This excludes rates like corporate rates, non-refundable/advance purchase rates, promotional rates, and more.
Virtuoso often gets compared to Amex Fine Hotels & Resorts, but in most situations, Virtuoso rates are cheaper than Amex Fine Hotels & Resorts rates. There are a few exceptions, but in this section, we'll walk you through a handful of example rates.
For example, let's take a booking at The Ritz-Carlton, Kapalua in Maui, Hawaii. If we perform the same search on Virtuoso and Amex Fine Hotels & Resorts, you might see a discrepancy.


Virtuoso is showing $2,133 per night as the cheapest available rate, while Amex Fine Hotels & Resorts is showing $2,245 per night for the stay.
And if you pivot your search to the Maldives, you might find an even larger rate parity.
The Gili Lankanfushi in the Maldives would price out at $1,299 per night, while Amex Fine Hotels & Resorts would charge $1,624 per night.


However, there are a few rare instances in which Amex Fine Hotels & Resorts ends up being cheaper than Virtuoso rates.
If you look at the example booking at Conrad Maldives Rangali Island below, the Virtuoso rate is quoted at $931 per night, while the Amex Fine Hotels & Resorts rate is $791 per night.


The reason why this can happen is that American Express maintains a list of special offers that include benefits like a complimentary sixth night (as shown in the Conrad Maldives example).
Because these special offers are exclusive to Amex Fine Hotels & Resorts bookings, Virtuoso wouldn't have access to this same offer.
Be careful, though — just because Amex has a special offer at a property doesn't mean it'll always end up being cheaper.
For example, the Taj Exotica Resort & Spa in the Maldives is showing as cheaper at Virtuoso ($1,025 per night) even though Amex Fine Hotels & Resorts is showing a complimentary fourth-night free benefit ($1,133 per night).


Bottom Line: You can enjoy Virtuoso benefits with the best available flexible rate. This is often significantly cheaper than Amex Fine Hotels & Resorts. In general, Virtuoso matches or beats Amex Fine Hotels & Resorts except in some select situations where Amex has a special offer such as a complimentary night free on a multi-night stay.
Fees To Use Virtuoso
There are usually no fees to book Virtuoso rates. As long as you book the same rate as the best flexible rate offered when booking directly with the hotel, you can enjoy Virtuoso benefits.
In some cases, travel advisors may charge an extra fee, but this is not a requirement across the board.
Travel advisors receive a small commission for these bookings, which is why they can usually assist for free.
Virtuoso Hotels and Properties
So which properties fall into the Virtuoso umbrella? The good news is that almost all luxury hotels are partnered with Virtuoso. This includes:
Belmond
Jumeirah Hotels & Resorts
The Peninsula Hotels
Rocco Forte Hotels
Shangri-La Hotels and Resorts
Soneva
Viceroy Hotels & Resorts
And much more!
Remember, Virtuoso's portfolio also includes smaller boutique hotels around the world. You can also view the full hotel catalog.
Earning Points on Virtuoso Bookings
When you book Virtuoso rates, it's as if you're booking directly with the property, so all your bookings will still be considered as eligible rates to earn points, elite nights, and even elite status benefits.
For example, if you use the Chase Sapphire Preferred® Card to book a Virtuoso stay, you'll receive 2x Ultimate Rewards points per dollar.
Similarly, if book a stay at The Ritz-Carlton using a Marriott Bonvoy credit card like the Marriott Bonvoy Business™ American Express® Card, you'll get 6x Marriott points per dollar on your spending.
How To Book Virtuoso Travel Online
Generally, most people think that Virtuoso rates are booked with an advisor over the phone or via email. And while it's true that many bookings are done this way, the reality is that you can make this even simpler by booking online through Virtuoso.com.
You can search for hotel rates completely online without designating an advisor at all. However, to actually book your stay, you'll need to first choose your Virtuoso travel advisor – we recommend Leigh Rowan, a member of the UP team and one of the best in the business.
To find an advisor, you can visit the advisor catalog. You'll see a window that looks like this, and all you have to do is click Find an Advisor, where you can select specialties based on destination, interest, language, and more.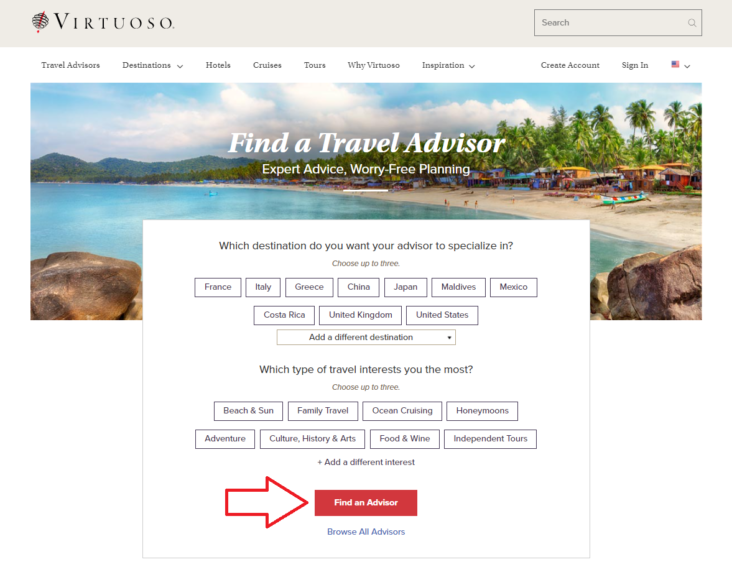 You can also perform a search before entering the advisor's information, but the important thing to remember is that you can't book the stay until you create an account (or log into your account if you already have one) and then select your travel advisor.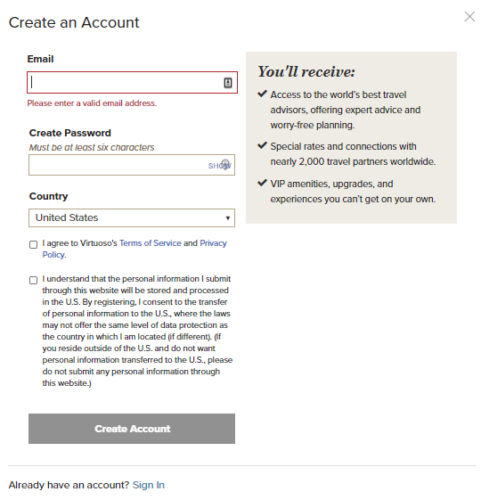 You'll be assigned a default Virtuoso advisor. If you already have a Virtuoso advisor, you can click the button that says Look up your Virtuoso advisor.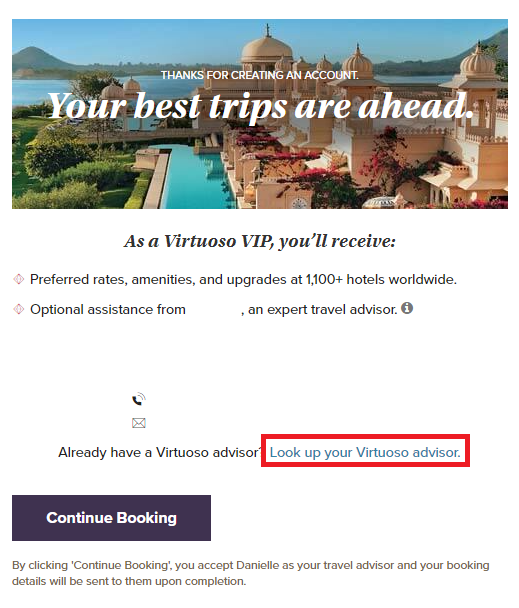 Enter your travel advisor's name, and after the advisor's image and name show up, you can click Continue Booking.
Here's Leigh Rowan's Virtuoso profile from our team below: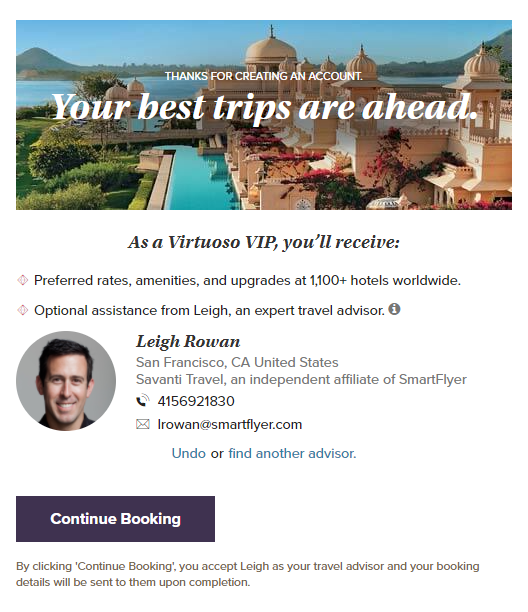 Before your stay is booked, you can also view the exact amenities you would get at that particular property: 

Then, you will need to select the hotel rate you're booking before getting redirected to the booking page.
When you're there, enter your travel information, payment information, and any special requests.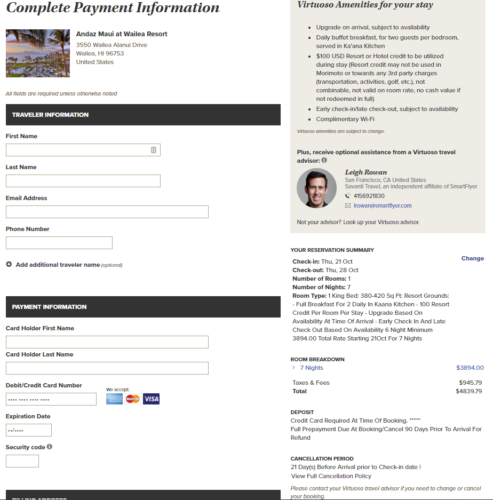 After that, you're ready to go!
Tips To Remember When Booking Virtuoso Travel Online
Remember To Enter Your Loyalty Program Number
When you're making your Virtuoso booking, don't forget to enter your hotel loyalty program number, if applicable. Sometimes, the hotel chain doesn't have a loyalty program, as is the case with Four Seasons.
The box will be titled Hotel Chain Loyalty Program Number and will look like this:

Once you enter your details, you can get the points credited to the proper account and enjoy the proper elite status benefits, as well.
How To Book Multiple Rooms
When it comes to booking multiple rooms, these will need to be done 1 at a time. You can still book multiple rooms at the same time, but you'll need to do this offline with your travel advisor via email or phone.
Prefer 1-1 Service?If you have special requirements or would simply prefer to connect with a travel agent directly — Leigh Rowan, a member of our UP team, can help get you complimentary upgrades, daily breakfast for two, hotel credits, and more (for no extra cost). Contact Leigh for a fast reply at [email protected] for that extra level of service.
You Can't Cancel Your Bookings Via Virtuoso
Any bookings made via Virtuoso can't be canceled online. That's not a big deal because you can call the hotel or reach out to your Virtuoso travel advisor to cancel your booking.
Remember, canceling bookings is not instantaneous unless you go directly to the hotel, so keep that in mind if reaching out to your travel advisor to cancel a reservation.
You Can't Book Same-Day Travel
As you might have seen during the booking process, Virtuoso rates can't be booked for same-day reservations.
If you need to arrange same-day travel, you'll need to utilize a different platform, such as Amex Fine Hotels & Resorts.
Final Thoughts
Virtuoso is one of the world's best luxury travel networks — making bookings through Virtuoso often results in lots of added value in the form of elite-like perks.
One of the biggest myths out there is that you need to get on the phone or send an email to get the booking process started — you don't!
You can book Virtuoso stays online, thanks to a seamless booking portal. Just be sure to create an online account and choose a travel advisor before trying to finalize your booking.