The 15 Best Aman Hotels & Resorts in the World [2021]
When it comes to redeeming points for hotel stays, several hotel loyalty programs typically pop up in our head: Hilton, Marriott, Hyatt, IHG, Wyndham, and even Choice.
And while you can have magnificent luxury stays with the top-tier brands within each hotel company like Hilton's Waldorf Astoria and Marriott's St. Regis, there are other hotel companies out there that take luxury accommodations even further.
Enter Aman. 
Aman Resorts is one of the most exclusive luxury hotel groups in the world. Favored by the ultra-wealthy like Bill Gates and Mark Zuckerberg, Aman Resorts offers all of the opulence of a world-class hotel with none of the crowds.
Founded in 1988, it currently operates 33 properties in 20 countries. Aman Resorts was conceived in Phuket, is headquartered in Singapore, and is owned by a Russian businessman.
In this guide, we'll walk you through just what Aman is all about, how to book stays with points, and the top Aman Resort properties in the world.
What Is Aman?
"Aman" means "peace" in Sanskrit. That alone should provide some indication of what to expect at its properties.
Aman Resorts are typically located in far-flung destinations. Aman properties are all about nature, and as a result, they're typically isolated from everything else and boast a one-of-a-kind location.
One of the biggest parts of the Aman experience is that each property focuses on curating insider access to culture by partnering with locals to offer unique experiences that you otherwise wouldn't be able to have at a large resort.
Also, Aman properties are typically a fraction of the size of a chain hotel. The smallest Aman property, Aman-i-Khas, has exactly 10 rooms (luxury tents in this instance), while the average Aman has around 20 to 30 rooms. In fact, Aman Tokyo, the largest Aman property, has just 84 rooms. This should show you just how exclusive Aman is.
And when you consider that travelers pay $1,000 or more per night to stay at an Aman, you can begin to understand what exactly they're getting.
Bottom Line: Exclusive insider-only experiences, utmost serenity, and an indescribable oozing of pure luxury are what you pay for at Aman. The magnificent hotel rooms are just the icing on the cake.
How To Maximize Aman Stays With Credit Cards
Aman doesn't have an established loyalty program, therefore, it's impossible to earn or redeem points directly.
But worry not, because there are plenty of ways credit cards can snag you tremendous value on Aman stays. Read on for more details.
How To Use Points for Aman Stays
Since Aman doesn't have a loyalty program, the only way to use points for Aman stays is to redeem bank points via their own travel portals or as a statement credit.
In many situations, using a travel portal like the Chase Ultimate Rewards travel portal or Amex Travel makes more sense compared to simply receiving a travel statement credit because of the extra value of your points you'd get.
Usually, redeeming points for statement credits gets you at most 0.7 cents per point in value. But if you book Aman stays through the Chase travel portal, you'd get up to 1.5 cents per Ultimate Rewards point, which is more than double the value!
Chase Ultimate Rewards
You can get a redemption value of 1.5 cents per point if you hold the Chase Sapphire Reserve® Card.
If you don't have the Chase Sapphire Reserve card, you can still get an enhanced value of 1.25 cents per point if you have the Chase Sapphire Preferred® Card, or our preferred Chase business card, the Ink Business Preferred® Credit Card.
Last but not least, you can get a solid value of 1 cent per point if you have the Chase Freedom® card (no longer open to new applicants), or cards like the Chase Freedom Unlimited® card or Ink Business Unlimited® Credit Card.
Citi ThankYou Points
When you use Citi ThankYou Points to book Aman stays through the travel portal, you can get up to 1 cent per point in value as a holder of the Citi Premier℠ Card or the ultra-premium Citi Prestige® Card.
Amex Membership Rewards
With Amex Fine Hotels & Resorts booked through Amex Travel, you'll get a value of 1 cent per Membership Rewards point.
Capital One Miles
With Capital One Miles, you'd redeem miles for Aman stays at a value of 1 cent per mile using the Purchase Eraser feature. Some of the best cards include the Capital One® Venture® Rewards card or the Capital One® VentureOne® Rewards card.
Using Citi's Fourth-Night Free Benefit
Another amazing way to get a discount on Aman stays is to use the Citi Prestige card for 2 reasons:
Complimentary fourth-night hotel stay
Earn 3 points per dollar spent on hotels
While benefit #2 is a great reason, the fourth-night free benefit is an incredible perk for expensive hotels. Why? Because if you book through ThankYou.com, you have the potential to save up to 25% off of your entire stay.
That means that if you book a 4-night Aman stay for $1,500 per night using the fourth-night free benefit, you'd pay $4,500 instead of $6,000!
Book Directly for Exclusive Offers and Packages
Aman has a dedicated page for exclusive offers and packages, and the eligible properties are regularly rotated in and out.
When you visit the page, you'll find various options and themes. Each package includes unique benefits, including daily breakfast, airport transfers, spa treatments, and more.
You might even find entire tour itineraries featuring multi-destination journeys that touch multiple Aman properties.
Book via Virtuoso or Amex Fine Hotels & Resorts
Virtuoso is a global network of agencies specializing in luxury and experiential travel, and all Aman properties partner with Virtuoso. Why does this matter?
Well, if you book a hotel stay through Virtuoso, you get a slew of benefits like daily breakfast, complimentary room upgrades, free internet, a property amenity, and more.
(We recommend contacting Leigh Rowan from our team who can help you score all of the perks and upgrades mentioned above. Leigh's email is [email protected])
On the other hand, American Express offers its Fine Hotels & Resorts that is a group of luxury hotels whose guests enjoy benefits just by booking through Amex.
These benefits include a room upgrade upon arrival (subject to availability), daily breakfast for 2 people, guaranteed 4 p.m. late checkout, noon check-in (subject to availability), complimentary Wi-Fi, and a unique property amenity valued at $100.
With Fine Hotels & Resorts, you'd actually enjoy a guaranteed late checkout, as opposed to Virtuoso's late checkout, which is subject to availability.
You'll definitely want to keep that in mind when you're choosing which provider to use!
The Top 15 Aman Hotels & Resorts in the World
Now that we've provided the context for Aman and the best ways to book Aman properties, either with points or with a paid rate, let's get into the top Aman properties in the world.
This list is highly subjective, but it factors in the property amenities, value, reviews, and much more. Let's get right into it!
1. Amanoi (Vinh Hy Village, Vietnam)
Our top Aman Resort in the world is Amanoi: an oasis in Vietnam overlooking the Eastern Sea and nestled in the hills of the Núi Chúa National Park.
Amanoi is located in Vĩnh Hy in the Ninh Thuan province. It's located just over an hour by drive away from Cam Ranh International Airport (CXR), which serves the coastal city of Nha Trang.
Amanoi possesses a private beach, houses one of the most famous spas in Vietnam offering multi-day wellness immersions, personalized water sports, hiking, cycling adventures, cultural activities, and a thoughtfully crafted seasonal Vietnamese menu.
The standard rooms are pavilions, each with a private wooden deck, sun loungers, and lake, mountain, or ocean views. Each of the rooms starts at 1,022 square feet in space, with contemporary interiors and traditional Vietnamese touches.
In each room, you'll find a luxurious king-sized bed, incredible views, a private sun deck, a bathroom with bathtub, a twin vanity, a separate shower/toilet, a personal bar, a high-end espresso machine, a Bose sound system, and lots of amenities.
The property itself contains a refined sea-view terrace restaurant, a luxe spa, and a full fitness center.
Here's what else is included in your stay:
Return car transfers between Amanoi and Cam Ranh International Airport (CXR)
Breakfast daily
Afternoon tea daily at the main restaurant
Morning wellness classes daily, such as yoga, pilates, fitness, etc.
Complimentary water sports including Hobie cat sailing, stand-up paddleboarding, snorkeling, windsurfing, and kayaking
Complimentary kids' activities including movie nights, arts and crafts, fishing, etc.
Complimentary tennis court usage
What's really special at Amanoi is the experiences you can have, ranging from exploring nearby fishing villages and discovering the Cham people's ancient culture to trekking into hidden coves, to dramatic waterfalls, and into the national park.
The property typically charges around $1,000 to $1,500 per night for a standard-level room, which is the Lake Pavilion. On average, the standard room would cost $1,150 per night.
2. Amanpulo (Palawan, Philippines)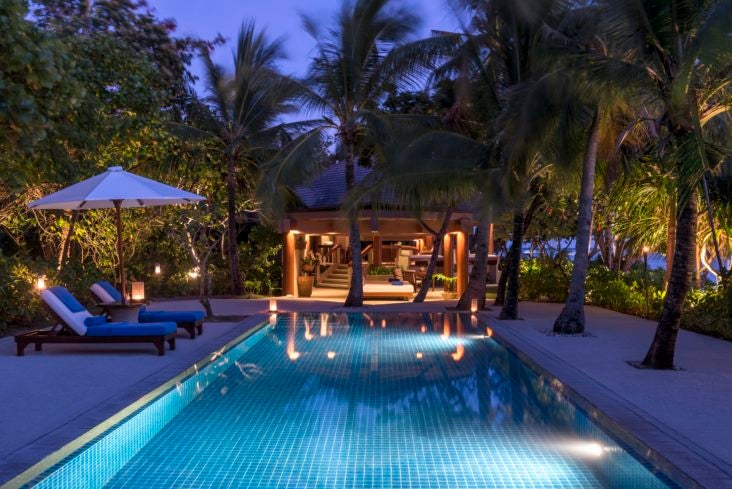 Amanpulo is an incredible resort situated in Palawan, Philippines. The resort itself is accessible only by private plane because it is nestled on its own private island in the Sulu Sea.
This private island-like experience has all the hallmarks of an incredible retreat. Its shores are completely deserted, which makes for a world-class destination for activities. Each of the casitas offers direct beach access via sandy footpaths, and either jaw-dropping views of the Sulu Sea or seclusion within a forest canopy.
Starting at 731-square-feet large, the casitas feature a private deck and large bathroom with Palawan themes like pebble-washed walls and coconut shell tables. Every room has a king bed, and the oversized bathroom has Cebu marble accents, a twin vanity, a bathtub, a separate rain shower, and outside his-and-hers divans.
Plus, enjoy your own Nespresso machine, an intricate sound system, Wi-Fi, a TV, and a personal bar within your room.
At the property, you can enjoy luxurious treatments at the hilltop spa, numerous local and international dining venues, pristine coral reefs and associated marine life, as well as personal electric buggies and bicycles for island exploration!
Amanpulo focuses on water sports like kitesurfing, scuba diving, snorkeling, and kayaking. However, they also have tennis, cycling, birdwatching, and even a jungle obstacle course. You can even book helicopter excursions, sunset cruises, fishing expeditions, and more!
The standard room, the Hillside Casita, runs for around $1,750 per night, but the range can vary from $1,150 to $2,250 per night.
3. Amanbagh (Rajasthan, India)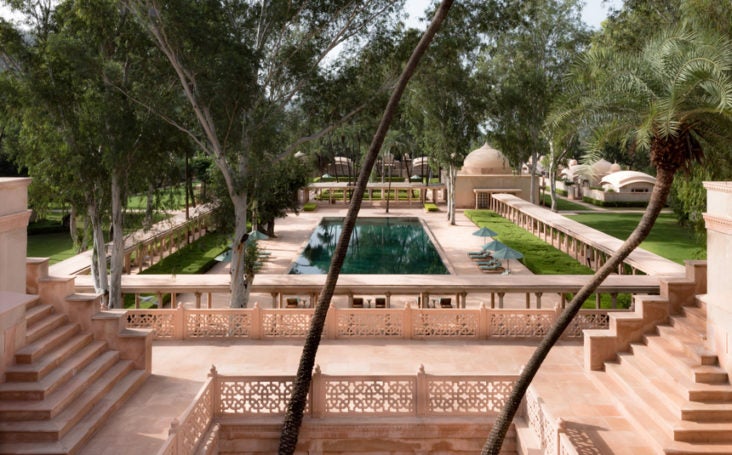 Perhaps there's nothing that defines tranquility quite like Amanbagh. Amanbagh is set in Rajasthan and lies at the foot of Aravalli Hills, just over 1 mile from the ruins of Ajabgarh Fort and around 6 miles from the 17th-century Bhangarh Fort.
When you visit the Amanbagh, you'll feel like you've been transported to an ancient era of incredible history and culture. Nothing is around the property except for abandoned townships and ancient landmarks, villages, forts, temples, and more.
It is truly a paradise in an ancient Indian ghost town. 
Amanbagh is also just a short drive away from the Sariska Tiger Reserve and the temple town of Neelkanth.
Each of the posh suites and pavilions has Wi-Fi, a Udaipur green marble bathroom, a separate living area, a minibar, a terrace, at least 1,345 square feet of space, and a private courtyard with an outdoor dining area. Of course, the bedroom contains a king bed, a luxurious domed ceiling, a daybed, a personal bar, Wi-Fi, air conditioning, and much more.
At the property, you can dine on fresh produce from the 2-acre, organic, in-house garden. Plus, the Aman Spa has open-air yoga pavilions and serene emerald pools, plus a resident Ayurvedic physician offering personalized wellness immersions.
Activities include a visit to the local Meena tribe, a cycling tour to nearby villages, tiger safaris, and much more.
The standard level room is called the Courtyard Haveli Suite, located on the ground floor. These rooms start at $500 per night but can go all the way up to $1,000 per night, with the average being around $650 per night.
Hot Tip: Is traveling to India high on your radar? Check out our guide to the best ways to fly to India with points and miles, including step-by-step instructions!
4. Amanzoe (Kranidi, Greece)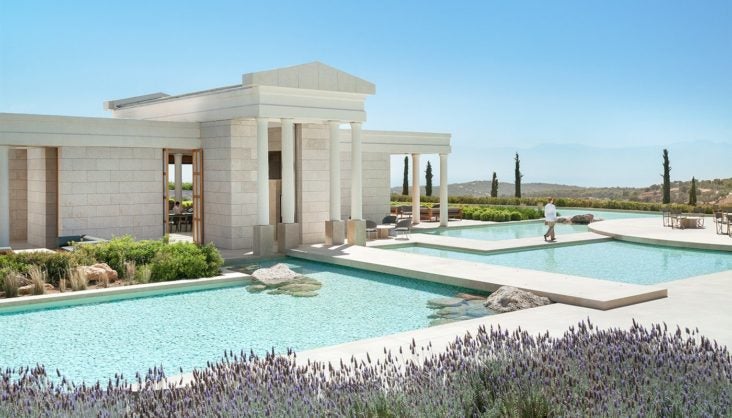 Amanzoe is Aman's homage to Greece. With luxurious furnishings, a quintessential Greek design, and incredible amenities, Amanzoe is probably the best luxury resort in the entire country. Located in Porto Heli in the east Peloponnesian peninsula, Amanzoe is a marble-hewn paradise of relaxation and luxury.
This property lives alongside olive groves with views of the Aegean Sea, but don't worry — the property is just 2 miles from the beach and 6 miles from Franchthi Cave. This property occupies an entire hilltop in addition to having its own private beach.
The rooms begin at 2,260 square feet in size, and each of them has a king-size bed, a gigantic outdoor terrace, a spacious open plan with separate living and sleeping areas, Wi-Fi, a TV, and luxurious amenities.
Regardless of which room you reserve, each of the standalone pavilions has an expansive private terrace and plunge pool.
The lavish resort has multiple eateries (Greek, Japanese, and international), an amphitheater, a yoga studio, a private beach club, and, of course, a luxurious, ~30,000-square-foot spa.
The adventures and experiences at Amanzoe range from cruising the Aegean Sea aboard one of Amanzoe's high-speed watercraft to exploring UNESCO-protected ruins, sampling the region's most famous delicacies, and even learning about the art of beekeeping with a curated outing to the Bairaktaris family apiary!
The average standard room rate is $1,600 per night, but it can range from $1,000 to $3,000 per night. For the entry-level room, you'll want to look for the Pool Pavilion.
5. Amankila (Bali, Indonesia)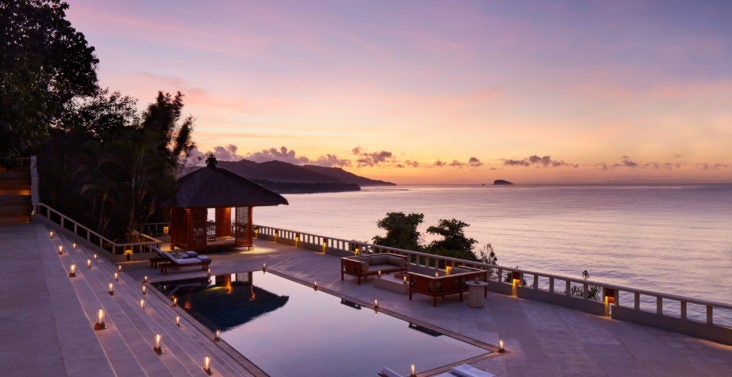 Located in Indrakila, Amankila is a luxurious getaway in Bali with access to black sand beaches and opulent suites overlooking the Lombok Strait.
A spiritual sanctuary located on a lush hillside with freestanding suites and a secluded location, Amankila offers freestanding bungalows, each of which has a terrace, sea views, a 4-poster bed, Wi-Fi, and more.
There are 34 suites in total, each a minimum of 1,011 square feet and designed with privacy and views in mind. The suite contains a king bed, rattan chairs, a coconut shell table, a living area with a writing desk, a window-side divan, a daybed, a beautiful bathroom with dressing areas, a twin vanity, a bathtub, a separate shower/toilet, as well as free Wi-Fi, a coffee machine, and a personal bar.
When you're at the property, you can reserve activities and experiences like cruising, diving, surfing, stand-up paddleboarding, cycling, trekking tours, craft villages, and much, much more.
There's a refined, open-air restaurant, a high-end spa, and a 3-tiered outdoor pool with sea views if you'd like to spend time within the property.
Average standard room rates sit around $750 to $1,000 per night, with the average hovering around $950 per night. If you're looking for a standard room, be sure to book the Garden Suite.
6. Amanjiwo (Borobudur, Indonesia)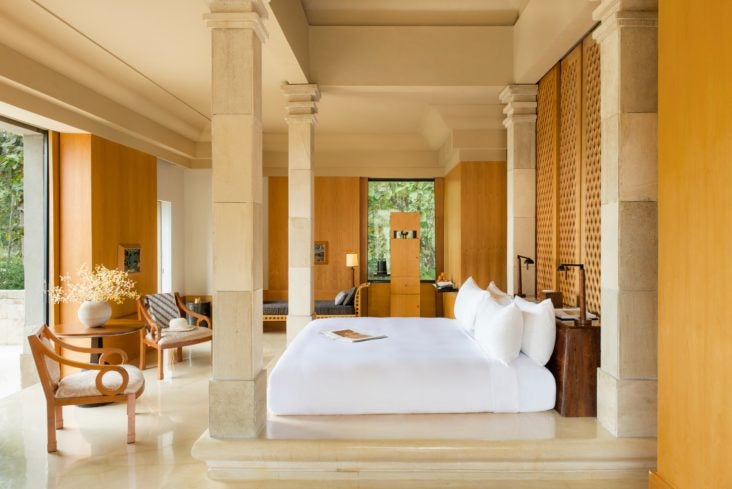 Truly a forest sanctuary in the middle of nowhere, this incredible hotel is closest to Yogyakarta. Amanjiwo is approximately an hour away from Yogyakarta, but its placement among the dense, lush, tropical forests of Java is intentional.
Why? Well, this property focuses on offering a tropical, spiritual escape. It's located a little more than a mile away from UNESCO site Borobudur, which is an iconic 9th-century Buddhist sanctuary.
Each of the awe-inspiring, standalone suites has picturesque views of Borobudur and rice paddies. Also, the suites start at 2,615 square feet in size, complete with a private walled garden, a central 4-pillar king bed on a raised terrazzo platform, a bathroom with a sunken outdoor bathtub, a twin vanity, dressing areas, a separate shower/toilet, terrazzo flooring, a personal bar, Wi-Fi, a Bose audio system, and more.
Elsewhere on the premises, you'll see an expansive private nature vibe with treks up Mount Merapi or into the lush Menoreh Hills. Plus, Amanjiwo has an open-air restaurant, private dining experiences in various sceneries, and a holistic, Javanese spa.
Activities include nature immersions, UNESCO site visits, rural village festivals, and much more.
The standard room is called the Borobudur suite, which averages around $781 per night but ranges from $750 to $1,250 per night.
7. Amankora (Paro, Bhutan)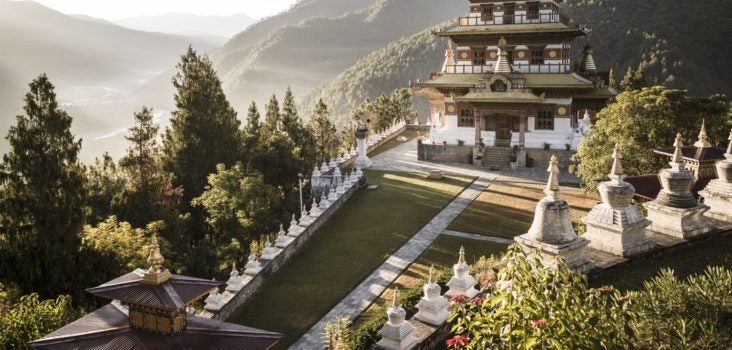 Aman's singular property in the Kingdom of Bhutan is Amankora. Located near Thimphu, the capital of Bhutan, Amankora is representative of the culture of Bhutan.
Amankora consists of 76 suites in 5 lodges, each located strategically across remote yet idyllic valleys. And Amankora offers a 16-year history in Bhutan, which is the longest across all of Bhutan.
Each suite is crafted from Bhutanese indigenous materials and culture. Each suite contains a king bed, window seat, traditional wood-burning stove (Bukhari), bathroom with a large soaking tub and twin vanity, separate shower and toilets, dressing areas, free Wi-Fi, and a minimum of 560 square feet of space.
On the premises, you'll find numerous inventive dining options as well as 5 spas.
But the neatest part of this property is that it acts as a gateway to the Himalayas, and its experiences certainly revolve around a holistic spiritual immersion. These experiences range from ancient temple (dzong) visits to eye-opening hikes and cycle tours and even meeting Buddhist monks.
Typically, room rates are around $1,500 per night.
8. Aman-i-Khas (Ranthambore, India)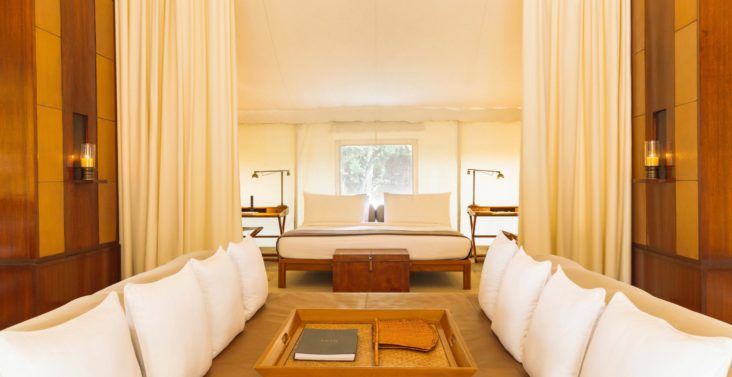 Aman-i-Khas certainly stacks up high in the most unique Aman resorts list. This chic resort, also in Rajasthan, neighbors Ranthambore National Park. But what makes this property eccentric is the fact that the resort consists of ultra-luxe, safari-style tents.
And with just 10 of these Mughal-inspired tents, you can begin to appreciate how exclusive this chic property is. Each of the tents has nearly 20-feet high canopies, air conditioning, sitting areas, bedroom and bathroom separated via cotton drapes, a seated sundeck, and Wi-Fi.
This property is set in 10 acres of the pristine Rajasthan wilderness, offering unrivaled access to nature and luxurious campfire lodging.
There's also a dining tent serving Indian and Western cuisines with produce from the house organic garden, plus a serene spa tent offering Ayurvedic treatments and outdoor yoga, along with a secluded swimming pool.
This property is an Indian equivalent of an African safari experience, thanks to its proximity to tigers, leopards, jackals, and more. Aman-i-Khas offers 3.5-hour, guided Jeep safaris every early morning and late afternoon.
Paid rates hover around $1,000 to $1,500 per night.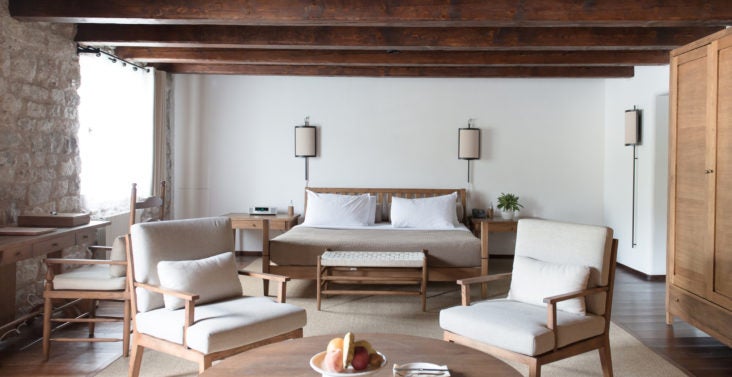 Aman Sveti Stefan is a village resort spanning 80 acres along a coastal estate of a former island fortress. There's also a standalone villa called Villa Milocer, which is located on the mainland, separate from the resort.
And with 3 idyllic beaches, including the private picturesque Queen's Beach, Aman Sveti Stefan is the most luxurious resort in Montenegro.
The rooms, suites, and fishermen's cottages overlook the Adriatic and are designed with the character of Montenegrin fishermen's homes. Every room has a king-size bed, an ensuite bathroom with a separate shower and bathtub, a personal bar, free Wi-Fi, a TV, an audio system, and a safe. Some also feature a living room or dressing room. The size of each cottage will vary from 484 to 968 square feet.
The property contains 2 restaurants, an antipasti bar on a central piazza, a chic expansive spa, a gym, and 2 outdoor pools, plus private Queen's Beach access.
The curated adventures and experiences range from accessing UNESCO-preserved medieval sights, visiting ancient towns, exploring the wildlife of Lake Skadar, relaxing on private pebble beaches and sandy shores, or even discovering a Radevic wine estate.
Paid room rates hover from $640 to $1,500 per night.
10. Amangiri (Utah, United States)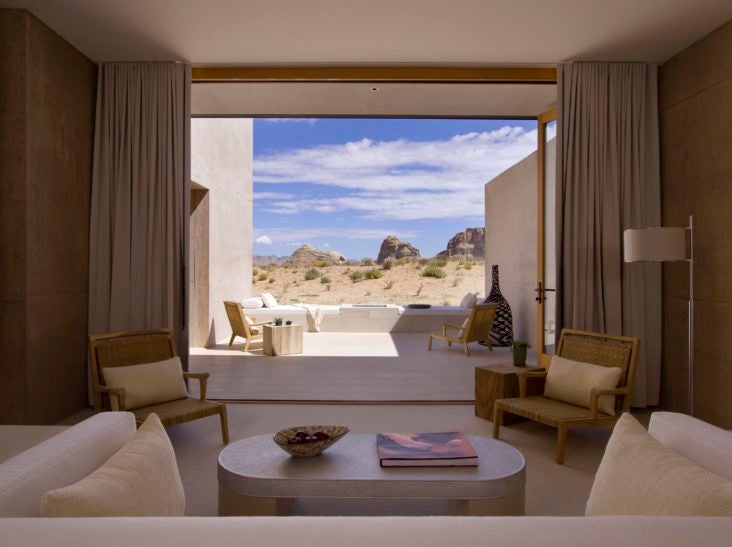 Amangiri is a secluded resort located in Canyon Point in southern Utah. As the sole U.S. entrant in our ranking list, this 600-acre retreat is certainly one of the most expensive Aman Resorts out there.
The incredible property has sweeping views of the Grand Staircase-Escalante National Monument and is within easy access of some of the most magnificent areas like the Grand Canyon, Bryce Canyon, Zion National Park, and Monument Valley Tribal Park. It's just 17 miles from Page Municipal Airport (PGA).
This resort offers ultimate customization via bespoke expeditions and cultural immersions.
Each of the opulent suites features sitting areas, a fireplace, a private courtyard, free Wi-Fi, at least 1,000 square feet of space, a private terrace with fireplace, a private courtyard entrance with tables and chairs, a comfy king bed, a living area with reading chairs and a writing desk, a bathroom with soaking tub, a twin vanity, dressing area, twin rain showers, a separate toilet, air conditioning, underfloor heating, and a personal bar.
The property also offers a floatation therapy pavilion, a sauna, a steam room, a cold plunge and step pool, a fitness center, a yoga pavilion, guided hikes, a communal living room, a library, an art gallery, a wine cellar, and a dining room.
Some of Amangiri's activities include discovering Navajo heritage, hiking and climbing through dramatic gorges and sheer canyons, horseback riding, hot-air ballooning, and much more.
Paid rates usually sit around $1,900 to $3,500 per night.
11. Amanera (Playa Grande, Dominican Republic)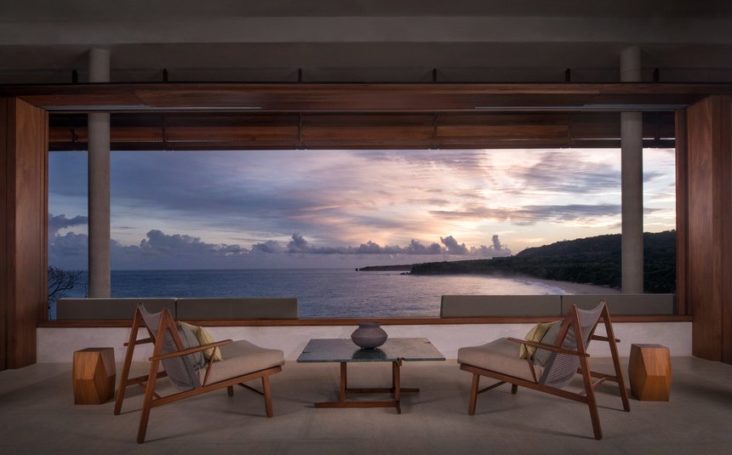 Amanera is arguably the most exclusive resort in the Dominican Republic. Located above the golden sands of the legendary Playa Grande, this sleek property overlooks the North Atlantic Ocean and is just an 11-minute walk from the beach.
Each of the casitas has unobstructed ocean views, floor-to-ceiling glass doors, lofty ceilings, warm wooden finishes, expansive indoor-outdoor areas, a minimum of 829 square feet of indoor space, a gigantic 1,711 square-foot terrace with a sheltered lounging/dining area, a bedroom area with king bed, a living area, a bathroom with skylights, a separate soak tub, a twin vanity, a separate shower and toilet, a walk-in closet, a personal bar, free Wi-Fi, and an audio system.
On the premises, there's a terrace restaurant, a chic bar, a beachfront eatery, an 18-hole golf course, a posh spa, and a gym, as well as tennis and yoga.
Popular activities include guided jungle nature walks to discover island wildlife, exploring colonial architecture and local fishing villages, engaging in water sports, learning the Dominican art of cigar rolling, and much more.
Casita room rates start at $1,300 per night and can go up to $2,500 per night.
12. Amansara (Siem Reap, Cambodia)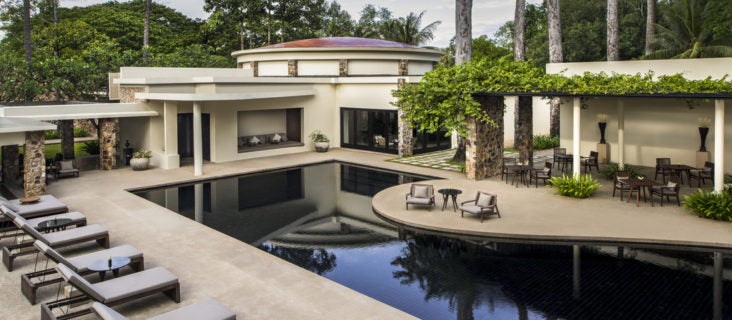 Amansara is Aman's sole Cambodia property. Just 10 minutes away from Angkor Wat, this incredible resort is set on palm tree-filled grounds in a former Royal residence.
This oasis contains only suites, with a combined bedroom and living area stepping down into a light-filled bathroom with an island bathtub.
Every room has a private courtyard, topping off the king-sized bed, sofa, writing desk, informal dining table and chairs, bathroom with twin vanity, bathtub, and separate shower and toilet, sound system, and free Wi-Fi. Plus, there's a minibar and great air conditioning.
Your stay includes:
Round-trip transfers to and from Siem Reap International Airport (REP) or other locations within Siem Reap town
Daily excursions to the Angkor temples with an English-speaking guide and transport
Remote transportation within Siem Reap town
Daily breakfast and choice of lunch or dinner
Non-alcoholic beverages
Daily seasonal fruits and selection of cheese
Freshly baked cakes and cookies
Laundry (excluding dry cleaning)
Your Amansara experience will be centered around Angkor, but you can also visit the floating homes of Tonlé Sap, check out Siem Reap by Jeep, get a water blessing at Wat Athvea, trek the Angkor jungle, and more.
Expect to pay around $1,200 to $1,500 per night for each 800+ square foot suite.
13. Amanpuri (Phuket, Thailand)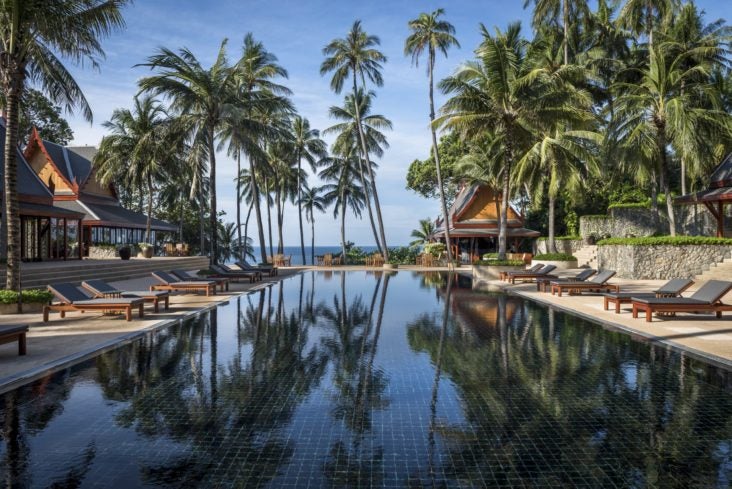 Amanpuri is the original location and the birthplace of Aman. Located in Phuket, Thailand this property is iconic, self-contained, and occupies an entire private coconut grove-filled peninsula on the shores of the Andaman Sea.
The property contains luxurious pavilions, each of which is set on the hillside overlooking the private white-sand beach. Each pavilion has a minimum of 1,237 square feet of living space, a spacious dressing area, and an oversized bathroom. The room contains a king bed, an outdoor dining terrace, a large bathroom with twin vanity, a soaking tub, a separate shower and toilet, a personal bar, spacious dressing areas, free Wi-Fi, a TV, and an audio system.
The resort also contains an infinity pool, 4 dining options, a spa with multi-day wellness immersions, plus private beach access. There are also world-class fitness and water sport specialists and equipment!
In the way of experiences, Amanpuri offers water sports (including the world's fastest underwater vessel), scuba excursions, and other adrenaline-inducing activities.
Paid rates range from $700 to $1,250 per night.
14. Amanemu (Mie, Japan)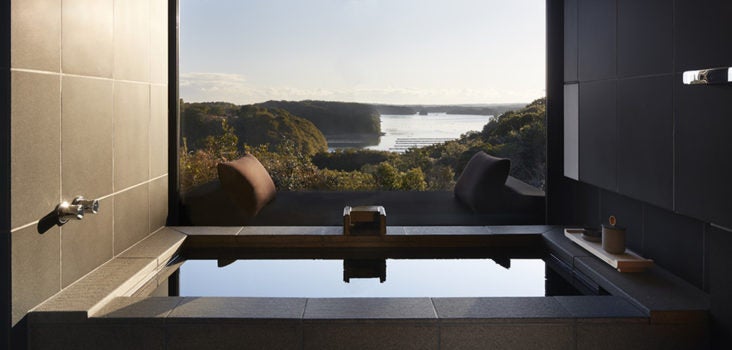 Amanemu is Aman's response to a favorite Japanese pastime: onsens (hot spring baths). Located within a 2.5-hour drive from Nagoya and 3.5 hours from Osaka, Amanemu is situated in serene Shima-shi within Mie Prefecture.
The hillside paradise overlooks Ago Bay and offers refined suites with a furnished terrace, beautiful views, free Wi-Fi, flat-screen TV, minibar, tea and coffee makers, and most importantly: soaking tubs with hot spring water.
There are 24 suites in total, each measuring 1,065 square feet large. The suites also each have a veranda with daybeds and a dining area for 2, plus a king bed, a twin vanity, and a separate shower and toilet.
The property offers hot spring-focused amenities like a spa area with indoor and open-air bathing pavilions with natural hot spring water, an outdoor pool, a gym, a yoga studio, a terrace, gardens, and a chic restaurant/bar with a vaulted ceiling and bay views.
Some of the most beautiful scenery in Japan lies in Ise-Shima, and many of Amenemu's experiences are tailor-made with respect to some of the most sacred sites in Japan. In line with this, using an expert guide you can don a traditional kimono and discover spaces where few have access in the Ise Grand Shrine, head to the Kumano Kodo pilgrimage routes, or visit the Ama female freedivers who collect seafood.
As far as room rates go, expect to pay around $1,100 to $2,500 per night for a standard suite.
15. Amanyara (Providenciales, Turks & Caicos)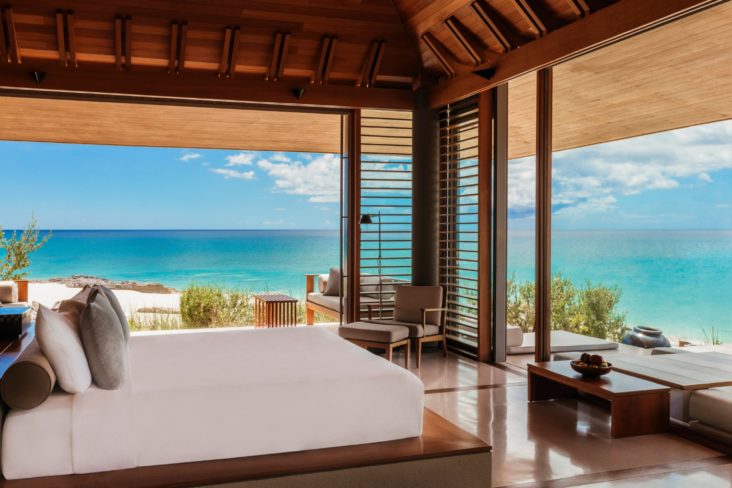 Our very last property to feature is Amanyara, located in Turks and Caicos. This resort is removed from the rest of the world and is set on the shores of an 18,000-acre nature reserve. It's just 10 miles from Providenciales International Airport (PLS) and around 16 miles from the Caicos Conch Farm.
Every pavilion is nestled in coastal vegetation overlooking either the waters of Northwest Point Marine Reserve or ponds. The pavilions all have floor-to-ceiling glass doors that open to a combined bedroom and living area.
Encompassing at least 700 square feet in size, each pavilion has a king bed, a living area with a reading chair and a writing desk, a bathroom with a freestanding tub, a twin vanity, a separate rain shower and toilet, a personal bar, as well as an entrance terrace with twin daybeds.
The property also offers an Asian/Mediterranean restaurant with ocean views, an Aman spa offering wellness immersions, yoga, pilates, an outdoor pool, beach access, and a gym.
This particular ultra-luxe resort is tailored for families, as evidenced by the Nature Discovery Centre offering daily adventures on land and sea. You can explore the coastline with a variety of water sports, spend time with Amanyara's resident Marine Biologist for insight into the undersea ecosystem, scuba dive, snorkel, take an eco-hike with a naturalist, and catch the elusive bonefish on a fishing expedition.
Paid room rates hover around $1,500 to $3,000 per night.
Final Thoughts
Aman offers some of the dreamiest resorts in the world. And while the rooms themselves are absolutely opulent, they are not the highlight of Aman Resorts.
Instead, staying at an Aman gets you insider access to some of the most exclusive experiences, local culture, and more. Plus, Aman's properties are tiny in comparison to luxury factories like The Ritz-Carlton, so you're paying for a totally different caliber of service and experience.
Though Aman doesn't have a loyalty program, you can still maximize your value at Aman properties by using the right credit card or even using points to pay for your stay. It'll probably take a lot of points to pay for your stay, however, considering these hotels typically cost at least $1,000 per night.
---
The information regarding the Chase Freedom Unlimited®, Citi Prestige® Card, Capital One® Venture® Rewards card, and the Capital One® VentureOne® Rewards card was independently collected by Upgraded Points and not provided nor reviewed by the issuer.