The Ritz-Carlton: 12 Most Popular Hotel Locations and 10 Best Redemptions
The Ritz-Carlton, owned by The Ritz-Carlton Hotel Company and a subsidiary of Marriott International, is one of the world's most prestigious luxury hotel brands, singular in its level of service, design, and amenities.
The name originates from César Ritz, a Swiss hotelier who founded the venerable Ritz Paris and the now-shuttered Carlton Hotel in London in the late 1890s. In fact, his name is where the term "ritzy" was coined.
Inspired by his legacy, American investor Albert Keller opened the first Ritz-Carlton hotel stateside in New York City in 1911 — though it wasn't until 1983 (when The Ritz-Carlton hotel in Boston, Massachusetts, was sold and established under the newly formed Ritz-Carlton Hotel Company) that the brand as we know it came to be.
Below, we'll be exploring The Ritz-Carlton's 10 best redemptions as well as the 12 most popular properties in the U.S. Let's get started!
Everything You Need to Know About The Ritz-Carlton
The Ritz-Carlton is 1 of 3 classic luxury hotel brands overseen by Marriott International, along with St. Regis Hotels & Resorts and JW Marriott Hotels.
During the 1920s, there were just 15 Ritz-Carlton properties, mostly scattered across Europe and the U.S. Today, the brand operates 97 hotels in 30 countries worldwide — in addition to a subcategory of Ritz-Carlton Reserve properties as well as a fleet of yachts under the soon-to-launch Ritz-Carlton Yacht Collection.
Although each property is decorated according to its destination's aesthetic, every hotel is designed to accommodate both leisure and business travelers seeking the highest level of luxury.
Standard in-room amenities include free Wi-Fi, Nespresso coffee makers, flat-screen TVs, minibars, marble bathrooms with rain showers and plush bathrobes, and twice-daily housekeeping including turndown service.
Elegance, white-glove service, and luxury rooted in tradition — these are the hallmarks of a Ritz-Carlton hotel. So too are the brand's sky-high prices, whether you sleep at locations in Tokyo, New York, or Cancún. Here's a bit more about what you can expect from an overnight stay.
The Gold Standard Service Model
Ritz-Carlton's renowned level of service reaches all the way back to the beginning, when, under the leadership of César Ritz, hotels catered to the wealthy.
The company's motto — "We are Ladies and Gentlemen serving Ladies and Gentlemen" — and Gold Standards ensure that every guest is treated like royalty (whether or not they actually are) and that each person's overall experience is tailored to them, ensuring a warm, discreet, seamless stay from check-in to check-out.
Next-Level Spas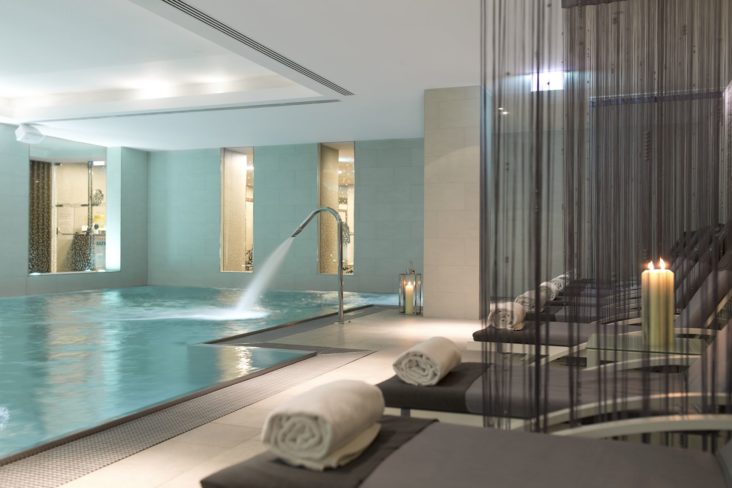 To "instill well-being" is one of The Ritz-Carlton's brand credos, and that translates directly to its incredible spa experiences. Even non-hotel guests book services at The Ritz-Carlton spas, which are as famous for their beautiful facilities as they are for their muscle-melting treatments.
Just because you've visited one Ritz-Carlton spa, however, does not mean you've seen them all. Some feature lap pools with soaring city views while others offer treatment cabanas on the beach. Many partner with leading wellness brands: The Ritz-Carlton New York, Central Park is known for its La Prairie Spa, whereas The Ritz-Carlton Spa in Hong Kong is ESPA-themed.
What's more, spa menus draw heavily from local techniques and wellness traditions to more fully immerse guests in the destination. The Ritz-Carlton Spa in Kyoto, for example, incorporates green tea and heated bamboo sticks in its Japanese-inspired treatments, while The Ritz-Carlton, Kapalua in Maui uses island herbs and coconut oil for its Hawaiian healing therapies.
Ritz Kids/Ambassadors of the Environment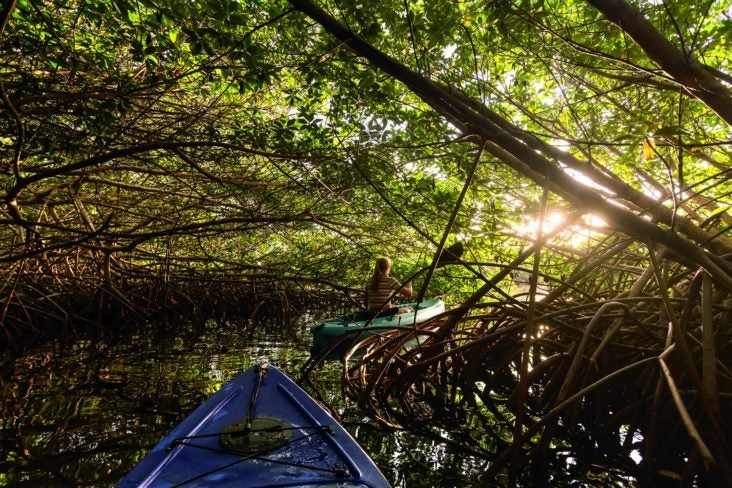 Luxury aside, younger travelers will find their own fun at The Ritz-Carlton properties thanks to Ritz Kids clubs, where interactive programming engages those ages 4 to 12 with creative, immersive activities like cooking classes, scavenger hunts, on-site playgrounds and waterparks, and even family movie nights.
A second part of this program is Ambassadors of the Environment, which is offered at select properties where nature is at the forefront. Developed in partnership with Jean-Michel Cousteau's Ocean Futures Society, hands-on activities for all ages — photography workshops, guided hikes — connect guests with the natural world.
The Ritz-Carlton Club Level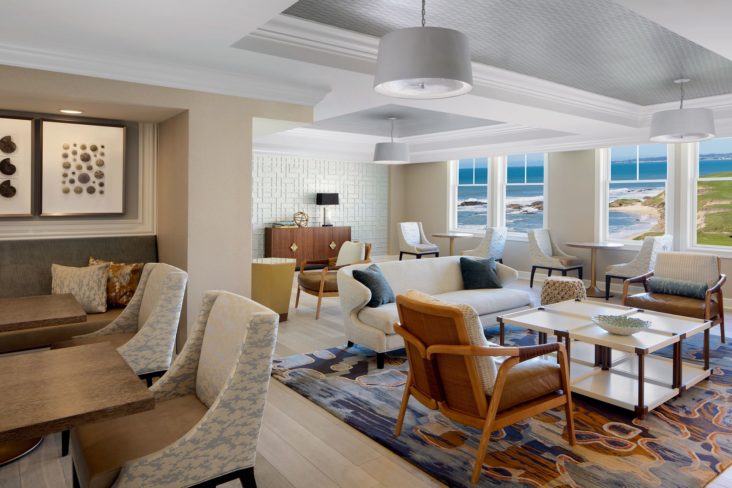 The Ritz-Carlton understands that there are different levels within the umbrella term of "luxury," which is why many locations offer a Club Level — an additional upgrade that makes stays all the more seamless.
When guests book a Club Level room, they'll enjoy private check-in, a dedicated concierge, and use of the Club Lounge on site — a private space featuring extra lounge seating, up to 5 daily food and drink servings that cover everything from breakfast to cocktail hour, and unique extras like mixology classes or live music performances.
To keep this experience as exclusive as possible, Club Level rooms can only be paid for in cash, not points — either outright or as an upgrade from a lower room category.
Asprey Purple Water Amenities
Since 2013, bathrooms at all Ritz-Carlton properties have featured Purple Water toiletries by Asprey, a legendary British home goods brand that holds a royal warrant. Would you expect anything less of The Ritz-Carlton?
Purple Water, Asprey's signature scent, is as sweet as the patterned purple bottles it comes in. You can swipe the shampoos and soaps as souvenirs or purchase full-size versions both online or in gift shops at participating hotels.
American Express and Chase Marriott Bonvoy

Credit

Cards
Marriott Bonvoy offers 4 co-branded credit cards, making it incredibly easy to earn Marriott Bonvoy points that you can use towards stays at Ritz-Carlton hotels.
Of the Marriott Bonvoy co-branded cards, American Express offers the ultra-premium and business credit cards while Chase offers the premium and mass consumer credit cards.
Recommended Marriott Bonvoy Cards
Marriott Bonvoy Boundless® Credit Card - For a limited time only, earn 125,000 Bonus Points and 1 Free Night Award (value up to 50,000 points) after you spend $5,000 on purchases in the first 3 months from account opening. Get automatic silver elite status each account anniversary year; and a free night award (valued up to 35,000 points) every year after account anniversary. Plus, earn up to 17x total Bovoy points per $1 when using your Marriott Bonvoy Boundless card at at over 7,000 participating Marriott Bonvoy hotels, and 2x Bonvoy points per $1 on all other purchases. Annual Fee is $95.
Marriott Bonvoy Bold® Credit Card - For a limited time only, earn 60,000 Bonus Points after you spend $2,000 on purchases in the first 3 months from account opening. Earn up to 14x total Bonvoy points per $1 when using your Marriott Bonvoy Bold card at over 7,000 participating in Marriott Bonvoy hotels, earn 2X on other travel purchases, then 1x on all other purchases. A solid card for Marriott loyalists looking for a no-annual-fee card offering Marriott Bonvoy Silver Elite status.
Marriott Bonvoy Brilliant™ American Express® Card - For a limited time, earn 150,000 Marriott Bonvoy bonus points and a bonus Free Night Award after you use your new Card to make $5,000 in eligible purchases within the first 3 months of Card Membership. Resort fees may apply. Terms apply. Offer expires 11/3/2021.

Earn 6x per $1 at hotels participants in the Marriott Bonvoy™ program, 3x at U.S. restaurants and flights booked directly with airlines, and 2x on all other eligible purchases. Annual Fee is $450. Terms Apply. For rates and fees of the Bonvoy Brilliant card, click here.
Marriott Bonvoy Business™ American Express® Card - For a limited time, earn 125,000 Marriott Bonvoy bonus points & 2 bonus Free Night Awards after you use your new Card to make $5,000 in eligible purchases within the first 3 months. Each bonus Free Night Award has a redemption level up to 50K points. Certain hotels have resort fees. Offer ends 11/3/2021.

This is a solid card for business owners who will get complimentary Marriott Bonvoy silver elite status. Annual fee is $125. Terms Apply. For rates and fees of the Marriott Bonvoy Business Card, click here.
Cardmembers can earn up to 6 Marriott Bonvoy points per dollar with these convenient cards, making it easy to earn up to 100,000 Marriott Bonvoy points in 90 days! That's good for 1 award night stay during peak season at a top-tier Ritz-Carlton hotel.
You automatically reach Marriott Bonvoy Gold Elite status when you hold the Marriott Bonvoy Brilliant card and Silver Elite status when you hold the Marriott Bonvoy Boundless card, Marriott Bold card, or Marriott Bonvoy Business card.
With Gold Elite status, you'll get space-available upgrades to enhanced rooms (excluding suites), 25% bonus points on stays, guaranteed 2 p.m. late checkout, and a welcome gift of 250 to 500 points per stay (varies by hotel brand).
Ritz-Carlton Rewards® Card
Issued by Chase, the Ritz-Carlton Rewards card is for the ultimate brand loyalist who stays exclusively at Marriott properties.
Those that upgrade a Chase Marriott Bonvoy card to this card enjoy the following benefits (among other perks):
6x Marriott points per $1 spent at participating Marriott hotels
$300 annual travel credit per calendar year
Free Night Certificate every year after account anniversary, valid for 1 night stay at a property with a redemption level up to 50,000 points
Automatic Marriott Bonvoy Gold Elite status
15 Elite Night Credits each calendar year
You can upgrade to the Ritz-Carlton Rewards card as long as you've had the previous Chase Marriott Bonvoy card for at least 12 months.
The 10 Best Ritz-Carlton Hotel Redemptions
Staying at a Ritz-Carlton rarely comes cheap, but redeeming points can help soften the blow. A hotel's category, as listed on Marriott Bonvoy's award chart, indicates the required number of points needed for an award stay. Generally, Ritz-Carlton hotels fall on the higher end of the spectrum — typically Category 6 and above.
Below, we'll be exploring Ritz-Carlton's 10 best redemptions where Marriott Bonvoy points will earn you the biggest bang for your buck.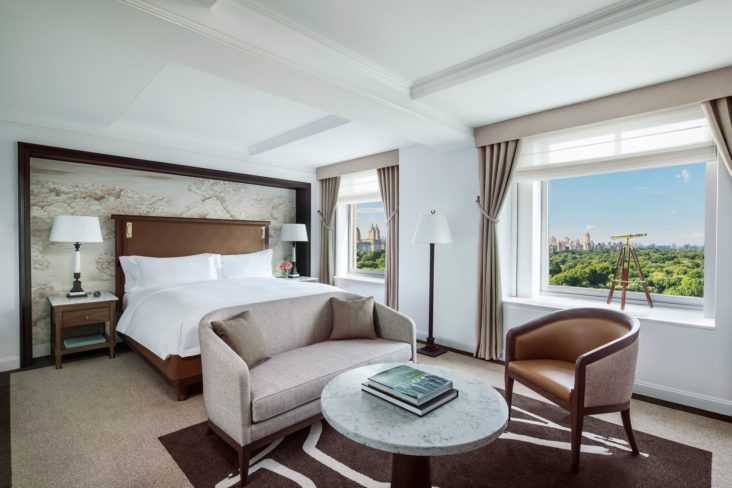 Few New York City experiences are as classic or luxurious as spending a night at The Ritz-Carlton New York, Central Park. The 253-room hotel is an icon of luxury and elegance, known for its sizable guest rooms — they're among the largest in the city — and award-winning service. In fact, the entire concierge team is Les Clefs d'Or-certified.
Guest rooms are mini-sanctuaries, decorated with damask curtains, mahogany furniture, and soaking tubs, along with standard features including minibars and flat-screen TVs. The best rooms feature jaw-dropping views of Central Park.
After a treatment at the La Prairie Spa, settle down for afternoon tea in the Star Lounge before dinner at Contour gastropub. Of course, if you'd rather dine out, the Midtown location couldn't be better. The hotel sits on Central Park South, blocks away from 5th Avenue and Broadway. There's also a fitness center and house Mercedes for bopping around town. Sadly, there is no pool.
As can be expected, staying in one of Manhattan's best hotels comes at a price. Room rates here are astronomically expensive, running north of $1,000 a night on average. That makes using your points an excellent idea: award stays range from 70,000 to 100,000 Marriott Bonvoy points per night.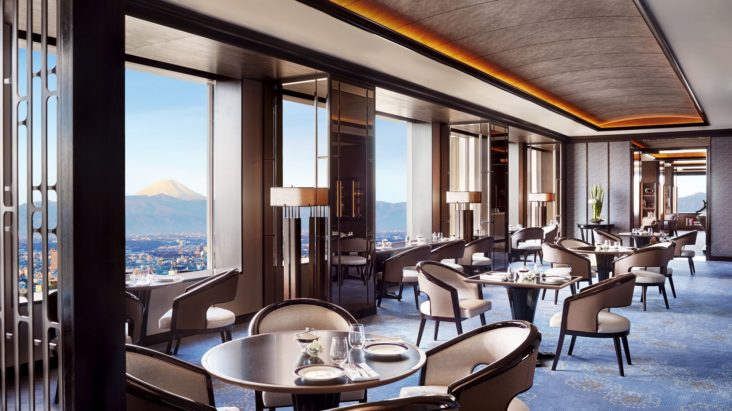 It seems fitting that one of Tokyo's most luxurious hotels lords over the city from one of its tallest skyscrapers. Beginning on the 45th floor of the Midtown Tower in nightlife-rich Roppongi, the 248-room Ritz-Carlton, Tokyo is as gorgeous as its views.
It all starts in the guest rooms — contemporary and spacious with Nespresso coffee makers and large windows that look out towards Mount Fuji, Tokyo Tower, or the Imperial Palace. Marble bathrooms feature rainfall showers, double sinks, and bathrobes — brand basics — but guests are most wowed by the Toto smart toilets and flat-screen TVs hidden in the walls.
Public spaces are no less impressive. French restaurant Azure 45 holds a Michelin star, the 21,000-square-foot spa includes a pool on the 46th floor, Japanese restaurant Hinokizaka features a centuries-old reconstructed teahouse, and the bar stocks over 100 varieties of whisky. There's even an on-site chapel and wedding planner if you're looking to tie the knot.
It costs around $800 a night to sleep in one of Tokyo's dreamiest hotels, so if you have enough points, we suggest using them. Award nights here range from 70,000 to 100,000 Marriott Bonvoy points per night.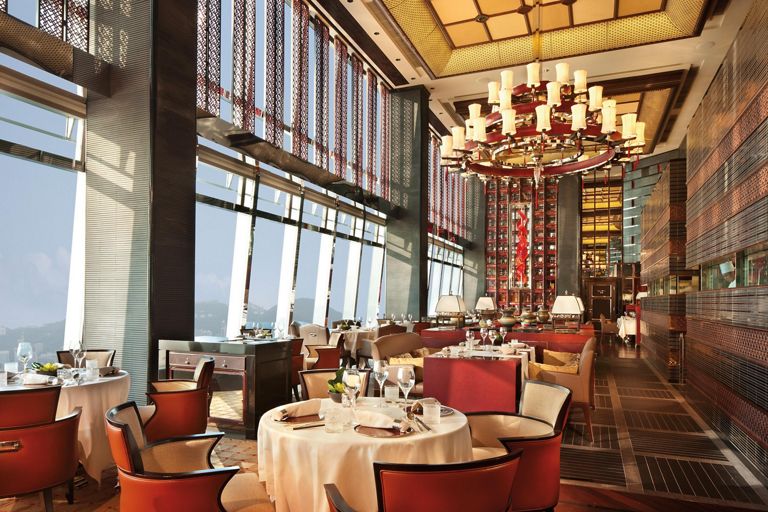 The elevator ride is almost a minute long to reach the 103rd-floor lobby level of The Ritz-Carlton, Hong Kong, another sky-high property in the brand's portfolio.
As you can imagine, the views of Victoria Harbour and Hong Kong Island are stunning from every angle — the spa, the pool, the gym, or any of the 312 guest rooms that occupy floors 102-118 of the International Commerce Centre. An impressive 2 out of 6 restaurants hold Michelin stars: Tosca di Angelo's open kitchen prepares Italian favorites while 2-starred Tin Lung Heen specializes in Cantonese dim sum.
Reservations are essential for getting into OZONE, the hottest (and highest) bar in town where an endless stream of tourists and guests come to take in panoramic views and sip cocktails 1,607 feet above sea level.
The hotel's only downside (besides the price) is its location far-removed from downtown Kowloon. However, because the hotel sits on top of the Airport Express Kowloon station, guests appreciate the quick and easy connection to the international airport.
Cash rates average around $500 per night for a standard room, while award stays range from 70,000 to 100,000 Marriott Bonvoy points per night.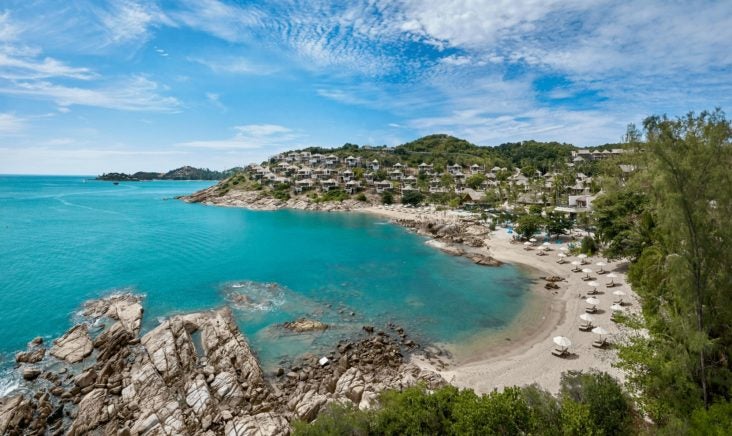 When it opened in 2018, The Ritz-Carlton, Koh Samui became a compelling (read: slightly more affordable) alternative to the brand's Phulay Bay, a Ritz-Carlton Reserve on nearby Krabi.
The hotel sits on a 58-acre coconut plantation facing the Gulf of Thailand, and each of the 175 guest rooms features floor-to-ceiling views of the ocean. Suites come with balconies but are farther from the sand, so it might be worth investing in a standalone villa that is set on stilts with an infinity pool and outdoor shower.
Non-motorized sports (paddleboarding, kayaking, snorkeling) let guests enjoy the water to its fullest, but there's much more here than just the beach — including a large pool, tennis courts, yoga classes, a fitness center, and a top-notch spa with its own infinity pool and outdoor pavilions.
Looking to explore off-property? There's a free shuttle to the nearby Fisherman's Village Walking Street, known for its Friday night pop-up market.
This being Thailand, the average nightly paid rate — around $300 — is incredibly reasonable for such a luxury experience. Award stays are also lower than most Ritz-Carlton properties, ranging between 50,000 and 70,000 Marriott Bonvoy points per night.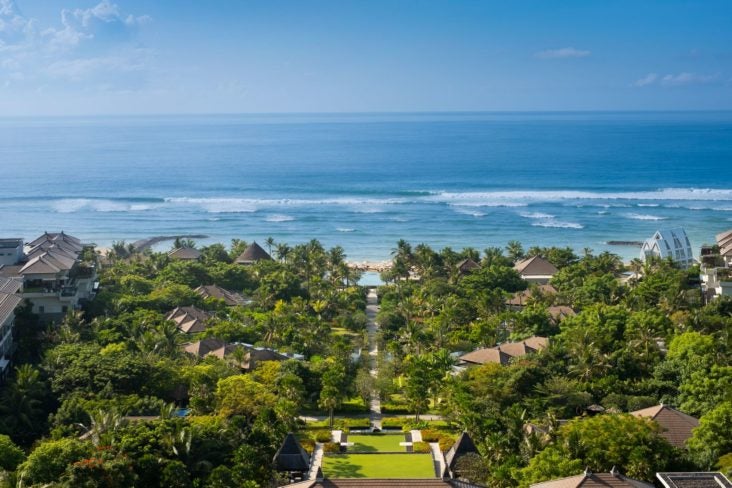 "Secluded romance" is the theme at The Ritz-Carlton, Bali, whose cliffside setting facing the Indian Ocean has become a go-to spot for couples and honeymooners seeking a tropical escape. That said, families also love this hotel for its beach and a complimentary kids club that hosts Balinese culture workshops.
All 313 ultra-spacious rooms are either suites or villas and come with ocean or resort views in addition to honor bars, furnished balconies, and walk-in closets.
The best rooms feature private pools, but even if yours doesn't, you'll still get to enjoy the property's beachfront infinity pool in addition to Asian-inspired treatments at the spa, 6 restaurants and bars, and a private white-sand beach.
Award stays range from 40,000 to 60,000 Marriott Bonvoy points per night. Cash rates hover around $400 for a standard room.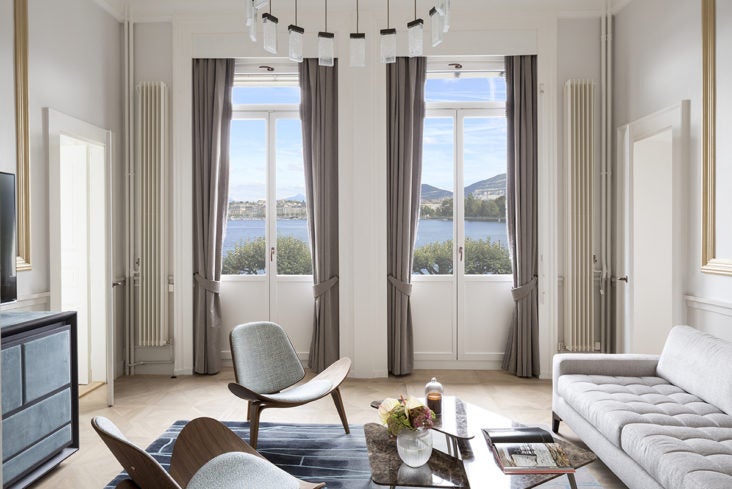 Geneva's historic Hotel de la Paix hotel has been hosting Europe's elite ever since it opened back in 1865 with a covetable address on Lake Geneva, minutes from the city's main attractions.
Now a Ritz-Carlton, the city's grand dame features refreshed interiors that are far more contemporary than its 19th-century Italianate facade. Guest rooms are airy and serene, decorated with mid-century modern furniture and lake or garden views. Those not on the water feature balconies overlooking bustling Quai du Mont Blanc.
At just 74 rooms, the property feels intimate, though the lobby remains as regal as ever thanks to its massive crystal chandelier and black-and-white marble floor. The 2 dining options include a great Nordic fusion restaurant as well as an all-day dining lounge that serves afternoon tea. The lack of a spa is disappointing, but an on-site Swiss chocolate shop helps make up for it.
Geneva is a notoriously expensive city, and rates follow suit. Award stays range from 70,000 to 100,000 Marriott Bonvoy points per night and are a solid option for avoiding the high cash rate — around $740 per night on average for a standard room.
Hot Tip: Art Deco lovers (and anyone with a taste for history) should check out the Grace Kelly Suite, an homage to the hotel's famous former guest, complete with a kitchenette and lakefront balcony.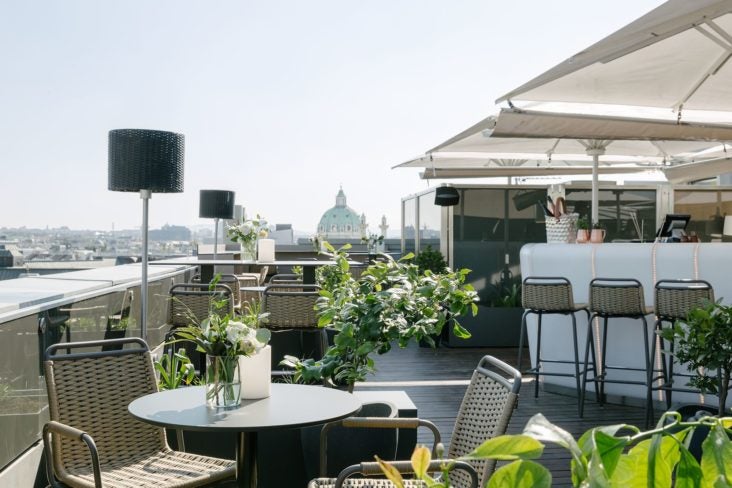 If ever there was a city that embodied The Ritz-Carlton brand — grandeur, timelessness, tradition — Vienna would be it. In the heart of the city, a group of 4 connected 19th-century palaces now comprise The Ritz-Carlton, Vienna. Don't be fooled by its old-world exterior, however — the interior tells a much different story.
High ceilings, heated bathroom floors, and contemporary art keep the 202 rooms and suites feeling fresh and modern, along with up-to-the-minute amenities including flat-screen TVs, Nespresso coffee machines, and complimentary shoe shines. Busy Ringstrasse is right outside, but thankfully, soundproof windows block the noise.
Other property highlights include a Guerlain spa, a fitness center whose 60-foot pool features underwater music, and a rooftop bar where guests and locals congregate to enjoy drinks in the warmer months, a Christmas Market in the winter, and panoramic city views year-round. There's also a steakhouse, cocktail bar, and ornate lobby lounge.
For the best of Vienna, your own 2 feet can get you there. The hotel, right in the border of Old Town, sits across the street from Stadtpark and within 10 minutes of the Vienna State Opera, the Albertina, and the MuseumsQuartier.
Award night redemptions range from 50,000 to 70,000 Marriott Bonvoy points per night, while cash rates average about $375 for a standard room.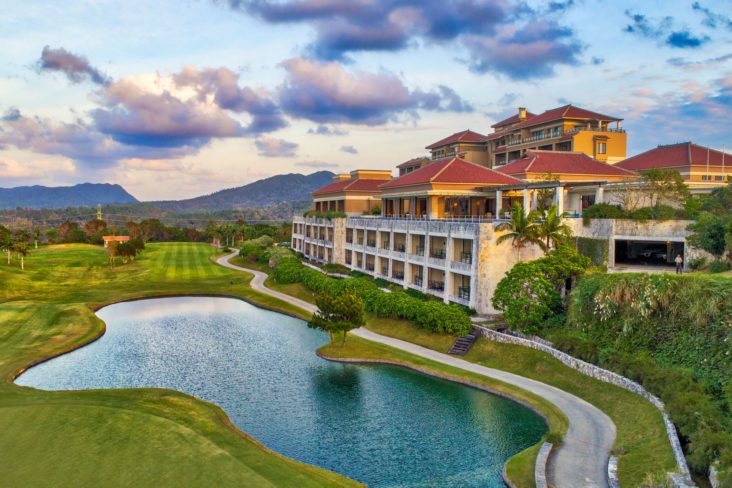 Okinawa Island is the antithesis of Tokyo — a serene, forested escape that's been luring city dwellers for centuries. This is where you'll find The Ritz-Carlton, Okinawa, a 97-room hotel on a hill overlooking Nago Bay that channels its laid-back surroundings in the best kind of way.
There's not much to do on the property — and that's entirely the point. Dine at one of 3 restaurants, get a treatment at the standalone spa, enjoy afternoon tea, or simply relax in your room — some of which have large terraces overlooking a seasonal pool, golf course, or the East China Sea.
In fact, the most energy you'll burn here is during a round at the championship golf course. Otherwise, hop the free shuttle to the hotel's private beach.
Award nights can be redeemed from 70,000 to 100,000 Marriott Bonvoy points for a standard room, which is a nice rate, considering rooms average around $590 per night when paying with cash or card.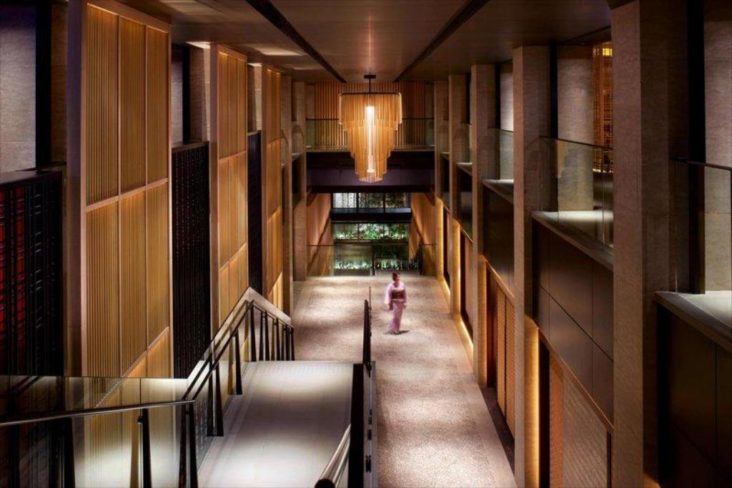 The Ritz-Carlton, Kyoto hotel is as much a destination as Kyoto itself. Built along the banks of the Kamogawa River, the property was inspired by a traditional ryokan, with minimalist rooms featuring lots of light, natural materials, and signs of local culture everywhere.
More than 400 works of art by Kyoto artisans are scattered throughout the property, and textiles are made by a 12th-generation Japanese atelier. Guest rooms feature Shabonya handmade soaps, Imabari bathrobes, and outstanding views of the water and distant Higashiyama mountains. Prefer access to your own private zen garden? Book a Garden Terrace Suite.
In addition to 2 restaurants (including Michelin-starred Japanese cuisine at Mizuki), there's a fitness center and a spa featuring a 65-foot indoor pool and dry sauna. The complimentary on-site activities, however, are where this property truly shines, from origami workshops to local hikes to biking tours to nearby shrines.
Staying at this property is an incredible way to experience Kyoto, and prices reflect that. Cash rates are known to exceed $1,000 per night for a standard room, which makes an award stay —even at the highest range of 70,000 to 100,000 Marriott Bonvoy points per night — incredibly worth it.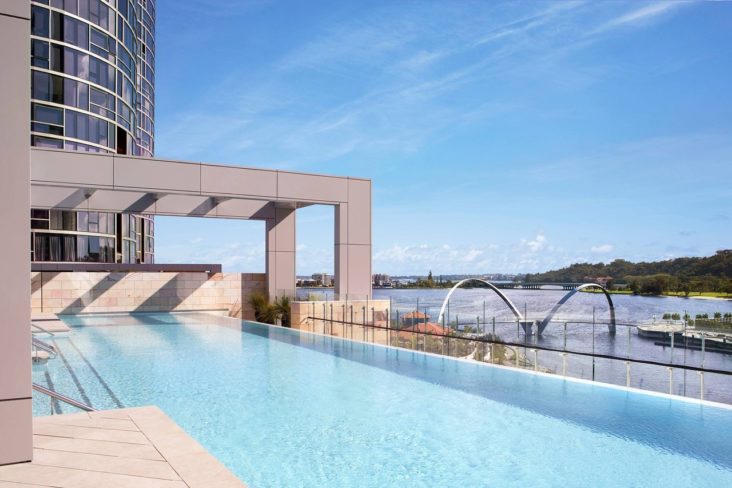 Western Australia's remote capital was never a stop on the tourist circuit until a wave of big-name hotel debuts began opening up the city like never before. Among the newcomers is the sleek and stylish Ritz-Carlton, Perth, which makes a strong case for journeying to the other side of the continent.
Despite its Central Business District address, the hotel feels like a tranquil escape since it faces the Elizabeth Quay riverfront, spilling floor-to-ceiling water views from many of the 205 guest rooms. Freestanding bathtubs, flat-screen TVs equipped with DVD players, and evening turndown all come standard.
Keep a lookout for details that nod to Western Australia, including native florals and curated artwork by regional artists. The lobby chandelier was designed to mimic the waterfalls inside Karijini National Park.
You'll find the full-service restaurant on the ground floor, but the fifth-floor terrace bar is the place to be for sunset when drinks and small plates are served beside a stunning infinity pool, fire pit, and Swan River views. There's also a gym and spa with heated vitality pools, saunas, and a yoga studio.
Reward nights at this property range from 40,000 to 60,000 Marriott Bonvoy points per night. Otherwise, expect to pay around $240 per night for a standard room.
The 12 Most Popular Ritz-Carlton Hotels
You'll find Ritz-Carlton properties all across the U.S., but the most popular locations — at least according to search volume and recent demand — put you near the beach or in fantastic city neighborhoods.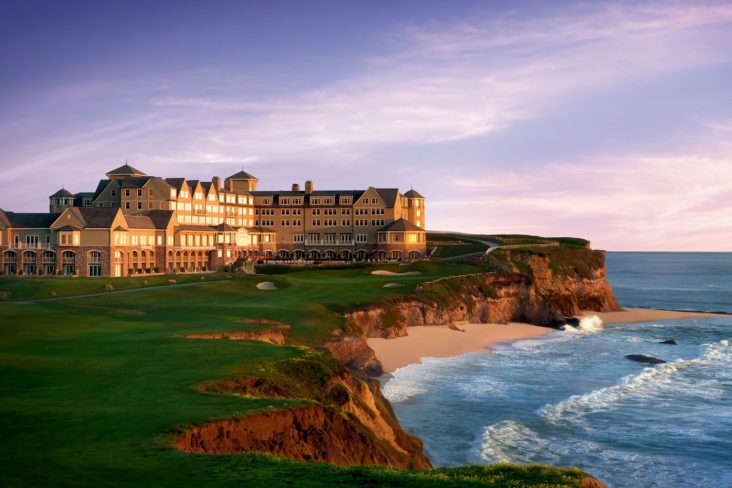 It takes 40 minutes to get from San Francisco's airport to The Ritz-Carlton, Half Moon Bay, but the drive is worth it — especially as you arrive and are able to take in the hotel from a distance. The property, with its distinctive shingled architecture, sits on a bluff above the Pacific Ocean — earning it a reputation for being one of the prettiest hotels in northern California.
The "coastal country lodge" aesthetic continues inside, where rooms take inspiration from Scotland with their moody oil paintings and nightly bagpipe music. Even standard guest rooms have soaking tubs and large windows, while suites feature gas fireplaces.
There are 2 championship golf courses in addition to 3 oceanview restaurants, a wine bar, tennis courts, and a spa complete with a Roman mineral bath. The romantic setting — coupled with a large ballroom — makes it particularly suited for weddings and celebrations. When the weather is fair, hiking and biking on coastal paths and walks along the beach are as scenic as they sound.
This property's perpetual popularity means it can charge a pretty penny — we're talking cash rates that average about $800 per night. Alternatively, you can redeem an award stay for anywhere from 50,000 to 70,000 Marriott Bonvoy points per night.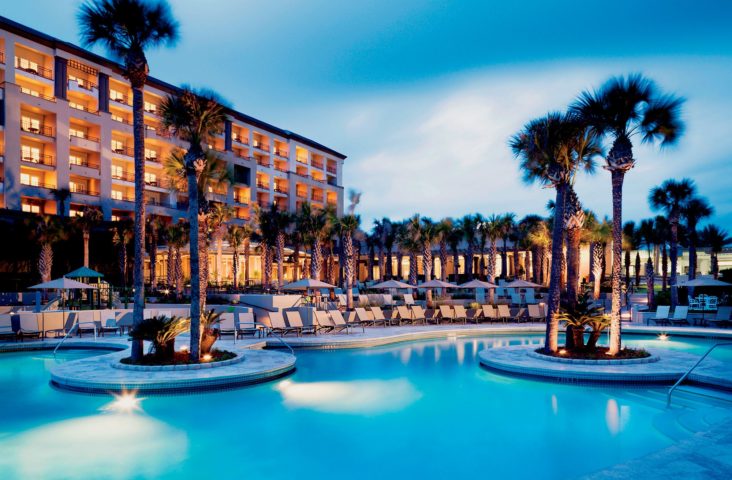 Amelia Island, a windswept barrier isle off the coast of northwest Florida, consistently ranks as one of the prettiest, quietest beach destinations in the state. On a secluded stretch of sand surrounded by dunes, The Ritz-Carlton, Amelia Island delivers on that promise with charming guest rooms, low crowds, and activities that showcase the beauty of its surroundings.
In addition to indoor and outdoor pools, a spa, and a fitness center, the property offers 4 restaurants, a full-service beauty salon, and a connected golf club and academy.
Even those without a great swing will find something here — be it tennis or surfing lessons or bike tours through historic Fernandina. After all of that sun, retreat to your guest room's private balcony or terrace overlooking the ocean or the coast.
Be prepared for a $38 daily resort fee, which includes (per room) 1 fitness class, 2 bike rentals, tennis and golf gear, a beach umbrella, and a boogie board. Parking is valet-only and costs $29 per day, but having a car is essential. This being an island, you're a drive away from most major sights and restaurants.
Award nights can be redeemed from 50,000 to 70,000 Marriott Bonvoy points per night at this property. Cash rates hover around $400 for a standard room.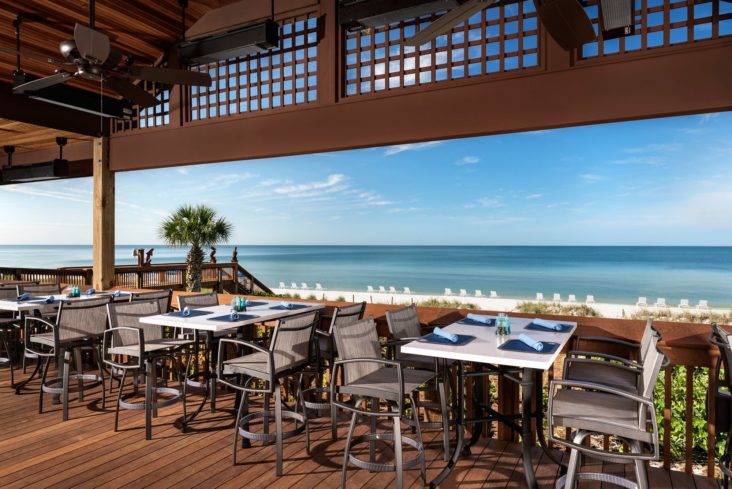 Families and couples are common sightings at this Florida beach resort, but truthfully, it's perfect for anyone seeking a warm-weather escape.
At 447 rooms, the property is massive, and you might never feel the need to venture far thanks to a whopping 7 restaurants, 2 outdoor pools (including 1 that's adults only), a 51,000-square-foot spa, and 3 miles of Gulf Coast beach.
Between time spent in and by the water, on your guest room balcony, or snacking on tapas (Bites) or coastal cuisine (Gumbo Limbo), stop by the Nature's Wonders center to check out its aquariums and exhibit tours led by staff naturalists.
The $35 daily resort fee, while pricey, covers a slew of gotta-have-them extras including 2 beach chairs, towel service, a beach umbrella, 1 daily fitness or yoga class, and a shuttle service to the nearby Ritz-Carlton Golf Resort, Naples and its 2 championship golf courses. Parking is valet-only and costs $33 a day.
Reward nights range from 70,000 to 100,000 Marriott Bonvoy points per night for a standard room, while paid rates average about $570.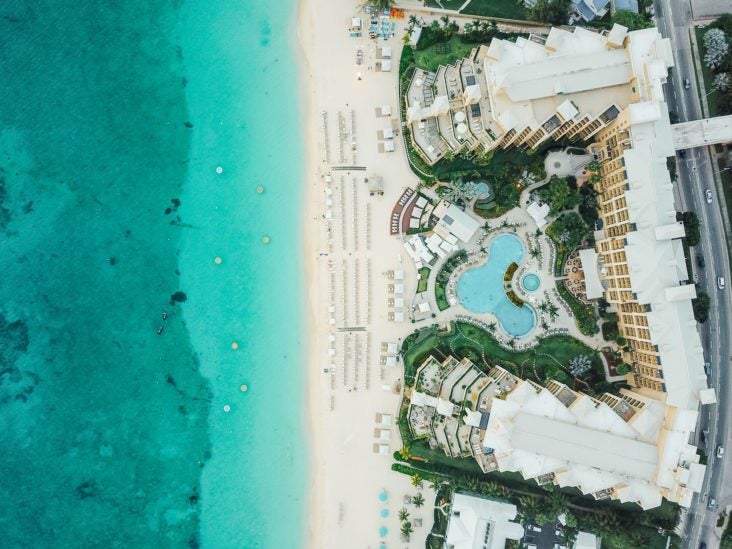 The Ritz-Carlton, Grand Cayman may as well be its own private island. The resort sprawls across 144 acres of tropical paradise on Grand Cayman's west coast — enough room to accommodate a small city's worth of fun.
Those that stay in one of its 300 colorful guest rooms will get a private balcony and have access to a seemingly endless stream of amenities including a Greg Norman-designed 9-hole golf course, tennis and basketball courts, a water playground, a cooking school, a La Prairie-branded spa, and 5 restaurants including 1 overseen by celebrated French chef Eric Ripert.
Best of all, from the hotel, you can walk directly onto one of the best beaches in the Caribbean — Seven Mile Beach — where guests snorkel, sail, and swim to their heart's content.
Another standout feature is the hotel's Ambassadors of the Environment program, where Jean-Michel Cousteau-trained marine guides lead eco-adventures like beach hikes, mangrove kayaking trips, and snorkeling sessions for all ages.
Expect to redeem anywhere from 70,000 to 100,000 Marriott Bonvoy points per night for an award stay. Cash rates average about $500 for a standard room.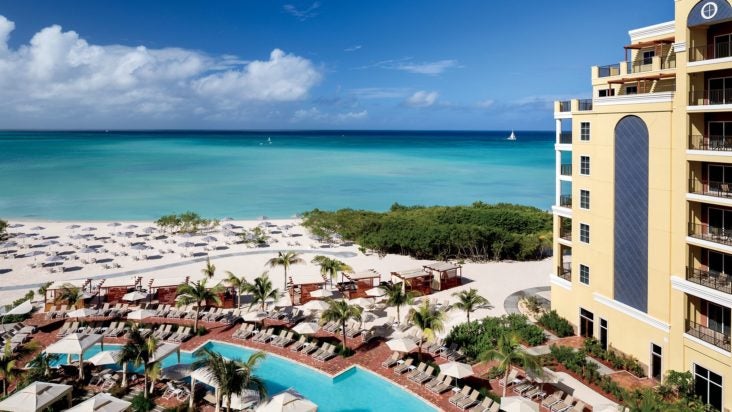 The most luxurious hotel in Aruba lives up to its price tag. It all starts with the secluded location on the far end of Palm Beach, famous for its calm, turquoise waves that make swimming and kayaking a breeze.
Inside, the look is coastal glam — think soaring ceilings, modern chandeliers, upscale shops, and 4 slick restaurants including a BLT Steak and an outpost of NYC Italian favorite Casa Nonna. Upstairs, each of the 320 tropical-themed rooms has a furnished balcony with at least a partial view of the ocean.
Families love that there are pools lined with loungers for both kids and adults, not to mention the Ritz Kids program that organizes everything from arts and crafts workshops to family movie nights. Adults can plan their own kind of fun at the spa, fitness center, or 24-hour casino.
Award stays here can be booked from 70,000 to 100,000 Marriott Bonvoy points per night, while paid rates average about $450 for a standard room.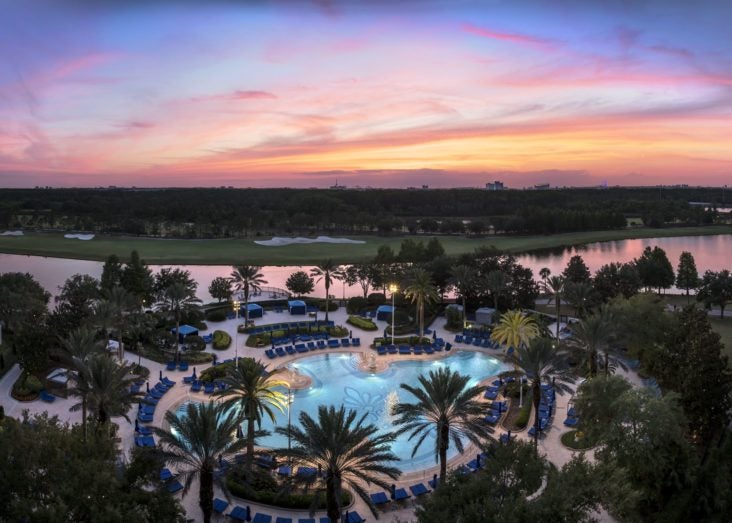 Whether or not you're in town to enjoy Universal Studios or Walt Disney World, there's nothing like a stay at The Ritz-Carlton Orlando, Grande Lakes — considered one of Orlando's most luxurious hotels.
The sprawling, 500-acre property has everything — 4 restaurants, a spa, and fitness center, a Greg Norman-designed 18-hole golf course, tennis courts, a picturesque pool area with cabanas, 50,000 square feet of meeting space, and a network of trails that crisscross the grounds. Rooms are colorful and bright, with balconies that look out over the lakes, gardens, golf course, or pool.
What's more, the hotel shares amenities with the JW Marriott hotel next door, where guests can use its lazy river and pick from 7 additional restaurant options. The Ritz Kids program keeps young ones occupied while adults enjoy drinks at Norman's or a snooze in the spa's rooftop garden.
The daily $38 resort fee is steep but worth it for families as it covers kids club activities, daily bike rentals, and shuttle service to nearby theme parks. Valet parking is $40.
While more reasonable than other Ritz-Carlton properties, this hotel still ranks among the priciest options in the Orlando area. Award night redemptions range from 40,000 to 60,000 Marriott Bonvoy points, while cash rates average about $360 per night for a standard room.
Hot Tip: Planning your family vacation to Orlando can be a lot of work. We've got great tips on making your trip to Walt Disney World as stress-free as possible, including our Disney vacation packing list. We also detail the best places to stay near the theme parks, both on- and off-site!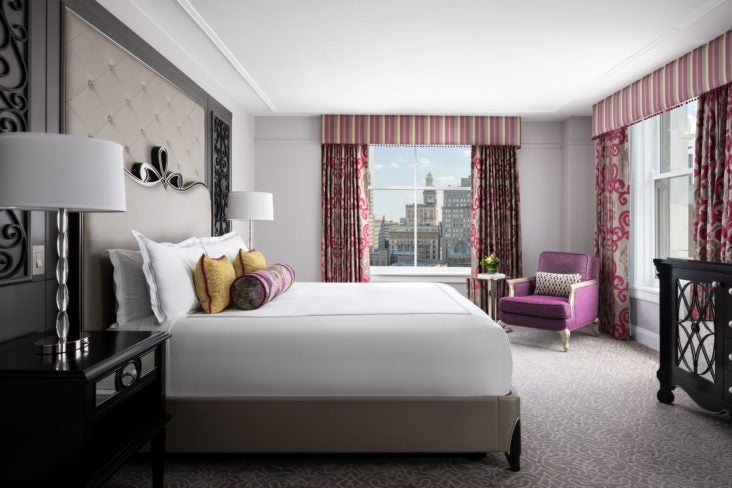 It's impossible to miss The Ritz-Carlton, New Orleans thanks to its impressive Beaux-Arts building, a former department store that takes up an entire Canal Street block.
Today, the hotel attracts top-tier guests with its Southern hospitality and luxurious digs. Jewel-toned guest rooms are bright and spacious, the 25,000-square-foot spa is the city's largest, and M Bistro prepares seasonal southern ingredients for hungry crowds.
Most notably, this outpost pulls out all the stops to ensure you feel right at home in NOLA. There's a leafy courtyard ideal for sipping Sazeracs, a $3 million art collection that includes bespoke commissions in guest rooms, and resident jazz legend Jeremy Davenport performs every weekend in his eponymous lounge.
Plus, the Garden District location can't be beat, putting guests within easy walking distance of popular New Orleans attractions like Bourbon Street and the French Quarter.
Expect to redeem between 50,000 and 70,000 Marriott Bonvoy points for an award night. Paid rates hover around $280 per night.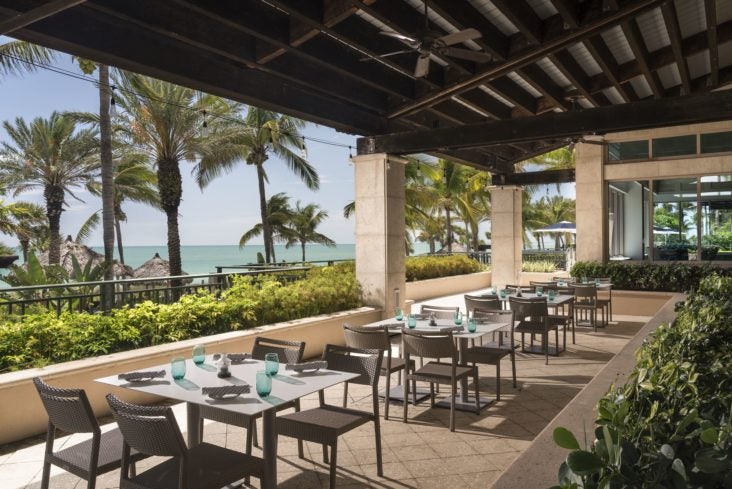 If you find yourself in sunny Sarasota, there's arguably no better place to stay than this swanky Ritz-Carlton. The Mediterranean-style retreat overlooking Sarasota Bay puts you close to the city center and is as glitzy as it gets — all marble bathrooms, fine art, and the kind of seamless service brand loyalists come to expect.
Guest rooms nod to their beachy surroundings with shell-patterned carpets and lamps, blue chaise lounges, and furnished balconies overlooking the marina, resort, or downtown.
Jack Dusty is the place to go for seafood and cocktails before a proper dinner at Ridley's Porch. Work off those calories in the fitness center or spa's heated outdoor pool. Better yet, continue the R&R with a day trip to the hotel's private beach club on Lido Key — a welcome feature, since the hotel does not sit on the sand.
The $40 per-night resort fee covers bike rentals, beach chairs and umbrellas, use of kayaks, paddleboards, and fishing poles, and the complimentary shuttle that connects to the beach club (3 miles away) and Tom Fazio-designed golf course (16 miles away).
Award nights run from 50,000 to 70,000 Marriott Bonvoy points per night for a standard room, while cash rates average about $340.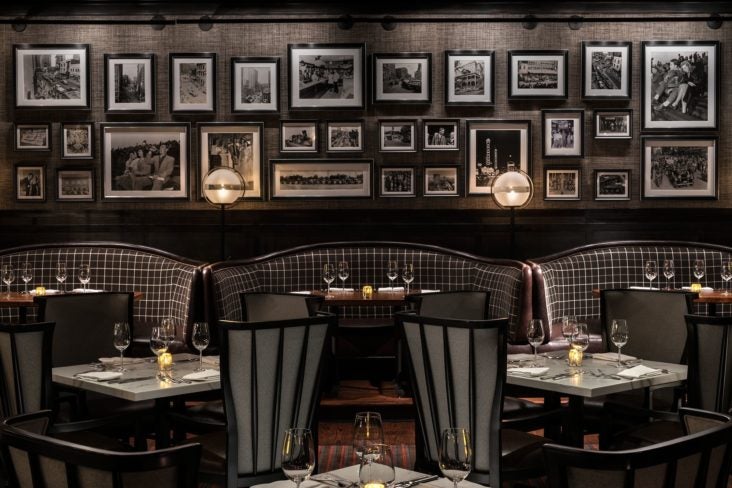 Staying at The Ritz-Carlton, Atlanta is definitely a splurge compared to other hotels in the city, but you get what you pay for — namely, impeccable service, easy access to a clutch of trendy restaurants, and an unbeatable downtown address blocks away from Centennial Olympic Park.
All 422 rooms are extra spacious, with marble foyers, honor bars, and skyline views. Downstairs, the AG restaurant attracts both guests and locals with its steak menu and weekly jazz performances by the Jerry Lambert Trio, while more live music in the clubby Lumen Bar keeps the energy up after hours.
Unlike most Ritz-Carlton properties, be aware that there is an extra fee for Wi-Fi here. Valet parking also gets expensive. Still, business travelers appreciate the hotel's full-service business center and a convenient outpost of Jittery Joe's coffee shop.
Reward nights at Ritz's Atlanta property range between 40,000 and 60,000 Marriott Bonvoy points per night for an overnight stay. Paid rates hover around $270.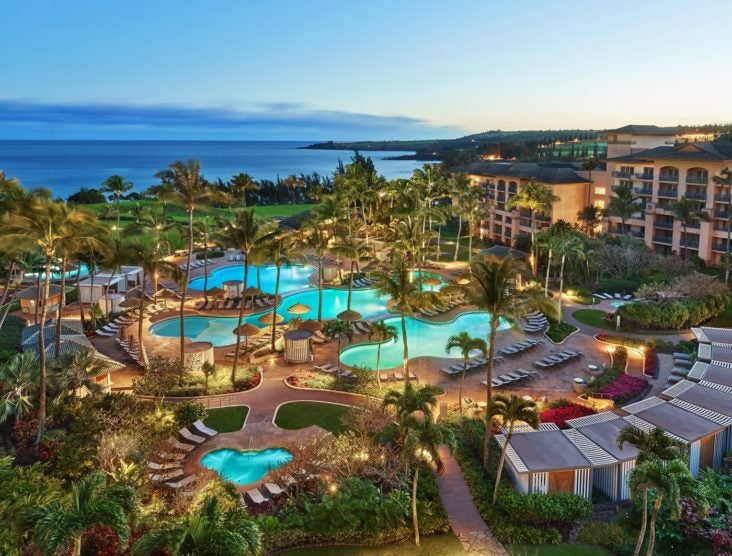 It might seem strange that this Maui hotel is not located on the beach it faces, but this was done on purpose. When an important Hawaiian burial ground was discovered during construction, developers immediately moved the property plans back from the sand.
The result is arguably even more peaceful. Over 50 acres of rolling, remote hillside are now home to a rambling resort complex that features a 3-tiered pool, 6 restaurants, 2 championship golf courses, a spa where treatments are inspired by ancient Hawaiian wellness techniques, and guest rooms that feature local art and furnished lanais.
Because the majority of Maui's crowds tend to stick to sunnier Wailea and Ka'anapali, families love Kapalua for its secluded feel in addition to its kid-friendly amenities, which include a beautiful beach (now home to the Honokahua Preservation Site) and unique cultural programming that celebrates island culture, from hula lessons to guided hikes.
A $35 daily resort fee covers shuttle service within the larger Kapalua Resort as well as select fitness classes, cultural history tours, and use of sports facilities.
Award nights range between 70,000 and 100,000 Marriott Bonvoy points for an overnight stay, which might be smart to redeem, considering paid rates typically average about $850 per night for a standard room.
Hot Tip: Pack a waterproof windbreaker with all those swimsuits — the weather can be fickle (read: rainy and windy) in this part of Maui. We detail the best times to visit Hawaii (by seasons and islands) in our latest guide.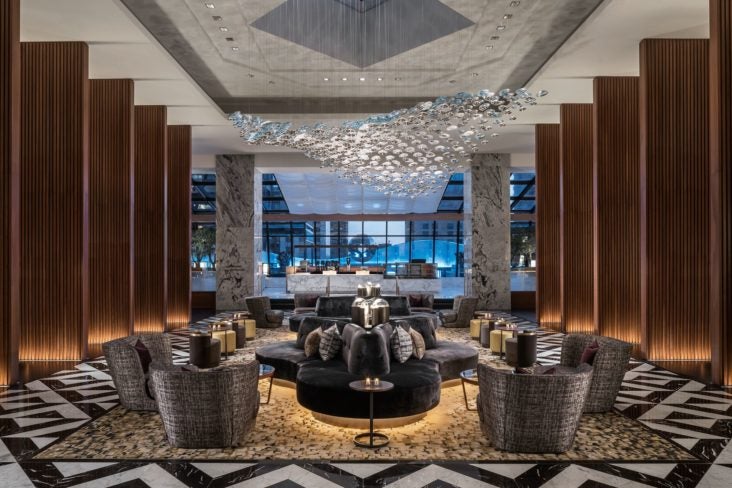 Chicago is a city of architecture and design, and The Ritz-Carlton — smack in the middle of the Magnificent Mile — channels that history in an appropriately stunning way. The experience starts in the 12th-floor lobby, where Art Nouveau has influenced everything from the marble fountain to the undulating chandelier.
Higher up, even the smallest guest rooms are large by city standards and feature arresting views of Lake Michigan or the Magnificent Mile. There's also a spa, fitness center, and restaurant serving regional cuisine. The heated indoor pool is a favorite hangout spot, particularly for families, with beneath-the-surface LED lights that set the water aglow.
Bonus: the property is directly attached to Water Tower Place, which is home to an array of high-end restaurants and shops. If you want to be at the center of it all, this is the place.
Award nights here range from 40,000 to 60,000 Marriott Bonvoy points, while paid rates hover around $300 per night for a standard room.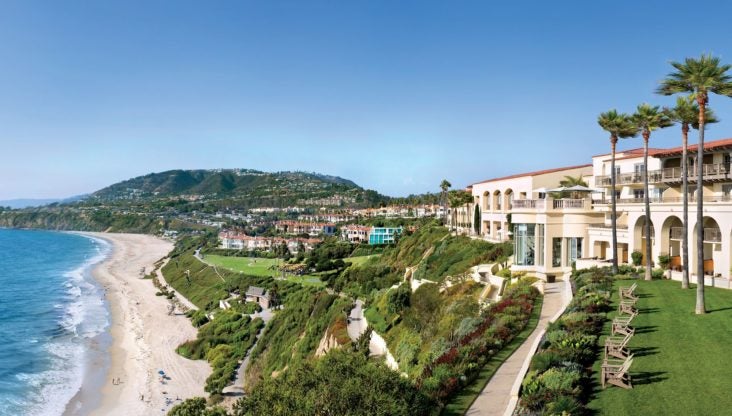 Ritz-Carlton has a thing for California cliffs. Like the brand's Half Moon Bay location, The Ritz-Carlton Laguna Niguel in Dana Point sits on a coastal bluff above the Pacific, and the views are expectedly spectacular.
Up close, the building's rounded archways, French doors, and terra cotta tile roof give it Mediterranean villa vibes. Guest rooms are more contemporary oases with walk-in closets and private balconies, and the service is stellar whether you're getting a seaweed wrap at the spa or digging into pan-Latin cuisine at Raya — 1 of 6 restaurants on site.
Elsewhere, 2 outdoor pools supplement Salt Creek Beach below (reachable via golf cart), which is serviced by beach butlers. From there, naturalists lead snorkeling and whale-watching trips. The waves are also known for their stellar surfing conditions.
The daily $50 resort fee is the highest Ritz-Carlton charge we've seen for such a service. Luckily, it pays for quite a bit, including daily yoga and pilates classes, use of the spa's sauna and steam rooms, beach shuttle and butler service, tennis court and gear rentals, and a daily garden tour at the Eco-Adventure Center.
Expect to redeem between 50,000 and 70,000 Marriott Bonvoy points for an overnight stay. Otherwise, paid rates average about $650.
Hot Tip: Oceanview rooms are worth spending extra for, for obvious reasons. If you score 1 on the first floor, you'll even get your own fire pit.
Final Thoughts
The Ritz-Carlton's reputation precedes it, and the brand continues to deliver one of the most classic — and loved — luxury hotel experiences out there.
Yes, the costs to stay in 1 are often high, but for travelers who can afford the price tag, it's worth every penny — especially if you can score a great redemption value by cashing in those well-earned Marriott Bonvoy points.
Between the top-tier hospitality, award-winning restaurants and spas, incredible locations, and beautiful guest rooms (many of which come with sought-after views), staying at a Ritz-Carlton is an experience you won't soon forget.
---
For rates and fees of the Marriott Bonvoy Business™ American Express® Card, click here.
For rates and fees of the Marriott Bonvoy Brilliant™ American Express® Card, click here.