16 Best IHG Luxury Hotels To Book With Points for Maximum Value
The IHG Rewards program is one that travelers new to points and miles may not hear much about. And while IHG may not get the same amount of attention as Hilton Honors, Marriott Bonvoy, and World of Hyatt, that does not mean it should be written off.
IHG has a full suite of hotel brand offerings for any traveler, and for luxury travelers, IHG has you covered as well. As with all of the luxury hotel articles that we have covered in this series, the goal is to show the best luxury hotels that you can book with your IHG Rewards points. Currently, we value IHG Rewards points at around 0.5 cents per point, so if you can book hotels for more than our cents per point value, you are in good shape.
When you go to book any of these hotels, it is important to note that the cash cost will fluctuate throughout the year. The points required will be the same, so the cents-per-value you receive may not match what we are showing below. It's also important to include taxes and fees in your calculation of value received since taxes and fees are usually included in reservations made with points.
Now that the groundwork has been laid, let's highlight the luxury IHG hotels that you can book for the best value. First, we'll cover the best ways to earn IHG Rewards points and then which hotels you should consider booking.
IHG Rewards Credit Cards
IHG Rewards resembles World of Hyatt when looking at its credit card offering. Unlike Hilton Honors and Marriott Bonvoy, both of which have an array of credit cards to choose from, IHG currently offers 2 credit cards exclusively issued by Chase.
CREDIT CARD
CARD INFO
IHG® Rewards Club Premier Credit Card


Learn More

(at Chase's secure site)

Earn 150,000 bonus points after spending $3,000 on purchases in the first 3 months from account opening
Earn up to 25 points total per $1 spent when you stay at an IHG hotel
Earn 2x points on purchases at gas stations, grocery stores, and restaurants; then 1 point per $1 on all other purchases.
Enjoy a Reward Night after each account anniversary year at eligible IHG hotels worldwide. Plus, enjoy a reward night when you redeem points for any stay of 4 or more nights
Platinum Elite status as long as you remain a Premier card member
Good to Excellent Credit Recommend (670-850)
Annual Fee: $0 for the first year, $89 thereafter
The IHG Premier card is geared towards travelers who value IHG elite status and can receive value from the anniversary award night.
The card will rotate a huge sign-up bonus throughout the year, and on the benefits and perks front, it comes with an anniversary reward night at any IHG property requiring up to 40,000 points per night. Cardmembers also receive complimentary IHG Platinum elite status and a fourth-night free benefit on all award bookings.
The IHG Premier card is a Chase 5/24 credit card. This is important to take into account as you will not be approved if you have opened 5 or more personal credit cards from any issuer in the past 24 months. Some business cards count as well, so we recommend checking out our Chase 5/24 guide to see if you are eligible for this card.
CREDIT CARD
CARD INFO
IHG® Rewards Club Traveler Credit Card




Earn 60,000 bonus points after spending $2,000 on purchases in the first 3 months from account opening
Earn up to 15 points total per $1 spent when you stay at an IHG hotel
Earn 2x points on purchases at gas stations, grocery stores, and restaurants; then 1 point per $1 on all other purchases.
No Annual Fee
The IHG Traveler card allows you high earnings when you stay at IHG Hotels & Resorts, along with bonus earnings on everyday spending at gas stations, grocery stores, and restaurants.
As a cardmember, one of the biggest benefits is that you will get a reward night when you redeem points for any stay of 4 or more nights — all without an annual fee!
The card also offers a way to earn Gold Elite status through card spend, which allows you a faster path to status without the stay requirement.
IHG Award Chart
IHG does not have an award chart because it uses dynamic pricing, similar to Hilton Honors. The number of points required to book a room will vary depending on several factors, including the cash rate, the date range, seasonality, and availability.
Points + Cash
For those travelers who may be low on points, IHG offers a way to book hotels with a cash co-pay. Not all properties offer this option, so you will need to run an award search to see if this option is available at the hotel that you want to book.
Best Luxury IHG Hotels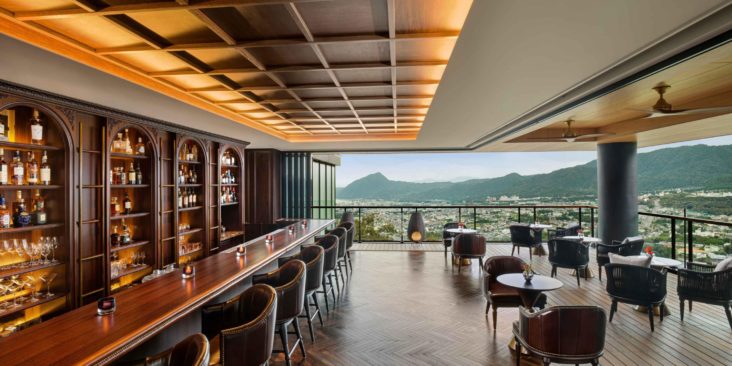 InterContinental – ANA Beppu Resort & Spa is one of IHG's most expensive resorts. It's also one of the most unique properties in its portfolio because it is one of the rare hot spring resorts that can be booked using points.
This exceptional, aspirational property offers an indulgent wellness experience centered around traditional Japanese hot spring baths (onsens) with a fusion of Western luxury elements.
This hotel contains an all-day restaurant, a fine-dining Japanese restaurant, a Club InterContinental lounge, a beautiful cocktail bar, a gym, an outdoor infinity pool, a public hot spring bath with water said to have medicinal properties, bay views, meeting/event space, and business center.
This property costs around 60,000 points per night, although this number might fluctuate slightly due to IHG's dynamic pricing system.
If you paid cash, you'd be spending a minimum of $600 per night, an average of $760 per night, and a maximum peak season rate of $1,750 per night, which would net you a value of up to 2.9 cents per point!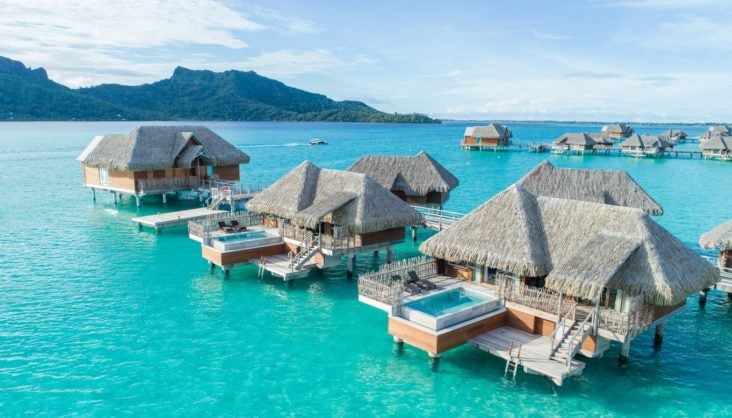 If you have the privilege of visiting Bora Bora and enjoying its incredible natural beauty, you'll be pleased to learn that InterContinental has a few incredible resorts.
In particular, the most luxurious property is the InterContinental Bora Bora Resort & Thalasso Spa that offers 2 fine-dining French restaurants, a beachfront eatery and bar, 3 cocktail bars, a spa, a gym, tennis courts, a water sports center, a lagoonarium, a phenomenal concierge, and a number of complimentary resort activities.
Best of all, even standard room rewards are overwater villas at least 1,022 square feet in size, complete with plush bedding, luxurious décor, and private terraces.
This property costs around 70,000 points per night for award stays, assuming you can find standard room availability. For paid rates, the average sits around $1,100 per night, while the low season rate is approximately $720 per night and the peak season rate is up to $1,300 per night. That's up to 1.9 cents per point in value!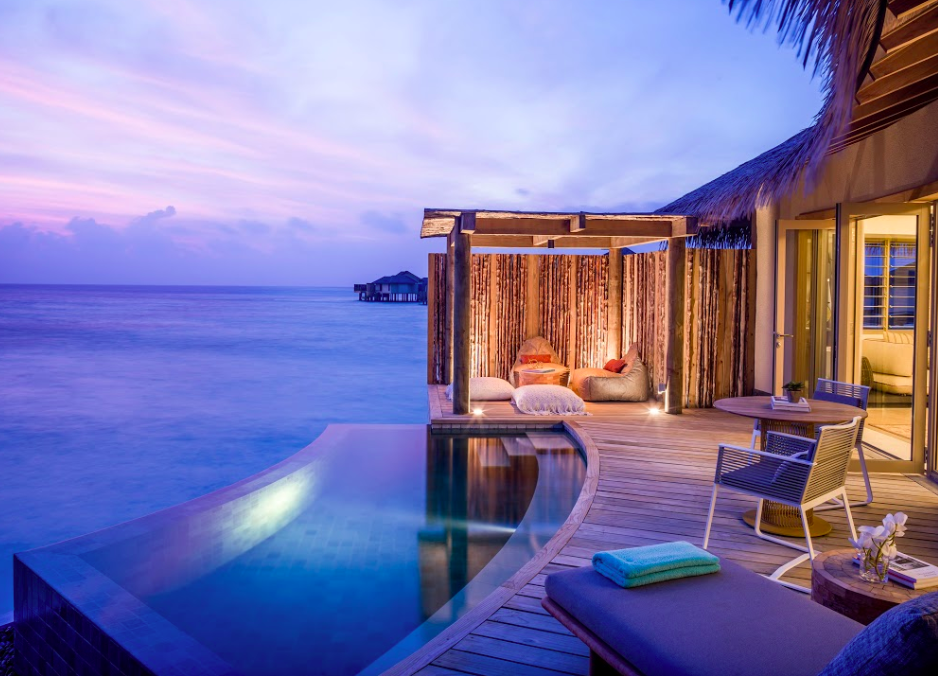 The Maldives is a destination that you hear and read about all the time. While it's a long way from the U.S., it can be a great place to visit if you find yourself in that part of the world.
Located on the Raa Atoll, the InterContinental Maldives offers guests everything they could need on a vacation. From the overwater spa to the fitness center to the executive rooms and suites to the UNESCO marine conservation site, there are plenty of things to do.
The hotel requires 100,000 to 120,000 points per night, but if you have the points to spend you will not be disappointed with the value you receive.
This hotel is one of the most expensive at nearly $1,700 per night during the high season and $900 per night on average. The great news for those with IHG Rewards points is that you can receive up to 1.7 cents per night value with points.
Hot Tip: The round-trip transfer for InterContinental Maldives is a 20-minute flight to Dharavandhoo Domestic Airport followed by a 35-minute boat ride to the resort, which costs $600 for adults and $300 for children (2 to 11 years old).
Members with IHG elite status will be able to rack up points quickly by focusing their stays at IHG properties. The higher your elite status, the more IHG Rewards points that you will earn. The IHG Premier card sign-up bonus is a quick way to earn IHG Rewards points.
Chase credit cards are another way to earn IHG Rewards points. While transferring Chase points to IHG might sound like a reasonable idea, we do not recommend it. Unless you are short on IHG Rewards points, we recommend redeeming Chase points with Chase's other more valuable partners like Hyatt.
Bottom Line: Staying at IHG properties and putting your spending on an IHG credit card are the 2 best ways to earn IHG Rewards points. A combination of these 2 will ensure that you have enough points for any of the hotels in this article.
Final Thoughts
What was surprising to us is the value you can receive when booking IHG luxury hotels. The IHG Rewards point value is ~0.5 cents per point, however, we were able to find several properties where you can receive 2 to 4 times that value. With that said, IHG still comes in fourth in our rankings. Hyatt is number 1 followed by Marriott in second place and Hilton in third place.
While IHG Rewards elite status does not offer many of the benefits and perks that you will find at Hilton, Hyatt, and Marriott, the brand does have a luxury property portfolio where you can receive outsized value with your IHG Rewards points.
---
The information regarding the IHG® Rewards Club Traveler Credit Card was independently collected by Upgraded Points and not provided nor reviewed by the issuer.