The Ultimate Guide to Uber and Earning Maximum Points
Uber has become the go-to ride service for many travelers in the last several years. The ability to quickly request a ride from a mobile device has made navigating cities across the world so much easier.
With so many miles and points enthusiasts taking Uber rides all over the world, we wanted to review all the tricks to maximize the platform — including some fun ways to save money on your Uber rides, plus how to earn lots of miles and points that can help you book your next award flight or hotel award stay.
Now, let's dive into the good stuff so you can start earning the most with Uber.
Uber Rewards Loyalty Program
Uber initially launched the Uber Rewards loyalty program in 8 U.S. markets: New York City, New Jersey (entire state), Philadelphia, Washington, D.C., Miami, Tampa, Atlanta, Denver, and San Diego. But as of March 9, 2019, the program is now available nationwide.
Earning Points with Uber Rewards
With Uber Rewards you earn the following points:
1 point per dollar on UberPool, Express Pool, and Uber Eats
2 points per dollar on UberX, Uber XL, Comfort, Select, and WAV/Assist
3 points per dollar on UberBlack, Black SUV, and Lux
Value of Uber Rewards Points
Uber Rewards are worth a penny a point.
Every 500 points earned are converted to a $5 Uber Cash placed in your account.
Base fare, taxes, and fees earn points. Tips, along with bike and scooter rides, do not earn points.
Earn Uber Rewards Elite Status
Uber Rewards elite status is earned in 6-month qualifying periods. Your first qualifying period starts when you join Uber Rewards. You have 6 months from that date to earn elite status.
Elite status, once earned, is good for the remainder of your elite qualifying period, plus 6 months.
Elite status levels are:
Blue – base member level
Gold – 500 points
Platinum – 2,500 points
Diamond – 7,500 points
Uber Rewards Elite Status Benefits
Uber Rewards has interesting award benefits. Frequent flyers will enjoy Platinum level line cutting at airport pick-ups.
Blue
$5 in Uber Cash for every 500 points earned
Gold
Fee-free cancels if you rebook another Uber within 15 minutes of cancel (generally saves around $5 cancel fee), excluding UberPool
Priority support
Platinum
Price lock on 1 route, chosen monthly, not subject to surge pricing (similar to how the $15/month Ride Pass works, though Ride Pass works for multiple routes)
Cut to the front of line priority at many airports
Diamond
Upgrades from UberX
DiamondX setting in app to limit to highly-rated drivers (like Uber VIP)
Phone support
Uber Eats delivery fee waiver for 3 orders every 6 months
Earn Maximum Points With Uber
If you take Uber rides to and from work events on a regular basis — or even just to hang out with friends on weekends — you'll want to choose the right credit card that will earn you the most points.
Previously, if you used an American Express Membership Rewards card, you would earn an additional 1x point per dollar spent on each Uber ride. Unfortunately, that benefit is no longer available.
That's okay, though, because Chase provides 2 great options for earning points on your Uber rides. Unlike American Express cards that have air travel bonus categories, Chase has a broad travel bonus category for both the Chase Sapphire Reserve® Card and the Chase Sapphire Preferred® Card.
The Chase Sapphire Reserve card earns 3x Ultimate Rewards points per dollar spent on all Uber rides, and it's your best bet to easily earn the most points. The Chase Sapphire Preferred card is a great alternative if you want to earn Ultimate Rewards points at 2x points per dollar spent.
If you want to earn American Express Membership Rewards points, The Blue Business® Plus Credit Card from American Express is your best bet — it earns 2x points per dollar on all spending up to $50,000 per calendar year.
Another option is to use the U.S. Bank Cash+™ Visa Signature® Card for 5% cash-back on your first $2,000 spent in your 2 chosen bonus categories (ground transportation is one of the available categories).
Use Travel Credits With Uber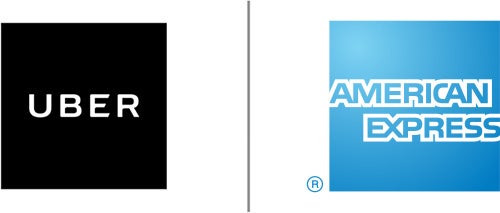 If you're a regular user of Uber, a few credit cards offer travel credits that can really help you offset the cost of the annual fee. Considering these cards have steep annual fees, utilizing the credits can really make a difference.
With the Chase Sapphire Reserve card, you receive a $300 travel credit and will continue to receive this credit on each cardmember year anniversary. This travel credit is the easiest to use since it's automatically applied to your first $300 spent on travel. As we mentioned above, Chase has a broad travel category that includes Uber, so this credit can knock out a bunch of Uber rides for you.
The Platinum Card® from American Express offers cardholders $200 in Uber credit each year. Every month, you will receive $15 in Uber credit to use (for Uber or Uber Eats), plus an additional $20 in December (for a total of $35 that month). With this credit, you either use it or lose it — it won't roll over into the next month.
This is a clever way to get you to use Amex Platinum card on your Uber rides when the card only earns 1 point per dollar. However, if you have a card that earns 2x or 3x points per dollar on Uber rides, there's an easy way to take advantage of this Uber credit and earn more points.
To activate the Uber credit, you merely have to link Amex Platinum card to your Uber account. You can then set another card as your default payment method.
For example, if you have a $50 Uber ride to the airport, you can take advantage of the $15 Uber credit and then pay the remaining $35 with the Chase Sapphire Reserve card. This will let you earn 105 Ultimate Rewards points instead of just 35 American Express Membership Rewards points!
It might not seem like much at the moment, but earning 3x points per dollar spent instead of 1x really starts to add up over time.
Uber Credit Card Overview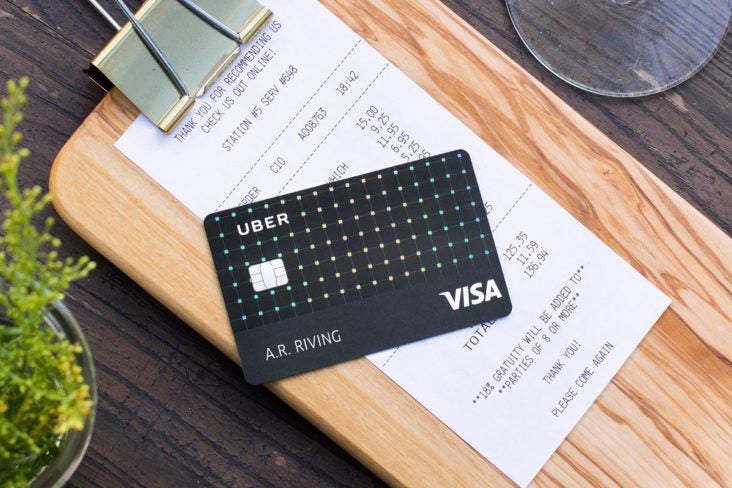 In late 2017, Barclays and Uber launched a co-branded credit card with plenty of fanfare. The Uber card allows you to earn cash-back in the form of Uber Cash with several popular bonus categories:
5% Uber Cash on Uber Services — including rides, Uber Eats, and JUMP bikes and scooters
3% Uber Cash on airfare, hotels, and restaurant purchases
1% Uber Cash on all other purchases
This is an excellent earning structure for a card with no annual fee, and great for those who frequently use Uber, as each purchase you make will add to your Uber Cash balance. Unfortunately, the card is no longer open to new applicants.
If you want to earn miles and points that can be used to book business and first class award flights, this card won't help you do that. However, if you regularly book economy class flights, you might find this card valuable since you can book a flight with the card and redeem your points for a statement credit to cover the flight.
Hot Tip: On October 22, 2021, the Uber card will be discontinued and its users transitioned to a different Barclays card.
9 Tricks to Get the Most Out of Uber
Choosing the right credit card to get the most miles and points when you pay for each ride is pretty straightforward, but there are a number of tricks that can help you get even more out of your rides while saving you some money.
1. Visa Local Offers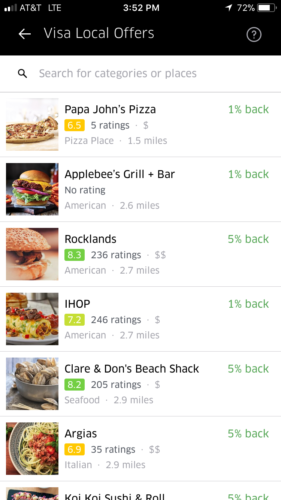 Uber's rewards program is known as Visa Local Offers. Rather than earn rewards when you pay for Uber rides, you will earn Uber credits when you shop at participating restaurants and businesses.
To access your offers, you need to link a Visa card to your account — the Chase Sapphire Reserve card or Chase Sapphire Preferred card can fulfill this requirement. To link a credit card, all you have to do is add it as a payment method. Just select Payment from the menu options, then Add Payment Method and enter your credit card info.
Once you have done this, go to the Settings option in the menu. Under Rewards, you will see Visa Local Offers. Opt-in and you will be eligible to earn Uber credits at participating merchants.
Now, when you're on the home screen of the Uber app, you can access your offers under your messages at the bottom of the screen.
Depending on the merchant, you will earn between 1% and 10% of your purchase amount in Uber credits. For example, a $100 purchase at a merchant offering 10% back will earn you $10 in Uber credits.
2. Consider Purchasing a Ride Pass
Ride Pass gives you consistently low prices on UberX and Pool rides by allowing you to lock in a set price for a particular ride you take frequently — like from your home to your office or the airport. This prevents you from needing to pay more if the app is surging due to traffic, weather, or time of day. Ride Pass is available in select cities for $24.99 per month.
Sometimes, it can be a little tricky pinpointing the exact pickup spot on the Uber app. This can be especially tough when you're traveling abroad if you don't speak the language or have a good handle on the area.
To make it easier for drivers to find you, Uber now lets you share your current location with your Uber driver. If you are close to your designated pickup location, drivers will be able to see that and adjust accordingly.
You can turn this function on and off as you please.
When meeting a friend, it can be tough to estimate arrival times as traffic patterns change, accidents happen, and occasionally your Uber driver might take a wrong turn. Well, similar to the ability to share your location with your Uber driver, you can share your ride location with a friend.
This allows your friends to track your ride in real-time. If your friend is walking to meet you at a restaurant, he or she can time when they need to leave based on the progress of your ride so they aren't sitting alone for 15 minutes waiting on you.
If your friend has the Uber app, they will get an invite to follow your Uber ride via the app. If they don't have the app, they will receive a text message with the invite.
5. Make Multiple Stops on the Way to Your Destination
If you forgot to pick up beer and chips for a party, you can enter up to 2 additional stops en route to your final destination. This makes it easy to swing by a gas station or grocery store so you can pick up anything you had forgotten to get earlier.
To add a stop, simply hit the plus sign next to the box where you enter your destination. You can add multiple destinations before starting your ride in the order you want, and you can even add a stop or 2 once you're on your way.
Uber asks that riders limit these stops to no more than 3 minutes as a courtesy to drivers.
6. Schedule Ride Requests
Unlike booking a ride with a car service that guarantees a driver will be at your door at a specific time, scheduling a ride with Uber only means that you will request a ride for a 15-minute window of time. Once the ride is requested, you will receive a notification on your mobile device.
If you know you are going to be pressed for time getting to the airport or an important meeting, you might be better off using a car service. You could also try Lyft's scheduled ride service, as a driver agrees to pick you up in advance so you'll know if a ride is available before the time you need to leave.
7. Buy Discounted Uber Gift Cards or Uber Funds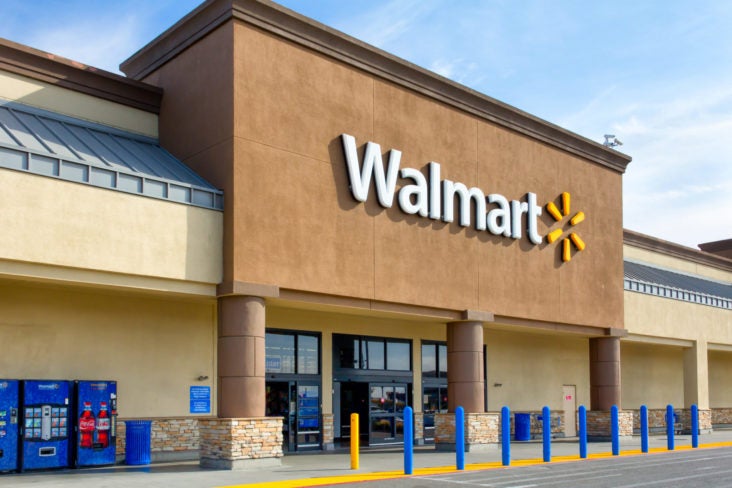 Occasionally, you can buy discounted Uber gift cards at stores such as Walmart and PayPal Digital Gifts on eBay. These gift cards come with a code that can be added to your Uber account under the Payments menu option as Uber credit.
This is a very simple way to save money on Uber if you know you'll have rides in the near future.
Save On Uber Funds
Adding funds proactively to your Uber account can be handy when you use the service a lot. Plus, you can save up to 5% when you do.
Add $25 to your Uber account and save 2%
Add $50 to your Uber account and save 3%
Add $100 to your Uber account and save 5%
8. Earn Bonus Points on Uber Gift Cards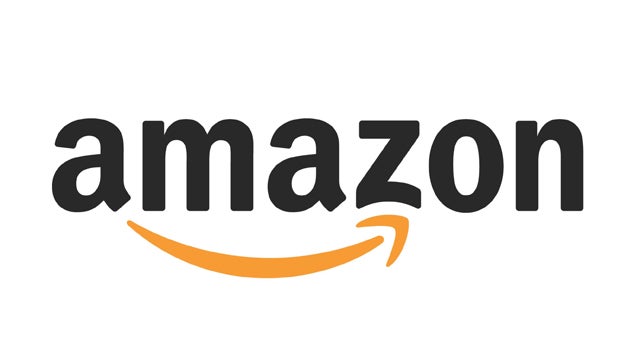 If you're really trying to earn as many points as possible for your Uber rides, you might consider purchasing Uber gift cards at face value if you have a way to earn more than the 3x or 2x points per dollar spent.
If you have the Ink Business Cash® Credit Card, you can earn 5x Ultimate Rewards points per dollar spent when you buy Uber gift cards at an office supply store. Keep in mind that the Ink Business Cash card earns cash-back, unless you have a premium card that earns Ultimate Rewards points and has an annual fee.
If you pair this card with the Chase Sapphire Reserve card, Chase Sapphire Preferred card, or the Ink Business Preferred® Credit Card, you will be able to earn Ultimate Rewards.
Another fun option is buying Uber gift cards on Amazon while on a JetBlue flight. The JetBlue TrueBlue shopping portal allows you to earn 3x TrueBlue points when shopping at Amazon inflight.
If you fly JetBlue regularly or even occasionally, you can take advantage of this opportunity. When you pay with the Amex Blue Business Plus card, you'll earn 2x Membership Rewards points per dollar spent in addition to the TrueBlue points. You might even find Uber gift cards on sale.
Previously, you could earn 3x TrueBlue points when shopping on Amazon from home, but as of March 27, 2018, you will only earn 3x on while flying JetBlue.
9. Earn Marriott Bonvoy Points by Linking Your Account
As a bonus to whatever earnings you'd get through your credit card and any Uber Rewards you'd earn, you can also triple-dip and earn Marriott Bonvoy points when you link your Marriott Bonvoy account to your Uber account.
Members will earn:
6 Marriott Bonvoy points per $1 spent on Uber Eats deliveries to U.S. Marriott properties with a minimum subtotal of $25 (or 2 points per $1 for non-hotel deliveries)
3 Marriott Bonvoy points per $1 spent on Uber XL, Comfort, Black, and Black SUV rides in the U.S.
Final Thoughts
Uber has become a big part of many people's lives, whether they travel regularly or even just once per year. With plenty of money being spent on Uber rides, we want to make sure you are taking advantage of every opportunity to save money or earn the miles and points that can help you book your next vacation.
If you want to keep things simple, just pick a credit card that includes Uber in its travel bonus category. If you have the Amex Platinum card, consider pairing its monthly Uber credit with a card that will earn bonus points.
Finally, if you really want to maximize your Uber rides, take advantage of some of the tricks we discussed above to save money or earn even more points on the money you spend with Uber.