Earning Rewards With Lyft: 10 Perks and Benefits for Lyft Passengers
Lyft has been a big player in the rideshare industry for a while, providing an alternative to traditional taxis, Uber, and other car-hailing services. It brands itself as a cheaper alternative to taxis and a friendlier alternative to Uber.
Unlike Uber, however, the company has yet to launch its own rewards program. We've heard rumors that it's in the works, but the news has been quiet as we closed out 2019 and entered 2020.
However, that isn't as big of a deal as you might think — in fact, Lyft has actually become a favorite ridesharing provider amongst most of the miles and points community.
But how could that be without a loyalty program?
Simple: Lyft has partnered with airlines, hotel companies, credit card issuers, and other companies to offer awesome third-party incentives for riding with Lyft.
Plus, there are plenty of ways to save money when riding with Lyft, too — things like Lyft Pink and new user referrals are excellent and reliable ways to discount your rides regularly, so you'll rarely have to pay full price.
In this article, we'll show you all the ways you can earn points and save money on Lyft rides. Keep these in mind and you'll never ride Lyft without a cash saving or points earning incentive ever again.
Let's dive in!
Earning Points and Miles With Lyft
Upgraded Points is a points and miles website, so naturally, we'll start with how to earn bonus airline, hotel, and credit card points with Lyft.
Much to the surprise of many, you can earn tons of bonus points when riding with Lyft, and many of these methods are stackable. This means that you may be able to earn multiple types of points at once when you ride with Lyft!
Here's a look at all the way you can earn bonus points and miles with Lyft.
1. Pay for Your Lyft Rides With Select Chase Credit Cards
Chase and Lyft announced a new partnership in 2020 that lets select Chase cardholders earn tons of bonus miles on their Lyft purchases — in fact, select cardholders can earn a whopping 10x Ultimate Rewards points per dollar spent!
All Chase-branded cards that earn cash-back or Ultimate Rewards can earn bonus points and cash-back on Lyft purchases.
As you might already know, no annual fee Chase cards that earn cash-back — think the Chase Freedom Unlimited® card and Ink Business Cash® Credit Card — can convert earned cash-back into Ultimate Rewards when the cash-back is combined with a premium card like the Chase Sapphire Preferred® card.
Here's how many bonus miles and cash-back each eligible Chase card earns on Lyft purchases:
Earning these bonus points is simple: just add your eligible Chase credit card to your Lyft account and use it to pay for all of your rides. The bonus points or cash-back will be automatically credited to your Chase account.
Bottom Line: Use your Chase Sapphire Preferred card or Chase Sapphire Reserve card to pay for your Lyft rides — you'll earn a ton of bonus points in the process.
2. No Chase Card? Use Another Travel Credit Card
Don't have a Chase card? It might be worth getting 1 if you use Lyft often. But if you're not interested in a new credit card right now, make sure to pay for your Lyft rides with a credit card that earns bonus points on travel.
For example, the Citi Premier℠ Card earns 3x points per dollar spent on travel, meaning that you'd earn 75 Citi ThankYou Points for a $25 Lyft ride.
This isn't as many as the 250 Ultimate Rewards points that you'd earn with a Chase Sapphire Reserve card, but it's still nothing to scoff at.
3. Connecting Your Delta SkyMiles and Lyft Accounts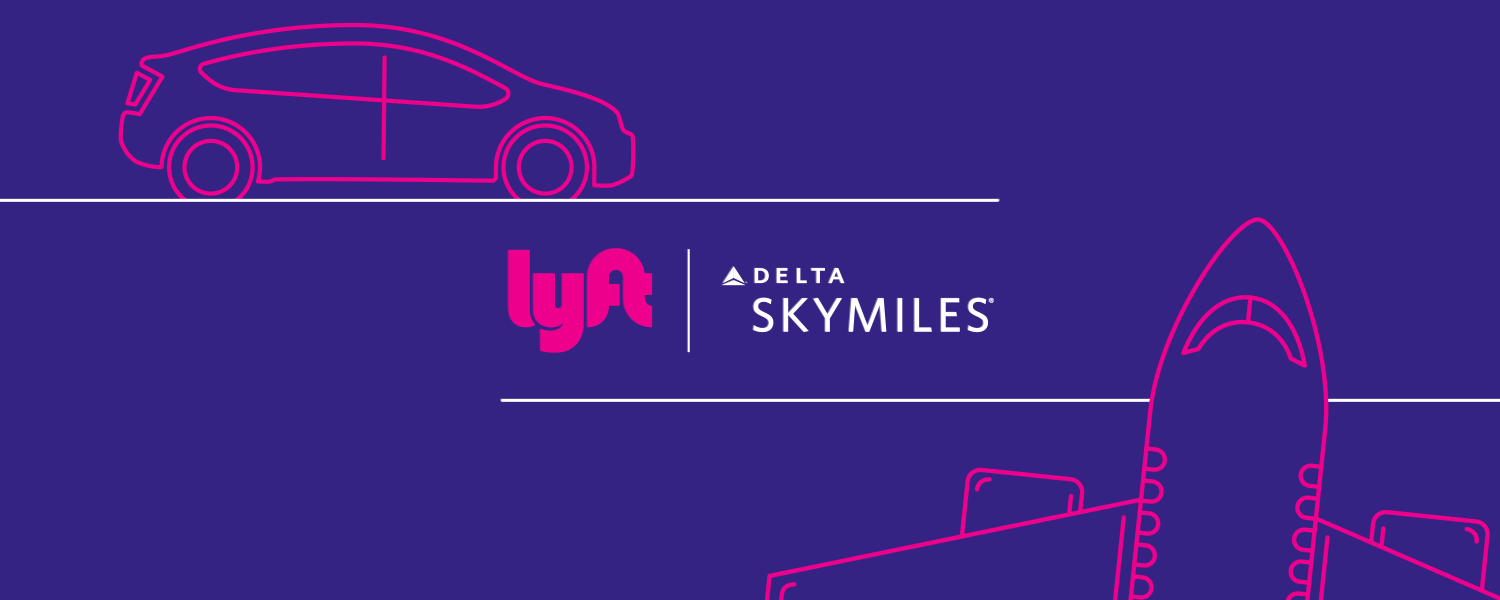 Lyft also partnered with Delta Air Lines to offer bonus SkyMiles on all Lyft rides — all you have to do is link your Delta account to your Lyft account by going to Delta.com/Lyft
As far as mileage earning goes: for every standard Lyft, Lyft XL, or Lyft Lux ride you take, you'll earn 1 mile per $1 spent. Plus, you'll earn 2 points per $1 spent on airport rides, making this perk is exceptionally valuable for those that travel for work.
New Lyft riders will also receive 2 $10 coupons to use on your first 2 rides with Lyft. Once you link your SkyMiles and Lyft accounts, the coupons will be automatically applied to your account. To make a SkyMiles account, you can create one at delta.com/skymiles.
Delta miles earned through Lyft will never expire, but cannot be added retroactively. Lyft credits and gift cards also do not count toward your SkyMiles, and miles earned with Lyft do not count towards Delta Medallion elite status qualification.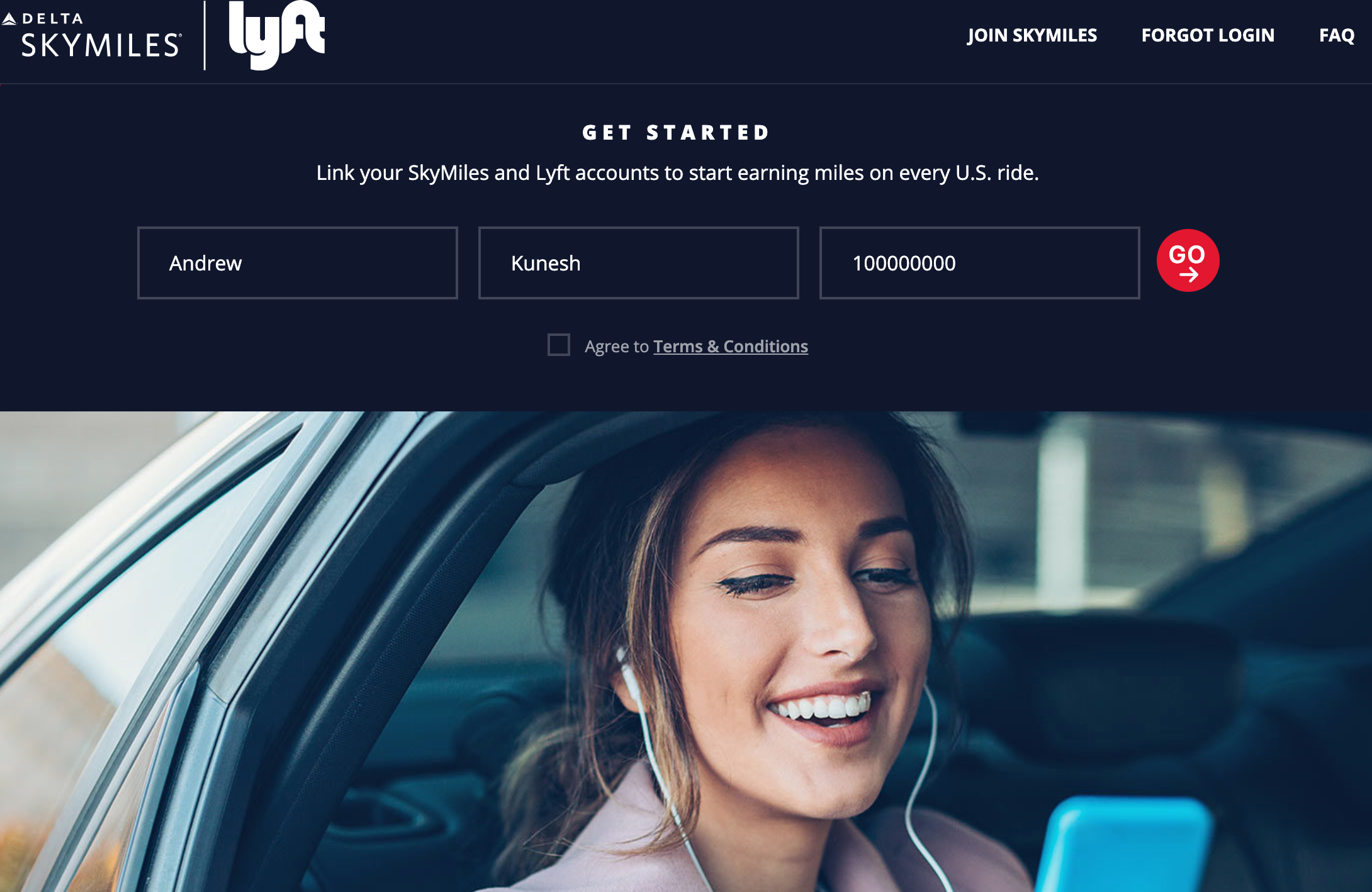 If you already have a Lyft account, connecting your Lyft and Skymiles accounts is easy:
Go to delta.com/lyft
Enter your SkyMiles account number and full name associated with the account
Click the Link Now button on the right-hand side of the screen
Click the Continue with Lyft option at the center of the screen
Sign in to your Lyft account when prompted
Read the terms and click Accept at the center of the screen
That's all there is to it! You'll now earn Delta miles on all of your Lyft rides within the U.S. Just note that Lyft rides in other countries are not eligible for Delta points-earning.
Hot Tip: Did you know that Delta miles can be used on a variety of partners — not just on Delta? They can be used on Air France/KLM, Aeroflot, Aeromexico, and others. See our post on the best ways to use your Delta SkyMiles. 
If you're new to using Lyft, the process is similar:
Go to delta.com/lyft and create an account using the same first and last name on your SkyMiles account as well as your SkyMiles account number (this is to make sure you receive those 2 $10 ride discounts!)
Once that information is correctly entered, click the Link Now button and then click Continue with Lyft
Enter your phone number and the information requested
Click the Sign Up button
You will be texted a verification code by Lyft — enter that code and click Submit
Enter your payment information and click Submit again
Read the on-screen terms and click Accept
To see your Delta mileage balance, go to delta.com/skymiles. These points will show up 24-48 hours after a qualifying ride has been completed, but sometimes it can take up to 5 days. In our experience, though, miles are added near-instantaneously.
4. Link Your Hilton Honors Account to Earn Hotel Points
Like the Delta partnership, Lyft and Hilton partnered in 2019 to offer bonus Hilton points to all Hilton Honors members who link their account to their Lyft account.
When your accounts are linked, you'll earn 3x points per $1 spent on Lyft private rides and 2x points per $1 spent on shared rides — not a bad return!
Better yet, linking your Hilton account to Lyft doesn't disqualify you from earning Delta miles on your rides, so make sure to link both and double up on bonus points.
Linking your Hilton account to Lyft is simple:
Go to hiltonhonorslyft.com
Click the Earn Points button at the center of the screen
Sign in to your Hilton Honors account when prompted
Read and agree to the on-screen terms and click Link to Lyft
Sign in to your Lyft account
Read the terms and click Agree at the center of the screen
And that's all there is to it! These Hilton points will add up over time, getting you closer and closer to your next big Hilton Honors redemption.
5. Use Rakuten to Earn Cash-Back (Or Membership Rewards Points) on Each Ride
Finally, you can earn cash-back or American Express Membership Rewards points by clicking through Rakuten — one of the web's most popular shopping portals — before you take a Lyft ride.
This portal offers $0.25 cash-back whenever you tap through the Lyft link in its app before you request a Lyft ride. And while this might not seem like much on paper, these earnings will add up over time, especially if you ride with Lyft a lot.
Even cooler, Rakuten recently started offering American Express Membership Rewards points as an alternative to earning cash-back.
If you opt to earn Membership Rewards points over cash-back, you'll earn 1 Membership Reward point per $0.01 earned through the app. This means that you can earn 25 points per Lyft ride.
Hot Tip: Don't have a Rakuten account yet? No worries — sign up here and you'll earn $10 (or 1,000 Membership Rewards points) after spending $25 through the Rakuten shopping portal.
We think that this is a much better deal than earning cash-back. This is because we value Membership Rewards points at 2.2 cents per point, meaning that you'll earn $0.55 worth of points per ride — over double what you'd earn when opting for standard cash-back.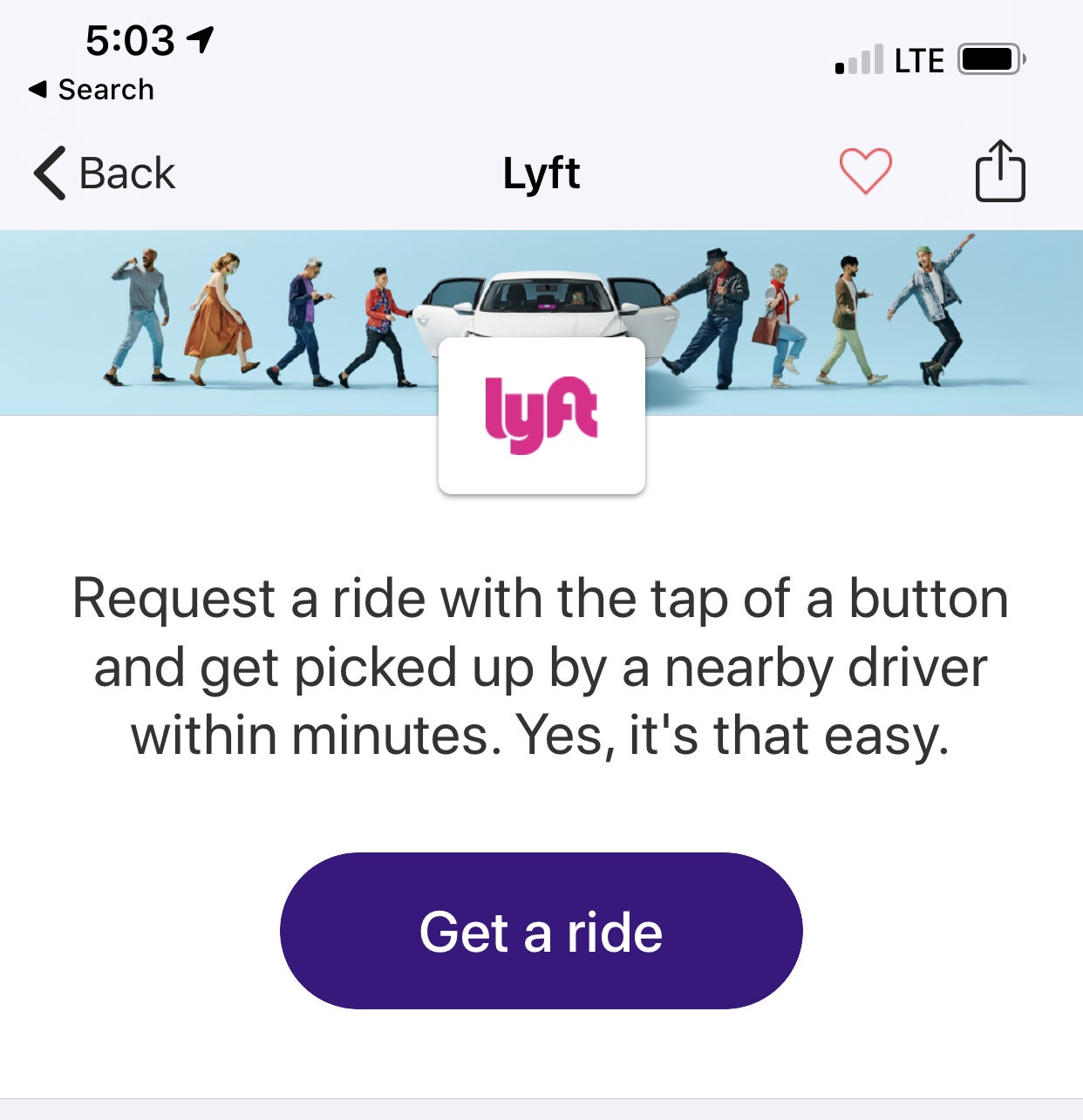 Using Rakuten with Lyft is simple: just download the Rakuten mobile app (iOS or Android) and sign in to your Rakuten account. Then, search for Lyft in the Rakuten app and tap the Get a ride button before you request a Lyft ride.
It's that easy!
Plus, you can use Rakuten to earn cash-back or Membership Rewards points on almost all of your online purchases. Just search for your merchant of choice and click through the Rakuten link before you buy.
Saving Money With Lyft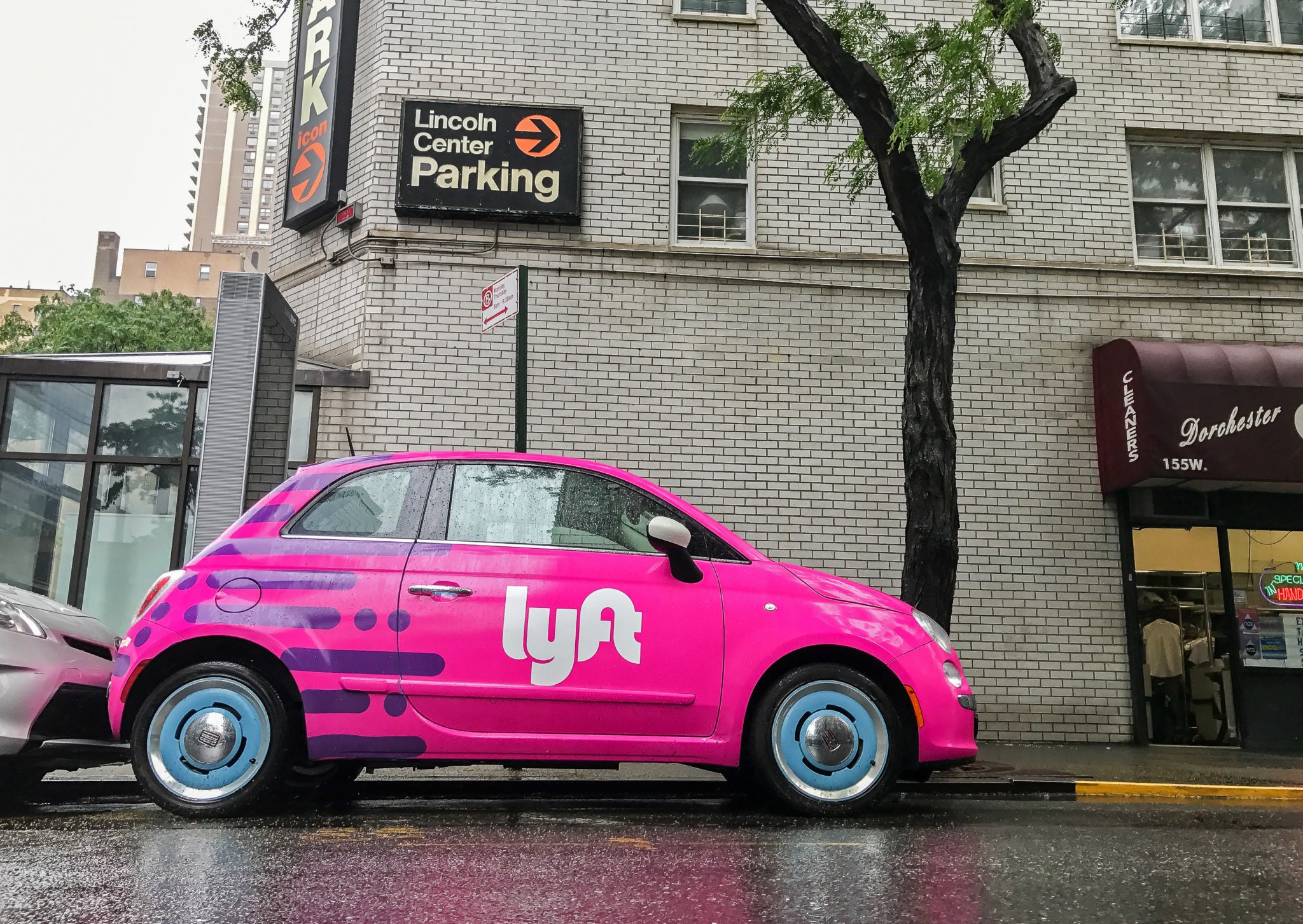 Points and miles are great, but who doesn't love saving a bit of cash, too?
We'll show you how to save money on all of your Lyft rides in the paragraphs below — some of these tips include credit card programs, subscription services, and more!
Here's a look!
6. Enroll in Lyft Pink
Lyft Pink is Lyft's latest subscription service for Lyft loyalists.
The subscription costs $19.99 per month, but you can get a year of service for free with the Chase Sapphire Reserve card. It includes awesome benefits like:
15% off car rides — 15% off all Lyft rideshare rides
Priority airport pickups — faster pickup at select airports
Relaxed cancellations – 3 free cancellations per month if you rebook within 15 minutes
Surprise offers — seasonal discounts and exclusive offers
Waived lost and found fees — no lost and found fee if you lose something in a Lyft car
Free bike and scooter rides – 3 free 30-minute rides on Lyft-operated bikes and scooters per month in select markets (view the full list of cities on Lyft's website)
Free delivery and discounts with Grubhub+ and Seamless+ – unlimited free delivery ($12 minimum order) and exclusive member discounts
Depending on how much you ride with Lyft, this can be a huge benefit. However, you'd need to spend just over $113 on Lyfts every month to break-even with the 15% discount alone.
Bottom Line: We highly recommend getting Lyft Pink with the Chase Sapphire Reserve card. Not only will you get Lyft Pink for free, but you'll be eligible for the card's other awesome benefits like a DoorDash DashPass subscription, airport lounge access with Priority Pass, and more.
7. Pay for Rides With a World Elite Mastercard
If you have a U.S. World or World Elite Mastercard —for example, the Citi Premier card — make sure to add it to your Lyft account and use it to pay for your rides.
Every month you're eligible for 1 $5 Lyft credit when you pay for 3 Lyft rides with your World or World Elite Mastercard. These 3 rides can be in any car class, and there's no minimum spend required. So even 3 individual $3 Lyft Shared rides would make you eligible for the $10 off.
Better yet, this discount can also be applied to any Lyft ride with no minimum. If the cost of your ride is above $5, you'll only be liable for the excess cost. With that in mind, make sure to use a World or World Elite Mastercard that earns bonus points on travel, like the Citi Premier card.
World Elite Mastercards have other benefits, too. Some of these benefits include complimentary rental car status and free Shoprunner membership, so it's always worth keeping 1 in your wallet.
8. Create a Lyft Business Profile
If you need to use Lyft for work, it offers plenty of options for businesses, including auto-expensing! Plus, for every 5 Lyft rides you take for work, you'll be rewarded with a $5 Lyft credit that you can use on personal rides.
If you don't have a Lyft account, you can make one by going to the Lyft business profile page:
Type in your work email address and hit Next
Enter your payment method of choice (use your business card if you have one)
Download the Lyft app and create an account
Here's how to get started with Lyft Business if you already have an account:
Open the Lyft app and tap on the menu icon at the upper left-hand corner of the screen
Tap the Settings option and then tap Business Profile
Tap the Get Started link
Type in your work email and tap Next
Then, enter your payment information, or select a payment method from those that you have available (this will be the default payment used for your business trips, and is separate from the payment in your personal account)
Tap Next and you're done!
To use your Lyft account for a work-related trip, tap the Personal button under the estimate for your ride fare — this will switch your account and payment method to your business account and associated means of payment.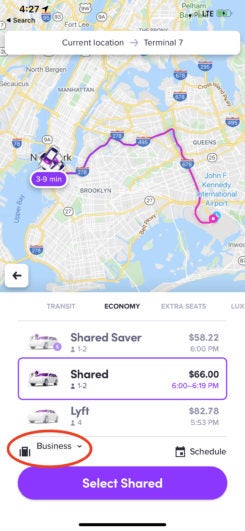 You can also set up auto-expensing to keep track of your business-related transportation. When you set up auto-expensing, Lyft will automatically forward your trip receipts to the expense management system of your choice. It's super easy to set this up on your phone:
Open the Lyft and tap the top-left menu icon
Go to Settings and tap the Business profile option
Tap the Expense management option
Select your employer's expense management system — Lyft is compatible with Concur, Abacus, Zoho, Certify, Xpenditure, ChromeRiver, Expensify, and Nexonia
If you accidentally charge a business ride to your personal account, you can still switch to your business profile and payment method after the ride so long as you haven't submitted the payment yet. This is when you submit the rating after your ride is completed and you're given a chance to change payment methods. Once you submit payment and rating, though, this cannot be changed.
One more thing to keep in mind: since employers typically reimburse you for these ride expenses, promo codes cannot be used on rides charged to business profiles. Thankfully, you can still enjoy these promos in your personal account.
Bottom Line: With Lyft Business you can easily expense your rides to your employer and earn your favorite points as you spend for the rides on your personal credit card.
9. Scheduled Rides With Lyft
Another fantastic way to save time and money is by scheduling Lyft rides in advance.
If you know where and when you need to be somewhere — or simply want to avoid paying extra during price surges due to traffic or demand for drivers — this option is perfect for you.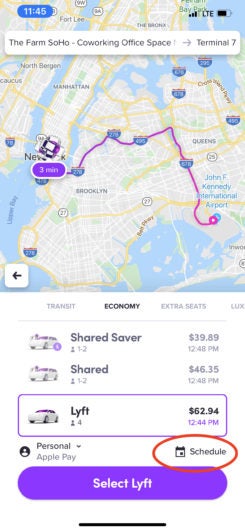 Scheduling a ride is simple. Just open the Lyft app, enter your destination, then click the Schedule button at the bottom right-hand corner of the screen. You'll then be prompted to enter your trip's origin, set a pickup time, and schedule your ride,
Hot TipScheduling Lyft rides in advance is great for having a car ready for those early-morning trips to the airport!
10. Referring New Passengers for Free Rides
Certain cities also allow you to refer your friends to use Lyft in exchange for a free ride.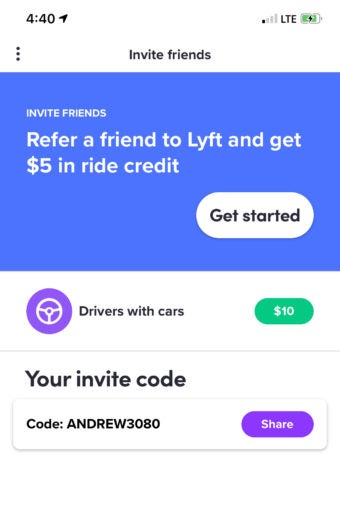 To see your current referral offer, tap into the side menu in your Lyft app and select Free Rides to see if your account qualifies for this promotion. You'll see your current referral bonus on this screen if you're eligible.
Actually earning these referral credits is very easy: just share your referral code with new Lyft riders.
The easiest way to share your referral code is by inviting your friends to Lyft using the aforementioned Free Rides option in the app. Here, you can invite the contacts on your phone to use Lyft if they're new to the service.
When you refer someone to Lyft, the new Lyft passenger receives free ride credit immediately (it will be accessible from the Promo section of their Lyft app). When you refer a passenger, you will see your free credit after they take their first ride a ride with Lyft. Sounds like a win-win to us!
Keep in mind that in order to receive your credit, the passenger must be new to Lyft and use your unique referral code! These referral credits are good for 14 days and are generally valid for a fixed discount off a ride.
Bottom Line: Referring riders is one of the easiest ways to save money on your future trips with Lyft!
Final Thoughts
Between connecting your Delta SkyMiles and Hilton Honors accounts to your Lyft account and using a Chase Ultimate Rewards card to pay for your rides, you can earn tons of extra miles when you ride Lyft. These points-earning methods will inch you closer to your next big points redemption with each and every Lyft ride you take.
So while the Lyft Rewards program still hasn't seen the light of day, riding with Lyft can still be a super rewarding experience. Just make sure you're not leaving any points, miles, or cash savings on the table!
Safe travels!
---
The information regarding the Chase Freedom®, and Chase Freedom Unlimited® was independently collected by Upgraded Points and not provided nor reviewed by the issuer.