Undercover Tourist Review [Discounted Tickets, Hotels, and Car Rentals]
Undercover Tourist is a popular website for purchasing theme park tickets at a discount. If you've planned a trip to Walt Disney World, Universal Studios, or SeaWorld, you've probably come across Undercover Tourist. But did you also know you can use this website to book hotels and rental cars, too?
In this post, we'll go over what you need to know to use Undercover Tourist to find the best prices on amusement park tickets, hotels, and rental cars. Plus, we'll go over some of the popular features of the site like the Crowd Calendar.
What is Undercover Tourist?
Undercover Tourist is a website that that's been around since 2000 and is known for offering discounted tickets to theme parks across the U.S. The site is an authorized seller of tickets for all the major theme parks you know and love:
Walt Disney World Resort in Florida
Disneyland in California
Universal Orlando Resort
Universal Studios Hollywood
SeaWorld Orlando
SeaWorld San Diego
LEGOLAND Florida Resort
LEGOLAND California Resort
Undercover Tourist also has discounted tickets to non-theme park attractions like Ripley's Believe It or Not, ski resorts, zoos, movie theaters, and lots more! Plus, it acts as an online travel agency for hotels and car rentals.
While Undercover Tourist offers a ton of ticket, hotel, and car options, the site is limited in the number of destinations it covers. You'll only find options in the following cities:
Boston, MA
Breckenridge, CO
Chicago, IL
Los Angeles, CA
Miami, FL
New York City, NY
Orlando, FL
Park City, Utah
San Antonio, Texas
San Diego, CA
San Francisco, CA
Vail, CO
Washington, D.C.
Options in Seattle, London, and Paris are coming soon.
Bottom Line: Undercover Tourist is a resource for discounted tickets to theme parks and other attractions in select cities across the U.S. It's best known for offering discounted tickets to Walt Disney World and Universal Studios theme parks.  The site also acts as an online travel agency for hotel reservations and car rentals in these select cities.
Discount Tickets
Let's review the steps to using Undercover Tourist to purchase discounted tickets.
You can start your search for discounted tickets from many different places on the home page. Click on Discount Tickets in the top menu bar, click on a logo underneath the menu bar, or click on any of the featured tickets in the middle of your screen to start your search.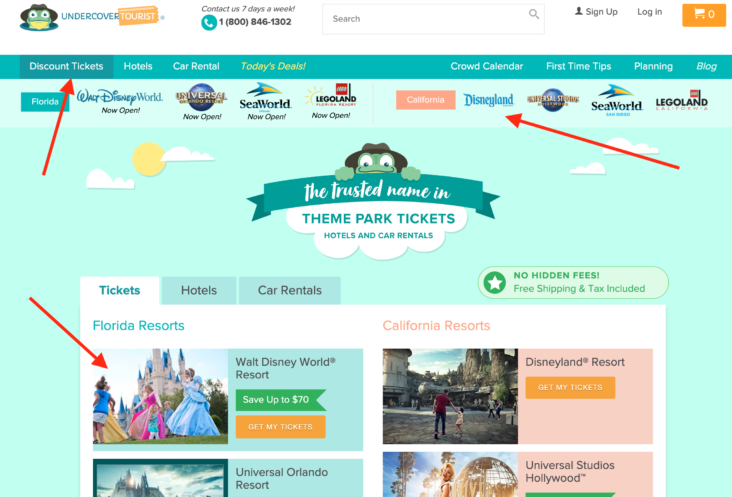 After choosing your destination, you'll be able to see lots of information about your chosen theme park, including maps, hotels, tips, and more. Scroll down a bit to find the availability calendar and ticket options.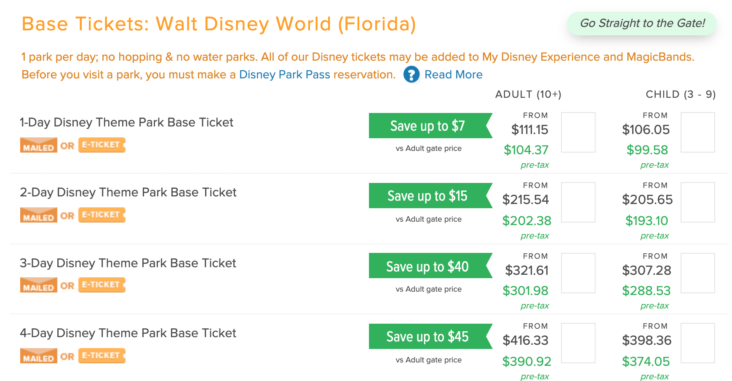 The tickets you buy through Undercover Tourist are exactly the same as if you purchased them directly from the park, except you'll probably save some money.
After choosing the type and number of tickets you need, you'll be able to see your final price and choose your travel dates. The price you see is what you'll pay — taxes are included and shipping is free!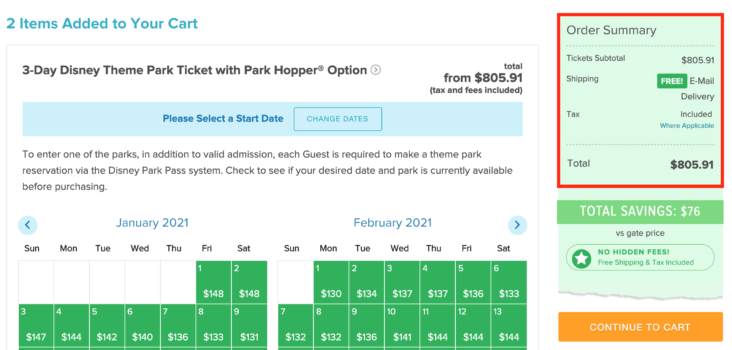 Hot Tip: Are you on a tight budget? Check out our full guide to using visiting Disney World for cheap using points and miles.
Paper Tickets vs. E-Tickets
You may be inclined to have your tickets emailed to you, but there are some risks. E-tickets are non-refundable, and you'll need to stop at Will Call at the gate to pick up your physical tickets. For Disney tickets, if you have a MagicBand, you can add the e-tickets to your account and proceed directly to the gate, but they'll still be non-refundable.
Instead, it may be a better idea to have the physical tickets mailed to you. This option is also free and the tickets will be eligible for a refund. Plus, you'll be able to go straight to the gate at the park which can be a huge timesaver.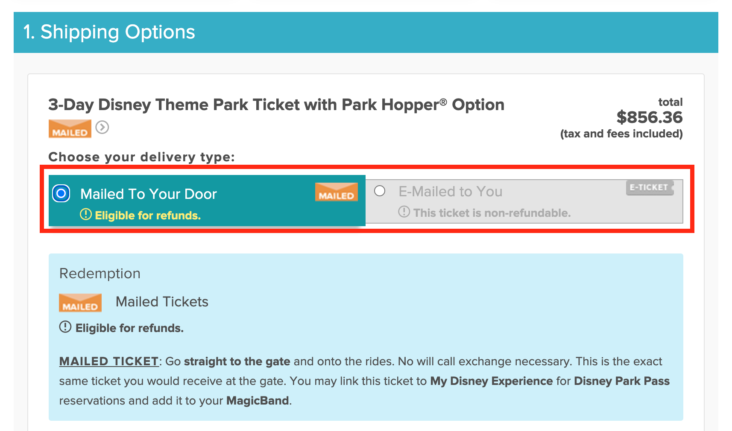 Refundable Tickets
Many tickets sold on Undercover Tourist are refundable within 90 days of purchase. To get a refundable ticket, you'll need to have tickets mailed to you vs. opting for email delivery. Refundable tickets will be clearly marked. Be sure to confirm the return policy for your specific tickets before completing your purchase.
If you need to return tickets that you purchased, you'll be charged a 5% fee to cover the return.
Hot Tip: E-tickets are non-refundable. To get a ticket that is eligible for a refund, you'll need to select the Mailed To Your Door option.
Travel Insurance
Before finalizing your purchase, you'll be prompted to add travel insurance. Before choosing whether or not to add insurance to your purchase, you'll want to learn about all of your options.
Undercover Tourist offers insurance through Allianz Global Assistance, a popular travel insurance company. However, the policy offered by Undercover Tourist covers lots of areas that may already be covered through your credit card including trip cancellation and interruption, lost or delayed baggage, and travel accident insurance, so it may not be needed.
If you purchase tickets that are eligible for a refund, insurance is probably not necessary. If you're also booking a hotel or rental car, take a minute to familiarize yourself with your credit card's insurance benefits before purchasing a separate policy.
Undercover Tourist Crowd Calendar
The Undercover Tourist Crowd Calendar is a popular feature on the site that helps you identify the least and most crowded times to visit a specific park.
To access the Crowd Calendar, just click on Crowd Calendar in the top menu bar of the website.

You'll be able to look at specifics for a handful of the most popular destinations:
Discovery Cove
Disney's Animal Kingdom Theme Park
Disney's Hollywood Studios
EPCOT
Magic Kingdom Park
SeaWorld Orlando
Universal's Islands of Adventure
Universal Studios Florida
Universal's Volcano Bay

Hot Tip: The Undercover Tourist Crowd Calendar is a color-coded chart that helps you predict which parks will be more or less crowded on a specific day.
Mobile App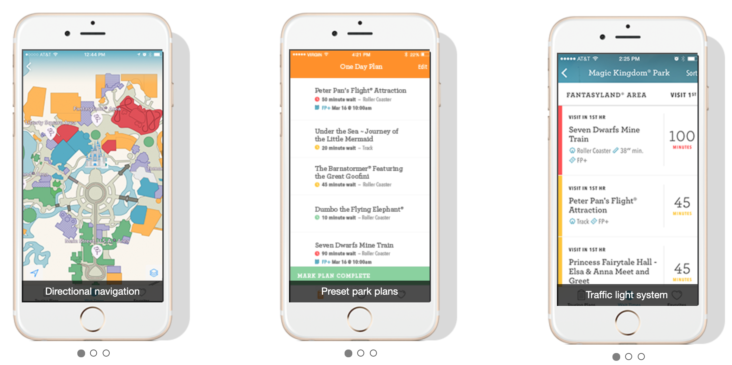 If you're headed to Orlando, be sure to download the Undercover Tourist Orlando Planning App, free for iOS. This handy app will take the stress out of trying to navigate the parks on your own with features like an interactive map, up-to-date park information, park plans, and estimated wait times.
The app covers Walt Disney World Resort, Universal Orlando, and SeaWorld Orlando.
The Frog Guarantee and Frog Family Promise
The Frog Guarantee and Frog Family Promise are not price guarantees, rather they're guarantees of quality and customer service.

When purchasing amusement park tickets through Undercover Tourist you'll always receive:
Authentic tickets from an authorized seller
Free standard shipping
No hidden fees
90-day refund/return policy (not applicable to e-tickets)
RFID and FastPass+ enabled Disney tickets
Next-day pickup or delivery availability
Price Comparisons
So, let's answer the question you really want to know, "Can Undercover Tourist save me money?"
To do this, we priced out some ticket options for 1 adult on Undercover Tourist and compared those to what we could get directly from the park's website.
| | | |
| --- | --- | --- |
| Type of Ticket | Price on Undercover Tourist | Price on Park's Website |
| Walt Disney World 2-day ticket, 1 park per day | $233.82 | $245.33 |
| Universal Studios Florida 2 parks + 2 days + 2 days free (promo) | $232.93 | $297.13 |
| SeaWorld single-day ticket | $93.71 | $103.70 |
In every single example we priced out, Undercover Tourist was the cheapest option! If you're looking for discounted tickets to Walt Disney World and other popular theme parks, you'll probably save money by using Undercover Tourist.
Hot Tip: You can NOT use Disney gift cards to pay for tickets through Undercover Tourist. So, if you've been collecting gift cards from stores with high points bonuses (like grocery stores), you'll need to purchase your tickets directly through the park.
Earning Points on Tickets
Purchasing tickets to an amusement park can be expensive. So, of course, you'll want to make sure you're earning as many points as possible on your purchase.
Amusement park tickets usually code as "entertainment," so if you're purchasing them directly, you'll want to use a credit card that offers bonus categories on entertainment purchases. The Citi Premier℠ Card earns 2 points per dollar spent on entertainment purchases, including tickets to amusement parks.
However, purchases from Undercover Tourist code as "travel" which opens up the door to earn points on a variety of different credit cards. These credit cards all earn bonus points on the travel category, which will include amusement park tickets purchased from Undercover Tourist.
Earn 3x points on travel purchases with these credit cards:
Earn 2x points on travel purchases with these credit cards:
Hot Tip: If you have an American Express card, check to see if Amex Offers has any current money-back offers from Undercover Tourist. 
Hotels
While Undercover Tourist is known as the place to buy theme park tickets, the site also acts as an online travel agency for booking hotels.
To get started, click on Hotels in the top menu bar. Then select your destination from the drop-down box and enter the number of travelers and your travel dates.
Your search results will be displayed in a format similar to other hotel booking websites that you may be familiar with (like Expedia, Priceline, Hotels.com, etc). Filtering options will be available on the left side of your screen and sorting options are located on the upper right-hand side, above the results.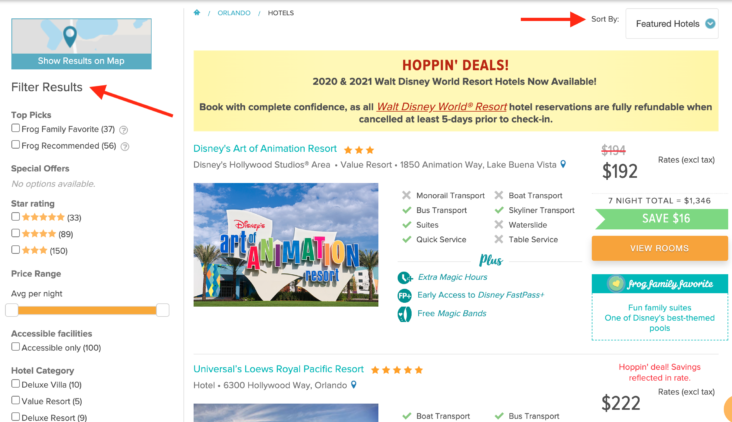 Unlike with tickets on Undercover Tourist, the prices you see initially don't include tax. You'll have to click through to the payment page to see the full price with taxes and fees included.
Cancellation policies will vary by the hotel but will be clearly displayed once you add an item to your cart.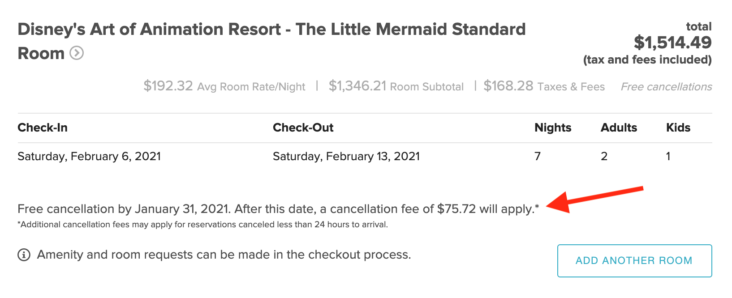 Hot Tip: If you're traveling to Florida to enjoy the theme parks, check out these places to stay in Orlando for your Disney vacation!
Price Comparisons
Let's take a look at a couple of examples to see if booking a hotel through Undercover Tourist can save you money. For both of these examples, we priced out a week-long stay for 2 adults and 1 child. Prices include taxes and fees and are for the hotel stay only (tickets are not included).
| | | | | | |
| --- | --- | --- | --- | --- | --- |
| Hotel | Undercover Tourist | Hotel's Website | Orbitz | Trivago | Priceline |
| Disney's Art of Animation Resort | $1,368.78 | $1,447.90 | N/A | $1,424.79 | N/A |
| Universal's Hard Rock Hotel | $1,959.29 | $1,959.31 | $1,906.27 | $1,822.63 | $1,959.26 |
The results are typical of most price comparisons we do — they aren't consistent! Undercover Tourist had the best price for the first option, but Trivago came out with the best price in the second example. The bottom line is that you can definitely save money by using Undercover Tourist for your hotel stay, but not always.
Car Rental
The car rental search functionality on the Undercover Tourist website is pretty limited. You'll only be able to search for car rentals at Orlando International Airport (MCO) from only 5 car rental companies — Alamo, Avis, Budget, Enterprise, and National.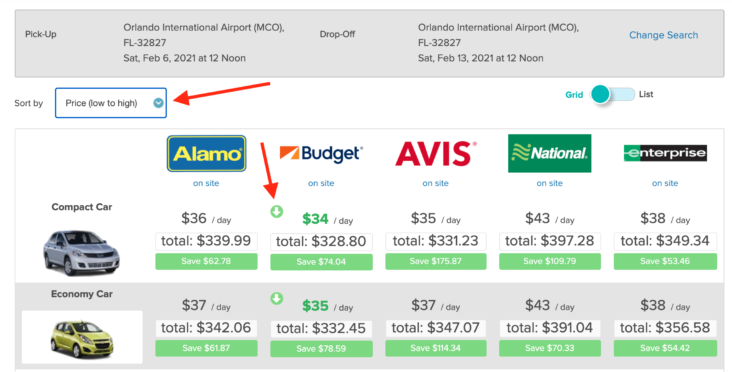 We did a couple of searches to find out if booking your Orlando car rental through Undercover Tourist could save you money. We searched for the cheapest price for a week-long rental on 2 different dates.
| | | | | | |
| --- | --- | --- | --- | --- | --- |
| | Undercover Tourist | Expedia | Momondo | Rentalcars.com | Priceline |
| Example #1: | $328.80 | $160.96 | $140.53 | $142.39 | $350.82 |
| Example #2: | $153.92 | $132.30 | $130.05 | $138.59 | $173.31 |
In both of these examples, Undercover Tourist came out as the second most expensive option. Interestingly, Momondo had the lowest price and Priceline had the highest price in both examples.
Undercover Tourist may be a great place to purchase theme park tickets, but it's not a great option when you're searching for a rental car.
Final Thoughts
Undercover Tourist is a popular website for purchasing theme park tickets on the cheap. It also acts as an online travel agency for hotels and car rentals, but only in select cities.
It's a great site to use to save some money on theme park tickets, but the savings on hotels and cars aren't as consistent.
Before you head to Disney, check out some of our helpful guides including re-opening plans, packing lists, and even how to visit virtually.