Disney Genie Service – Everything You Need To Know [2021]
Disney fans, get ready… more changes are coming! Planning a visit to Disney is already a complex and complicated feat, only made more so thanks to the need for park reservations and constantly changing safety protocols at Walt Disney World and Disneyland.
Well, to add 1 more thing to learn (and a lot of FastPass+ knowledge to forget), Disney is introducing the long-awaited Disney Genie, an in-app service aimed at making your next trip to the parks more enjoyable by suggesting rides based on wait times and your personal preferences.
Gone are FASTPASS, FastPass+, and Disney MaxPass — coming in fall 2021, guests at Walt Disney World in Florida and Disneyland in California will have the option of using Disney Genie and Disney Genie+, which is a paid version of the new free service.
On top of that, guests will have the option to pay even more for à la carte express access to select rides. Yes, that's 2 additional charges on top of your already expensive park tickets.
Yes, it's more money. Yes, it's confusing. Yes, we are going to break it all down for you. Let's get into the details so you can really maximize your next trip to Disney.
Disney Genie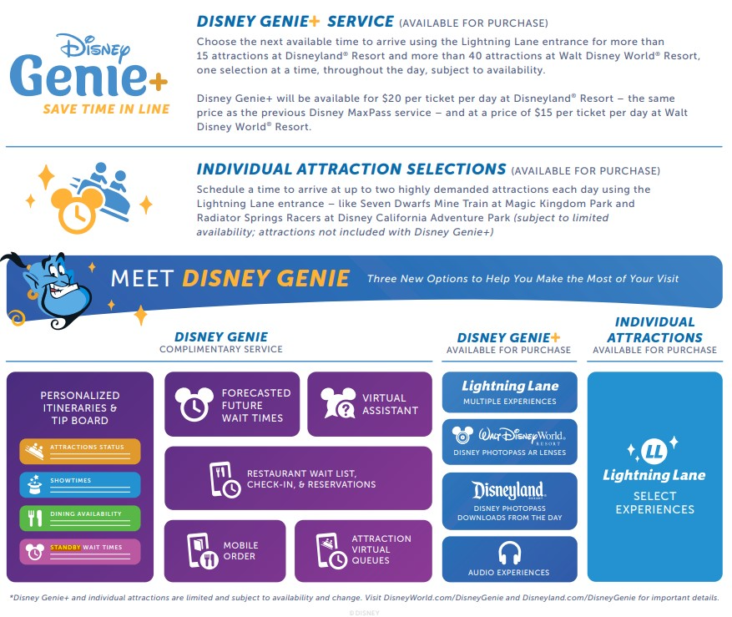 Disney Genie is a new, free planning tool built into the My Disney Experience and Disneyland apps. The idea behind the new service is to help guests have a more enjoyable park experience by optimizing their time in the parks.
Planning a day at Disney can be complex and overwhelming for many, and this is Disney's latest attempt at making the planning process easier for those who don't treat a park day like a competitive sport — but don't worry, there will still be some of that!
The technology behind Disney Genie uses algorithms based on estimated wait times to help you plan out your park day based on your preferred itinerary.
Before you arrive at the park you can log into the app and tell the Genie exactly what rides, attractions, experiences, and meals you want to have, and the Genie (algorithm) will, in theory, lay out a plan for you so that you can spend more time enjoying the park instead of waiting in lines.
For those of us who take planning very seriously, only time will tell if Disney Genie will actually be useful or if it will be more of a suggestion to keep in the back of our minds.
What we do know is that Disney is trying to help guests skip long lines and that Disney Genie will update throughout the day so that you can be flexible with your plans.
Disney Genie+
The pandemic brought the suspension (and ultimately the retirement) of FastPass+ at Walt Disney World and FASTPASS and MaxPass at Disneyland, which will now be replaced with Disney Genie+.
Disney Genie+ is an optional paid service that will allow guests to skip the line and head right to the Lightning Lane entrance on select attractions.
As of right now, Annual Passholders will also need to pay the daily fee, however, Disney has said that may change in the future.
Guests can select 1 ride at a time throughout the day and will have access to unique in-app experiences based on the park they are visiting.
Watch the video above for a quick overview; details on each park are below.
Disney Genie+ at Walt Disney World
Disney Genie+ will cost $15 per person, per day at Walt Disney World and guests will have access to 40 rides to choose from. If you have a Park Hopper ticket, you will still be able to select rides and access Lightning Lanes across parks.
The full list of rides is not available yet, but we will update here as soon as it is.
Your purchase of the service includes unique audio experiences while inside Walt Disney World parks and access to augmented reality lenses while using the app.
Guests staying onsite at Walt Disney World Resorts can book Disney Genie+ attractions and à la carte attractions (more on that below) starting at 7 a.m. on the day of their park reservation.
Those visiting the park for the day (but not staying on property) can also book Disney Genie+ attractions at 7 a.m. but can only book à la carte attractions at park opening, regardless of whether they've entered the park or not.
Disney Genie+ at Disneyland
Disney Genie+ will cost $20 per person, per day at Disneyland and guests will have access to 15 rides to choose from.
The full list of rides is not yet available, but we will update here as soon as it is.
Just like Disney Genie+ at Walt Disney World, guests will be able to access unique audio experiences and augmented reality lenses while using the app.
However, in addition to those features, guests at Disneyland Resort will also have unlimited Disney PhotoPass downloads from their day at the park.
Guests visiting Disneyland (regardless of where they are staying) will only be able to book Disney Genie+ attractions and à la carte attractions once they enter the park. This, of course, is subject to change.
Individual Attraction Selections
If you were bummed about now having to pay for an updated version of FastPass+, you probably won't love "Individual Attraction Selections."
For yet another fee, this à la carte service allows guests to use the new Lightning Lane entrances at some of the most high-demand rides and attractions in the parks. This could be good news for some people, especially those trying to get on rides with Virtual Boarding Groups that haven't been lucky enough.
Rides like Star Wars: Rise of the Resistance, Remy's Ratatouille Adventure, and WEB SLINGERS: A Spider-Man Adventure that aren't included in the Disney Genie+ service can be purchased separately.
There is a limit of 2 selections per person, per day, and pricing will be variable based on dates.
Hot Tip: Virtual Boarding Groups will still be in place and can be booked starting at 7 a.m. as they have been. That means guests should not plan on sleeping past 6:59 a.m. on park days if they want to book a Virtual Boarding Group, a Disney Genie+ attraction, or an à la carte ride… just in case Disney wasn't exhausting enough.
Lightning Lanes
As mentioned above, Lightning Lanes will now replace FastPass+ queues.
In order to access these express lines, guests will either need to pay for Disney Genie+ or pay for an à la carte single ride.
Although it is certainly a bummer to have to pay for something that was once free, this does open up the opportunity to guarantee that you can experience certain rides. No luck getting a Rise of the Resistance Virtual Boarding Group? Just buy your way on!
Final Thoughts
Disney Genie is yet another tool to help you maximize your time while visiting Disney parks. Hopefully, the service will be able to work some magic and make planning easier for most guests.
Disney Genie+ is the long-expected (and dreaded) paid FastPass+ replacement. While many will complain about the extra cost, it is likely to be a quite popular add-on despite the ~10% increase to a daily visit to the park.
Unfortunately, as things are right now, Annual Passholders do not get a discount on Disney Genie+, so that could represent a huge additional expense for frequent visitors.
Only time will tell how well Disney Genie works in the real world. The My Disney Experience app is already a pain-point with many users who complain about frequent crashes and weird bugs, so adding a pretty complex feature will likely come with additional IT issues (but we are sure that Disney is already working on those).
Overall, Disney Genie should improve the Disney park experience, and we don't think that anyone is surprised to see a paid component to it, especially since the parks have been operating without FastPass+ for the past year.
What do you think about Disney Genie? Will you use it? Will you pay for it? Let us know in the comments or come join our private Facebook Group, Level UP Travel, and chat with fellow travelers!