JetBlue Airways Review – Amenities, Baggage Fees, Seats, Customer Service & More
JetBlue hasn't been around as long as some of its competitors but has grown to be one of the most popular U.S. airlines. Operating since 2000 with the goal of "bringing humanity back to air travel," JetBlue has won quite a few awards, including a number in the customer satisfaction realm.
In this review, we aim to take a look at JetBlue from the customer's perspective. We're answering your questions, such as:
What are JetBlue's baggage policies like?
Will I get snacks on JetBlue?
Does JetBlue have Wi-Fi?
…and a whole lot more!
We'll outline basic company info, ticketing options, how to earn TrueBlue points, baggage fees and other extras, seat specs, inflight amenities, and consumer satisfaction information.
Read on to find out more about JetBlue Airways!
Basic Info
Airline: JetBlue Airways
Alliance: none
Category: Low-cost airline
Frequent Flyer Program: JetBlue TrueBlue
Tag Line: You Above All; Inspiring Humanity
About/Mission Statement: "JetBlue Airways exists to provide superior service in every aspect of our customer's air travel experience… JetBlue Airways is dedicated to inspiring humanity. We strive to make every part of your experience as simple and as pleasant as possible." (source)
Fleet: 235
Main Hub: John F. Kennedy International Airport (JFK)
Daily Departures: 1,000+
Destinations: 90+ (North, Central, and South America, including the Caribbean)
JetBlue Ticketing Options
While JetBlue is considered a low-cost carrier, there's nothing minimal about the basic flight experience itself! JetBlue includes brand-name snacks, entertainment, power outlets, and more on all its flights. You will, however, pay extra for checked bags, just like with other low-cost carriers.
JetBlue offers 5 fare options:
Blue Basic
Blue
Blue Plus
Blue Extra
Mint (available on selected coast-to-coast, Latin American, and Caribbean routes; launching in 2021 to London)
So How Do These 5 Fares Differ?
Blue Basic
Blue
Blue Plus
Blue Extra
Mint
Carry-On Bag
0
1
1
1
1
Personal Item Included
1
1
1
1
1
Checked Bag(s) Included
0
0
1
0
2
Changes/Cancellations
Bookings thru May 31, 2021: No fee

Bookings June 1, 2021, or later permitted with fee:
$100 (U.S., Caribbean, Mexico, Central America)
$200 (other routes)

No fee
No fee
No fee
No fee
Same-Day Switches (Waived for Mosaic Members)
$75 fee
$75 fee
$75 fee
Included
$75 fee
Same-Day Standby
$75 fee
$75 fee
$75 fee
Included
$75 fee
Advance Seat Selection
Additional fee >24 hours in advance
$5 to $25 each way
Included
Included
Included
Included
Boarding
Final
General
General
Early
Early
Even More Speed
Additional fee
Additional fee
Additional fee
Included
Included
Base TrueBlue Points per $1
1
3
3
3
3
TrueBlue Online Booking Bonus per $1
1
3
3
3
3
Hot Tip: In response to the COVID-19 pandemic, if you have a JetBlue flight scheduled anytime through May 31, 2021, you'll be able to change or cancel it without a fee. 
Blue Basic: With Blue Basic, you get a personal item but no checked bag or carry-on. Additionally, you get all of the basic perks allotted to all JetBlue flights like great legroom, snacks, Wi-Fi, movies (flights 2+ hours), etc. As the chart shows, you will pay for any changes made to your itinerary (waived through May 31, 2021) and you are eligible to earn 1 TrueBlue point per dollar.
Blue: If you're traveling light, Blue is a standard fare that provides a carry-on and a personal item. The benefit over Blue Basic is that passengers don't pay change or cancellation fees and the fare includes seat selection. With Blue and all fares above, passengers earn 3 TrueBlue points per dollar.
Blue Plus: Blue Plus passengers receive 1 checked bag with their ticket. All other benefits are the same as Blue.
Blue Extra: Blue Extra is suitable for passengers traveling light with a carry-on and personal item included. Additional benefits include same-day switches and standby, early boarding, and Even More Speed.
Mint Experience: JetBlue Mint is clearly the most glamorous ticket option, but it's only available on selected flights.
With JetBlue's Mint Experience, customers are allowed 2 checked bags, but will not earn additional bonus points over the standard 3 per dollar spent booking online.
That being said, passengers flying Mint get the added benefits of dedicated check-in counters, expedited security (where available), early boarding, lie-flat seats, artisanal dining, priority baggage, 17-inch flat-screen TVs, amenity kits, and more.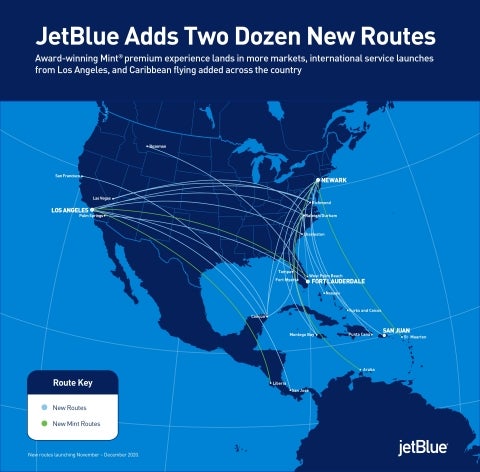 Earning TrueBlue Points
There are plenty of ways to earn JetBlue TrueBlue points, but the quickest and most efficient way is through credit card sign-ups and spending. Here's the good news: there are a couple of options to choose from. Plus, you then have the option of earning extra points through category bonuses!
Need even more points? Try shopping via JetBlue's portal, dining out with JetBlue's dining program, or utilizing JetBlue for other travel, car rentals, partner hotels, etc.
You can also earn TrueBlue points flying with partner airlines, including Hawaiian Airlines, Icelandair, Singapore Airlines, and South African Airlines, however, the only airline you can redeem TrueBlue points with (apart from JetBlue) is Hawaiian Airlines.
A Bit More About TrueBlue 
You can learn more about Mosaic status, the JetPaws program, JetBlue's innovative customer interaction techniques (including loyalty badges), and more in our JetBlue TrueBlue review.
JetBlue Baggage & Other Fees/Add-Ons
JetBlue is a low-cost airline, so while some perks are included, you will find certain extra fees and charges here and there. As with any other low-cost airline, considering the add-ons in advance will keep you from undue disappointment once you reach the final purchase page for your fare.
Baggage Fees
While the airline does charge for bags if customers choose Blue Basic or Blue Extra, JetBlue's baggage policy is pretty straightforward.
| | | | |
| --- | --- | --- | --- |
| Fare | First Bag | Second Bag | 3+ Bags |
| Blue Basic | $35 | $45 | $150 |
| Blue | $35 | $45 | $150 |
| Blue Plus | FREE | $45 | $150 |
| Blue Extra | $35 | $45 | $150 |
| Mint | FREE | FREE | $150 |
JetBlue passengers should consider the following size/weight restrictions for luggage:
Personal Item: 17 x 13 x 8 inches; weight limit undisclosed
Carry-On: 22 x 14 x 9 inches; weight limit undisclosed
Checked Bag: 62 inches (max linear dimensions); 50 pounds
Hot Tip: From July 20, 2021, passengers traveling Blue, Blue Plus, Blue Extra, and Mint or who purchase Even More Space will be guaranteed their carry-on bags in the cabin (on domestic flights). In the unlikely event that the bag must be checked at the gate, passengers will receive a $25 credit towards a future flight within 12 months.

Overweight Bag: $150 per bag (51 to 99 pounds)
Oversized Bag: $150 per bag (63 to 80 inches total linear dimensions)
If a bag is overweight and oversized, note that both fees will apply.
JetBlue does have some special considerations relating to sporting equipment. Generally, certain pieces of equipment can count as one of your checked bags without being charged oversized fees.
Other Fees & Add-Ons
A number of the added fees can be seen in the fare chart above. In an effort to be thorough, we've also listed them below, in addition to some other add-on expenses not shown above.
"Even More" Space (seats): starting at $10 each way
"Even More" Speed (expedited security): starting at $10 (select airports)
Seat Selection: $5 to $25 each way
Cancellation Fee: Free (through May 31, 2021)
Same-Day Change Fee: $75 (waived for Mosaic members)
Admin Fee for Bookings or Changes by Phone: $25
Unaccompanied Minor: $100
Pet Fee: $125
Hot Tip: Need to cancel? Check out this guide to canceling your JetBlue flight.
How To Avoid Paying Excess JetBlue Fees & Expenses
The JetBlue Plus Card comes with many perks, such as earning 6 points per dollar spent on JetBlue purchases. But if you're looking to avoid paying excess fees, the card also gets you:
50% savings on eligible inflight purchases like cocktails and food
First checked bag free for the primary cardmember and up to 3 companions on the same reservation (when booked using The JetBlue Plus card)
If you're flying JetBlue regularly, these savings will really add up!
JetBlue Seat Specs & Inflight Amenities
As it turns out, the general feedback about flying JetBlue is pretty darned positive. So what will your inflight experience look like?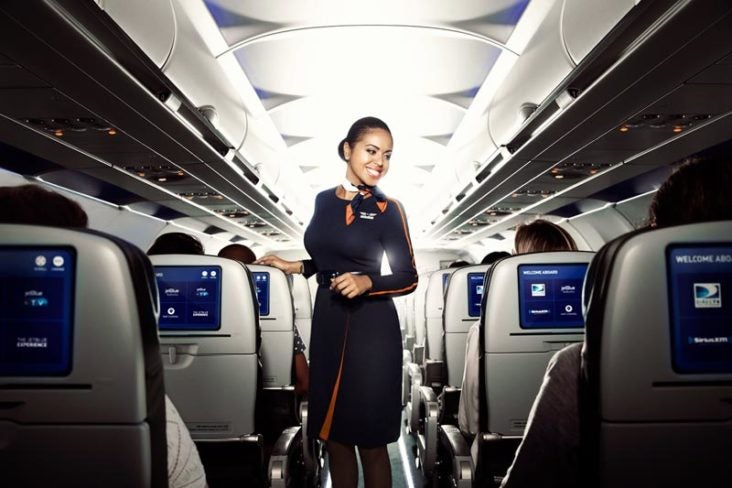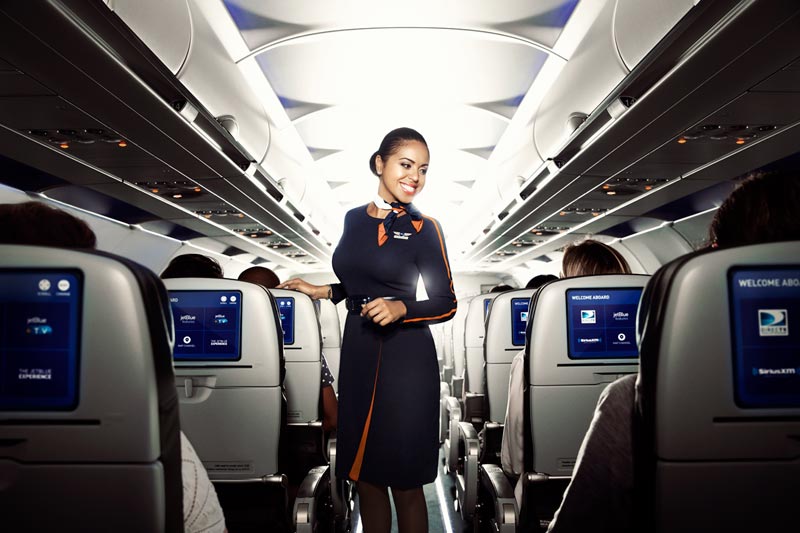 Seat Specs
When it comes to comfort, JetBlue claims to have the widest seats and most legroom in coach (based on average seat width/pitch across the industry).
Aircraft
Total Seats
Economy
Even More Space
Mint Standard
Mint Suite

Airbus

A320

150

108




Pitch: 34″




Width: 17.8″

42




Pitch: 38″ to 39″




Width: 17.8″

n/a

n/a

Airbus A320 V2

162

120


Pitch: 32″




Width: 18.4″

42
Pitch: 35″ to 38″
Width: 18.4″

n/a

n/a

Airbus

A321




(Mint)

159

102




Pitch: 33″




Width: 18″

41




Pitch: 37″ to 41″




Width: 18″

12




Pitch/Bed: 58″/80″




Width: 20.5″

4




Pitch/Bed: 60″/80″




Width: 22″

Airbus

A321




(non-Mint)

200

158




Pitch: 32″




Width: 18″

42




Pitch: 37″ to 41″




Width: 18″

n/a

n/a

Airbus A321neo

200

158




Pitch: 32″




Width: 18″

42




Pitch: 35″ to 38″




Width: 18″

n/a

n/a

Embraer

E-190

100

84




Pitch: 32″




Width: 18.25″

16




Pitch: 39″




Width: 18.25″

n/a

n/a
If you're interested in finding the best seat on the plane, SeatGuru has some great insights!
JetBlue Economy Seats 
JetBlue has refreshed some of its A321 aircraft with its new Mint Suites, Mint Studios, and restyled seating in economy. The airline is also in the middle of restyling its fleet of A320s but this has been held up by the COVID-19 pandemic.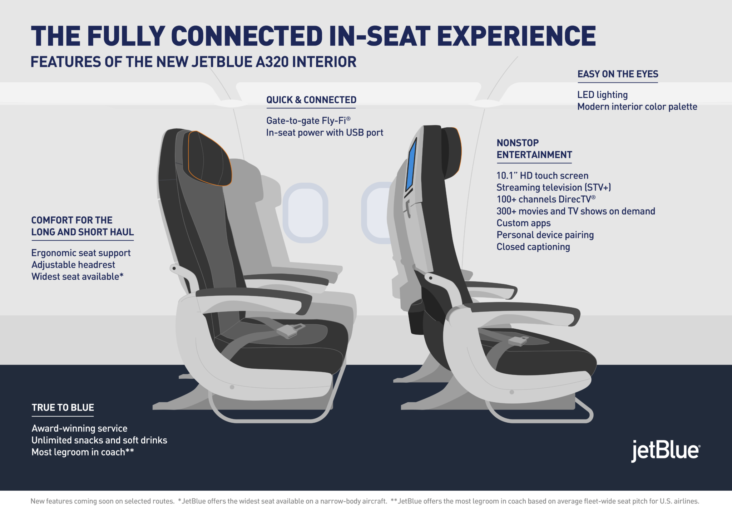 With the refresh comes a slight reduction in pitch, but JetBlue claims with its new ergonomic seats that it won't feel like you've lost the inches. The new seats also come with 10.1-inch touchscreen TVs.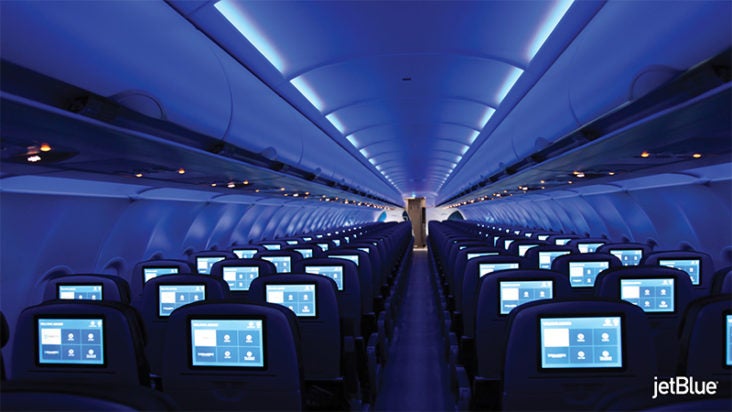 The refresh also brings power outlets (standard plug and USB) to every economy seat, whereas, the current A320 series and the E-190 series do not have power outlets.
JetBlue Mint Seats
With the new Mint Studio, JetBlue claims to have the largest bed and TV on a U.S. airline with an extra seat to work and entertain. The Mint Suites all have life-flat beds, direct aisle access, and a sliding privacy door.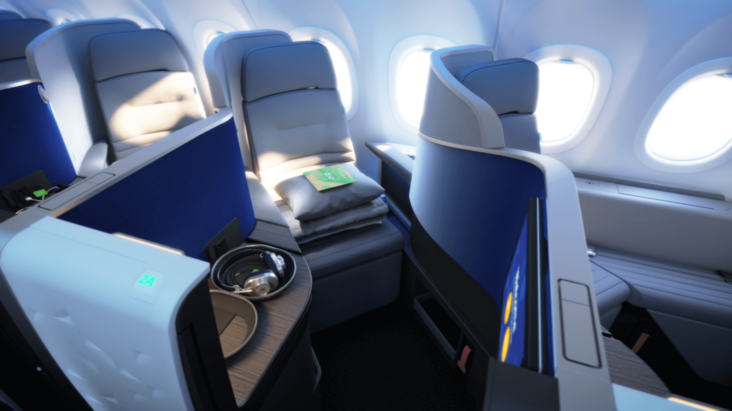 JetBlue Inflight Amenities
Economy
For a low-cost airline, JetBlue certainly does inflight cabin service right. Each economy ticket comes with the following included amenities:
Entire fleet equipped with FlyFi, JetBlue's gate-to-gate Wi-Fi service available on flights within the contiguous U.S.
Library of on-demand movies, TV shows, live Direct TV, and Sirius XM radio on selected flights
Free unlimited brand-name snacks and soft drinks
Economy customers can also opt for additional paid snacks/beverages:
EatUp Boxes: A grouping of upgraded snacks for $9
EatUp Cafe: Slightly more substantial foods like small sandwiches, salads, etc. for $10 to $12
Beer, wine, and spirits: $8
Mint Experience
Mint Experience customers have a variety of upgraded inflight amenities served by specially trained Mint Staff:
Entire fleet equipped with FlyFi, JetBlue's gate-to-gate Wi-Fi service on flights within the contiguous U.S.
Library of on-demand movies, TV shows, 100+ Direct TV channels, 100+ Sirius XM radio channels on selected flights
Blanket, pillow, and sleep kit designed by Tuft & Needle
Custom Master & Dynamic's MH40 noise-isolating headphones
Wellness kits from Wanderfuel
Cocktails and artisan wines
Small plates and desserts
Treats from NYC's Hu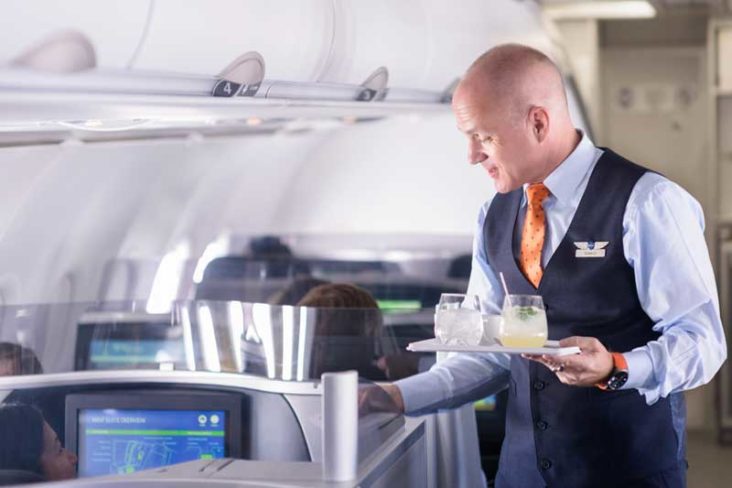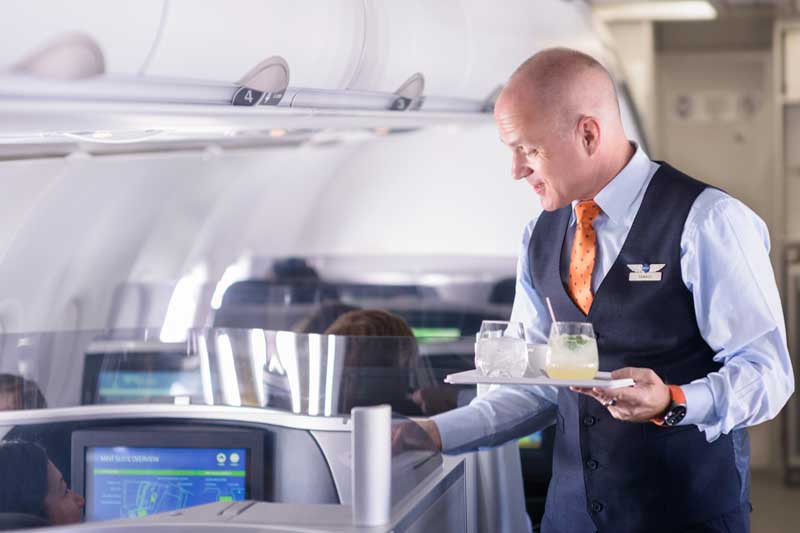 Hot Tip: Here's more in-depth information on JetBlue's boarding groups and process.
JetBlue Customer Satisfaction
JetBlue has a very positive history when it comes to customer satisfaction. In fact, JetBlue Airways has taken the top spot in the J.D. Power North America Airline Satisfaction Study 13 times — an incredible feat!
Of course, you'll still find complaints — customers can't be happy all the time — but JetBlue certainly has fewer than most!
Consumer Rankings, Ratings, Etc.
AQR (Airline Quality Ranking): 6 of 12 largest U.S. carriers
Skytrax Ranking: 4-Star Airline
Skytrax Customer Rating: 5/10 (of 839 reviews)
Kayak Customer Rating: 8.1/10 (of 19,382 reviews; Kayak deems this rating "excellent")
Tripadvisor Airline Review Rating: 4/5 (of 17,580 reviews)
Recent Awards
Here are just a few accolades JetBlue Airways has been awarded:
Top Low-Cost Airline in the J.D. Power North America Airline Satisfaction Study; top airline for 13 years
Tripadvisor: Best Regional Business Class in North America 2019
Travel & Leisure Best Awards 2019: Number 1 Domestic Airline
Most Common Complaints
While JetBlue consistently leads the pack when it comes to customer satisfaction, there will always be complaints. So where does the majority stem from?
The DOT Air Travel Consumer Report ranked JetBlue 11th best (of 16 major U.S. carriers) relating to consumer complaints in October 2020. While 11th best may not seem great, that's only 7.17 complaints per 100,000 enplanements. This was significantly higher than the complaints received in October 2019, where JetBlue received 0.95 complaints per 100,000 enplanements; however, COVID-19 has had an impact on the data.
(These reported numbers may sound low, so we'll explain a bit further. The DOT report states these statistics come from data compiled by the OAEP's Aviation Consumer Protection Division. So, the above numbers are provided keeping in mind the majority of people aren't filing official complaints but utilizing social media and the like to grumble… see consumer rankings/ratings above.)
The same DOT analysis ranks JetBlue 10th out of 16 when it comes to mishandled baggage in October 2020 with 3.22 mishandled bags per 100,000 enplanements. Although JetBlue sits at the lower end of the scale, this is down from 4.99 mishandled bags per 100,000 enplanements in October 2019.
Final Thoughts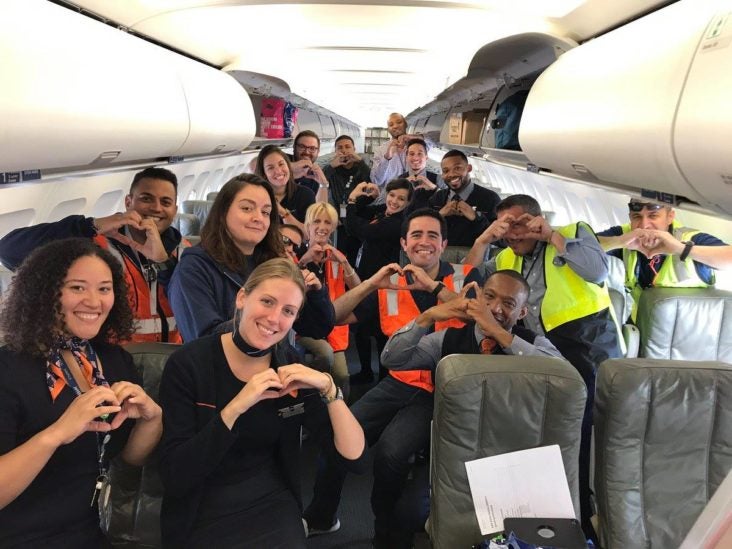 All in all, it's tough to beat JetBlue Airways when looking for an enjoyable low-cost airline experience.
JetBlue includes quite a few standard inflight economy perks and provides an impressive "business class" product with its Mint Experience. Additionally, it has a fairly decent frequent flyer program that's built for optimal user interaction. Plus, JetBlue proves its worth with high consumer ratings, tons of positive reviews, and countless awards.
---
The information regarding the JetBlue Plus Card was independently collected and not provided nor reviewed by the issuer.