JetBlue Mint A321 Detailed Review — New York City (JFK) to Los Angeles (LAX)
Airline: JetBlue (B6)
Aircraft: Airbus A321
Flight #: B6 1823
Route: New York City (JFK) to Los Angeles (LAX)
Date: September 11, 2019
Duration: 6hrs 9min
Cabin and Layout: JetBlue Mint business class, 12-seat capacity across 5 rows, alternating 1-2 and 2-1 configuration
Seat: 2A (throne seat)
Miles Used: 48,418 City National Rewards points
Taxes and Fees Paid: $0
Typical Retail Cost: Approximately $1,149
Typical Economy Cost: Approximately $199
Booking JetBlue Mint Business Class
Booking JetBlue Mint with points is possible through a number of methods, including using Hawaiian Airlines HawaiianMiles and Emirates Skywards miles.
JetBlue's business class product is known as JetBlue Mint. This lie-flat business class seat has an extraordinarily good reputation all-around, and they're offered on a number of routes. To find out which routes they're on, click here.
If you've already located a route you'd like to fly on, you can use JetBlue TrueBlue points, in addition to HawaiianMiles and Emirates Skywards miles.
The route that we flew on is the premium transcontinental route from New York City (JFK) to Los Angeles (LAX). I personally redeemed 48,418 City National Rewards points for a $659 ticket, arriving at a value of 1.36 cents per point. This is a relatively unconventional means of booking JetBlue Mint, and I used City National Rewards points due to a surplus of points that I had.
City National Rewards points work similarly to travel booked on the Chase Travel Portal, for example. You book revenue flights using points at a (relatively) fixed value.
Alternatively, you can book using JetBlue TrueBlue points at a fixed value of around 1 cent per point for Mint class redemptions. Therefore, you'd pay around 65,000 JetBlue TrueBlue points for a simple one-way flight, which isn't an attractive price.
Hawaiian Airlines only allows you to redeem miles for tickets that are up to $419 in price. It's extremely rare to find a JFK – LAX ticket in Mint for less than $500, so it's generally not a worthwhile endeavor to try to use HawaiianMiles.
The last option is Emirates Skywards, which offers attractive pricing of 35,000 Skywards miles for a one-way ticket in JetBlue Mint from New York City (JFK) to Los Angeles (LAX).
Emirates Skywards has lots of transfer partners. You can earn Emirates Skywards miles at a 1:1 ratio from Chase Ultimate Rewards, American Express Membership Rewards, and Citi ThankYou Rewards.
Additionally, you can earn Emirates Skywards miles at a 2:1 ratio from Capital One Rewards. Marriott Bonvoy transfers at a 3:1 ratio with a 5,000-mile bonus for every 60,000 Marriott points transferred.
No JetBlue Lounge at JFK Airport
JetBlue is one of the major U.S. airlines with its main hub at John F. Kennedy International Airport (JFK), so I was massively disappointed to find out that they don't operate a lounge anymore.
Instead, Terminal 5, used exclusively by JetBlue, has a rooftop lounge, where you're able to get some fresh air at the only post-security outdoor area.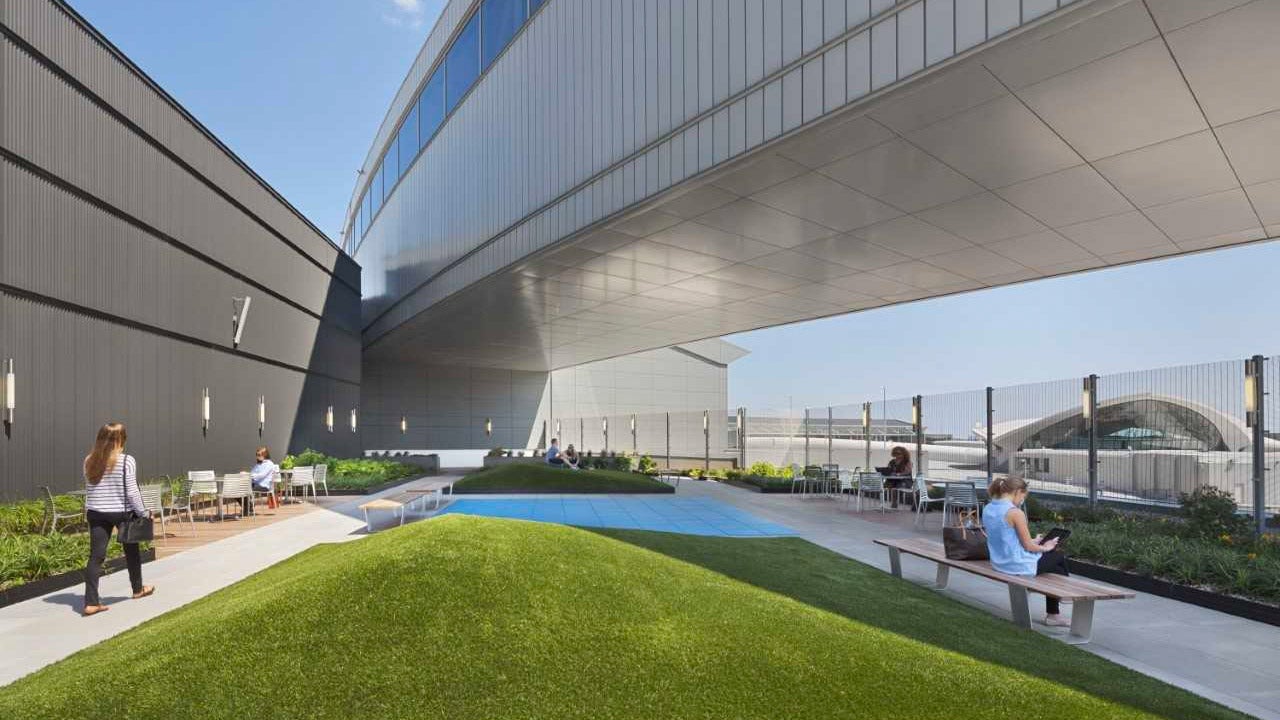 I headed to one of the eateries within the terminal, pulled out my laptop, and did some work before boarding the flight. For other options, check out our guide to JFK lounges.
Flight
Our flight boarded on time, and I had requested to board the plane to snap some pictures before passengers entered the aircraft. The warm desk agents kindly obliged my request and allowed me to board at the same time as the pre-boarding personnel.
The JetBlue Mint experience was aboard the A321, which is a popular narrow-body aircraft used within the U.S. The difference is that JetBlue is one of the only airlines in the world that offers lie-flat seats on this type of narrow-body aircraft.
Let's see what the cabin looked like.
Seat
I boarded through the primary jet bridge and I immediately noticed the cool blue tones of the mood lighting and overall cabin.
There are a total of 12 seats in the entire cabin, distributed across 5 rows in an alternating 2-2 and 1-1 configuration.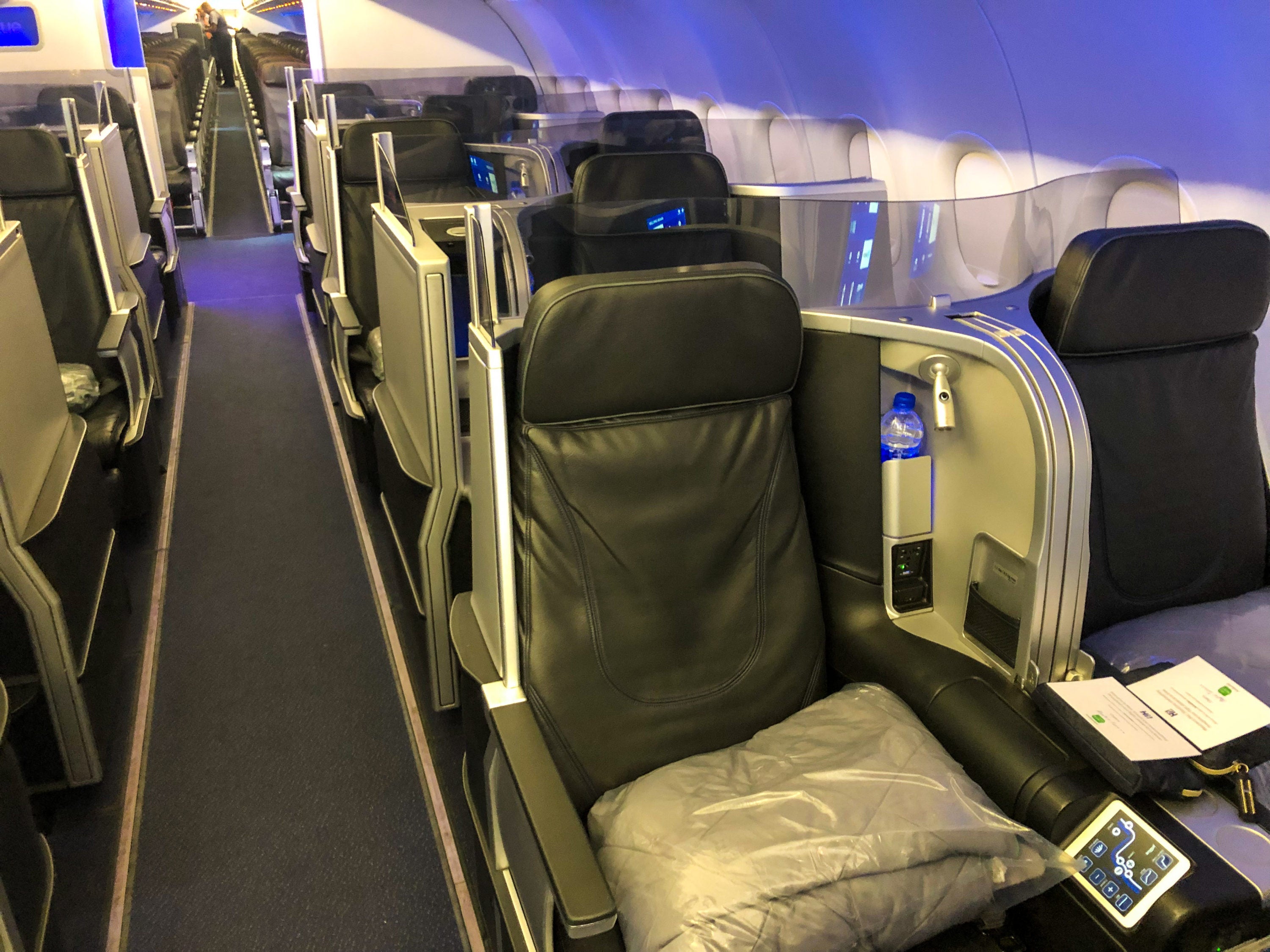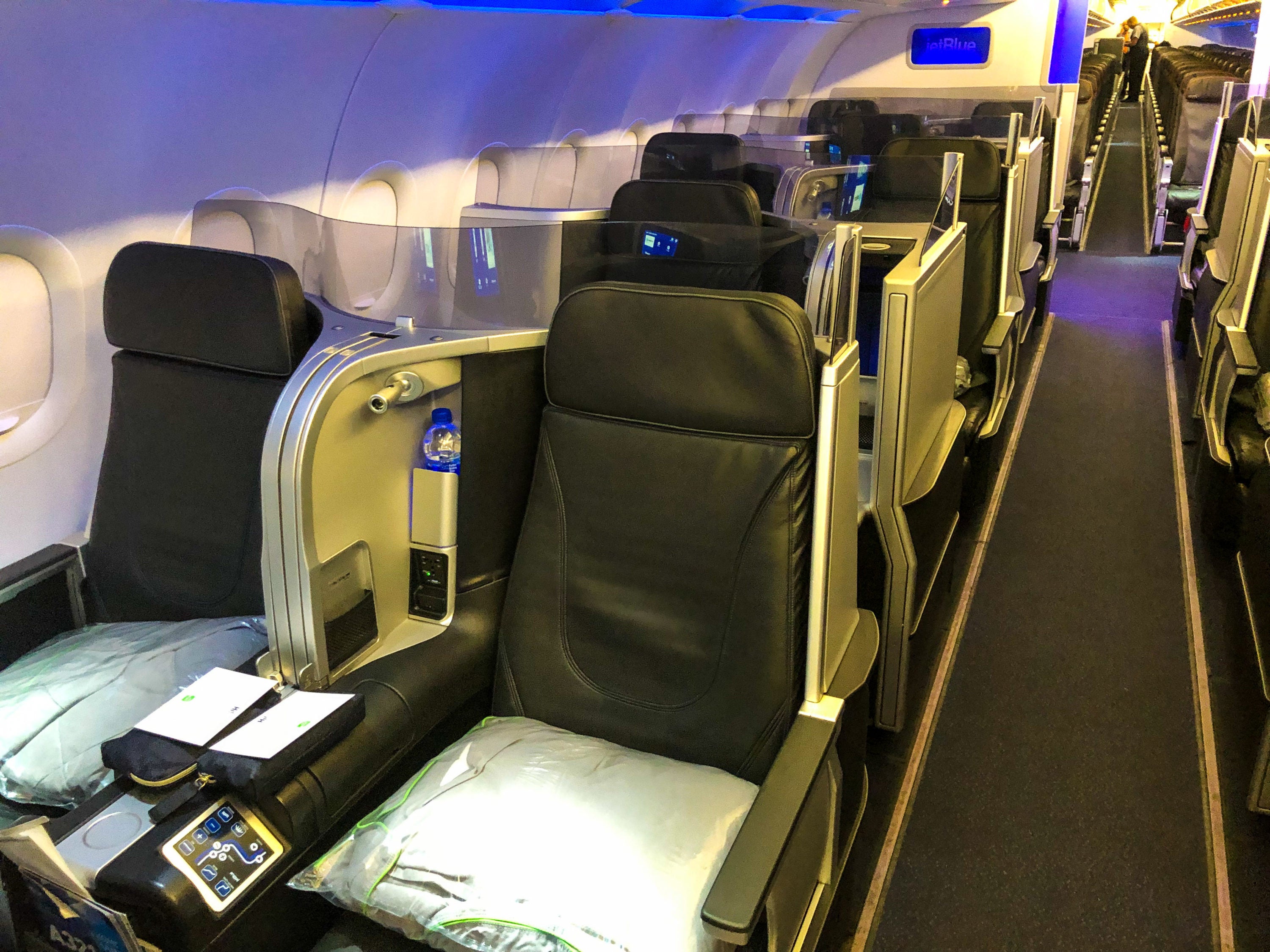 With this exact arrangement, there are certain seats that are significantly better than others.
Not all seats are created equal, and this is absolutely true in JetBlue Mint. The odd-numbered rows have 2 seats on each side, and the window seats don't have direct aisle access. Furthermore, there is limited space, tray tables, and privacy compared to the seats that occupy an entire row.
I specifically requested the throne seats, which are standalone seats by themselves that essentially take up the space of 2 "normal" JetBlue Mint seats. Throne seats are located at seats 2A, 2F, 4A, and 4F. Since these seats constitute only a third of the entire Mint cabin, you should definitely reserve these seats as soon as you can.
In fact, the throne seats/suites measure 22 inches wide, 60 inches in seat pitch, and 80 inches long in bed mode. This is a significant improvement over the ordinary seats, which measure 20.5 inches wide, 58 inches in seat pitch, and 80 inches long in bed mode.
Hot Tip: JetBlue's seat configuration demonstrates how important it is to pick the best seat possible. Learn how to find the best seats on your aircraft with our SeatGuru guide.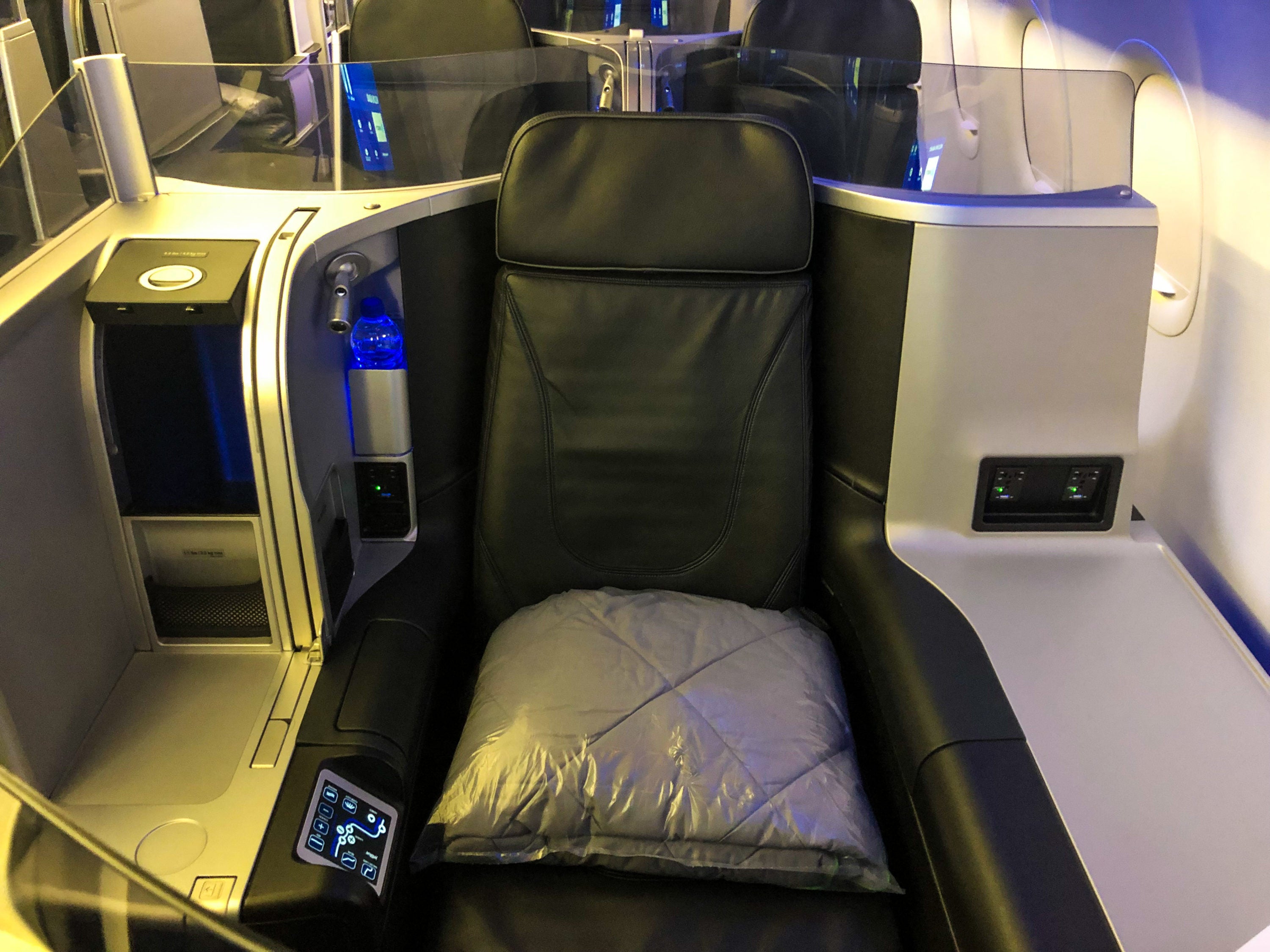 I arrived at my throne seat, 2A, and found myself in awe of the suite I had. I was shocked at how a domestic business class product like this could exist.
I immediately started exploring my seat. Closer to the aisle was a side table that housed a number of compartments. First, I found a reading light, water bottle compartment, mesh storage compartments, and a storage cubby that deployed up and down in an angular path.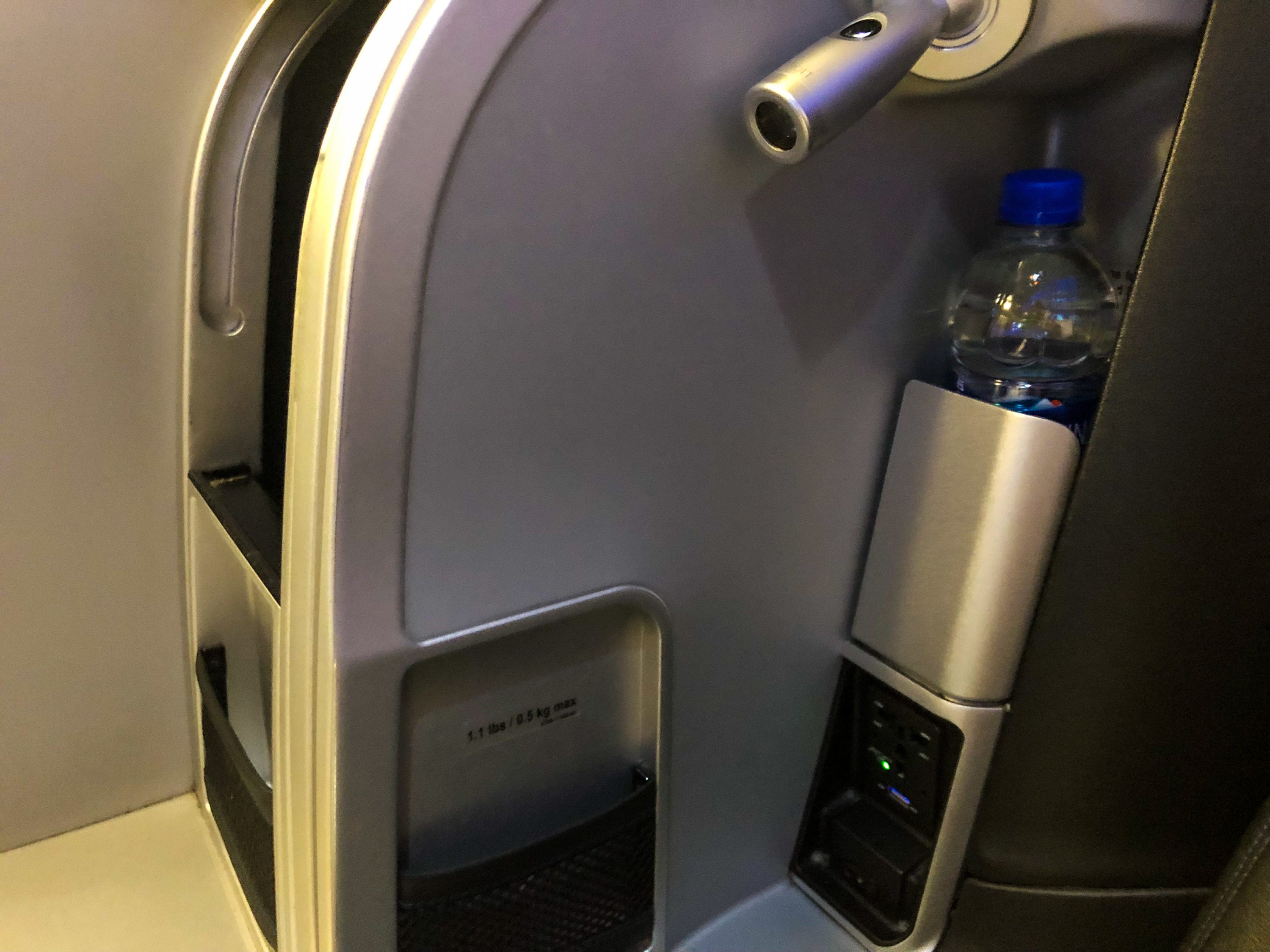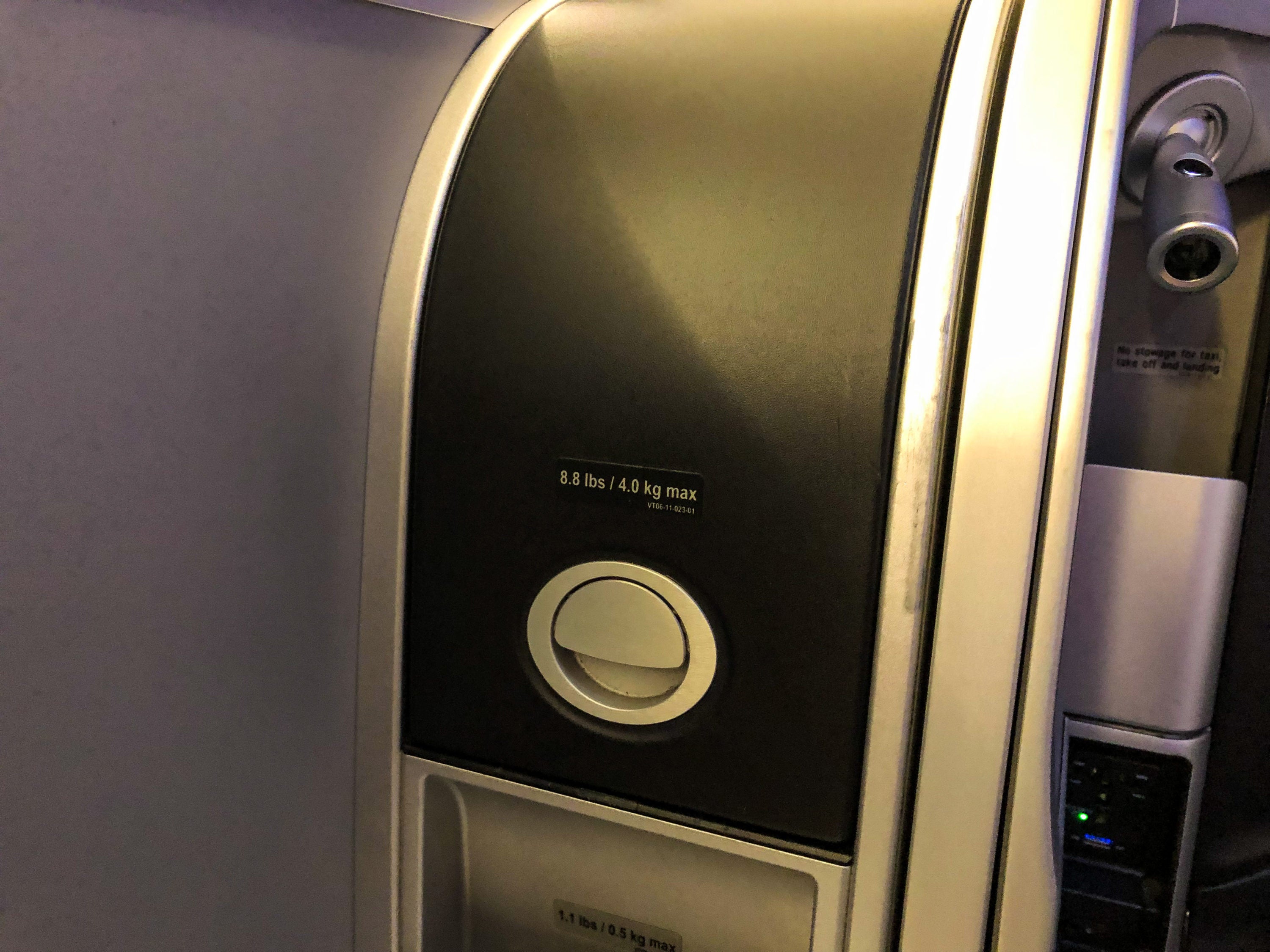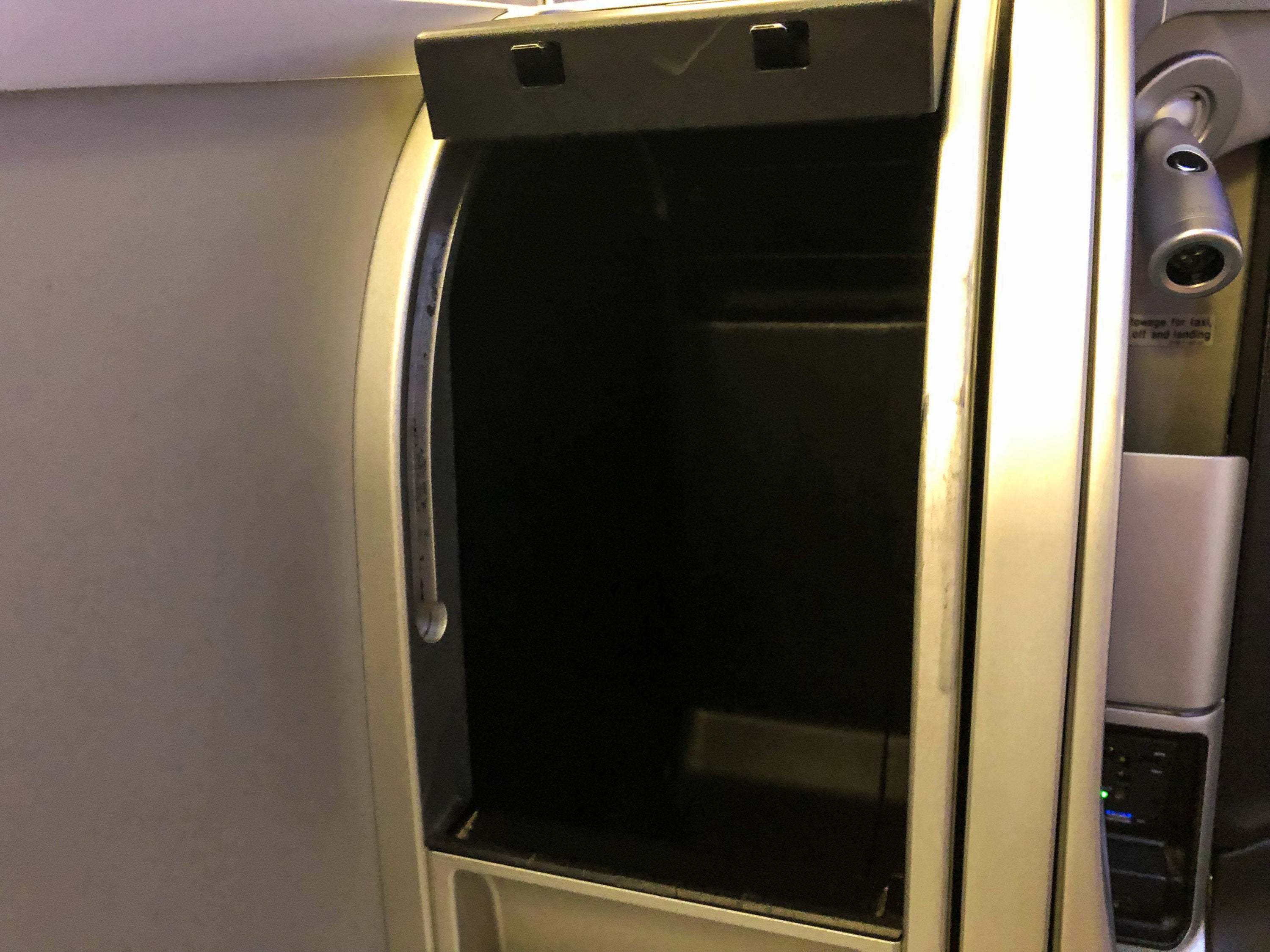 After that, I noticed 2 USB ports and 2 110v power outlets equipped with international capabilities.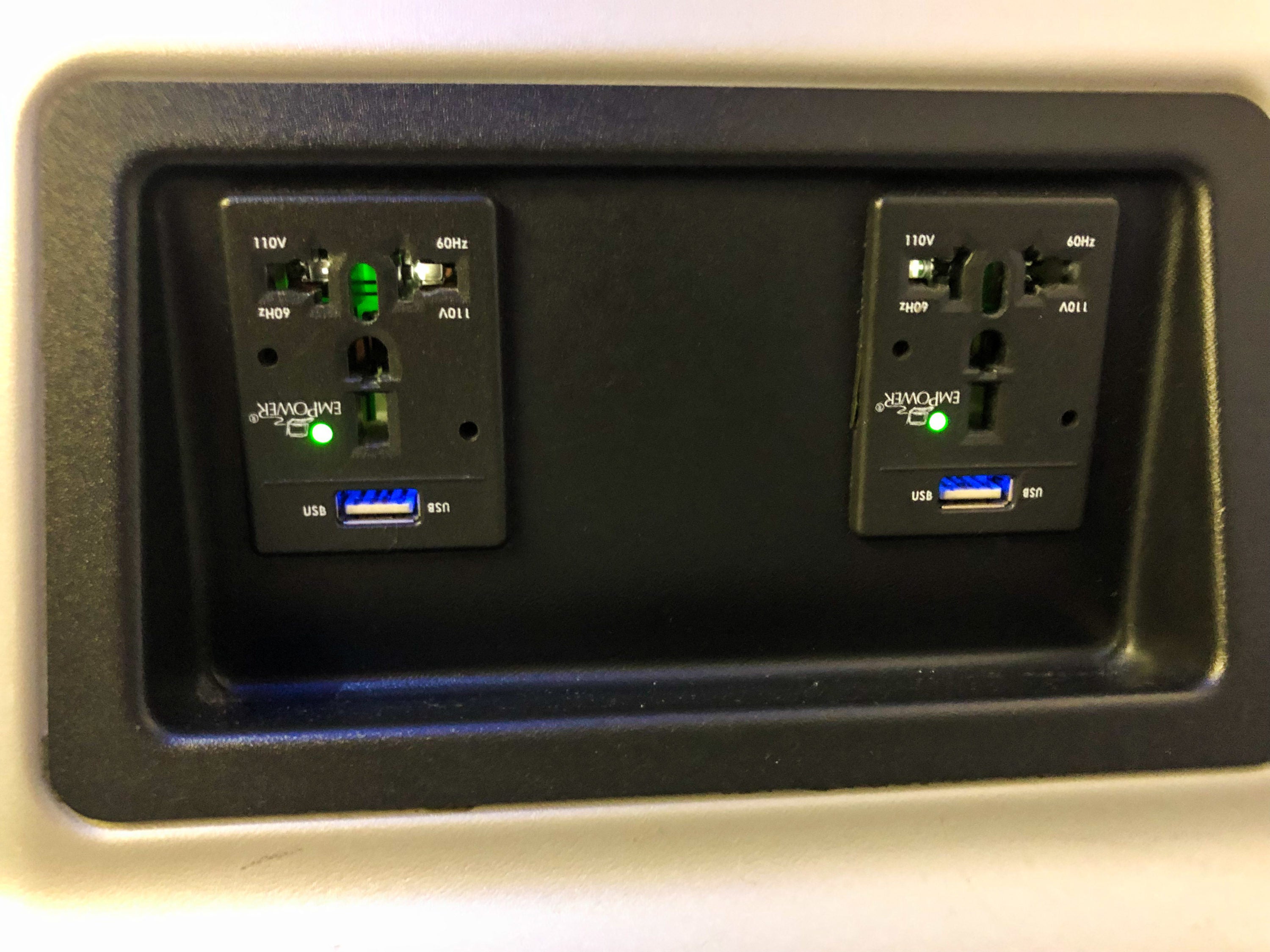 Next, I located a flip-up compartment, which snugly housed the inflight entertainment remote.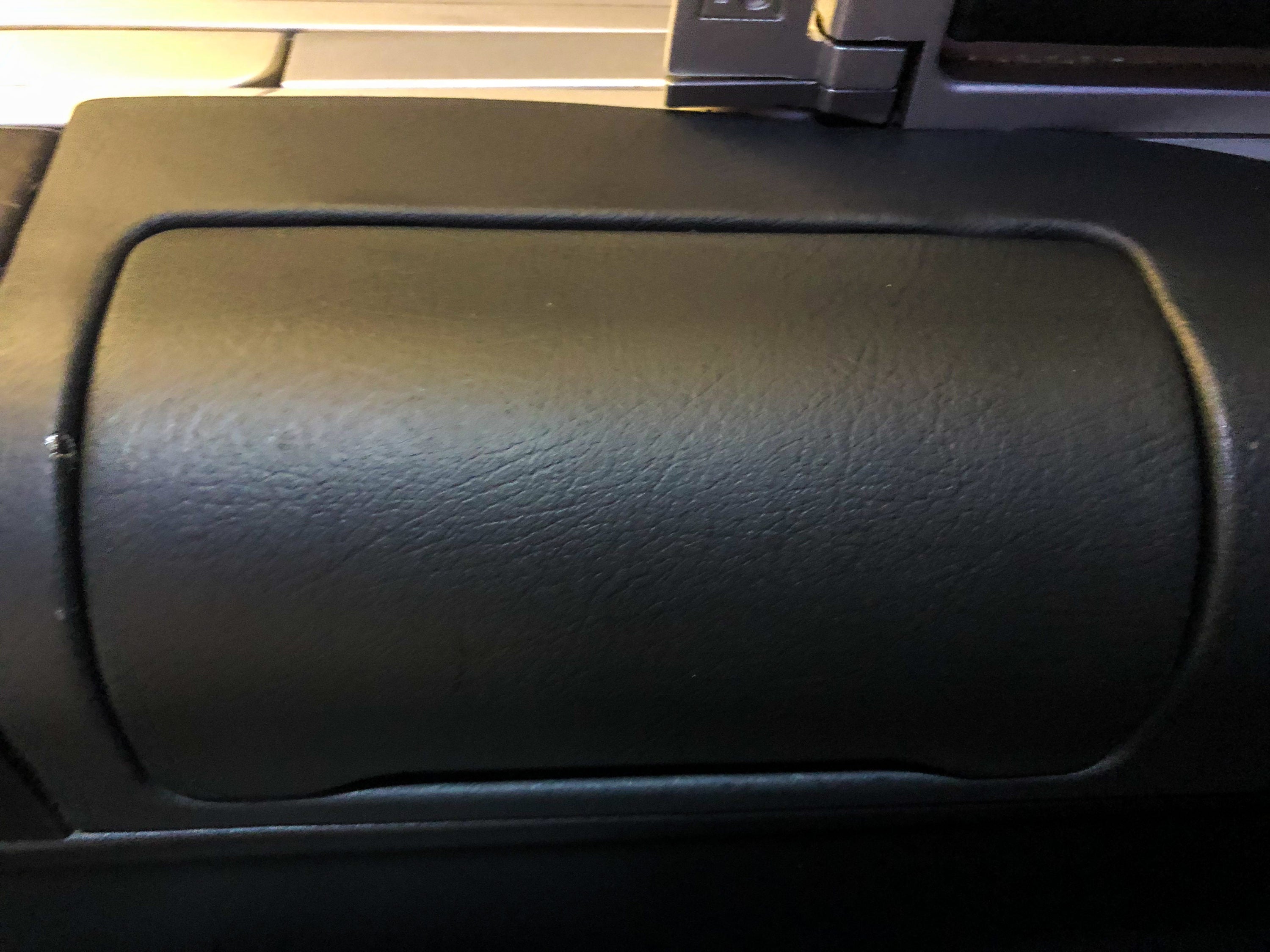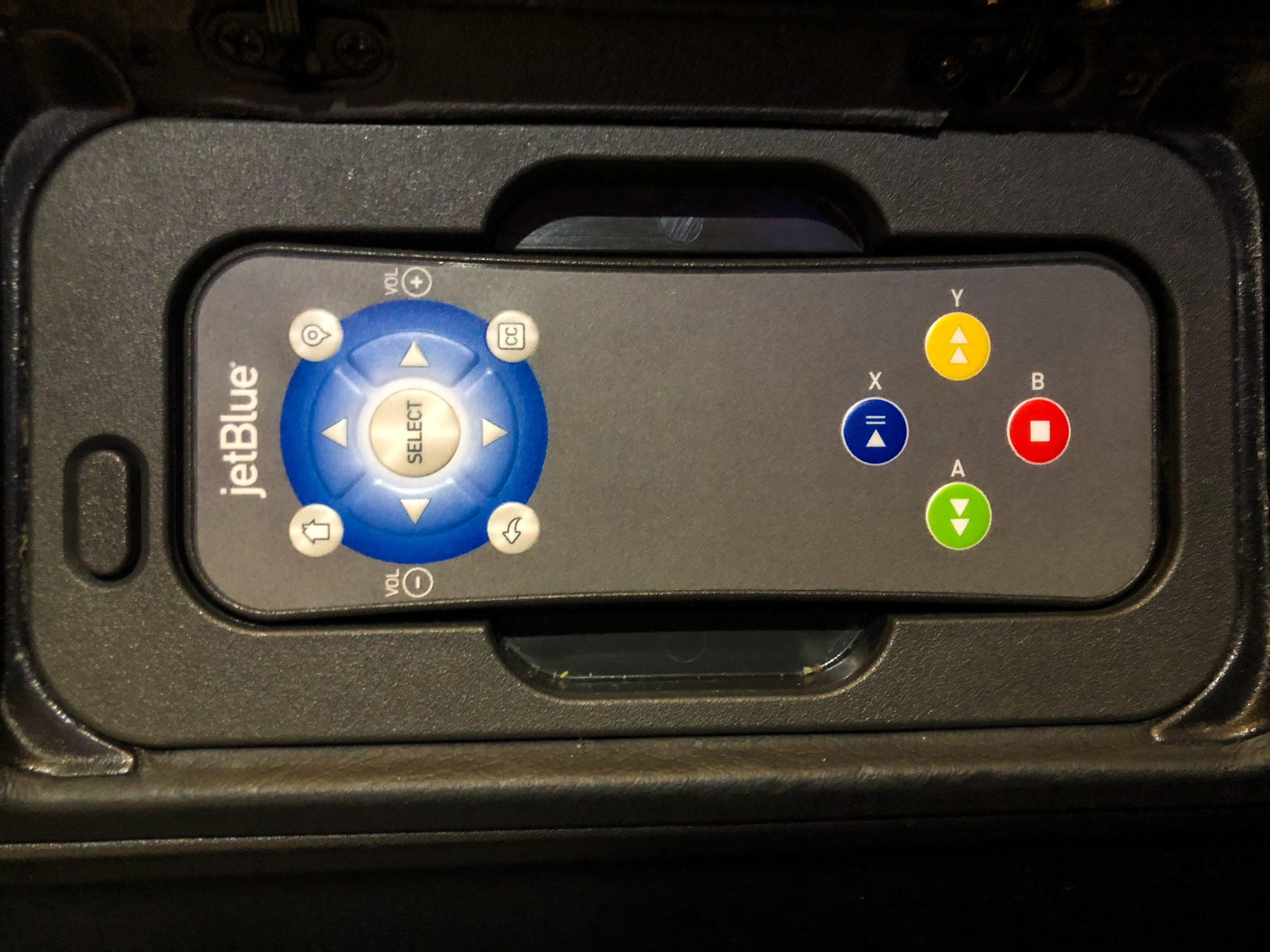 There were also seat functions to the side of the seat, all of which were easy to understand. There was even a massage function! Among other functions, you could customize the lumbar support.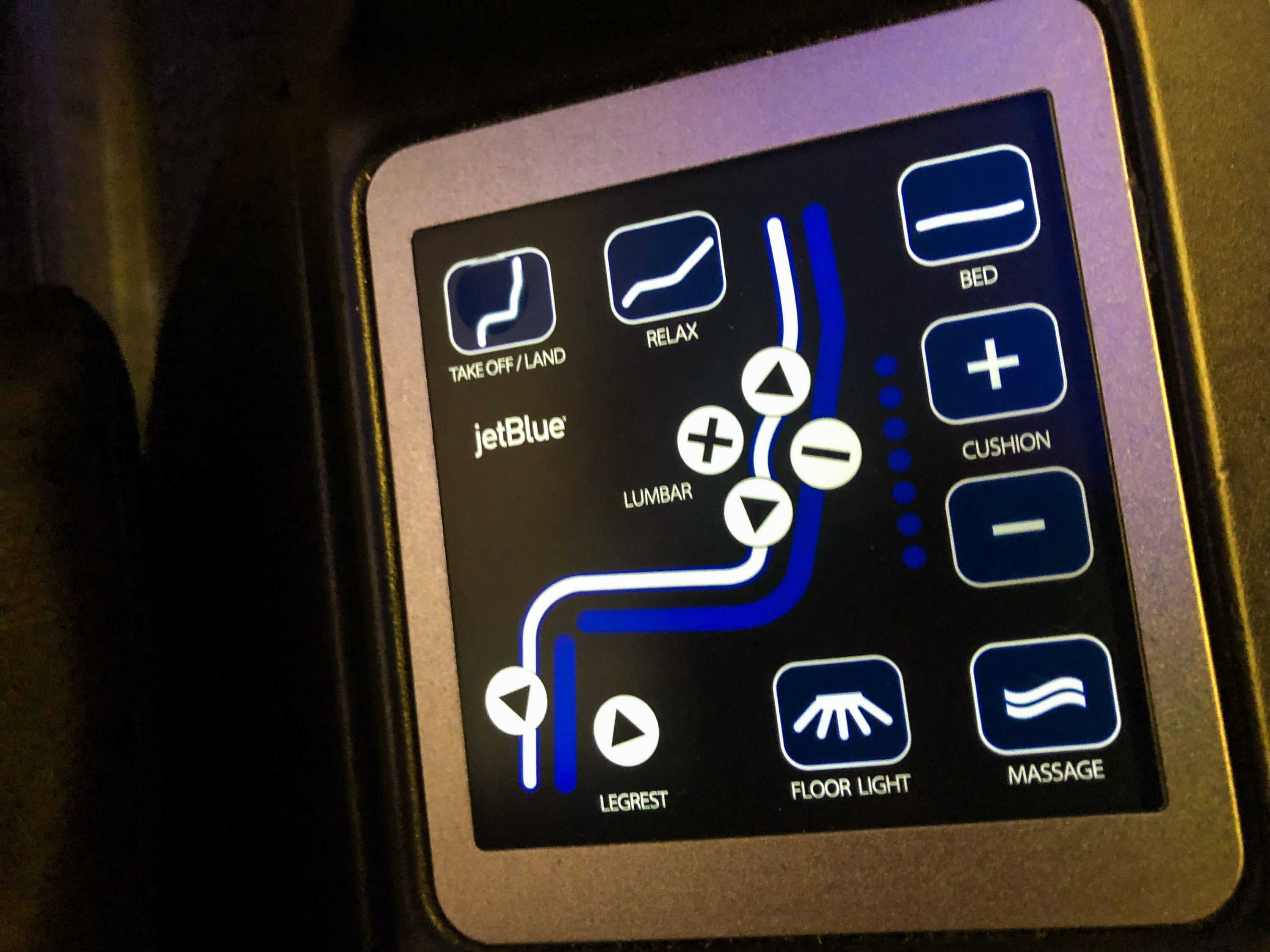 The tray table was stowed to the side of the seat, and you would have to flip it up then rotate it towards you in order to fully deploy it.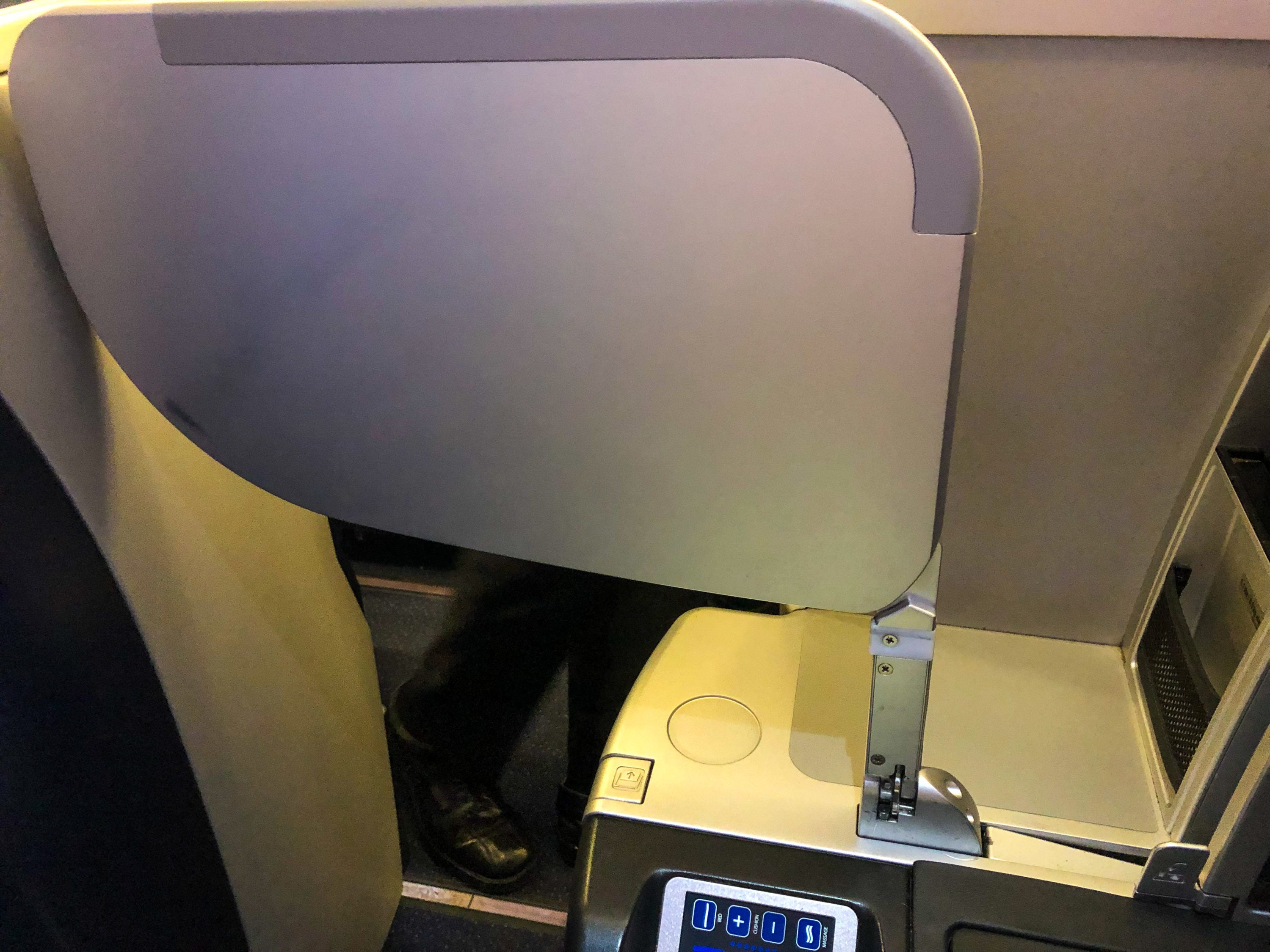 The tray table measured around 18.5 inches wide and a foot across.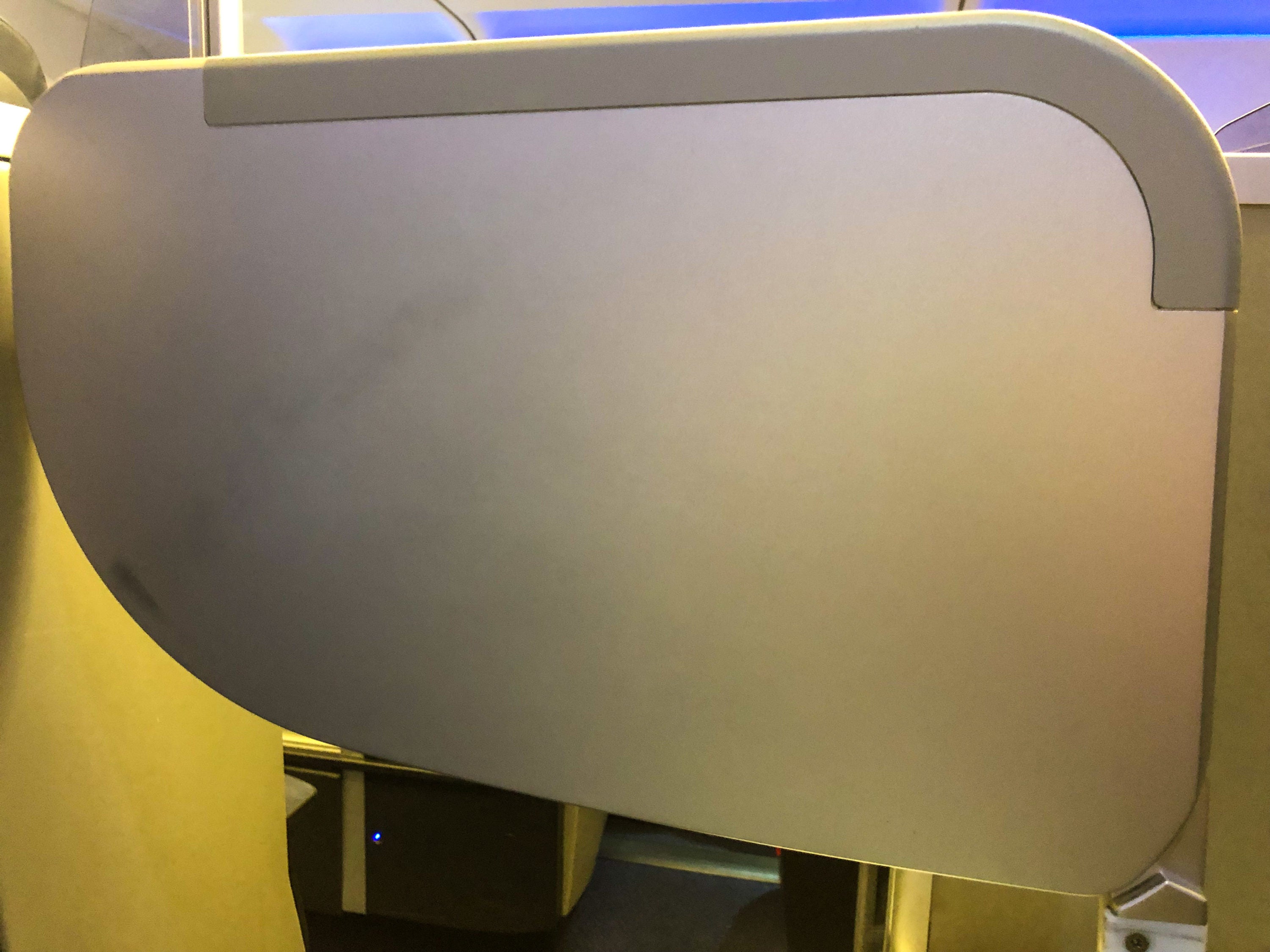 There was a large side table on the other side of the seat towards the window.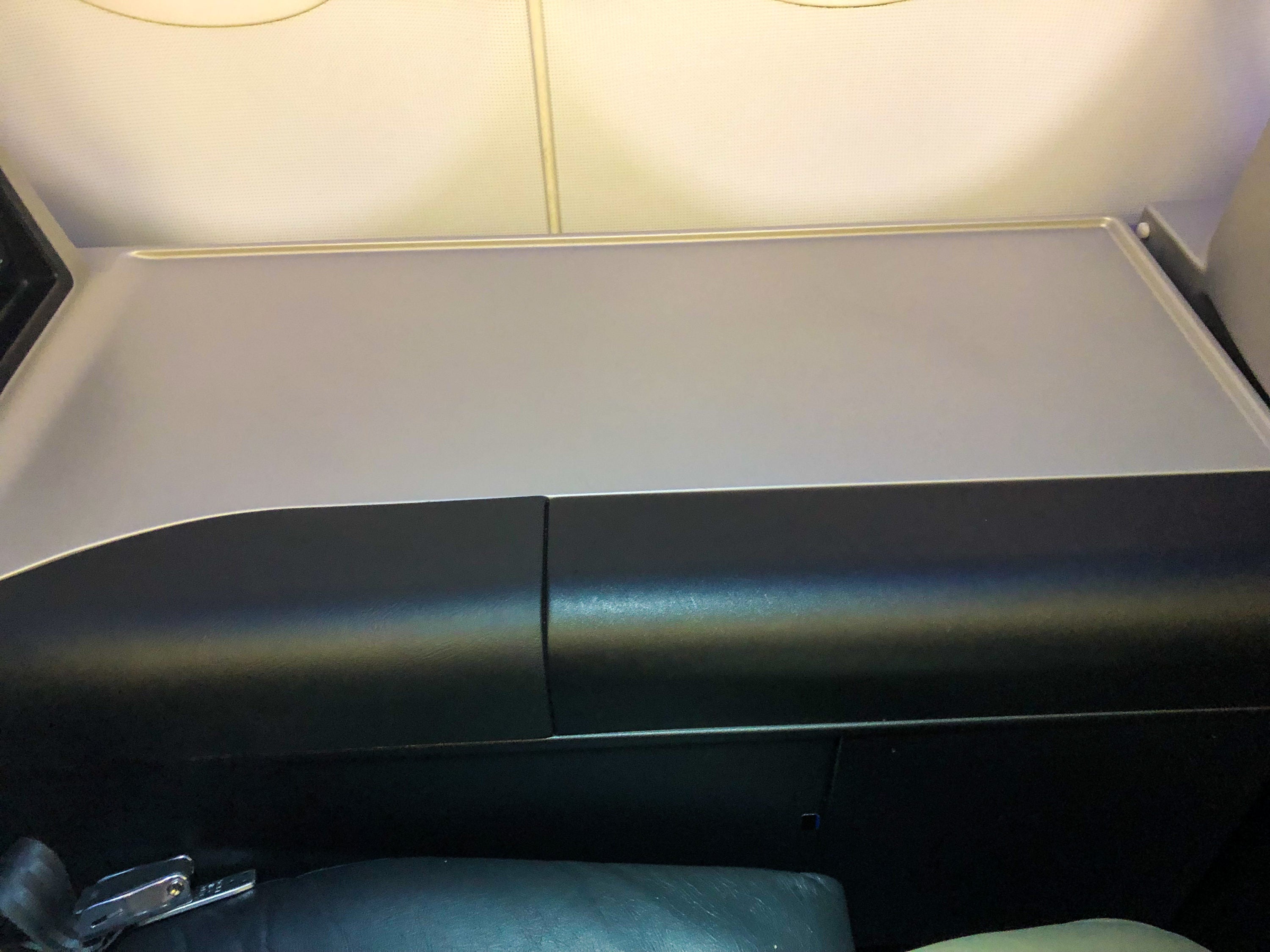 Because of the design of the seats in front of you, the footwell is essentially in between the 2 passengers sitting in front. As a result, the footwell can seem cramped. However, the footwell was actually quite spacious, measuring 15 inches wide and around 12 inches tall.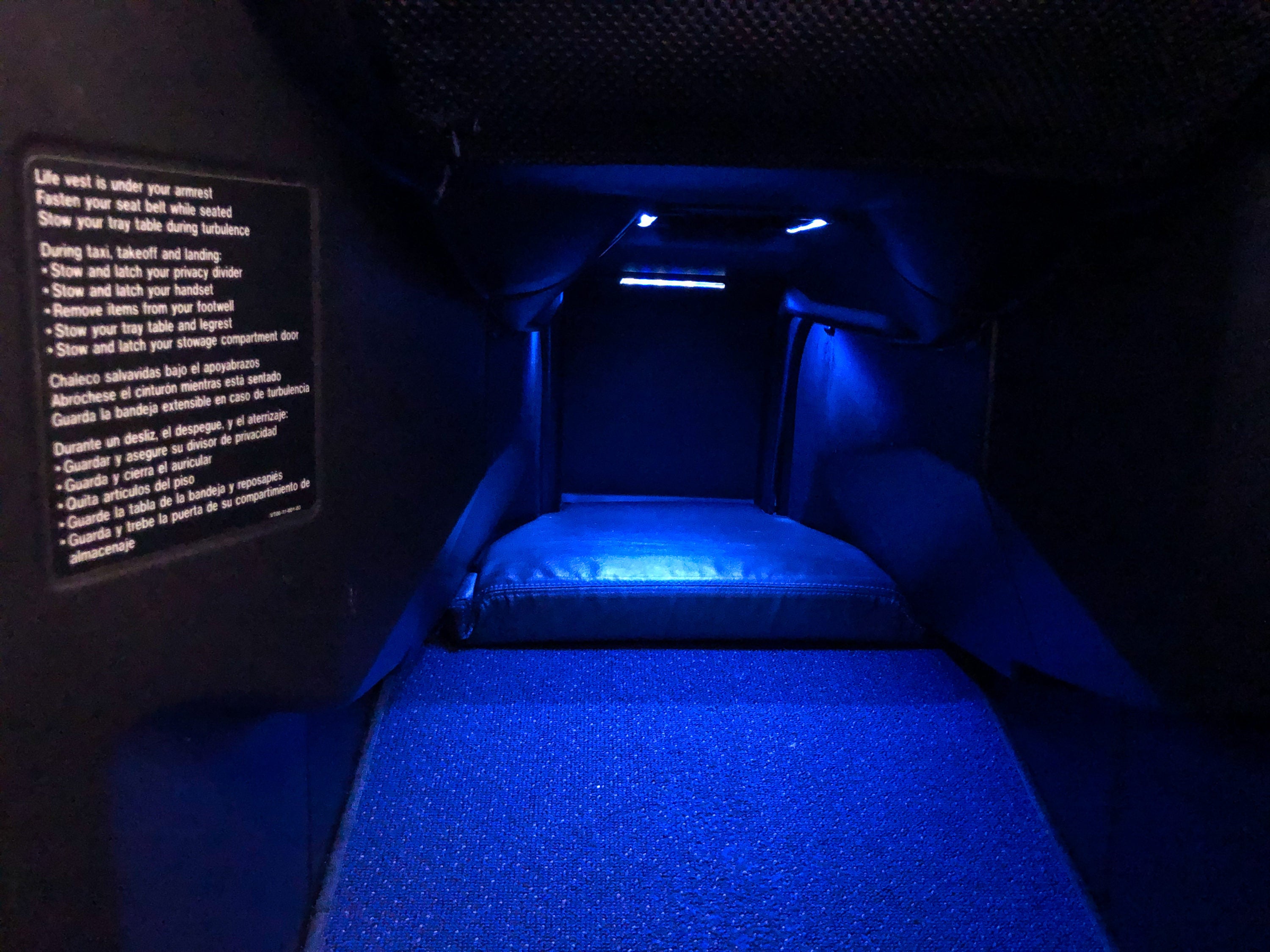 The sliding door closes out the JetBlue Mint hard product. With a 42-inch high sliding door, you're able to feel like you've got lots of privacy within your own suite.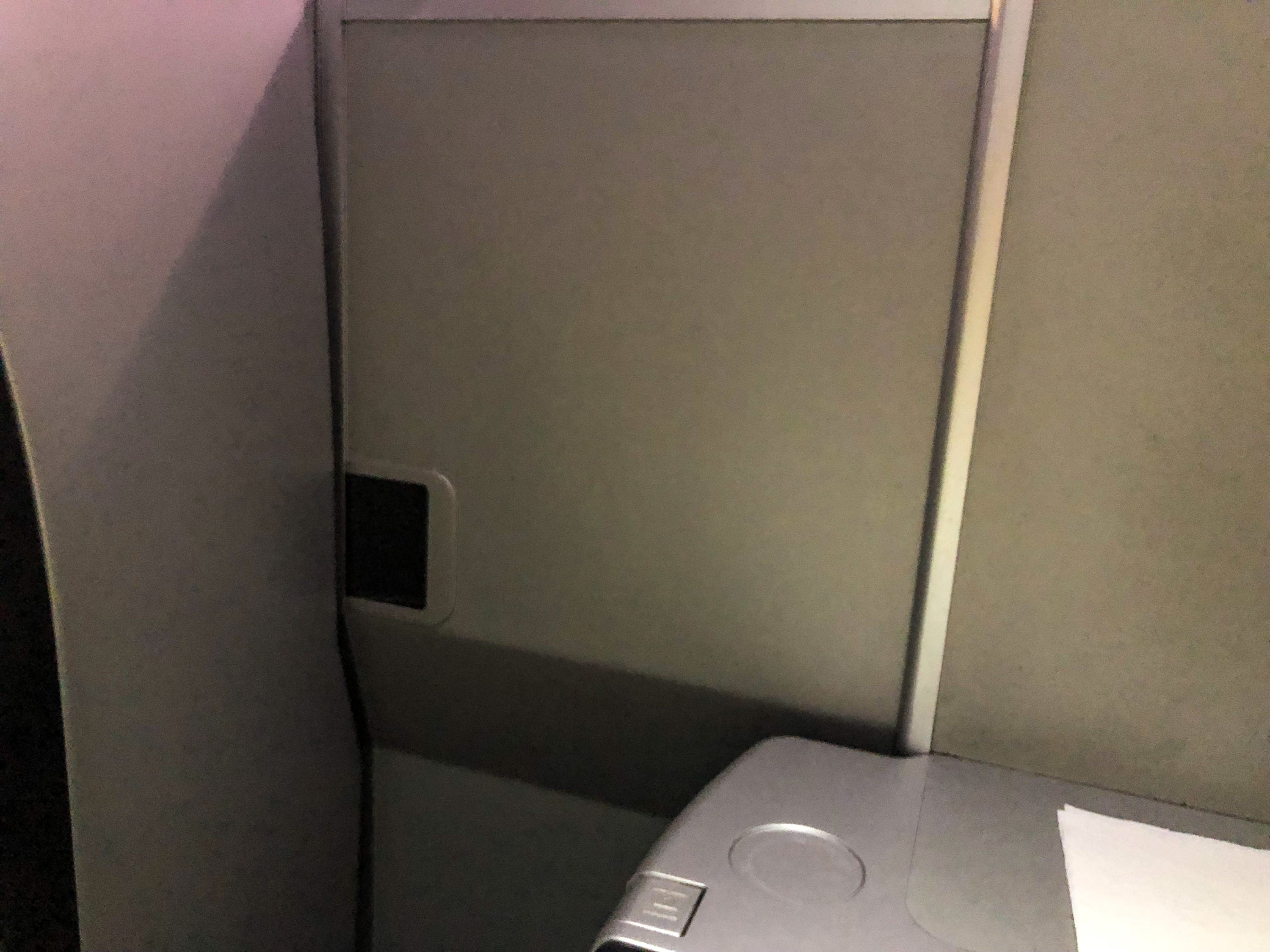 Bottom Line: The JetBlue Mint hard product is fantastic if you can reserve one of the throne seats. By snagging one of 4 throne seats on the A321, you'll effectively have the space of 2 business class passengers and much more seclusion in your own private space. There are plenty of storage compartments and the overall seat has all the features of a great product. 
Amenities
JetBlue's amenities are plentiful. I was provided with Grado-branded SR60e Prestige Series wired headphones. The sound quality wasn't great, but they did look cool.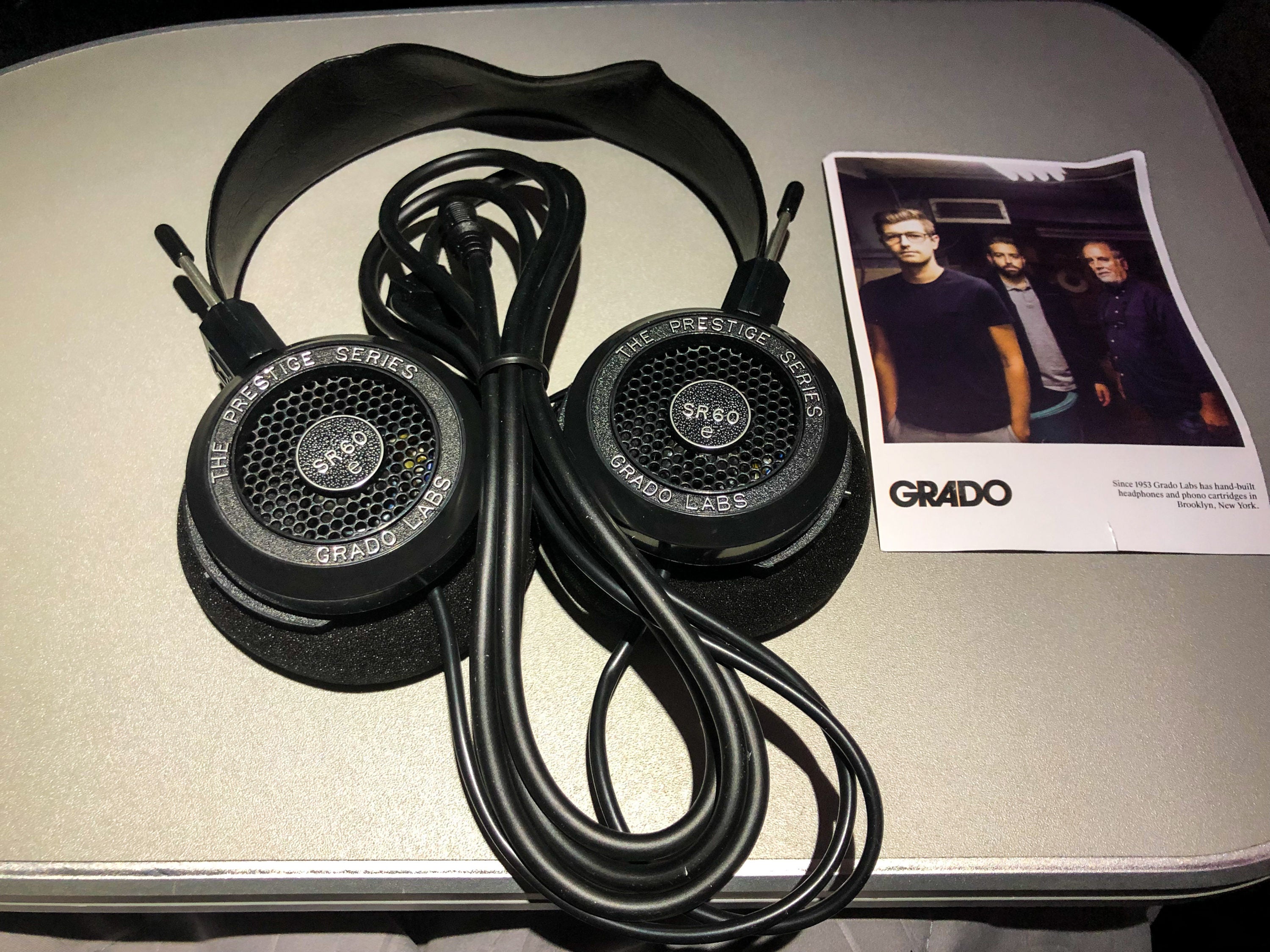 Compared to the American Airlines Flagship First Class Bang & Olufsen noise-canceling headphones, these headphones were mediocre. Still, I had no problem using them.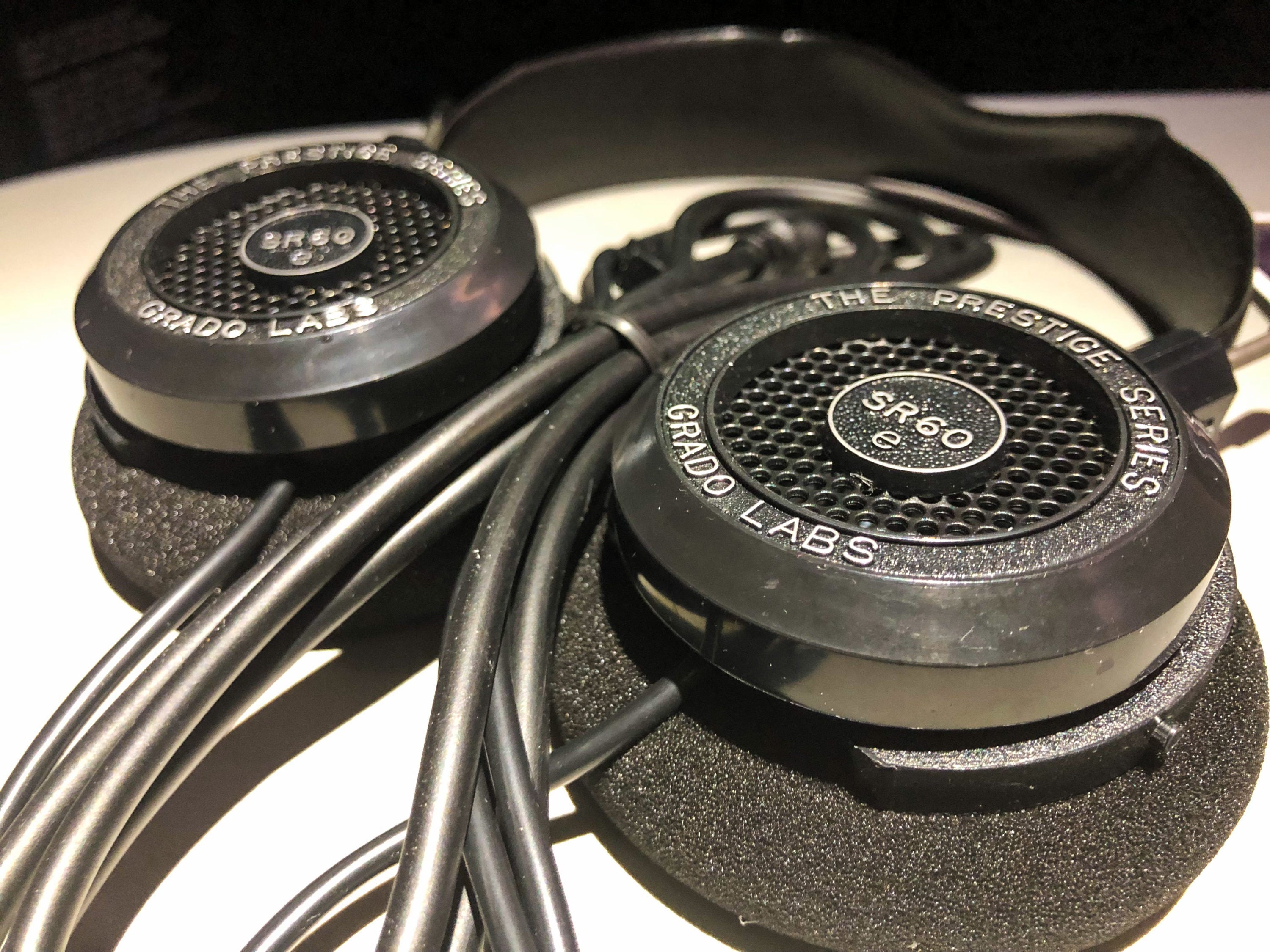 The amenity kit was in partnership with Hayward & Hopper, which is a luxury fashion brand based in New York. The kits themselves had a fabric woven construction colored navy blue.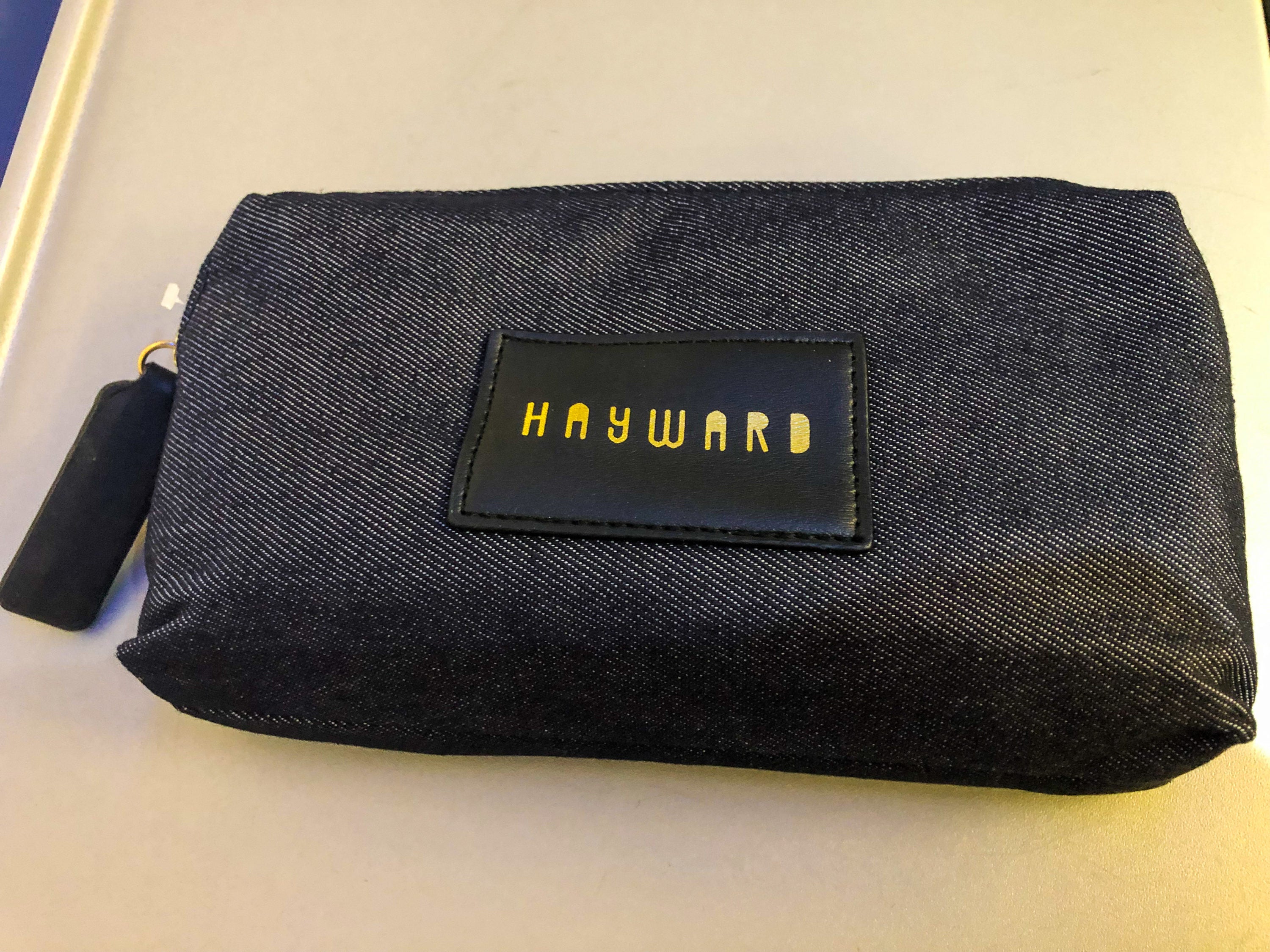 The amenity kit was well stocked. The contents included these items:
Hudson Made facial mist, lip saver, and hand lotion
Eye mask
Basic/Outfitters socks
Dental kit
Microfiber cloth
Pen
Earplugs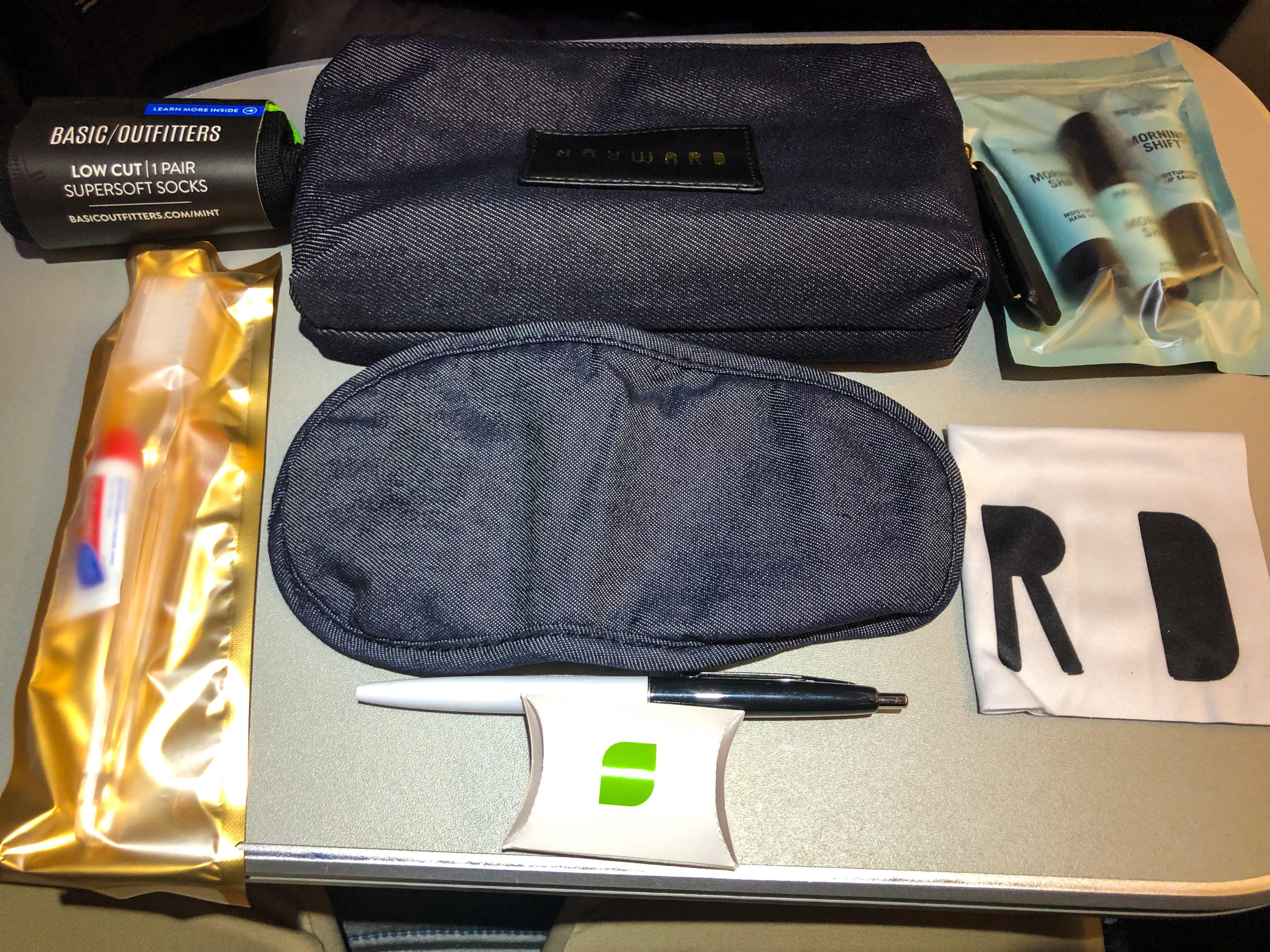 I was impressed by the contents of the amenity kit. There was excellent variety and it included uncommon items like a pen and microfiber cloth.
After I finished digging through the amenity kit, I turned my attention to the bedding. There was a JetBlue Mint-branded bedding set that included a pillow and blanket.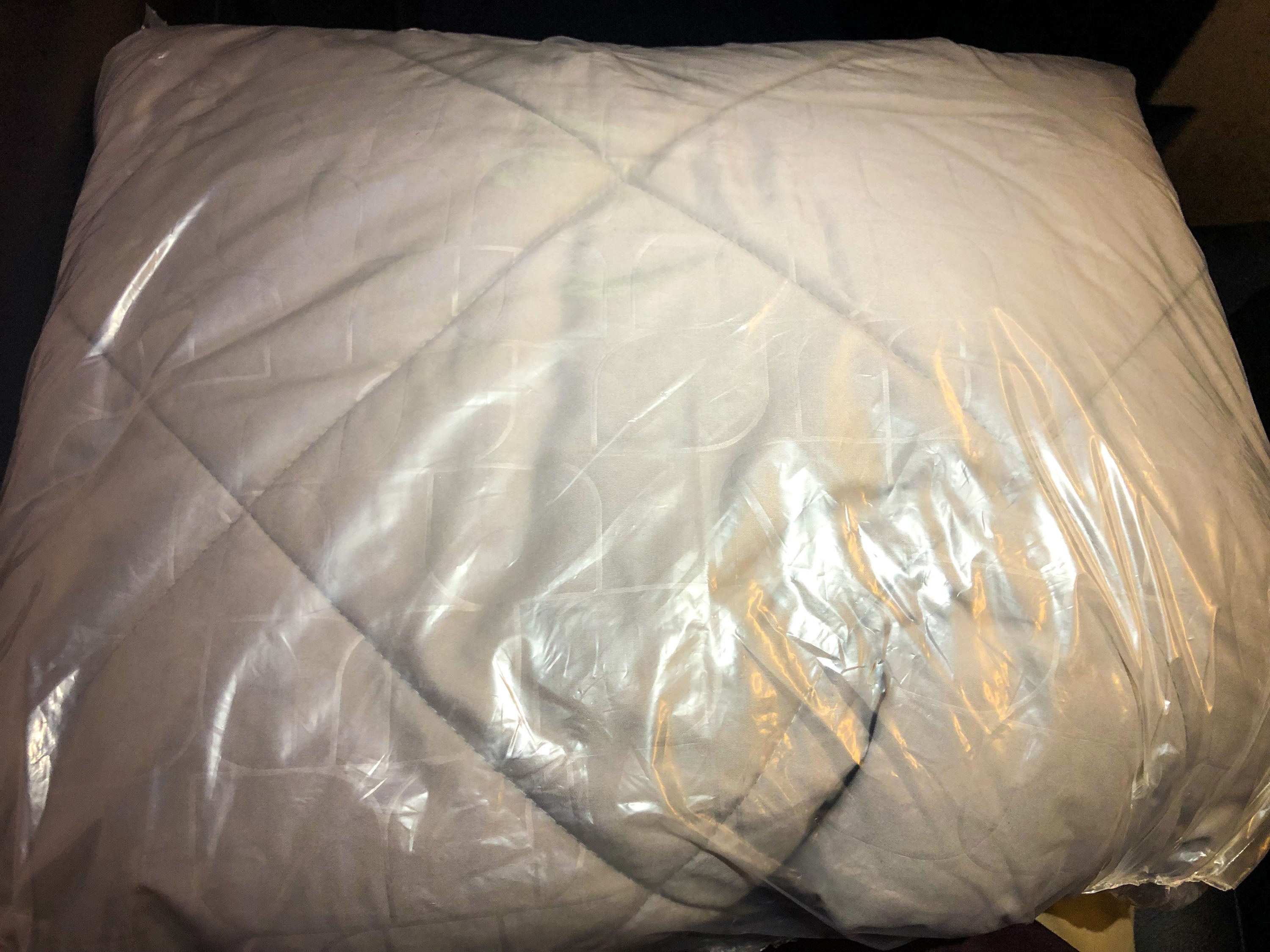 I unpackaged the bedding, and I immediately felt how breathable and cool the bedding was.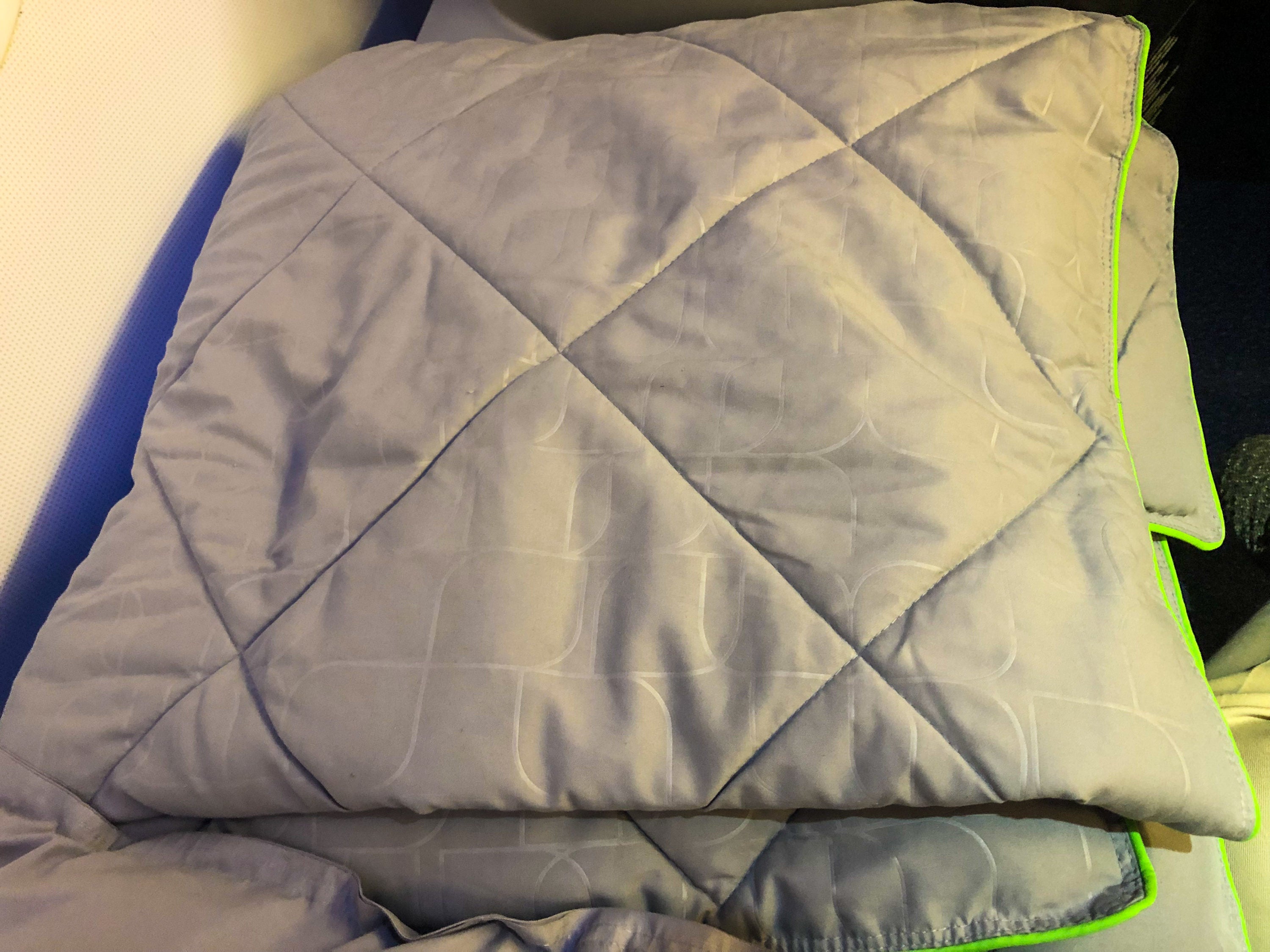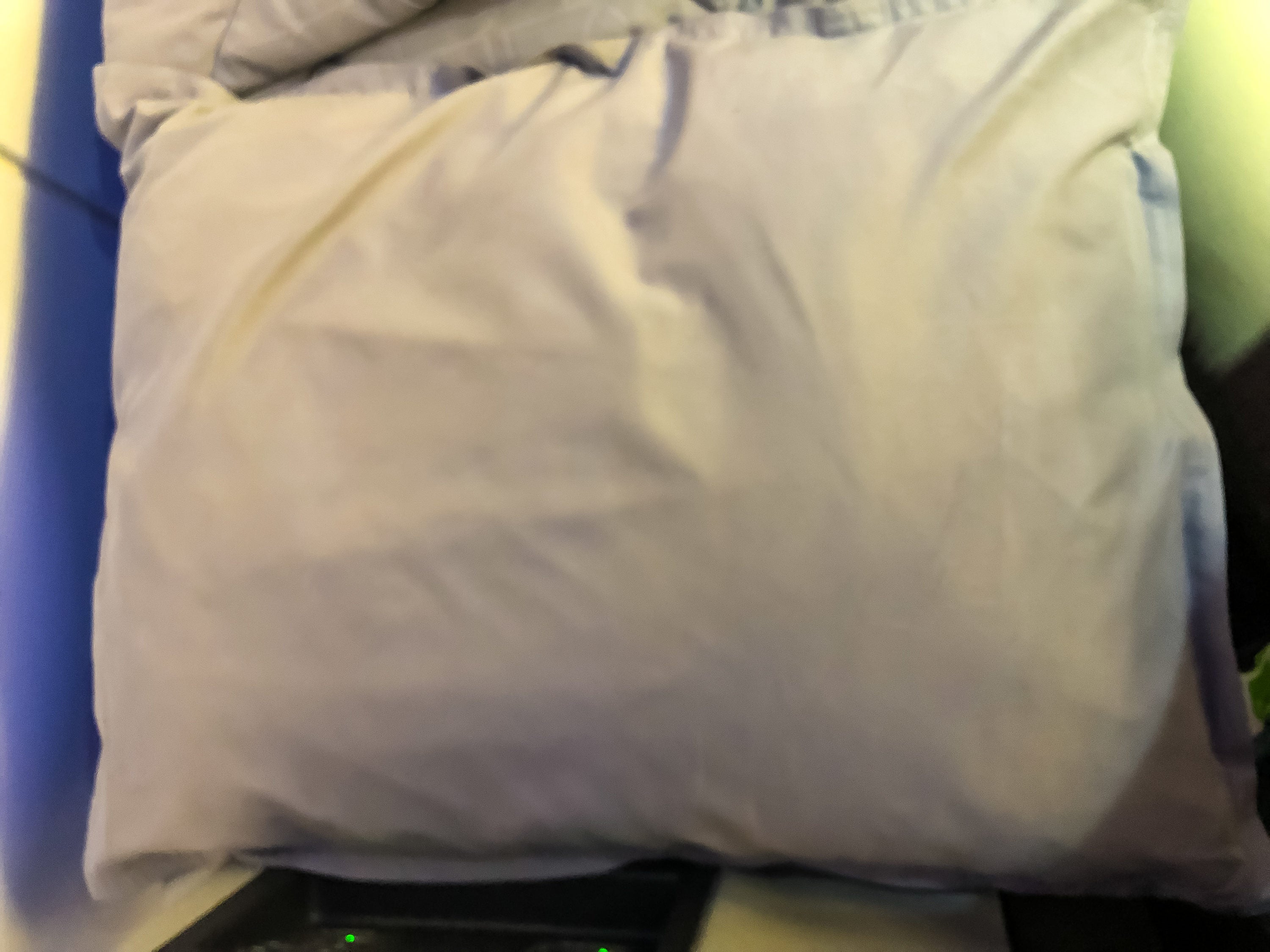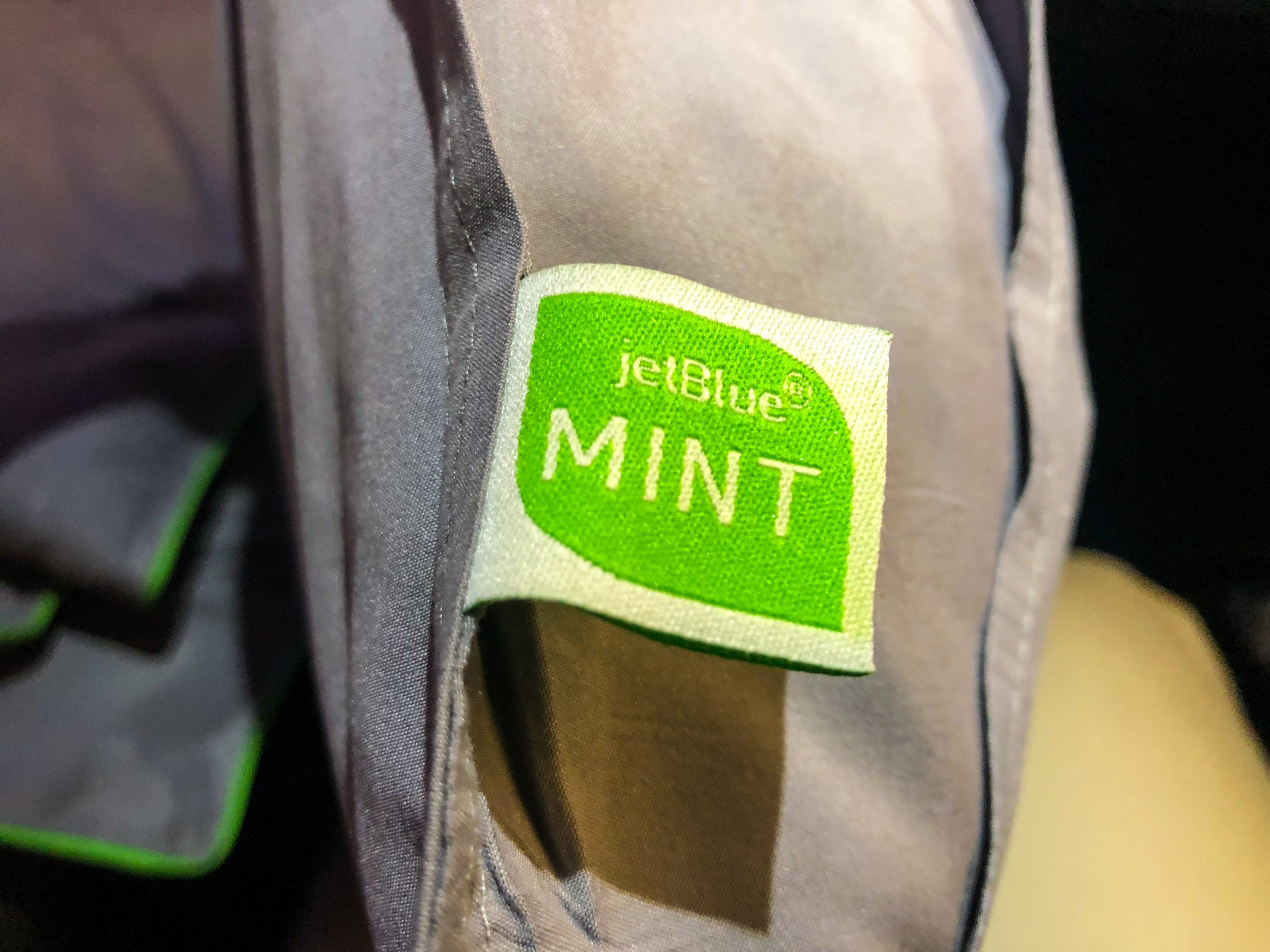 Thanks to the comfortable bedding and the seat design, I was able to catch a 2-3 hour nap on my red-eye flight back to Los Angeles.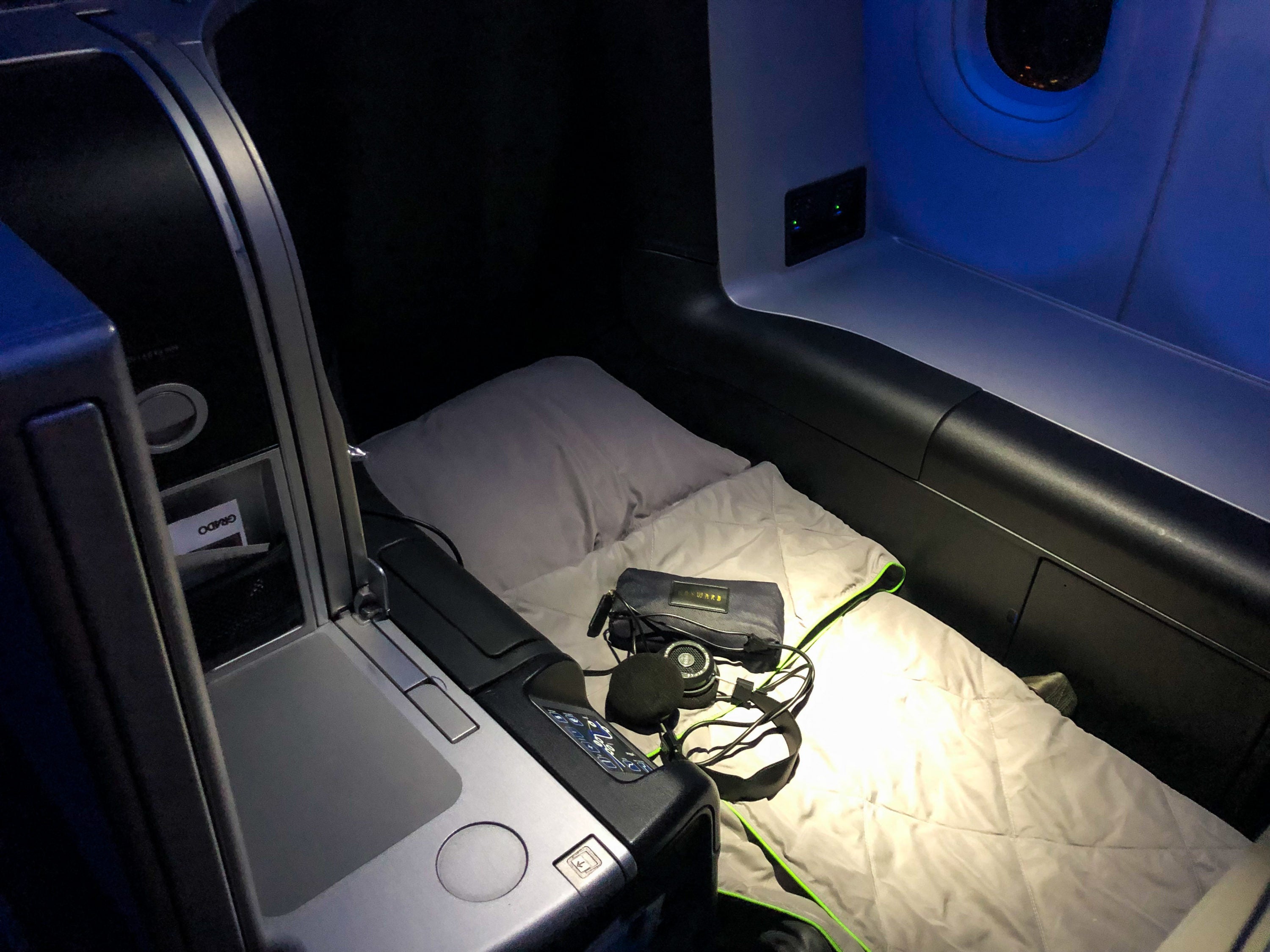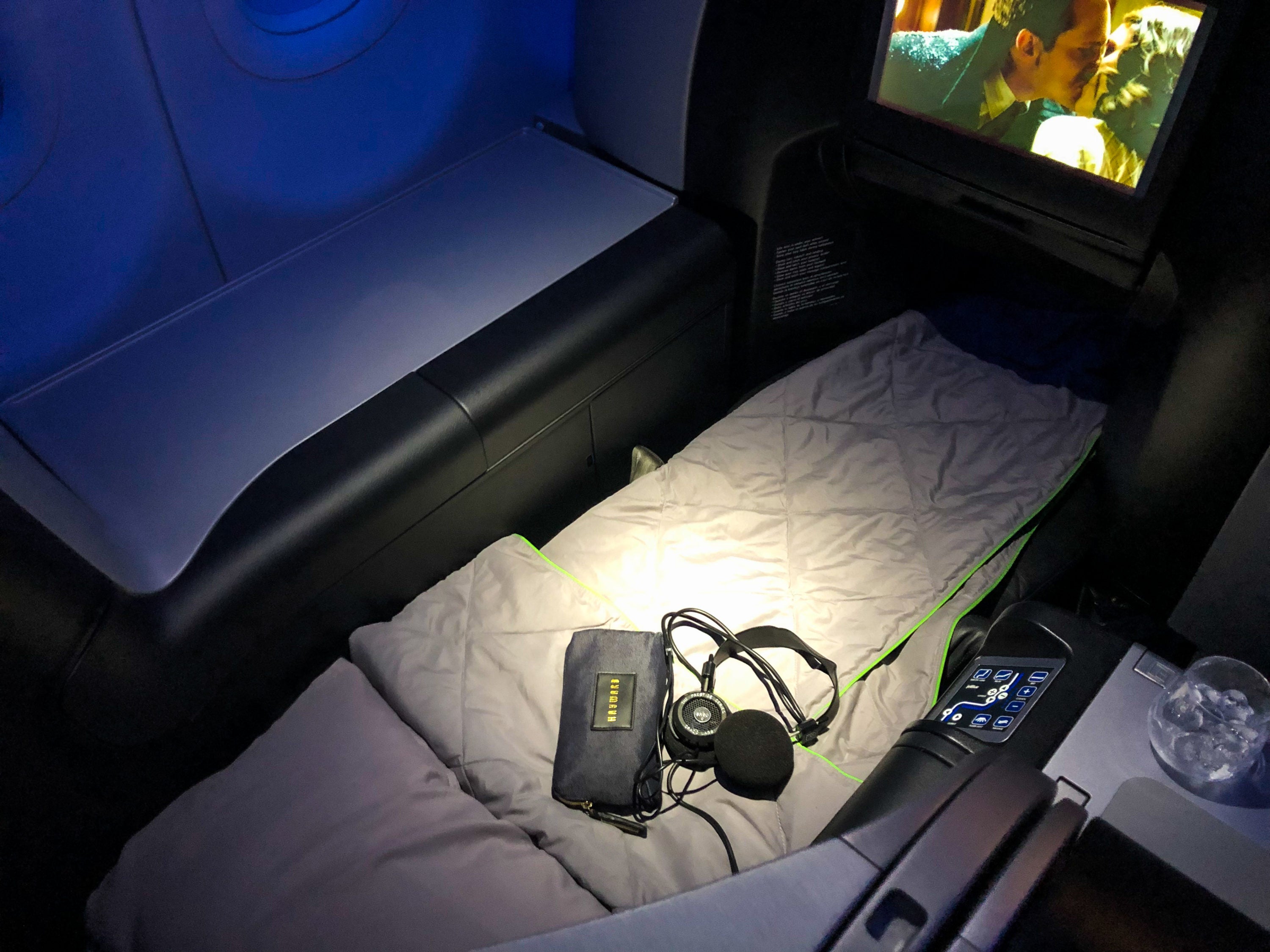 Bottom Line: I'm a big fan of the JetBlue Mint product. In addition to the design of the seat, especially how it faces forward and doesn't angle to the side (like reverse herringbone seats), I found myself with a lot of room to stretch out. On top of that, the bedding made the flight that much more comfortable. The amenities were great, especially since they leveraged artisanal brands to construct a holistic Mint experience. 
Food and Beverage
As soon as we reached cruising altitude, the JetBlue staff began the meal service. First, I was handed a warm towel.
I had proactively requested the JetBlue Mint cocktail, which is a mixture of vodka, lime, club soda, honey-infused limeade, and a sprig of mint garnish atop the drink.
This was honestly one of the best cocktails I've ever had on a plane; it was sweet, refreshing, and bubbly. Be sure to order this if flying in JetBlue Mint!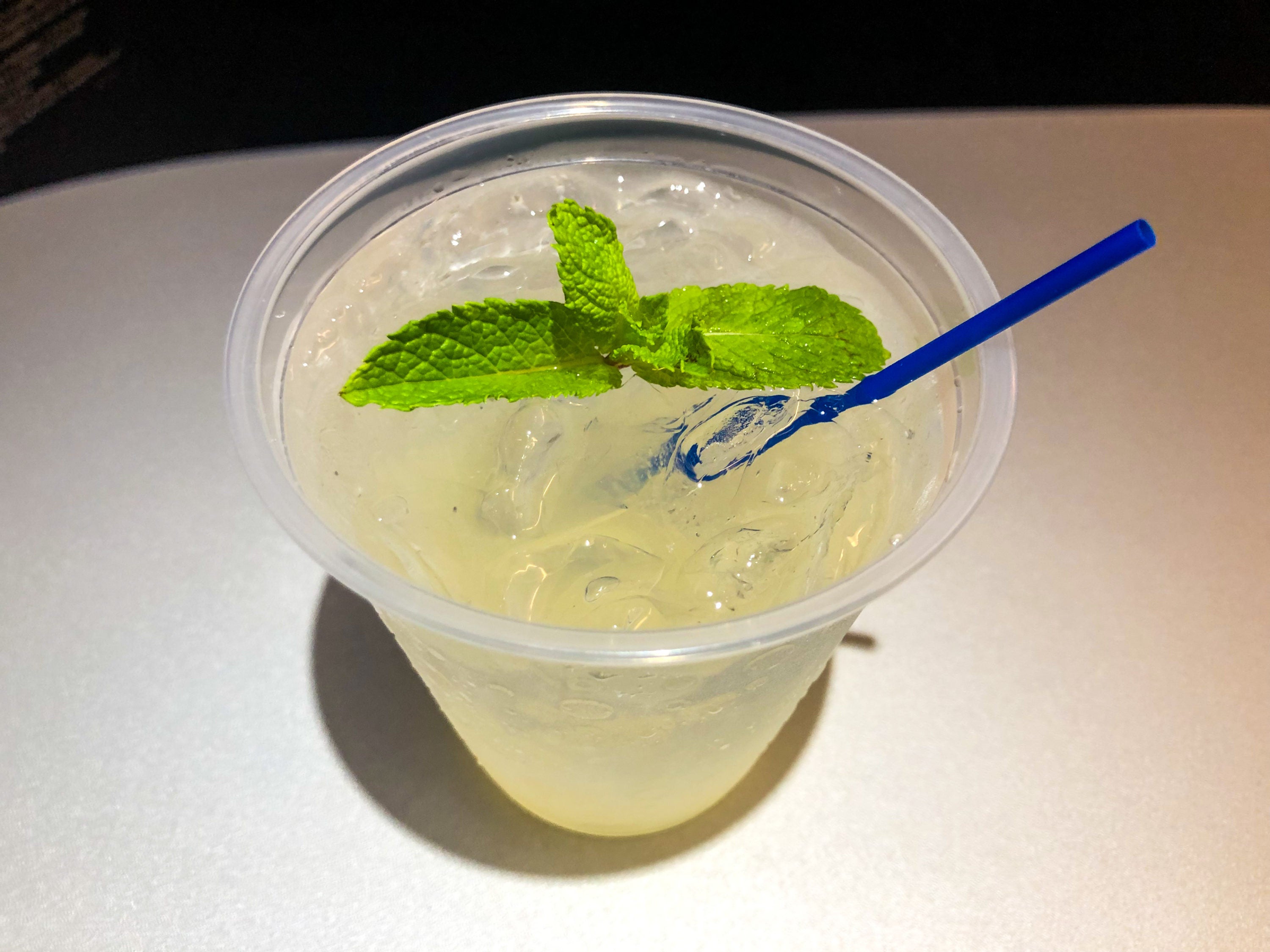 We were handed dinner menus featuring JetBlue Mint's food and beverage program known as NourishMint. JetBlue's menu is inspired by Saxon + Parole, a New York City restaurant that focuses on seasonal and fresh produce. To construct their wine program, JetBlue consults Jon Bonné, a popular and award-winning wine columnist for PUNCH, among other accolades.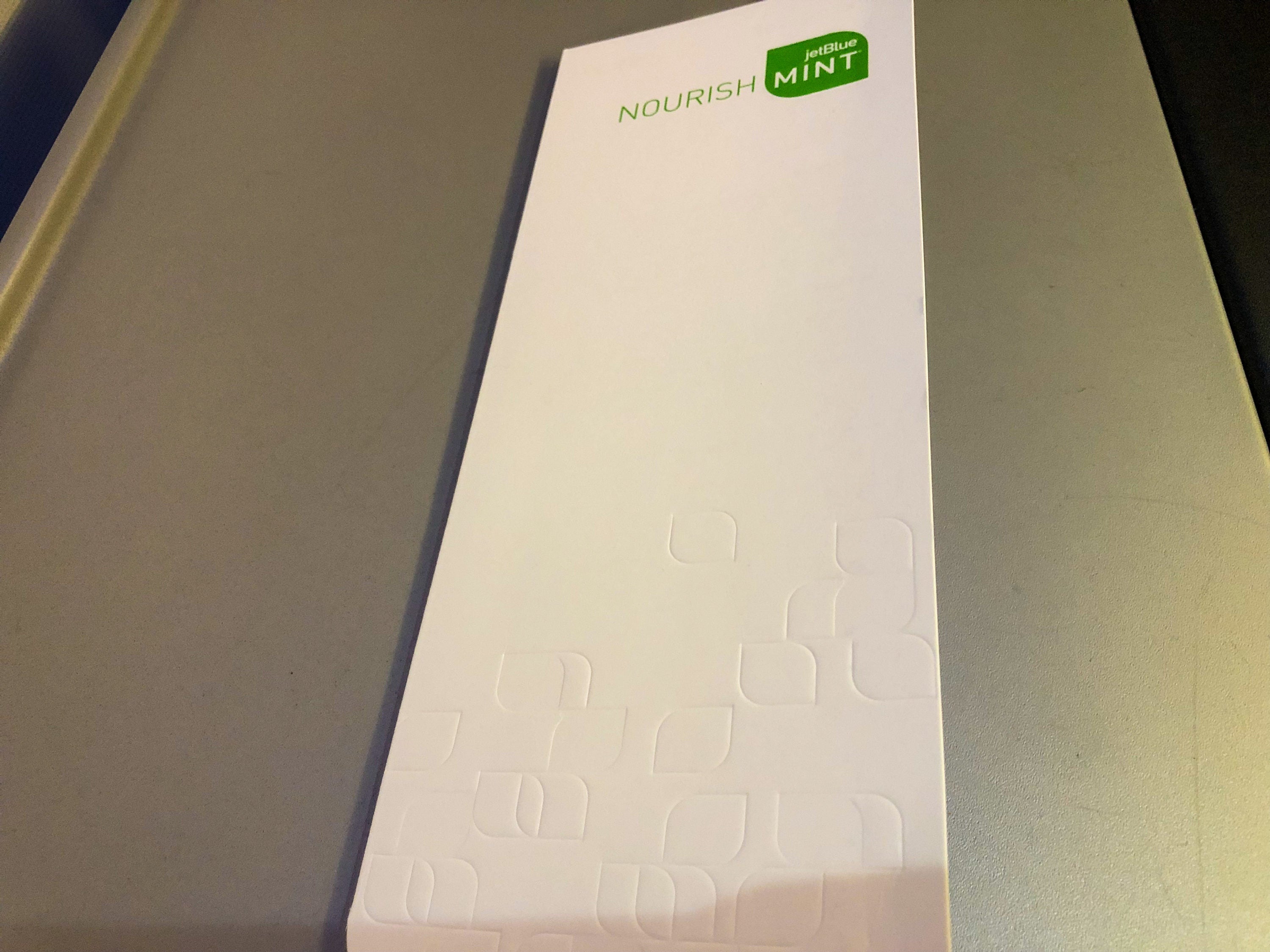 JetBlue Mint's main courses are "tapas-style," which means that you can pick 3 items from a small list of options, enabling you to sample a wide variety of smaller-portioned dishes. This is in stark contrast to 1 main course on many flights.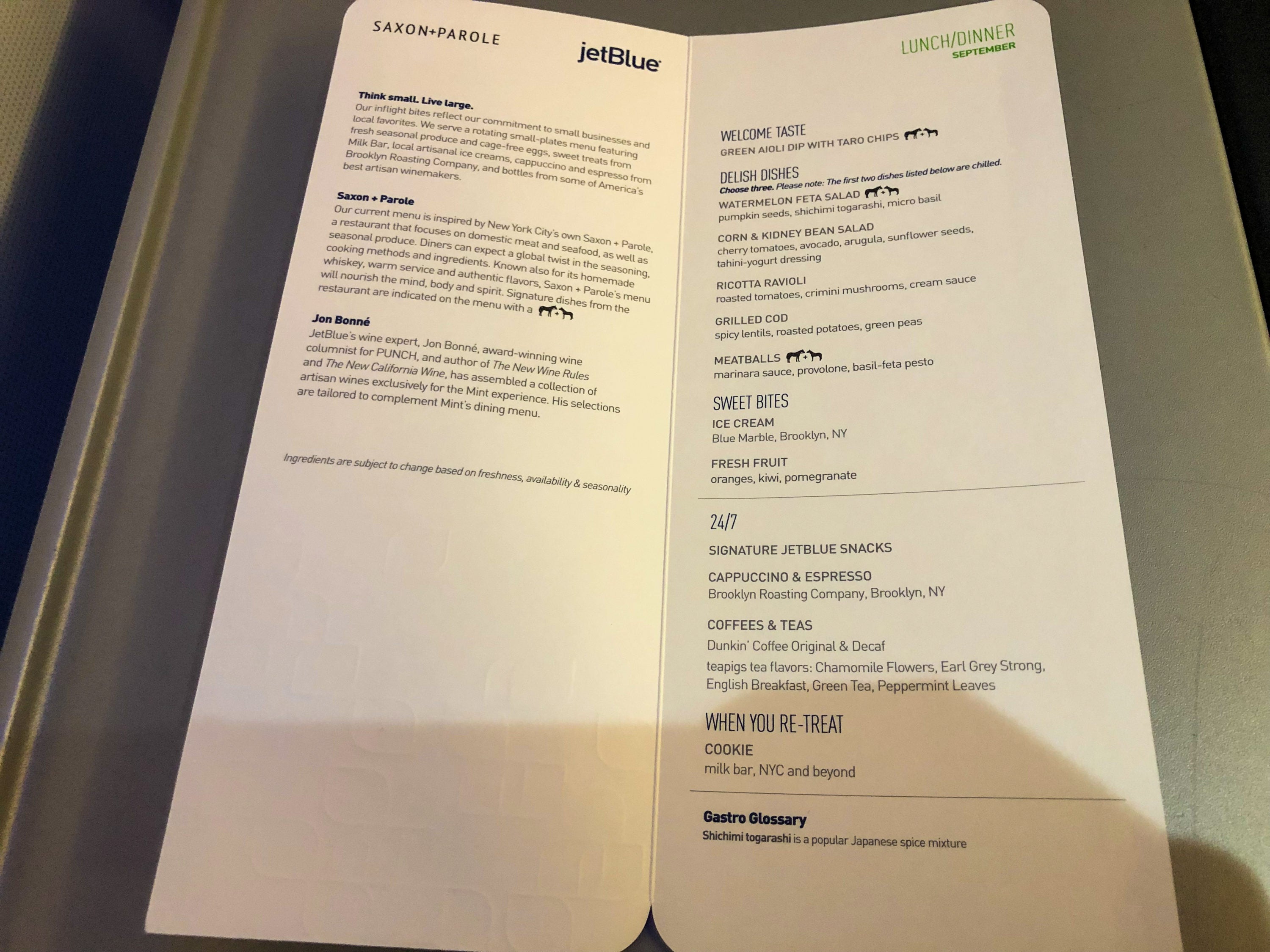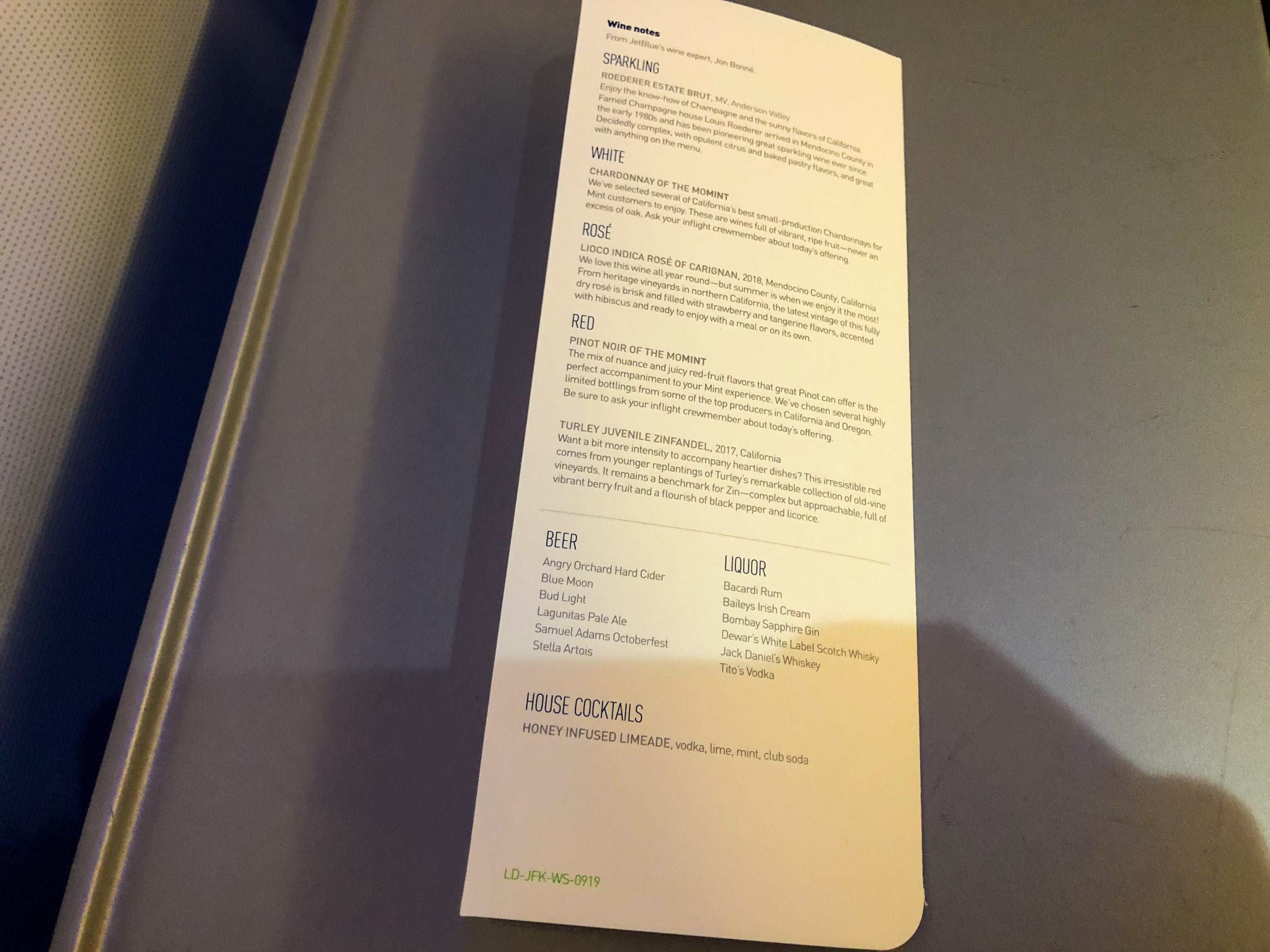 My flight attendant placed a thin setting on my tray table after taking my order.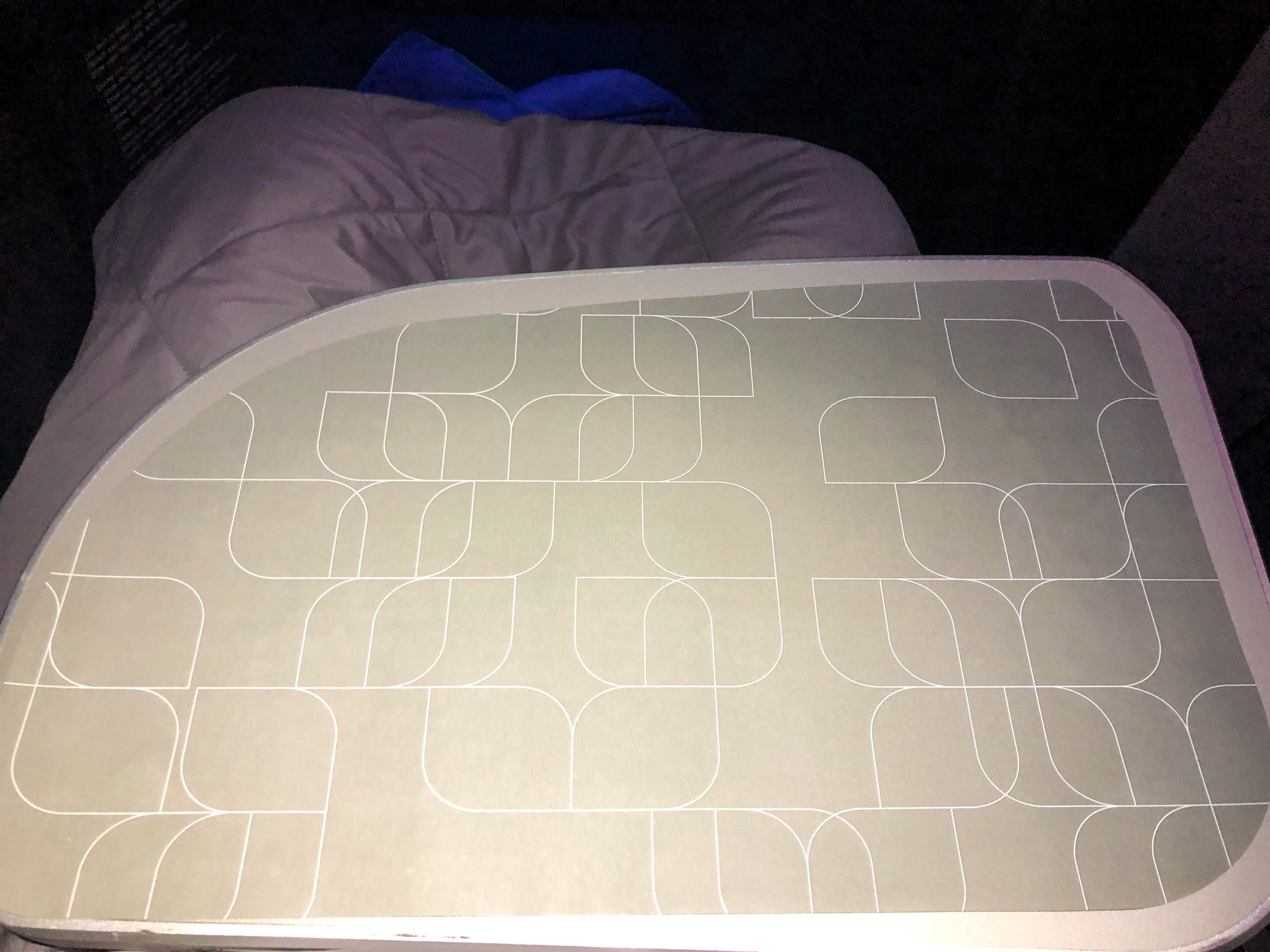 To start off, I enjoyed a serving of taro chips and green aioli dip. The chips were very crispy and the dip was flavorful and rich.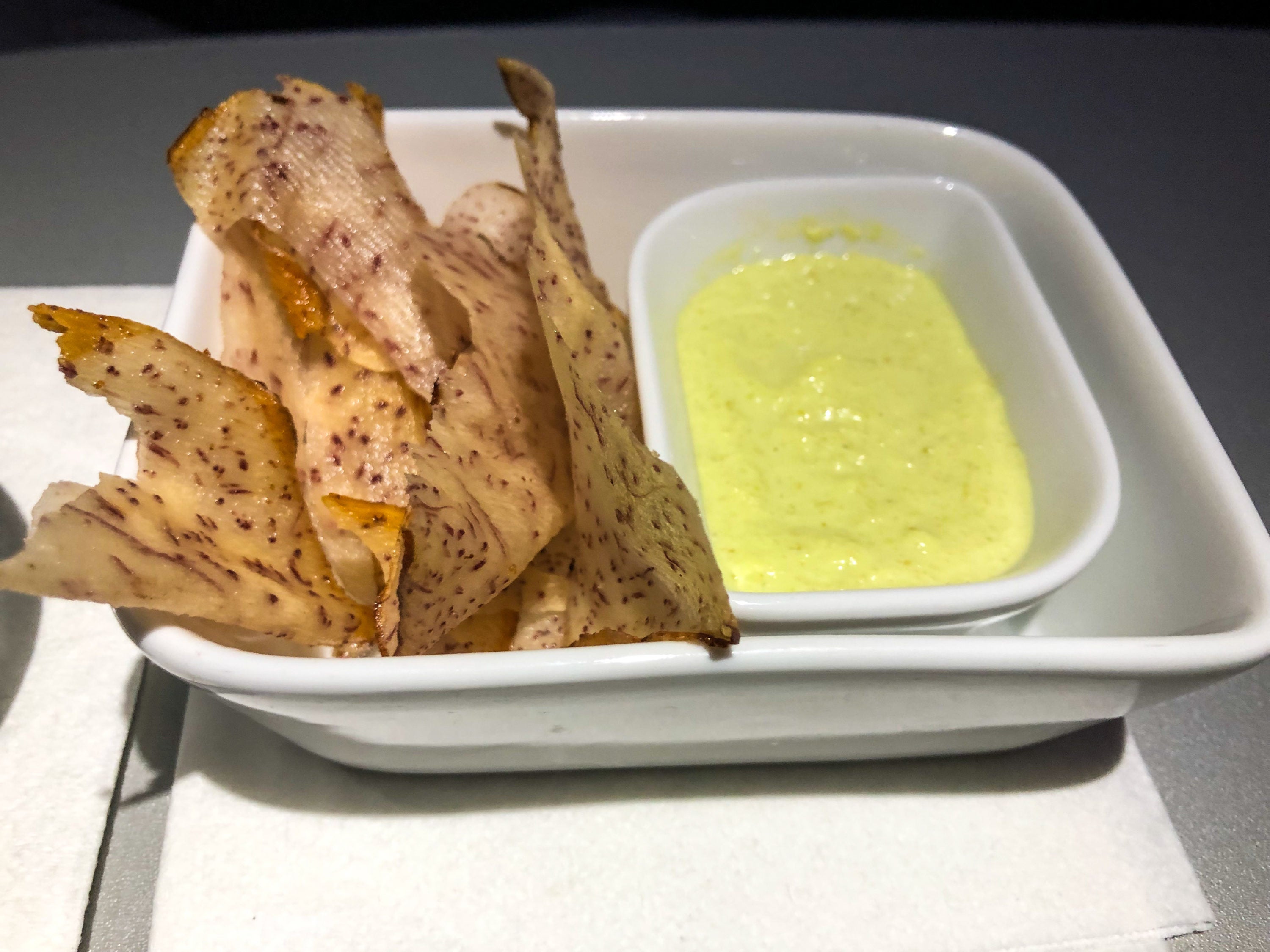 Then, my main courses came, along with warm bread and olive oil. I ordered:
Ricotta ravioli with roasted tomatoes, cremini mushrooms, and cream sauce (left)
Grilled cod with spicy lentils, roasted potatoes, and green peas (center)
Meatballs with marinara sauce, provolone, and basil-feta pesto (right)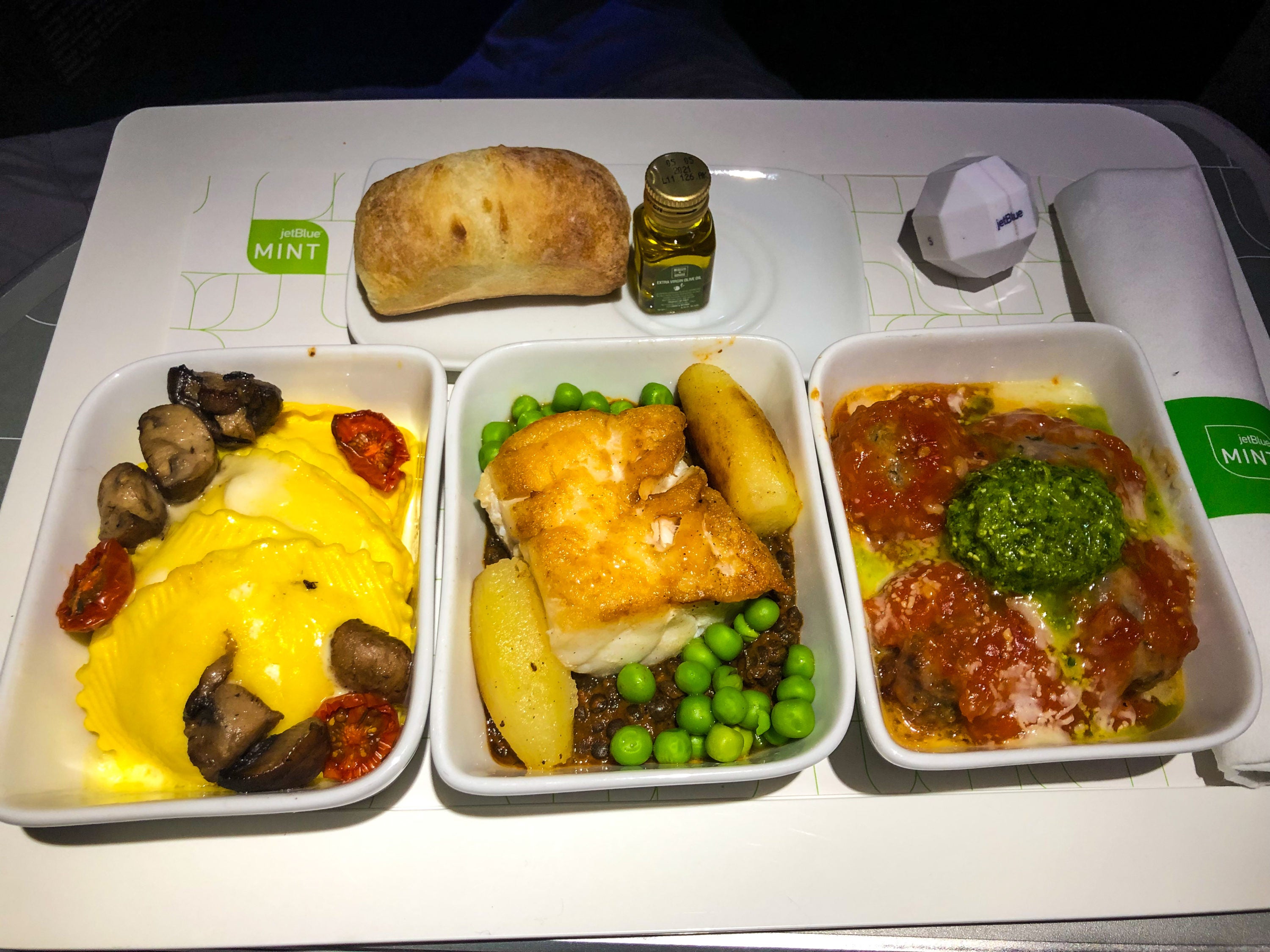 All of the dishes were fantastic. It's abundantly clear that JetBlue takes tremendous care in preparing and creating these dishes to reflect perfect flavors and textures.
After I stuffed myself with these dishes, it was time for dessert. To the left was various fresh fruit, including pomegranate, orange, and kiwi. To the right was 3 gigantic scoops of Blue Marble ice cream.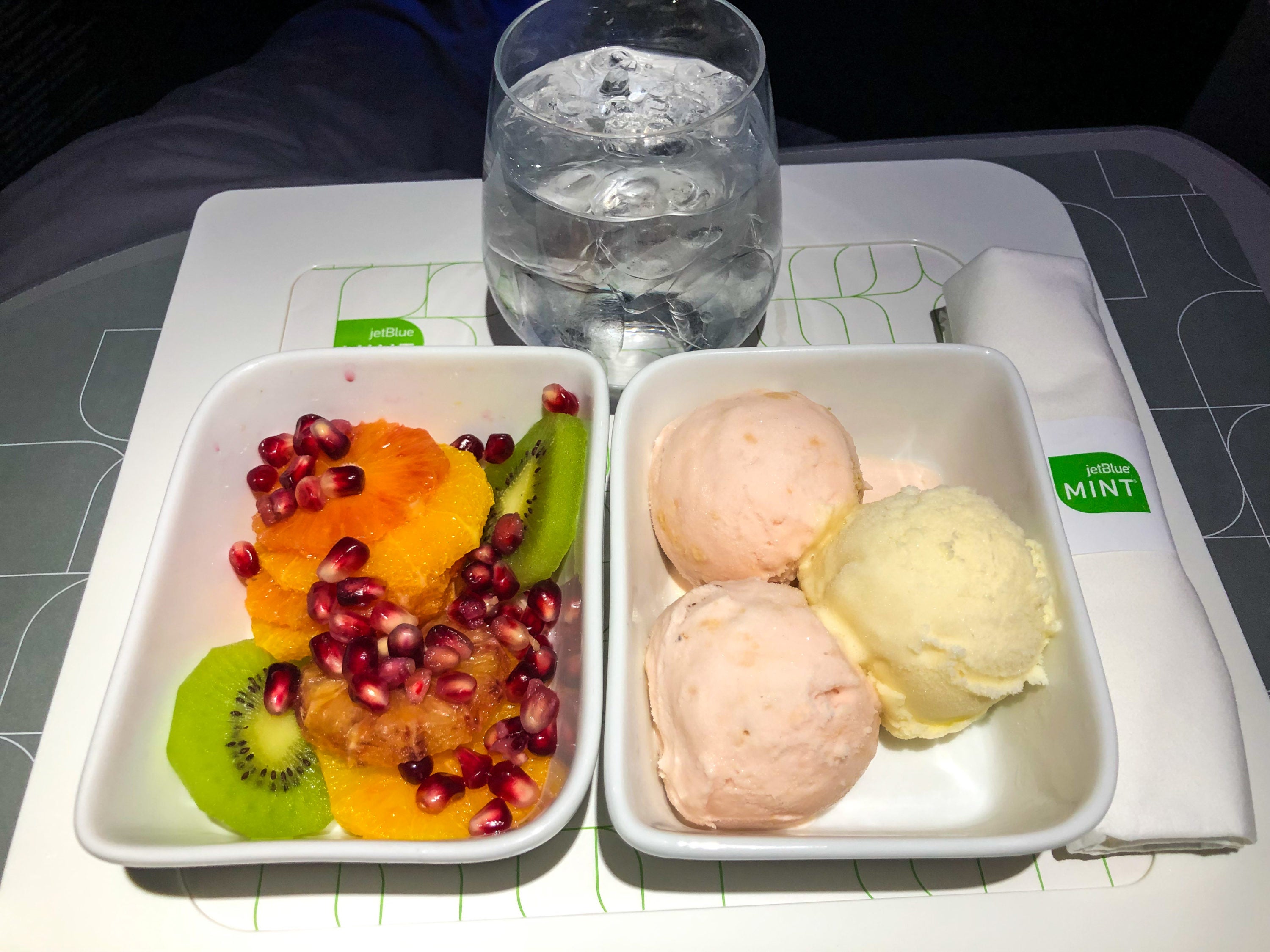 The Blue Marble ice cream consisted of 2 scoops of artisanal rose shortbread and 1 scoop of classic vanilla bean ice cream. The ice cream was truly guilt-inducing, and almost too much. I don't usually eat 3 scoops of ice cream in 1 sitting, so this is a foreign concept to me.
To wrap up the dinner service, the Mint attendants handed out a cookie from Milk Bar, which is a chain of dessert and bakery restaurants based in New York City with many locations around the world.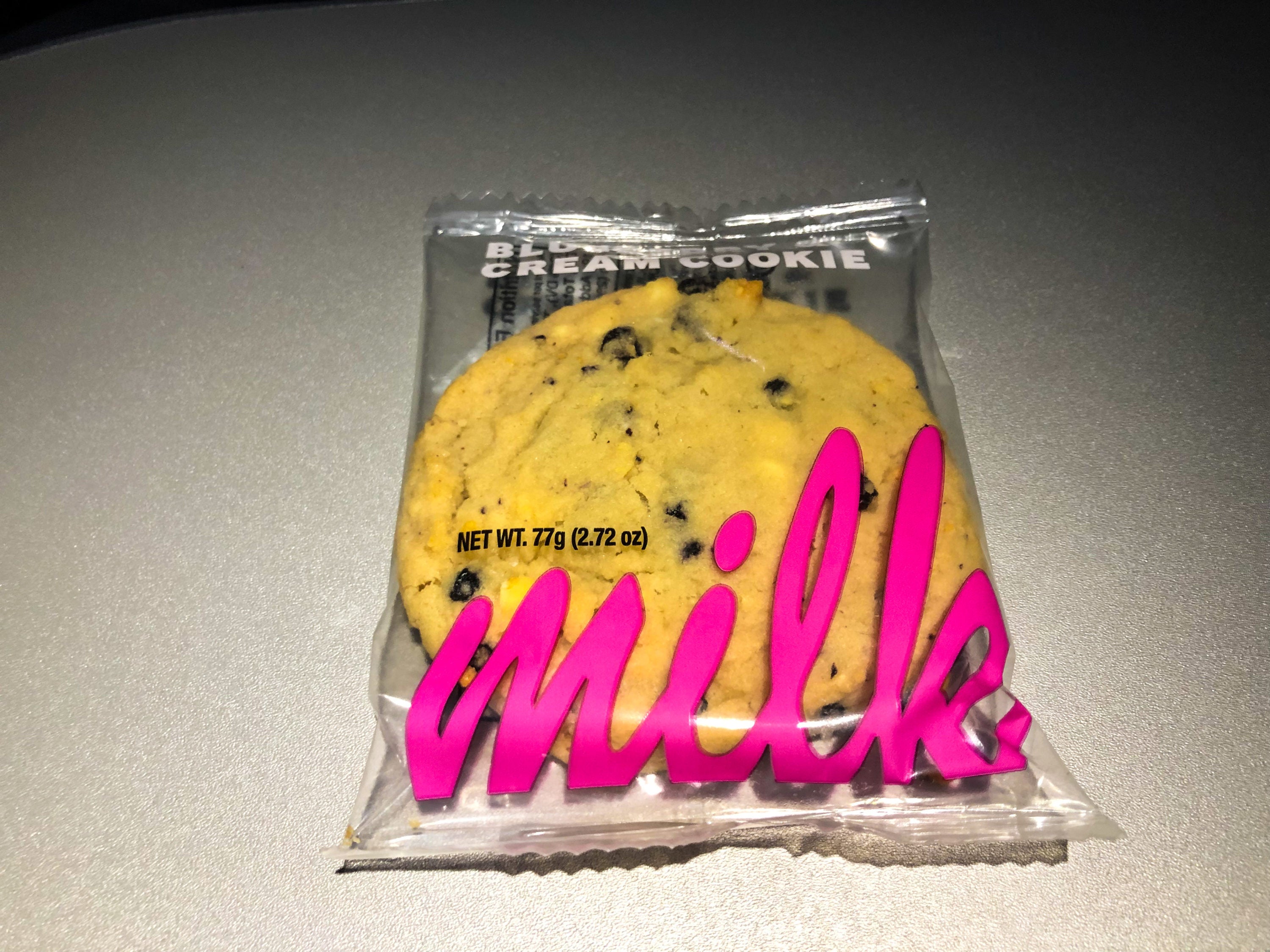 Bottom Line: I found the JetBlue Mint's food and beverage collection to be top-notch. Between the medley of tapas-style gourmet options and the thirst-quenching Mint cocktail, I thought the catering on JetBlue Mint was one of the highlights, if not the pinnacle, of the entire business class product. 
Entertainment and Service
The JetBlue Mint flight started off with a welcome card, signed by the cabin attendants.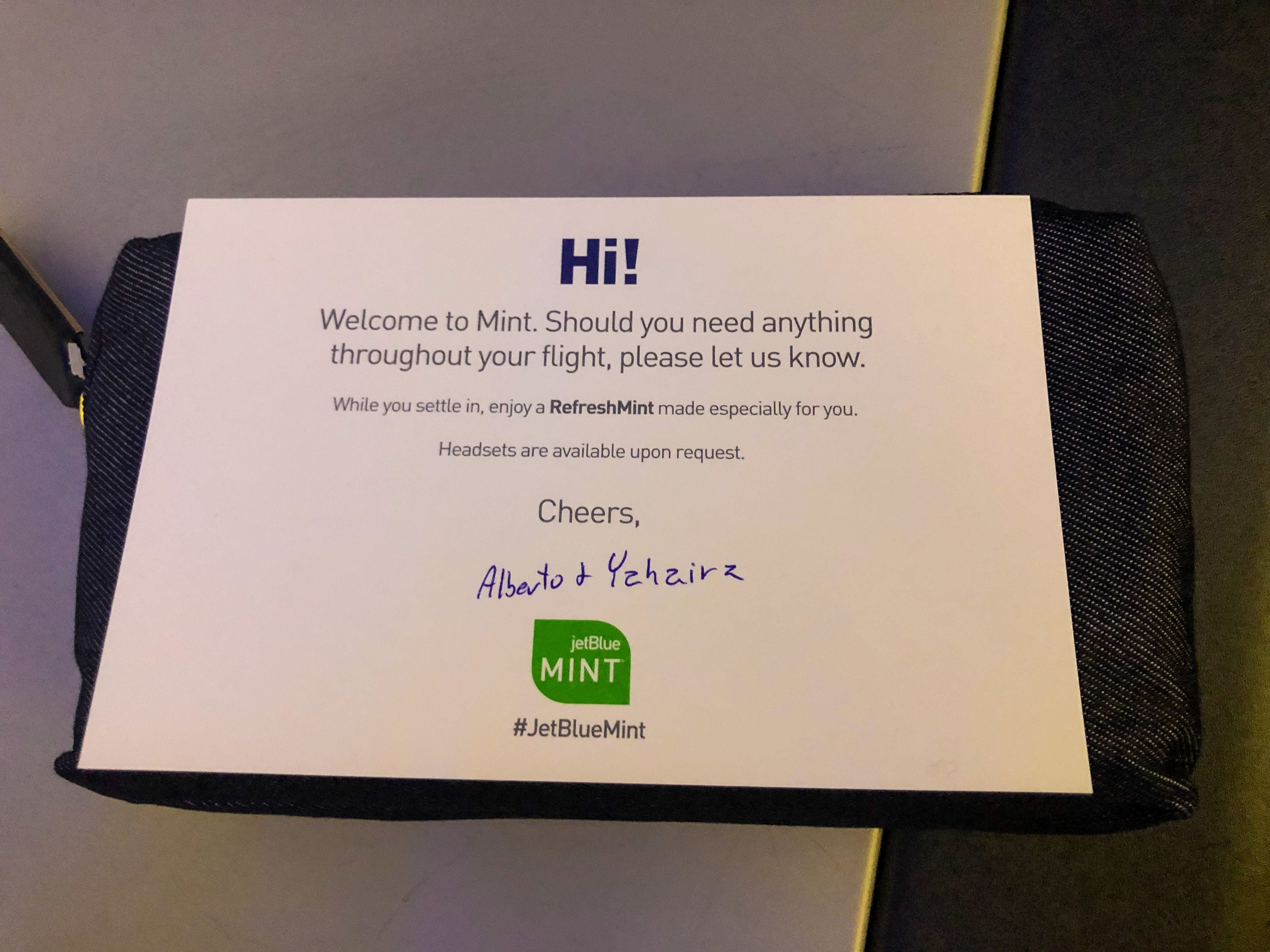 The inflight entertainment monitor is one of the areas of improvement for JetBlue. The screens had quite a bit of glare and couldn't display HD resolution video. As for the inflight monitors themselves, the screens measure 15.4 inches in diagonal length.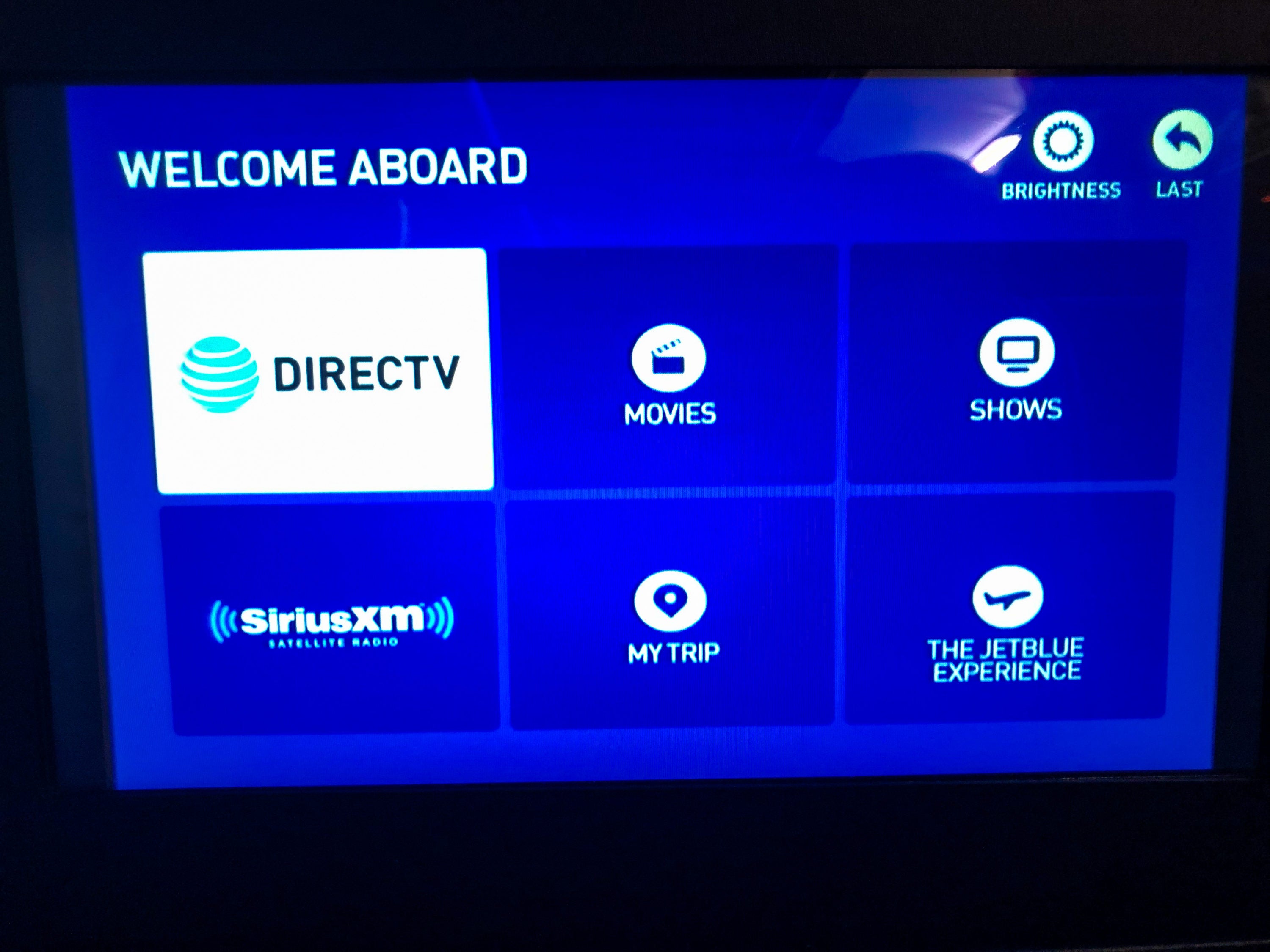 There were plenty of inflight entertainment choices, which offset the poor quality of the television screen. Some new releases included Aladdin, Native Son, Rocketman, and Us.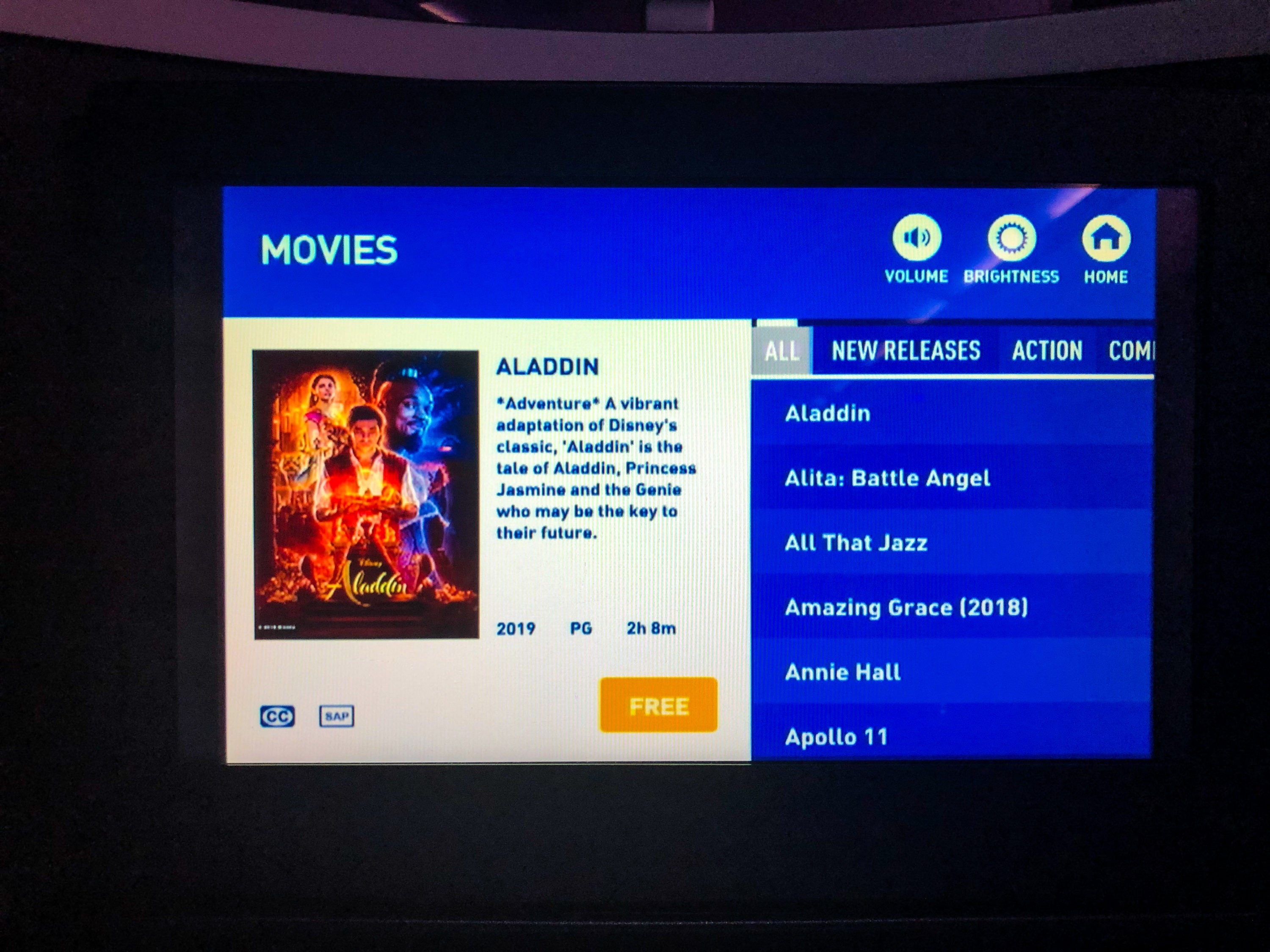 Overall, JetBlue falls behind in the inflight entertainment aspect compared to other carriers. The inflight monitor simply didn't have the high-quality resolution that many business class products have. However, I found the JetBlue Mint flight attendants' warm service and happy demeanor made up for the experience. After all, I wasn't looking to watch movies on the flight, I was looking to enjoy a high-quality meal, get some rest, and be comfortable.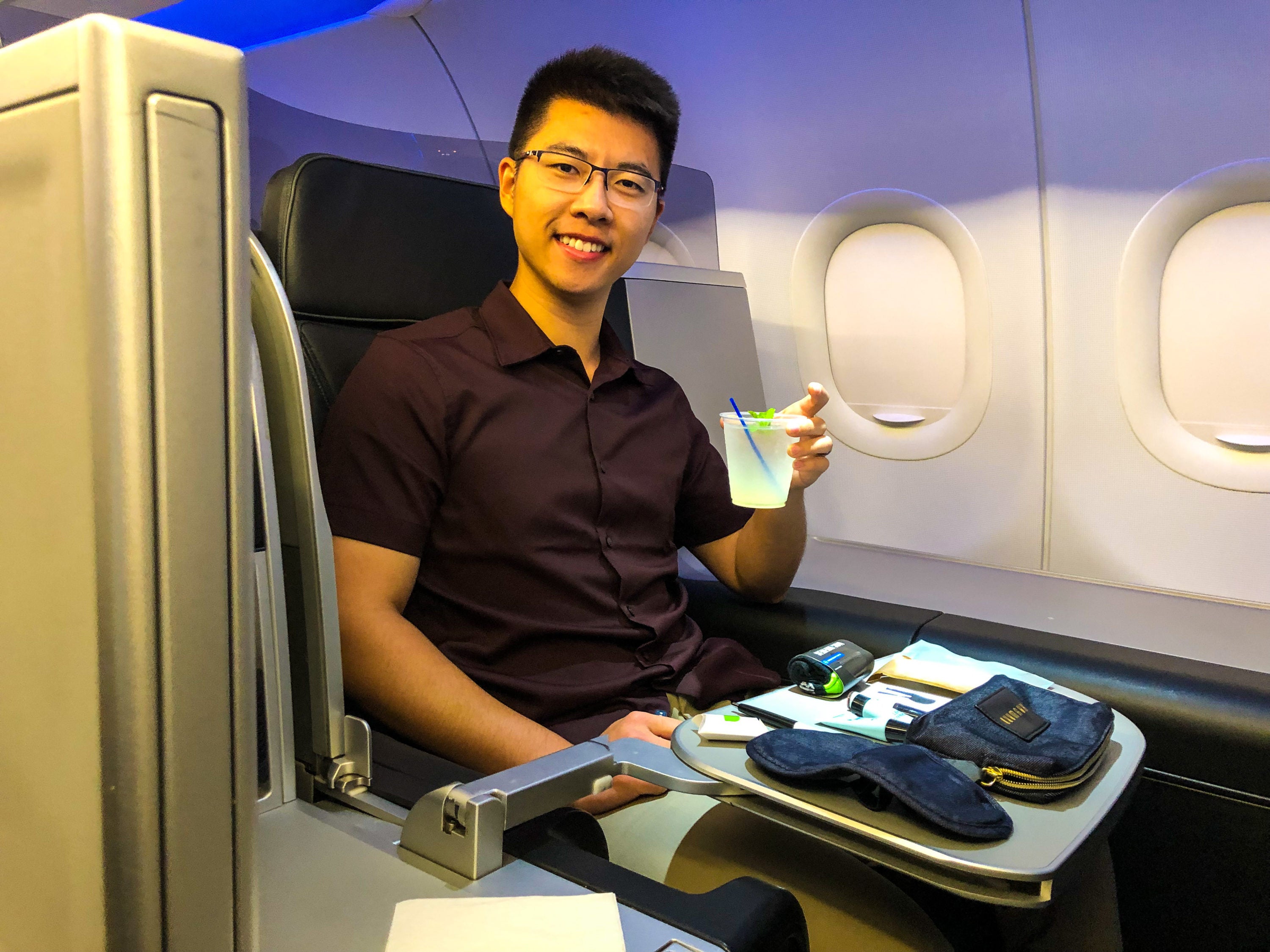 Final Thoughts
JetBlue Mint has a top-notch business class product. The ground experience was poor (nonexistent, really). However, once you step into the aircraft, you're absolutely in for a treat. The seat itself rivals even top business class products used for long-haul flights, which is a testament to just how good the seat is.
Because I reserved a throne seat/suite in advance, I enjoyed significantly more privacy and space for the entirety of the flight. I had an abundance of space to sprawl out and relax in private.
The amenities were better than expected, which included comfortable bedding, and a variety of goods that I could use/keep from companies like Hudson Made and Hayward.
The food, drinks, and service were also worthwhile of being highlighted, as the choices were all scrumptious. As far as the cabin attendants go, they were all friendly, professional, and accommodating.
The main improvement that JetBlue can be taking action on is upgrading its inflight entertainment screens. Besides that, JetBlue Mint is an incredible business class product, and it has definitely earned its place as one of the best domestic business/first class airlines.