American Airlines A321T Flagship First Class Review [LAX to JFK]
Airline: American Airlines (AA)
Aircraft: Airbus A321T
Flight #: AA 10
Route: Los Angeles International Airport (LAX) to John F. Kennedy International Airport – New York City (JFK)
Date: September 7, 2019
Duration: 5hrs 27min
Cabin and Layout: American Airlines Flagship First Class, 10 seat capacity across 5 rows, 1-1 configuration
Seat: 1F
Miles Used: None, booked a paid flight for $858.30 (Fare Class A)
Taxes and Fees Paid: $73.18
Typical Retail Cost: $1,409
Typical Economy Cost: ~$174
Booking American Airlines Flagship First Class
Flying from one coast to another in the U.S. is not an easy task. Luckily, travelers have a lot of options to do so in business and first class. The most premium airline route in the U.S. is Los Angeles (LAX) to New York City (JFK).
Therefore, most of the top premium products you'll find will be on this route, whether it's Delta One, JetBlue Mint, or American Airlines Flagship First/Business Class. I was headed to New York and I wanted to take the opportunity to review 2 of the best domestic first and business class airlines.
For this reason, I booked a flight from LAX to JFK on American Airlines Flagship First Class aboard the A321T. The "T" in the airplane model simply denotes "transcontinental." This particular model is used by American Airlines for their premium-heavy planes featuring fully lie-flat seats in first class and business class.
These are typically only available on the most premium transcontinental flights:
Los Angeles (LAX) – New York City (JFK)
San Francisco (SFO) – New York City (JFK)
American Airlines sells discounted first class tickets on most Saturdays, so I took this opportunity to nab a seat at a reasonable price of $859, including taxes and fees. I had a massive pile of $100 American Airlines gift cards, so I applied 9 of them (the maximum that can be applied per booking) towards the flight and booked a free lie-flat first class flight for literally nothing out of pocket.
My flight was booked in the A fare class, which earned me 4,950 EQMs, 1 EQS, 786 EQDs, and a total of 5,502 redeemable American Airlines miles, worth around $72 according to our travel points and miles valuations.
Because I booked a revenue ticket using gift cards, I didn't need to search for award availability, which is a massive timesaver given how stingy American Airlines is with any sort of premium cabin availability. I booked the ticket on June 3, 2019 for a September 7, 2019 departure, which is 96 days prior to departure. The flight I booked was a red-eye flight, which features an abbreviated service.
If you managed to find some award availability on this route in first class, you could spend 50,000 American Airlines AAdvantage miles, 45,000 Asia Miles, or 51,500 British Airways Avios.
American Airlines Flagship Lounge at LAX
I had done some research prior to the flight and found that the Flagship First Class ticket included an entire Flagship First experience. So, I arrived at the airport around 5 hours before departure in order to document and experience the entire process.
I took an Uber to the airport and was dropped off at the Flagship First Check-In area, which is located on the curbside of Terminal 4.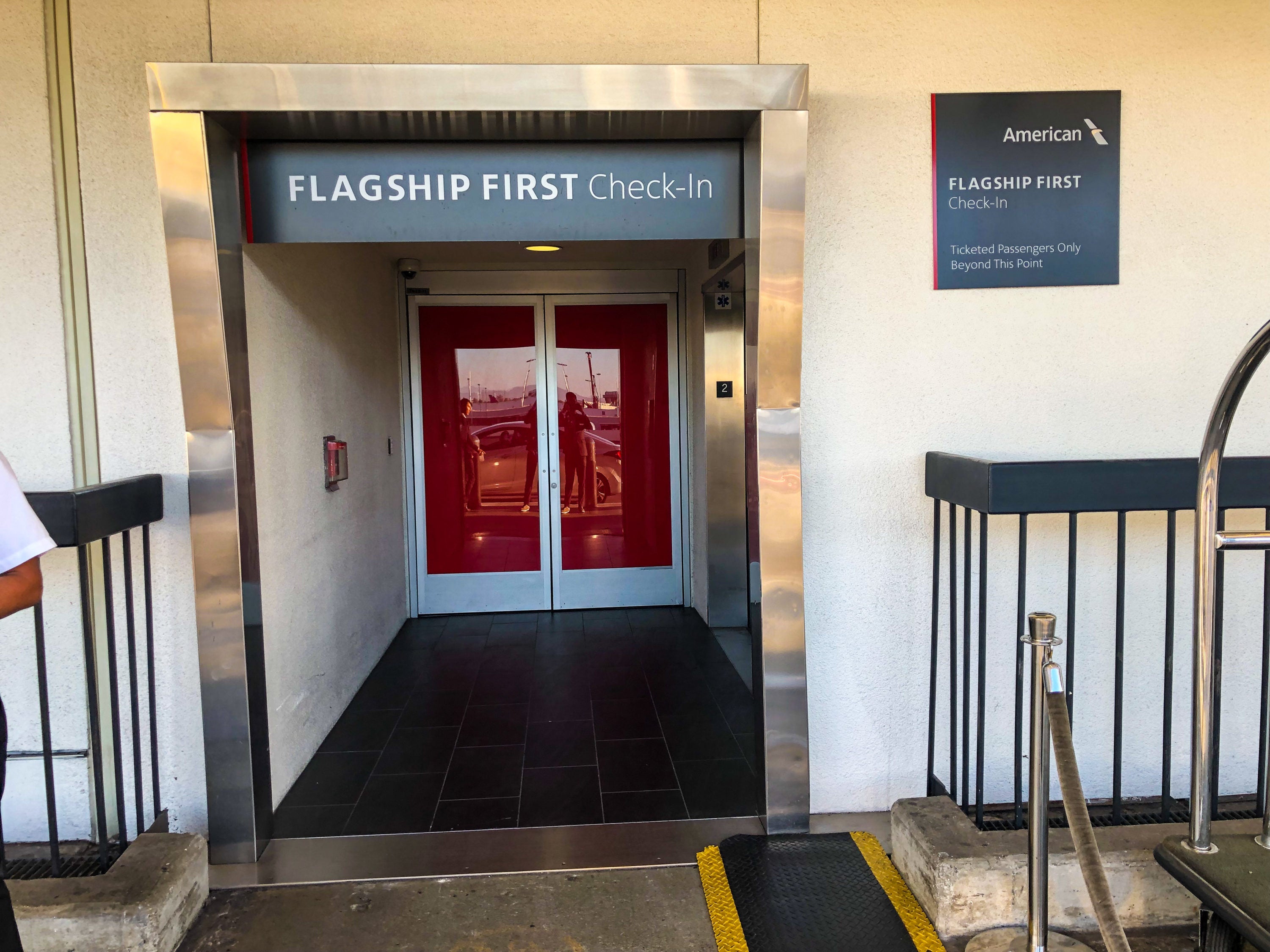 As I entered the Flagship First Check-In area, I saw 2 check-in counters. This area is an exclusive experience that takes you from the curbside quickly through security — definitely a nice addition to the overall Flagship First experience.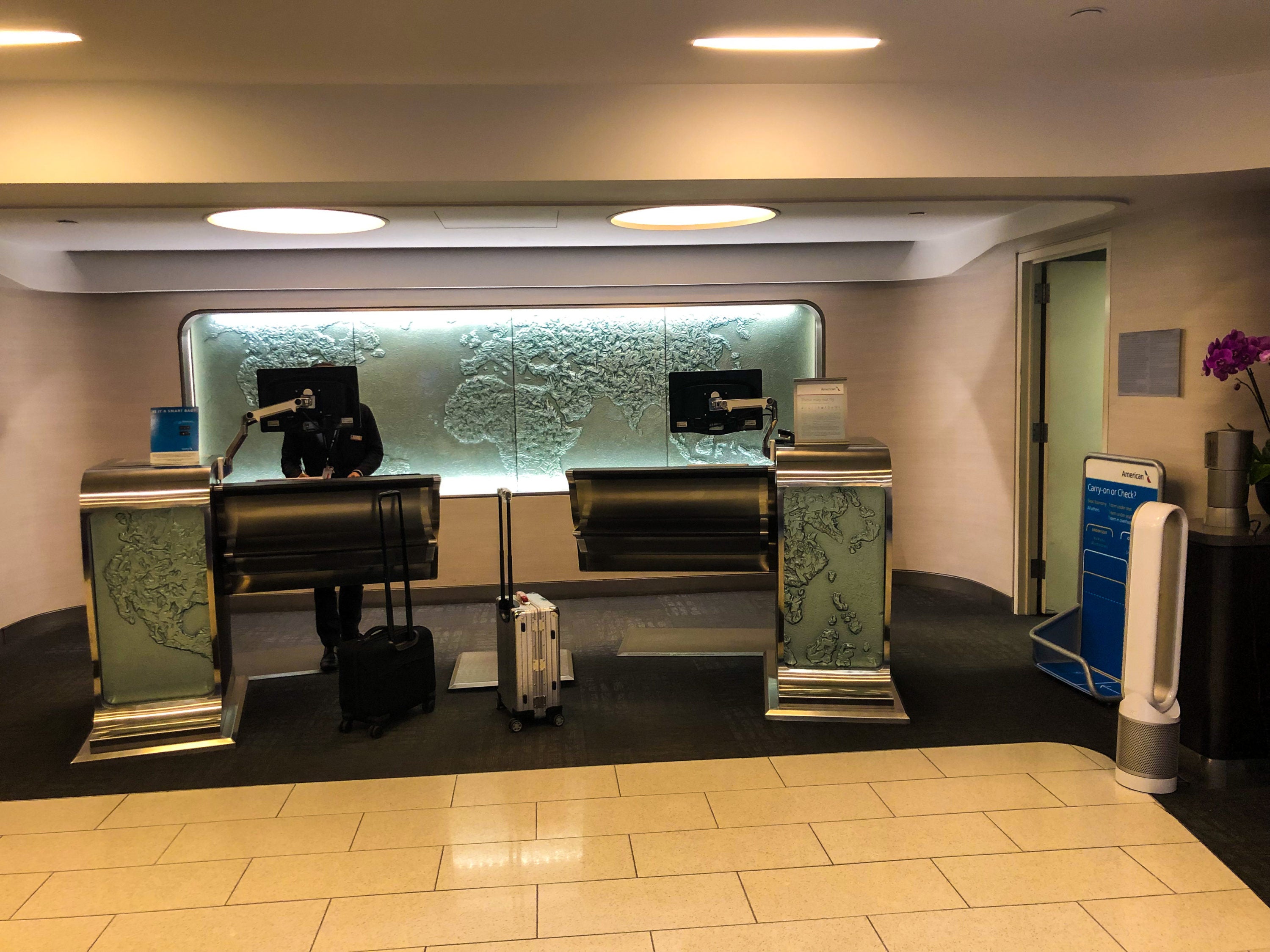 As soon as my boarding pass was printed out, I headed upstairs and cleared security. After clearing security, I headed to the Flagship Lounge, which is located in Terminal 4, near gate 40. The lounge is open daily from 4 a.m. to 12:45 a.m.
I took a quick shower in one of their 8 beautiful shower suites.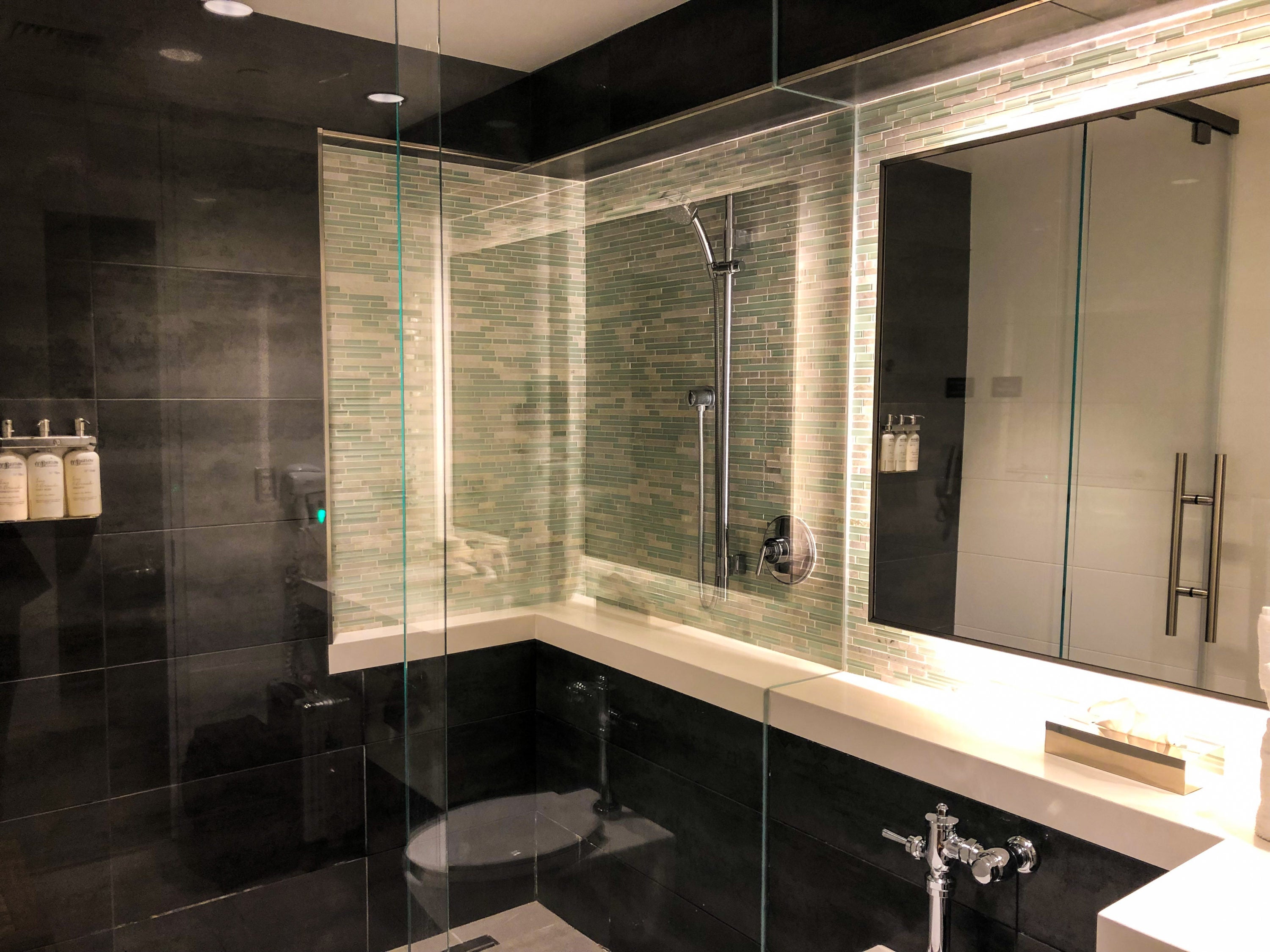 The Flagship Lounge at LAX is generally very crowded, and it features self-serve buffet dining. I headed over to the Flagship First Dining area, which is infinitely better and more peaceful than the Flagship Lounge.
American Airlines Flagship First Dining at LAX
American Airlines Flagship First Dining at LAX is the crown jewel of American Airlines' ground experience. The facility is connected to the Flagship Lounge and contains restaurant-style seating and a full, tended bar.
Flagship First Dining offers a magnificent sit-down, à-la-carte experience for travelers that can only be accessed if you're flying on:
American Airlines Flagship First Class internationally between the U.S. and Asia, Australia, Europe, or South America

1 guest is allowed (children over 2 count)

American Airlines Flagship First Class transcontinentally between LAX and JFK, SFO and JFK, and LAX and BOS (A321T aircraft only)
The only exceptions to this are if you're flying on an airline industry non-revenue (known as non-rev) ticket. This is not the same as an award ticket. Those who use points are eligible for access, too.
Notice how even top-tier elite members can't access Flagship First Dining. It's true that ConciergeKey members, which are American Airlines' top, most loyal customers that spend upwards of $50,000 per year, can access the Flagship Lounges. However, even they cannot access Flagship First Dining. As a result, there was 1 other traveler in the entire venue when I went there.
As soon as I entered, I was whisked away to the seat of my choice. I chose a seat next to the floor-to-ceiling windows overlooking the tarmac and gates. I immediately ordered a glass of Krug Champagne and a mojito.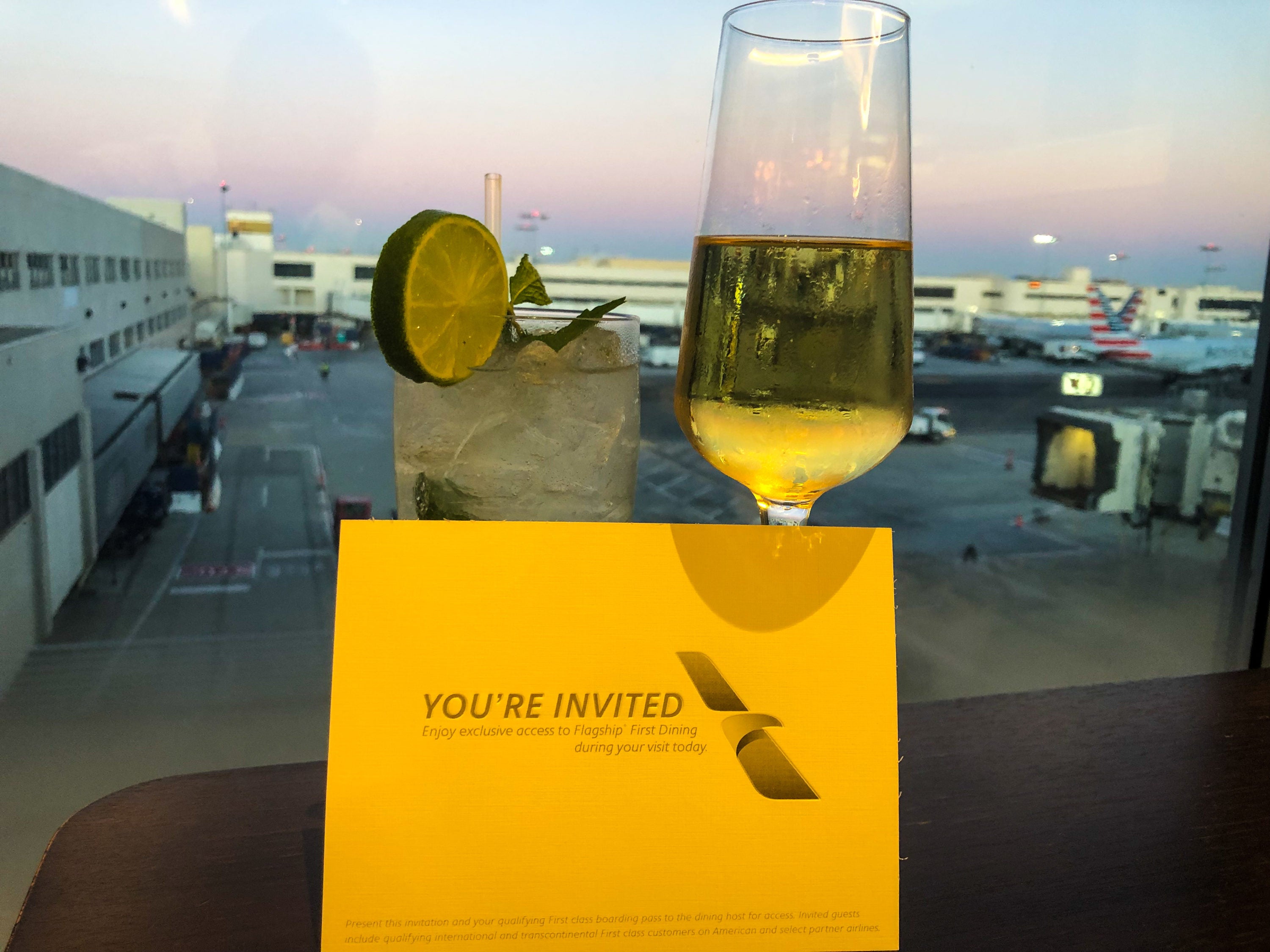 American Airlines Flagship First Dining has elevated itself to one of the best lounge experiences in the world, especially with its move to serve Krug Champagne at all Flagship First Dining locations.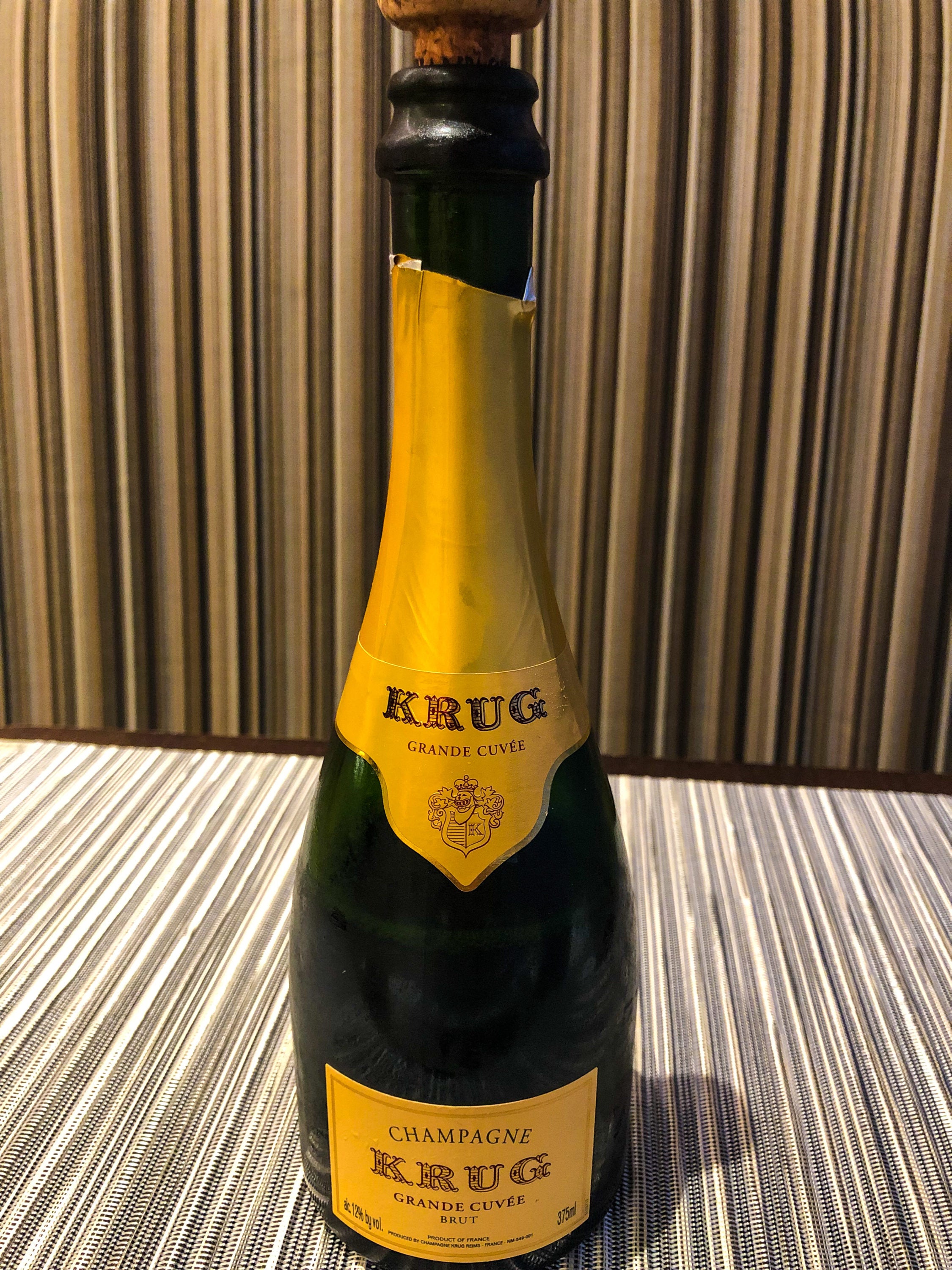 In addition to custom cocktails and Champagne, you can savor loads of signature wines, craft beers, and luxurious spirits.
Needless to say, the Krug Champagne was smooth and glorious. I love Champagne (not that I'm an expert at tasting), but I was blown away by the experience so far. The Flagship First Menu combines seasonal dishes with customer favorites, so you'll notice some dishes are always changing while others are consistently on the menu.
I ordered the miso-glazed Chilean sea bass, which was served atop a bed of forbidden black rice and shiitake mushrooms and garnished with petite tatsoi. It was fantastic. I had lofty expectations for a sit-down style restaurant experience and I was amazed.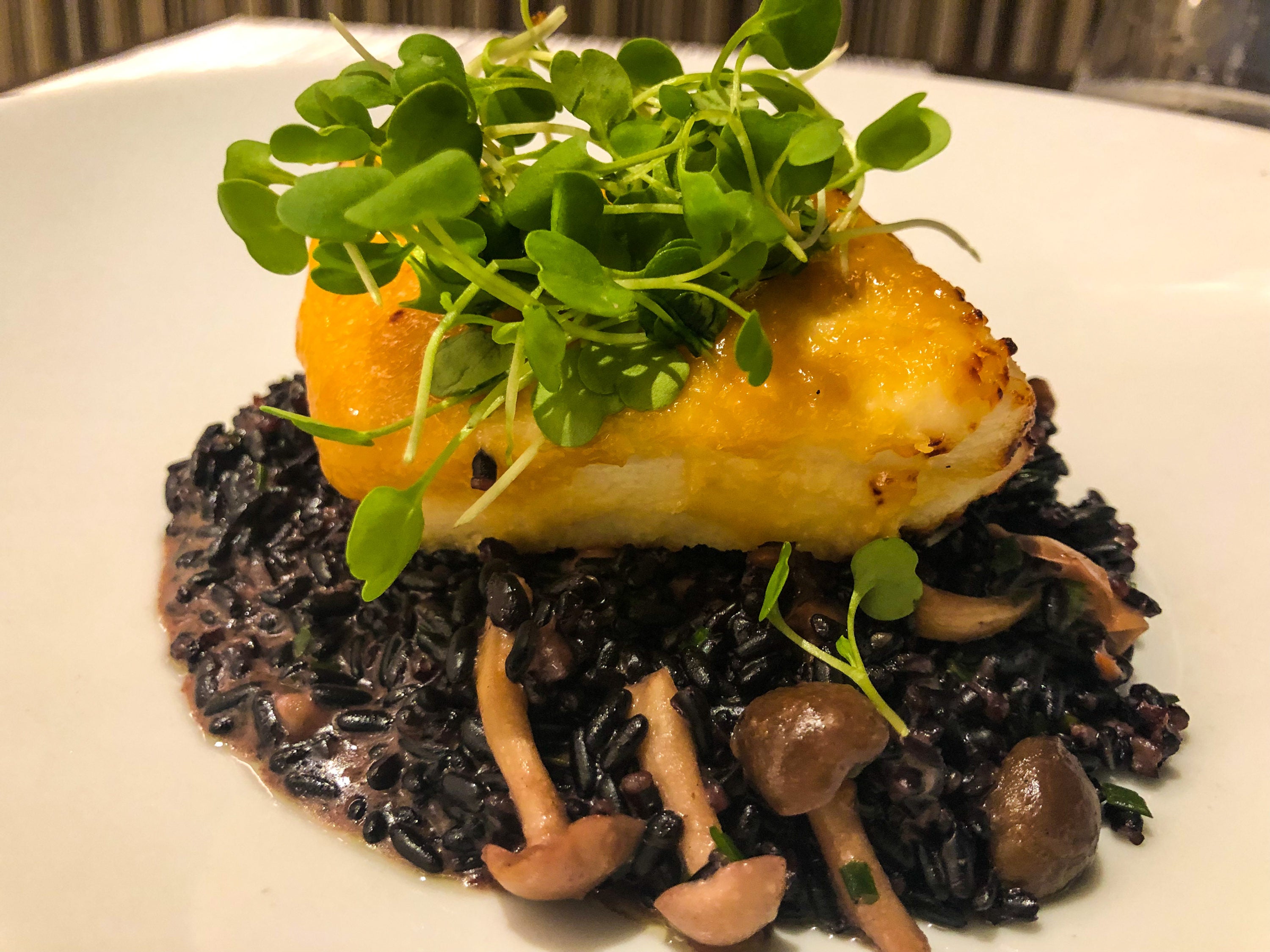 I also ordered truffled mac and cheese and hamachi crudo, both of which are featured in the American Airlines Flagship Lounge LAX review. As far as entrees, I loaded up another main course: the cracked peppercorn petite filet.
This particular dish consisted of natural Angus Aspen Ridge beef, Japanese sweet potatoes, kabocha squash puree, green onions, and a reduced Bordelaise sauce. The presentation was akin to what you'd get at a fancy, fine dining restaurant. The taste was phenomenal, complete with sweet richness and complex umami.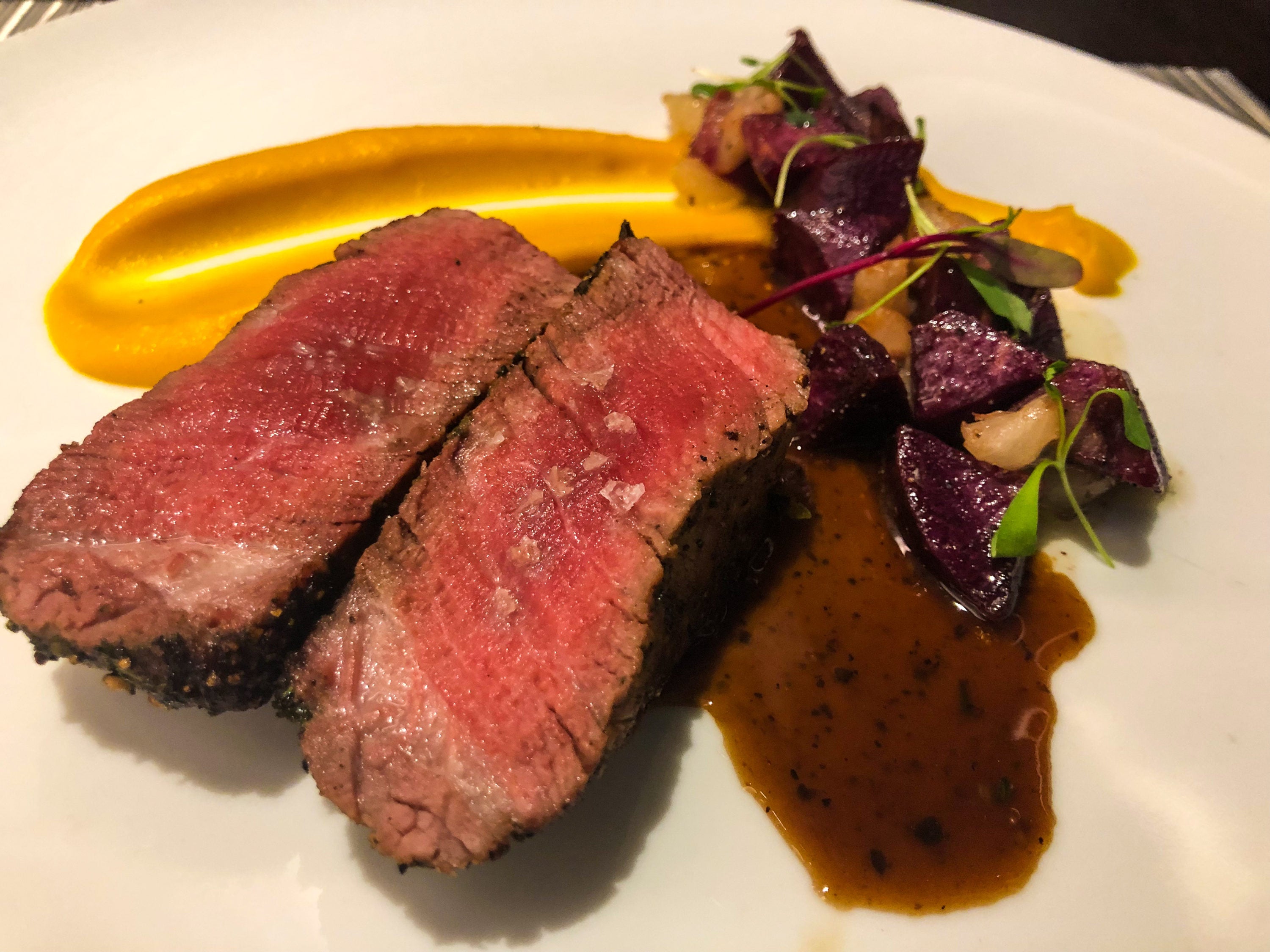 I finished up with 2 desserts. First up was the popular coconut pumpkin bread pudding.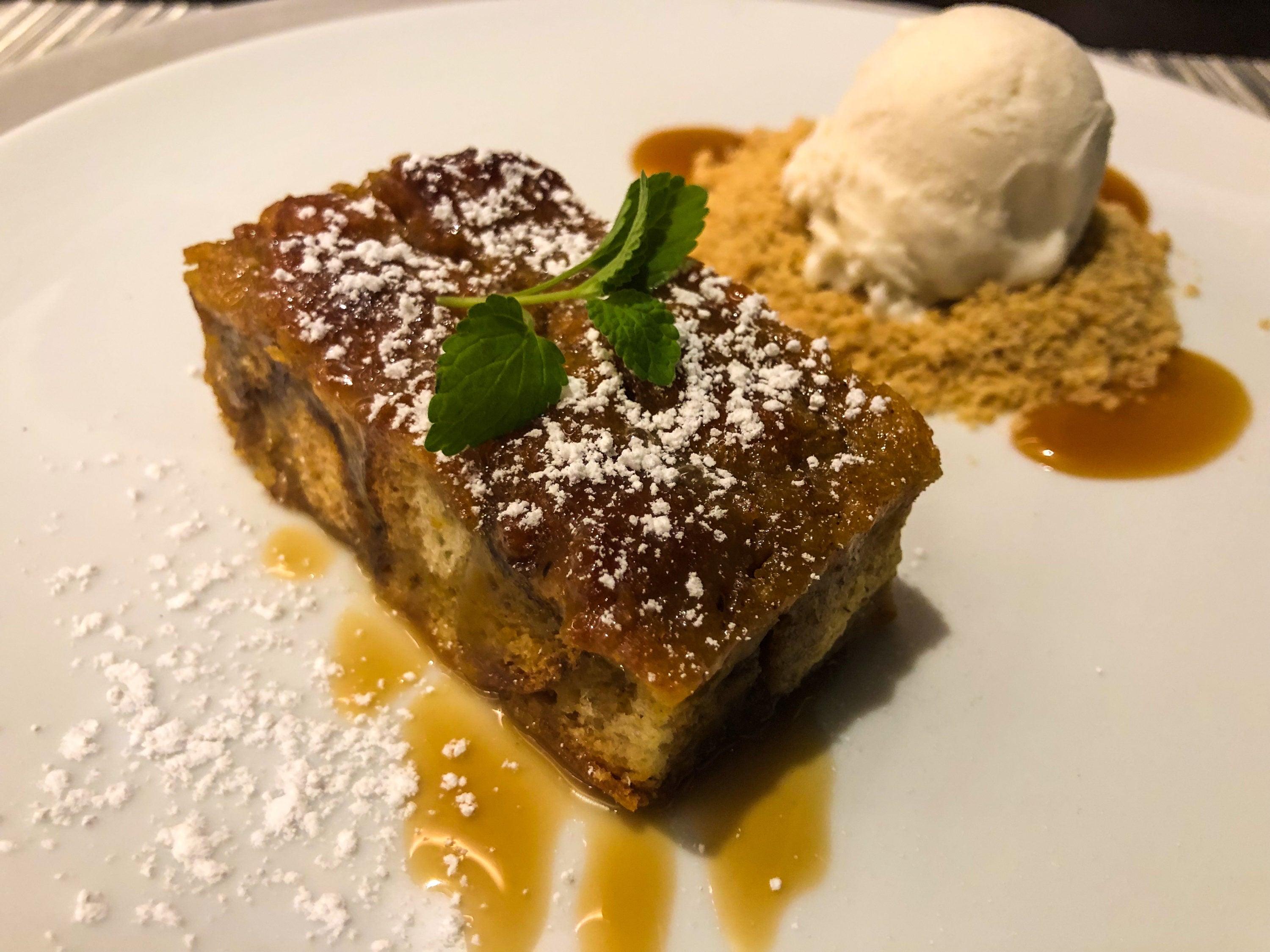 The bread pudding was sprinkled with organic powdered sugar and served with a scoop of vanilla bean ice cream and a salted caramel dressing. The bread pudding was warm, dense, and paradoxically fluffy.
The American Airlines Flagship First Dining at LAX is the gold standard for a sit-down lounge experience. It's so refreshing to see U.S. airlines investing a lot of money on personalized and luxurious experiences. American Airlines Flagship First Dining at LAX surpasses many international first class airline lounge experiences. It is unequivocally the best ground experience you can have on a domestic flight.
Bottom Line: The pièce de résistance of the ground experience was Flagship First Dining. The sit-down experience, along with fine dining-quality meals, Krug Champagne, and ultra-private service makes this the best airport lounge food I've ever had.
Flight
Because American Airlines' Flagship Lounge is strategically located in Terminal 4 near most of their gates, I walked a few steps to gate 42B where I queued for the flight. We began boarding on-time, and I stepped foot on my first narrow-body aircraft with lie-flat seats.
Seat
The Flagship First Class seats on the A321T are arranged across 5 rows in a 1-1 configuration.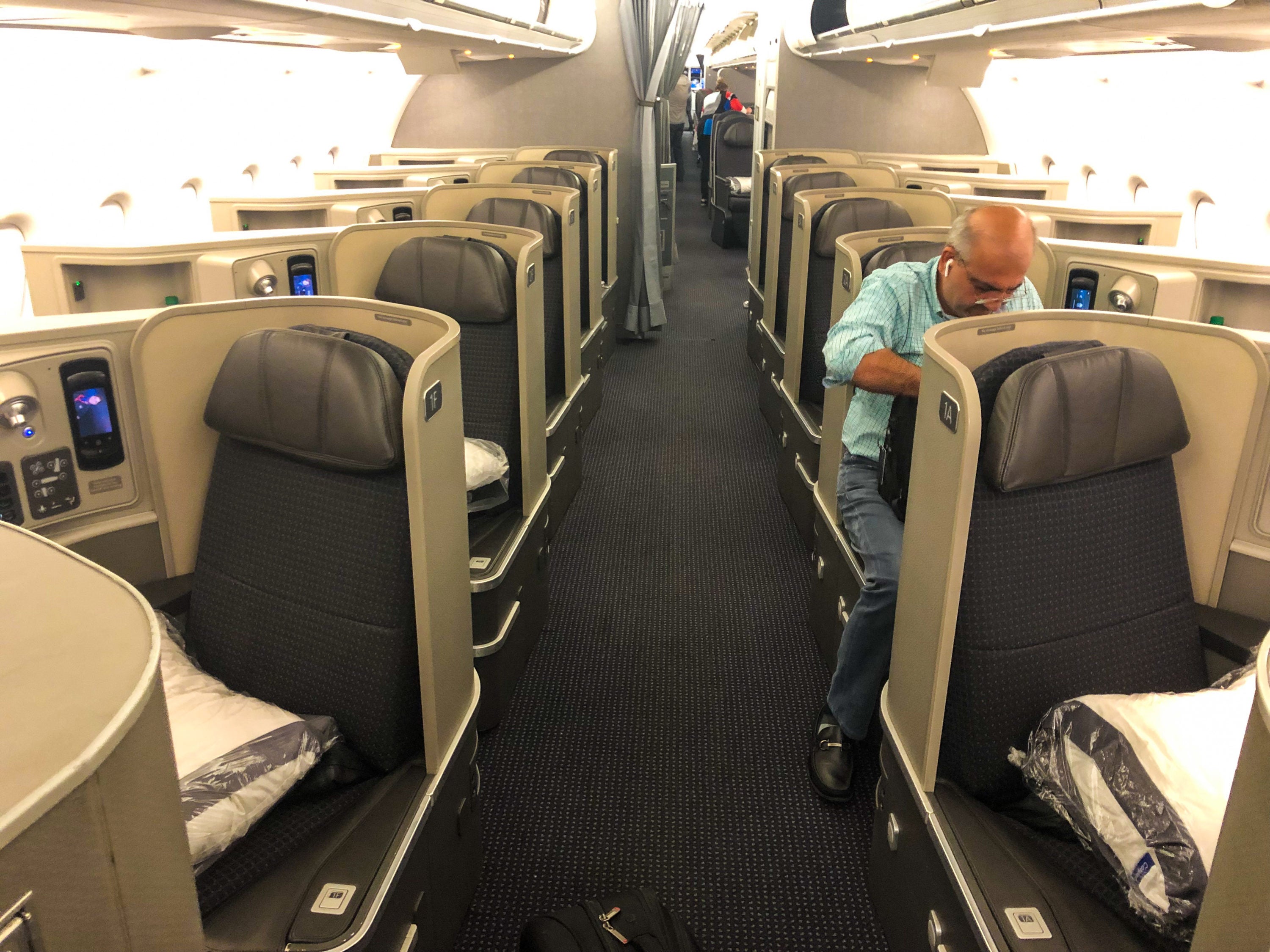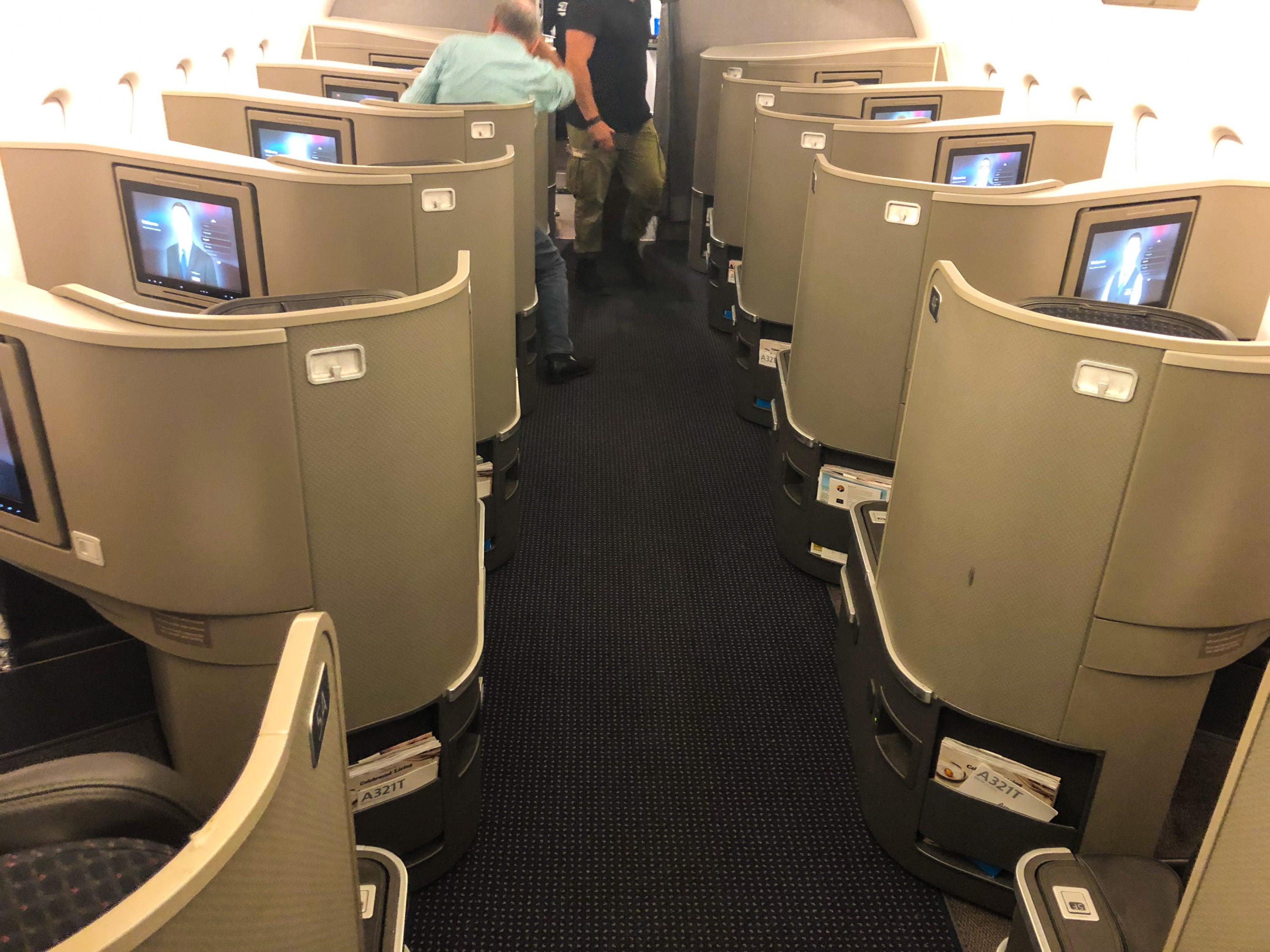 The seats are Zodiac reverse herringbone seats, which are identical to the business class seats on the 777-300ER, the aircraft they use on their top flights (think: Los Angeles and New York to London).
In essence, transcontinental first class is at least identical to international business class, though I would argue that the former is superior thanks to Flagship First Dining and Check-In.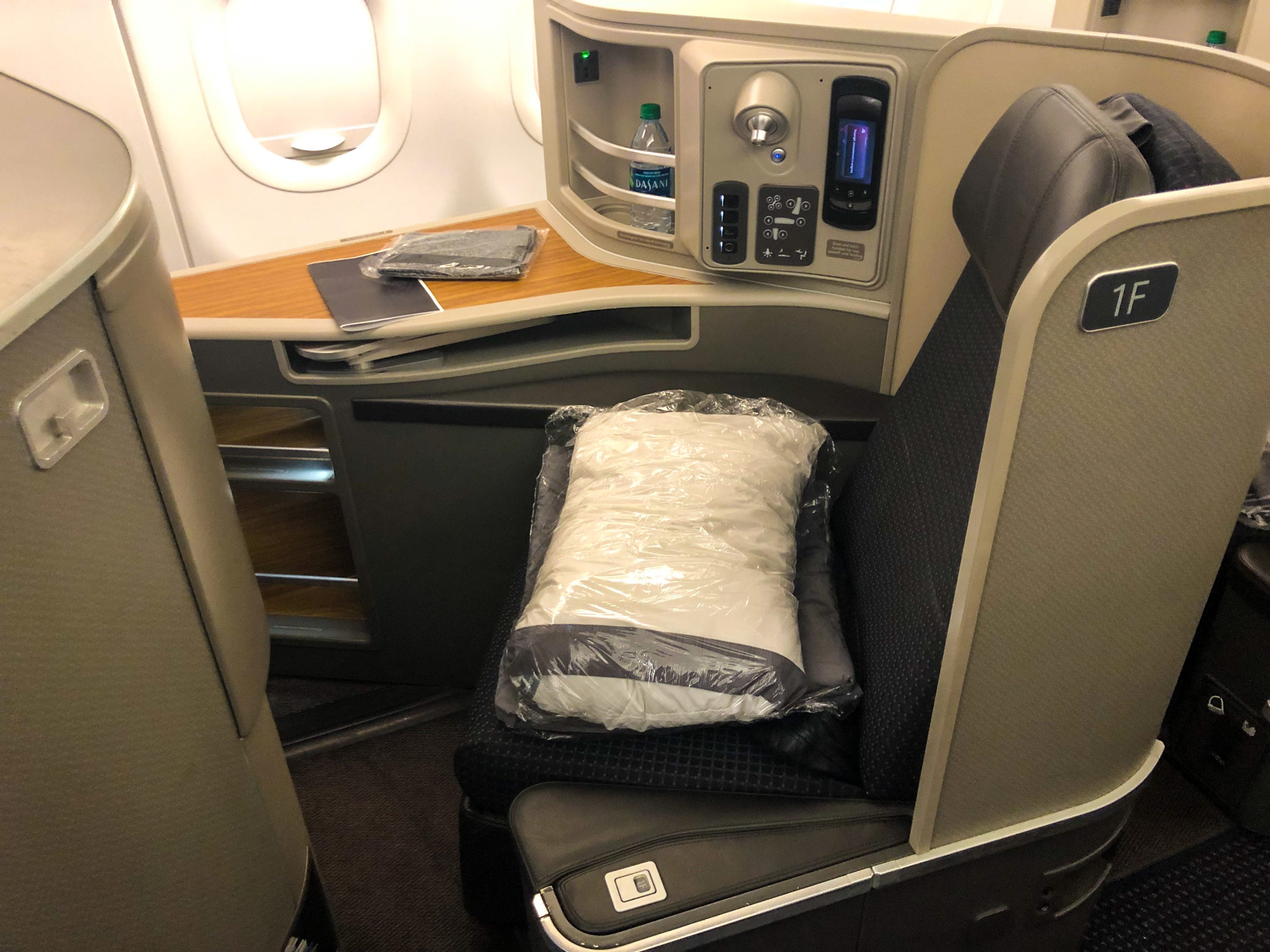 Each seat is 21 inches wide, 62 inches in pitch, and 82.5 inches long in bed mode. With a bed length of 6 feet 10.5 inches, nearly anybody will be able to fully extend their legs. I found the width to be excellent for its class, certainly superior to United Airlines Polaris class.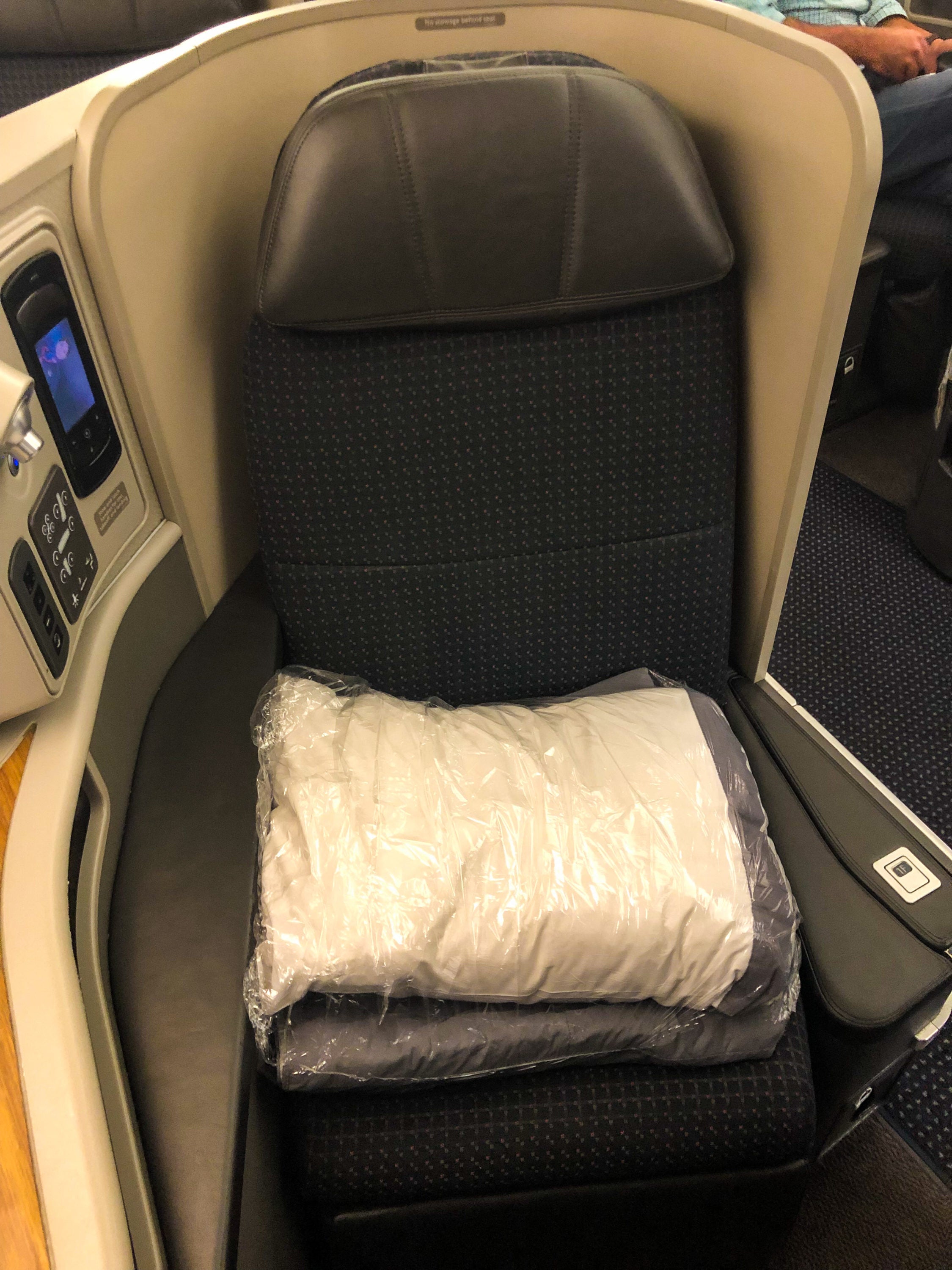 A retractable armrest is located at the edge of your seat. To get more wiggle room in bed mode, it's best to push it all the way down.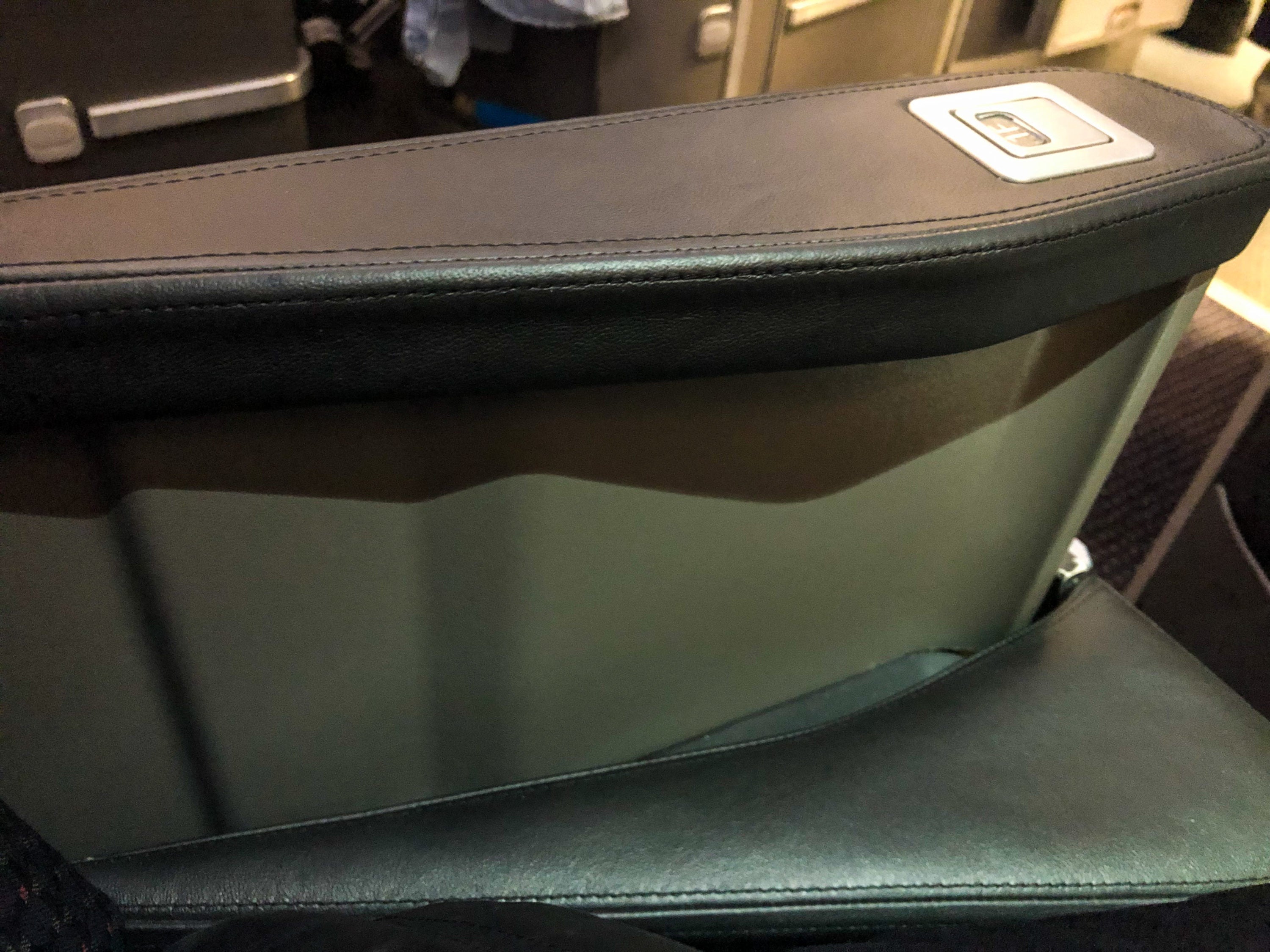 Next to my seat was a reading light, seat controls, USB port, headphone jack, and inflight entertainment remote.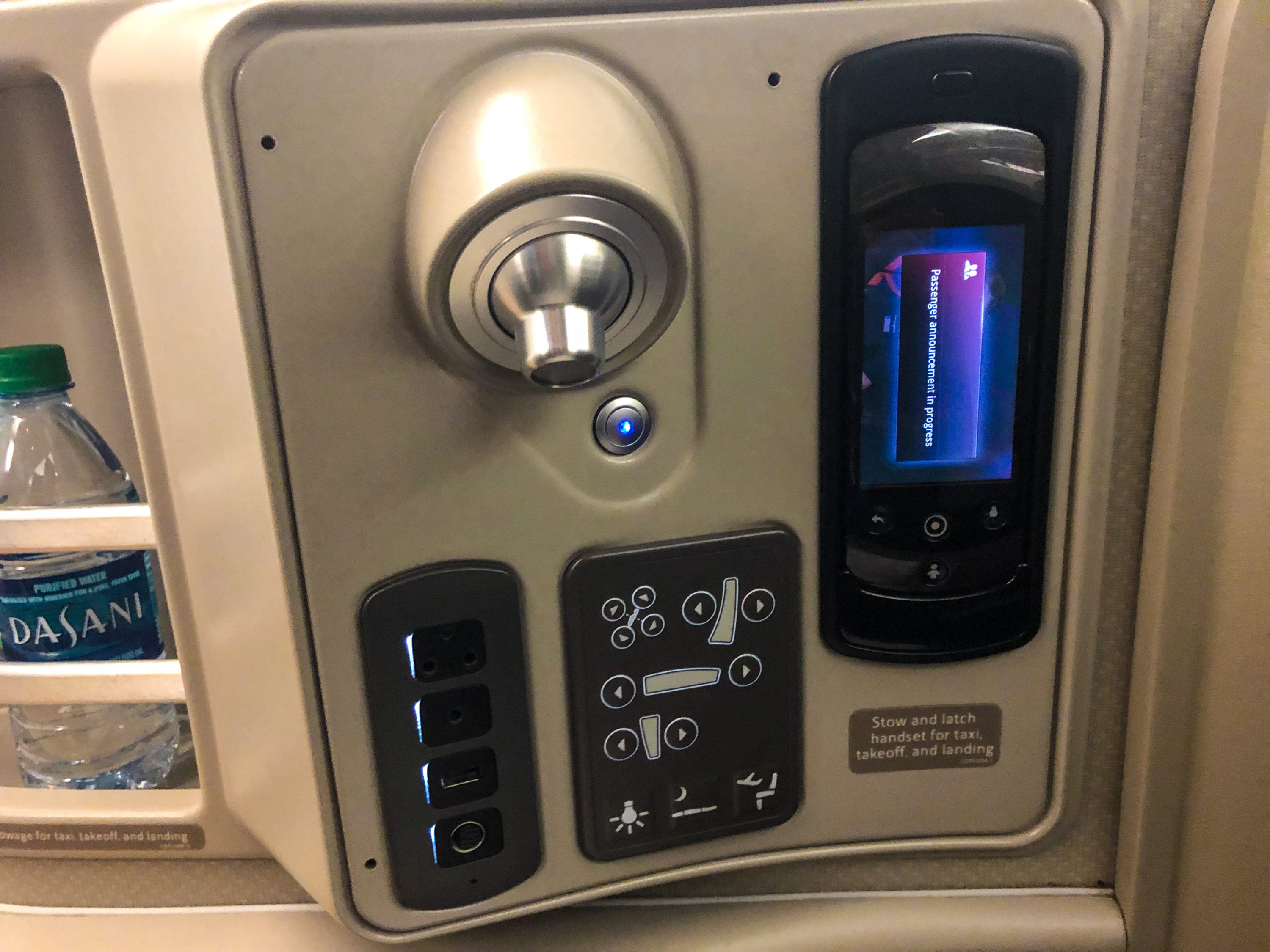 The inflight remote was responsive and easy to use and the inflight monitor measured 15.4 inches diagonally, and it was certainly crisp, as it was fully HD.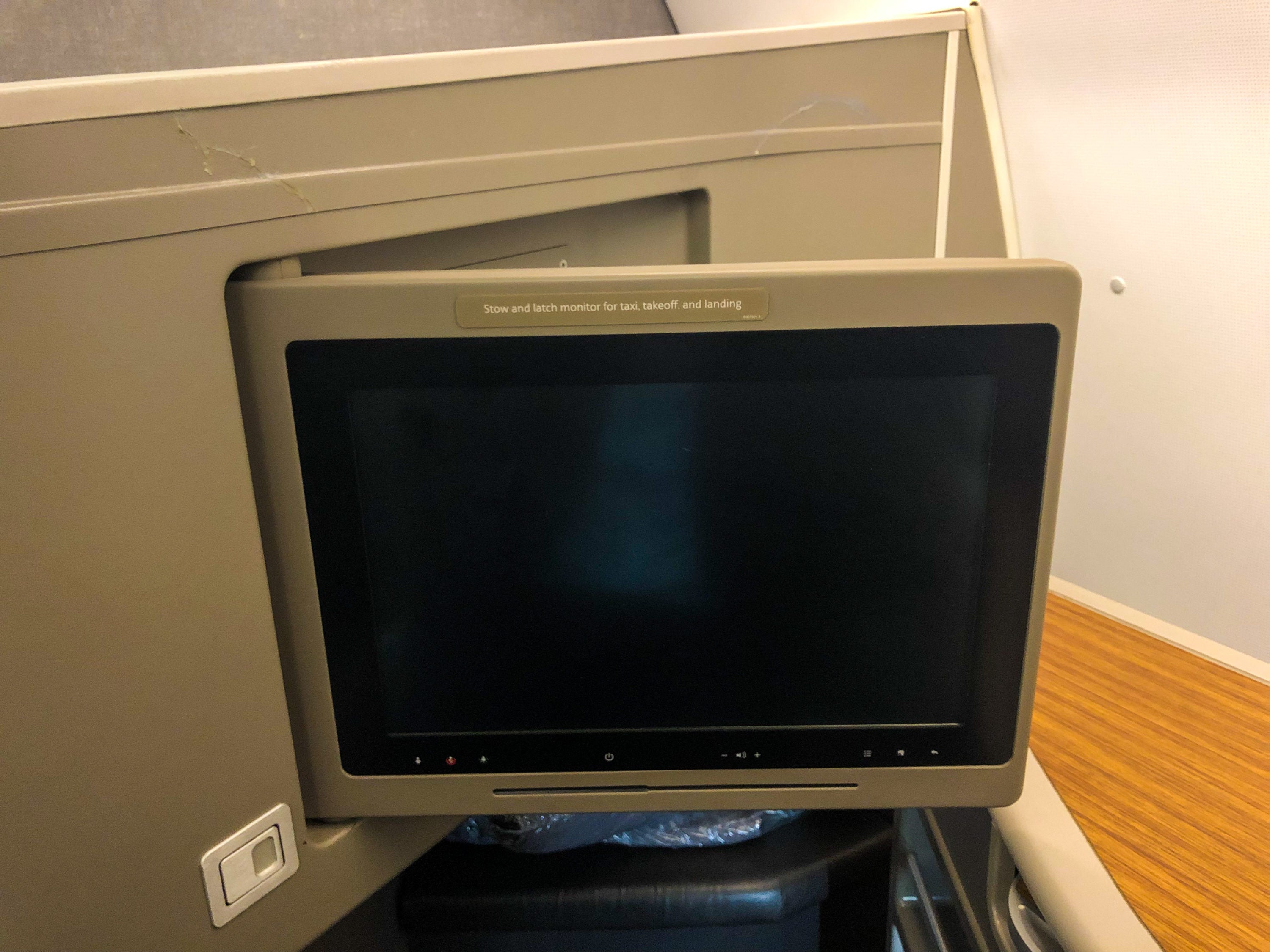 To the right of the seat controls was a storage compartment that contained a 110V international power outlet. Also, there was a Dasani water bottle waiting at my seat already.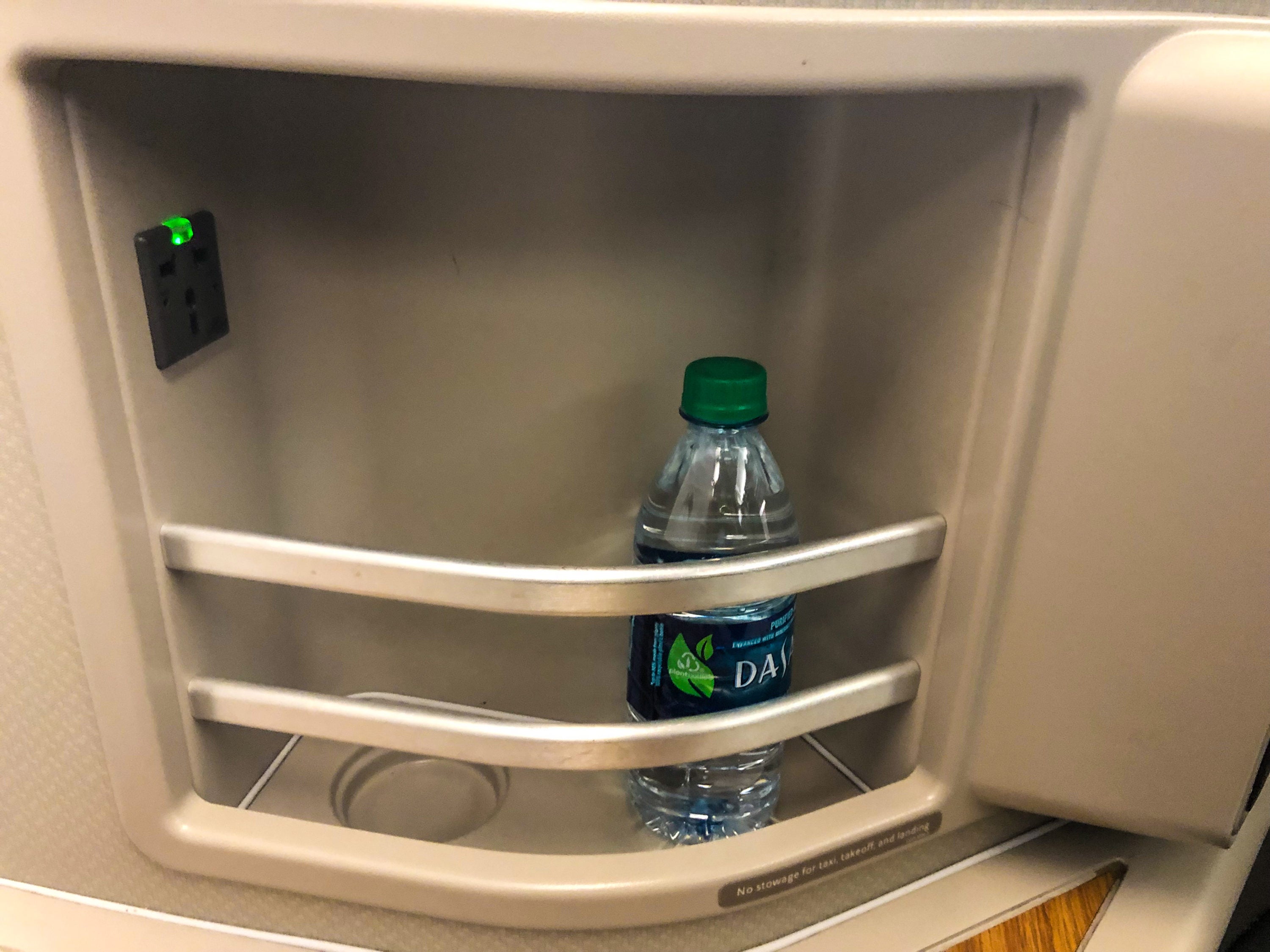 Underneath the seat and to the right (next to where your legs are) is another storage compartment. I used this to store the headphone case.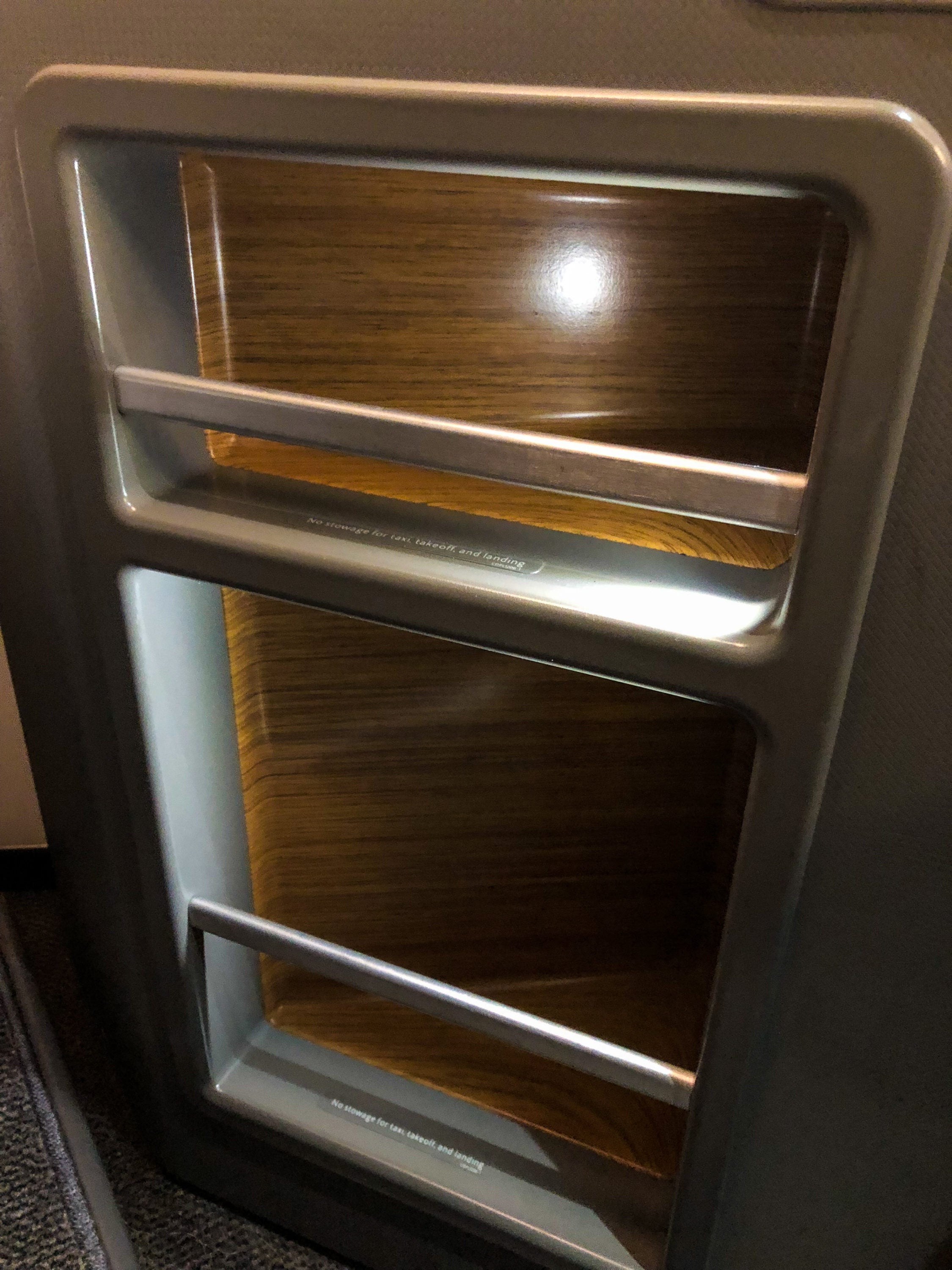 The tray table was large, measuring around 17 inches wide and 18 inches long.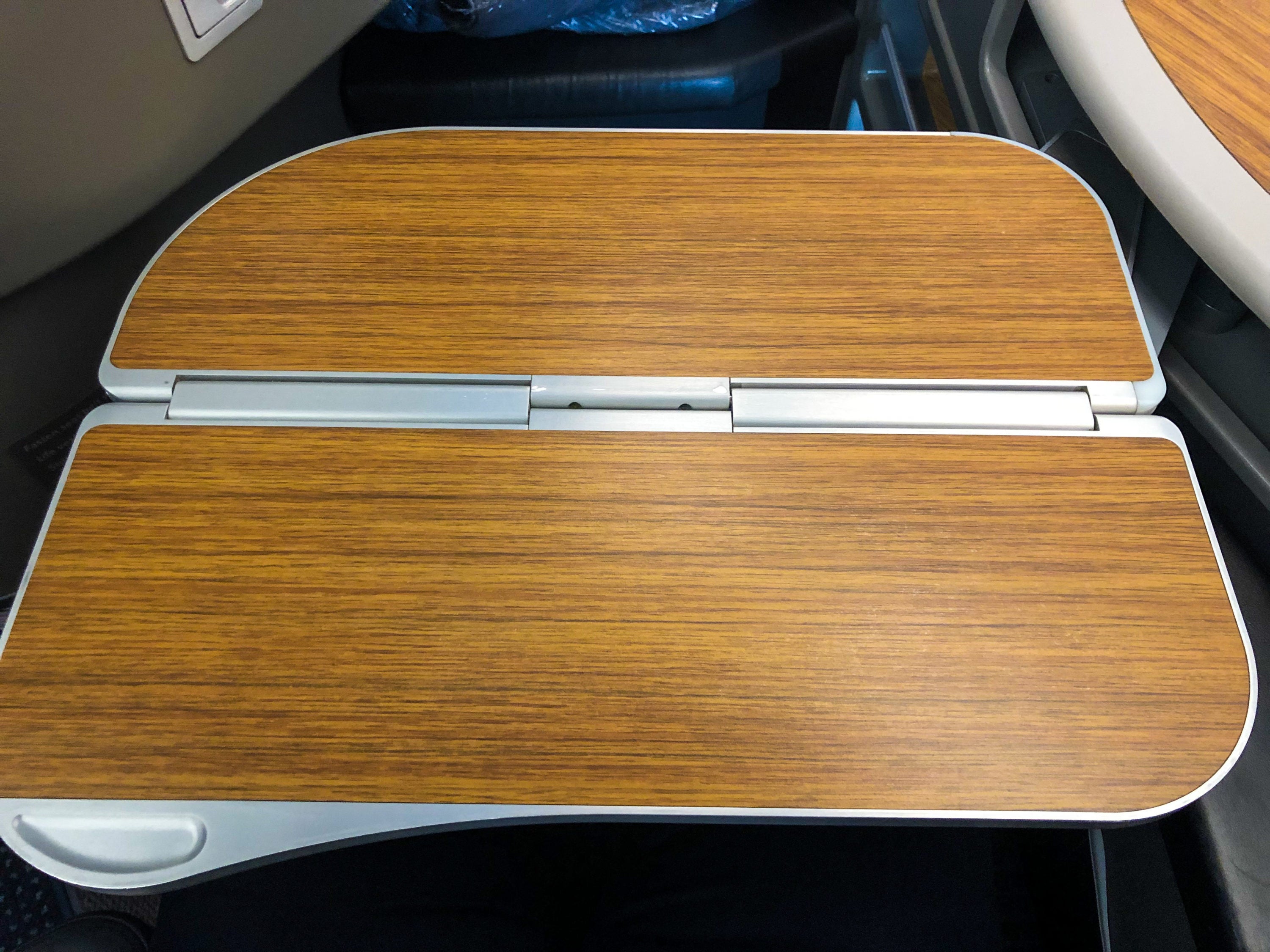 I tucked the bedding that was waiting at my seat in the ottoman, which was very spacious and deep.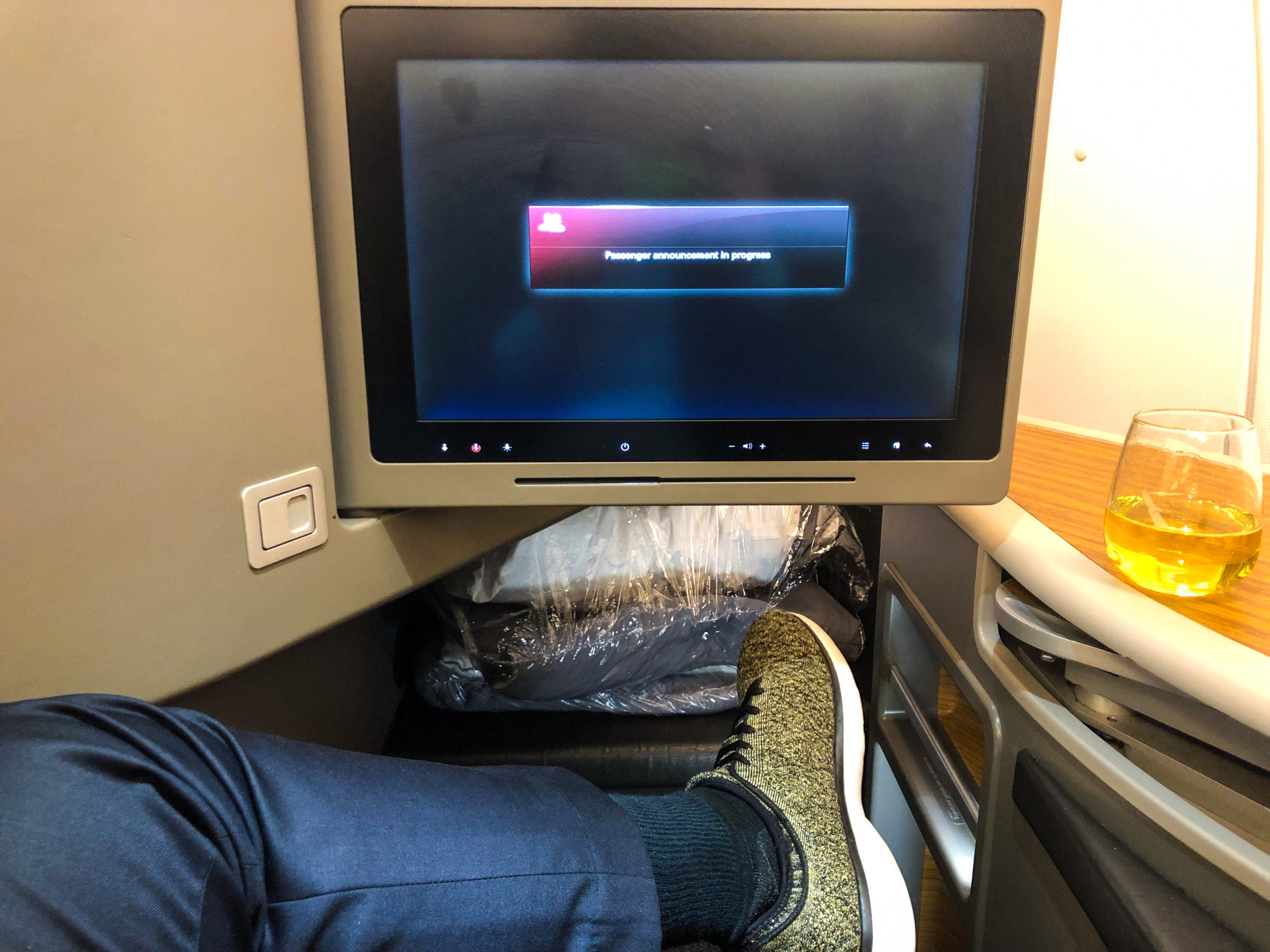 Bottom Line: American Airlines Flagship First Class on the A321T is nearly identical to the Flagship Business Class product on their international flights. 
Amenities
Amenities are plentiful on this flight, and the only thing that is absent compared to the international Flagship service is a pair of Casper slippers. Nonetheless, the amenities impressed me a lot.
Although I had to ask for the headphones (they weren't waiting at my seat or passed out), they gave me a pair of Bang & Olufsen noise-canceling headphones, which are actually superior (in my opinion) to their closest Bose competitor, the QuietComfort 35 headphones.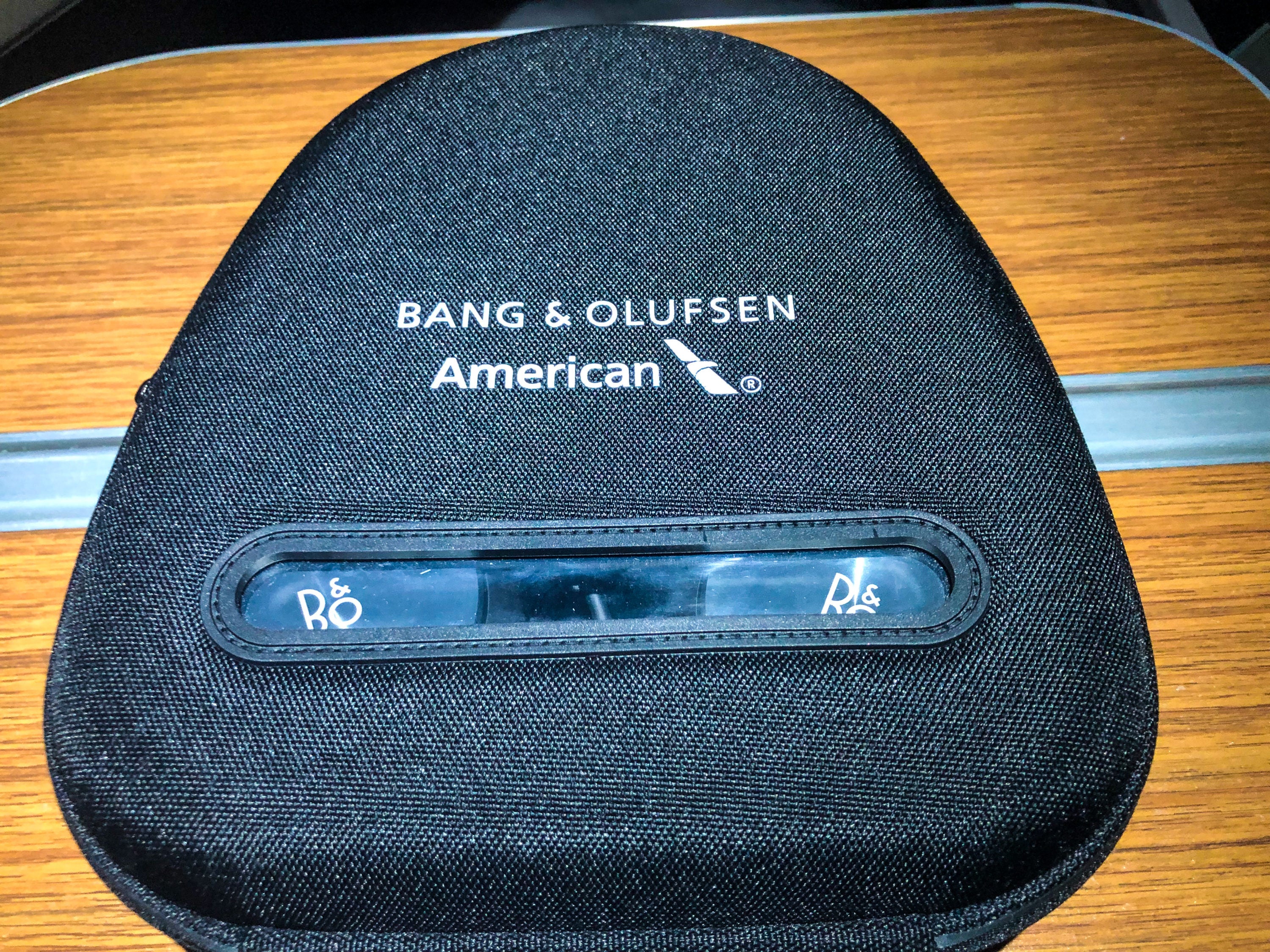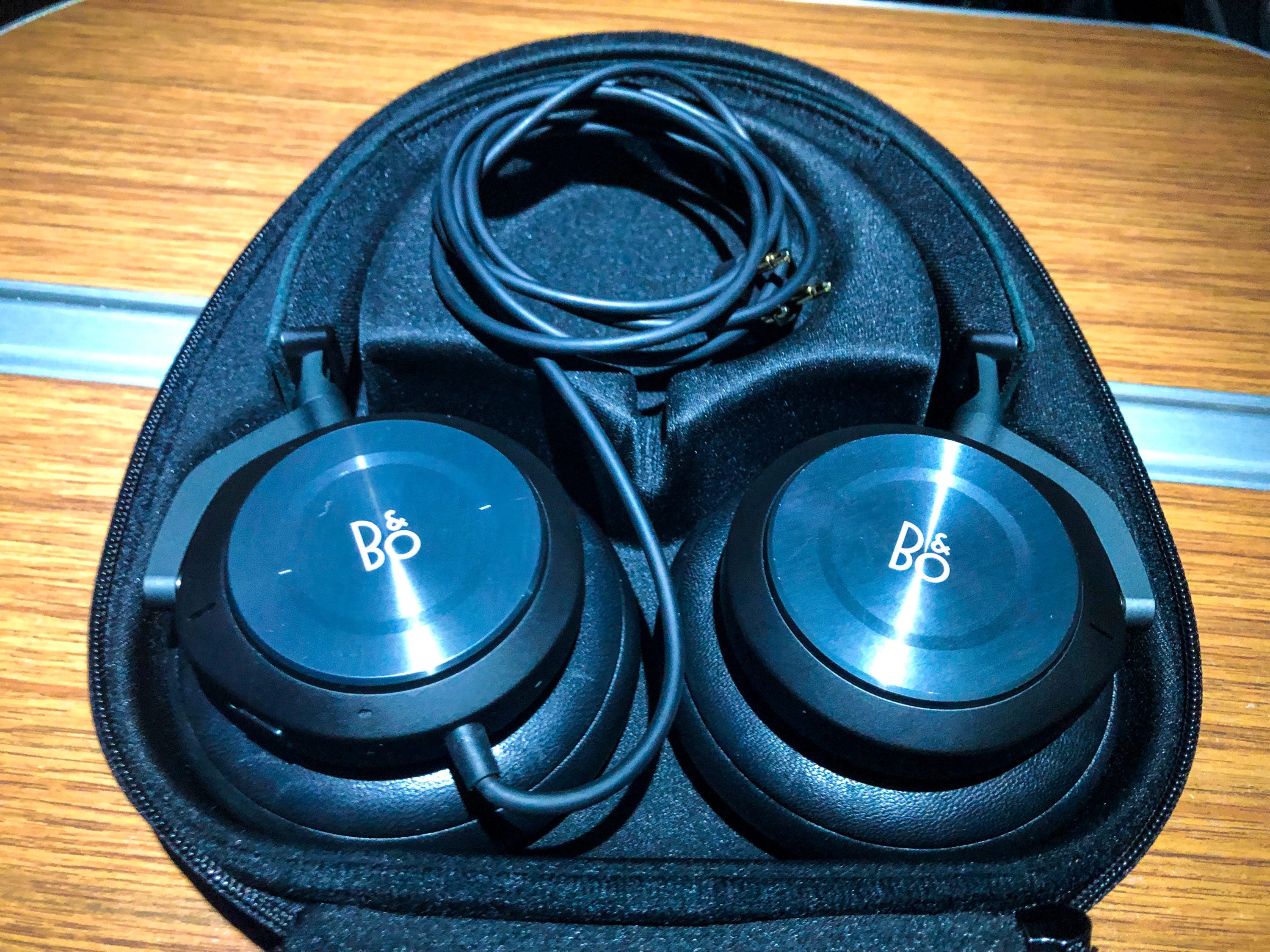 American Airlines offers different amenity kits depending on whether you're flying Flagship First transcontinental or international.
Hot Tip: Consider bringing your own noise-canceling headphones to avoid worrying if the provided headphones will be to your liking! Here a list of our recommended noise-canceling headphones to consider.
In my case, American Airlines partnered with Athletic Propulsion Labs, which is an athletic apparel brand focused on running and basketball. I was so pleased to have an amenity kit to go with my APL shoes (pictured in the previous section).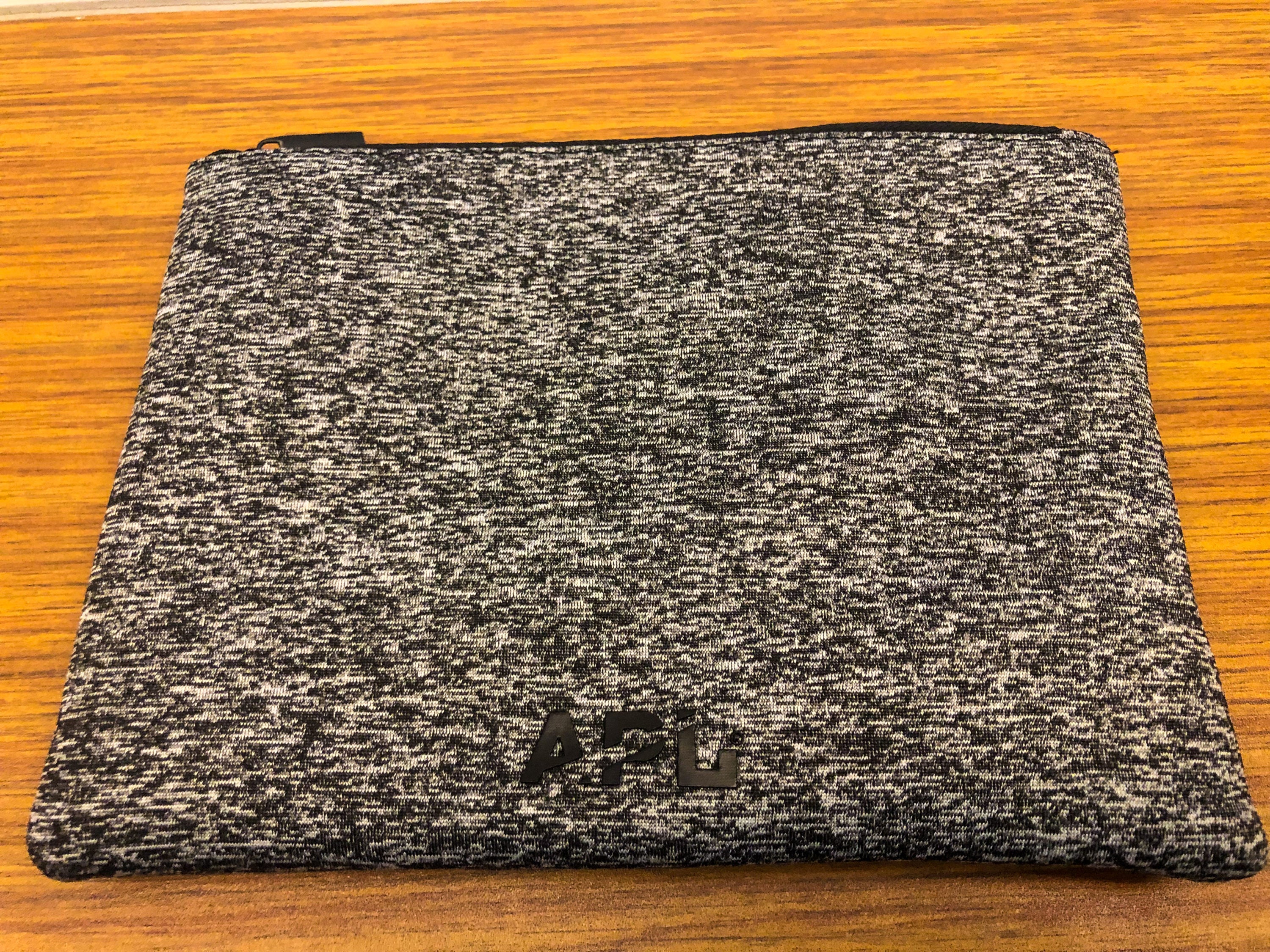 Within the APL amenity kit, there was a:
ZENOLOGY sanitizing wipe
ZENOLOGY peppermint lip balm
ZENOLOGY mandarin green tea hand and body lotion
APL eyemask
Earplugs (hidden underneath the eye mask)
ZENOLOGY or APL 20% discount voucher
Toothbrush
Travel-sized toothpaste (0.85 oz)
Facial tissue bag
FlyFit Vitamin Cranberry Stick (direct-to-mouth vitamin and mineral shot to fight travel fatigue, support immune function, and maintain healthy blood circulation)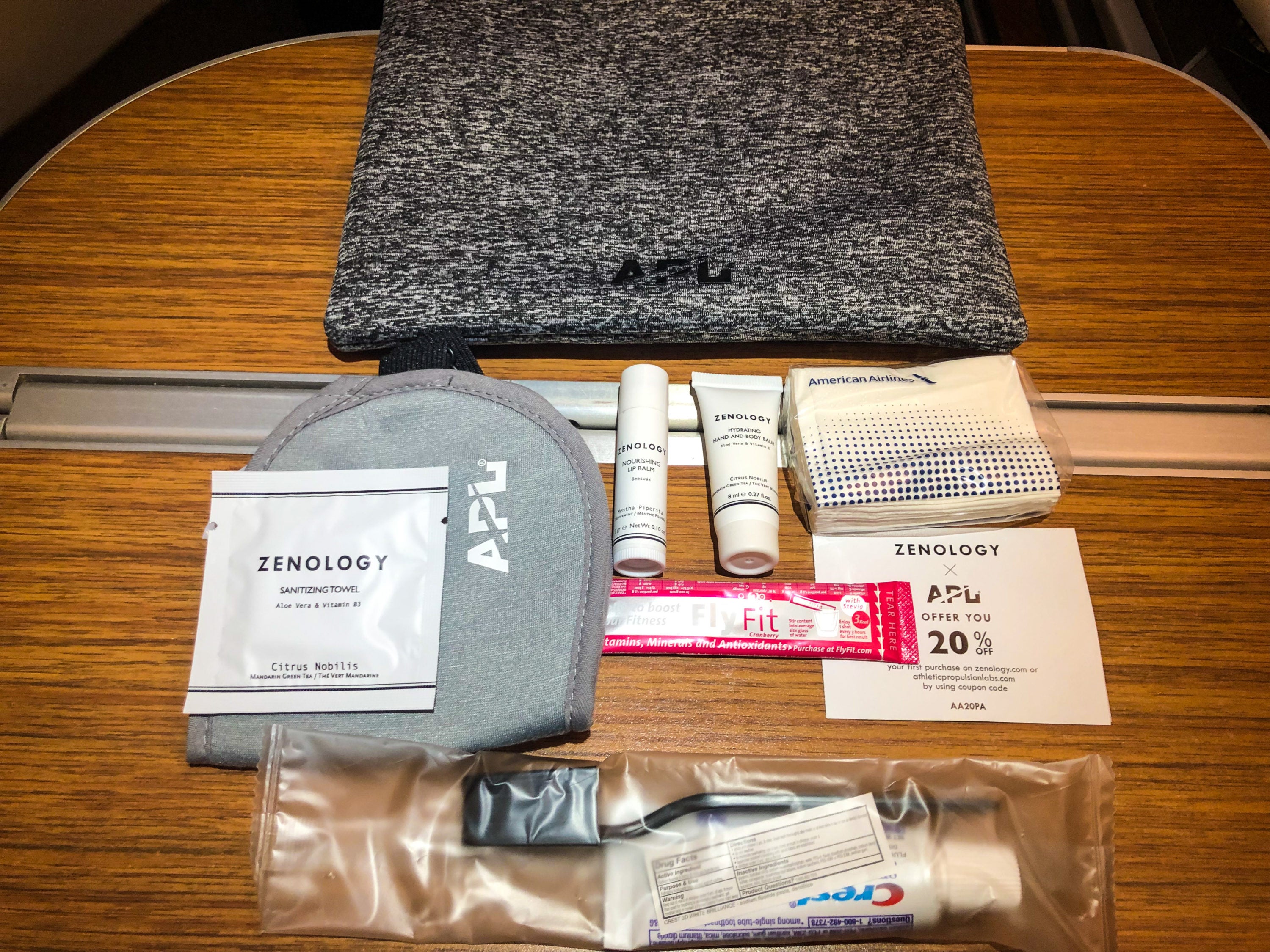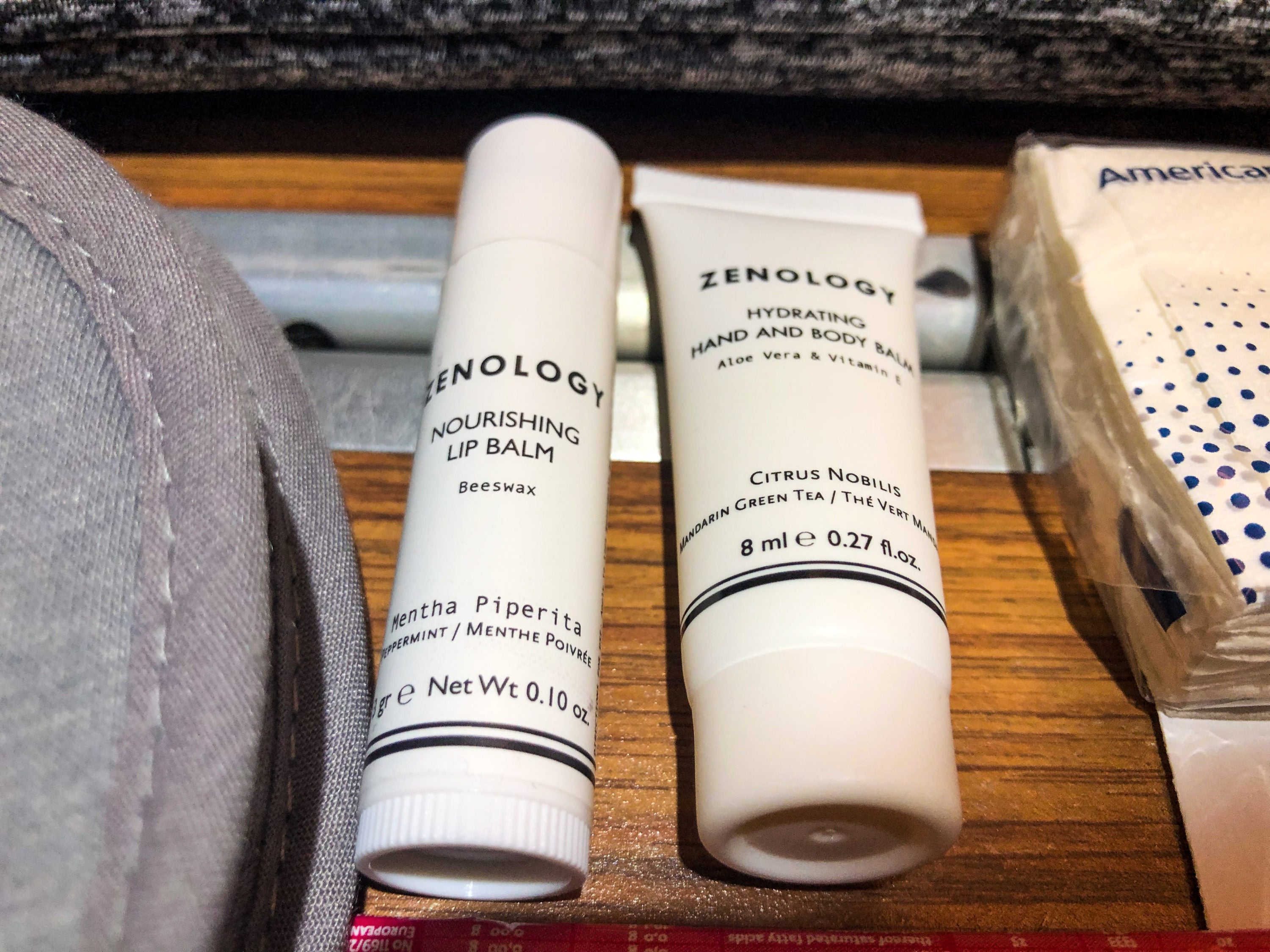 The amenity kit was certainly substantial and it actually contained brands that I like. I also saw some unique components such as the FlyFit stick.
A plastic-wrapped bedding set was waiting for me at my seat. American Airlines partners with sleep tech company Casper, which is known for its comfortable products.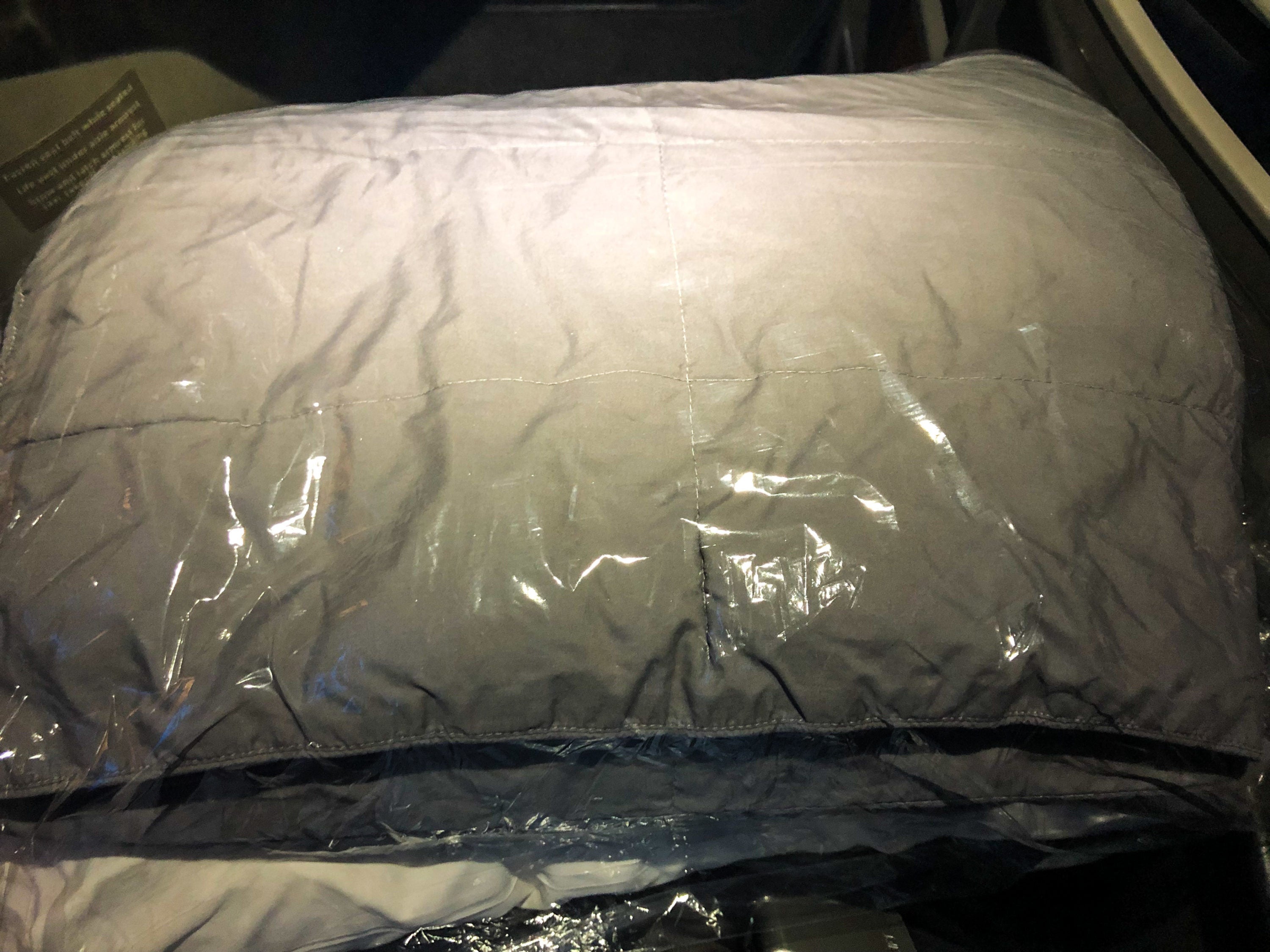 In addition to a duvet, I also received a pillow, an arm pillow, and even a thin mattress pad.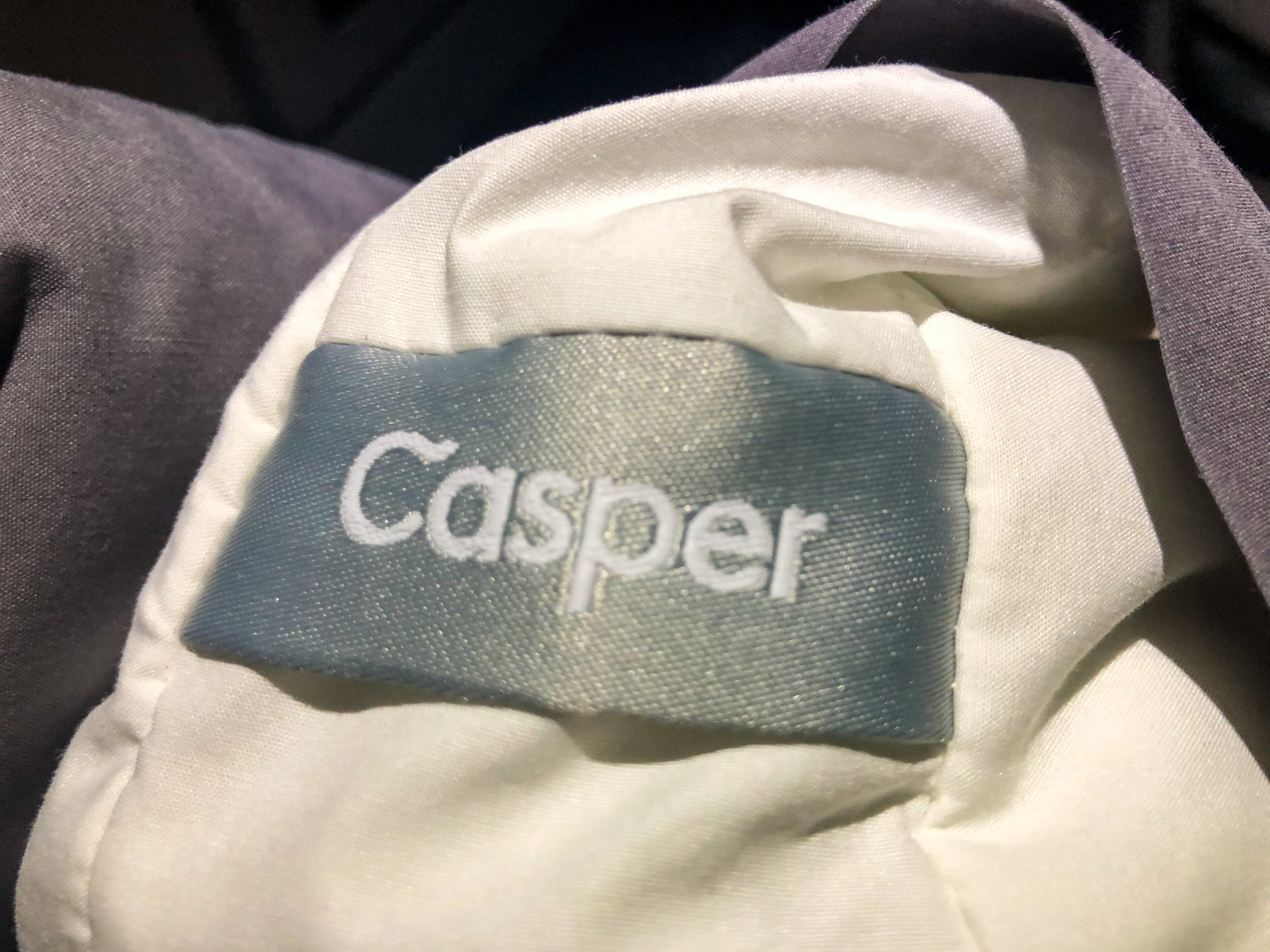 The bedding exceeded my expectations. Besides having Casper-branded products, American Airlines also offers an additional pillow and a mattress pad. After I made my bed, I was able to catch nearly 4 hours of sleep.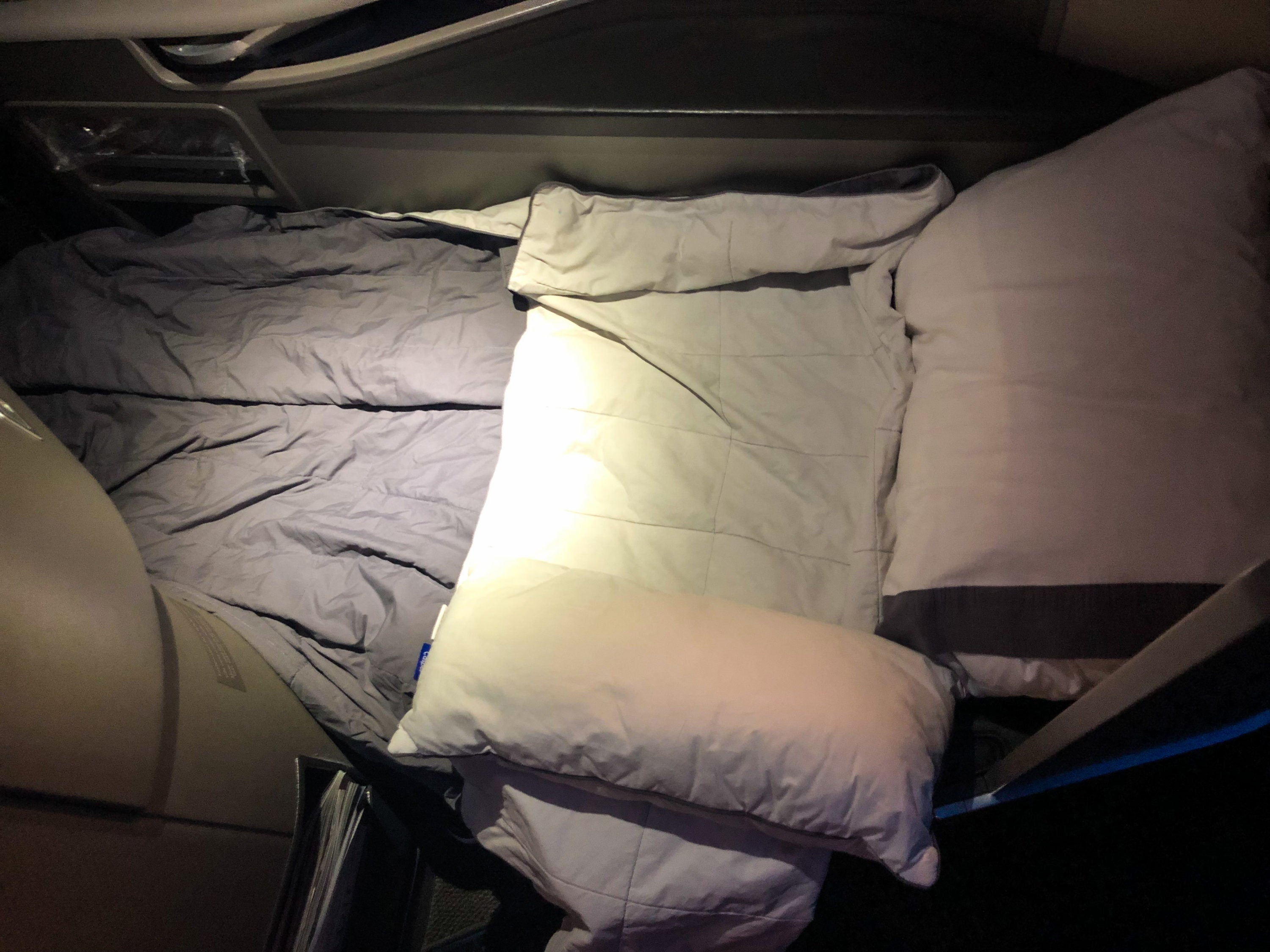 Bottom Line: The amenities on American Airlines Flagship First Class on the A321T are, for the most part, on par or greater than international business class. 
Food and Beverage
As soon as I sat down, the friendly flight attendant asked me for a pre-departure beverage order. I requested a glass of Champagne, which was dutifully served in a stemless wine glass, as opposed to a Champagne flute.
The specific varietal of Champagne was a De Venoge Cordon Bleu Brut, which retails for around $40 per bottle.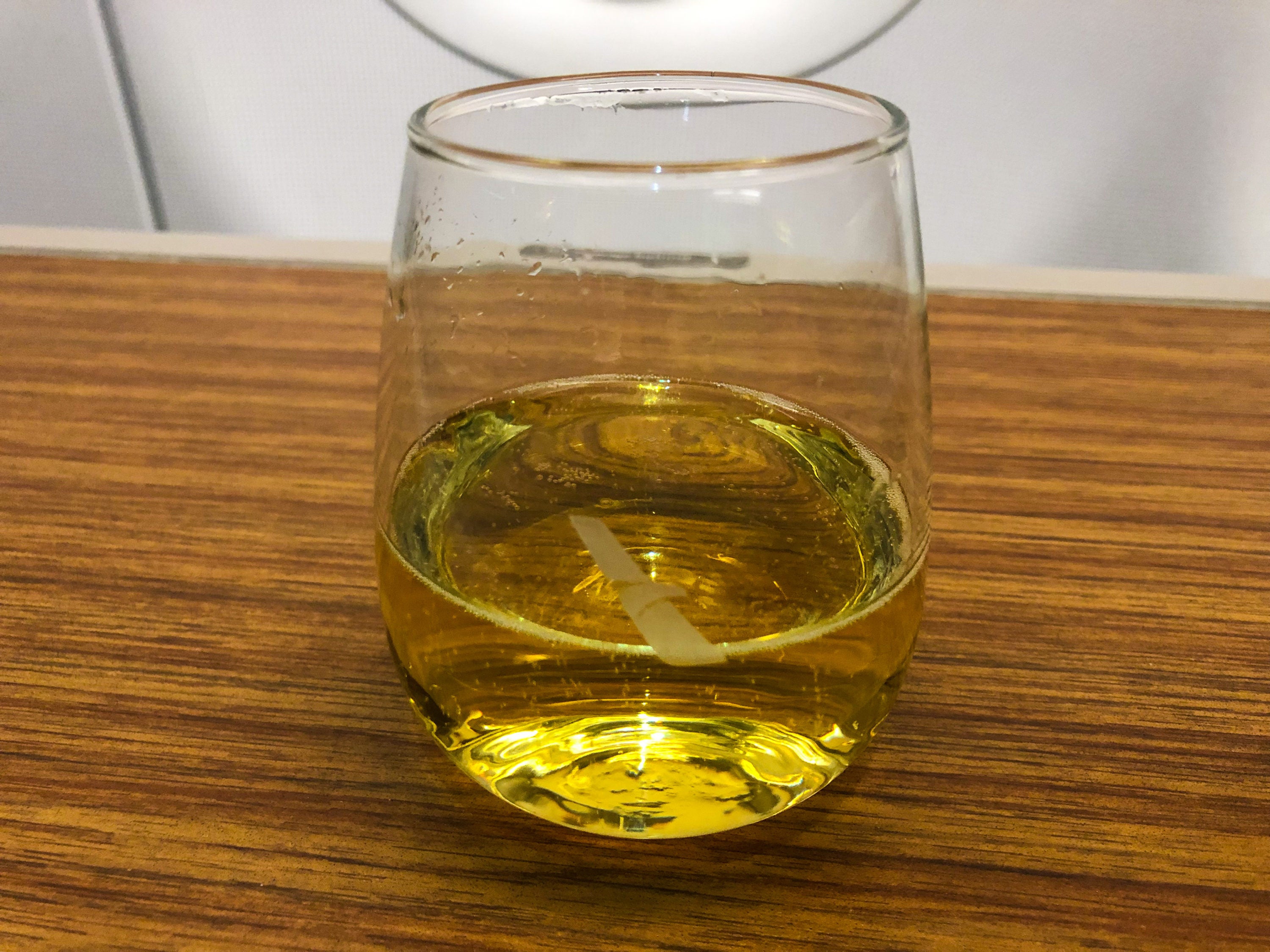 It wasn't anything compared to the Krug Champagne I had just a few hours earlier, but it works. Here's where one of the flight oddities crept in. American Airlines didn't prepare menus for the food and beverage offerings, so they printed it on regular letter paper.
Worse, the printer quality was terrible. They apologized profusely for this, and they handed me a different menu to give me an idea of what the cover page was supposed to look like.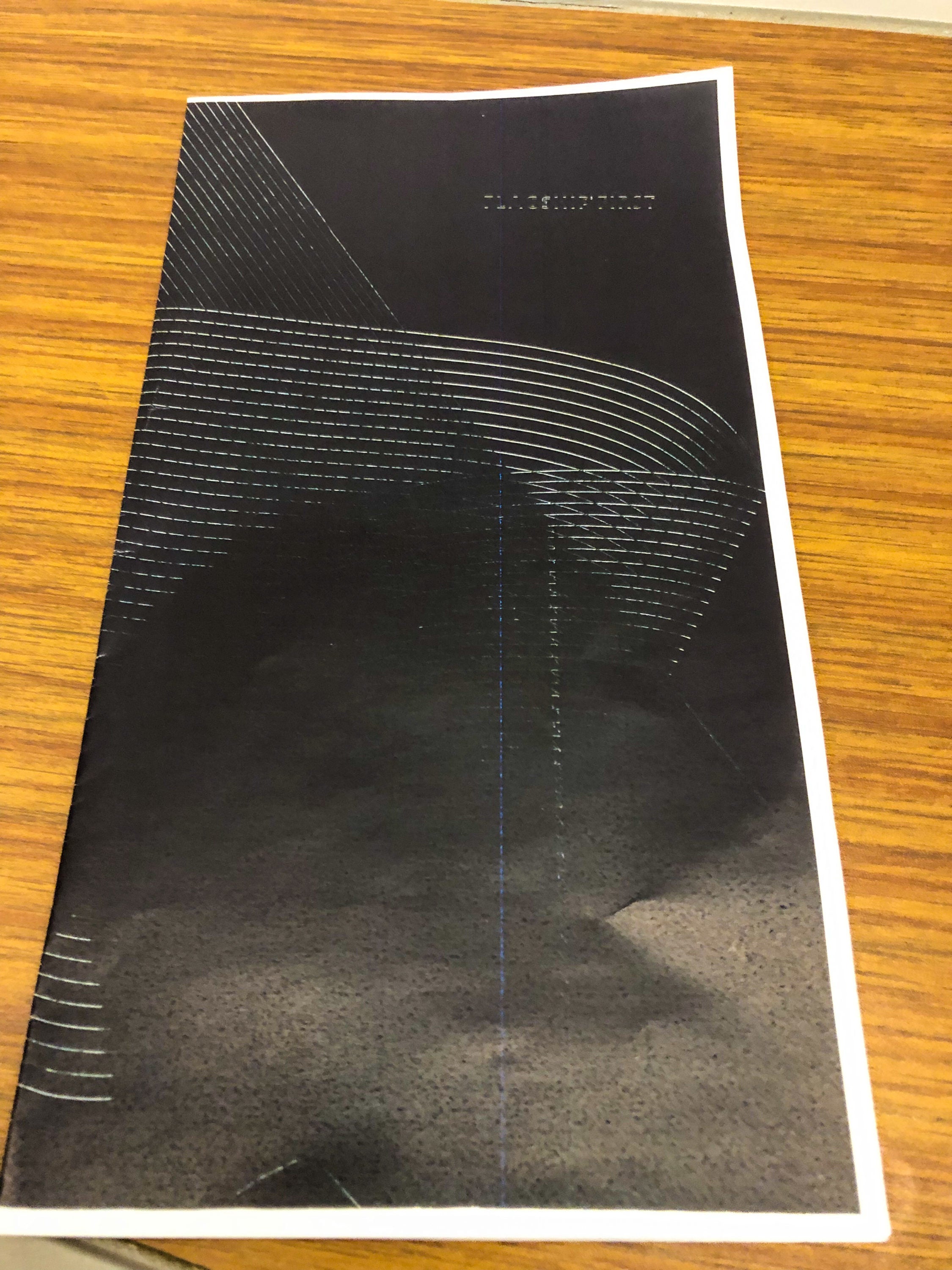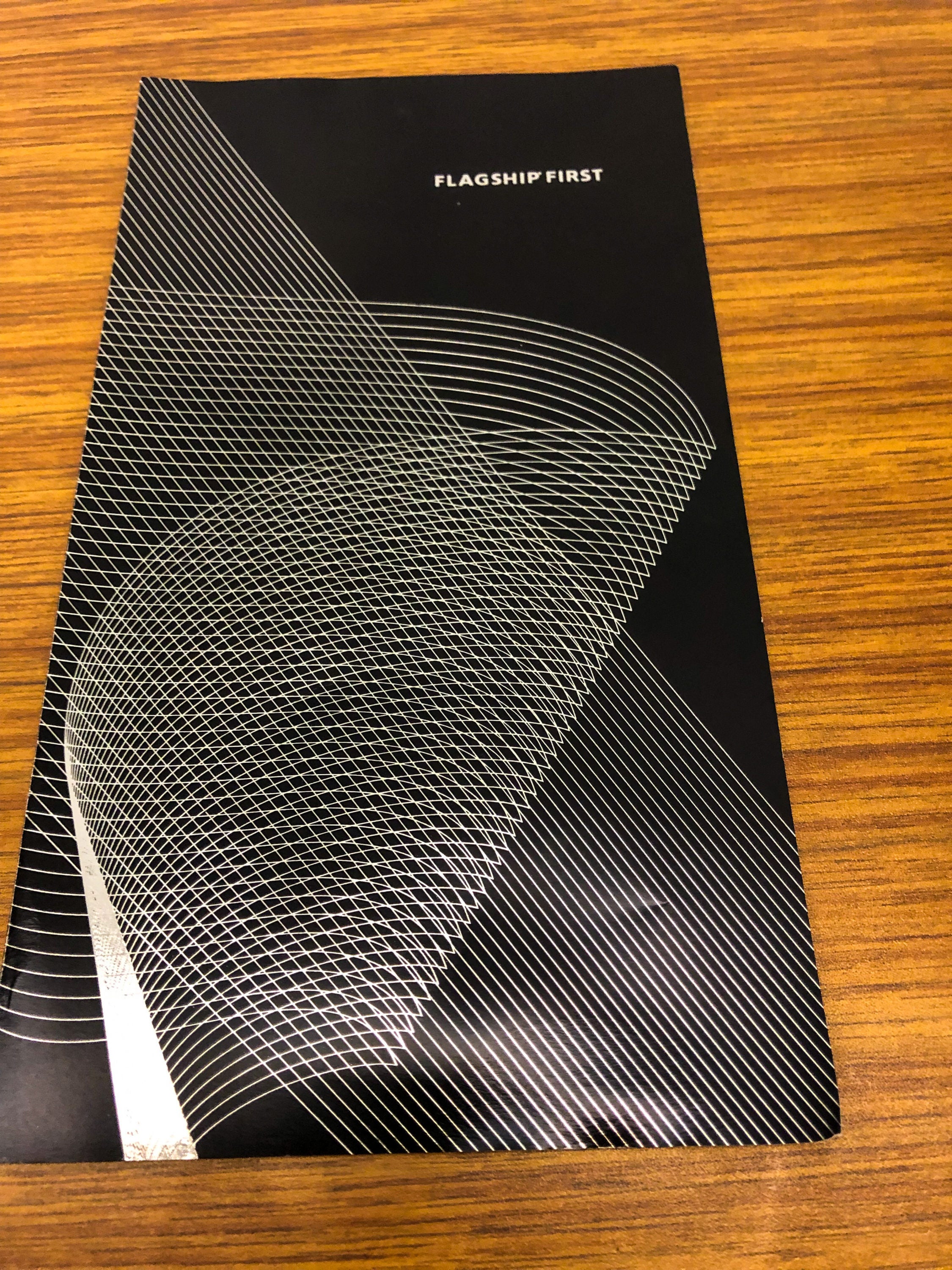 Needless to say, the printers that American Airlines used probably weren't the highest quality out there.
American Airlines partners with restauranteur Sam Choy, who is credited for inventing Pacific Rim cuisine.
The choices for main courses were:
Wagyu burger with Swiss cheese, lettuce, tomato, and onion
Chicken katsu with warm Japanese mushroom salad and pineapple curry sauce
Grain and greens bowl with fresh greens, farro, spelt, pearl barley, black beans, heirloom tomatoes, sugar snap peas, pineapple, onion, goat cheese, and grilled shrimp available upon request
Mezze plate with traditional hummus, dolma, bulgur salad, spicy eggplant dip, and pita rounds
There were a number of beverages and wines offered, as shown below: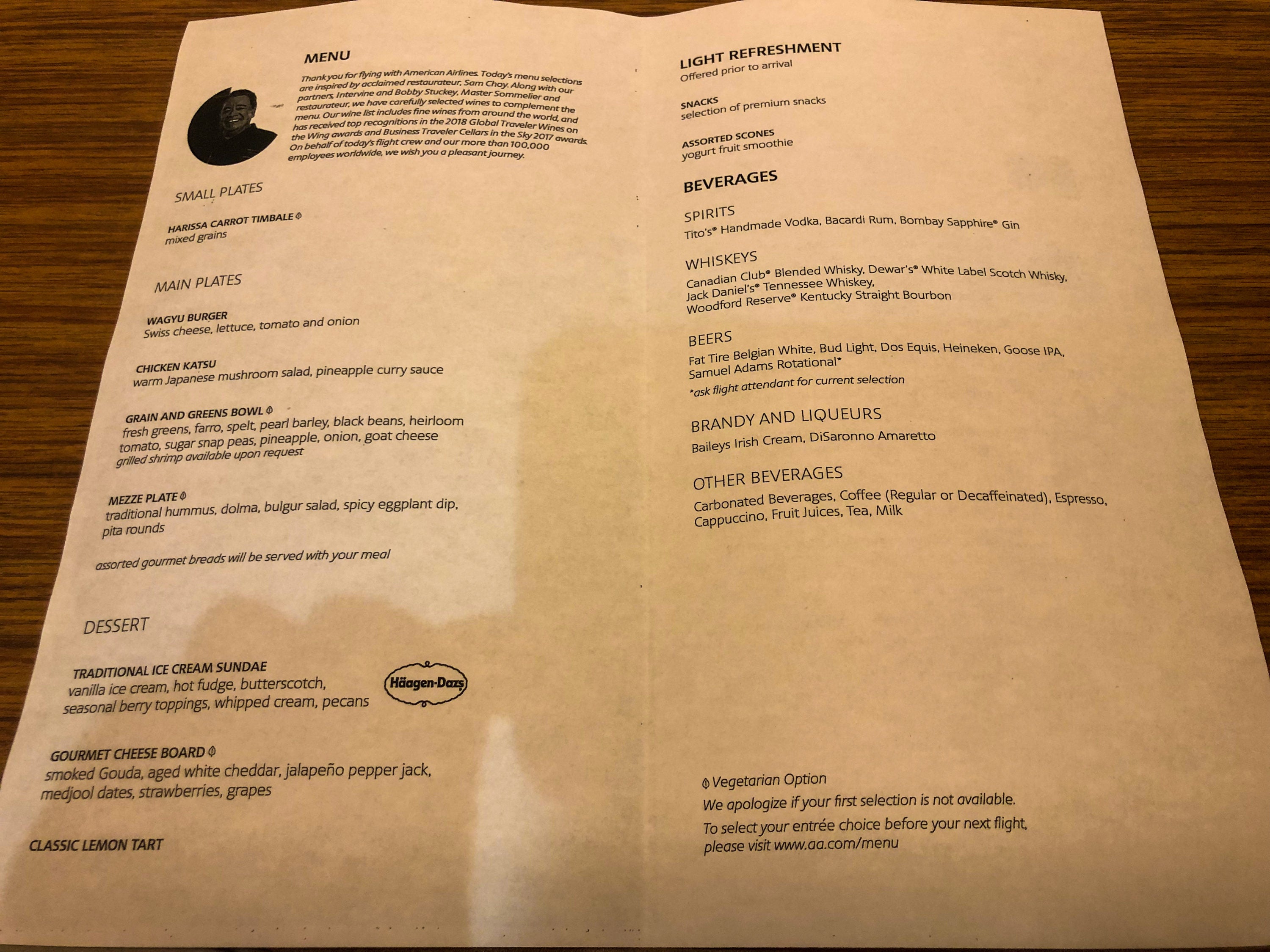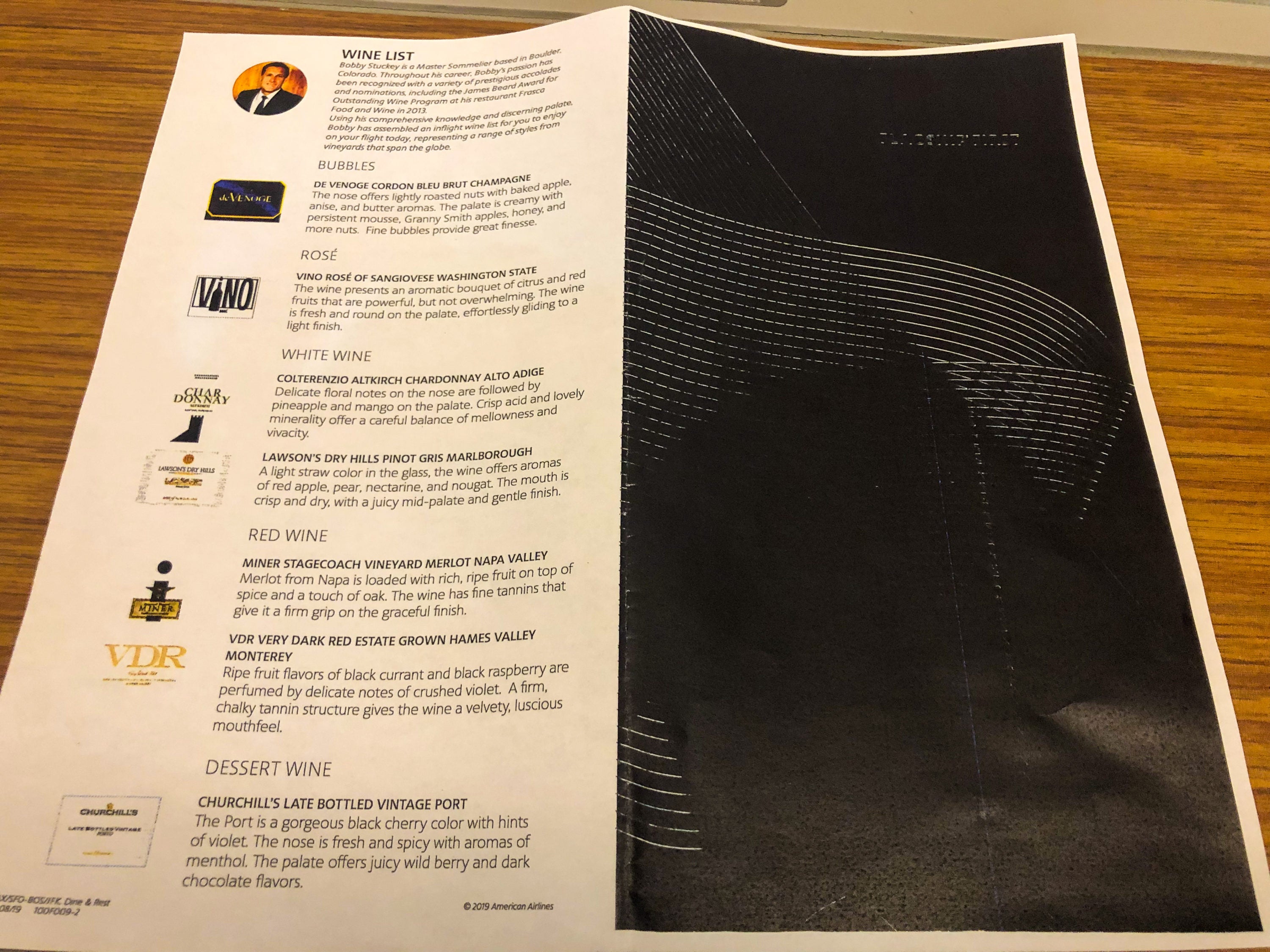 As soon as I ordered the Wagyu burger, a warm towel was distributed to me.
I ordered a ginger ale to go along with my burger. I was also served warm nuts, which also contained pistachios. Usually, warm nuts consist of cashews, almonds, and walnuts. As a lover of pistachios, I appreciated this idiosyncrasy.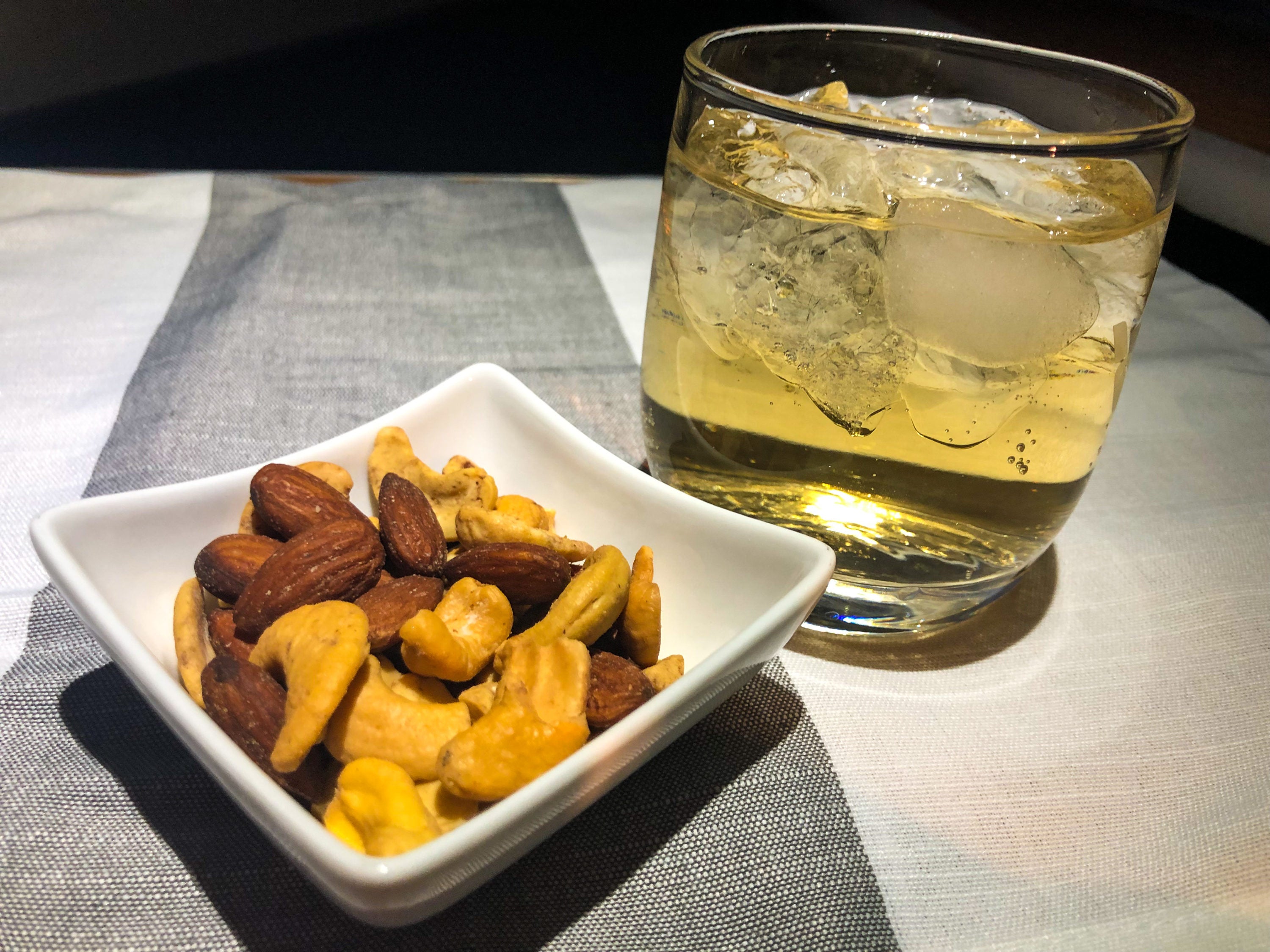 The starters and main course followed shortly after. Overall, I was served:
Harissa carrot timbale with mixed grains (top left)
Wagyu burger with Swiss cheese, lettuce, tomato, and onion (right)
Lays Kettle Cooked potato chips (bottom left)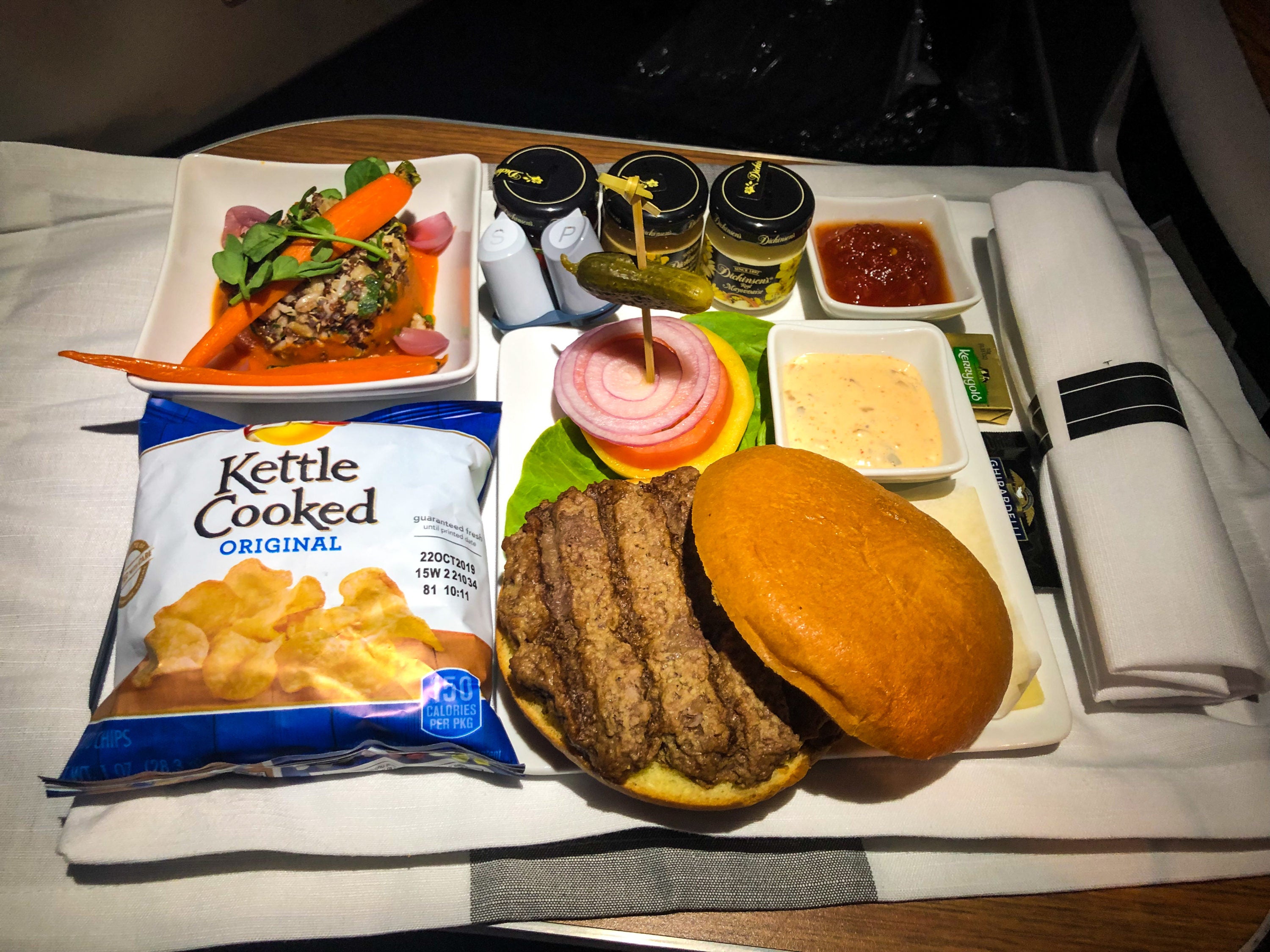 I found the burger to be decent. On a scale of 1 to 10, the burger falls on a 5 out of 10. While the toppings featured classic ingredients such as onions and tomatoes, the entire burger wasn't impressive.
I closed out the meal service with an ice cream sundae. The Häagen-Dazs ice cream sundae had vanilla ice cream, hot fudge, butterscotch, whipped cream, pecans, and seasonal berry toppings.
The sundae was definitely an indulgence that I loved. This was the highlight of the meal service, for sure.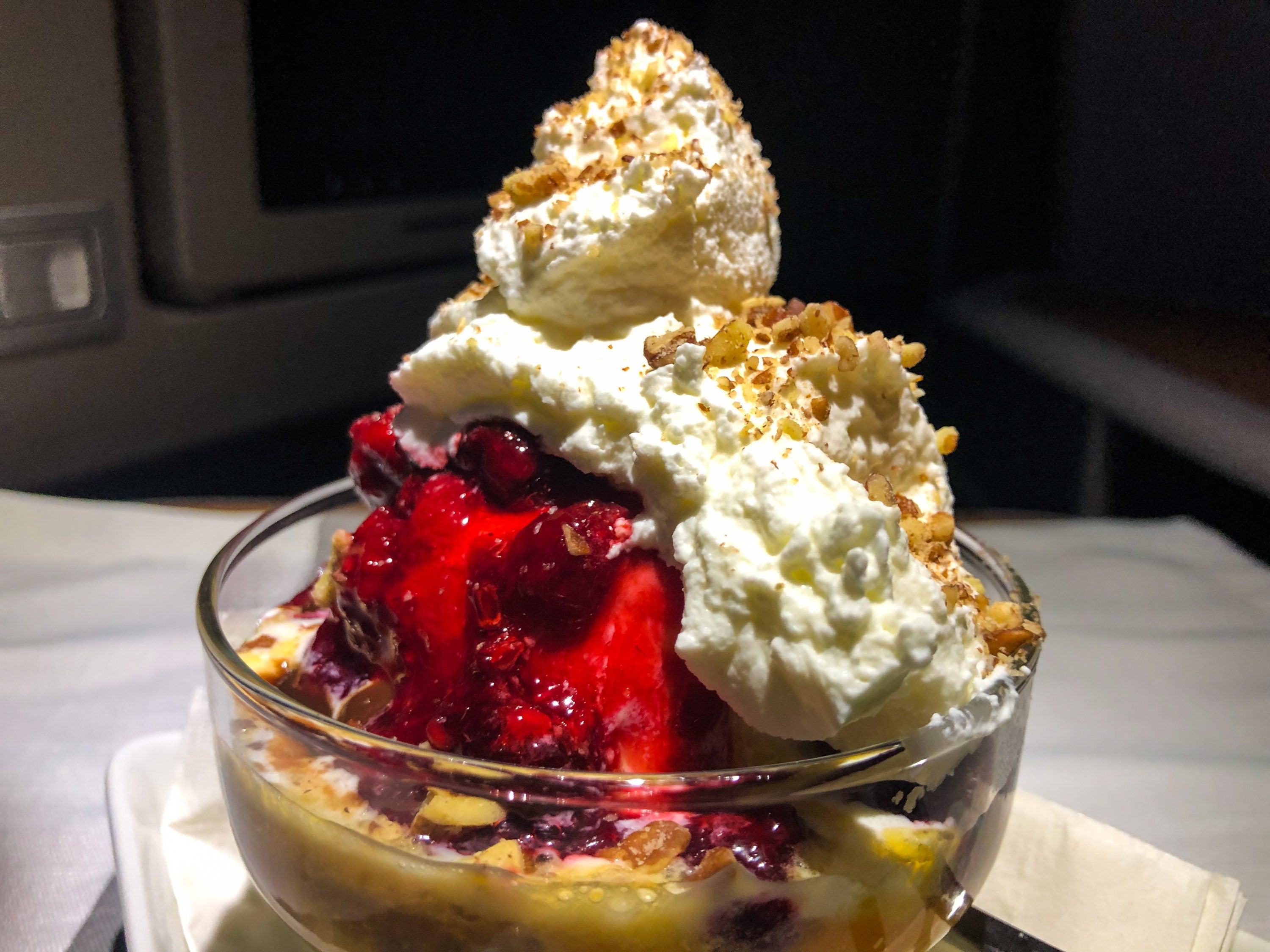 Shortly after waking up, I requested yogurt, and the crew obliged with a Chobani mixed berry Greek yogurt drink.
Entertainment and Service
American Airlines generally does a fantastic job of offering high-speed Wi-Fi on their planes. Whether it's using ViaSat to Gogo Wi-Fi, the speeds are fast. At least fast enough to browse the web, watch YouTube, or send/receive emails.
This flight offered Gogo Wi-Fi, so I used one of the complimentary passes that come with my Business Platinum Card® from American Express.
I performed a speed test on the flight and found the download speeds to be decent and the upload speeds to be poor.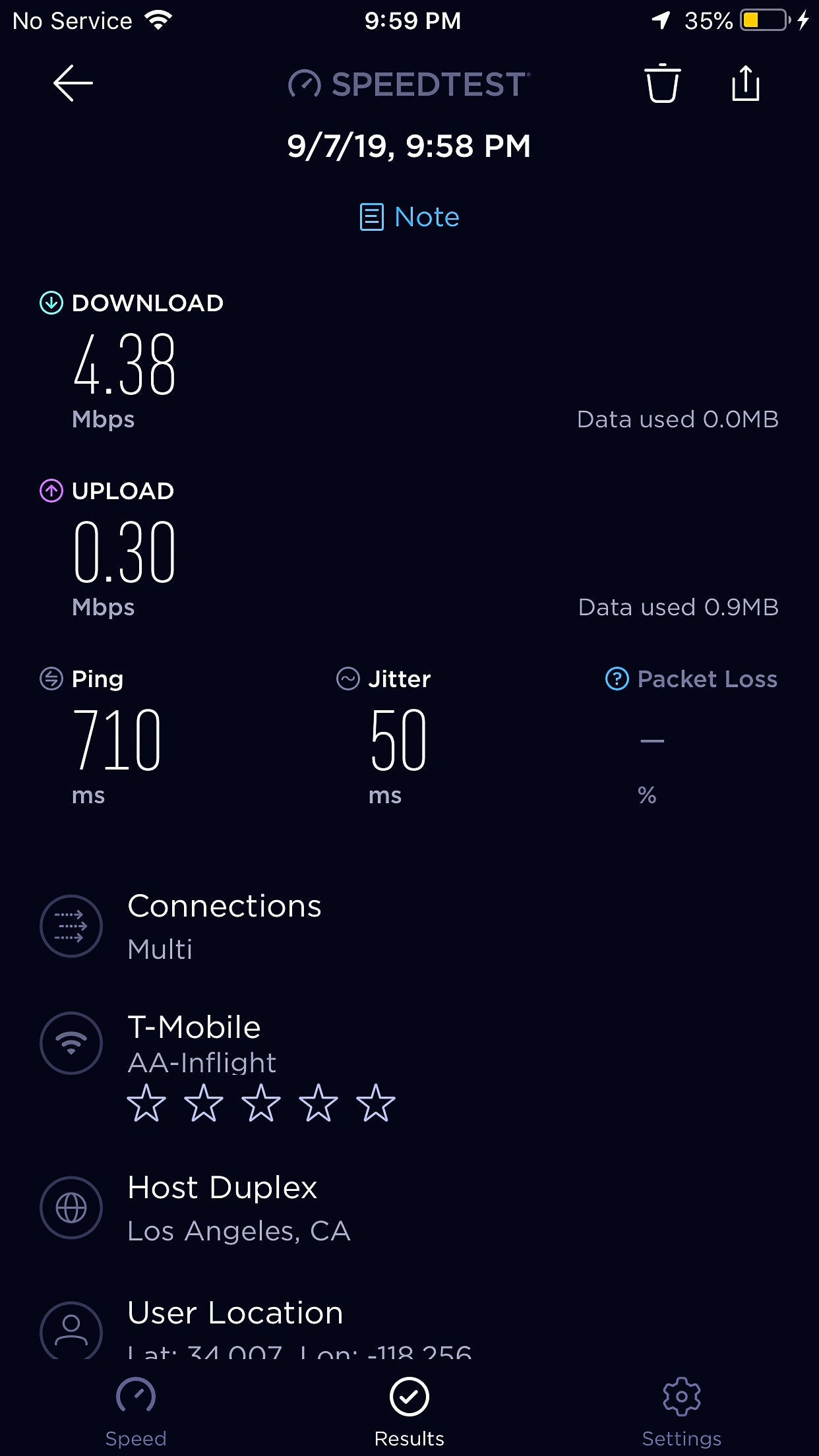 Oddly enough, this are the slowest Wi-Fi speeds I remember having on an American Airlines flight.
Because I was on a red-eye flight, I quickly slipped into a food coma-induced slumber shortly after finishing my meal. Another aspect of American Airlines that is great is that their inflight entertainment choices are plentiful, even in economy.
On the whole, I felt that the service was well-intentioned if not a bit robotic. I didn't find the service to be particularly warm; instead, it was efficient and quick. This is quite understandable, as the flight was a red-eye.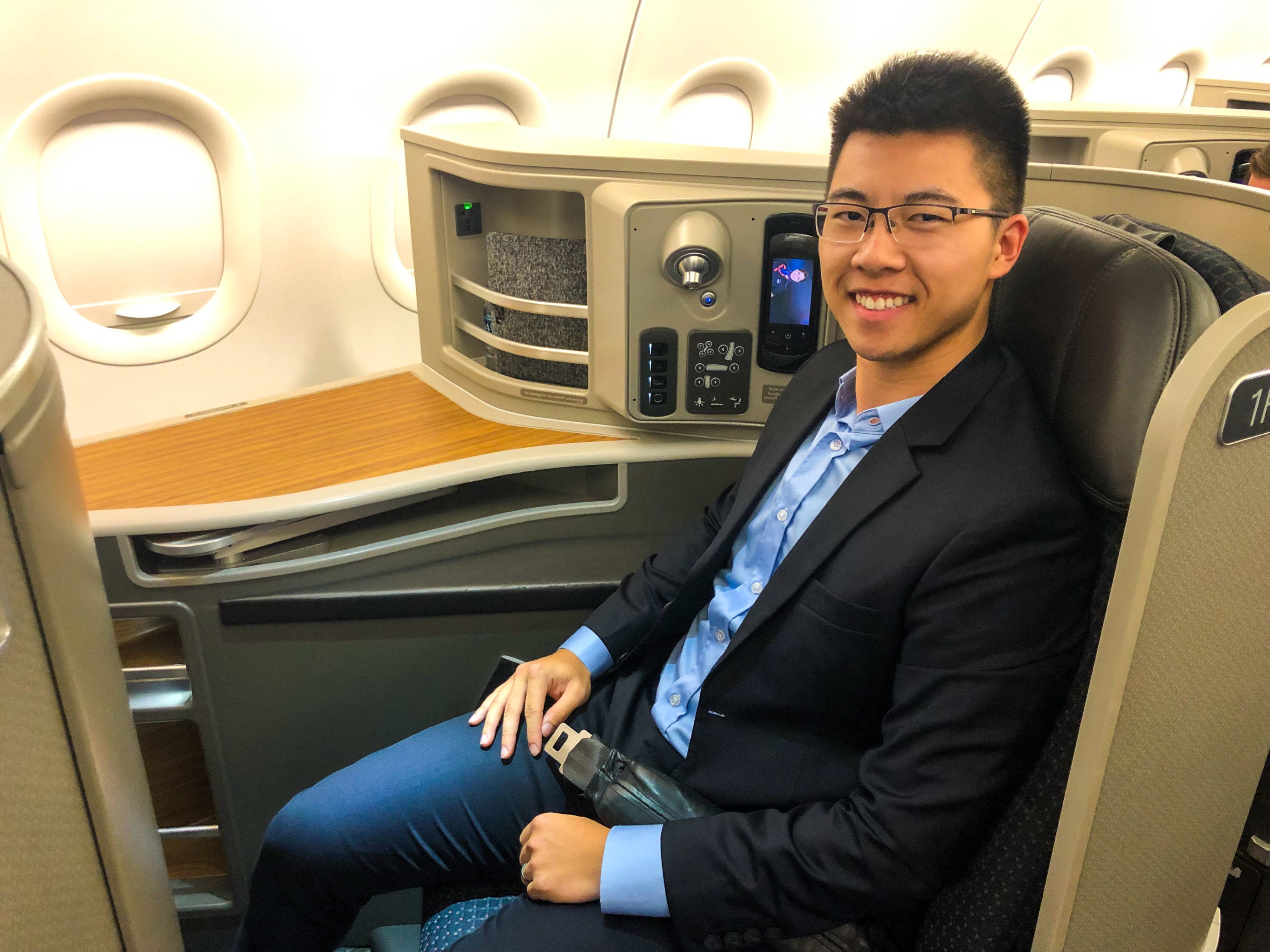 Final Thoughts
I had a great time flying on American Airlines Flagship First Class aboard their transcontinental A321T aircraft. If we're talking about low points, I'd improve the quality of the food and polish up on the small things, such as having real menus aboard as opposed to printing out menus on letter paper.
All in all, I firmly believe that American Airlines Flagship First Class is the best domestic first class product. Although there are many elements that set it apart from the competition, some of the best parts include:
An exclusive curbside pick-up and check-in experience (most useful for international flights, as check-ins for domestic flights can be done completely online)
An unparalleled lounge experience with the Flagship Lounge and specifically the Flagship First Dining experience
Fully lie-flat seats with direct aisle access equivalent to international Flagship Business Class seats
A substantial soft product with the best airplane headphones I've seen, a worthwhile amenity kit, and a bedding offering that outclasses its peers
Decent service
That being said, in order for it to definitely run away from the competition of JetBlue and Delta, American Airlines needs to improve its food, polish the little touches, and perfect the service.
To be able to fly on the only airline that operates a 3-cabin airplane (first, business, economy) between Los Angeles and New York was a blessing. I contend that the American Airlines Flagship First Class experience is the best you can get domestically.