American Airlines Flagship Lounge at Los Angeles International Airport (LAX) – Detailed Review
Update: In light of the spread of COVID-19, the LAX American Airlines Flagship lounge will be closed until further notice. 
Known for having a huge network of flights and routes, American Airlines connects the U.S. to many destinations internationally and domestically.
The airline has a reputation for treating its most frequent flyers as nobility. Pampering of top-tier elites, its most profitable customers, has resulted in American building an exclusive experience known as Flagship.
American also has a variety of great business class products, known colloquially as Flagship Business, and is the only airline based in the U.S. that offers:
A first class product on international flights
A lie-flat first class product on transcontinental flights
To top this all off, American operates a network of Flagship Lounges all around the U.S. Visiting these lounges should absolutely be at the top of your priority list. When you couple their adjoined Flagship First Dining with the Flagship Lounge experience, you'll find that the American Airlines Flagship Lounges are some of the best in the world.
In this guide, we'll be reviewing the Flagship Lounge at Los Angeles International Airport (LAX), a well-known American Airlines hub. Let's see what all the hype is about.
Location
American Airlines' Flagship Lounge at LAX is located near gate 40 at Terminal 4 and is located within a larger lounge facility that similarly houses an American Airlines Admirals Club.
When you arrive at the entrance, you'll see a set of sliding glass doors, along with a large sign indicating the "Flagship Lounge" and "Admirals Club".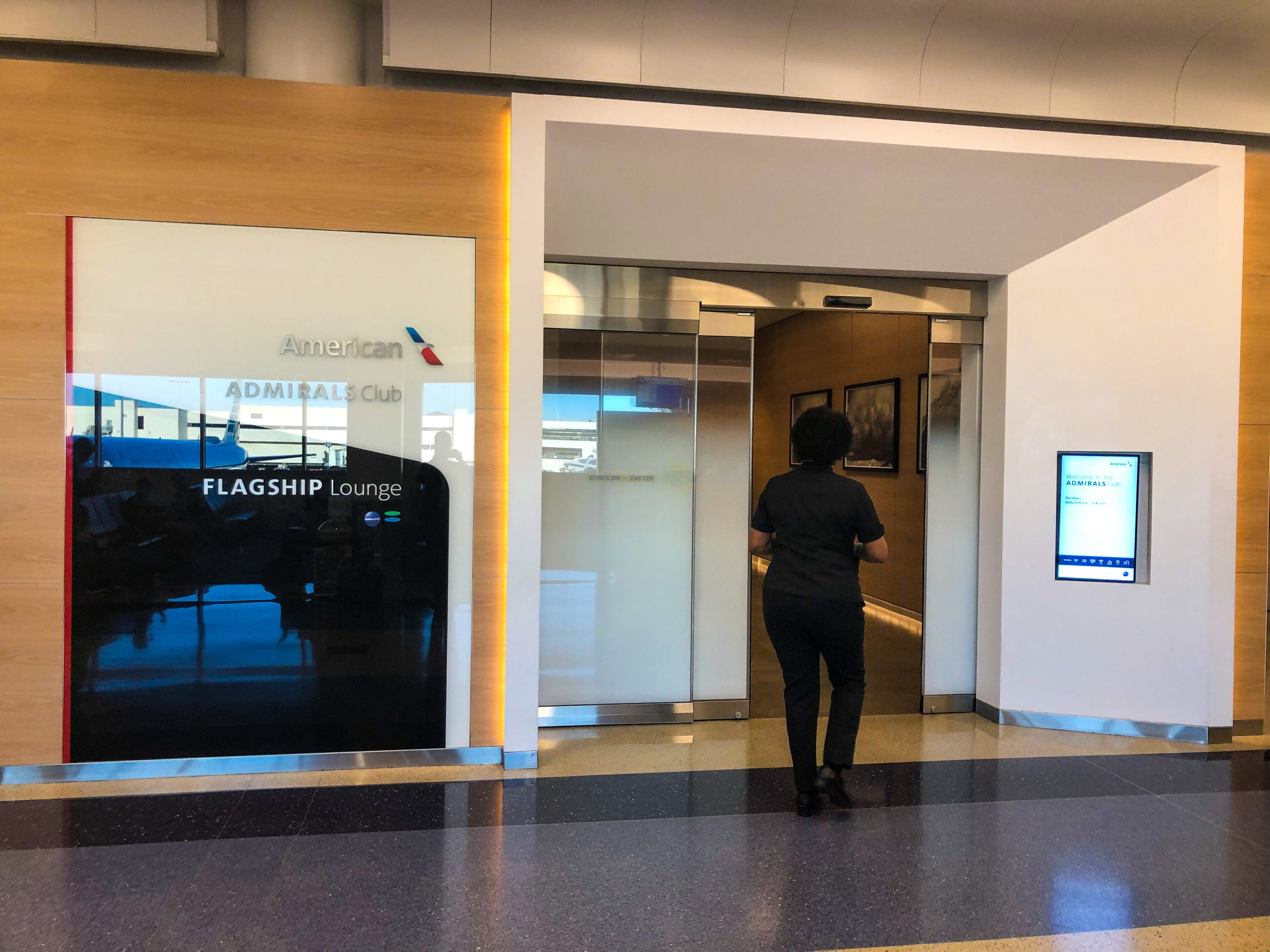 The Flagship Lounge at LAX is open from 4:00 a.m. to 12:45 a.m. daily.
Gaining Entry
You will get access if you meet 1 of the following requirements:
You're traveling on a qualifying international flight in business or first class

Flights between the U.S. and Asia, Australia, Central America, Mexico City (MEX), Europe, New Zealand, and South America
1 guest is allowed if flying on international first class (children over 2 count as guests)

You're traveling on a qualifying transcontinental flight in business or first class

3-class non-stop flights between LAX-JFK, SFO-JFK, and LAX-BOS (on A321T aircraft only)
No guests allowed

You're an AAdvantage Executive Platinum, Platinum Pro, or Platinum member traveling or connecting to a qualifying international flight marketed and operated by American or a Oneworld airline, regardless of cabin

Flights between the U.S. and Asia, Australia, Central America, Europe, Mexico City (MEX), New Zealand, and South America
Solely North America itineraries (except for Mexico City) are ineligible for Flagship Lounge access.
1 guest is allowed (children over 2 count as guests)

You're an AAdvantage ConciergeKey member traveling on any same-day flight marketed and operated by American Airlines or a Oneworld airline

Immediate family (spouse, domestic partner, and/or children under 18) or up to 2 guests

You're a Oneworld Emerald or Sapphire member departing on or connecting to any flight marketing and operated by American or a Oneworld airline, regardless of cabin

1 guest is allowed (children over 2 count as guests)
Bottom Line: The lounge access policy is much more stringent for Flagship First Dining patrons. The Flagship First Dining is a restaurant/bar area within the Flagship Lounge that is reserved only for select passengers, which we'll find out more about in the below sections. 
When you enter the building, you'll be asked to present your boarding pass and personal ID. Then, you'll be handed an invitation card granting you access to the Flagship Lounge.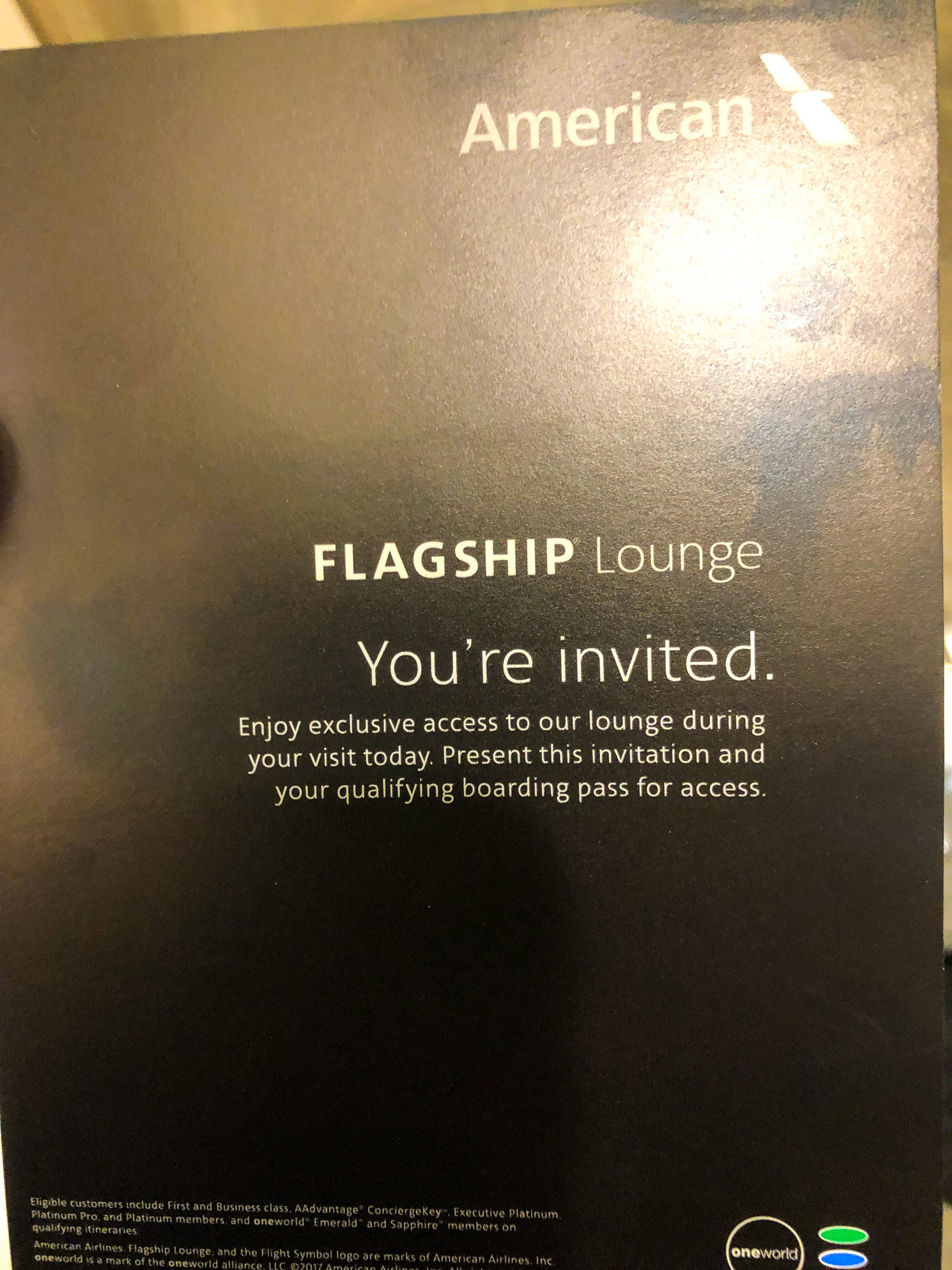 You'll continue through the ground floor and enter an elevator.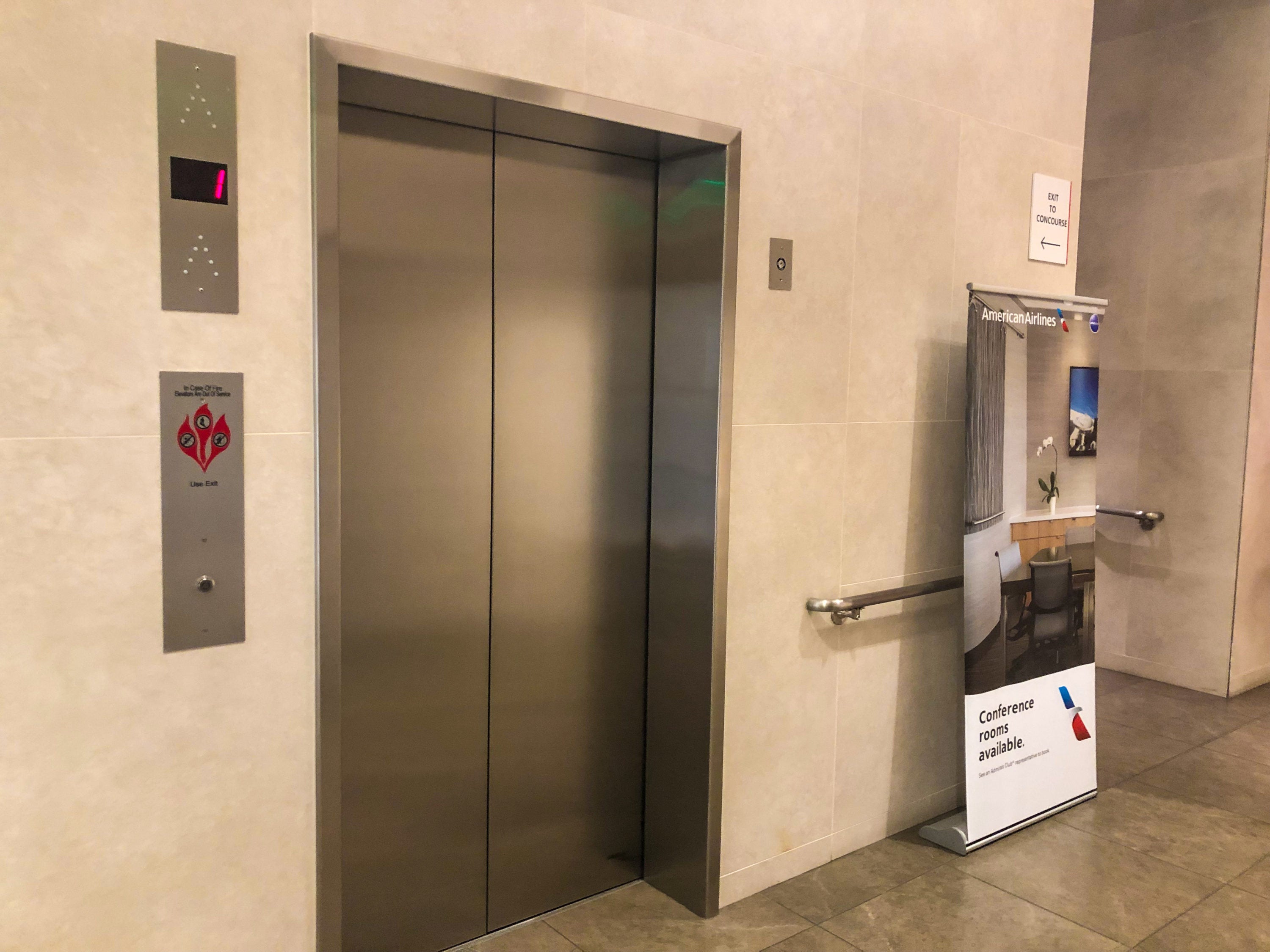 Both the Flagship Lounge and Admirals Club are located on the second floor.
After exiting the elevator bay, you'll see a large black glass panel denoting the Flagship Lounge.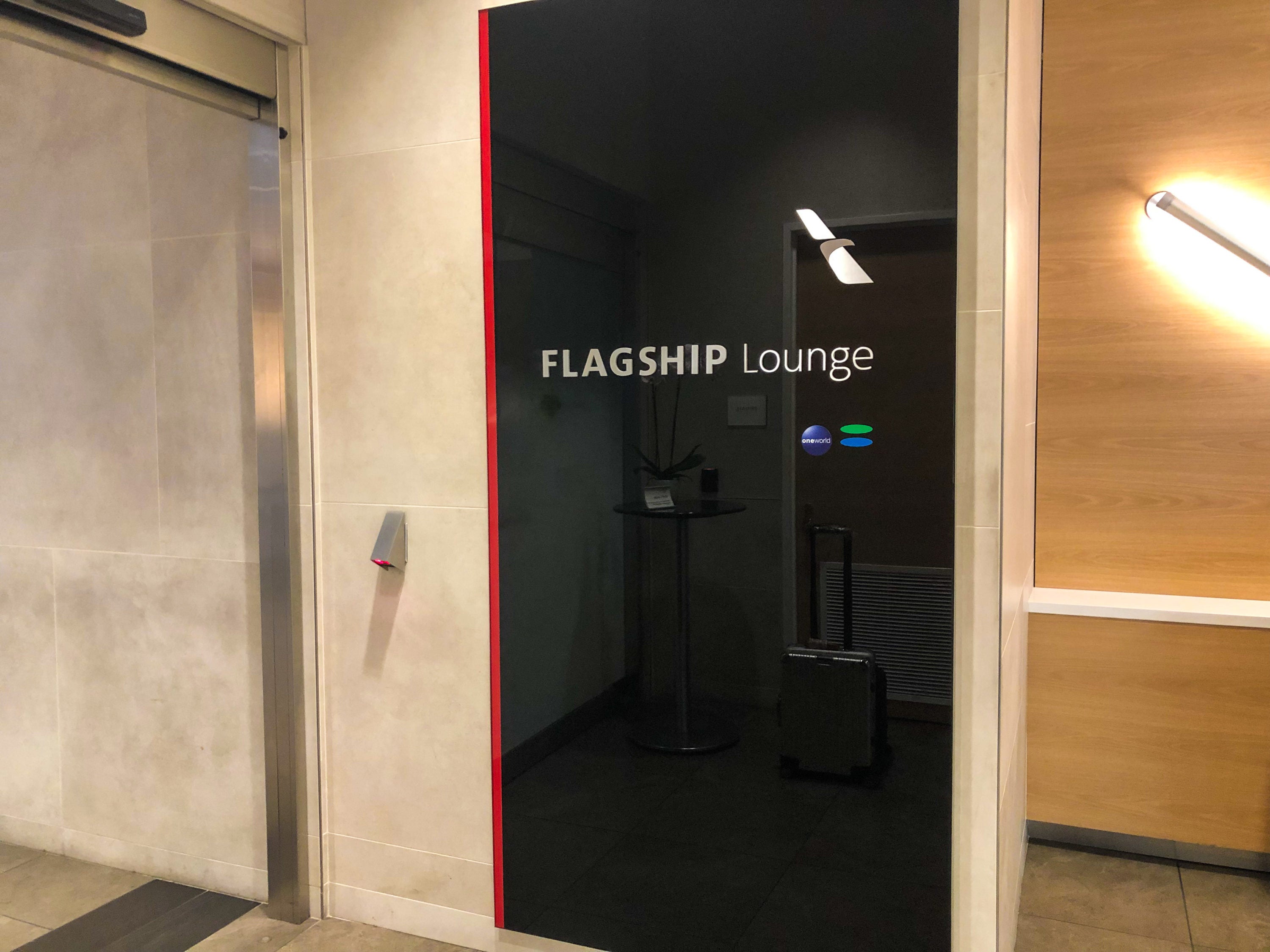 After entering the Flagship Lounge, you'll have to check in with the Flagship Lounge front desk. Once you present your invitation card, you can finally enter the lounge.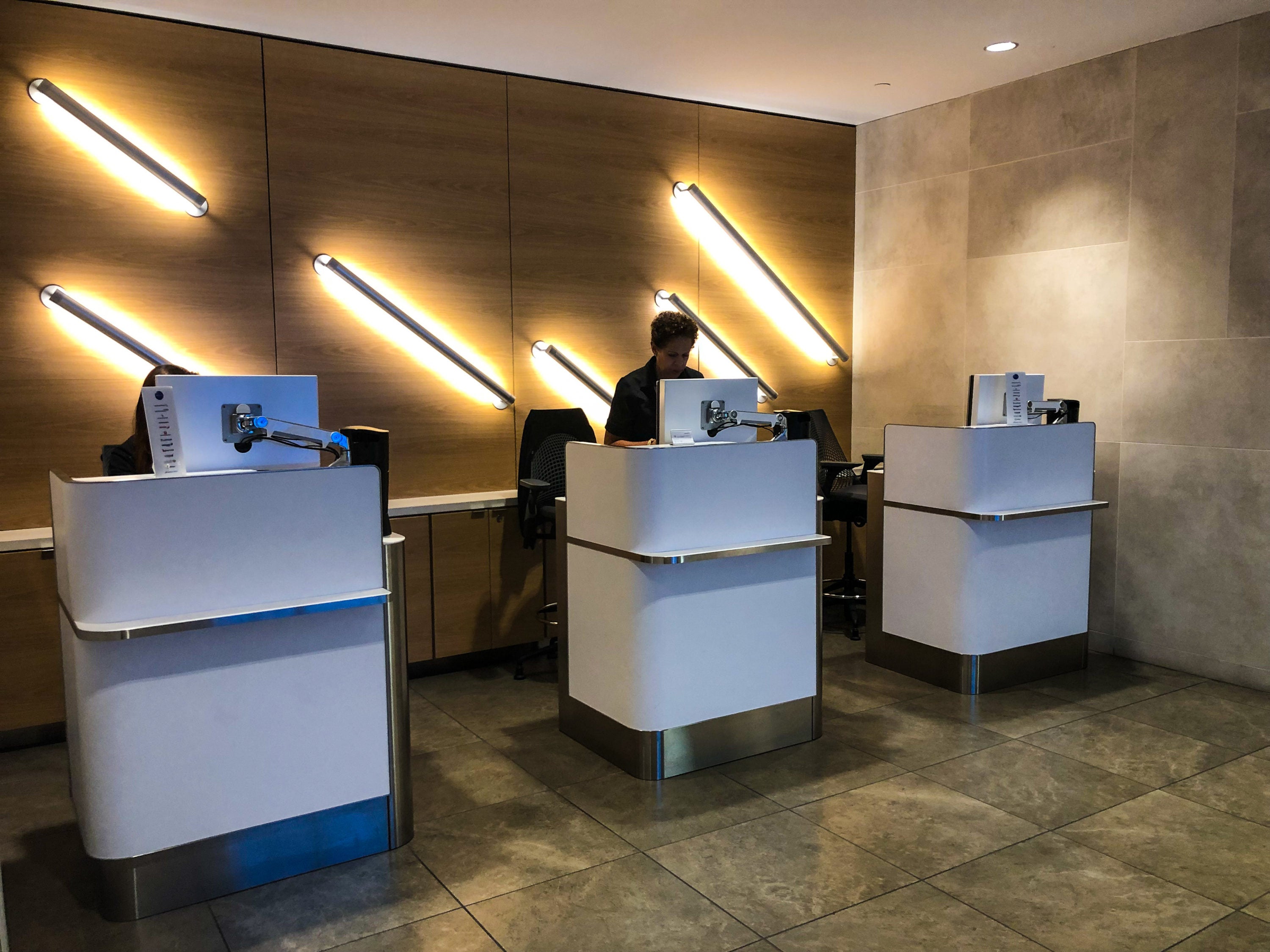 Design, Arrangement, and Seating
The first thing you'll see upon entering the lounge is an electronic flight display that shows both departure and arrivals.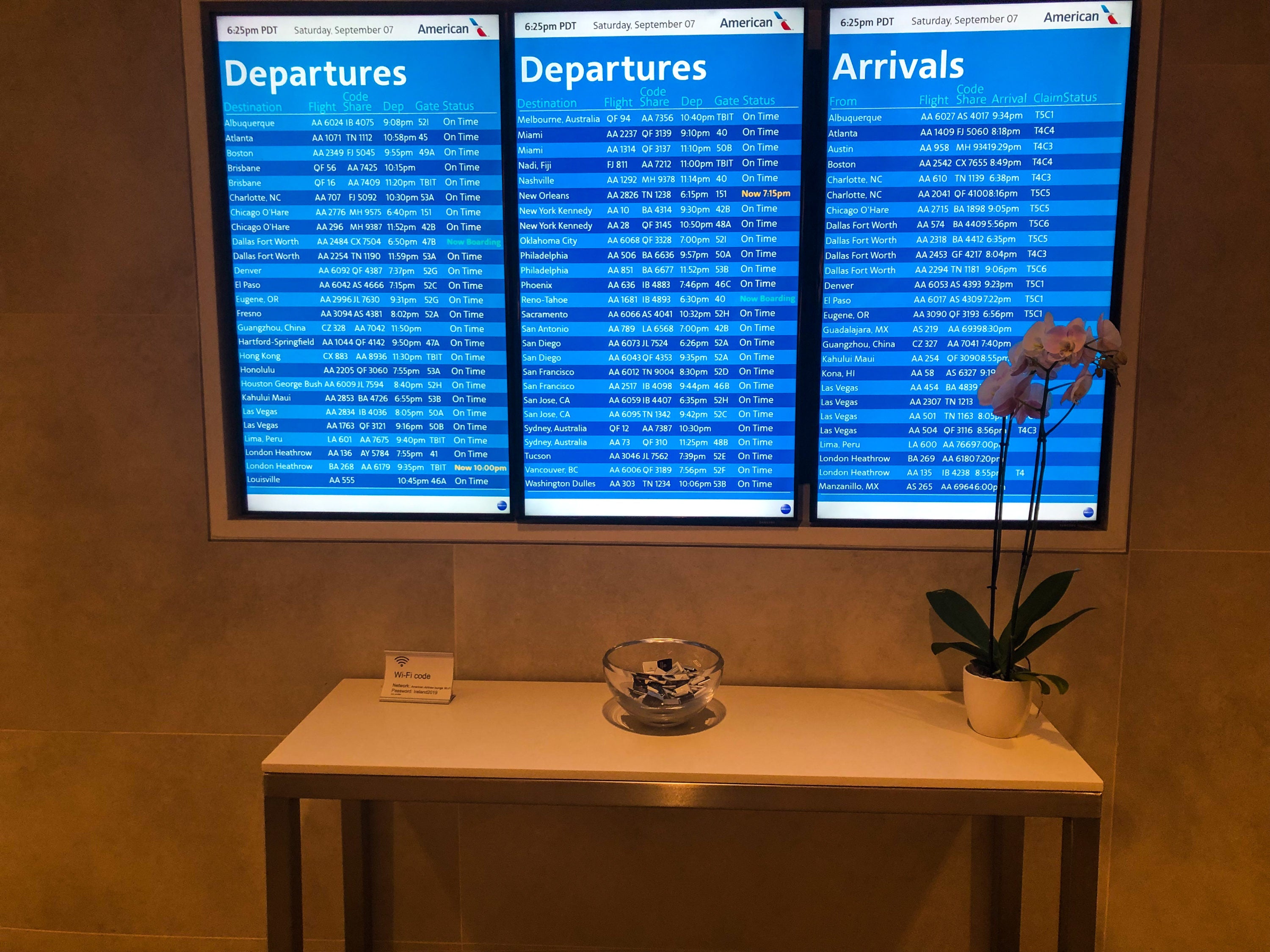 After that, you'll enter the first section, containing a small seating area with a large, arched window that overlooks the Terminal 4 walkway.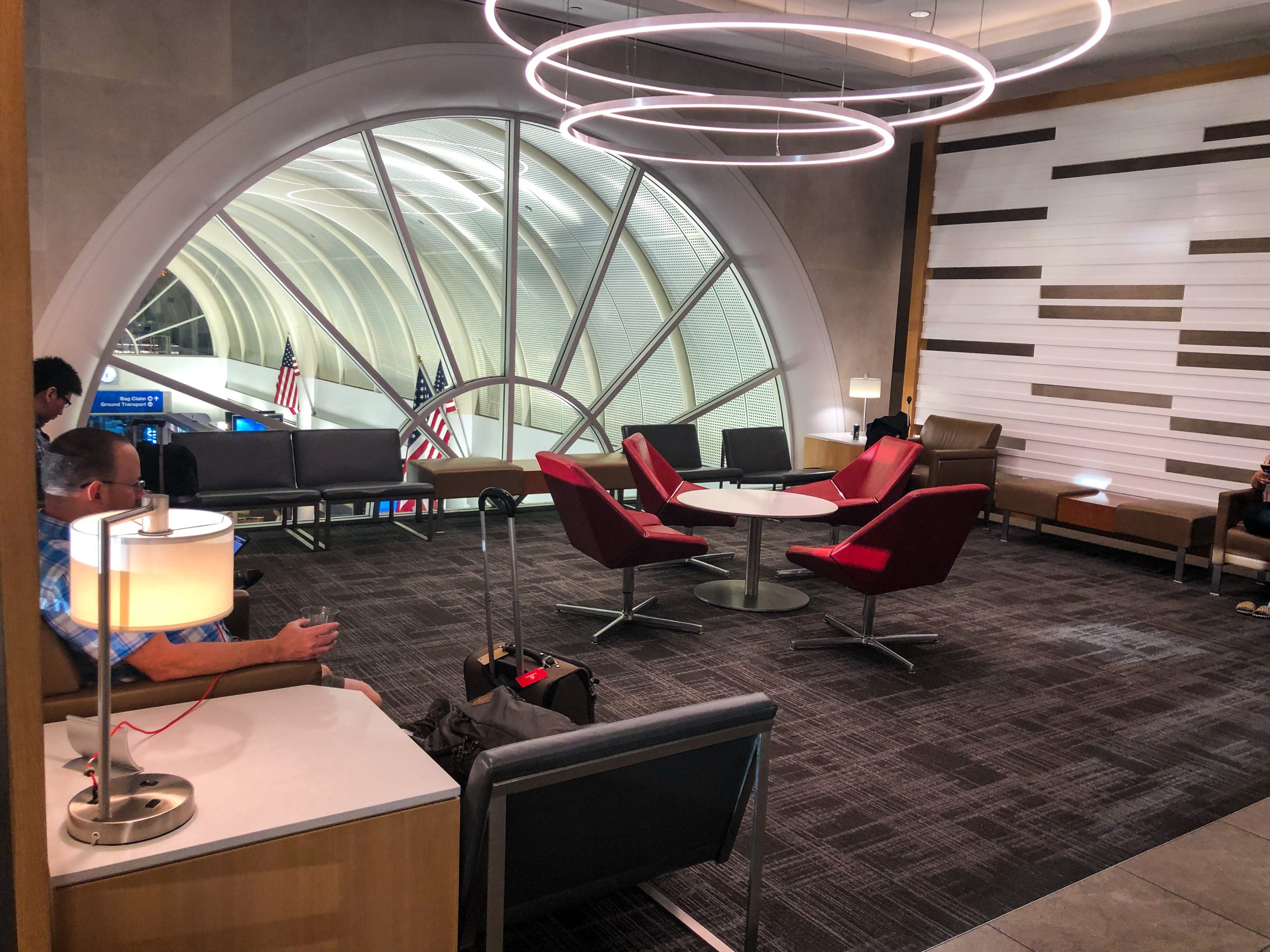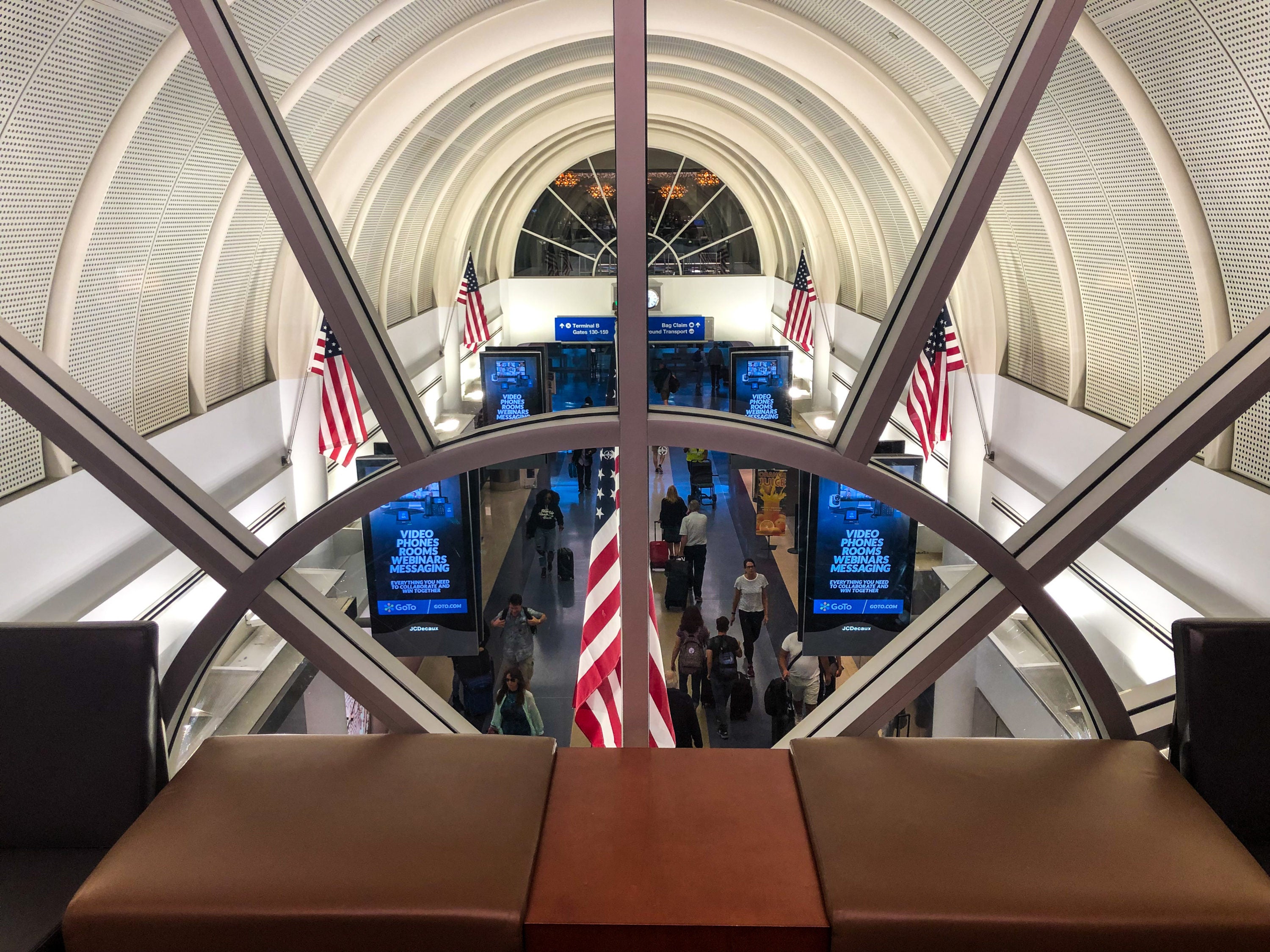 Proceeding further into the lounge, there's a television room/viewing area to watch sports. This area was directly to the left of the large arched window lounge.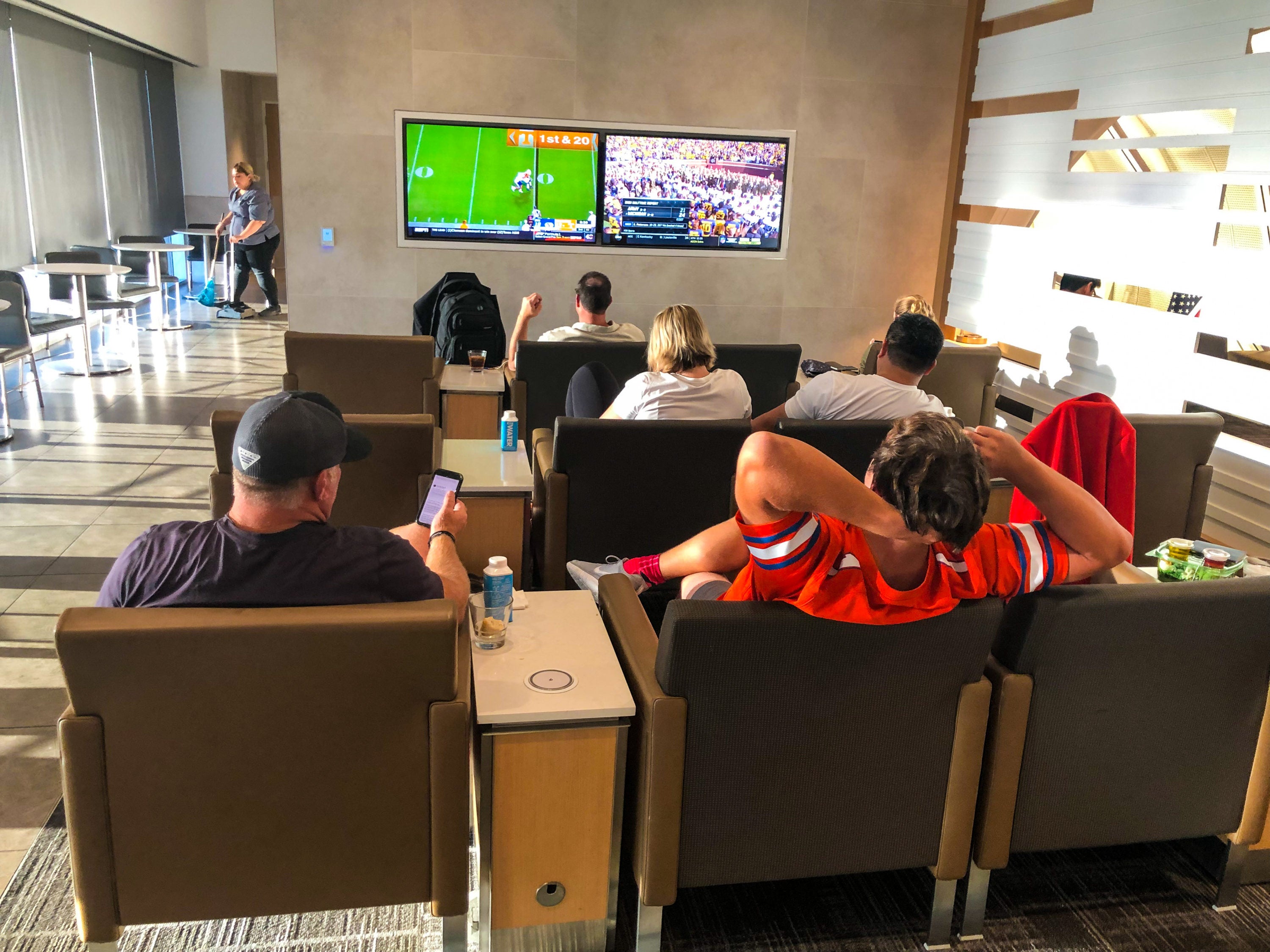 Proceeding further to the left, you'll find the main seating areas. The area consisted of numerous armchairs, tables, and dining chairs. The entire seating section is flanked by concave floor-to-ceiling windows inviting tons of natural light.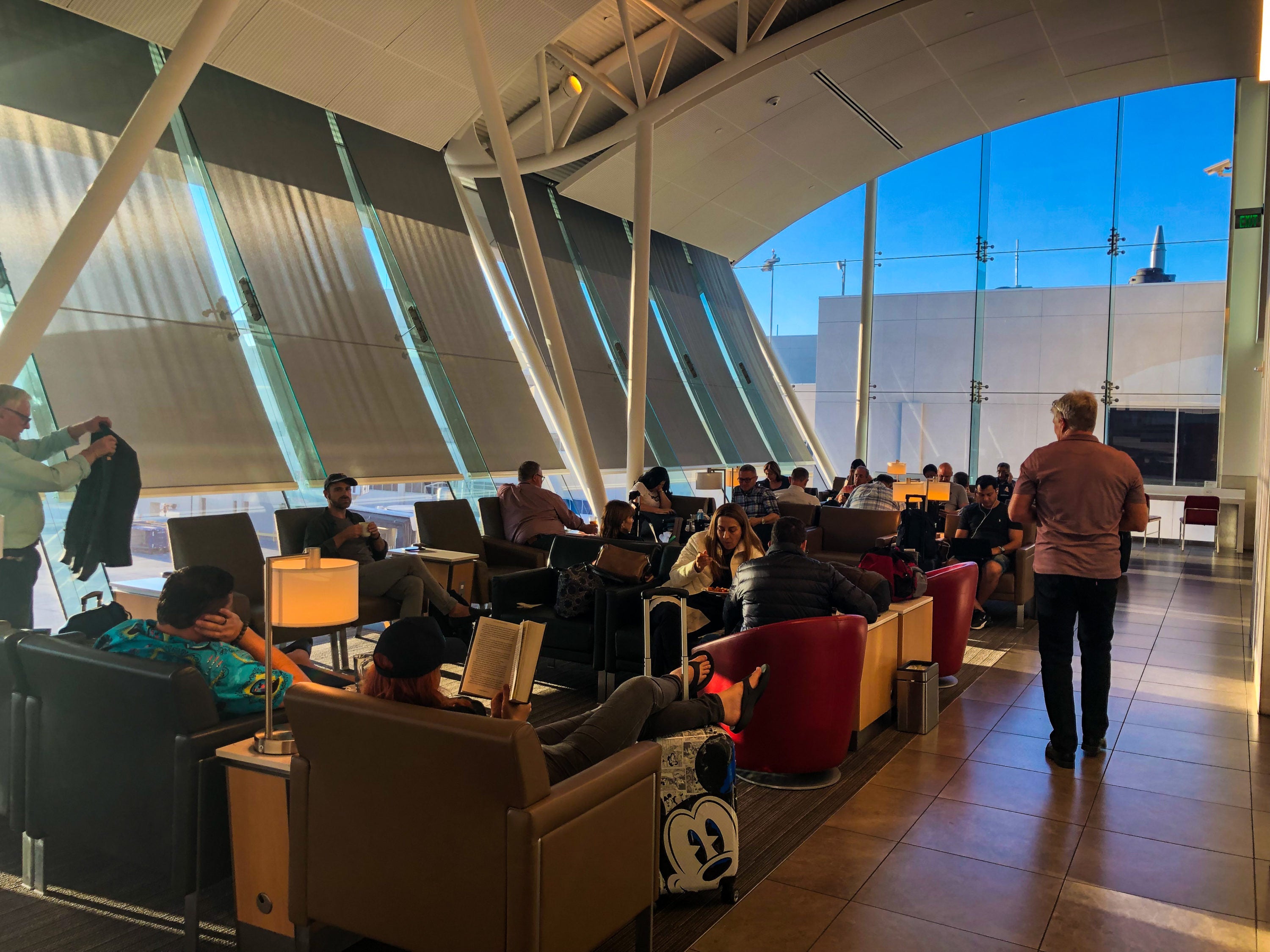 The shades were completely deployed since the sun was particularly warm and bright that day.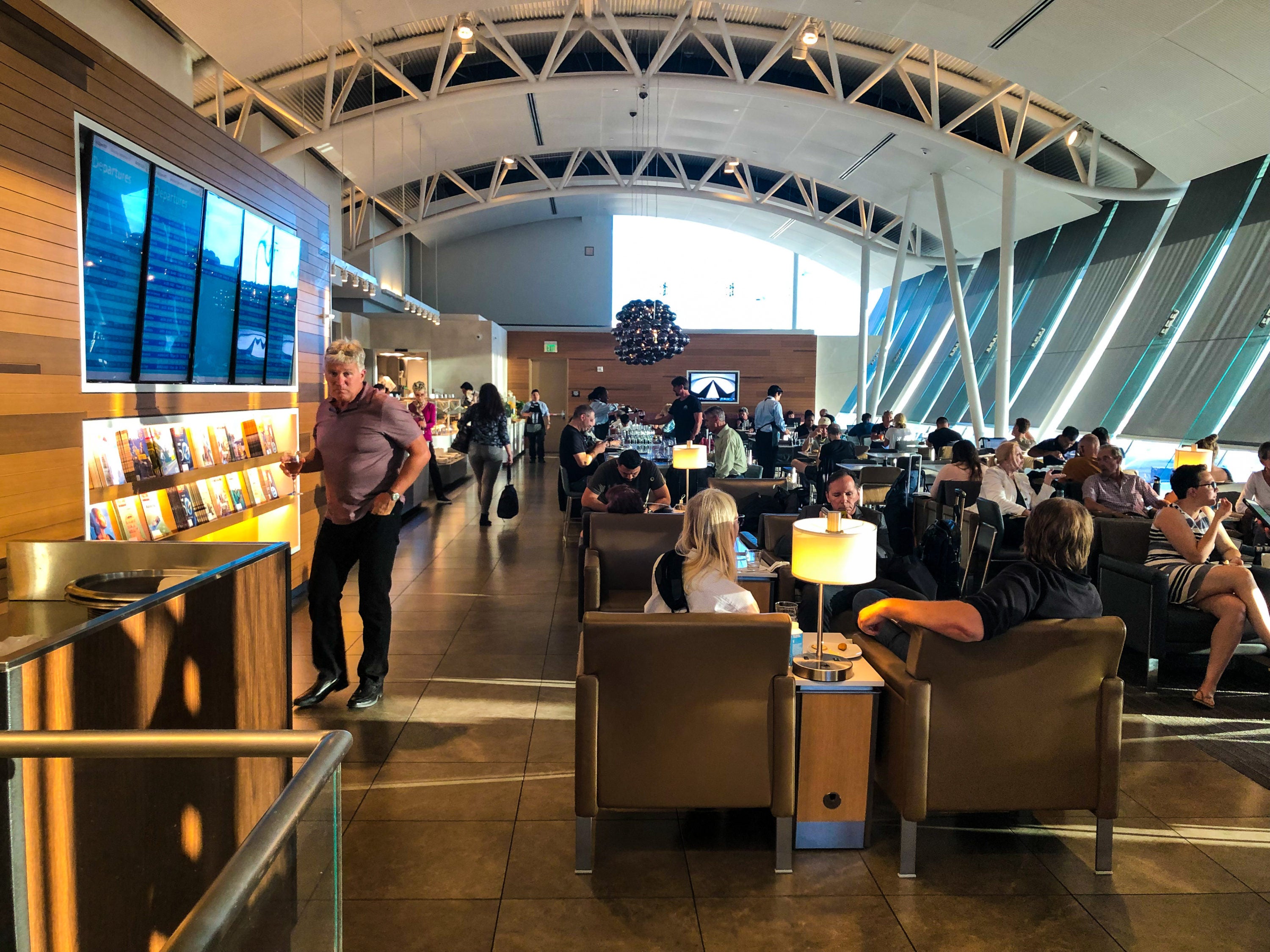 There was also a rich selection of literature to choose from.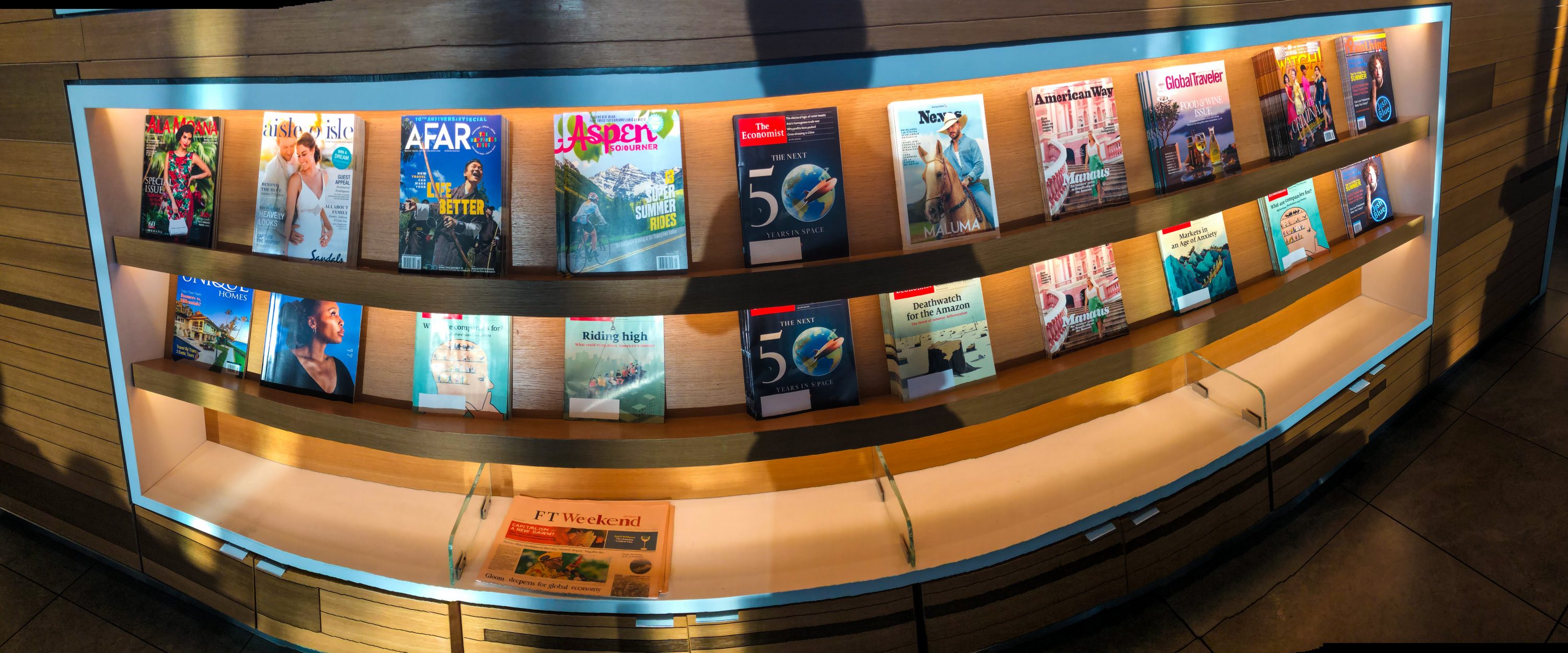 Bottom Line: The layout and design of the American Airlines Flagship Lounge are decidedly straightforward. With lots of natural light, views of the tarmac (when the shades aren't down), and high ceilings, the lounge feels very airy and open. Even so, the relatively generous lounge access policy makes it crowded very often. 
Food and Drink
The Flagship Lounge at LAX is replete with dining options. With so many choices to pick from, the lounge has one of the most well-rounded food and beverage offerings out there.
Principally, there are 4 food and beverage choices. These are the:
Self-serve food/buffet area
Grilled cheese bar
Self-serve cocktail bar
Premium wine table
Self-Serve Food Area
The self-serve food area comprises the majority of the dining options in the Flagship Lounge. Situated adjacent to the main seating area, the self-serve food/buffet area is within arm's reach of travelers.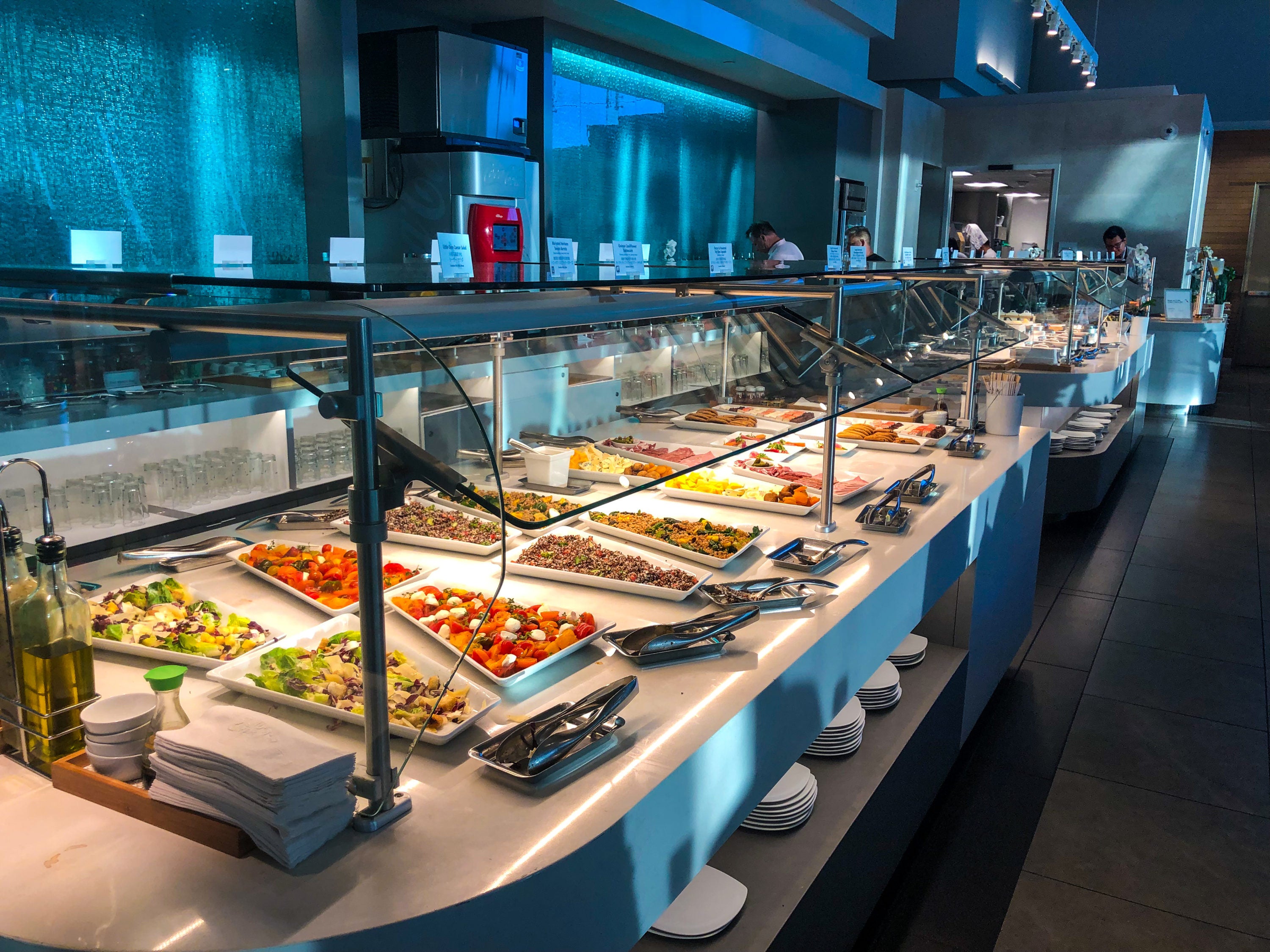 First up, there were several cold food options, ranging from quinoa cauliflower tabbouleh to little gem Caesar salad to even a burrata and heirloom tomato mix.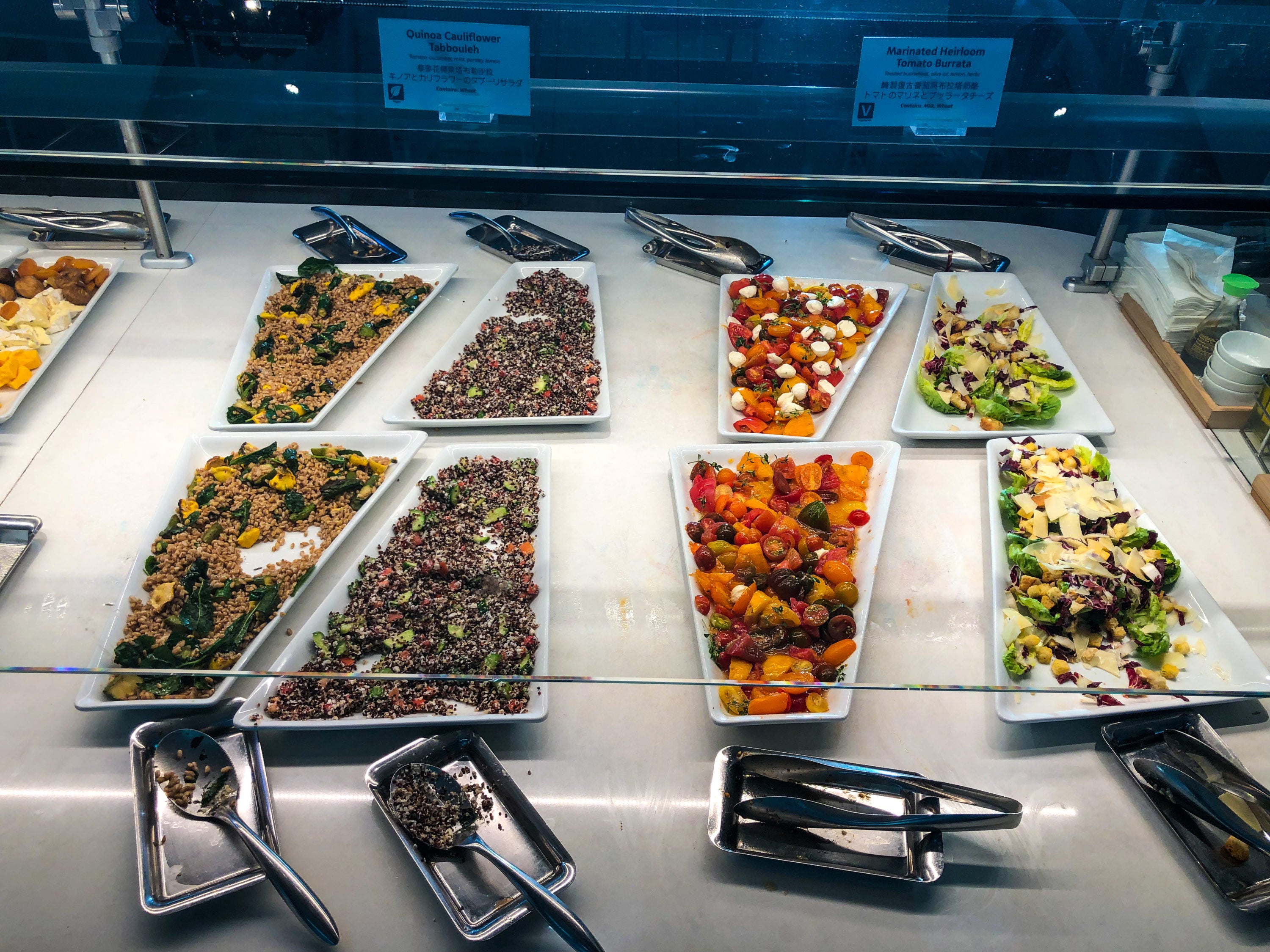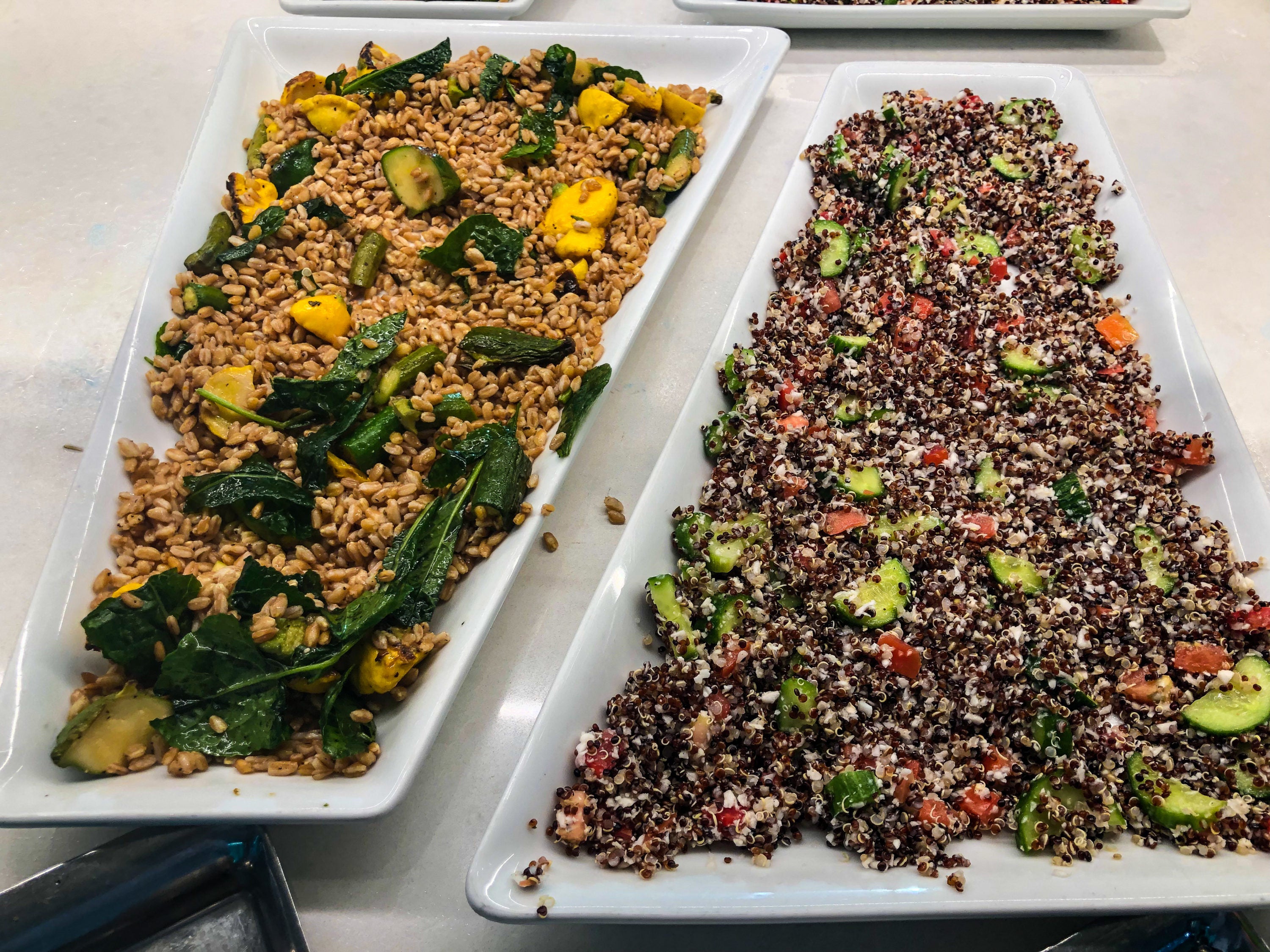 The marinated heirloom tomato burrata was excellent, boasting a cool refreshing taste from the tomatoes and intense savory flavors from the Italian burrata.
Further down the counter, there were a variety of cold cuts and accompanying cheese choices.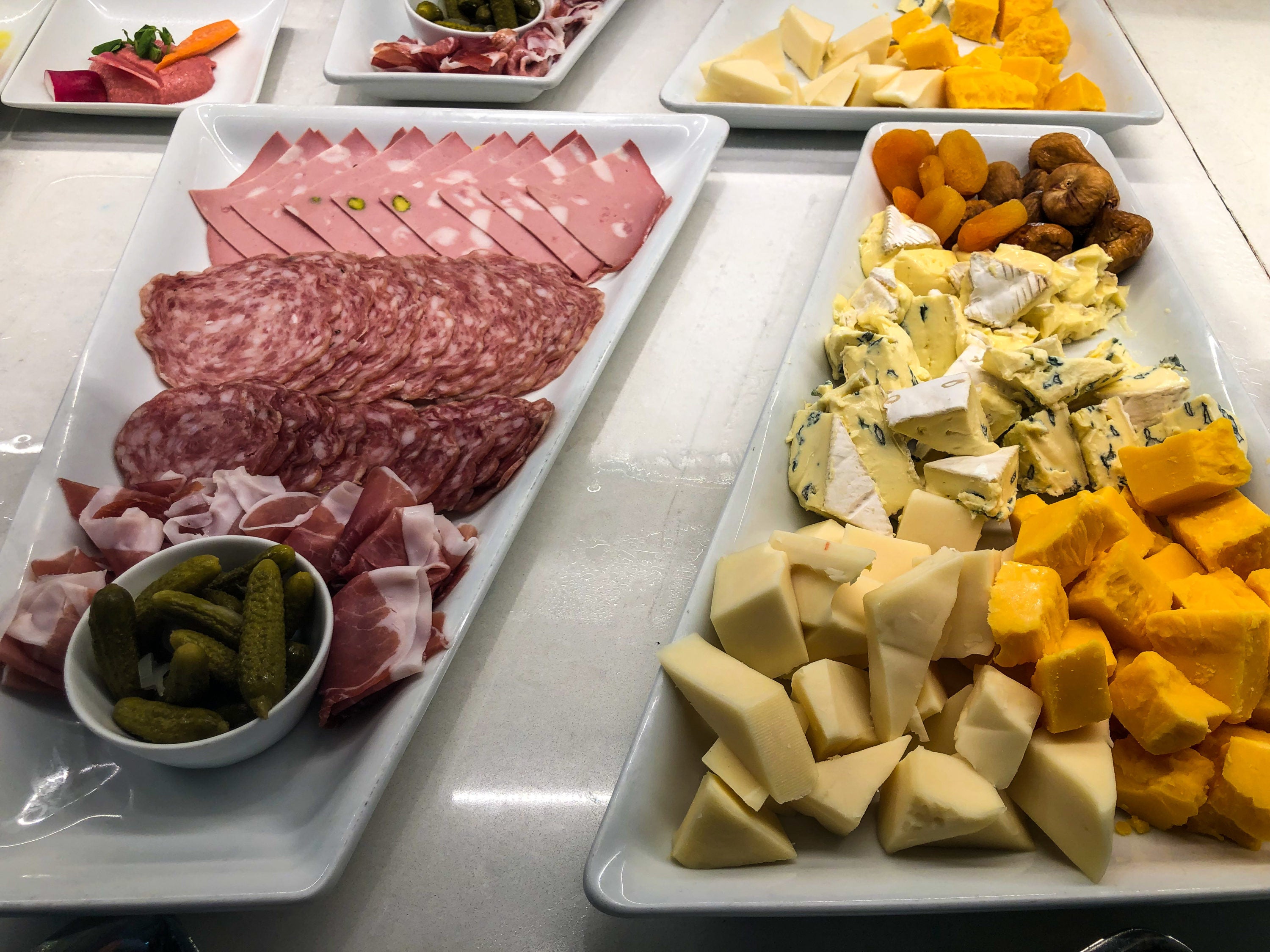 Along with the charcuterie and cheeses, you could also see an organized display of cookies and Petit Fours.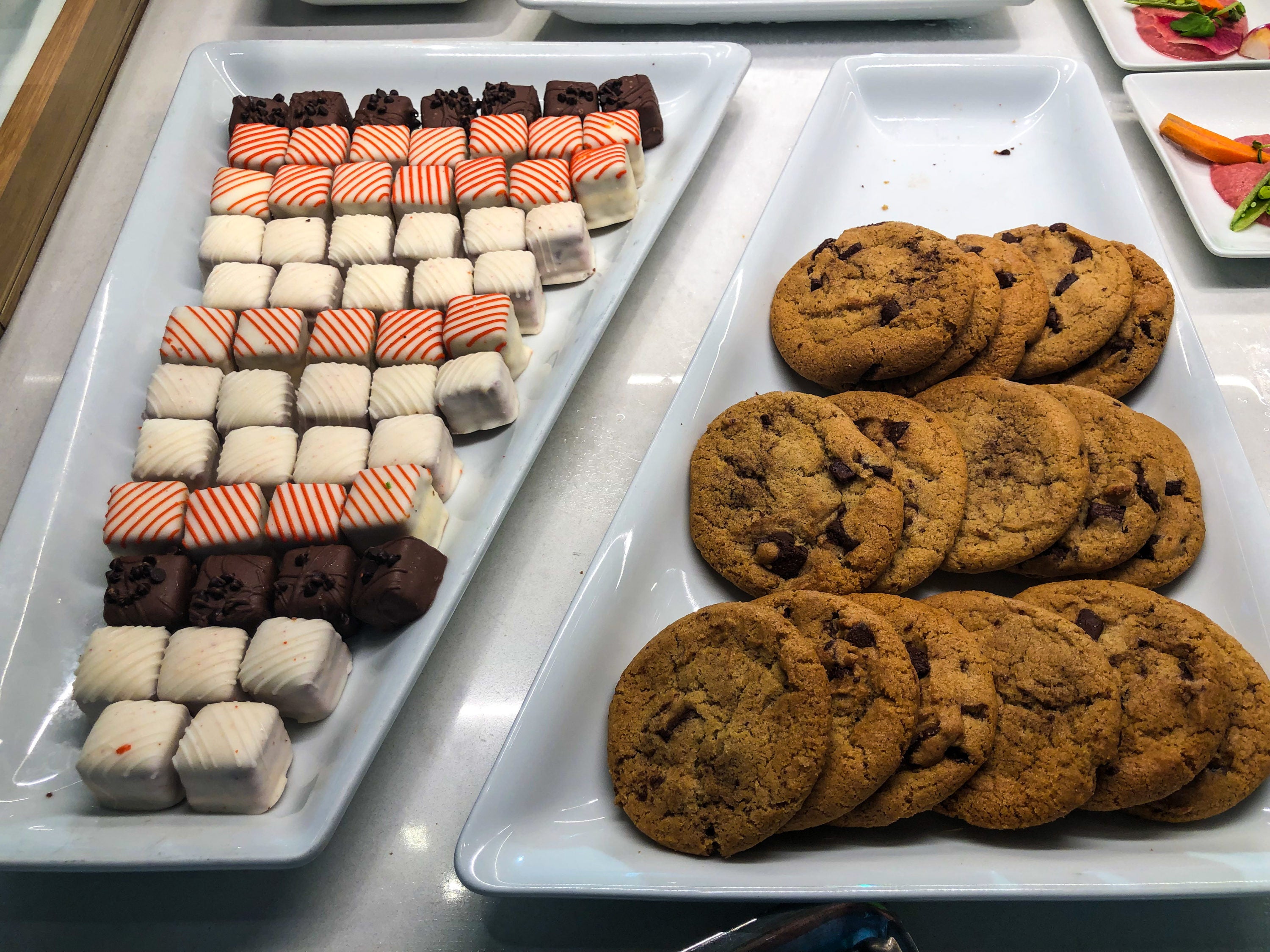 The main courses were placed after the desserts, appetizers, and salads. The variety of hot food choices impressed me. On the bottom left was roasted sumac chicken.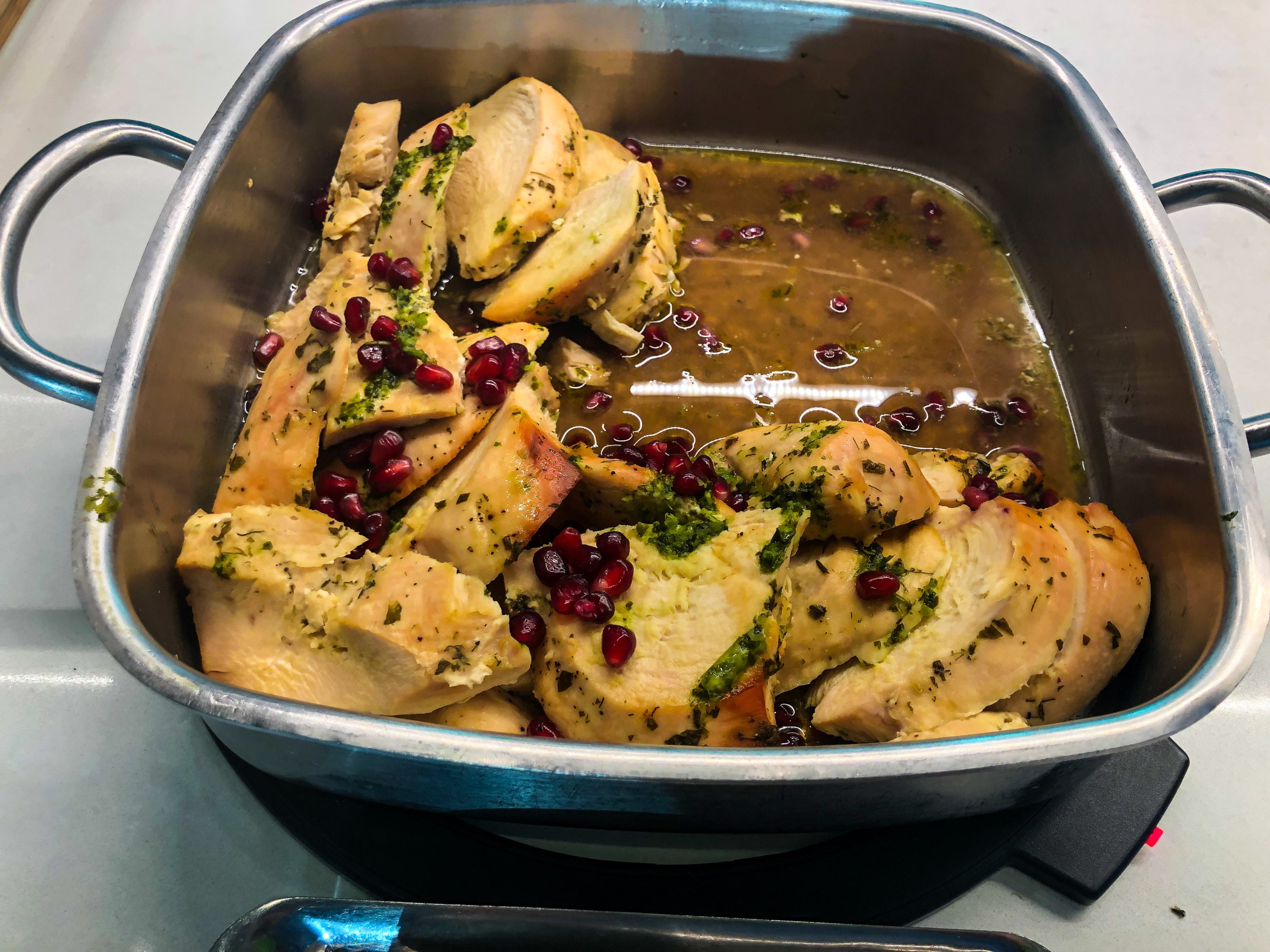 Following that was the cilantro pesto Mahi Mahi fish tacos, which were tropical and bright.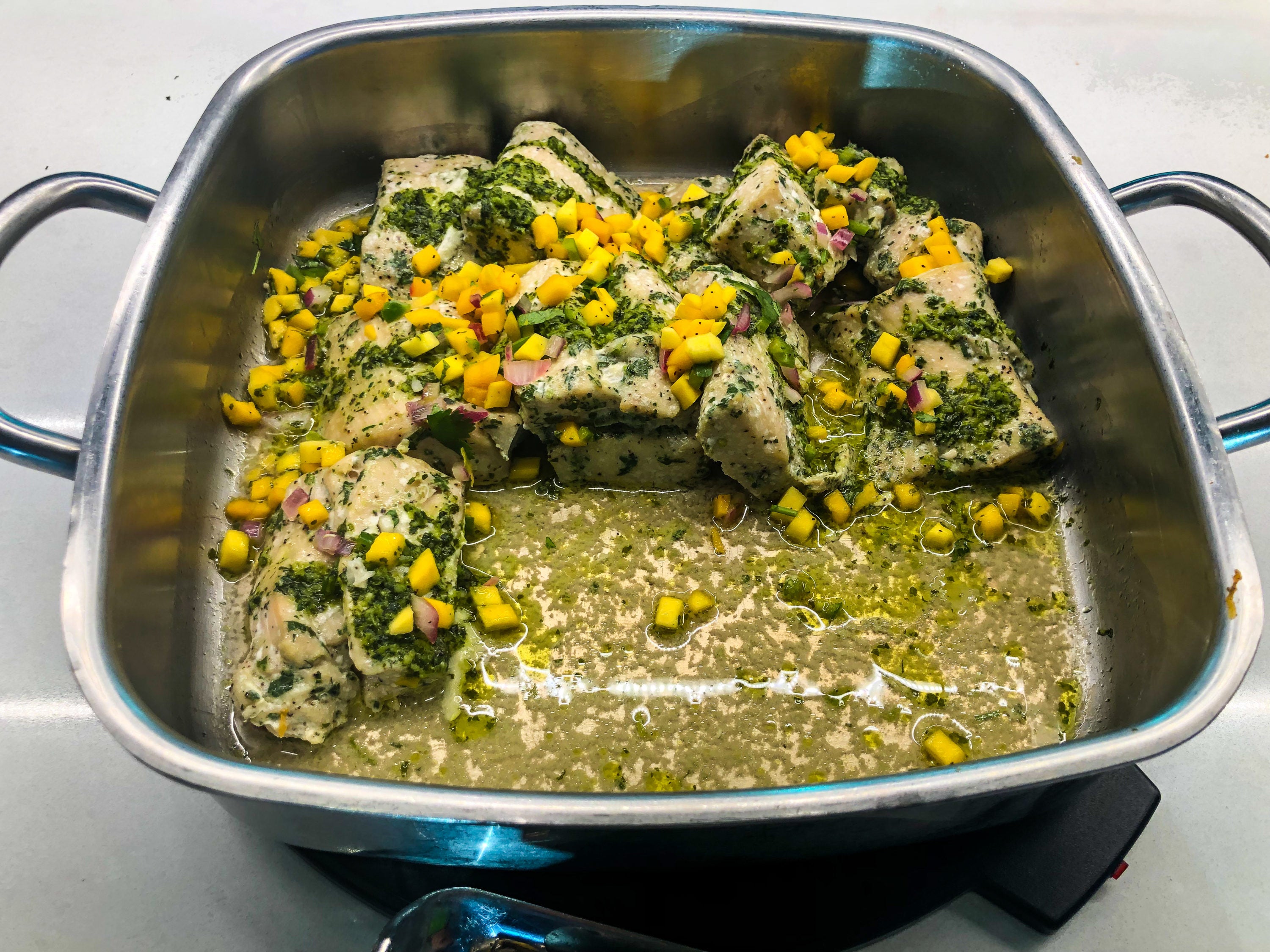 Also, the Mexican street corn looked delicious, too.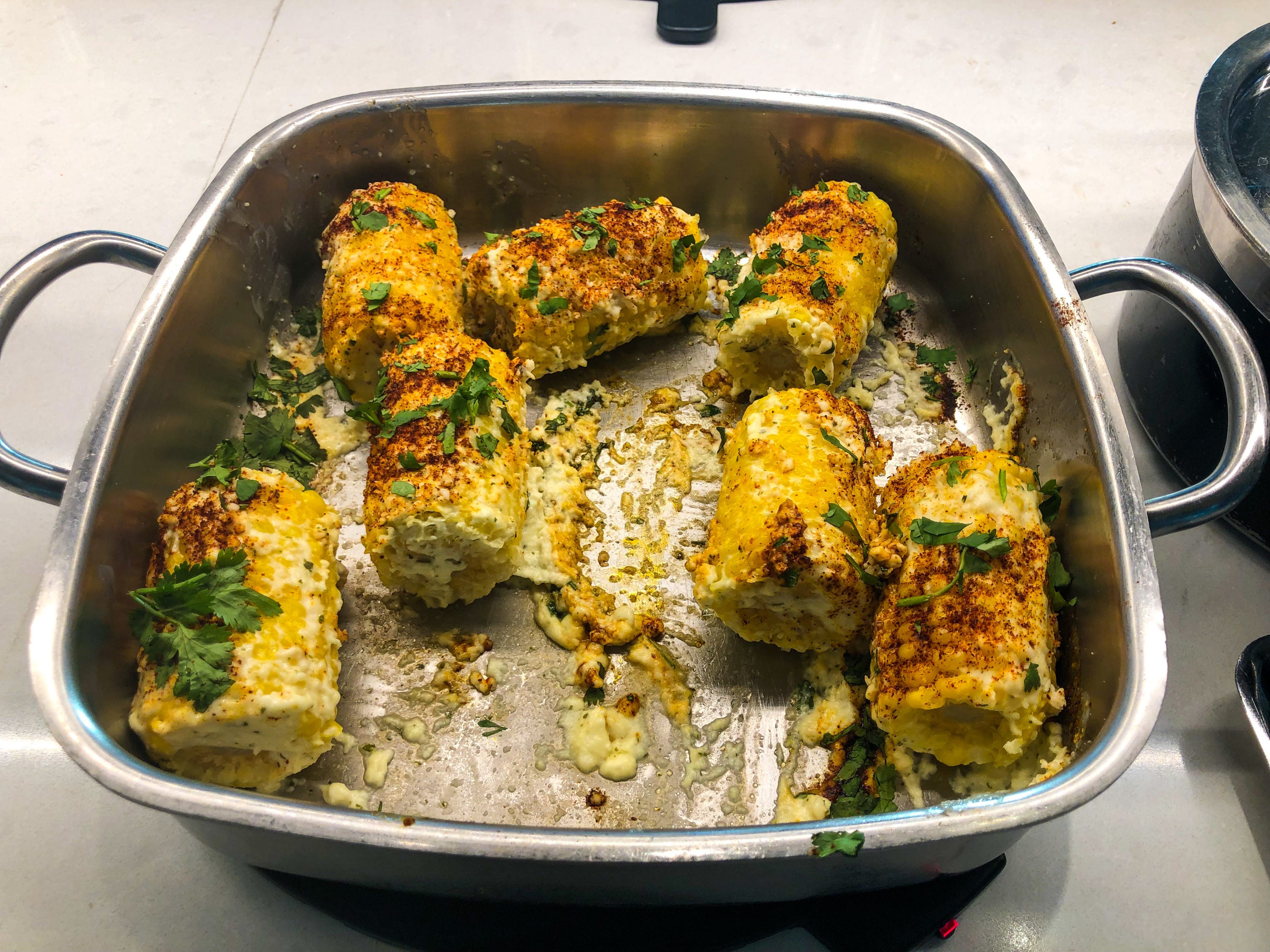 For carbs, you could choose between Santa Fe rice, roasted potatoes, and harissa-spiced chickpeas.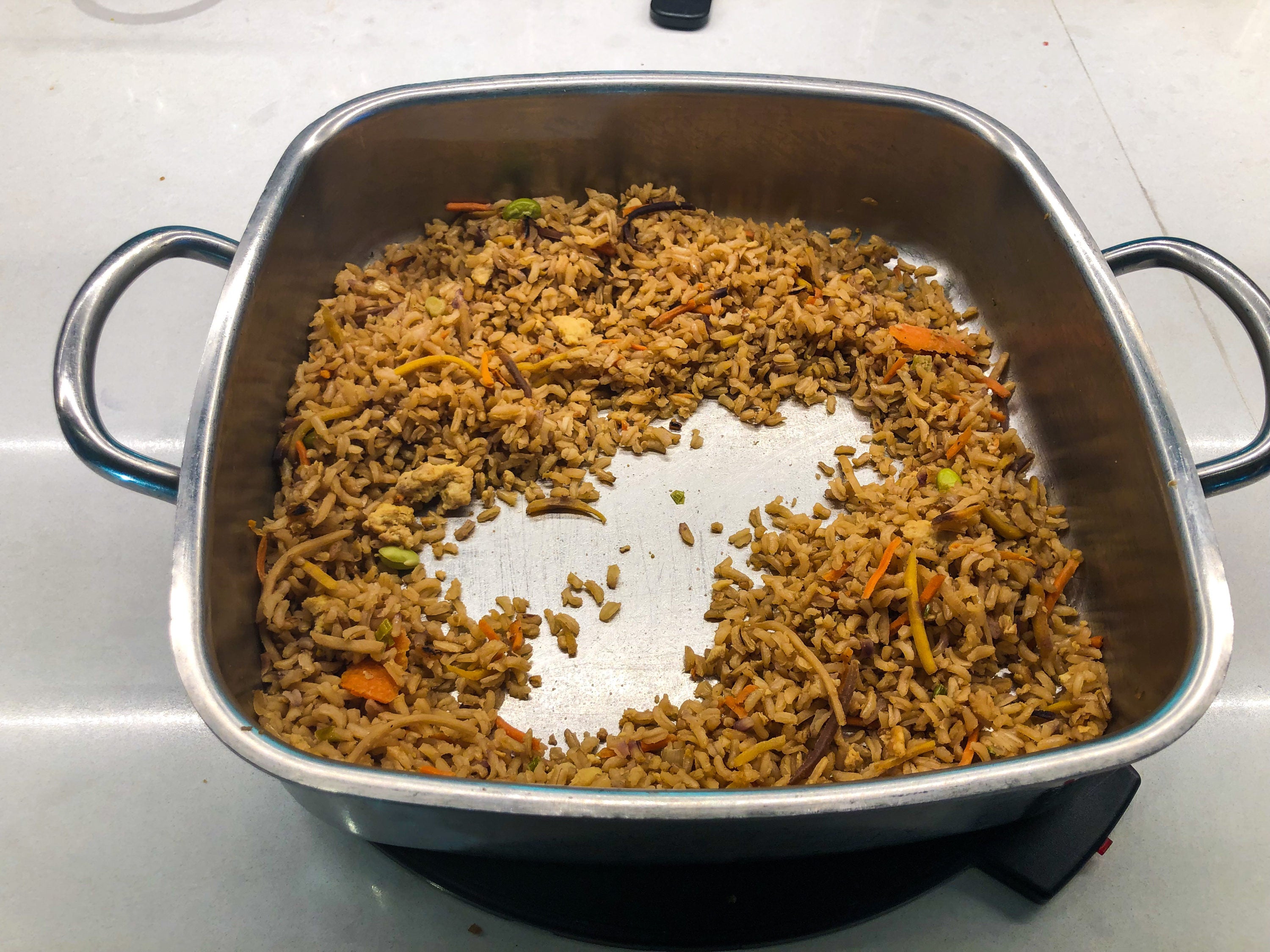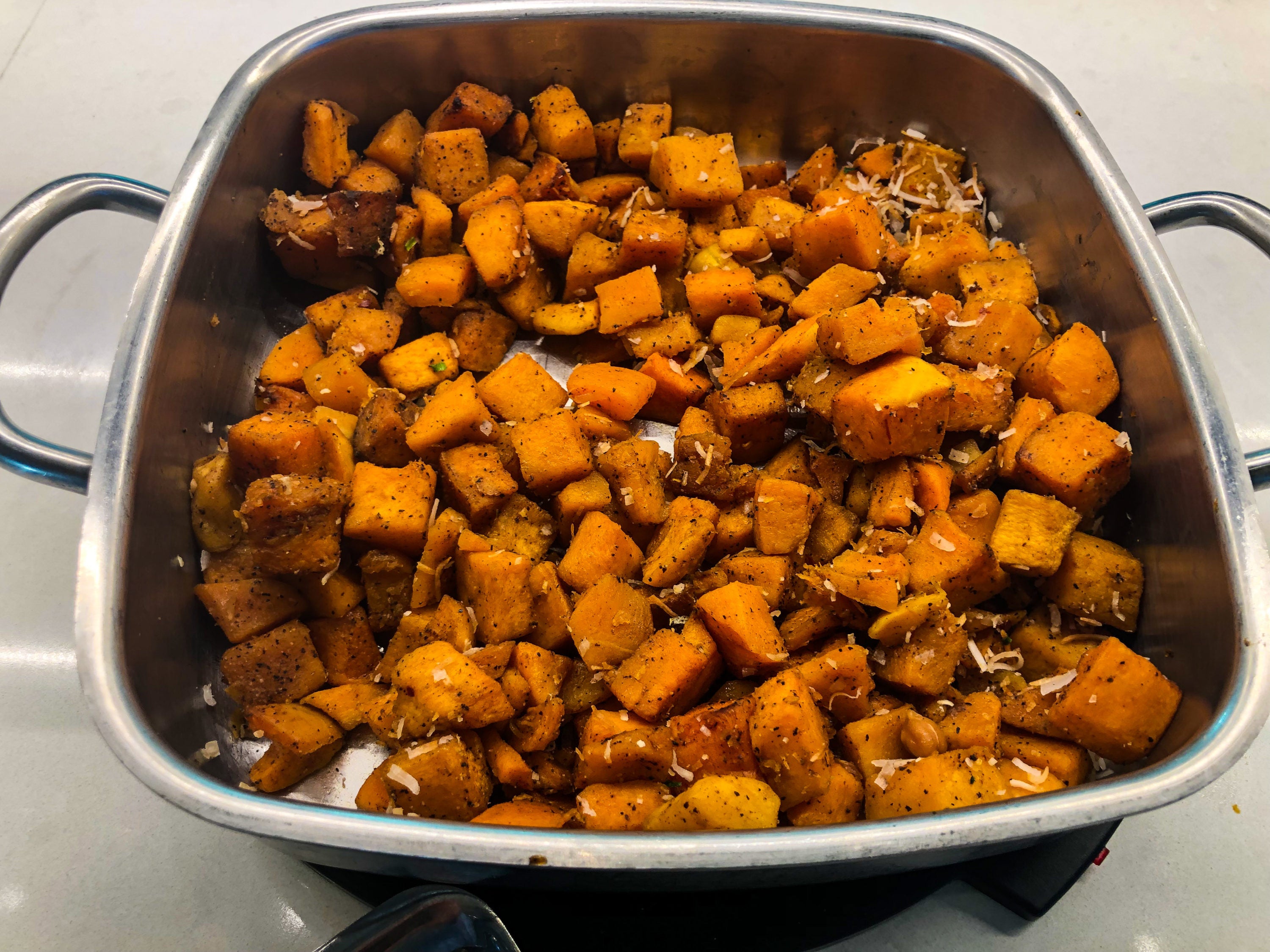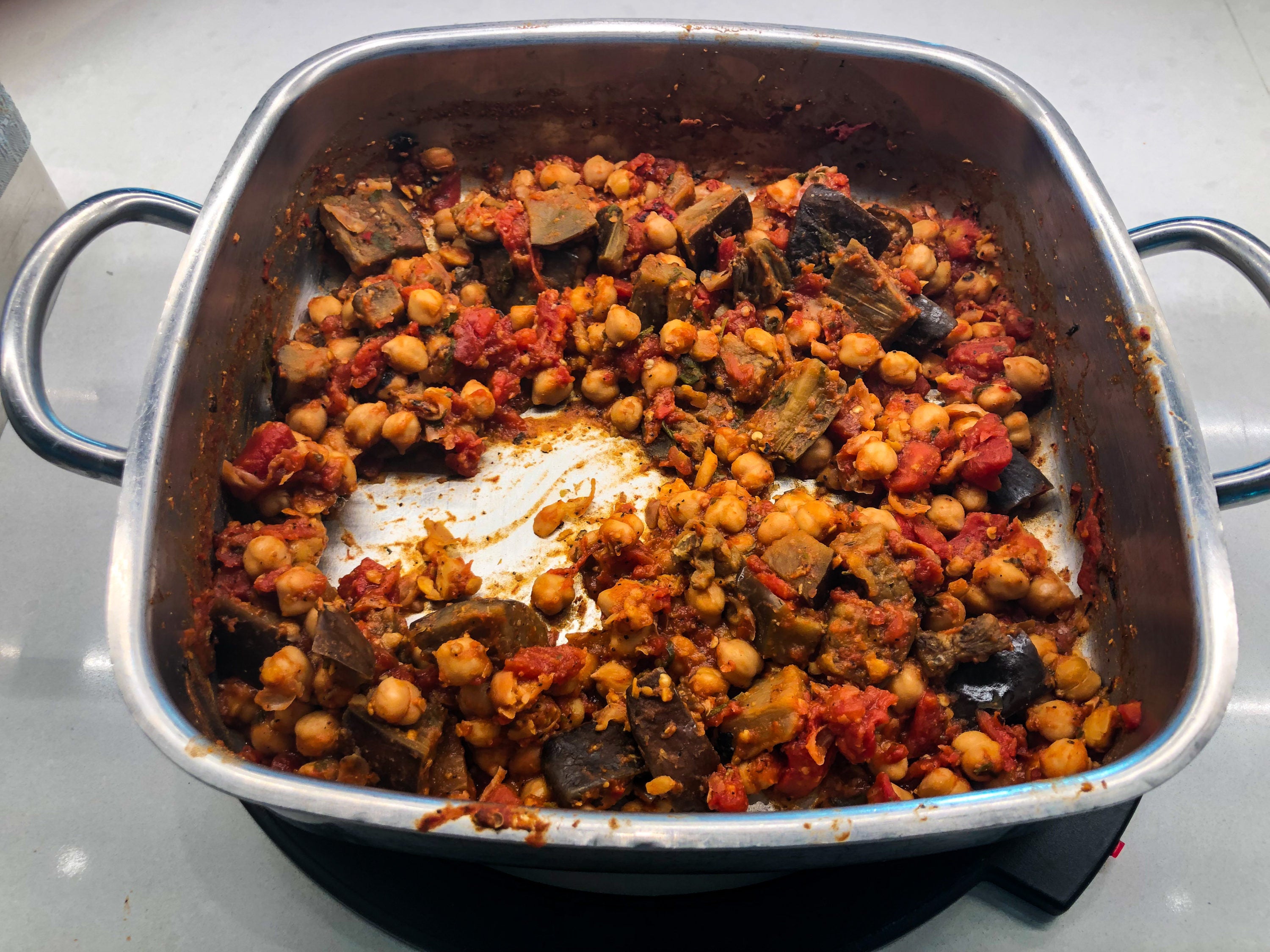 In addition, the Flagship Lounge offers individual containers of condiments, such as Heinz Tomato Ketchup or Dickinson's Dijon Mustard.
There was 1 Franke espresso machine, capable of making cappuccinos, hot tea, hot chocolate, mochas, and much more.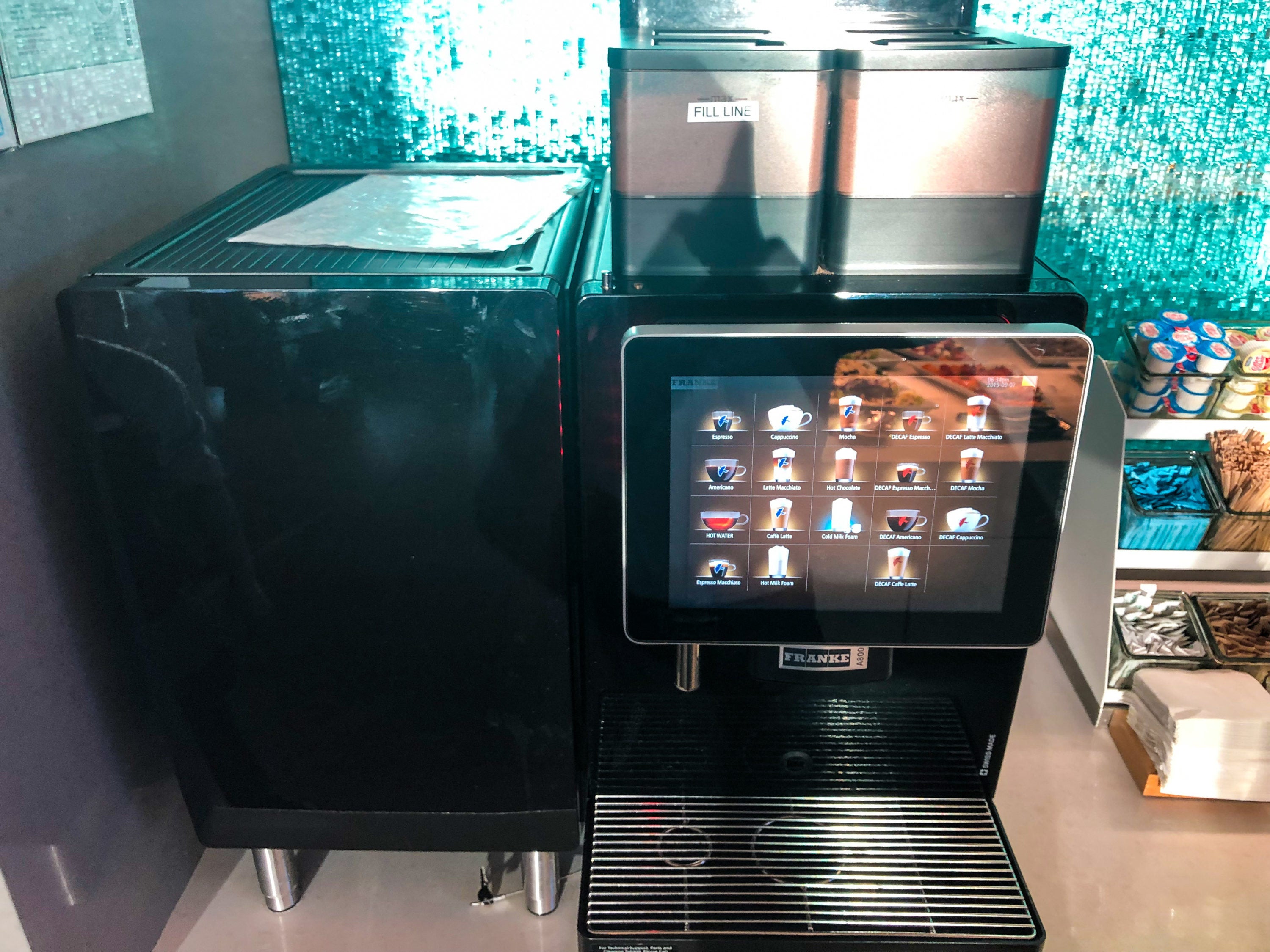 There's also a coffee dispenser filled with La Colombe coffee, a popular specialty coffee brand.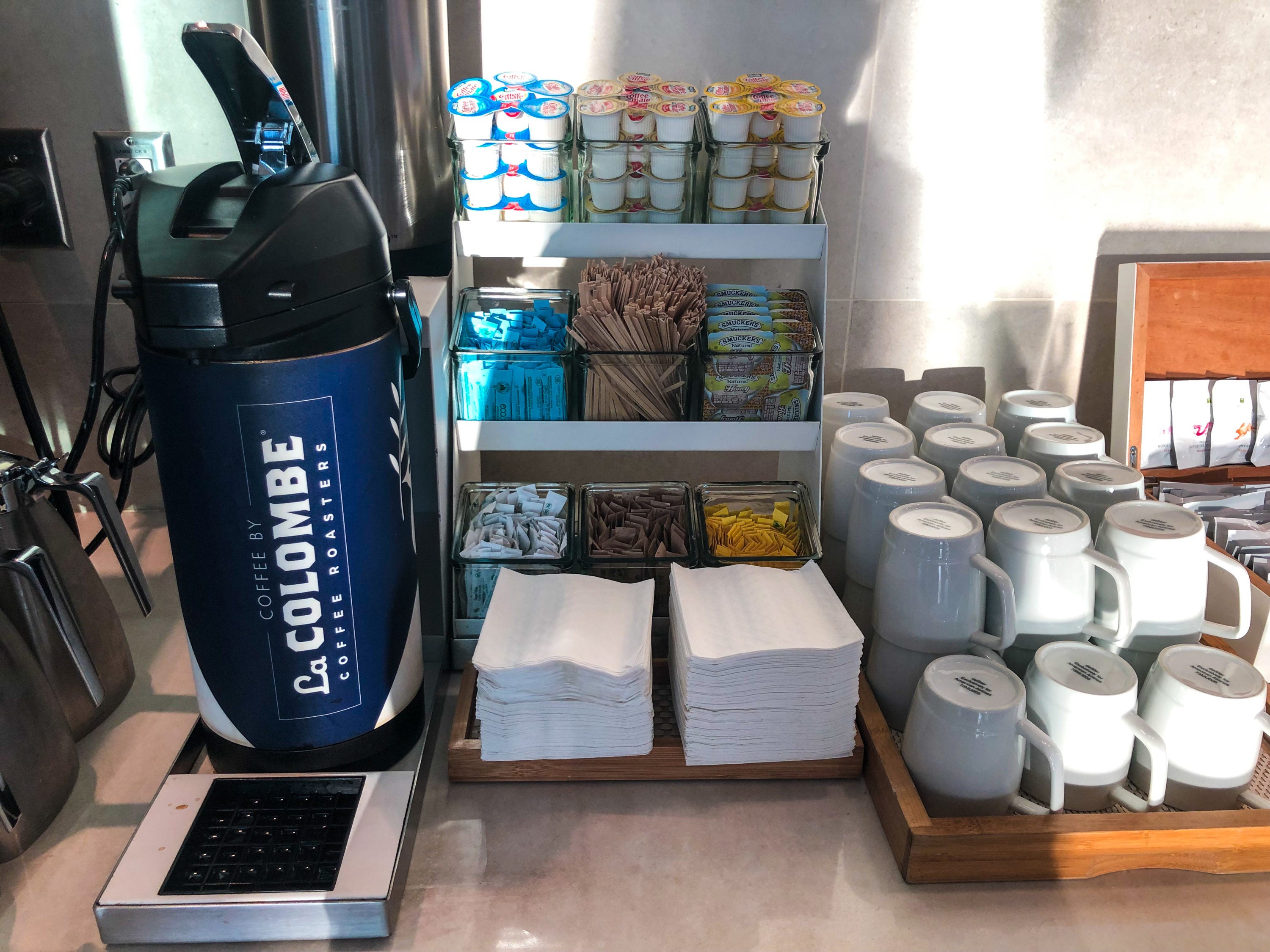 If coffee is too strong, TEALEAVES Tea is also on offer here. TEALEAVES is a fantastic company offering the highest quality artisanal teas, most known for being offered in luxury hotels and Michelin-starred restaurants.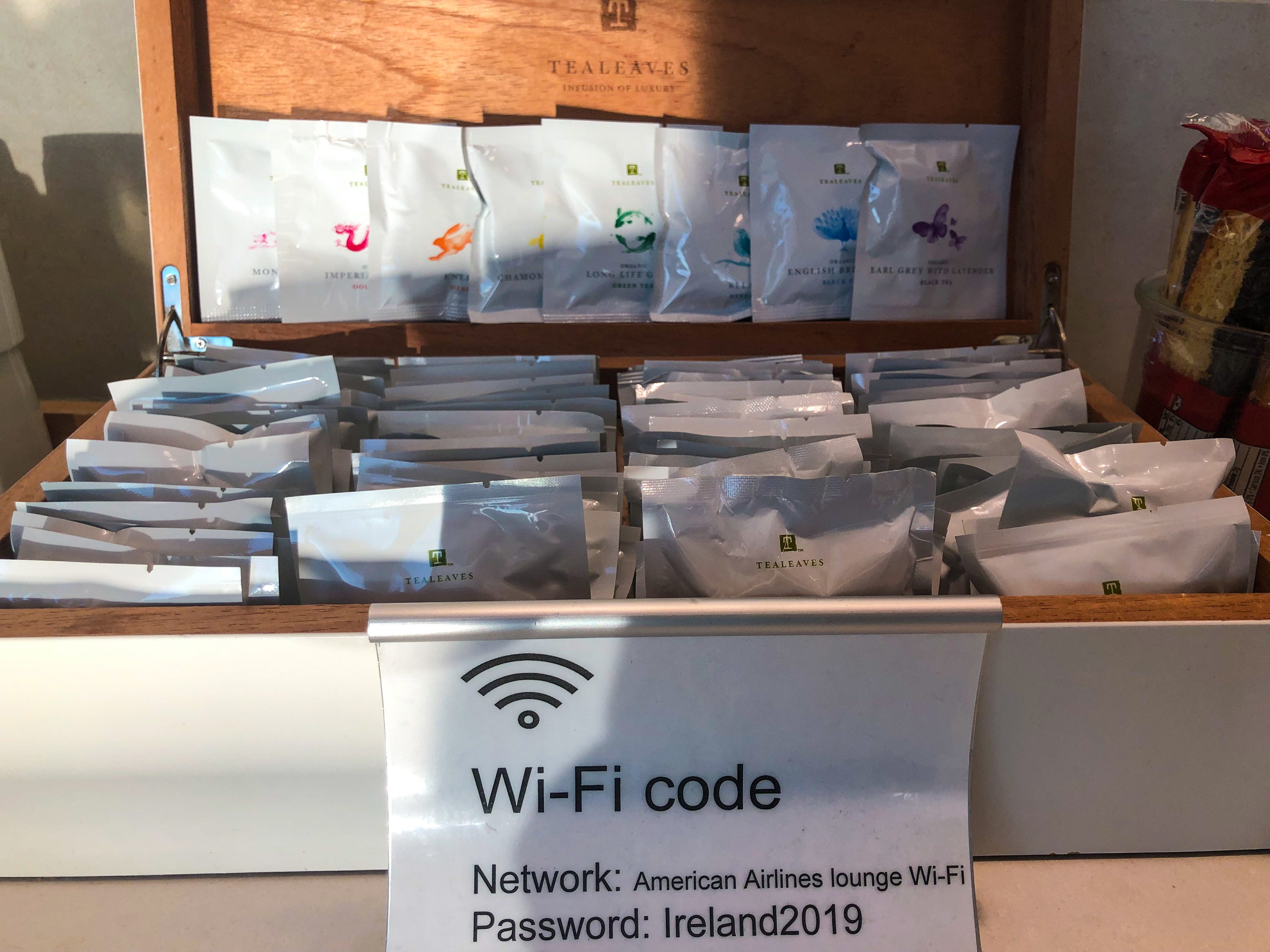 American Airlines also offers iced tea and fruit-infused waters.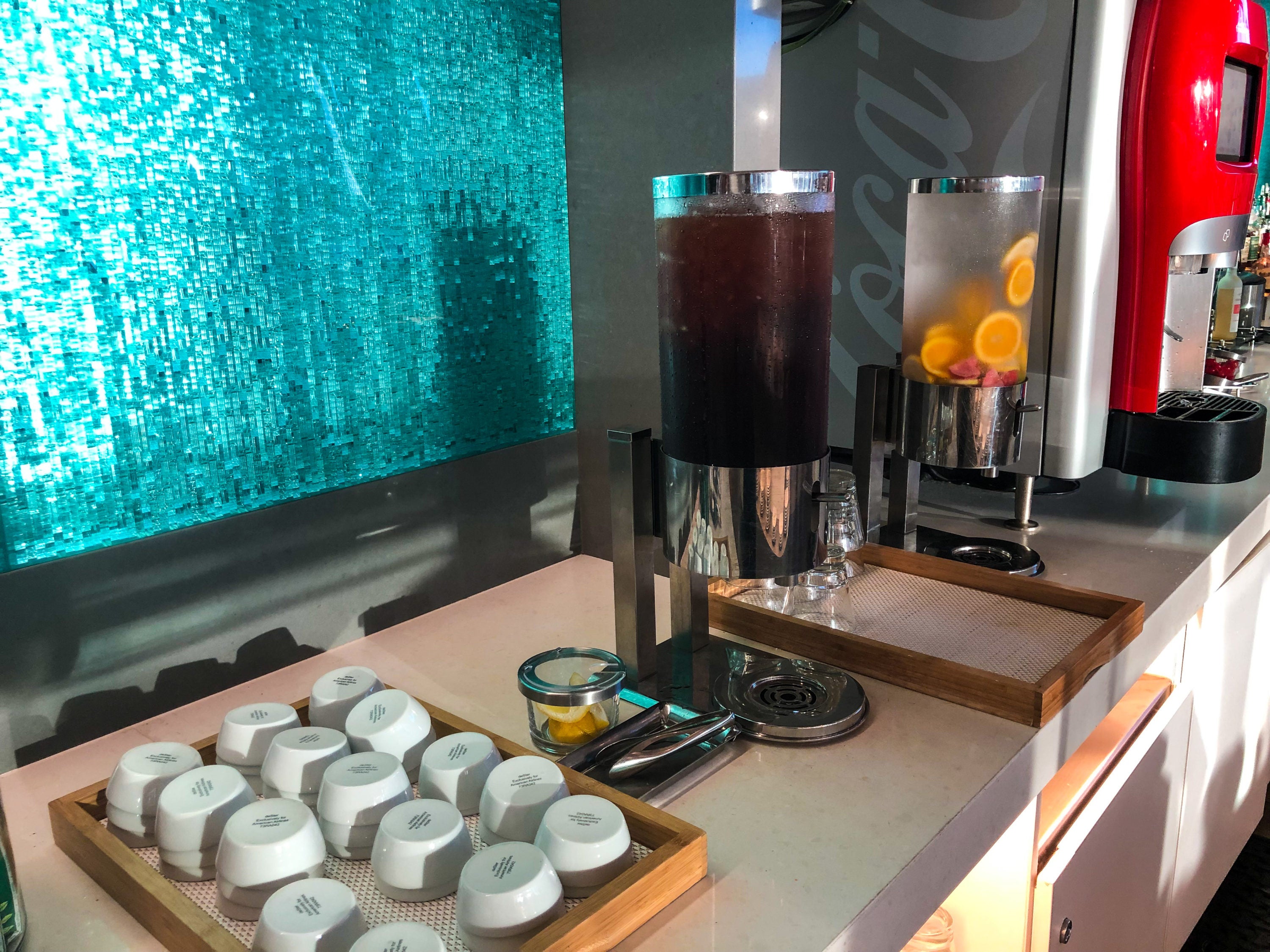 There's a large Coca-Cola Freestyle machine, as well. The machine offers Coca-Cola products, including Vitaminwater, Dr. Pepper, and Minute Maid.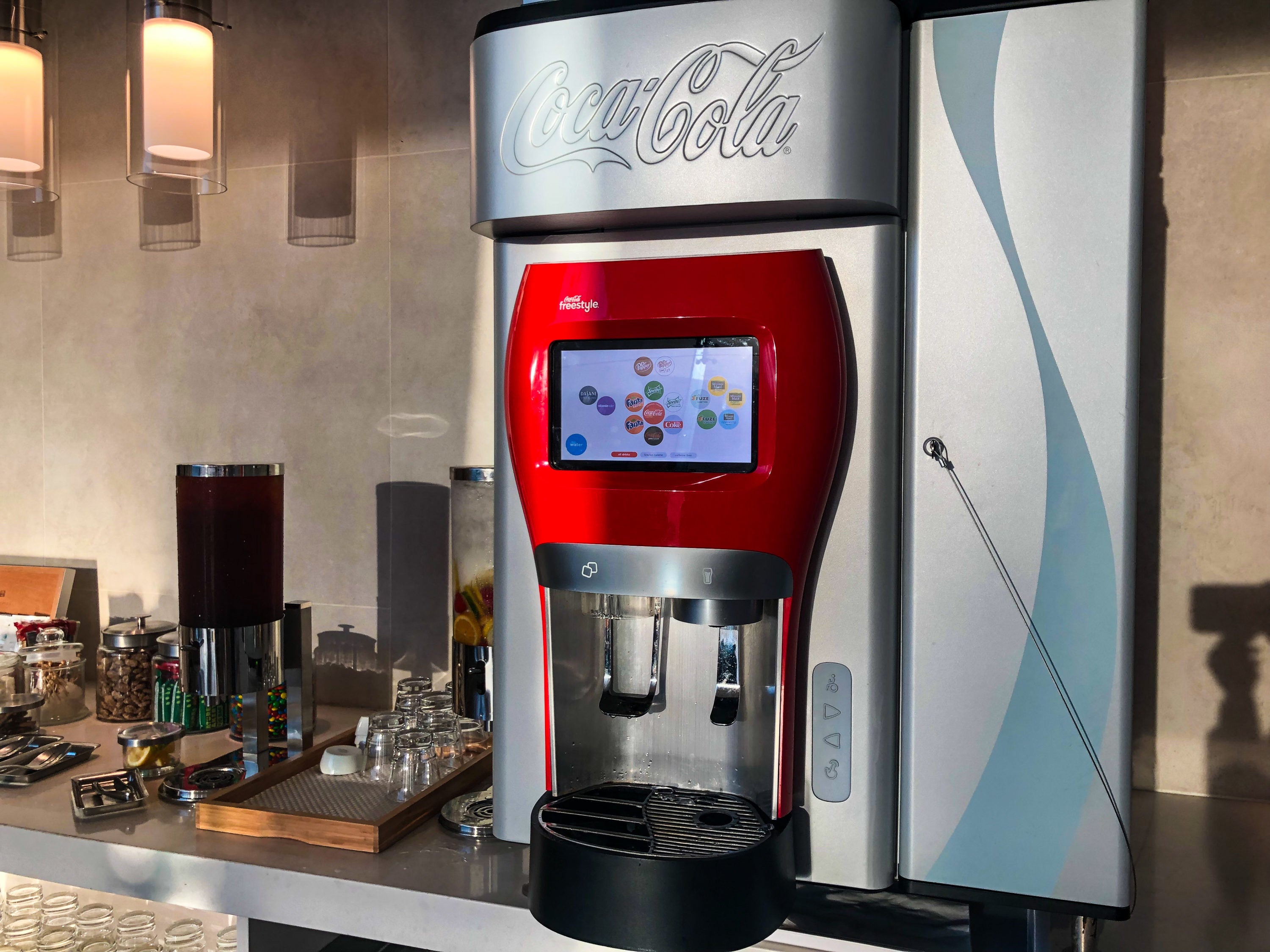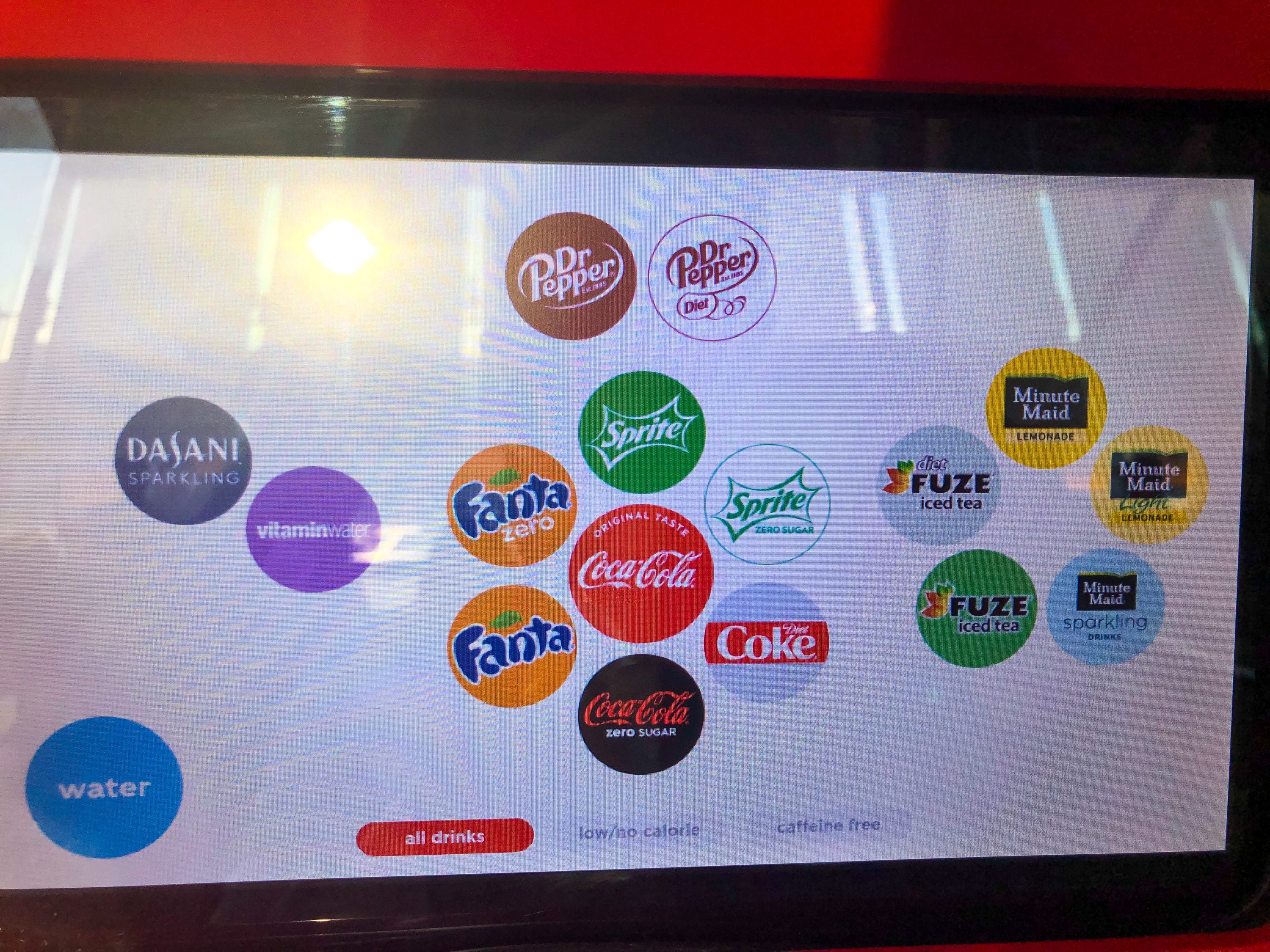 For bottled/canned options that you can take on the go, choose from a huge variety of products. The soft drinks are separated from alcoholic beverages, which is an appreciated gesture.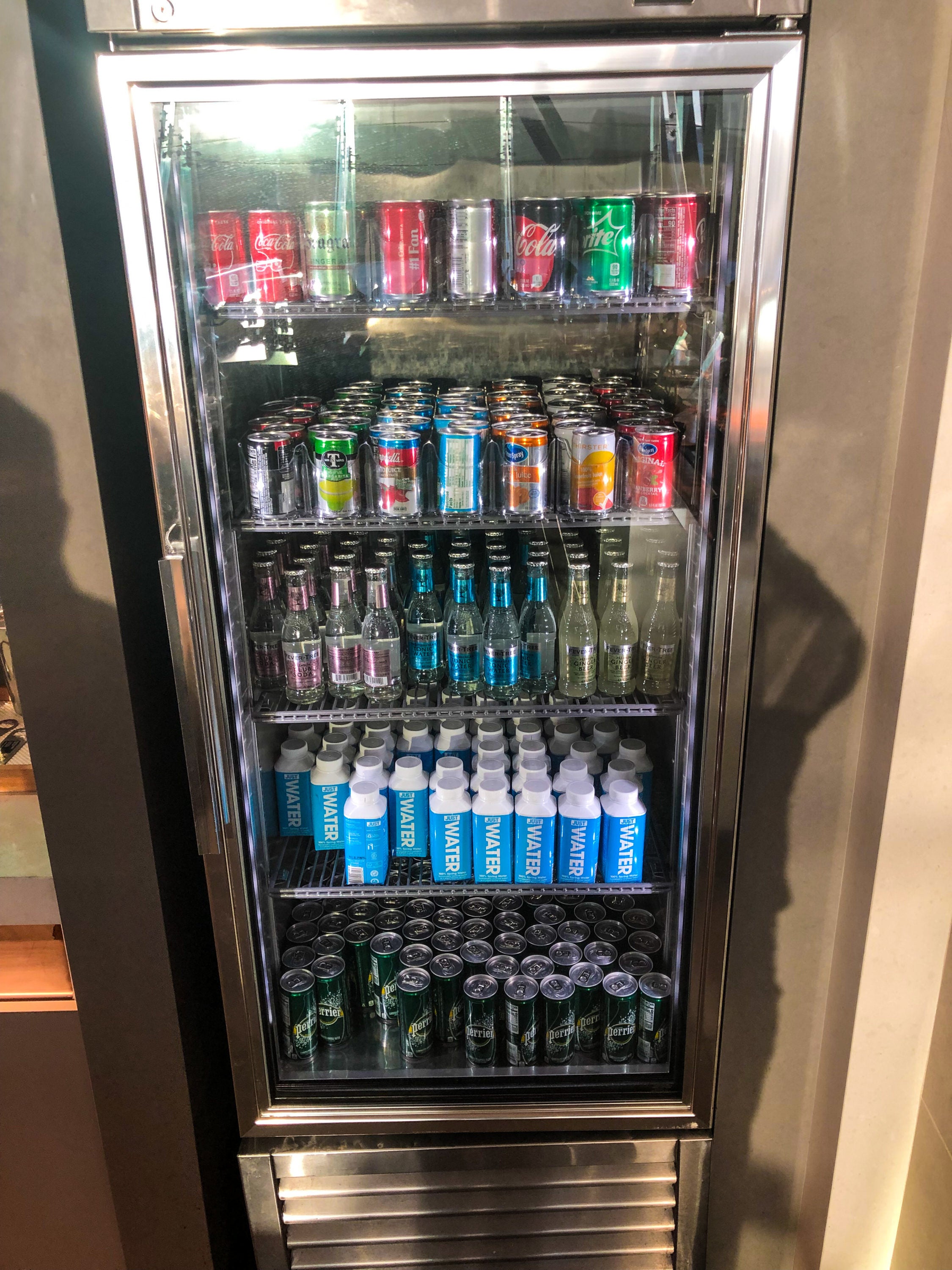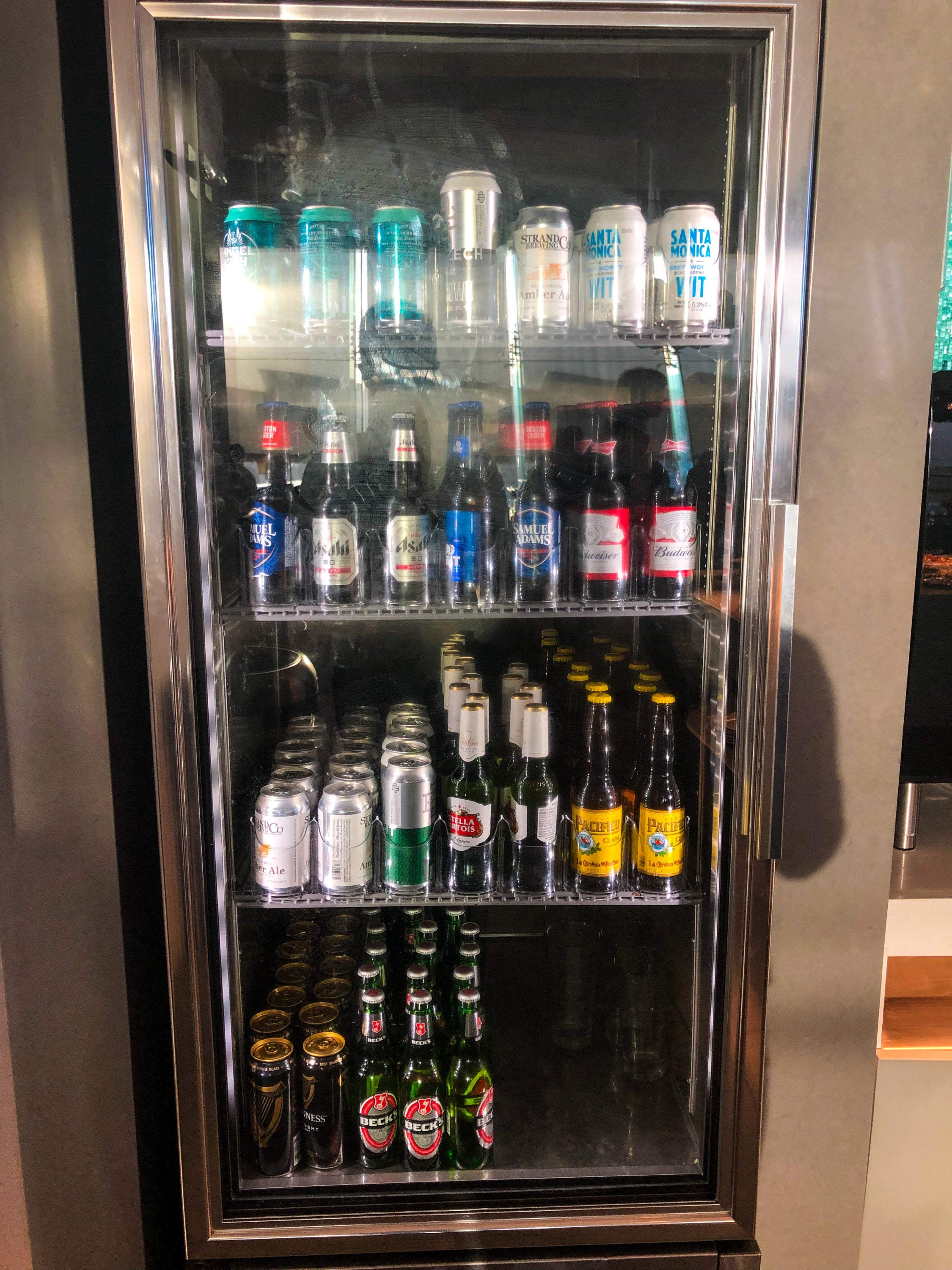 Dispersed throughout the lounge space were fig bars, along with various other snacks, candies, and chocolates.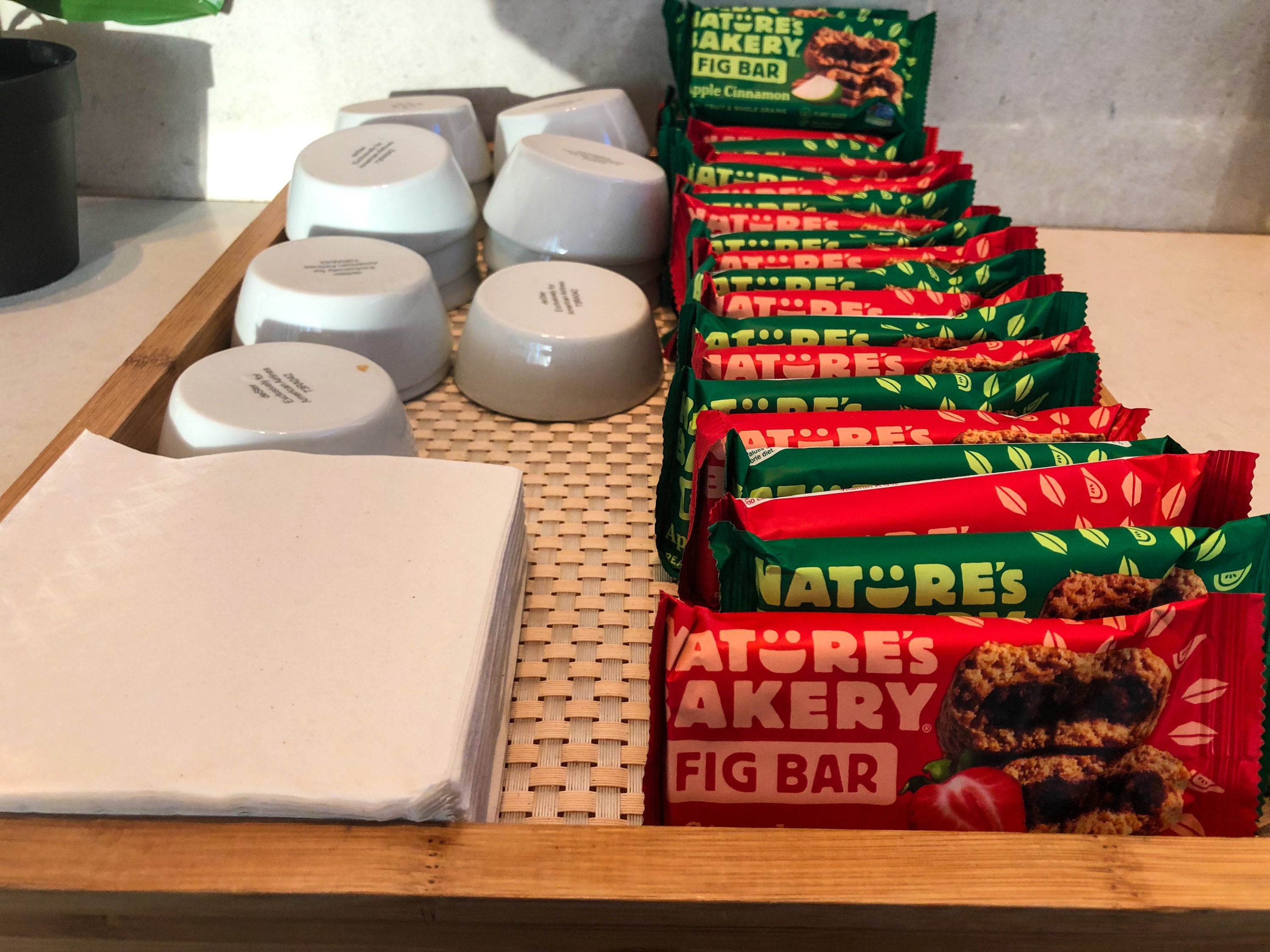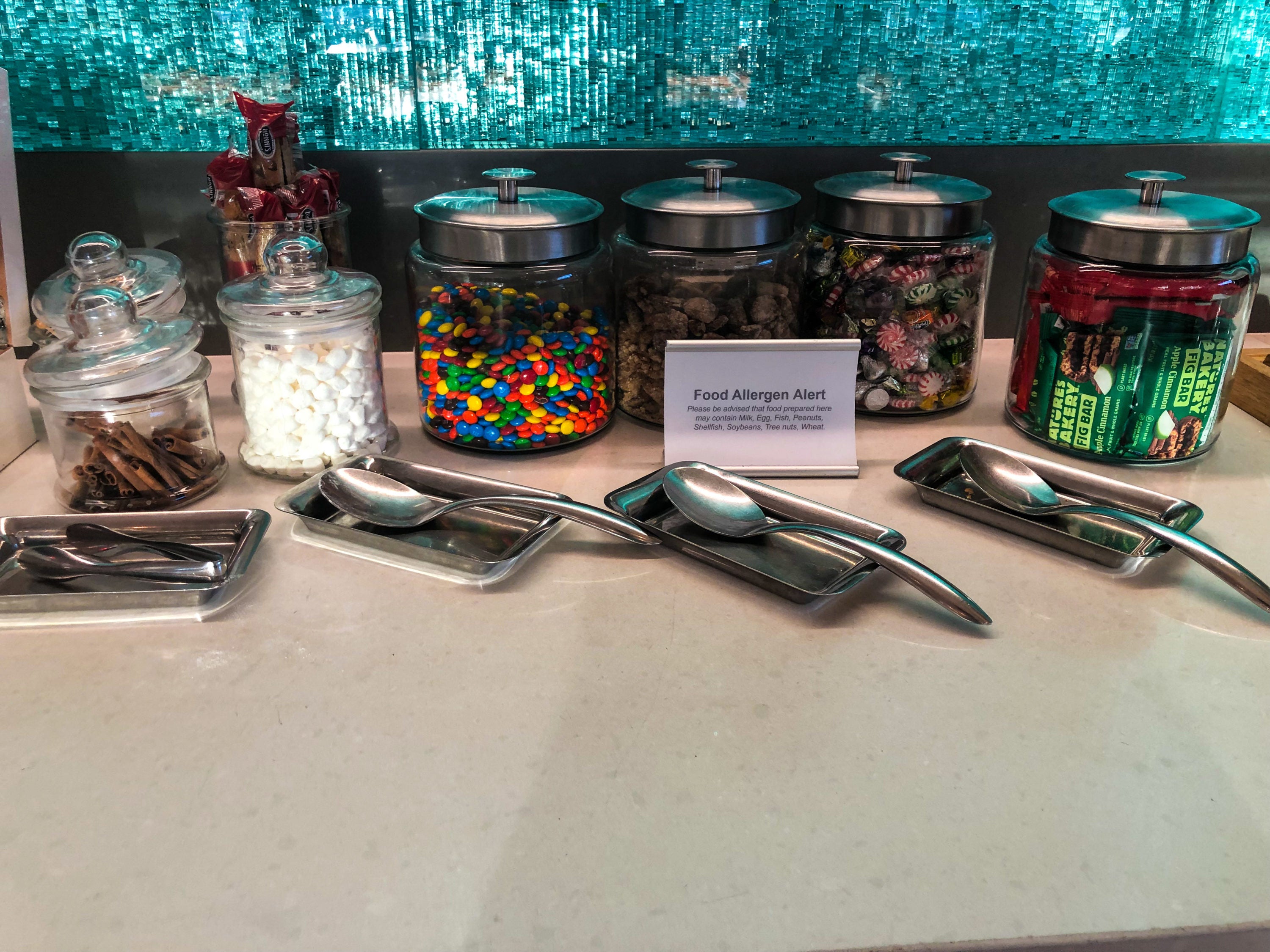 Bottom Line: The self-serve selection is varied and tasty. With the number of choices for food and drink, you'll have a lot to like from the self-serve food area of the Flagship Lounge at LAX. 
Grilled Cheese Bar
One factor that distinguishes the American Airlines Flagship Lounge at LAX from the other lounge is the fact that they have a made-to-order grilled cheese bar. This area is always staffed, ensuring the freshest grilled cheese sandwiches are made.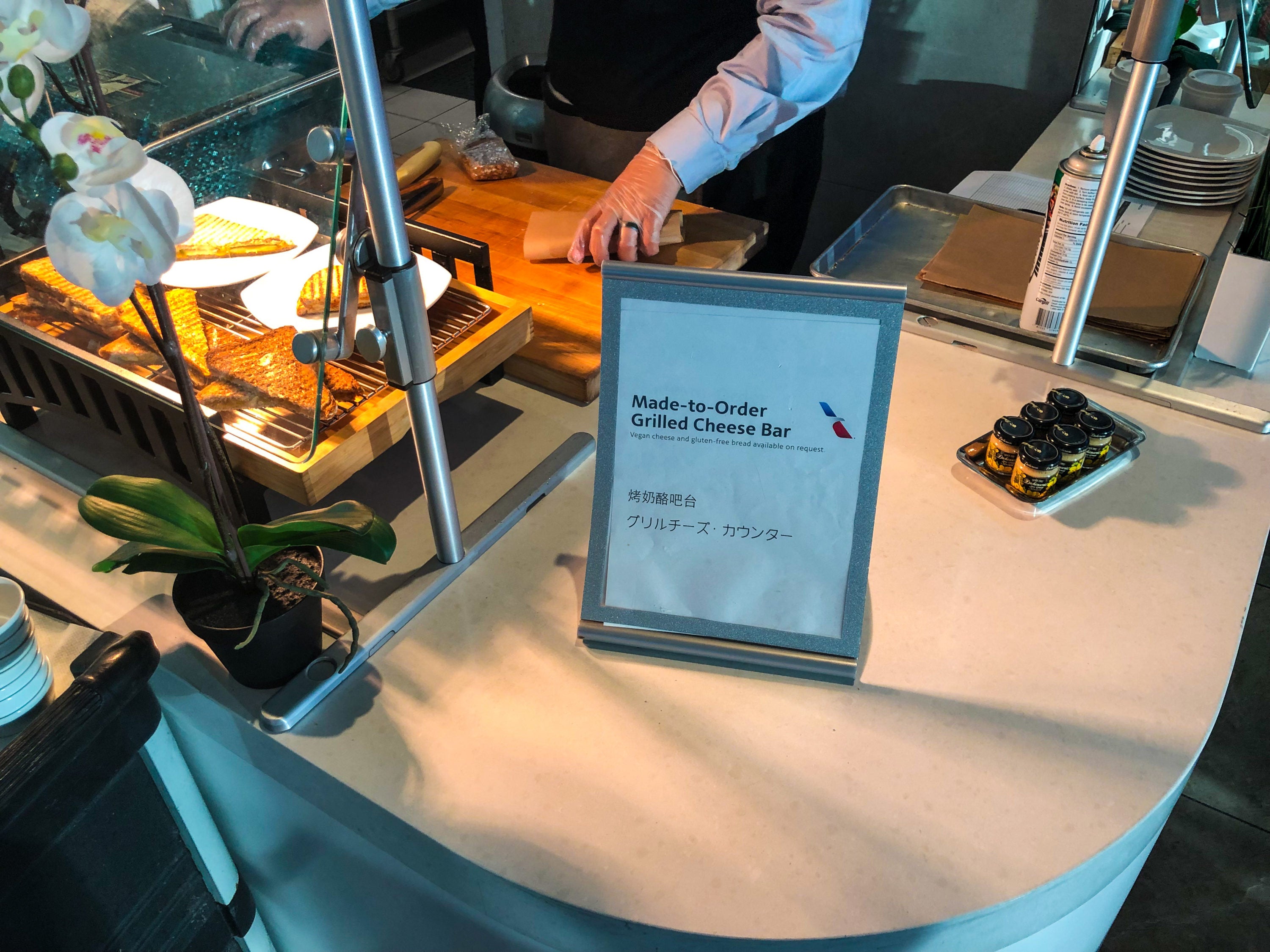 The grilled cheese sandwiches were simple, yet so satisfying and delicious.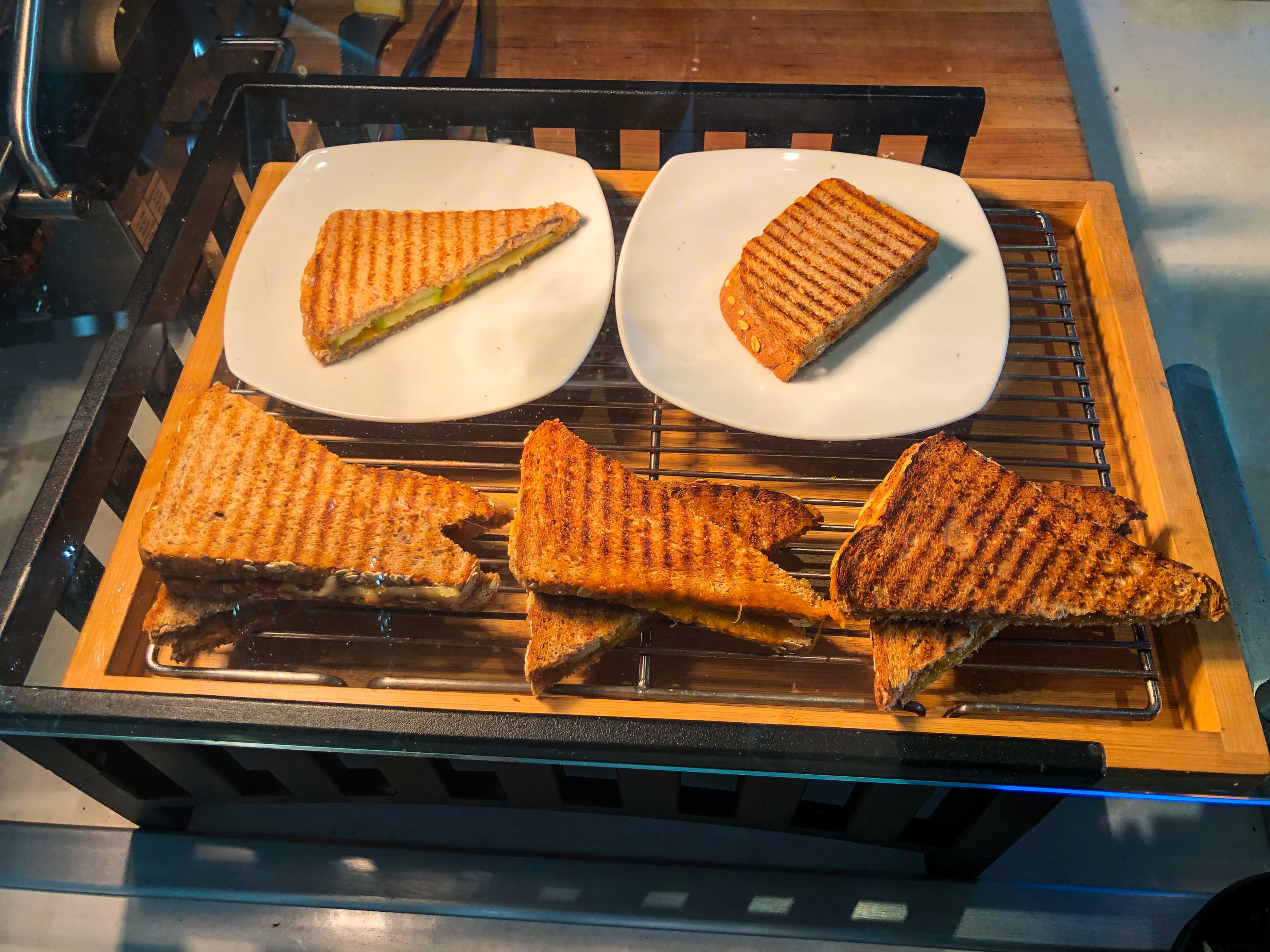 Bottom Line: Perhaps one of the more unique amenities in an airport lounge, the grilled cheese bar is a welcome addition to the Flagship Lounge footprint, offering freshly-made cheesy delights wedged in between 2 slices of crunchy, crispy toast. Best of all, the grilled cheese bar is always staffed, making grilled cheese sandwiches fresh and hot. 
Self-Serve Cocktail Bar
Though the American Airlines Flagship Lounge doesn't have a staffed cocktail bar, you can still make DIY alcoholic drinks at the self-serve cocktail bar.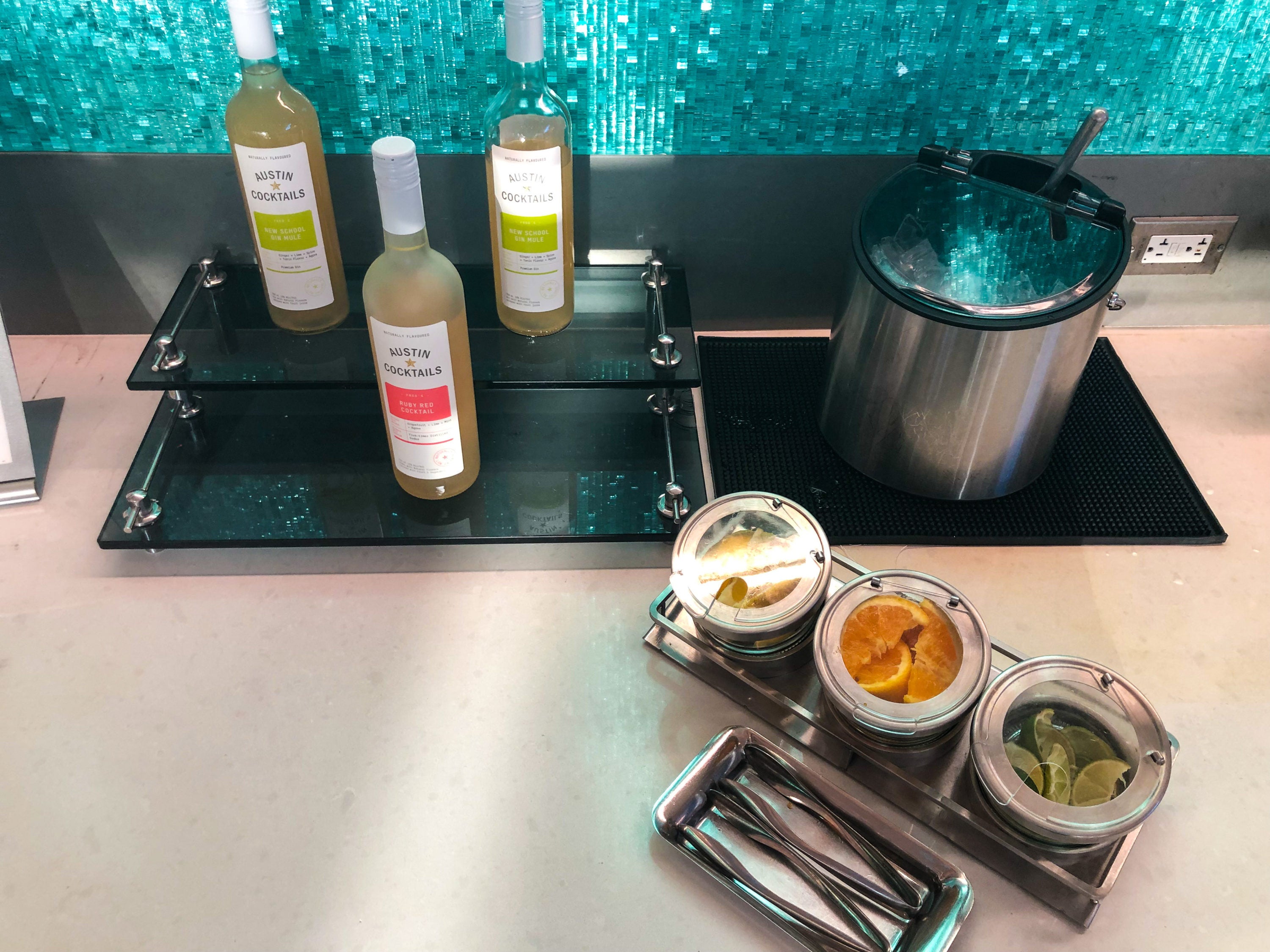 The alcohol of choice is Austin Cocktails, which makes bottled, craft cocktails using natural ingredients.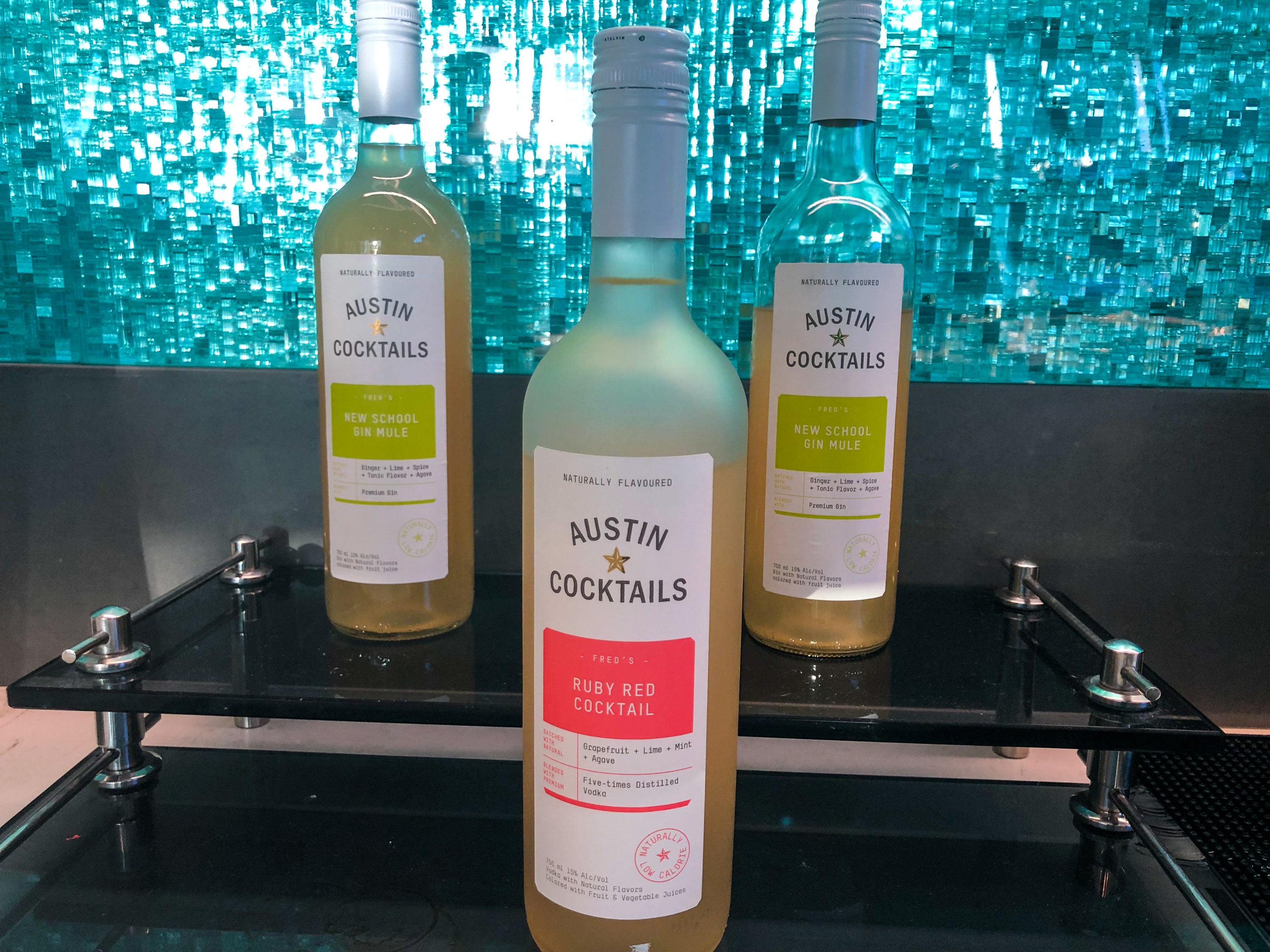 You can also garnish your DIY cocktail with sweet cherries, mint, olives, and citrus wedges.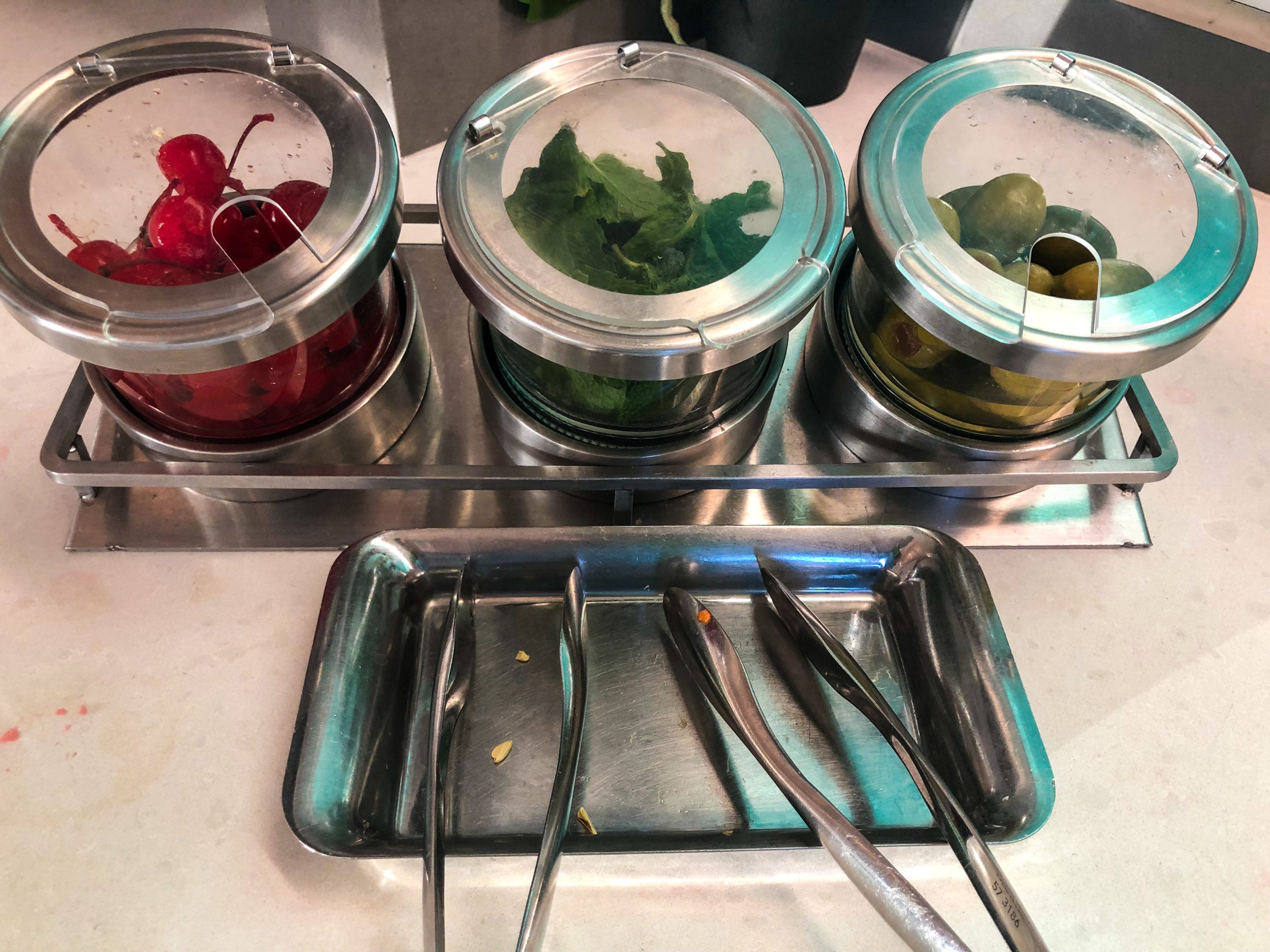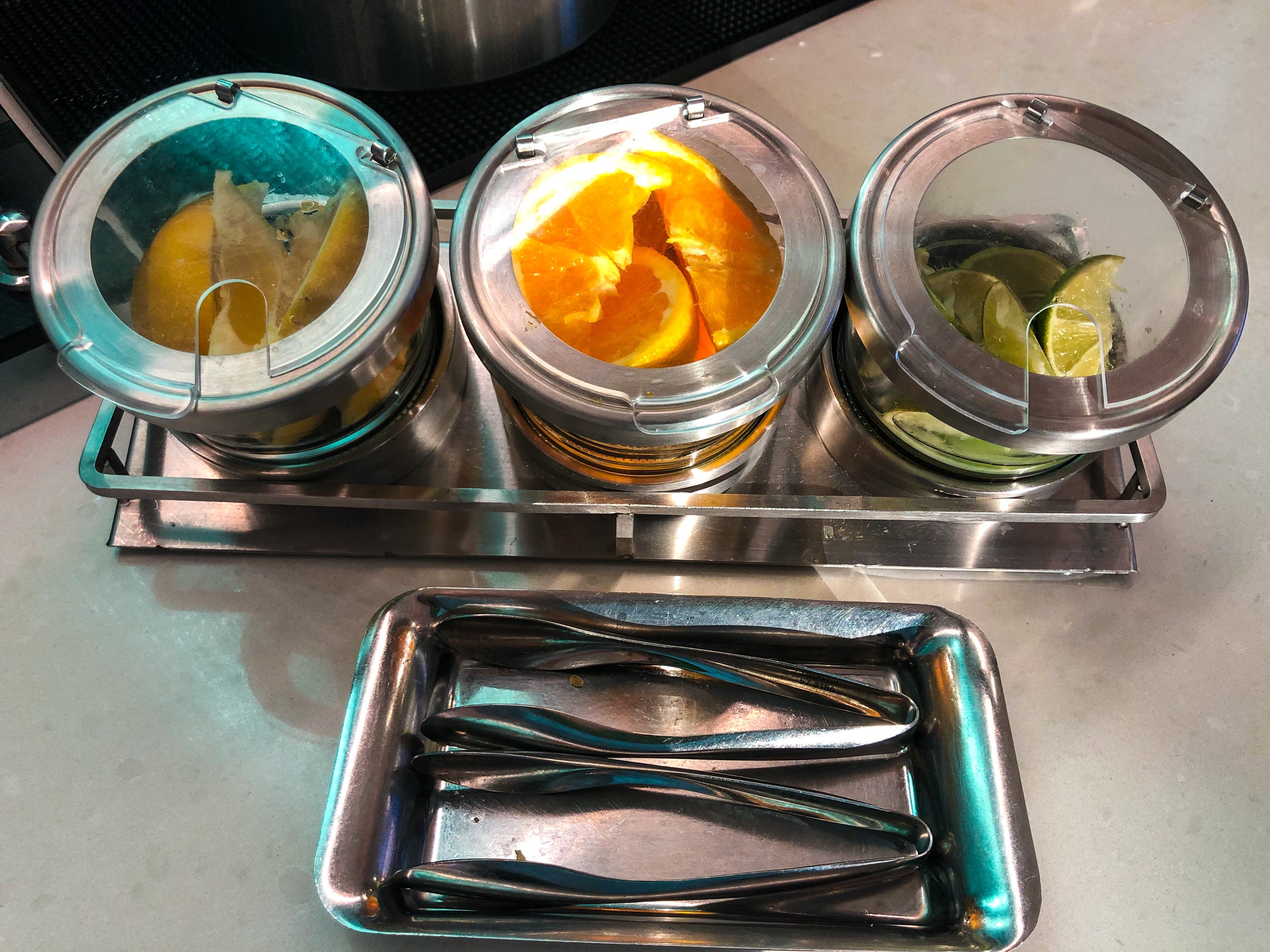 American Airlines also provides some instructions on how to build your own craft cocktail.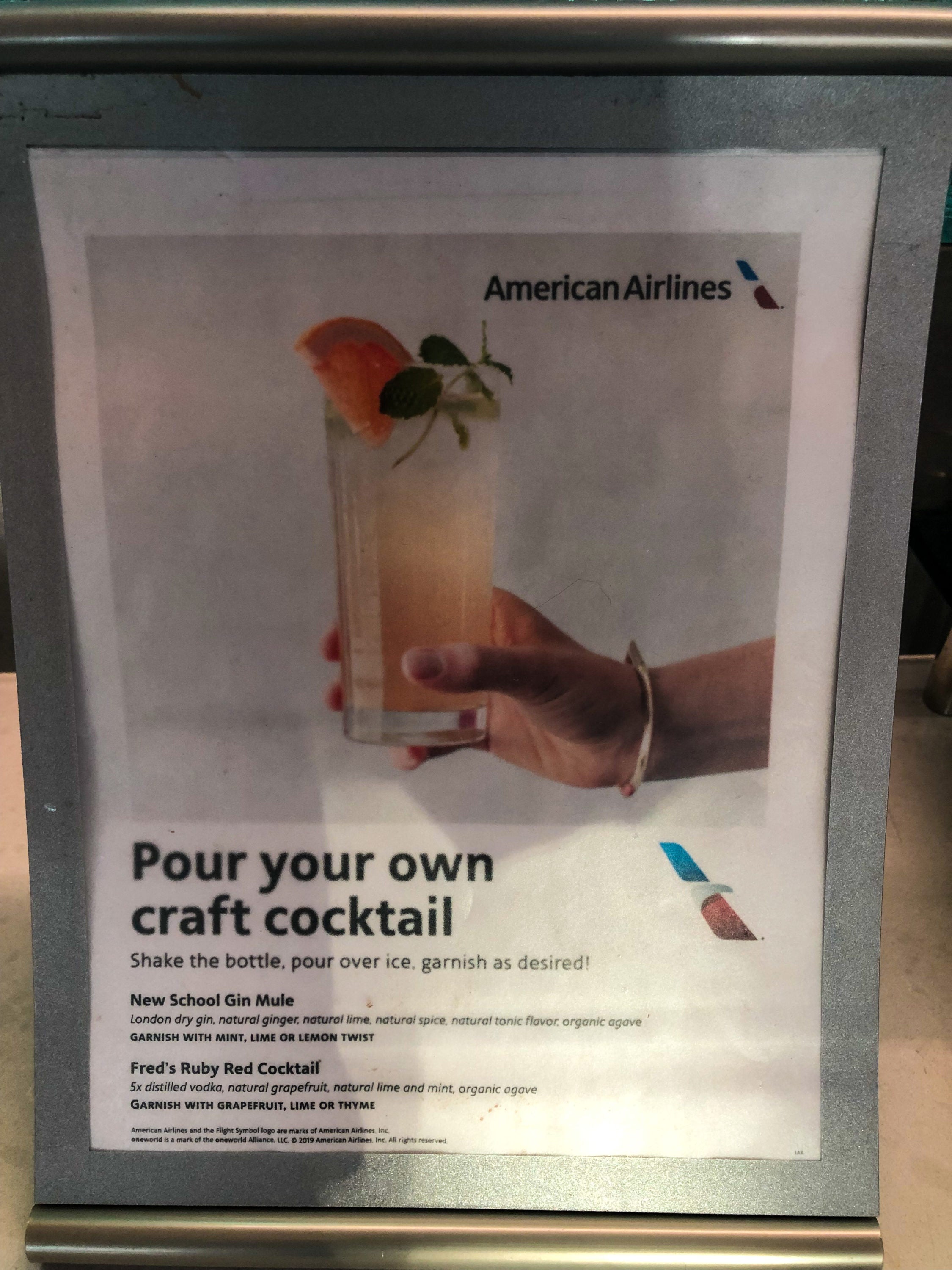 If pre-made cocktails don't appeal to you, there's also an excellent selection of liquor.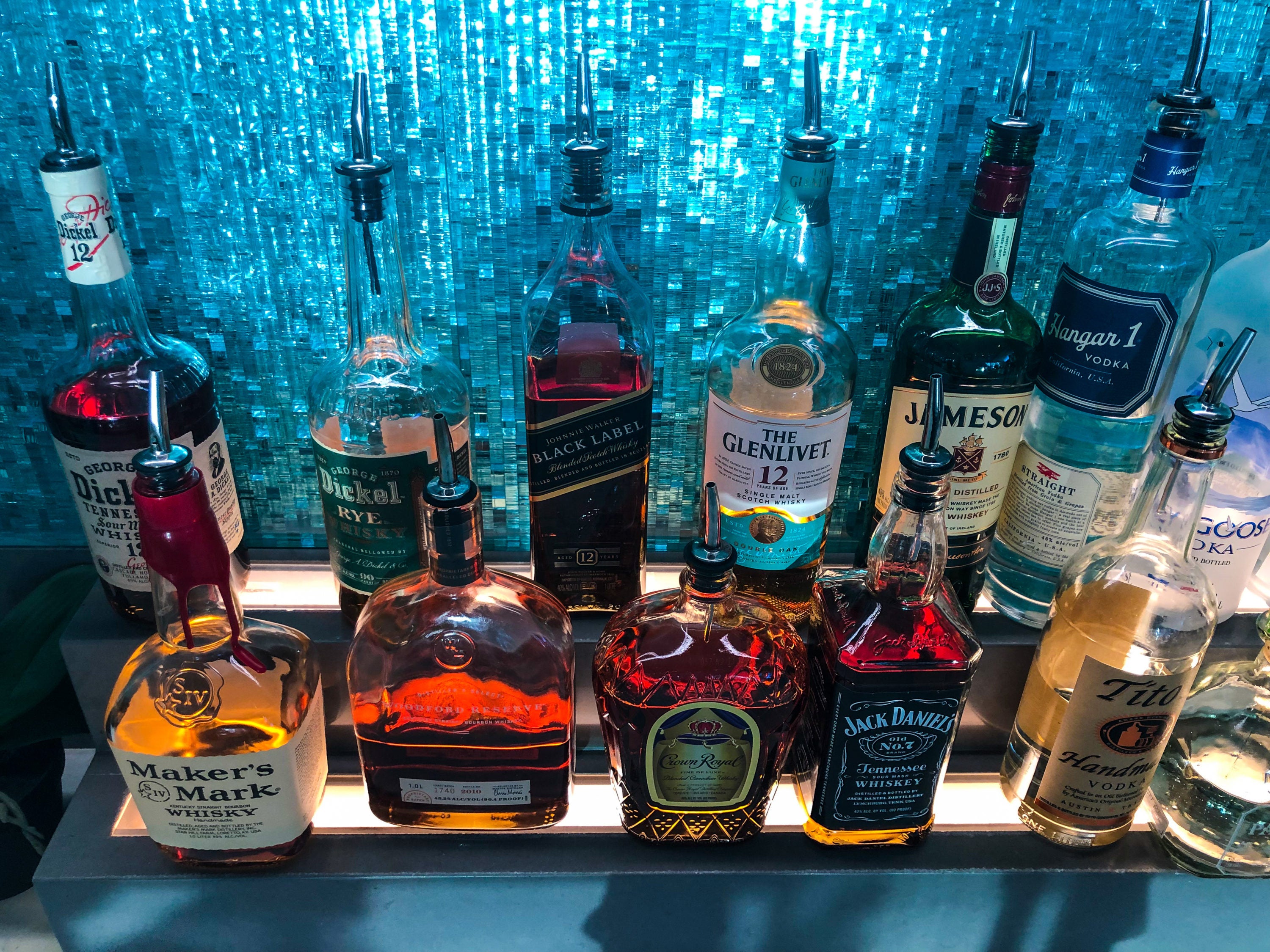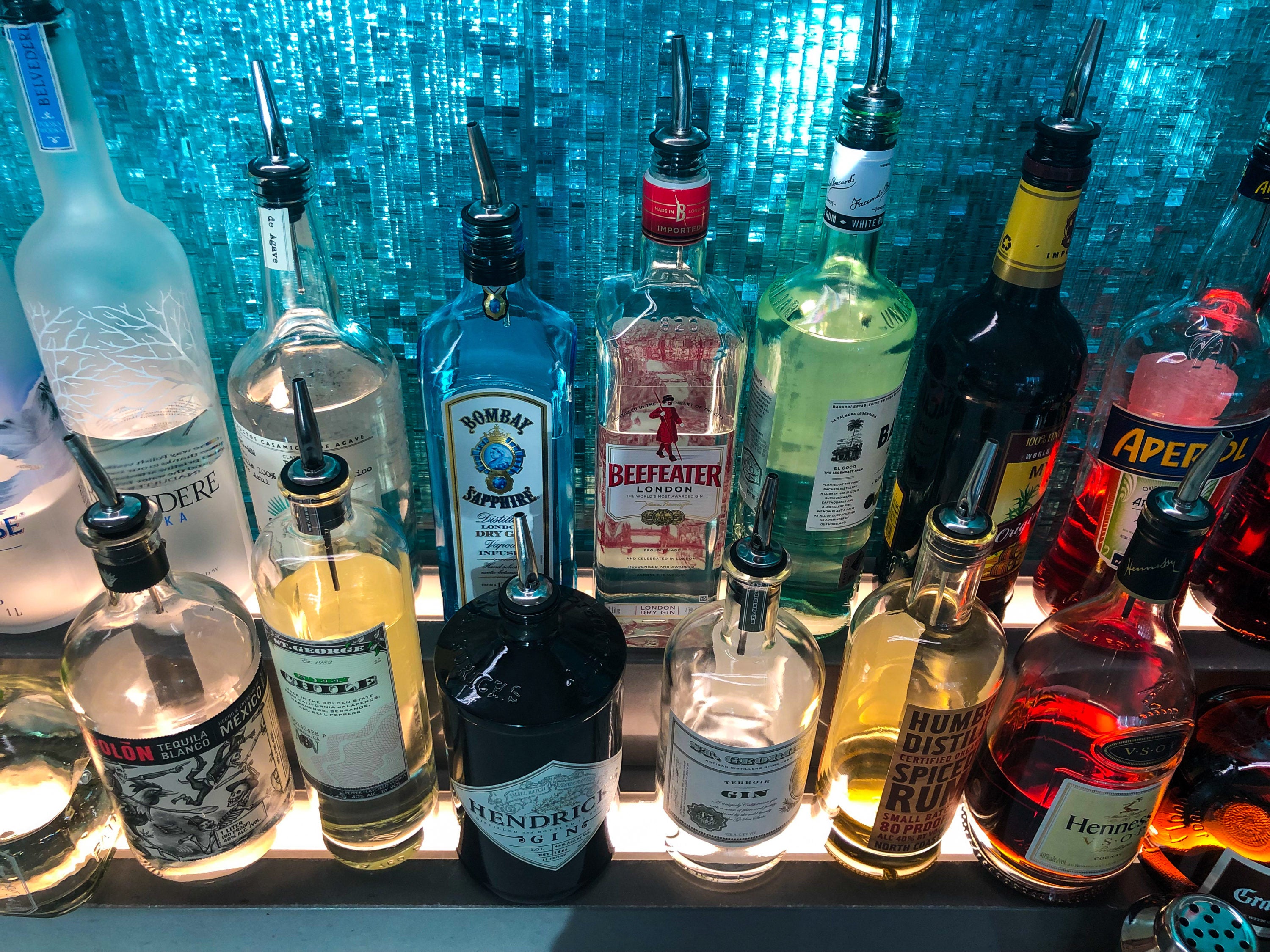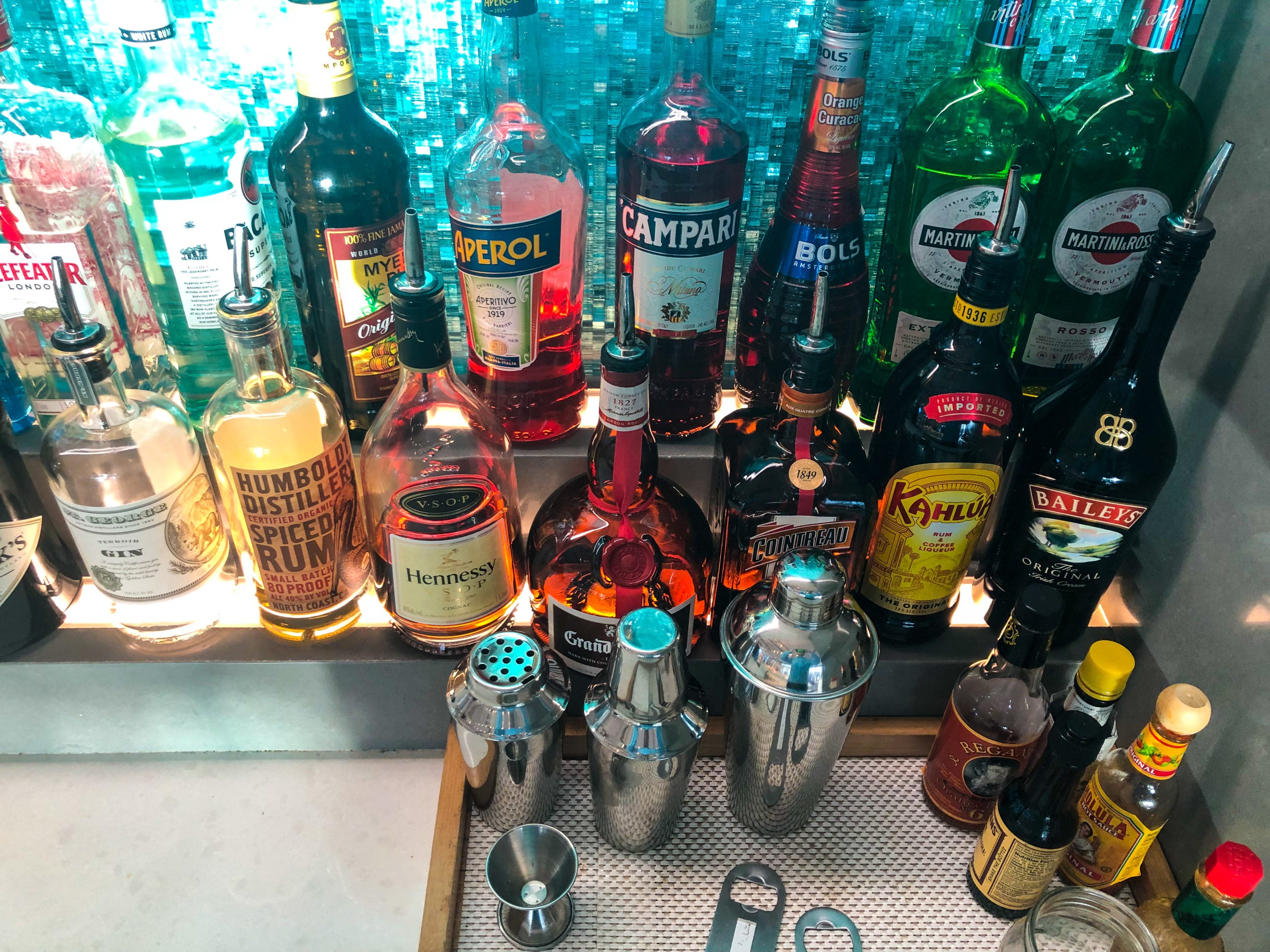 Bottom Line: The self-serve cocktail bar is impressive. In addition to providing easy, ready-made cocktails from Austin Cocktails, they have a deep library of signature spirits. 
Premium Wine Table
The very last section in the food and beverage portion of the Flagship Lounge (not counting Flagship First Dining) is the premium wine table. This is an unstaffed area of the lounge that houses various wine choices, along with some juice.

Amenities
Let's move onto the amenities offered in this lounge. Overall, 3 main facilities can be considered separate from the main lounge seating area.
Quiet Room and Daybeds
There is a quiet room located away from the main seating area and just next to the Flagship First Dining area. You'll immediately notice that the quiet room is secluded from areas of large foot traffic, enabling customers to enjoy peace and quiet.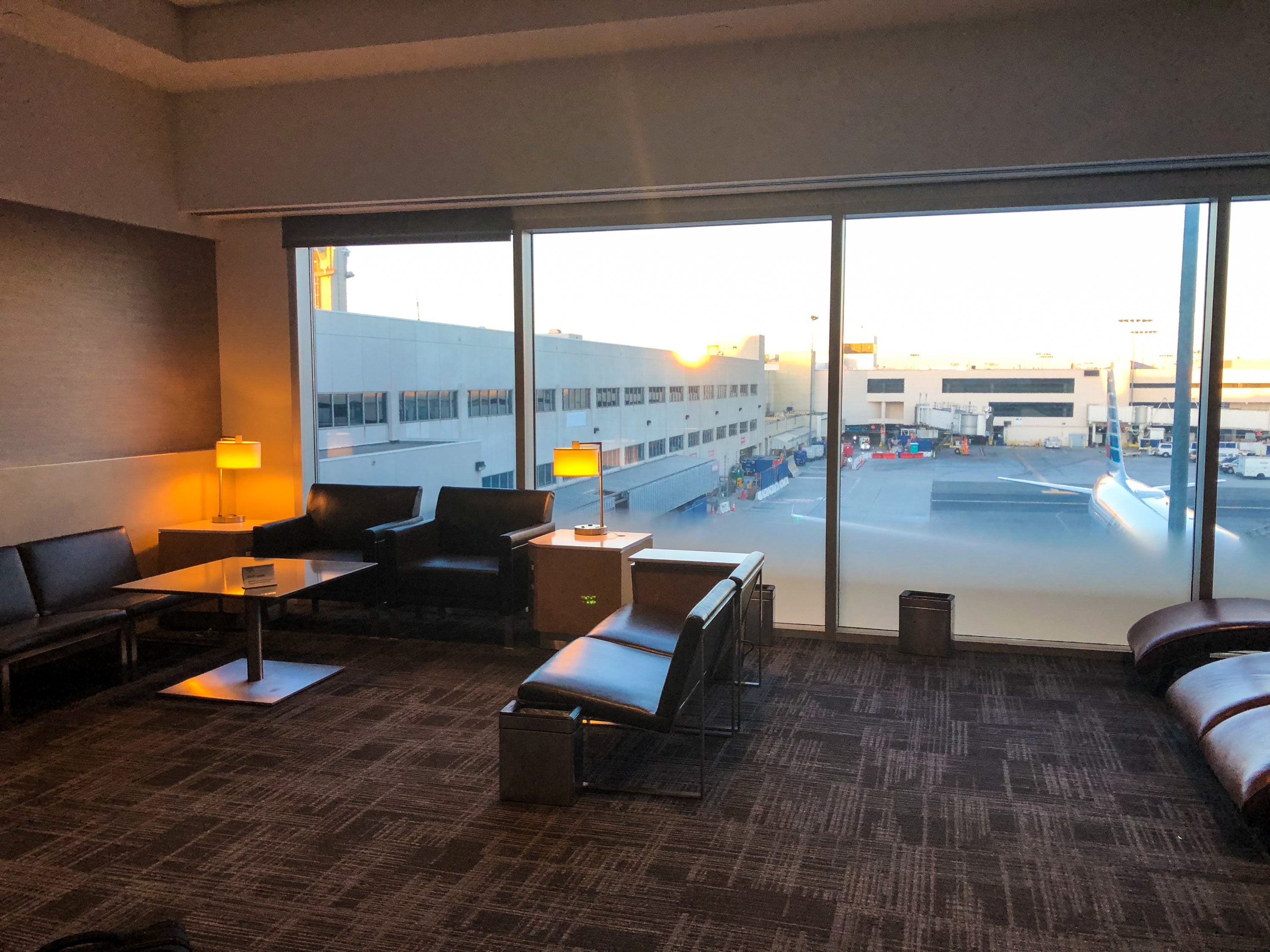 There are around 10 armchairs arranged in the space, each with associated power outlets and USB ports.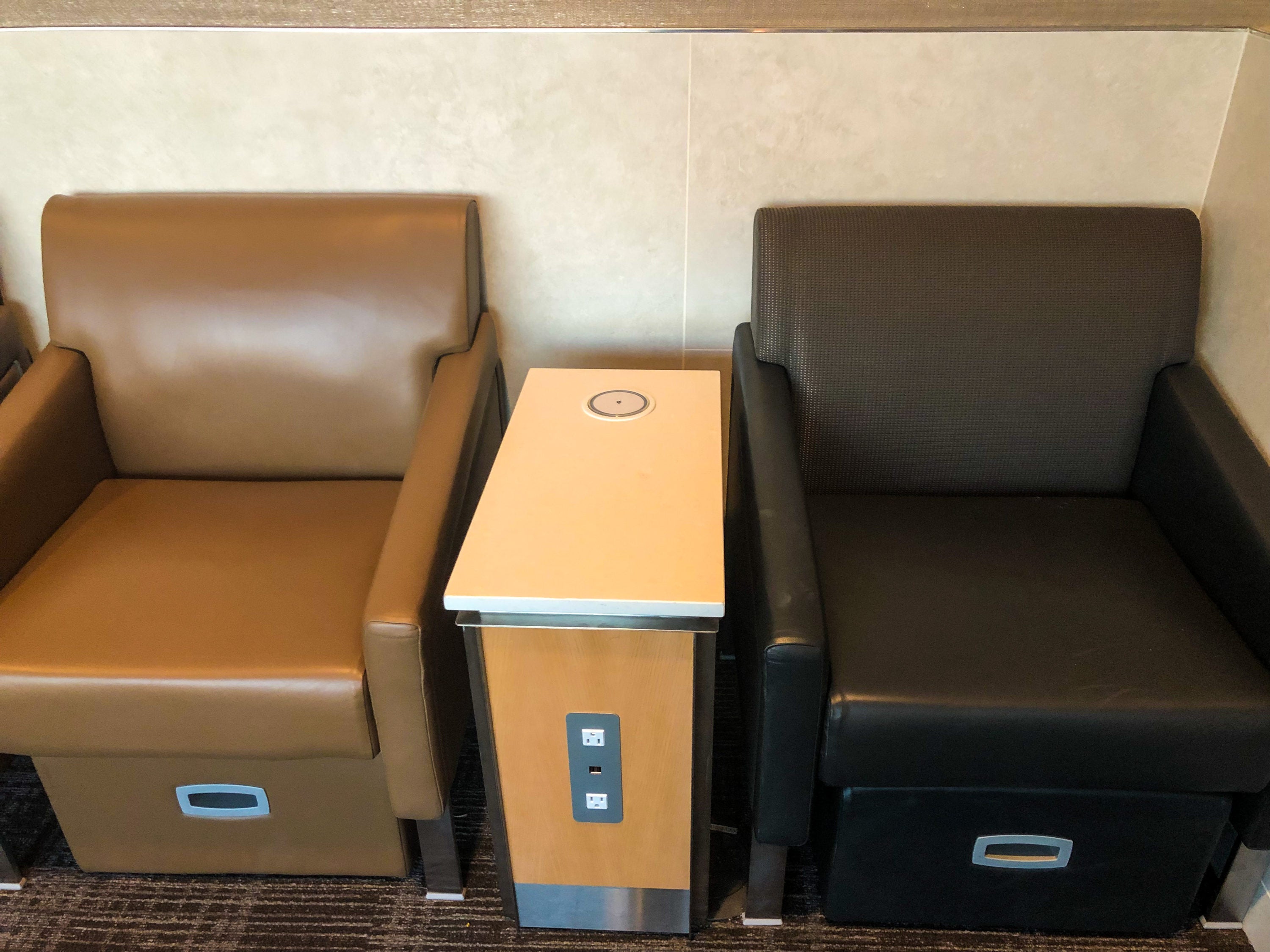 Interestingly, a few of the tables have Qi charging ports, which is extremely cool. Qi charging allows for wireless charging via inductive coupling, which is fantastic.
The entire quiet room overlooks the tarmac, specifically gate 40.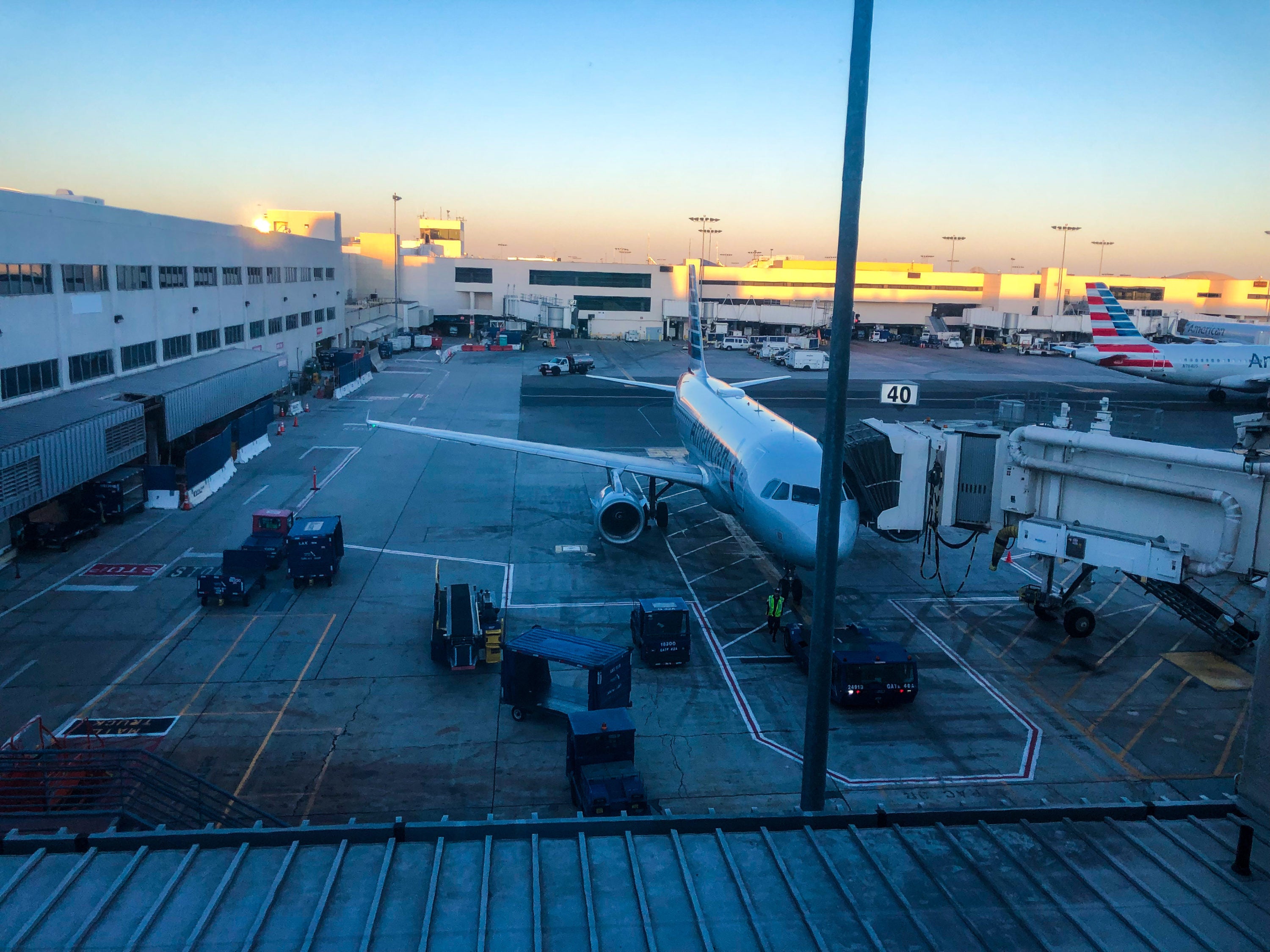 Lastly, travelers can find a set of 6 daybeds to catch a nap before their flights. This space is a valuable accompaniment to the lounge overall, as it enables travelers in an otherwise crowded lounge to enjoy peace, quiet, and rest.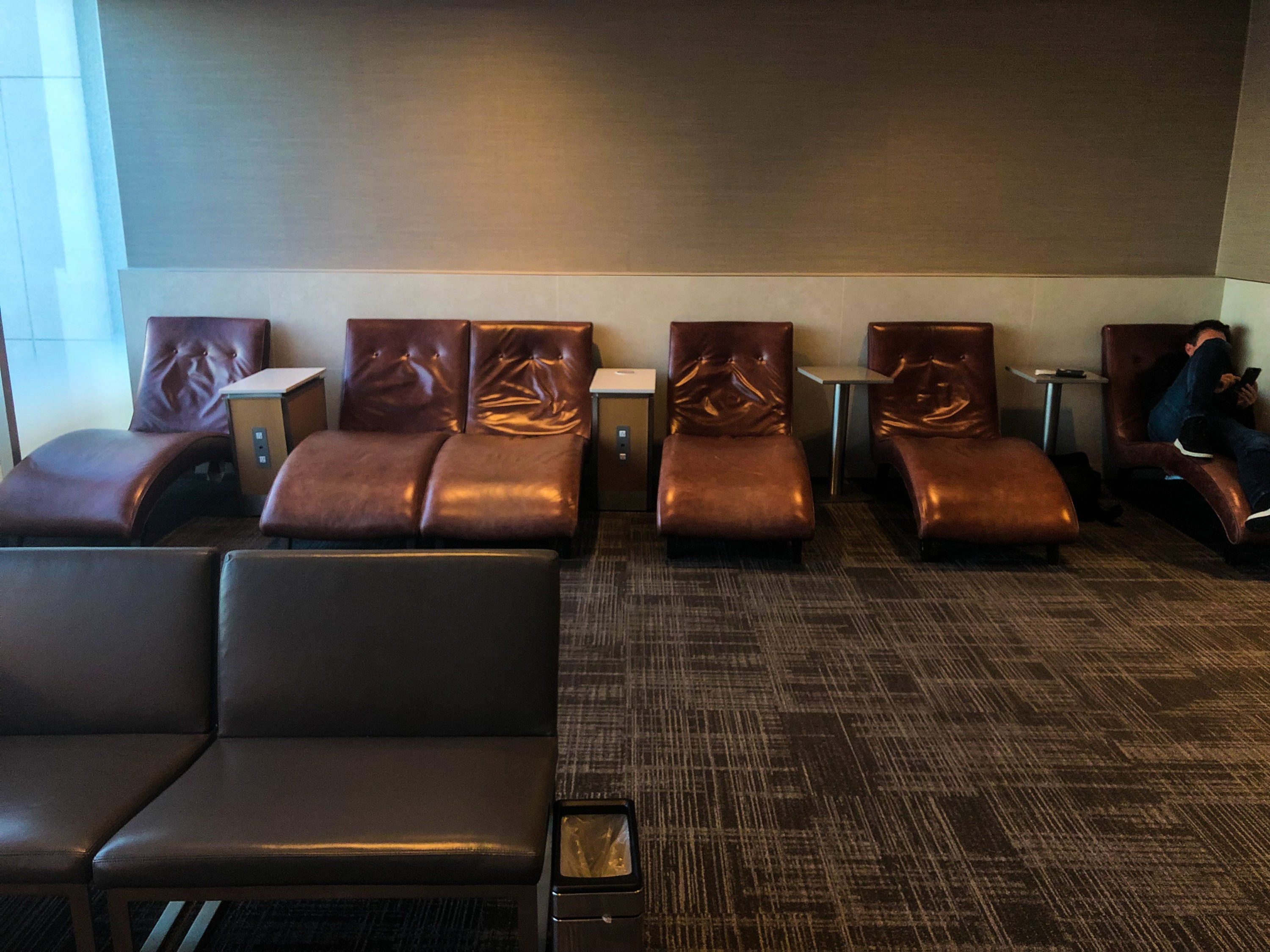 Shower Suites
There are a total of 8 shower suites at the Flagship Lounge in LAX. Each of these is a true shower suite, as opposed to a shower stall where you share a common space with other people.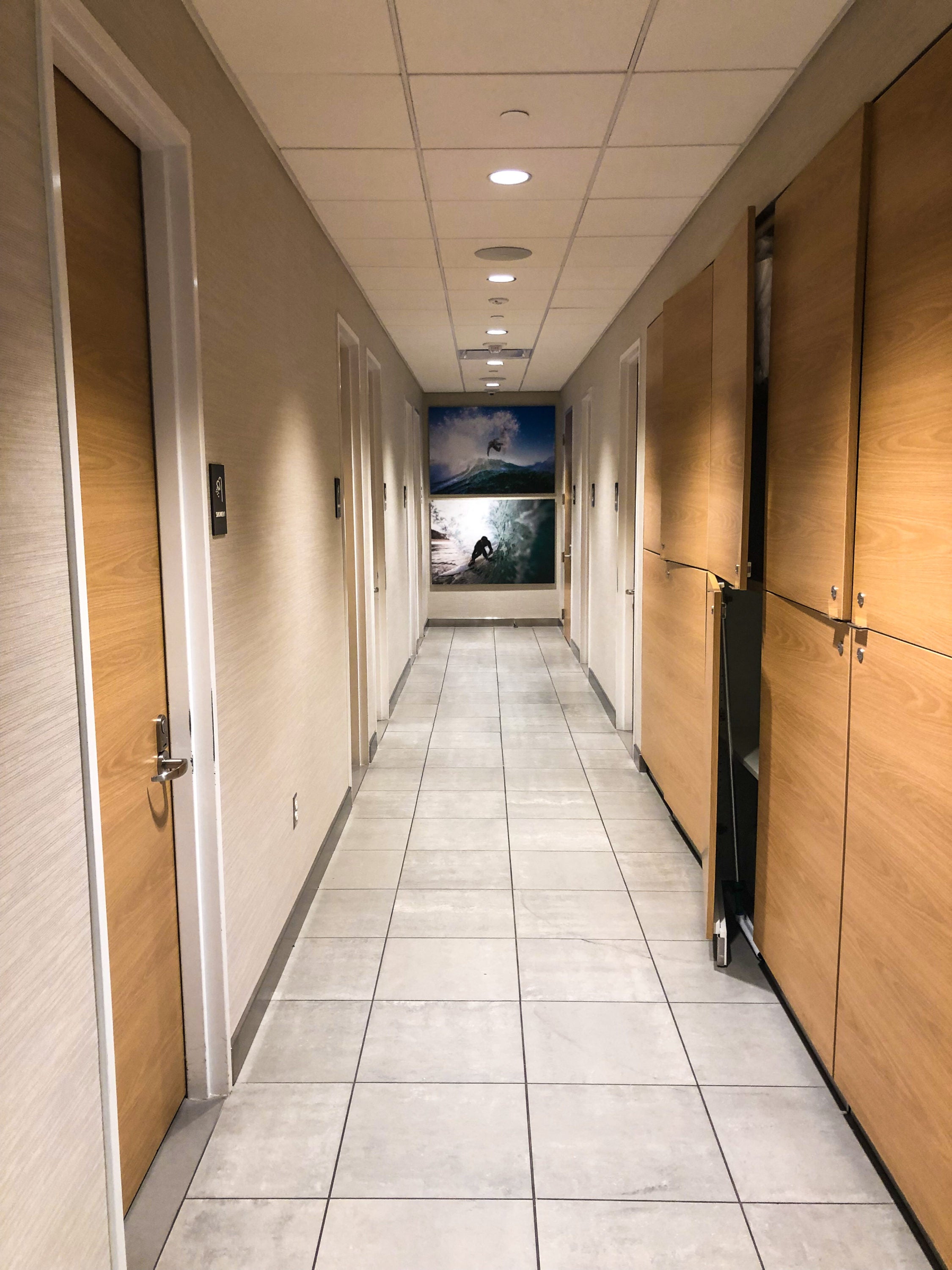 To access a shower suite, you will need to request a key from the front desk.
Upon entering the shower suite, you'll notice an immaculately decorated space.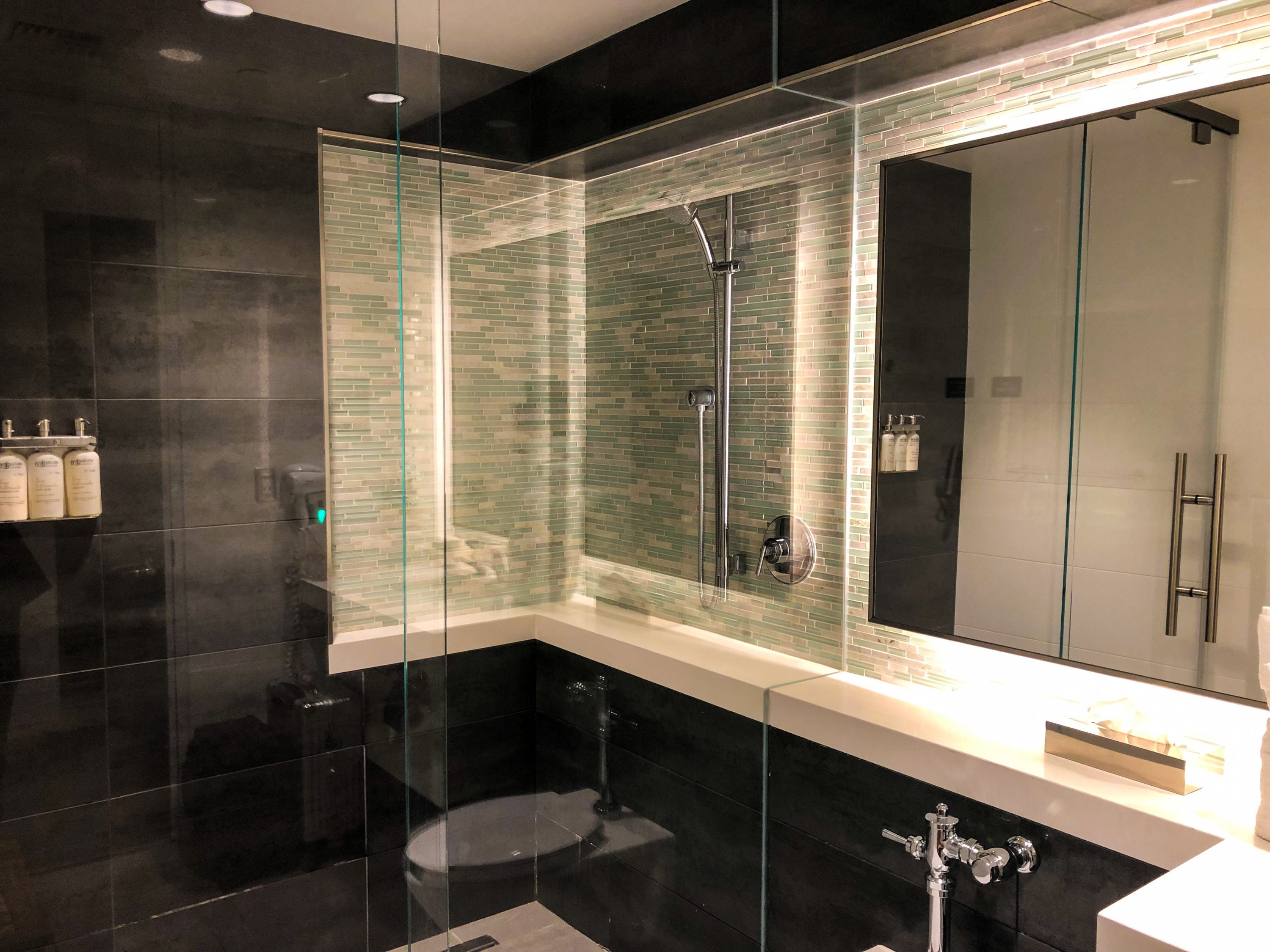 The shower suite is massive, adorned with an interlocking glass mosaic tile backsplash showcasing Tiffany Blue finishes. The overall vibe of the shower suite is something out of a luxury hotel.
The wall-mounted sink has lots of counter space, along with fresh towels already placed for use.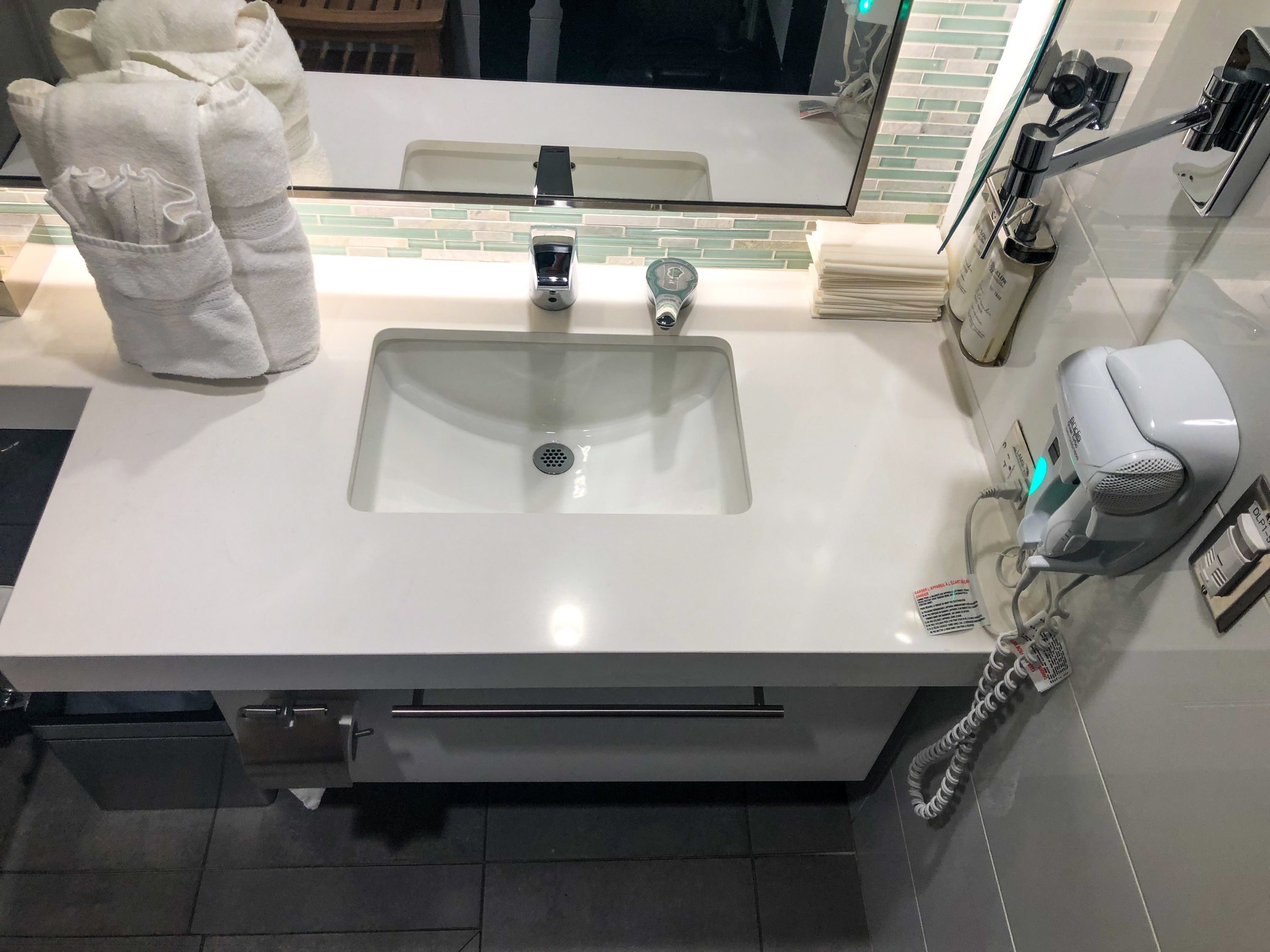 American Airlines uses C.O. Bigelow amenities for their Flagship Lounges. Directly to the side of the sink was a large hand lotion and soap.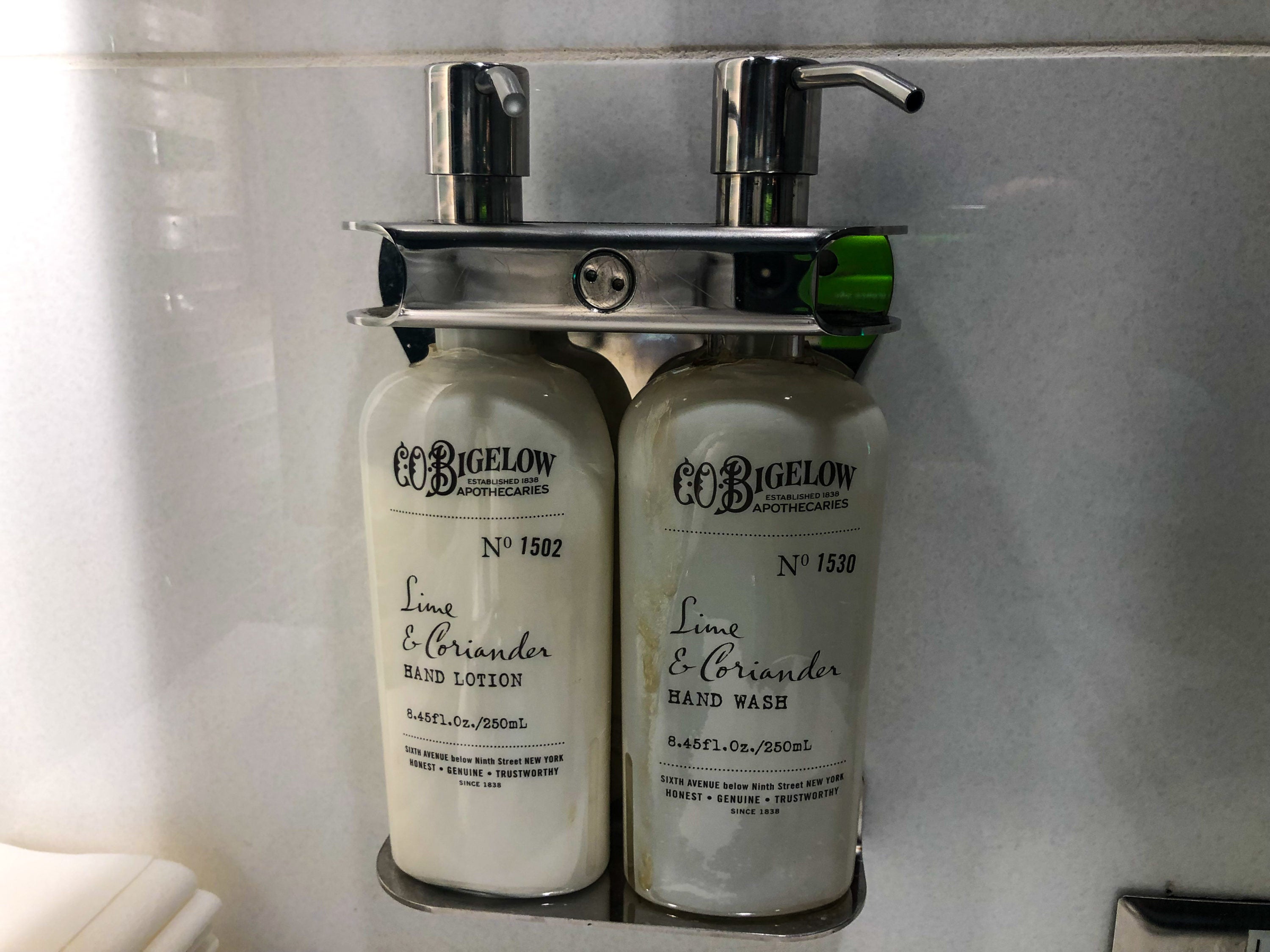 There was also a large wall-mounted magnifying mirror for use.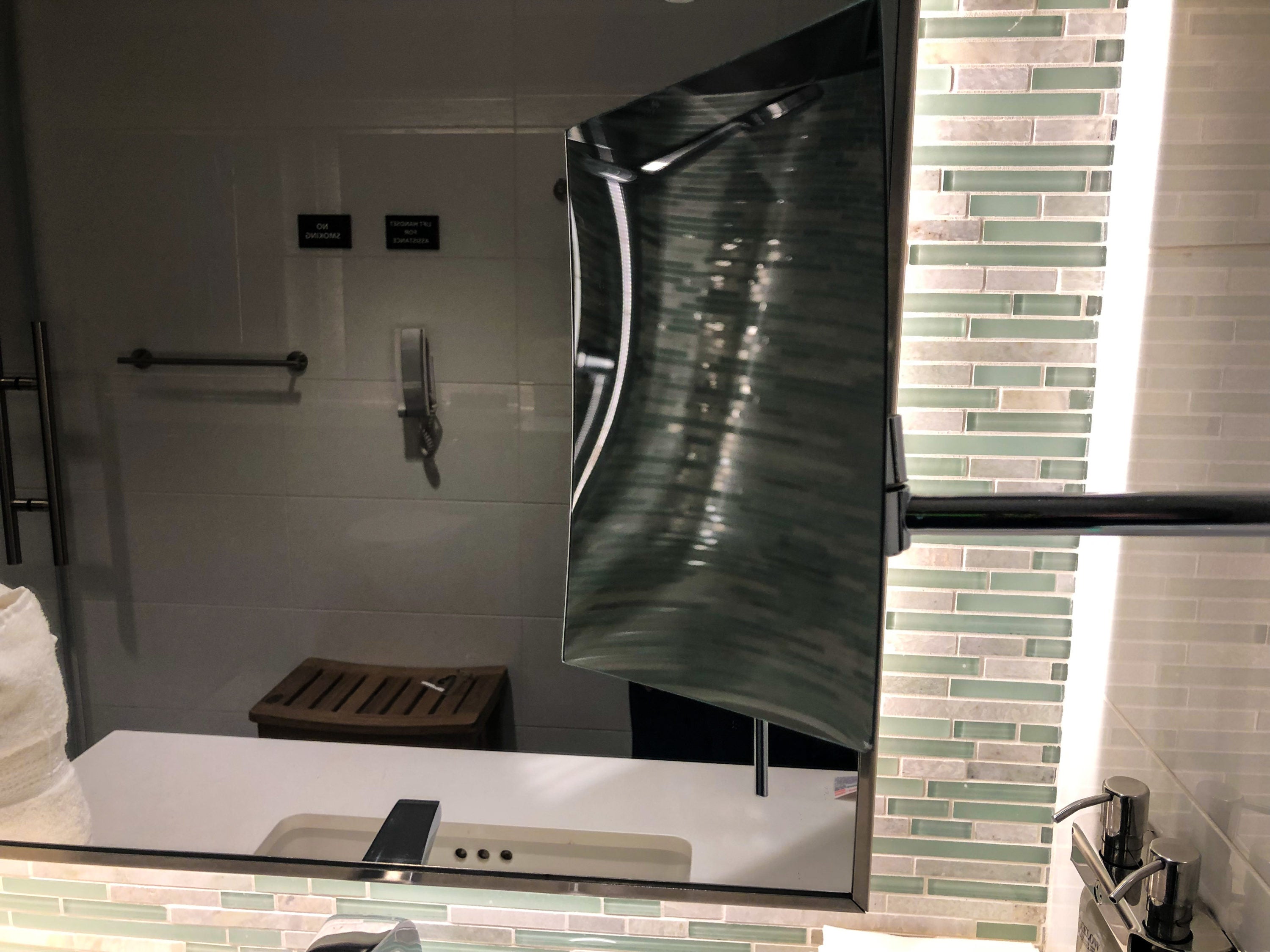 The hairdryer is similarly wall-mounted and compact. The bench was situated just underneath the emergency phone and next to the towel rack.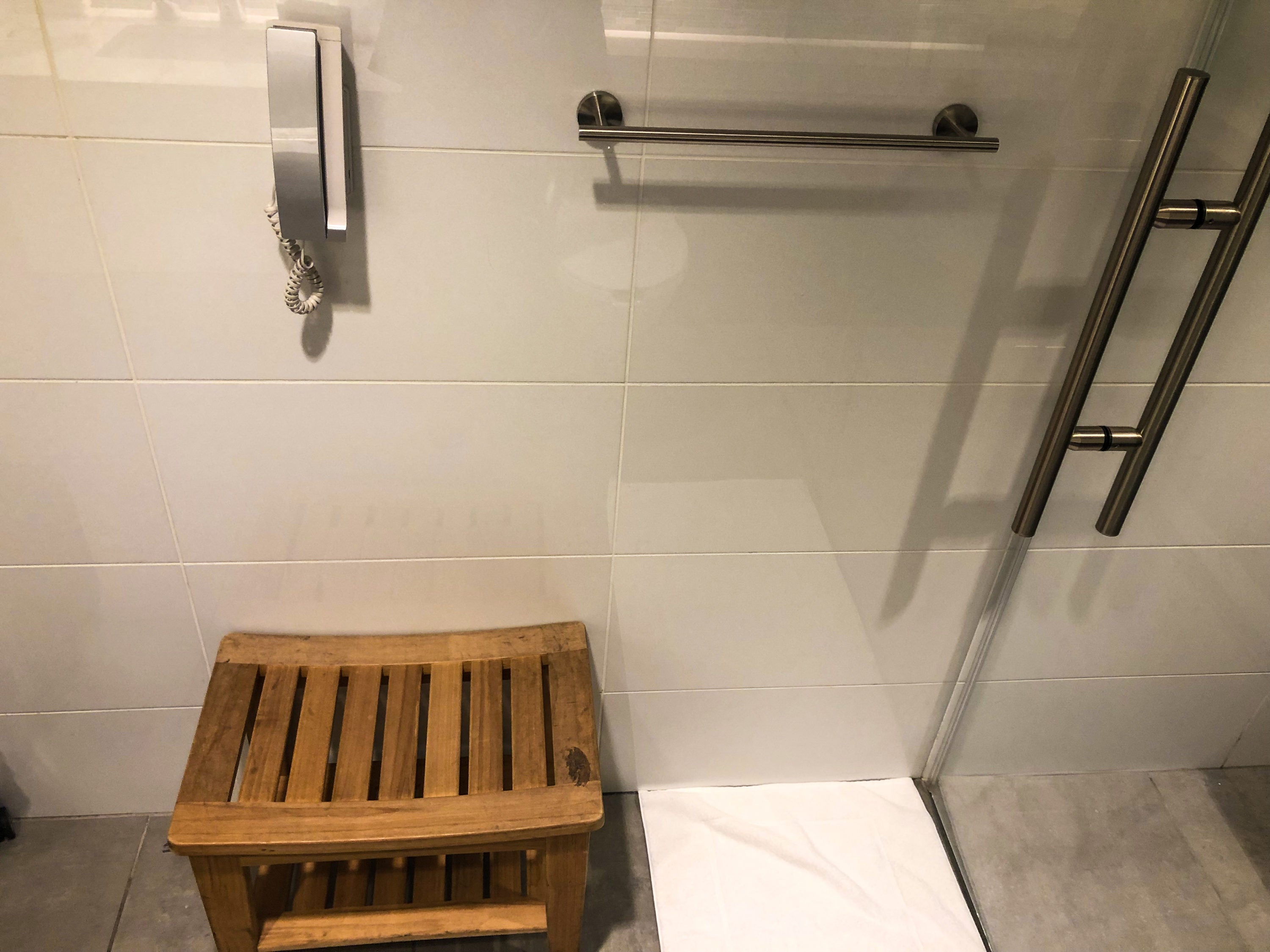 Stepping into the shower, you'll find an adjustable shower head, along with an intricate backsplash with light robin egg blue colors pervading throughout.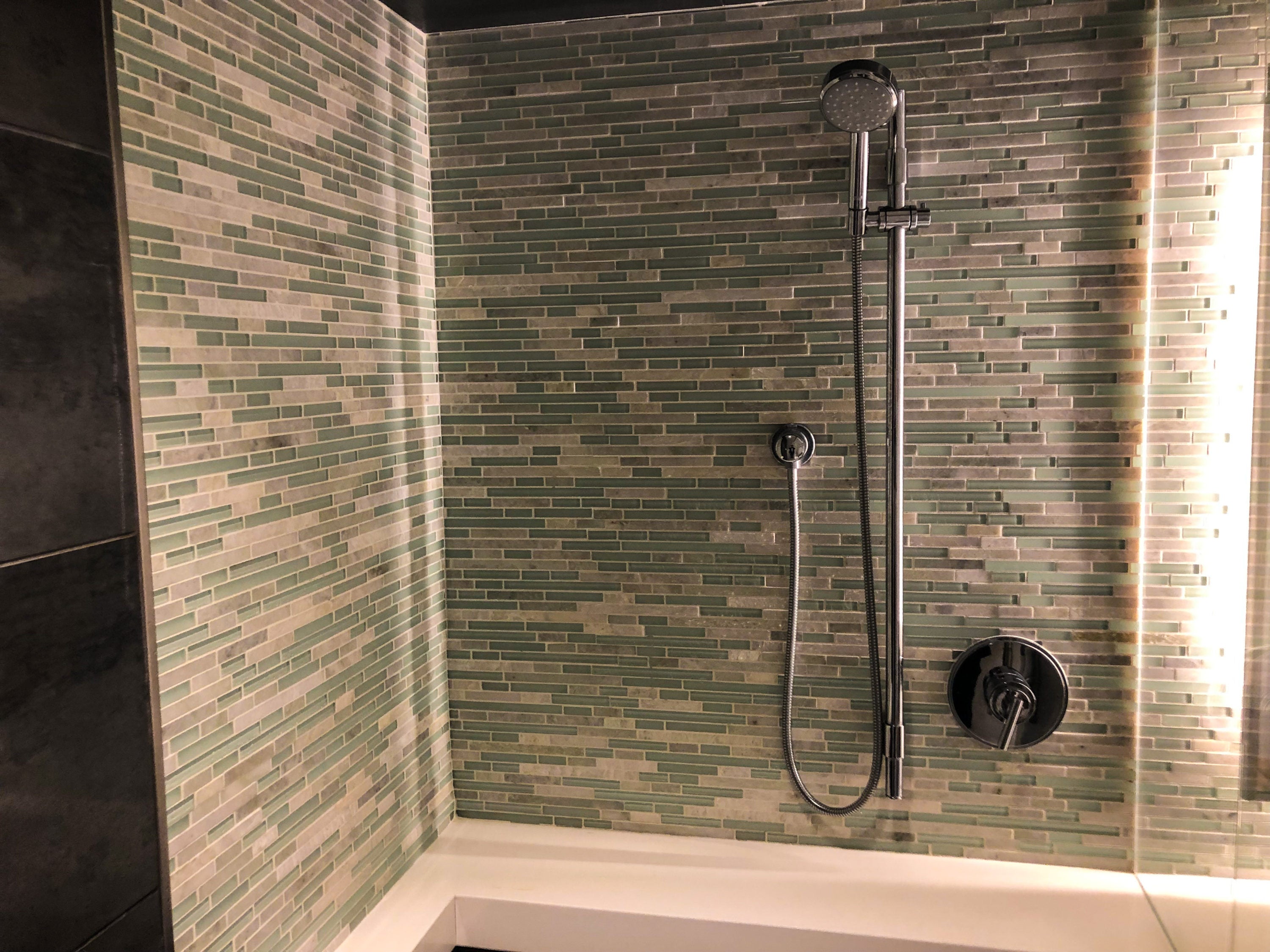 American Airlines' C.O. Bigelow offerings in the Flagship Lounge shower suite consist of bulk size Lime & Coriander shampoo, conditioner, and body wash.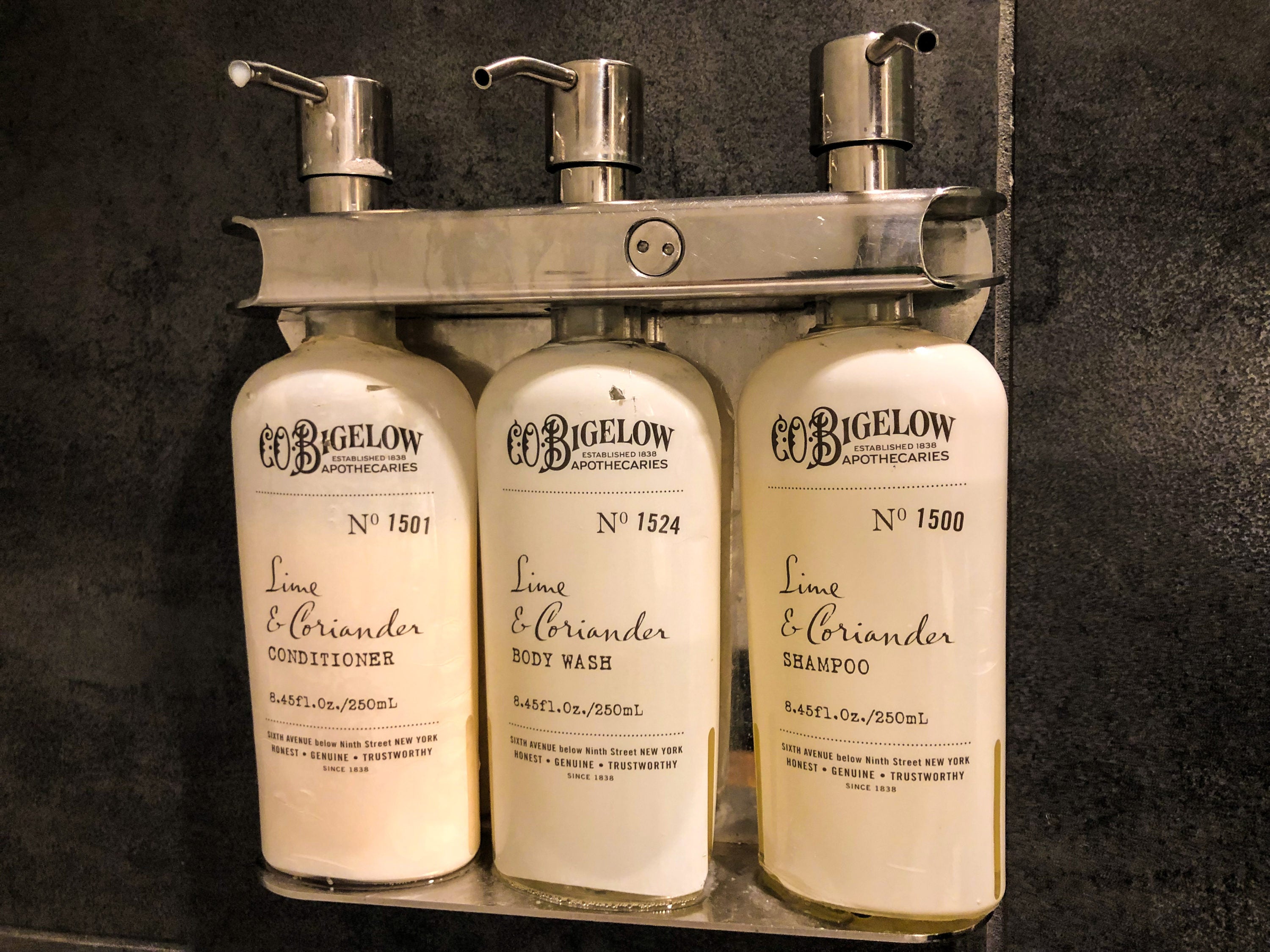 Additional amenities are available upon request, which is where I got a toothbrush and comb.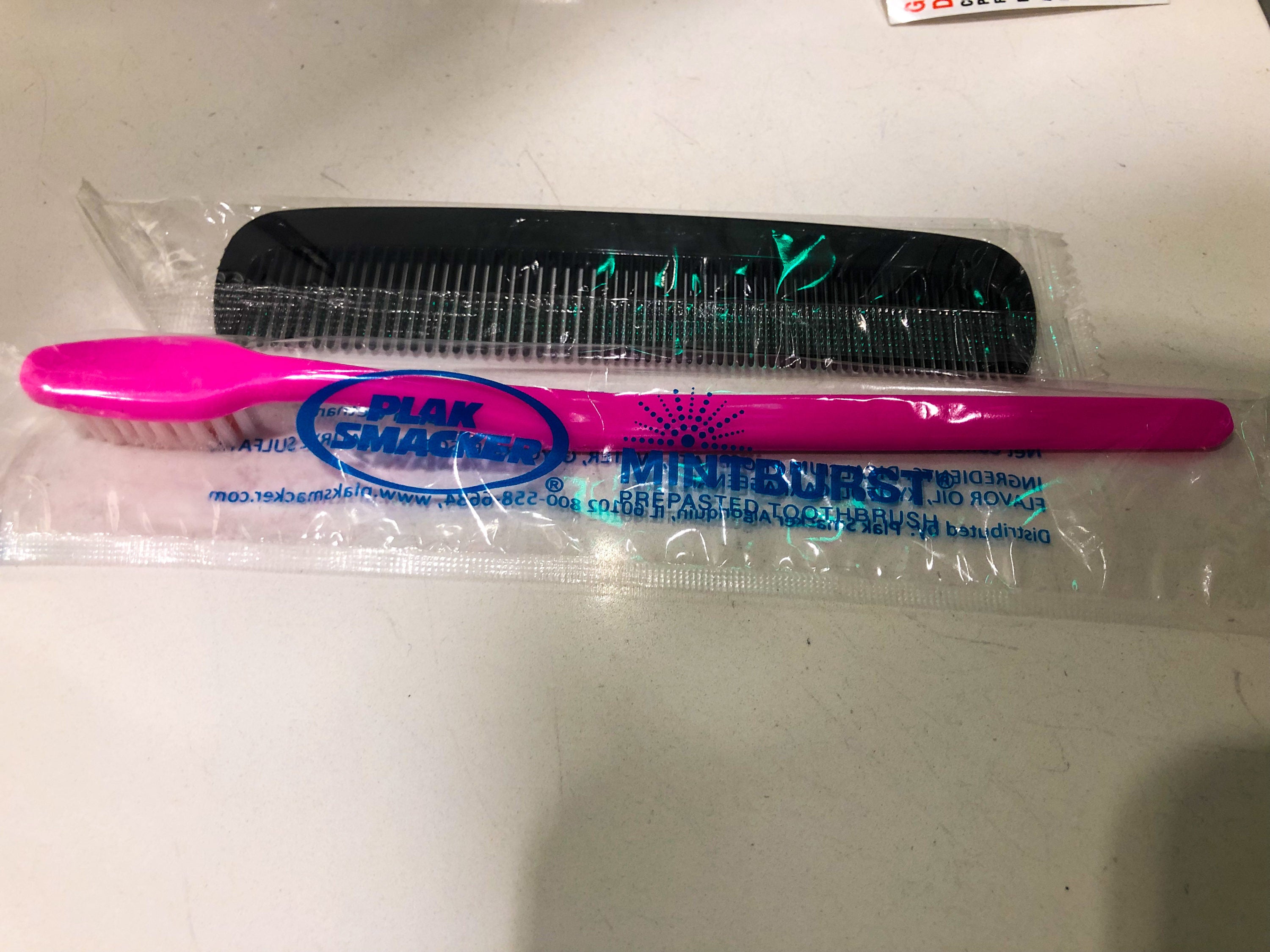 Bottom Line: The spaciousness of the shower suites is nicer than many 5-star hotels' offerings. With a beautifully decorated area, amenities from the oldest apothecary in America, and a total of 8 shower suites, the American Airlines Flagship Lounge has an incredibly competitive shower suite offering. You most likely won't need to wait for a shower, seeing as how there are 8 facilities in total. 
Business Center and Wi-Fi
The business center is located just behind the television room. There are 2 desktop PCs placed on top of an L-desk.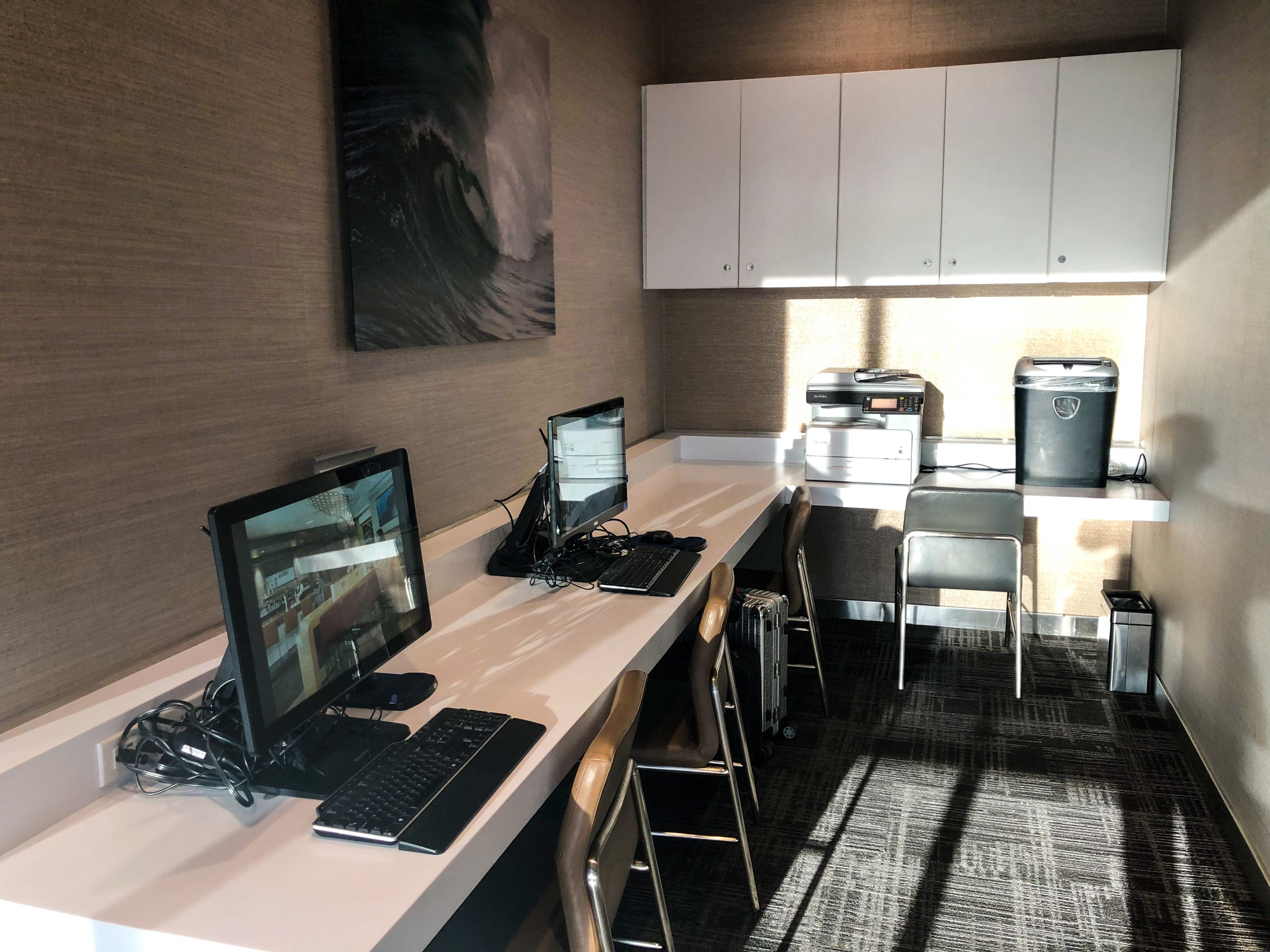 At the end of the L-desk were a printer and shredder.
I took the chance to test the Wi-Fi inside the lounge. The download speed was decent, but the upload speed impressed me, especially for an airline lounge.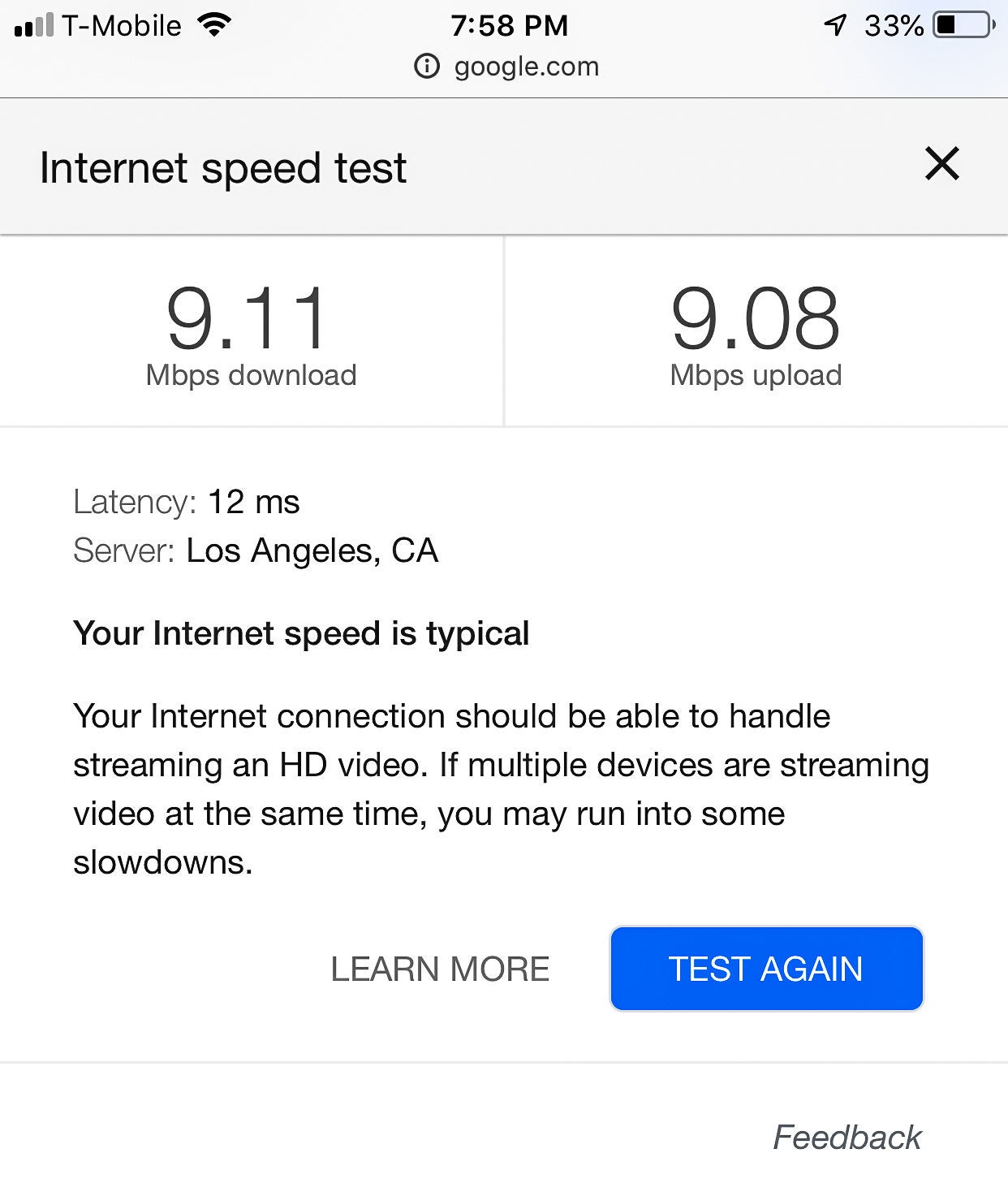 For an airline lounge that has heavy business traveler traffic, I found the business center to be disappointing. Nonetheless, I never saw anybody at the workstations, so my sentiment could be misguided.
Bottom Line: In sum, the quiet room contains 6 comfortable daybeds, several leather armchairs, and Qi charging stations. The daybeds are a great addition for those looking to avoid sleeping in an armchair. Additionally, the shower suites are plentiful and gorgeous. The business center has 2 PC desktops, a printer, and a shredder. The Wi-Fi hovers around 9 Mbps in both download and upload speeds. 
Flagship First Class
Upon until now, we've focused on discussing the interior of the Flagship Lounge. The Flagship Lounge has relatively generous access policies, especially compared to the Flagship First Dining policy.
However, the Flagship First Class experience includes 2 additional elements over others:
Flagship First Check-In
Flagship First Dining
Flagship First Check-In
Flagship First Check-In is a ground experience that travelers can use to access a private check-in area, get personalized assistance, and also expedited security procedures.
At LAX, this is located at Terminal 4. You will see an exclusive curbside entrance, along with airport staff that will whisk you inside.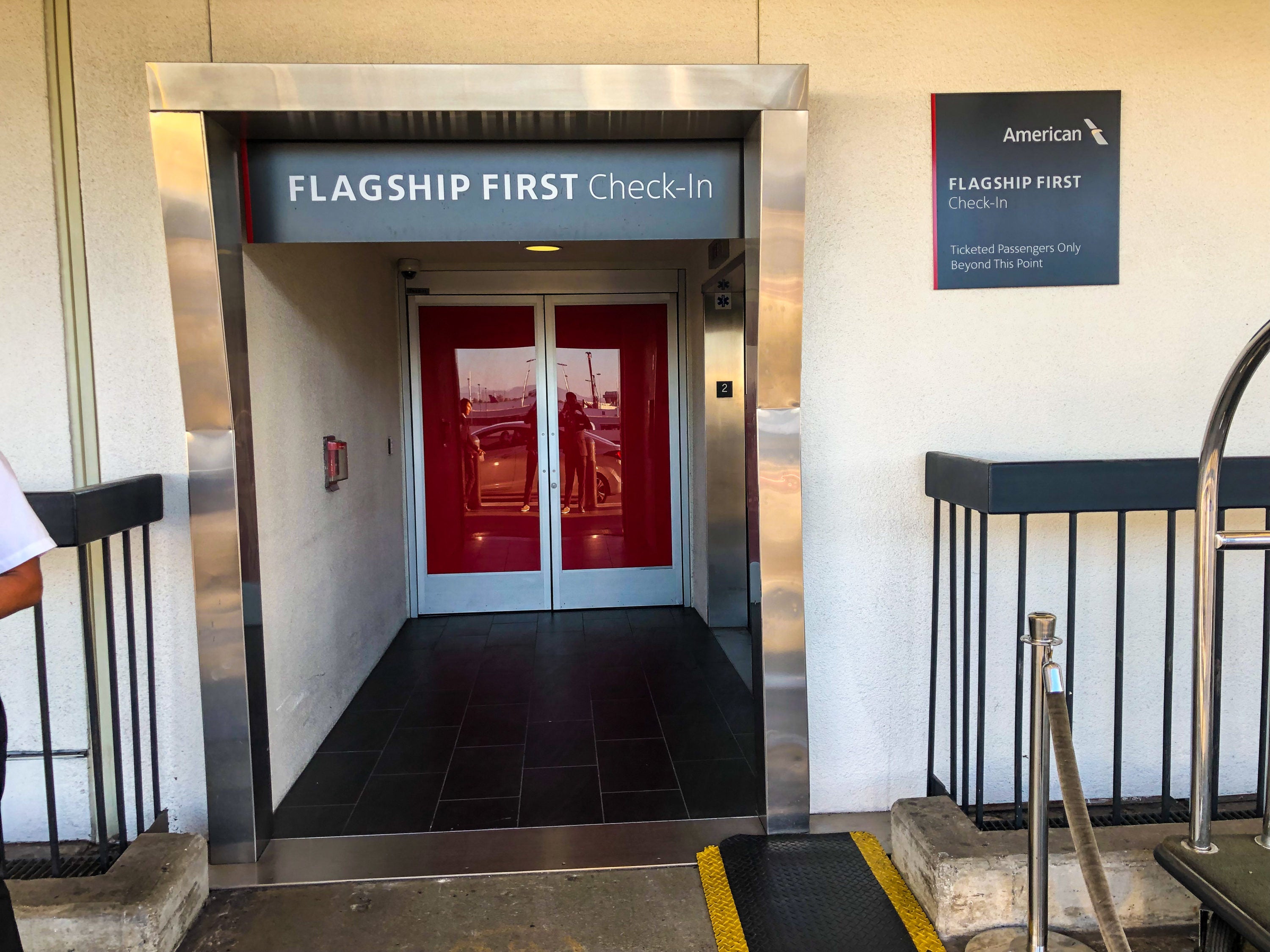 Once you enter through the automatic glass doors, you'll see 2 sets of check-in desks. At this point, the representative will help print out your boarding pass and take care of the check-in formalities for you.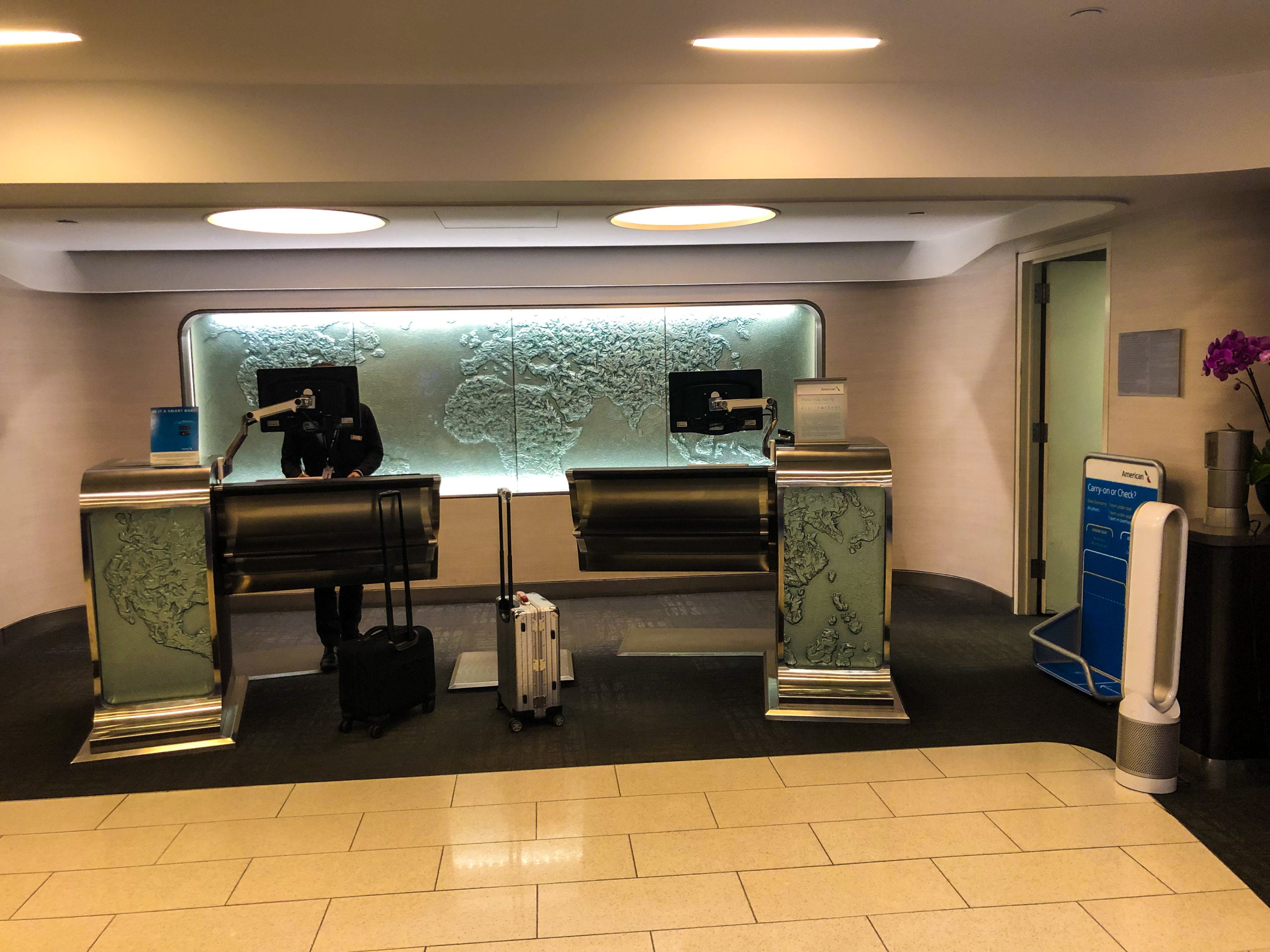 There's also a waiting area with 3 armchairs just next to the check-in counters.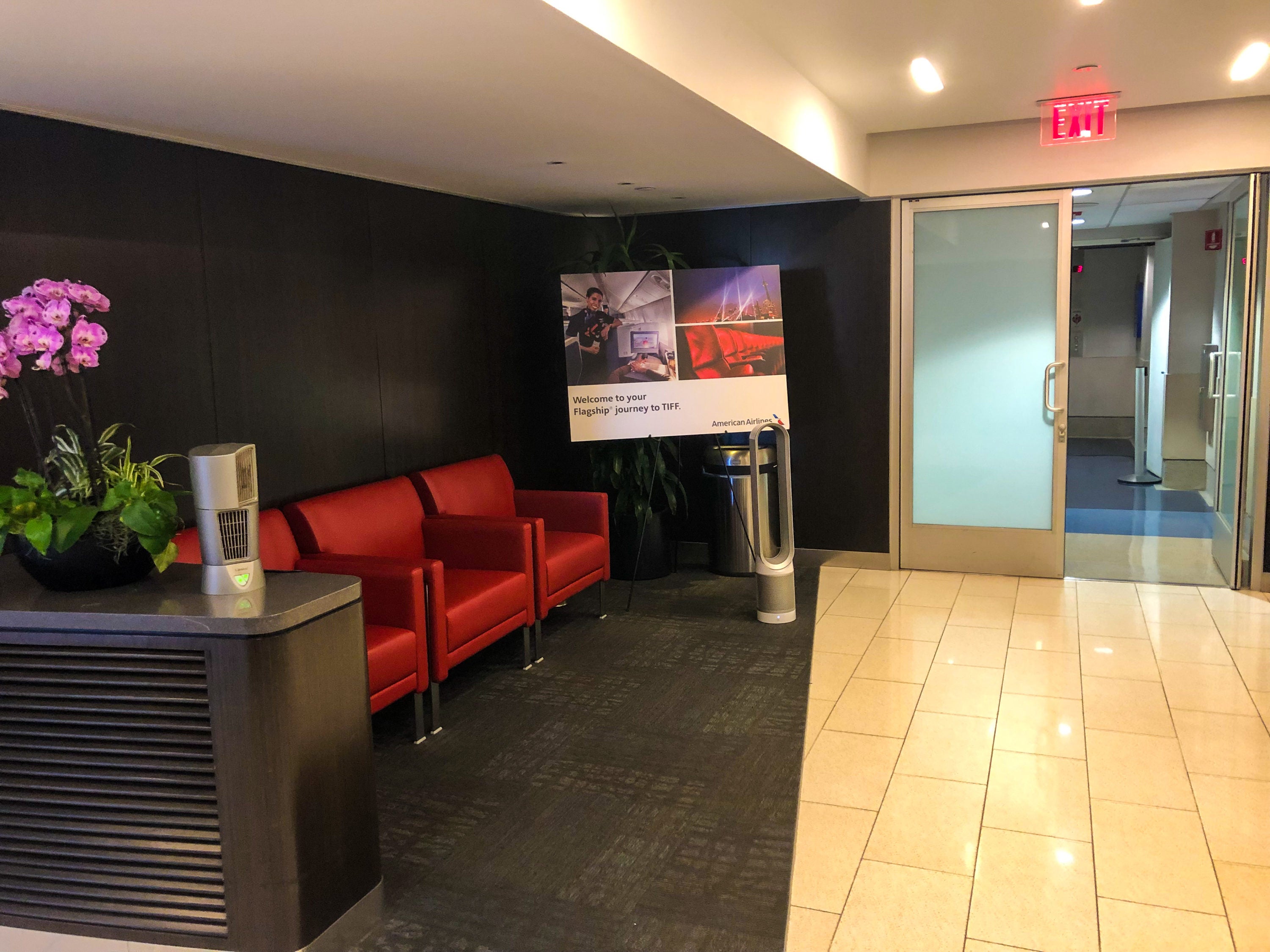 After your itinerary has been confirmed and your boarding passes issued, you will take the elevator 1 level up to the third floor.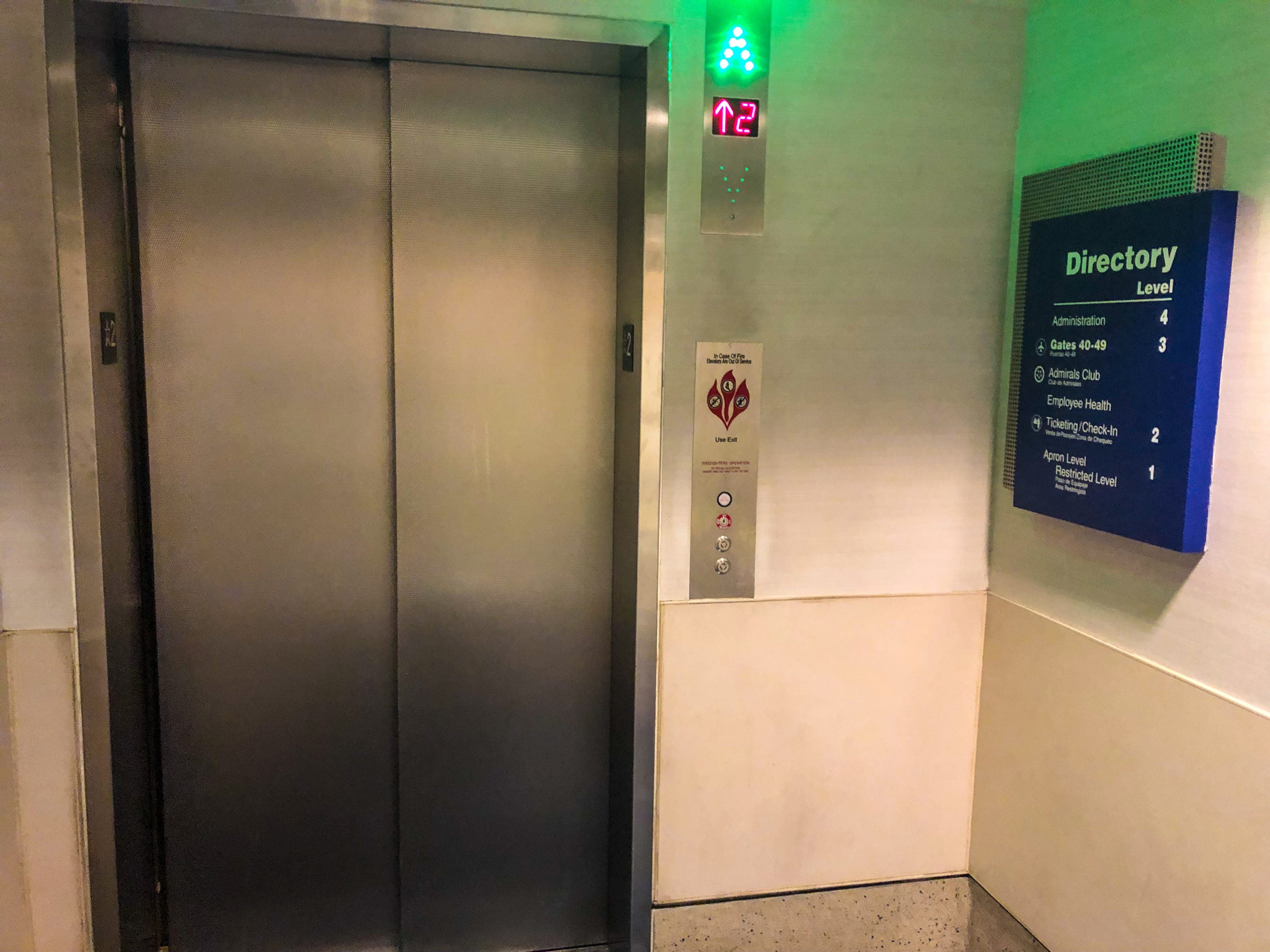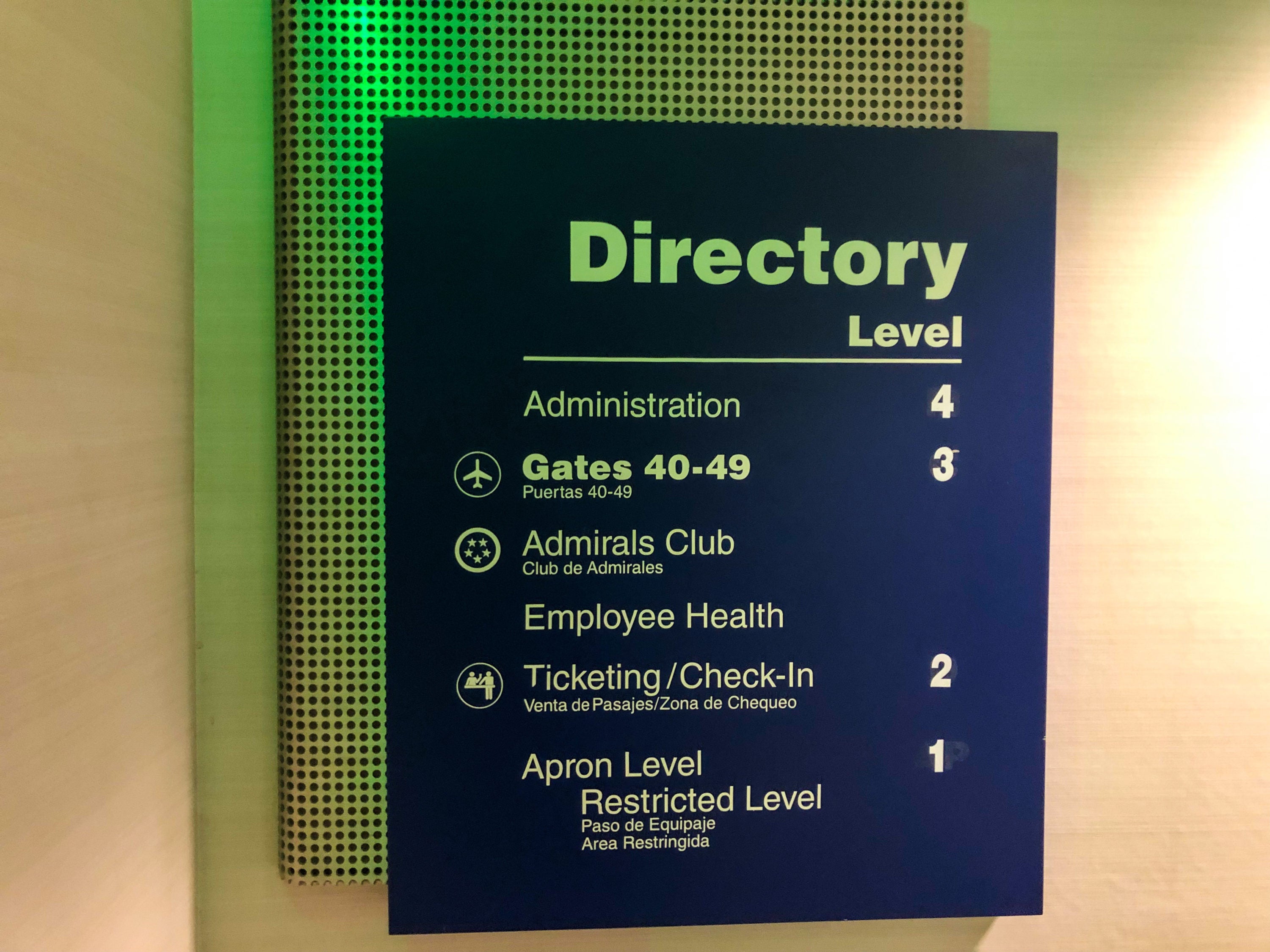 I can definitely see the value of the Flagship First Check-In experience on international flights. The reason why is because it enables travelers to avoid the check-in queues to check baggage, verify passport information, and print out boarding passes.
However, the value of Flagship First Check-In for transcontinental flights is somewhat limited, since boarding passes can be issued 100% online. Nonetheless, Flagship First Check-In is a much-appreciated novelty to the overall experience.
Flagship First Dining
Out of everything discussed so far, Flagship First Dining is the most phenomenal dining experience you can have at LAX airport. Flagship First Dining has the most restrictive access policy out there.
To enjoy Flagship First Dining, you must be flying on American Airlines in Flagship First on qualifying international or transcontinental flights:
Qualifying international flights between the U.S. and Asia, Australia, Europe, and South America

1 guest is allowed (children over 2 count as guests)

Qualifying transcontinental flights between LAX-JFK, SFO-JFK, and LAX-BOS (A321T aircraft only)
Since Flagship First Class is offered internationally only on the 777-300ER aircraft, there are incredibly few people who have access to Flagship First Dining.
If you're one of the lucky few at LAX, you can walk through the corridor to the right of the small seating area with a half-circle window overlooking the Terminal 4 walkway.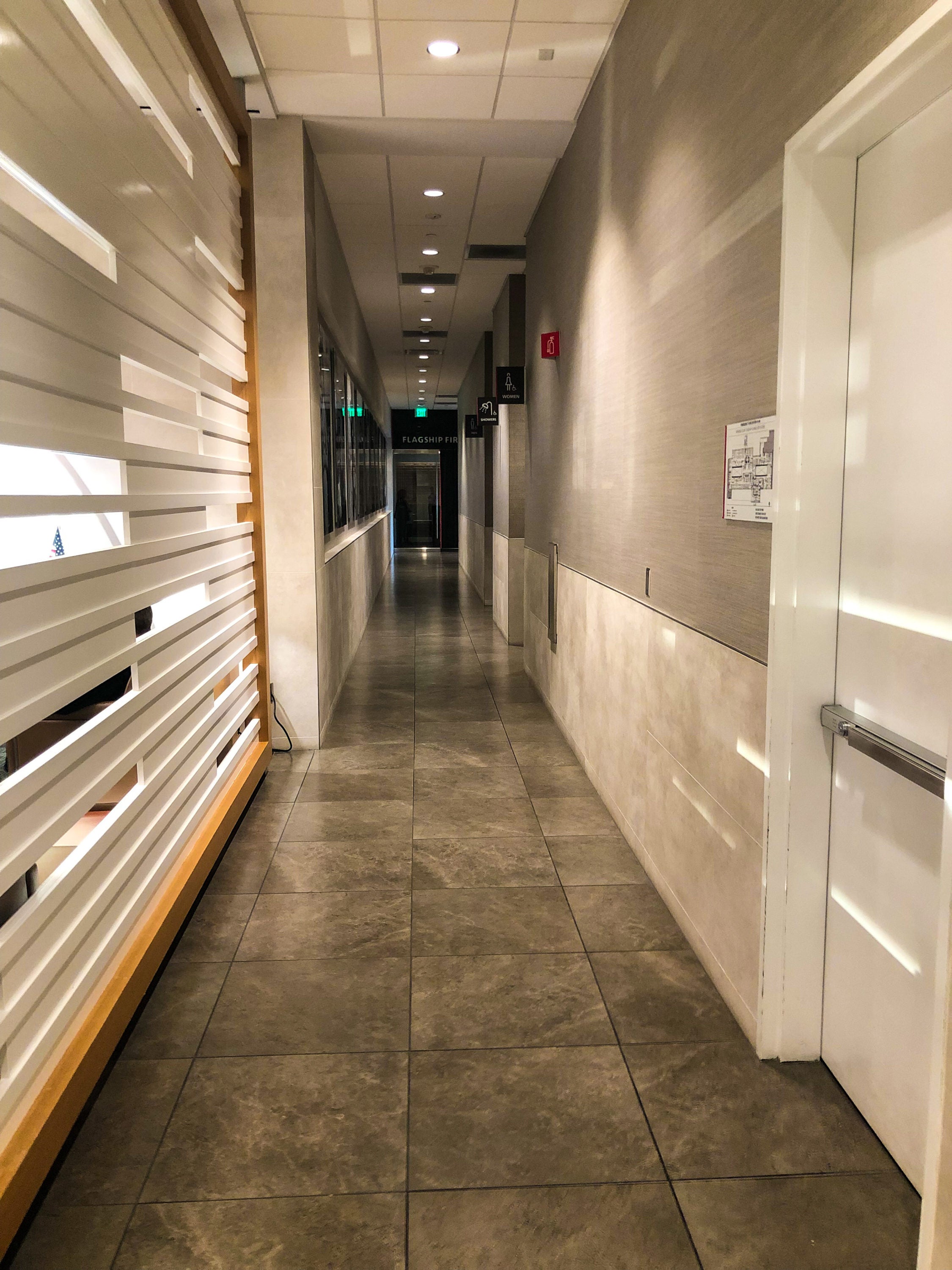 When walking through the corridor, you'll see historic snapshots of American Airlines' history, which is a tasteful move.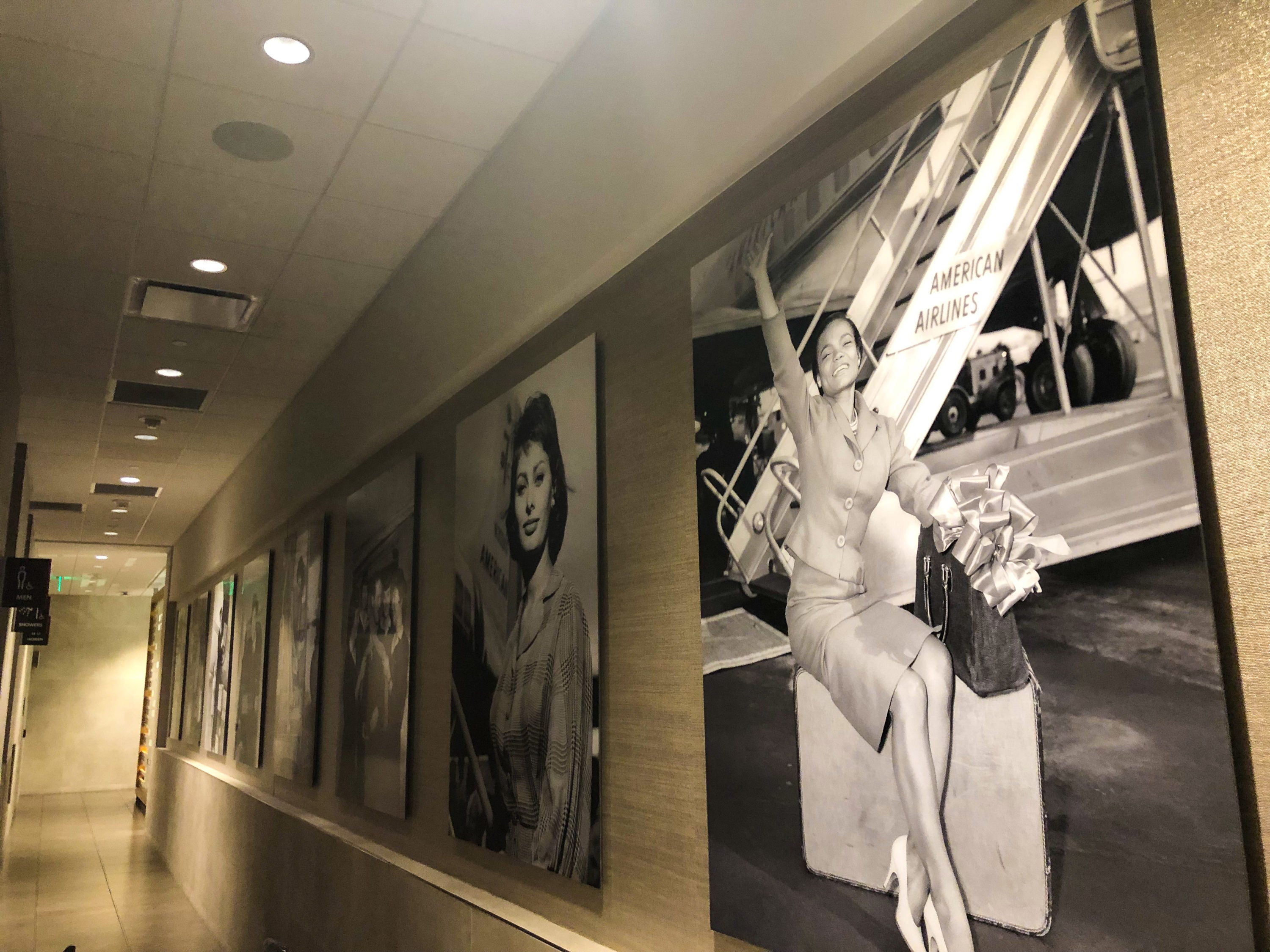 At the end of the hallway, you'll find the entrance for Flagship First Dining. Before we dive into the facility itself, let's talk about what sets Flagship First Dining apart from other lounges.
At Flagship First Dining, you will enjoy à la carte dining of the highest caliber, a beverage program that rivals the most luxurious cocktail bars, utmost privacy, and an elevated sit-down experience.
To top it all off, Flagship First Dining is all-you-can-eat, which means you can feast on endless à la carte dishes and bottomless alcohol.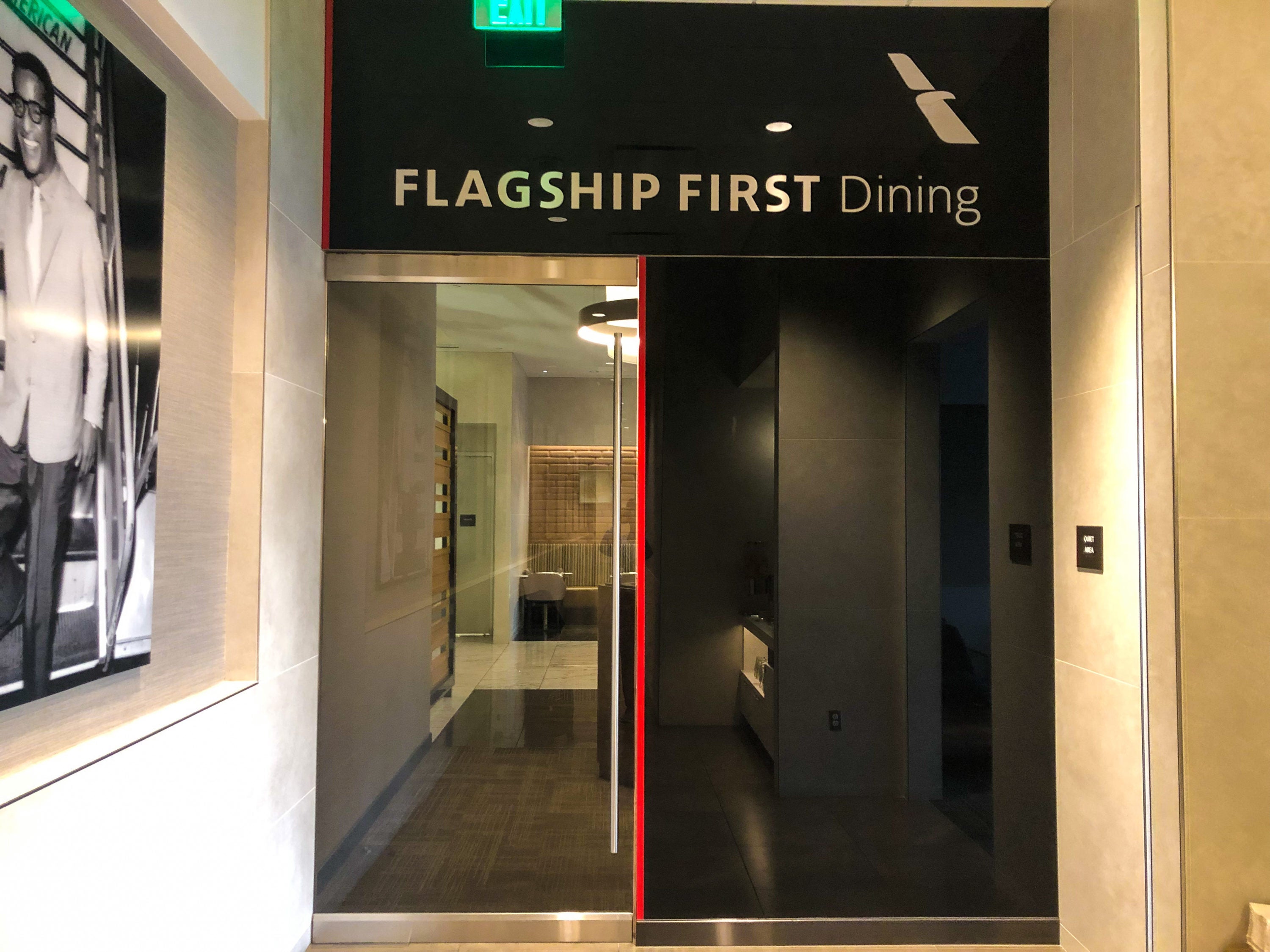 As you enter, you'll see a large cloakroom that doubles as a closet, which is used to store jackets and luggage.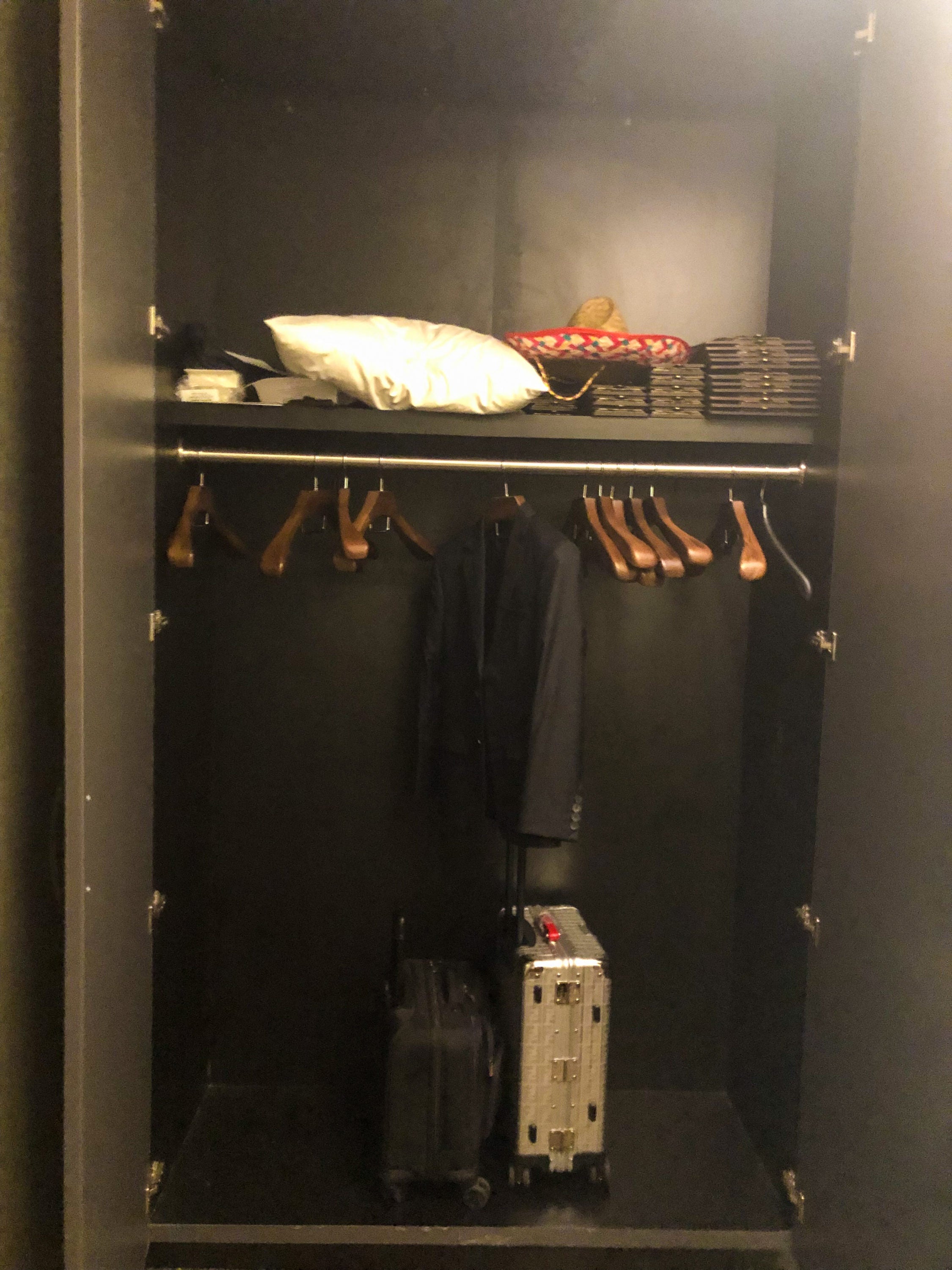 Flagship First Dining is arranged like a fine-dining restaurant, filled with dining table seating and a cocktail bar.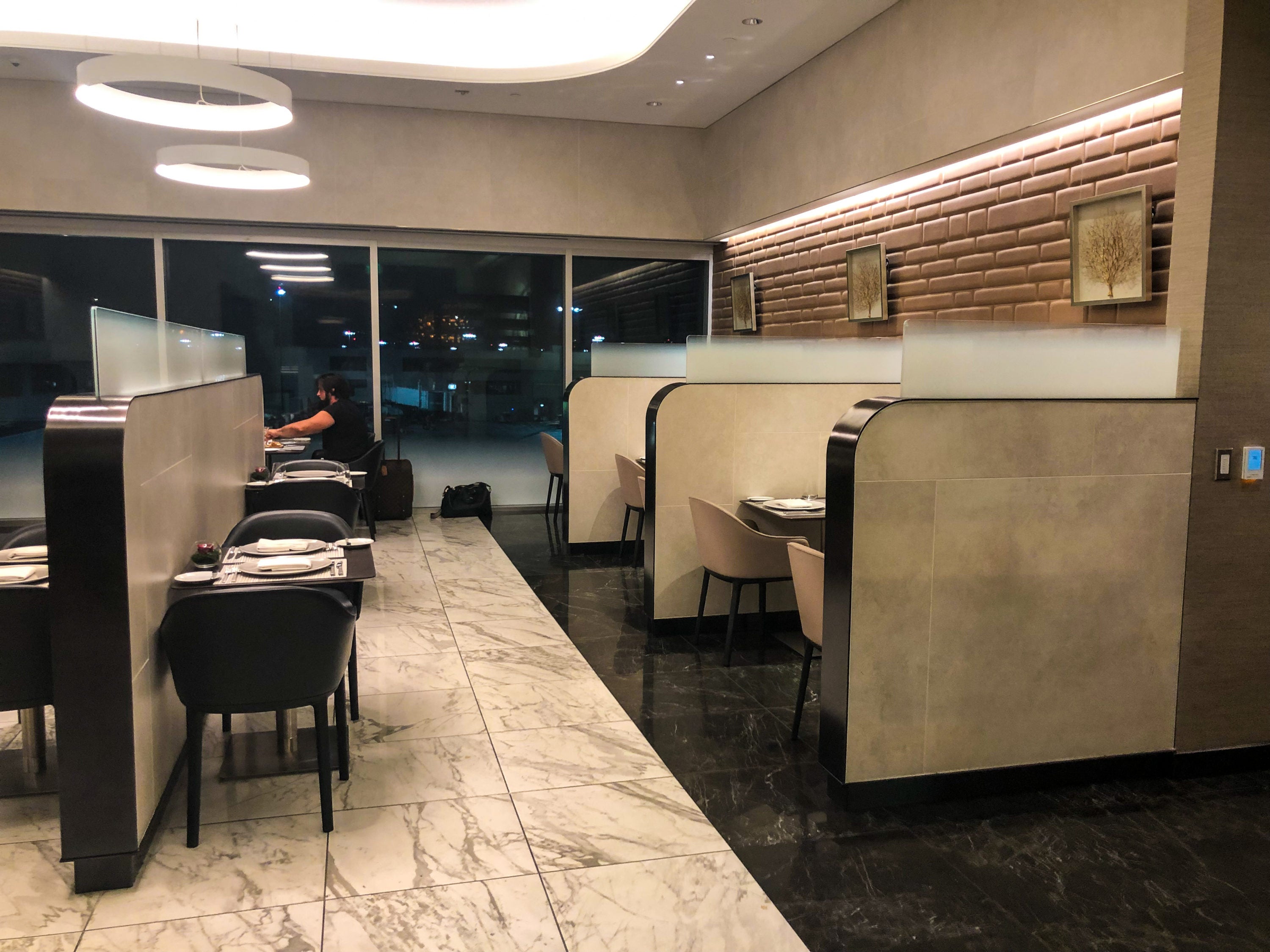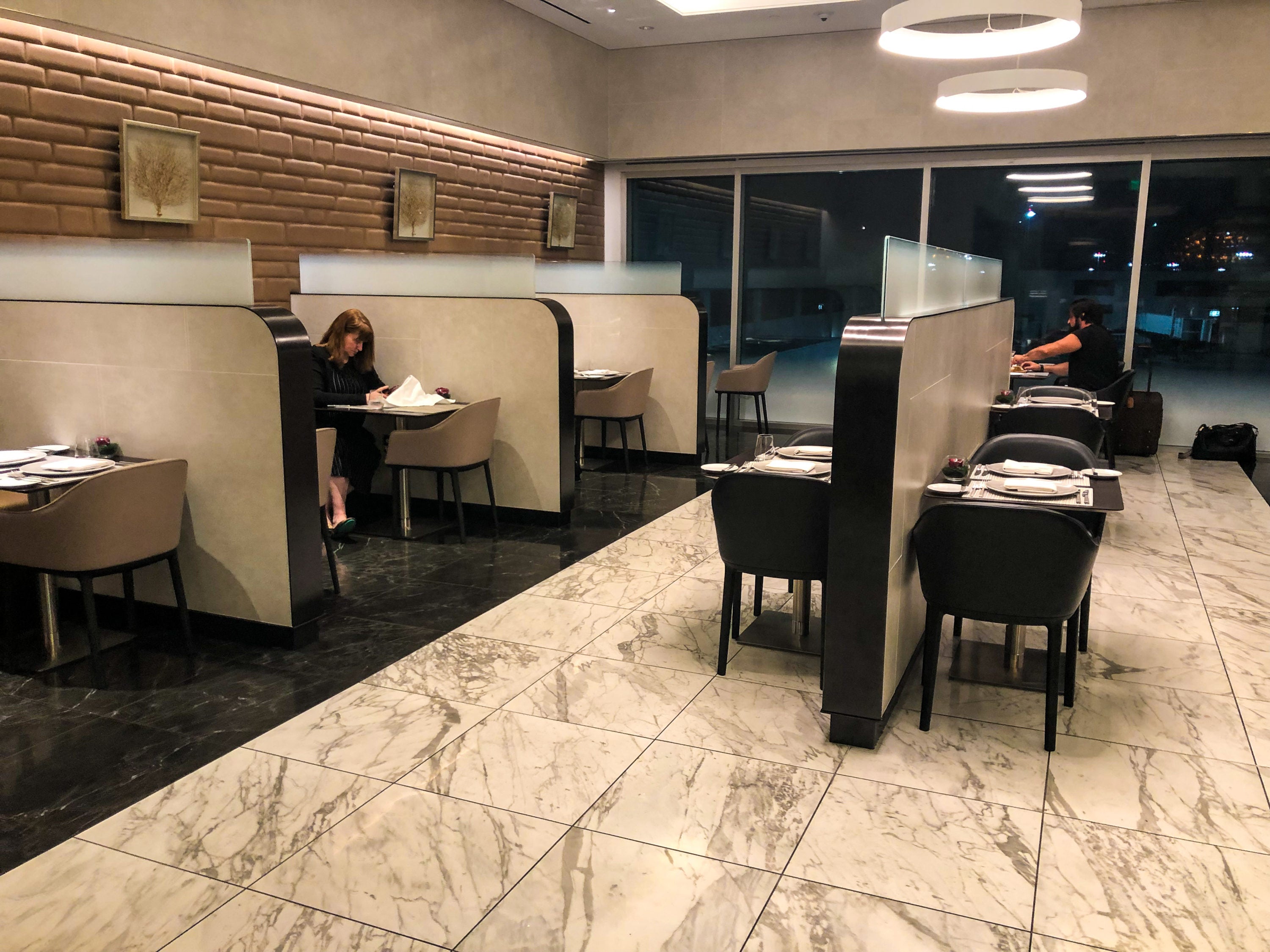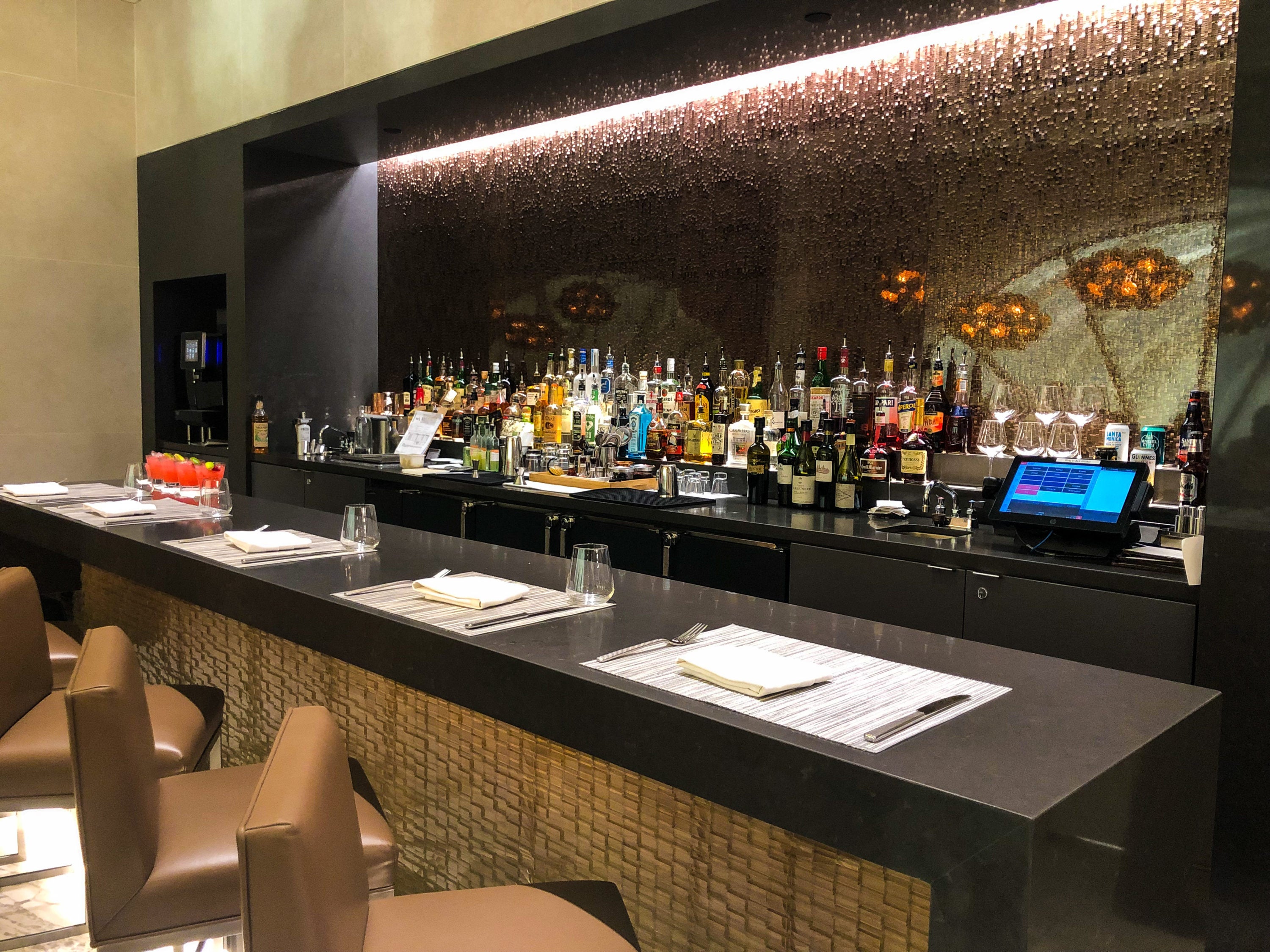 The tables were incredibly private, and the Flagship First Dining area only had 2 other travelers in the facility.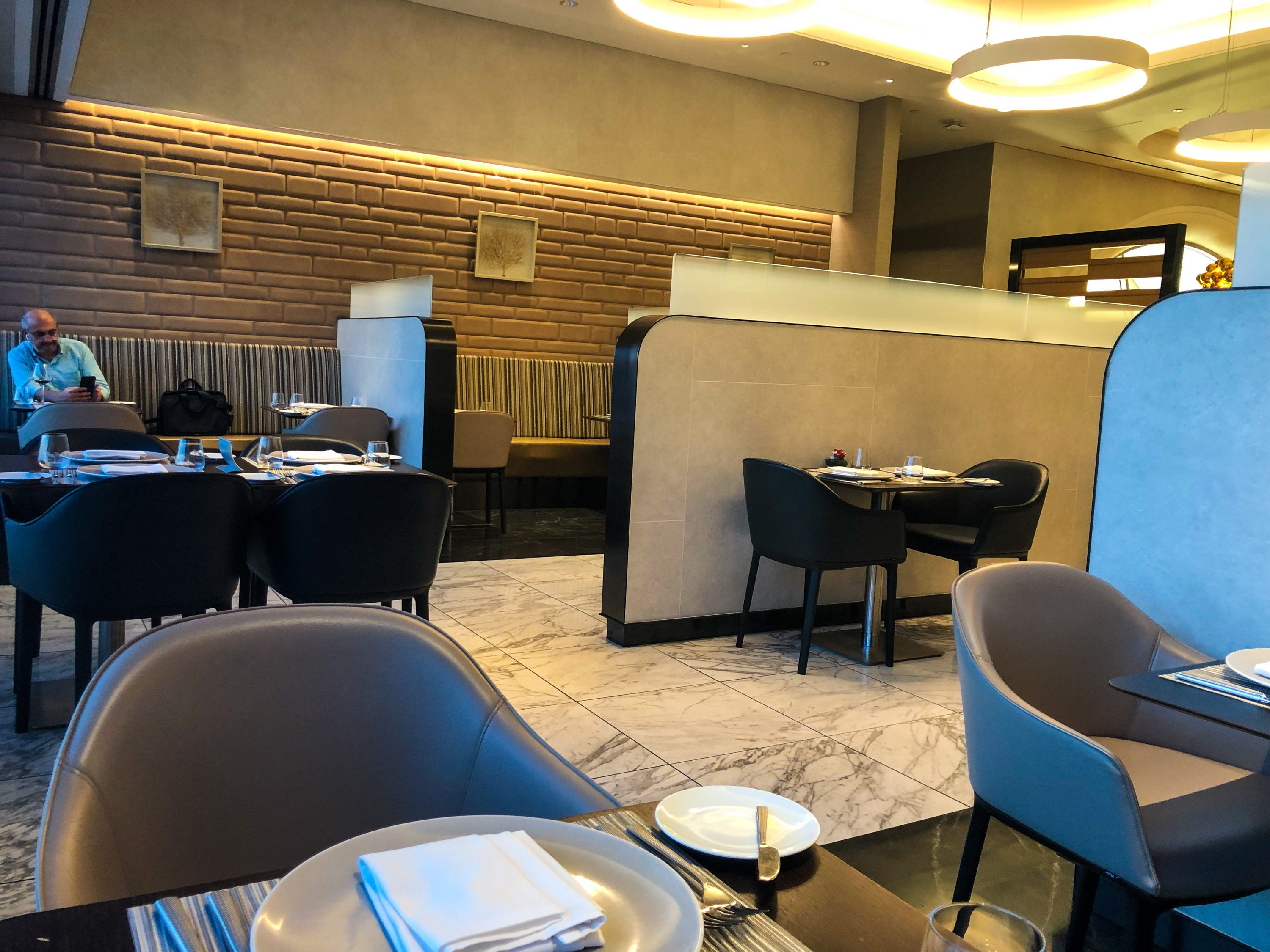 I chose a window seat, where I had tarmac views, complete with a beautiful sunset.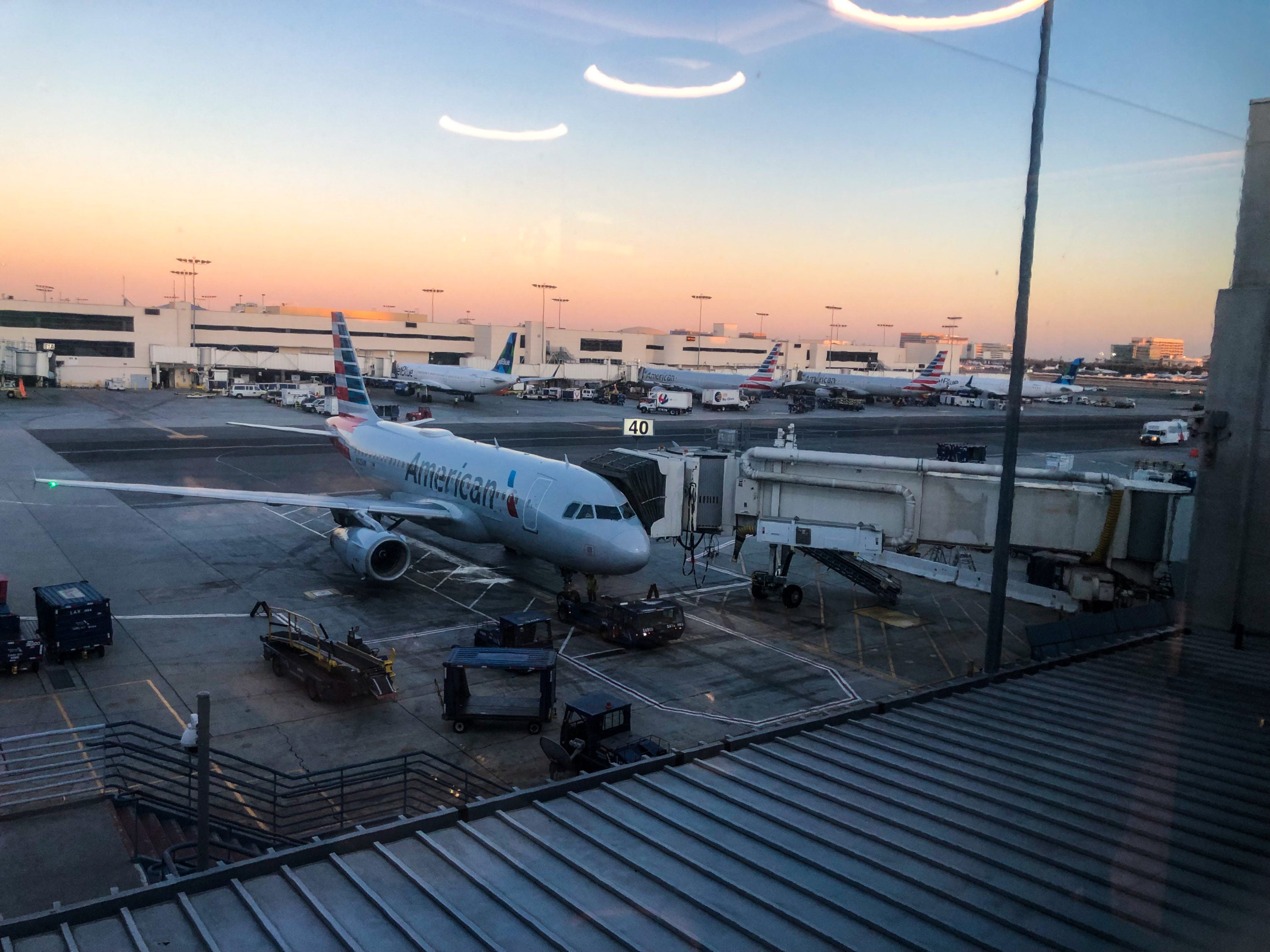 As I got situated, my server handed me a drink menu. Among the drinks on offer were hand-crafted cocktails, signature wines, and… Krug Champagne.
Krug Champagne is one of the most prestigious (and expensive) brands of Champagne out there. Generally, you'll hear of top-tier airlines such as Singapore Airlines or Cathay Pacific offering Krug Champagne, but I was completely mind-blown to see it in an airport lounge.
An American Airlines lounge, no less!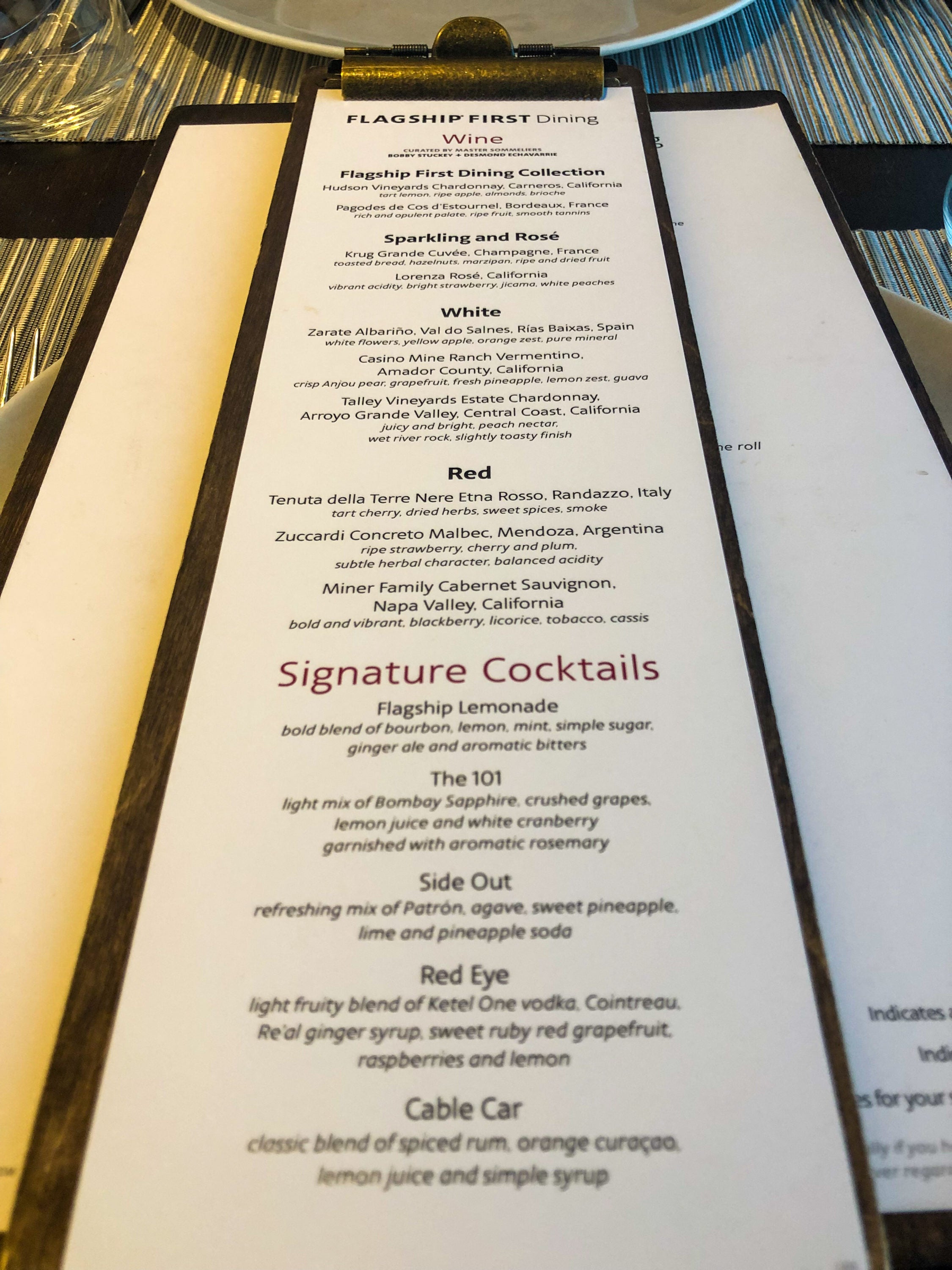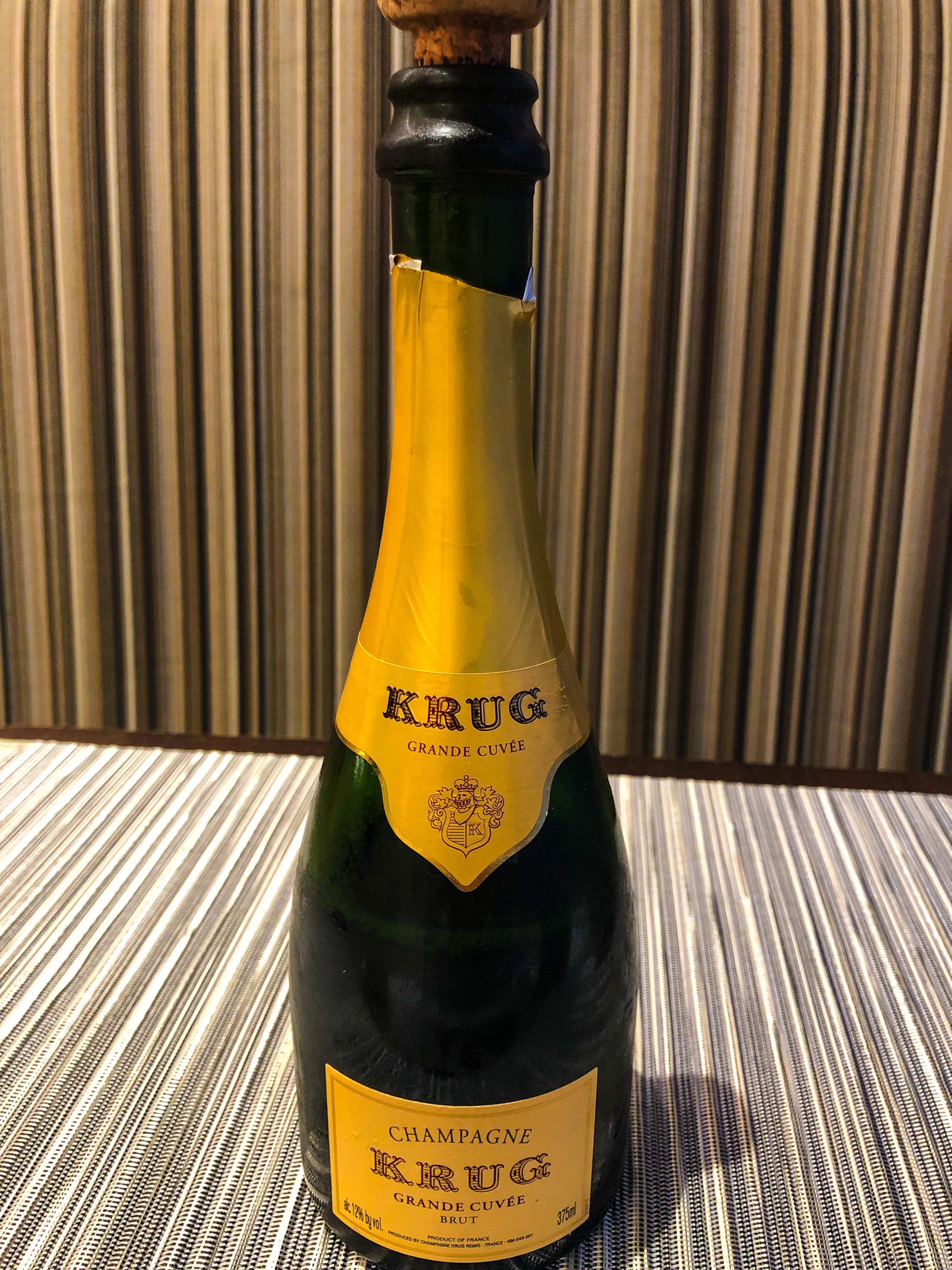 I ordered a glass of Krug and a mint mojito to kick off my Flagship First Dining affair.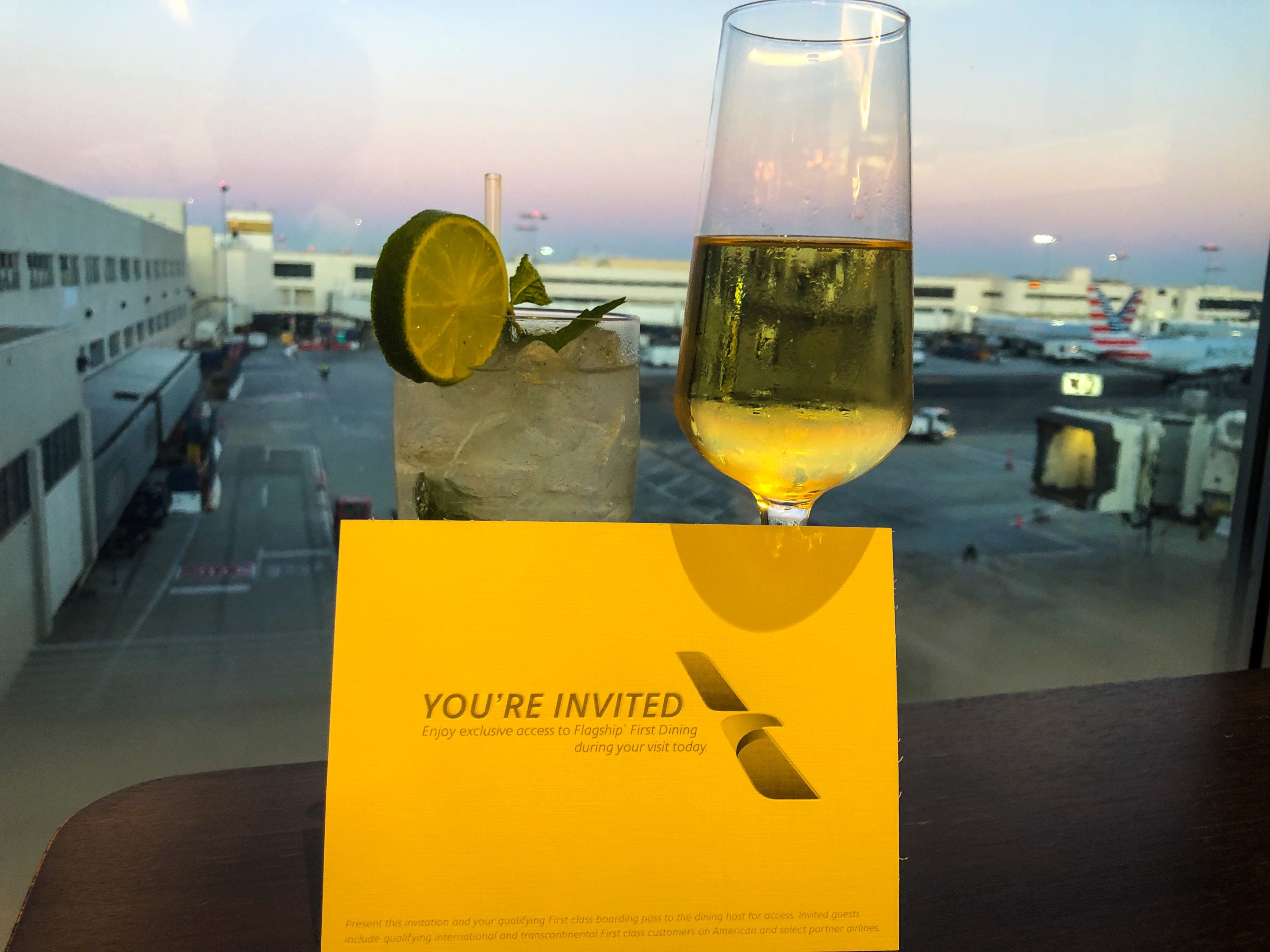 After ordering drinks, I studied the all-day dining menu.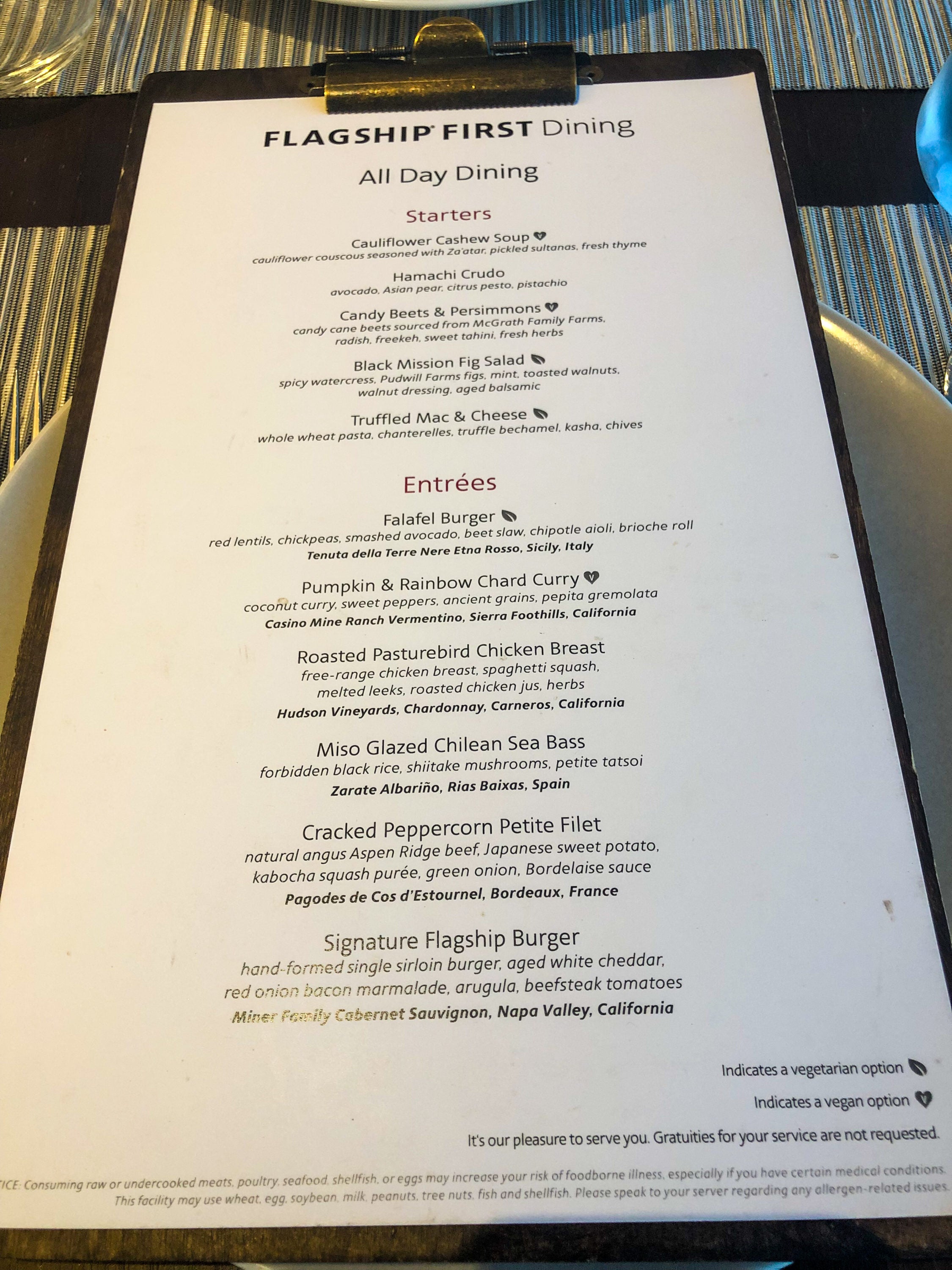 I first ordered the truffled mac and cheese, made with whole wheat pasta, chanterelle mushrooms, truffle béchamel, kasha, and olives. So savory, so rich, and so delicious.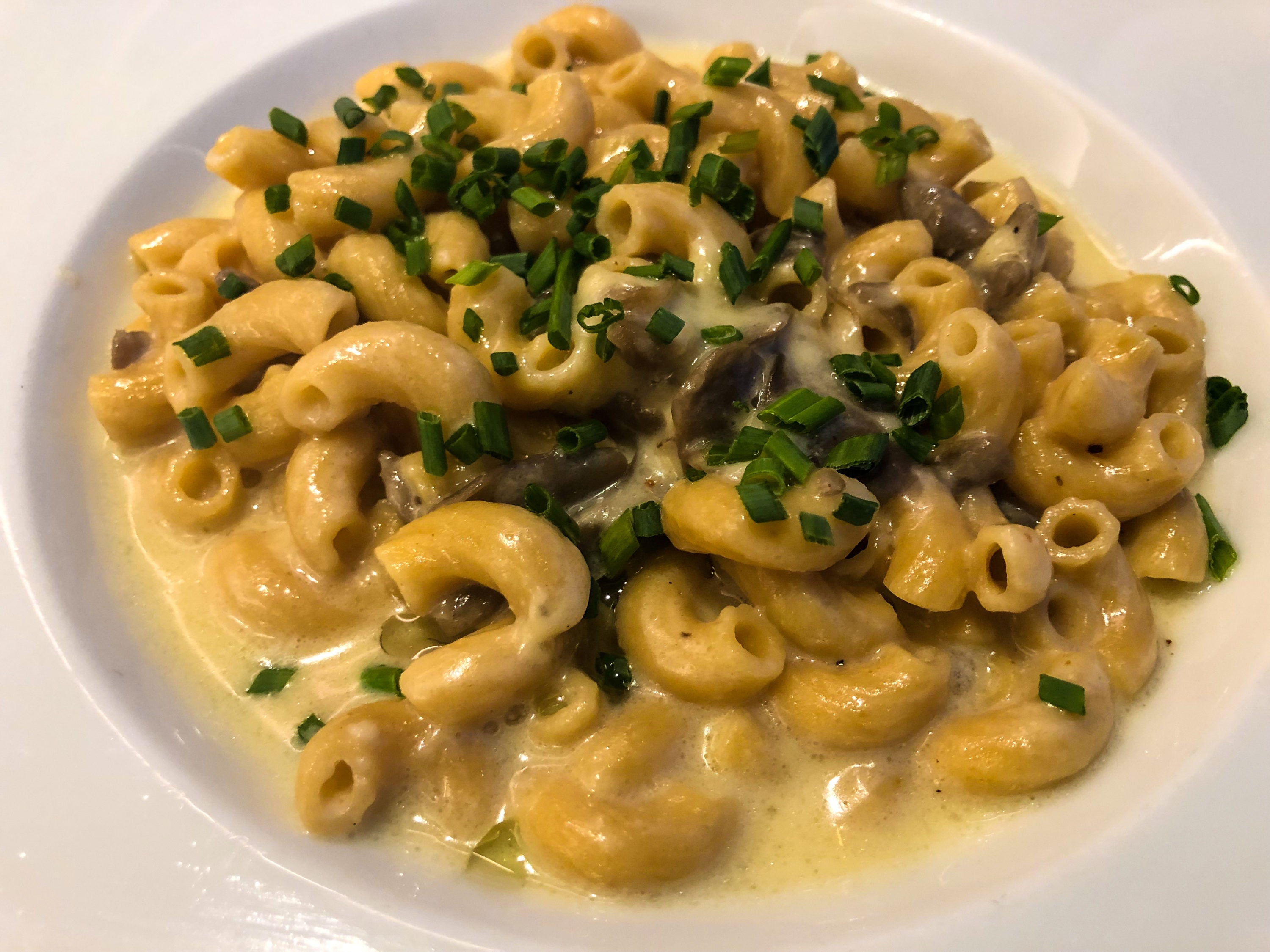 Next, I requested the hamachi crudo, which was adorned with avocado, Asian pear, citrus pesto, and pistachio. The dish was wonderfully refreshing.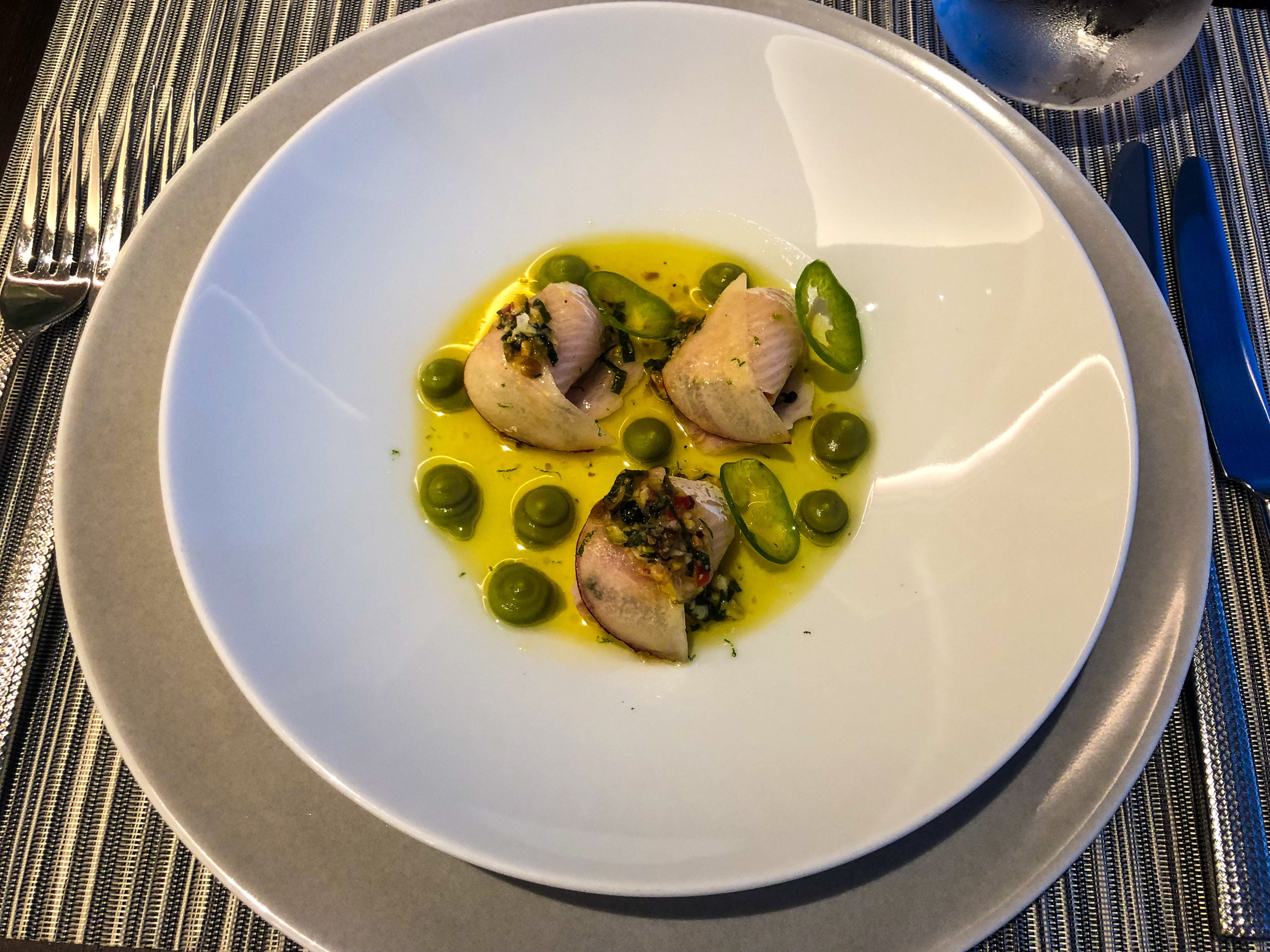 After the 2 starters, I opted to order a mainstay of the Flagship First Dining menu at LAX: the miso-glazed Chilean sea bass.
The sea bass was laid atop a bed of forbidden black rice, shiitake mushrooms, and garnished with petite tatsoi.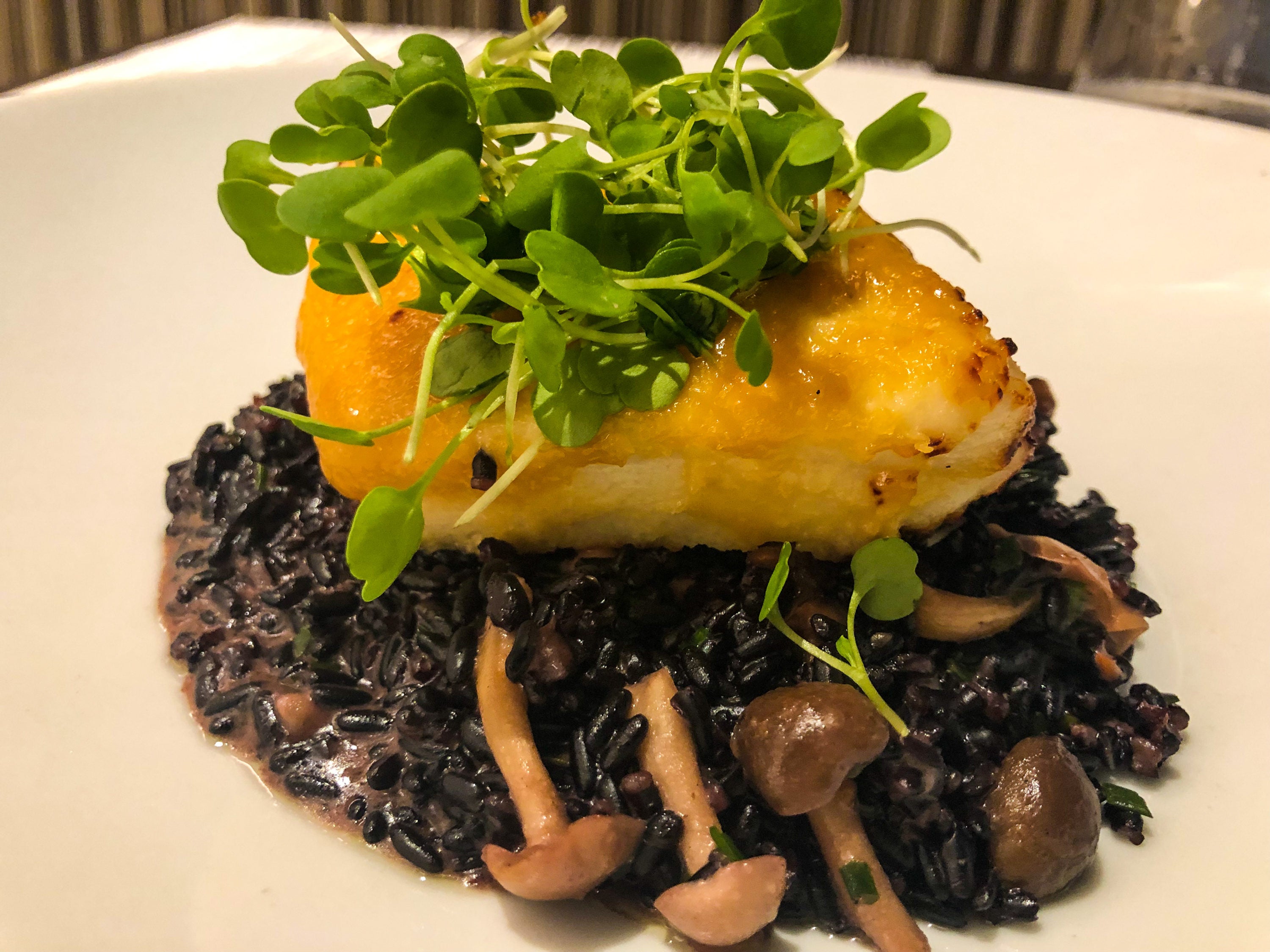 The sea bass was infused with some of the most delicious flavors I've ever had, and it was finished with a crisp skin.
After the Chilean sea bass, I opted for the cracked peppercorn petite filet. Featuring natural Angus Aspen Ridge beef, the dish was paired with Japanese sweet potato, a kabocha squash purée, and a Bordelaise sauce. It was finished off with a sprinkle of sea salt flakes.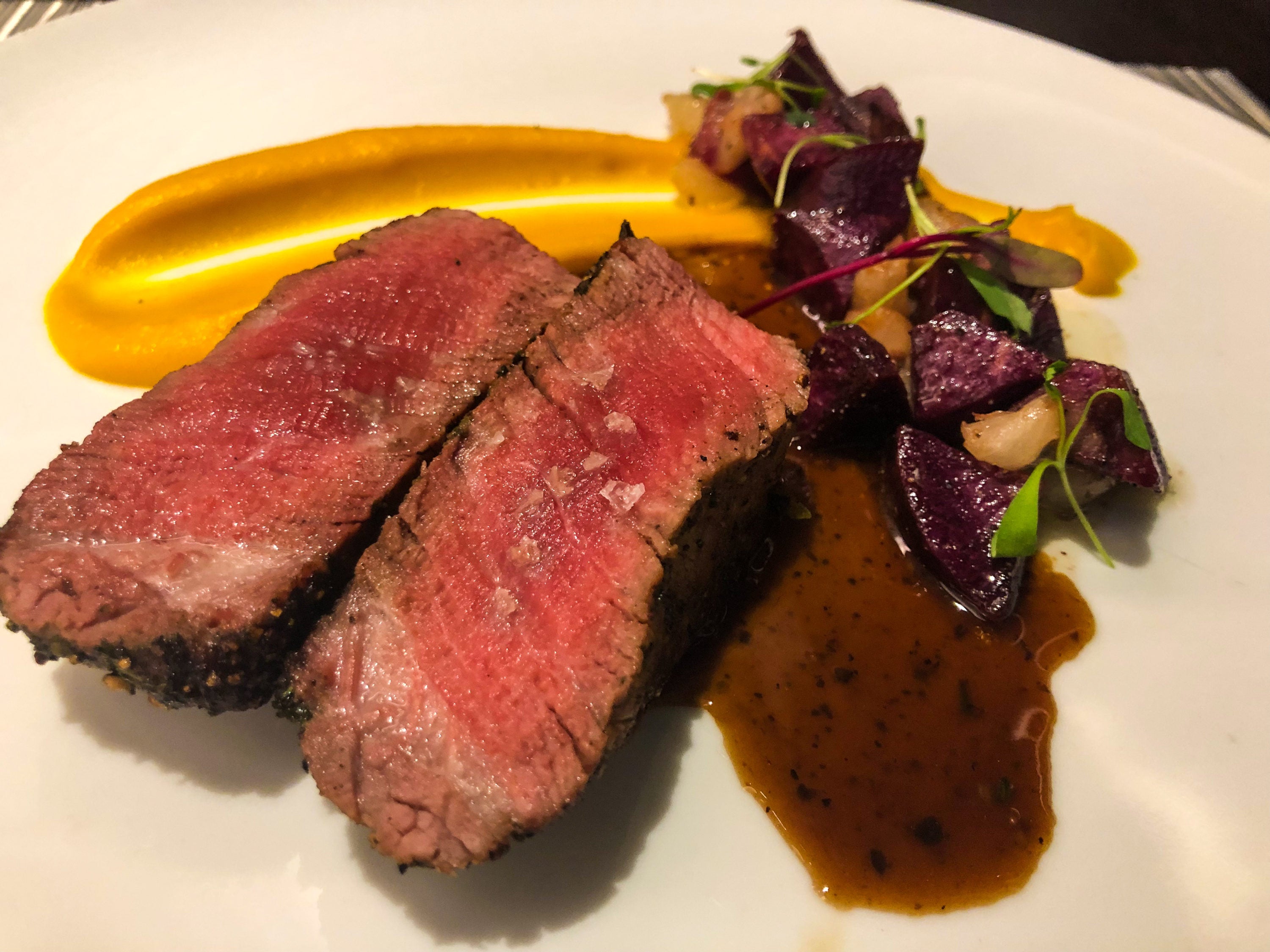 The steak was cooked to perfection, and I relished every single bite of it. At this point, I was nearing the point of explosion for being so full. Nonetheless, I persisted with dessert.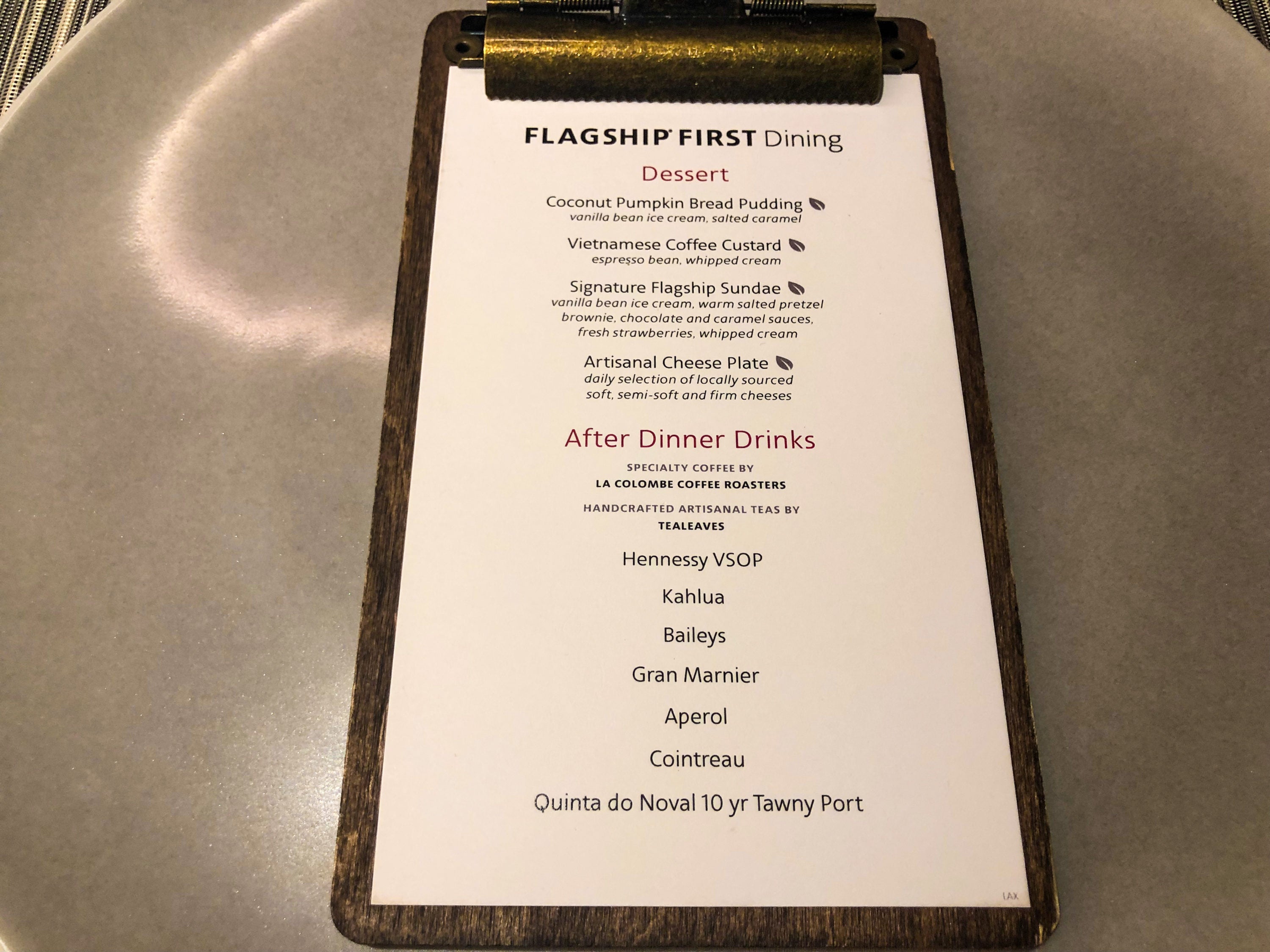 I ordered the coconut pumpkin bread pudding, which was coupled with salted caramel and bread crumbs.
So sweet, rich, and delicious.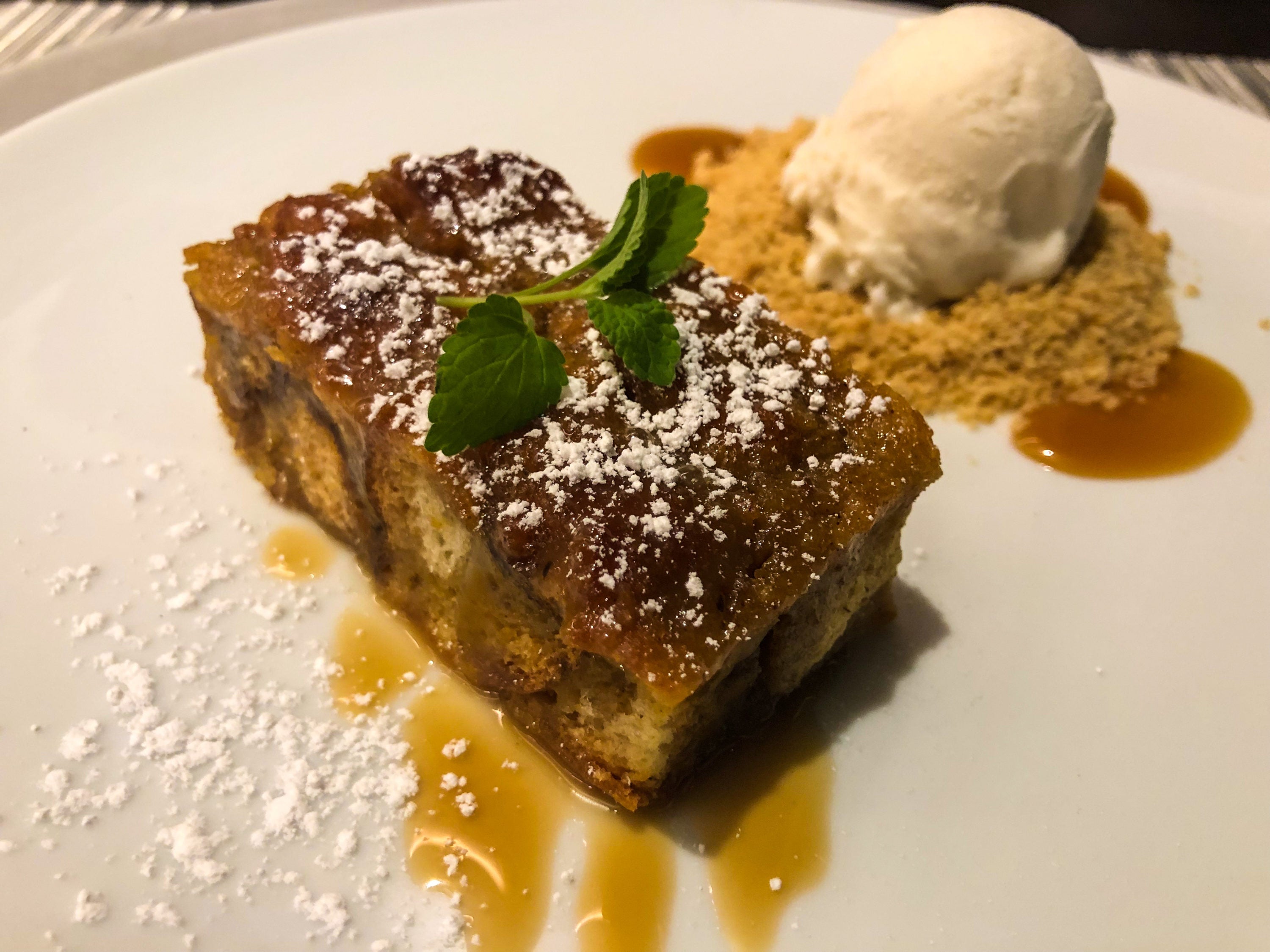 Then, I opted for the Vietnamese coffee custard, and it was so scrumptious. The coffee flavor was bold, and the custard was topped with pomegranate seeds and whipped cream.
The custard itself was airy, yet full in flavor.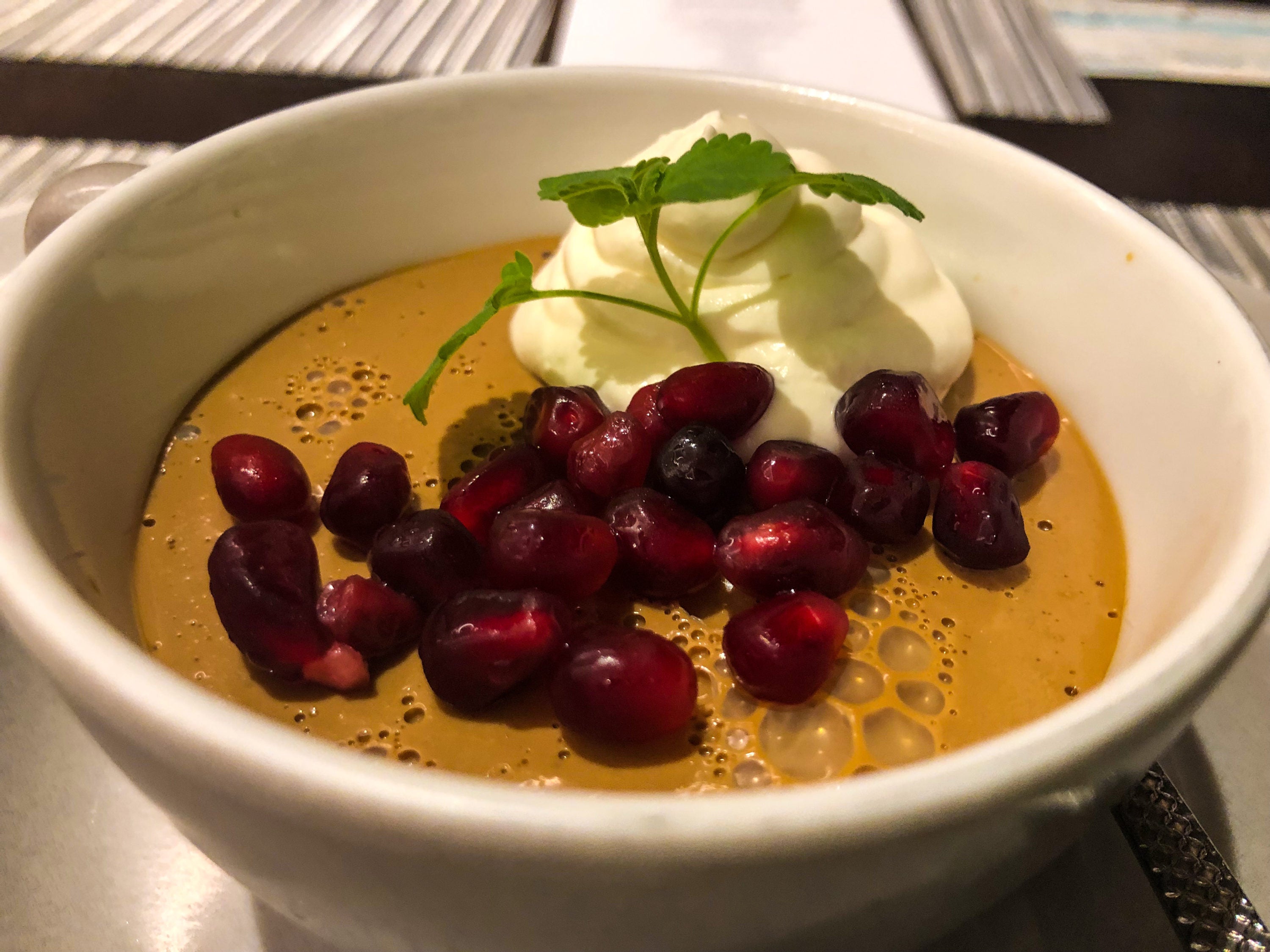 Needless to say, I was stuffed by the end of the meal. At this point, I began heading out. Before that, however, I snapped a picture of the breakfast menu: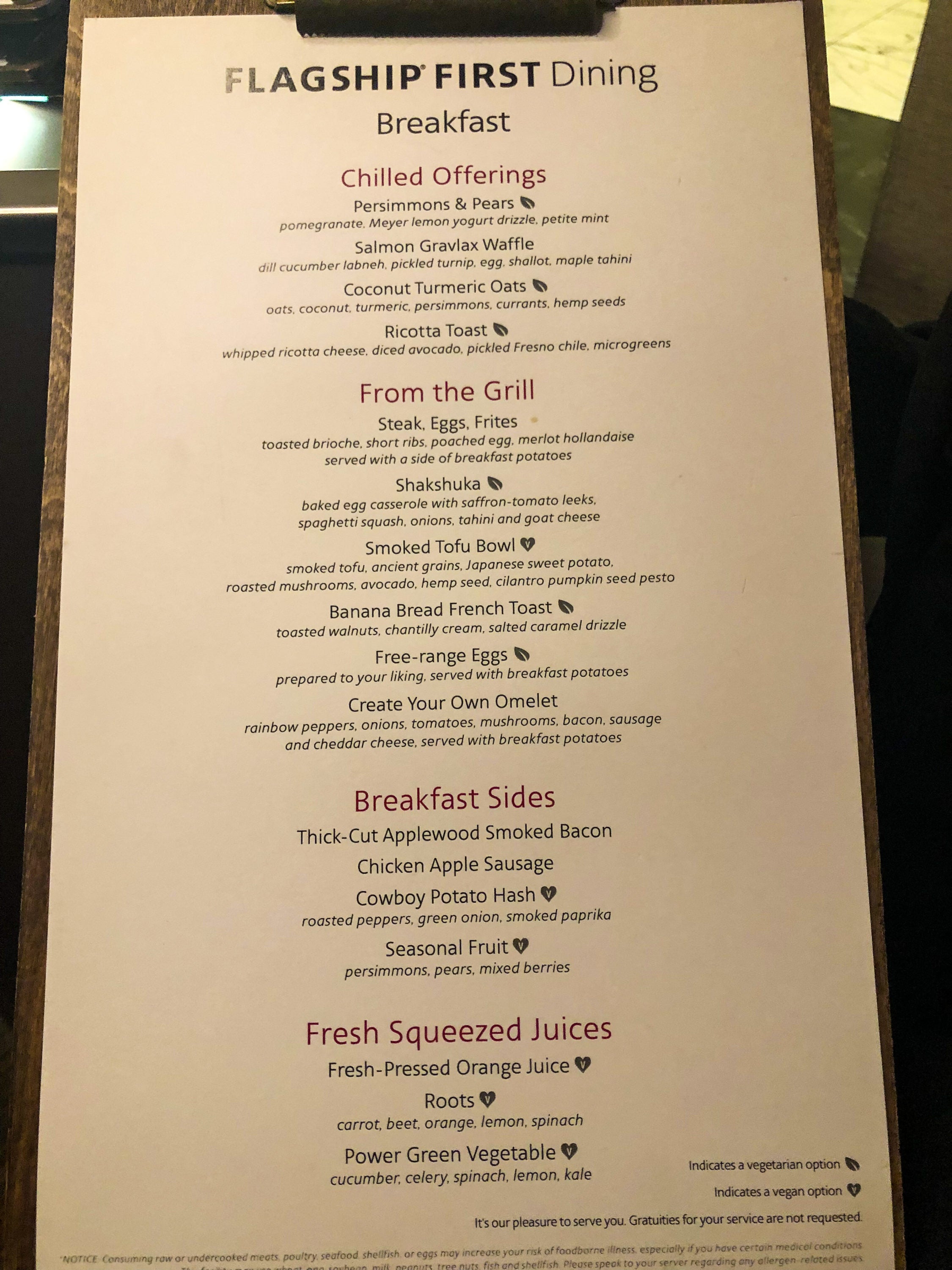 Bottom Line: The Flagship First Dining experience alone makes flying first class (at least transcontinental) worth it. I thoroughly enjoyed the deep variety of foodstuffs, the premium alcohol (Krug), and the rich desserts. I especially enjoyed being able to escape the chaos of the crowded Flagship Lounge and unwind in a refined culinary adventure at the comfort of my table.
Final Thoughts
The American Airlines Flagship Lounge at LAX is an exclusive space for those traveling on qualifying tickets or with certain elite status tiers. With a simple layout, numerous food and beverage options, and amenities that include contemporary shower suites, daybeds, and a business center, the Flagship Lounge is competitive with other business class lounges.
However, what sets the Flagship Lounge apart and makes American Airlines lead the pack in an amazing ground experience is the development of the Flagship First Dining concept and the rollout of Flagship First Check-In.
The à la carte dining experience coupled with some of the best alcohol out there (Krug Champagne) and finished off with an ultra-private venue makes Flagship First Dining one of the most (if not the most) extraordinary dining services you can get.
The Flagship First Check-In is a useful amenity, particularly on long-haul international first class flights, but the appeal is primarily for novelty, I suspect.
Nonetheless, the American Airlines Flagship Lounge at LAX is certainly an experience to remember. Best of all, it can be accessed in its entirety even on domestic flights, assuming you fly transcontinental in Flagship First Class.