What Is American Airlines Platinum Status Really Worth?
In the American Airlines AAdvantage program, there are 4 levels of elite status: Executive Platinum, Platinum Pro, Platinum, and Gold.
Platinum status is the second-lowest tier in the program and offers complimentary auto-requested upgrades, a 48-hour upgrade window, a 60% elite mileage bonus, complimentary Main Cabin Extra and Preferred seats, and 2 free checked bags.
Platinum is a relatively easy status to earn, only requiring 40,000 miles flown a year and $4,500 spending during the 2021 program year. While this may seem like a lot of miles or money for some, this amount of travel is not uncommon for a business traveler or even a heavy leisure traveler. With the status being relatively easy to earn, that means a lot of people have Platinum status.
In this article, we'll take a deep-dive inside the important information about Platinum status, including a brief overview of the level, the perks, the value of those perks, and how you can maximize every mile flown. The more value you can extract from this elite level, the more overall savings you'll get.
How To Earn AAdvantage Platinum Status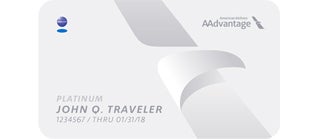 There are 2 ways of earning Platinum status on American:
Spend $4,500 and fly 30,000 miles in 2020 or $4,500 and 40,000 miles in 2021
Spend $4,500 and fly 45 segments in 2020 or $4,500 and 45 segments in 2021 (great for short-haul flyers!)
Earning Platinum status also comes with Oneworld Sapphire. If you fly 2 million miles on American or its partners, you can earn Platinum status for life and won't have to qualify every year.
Hot Tip: Did you know that having the right credit card in your wallet can help you fast-track to elite status? Read more about it in our guide to the best credit cards for airline elite status.
The Benefits of AAdvantage Platinum Status
Complimentary Upgrades on Flights 500 Miles or Less ($400 Value)
One of the biggest perks of Platinum status is getting unlimited upgrades on flights 500 miles or less. These flights aren't going to be the fanciest, and none of them will offer a full-fledged meal, but an upgrade is always nice even if it's a short flight. The upgrade is even better when it's free.
Typical flights of 500 miles or less are Miami (MIA) to Tampa (TPA) or Milwaukee (MKE) to Chicago (ORD). You'll find that many of these flights are operated by regional jets. To maximize this benefit, there are a few things you can do:
Plan for multiple connections. If you're flying to 2 cities that are more than 500 miles apart, try to connect in a city that is less than 500 miles from both your starting point and ending point. Your status will grant you upgrades on both legs since both flights are 500 miles or less.
Choose aircraft and cabins that have more seats. Try to pick a 737 over a CRJ-700 since more first class seats mean more seats for upgrades.

 
During a year, you'd likely fly several flights of 500 miles, and each upgrade is worth at least $50. Assuming you fly 8 flights of 500 miles in length, you'll have earned about $400 in value.
As a recommendation, there's several under 500-mile routes that are easier than others for upgrades, even for Platinum status members:
The daily 737 departure from Washington, D.C. (DCA) to New York (JFK) (currently suspended until COVID-19 recovers)
Select Washington, D.C. (DCA) flights to Boston (BOS) or New York (LGA)
Select New York (JFK) flights to Boston (BOS) (currently suspended until COVID-19 recovers)
Mid-day non-peak hour Washington, D.C. (DCA) flights to Chicago (ORD)
Wide-body flights from Miami (MIA) to Tampa (TPA)
Wide-body flights from Miami (MIA) to Orlando (MCO)
Phoenix (PHX) to Tucson (TUS)
Phoenix (PHX) to Flagstaff (FLG)
Hot Tip: For more information on snagging that upgrade, see our in-depth guide on how you can get upgraded to business or first class on American Airlines.
4 500-Mile Upgrades for Every 12,500 Miles Flown ($600 Value)

For every 12,500 paid miles flown, you'll receive 4 500-mile upgrades in your account. You can then use these upgrades on any domestic flight to upgrade.
If you have a flight that is 900 miles, ordinarily you wouldn't be eligible for a complimentary upgrade given it's more than 500 miles. However, you can use 2 of your 500-mile upgrades. If your flight is 1,001 miles, for example, you'll need 3 upgrades. If you need more, you can always purchase them individually or in bulk for $35 apiece. 
Keep in mind, even if you have enough upgrades for your trip, you'll still be behind 3 other status levels. Upgrades go in this order:
ConciergeKey at 120 hours out (invite-only status)
Executive Platinum at 100 hours out
Platinum Pro at 72 hours out
Platinum at 48 hours out
Followed by Gold at 24 hours out
If the route is super busy, don't expect an upgrade. Routes like New York (LGA) to Dallas (DFW), Washington, D.C. (DCA) to Los Angeles (LAX), or Seattle (SEA) to Dallas (DFW) are notorious routes for long upgrade lists. On many of those routes, even Executive Platinums don't clear the waitlist for an update. That said, you can maximize the value from these upgrades by:
Choosing off-peak times to fly. You're more likely to clear an upgrade on a Wednesday or Saturday, for example.
Choose larger planes, especially wide-body planes, that contain more seats.
Avoid upgrading a companion with you that will require more 500-mile stickers. Often, only 1 seat at a time is released for an upgrade and you may not get it.
If you fly 40,000 miles to qualify for Platinum status, you will have earned about 12 500-mile upgrades. The value of these upgrades is around $50 each, totaling an $800 value.
Hot Tip: Fly American a lot? If yes, see our in-depth article on the best credit cards for American Airlines flyers!
60% Mileage Bonus ($300 Value)
Platinum members get a 60% mileage bonus, so for every dollar spent, you get 6 miles. Gold members earn 40%, so over the course of the year, you'll accumulate more miles which gives you an opportunity to spend them on more trips.
It's tough to put a value on these miles. If you're constantly redeeming them for short-haul economy class flights, then you'll get minimal value. However, if you're looking to use them on business class flights to Europe, for example, it's a much better value.
You have to spend a minimum of $4,500 to reach Platinum status, so that spending will earn you 27,000 miles at a minimum. You generally need 25,000 miles for a one-way domestic first class ticket, so with the difficulty of finding available awards, this is an estimated $300 value.
500-Mile Guarantee ($25 Value)
This is a benefit that is awarded to all elite status members, but it's worth noting. For every flight you take, you're guaranteed 500 miles towards elite status, even if the flight is shorter than 500 miles.
So, if you fly from Baltimore (BWI) to Philadelphia (PHL), which is is well under 500 miles, you will still earn 500 miles toward elite status. Remember, these are the miles you earn for status, not the miles you redeem for a free ticket — those are 2 different things.
You probably won't be on too many shorter flights throughout the year, but assuming you're on 1 or 2, the $25 valuation here is certainly worth the 500-mile minimum towards status requalification.
Priority Check-In, Priority Security, and Priority Boarding ($150 Value)
Platinum status members receive the same airport amenities as both lower and higher tier elites — priority check-in, priority security, and priority boarding.
In airports where there is a priority check-in counter, you're able to use it. In airports with both a business and first class check-in counter, you'll use the business class desk. Dropping your bags off generally takes little to no time, but it's nice to have an expedited path to doing so.
Once you've checked-in, you can use priority screening lanes equipped at most, but not all airports. These lanes will generally be shorter, but the screening process is the same. If you have TSA PreCheck or CLEAR, you'll want to use those lanes since many times the priority lanes don't necessarily grant you TSA PreCheck expedition.
Once at the gate, you'll have priority boarding to board the plane but you won't be the first.
Here's a list of the priority order:
ConciergeKey members will pre-board the aircraft prior to normal groups
Group 1 will be first class and uniformed military personnel and Executive Platinum members

 

Group 2 will be Platinum Pro members
Group 3 will be Platinum members
Group 4 will be Gold members
Since most Platinum members will be seated in a Main Cabin Extra seating section, due to this being a complimentary benefit, there still should be plenty of room overhead to store bags.
It's hard to put a value on this benefit since it's fairly ambiguous, but because you're probably needing to see an agent a few times a year, and it's great to board the plane early to stow bags before others, it's an estimated $150 value.
Checked Bag Fee Waived ($175 Value)

As a Platinum member, you'll get 2 free checked bags on every flight. Since most times you'll probably be carrying on bags, coming up with a valuation is difficult, though we've accounted for a few times throughout the year where you might need to check bags, such as when traveling with family, or carrying work equipment.
When you check your 2 free bags, you get this for both yourself and up to 8 companions. There's no reason not to bring all that stuff your kids want you to bring since you now have a lot of room to check it.
We'll assume you check your bags or several bags a few times a year, like many travelers do, especially when you're carrying liquids or other non-carry-on objects. Let's assume 7 checked bags over the course of a year, whether for you or others, valued at $25 a bag.
Priority Bag Delivery ($25 Value)
This benefit is honestly hit or miss — not because it isn't valuable, but rather because it doesn't occur as often as it should.
In theory, as a Platinum member, your bag will be tagged with an orange priority tag and be amongst the first bags delivered to the baggage carousel.
Keep in mind that Executive Platinum, Platinum Pro, and Platinum members, along with other Oneworld elite status members, also receive this priority, so you may be waiting a while for your bag even with this benefit. 
This benefit is marginal of value since American isn't great about delivering priority tagged bags ahead of other non-tagged bags. Since it's very hit or miss, don't place a ton of value here. As this benefit isn't really something that's consistent, it's estimated at a $25 value.
Complimentary Same-Day Standby ($225 Value)
As a Platinum status member, you're allowed to fly standby for any flight on the same day and the same routing as your current flight. So, if you are booked on a DCA-DFW flight, you must stick with the exact same routing for any other flight you wish to fly standby for. Further, you need to use the exact same starting and ending airport, so, in this example, you couldn't fly out of another airport in D.C. 
Platinum status members, like most other scenarios listed, come fourth in priority order. On the flight's PALL list, which is the list you see at the gate displaying standbys and upgrades, you're listed as an RV4. RV4 stands for Revenue Voluntary 4. Other statuses are listed as:
Concierge Key is listed as an RV1
Executive Platinum is listed as an RV2
Platinum Pro is listed as an RV3
Platinum is listed as an RV4
Gold is listed as an RV5
Since Platinum members are the fourth priority, if you're trying to fly standby for a flight and there are Executive Platinums or Platinum Pros ahead of you, they'll get the seat first. It's recommended that you try to fly standby in non-hub airports since it's less likely there will be outranking status members ahead of you in smaller markets.
If you're booked on an earlier flight and are standing by for a later flight, you must list for the later flight and call in to ensure you aren't marked as a no-show for the earlier flight. If you don't notify American, you risk your reservation being canceled and receiving a penalty.
Flying standby is difficult to value since sometimes you can fly standby and sometimes you can't. Assuming that you're able to fly standby 3 times a year, that's a savings of $75 each time resulting in a $225 value. While American now allows all passengers to standby for flights earlier than their original flight, only elite passengers can standby for later flights, which is often where much of the value comes from.
Discounted Admirals Club Membership ($50 Value)

Without status, an annual individual membership to the Admirals Club costs $650. You're able to renew this membership at a rate of $600 annually. By being a Platinum member, you get to buy Admiral's Club access for the first time at $600, and then renew every year thereafter at $550.
The Citi®/AAdvantage® Executive World Elite™ Mastercard® also offers a complimentary Admirals Club membership as a benefit!
Complimentary Admirals Club Access on International Itineraries ($100 Value)
As a Platinum AAdvantage member, you will have access to Admirals Clubs when flying to the Caribbean (including the U.S. Virgin Islands and Puerto Rico), Canada, Mexico, and Central America.
Normally as a Platinum, you would not be entitled to any Admirals Club access on these flights when flying American to these destinations, but this is now a new benefit. To help you decipher which locations are eligible for this privilege, anytime you can use a 500-mile upgrade to upgrade your flight, you'll have access to a club when departing the U.S.
For this benefit, we'll assume you travel 1 or 2 flights a year to an eligible destination, and each visit is worth about $50.
Exclusive Service Desk ($25 Value)
The Platinum Service Desk is a phone line where an agent can help you with reservations. This line is useful in the case of weather or other irregular operations, though they're not entirely useful when it comes to waiving fees, or other customer-friendly initiatives. Depending on the scenario, you may receive faster service by tweeting American at @AmericanAir.
It's hard to put a value on this service desk, but assuming you get your call answered faster than others, it's an estimated value of about $25.
Complimentary Preferred Seats and Main Cabin Extra Seats ($500 Value)
When you have Platinum status, you have access to both Main Cabin Extra and Preferred seats at the time of booking. This is a huge benefit since the general public has to pay extra for these seats. Main Cabin Extra seats can cost a pretty penny, upwards of close to $100 on a transcontinental flight one-way.
If you take even just a few longer flights a year, not to mention an international long-haul flight or 2, this benefit will be very noticeable in the savings you'll realize by not paying these seating fees.
Secondly, anyone on your same reservation (up to 8 people) also receives complimentary Main Cabin Extra seats, too. If you're traveling from Philadelphia (PHL) to San Francisco (SFO) with 8 friends, without this benefit, each of you would pay an extra $80+ to sit in Main Cabin Extra. This means this benefit would have the group save $640.
In addition to the extra legroom and better location of seats, you'll also receive a complimentary alcoholic beverage with all Main Cabin Extra seats, including exit rows. It's a small benefit, but something that certainly enhances the experience.
This benefit value can vary depending on how much you use it, but if you fly at least 10 flights where the upgrade cost would be $50 each, that's an overall savings of $500 in a year.
Oneworld Benefits ($200)
Here's where things really start to get beneficial and there's a clear difference from the lower AAdvantage Gold status level. As a Platinum member, you receive Oneworld Sapphire privileges. Oneworld Sapphire is the mid-tier of the Oneworld alliance program.
As a Oneworld Sapphire member, you'll get priority check-in and standby. For standby privileges, you'd come ahead of any Oneworld Ruby members. You'll also get priority boarding, though that benefit depends on the airline you're flying. In some capacity, you'll board before most other passengers.
When going through security, you'll get priority security benefits in select airports, saving you time.
Here's the big benefit of Oneworld Sapphire status: access to business class and frequent flyer lounges that are part of the Oneworld network. These lounges include the Qantas Business Lounge in Sydney (SYD) or the British Airways Galleries Club lounge in London (LHR), for example.
Keep in mind, you don't get domestic access to these types of lounges on solely U.S. domestic itineraries, however, you're fully entitled to lounge privileges on international flights, with a few exceptions on flights from the U.S. to Canada, Mexico, and some Caribbean destinations.

Access to these lounges is a tremendous perk. Anytime you're on an international itinerary, you'll have a quiet place to work, usually a nice buffet spread, complimentary drinks, and other freebies.
If you're leaving from an American hub, you'll also have access to the Flagship Lounges in select hub airports, which are American's upgraded premium version of its Admirals Club for business class passengers and frequent flyers. 
Some of the best international lounges include:
British Airways Galleries Club Lounge in London (LHR)
Cathay Pacific Business Class Lounge in London (LHR)
Cathay Pacific The Wing, First or The Wing, Business in Hong Kong (HKG)
Finnair Premium Lounge in Helsinki (HEL)
Oneworld Business Lounge in Los Angeles (LAX)
Qantas Business Lounge in Sydney (SYD)
This helps make international flying a bit more tolerable since you'll have a nice place to wait. This benefit isn't awarded to Gold status members.
For this benefit, if you fly 2 international flights a year and access a lounge, that's a benefit of $100 a trip, totaling $300 in value for the year.
Hot Tip: Before traveling, check and ensure that the lounge you want to visit is open. Due to the COVID-19 pandemic, some lounges have been consolidated or temporarily closed. It's best to check with the carrier operating your flight for the latest information.
Final Thoughts
Platinum status is where you start to see real substantive value in the AAdvantage program with free Main Cabin Extra seat selection, Flagship Lounge access on international itineraries, Oneworld Sapphire status, and other key elements complete the program.
Overall, you're looking at about $2,775 of value.
This all varies on how much you utilize your status:
On the low end, you're looking at a value of $2,000 if you use every benefit, but only to a minimum
If you are an average to a higher-than-average frequent flyer, the benefits would total to around $2,775
With extensive flying, especially international flying, your value would be north of $3,000 of value, as you start to use international partner lounges more