What is American Airlines AAdvantage Gold Status Worth in 2021?
American has 4 tiers to its AAdvantage frequent flyer program: Gold, Platinum, Platinum Pro, and Executive Platinum. The Gold tier is their entry-level tier and is the easiest to attain.
In this piece, we're going to take a look at:
How to earn AAdvantage Gold status
The benefits of AAdvantage Gold status
The cost and worth of each of those benefits
How you may be able to attain similar benefits elsewhere

To earn Gold status in 2020, you must fly 15,000 miles OR 15 segments AND spend $1,500 in a year. To qualify in 2021, you must fly 20,000 miles OR 20 segments AND spend $2,000 in a year. Major perks include complimentary upgrades, free checked baggage, and complimentary standby.
We'll pick apart the individual status perks one by one, analyze them, and help you'd decide how much value you could be achieving by holding this status. We want you to maximize every penny, and looking at all the different ways to squeeze value out of your perks will make you an informed frequent flyer.
Hot Tip: Did you know that having the right credit card in your wallet can help you fast track to elite status? Read more about it in our guide to the best credit cards for airline elite status.
1. Upgrades on All Flights 500 Miles or Less
As an AAdvantage Gold frequent flyer, you'll receive upgrades on all flights under 500 miles in length — think routes like Los Angeles to San Francisc, or Washington Reagan to New York LaGuardia.
Since a Gold frequent flyer travels 25,000 miles a year, I'll assume that you're getting upgraded at least 5 times over the course of your status year.
The difference in price to purchase first class seats is often several hundreds of dollars, but these complimentary upgrades will be at the last minute — so our value is lower due to the possibility of poor seat selection or not having your upgrade clear at all.
The reason I value this the way I do is that because I assume not all of your upgrades will clear, so we'll assume you're able to use half of these upgrades given to you over the course of a year.
Because you'll be prioritized below all other elites, you'll be the last to receive these upgrades if available. But, there's an important caveat to this which I think can provide you a lot more value than you may already be receiving: the schedule and routing of your flight are absolutely essential.
If you're always flying on Monday mornings or Friday afternoons, your upgrade percentage will be next to nothing. However, if you choose to fly on Wednesdays or Saturdays, you upgrade percentage will be much higher.
As a savvy frequent flyer, you should select your flights based on:
Time of Day: Middle of the day is much easier for upgrades
Day of Week: Avoid Mondays and Fridays, when most business travelers fly
Aircraft: You're much less likely to receive an upgrade to first class on an A319 (with only 8 seats in the cabin) than you are on a 787 with 20+ seats available. (Granted, most wide-body aircraft don't fly these shorter routes.)
Cities: JFK is a much easier upgrade than LaGuardia, for example, since American is not really using JFK as a connecting hub.
Bottom Line: If you choose to be strategic about your upgrades and how you fly, you'll extract more value from your status.
2. 500-Mile Upgrade "Coupons" to Use on Longer Flights
On American, all elites use a 500-mile "coupon" system to upgrade. The top tiers get these upgrades for free, and Gold and Platinum status holders earn a limited quantity of them throughout the year.
As a Gold, you earn 4 of these upgrades for every 12,500 miles flown — since this status requires 25,000 miles flown, you will earn at least 8 upgrade certificates throughout the year. To give you some perspective, upgrading a transcontinental flight from New York (JFK) to Los Angeles would require 5 of these upgrade coupons (1 for every 500 miles).
Because of this certificate system, you won't be competing for the upgrade against every other Gold member — only those who request the upgrade on longer routes. Some status holders won't want to use their coupons, or they might not have enough.
This means you can clear for an upgrade even on high-traffic routes, like Washington Dulles to Los Angeles, or Washington Reagan to Chicago. Don't just assume you won't clear — you're competing against fewer people when you use these valuable certificates.
Hot Tip: If you don't have enough 500-mile upgrade coupons, you can buy extras at $40 per certificate. See our guide on how to upgrade on American Airlines for more tips!
I value these 4 upgrades at $250, since they can be used for at least 1 transcontinental flight (let's say of a flight length of 2,000 miles).
Some folks with Gold status try to maximize this benefit by taking only 500-mile segments across the country if they need to go from New York to Los Angeles, for example. By only booking flights under 500 miles, they'll get upgraded on each one if they use a certificate.
That's very dedicated in my opinion (and would waste more than a day of traveling to get from Point A to Point B)…but I suppose for those who truly want to maximize their perks, this is a solution!

3. Minimum Elite Qualifying Mile Guarantee
Value: $25 (only if you consistently fly shorter segments)
Note: It's super difficult to place a value on this for the average traveler, who doesn't fly just short flights. Conservatively assuming you fly at least 1 segment shorter than 500 miles, we'll estimate this at $25
AAdvantage elites, including Gold members, have a minimum elite qualifying mile guarantee of 500 miles, even if the flight is shorter. So if you fly between Philadelphia and Washington, D.C. (well under 500 miles), you'll still receive 500 miles toward your elite status.
I know some Gold flyers who retain their status simply because of cheap segments up and down the Northeast corridor. With airlines having to compete against Amtrak here, fares tend to be very reasonable — and having this minimum mileage guarantee helps travelers who frequent these shorter segments get closer to status.
4. Complimentary Same Day Standby
As a Gold member, you can't confirm onto another flight for free — but you can standby for free. Standby includes flights both earlier and later than your original flight; if you want to standby on a later flight, notify American in advance so your reservation doesn't cancel.
Because going on standby can get you home sooner (or allow you to leave later if a meeting runs long), this is an especially valuable perk. However, Gold members are still listed at the bottom of the pack for any complimentary standby. Here's how it will display on the PALL (airport priority list)
RV1 (ConciergeKey)
RV2 (Executive Platinum)
RV3 (Platinum Pro)
RV4 (Platinum)
RV5 (Gold)
If you are trying to standby for a prime-time flight like LaGuardia to Dallas, you may not get on (since you'll have 4 other elite groups ahead of you). But even a Gold member will come before any employee non-revenue passenger standing by for the flight.
Bottom Line: Standing by to a later or earlier flight comes at no fee to AAdvantage Gold elites.
5. 40% Mileage Bonus
Non-status flyers earn 5 miles per dollar, but Gold flyers earn 7 miles per dollar. Over the course of a year, this would amount to 21,000 redeemable miles earned if you meet the minimum spending requirement of $3,000 per year.
Considering this is just shy of a round-trip Main Cabin ticket, I'd value this somewhere in the neighborhood of $300 per year (depending on the flight(s) you choose to redeem for). Of course, if you choose to use these extra miles on a short-haul inexpensive flight, you might value the 40% mileage bonus lower.
6. Complimentary Preferred Seats and Access to Main Cabin Extra Seats
Value: $250 (more if you have long-haul flights on which to enjoy prime seating)
Gold members have access to preferred seats on a complimentary basis at the time of booking. These are the aisle and window seats in the middle to back quarter of the cabin — ordinary non-elites would have to pay to choose them.
As a Gold member, you don't get any discount to purchase Main Cabin Extra seats, but you do have free seat selection within 24 hours of the flight. During this time, watch closely for last-minute upgrades of higher elites that may free up prime Main Cabin Extra seats.
You should also monitor for other elites doing same-day changes onto other flights, or those shifting flights due to irregular operations, so you can snag these seats last-minute. Gold members can select preferred seats and Main Cabin Extra seats for themselves and 8 companions.
Hot Tip: Always monitor last-minute upgrades that may free up prime seats you can move to within 24 hours of departure!
7. Admirals Club Discount
Value: $25 (if you take advantage of it)
AAdvantage Gold members receive a discount on Admirals Club membership. Instead of paying the $650 fee for a new member, Gold members pay $625.
If you decide to keep your membership, you'll pay $575 for renewal instead of $600. This is a minor discount that doesn't have a huge value, since you can get your Admirals Club membership in many forms (including via the Citi® / AAdvantage® Executive World EliteTM Mastercard®.
8. Priority Check-In, Priority Security, Priority Boarding
Value: ~$75
Note: This is another perk where the value is hard to determine. Real value depends on whether you need to check-in with an agent, whether you already have TSA PreCheck, etc. Our value is conservative, assuming you get $5-$10 worth of time-value each time you utilize one of these priority options.
Gold flyers are entitled to use the priority check-in line at airports worldwide. Depending on the airport you're in, this benefit could be valuable…or useless (I'm looking at you, JFK).
Priority security isn't super valuable either, since most Gold flyers probably have TSA PreCheck or another expedited security channel. For boarding, Gold flyers will be in Group 4 — before general boarding, but behind all other elites:
ConciergeKey pre-boarding
Group 1 – First Class
Group 2 – Executive Platinum
Group 3 – Platinum Pro and Platinum
Group 4 – Gold
Depending on the route, you may be looking at quite a few people boarding ahead of you (or with you). Flights like LaGuardia to Dallas or Chicago to Washington can have huge boarding groups with many elite passengers.

9. Priority Phone Reservations
Value: ~$25 (varies based on usage)
As a Gold member, you'll have access to American's Gold reservations agents, which gives you a slight priority when calling in compared to other flyers. Since you're still bottom of the elite totem pole and wait times can exceed several minutes (or hours during a storm), the value of this benefit is debatable.
It's worth noting that Gold flyers won't necessarily get any special treatment outside of maybe a shorter wait time to reach an agent. Fee waivers, exceptions, and other perks aren't normally granted (even if you have Gold status).
If you have to call in a few times during a major storm or irregular operation, I'll value that time at around $25, since you may be able to re-book before another passenger.
10. Checked Bag Fee Waiver
As a Gold frequent flyer, you're entitled to a free checked bag on all flights, no matter the destination. This is different from the benefit on the co-branded AA credit cards, which only entitle you to checked bags for flights within the United States and select "local" international destinations.
If you're flying 25,000 miles a year and are avoiding a bag fee upwards of a $30 per person, I'd say you've got at least $150 in savings a year here — especially if you travel with a companion or 2 (where you can definitely reap these benefits).
This benefit is good for up to 8 companions on the same reservation, so if you're traveling with a group of people, you can impress everyone with your free checked bag skills.
Hot Tip: If your companions aren't booked on the same reservation, you just need to check the bags under your name. While technically frowned upon, most agents will have no problem with this, and you'll still be able to get all the value from your Gold perk.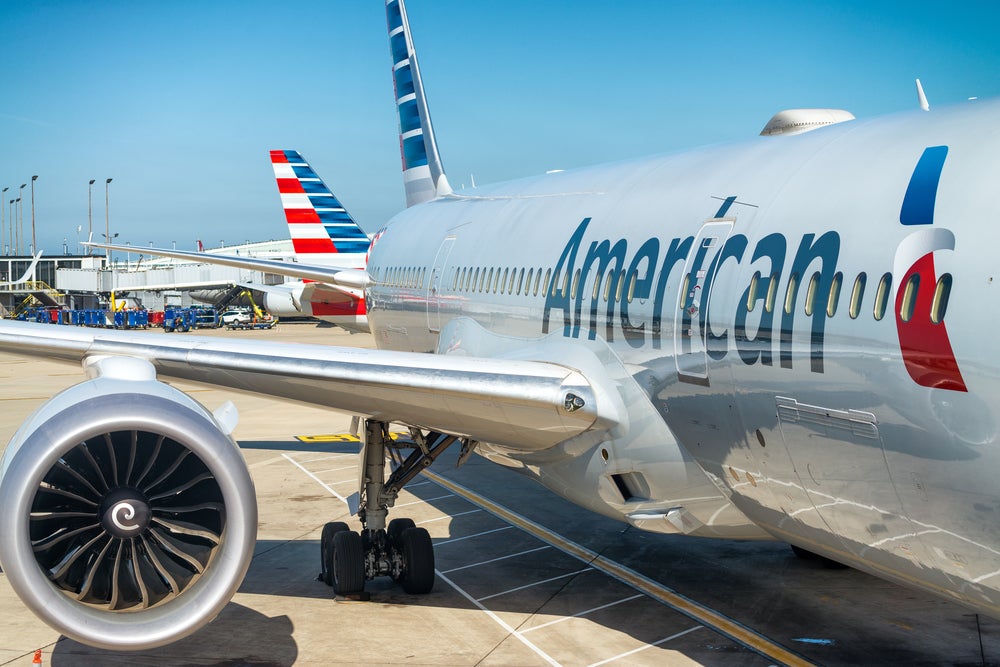 11. Oneworld Ruby Benefits
AAdvantage Gold members are given Oneworld Ruby status, the lowest of the 3 Oneworld tiers.
Oneworld Ruby members get these benefits:
Access to business class and priority check-in
Access to preferred or reserve seating options where available on partner carriers
Priority on waitlists and standby where offered (depending on the airline)
Let's take a quick look at each of these for clarity:
Access to priority check-in: Generally easy to use, since the signage is usually good in airports around the world. Occasionally, staff manning the check-in areas of first class counters will steer you away, so be sure you're using the priority/business counter when there is one.
Preferred seating: Depends on the airline; many airlines don't offer special Ruby seating options. Those that do may only include the ability to select a seat. So don't expect the best seats in the house — it's just potential access with nothing guaranteed.
Priority on waitlists: Can also depend on the airline, since many will prioritize their own elites ahead of Oneworld elites. In theory, you would carry the same status as the lowest level in the other airline's frequent flyer program when being placed on any waitlists.
Final Thoughts
Overall, I'd say you're looking at approximately $1,575 of value over the course of your year — and that's if you take advantage of every benefit and maximize the system.
To be fair, I think it's worth noting what overall values might look like if you don't maximize your perks as much:
Don't pay attention to elite benefits: ~$500
Pay attention to benefits, but usually just book for convenience: ~$700
Pay attention to most policies and procedures to maximize upgrades: $1,100+
In the end, the value of elite status is entirely up to you as the traveler. You can operate a few different ways:
Mostly ignore your benefits
Understand your benefits, but still not work actively to maximize them
Understand your benefits fully and work to maximize every single perk to the fullest potential
While Gold is the lowest AAdvantage tier, there's certainly value to be found in the various benefits. Hopefully, by reading this guide, you now feel empowered to get more value out of this entry-level status!