American Airlines Boarding Groups & Process – Everything You Need To Know
Update: Due to COVID-19, American Airlines has made some changes to its boarding process:
– All passengers over the age of 2 flying on American Airlines are required to wear face coverings onboard, though there are exemptions for those with a disability. If you do not wear a mask, you will not be permitted to fly.
– American Airlines is not limiting capacity or blocking middle seats on its flights.
Headquartered in Fort Worth, Texas, American Airlines has established itself as the largest airline in the world. Whether you are looking at the number of passengers carried, the number of planes, or the number of destinations served, American Airlines leads the way.
What does this mean for you? Well, it means that as you fly around the U.S. and the rest of the world, you are probably going to end up on an American Airlines plane at some point.
To make your travel smoother, we're going to take a little time today to go over the details of the boarding procedures that American Airlines uses for its flights.
Like every other airline, American likes to do things its own way — and if you don't understand the process ahead of time, it can lead to confusion and frustration right at the start of your trip.
We never want to have a frustrating travel day (and we're guessing you don't either), so let us clear up the confusion of boarding with American Airlines so you can move on with the rest of your trip.
American Airlines Boarding Groups
A few years ago, American Airlines restructured its boarding process. Instead of pre-boarding several different groups as it did in the past, it decided to assign each group a number.
The result is a boarding process with a whopping 9 different numbered groups!
If we want to look at the boarding process as a whole, we should point out that American Airlines really has 11 groups.
Even after this restructuring, ConciergeKey elite AAdvantage members have their own group to board before anyone else, and there are also still passengers who can request preboarding.
Here is a description of which passengers are eligible for each boarding group. As long as you have your AAdvantage Program number on your reservation, your boarding pass should show your correct elite or priority boarding group.
If it doesn't, you can see an American Airlines agent before boarding to have it corrected.
Pre-boarding (Must Be Requested)
Passengers needing special assistance
Passengers traveling with children under 2 years old
ConciergeKey
ConciergeKey elite AAdvantage members
Group 1
Group 2
Oneworld Emerald members
Business class passengers (only on a 3-class plane)
Platinum Pro AAdvantage members
Group 3
Platinum AAdvantage members
Oneworld Sapphire members
Group 4
Gold AAdvantage members
Oneworld Ruby members
AirPass members
Premium economy class passengers
Passengers who have purchased priority boarding
Group 5 (Preferred Boarding)
Main Cabin Extra passengers (excluding Basic Economy tickets)
Eligible corporate travelers
Group 6
Group 6 general boarding
Non-rev passengers and AA employees not flying in a premium cabin
All AAdvantage members, at a minimum (including Basic Economy)
Group 7
Group 8
Group 8 general boarding
Basic Economy class passengers to/from Europe
Group 9
Basic Economy class passengers within the U.S., Canada, Central America, Mexico, and the Caribbean
Boarding Notes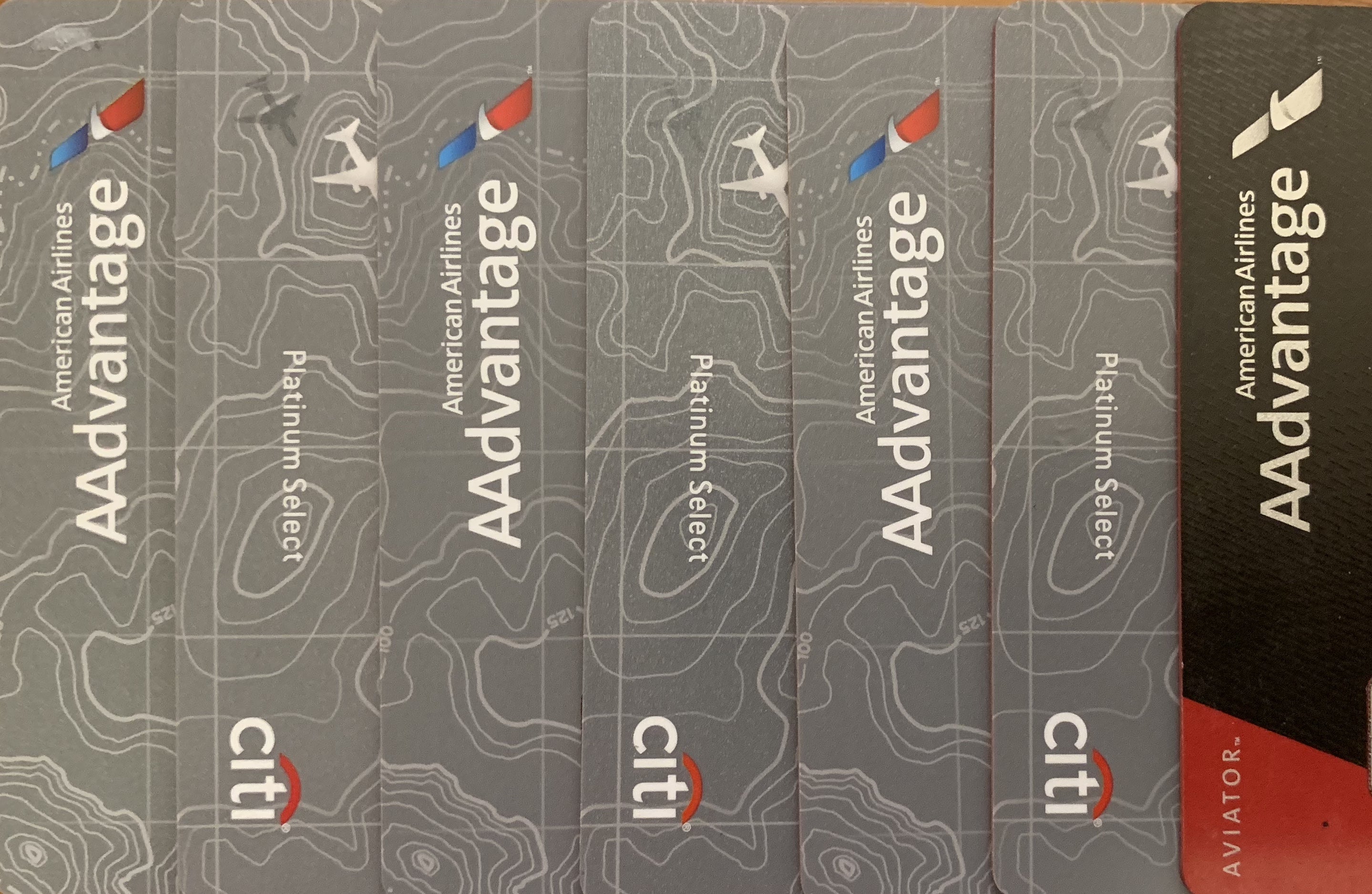 For boarding group 5, eligible AAdvantage credit cards include the following:
AAdvantage® Aviator® Silver Mastercard®
AAdvantage® Aviator® Red World Elite Mastercard®
AAdvantage® Aviator® World Elite Business Mastercard®
Additionally, for eligible corporate travelers to boarding with group 5, they must be traveling for business and for an employer that has an active American Airlines Corporate Travel Agreement. Tickets must be booked through the Agency of Record for the company, and the passenger's AAdvantage number must be included in the reservation. Passengers with Basic Economy tickets will not receive group 5 boarding even if they are otherwise eligible as corporate travelers.
Priority vs. Preferred Boarding
If you want to up your level in the American Airlines boarding hierarchy, there are a couple of things you can do to change your boarding group number.
Priority Boarding
Priority privileges are available for purchase during online check-in, at the airport during check-in, or through reservations prior to your flight.
Priority boarding is only one of the items that the priority privileges package comes with — it also includes priority lines at check-in counters and priority security lines when available at certain airports.
For boarding, priority boarding gives you access to group 4, which is not one of the first groups — there are still several groups of passengers who will be boarding ahead of or with you.
Hot Tip: Although the priority privileges package sounds good, remember that you already receive this priority treatment if you are flying in a premium cabin (business or first class), if you have elite status with AAdvantage or Oneworld, or if you carry the AAdvantage Executive World Elite card.
Preferred Boarding
Preferred boarding gets an entire group of its own in the American Airlines boarding process: boarding group 5.
You can't purchase preferred boarding, but it is fairly easy to qualify for by simply holding one of the co-branded credit cards listed above.
Since the preferred boarding group 5 gets on the plane right after the priority boarding group 4, it makes little sense to purchase priority privileges unless you really want priority check-in for some reason.
Hot Tip: American Airlines flight attendants are notoriously bad at getting the benefits correct when doing their inflight credit card pitches. No matter what they say, you should remember that the cards they are talking about will only give you preferred group 5 boarding. They will not give you priority boarding in group 4 or let you board the plane first, as many flight attendants like to say. The only card that gives you group 4 boarding as a benefit is the AAdvantage Executive World Elite card, which is never the card that flight attendants are pitching during a flight.
Boarding Timing
According to American Airlines, most of its flights begin boarding between 30 to 50 minutes before departure, with the exact time depending on your destination and plane type.
Boarding doors will typically close 10 minutes prior to departure, and you will not be allowed to board if you arrive at the gate after that time.
Your flight's boarding time will be listed on your boarding pass, but you cannot always believe the time that is shown.
Here are the official boarding times for American Airlines flights, from an internal American document, depending on the destination and aircraft. "D" refers to the departure time, so a "D-50" boarding time would mean that the flight boards 50 minutes prior to departure.
Departure Time
Customer Boarding Times
D-50
(IPO) International Premium Destinations:
Asia, Europe, Pacific, Deep South America: EZE, GIG, GRU, UM, MVD, SCL
D-45
(NIPD) Non-International Premium Destinations:
Caribbean (includes SJU and U.S. Virgin Islands), Central America, Hawaii, Mexico, Northern Rim South America and LPB, MAO
D-35
Domestic on aircraft with less than 165 seats: A321, B737-MAX 8, B787, B777 within the 48 contiguous states, Alaska, Canada.
D-30
Domestic on aircraft with less than 165 seats: A319, A320, A321T, non-Republic E175, B737, CRJ-700, CRJ-900, EMB-140/145 within the 48 contiguous states. Alaska, Canada.
D-25
Republic E175
In its endless quest to hit D-zero (zero minutes delayed), American Airlines gate agents sometimes get a bit ahead of themselves. It is not unusual to arrive at the gate 5 minutes before scheduled boarding and find them already on group 6.
Because of this, when flying American Airlines, it's in your best interest to spend a little less time in the lounge and get to the gate a few minutes earlier than you would with other airlines.
That way you'll beat the overly ambitious gate agents, and still be able to get on the plane with your scheduled boarding group.
In addition to beginning boarding early, not all American Airlines gate agents respect all 9 boarding groups. Especially on flights from smaller airports or on smaller planes, you will often hear gate agents combine a few of the boarding groups together.
This means you need to pay attention! Just because you are in boarding group 6, that doesn't mean there will be 5 separate groups ahead of you (it might only be 2 or 3).
Hot Tip: For more info on all things American Airlines, check out our in-depth review of the airline. 
How To Build Up Your American Airlines Miles Balance
If you spend a lot of time taking paid flights on American Airlines, you will naturally see your AAdvantage mileage balance grow. However, if you fly a mix of award flights and inexpensive connecting flights, you won't be earning very many miles.
Luckily, there are other ways to earn lots of miles for your American Airlines AAdvantage account.
American Airlines is unique in that it offers a selection of co-branded credit cards from not just 1, but 2 different banks (this is a result of residual contracts left over from the merger of US Airways and American Airlines several years ago).
What it means for you is twice as many opportunities for sign-up bonuses, spending bonuses, and credit card benefits with American Airlines.
Final Thoughts
With ~10 domestic hubs and thousands of flights worldwide each day, it's only a matter of time until you find yourself standing at an airport gate waiting to get on an American Airlines plane.
At first glance, its boarding process looks overly detailed — but even with 9 numbered groups, the boarding process is usually pretty easy.
Sure, you will still get plenty of people from groups 8 or 9 standing right in front of the boarding lines when you're trying to get on the plane with group 3… but that happens with every airline.
By holding the right credit card and paying attention during boarding, it is fairly easy to ensure you have plenty of time to get on the plane and get settled, and you will always have overhead space for your carry-on bag.
Since the American Airlines boarding process is standardized throughout its network worldwide, you'll know what to expect and can start your trip outright. Maybe we'll even see you on board!
---
The information regarding the Citi® / AAdvantage® Platinum Select® World Elite™ Mastercard®, CitiBusiness® / AAdvantage® Platinum Select® Mastercard®, AAdvantage® Aviator® Silver Mastercard®, AAdvantage® Aviator® Red World Elite Mastercard®, and AAdvantage® Aviator® World Elite Business Mastercard® was independently collected by Upgraded Points and not provided nor reviewed by the issuer.