The Wing, Business Class Lounge at Hong Kong International Airport Review
The Wing, Business Class Lounge at Hong Kong International Airport (HKG) is 1 of 4 lounges my fiancée and I visited while flying on Cathay Pacific First Class. Each lounge has its own distinct characteristics, which is a welcome breath of fresh air compared to other airline lounges that seem sterile and monotonous.
Here's what it's like to explore the Wing, Business Class Lounge including location, seating, food, and amenities.
Location
The Wing, Business Class Lounge is one of Cathay Pacific's lounges located in Terminal 1, just a short walk post-security at the south departure hall next to The Wing, First. Cathay Pacific also offers The Wing First Class, The Pier First Class, and The Pier Business Class lounges.
The Wing, Business Class Lounge occupies 2 floors, and the main entrance is on Level 6, near gates 1-4 on the main departures level. This lounge is open daily from 5:30 a.m. until the last departure.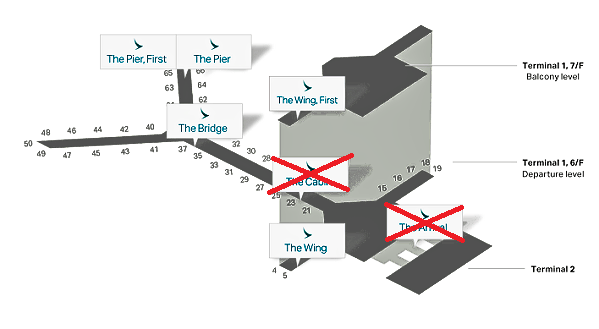 Gaining Entry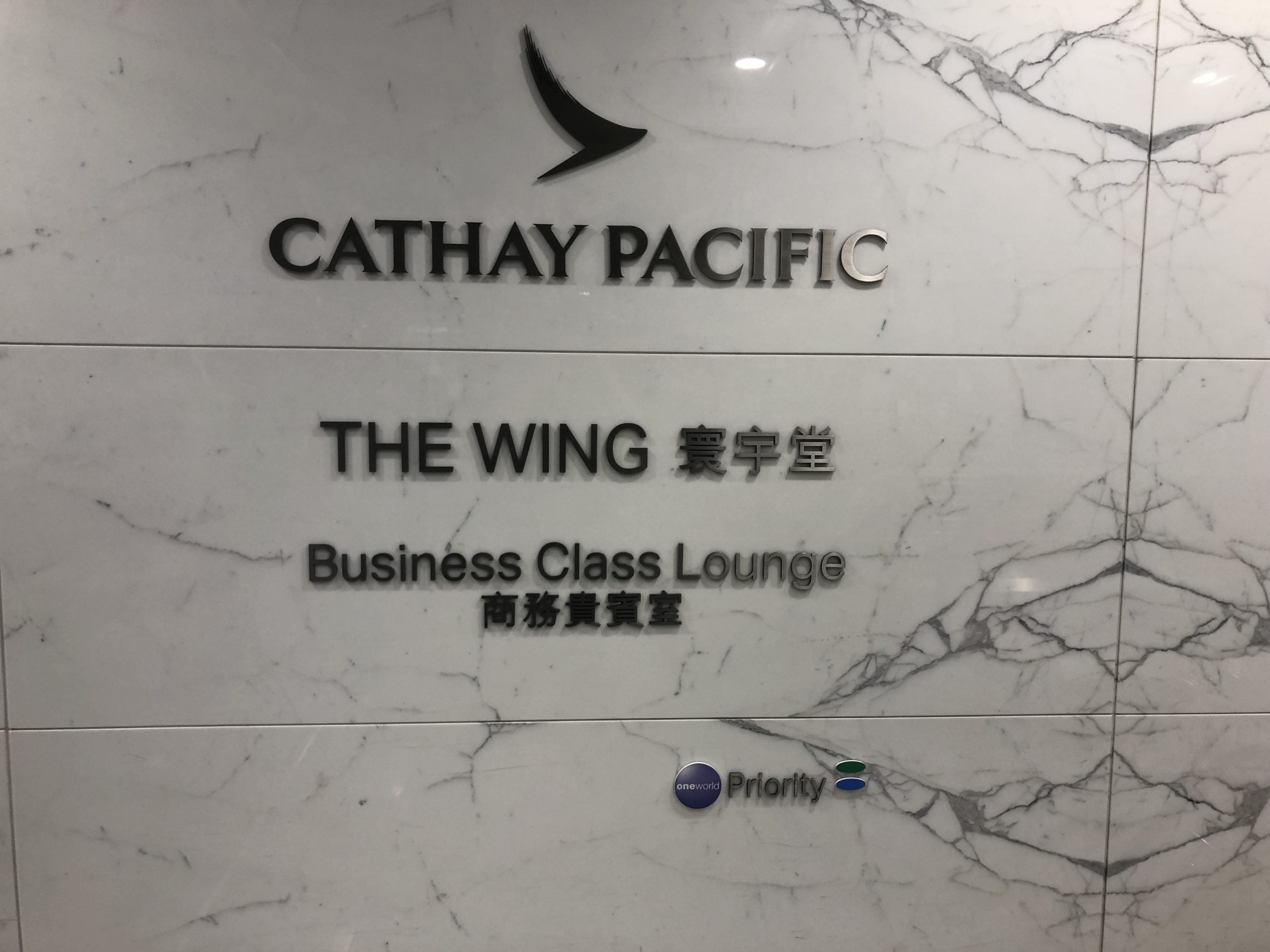 The Wing, Business Class Lounge is located on the left side of the south departures hall. The marble walls are an unmistakable signature of the lounge. As is the case with all departure business class lounges, there are certain groups of travelers that are allowed access to The Wing, Business.
These passengers must meet 1 of the criteria:
Traveling in business class on a Cathay Pacific or Oneworld carrier (passenger only)
Marco Polo Diamond, Gold, and Silver members regardless of cabin class (passenger + 2 guests, passenger + 1 guest, passenger only, respectively)
Cargo Clan Elite members departing on Cathay Pacific or Oneworld carrier flights only regardless of cabin class (passenger + 1 guest)
Oneworld Emerald and Sapphire members departing on Cathay Pacific or Oneworld carrier flights only regardless of cabin class (passenger + 1 guest)
We simply scanned our boarding passes to enter the lounge.
Hot Tip: Got a long layover in HKG? See how Greg used his 9 hour layover by lounge hopping at Hong Kong International Airport!
Design, Arrangement, and Seating
This open-air lounge occupies 2 floors: the 6th floor (main departures floor) and the 7th floor (above ground).
The bulk of the lounge was located on the 7th floor, just beside The Wing, First.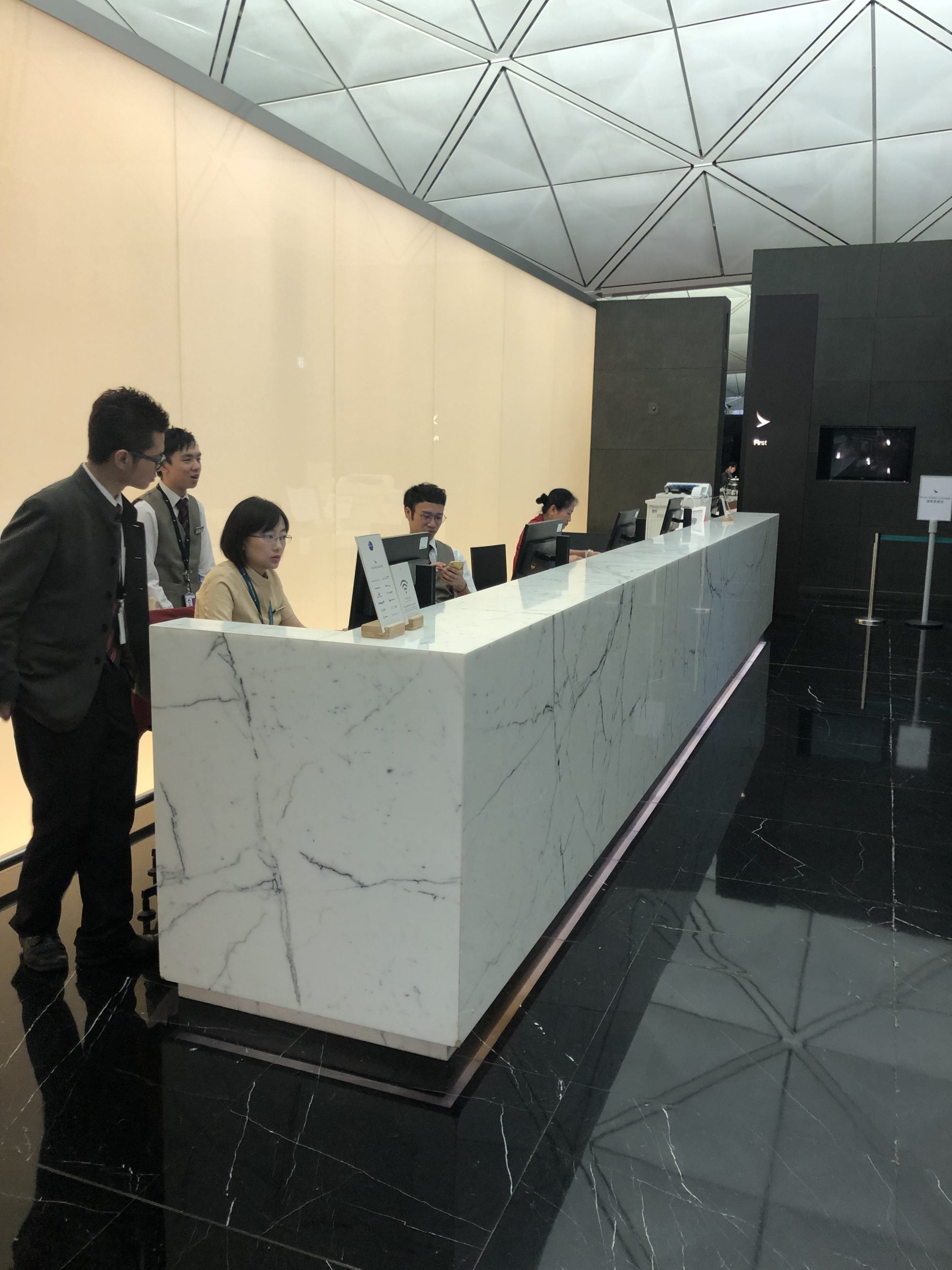 We noted the locations of each section via the directories displayed along the lounge walls.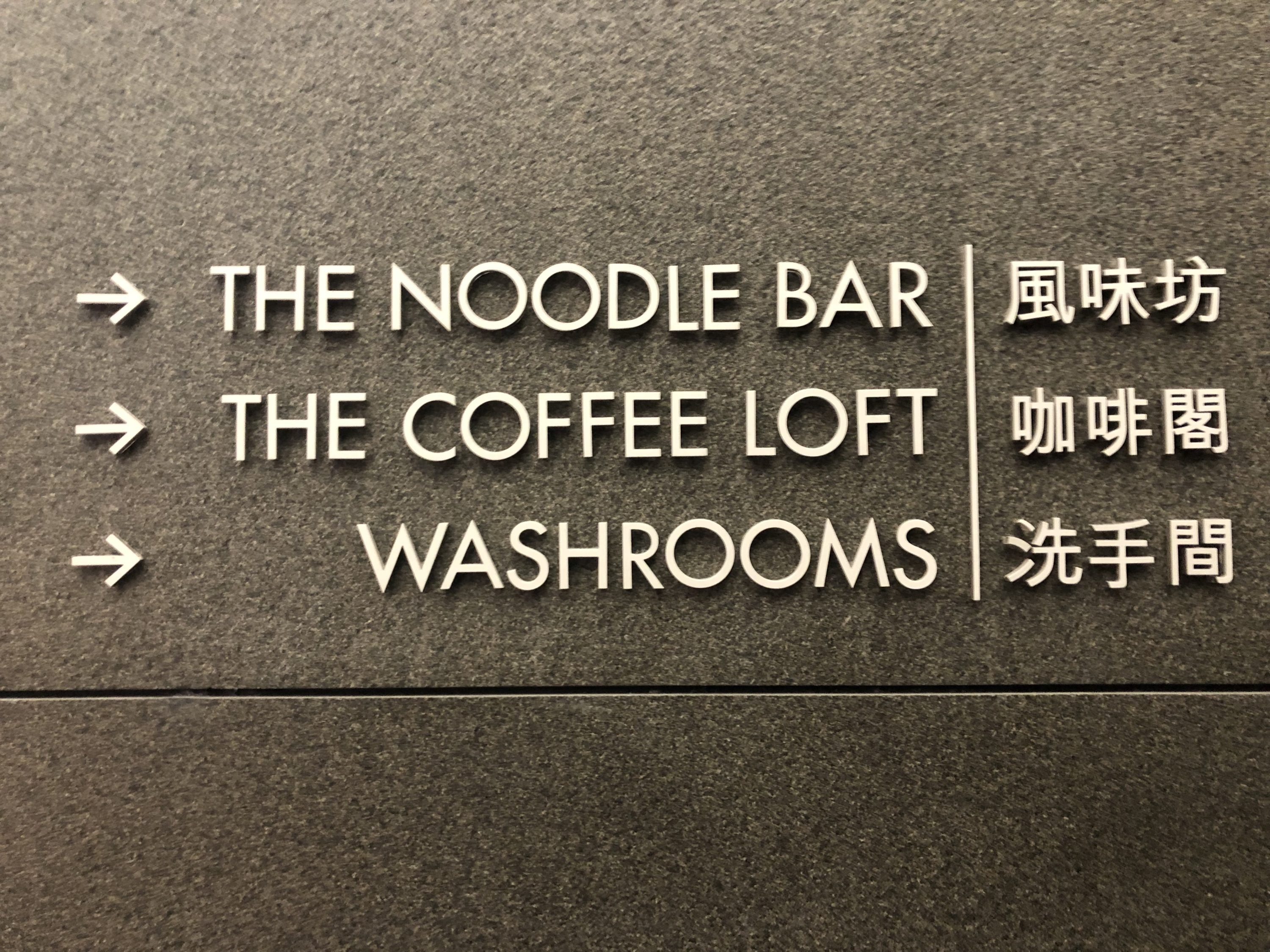 The lounge was very busy, but there was a variety of seat types, ranging from single armchairs to cubicles, bar seating, and table seating near the eateries.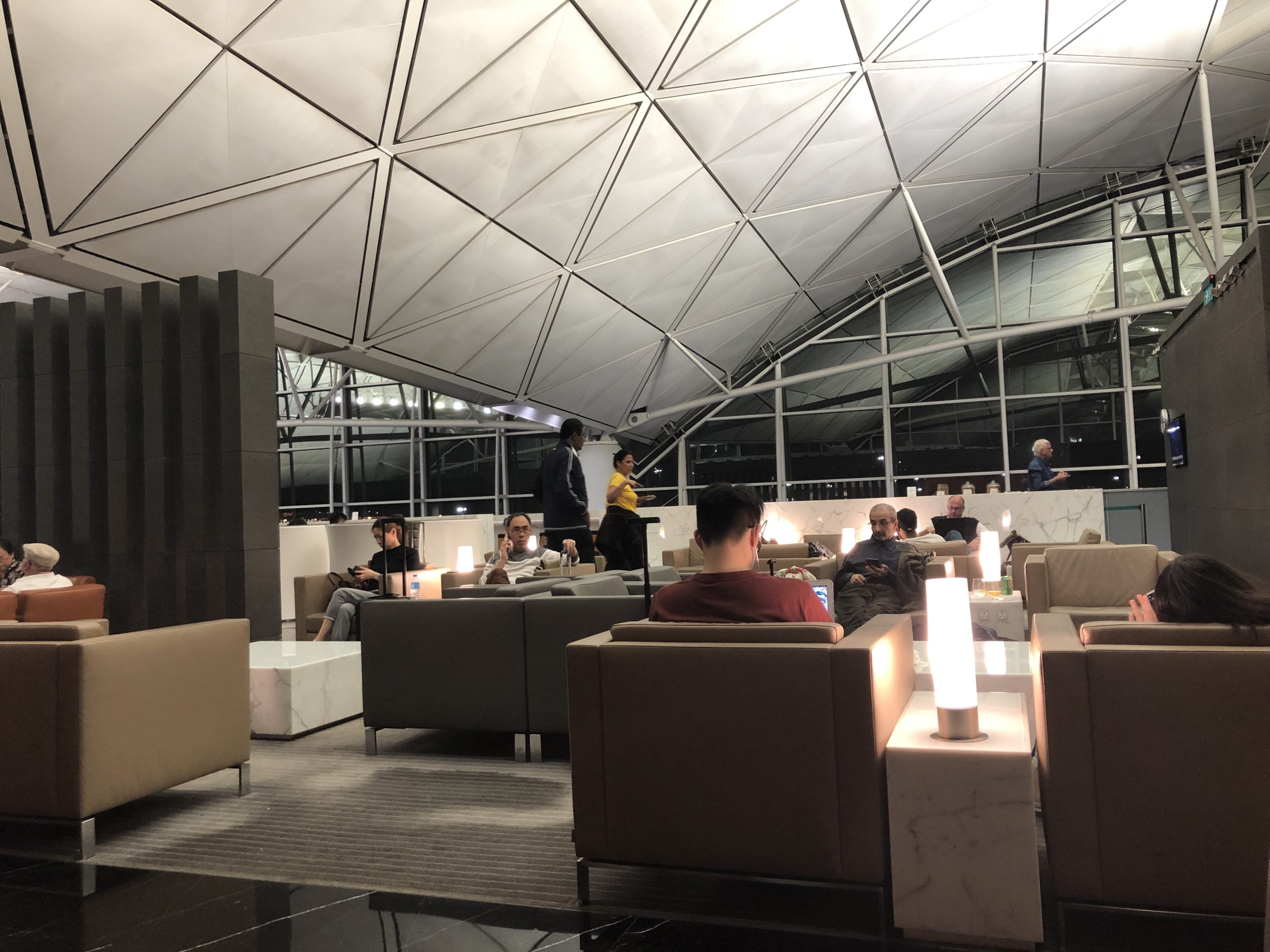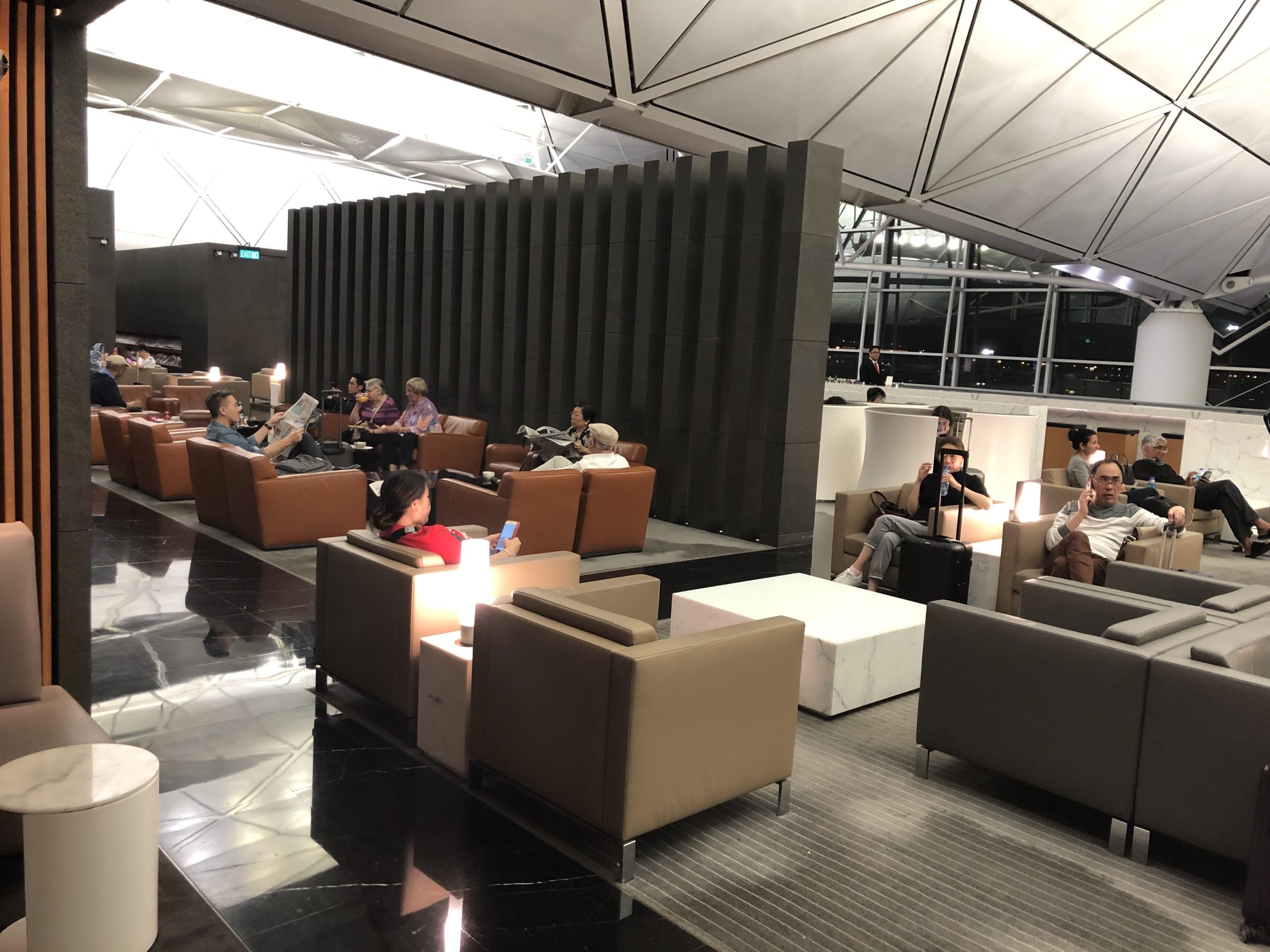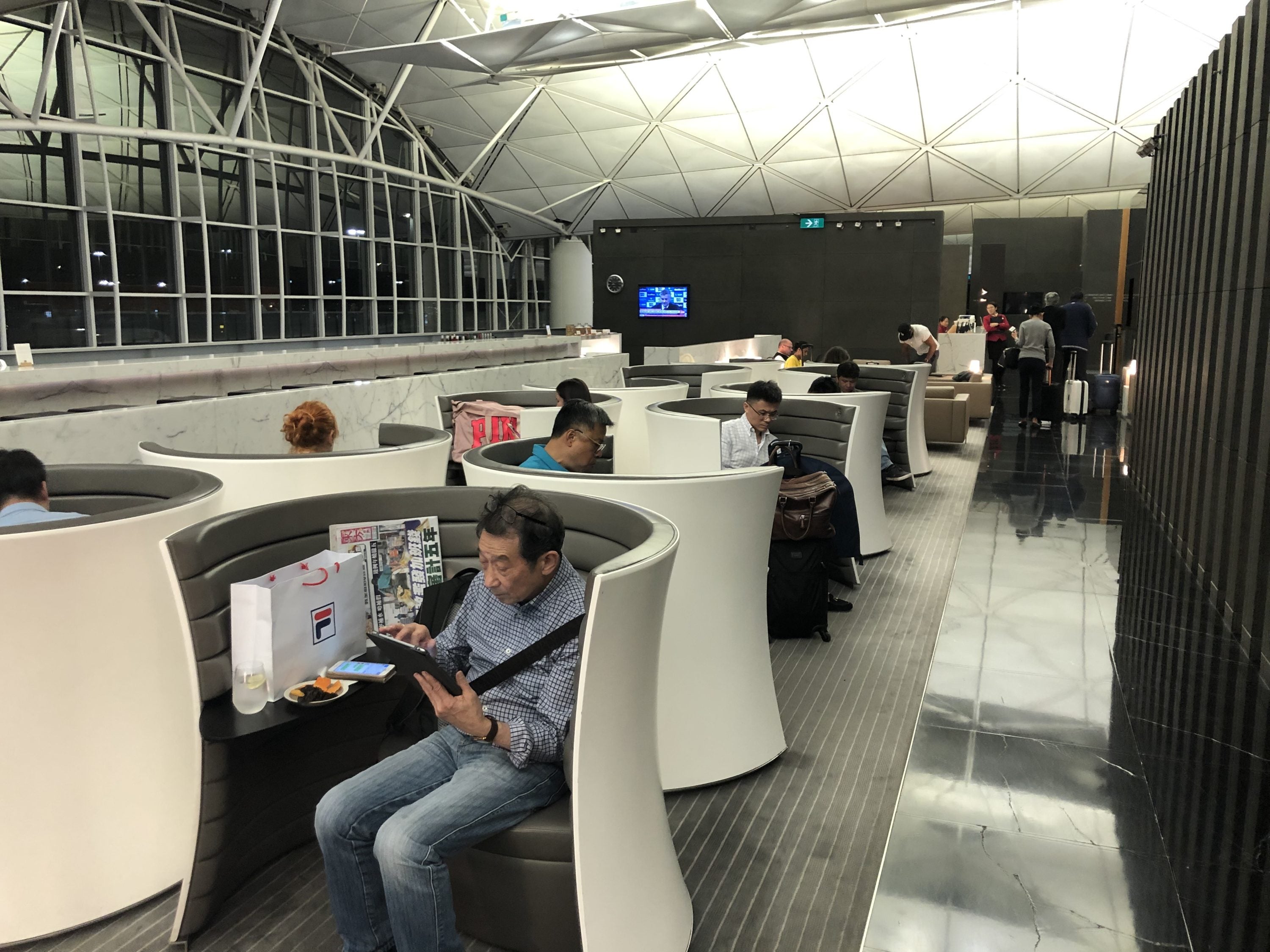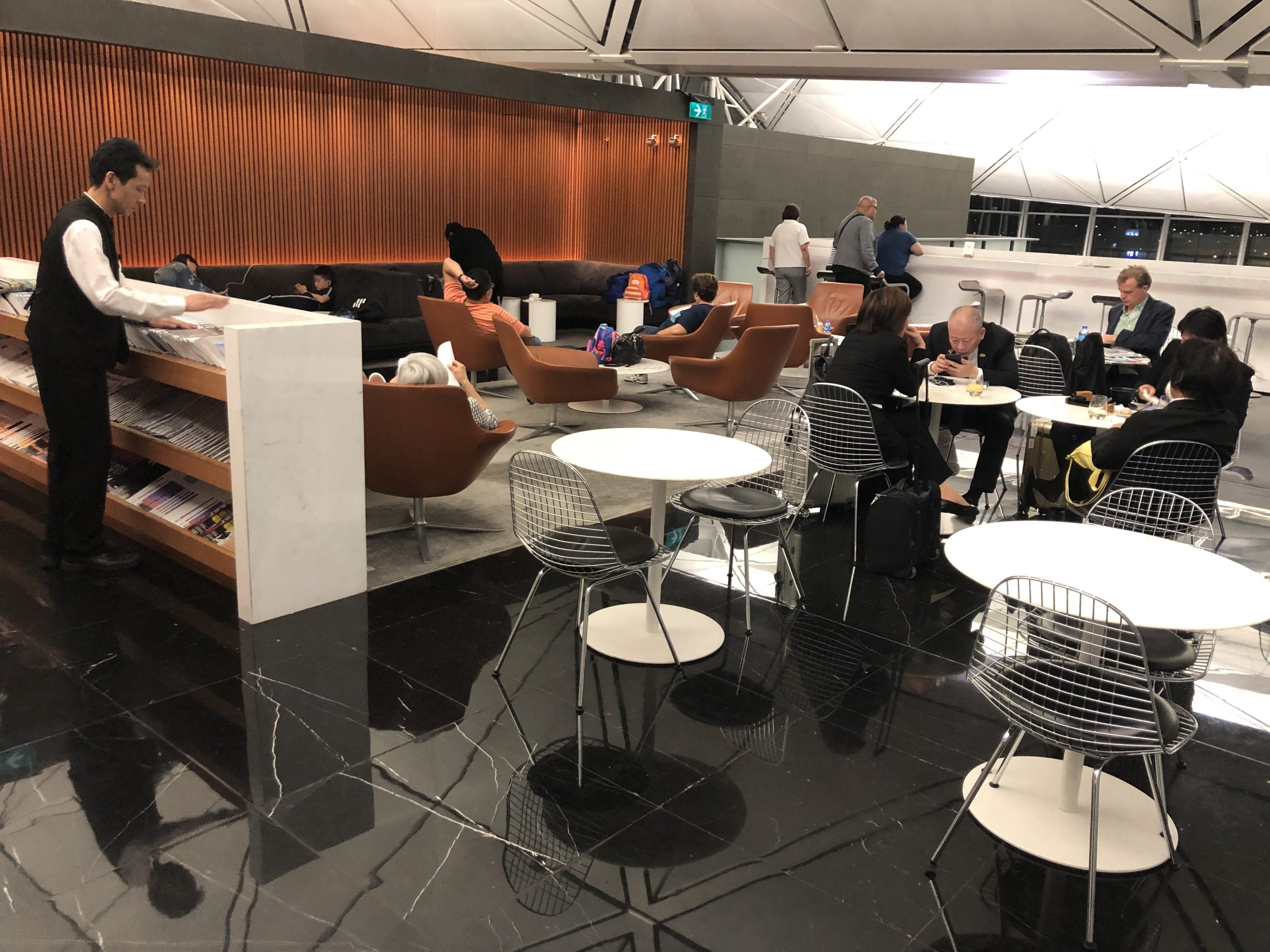 The library/literature aisle, located along the long wall leading to Noodle Bar, consisted of pretty much every newspaper and magazine you could think of.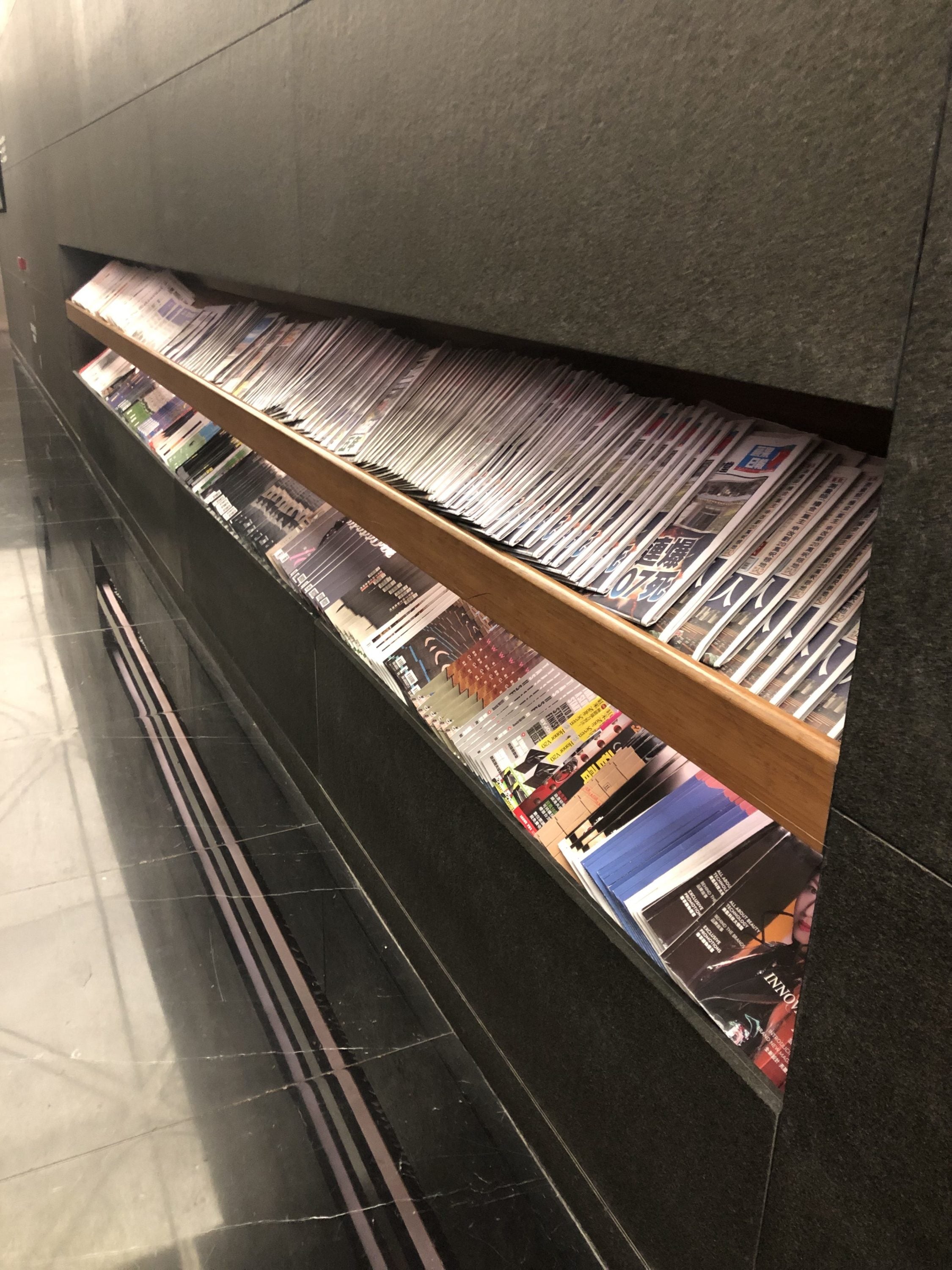 Food and Drink
As is typically the case with business class lounges compared to first class lounges, there are a lot of food options and choices here. Just like The Pier, Business, a fully-staffed noodle bar was available to create made-to-order foodstuffs.
All in all, there were 4 dining choices:
Noodle Bar
Long Bar
Main Lobby
Coffee Loft
Noodle Bar
The noodle bar is the main attraction to The Wing, Business, in terms of food and beverage.
There was plenty of table and booth seating at the back of the noodle bar.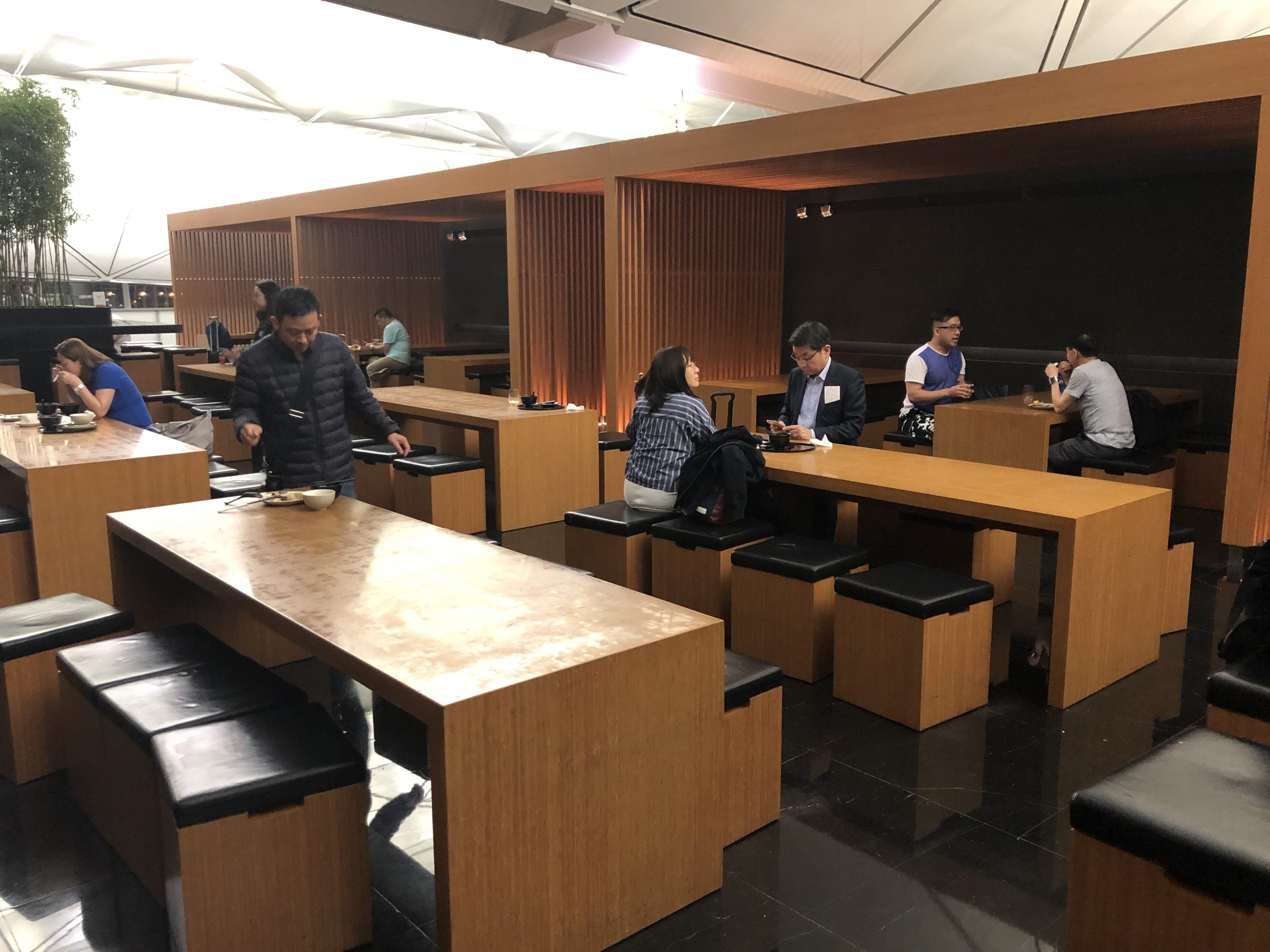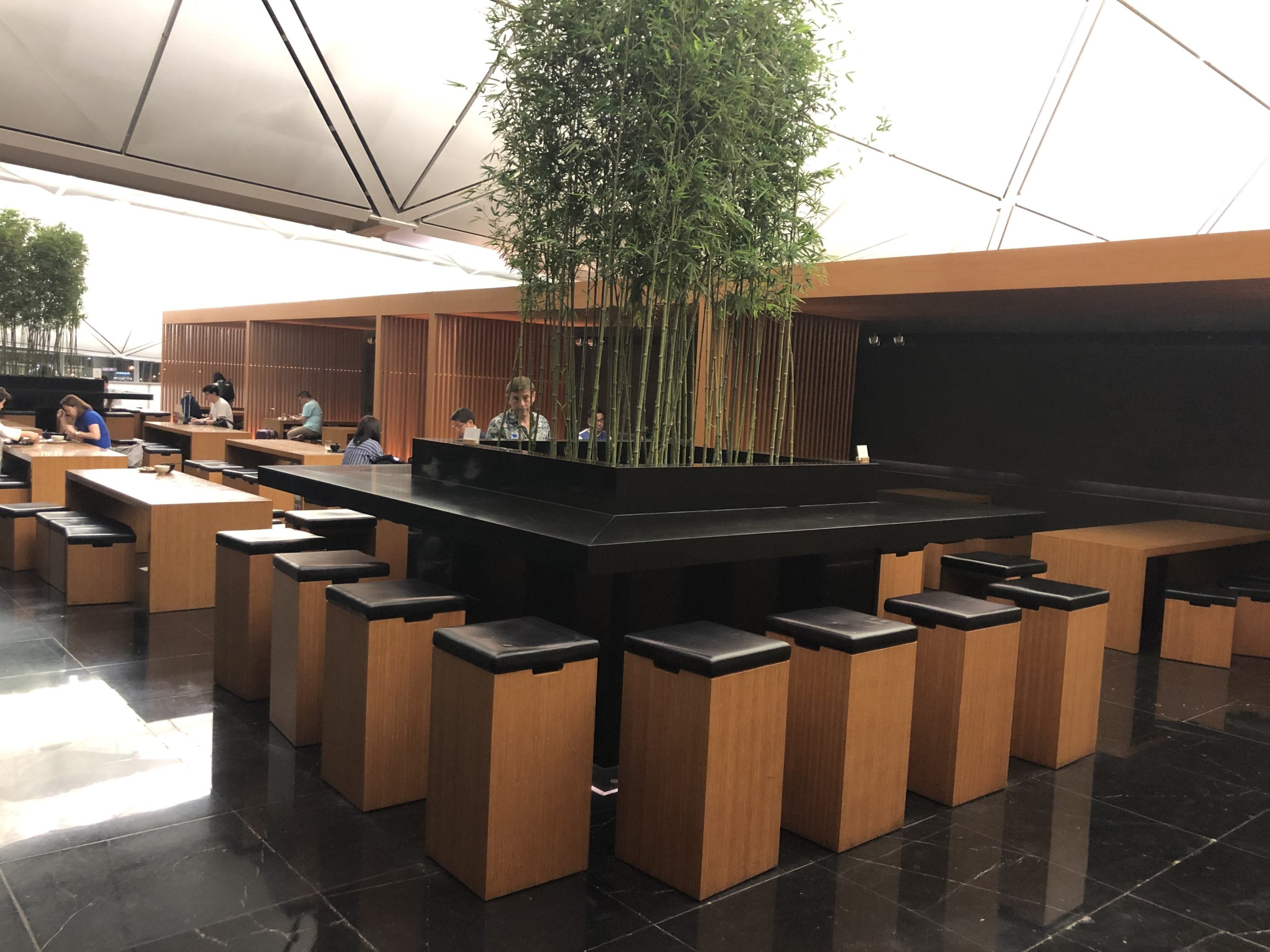 The noodle bar was an open-air kitchen making noodle soups and steaming dim sum.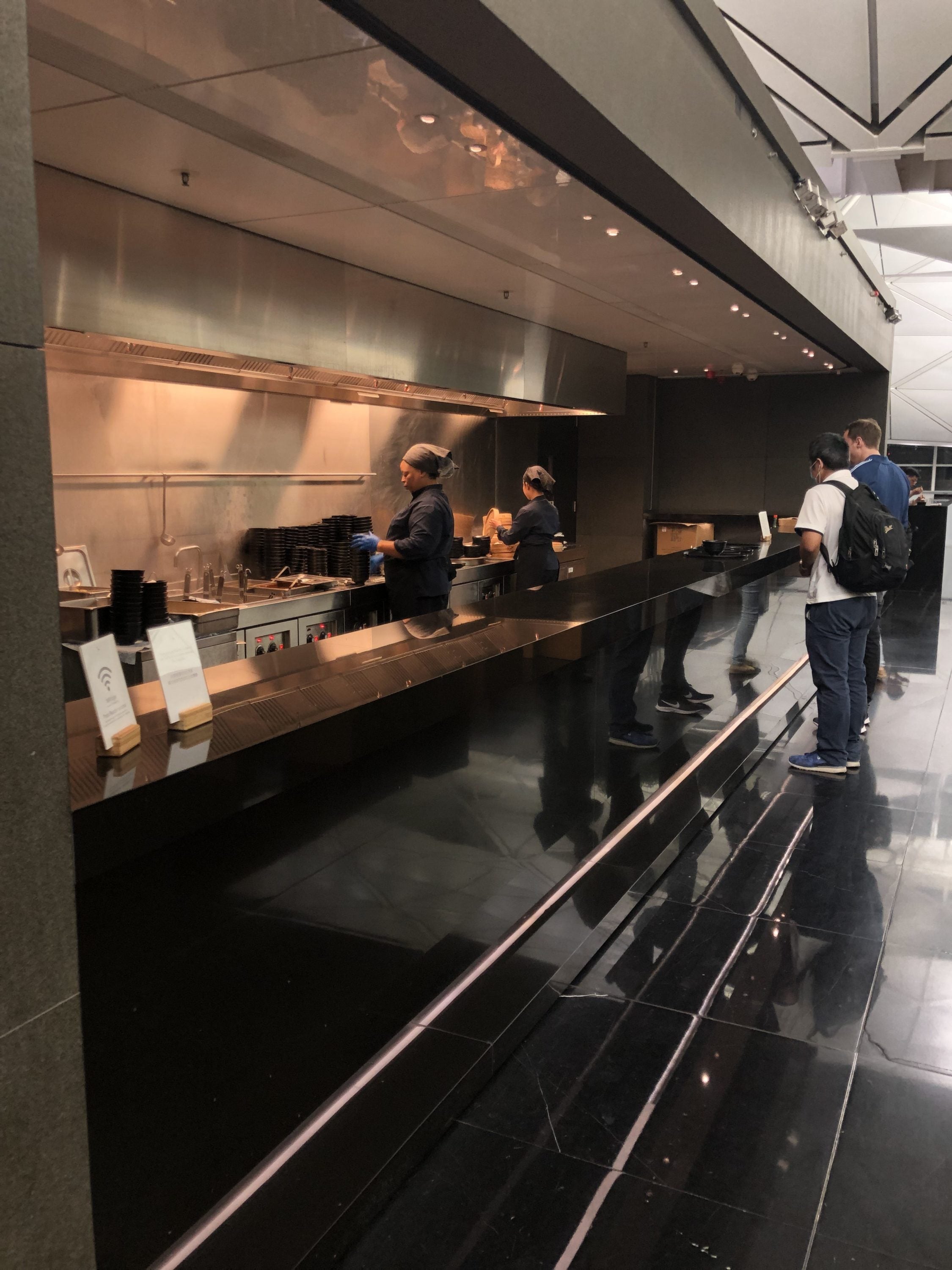 The cooking staff was very friendly and efficient.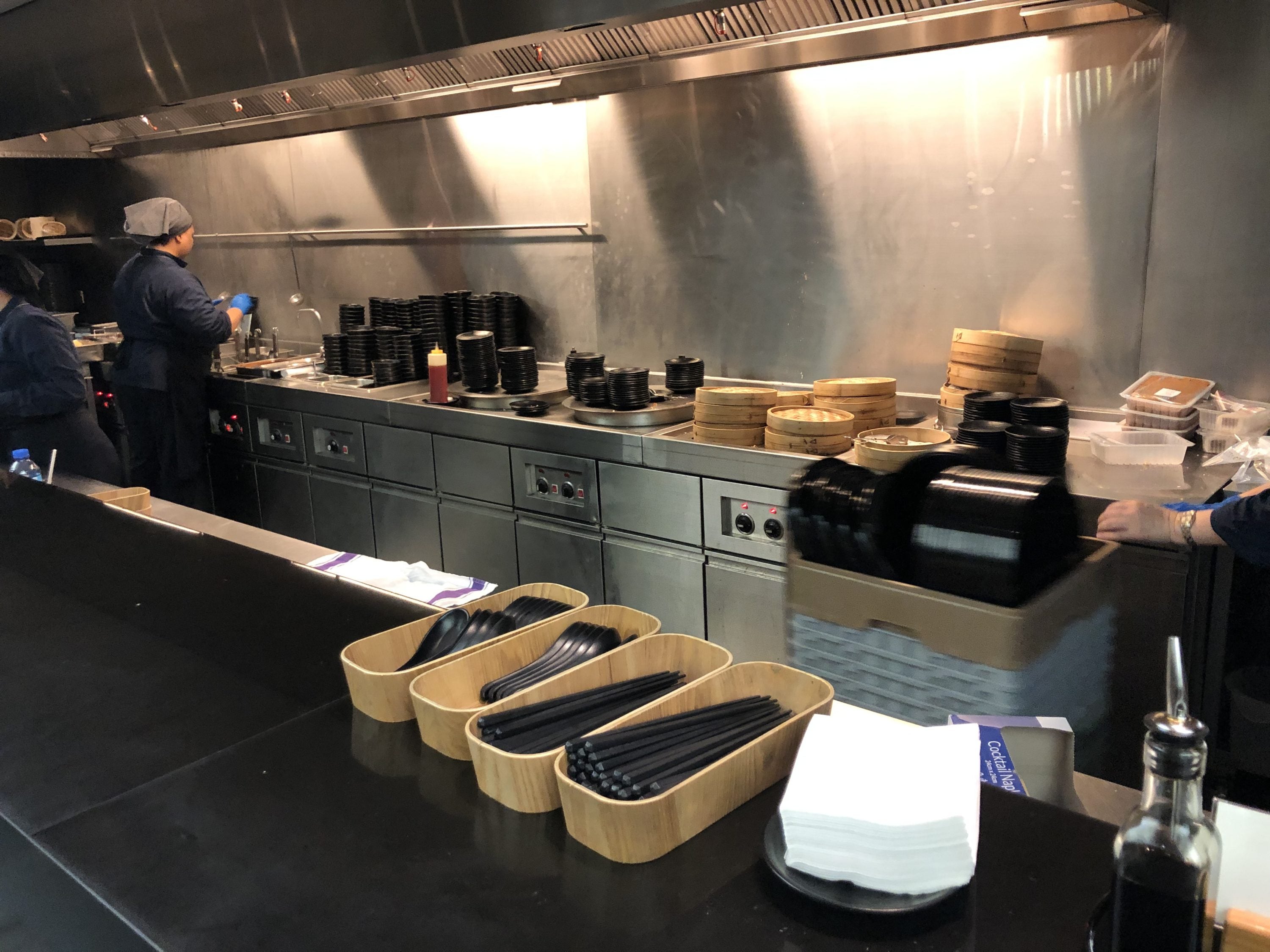 One of the fresh dim sum choices was Chaozhou pork dumplings with crystal skin.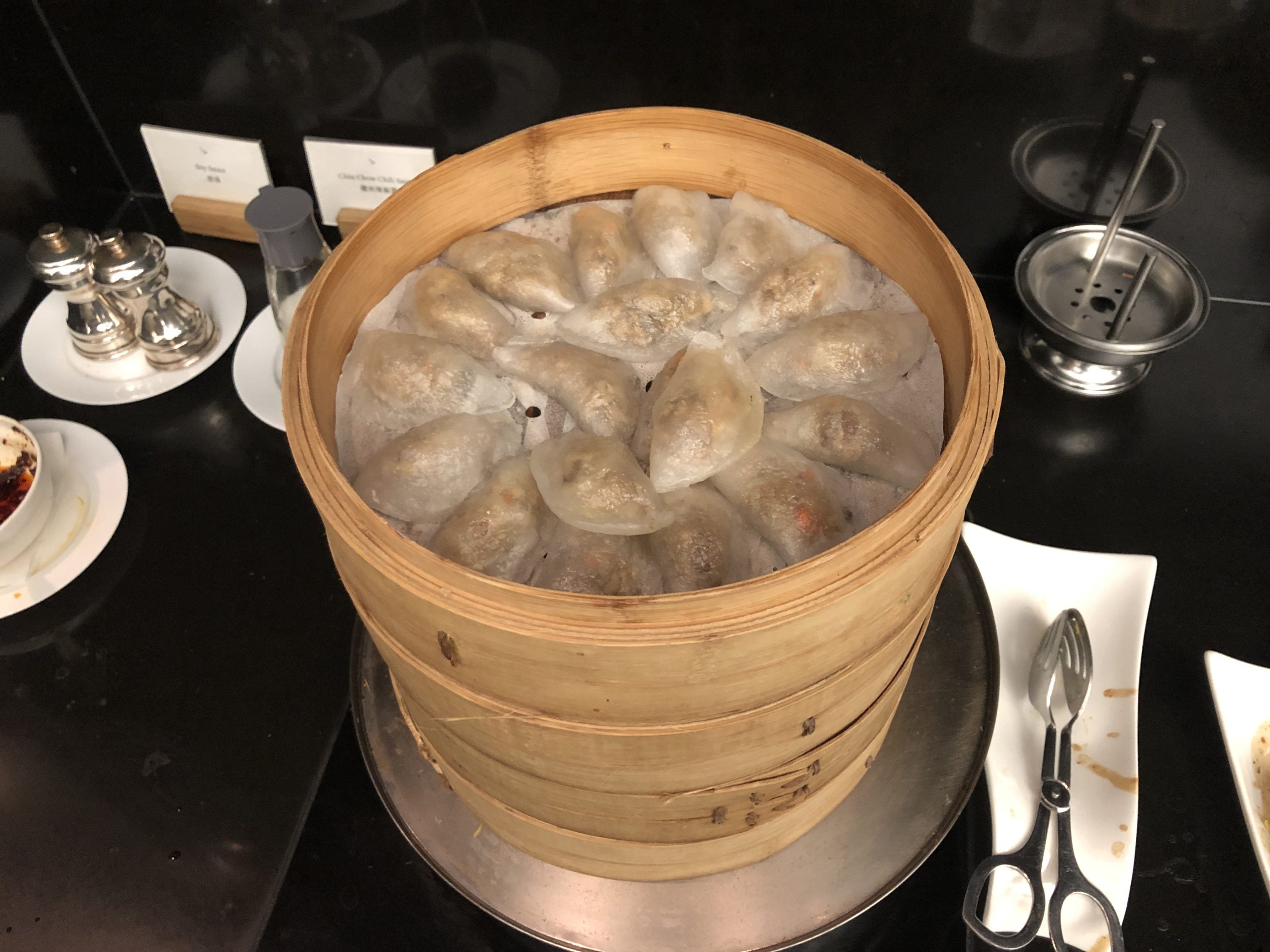 The menu at Noodle Bar is displayed and is identical to the menu at Noodle Bar in The Pier, Business.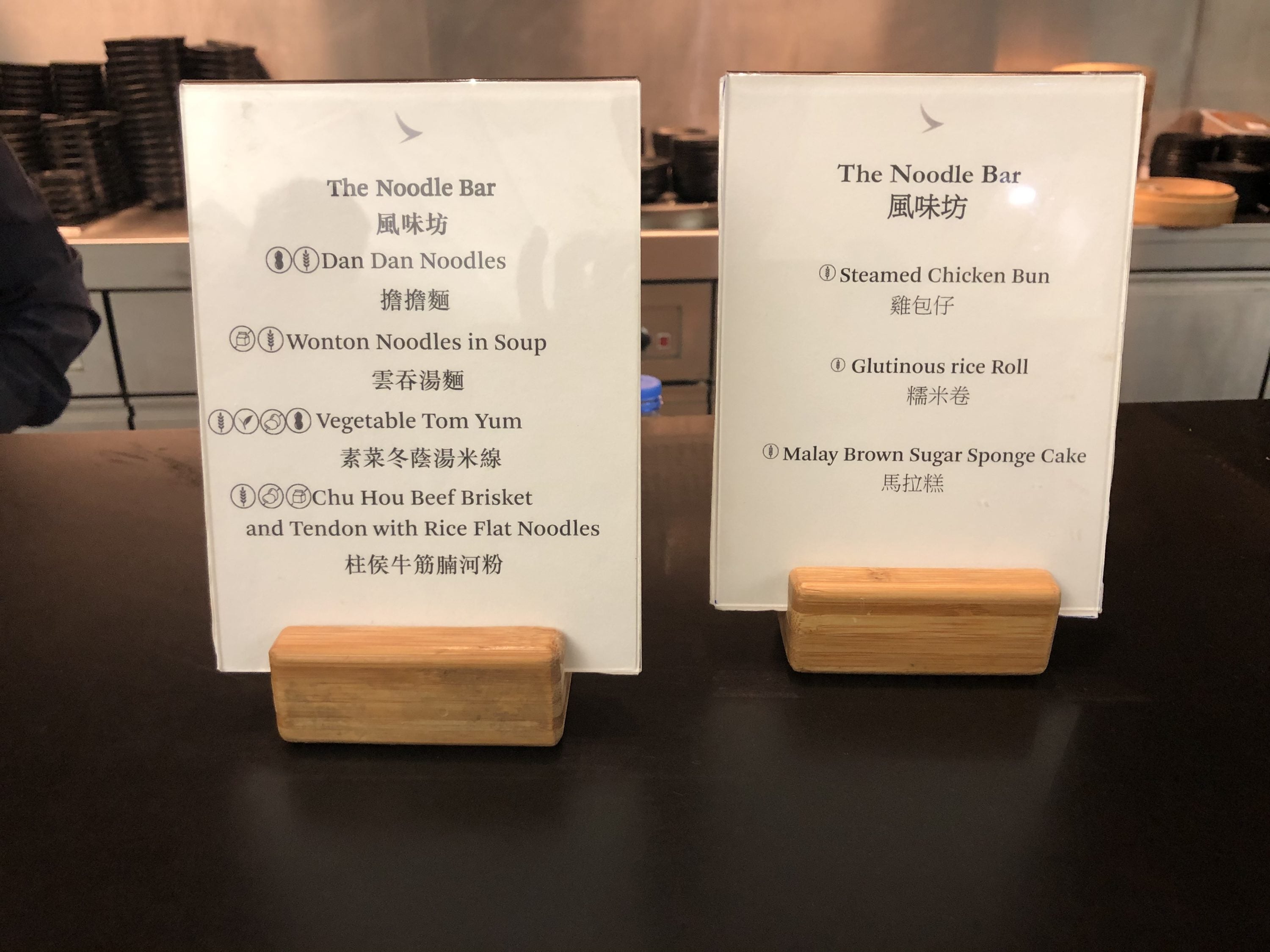 Condiments were available for consumption and pairing with food.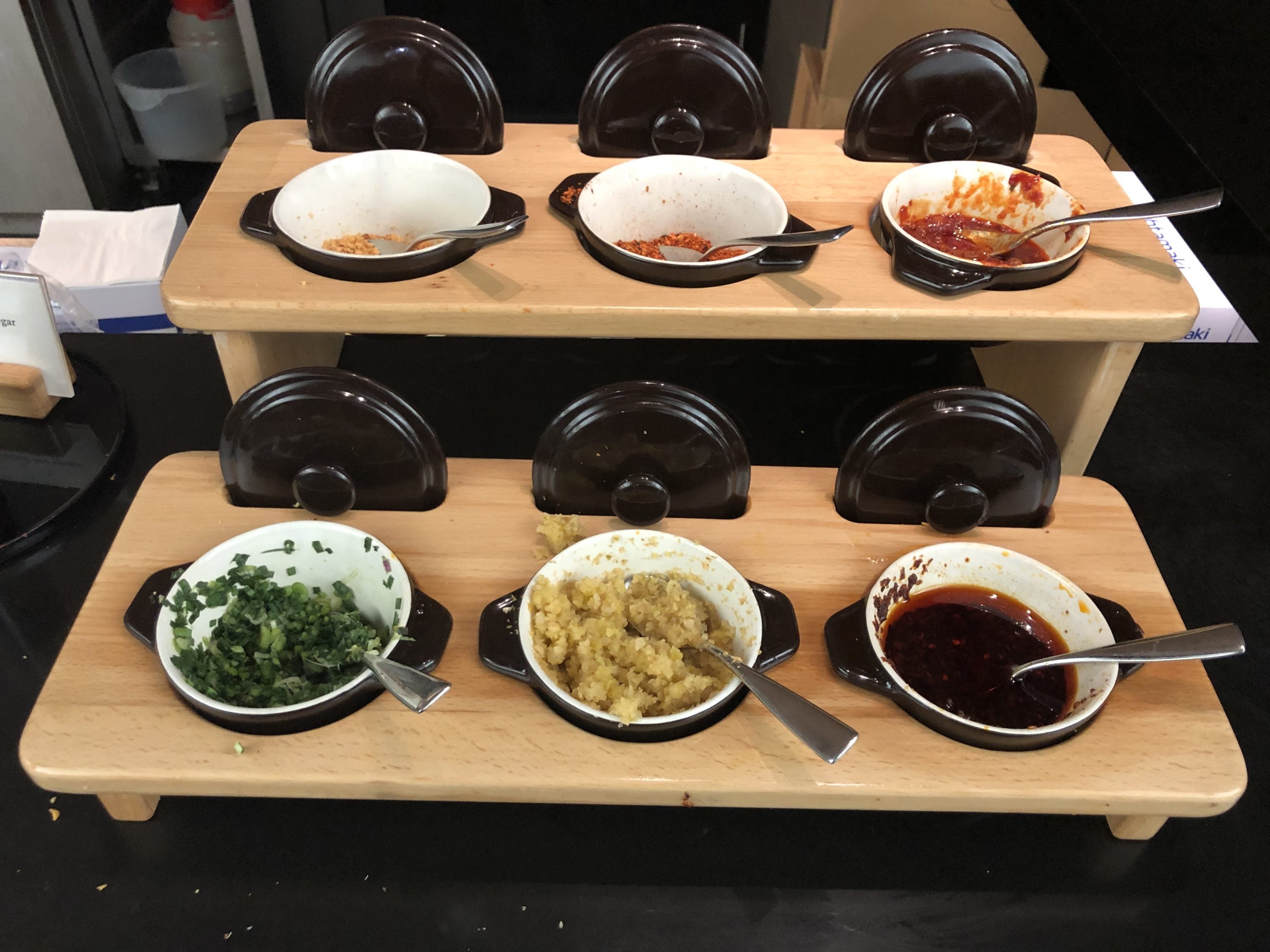 If you need sauces or oil to enhance your dish, the lounge has got you covered.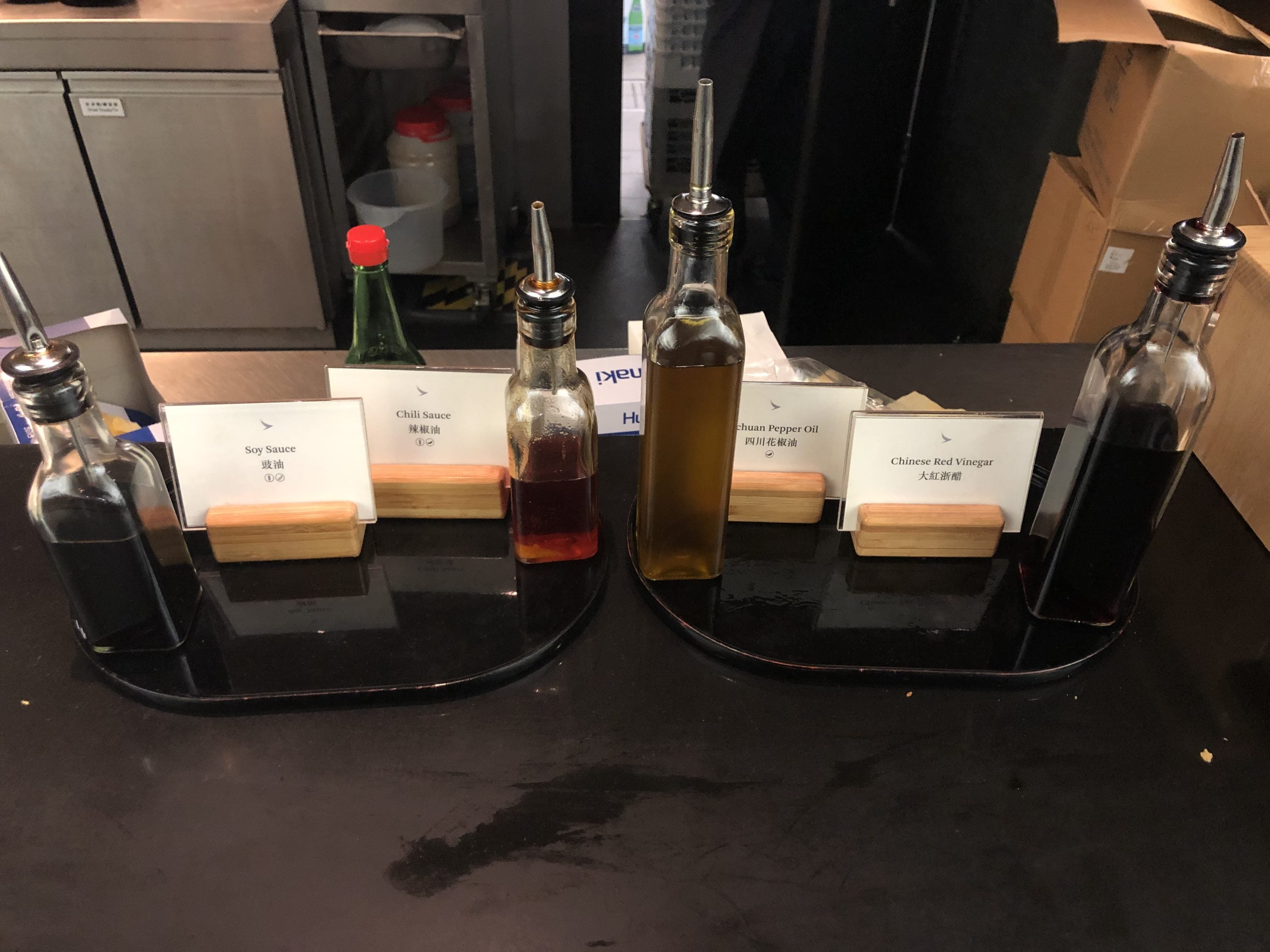 Wi-Fi is accessible as well, and the login information is placed to the right of the noodle bar.
There were also some Asian food choices available. These were buffet-style, so they aren't made-to-order like the noodle soups or dim sum. First up was Singapore Fried Vermicelli.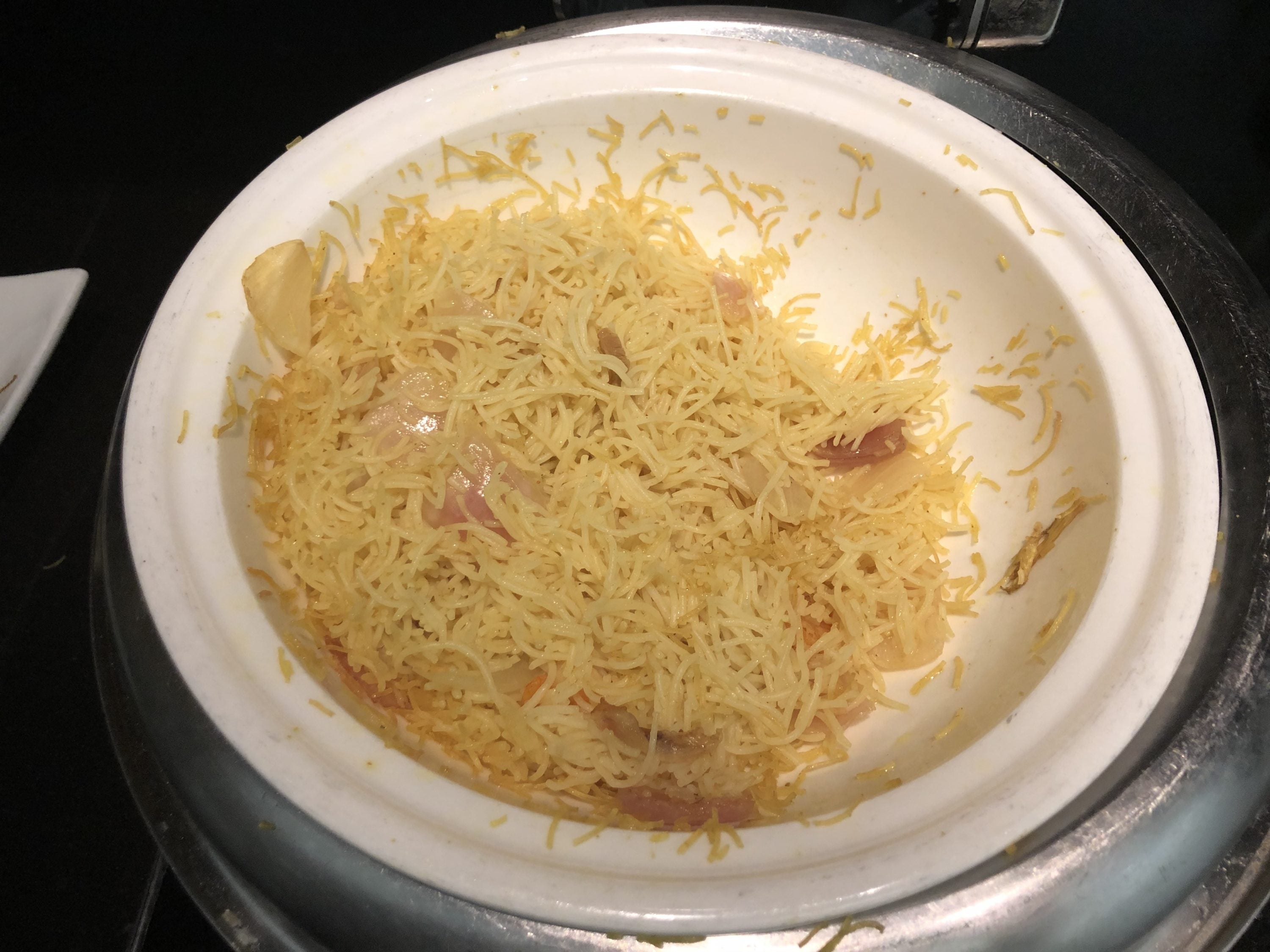 Next, the left-hand side served chicken with capsicums & preserved black bean sauce and the left-hand side contained Chinese cabbage in chicken bouillon.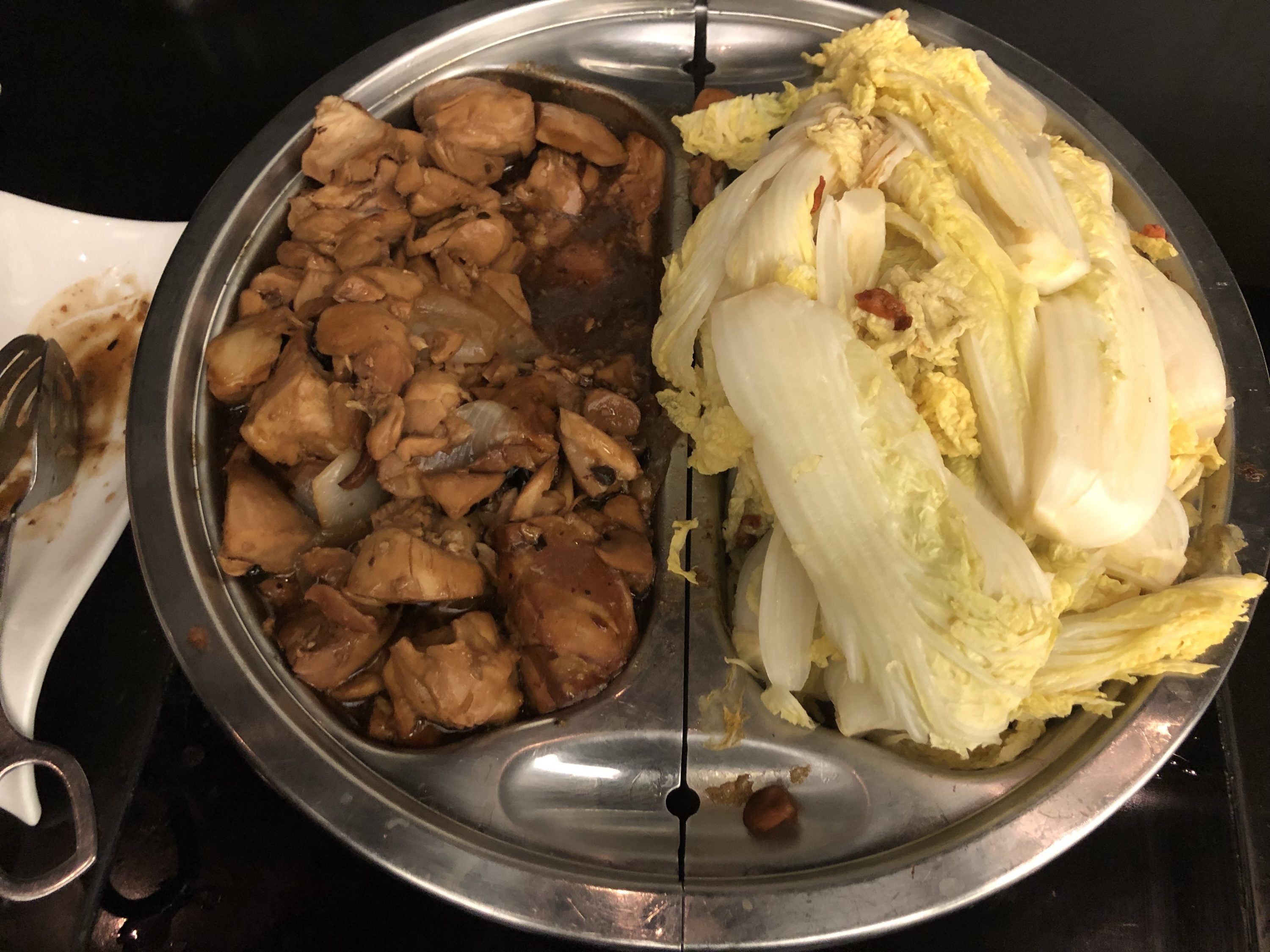 As far as soup goes, the soup of the day was wintermelon with barley and mandarin peel duck soup. This soup was rich, delicious, and very savory.
The drinks at Noodle Bar were all self-serve and began with 2 espresso machines.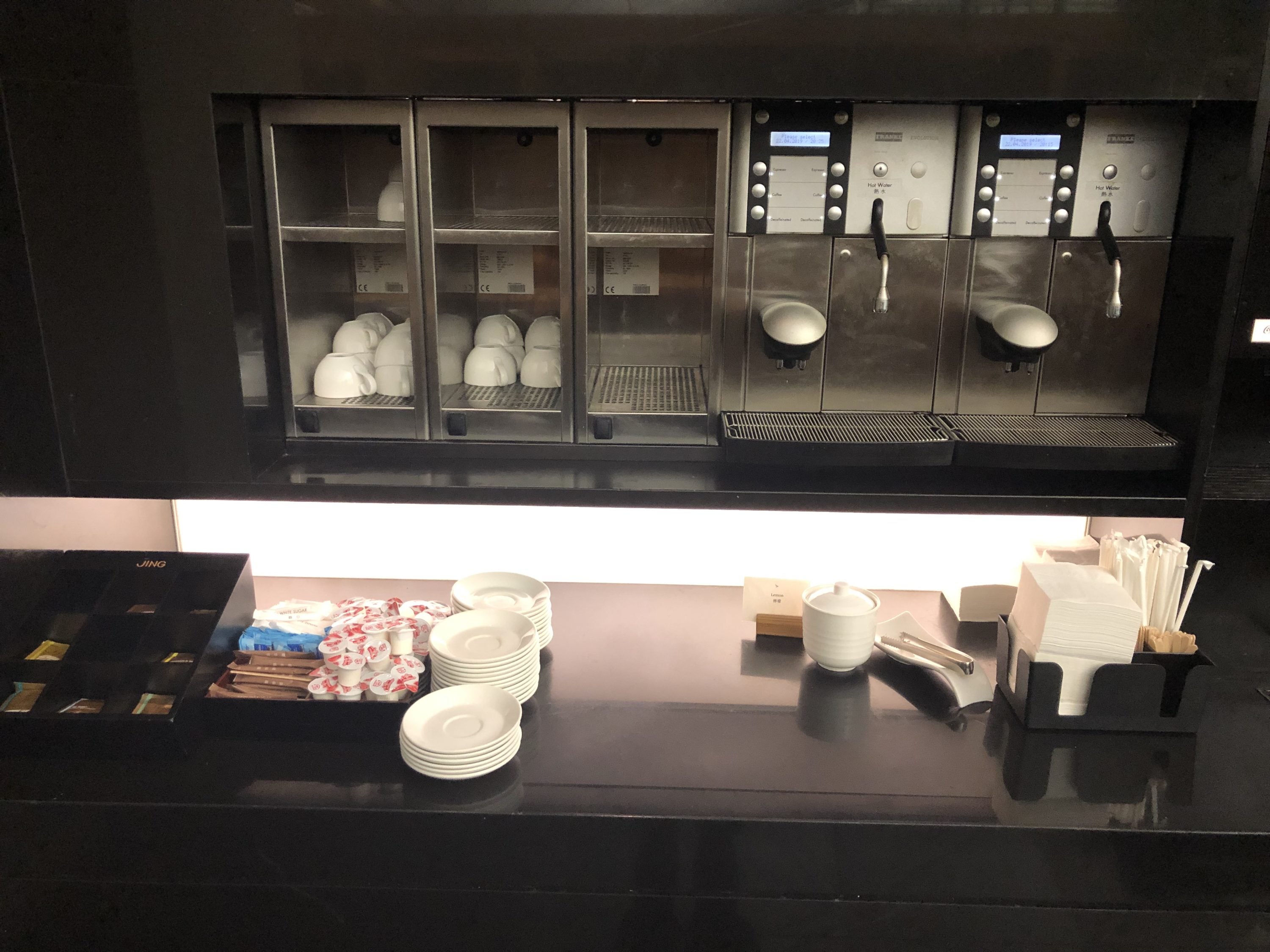 In the refrigerated section, you could get bottled and sparkling water, sodas, and various beers.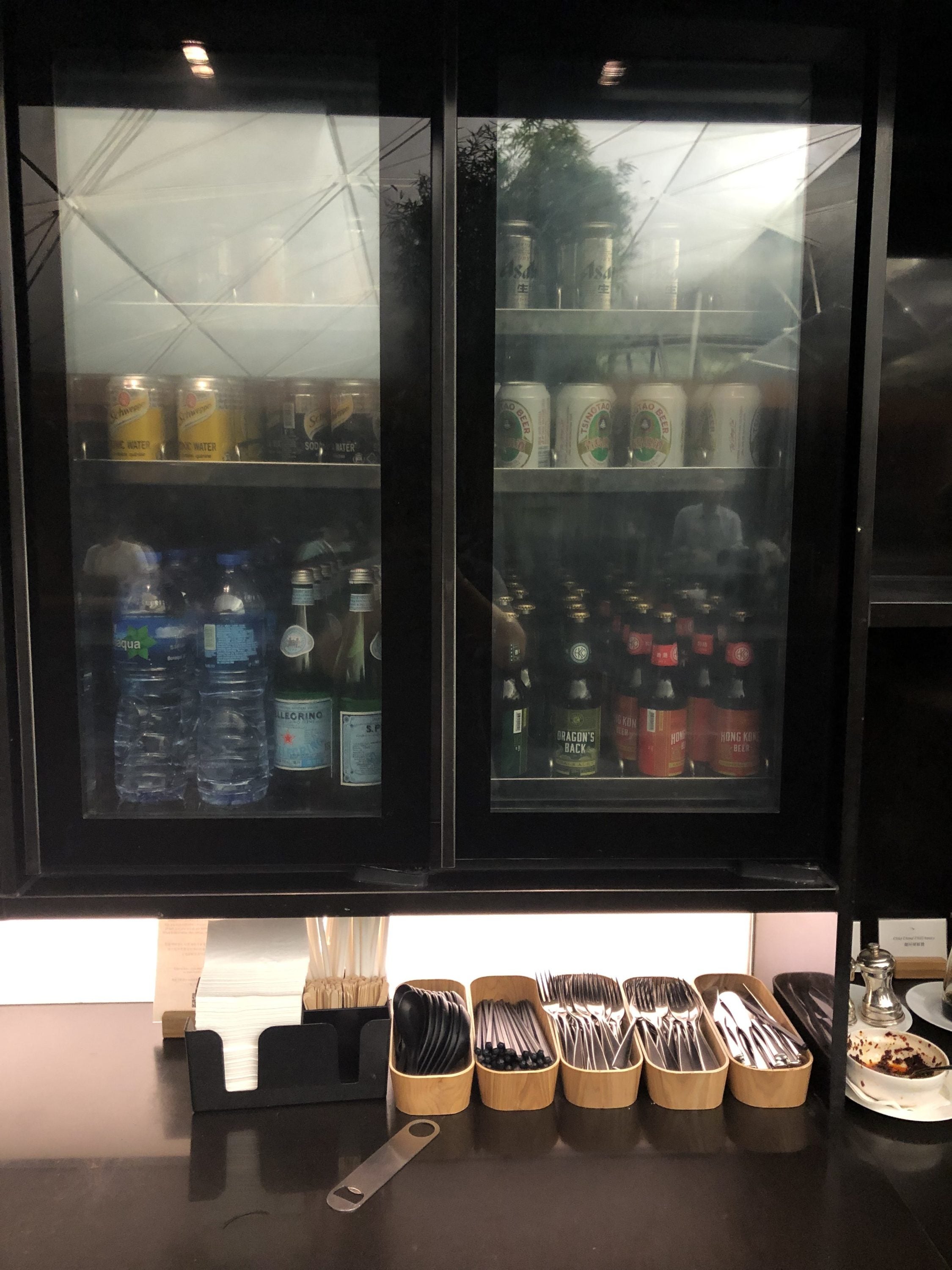 If you're looking for something more nutritious, the juice and milk bar was located just left of the refrigerator.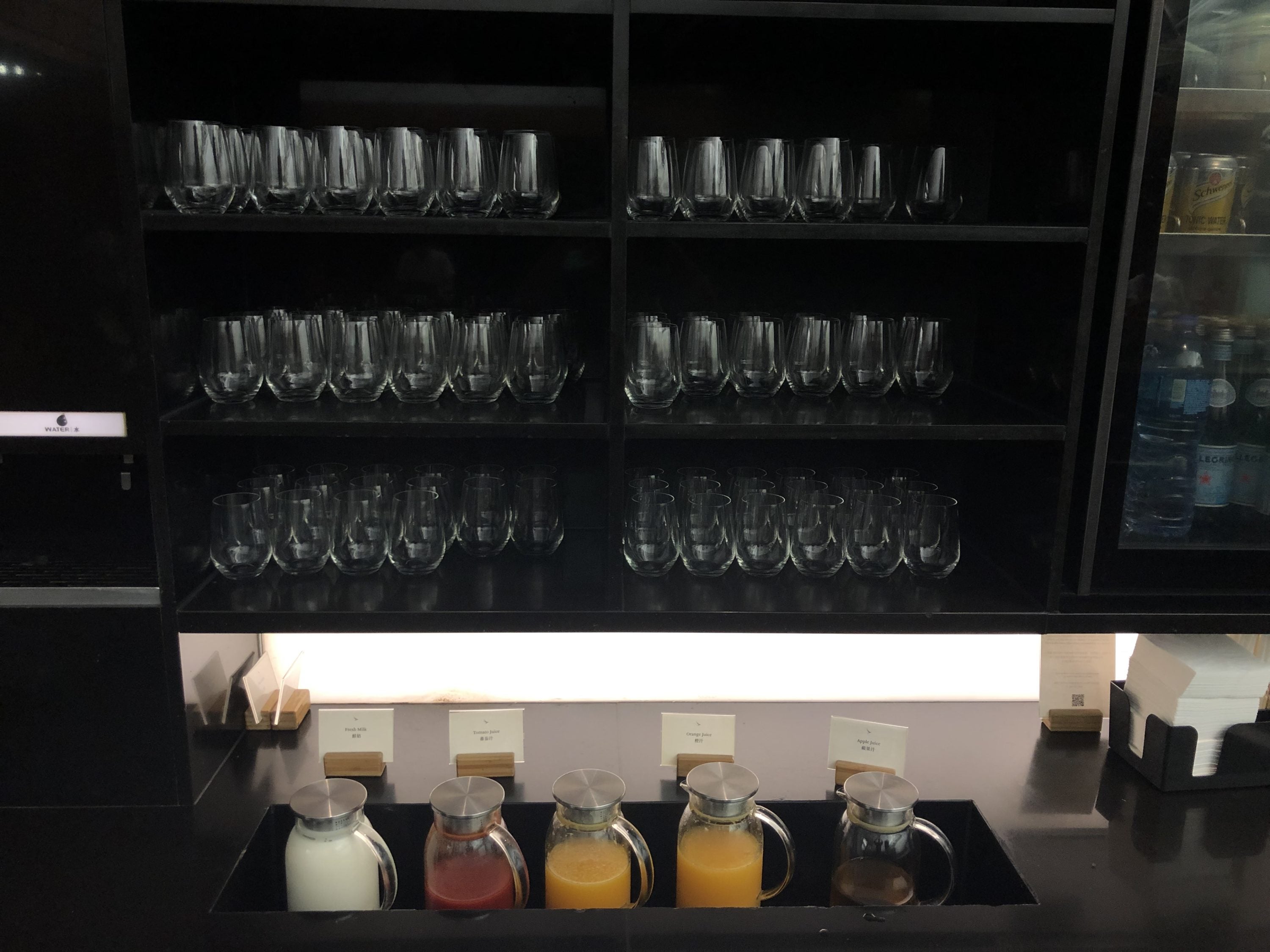 If you're looking for Chinese/Asian food in this lounge, look no further than Noodle Bar, serving authentic dim sum and noodle soups that will definitely hit the spot.
Long Bar
Long Bar is a symbol of The Wing, and it's quite massive. The marble counter-tops extend as far as the eye can see, and the bar itself is fully staffed.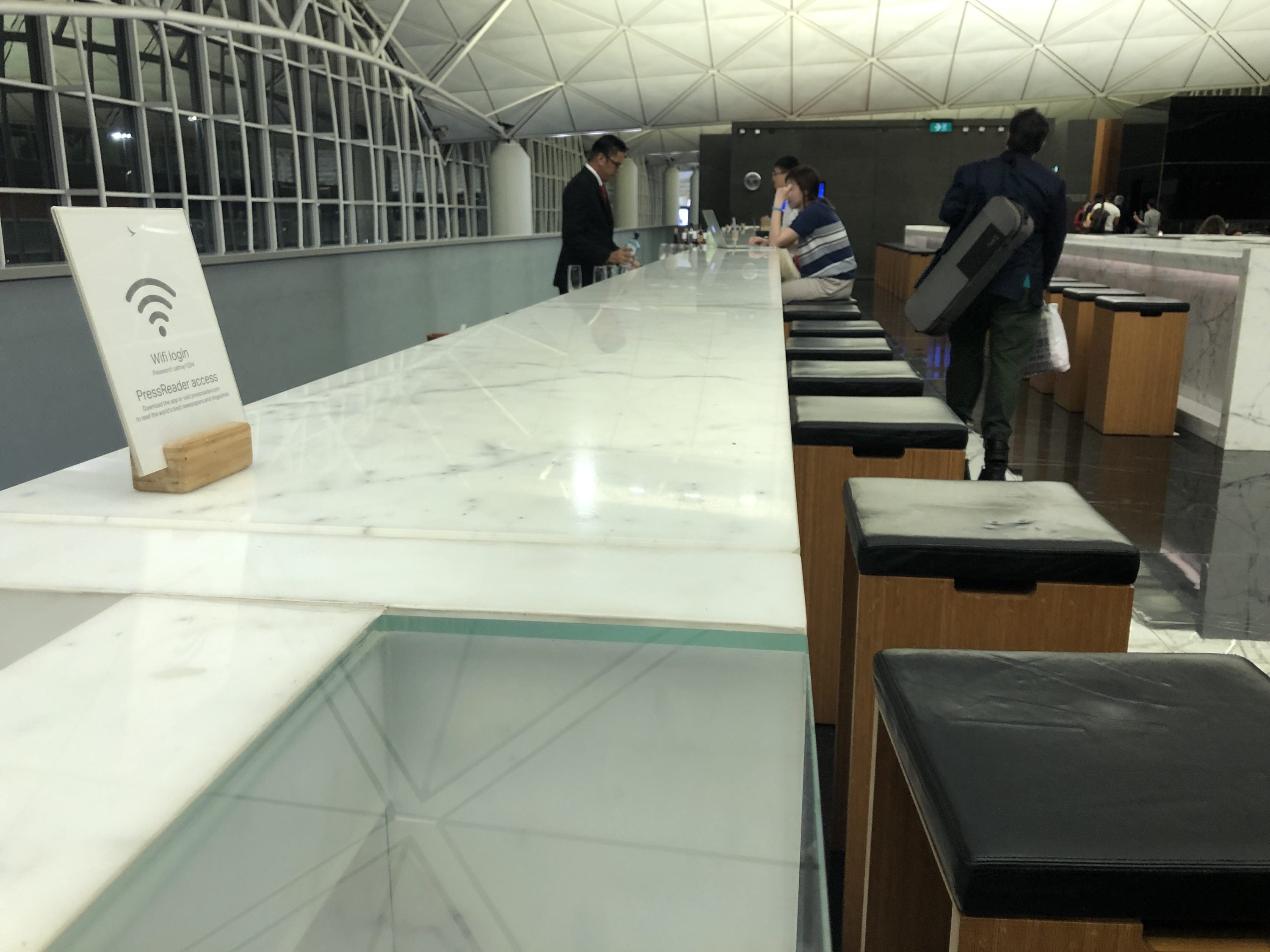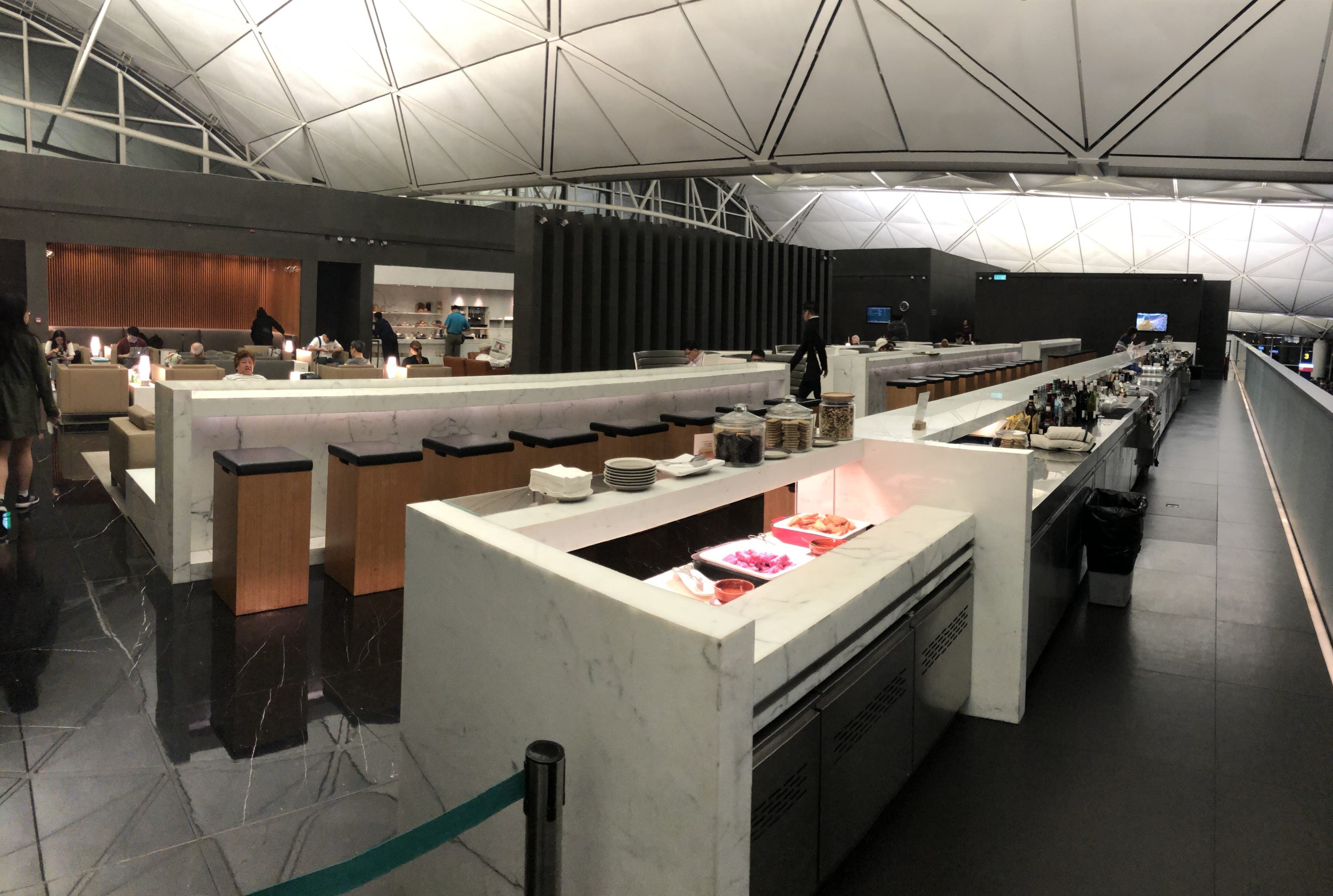 Long Bar overlooks the tarmac, and there are few things better than professional mixologists curating the perfect cocktail while bird-watching.
Located alongside the edges of Long Bar were bar snacks, canapés, and pastries.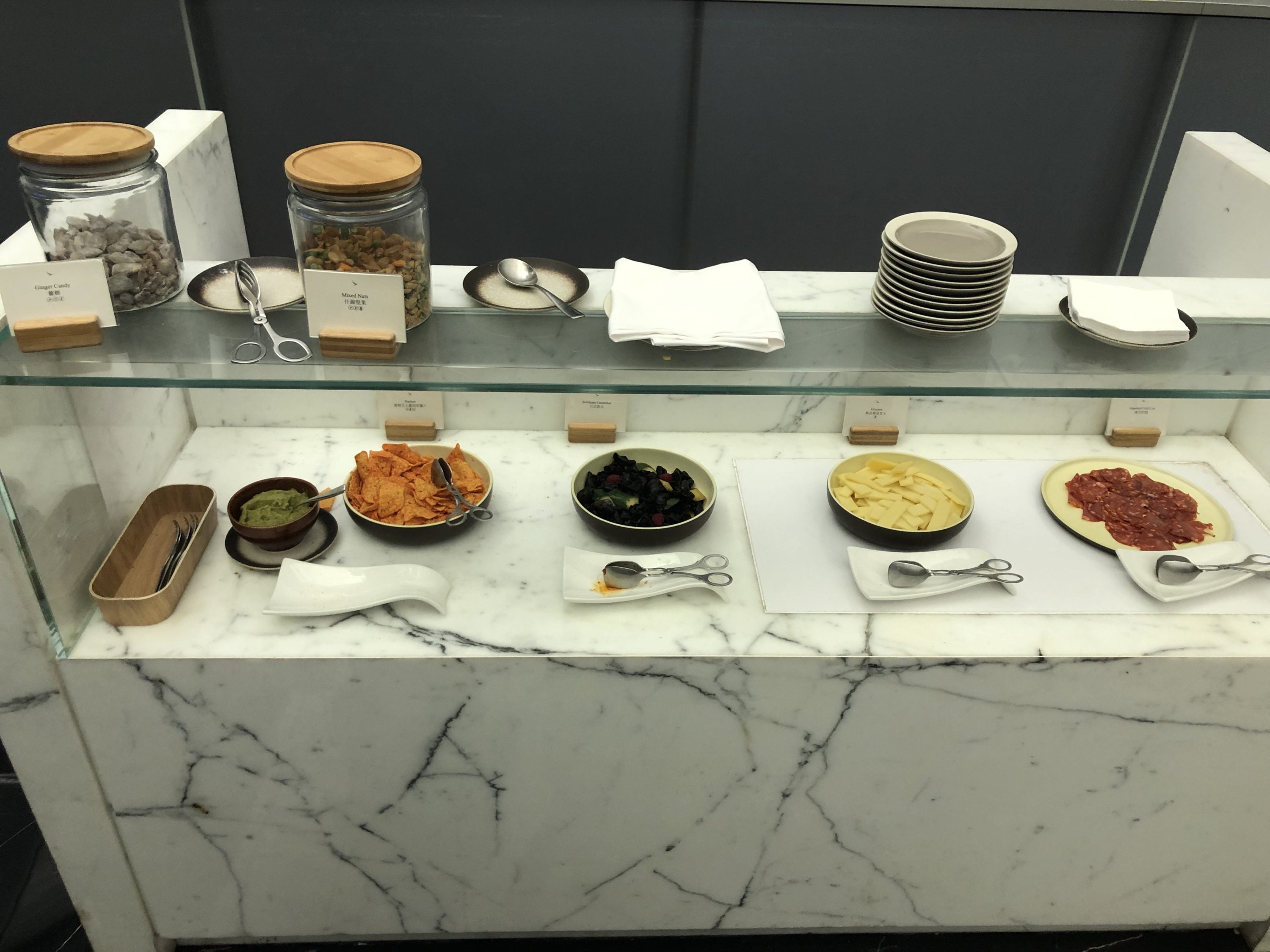 Other treats include assorted cold cuts, dried fruits, water crackers, brie cheese, and gruyere cheese.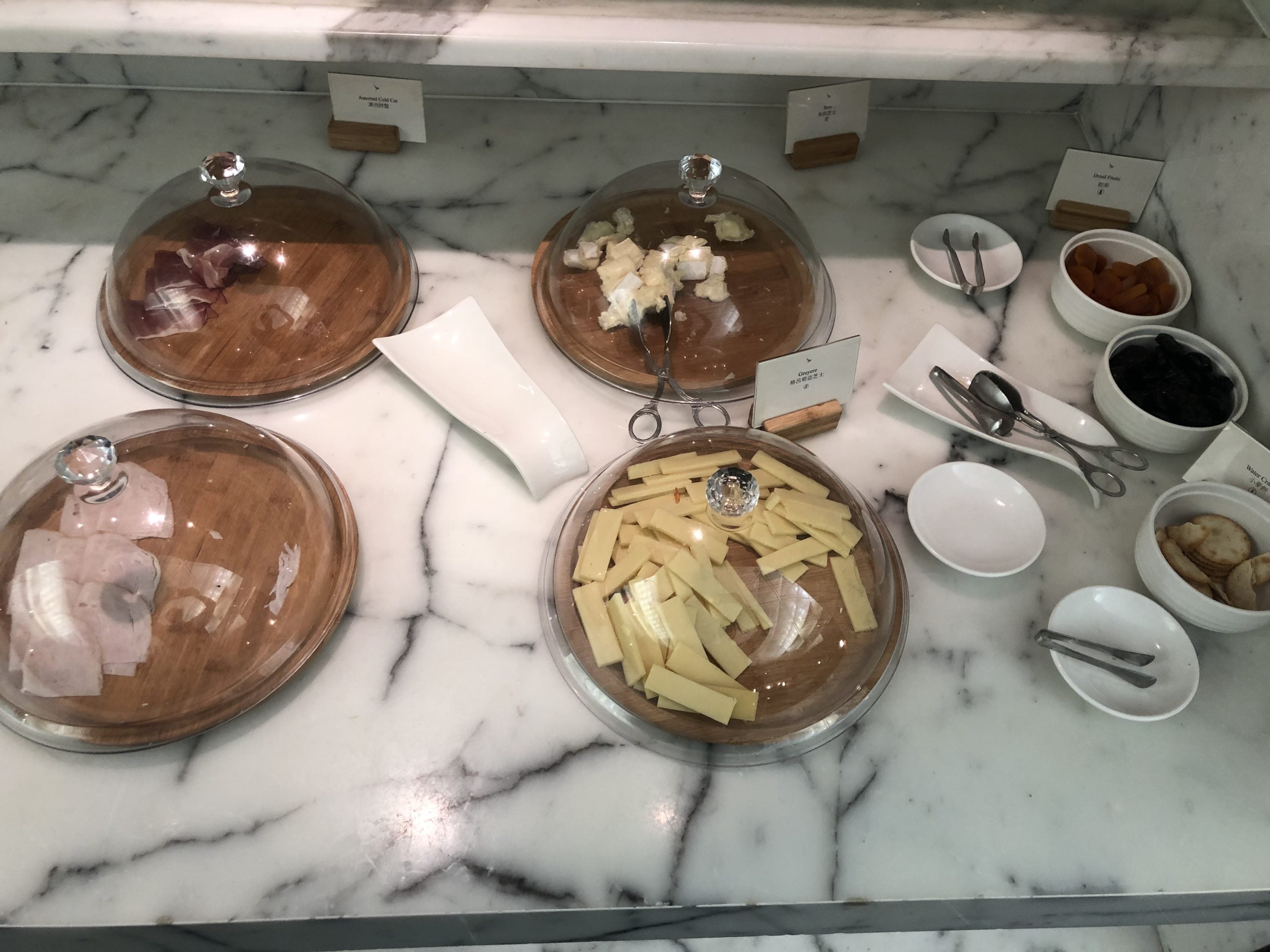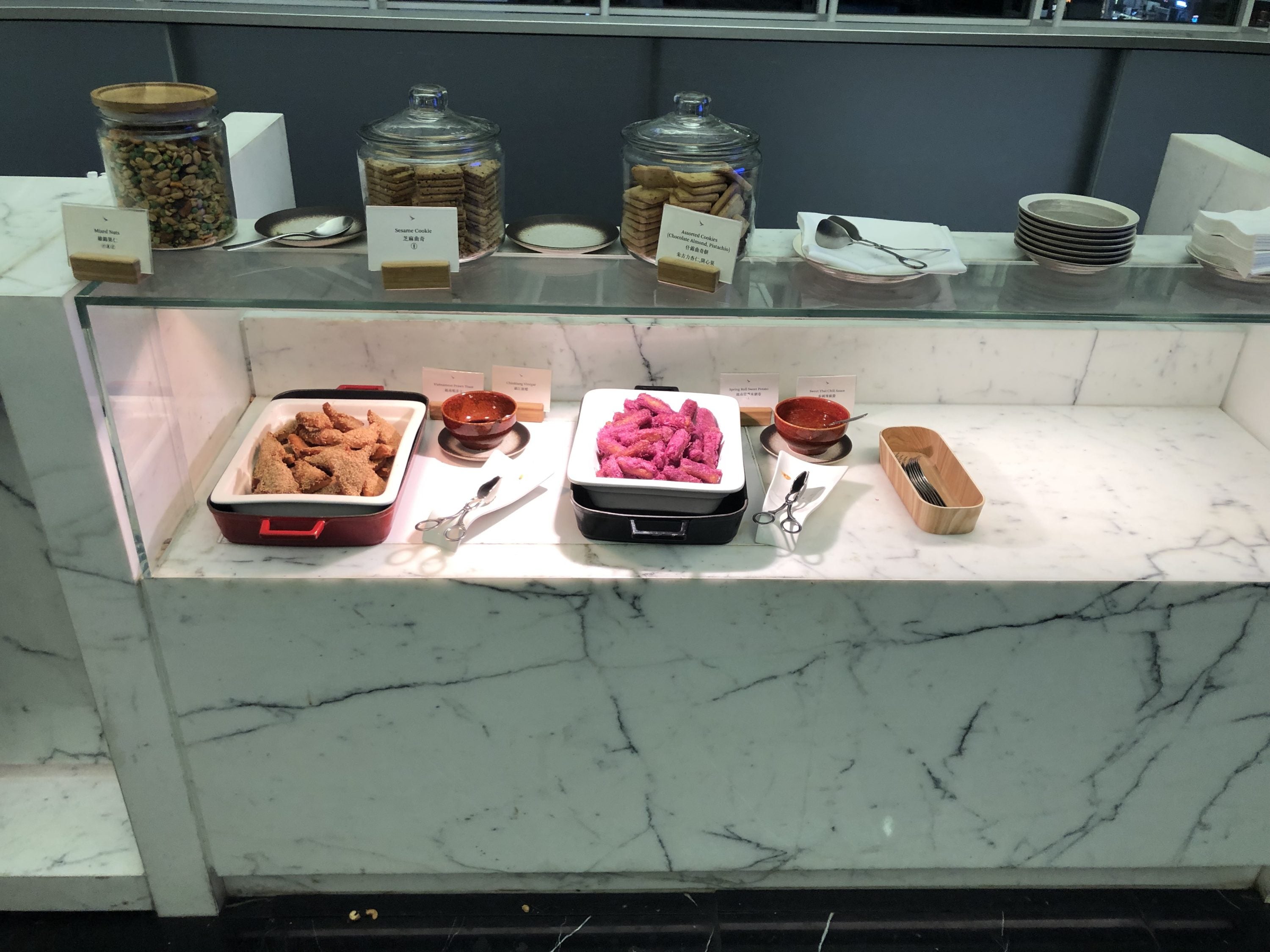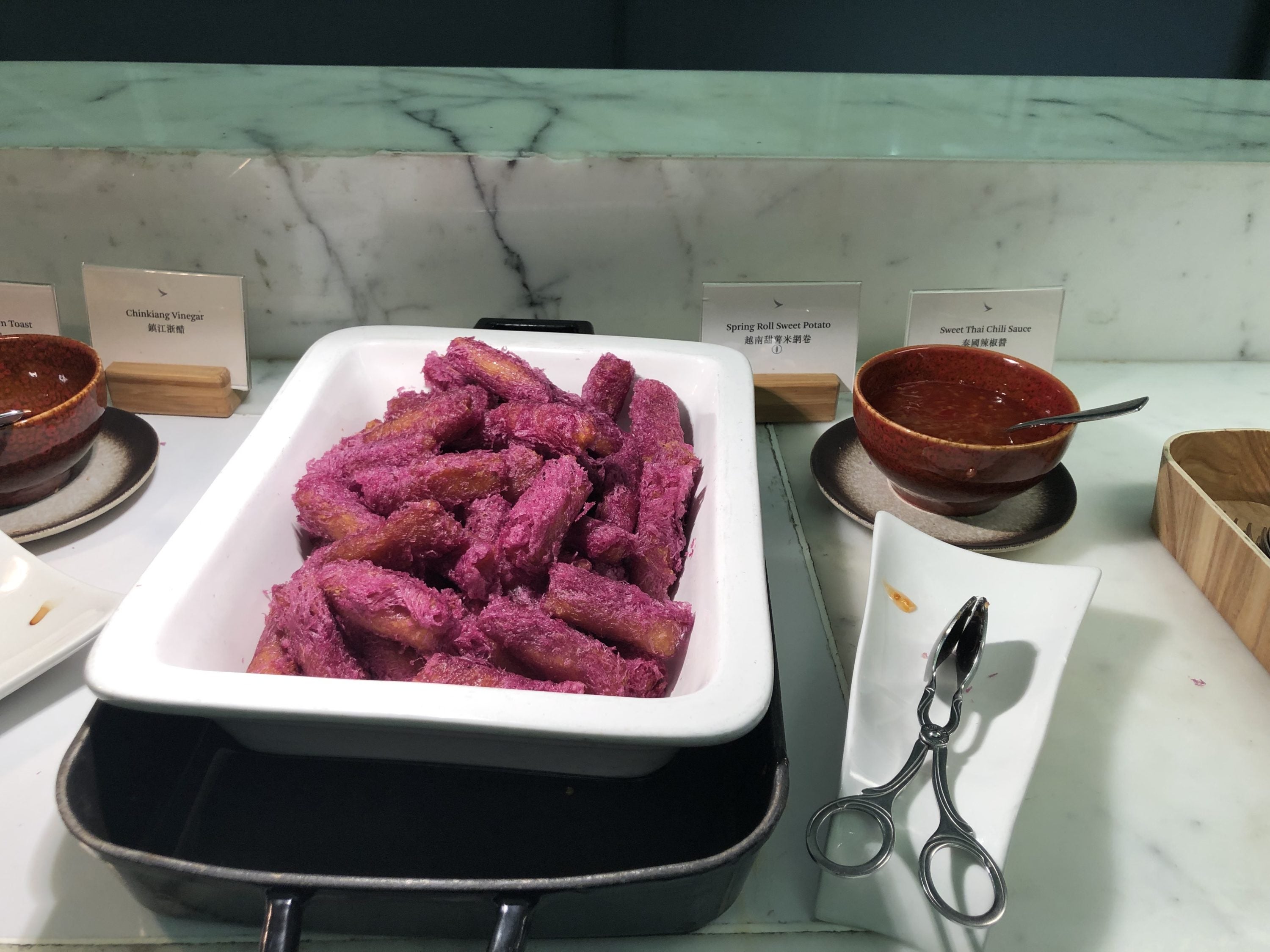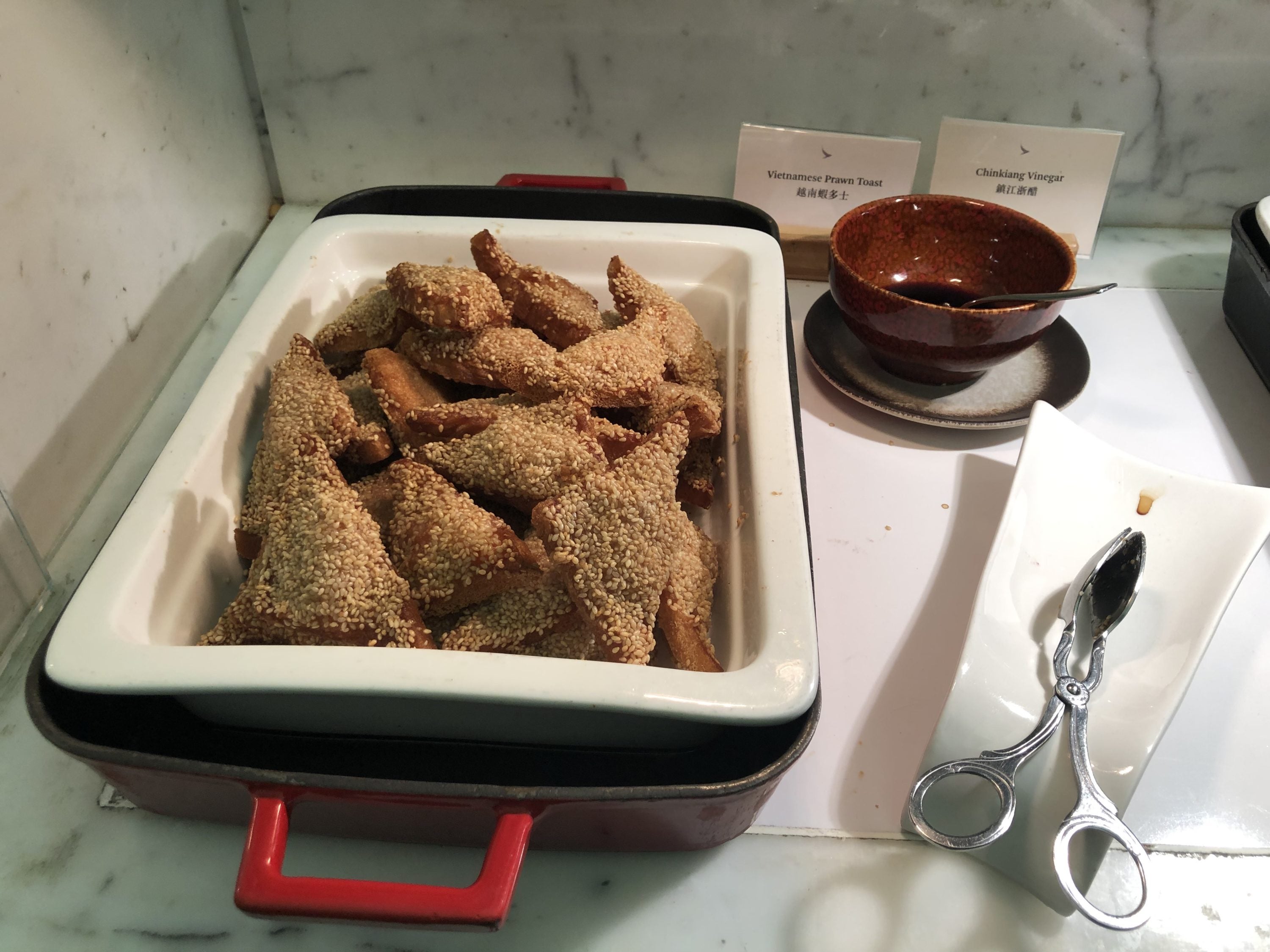 Main Lobby
The Main Lobby is a small food hall located just after the entrance of the lounge. The main emphasis is Western cuisine here. First, 2 espresso coffee machines were conveniently located, along with saucers, cups, and any additives such as sugar and cream.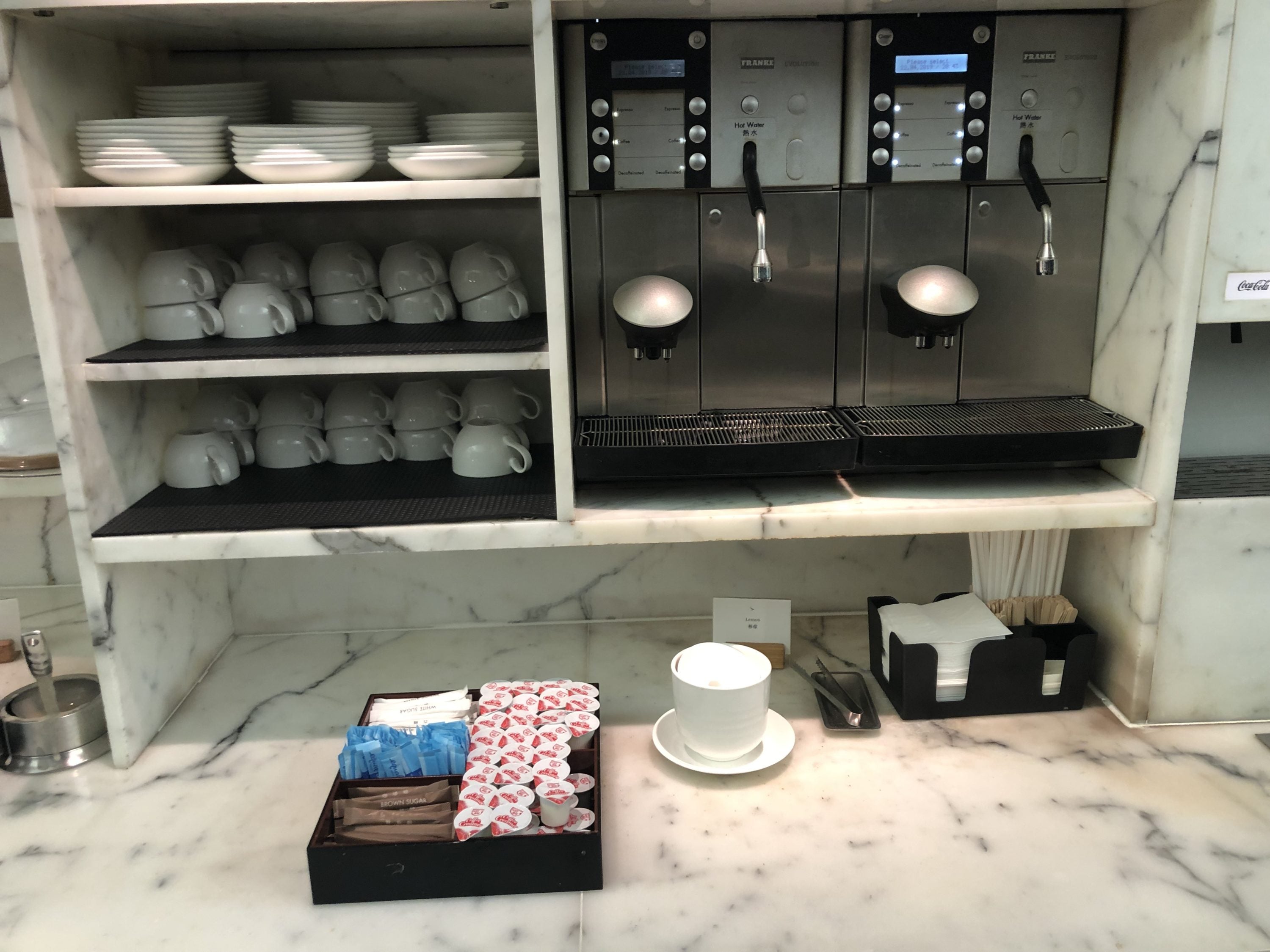 Fresh fruit juices, including apple juice, tomato juice, and mango juice were all available here.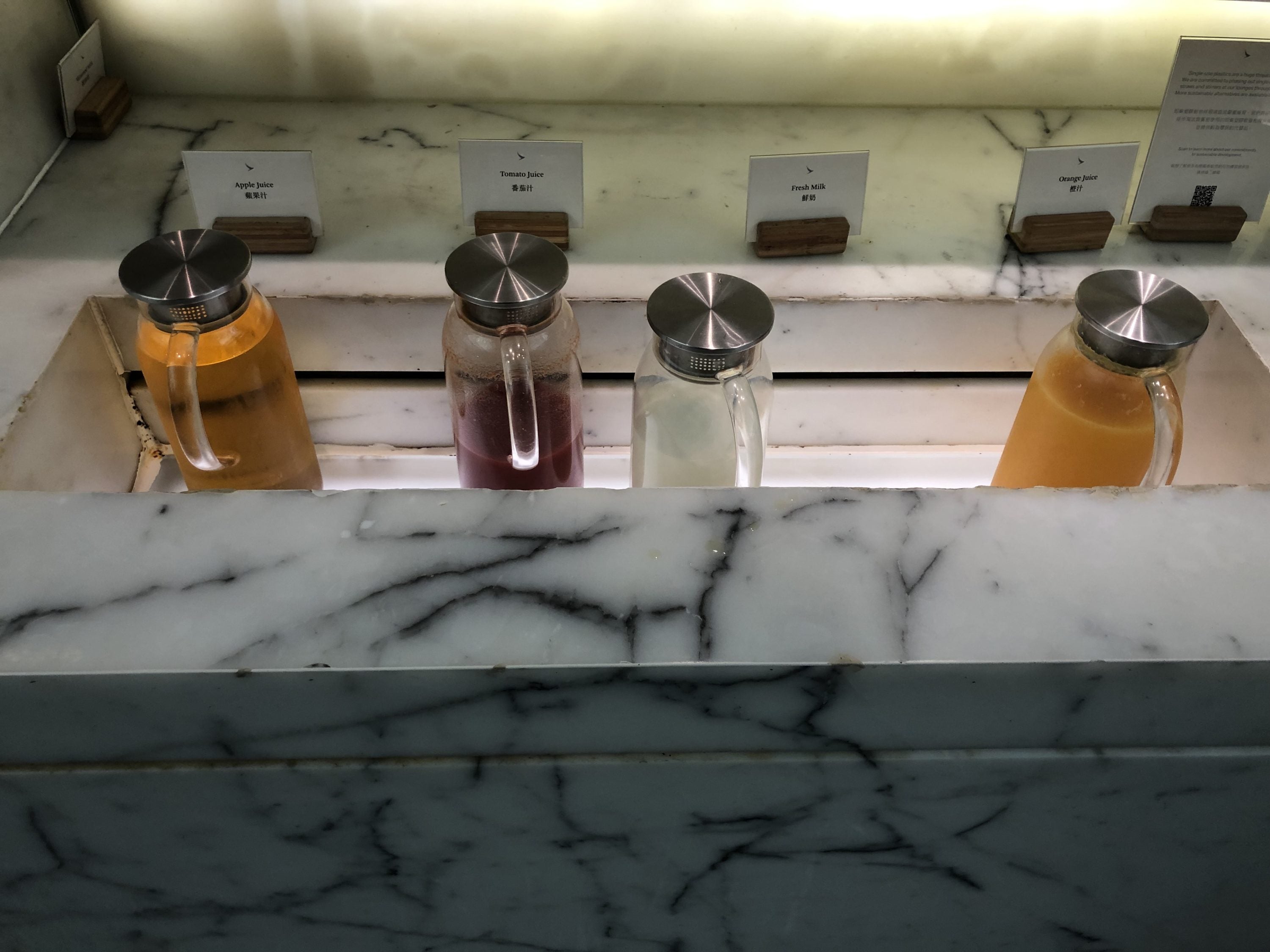 The refrigerator section spanned 3 doors, with soft drinks, various beers, and waters displayed.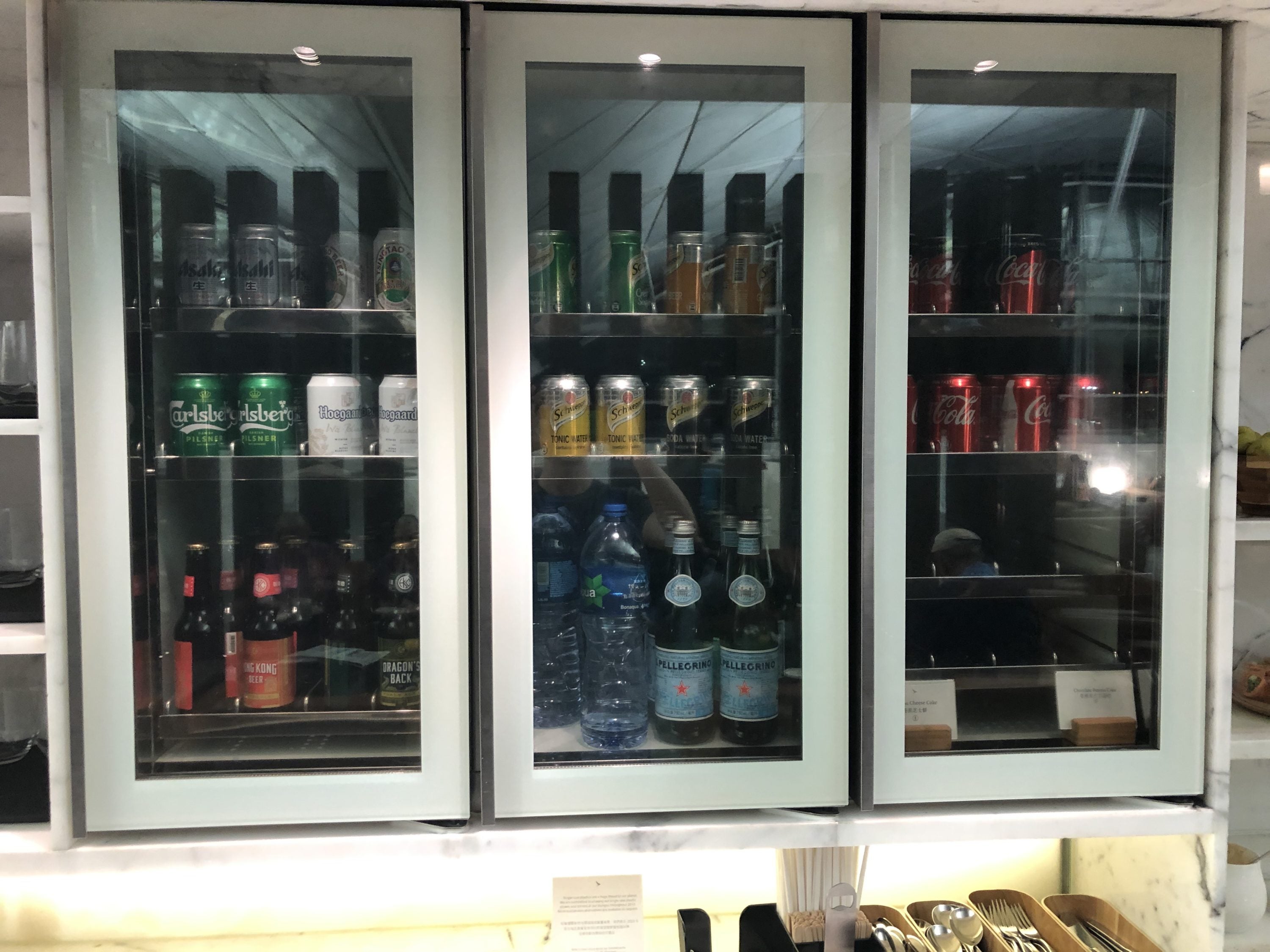 The food section started off with some salad and vegetable choices.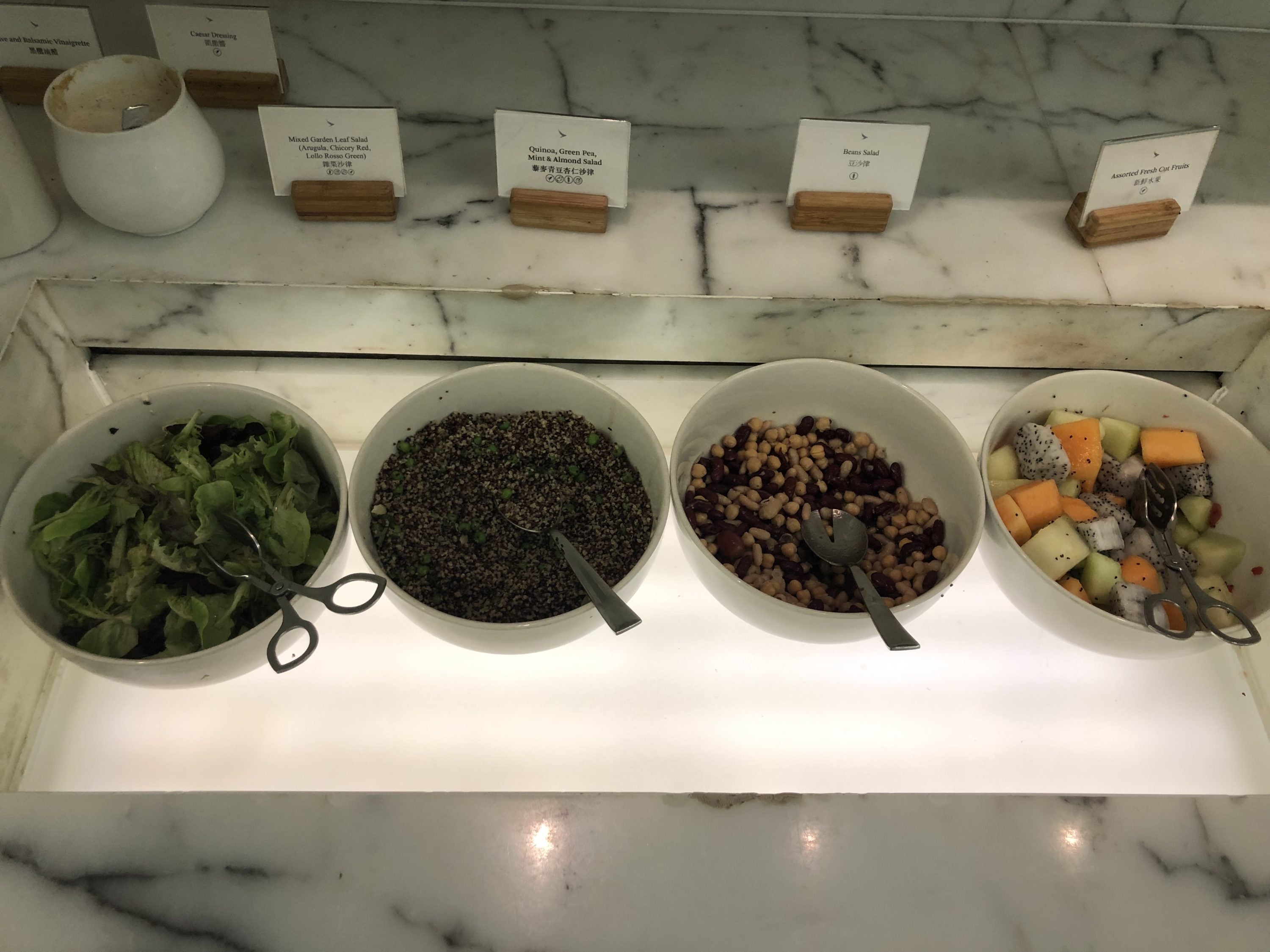 There was fresh whole fruit in baskets on the shelves above.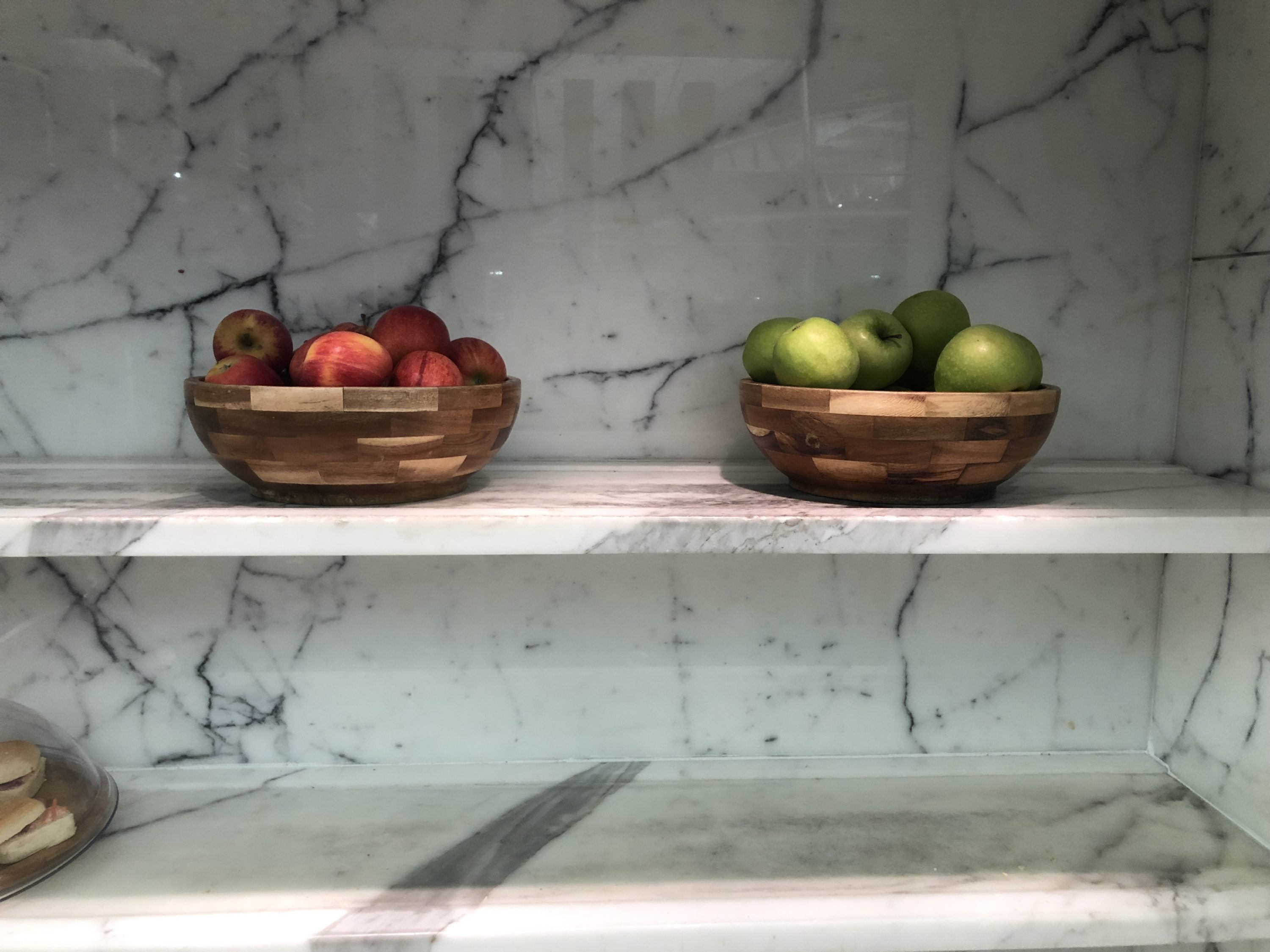 On another shelf, you could pick out finger sandwiches and wraps.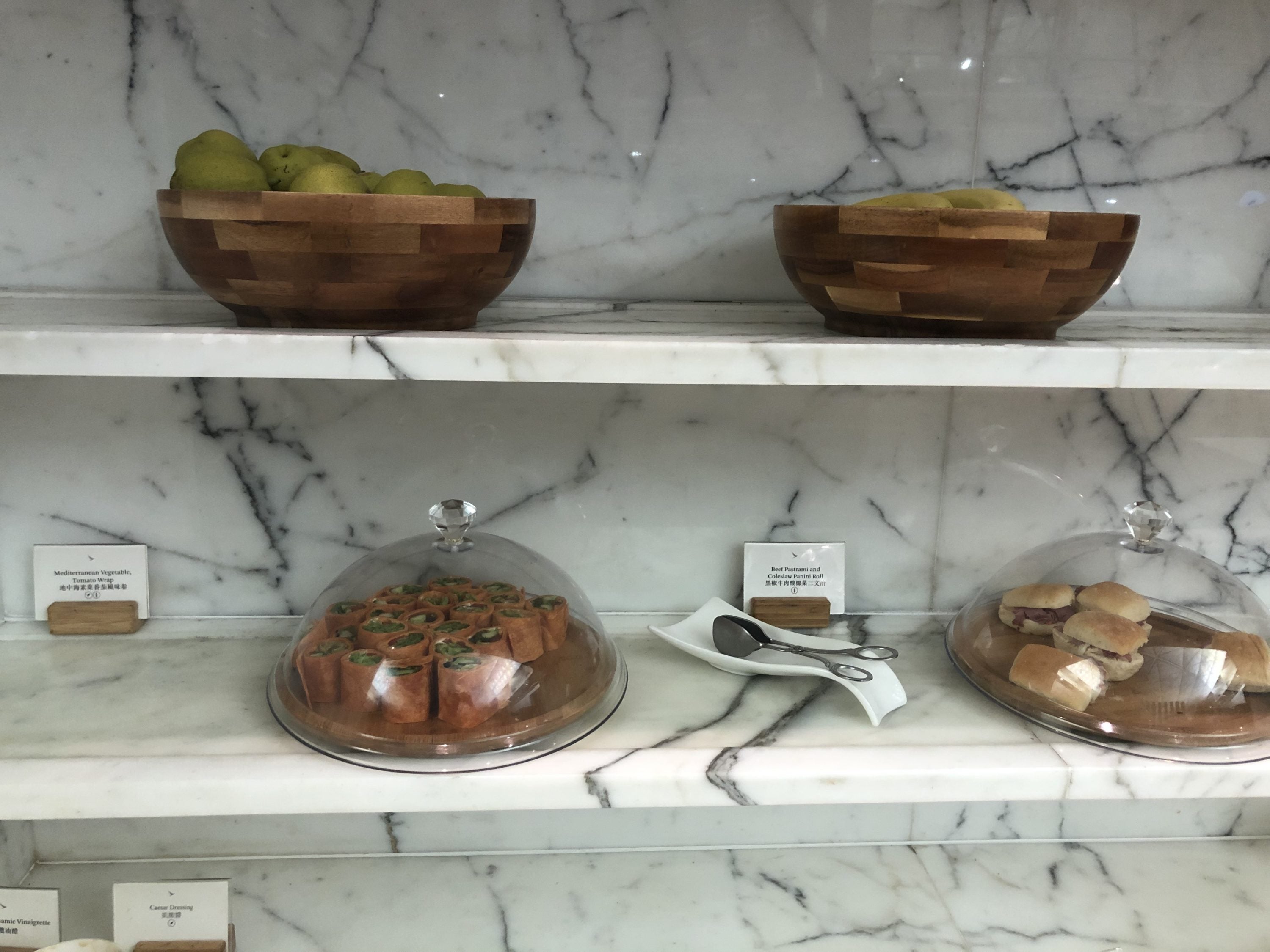 The main hot food choices consisted of:
Beef meatballs with creamy gravy
Rigatoni arrabiata with basil, dried chili flakes, and olives
Roasted butternut squash and red onion with a light tahini
Cheesy creamy broccoli and mushroom casserole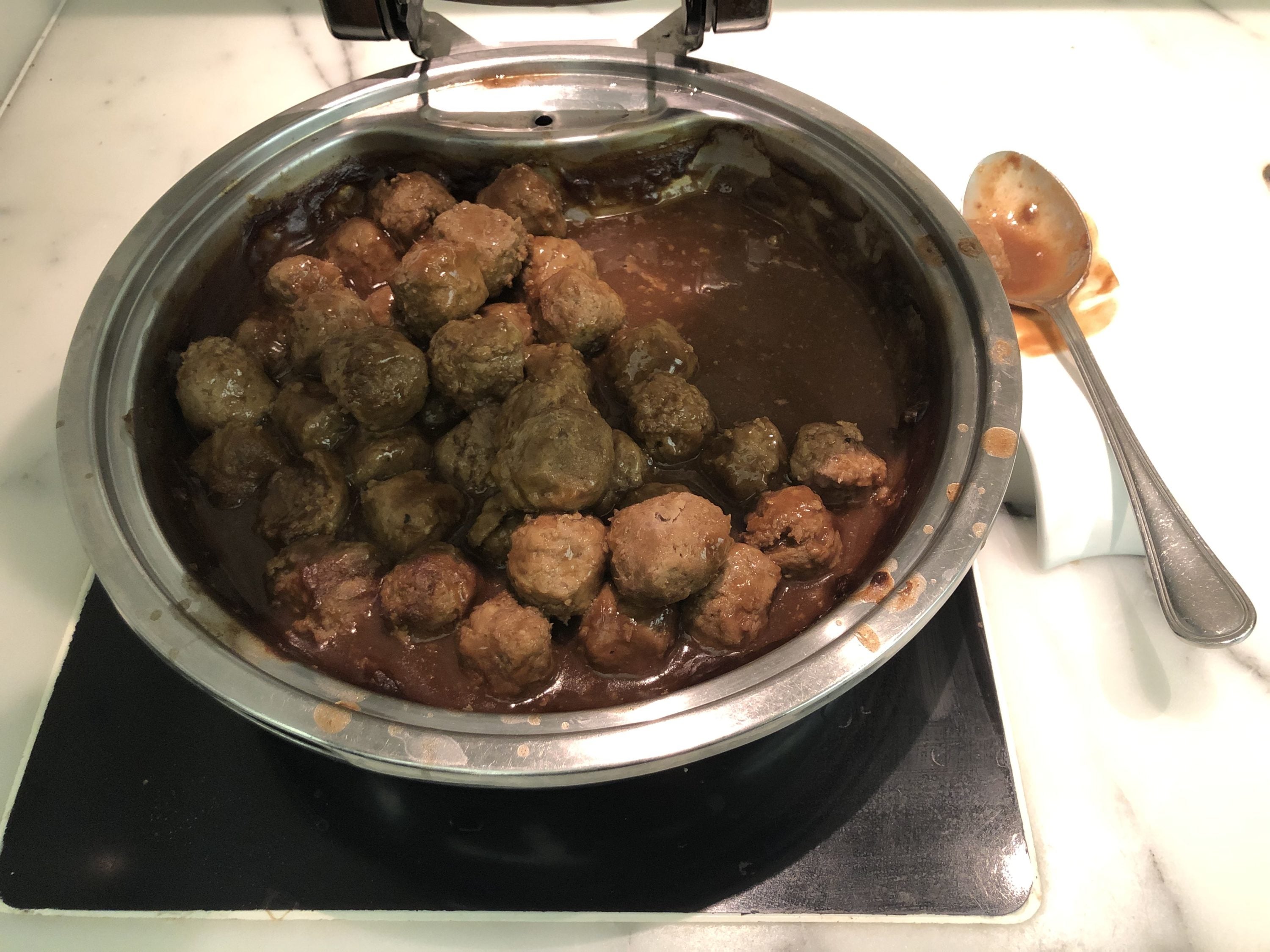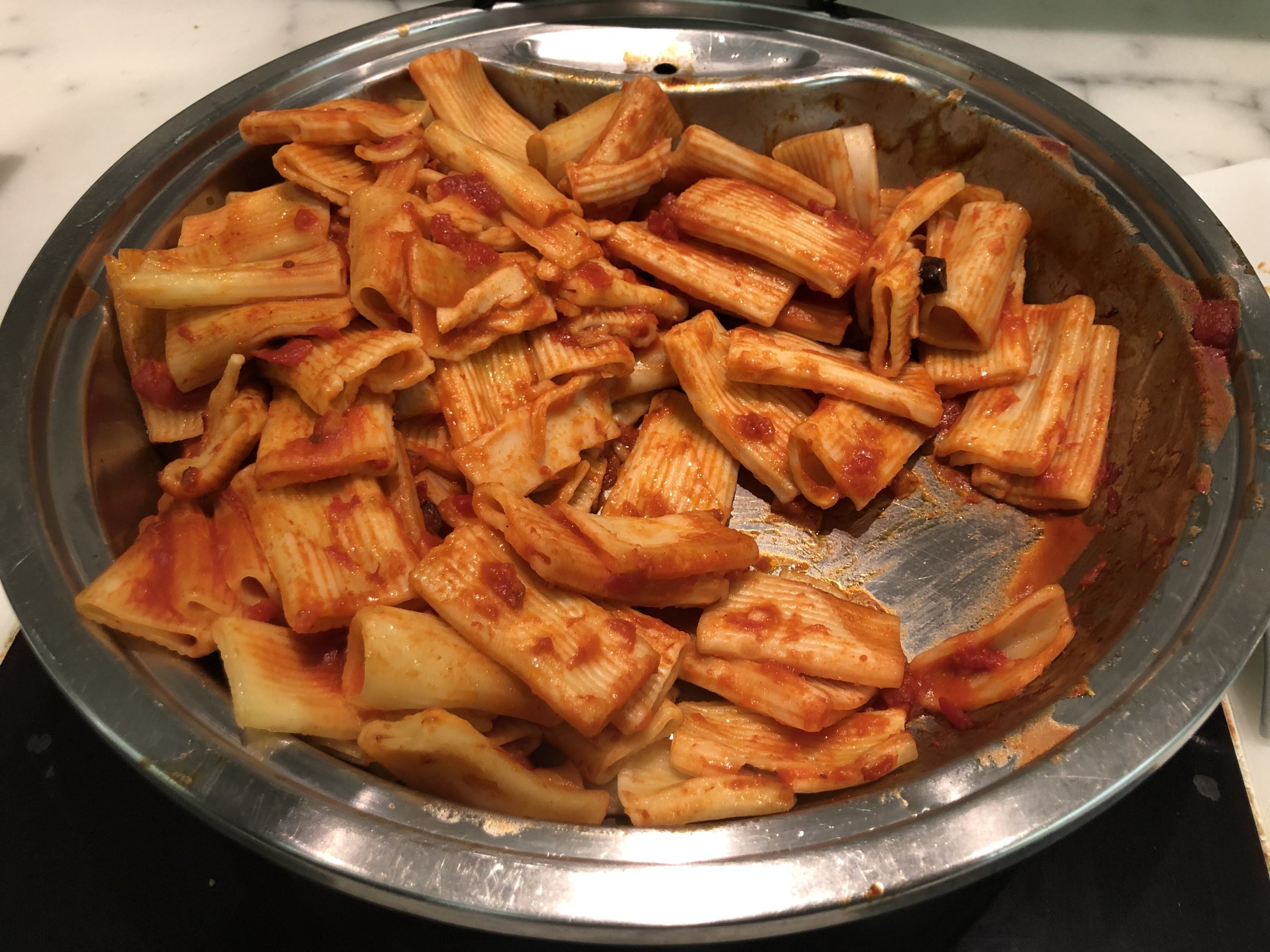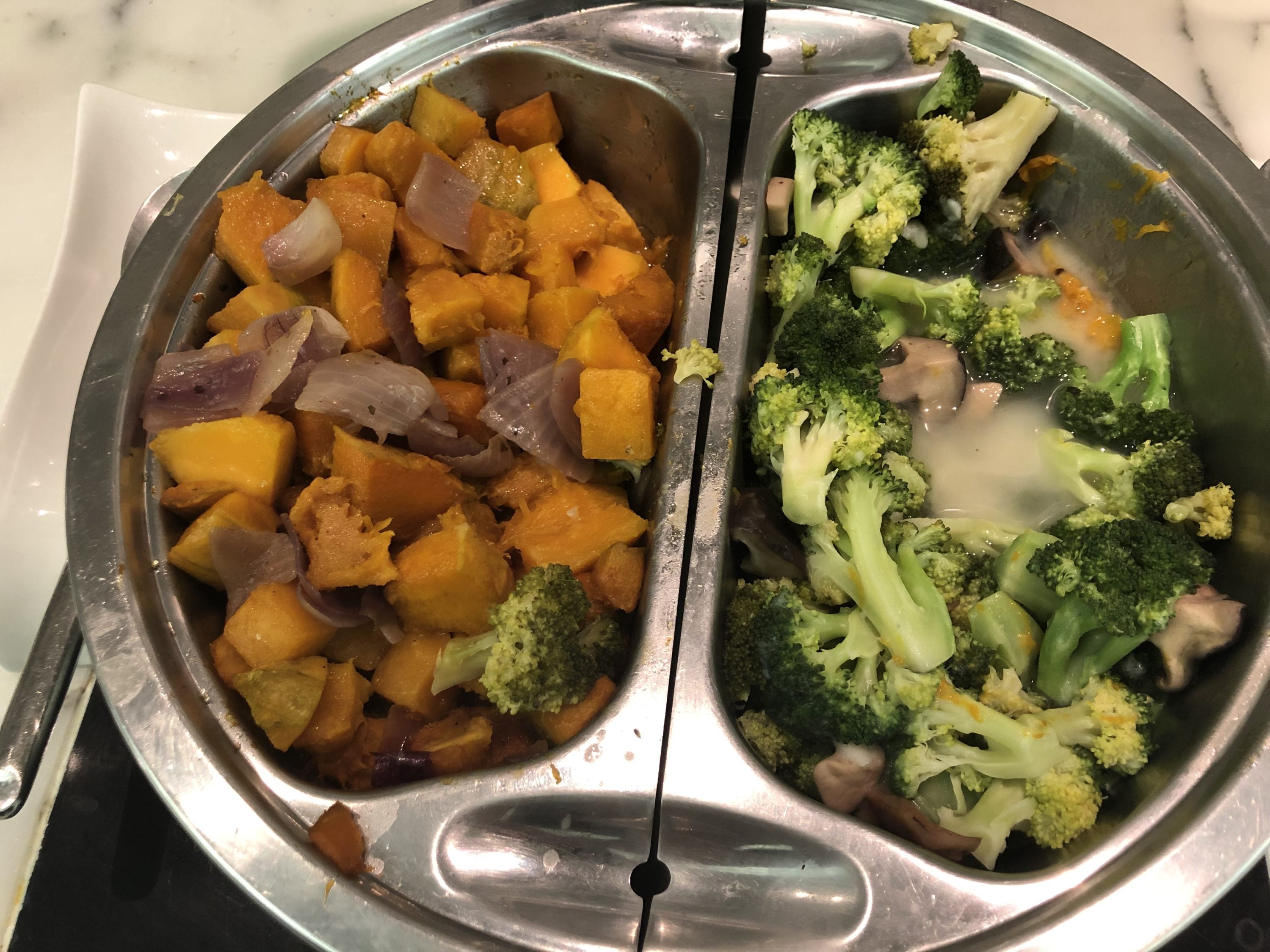 In our case, the hot food selection in the main lobby was somewhat limited. This makes sense since a majority of travelers head straight to Noodle Bar, where you can enjoy authentic Cantonese cuisine.
Coffee Loft
Coffee Loft was a somewhat hidden area of the lounge. It's located at the periphery of the lounge and doesn't face the lounge, so you have to walk around a large wall to find it.
Once you get there, however, you'll see gleaming marble countertops along with glass display cases and a selection of snacks.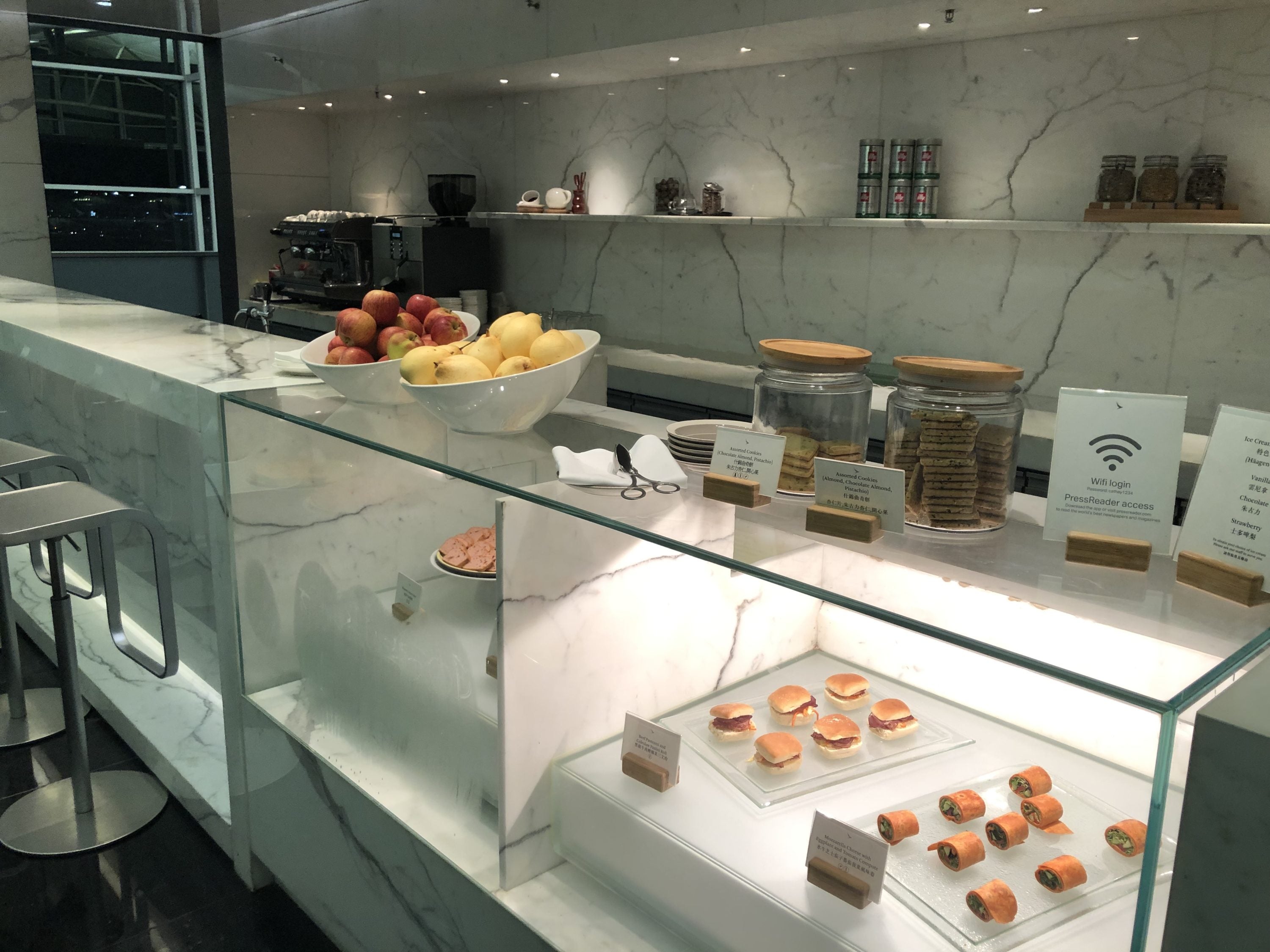 There were bowls of fresh apples and pears. Located underneath the fruit were slices of blueberry butter cake (left) and apple crumble tarts (right).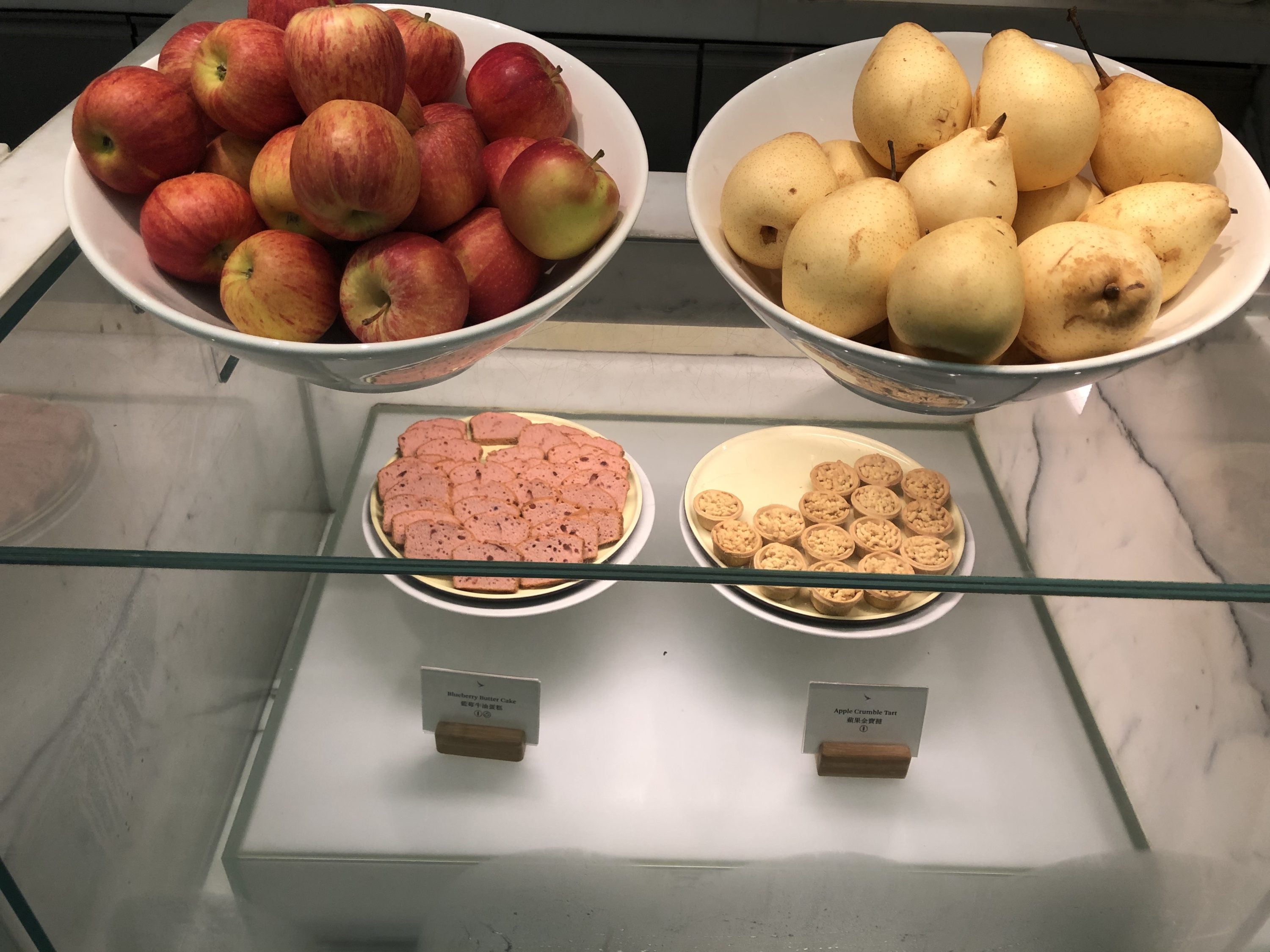 If you're in the mood for sandwiches, you could choose between a beef pastrami and coleslaw panini roll (left) or mozzarella cheese with eggplant and tomato compote (right). You can also enjoy assorted cookies ranging from almond to pistachio to chocolate almond.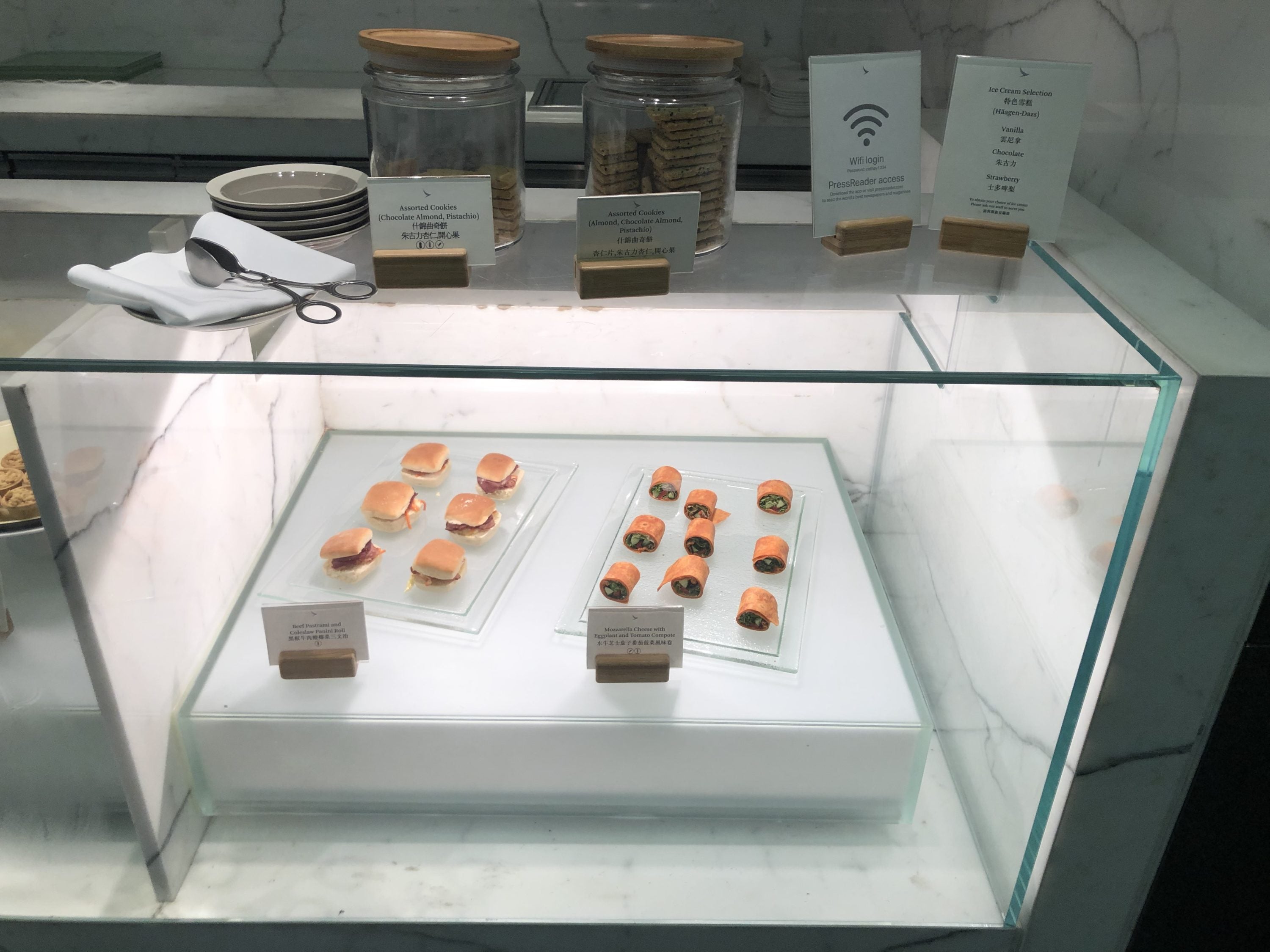 Amenities
We didn't have a chance to try all of the amenities offered by The Wing, Business, as we opted to go with The Wing, First Class Cabanas. However, there are numerous amenities available for use in this lounge.
Shower Suites
The shower suites, of which there are 23, are equipped with luxurious Jurlique amenities.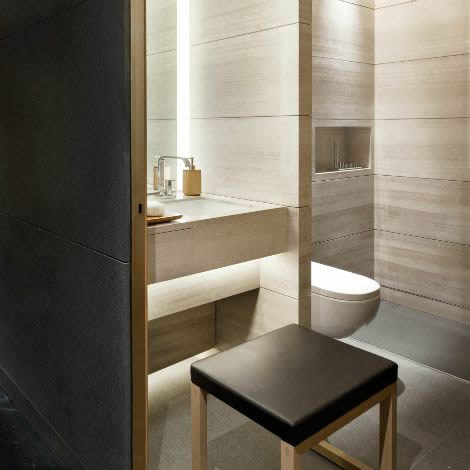 Each of the shower suites is furnished with a leather vanity stool, toilet, rain shower, hand shower, and toiletries ranging from cotton buds to a dental kit.
IT Zone
The IT Zone is located on the lower floor of the Wing, Business and consists of 4 workstations furnished with desktop computers, soft office chairs, keyboards, mice, and even printers.
Final Thoughts
The Wing, Business Class Lounge by Cathay Pacific at Hong Kong International Airport is one of the best business class lounges in the world and a great place to spend a few hours. Although it gets crowded, the food offerings and shower suites can make it all worth it.
Coffee Loft pours expertly-crafted espresso drinks, and Noodle Bar serves up artisanal Asian favorites such as dim sum and noodle soups.
If you need to do some work during your stay, a visit to the IT Zone will serve your needs. Staying connected is easier than ever with The Wing, Business's blazing-fast Wi-Fi.
Cathay Pacific excels yet again with an astonishing and beautiful business class lounge. If you've got the time and access, we would absolutely recommend spending time relaxing and unwinding here.