The Pier, Business Class Lounge at Hong Kong International Airport [Review]
The Pier, Business Class Lounge is 1 of 5 lounges operated by Cathay Pacific in Hong Kong International Airport (HKG).
The Pier, Business made headlines for offering a relaxation and meditation room featuring yoga instructional videos and quiet spaces for meditation. Besides that, The Pier, Business is one of the most sprawled out and best business class lounges in the world, with plenty of space to get lost in and eat your way through before your flight.
Here's a look at what The Pier, Business has to offer passengers.
The Pier – Location
The Pier, Business is 1 of the 3 business class Cathay lounges and it is situated in their home base of Hong Kong International Airport (HKG). You can find this lounge in Terminal 1 on the 6th floor (departures level).
This particular lounge is located just further than The Pier, First. While The Pier, First is next to gate 63, The Pier, Business is next to gate 65.
This lounge is located after security, and it's open from 5:30 a.m. to 12:30 a.m. every day.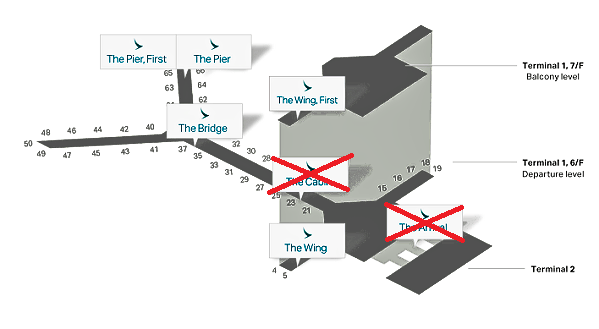 You'll see a large LED sign next to the main corridor on the left side and will take the escalators down to the lounge.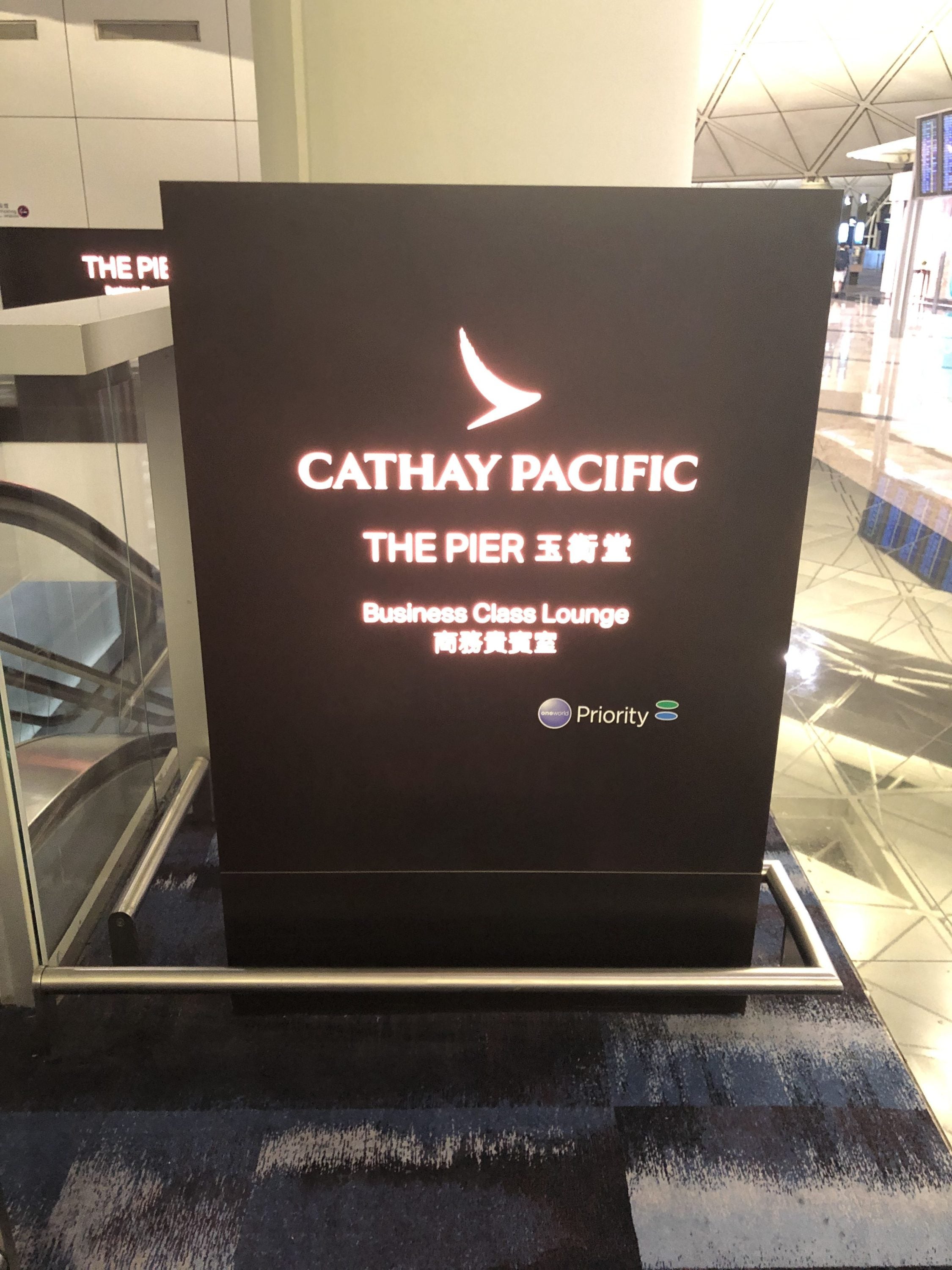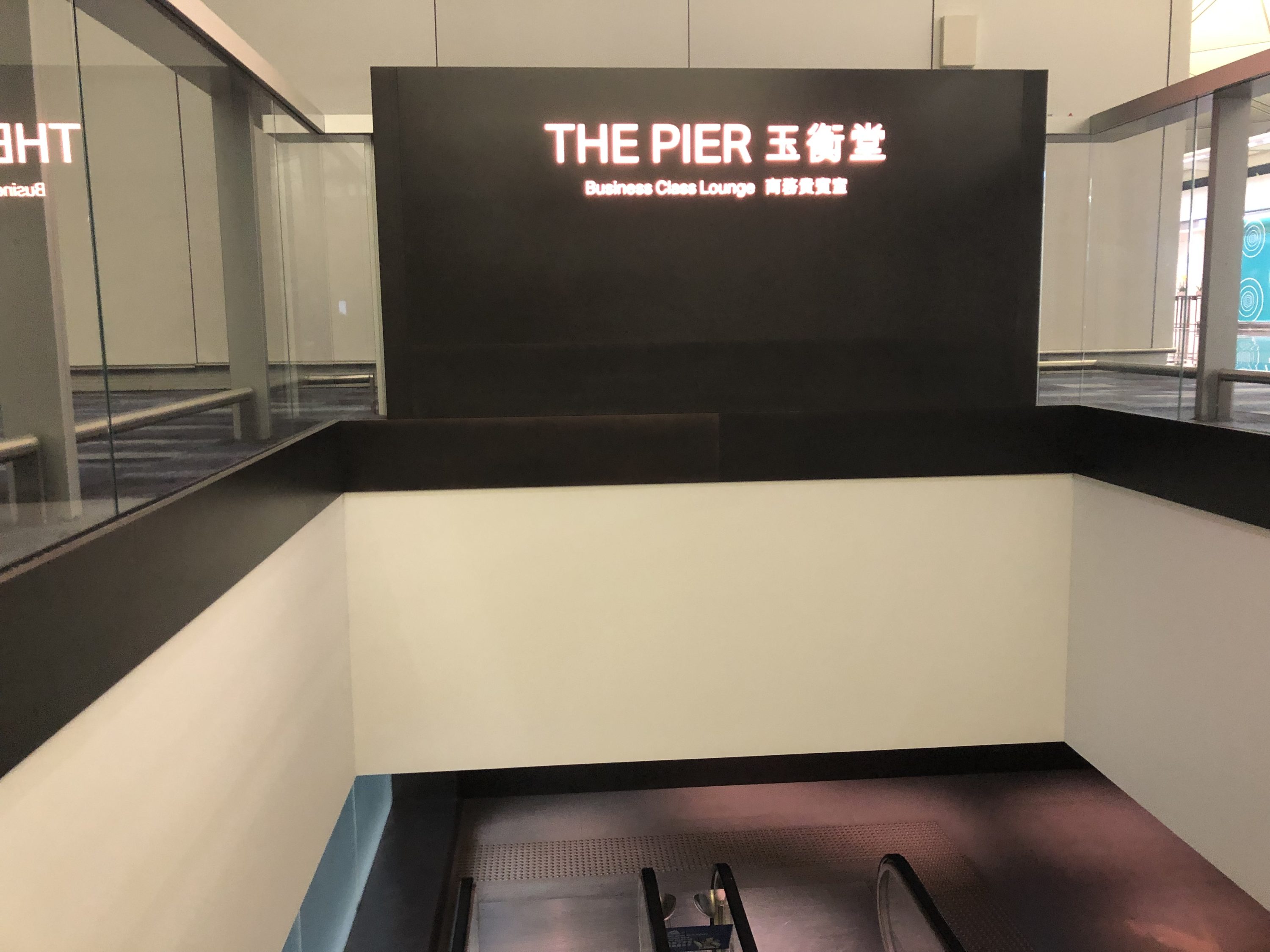 Gaining Entry
Eligible passengers are those traveling on Cathay Pacific or Oneworld business class tickets. Note that there are no guests allowed for those on a ticket. Passengers that are offered complimentary upgrades to business class are not entitled to lounge access unless your access is otherwise included via your frequent flyer status.
Furthermore, Marco Polo Diamond members are allowed access for themselves and 2 guests on Cathay Pacific, Oneworld carrier, or codeshare flights regardless of cabin class. Gold members are allowed access for themselves and 1 guest, while Silver members are allowed access for themselves only.
Cargo Clan Elite members are allowed access for the passenger and 1 guest.
Lastly, Oneworld Emerald and Sapphire members are allowed access for themselves and 1 guest, regardless of cabin class.
Hot Tip: Curious about the other lounges in HKG? See how one of our writers made the most of his 9 hour layover by lounge hopping at Hong Kong International Airport!
Design, Arrangement, and Seating
The Pier, Business is Cathay Pacific's largest lounge at Hong Kong International Airport and it is huge. After descending the escalator, we arrived at the check-in area, which was adorned with beautiful wood finishes.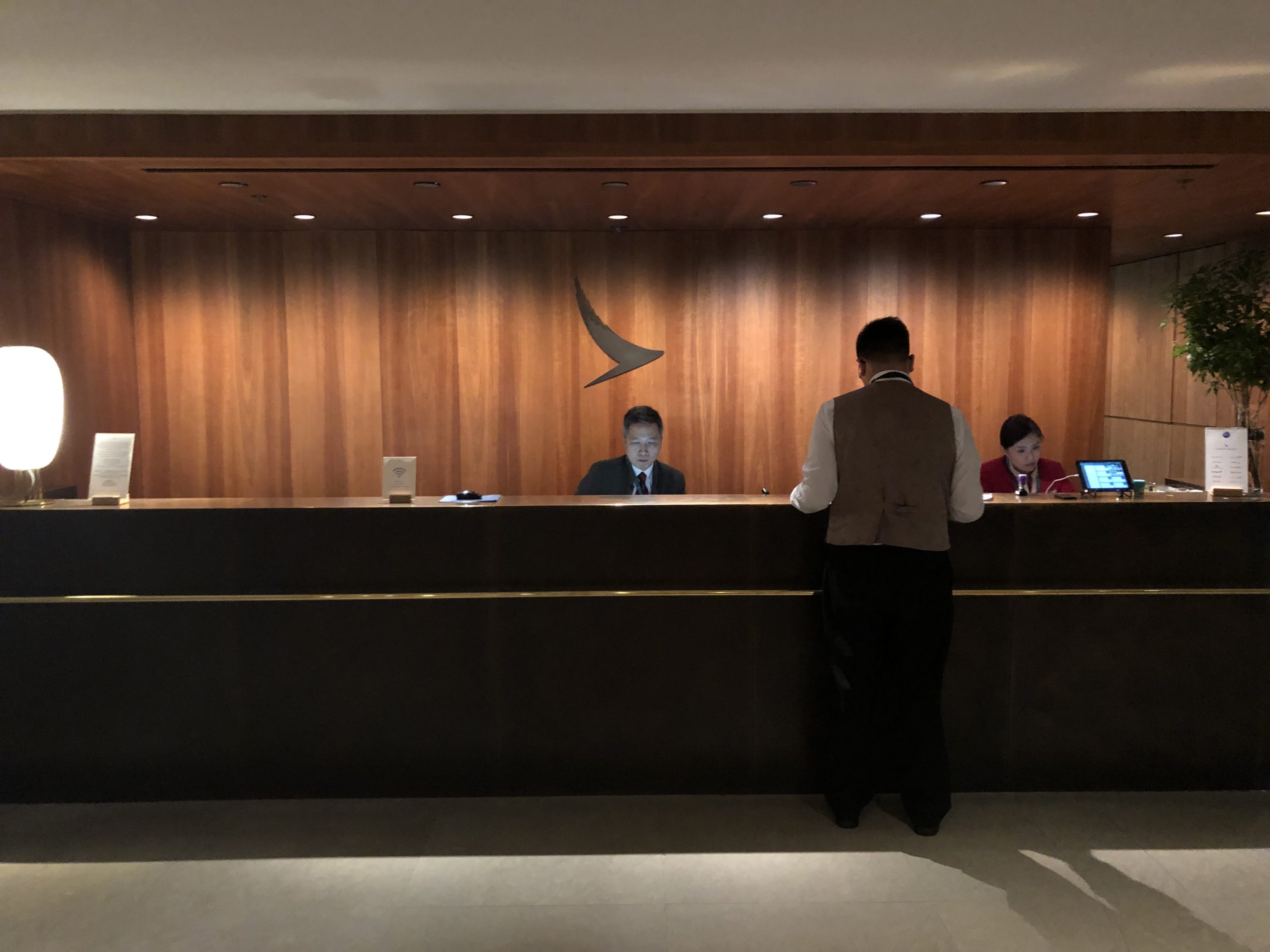 We presented our boarding passes and were granted access. The post-entrance hallway is split into 2 areas. To the right was the wellness area and to the left was the main seating and food area.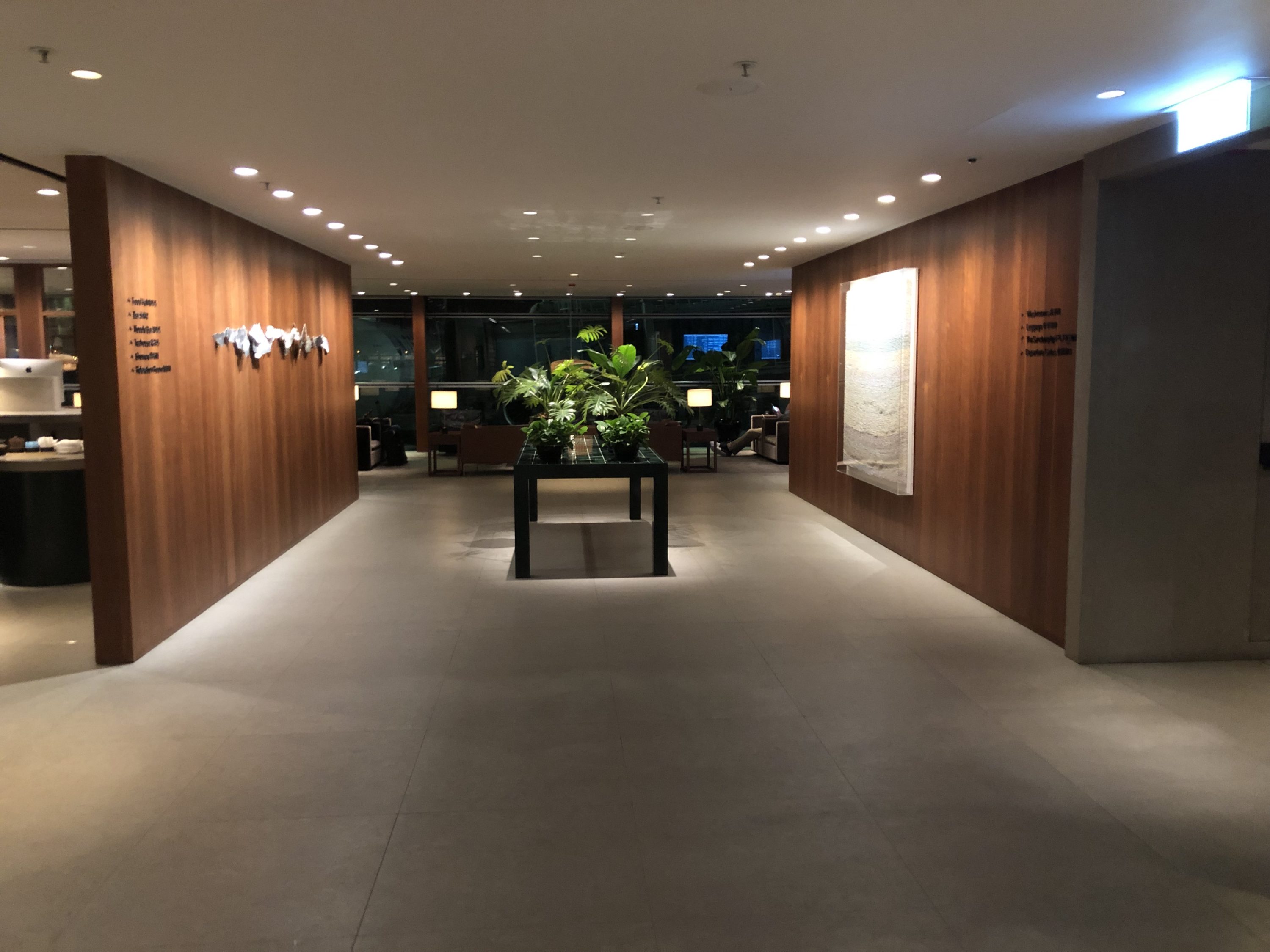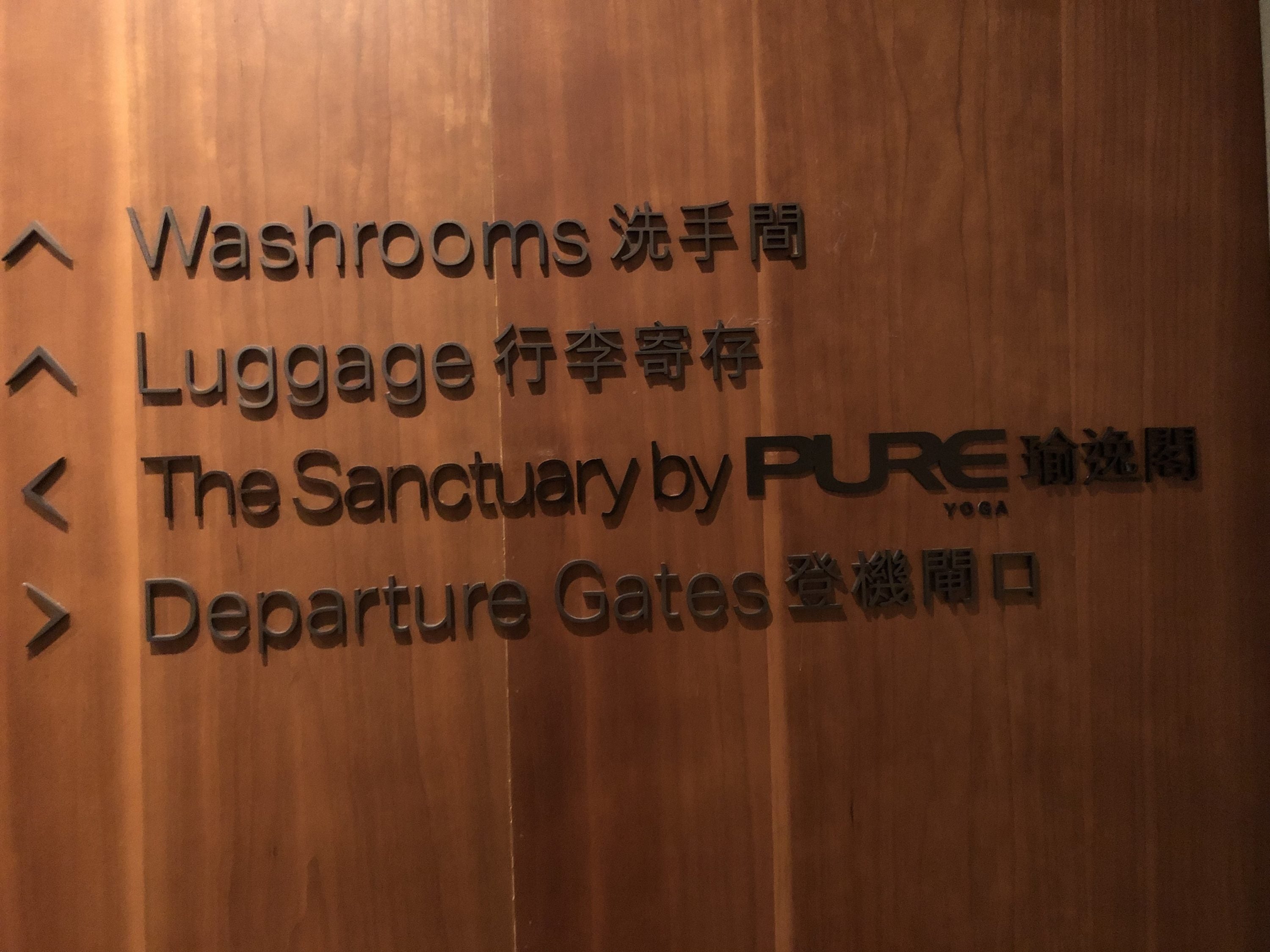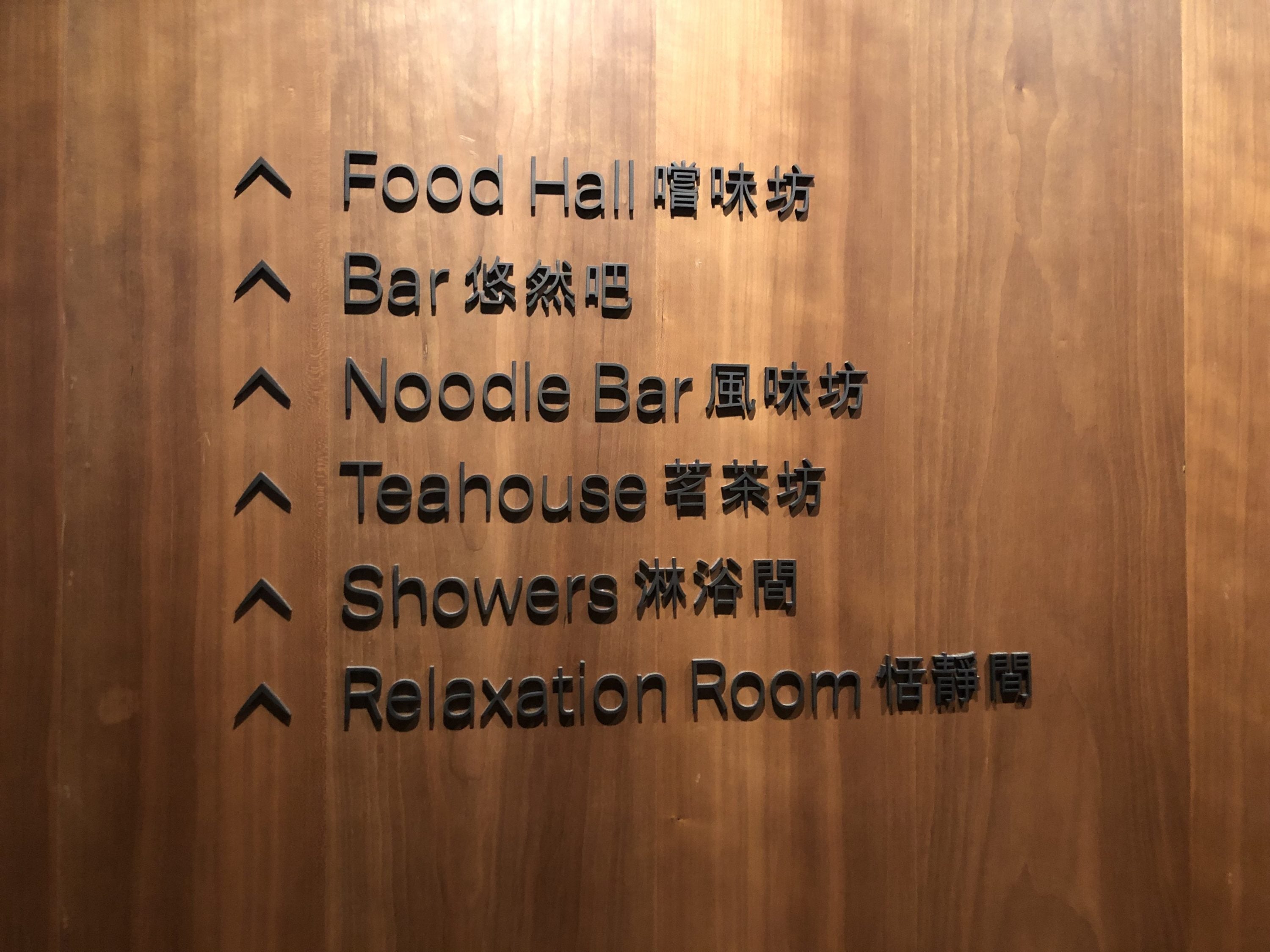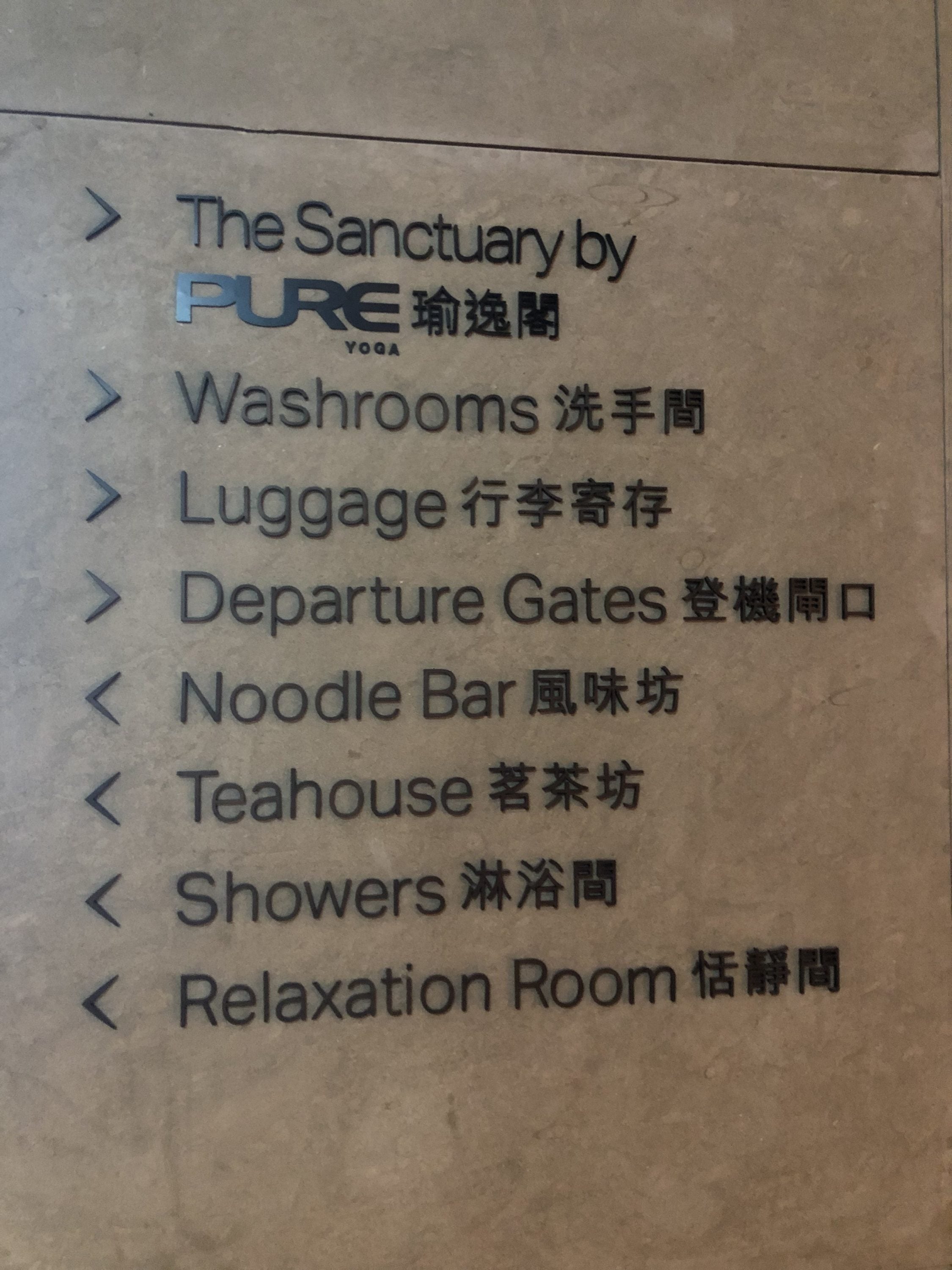 There was a ton of seating everywhere, including this interesting pillar.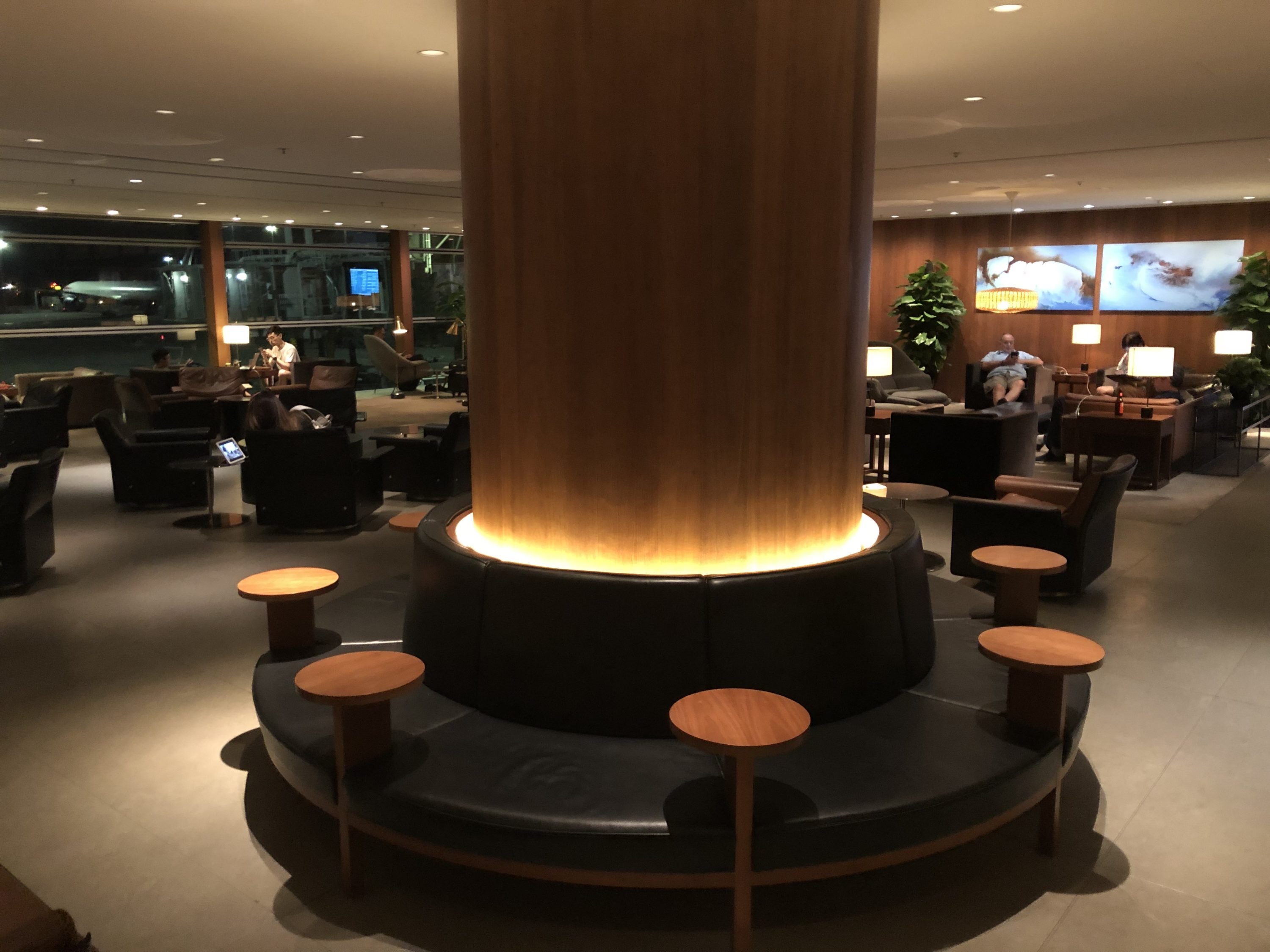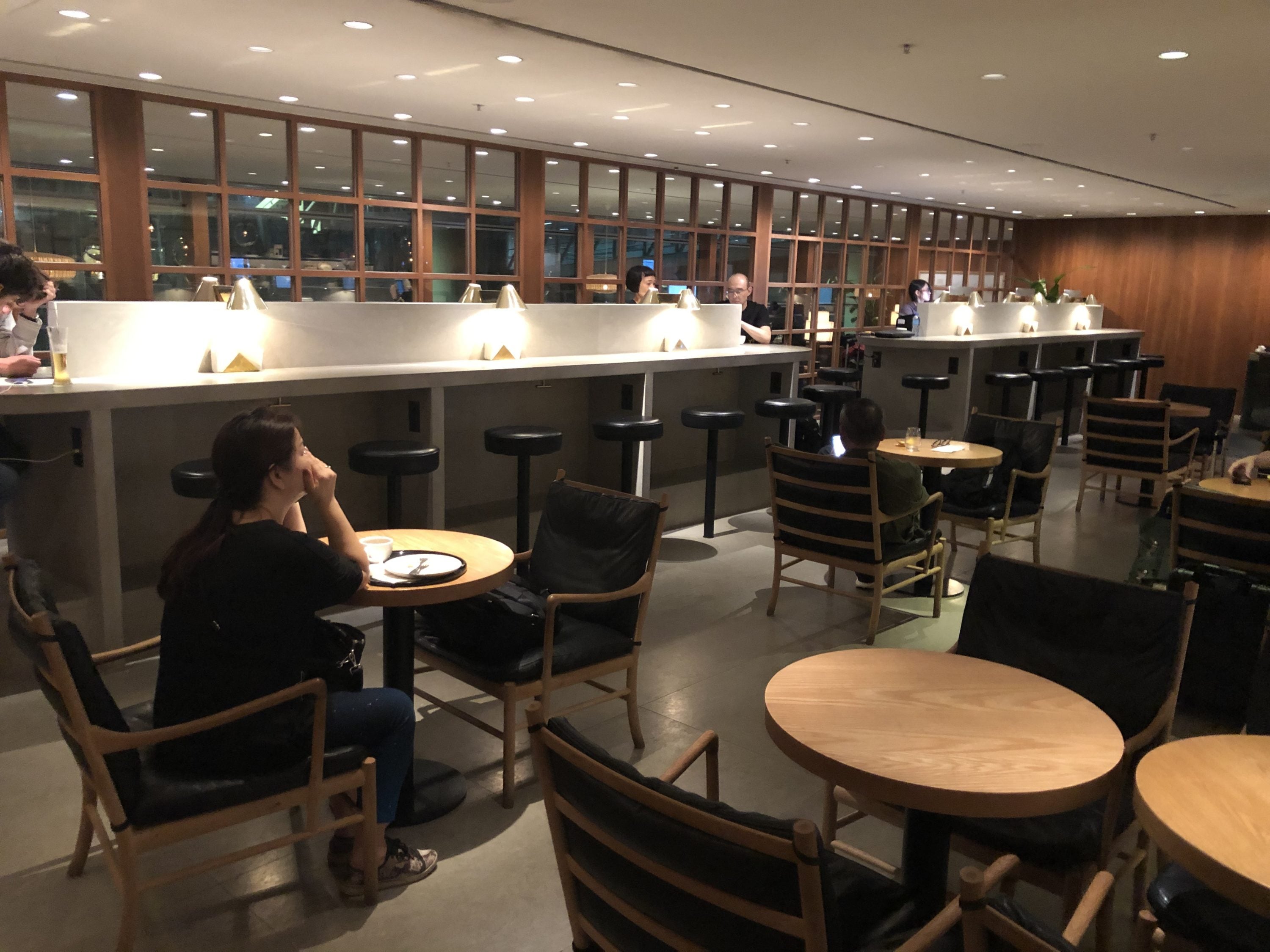 Bottom Line: It really took a while to digest the entire extent of The Pier, Business. I enjoyed the wood furnishings of the lounge, and I just couldn't get over how big the lounge was. 
Food & Drink
There were 4 main areas for food and beverage in The Pier, Business:
Noodle Bar
Teahouse
Food Hall
Bar
The emphasis in a good business class lounge should be on the food and beverage offerings, and this was definitely the case in The Pier, Business. There's a lot higher foot traffic and passenger volume in business class lounges than first class lounges, so Cathay Pacific exceeded expectations in building a lounge that could handle passenger demands.
Noodle Bar
Noodle Bar is a large dining area, with dining booths, tables, stools, and other seating options for travelers.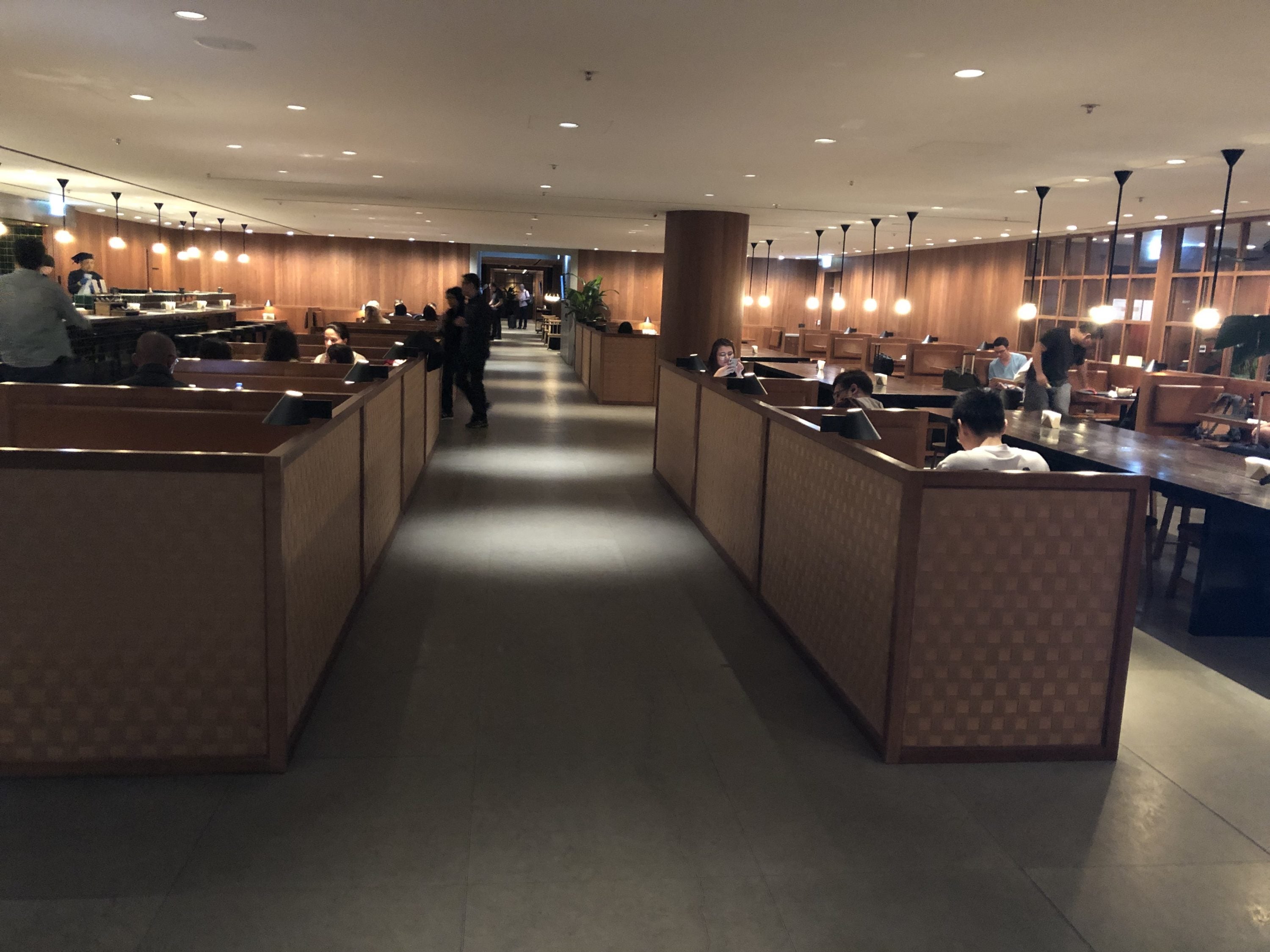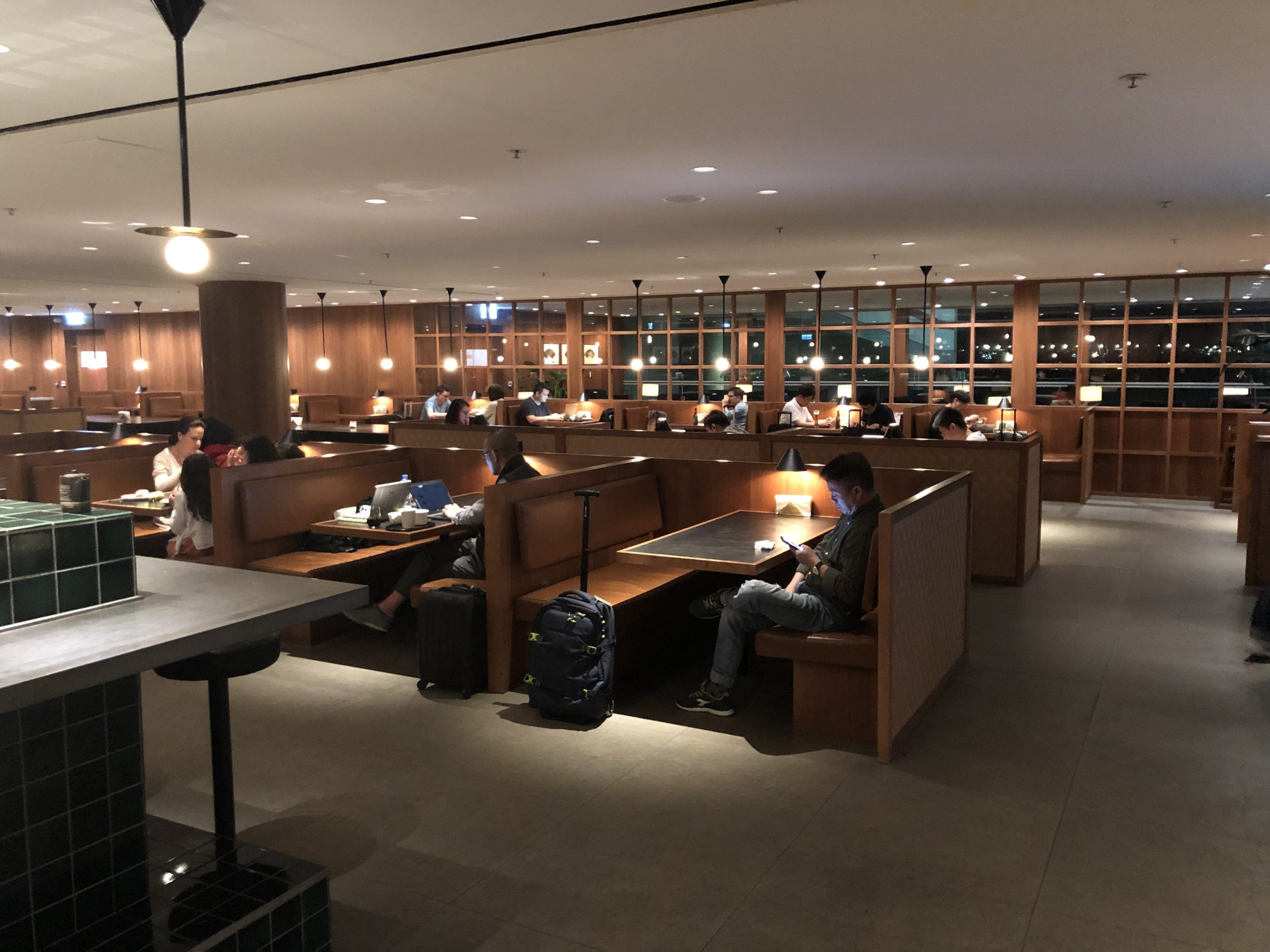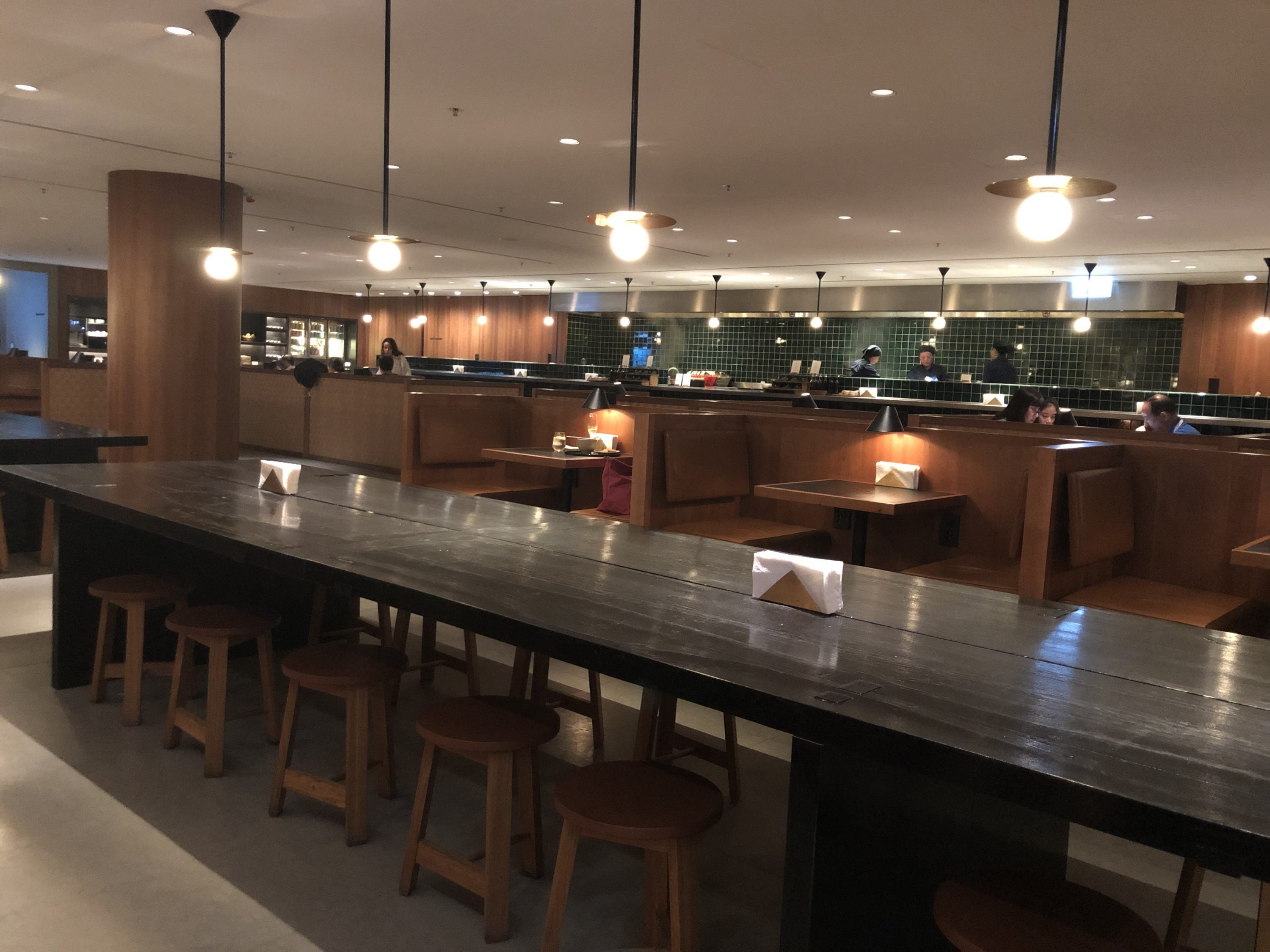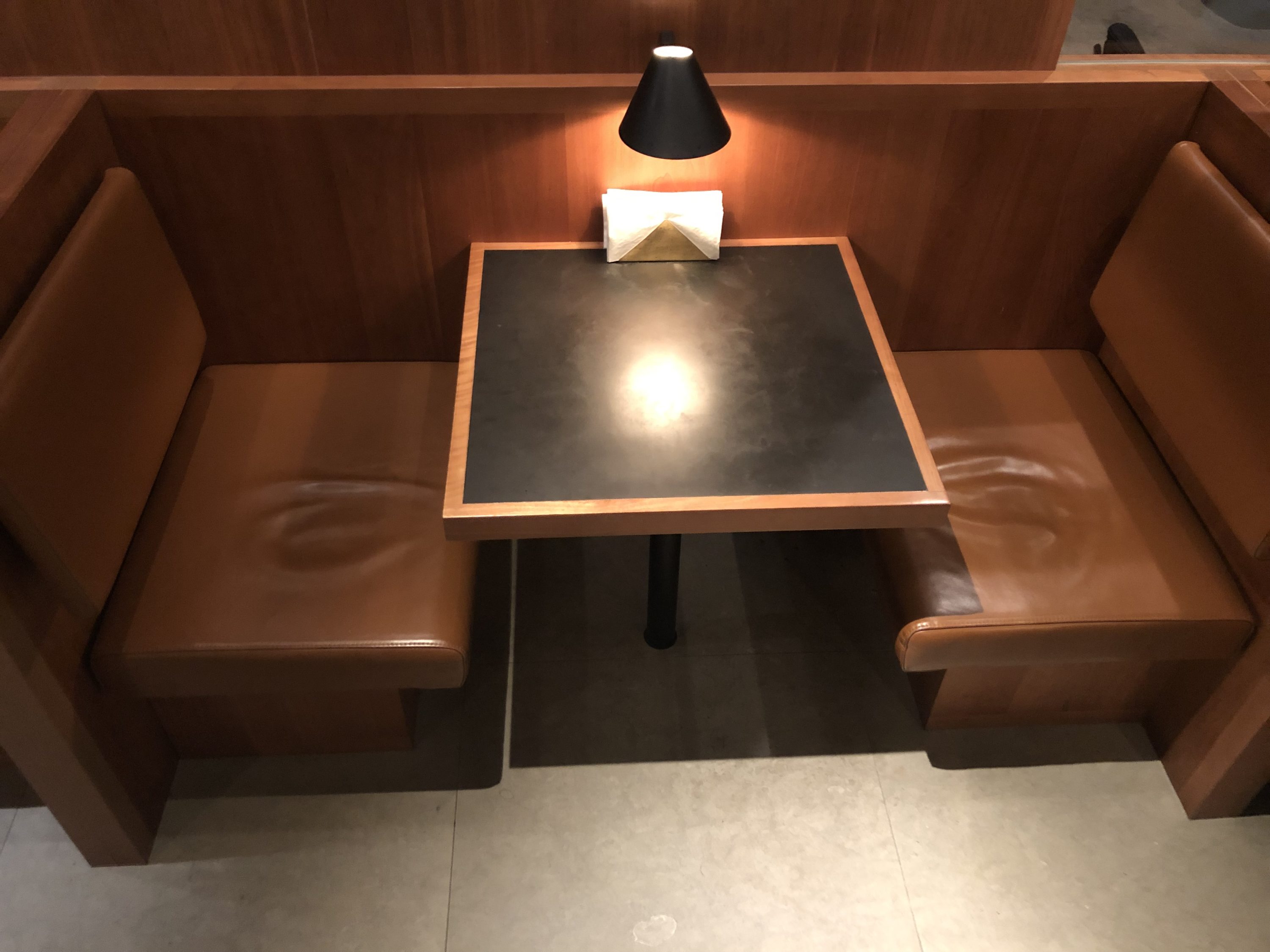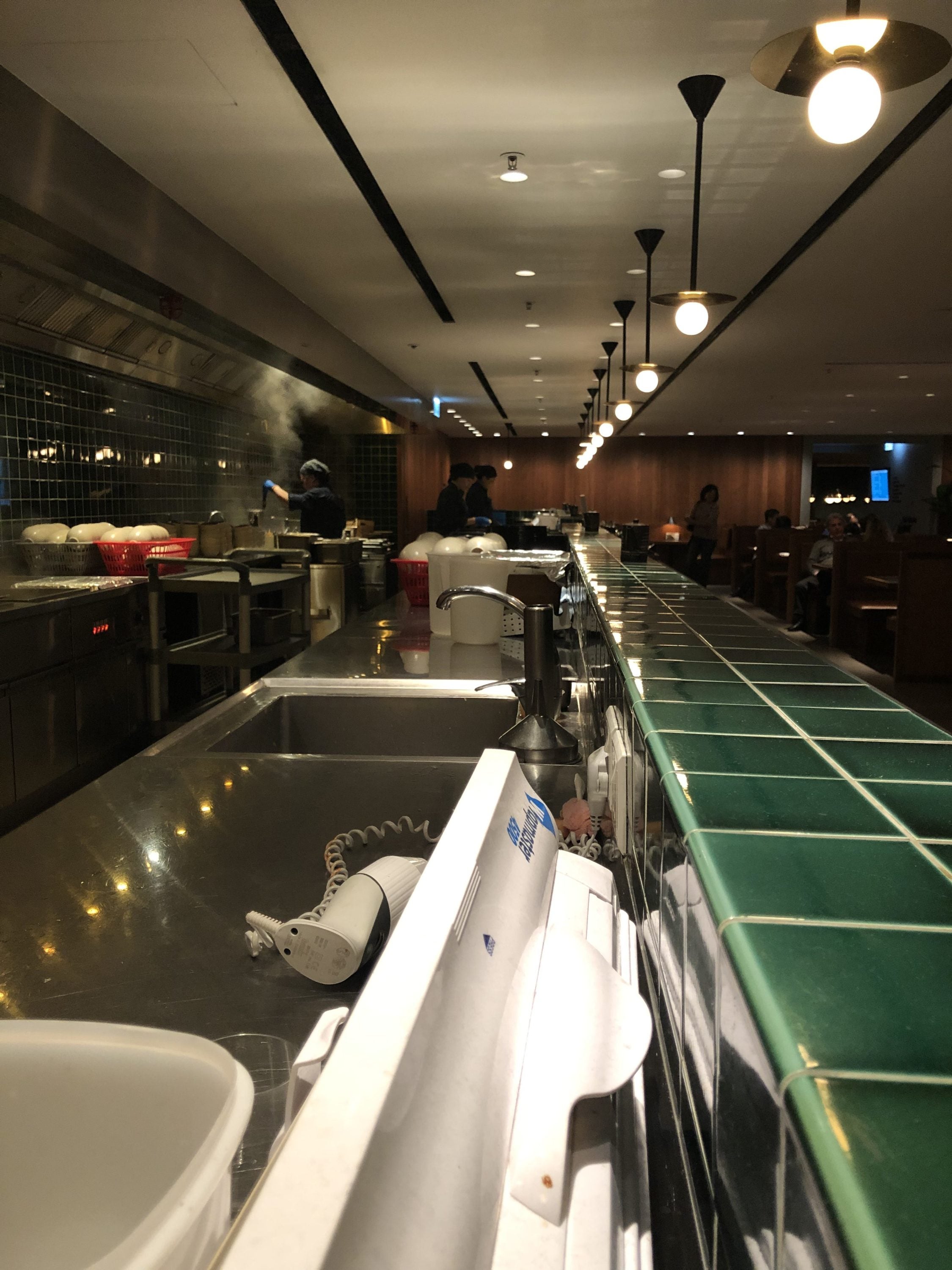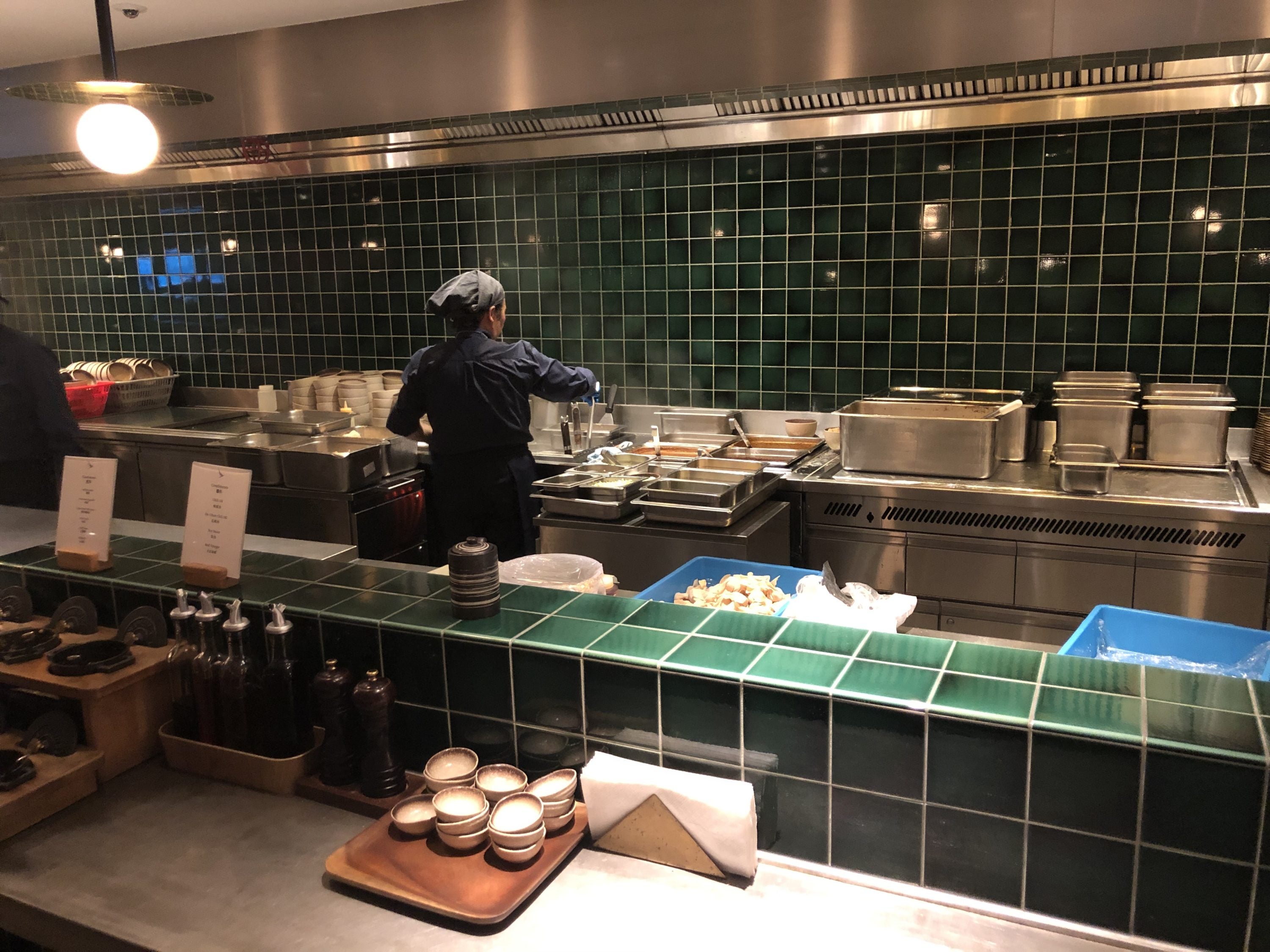 The noodle bar had a retro theme to it, almost reminiscent of an old-school cha chaan teng, more commonly known as a Hong Kong breakfast joint.
On offer in The Pier, Business's Noodle Bar were:
Dan Dan Noodles
Wonton Noodles in Soup
Vegetable Tom Yum
Braised Beef Brisket with Turnip Broth Rice Flat Noodles
If you wanted to eat some popular dim sum items, you could enjoy:
Steamed Chicken Bao
Glutinous Rice Roll
Malay Brown Sugar Sponge Cake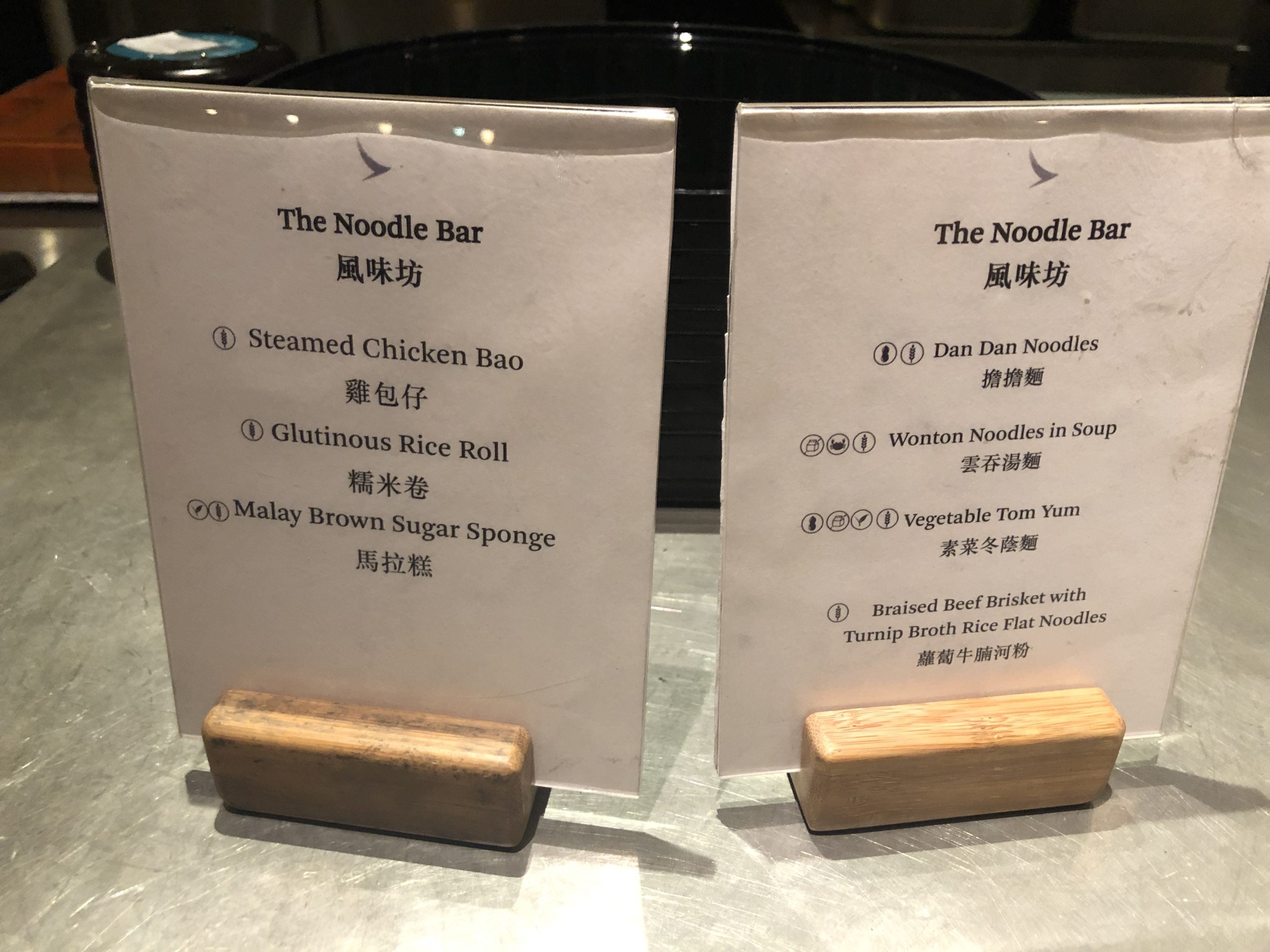 What noodle soup would be complete without popular condiments such as chili oil, Sichuan chili oil, soy sauce, and red vinegar?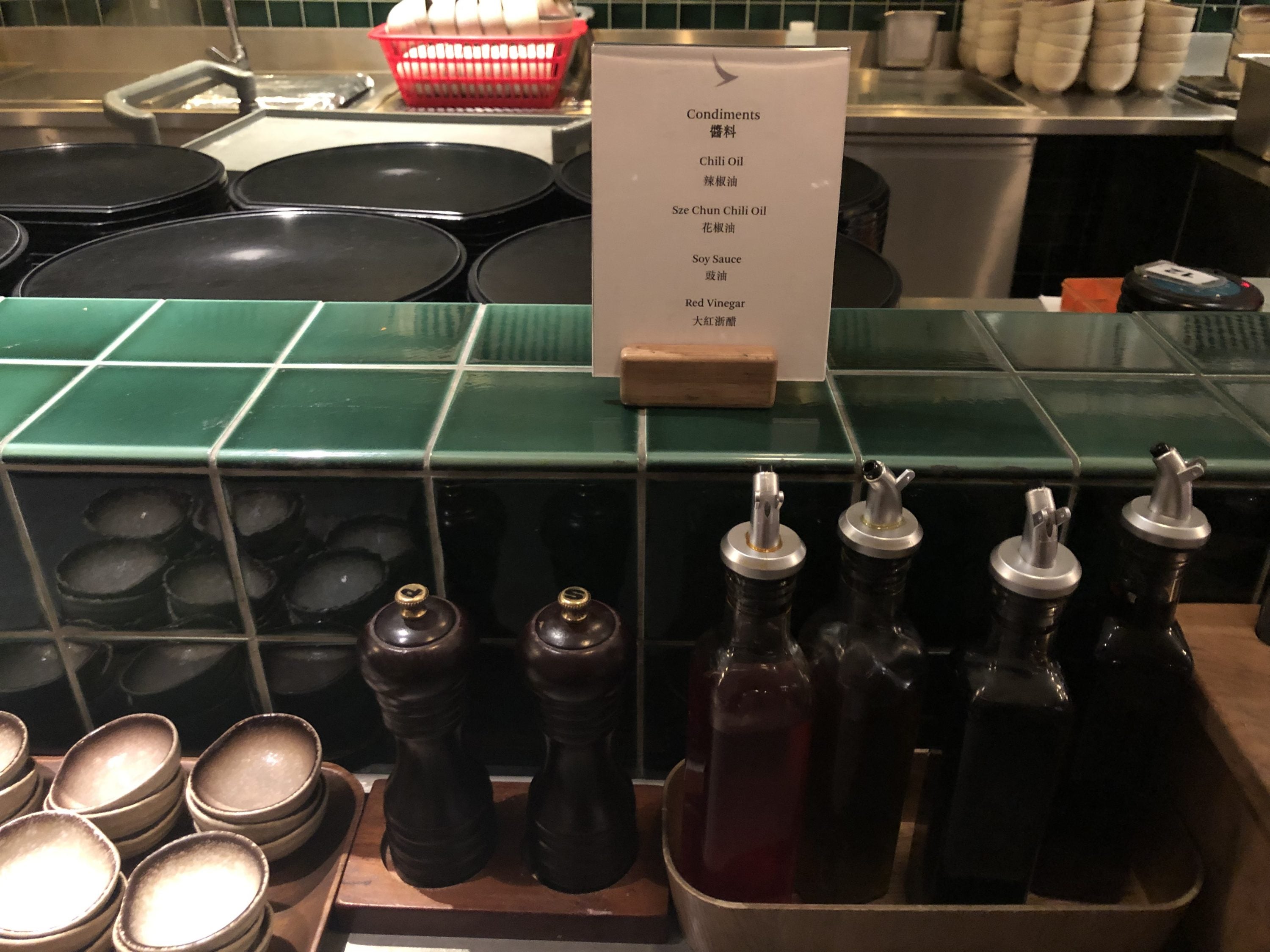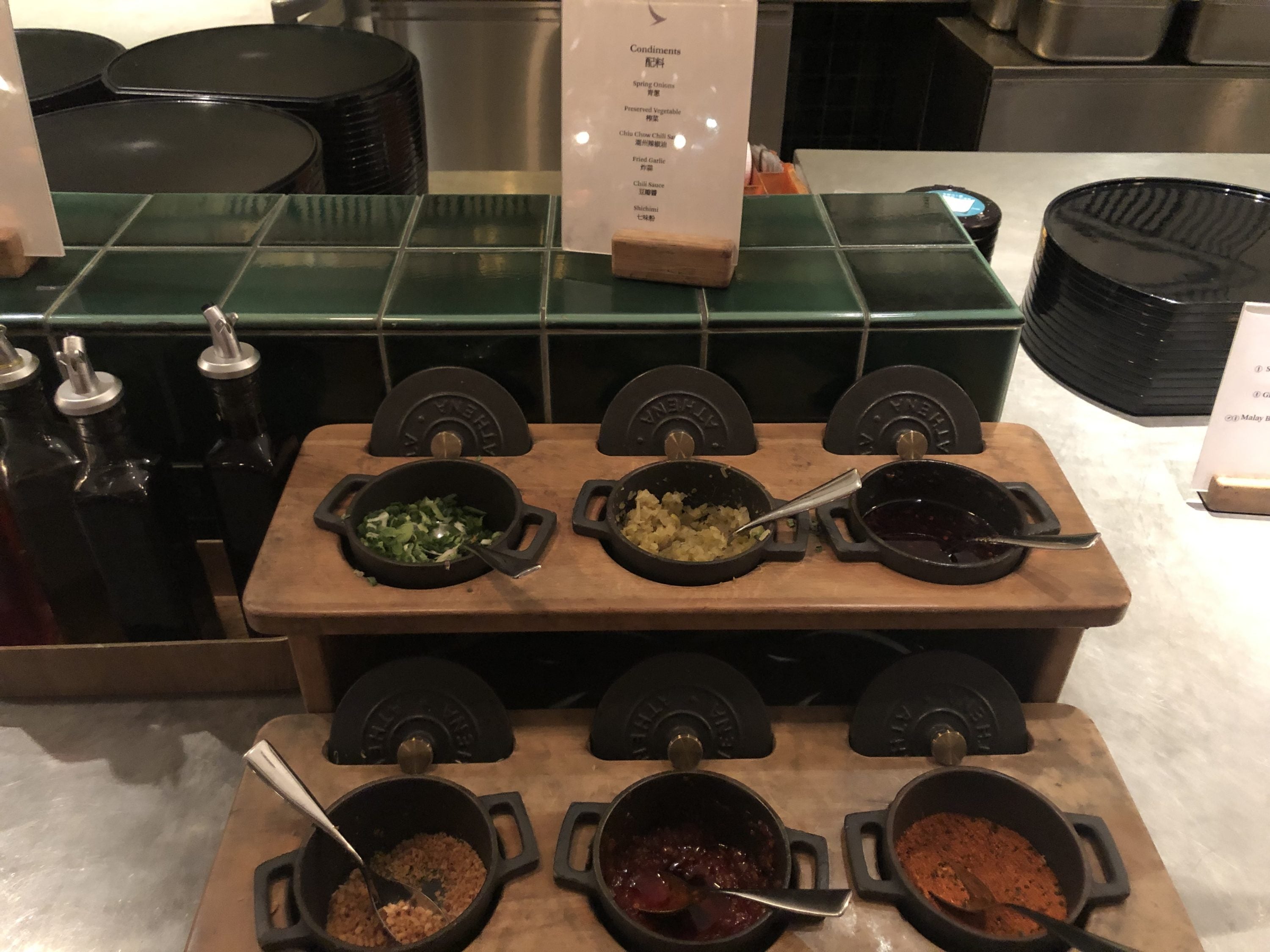 Noodle Bar at The Pier, Business serves up delicious Hong Kong and Chinese classics that are sure to please the pickiest eaters. The fresh, made-to-order dishes are super savory, satisfying, and representative of Hong Kong.
Teahouse
Whereas Noodle Bar seems to be a clamoring venue, Teahouse next door was the opposite of that — highly refined and peaceful are the words that immediately come to mind.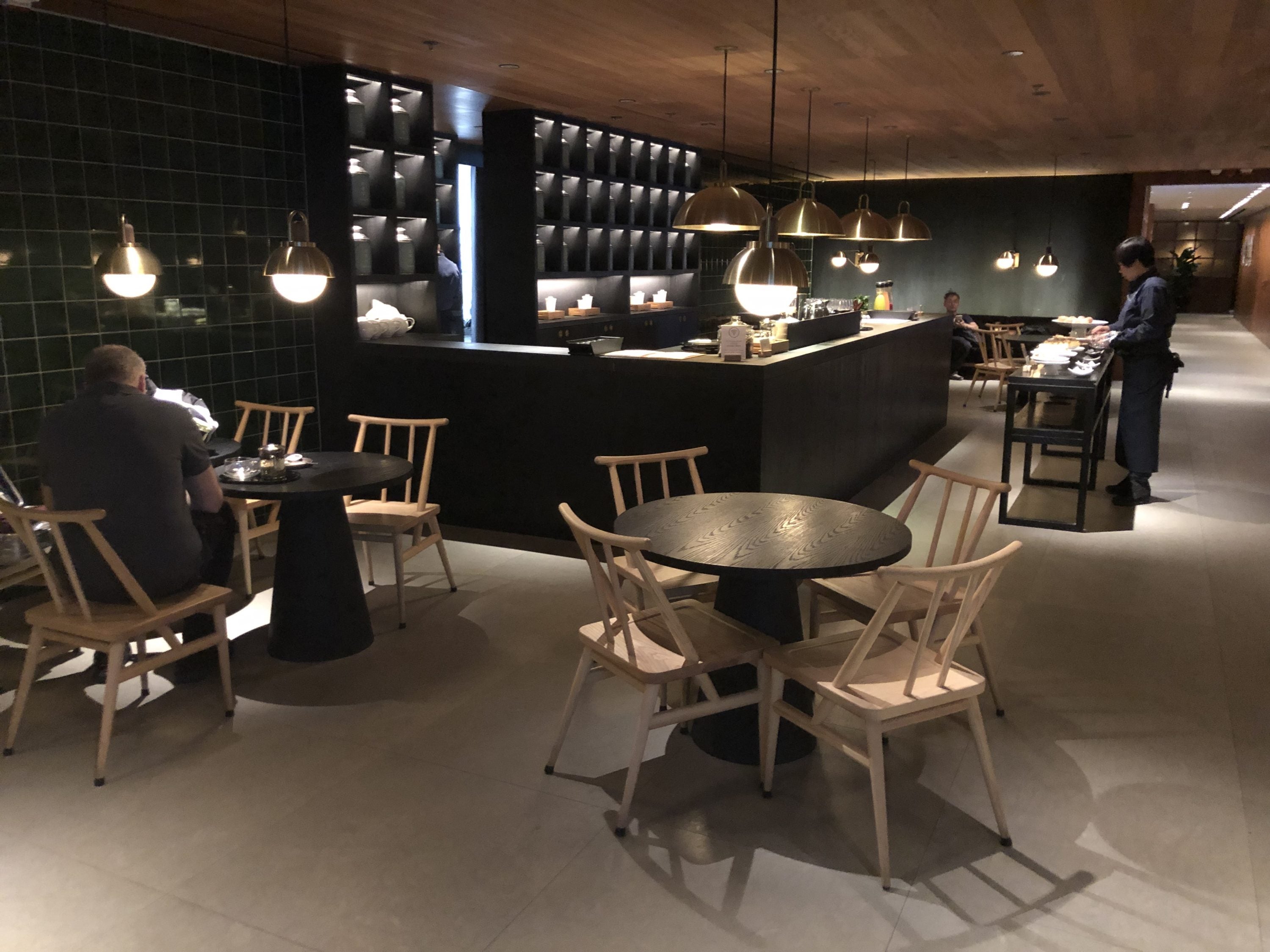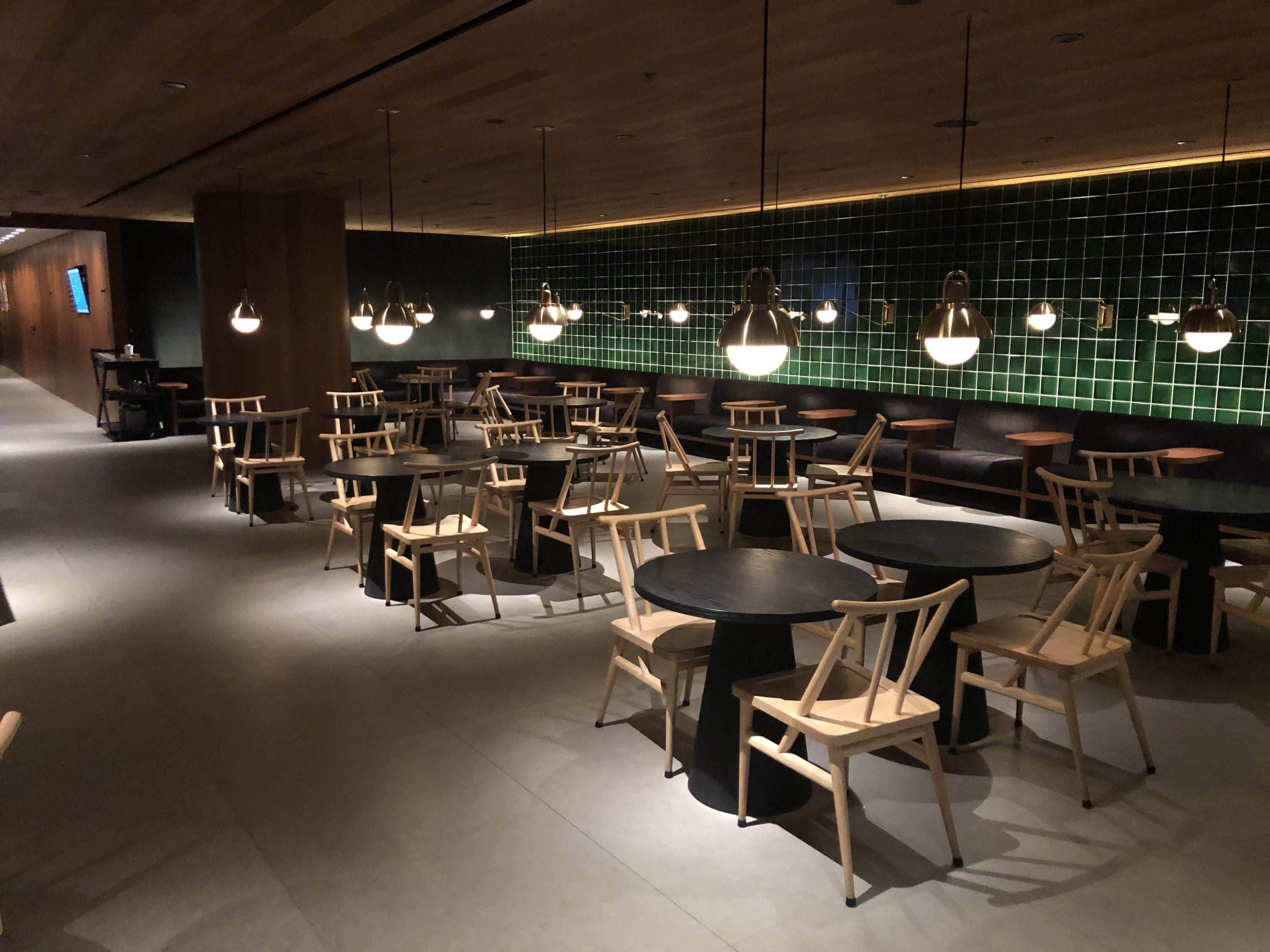 In Teahouse, you can enjoy artisanal varieties of JING tea, customized by specialists in the trade.
The choices include:
White Peony Tea (seasonal special)
Ceylon Breakfast
Earl Grey
Whole Chamomile Flowers
Whole Peppermint Leaf
Lemongrass and Ginger
Japanese Sencha
Organic Jade Sword
Traditional Iron Buddha
Jasmine Silver Noodle
Vintage Imperial Pu-erh (my personal favorite)
Also, if you were in the mood for a smoothie, Teahouse crafts a house-made smoothie dubbed Just for You, showcasing strawberries, blueberries, raspberries, low-fat milk, and non-fat yogurt.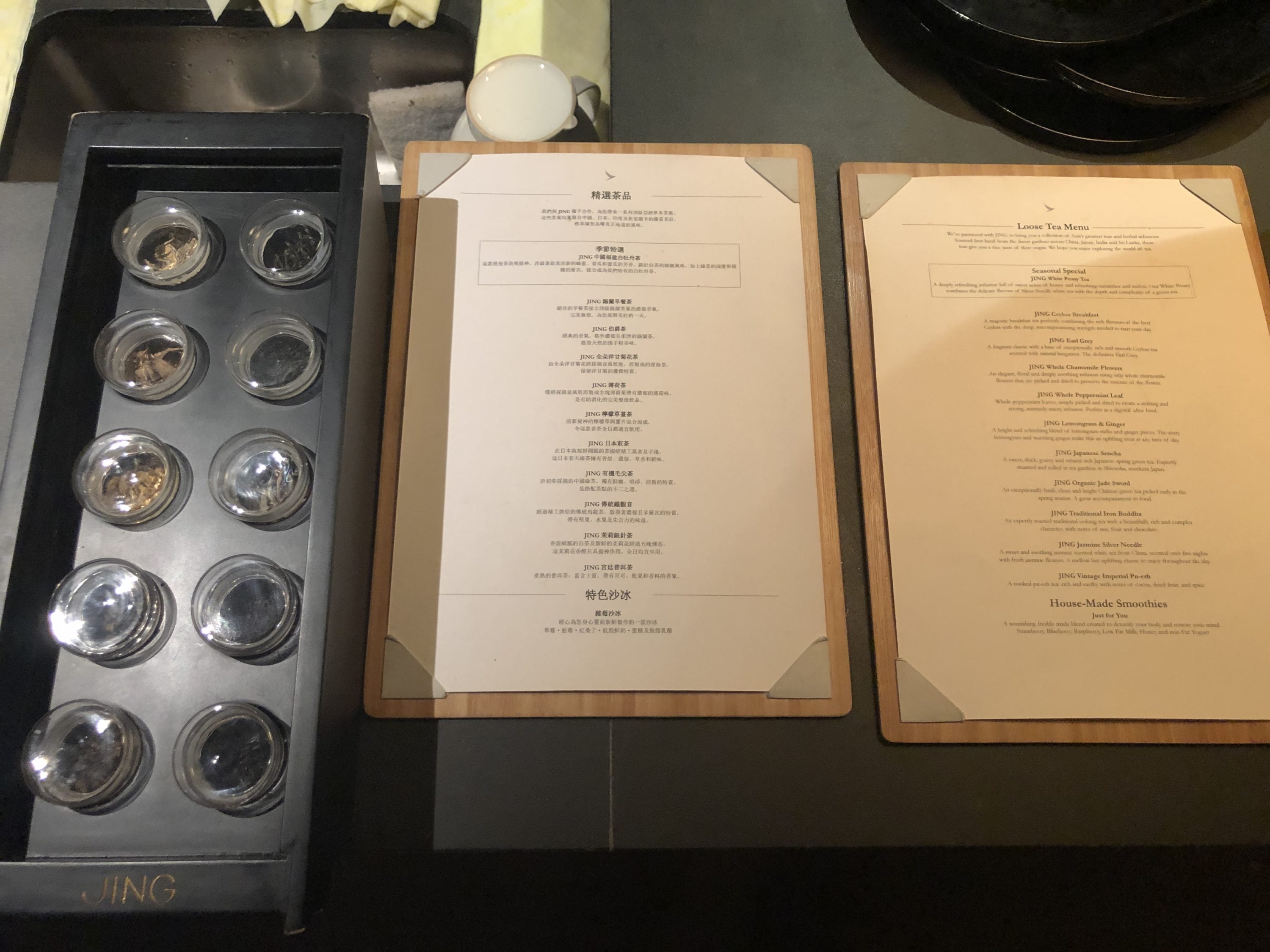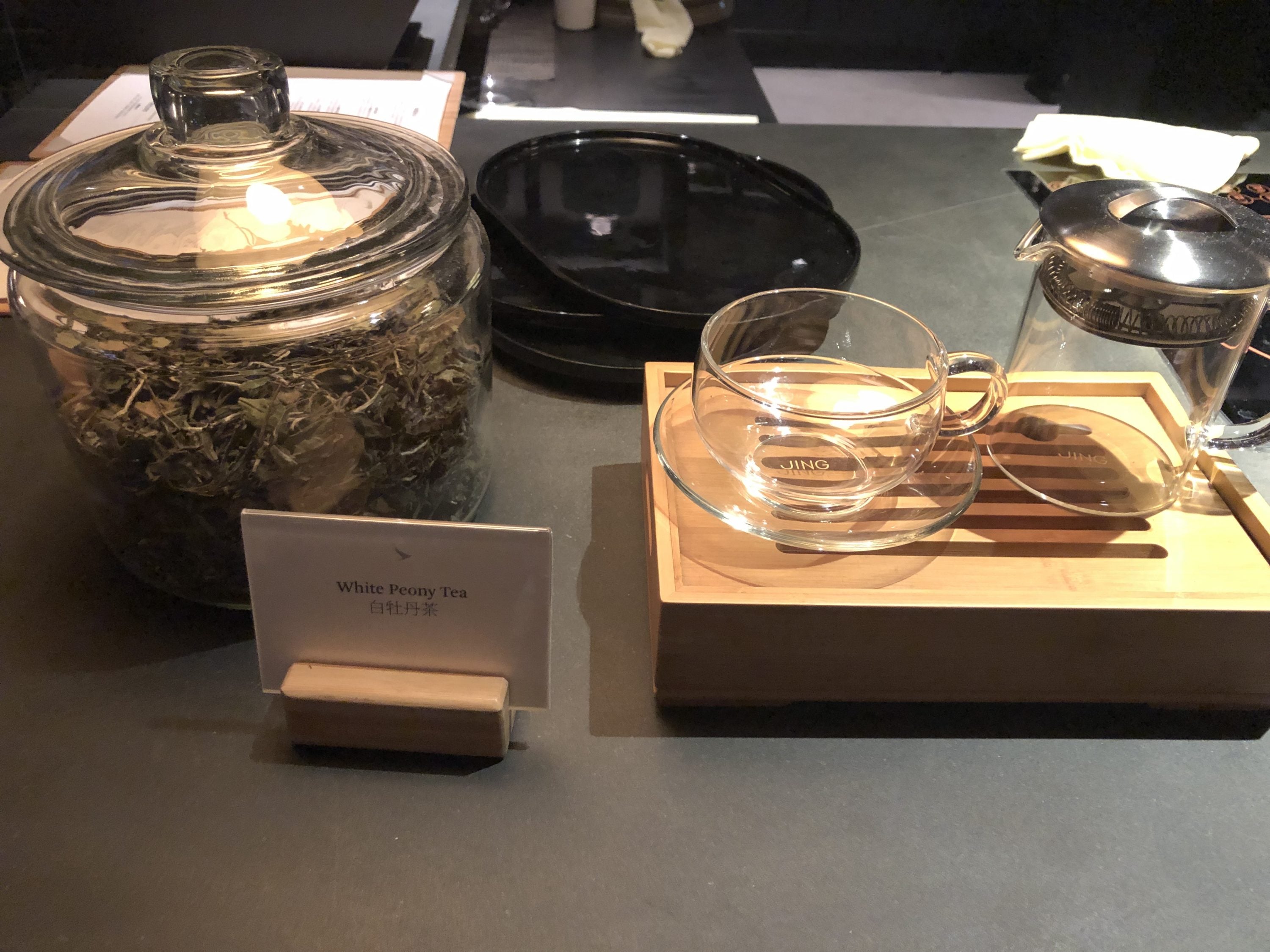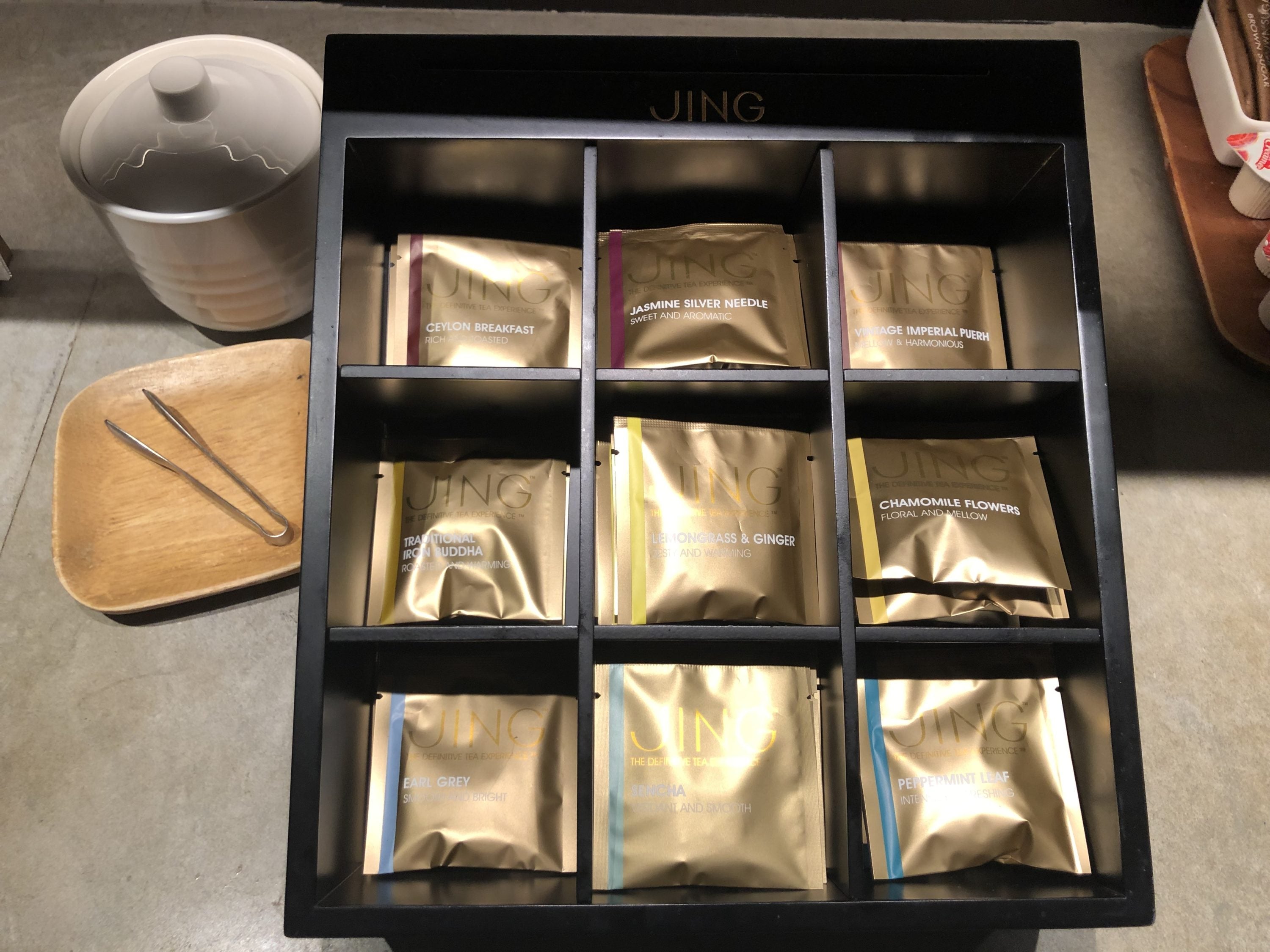 Of course, with great tea comes great snacks. The left item is black sesame and peanut candy, while the right item is almond puff (a Cantonese favorite).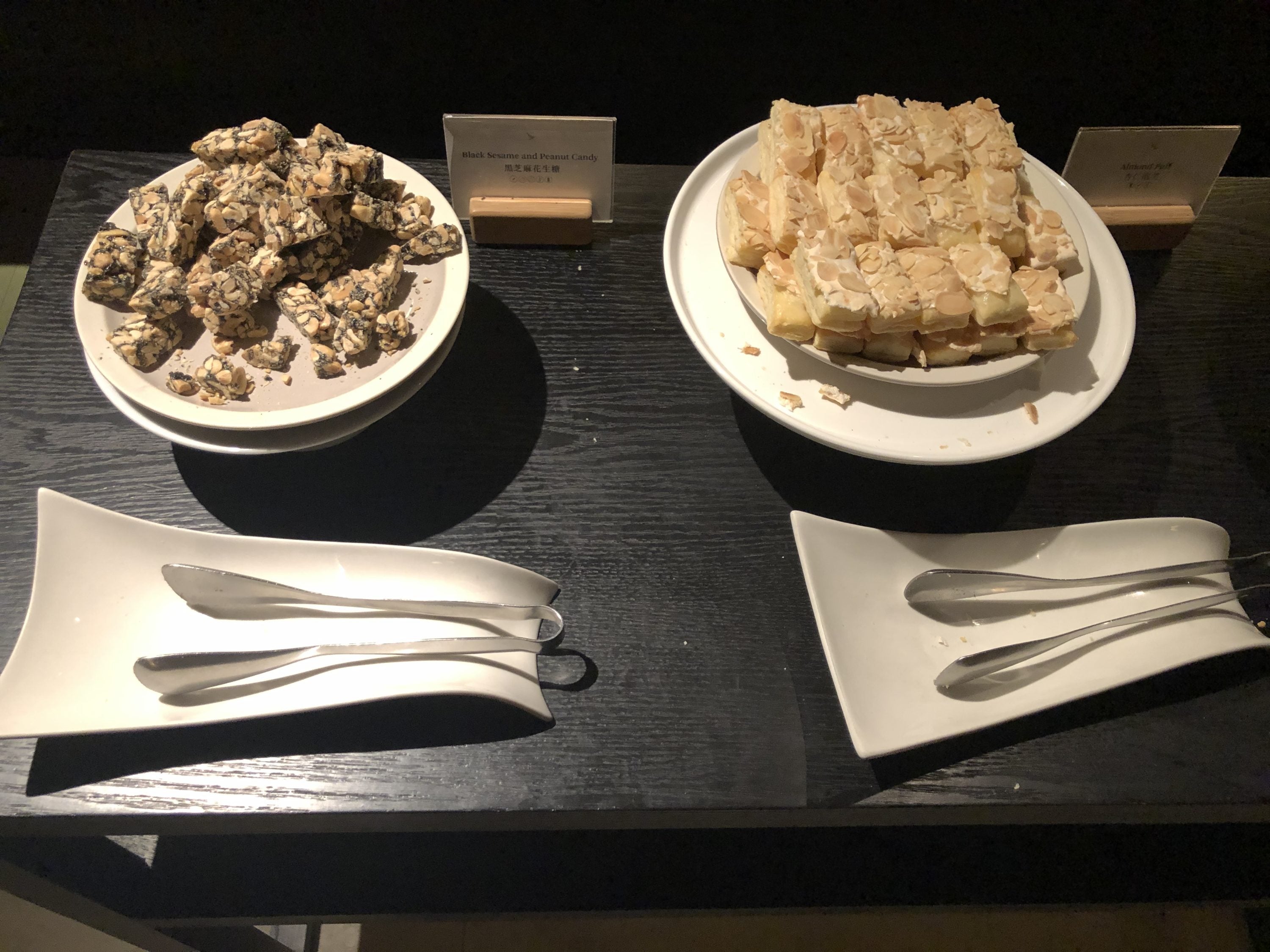 In the mood for something sweeter? Walnut cakes and cheese tarts were available, too.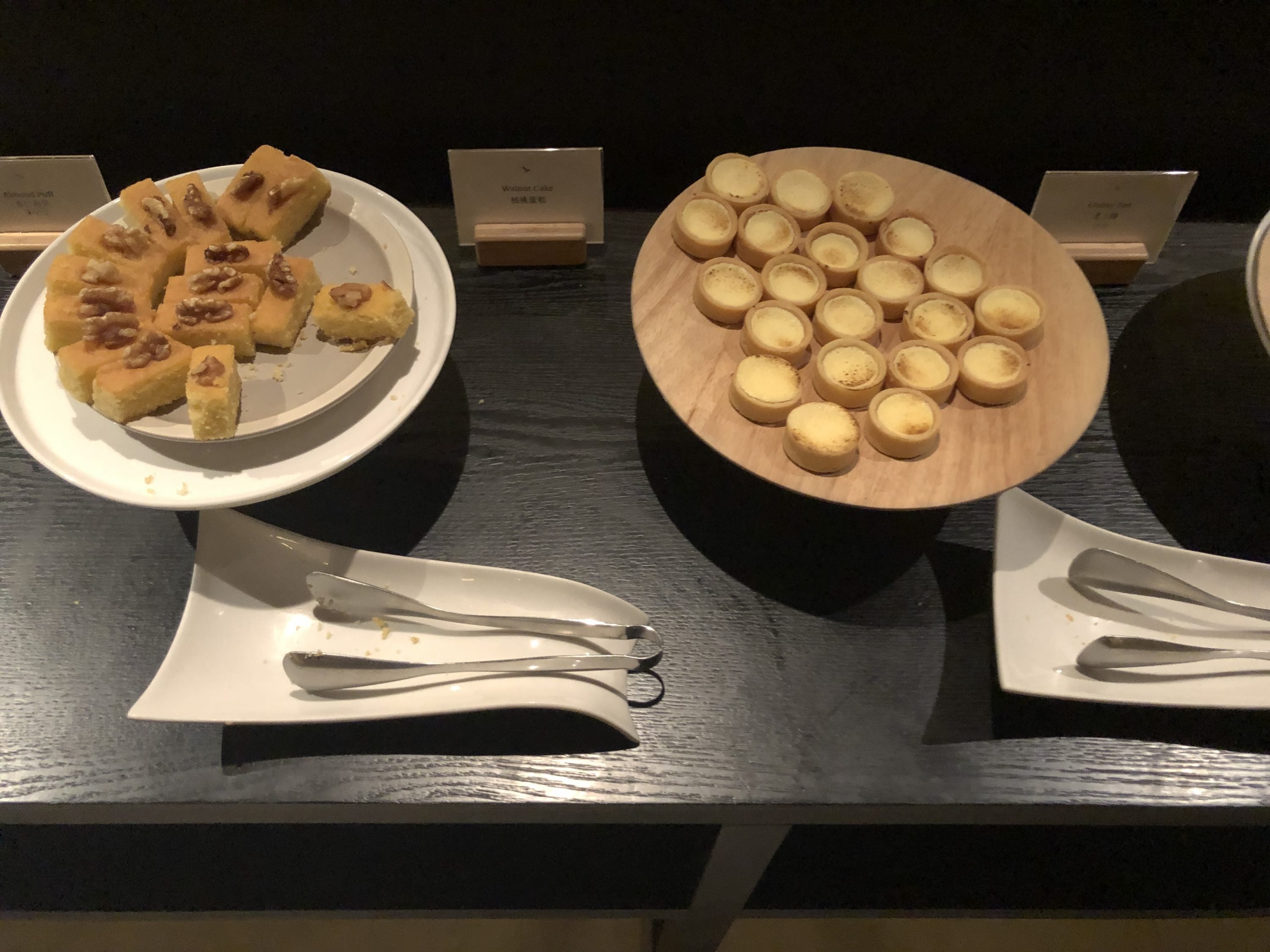 The best part of Teahouse is being able to sip on high-quality, robust, and full-bodied tea while enjoying a delicious Portuguese egg tart.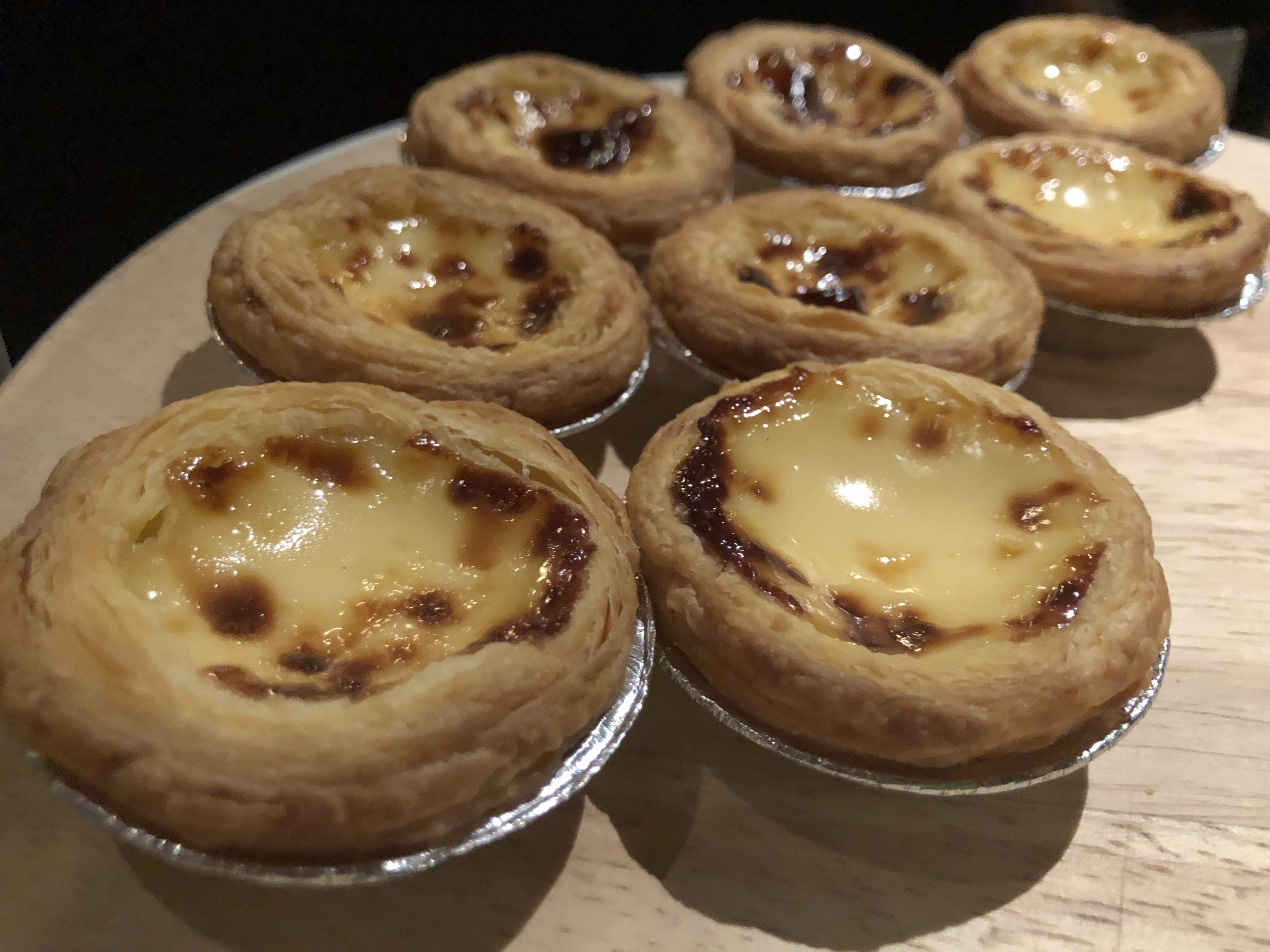 Next to the food selection at Teahouse were some soft drinks, chilled snacks, and an espresso machine.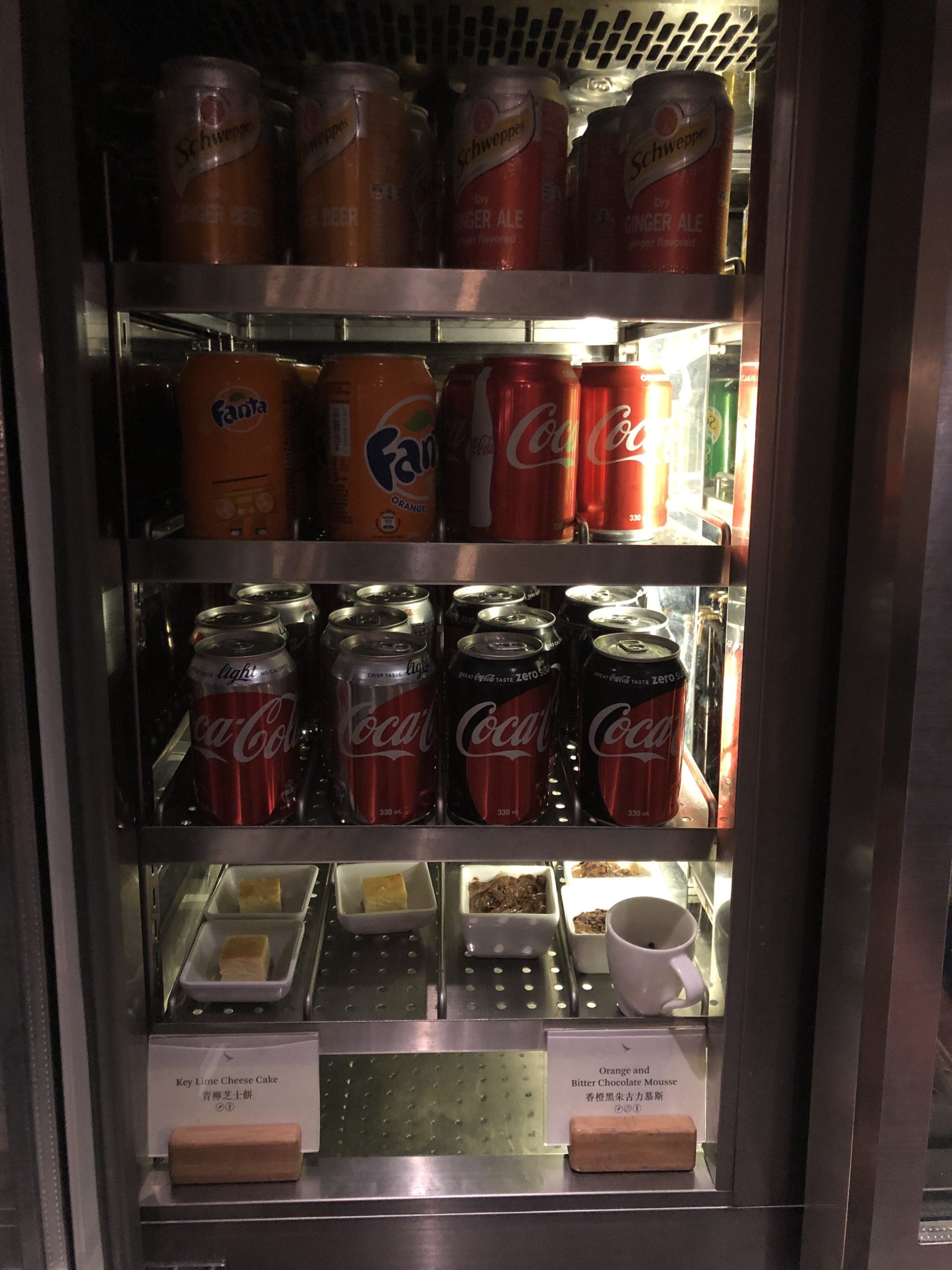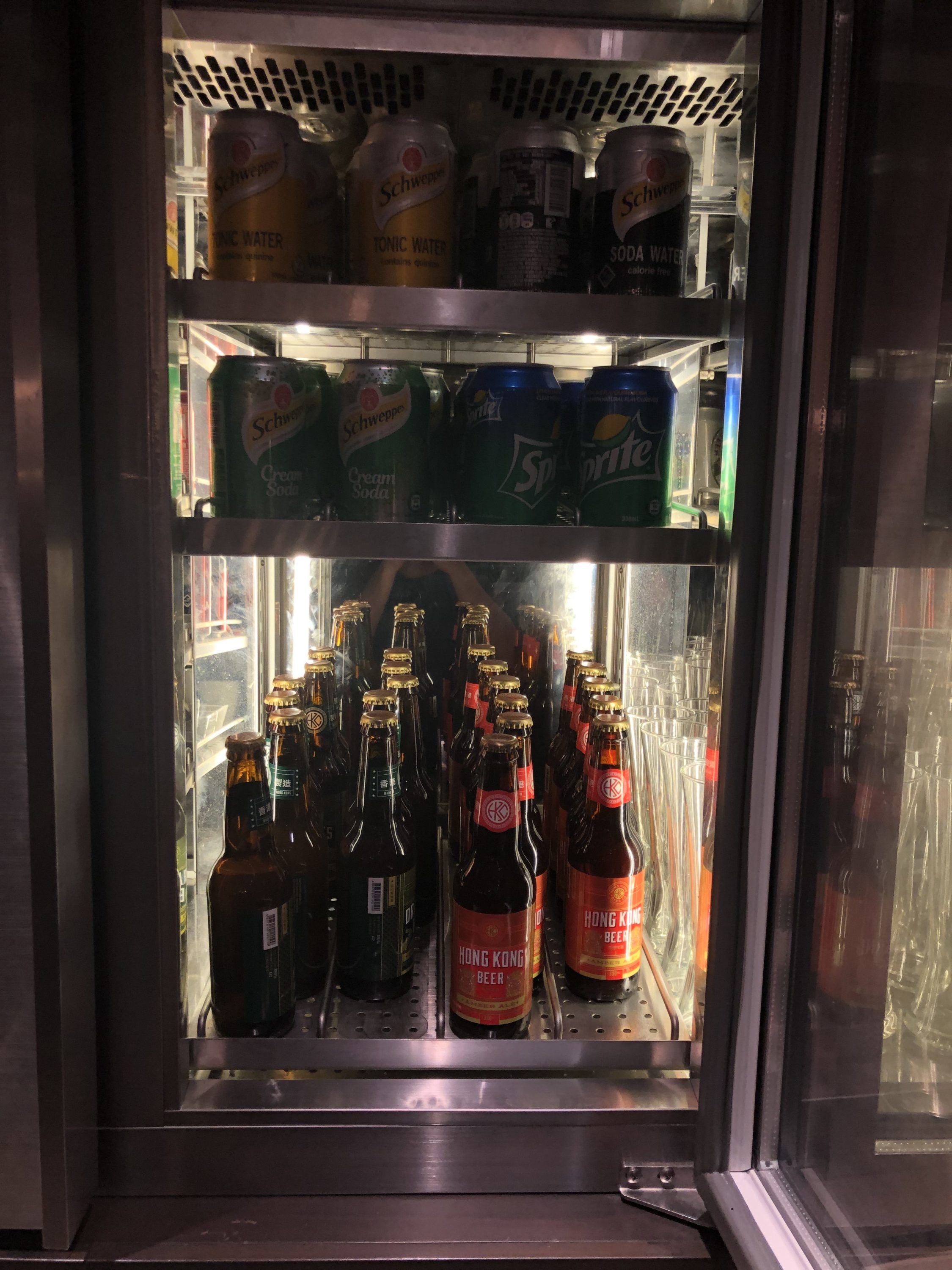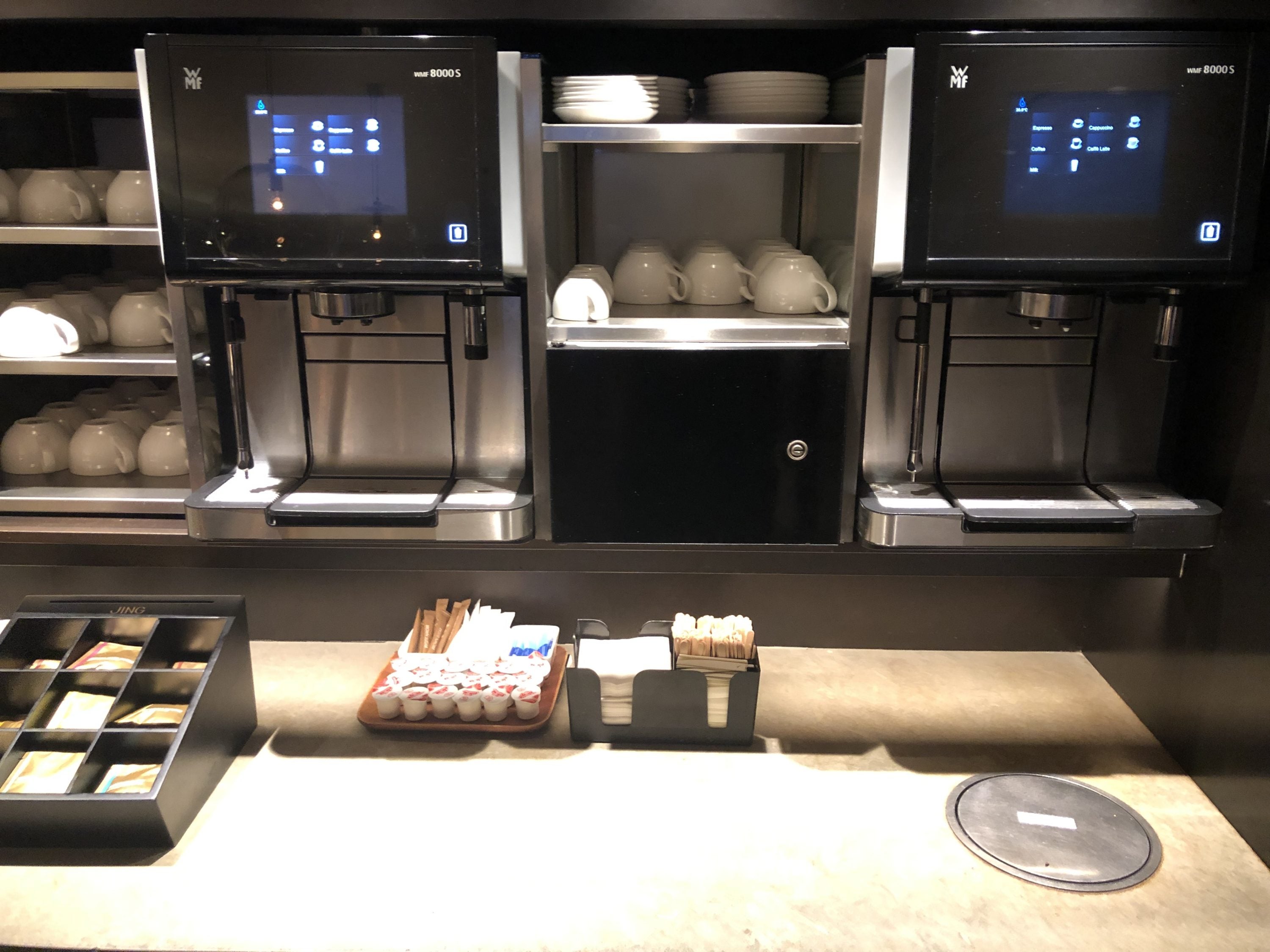 Bottom Line: Teahouse is a great place to peacefully enjoy tea. Keep in mind that this experience is only available at the Pier, Business, so be sure to take advantage of it, especially if you're a tea enthusiast.
Food Hall
Food Hall is where most of the food is served buffet-style. First, we saw steamed young cabbage with goji berry bouillon, which was delicious.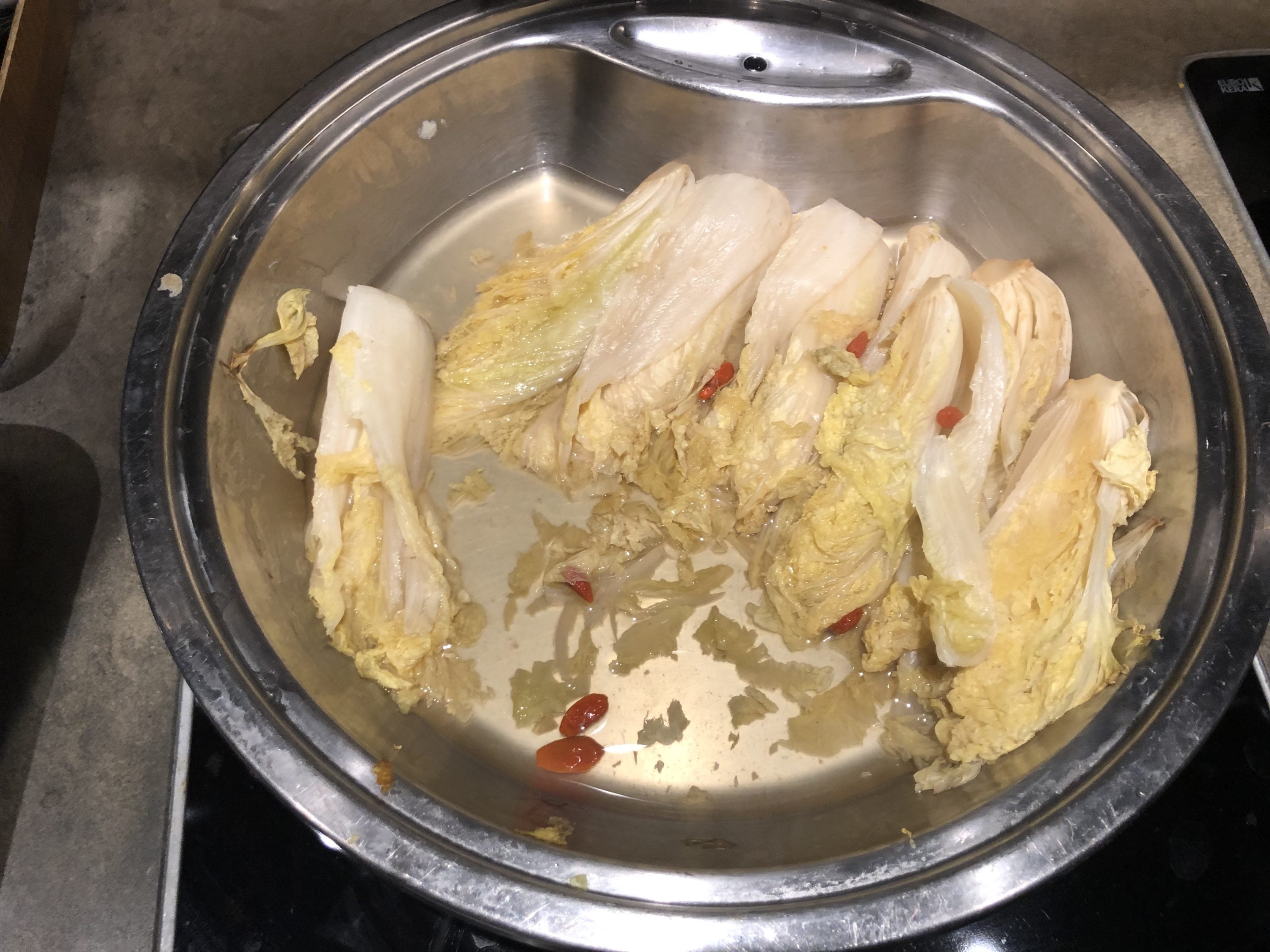 To the right was Singapore Fried Vermicelli.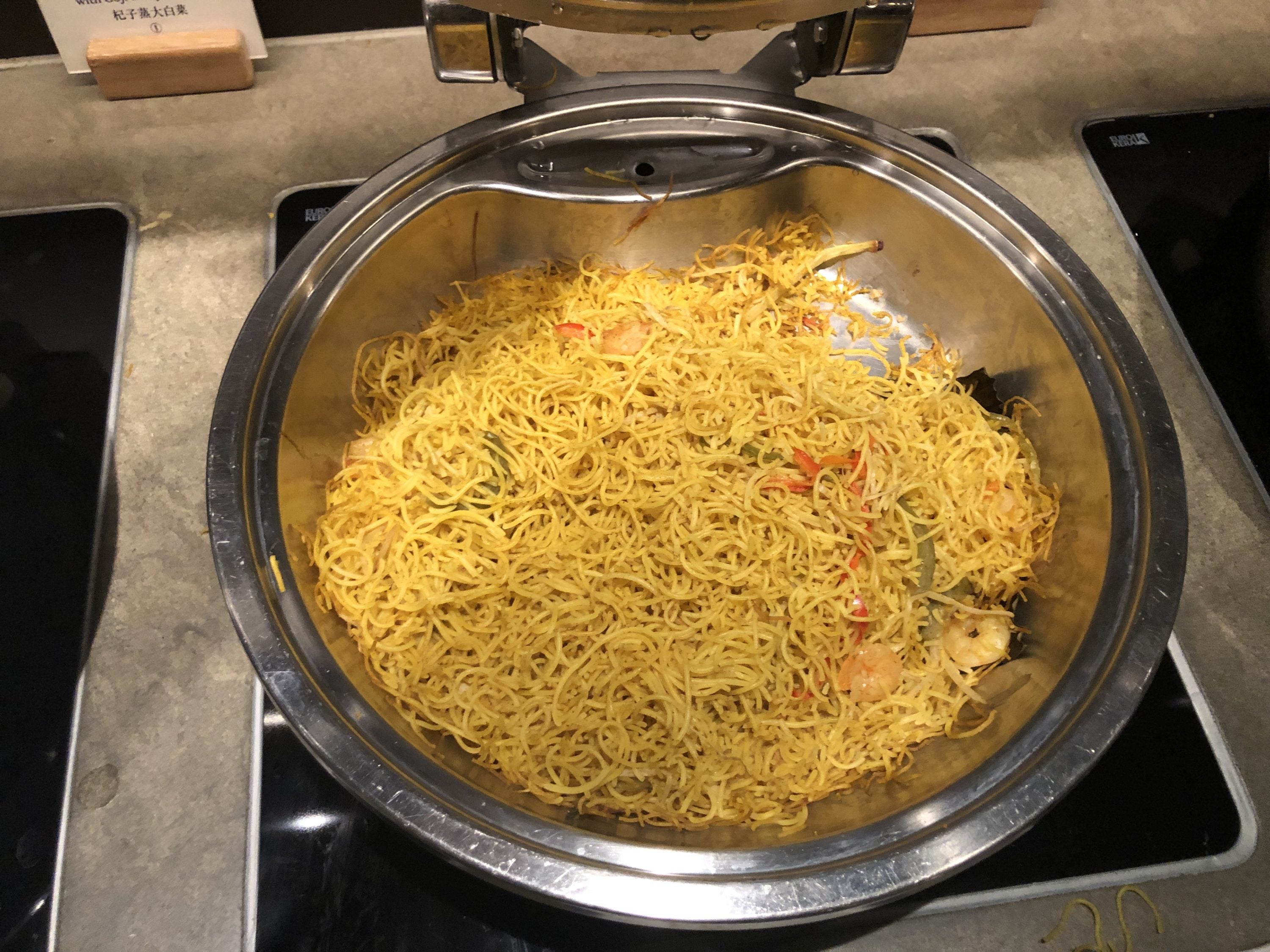 After that, there was deep-fried chicken with lemon sauce.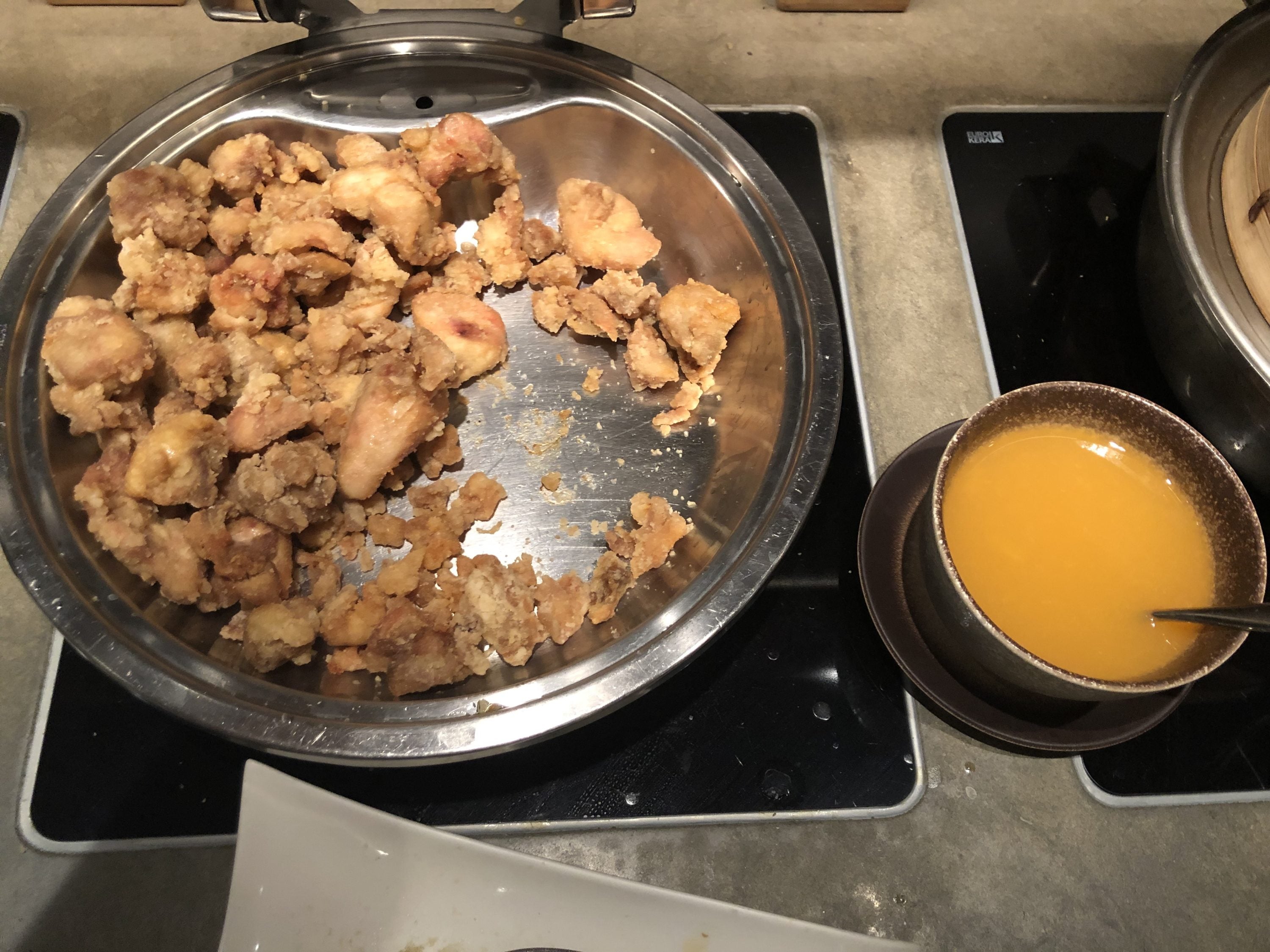 There were also some Chaozhou-style pork dumplings.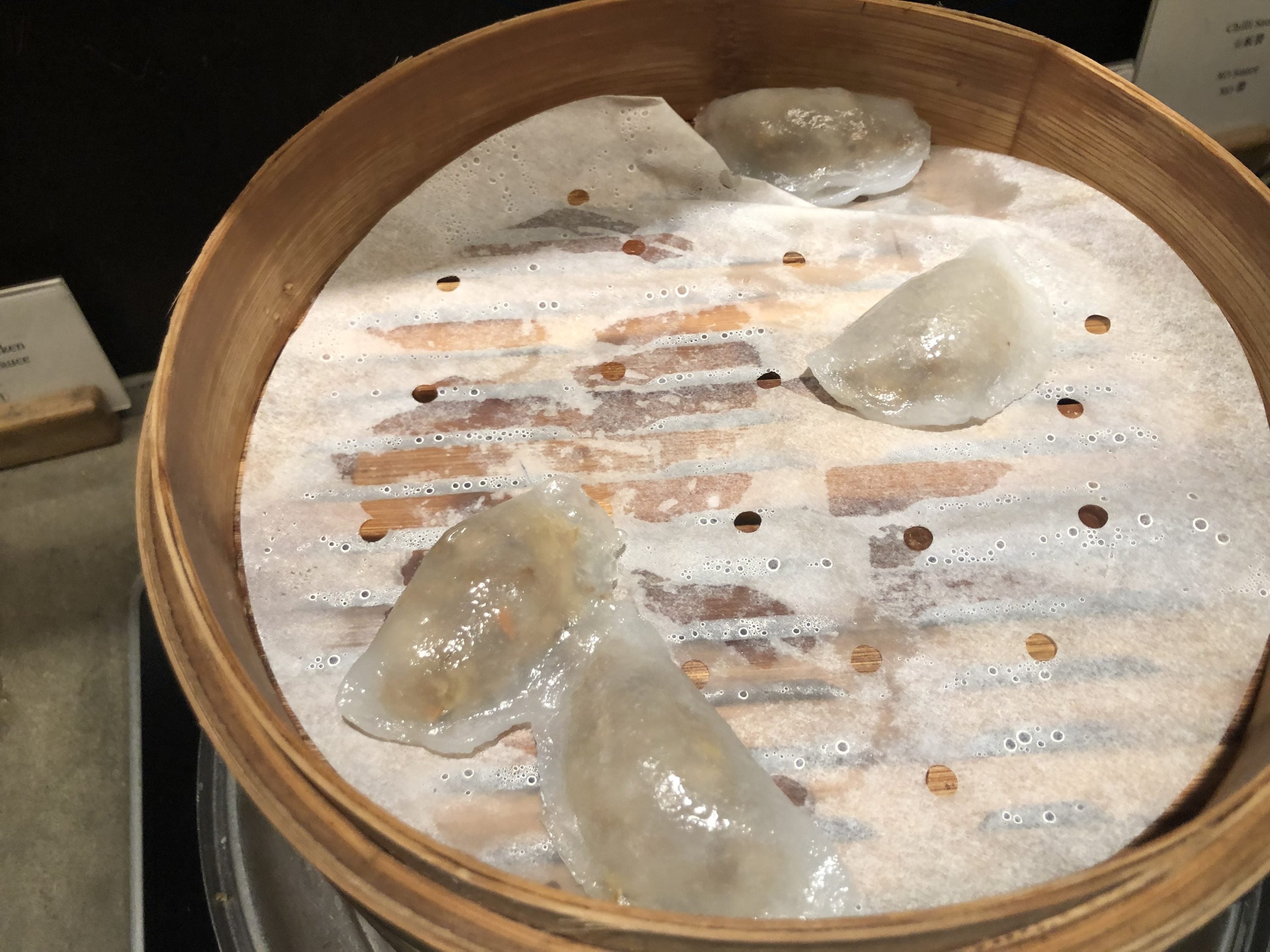 If you want more vegetables or soup, there was also roasted butternut squash and red onion with light tahini and wild mushroom and potato soup.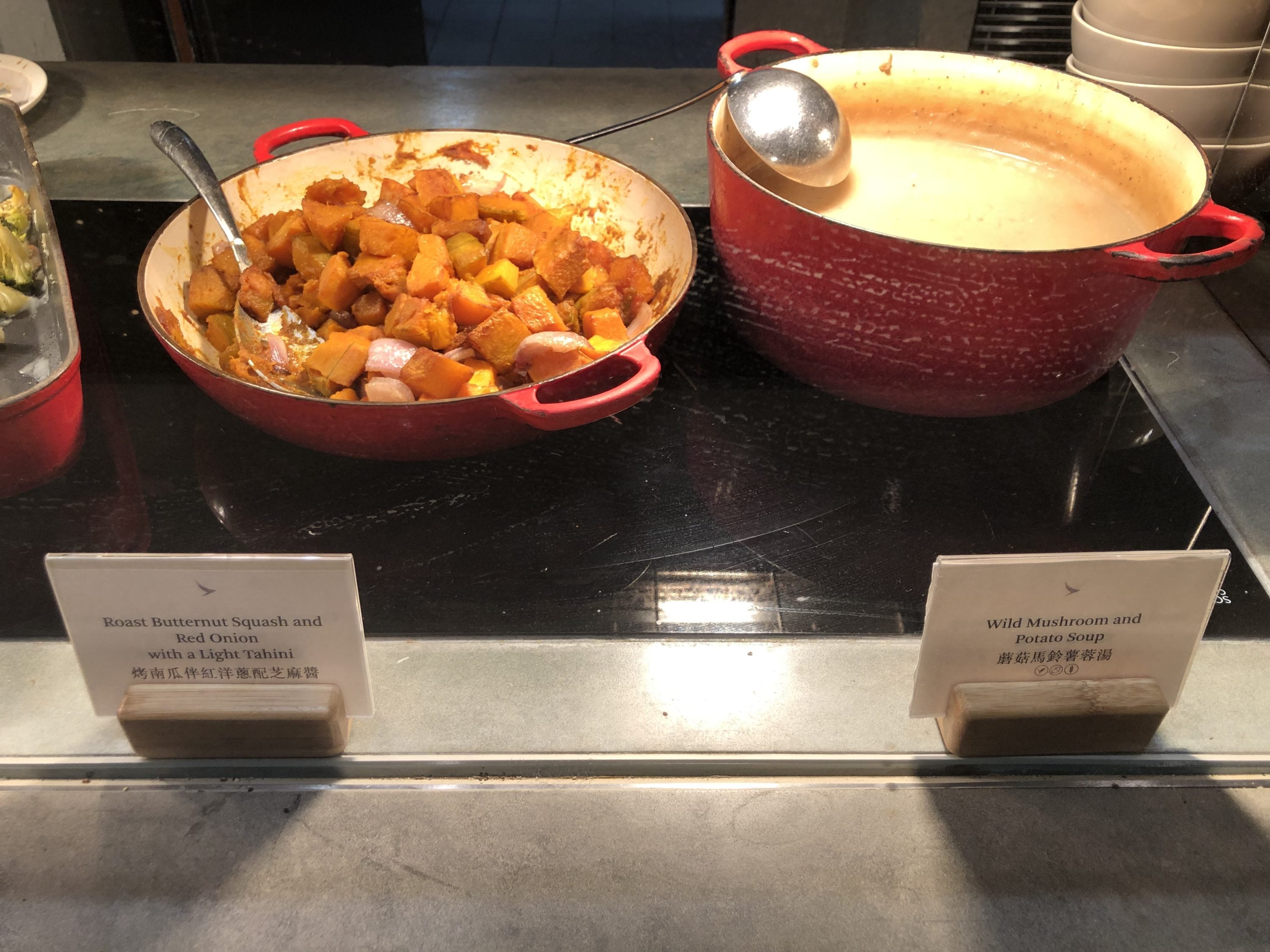 Beef meatballs with creamy gravy, cheesy creamy broccoli with mushroom casserole, and rigatoni arrabbiata with dried chili flakes, basil, and olives rounded out the main hot food section.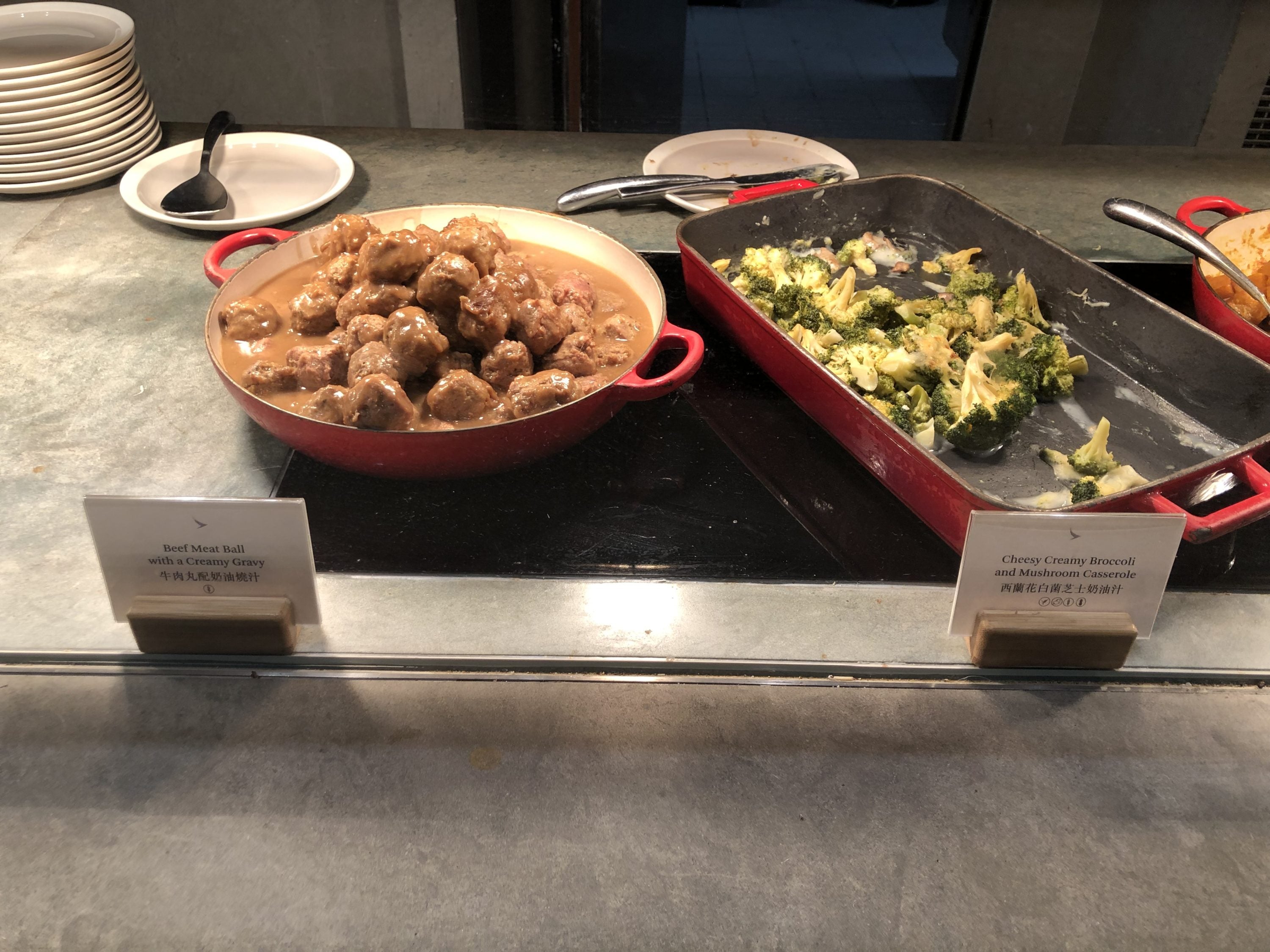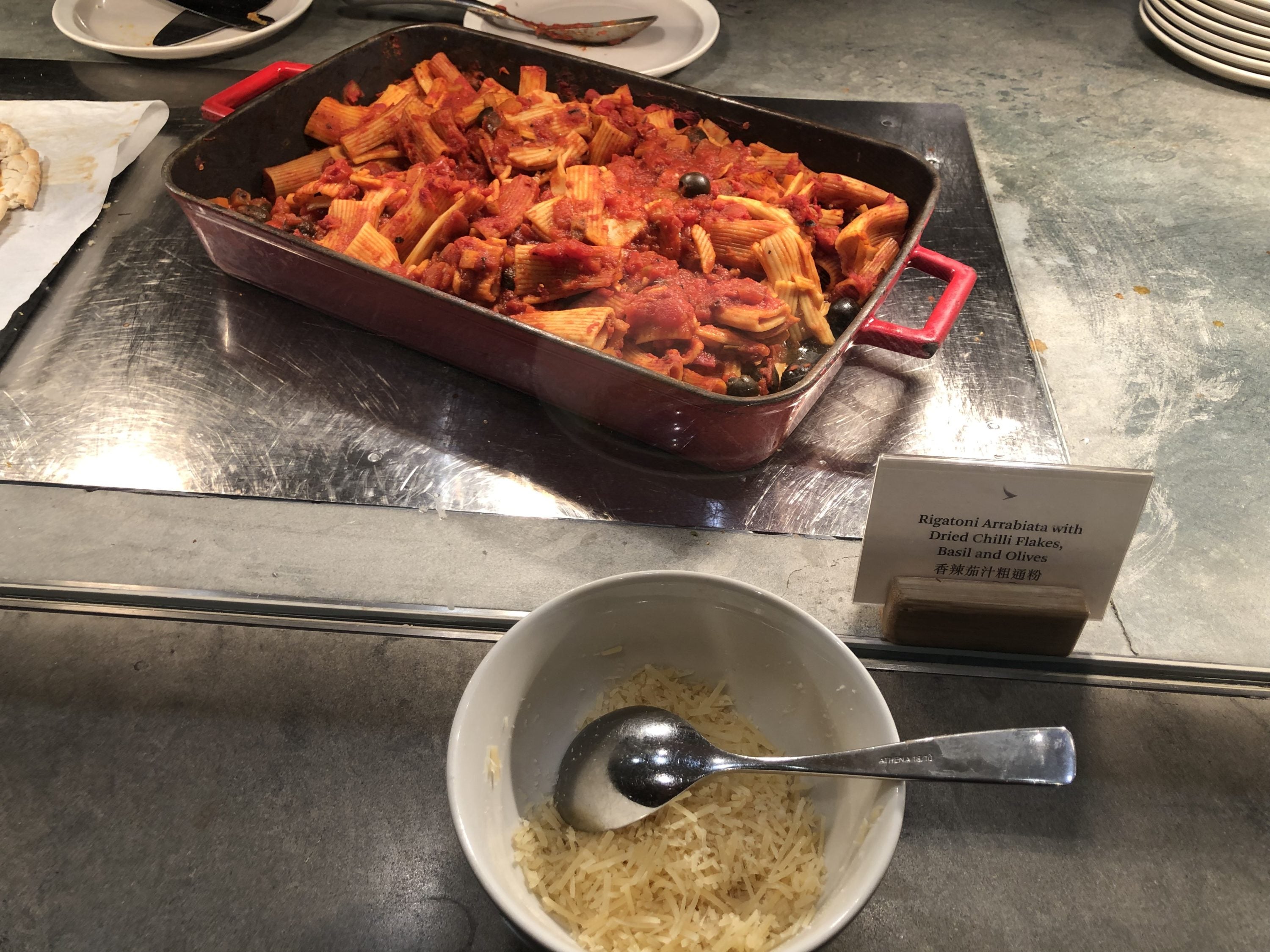 In the bakery section of Food Hall were flaky danishes, croissants, and other pastries.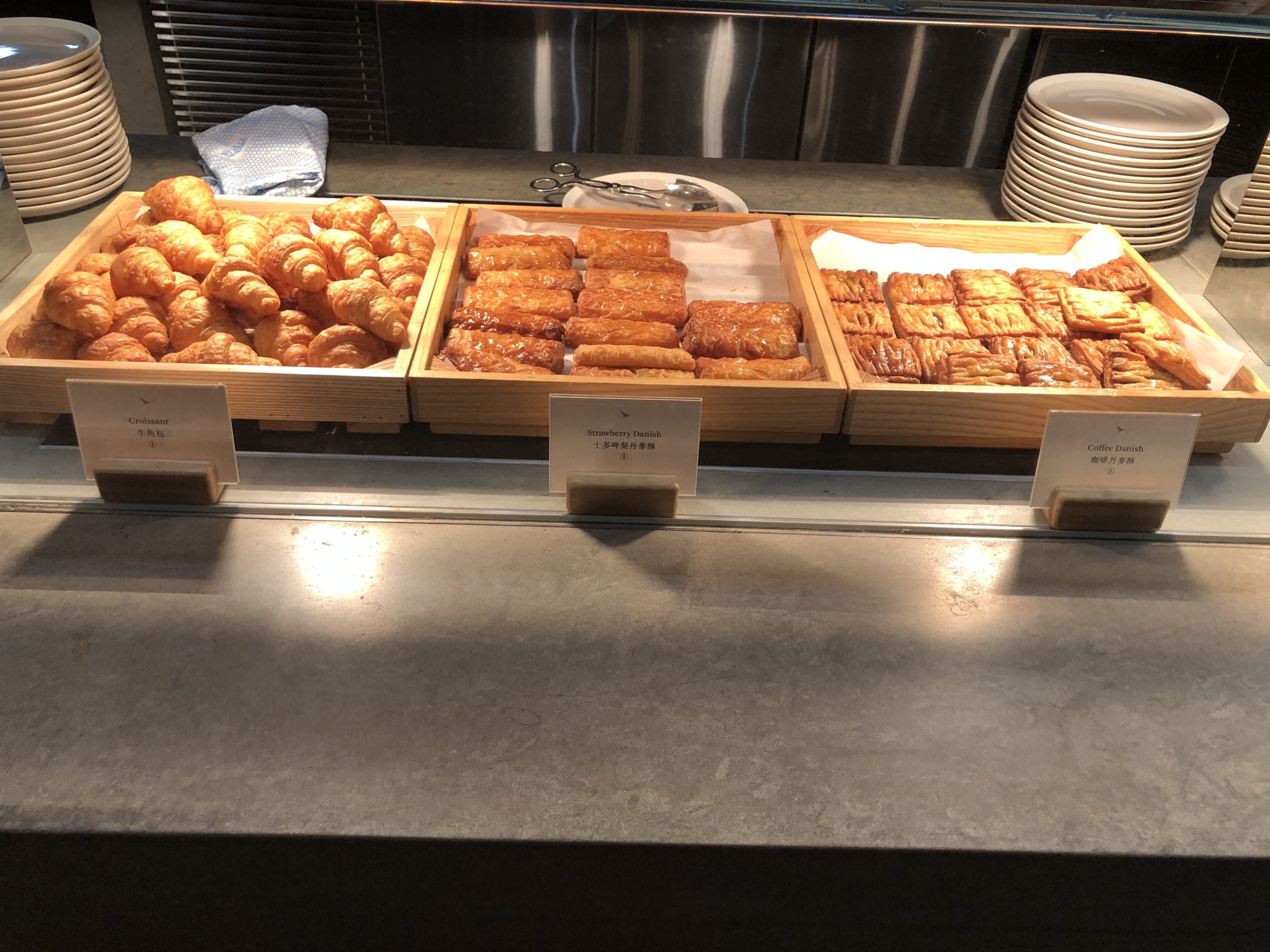 Continuing on, there was actually freshly baked pizza and a real pizza oven, which was cool.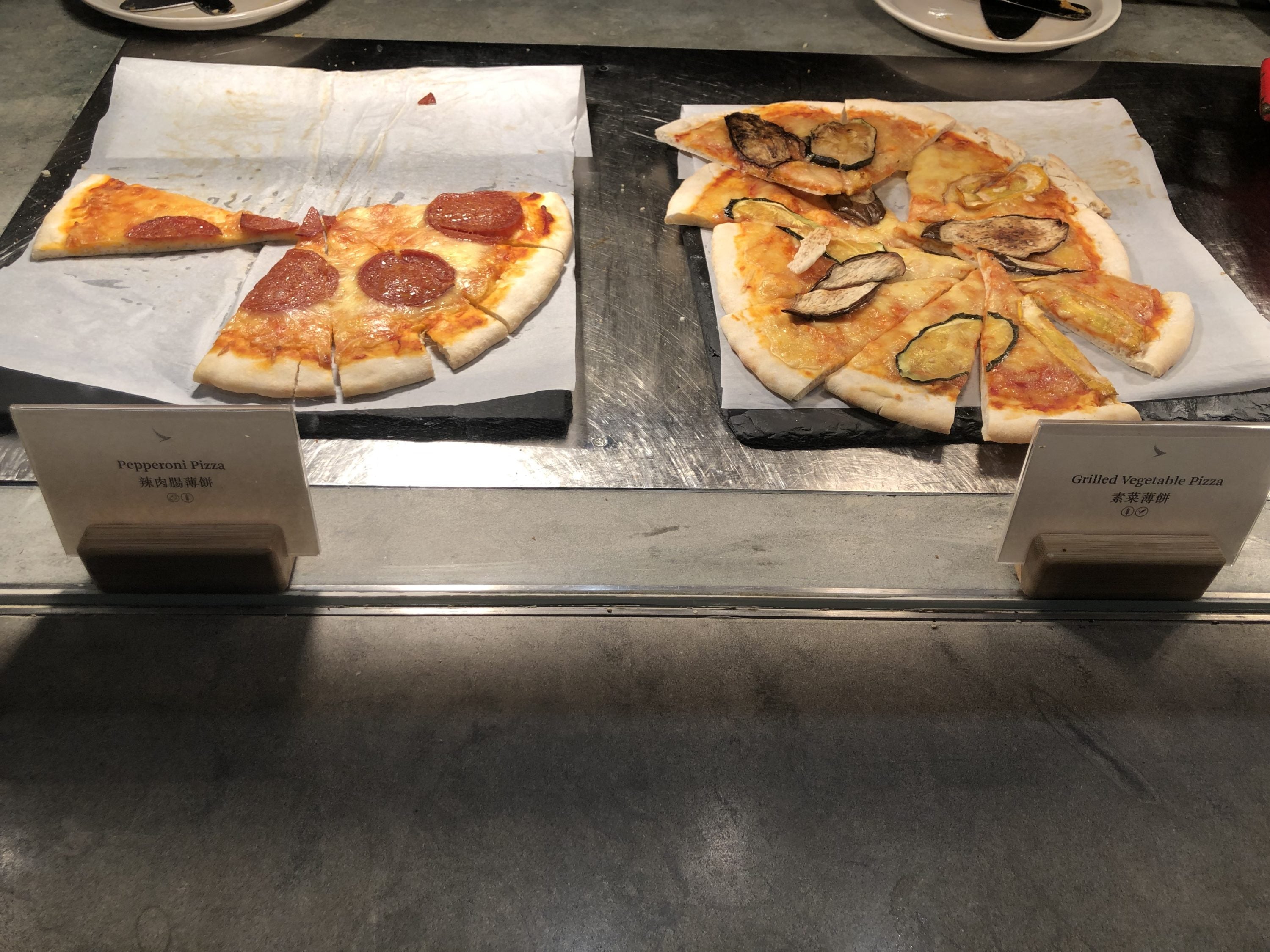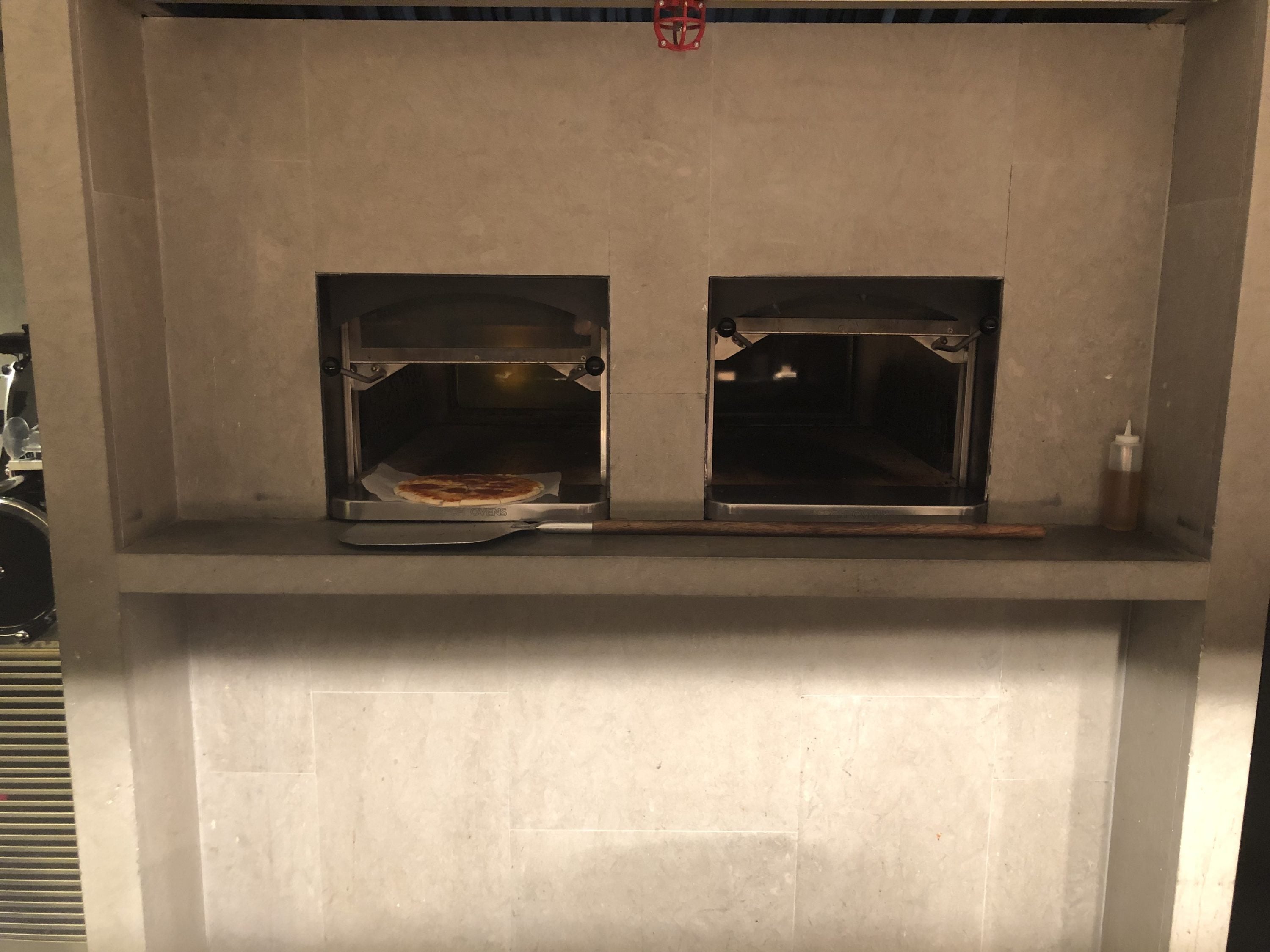 Bread and cheese followed, and there was even a cheese display.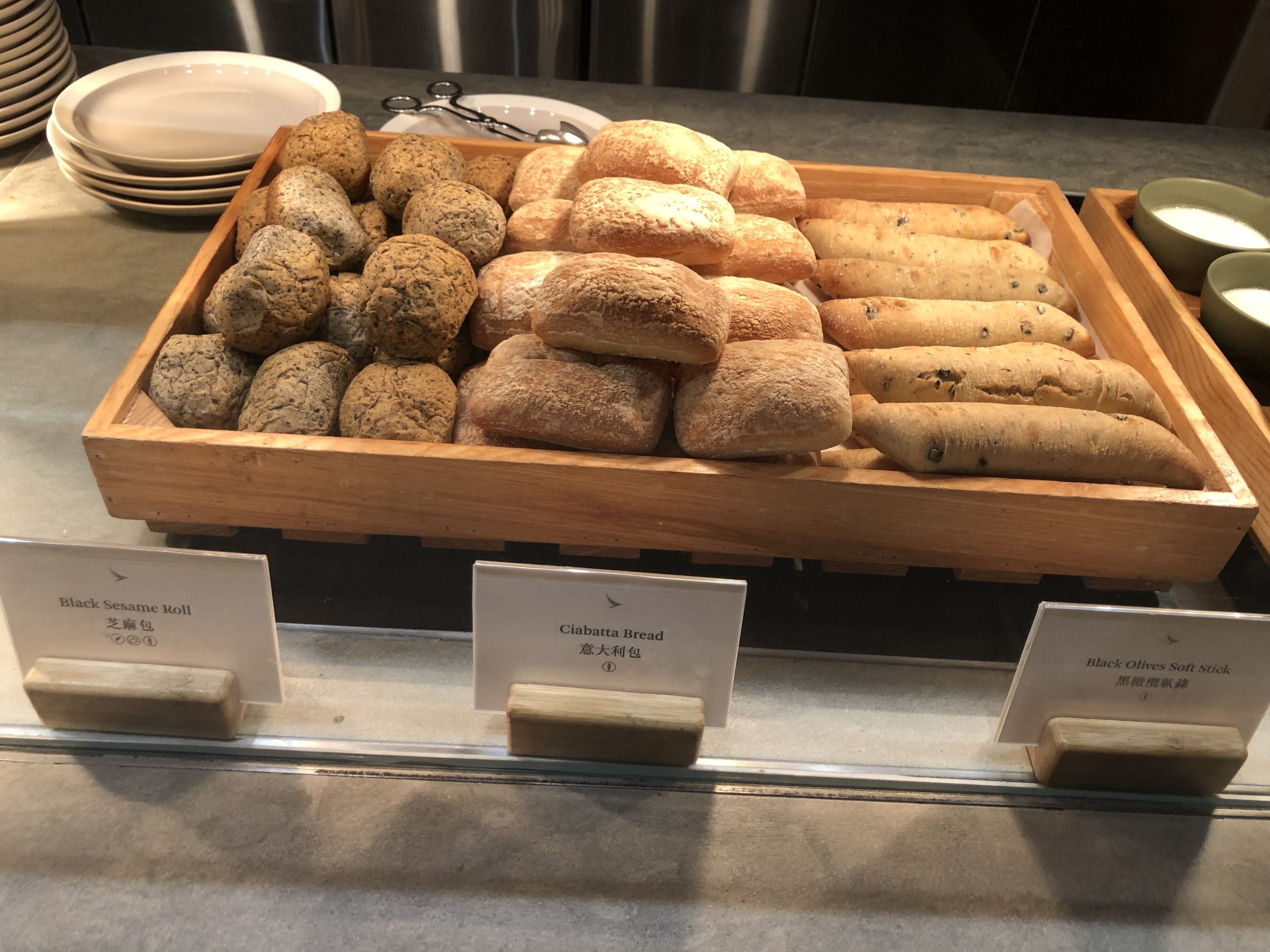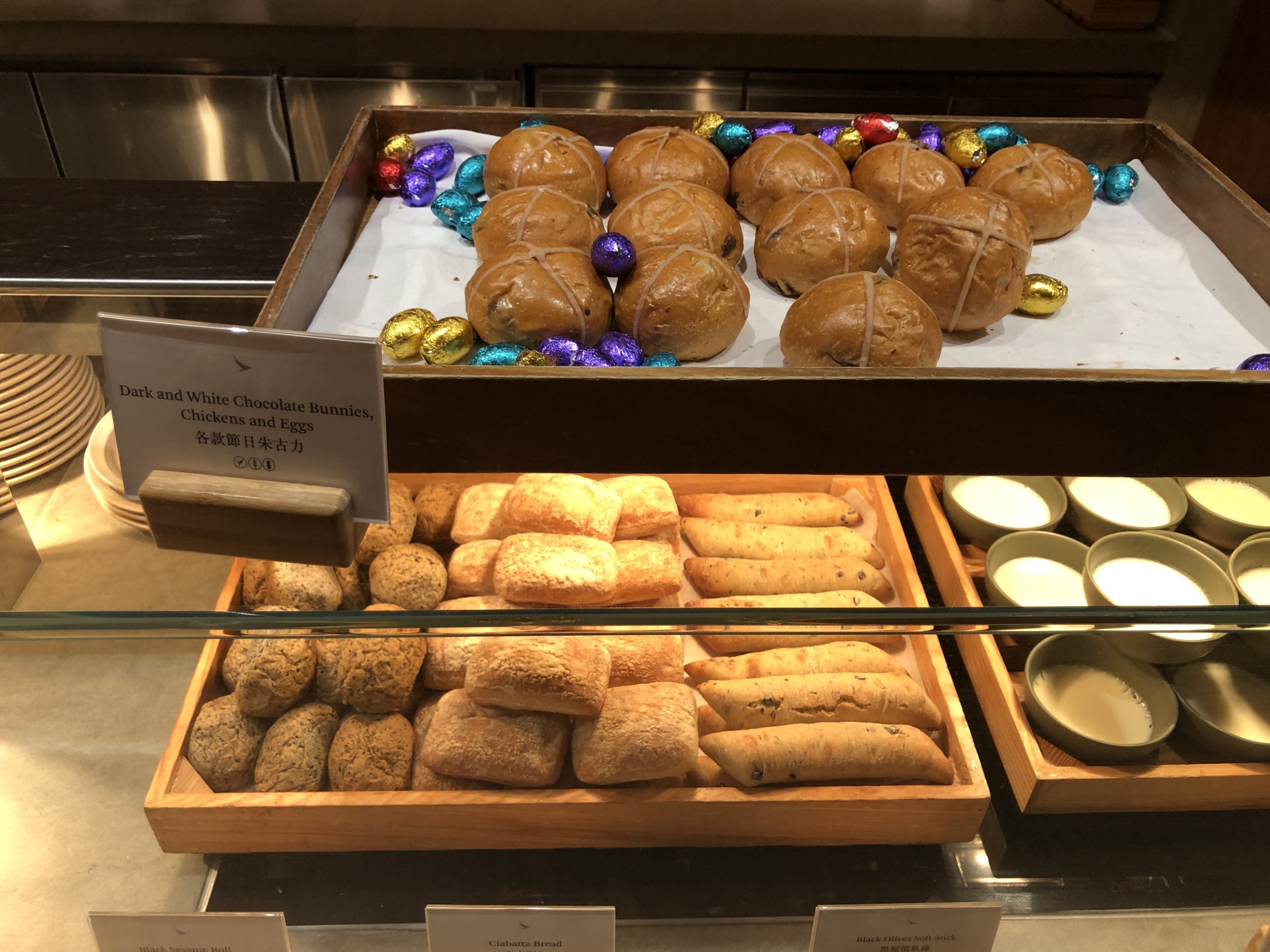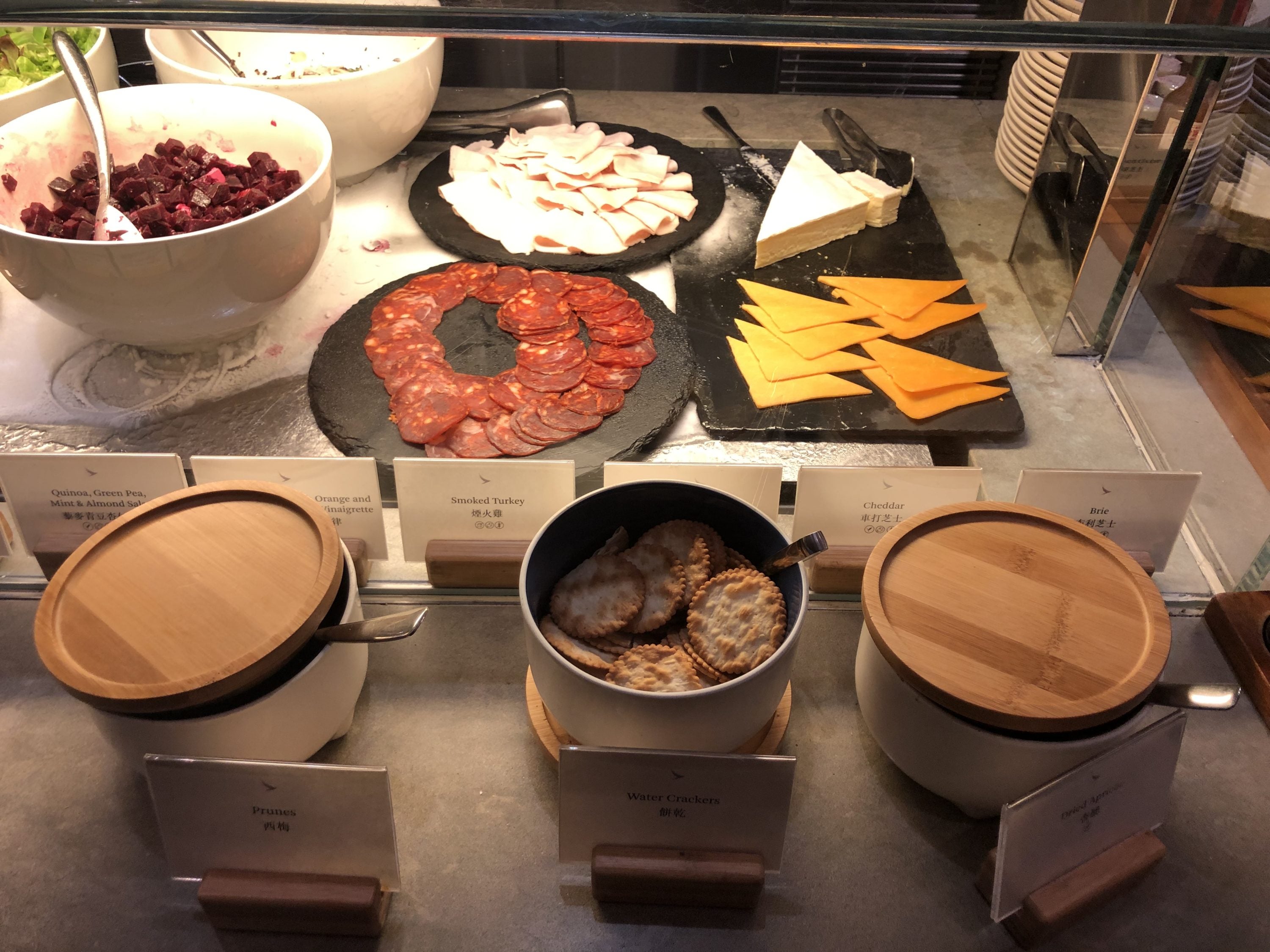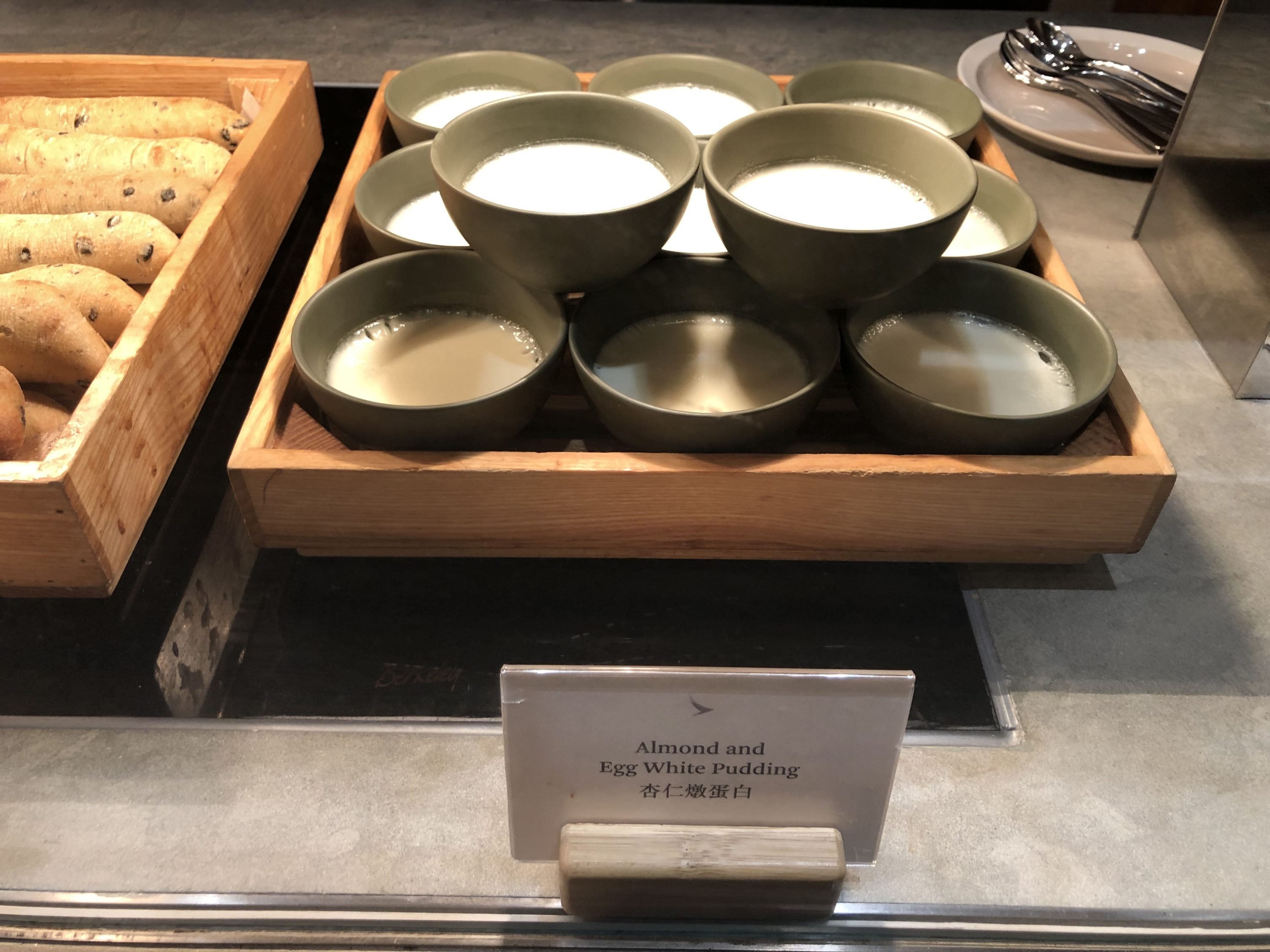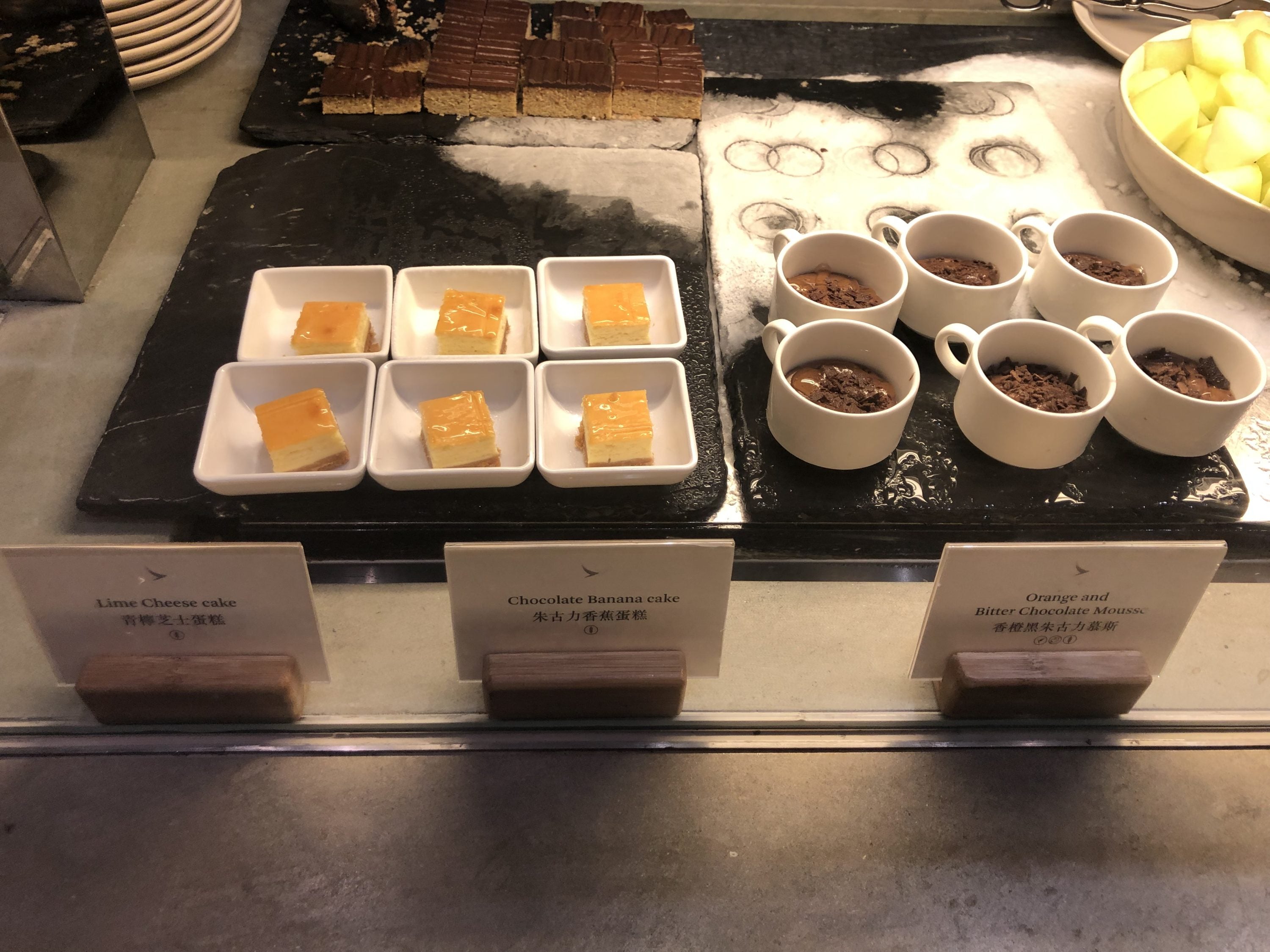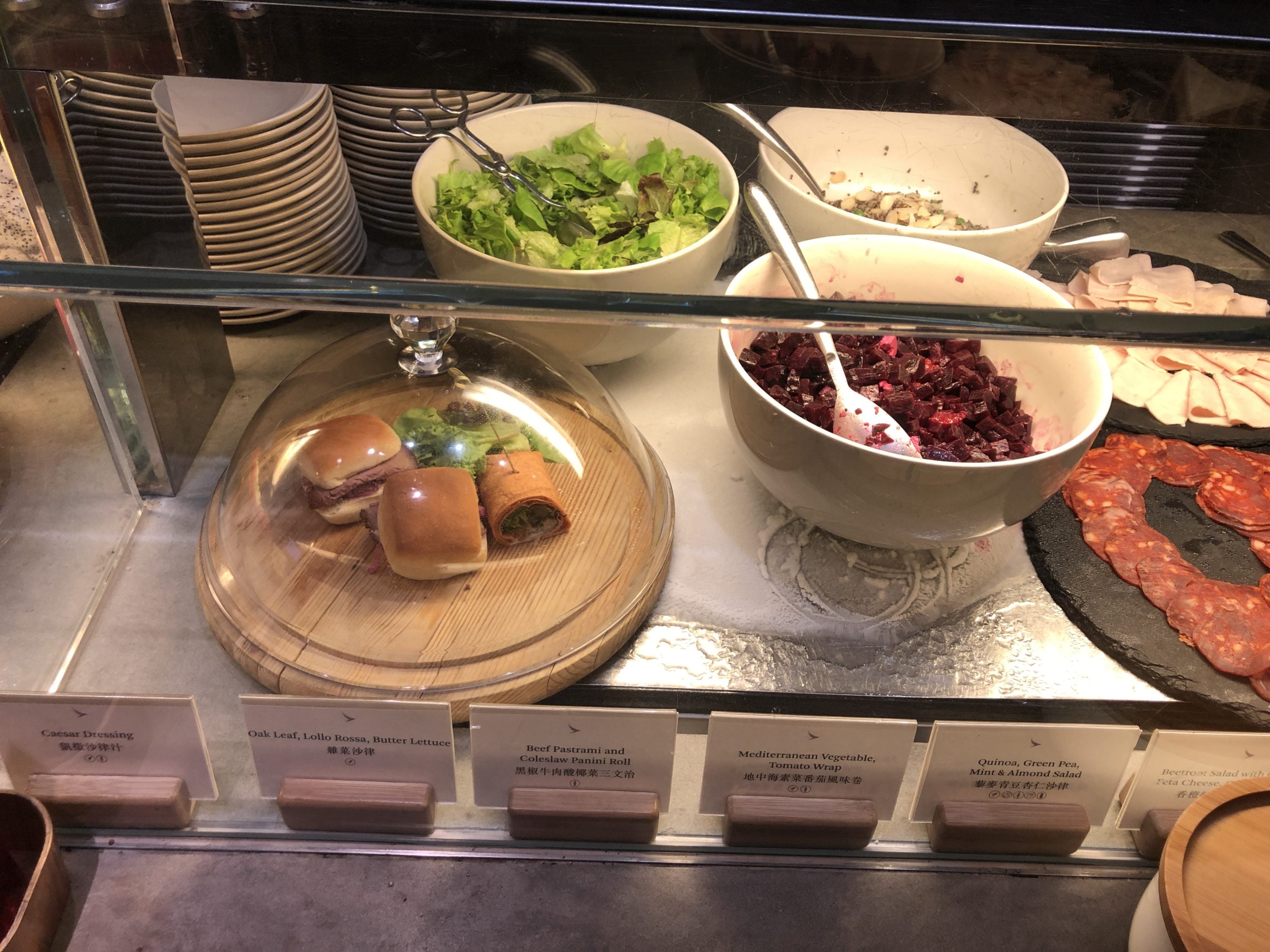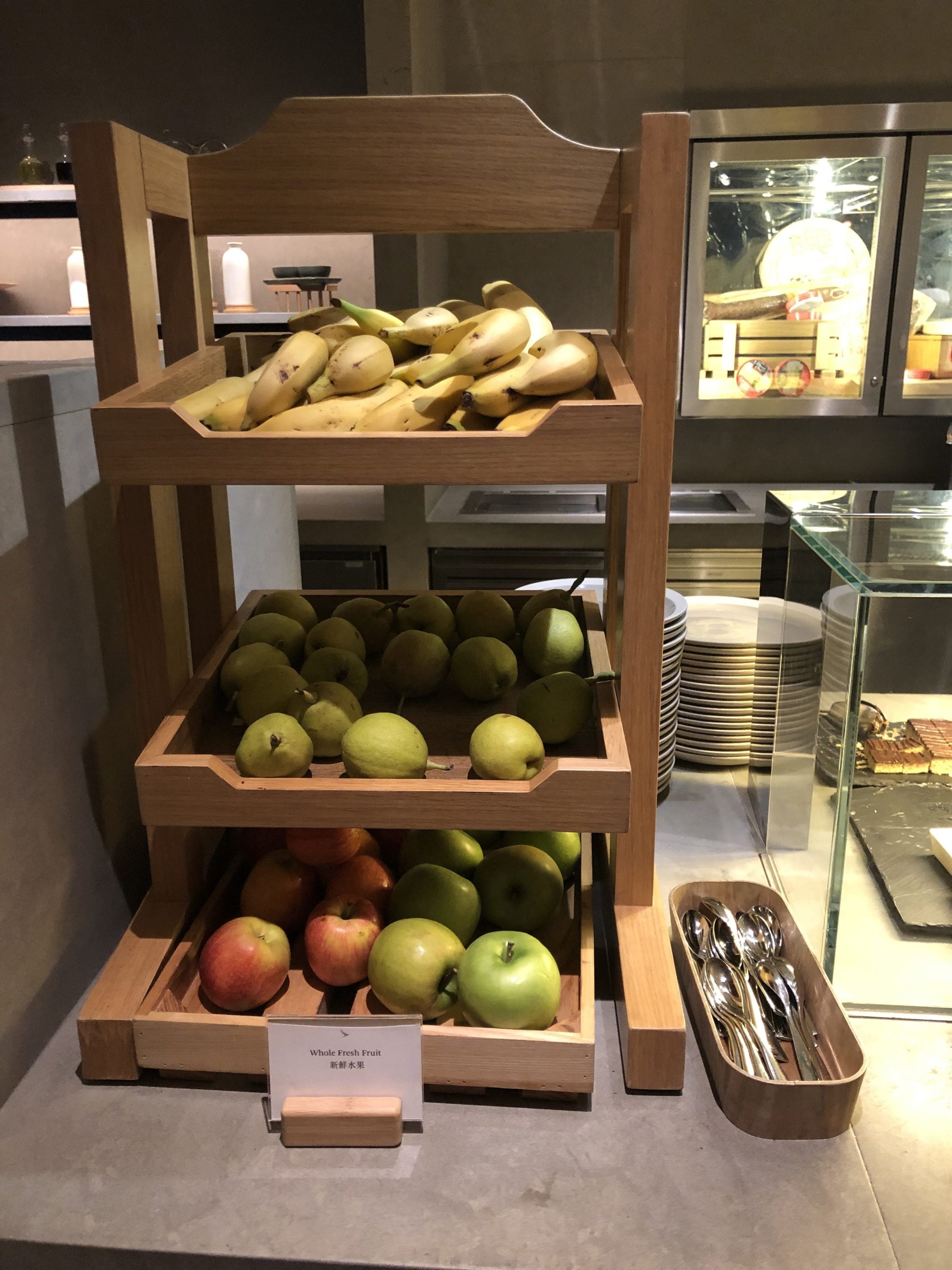 The espresso cart was more like a coffee bar, since there was a barista curating custom drinks for travelers.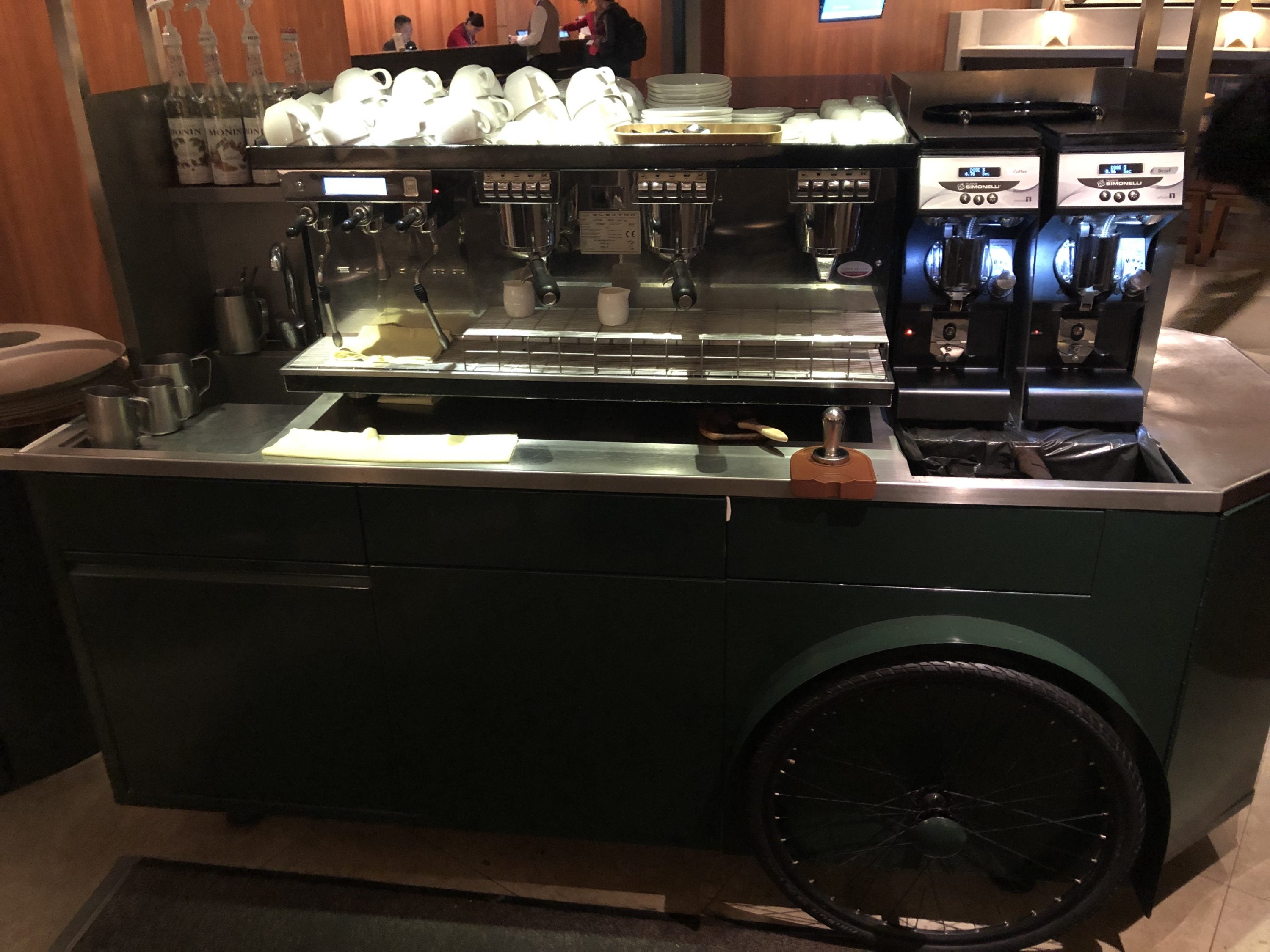 Sparkling, hot, and filtered water were available via a filtered water tap.
Lastly, sliced fresh fruit and various juices rounded out Food Hall.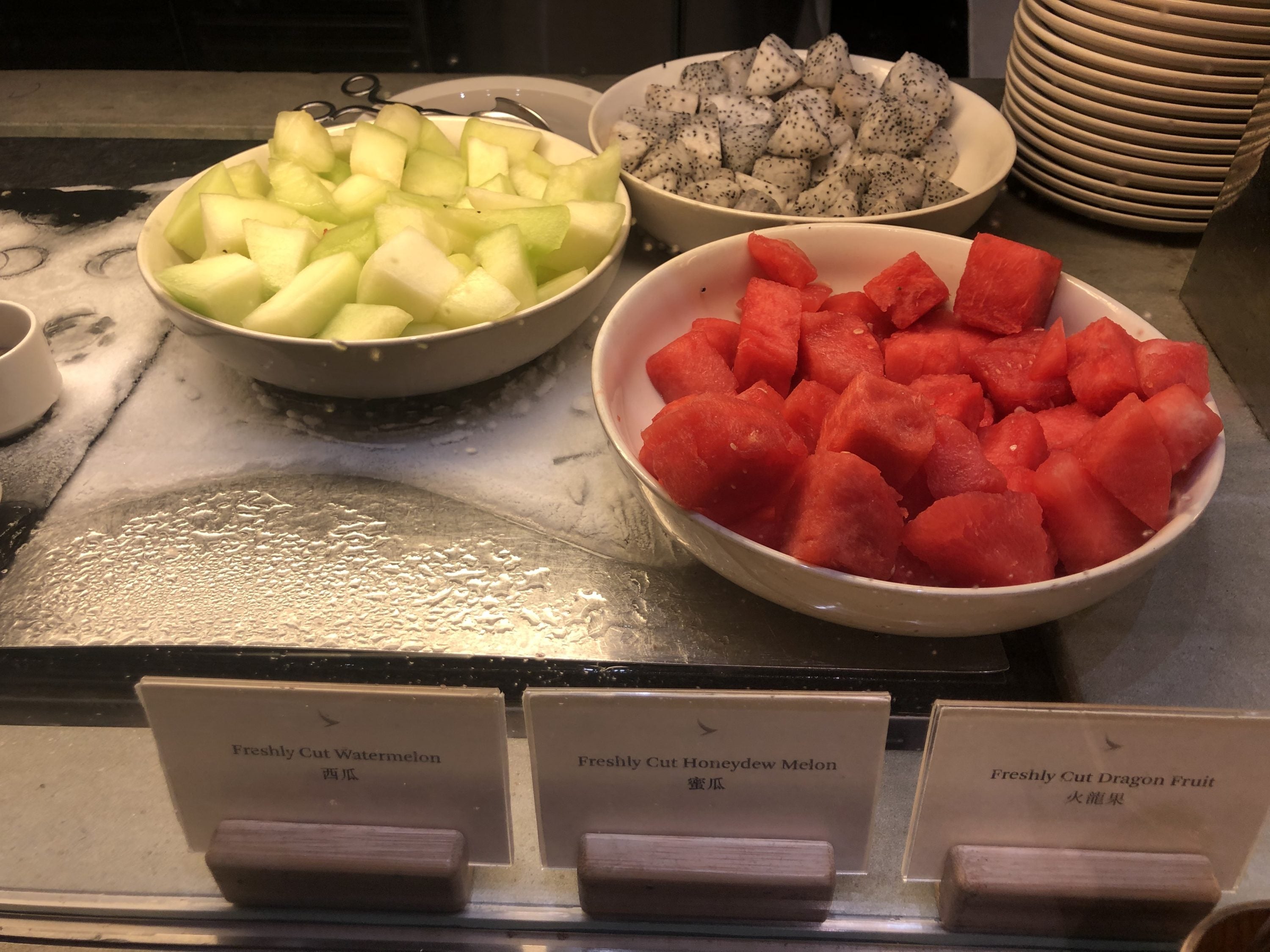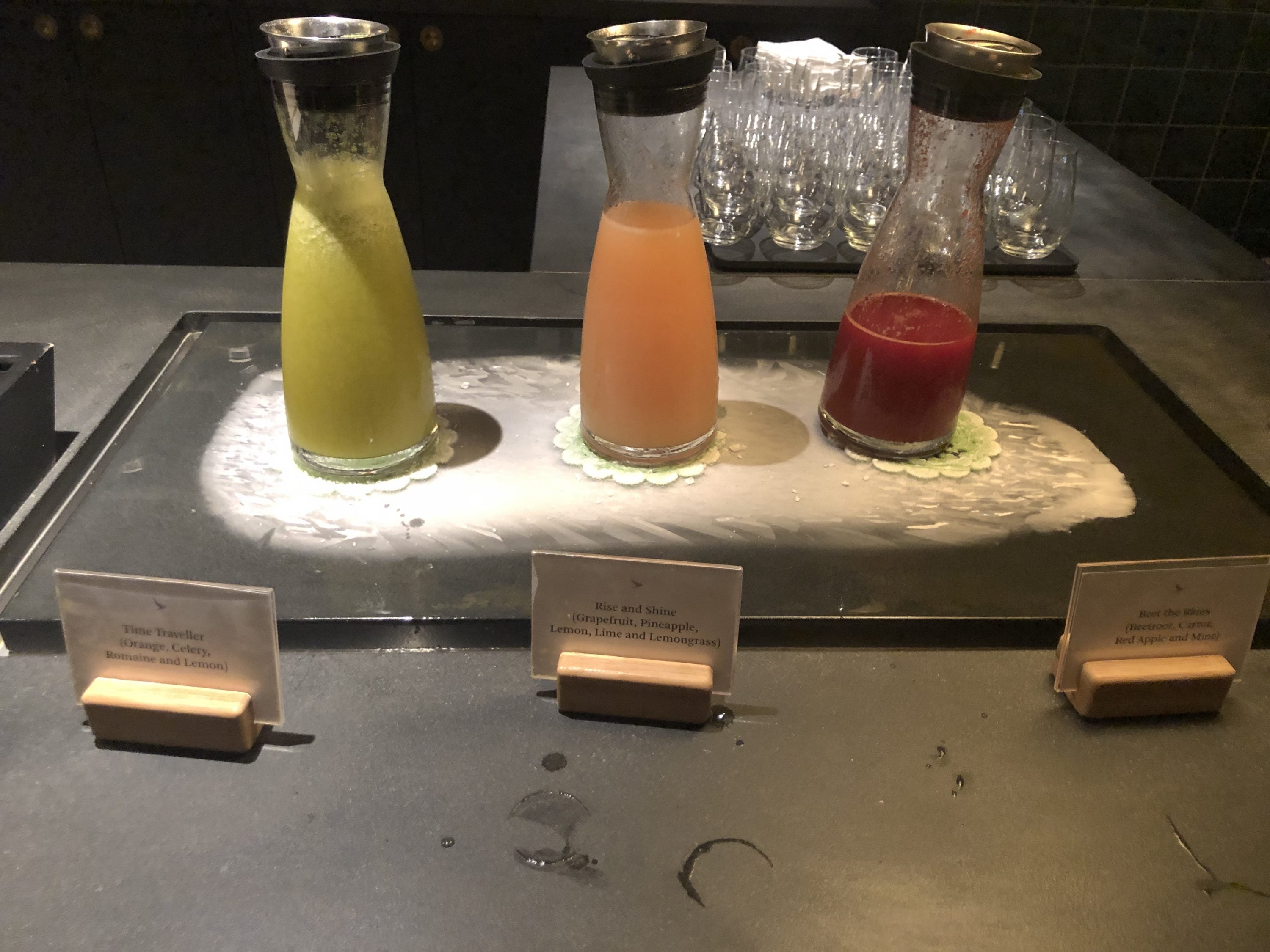 Food Hall was extensive. Without a doubt, this is one of the most complete and beautiful set ups of a buffet I've seen.
Bar
The bar is the last food and beverage section in The Pier, Business. There were lots of snacks and a huge alcohol selection in this area.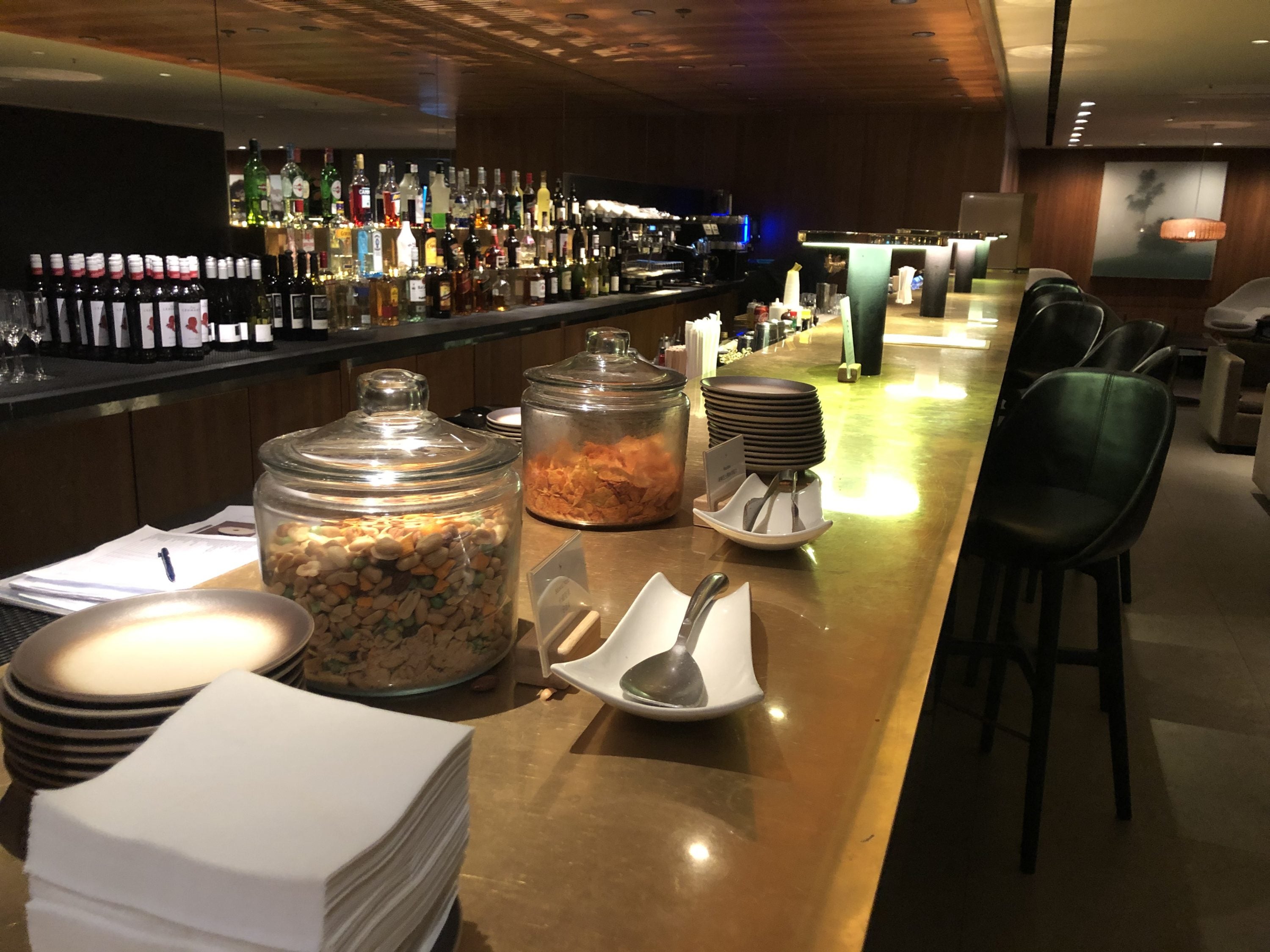 For those who prefer non-alcoholic beverages, the refrigerator section is located just beside the bar, which offers juices, soft drinks, and bottled water.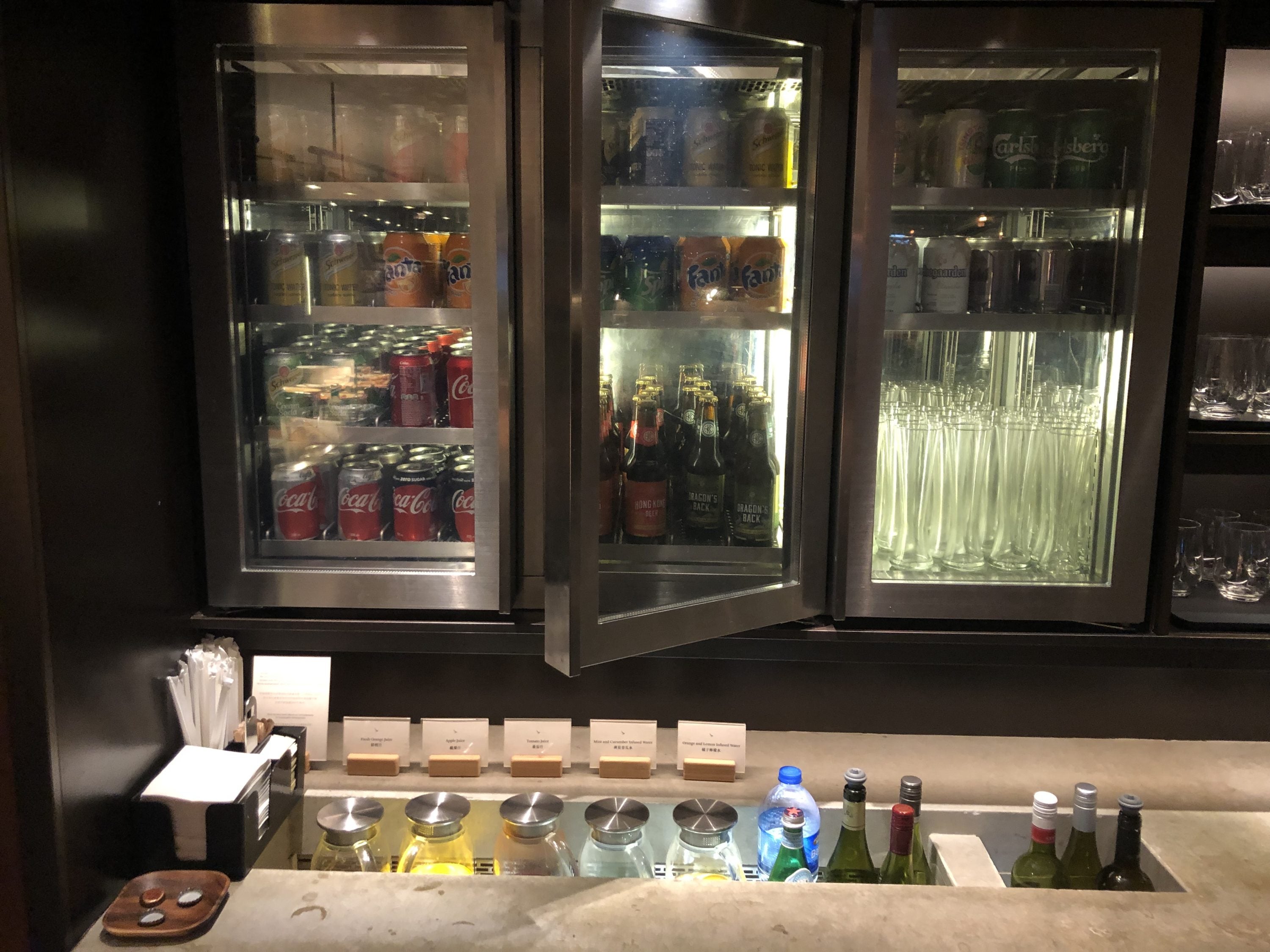 Also, there's a separate area with glasses and infused water.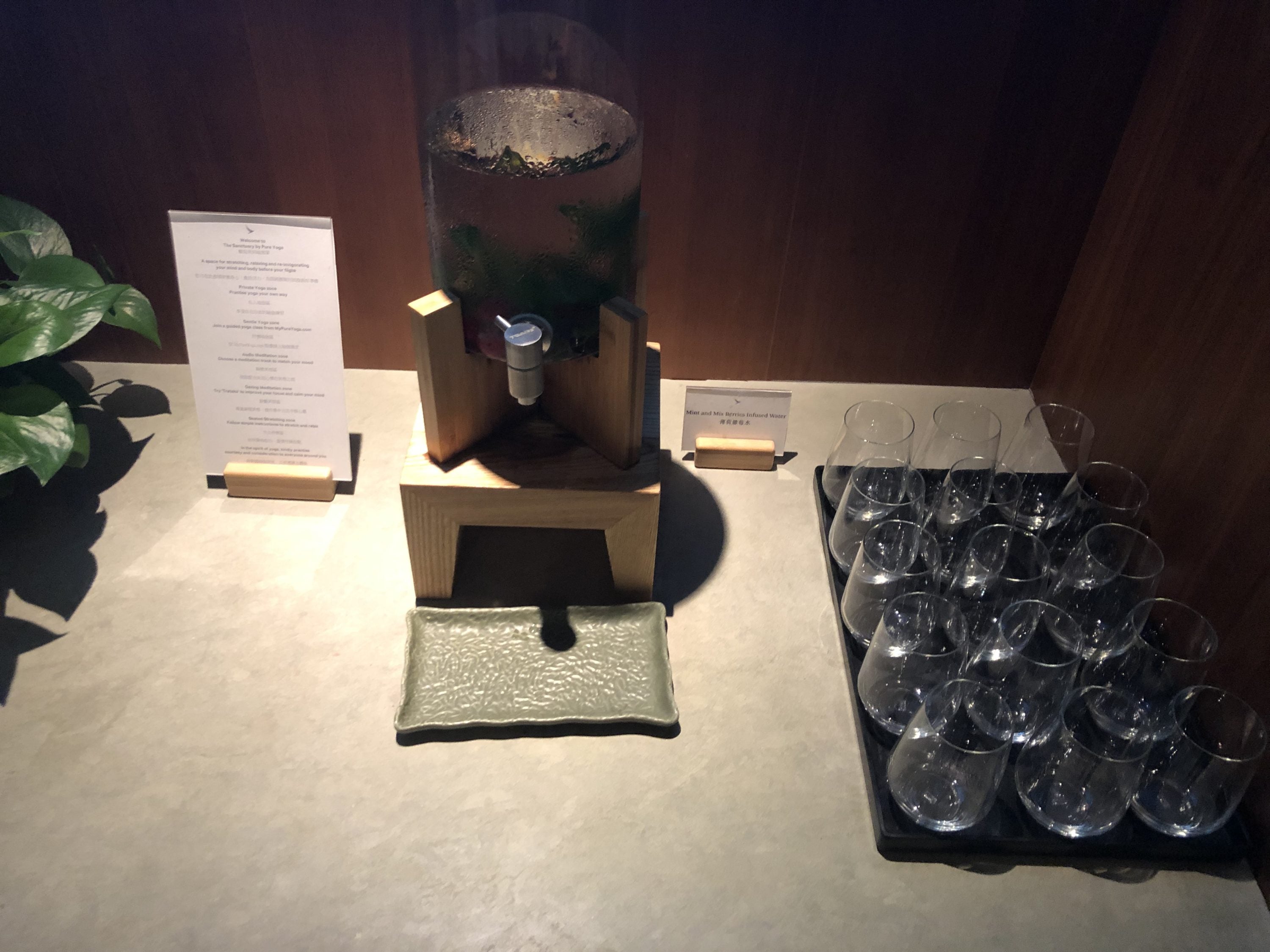 If you happen to be at the bar and want to sip on a coffee, there are two espresso machines available to automatically pour drinks such as lattes.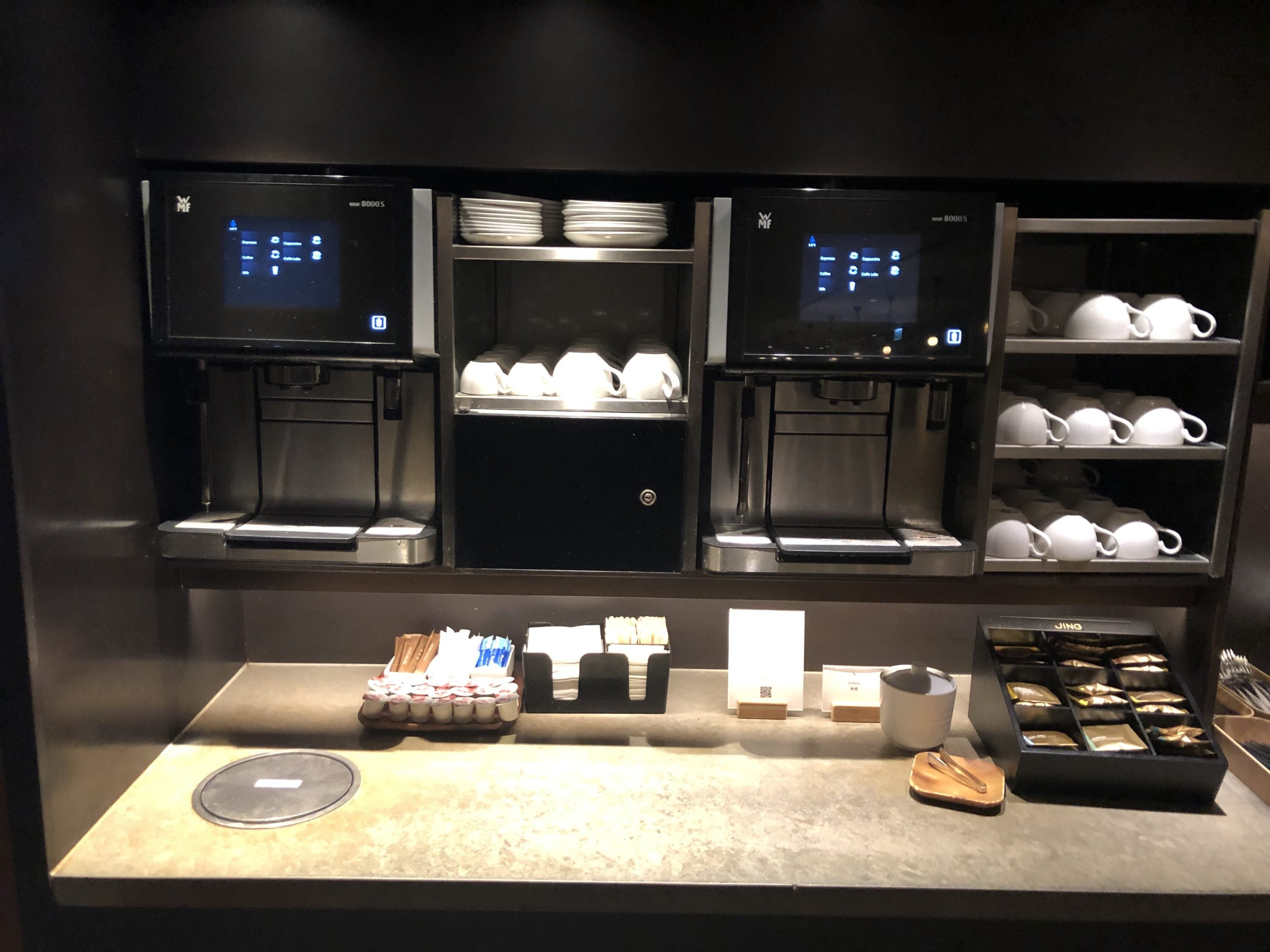 Bottom Line: The food and drink selection at The Pier, Business is seemingly endless. From high-quality teas to fresh pizza to a made-to-order noodle bar, this was probably one of the most comprehensive arrangements in the world in terms of variety. The Pier, Business truly designed each area superbly to accommodate different styles and dietary preferences. 
Amenities
One thing I was looking forward to at The Pier, Business most was the wellness focus.
The Sanctuary by Pure Yoga
The Sanctuary by Pure Yoga is a 700 square foot area that is dedicated to stretching, relaxing, and rejuvenating the mind, body, and soul. It opened in late January 2019 and was designed in partnership with The Pure Group.
There are 2 main areas within the Sanctuary:
The Body Sanctuary (yoga and seated stretching)
The Mind Sanctuary (audio and gazing meditation)
To find it, take a right after the check-in counter instead of a left.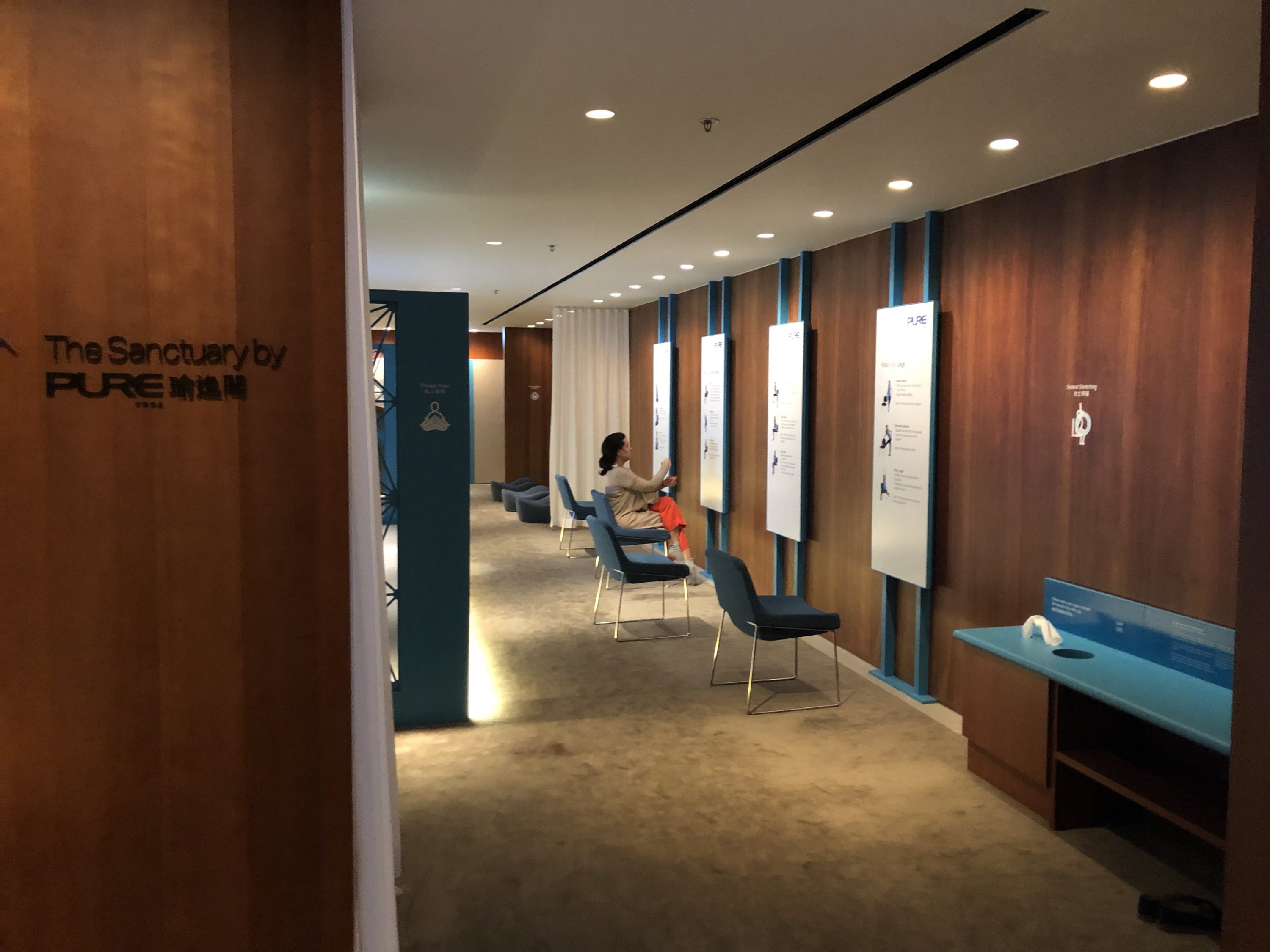 The first thing you'll see is a blue table, which contains cleansing wipes, hand towels, and a storage area for shoes or your pocket items. To the left of this, you'll see 4 chairs, each with a large poster in front.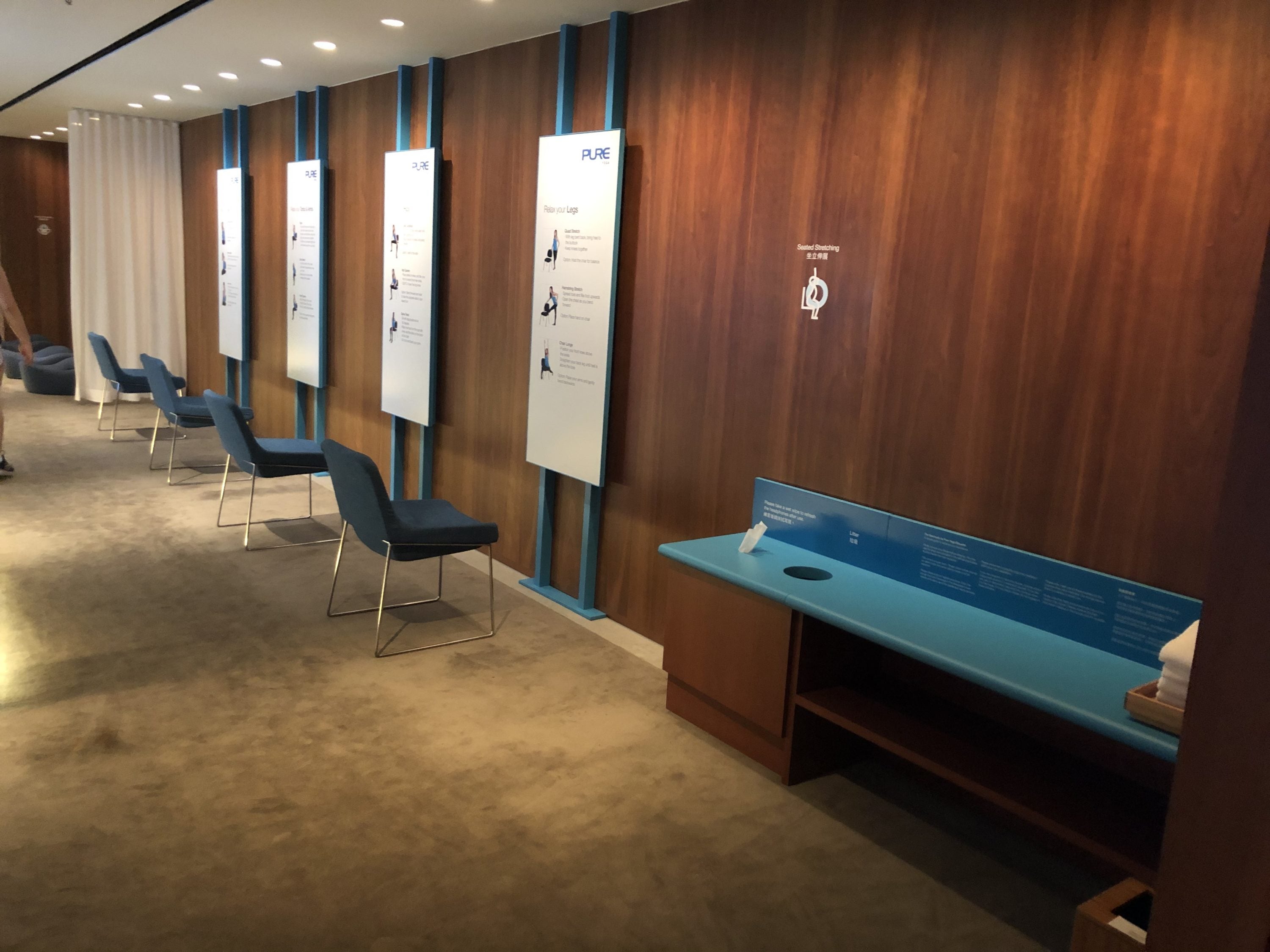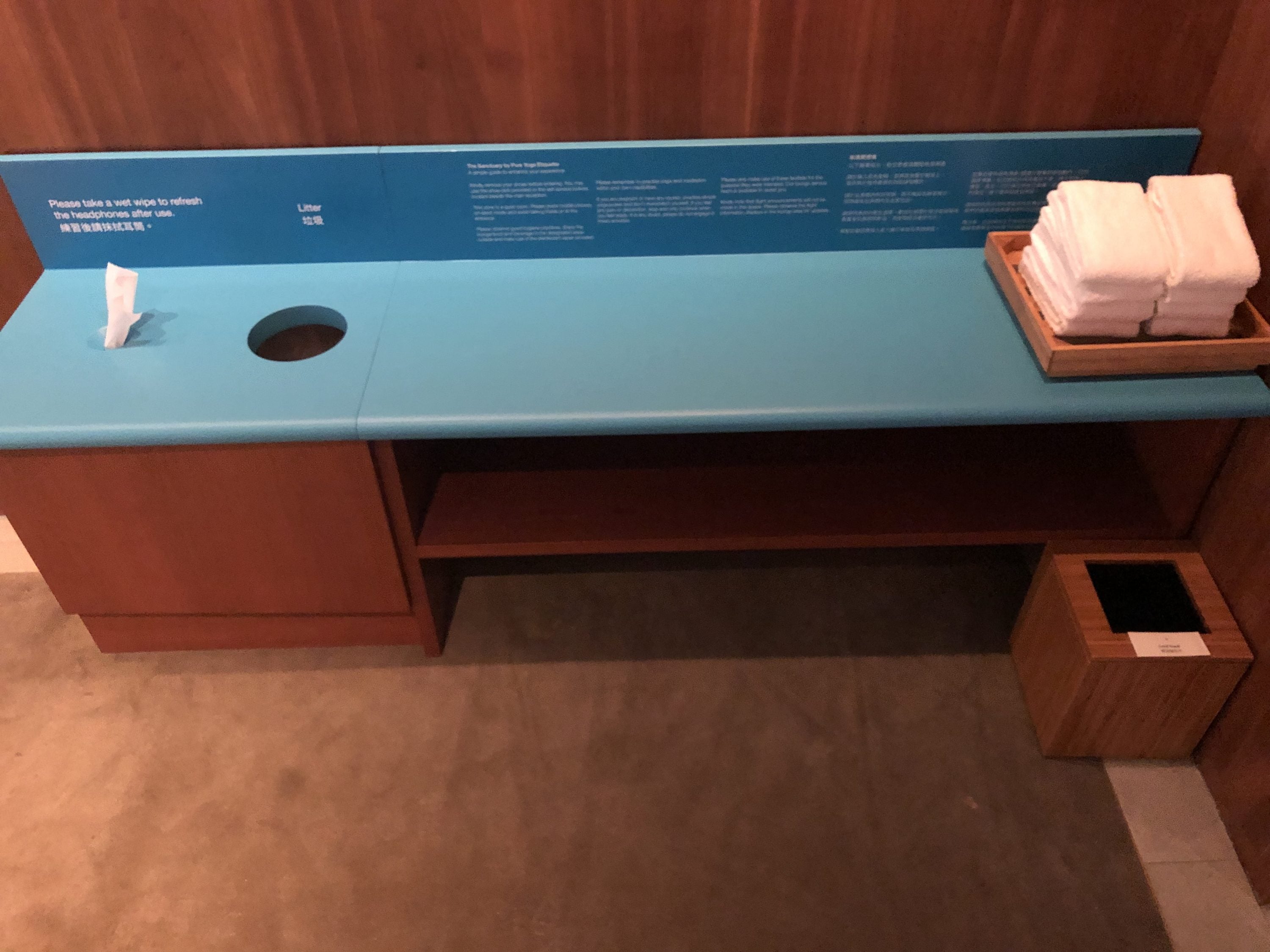 This is the seated stretching area, and the chairs overlook directions on stretching different parts of your body.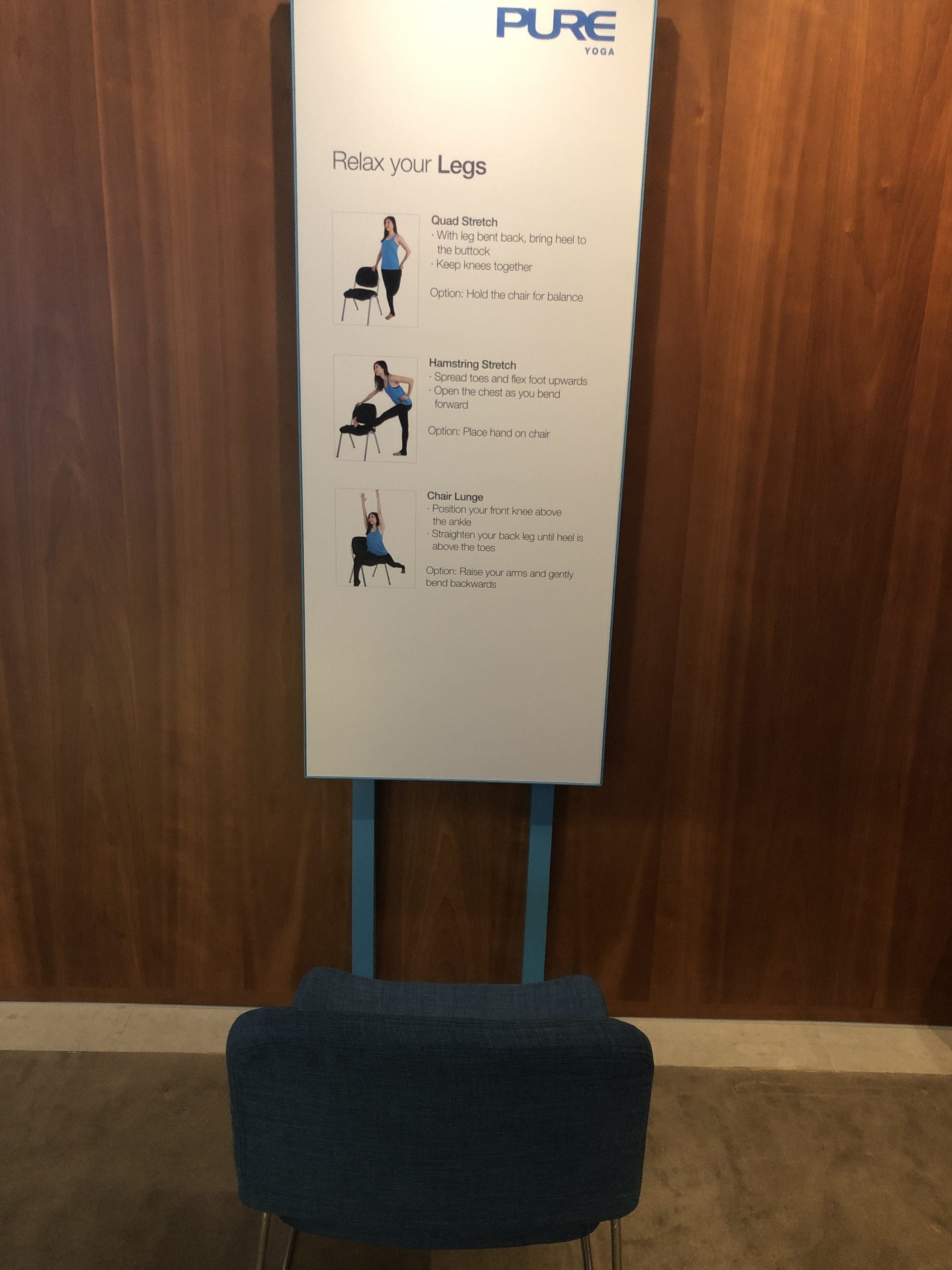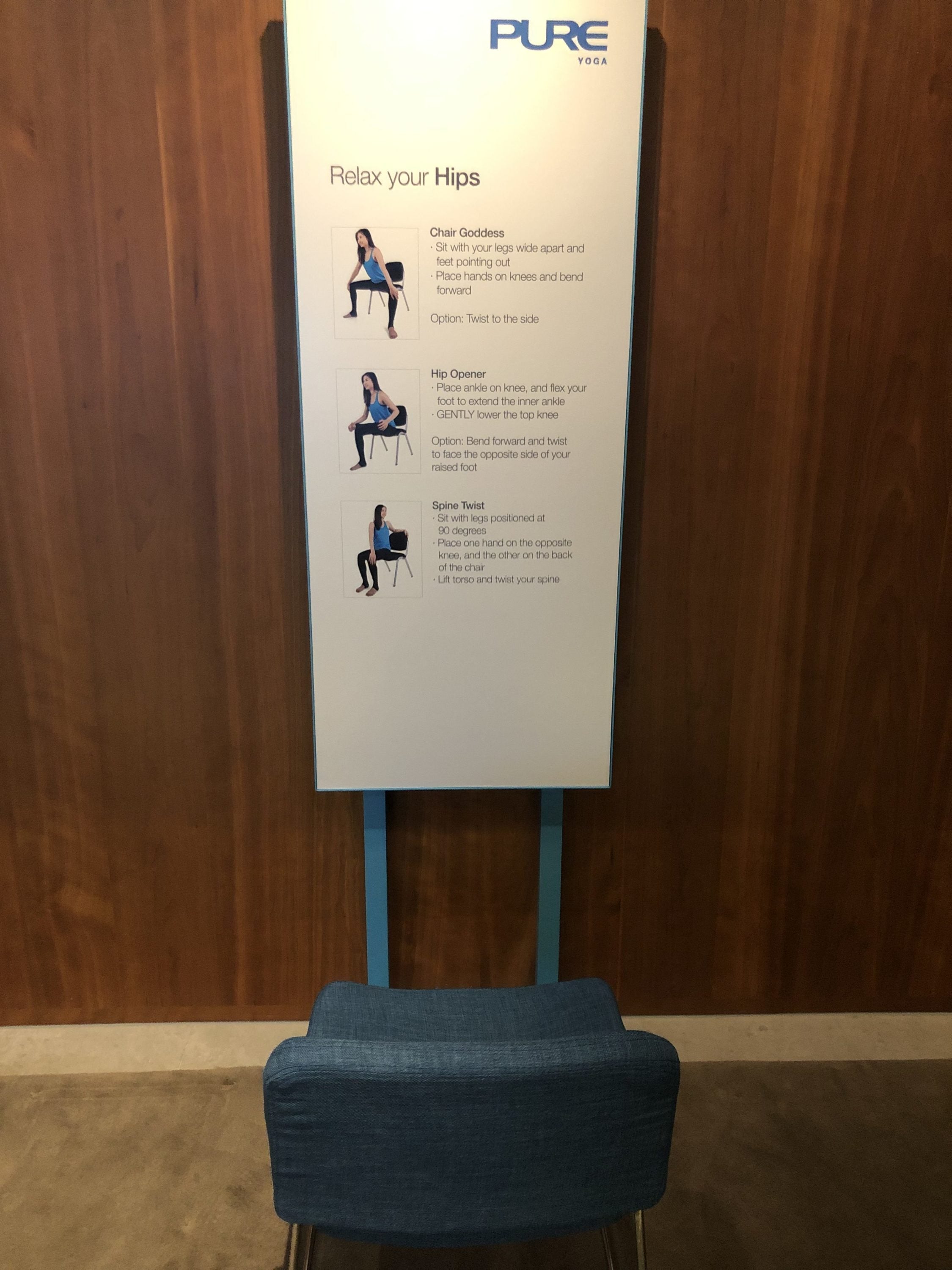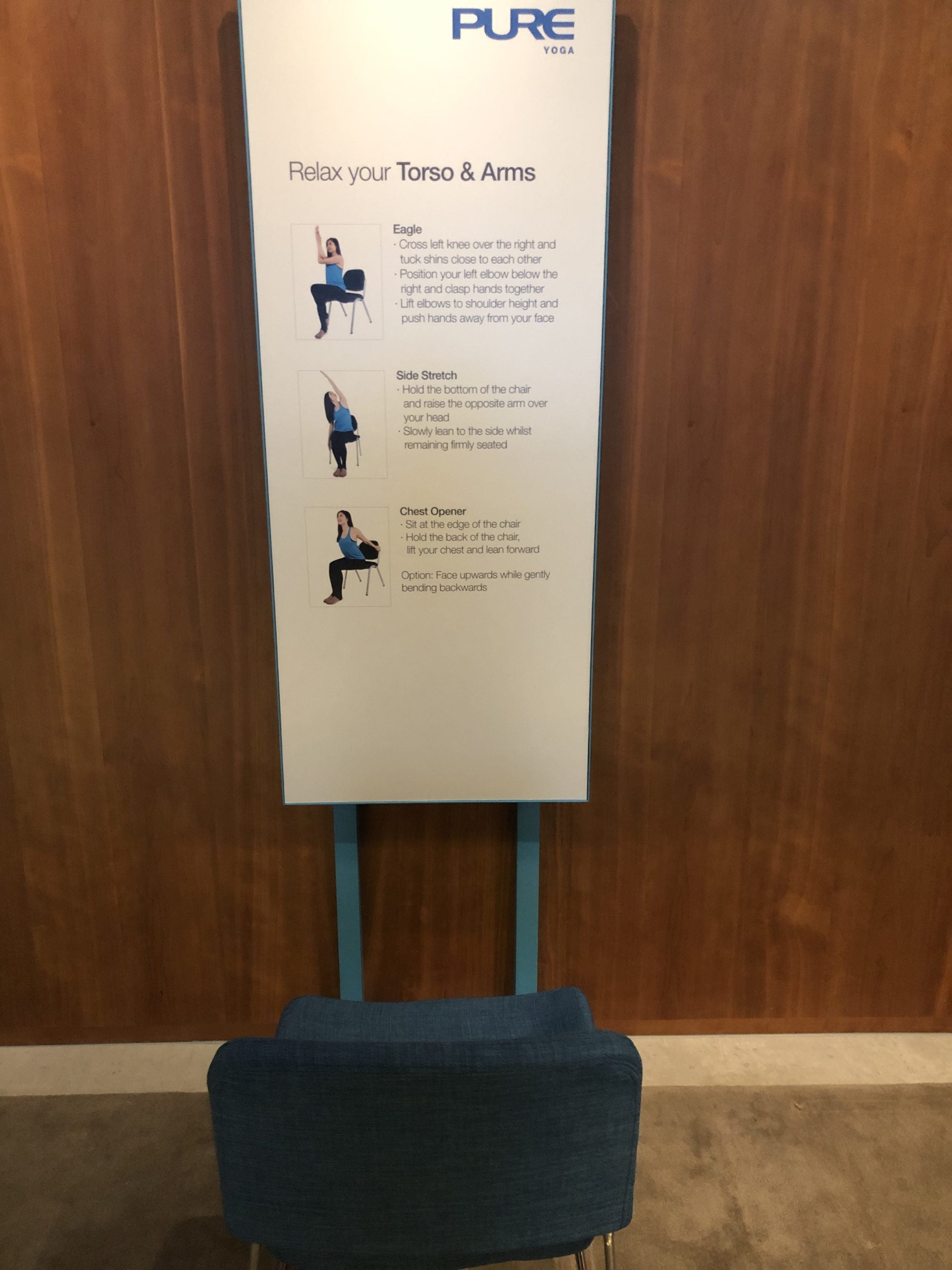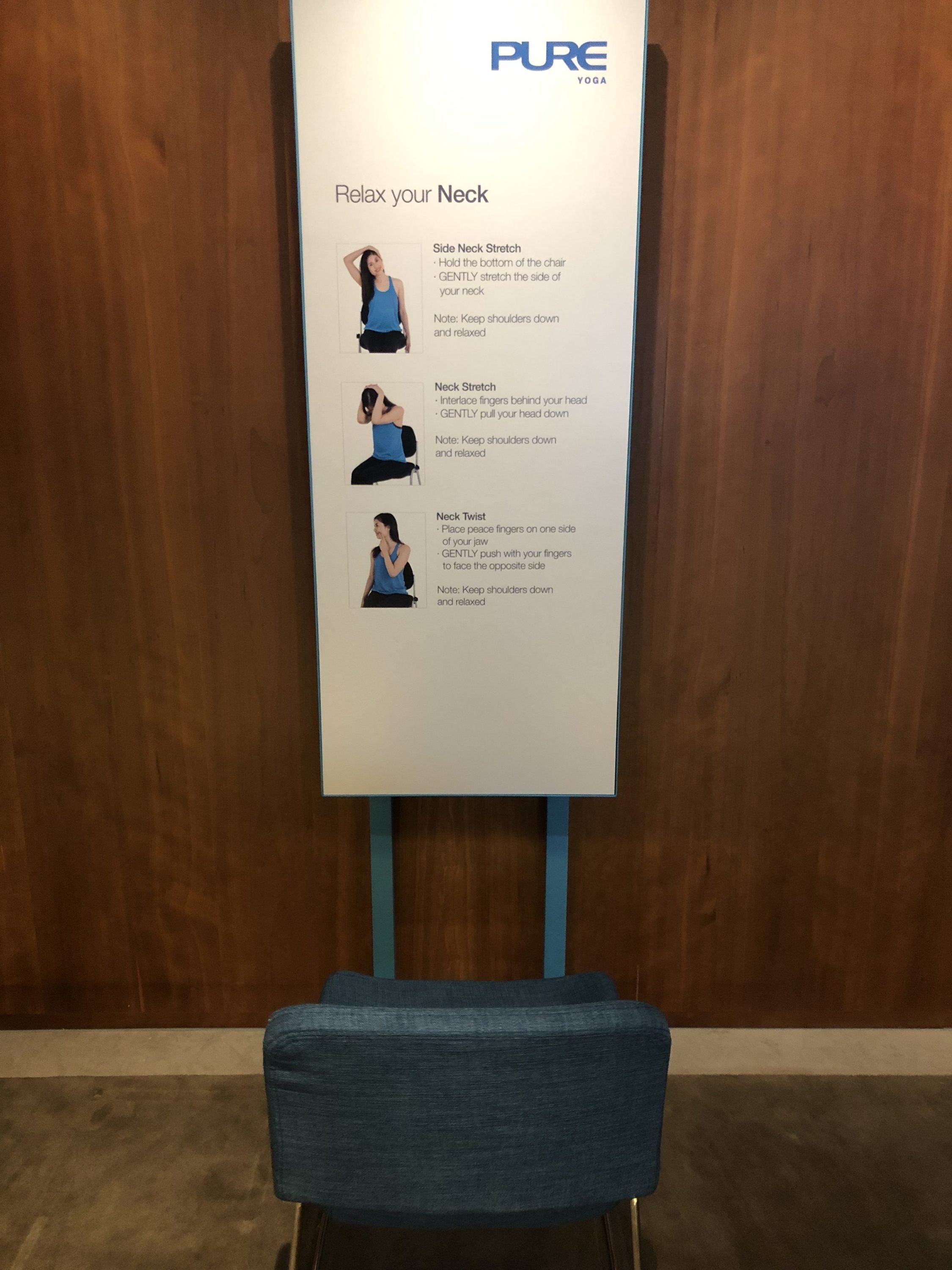 The next section of the Body Sanctuary has a large television monitor with guided videos for self-practice. In total, there are 5 yoga mats laid out in front of the television.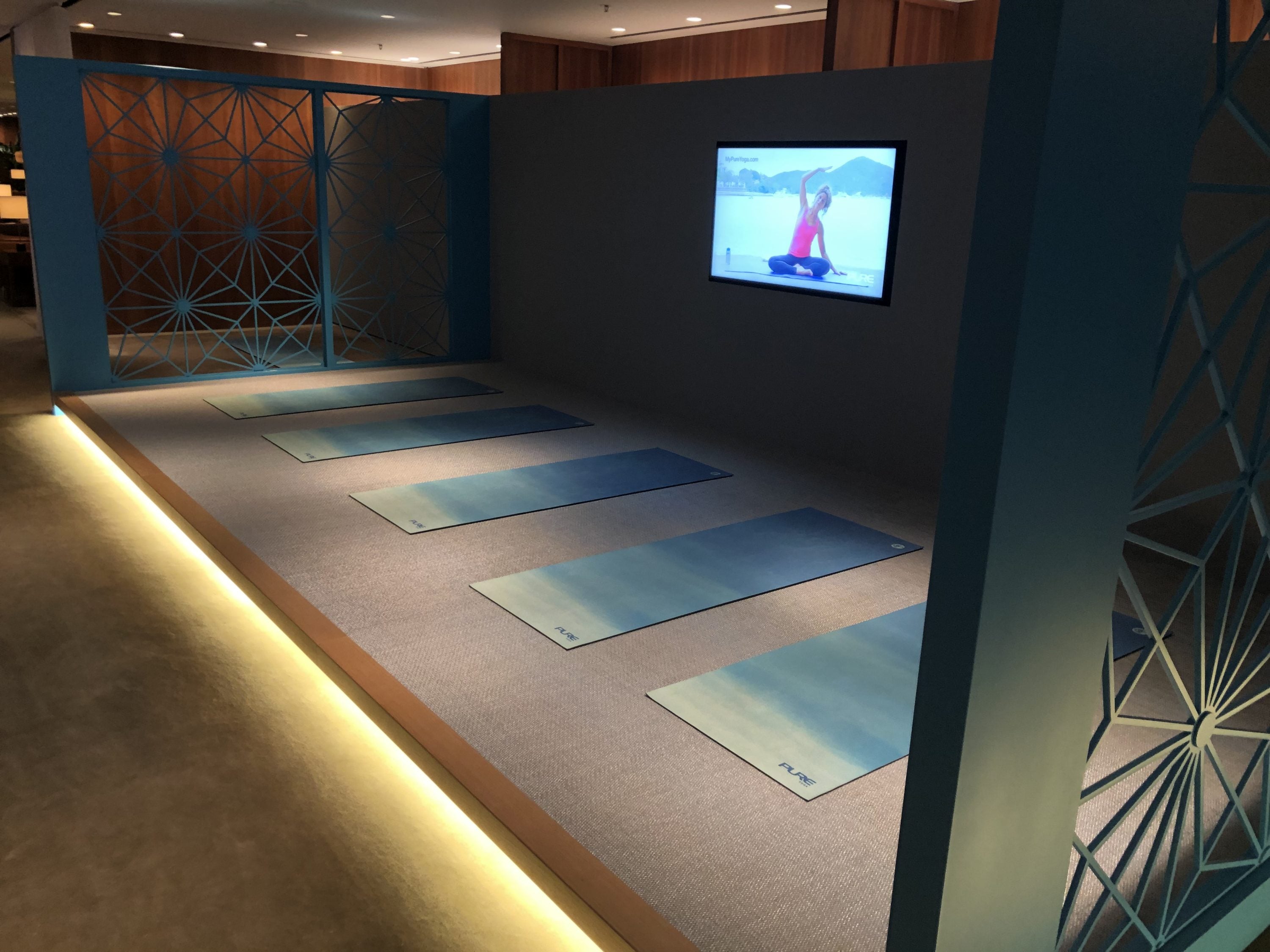 If private practice is more your style, there's a separate section with a curtain for extra peace.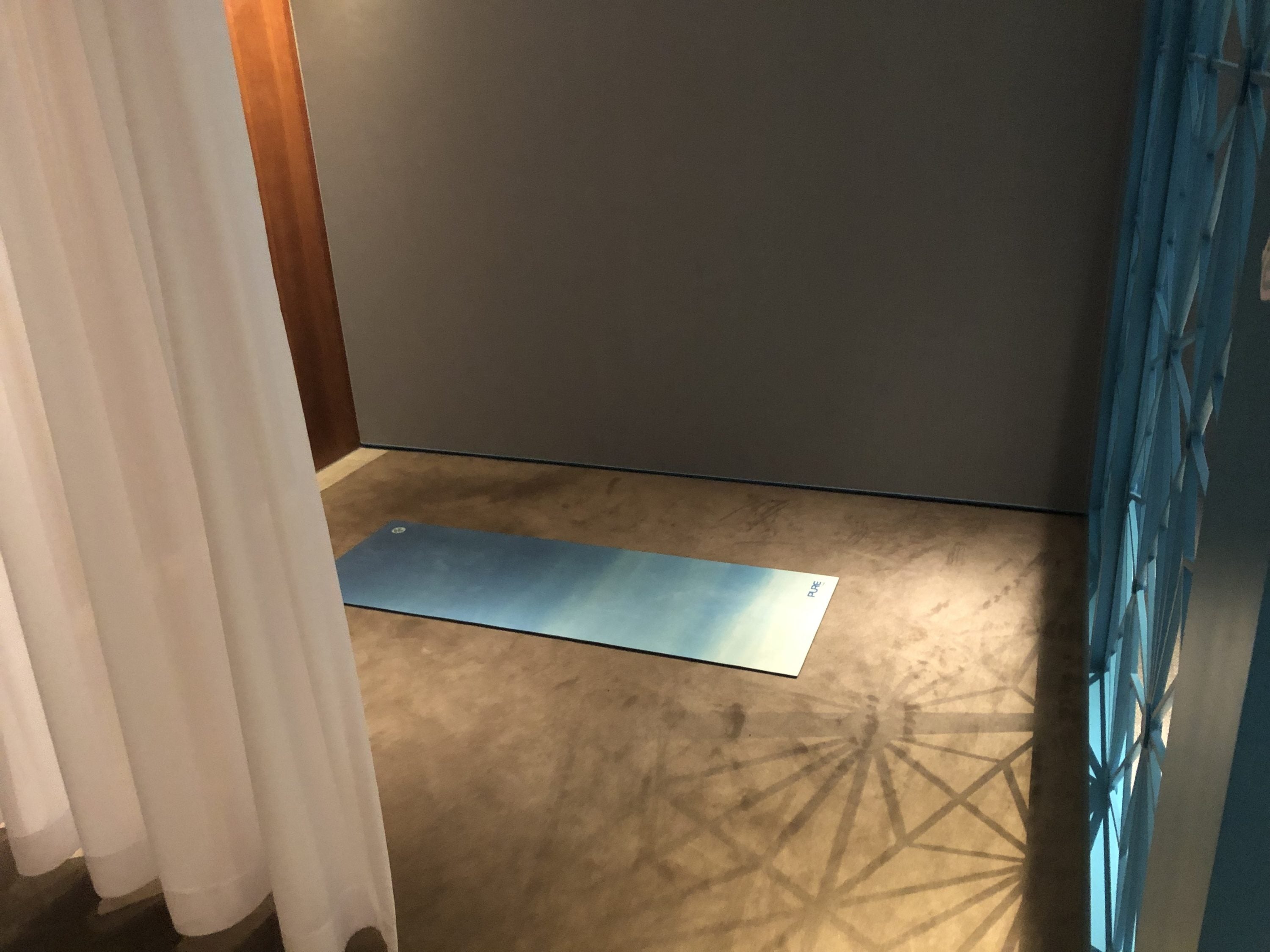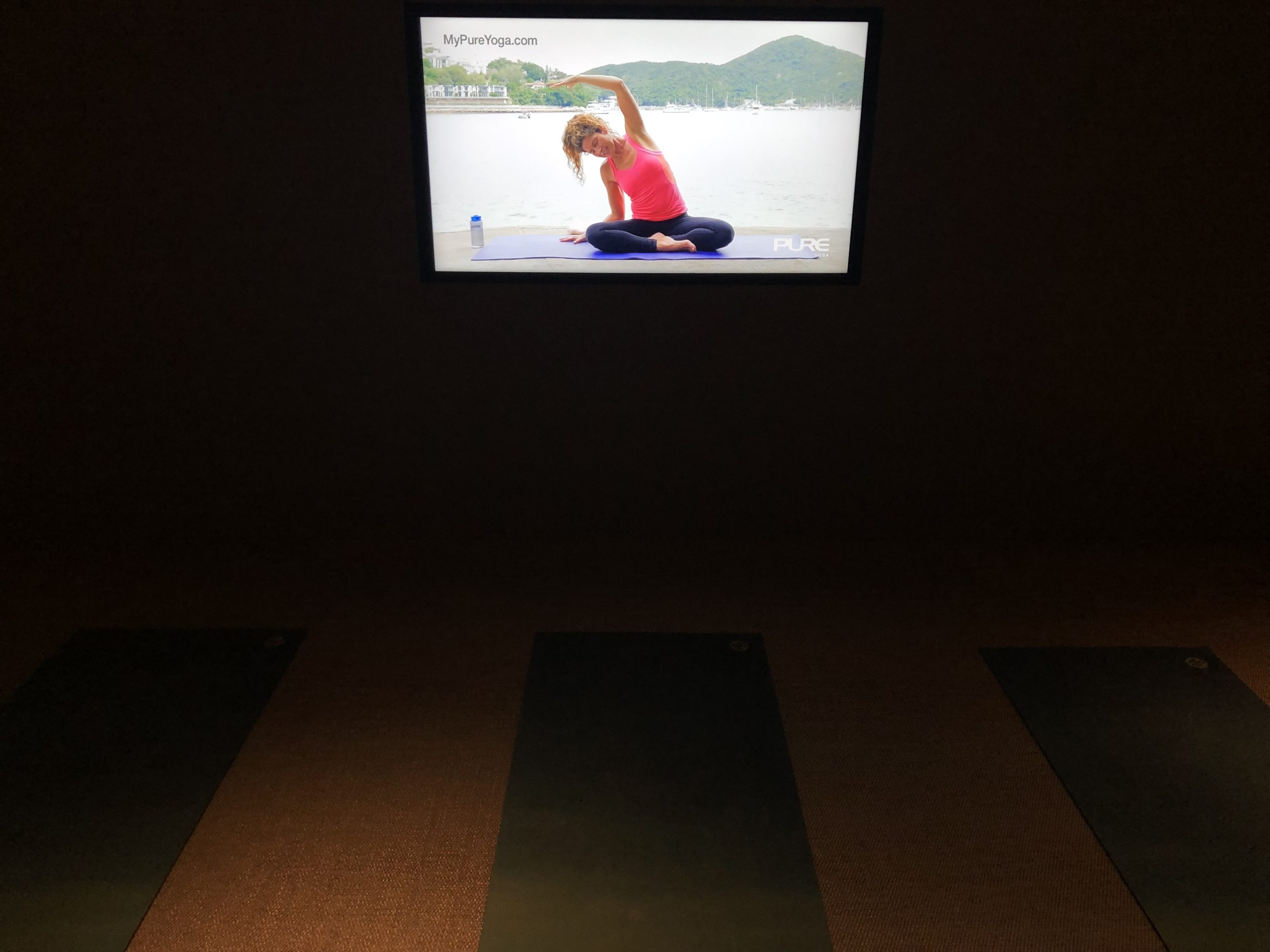 The Mind Sanctuary contains a gazing meditation and audio meditation area.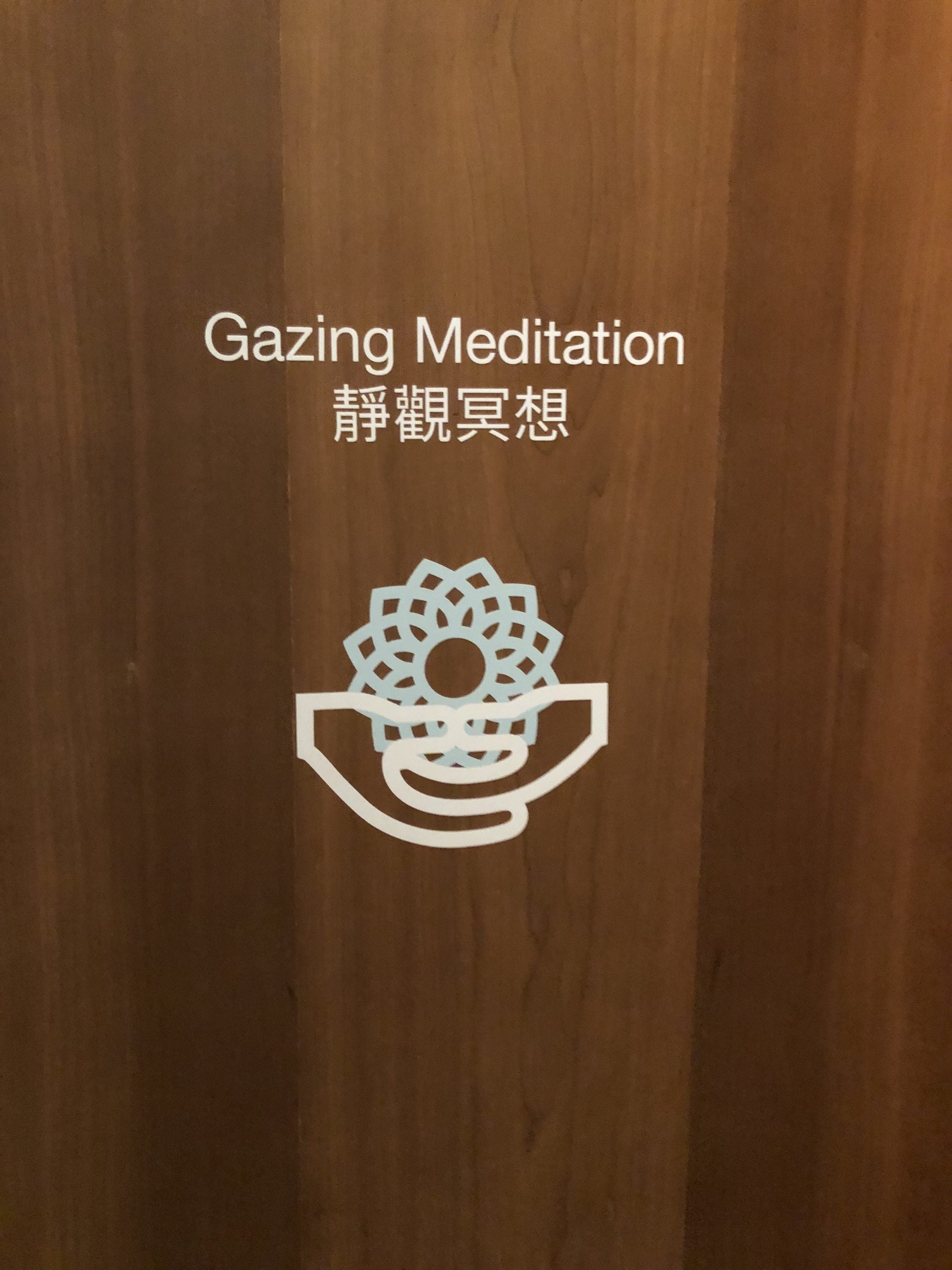 Each of the 3 cushions has graphics that facilitate Trataka yoga.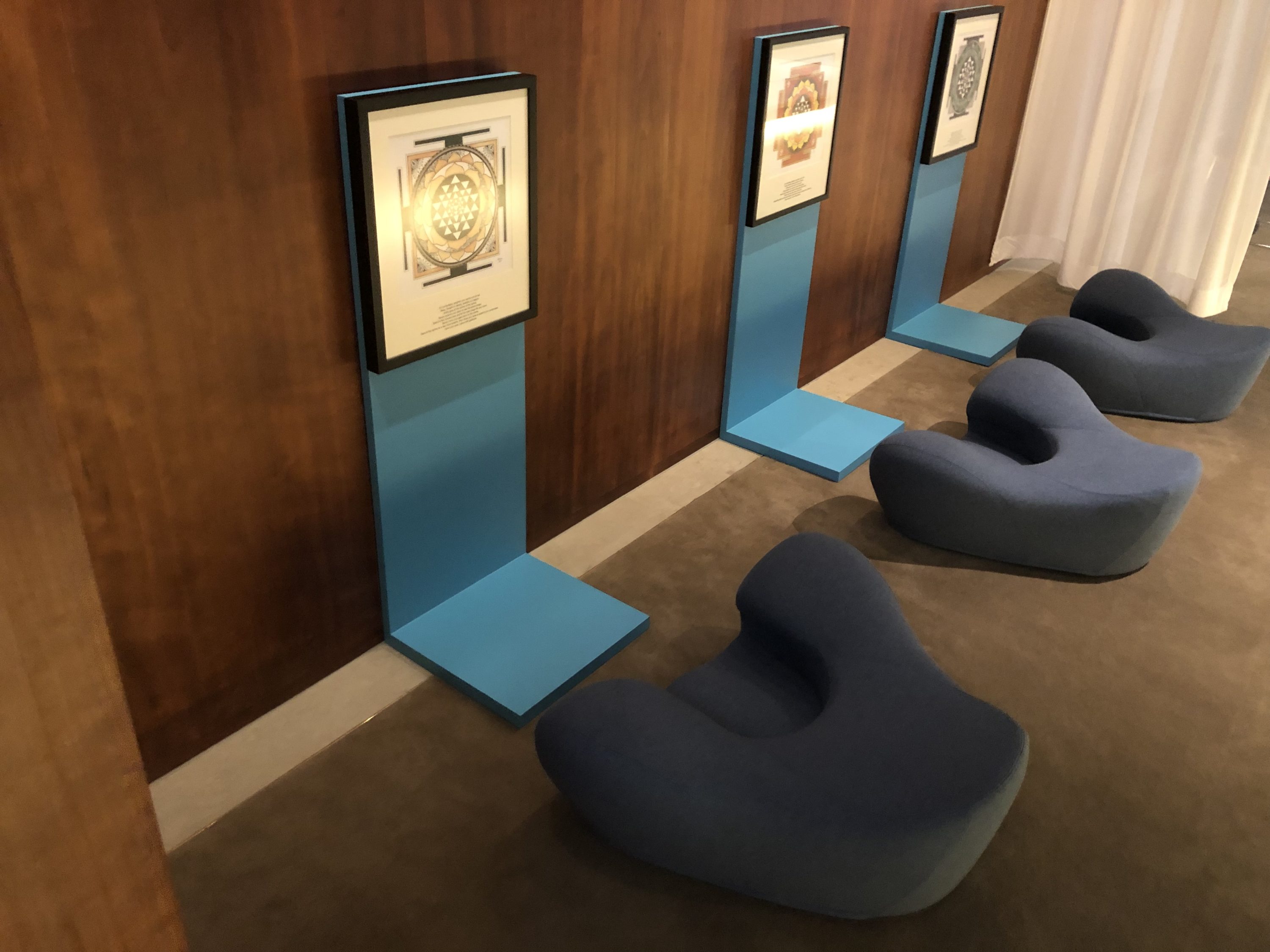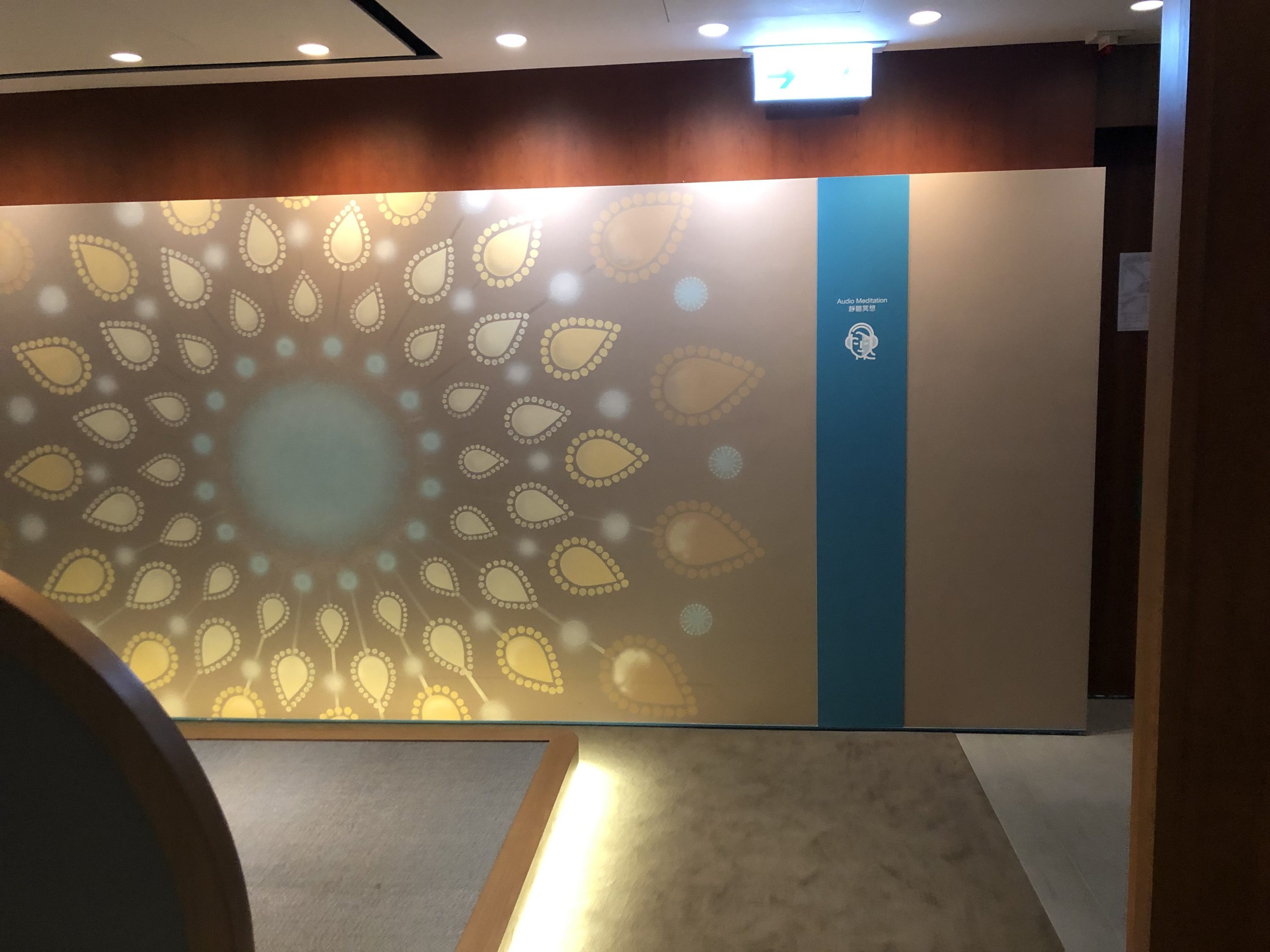 Each of the 4 pods contains noise-canceling headphones and iPads that you can use to listen to guided meditation sessions from Pure Yoga.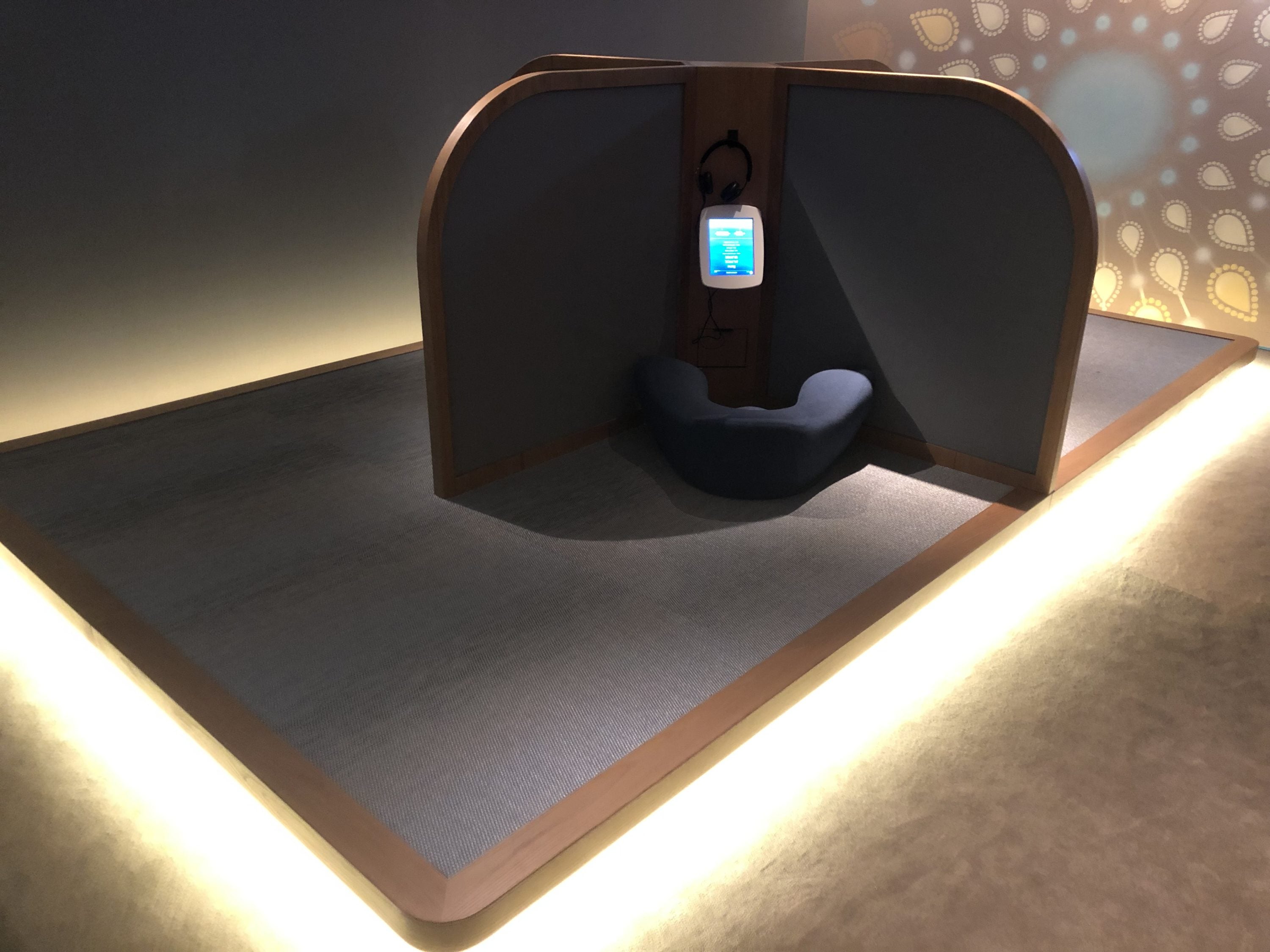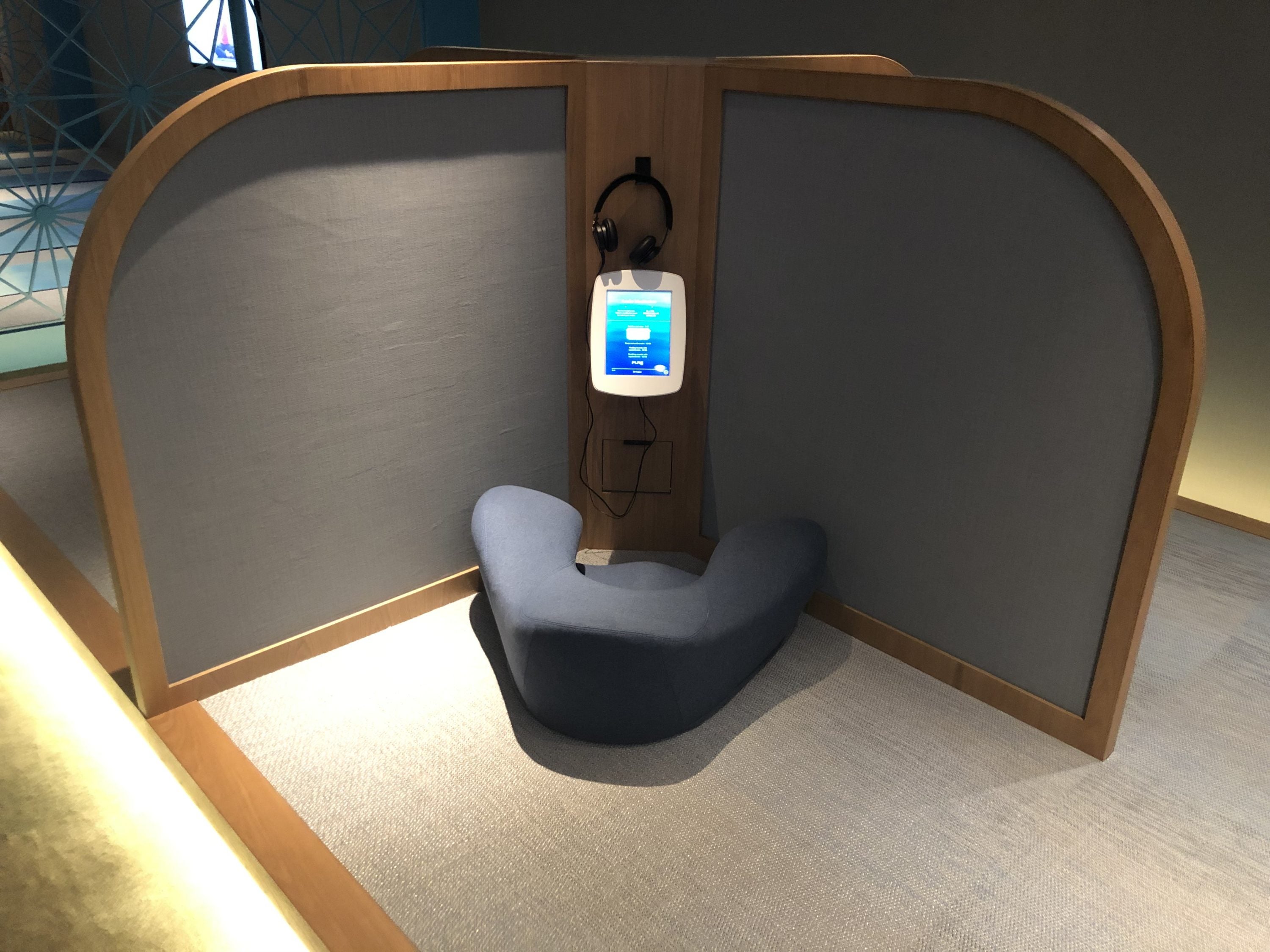 I was able to get 20 minutes of yoga in before heading to my flight.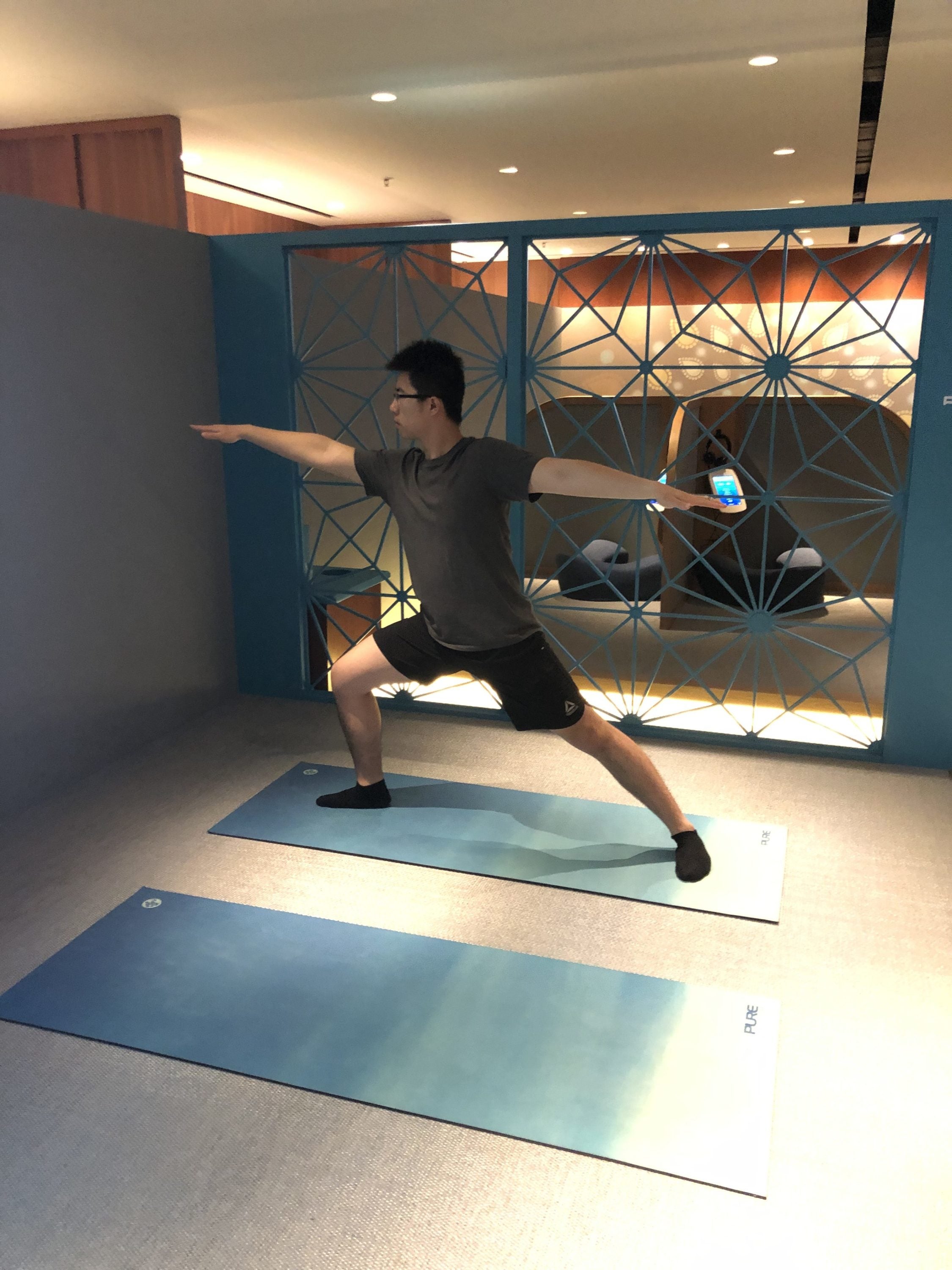 Shower Suites
The shower suites in The Pier, Business are plentiful. There are a total of 14 shower suites, each with premium Aēsop amenities. There's a staff member always waiting at the front desk to assist travelers.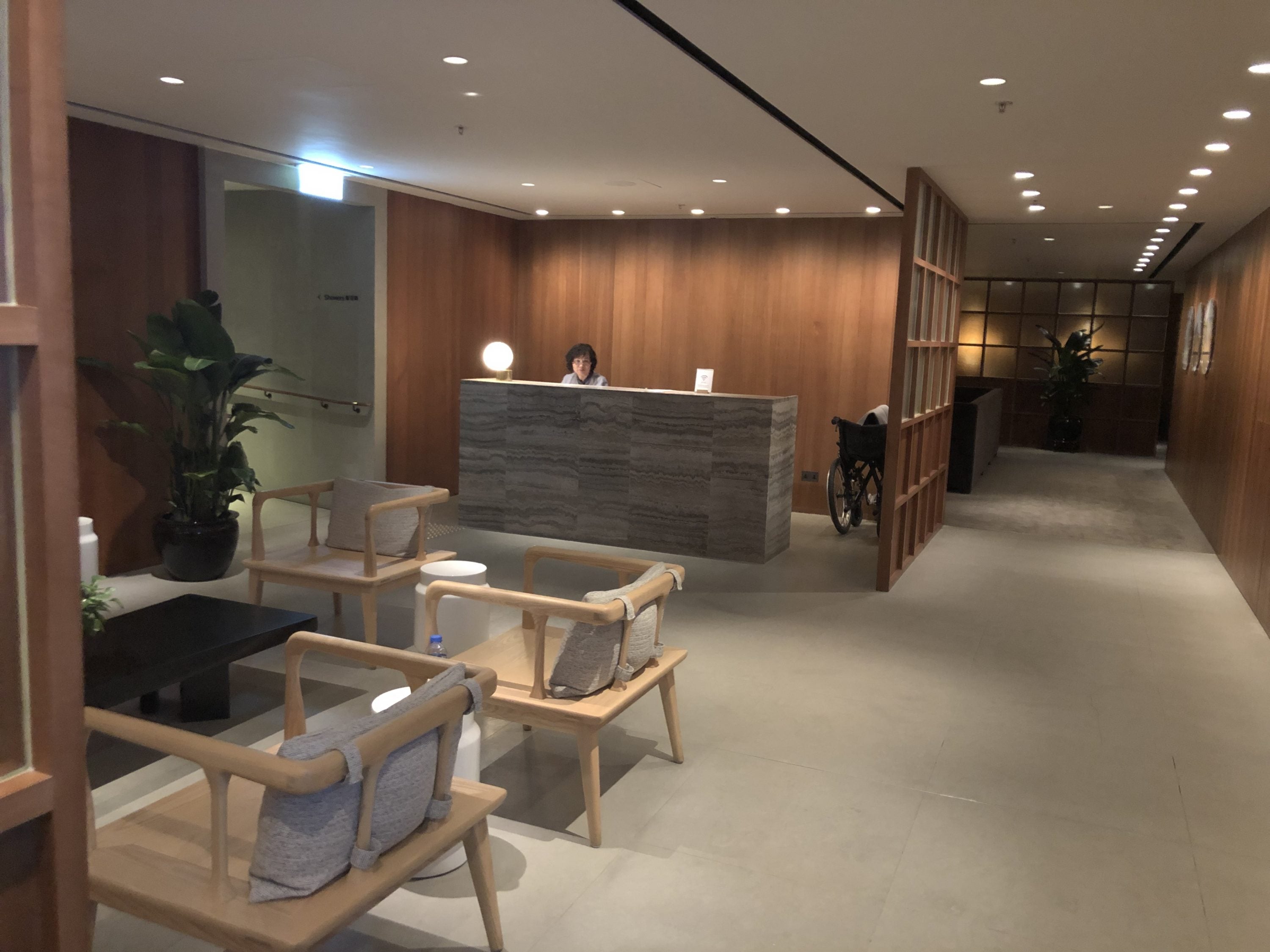 The waiting room is spacious and comfortable, too!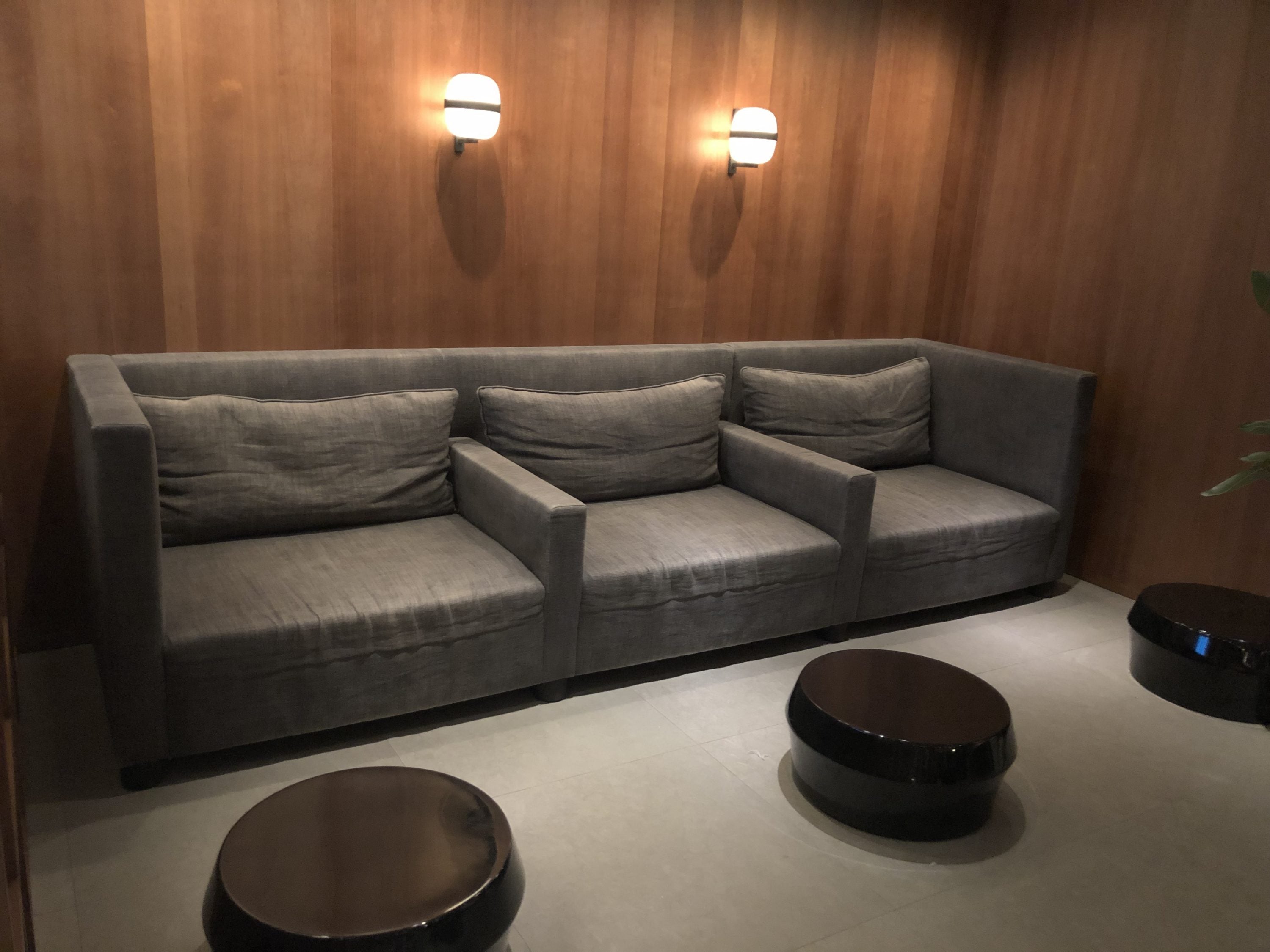 I was able to use a shower suite right away, and I immediately noticed the interior design. Next to the door were power outlets, a hair dryer, and a bench.
The sink, though petite, was filled with tons of amenities.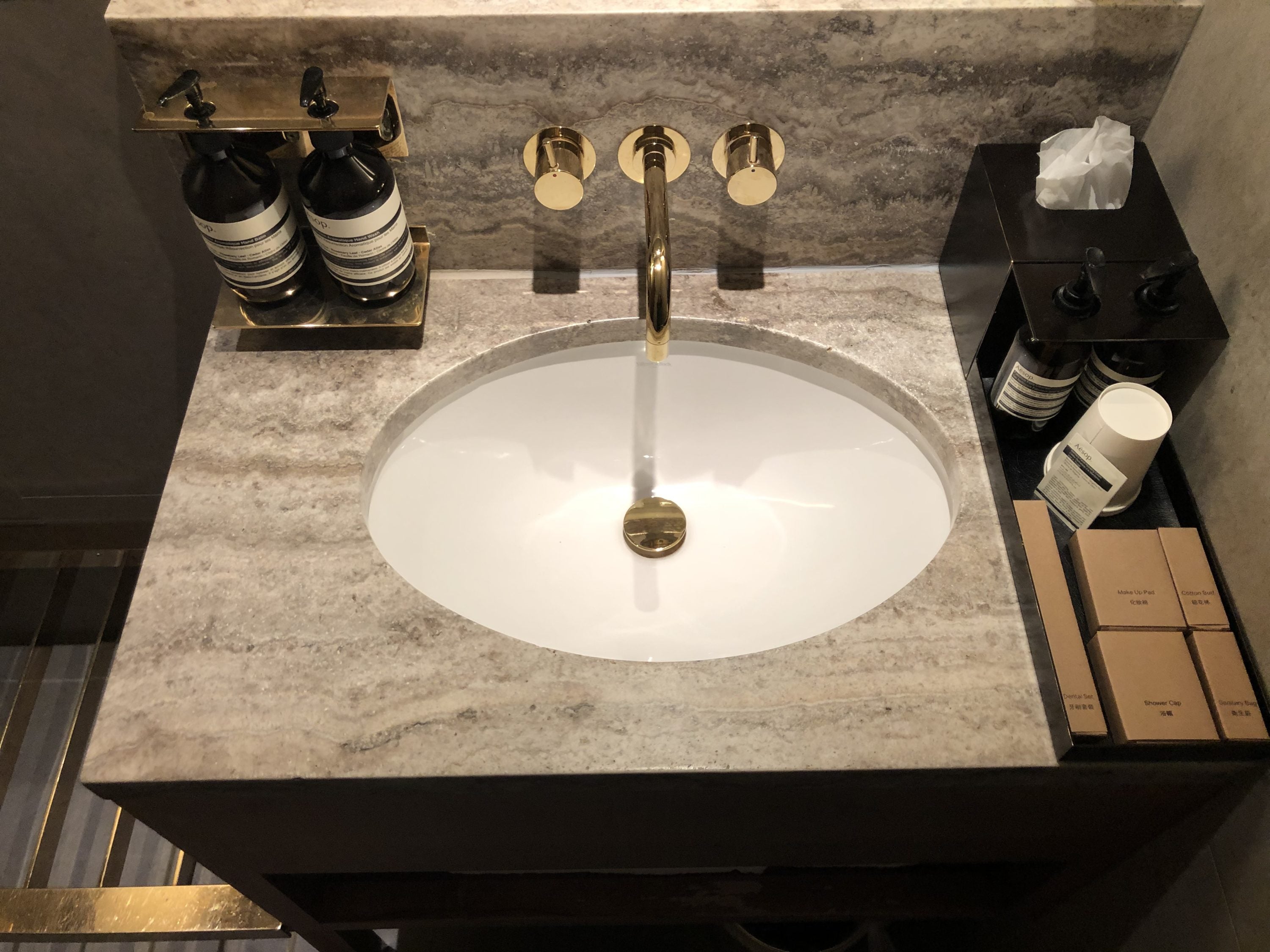 Some toiletries included a shower cap, sanitary bag, cotton buds, makeup pads, Aēsop facial hydrating cream, and dental kit.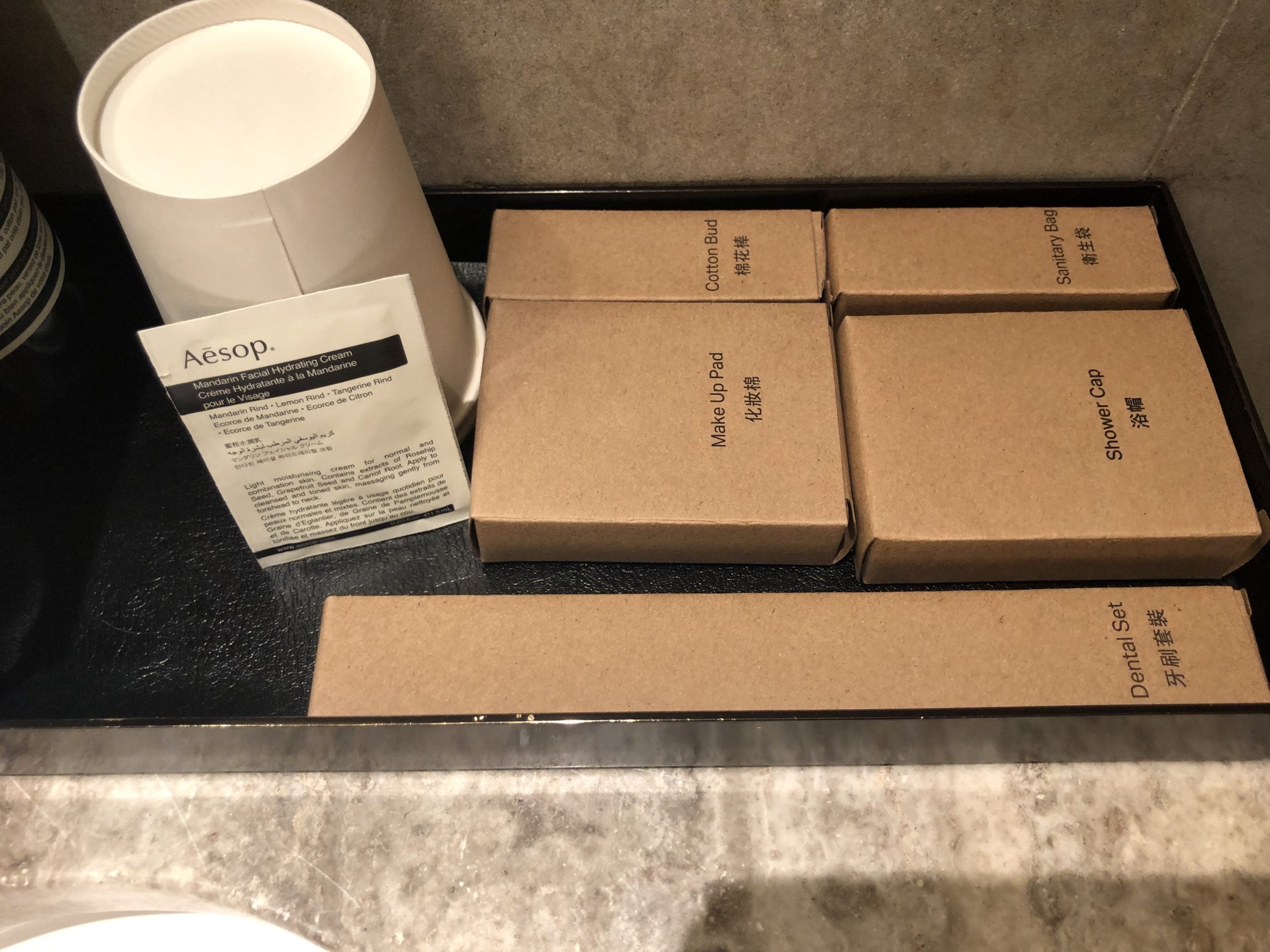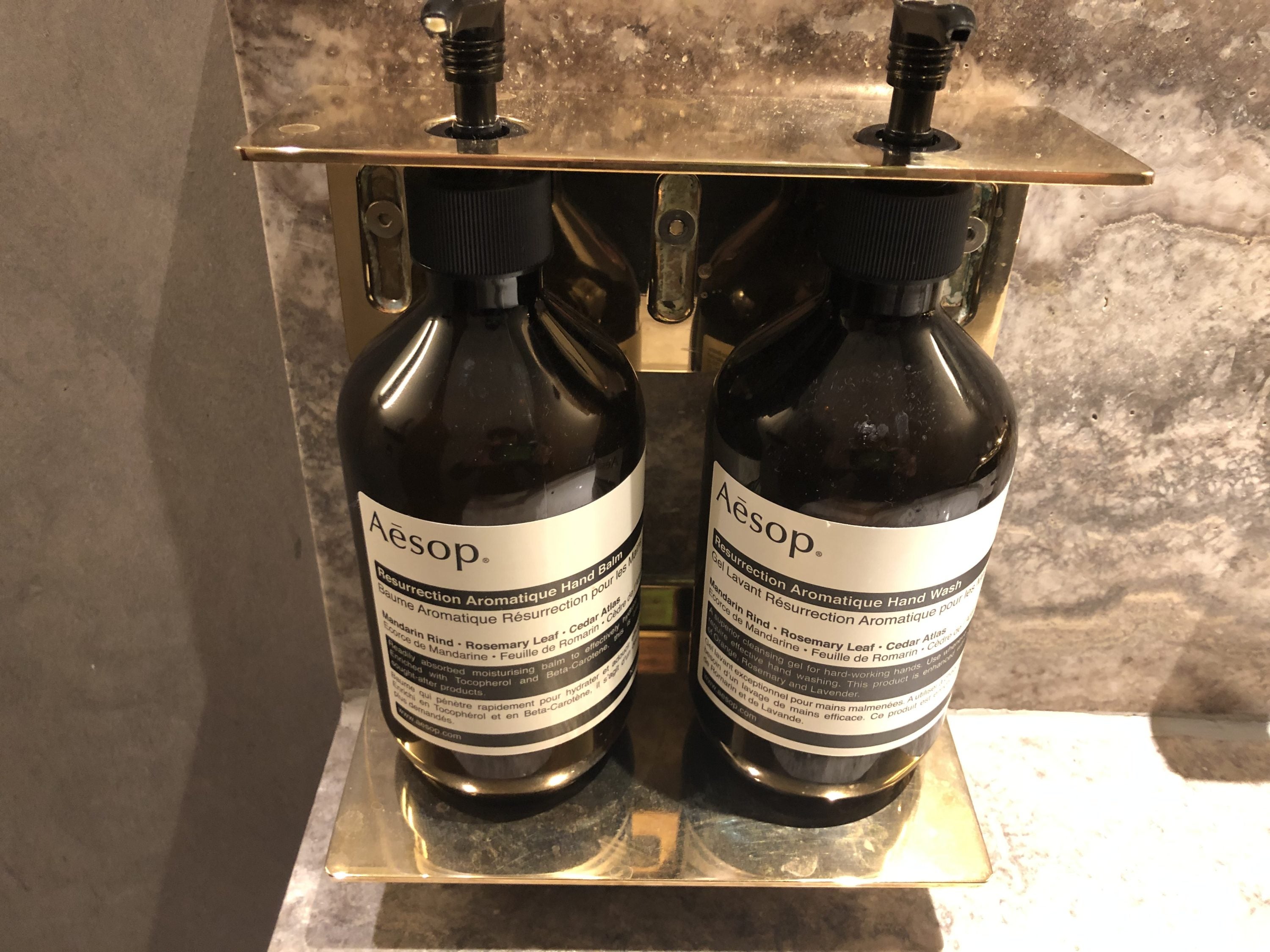 The toilet was located inside the suite and next to the showers.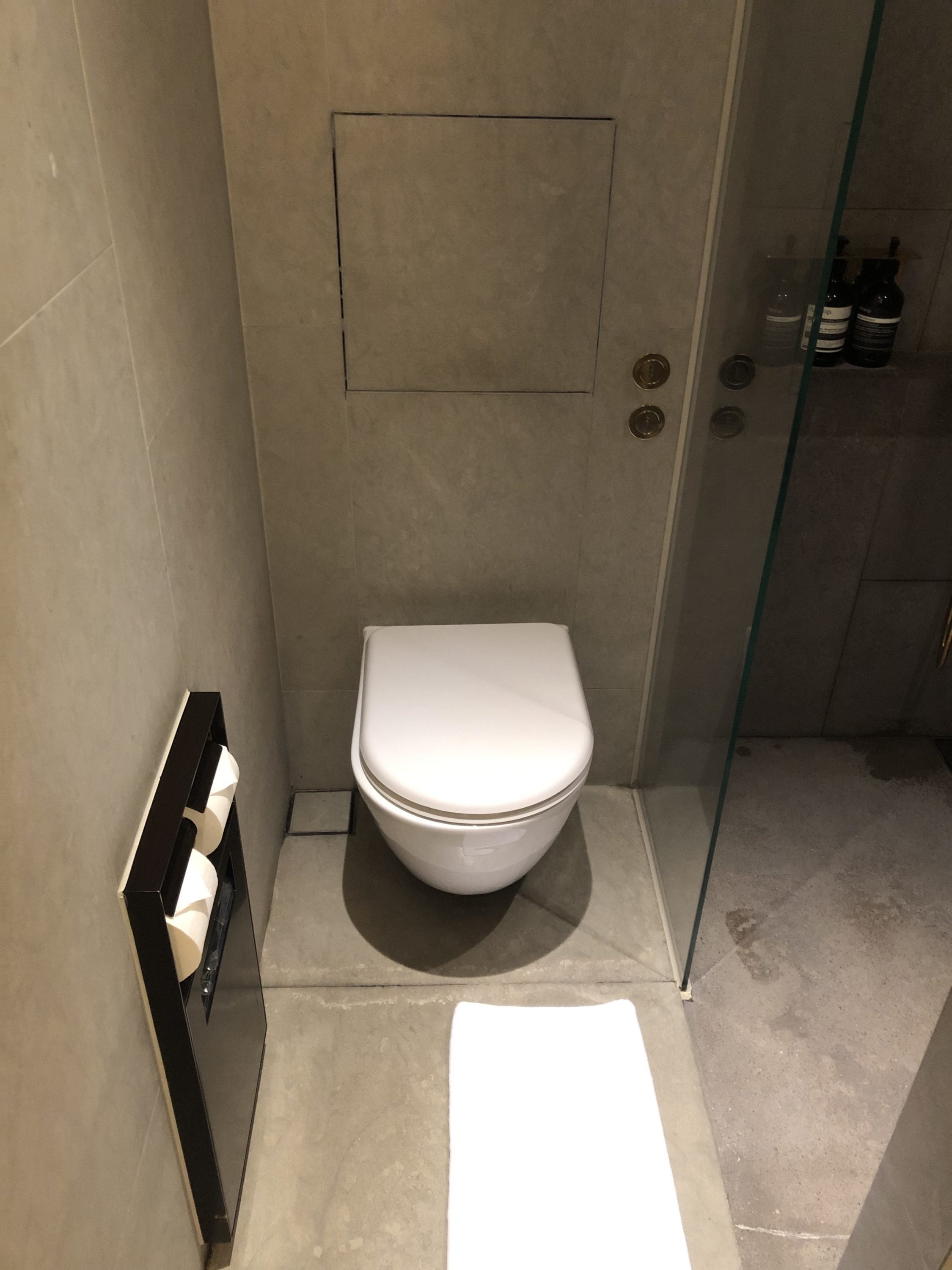 A functional rain shower head and handheld shower head were available.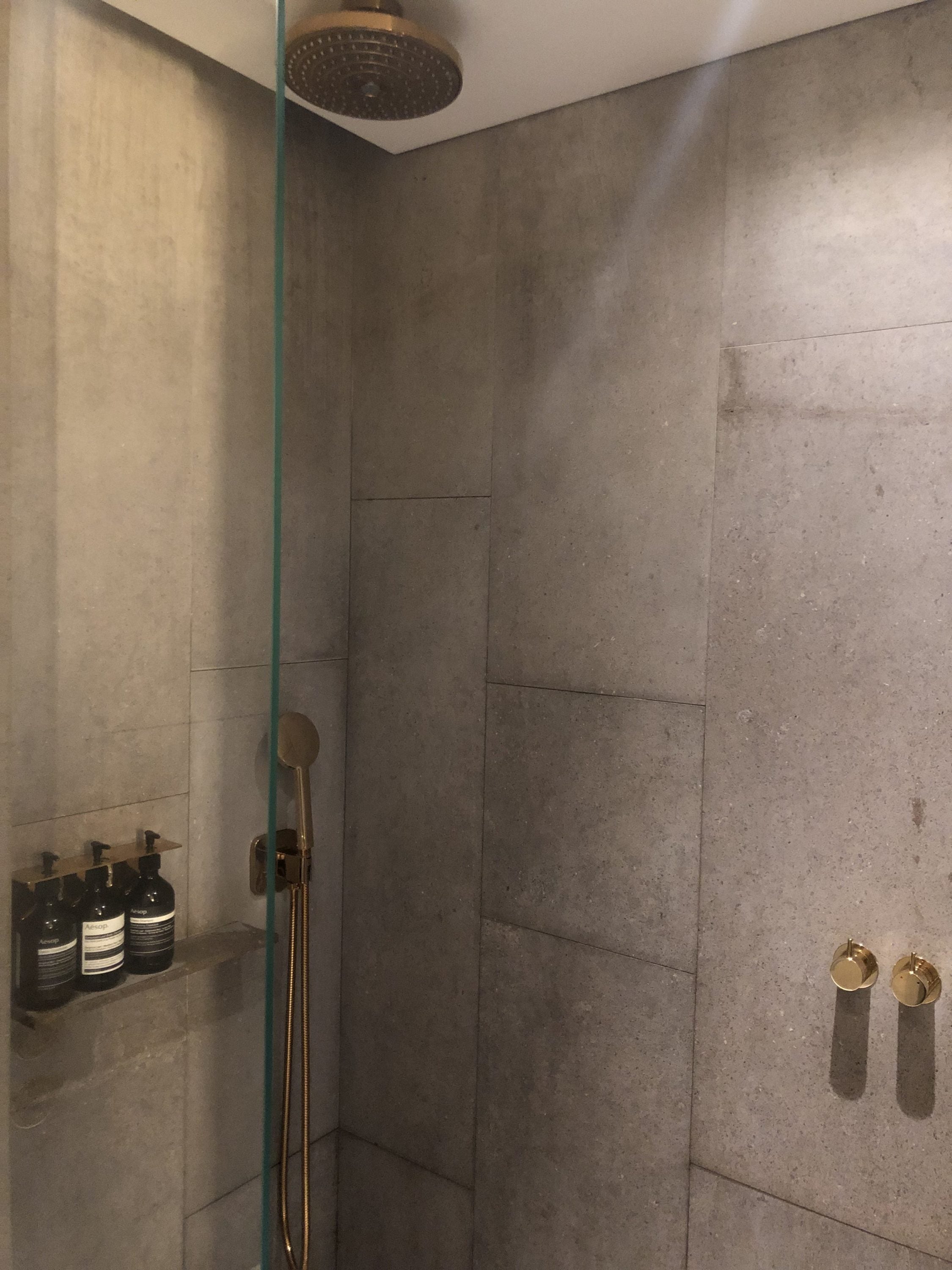 The shower suite within The Pier, Business was tremendous, exceeding expectations for a business class lounge. The sheer number of suites is perfect for the high passenger volume going in and out of the lounge on a daily basis.
Relaxation Room
Passengers need a place to relax, especially if they're coming from a long or red-eye flight. That's what the Pier, Business' Relaxation Room is for.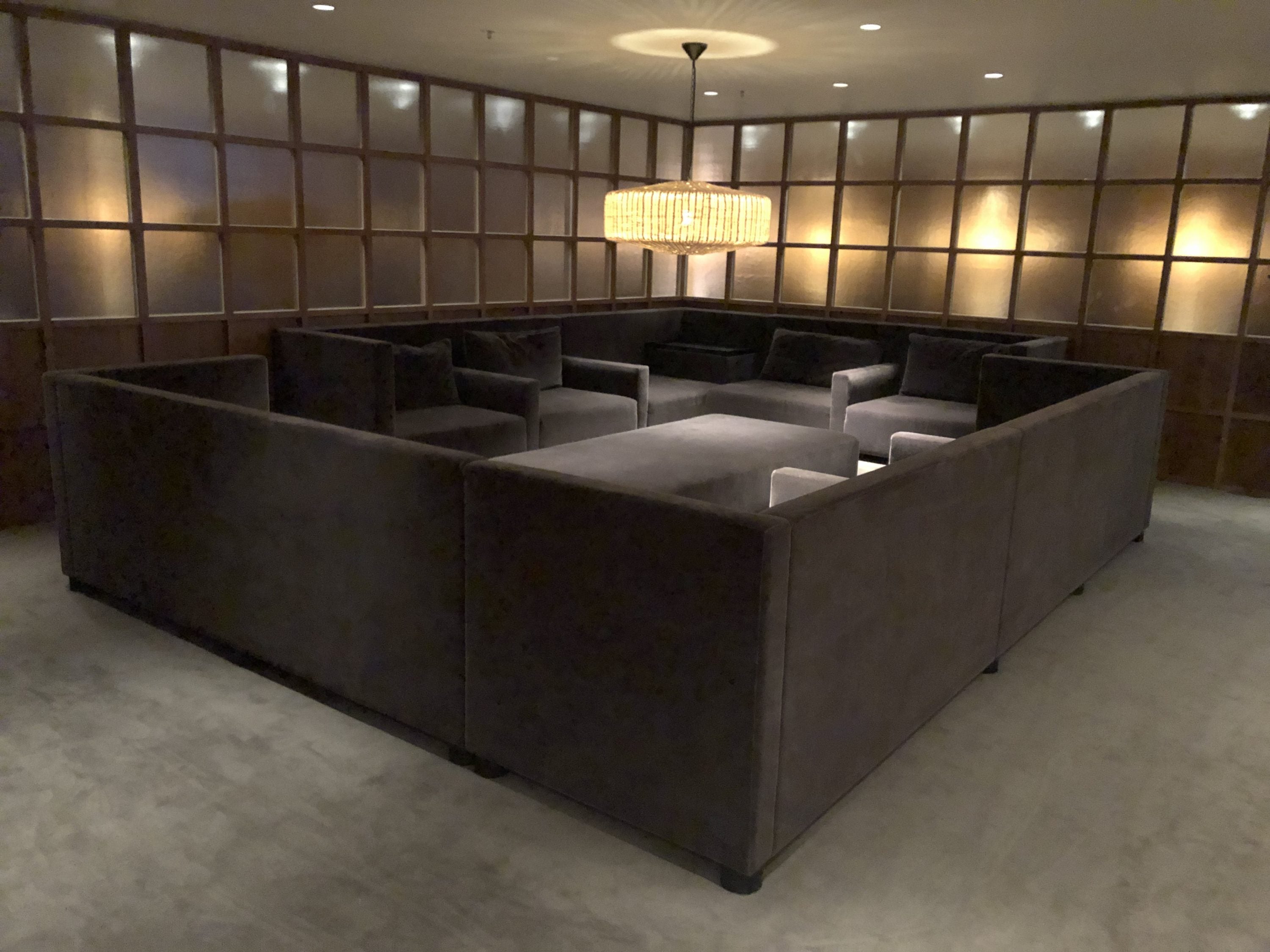 Simply put, there are tons of day beds with charging facilities and small side tables all along the Relaxation Room.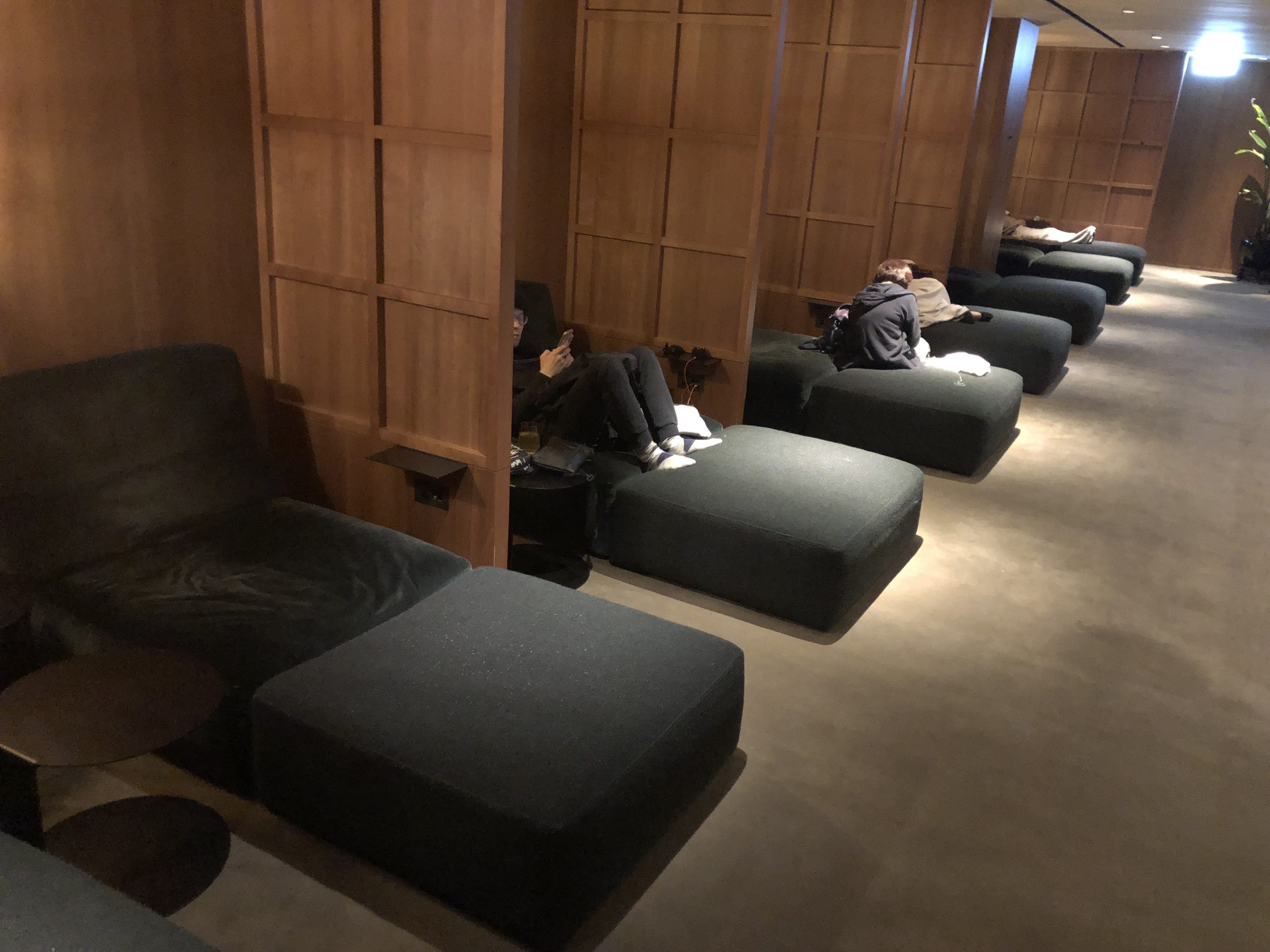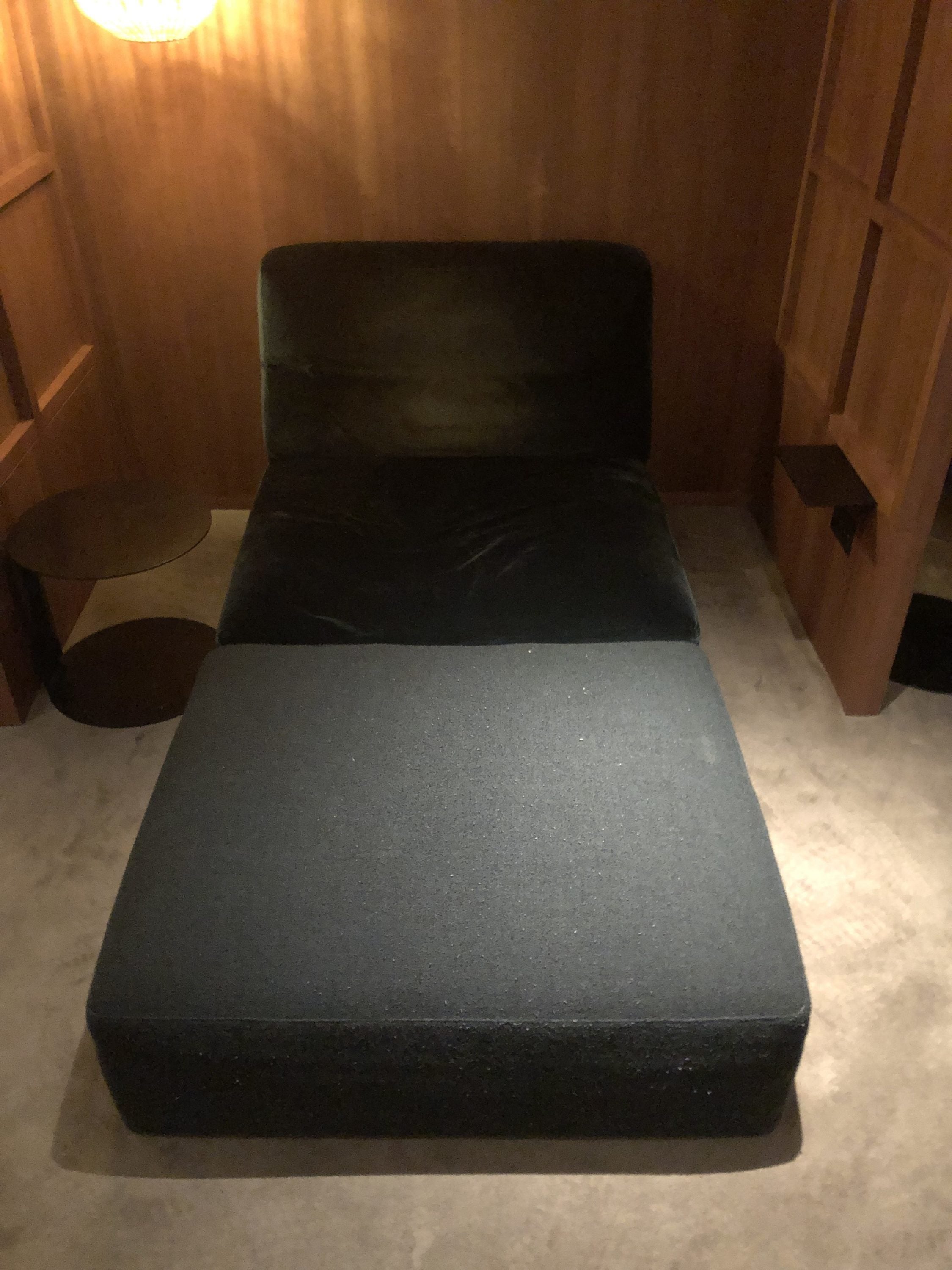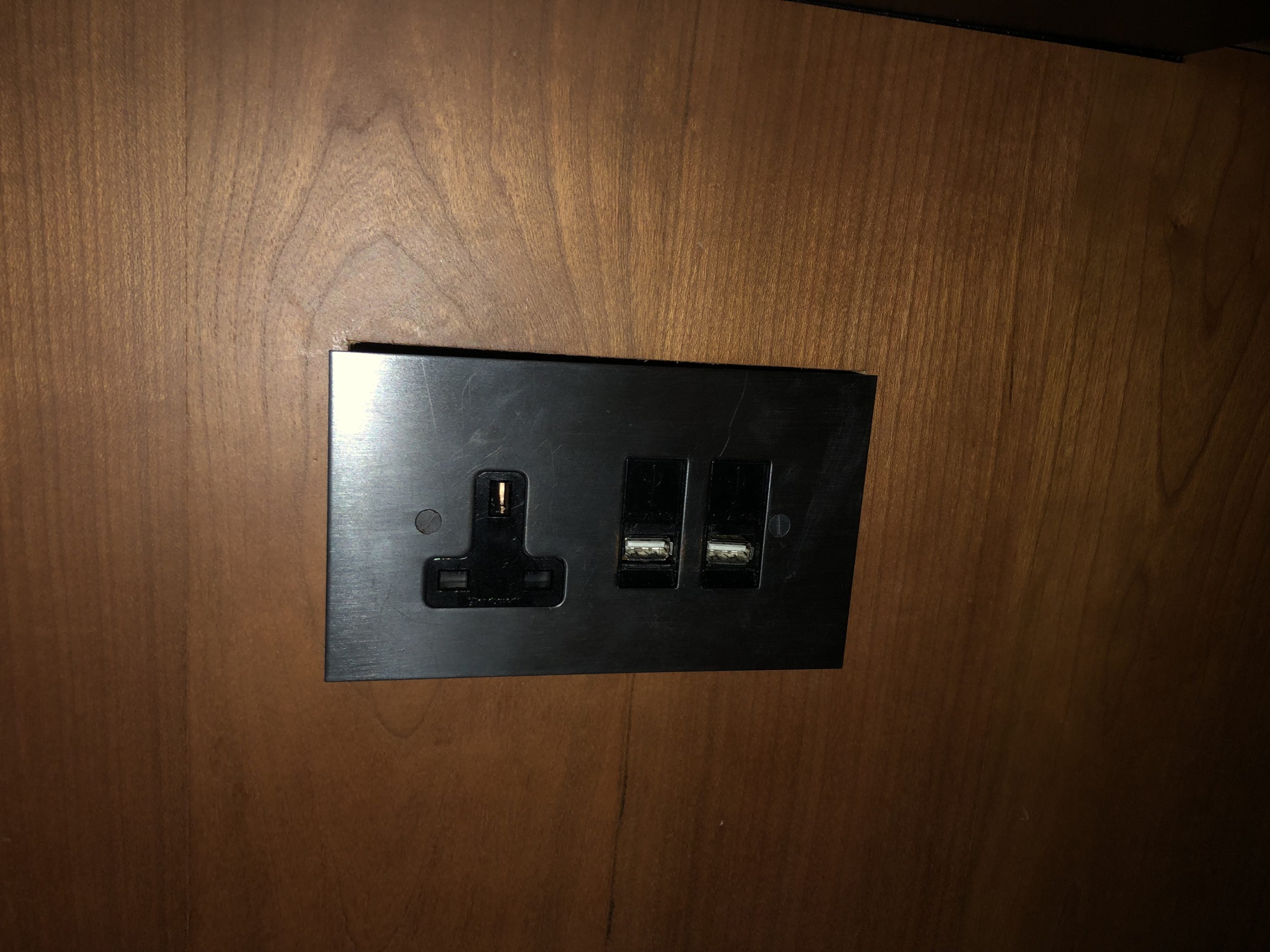 Business Center
The business center is located in Food Hall, and it consists of a row of iMac computers furnished with printers, keyboards, mice, and bar stools. Although this set up is not the most ergonomic in the world, it's a great option for those who need high-speed computer and internet access.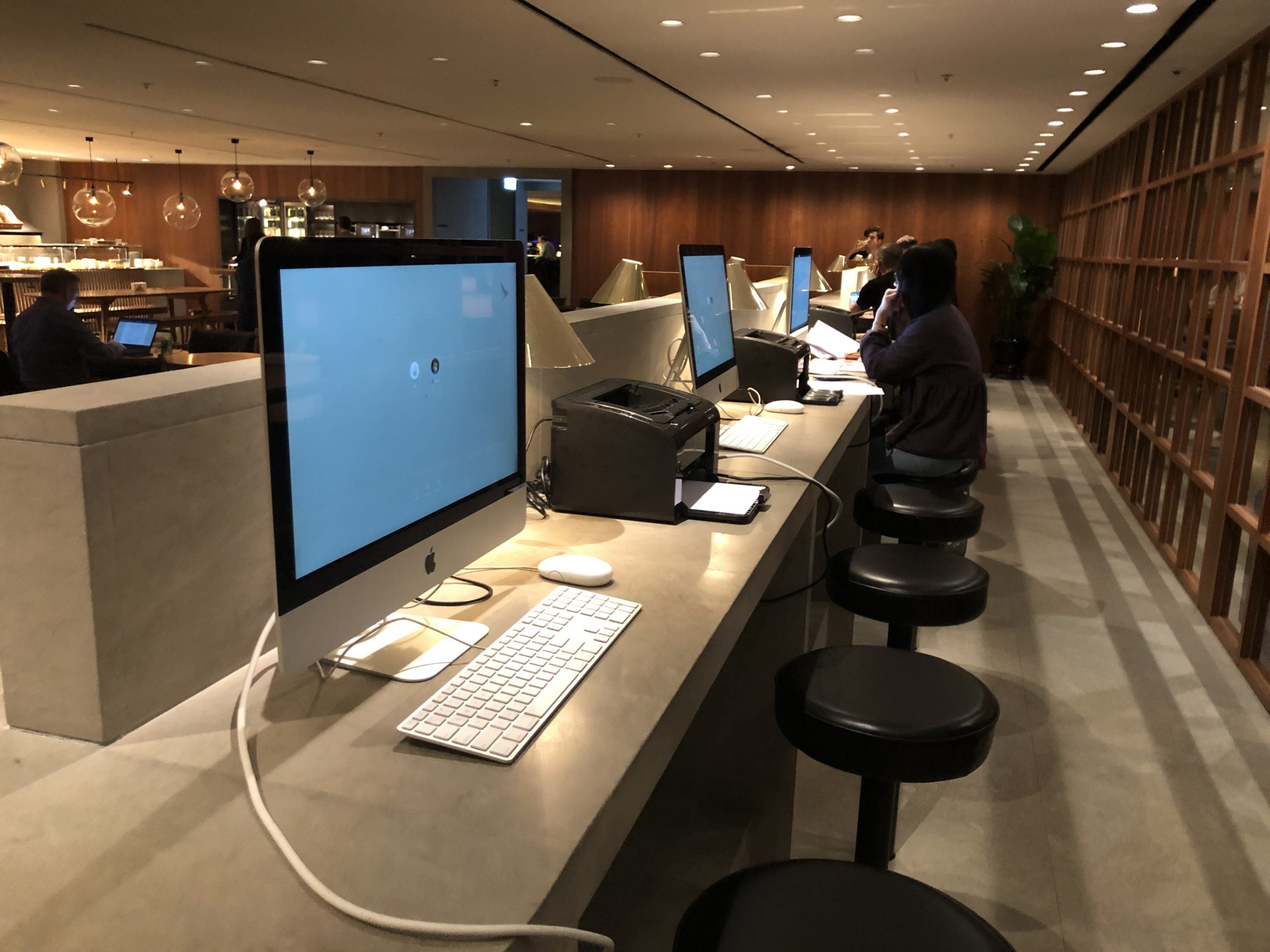 Experience and Services
Luggage Storage
There were lots of luggage storage lockers available on the right side of the lounge, just next to the Sanctuary by Pure Yoga.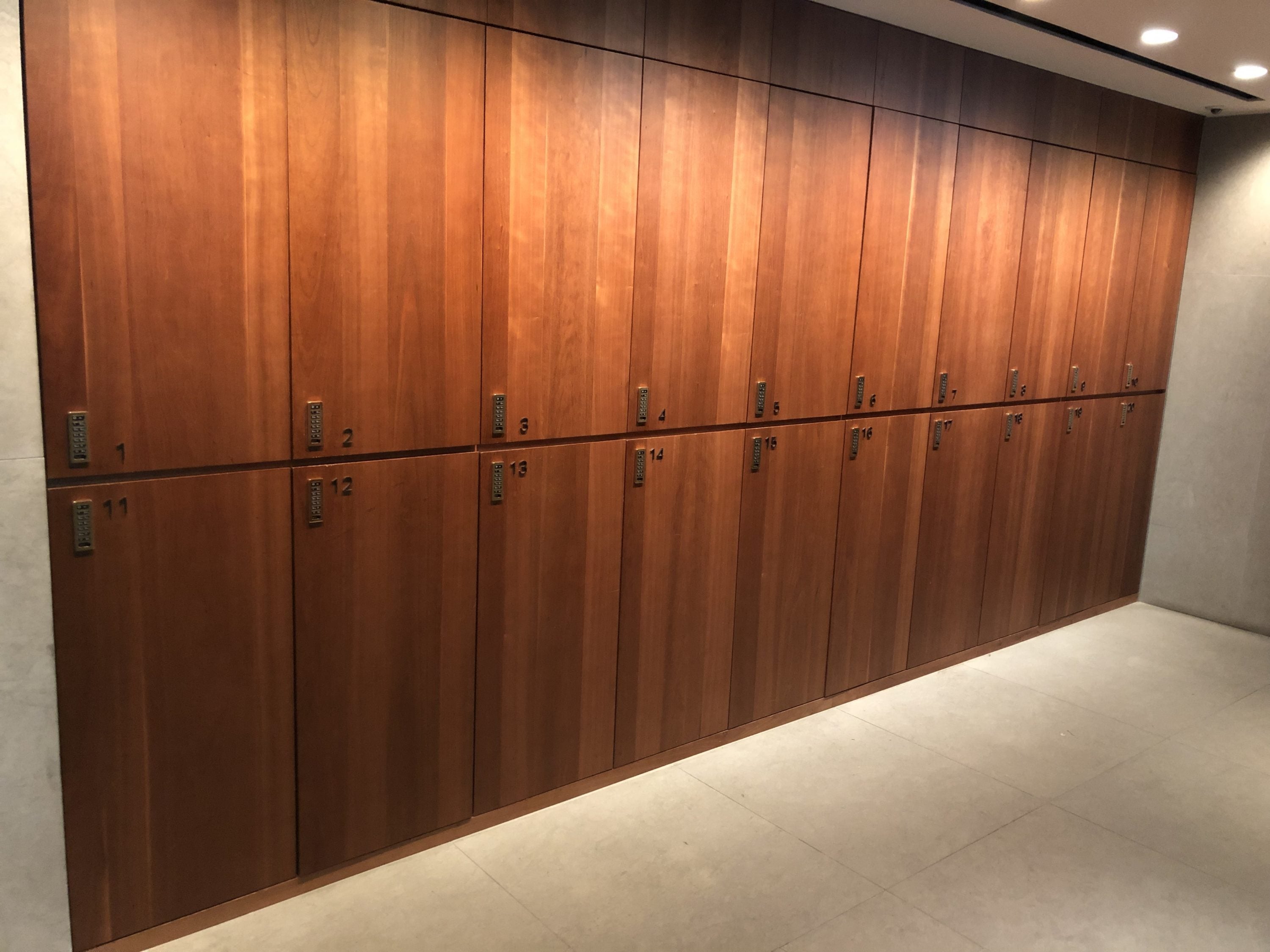 Restrooms
The restrooms were extremely clean, as well.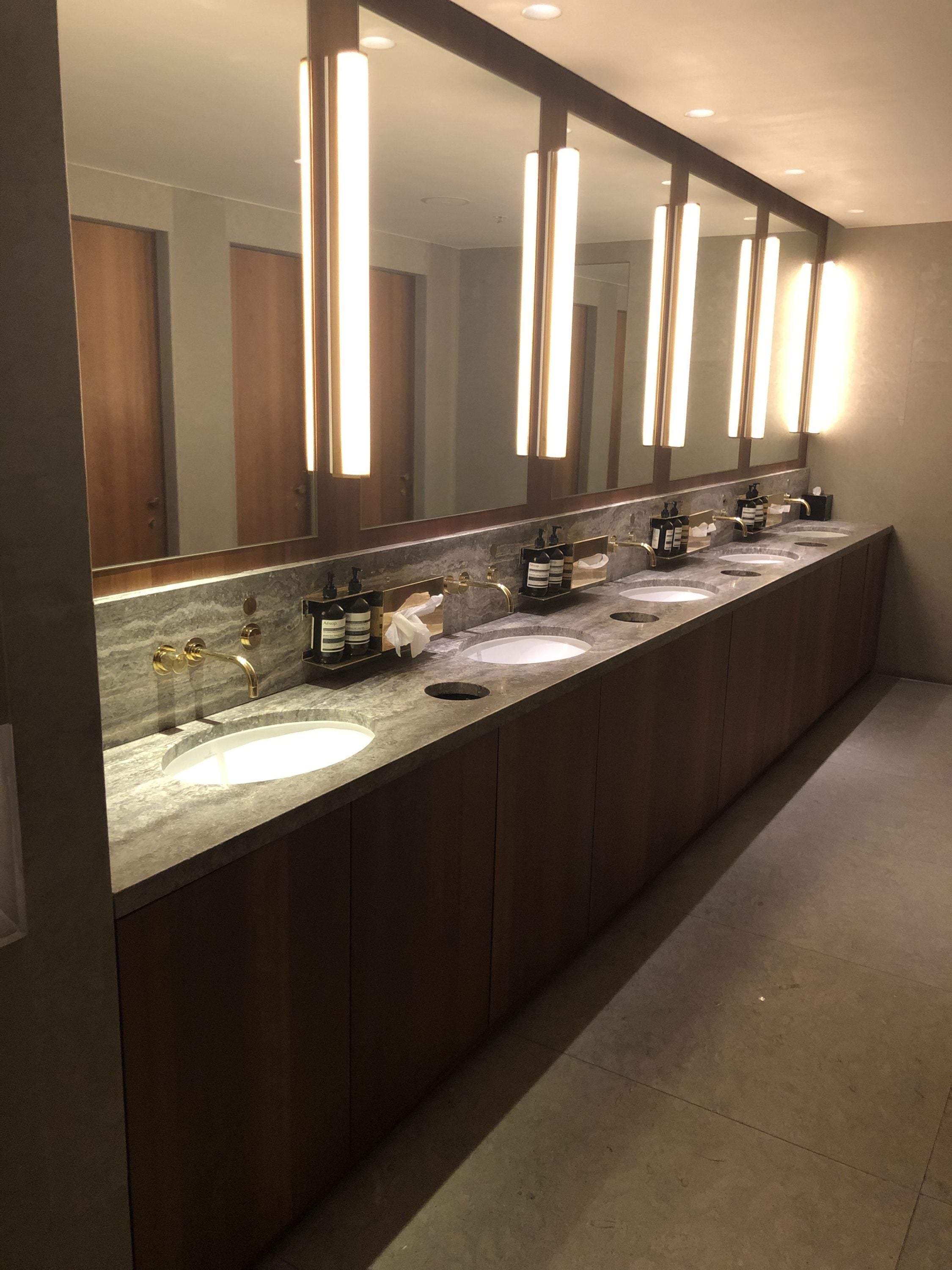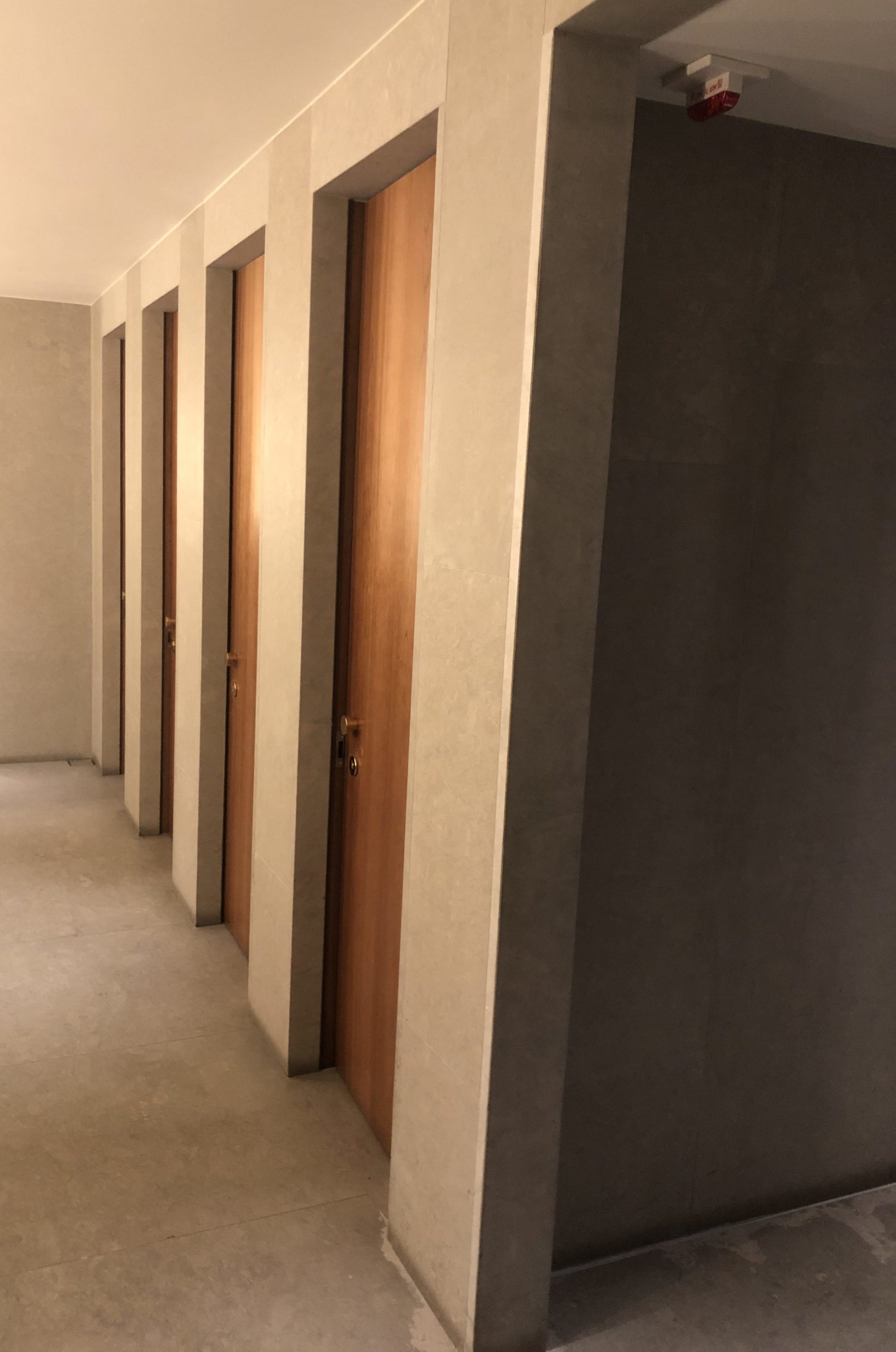 The Pier, Business is pretty much everything you want in a business class lounge. Although the service isn't as personalized and polished as in, say, The Pier, First, it's exactly what you need: a quiet place with plenty of space and variability to make a memorable experience.
Final Thoughts
This business class lounge ranks at the top of the list when it comes to overall business class lounges.
The consistency and variety of the food is something that's simply difficult to emulate. Noodle Bar and Teahouse were 2 definite highlights of the lounge that I'll remember for years. It always brings me back to Hong Kong which holds a special place in my heart.
The Sanctuary by Pure Yoga was great, too, and it adds that X-factor to the lounge. Lastly, the Relaxation Room had lots of capacity for resting travelers. The velvet day beds were very comfortable.
All in all, Cathay Pacific has created a special business class experience, and I would recommend everyone who can to stop by for a couple of hours.
---
All images are credited to Stephan Au unless otherwise specified