The World's 20 Best Business Class Seats for Couples
Most people who travel in premium cabins tend to be traveling with a companion — often a significant other. This is especially true when heading to leisure destinations such as French Polynesia, the Maldives, or Thailand.
Furthermore, the trends of global air travel seem to favor business class over first class as time goes on. The result of this changing competitive scene is rapid improvements in business class products.
Whether it's offering classier amenity kits, more real estate at your seat, more comfortable bedding, or tastier food, airlines are continuing to compete for your business class business.
In this guide, you'll find the focus being on the intersection of business class travel and the couple demographic. First, we'll define what an ideal business class seat for couples is. Then, you'll find an extensively researched list of the top business class products for couples.
As a reminder, these rankings are highly subjective.
What Makes a Business Class Seat Great for Couples?
When most people talk about business class, the most important thing that comes to mind is typically the seat itself. Business class represents a significant departure from the next travel class below it: premium economy.
While premium economy will get you a seat with slightly more recline than regular economy, international business class typically affords you an entire bed that goes completely lie-flat. Business class seats occupy more space in an aircraft, and the incremental benefit between premium economy and business class is tremendous.
For this reason, business class tends to be many times more expensive than premium economy.
Specifically, a great business class hard product — which includes the seat, inflight monitor, and anything else physically attached to the aircraft — goes a long way in creating a memorable business class experience.
For couples, the most important characteristic in business class is almost paradoxical: a seat that is private from everybody except your companion. That being said, it's not the only thing to consider, as there are so many other factors: the ground experience, amenity kit, service, food, etc.
The 20 Best Business Class Seats for Couples
As you'll find out below, there is a clear hierarchy in the quality of business class products. Furthermore, double beds are a luxury no longer limited to ultra-expensive first class products such as the Etihad Residence.
The competition among different airlines has motivated them to produce more and more innovative products.
1. Qatar Airways QSuite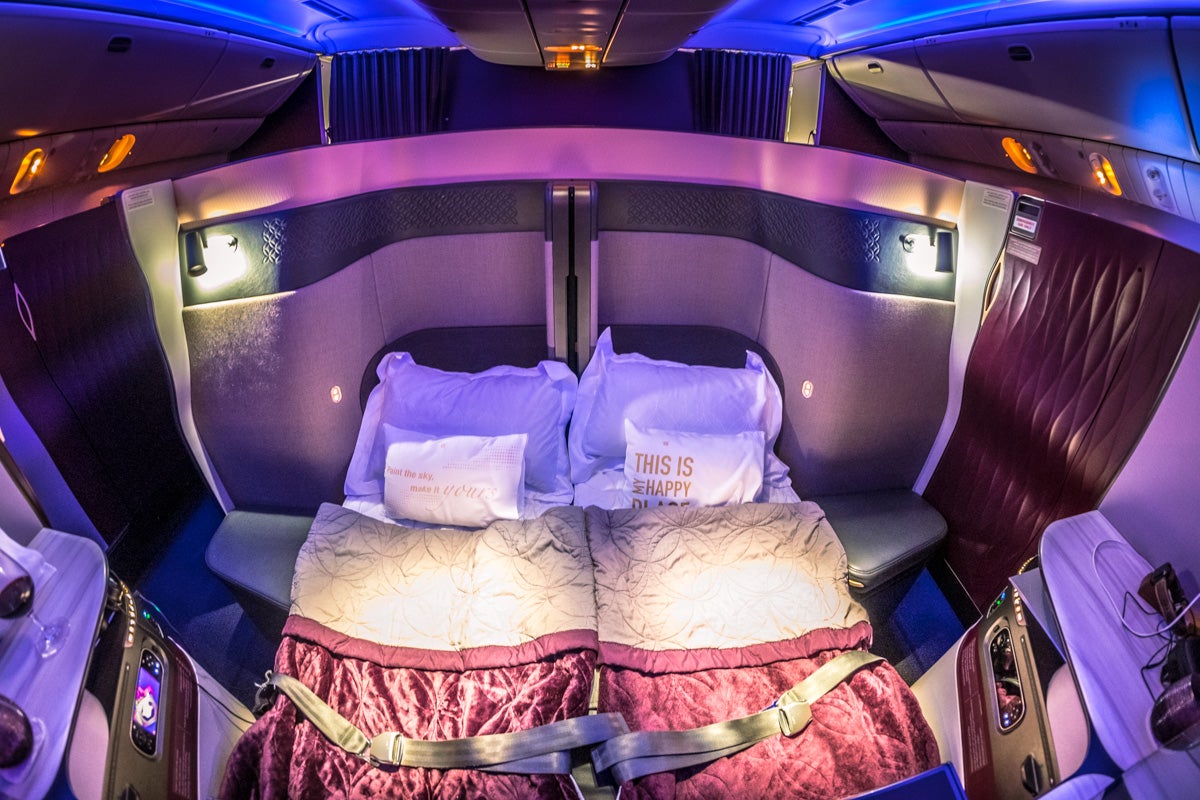 The winner of the best business class seats for couples also happens to be the winner for the best business class overall: Qatar Airways' QSuites. These suites are phenomenal, and they played a huge part in Qatar Airways earning the world's most prestigious airline award as Skytrax Airline of the Year.
Qatar Airways has always been at the forefront of innovation when it comes to commercial aviation. In March 2017, the airline rolled out its most disruptive product yet: this business class product with double beds, known as QSuites.
Not only is every single aspect of this product sensational, but the QSuites are remarkably accessible — Qatar Airways is installing QSuites at an unprecedented pace. These seats are excellent for couples because they are one of only 2 business class products that can become a double bed.
In addition to this, the rest of the business class product includes BRIC and The White Company amenities. You can use the sliding doors to enclose your suite, and this ultra-luxurious product also features artisanal food and beverage offerings, plush bedding, and awesome service.
The seat is 21.5 inches wide and 79 inches long when fully flat, which is a lot of space to yourself. Furthermore, there are plenty of QSuites routes offered to/from the U.S. Award availability is exceedingly generous to boot.
Hot Tip: For further information, check out this guide on the best ways to book Qatar Airways QSuites with points and miles! 
Want more drool-worthy information on QSuites? Read the Qatar Airways Boeing 777 QSuite review to get a full picture of what it's like to fly QSuites!
2. Singapore Airlines New A380 Business Class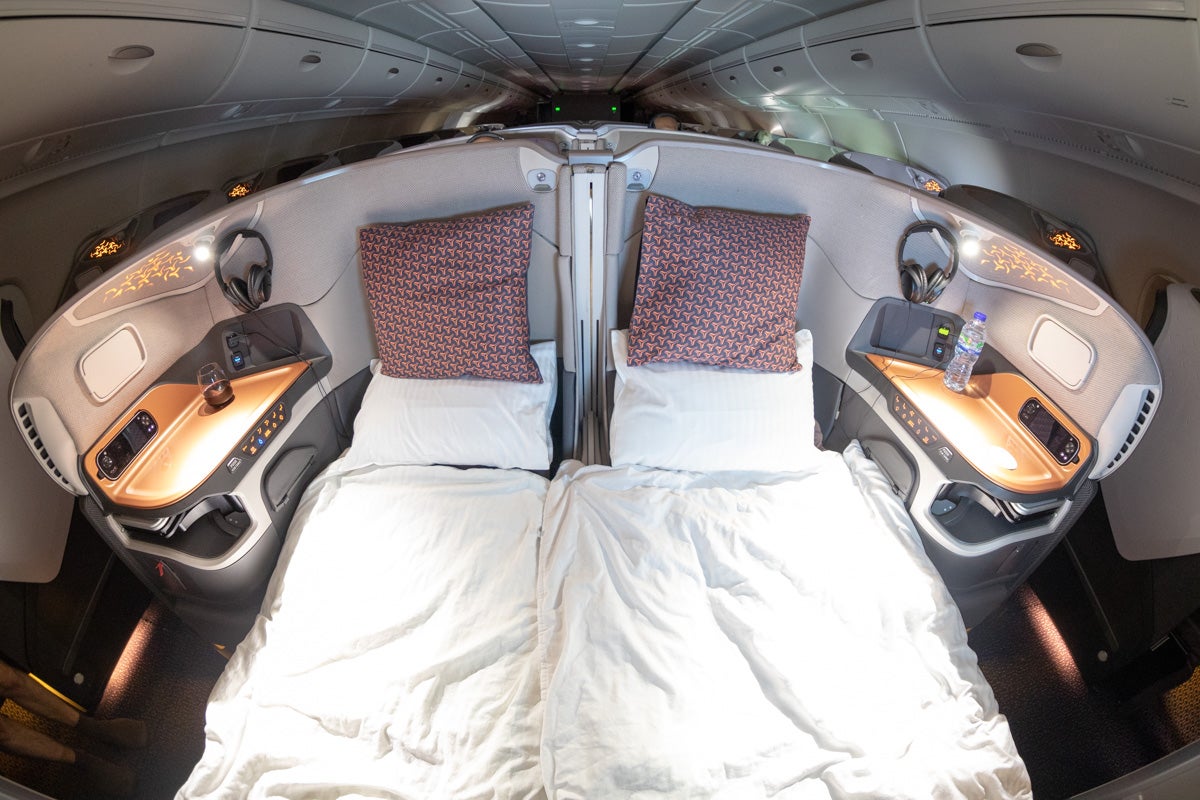 Ever since Singapore Airlines rolled out its first class suites in 2006, airlines have been fiercely working to one-up them. While the competition has stepped up to a certain extent, the lasting impression and reputation Singapore Airlines instilled within consumers was more influential than any particular product.
Recently, Singapore Airlines began retrofitting some of its A380 "Superjumbos" with a refreshed first class suite featuring the largest footprint in the world. These head-turning improvements in first class somewhat overshadowed the work done to improve its business class.
In fact, Singapore joins Qatar Airways as the only 2 airlines offering business class double beds. Singapore Airlines also offers some of the most technologically advanced aircraft with ultra-HD inflight monitors, super-fast Wi-Fi, awesome inflight entertainment choices, and more.
In addition to a seamless technology experience, Singapore Airlines has amazingly comfortable bedding and customized food choices via its Book The Cook service. These seats are fantastic for couples simply because of all the amenities in addition to the double bed option.
Unfortunately, Singapore Airlines operates the new A380 on very limited routes at this time:
Singapore (SIN) – Hong Kong (HKG)
Singapore (SIN) – London-Heathrow (LHR)
Singapore (SIN) – Shanghai (PVG)
Singapore (SIN) – Sydney (SYD)
Singapore (SIN) – Zurich (ZRH)
Award prices are generally expensive, and you'll have to book directly with Singapore Airlines KrisFlyer to make business or first class redemptions.
Looking for a review of a Singapore Airlines' business class flight? Read all about flying the Singapore A380 Business Class.
Hot Tip: Singapore Airlines' astonishing business class has one of the only business class seats that turns into a double bed, which makes you wonder how awesome their first class is. Check out our guide on the world's best international first class seats for couples!
3. ANA 777-300ER "The Room" Business Class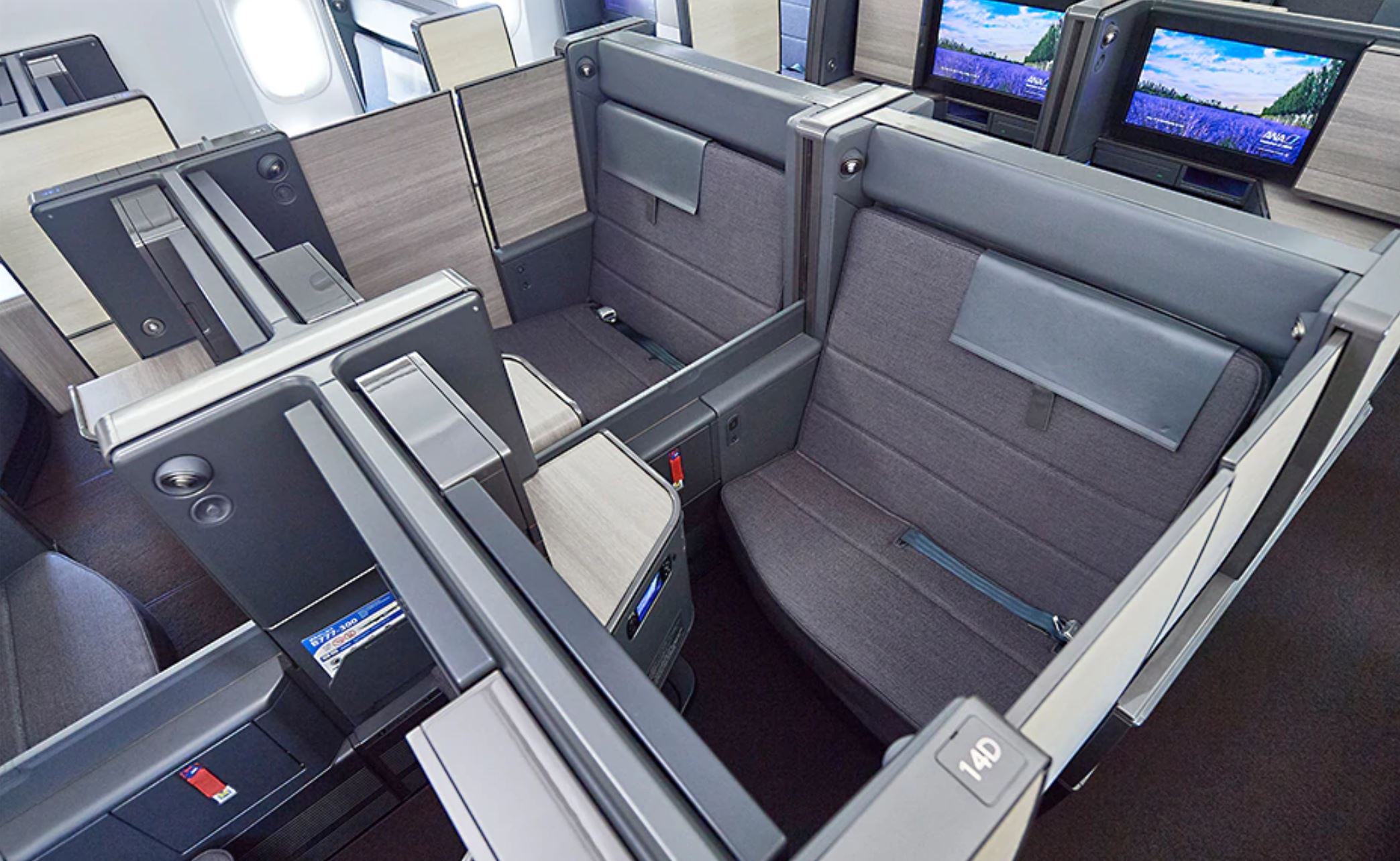 ANA's newest business class product is aboard select 777-300ER aircraft. What's so special about these seats? They are massive — a mind-boggling 35 inches wide, 53 inches in pitch, and 72 inches in bed length — and the middle section is ultra-private.
Just to give you an idea of how huge these seats are, Cathay Pacific first class measures 36 inches wide, meaning that this business class product is just 1 inch narrower than Cathay Pacific first class.
These seats, while not double beds, are truly large enough to be called a bed. When couples pick middle seats, they'll notice that the suites have doors, which makes this space your own private pod. Besides that, communicating with your seatmate privately is easy.
Hot Tip: Using the right credit card is important if you want to in fly business class. Check out these credit cards that are great for couples to get you started.
4. Emirates A380 Business Class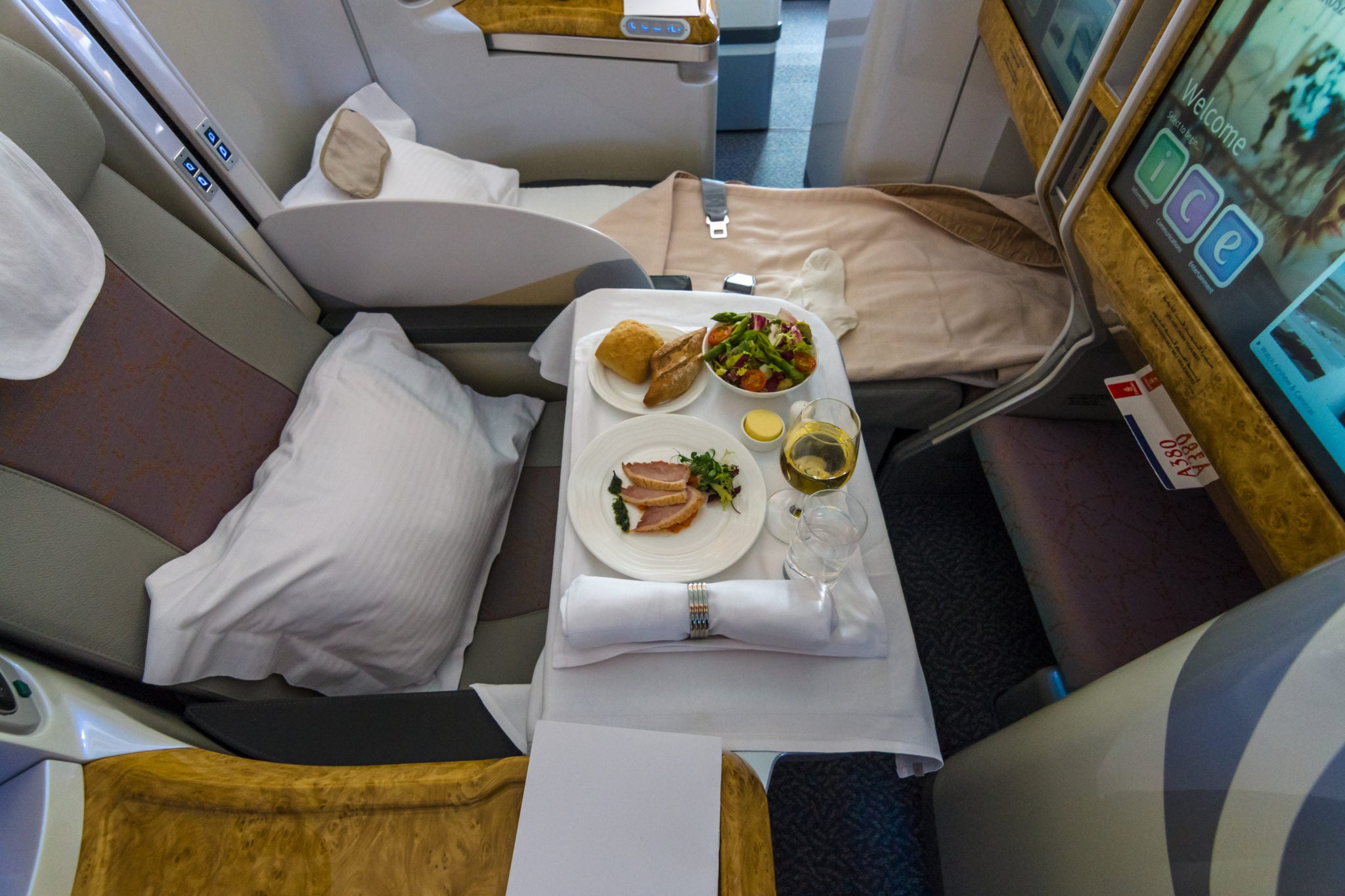 Emirates is known to be a snazzy airline, and the reputation rings especially true on premium cabin seats. Aboard the A380, Emirates offers a comfortable business class product, and some seats are close enough to be side-by-side with your traveling companion — generally referred to as "honeymoon seats."
There are a few things that scream "form over function," but the overall experience in Emirates business class will be a memorable one. You'll see some cool quirks such as power shades, a personal mini-bar, and glamorous finishes to your seat.
Emirates business class has decent food, the best inflight entertainment system, and awesome Bvlgari amenities. Some areas of concern include slow Wi-Fi, mediocre bedding, and poor redemption prices.
If you do decide to book, check out this detailed guide on the best ways to book Emirates business class!
Bottom Line: When booking Emirates, you'll either pay more in miles or more in taxes and fees. But if you can pay the premium for Emirates business class, they will deliver to you and your partner a romantic, luxurious, and memorable experience.
5. British Airways Business Class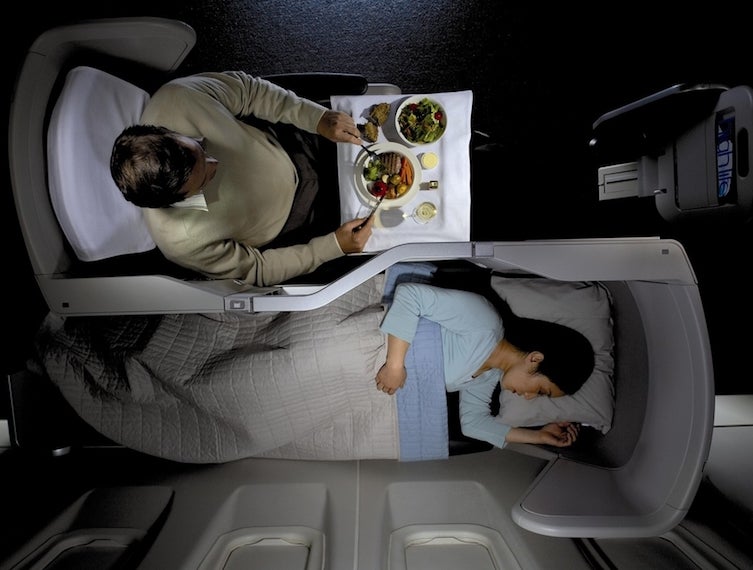 This next choice is going to raise the eyebrows of many points enthusiasts and frequent flyers since British Airways doesn't exactly have the best reputation.
But British Airways actually invented the lie-flat seat in 1996, which ushered in the modern era of premium cabin travel — so they've got a lot of historical pedigree when it comes to commercial aviation.
Over the years, though, its business class product has fallen behind the competition, especially with its dense configuration of 8 across in wide-body aircraft. As you can see in the above photo, some seats are rear-facing and some are forward-facing.
Though interesting, this characteristic can be advantageous for couples traveling together because it's very easy to see and talk with the other person. There are very few other products that feature an alternate orientation like British Airways.
Although BA's hard product is far from the best out there, you'll find generous and increasing award availability, a decent soft product, and tons of route options.
Hot Tip: Check out this guide on the best ways to book British Airways business class.
6. Etihad Business Studio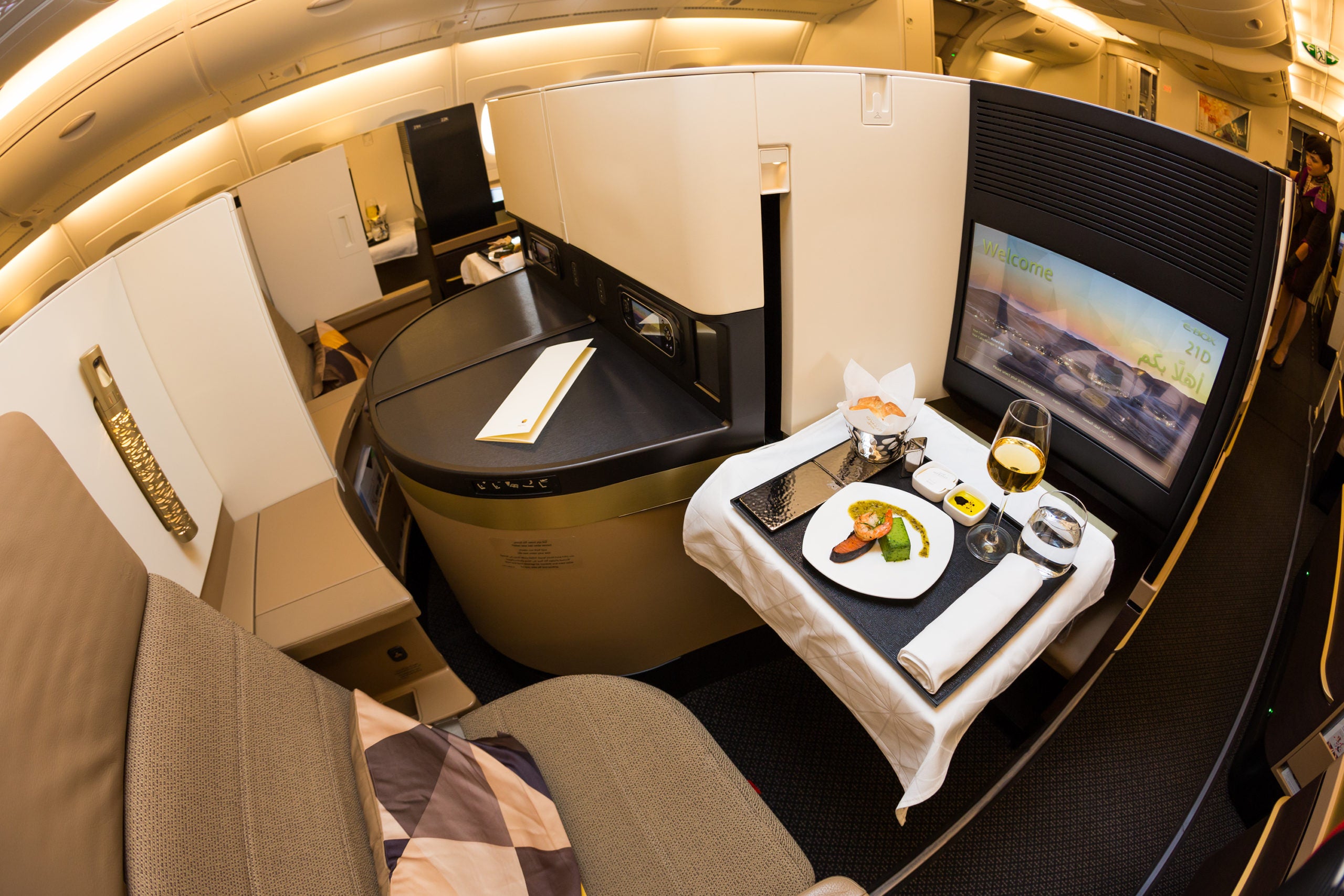 Offered by Etihad Airways on the 787 and A380, these business class seats represent Etihad's flagship product in business class. World-renowned for offering the Etihad Residence (which tops the list of the best international first class products), you must also not forget Etihad's excellent business class.
Etihad distinguishes these seats from the rest of its offerings, calling its flagship business class seats the Business Studio. The seats are very well-cushioned and among the most comfortable seats in the world. You can also expect to enjoy awesome service, great amenity offerings, and decent catering.
Importantly, the configuration of these seats is conducive to couples travel, since half of the middle seats are staggered next to each other. Most couples will enjoy this arrangement, which is why the Etihad Business Studio ranks highly on this list.
The main issue with the Etihad Business Studio is the limited routes on which it's offered. For more information, check out this in-depth guide to Etihad's direct U.S. routes!
7. Japan Airlines Apex Suites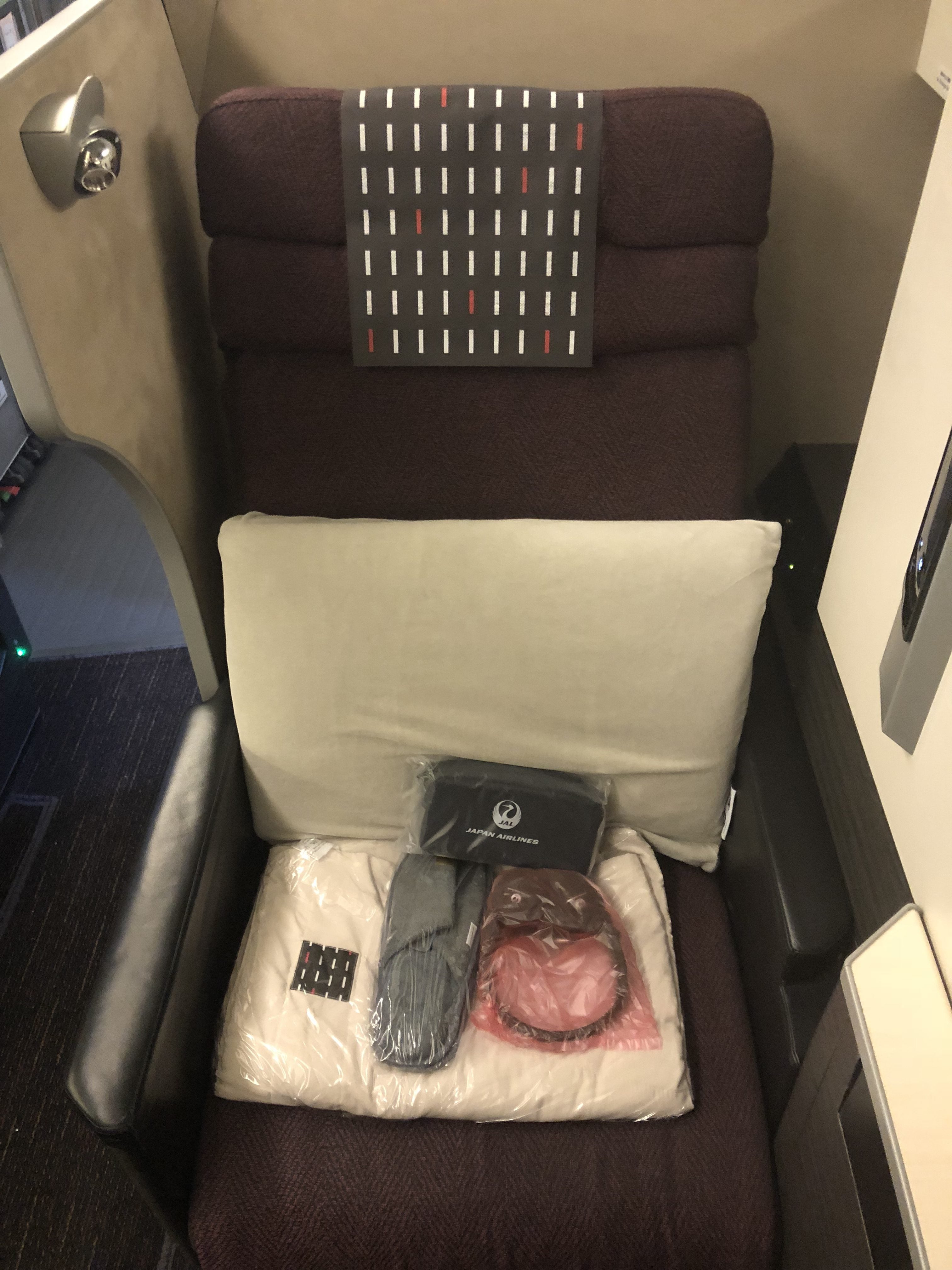 In business class, Japan Airlines offers specially designed seats called Apex Suites, which are designed to be private and spacious.
Virtually every aspect of the flight is well thought out. One of the things travelers like most is the selective privacy of Apex Suites. When you want to have a conversation with your companion, you could do so. And when you want some privacy, you simply raise the motorized privacy partition.
All these seats have direct aisle access, and the seats actually feel more spacious compared to the reverse herringbone seats, even though Japan Airlines was able to fit 7 seats in a row.
The methodology here is a tray table that slides from the front with all your inflight controls located on the side, removing the necessity of a side table. This translates to more seat width and space.
You can learn more about Japan Airline's 777 business class from our review! Also, we have an extensive guide on how you can book Japan Airline's business class on points.
Bottom Line: What's not to like? The food is great, the service is welcoming, and you get to sleep on an Airweave mattress pad. All in all, Japan Airlines exceeds expectations when it comes to a quality business class product for couples.
8. Oman Air 787 Apex Suites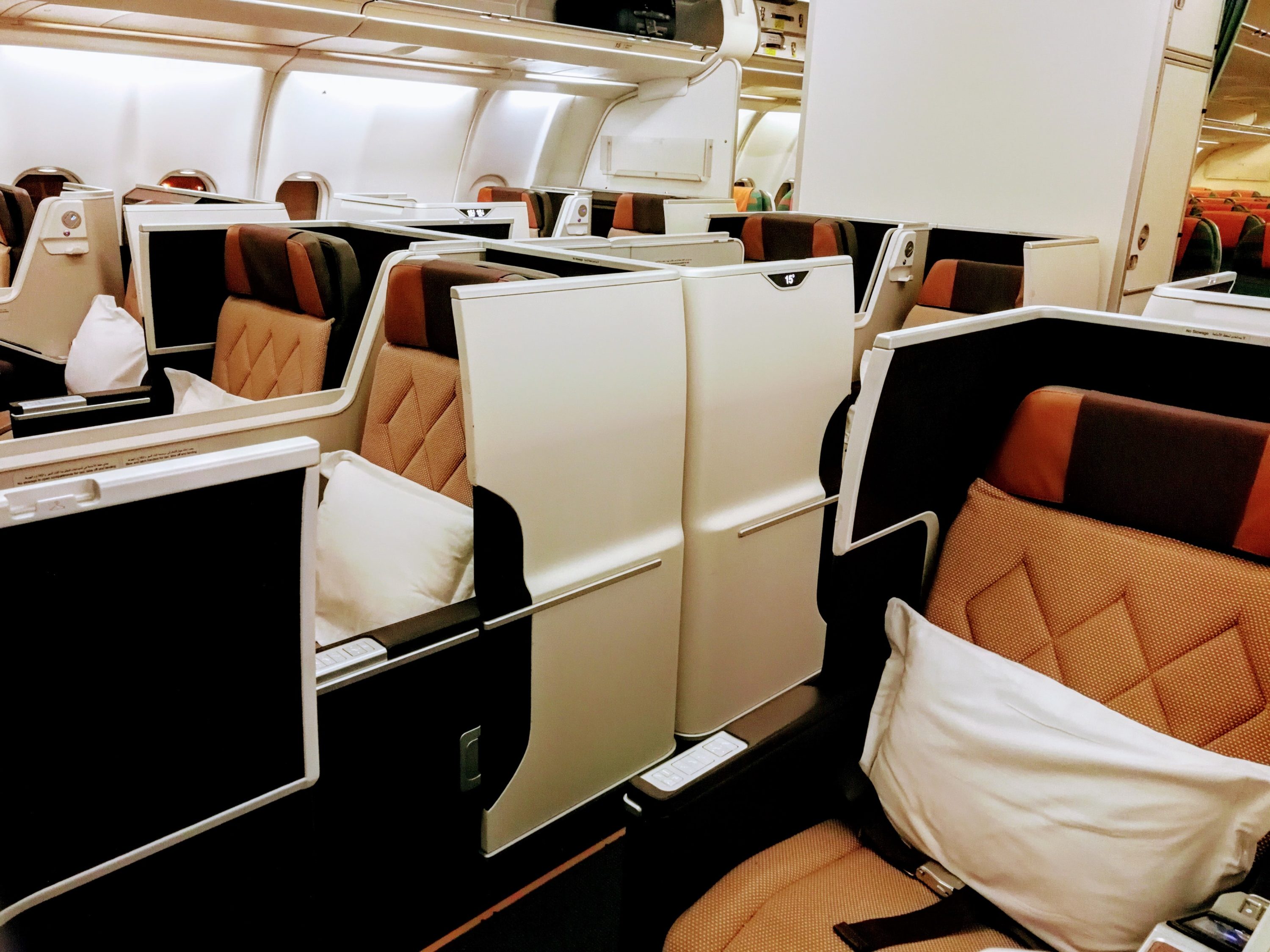 Oman Air is relatively inaccessible to U.S.-based travelers since it doesn't offer direct flights to America. Nevertheless, this boutique airline offers an excellent experience in business class.
This carrier lives up to the collective reputation of luxurious premium products like Emirates, Etihad, and Qatar Airways. And Oman's Apex Suites, which can be found on the 787, are fantastic. Super comfortable seats, along with selective privacy capabilities, direct aisle access, and awesome amenities make for a great experience.
Oman Air offers these seats in a 2-2-2 configuration, which is the ideal setup for couples.
Hot Tip: Be sure to give Oman Air's lounges a try when you travel! See what Upgraded Points contributor Greg Stone thought of the Oman Air First & Business Lounge in Muscat (MCT) in his review!
9. Korean Air Apex Suites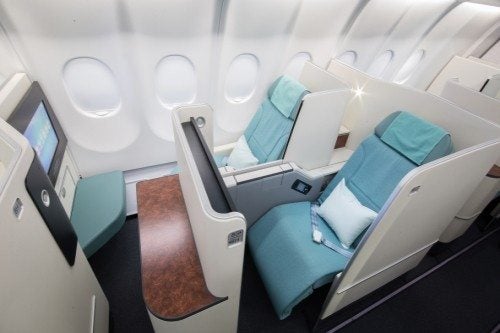 Korean Air is an airline known for its epic first class experiences. In business class, though, Korean Air is somewhat inconsistent, at least when it comes to the different products they offer.
The best business class product on Korean Air features the Apex Suites, and this is an excellent product for couples. Apex Suites on Korean Air are ridiculously spacious, measuring a minimum of 21 inches wide and 80 inches long in bed mode. If you like Asian cuisine, you'll be in excellent hands with Korean Air.
The main areas of improvement are the inflight entertainment, Wi-Fi, and lounge offerings. Korean Air allows Priority Pass holders to access most of its lounges, which dilutes the experience dramatically. Nonetheless, Korean Air's Apex Suites (on the 747-8, 777-300ER, 787, and A330-300) are a great option for couples traveling together.
Luckily, like the other options on the list, Korean Air business class can be booked on points, so this is a great option if you want to explore a business class redemption.
Hot Tip: Dig into our detailed guide on Korean Air's direct U.S. routes, which includes its best business class products!
10. EVA Air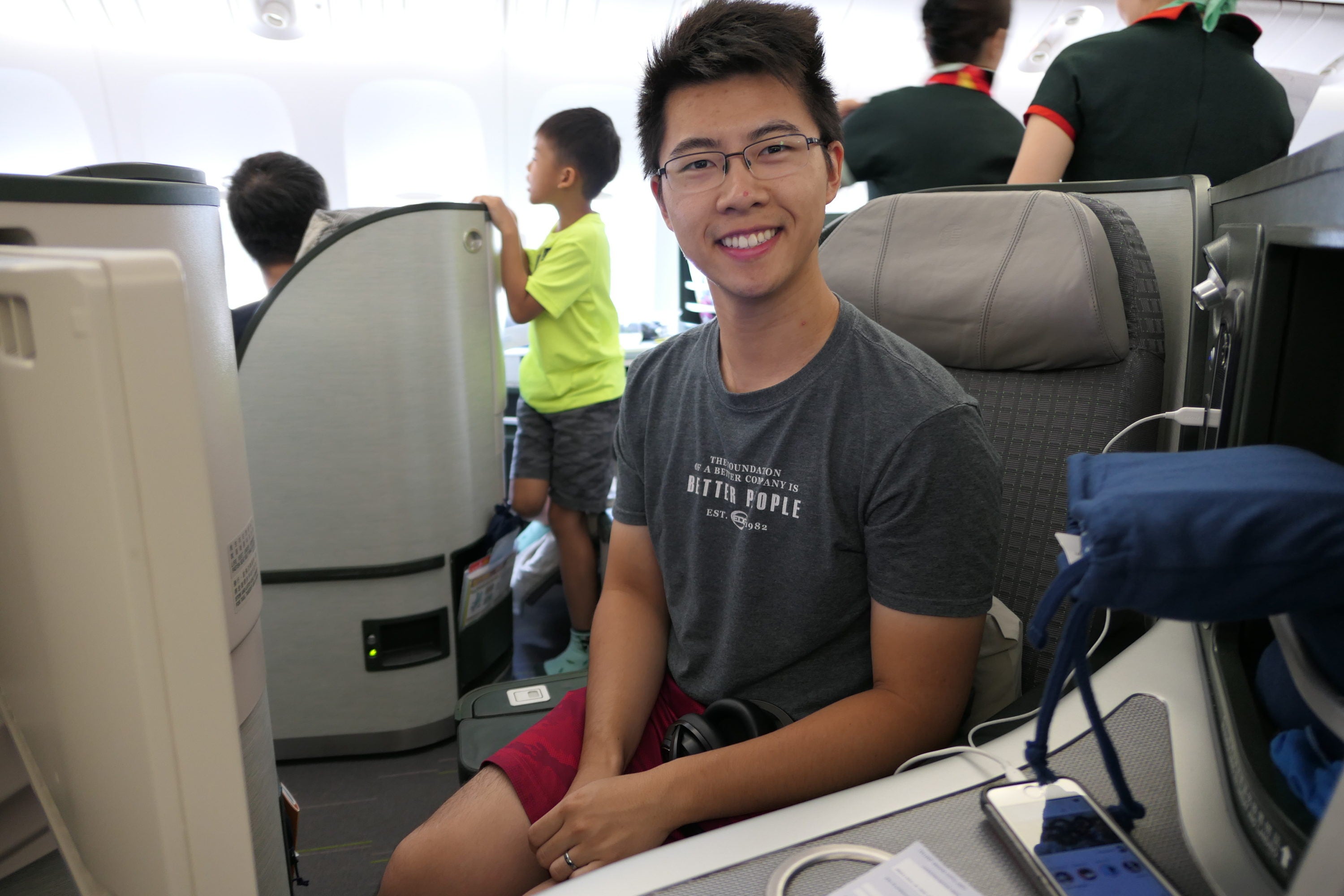 EVA Air may be the most underrated airline of all time. EVA Air's flagship business class, known as Royal Laurel, offers a spectacular experience.
Whether it's the privacy of the reverse herringbone seat, outstanding catering from Din Tai Fung, the loaded Rimowa amenity kit, Apujan pajamas, or even the quirky Hello Kitty livery, you're absolutely sure to enjoy yourself on EVA Air.
EVA Air is among the best business class products in the world, and it definitely holds true for couples. Because of the minimalist design, you'll enjoy 26 inches in width and 78 inches in bed length. This is anywhere from 4-6 inches wider than ordinary reverse herringbone seats.
Middle seats are best for couples traveling together, and you and your partner will both get pajamas and Rimowa/Salvatore Ferragamo amenity kits when flying on EVA Air. The inflight service is superb, and the crew is gracious, yet proud to be there. Award availability is very generous across the board, too!
The reason it doesn't rank as highly is due to the simple fact that reverse herringbone seats are generally not the best configuration for couples. Other than that, EVA Air's Business Class is flawless.
Hot Tip: Here's a step-by-step to help you earn lots of EVA Air miles and how to book EVA Air business class on points. 
11. China Airlines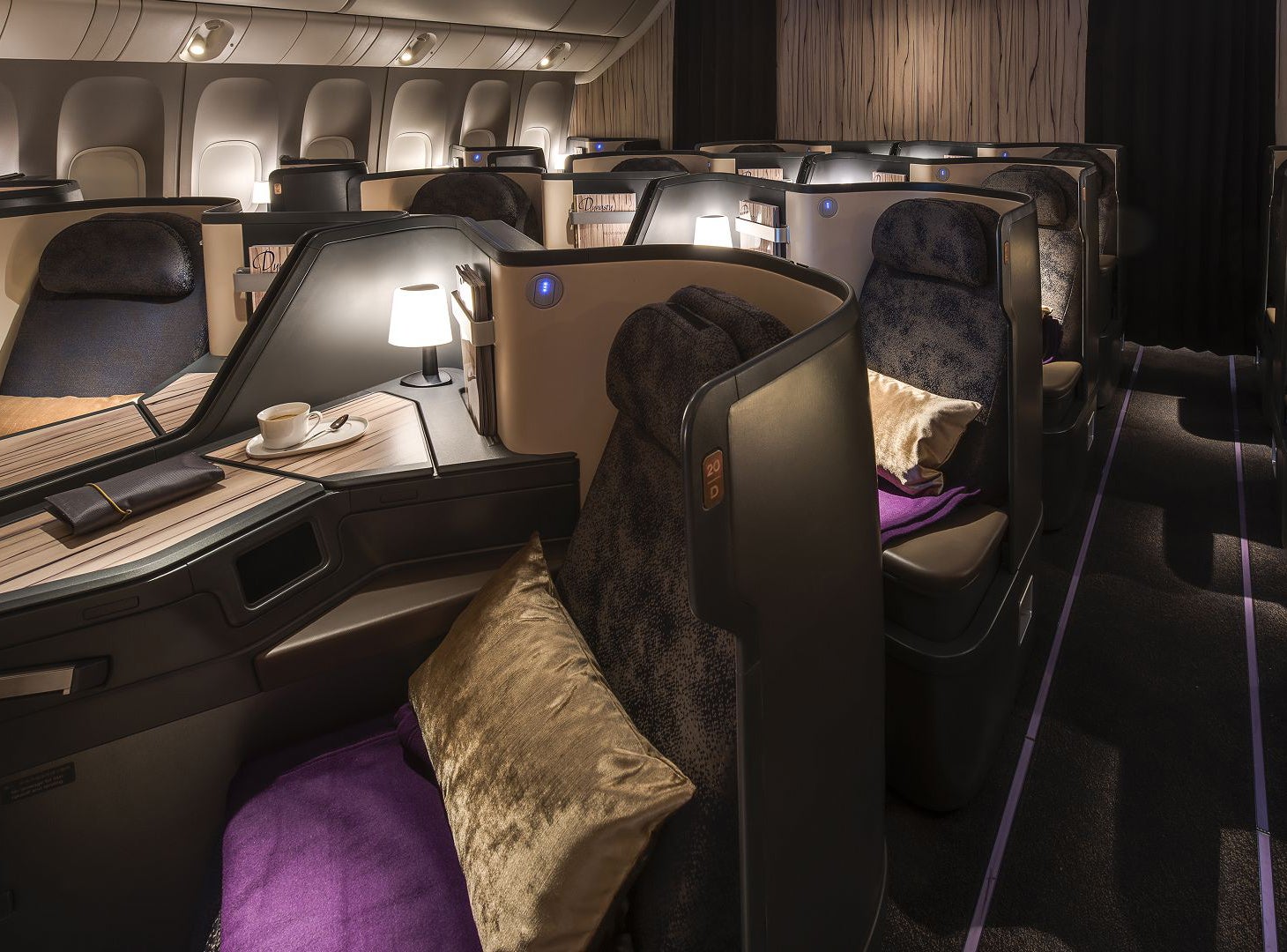 China Airlines, the flag carrier of Taiwan and fierce competitor of EVA Air, is also known for offering a fantastic business class product and amazing premium economy seats.
On China Airlines, you can expect small touches that go a long way, such as Evian water bottles, The North Face amenities, tasty food, and beautiful cabin finishes. The inflight monitors are abnormally large for reverse herringbone seats at a whopping 23 inches.
These reverse herringbone seats are in a standard 1-2-1 configuration. Even though reviews generally rave about China Airlines, the service has recently been a bit inconsistent. In any case, China Airlines is an excellent way to travel as a couple in business class.
Hot Tip: In case you missed it, check out the definitive guide on China Airlines' direct U.S. routes.
12. Vietnam Airlines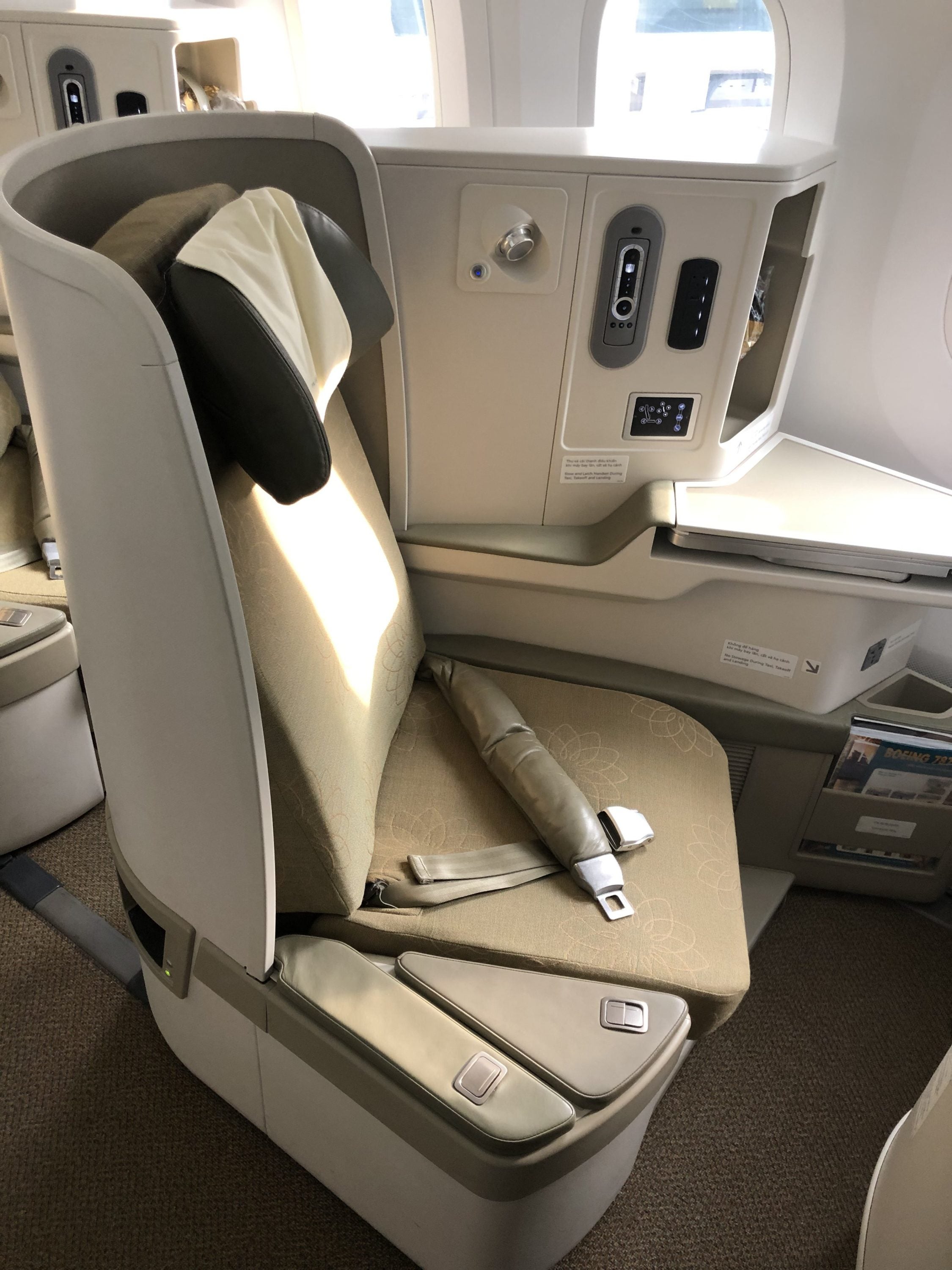 Vietnam Airlines is another of the most underrated airlines around. Because they don't have an established route network in America (yet), it's understandable to not know much about them.
This airline is the flag carrier of one of the fastest-growing countries in the world: Vietnam. With a GDP growth rate in the ballpark of 7%, there are plenty of business opportunities, and its tourism industry has been growing like crazy.
The amenities are excellent and the food and beverage program is great. The main criticism for Vietnam Airlines business class is that the flight attendants can be inconsistent in the quality of service.
Hot Tip: For more in-depth reviews, check out the review of the Vietnam Airlines 787-9 business class or the review of the Vietnam Airlines A321 business class to see which might be better for you.
13. Air France 777-300ER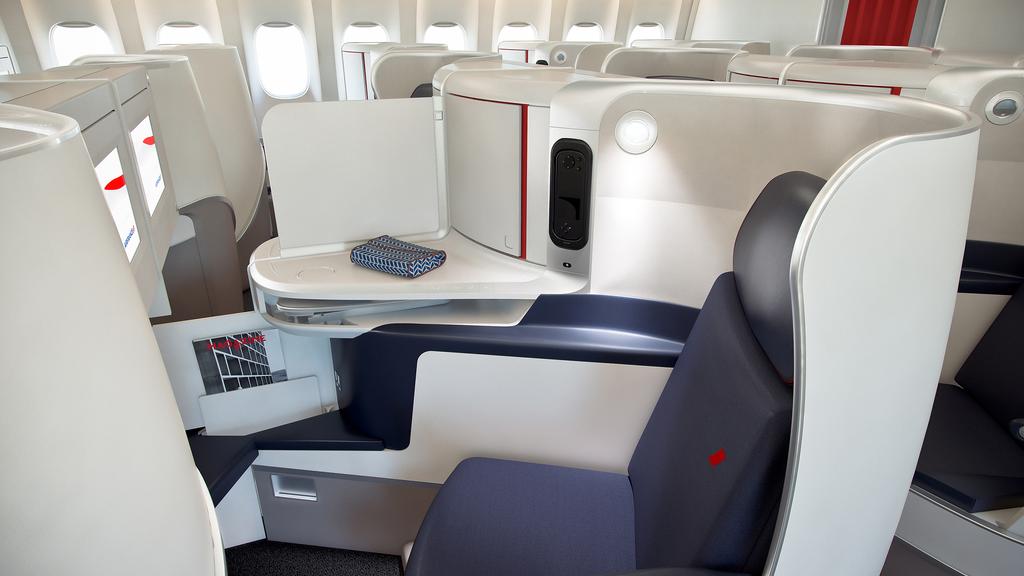 To pivot back to Europe, here's the thing with Air France: they operate a bunch of different aircraft and make swaps all the time, so it's difficult to be 100% certain that you're going to book the best business class product.
Even on the 777-300ER, which typically contains the flagship business class seat, you run the risk of being in an angled-flat 2-3-2 seat, as is the case for the Atlanta (ATL) to Paris (CDG) flight on AF 681.
But if you manage to book the right flight in business class, you'll be in for a treat. Reverse herringbone seats in a 1-2-1 configuration, excellent French dining, and consistently good service make for a pleasant experience.
If you're traveling as a couple, going to France is probably at the top of your bucket list. And Air France is a great way to achieve your travel goals for Paris!
Hot Tip: Looking to get on an Air France flight but not sure which airports they fly out of? See our guide on all of Air France's direct routes from the U.S. We also cover the various plane types and seat options!
14. Virgin Australia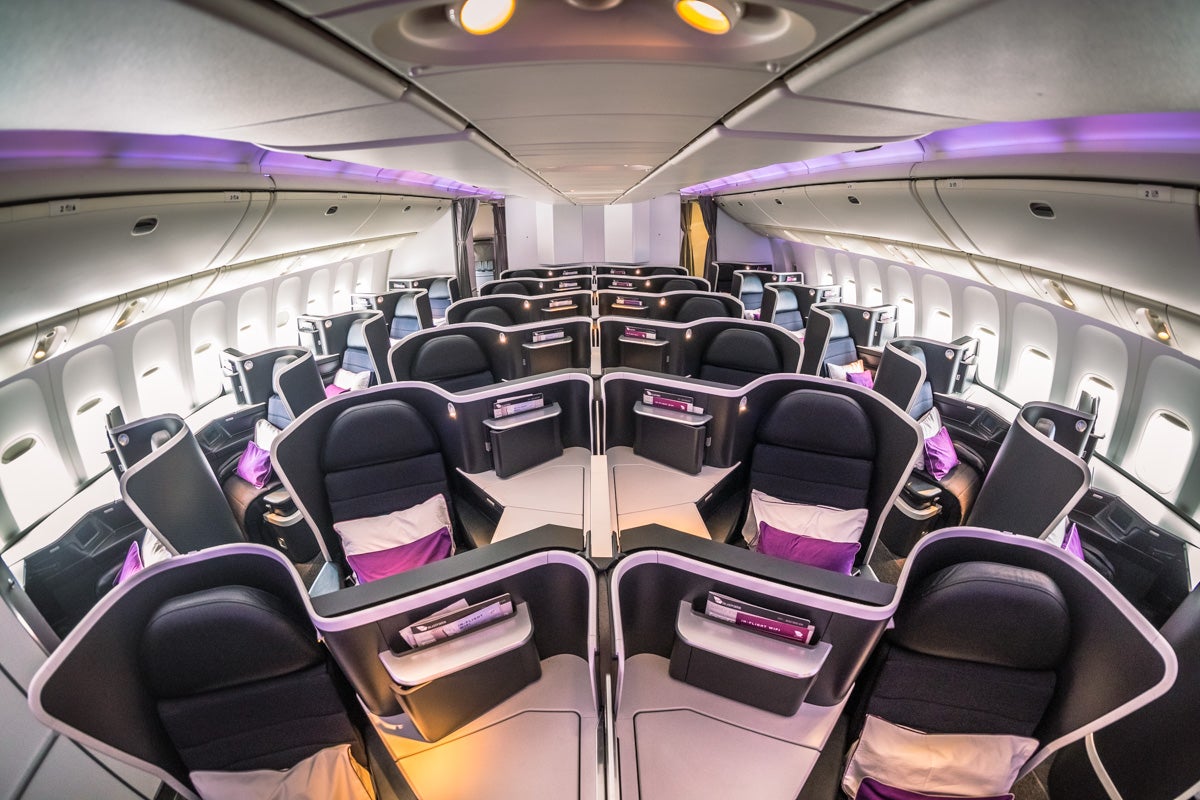 Virgin Australia is another great example of a stellar business class experience. Great food, excellent bedding, and comfortable seating are the main highlights of this product. The small drawback is that while the service is excellent, it doesn't have any "X factor" aspects that make it extremely memorable.
You can book Virgin Australia using Virgin Points, but award availability is difficult to come by. You can also try to accrue Virgin Australia Velocity points if you are based in Oceania.
Hot Tip: Want to see more about flying Virgin Australia's business product? Here's an in-depth review of flying Virgin Australia's 777 Business Class.
15. Cathay Pacific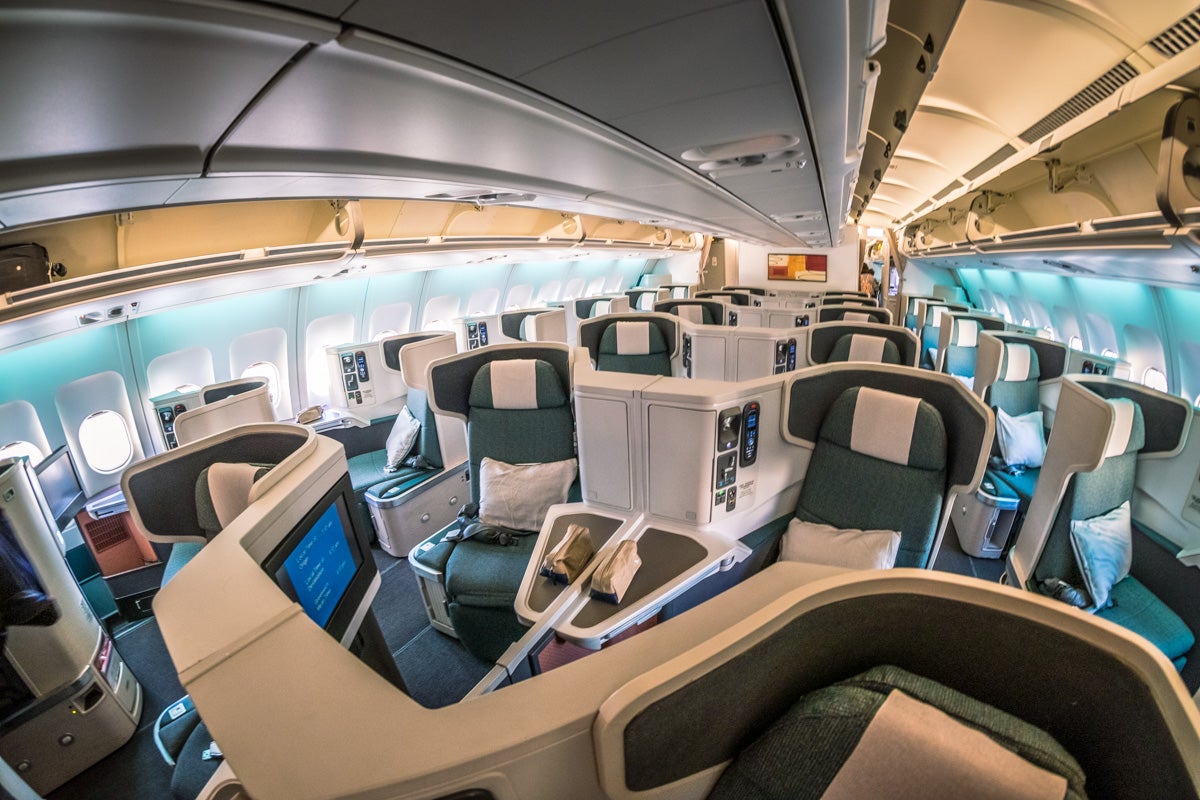 Cathay Pacific has traditionally been known for its excellent first class product, though its business class is known to be average.
This is somewhat due to the crazy high expectations drawn from its first class offering, but also due to cost-cutting measures. In Cathay Pacific business class, you'll see a cabin of reverse herringbone seats in a 1-2-1 configuration. These seats are average in size for their type, but the product itself hasn't changed in a long time.
For example, you won't be provided a mattress pad or pajamas. The good news is that compared to economy flights, Cathay Pacific business class is still an excellent way to fly.
Hot Tip: Looking for more details about Cathay's Business Class flights? Look no further than our Cathay Pacific A330 business class review. Need some route inspiration? Check out this definitive guide to Cathay Pacific's direct U.S. routes!
16. Xiamen Airlines
Xiamen Airlines presents one of the best ways to fly to China in business class. This SkyTeam airline is reputed to offer the most well-rounded business class experience of any Chinese airline.
The seats are comfortable and spacious, and the service is decent. With 26 inches in seat width and 78 inches in bed length, Xiamen Airlines will provide you with lots of space to recline, stretch out, and ultimately lay down.
While the bedding is plush, be mindful that a mattress pad is not provided. Wi-Fi is complimentary, which is a huge plus for many travelers.
Perhaps the best part is that Xiamen Airlines is famous for offering cheap business class fares, especially on connecting flights.
Hot Tip: Since Xiamen Airlines is a member of the SkyTeam Alliance, you can search for availability across other airlines. Here's a great guide on searching SkyTeam award availability. 
17. Air Canada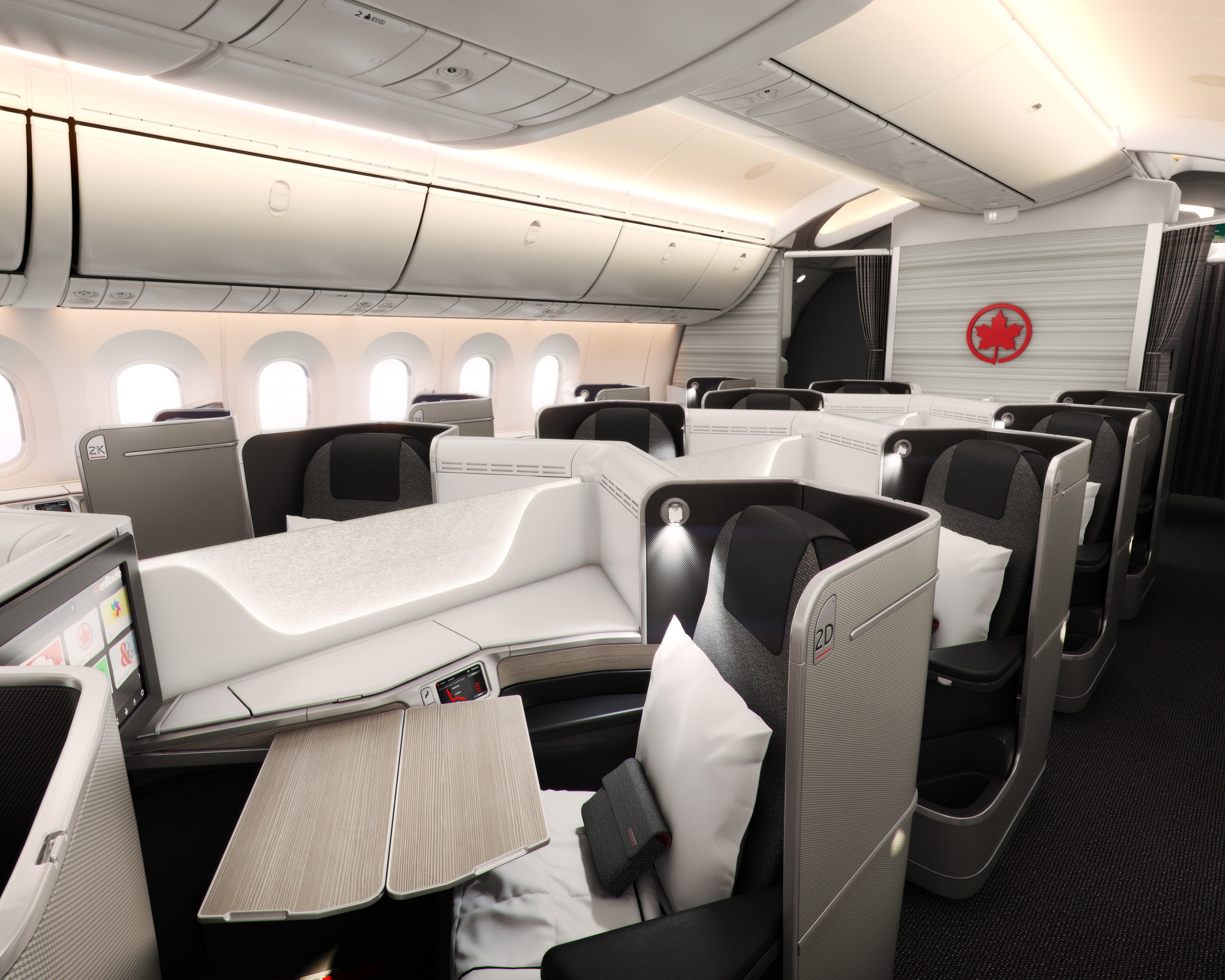 Air Canada's biggest strength seems to be the consistency of its premium cabin products. The seat is average in size for a reverse herringbone layout, and the food and beverage program is decent.
Service tends to be very warm, and the highlight seems to be the bedding. With a mattress pad and high-quality furnishings, it's easy for travelers to luxuriate at their seats.
Hot Tip: Luckily, getting upgraded isn't as tricky as you might think. Here's a helpful guide if you're looking to upgrade to business or first on Air Canada.
18. Delta One Suites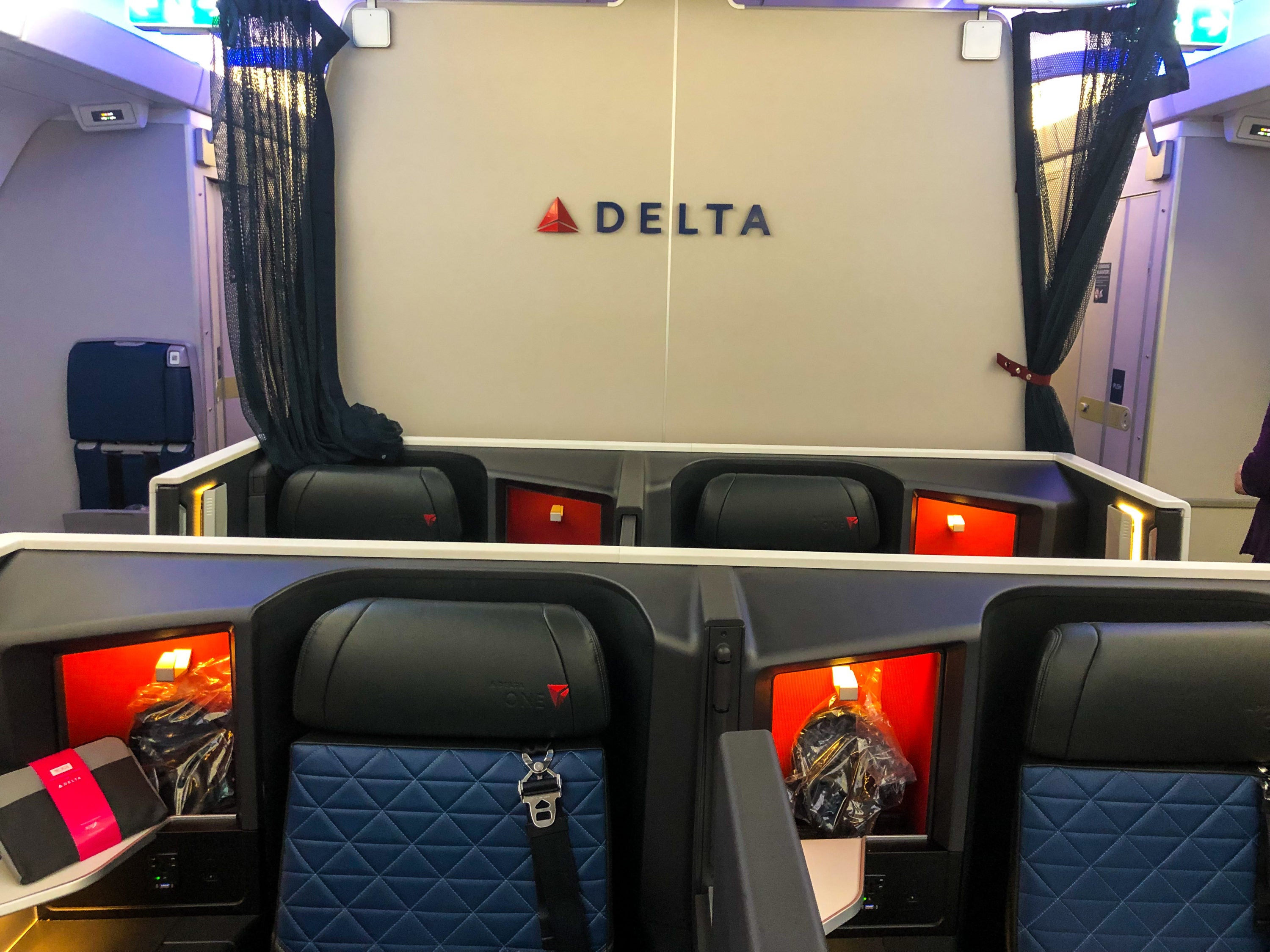 If 1 business class product took the U.S. commercial aviation industry by storm, it's Delta One Suites by Delta Air Lines. With sliding doors for additional privacy, these were the first business class suites offered internationally by a U.S. airline.
The biggest highlight of Delta One Suites is likely the hard product, which is brand-new and ultra-sleek. Delta also emphasized the food and beverage program — its offerings have consistently garnered high marks, which is a departure from the usual reputation of U.S. airlines.
If you snag a pair of middle seats, you'll find that you and your seatmate are nestled in a pod, which is very private. However, the seats are separated by large arm desks, which limits how close you can be to your partner.
Interested in flying Delta One? Here's a good step-by-step guide on booking Delta One Business Class on points.
Bottom Line: Delta One Suites is a novel experience that checks all the business class boxes, and couples traveling together should absolutely consider Delta One Suites when flying long-haul.
19. Singapore Airlines 777-300ER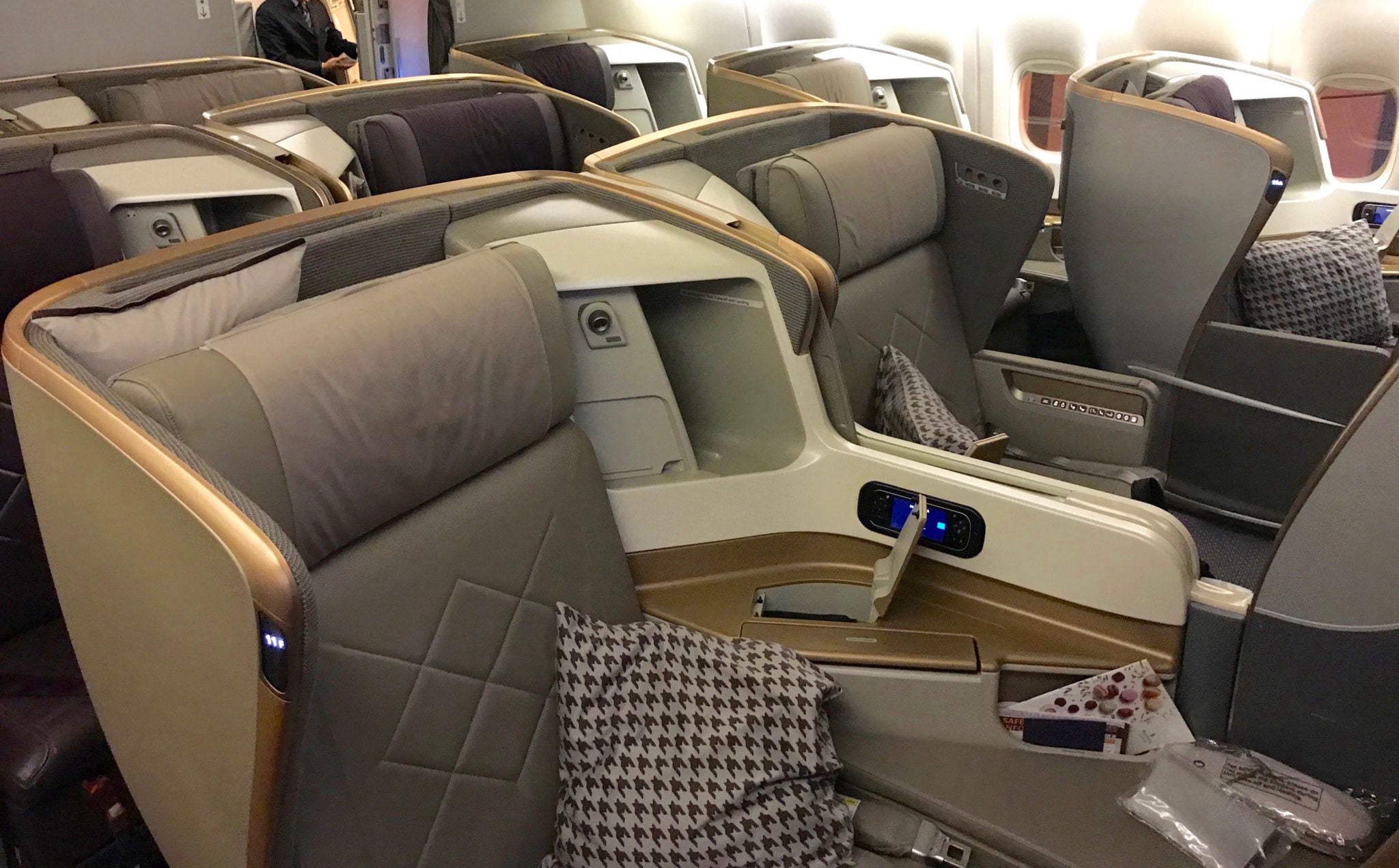 Singapore Airlines operates the 777-300ER on a select number of routes. In the U.S., they do so from:
Los Angeles (LAX) – Tokyo-Narita (NRT) – Singapore (SIN)
San Francisco (SFO) – Hong Kong (HKG) – Singapore (SIN)
The first impression of this product is that the seats are gigantic. Truthfully, 28 inches of seat width in business class is something to marvel about.
You and your travel companion can occupy a middle seat pair and have a wonderful experience. The middle seats are great for couples because it affords travelers tons of space to themselves, but interacting with your seatmate never feels like a challenge.
Singapore also offers Book The Cook and it's an awesome service that'll allow you some degree of customization for your food. Overall, this hard product has held up very well over time, though it's recommended you reserve a bulkhead seat. Otherwise, you'll have to fit your feet into a narrow footwell and sleep diagonally.
For more details, read our full review of Singapore Airlines' 777 business class to see what it's like to fly this product.
Hot Tip: If you want to fly on Singapore Airlines from the U.S., here's the definitive guide to Singapore Airlines U.S. routes.
20. Asiana Airlines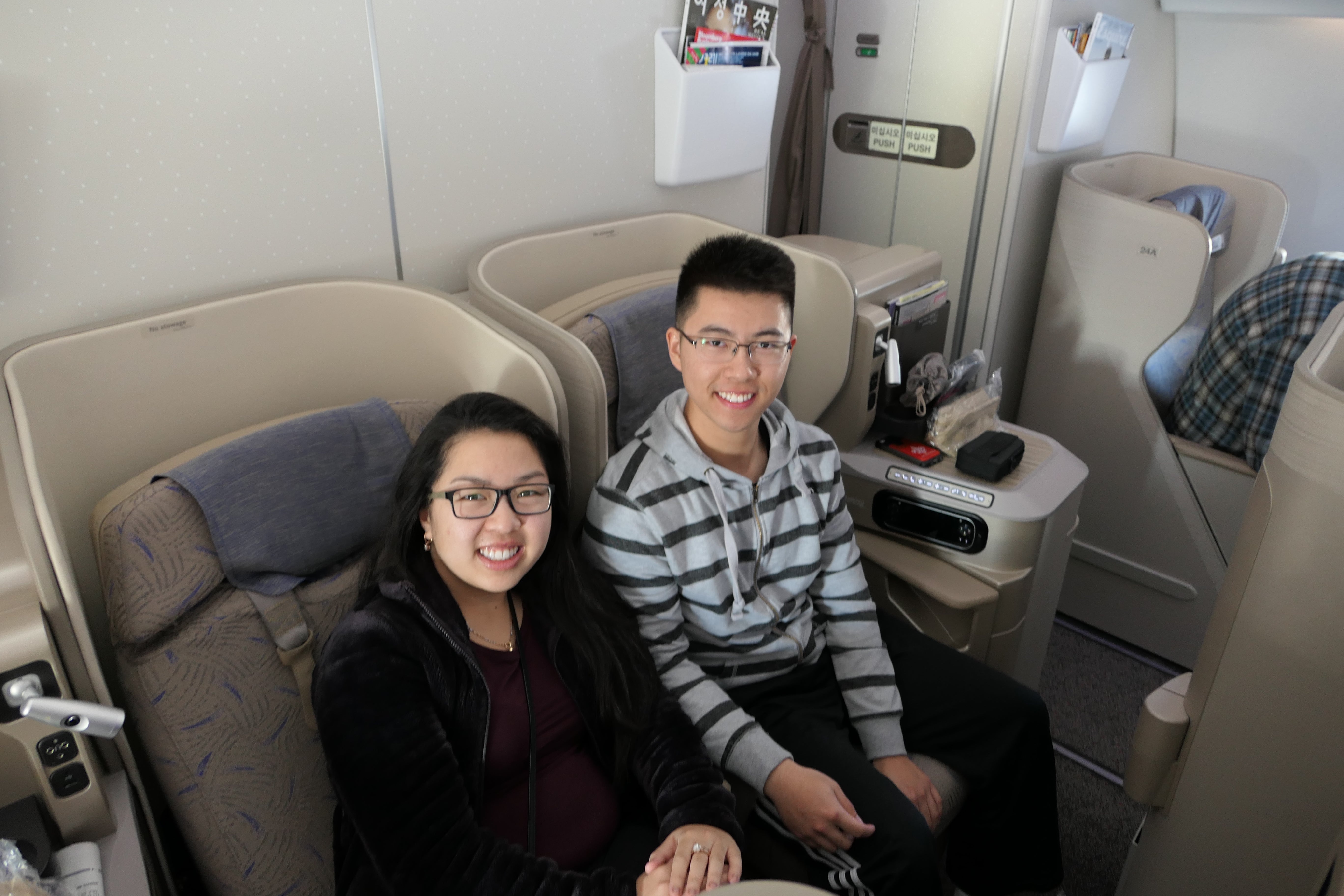 The product that rounds out the business class ranking for couples is Asiana Airlines. Known for being one of the 2 large airline carriers in South Korea, Asiana Airlines is a formidable option to fly in business class.
The "honeymoon seats" are spacious yet intimate, and the experience is quite enjoyable. If you're like most, you'll want to spend time with your travel companion on a long-haul flight, so being close enough to talk easily is essential.
Unfortunately, the superjumbo is only flown on 1 of the Los Angeles (LAX) – Seoul-Incheon (ICN) flights: OZ 201.
The amenity kit, food, and beverages are average. The saving grace, however, is the service.
If you're wanting to fly Asiana Airlines from the U.S., here's a great guide on flying to Seoul from the U.S. on Asiana.
Bottom Line: If you want to fly on Asiana Airlines, expect a solid (yet not excellent) business class product with honeymoon-style seats.
Final Thoughts
Overall, there's a ton of variability in business class products for airlines around the world — even among the top business class products. This is precisely why travelers should be cognizant of an airline's business class product before booking.
This is especially true for couples traveling together. Traveling should be a relaxing experience; it wouldn't be pleasant if you spent your hard-earned points on a disappointing product that wasn't enjoyable for you and your partner.
While there is a lot of subjectivity in this ranking, priority was placed on a hard product conducive for couples over smaller things like the quality of headphones. The next factor was the soft product, including bedding and catering. You and your companion need to be comfortable when traveling!
Hopefully, you now have an idea of the best international business class cabins for couples, and you can use that to fuel your travel planning.