Oman Air Boeing 787 Business Class Review [MCT to BKK]
Airline: Oman Air (WY)
Aircraft: Boeing 787-9 (A4O-SI)
Flight #: WY817
Route: Muscat (MCT) > Bangkok (BKK)
Date: June 25, 2019
Duration: 6hr
Cabin & Layout: Business Class, 30-seats, 1-2-1 config
Seat(s): 11K
Miles Used: None – paid fare
Cash Used: $1,400 (£1,180) per person one-way Barcelona to Frankfurt to Muscat to Bangkok
Introduction
This review follows on from a flight from Frankfurt to Muscat on Oman Air's Airbus A330 in the older business class configuration. You can read how it was booked in that review.
Ever since flying Qatar Airways' phenomenal Qsuites earlier this year, the next product high on my list was the highly regarded Apex Suites as seen on Oman Air, Korean Air, and Japan Airlines. I was eager to see if it lived up to the hype.
How to Book Oman Air Business Class With Points and Miles
Although I booked my Oman Air flight as a paid ticket, it's possible to redeem points and miles towards Oman Air flights.
The best way to do this is by using Etihad Guest miles. These can be transferred in from American Express Membership Rewards, Capital One, Citi ThankYou, and Marriott Bonvoy at varying rates, so it's pretty easy to build up a solid Etihad Guest balance.
The price of a ticket on this route — Muscat to Bangkok — costs a reasonable 34k points in business class. You can view the full Etihad Guest award chart for Oman Air on the Etihad Guest website (PDF).
OK, now for the bad news: it's hard to actually book the ticket.
Unfortunately, these awards don't show up on the Etihad Guest booking site and there's seemingly no way to find award space online. This means that you'll have to call in to find award space and actually book the ticket.
We recommend calling the airline's Manchester, U.K. call center for the best experience. It will take a bit of time to actually book the ticket, but I promise that it's worth it in the end!
At Muscat International Airport
My inbound flight landed at 7:28 p.m. and my connecting flight was scheduled to depart at 9:20 p.m., providing time for me to check out the new Oman Air First and Business Class Lounge.
The new $1.8 billion Muscat International Airport passenger terminal opened in March 2018 and it was an absolute breeze to transit through.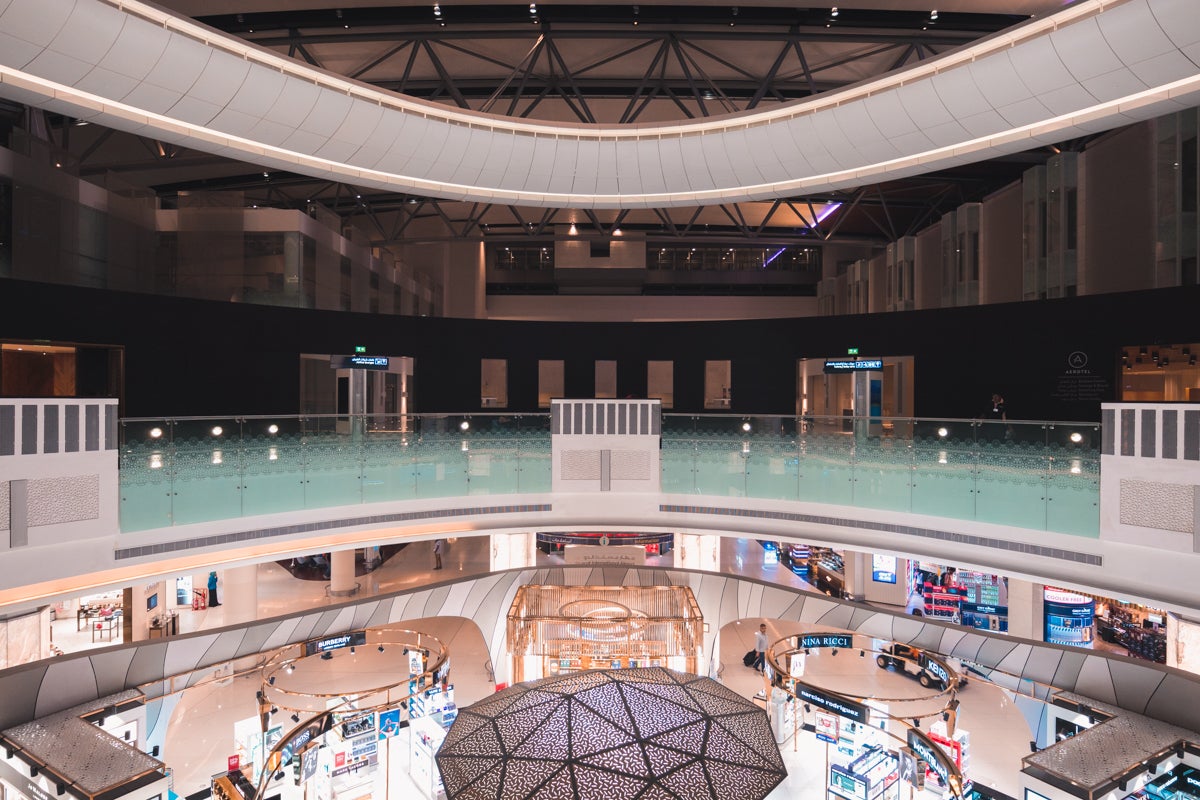 Business class passengers can use the fast track security lanes and it took me a total of 10 minutes to get from the gate to the new lounge (one of the best business class lounges in the world).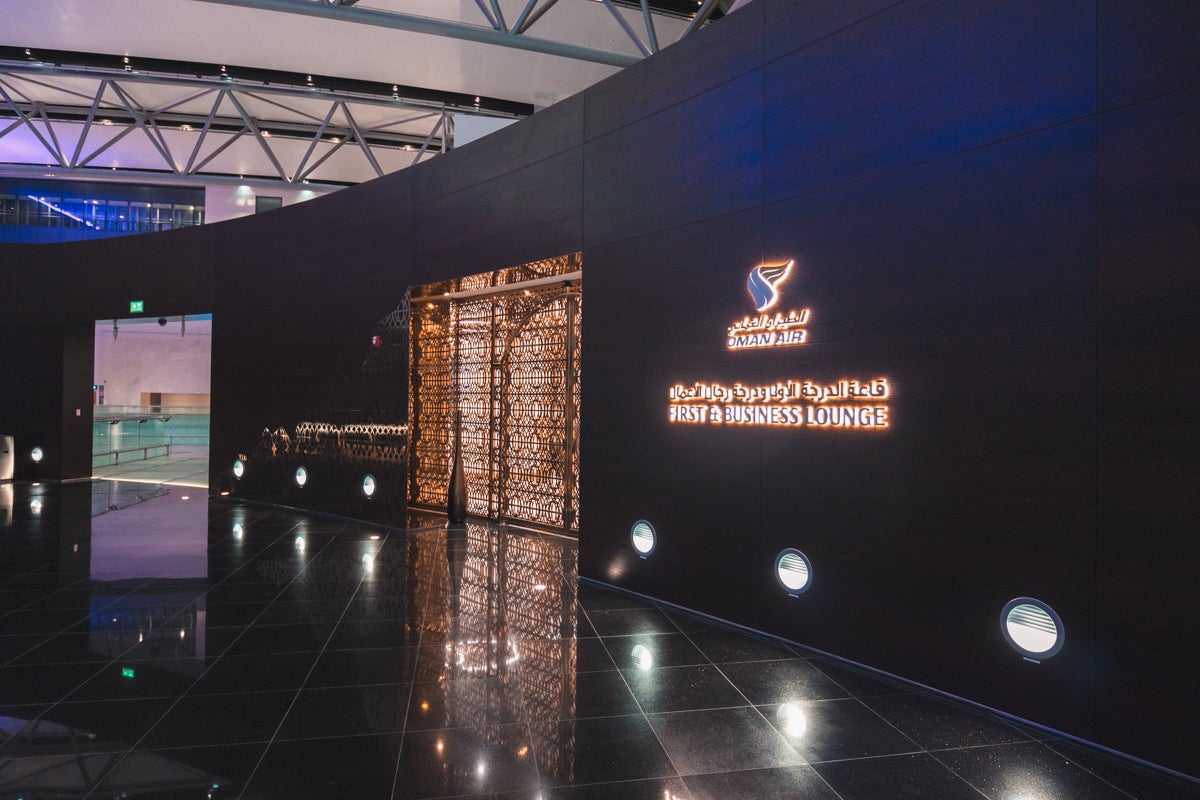 Passing through the automatic double doors, I was greeted by a staff member who quickly checked my boarding pass and welcomed me in.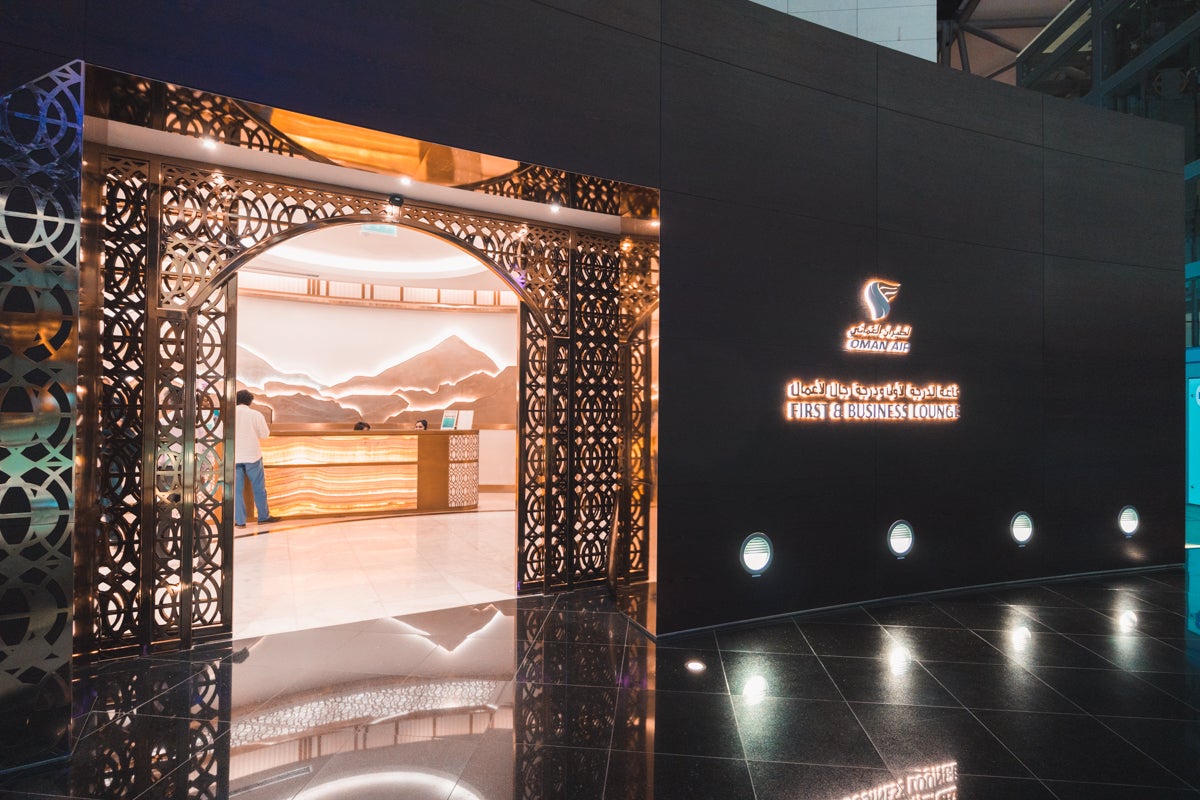 A large model of its flagship Boeing 787 aircraft is the feature piece in the reception which sits in front of a portrait of the Sultan of Oman.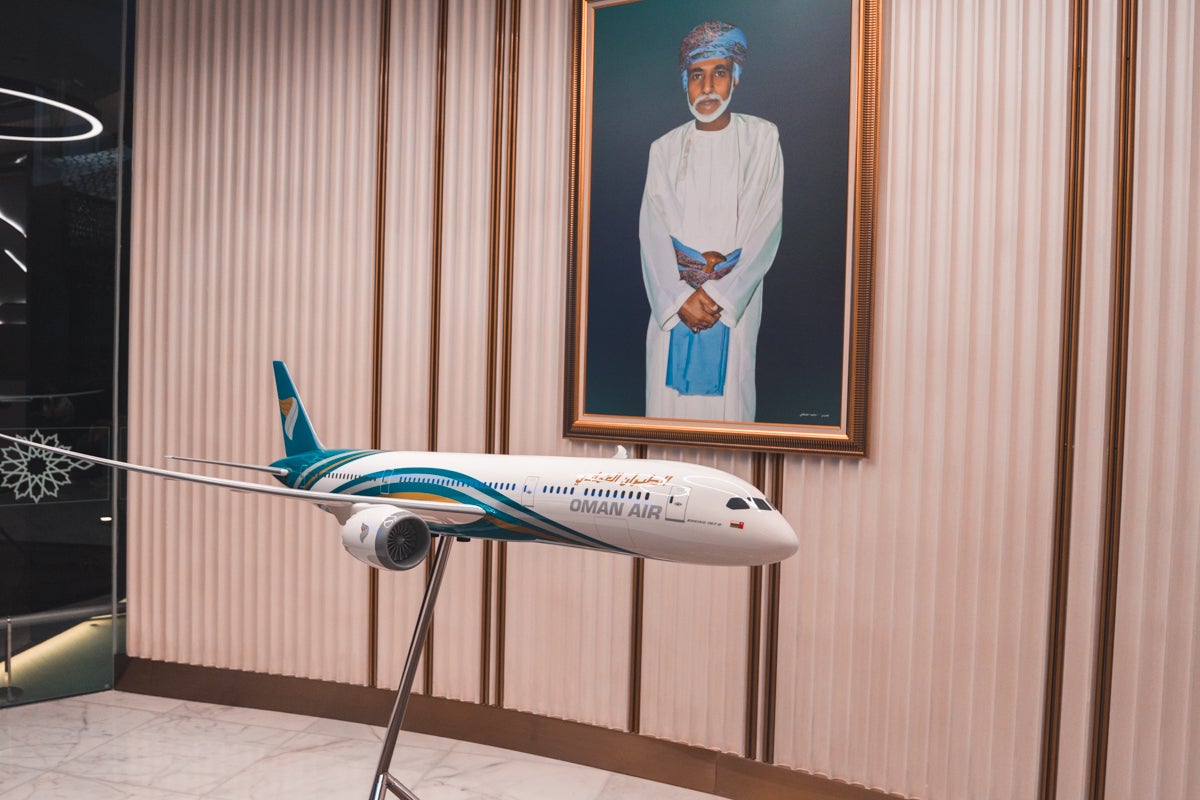 When I was taking a photo of the directory, a staff member mentioned that the listed spa wasn't open just yet.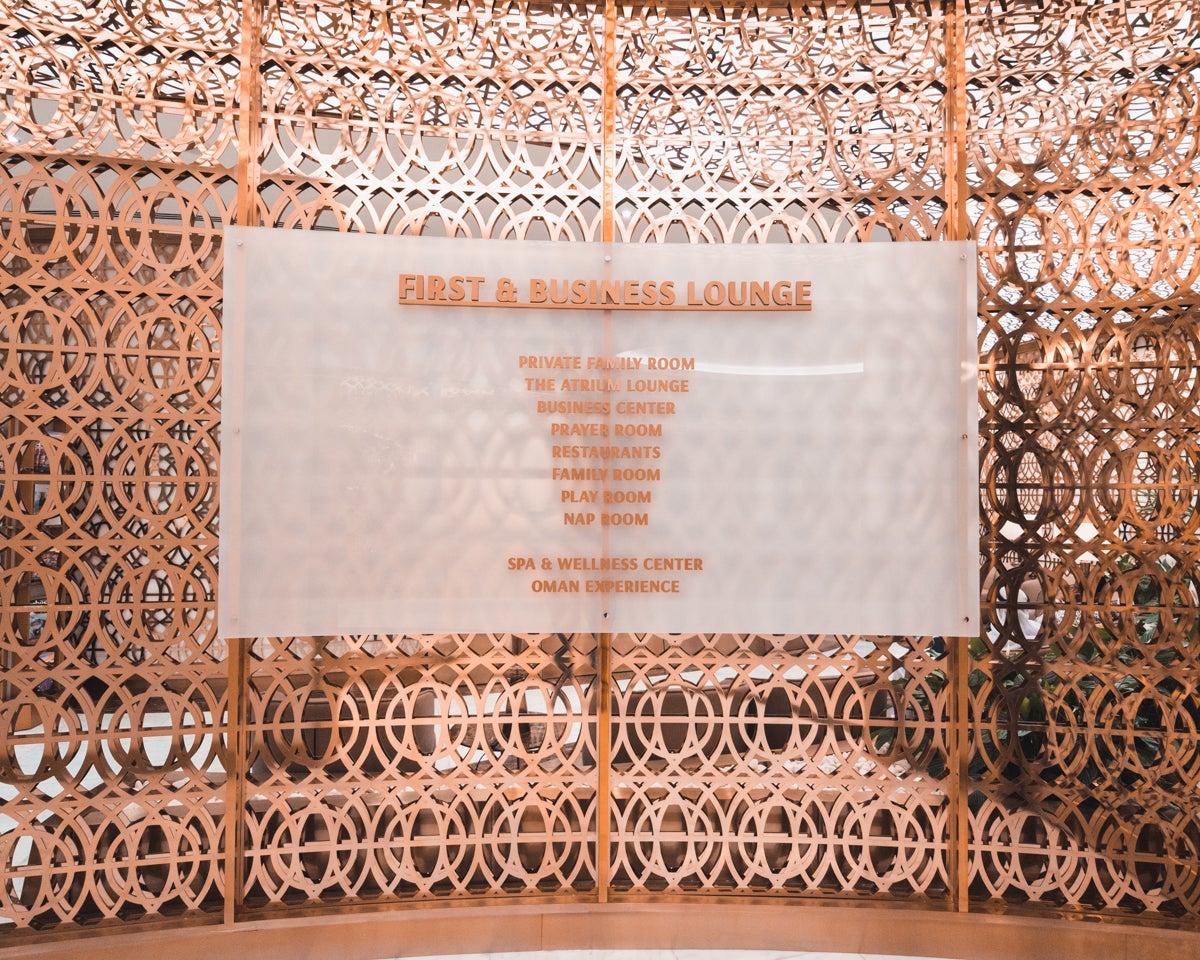 Entering the lounge, you pass through a winding hallway, flanked with armchairs and flight information boards.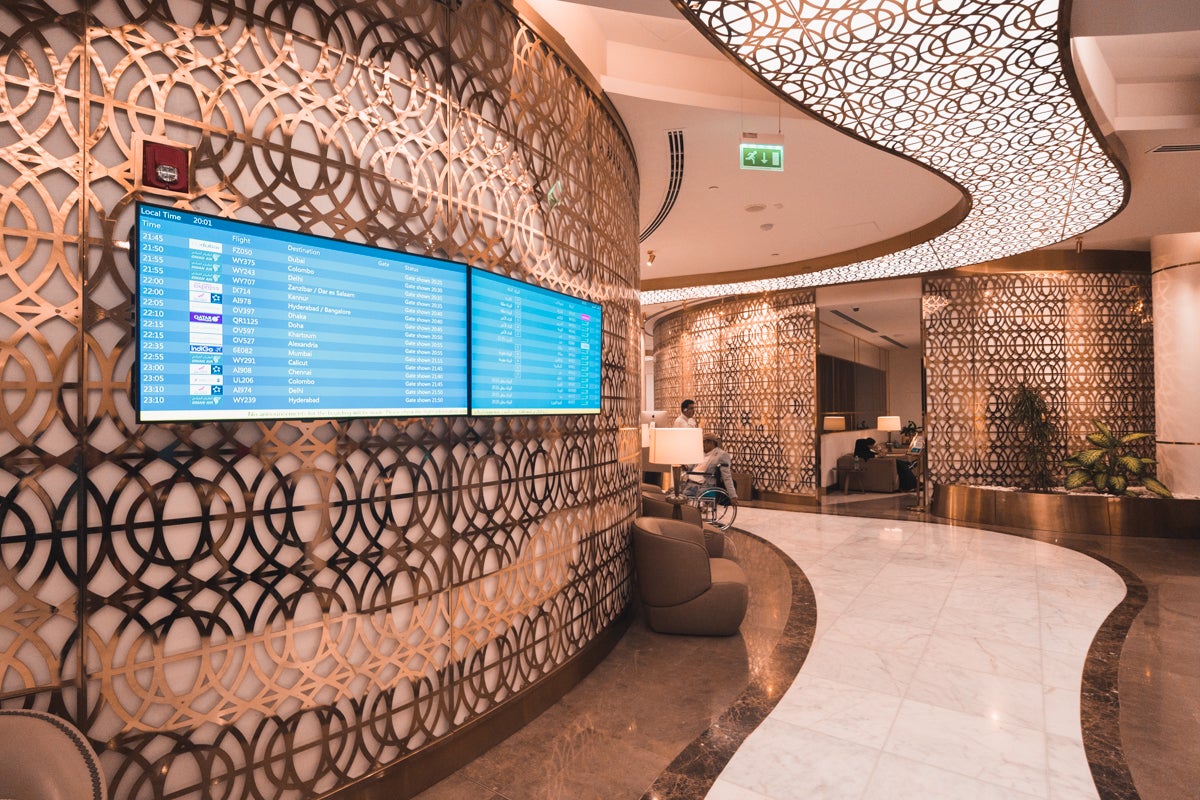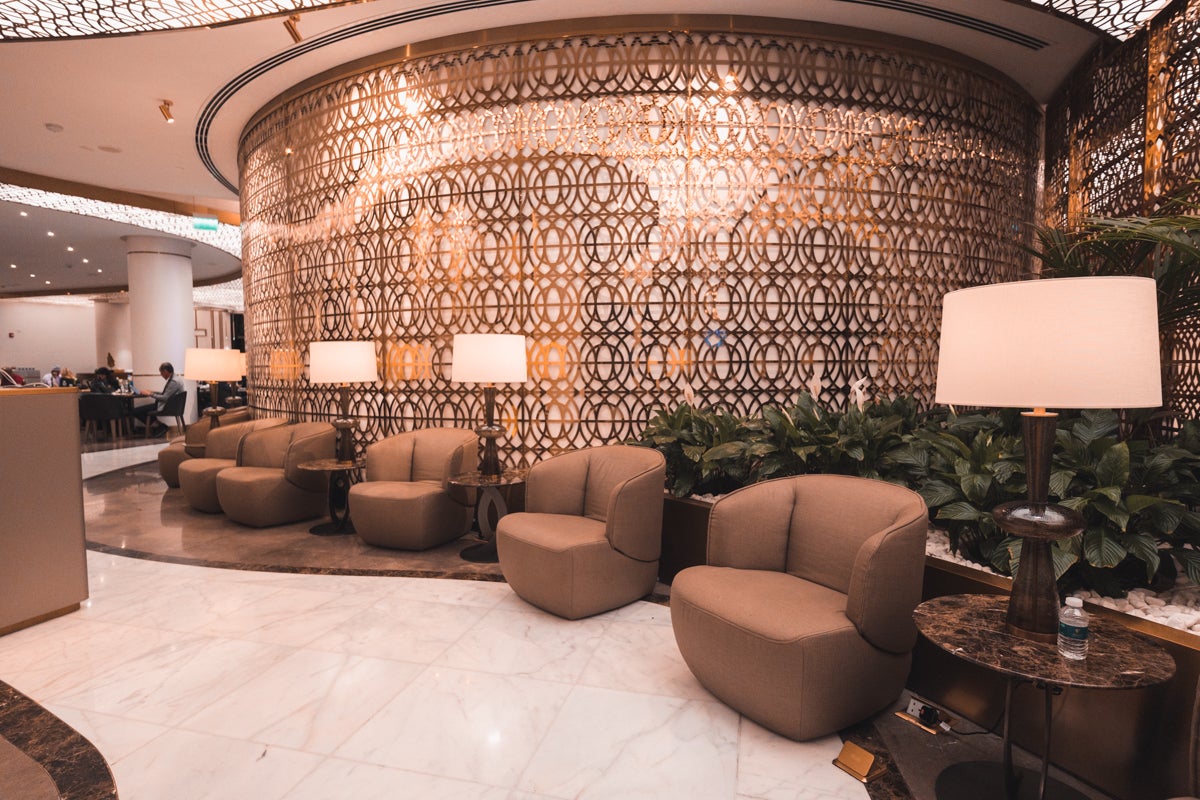 Smaller lounge areas are also off this hallway.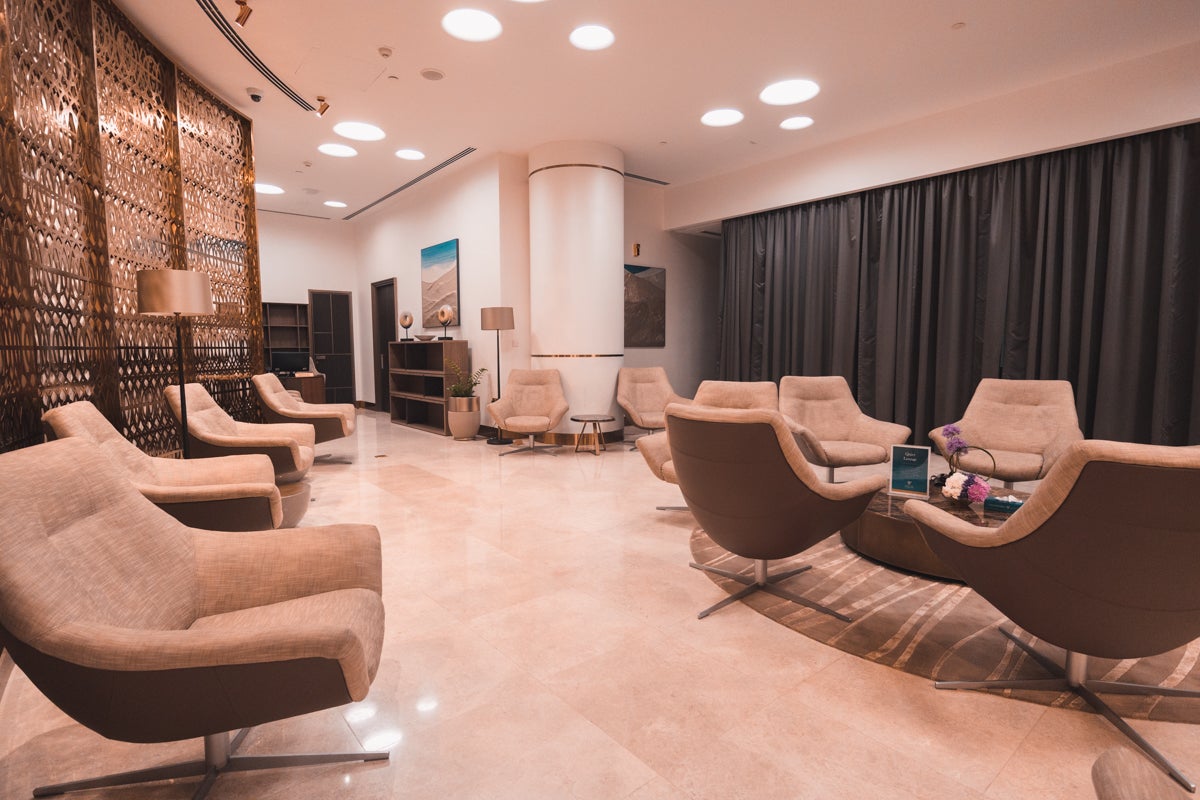 The hallway then opens into the main buffet and dining area.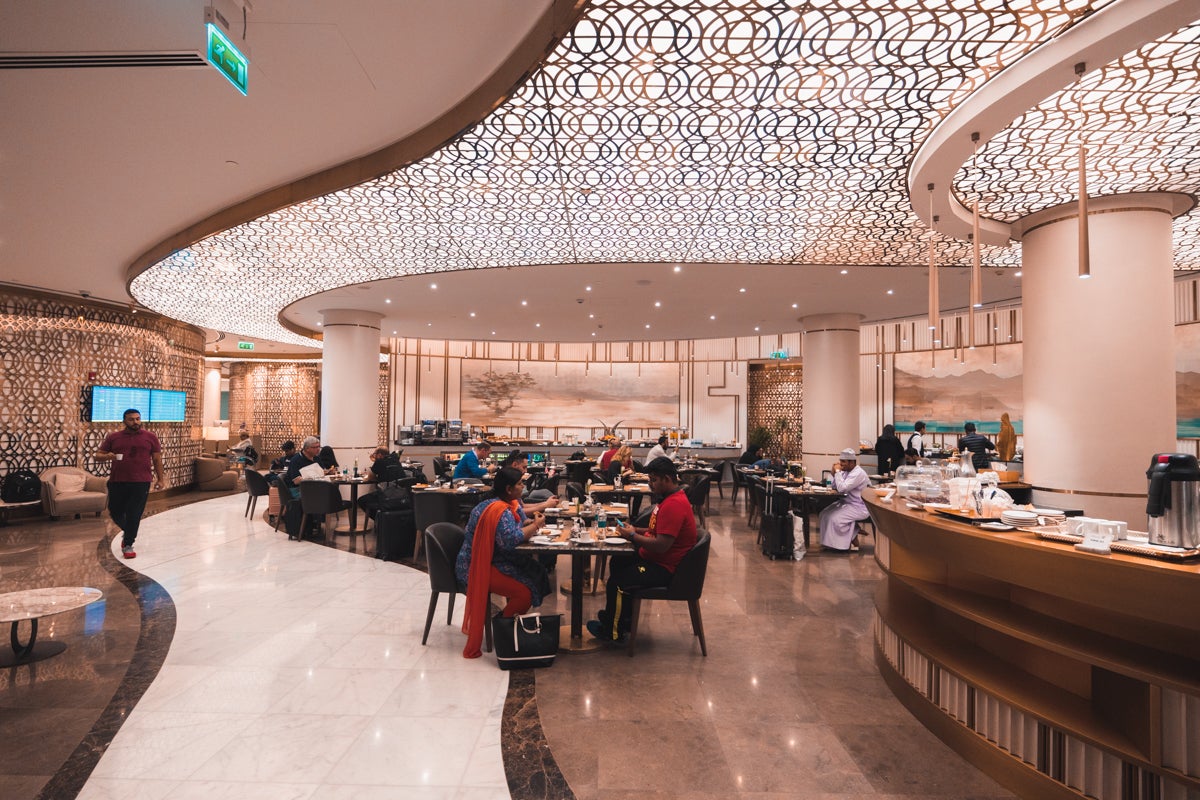 During my visit, the buffet included 7 hot dishes and a large selection of cold options and desserts.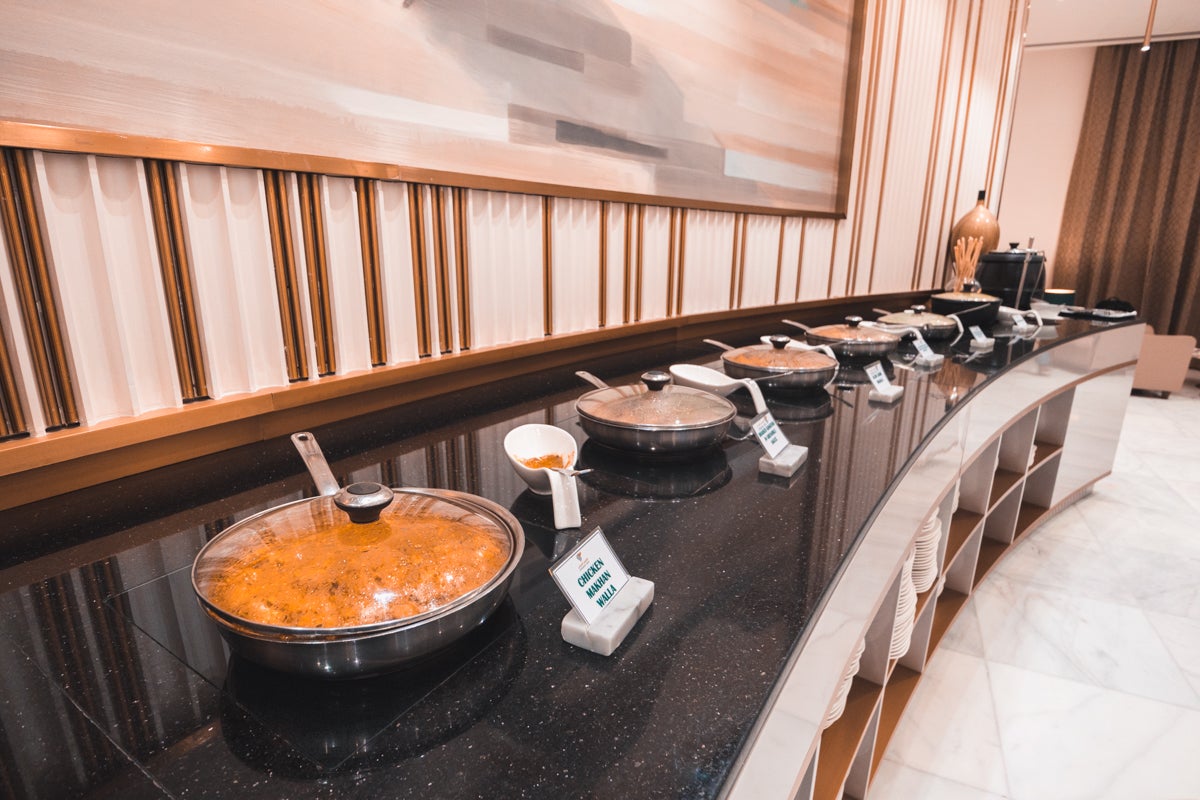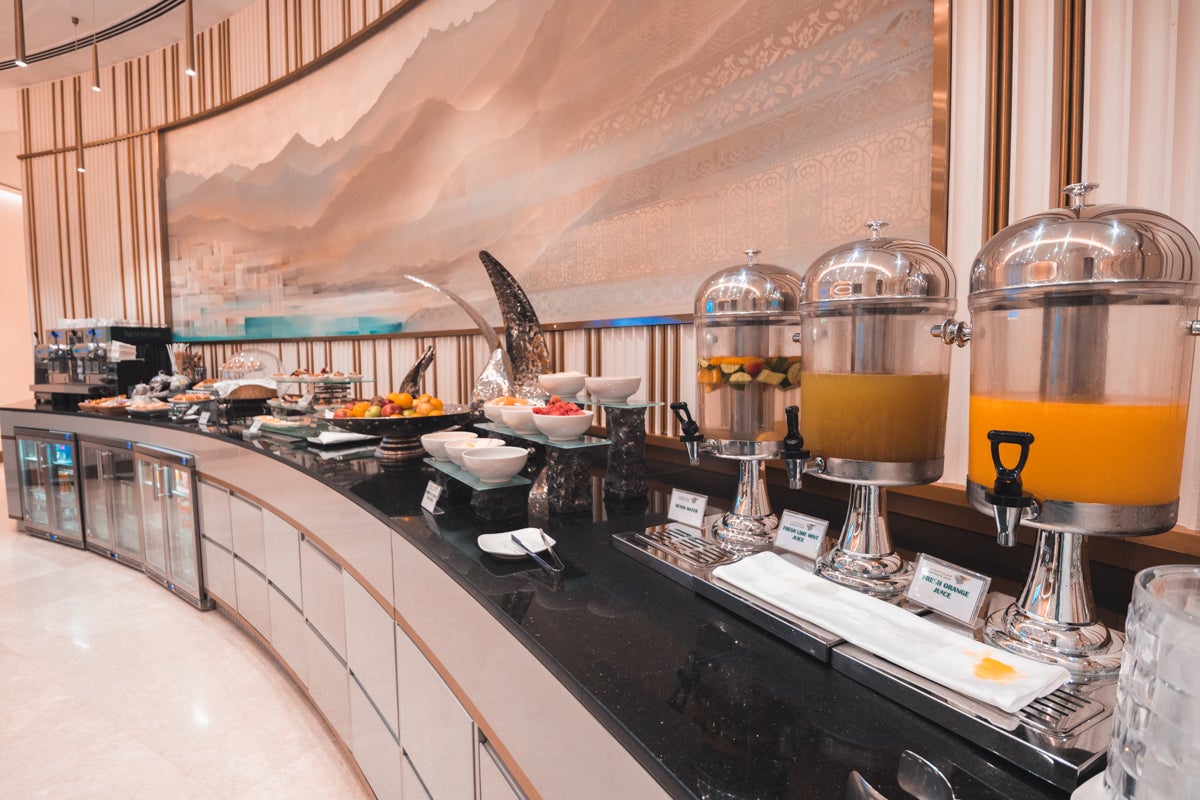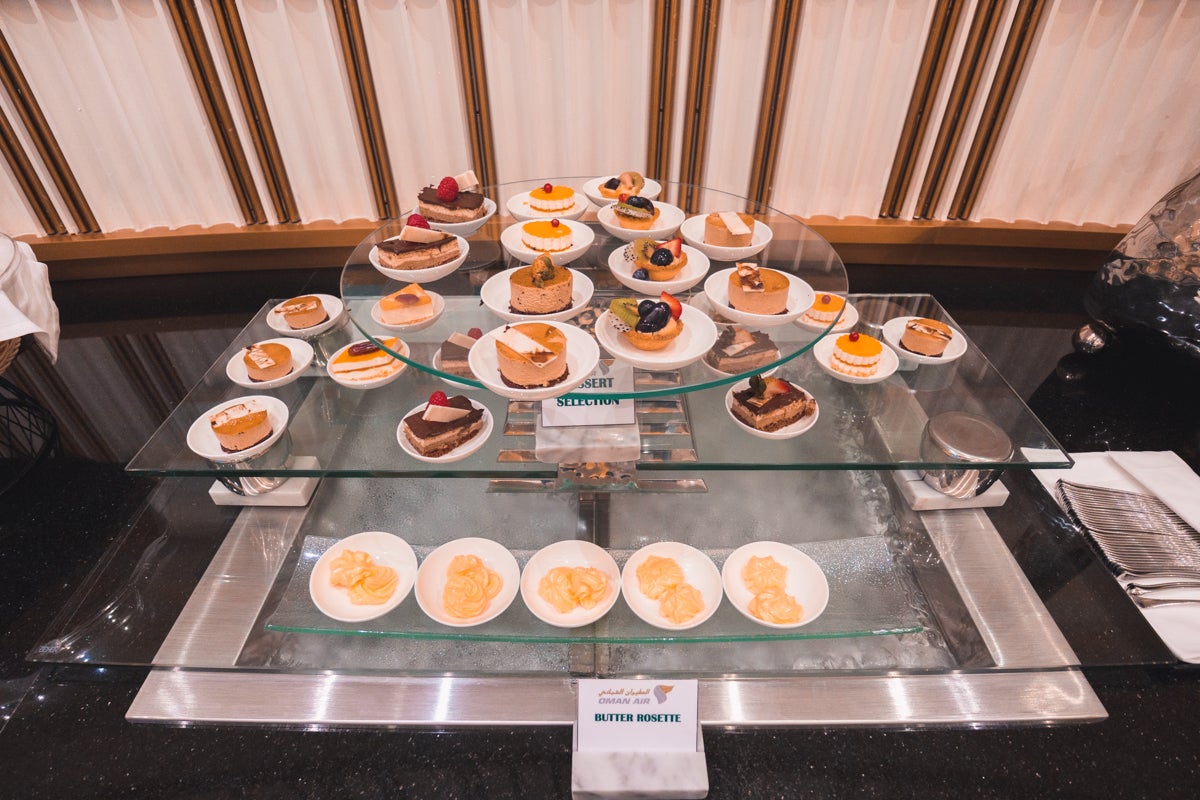 Walking further into the lounge, you'll come across the tendered bar which faces a huge window. The bright internal lights reflected off the glass in the evening so there wasn't a view to be seen.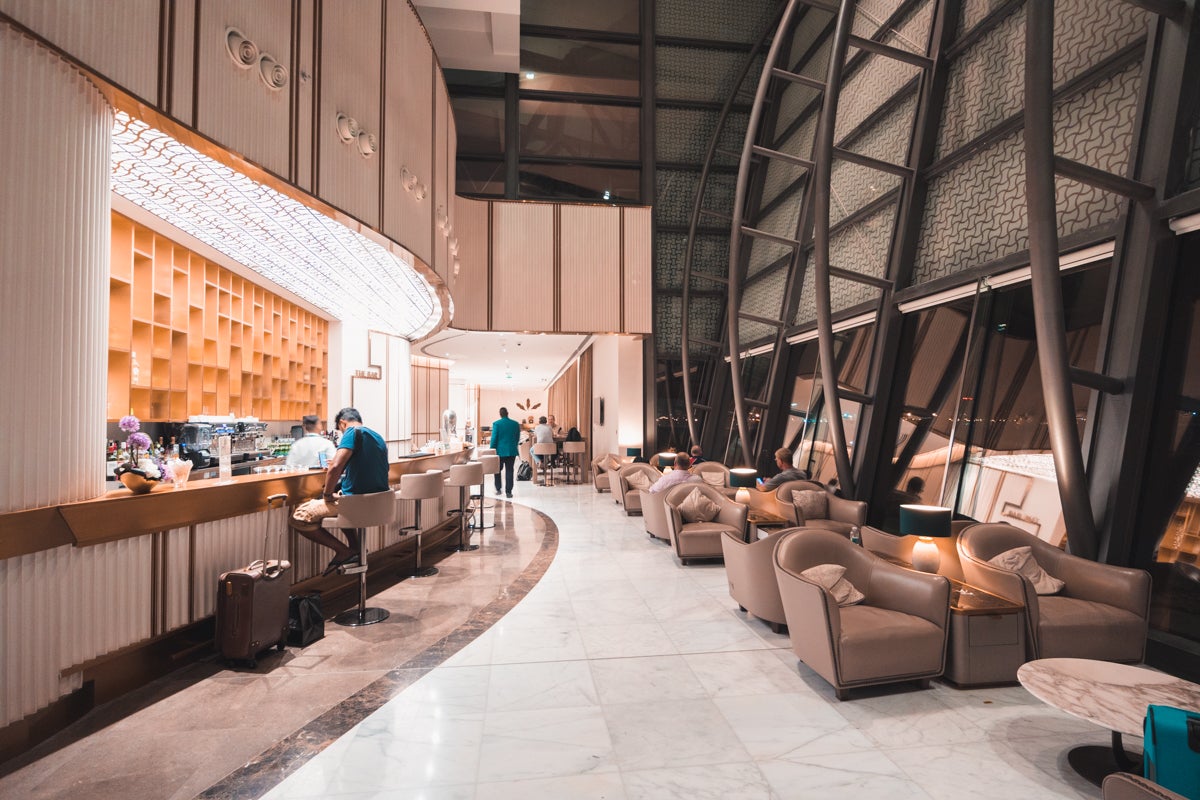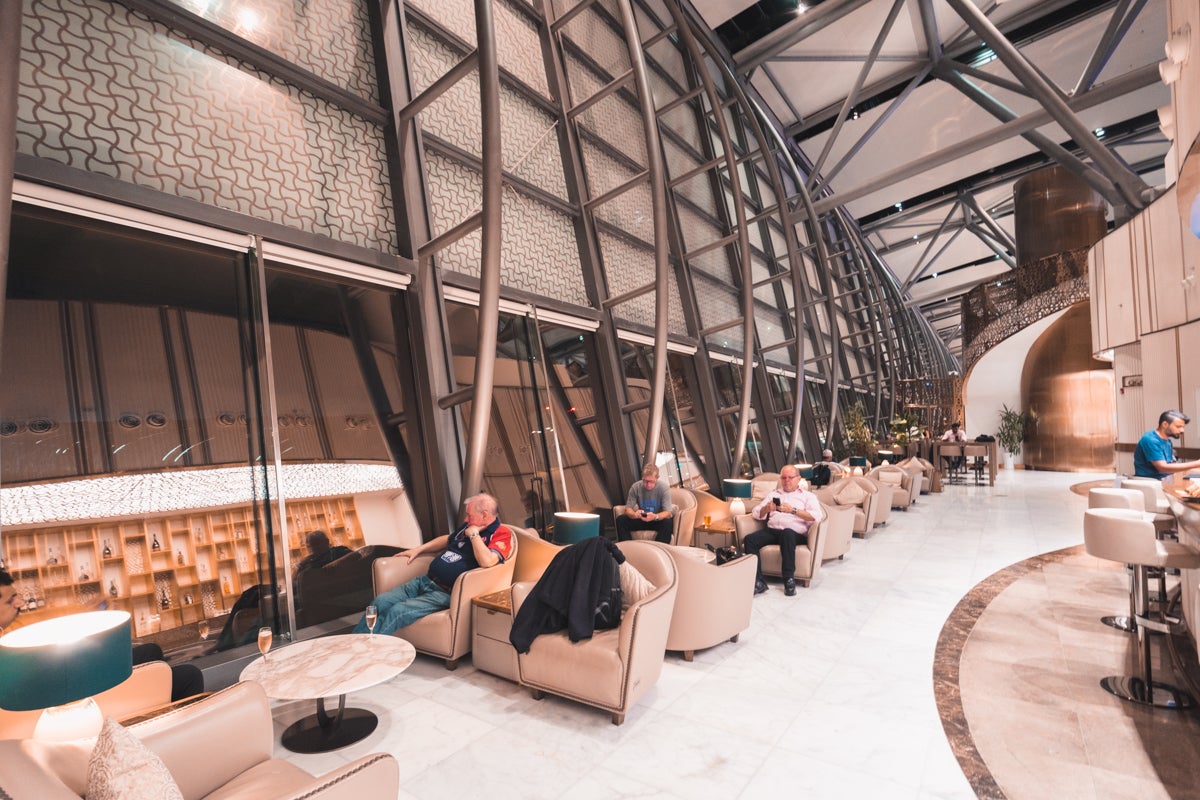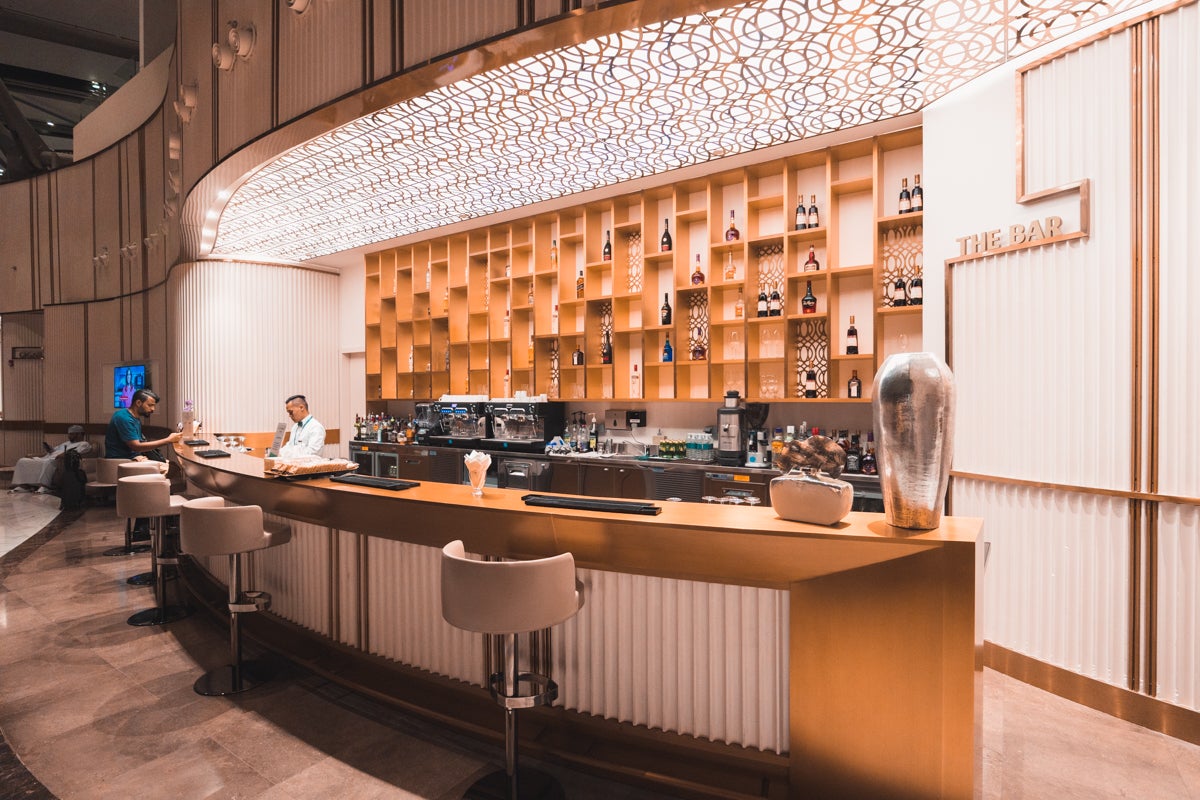 Walking further past the bar, it expands into another large buffet and dining area.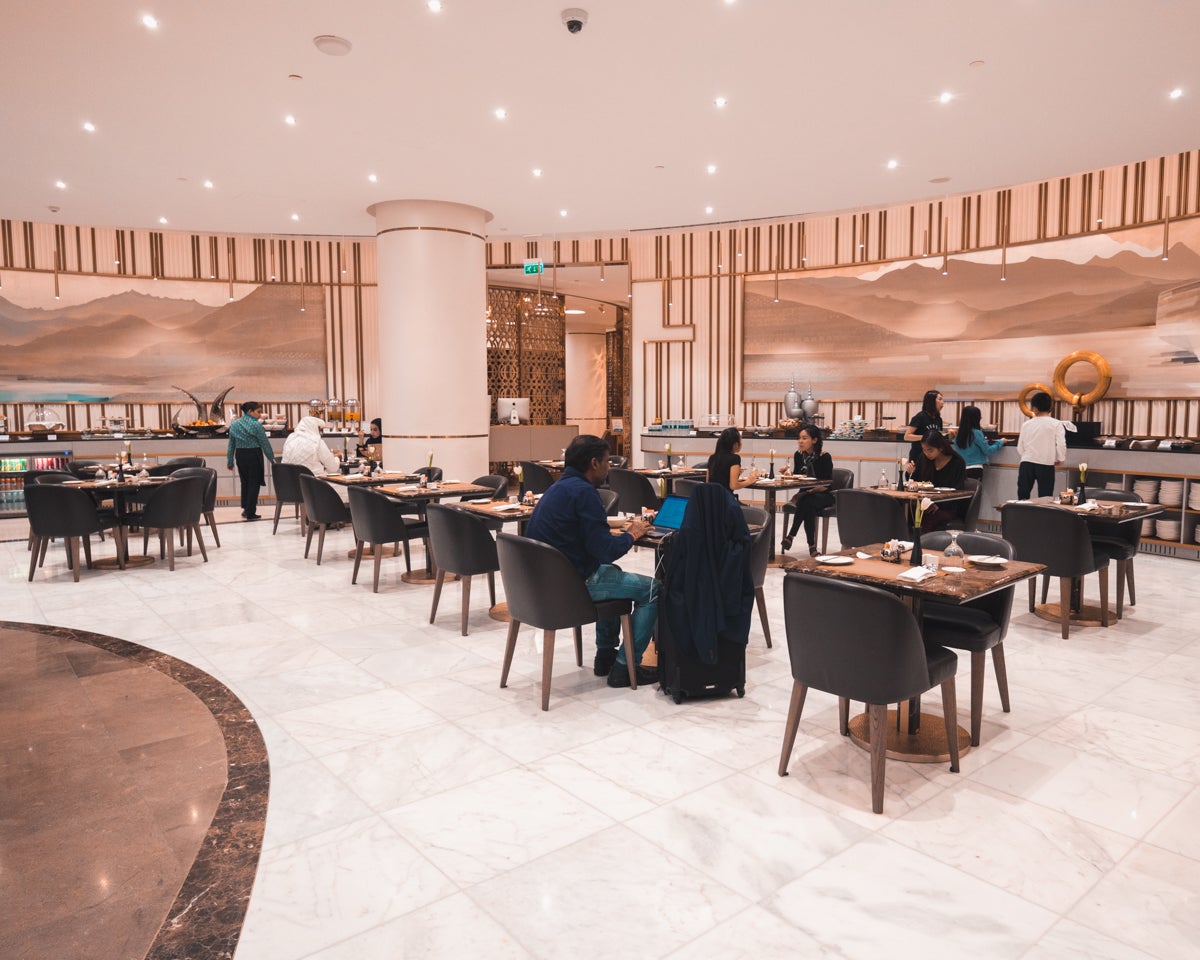 I still wasn't hungry due to the 3-course lunch service on the flight from Frankfurt, so I had the bartender make me the signature cocktail for the day instead — a cosmopolitan.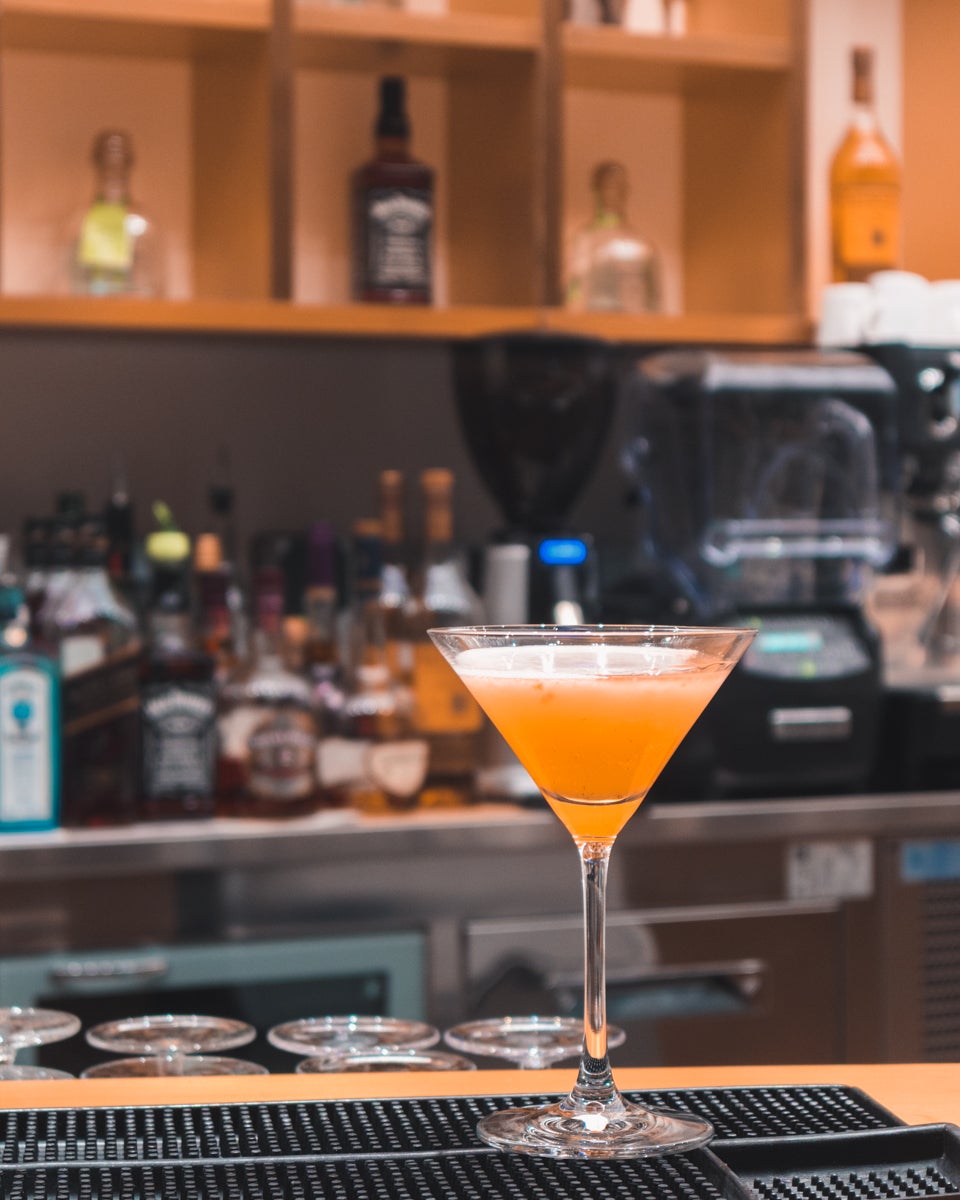 There is also a room for the kids to play in.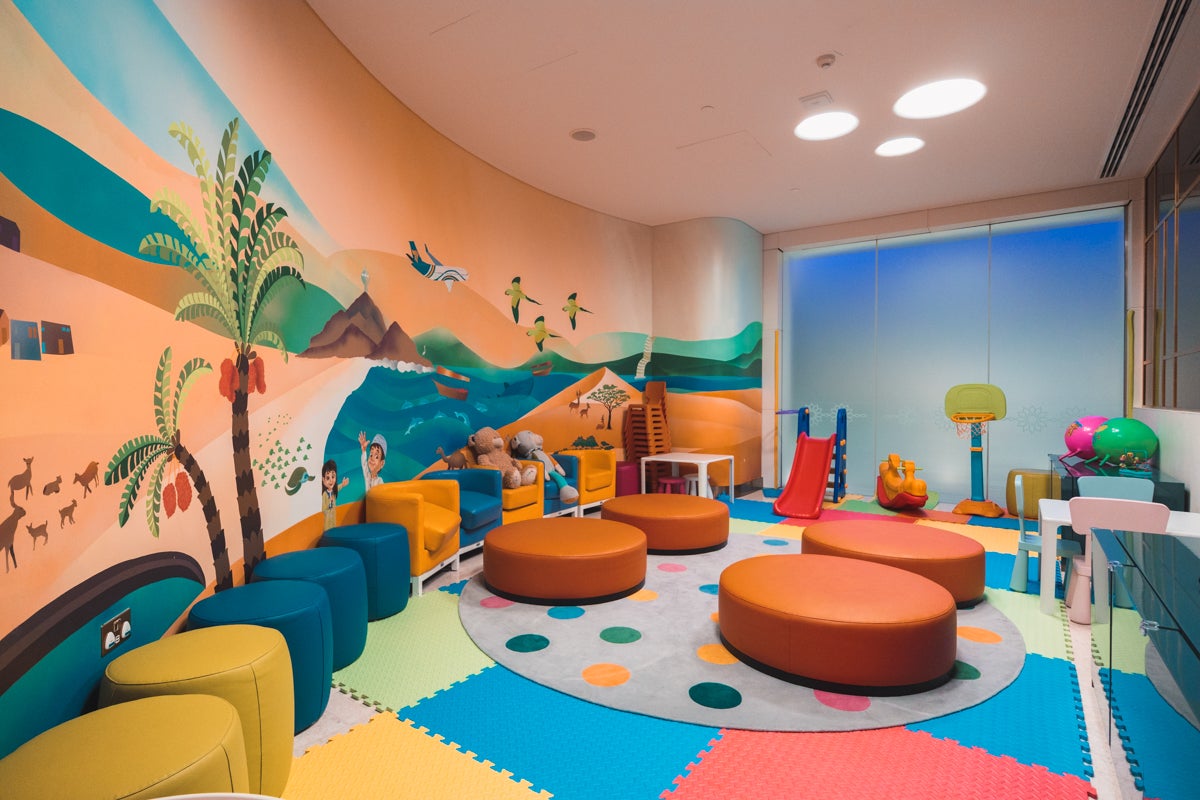 Overall, I enjoyed my brief visit to the Oman Air First & Business Lounge. There is ample seating in various zones and 2 large dining areas, however, there was a lack of power points near some of the armchairs in the private lounge area and around the armchairs in hallways.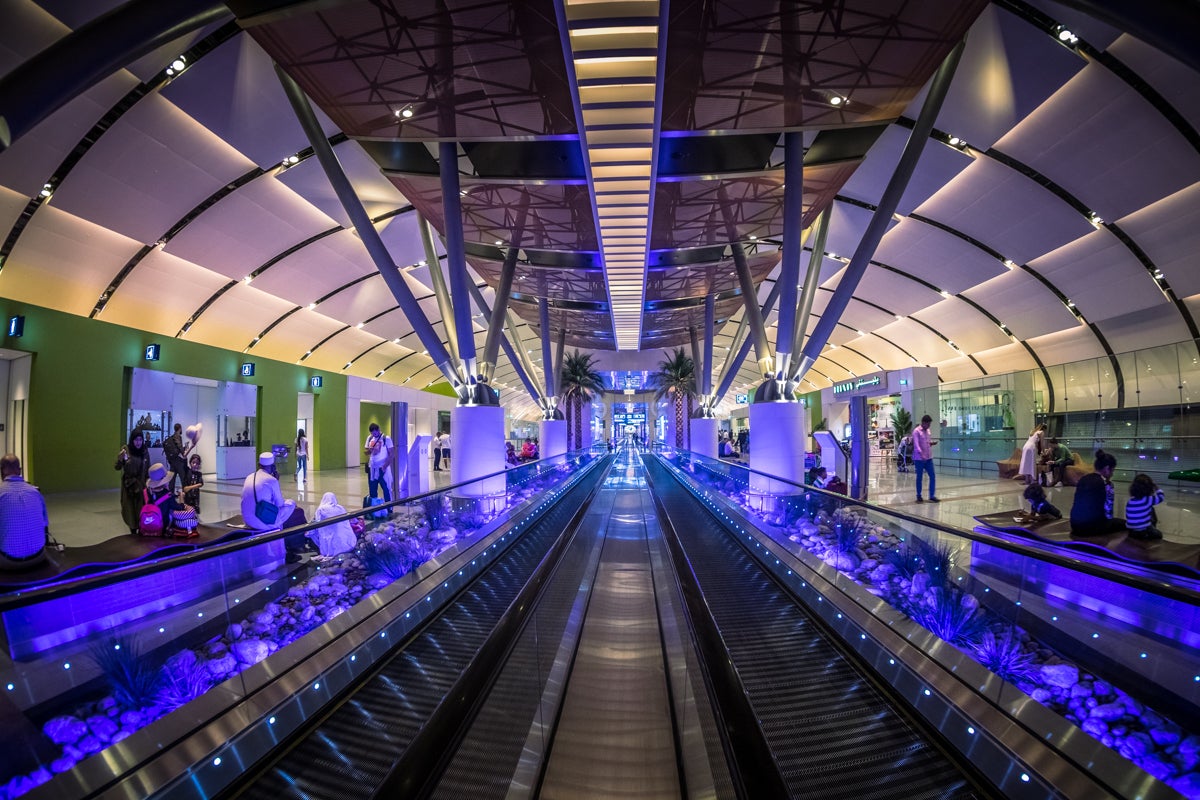 I arrived at the gate 10 minutes before the listed boarding time and was first in the queue. The boarding commencement was weird. No announcements were made; an airport ground crew member just opened the door and said, "OK, Bangkok, you come now."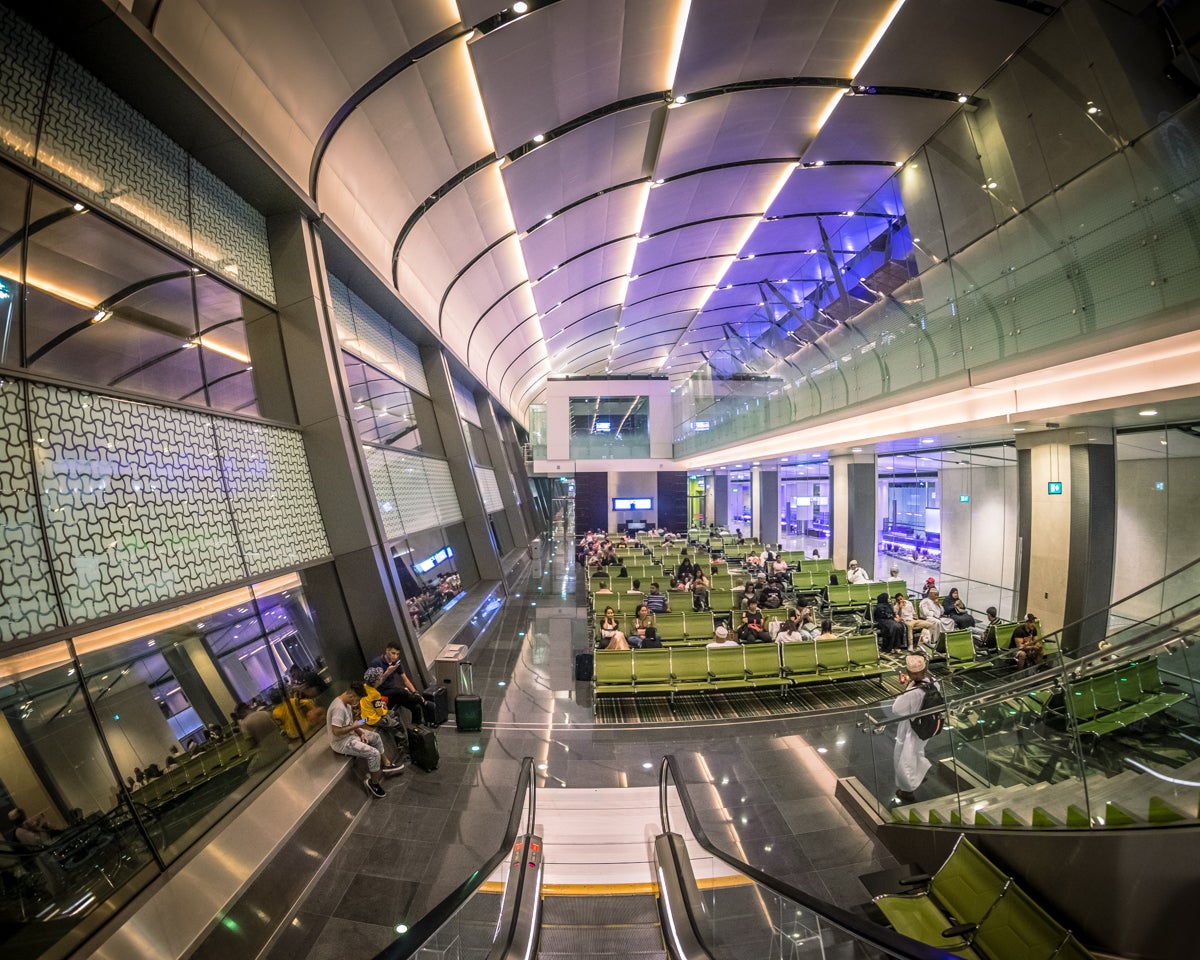 When I arrived at the aircraft door, the cabin crew were still scrambling with final cabin preparations and had no idea the ground crew started boarding. As a result, another airport staff member held passengers back for another 5 minutes.
Flight
Aircraft
WY817 is operated by a Boeing 787-9 aircraft, snapped here a few days earlier in Bangkok out the window of my Finnair Airbus A350.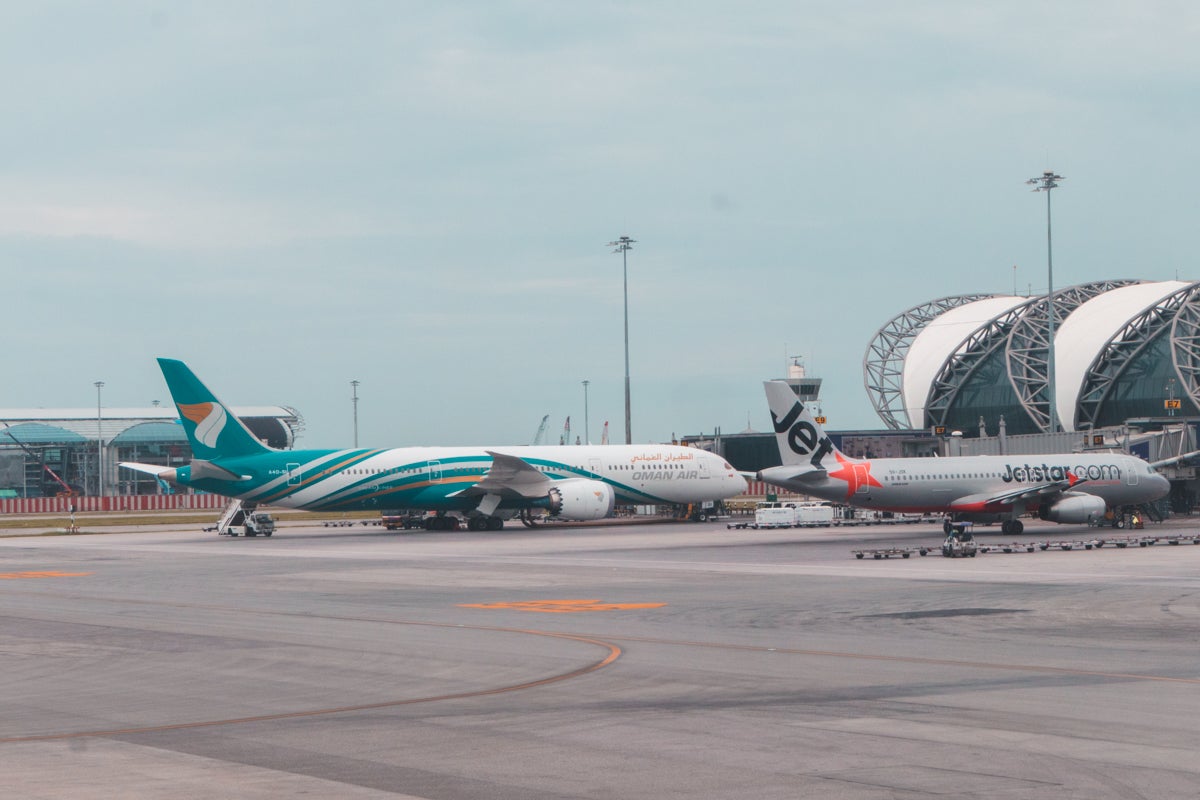 Oman Air currently has a fleet of 9 Boeing 787-series aircraft, 2 of which are 787-8 model with the remaining the longer 787-9 variant.
According to the Oman Air social media team, the Boeing 787 is currently flown on routes between Muscat and:
Bangkok
London
Manchester
Paris
My aircraft today was Oman Air's newest 787-9 and was only 3 months old.
The carrier has 2 versions of the 787-9: a 2-class configuration with the Apex business class seats and economy class and a 3-class configuration which adds first class.
My aircraft was the 2-class configuration.
The business class cabin features 30 seats in a staggered 2-2-2 configuration with 24 in the forward cabin between door 1 and door 2 and a smaller cabin behind door 2 with just 6 seats.
Economy has 258 seats split across 2 cabins in a 3-3-3 configuration.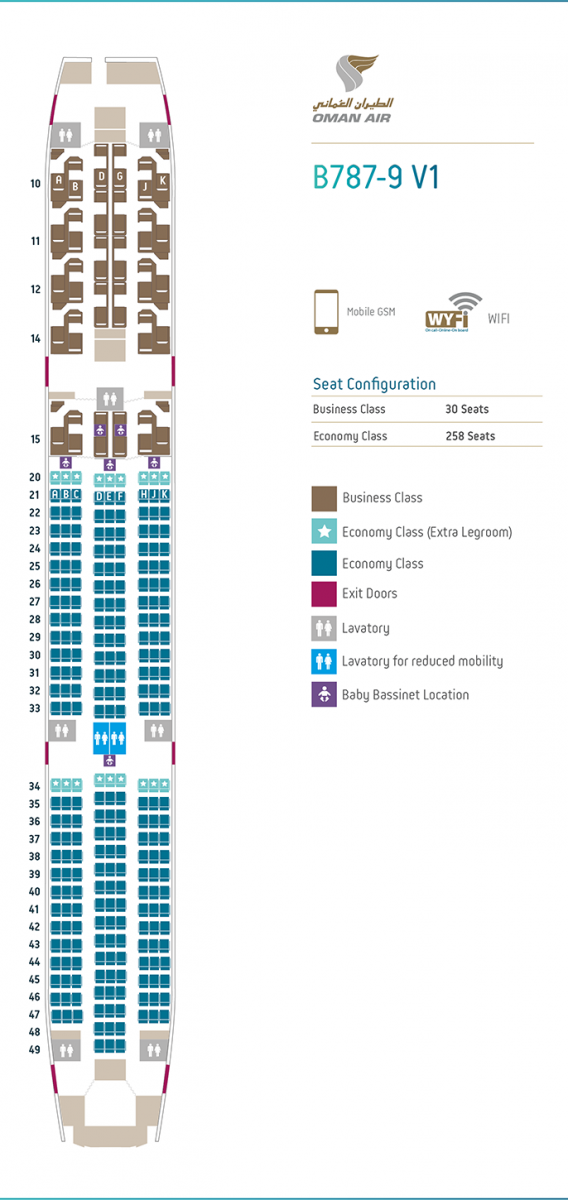 Business Class
Finally on board, seeing the cabin for the first time I thought to myself, "Wow! What a sleek looking cabin!"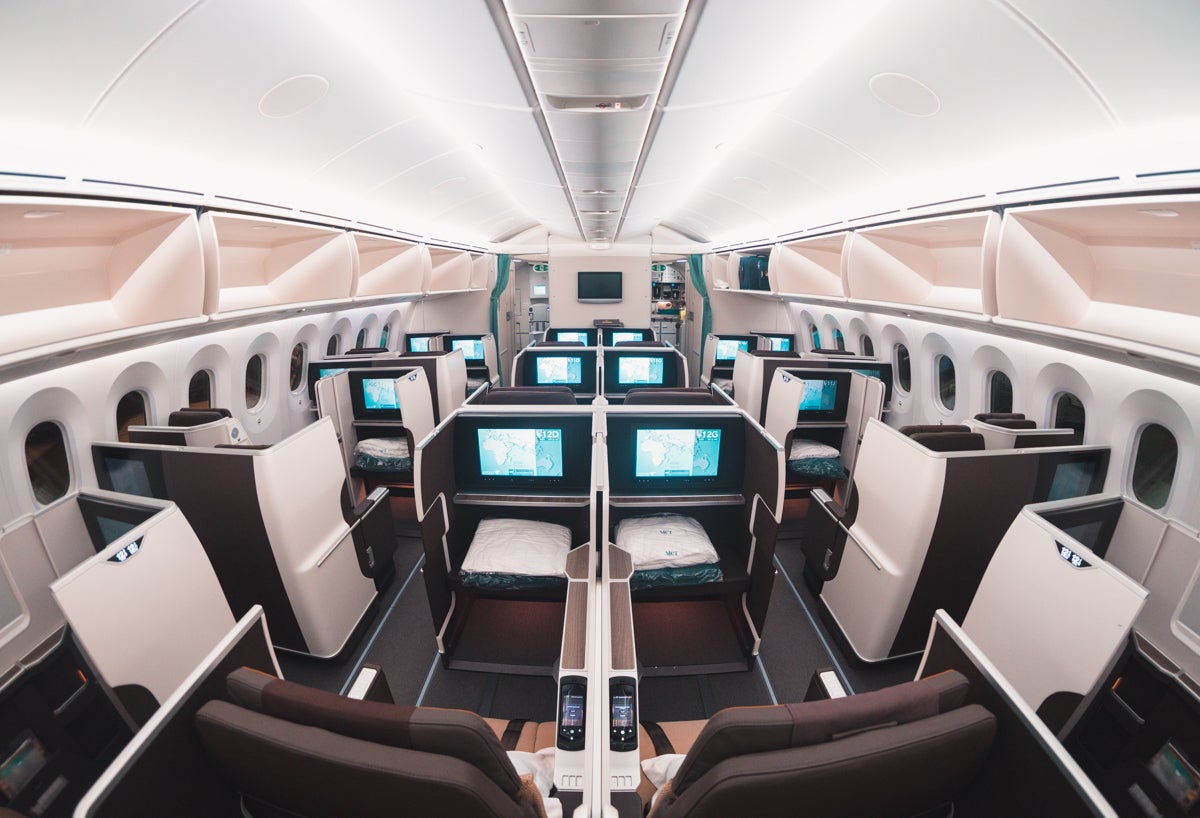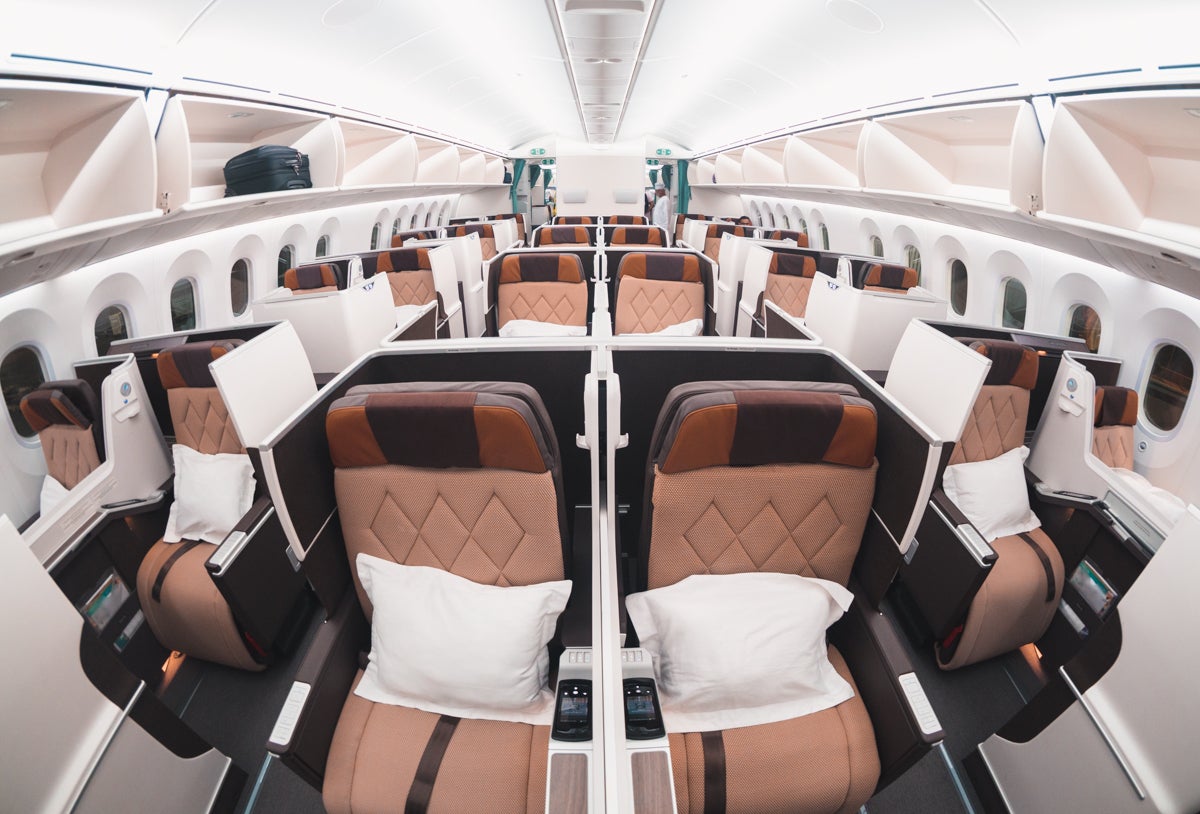 With only 11 passengers in the front cabin this evening, it was also very empty.
Don't let the 2-2-2 configuration fool you — this staggered seat arrangement affords every passenger direct aisle access.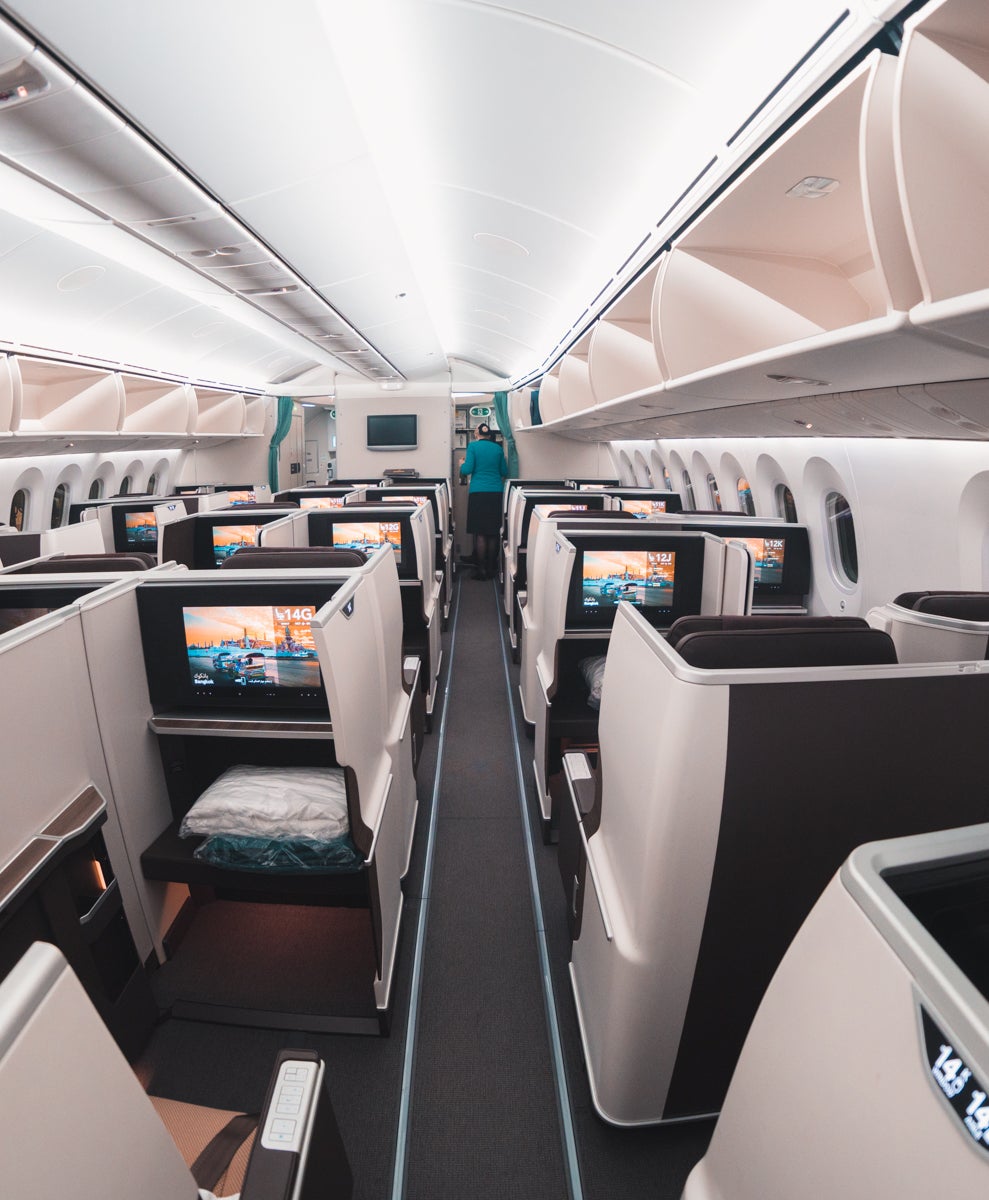 The best seats in the cabin are the A and K window seats. These seats have up to 3 windows and have a walkway from the aisle to the seat.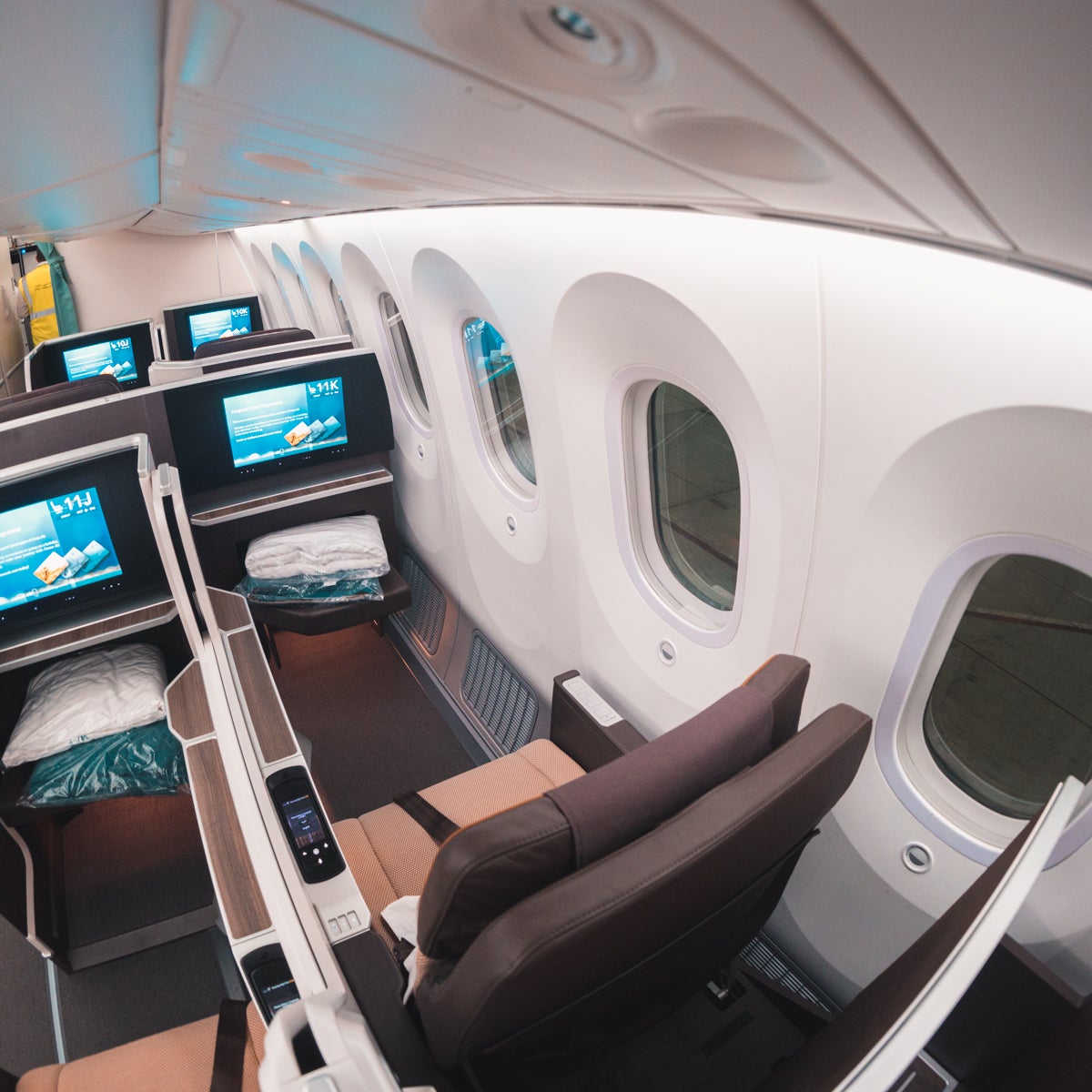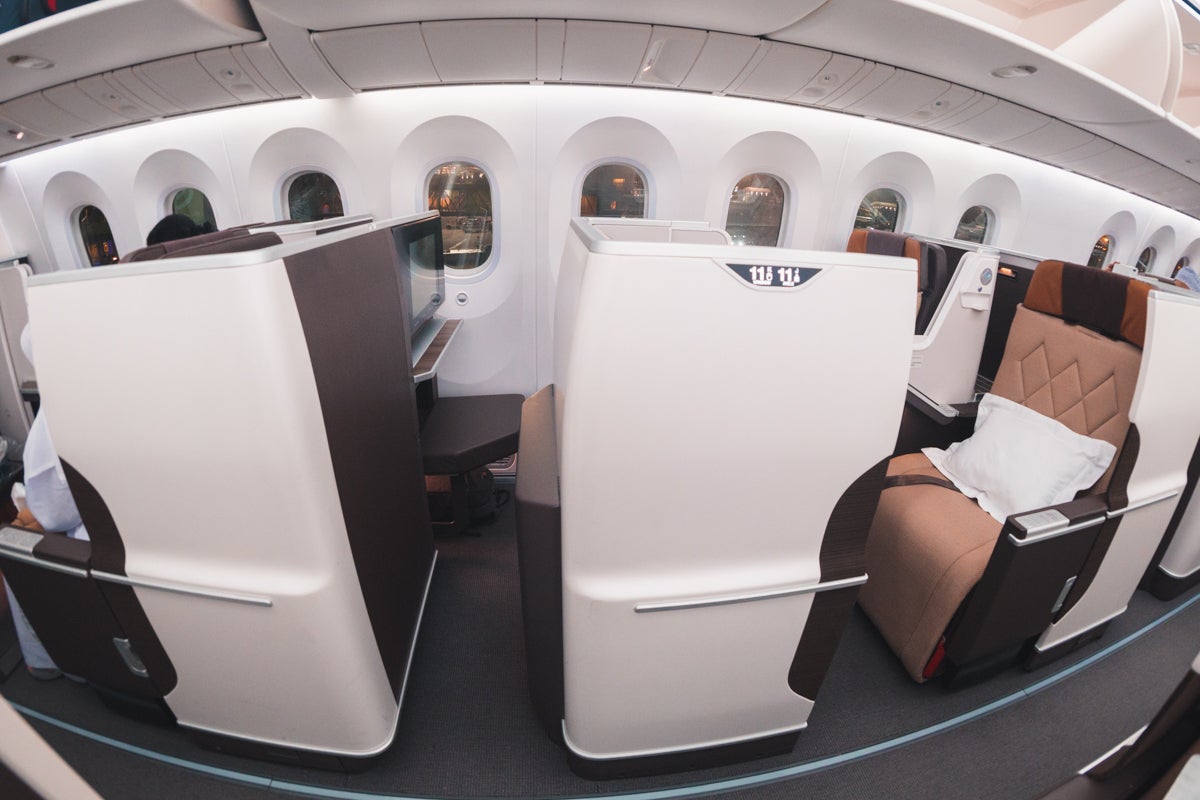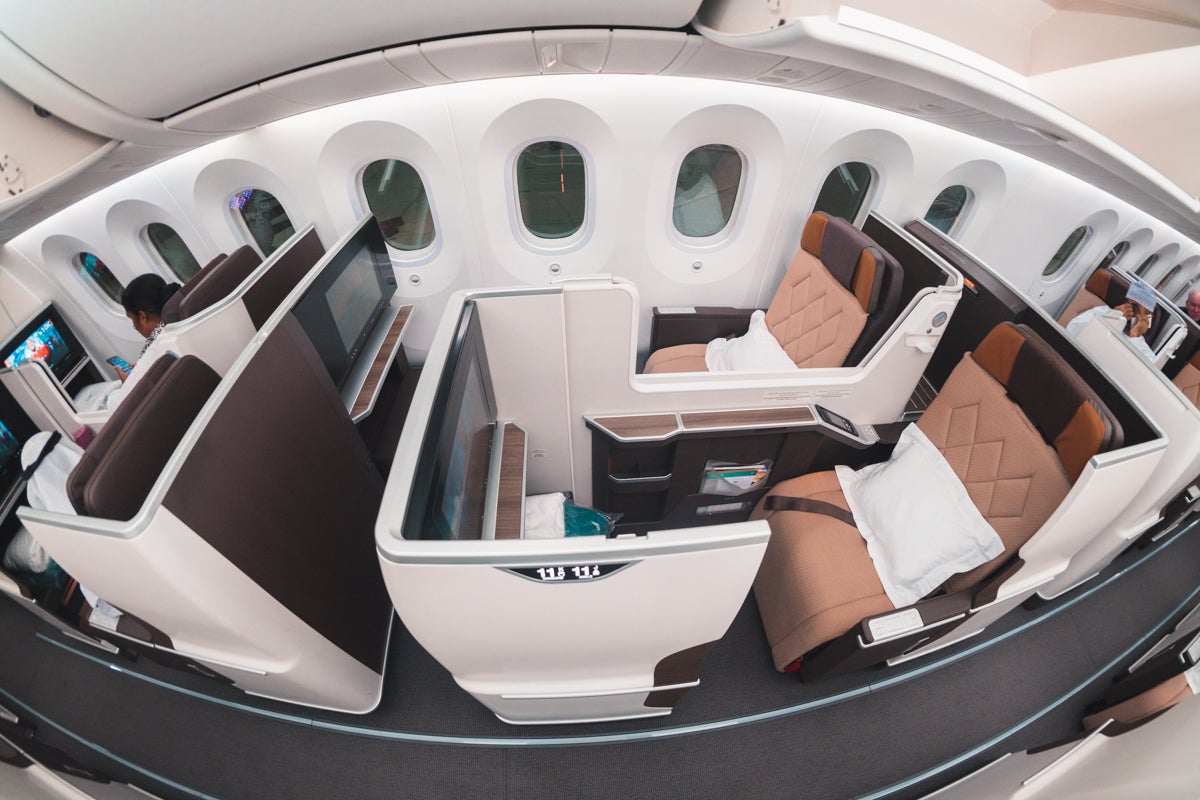 Between each A/B, D/G, and J/K seat pair are electrically controlled privacy screens which are all down upon boarding. The adjustable privacy screen makes every seat pair suitable for individuals or couples, not just the middle D/G pair.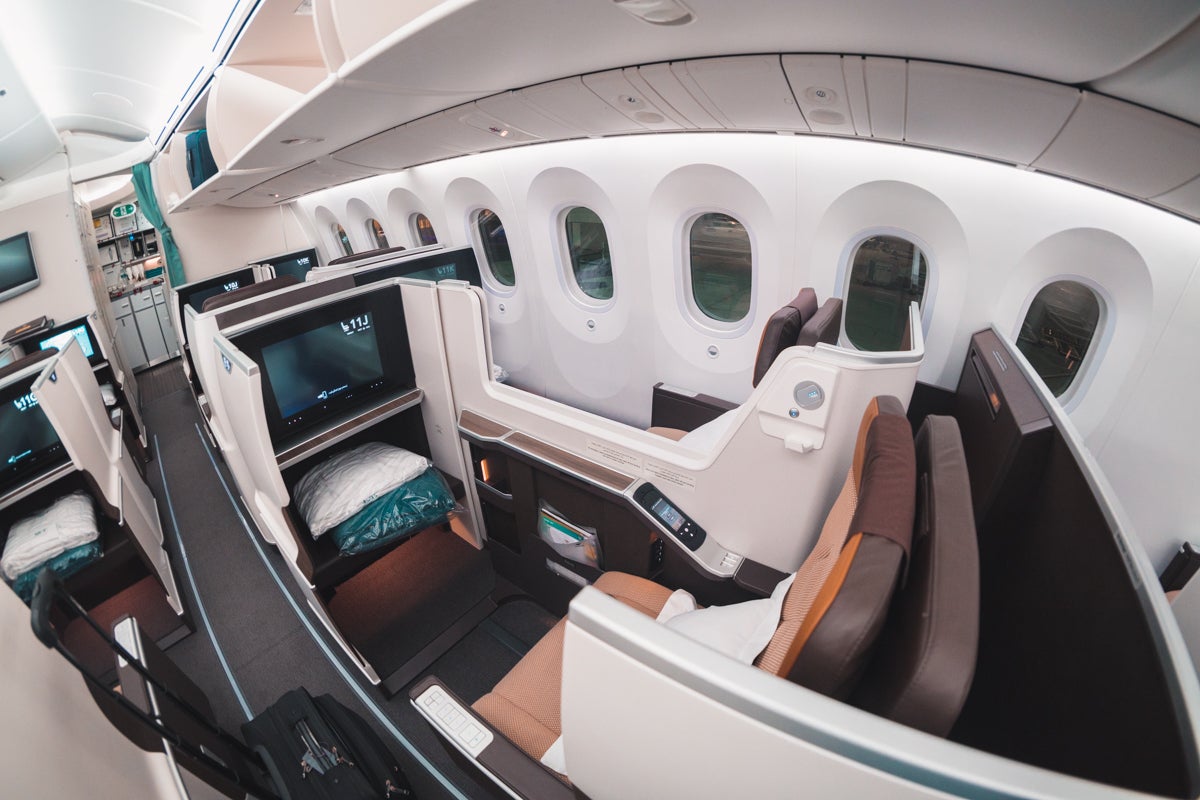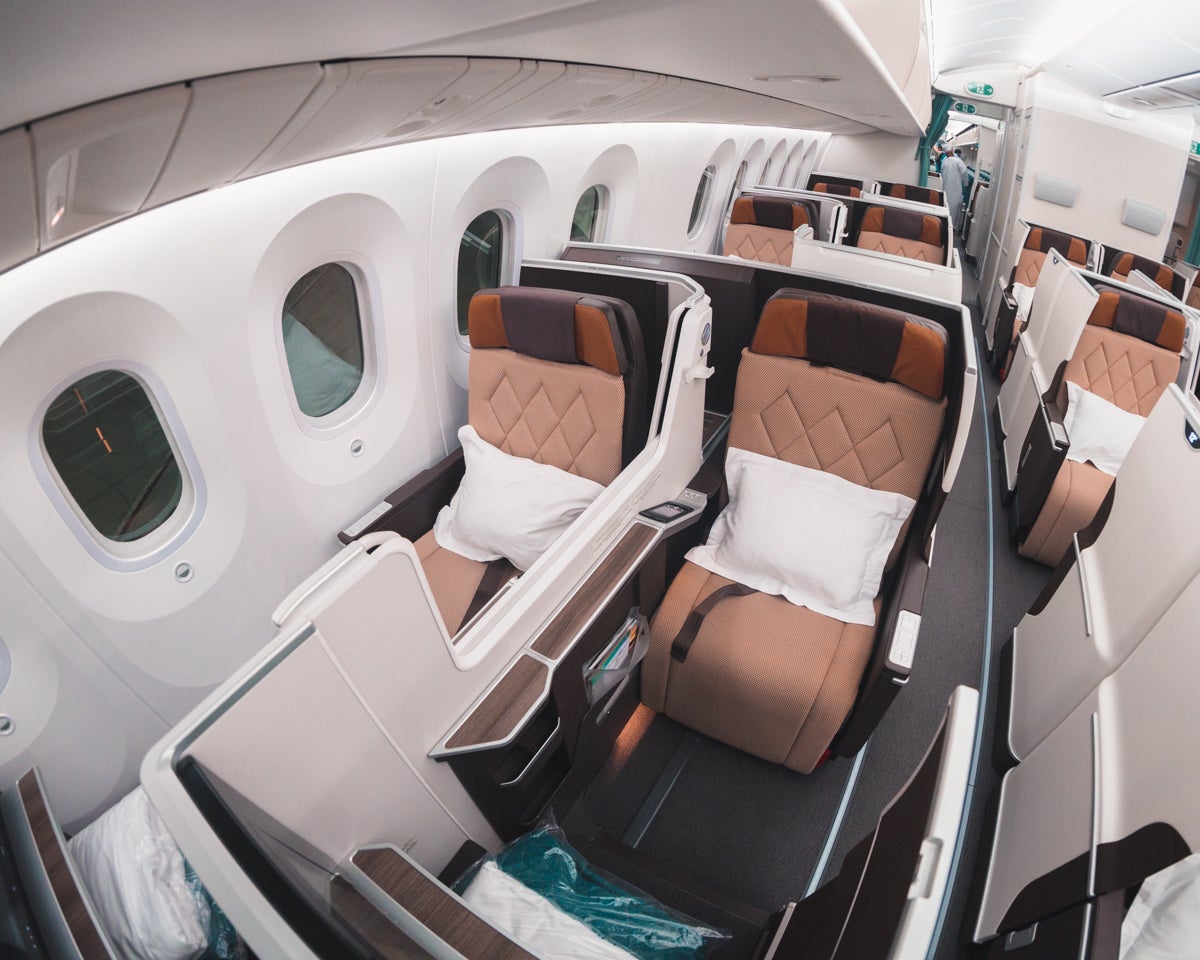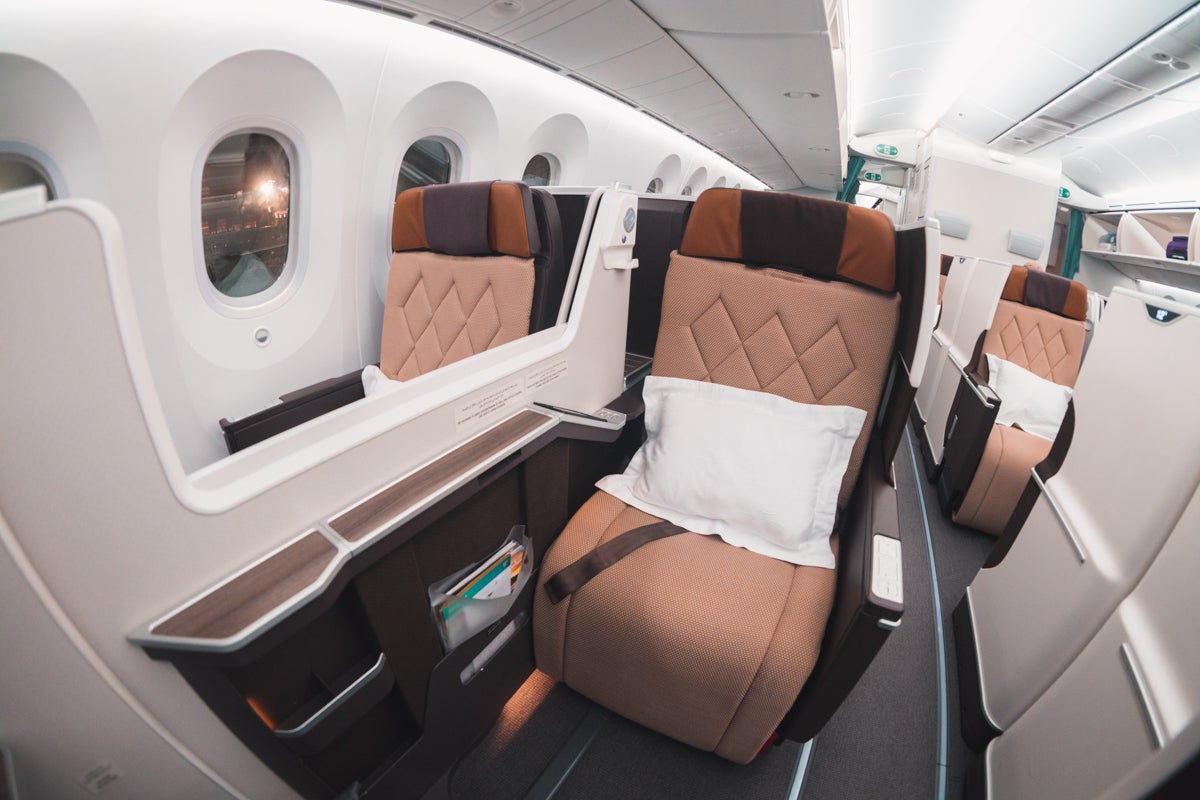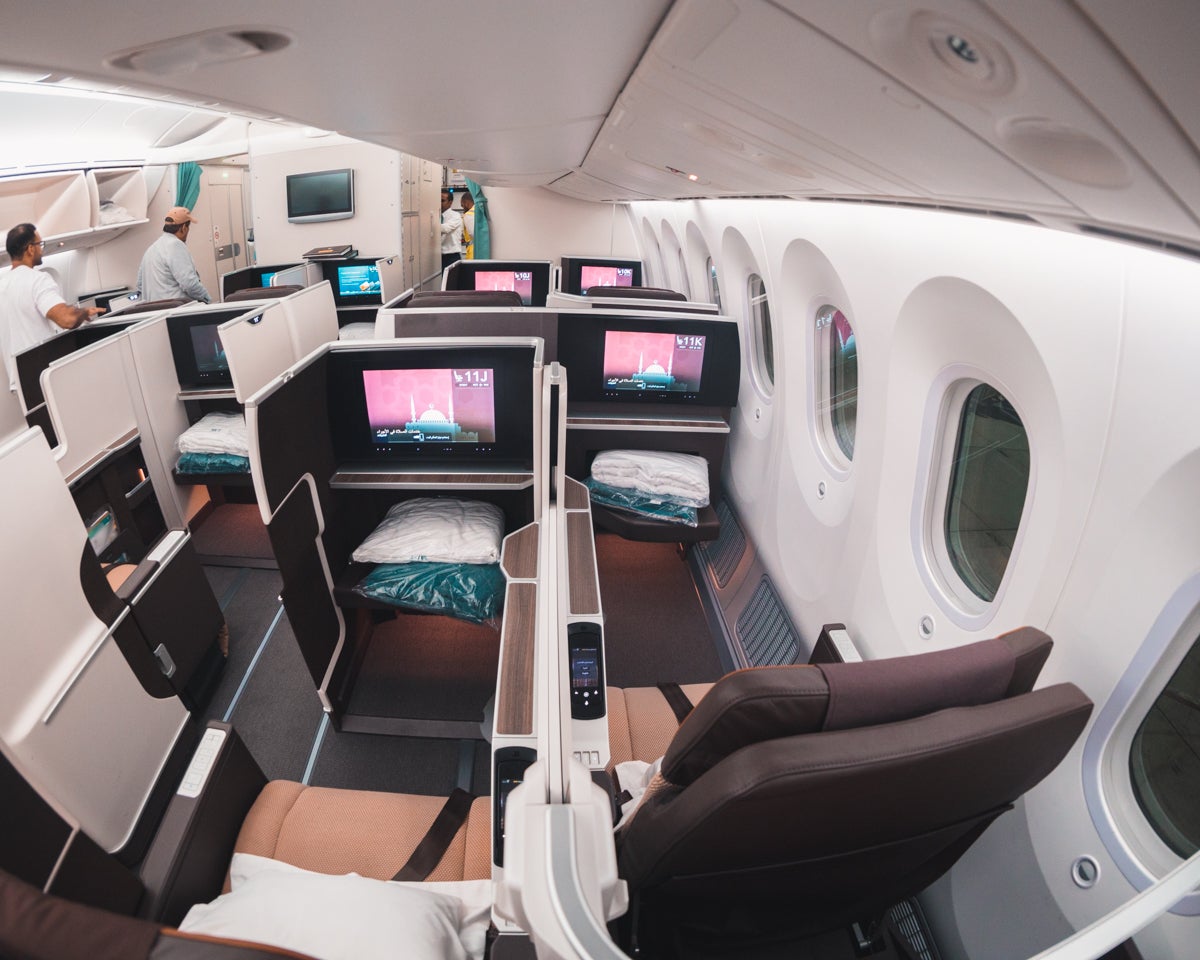 Accessing my seat via the small passageway and then taking a seat, I was amazed at the amount of space I had.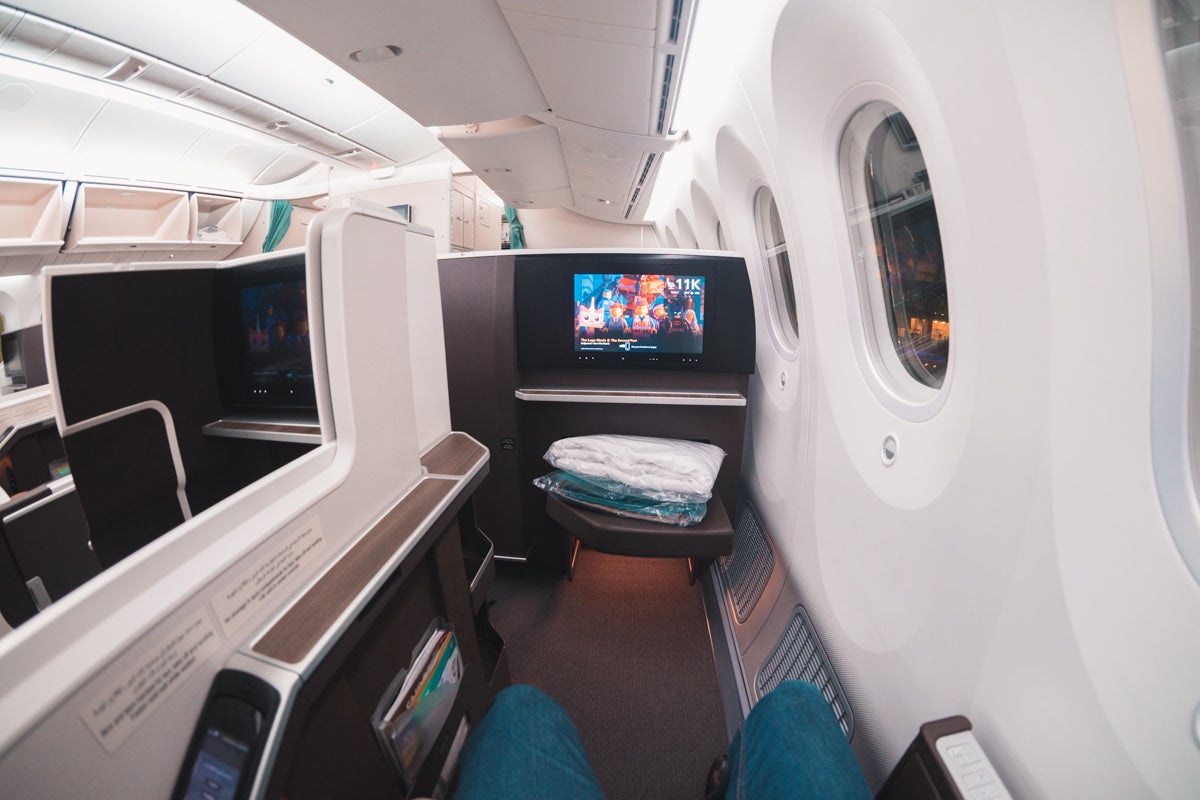 Thinking about the Singapore Airlines Boeing 787 I flew just a few days earlier, which also has 2 seats staggered by the windows, the Oman Air Apex Suite is wider at 22.8 inches vs. the Singapore Airlines 20 inch width.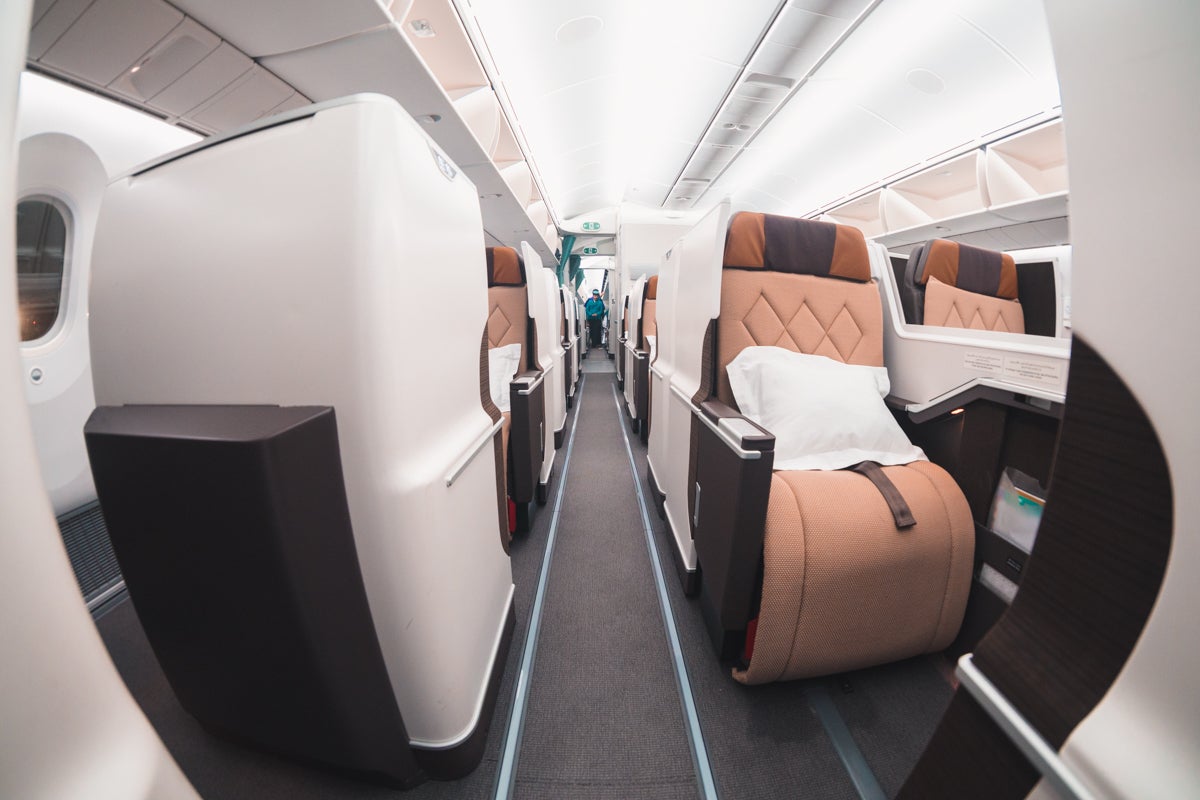 Directly in front of me, I had a 17-inch IFE monitor and an ottoman, under which I could store my camera bag.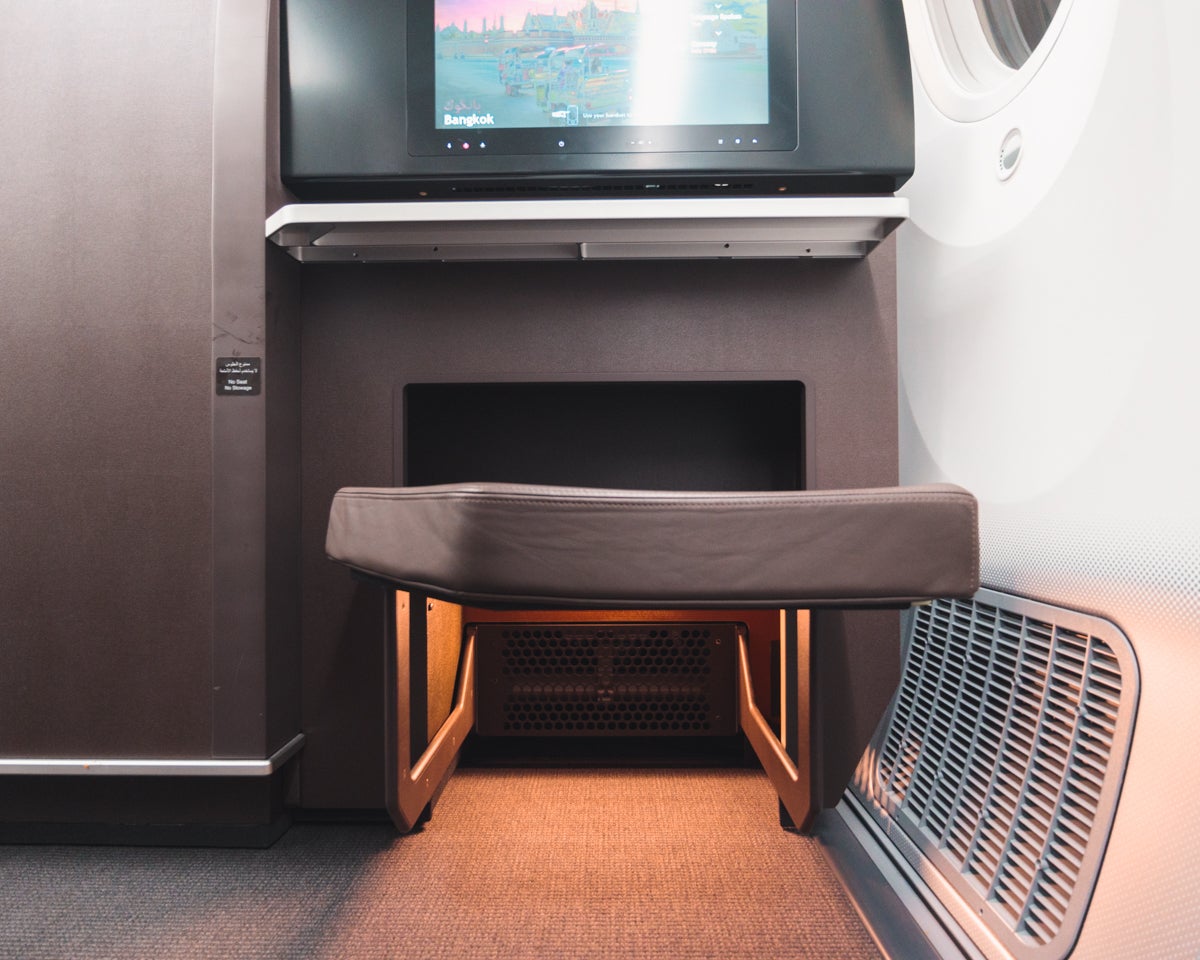 Alongside the partition between the neighboring seat, there is a narrow cocktail table for your beverage, and in my case, camera lenses.
Directly under this a twin-level open storage space and the literature pocket.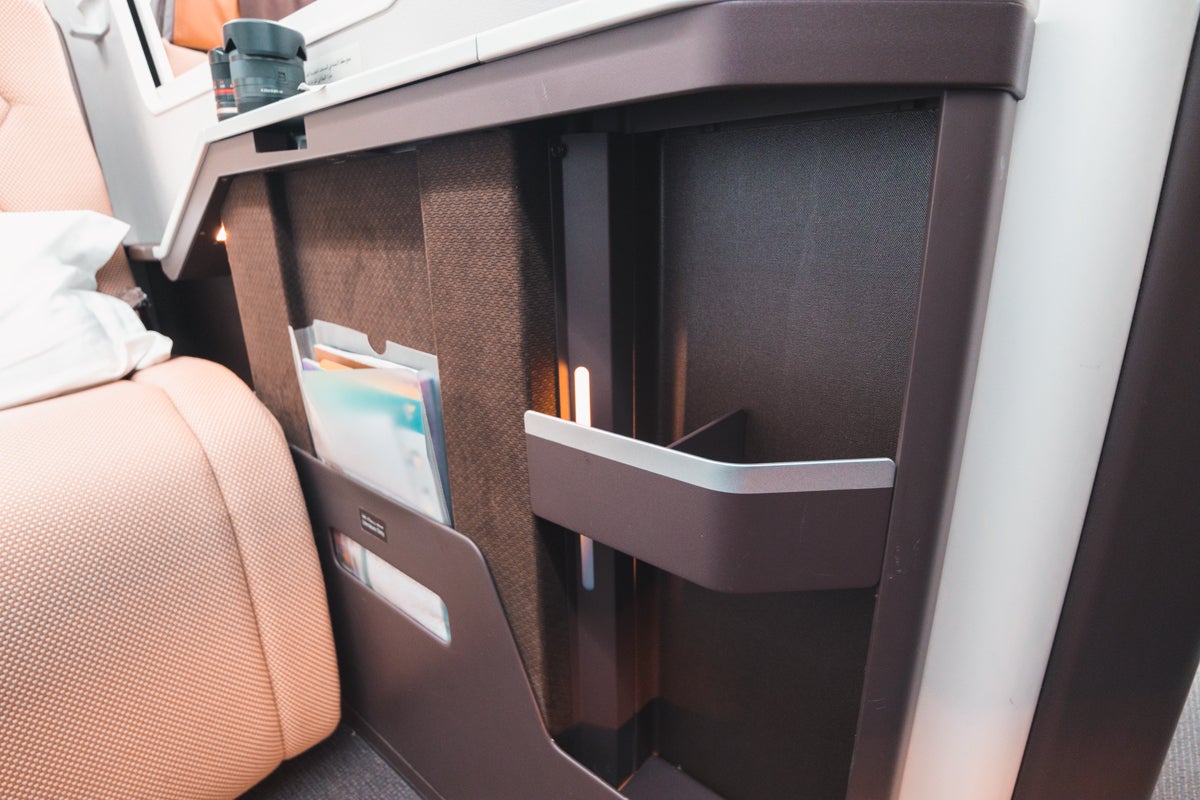 Closer to the seat, is the removable IFE remote.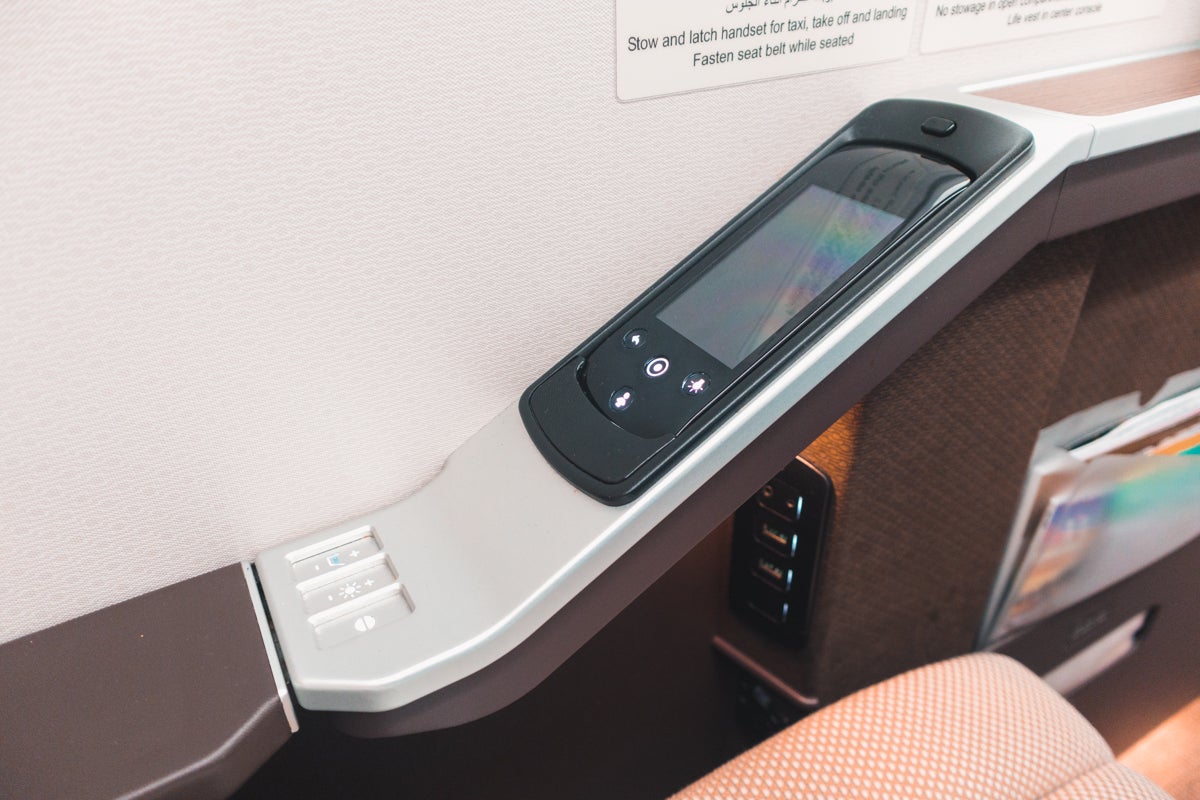 Further down are the buttons to control the privacy screen, mood lighting, and the Do Not Disturb lights found on the outside of the suite.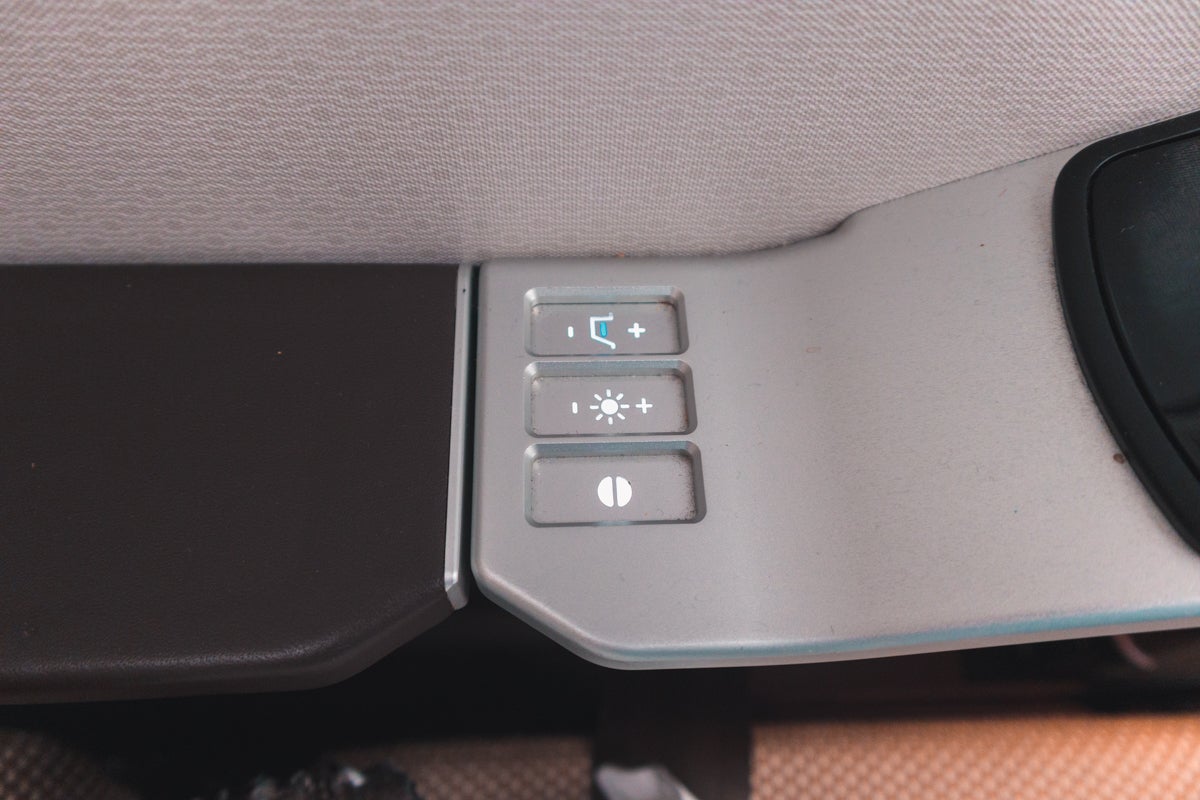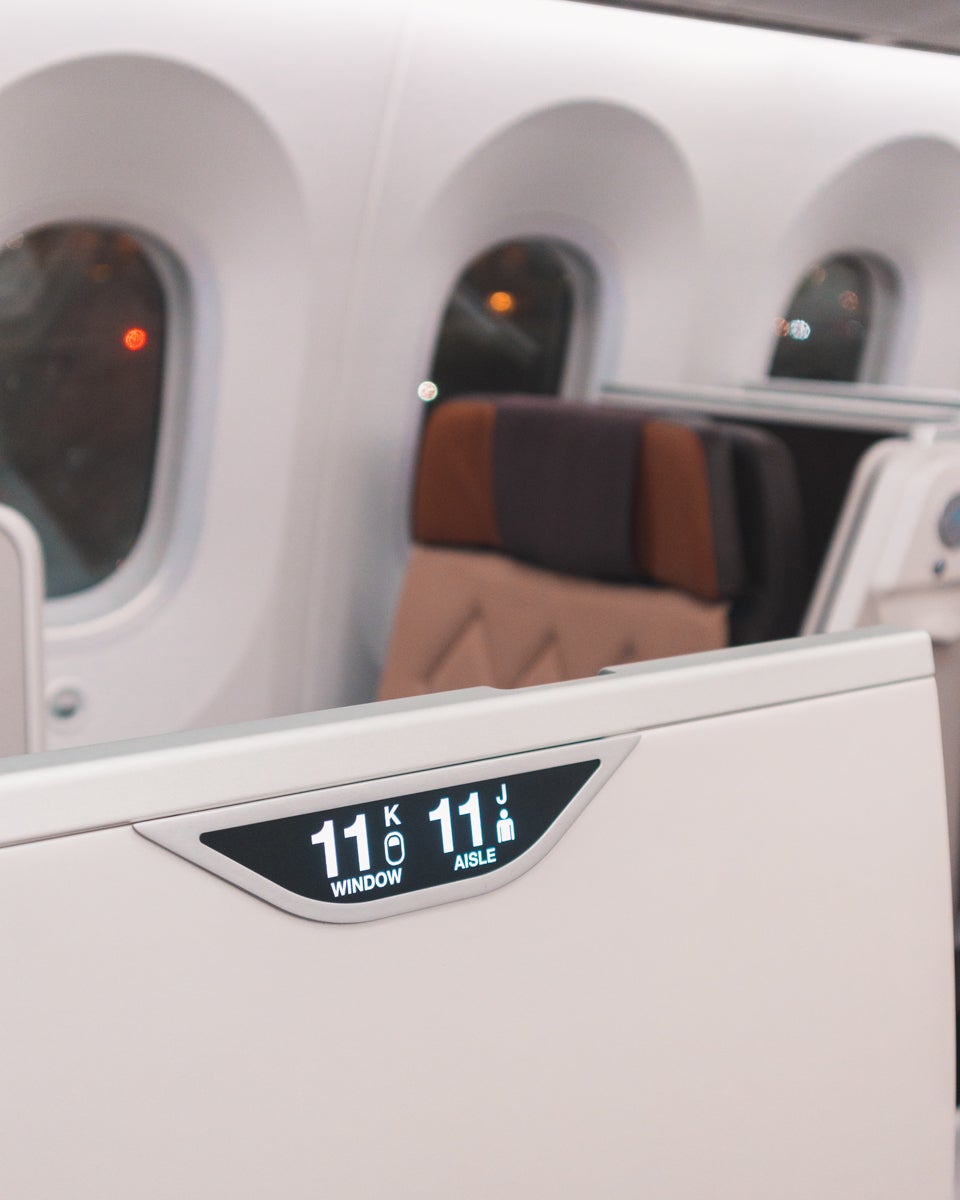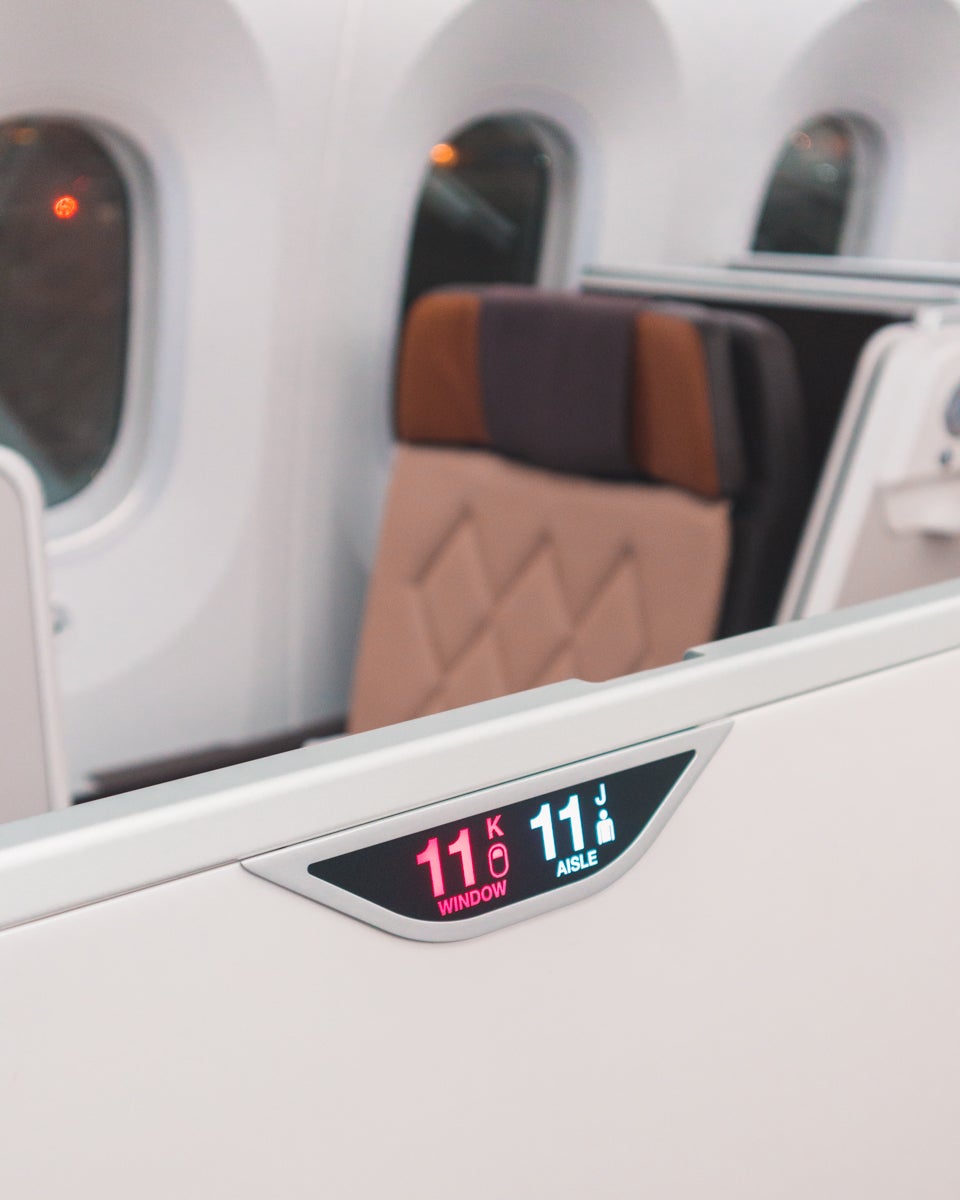 Directly under this is a small storage compartment that easily fits the amenity kit.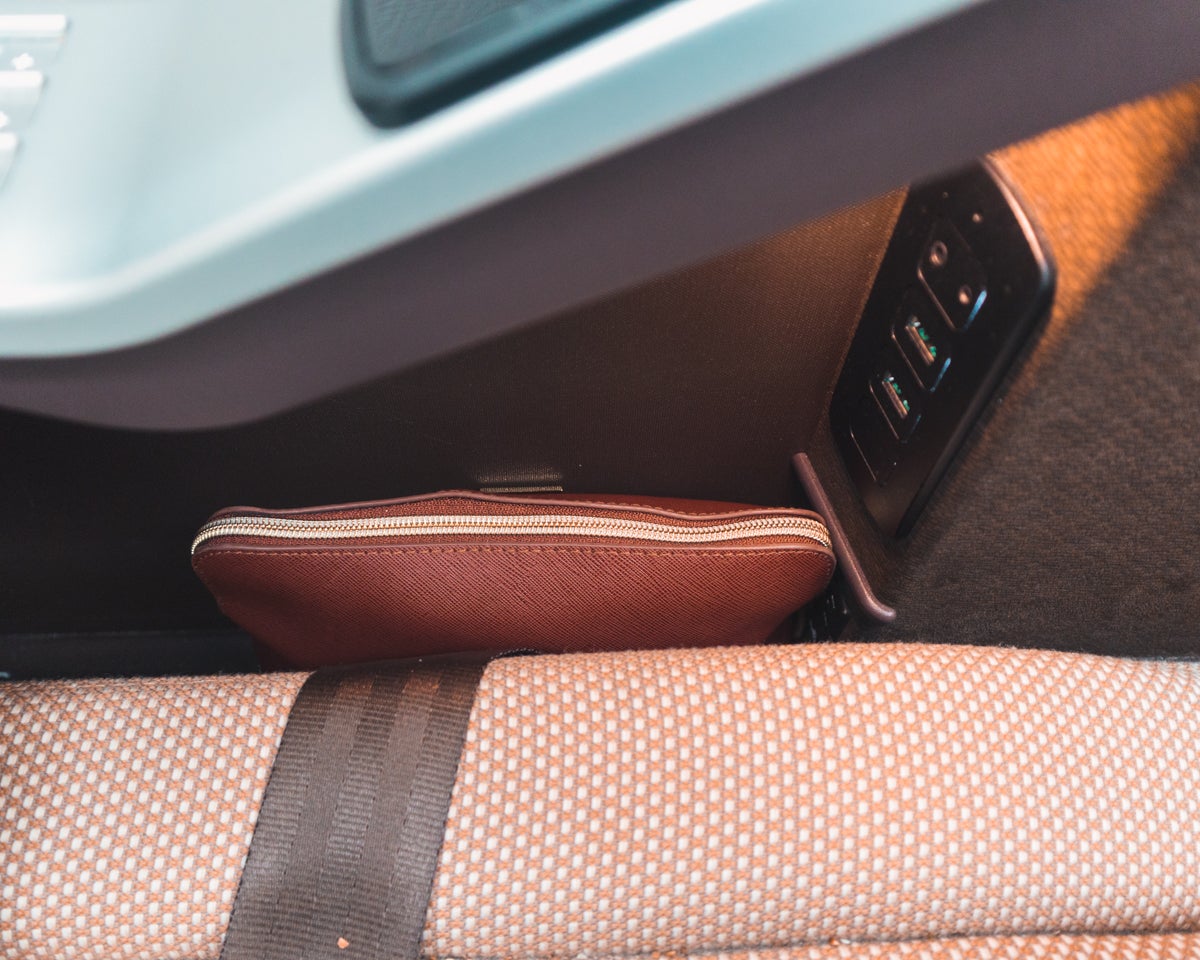 It's also a great place to store and charge an electronic device as the storage compartment houses 2 USB sockets and a power socket. The headphone jack is on top.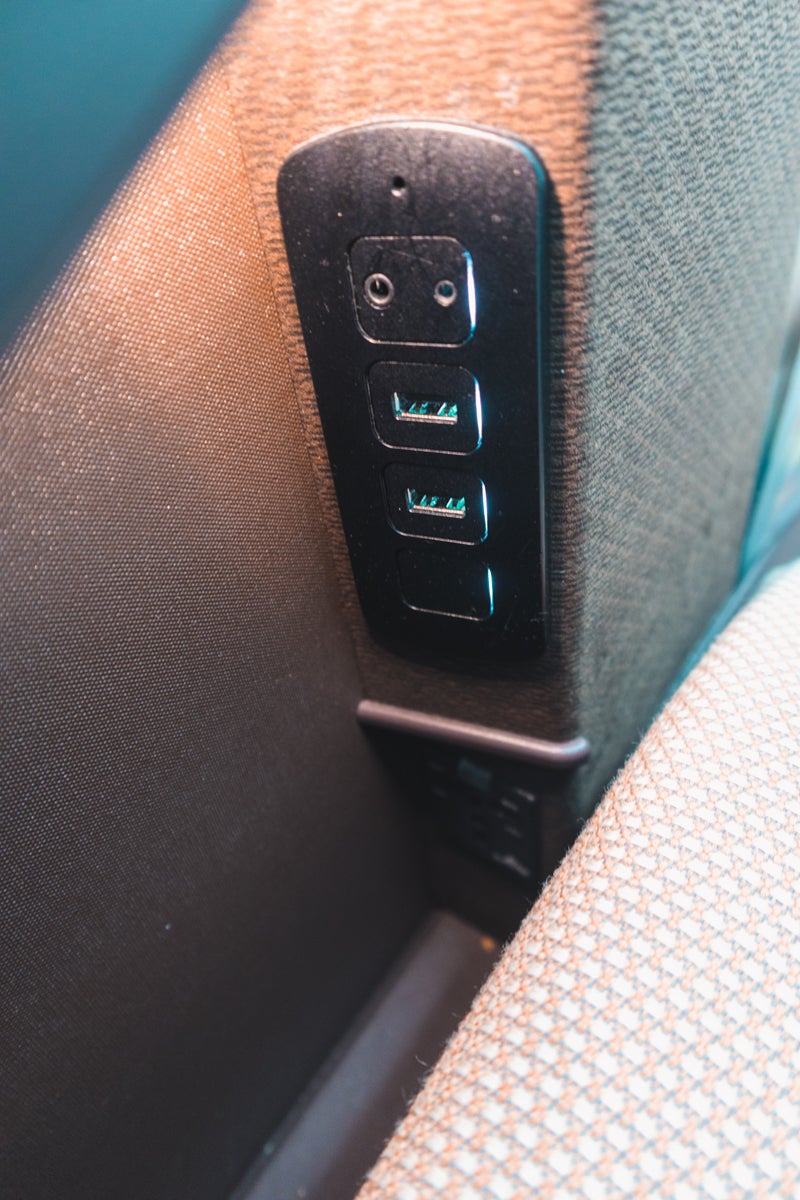 Over your shoulder is a spotlight with adjustable brightness and a hook to store your headphones.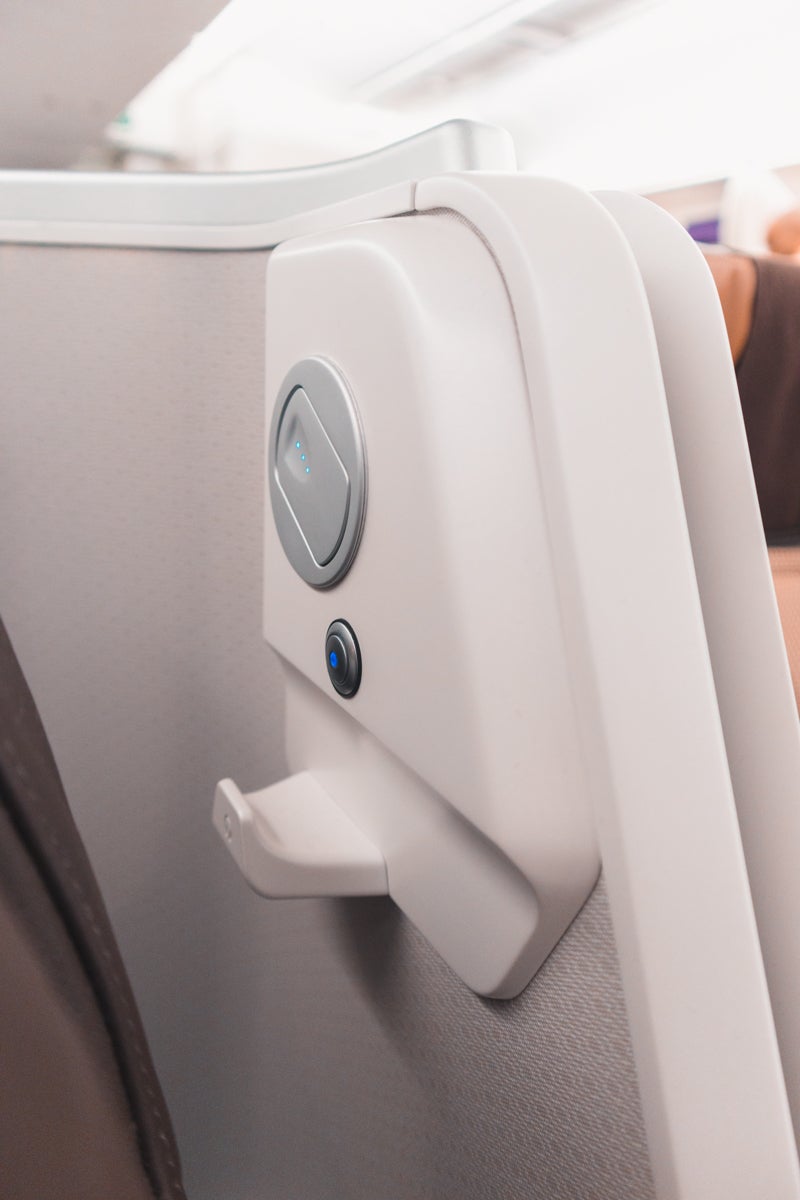 On the seat arm on the opposite side are the adjustments for the seat itself, complete with adjustable lumbar support, massage function, and even a "reclined mode" for take-off/landing.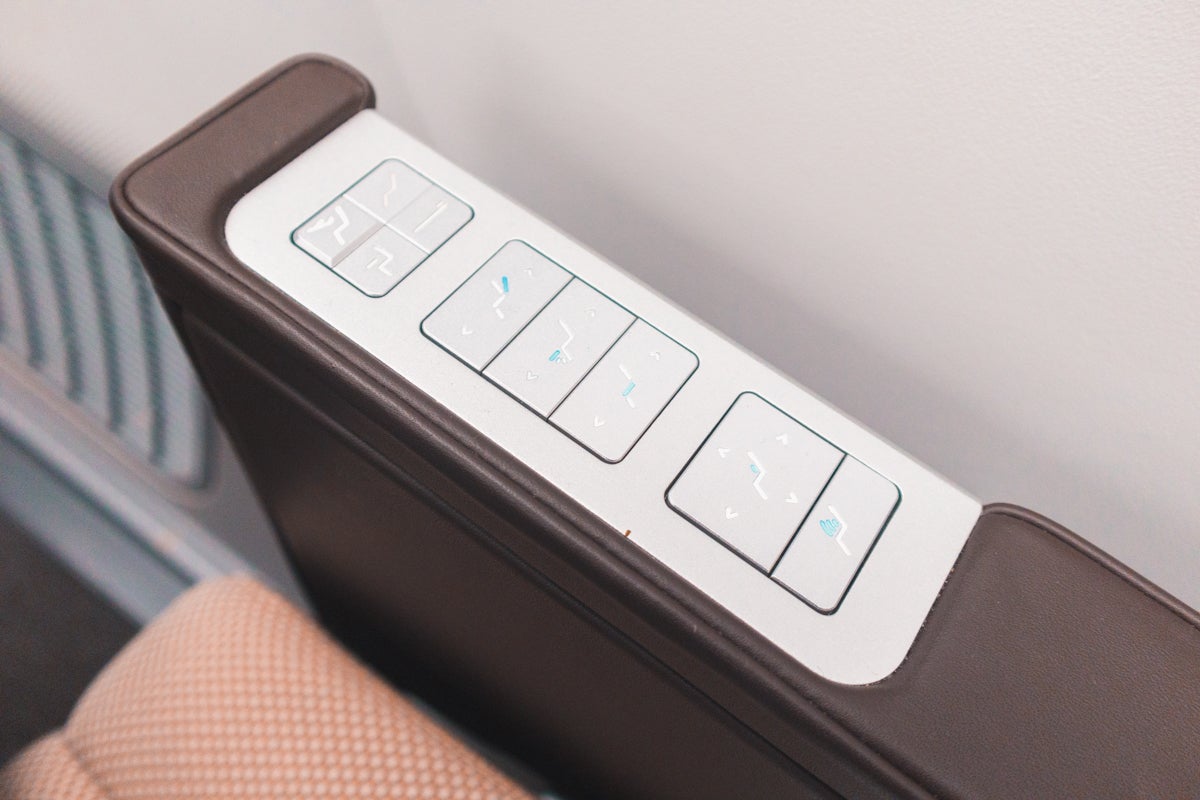 In the walkway between the window seat and aisle, there is a hook to hang your jacket.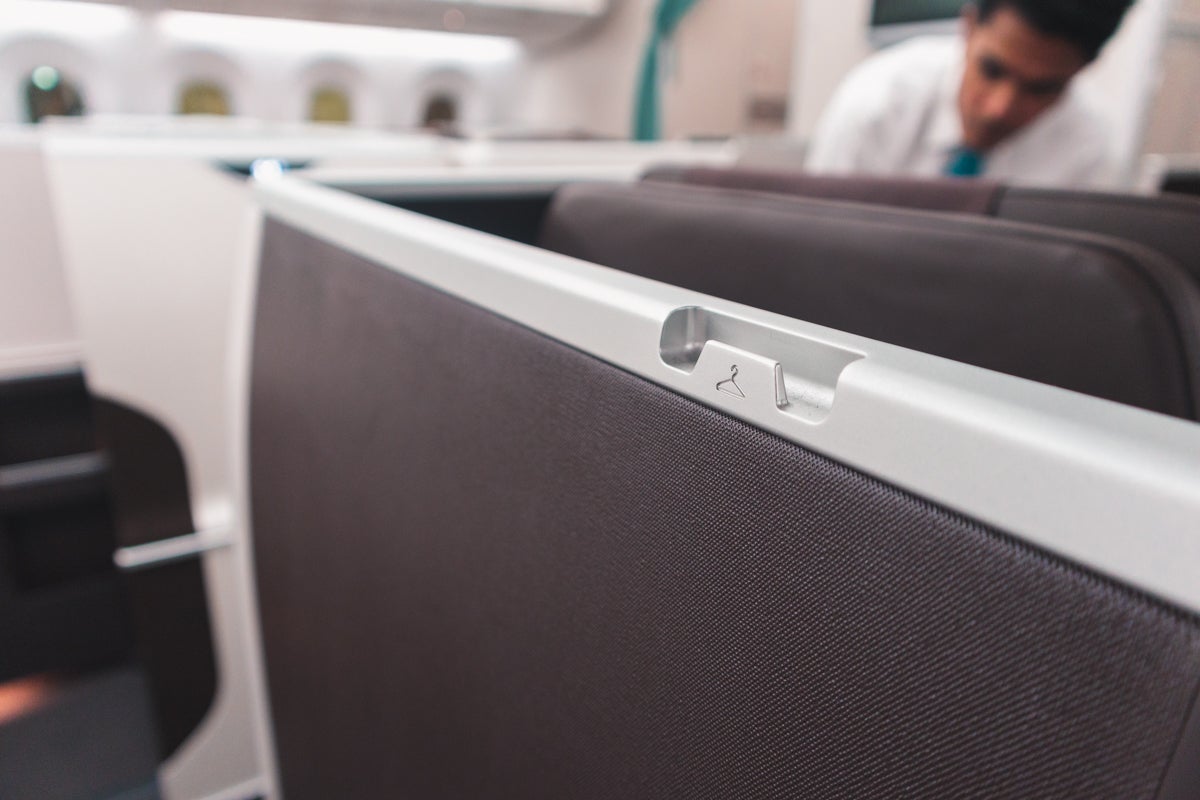 The tray table is large and thankfully spins to a 90-degree angle to allow you to jump out of the seat during meal service.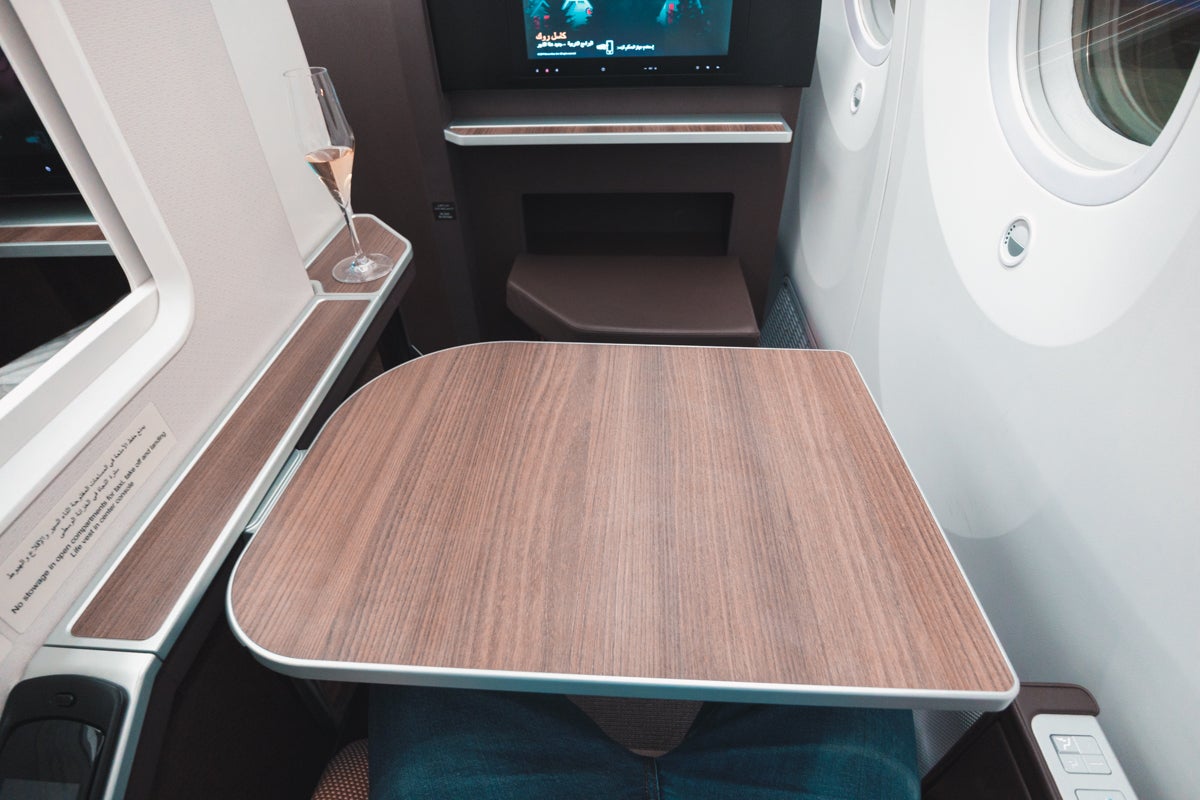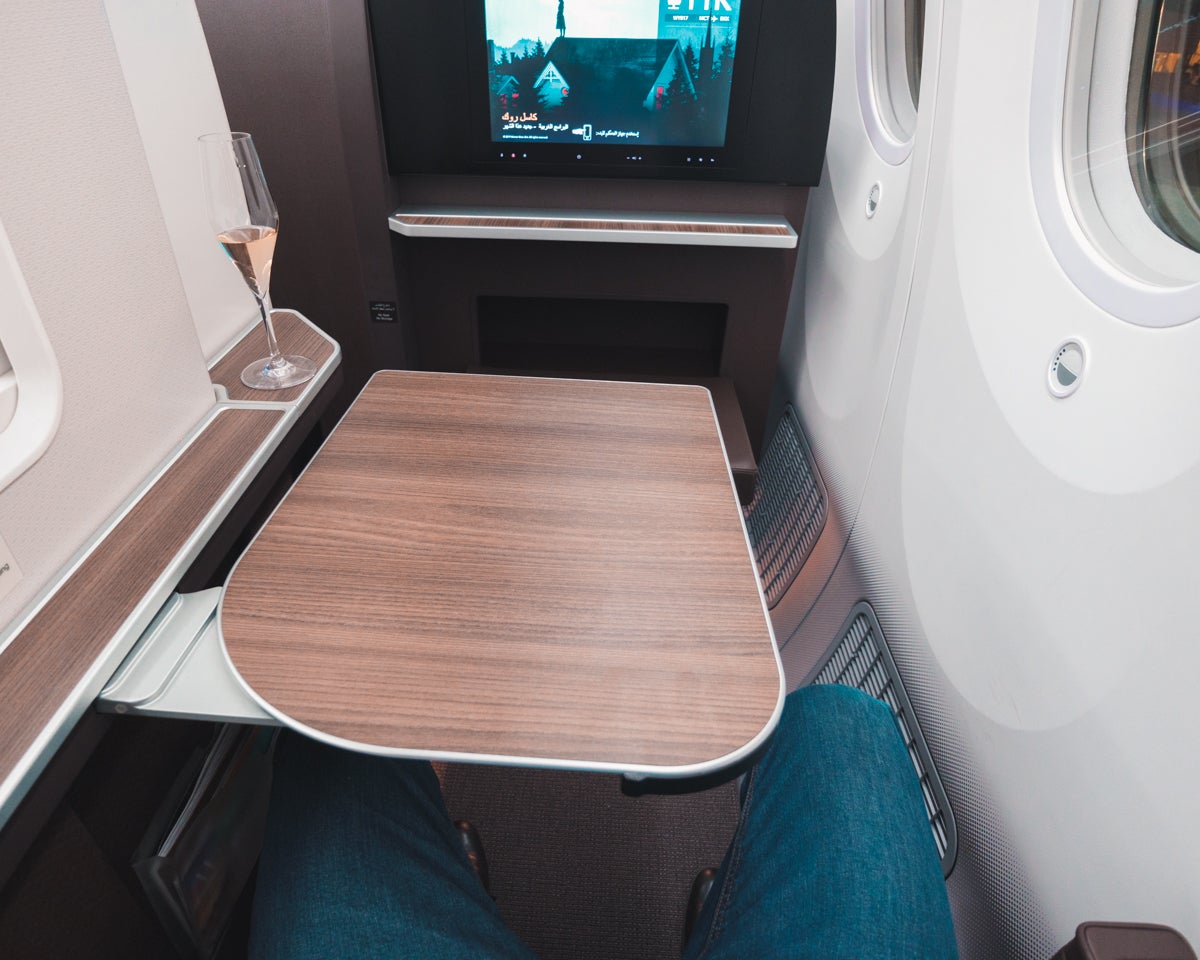 With the screen up between the seat next to me, the privacy was amazing. Who needs a sliding door when you have this?!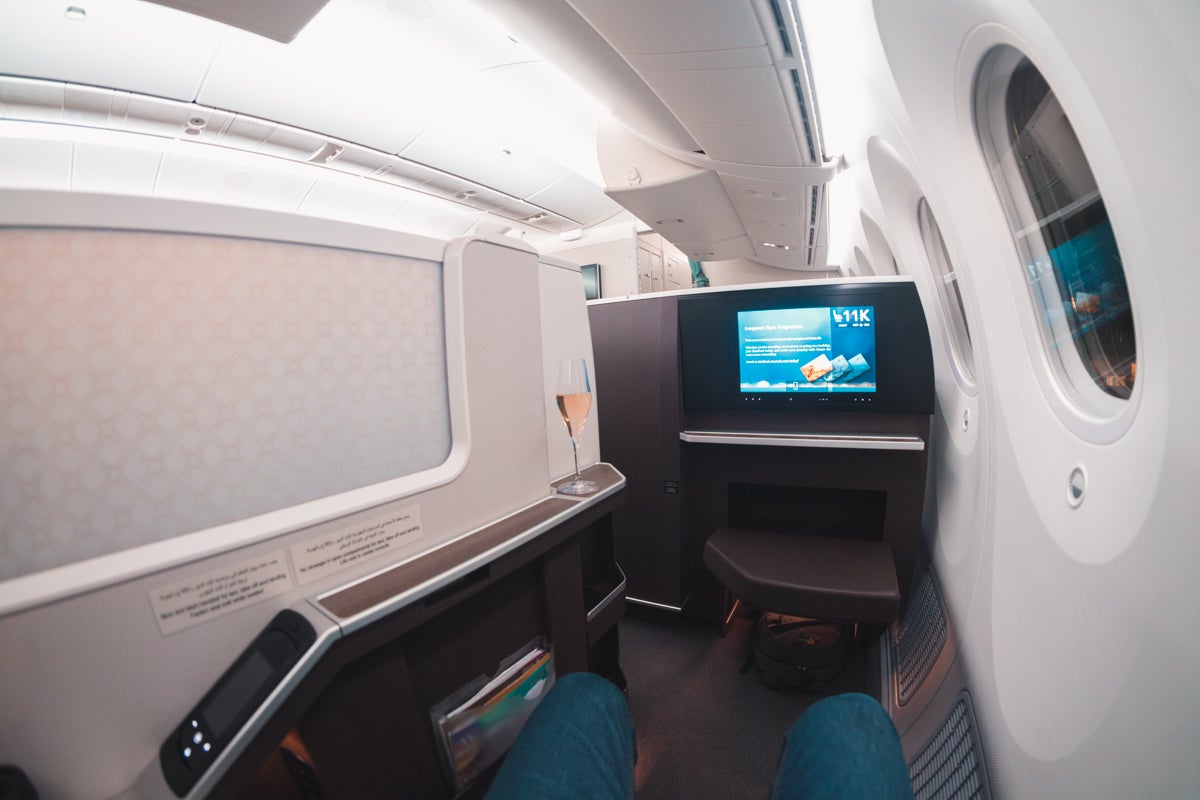 If I was seated in an aisle seat, the seat shell provides decent privacy also and the offset middle seats mean you won't lock eyes with the passengers across the aisle.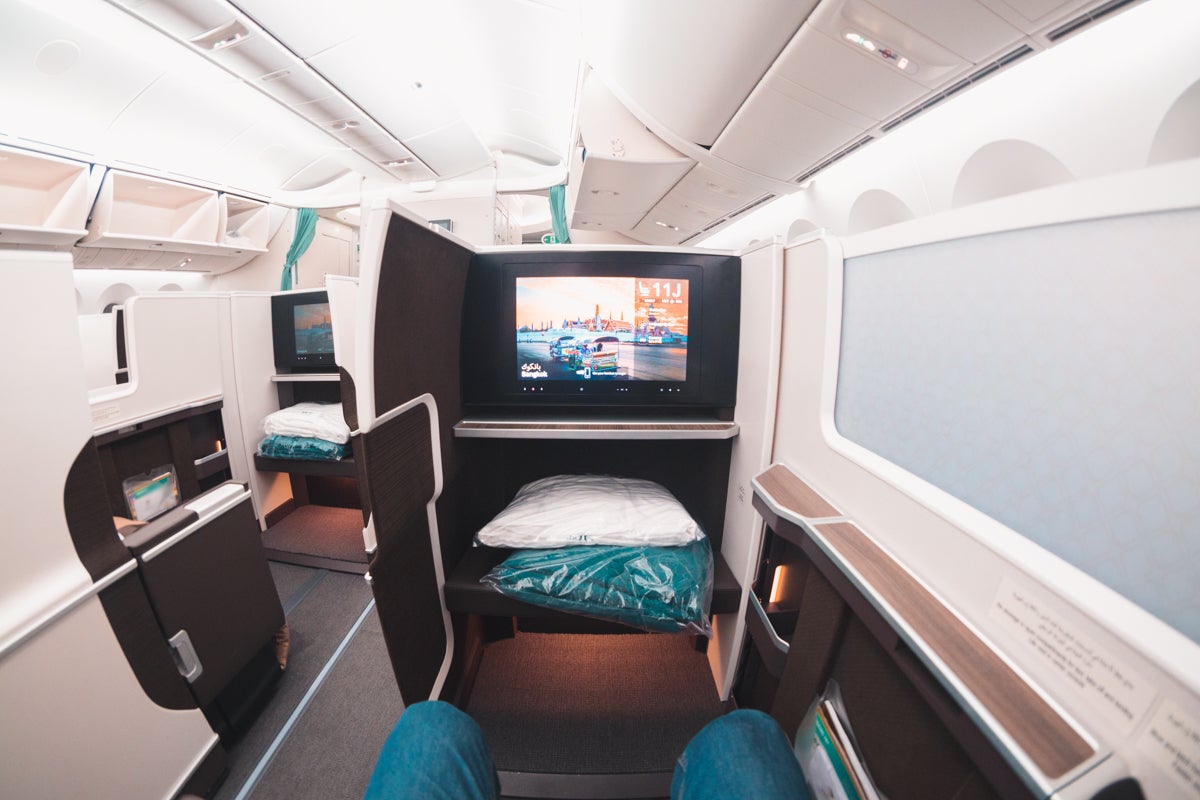 There are 2 lavatories at the front of the aircraft and 1 at door 2, between the business class cabins, providing an excellent passenger to toilet ratio of 10:1. The toilets are also configured with bidets, yet the amenity holders were all empty.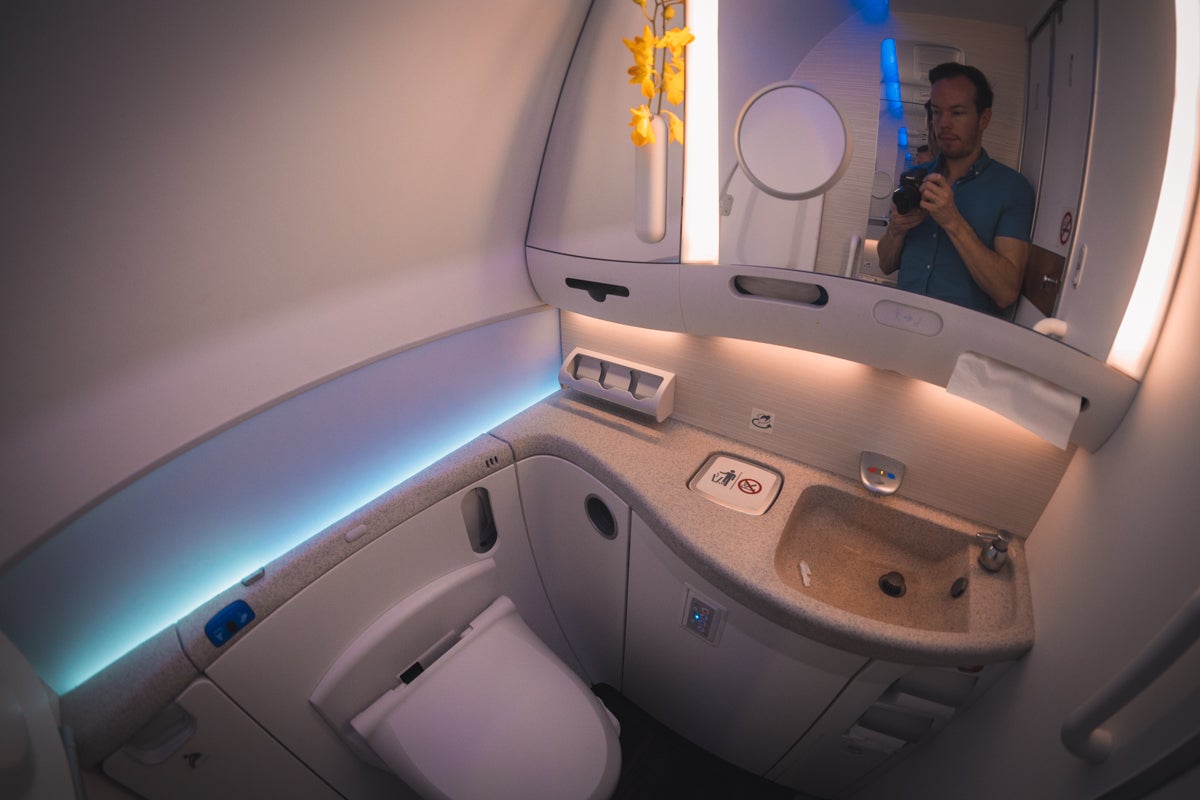 The seat folds down to a fully flat 80-inch bed and as such, at 5 feet 10 inches, I couldn't touch the end of the bed. Unlike the Oman Air Airbus A330 retro seat, this one is perfectly flat and free of lumps. The mattress topper also helps this and was thicker than some airlines I've flown, yet not as good as Virgin Australia's one.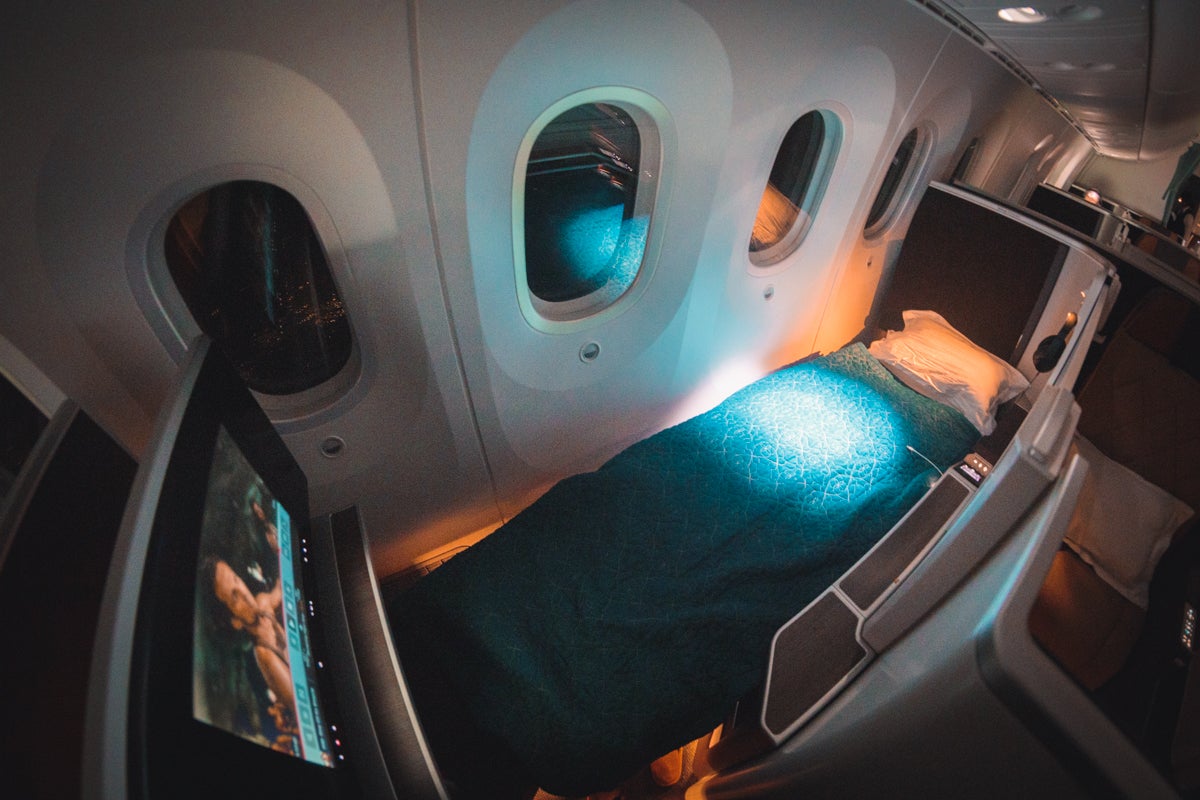 Sadly, Oman Air didn't option-up this Dreamliner with individual nozzles and they were very much missed with the cabin kept way too warm this flight. Despite the privacy of my window seat, it wouldn't have been appropriate to sleep without a shirt on, but it crossed my mind.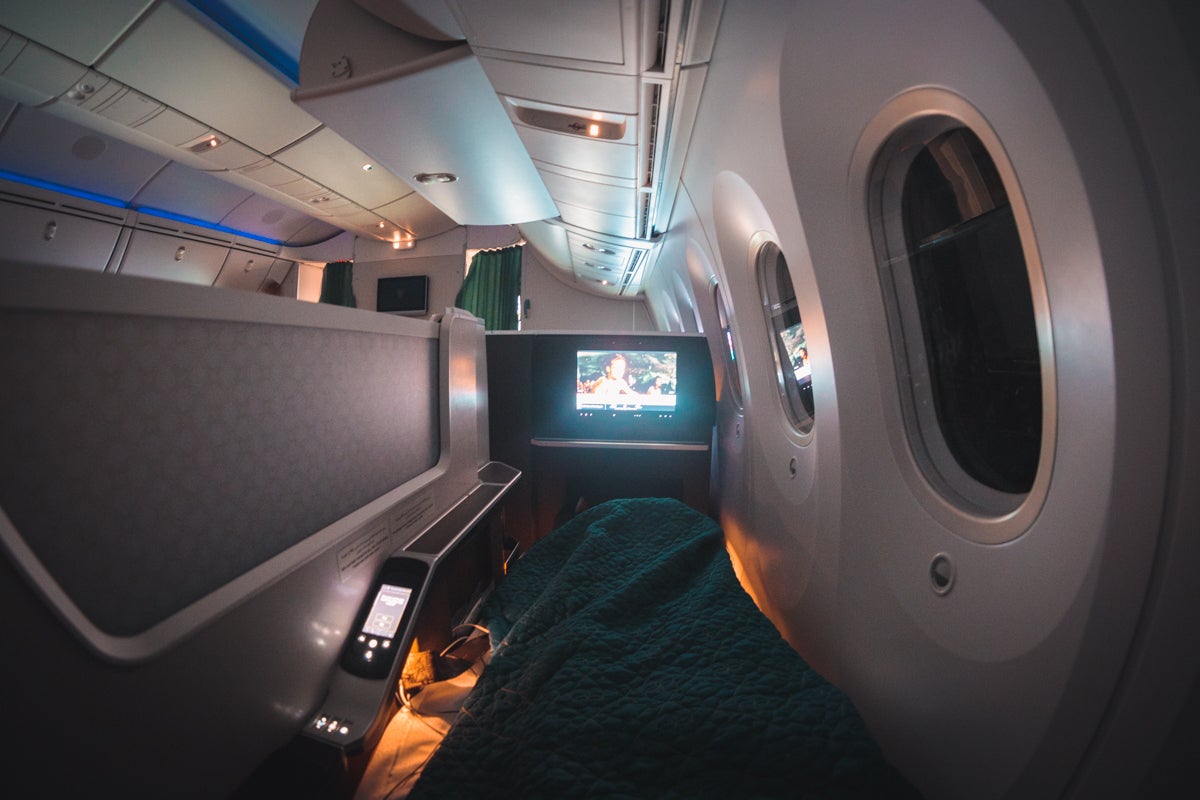 After the meal service and finishing up a movie, it was 3 hours into the flight and time to get some sleep. I woke up 2.5 hours later by the scramble in the cabin to prepare for landing with just 50 minutes to go. Overall, it was an uninterrupted slept, but it just wasn't long enough.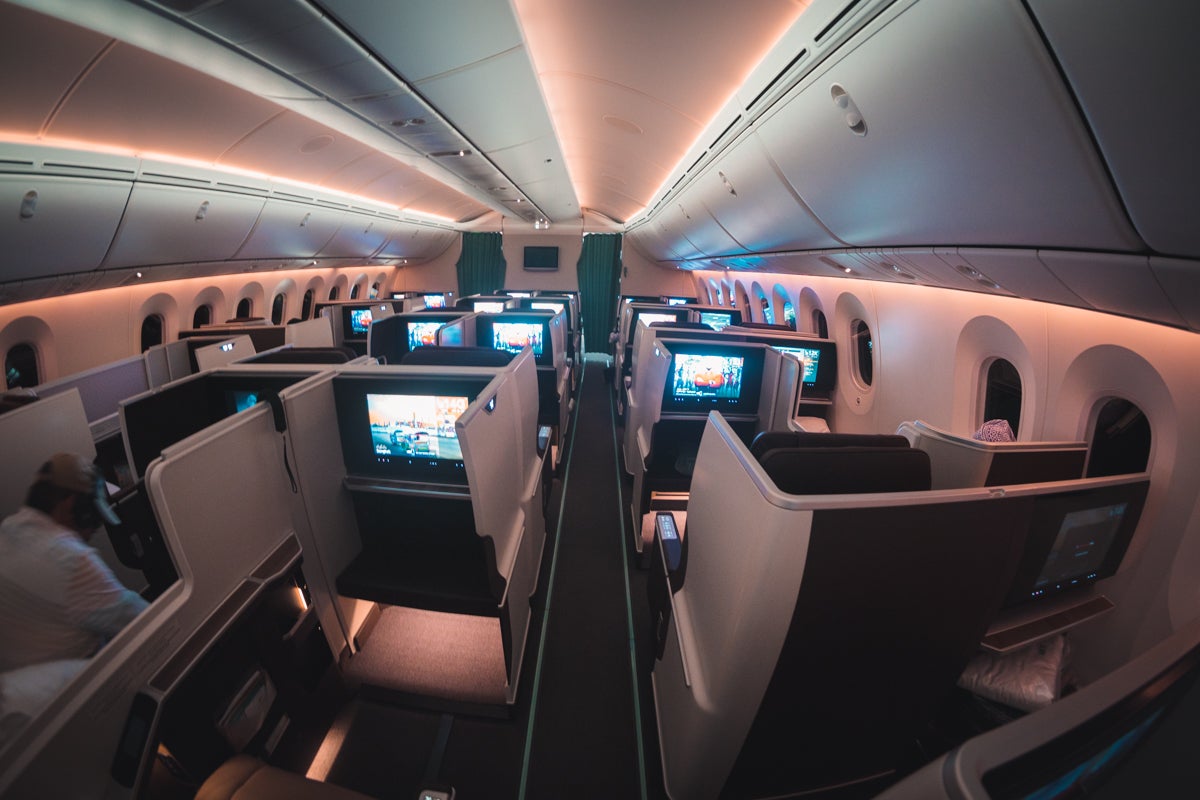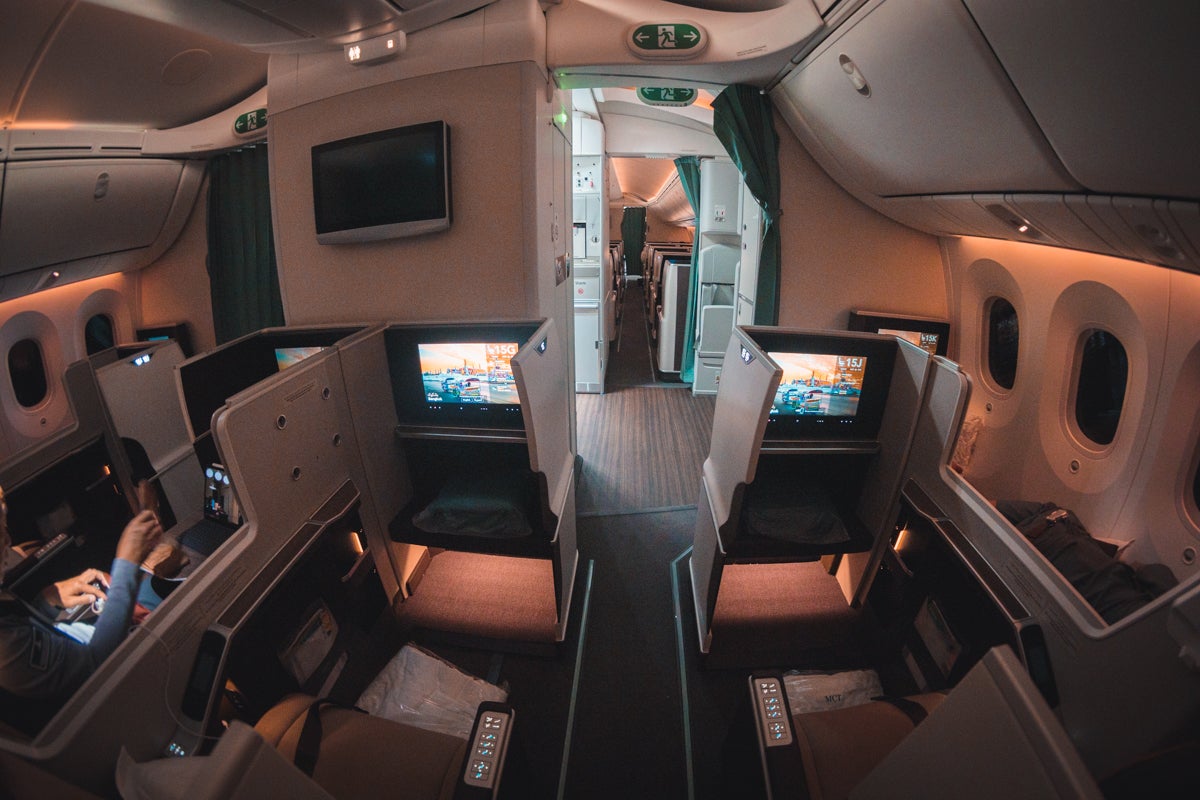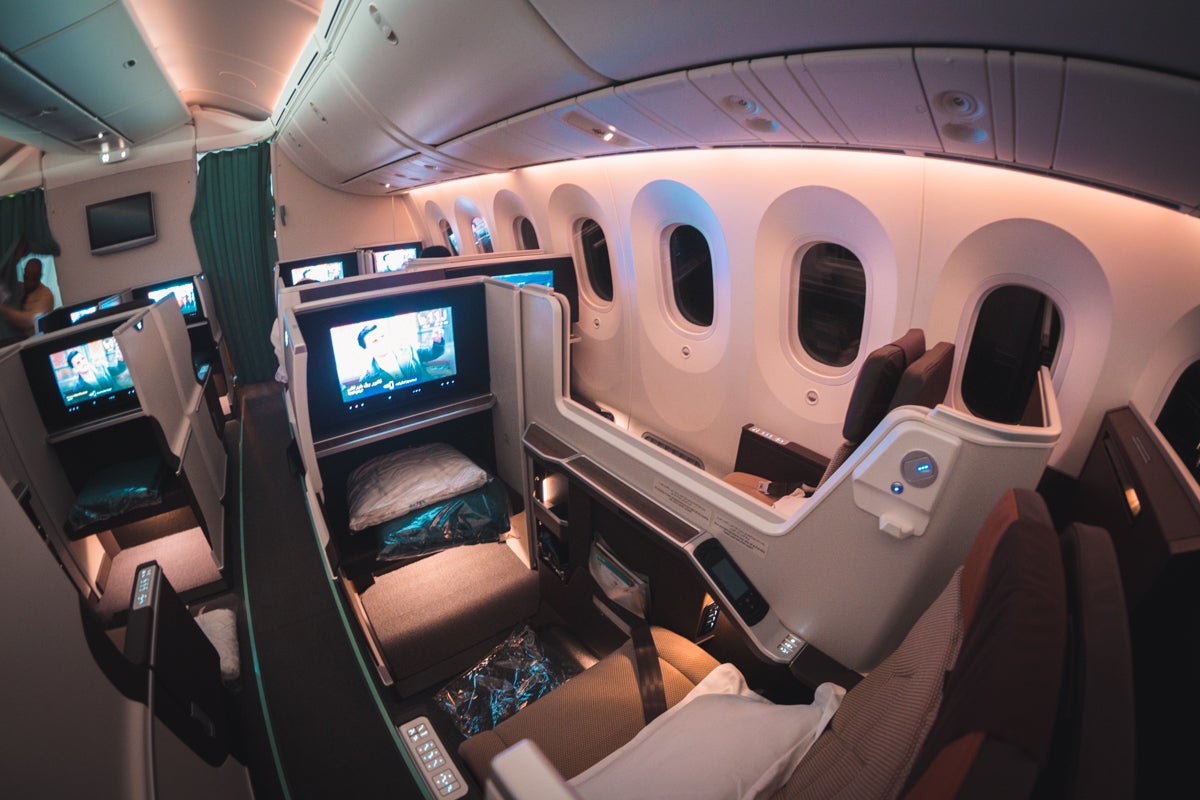 Amenities
The crew distributed an Amouage-branded amenity kit to business class passengers, the same as I had on the inbound flight.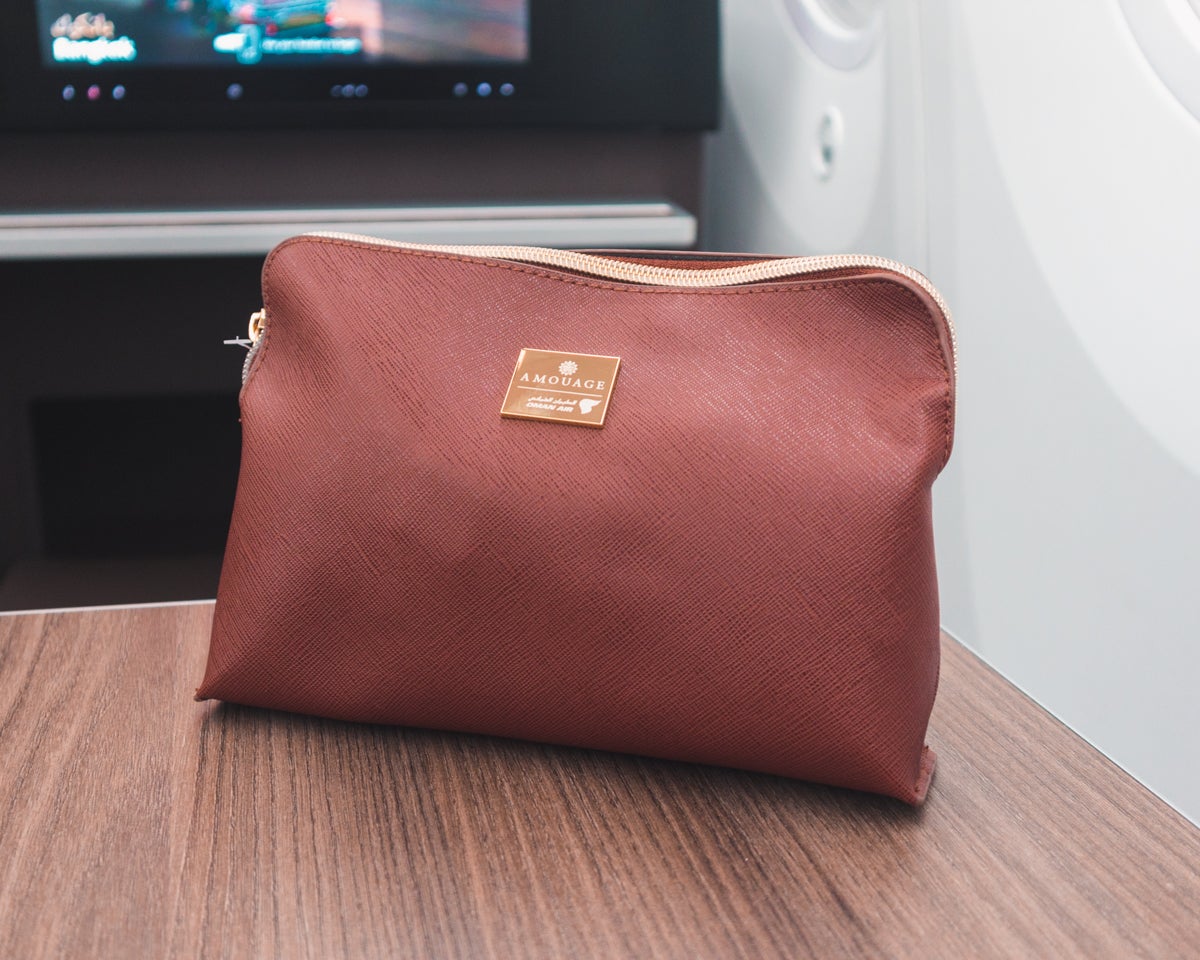 It is one of the most inclusive amenity kits you'll receive on a flight and is filled with socks, an eye mask, brush, lip balm, earplugs, facial moisturizer, hand and body lotion, mouthwash, and a dental kit.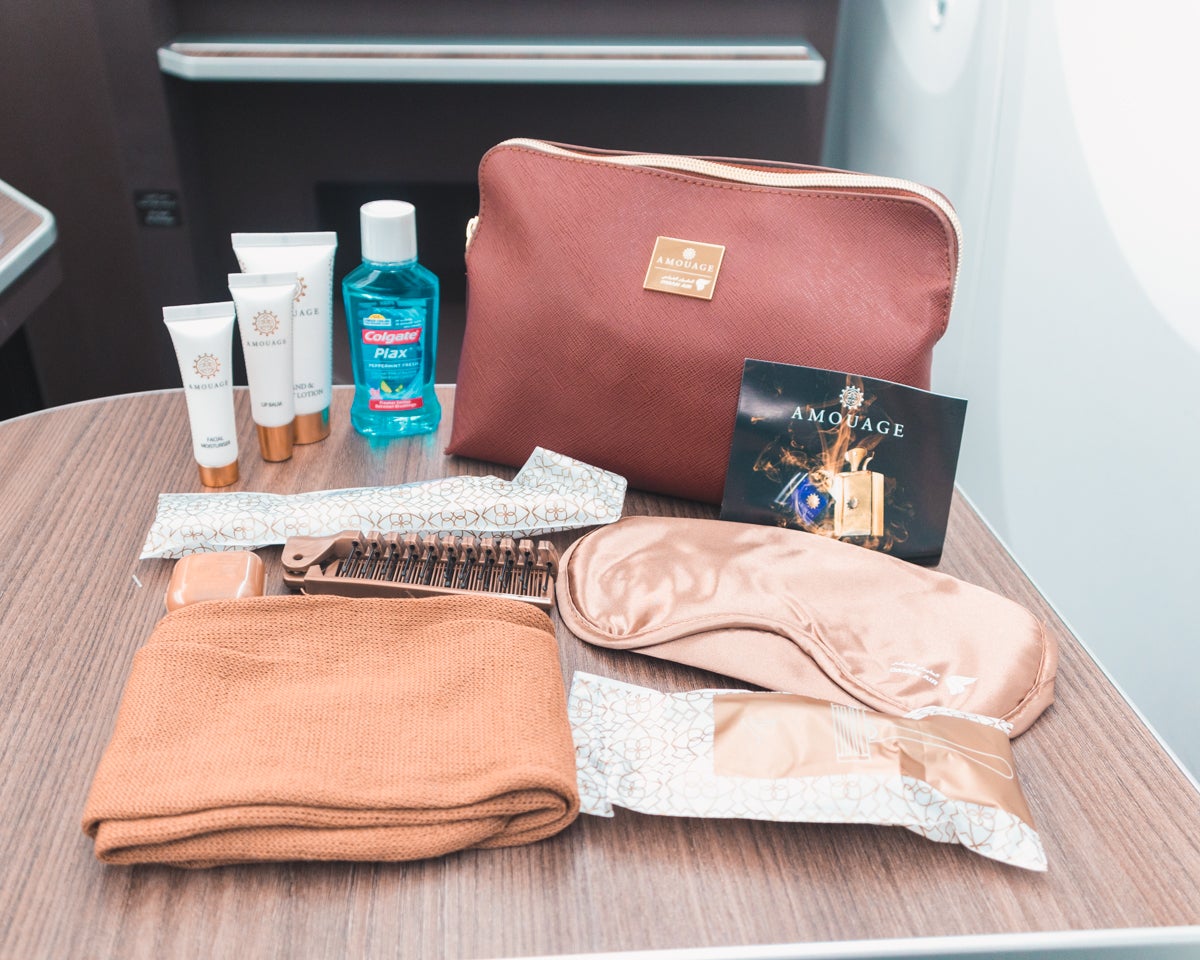 Pajamas are also provided on this evening service.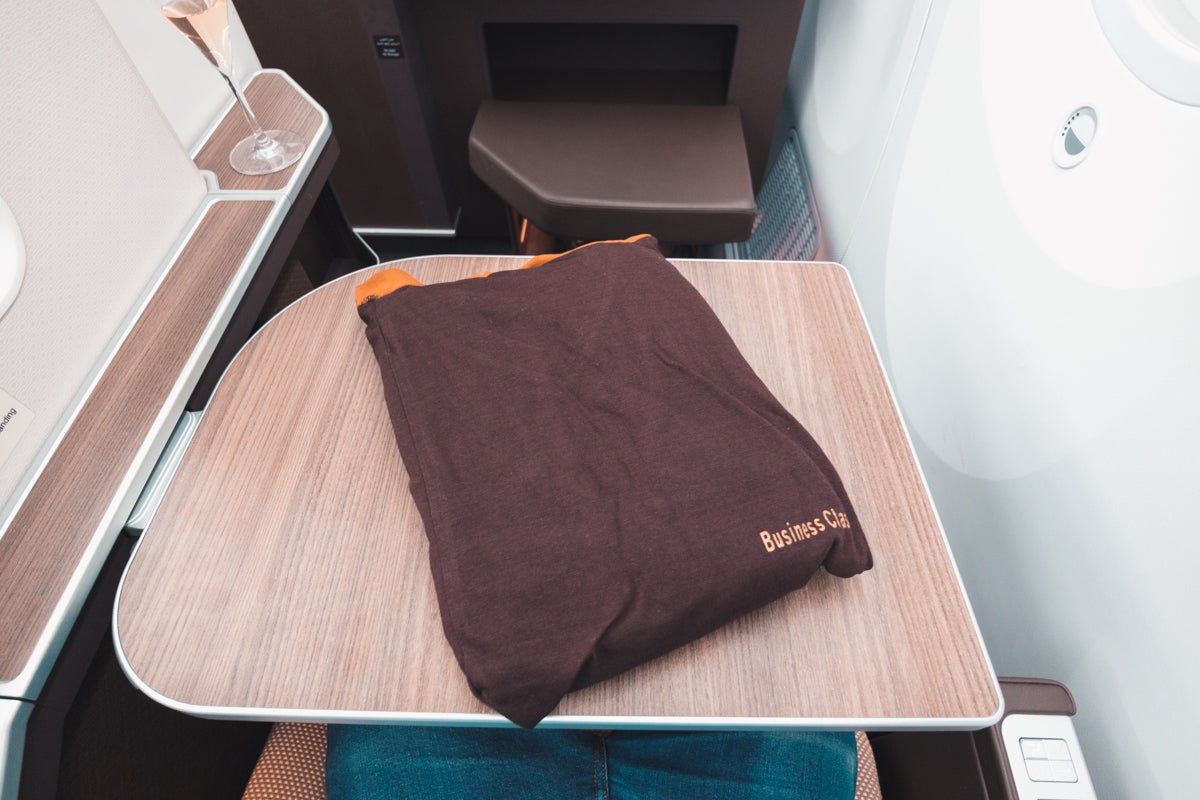 Entertainment
The IFE monitor is the same 17-inch size as found on the older A330 aircraft, and suffers the same issue of not feeling big enough due to the 80-inch distance between you and the screen. However the software, responsiveness, and resolution are hugely improved over the older system.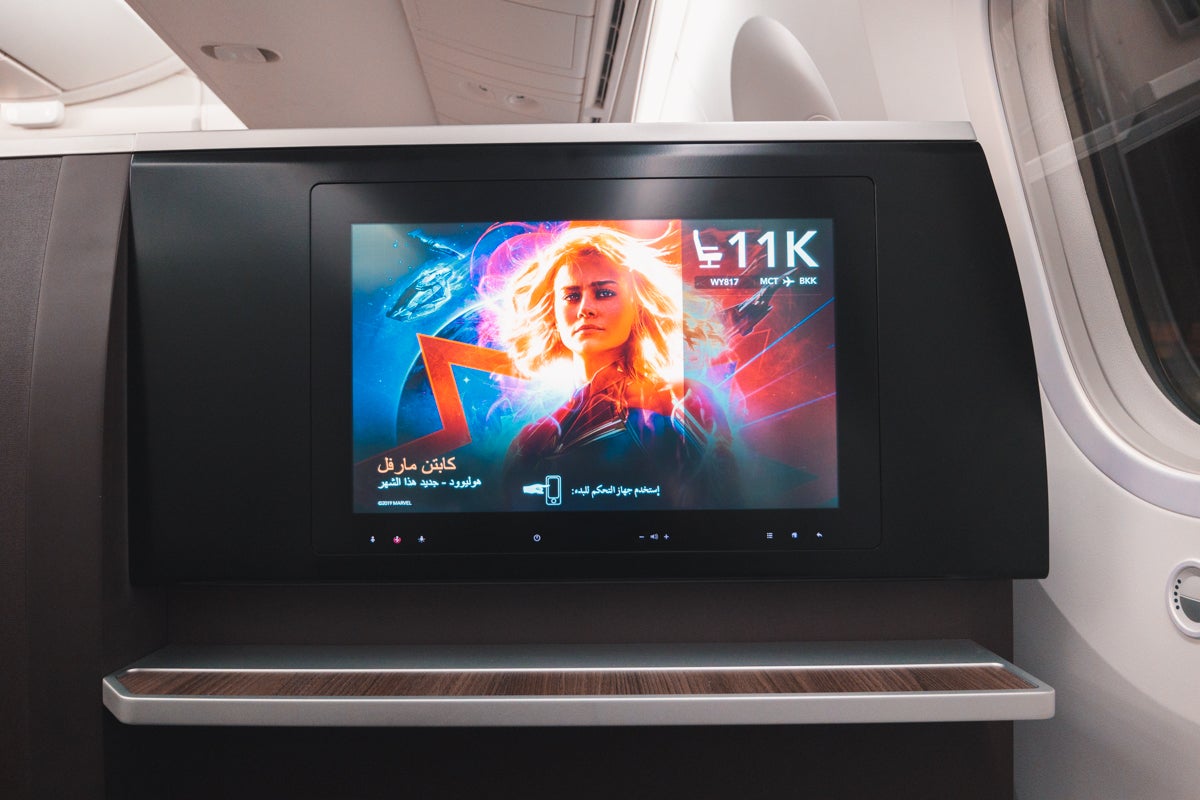 I found the IFE remote unresponsive like on the Qatar Airways A380; you need to push the screen very hard to get it to respond.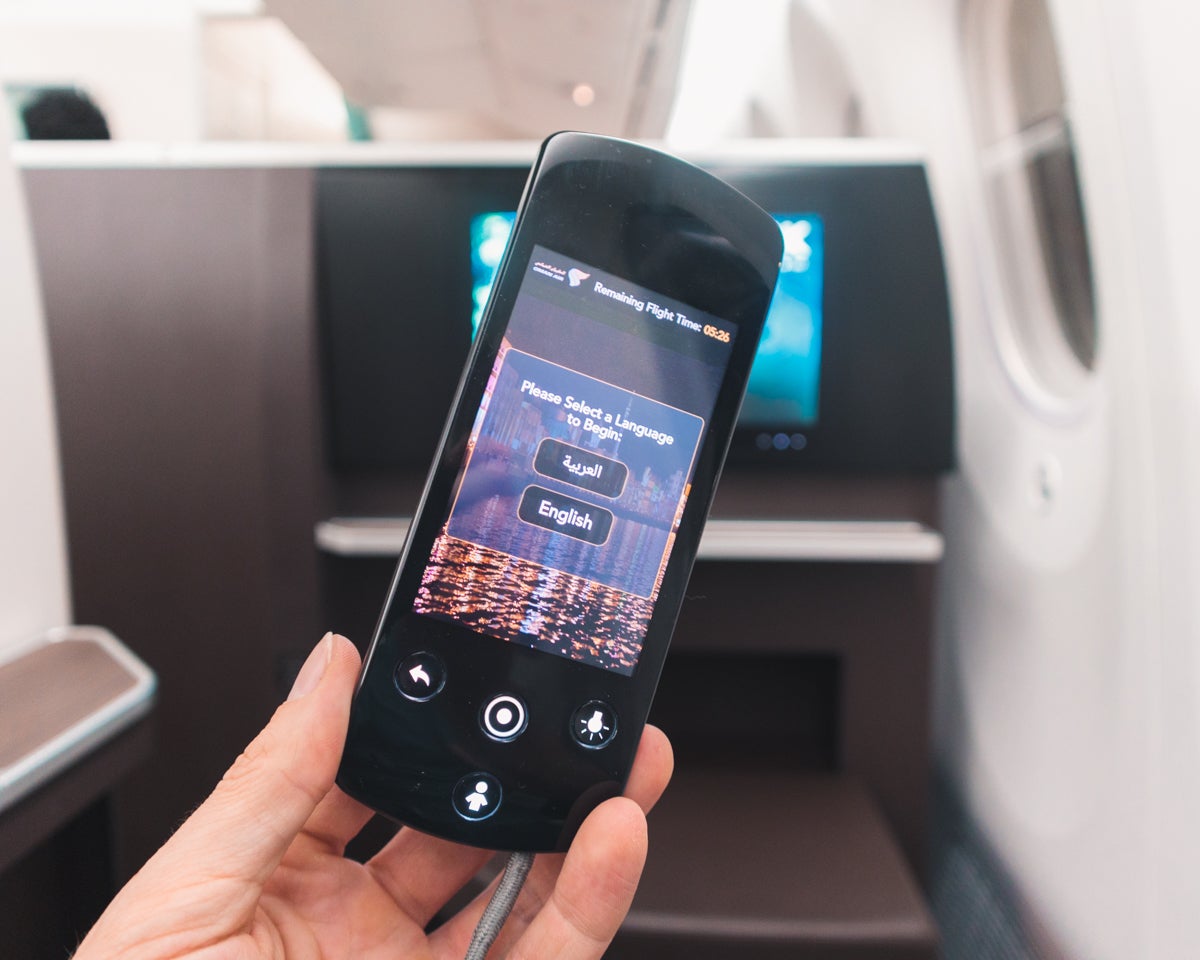 Wi-Fi was also installed on this new aircraft, but I just couldn't get it to connect so I gave up and decided to prioritize getting as much sleep as possible.
Noise-canceling headphones are the same cheap-looking quality as the previous flight, so I didn't bother to try them again.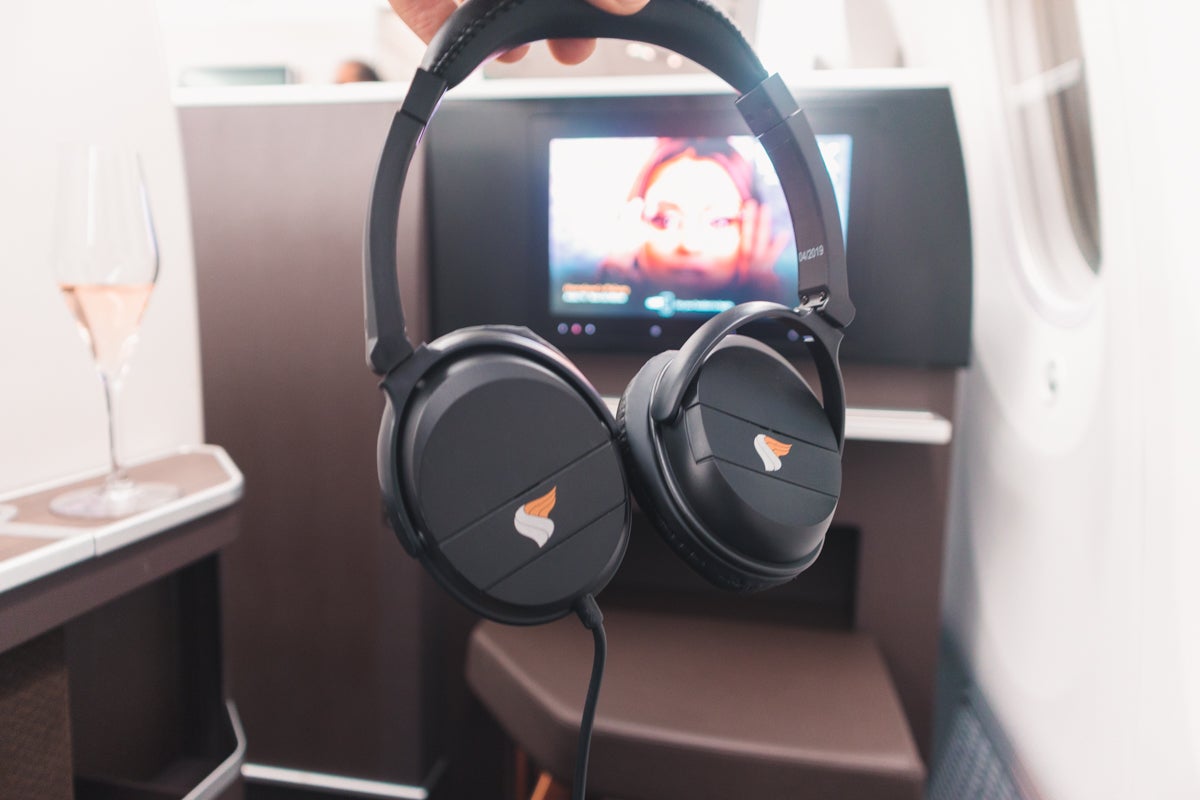 The crew once again collected them 30 minutes before landing into Bangkok.
Meal and Service
Upon boarding I was greeted by a male cabin crew member who seemed genuinely nervous. He offered me either a glass of Laurent-Perrier Brut Champagne ($35 a bottle), mixed berry smoothie, orange juice, or water.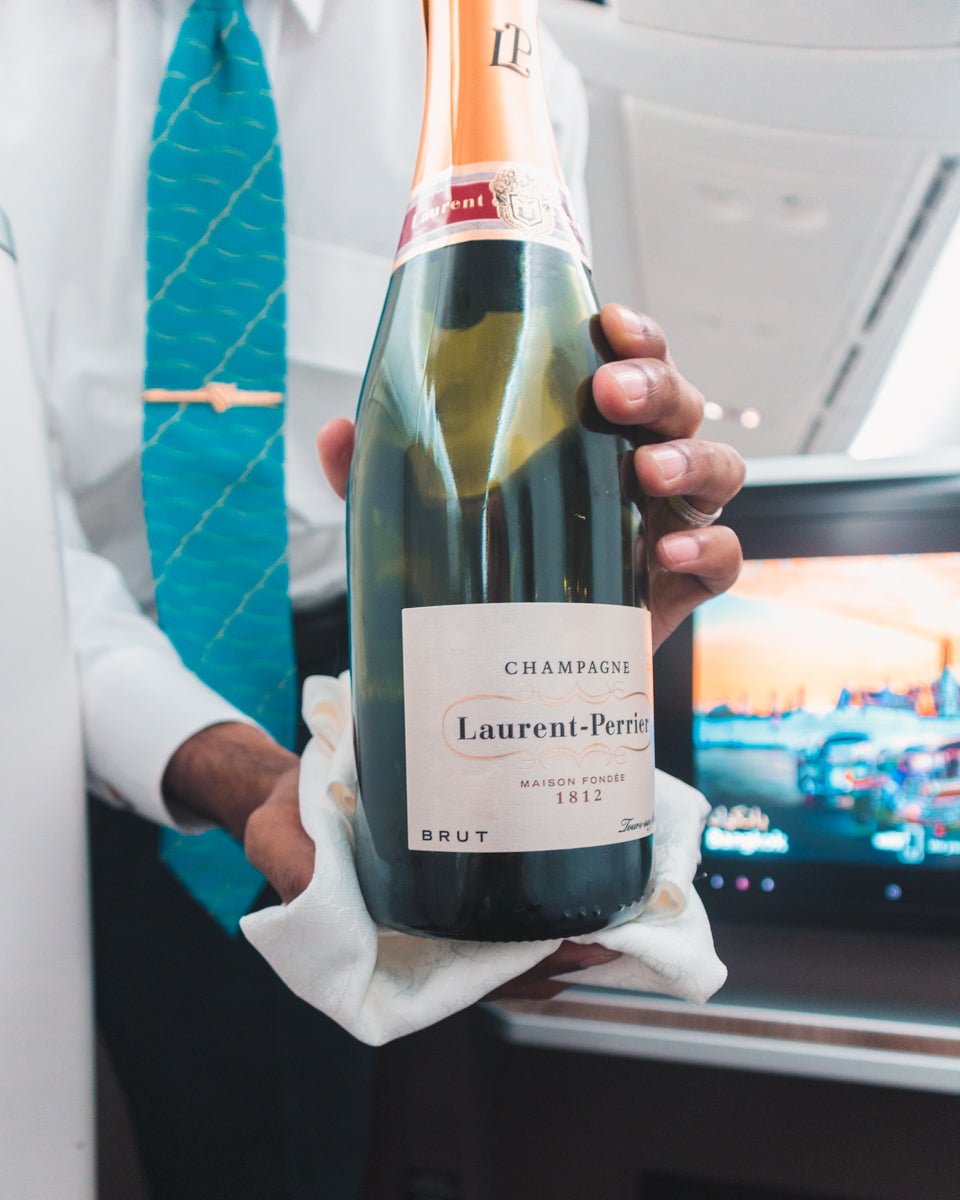 A hot towel arrived on a ceramic plate. The crew member mentioned, then overfilled, the champagne, spilling it over the cocktail table. It may have been due to the fact I had just taken a photo of him pouring it that made him nervous.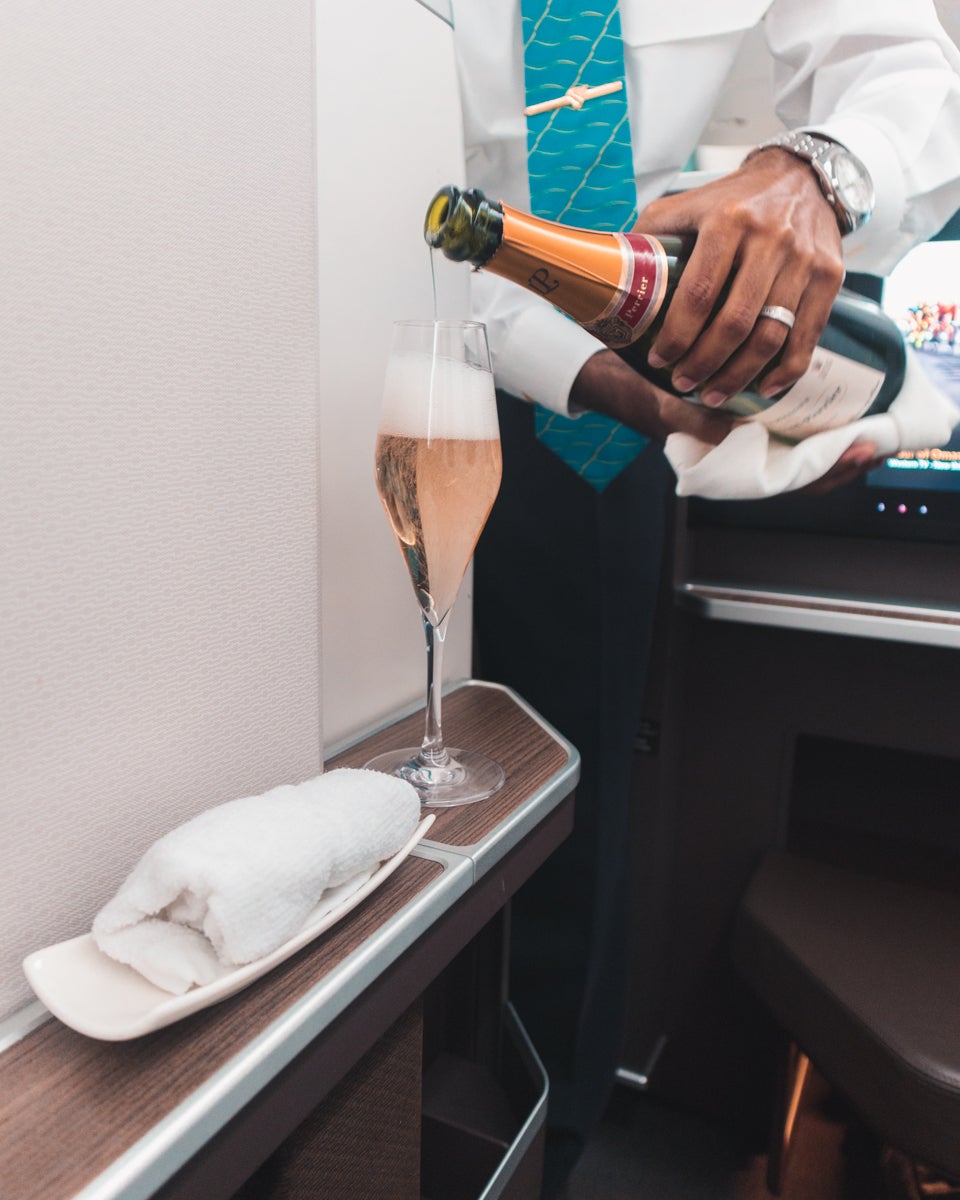 I was handed the menus and advised I was welcome to dine at any time I wanted. The crew member spoke very quietly and seemed unsure what needed to be done.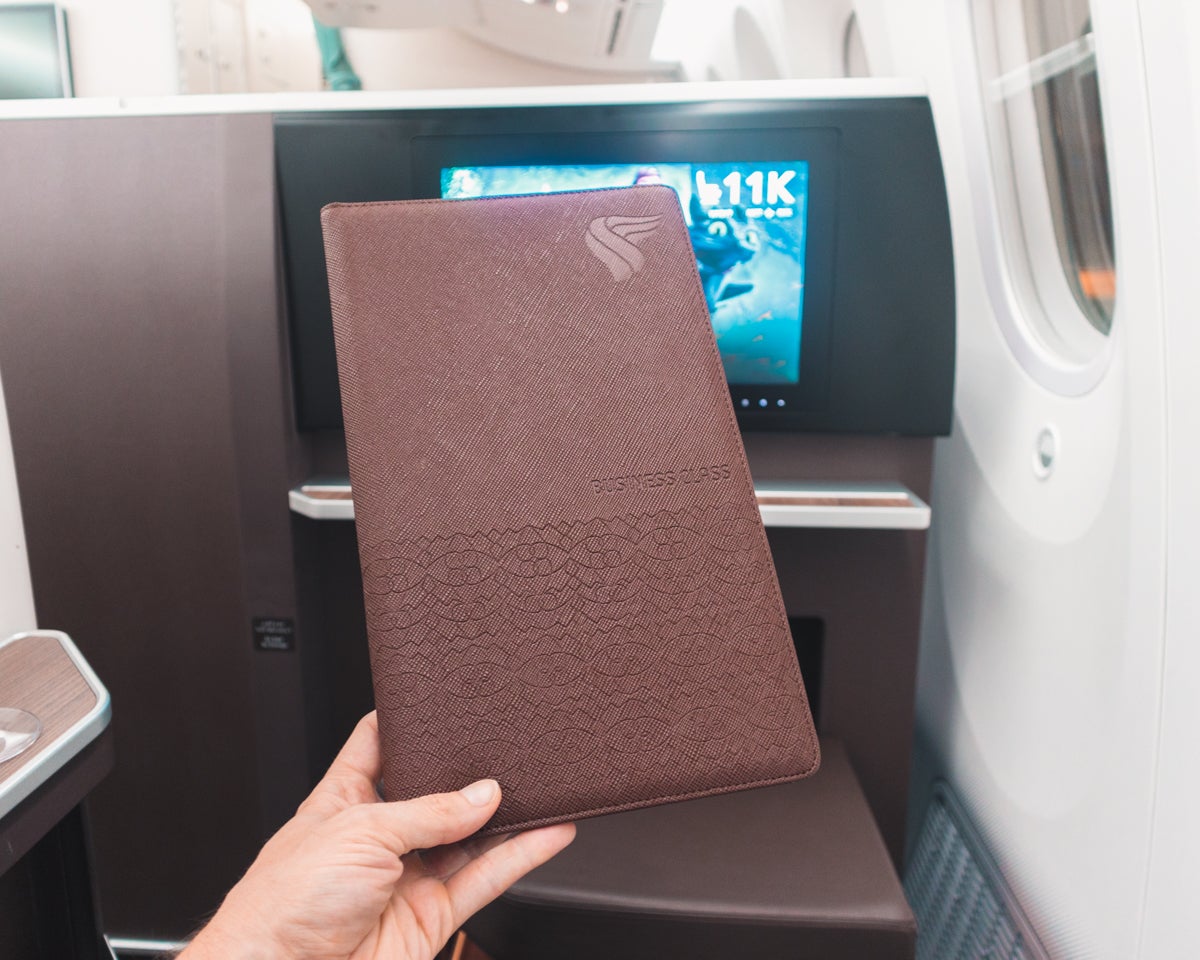 Newspapers came around next.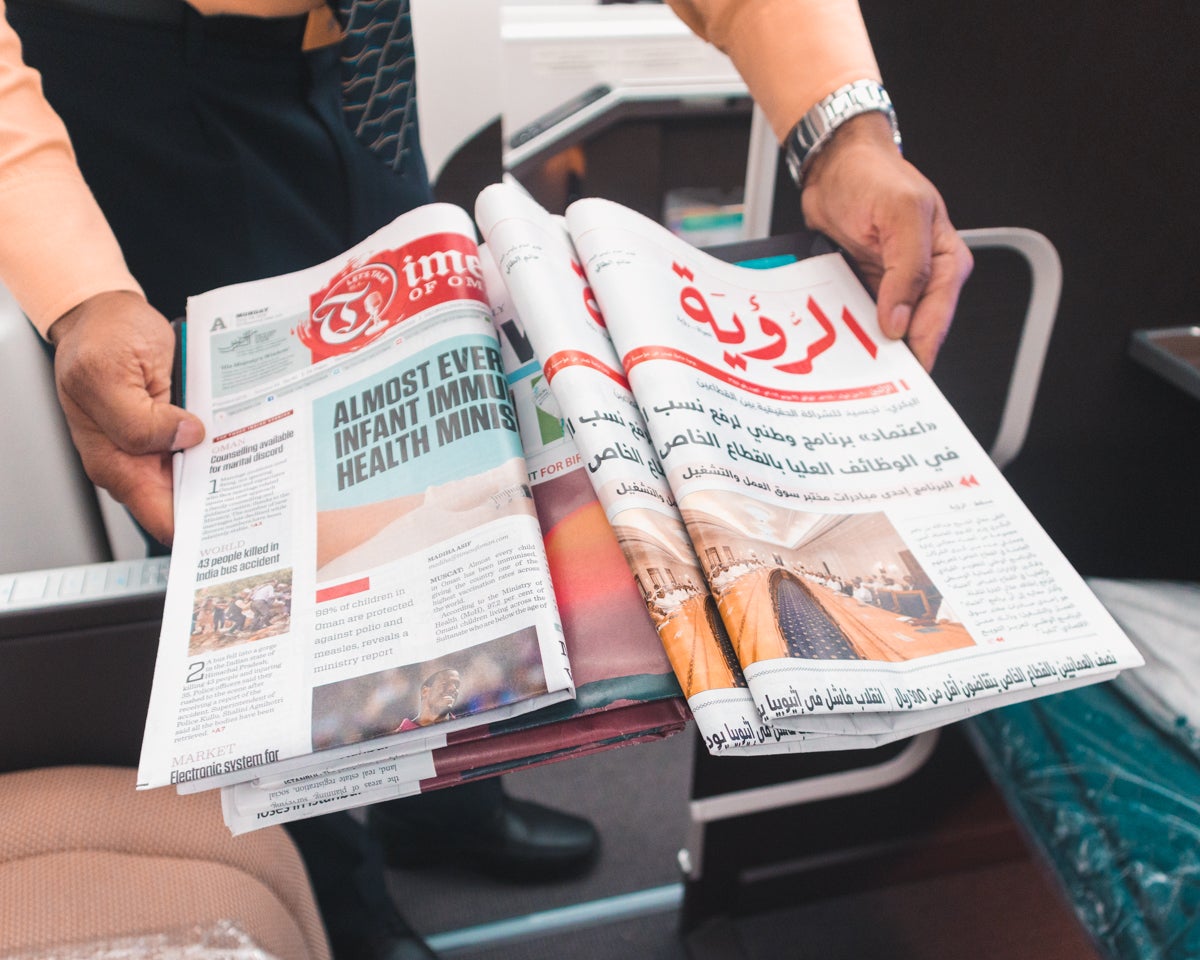 Followed by more champagne.
Then dates.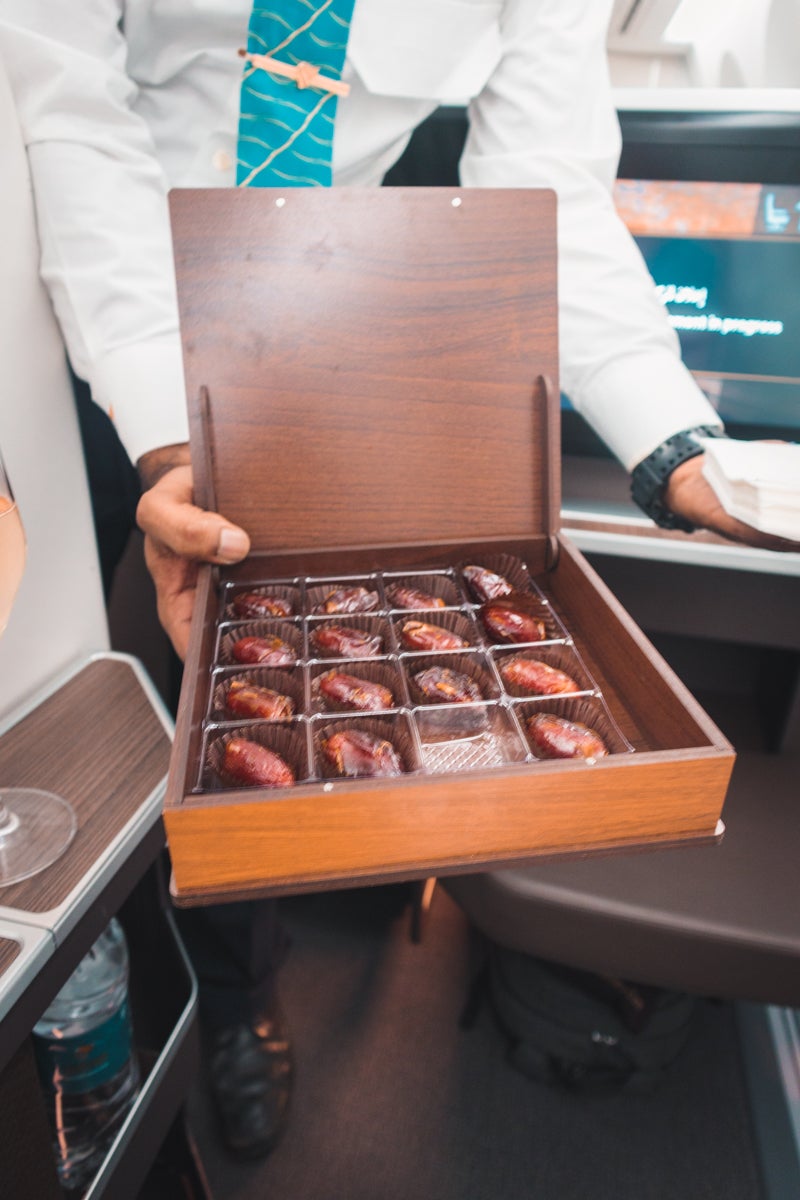 I was then offered an Arabic coffee.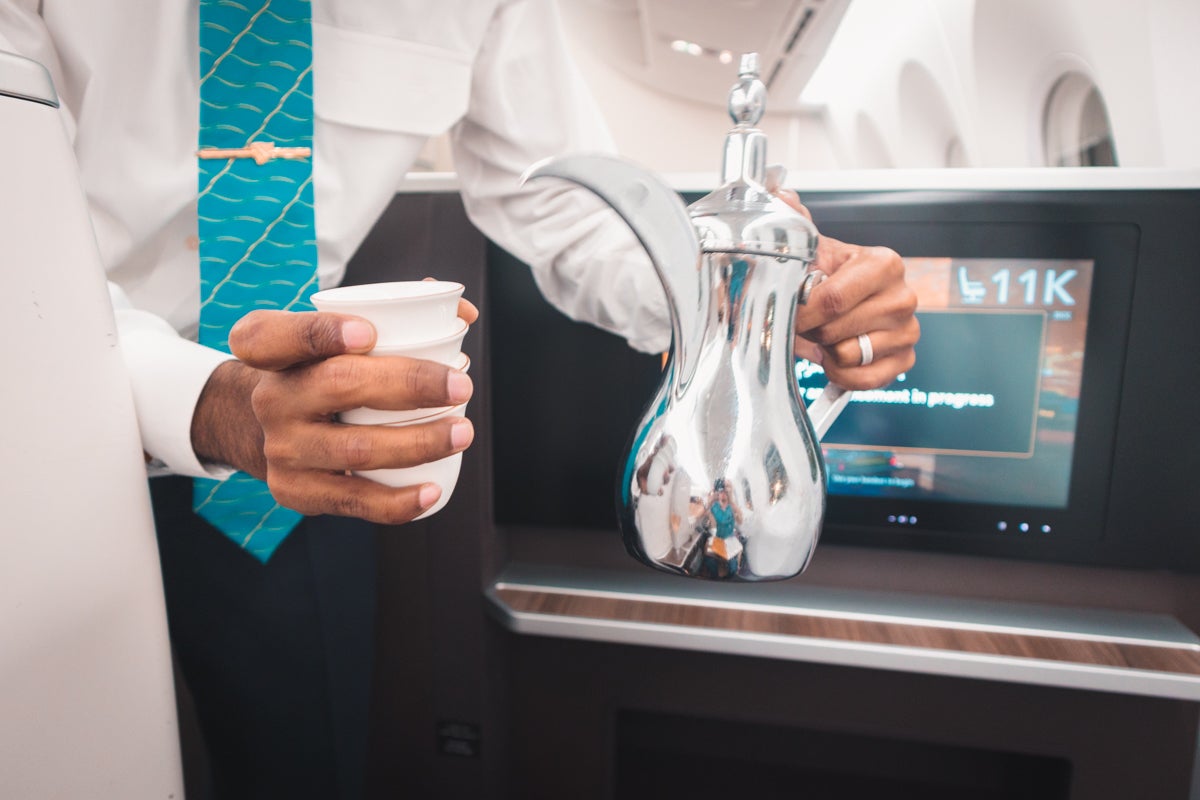 My meal order was taken just before we pushed back.
For the rest of the flight I was looked after by a Ukrainian cabin crew member who was just lovely and far more confident and professional. Sadly, I didn't get her name.
Around 45-minutes into the flight, my tray table was set for the dinner meal service and an amuse bouche arrived of crusted chicken with vermicelli, tamarind chutney, cucumber, and carrots.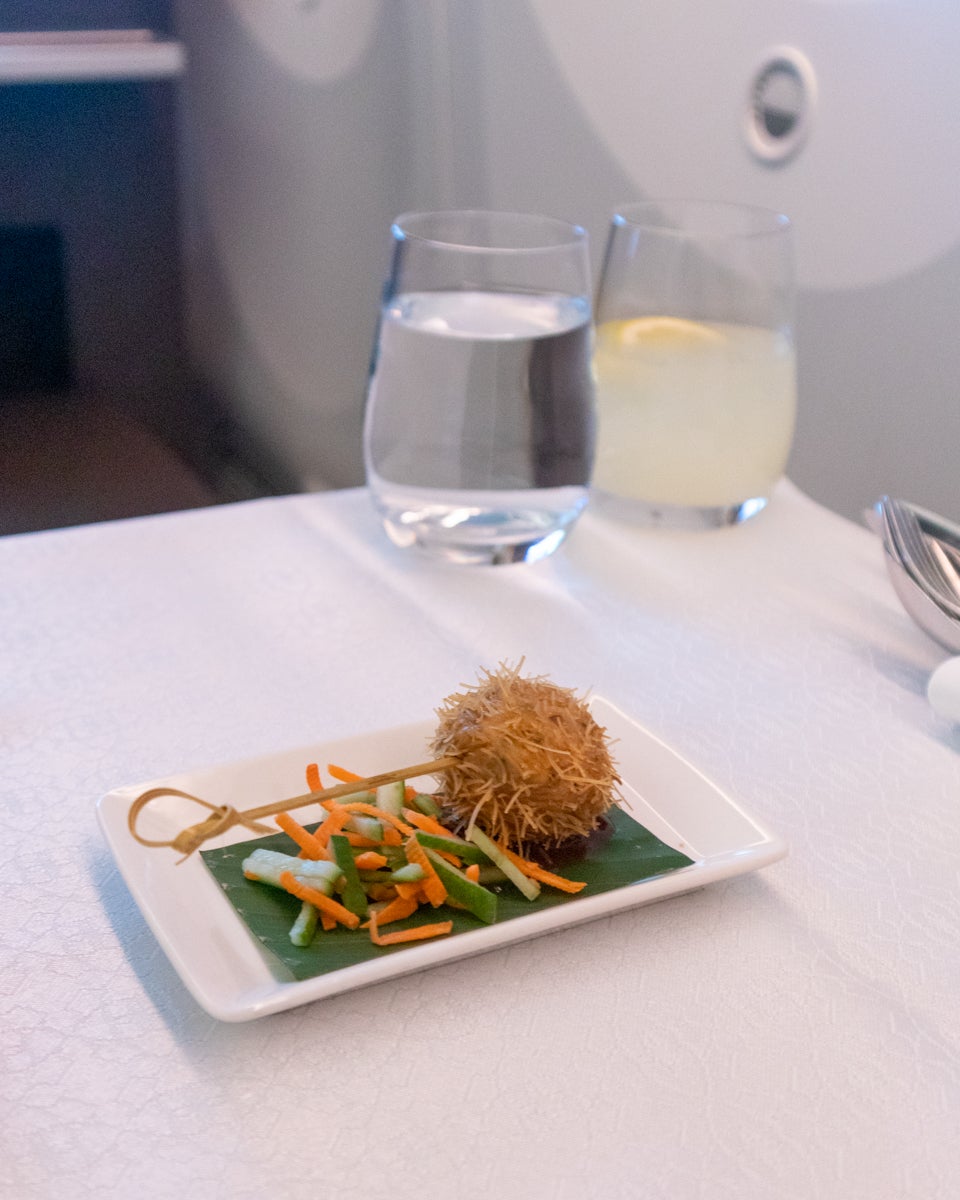 For appetizer I selected the classic Arabic mezze with hummus, baba ganoush, marinated olives, cheese sambousek, chicken kofta, and Arabic tomato sauce served with Arabic breads. It arrived on a beautiful glass plate with accompanying dips and olives. Compared to the Etihad Airways mezze I had just a month earlier, it was a far more substantial serve.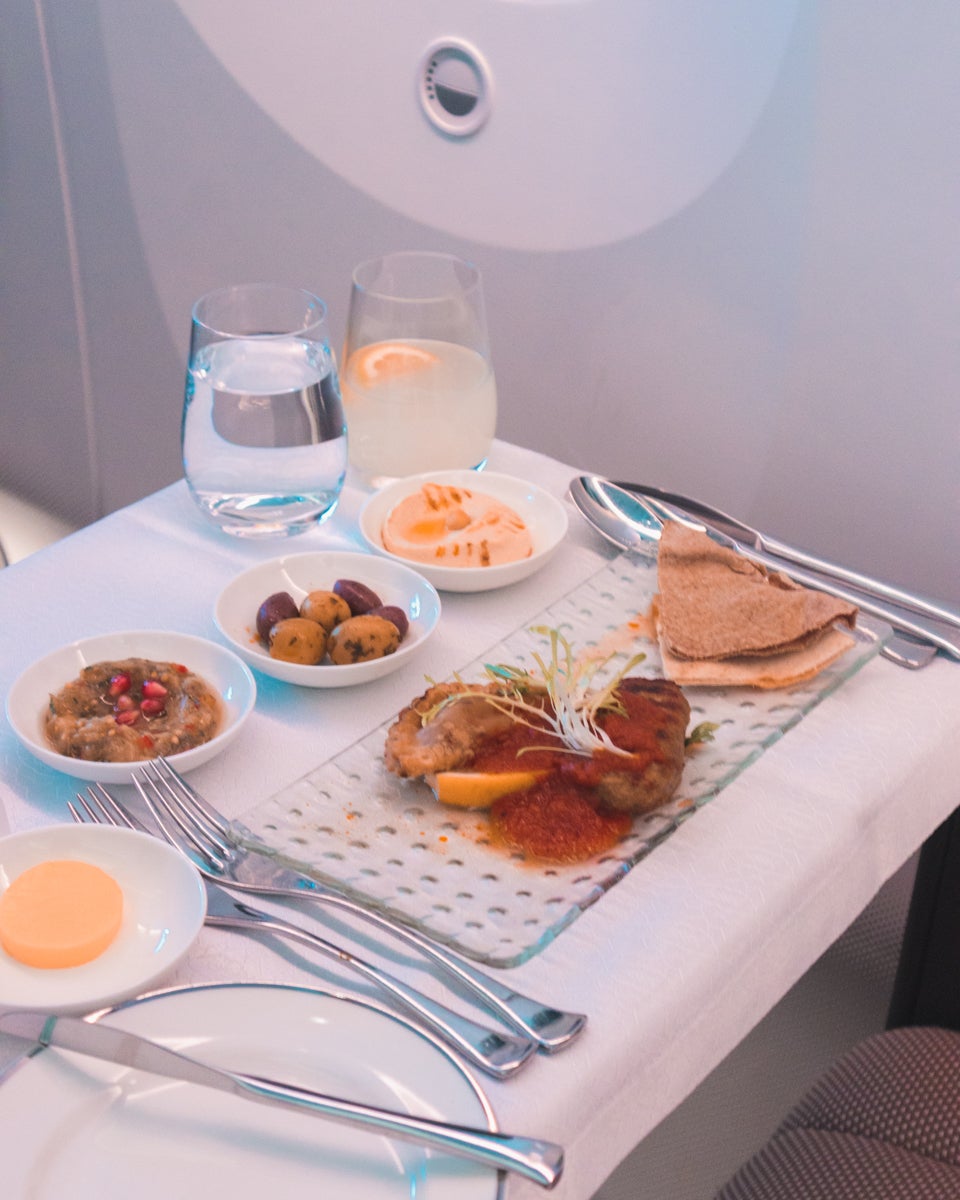 The other appetizer options:
Carrot and pumpkin cream soup
Grilled lemongrass chicken with raspberry vinaigrette
Then for main, I opted for the braised duck in seeded mustard with duck jus, herb crush potato, roasted pumpkin, zucchini, and cherry tomato. Once again, I was amazed at the restaurant-quality and presentation of the dish. The duck was cooked to perfection.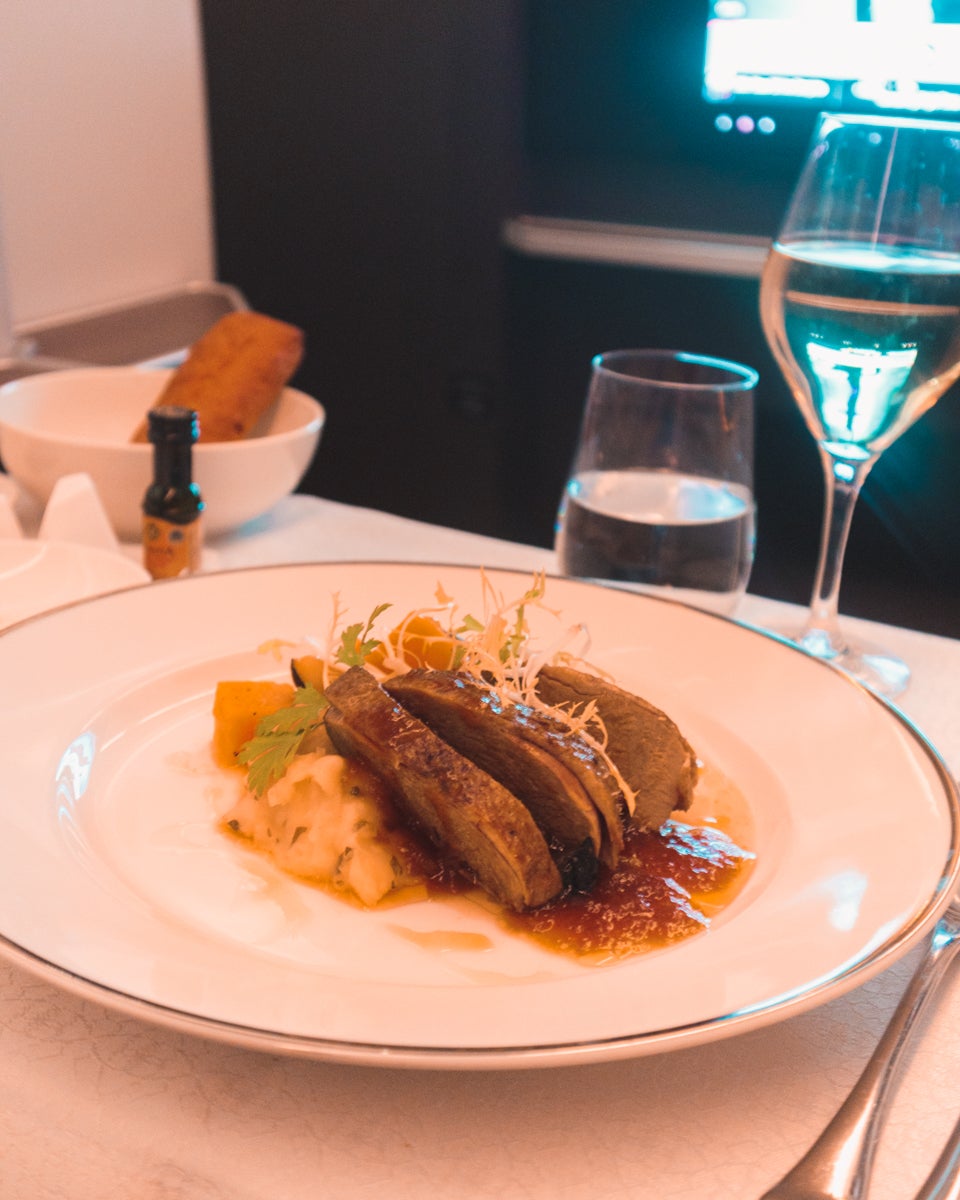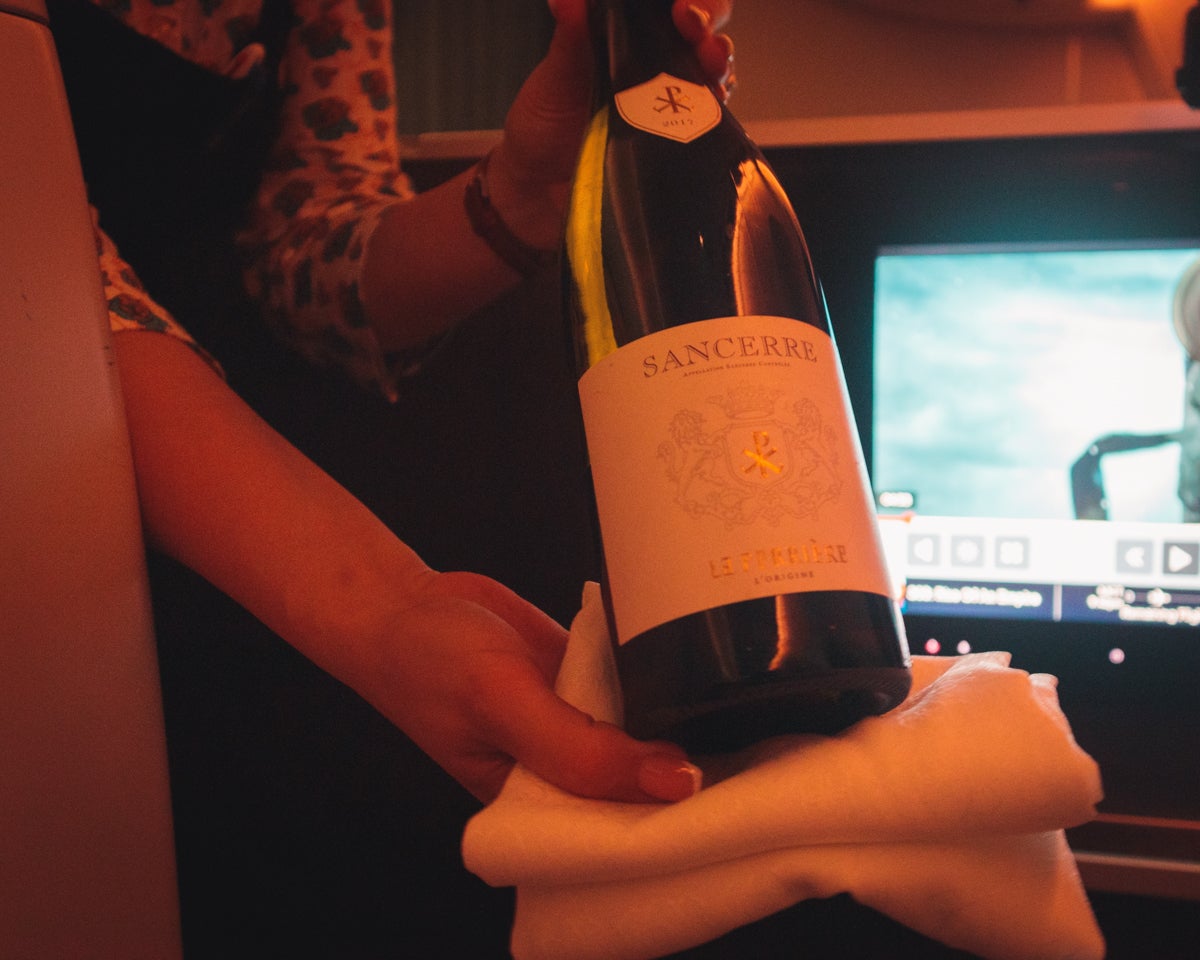 The dinner service concluded with warm cinnamon and strawberry bread and butter pudding with vanilla anglaise, strawberry compote, crushed cashews, strawberry, and whipped cream. I paired this with the 2014 Château Guirand 1st Grand Cru ($36 a bottle) dessert wine.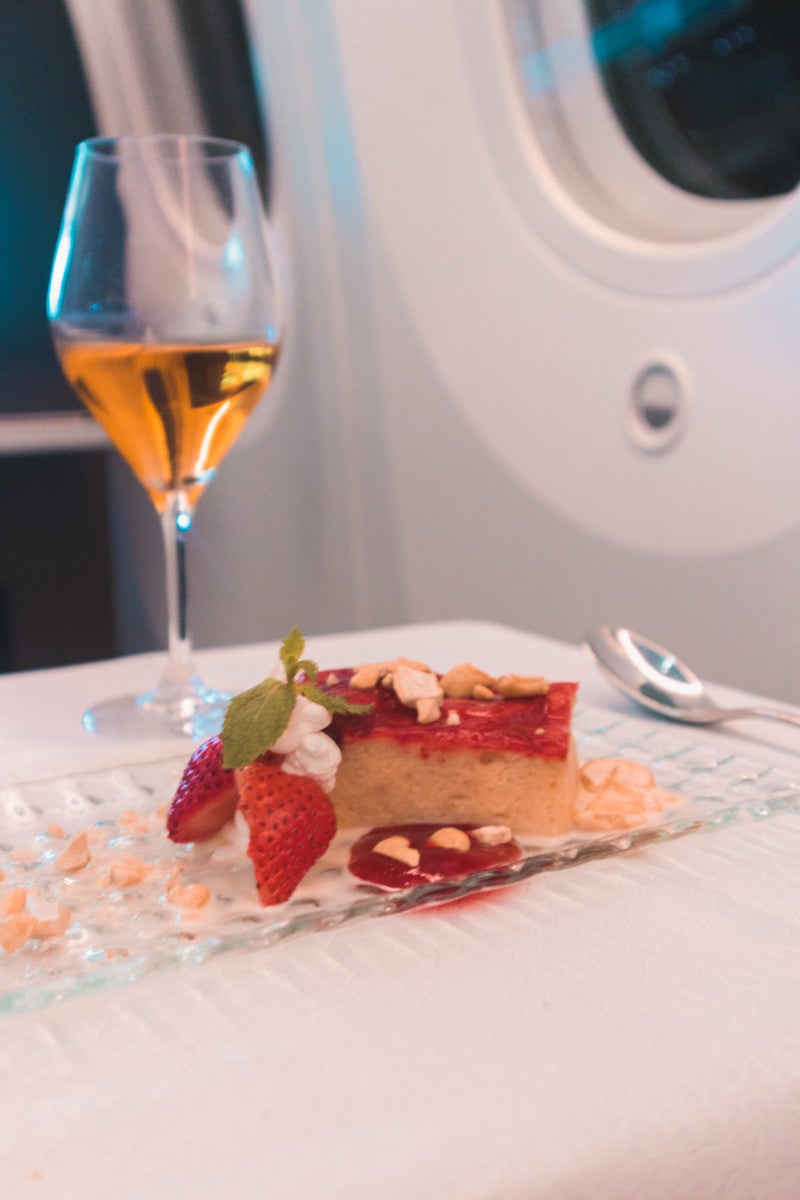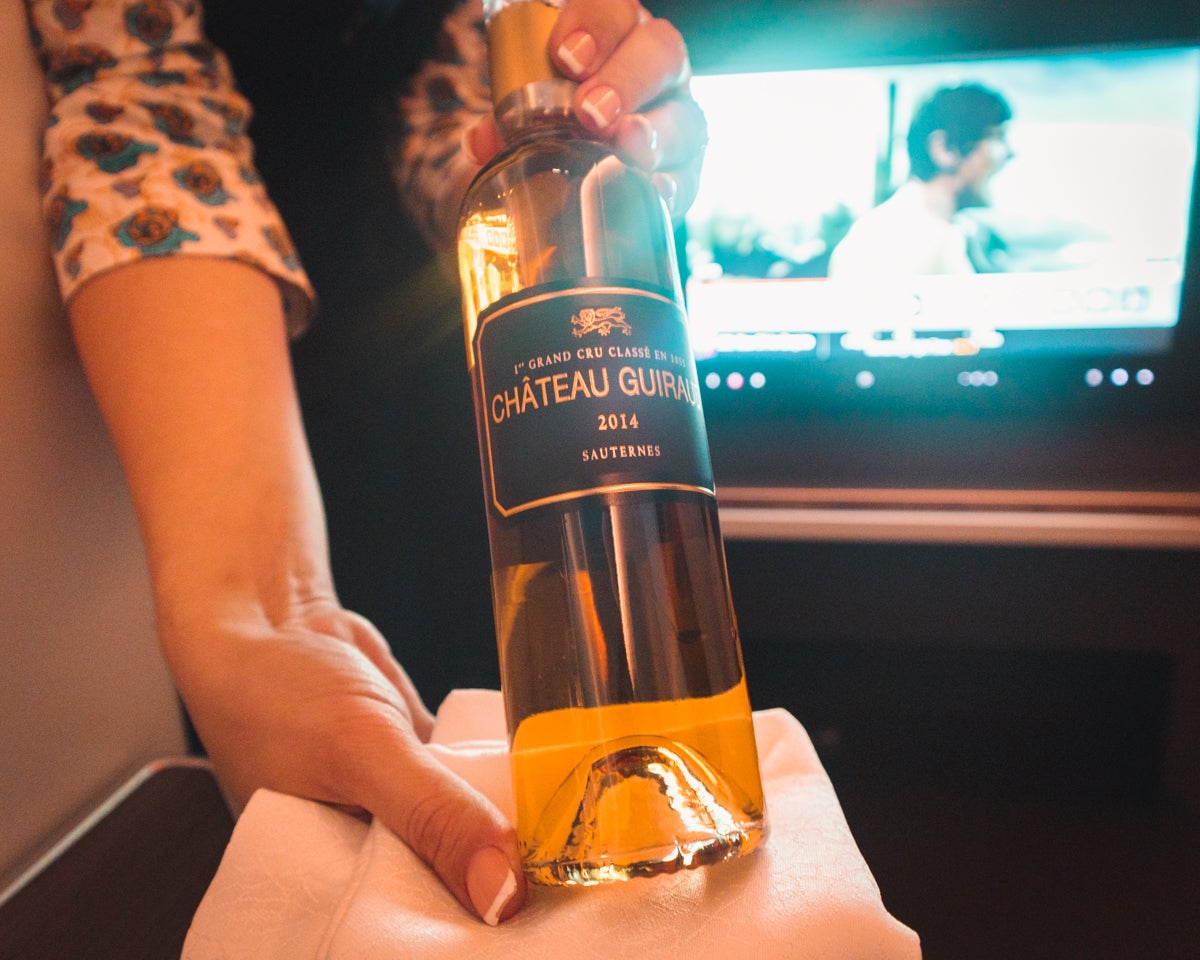 It was the perfect way to finish off an overall excellent meal and was the perfect portion size, too.
My tray table was cleared around 2 hours and 20 minutes after departing Muscat.
I'm unsure if a refreshment service was available before landing into Bangkok as I slept through it and nothing was noted on the menu.
However, I doubt I would have wanted more food if there was any offered after the dinner service.
Final Thoughts
So how did the return to Bangkok on Oman Air compare to the Finnair flights from Bangkok and its efficient northern route?
Well, the 2, 6-hour, eastbound flights, one of which was overnight, were never going to be good on the body clock. I landed in Bangkok at 6:34 a.m. local time after totaling 5.5 hours sleep across the 2 segments and I felt terrible.
The experience was made even worse by the fact my bag never arrived at the carousel. It turned out that it never made it out of Barcelona and would take another 7 days before it was returned to me at Sydney Airport.
No matter how good a business class product is, nor the high-tech Boeing 787 with higher humidity and lower cabin pressure, it just can't overcome the effects on the body of crossing so many time zones.
In hindsight, I should have flown to Europe via the Middle East as 2 shorter day flights which would have been more favorable on the body clock and I would have been able to enjoy more of the Oman experience. Then I should have flown Finnair east-bound which would have had the longer, uninterrupted, 10-hour segment and a better opportunity to sleep.
Saying all of that, Oman Air was an absolute pleasure to fly and it exceeded my lofty expectations. Although the service wasn't as polished or friendly as Finnair, everything else, including the restaurant-style dining and lounge in Muscat felt far more premium.
I would also choose the old Oman Air A330 business class over a Finnair A321 business class any day of the week. But it's the Apex Suites on the 787 that further swing my love to Oman Air. This seat is now my second favorite business class seat, behind the Qatar Airways Qsuites, due to incredible space, privacy, comfy flatbed, and decent storage. I just wish Oman Air would launch longer routes to capitalize on the 787's love for distance.