Finnair Airbus A350 & A321 Business Class Review [BKK to HEL to BCN]
Airline: Finnair (AY)
Aircraft: Airbus A350 and A321 (OH-LWF and OH-LZM)
Flight #: AY142 and AY1653
Route: Bangkok (BKK) > Helsinki (HEL) > Barcelona (BCN)
Date: June 19, 2019
Duration: 10hr 20min + 4hr
Cabin & Layout: Business Class, 46-seats, 1-2-1 config. 16 seats 3-3 (with the middle seat blocked out)
Seat(s): 6A and 2A
Miles Used: None – paid fare
Cash Used: $1,900 per person one-way Bangkok to Helsinki to Barcelona (THB 59,110)
Introduction
One of my vendors at work extended an invitation for me to attend a special event in Barcelona which coincided with the ITMA textile conference. It was rather last minute and as such, all reward options I searched for failed to deliver any results – potentially due to the fact the conference attracts over 120,000 visitors to the city. So, I had to get creative.
I saw a few promotions online for discounted Finnair and Oman Air fares to and from Bangkok. If I paid for a Bangkok to Barcelona return fare, I could easily use points to get to and from Bangkok from Sydney.
Booking Finnair Business Class
Both the Finnair and Oman Air paid fares were comparable, so I just had to decide which airline to fly. I was really torn between the 2 as I had not experienced either and I have heard great reviews of both.
So, I setup a poll on my Instagram story to ask my followers who I should choose. A friend replied with the Old El Paso girl meme saying, "Why don't we have both?"
This made me laugh at first, but then realize what a fantastic idea it was! Why fly 1 when I could fly both?
Admittedly, the paid return fares were better valued than 2 one-ways, but for the purpose of bringing you reviews of both airlines, I booked the 2 one-way fares.
To get to Bangkok from Sydney, I used Singapore Airlines KrisFlyer Miles to fly via Singapore so I could experience its new Boeing 787-10 Business Class.
From Bangkok to Barcelona I opted for a Finnair morning departure via Helsinki. Finnair has up to 3 services a day between Bangkok and Helsinki. Finnair claims it's faster to fly between Asia and Europe via Helsinki as opposed to the Middle East due to its Northern routing and efficient Helsinki airport with layovers as little as 35 minutes.
I then booked a one-way fare from Barcelona back to Bangkok on Oman Air via Frankfurt and Muscat.
I then used Asia Miles to book a Qantas Airbus A330 business class flight home to Sydney from Bangkok.
So, my final routing looked like this: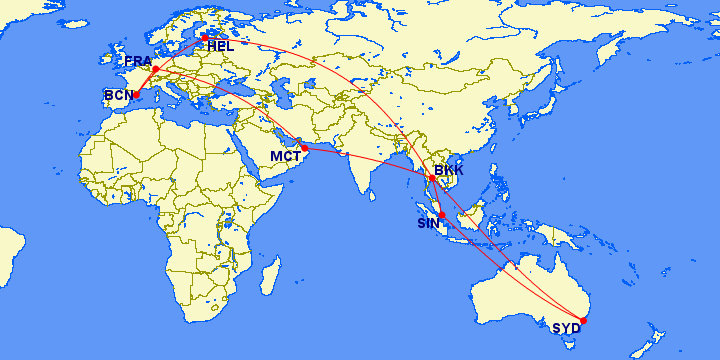 Why fly direct when you can connect?
Reviews of the subsequent flights will follow soon.
Miles Earned
In the end, I paid $1,900 for the one-way Bangkok to Barcelona flight (THB 59,110). I had mistakenly applied my Qantas Frequent Flyer number at the time of booking, but after some research into the points-earning potential, I updated it to my Alaska Airlines account before departure. The change must not have been processed correctly as the points were incorrectly credited to Qantas in the end.

Thankfully, I was able to get Qantas to cancel the points and status credits and have Alaska claim the flight instead which netted me 19,611 miles – a whopping 10,986 more points than Qantas offered.

How to Book Finnair Business Class With Points and Miles
You have plenty of options available if you'd like to book a Finnair flight with points and miles.
Finnair is a part of the Oneworld Alliance, meaning that you can book flights on the airline using miles from other Oneworld carriers like American Airlines, British Airways, Qantas, and others. Additionally, you can also use non-alliance partner Alaska Airlines' Mileage Plan miles to book Finnair tickets, too.
The best deal for booking Finnair award tickets from Asia to Europe is through Alaska Airlines. You can book a non-stop Helsinki to Bangkok award ticket for just 60,000 miles one-way in business class. I think this is an absolutely stellar deal considering the length of the flight.
American Airlines is a not-so-close second when booking Europe to Asia awards, with a one-way ticket coming in at 75,000 miles. Both American and Alaska customers can book Finnair award tickets online — no phone call required.
However, the downside to these mileage programs is that they both only have 1 transfer partner: Marriott Bonvoy. On the other hand, Finnair's Oneworld partner British Airways accepts transfers from American Express Membership Rewards and Chase Ultimate Rewards, but you'll pay more in miles as British Airways has a distance-based award chart.
In the case of Helsinki to Bangkok, the flight clocks in at 4,890 miles. According to British Airways, this ticket would cost 77,250 miles one-way. This isn't too bad when compared to American Airlines, but is a whopping 17,250 miles more than redeeming through Alaska Airlines. Thankfully, you can book Finnair award tickets on the British Airways website, too.
Surprisingly, Finnair's own miles — Finnair Plus — present the worst value for Finnair flights from Helsinki to Bangkok. According to Finnair's mileage calculator, you'll pay 97,000 Finnair miles for a one-way flight in business class on this route. As of the time of publishing this article, you can transfer points to Finnair Plus from Capital One and Marriott Bonvoy at varying rates.
A Word on Finnair Award Space
While Finnair award tickets do show on partner award search engines, you'll be hard-pressed to actually find available award space. This is because Finnair is notorious for releasing very little award space on any of its non-European routes, so you'll have to remain vigilant if you'd like to book a Finnair award ticket.
I recommend setting up an ExpertFlyer alert that will automatically notify you when Finnair award space opens on a route you'd like to book.
Hot Tip: Don't miss UP's dedicated post: The Best Ways To Redeem Finnair Plus Miles for Maximum Value. 
At Bangkok Suvarnabhumi Airport
Check-In
After an overnight at the Novotel Bangkok Airport Hotel, I arrived at the airport 2.5 hours before departure. The economy class check-in queue was full, yet the priority queue was empty. As such, check-in took just a couple of minutes.
Business class passengers can use the "Fast Track" channel at Bangkok airport, however, there was nothing fast about it and took over 20 minutes to get through. The crew channel right next to it was moving just as slow.
Lounge
I was spoilt for lounge choices at Bangkok airport so I will cover the 14 hours I spent lounge hopping in another review.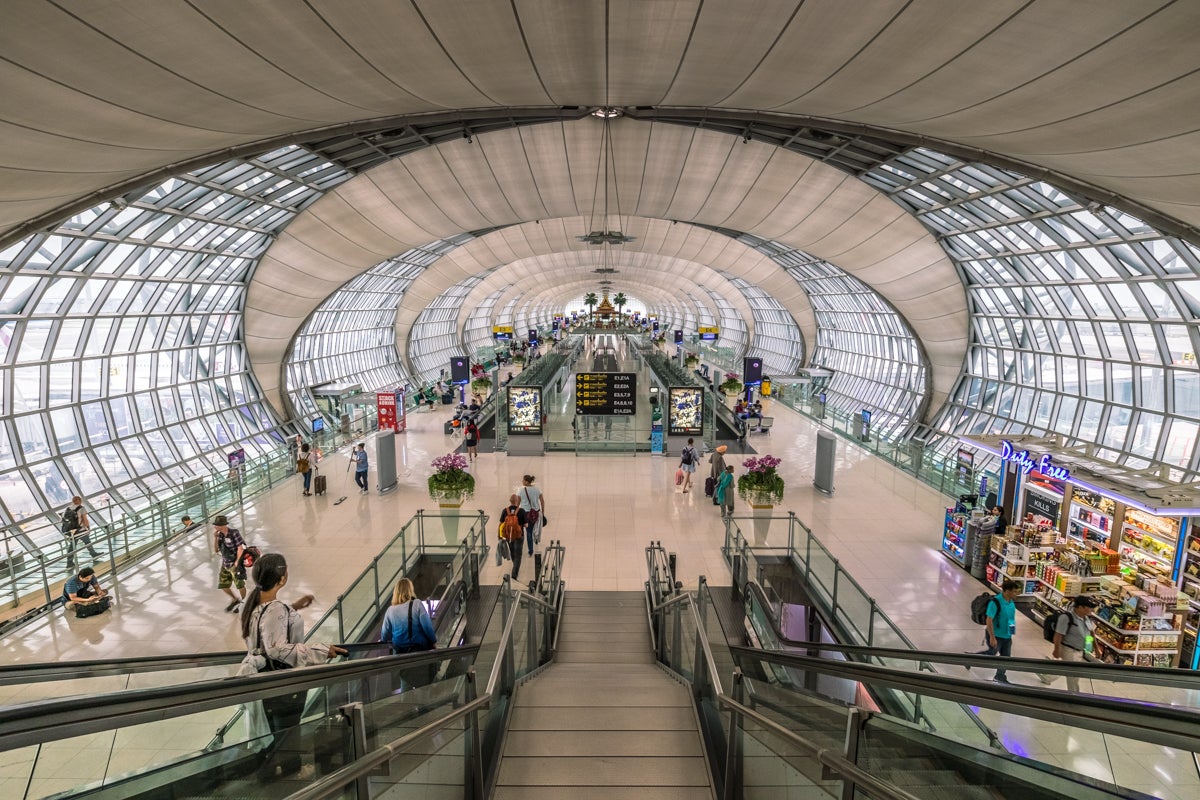 Airbus A350 Flight
Aircraft
AY142 is operated by an Airbus A350 aircraft.
Finnair currently has a fleet of 14 Airbus A350-900 aircraft, with 5 more on order, flying between Helsinki and:
Bangkok (BKK)
Beijing (PEK) – resumes November 15, 2019
Brussels (BRU)
Busan (PUS) – starts March 30, 2020
Dubai (DXB)
Guangzhou (CAN)
Havana (HAV)
Ho Chi Minh (SGN)
Hong Kong (HKG)
Los Angeles (LAX)
London-Heathrow (LHR)
Nagoya (NGO)
Osaka Kansai (KIX)
Punta Cana (PUJ) – starts December 13, 2019
Seoul Incheon (ICN)
Shanghai (PVG)
Singapore (SIN)
Tokyo-Narita (NRT)
My aircraft today was Finnair's sixth A350 delivered and was 3 years old.
Sorry for the terrible photo — Bangkok airport windows make it very difficult to photograph through.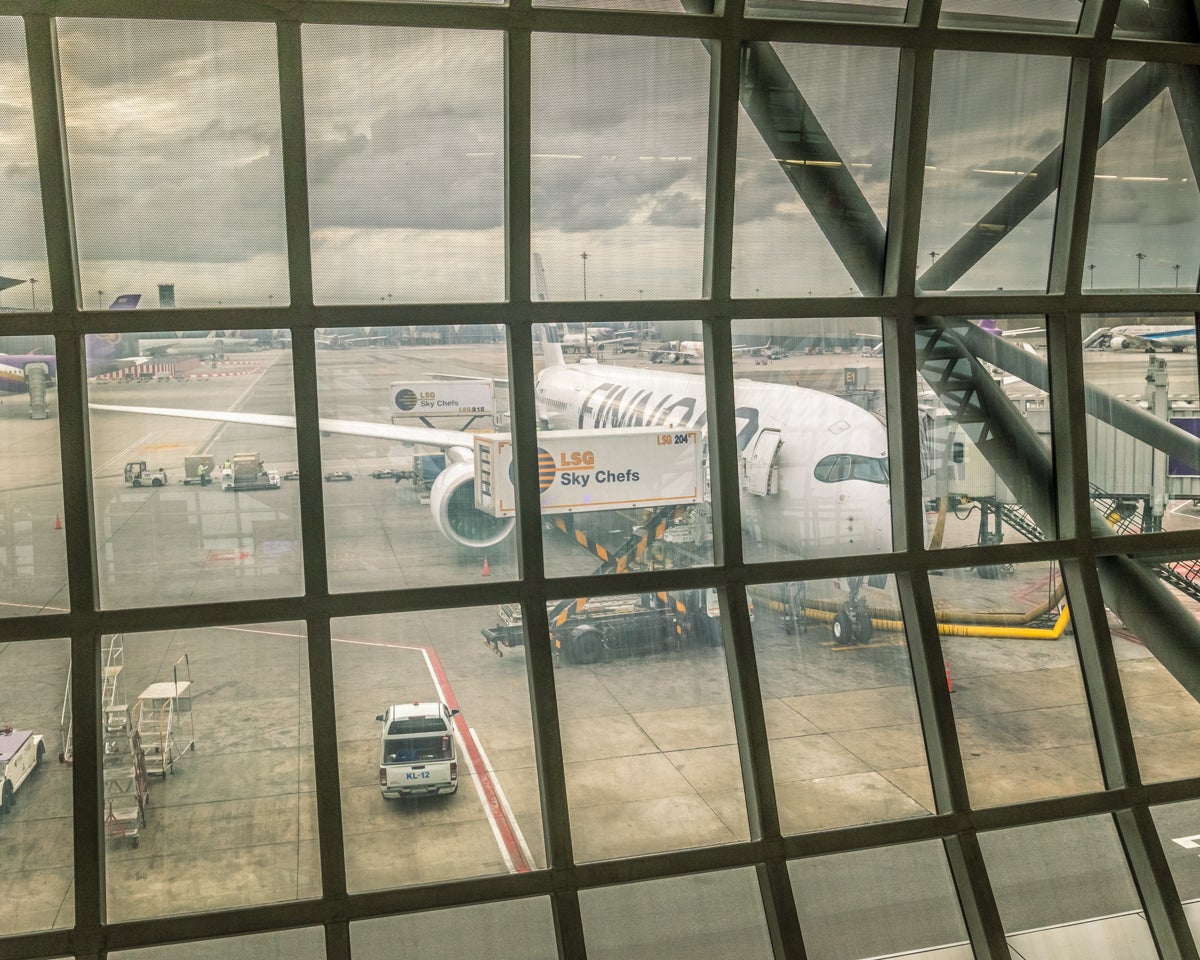 All of Finnair's A350 aircraft are configured with 2 classes.
The business class cabin features 46 seats in a 1-2-1 configuration with 32 in the forward cabin between door 1 and door 2.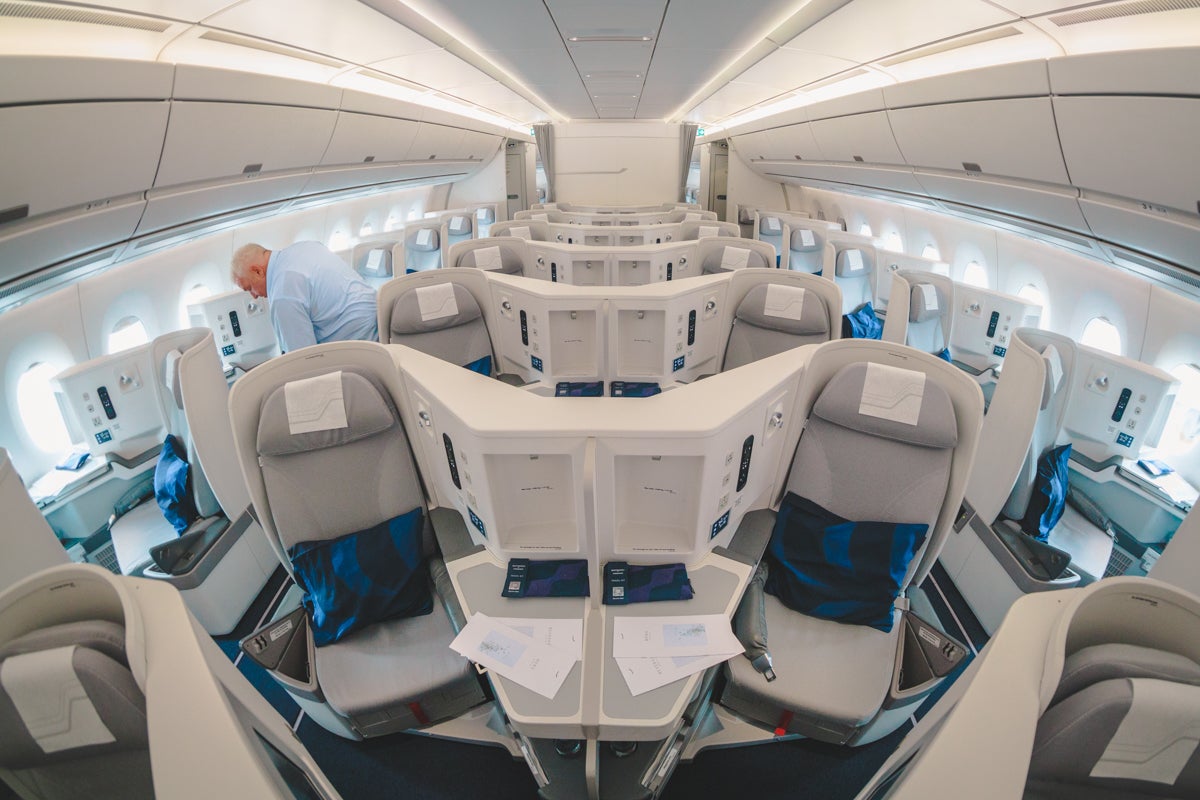 With a smaller cabin behind door 2 with the remaining 14 seats.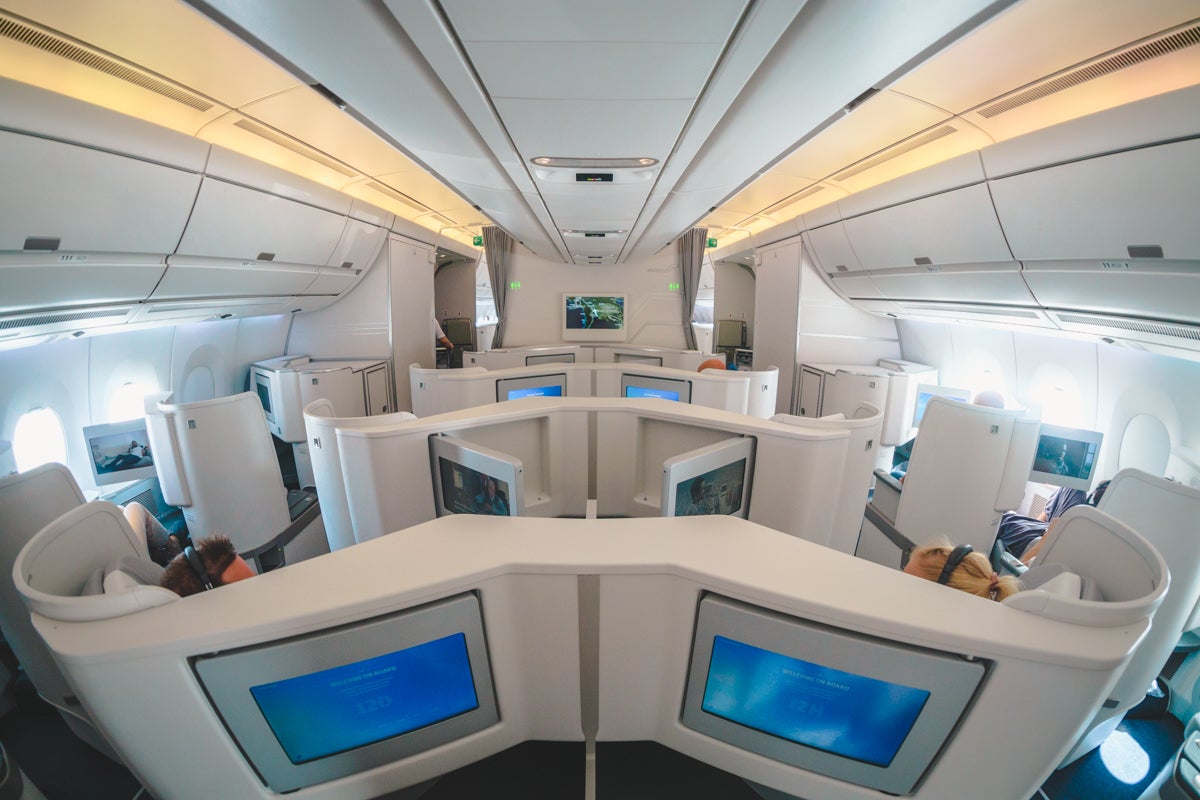 Economy takes up the rest of the aircraft with 251 seats in a 3-3-3 configuration. 43 are Economy Comfort seats which have extra legroom.

Business Class
Stepping on board, I was instantly impressed at the crisp, clean, and fresh-looking cabin. Although the aircraft was 3 years old, it still felt brand new with no major scuffing or wear and tear noticeable on the seat surfaces.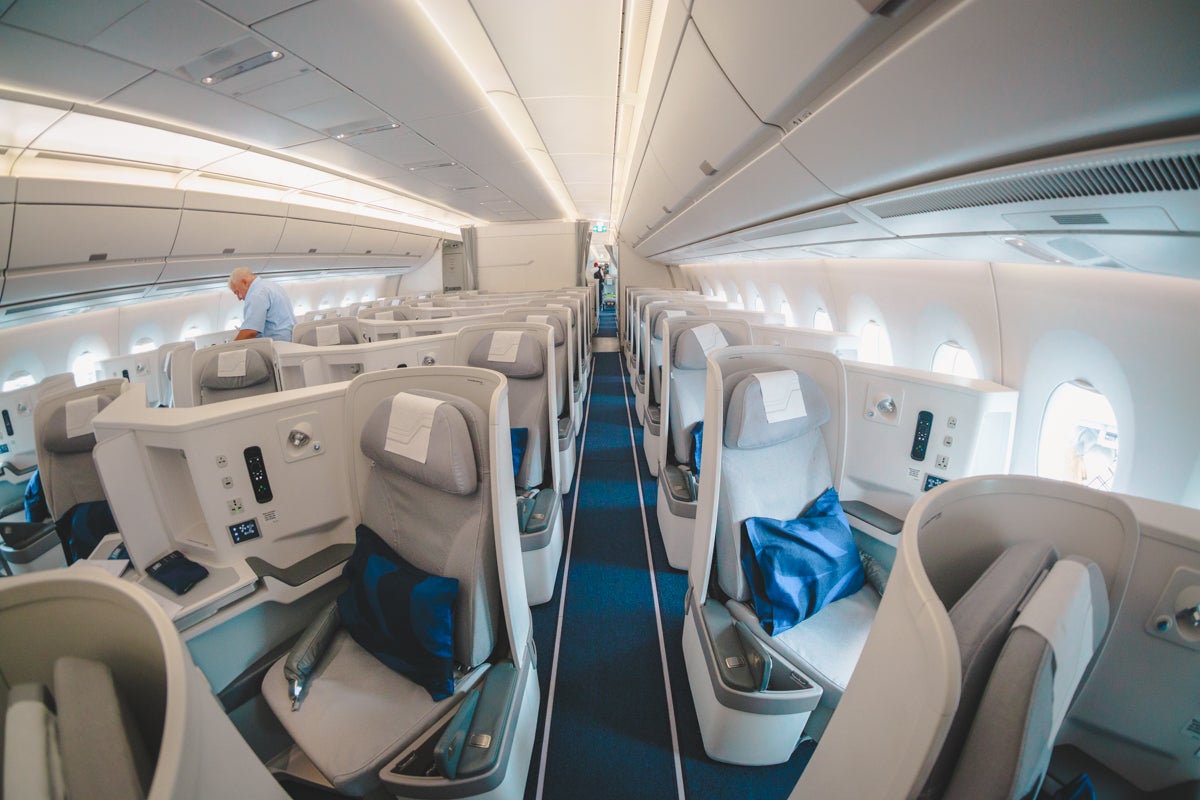 Finnair installed the Zodiac, now Safran, Cirrus III seat which was instantly familiar for me as it is the same seat Cathay Pacific selected for its A350 aircraft I flew recently — yet with a number of differences.
The case on the single pillow and duvet are from the iconic Finnish design house Marimekko.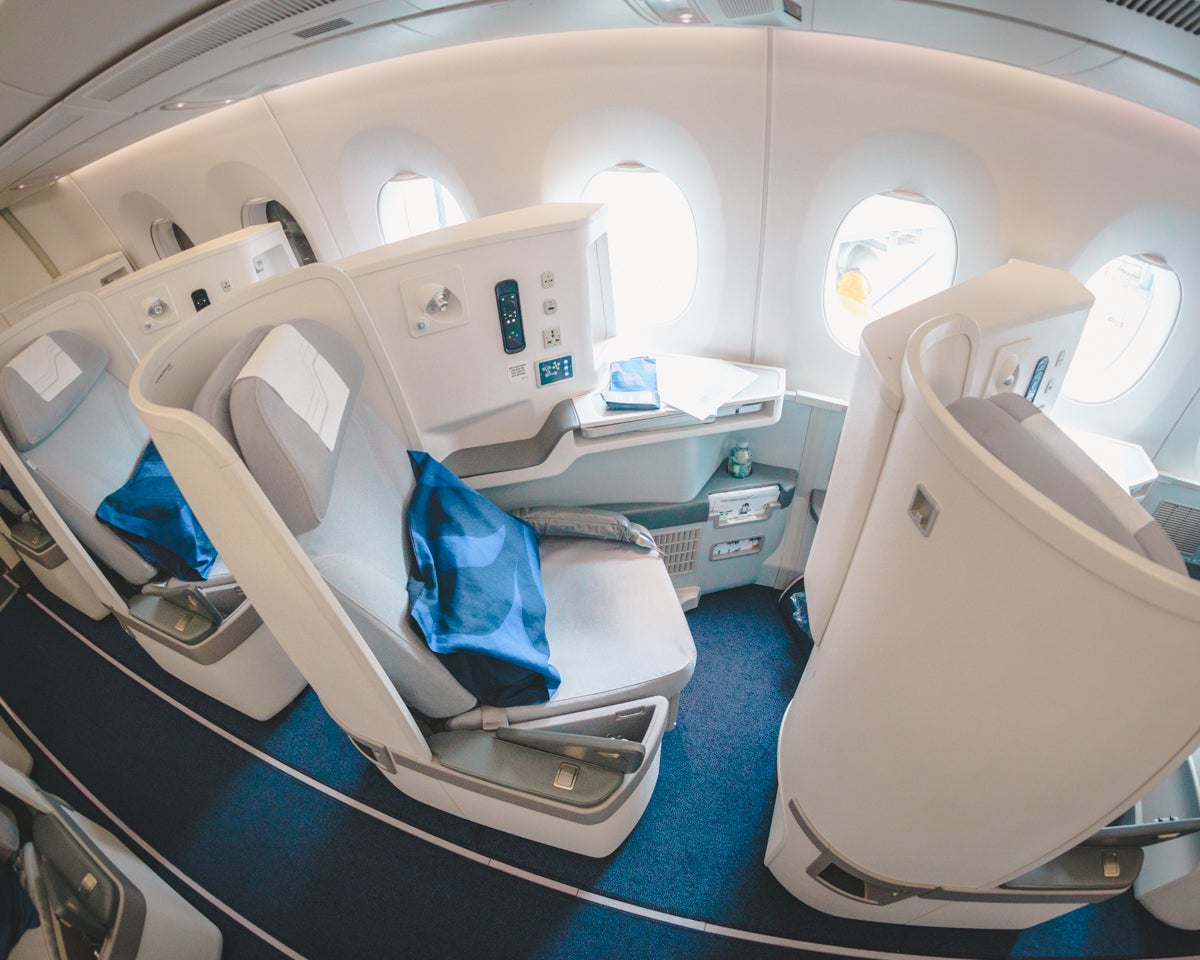 The reverse herringbone layout ensures every passenger has direct aisle access.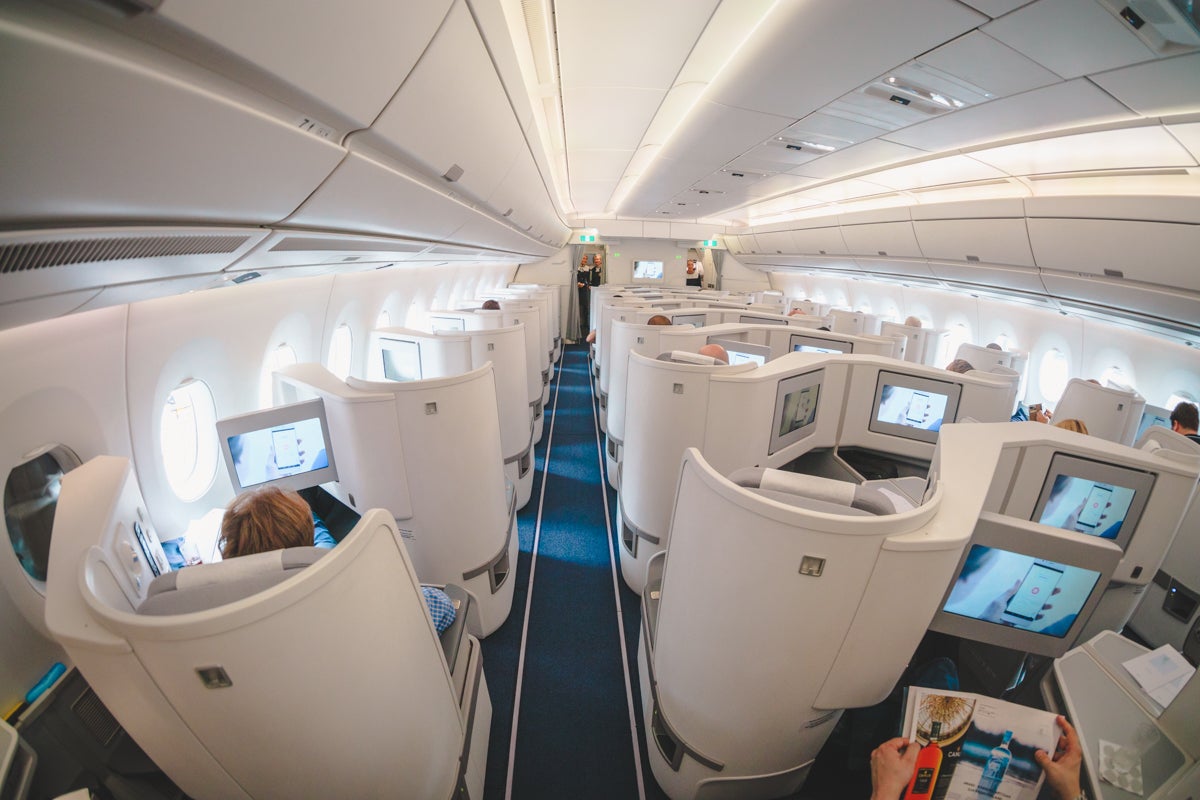 I was seated in 6A in the forward business class cabin — a window seat. The window seats are angled towards the windows.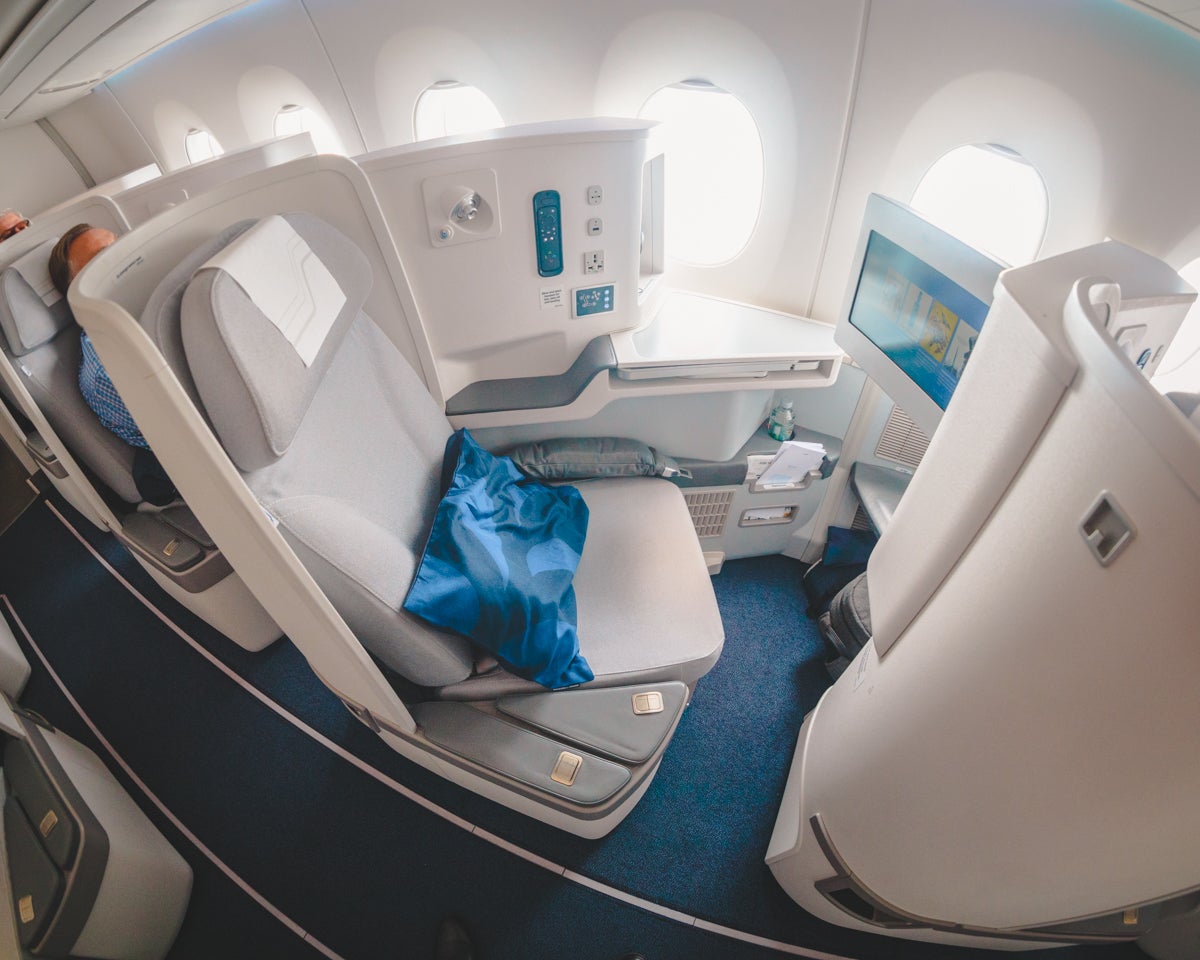 The middle seats are angled towards the aircraft centerline.
These seats have a small fixed privacy screen which extends out from the console ensuring you can't catch a glimpse of the person sitting next to you. This also means they're not ideal if you want to talk to the person next to you as you must lean all the way forward.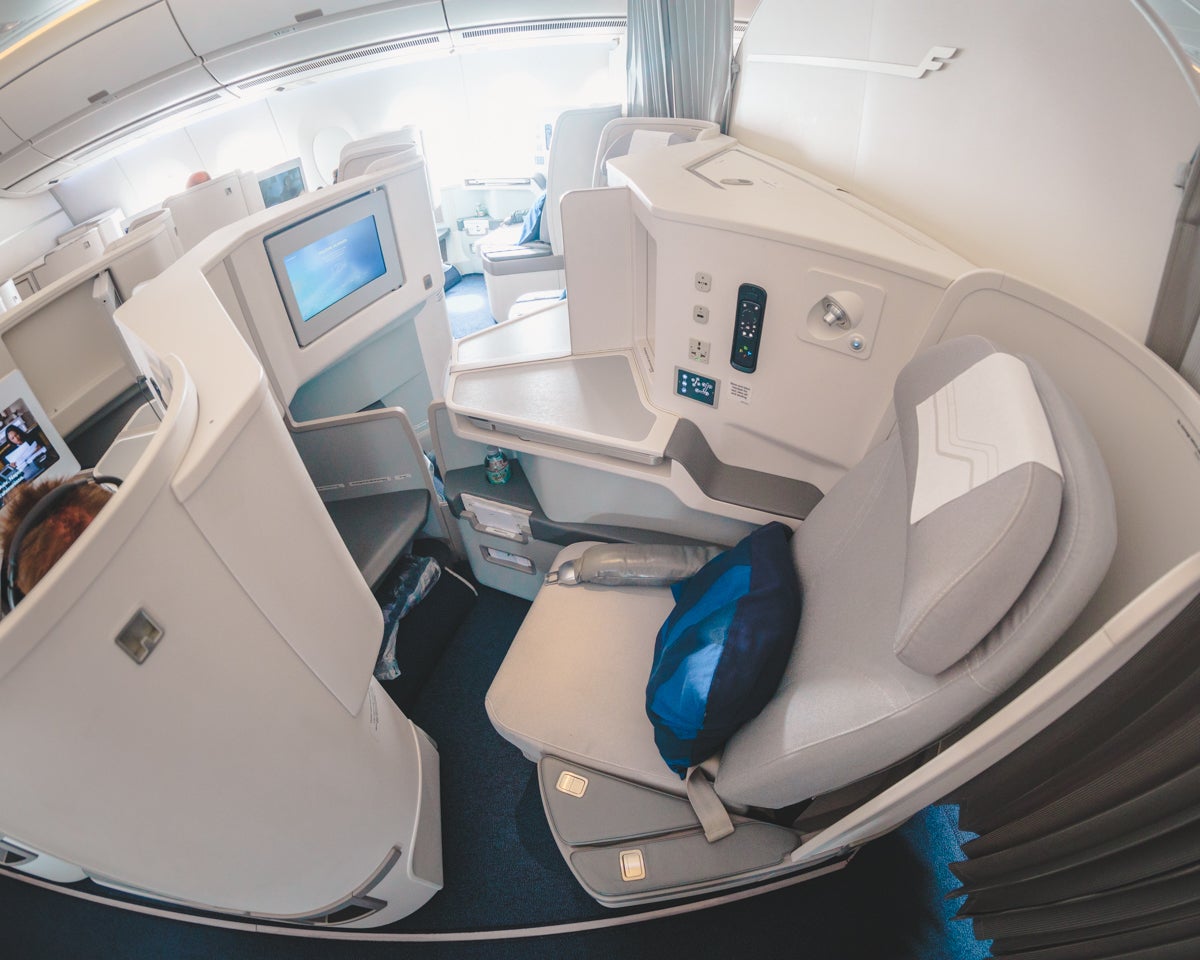 Taking my seat, the 1 thing which stood out straight away was the small-looking footwell.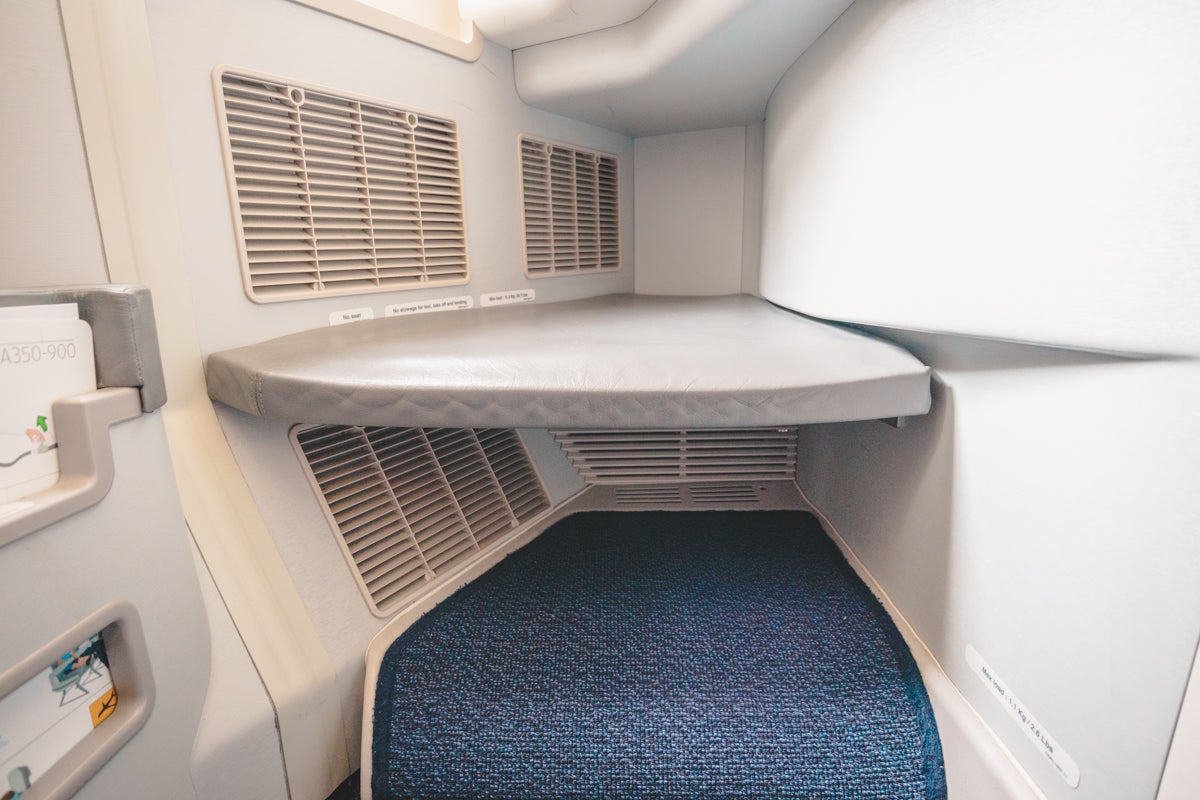 With shoes on, I confirmed that the footwell was actually smaller than the 'regional' configuration on the new Singapore Airlines 787-10 I flew the day earlier and strangely smaller than the same seat in Cathay Pacific configuration.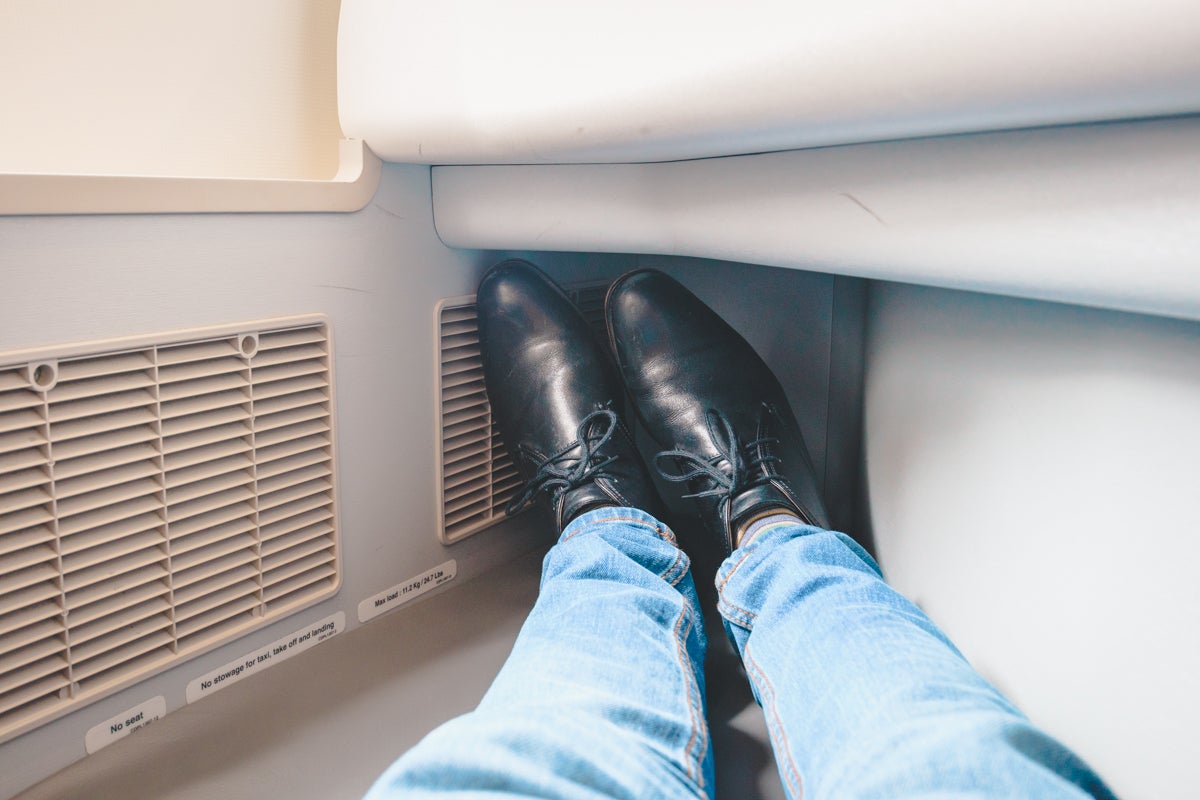 Under the ottoman, my camera backpack didn't quite fit.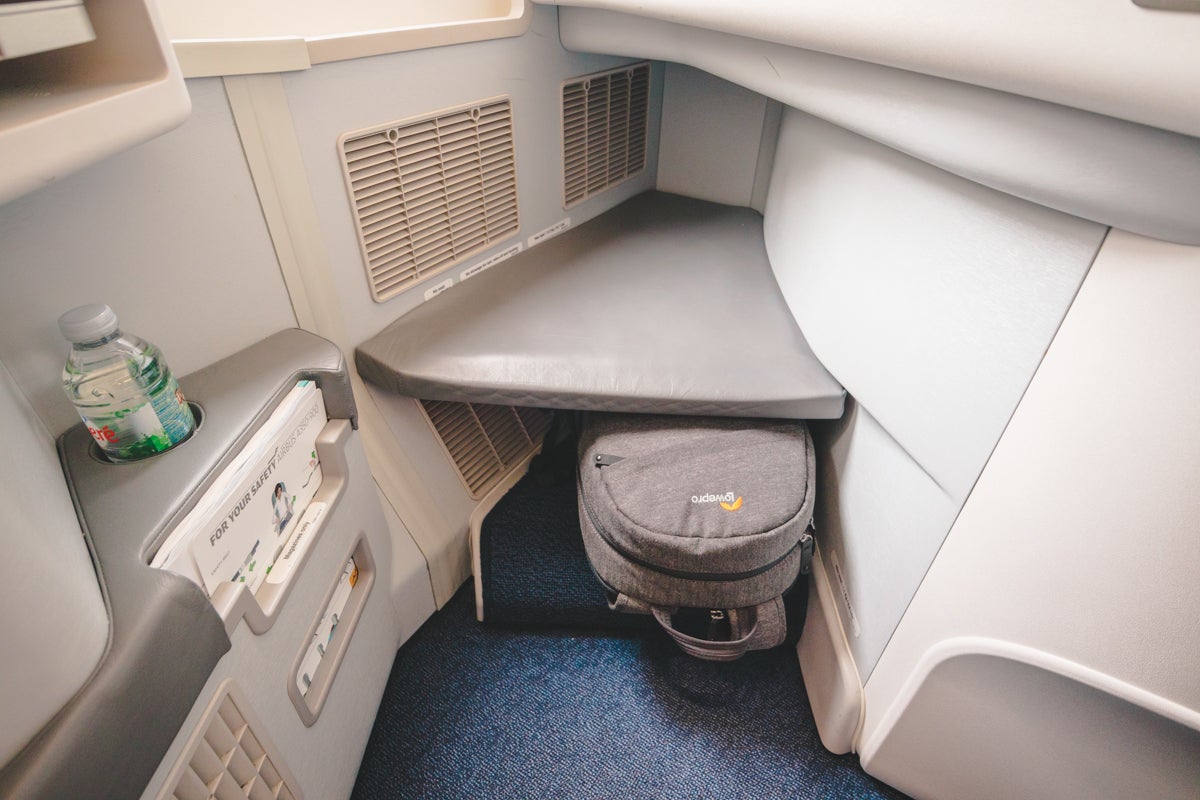 It seemed the middle seats had a slightly larger footwell, but only just.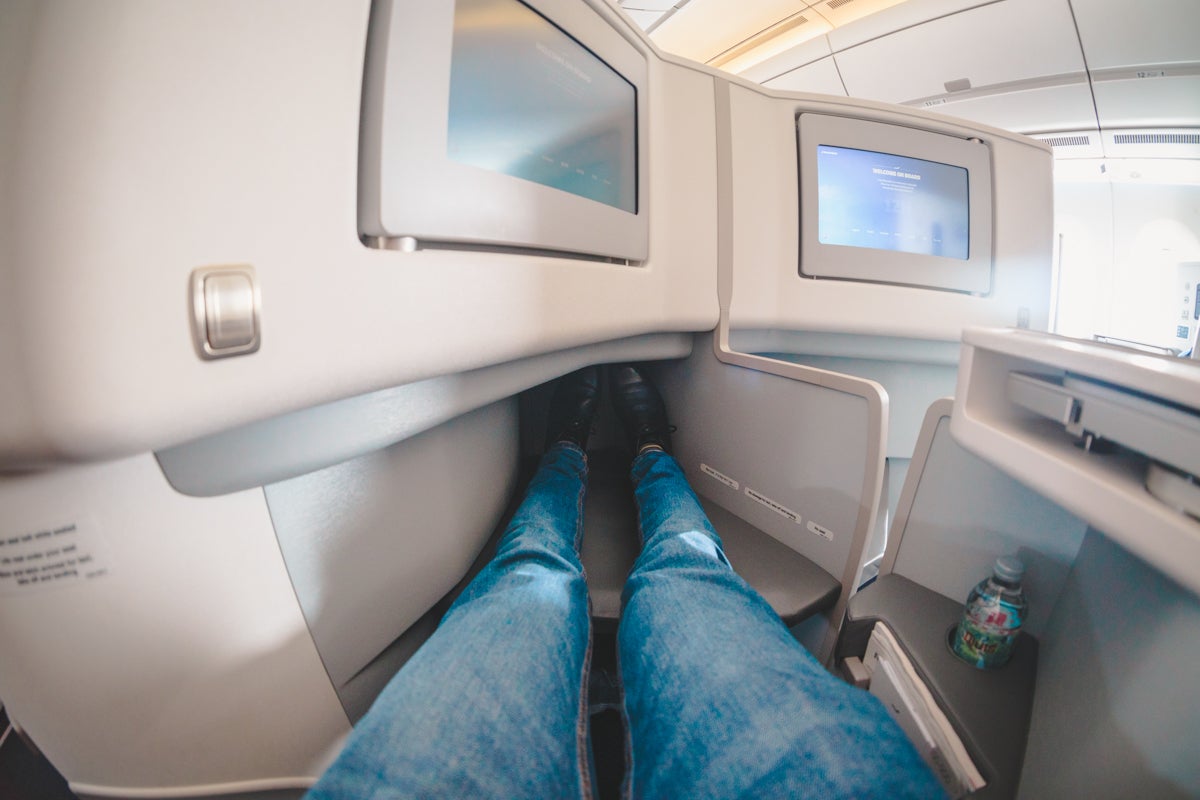 The footwell is separated from the person next to you so there will be no playing footsies.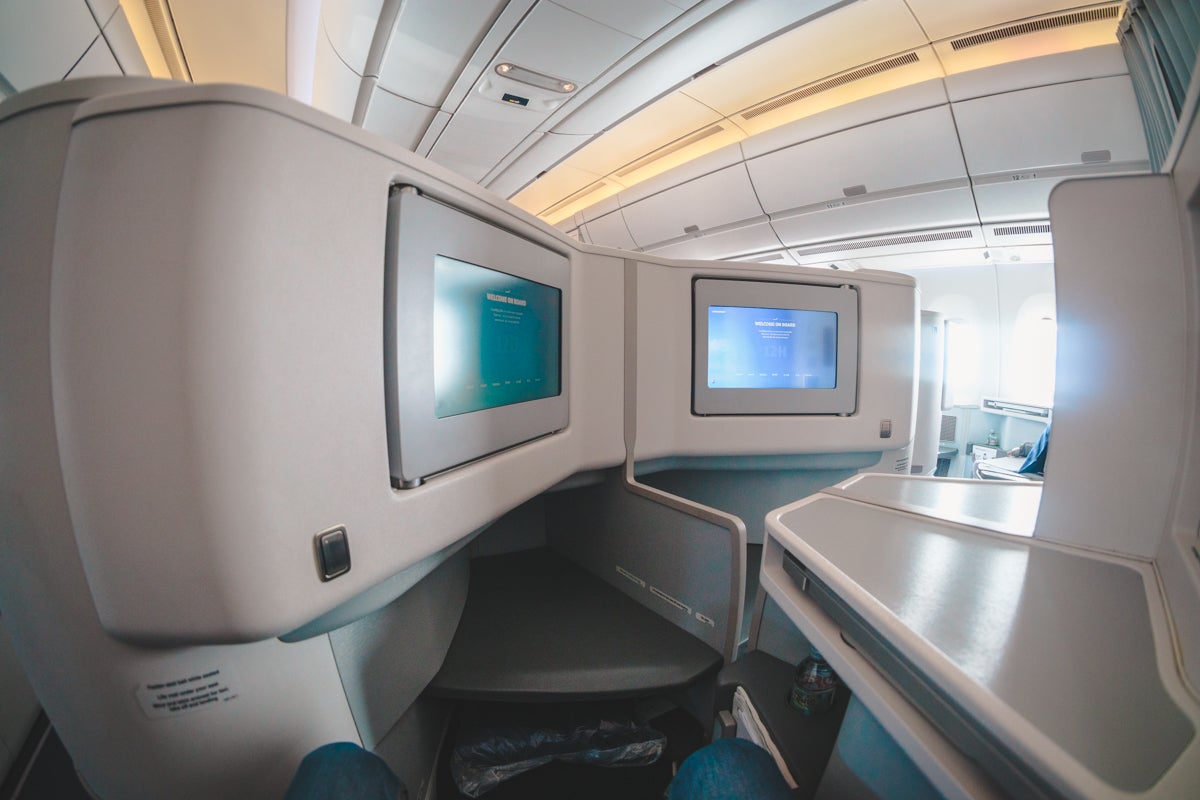 The window and aisle seats are slightly offset so you aren't directly next to your aisle neighbor.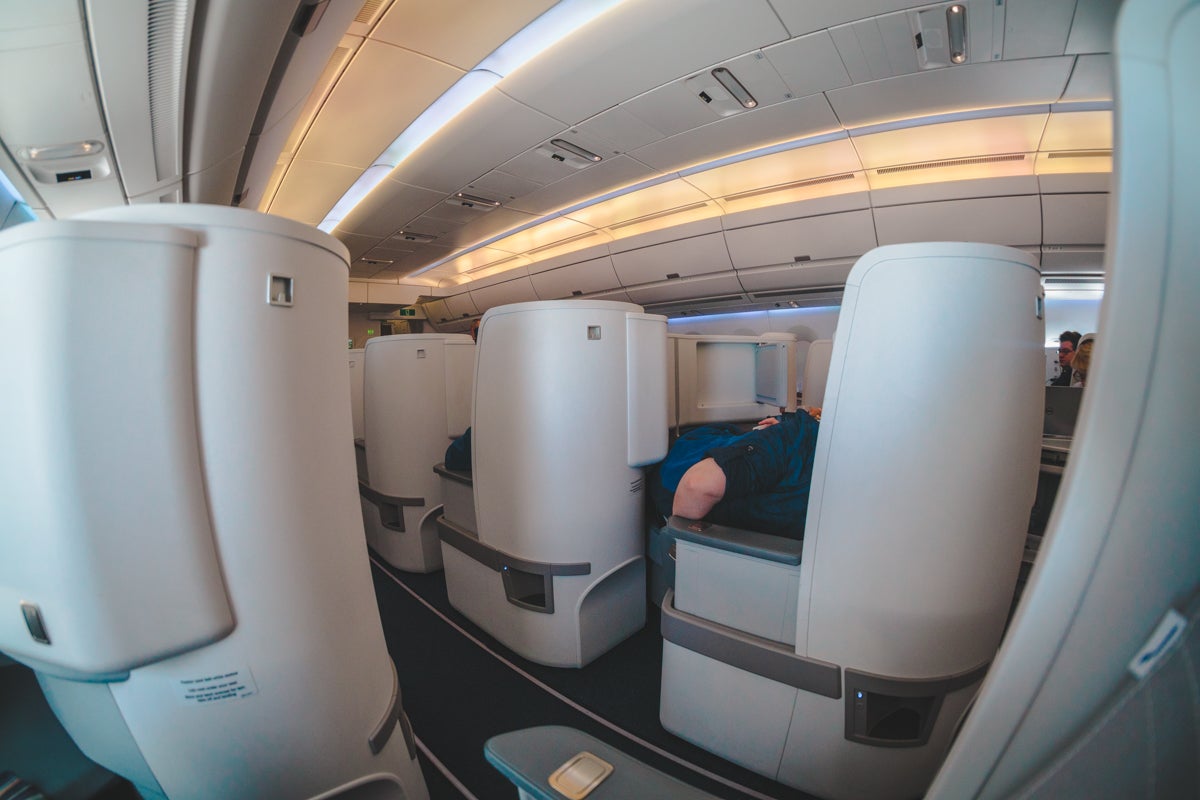 I found that the privacy provided by the seat shell was in between the non-existent Qatar Airways shell and the winged Virgin Australia seat.
The controls for the seat, IFE remote, USB, power adapter, and headphone jack are all easily accessible from the console at shoulder-level.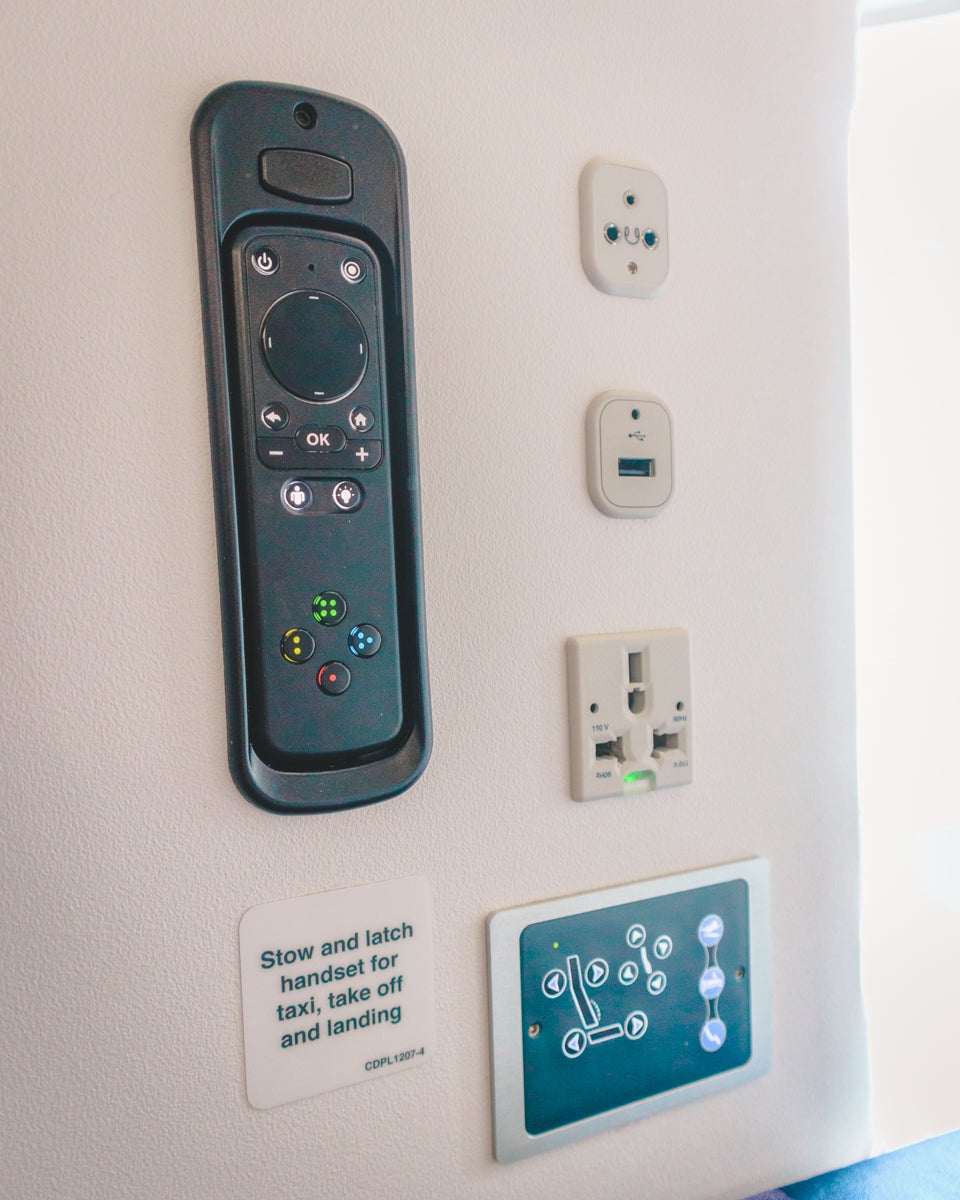 A directionally and brightness-adjustable spotlight is located over your shoulder.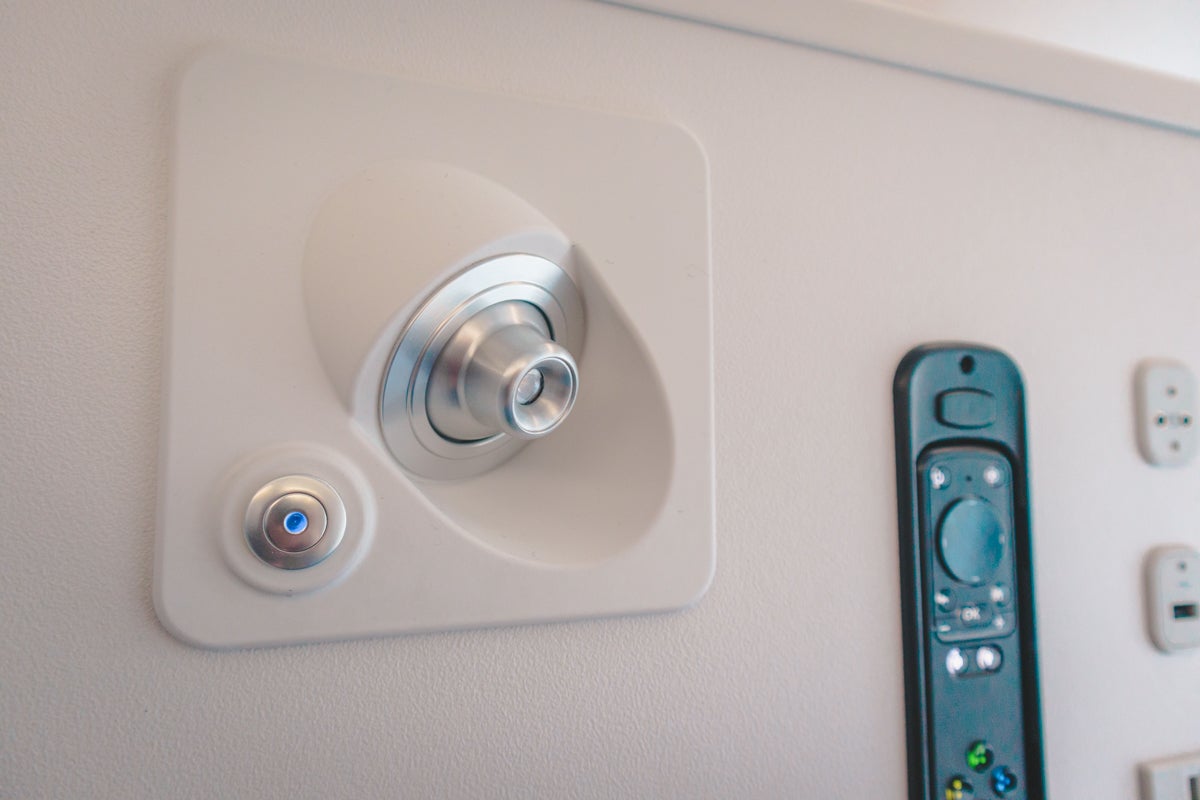 Continuing to look around the seat, it became apparent that there was a distinct lack of storage space.
The only enclosed storage is located next to the aisle-side armrest, which only had space for a couple of my camera lenses.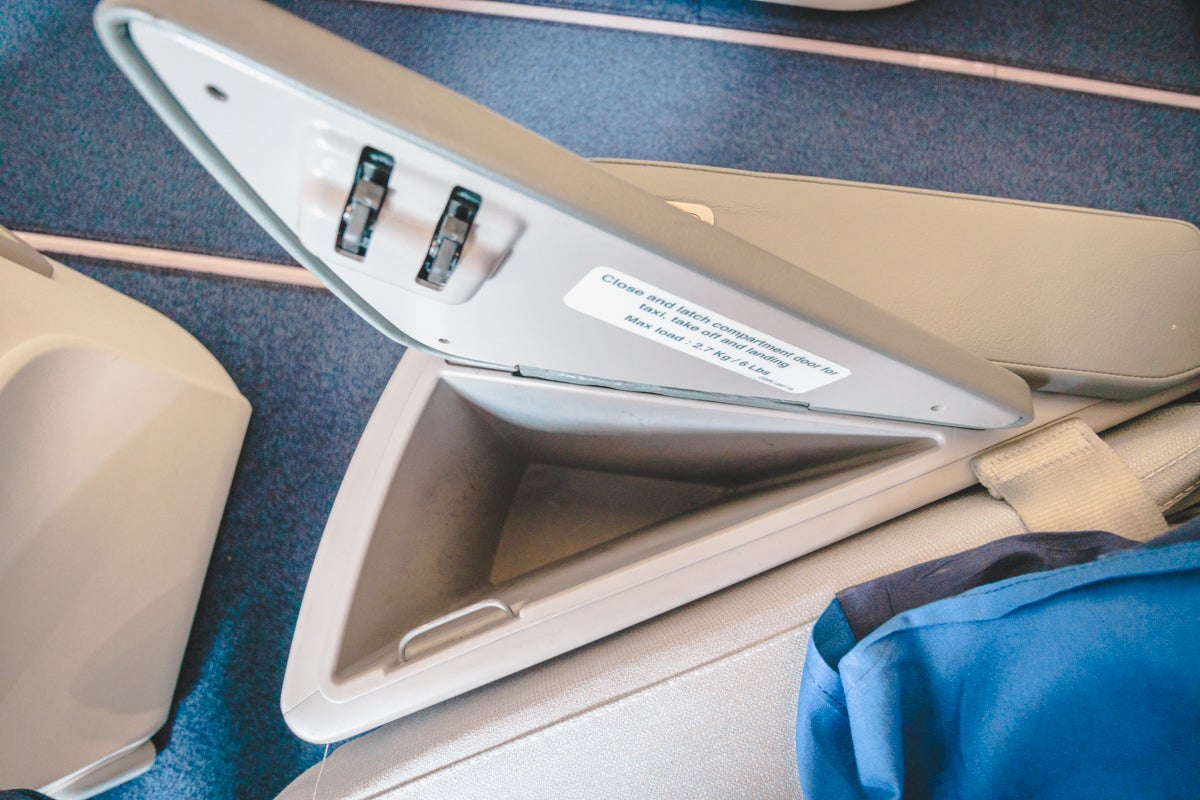 An open compartment next to the window was available to store headphones.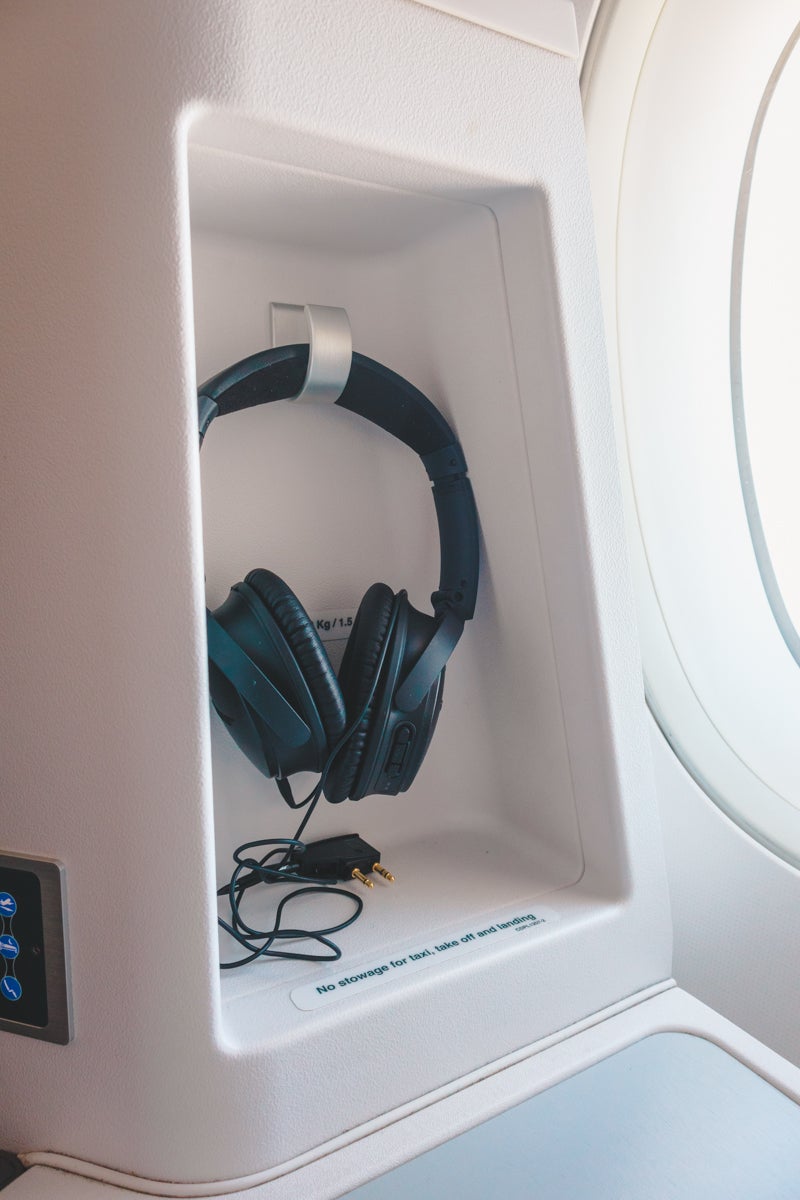 Under the window, there was a spot to store a water bottle with the literature pocket in front.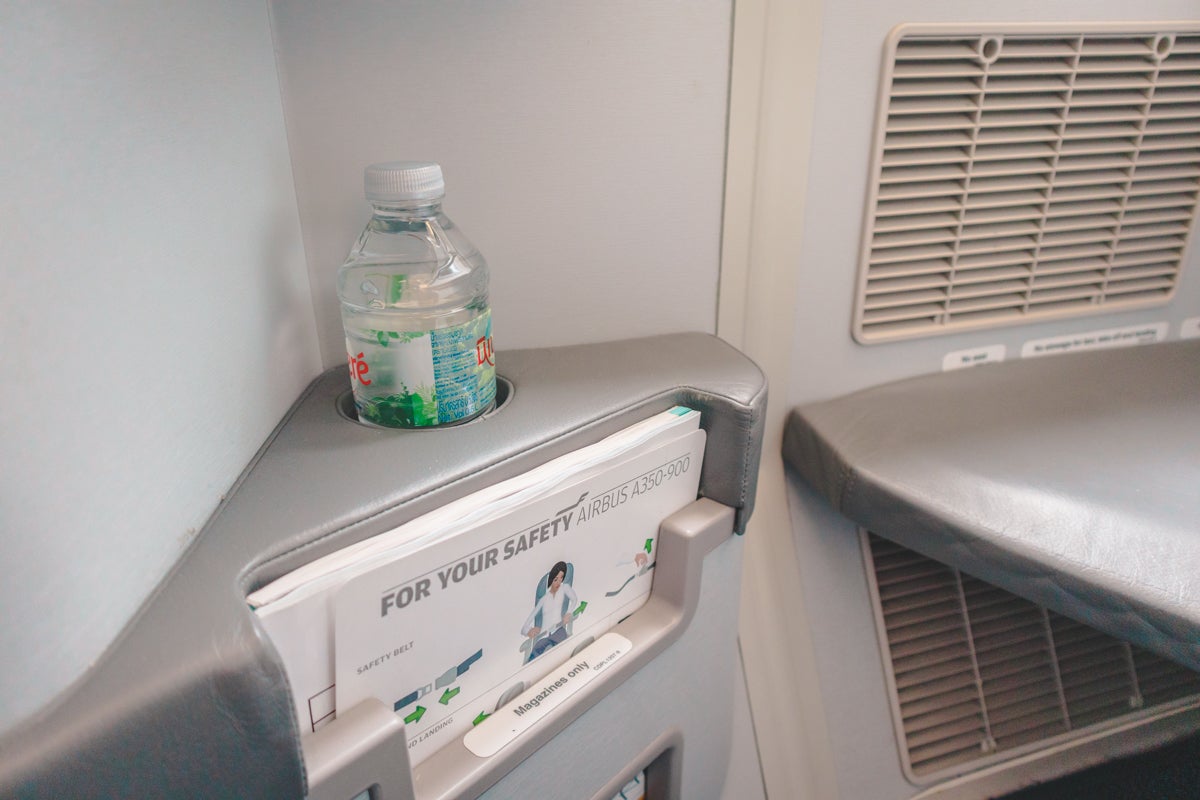 But that's it. Most of the flight I had my belongings spread out over the console by the window which wouldn't have been ideal if we hit turbulence. It pales in comparison to the storage spaces the Cathay Pacific version of this seat offers.
Sadly, Finnair didn't opt for the individual air nozzles, but the temperature was not a problem on this flight.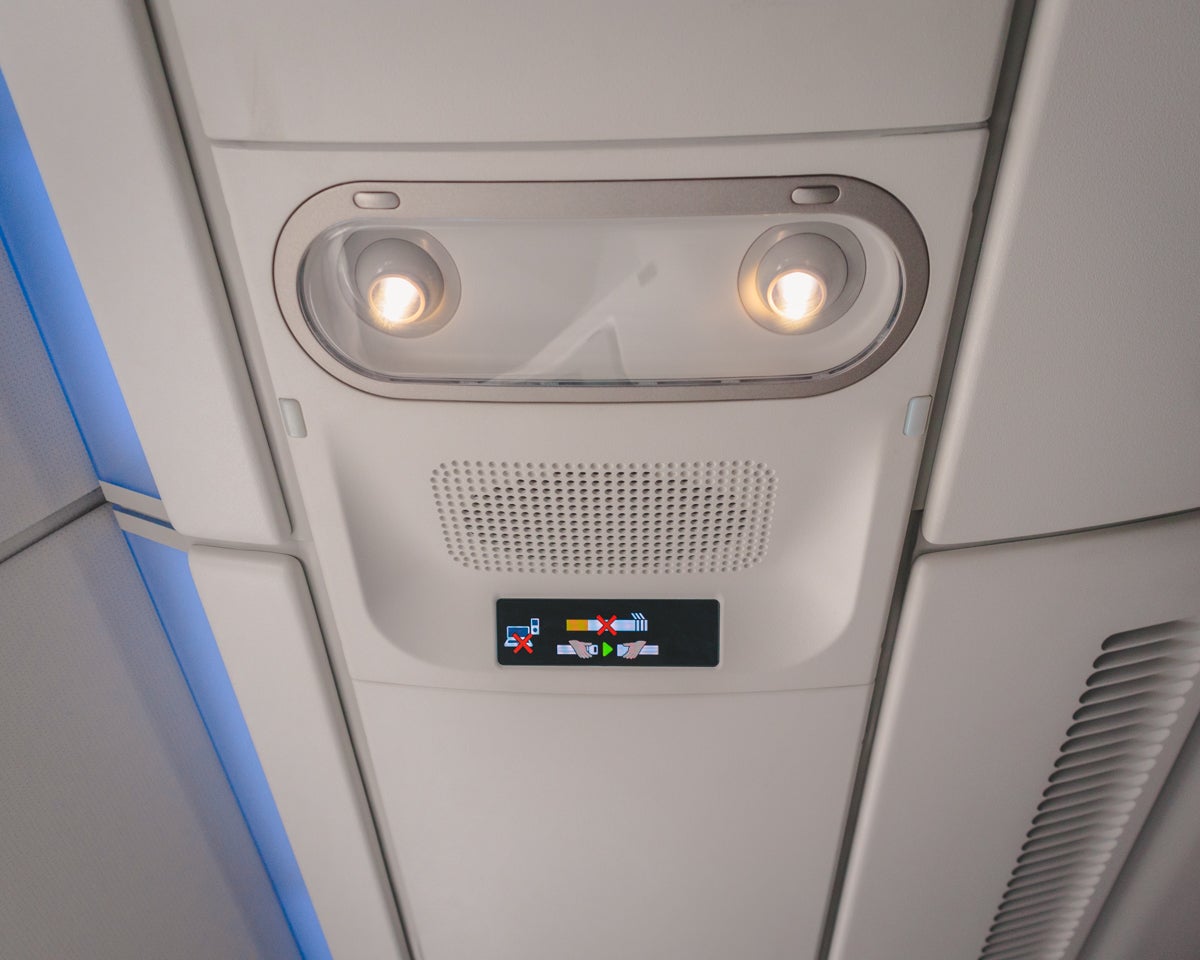 In terms of comfort, I found the seat to be well padded and comfortable for the 10+ hour day flight.
The seat features a manually height adjustable armrest.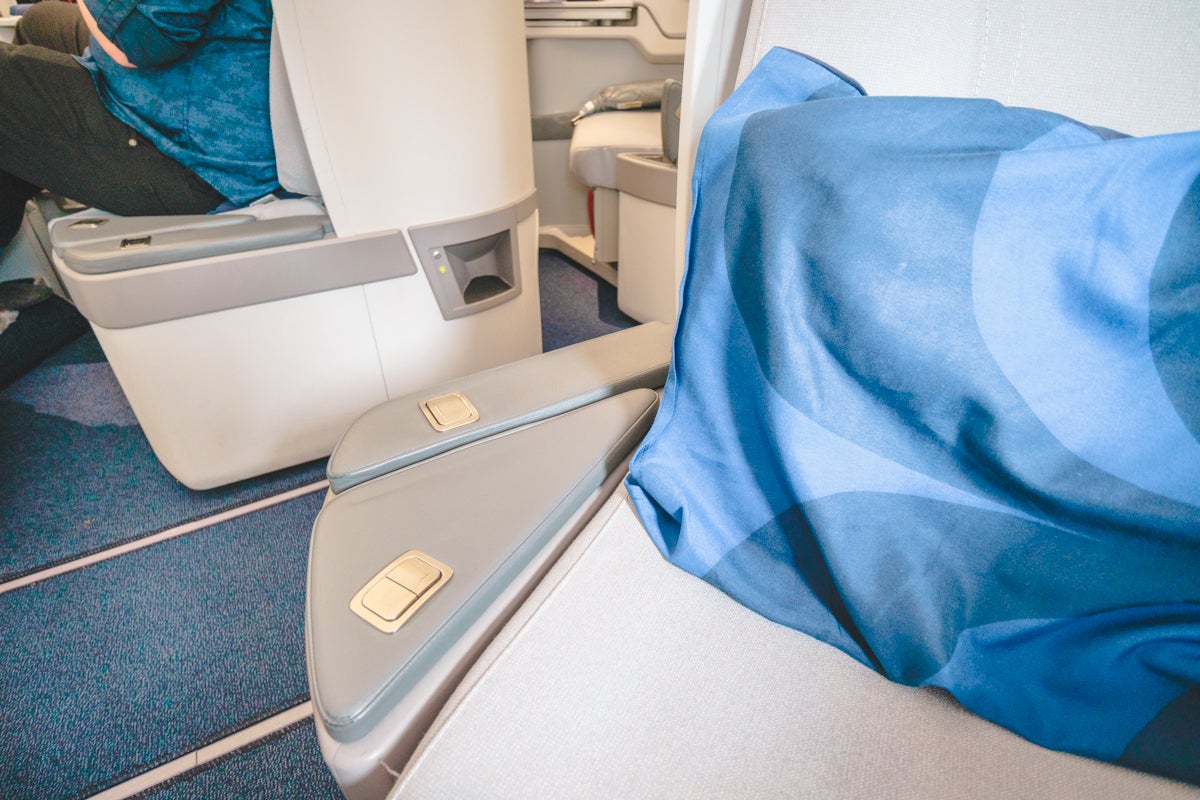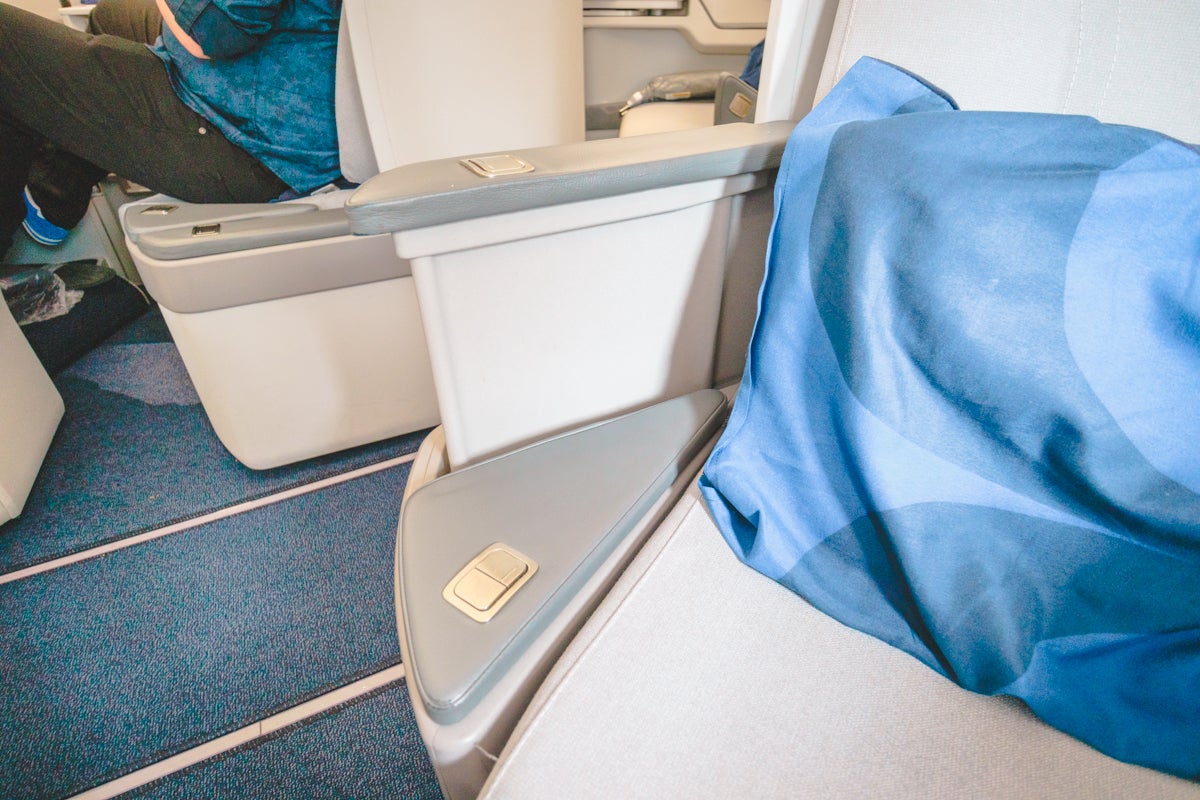 Yet frustratingly, my seat rocked back-and-forward about an inch.
For the sake of my body clock, I decided to stay awake the entire day flight to Europe, but I tested out an empty seat to see how the bed felt.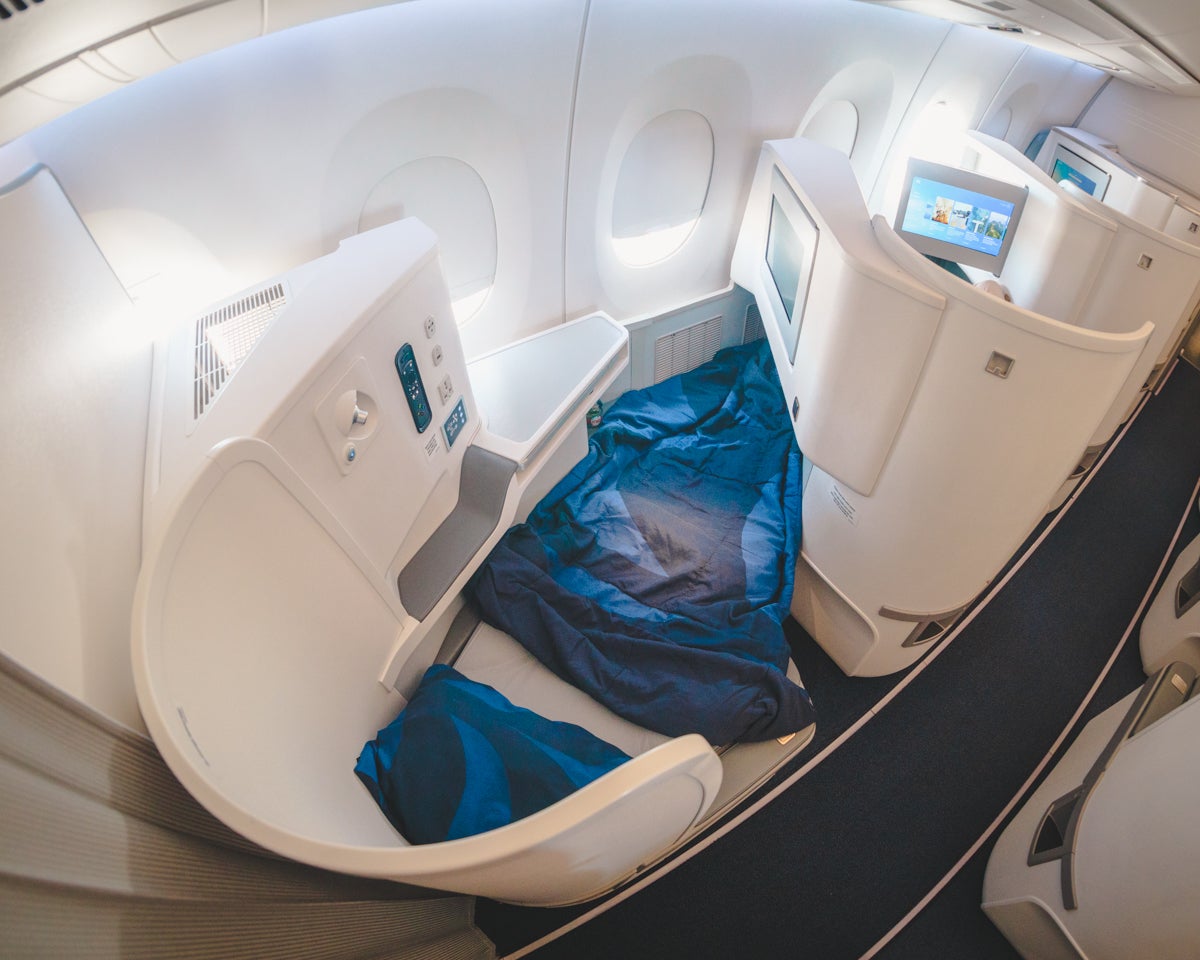 With the armrest lowered, I found the width of the bed to be acceptable for a side sleeper like myself and there was a decent amount of space in the footwell without my shoes on. However, as a side and stomach sleeper, the integrated headrest got in the way of me putting my arms under the pillow. It also made the pillow higher than I am used to.
The bed measures 79 inches whereas the bulkhead seats gain an extra 2 inches.
The sleeping surface would have been better if a mattress topper were available.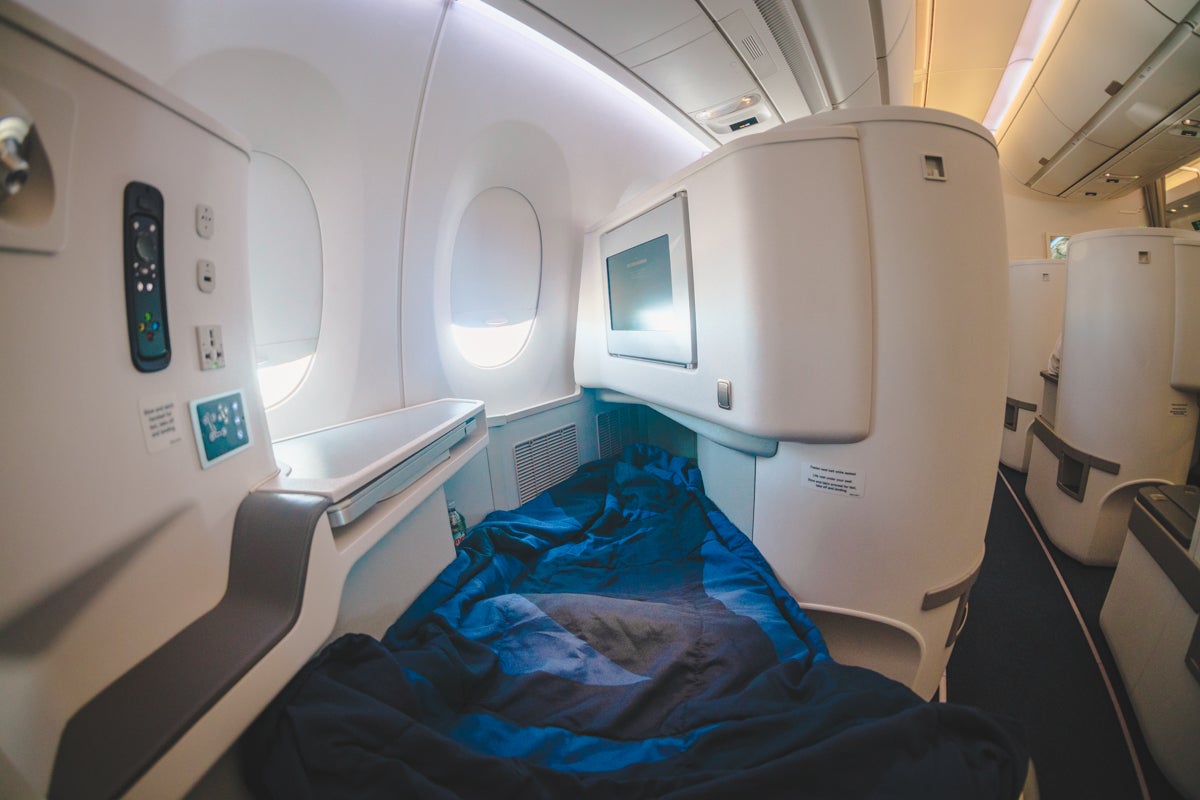 2 lavatories are located at the front of the forward business class cabin and feature windows. 2 more are in front of the rear business class cabin, providing a passenger to toilet ratio of 11.5:1.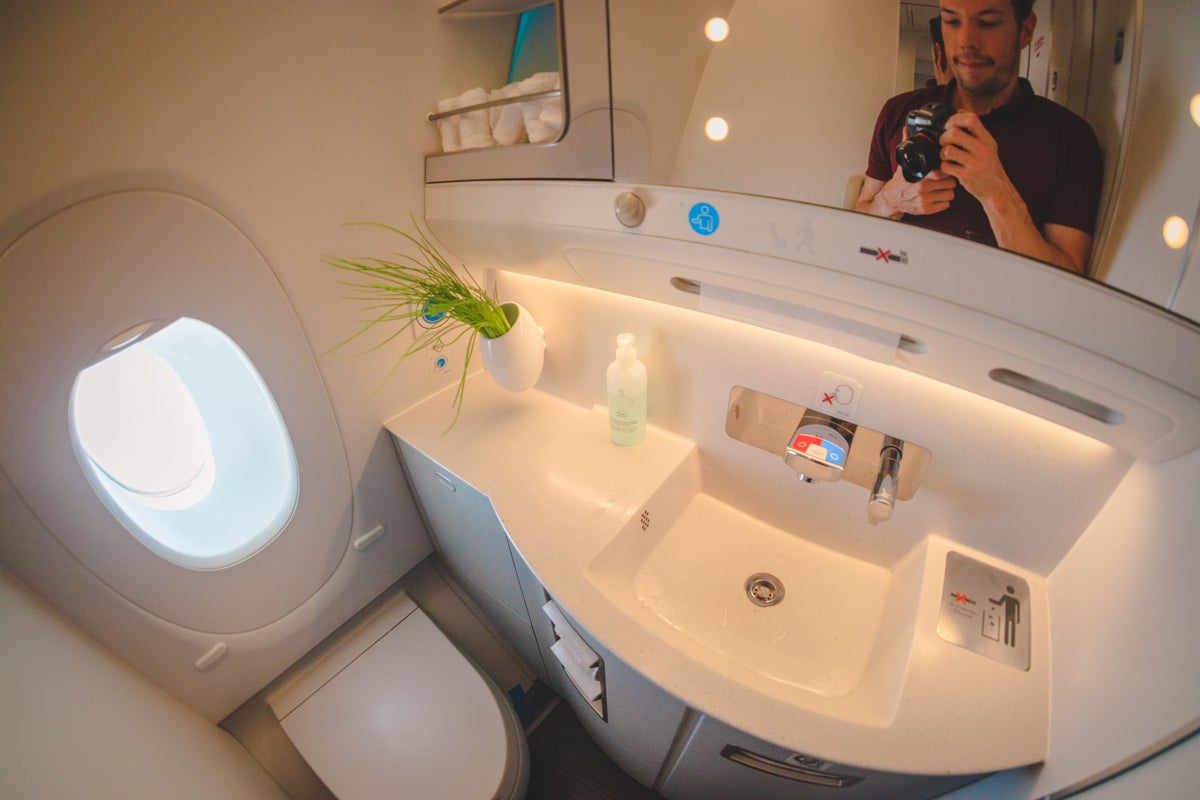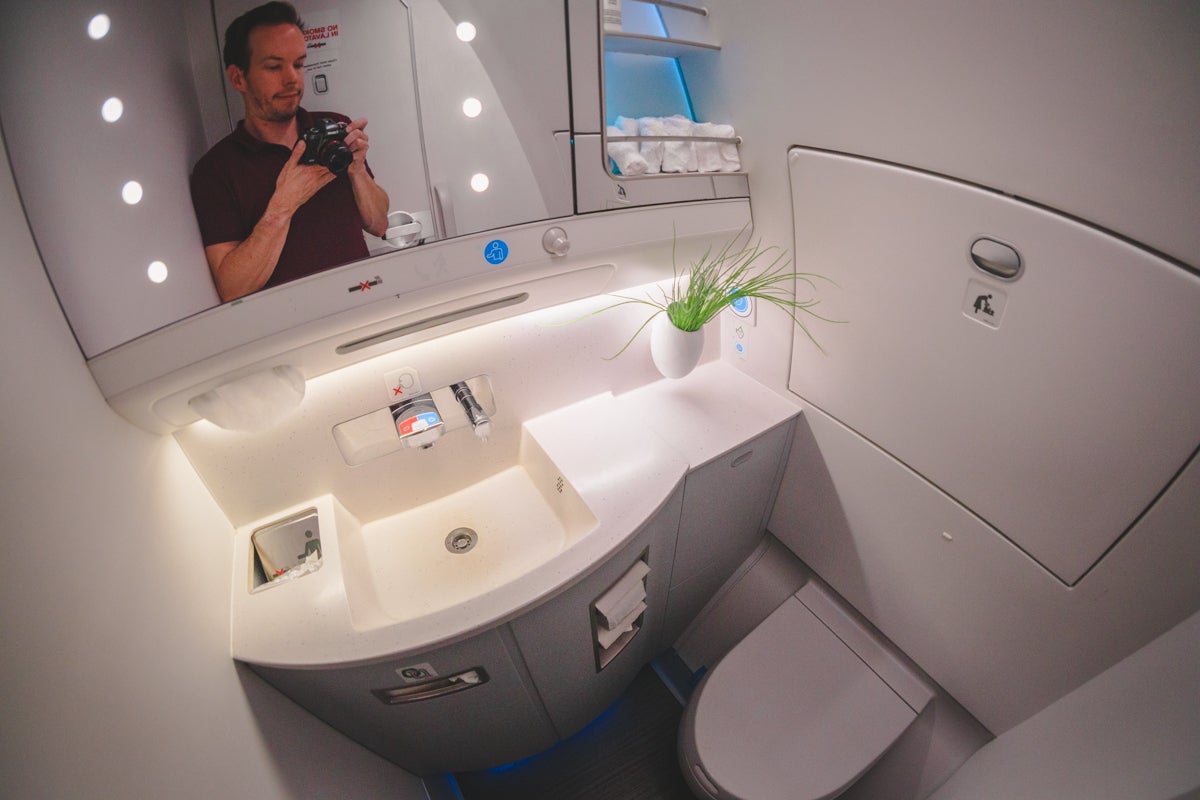 All throughout the flight, the overhead LED lighting scheme changed from bright white for boarding, to amber and yellow before the meal service, to soft pinks during the meal service and to orange during the afternoon service.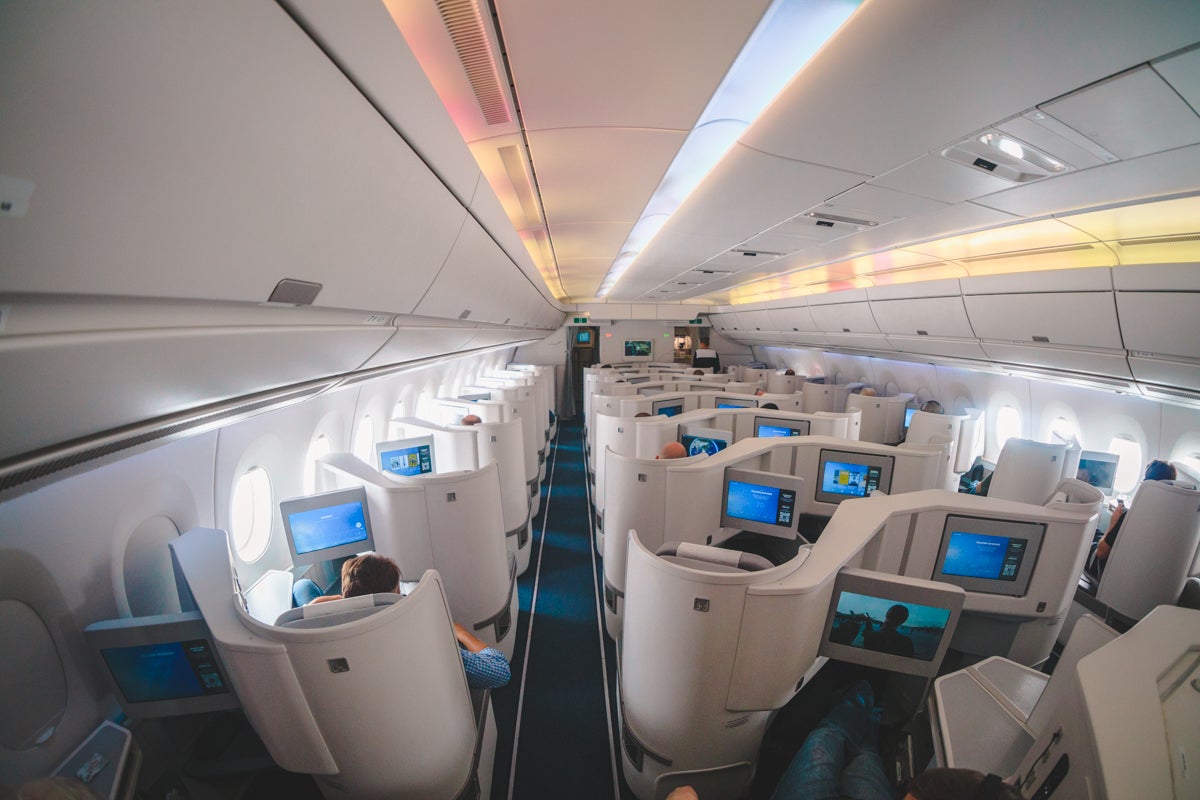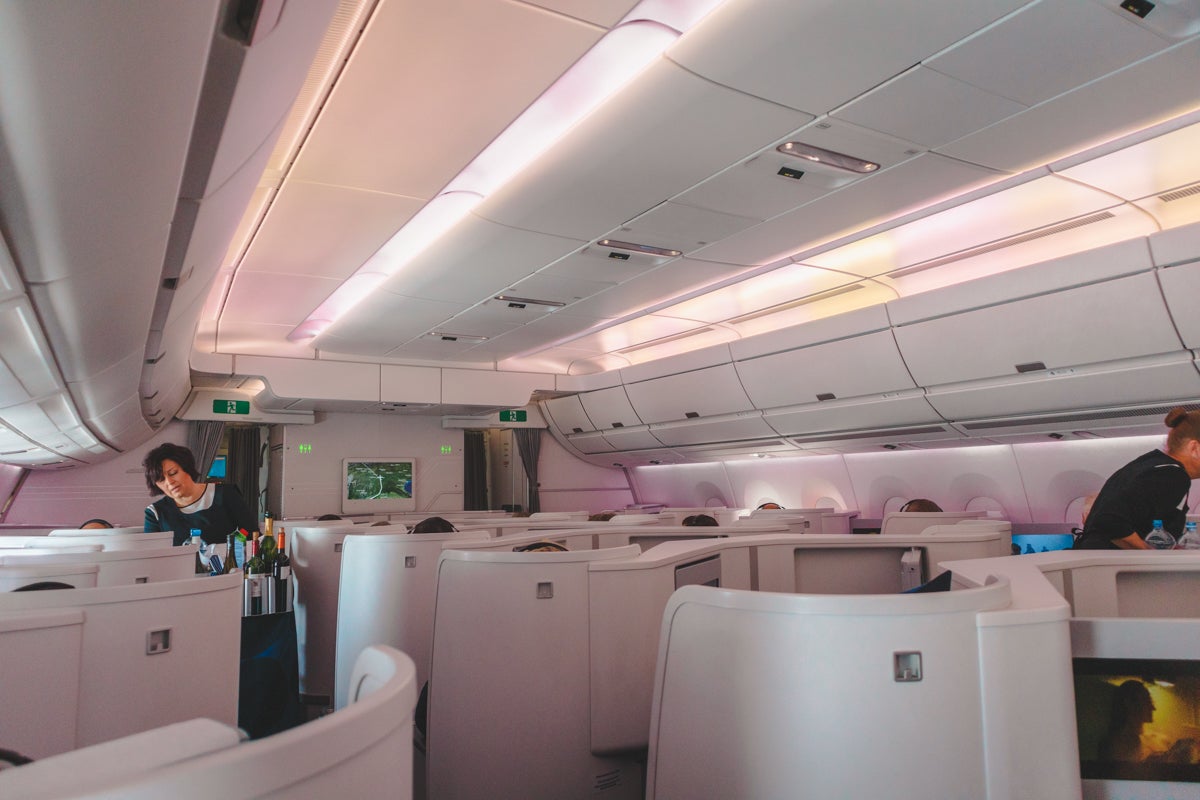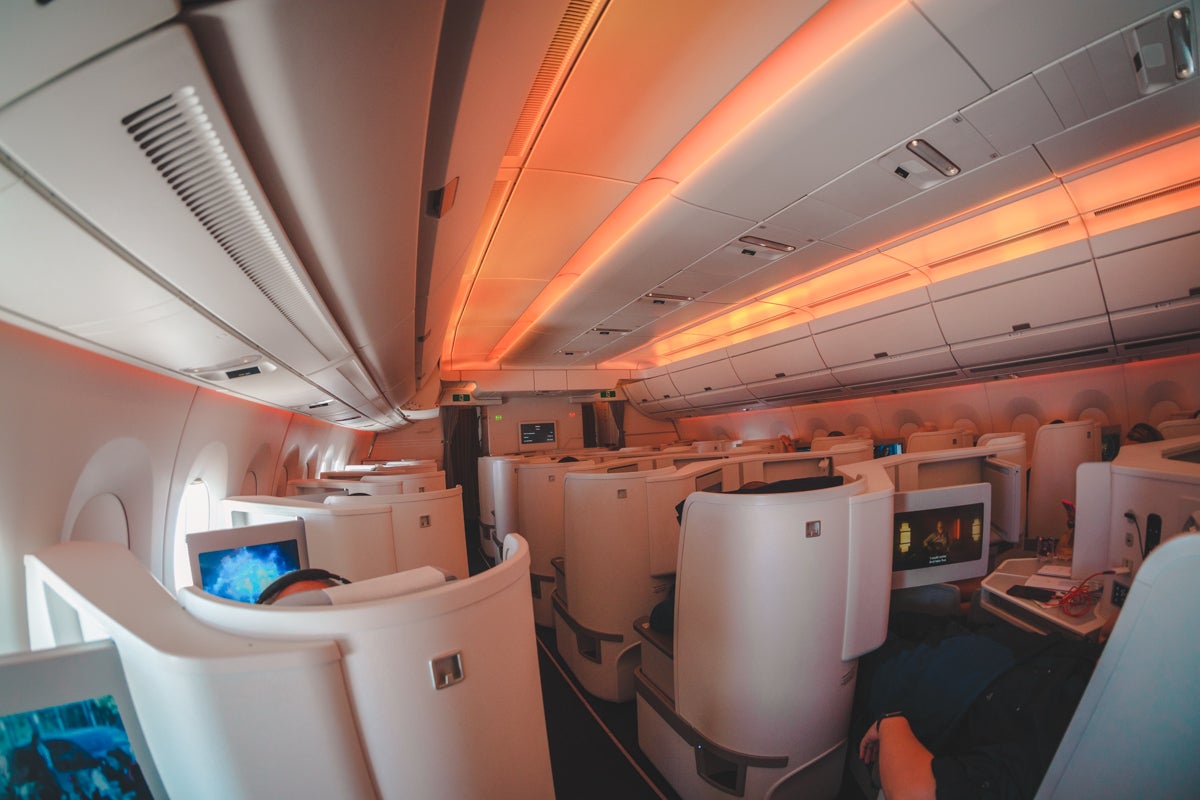 Amenities
Finnair recently revamped its intercontinental amenity kit with sustainability in mind. The new kits feature 4 designs by one of Finland's most iconic brands, Marimekko, with the aim of reducing single-use plastics.
The Marimekko styled zip-lock bag includes environmentally friendly components, including a cardboard sleeve instead of a plastic wrapper, toothbrushes made from cornstarch-based bioplastic and earplugs wrapped in wax paper.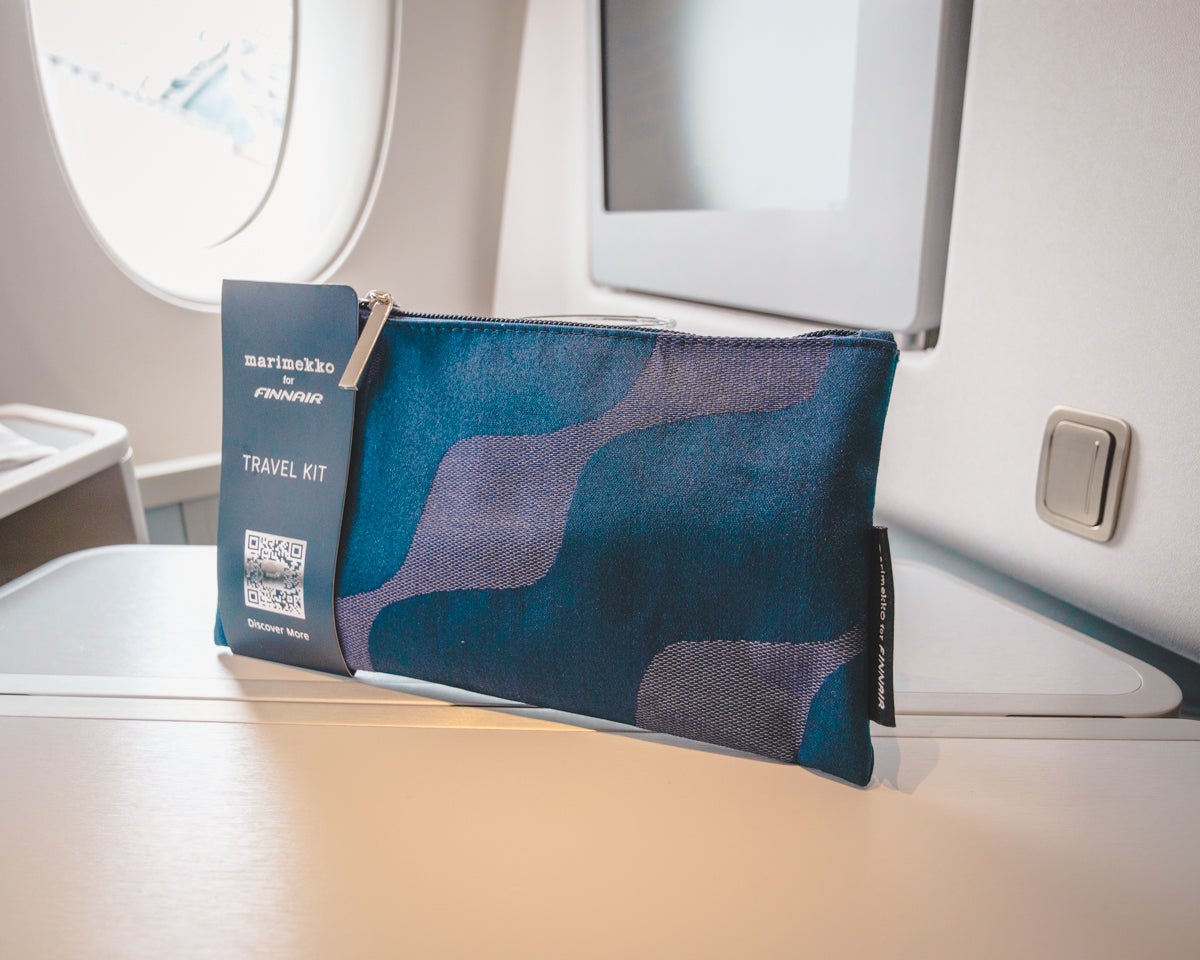 The kit also contains an eye-mask, aluminum tubes of almond-coconut lip cream, and a chamomile-lavender facial hydrator by L:a Bruket. This Swedish brand is known for using natural and organic ingredients suitable for everyone, including vegans.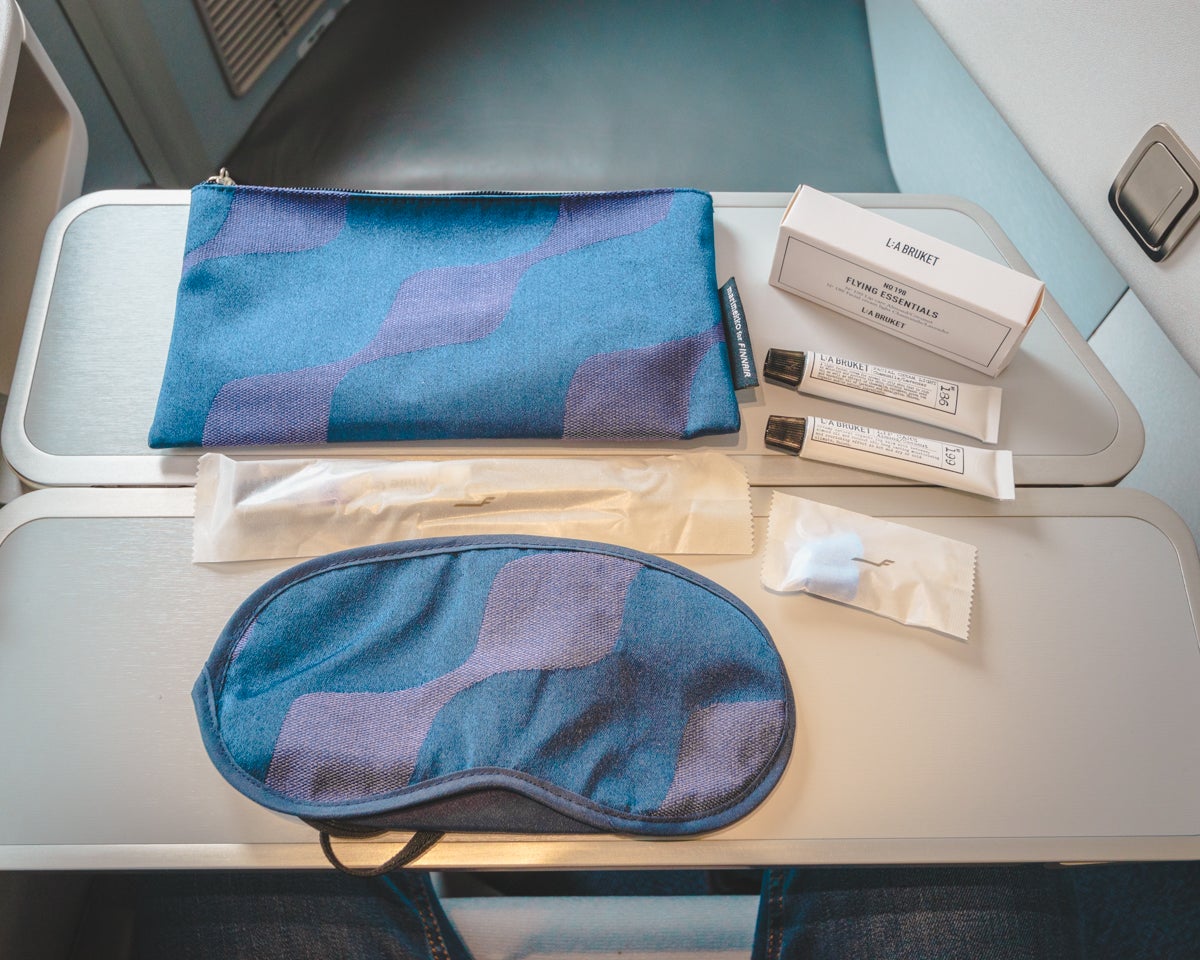 A strange omission was socks, but new business class slippers are included and are made from recycled plastic bottles.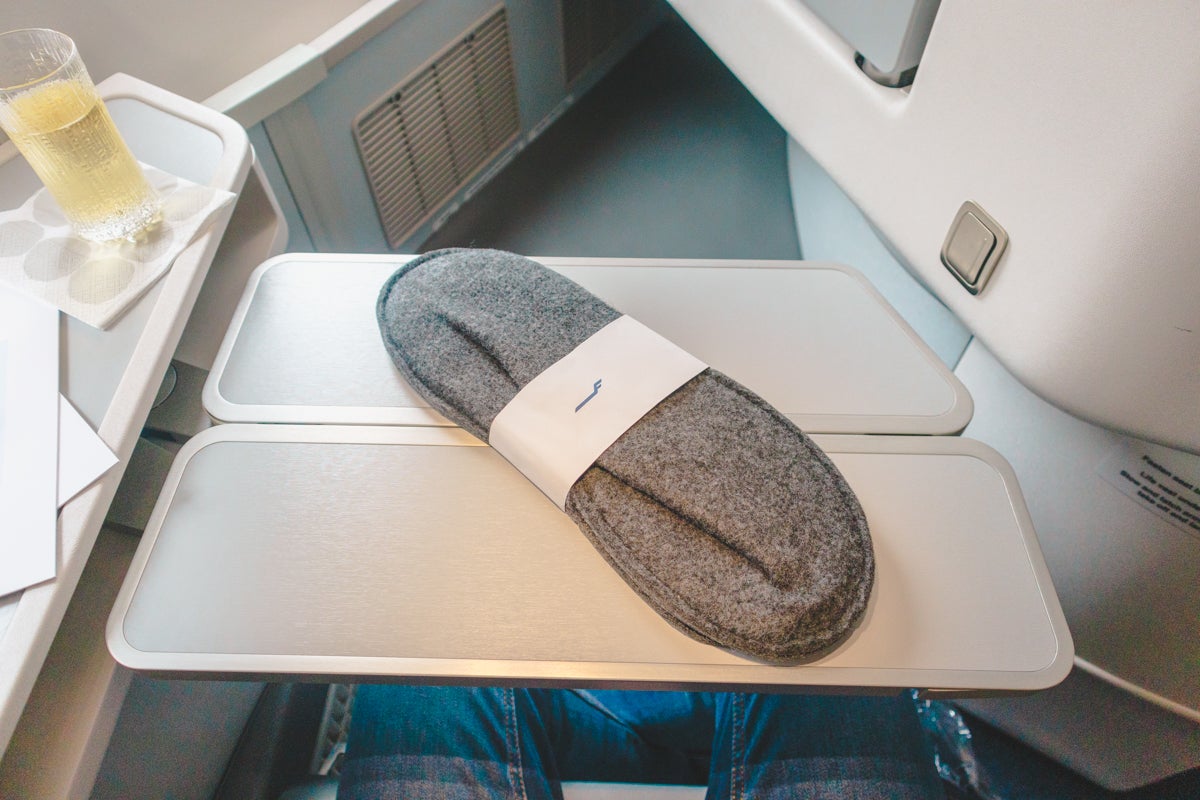 No pajamas are provided but I brought along a Qatar Airways set to slip into.
Entertainment
The Nordic Sky high-definition 16-inch monitor swings out from the seat shell in front which can be used from gate-to-gate.
It is on the smaller size for a business class screen and judging by the enormous bezel, it seems like a larger screen could be installed in the same space.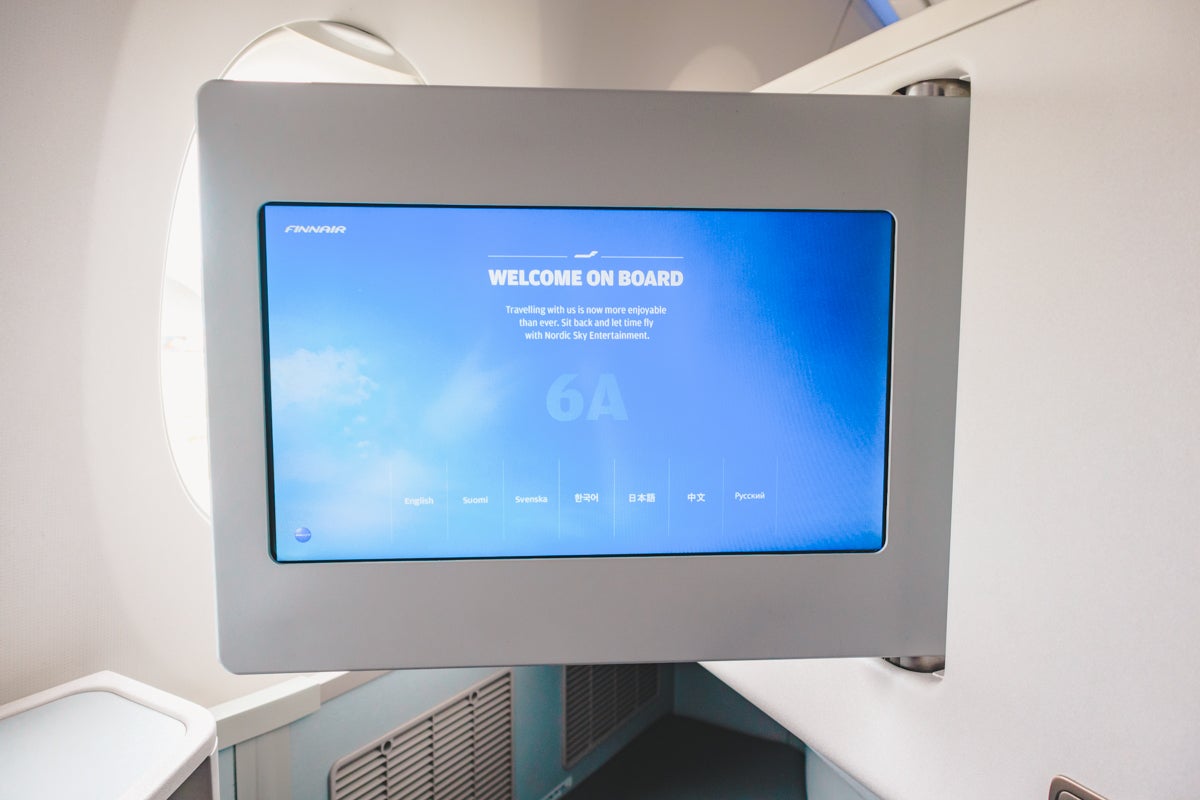 I found the content a little lacking compared to the 2 Singapore Airlines flights the day before, but I still found something to keep me entertained the whole flight.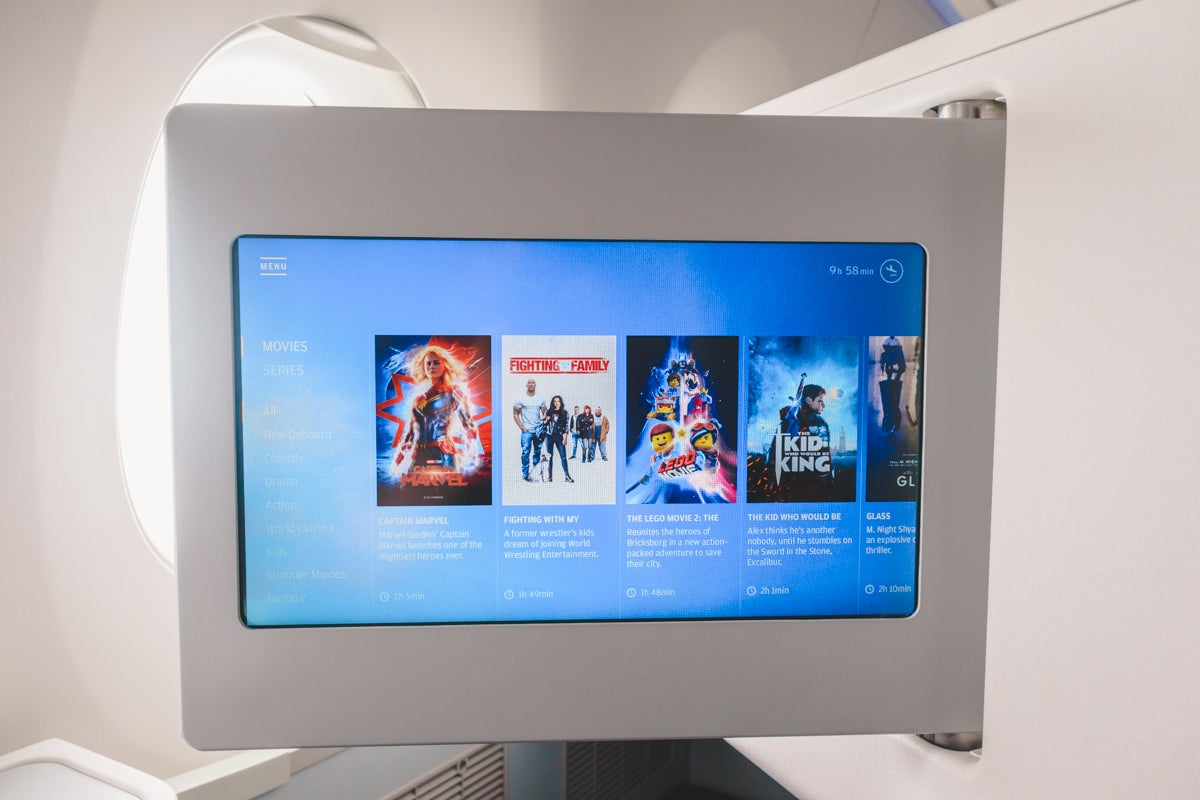 Though the screen lacks size and a huge catalog, it does include some neat features.
The home screen shows the flight timeline.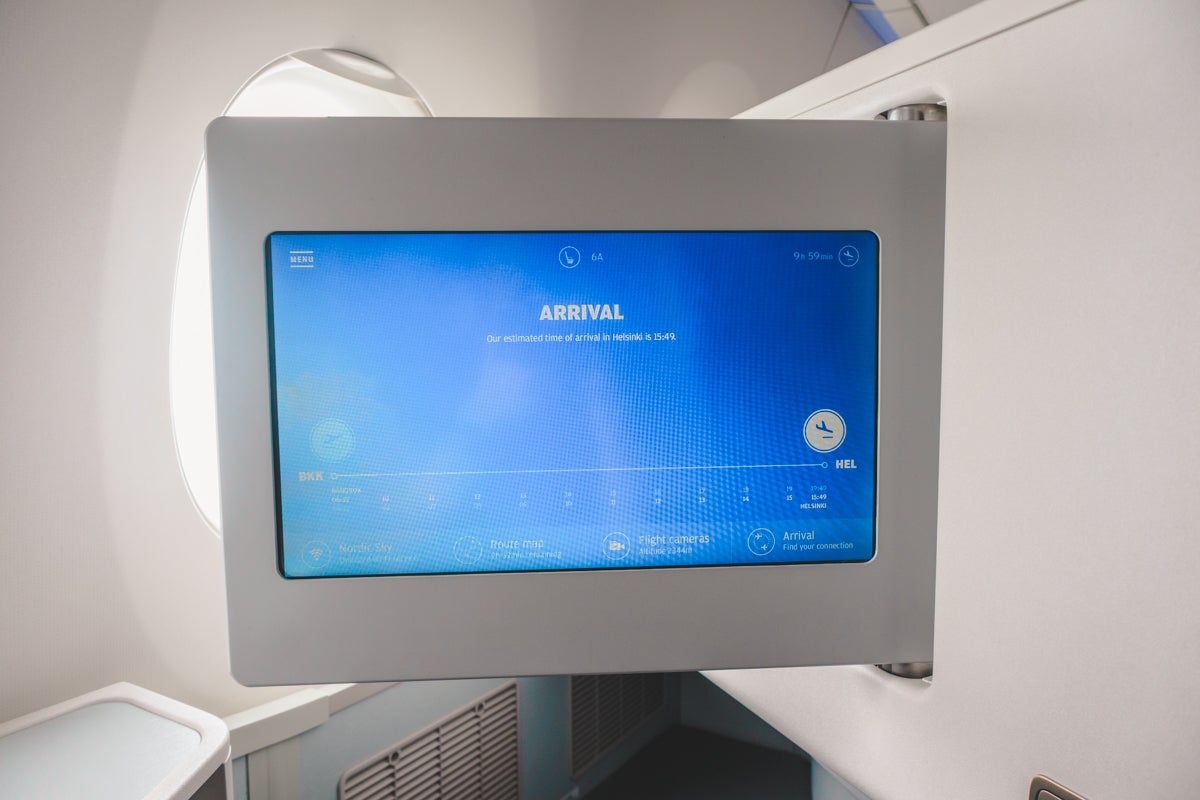 A brilliant "skip ad" button is available after you've watched the first 10 seconds of the advertisements before your show.
There are also 15-second skip forward and back buttons around the pause button. How many times does a crew member come to speak to you and you forget to hit pause? Then you must fiddle with the rewind button only to rewind too much trying to get back to the part you were up to?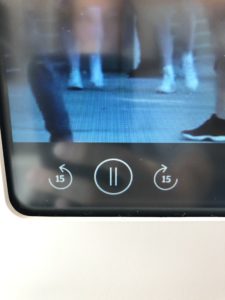 To connect to the inflight Wi-Fi, I loved the QR code displayed on the IFE screen which instantly navigates you to the Wi-Fi portal page. How often have you tried to connect to a carrier's internet where they require you to type in a URL which seems to have an unnecessarily large number of characters?!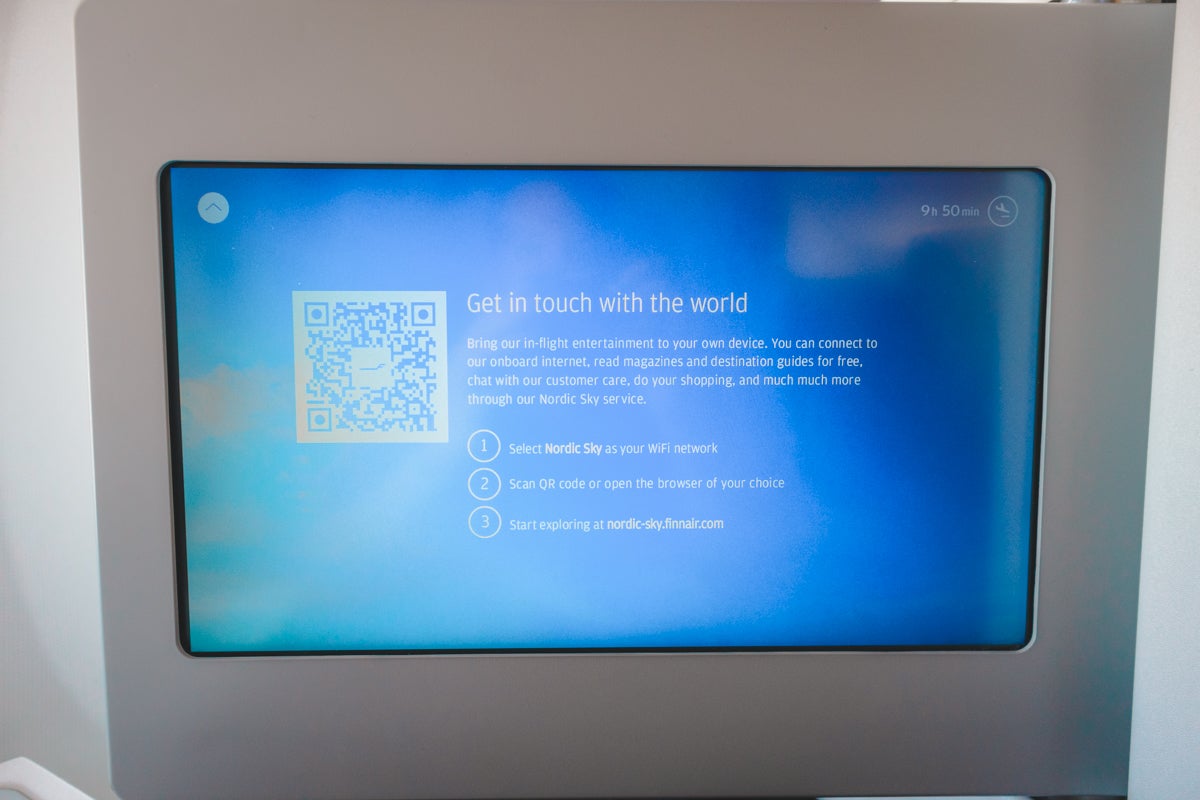 Business Class, Economy Comfort, and Finnair Plus Gold members are eligible for 1-hour complimentary internet access which I utilized.
After this, Wi-Fi plans are thankfully billed in duration instead of data consumed so I opted for the €19.95 ($22) plan for the entire flight. You can't buy a day pass, so if you're connecting, you will need to buy another pass to stay connected on your next flight.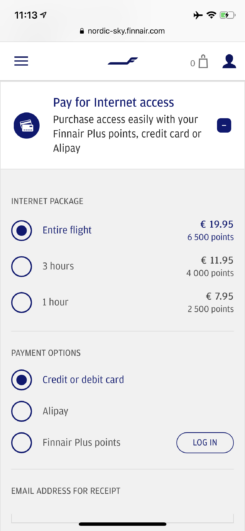 The Wi-Fi was ok for text messaging, but the upload was so poor I couldn't send photos. Speed tests kept timing out.
With Finnair's focus on efficient connections in Helsinki, another feature I thought was excellent was the flight connections screen on the IFE and mobile Wi-Fi portal.
On the IFE screen, there is a menu that shows a list of all connecting flights, the estimated time to transfer and even a terminal map to show which gate your next flight is departing from. Brilliant!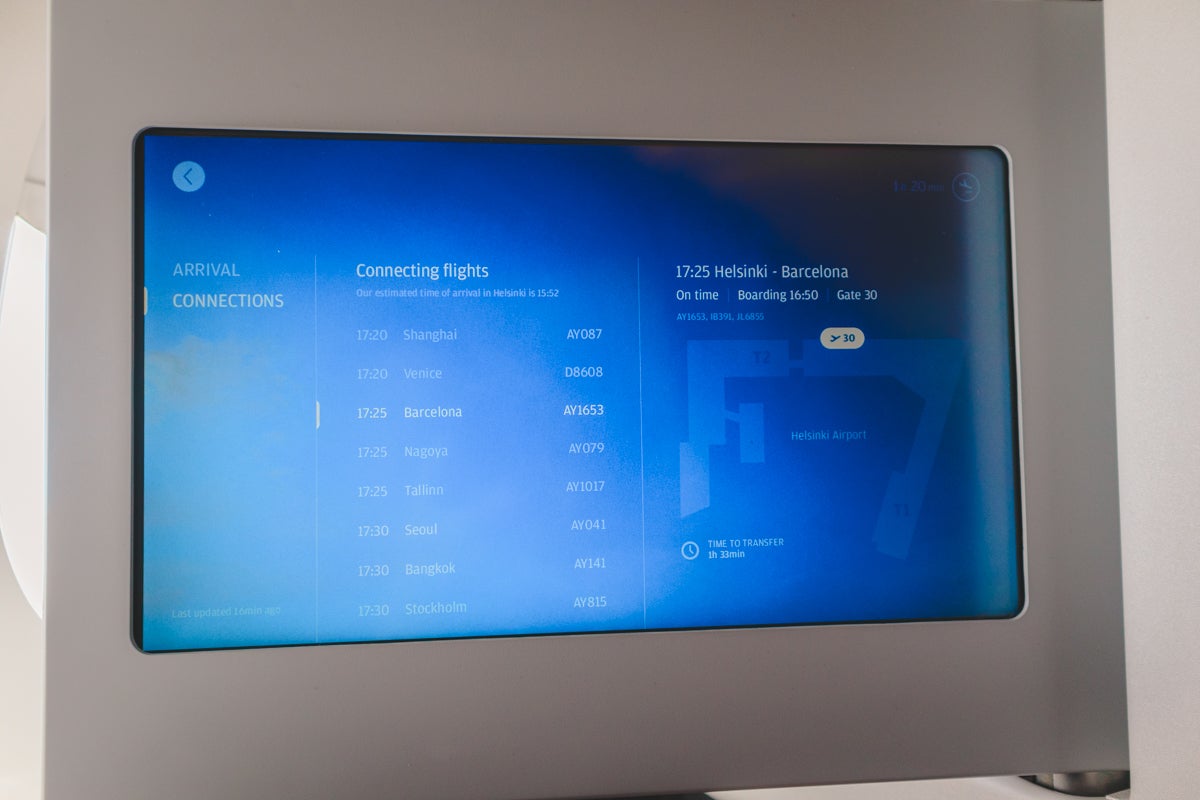 The Wi-Fi portal also allows you to enter your connecting flight number and shows the same information on your mobile device.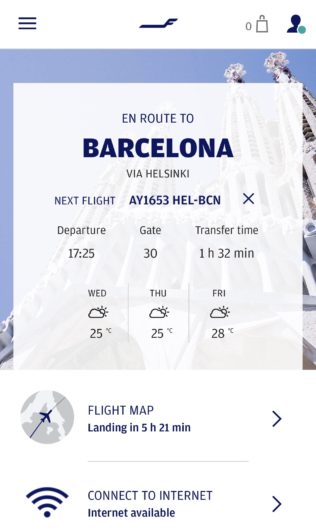 Noise-canceling headphones are provided and did an OK job, but I switched back to my own Bose.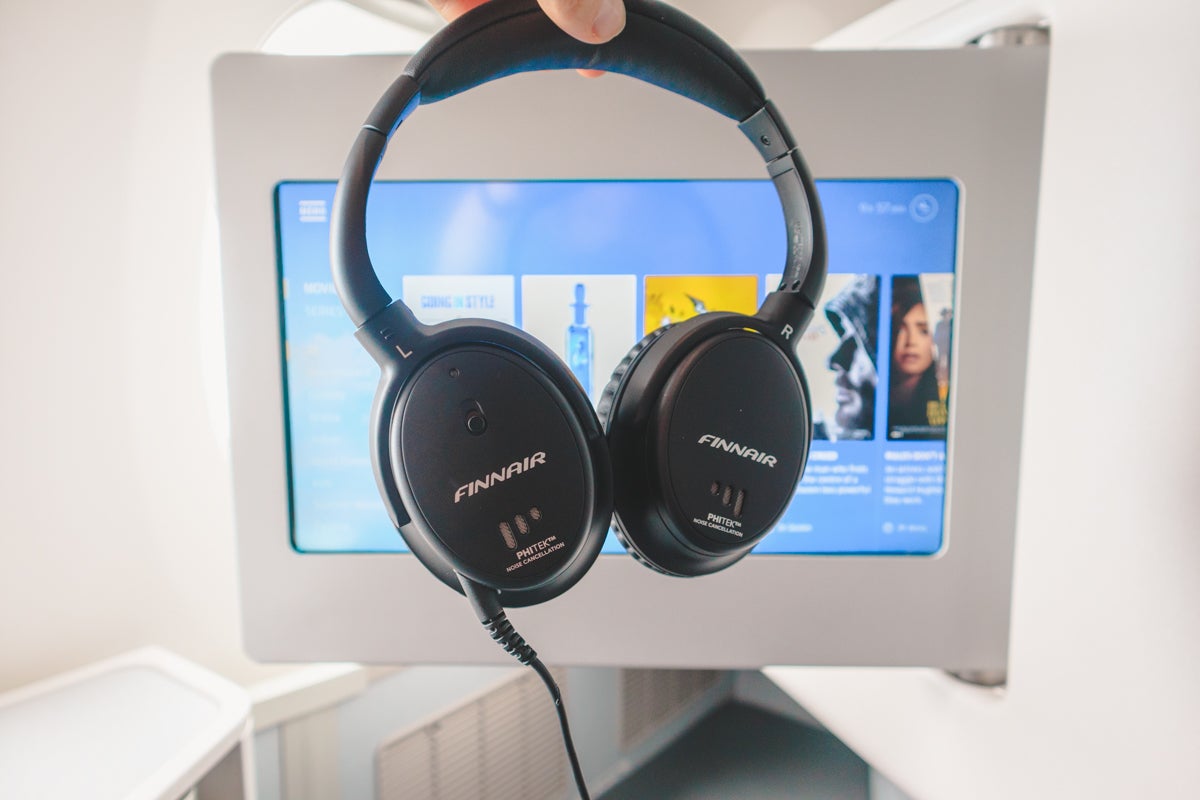 There's also an interactive flight plan map.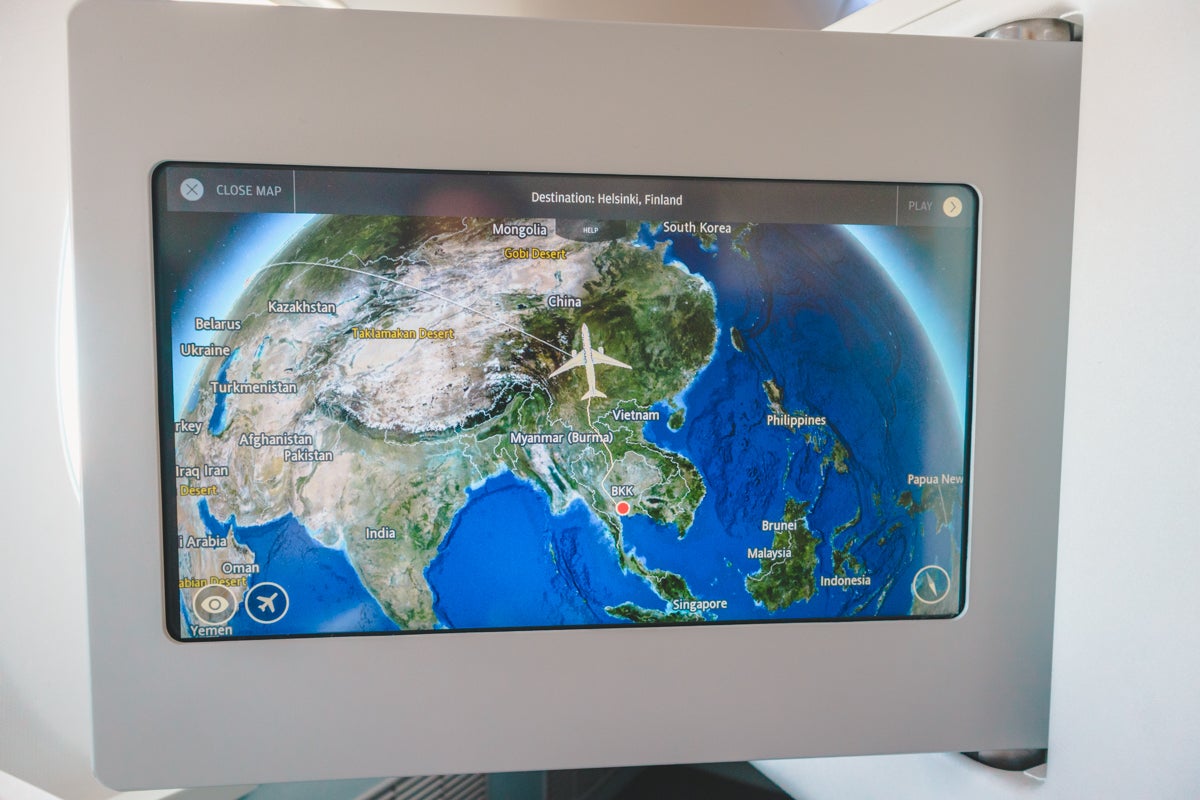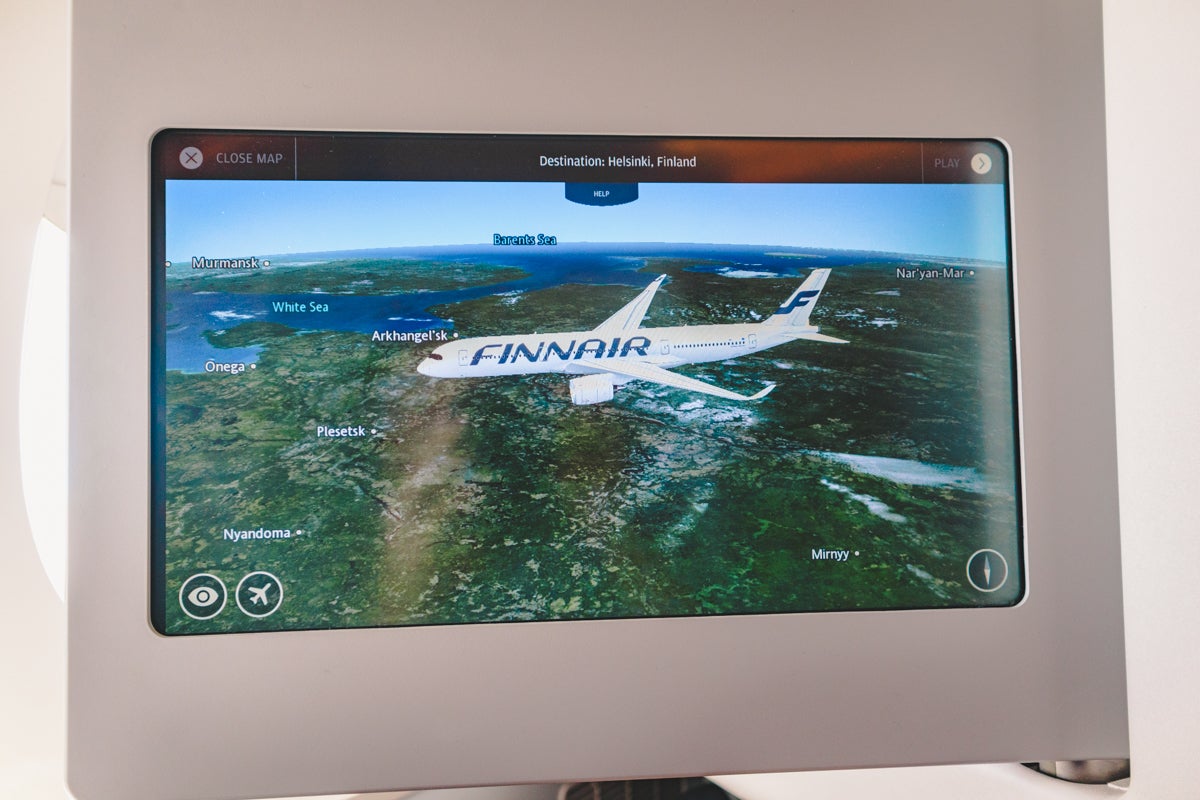 A tail cam.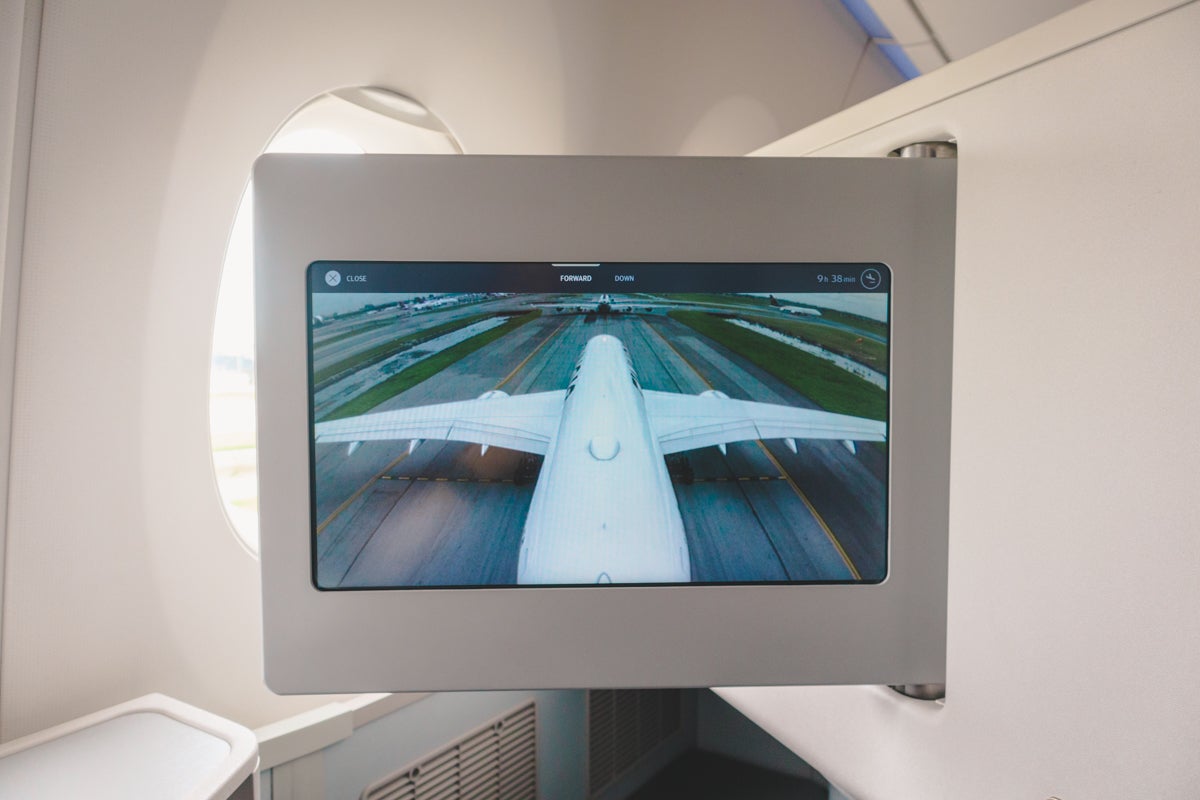 And a landing gear cam.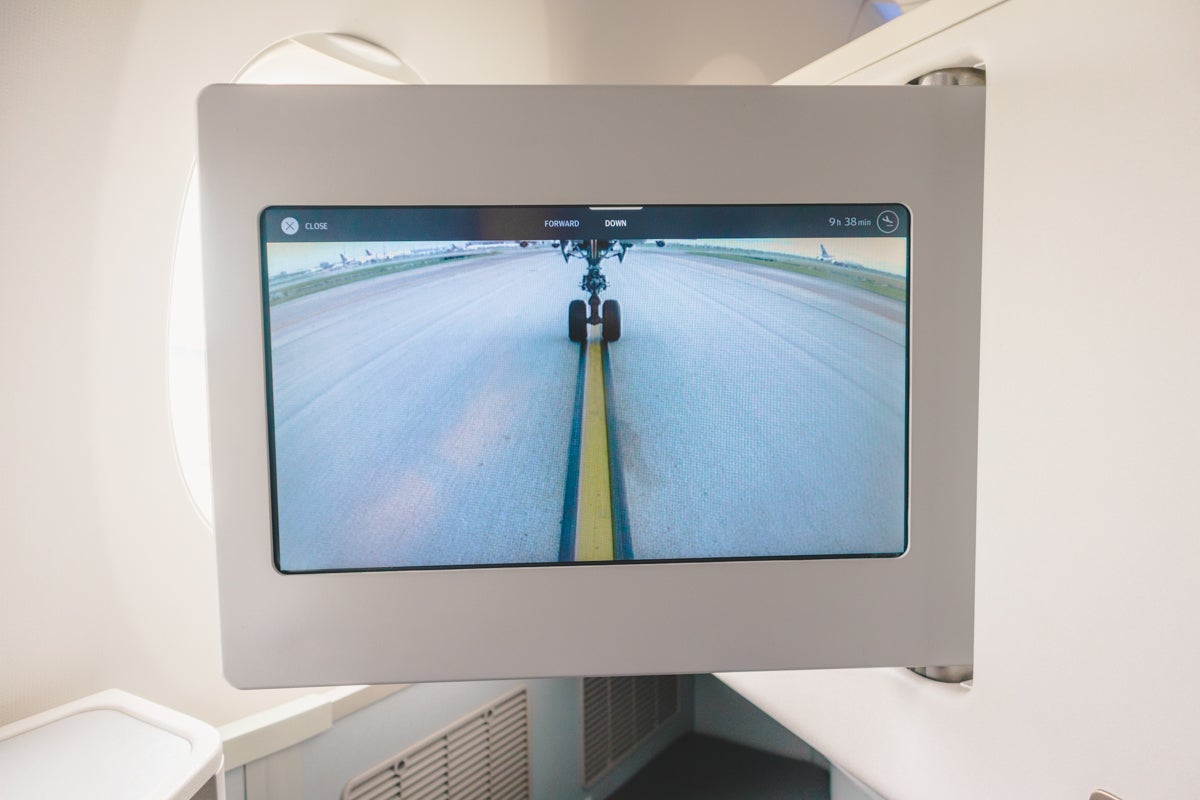 Meal and Service
With the inbound plane late from Helsinki, the departure was pushed back by 43 minutes.
By the time boarding commenced, all passengers were at the gate ready for a speedy departure.
Upon boarding, I was offered either a glass of Joseph Perrier Cuvée Royale Brut Champagne ($40 a bottle), orange juice, or water, which were presented in the most beautiful glasses.
Finnair's signature glassware is from the Ultima Thule series from Iittala. The designer by Tapio Wirkkala, a Finnish man who drew inspiration from Lappland's melting ice.
For the last 50 years, each piece of glassware is this range has been handmade in Finland.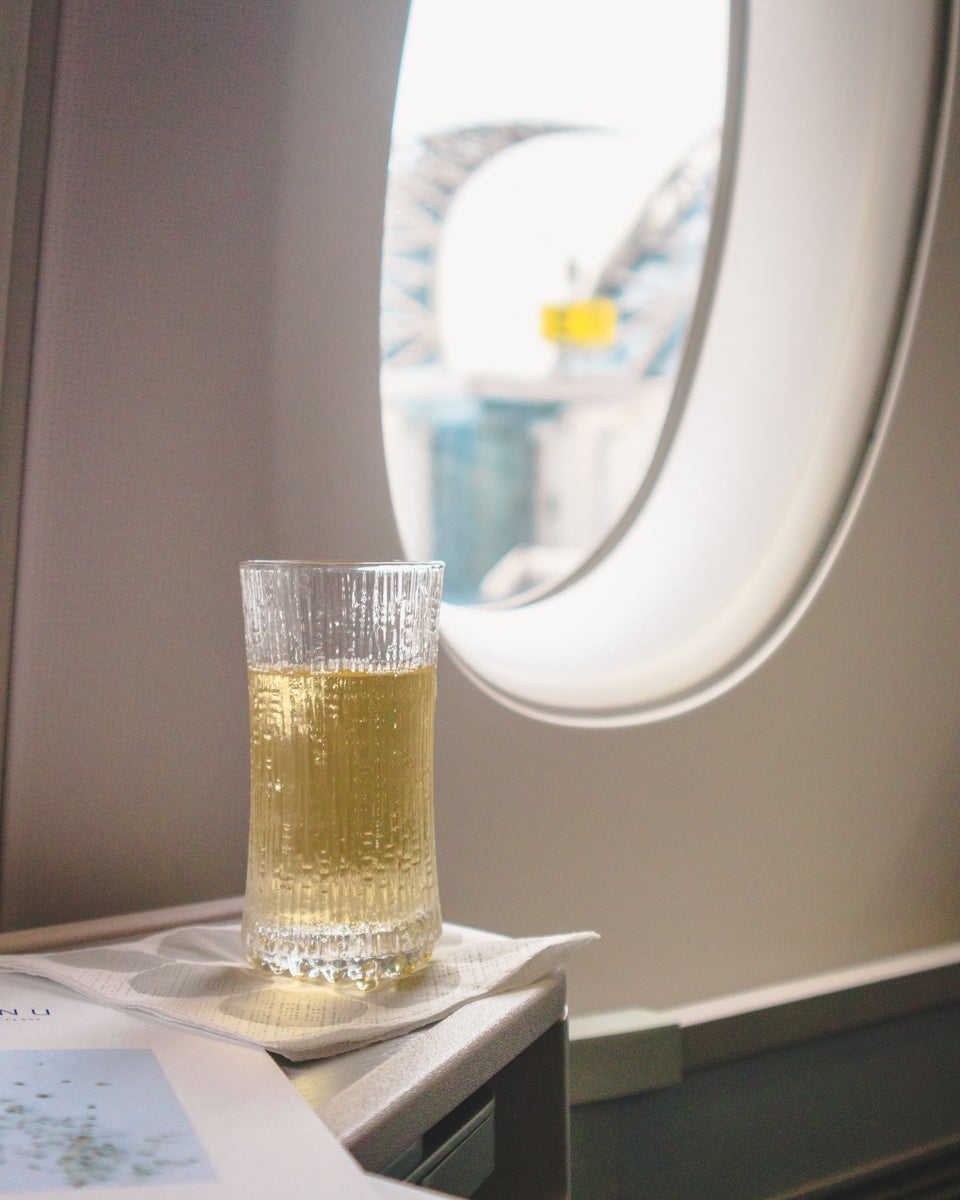 The cabin service manager did the rounds to welcome high-status passengers using an iPhone app for the passenger details, so as a Oneworld nobody and first time Finnair flyer, I was skipped.
Whilst we waited for pushback, the crew offered an additional drink or a top up of the champagne.
Top Swedish chef Tommy Myllymäki is the architect of Finnair's summer menu. Finnair allows business class passengers to maximize rest either by choosing to enjoy the first meal later or by substituting the full meal service for a cold express meal of a side salad, appetizer, cheese and bread.
Lunch was the first meal service and I decide to eat during the regular service flow.
I was offered a beverage after take-off, so I decided to start working my way through the Finnair cocktail list. First up was the Blue Sky which was delivered with an amuse-bouche an hour after take-off.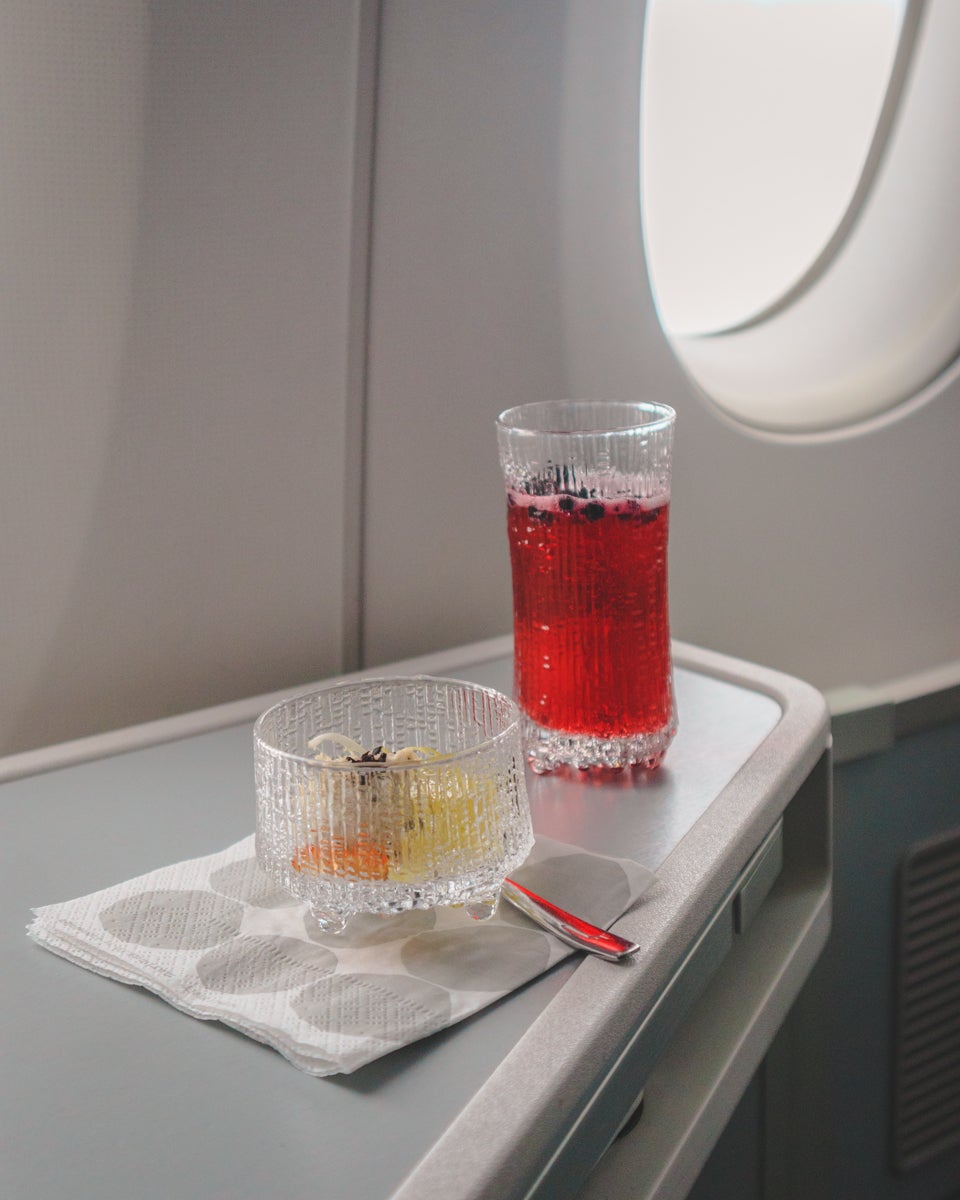 During the first meal service, each crew member worked a quarter of the cabin; first taking a single passenger's order, heading to the galley to prepare, and returning with the meal. As I was seated in row 6A, my crew member started from 5A, then to 5D across the aisle before getting to my seat. I was technically served third, instead of eleventh if they started from the front of the cabin and worked back.
This process delivered restaurant-style service without impacting on efficiency. It was free from tray tables, or that production-line feel when airlines use trolleys down the aisle, whilst also ensuring all passengers are served promptly, not just those who sit at the front of the cabin.
After I placed my meal order, next on the cocktail list was the Finnish Napue gin and tonic which was garnished with a sprig of rosemary in a shorter and wider Ultima Thule glass.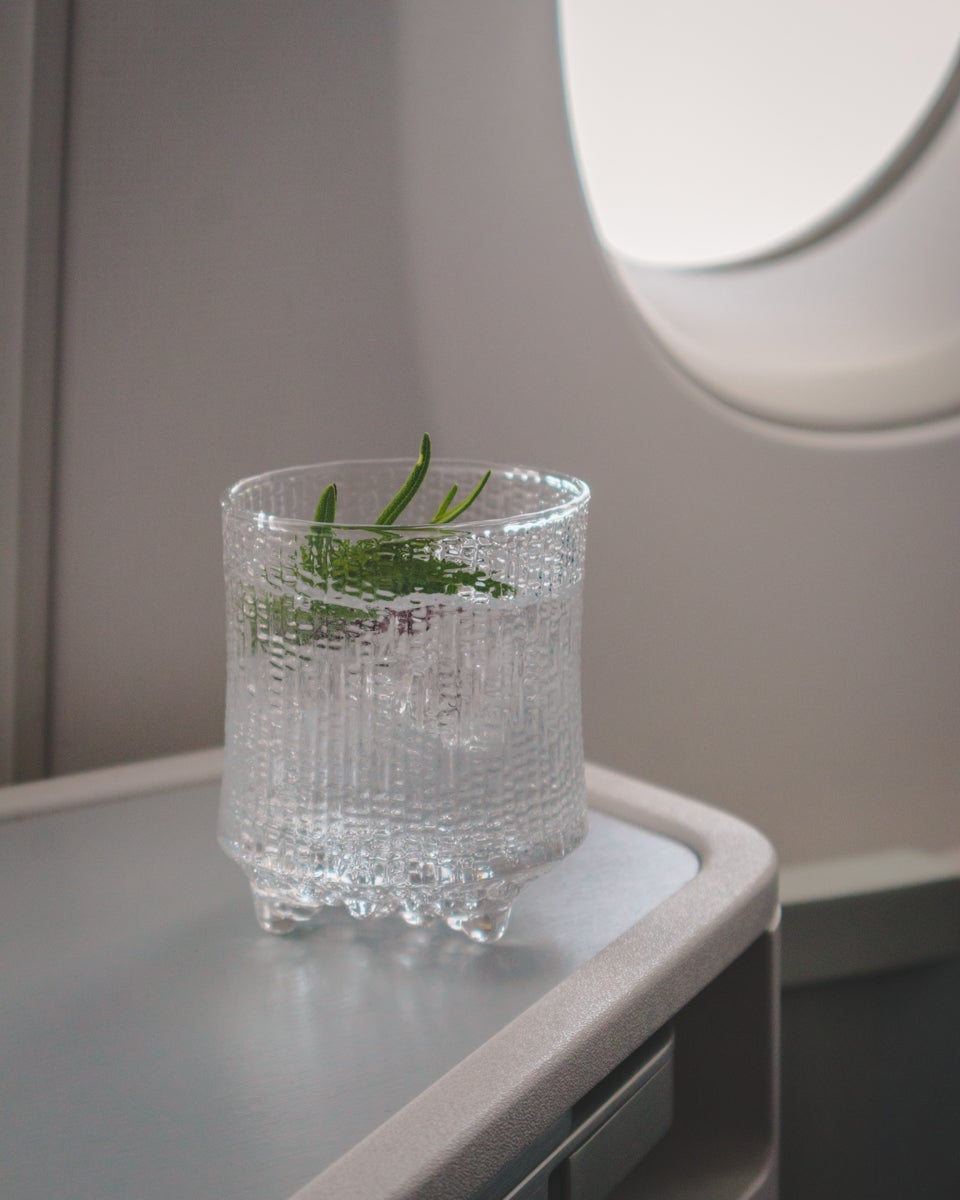 A choice of still or sparkling water is available.
Less than an hour and a half after take-off, my starter arrived. I selected the grilled scallops with Thai-style pomelo and coconut salad. It was fresh and tasty, but the portion size was quite small with very small scallops.
The tableware is from Finnish design house Marimekko.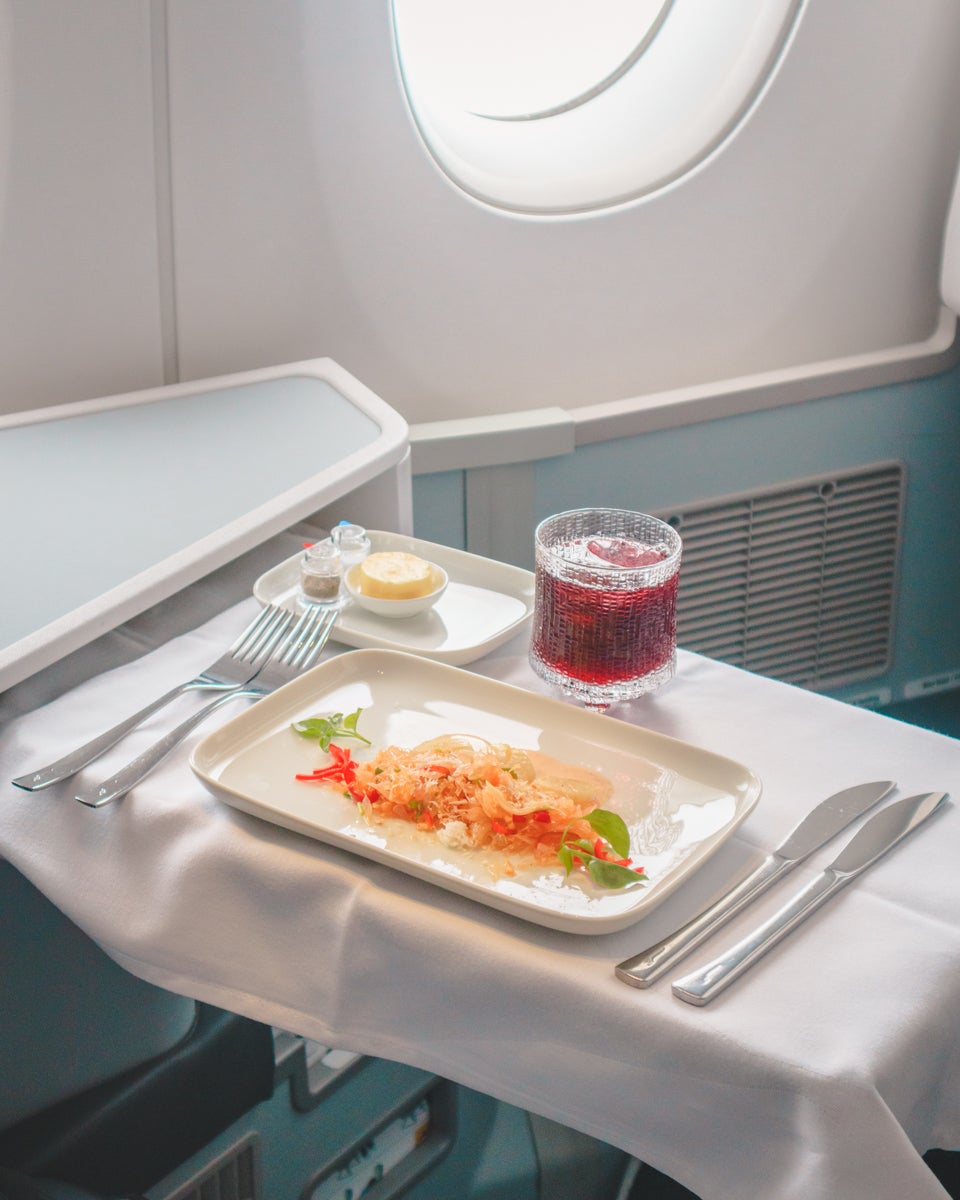 The other starter option was a roasted beef with teriyaki sauce, pumpkin puree, and couscous salad.
During the starter, I then tried the final cocktail on the list, the Double Bilberry which was my least favorite of the 3.
The main course arrived around 20 minutes after the appetizer arrived. I chose the grilled chicken breast with herbs and creamy truffle sauce, roasted potatoes, and broccoli. I usually avoid chicken whilst flying but thankfully it arrived beautifully moist with a delicious truffle flavor thanks to the sauce.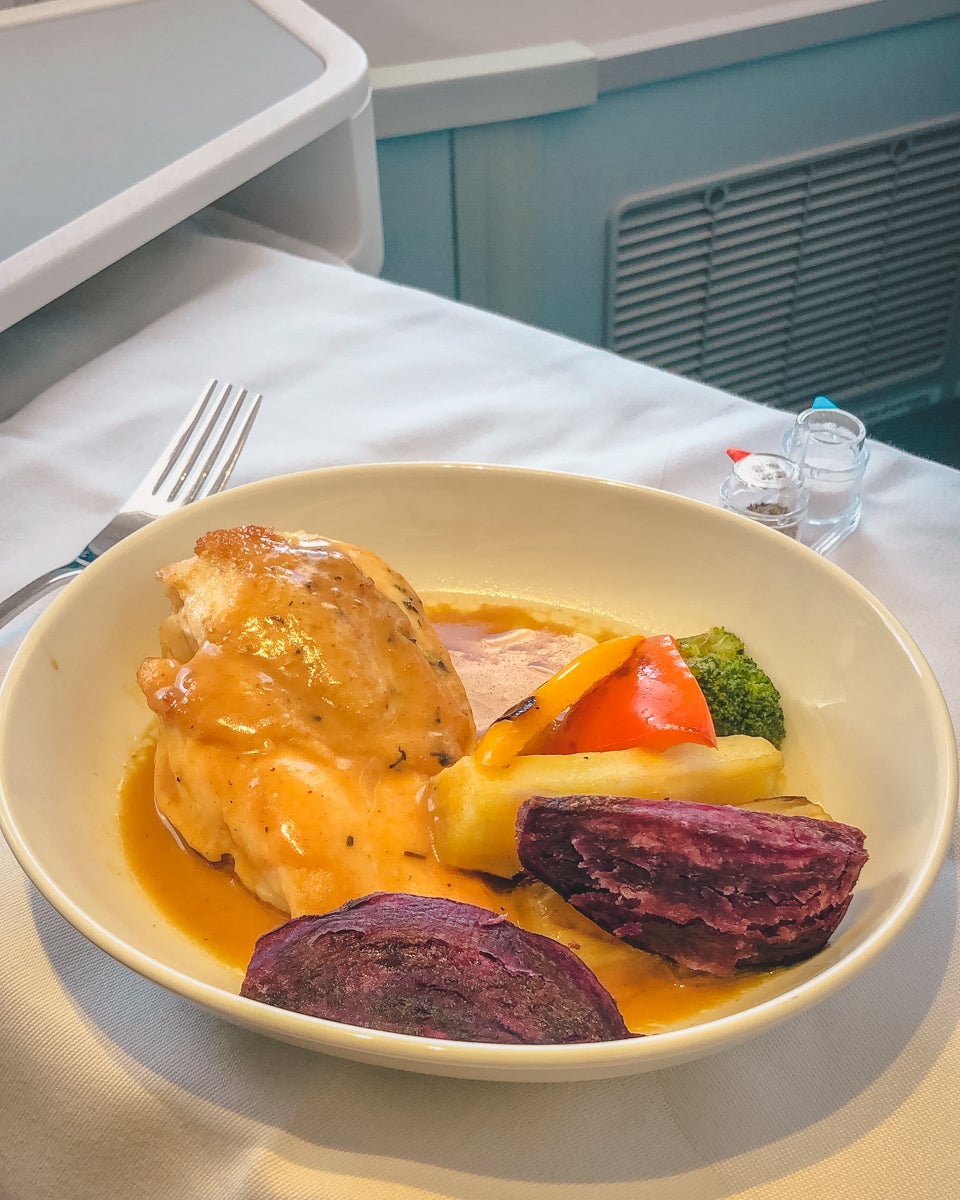 The other main options were:
Deep-fried softshell crab with yellow curry, carrot, baby corn, broccoli, and brown rice
Smoked salmon or parmesan cheese salad
Finnish creamy salmon soup
Dessert wrapped up the first meal service around 2hr 10min after take-off and I selected the chocolate banana cake and New York cheesecake duo with raspberry sauce.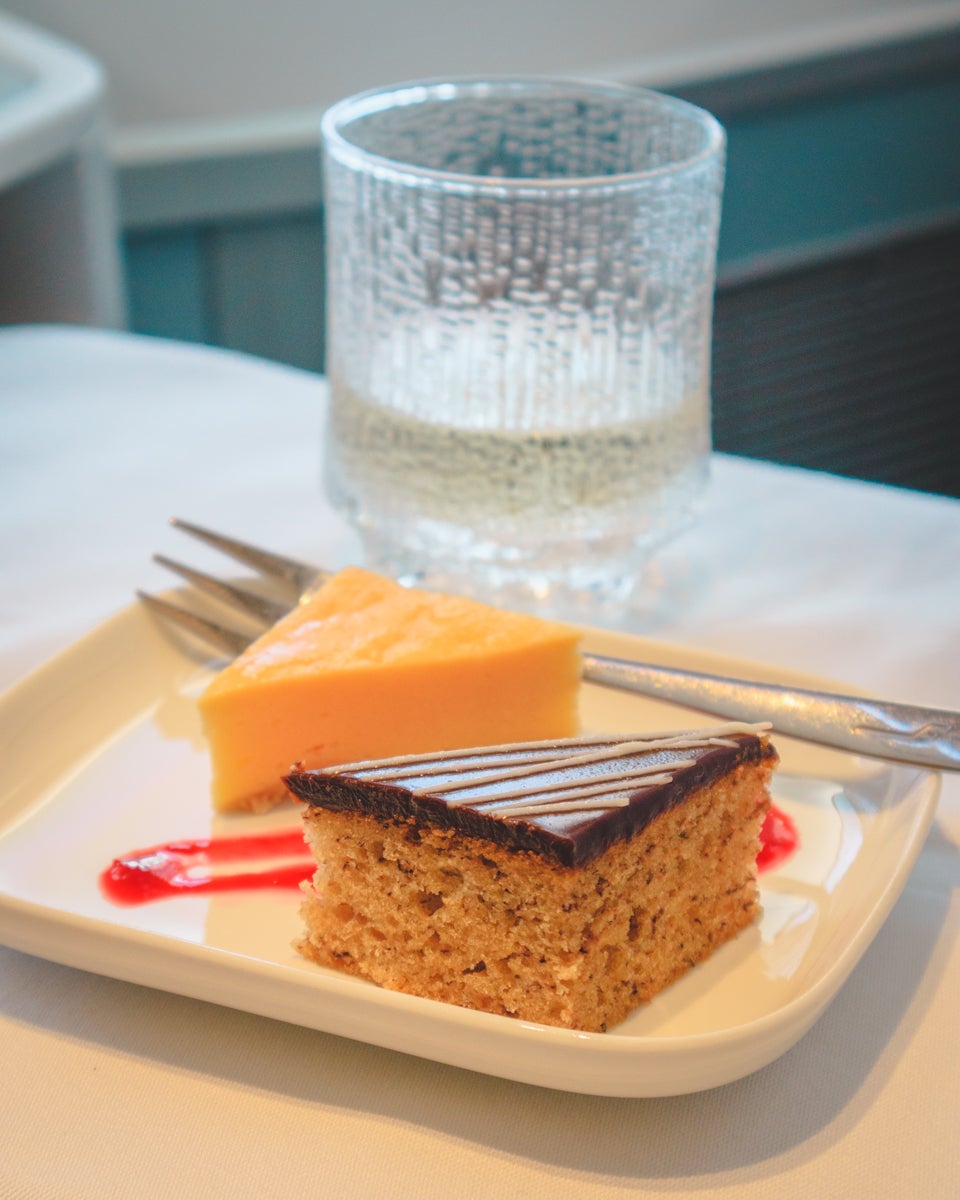 Otherwise, there was ice cream, fresh fruits, or cheese.
With the first meal service wrapped up, it left over 8 hours to go so I went back to watching movies.
For a completely daylit flight that departed at 9:26 a.m. and was due to land at 3:56 p.m., I planned on keeping the window shades open and staying awake. Yet after the meal service, the cabin service manager came over and asked me to lower my shades "a bit" so that I could "see the screen better," so I lowered them 3/4. The passenger across the aisle was watching the IFE and my window may have been affecting his viewing so I didn't object to the crew member's request, but I'm just grateful that they didn't plunge the cabin into total darkness.
The crew remained present after the main meal service, proactively offering beverage refills… or more cocktails. Every single crew member delivered service with a smile and although there was no idle chit-chat, the crew were genuinely friendly.
Roughly 4.5 hours after departure, the crew offered their signature "Kahvikutsut" Finnish coffee service accompanied with coffee cake and cinnamon buns.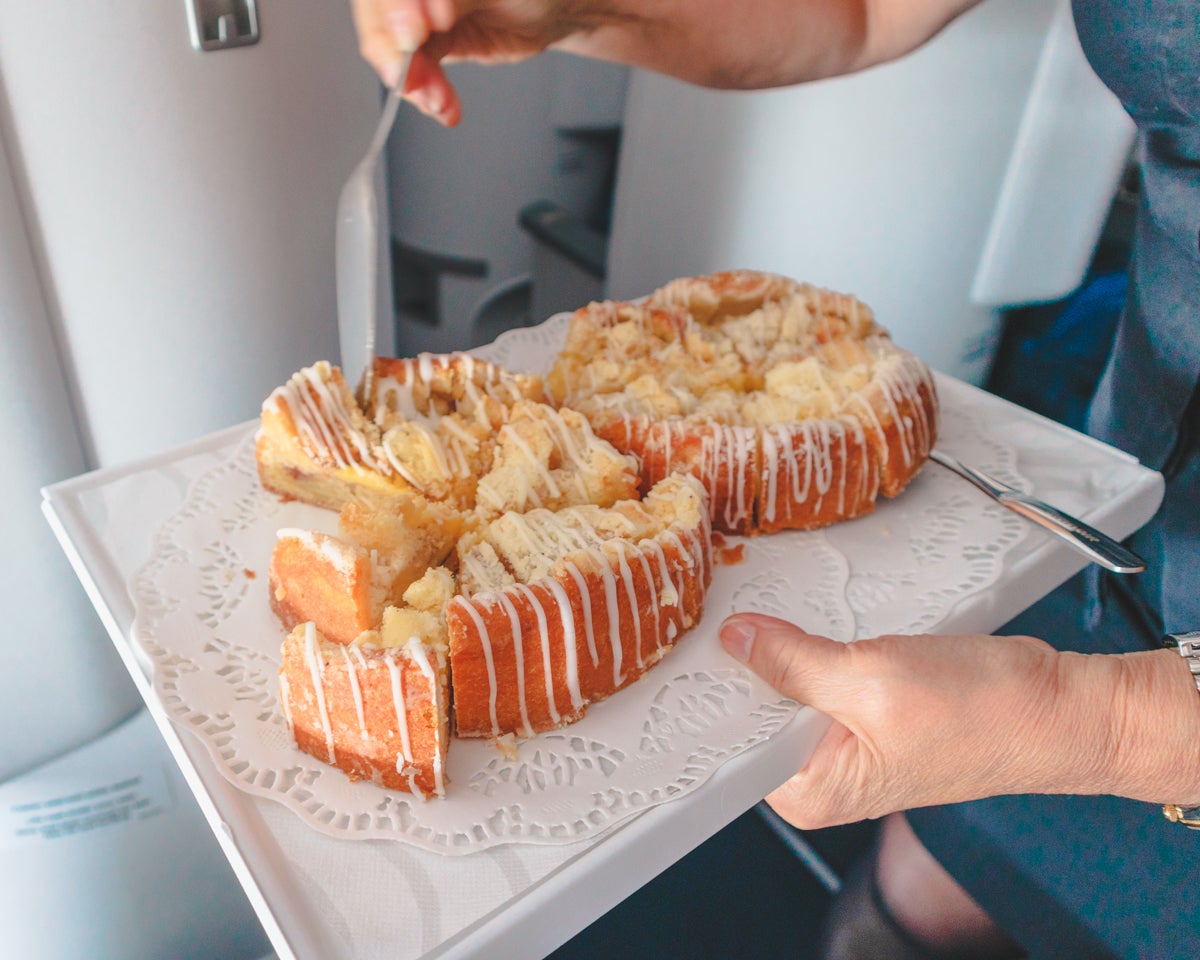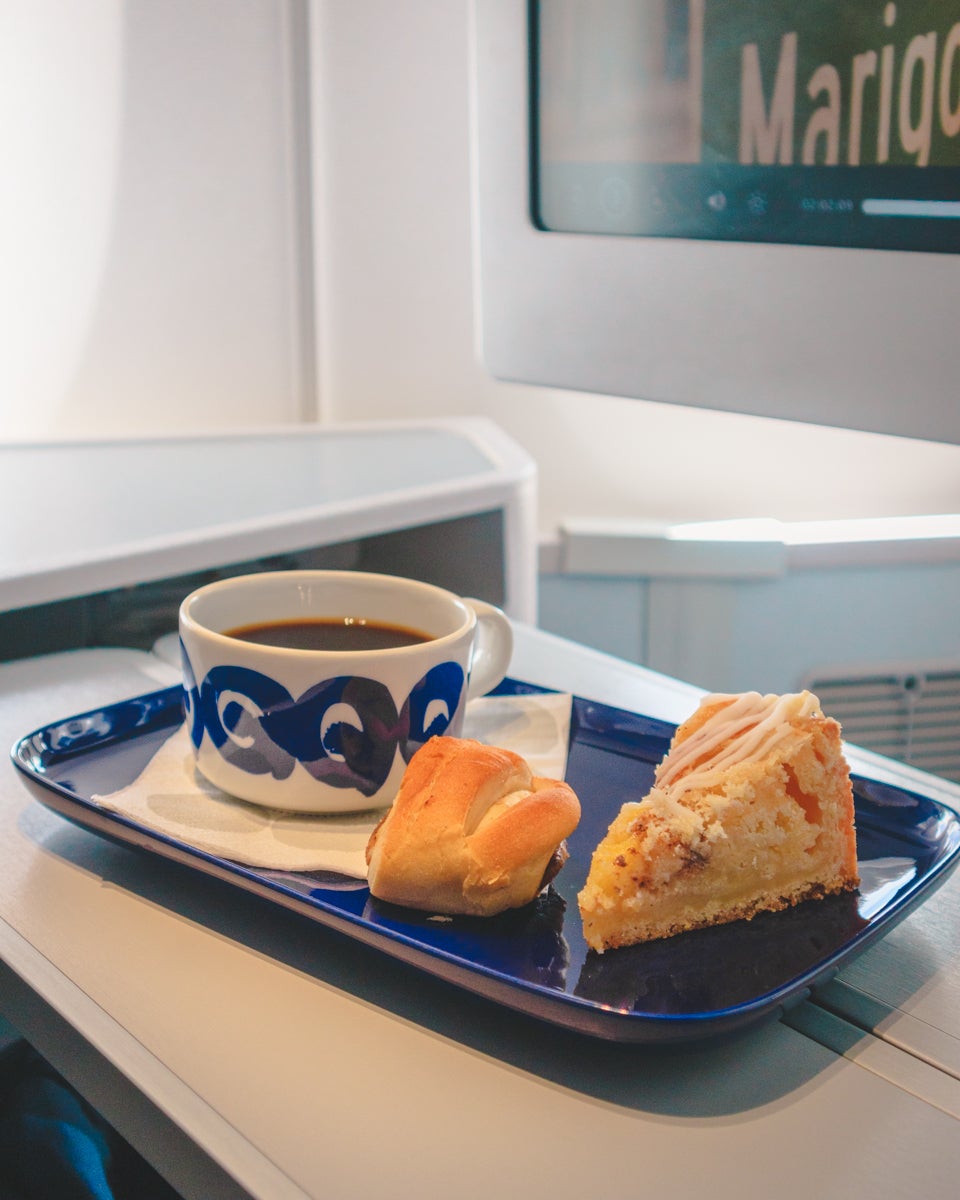 If you were still hungry throughout the flight, small glasses of snacks were available at the front of each cabin which included nuts, sweets, chips, and chocolates. Sandwiches, noodle cups, and fresh fruit were available to order from the crew.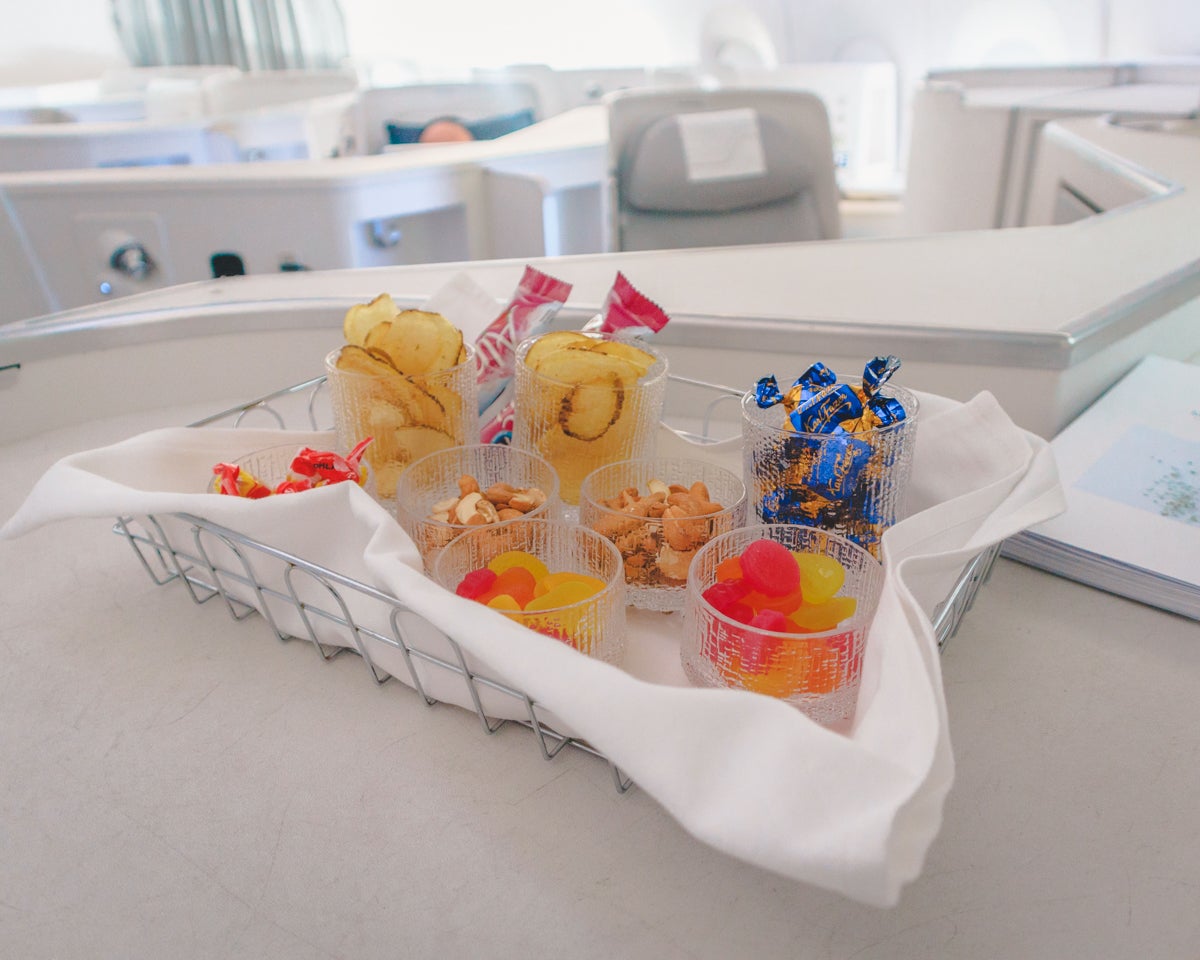 A final light meal is available at any time after the first service though it was officially offered around 2.5 hours out of Helsinki. There was only 1 hot option — stir-fried chicken with oyster sauce and fried noodles with soya and vegetables — or a smoked salmon salad.
This meal arrived on a tray for prompt serving and clearing before landing. It was also accompanied by some bread and fresh fruit.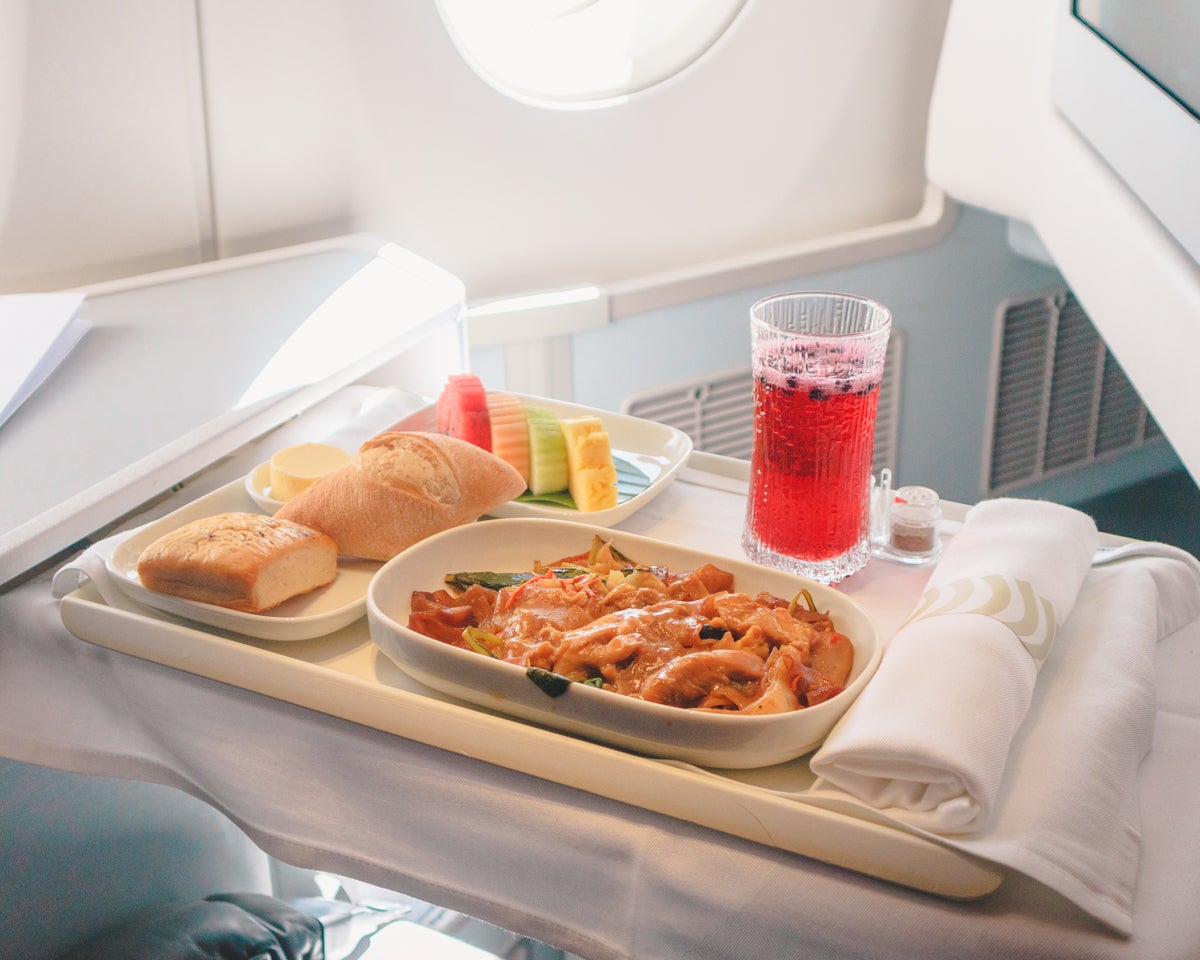 Although we departed 31 minutes late, we didn't manage to make up any time in the air and, in the end, landed 41 minutes later than originally scheduled, leaving a transit of 1hr 30min.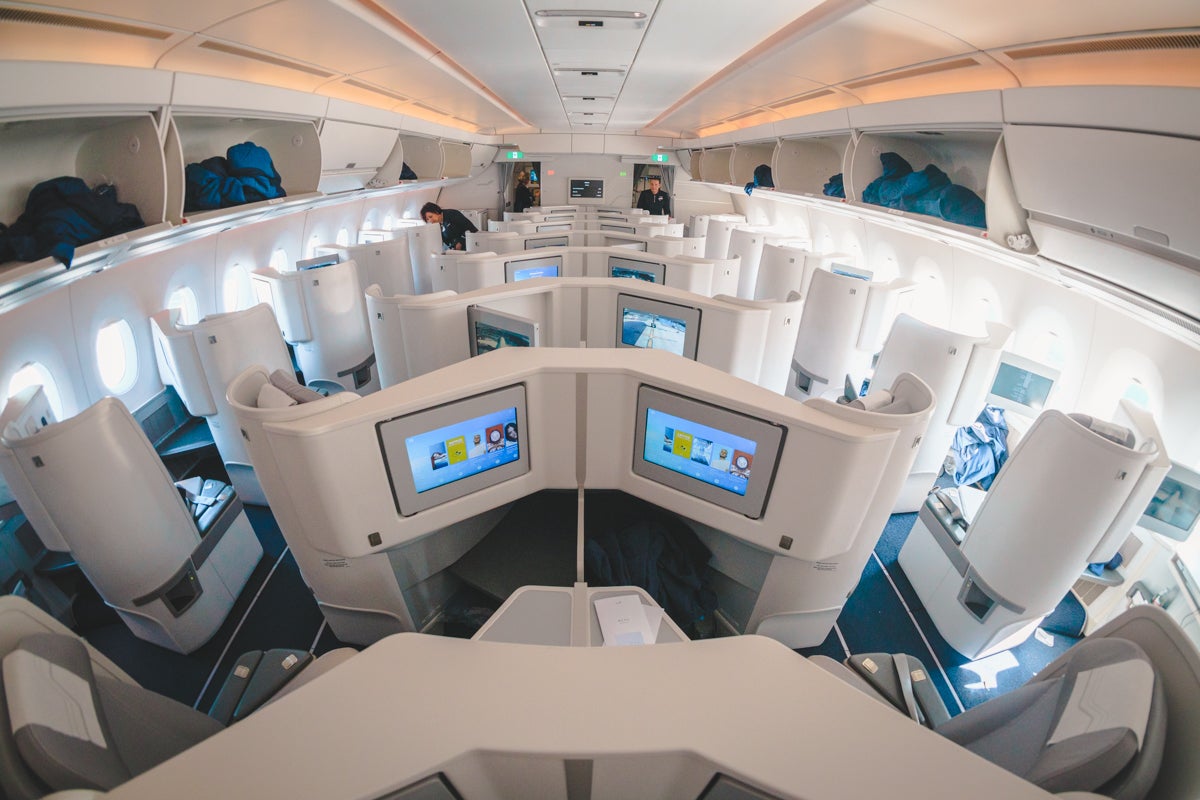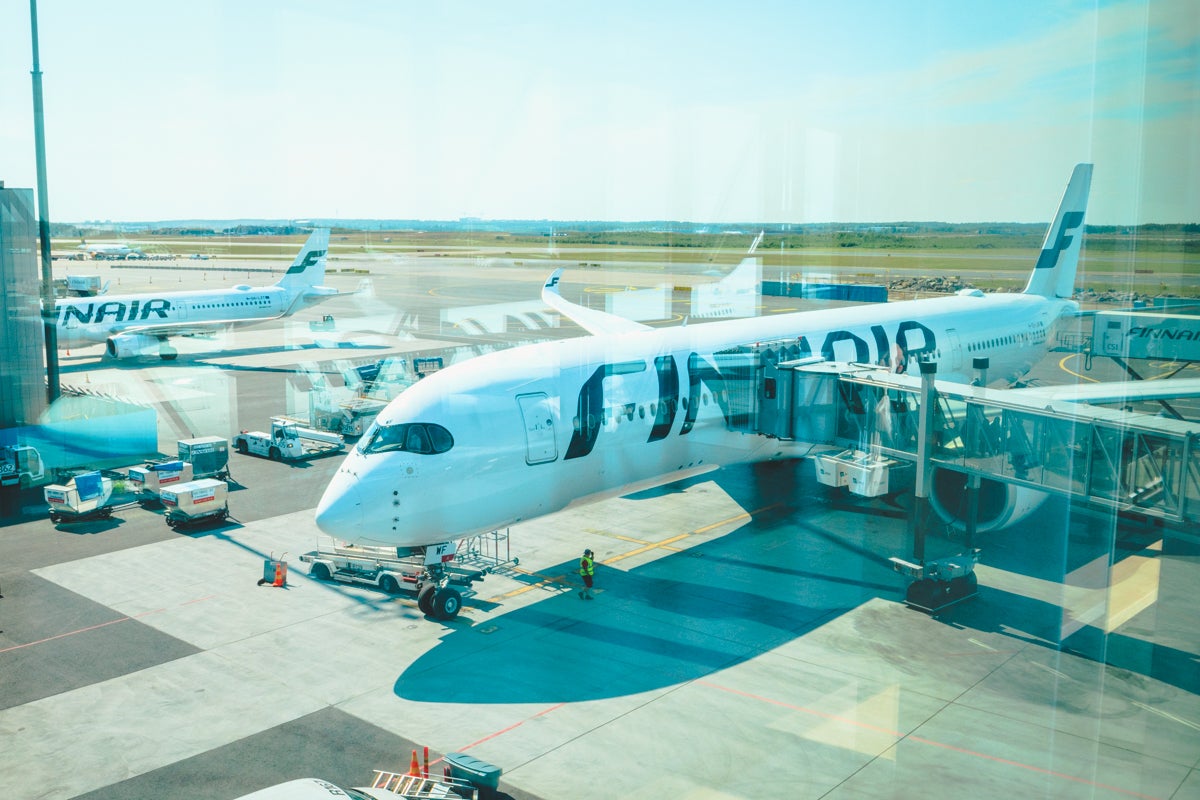 At Helsinki Airport – Finnair Lounge in the Schengen Area
My inbound aircraft arrived at the opposite side of the airport to my connecting flight. After passing through security screening, I had to swap terminals from the non-Schengen area to the Schengen area, but before I did, I first tried to check out the refurbished lounge in the non-Schengen area. Unfortunately, I was denied entry due to capacity constraints and was directed to the Schengen lounge.
Transiting through Helsinki Airport was a breeze, but I wouldn't like to attempt a 35-minute connection.
Due to my late inbound flight, I only had 20 minutes in the Schengen Lounge, so I will let the photos speak for themselves.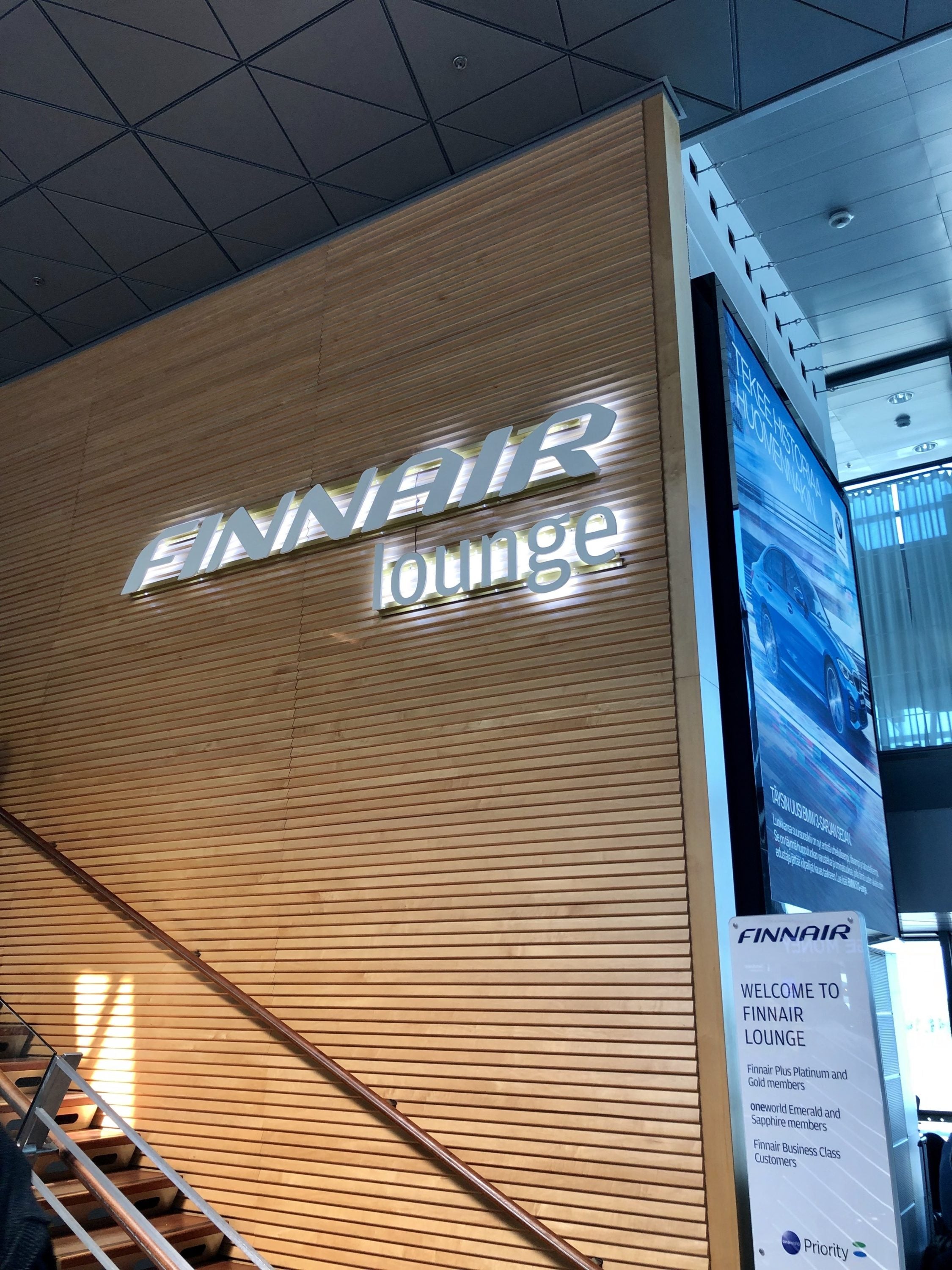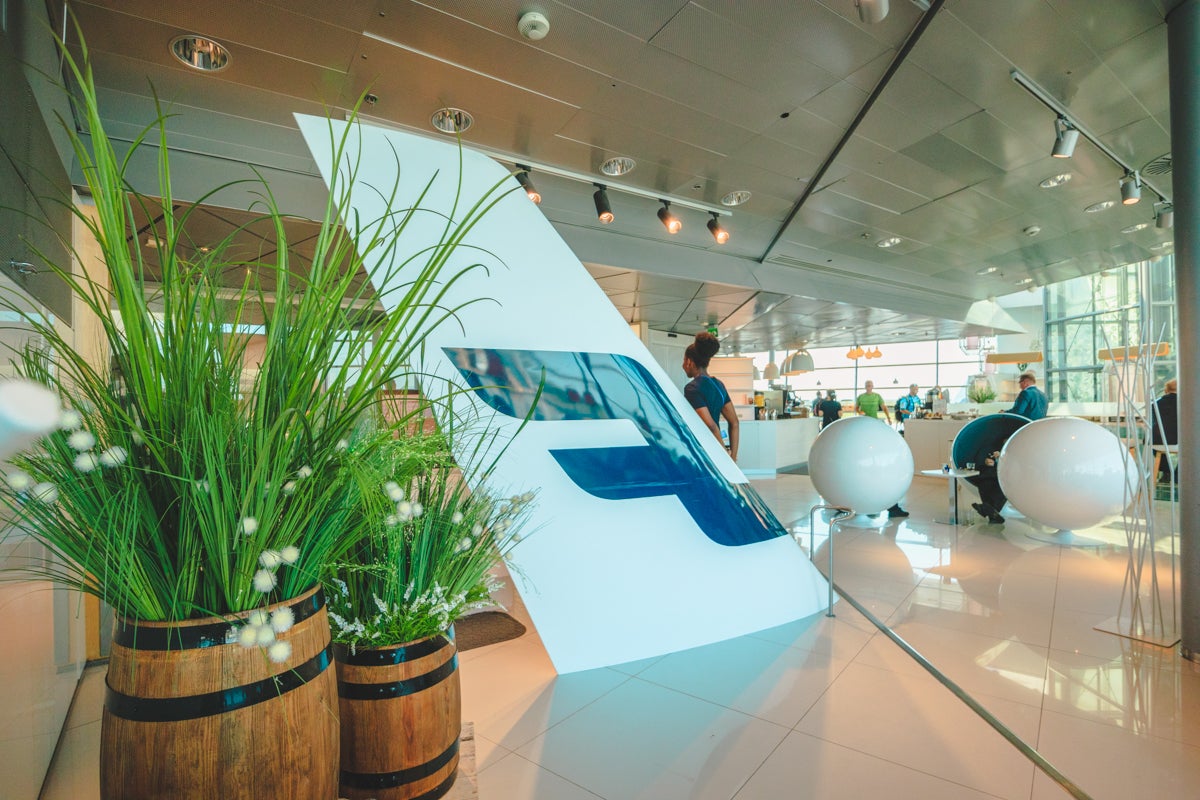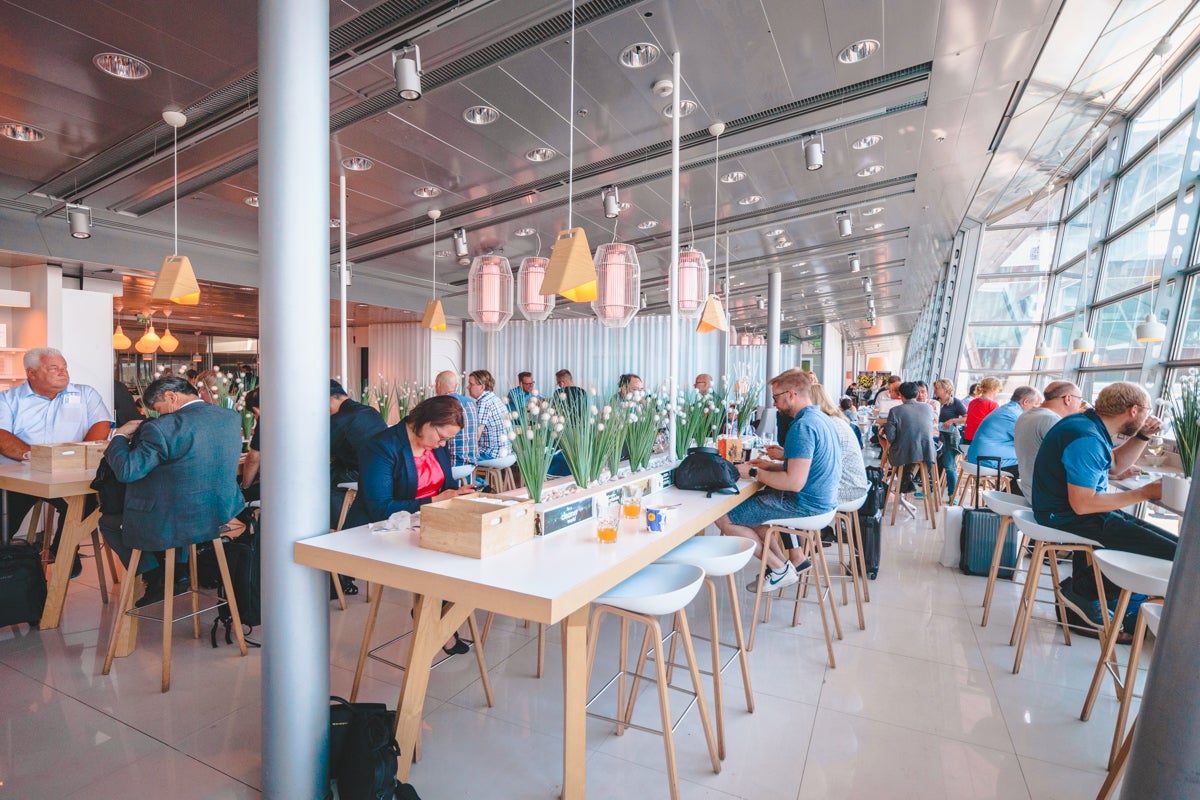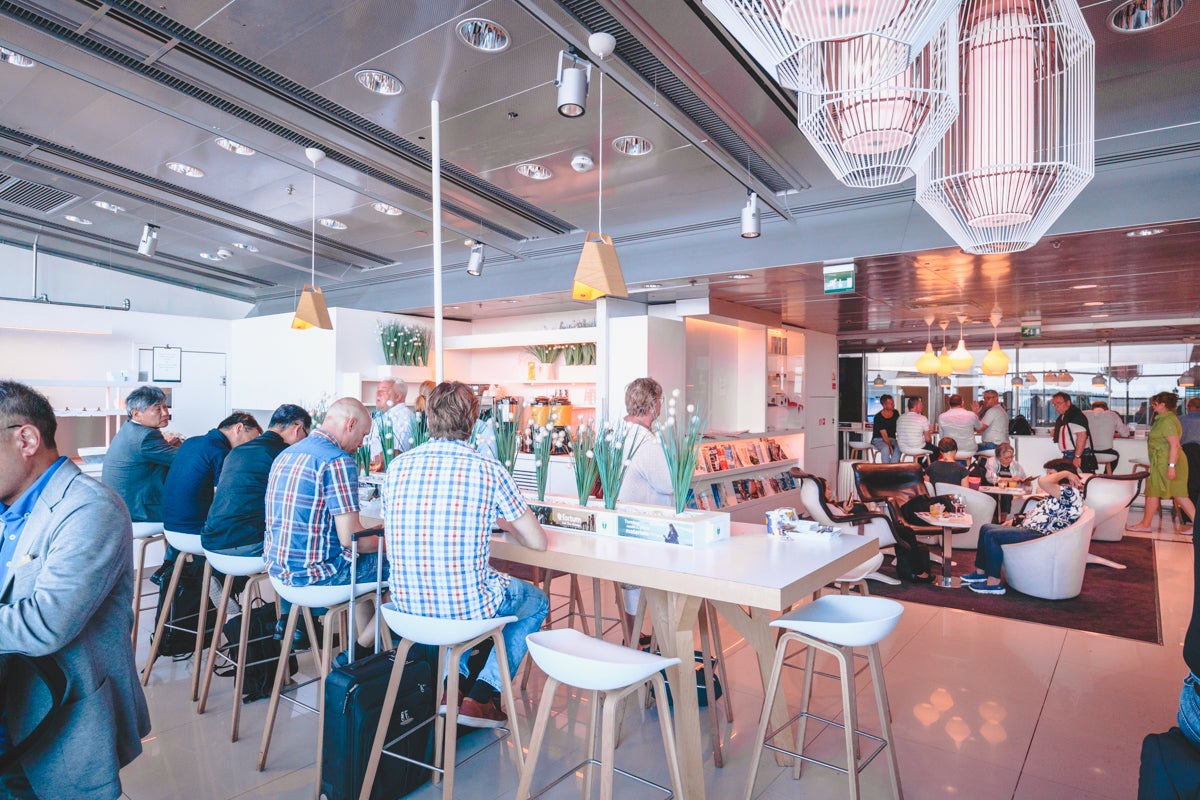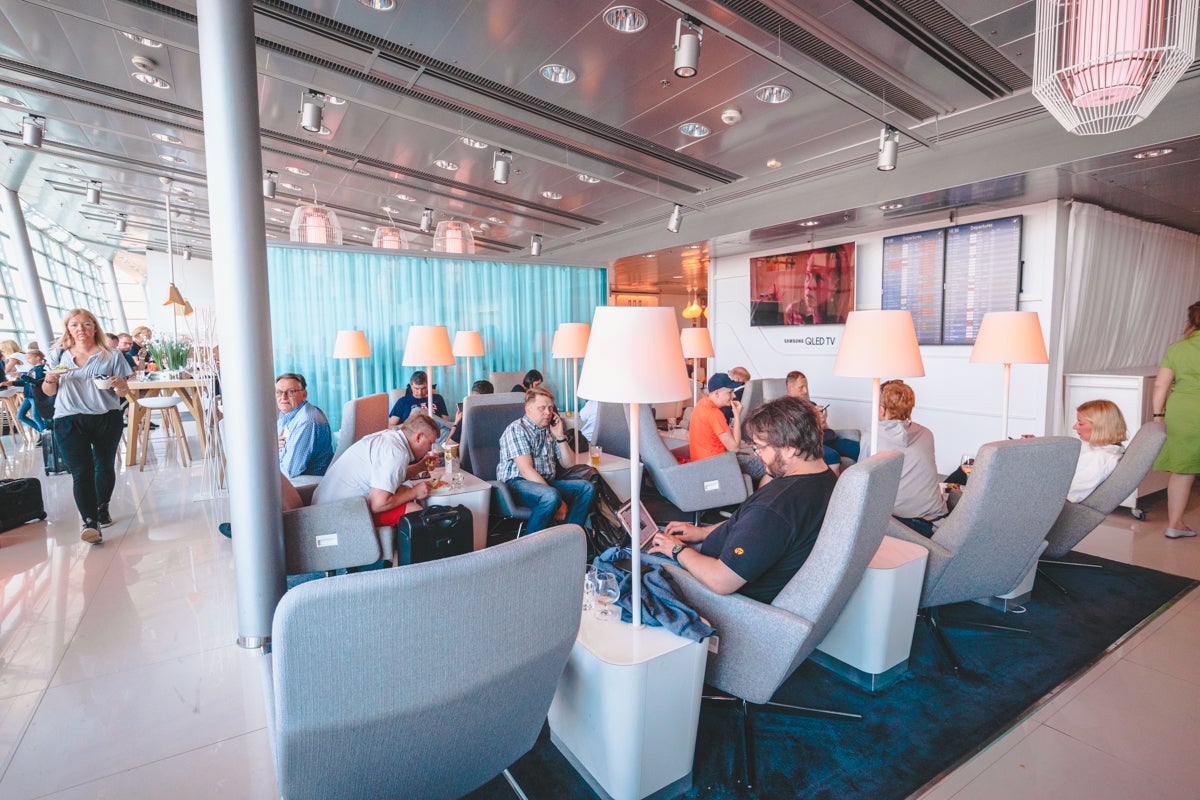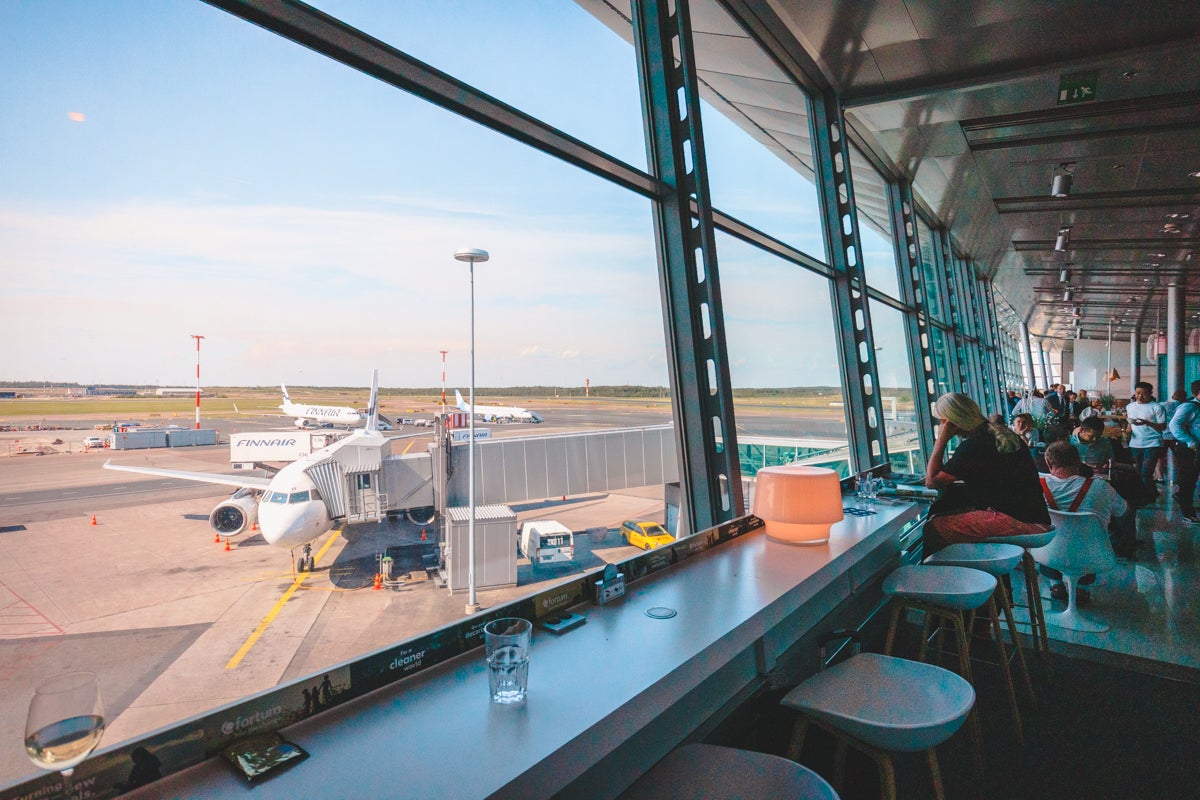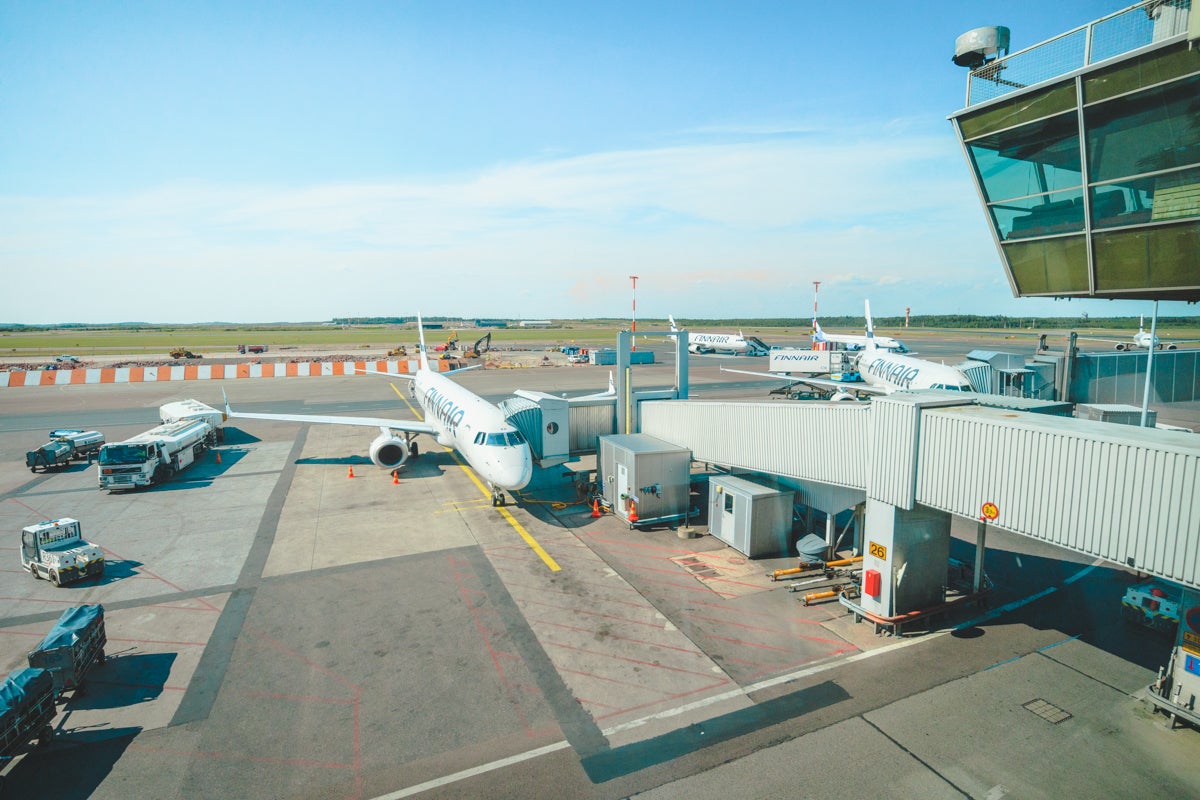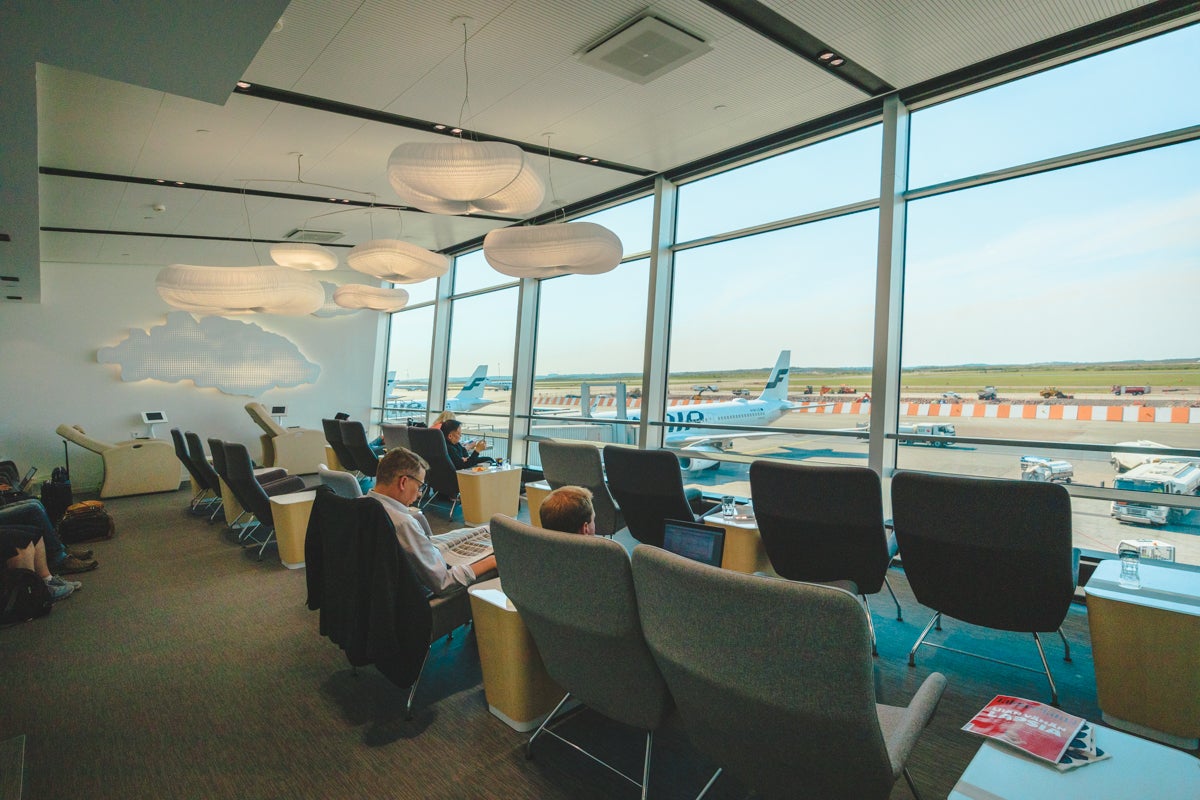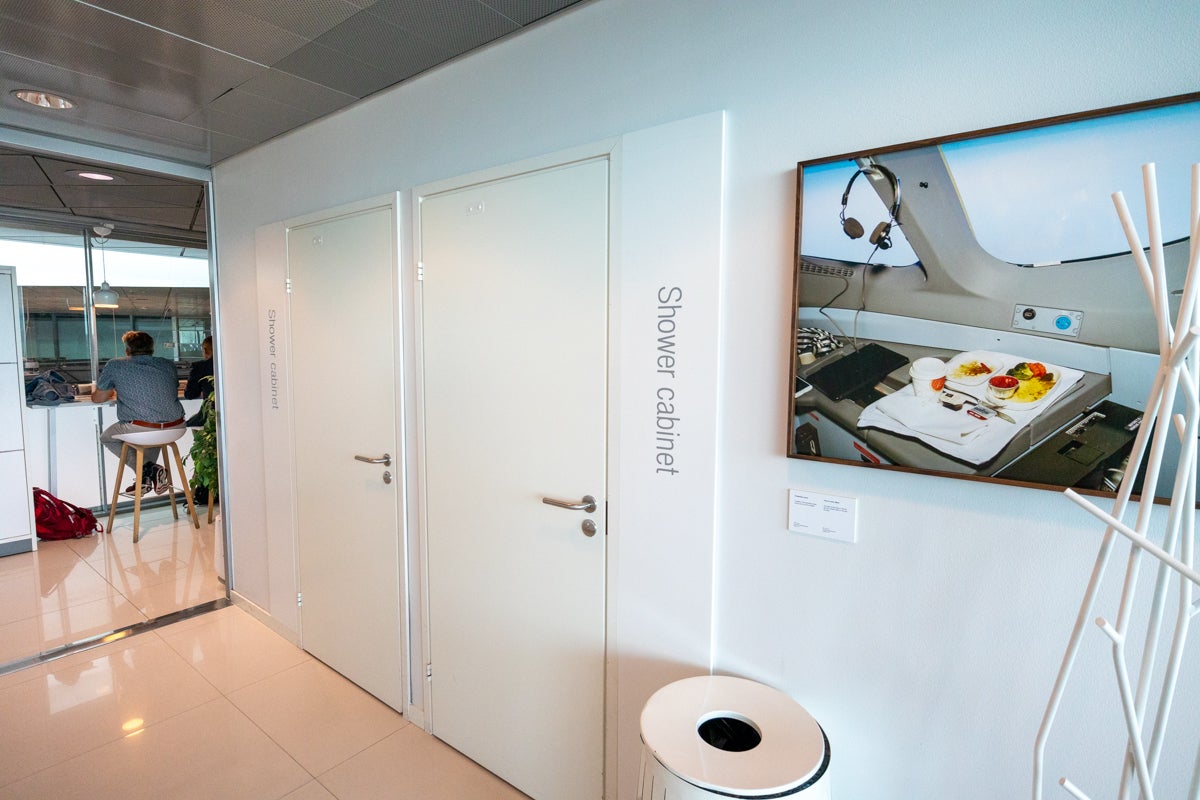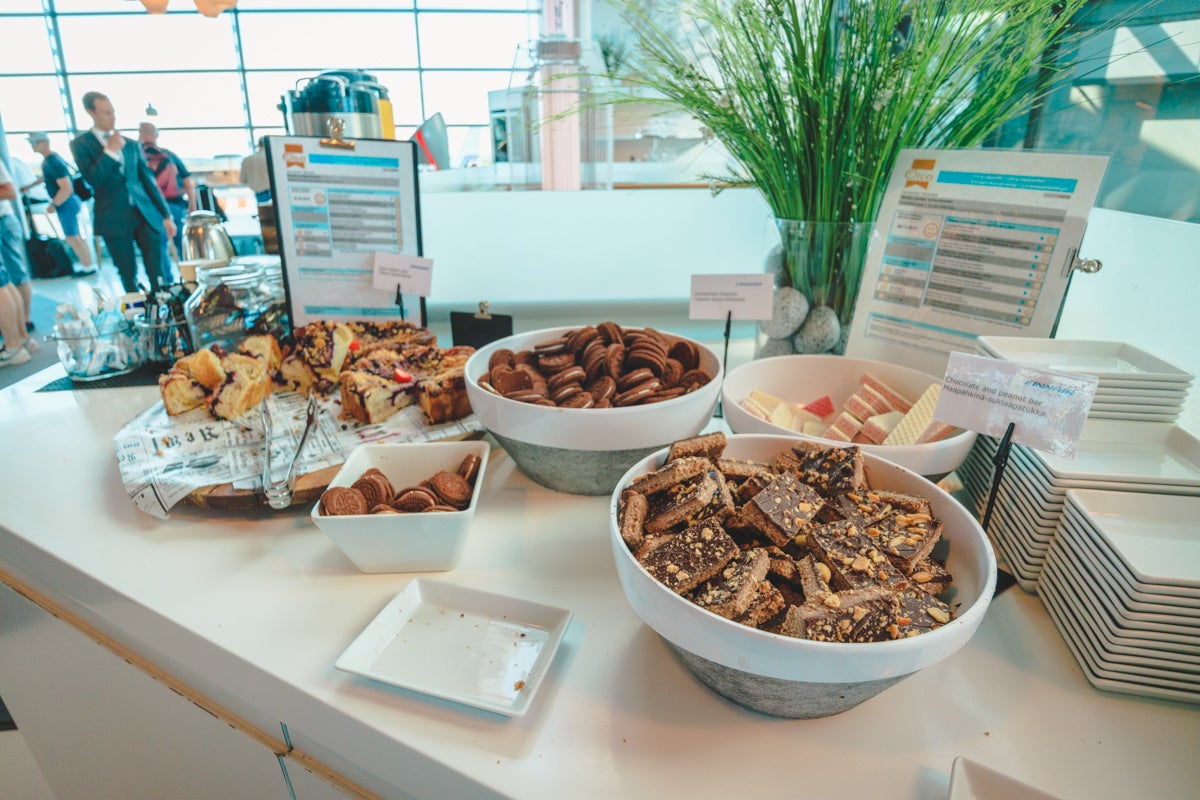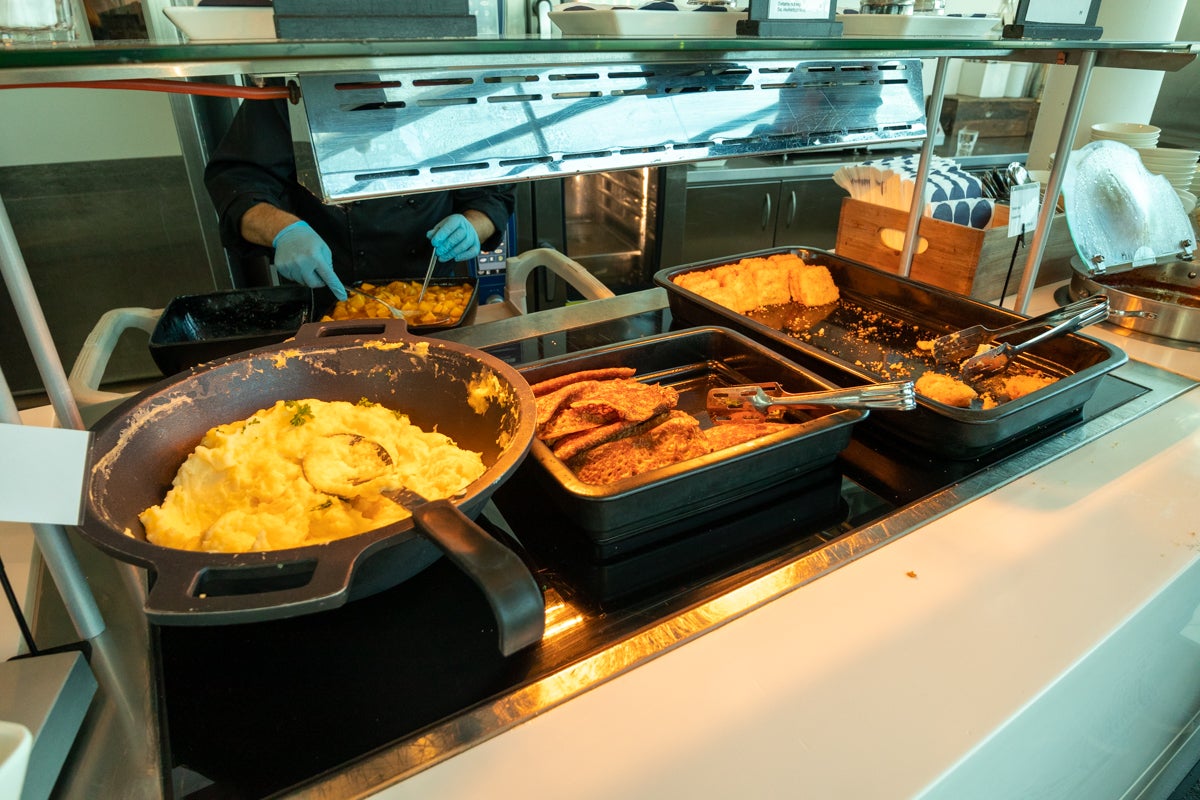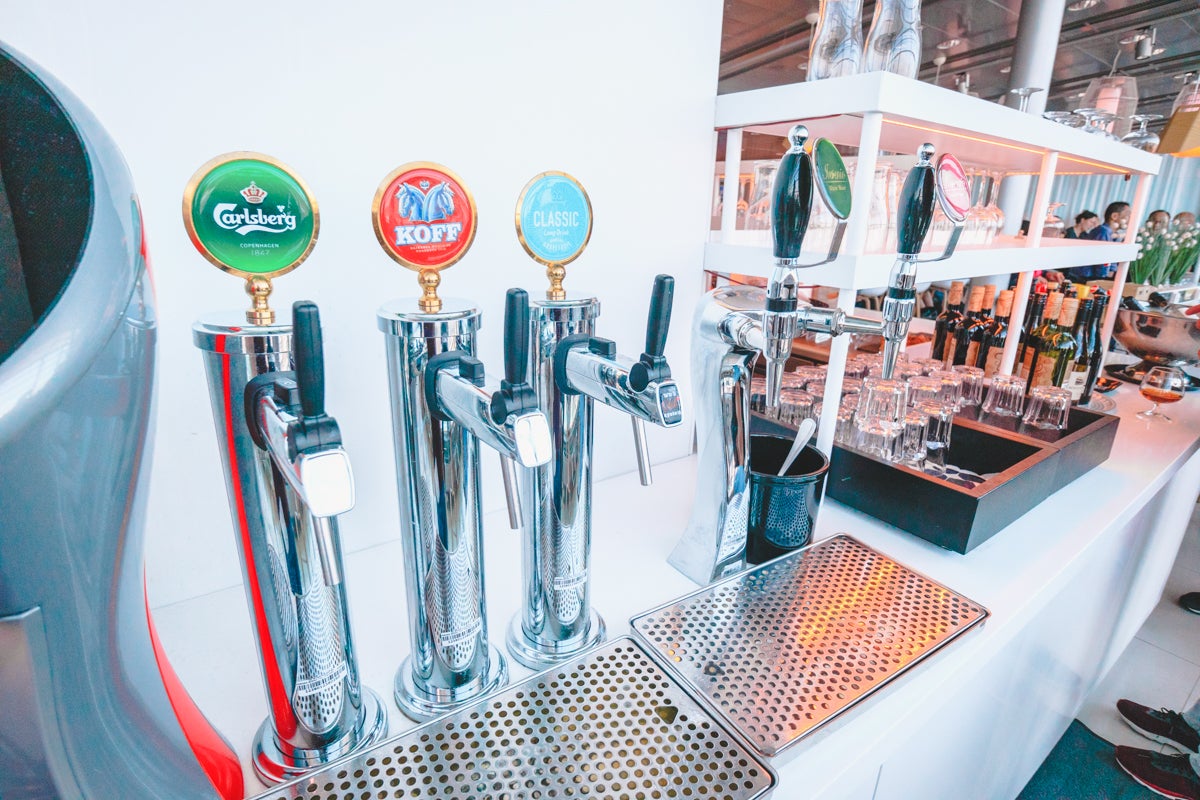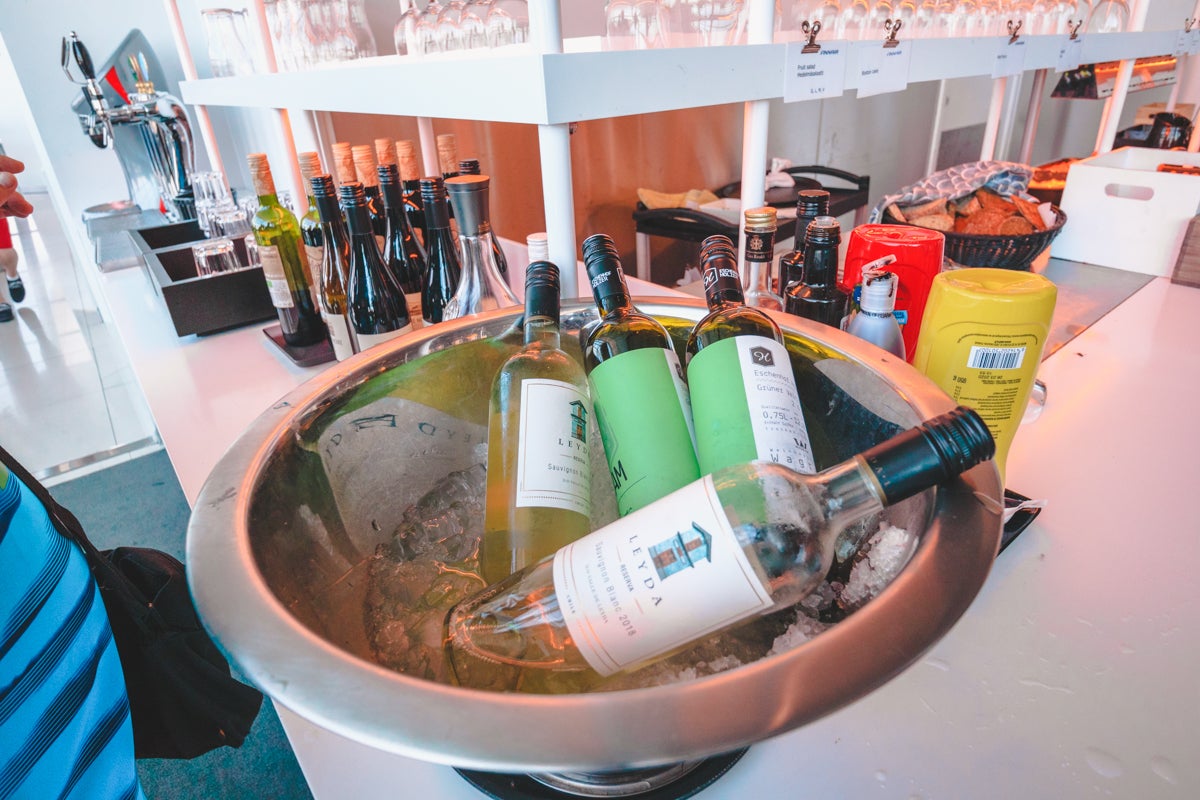 With Finnair's focus on transit passengers, when you connect to the Wi-Fi you can select your onward flight and it will present you all the key flight information.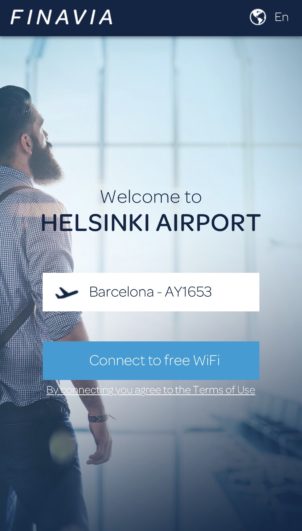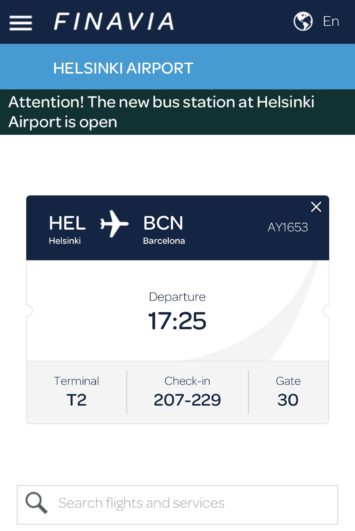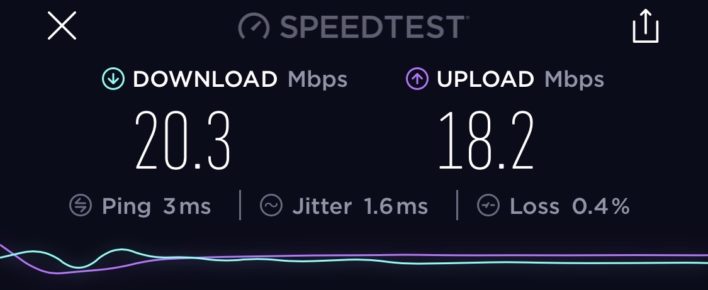 Airbus A321 Flight
Aircraft
AY1653 is operated by an Airbus A321 aircraft.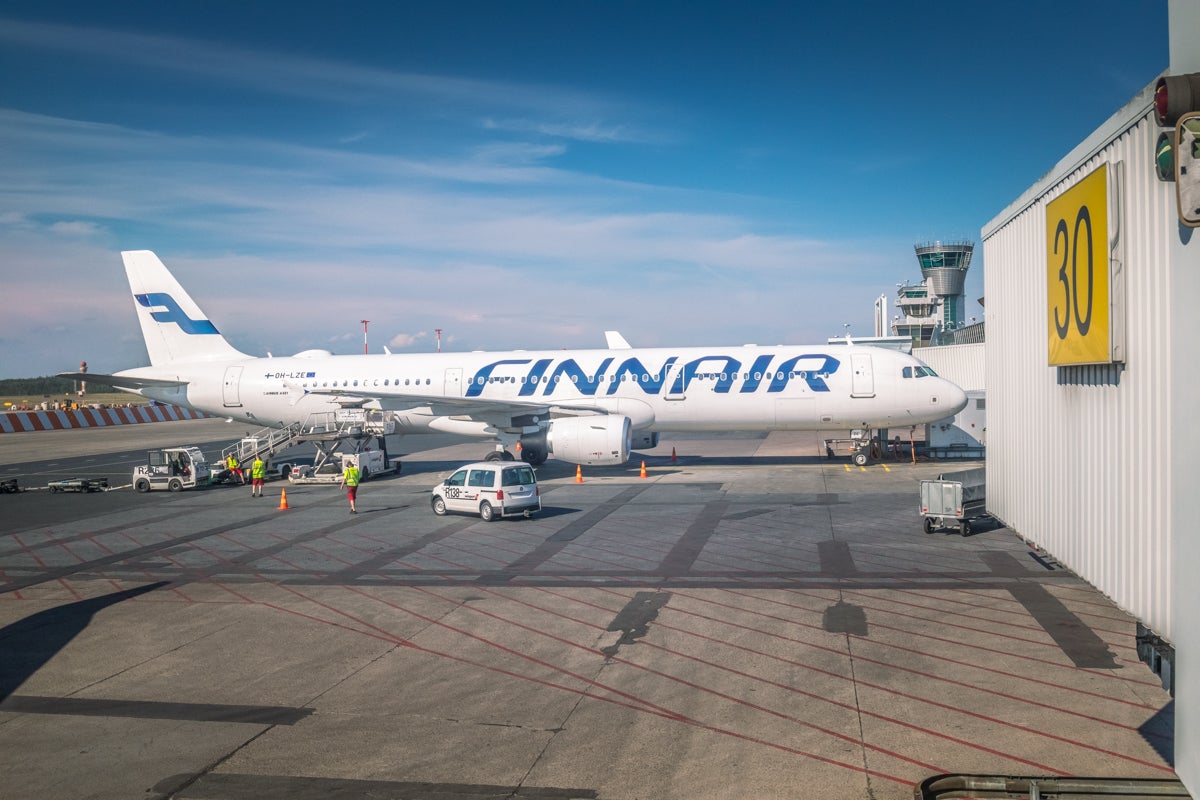 Finnair currently has a fleet of 19 Airbus A321 aircraft with this aircraft being the 12th delivered just 2 years ago.
All of Finnair's A321 aircraft are configured with 188 seats in single class 3-3, which is sold under 2 different brands.
In business, Finnair blocks out the middle seat between the aisle and window passengers.
In economy, there will most likely be a passenger seated between the aisle and window passengers.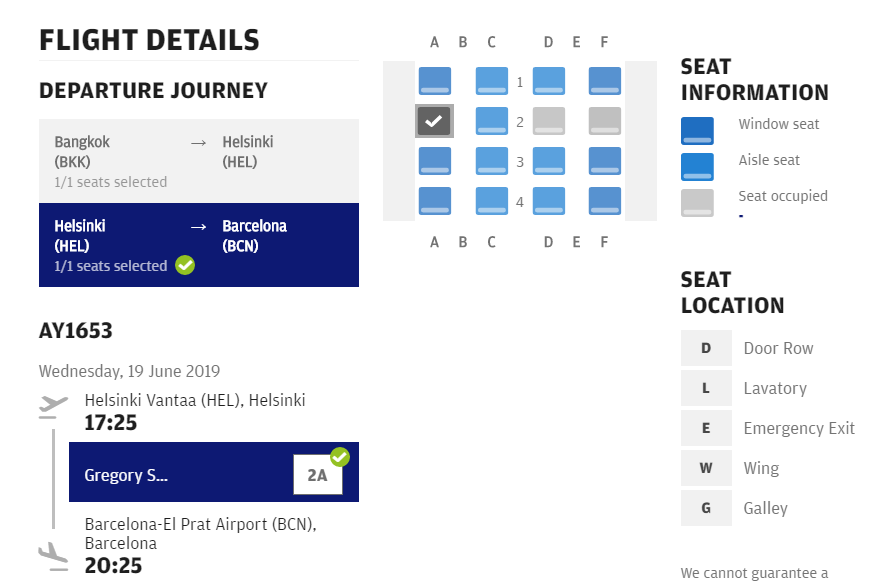 Business Class
Considering the seat is exactly the same as in economy, with the same 3-3 configuration, with the same 31-inch pitch, just with a headrest cover on the middle seat saying "Complimentary Seat, Enjoy!", Finnair needs to display the words "Business Class" on the bulkhead because most passengers wouldn't even realize this is a different class of travel when entering the aircraft.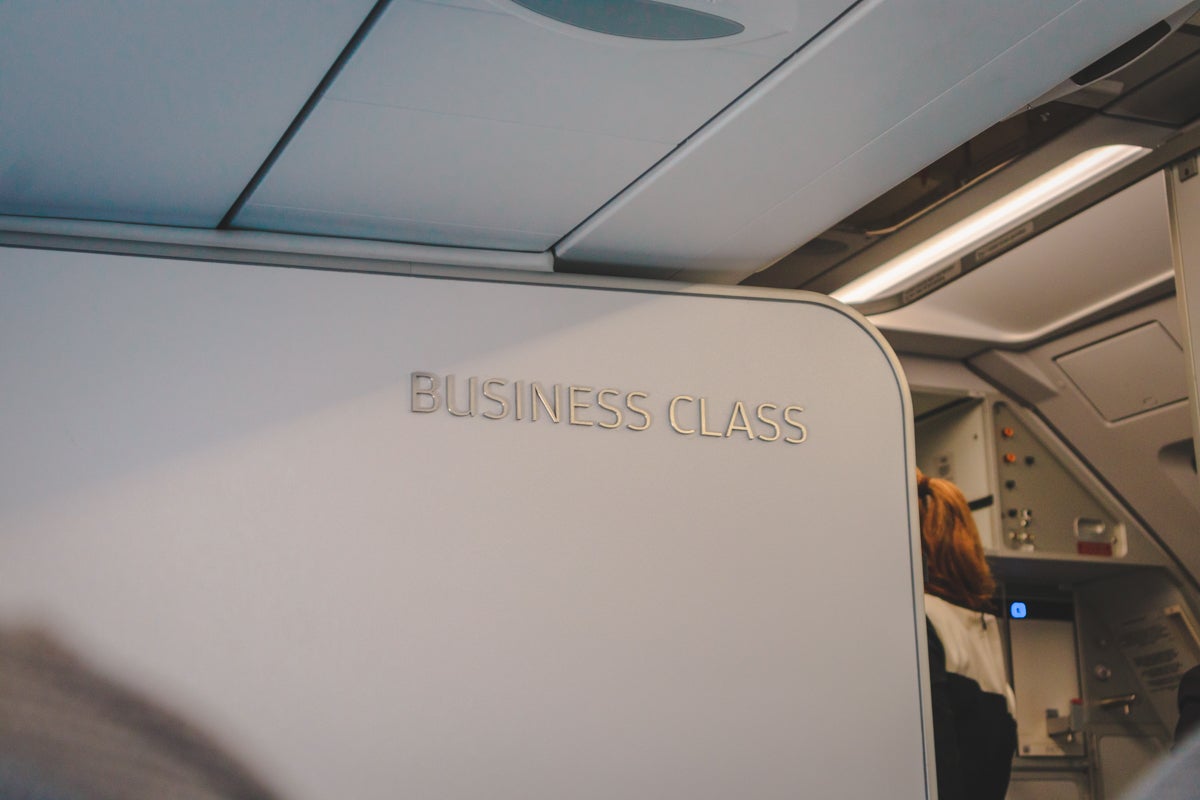 That seat is upholstered in a grey fabric with a single green cushion and thin blanket available.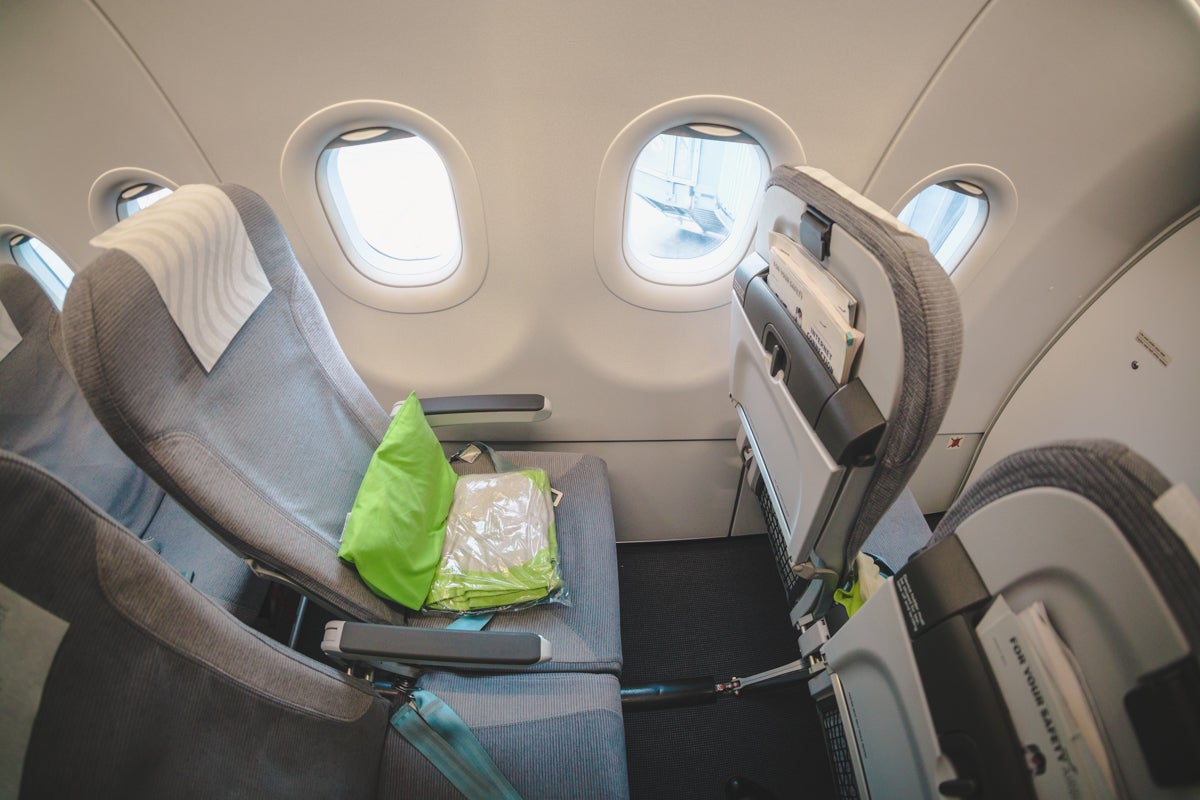 A literature holder is towards the top of the seat in front to provide more legroom below. A single, lower net provides storage for some of your personal belongings.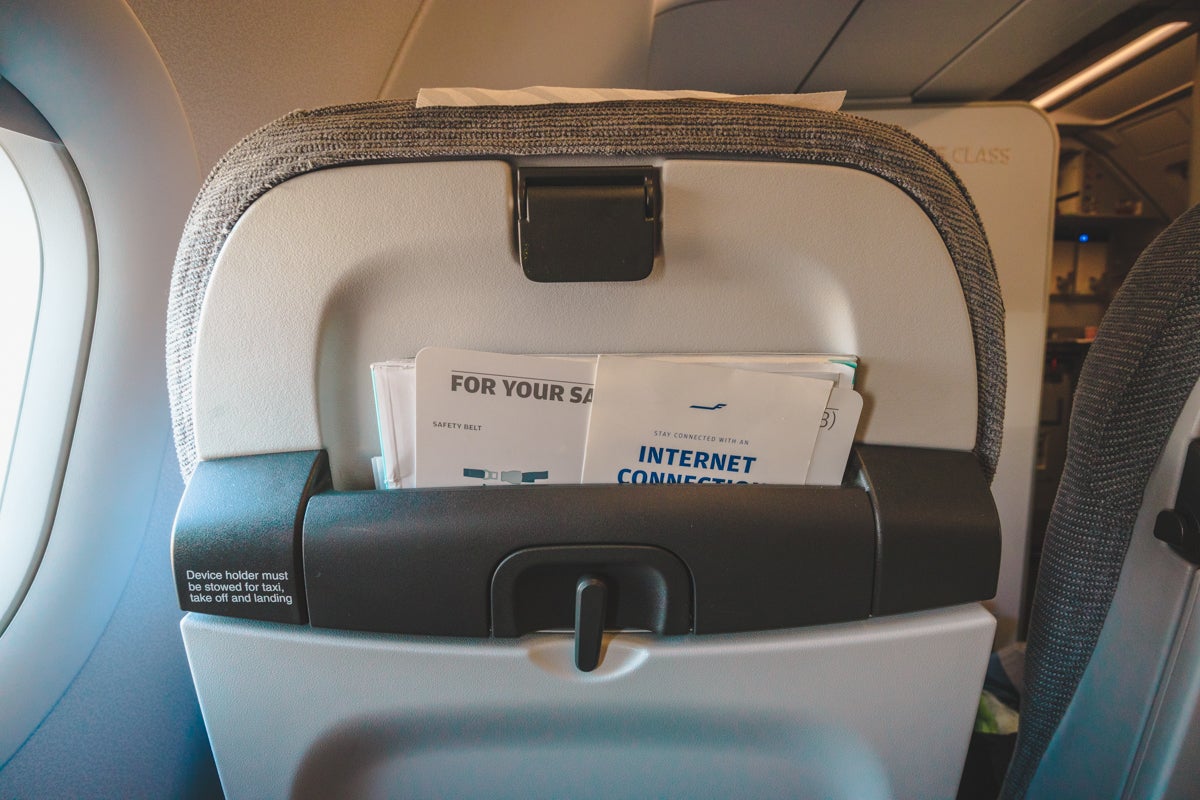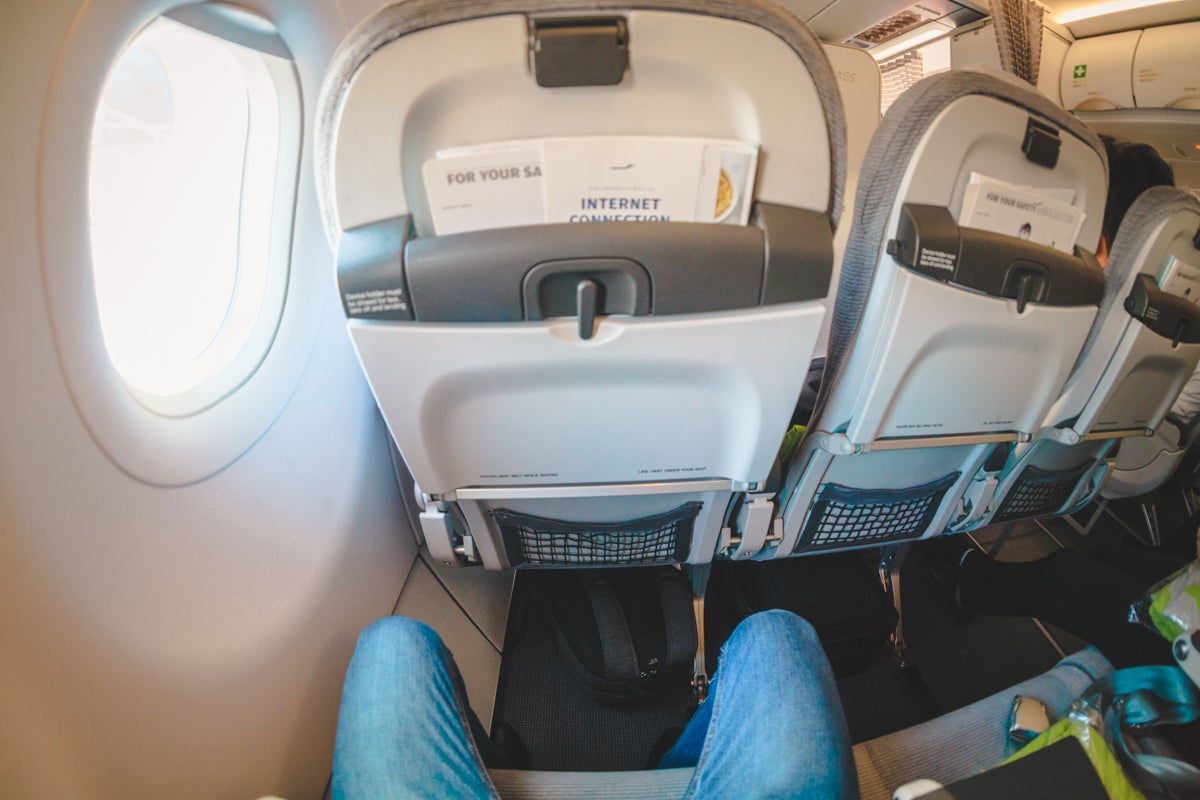 There is no built-in inflight entertainment screen, but the seat does have tablet holding brackets if you wanted to watch content from your own device.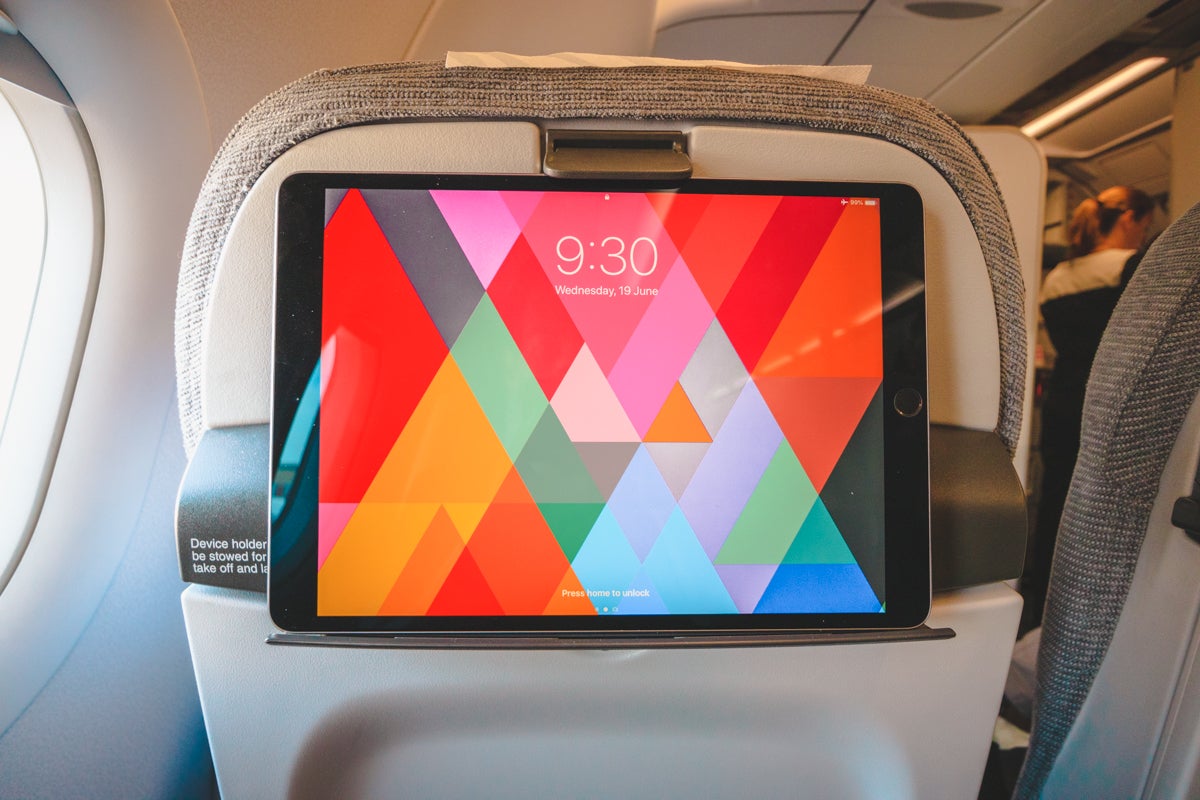 Once boarding was complete, the door was closed on time, however air traffic control needed to delay us due to congestion. This pushed the departure time out by 43 minutes.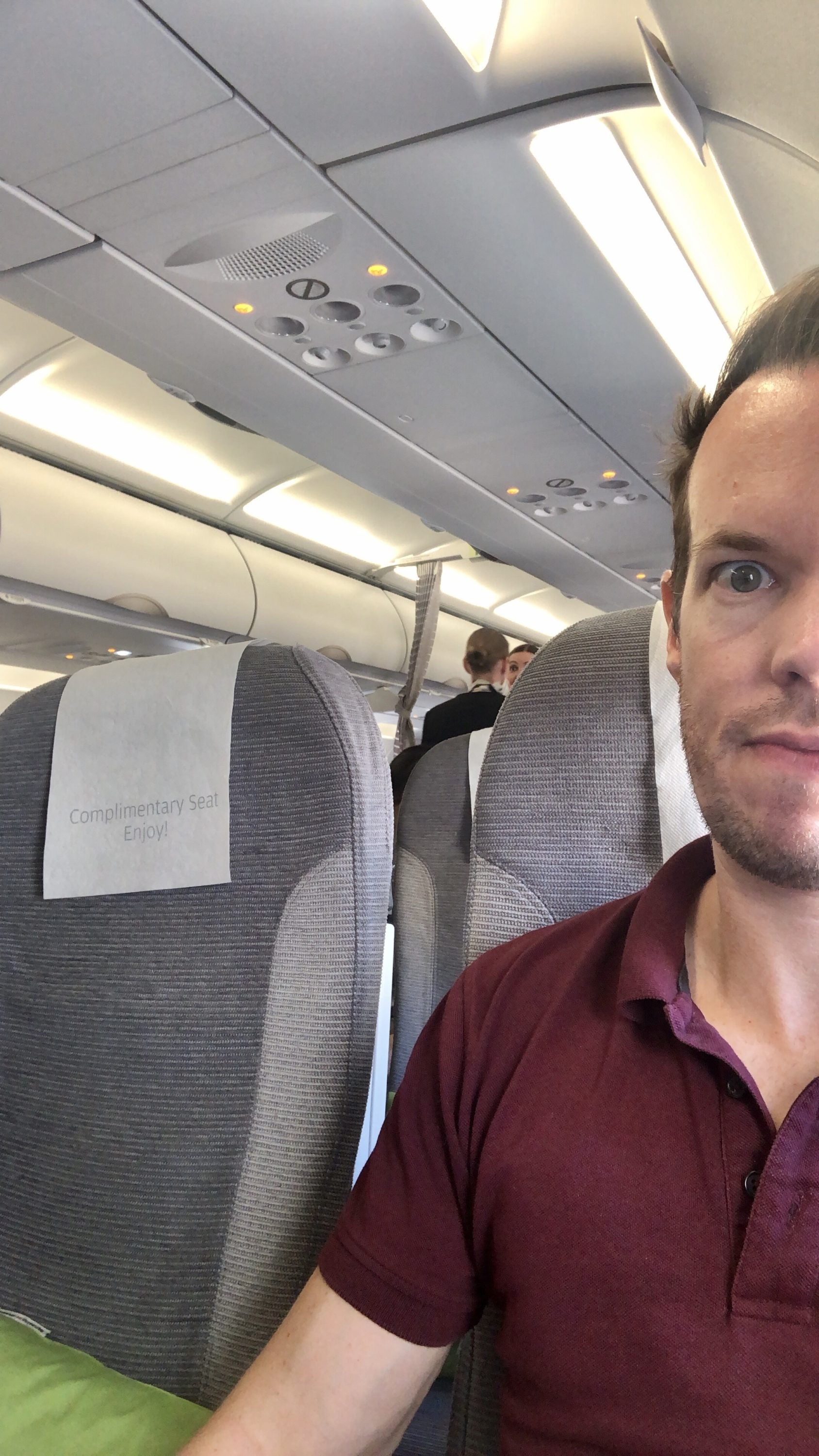 Amenities
No amenity kits are provided.
Entertainment
Although there is no built-in inflight entertainment system, the aircraft does have Wi-Fi. Business class passengers are provided with 30 minutes of complimentary internet.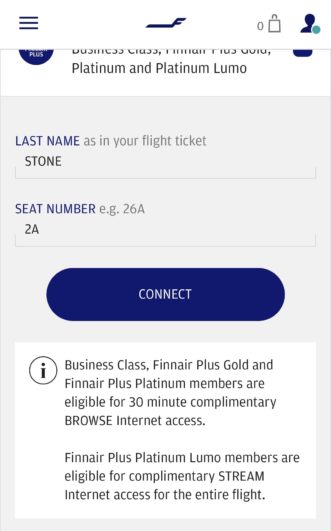 The technology uses a Ka-band connection provided by Viasat which allows for connection speeds of up to 12 Mbts which I found was faster than on the A350.
Meal and Service
Upon boarding, I was offered a glass paper cup of water.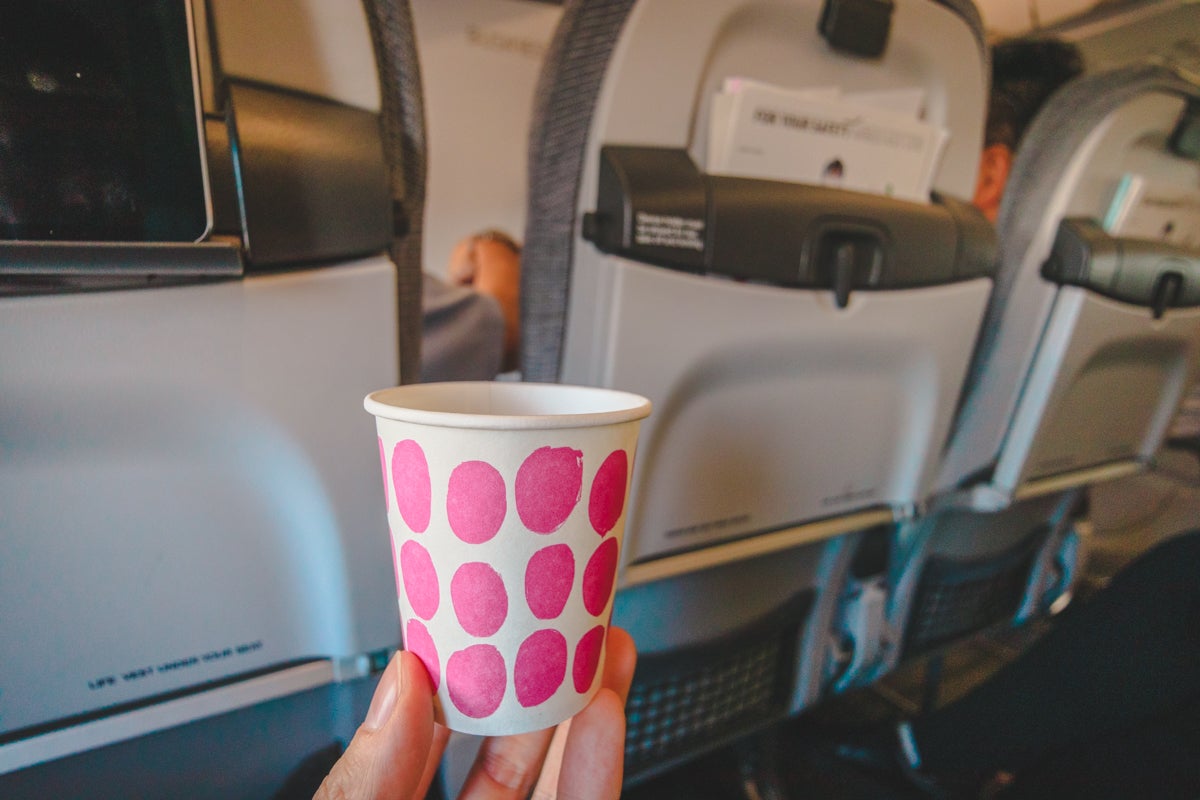 An hour after take-off, a packet of pretzels was handed out with a choice of wine, soft drink, and spirits, excluding the signature cocktails from its long-haul service.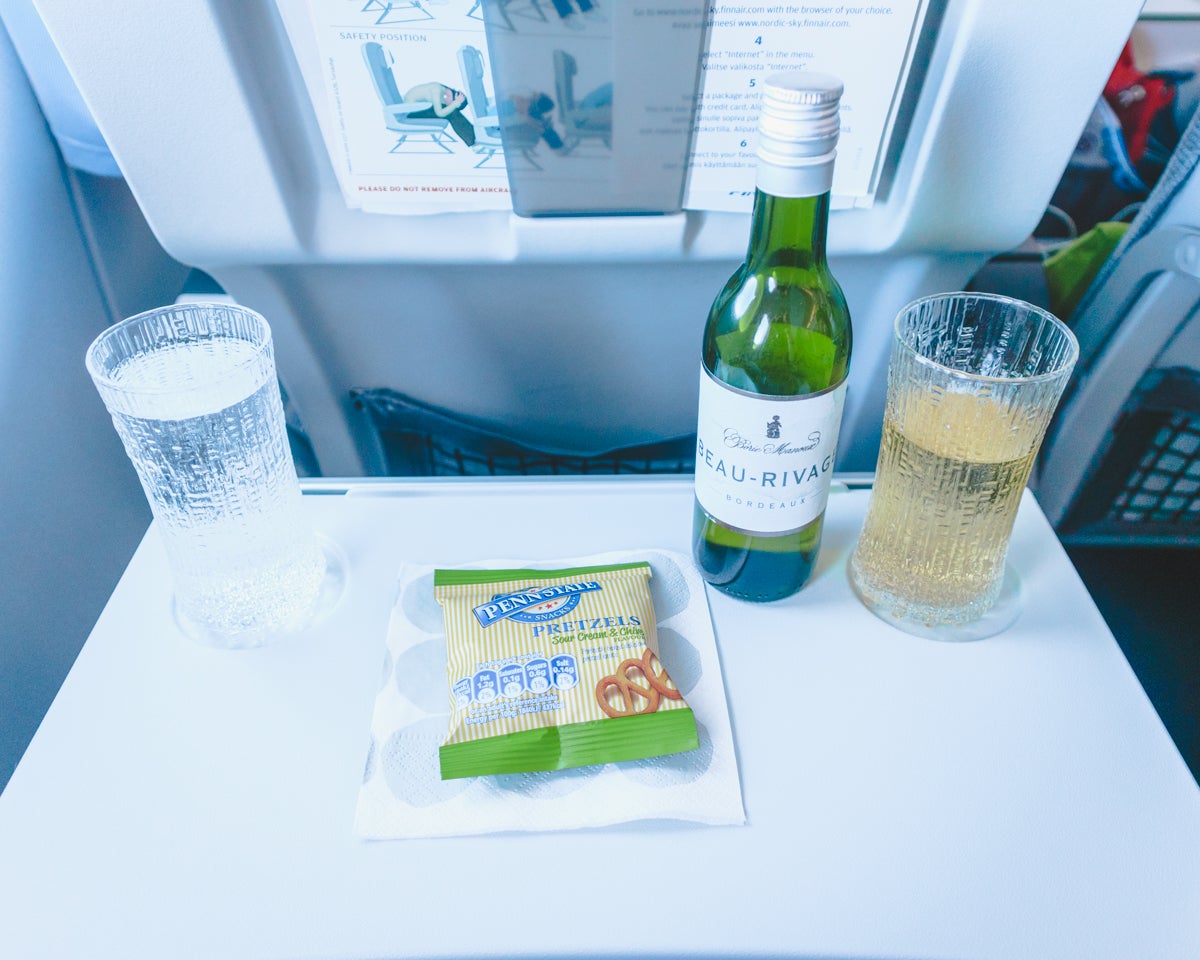 No menus were distributed, and on this flight, there was just a pasta option for dinner.
Whilst it looked like someone vomited on my plate, and I hesitated to take a bite out of it, the ravioli was surprisingly delicious.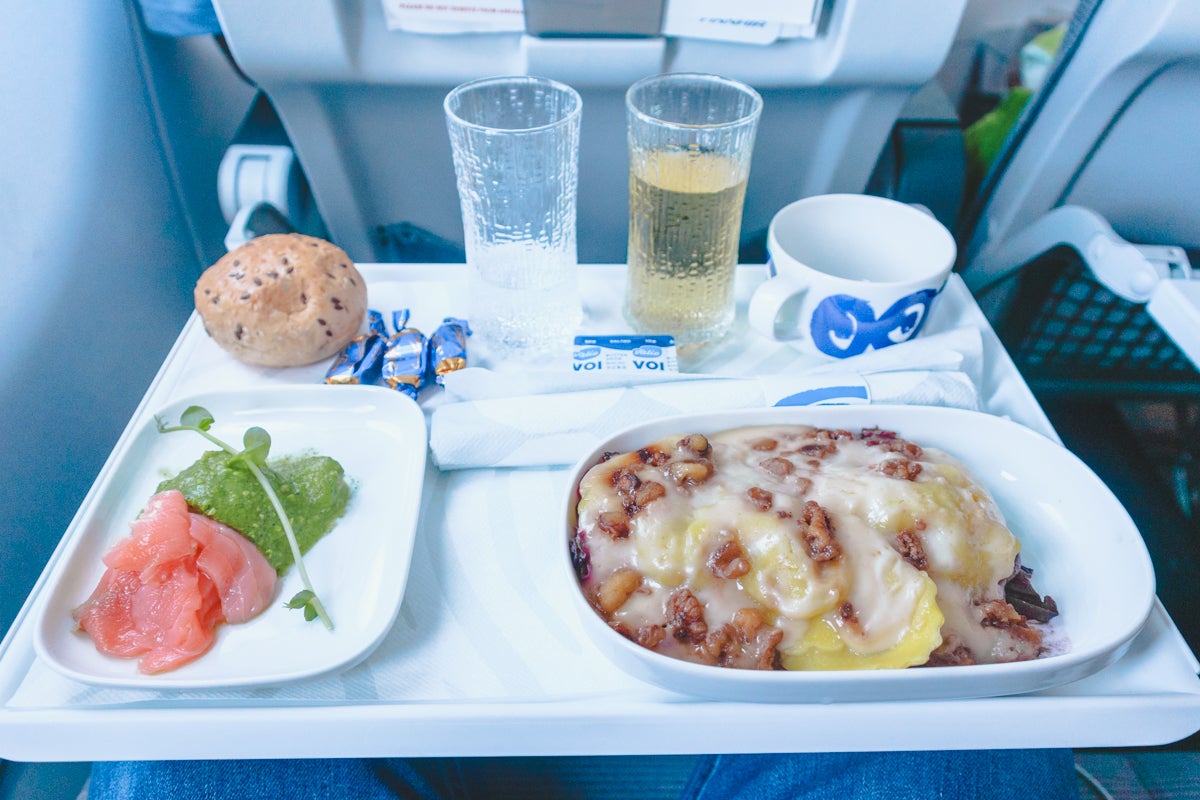 The rest of the flight was uneventful, there weren't any further snacks or beverages offered proactively, and I didn't see the crew member for the rest of the flight.
The flight landed into Barcelona 46 minutes later than scheduled after not being able to make up for the late departure from Helsinki.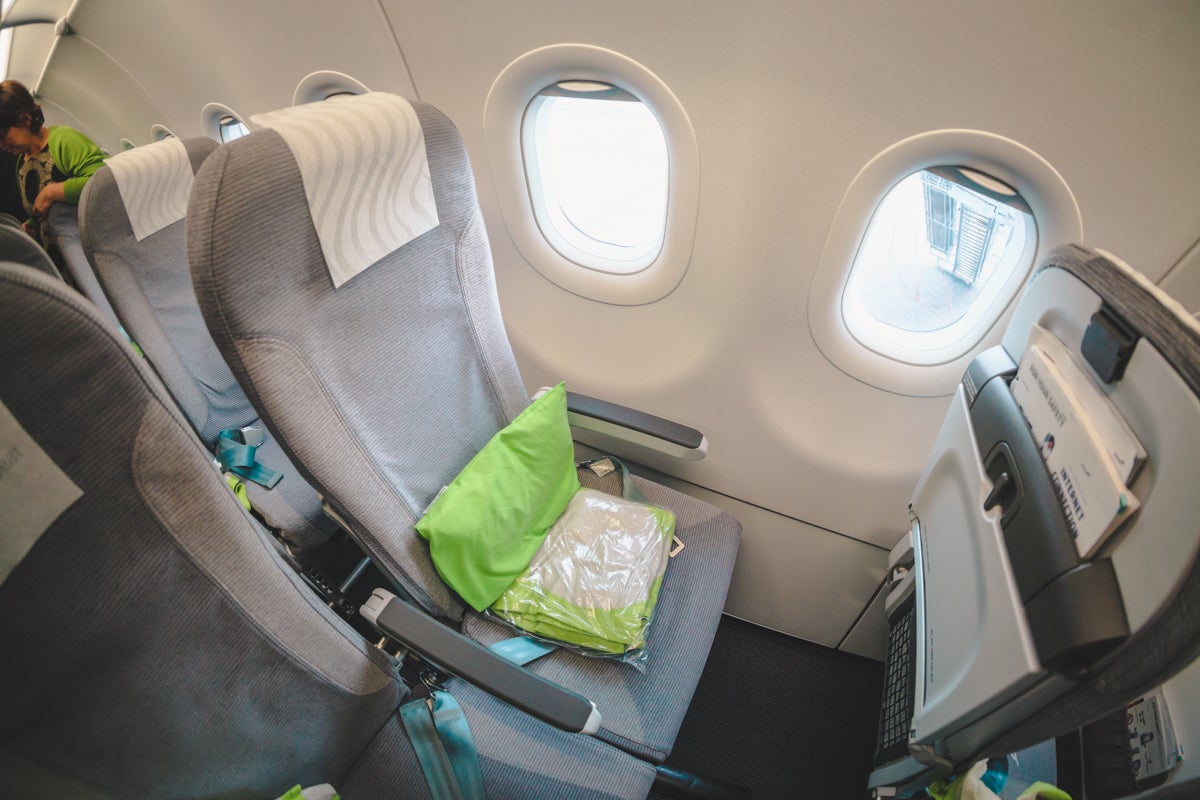 Final Thoughts
Overall, it was an absolute joy to fly on Finnair's Airbus A350. In what turned out to be the longest day flight I've ever experienced at 10hr and 20min, I was comfortable, entertained, kept very well fed and hydrated, and received very friendly and attentive service. Plus, the Airbus A350 aircraft is such a dream to fly.
I even have a set of Ultima Thule glasses at home now to remind me of the great flight, which I purchased onboard from the duty-free catalogue.
Although I will have no hesitation flying the Finnair A350 in business class again, the short-haul flight left a lot to be desired. European airlines really need to drop the "business class" branding from products such as this. Even labeling it "premium economy" is a stretch. There isn't anything premium about it, well, aside from the beautiful designer glassware.
Although the flight to Barcelona was only 4 hours and most European airlines have the same configuration for "business class," if Finnair wants to capitalize on connecting traffic through Helsinki from Asia to Continental Europe, then the short-haul business class product needs to improve. Consider that the competing routes via the Middle East would have a true business class product on all sectors.