Hainan Airlines Airbus A350 Business Class Review (Beijing to Boston)
Airline: Hainan Airlines (HU)
Aircraft: Airbus A350-900 (B 1070)
Flight #: HU 481
Route: Beijing Capital International Airport (PEK) to Boston Logan International Airport (BOS)
Date: May 31, 2019
Duration: 13 hrs 15 mins
Cabin + Layout: Business class — 33 seats in a staggered 1-2-1 configuration
Seat: 12K changed to 16A
Introduction
Hainan Airlines, a Skytrax 5 star rated airline, is the fourth largest carrier in China in terms of fleet size. The airline, which is not part of any alliance, operates a mix fleet of 237 narrow-body and wide-body Airbus and Boeing aircrafts. The airline predominantly operates its Boeing 787-8 and 787-9 variants on the U.S. routes:
Boston Logan International (BOS)
Chicago O'Hare International (ORD)
McCarran International (LAS)
Los Angeles International (LAX)
John F. Kennedy International (JFK)
San Jose International (SJC)
Seattle-Tacoma International (SEA).
Effective May 12, 2019, Hainan replaced the Boeing 787-9 with the Airbus A350-900 on the Beijing – Boston route, prior to which they were operating on the domestic routes from PEK to Guangzhou Baiyun International (CAN), Huangzhou International (HGH), Shanghai Pudong International (PVG), and Shenzhen Boa'an International (SZX).
The PEK-BOS frequency is as follows:
HU 481: PEK – BOS 1:55 p.m. – 3.10 p.m.
HU 482: BOS – PEK 5:10 p.m. – 7.00 p.m. (+1)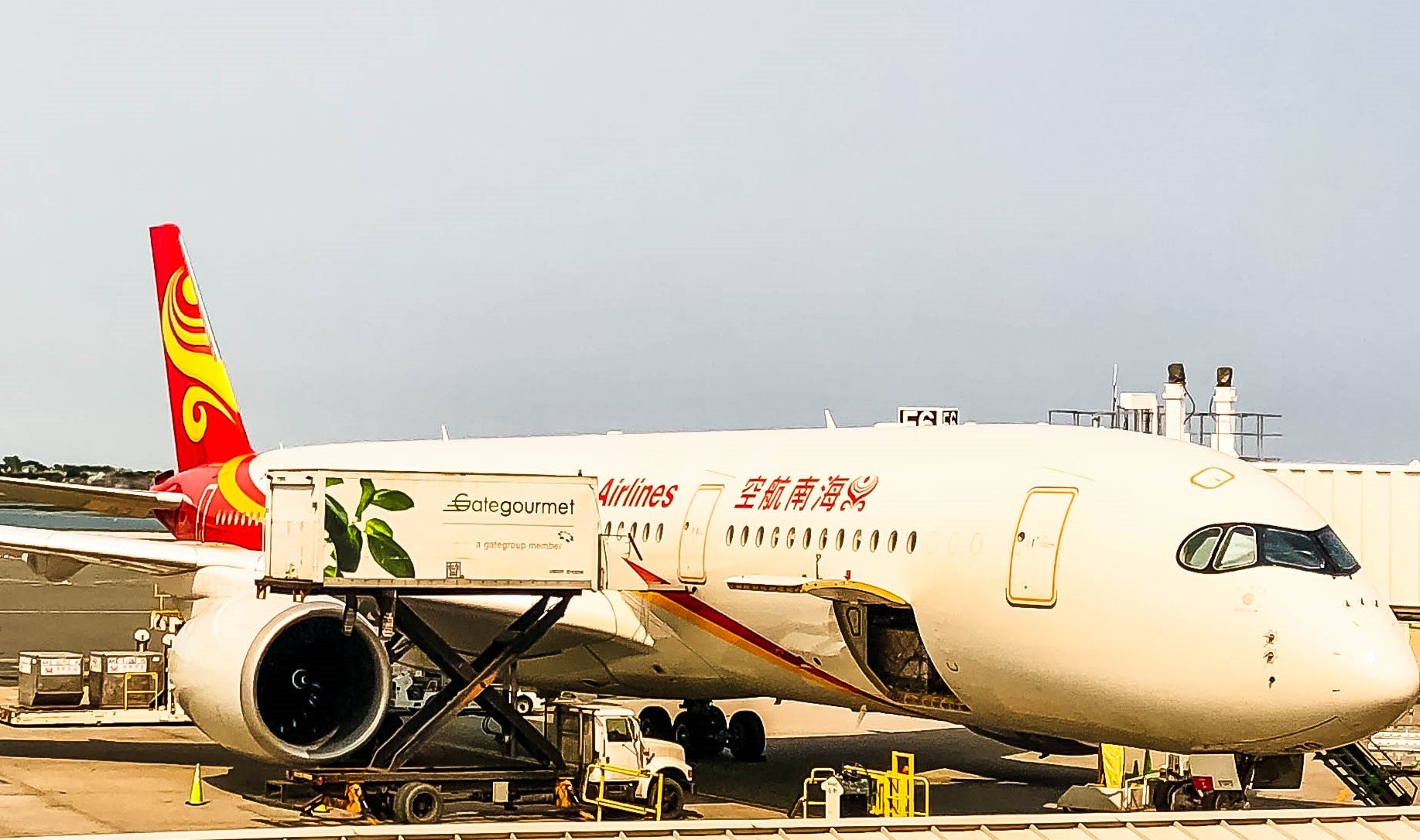 Hainan Airlines received its first A350 in September 2018 and currently has a fleet of 5 of these aircraft in 2 different configurations. The first 2 A350s received by Hainan were originally slotted for Azul Brazilian Airlines in which Hainan's parent company, the HNA Group held a stake. These aircraft have a total capacity of 334 seats comprising of 33 business class seats and 301 economy class seats.
The remaining 3 A350s in the fleet, which were delivered direct to Hainan Airlines, have a total capacity of 339 seats; 30 business class seats and 309 economy class seats.
Being a Skytrax 5 star rated airline, Hainan is considered the best Chinese Airline in mainland China. Having never flown with them earlier, I decided to fly with them on the A350 to BOS.
Hot Tip: Hainan is not in any airline alliances. However, they do have partnerships with a number of airlines and one of the best ways to book this business class product is by using Alaska Airlines miles.
At Beijing Capital International Airport (PEK)
Hainan Airlines operates domestic routes out of Terminal 1 and international routes out of Terminal 2 at Beijing Capital International (PEK). I arrived at the airport around 11:00 a.m., approximately 3 hours prior scheduled departure. Check-in for Hainan Airlines is in Row D of Terminal 2.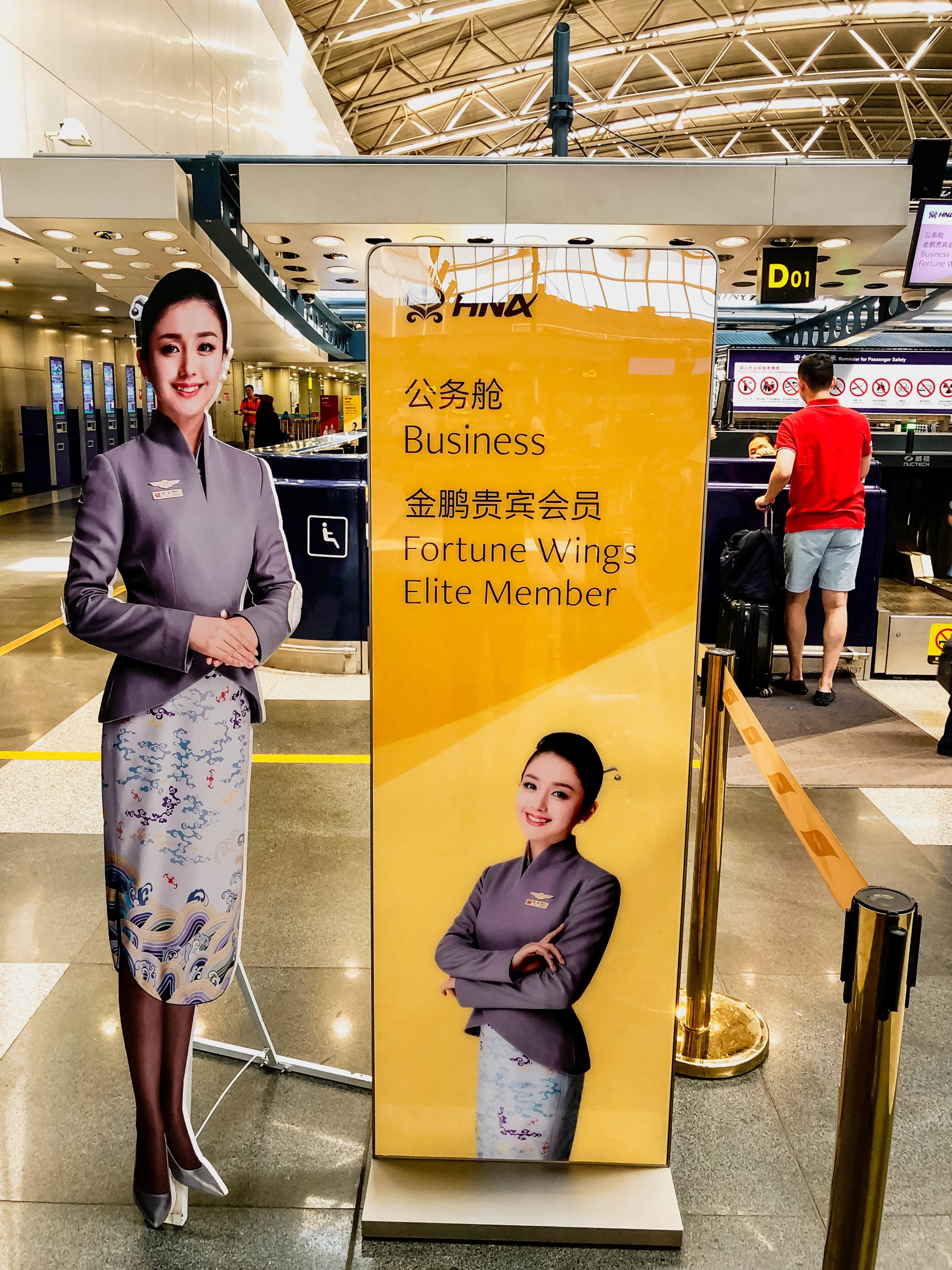 There wasn't much of a rush at the check-in desk, so the formalities were pretty smooth. I then proceeded to clear immigration and security, which were a breeze as well, and then onward to the Hainan Airlines lounge called the HNA Club.
Hainan Airlines Lounge — HNA Club
The HNA Club is spread over 726 square meters and can accommodate up to 150 passengers at any given time. The lounge is sleek and modern featuring a variety of facilities such as a leisure area, dining area, reading nooks, entertainment area, private rooms, showers, and a traditional Chinese tea area known as Hai Tea.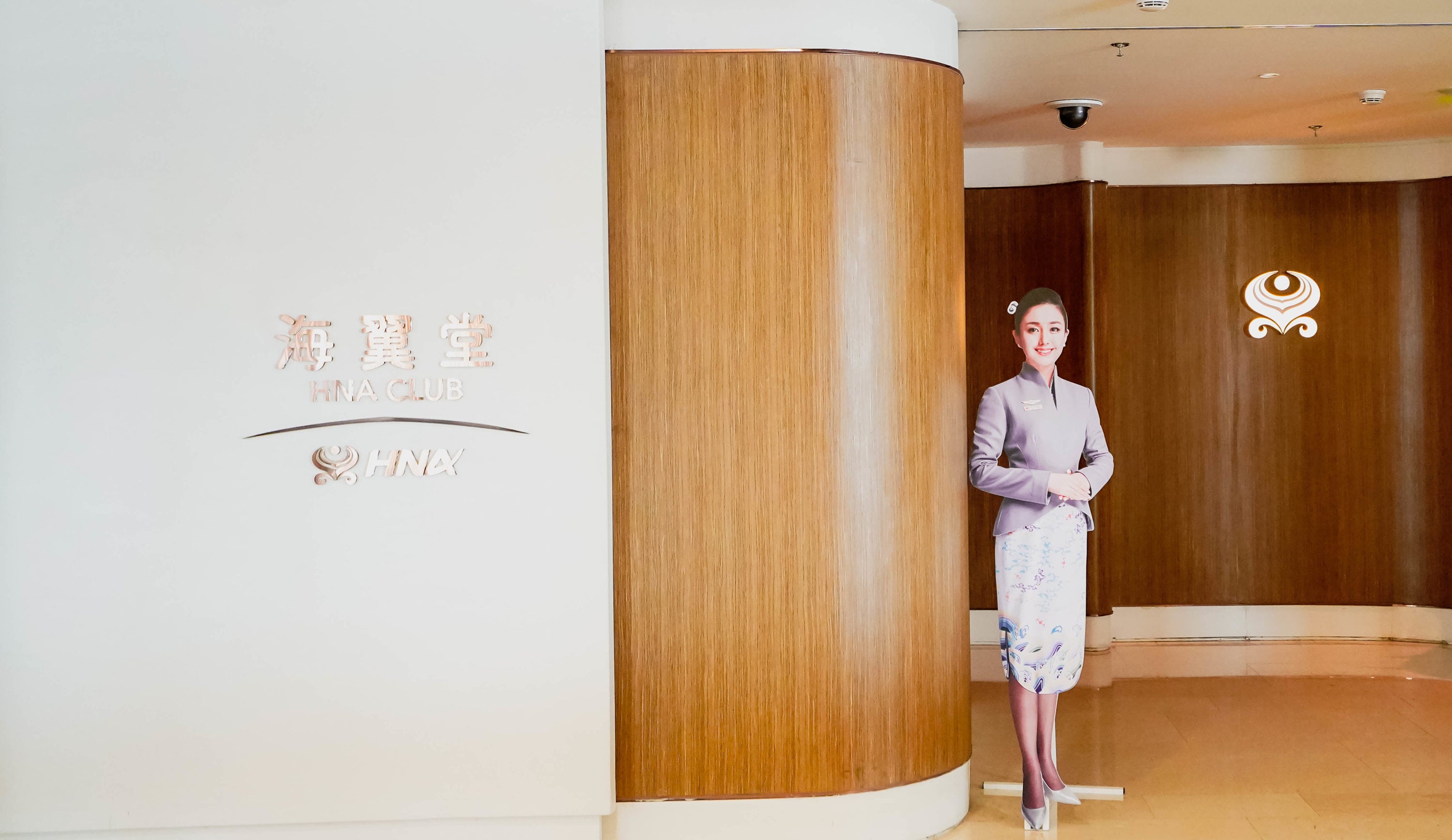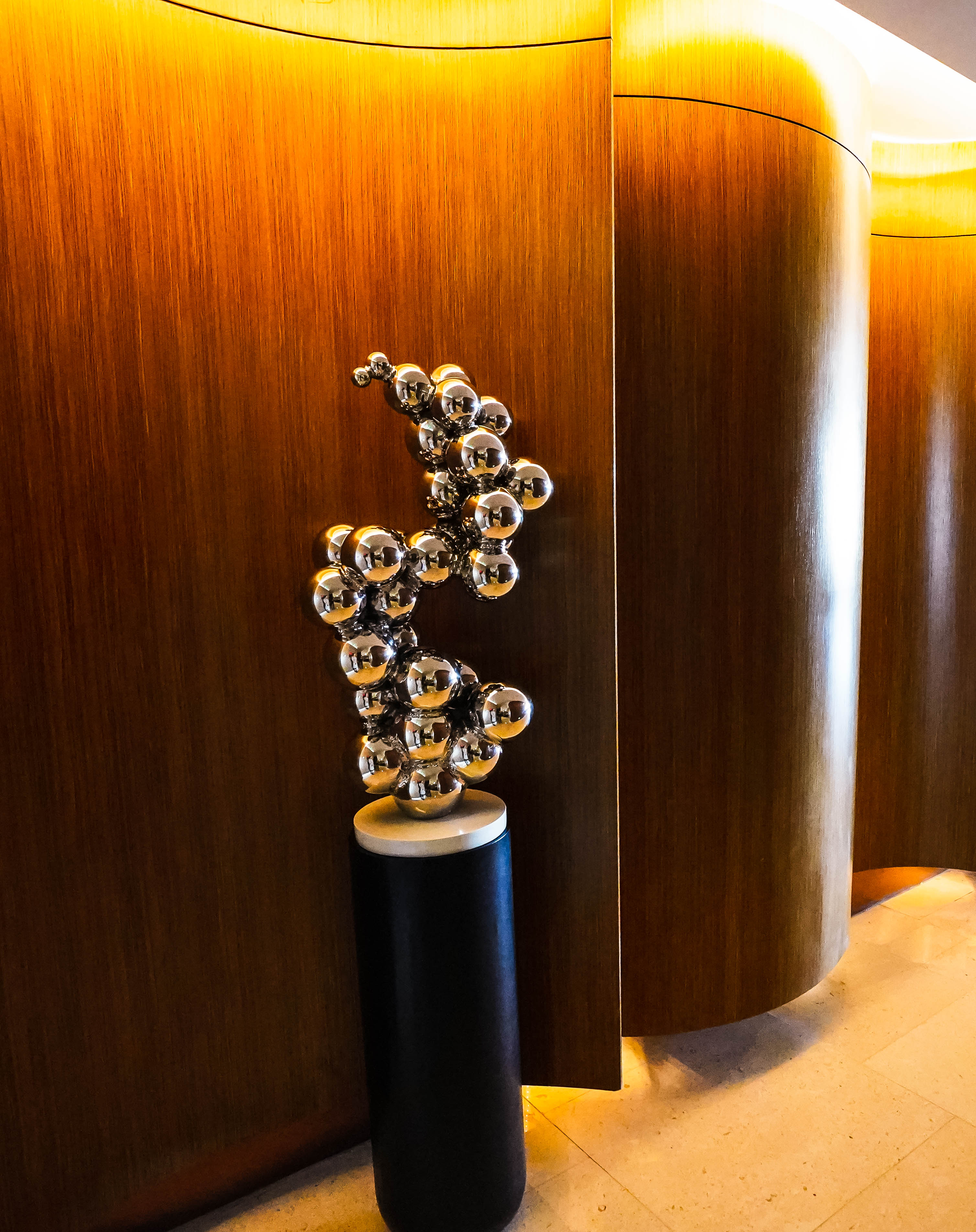 As you walk through the foyer and enter the main lounge area, there is a bar on the right where the Hainan lounge attendants are on hand to serve drinks.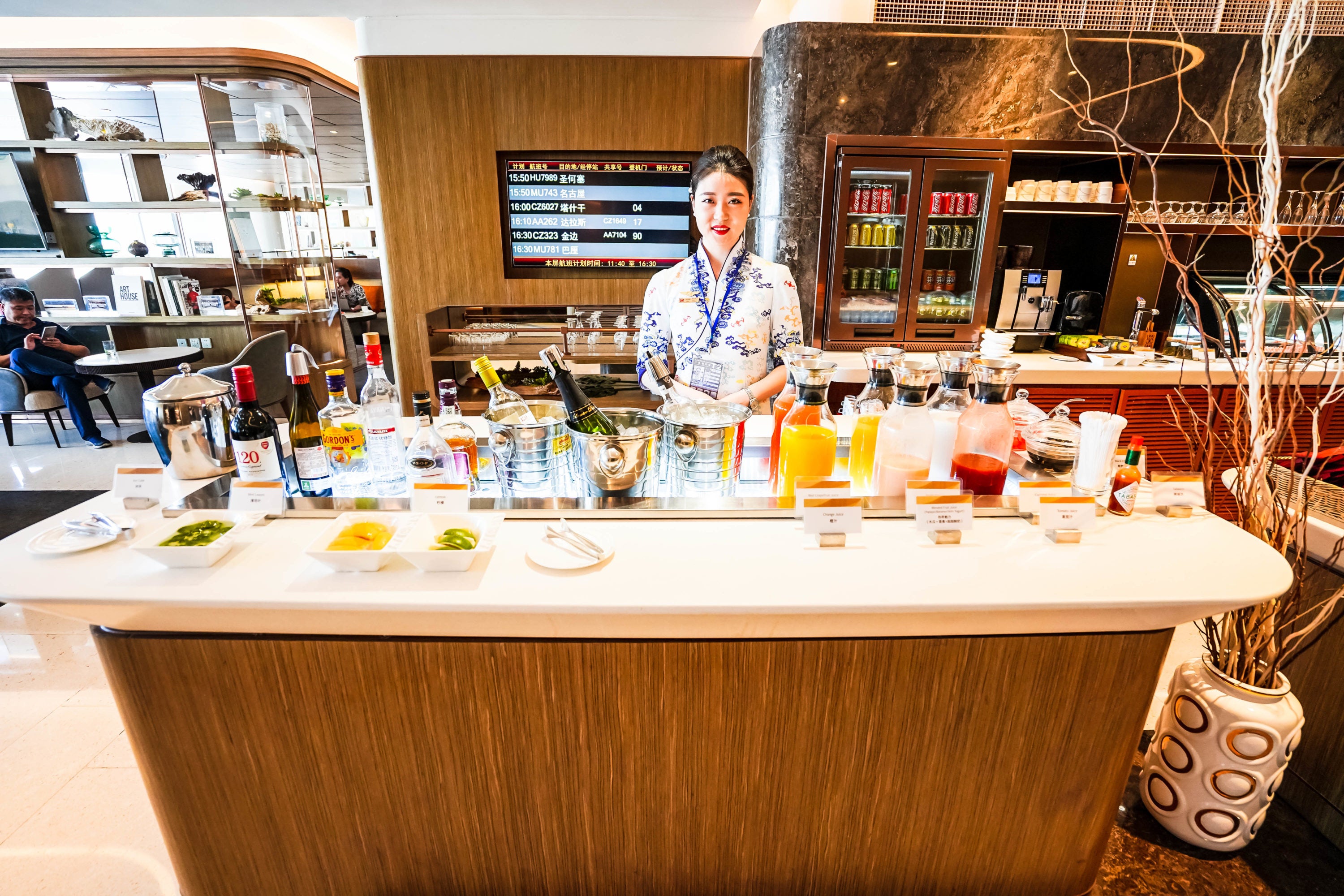 The bar was well stocked with red wines, white wines, gin, vodka and juices on offer. The bar also has the Leventre-Dedieu Grand Cru Brut champagne on offer, which I went for. I had never tasted this champagne before, so was a bit skeptical. However, surprisingly, it tasted pretty well and had a nice citrus finish to it.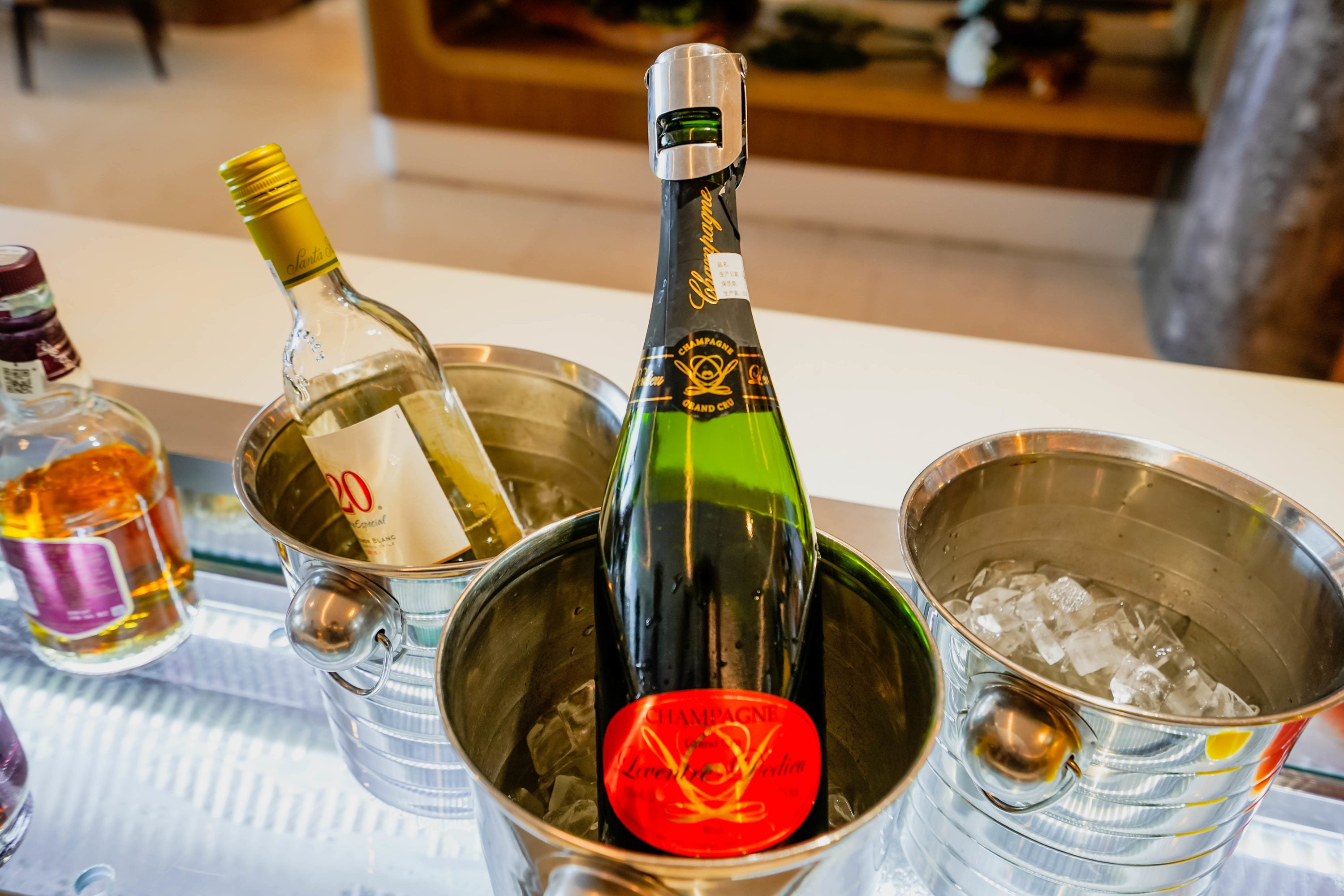 Next to the drinks bar is a salad bar and snack bar.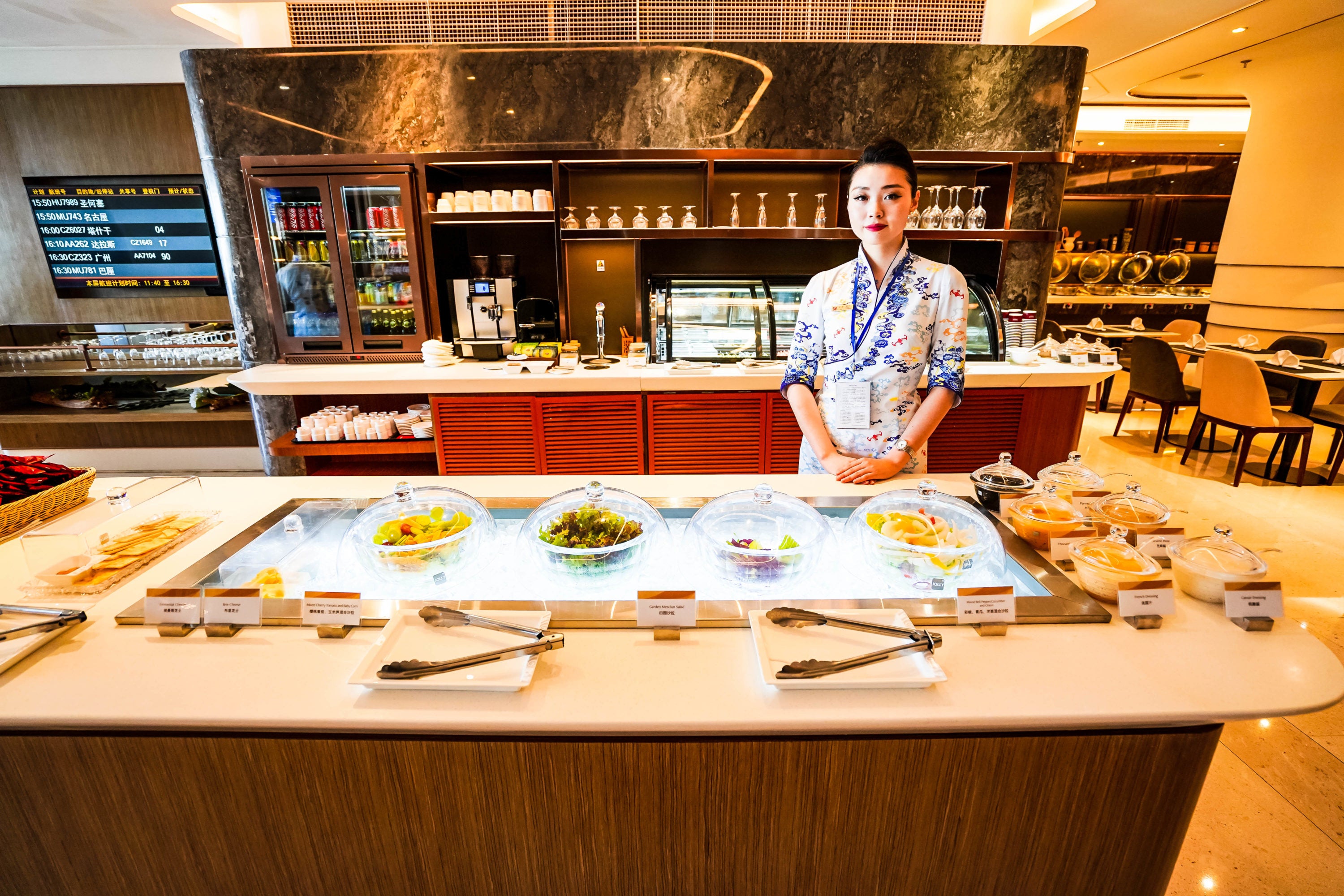 Behind the bar, in the corner of the lounge, there is a decent sized sit down area with some delightful hot meal options. There was a variety of Chinese options to choose from such as braised shrimps and melon in chicken and pork broth, braised pork rib with chestnuts, wok fried chicken with bamboo slices, baked zucchini with thyme, and bamboo rice with stewed duck in soy sauce. On the International side they had the solitary dish of penne with Roma tomatoes and basil sauce.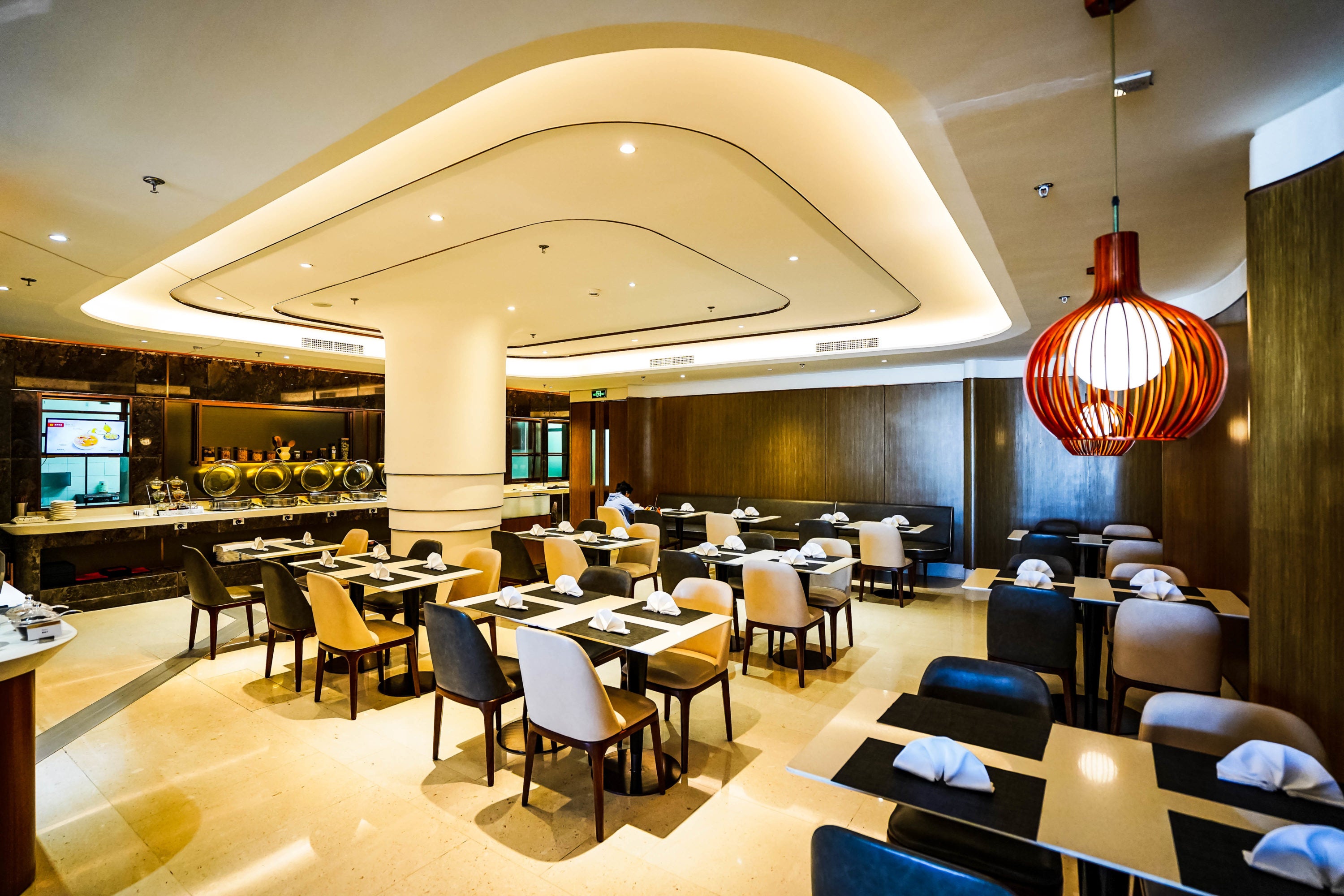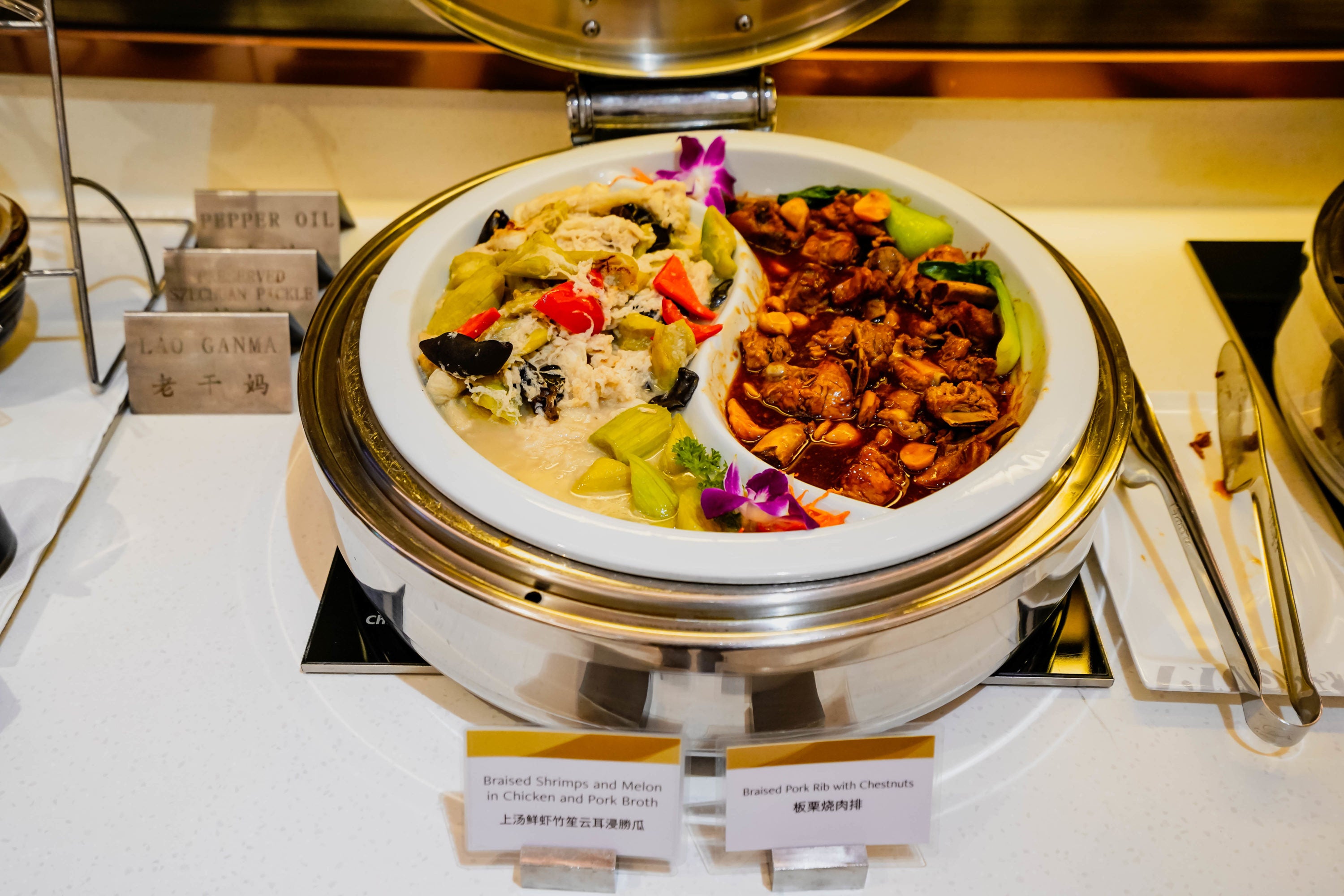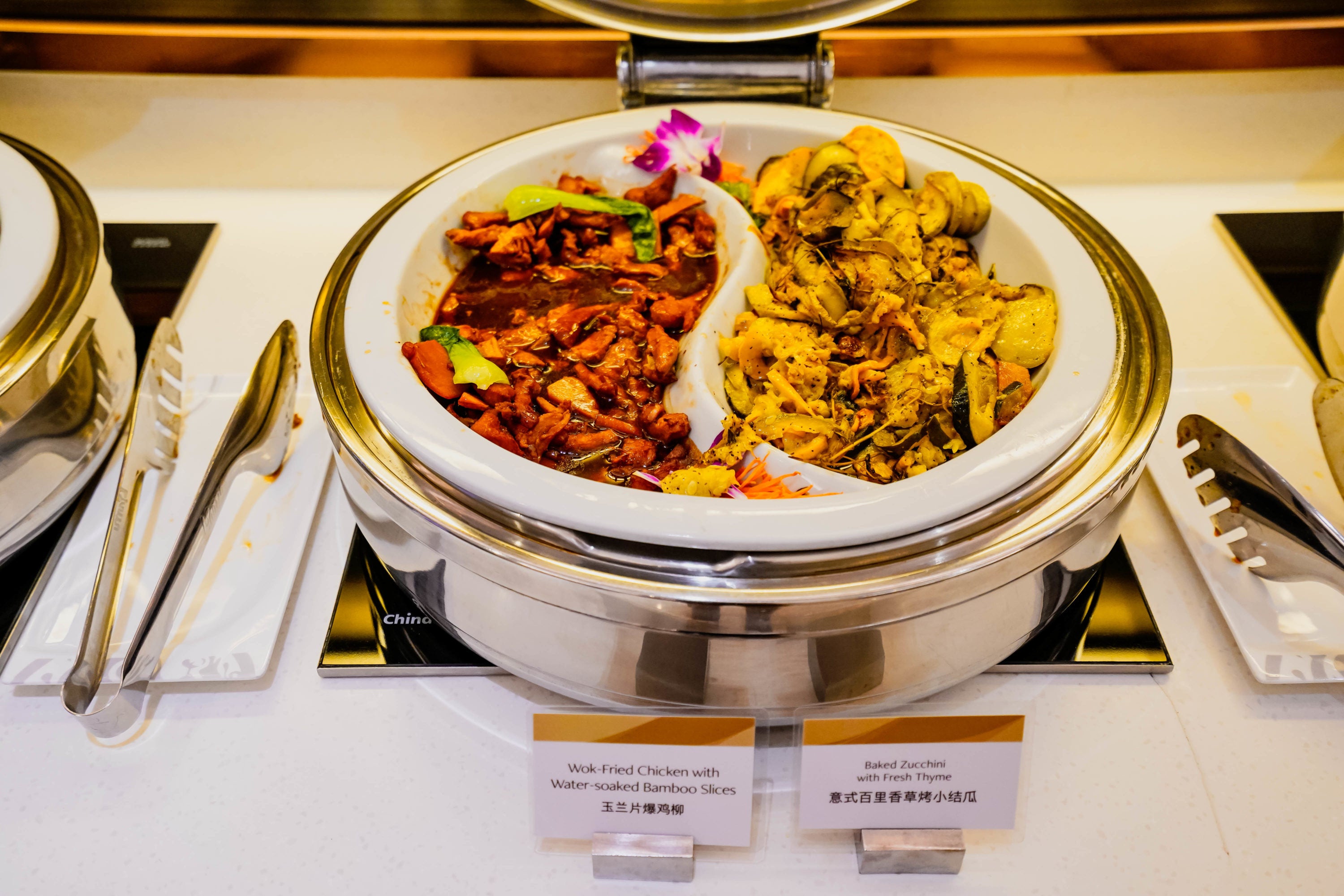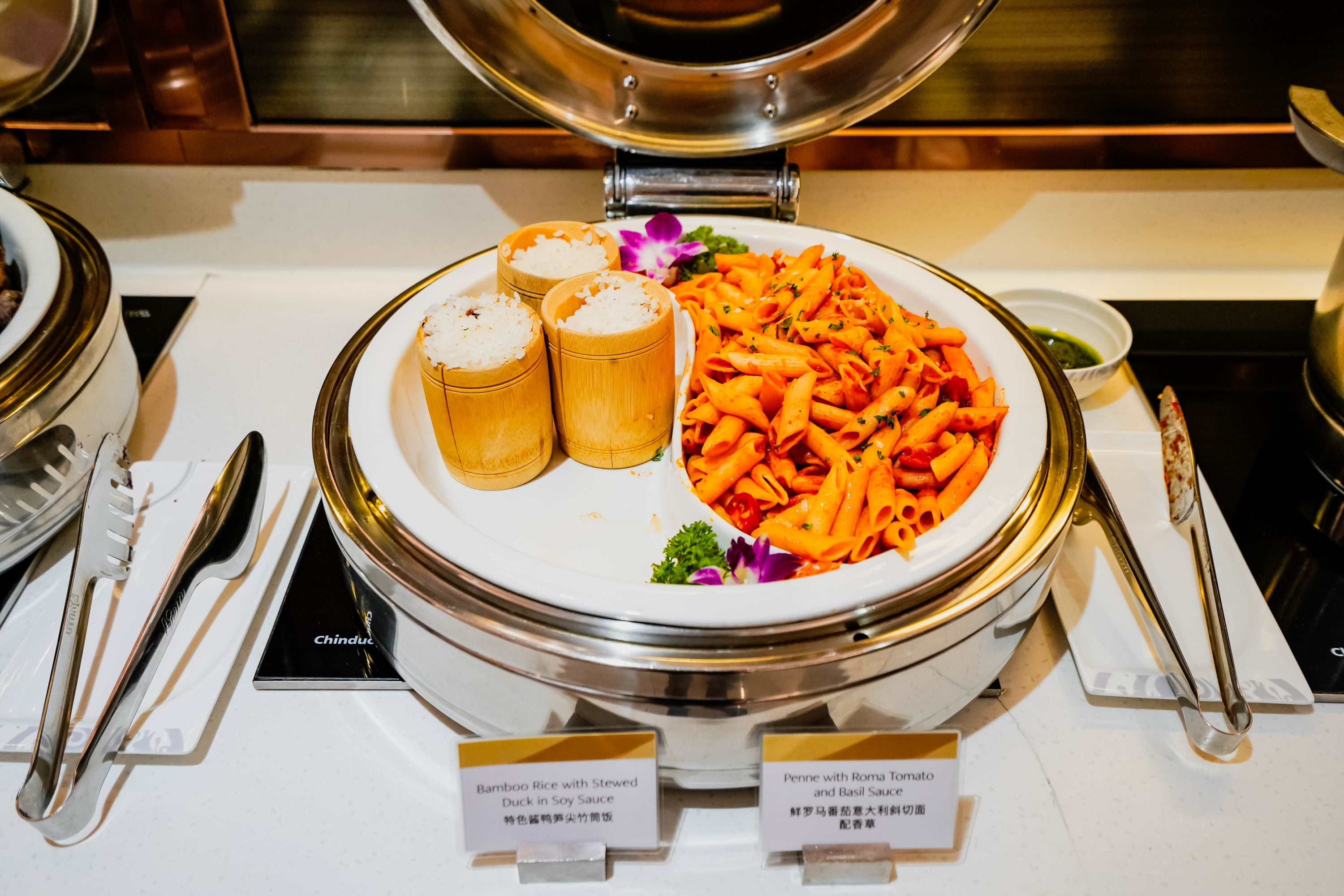 Additionally, they also had a self-service kiosk from where you could order light bites such as noodles, burgers, and so on for breakfast, lunch, or dinner as well as an all day dining section.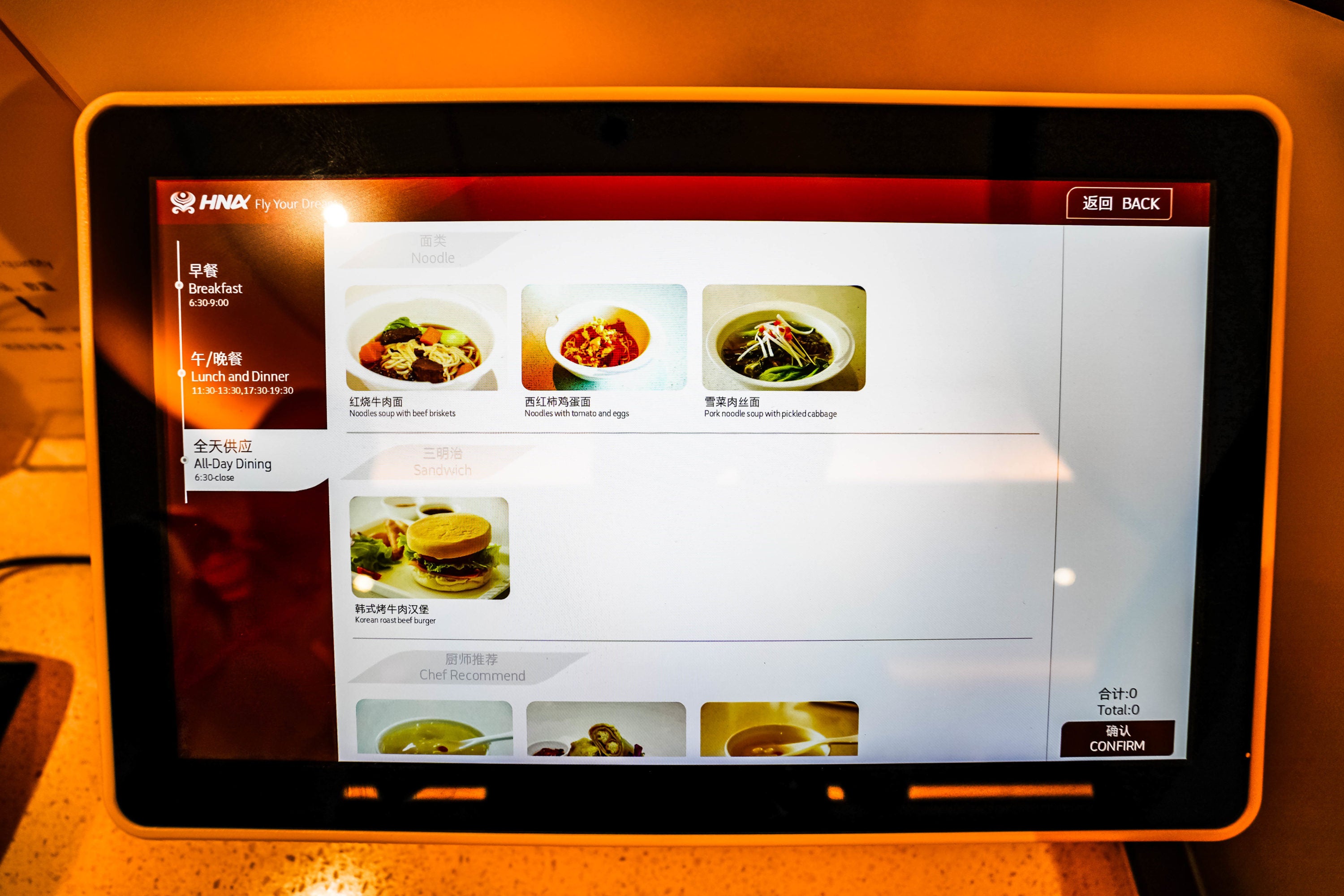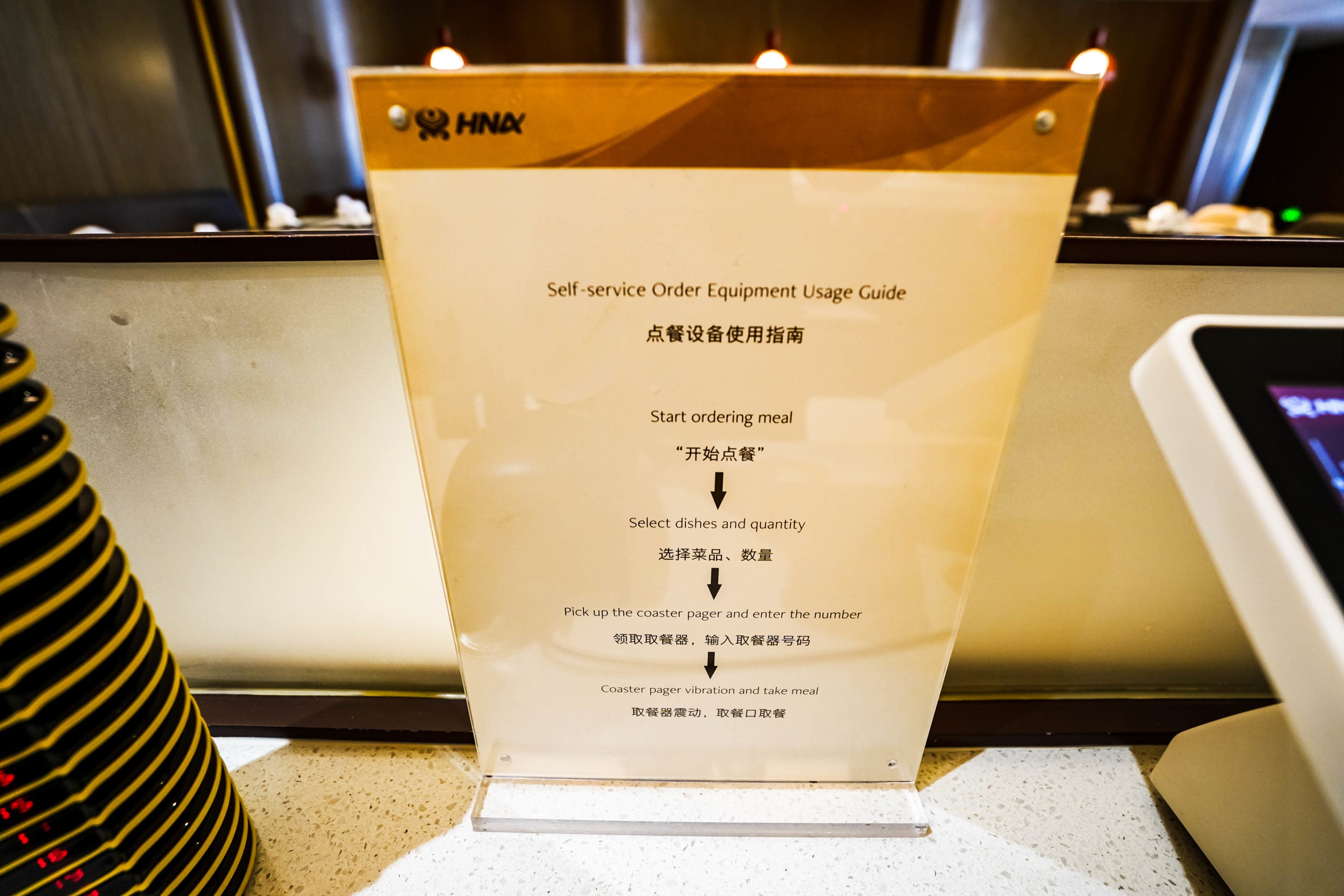 I am a sucker for noodles so, from the self-service selection, I opted for the noodle soup with beef briskets that hit the spot. The soup was spicy, just as I like it, and the briskets were tender and cooked to perfection.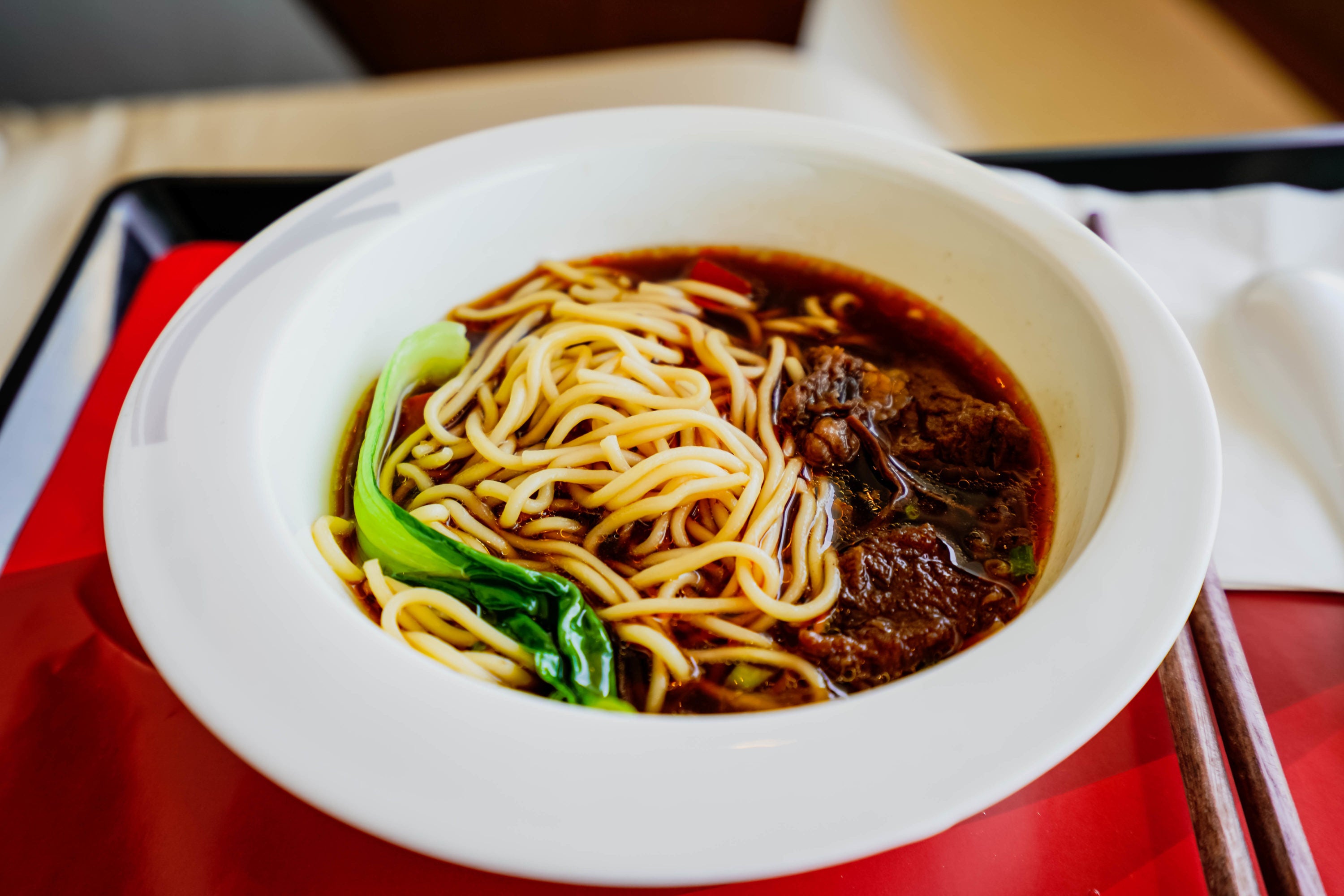 The lounge has various seating areas and arrangements from chairs, sofas, and lounge chairs known as "Wave Chairs" positioned in front of floor-to-ceiling French windows offering expansive views of the tarmac. The lounge also offered the "Cowrie Chair" that is a unique, semi-private work and leisure pod to suit those with work and prefer sequestered relaxation.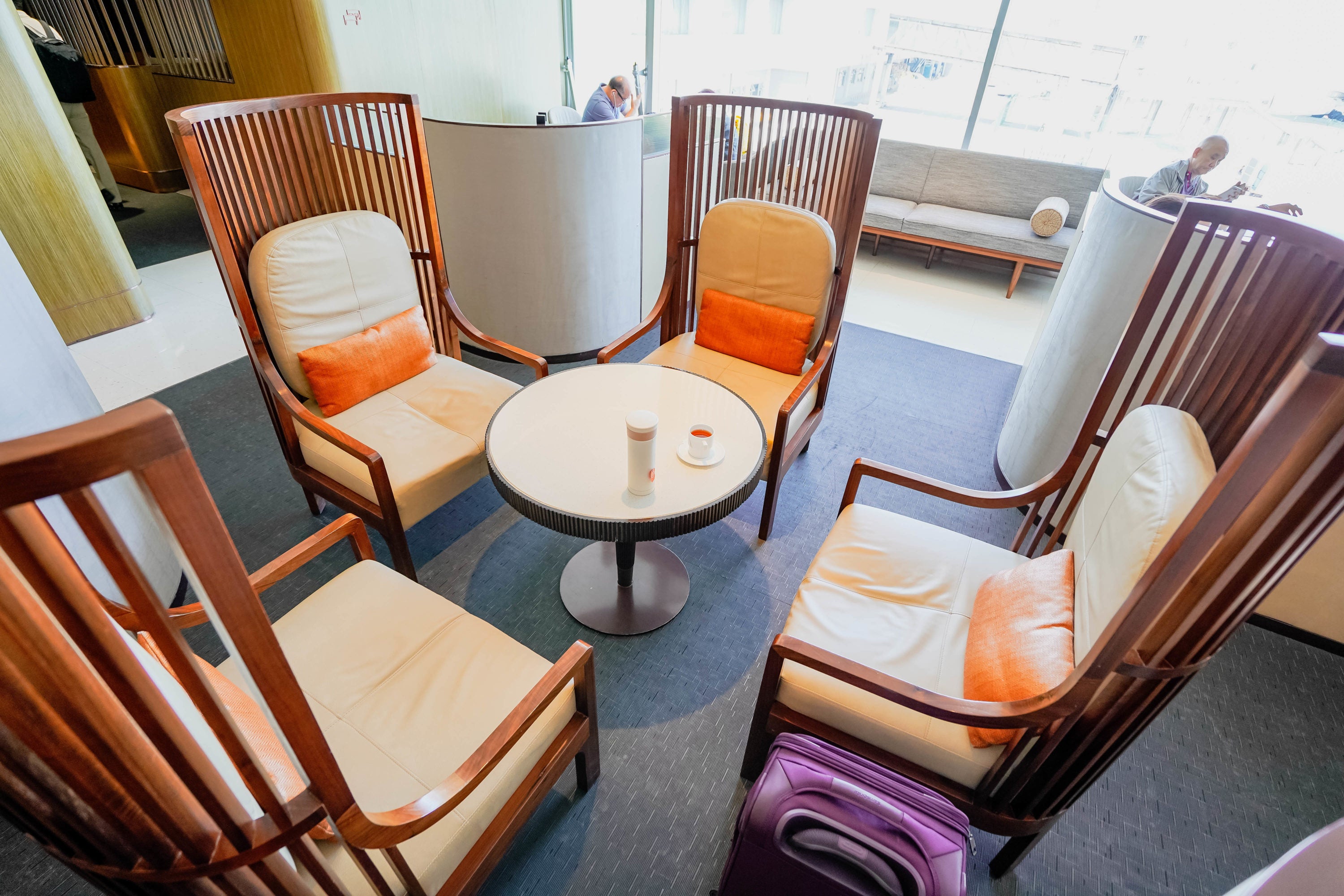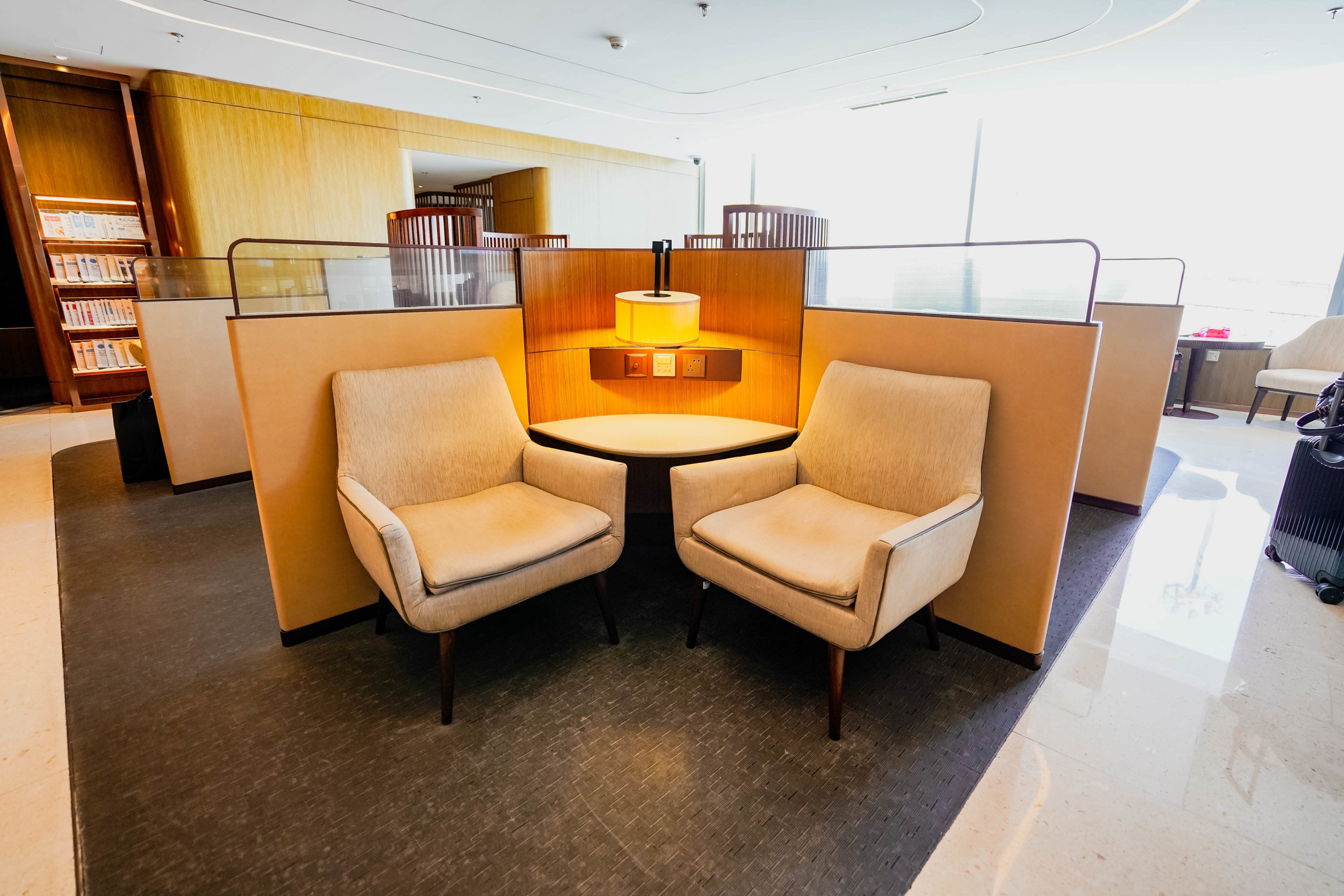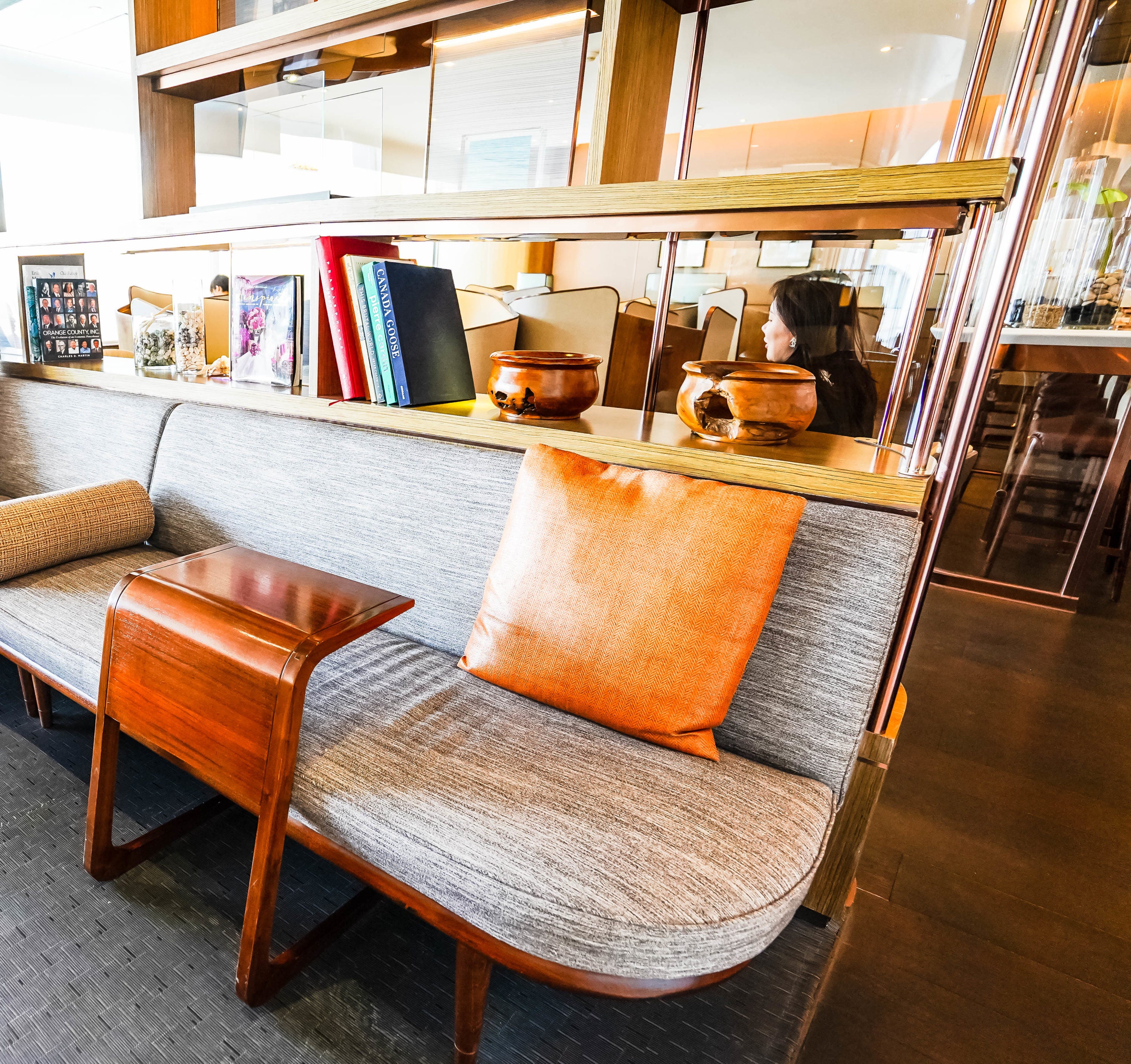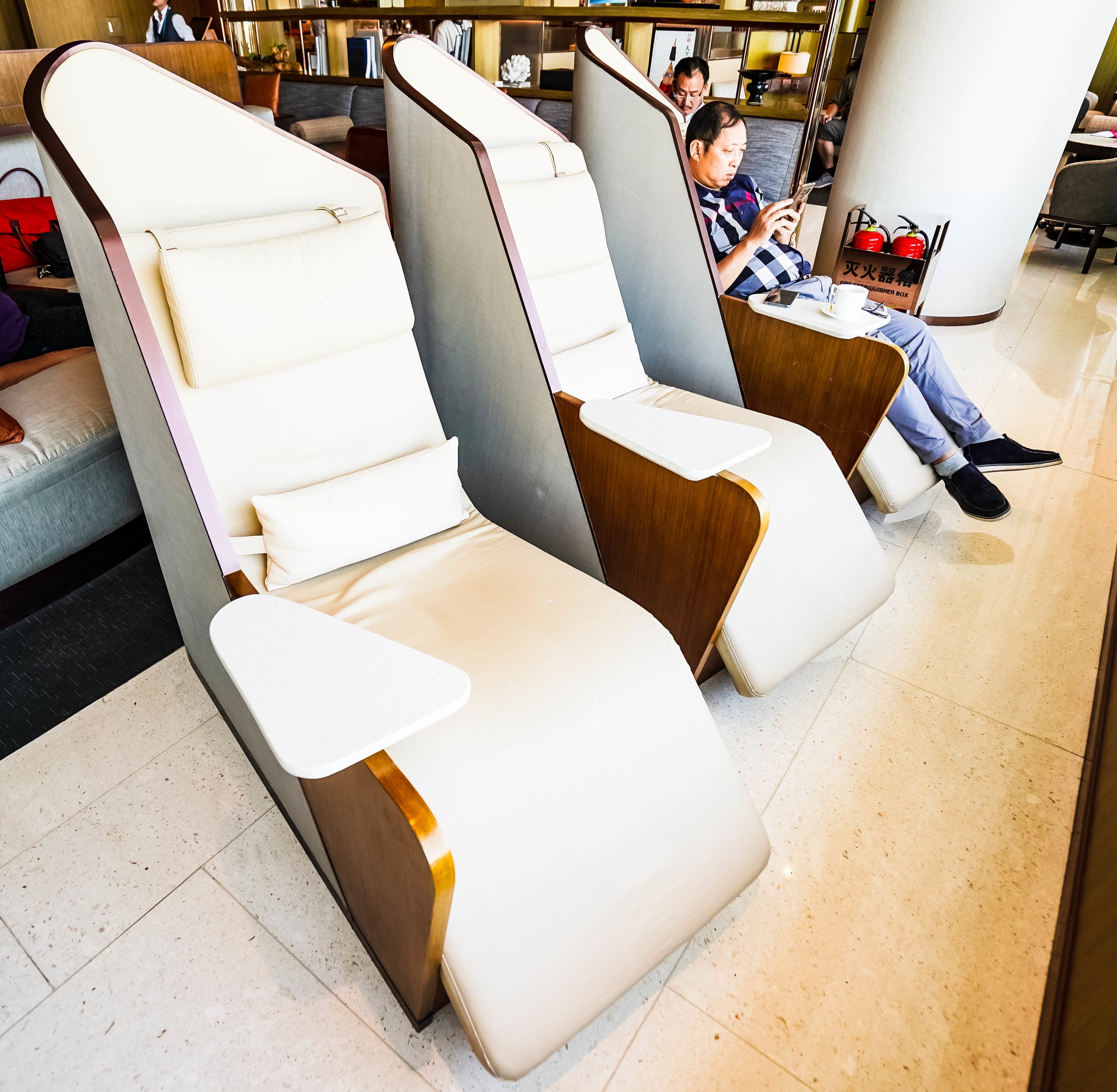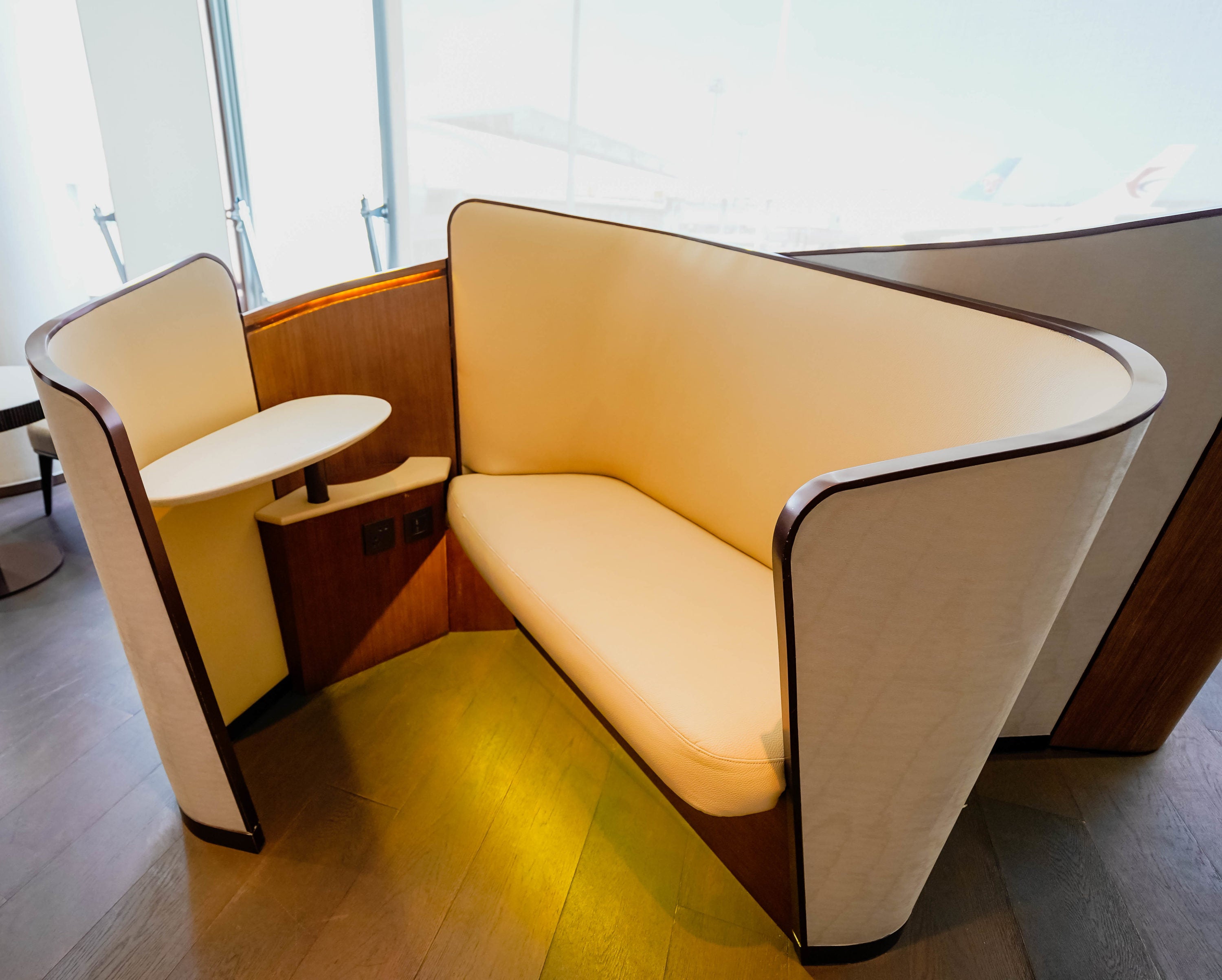 If you are one to seek privacy and some quiet time, the lounge has 3 day rooms that come equipped with massage chairs.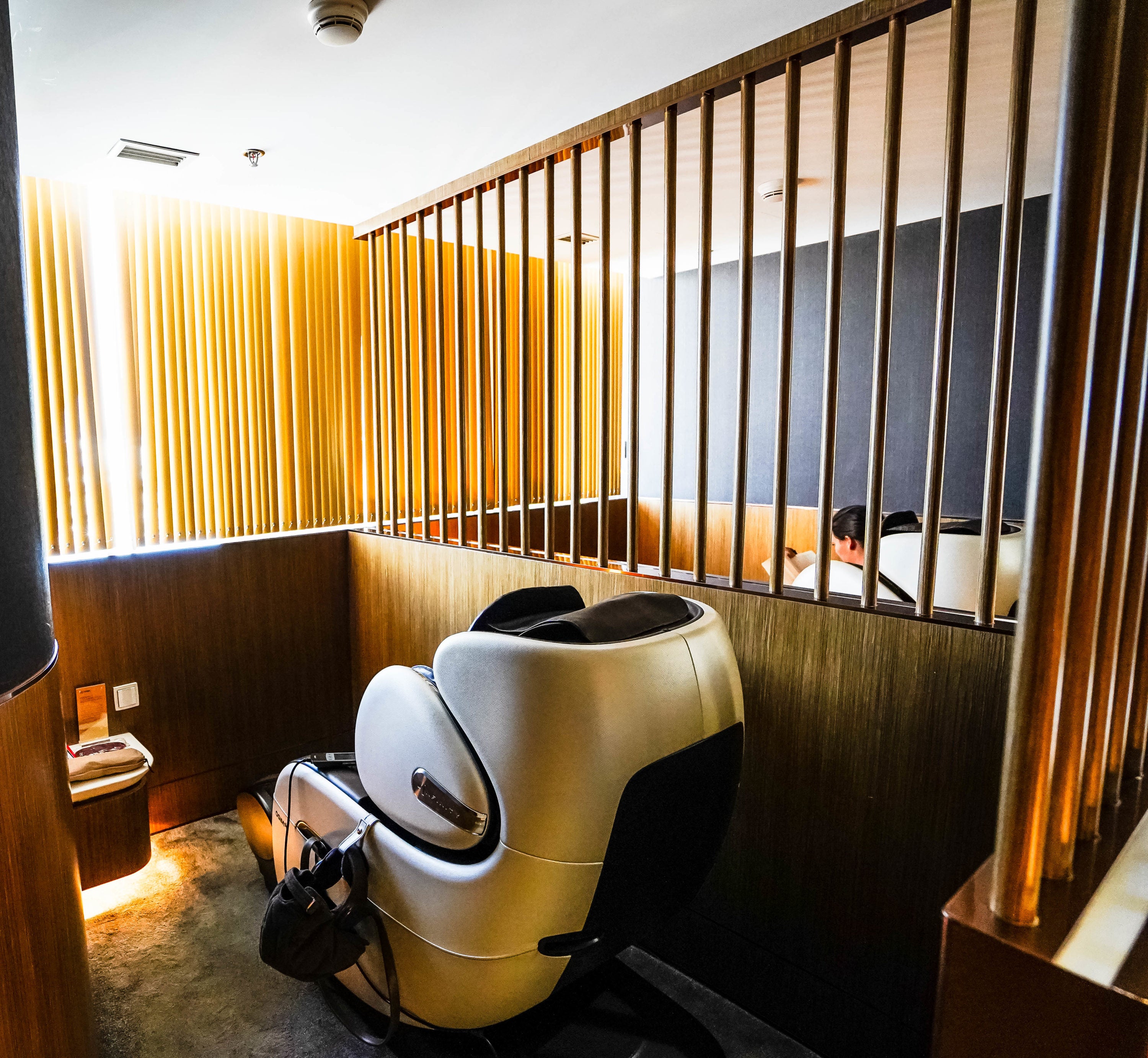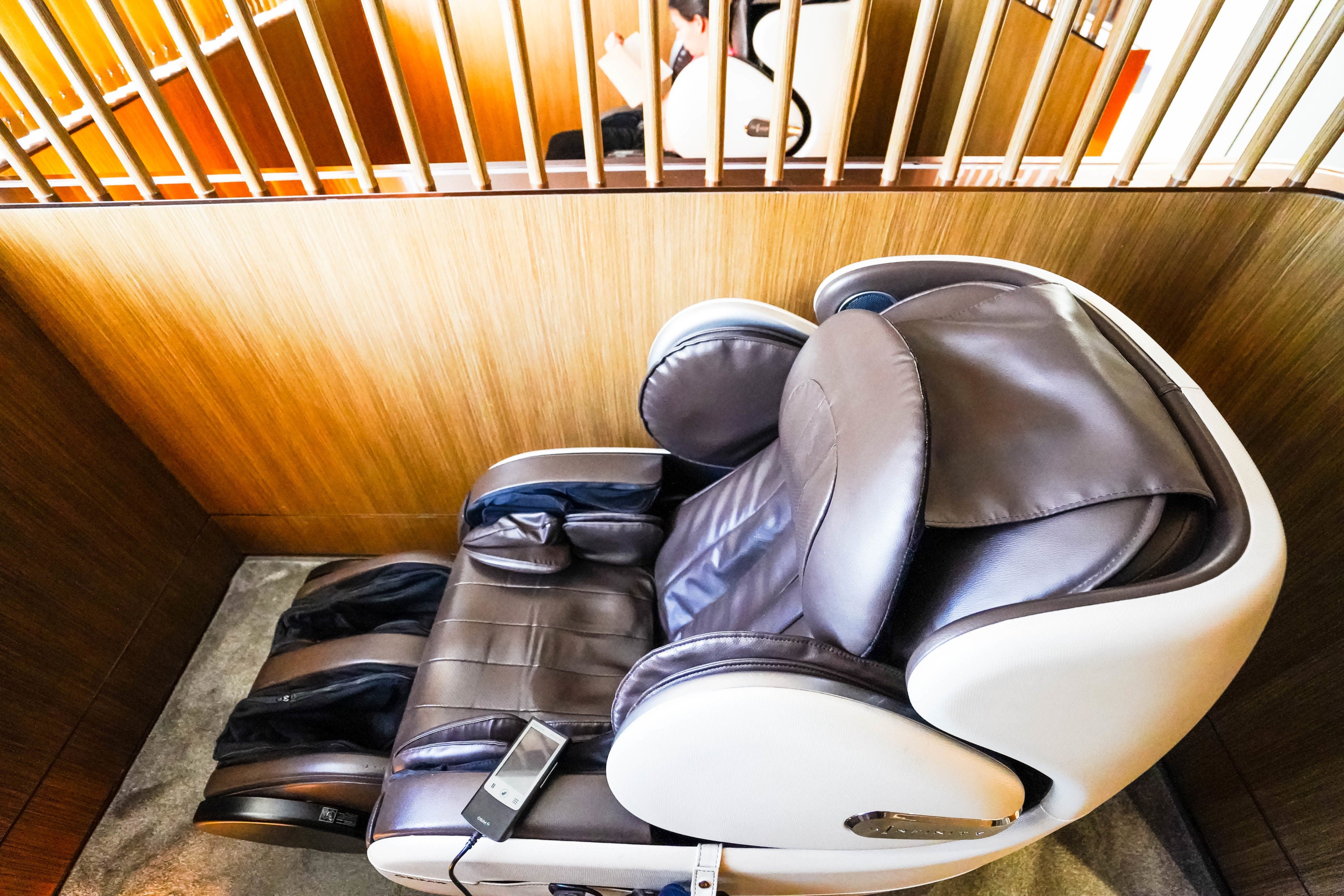 The lounge also features a specialized tea area where the famed Hainan "Hai" tea is prepared and served. Unfortunately, I could not experience it as the service starts at 3:00 p.m. and my scheduled departure was 1:55 p.m.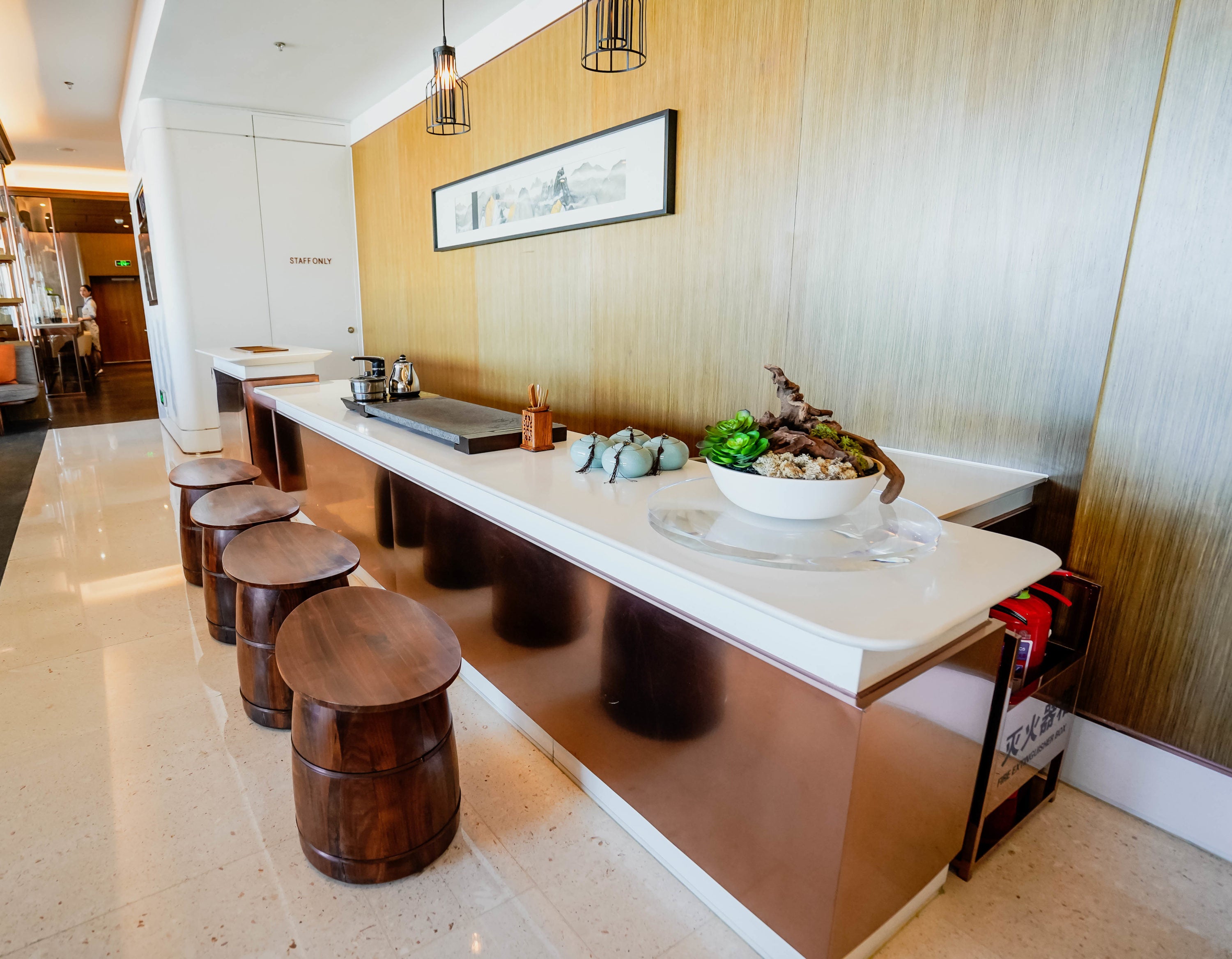 At the far end of the lounge is the Business Area that has 3 work stations and a full fledged Nespresso and coffee bar.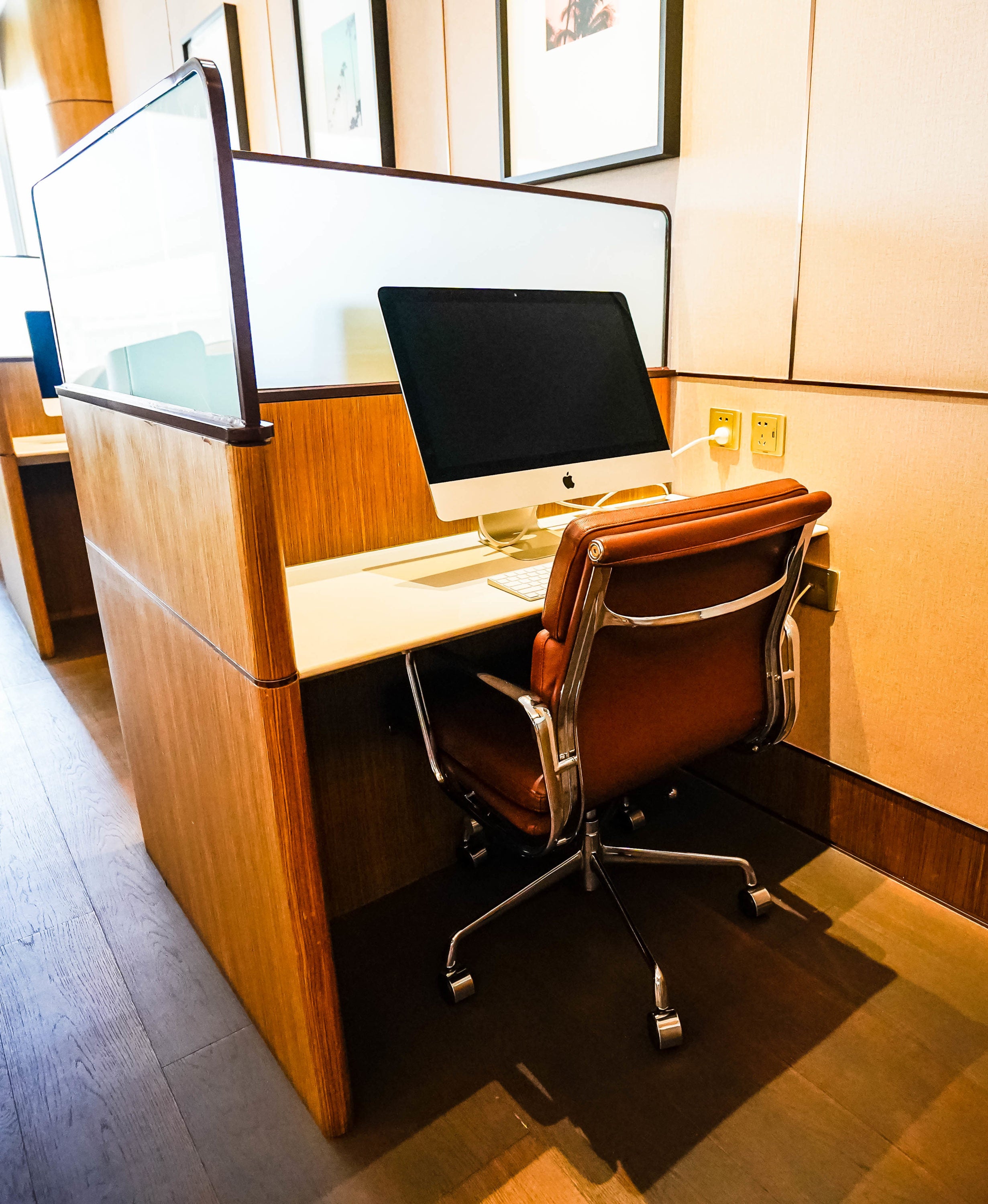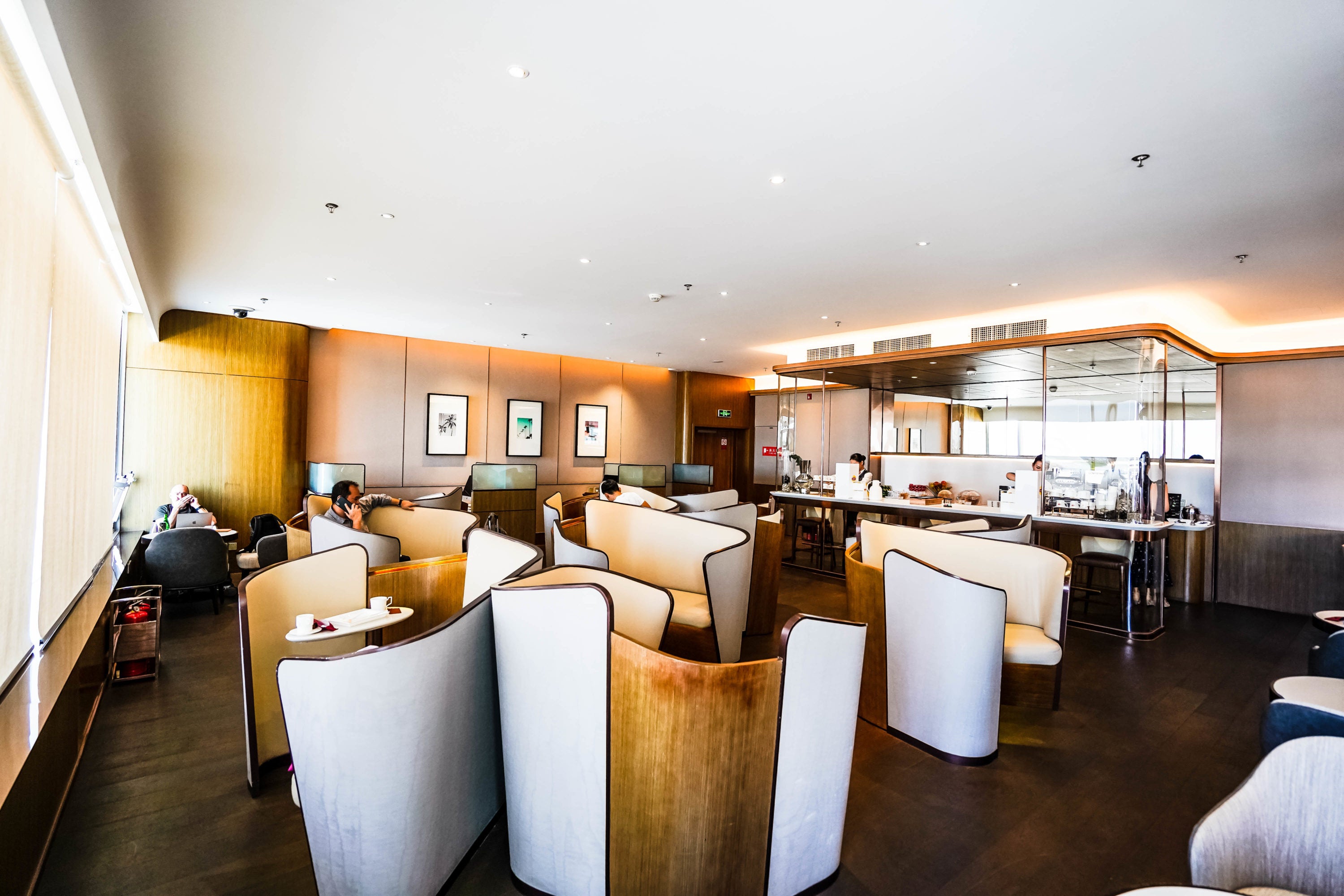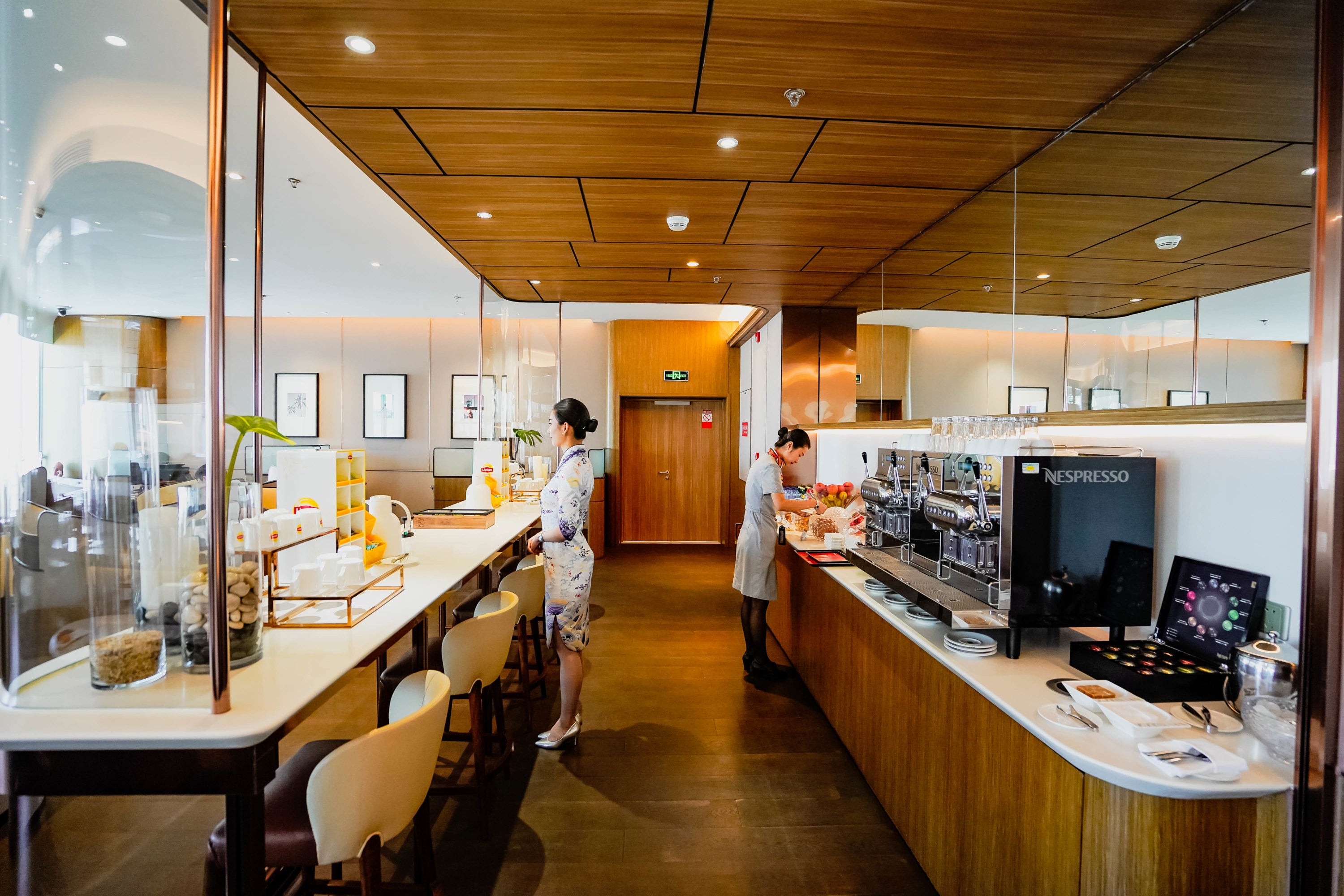 There are also shower facilities available should you need one after a long-haul flight.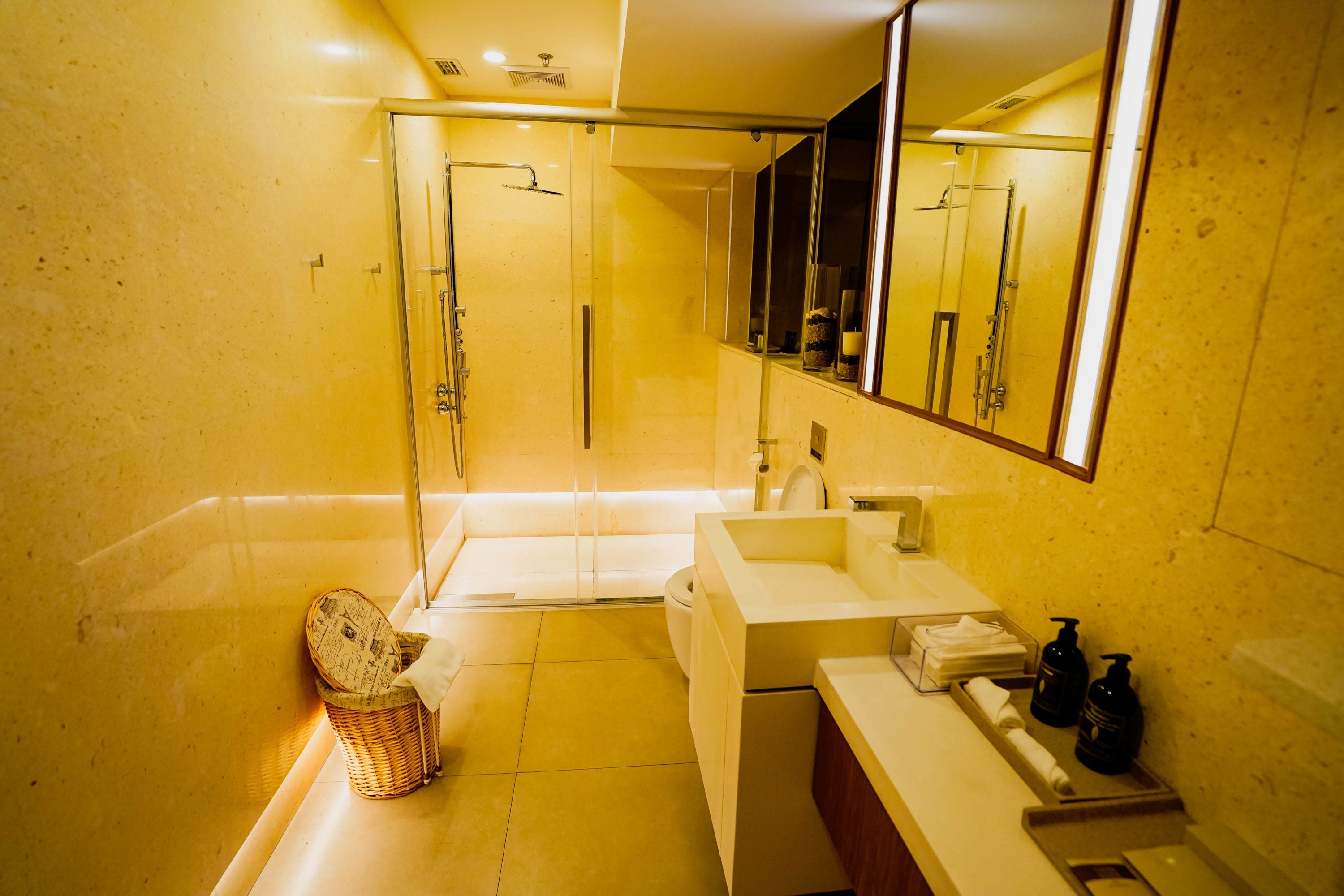 I didn't eat much at the lounge, other than the noodles, so I settled down in one of the "Wave Chairs" with a glass of Jasmine flavored iced tea to enjoy some AvGeek views.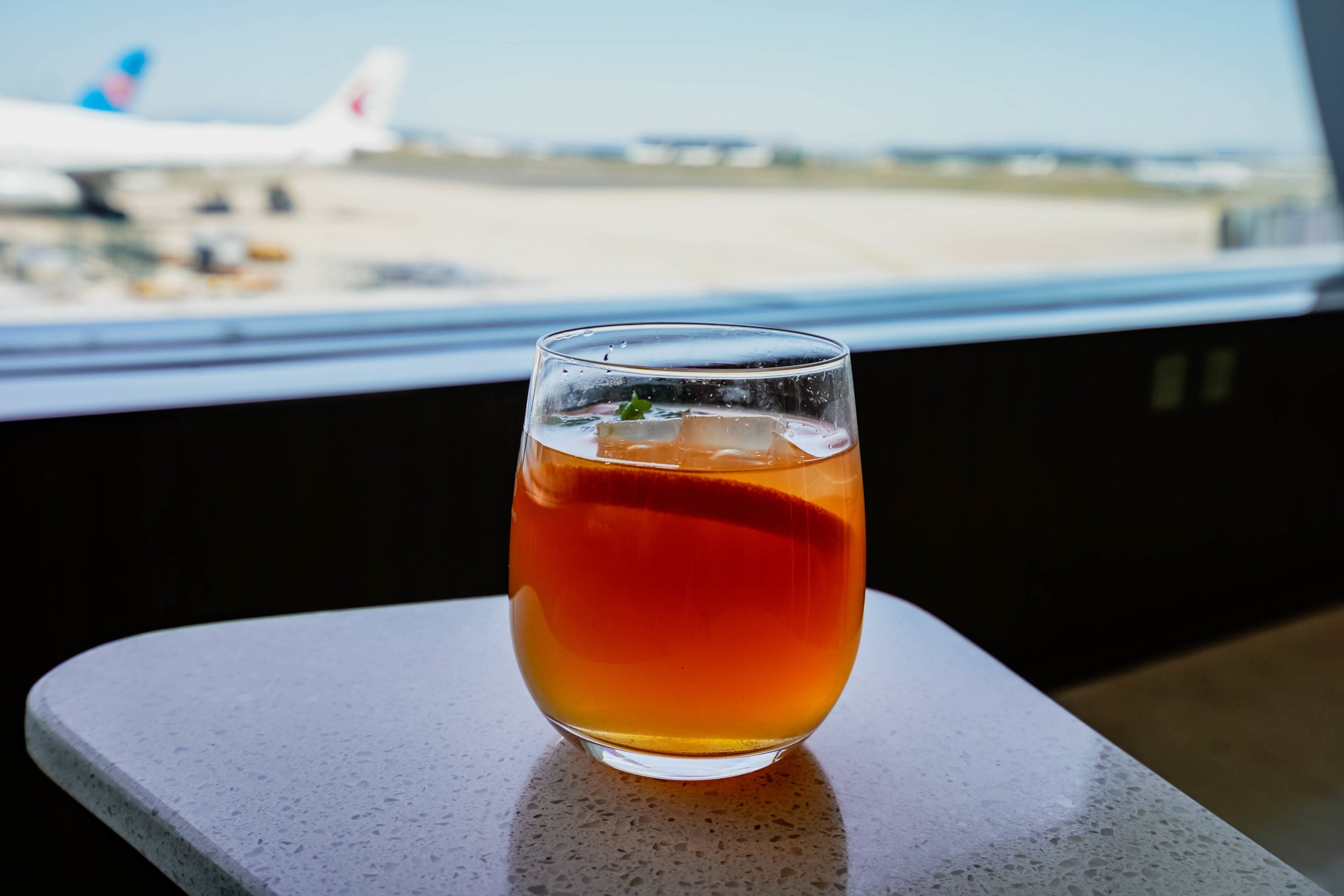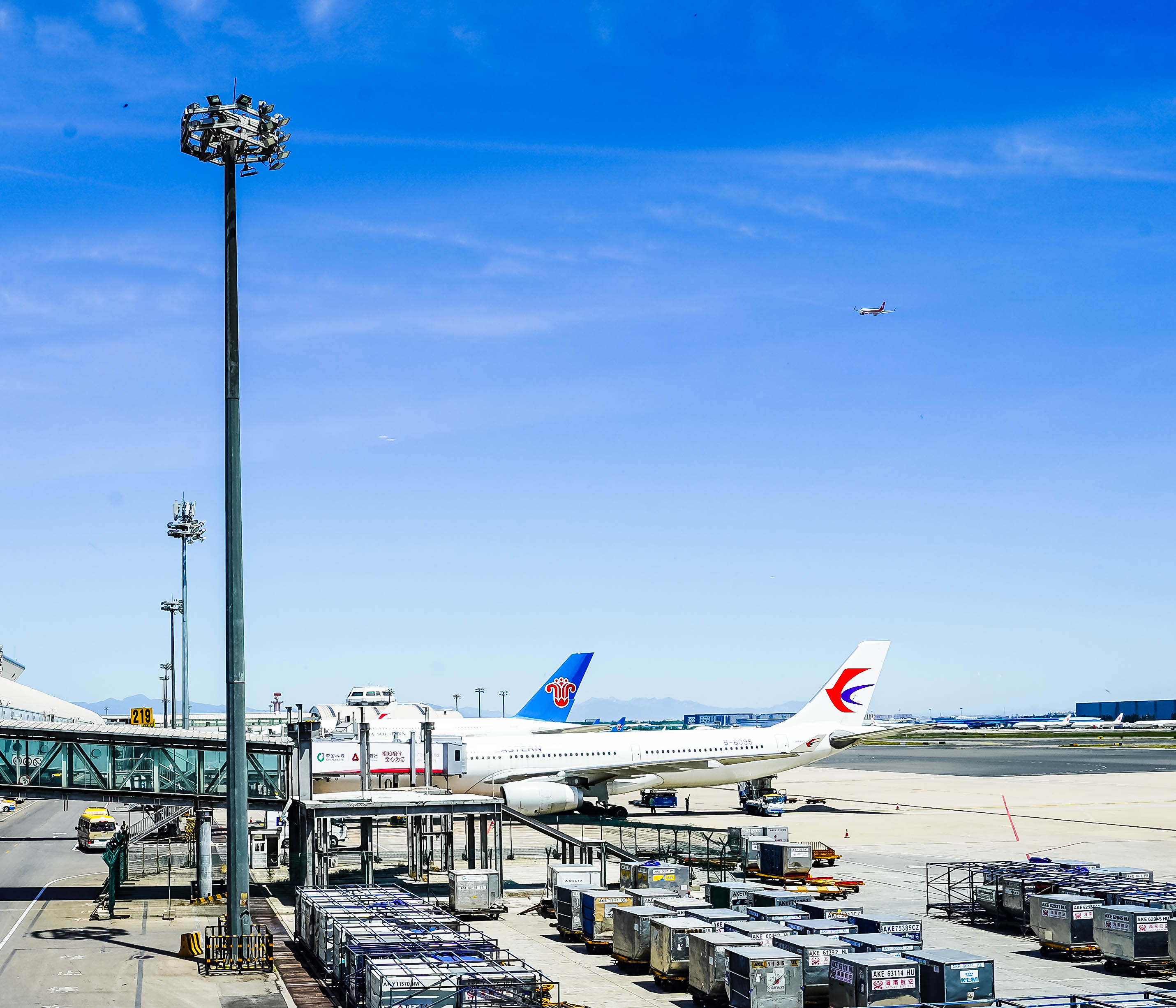 I really enjoyed my stay at the lounge and it was pleasing to see that it wasn't just another self-service lounge. There was staff available at every counter to assist and look after you.
Boarding
Boarding was announced at 1:15 p.m. for the scheduled 1:55 p.m. departure and I started making my way to assigned Gate 11 that was a 5-minute walk from the lounge.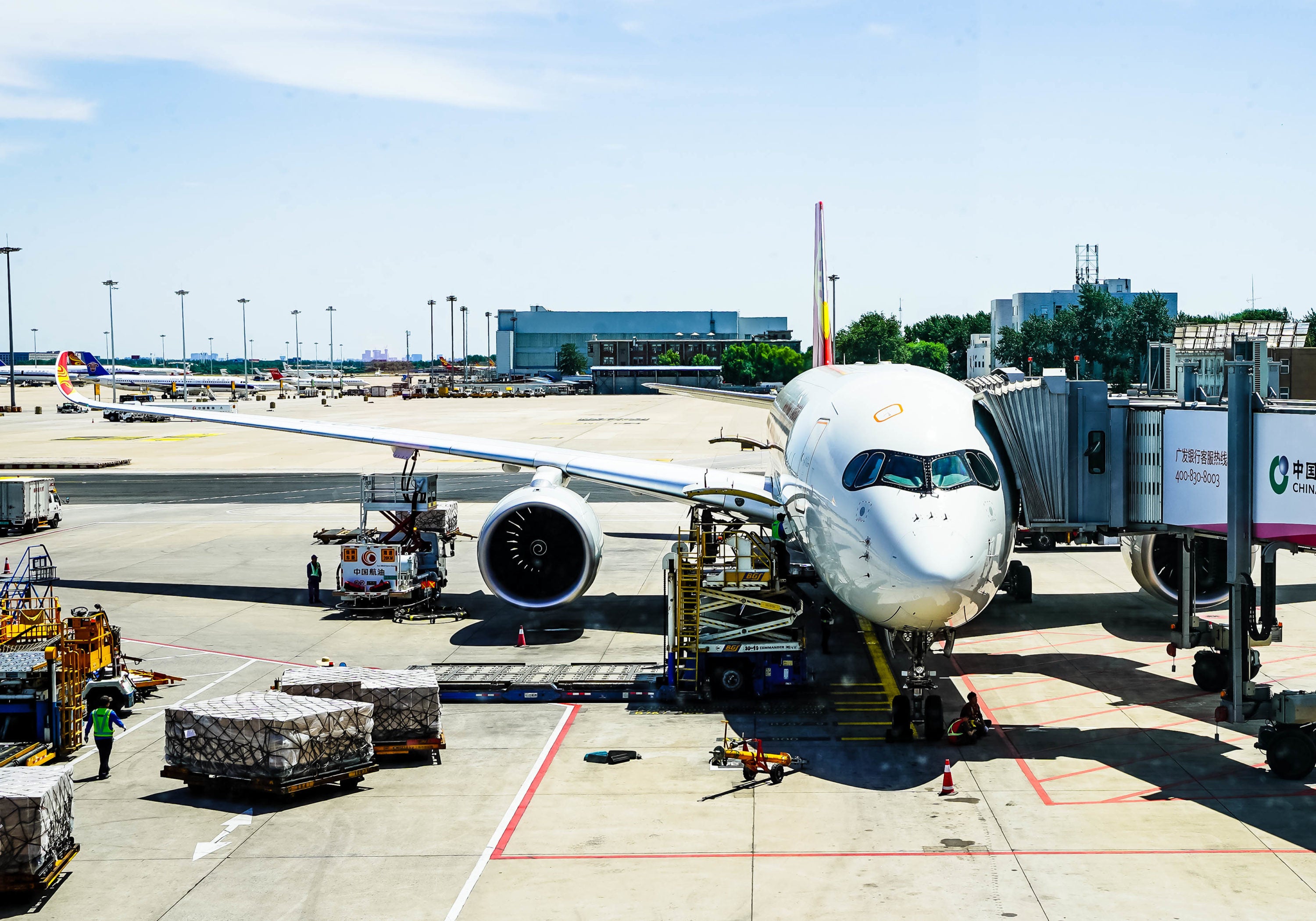 Boarding was civilized and utilized 2 jet bridges — one connected to the L1 door for business class passengers and the other connected to the L2 door for the economy class passengers. The reason I mentioned that boarding was civilized is due to the fact that my past boarding experiences in Beijing on other Chinese carriers have not been pleasant and things can get down right rowdy and chaotic.
Flight
Aircraft
This was the second A350 aircraft delivered to Hainan Airlines, which was less than a year old and carrying the registration tag B 1070. The aircraft was originally slotted for Azul Brazilian Airlines. However, after HNA, Hainan's parent company divested, the aircraft was delivered to Hainan Airlines in October 2018.
The aircraft has a total capacity of 334 seats configured as follows:
33 business class seats in a staggered 1-2-1 configuration
301 economy class seats in a 3-3-3 configuration
Cabin
The business class cabin is set in a forward facing staggered 1-2-1 configuration with direct aisle access. The cabin is pretty basic with white bulkheads and blue upholstered seats.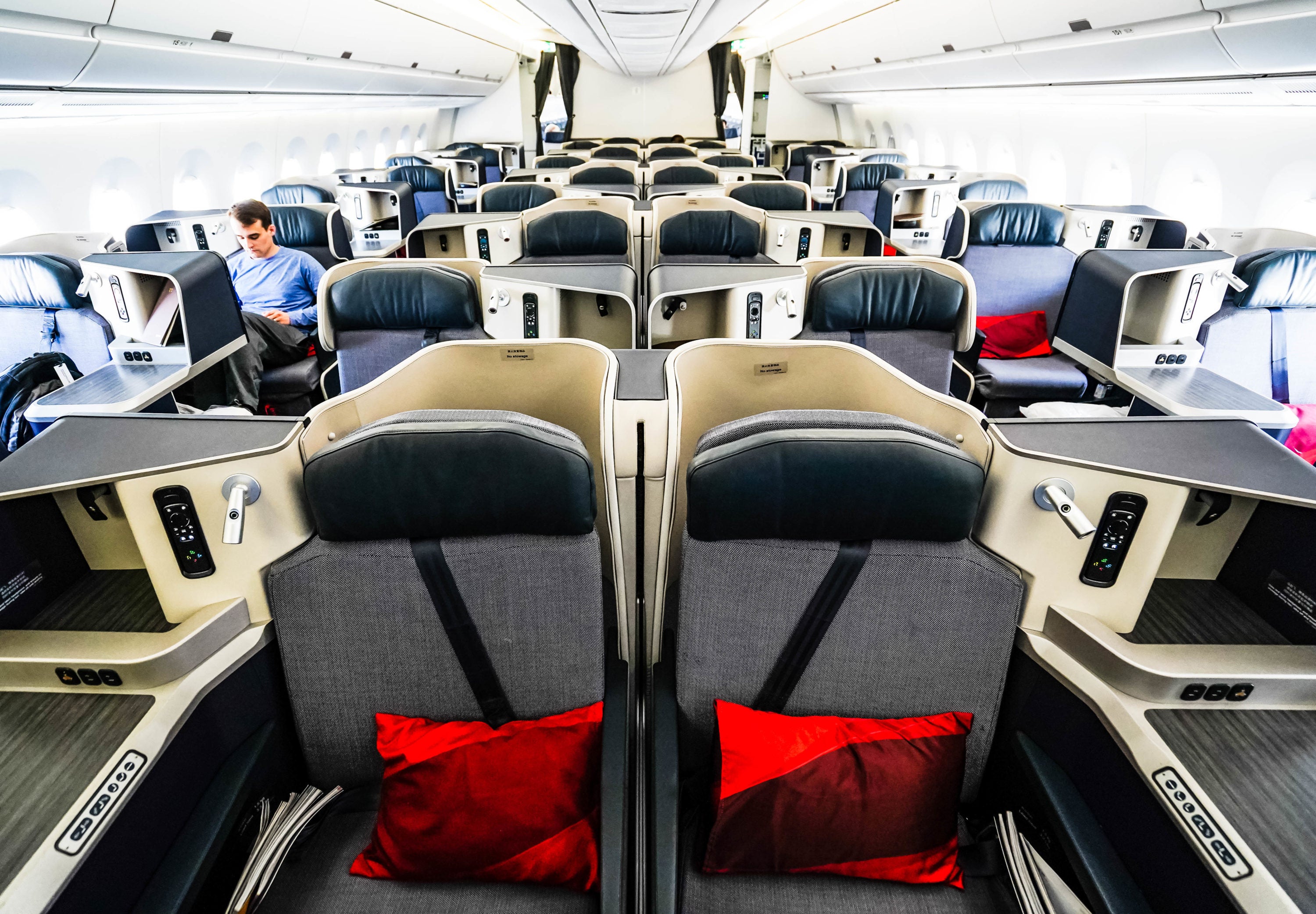 For solo travelers who prefer a window side seat, opt for rows A and K, seats 12, 14, 16 and 18. These are the seats to go for and offer additional privacy given you're away for the aisle.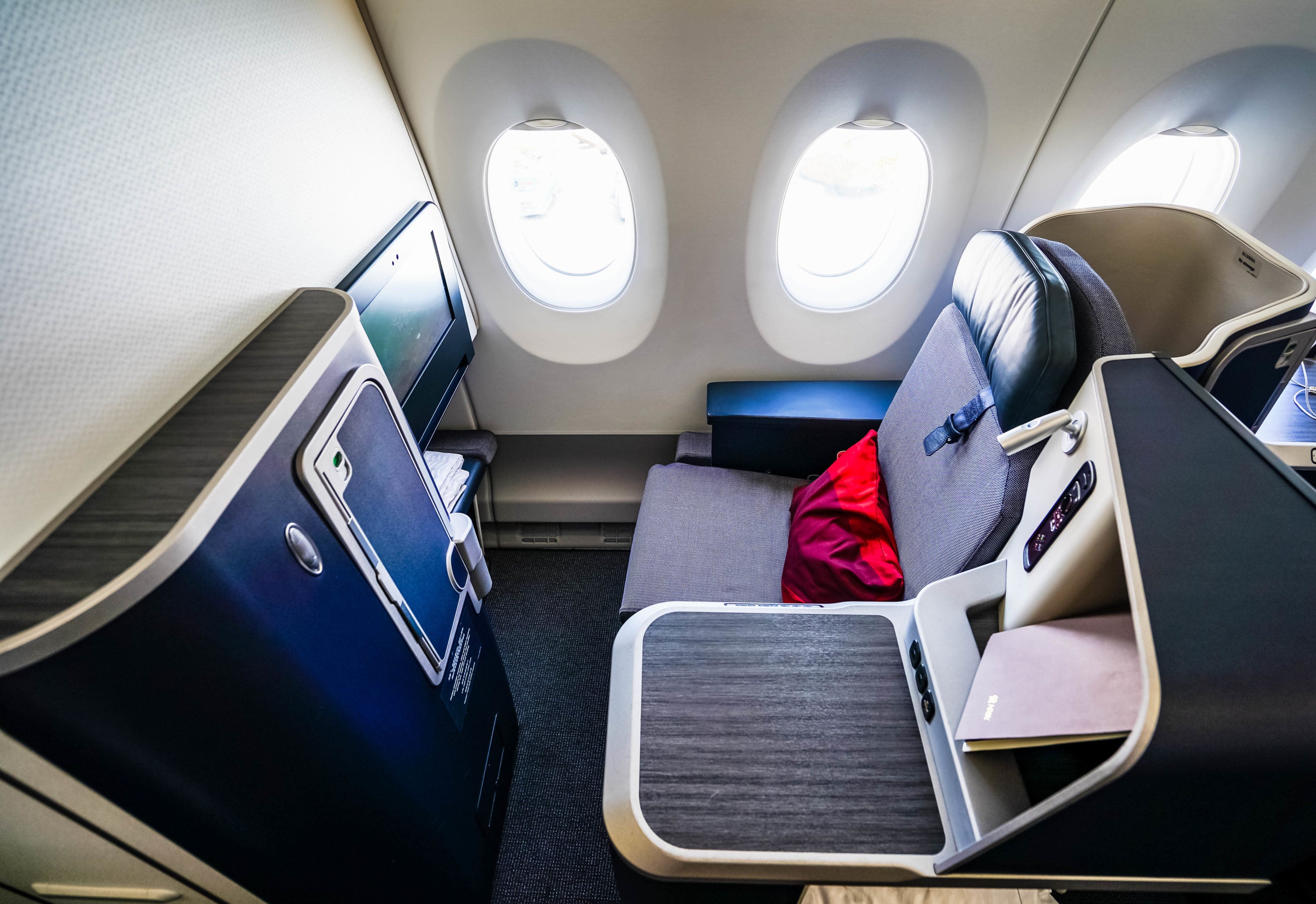 However, if you prefer a proper aisle seat, then seat 11A and seats 13, 15, and 17 in rows A and K are good options. There is no seat 11K since that space is converted into a storage locker.
If you're traveling solo but don't see any of the side row seats available, you may want to choose seats in rows 12, 14, 16, and 18. For couples traveling together, rows 11, 13, 15, 17, and 19 in the middle row will be best since these seats are directly adjacent. All the middle row seats are equipped with a large privacy divider.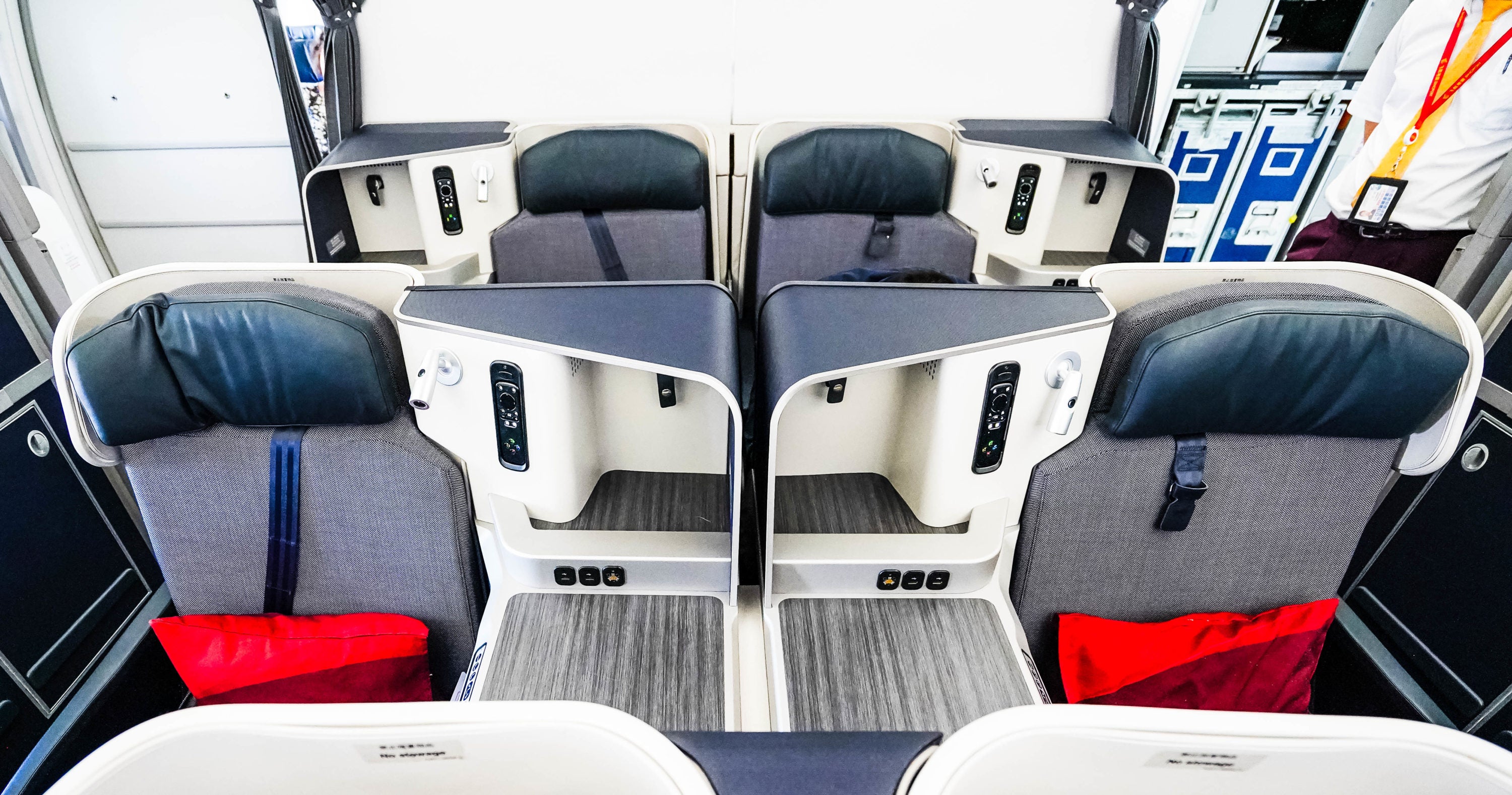 The seat numbering and arrangements are a bit wonky. Even though my assigned seat was the bulkhead seat, seat 12K, the inflight entertainment (IFE) monitor displayed my seat number as 2K, which was bit strange. Must be some Chinese Feng Shui!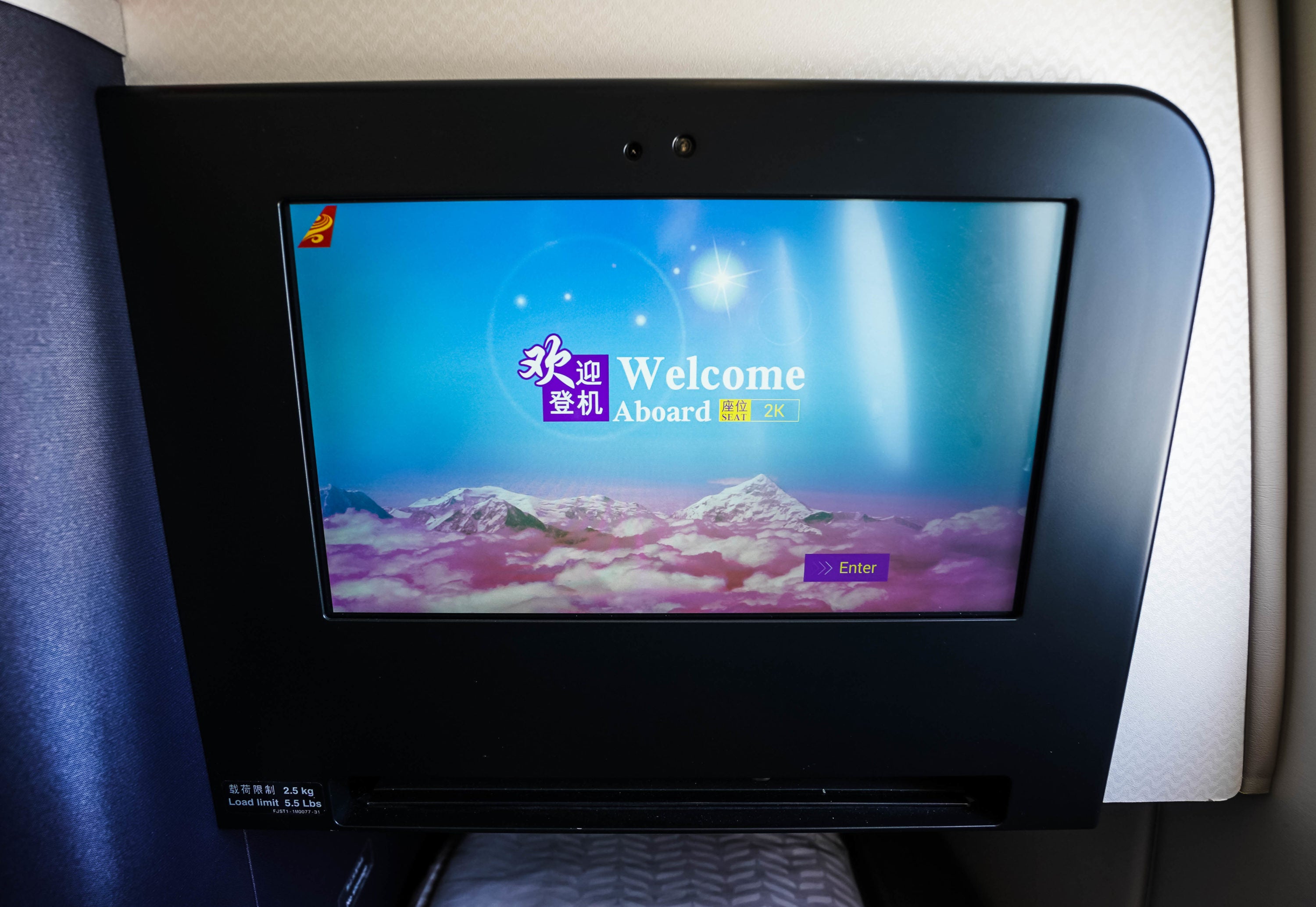 Seats 11A and 12K are the designated bassinet seats.
There are 2 regular sized lavatories in the business class cabin, one on the port and one on starboard side. Both were adorned with a flower and stocked with Clarins hand cream and moisturizer.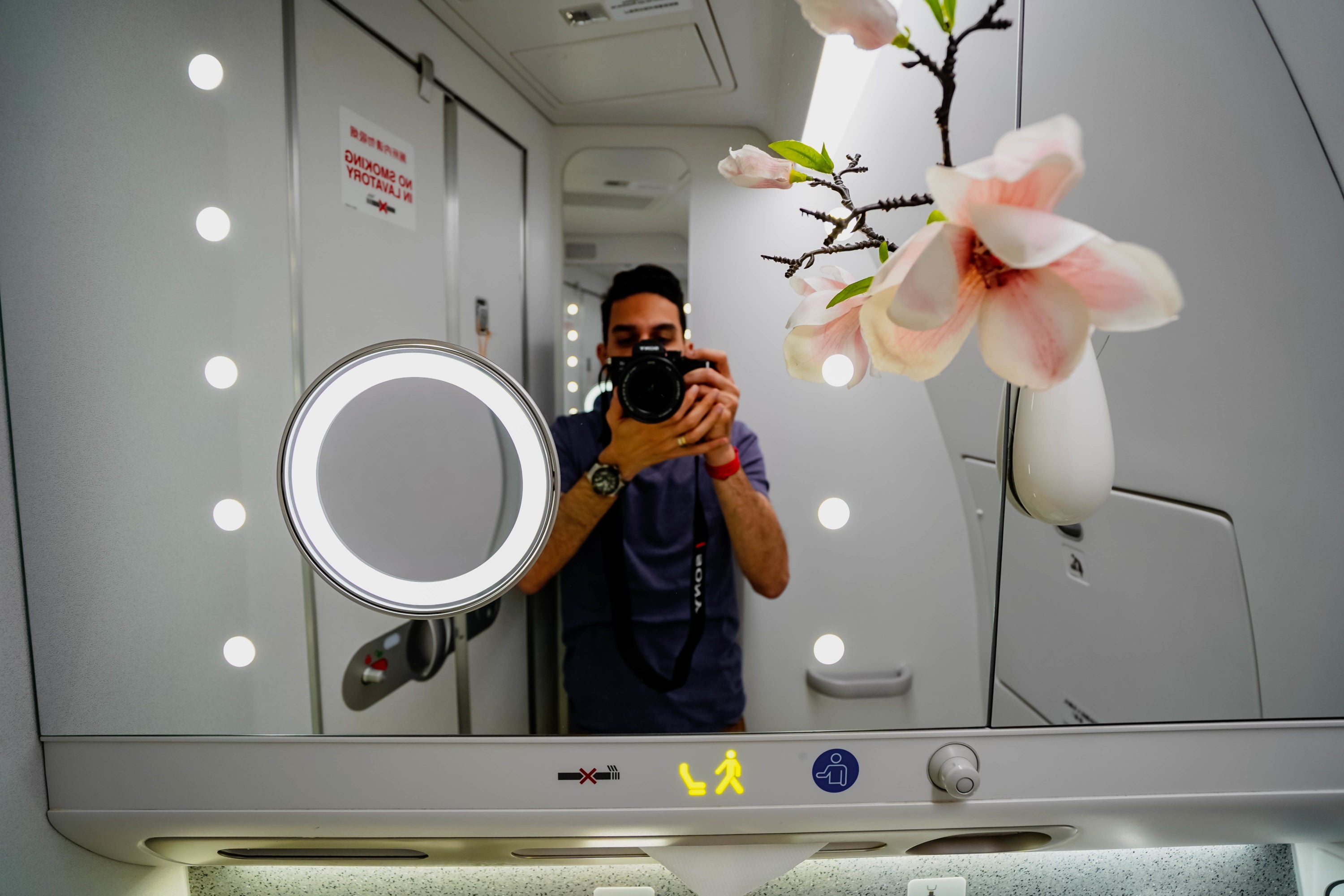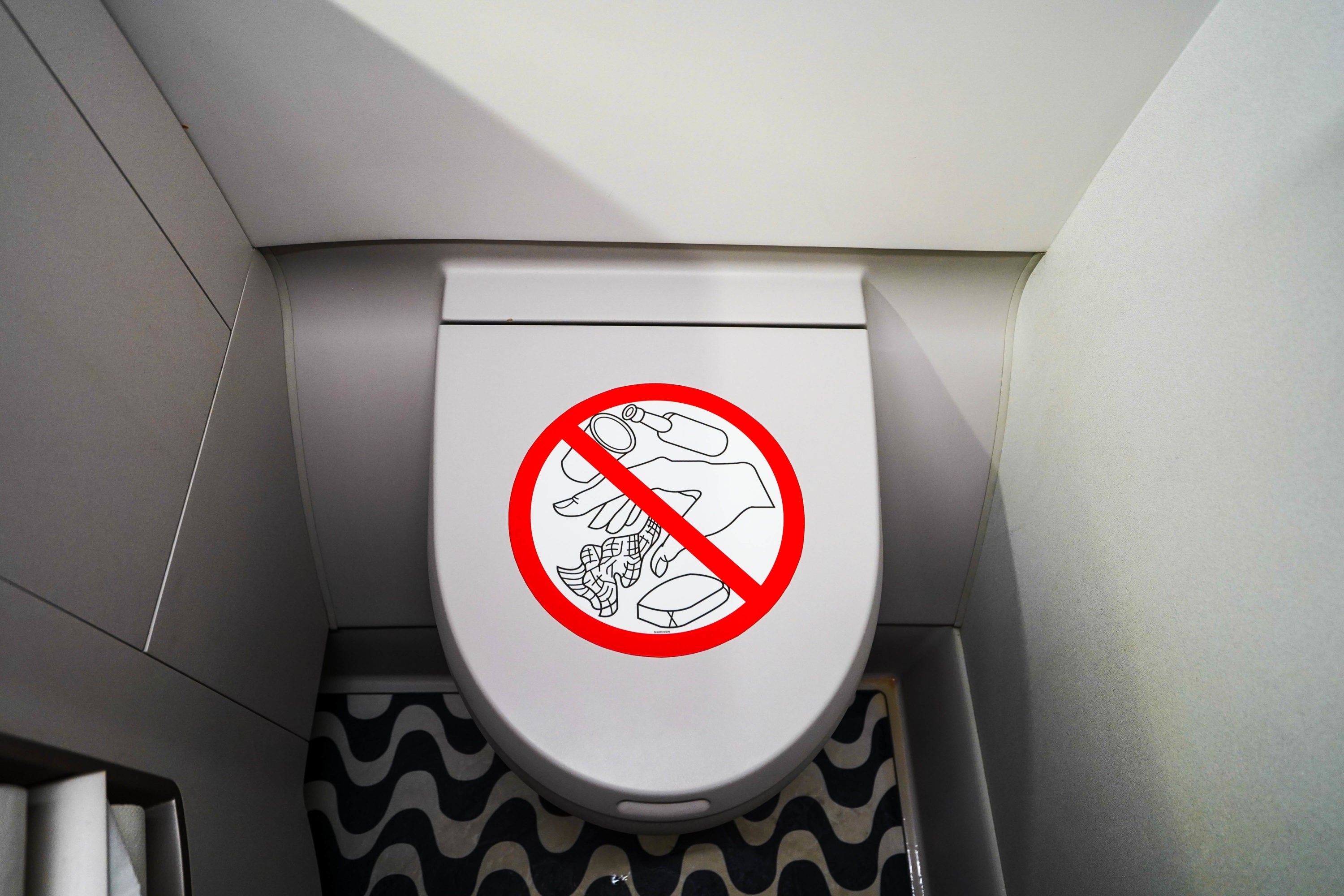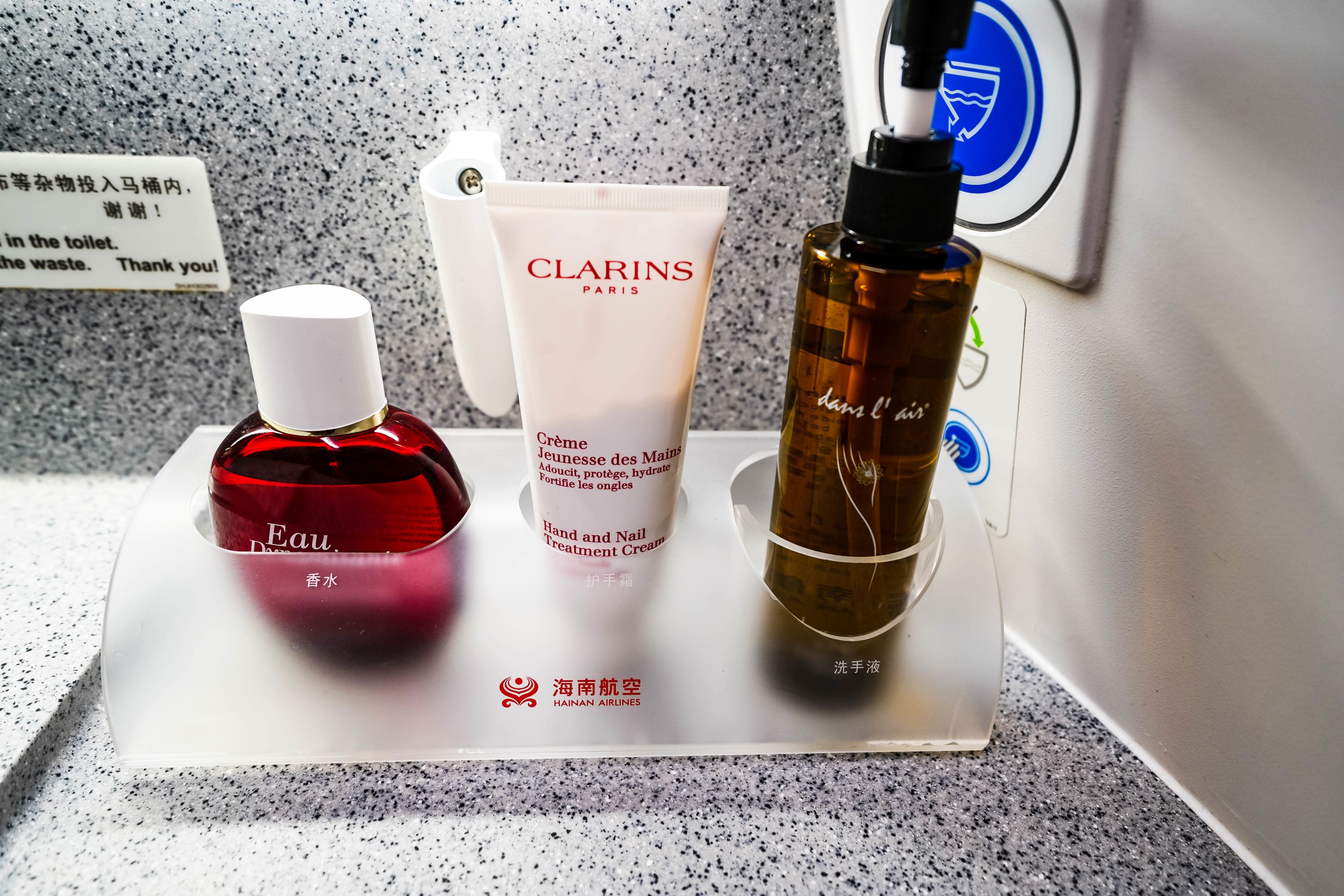 Seat
Hainan Airlines has opted for the STELIA Aerospace's Solstys seats that offer a width of 27.5 inches and convert to a 76 inch lie-flat bed. The seat upholstery is in blue, which is a distinctively different than the bright red upholstery onboard their other aircraft. In my opinion, this may have to do with the fact that the aircraft was originally to be delivered to Azul. The seats are quite comfortable and spacious with a generous padding.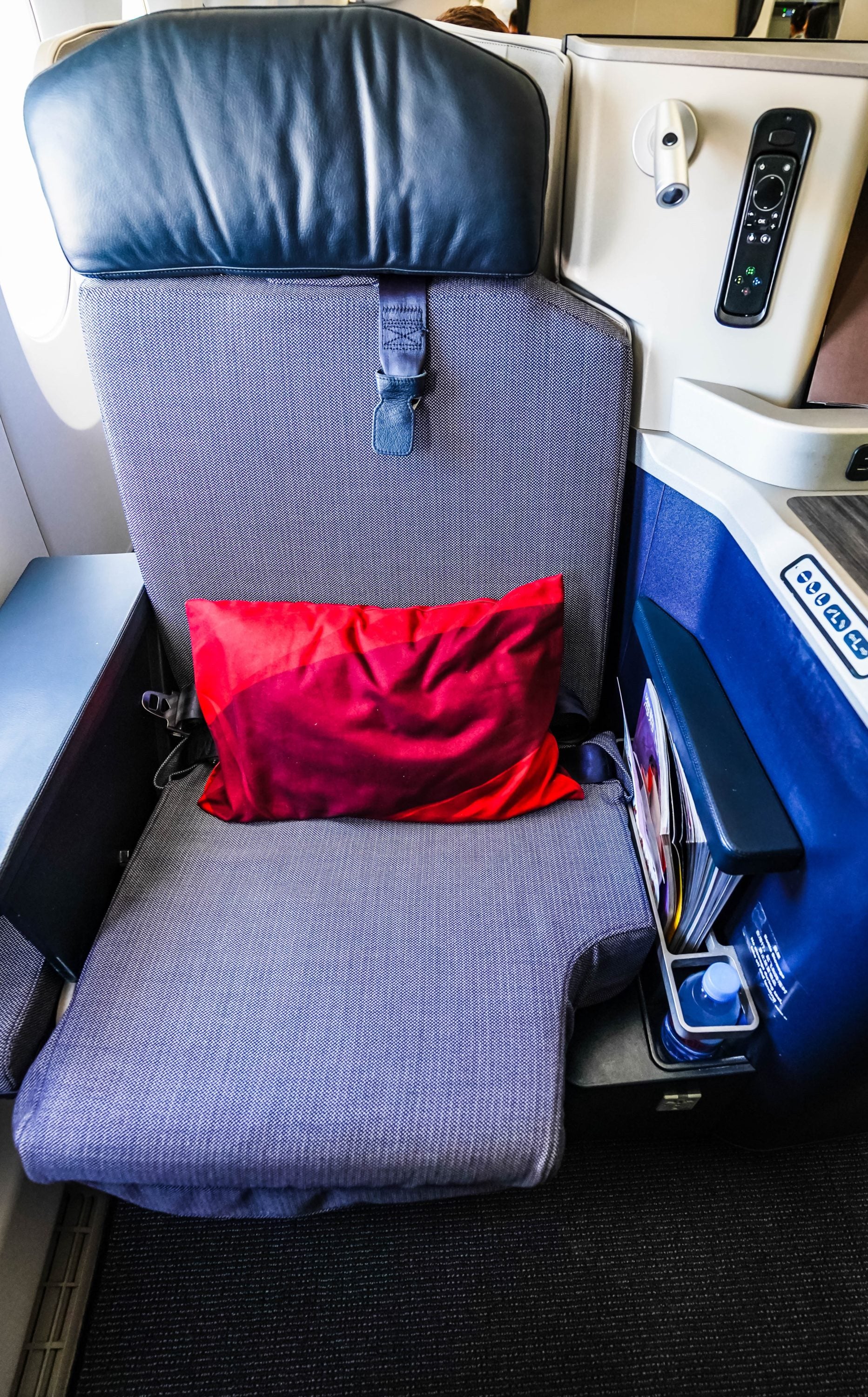 The seat comes with a 3-point seat belt, which can be converted from a 3-point to 2-point  by disconnecting the shoulder strap. However, this is only permitted inflight once the aircraft has hit cruising altitude and not during take-off and landing.
On the inner lip of the side table, are the seat controls. You can convert the seat into 1 of the 3 pre-set modes: Takeoff, Recline, and Flat-bed. The controls also allow you to adjust your seat's lumbar position and move the seat forward or backward for dining.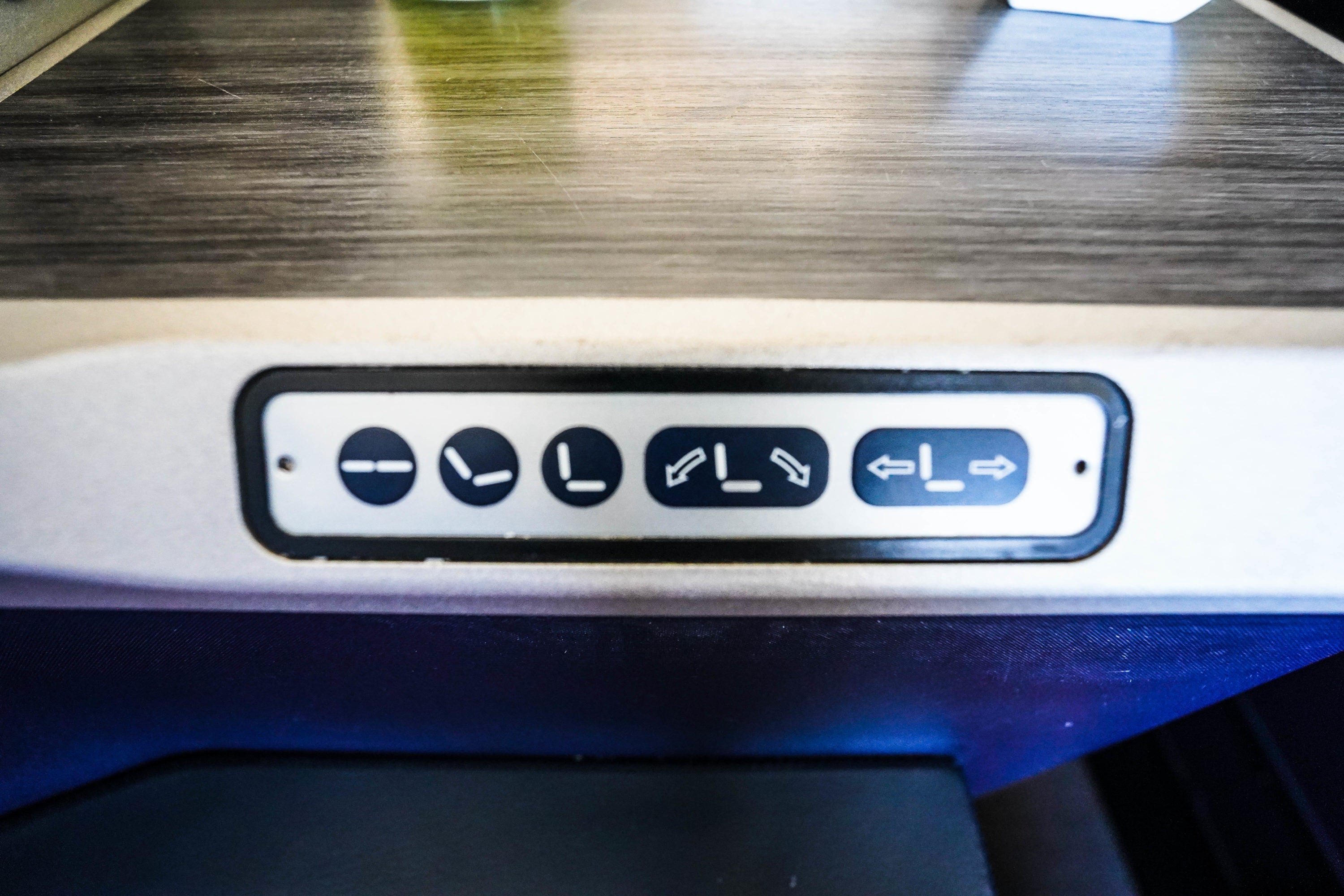 Just below the screen is a decent sized foot well if you wish to stretch your legs whilst seated and supports the seat when turned into a lie-flat bed.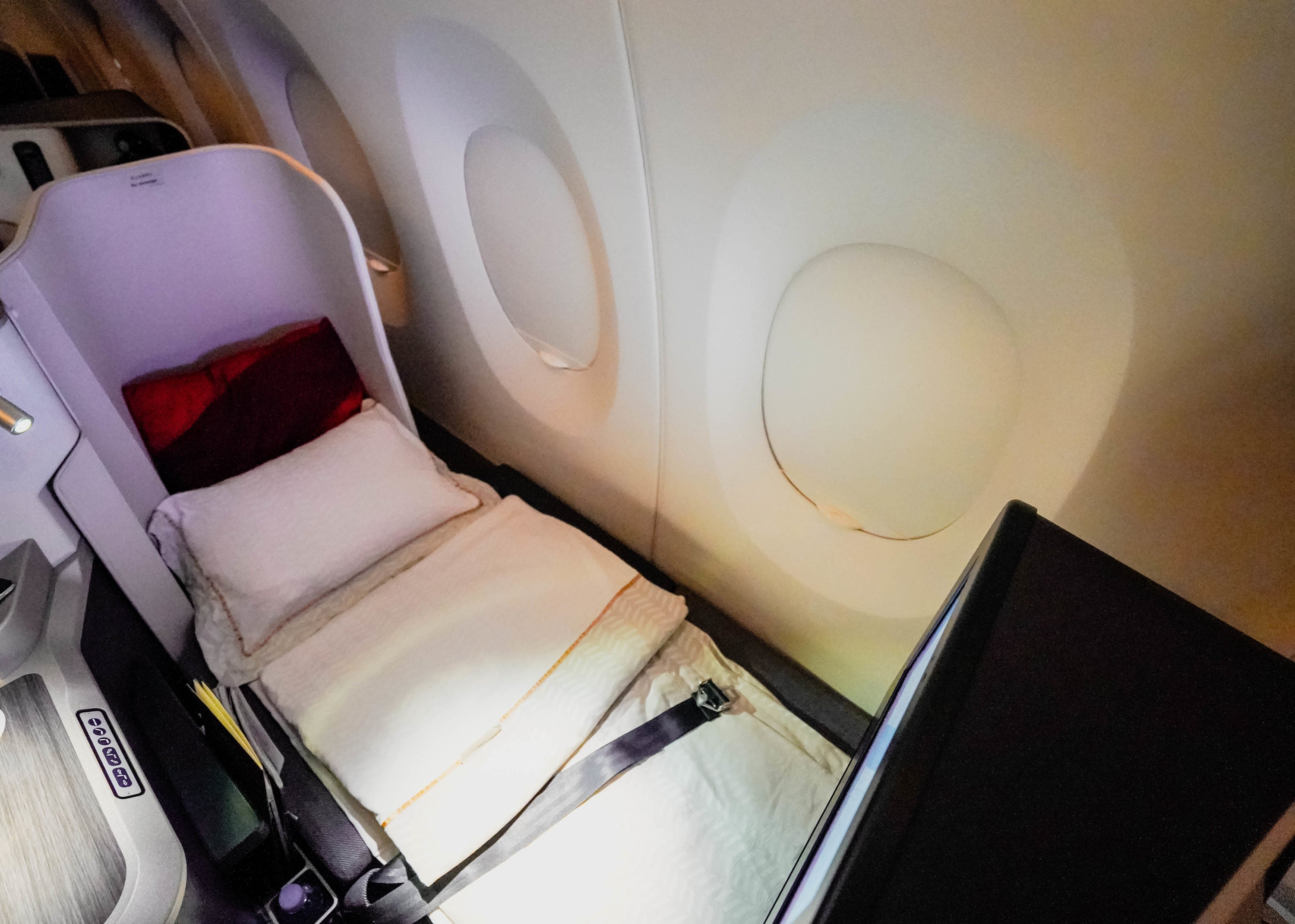 Each seat is equipped with a fold out table that swivels out from the seat back when in the stored position.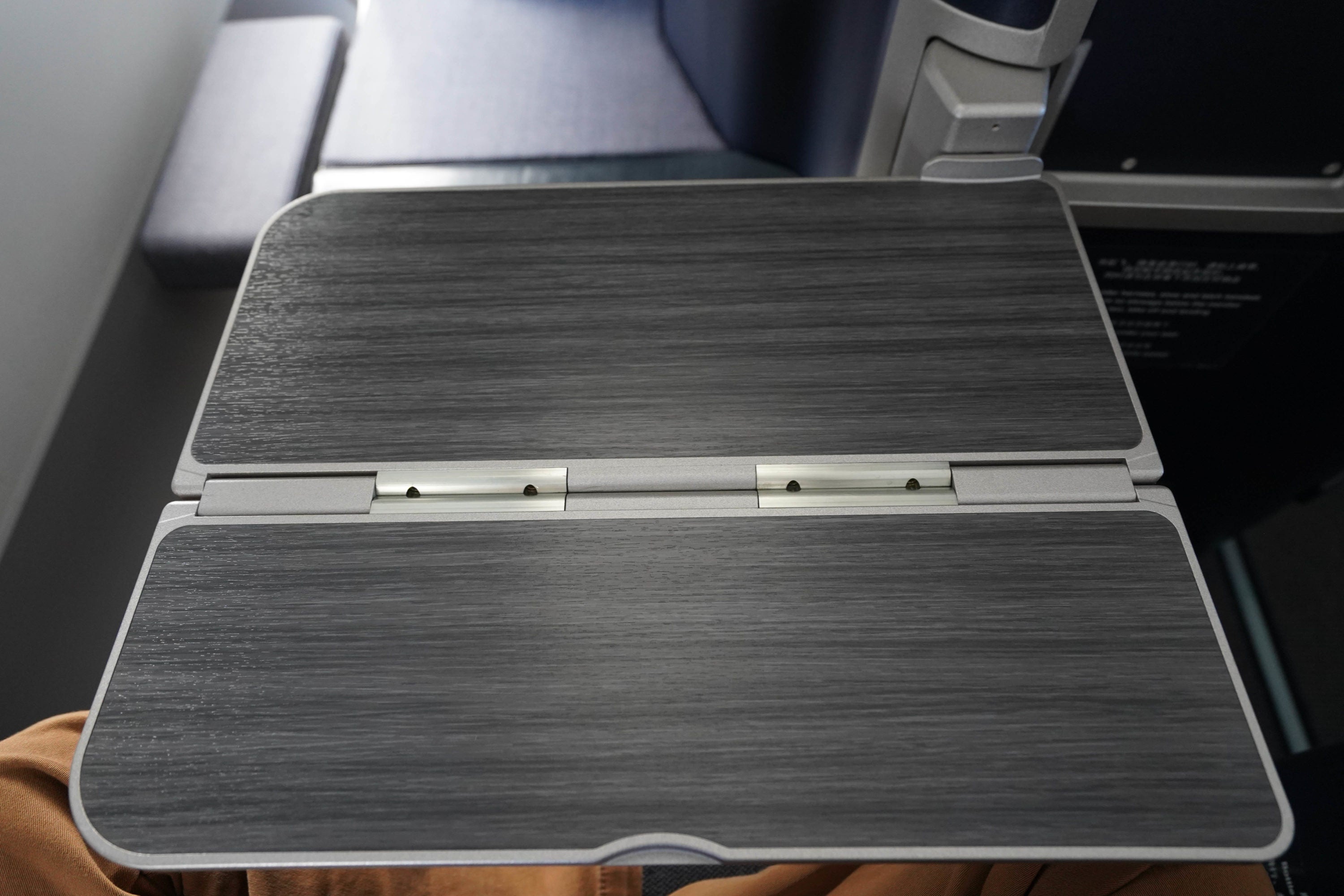 Storage
There is an open storage compartment that can be used to store chargers, headphones, phones, etc. and also houses a hook to hang your headphones.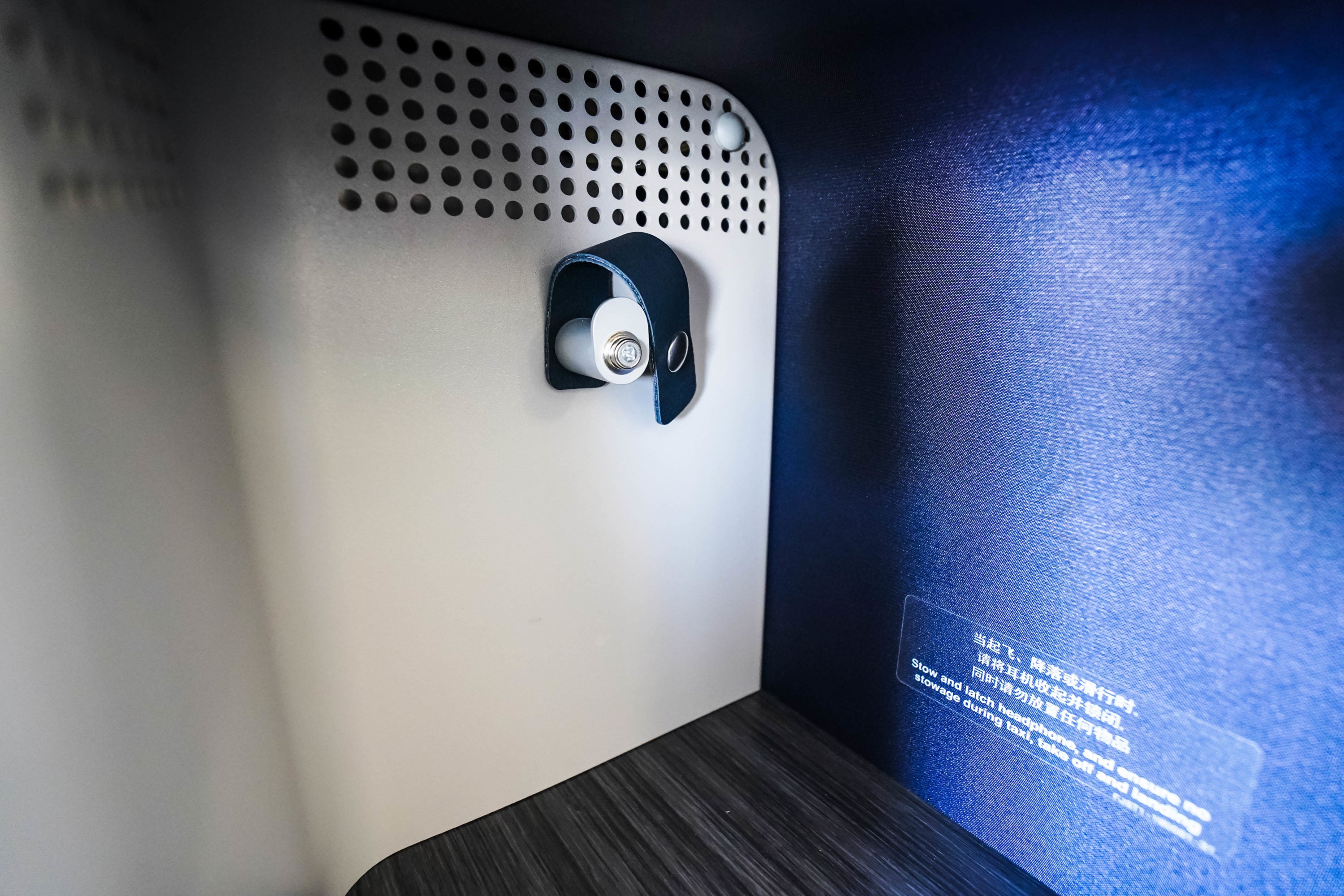 There is also an alcove beneath the foot cubby area to store your shoes or a standard cabin bag such as a backpack, laptop case, or handbag.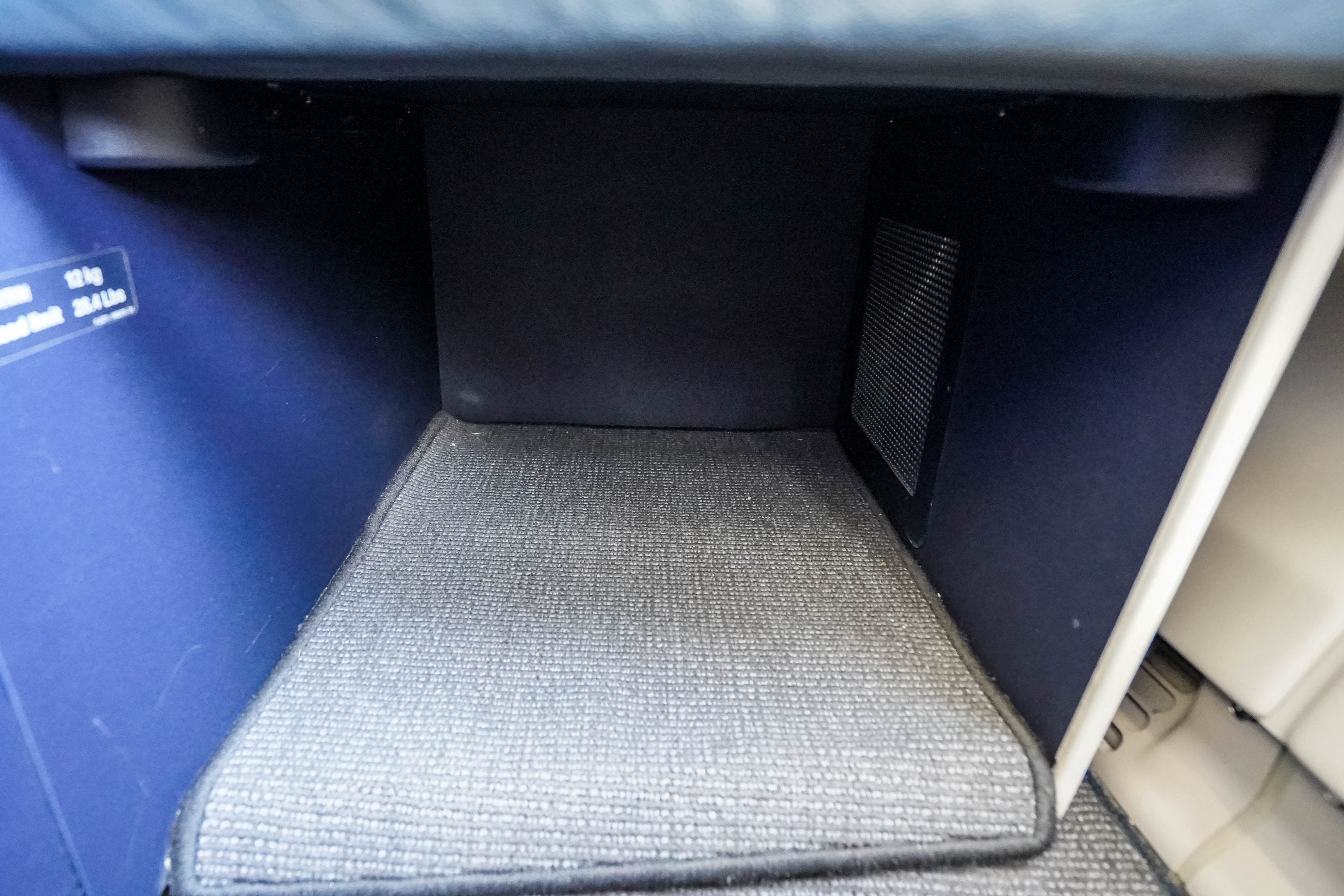 Plugs and Power Supply
There is a universal power socket located at the bottom of the seat and there are 2 USB ports provided on the bottom lip of the open storage compartment.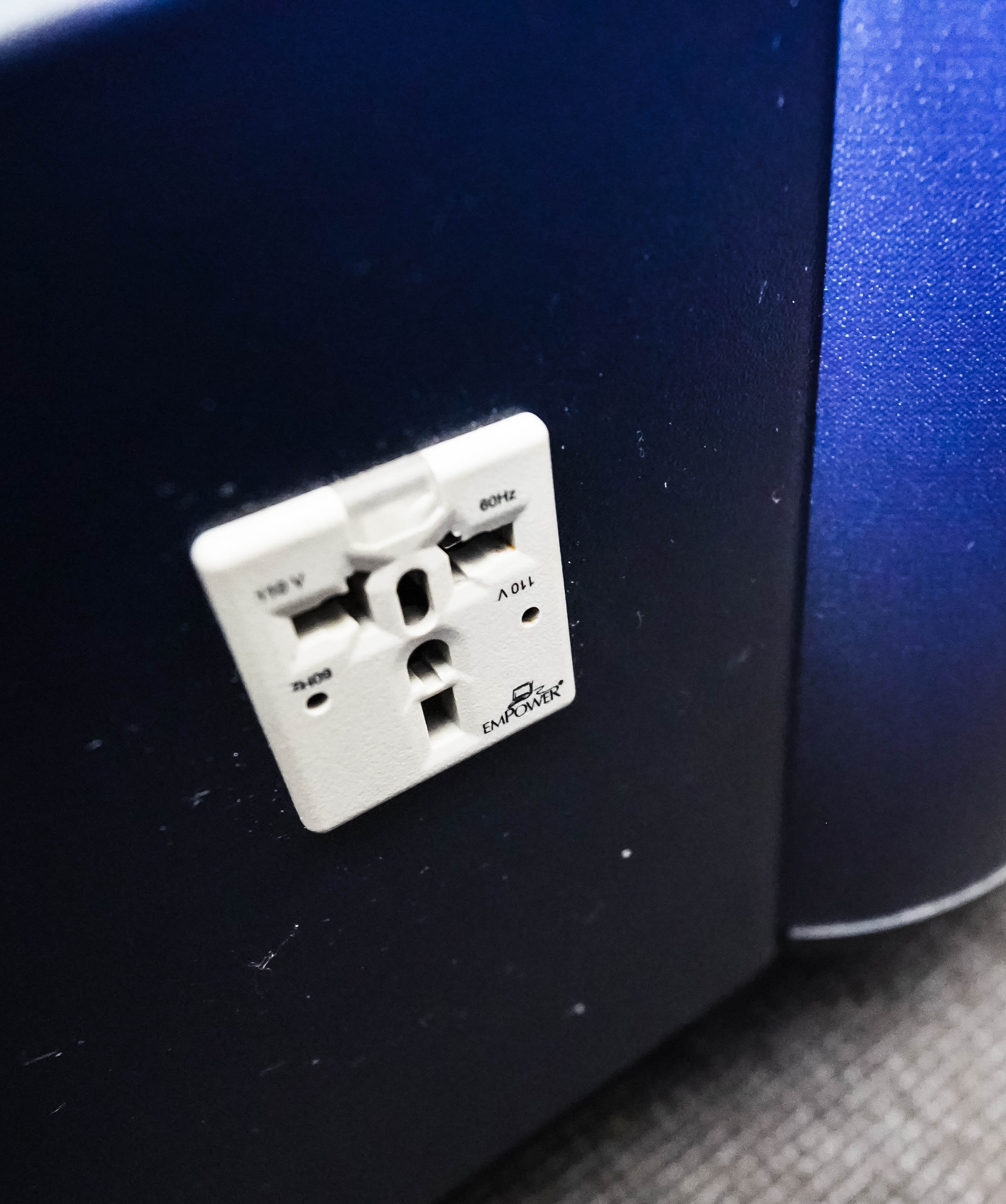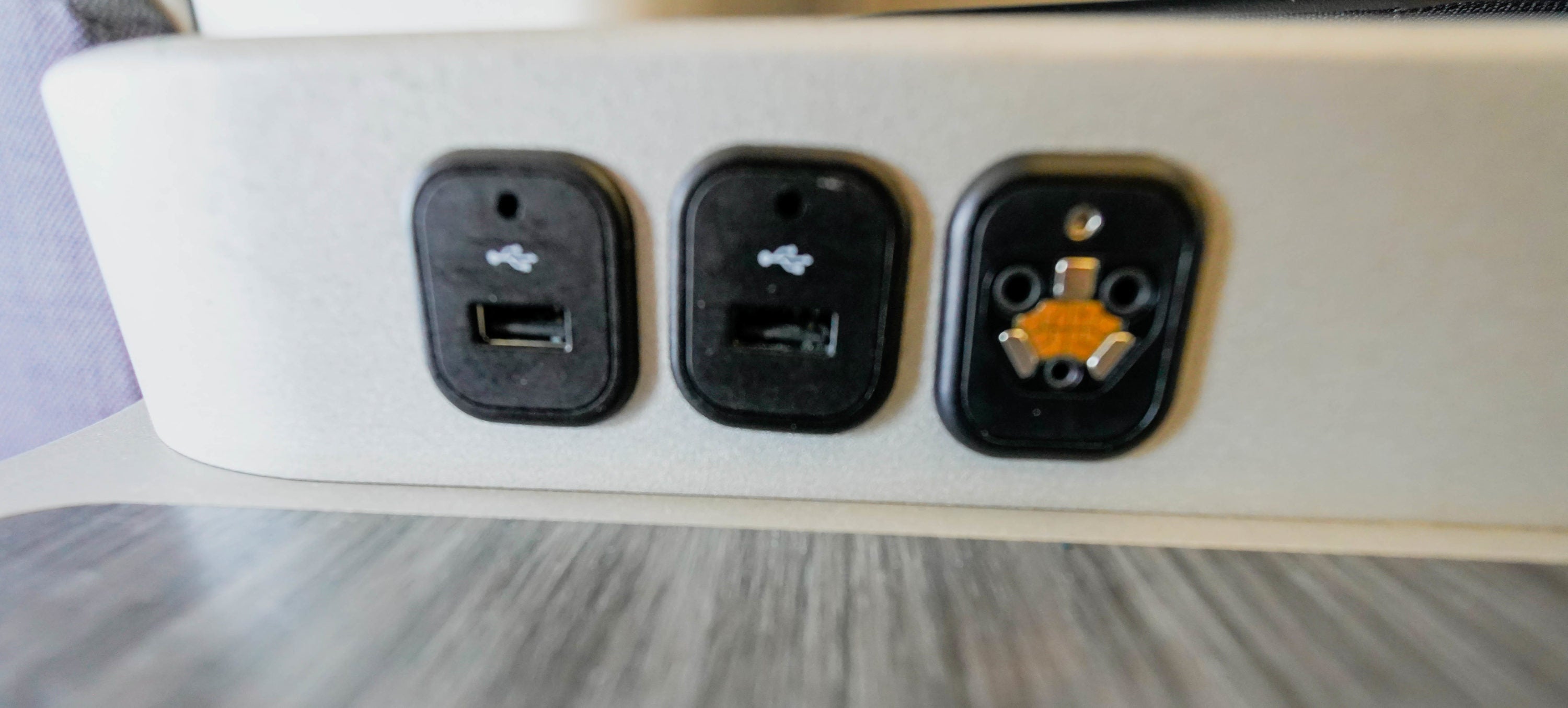 Inflight Entertainment and Wi-Fi
The IFE system features the Panasonic EX3 system with a 16-inch 1080p HD touchscreen monitor and a trackpad remote control that is nestled away in a cavity next to the seat's reading lights.
The entertainment options available were movies, TV shows, and music, and the interactive air show.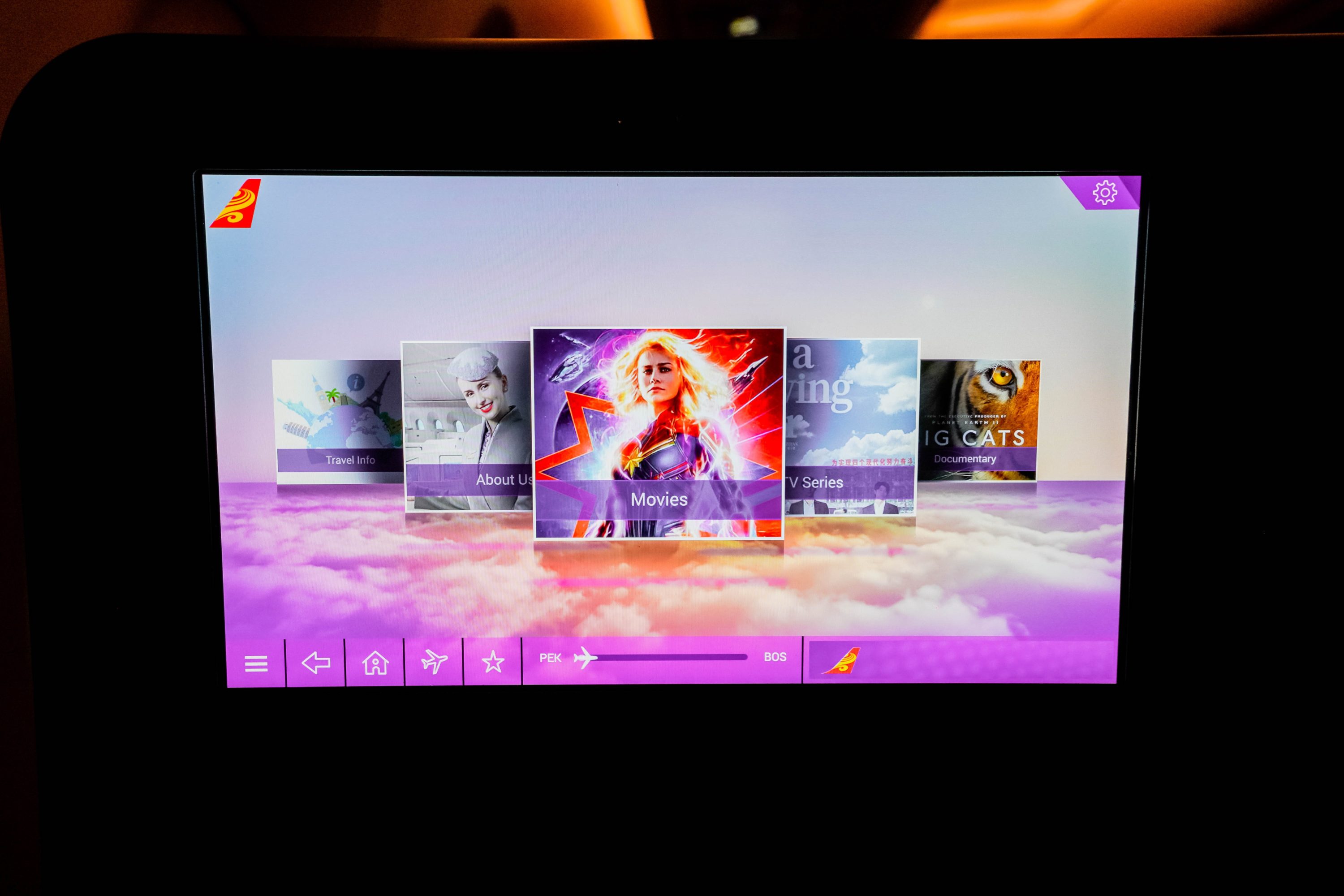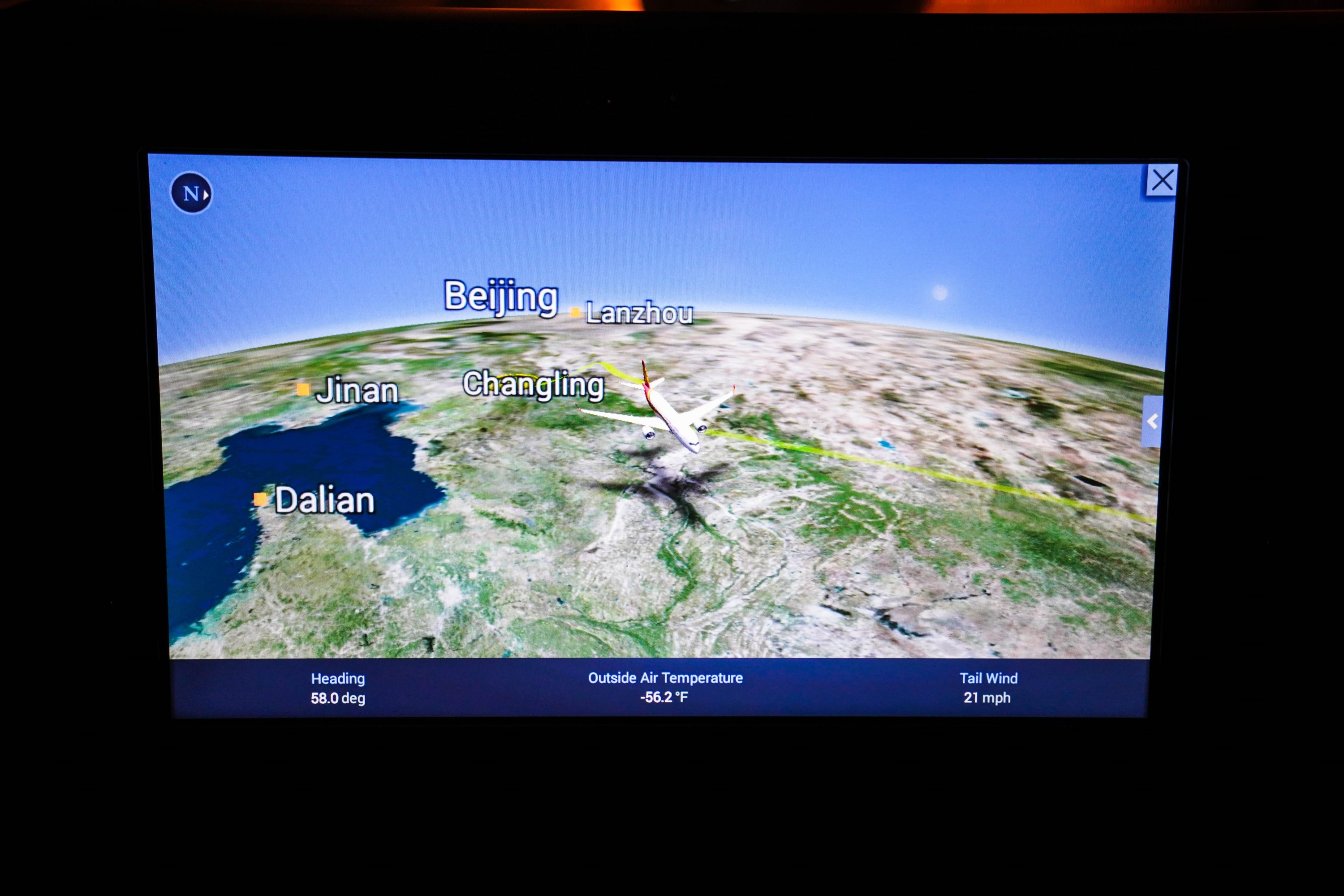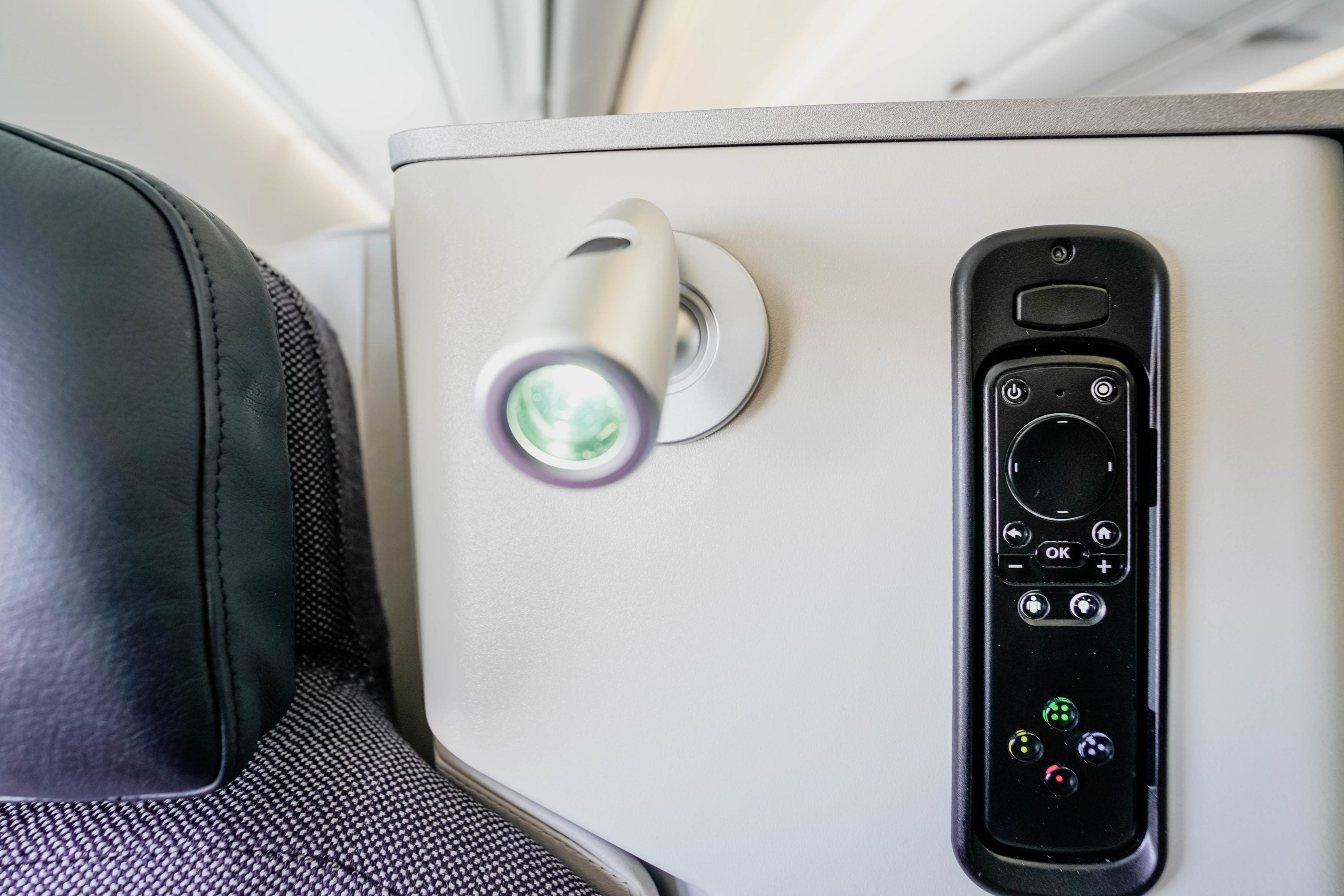 To complement the IFE, Hainan Airlines provides Bose noise-canceling headphones.
Hot Tip: Explore our list of the best noise-canceling headphones if you'd rather bring your own set on flights.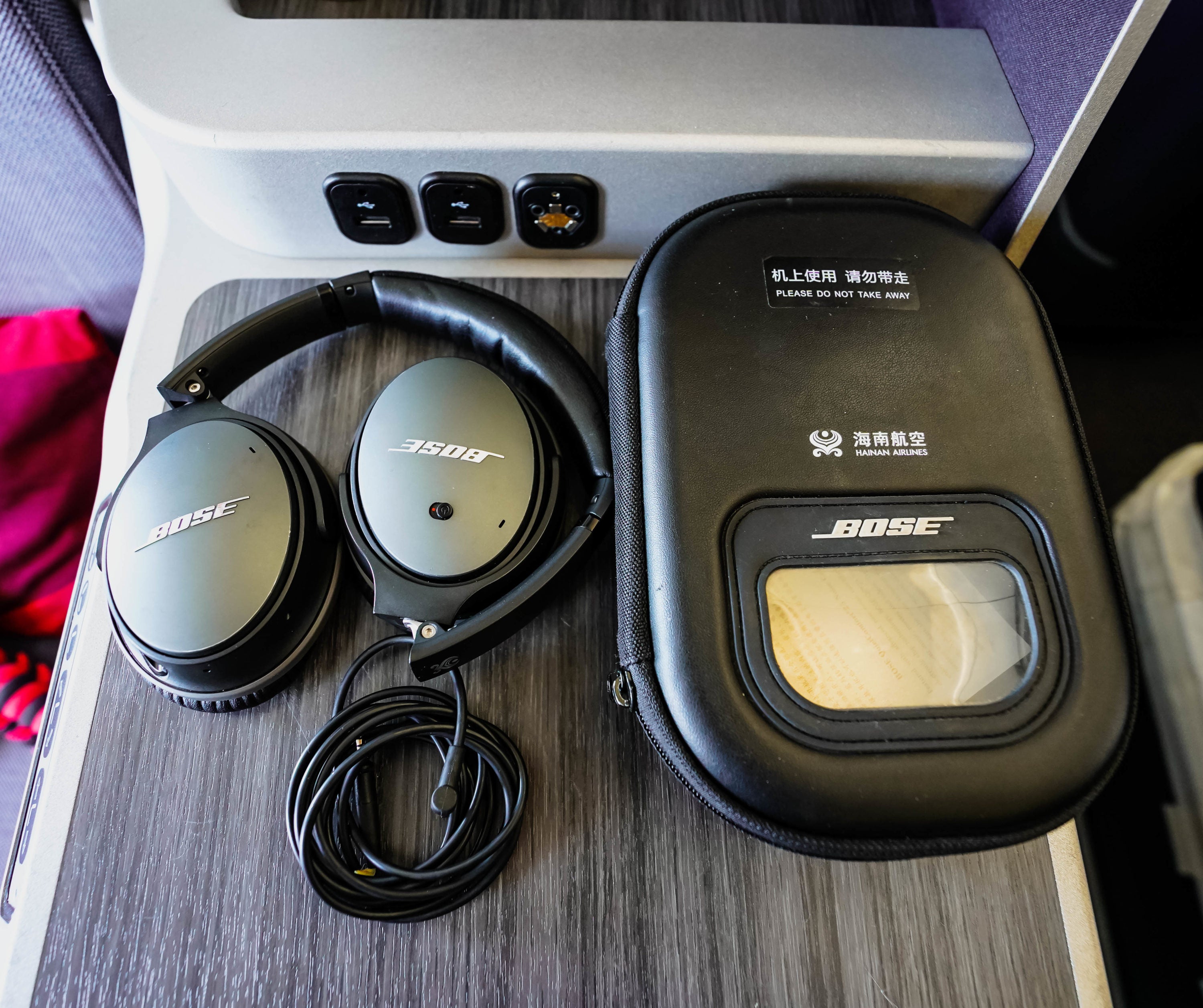 There was no Wi-Fi available, which  was a bit of a surprise considering the A350 is one of the latest aircraft flying out there.
Food and Service
On boarding, I was warmly greeted by the flight attendant who showed me to my seat 12K. Once I had settled in, I was offered a glass of Champagne Leventre-Dedieu Grand Cru Brut, the same Champagne that Hainan serves in the lounge.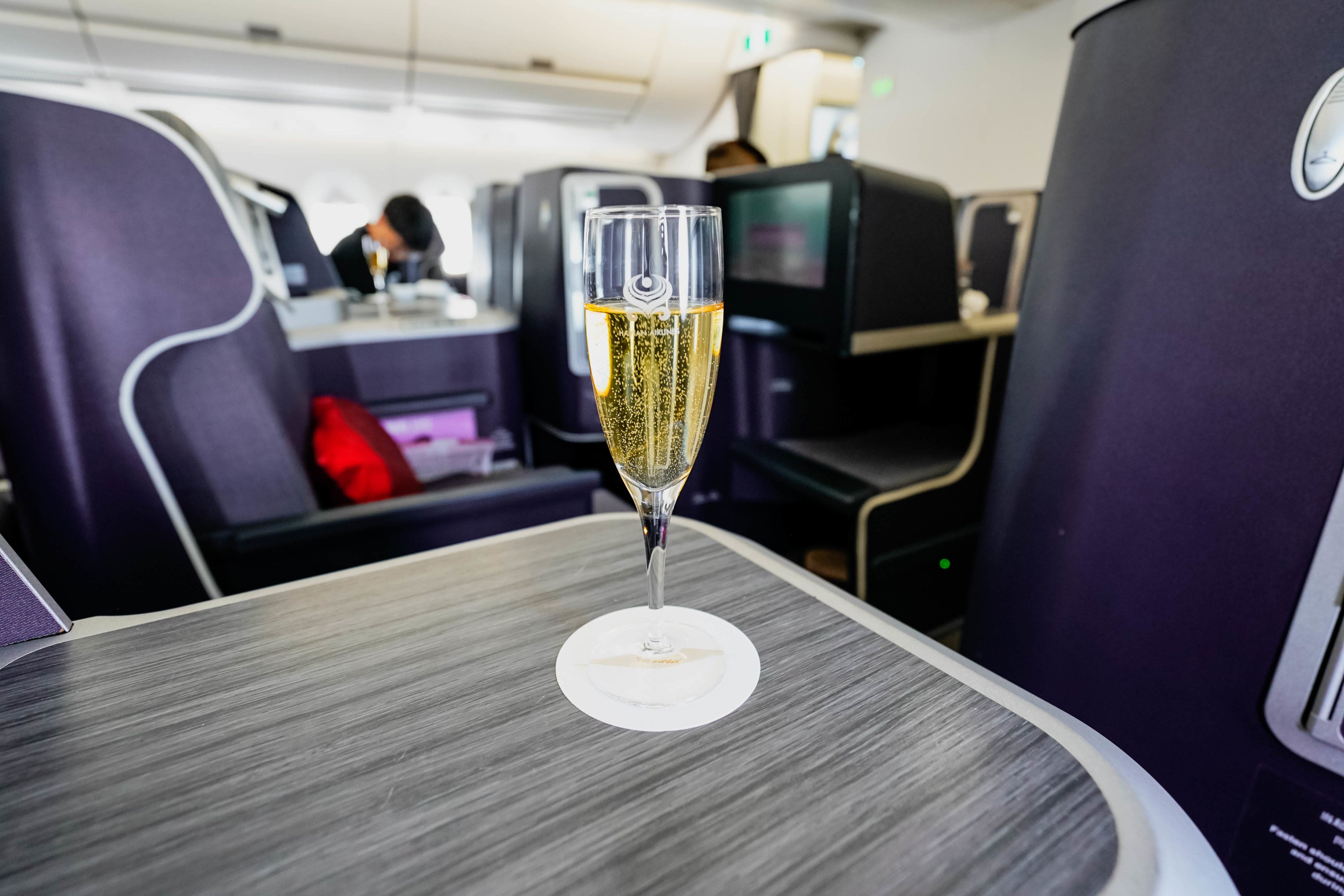 Business class was fully booked barring 2 seats. Across the aisle there was a young family with an infant, and things started getting noisy. Luckily 16A, at the rear of the business class cabin was vacant, so I checked with the flight attendant and quickly moved there prior takeoff before someone else had the same idea. The flight attendant then distributed the wine list and menu and started taking the lunch orders on the ground.
Though the menu only had a singular champagne offering, there was some good variety of boutique wines on offer along with the usual alcoholic and non-alcoholic beverages.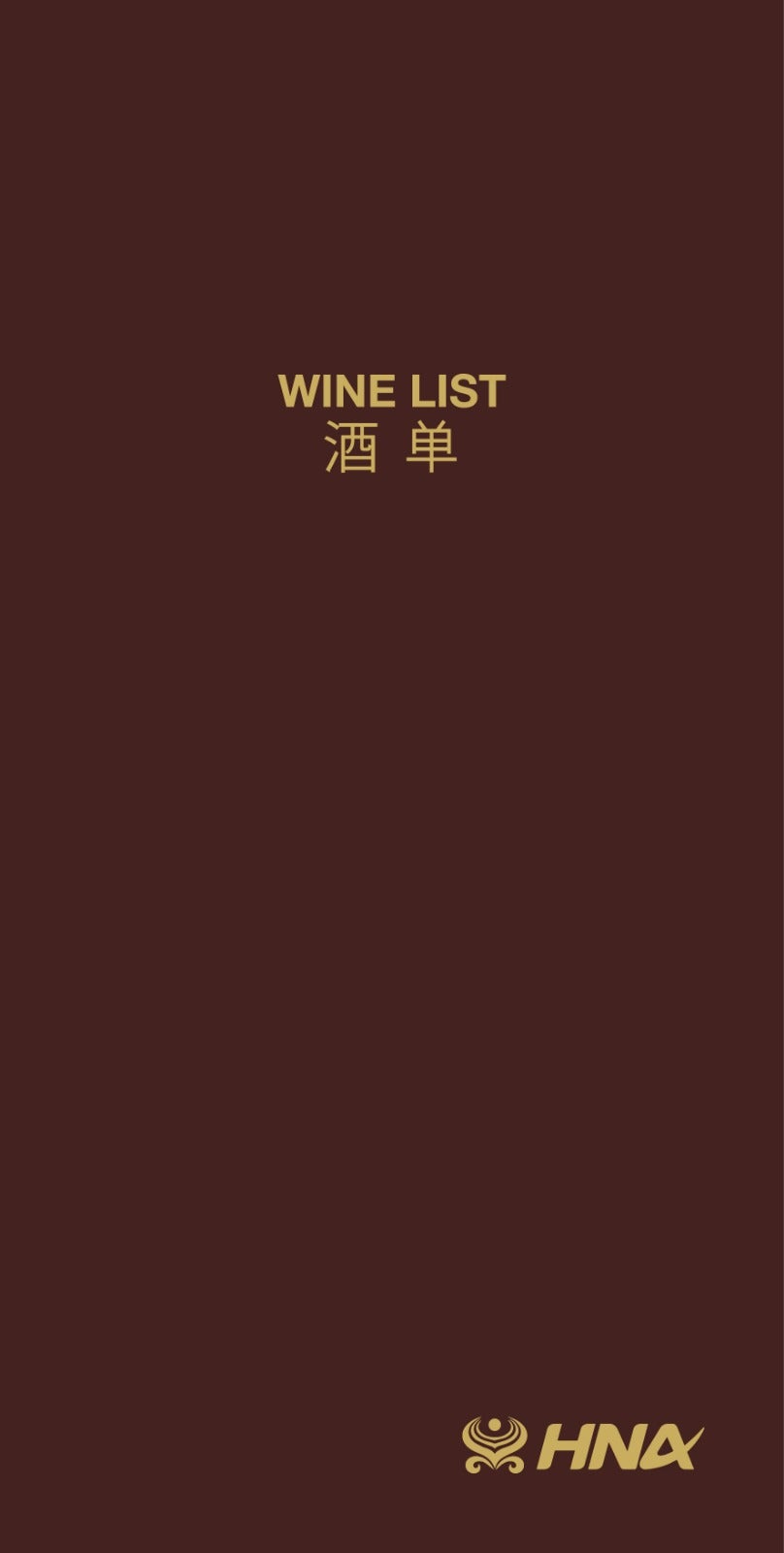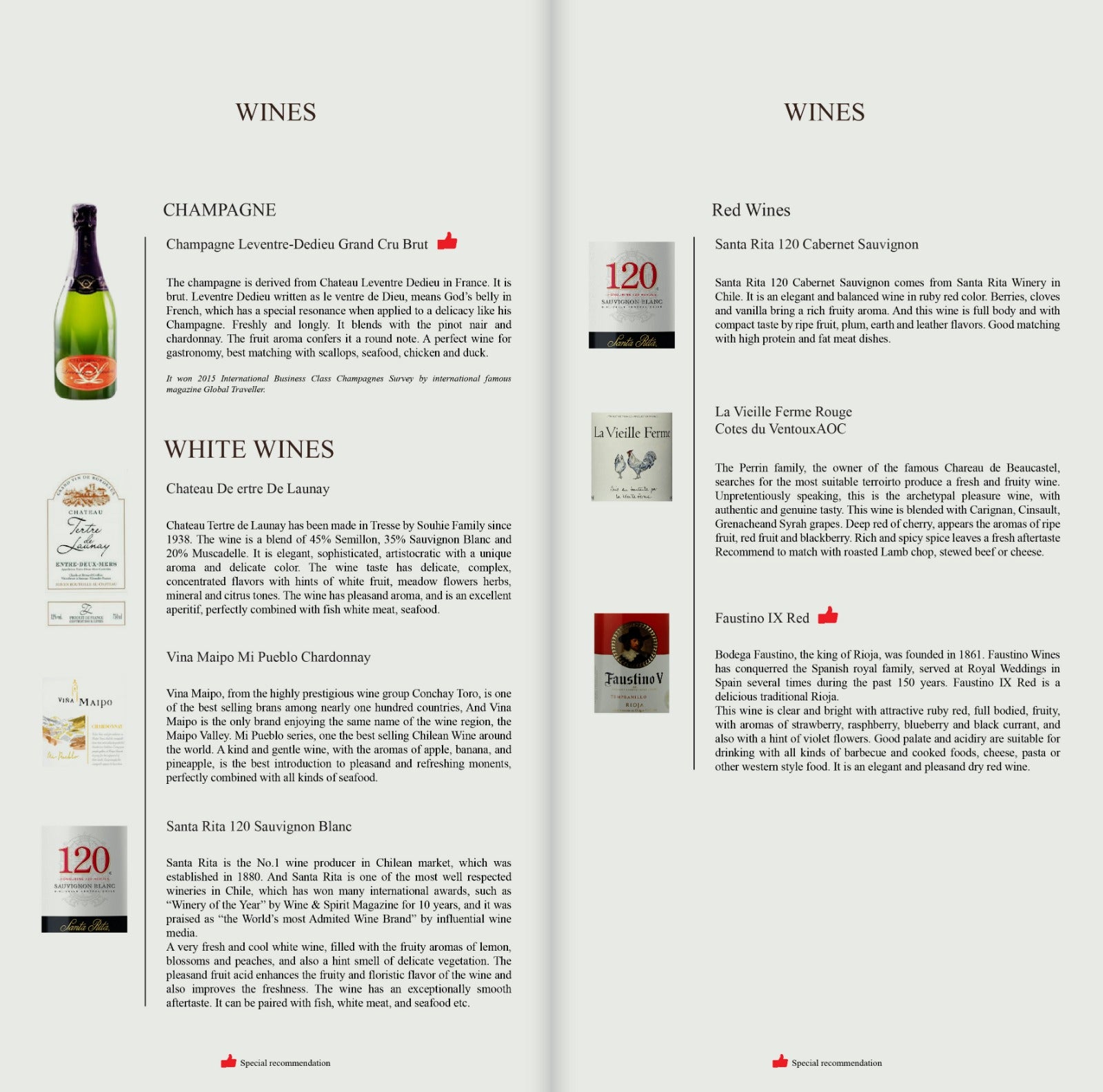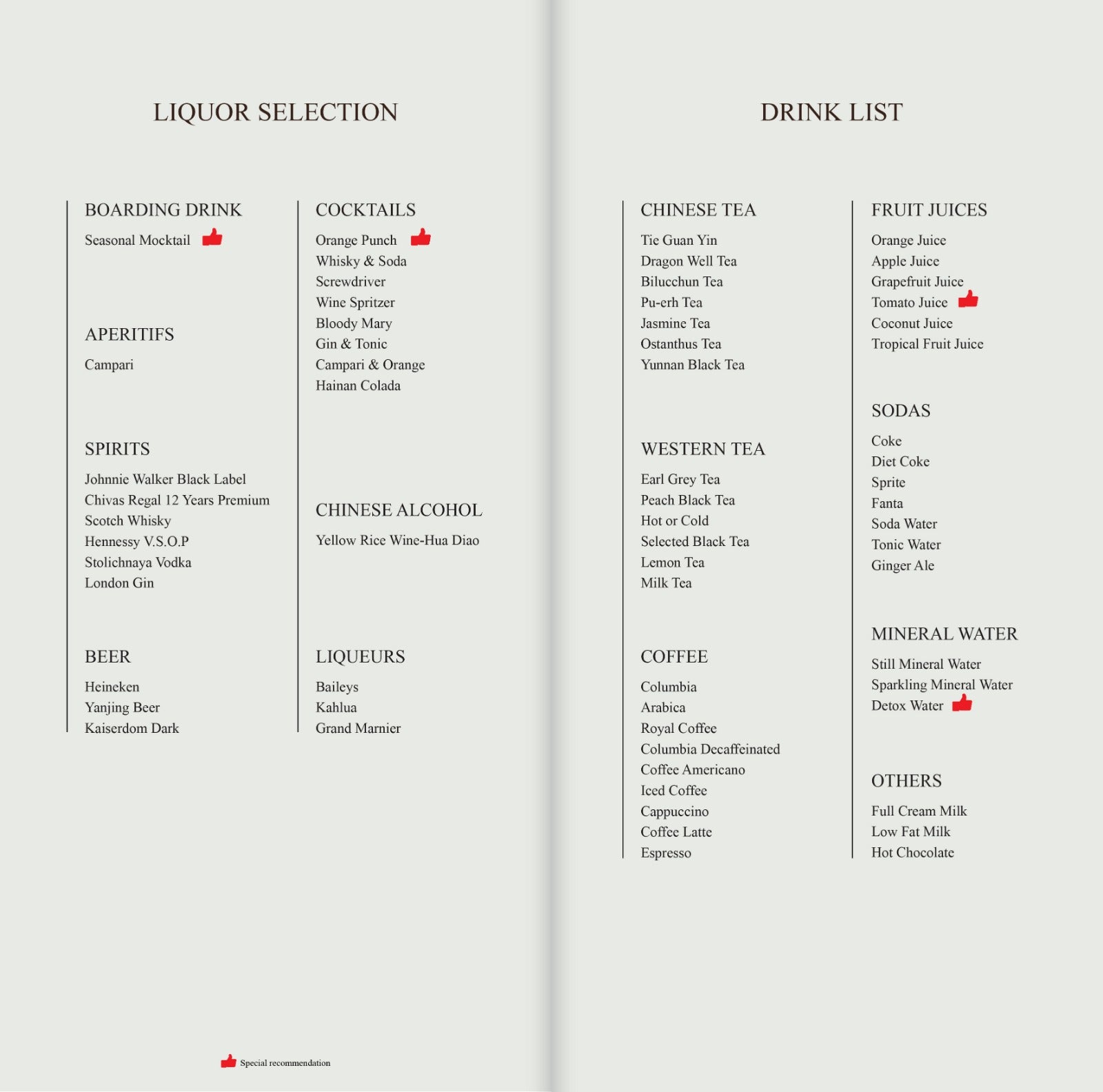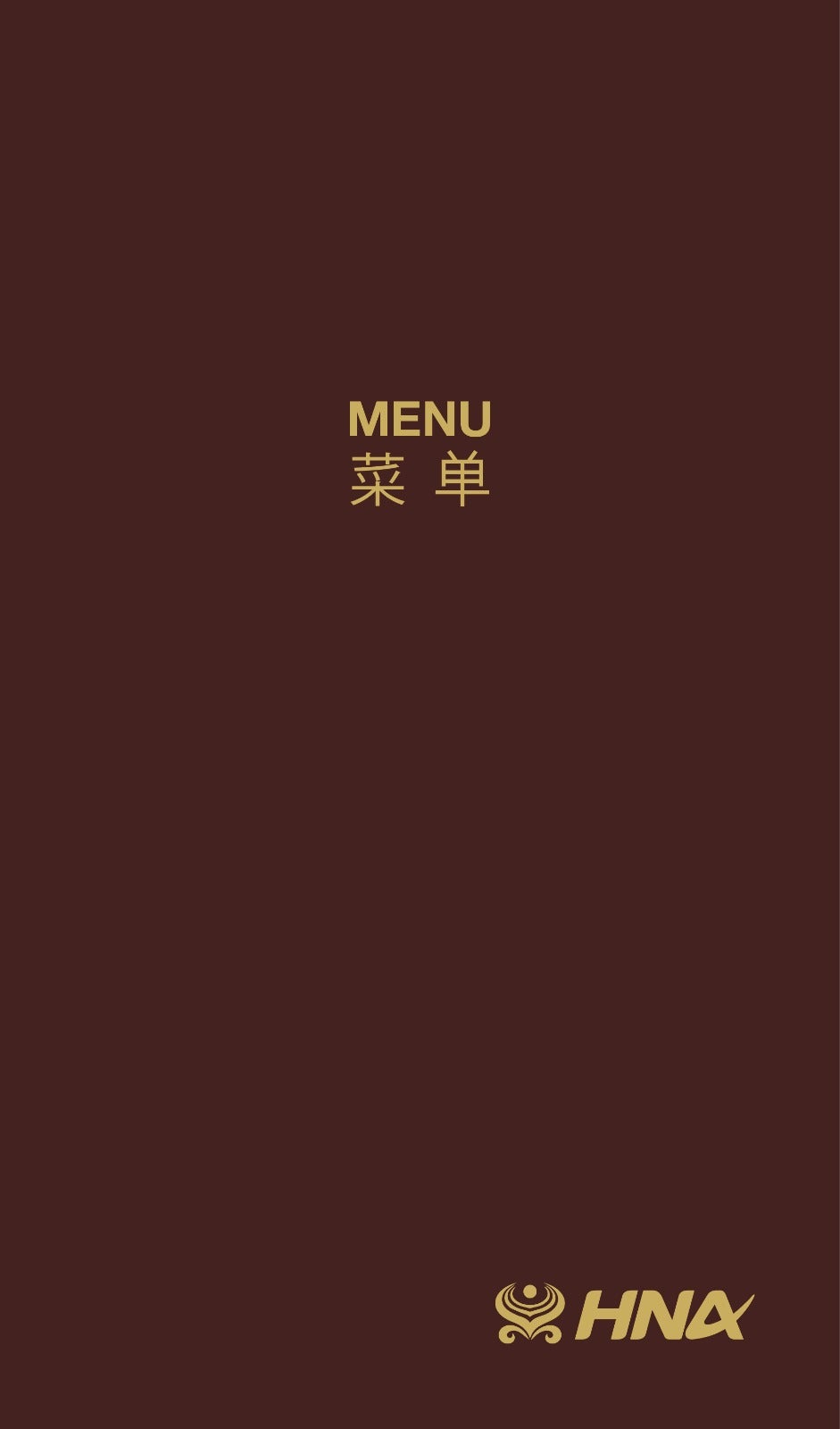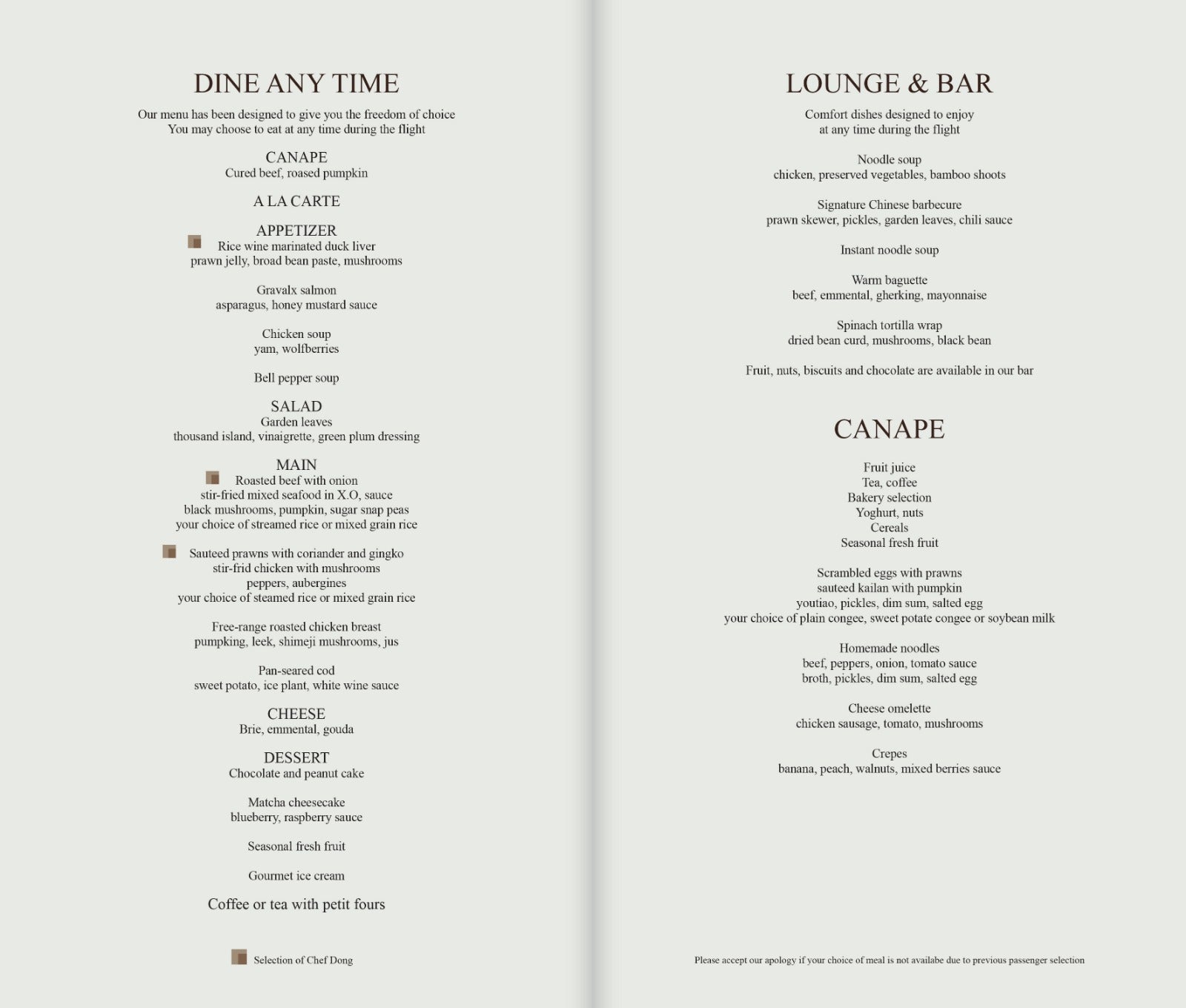 Hainan caters a dine-on-demand service, which means you could pick and choose your dishes and the time at which you want to eat. I was pretty hungry by now, and after takeoff, I opted to continue with the Champagne and opted for lunch.
I had heard and read a lot of good things about the quality of food onboard Hainan thanks to their collaboration with Michelin starred chefs. To offer a highly personal dining experience to business class passengers, Hainan Airlines has an onboard chef — one of the few airlines like Austrian Airlines, Etihad Airways, and Turkish Airlines to offer this service.
I started with the canapé of cured beef with roasted pumpkin, which was decent.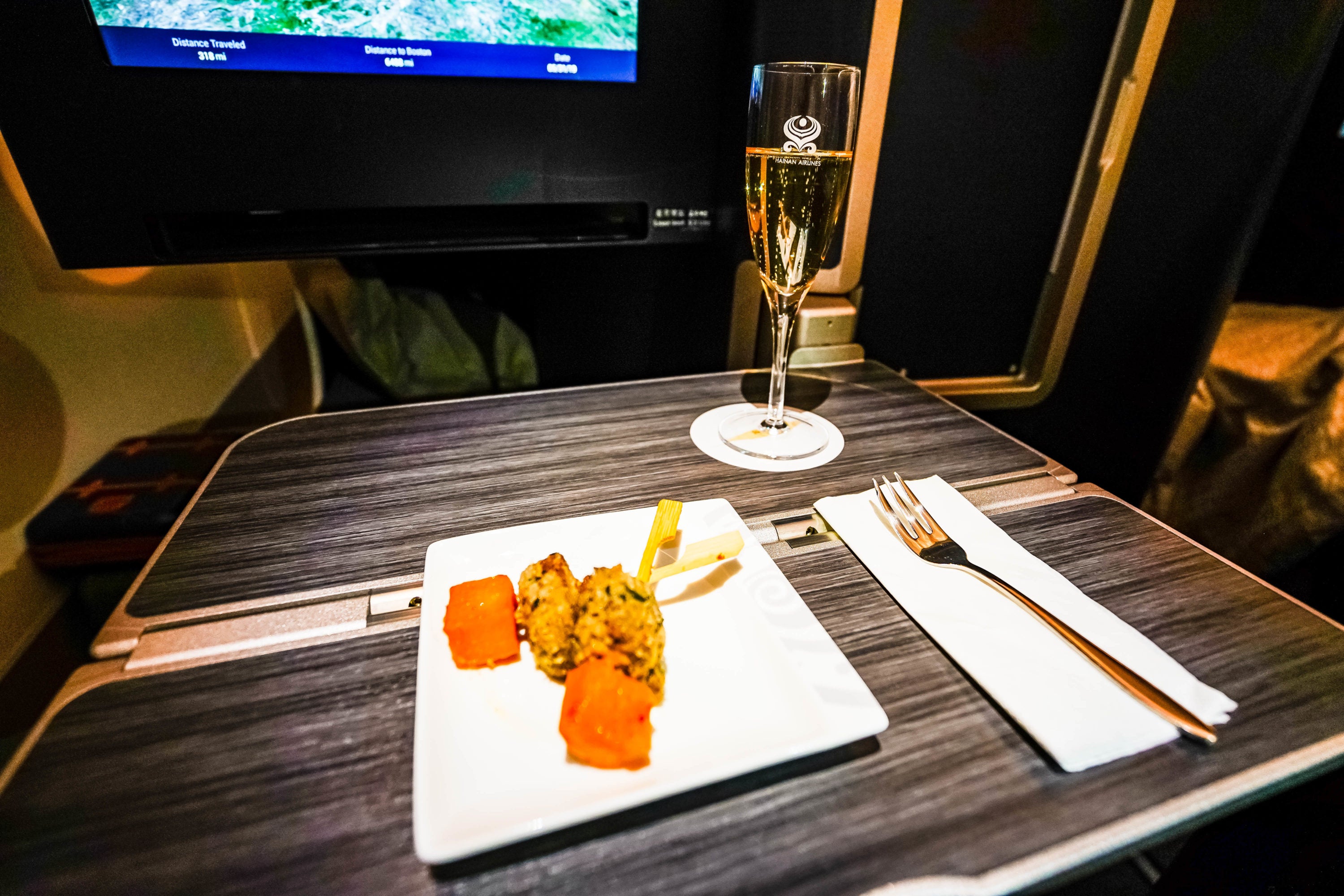 Then followed the appetizer of gravlax salmon, which was followed by a garden salad with vinaigrette dressing. The salmon was well seasoned and fresh.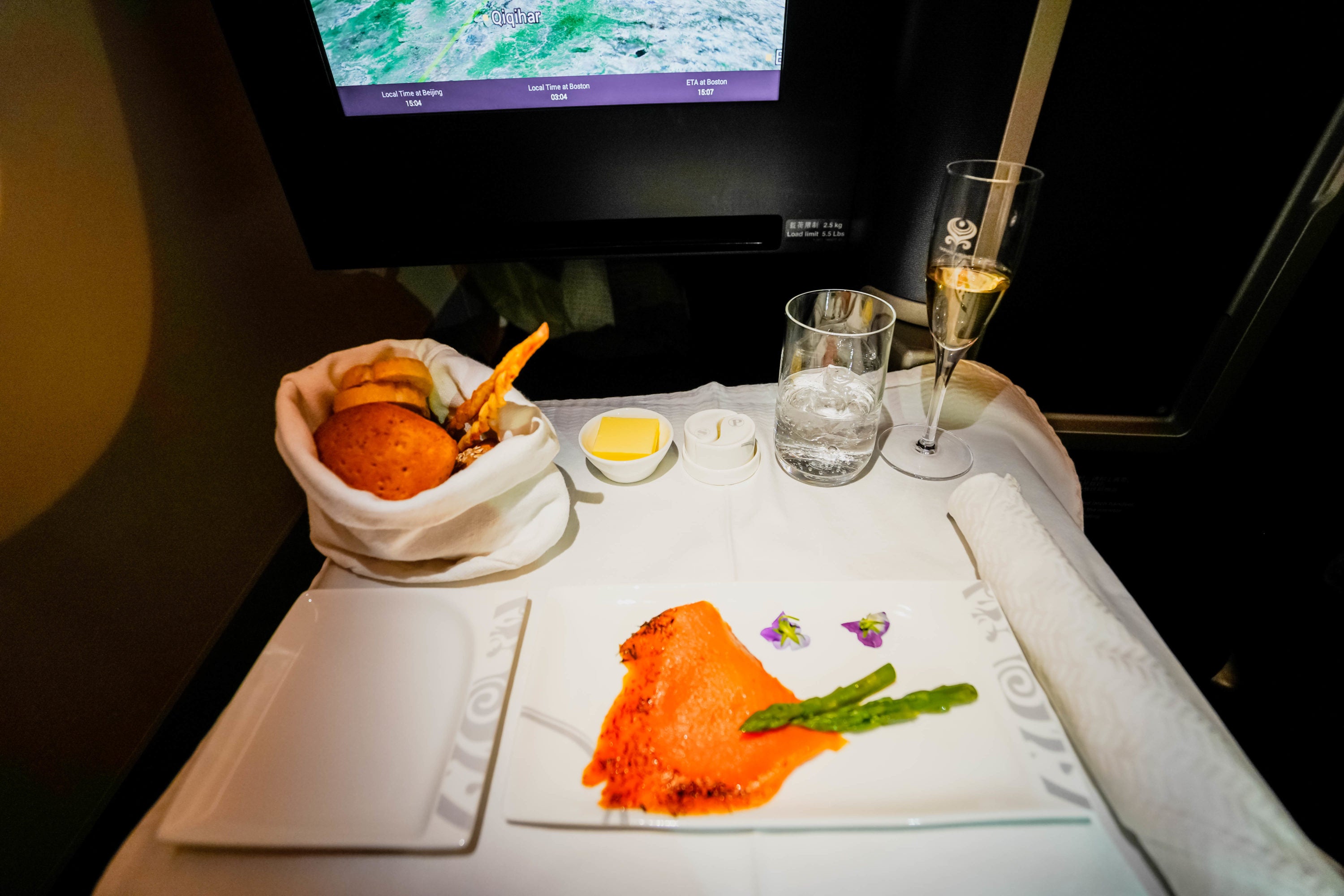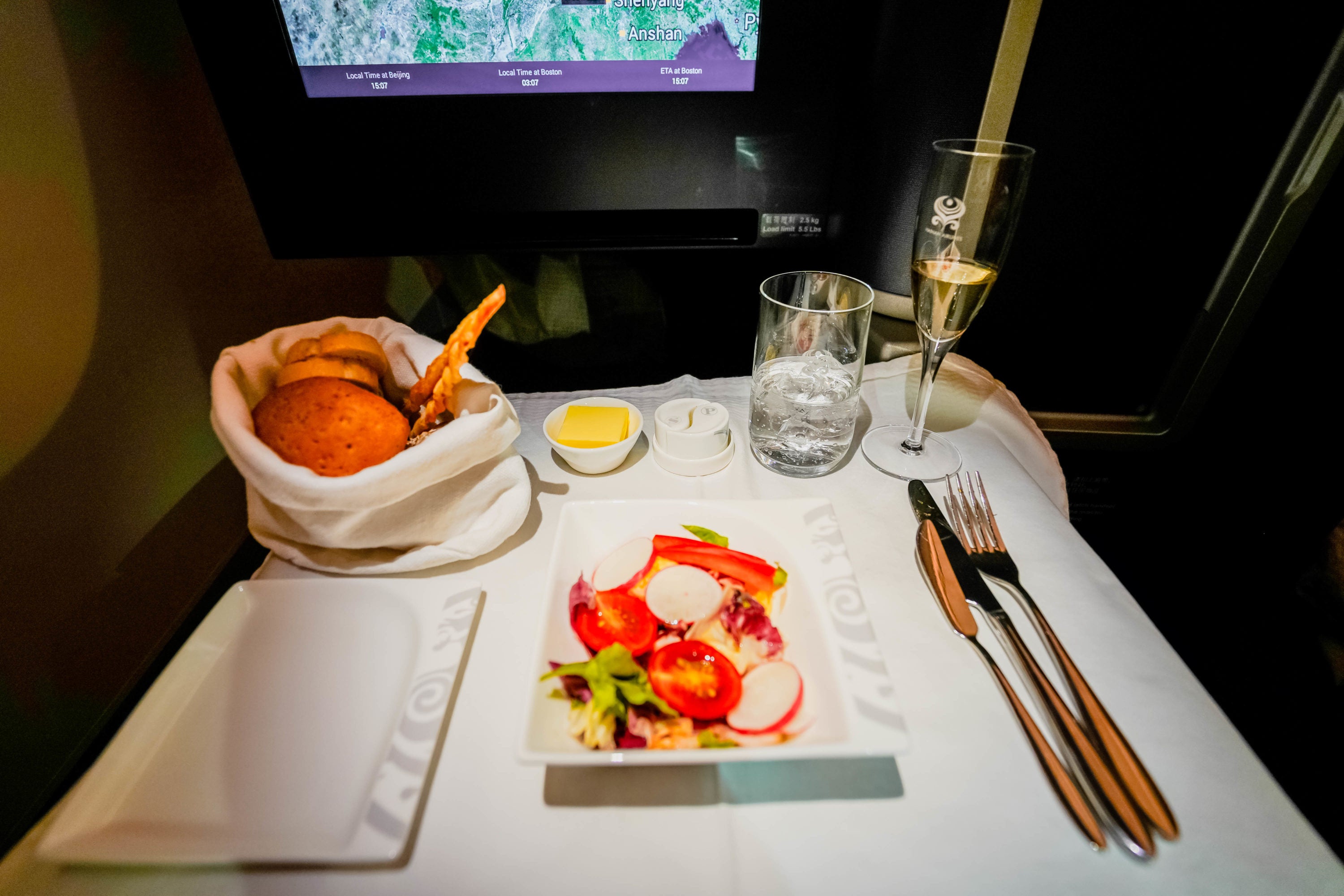 For the main course, I chose the roast beef with onion, stir fried mixed seafood in X.O. sauce with accompaniments of black mushrooms, pumpkin, sugar snap peas, and steamed rice. I paired the dish the Spanish wine, Faustino IX Red, and I wasn't disappointed.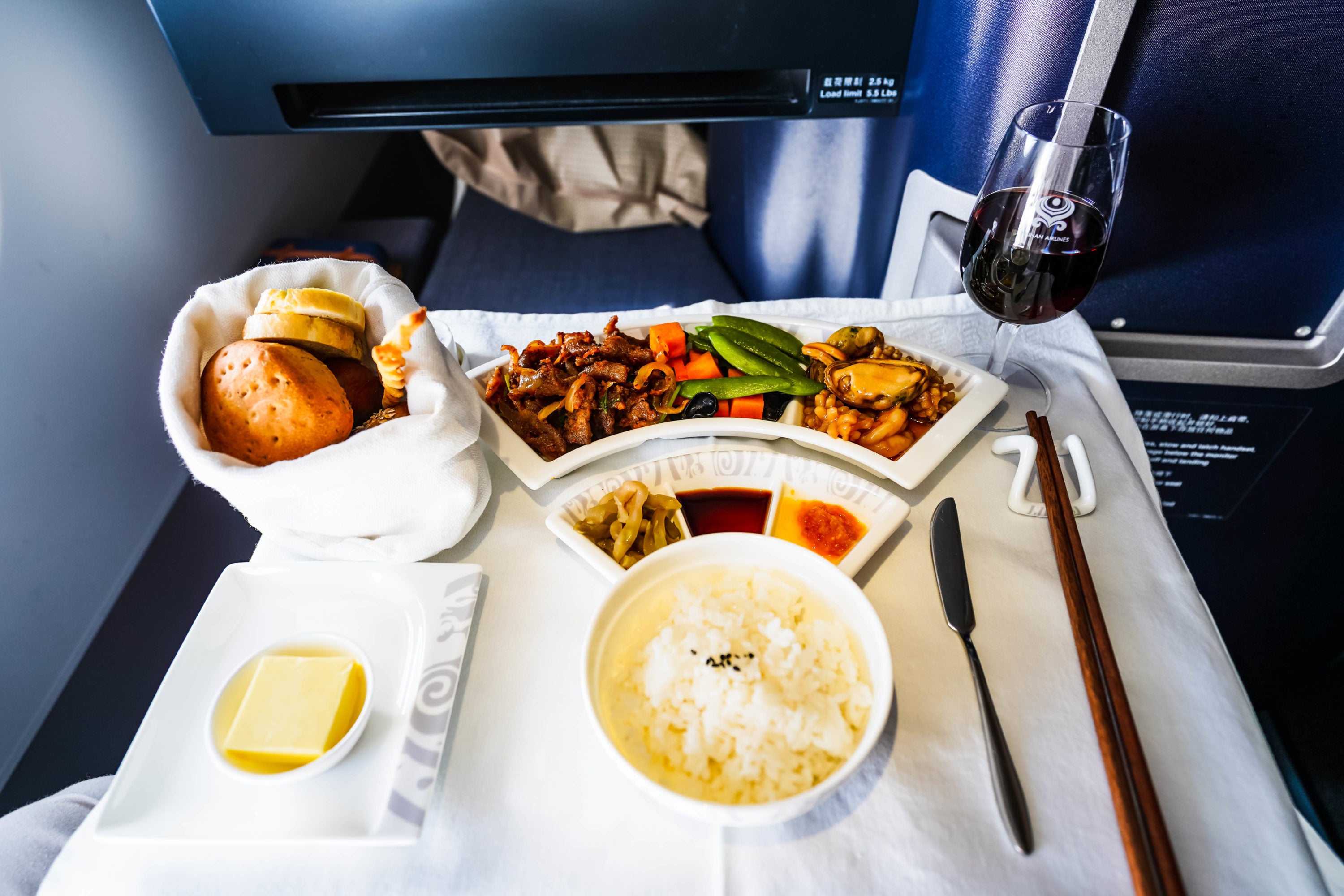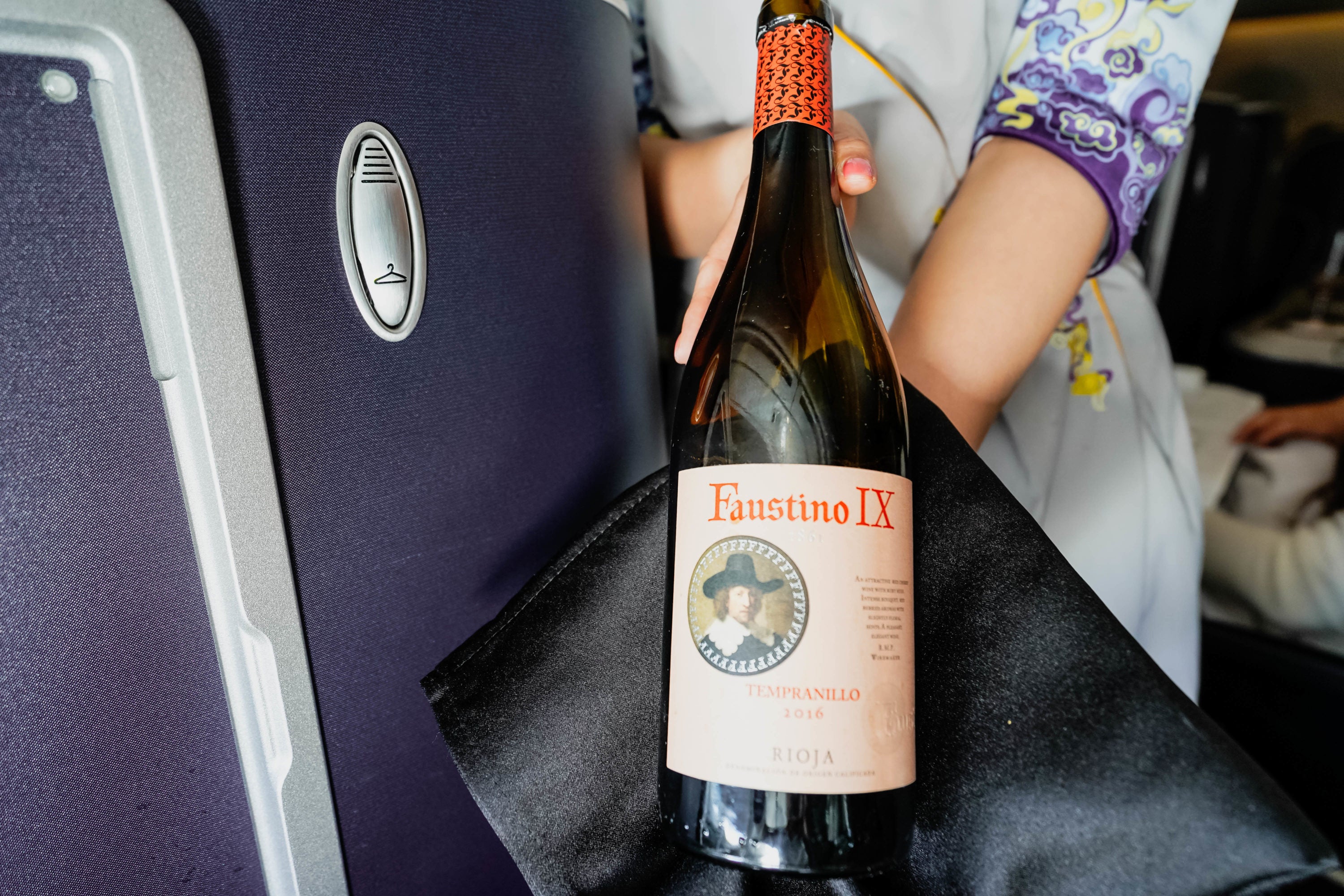 Lunch was served on "Pi Xu" tableware and was beautifully presented by the Hai Chef, Mei. It tasted as good as it looked. The beef in X.O. sauce was tender and delectable and the Faustino IX red wine, which was well balanced with a clean after taste, paired beautifully with it.
The chef then rolled through the cabin with the dessert trolley offering cheese, seasonal fresh fruits, and desserts of chocolate and peanut cake, matcha cheesecake with blueberry and raspberry sauce, and Haagen Dazs ice cream.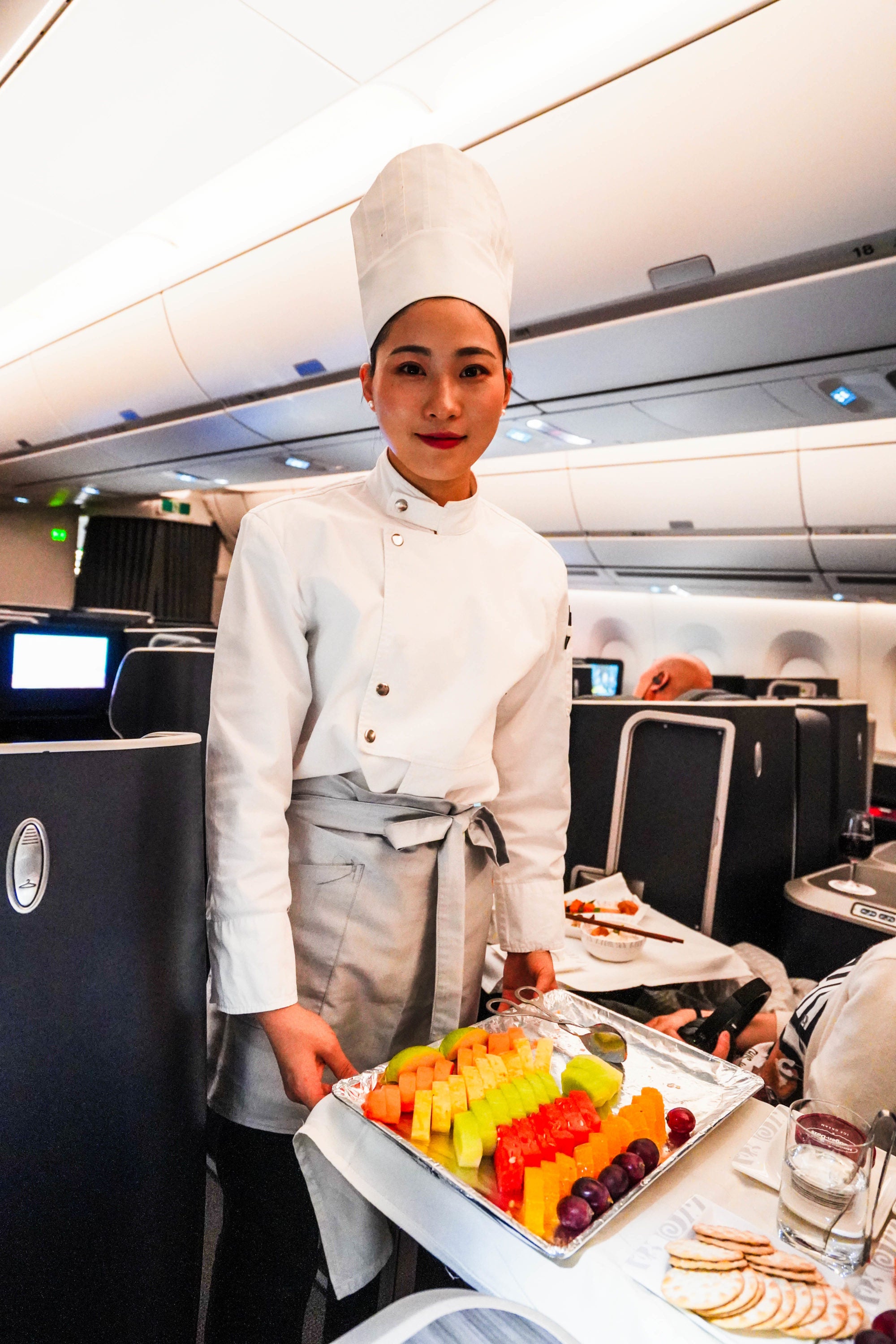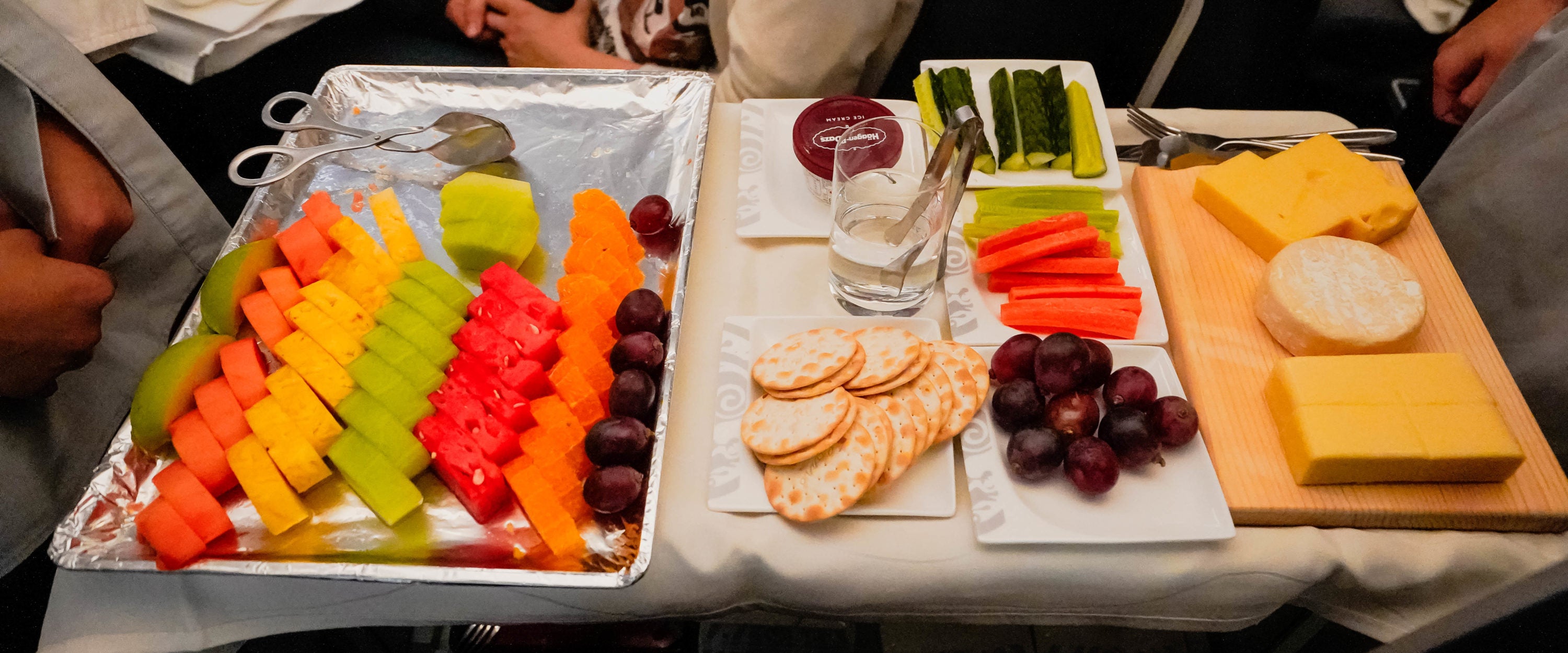 I opted for the cheese plate with fresh fruits and the chocolate and peanut cake, both of which were delightfully good.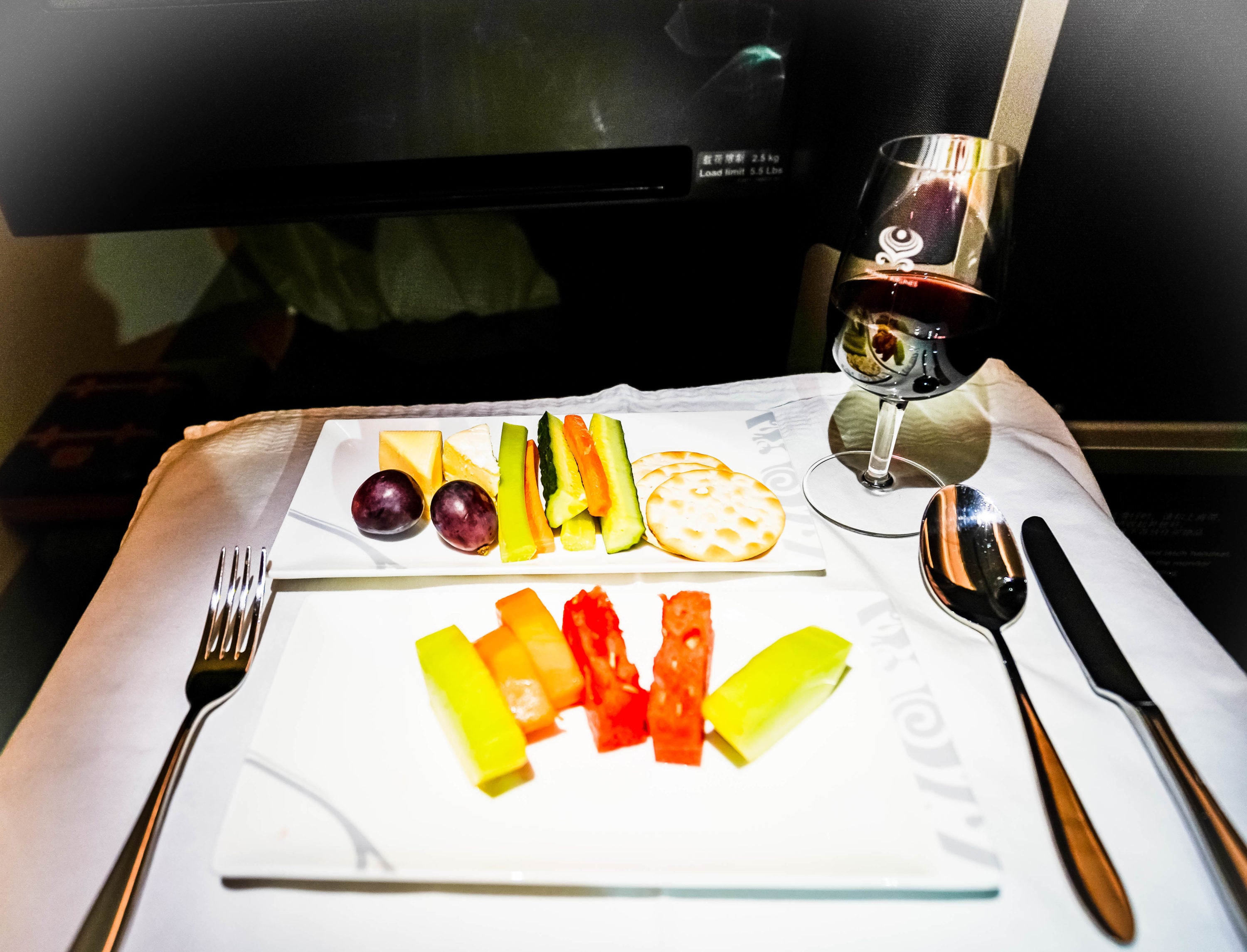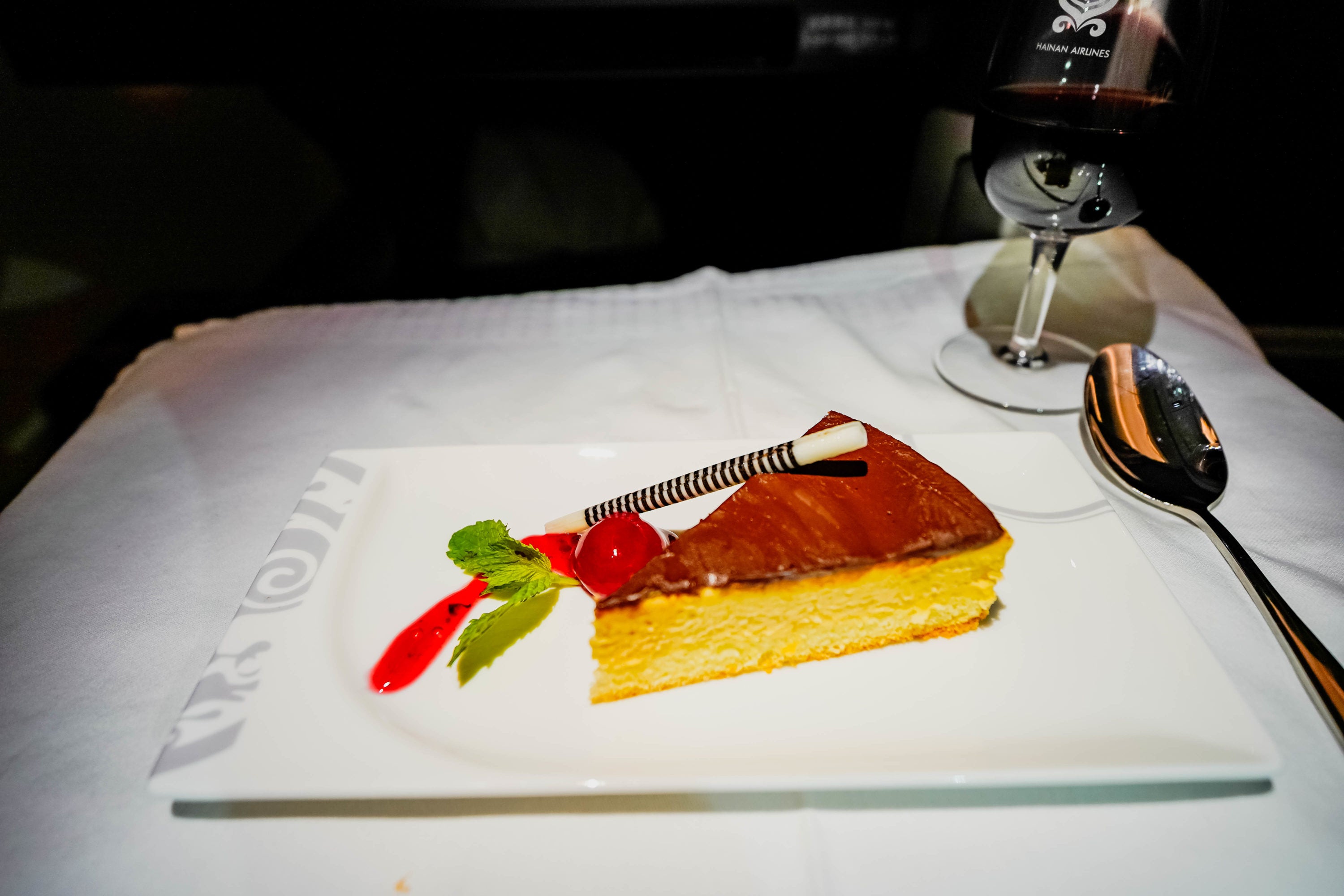 By now I was ready to hit the sack and requested to have the bed made, which was actioned immediately, and after changing into the pajamas provided onboard I knocked off for a good 8 hours.
On waking up, I was feeling a bit peckish, so I ordered for the chicken noodle soup with vegetables and the signature Chinese barbecue, which was a dish of marinated prawns on a skewer with pickles, garden leaves and chili sauce. Both were delicious.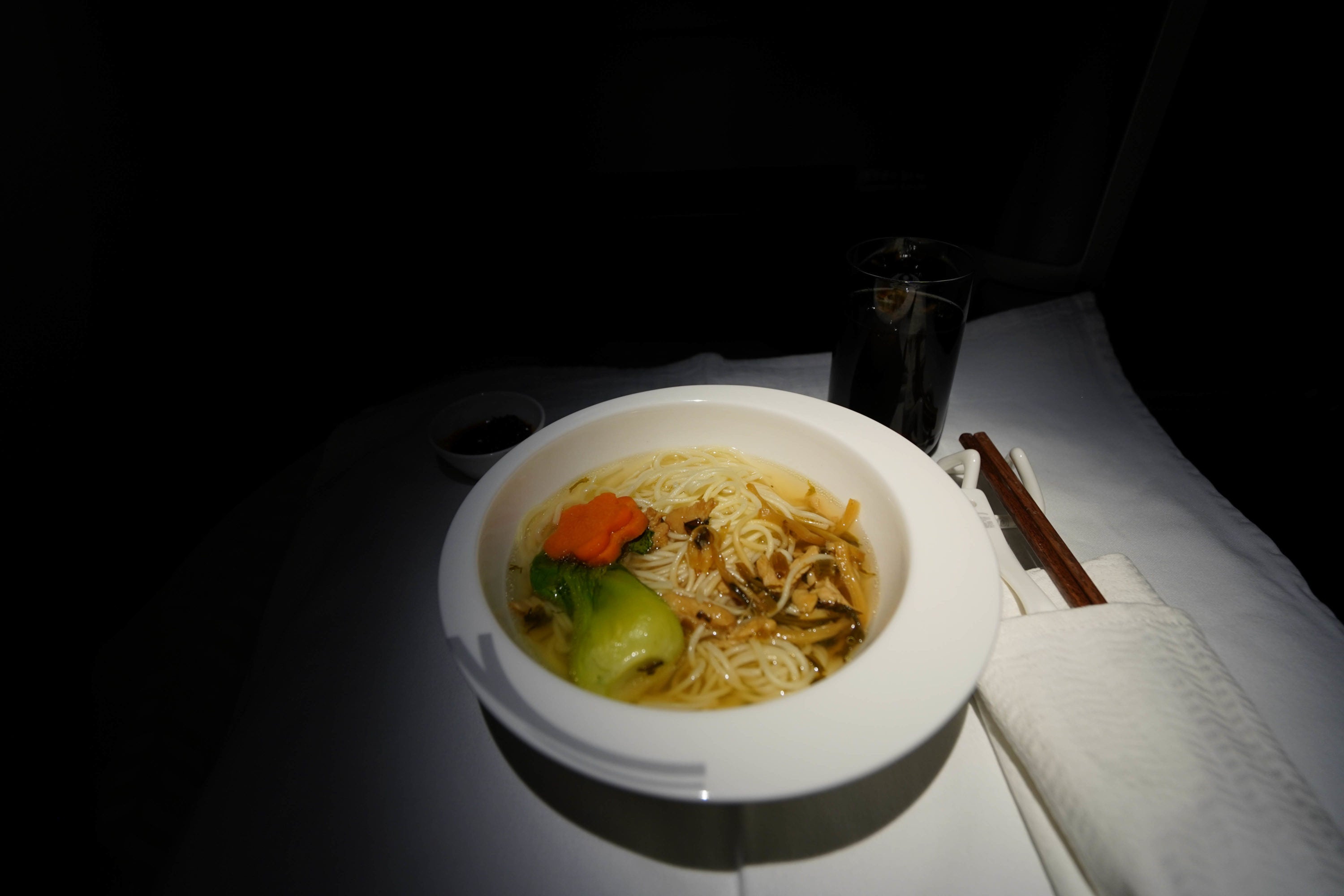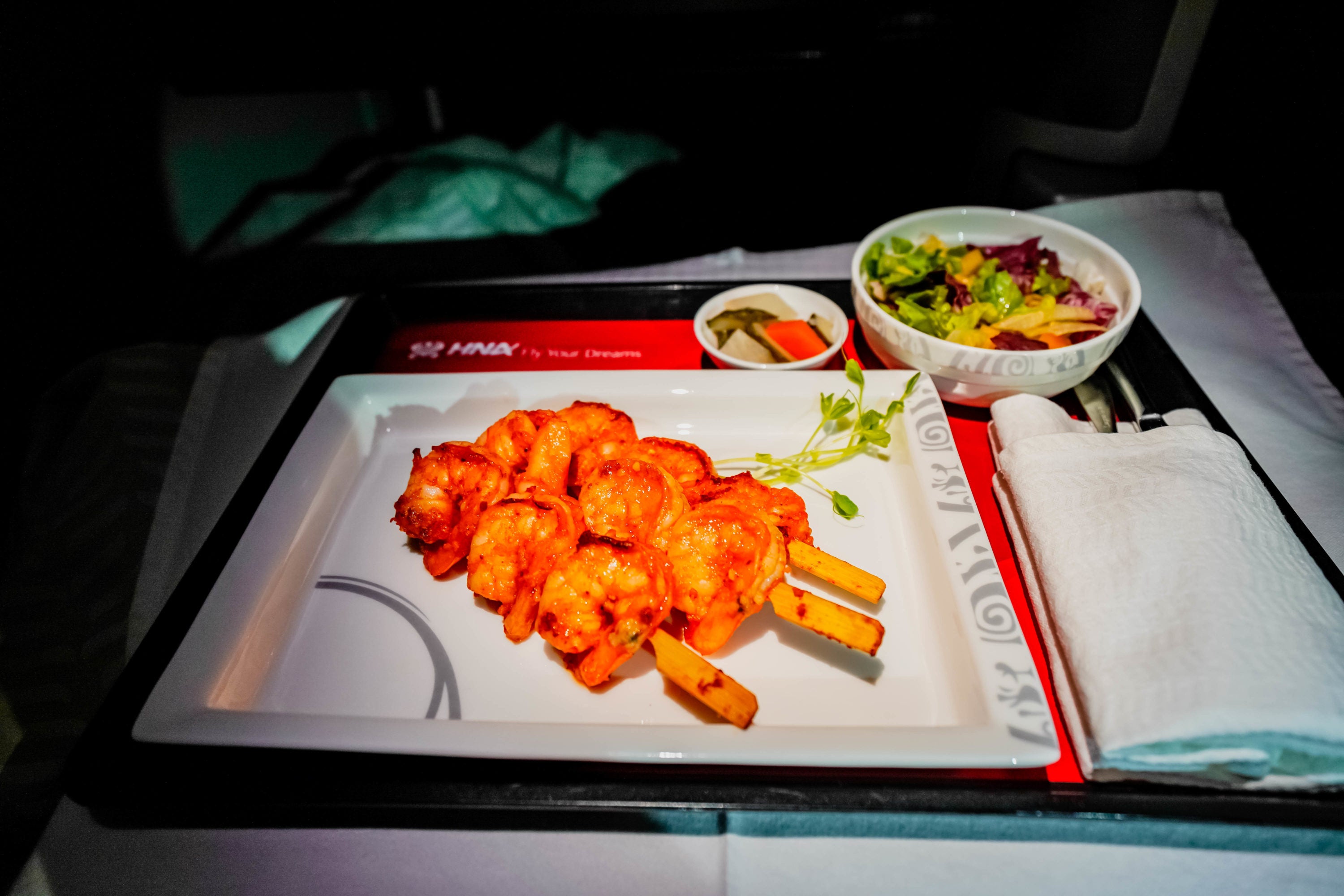 Approximately 2 hours prior to landing, the cabin lights were brightened and the light meal service commenced. I went in for the homemade noodles with beef, pepper, broth, dim sum, and the crepes with a mixed berry sauce. I particularly enjoyed the crepes, which were light and fluffy.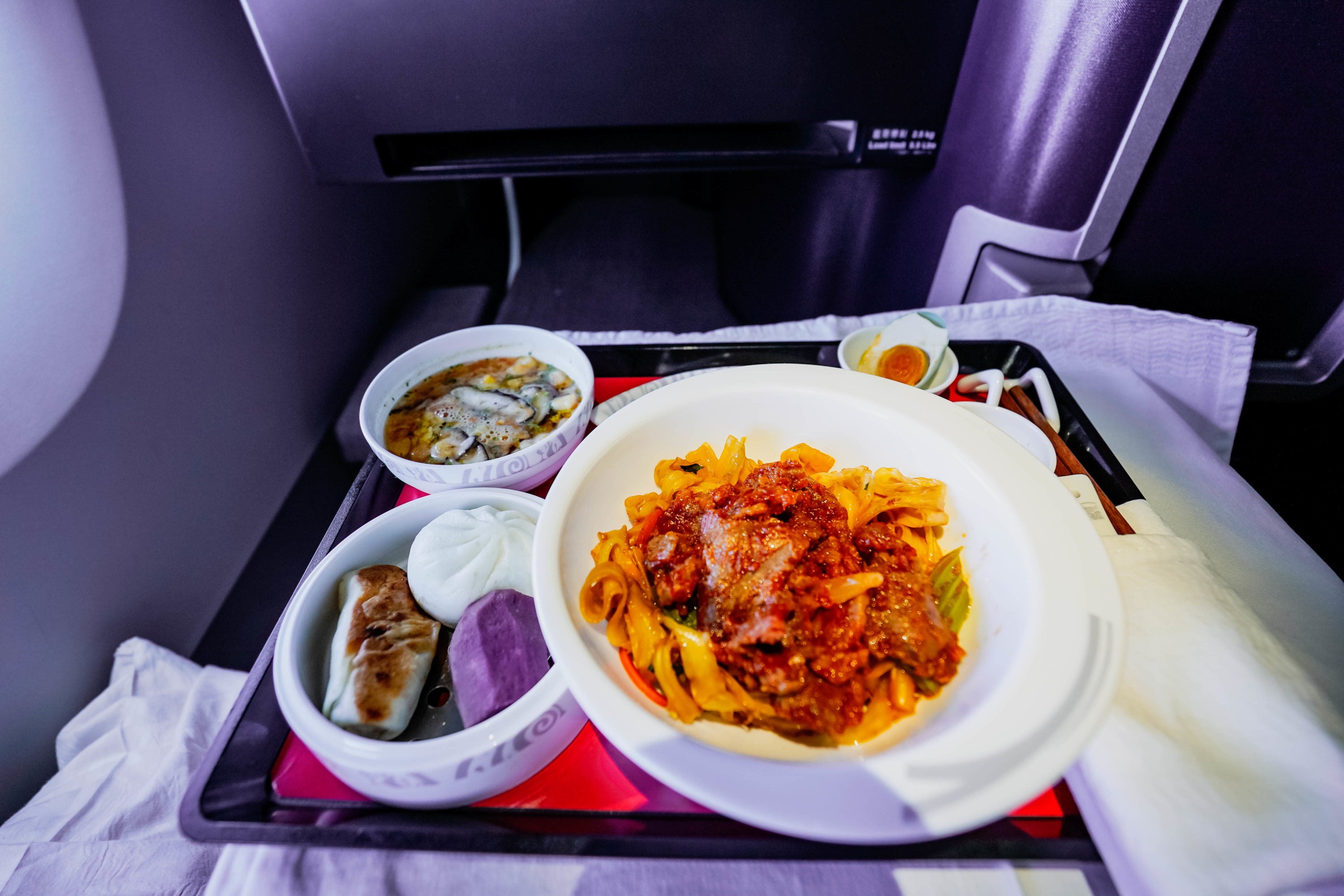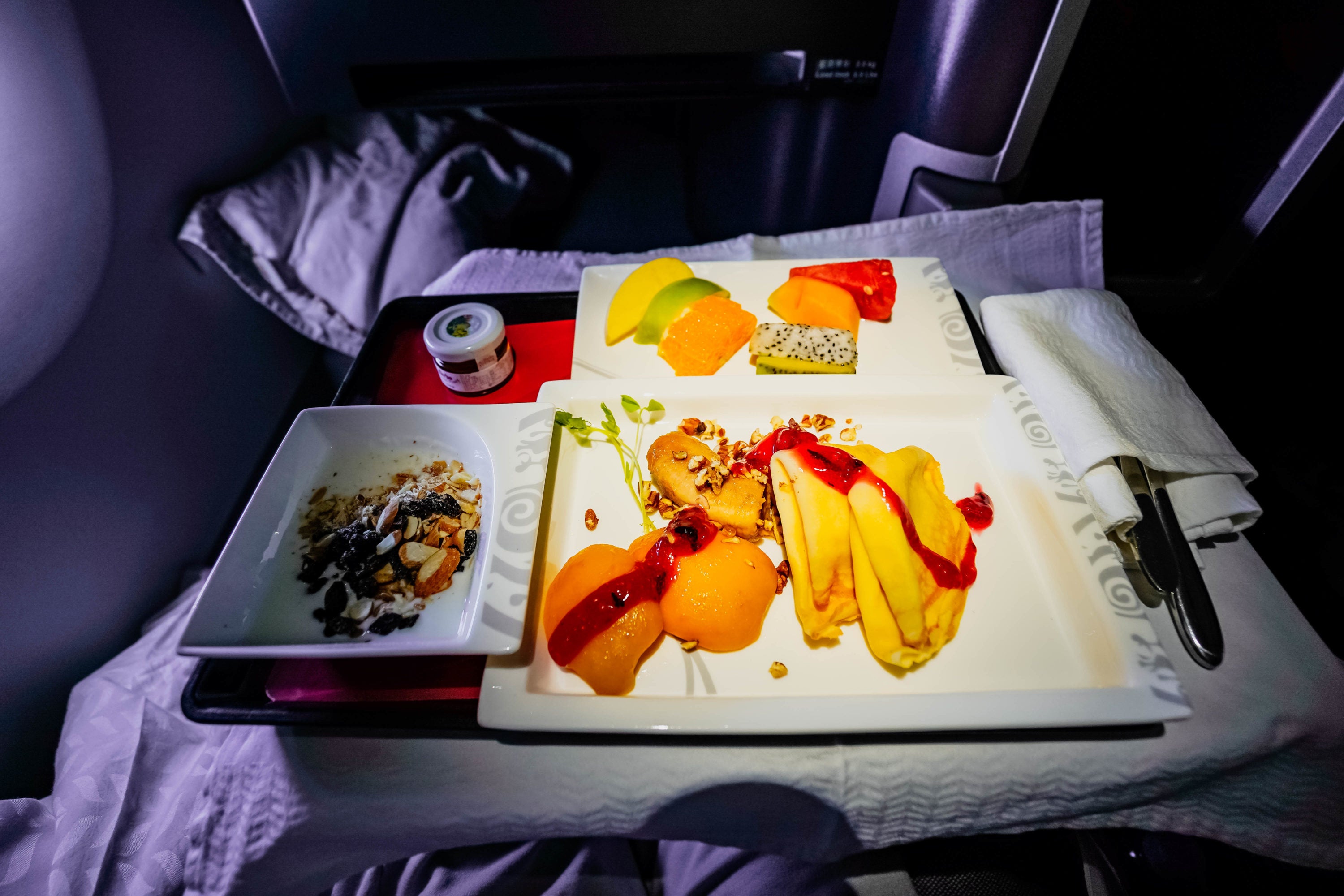 The service delivery throughout the flight was excellent. Even mid-flight when half the crew knocked off for some rest, the on-duty crew were pacing up and down the cabin to check if the passengers needed anything.
Amenities
Hainan offers a Samsonite amenity kit to business class travelers.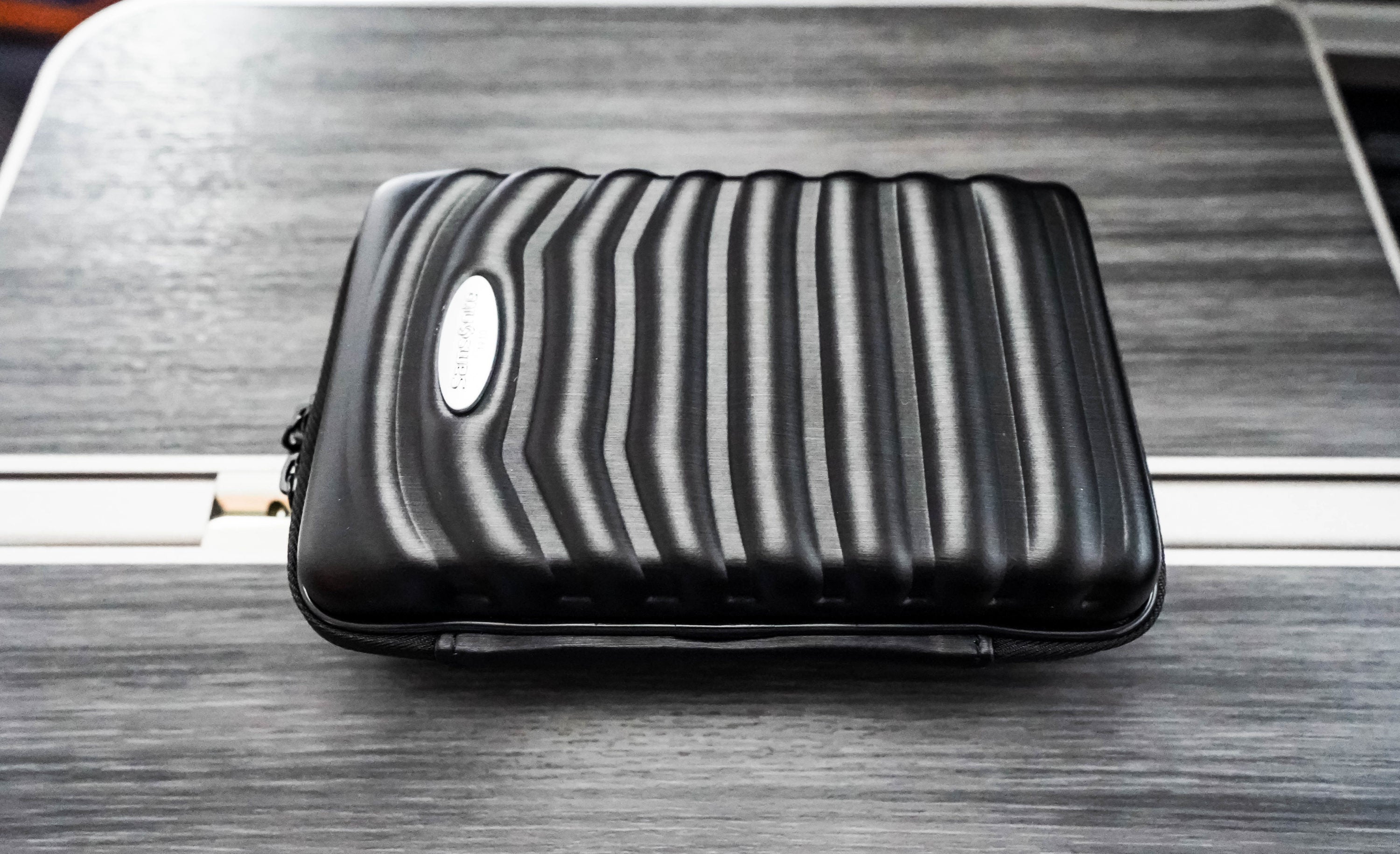 The kit contains an eye-mask, socks, ear plugs, a dental kit, a hair brush, and Clarins branded moisturizer, hand cream, lip balm and a small vial of Eau Dynamisante.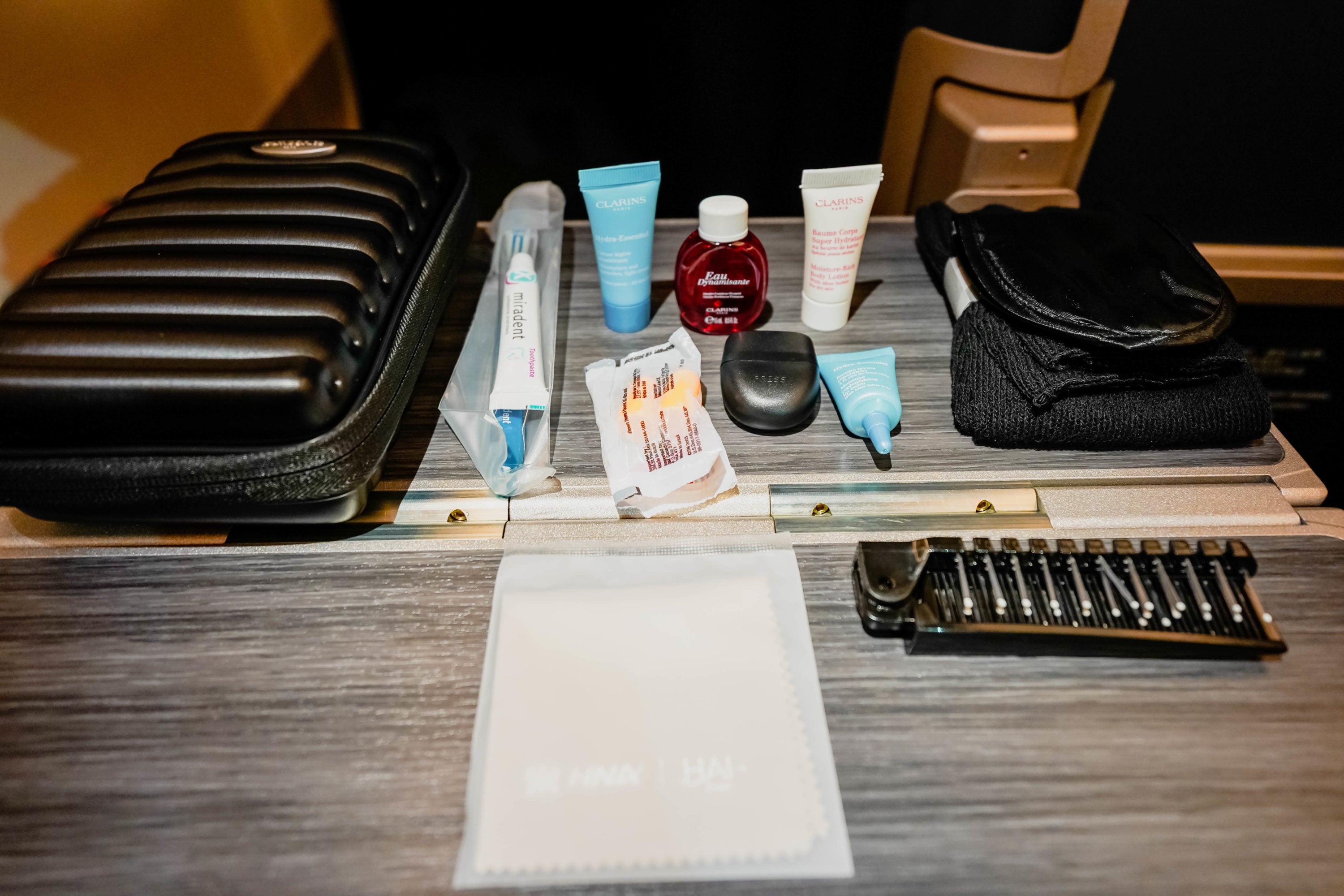 Hainan has collaborated with Sofitel to provide business class bedding from their MyBed collection, which includes pillows, bed sheet, a duvet, a feather topper, and a blanket. The bedding was really soft and comfortable, with the high thread count duvets a highlight.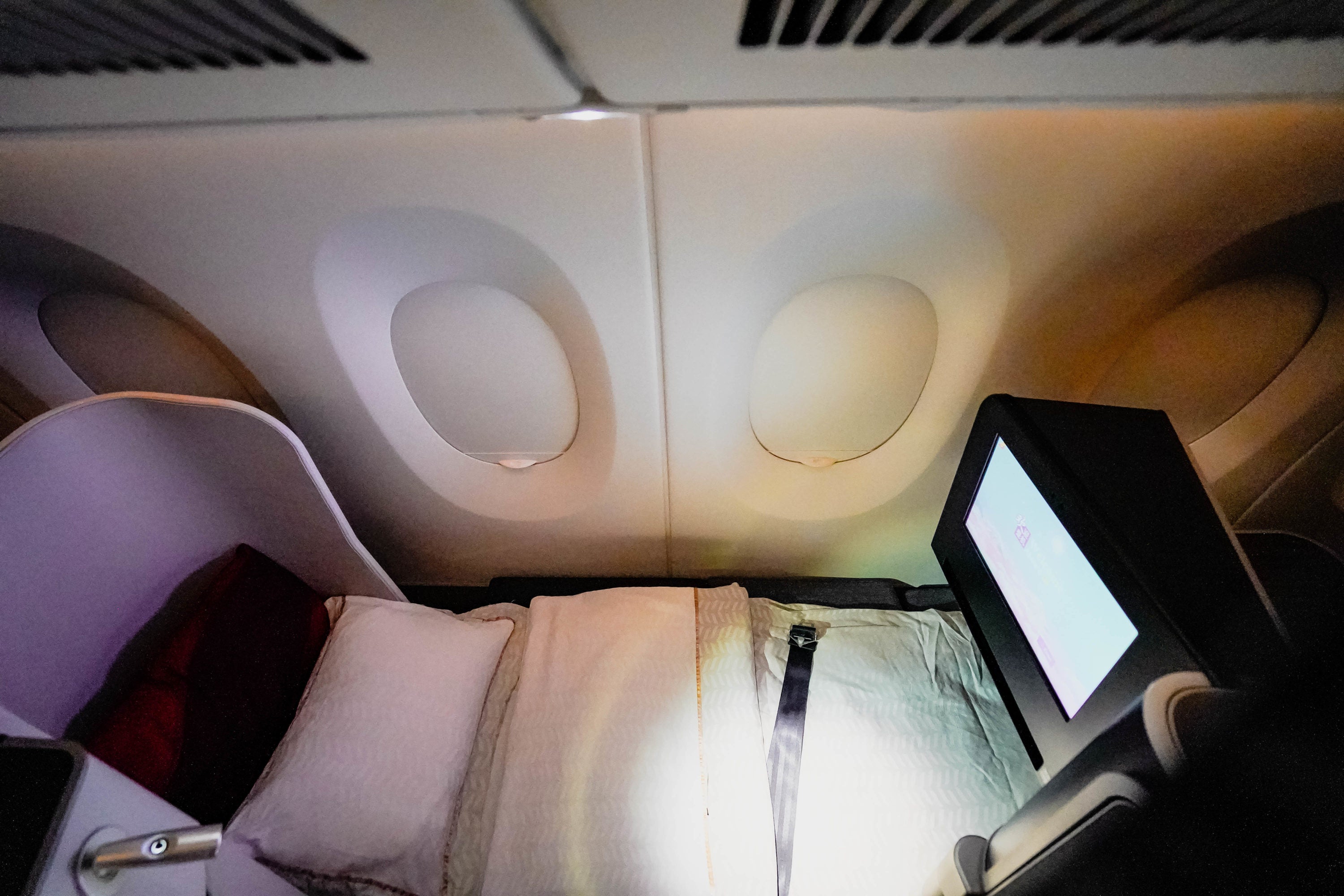 The pajama suit and slippers provided were comfortable as well.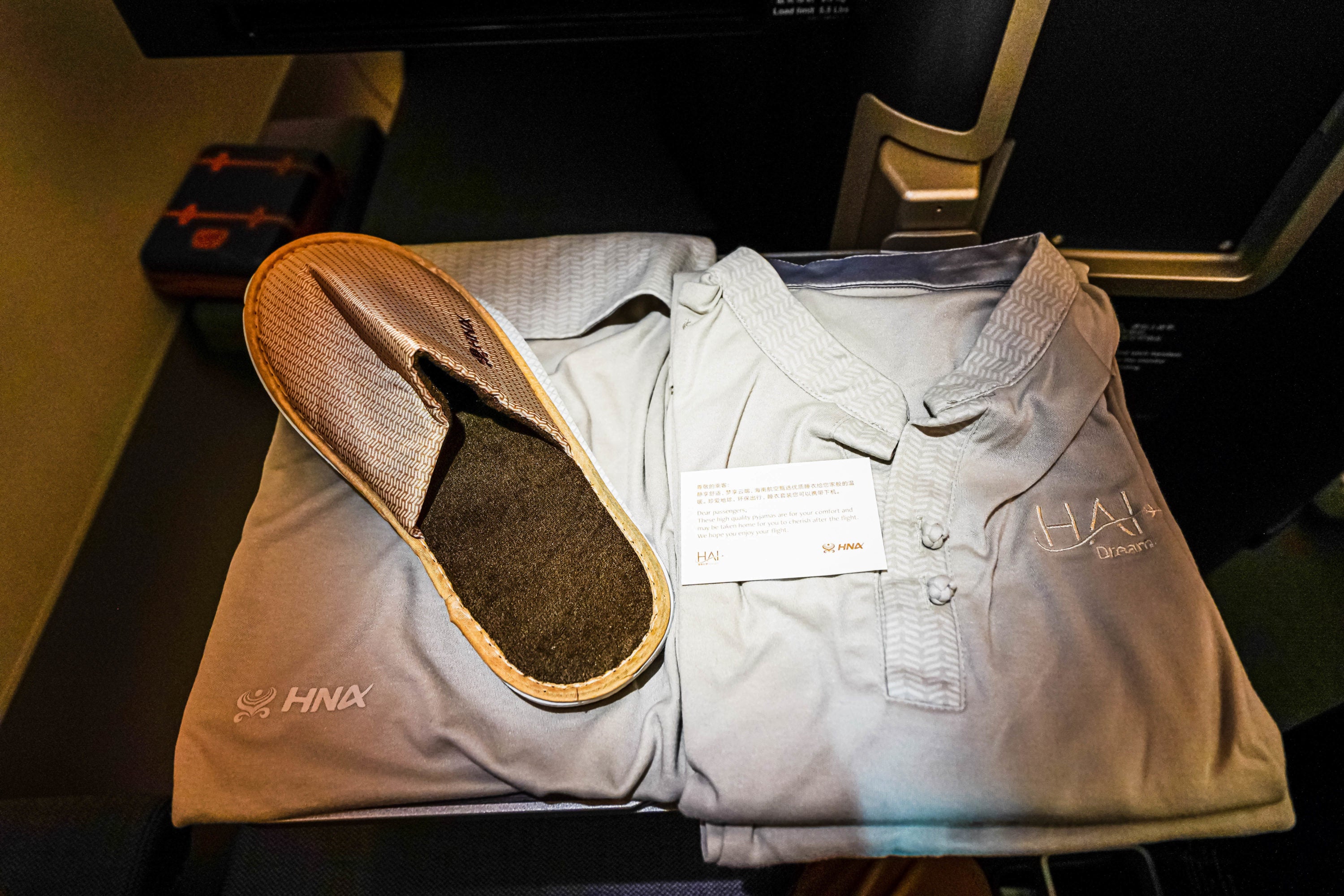 Final Thoughts
Hainan's business class product on the A350s is solid, although it is dull in terms of aesthetics and cabin decor.
However, what I really enjoyed was the food and service. The crew was fantastic and offered a personalized and detailed service throughout the flight. They are literally at your beck and call. Each time, I pressed the call button and I kid you not, within seconds they were there to serve you with a genuine smile throughout the flight.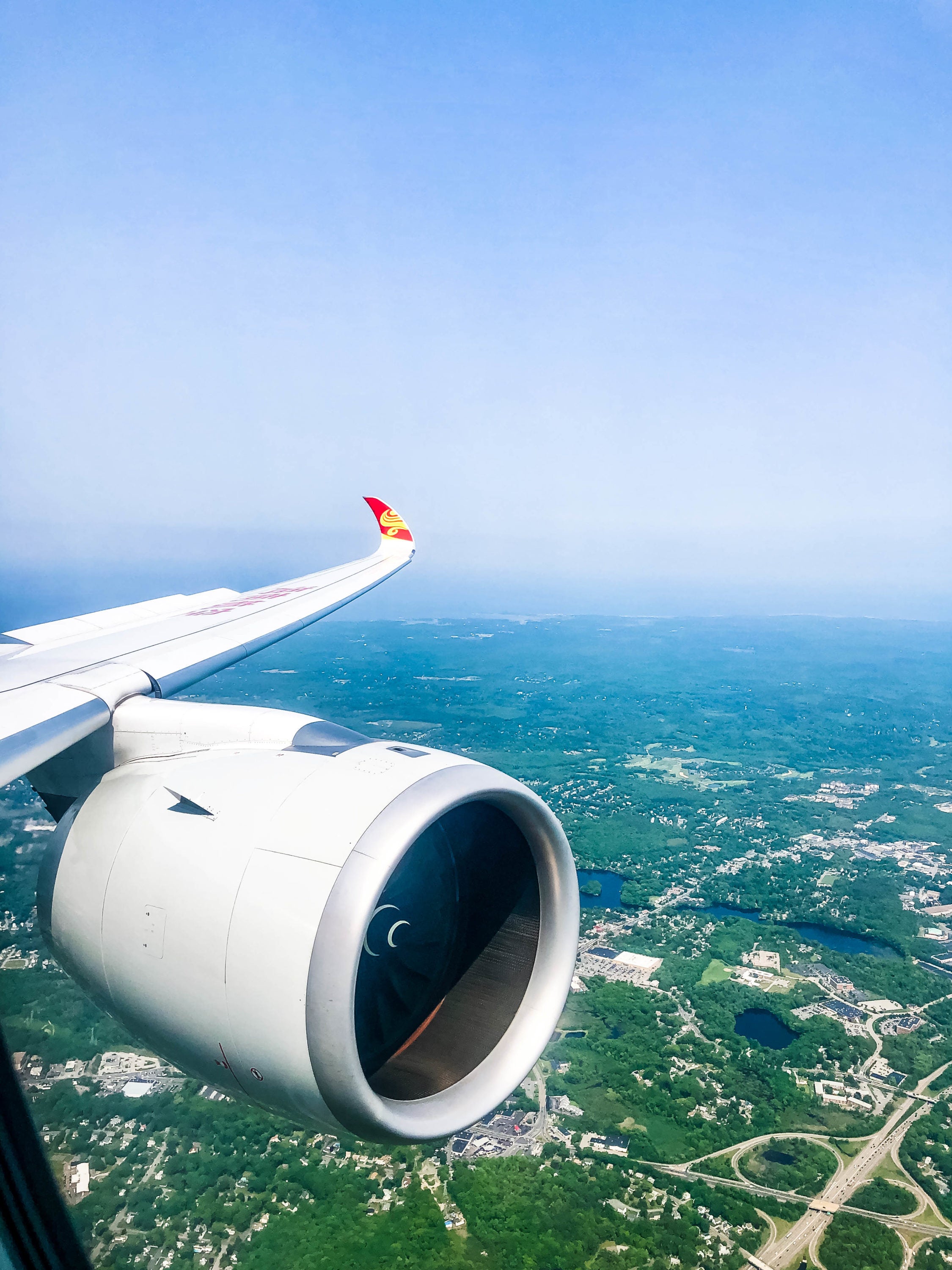 Just like on my flight with Asiana, before I went to the wash room each time, the crew would first enter to check whether it was tidy and well-stocked and only then let me enter.
The catering was delectable; the highlights being the roast beef in X.O sauce and those fluffy crepes. The bedding provided by Sofitel was some of the most comfortable I have slept on.
Compared to my experience with other Chinese airlines, Hainan is miles ahead and are worth considering if you often cross the Pacific between North America and mainland China, especially since time to time they come out with some great return fare deals, which you can credit to your Alaska Air Mileage Plan account.
My experience with Hainan has been a positive one and I definitely would fly with them again.