Asiana Airlines Airbus A380 First Class Review (Seoul to Los Angeles)
Airline: Asiana Airlines (OZ)
Aircraft: Airbus A380-800 (HL 7626)
Flight #: OZ 202
Route: Incheon International Airport (ICN) to Los Angeles International Airport (LAX)
Date: May 06, 2019
Duration: 11 Hrs 10 Mins
Cabin + Layout: First Class Suites: 12 suites in 1-2-1 configuration across 3 rows
Seat: 2A
Miles Used: 90,000 Avianca LifeMiles + $121.68 for taxes and fees
Fare Paid: N/A
Typical Retail Fare: $3,635 per person including taxes and fees
Introduction
After spending a couple of days in Seoul, enjoying all it had to offer in terms of food and culture, it was time for me to fly again – this time with Asiana Airlines on their flagship Airbus A380 to Los Angeles. I have flown with Asiana earlier, on their Airbus A330 and Boeing B777 intra-Asia albeit in business class, so I was really looking forward to their first class service onboard the Superjumbo. However, after the abject disappointment of the service onboard Korean Air 777 in first class on the incoming flight to Seoul, I tempered my expectations.
Asiana Airlines, a member of Star Alliance, is a Skytrax 5-star rated airline and the second largest airline in South Korea behind Korean Air in terms of fleet size and destinations.
Currently, Asiana Airlines offers the first class service only on their fleet of 6 Superjumbos, on the New York, Los Angeles, and Frankfurt routes. It discontinued the first class service on board select Boeing B777s and B747s quite some time ago.
On May 7, 2019, the day I was mid-flight over the Pacific on the way to Los Angeles, Asiana announced that it will be discontinuing the first class service on their A380 fleet effective September 01, 2019.
The first class suites on the A380s will now be re-branded to "First Business Suites". This means that there will be no change in the hard product and passengers will continue to have access to the Asiana First Class Lounge at ICN. However, the catering, amenities, baggage allowance, and mileage earning will be at business class levels.
It is still to be seen as to what the difference in fares and mileage redemption will be between the premium "First Business Suites" and the regular business class, and if partner redemption will be availed. This announcement came close on the heels of the announcements that Korean Air will be axing first class on 27 of its international routes, and Malaysian Airlines re-branding their first class to business suites.
Booking
Being a member of Star Alliance, there are quite a few ways to book Asiana first class award tickets other than their own frequent flyer program, Asiana Club. Partner redemption can be availed through ANA Mileage Club, Avianca LifeMiles, United MileagePlus, and Air Canada Aeroplan. What this means is that first class partner availability is pretty generous.
I booked using Avianca LifeMiles, which is one of the most underrated mileage programs, and it cost me 90,000 LifeMiles + $121.68 in taxes and fees, and no fuel surcharges. A paid revenue ticket would have set me back by $3,635 for the one-way first class ticket.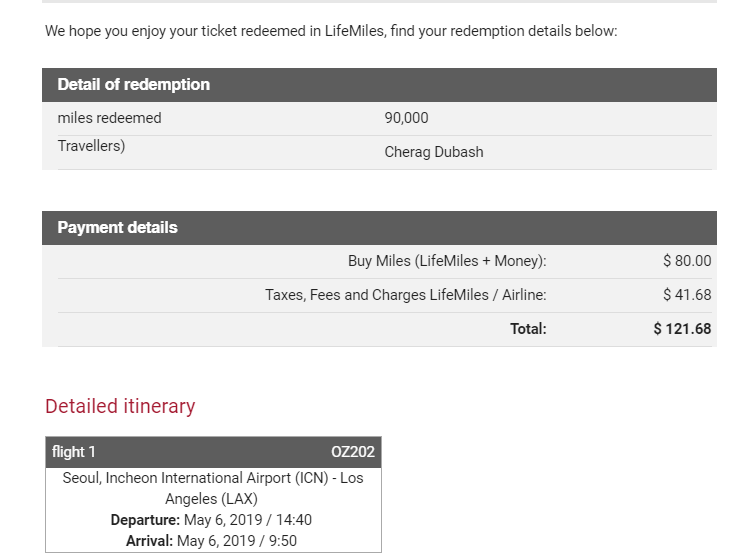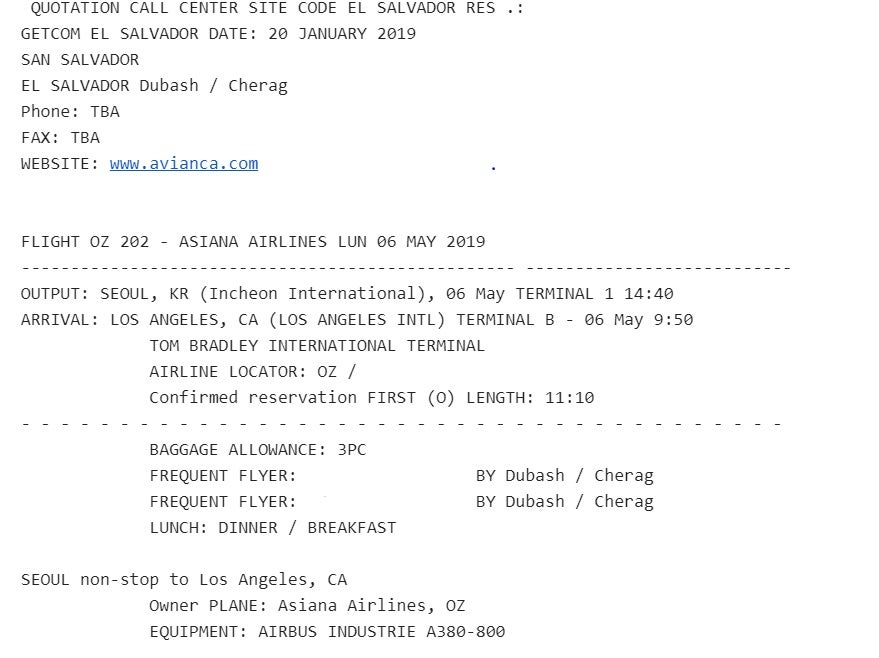 Booking was a bit cumbersome with Avianca, as this was before they revamped their website and you could directly book online. For me based in Abu Dhabi, I could not complete the booking online. Once I saw that award space available, I could provisionally only block the ticket for 24 hours and then call their call center to complete the booking. This was not easy considering the language barriers, accents, and different time zones. However, as of early 2019, Avianca have revamped their website and booking partner award tickets is now possible online.
Hot Tip: Explore our guide on how to search for SkyTeam award availability to help make your award flights easy to find.
At Seoul – Incheon International Airport (ICN)
I was at the airport by 12:00 p.m. for the scheduled 2:40 p.m. departure. Asiana has a premium check-in desk in Zone A for passengers traveling in first class, which can also be availed by members holding Asiana Club Diamond Plus and Platinum status.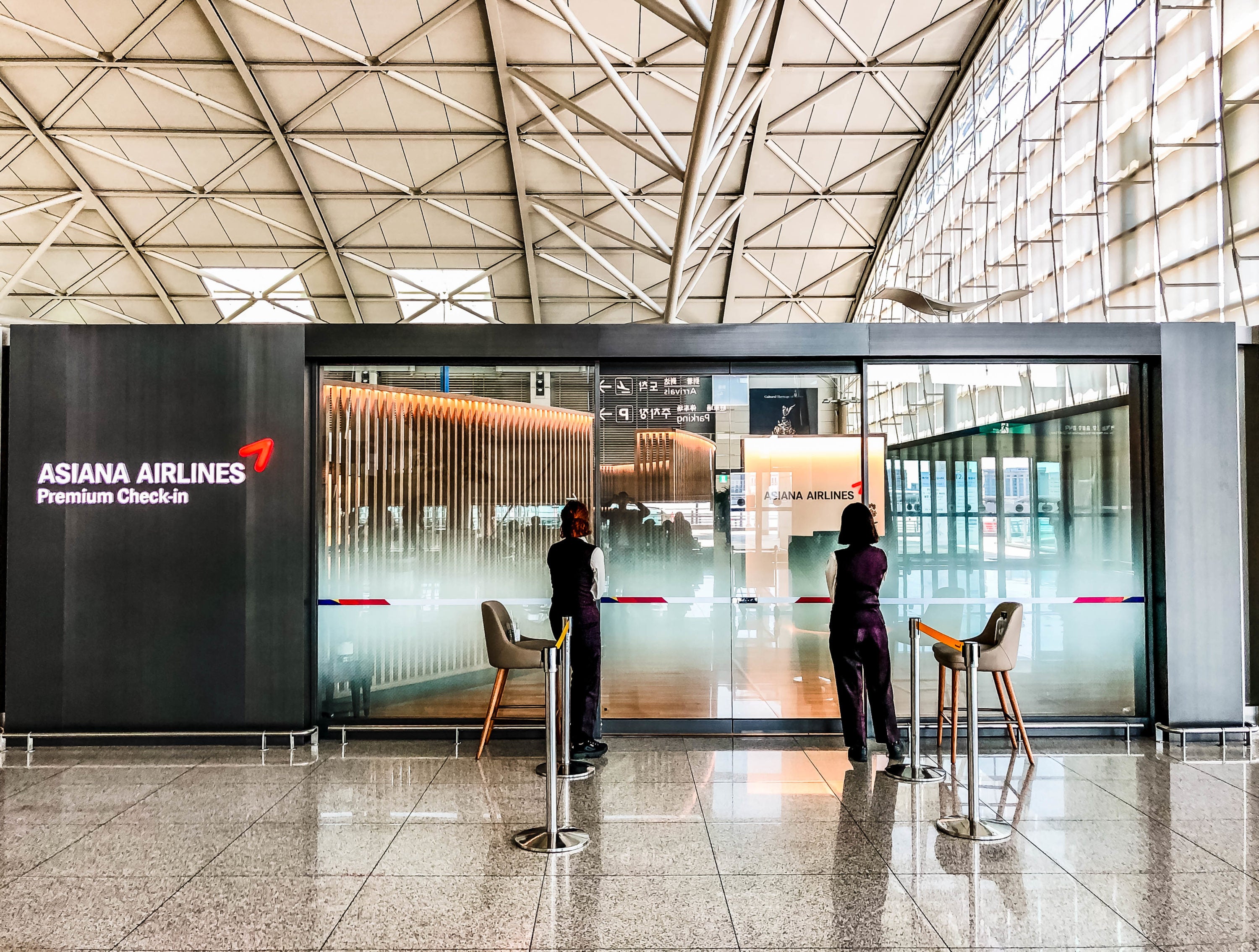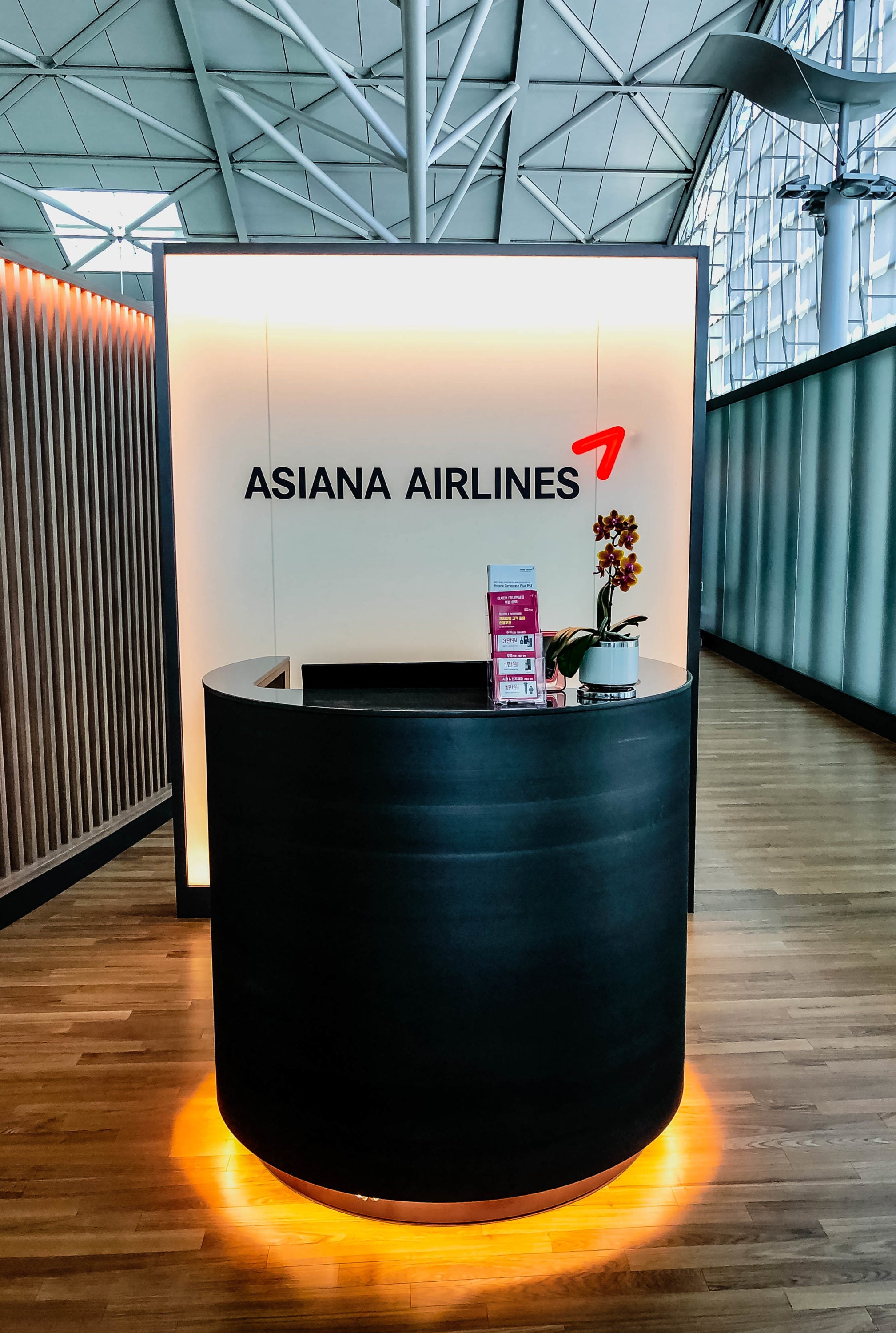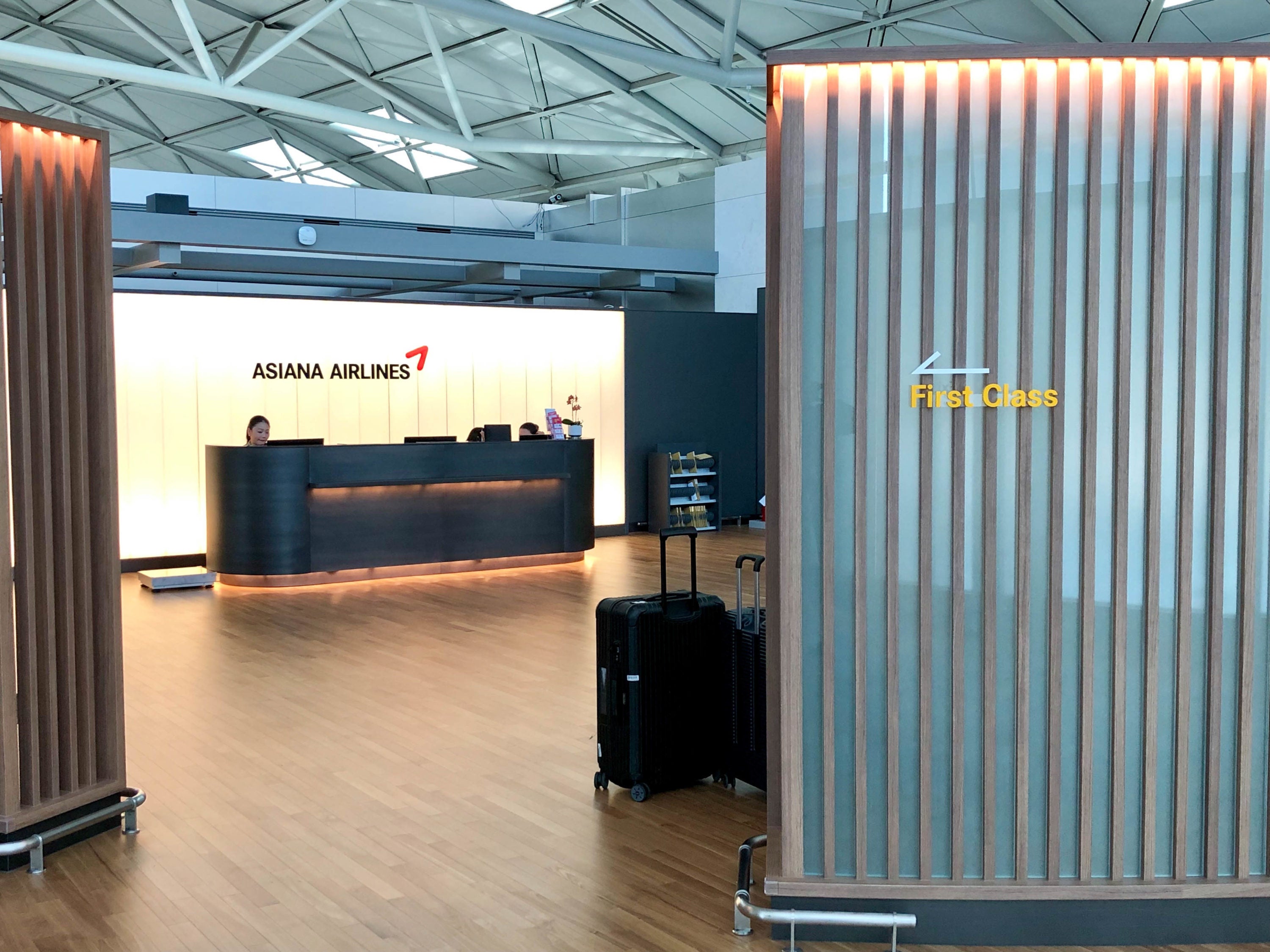 Check-in was smooth. However, I suddenly realized I had forgotten my Bose noise-canceling headphones back at the hotel. UGH! I immediately called the hotel, who after checking with housekeeping confirmed that they had found my headphones. But, how were they going to connect them to me?
ICN is approximately 37 miles (60 km) away from the hotel. The attendant at the check-in desk, Hye-rin, kindly offered to assist. She coordinated with the concierge at the Conrad Seoul, and after a bit of back-and-forth with the hotel staff, she informed me that the hotel would be sending the headphones to the airport with a hotel driver and the Asiana Airlines ground staff would hand them over to me at the lounge.
I was then escorted by Hye-rin through security and then towards the Asiana First and Business Class Lounges in the East Wing located near Gate 11.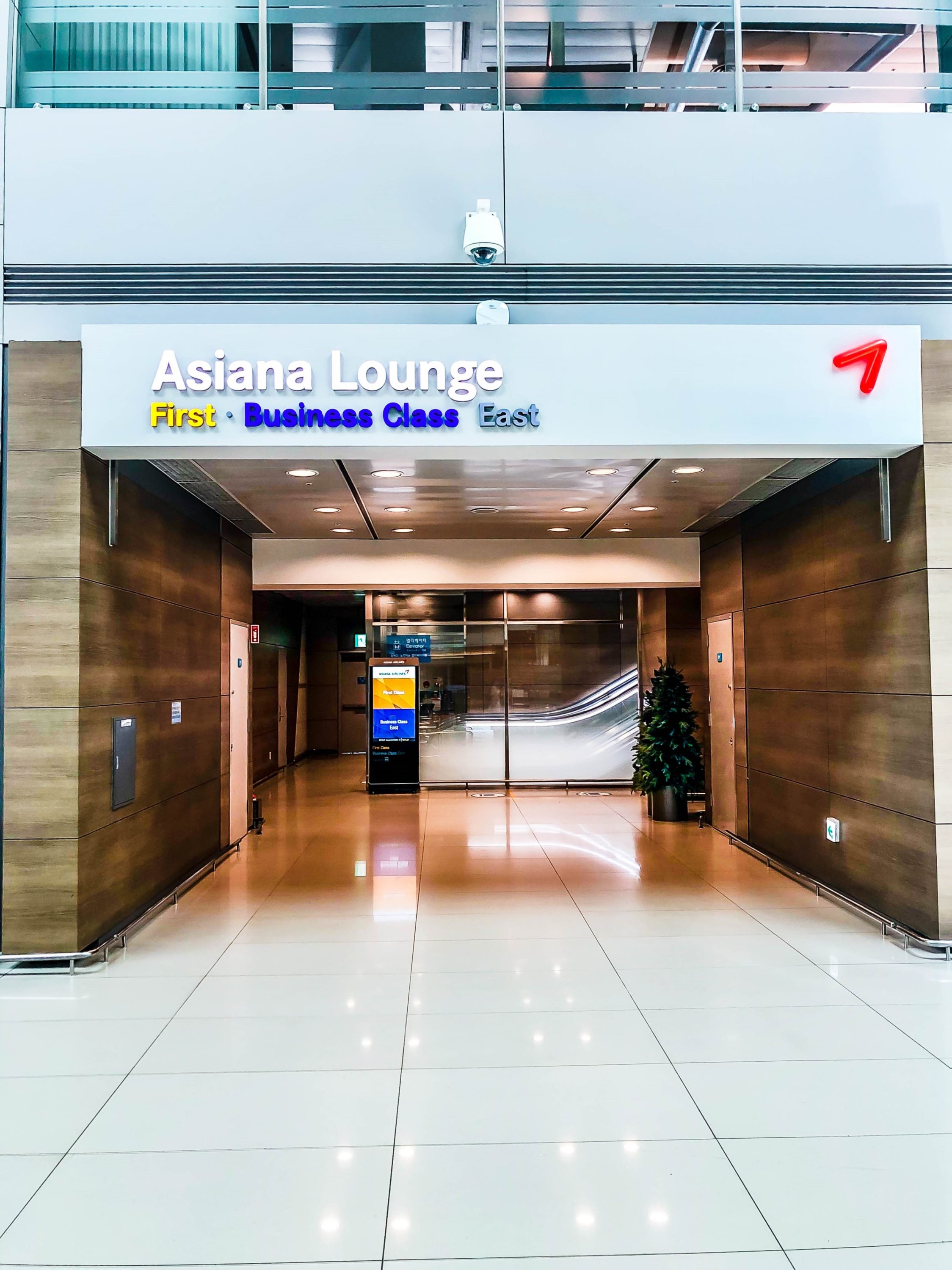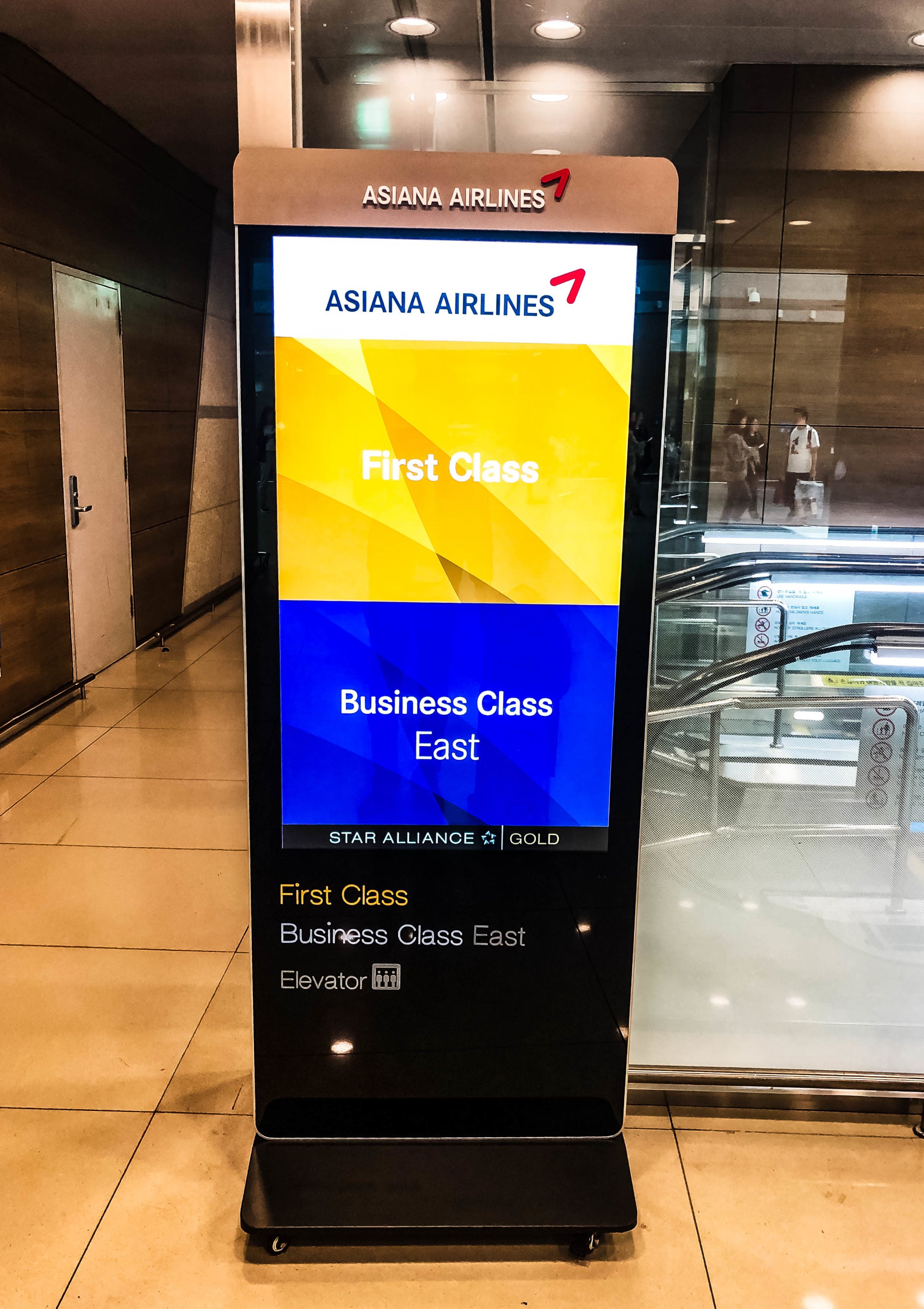 As I headed up the escalator, I was greeted by a funky neon-red Asiana logo adorned on the ceiling.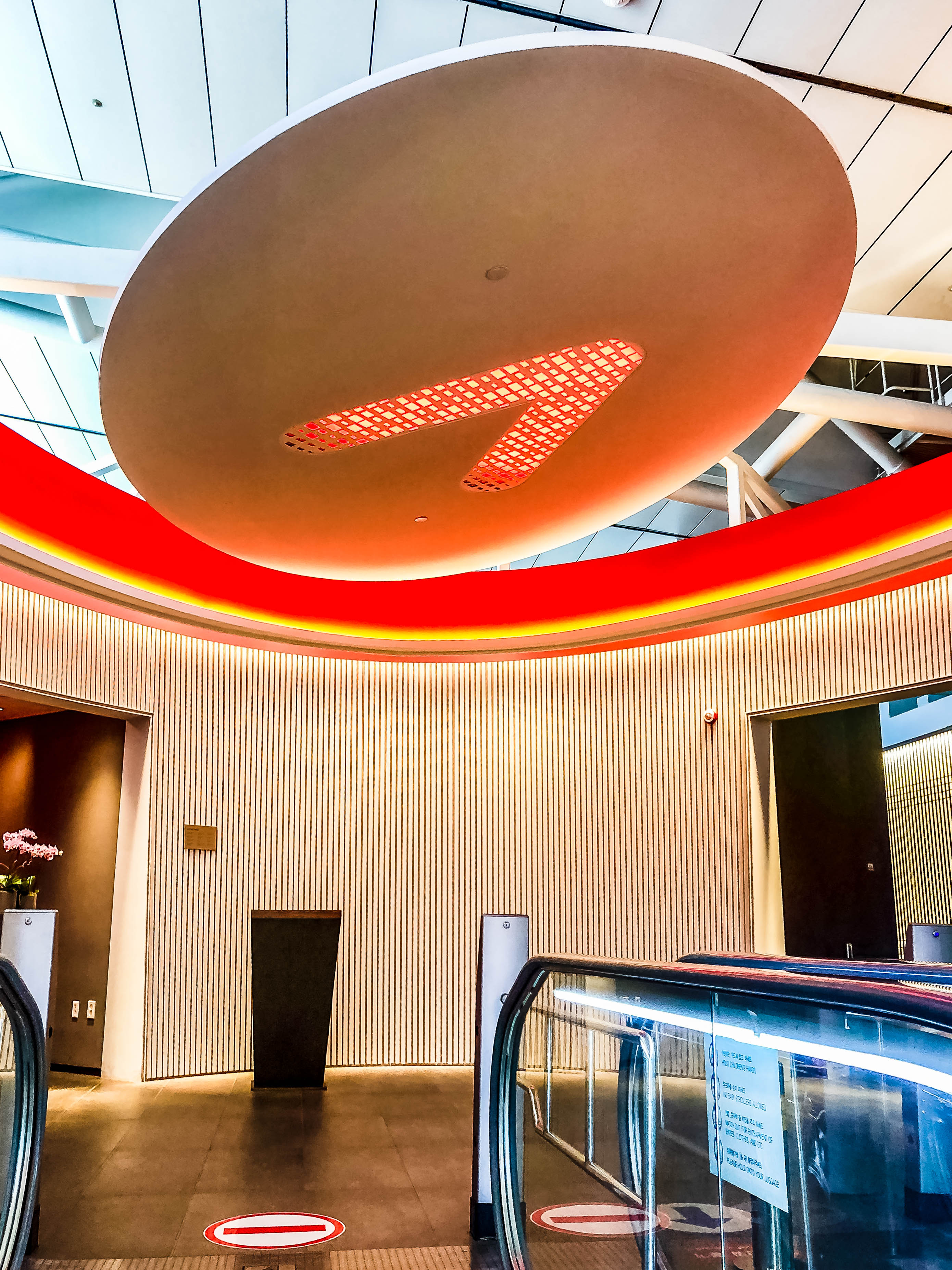 Once off the escalator, a lounge attendant checked my boarding pass, and I entered the lounge by simply scanning my boarding pass through the e-gate.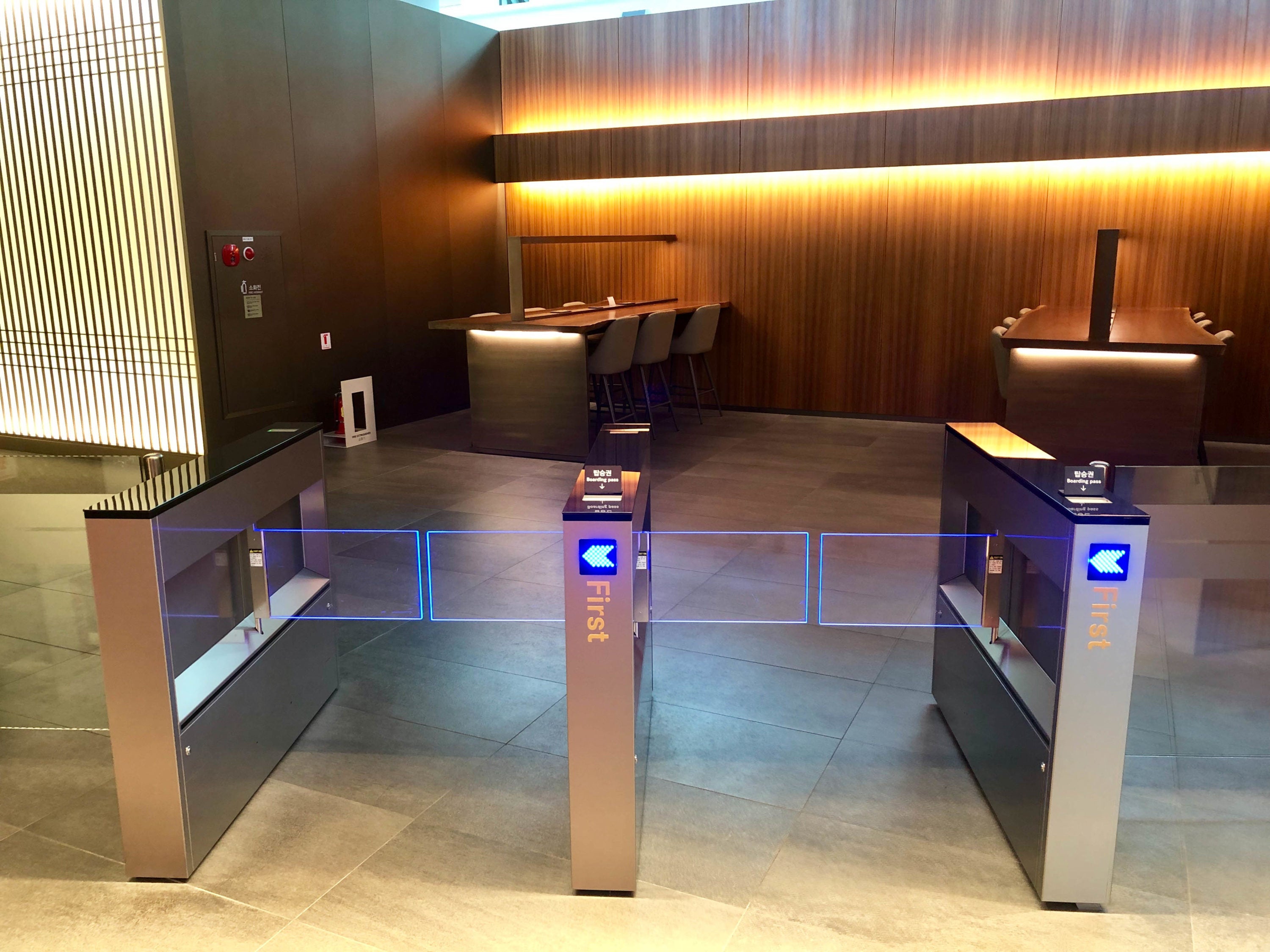 For first class lounge access, you turn left and for business class, you turn right.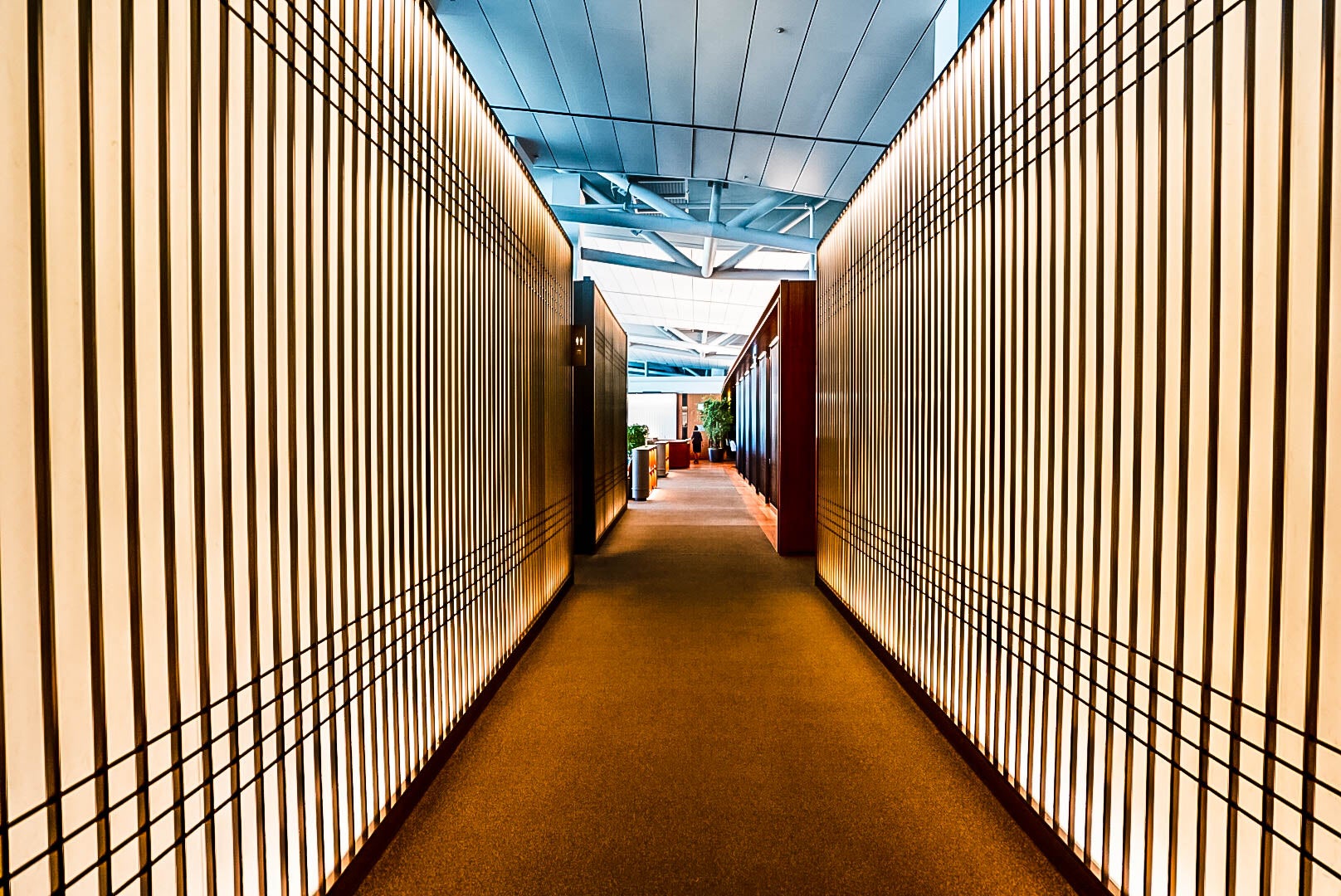 As you walk down the foyer towards the lounge's main seating area, on the right there are private seating rooms fitted with TVs and lounge chairs. One of the private rooms is equipped with a massage chair.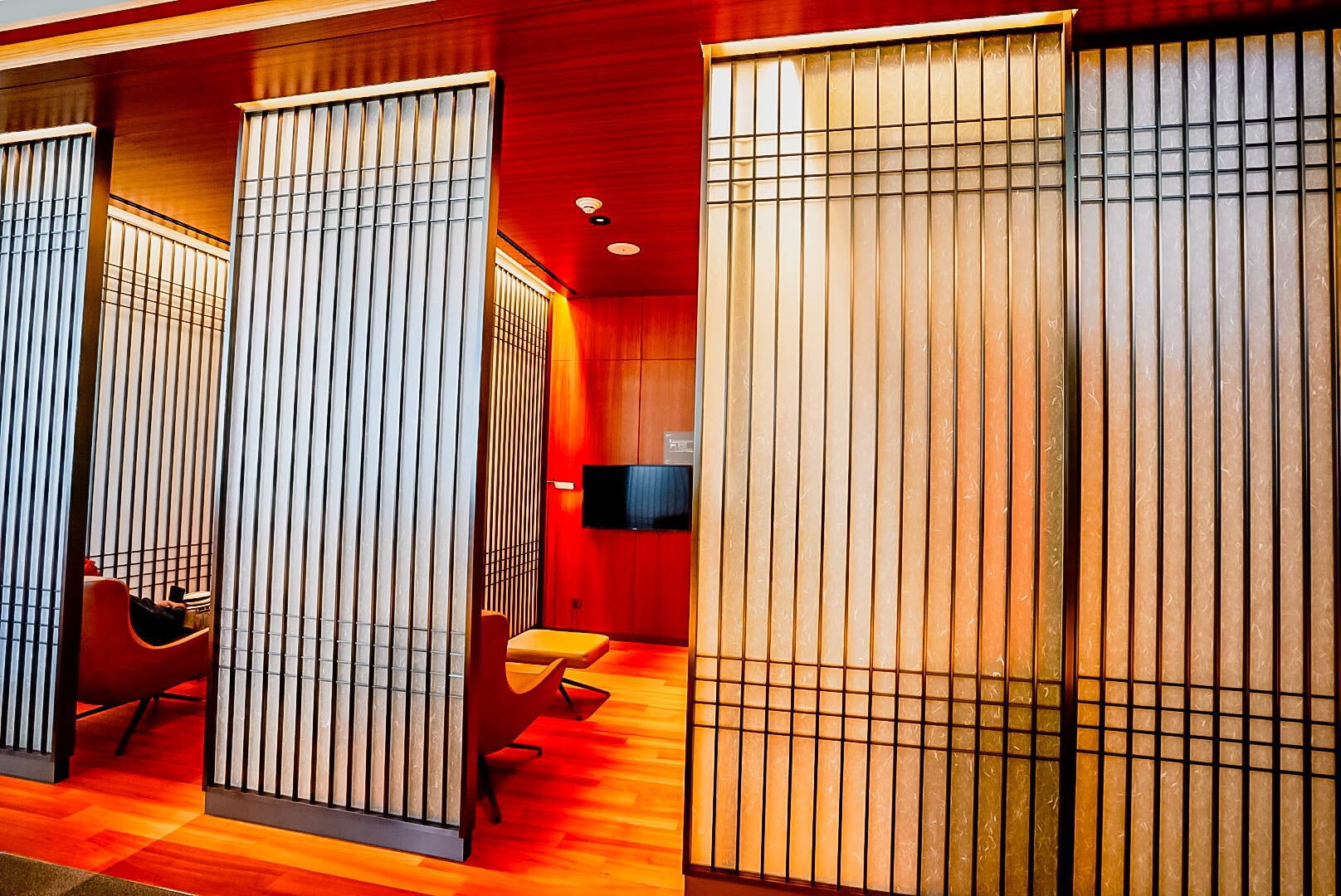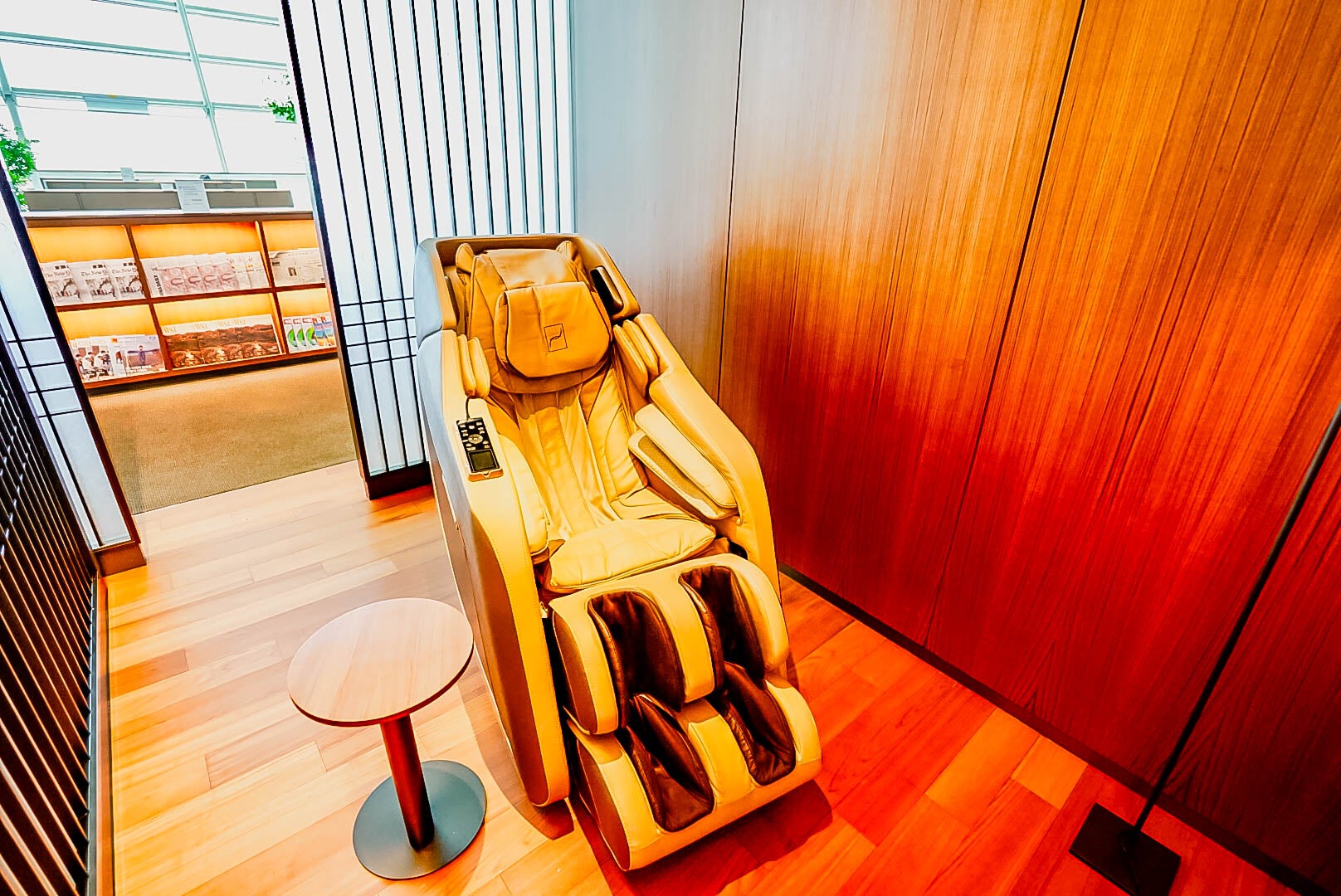 To the left are the showers and washroom.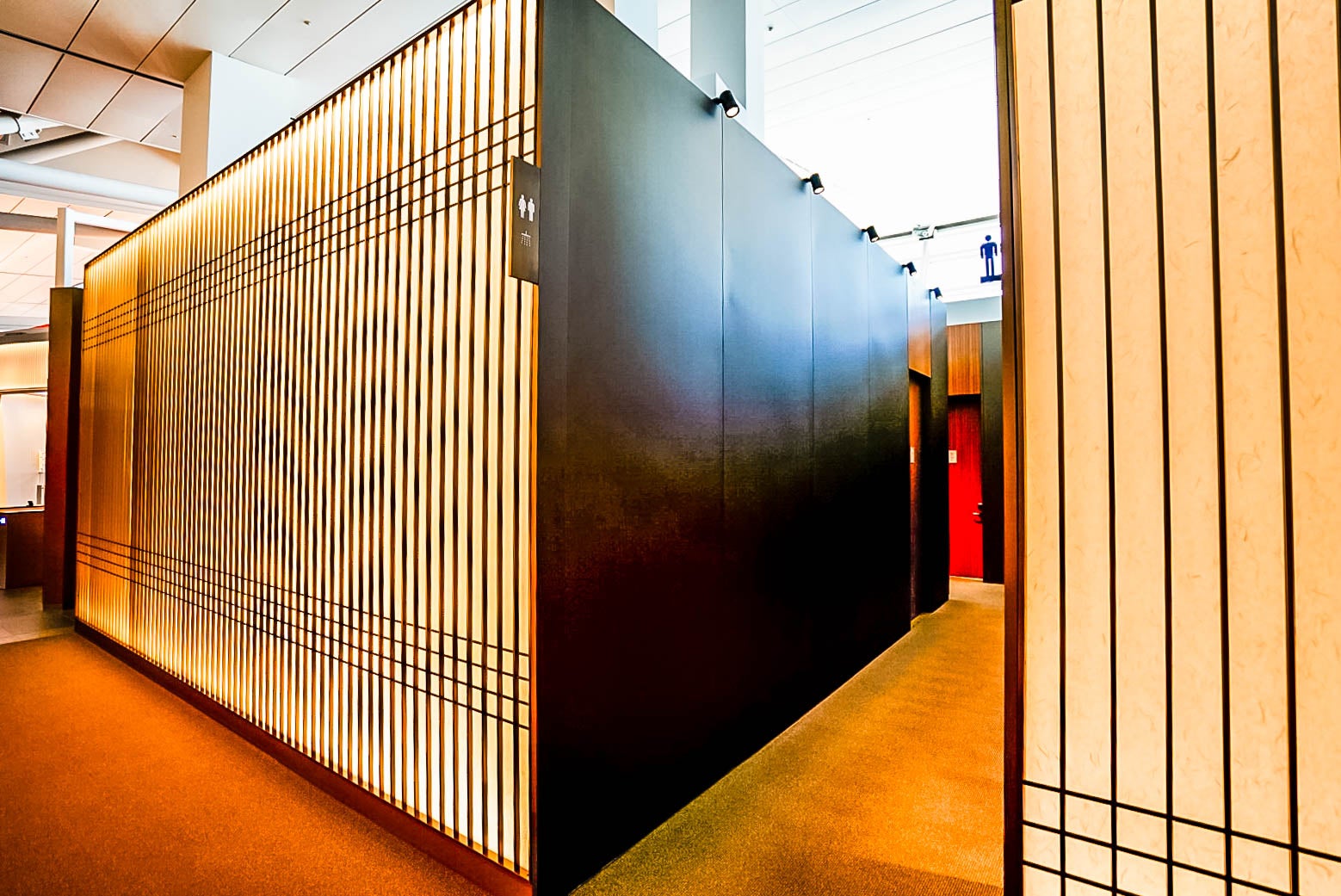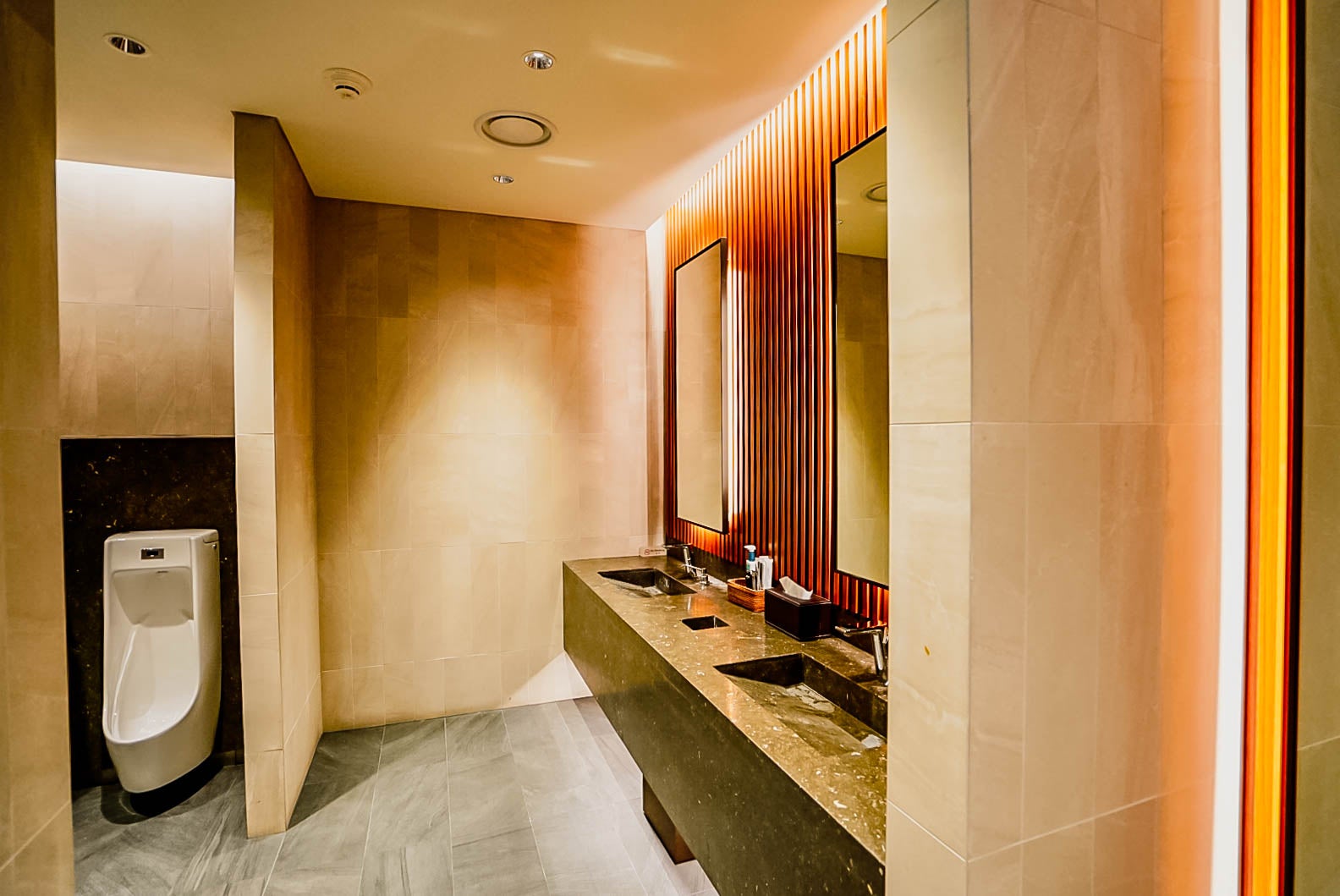 As you enter the main hall of the lounge, there are various open seating options including couches, high chairs and tables, and lounge chairs available with sweeping views of the tarmac.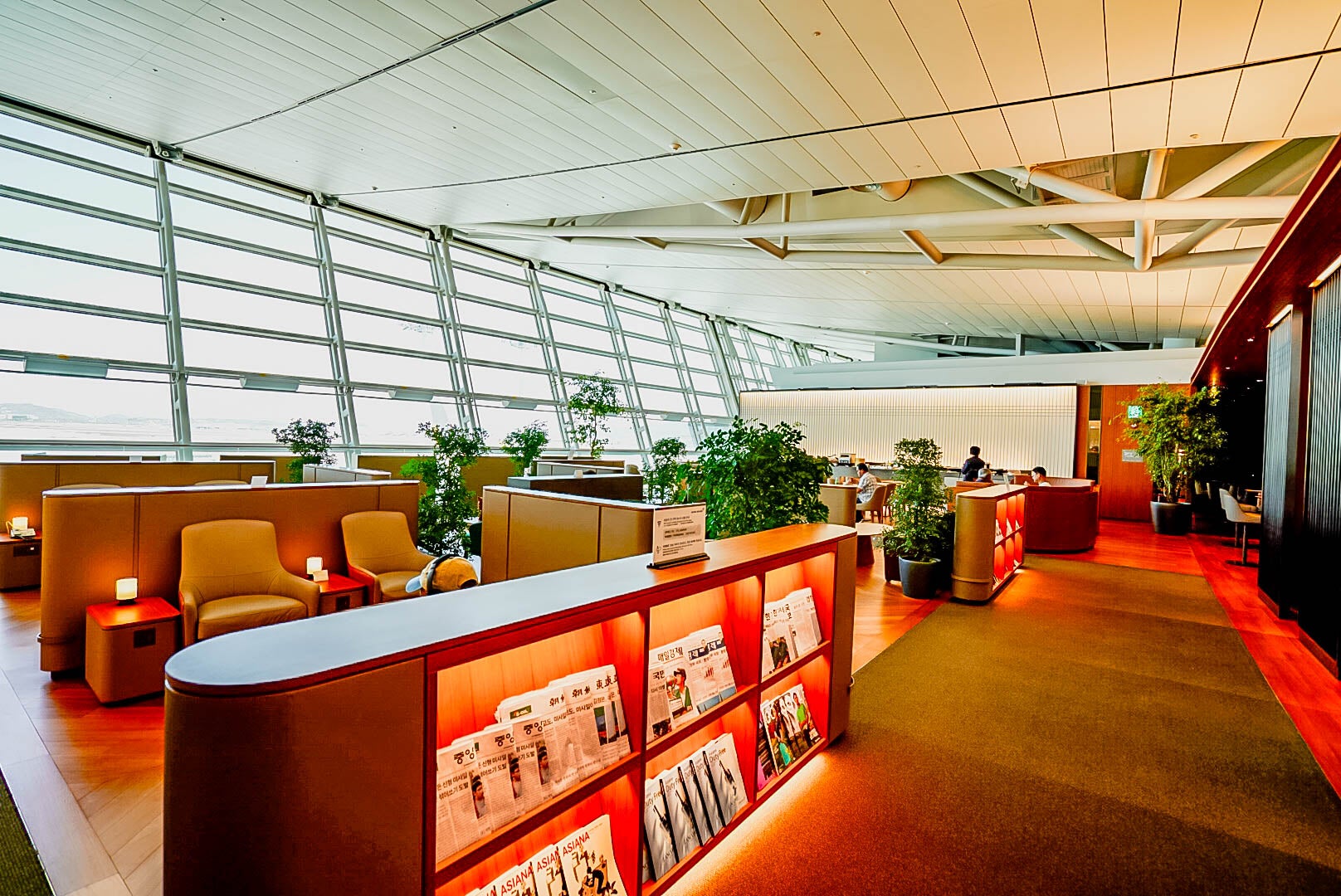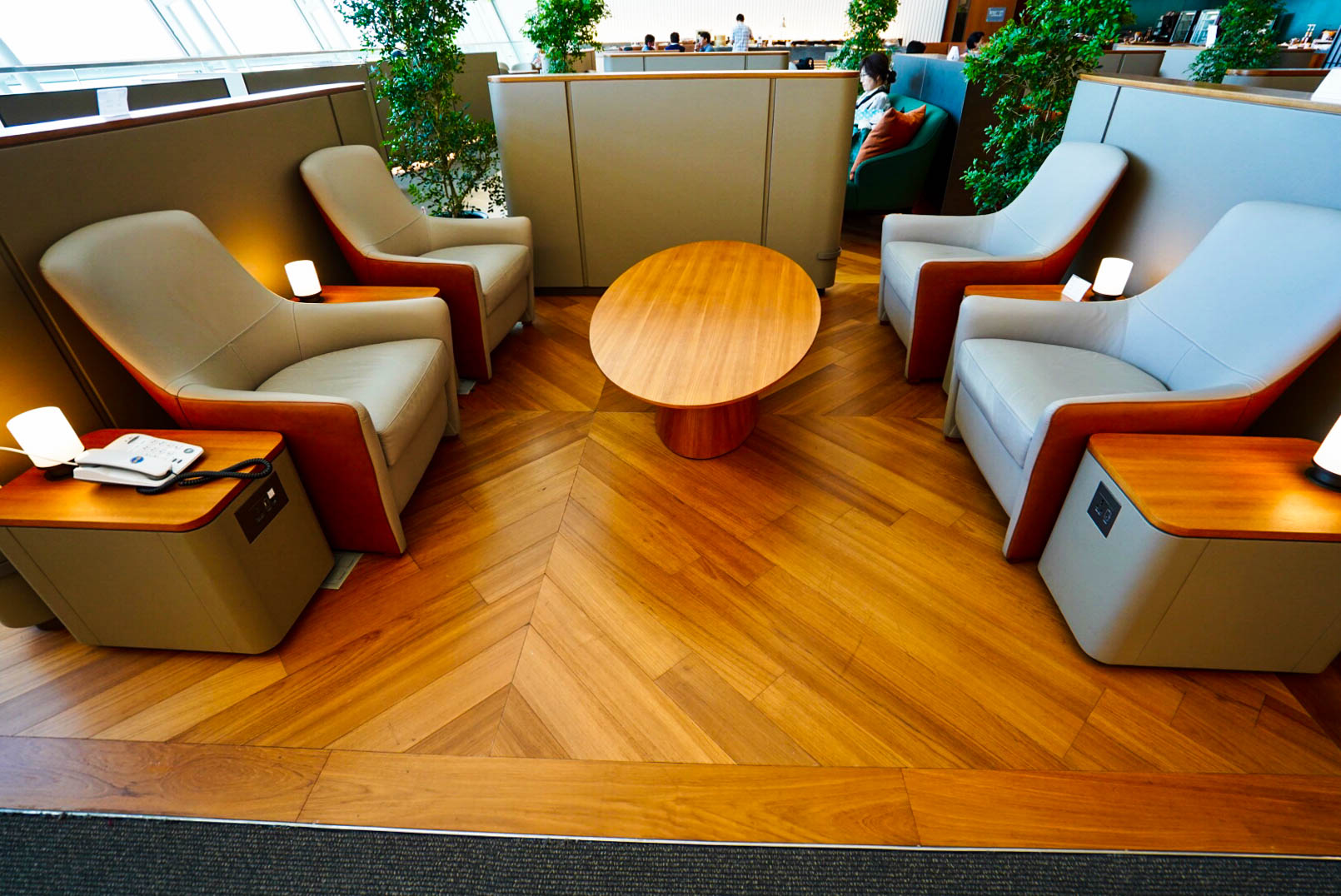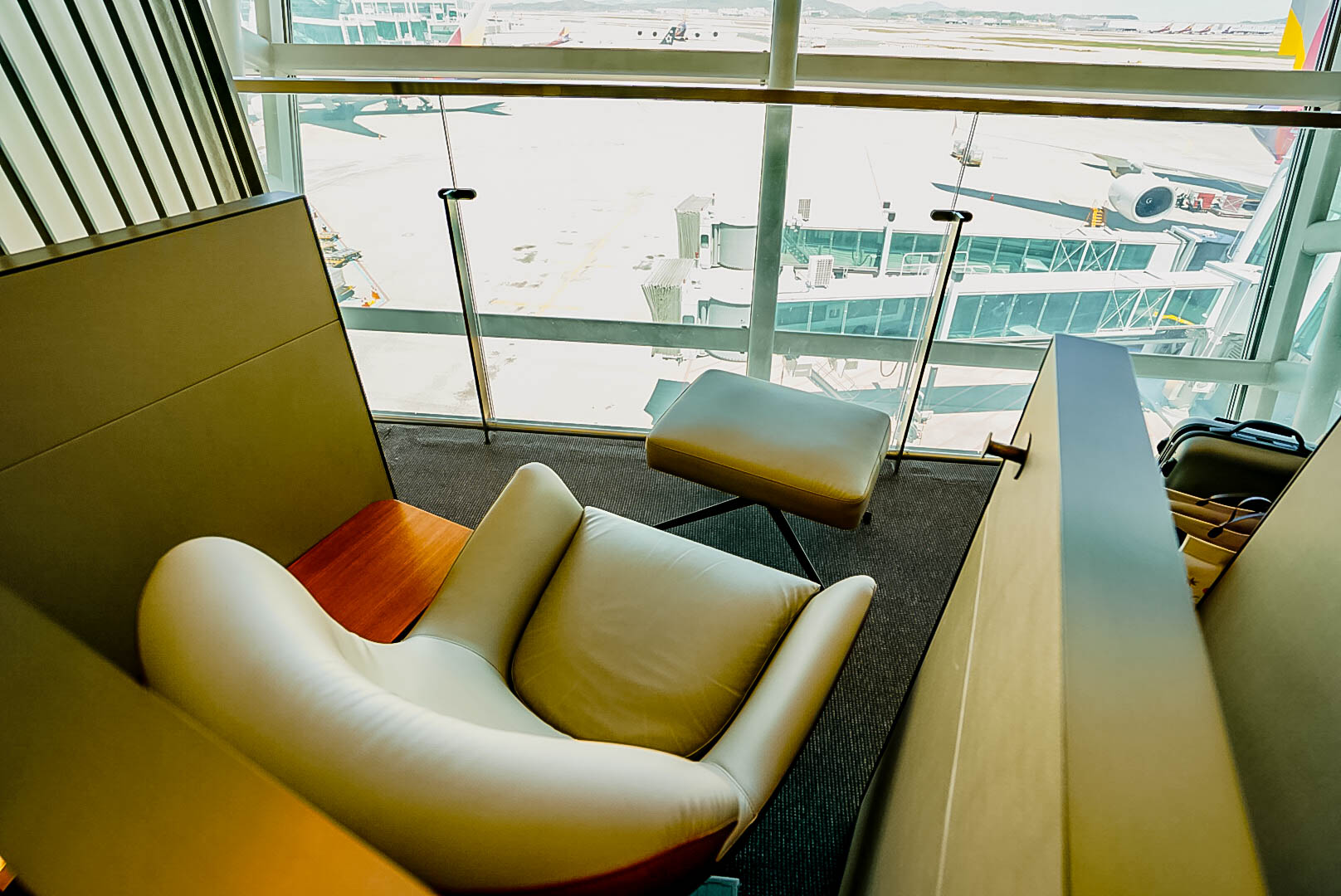 Considering, I had been gorging non-stop on the delicious Korean delicacies over the past 2 days and the heavy breakfast I had at the hotel, I decided to keep it light.
The lounge had decent hot and cold options including BBQ pork ribs, seafood pasta, Guangdong styled stir-fried beef, salads, and more.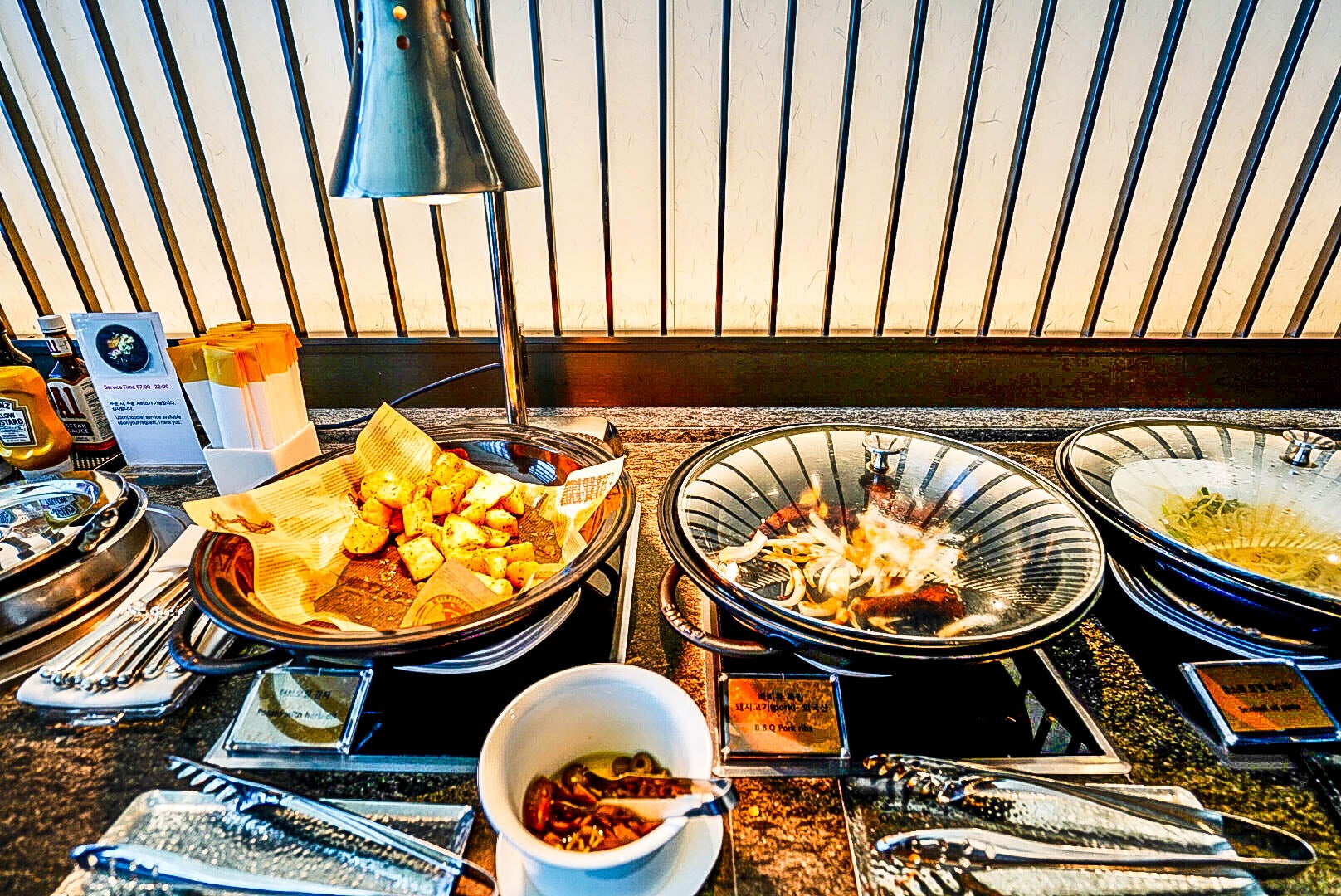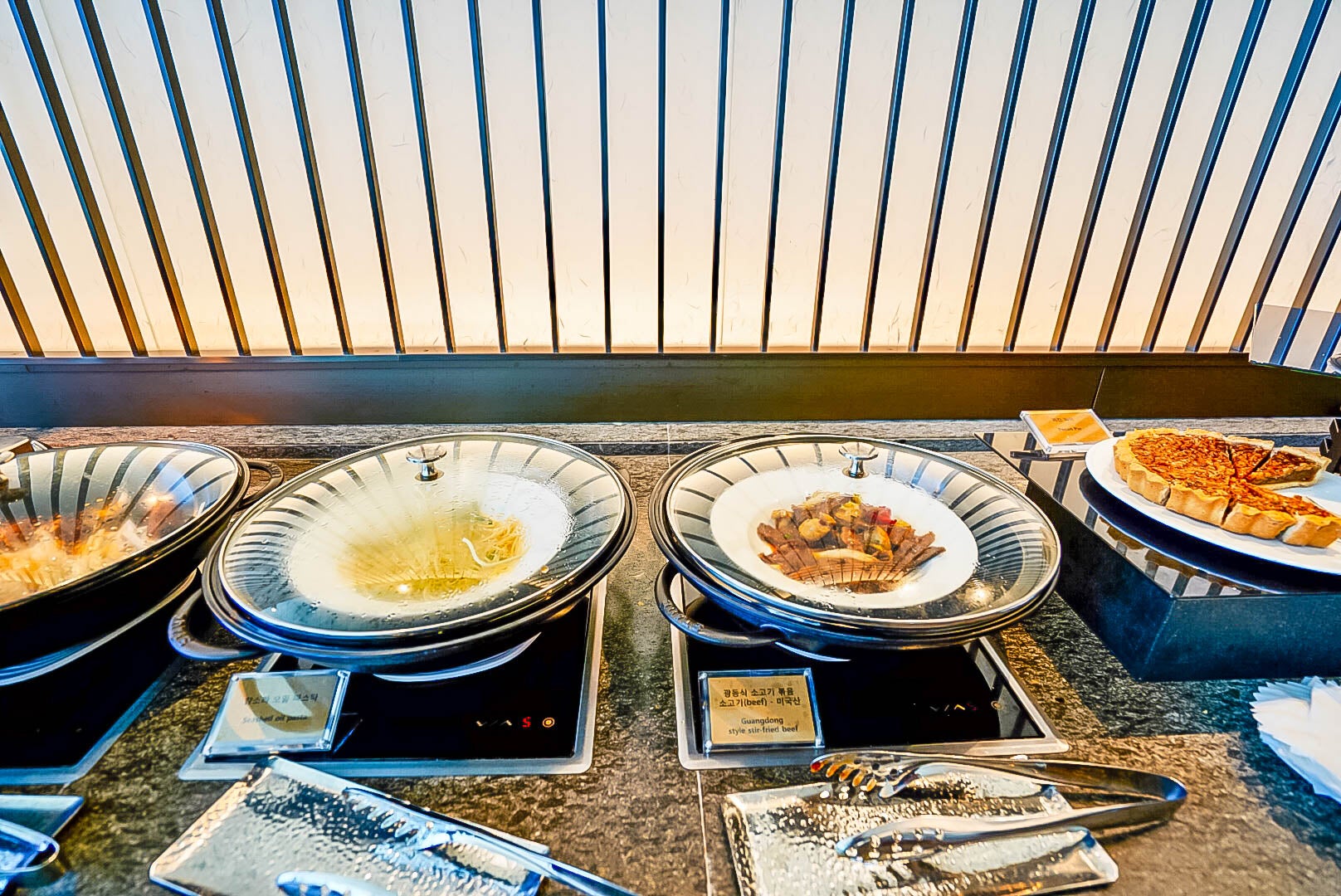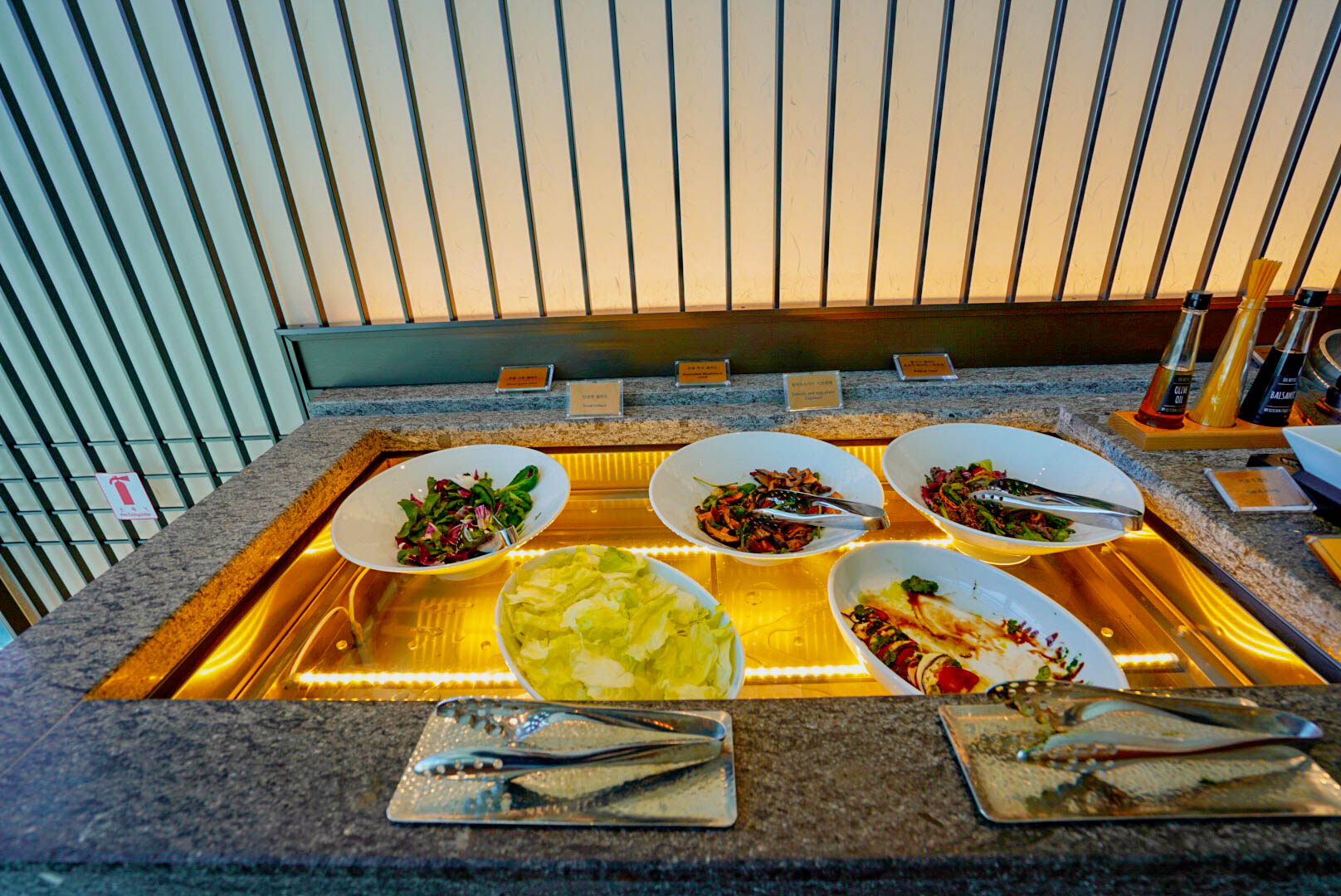 The bar was well stocked with the likes of Taittinger Champagne, red and white wines, shōchū, beers, whisky, gin, rum, plus others.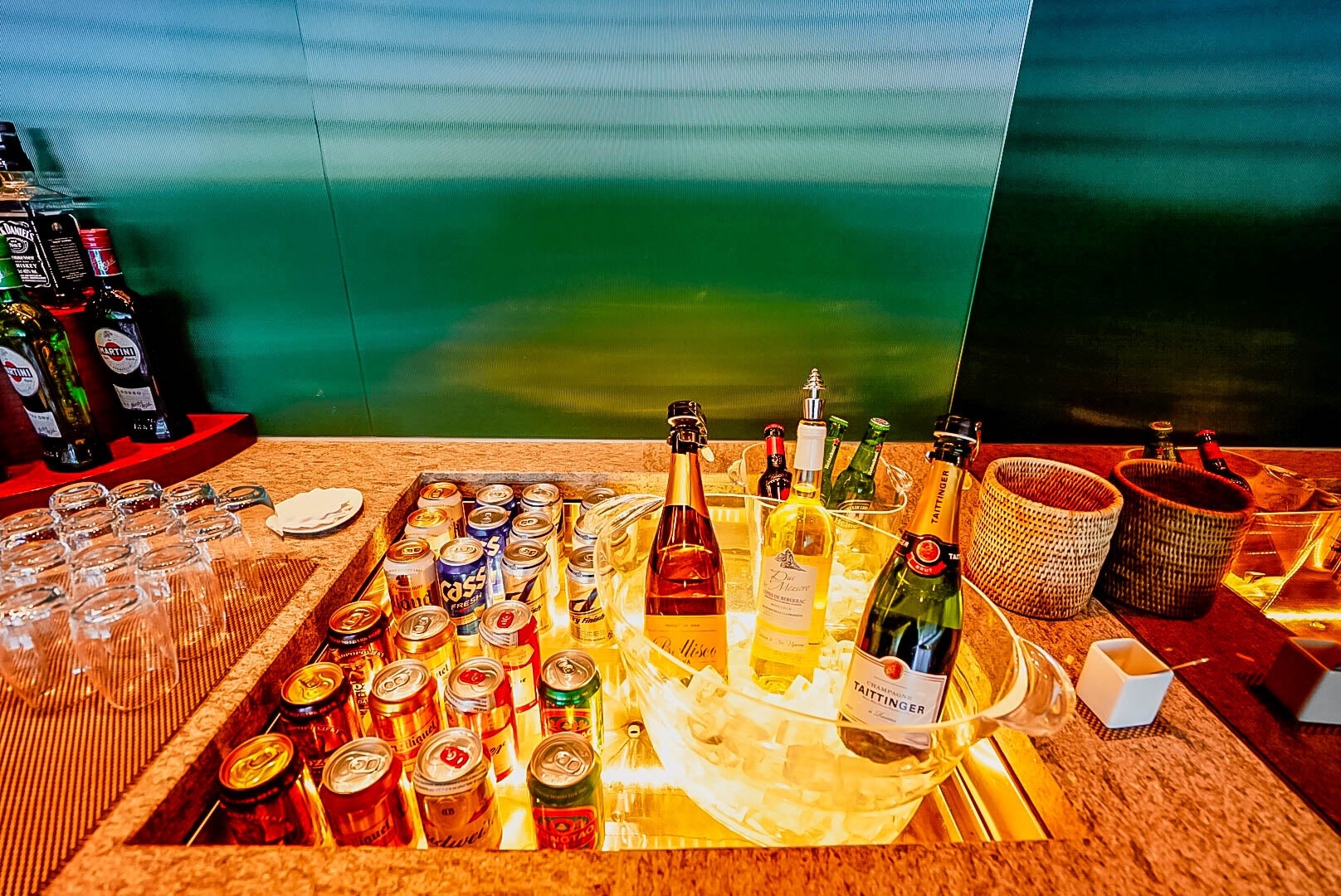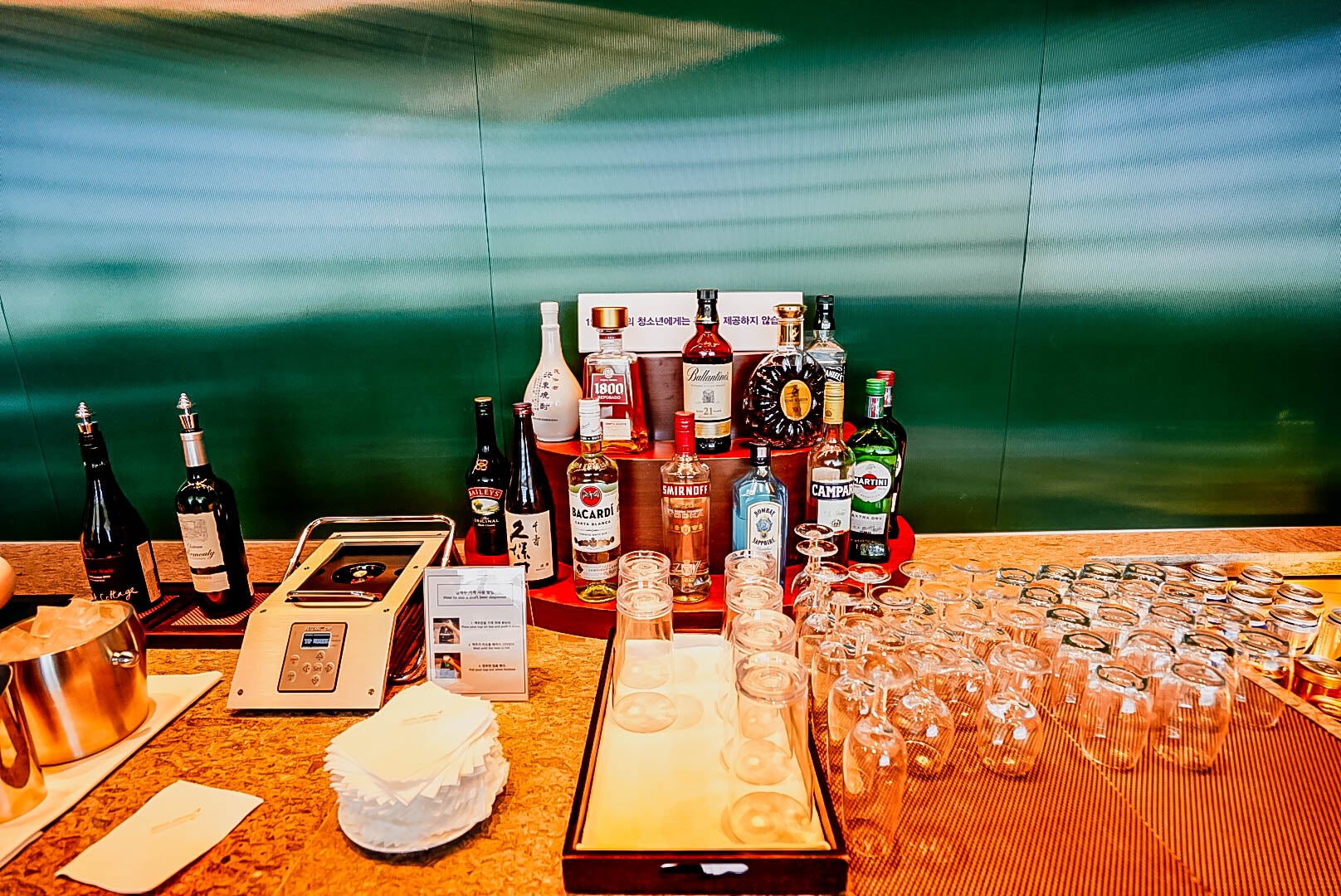 I poured myself a glass of Taittinger and settled down in one of the window facing lounge chairs to enjoy the tarmac views.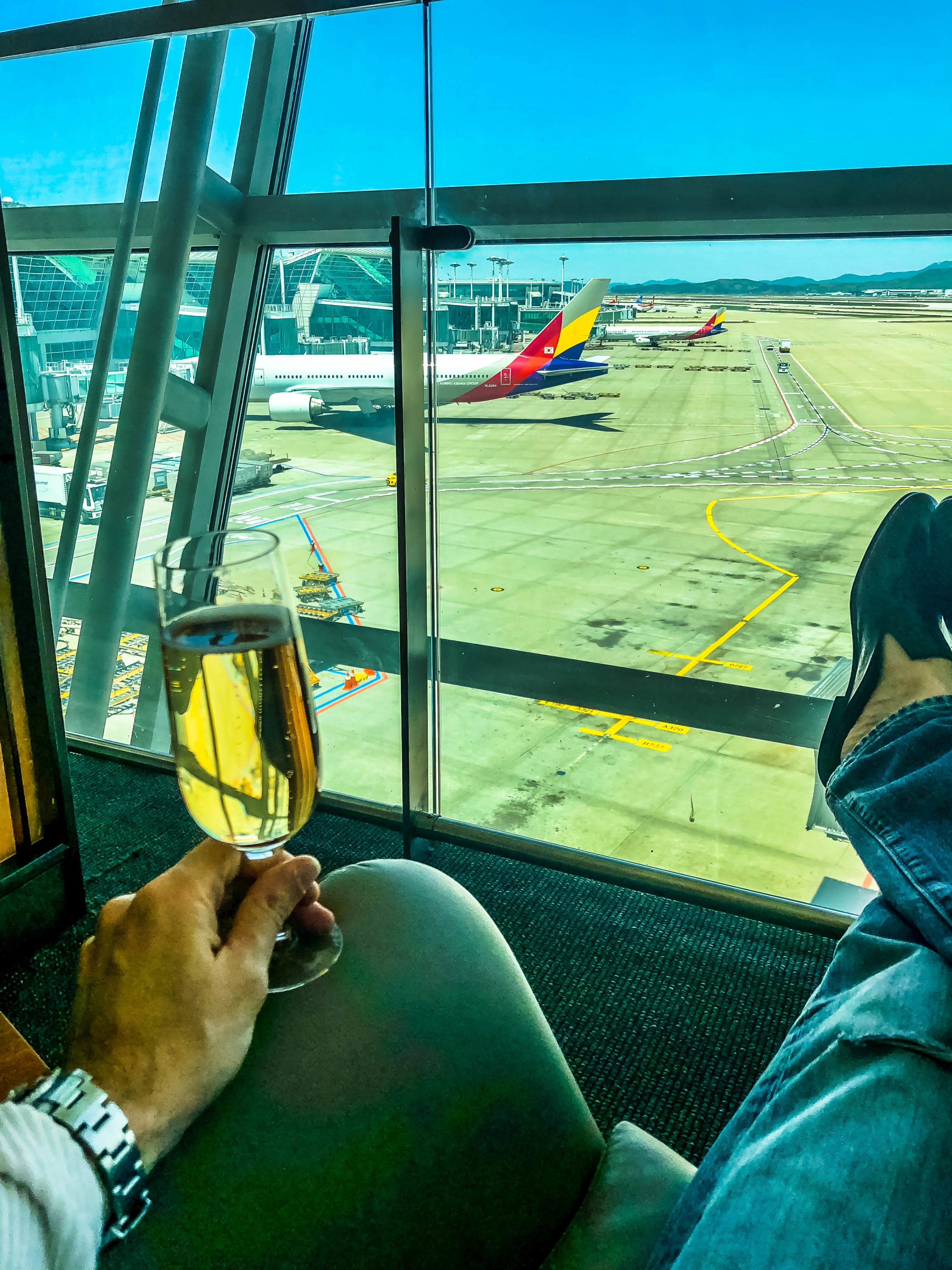 As I was sipping and enjoying the arrival and departure of aircrafts, Hye-rin walked in with my Bose headphones. What a life saver! I couldn't thank her and the Conrad Seoul staff enough for coordinating this.
The lounge was decent, but nothing to shout about. Considering that it was exclusively for first class passengers, I think Asiana missed a trick by not offering à la carte dining, especially during lunch hour.
The designated boarding gate was Gate 10 and at 2:15 p.m. so I started making my way to the gate that was only a short 2-minute walk from the lounge.
Flight
Aircraft
The aircraft registered HL 7626 was the second Airbus A380 delivered to Asiana Airlines in July 2014 with a total capacity of 495 seats configured as:
First Class Suites: 12 seats in a 1-2-1 configuration
Business Class Smartium: 66 seats in a 1-2-1 configuration
Economy Class: 417 seats in a 2-4-2 configuration
The entire first class cabin and 311 economy seats are fitted on the lower deck.

The entire business class cabin and 106 economy class seats are fitted on the upper deck.

Boarding was smooth with first class passengers boarding exclusively through a separate jet bridge.
Cabin
The first class cabin is situated in the forward section of the lower deck with 12 suites in a forward facing 1-2-1 configuration across 3 rows.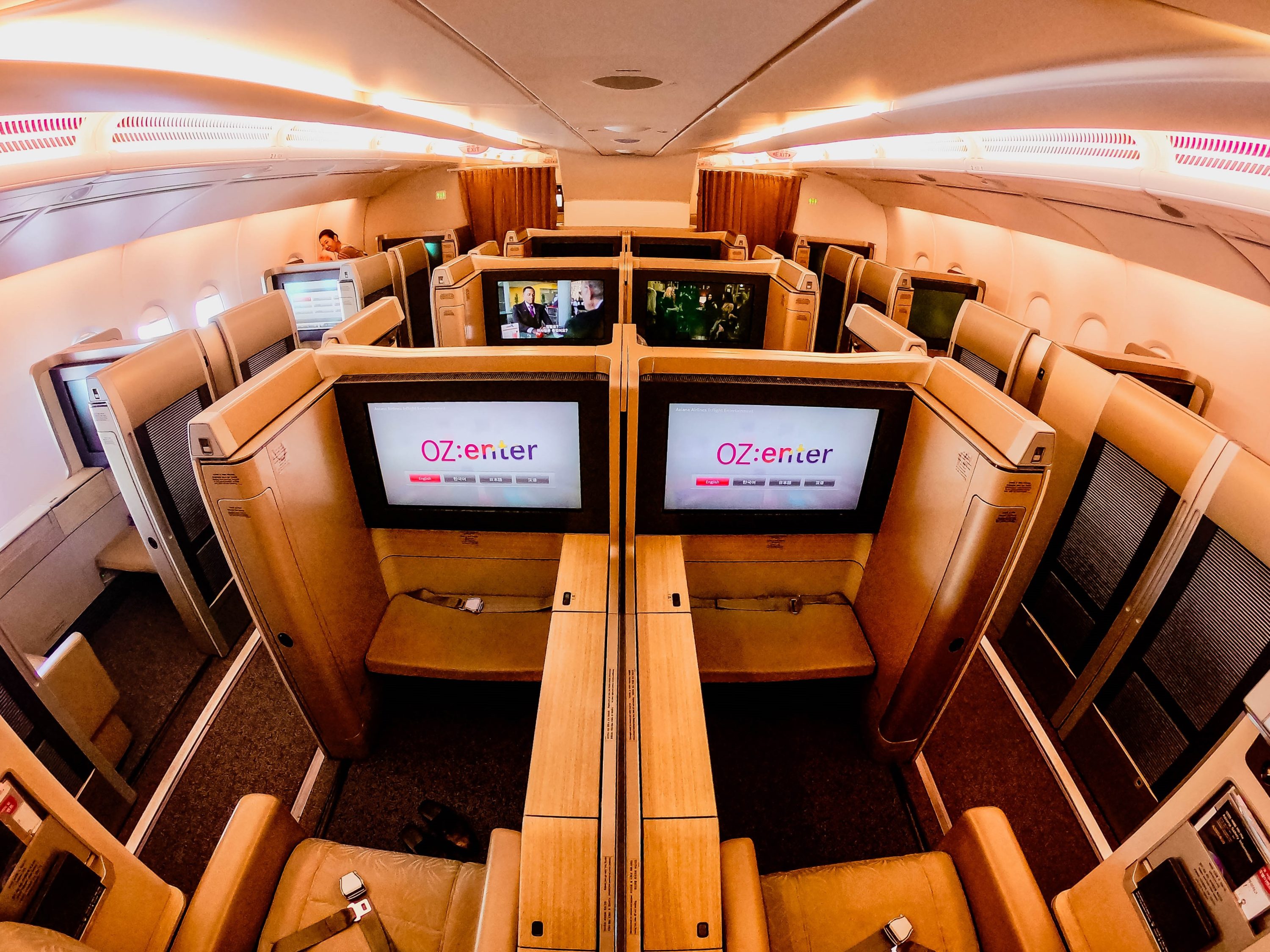 The cabin isn't the most modern, and the texture is pretty dull — white bulkheads with light brown and yellowish seat upholstery. However, it does not feel cluttered thanks to the absence of the overhead bins.
If you are traveling solo, the window seats are the ones to go for, and if you're with a companion, then the middle seats should do the trick.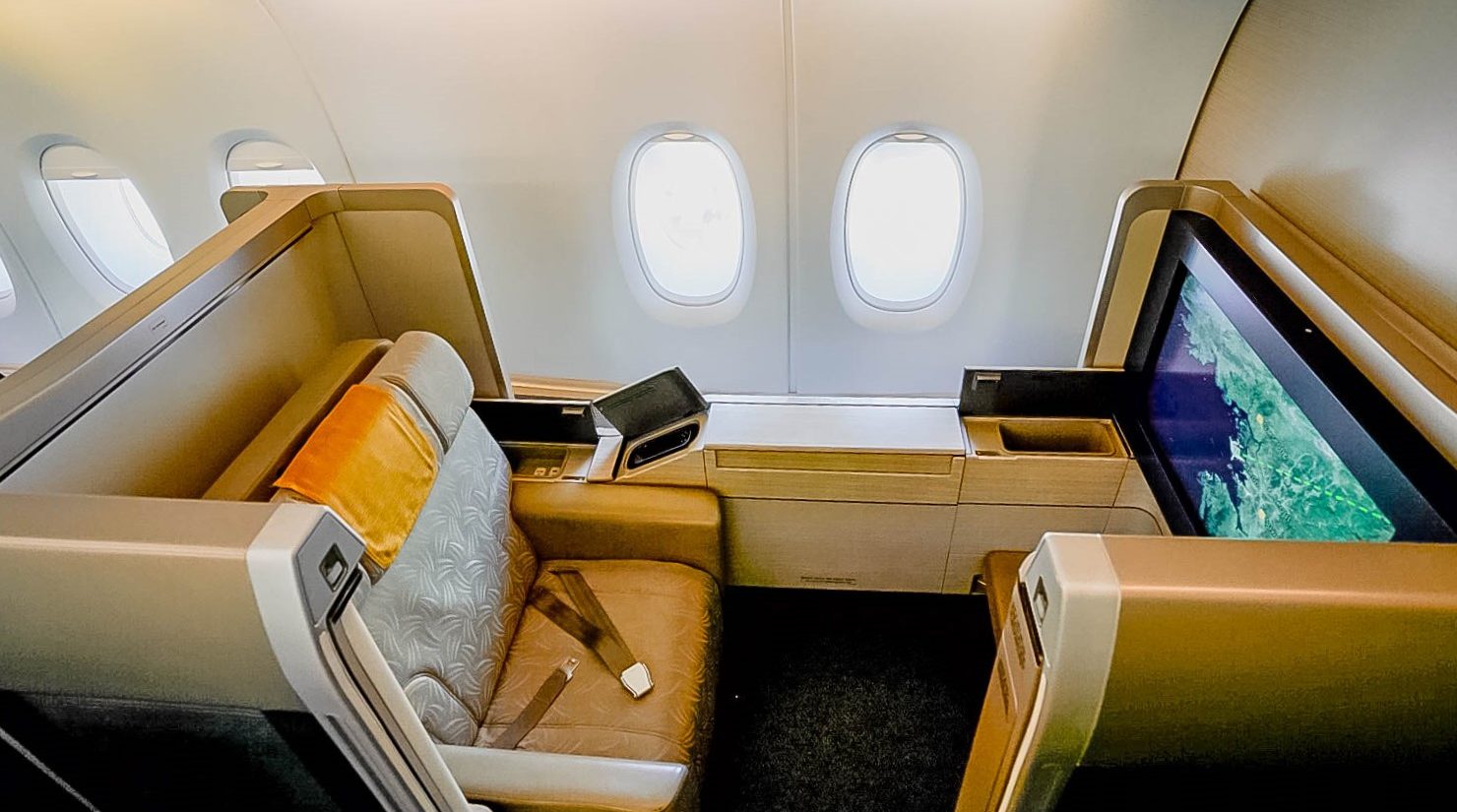 There is a decent-sized lavatory located on the starboard side ahead of suite 1K. There is cushioned seating in case you need to sit to change into your pajamas. The toilet is just below the seating. The toiletries provided include a facial mist, hand cream, and mouthwash.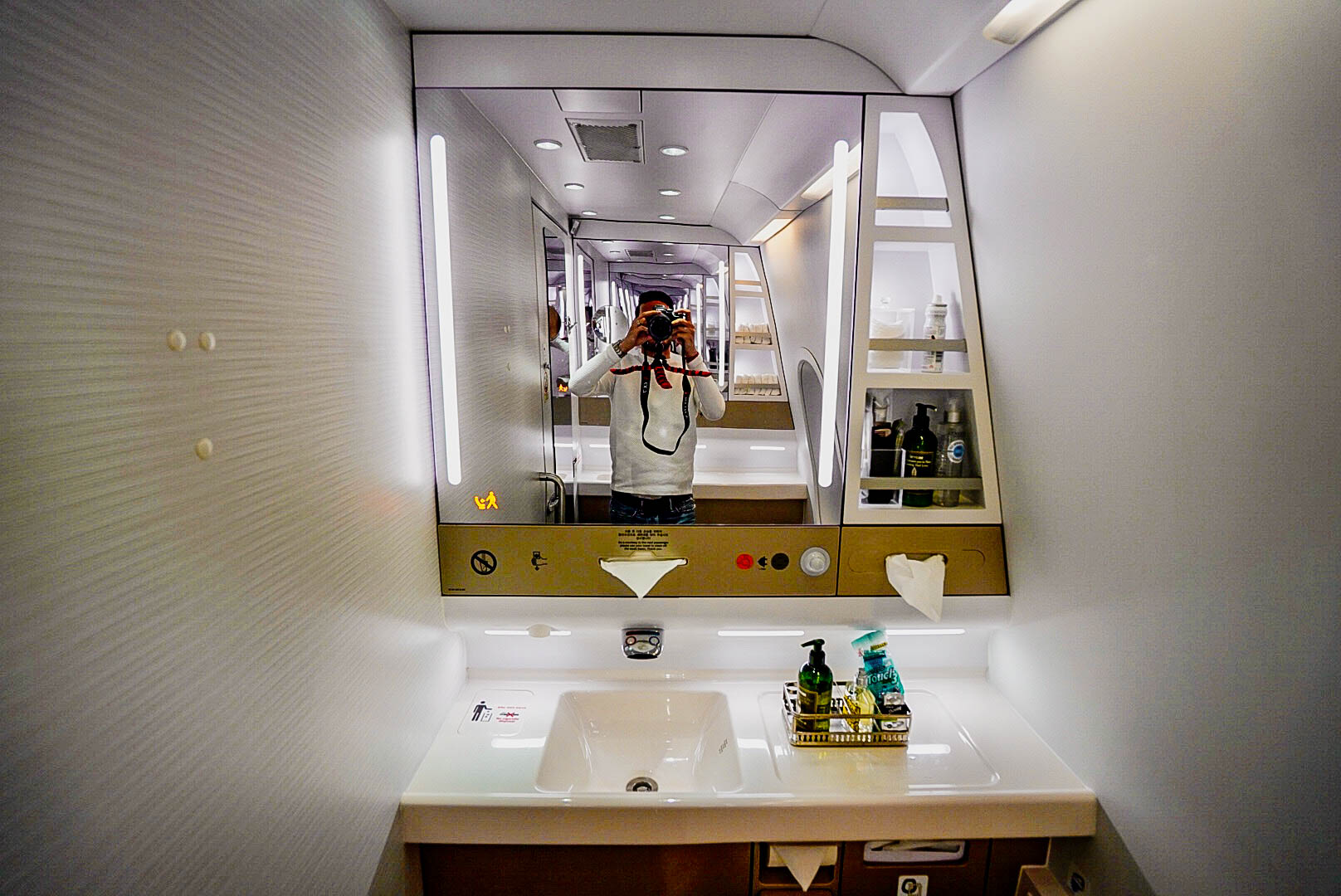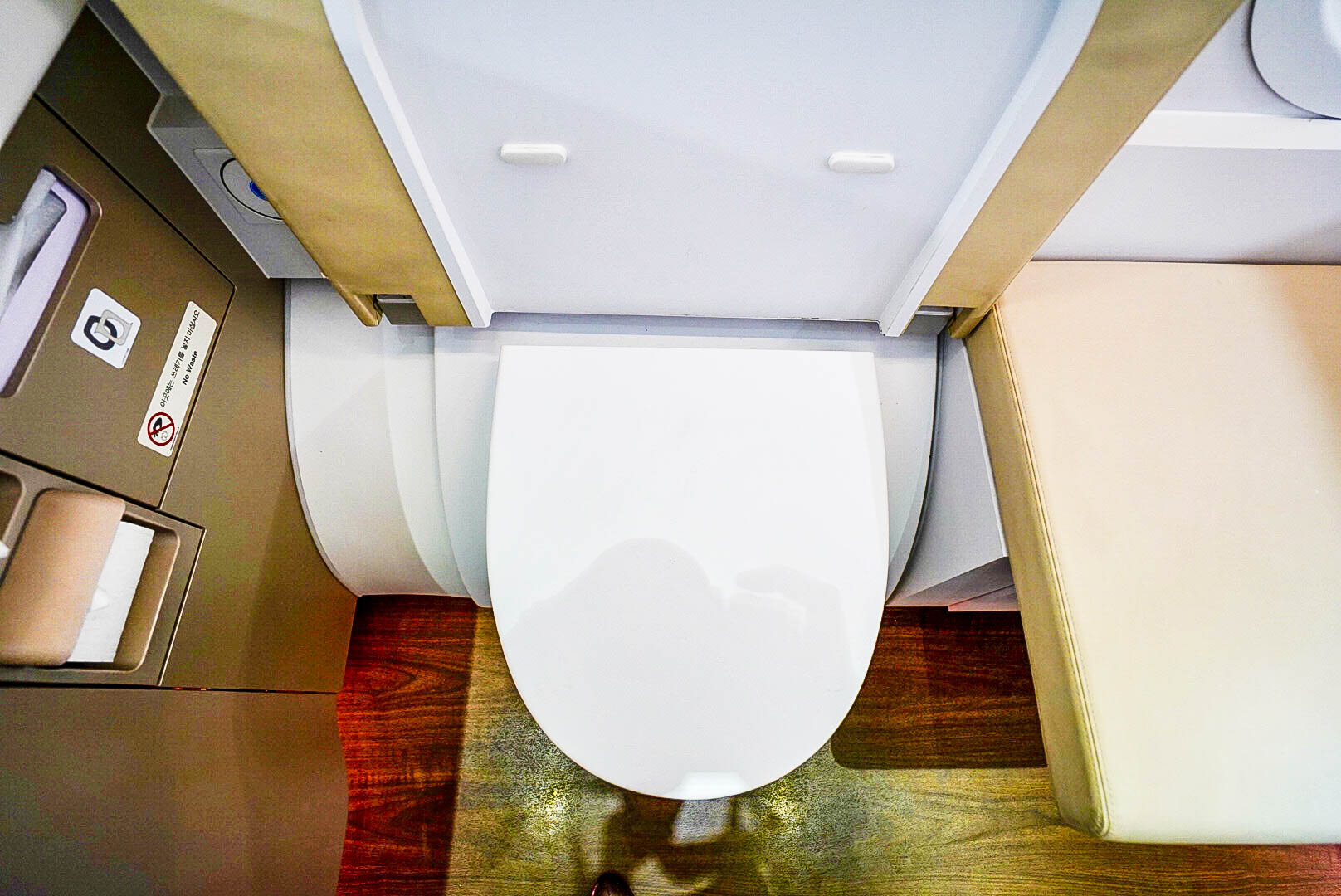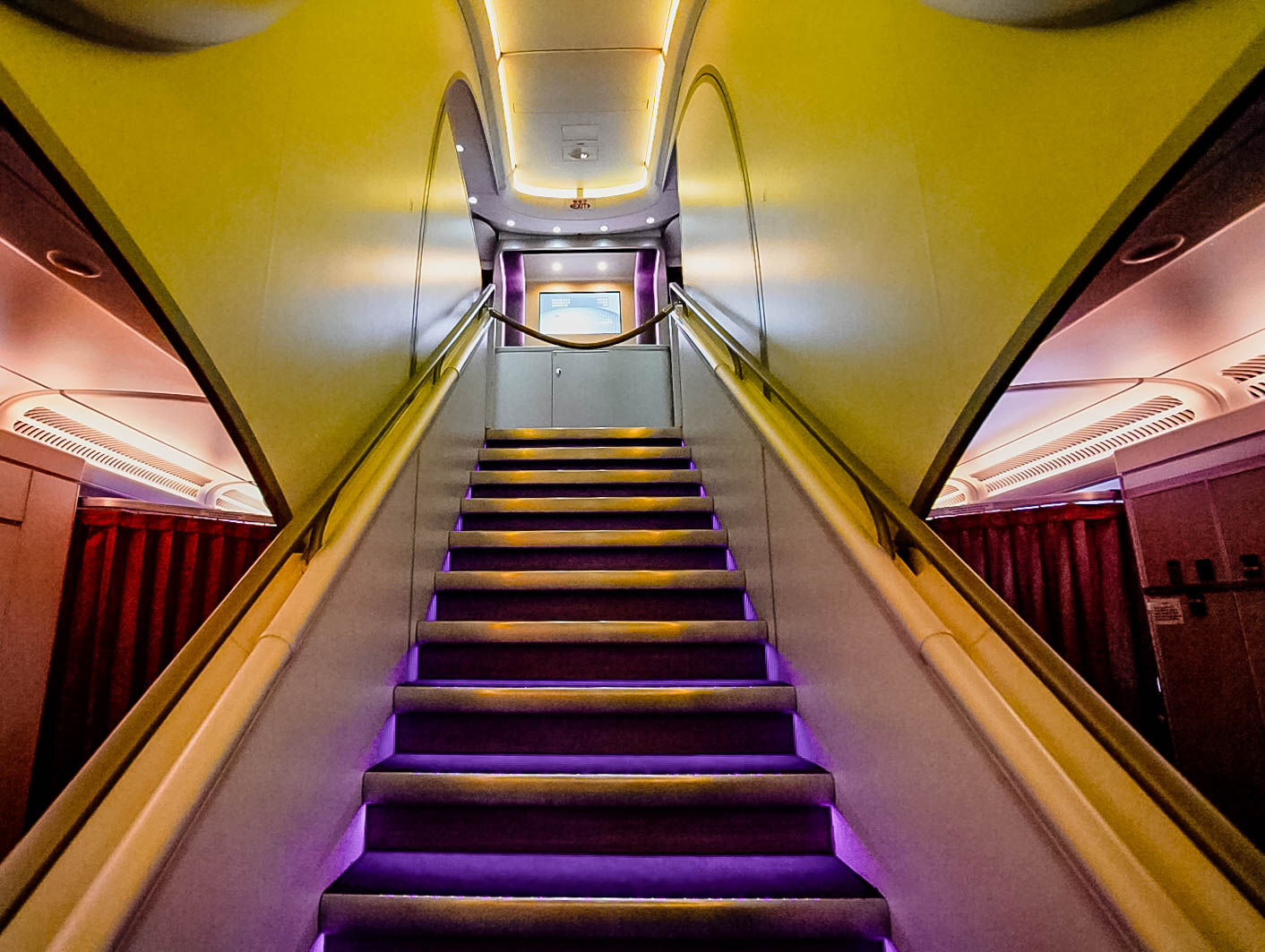 Suite
The suites are gigantic! Each are equipped with a privacy door, a large 32″ screen monitor, jacket closet, universal socket, USB ports, and storage space complete with smart wooden trimmings.
If you are one to enjoy window views, then go for suites in row 2 that offer 3 windows compared to 2 windows in rows 1 and 3.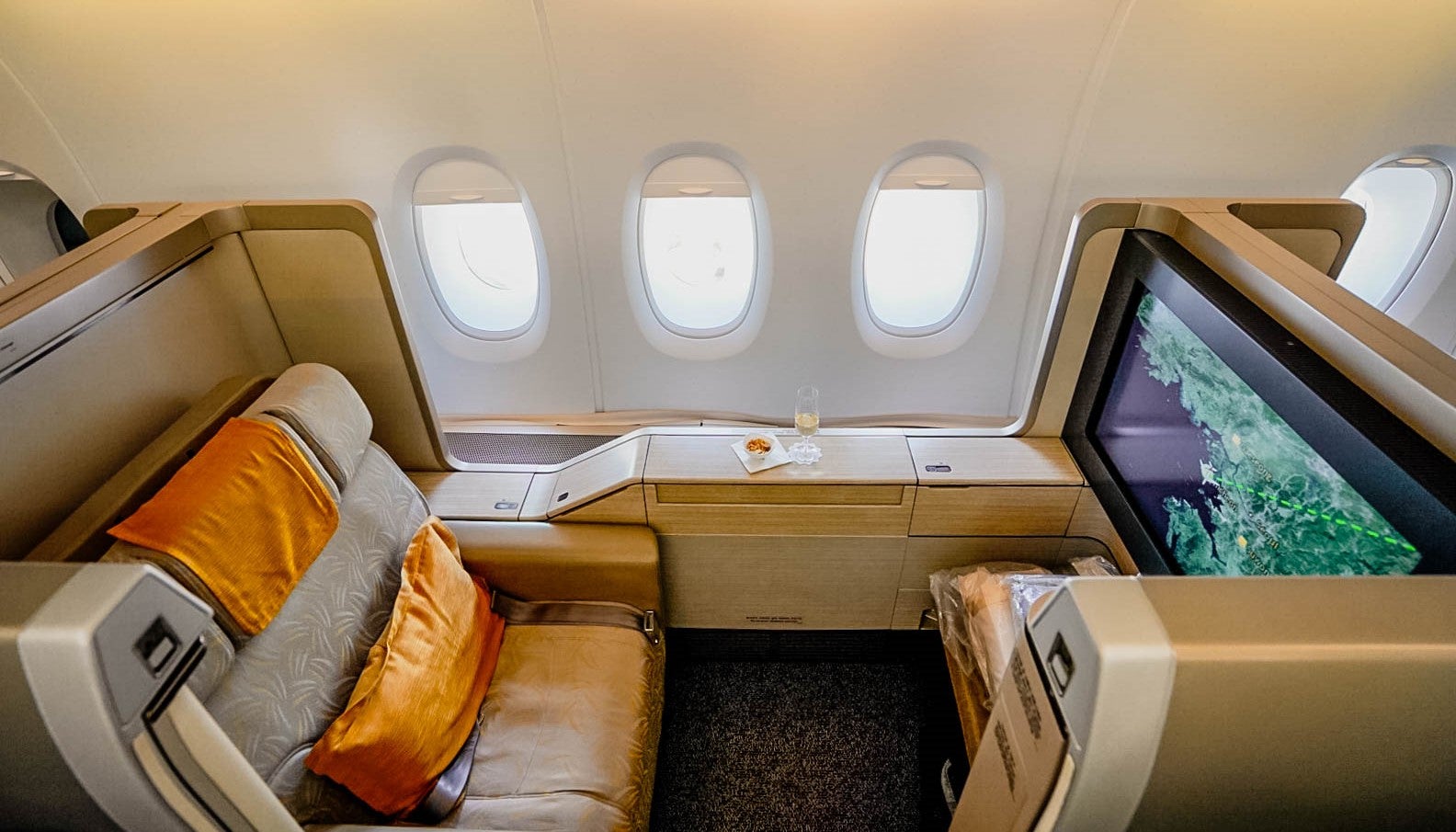 The below pictures further illustrate just how big these suites are.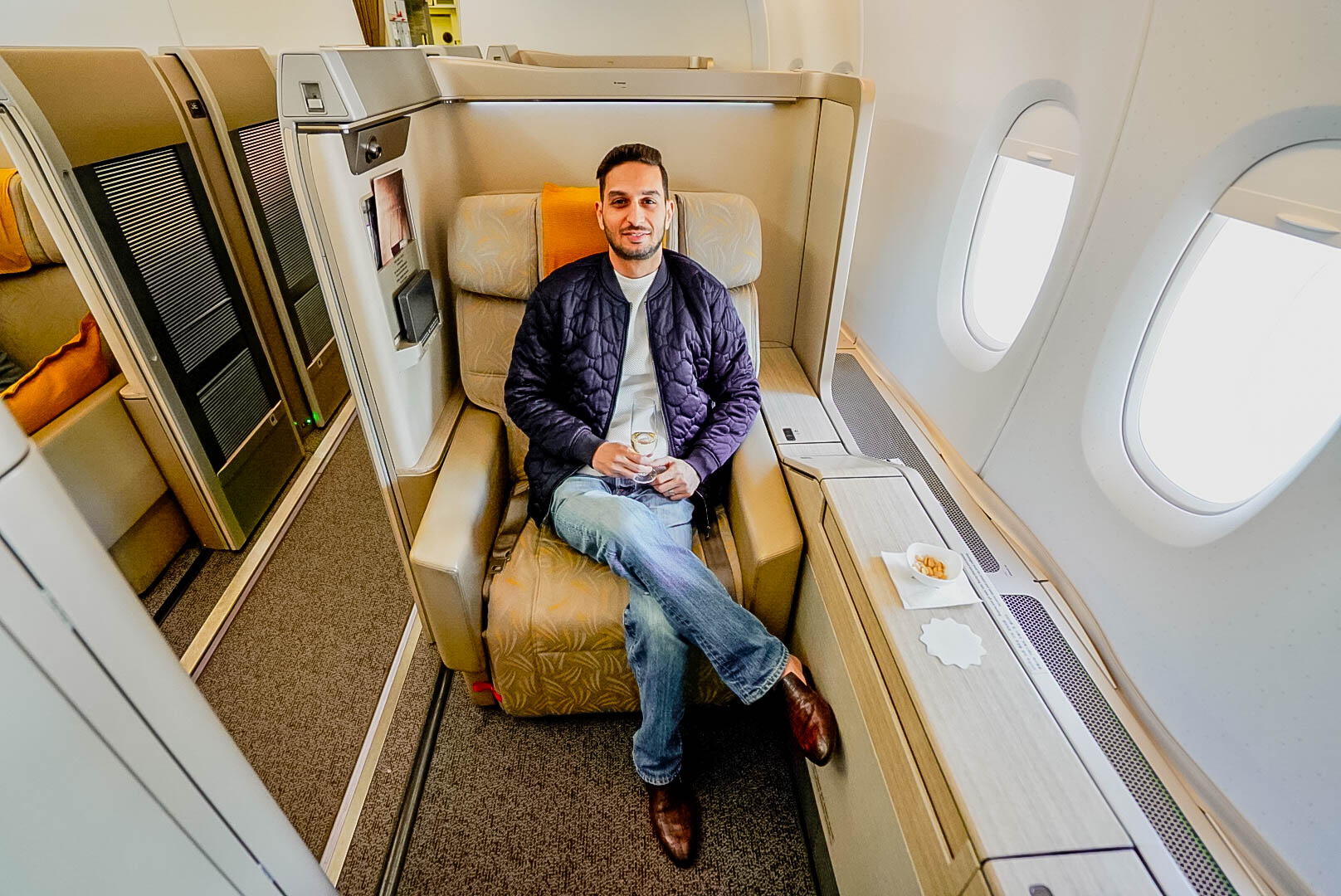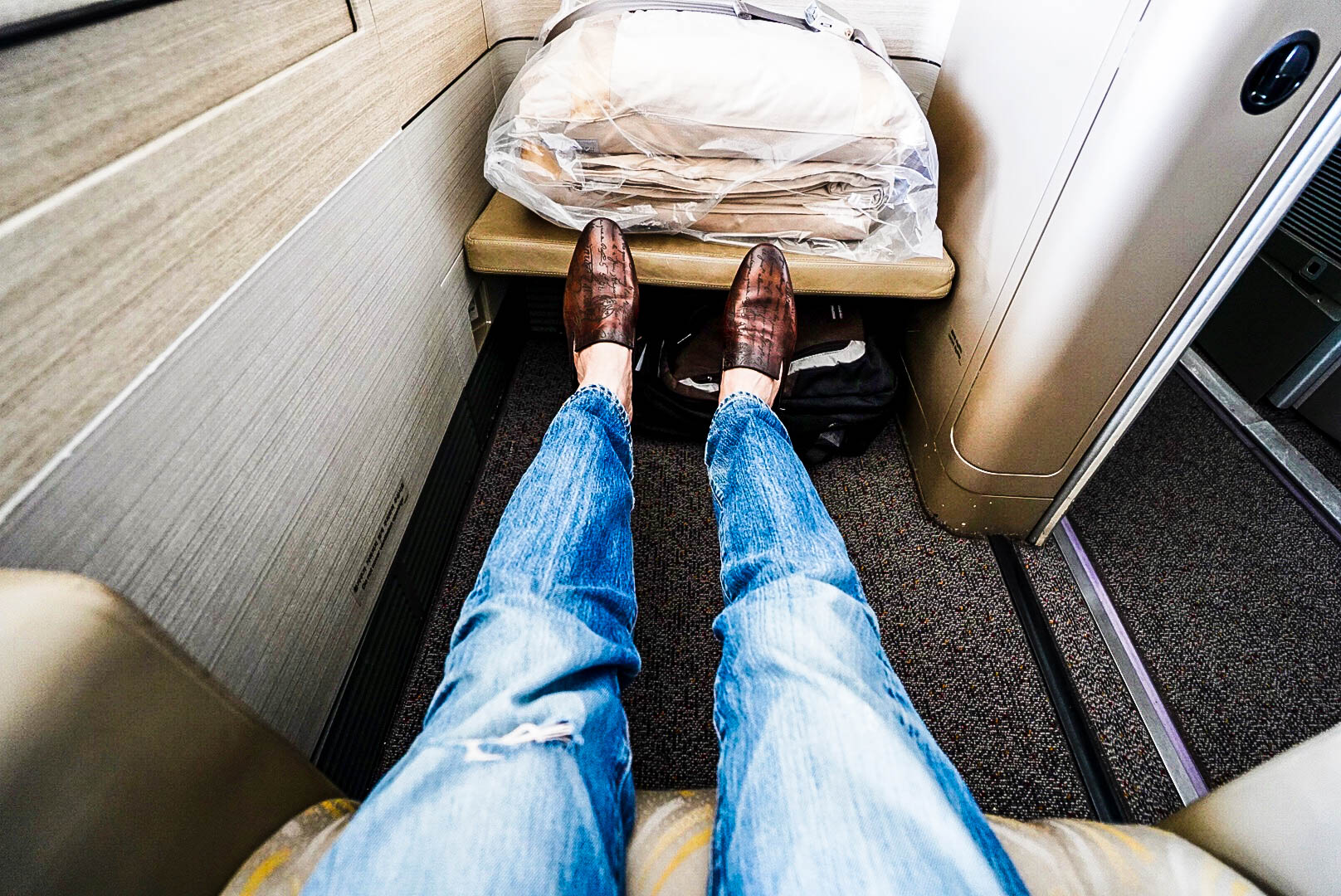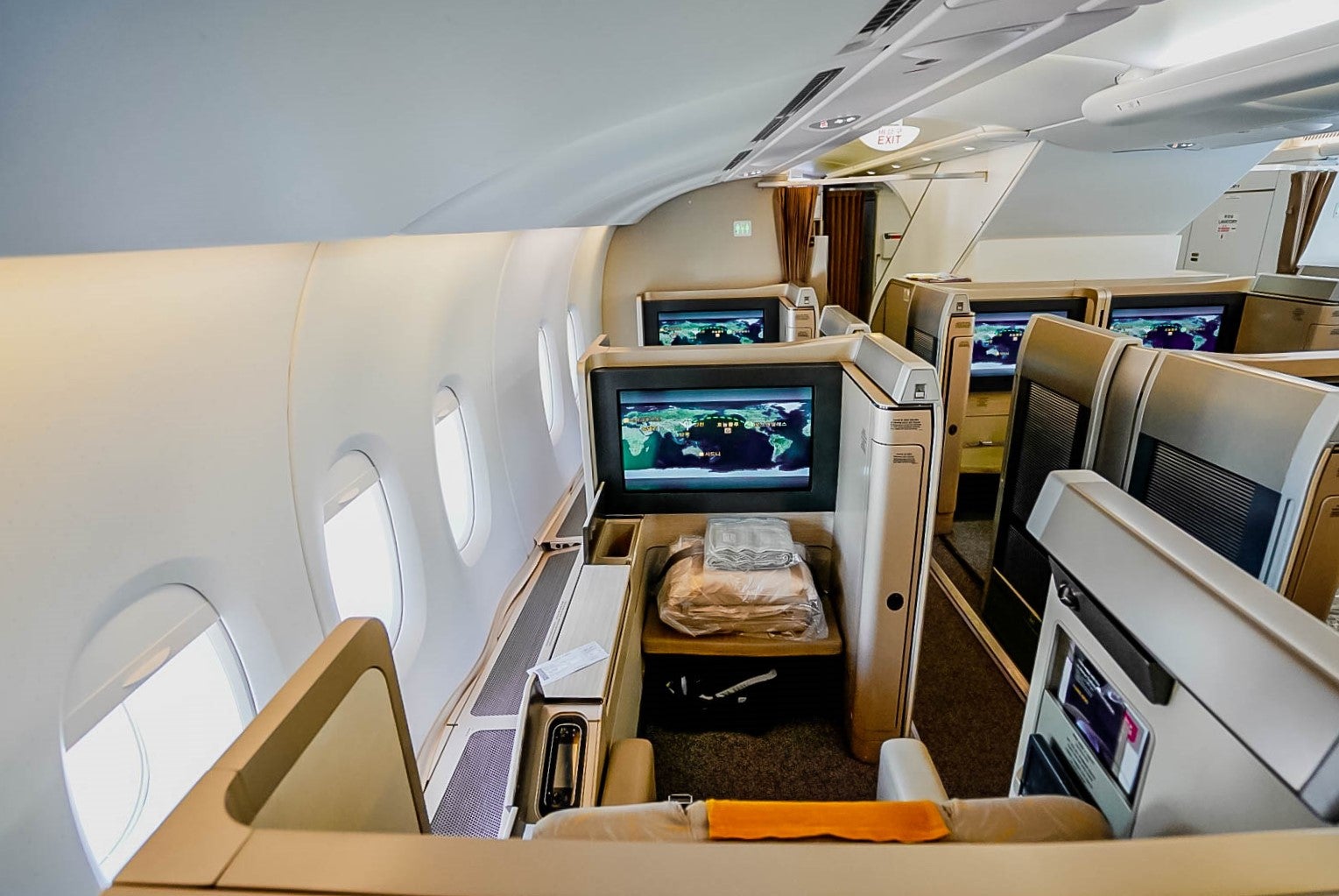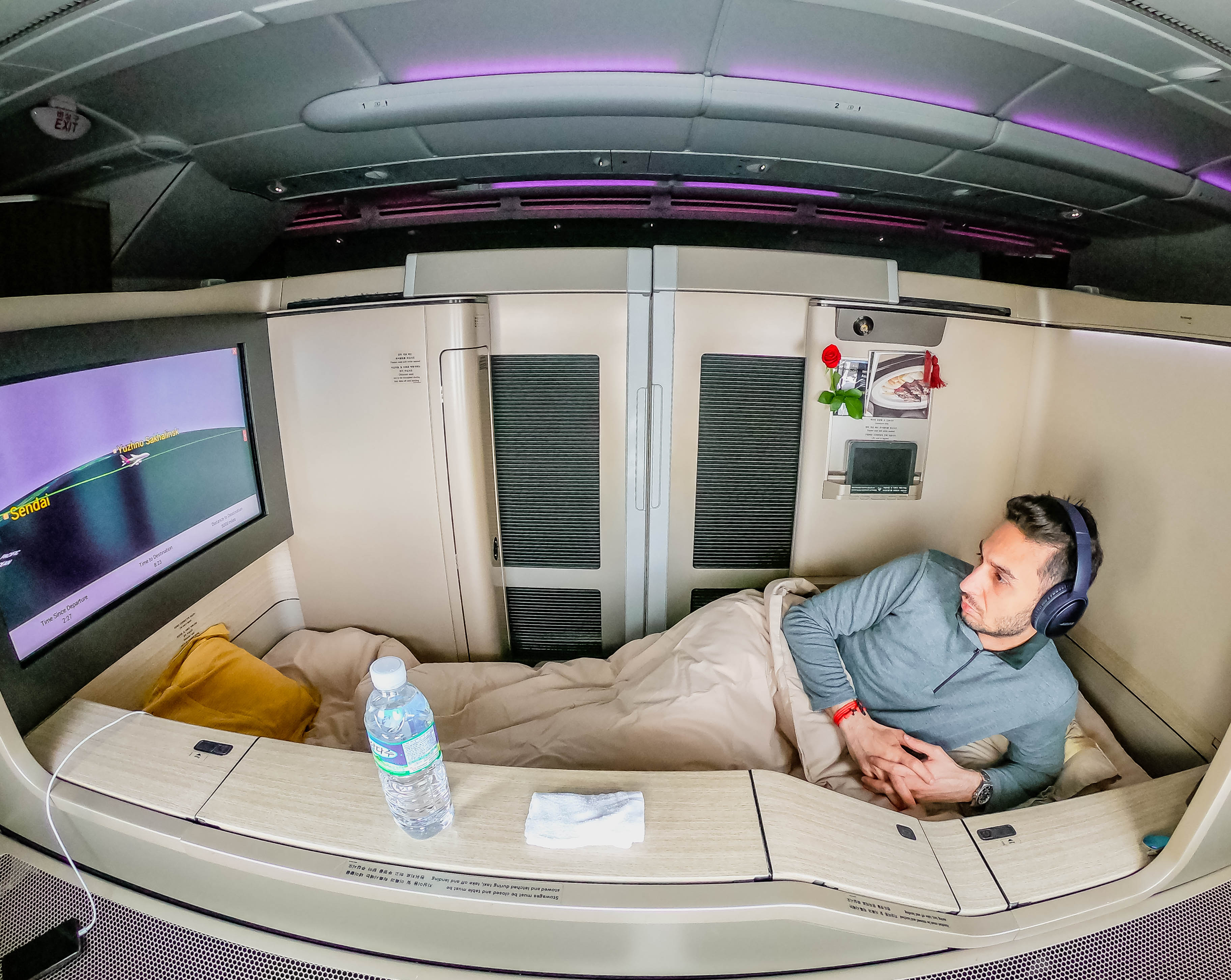 Seat
With a pitch of 84″ and width of 25.2″ the seats are plush and comfortable, complete with leather arm rests, and can be converted into a lie-flat bed.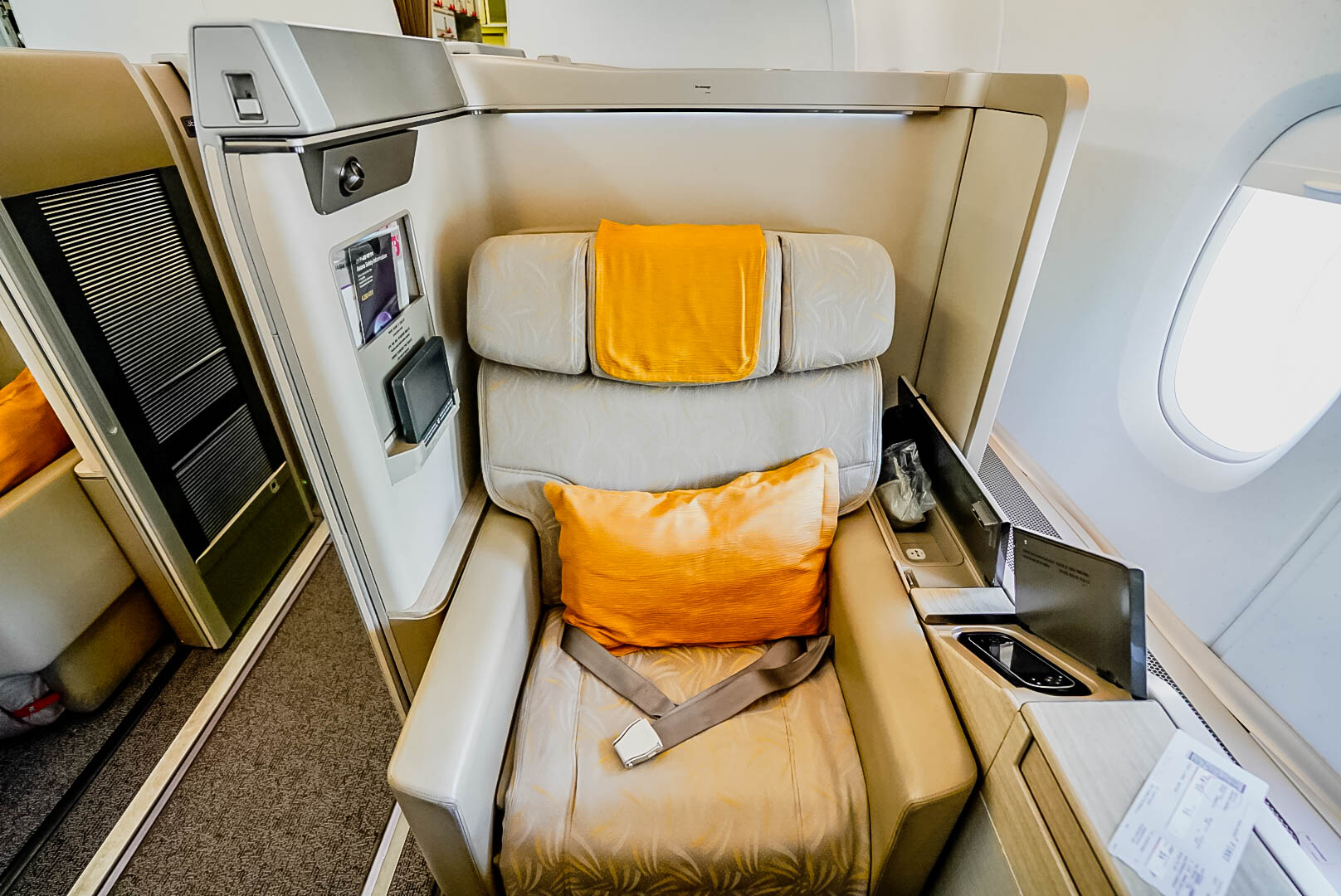 Opposite the seat is an ottoman fitted with a seat belt should you wish to enjoy a meal with your companion.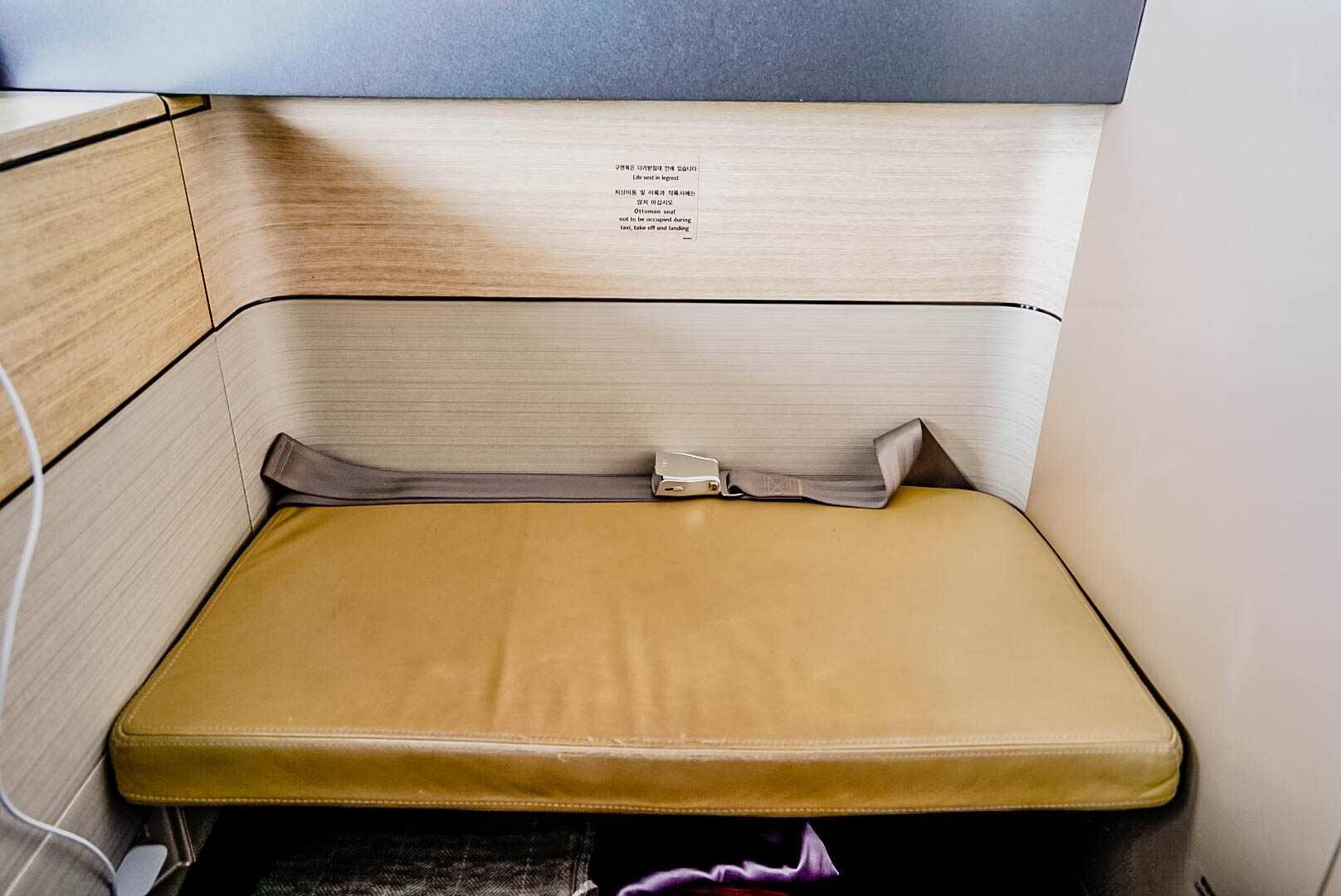 The suite and seat features, which include seat presets, seat adjustments, lighting and privacy, can be controlled using a touch pad.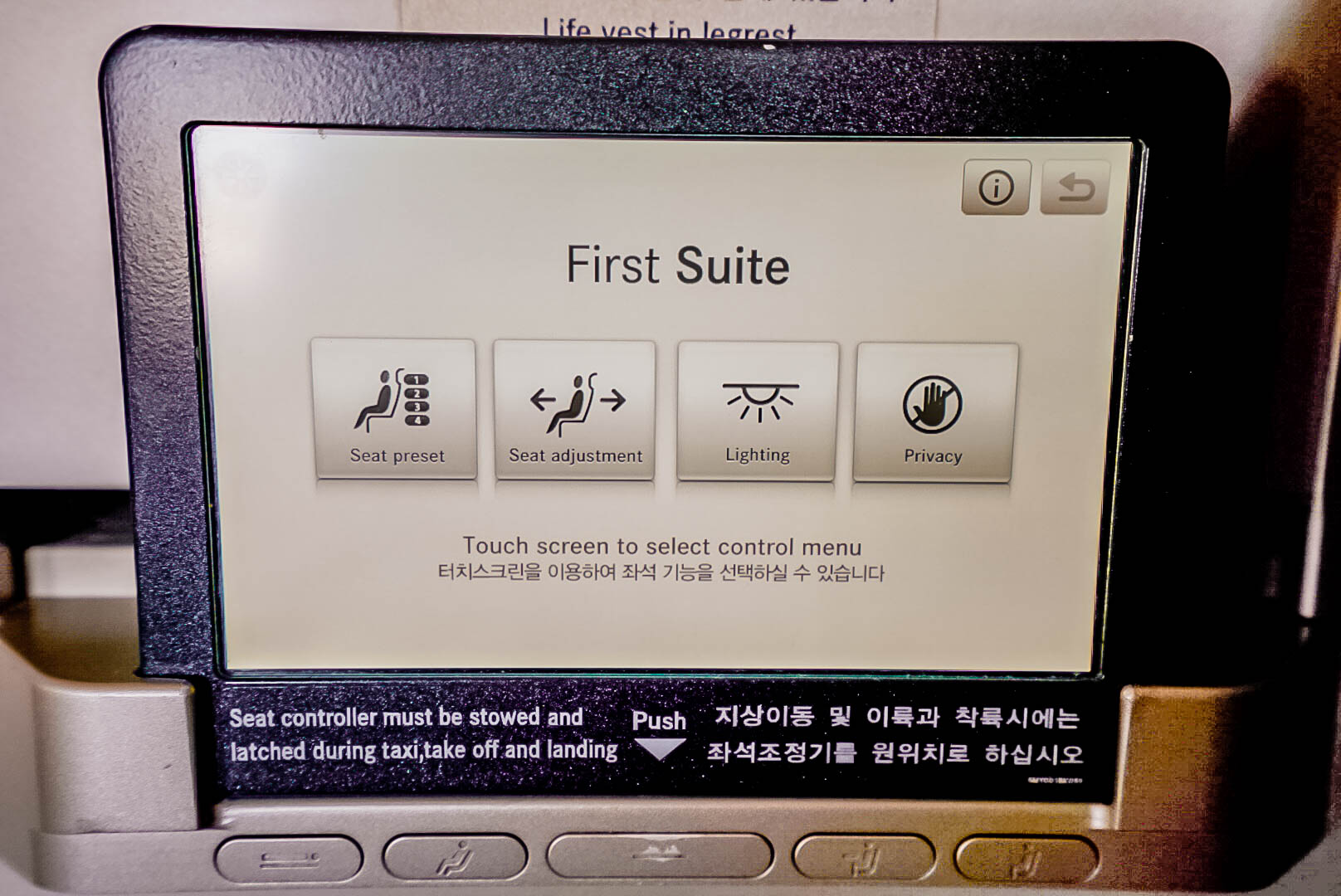 The seat can be converted into 1 of the 4 pre-set modes: Take Off, Recline, Dining, and Flat bed.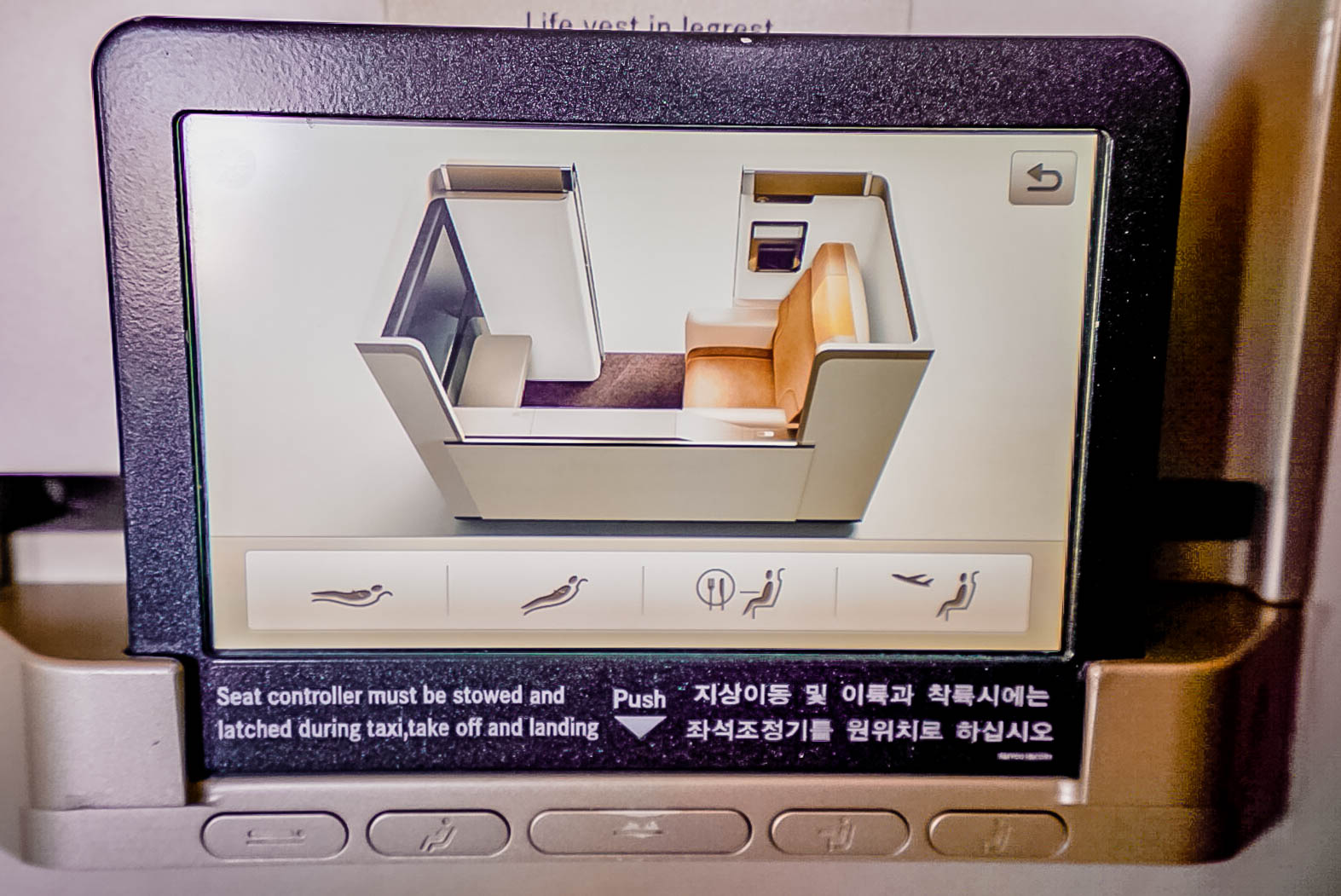 It can be further adjusted by the controls to adjust for the optimal dining position, lumbar position, and footrest position.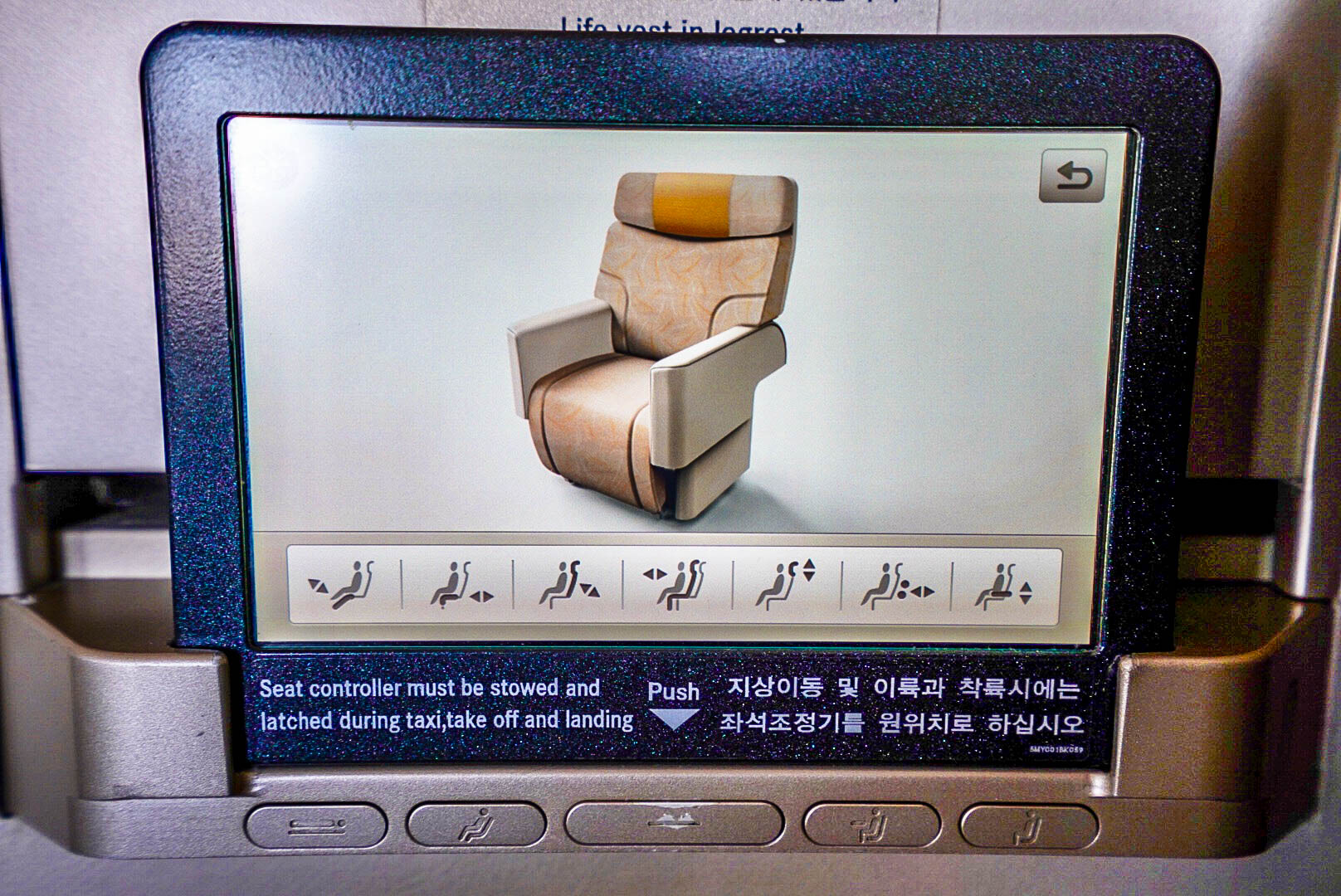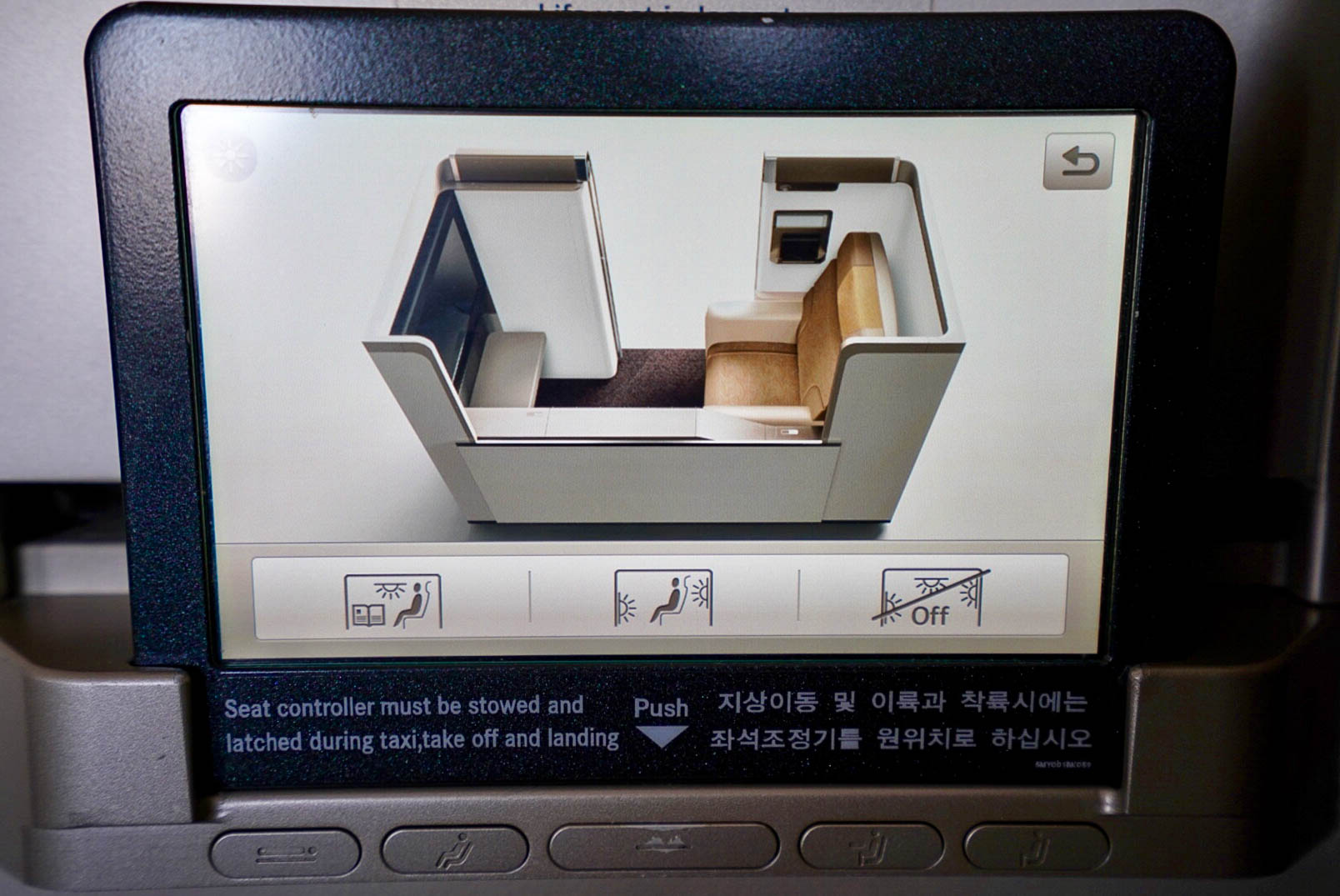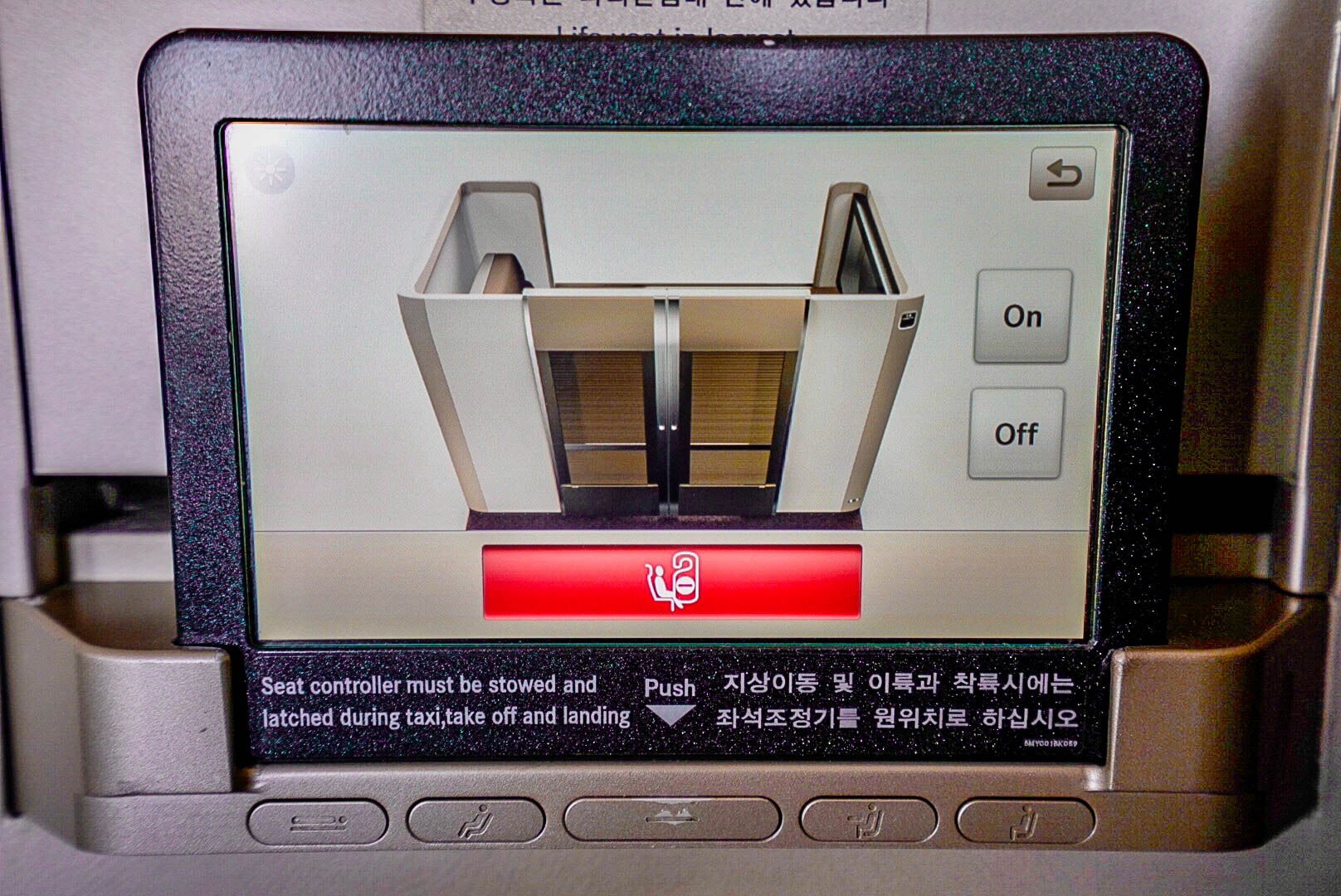 Here is a video of the seat converting to a lie-flat bed: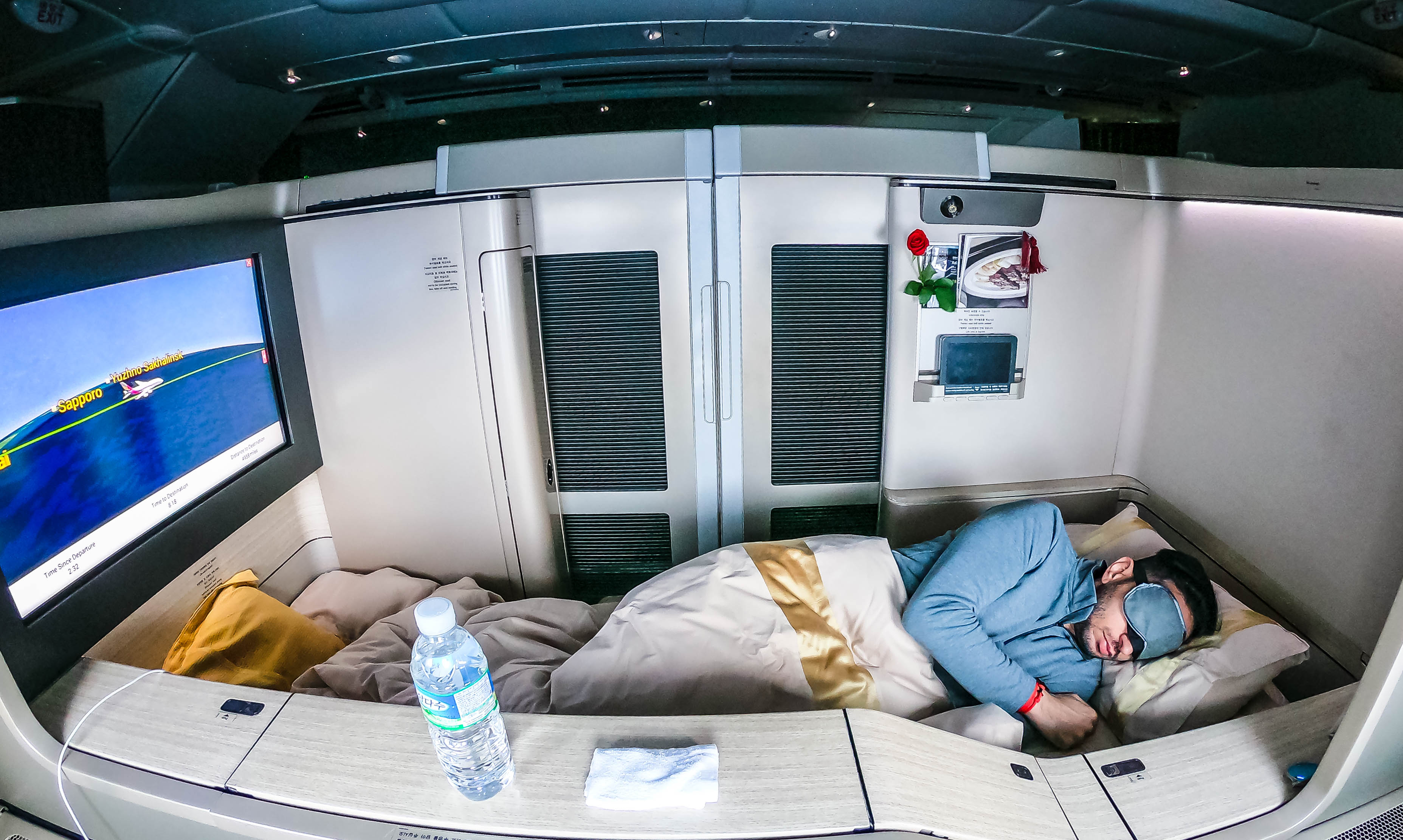 Storage Space
There is ample storage space provided in each suite. There are 2 storage compartments provided in the left hand wooden panel to store phones, cables, and anything smaller you wish to keep handy.
The first storage compartment is located nearest to the TV screen and the second storage compartment is located at the side of the seat and also contains the USB port and the headphone jacks.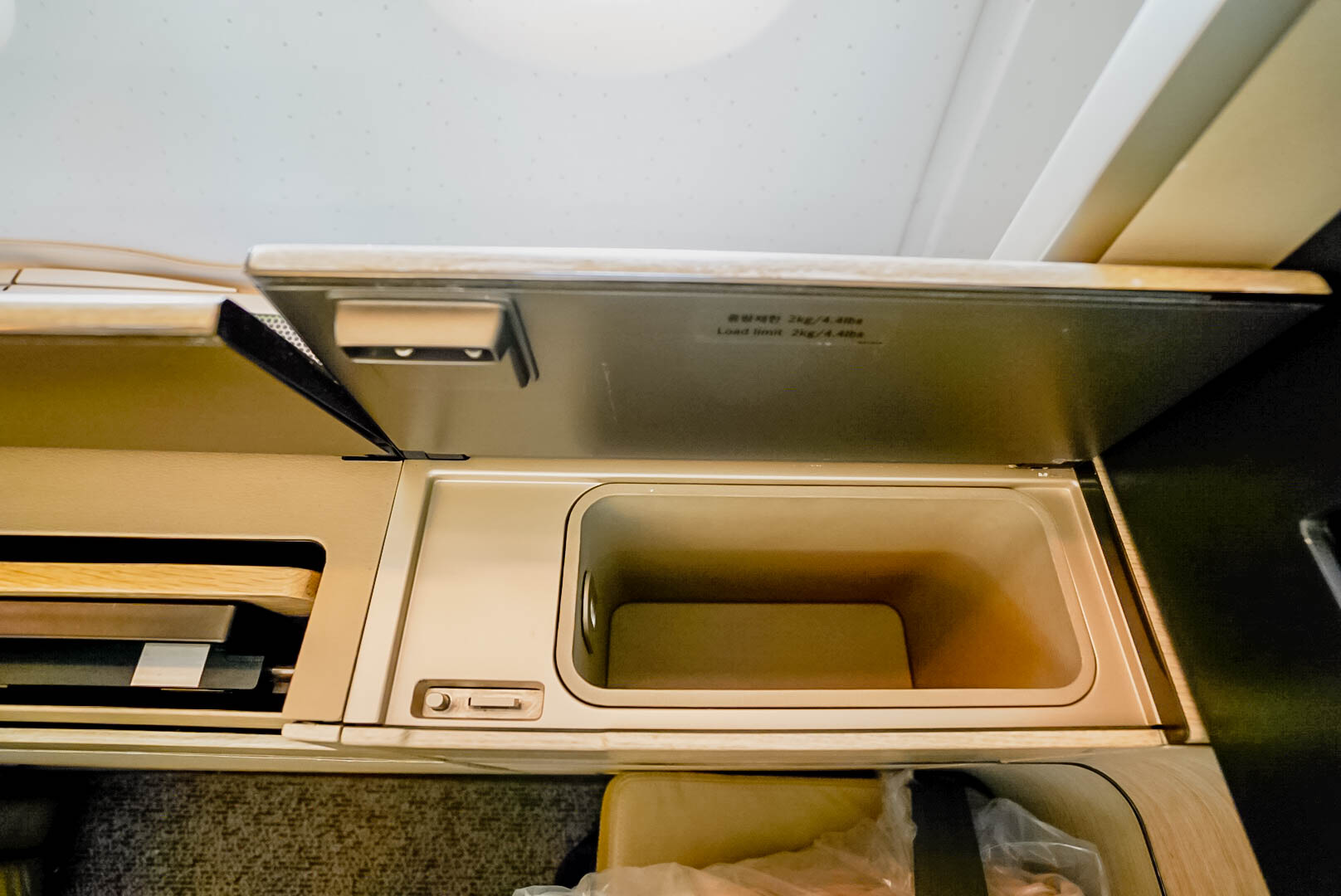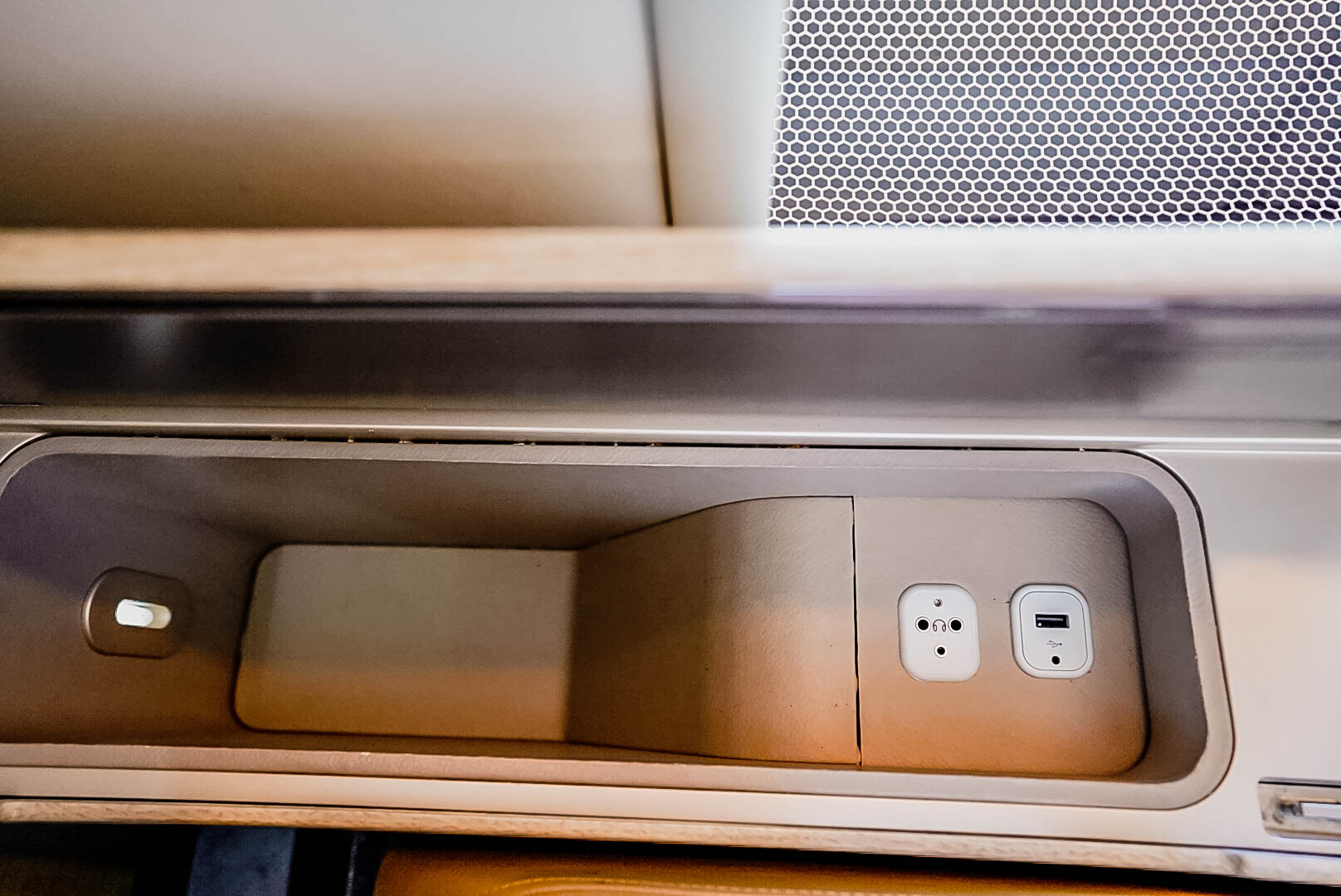 Flush against the privacy door is a closet to store your jacket with a vanity mirror.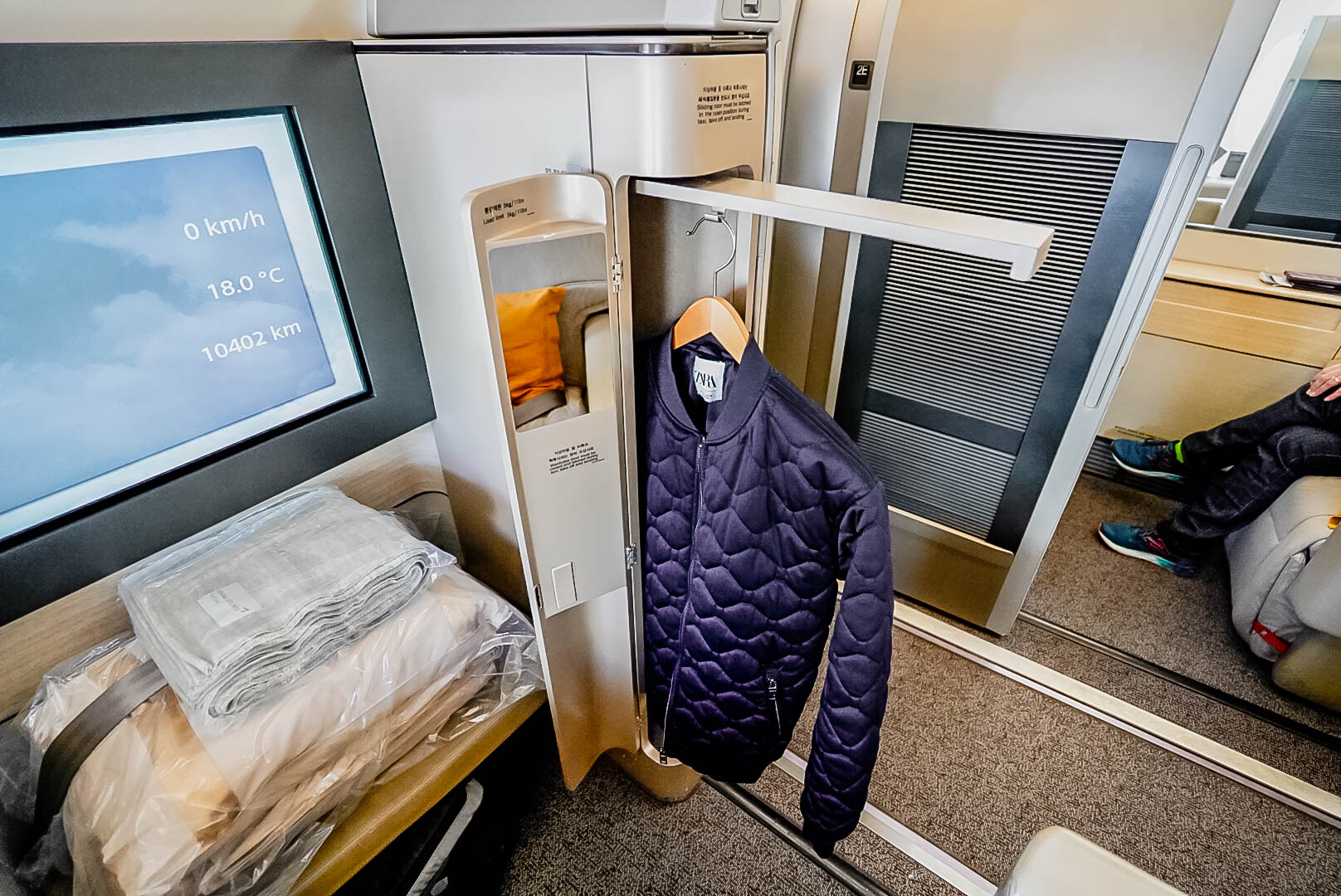 Further, there is decent storage space below the ottoman to store your carry-on bag.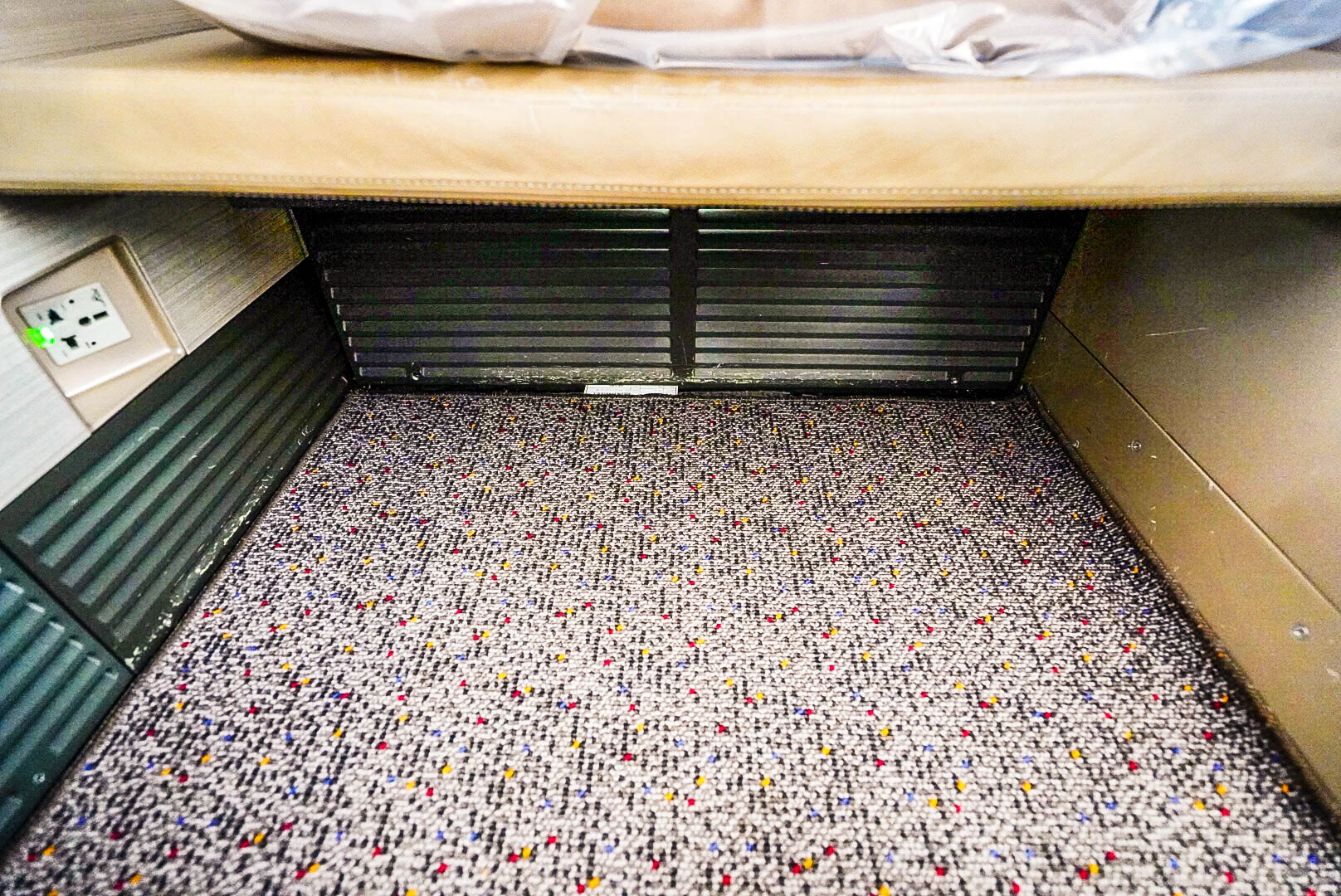 Plugs and Power Supply
There is a universal power socket placed in an inconvenient position below the ottoman. As mentioned earlier, the USB port is provided in the left hand seat arm rest.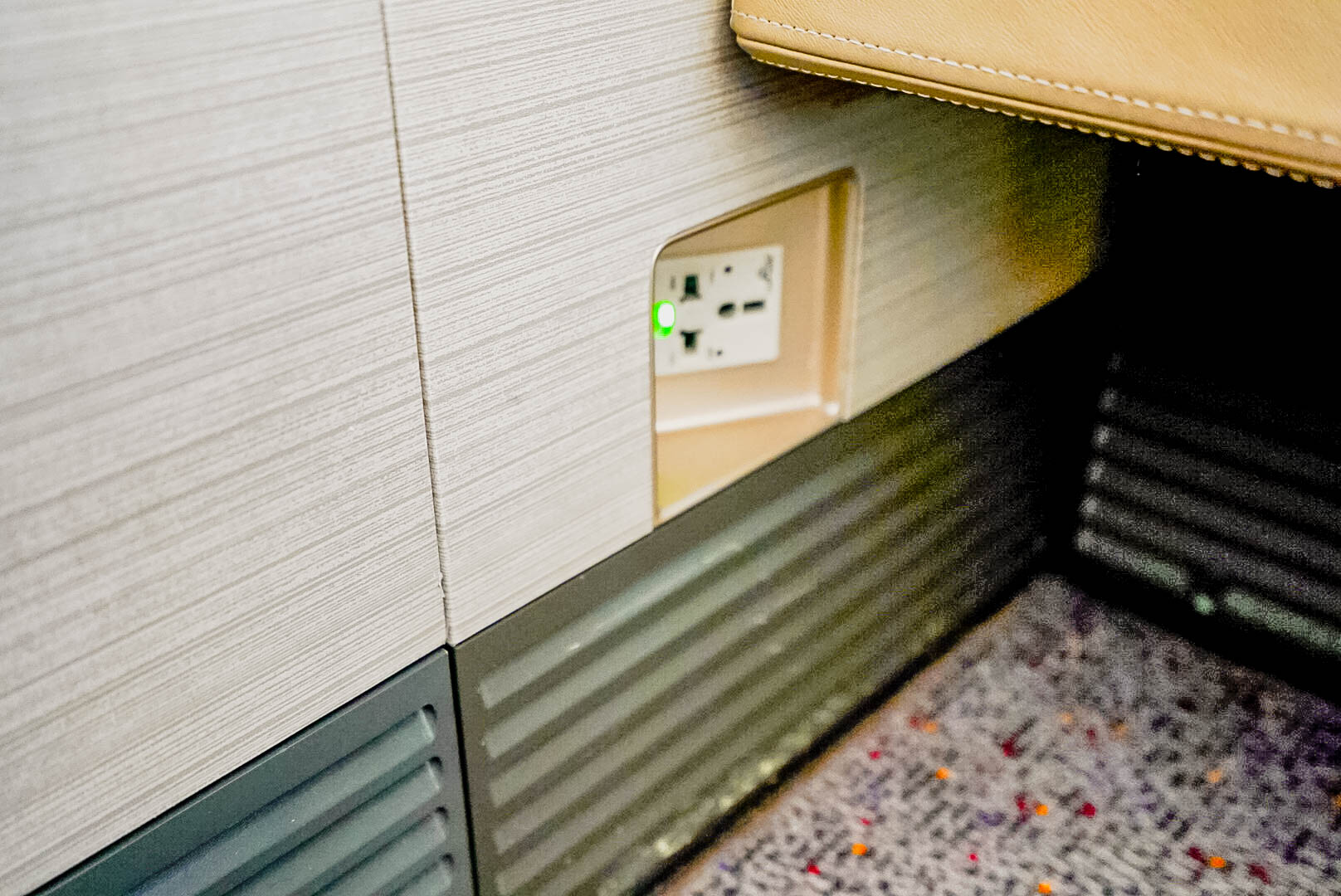 Inflight Entertainment and Wi-Fi
Asiana offers a decent size 32″ inflight entertainment (IFE) screen but with very limited entertainment options.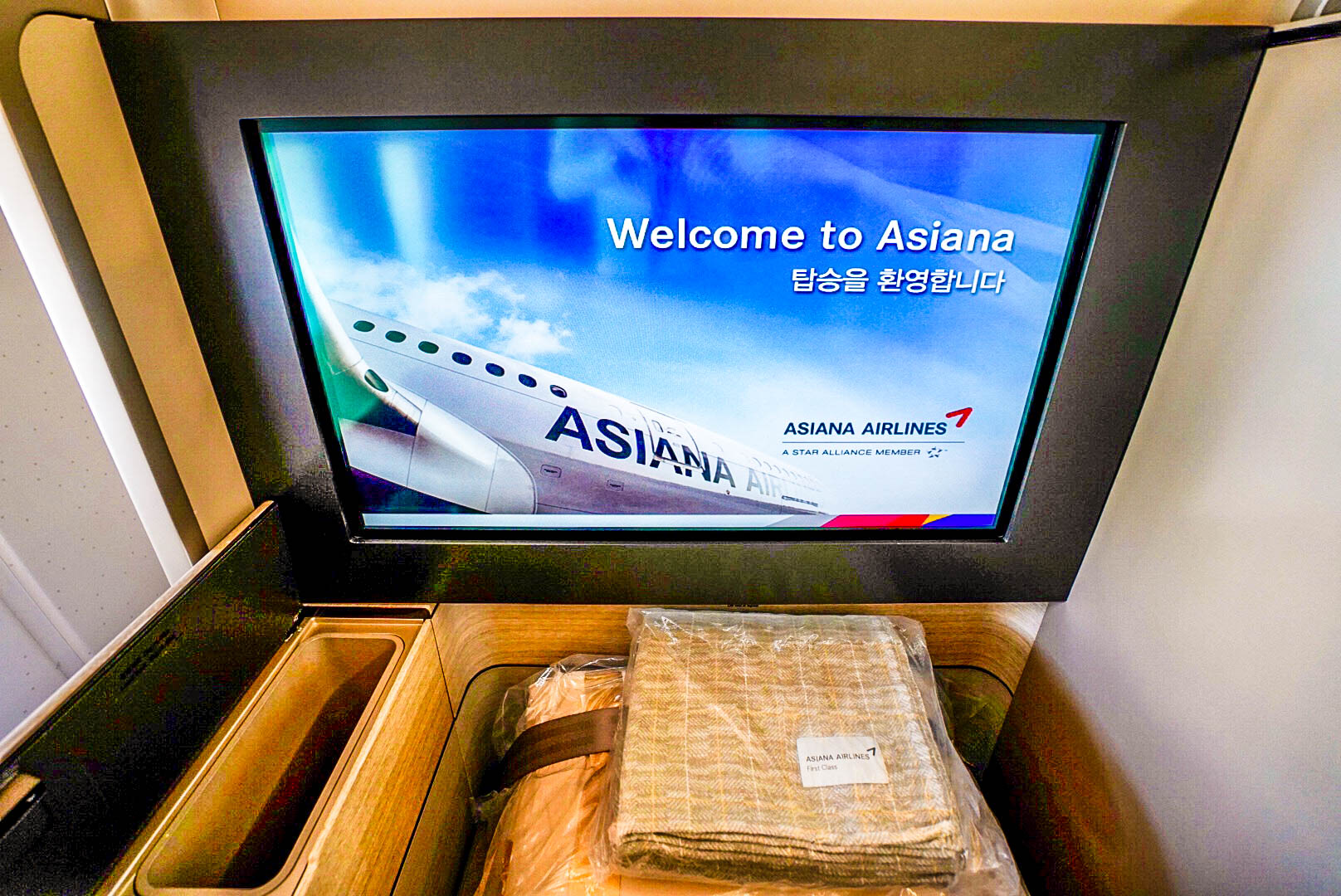 You can scroll through the content and control the TV monitor using the touch-screen remote control that is stored in the left-hand side wood panel .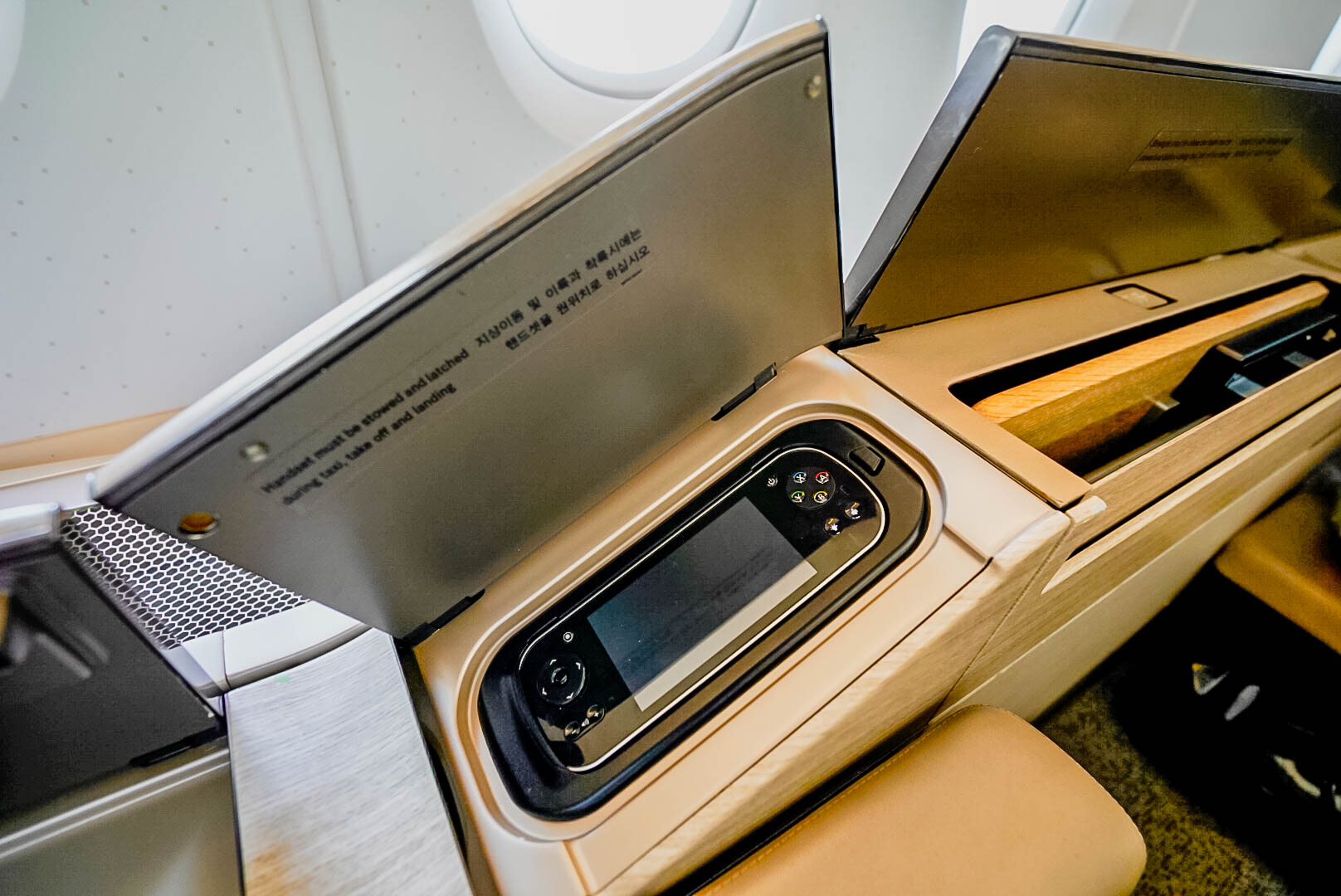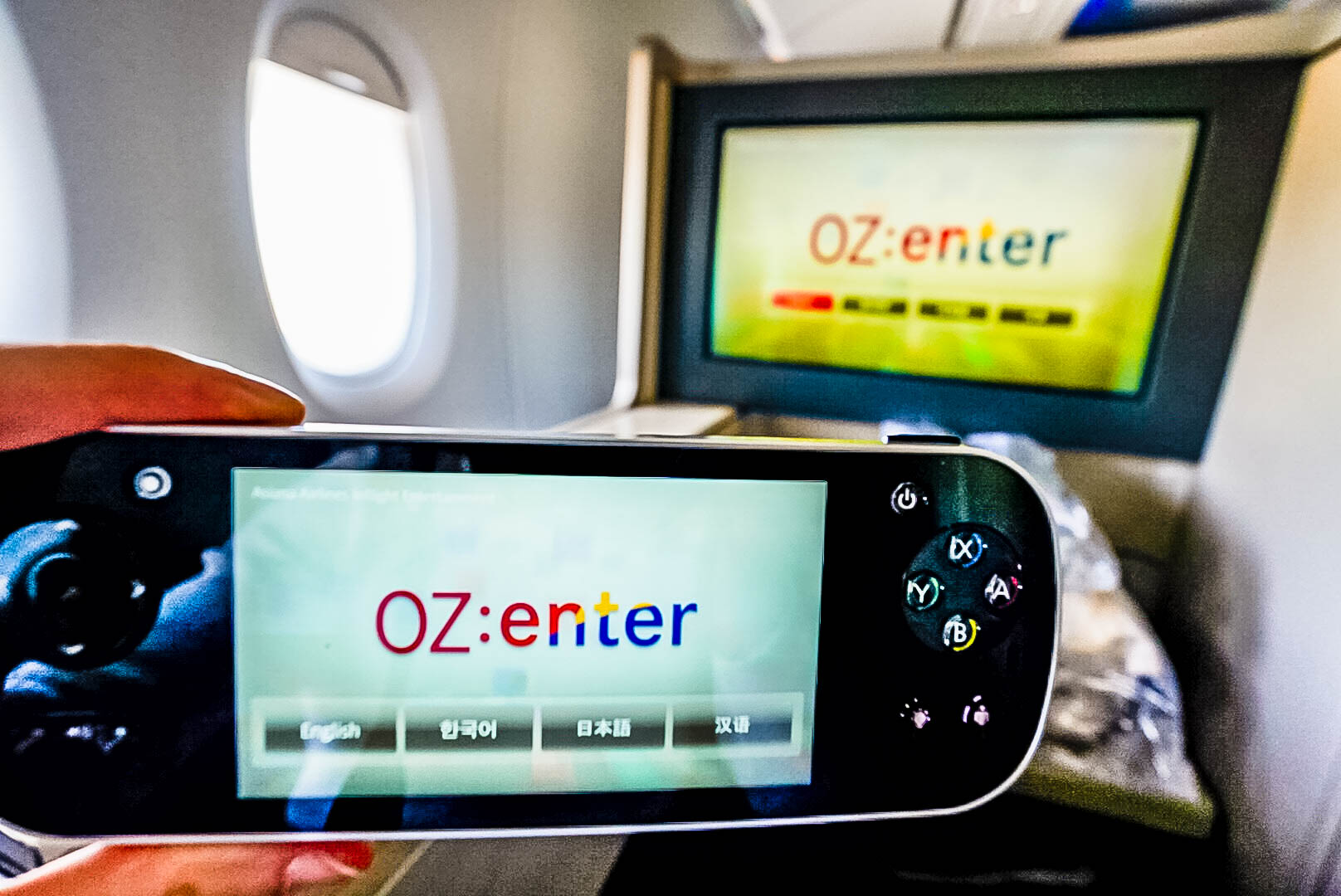 The entertainment options available were movies, TV shows, music, and the interactive air show.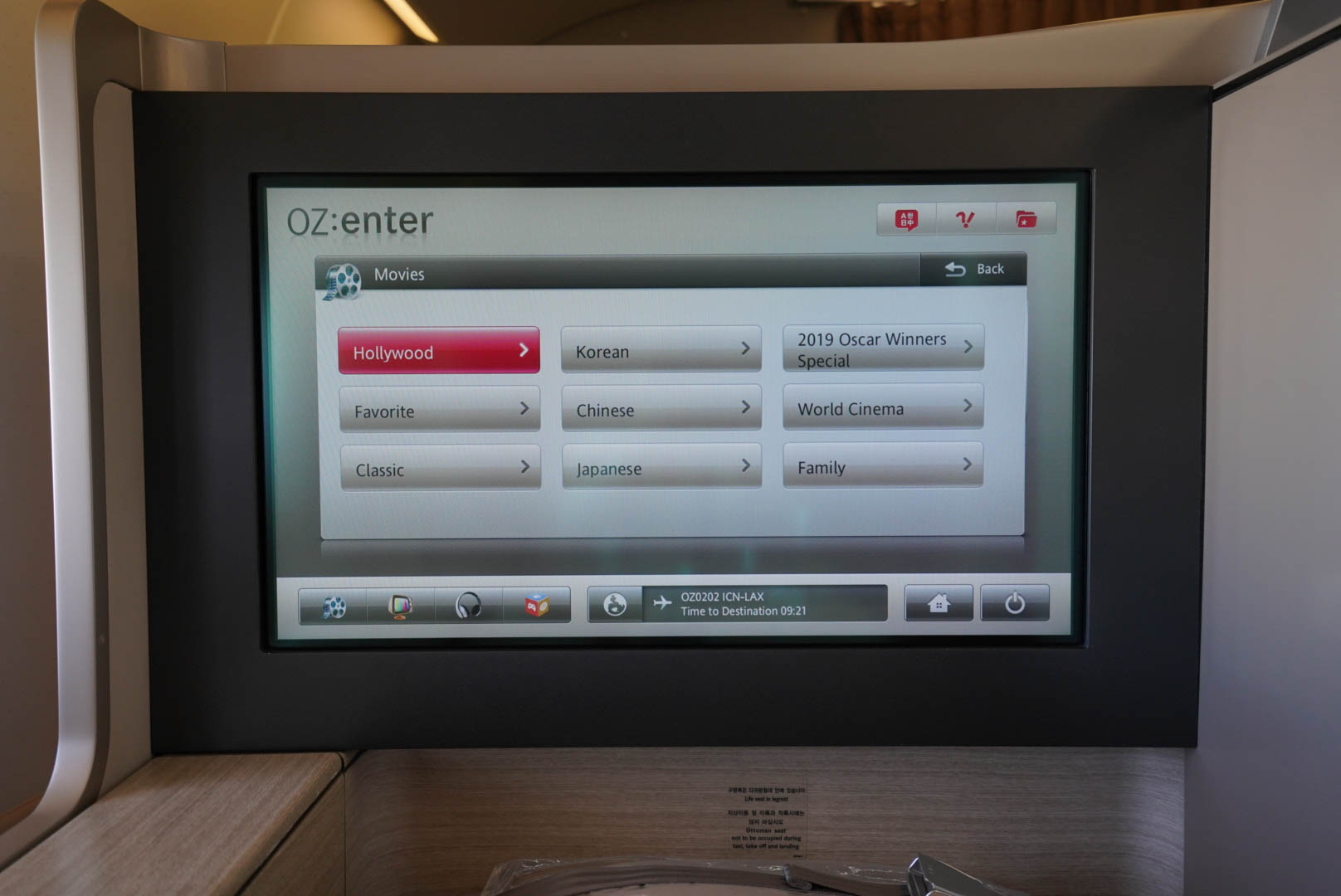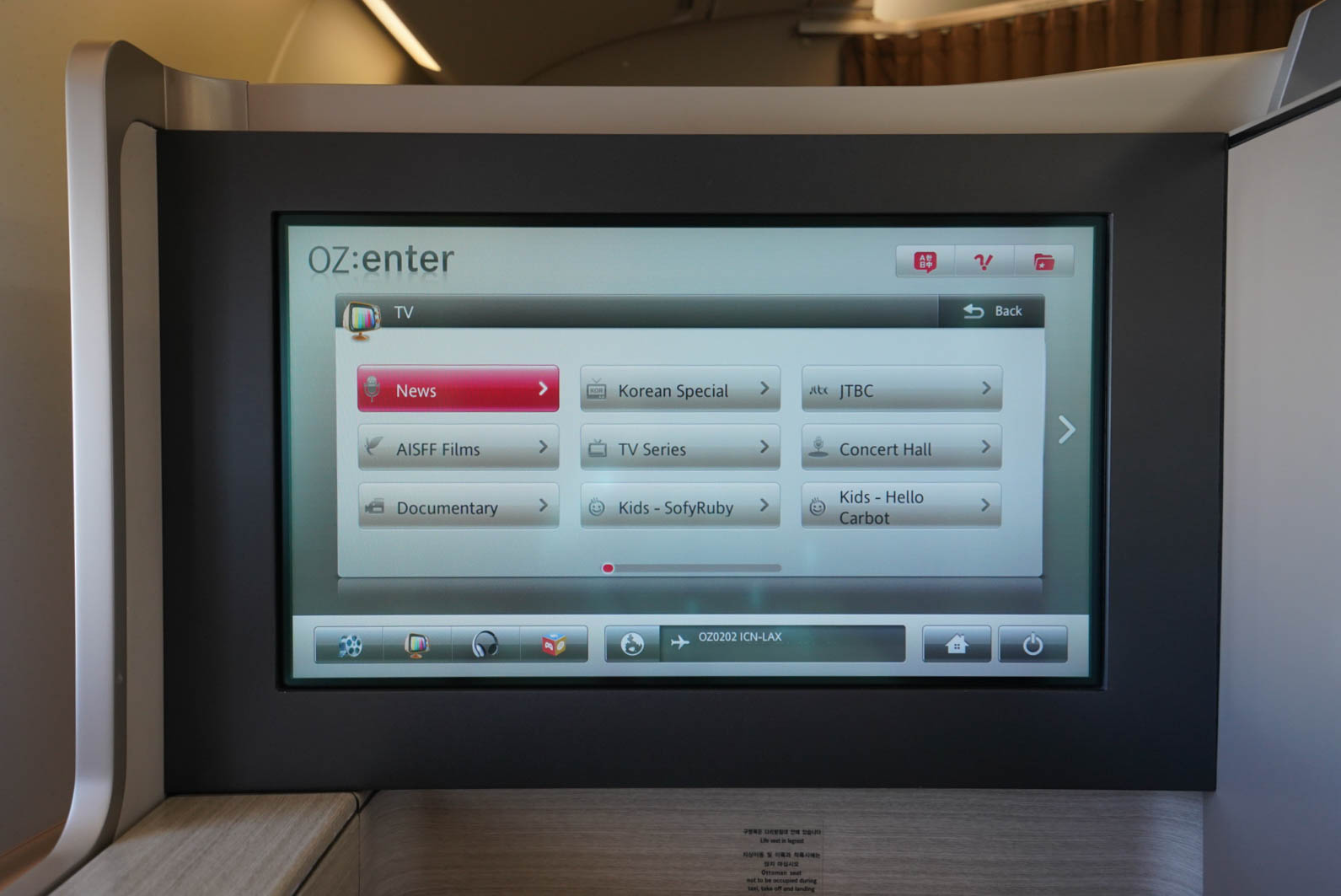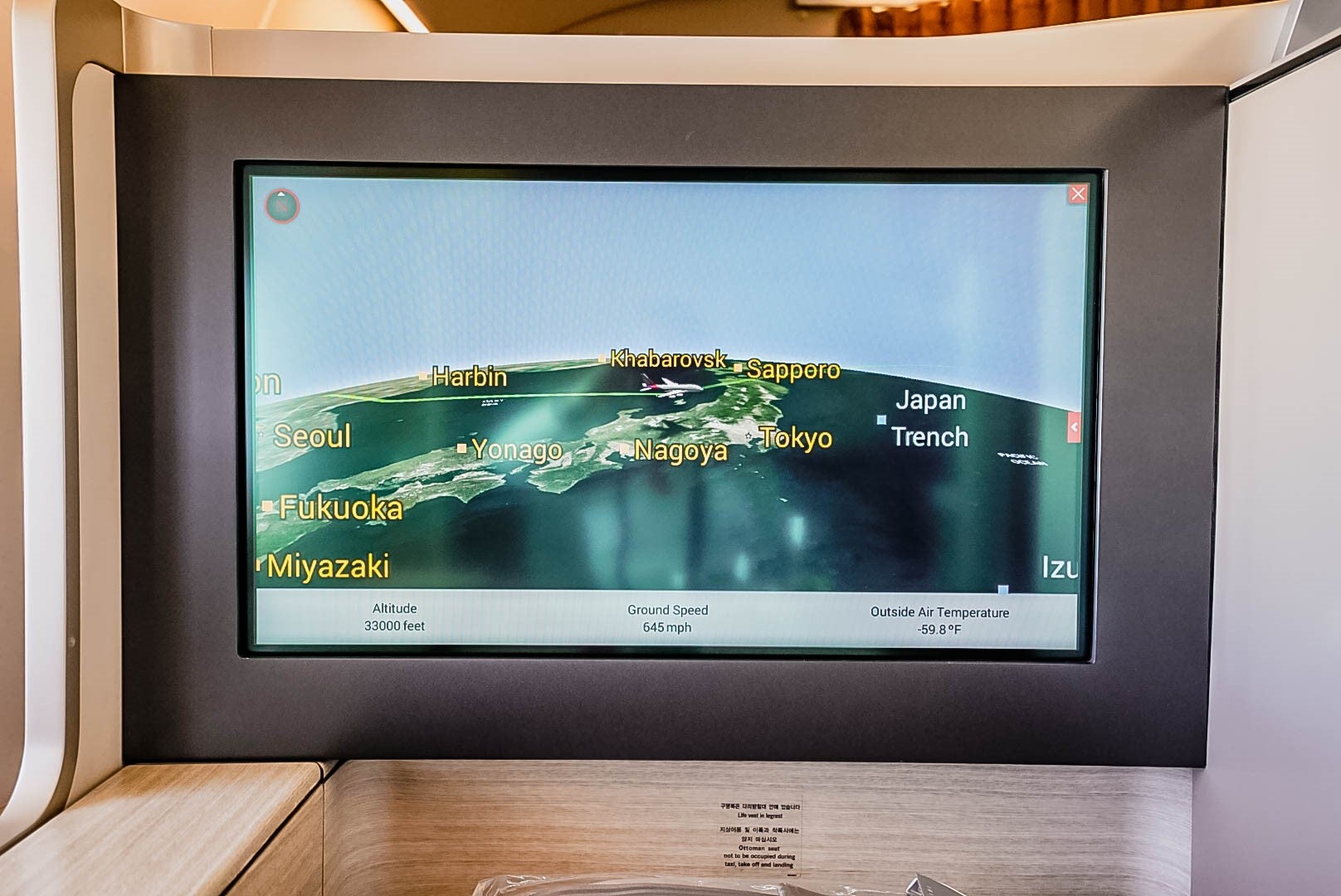 Asiana provides Bose noise-canceling headphones to first class passengers.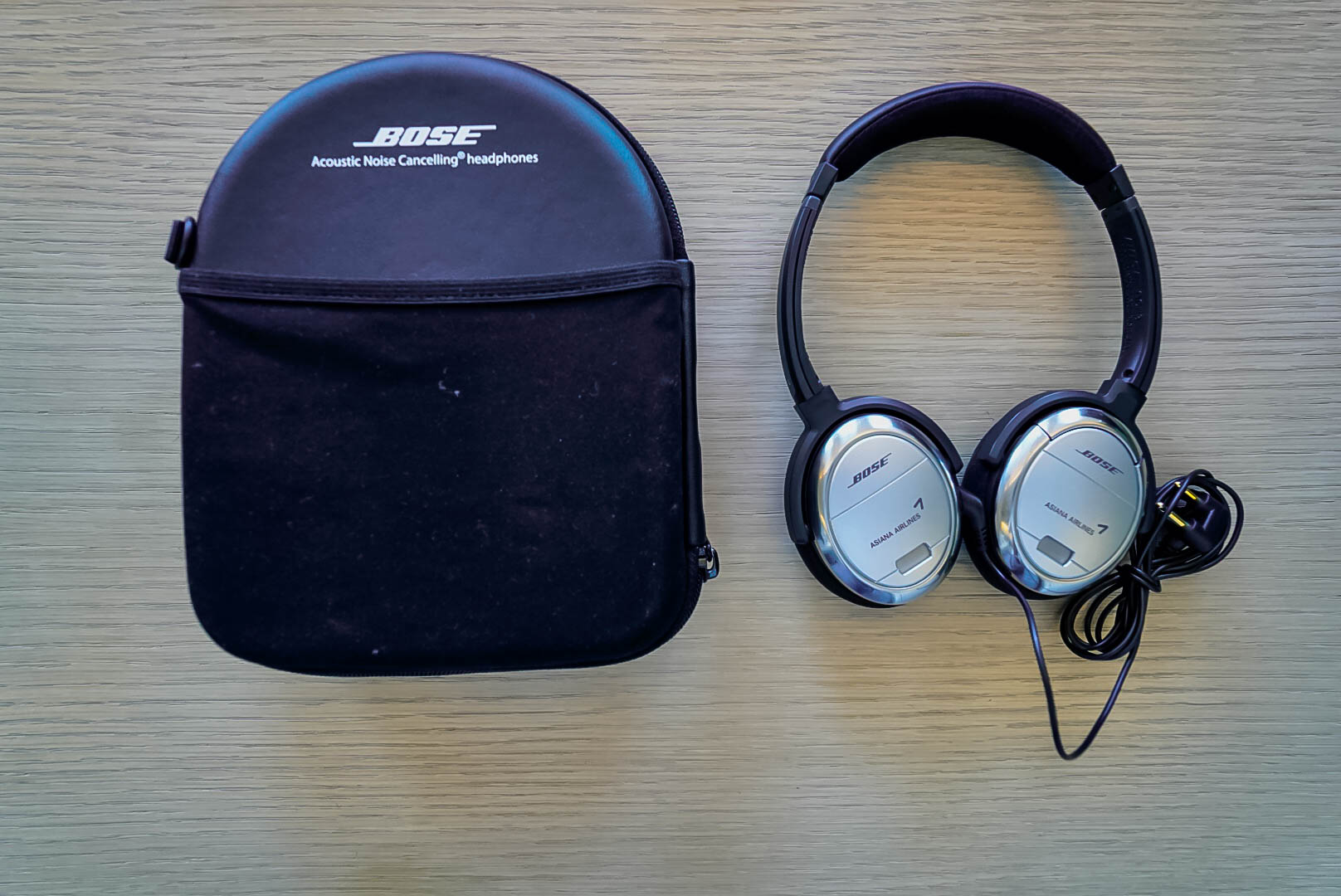 As with Korean Air, there was no Wi-Fi available on the A380 fleet. As of May 2019, it seems Asiana has only provided Wi-Fi on their A350 fleet.
With limited entertainment options and no Wi-Fi, all there was to do was eat, sleep and read a book.
Food and Service
After boarding, the purser, Ae-jung, came and introduced herself and offered a warm towel and nuts with a selection of pre-takeoff beverages. Asiana serves 2 Champagne vintages: the Barons de Rothschild Blanc de Blancs and the Laurent Perrier Brut.
Pre-takeoff, I rolled with the Laurent Perrier Brut and then switched to the Barons de Rothschild Blanc de Blancs. Both were excellent.
I noticed that the load in first class was light and there were only 4 passengers including myself.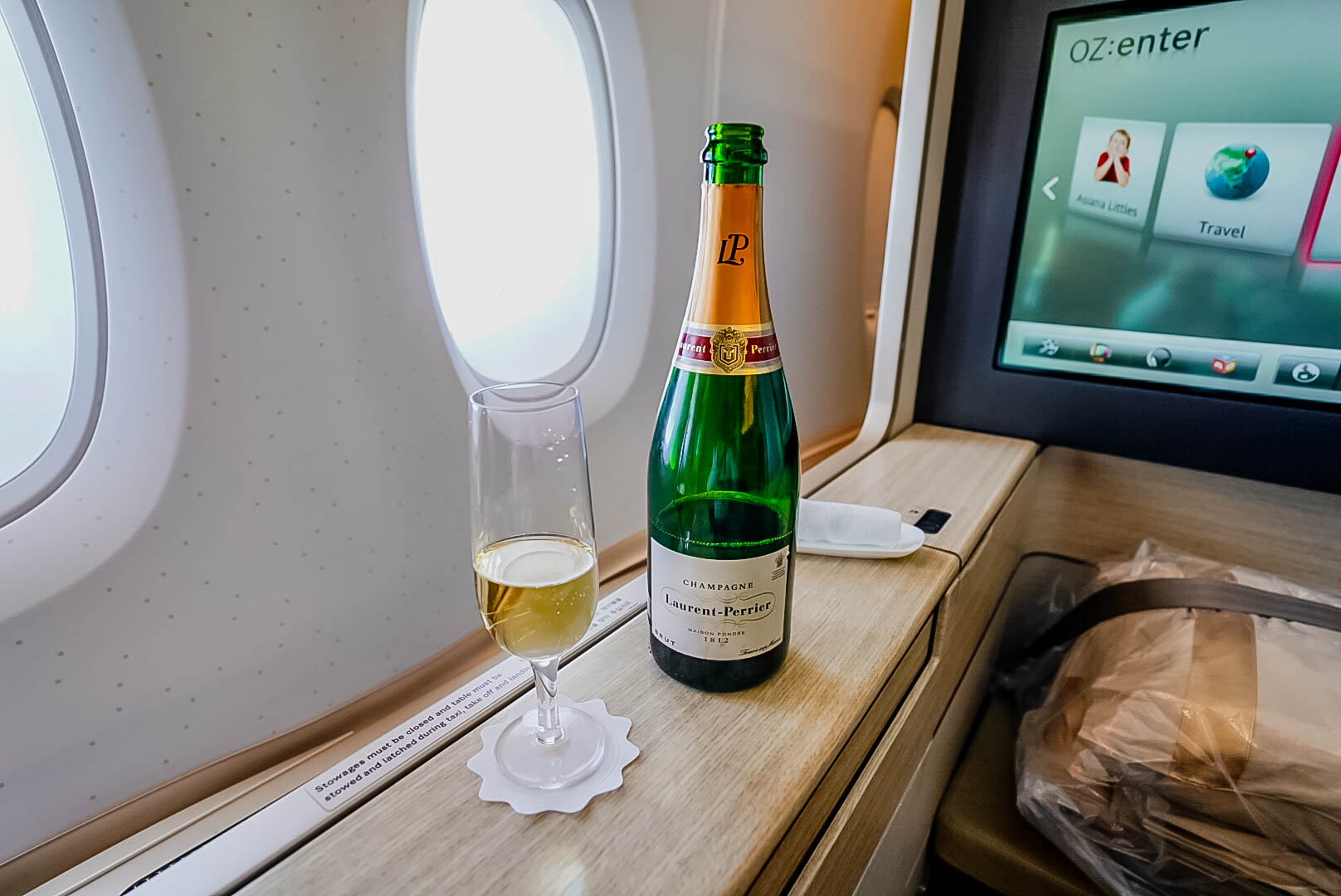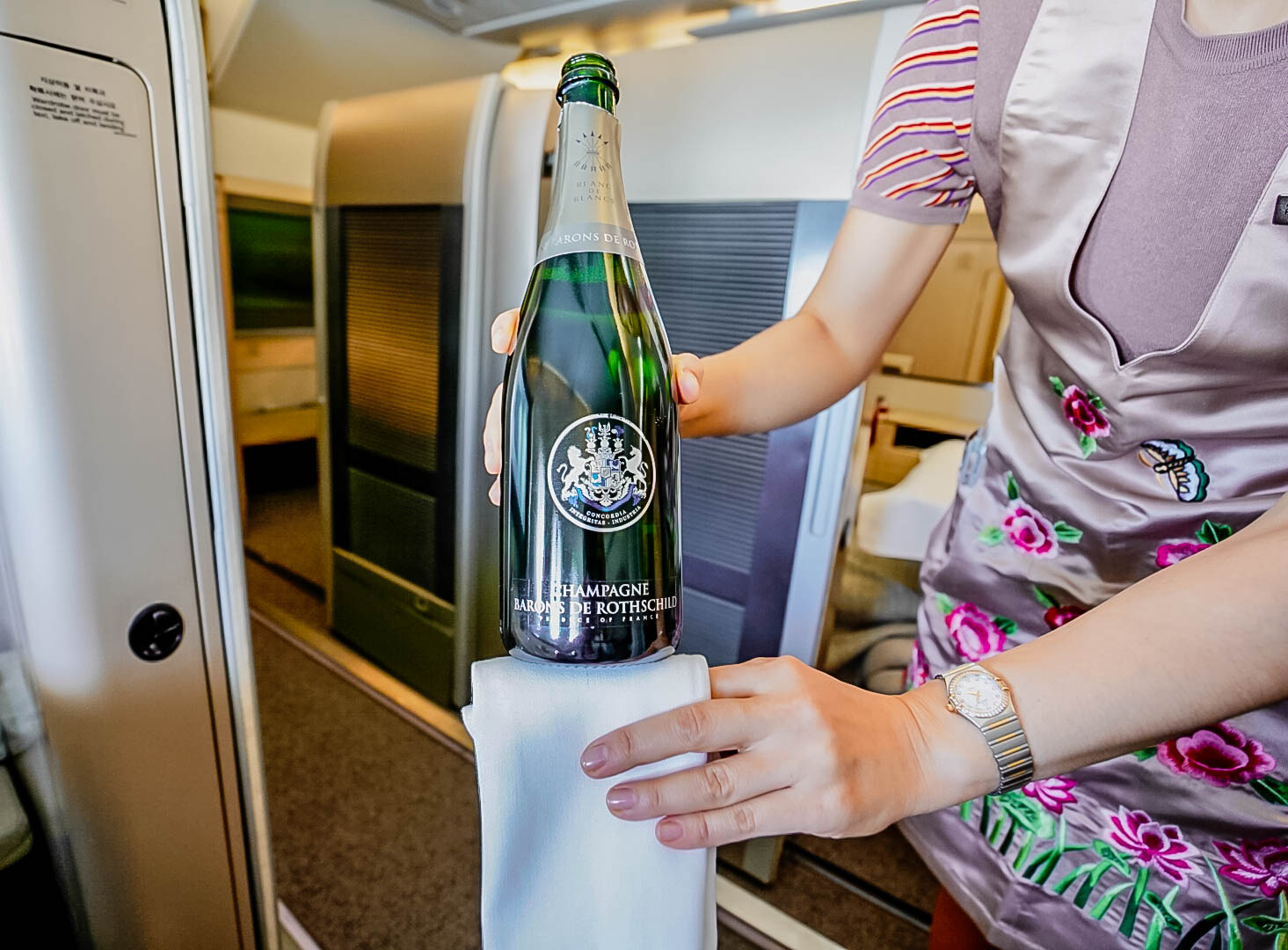 Once we reached cruising altitude, lunch was served. The meal service was "dine on demand", which means you can order whenever you want as per your whim and fancy.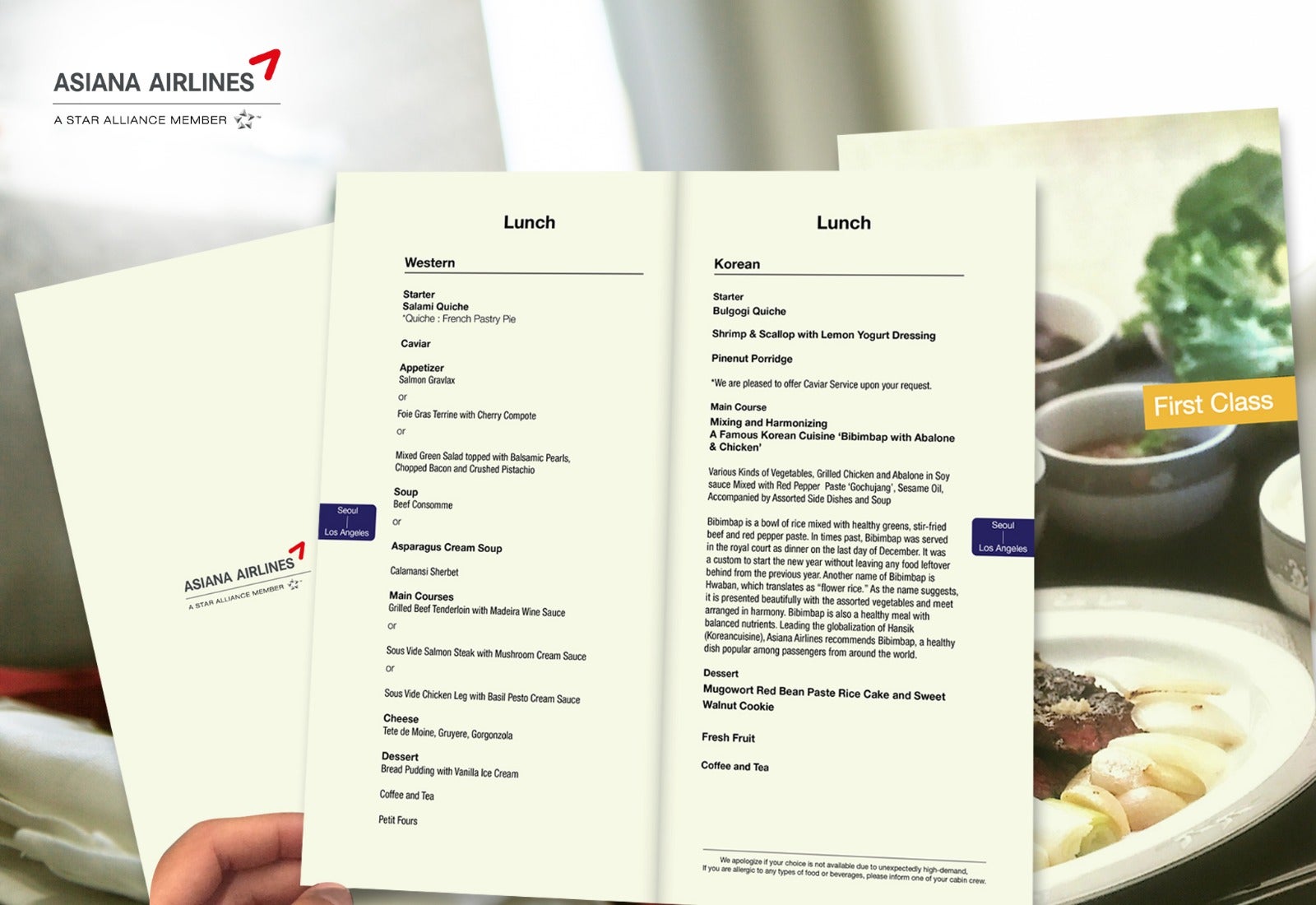 Unlike my experience on Korean Air, the beverage and meal menu was extensive detailing the wines, spirits, beers, cocktails, aperitifs, and meals on offer. You are absolutely spoiled for choice.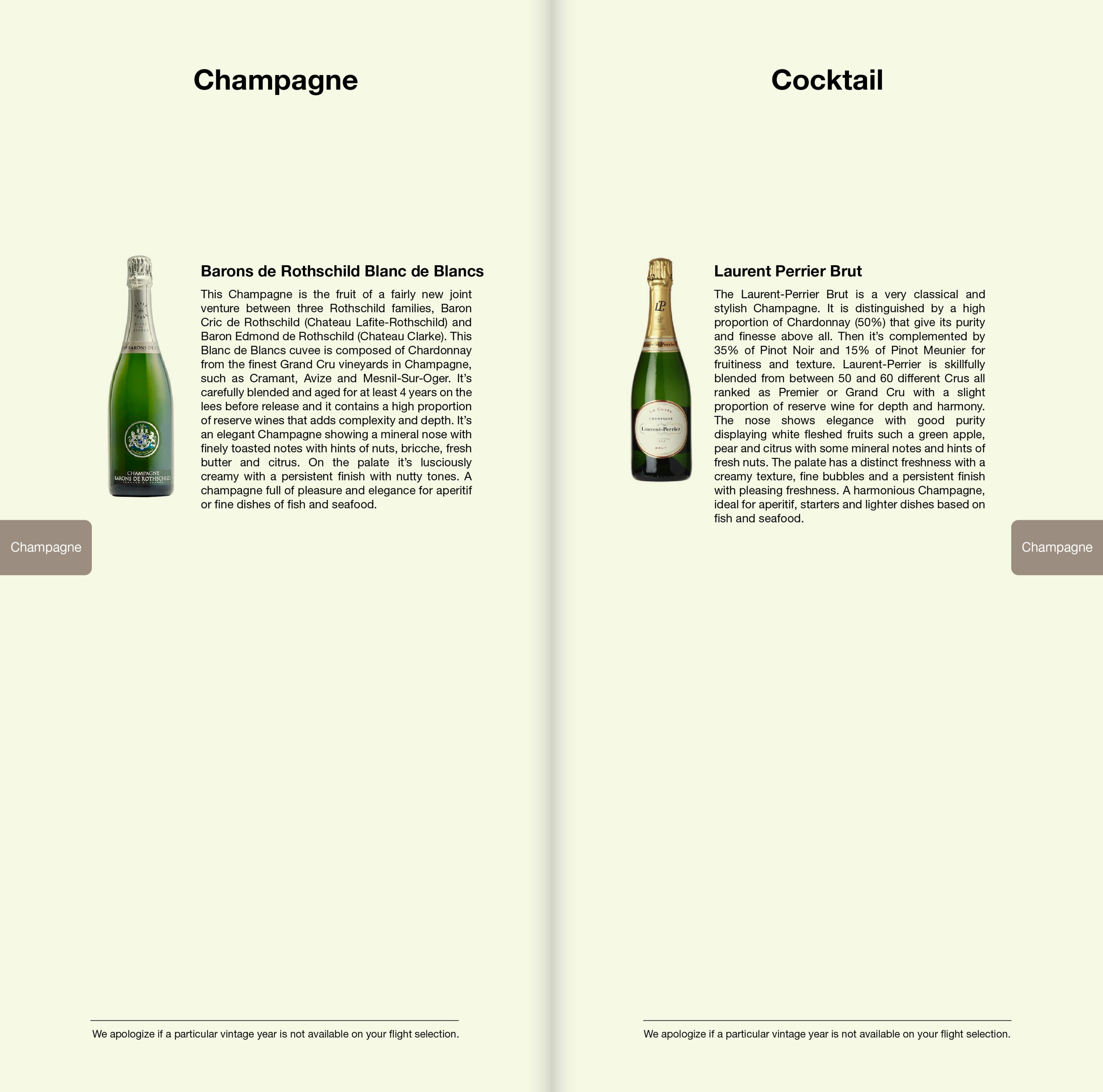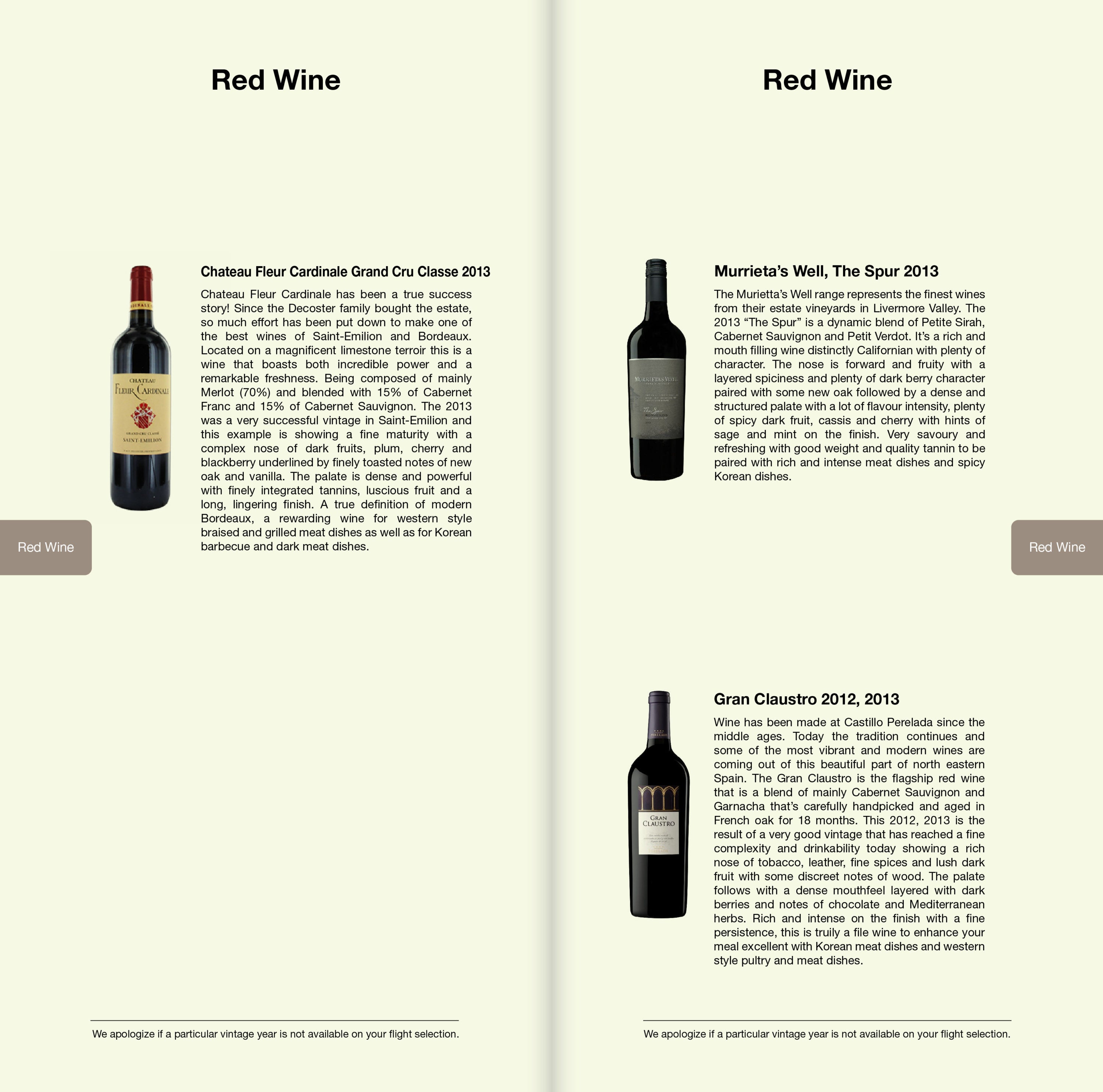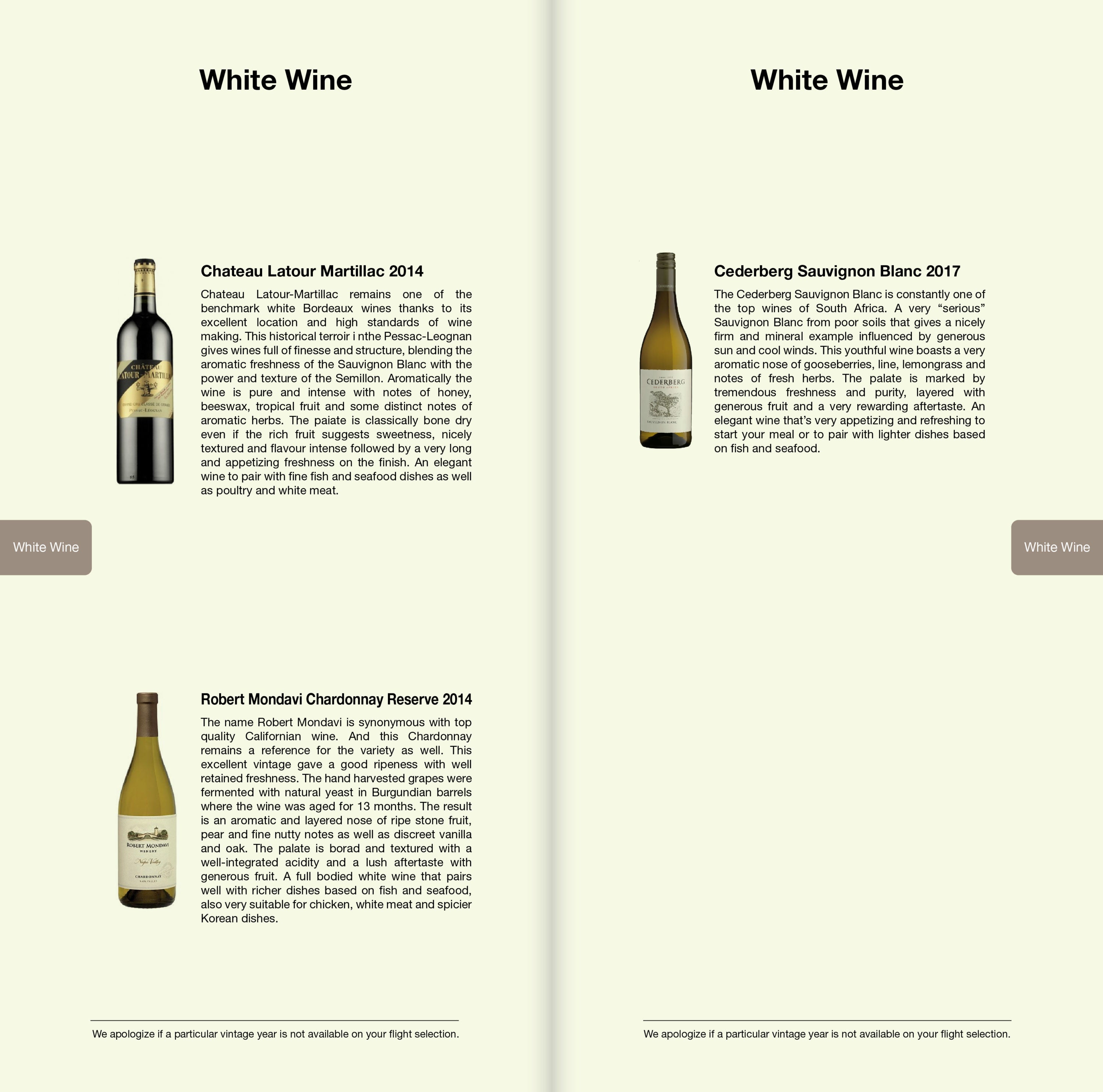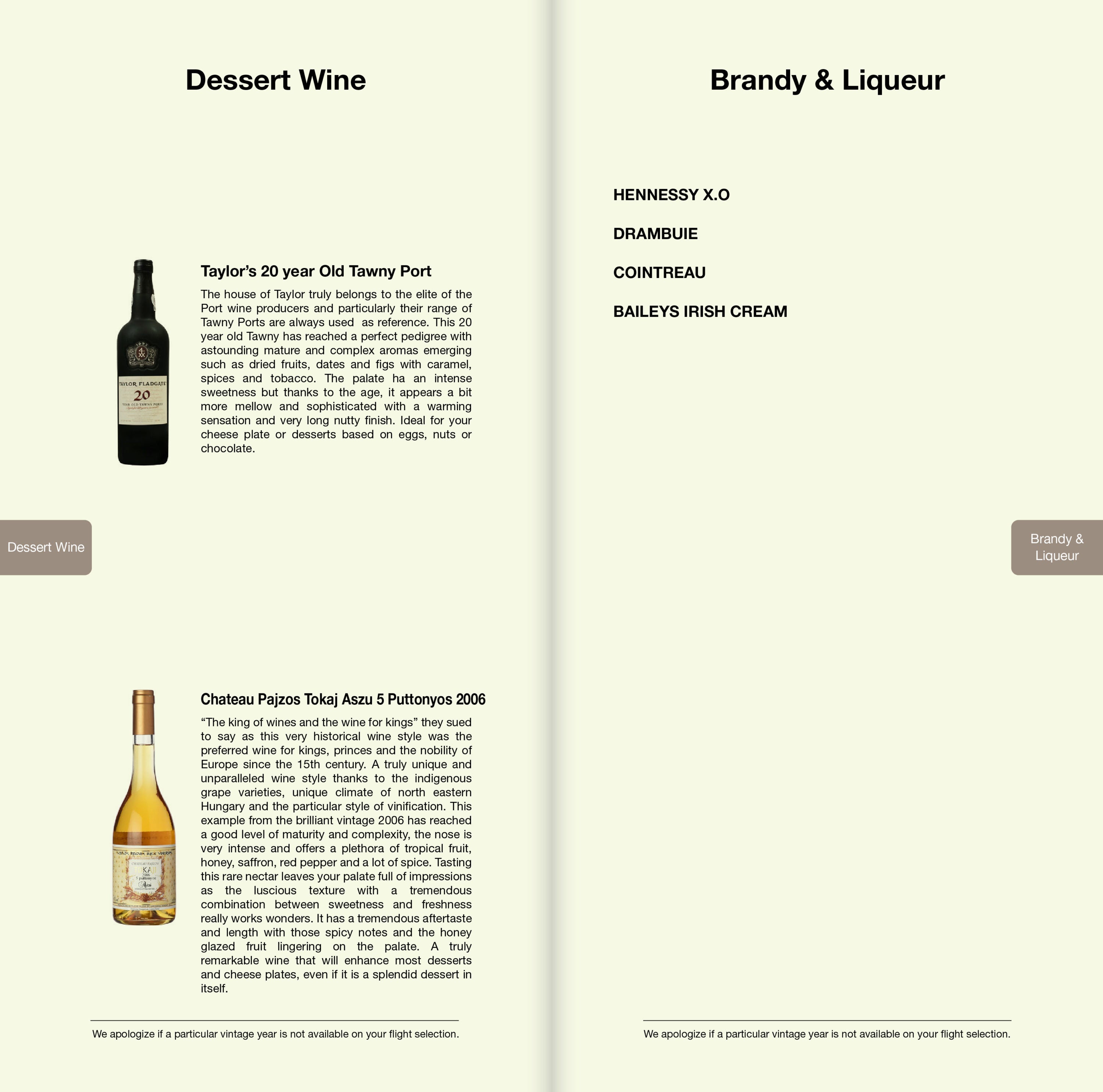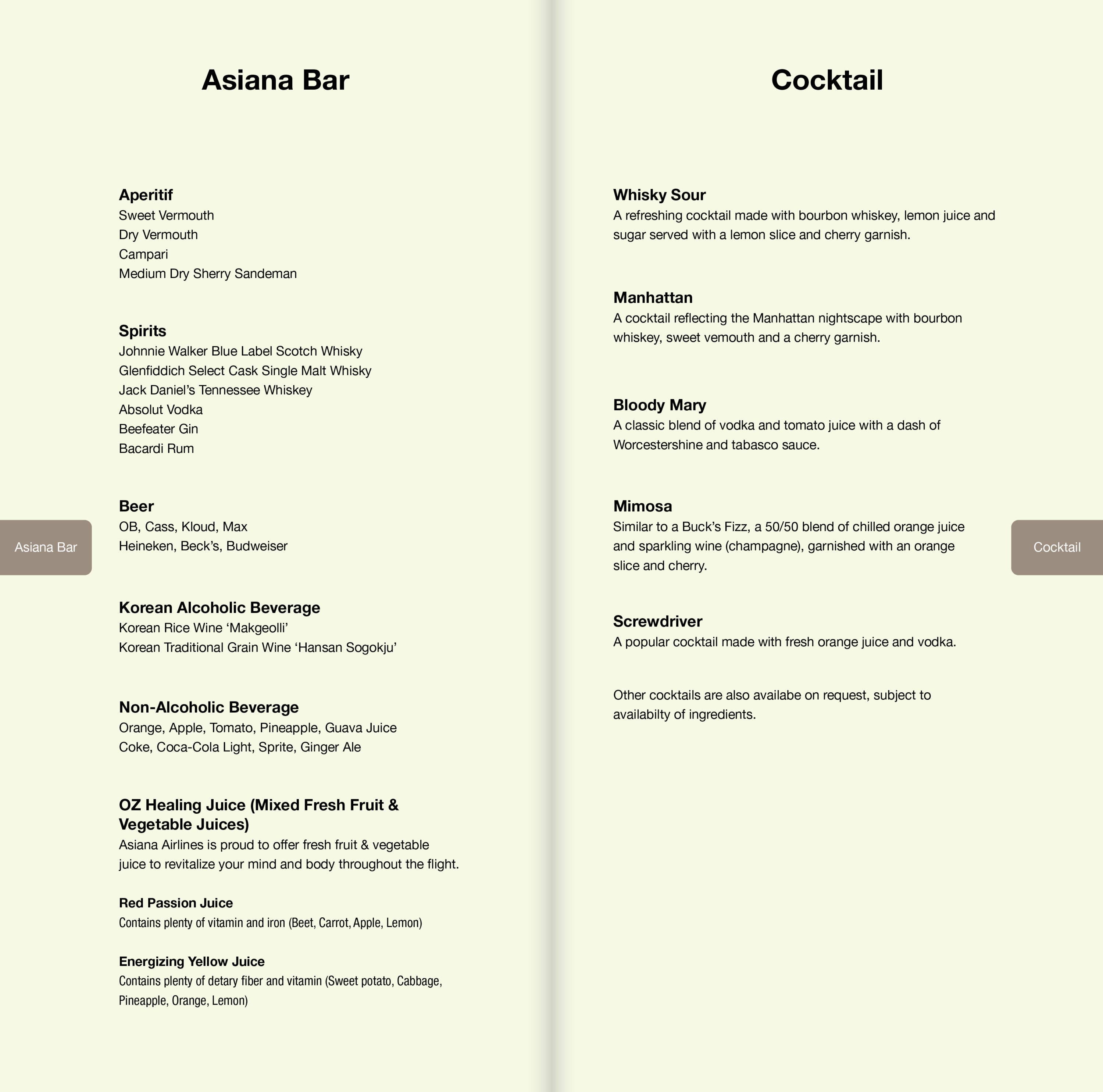 For the meal service, first class passengers are presented with 2 options: Korean and Western. Since I had over indulged on Korean cuisine ever since my arrival in Seoul, I opted for the Western option.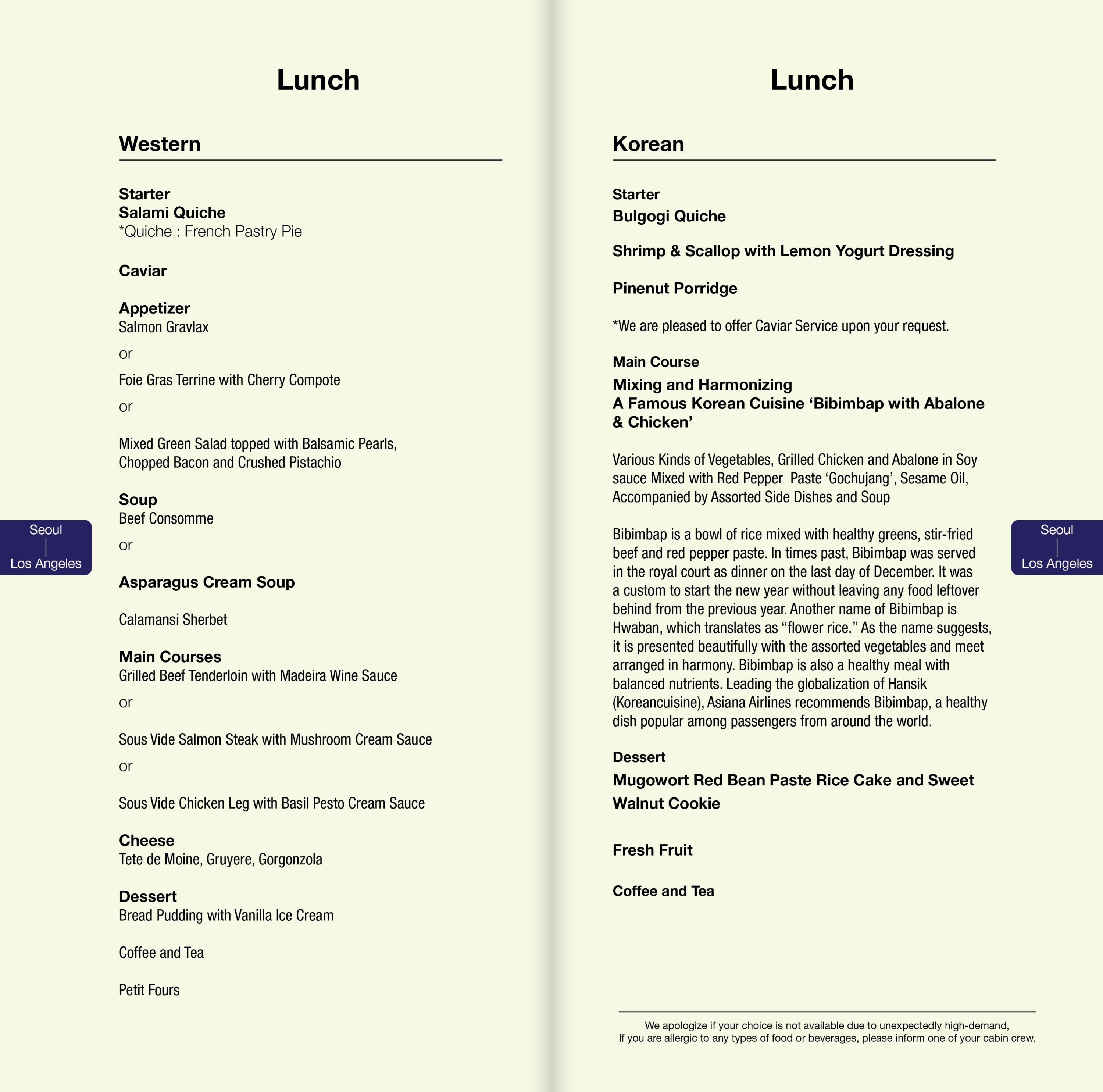 The service commenced with the starter of salami quiche.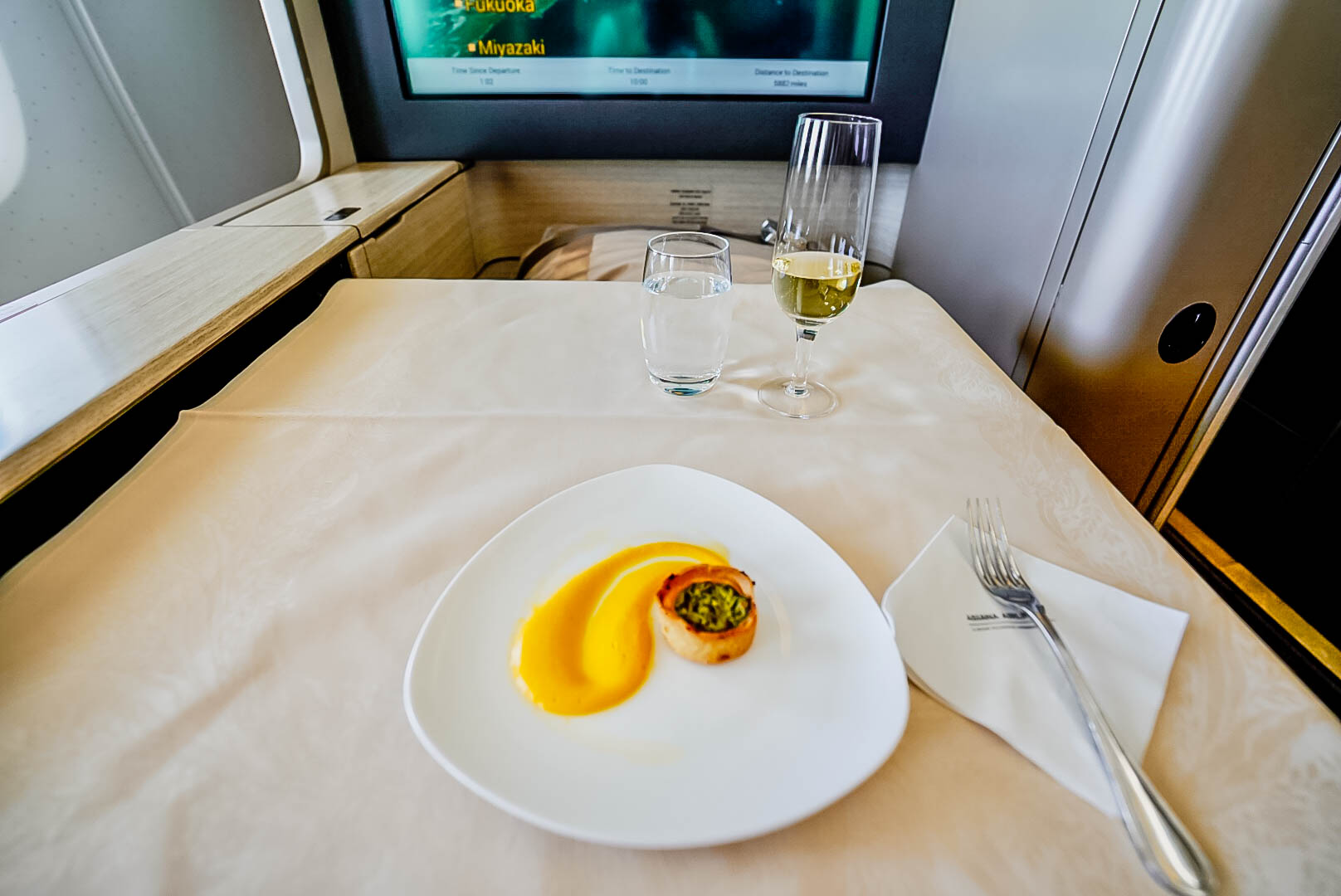 This was followed by the second course of caviar, which was beautifully presented, along with the usual accompaniments along with a red rose for the table.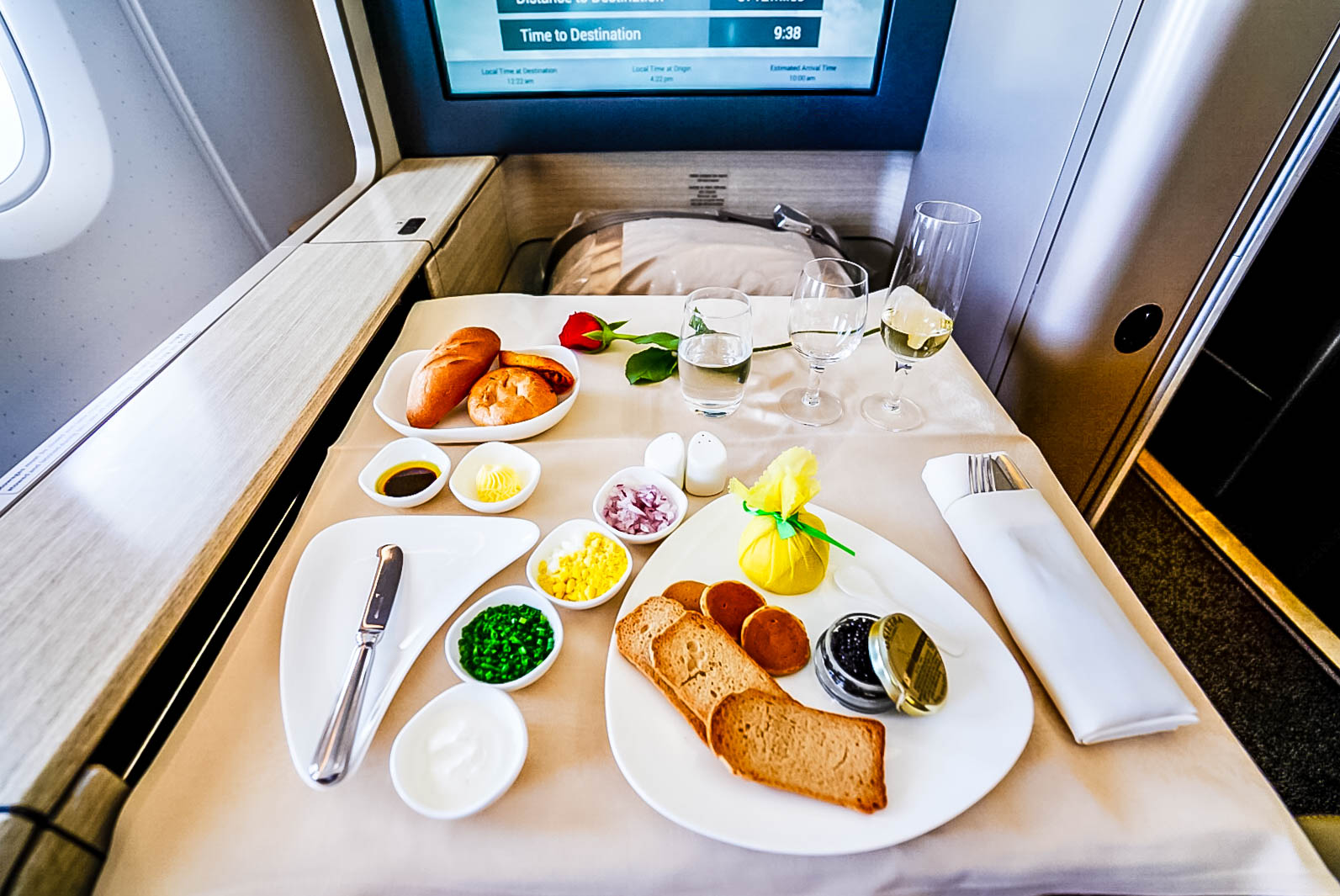 The third course on the list was an appetizer of salmon gravlax.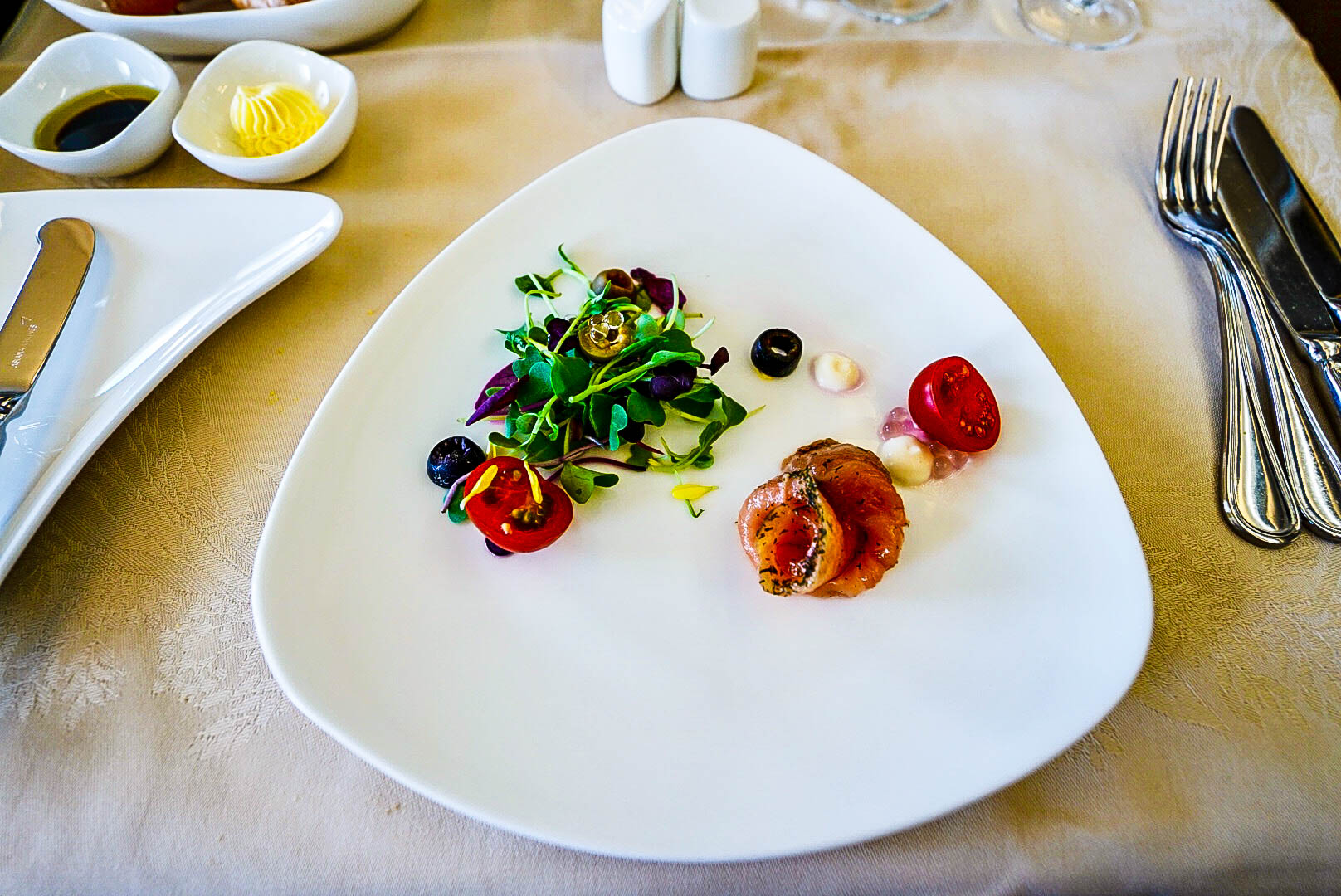 Followed by the fourth course of beef consommé, which was okay. Frankly, I didn't know what to make of the taste.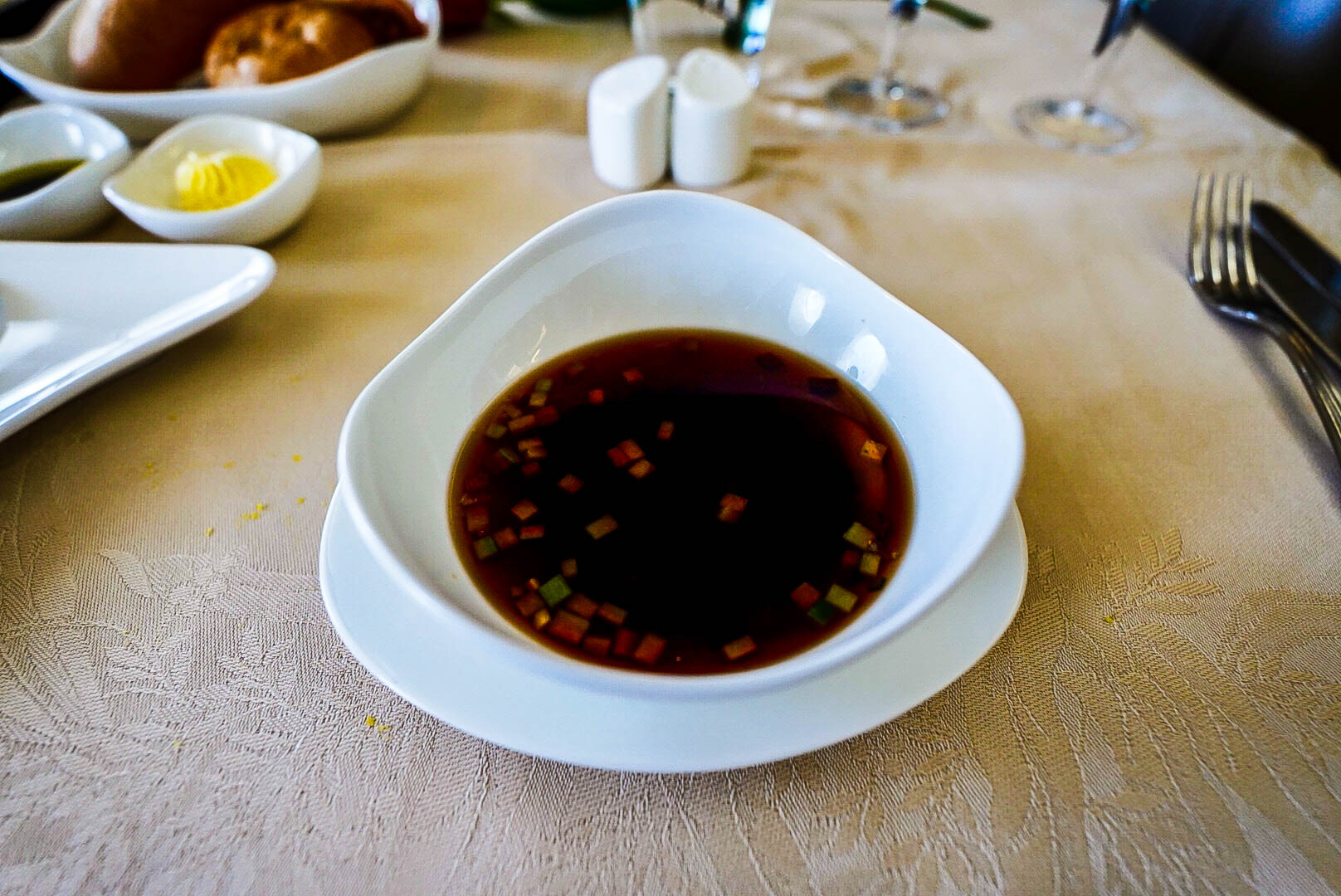 Then I was served a fresh and fruity calamansi sherbet as a palette cleanser prior to serving the main course.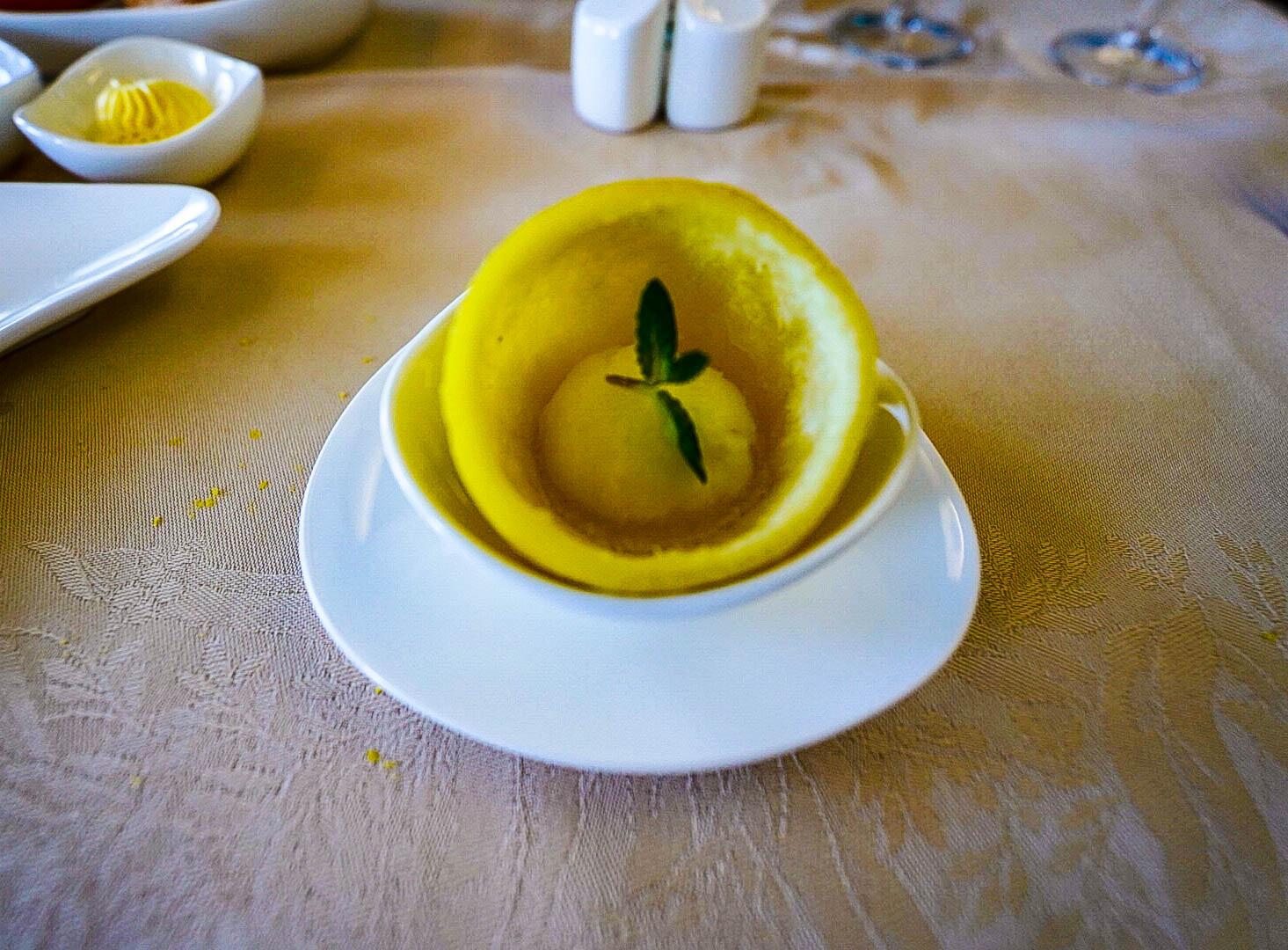 Before the main course was served, I opted for the Chataeau Fleur Cardinale Grand Cru Classe to pair with the grilled beef tenderloin with Madeira white sauce, which was tasty and succulent.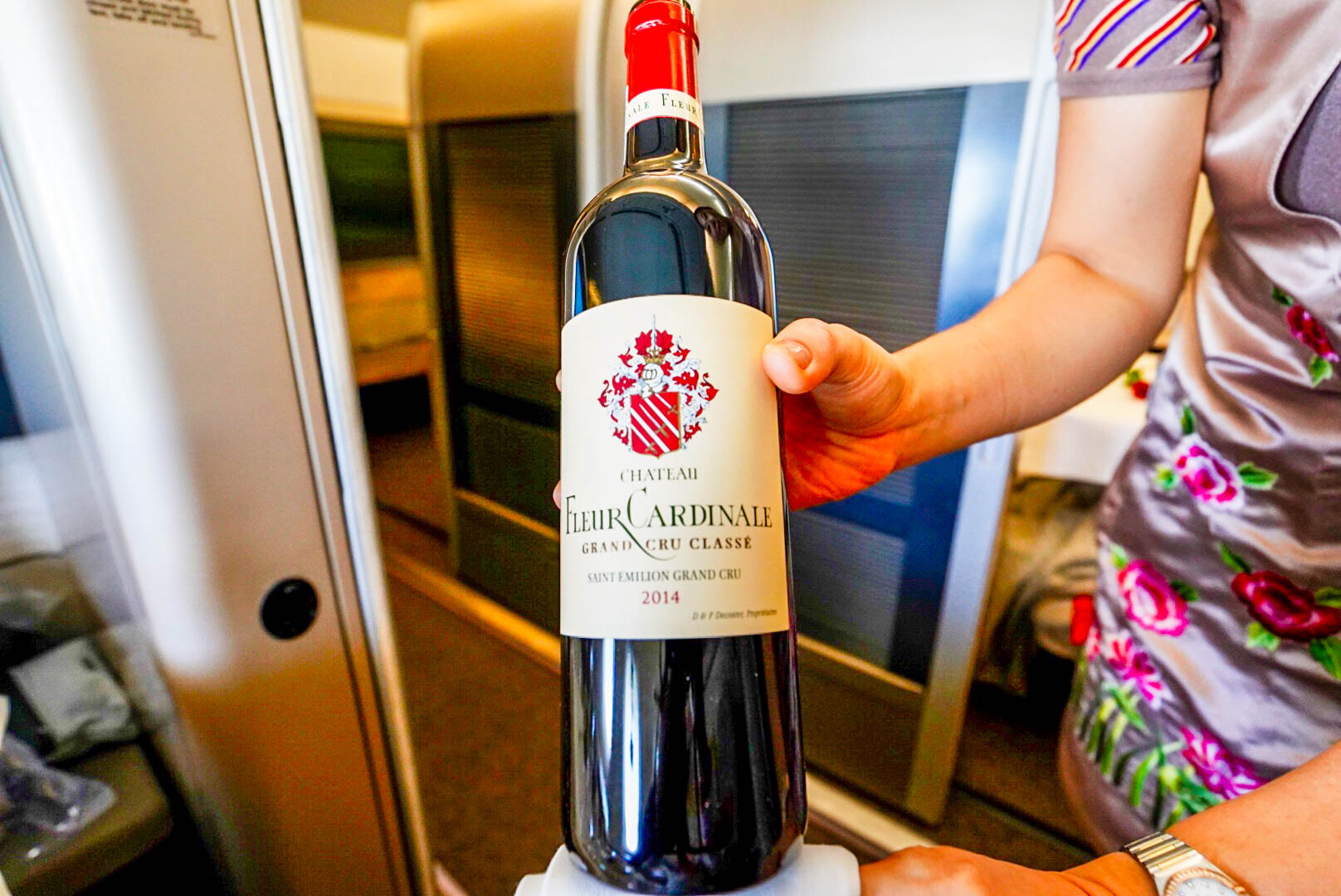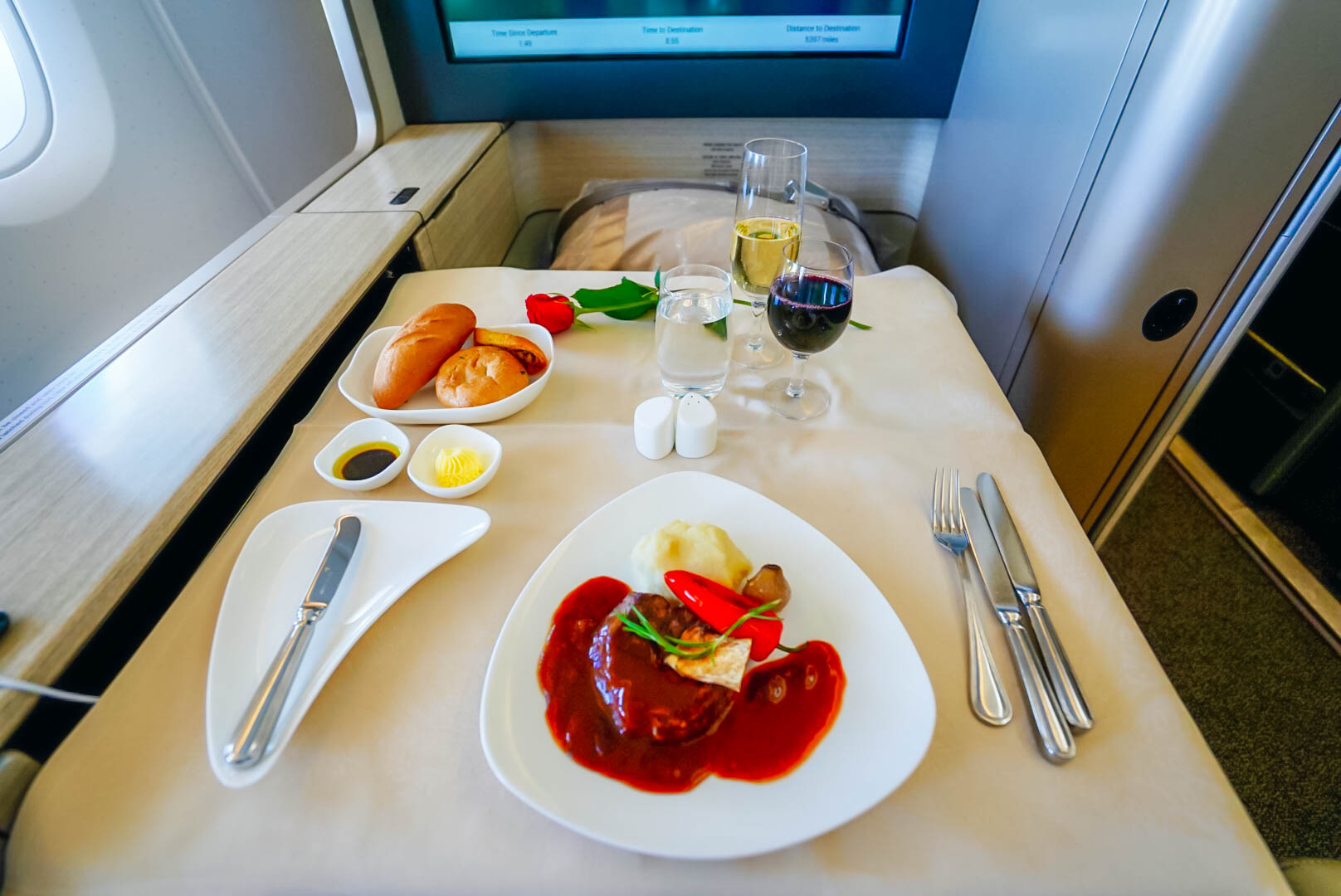 For dessert, I opted for the cheese platter, which was served along with fresh fruits and the bread pudding with vanilla ice cream.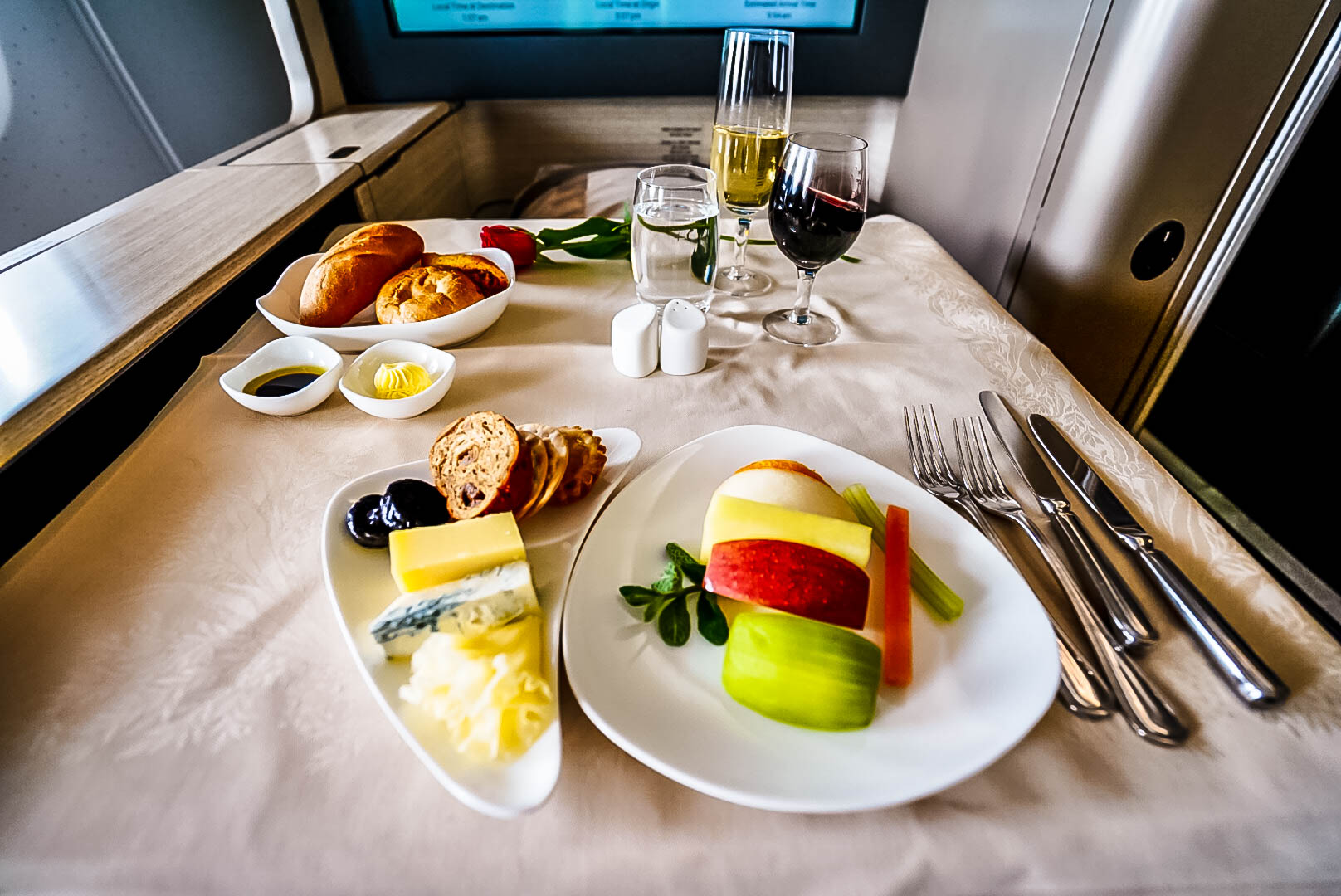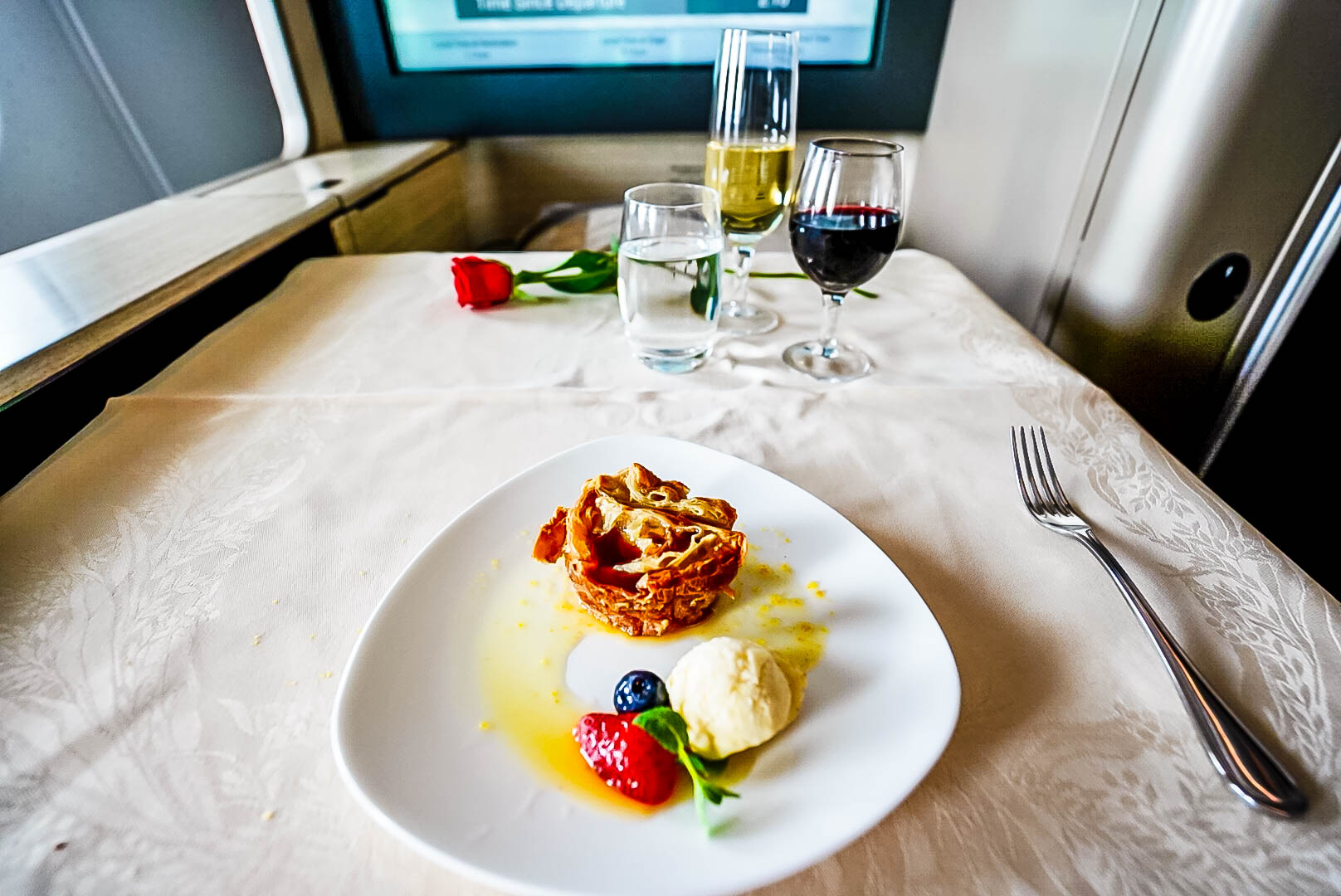 By now, I was literally bursting at the seams, and it was time for a nap. As I was headed to the washroom to change into my pajamas, Ae-jung requested me to follow her. Whilst I waited outside, she entered the wash room to check that all was tidy and in order and once satisfied, she requested me to enter.
The washroom was spotless. She then waited for me outside the washroom until I was done changing to take my clothes so that she could place them in the locker. While all this was going on, the other flight attendant was preparing the turn down service so that when I returned to my suite, the bed was ready for me to just snug in. The bedding was comfortable and I fell a sleep while reading Marc Rich's biography. I slept like a baby for next 5 hours.
I have never had such thoughtful and genuine service before. Unlike on Korean Air where the service was rushed and it seemed as if they were doing me a favor, on Asiana, the service was warm and professional.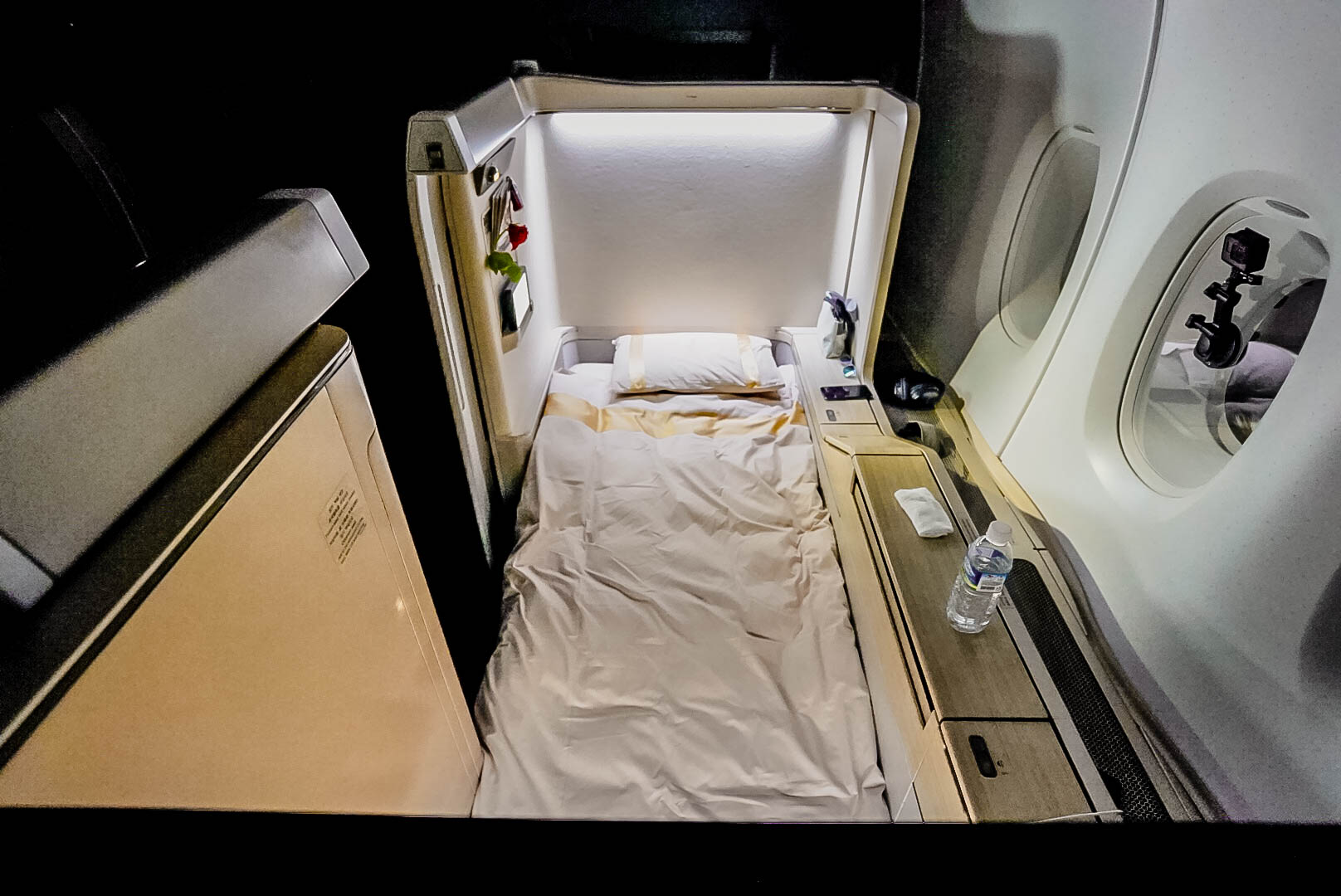 When I woke up, we were still 4 hours away from LAX, and I was starting to feel a bit hungry. I wanted something light, since breakfast would be served 2 -3 hours prior arrival and I had my sights on the Korean fare. So I ordered a bowl of ramen noodles from the Refreshments list, which is available on request throughout the flight.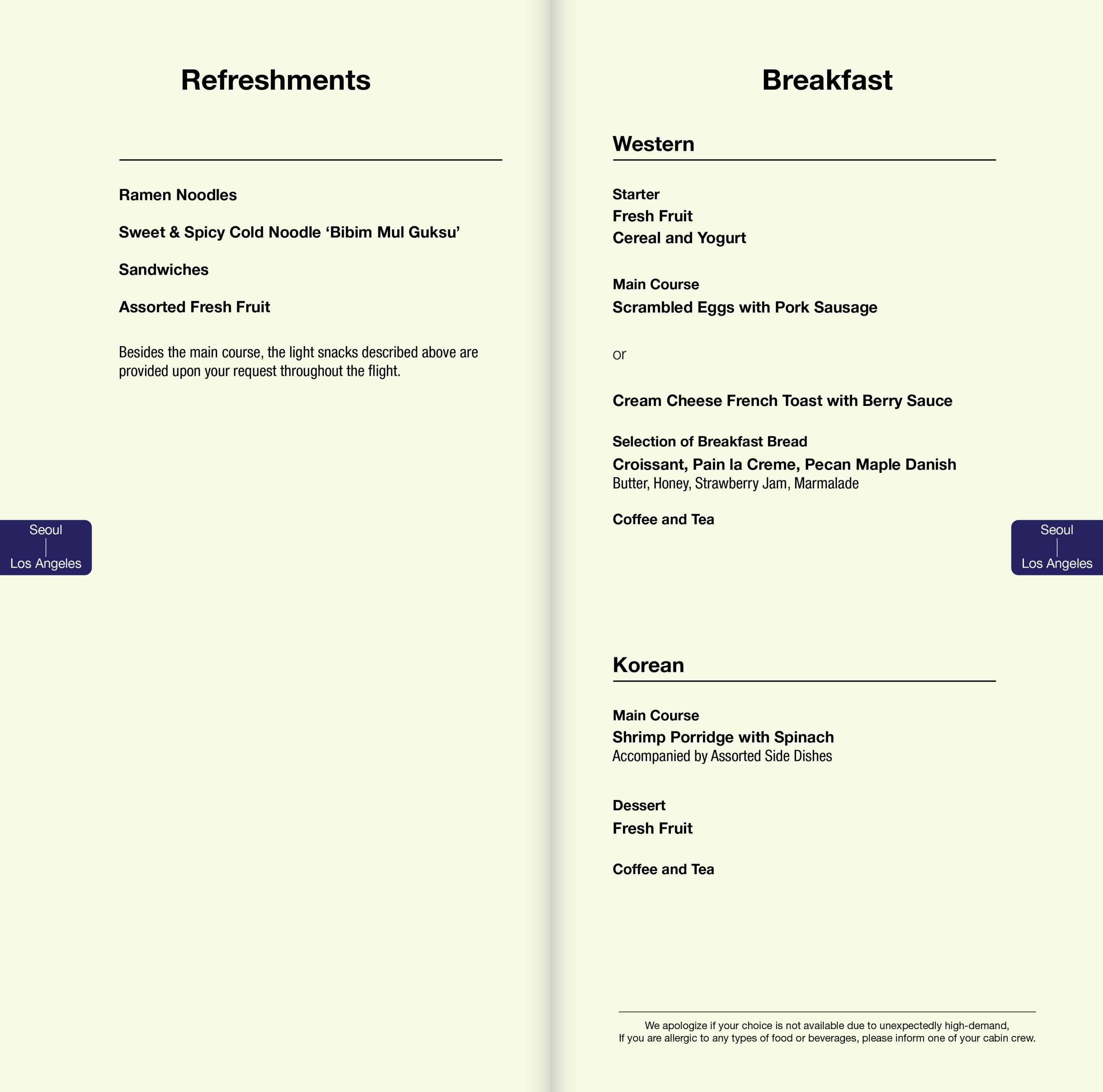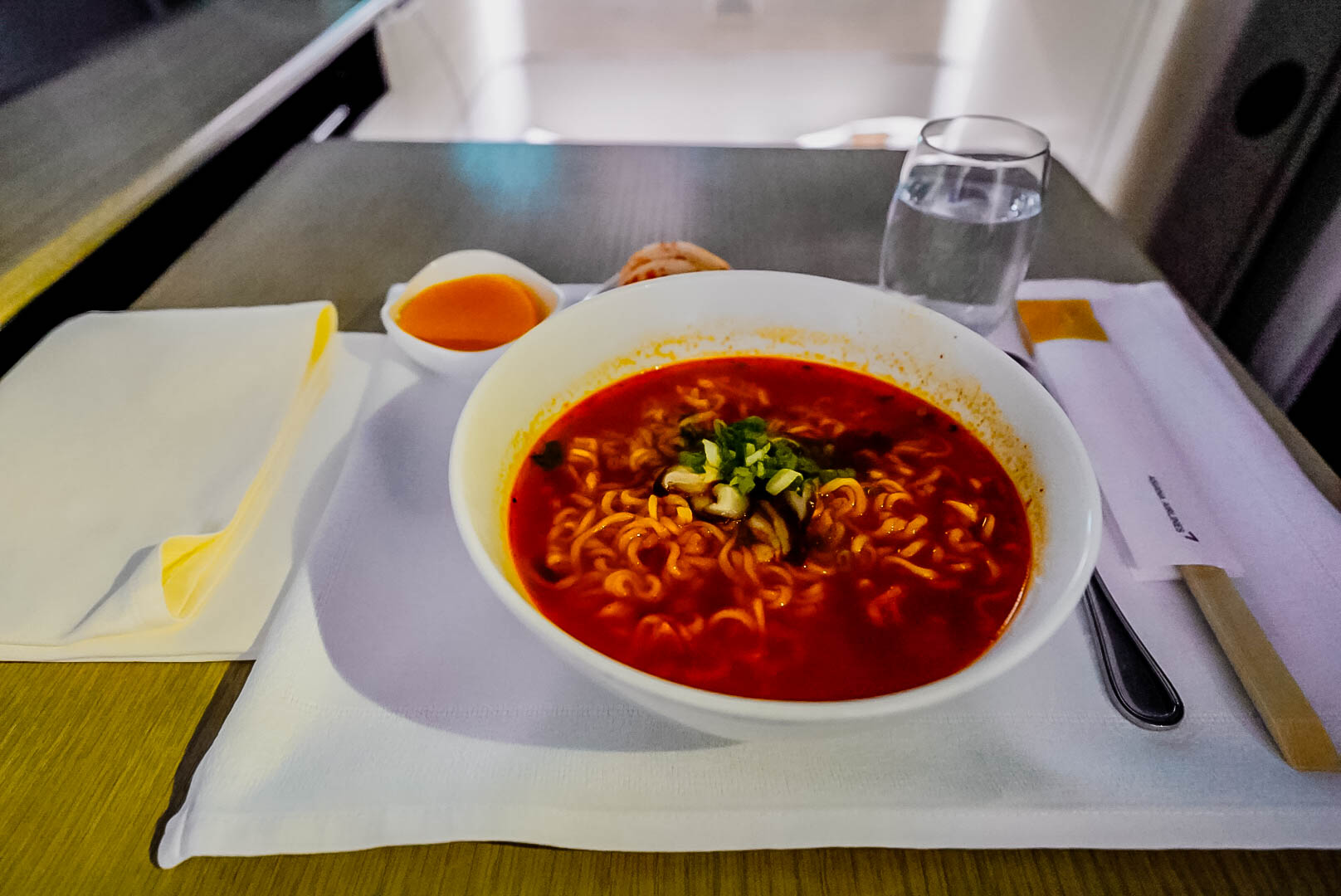 About 2.5 hours prior landing, I requested for the Korean breakfast of shrimp porridge with spinach and accompaniments, which was absolutely delicious followed by fresh fruits and a tipple of Hennessy XO.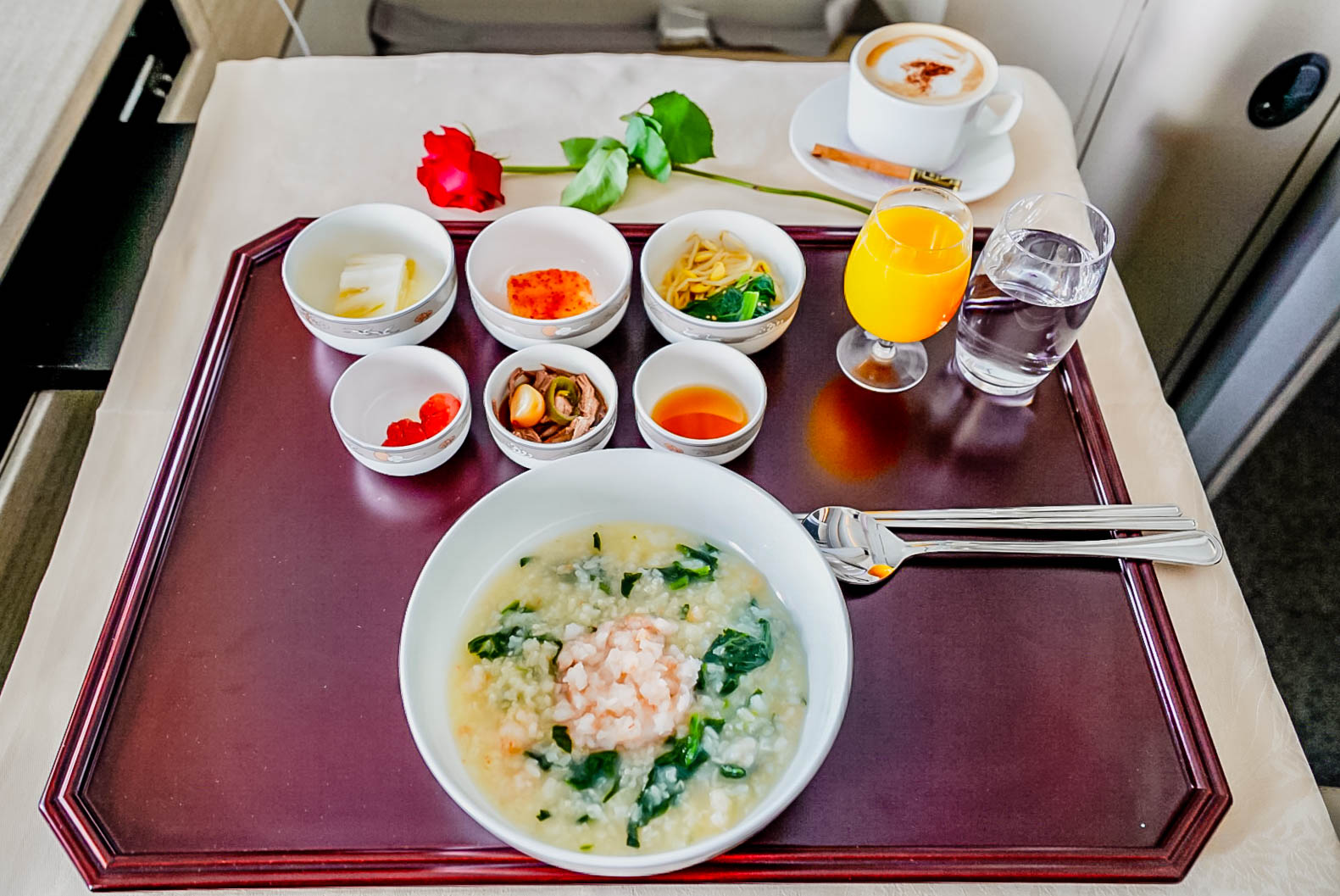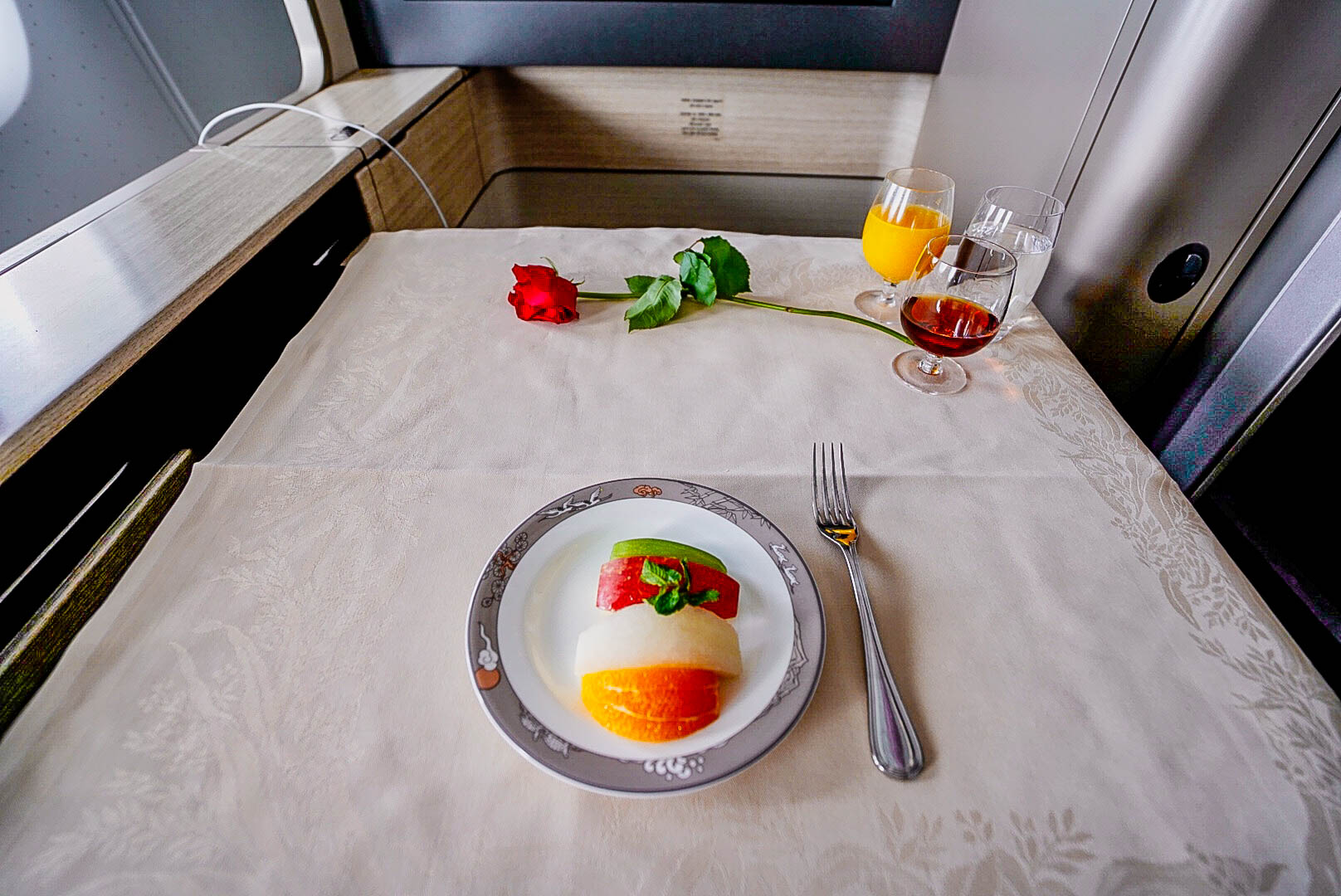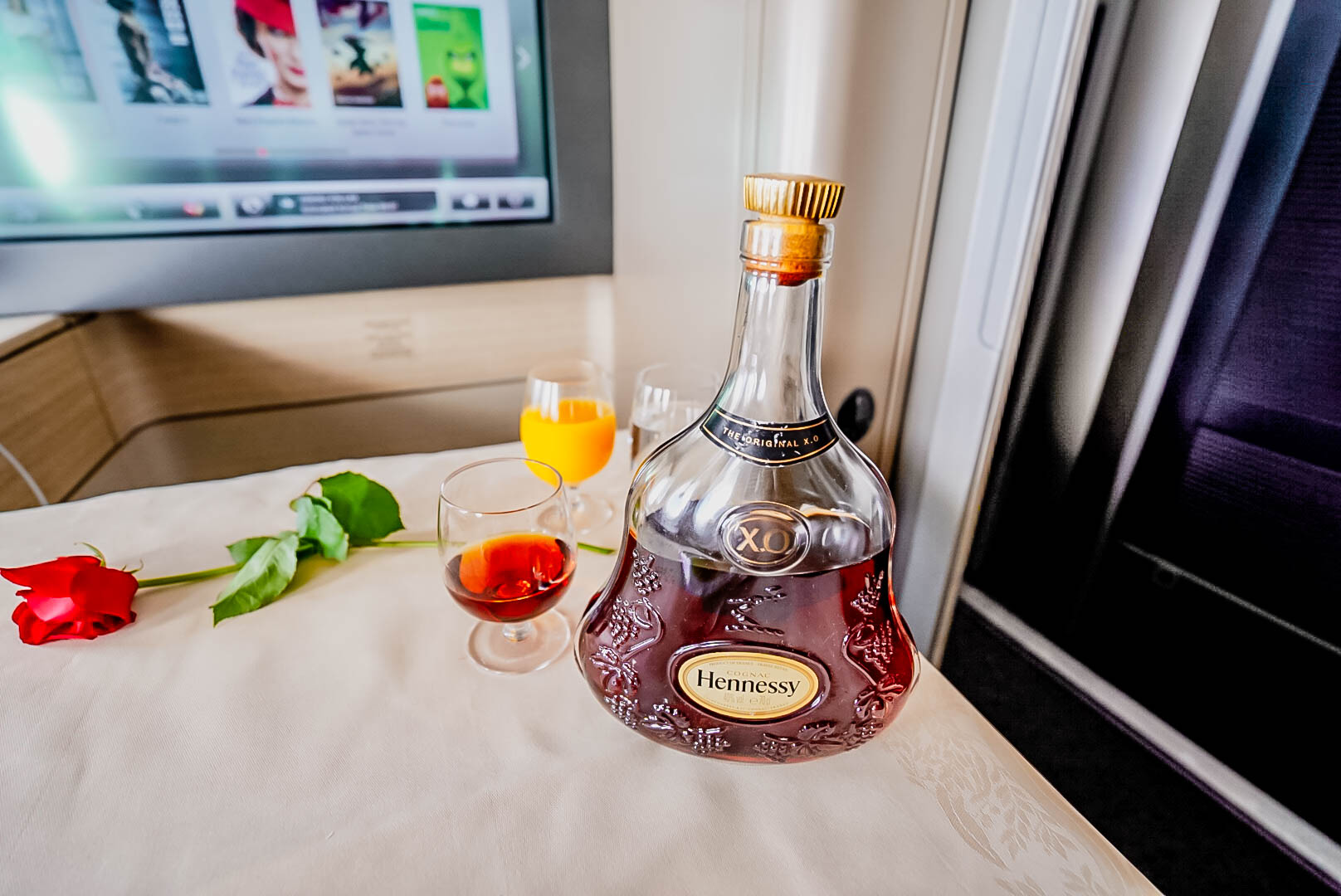 Amenities
Asiana provides Salvatore Ferragamo amenity kits in first class that include an eye mask, socks, comb, shoe horn, ear plugs, dental kit, napkins, and Tuscan Soul branded hand cream, body lotion, facial mist, cologne, after shave emulsion, and lip balm.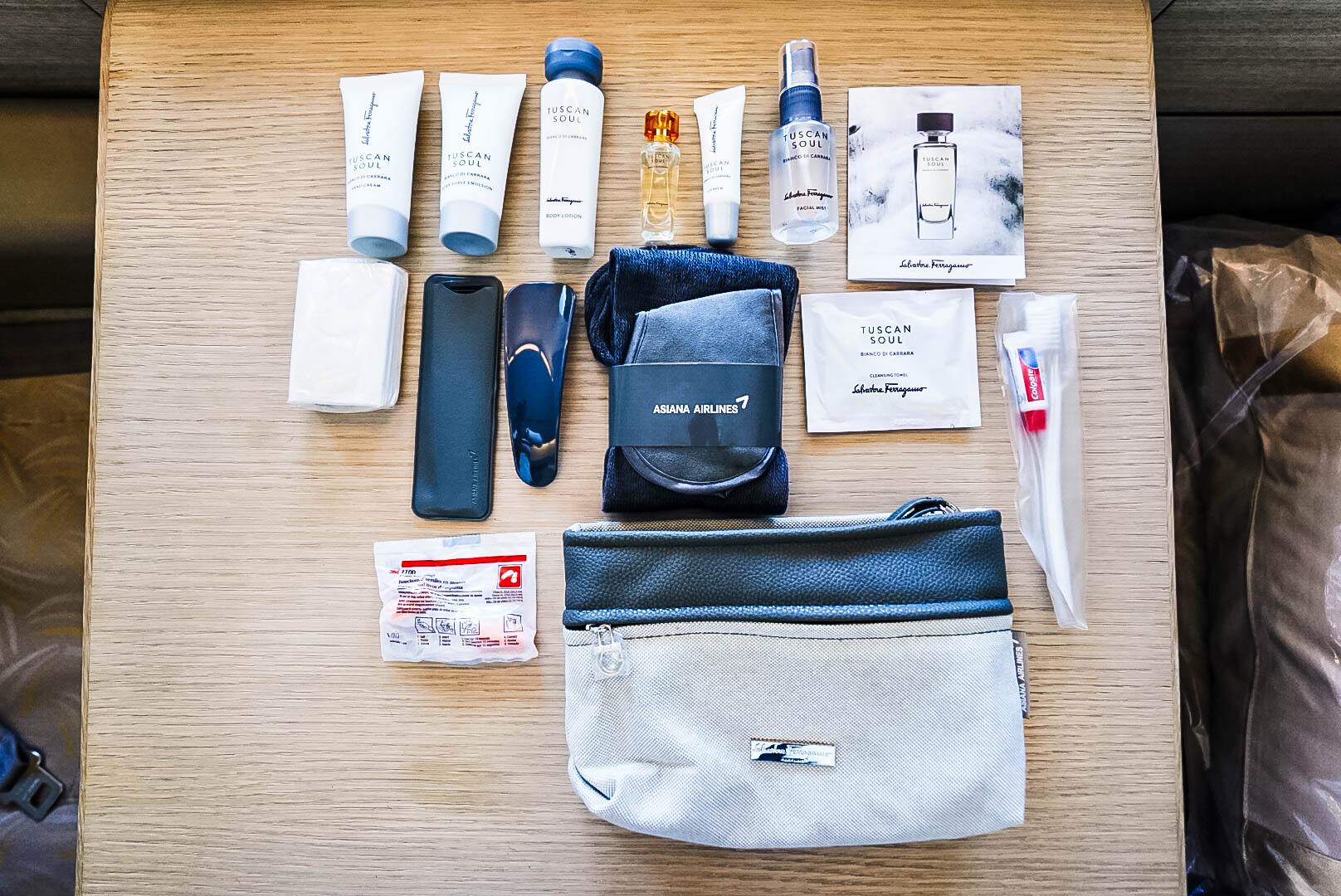 Each suite is also provided for with a bedding, comforter, and pillow, and passengers are provided with pajamas and slippers. The pajama suit fabric was soft and comfortable and one of the best I have worn in the air along with Qatar Airways' White Company sleepwear.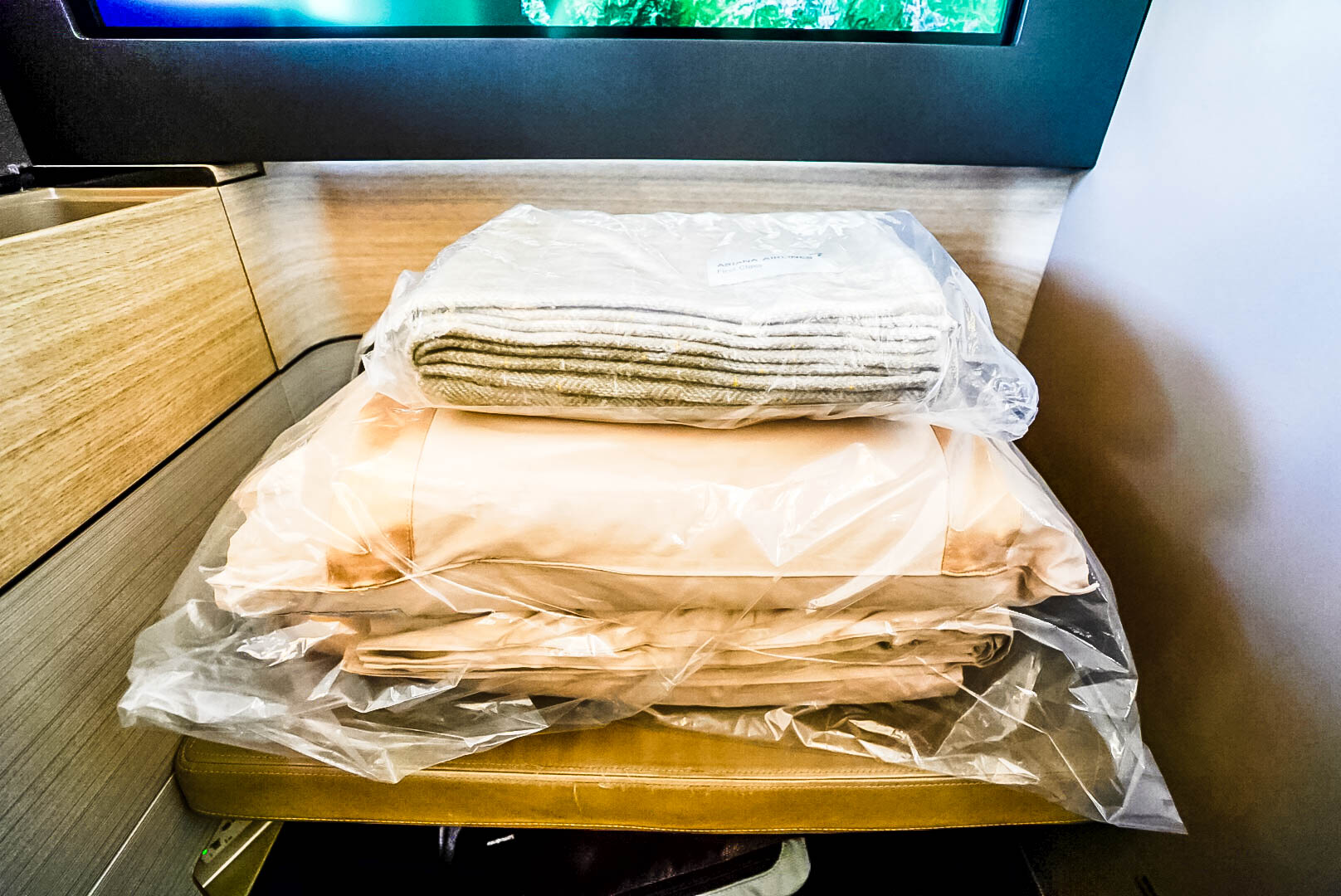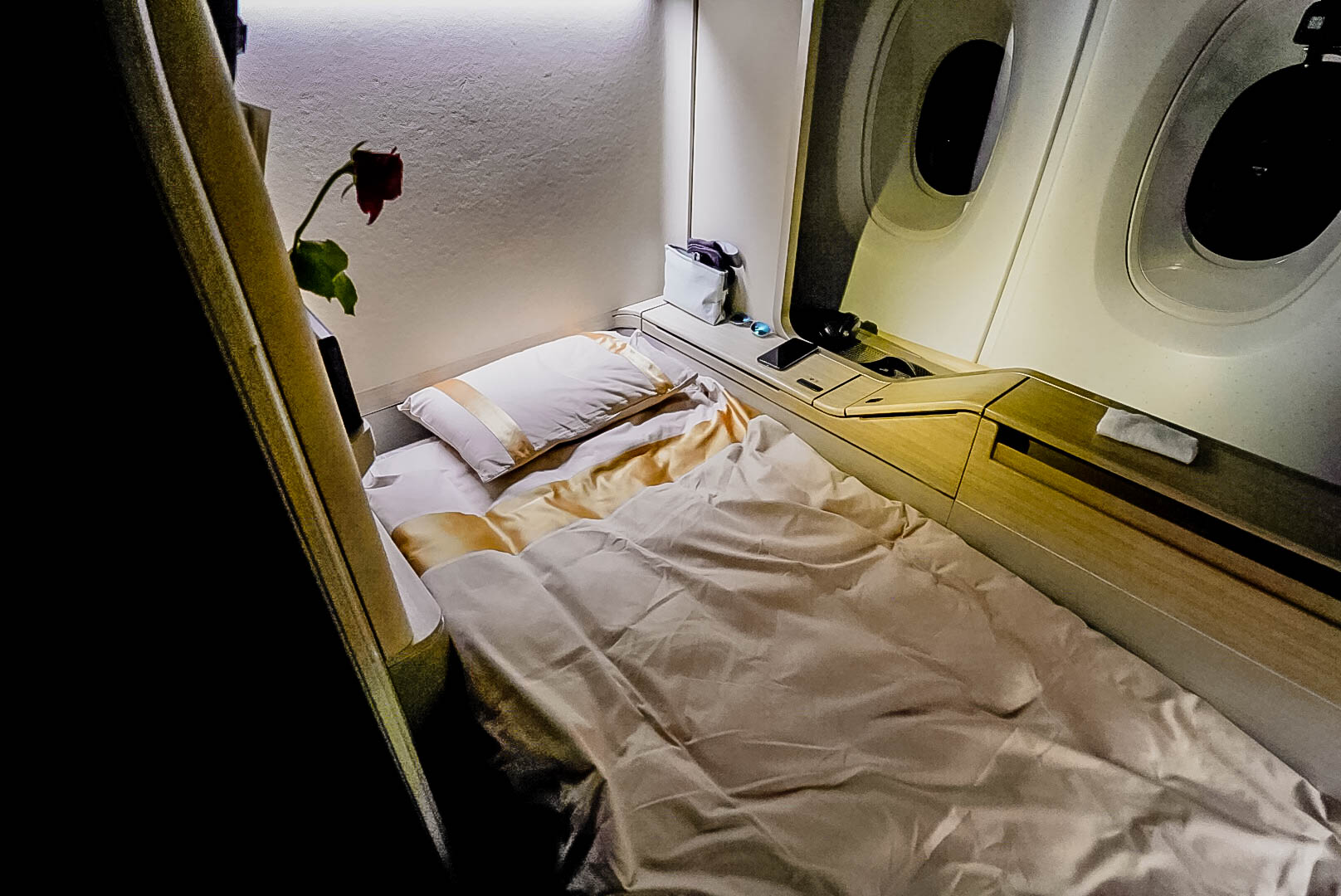 Final Thoughts
WOW! This is right up there on being one of my favorite flying experiences. The service delivery – both on the ground and in the air was impressive and the catering was excellent. What a stark contrast to my unpleasant experience with Korean Air.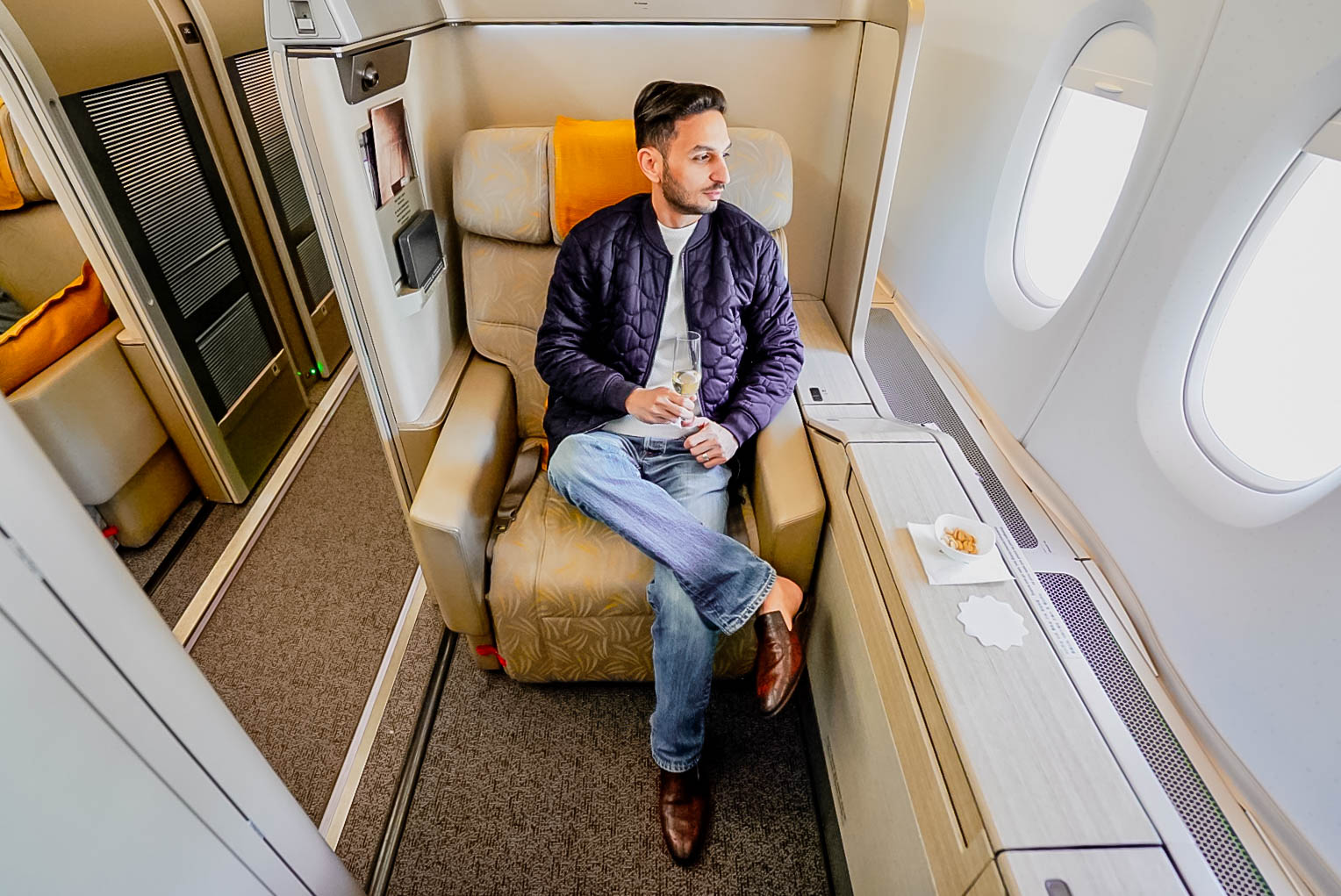 Though the hard product is a bit dated and dull, the seats are massive and comfortable.
The inflight entertainment was limited and there was no Wi-Fi, but I was fine with that. This was one of those flights where I just wanted to enjoy the culinary experience Asiana had to offer and get some much needed "me time". With no Wi-Fi, I did not have the urge to check my phone for work emails, WhatsApp messages, or social media updates, and with limited entertainment options, I could finally read Marc Rich's King of Oil and sleep soundly.
I thoroughly enjoyed this 11-hour ride across the Pacific and am sad to see the first class service being withdrawn from September 2019 onwards.
However, I am glad that I got to experience it. I still have a bunch of Avianca LifeMiles left and am tempted to give it one more go; maybe I will!
On a parting note – a special thank you to the Asiana ground staff and the Conrad Seoul concierge for the excellent co-ordination in delivering my headphones to me.
---
All unattributed images are credited to Cherag Dubash