The World's 22 Best First Class Seats for Couples
In the business of premium cabin travel, you constantly see airlines duking it out for the best first class products. When you're planning a first class flight, you're going to want to make sure you choose a great airline. If you're traveling with a partner, it's that much more important to choose a great flight because it can become a memorable experience for the both of you.
Expensive Champagne, fresh caviar, friendly service… you're going to want it all when you and your loved one fly first class! Some of the things you can expect from a top-notch first class airline are comfortable double beds, suite doors that enclose your seat for maximum privacy, excellent service, and a refined fine dining and beverage program.
SkyTrax's top pick for the world's best first class airline was given to Singapore Airlines… but how is their experience for couples? While there are a host of other familiar names on our list, such as Emirates, Lufthansa, Air France, and Cathay Pacific, we've also identified some lesser-known first class products that are excellent for couples.
What Makes a First Class Seat Great for Couples?
When couples are traveling together, one of the biggest points of emphasis is the privacy of the seat, the existence of double beds, and a product that enables easy conversation and interaction.
The products ranked in this guide are noticeably ordered differently than the best first class products in the world. This isn't too surprising, considering a certain first class product might be optimized for solo travelers whereas another first class product may be focused on couples travel or leisure markets.
The key characteristic of an amazing first class seat for couples is the presence of a double bed. This takes precedence over nearly everything else, and you'll notice that the products at the top of this list offer double beds. After that, you should consider aspects such as service, privacy, ease of communication with your companion, food, and amenities.
The 22 Best First Class Seats for Couples
Etihad Residence on the A380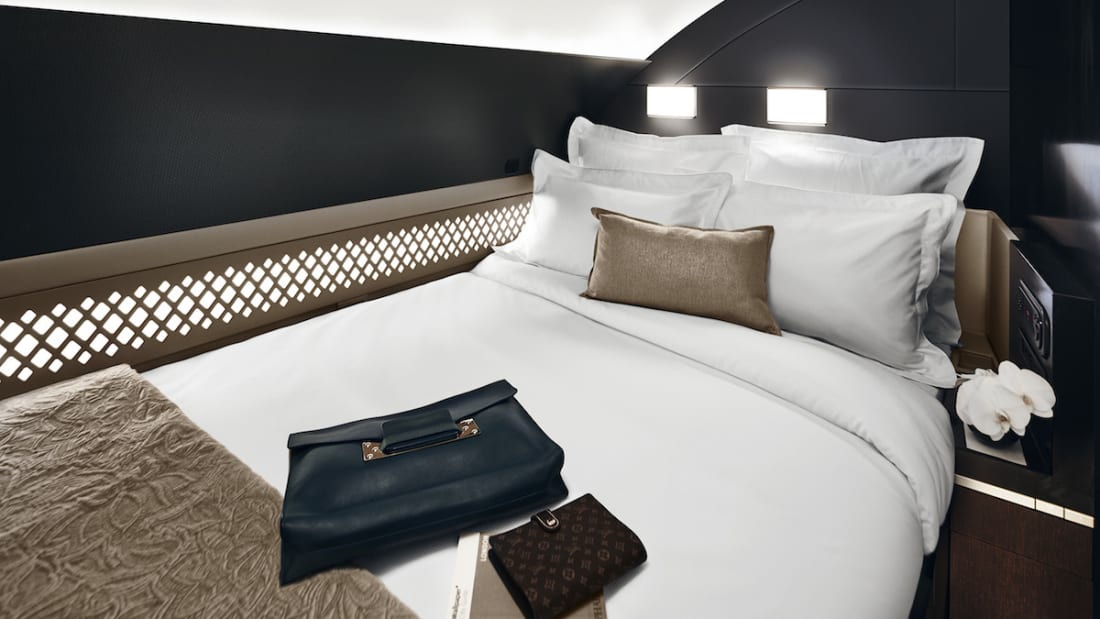 The Etihad Residence is known to be the most luxurious experience in commercial aviation. It's only offered on the A380, flown on a handful of routes. In the Etihad Residence, you will have exclusive, private access to a living room, bedroom, and shower room.
The living room consists of your oversized loveseat with a long ottoman.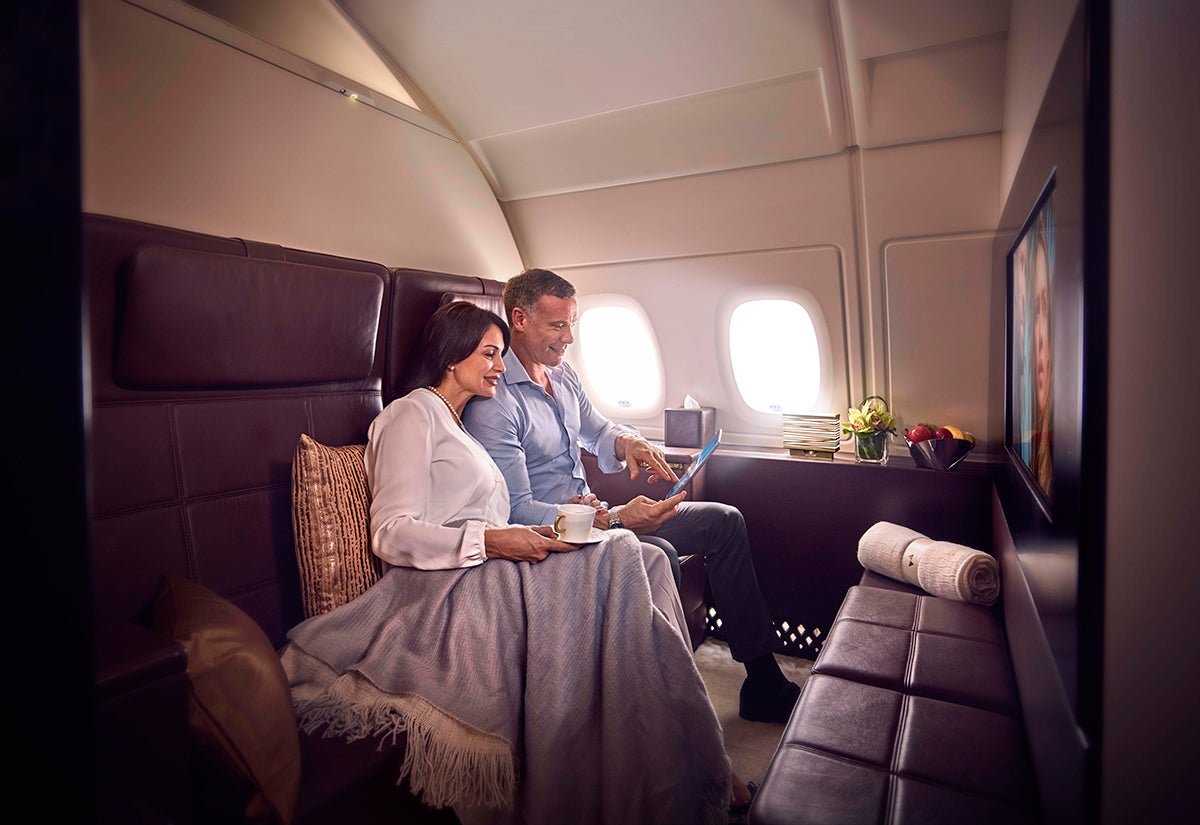 In addition to the living room, your separate bedroom is a full-sized bed adorned with some of the most luxurious furnishings you'll ever see.
Your private shower suite consists of your own vanity, a full-sized shower, and other bathroom facilities.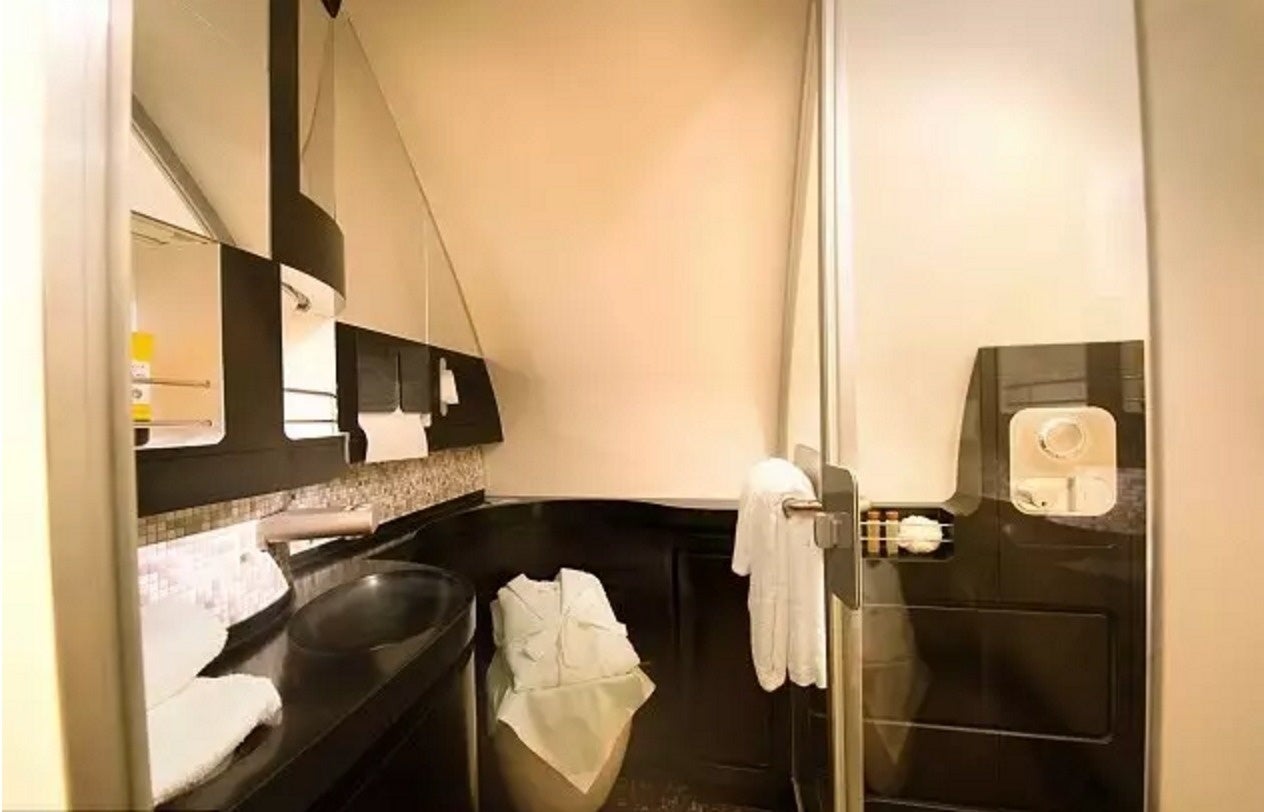 If you have the cash (~$30,000) or 1-3 million Etihad Guest miles to book this product, it could be the most memorable experience of your life — a private butler, chauffeur service, and basically any other request met. The Etihad Residence is truly the best first class product for couples. Period.
Here are the routes on which the Etihad Residence can be found aboard the A380:
New York City (JFK) – Abu Dhabi (AUH)
London Heathrow (LHR) – Abu Dhabi (AUH)
Paris (CDG) – Abu Dhabi (AUH)
Seoul (ICN) – Abu Dhabi (AUH)
Hot Tip: If first class is a bit over the top for you, check out our guide on the world's best business class seats for couples!
Singapore Airlines' New First Class Suites on the A380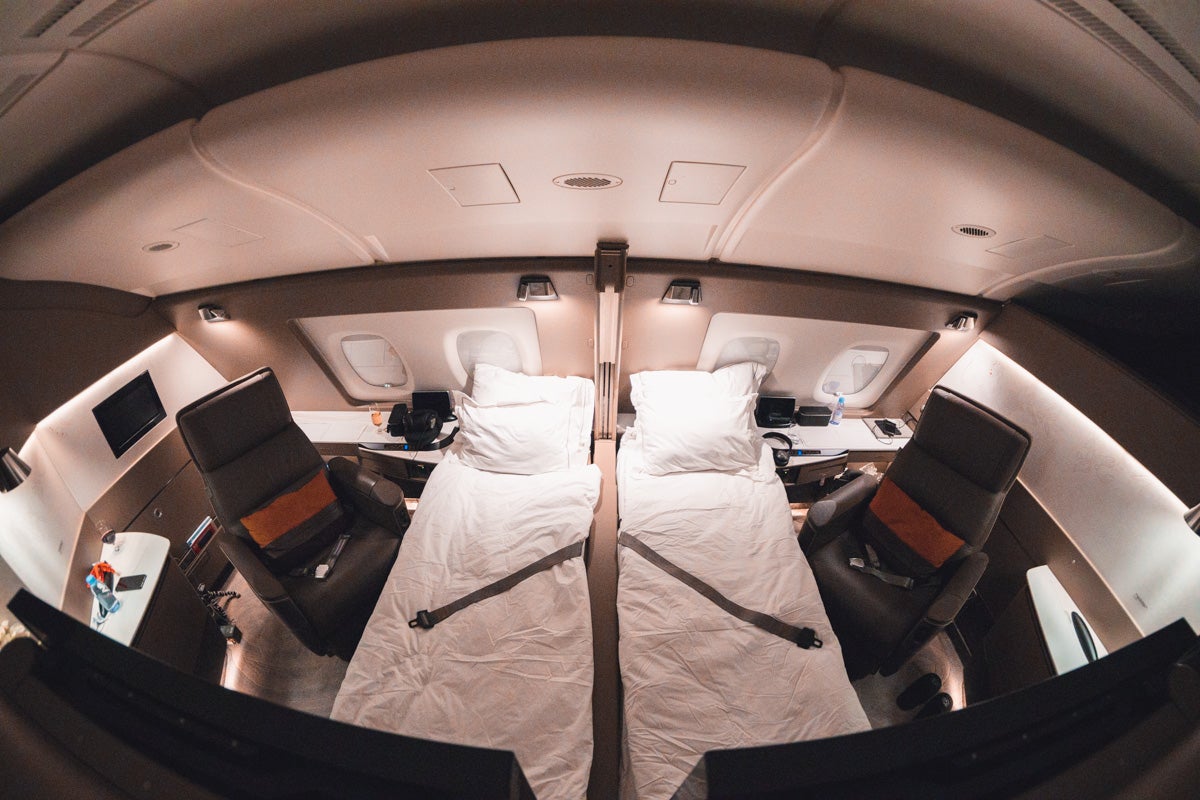 Singapore Airlines is known for providing an extravagant experience in first class. Ever since it revealed its original first class suites in 2006, premium cabin travelers have raved about them left and right.
Now, Singapore Airlines offers a new A380 First Class Suites product that has dethroned its predecessor. With 50 square meters worth of space, this is one of the most spacious first class products in the world.
Hot Tip: What to see what it's like to fly on Singapore? Read all about it in our new A380 First Class Suites review from Zurich to Singapore.
In Singapore Airlines' new First Class Suites, you'll have an enclosed suite that contains an oversized armchair and a separate bed. Some of these beds can be put together, effectively converting your seat into a double bed.
This is a one-of-a-kind product that Singapore Airlines outdid themselves with, yet again! In addition to the seat and beds, you'll enjoy Lalique amenities, a 32-inch inflight monitor, unlimited Dom Perignon Champagne, and delicious food via the a-la-carte Book the Cook service. There are only 6 of these suites in any given aircraft, and they are arranged in a 1-1-1 configuration.
Sadly, these first class suites are currently only available on select A380 routes, none of which fly to the U.S. These routes are bookable with Singapore KrisFlyer miles:
Singapore (SIN) – Hong Kong (HKG) for 37,500 miles one-way
Singapore (SIN) – London Heathrow (LHR) for 115,000 miles one-way
Singapore (SIN) – Shanghai (PVG) for 50,000 miles one-way
Singapore (SIN) – Sydney (SYD) for 80,000 miles one-way
Singapore (SIN) – Zurich (ZRH) 115,000 miles one-way
Wanting to book? Here's a step-by-step guide to book Singapore Airlines first class on points.
Bottom Line: Ultimately, Singapore Airlines' new first class suites are a huge step up from the old first class suites, which are still extremely impressive. These suites are excellent for couples traveling together due to the additional privacy, the double bed, and the signature Singapore Airlines soft product. 
Singapore Airlines' Original First Class Suites on the A380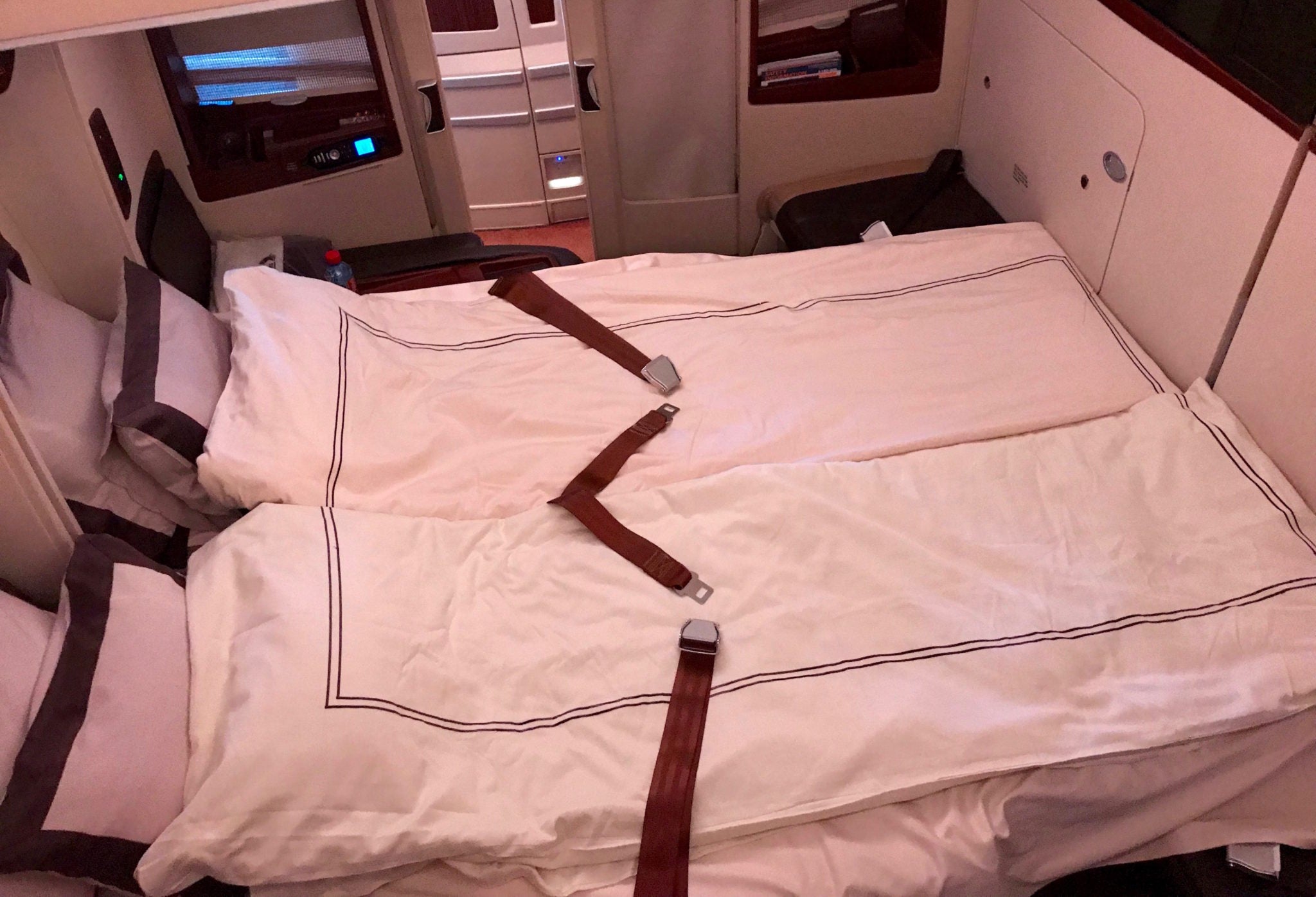 Singapore Airlines' initial First Class Suites were first put into service in 2006 on the A380 Superjumbo. They were (and still are) a massive hit. The main reason why they were a media sensation was that this was the first double bed ever offered in commercial aviation.
The suites are arranged in a 1-2-1 configuration across 3 rows for a total of 12 seats. Only the middle seats can be converted into a double bed, so couples will definitely want to reserve those when booking the original First Class Suites.
The soft product is almost identical to the New First Class Suites, which means that the product lags behind only in the seat. Nonetheless, Singapore does have 1 route to/from the U.S.:
New York City (JFK) – Frankfurt (FRA) – Singapore (SIN)
There's an important drawback to these seats, however. There is a privacy divider separating the headrest area, which means that you might hit your head or otherwise be constrained.
Hot Tip: Want to know more? Read our Singapore Suites A380 review to compare the new suites to the original for yourself.
Etihad First Class Apartments
We talked about the Etihad Residence, which is certainly the most sensational aviation experience out there. In addition to the Etihad Residence, there is an additional first class product: Etihad First Class Apartments.
These apartments, while still crazily luxurious, are a tier below the Etihad Residence. The first class product has the functionality to convert to a "quasi double bed." There is a partition that doesn't truly make it a double bed. The wall comes up to the mid-section area, which means that there's no room for overlap in the bottom portion of the bed.
Hot Tip: Ready to book? Explore the best ways to book Etihad first class using points.
The Apartments can be found on all of Etihad's A380s. In addition to your bed, which measures 6-feet-10-inches long, you'll have a separate armchair you can use for dining and lounging:
All in all, the only way you'll be able to book this with points and miles from the U.S. is to do so on the New York City (JFK) – Abu Dhabi (AUH) route. In addition to the spectacular seat, you'll enjoy usage of the inflight shower, bar, vanity, inflight chefs, and Acqua di Parma amenities.
This award-winning Middle Eastern carrier can be booked with points, including American Airlines miles, Etihad Guest miles, and Asiana Club miles.
Hot Tip: Of course, using the right credit card is important if you want to fly first class. Check out these credit cards that are great for couples to get you started.
China Eastern Airlines First Class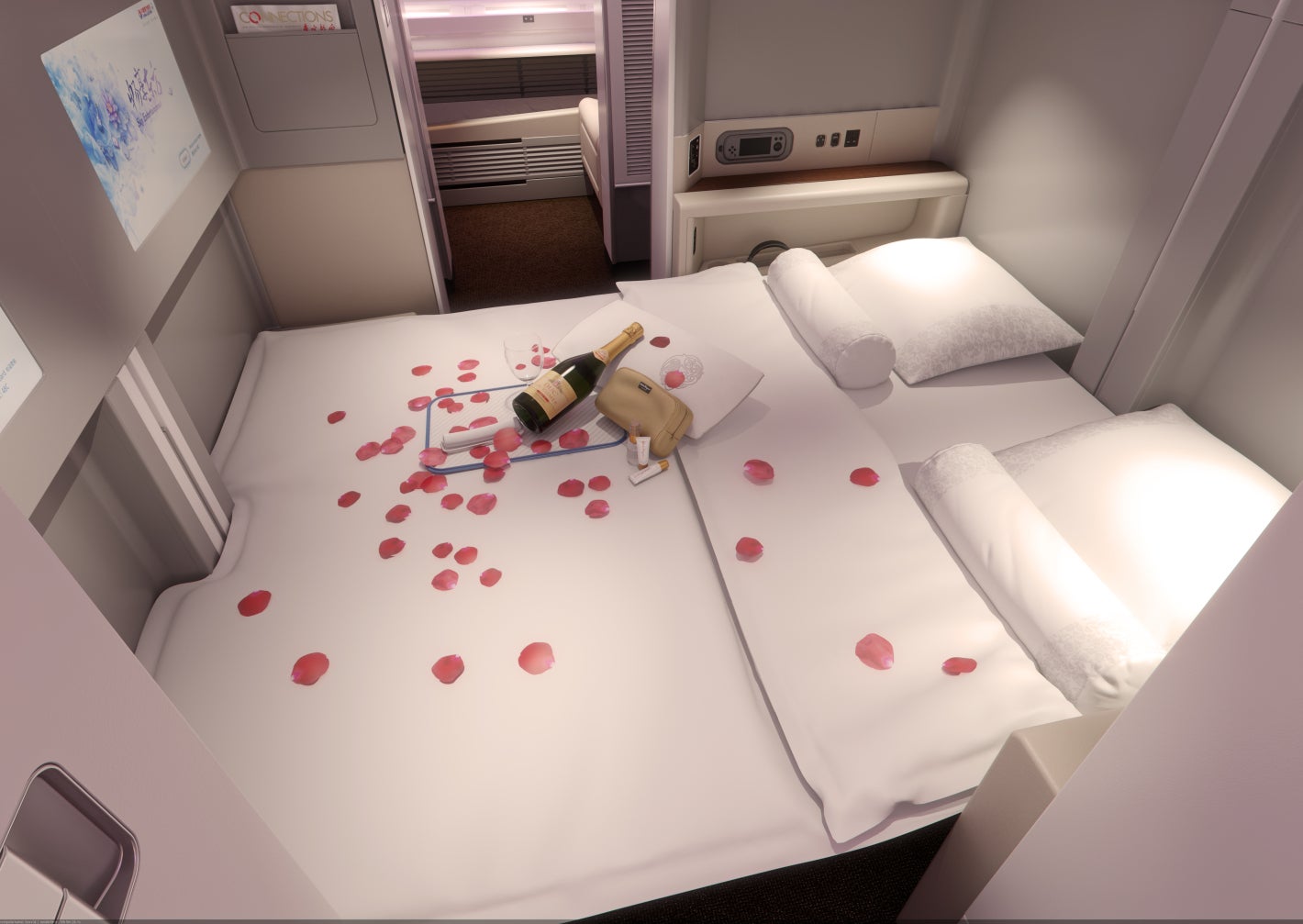 Most people don't know about China Eastern Airlines' first class suites. The Shanghai-based airline is a SkyTeam partner, and it is majority-owned by the Chinese government.
Hot Tip: Since China Eastern is a member of the SkyTeam alliance, here's a step-by-step guide on finding award availability on SkyTeam so you can book.
The reason why it is at the top of the rankings is simple: the double bed. Offering a double bed is an honor that even the likes of Emirates Airlines doesn't have. China Eastern, however, exceeds in this regard. It joins the exclusive ranks of Singapore Airlines and Etihad as being one of the few airlines that has double beds in first class.
The seat is 26.5 inches wide, 79 inches long in bed mode, with a total of 6 seats in first class. Additionally, each of these suites has sliding doors for extra privacy. The hard product is certainly the highlight of China Eastern first class.
Despite the airline's poor reviews in the past, their commitment to improving their soft product has been impressive. While you won't receive a service level near that of Singapore Airlines, you will receive an awesome sleeping experience with your partner. Other highlights include Salvatore Ferragamo amenity kits and lots of food.
So, if you're looking for a great way to use your China Eastern miles, check out the first-class suites.
Bottom Line: China Eastern offers the best first class hard product among Chinese airlines. If you want to fly in maximum comfort and don't care that much about the bells and whistles from the likes of Emirates or Etihad, China Eastern is an excellent choice. Here's a guide to earning China Eastern miles to get you started.
Emirates First Class Suites on the A380
Emirates offers a spectacular first class product on the A380; the Emirates A380 First Class Suites have some of the snazziest touches, including gold finishes, polished wood, an onboard shower, and motorized window shades.
In addition to this, you'll receive a Bvlgari amenity kit, stationery as a souvenir, and unlimited caviar and Dom Perignon Champagne. While the seats are arguably the most Instagramable seats in the world, you may feel that Emirates emphasizes form over function. The seats aren't that wide at only 23 inches. To provide more perspective, the Singapore Airlines business class seat on the 777-300ER is 26 inches wide.
Another concern with Emirates First Class Suites is that the privacy divider between the 2 middle seats can detract from the couples' experience.
When flying Emirates first class with points, you'll no longer be entitled to the chauffeur service. Award prices are generally high, and fuel surcharges are eye-poppingly high.
All in all, Emirates First Class Suites are still a phenomenal choice for travelers. It is absolutely an aspirational airline that offers one of the best experiences in the world. However, one can't help but feel that the main appeal of Emirates is the novelty.
Japan Airlines First Class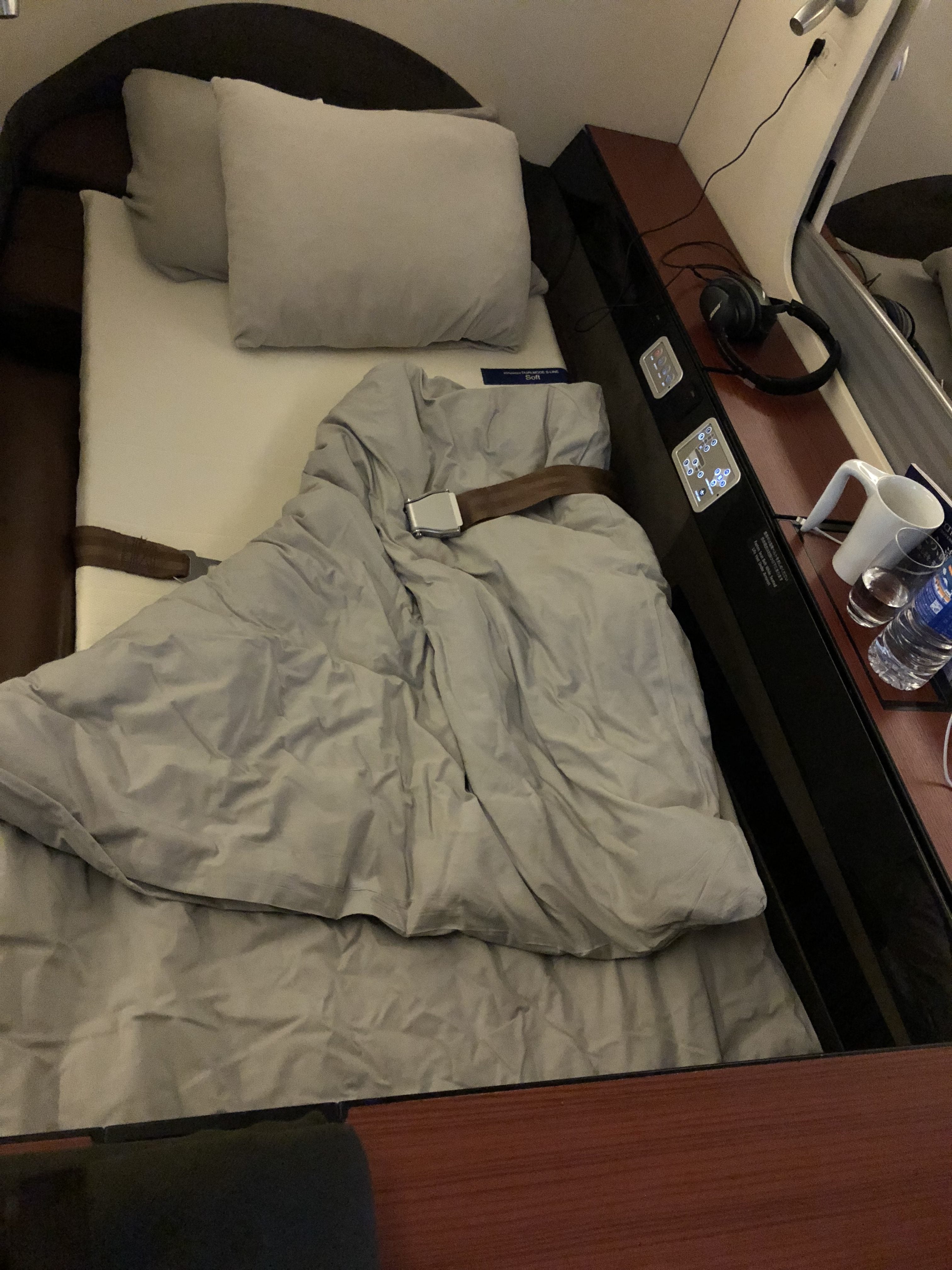 Japan Airlines first class is the most underrated first class products out there. There's an extensive review of the Japan Airlines 777 first class, but the impression left of guests is like no other.
By itself, the hard product isn't the most spectacular thing out there. It's an open-air suite with an oversized leather armchair. It boasts up to 33 inches in width when the armrests are fully lowered and 23 inches with the armrests deployed. Additionally, the seats in bed mode are nearly 79 inches long.
The first class cabin consists of 8 seats in a 1-2-1 configuration — a great seat design for couples because it allows you to communicate effortlessly.
If you don't feel like talking to your companion, feel free to use the motorized privacy partition to give some space to your significant other. Other highlights include an unparalleled soft product, which includes uber-expensive whiskey, caviar service, a mattress pad, fluffy bedding, and tons of souvenirs to commemorate your flight.
Japan Airlines First Class is notoriously difficult to reserve, but for those who can, you're in for a treat. This is especially true if you're sharing the experience with a loved one.
Hot Tip: While difficult to reverse, it's not impossible as long as you know the best ways to book Japan Airlines first class.
Air France La Premiere on the 777-300ER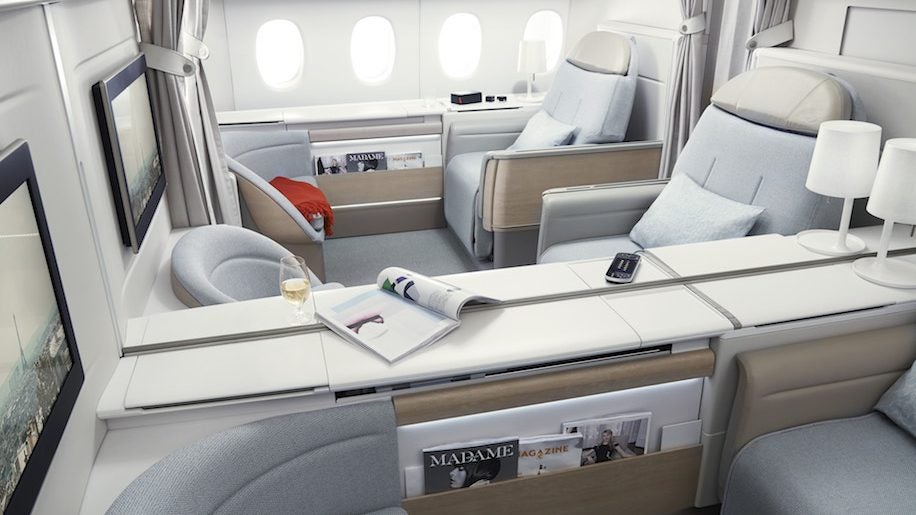 Air France constantly gets good publicity for being one of the most exclusive airlines in first class, though it is nearly impossible to book with points and miles unless you have elite status with Flying Blue. Even then, you have to pay 200,000 miles one-way for a first class award redemption.
Nonetheless, those who can get the coveted La Premiere first class experience on the 777-300ER are in for a sublime flight. There are only 4 seats in first class, across 1 row in a 1-2-1 configuration. The suites are open-air with curtains for privacy. As far as commercial aviation is concerned, Air France is the only airline to use curtains, which is surprisingly elegant.
The biggest highlights are ground service and inflight fine dining and service. The open-air seats make it easy to talk to your seatmate in the middle seats. Because the cabin is so intimate, you'll truly feel like you're in a private jet. Also, one cool aspect is that the footrest/ottoman can be used as a companion seat, and you can dine with your partner!
ANA 777-300ER "The Suite" First Class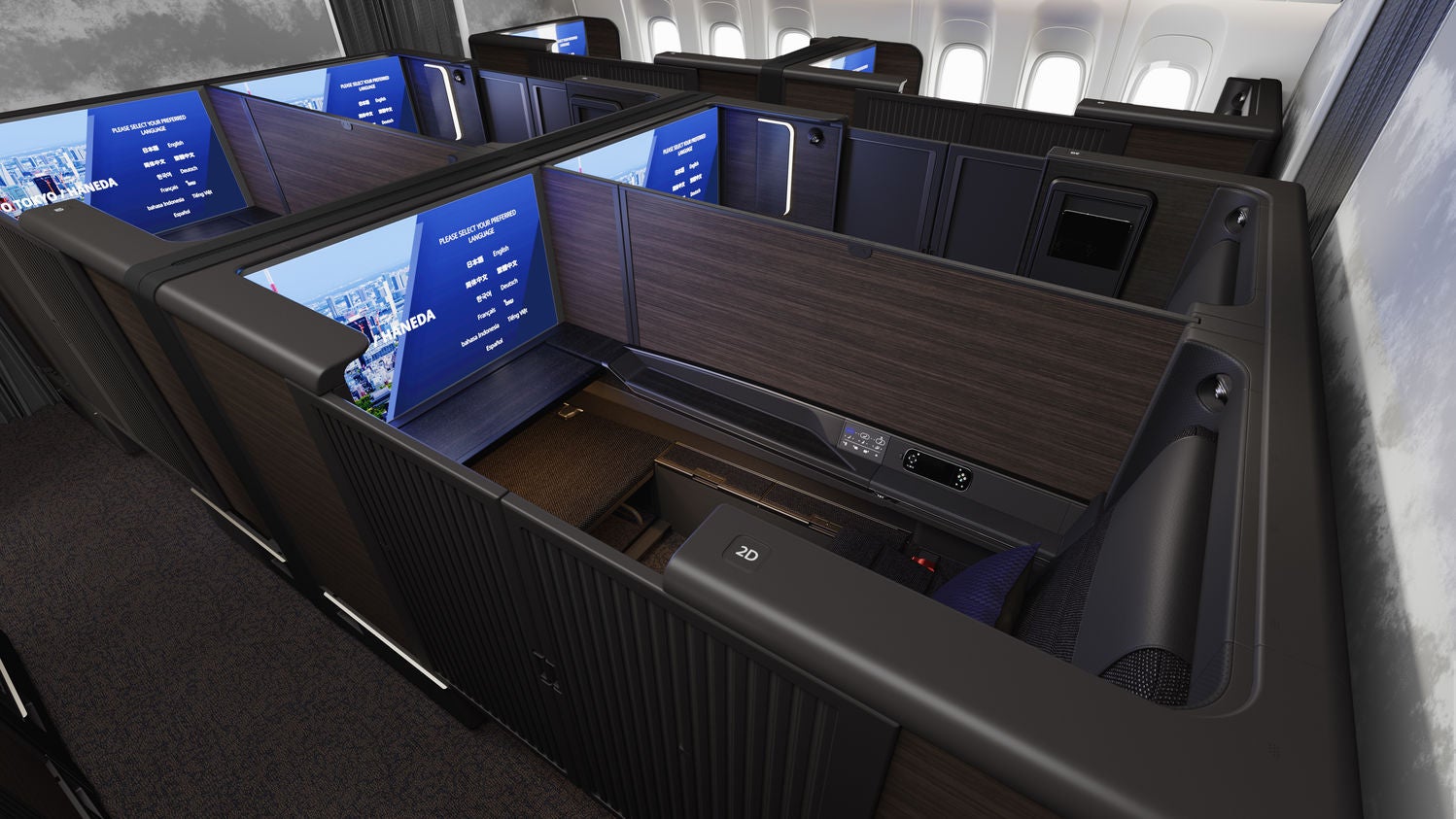 ANA is slowly retrofitting their premium-heavy, 212-seat 777-300ER aircraft to feature a revitalized product. It's safe to say that ANA's new first class, which is dubbed "The Suite," is a gargantuan improvement over their older product, which is called "The Square."
The first thing you'll notice is the size of the suites. Each oversized seat is a whopping 38 inches wide, 76 inches in pitch, and 76 inches in bed length. There are 2 rows of seats in a 1-2-1 configuration. The best seats for couples are undoubtedly the middle seats. You'll notice that the middle partitions and designs make it easy for couples to communicate.
Also, the sliding doors enclose your suite, which makes it a much more private experience. Besides the well-thought-out design, the TV is huge. This 4K television is 42 inches, which is easily the biggest TV of any first class seat in the world.
The brand-new ANA first class product is something you cannot miss out on. Be sure to watch out for the continued roll-out of this product so that you can sample one of the top first class suites in the world.
Cathay Pacific First Class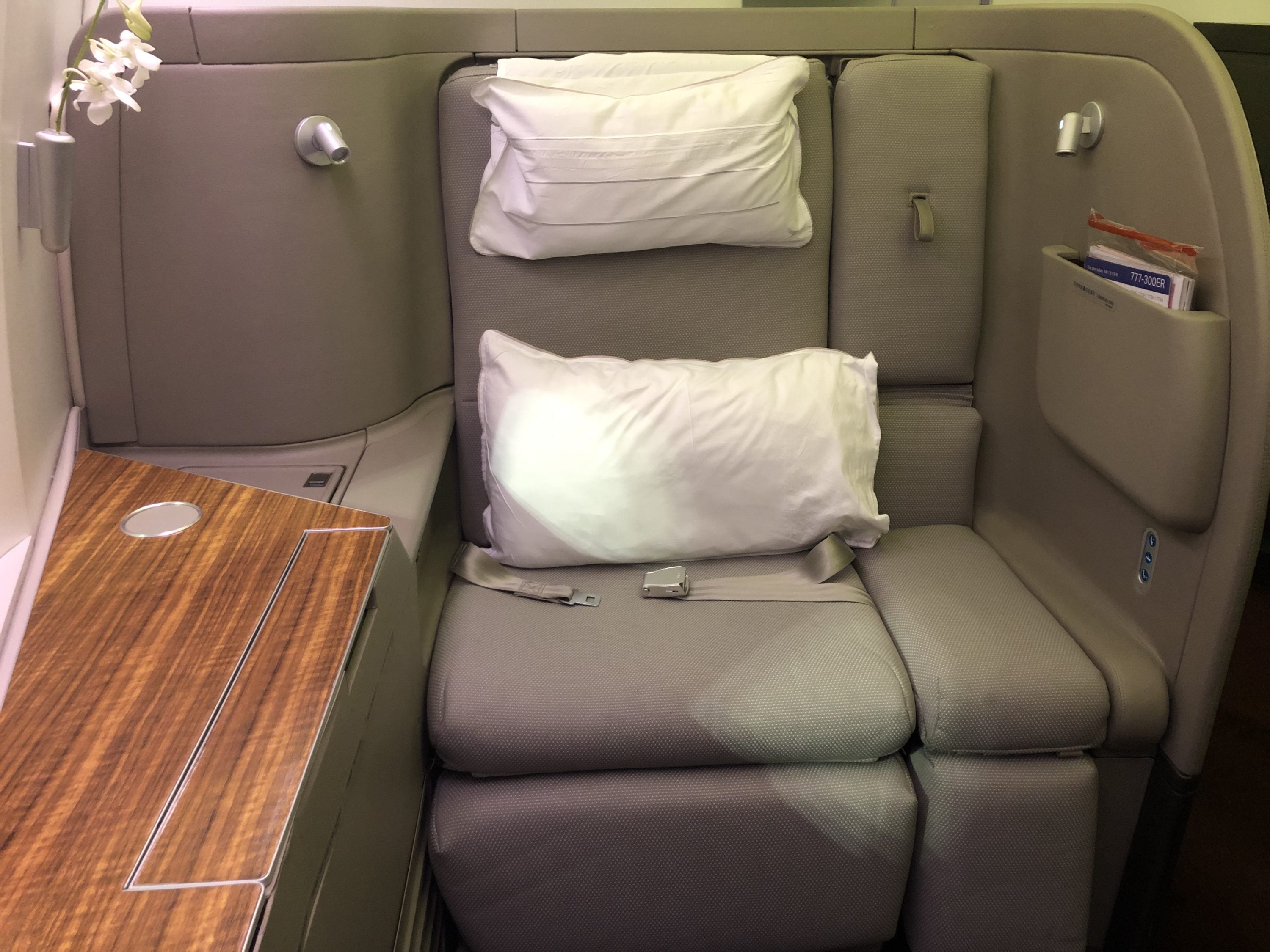 Cathay Pacific first class is world-renowned for having some of the best first class products in the world. If you've read our Cathay 777 first class flight review, you know what an amazing experience Cathay offers.
The first class cabin is arranged in a unique 1-1-1 configuration. With only 2 rows of seats, the size of the cabin can accommodate a maximum of 6 passengers. The arrangement is sitting next to your companion, simply because you'll generally be pretty far away from the other person's seat. However, the ottoman doubles as a companion seat so you're able to dine with your partner, savoring Cantonese delicacies such as dim sum, caviar, garoupa, and egg tarts together.
These seats are some of the largest first class seats in the world. With 36 inches in seat width, and 81 inches in pitch, it blows the rest of its competition out of the water.
Other highlights include high-quality amenities from Aēsop, phenomenal service, an unprecedented lounge experience, and so much more.
Hot Tip: Flying from the U.S and want to experience Cathay first class? Explore the definitive guide to Cathay Pacific's direct U.S. routes to plan your next adventure.
Lufthansa First Class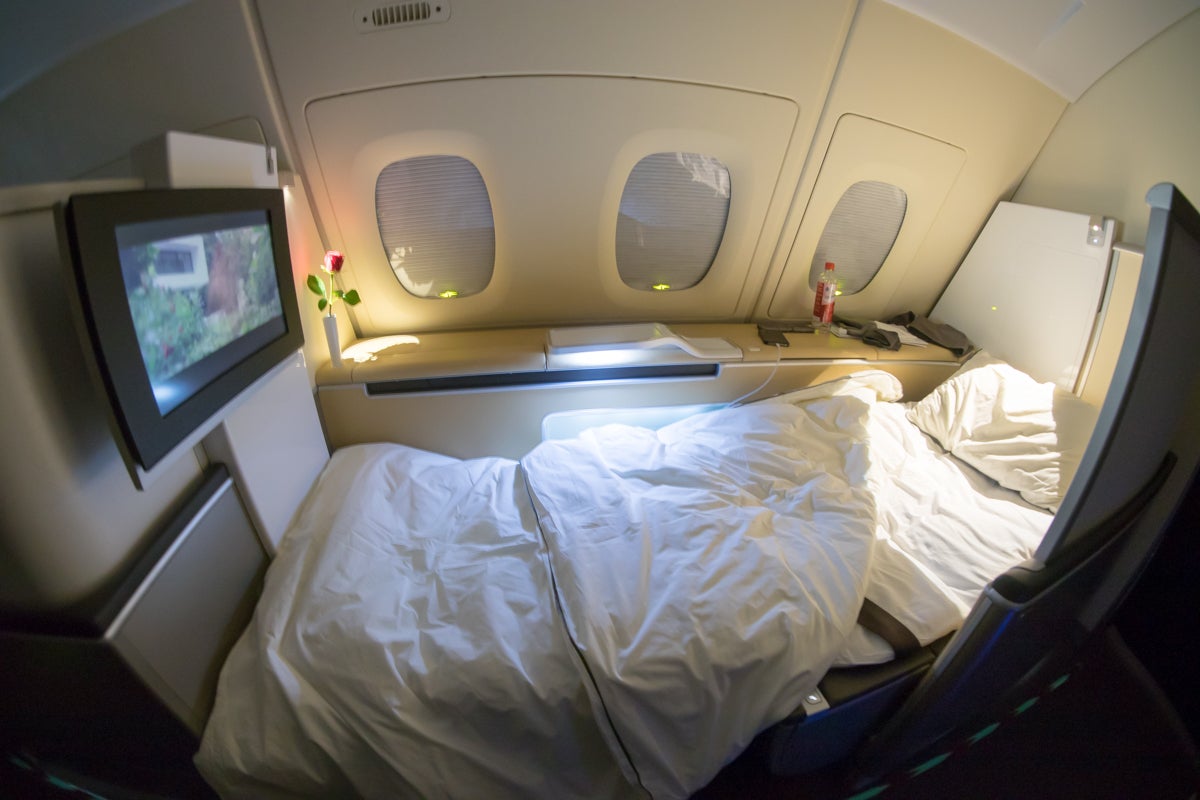 The next product is also a European carrier. Specifically, Lufthansa first class is an excellent first class choice for couples and can be booked on points. The first class seats are similarly open-air suites with oversized armchairs.
Although typically in a 1-2-1 configuration, you may also find them in a 1-1 configuration if flying in the nose of a 747-8, for example. The huge seats are approximately 31 inches in width and 81-83 inches in bed length.
If you are traveling with a companion, the best choice is to reserve the duo of middle seats on Lufthansa first class. The layout on these seats makes having a conversation with your partner easy.
Lufthansa is known for having an extremely polished and professional first class service from the moment you leave your door until the moment you leave the airport to head towards your hotel or house. It has an awesome ground service, sophisticated lounges featuring a cigar lounge, excellent catering, and a fantastic flight offering.
The main qualm that people have with Lufthansa first class is the lack of privacy due to the open-air nature of the seats. However, you don't want to be completely isolated from your companion, so we consider that a plus.
Lufthansa First Class is a classic way to experience first class in style. Although their hard product isn't the most cutting-edge out there compared to the double beds from Singapore Airlines, it is certainly worth considering.
Korean Air First Class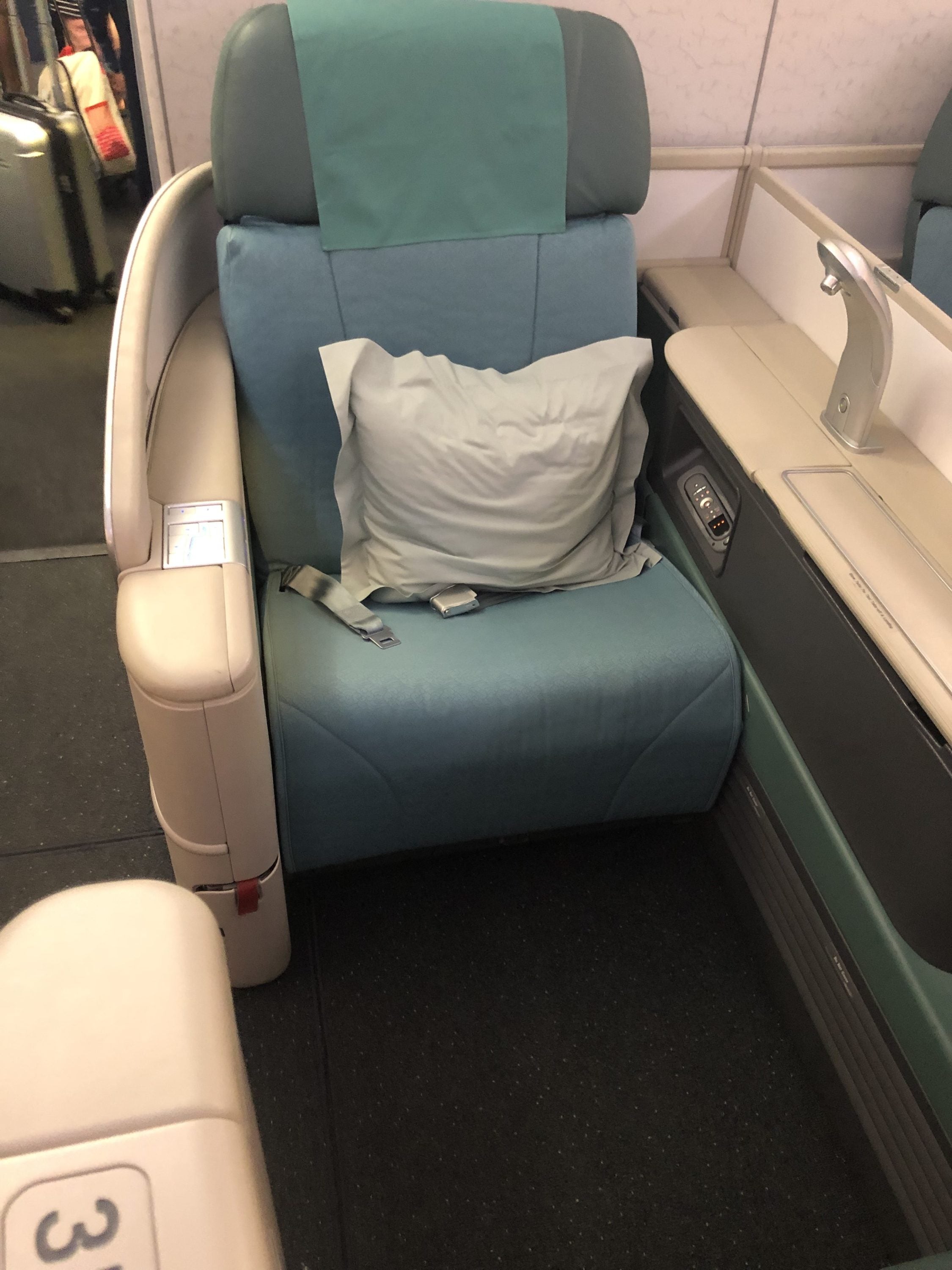 Korean Air is known for offering first class on tons of routes. Although it's been cutting back on first class offerings, there's still a rich market to tap into.
Korean Air, along with Emirates and British Airways, has traditionally been the leader in offering first class on the most routes (3- or 4-cabin aircraft). However, Korean Air seems to be cutting back tremendously, which means that Korean Air's first class is a dying breed.
Korean Air first class aboard the A380 is a great travel experience. Korean Air first class for specifically couples is great because the A380 contains open-air first class suites, which is the next best thing for couples after enclosed first class double beds. Throughout a long-haul flight, you'll probably want to have a conversation with your partner, and the design of Korean Air's first class cabin makes it a seamless experience.
Also, Korean Air's soft product is excellent, with plush bedding, excellent food, and a cool first class bar. Award availability is also the best you'll see for a first class flight. The only way to book is by redeeming Korean Air miles, which can only be transferred from Marriott Bonvoy.
SWISS Air First Class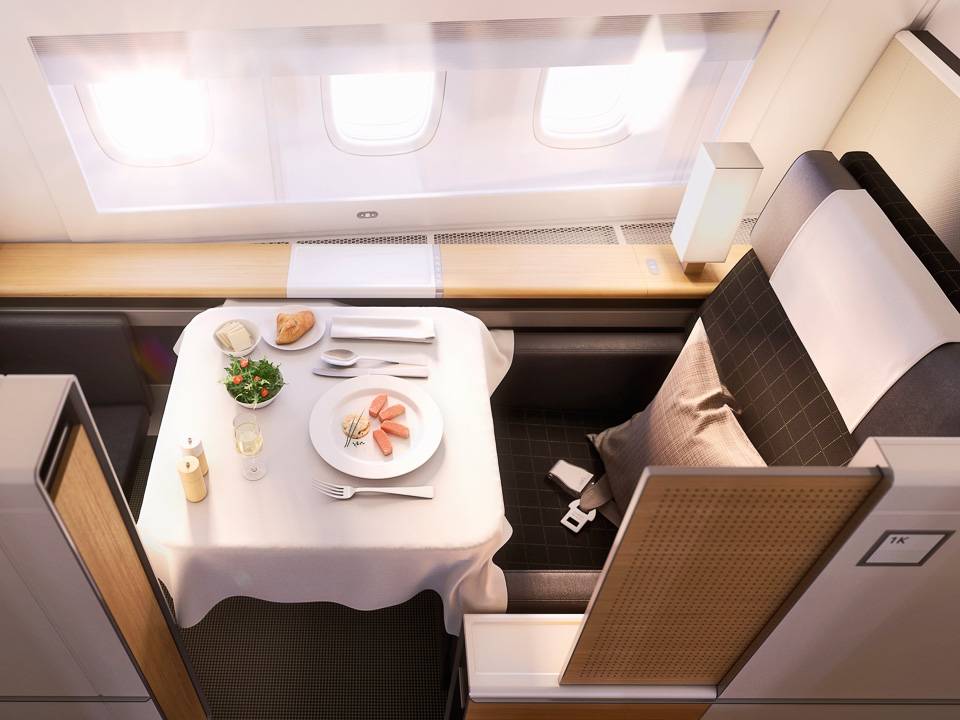 The next winner is Swiss International Airlines first class. It is nearly impossible to book these tickets with points.
In first class, the arrangement is 1-2-1, and couples will want to select the middle seats. The seats are generally regarded to be extremely classy and aesthetically appealing. It is a technologically advanced first class product with excellent bedding, food, and great service. The user experience and seat functionality allow you to fully customize your position, setting the precedent for a comfortable flight.
These seats would be excellent for solo travelers. However, the ranking for couples drops because it's a little bit too private for most people. In any case, the product is still stellar, just less so for couples.
Thai Airways First Class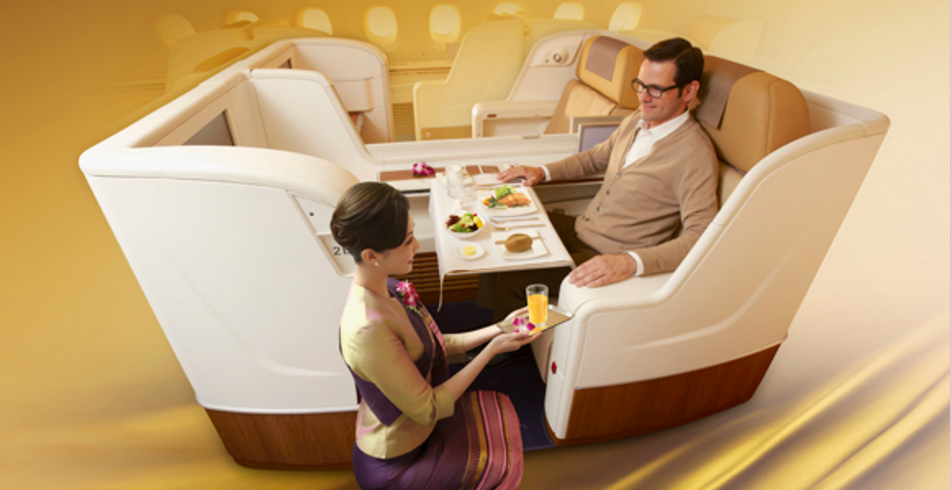 Although Thai doesn't have any direct U.S. routes, it's a major Star Alliance carrier with a diverse route network, particularly within Europe, Oceania, and Asia.
Thai first class consists of open-air suites with oversized armchairs, similar to Korean Air. Thai is famous for offering an hour-long massage in the first class lounges. The service provided is also known to be stellar, highlighting Southeast Asian hospitality.
If you're situated in first class, you'll have no problem sharing your experience with your partner. Other highlights of Thai Airways first class include Rimowa amenity kits, amazing food, and a sweet buggy service that whisks you across the airport in no time.
Garuda Indonesia First Class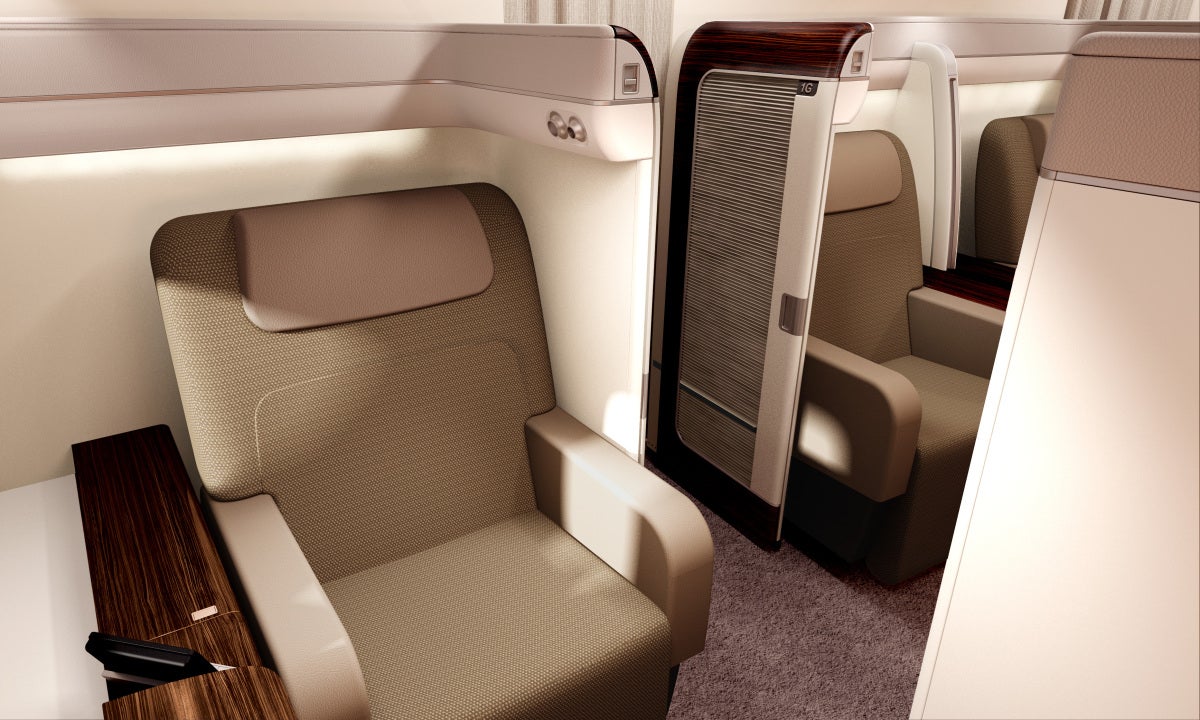 Garuda Indonesia is also one of the world's most underrated first class airlines. The Indonesian flag carrier airline offers first class suites on a small number of flights. These flights are all aboard the 777-300ER.
Bali-Denpasar (DPS) – Tokyo Narita (NRT)
Jakarta (CGK) – Amsterdam (AMS)
Jakarta (CGK) – Jeddah (JED) 
Jakarta (CGK) – London Heathrow (LHR)
Jakarta (CGK) – Tokyo-Haneda (HND)
These tickets are typically extremely points-expensive and very difficult to find availability. Garuda's first class product consists of enclosed suites in a 1-2-1 configuration, amazing inflight food and beverage offerings, an awesome chauffeur service, and immaculate service.
There are 8 seats total, which means there are 2 rows with 2 middle seats each. Furthermore, Garuda Indonesia has a boarding door exclusively for first class. The Loewe amenity kits are also fully loaded, pajamas are comfortable, and the entertainment selection is diverse.
The middle seats have a motorized privacy divider if you need a little more time to yourself. All in all, Garuda Indonesia curates a special experience just for you and your partner in first class.
Qatar Airways First Class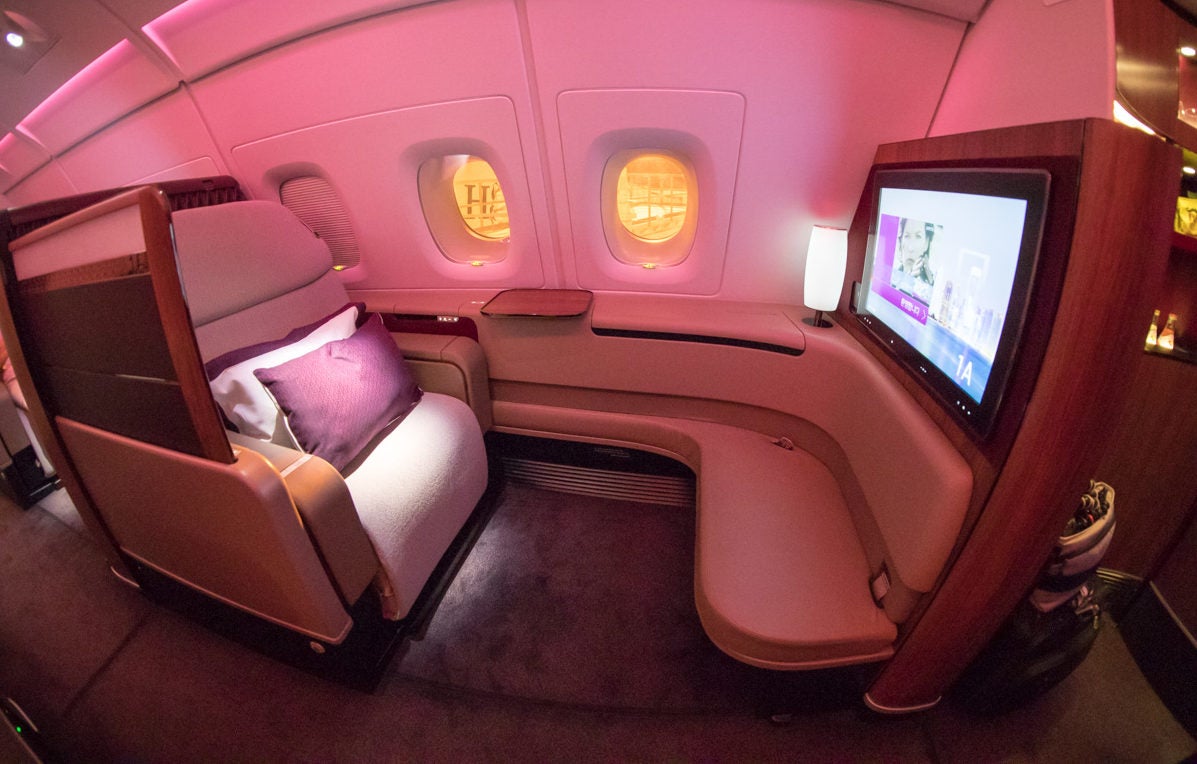 Qatar Airways' first class is slowly dying off. Offered exclusively on the A380, it is available to/from cities like Bangkok (BKK), Guangzhou (CAN), London (LHR), Paris (CDG), and more. Since the A380 production is slated to end by 2021, it's worth trying out this excellent first class product before it's unavailable or retired.
Its famous first class lounges, which are a huge spectacle and feel more like a museum, are not actually the highlight of the experience. Qatar Airways first class is super exclusive with their first class product.
The A380 first class layout consists of 8 seats across 2 rows in a 1-2-1 configuration. The open-air suites in the middle are great for couples. There's a level of intimacy that simply can't be explained on Qatar Airways first class. The onboard bar is epic, too. Some might think that the seats lack privacy, but the best first class seats aren't always the most private; they walk the fine line between privacy and convenience between you and your companion.
Oman Air First Class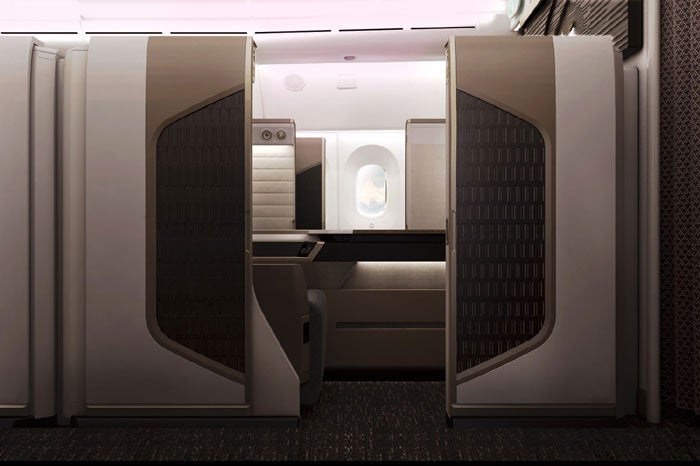 Oman Air's new first class suites aboard the 787-900 Dreamliner are ridiculously huge at 87 inches in pitch. The suites have sliding doors to enclose each suite. The sleek design and incredibly technologically-advanced features at this seat are some of the most eye-catching aspects.
This new product is in a 1-2-1 configuration across 2 rows. Because of the capability to close the sliding doors, the middle seats in these first class cabins are excellent for couples.
The catering consistently receives high marks, especially the Middle Eastern options. Similarly, the service tends to be the highlight aboard Oman Air, even though the hard product is fantastic.
Saudi Arabian Airlines First Class
Saudi Arabia Airlines is known for being a "dry" airline, which means it doesn't serve alcohol.
If this is a deal-breaker for you and your partner, you'll want to avoid Saudia entirely. If this is fine with you and you want to experience something that few people have ever experienced, Saudi Arabian Airlines is excellent in this regard. The seats are comfortable, spacious, and the suites are capable of becoming enclosed with sliding doors.
Saudia first class doesn't get a lot of attention in the international aviation scene. However, those who choose to try it will experience an onboard chef customizing your meals, excellent amenities (Acca Kappa and Porsche), an awesome seat/bed, and a well-intentioned crew.
Final Thoughts
Whew! We've assembled one exhaustive list of all major first class offerings for couples. From arrangement and design to seat engineering, all of these factors are important when traveling with your partner. There are some subtle aspects of a flight that could also make or break a couple's experience.