I got TG'ed: Thai Airways Boeing 747-400 First Class Review (Bangkok to Tokyo)
Airline: Thai Airways (TG)
Aircraft: Boeing 747-400 (HS-TGZ) — originally to be operated by an Airbus A380-800
Flight #: TG 676
Route: Bangkok Suvarnabhumi International Airport (BKK) to Tokyo-Narita International Airport (NRT)
Date: June 24, 2019
Duration: 6 hrs 10 min
Cabin and Layout: 9 first class semi-enclosed suites: 6 single suites (3 suites in a single row on either side), 1 middle suite in row 2 and 2 middle suites for couples in row 3
Seat: 2K
Miles Used: 50,000 Avianca LifeMiles + $62.78 per person one-way including taxes and fees
Fare Paid: N/A
Typical Retail Fare: THB 56,185 (~$1,860) per person one-way including taxes and fees
Introduction
In my quest to experience the first class product on every airline flying the Airbus A380, this time I booked myself on the Thai Airways A380 from Bangkok's Suvarnabhumi International Airport to Tokyo's Narita International. However, this would remain on my bucket list, as 12 hours before departure I was "TG'ed." For those unfamiliar with what that means, it is a term sarcastically coined by AvGeeks for last-minute equipment changes, which Thai Airways is notorious for.
I received an email informing me of the switch from the scheduled A380-800 to a B747-400. As an avid flyer, I wouldn't normally be fussed about flying up front in the nose of the "Queen of the Skies." However, this could go either way, as it could have either been a refurbished 747-400N with 9 first class suites or the older 747-400R with 10 first class "pod" seats, which I had earlier flown on between Mumbai and Bangkok and was not too keen on.
Neither ExpertFlyer nor the Thai Airways website reflected the aircraft change, so I was unsure whether I had been "TG'ed" for the better or worse until I checked in. It looked 50/50, as at that time only 4 of the 7 active Boeing 747s in the Thai fleet had been refurbished. The other 2 aircraft are stored.
Booking
Thai Airways is one of the founding members of Star Alliance — the largest global airline alliance — and is pretty generous in terms of releasing premium award space to partners compared to some of its other Star Alliance partners like Lufthansa, Singapore Airlines, and SWISS.
This gives one the flexibility to book award space in quite a few ways other than the airline's own frequent flyer program, Royal Orchid Plus. You can also book using Air Canada Aeroplan, ANA Mileage Club, Avianca LifeMiles and United MileagePlus, to name a few.
I had sufficient miles in both my Avianca LifeMiles and United MileagePlus accounts to book this first class award ticket.
I booked using Avianca LifeMiles, which cost me 50,000 LifeMiles + $62.78 in taxes and fees and no fuel surcharges.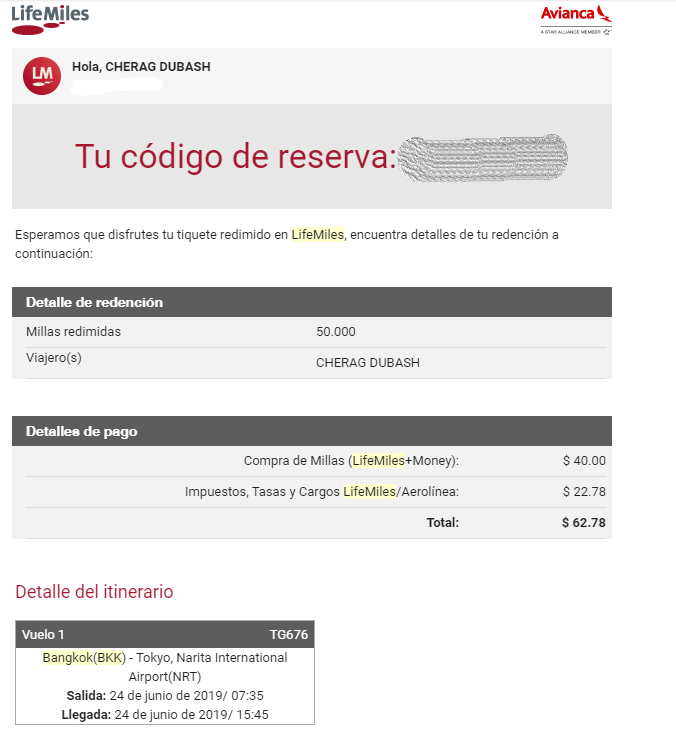 Booking through United would have cost me 65,000 MileagePlus miles + $30.00, whereas a paid revenue ticket would have set me back by $1,860 for the one-way first class ticket.
At Bangkok Suvarnabhumi Airport
I arrived at the airport at 5 a.m. for the 7:35 a.m. departure, still recuperating from the previous night (Bangkok does that to you), as I wanted to take in the entire Thai Airways ground experience, including a complimentary hour-long massage.
As you pull up at the airport terminal, there is a dedicated entrance for first class passengers and Royal Orchid Premium passengers at Door 1.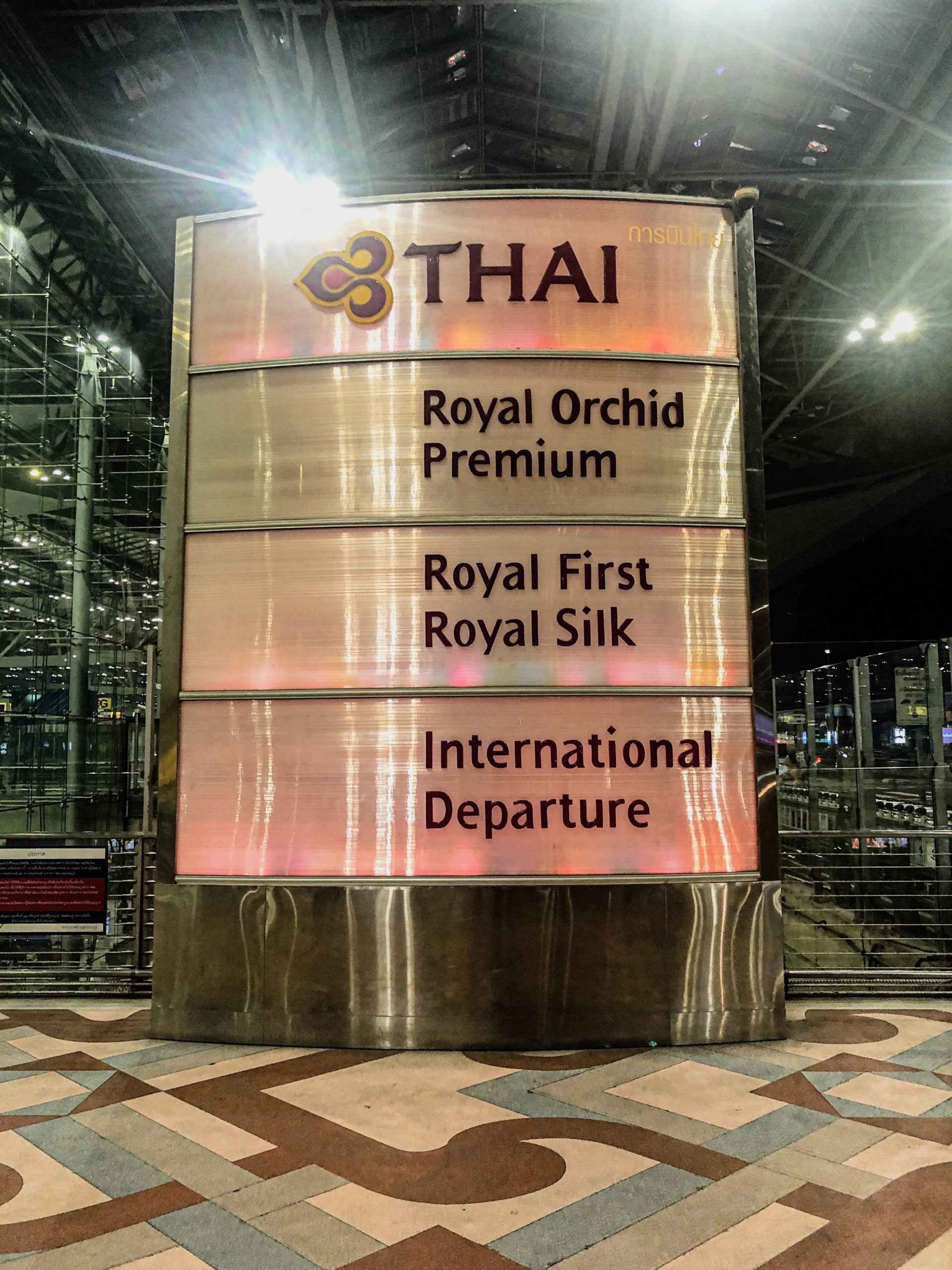 I entered the terminal and turned left towards the dedicated first class check-in area to find it completely deserted. After inquiring at the business class desk, I was told that the first class check-in agents would only be arriving at 5:30 a.m.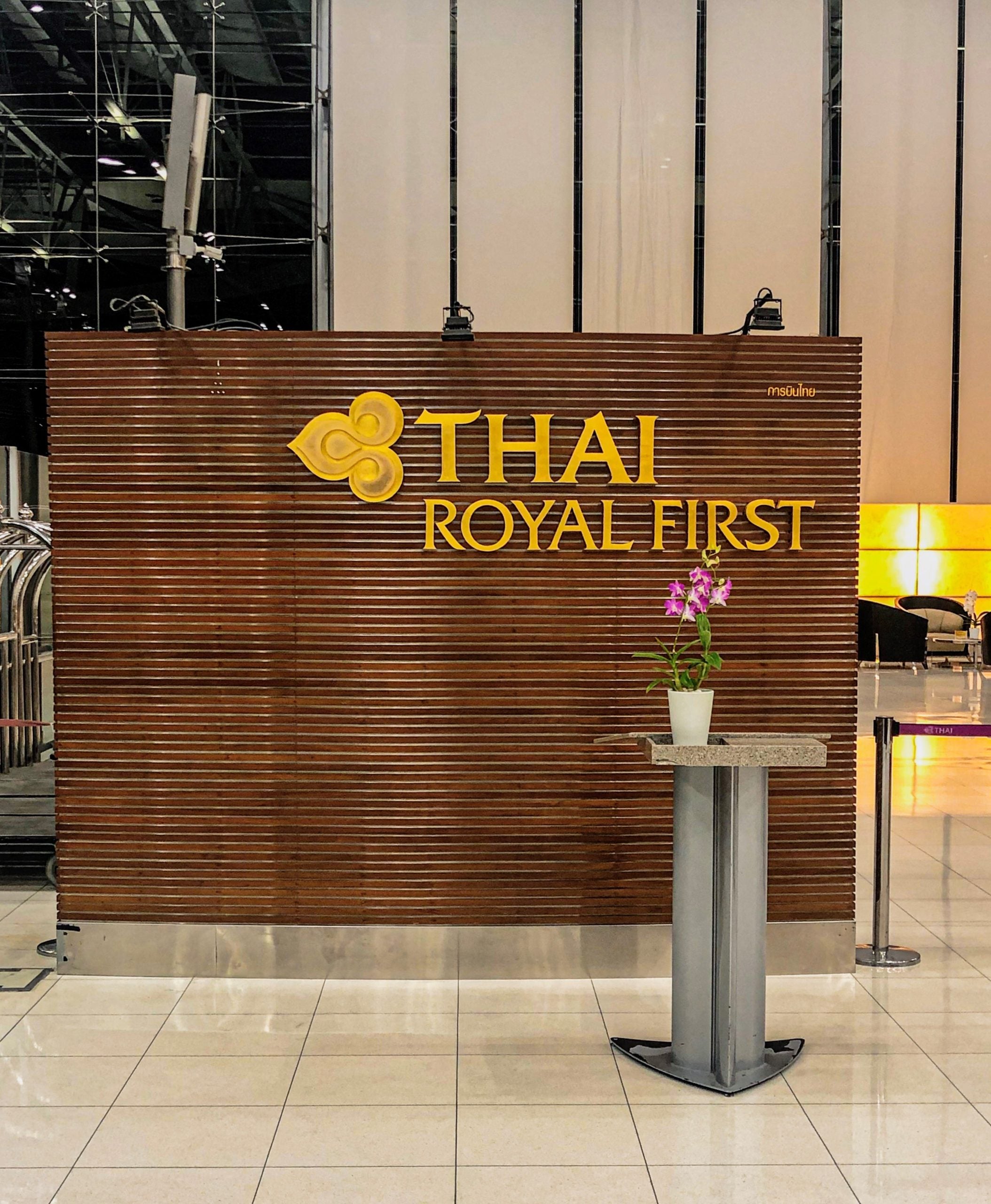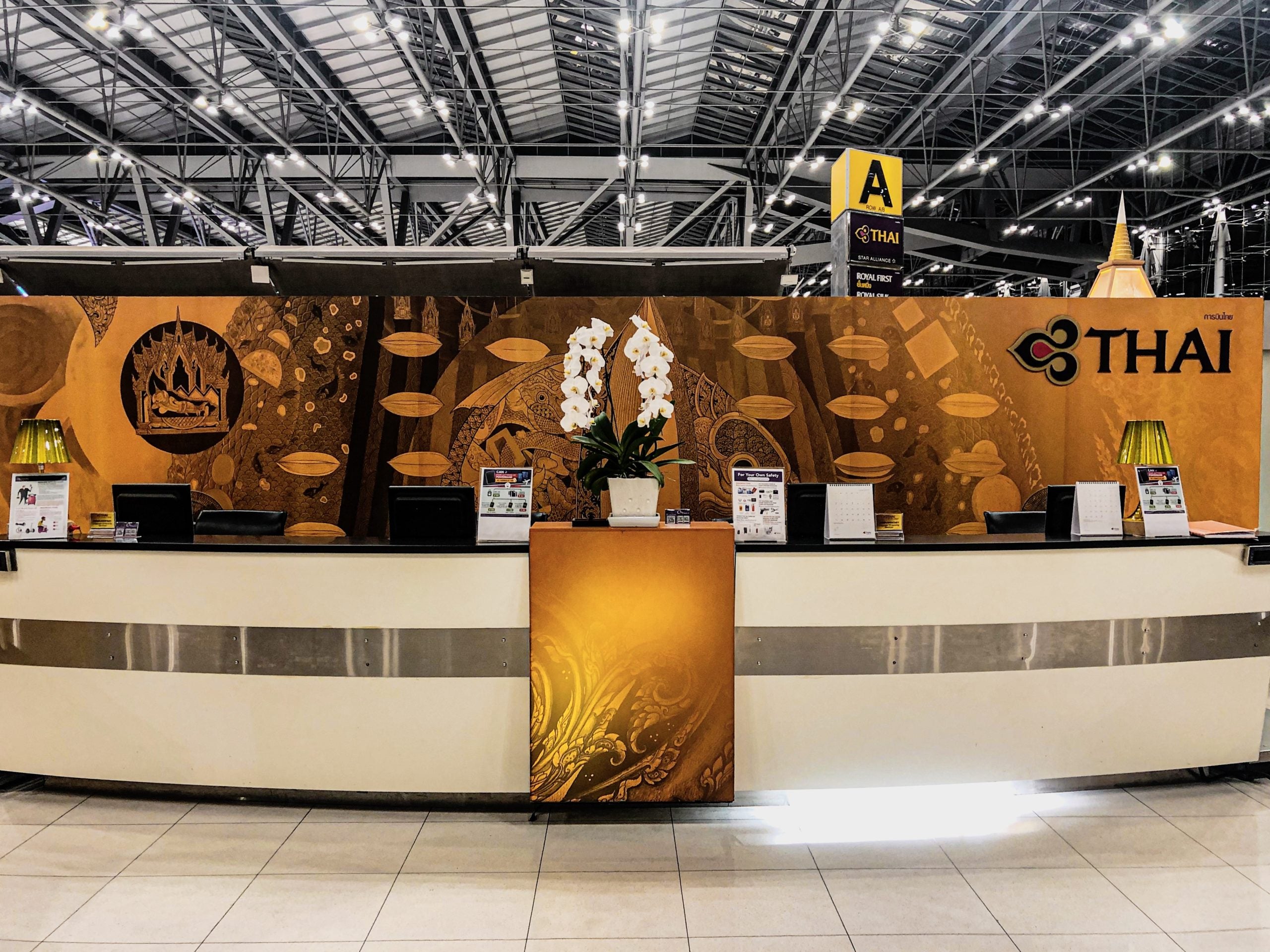 As I mentioned in the introduction, I had been "TG'ed," when, 12 hours before the scheduled departure, Thai Airways sent out a notification informing me of the aircraft change from the Airbus A380 to the Boeing 747-400.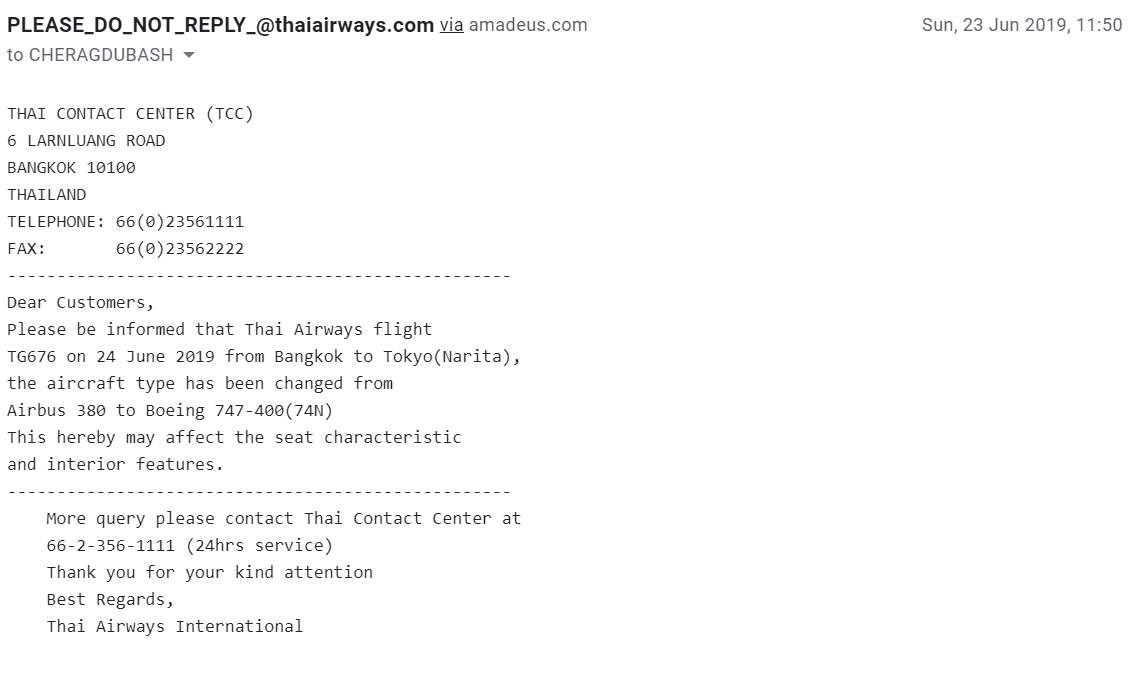 With 30 minutes to kill wondering which first class product would be featured on this flight and no other passengers in the waiting area, I plonked myself in one of the chairs in the spacious seating area at the first class check-in counters.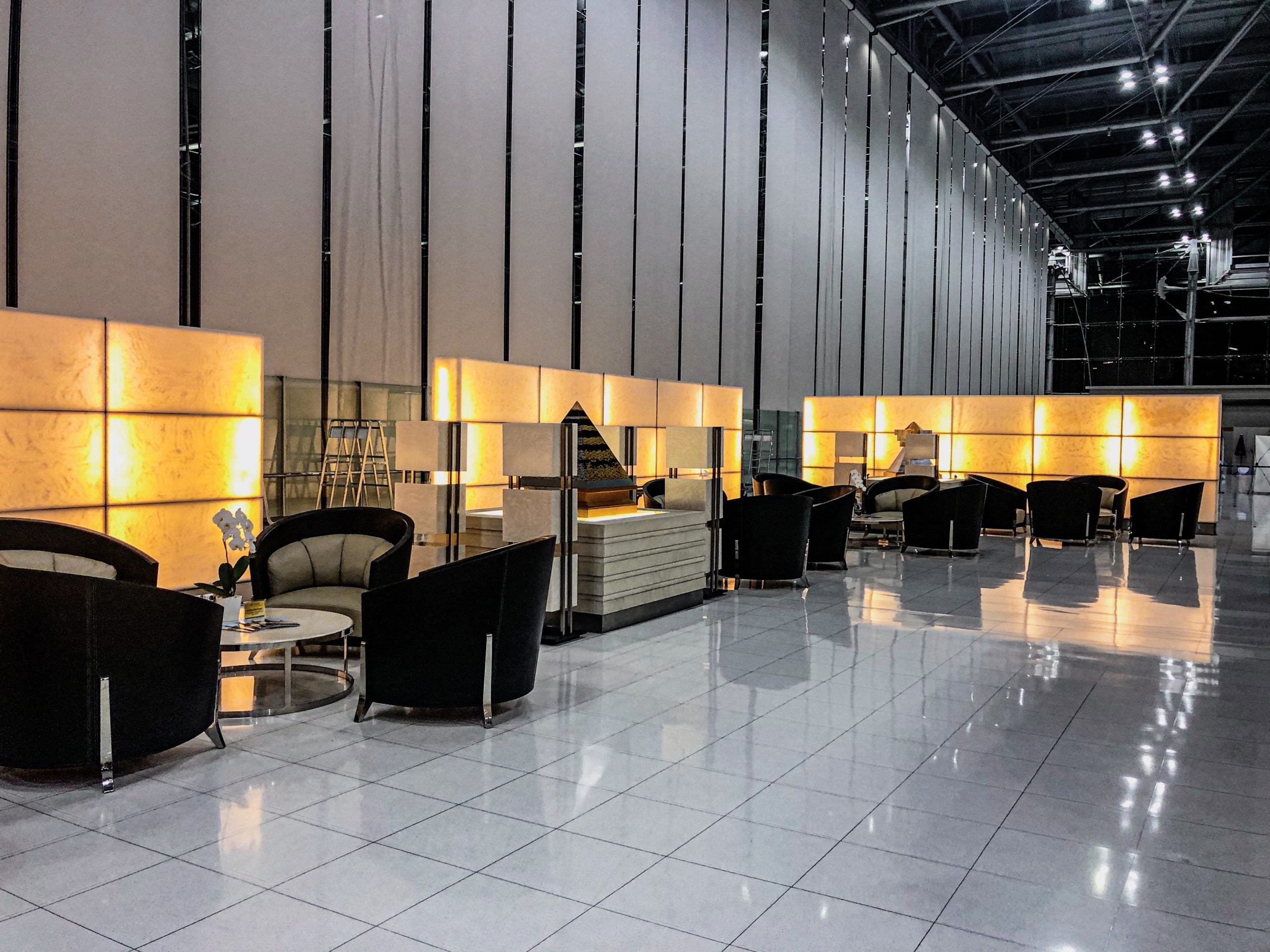 At promptly 5:30 a.m., two first class check-in attendants arrived at the counters, fired up the computers and commenced the check-in process 10 minutes later.
After profusely apologizing for the aircraft change, the check-in attendant informed me that today's flight would be operated by the refurbished 747-400 and that I was assigned the same seat — 2K — which I had originally booked on the A380.
This definitely brightened up my morning and I requested the seat to be changed either to 1A or 1K, as for an AvGeek, there is nothing better than flying right up in the Queen's nose. The check-in attendant informed me that 1A was broken and was not to be assigned and 1K was already assigned, so I decided to leave my seat assignment unchanged.
After the check-in formalities were completed, I was escorted by an attendant to the Fast Track security lane.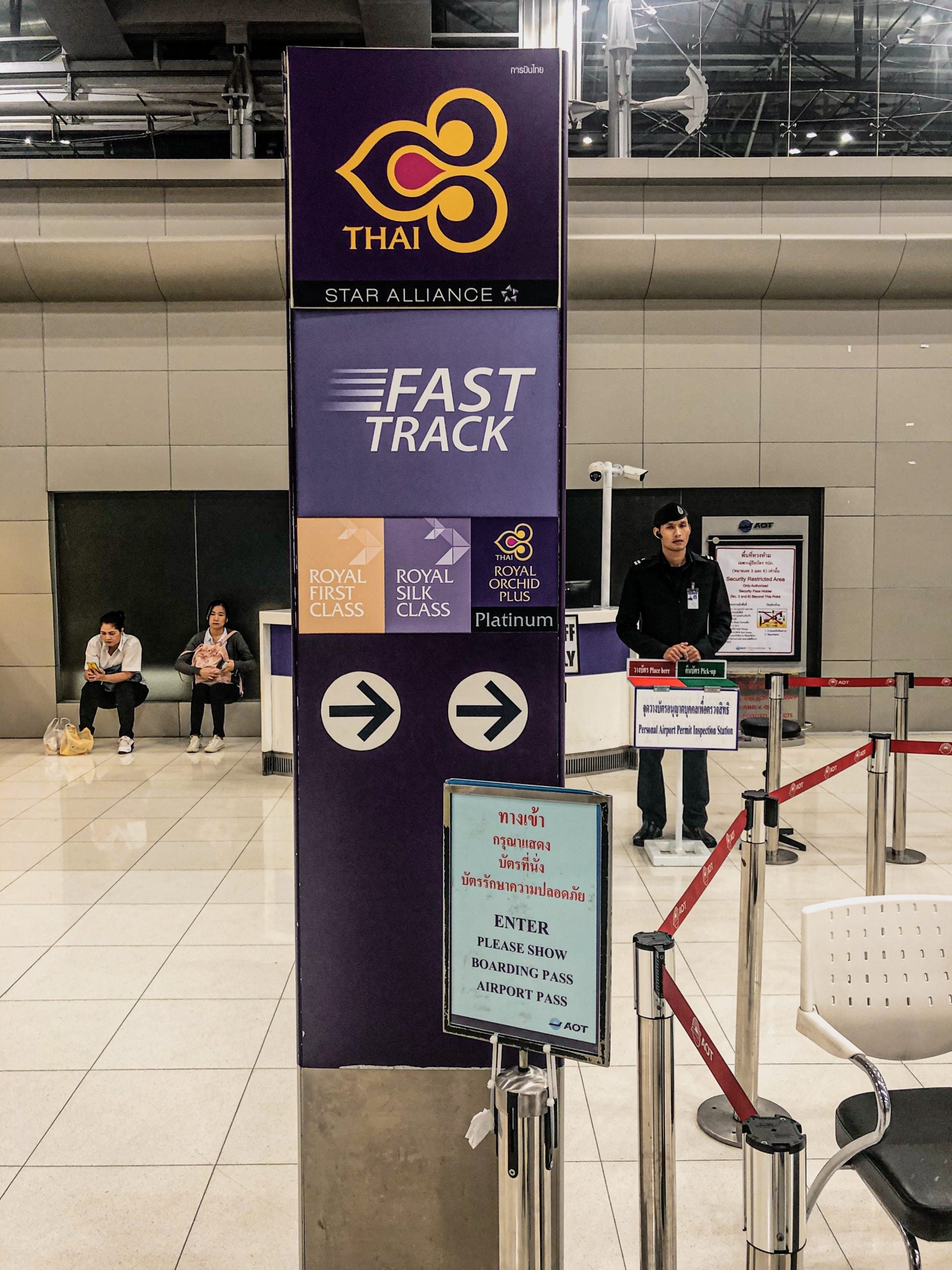 After completing the security checks, which were a breeze, we continued towards the Royal First Lounge, located a level below.
Royal First Lounge
Getting to Thai Airways' flagship Royal First Lounge is a bit weird. After the security checks, we walked towards the escalator that would take us down a level to the entrance of the business class lounge — the Royal Silk Lounge.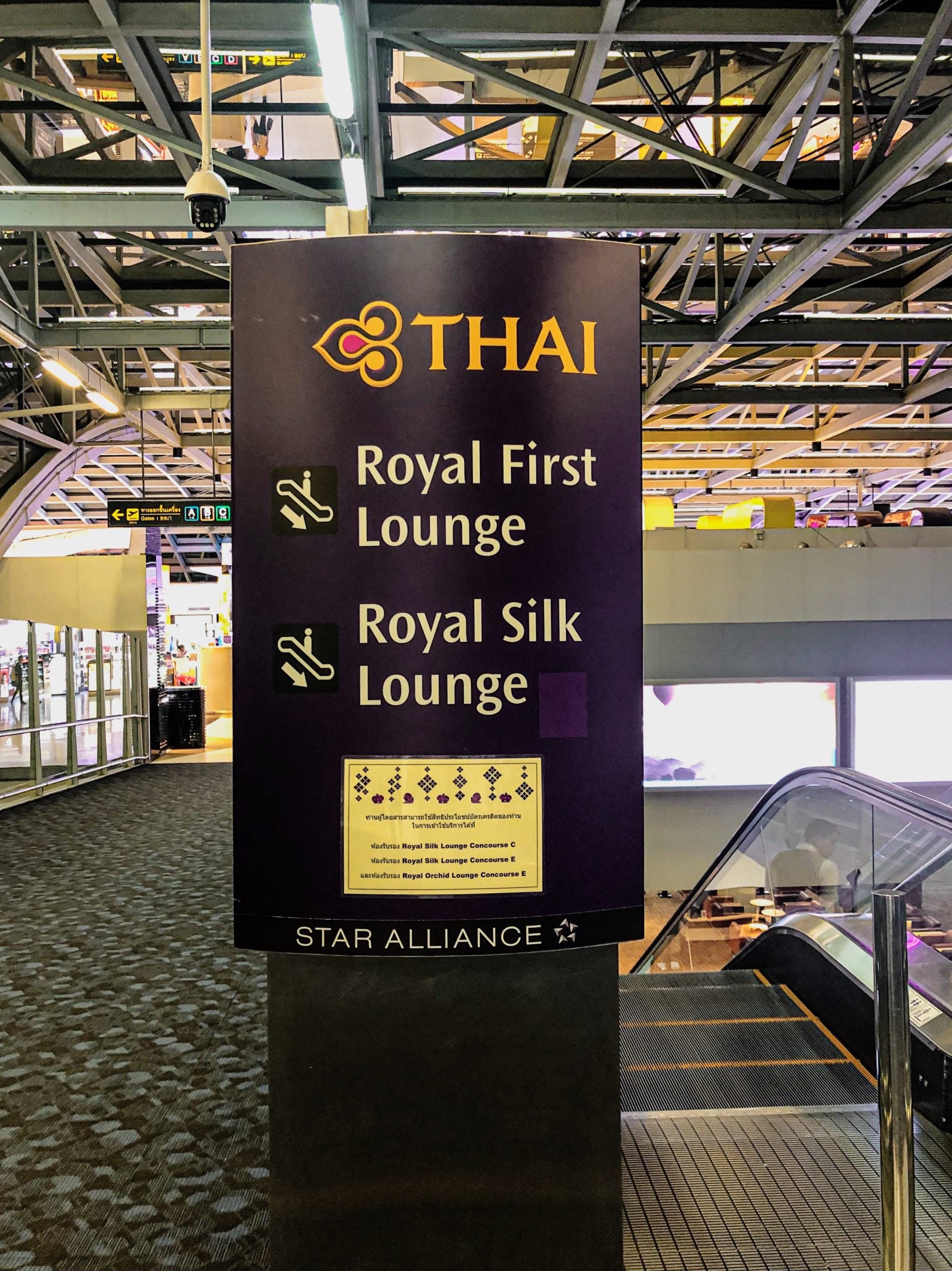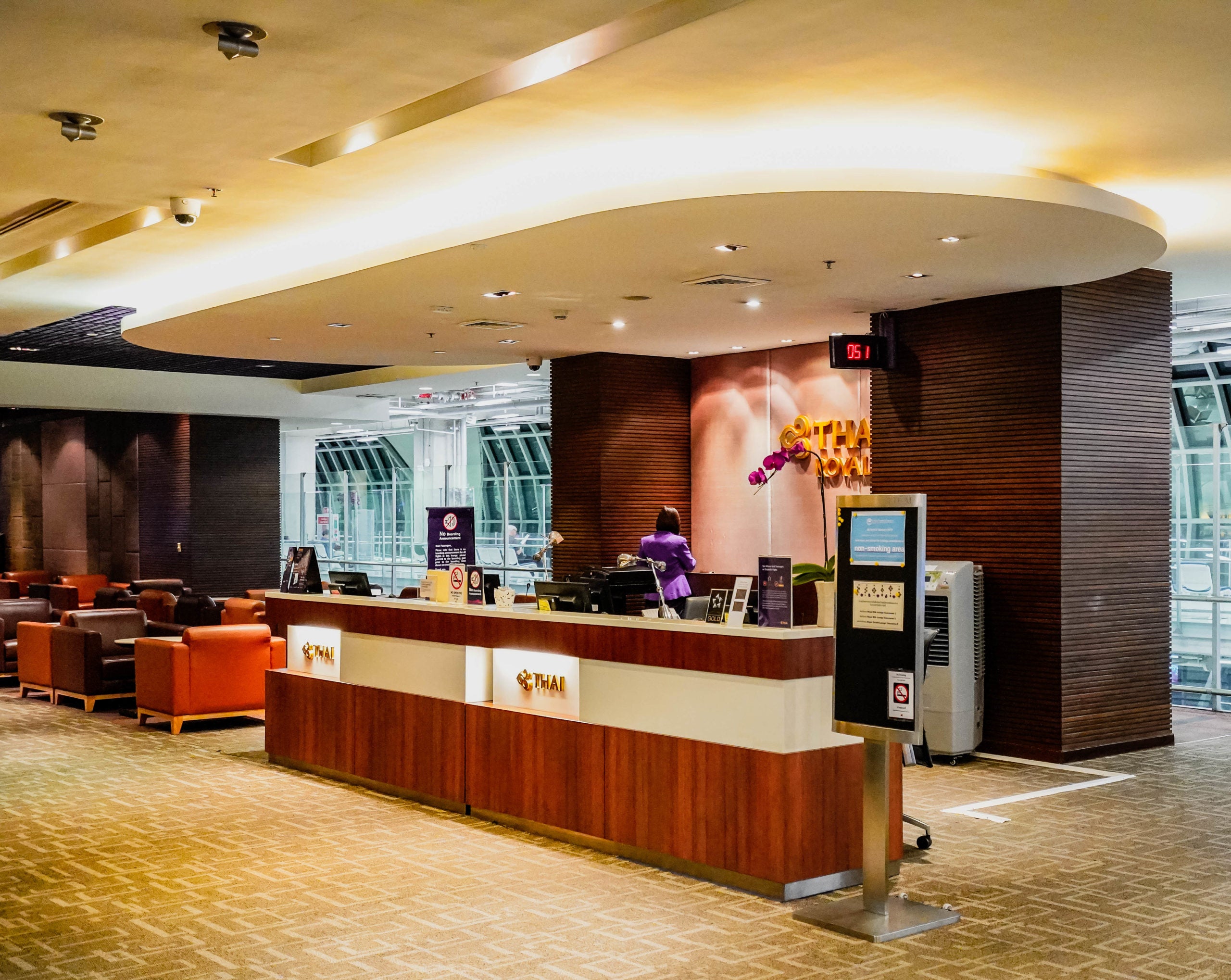 Here at the reception, another ground attendant was waiting with a buggy to drive me through the business class lounge and take me to the Royal First Lounge at Concourse D.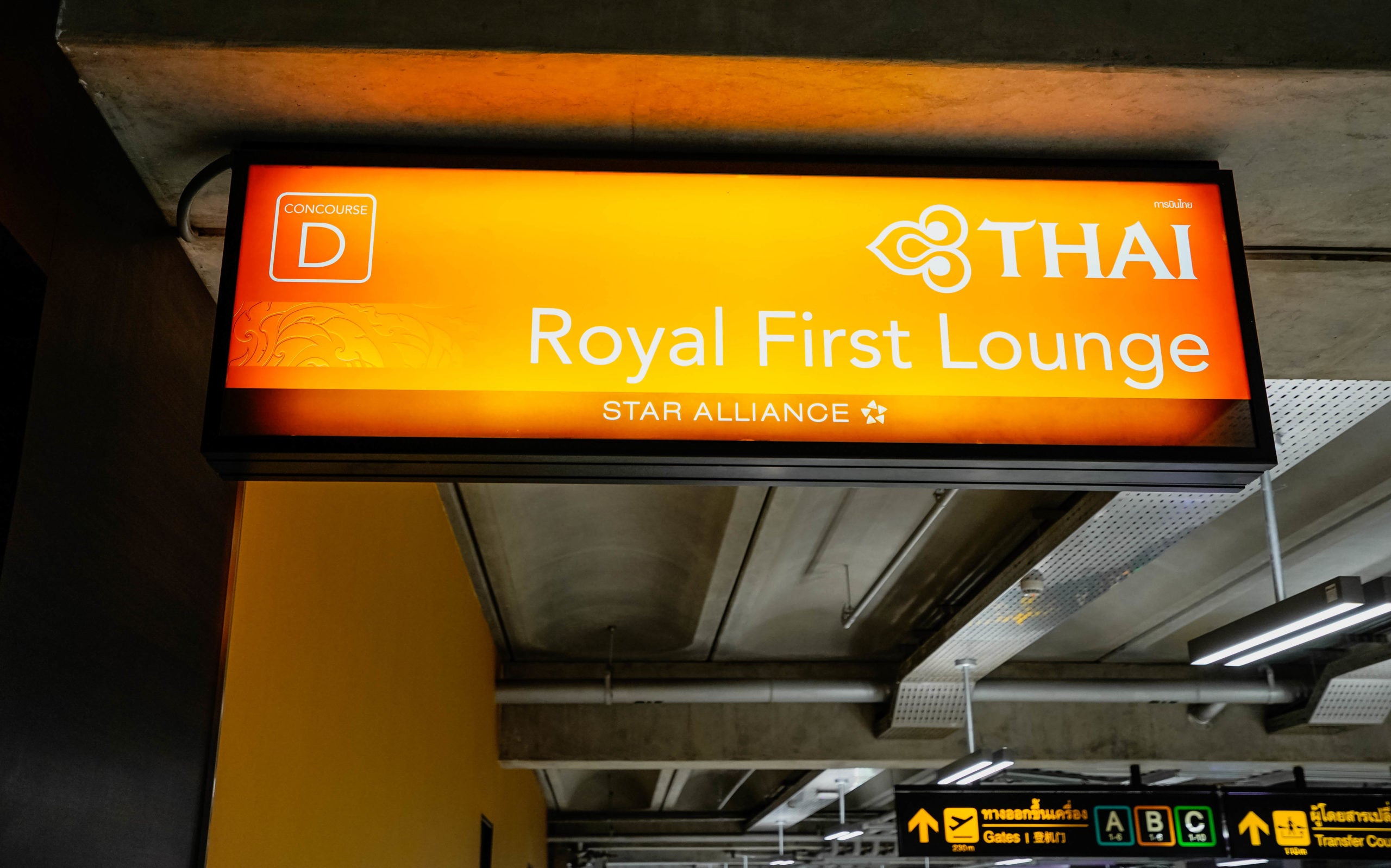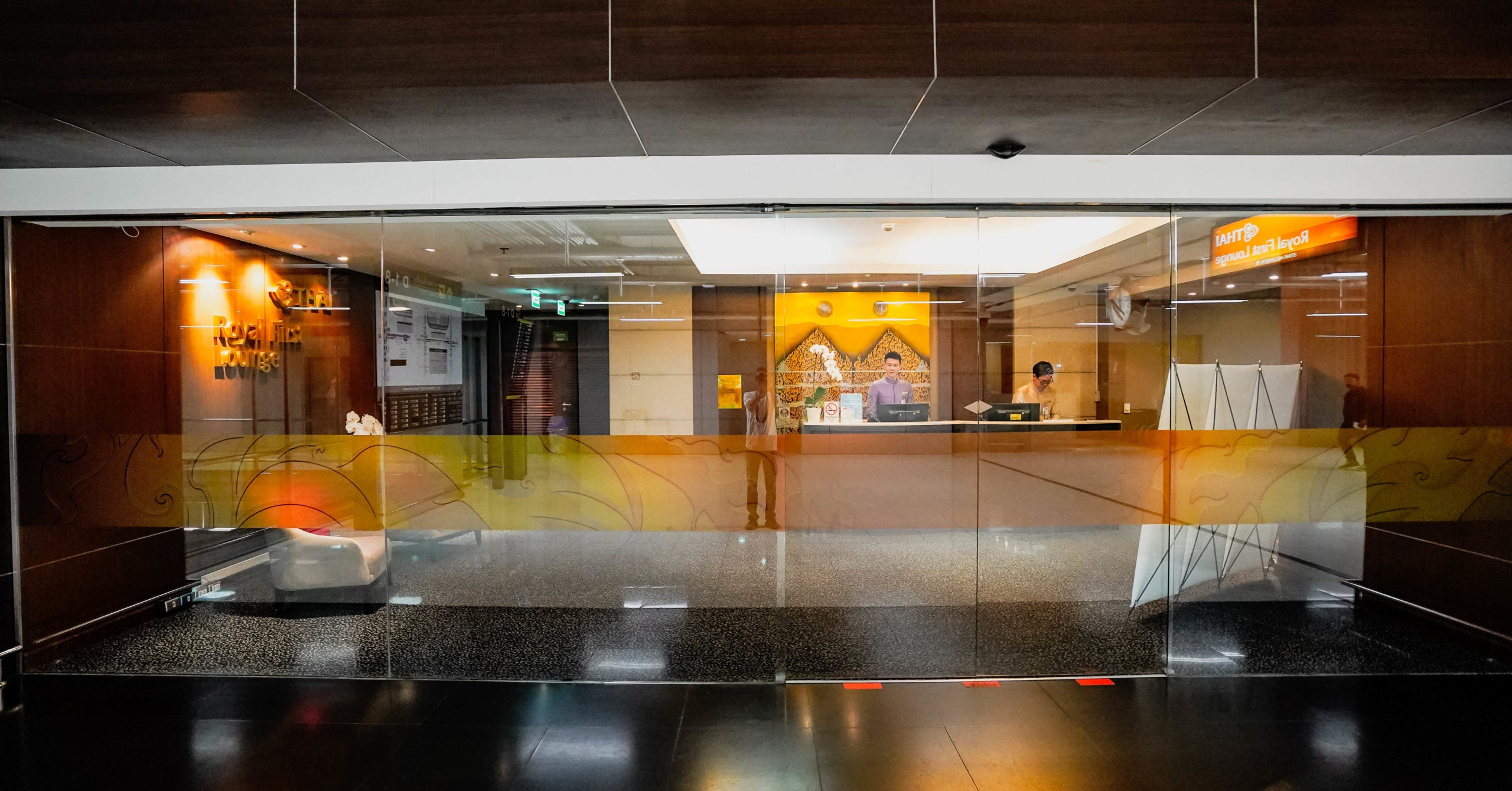 At the lounge reception, I was welcomed with the traditional "sawasdee khrap" ("hello") by the 2 attendants.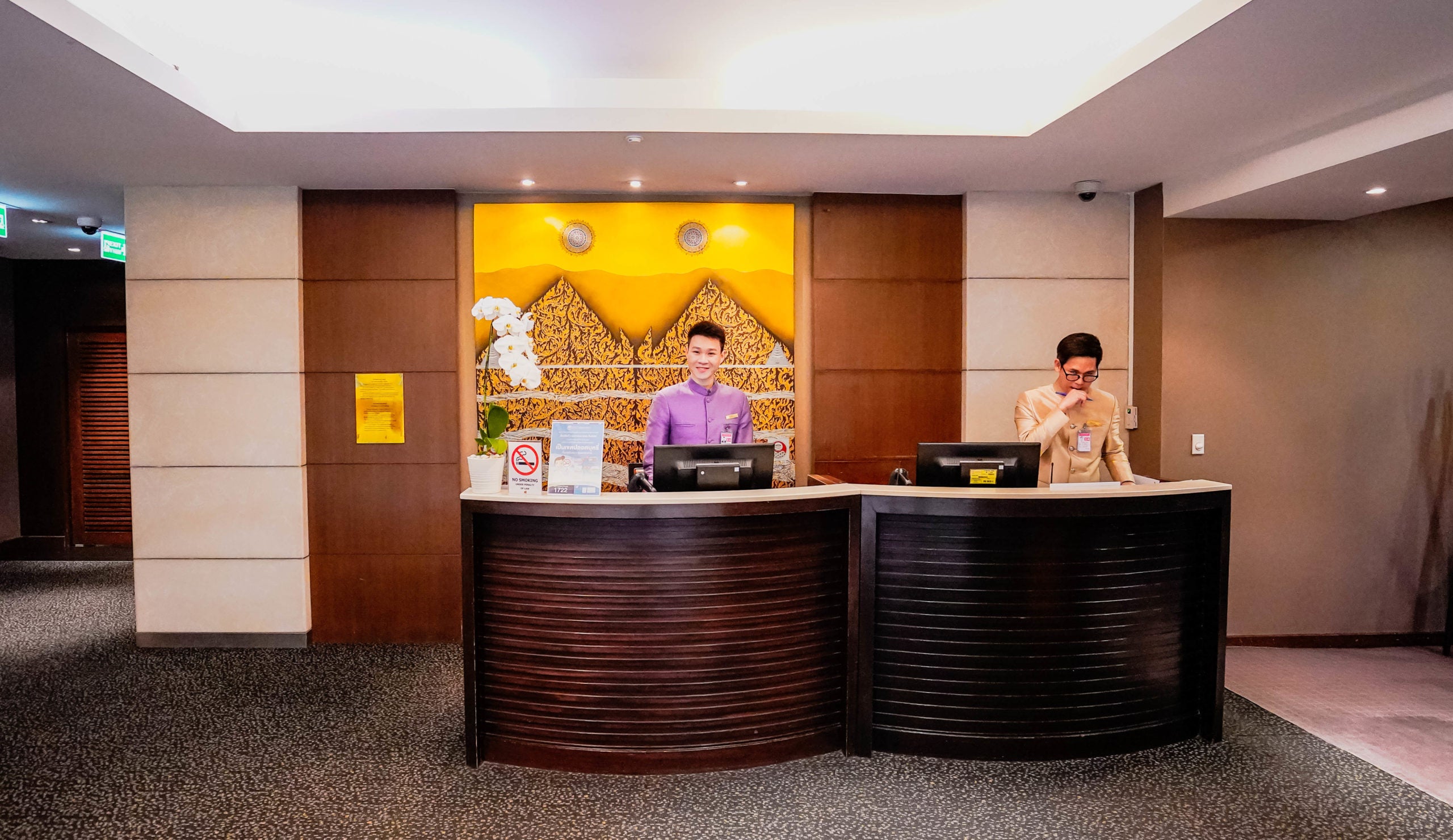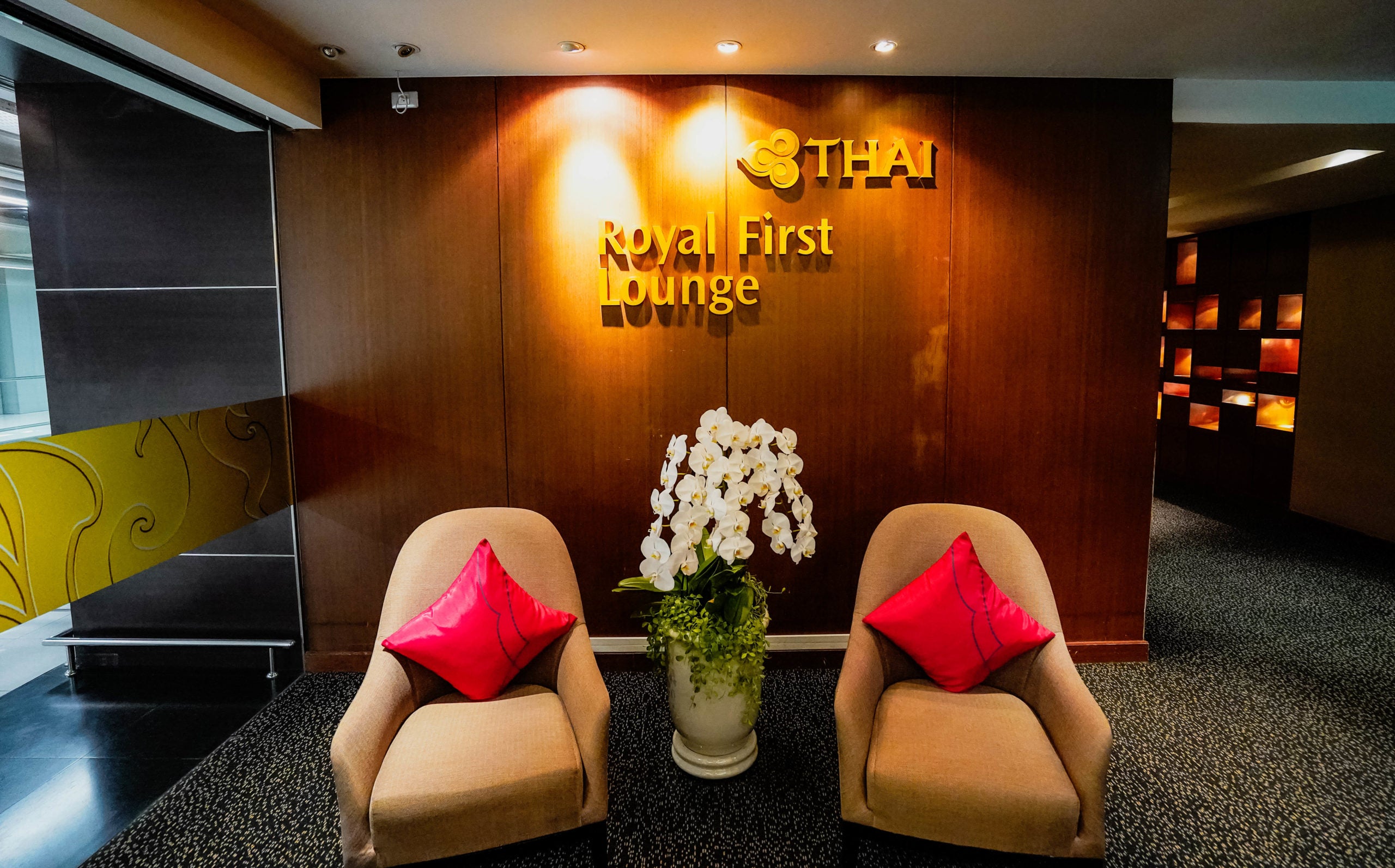 At the reception, my boarding pass was scanned and I was informed that the flight was on time. I was asked if I wanted to avail myself of the complimentary spa treatment, to which I responded with an overwhelming "yes" for a 30-minute foot massage! I would normally opt for the 60-minute full body massage but that would mean I would risk missing my flight.
Hot Tip: First class passengers can choose either a 60-minute full-body massage or a 30-minute foot or shoulder and neck massage.
I then turned left and walked down the corridor towards the lounge's single open space, which is provided with multiple seating options. At 6 a.m., the lounge was empty, barring the lounge staff.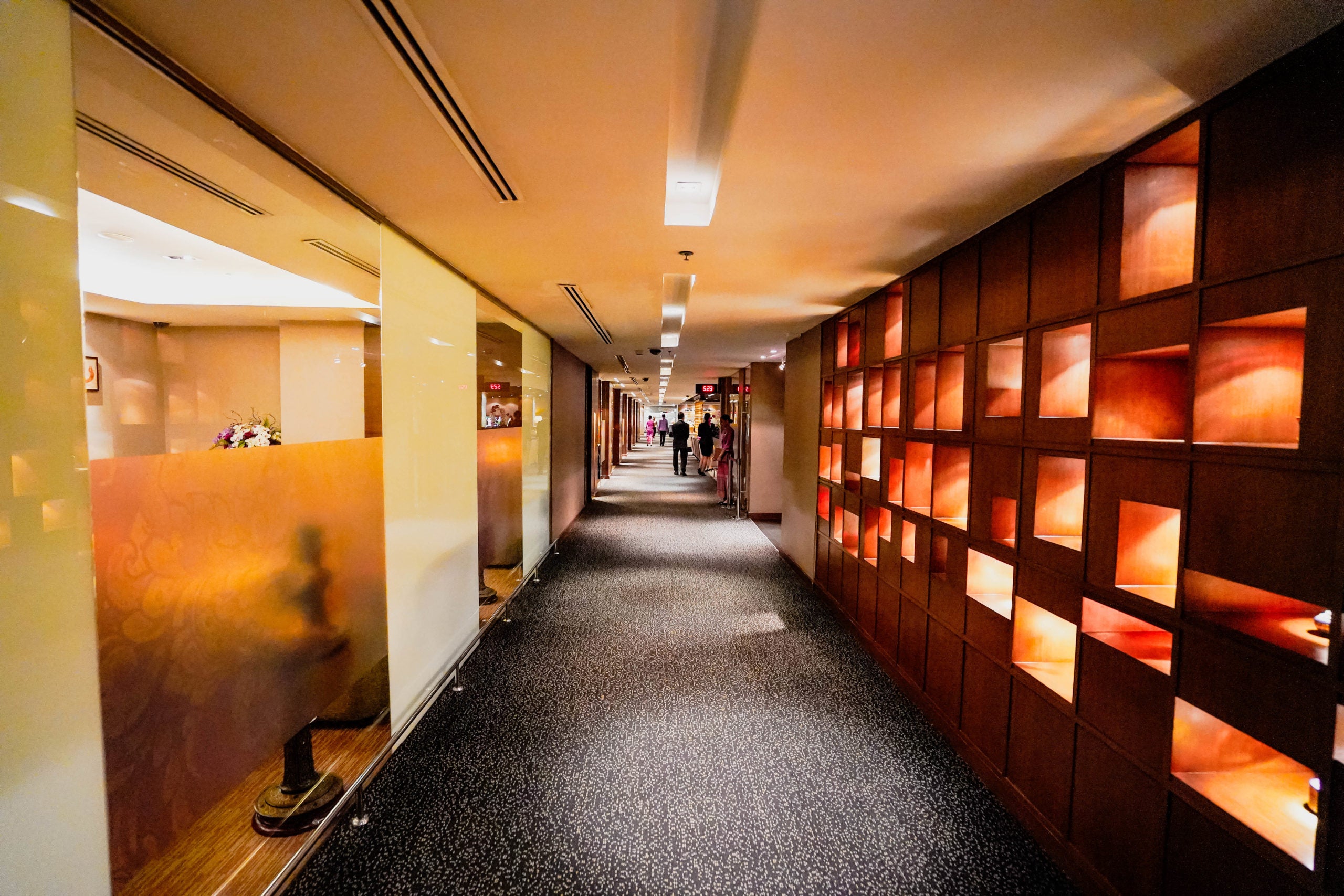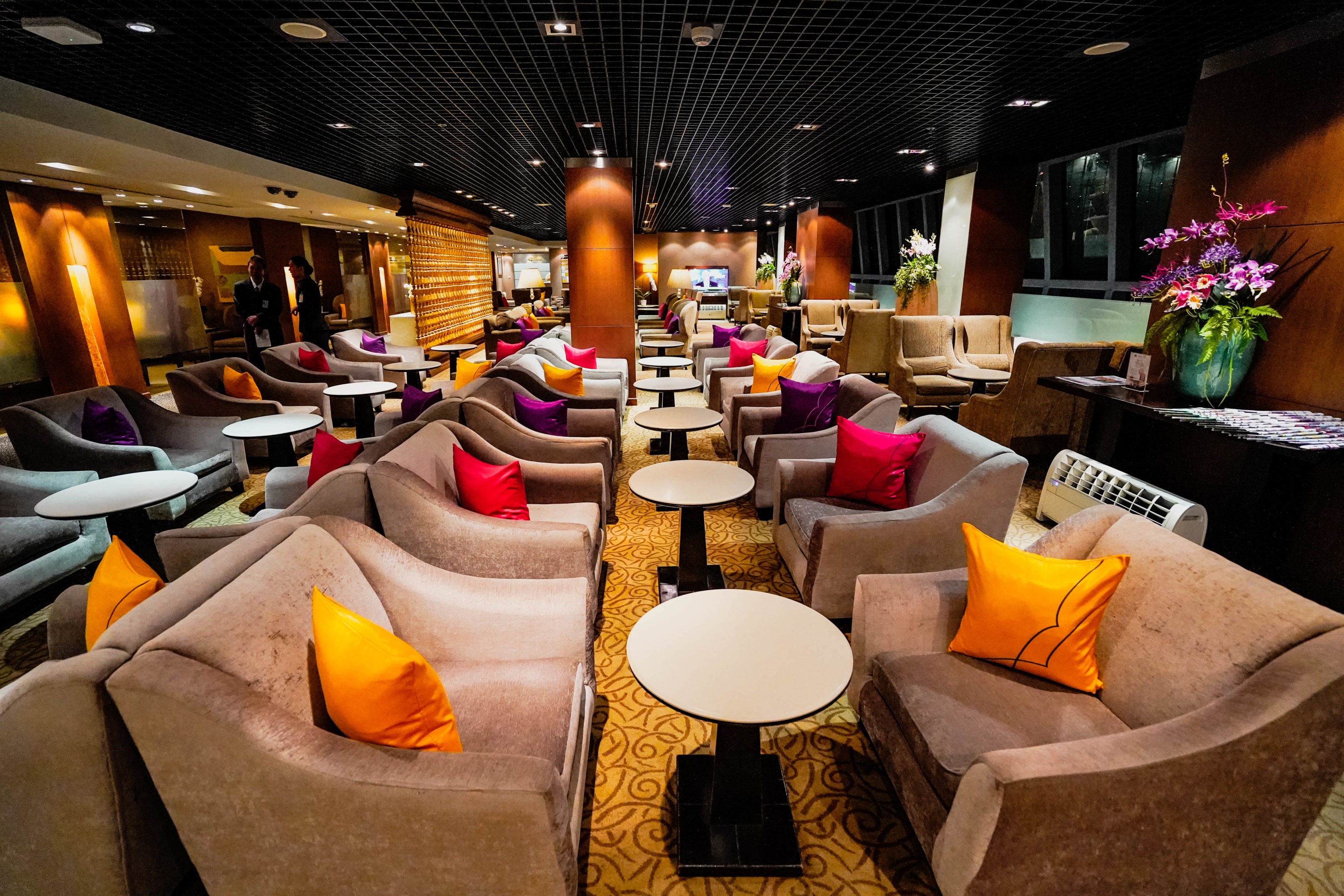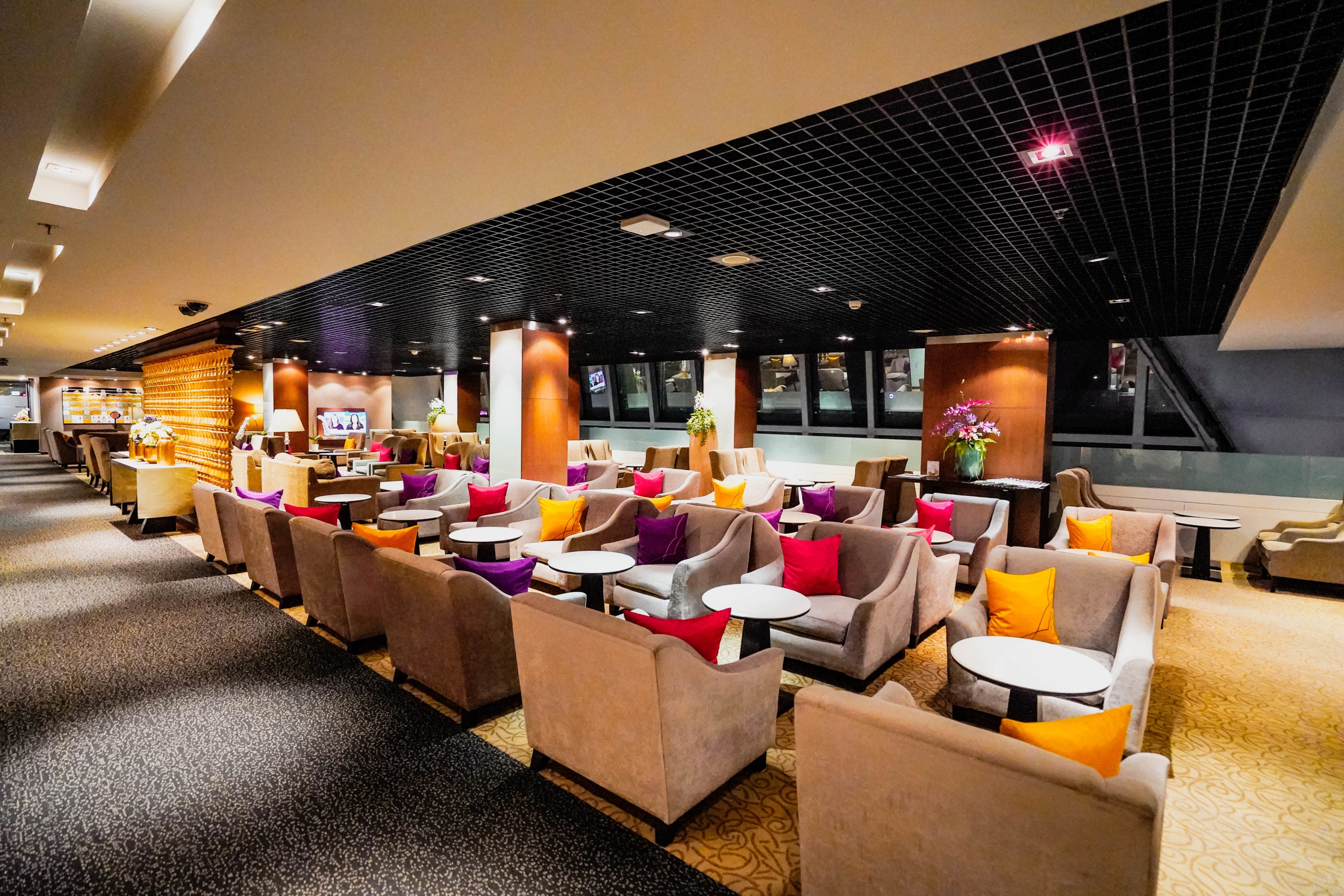 As you enter the main seating area, there is a well-stocked bar on the right.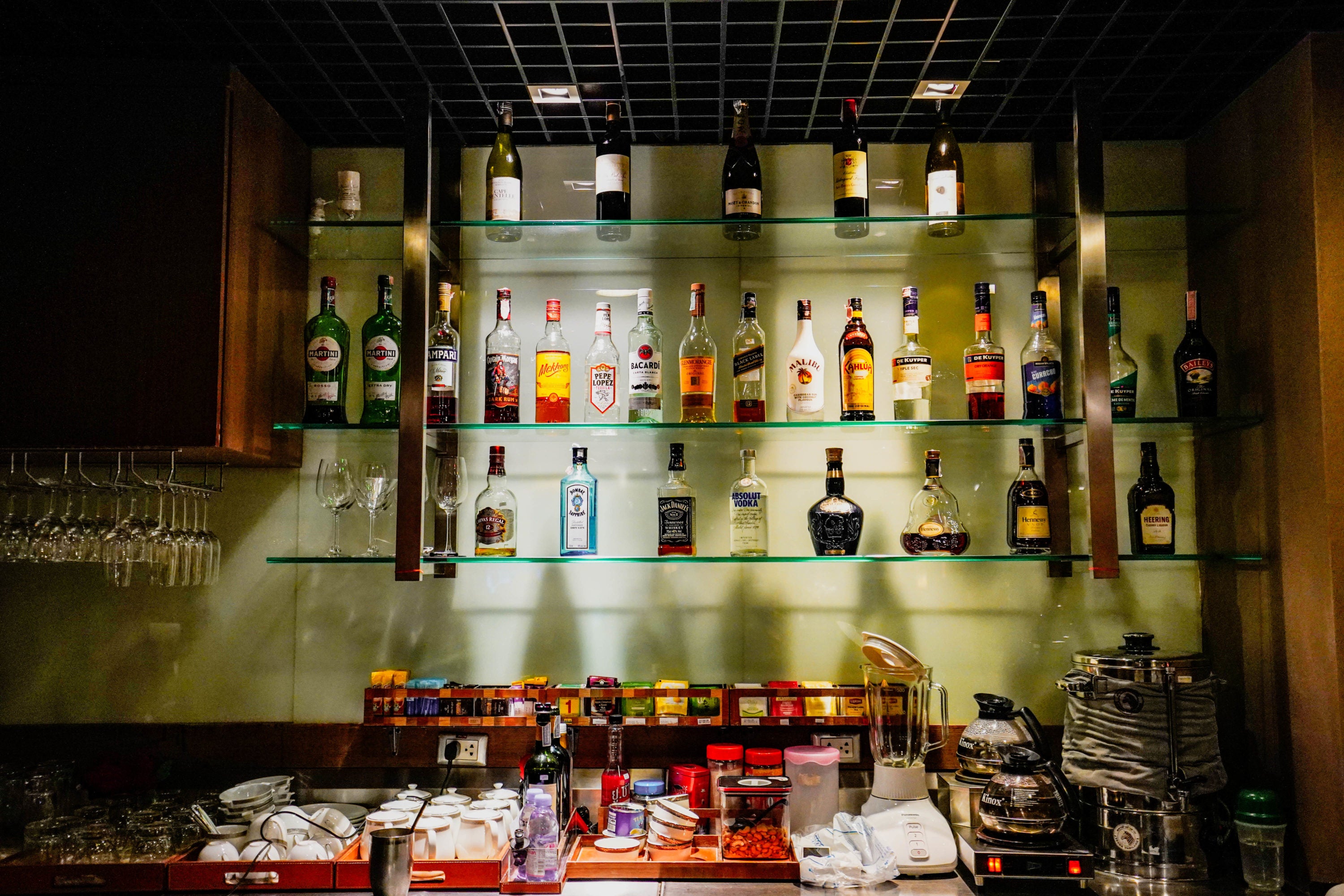 At the other end of the main room is a buffet area serving fruits, sandwiches, quiches, and chocolates. The buffet options were scarce for a first class lounge offering.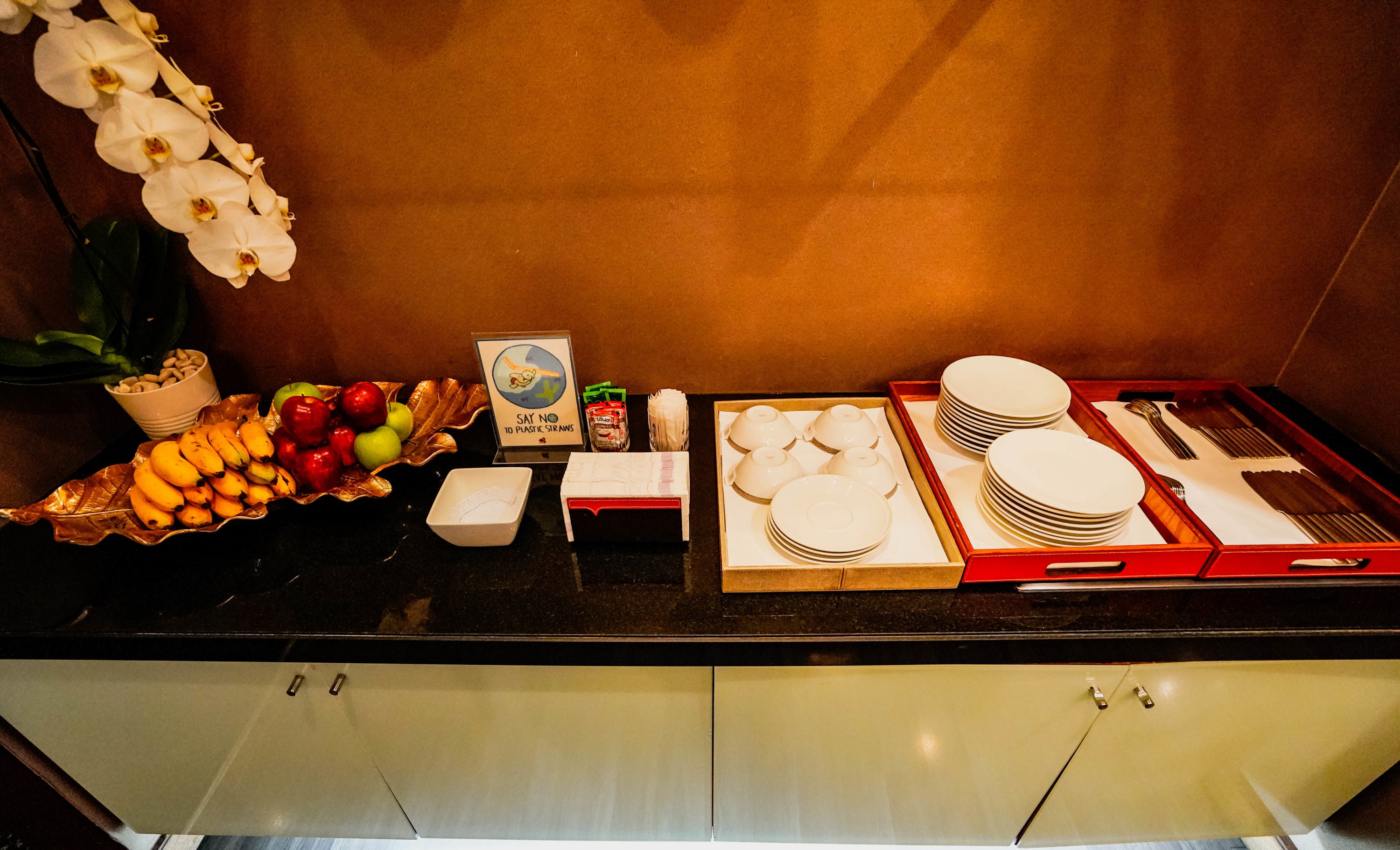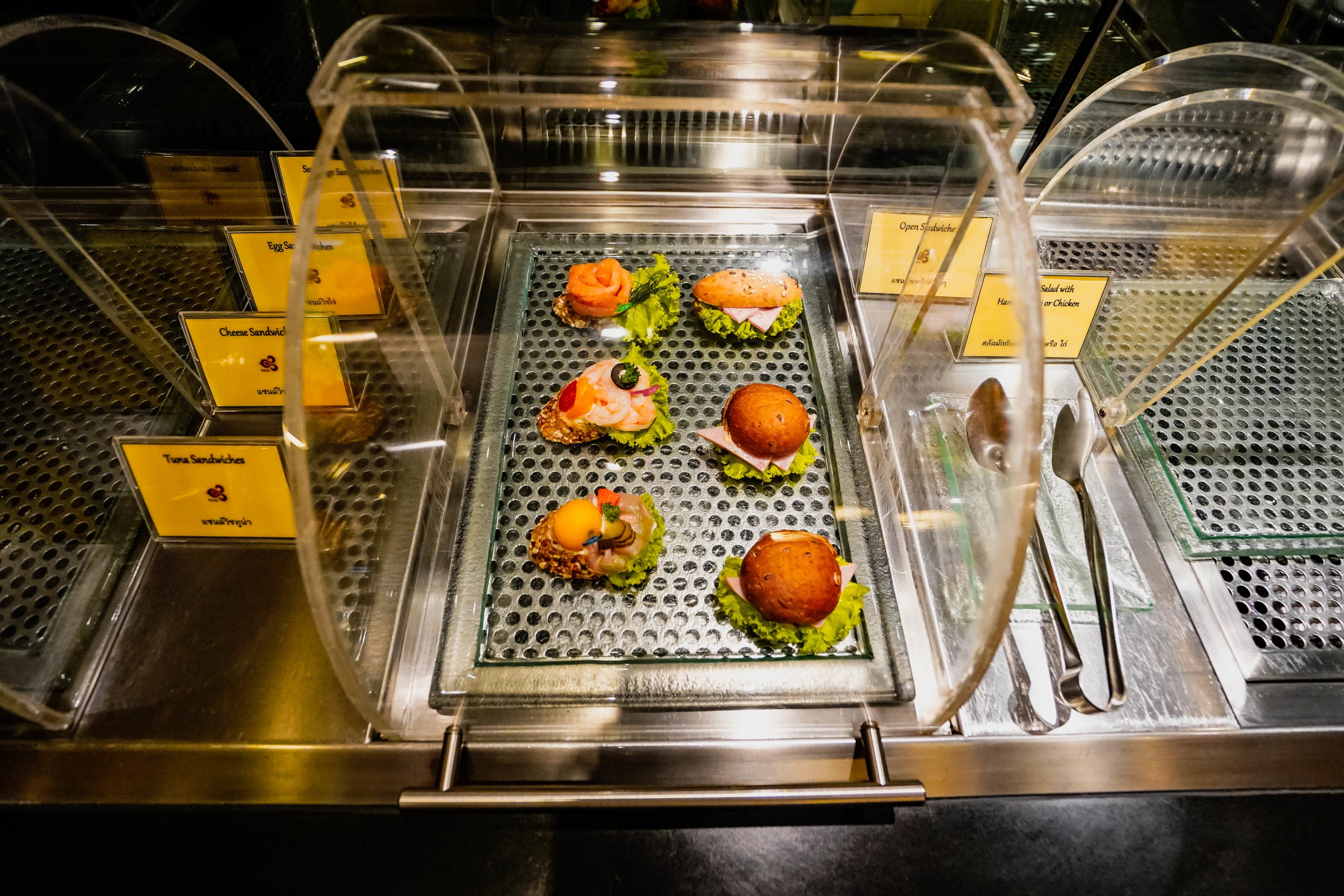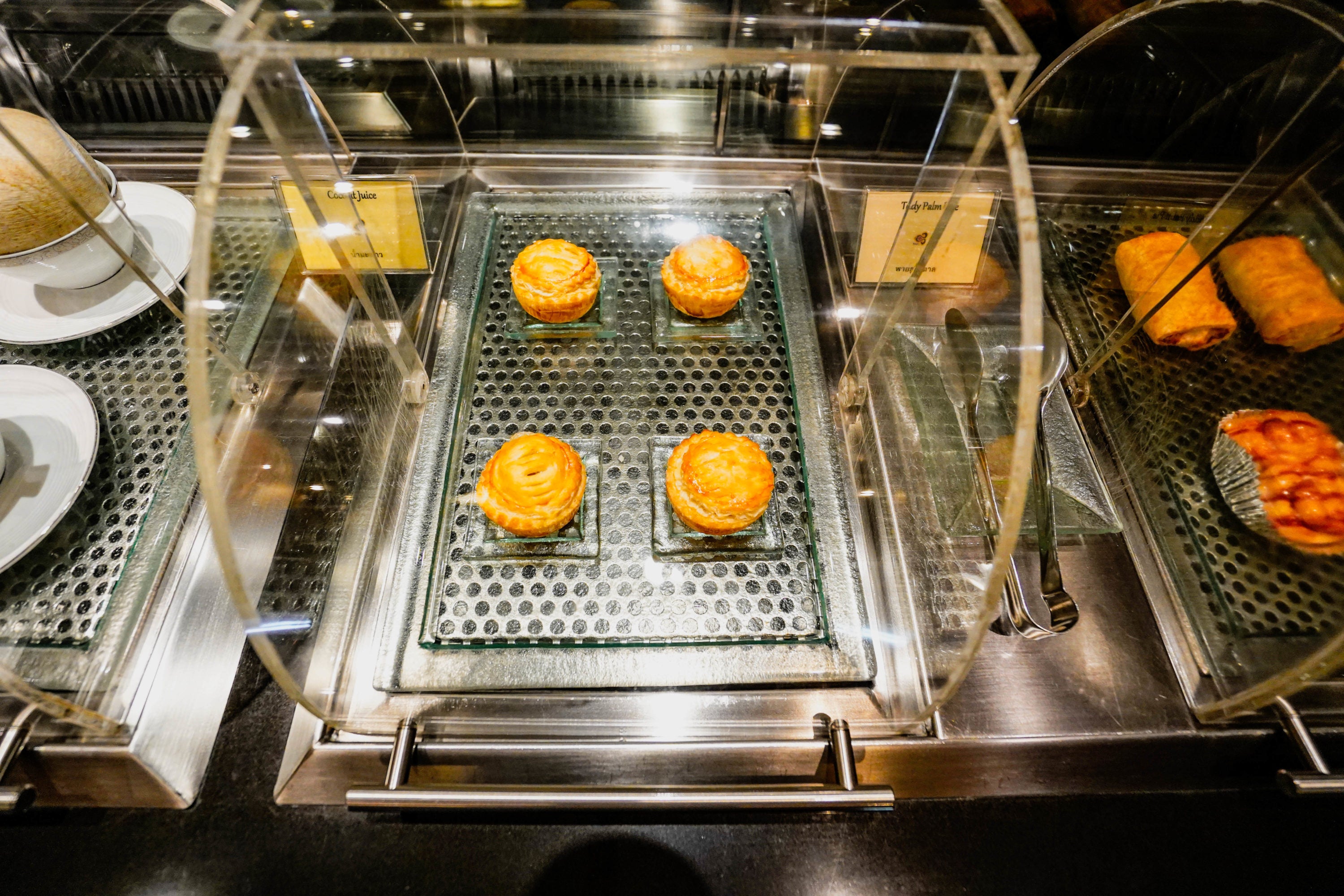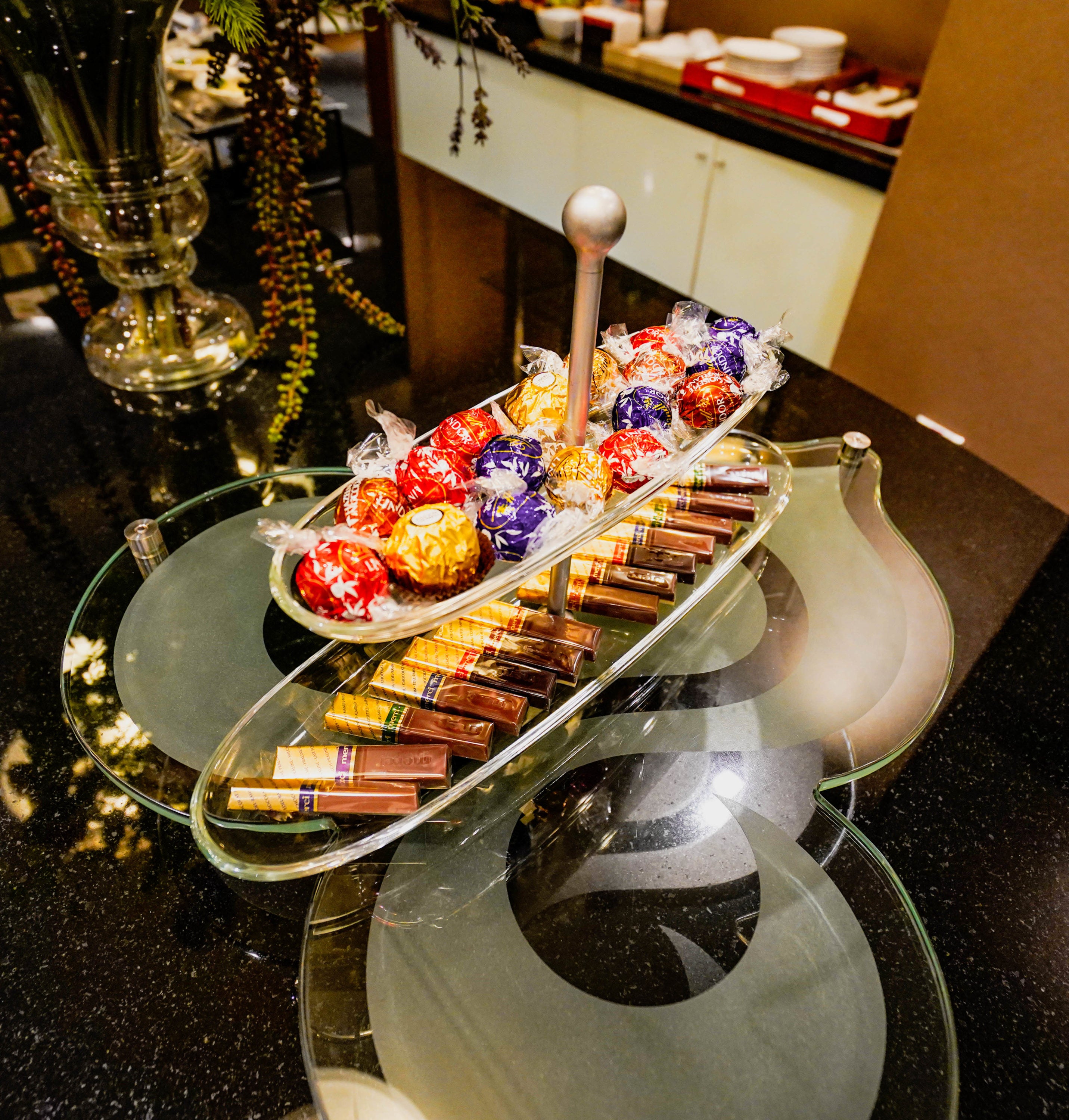 From across the buffet section, there is a dining room, with table settings for parties of 2-6 people.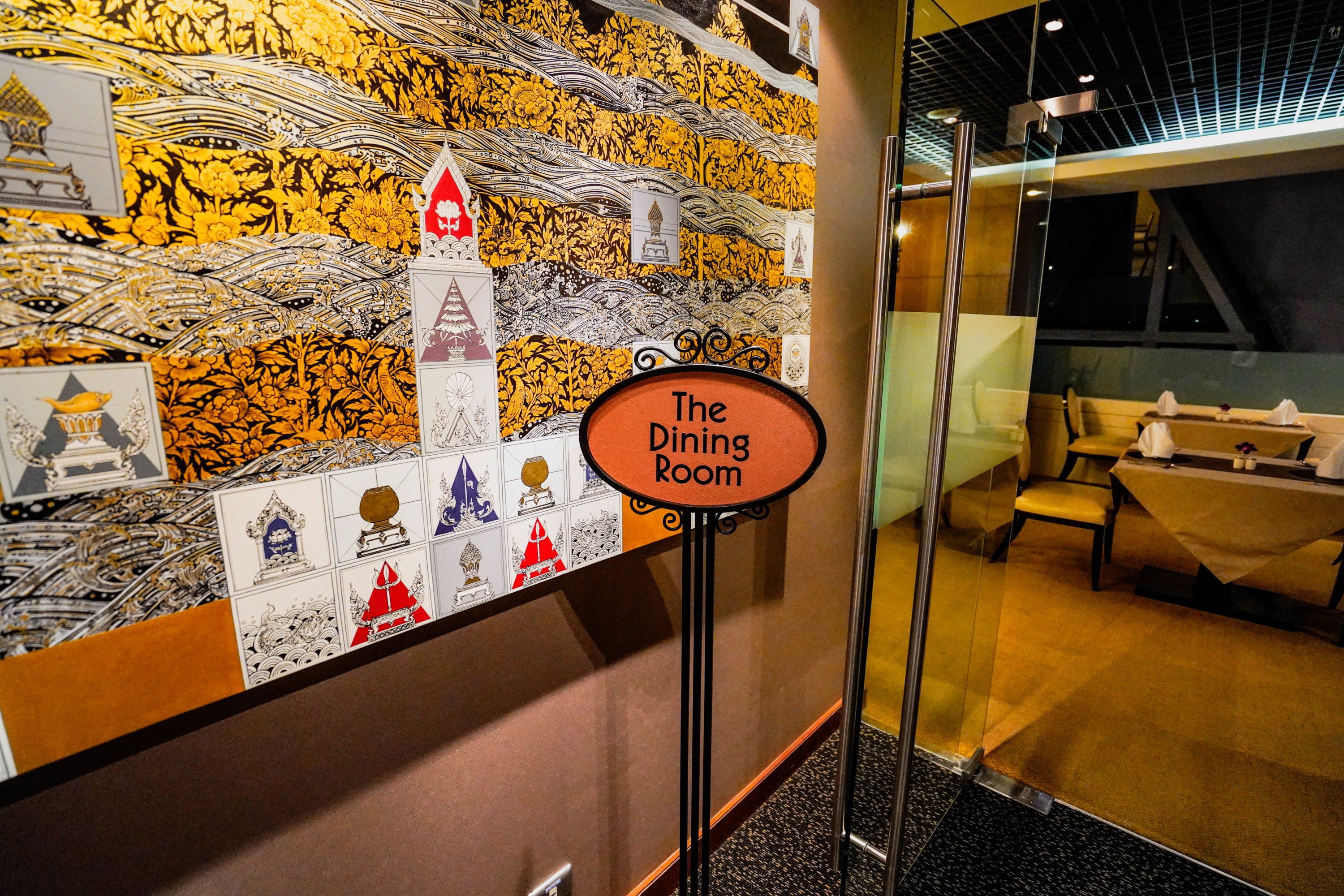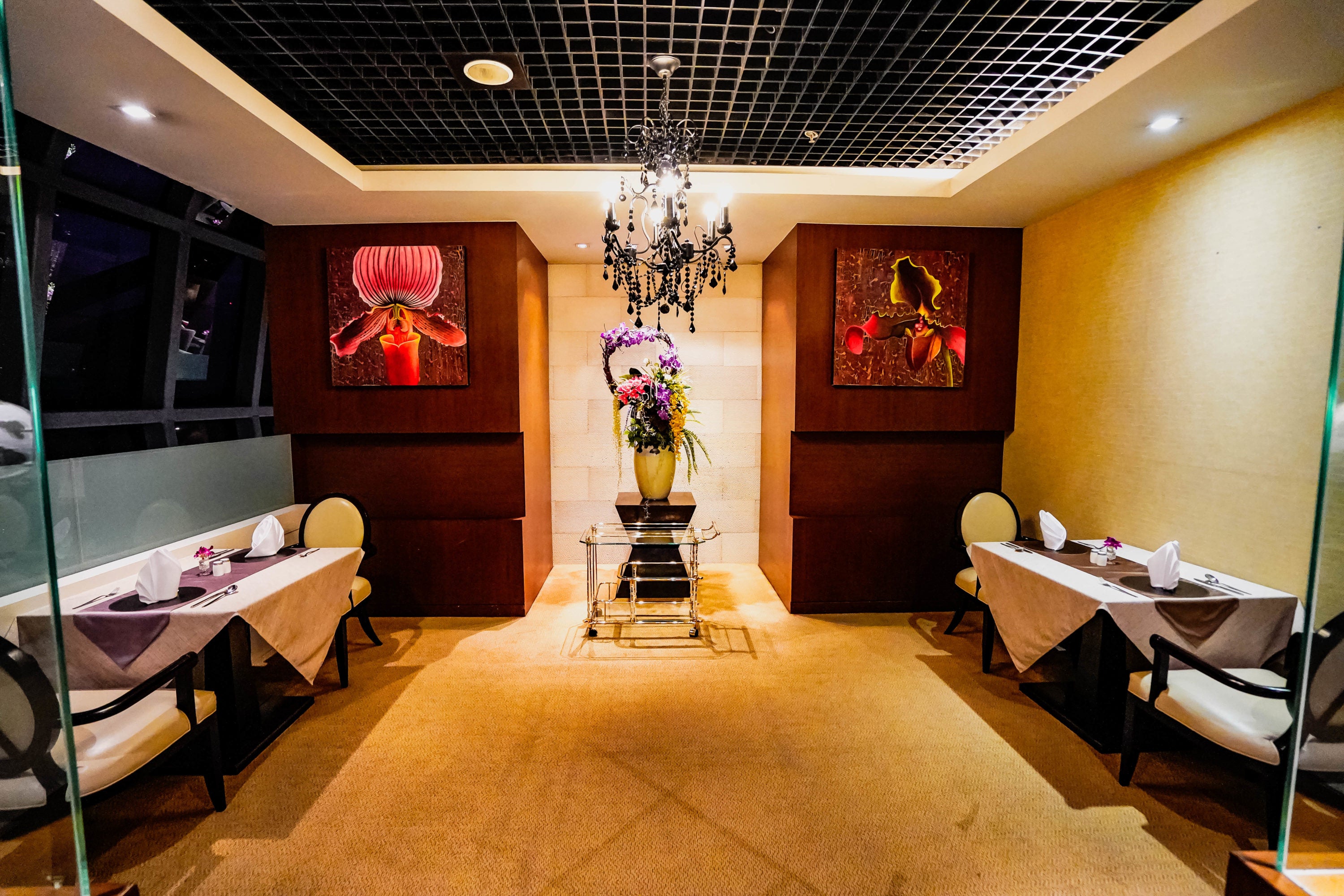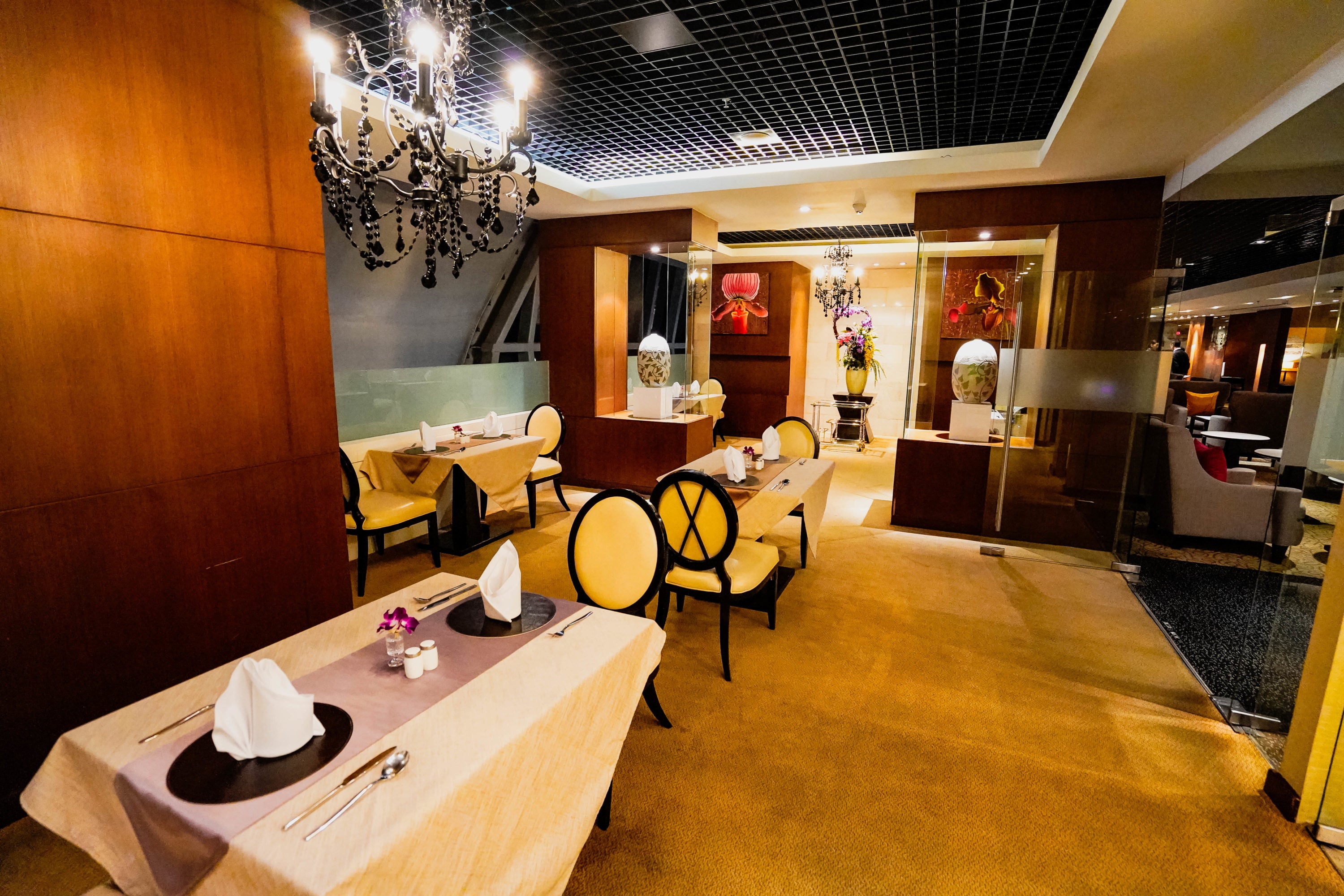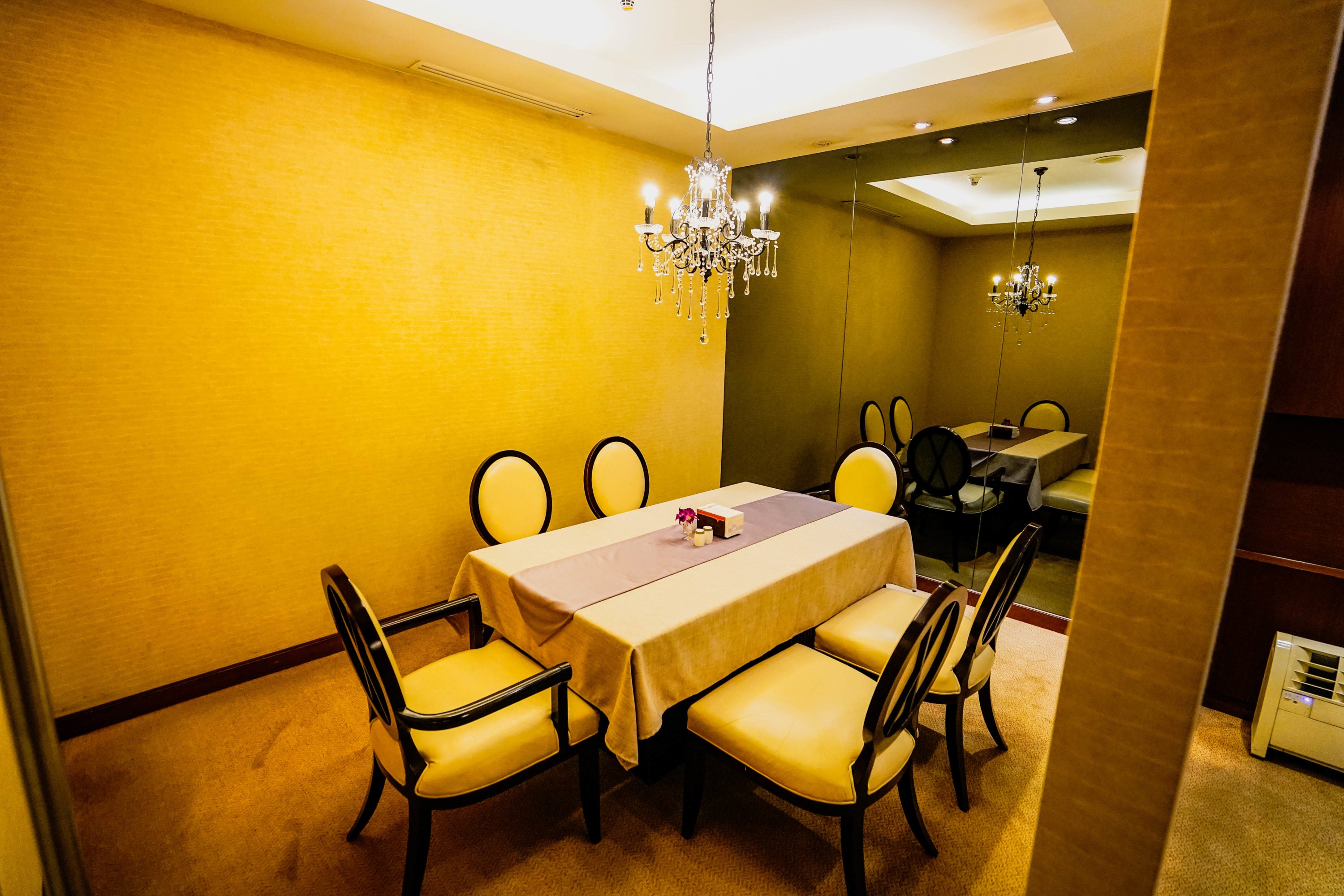 There is also a business center with 2 work stations at the back of the lounge.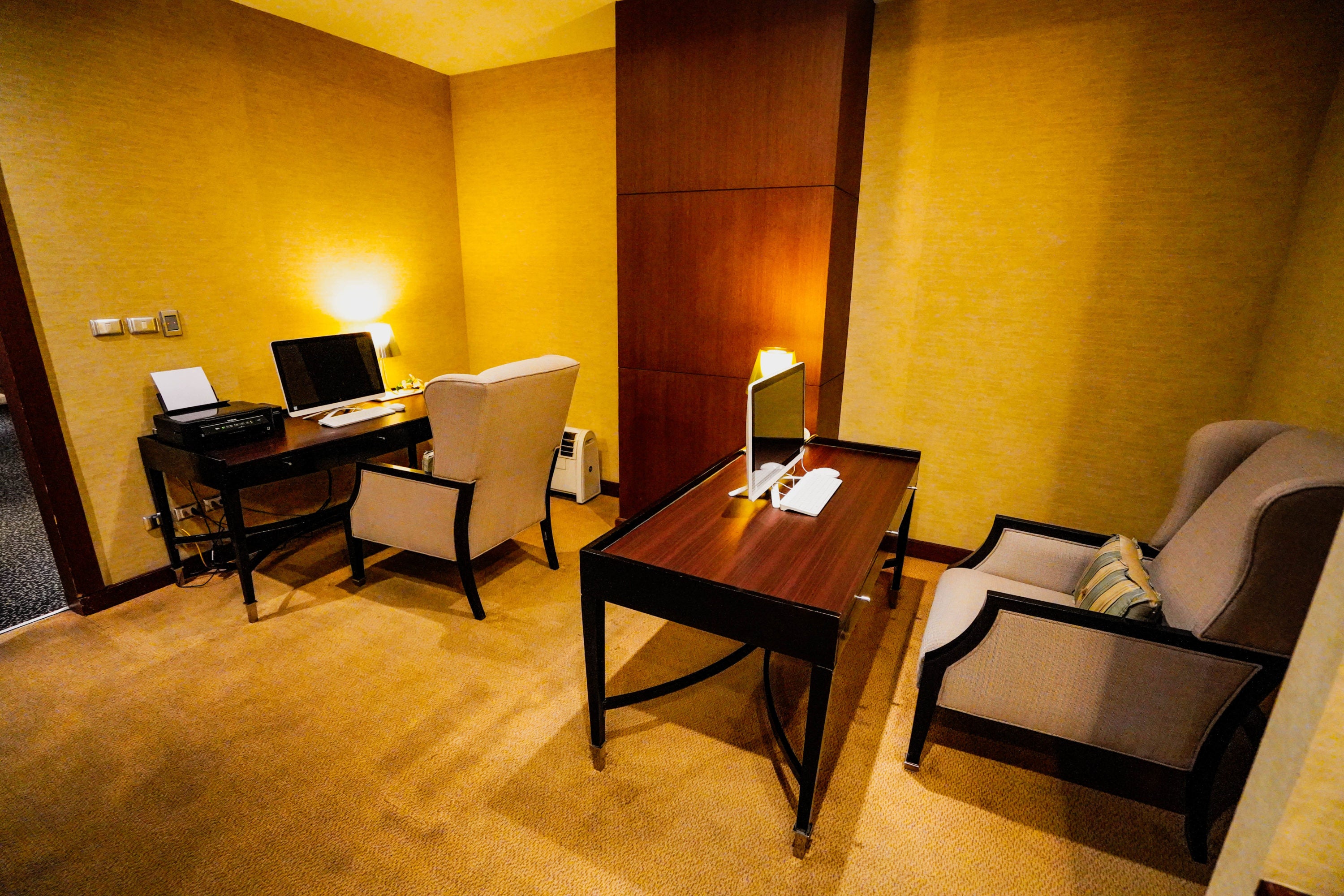 Other than the seating in the main room, there are 6 private rooms lined up along the corridor. Each room is equipped with a sofa, 2 chairs, a workstation with a desktop, and a TV, which is perfect for individuals looking for "me" time or for families of up to 4.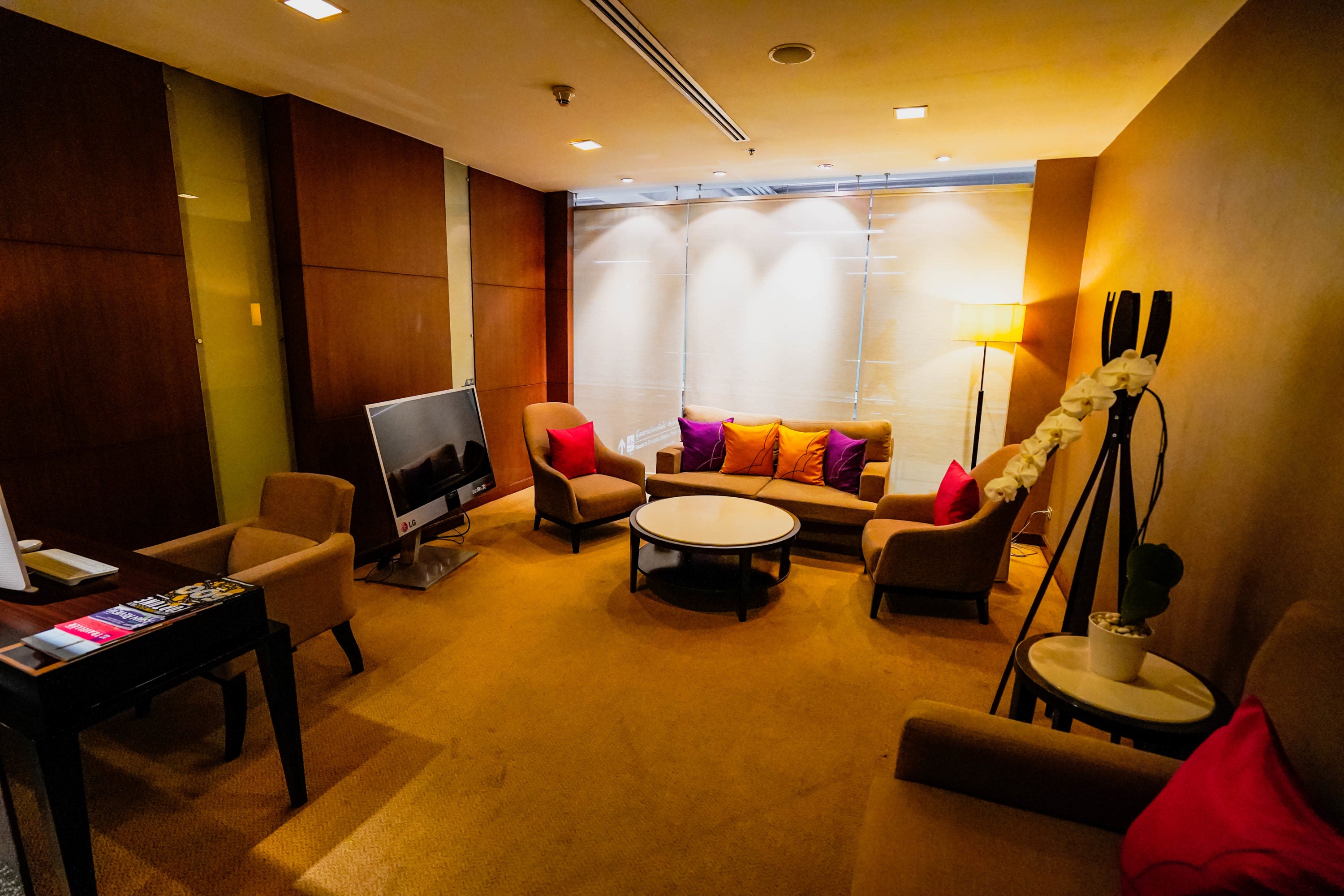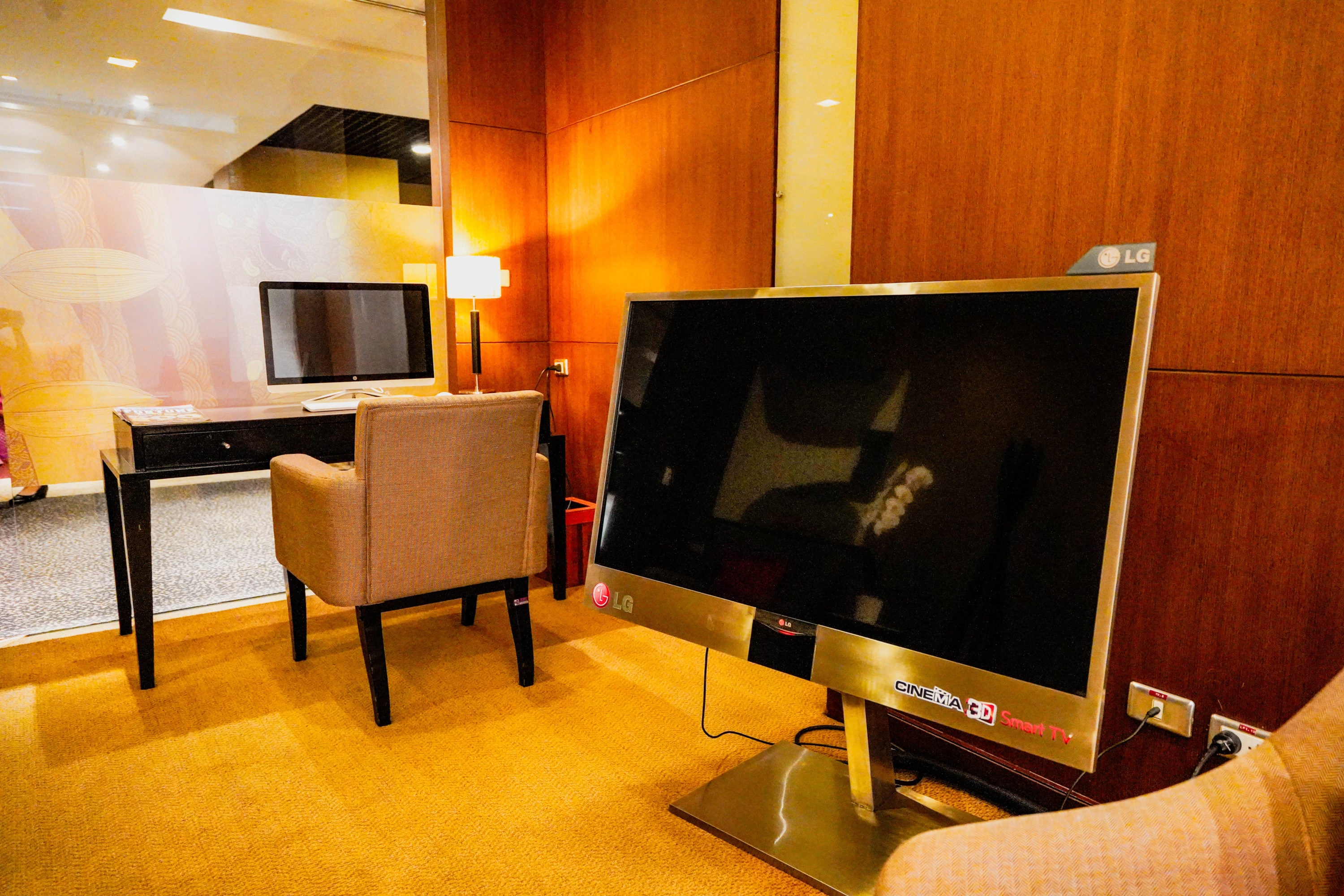 For a larger group, there is a bigger private room at the entrance of the lounge that can accommodate up to 15 people.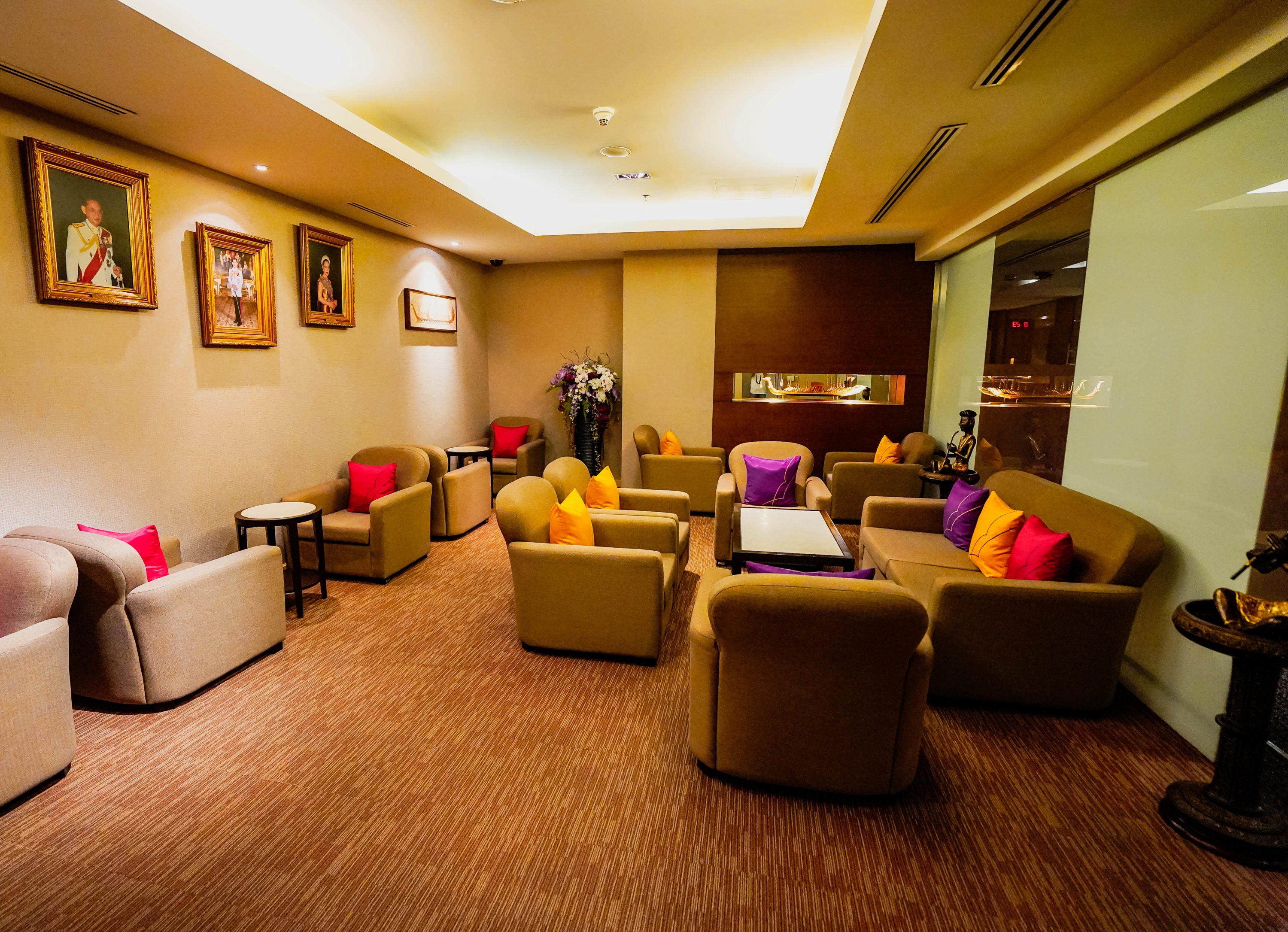 I settled into one of the smaller private rooms, where an attendant is assigned to take your food and drink order. Since the buffet section was largely underwhelming, I ordered a shrimp wonton soup from the breakfast section of the extensive à la carte menu along with a glass of Moet and Chandon Champagne.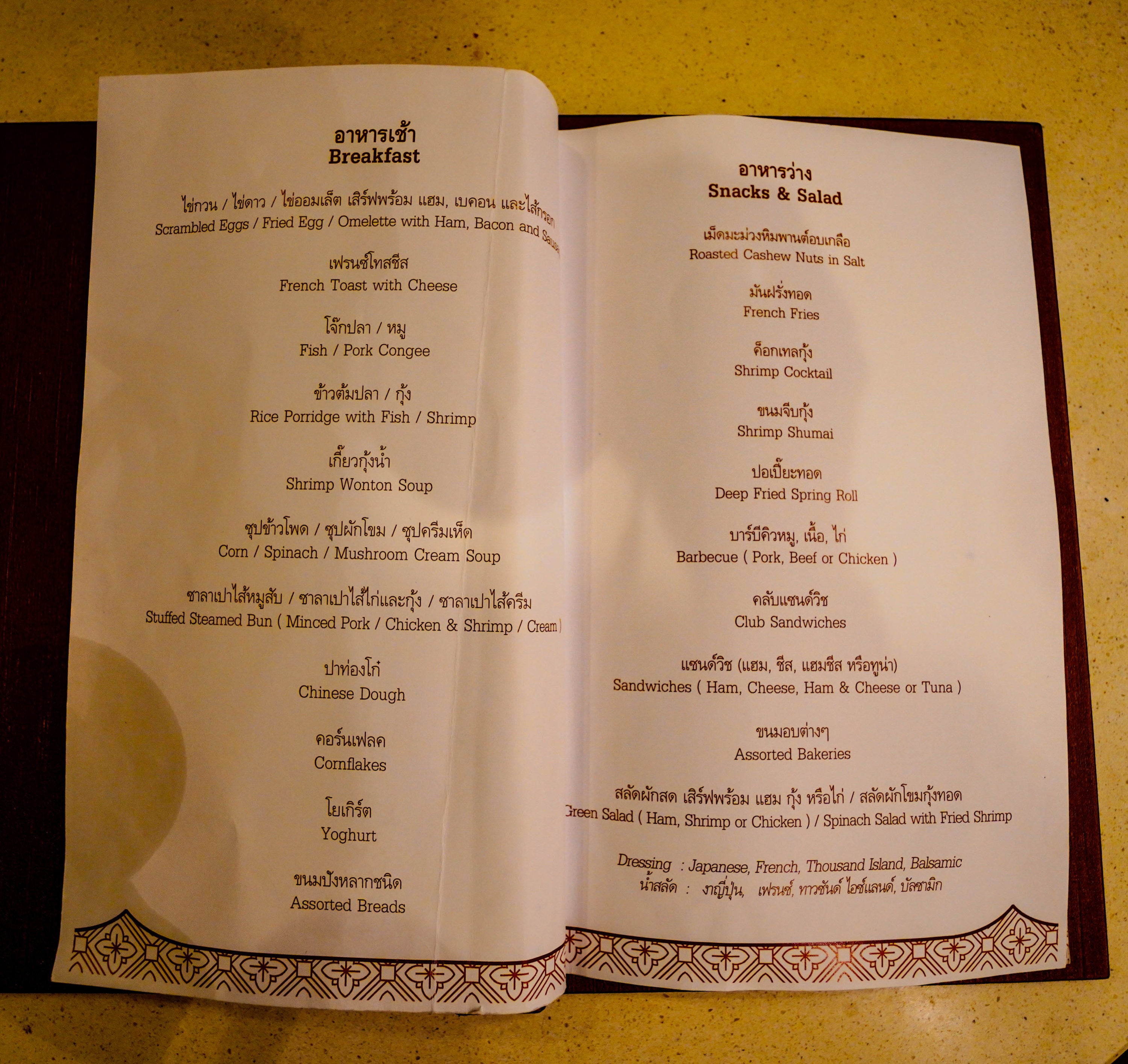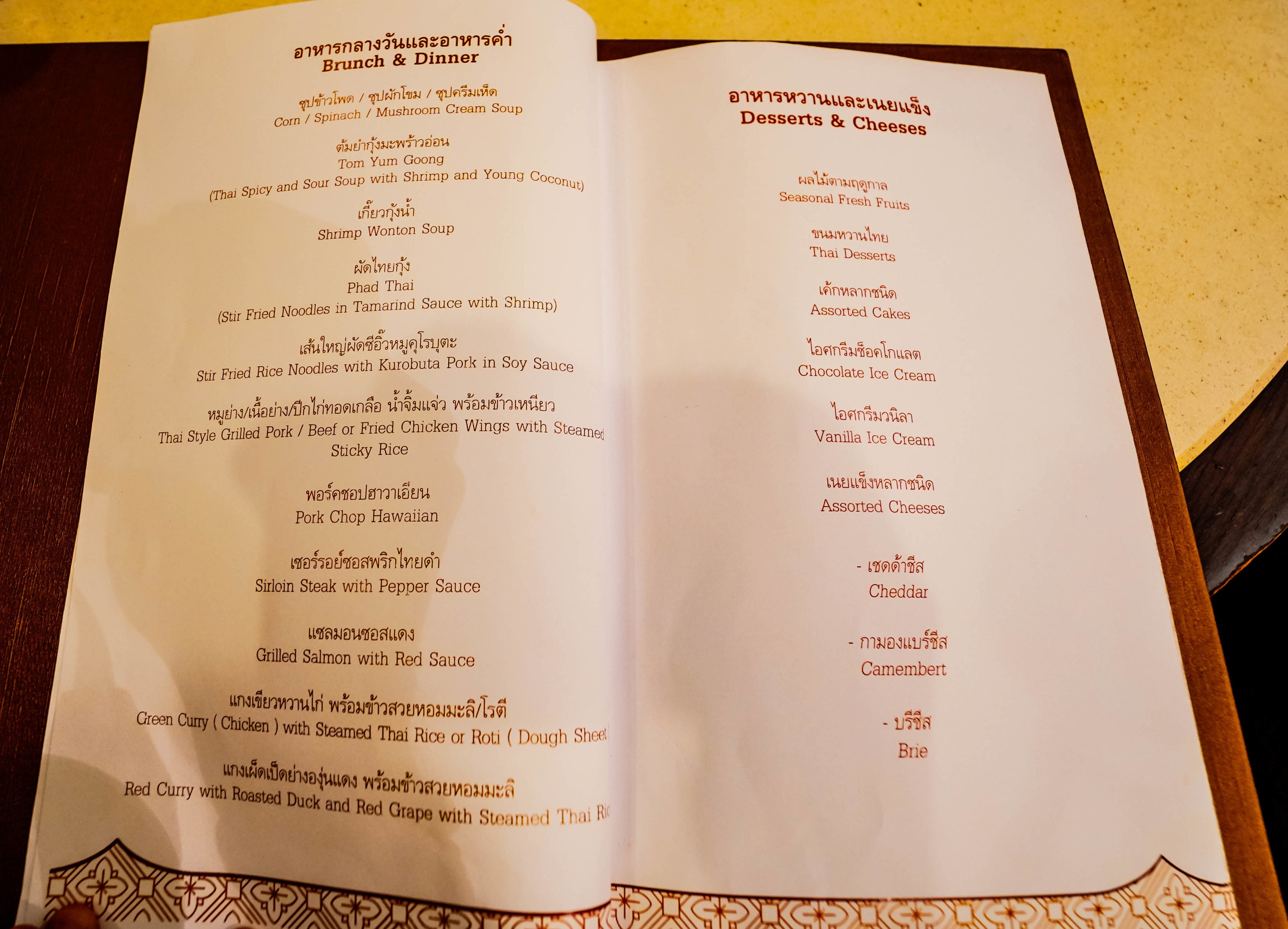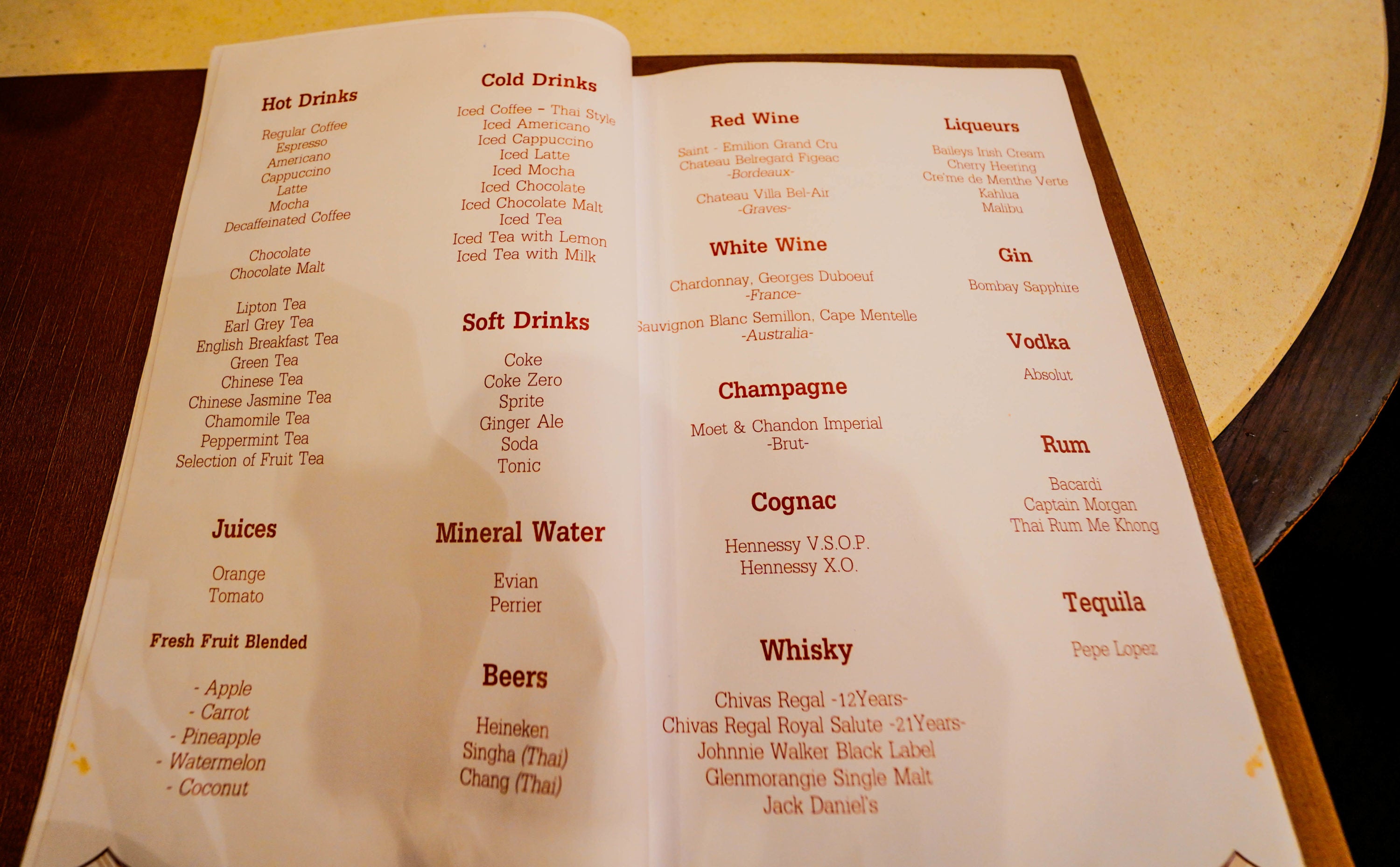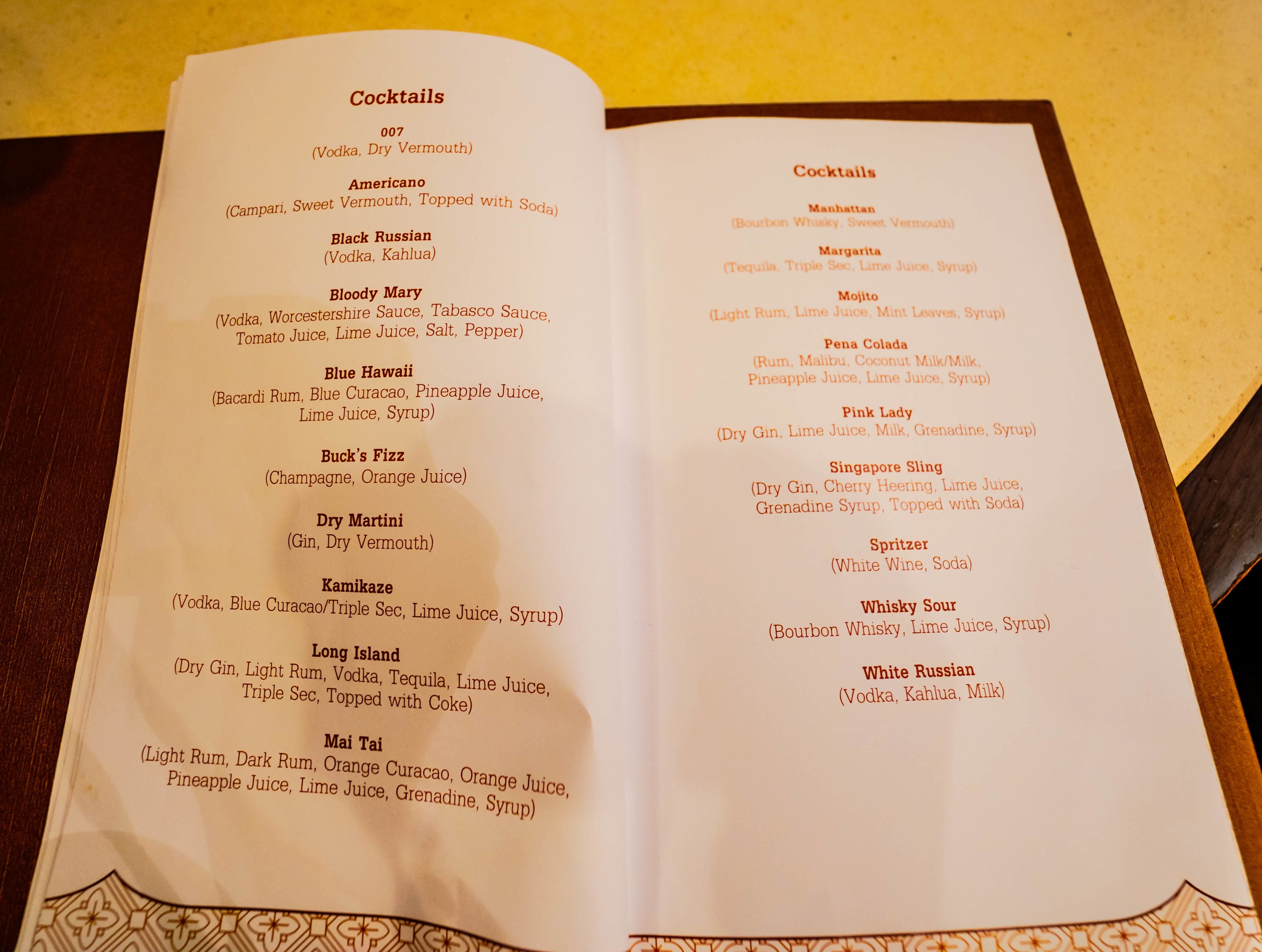 The shrimp wonton soup was delicious, and I ordered seconds.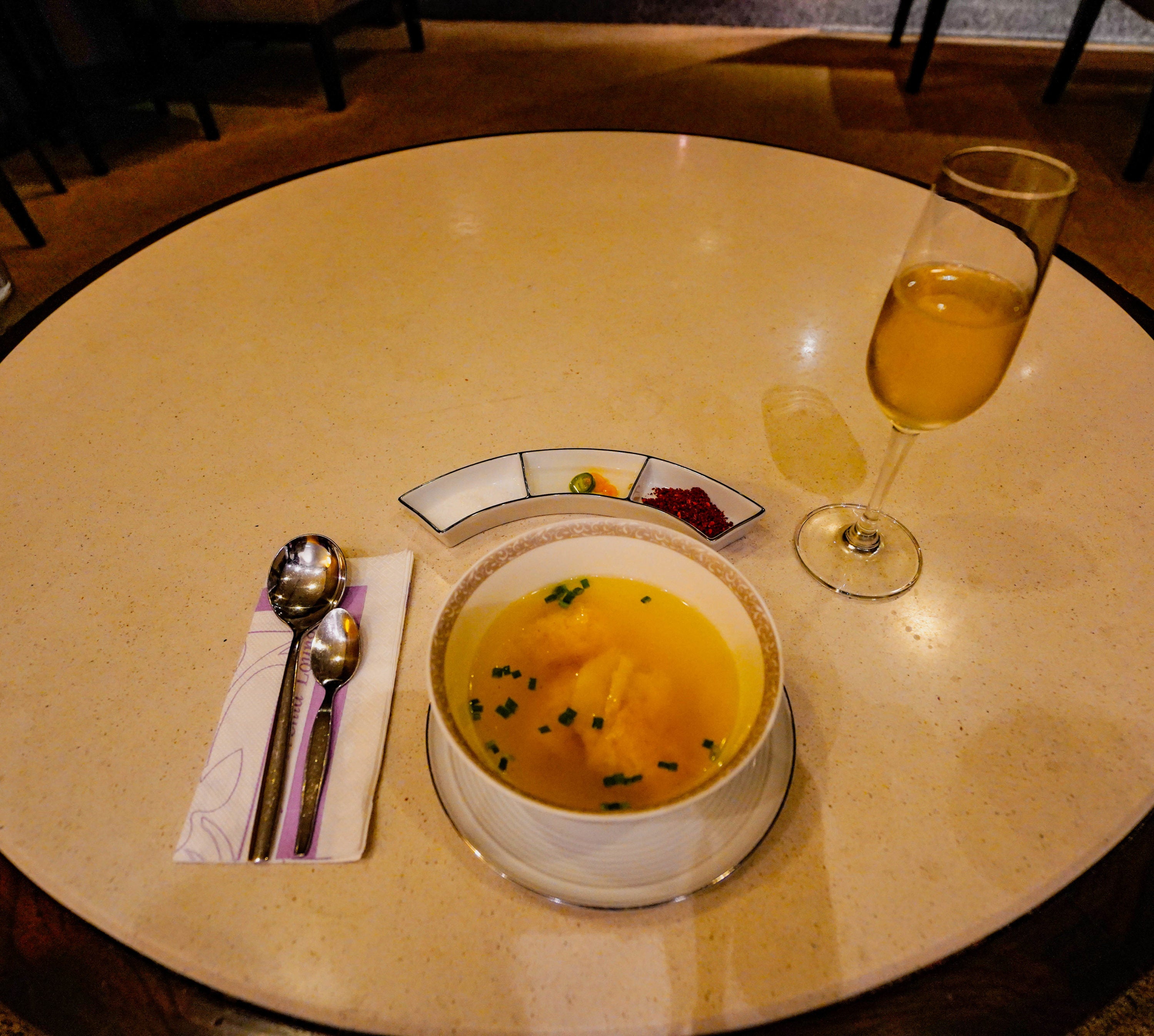 At 6:30 a.m. I was escorted to the Royal Orchid Spa across the hallway from the lounge for my scheduled 30-minute foot massage.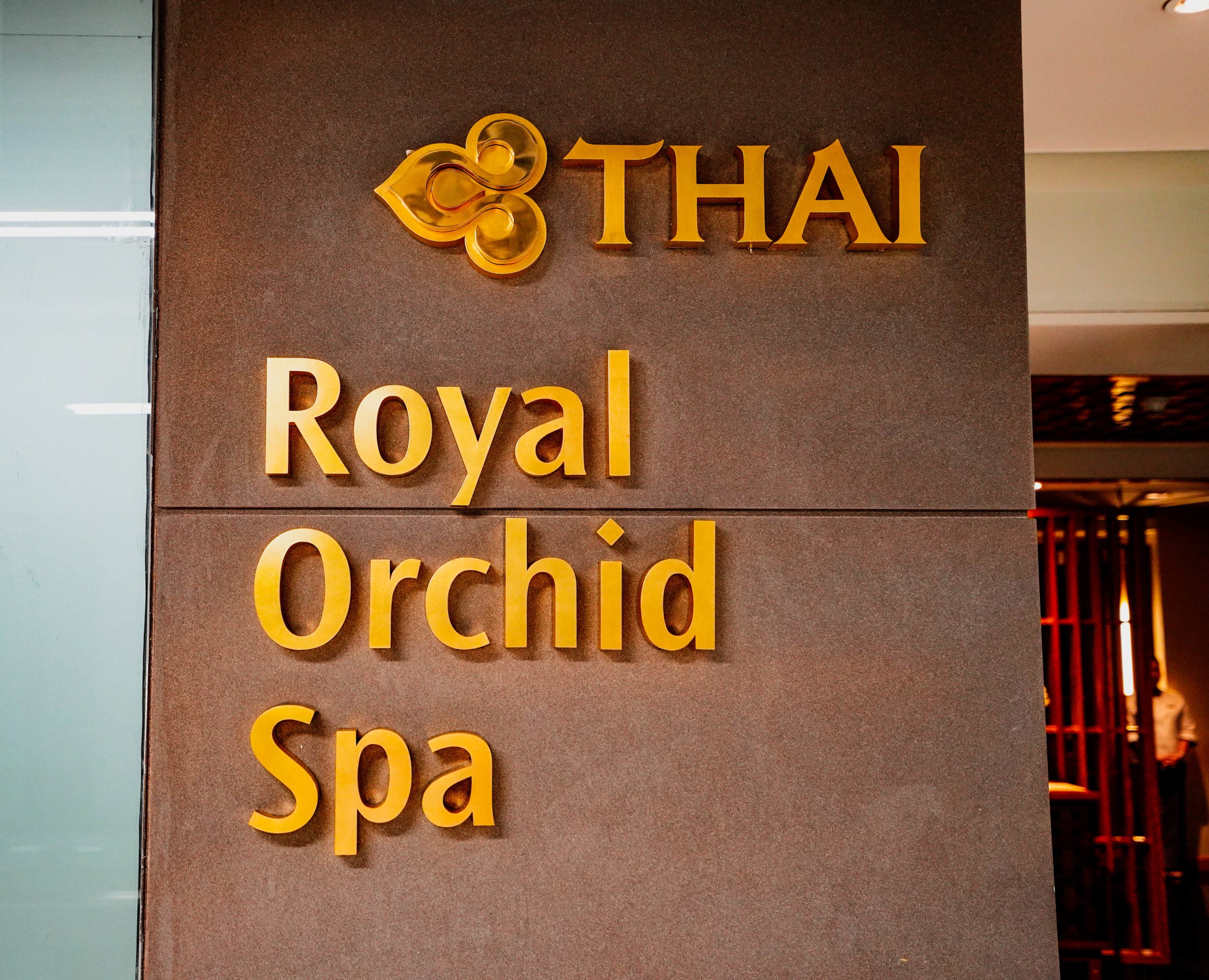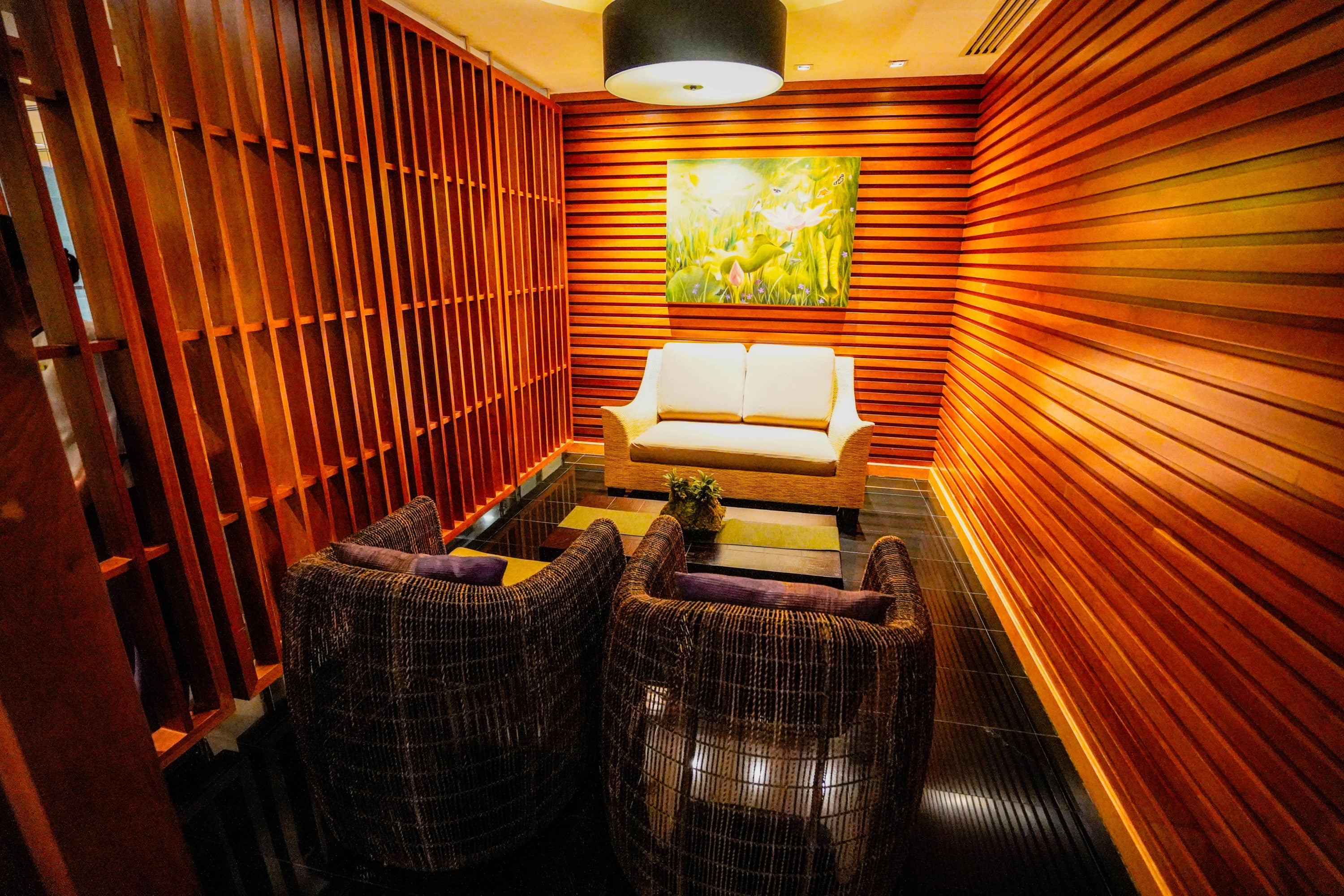 After completing the disclaimer form at the reception, I was assigned a masseuse who escorted me to the treatment room. The massage was splendid and I really felt relaxed.
Hot Tip: The Royal Orchid Spa is open daily from 6 a.m. to 11:30 p.m.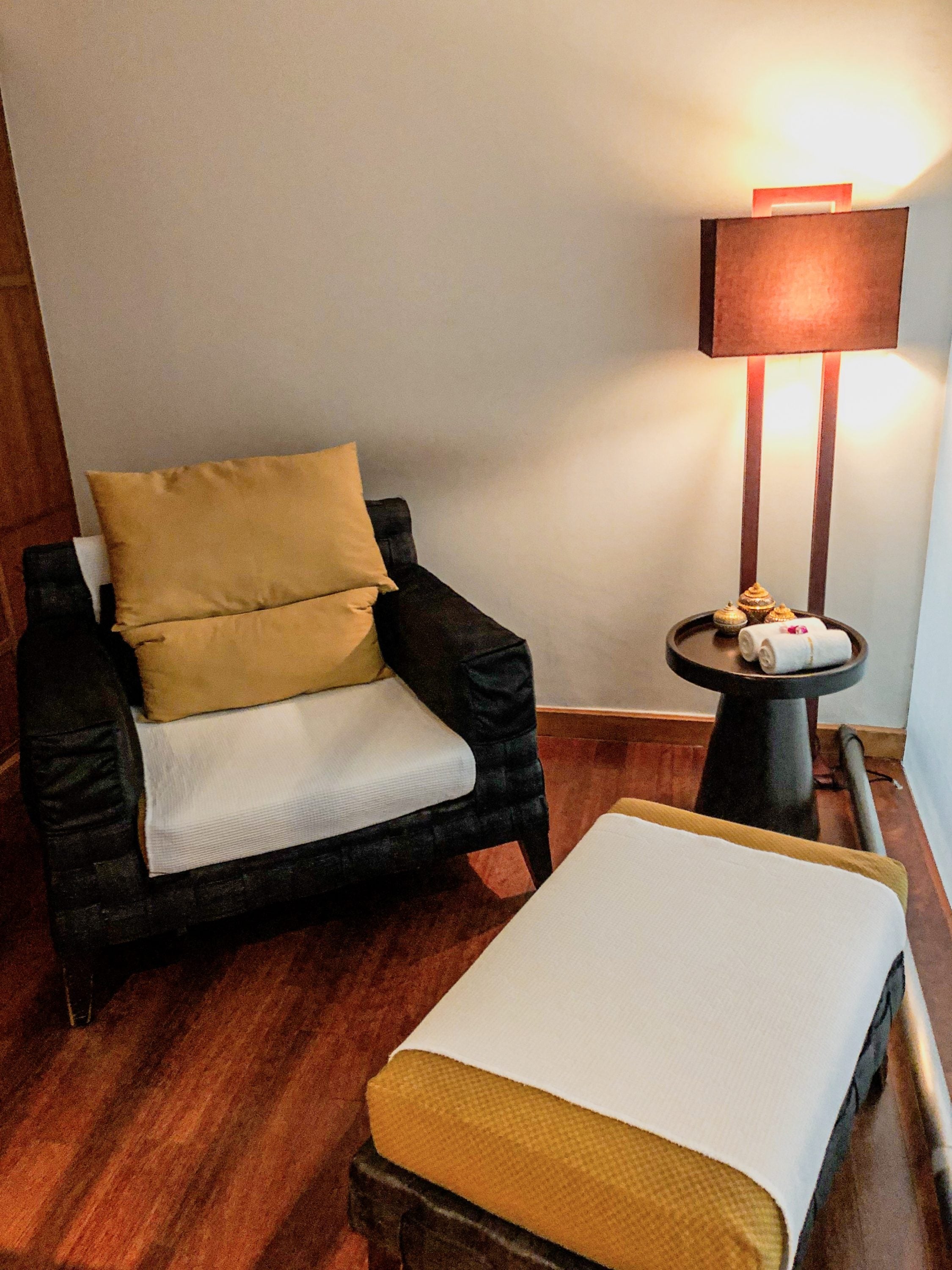 I was then brought to a waiting room where I was offered some herbal tea and requested to complete the survey form.
In terms of decor, the lounge may not be at the same level as some of its other Star Alliance peers, but the service and pampering by the ground staff and the massage more than makes up for it.
By now it was 7:15 a.m., and boarding had commenced; I made my way towards the designated gate E8, which was a 10-minute walk from the spa.
Flight
Aircraft
Thai Airways has 9 Boeing 747-400s in its fleet, of which 7 aircraft are active and operate on the regional and medium-haul routes to Phuket (Thailand), Mumbai and Delhi (India), Tokyo-Haneda, and Sapporo (Japan), Seoul-Incheon (South Korea), Bali (Indonesia), and Sydney (Australia) as per its published route schedule. However, Thai is notorious for last-minute equipment changes, so I would not take the published route schedule too seriously.
It flies 2 variants of the Boeing 747-400:
The older 375 seater "R" version, which is equipped with 10 first class "pod" seats, 40 business class seats, and 325 economy class seats is available on the following aircraft with tail numbers HS-TGO (stored), HS-TGP, HS-TGW, and HS-TGX.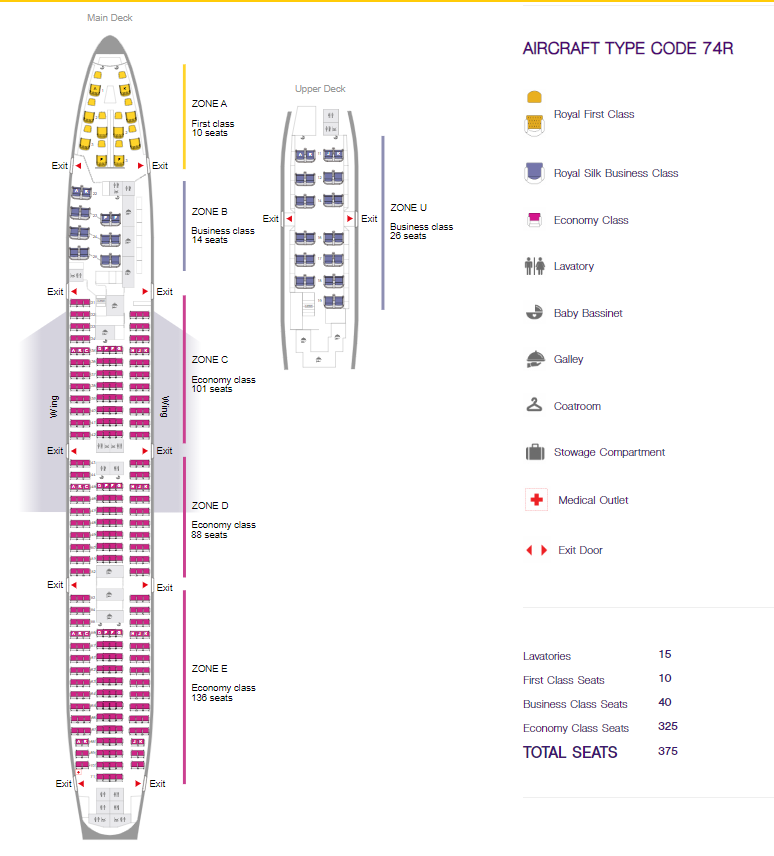 2. The newer "N" version which seats 374 is equipped with 9 first class suites, 40 business class seats and 325 economy class seats and is available on the following aircraft with tail numbers HS-TGA, HS-TGB, HS-TGF (stored), HS-TGG, and HS-TGZ.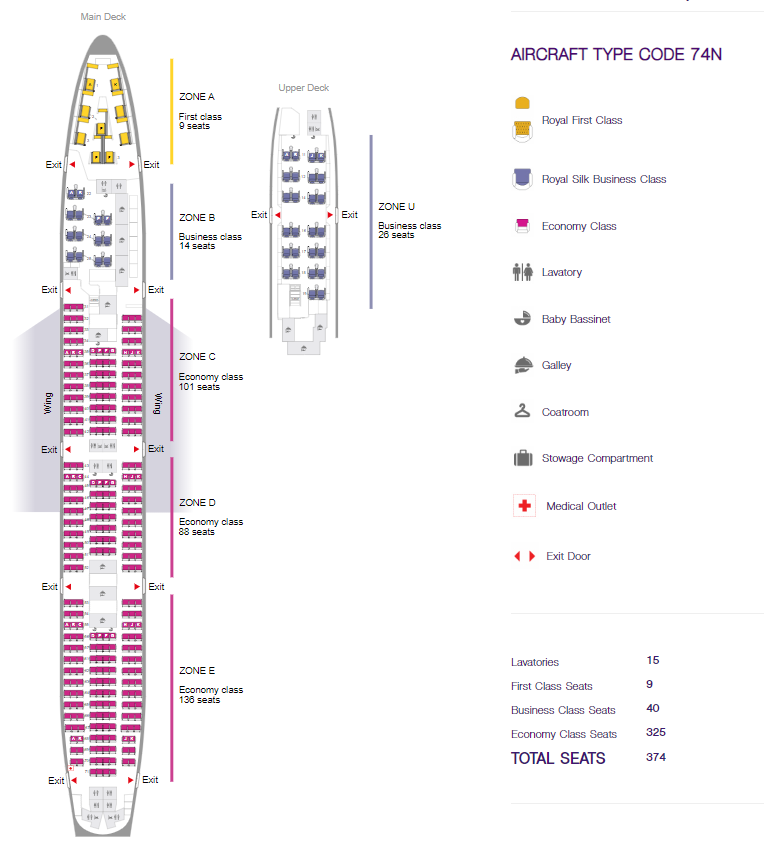 Other than the change in the first class product, there isn't anything materialistically different between the 2 747 variants.
However, in my opinion, the first class suites on the 747 "N" version is a superior product than Thai's first class product on the 747 "R" version and the Airbus A380.
Today's flight was operated by the 20-year-old 747-400 "N" version named "Phimara."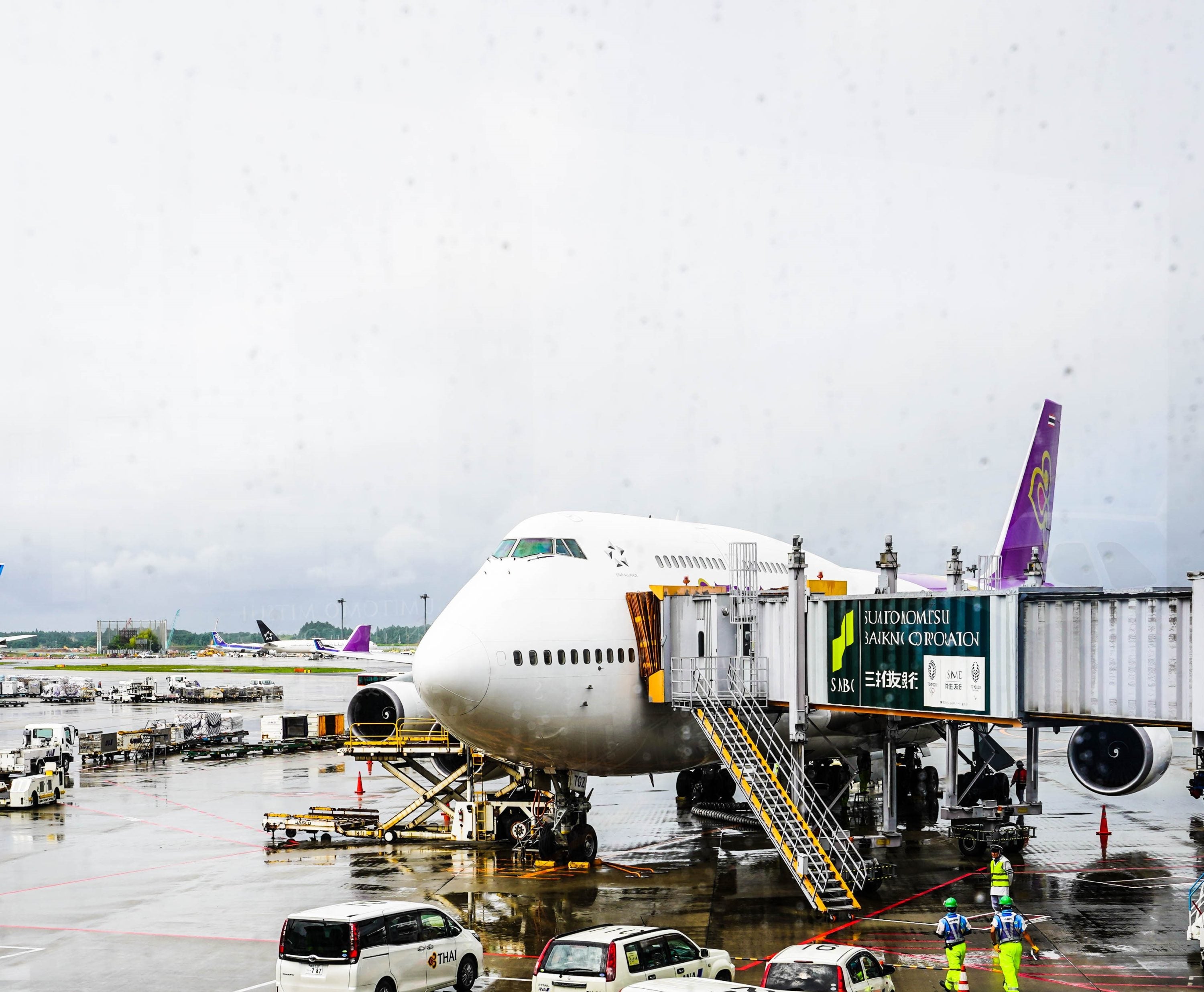 Cabin
For first and business class passengers, boarding was through the L1 door. At the door, I was warmly greeted by the flight attendant Kamon with a traditional "wai" — a Thai greeting which consists of a slight bow, with the palms pressed together in a prayer-like fashion. I was then shown to my seat 2K.
The Thai first class cabin ("N" variant) consists of 9 first class semi-enclosed suites: 6 single suites (3 suites in a single row on either side), 1 middle suite in row 2, and 2 middle suites for couples in row 3.
The cabin is not the most modern, but it has an understated "retro" elegance about it. In front of the standalone middle suite 2E, there is a small staging area and magazine stand.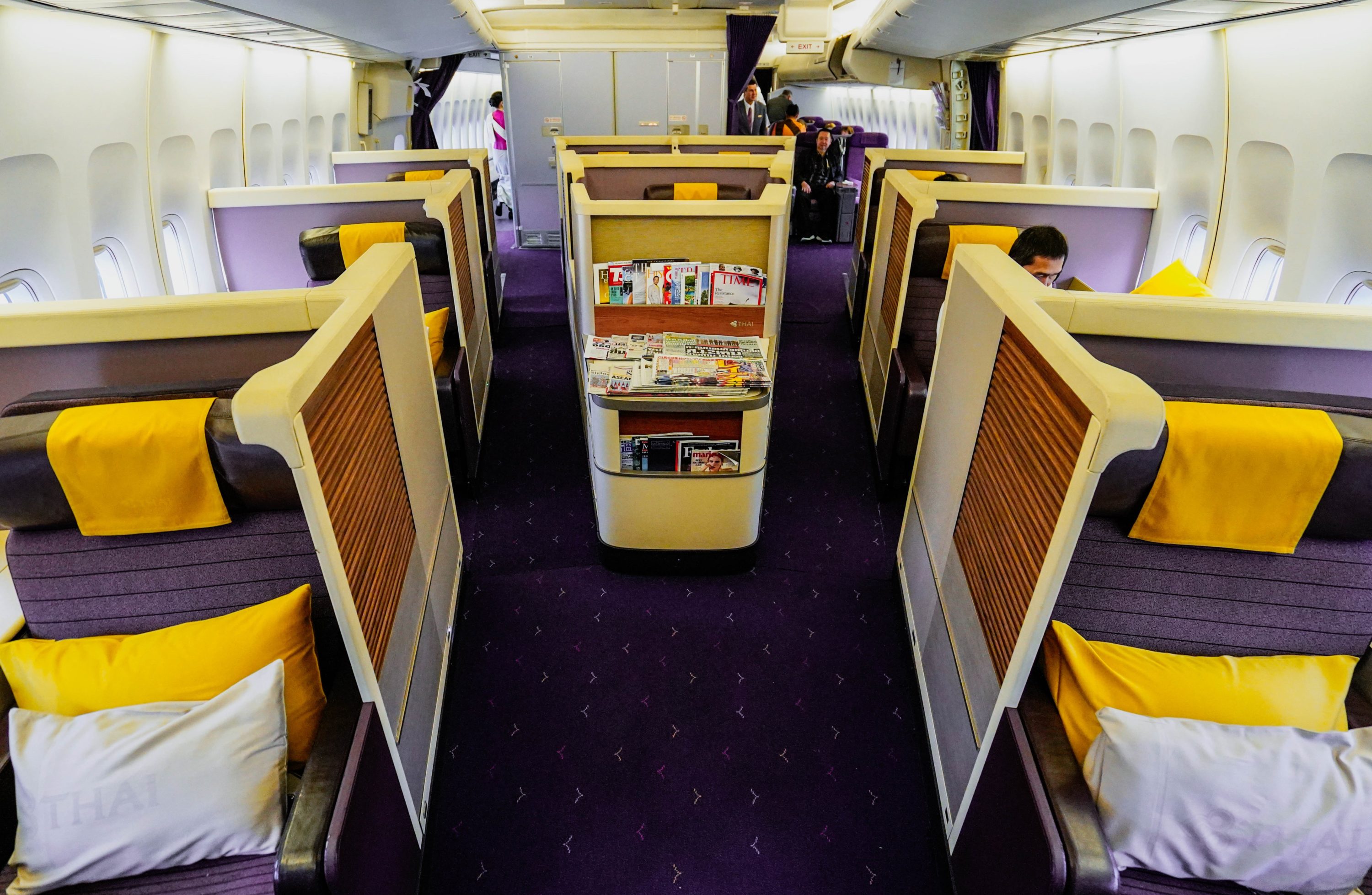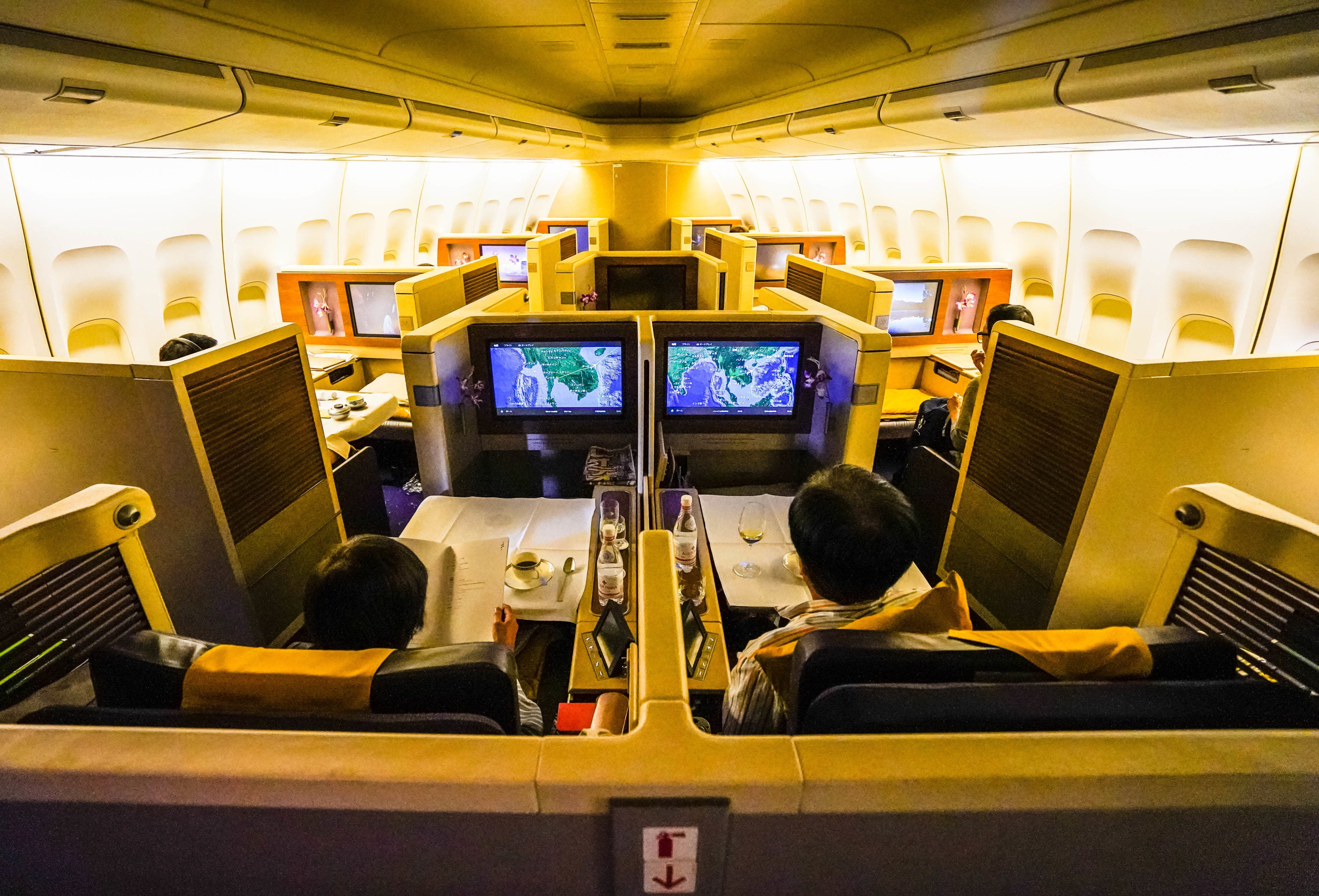 For a solo traveler, the best seats in the house are suites 1A and 1K. That feeling of sitting right up front on a jumbo jet is really something special.
For couples, you only have 1 set of seats to choose from — suites 3E and 3F in the center row. However, if those are taken, I would recommend suites 1A and 1K. They are not too close to each other, but at just the right amount of distance to have the occasional chat.
I would definitely avoid suite 2E, which has the least privacy, as it is open to the aisles on either side and has a staging area in front of it.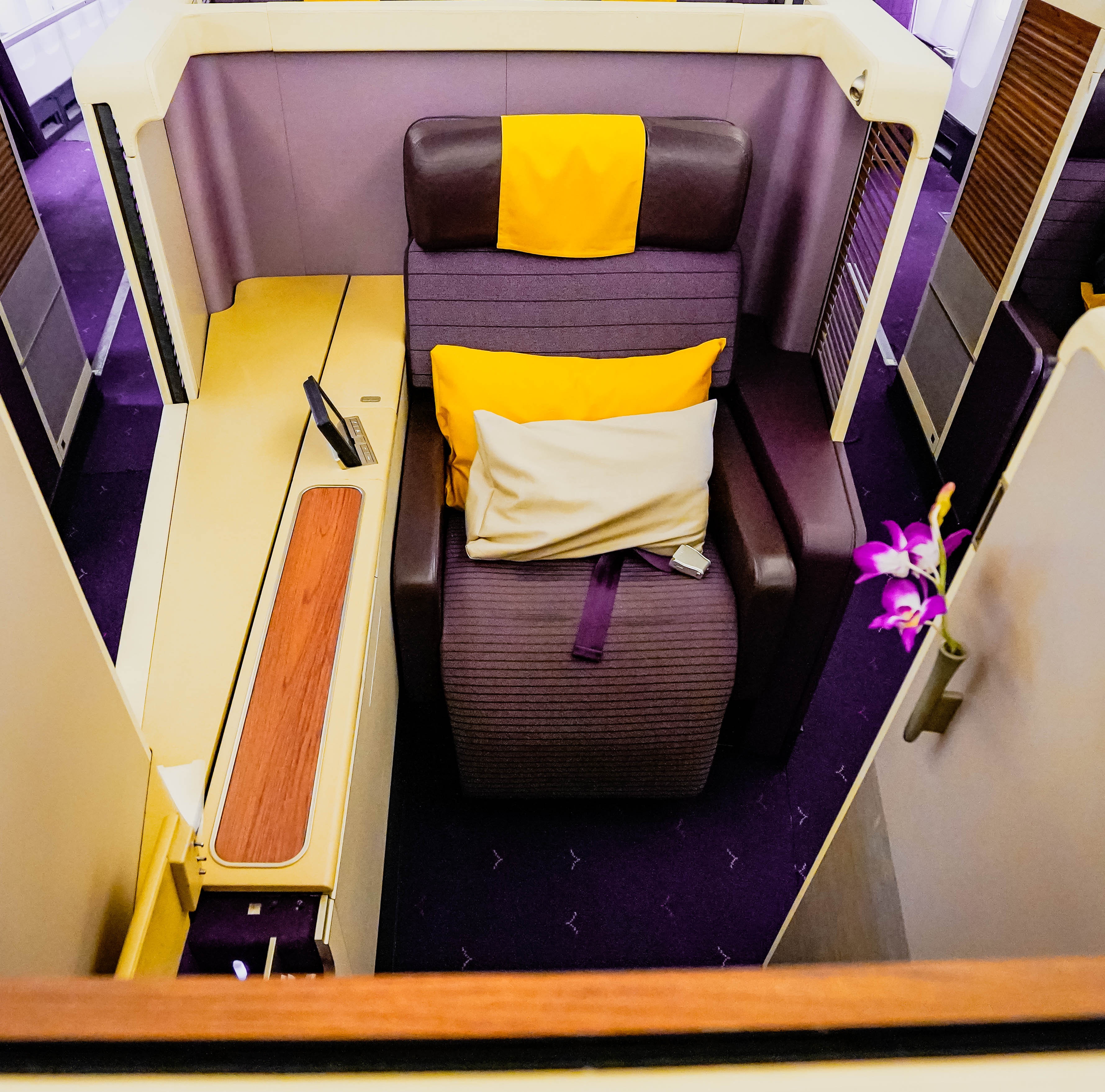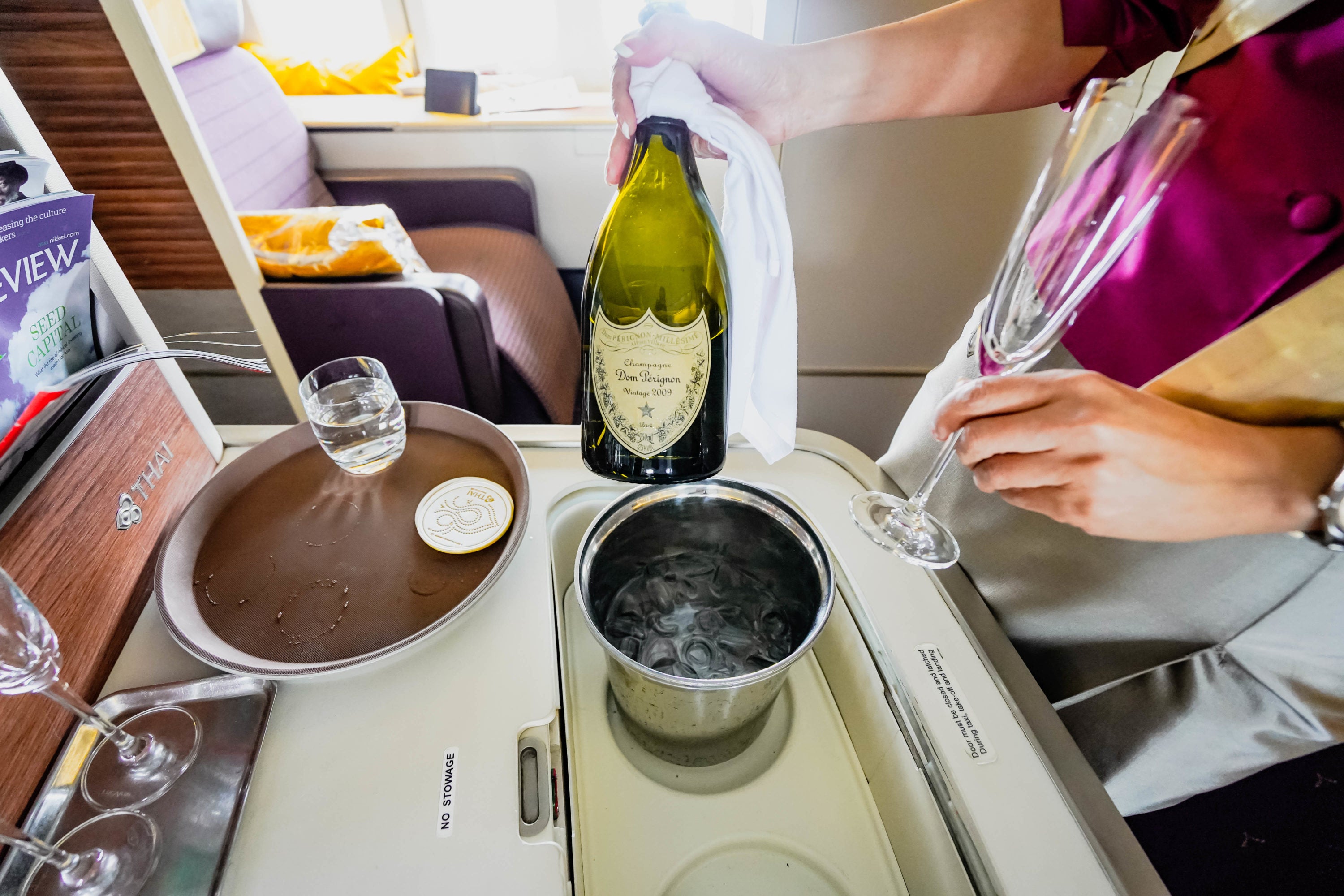 There are 2 lavatories at the rear of the first class cabin stocked with basic toiletries and decorated with orchids.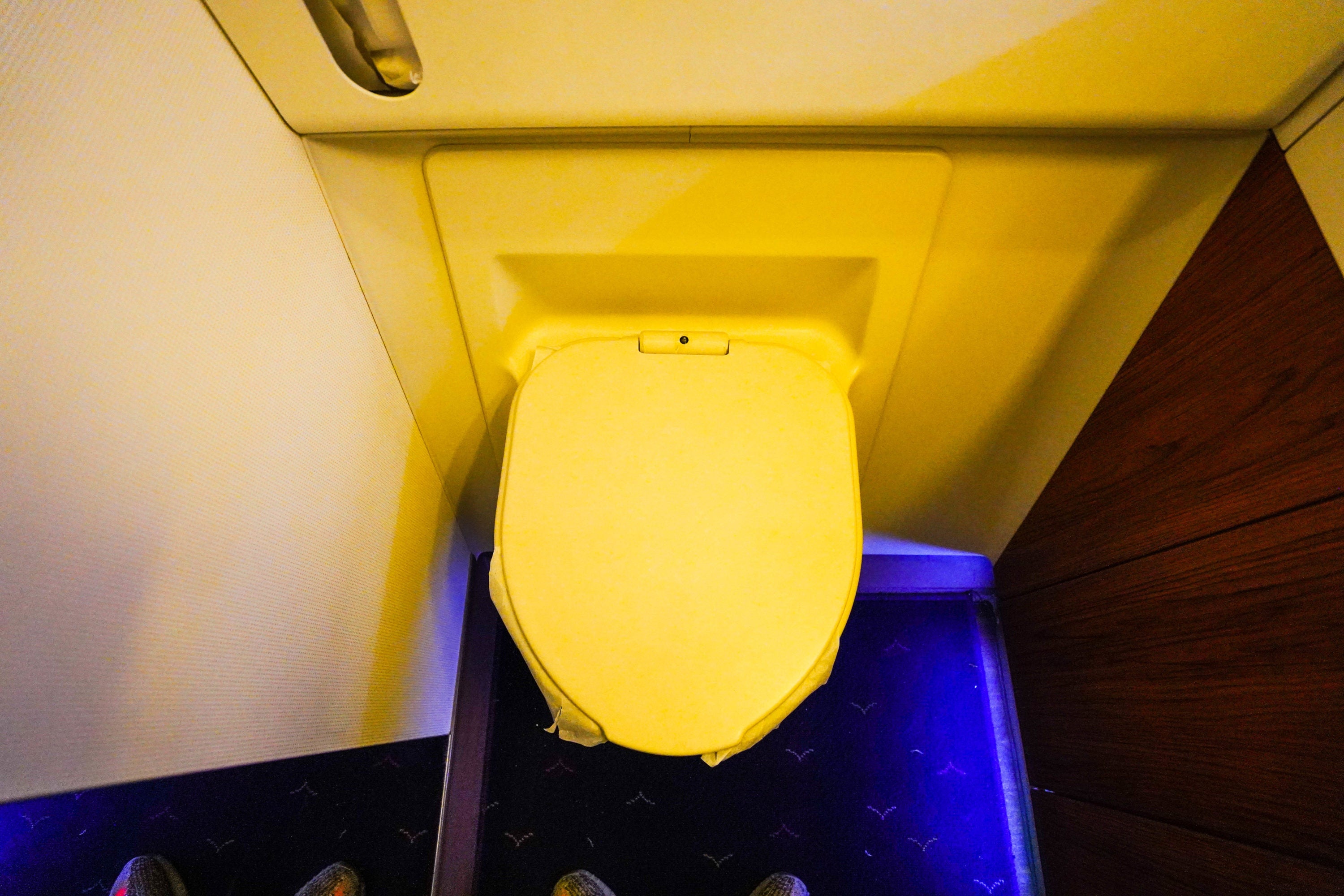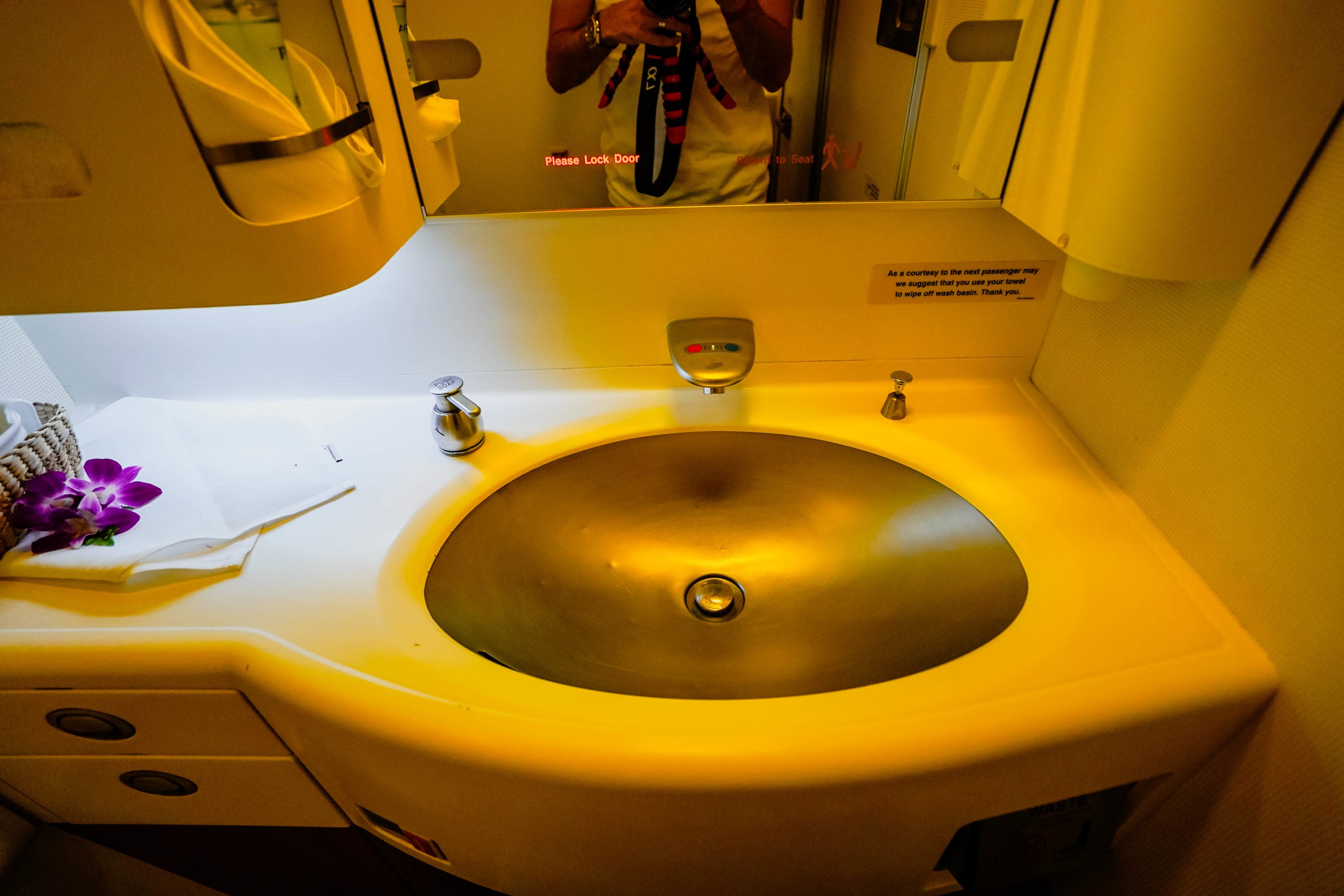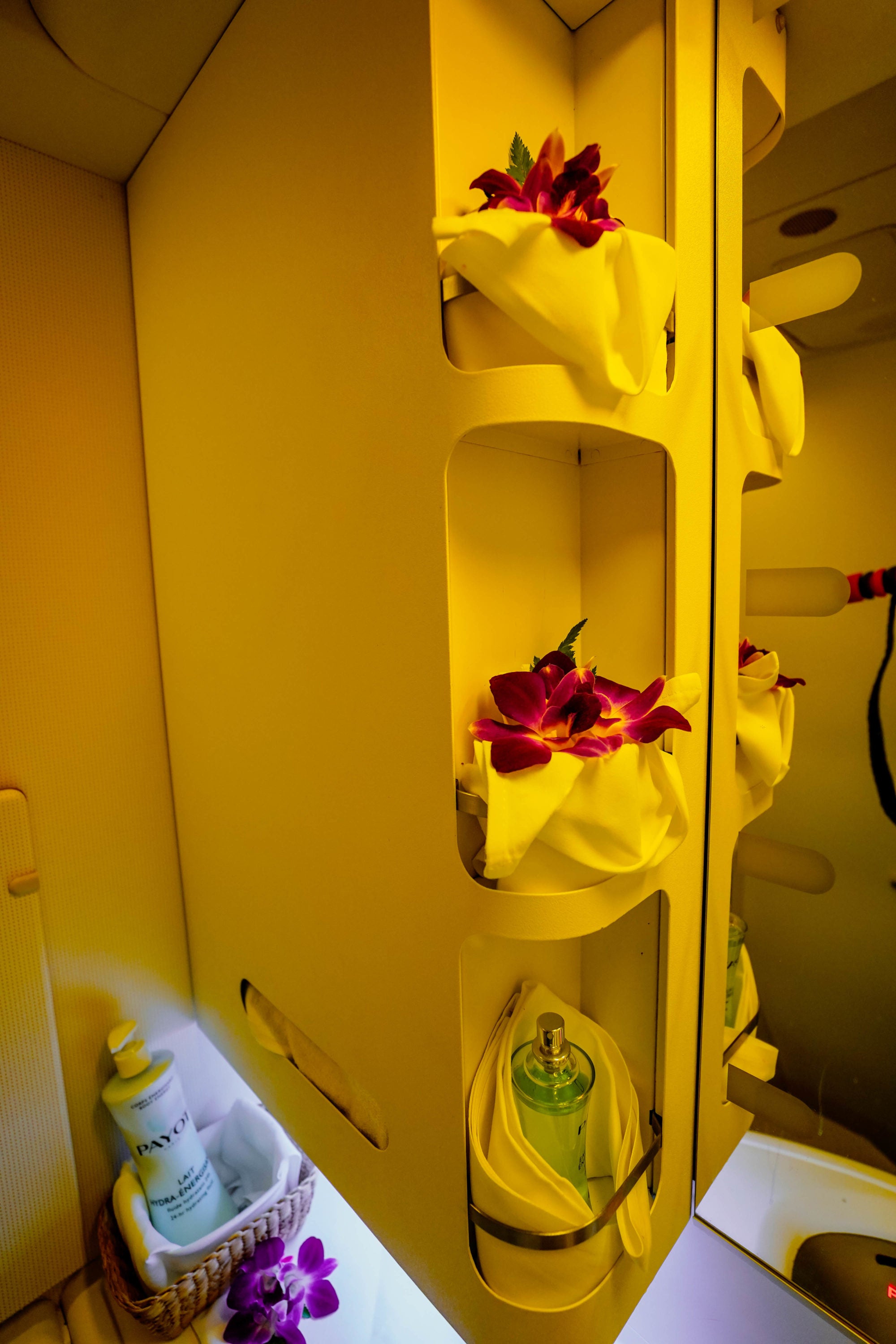 Suite
The suites are semi-enclosed and decently sized, equipped with a 23-inch screen monitor, jacket closet, universal socket, USB ports, an orchid holder, and storage space, complete with wooden trimmings.
With a little bit of foresight, a privacy door could easily have been provided for enhanced privacy.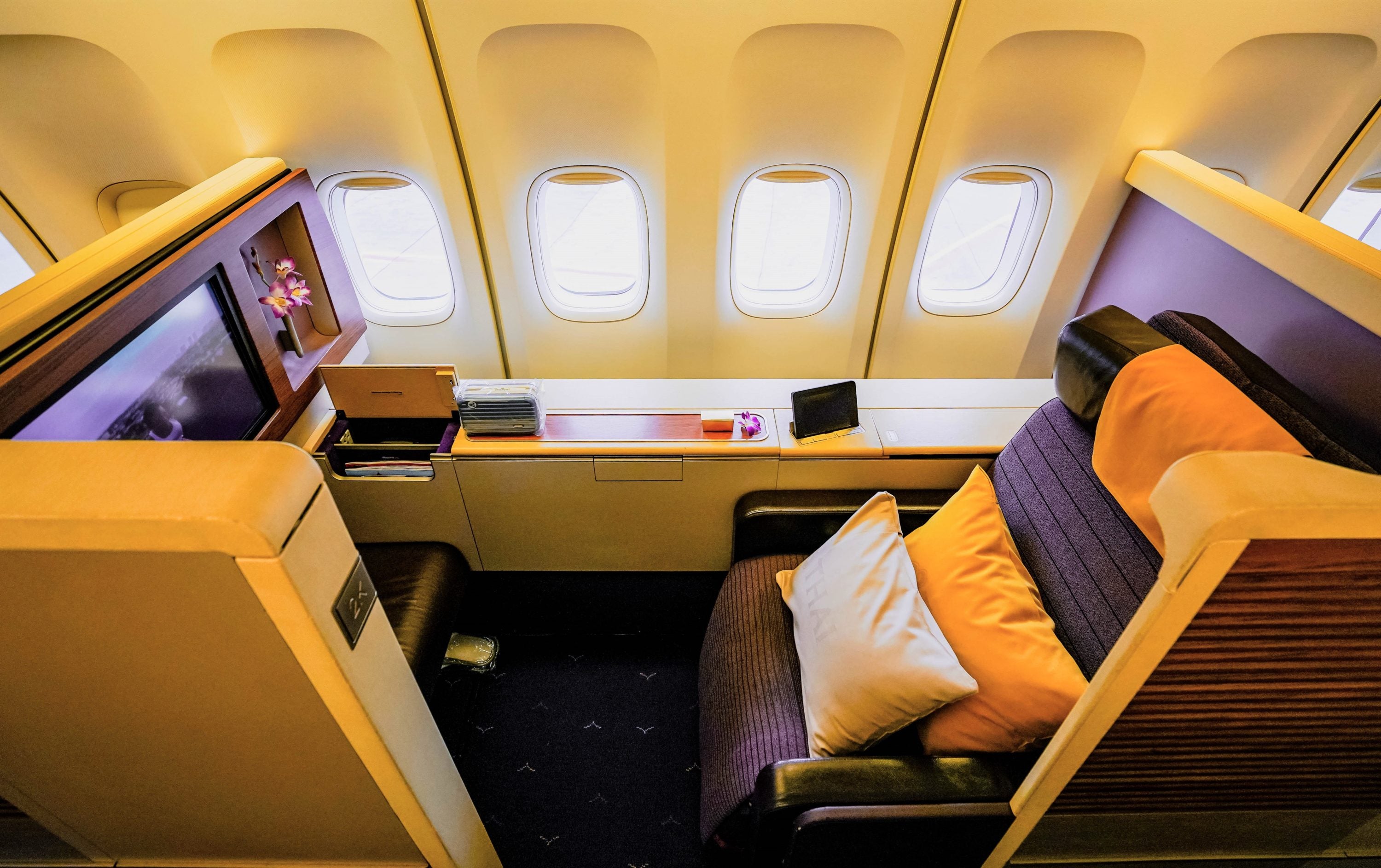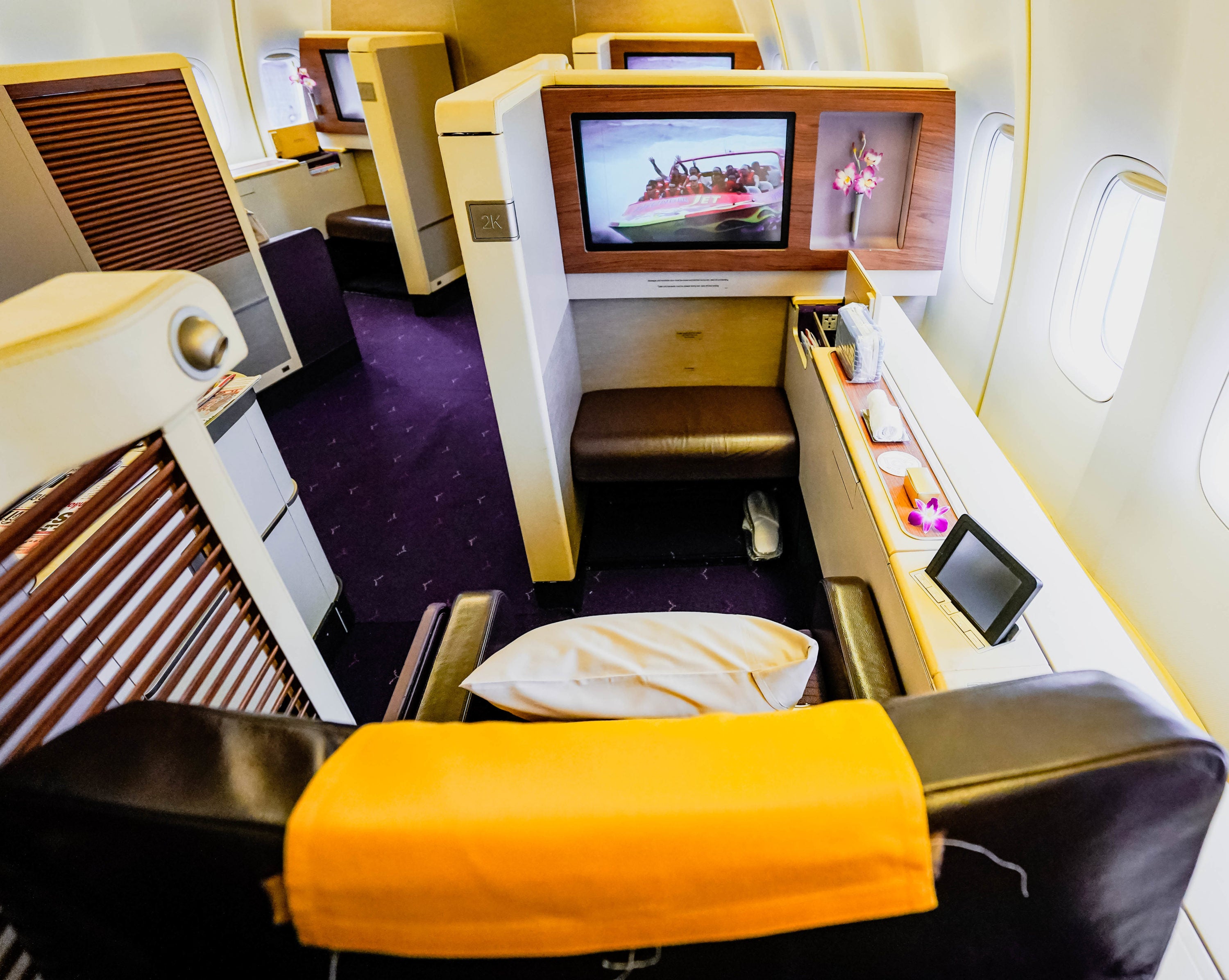 Seat
The seat, which is 23 inches wide, was well-cushioned and comfortable and converted into a 180-degree lie-flat bed. The purple and yellow seat upholstery contrasted well with the white bulkheads, purple orchids, and the wooden trimmings.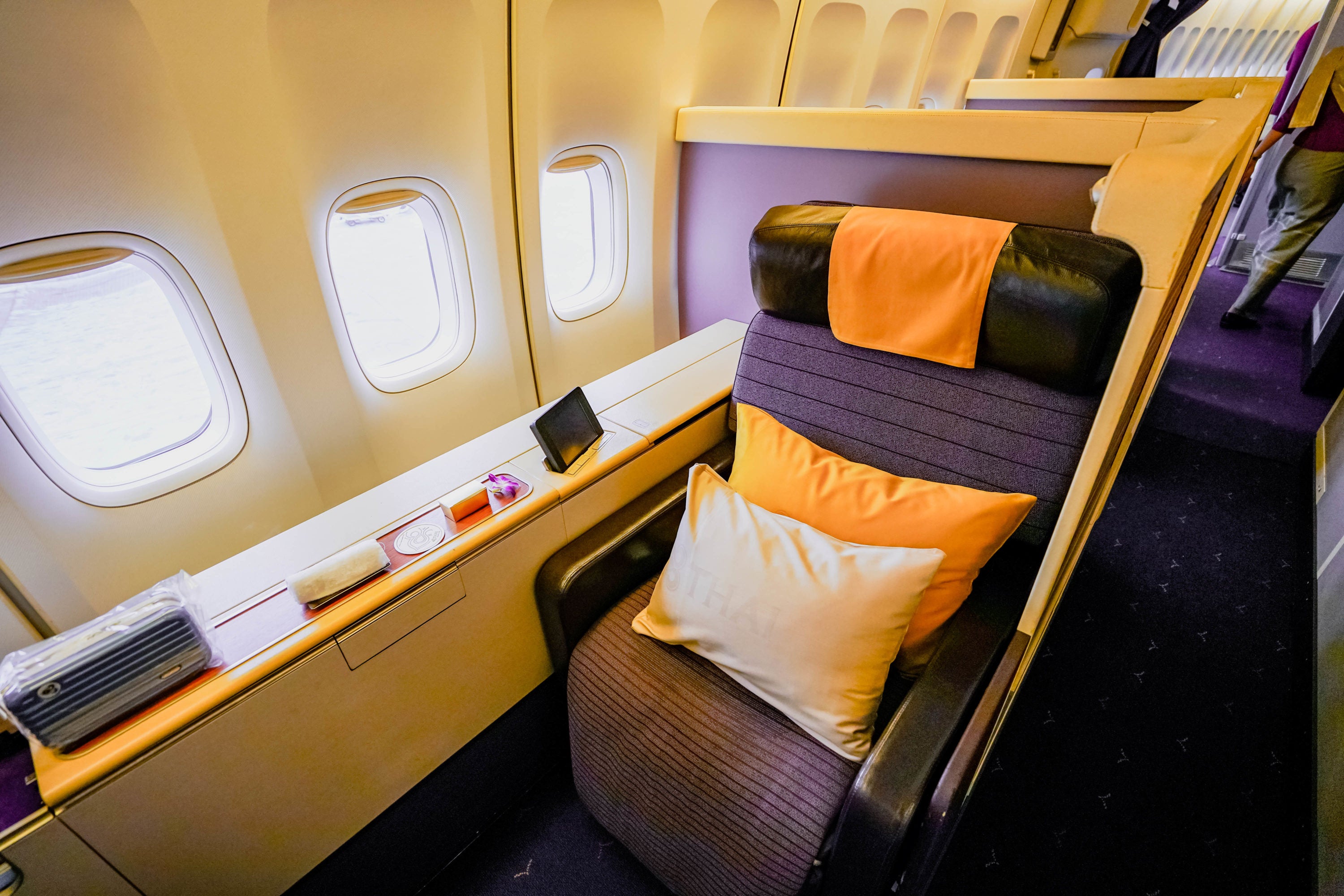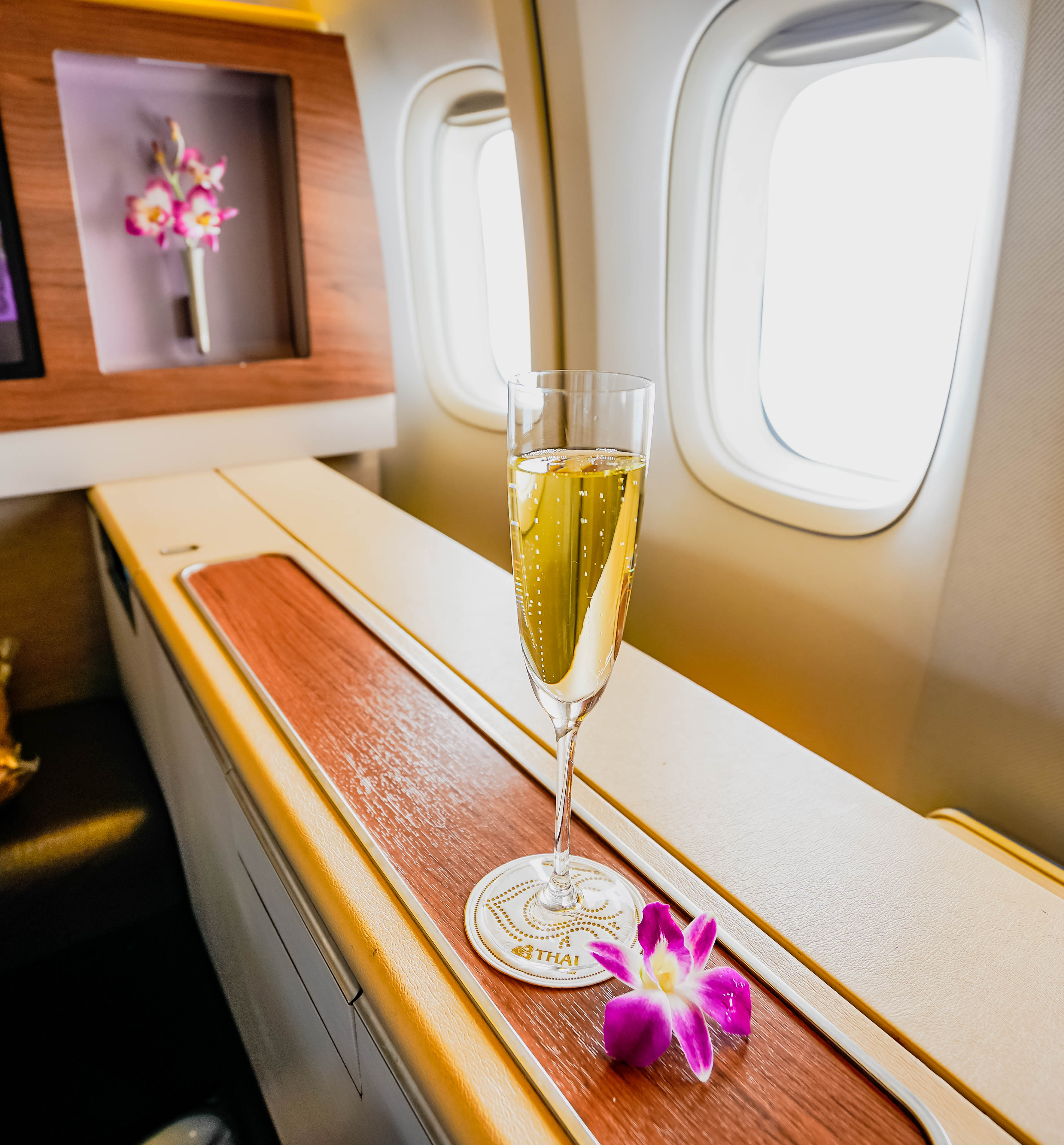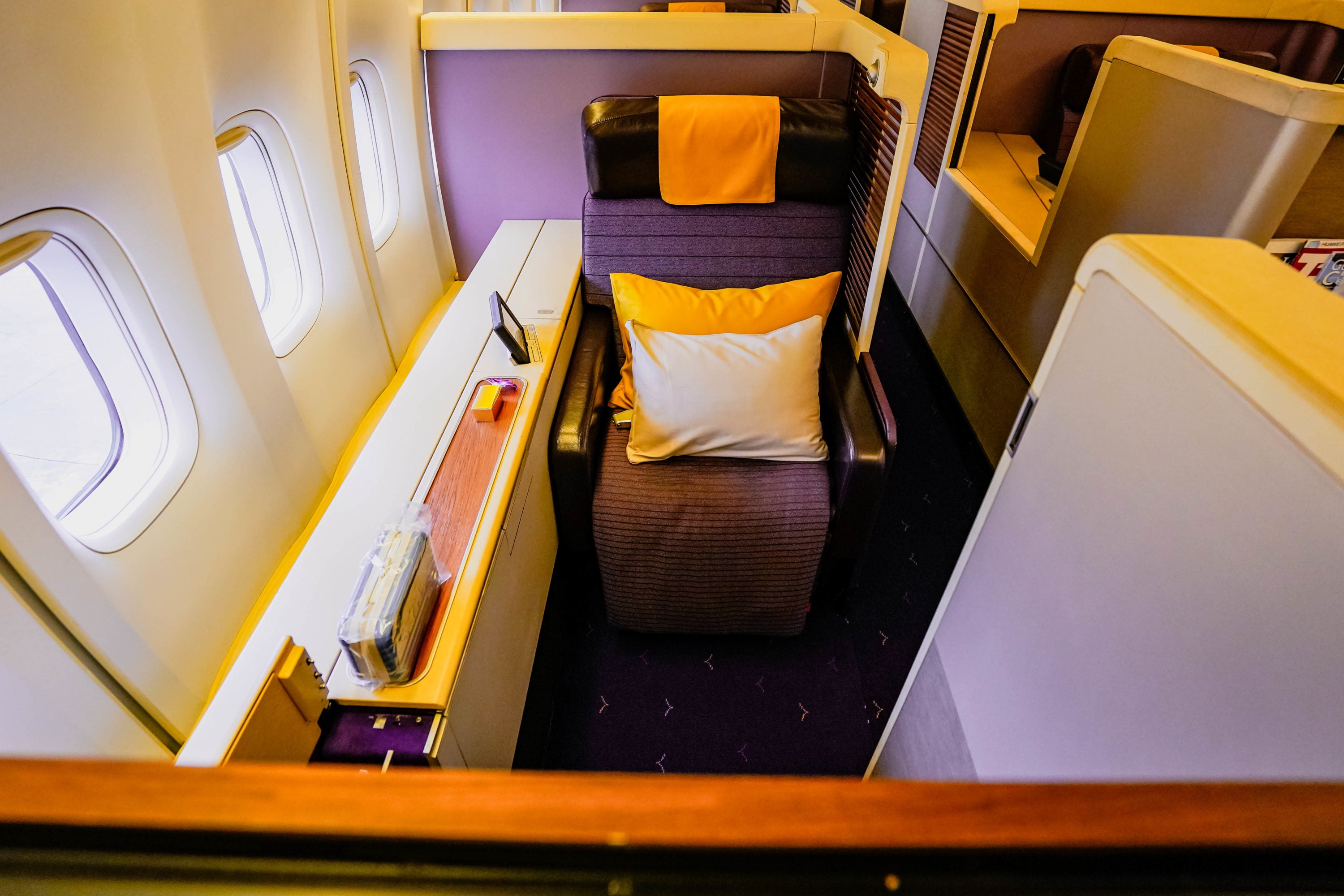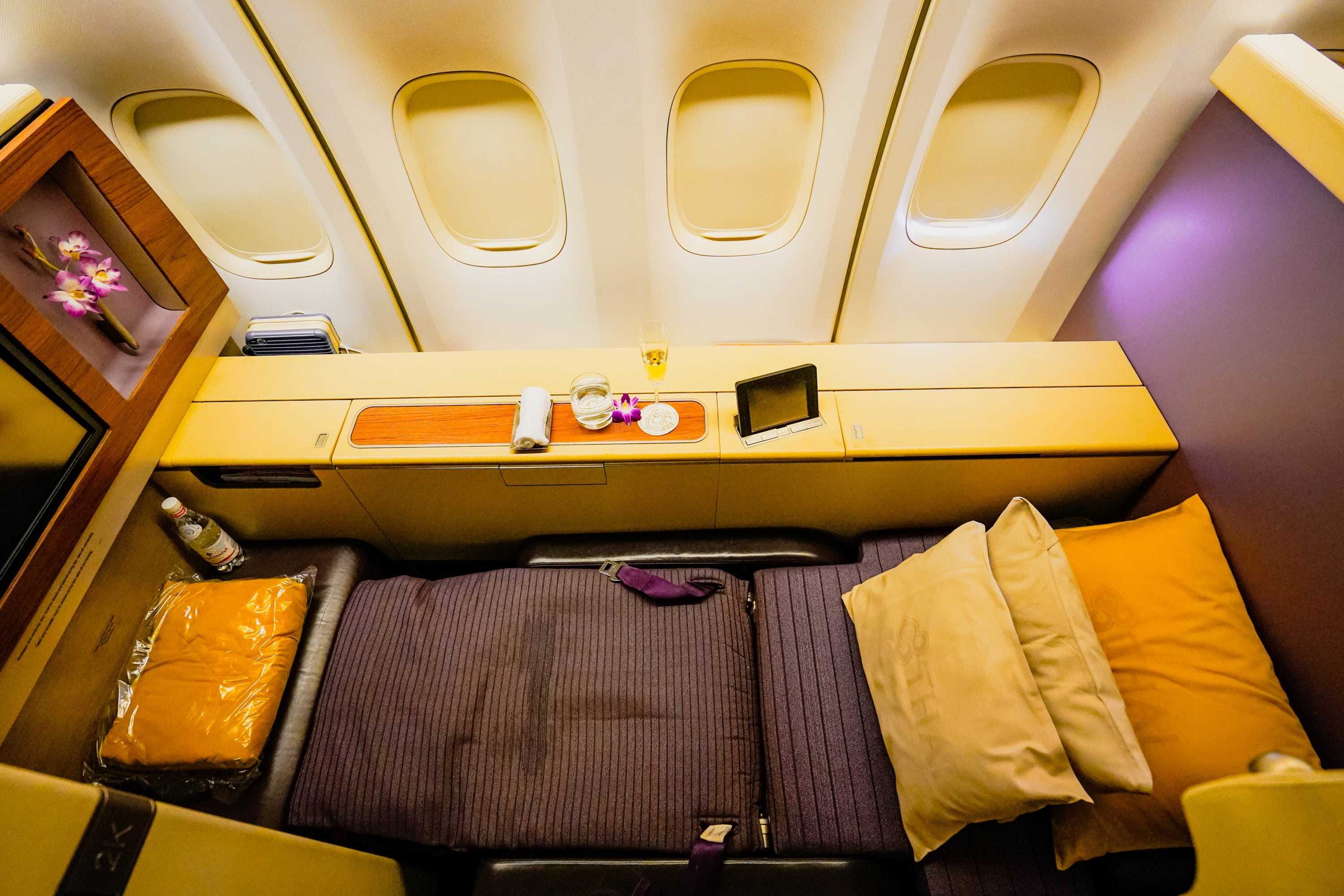 Opposite the seat is an ottoman to raise your feet on. Unfortunately, since there are no seat belts provided, the ottoman does not offer a companion dining option.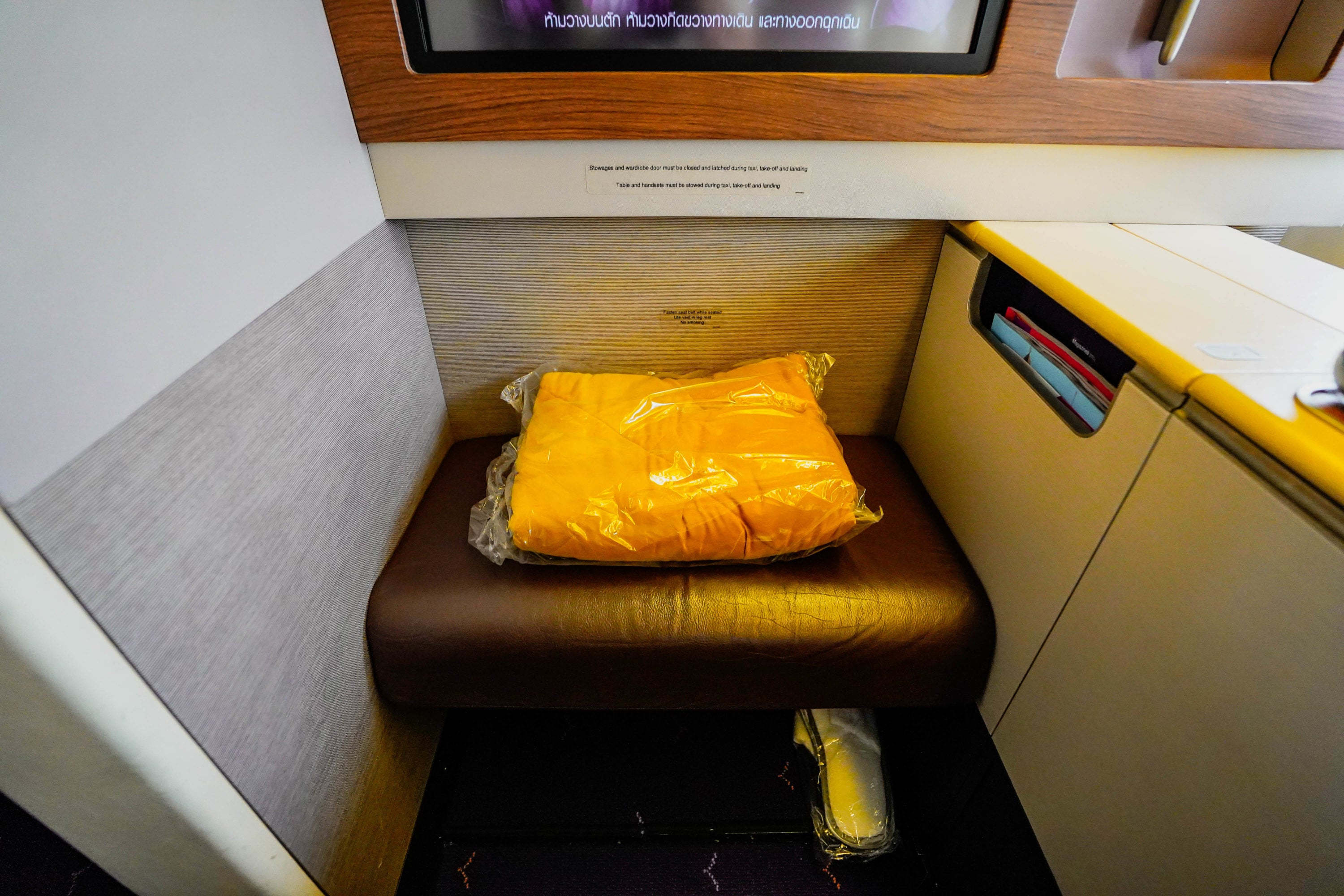 Next to the 23-inch touchscreen TV monitor is an orchid holder.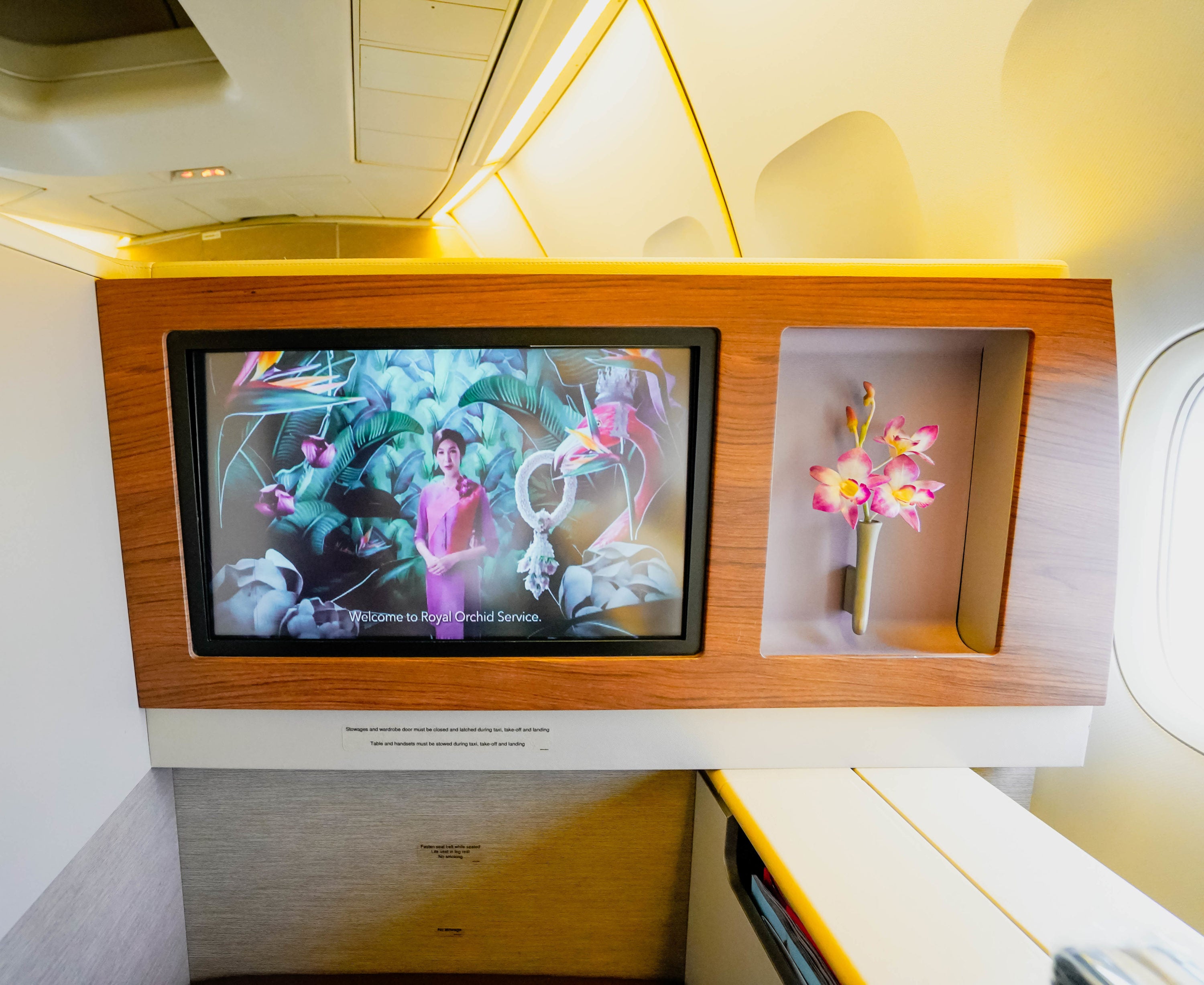 Along the side of the seat, a compartment houses the tray table which can be folded out and also folded in half.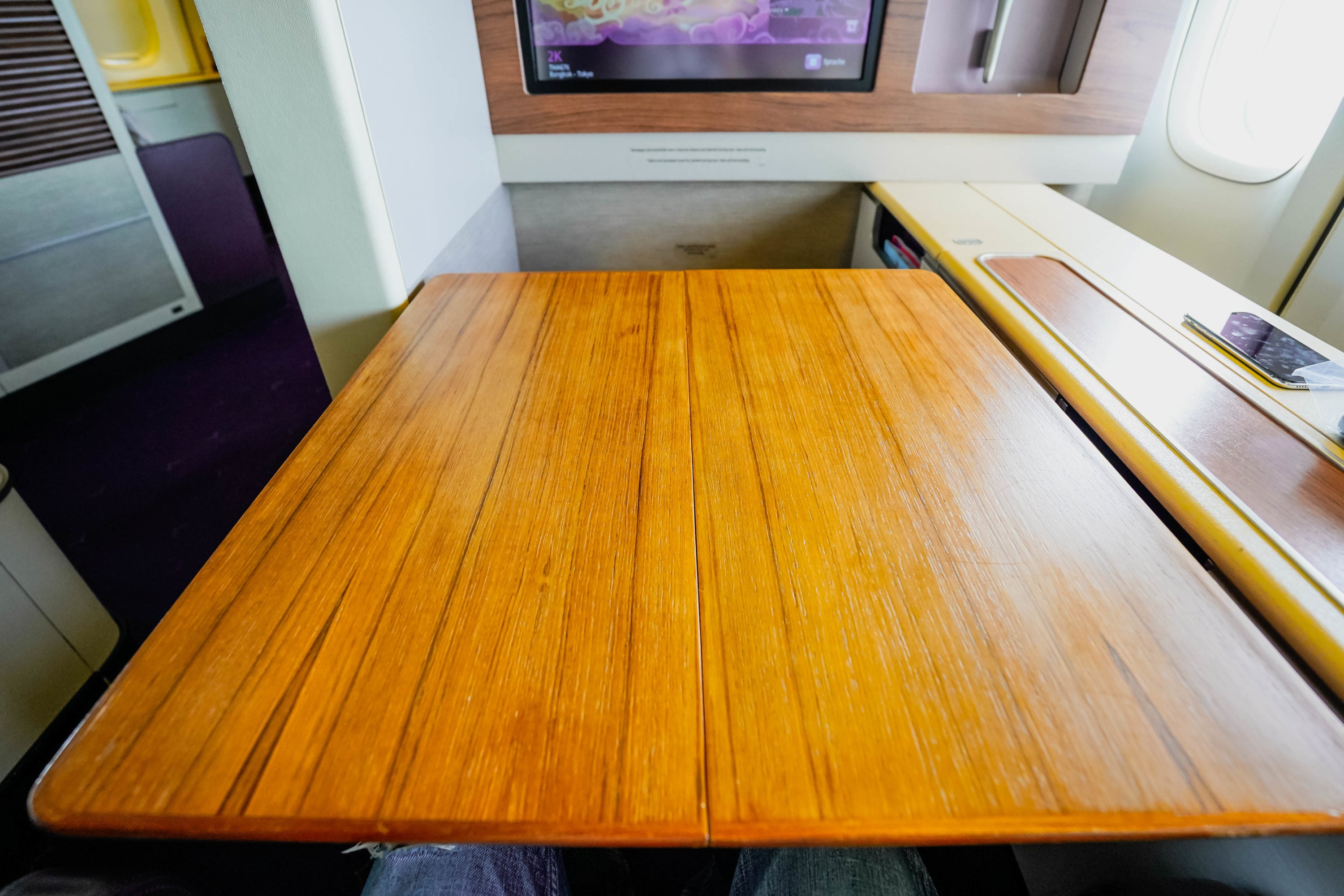 The suite and seat features, which include seat presets, seat adjustments, lighting, and privacy, can be controlled using a touchpad. At the base of the touchpad are 4 preset seat controls — takeoff/landing mode, dining mode, lumbar position, and bed mode.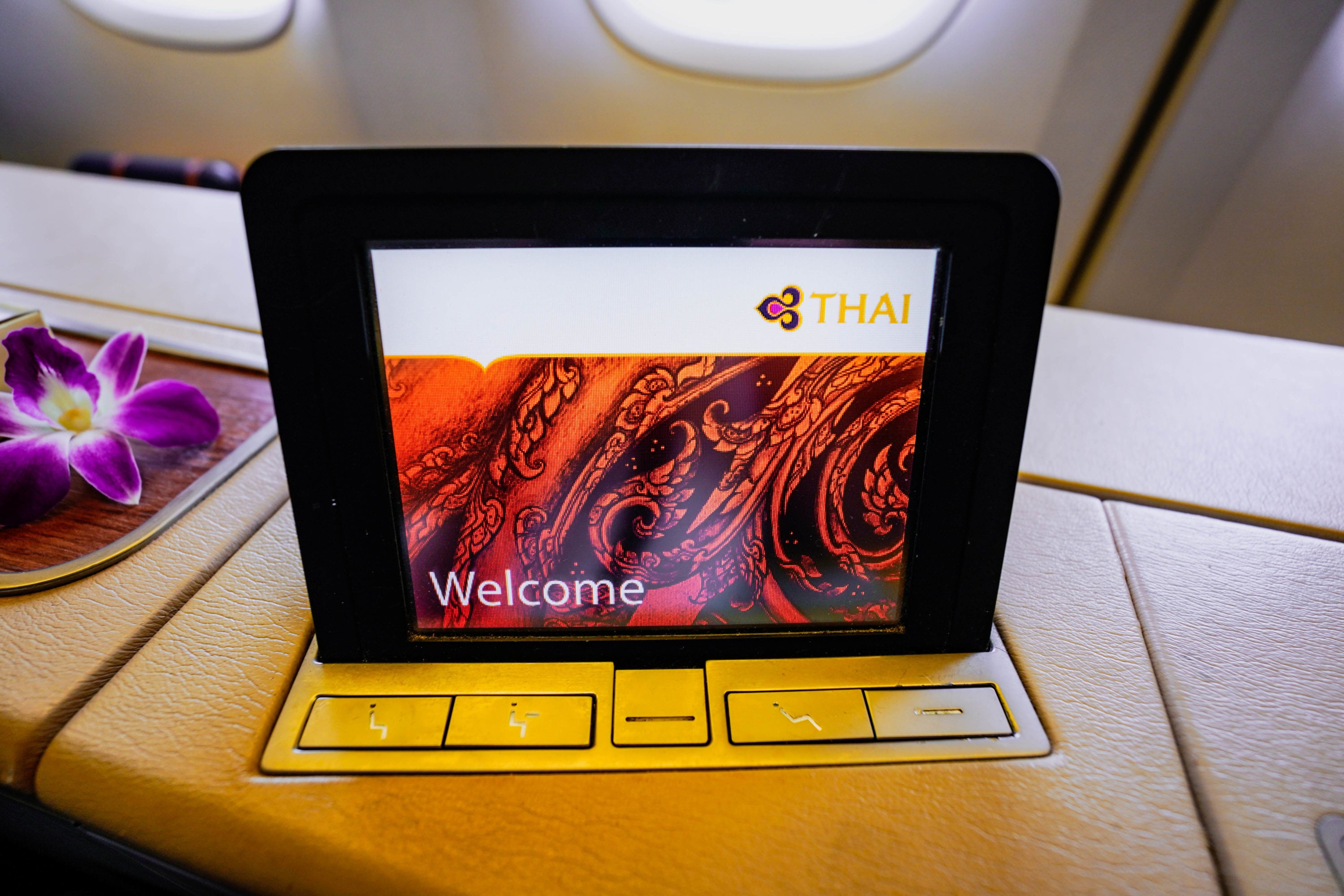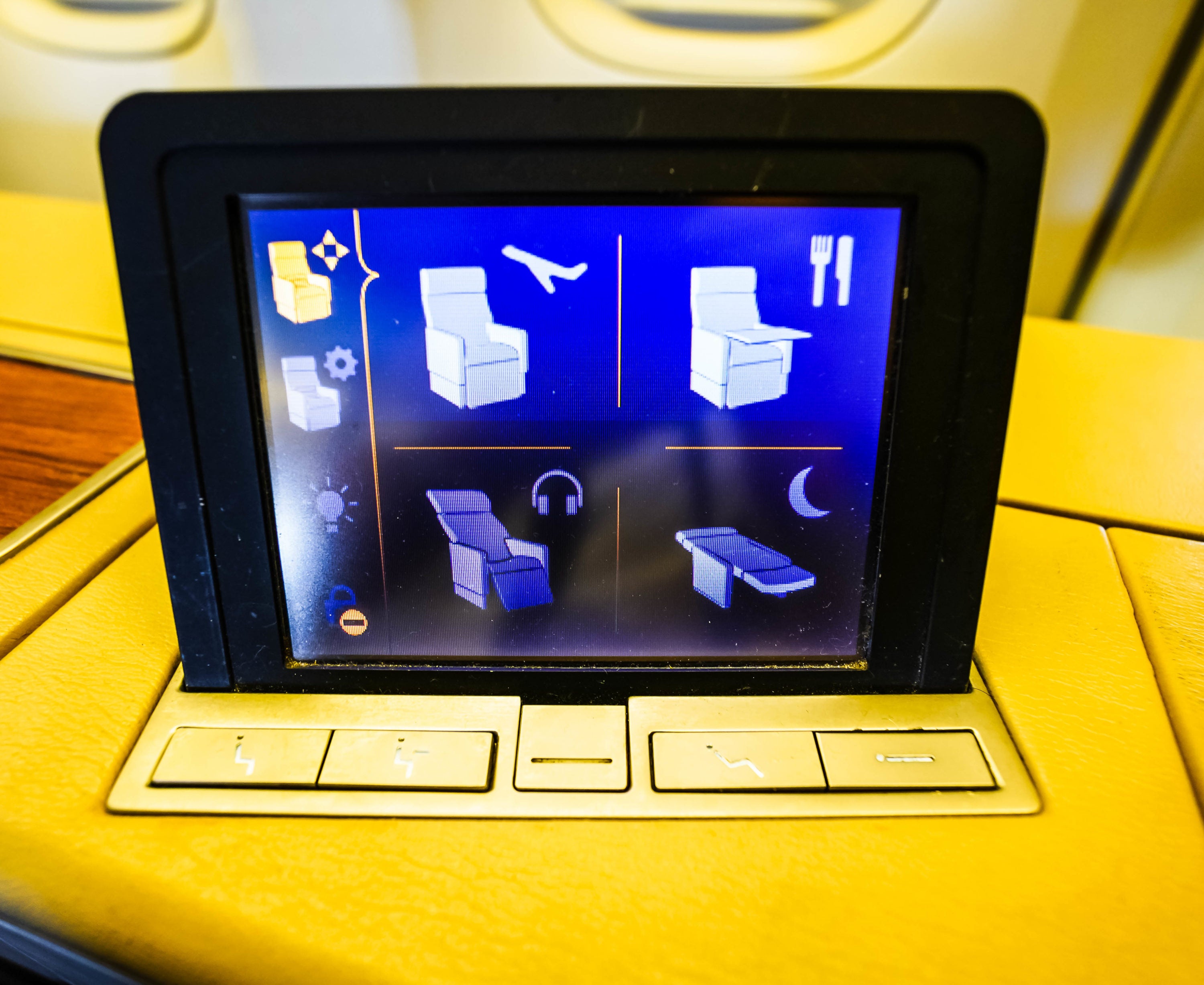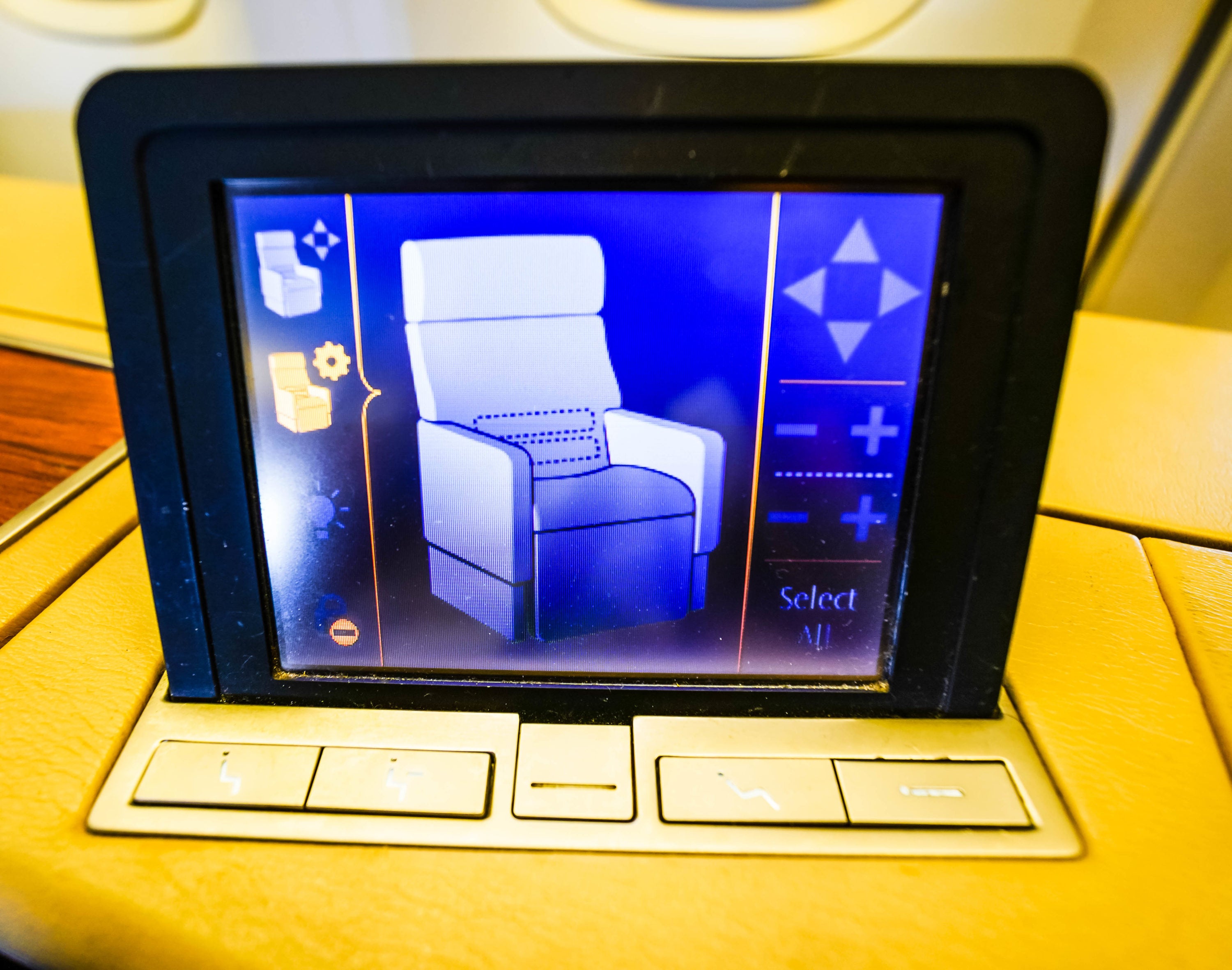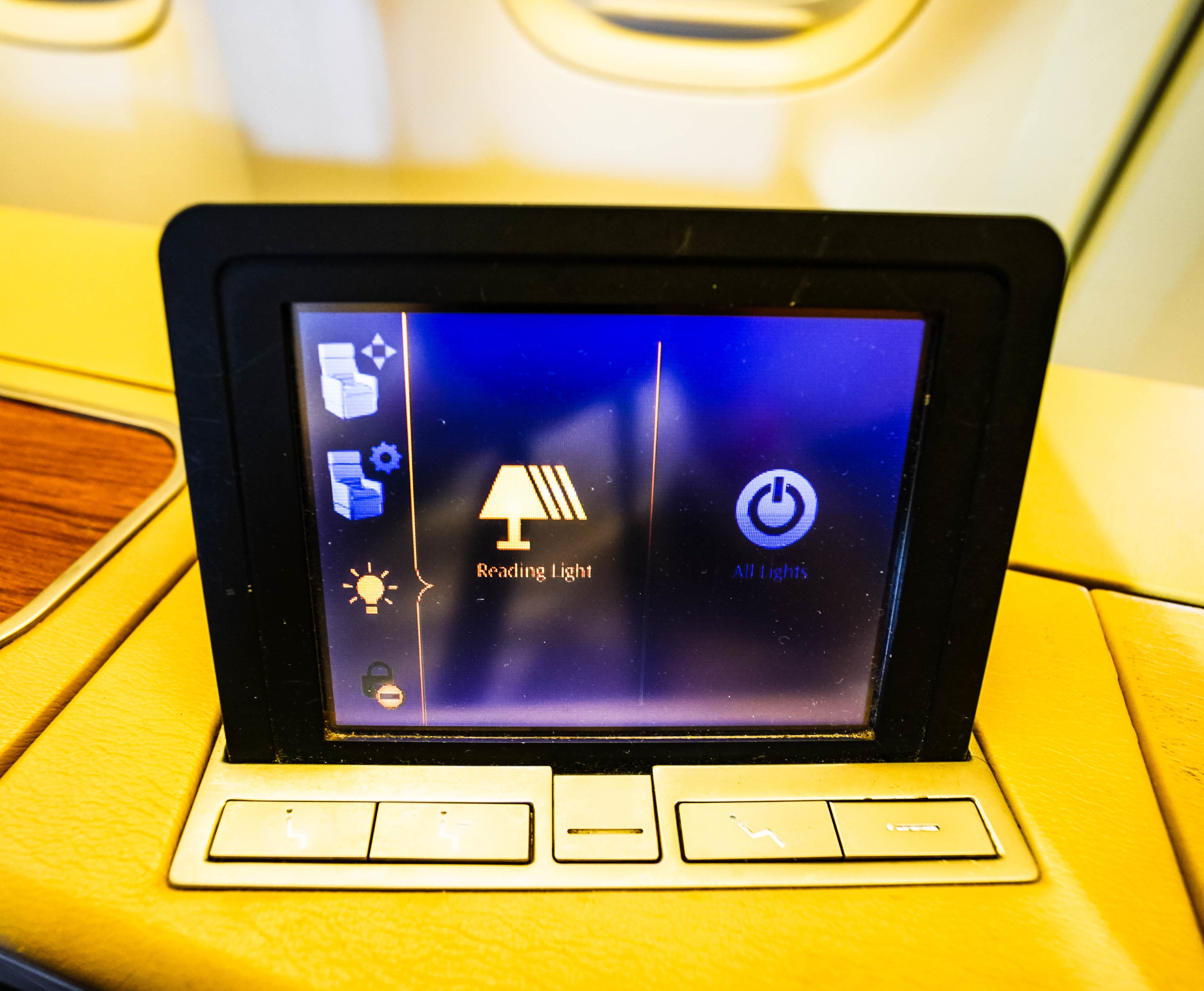 Storage Space
There is a decent amount of storage options provided in the suite other than the overhead bins. There are 2 storage compartments on the right-hand side next to the armrest. The forward compartment stores the noise-canceling headphones and inflight magazines, while the aft compartment can be used to store your phone and charger.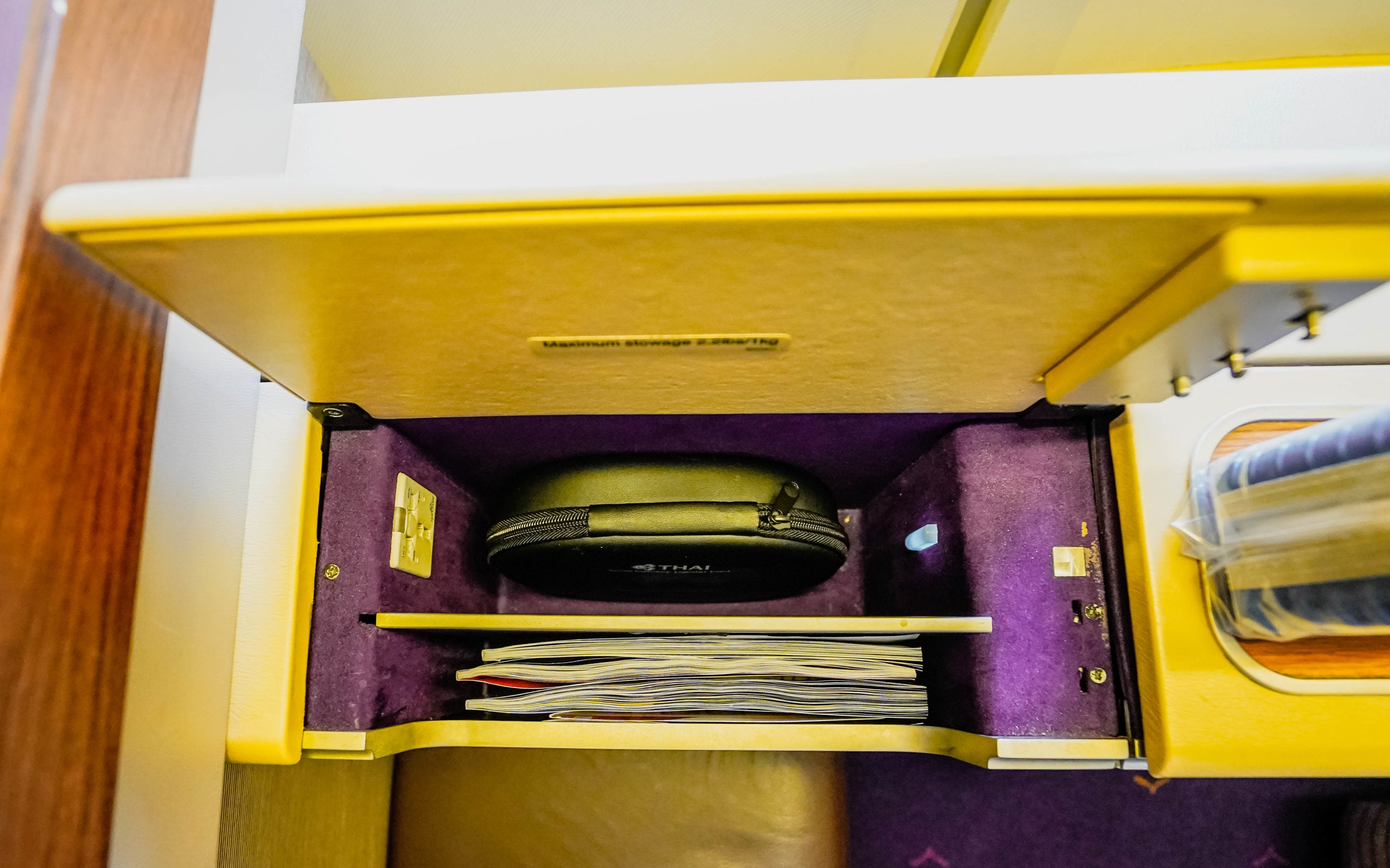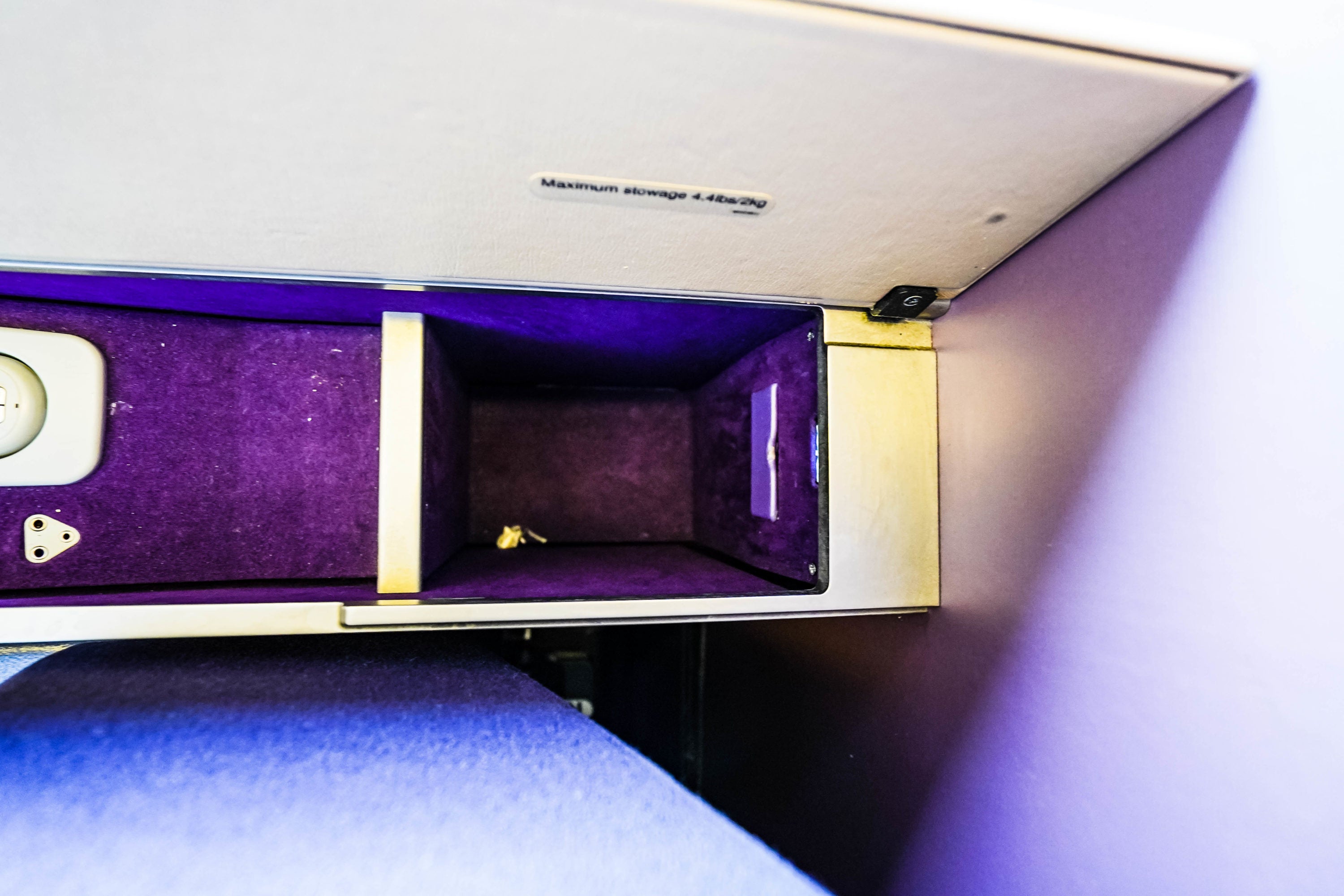 There is also a jacket closet and storage available below the ottoman.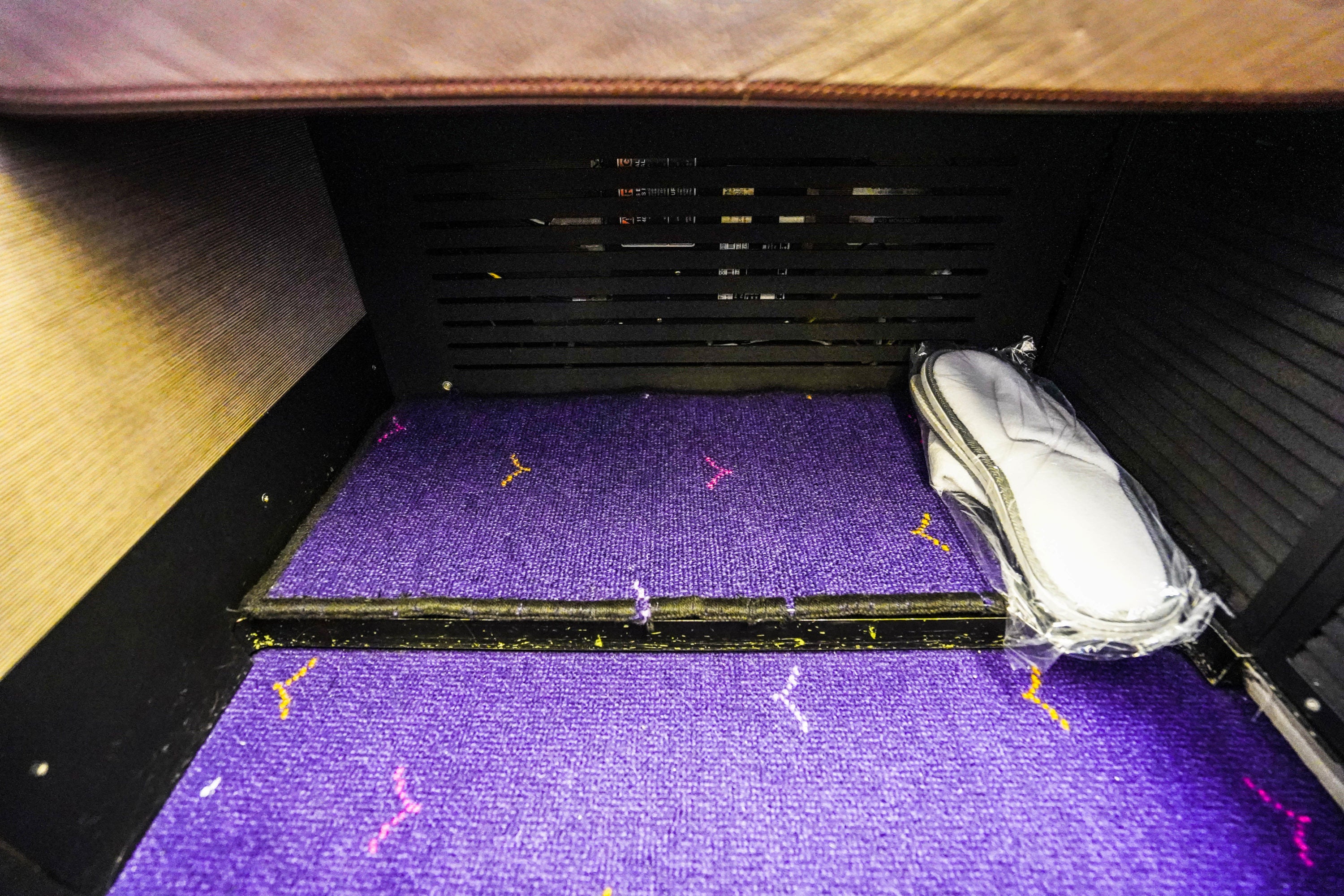 Plugs and Power Supply
There is a universal power outlet housed in the forward storage compartment on the right-hand side.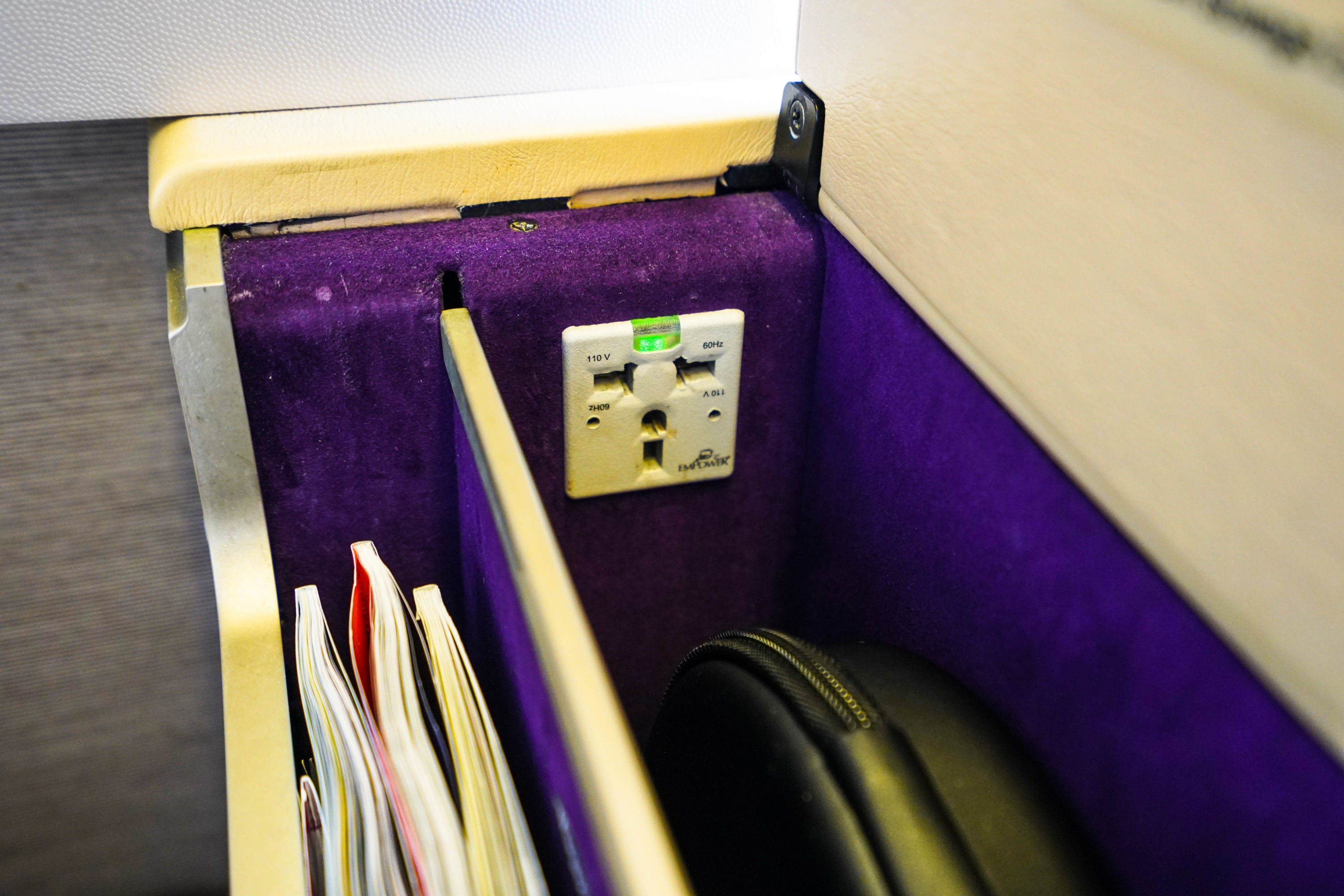 Next to that is a compartment that houses 2 USB ports, the 3-pronged headphone jack, and the entertainment controller.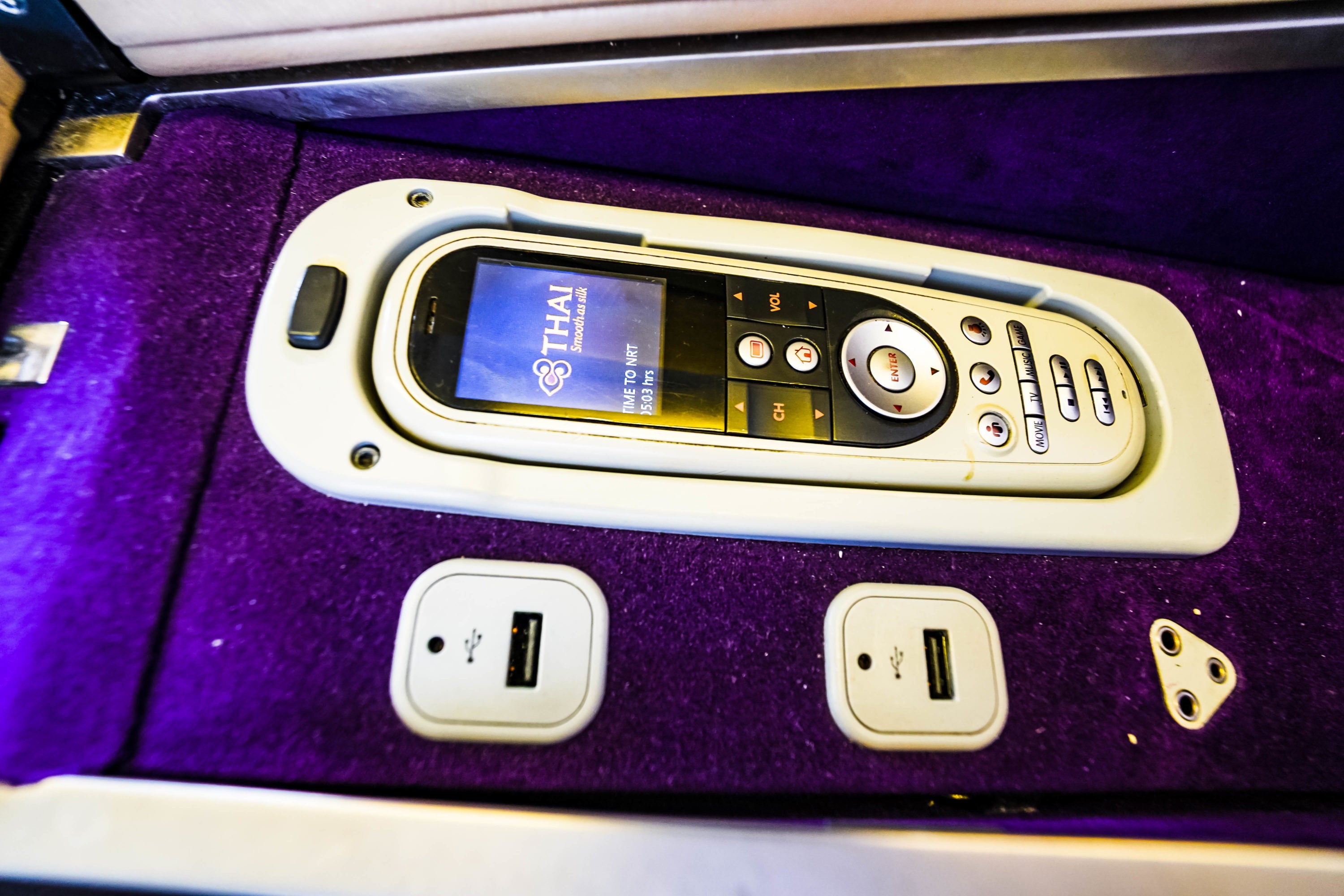 Inflight Entertainment and Wi-Fi
The TV monitor on the 747-400N version is a 23-inch touchscreen display, which can be controlled with a wired entertainment controller.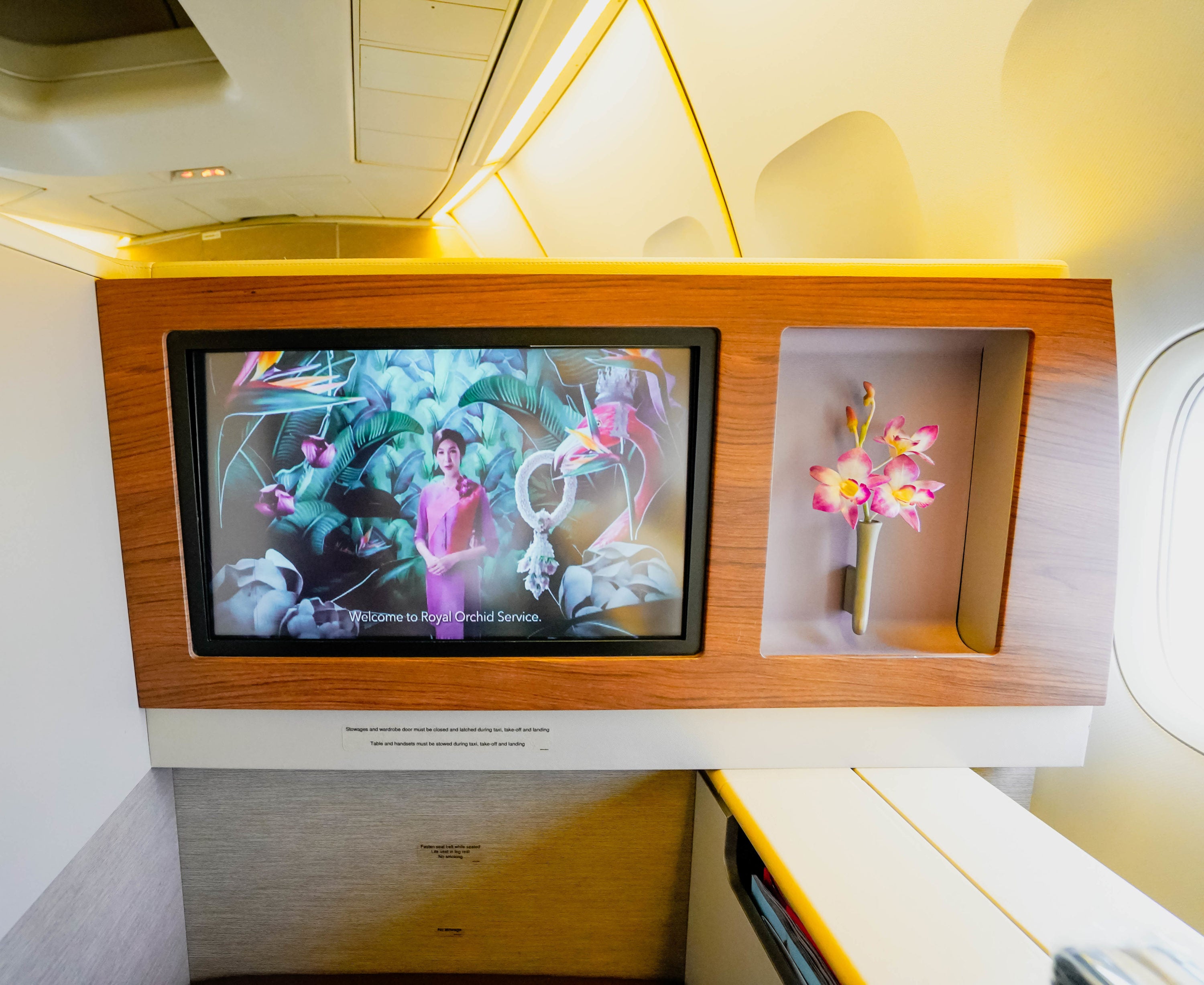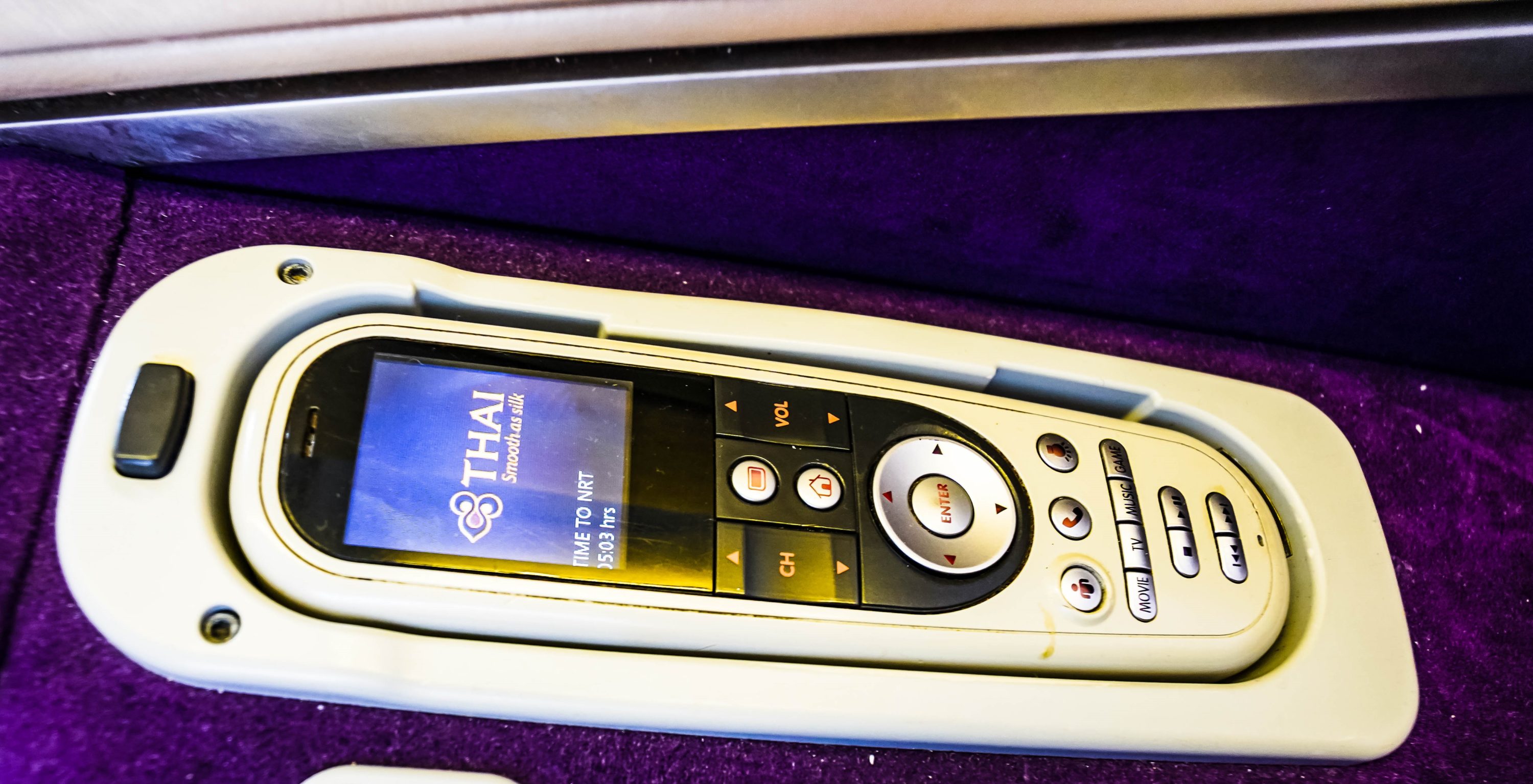 Thai Airways provides Samsung-tuned AKG-branded noise-canceling headphones that are of excellent quality.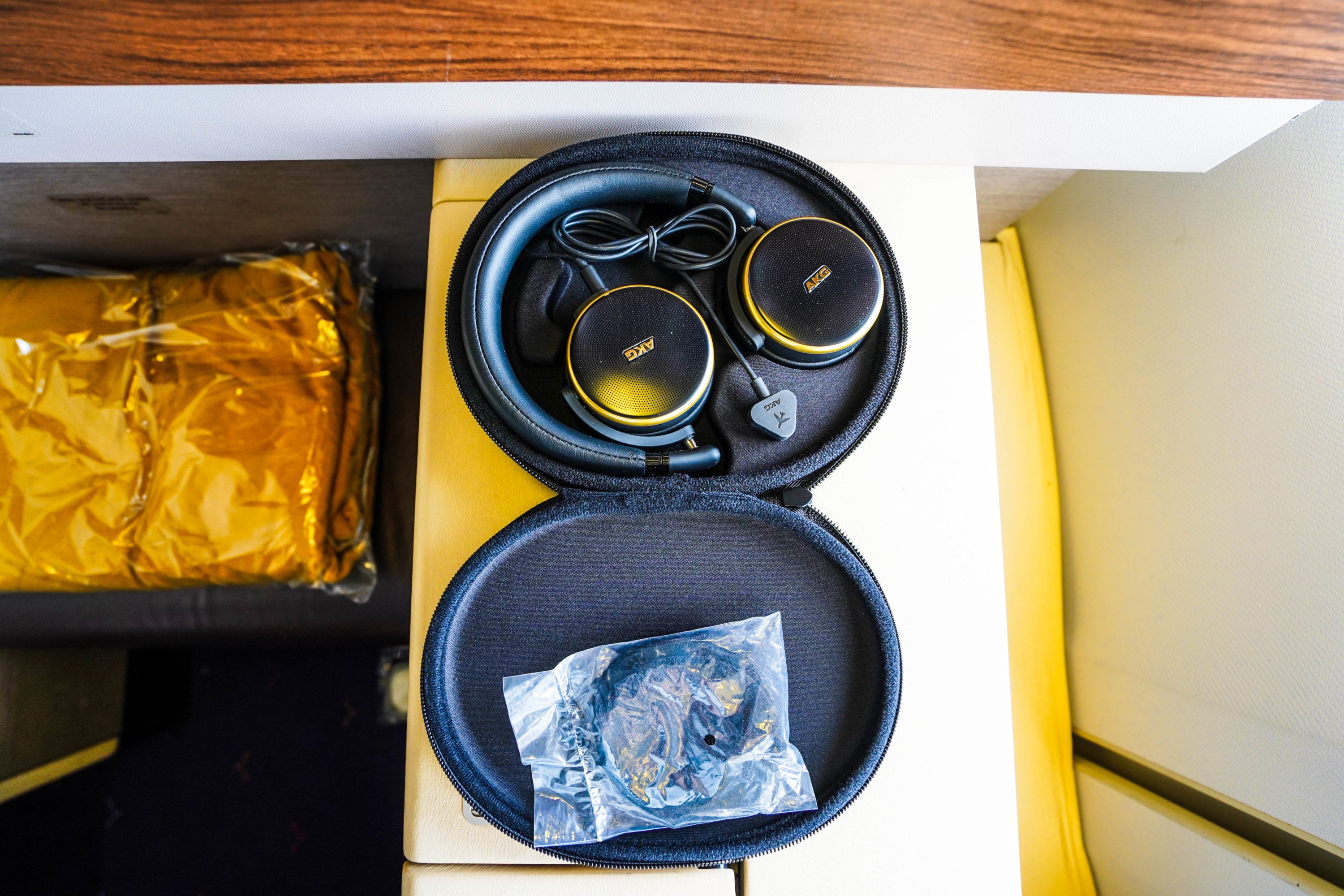 The entertainment selection was strictly OK, with limited movie and TV series options along with games and the flight map.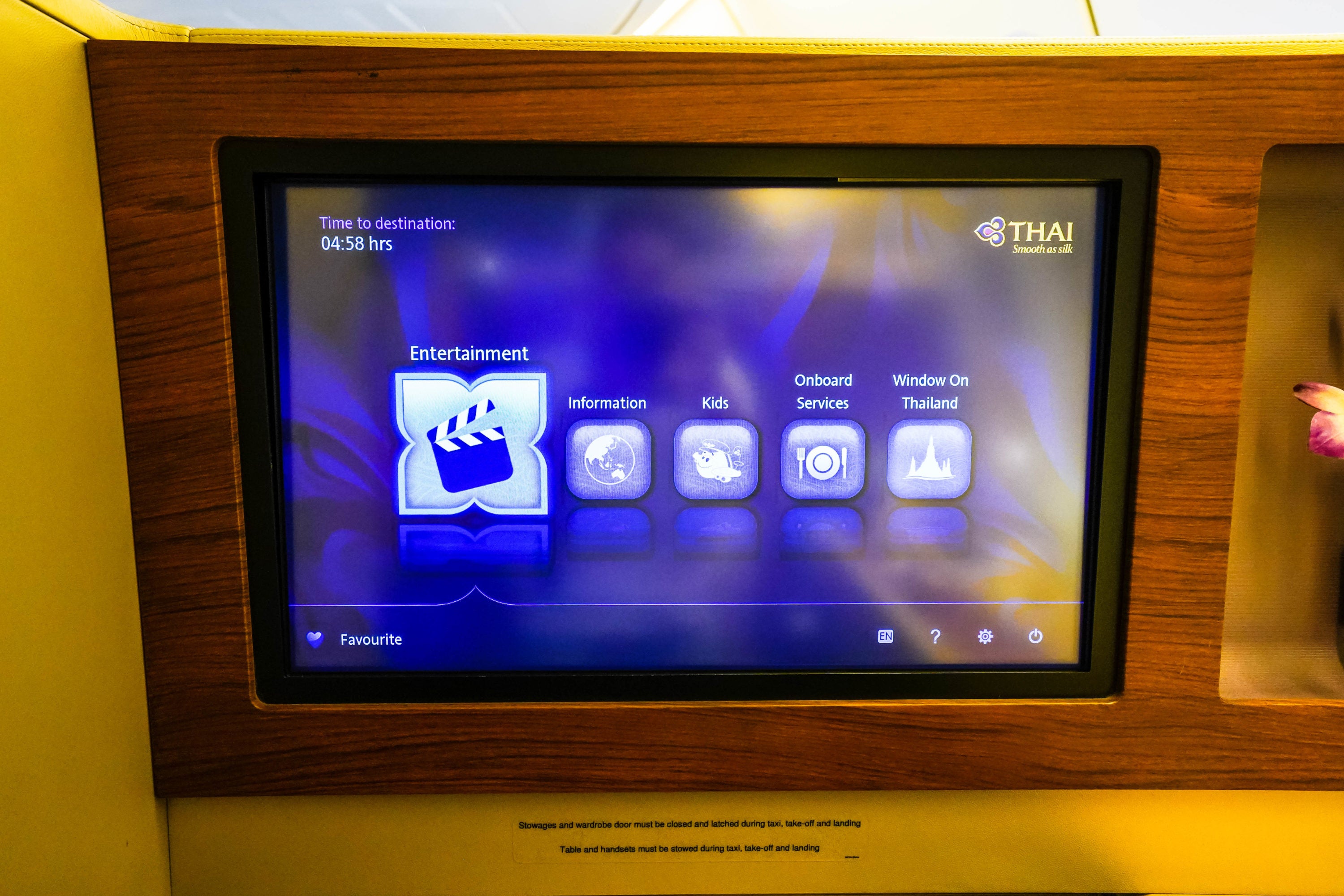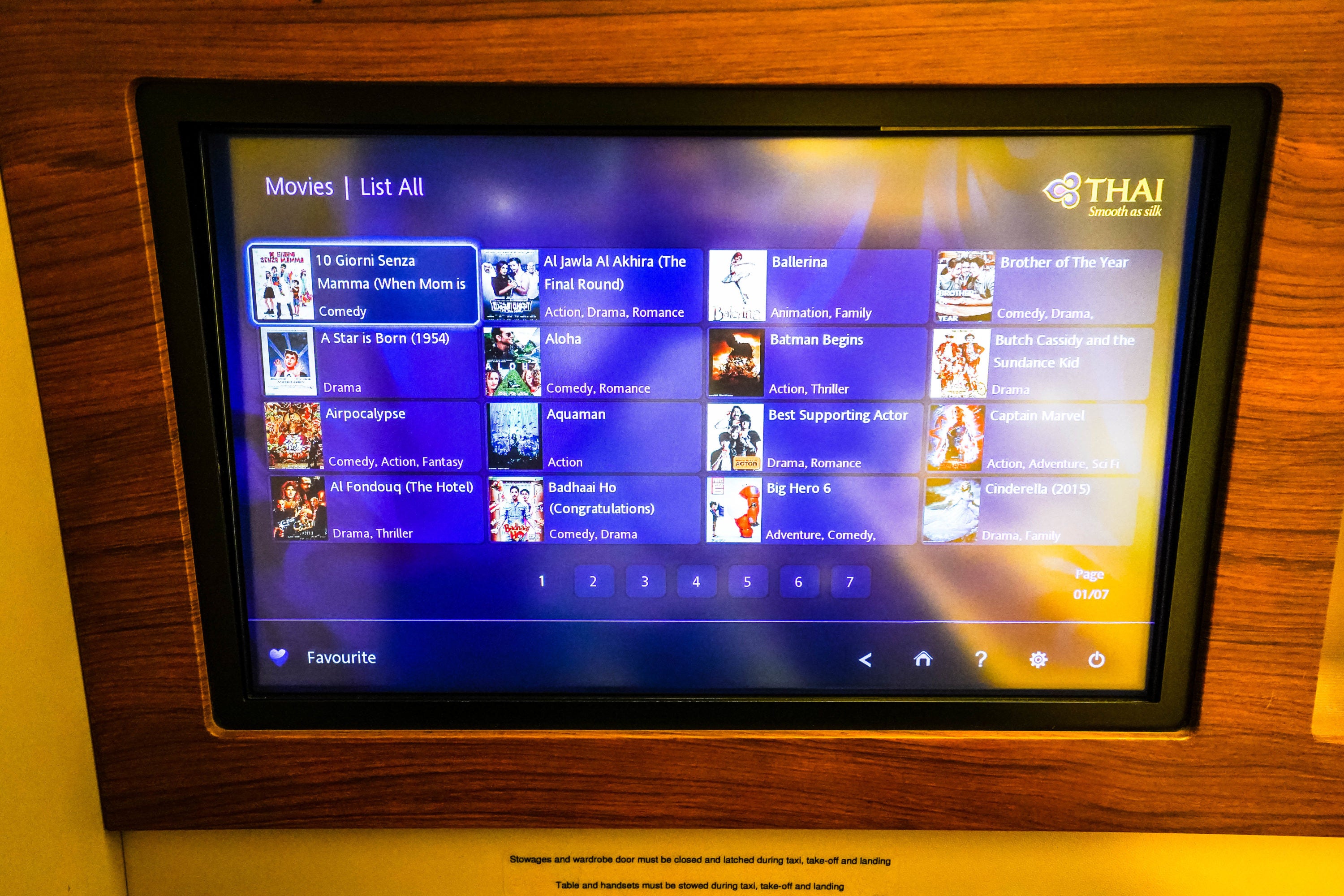 I was pretty exhausted from the previous night and wanted to get in some sleep, so I skipped watching anything.
There is no Wi-Fi available on the 747-400 fleet.
Food and Service
After I had settled in my seat, the purser introduced himself and offered his apologies for the aircraft change. I was then offered a selection of pre-takeoff beverages along with chocolates, a cold towel, and an orchid, along with the Rimowa amenity kit.
I selected the Dom Perignon 2009 which was excellent.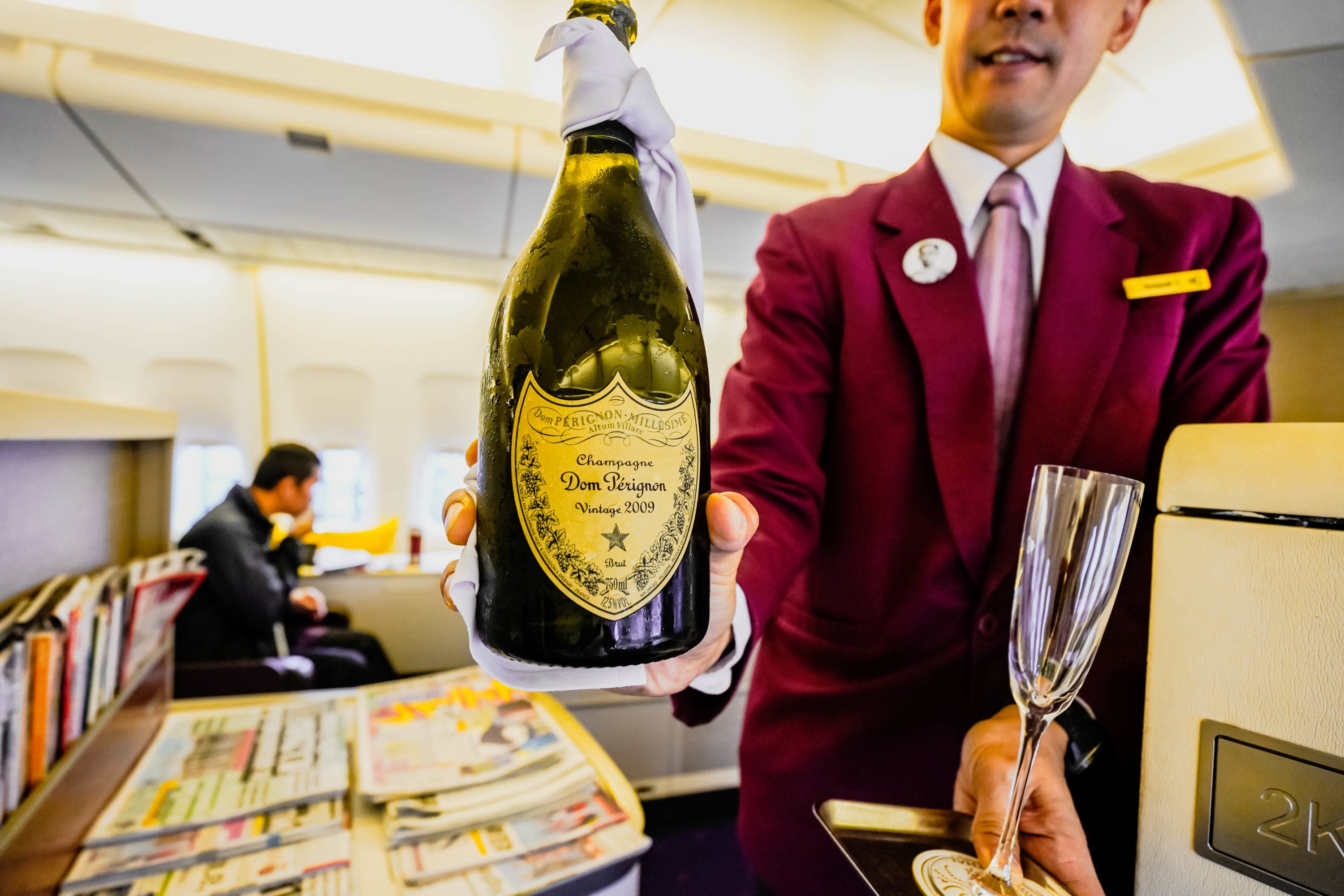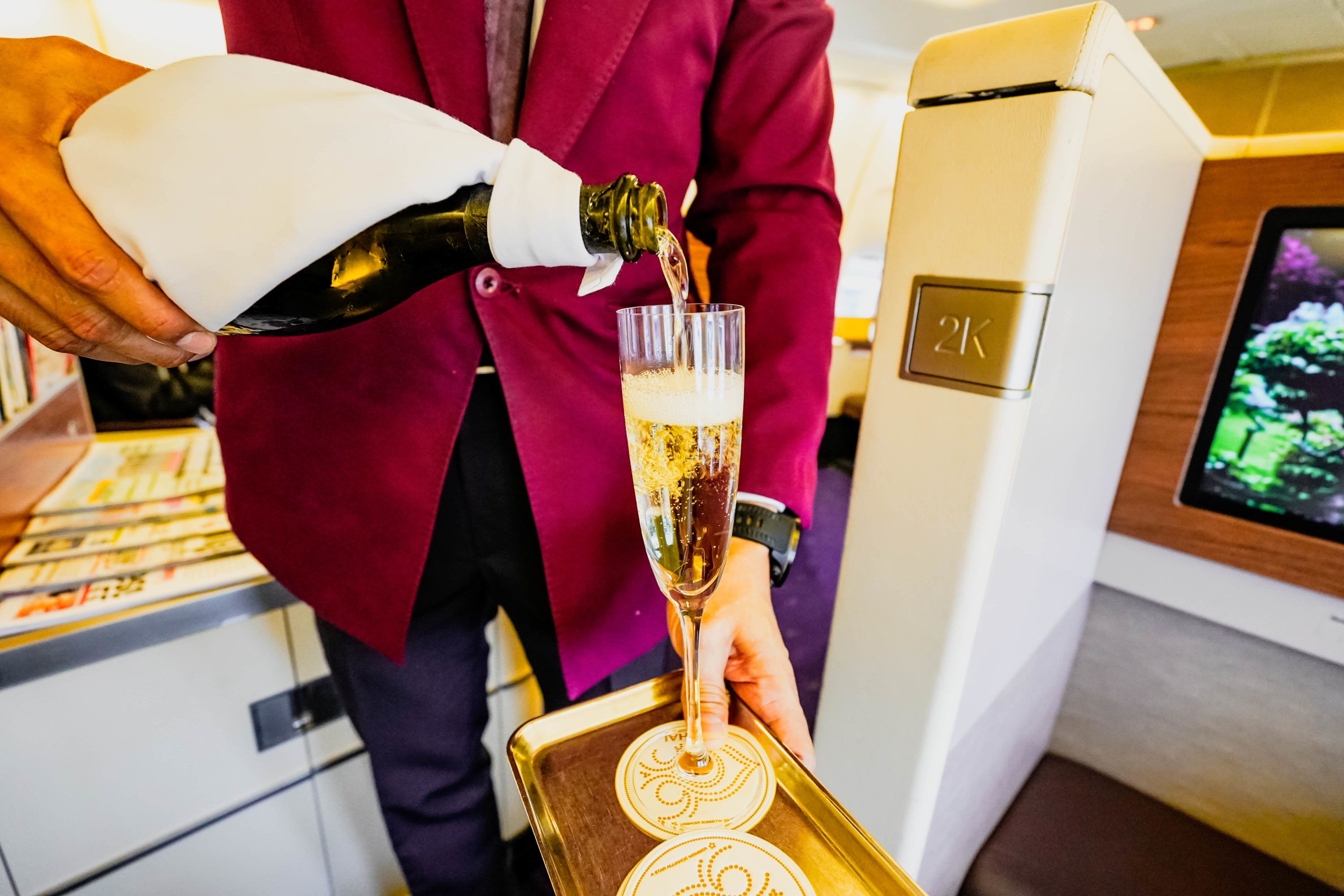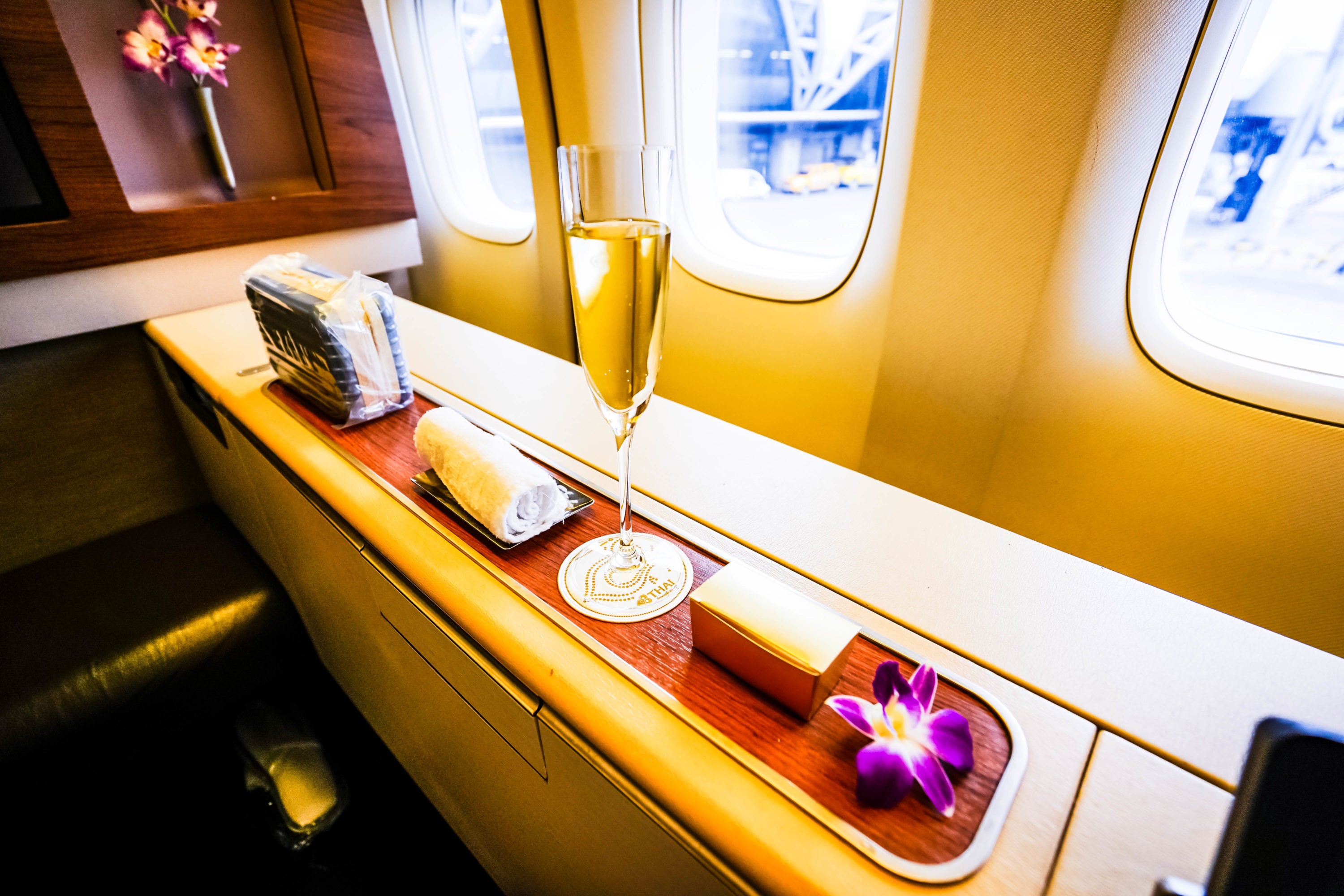 Boarding was complete 15 minutes later and we finally pushed back from the gate at 7:54 a.m., which was 19 minutes behind schedule. 8 out of the 9 first class suites were occupied.
The first class menu was presented in a brown leather folder and once we hit cruising altitude, the seat belt signs were switched off and the breakfast service commenced.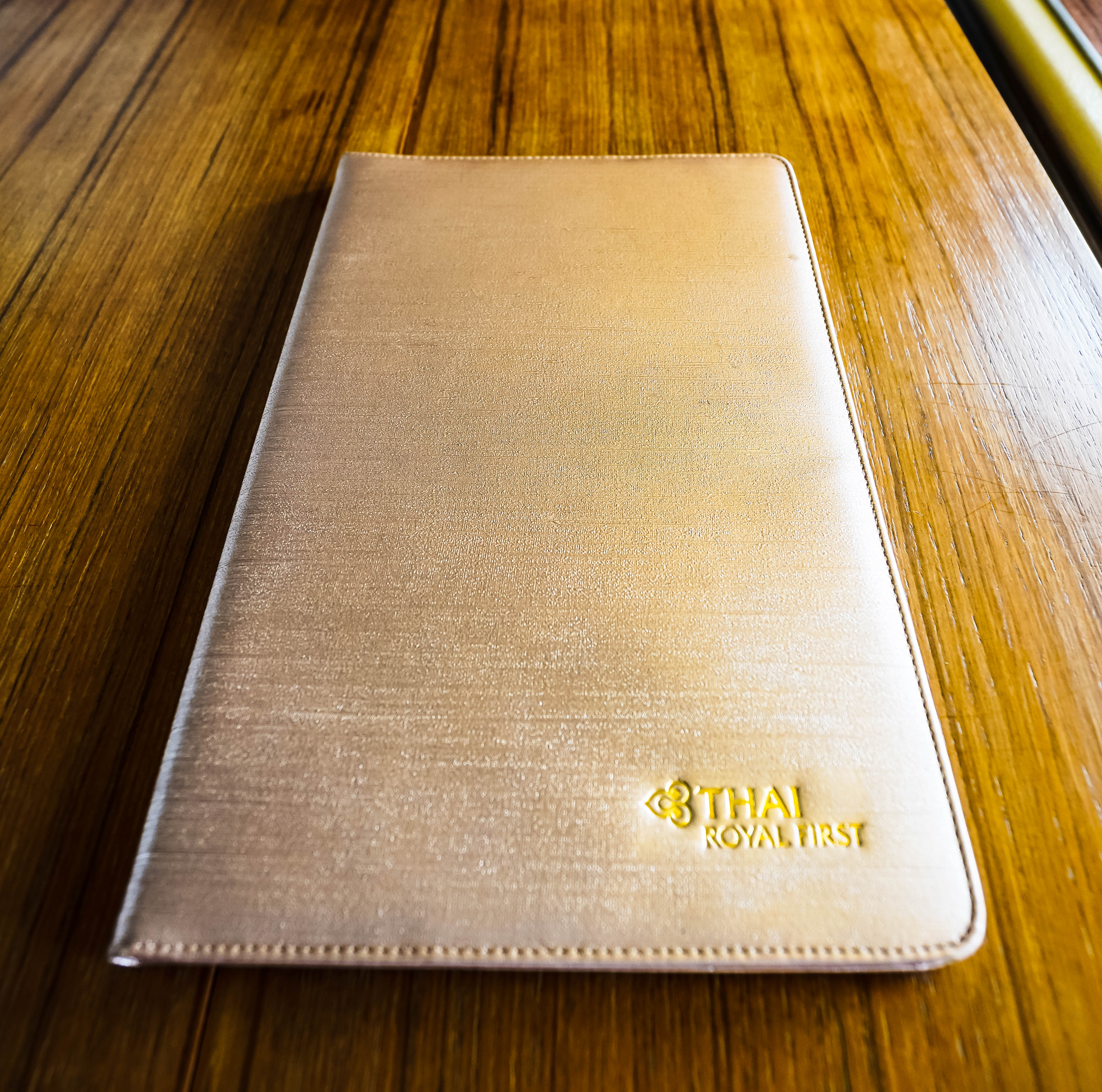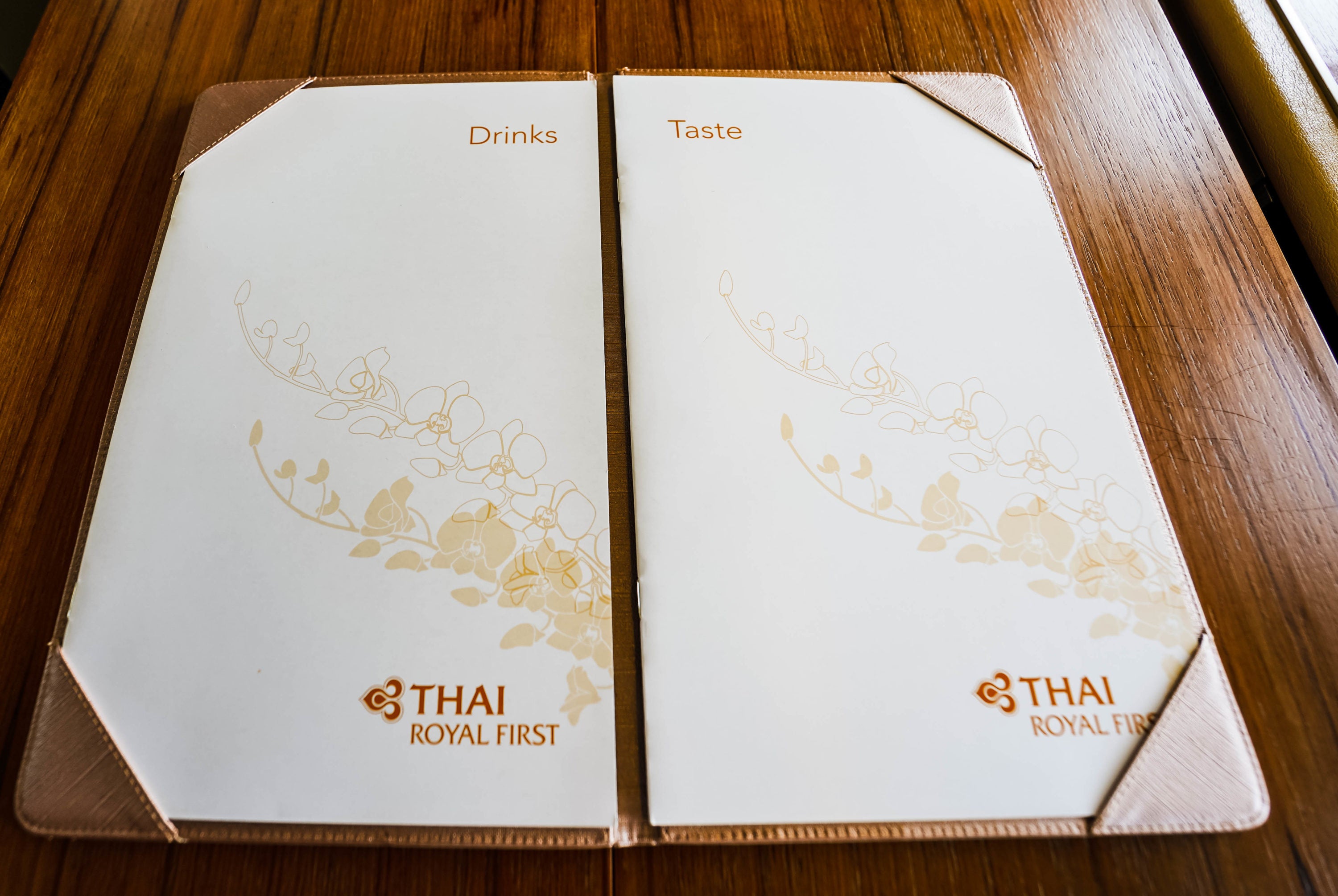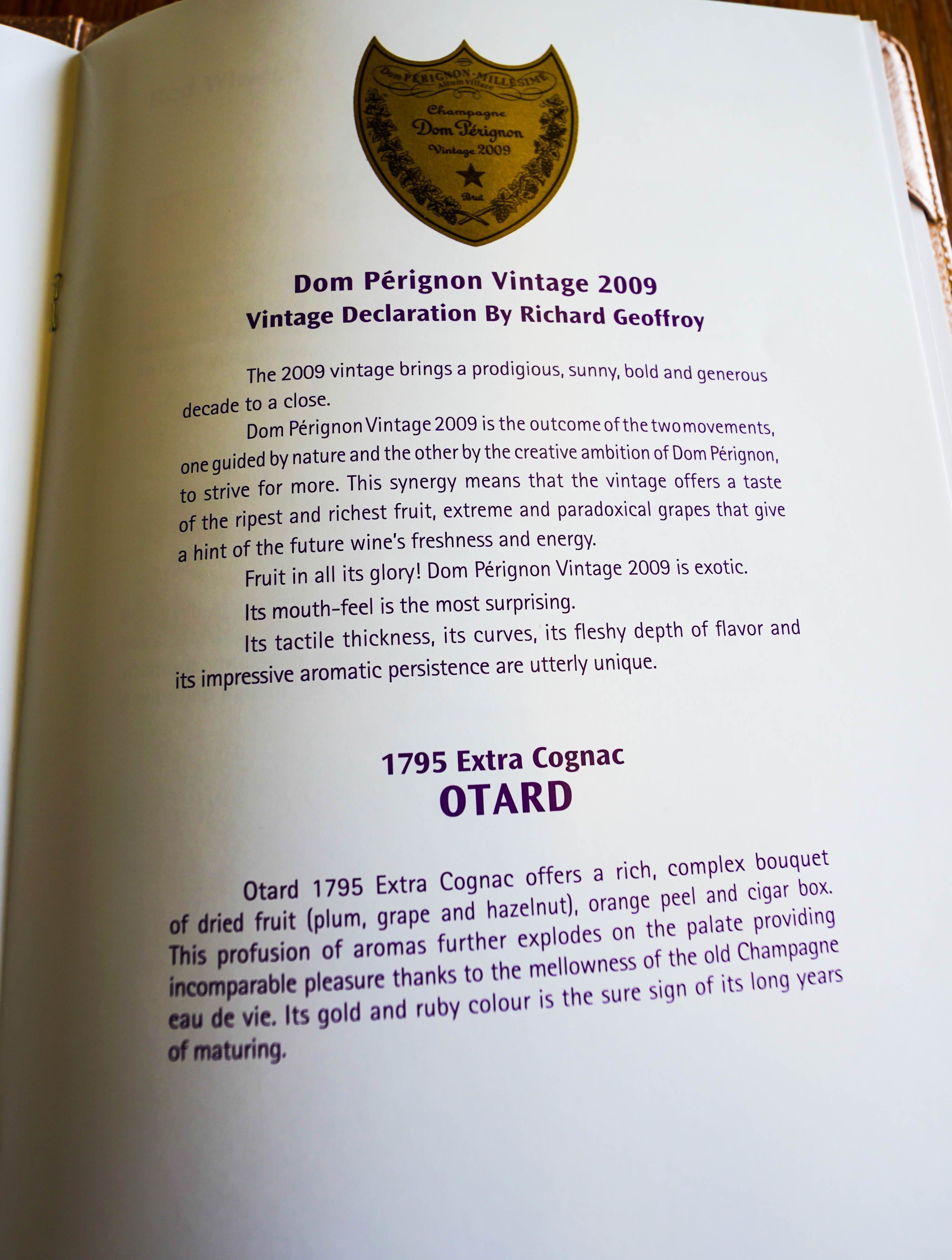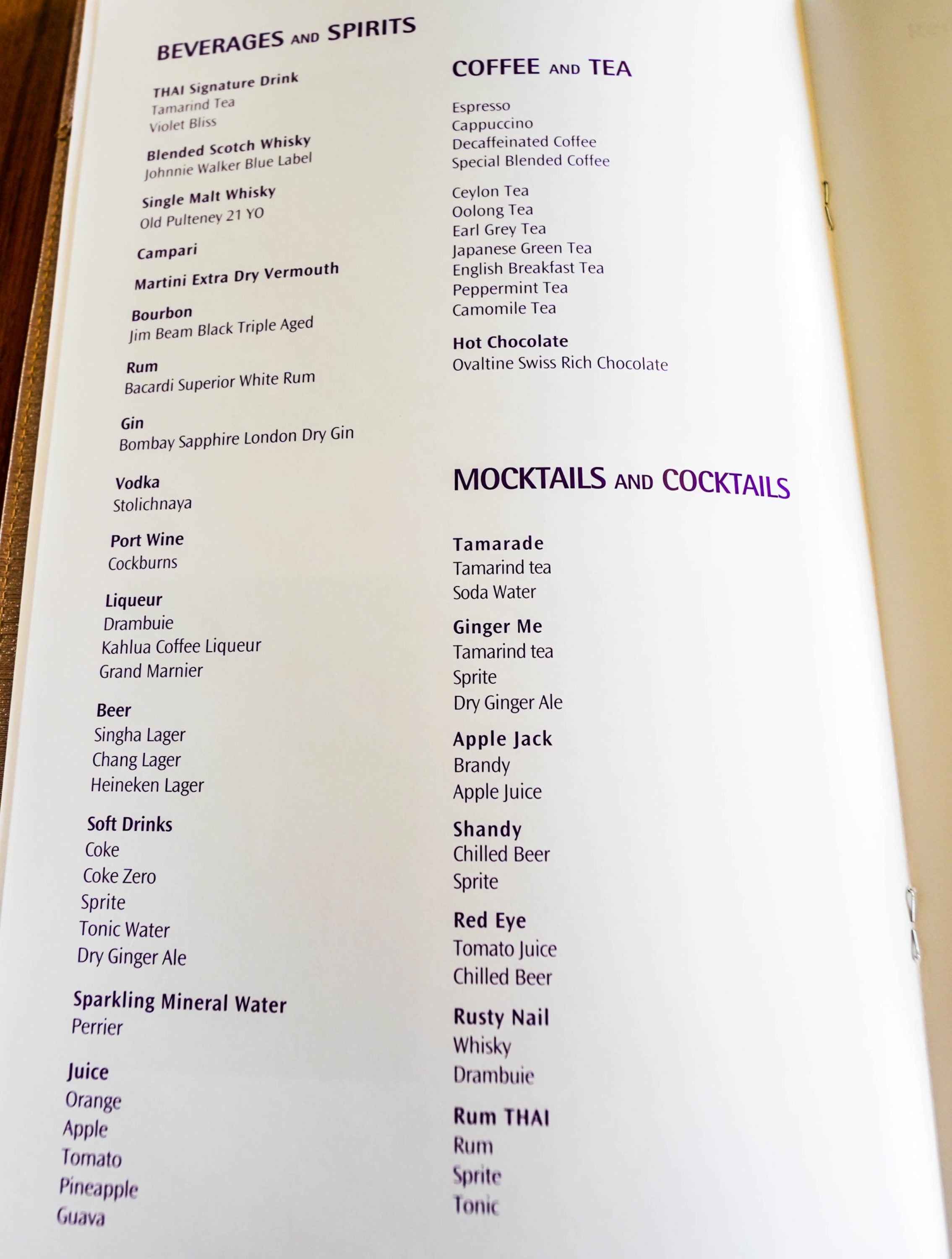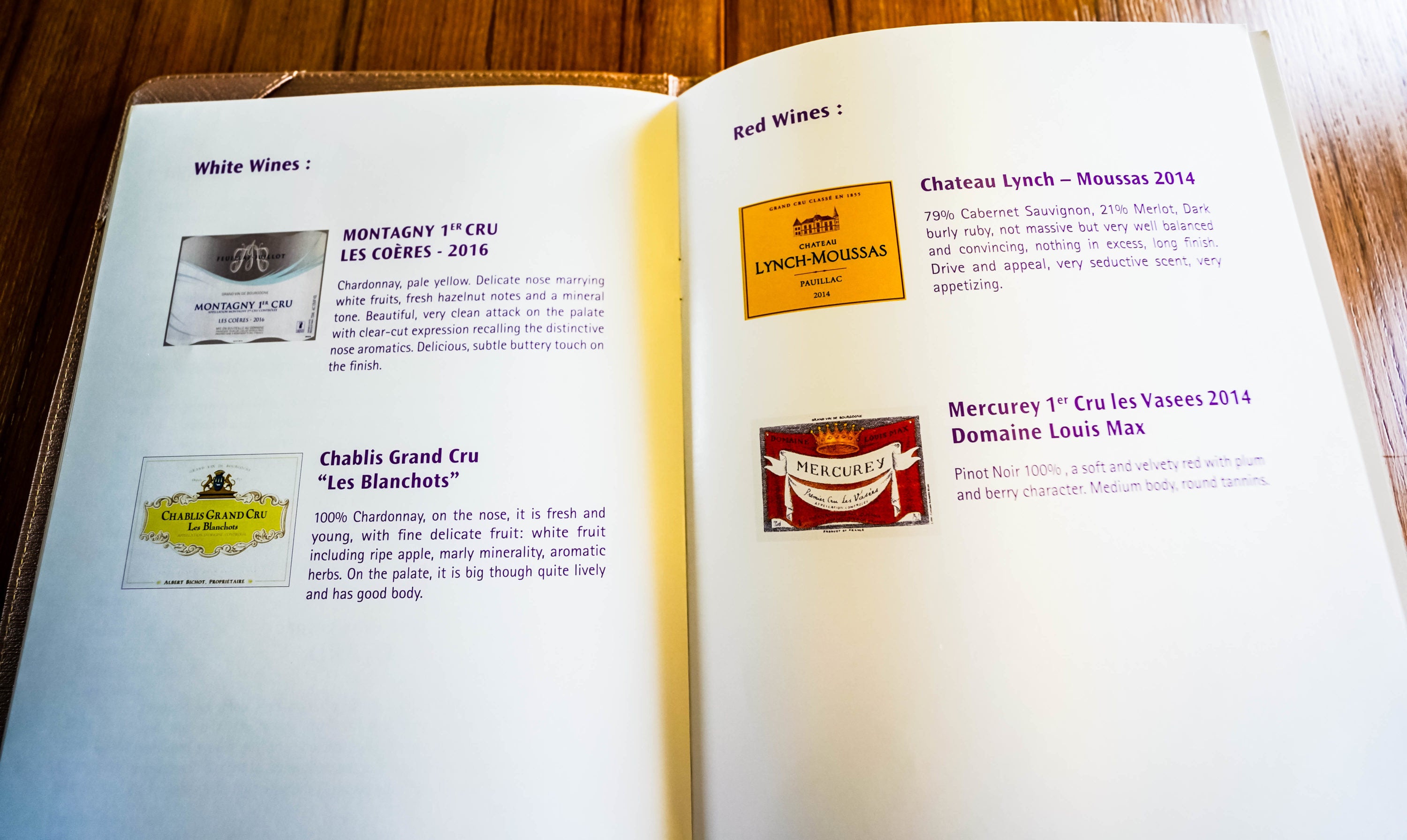 On this 6 hour flight, Thai Airways was offering 2 meal services — breakfast and an "All Day Dining" option.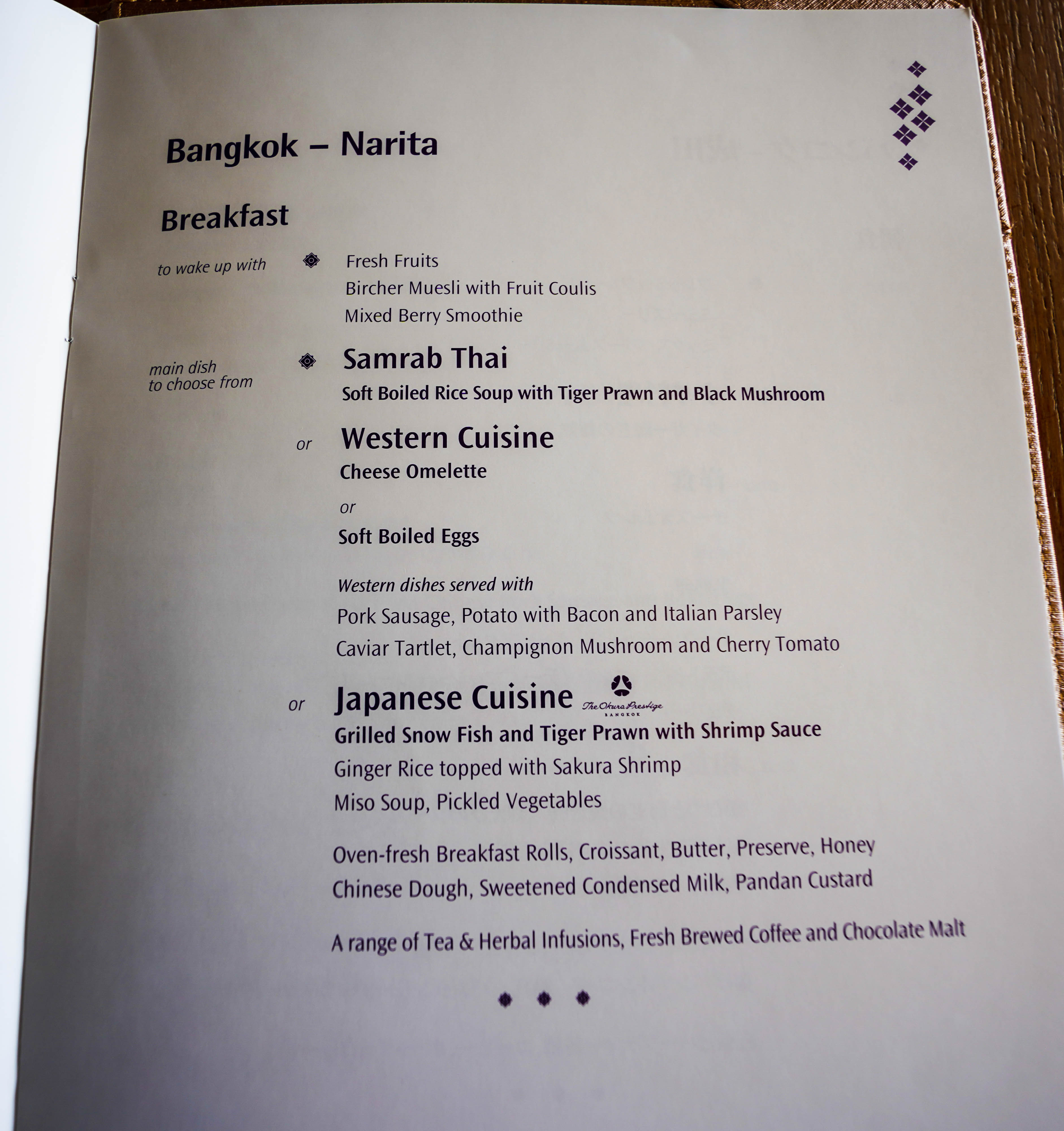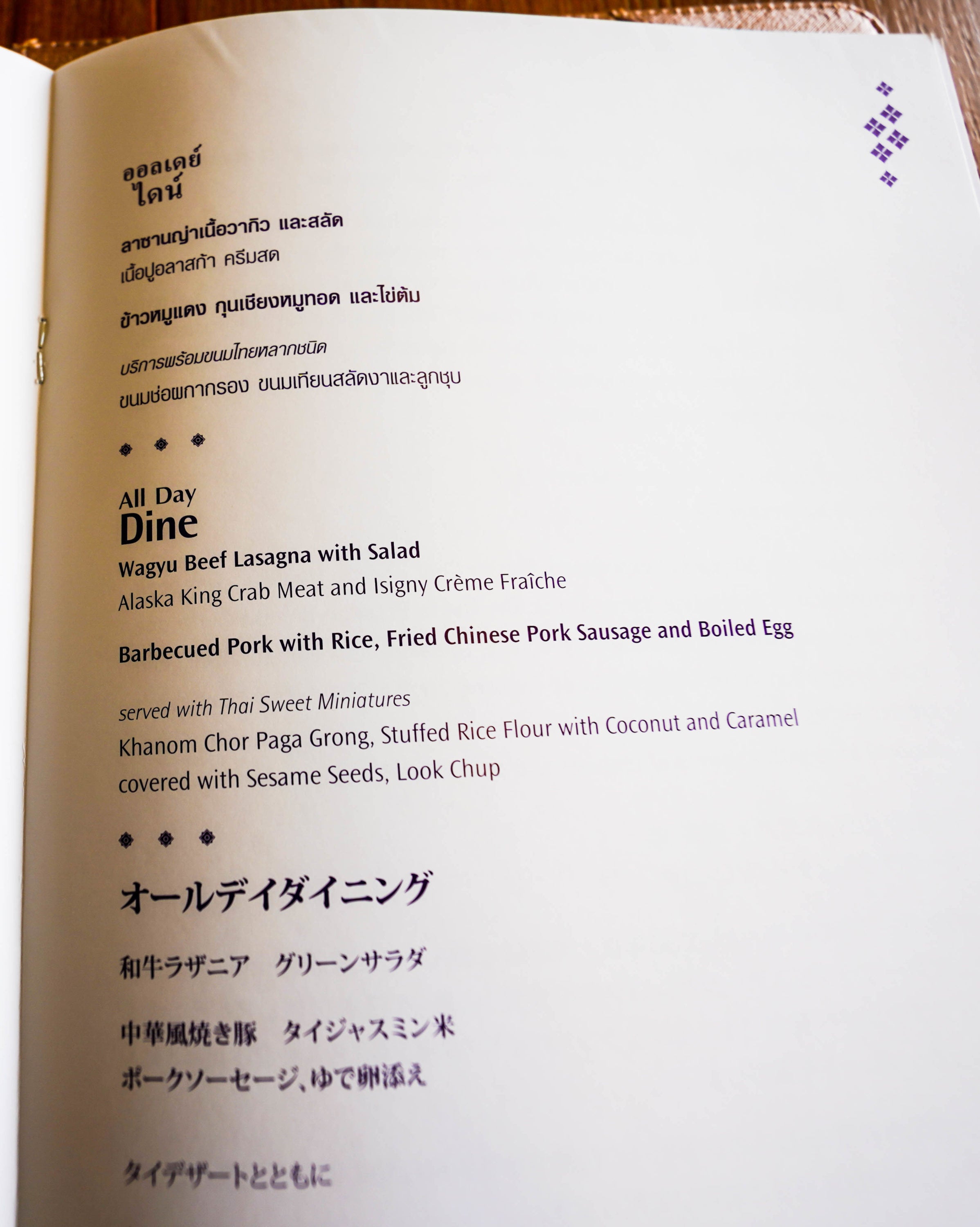 Similar to Singapore Airlines' "Book the Cook" option, Thai Airways offers its first class passengers the "Chef on Call" option where passengers can request special dishes in advance. You will likely receive an email a week before your scheduled flight. I am a fan of Thai Airways' catering and Thai food in general so I opted to choose from the inflight menu.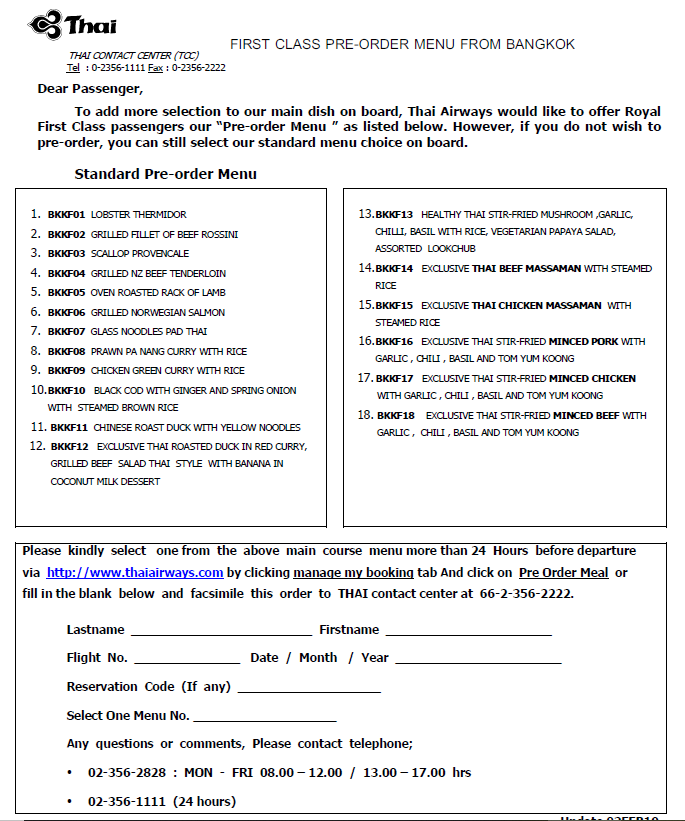 For breakfast, I started with the fresh fruits which were followed by a selection of bircher muesli with fruit coulis, along with the Dom Perignon 2009.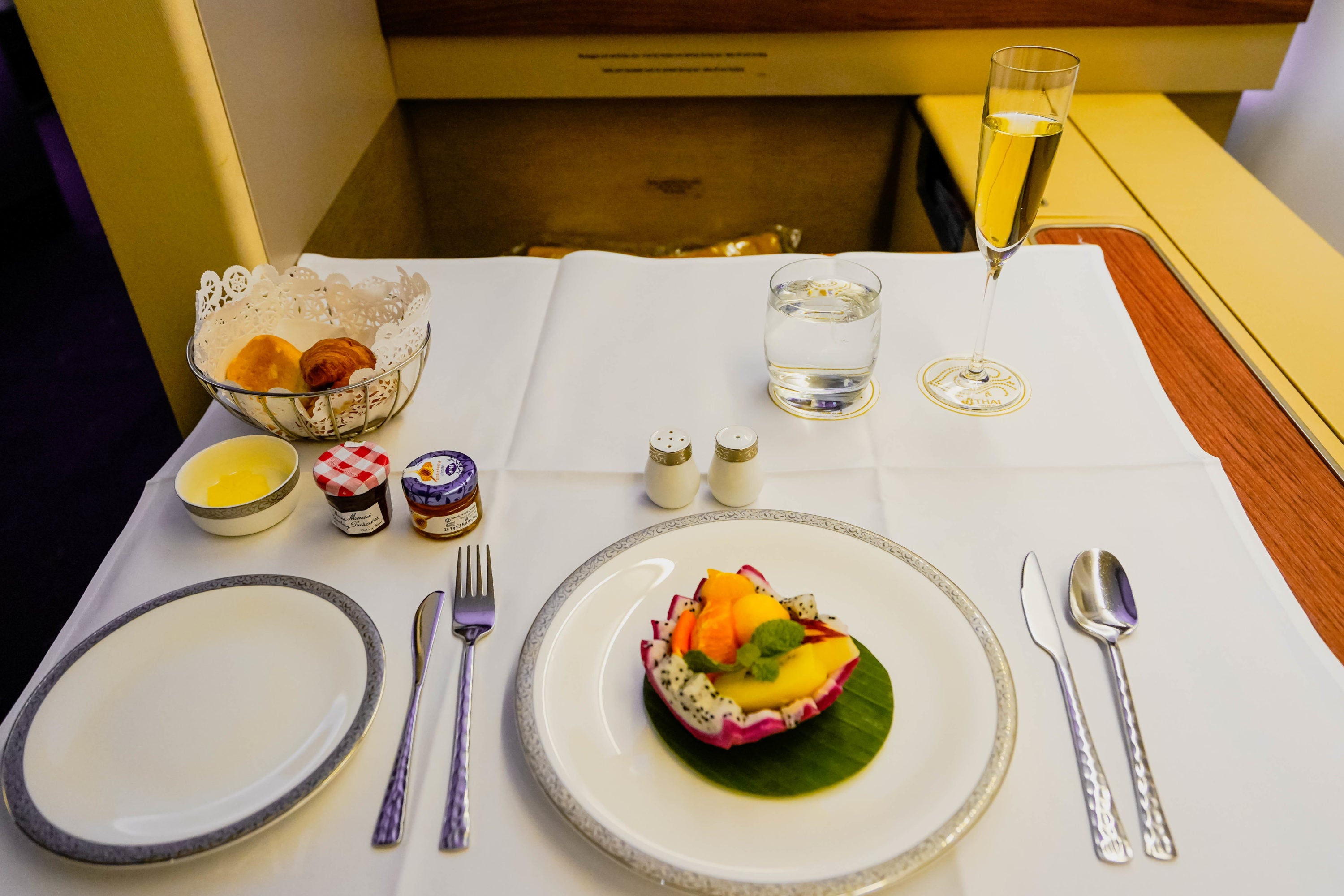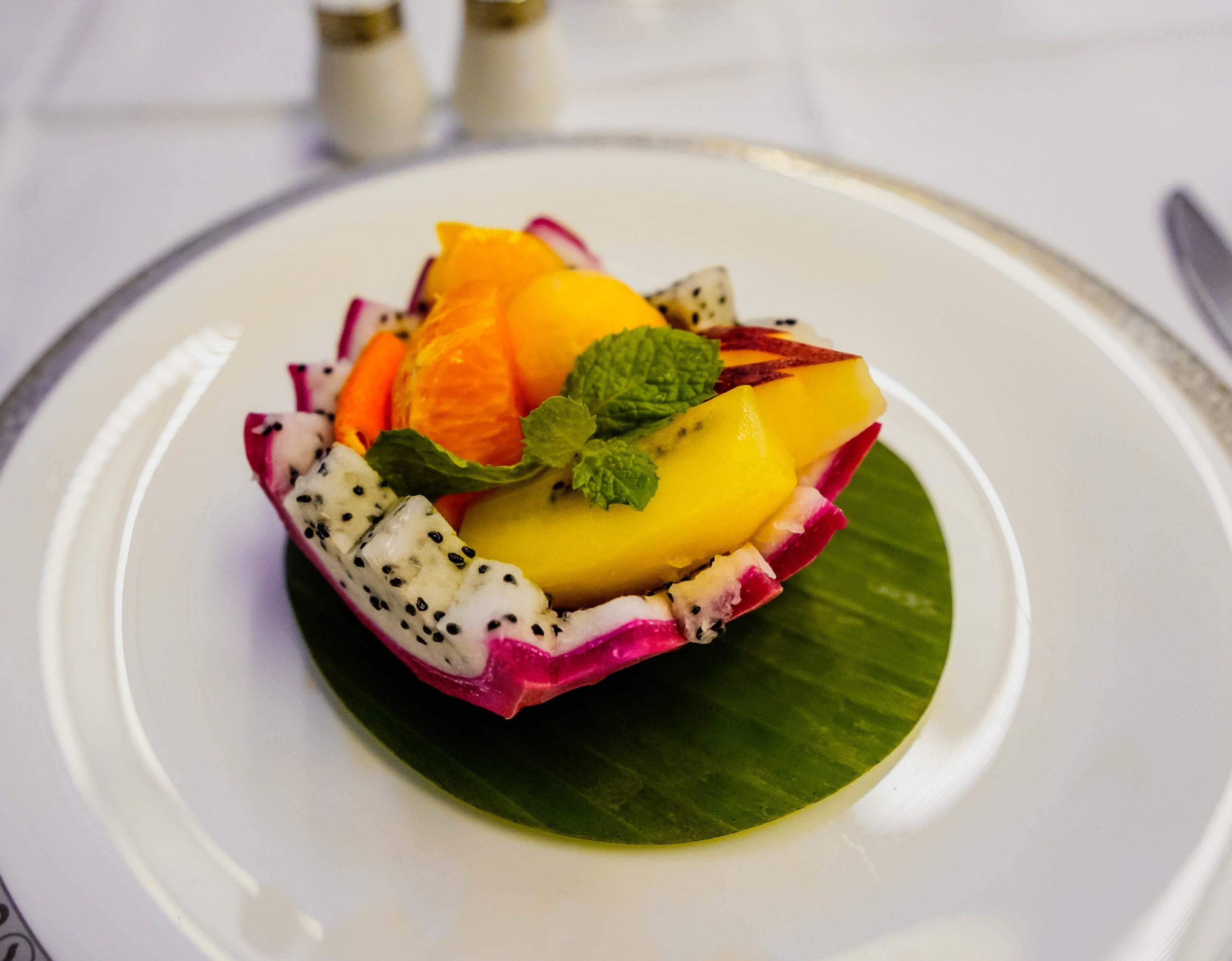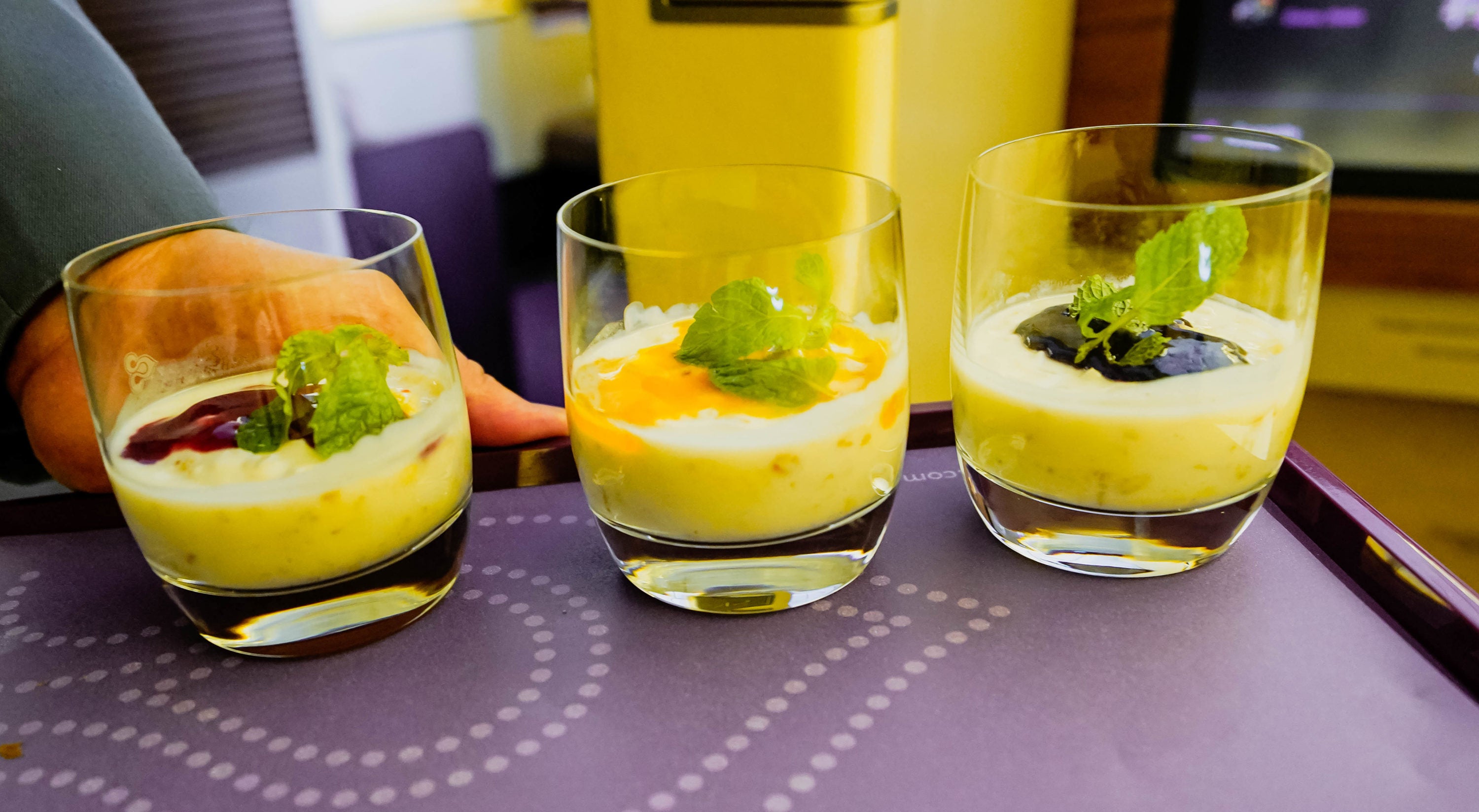 For the mains, I ordered the Samrab Thai selection of soft boiled rice soup with tiger prawns and black mushroom which was absolutely fantastic in terms of flavor.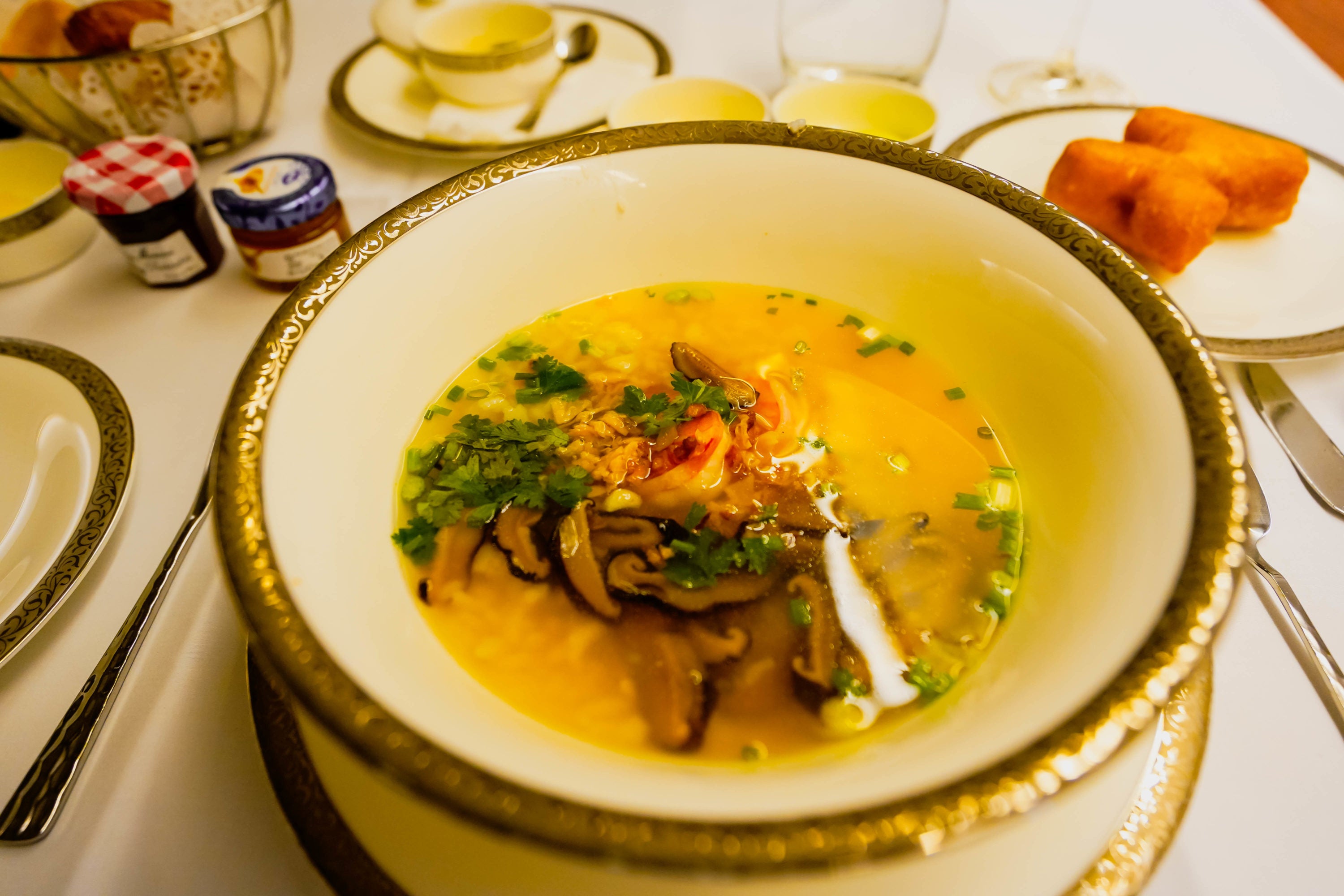 This was followed by a marzipan Thai dessert.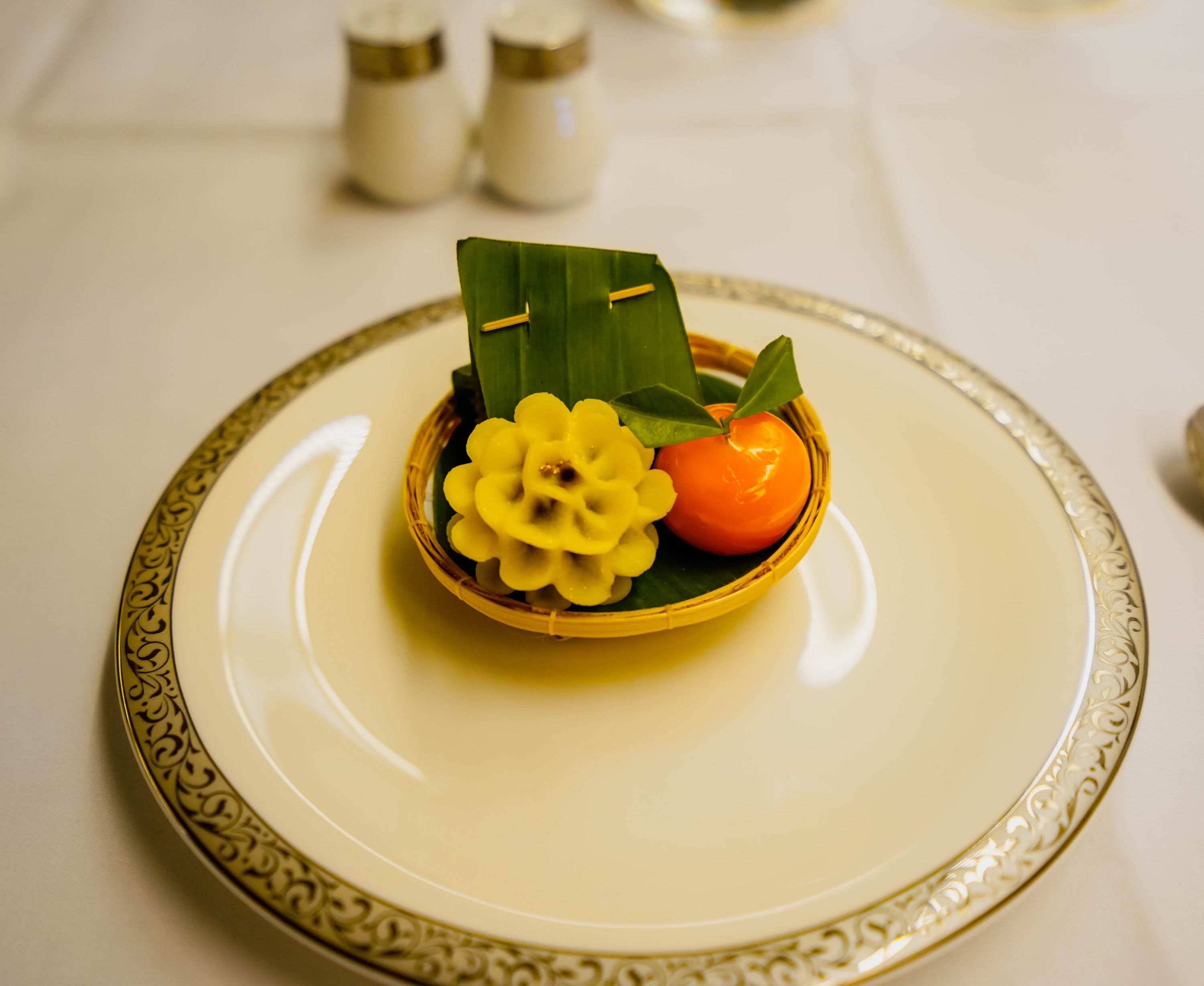 During the entire service, Kamon and the purser ensured my Champagne glass was topped off and the service delivery was excellent.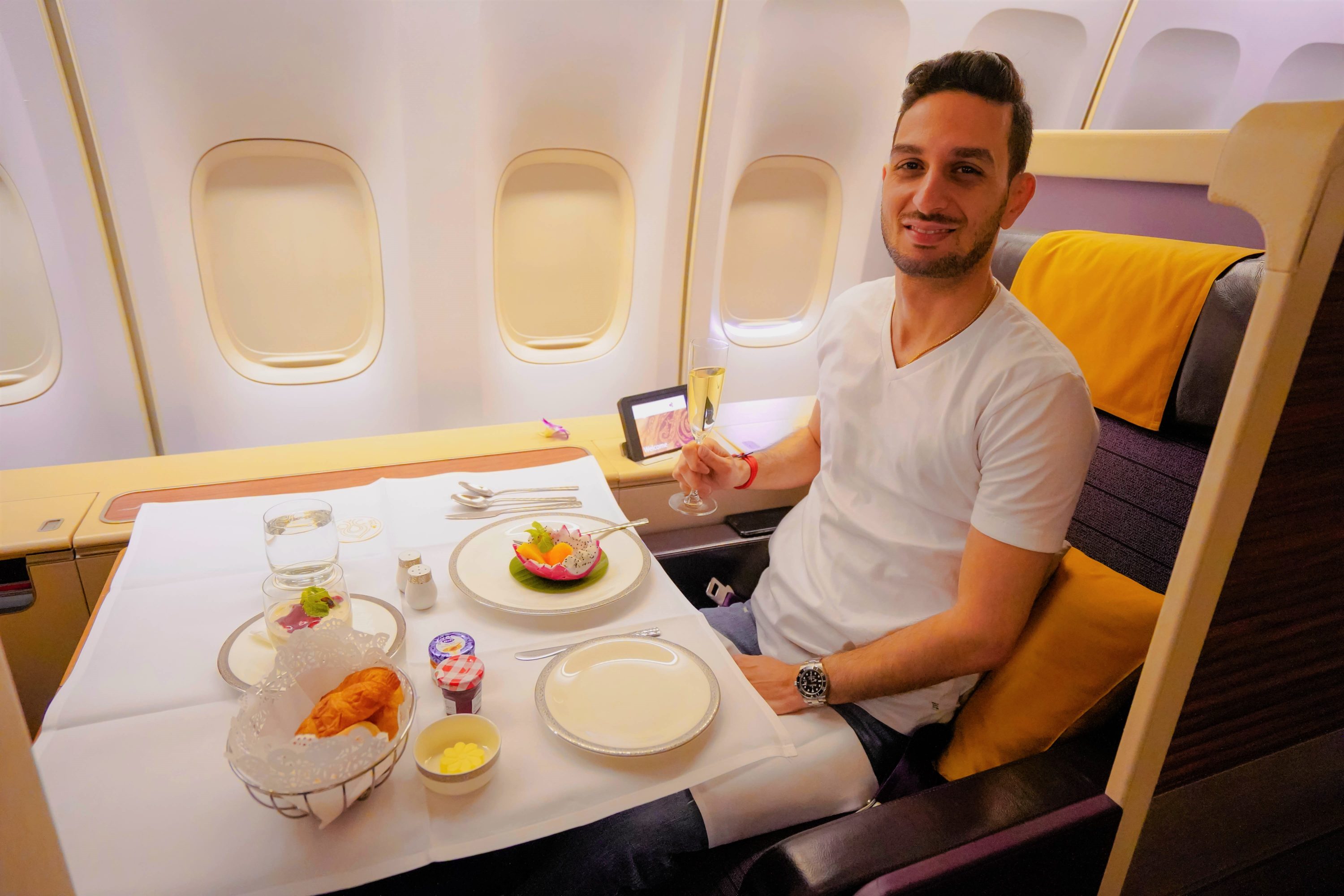 By now, I was struggling to stay awake and with 4.5 hours to go, I decided to get some shut-eye. Kamon promptly prepared the bed, and apologized that there would be no mattress provided since this was classed as a "day flight." Even without the mattress, the bed was pretty comfortable.
I was asked if I would like to be woken up and would I like to try anything from the All Day Dining selection 1-hour before landing. After glancing through, I placed my order for the barbecued pork with rice, fried Chinese pork sausage, and boiled egg dish and knocked off.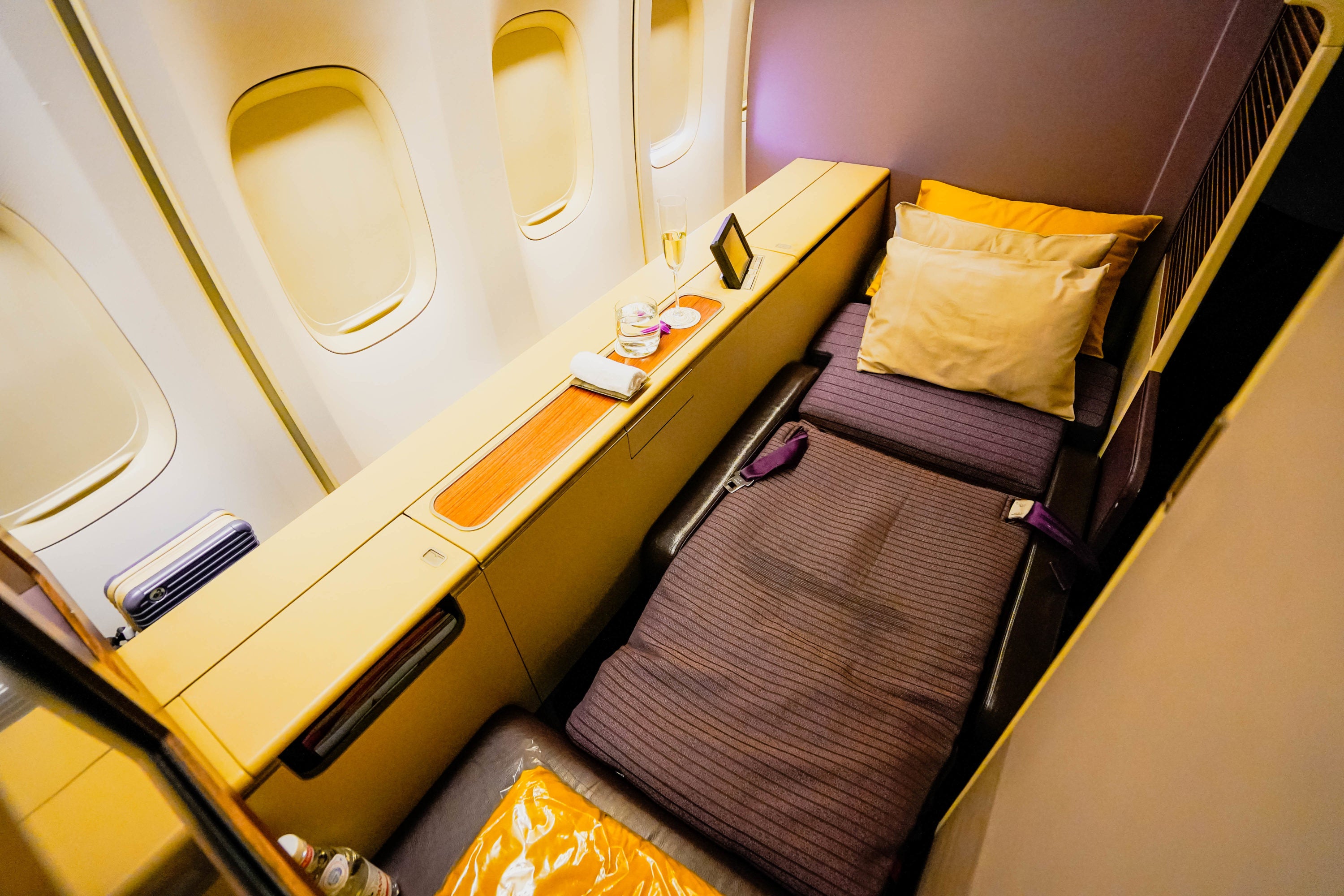 Promptly 1-hour prior landing, I was woken up by Kamon and was warmly asked if I slept well and would like my meal to be served.
I went to the washroom to freshen up and as I returned the table was already set with my meal served. The dish was delightful.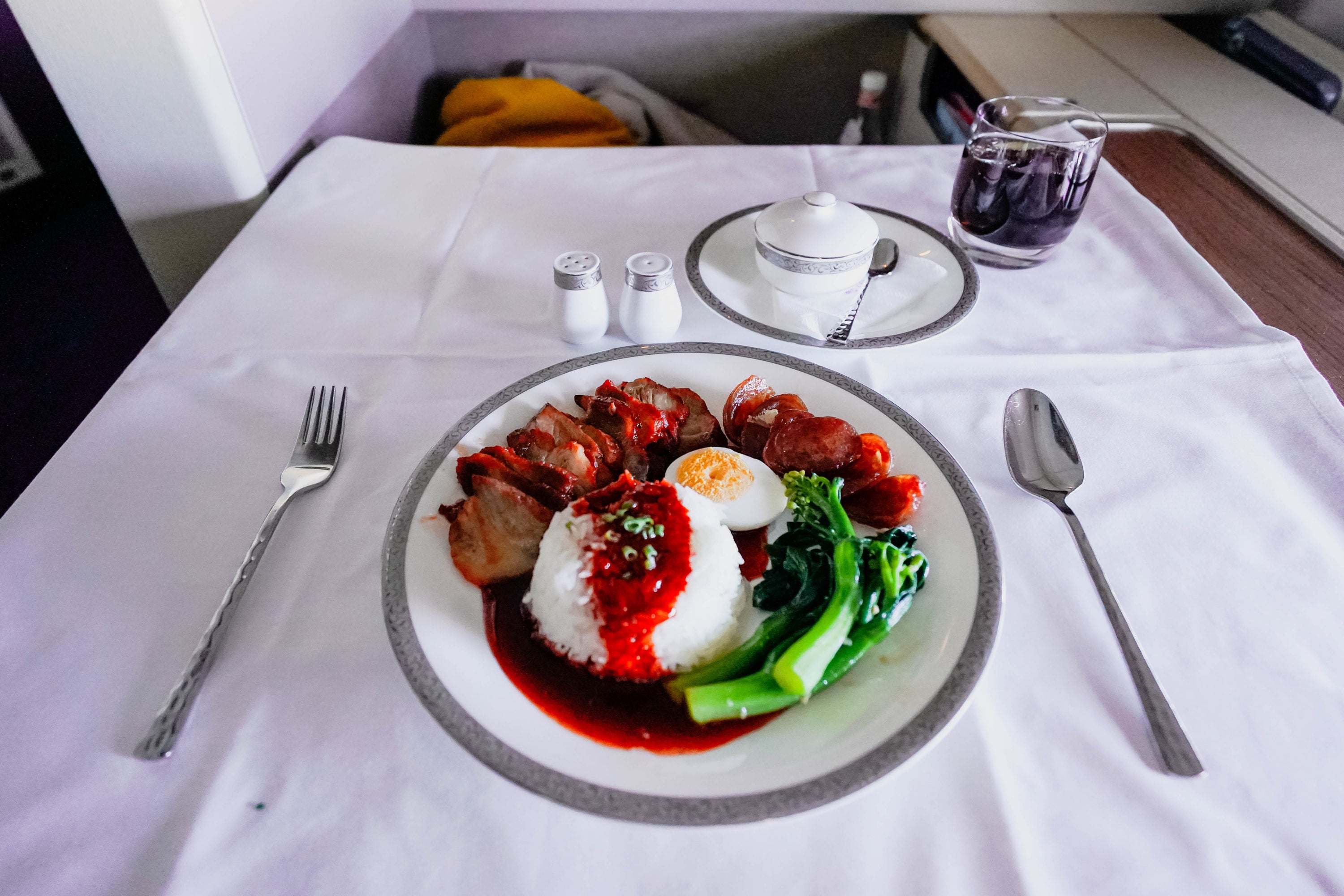 I thoroughly enjoyed the onboard service — it was flawless. Kamon and the rest of the first class crew were warm and genuine and delivered a personalized service with a smile.
Amenities
Since this was a day flight, no pajamas were offered. However, first class passengers were offered a Rimowa amenity kit which included Caudalie-branded body lotion, lip conditioner, and facial mist along with a comb, dental kit, and mouth freshener.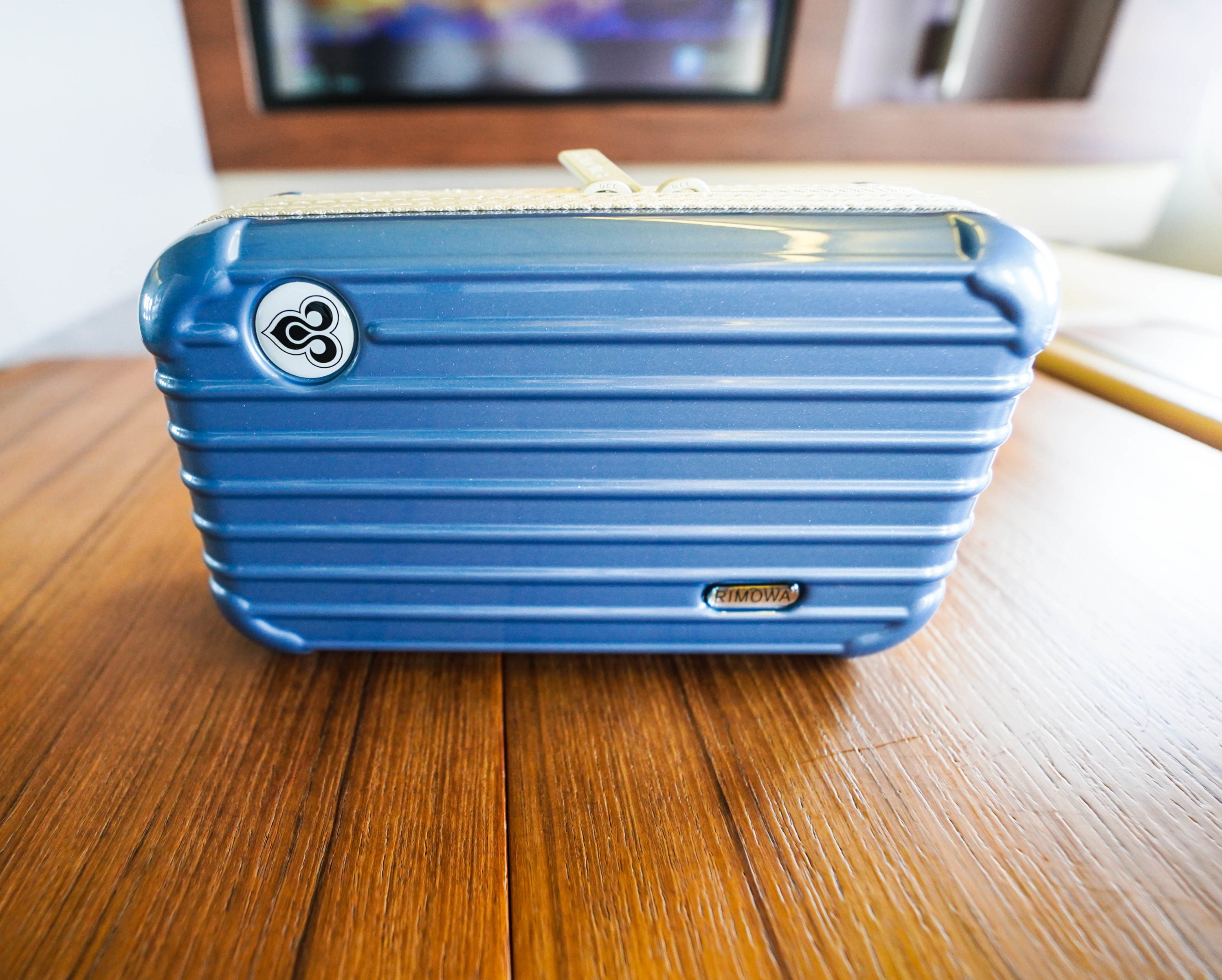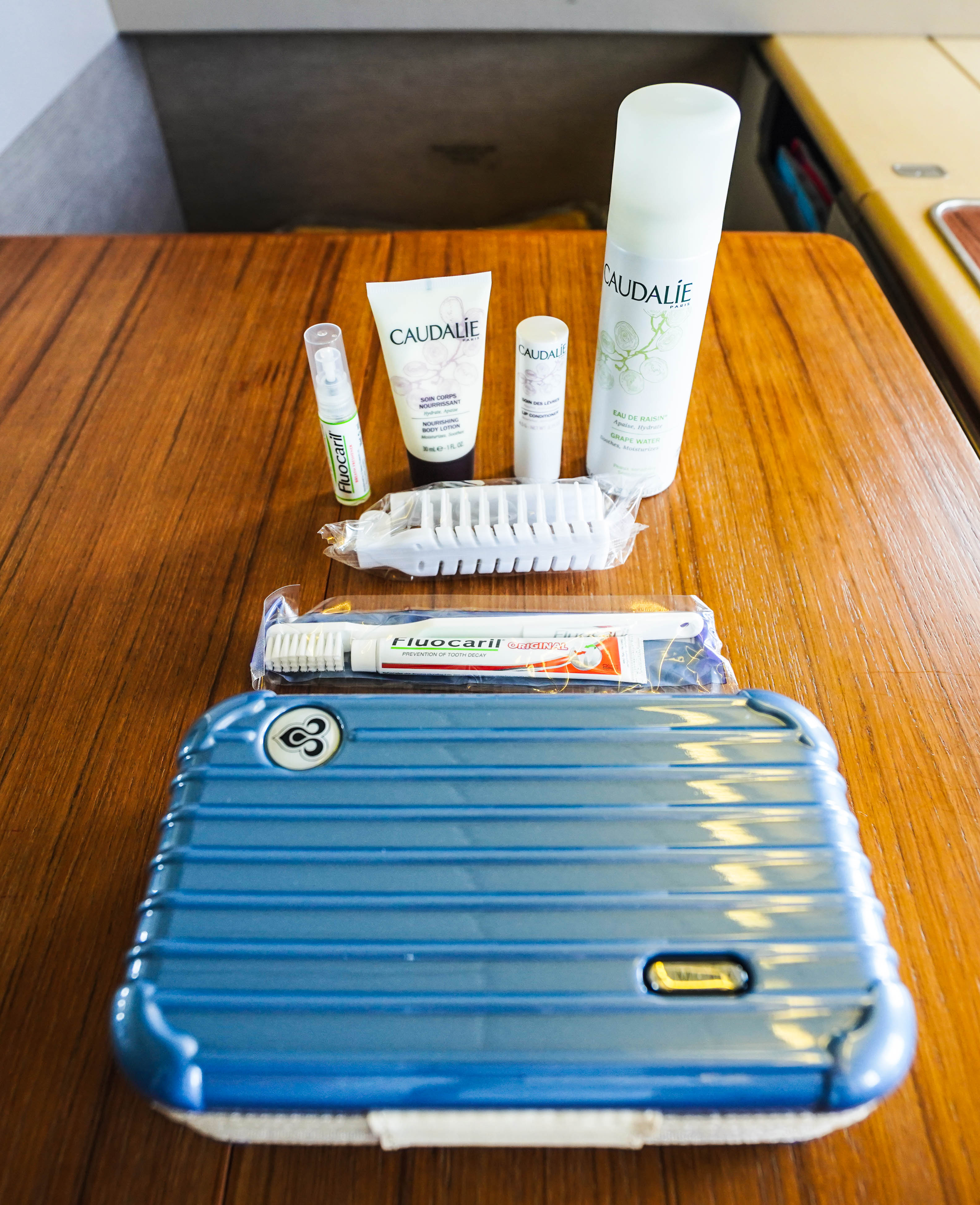 At Tokyo-Narita International Airport
Even though we departed 19 minutes behind schedule from Bangkok, we arrived 12 minutes ahead of schedule in Tokyo at 3:33 p.m. Our assigned gate was 46 at Terminal 1S, and we docked next to the ANA A380 Flying Honu on which I had flown exactly a month earlier on May 24, 2019, on the inaugural flight from Honolulu to Tokyo-Narita.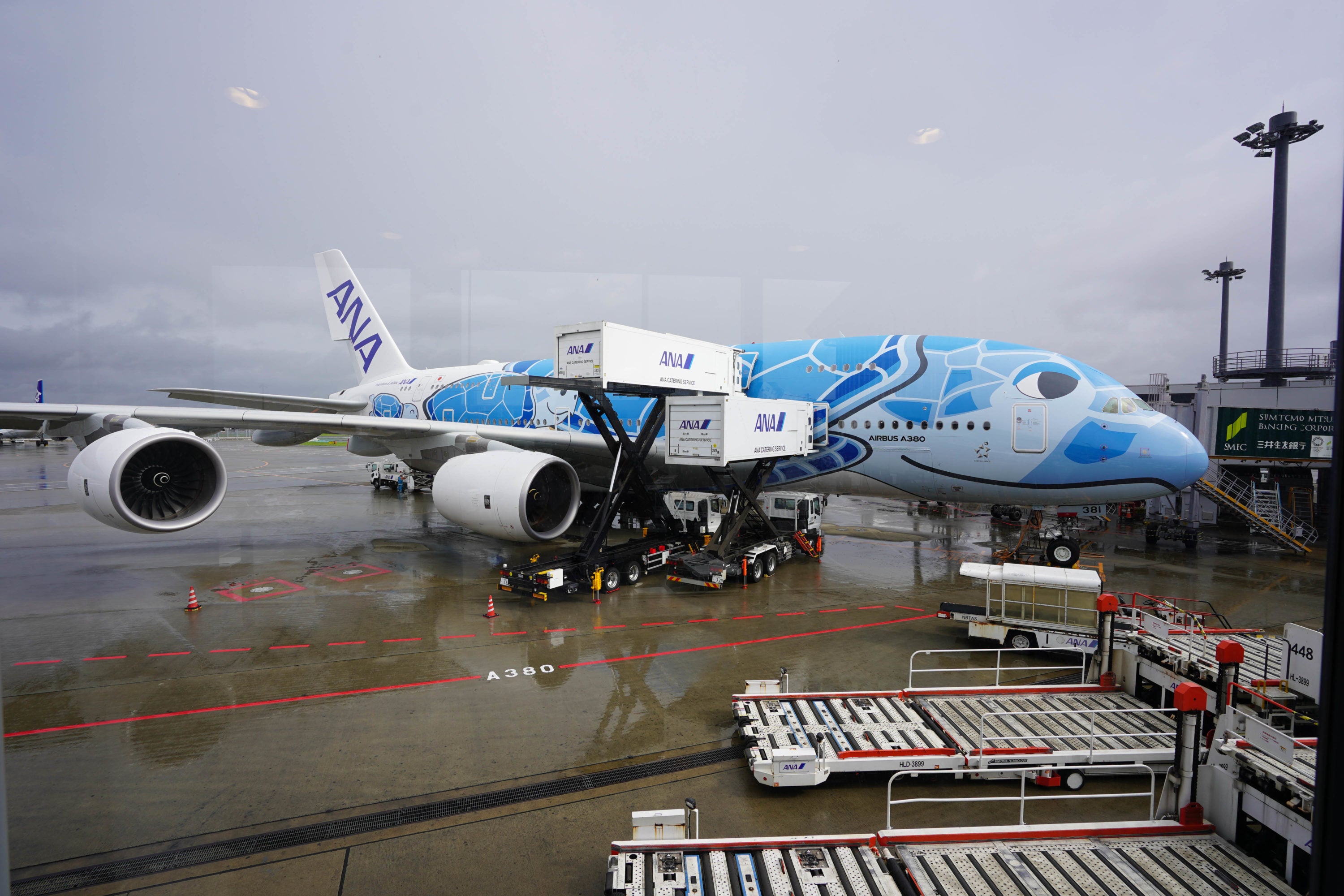 Final Thoughts
The start wasn't as smooth as silk (pun intended) as I got TG'ed. However, in the end, it turned out to be for the better, which is rare with last-minute equipment changes.
Thai Airways' first class hard product is not the latest and greatest, but the ground and onboard service more than make up for it.
All in all, a comfortable flight for 50,000 Avianca LifeMiles + $62.78. But, that still leaves the Thai A380 on my bucket list, and hopefully, Thai Airways doesn't pull this stunt next time.