ANA's Inaugural Airbus A380 "Flying Honu" – First Class Review (Honolulu to Tokyo)
Airline: All Nippon Airways (ANA)
Aircraft: Airbus A380 (JA381A)
Flight #: NH 183
Route: Daniel K. Inouye International Airport (HNL) – Narita International Airport (NRT)
Date: May 24, 2019 – Inaugural Flight
Duration: 7 hrs 30 mins
Cabin + Layout: First Class; 8 suites in a 1-2-1 configuration across 2 rows
Seat: 2A
Miles Used: None; no mileage redemption available for First Class suites on Inaugural Flight. For future flights on this route, the best value miles to use are, by far, Virgin Points. See our guide on booking ANA First Class for more details.
Typical Retail Fare: Depending on the season, round-trip First Class fares can range from $3,355 to $13,824 per person including taxes and fees.
Introduction
Being an AvGeek, I am always on the lookout for airlines taking delivery of new aircraft or launching new routes. I have been onboard a few inaugural flights to date, including Singapore Airlines' 2018 re-launch of the SQ 22, the "World's Longest Commercial Flight" from Singapore's Changi International Airport (SIN) to Newark Liberty International Airport (EWR).
Hence, when All Nippon Airways (ANA) announced that they will be adding 3 A380s to its fleet and utilizing them on their Tokyo (NRT) to Honolulu (HNL) sector, I knew I had to get my name on that inaugural flight, especially since, as of now, this would be the last inaugural Airbus A380. Airbus has no new customers for the A380, and will be shutting down production in 2021.
However, let's take a step back. How did all this come about? The 3 A380s were originally ordered by another Japanese Airline, Skymark. However, Skymark went bust and in order for ANA to take over Skymark's slots at Haneda Airport (HND), ANA had to take over the A380 order. ANA was able to do so with a bit of help from Airbus since Airbus was one of Skymark's creditors.
ANA is exclusively deploying the 3 A380s on its Honolulu sector since Honolulu has a large Japanese diaspora and, as such, wanted a Hawaiian themed livery to don the Superjumbos.
Back in 2016, the airline organized an open design competition, and selected the "Sea Turtle" design from over 2,000 entries, given the sea turtle is a symbol of good luck and prosperity in Hawaii. In the Hawaiian dialect, the Sea Turtle is called "Honu" and hence ANA selected the moniker "Flying Honu" for this special edition livery.
All 3 x A380's sport different color palettes for the design:
Lani: A blue design of the Flying Honu to depict the Hawaiian sky.
Kai: An emerald green design of the Flying Honu to depict the Hawaiian ocean.
La: An orange design of the Flying Honu to depict the Hawaiian sunset.
From the launch date, May 24, 2019, until June 30, 2019, the A380 will be operated on the NH 184 (NRT-HNL) and NH 183 (HNL-NRT) frequency on Tuesdays, Fridays, and Sundays. The rest of the days, the Boeing B787 will continue to operate. This will then translate to a daily A380 flight beginning July 1, 2019.
Additionally, starting on July 1, 2019, a second A380 will operate the NH 182 (NRT-HNL) and NH 181 (HNL-NRT) frequency on Tuesdays, Fridays, and Sundays.
As always, please note that aircraft scheduling is subject to change based on operational requirements.
Booking the ANA First Class Suite
In November 2018, ANA announced that it will commence the A380 services effective of May 24, 2019. However, ANA did not reveal on which frequency. ANA currently operates 3 daily flights to Honolulu (2 daily out of Narita and a daily out of Haneda).
Then on December 26, 2018, ANA published the schedule revealing that the ANA A380 Flying Honu will be launched on the NH 184 / NH 183 frequency. For passengers who had previously booked either business class, premium economy, or economy class tickets on this frequency, operated by the Boeing B787, this was a pleasant announcement. The first class and ANA Sky COUCHii tickets then went on sale on January 10, 2019.
Given that this was an inaugural flight, no mileage redemption was available. I was stationed at my laptop 15 minutes prior to the sale opening with my credit card in hand and fingertips on the keyboard. I was in for a big disappointment. There were no tickets for sale in first class on the NRT – HNL sector. It just showed me a big fat zero on availability.
Time for Plan B. I quickly interchanged the route search to look for availability on the return HNL – NRT sector on the same day and luckily 2 spaces were available in first class. Quickly punched in the credit card numbers and booked the seat. Voila – another inaugural booked.
It worked out well in the end; as this was a daytime flight, I could check out the new A380 lounge that ANA specifically built for the A380 launch to Honolulu and enjoy a 4-day break in Hawaii. Now, I just had to get myself a positioning flight to Hawaii and plan mini-vacation.
Award redemption for future flights is possible through ANA's Frequent Flyer program, ANA Mileage Club, at 120,000 miles round-trip in first class. Alternatively, you can use Virgin Atlantic for better redemption value. Here are many ways to earn lots of Virgin Points, which you can transfer to ANA for first class redemption.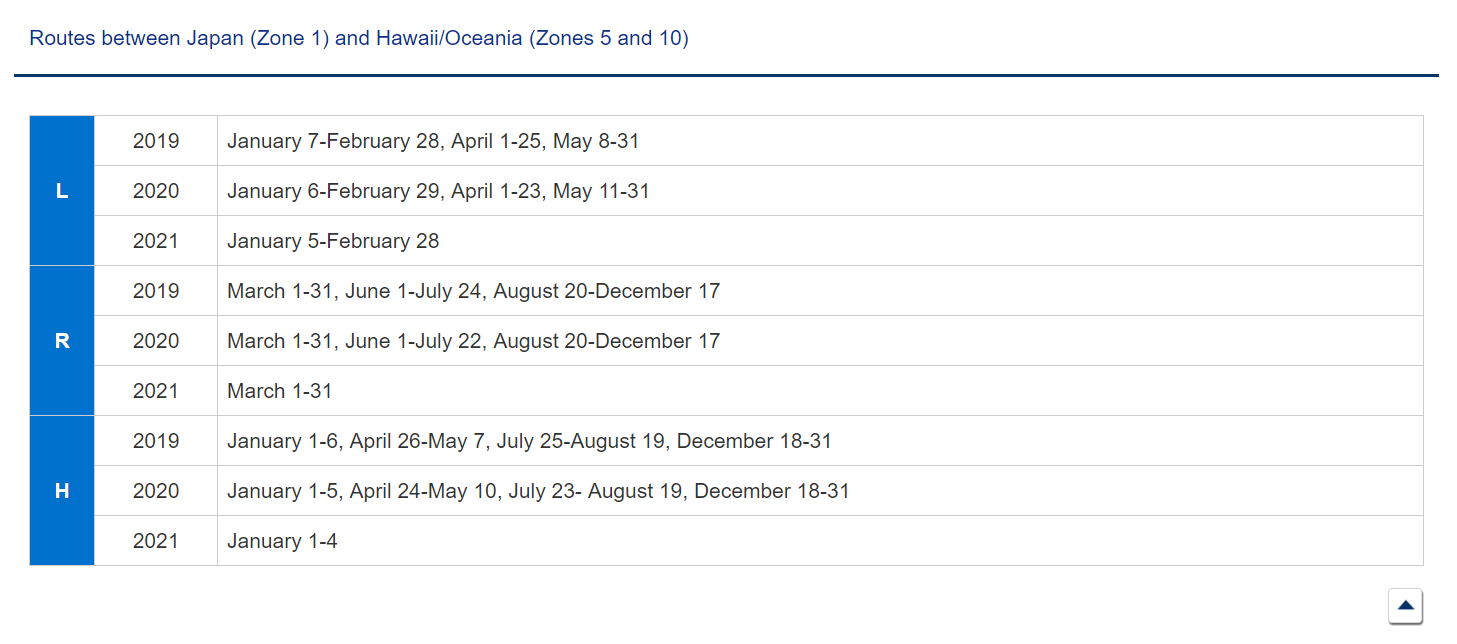 Depending on the season, round-trip first class fares can range from $3,355 to $13,824 per person including taxes and fees. See fare chart below:
At Daniel K. Inouye International Airport 
With all the adrenaline pumping, I could hardly sleep and made my way to the airport early. I arrived at the airport at 8:00 a.m. which was 3.5 hours early. Unfortunately, I arrived only to find that the check-in desks were not open.
In true Japanese style, at the strike of 8:30 a.m., the check-in process commenced and was completed smoothly. ANA First Class and Mileage Club Diamond members have a dedicated check-in lane and are given access to the Gold Lane to clear security and TSA.
ANA Lounge
Along with the introduction of the A380 "Flying Honu" to Honolulu, ANA also unveiled its new lounge.
Previously, ANA premium passengers used United Airlines' lounge, a fellow Star Alliance member. Now ANA guests have access to the new lounge that is located in the EWA Concourse on the 3rd floor of Terminal 2. The lounge is conveniently located between gates C4 and C9 that are the only 2 gates designed to handle an A380 and is a good 5- to 10-minute walk after clearing security.
This being a special occasion to mark the inaugural A380 service, festivities were in order and there was live Hawaiian band playing just outside the main entrance of the lounge.
The lounge is divided into 2 sections:
The ANA Suite lounge that is located on the right of the main reception desk and is accessible to the following passengers:
First Class passengers with 1 additional guest
ANA Mileage Club Diamond members with 1 additional guest
ANA Million Miler members
The ANA lounge that is located on the left of the main reception desk and is accessible to the following passengers:
First Class passengers with 1 additional guest
Business Class passengers
Premium Economy passengers
ANA Mileage Club Diamond members with 1 additional guest
ANA Mileage Club Platinum members with 1 additional guest
ANA Mileage Club Bronze members with 1 additional guest
ANA Mileage Club Super Flyers members with 1 additional guest
Star Alliance Gold members with 1 additional guest traveling on the same flight
ANA Suite Lounge
The ANA Suite lounge is simple and understated.
There is an open dining area and seating area that is totally enclosed with no runway views unlike in the adjacent ANA lounge for Business Class and Premium Economy passengers.
The food selection was a mix of international and Japanese hot meals, salads, dessert, and snacks.
The bar was well stocked with Tattinger Champagne, red and white wines, Chivas Regal 18, Blanton's Bourbon, Sake, Shochu, Bacardi rum, Grey Goose vodka, and Remy Martin XO cognac.
The ANA Lounge
The ANA lounge for business and premium economy passengers is nearly quadruple the size of the ANA Suite Lounge with panoramic views of the runway.
The ANA lounge has a similar but limited food and beverage offering, as compared to the ANA Suite Lounge.
I didn't eat much and just settled in a for a few glasses of the Taittinger Champagne, as I was looking forward to the onboard catering.
Boarding
Boarding was an hour late. The incoming aircraft was on time, but it seems the ground staff did not manage to turn around the aircraft on time. All very understandable problems for an inaugural flight. No sweat, I just ordered another glass of bubbly and continued my chat about all things aviation with fellow AvGeek, Gino, who had just flown in on the incoming ANA A380 from Narita.
Finally, boarding was announced.  As a premium passenger, you need not leave the lounge. The ANA Suite Lounge has direct access to gate C4, offering a seamless transfer for first class, business class, and premium economy passengers to the aircraft.
However, this has not been well thought out. As soon as boarding was announced the business class, premium economy, and other passengers who are entitled access to the adjacent ANA lounge came rushing into the ANA Suite lounge, as there is no aircraft access from that section. Probably some crowd discipline here would help in the future.
Flight
Aircraft
The aircraft, registered JA381A, was delivered to ANA in March of 2019 and is configured as follows:
First Class suites: 8 seats in 1-2-1 configuration
Business Class: 56 seats in a staggered 1-2-1 configuration
Premium Economy: 73 seats in a 2-3-2 configuration
All the above classes are located on the upper deck
Economy Class, which consists of 343 seats in a 3-4-3 configuration, is located on the lower deck
ANA also offers the ANA COUCHii seat, where for a fee in addition to the price of the economy ticket, you can combine 3 – 4 seats to make a couch that is suitable for couples and families.
Cabin
The ANA First Class cabin is situated in the forward section of the upper deck and as you enter the cabin, the new plane smell hit me. The color palette of blue wallpaper patterned with starry skies and the dark grey color on the suite shell gives the cabin a classy and aesthetic appearance.
The middle seats have a privacy screen between them, which passengers can choose to either raise or retract.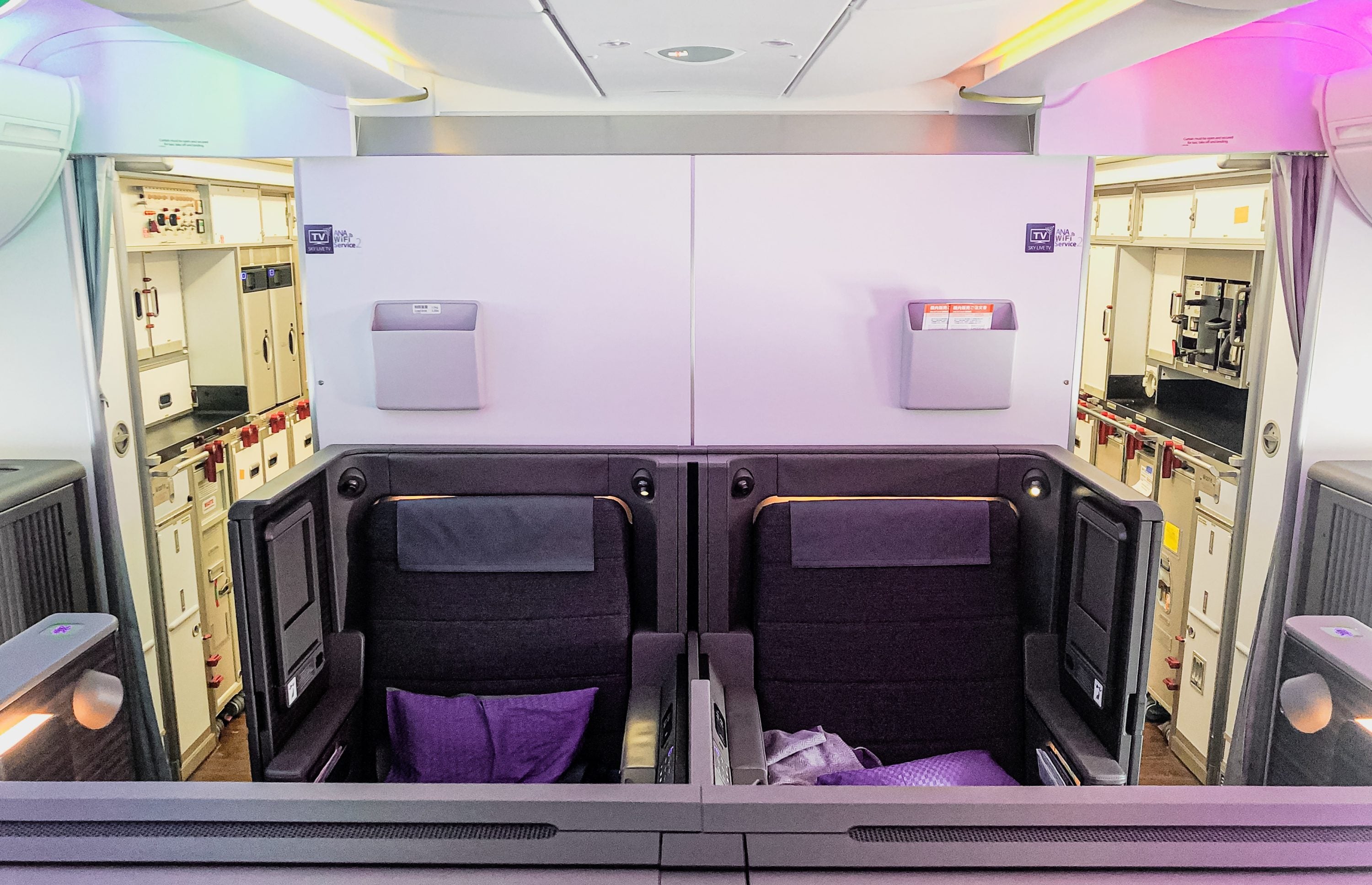 The entire length of the cabin is fitted with LED lighting that cycles through the different colors of the rainbow, giving the cabin that tropical feel.
Though the cabin is decently sized, it feels a bit cluttered on the side rows due to the overhead storage racks provided. Most A380 first class cabins such as those on Emirates (EK), Etihad Airways (EY), and Qatar Airways (QR) have gotten rid of the stowage racks giving the cabin a more open and spacious feel.
These racks are of no use unless you are carrying a small knapsack. My Rimowa cabin bag, which normally fits in the overhead racks, wouldn't fit and I had to then hand it over to one of the attendants so the bag could be placed in one of the lockers. My Samsonite backpack just about made it.
Directly atop the staircase in front of the First Class cabin is the wine bar for the first class passengers to indulge in some self-service during the flight.
There are 2 decently sized lavatories with cushioned seating areas on the port and starboard side at the front of the first class cabin. Lavatory amenities include mouthwash, disposable dental, and shaving kits.
Suite
The suites look refined and are tastefully done up. Sleek and modern with hues of dark charcoal grey complementing the rest of the first class cabin.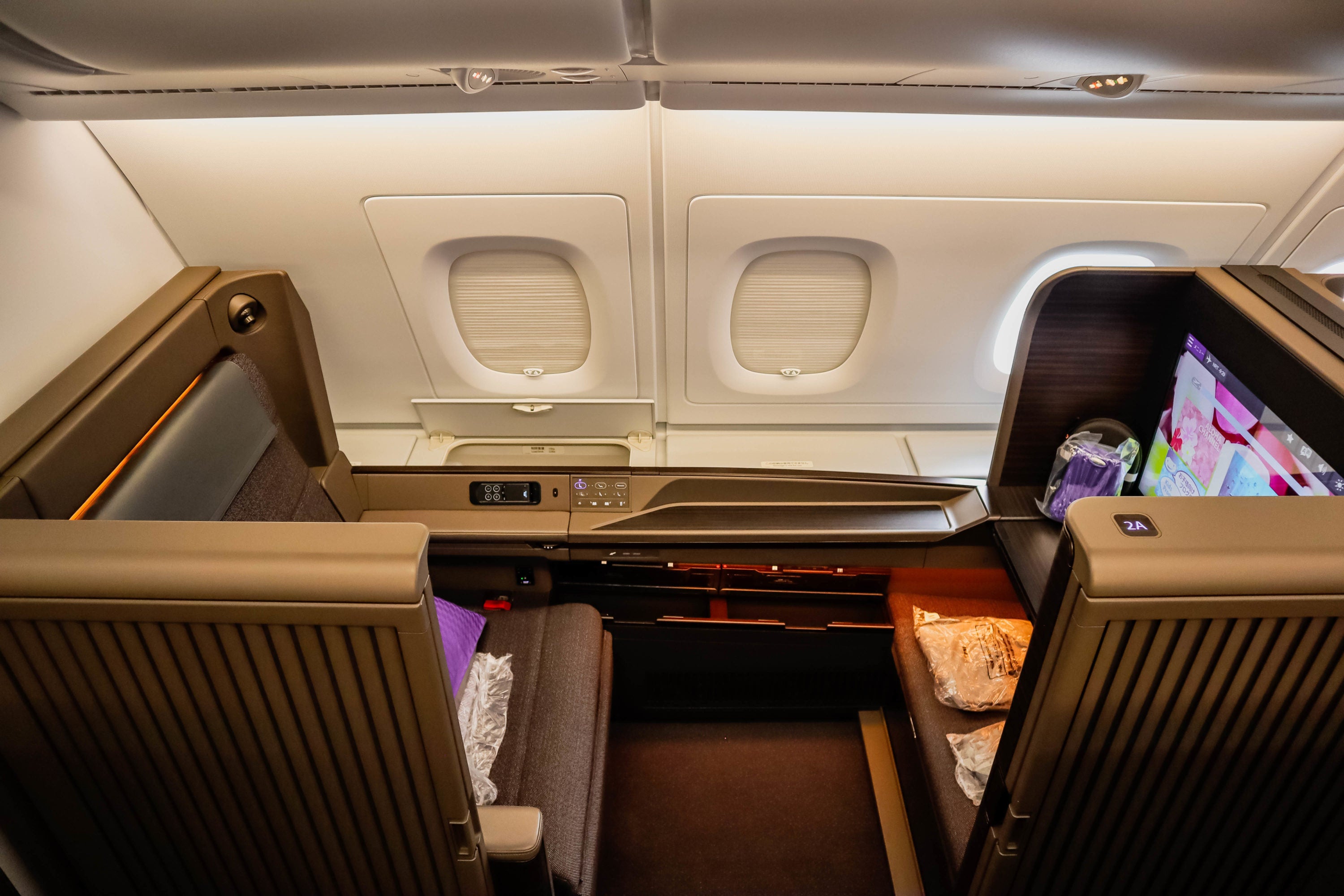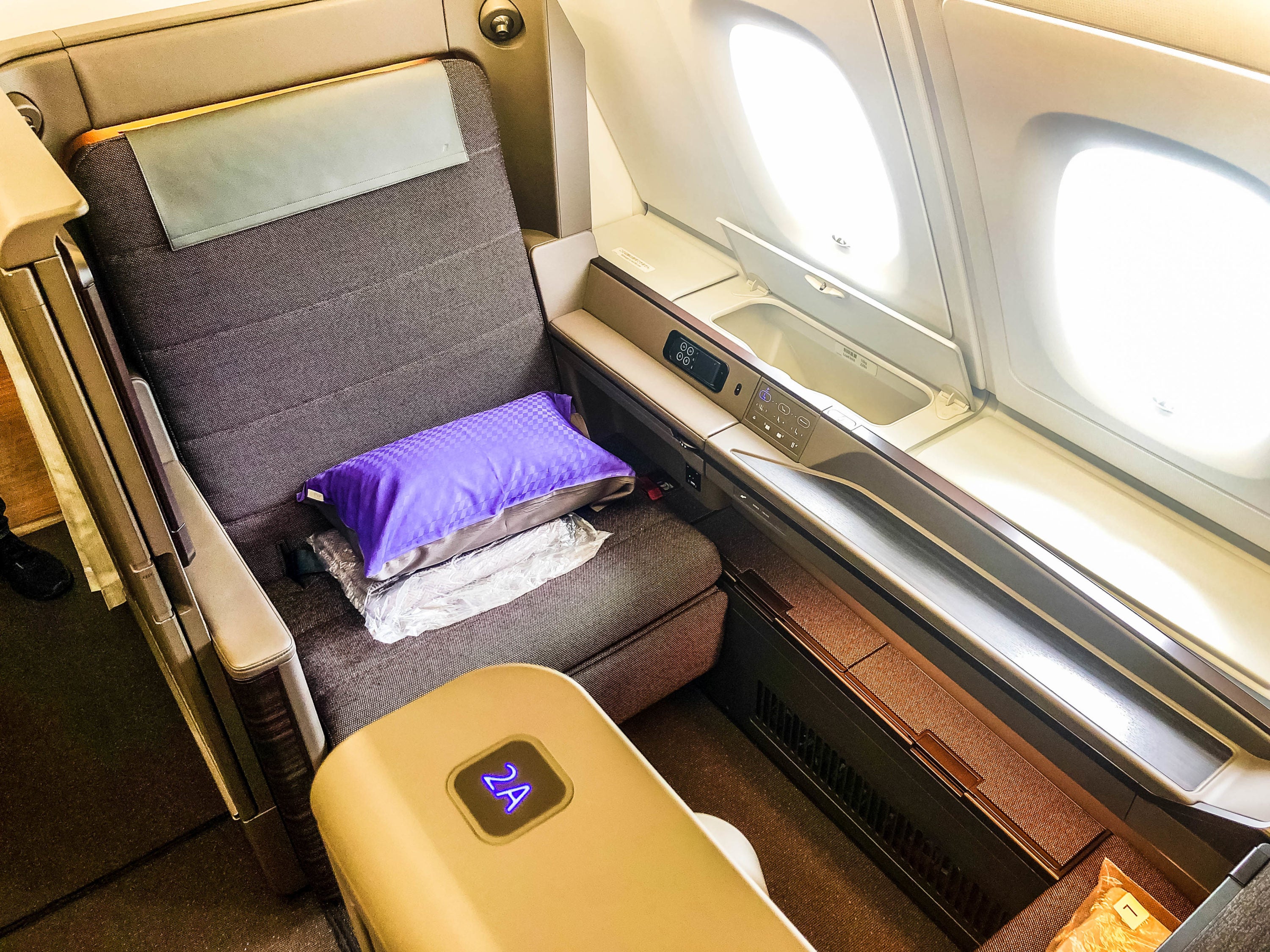 Each suite is well illuminated and comes with privacy doors, a large 32-inch touch screen monitor, jacket closet, storage space and charging points with USB ports.
As I settled into Suite 2A and started playing with the controls, the attendant came around offering a welcome drink. ANA serves 2 choices of Champagnes onboard: Krug Grande Cuvee and Taittinger Prelude Grands Crus. I rolled with the Krug, which I continued with post take-off.
Additionally, there is a pop out vanity mirror right next to the seat.
Seat
The seat is not bulky, yet sufficiently padded and comfortable with reading lights provided on either side of seat shell above the headrest.
Opposite the seat is an ottoman and the table slides towards you from under the TV monitor to the middle of the suite should you wish to enjoy a meal for 2 with your traveling companion.
The seat can be converted to 1 of the 3 pre-set modes: Take-off, Recline, and Flatbed. It can be further adjusted by the controls in the second row to adjust for the optimal dining position, lumbar position, and footrest position.
Further, the seat position can also be adjusted using the toggle located under the armrest. Using the toggle, you can adjust the seat position to a position other than the 3 pre-set modes.
Below is the video of the seat converting to a full flatbed.
Video Credit: Cherag Dubash
The suite is well illuminated with lights provided not only on either ends of the seat shell, but also next to the TV monitor on the suite panel and on the ceiling.
Storage Space
There are plenty of provisions provided for storage in the suite, but they are not designed in an attuned way for cabin bags. As mentioned earlier, the overhead racks are small and do not fit a standard sized cabin baggage.
The storage beneath the ottoman will only fit a small knapsack; my Samsonite backpack would not fit in there, which I then just about managed to fit in the overhead bin.
There are 2 storage compartments provided beneath the left-hand panel of the suite that can store smaller items such as phone cables, passports, etc.
In between the bulkhead and the seat, there are 3 bins provided. However, surprisingly only 1 permits storage. Out of curiosity, I asked the crew about it, but they weren't aware. This is the first time I have seen such an arrangement on an A380. Normally, the storage bins that run along the side of the bulkhead are all available for storage.
The outer cover of the pop out vanity mirror has a holder to stow literature in addition to the  provided literature right beneath the vanity mirror on the right-hand side of the seat.
Adjacent to the TV monitor and flush against the suite privacy door, there is a closet to store your jacket.
Plugs and Power Supply
Under the left-hand seat panel is the power supply port equipped with a universal plug socket and USB port.
Inflight Entertainment
ANA has a decent selection of inflight entertainment. The TV monitor is a high definition 32″ touch screen that can also be controlled by a remote control next to the left seat armrest.
The upper half of the Inflight Entertainment (IFE) control has a track pad that can be used to sift through the entertainment options.
For first class passengers, ANA offers noise-canceling Sony headphones to complement the IFE.
Wi-Fi
The ANA onboard Wi-Fi is powered by Panasonic and first class passengers are provided with a complimentary voucher for the duration of the flight. The connectivity was quite good to send pictures on WhatsApp and browse social media.
Below is the cost for various WI-FI plans for all passengers traveling in cabins other than First Class:
Food and Service
ANA has unveiled an elaborate inflight service for the Airbus A380 service to Honolulu. The beverage and meal menu, presented in a blue folder was extensive, detailing the wines, sakes, shochu, cocktails, aperitifs, and meals offered. You are literally spoiled for choice.
On the ground, I started off with the Champagne Krug Grande Cuvee and continued with that post take-off.
A Blue Hawaii cocktail is exclusively served on the Honolulu route in all classes.
For lunch, ANA presents first class guests with 2 options: International and Japanese Washoku.
Between May and August 2019, first class passengers who opt for the International cuisine will be served a menu specially created at Noe, the Italian restaurant at the Four Seasons Resort Oahu at Ko Olina, headed by Ryo Takatsuka, the restaurant's Michelin-starred chef.
I opted for the Japanese Washoku menu, created by Masayoshi Nishikawa, of the famed Gion Nishikawa in Kyoto. The restaurant specializes in multi-course Japanese meals, known as kaiseki ryori.
The meal service commenced with the amuse, which is common for both the International and Japanese options:
Ricotta, honey comb, truffle paste, walnut tart
Prosciutto and papaya, goat cheese, calamansi puree
King crab, caviar, crème fraîche
Cheese pepper bar
The second course was Sakizuke, a starter, and Zensai, a selection of morsels.
The third course on the list was Owan, which was a clear soup of poached pike conger with produce.
Followed by the fourth course of Otsukuri, a selection of sashimi.
Then the main course: Shusai with Nimono and Kobachi.
For dessert, I opted for the warm chocolate brownie with vanilla ice-cream from the International Option menu.
By now, I was literally bursting at the seams and it was time to hit the sack. Before that, I needed a night cap and ANA has one of Japan's finest and most sought after Suntory Whisky on offer, the Hibiki 17 years. This whisky is like gold dust at the moment. There is such demand for this whisky that it is sold out in Japan. Earlier this year, during my trip to Japan, I searched everywhere for a bottle but was unable to find a single one.
If you are flying on ANA's route to either New York, Frankfurt, or London, it gets even better as on those flights ANA serves the Hibiki 21 years.
I have always enjoyed the service onboard ANA. It is pleasant, thoughtful, and genuine.
The service on this flight, however, was a bit disorganized. We waited for 25 minutes before the pre-take off drinks arrived, which meant there wasn't much time to enjoy that glass of Krug as the aircraft was pushed back within the next 5 minutes and it was time to secure the cabin. I had to gulp it down. However, these learning curves are understandable considering this aircraft was just deployed and the crews were still getting used to. No amount of training can prepare you for real life scenarios.
A new feature that I found interesting is that all flight attendants on the ANA A380's wear a headset and carry an iPad for seamless communication amongst the team.
Amenity Kit
ANA offered a Samsonite Amenity kit to first class passengers and not the Globe Trotter as the airline had advertised earlier.
The kit contained ear plugs, eye mask, dental kit, cleansing foam, cotton, and the Ginza branded energizing and moisturizing emulsion lotions.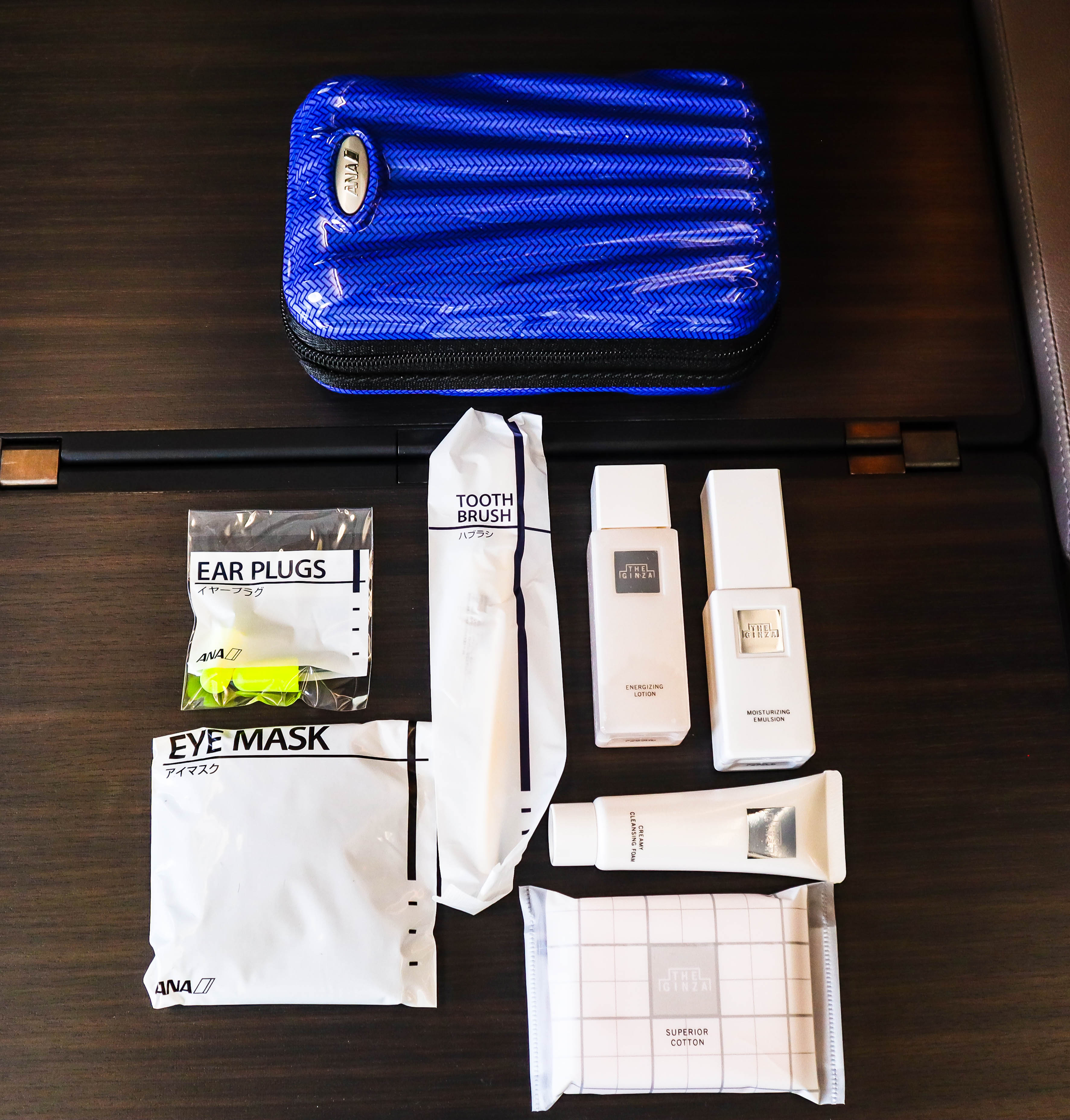 Should you have missed anything in your amenity kit, don't worry; after take-off, a flight attendant walks through the cabin offering any additional amenities that you may require.
Even though this was a day flight, ANA offered a night suit that was very comfortable.
In addition to the night suit, ANA also offered a cardigan to be worn over your night suit, just in case you are feeling a bit chilly. This is a new addition.
The bedding and comforter set, which are provided by Nishikawa Sangyo, come complete with a Tenerita blanket. It was soft, smooth, and comfortable. The air weave pillow, which boasts Hungarian white duck feathers, was fluffy.
Gifts
Since this was an inaugural flight, as is the norm, all guests are presented with some memorabilia. ANA presented scarves in the 3 livery colors of the Flying Honu and a flight certificate that will be going on my bedroom wall soon.
Final Thoughts
Inaugurals are always special but this one was bittersweet.
It was a moment of firsts. The first Japanese carrier to operate an A380 and the first scheduled A380 service to Hawaii. But, sadly it was also a moment of lasts. As of now, All Nippon Airways (ANA) was the last new customer of the Superjumbo Airbus A380 and there isn't going to be another inaugural A380.
Everything about this flight was refreshing: a new first class suite with privacy doors, which is a huge improvement from the cubicle on the Boeing B777, excellent catering, and a pleasant service even though it was bit slow. To top it all, it was good to reconnect with fellow AvGeeks who trooped in from different parts of the world just to be on this momentous flight.
I look forward to flying these giant turtles again, but I just need to figure out another excuse to visit Hawaii. Maybe another trip on the "Flying Honu" is good enough. Aloha!