Emirates New Game Changer First Class Suites 777-300ER Review (Dubai to Geneva)
Airline: Emirates™
Aircraft: Boeing 777 (A6-EQK)
Flight #: EK 089 changed due to operational reasons. Originally booked on EK 083.
Route: Dubai International Airport (DXB) – Genève Aéroport (GVA). Incoming from Bandaranaike International Airport (CMB).
Date: December 12, 2018
Duration: 7 Hrs 05 Mins
Cabin + Layout: Game Changer First Class Suites; 6 suites in a 1 – 1 – 1 configuration across 2 rows.
Seat: 1A
Miles Used: None. At the time of this flight, Emirates did not allow mileage redemption to book the Game Changer Suites. This has since changed as of early 2019 and last minute award space is now available for redemption.
Fare Paid: $2,620 per person, including taxes, plus an additional $230 per person, including taxes, for the positioning flight to Colombo. Total cost: $2,850 per person
Typical Retail Fare: $6,062 per person, including taxes.
Introduction
There is first class and then there's the Game Changer.
Being an AvGeek, flying the Emirates Game Changer First Class suite was on my wishlist for a while, and after a year of waiting it out for the stars to align, I finally managed to snag the coveted seat. Emirates has often set the benchmark in first class travel and the new first class suites deliver a bespoke travel experience.
Emirates flies its 9 Boeing 777-300ERs, regularly A6-EQH to A6-EQP, equipped with the new suite on the medium-haul routes daily to Europe – Brussels Airport (BRU), Genève Aéroport (GVA), London Stansted Airport (STN), Vienna International Airport (VIE), Frankfurt Airport (FRA), Hamburg Airport (HAM) on select days, and to Haneda Airport (HND) on select days.
As of April 16, 2019, Emirates has debuted the product on the short-haul to King Khalid International Airport (RUH) 5 times weekly, which will then translate to a daily frequency on June 1, 2019.
Additionally, Emirates will be starting a daily flight to Kuwait International Airport (KWI) and Velana International Airport (MLE) for select flights starting June 1, 2019.
However, there have been instances where, due to last minute equipment changes, the Game Changer suites have been put in service on the non-scheduled routes. So if you are flying first class on an Emirates Boeing 777, check out the aircraft registration before your flight on FlightRadar24 and double-check the first class cabin layout is 1-1-1. If both match, then you have lucked out.
Emirates has not yet introduced the Game Changer suites on its Airbus A380s. It remains to be seen whether Emirates will have the Game Changer suites when Emirates expands its A380 fleet by 14 over the next two years.
Booking the Emirates Game Changer
Since I did not have much of an option route wise, in December 2018, I decided to leave the Dubai desert for the snowcapped peaks in Zermatt, Switzerland. As much as I was looking forward to flying on the Game Changer, there was no way I was going to pay the typical retail fare of $6,062 for a 7-hours flight out of Dubai. It was time to be flexible and get a little innovative.
Emirates' business model is primarily set on making DXB a hub and fill up its wide-body fleet of Airbus A380s and Boeing 777s. From time to time, Emirates offers attractive fares from South Asia to the U.S. and Europe.
So after weeks of searching online, I managed to book a 'reasonable' first class fare of $2,620 out of CMB, thereby giving me the opportunity to experience Emirates' old first class cabin as well as the new Game Changer First Class cabin. In addition, this also gave me access to Emirates' highly coveted First Class Lounge in DXB. My positioning flight cost me an additional $230 per person, thus saving me a massive $3,212. 
Hot Tip: Check for first class fares to Europe and the U.S., originating out of South Asian countries, where airport taxes and surcharges are not as high.
I was originally booked on EK 651 from CMB to DXB and EK 083 from DXB to GVA on December 12, 2018. However, 1 week before the flight, I received an email from Emirates stating that due to operational reasons it was changing my flight to: EK 649 from CMB to DXB and EK 089 from DXB to GVA, which worked out well, as I then landed in Geneva early afternoon instead of the evening.
I later found out that the reason for the change was the unavailability of one of the Game Changer equipped aircraft.
Hot Tip: Read our in-depth guide on how to book Emirates First Class using points!
Emirates Old First Class
On December 11, 2018, I got a positioning flight out of CMB and headed to the airport. I wanted to be well rested for the Game Changer experience and since this was a red-eye flight, landing in DXB at 04:30 a.m., I decided to have some Arabic coffee and dates, then get some sleep. Luckily, I was the only passenger in First Class, so there were a lot of peace and quiet.
At Dubai International Airport
Emirates First Class Lounge
Available complimentary to Emirates Platinum cardholders and first class passengers, the Emirates First Class Lounge in Concourse B is approximately 130,000 square feet and is fully loaded. Passengers can also access the lounge by paying as shown below.
From massive foyers, expansive dining areas, a children's playroom, a business center,  a spa, showers, to even a shoe shining station and convenient charging stations, everything you could imagine is available at the lounge.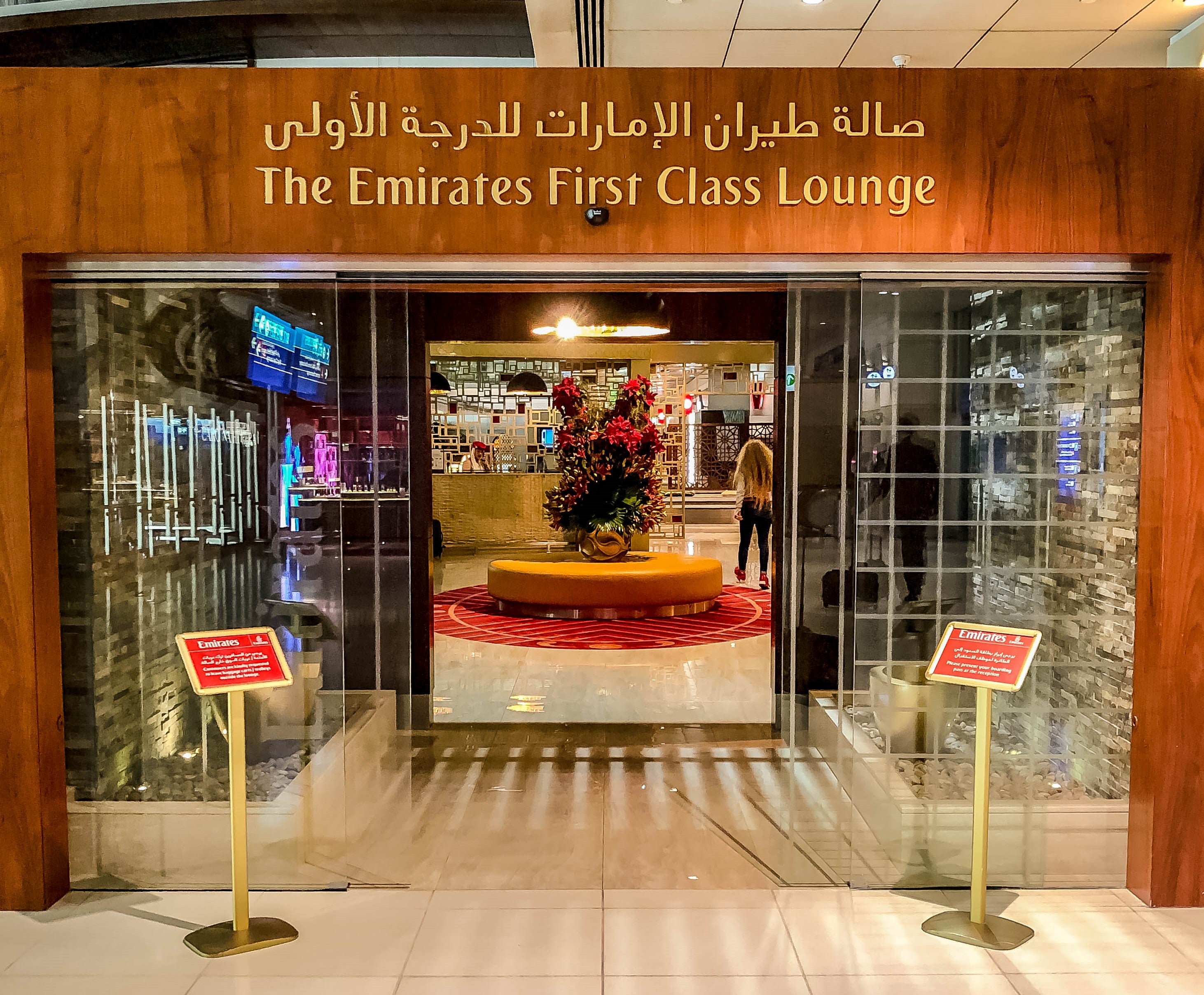 Dining
Dining is an absolute delight in the Emirates First Class Lounge. The lounge offers a variety of cuisines including Japanese, Indian, and Mediterranean, as well as a buffet of light snacks and beverages. If an à la carte menu is what you prefer, that is also available.
If you want to indulge further, their in-house wine shop, Le Clos, offers you a massive selection of wine and liquor. It's not only drool worthy, but pricey as well. Given the sheer number of choices available at the lounge, you are better off with the free stuff.
After a quick shower, I headed to the dining area for some breakfast. I preferred a light meal, as I wanted to indulge in the onboard dining experience, so I opted for some sashimi, croissants, and orange juice.
Spa
First class passengers are entitled to a complimentary spa treatment within the lounge and who would pass up on this?
I chose a relaxing foot massage that was the perfect way to begin the journey.
Restrooms & Showers
Clean and spacious restrooms and shower rooms are also available for guests to refresh, especially for passengers who are on a layover and could do with a quick shower.
Boarding
It was time to board the flight, but the aircraft was stationed at a remote stand. No sweat; Emirates won't lump you in an overcrowded bus. Emirates provides a 10-seater Cobus 3,000 Bling Bus for the first class passengers to be transported to the aircraft. On the bus ride to the aircraft, I was ecstatic. This was it; I was finally getting on the Game Changer.
Flight
Aircraft
The aircraft registered A6-EQK, was delivered in May 2018 to Emirates with a total capacity of 354 seats configured as follows:
First Suites – 6 seats in a 1-1-1 configuration
Business Class – 42 seats in a 2-3-2 configuration
Economy Class – 306 seats in a 3-4-3 configuration
Boarding was through the L1 door, where I was greeted by Saif, who escorted me to suite 1A. As I entered the aircraft, it was a wow moment that hit me. Was this what I was expecting? On first impressions, the answer was an overwhelming yes.
Cabin
Staggered in a 1-1-1 configuration across 2 rows, the cabin does not feel cluttered. The true window suites 1A, 2A, 1K, and 2K are slightly smaller suites 1E and 2F, which offer a virtual window.
One look at these suites and you can immediately see the character and the intent of the Emirates brand; bespoke luxury hinged on complete privacy.
Middle seats are usually the last seats to be sold out and for a good reason due to the lack of windows to enjoy the take off, landing and cloud surfing views, unless you are traveling with a companion. But you have got to hand it to Emirates for not disappointing their middle seat travelers, thanks to the "virtual windows". Yes, you heard that right; all middle row suites come equipped with virtual windows that pack in the same experience of a window seat with live feeds. Talk about innovation and detailing.
I tried to book one of the middle suites, as I was keen on checking out whether these seats give the same feel as looking out of a regular window, but they were already taken, so I settled for Suite 1A.
All 6 suites were occupied, so there was no chance to try out the middle suites. I requested my neighbor if I could check out the virtual windows and he was kind enough to let me. However, in the excitement, I forgot to get a picture of the "virtual windows".
Image Courtesy escape.com
If you are one to seek total privacy, select Suite 1K or Suite 2A, as there are no suites adjacent to them.
There are 2 regular sized lavatories at the front of the cabin for the suites. In the lavatories, you're offered disposable dental kits and shaving kits.
The Game Changer Suites echo the design and aesthetic philosophy of Mercedes-Benz. From the soft leather seating to the high tech control panels to the mood lighting, it is very reminiscent of sitting in a luxury Mercedes-Benz.
Each suite has a floor-to- ceiling sliding door to create a smart illusion of privacy and space, blended with smart technology and lean designs to deliver luxury and comfort. With a new color pallet of soft grays, cream, and champagne, it is a far cry from the old white and gold feel we are so used to from Emirates.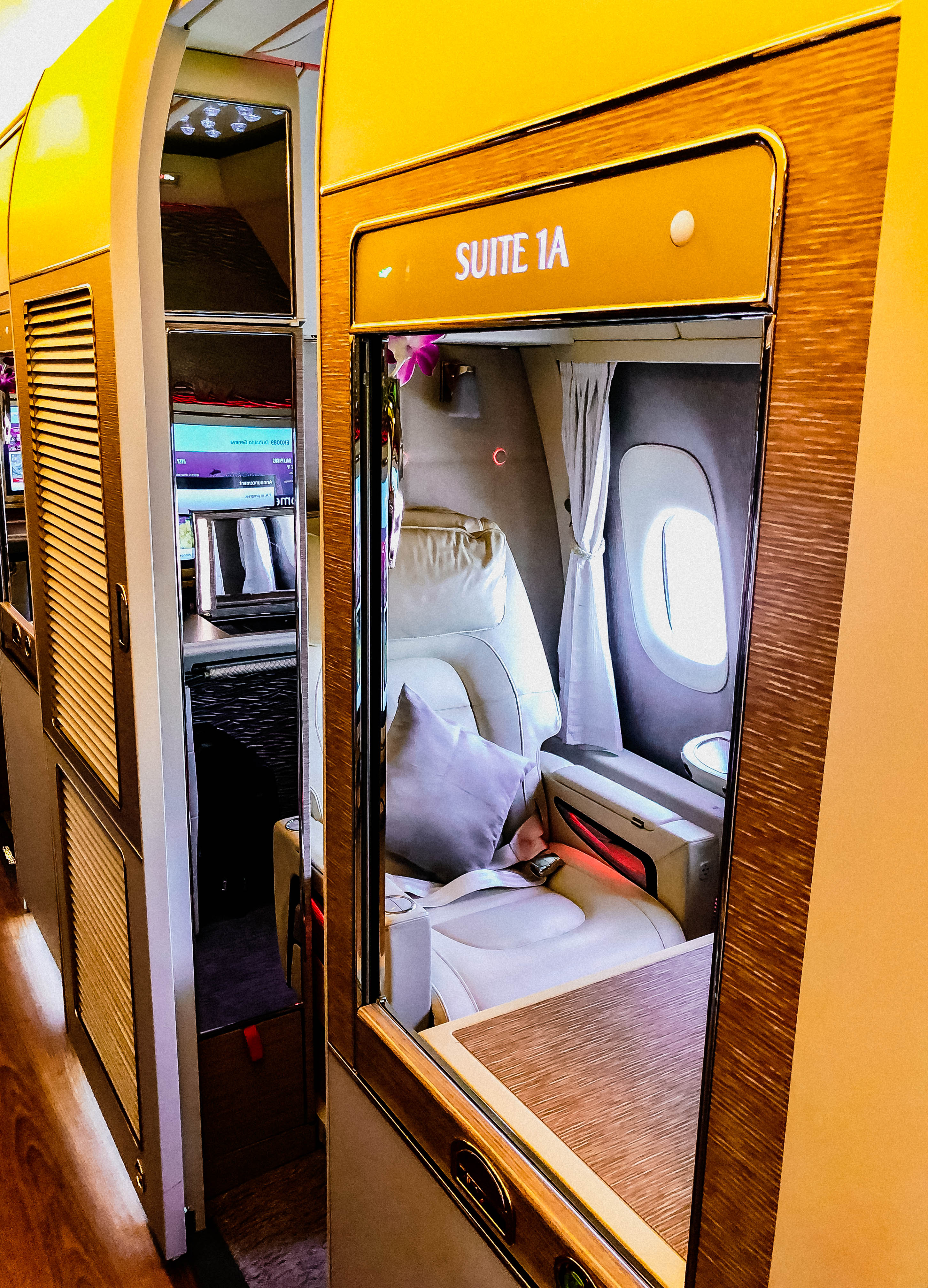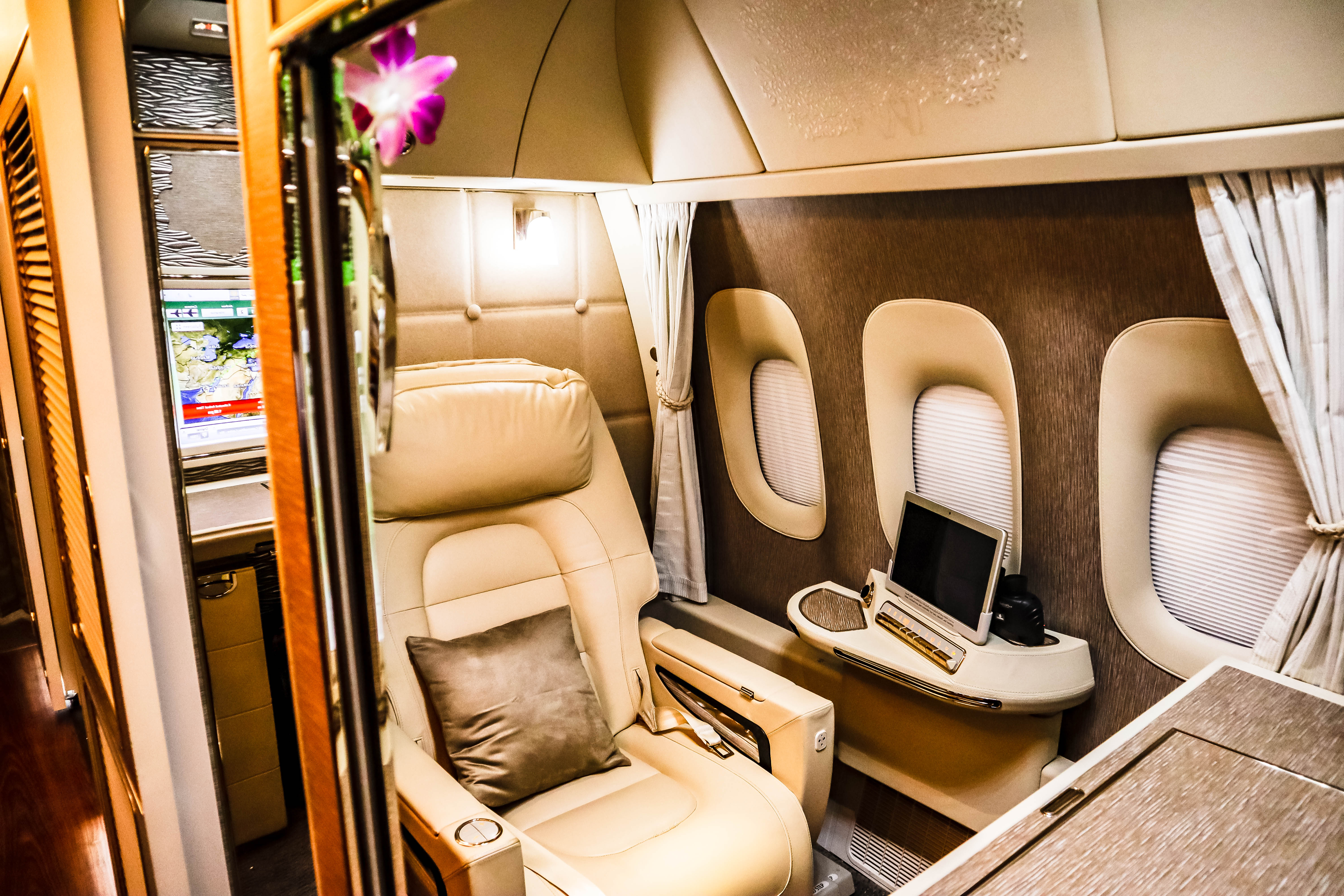 The addition of the very distinctive Arabic elements is not to be missed with the mural of the Ghaf tree, which is the national tree of the United Arab Emirates, adorned in the interior and on the suite shell.
The suite's table has a pop-out vanity mirror and the compartment stores a wellness kit from BYREDO. The wellness kit comes stocked with skin care products, a notebook, and a pen.
As I settled in the suite, a glass of 2009 Dom Pérignon was served through the service hatch. The service hatch, a brand new addition to the suite design, is intended for the food and drinks to be passed in by the flight attendant without opening the suite door. However, while great intentions, I did not find it that useful as it was cumbersome for the flight attendant to pass the meals through the hatch. The hatch can be closed once the service is completed for complete privacy.
Compared to the old first class, the suite aesthetics were toned down a bit, and even though a lot more bells and whistles were added, Emirates did not go overboard with the controls and kept the technology pretty simple and easy to use. The controls can be found at the base of the tablet holder.
Each window suite is equipped with binoculars for the passenger to enjoy the views during the take-off and landing. More of a publicity stunt than anything, but fun nonetheless.
Seat
The soft leather recliner seat is well padded and very comfortable and at a press of a button; you can convert the seat to 1 of the 4 modes: Take-off, Recline, Dining, and Flatbed.
Emirates has avoided over engineering and kept it simple; it is nothing short of an out-of-space experience thanks to the NASA inspired Zero Gravity position that provides relaxation and levity.
Here is the video of the seat going from Recline mode to Flatbed:
As I looked around, I was beginning to unravel why Emirates called these suites, Game Changer.
The detailing was immaculate with the suite controls accessible from the comfort of your seat. From the panel on the side of the seat, you can control all your suite features including light intensity, mood lighting, temperature and access flight information. The panel even indicates whether the lavatory is occupied or not.
I played around with the mood lighting colors and settled for the red lighting.
However, if you want to get a bit more innovative, you can convert your suite into a disco:
Tablet
The 13″ detachable tablet controls mostly everything including seat adjustment, inflight entertainment system, window blinds, but doesn't control the lighting and temperature controls given those are controlled by the other panel. Just below the tablet is 1 of the 2 air vents that can be adjusted with the other being wall mounted.
Another feature that can be controlled from the tablet was the voice or video call feature, "Room Service". No need to press the traditional "call button" anymore. Just dial in! The attendant, Saif, was keen on me to try it out and, surprisingly, it worked quite well.
Storage Space
Each nook and corner of the suite is made use of in an attuned way. Below the table next to the suite door, there is quite a spacious storage locker that would fit most regular-sized cabin bags.
Further, there is enough free space below the table for the storage. However, when the seat is converted to the bed mode, the luggage from there needs to be moved as the seat slopes downwards in the Flatbed.
Adjacent to the seat is a wardrobe equipped with hangars to store your coat along with cubbies to store your headphones, and inflight magazines.
Under the right-hand armrest, there is storage for your smaller devices, cables, and other smaller items.
Above the seat, there is a storage compartment for the pillows and bedding.
Plugs and Power Supply
On the left-hand lower corner of the table is the power supply port that is equipped with a universal plug socket, USB, and HDMI ports.
Inflight Entertainment
Emirates has one of the largest selection of movies, TV series, and music on its award-winning inflight entertainment (IFE) system. The TV monitor is a large wall mounted 32″ touchscreen that can be controlled by both the detachable 13″ wireless tablet and a remote control stored in the left armrest of the seat.
To complement the IFE system, Emirates has upgraded to the active noise-canceling Bowers & Wilkins headphones. On this flight, I skipped watching movies. I was so engrossed in playing with the various suite controls, that before I knew it, the captain has announced the top of descent and we were gliding into Geneva.
Being an Emirates Skywards member, I was able to take advantage of the free internet for the entire duration of the flight by punching in my frequent flyer number attached to the booking. The speed was acceptable to receive and send emails, as well as browse through Instagram. However, the speed wasn't fast enough to post an InstaStory quickly.
Food and Service
The catering onboard Emirates out of Dubai never disappoints, and with that anticipation, I did not stuff myself in the lounge.
Emirates has a Dine On Demand service that gives you the flexibility of dining when you want. The menu was presented in a leather folder detailing the wines on offer, meal a la carte options, cocktails, aperitif, dessert options, and cheeseboard.
On the ground, I started off with a glass of the 2009 Dom Pérignon and continued with that during the meal service.
The meal service began with a canapé offering of grilled venison with cranberries, smoked Scottish salmon with chives and avocado cream, and Bleu D'Auvergne on gingerbread with spiced apricot chutney.
This was followed by caviar with the regular accompaniments, which was excellent.
I skipped the soup and went straight for the main course; I opted for braised lamb shank. The meat was succulent, tender, and tasty.
Being the holiday season, I decided to try the festive terrine for dessert that was milk chocolate mousse encased in white chocolate. I enjoyed it so much that I requested for a second helping.
The meal was fantastic and, of course, no meal is complete without a nice digestif for which I chose a glass of Hennessy Paradis Cognac, which retails at $900 per bottle.
Amenity Kit
This being a day flight, Emirates did not offer the Bvlgari amenity kit. However, I've heard from insiders that Emirates offer the kit on the second daily Game Changer service to Geneva, flight EK 083, which departs DXB in the afternoon, and also qualifies as a day flight. Considering the fare paid for the first class seats, it is a bit sloppy on Emirates' part not to offer the amenity kit on all flights.
As is synonymous with the Emirates First Class, there is also a snack basket containing nuts, popcorn, mints, and 2 minibars on either side of the TV screen containing soft drinks, juices, and sparkling water. Unfortunately, these minibars are not refrigerated, so you are better off ordering drinks from the galley.
Hot Tip: In Suite 1A and 1K, the minibar is adjacent to the bulkhead and are smaller than those in the middle suites and Suite 2A and 2K due to the curvature of the aircraft frame.
Final Thoughts
I am blown away. The Game Changer suite truly lived up to its name and the hype.
Everything has been thought of; the design is detailed and immaculate, and each box is ticked when it comes to enhancing passenger comfort and experience.
I really can't think of a downside other than Emirates not offering the amenity kit irrespective of the time of the flight. Earlier mileage redemption could not be availed, and that too has been changed. I would like to see Emirates flying these planes on longer routes. 7 hours to Europe is not enough time to play with all the bells and whistles.
So then comes the million dollar question. Who wins the battle of the First Class? Is it Singapore Airlines' new suites with a separate pop out bed or Emirates' Game Changer suites? In February 2019, I flew the new Singapore Airlines Suites from London to Singapore to see if I could arrive at an answer.
Both are excellent products, and in my opinion it all comes down to individual preferences. It really is a hard question to answer. If I am traveling with a companion, I would prefer the Singapore Airlines Suites, where the partition can be lowered between two suites, thereby converting into a small studio.
However, if I am traveling alone, unequivocally, I would go with the Game Changer. Also, what gives Emirates the slight edge is that suites are totally enclosed, thereby giving you complete privacy.
Interested in the pilot's perspective? Explore the Boeing 777 from a pilot's perspective.
---
All images courtesy of Cherag Dubash