Singapore 777 Business Class Review – Singapore to Melbourne
Airline: Singapore Airlines
Aircraft: Boeing 777
Flight #: SQ 227
Route: (SGN>)* SIN>MEL
Date: October 15, 2017
Duration: 7hr 25 min
Cabin & Layout: Business Class, 12 seats, 1-2-1, lie-flat
Seats: 11D, 11F
Miles Used: 46,750 Singapore KrisFlyer Miles per person (including SGN>SIN* since this was 1 booking)
Taxes & Fees Paid: $212 USD per person
Typical Retail Cost: $1,425 USD per person (SGN>SIN>MEL)
Typical Economy Cost: ~$580 USD per person
*This flight was the second leg of a trek from Ho Chi Minh City to Melbourne that included 1 flight on Singapore Airlines' A330 business class from SGN>SIN, then a second flight on Singapore Airlines' Boeing 777 business class from SIN>MEL. This review is strictly concerning the Boeing 777 product, but you can head on over and check out our review of the A330 product, too.
Booking This Ticket
The full details of this booking process can be found on our SGN>SIN flight review, since only 1 booking was required for the full journey of Ho Chi Minh City to Melbourne via Singapore.
At the Airport
We were both very excited about this particular flight, because Singapore Airlines had recently refurbished their business class product on all their Boeing 777 planes.
As you'll see below, the seats are huge (almost as large as Cathay Pacific first class!), and any flight with Singapore's cabin crew (especially in business or first) is definitely going to be a relaxing and pampering experience.
Since this flight was the second leg of our trip from SGN>SIN>MEL, we had a decent layover in SIN awaiting our next flight. We didn't mind this layover at all since we had access to Singapore Airlines' SilverKris Lounge with our business class ticket.
Inside this lounge, there are 3 sections including The Private Room for Singapore Suites passengers, the First Lounge for first class passengers, and the Business Lounge for business passengers.
The business class lounge was spacious and had plenty of seating, which we eventually realized was entirely necessary — the lounge got very busy later in the evening. There is a nice buffet of regional and international dishes as well as non-alcoholic beverages plus beer, wine, and champagne.
The bathrooms in the Business Lounge had showers, which we thought was a nice perk. Overall, it was certainly better than sitting at the gate for hours!
The Flight
As soon as we boarded the plane, we were each greeted by name and lead to our seats. Once onboard, even though they were clearly busy, the cabin crew made sure we felt welcome. They offered us a beverage and brought us our menus and a small amenity kit.
The first thing to note about the hard product is that THESE SEATS ARE HUGE. You could seriously fit 2 average-sized humans next to each other on 1 seat. For us, this 30″ width plus 51″ pitch was jaw-droppingly ridiculous.
We had reserved the 2 bulkhead seats in the middle, which gives you even more room. Whether you're traveling alone or as a couple, do try to snag those at the front!
Not only were the seats massive, but the TV is LARGE. It also tilts to adjust to the level you wish to recline your chair, which was a thoughtful touch.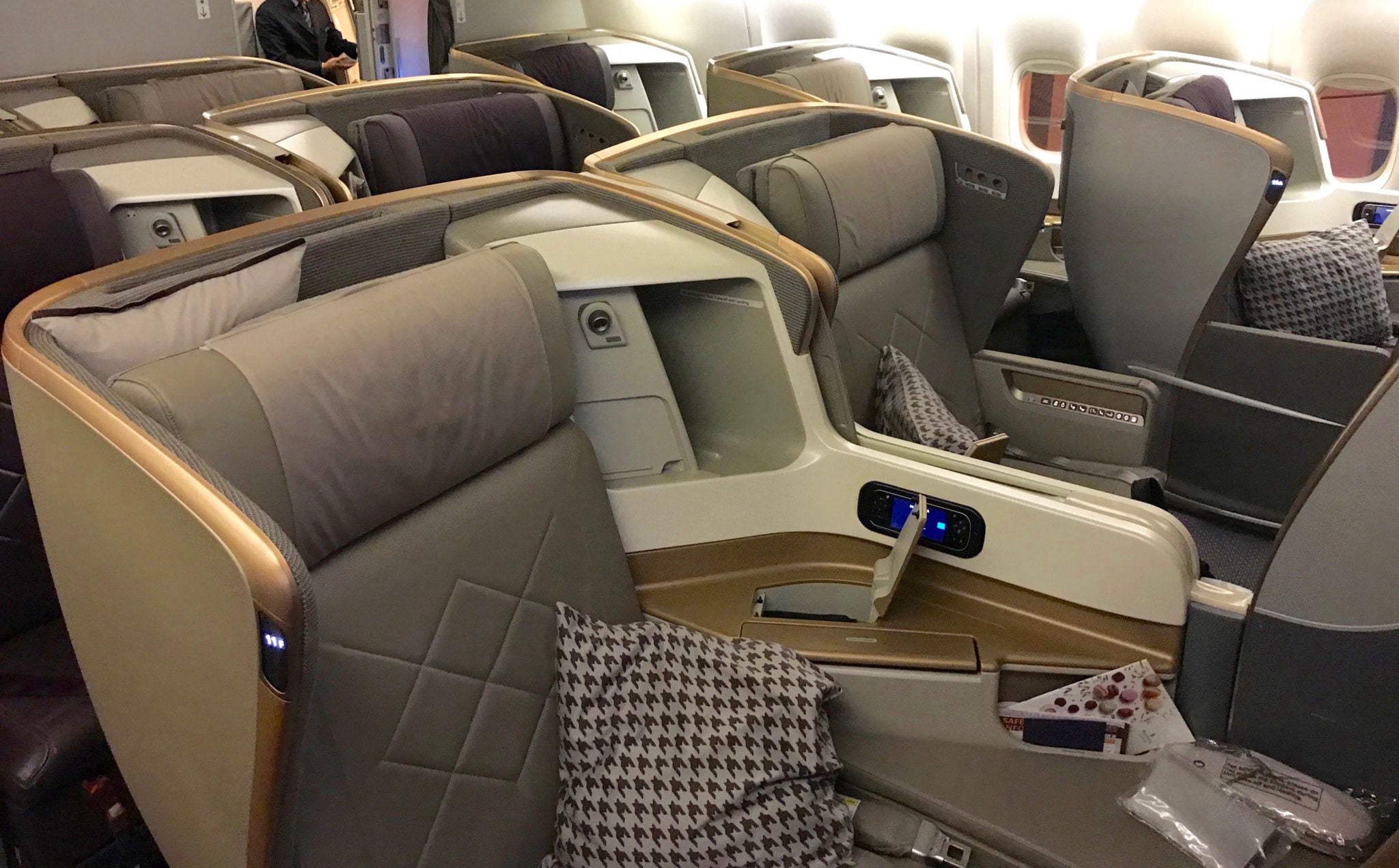 You might catch the pillow wedged behind the headrest in the above photo — that's because (you guessed it) these seats lie flat. You even get a nice little instructional video on how to turn your seat into a bed. In addition to the pillow, you get a duvet and linens.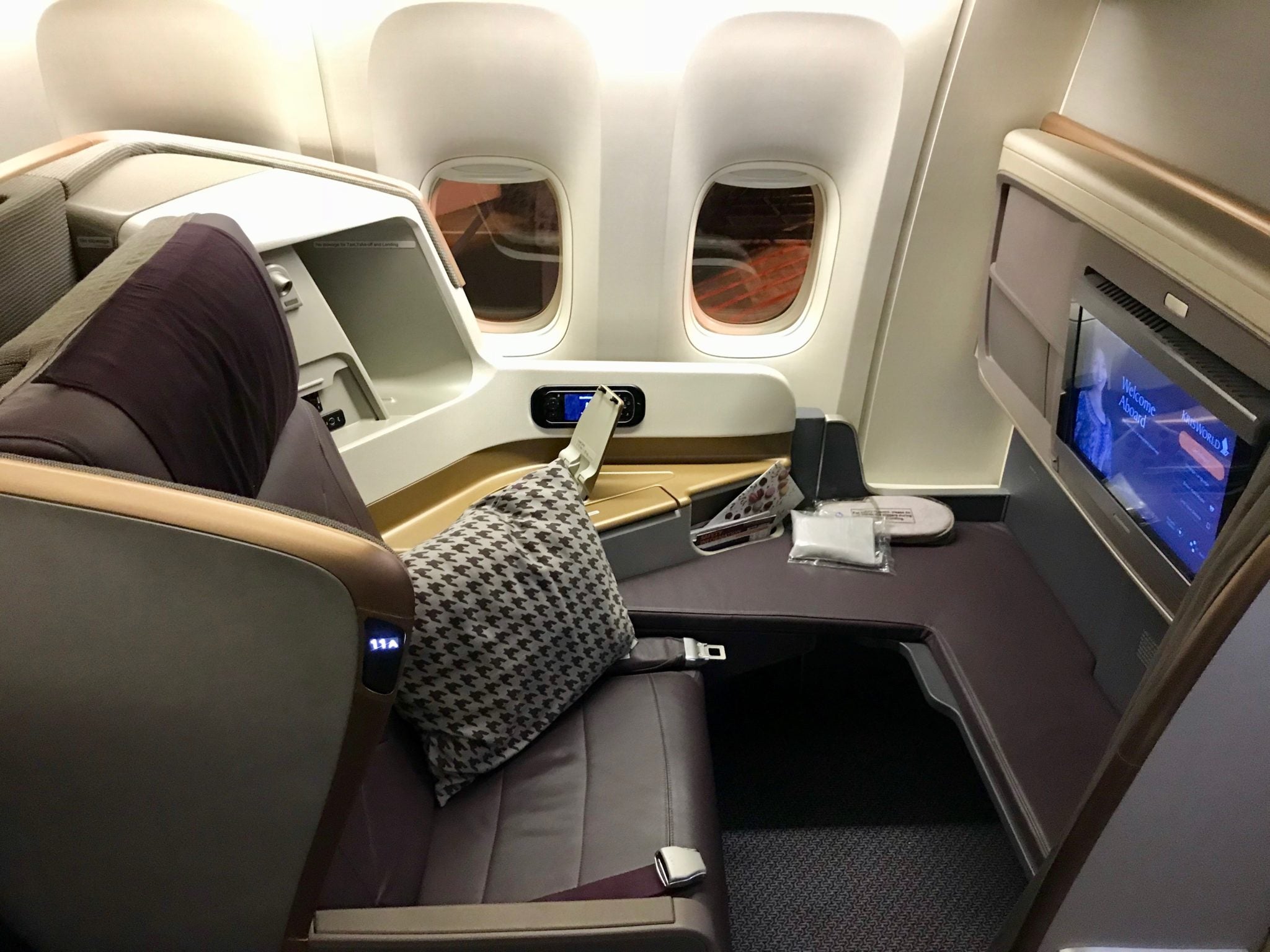 There are multiple air vents and multiple lights for reading, dining, etc…because 1 just isn't enough of course! Plus, storage space directly above the armrest helps you reach things from a seated or reclined position.
The seat controls have an option for adjusting the seat back and the leg rests independently. Singapore Airlines even advertises the possibility to assume new seat positions: The Lazy Z (a cradling position) and the Sundeck (a lounging position). 
As you can see, there's plenty of space to sit back, relax and enjoy the flight! The dimmed cabin lighting is great whether you want to catch some shuteye or stay up watching movies.
On Singapore Airlines business class, you also get the opportunity to "Book The Cook." This is an option to pre-select your meal from a separate menu up to 24 hours before you fly. Many passengers enjoy this since it lets them choose something they know they'll like vs. waiting to see the onboard menu.
Of course, Singapore Airlines also provides a great a la carte menu with a number of tasty options! Whether you choose to "Book the Cook" or pick from the a la carte dishes, you're sure to be a happy camper. Service at mealtime was prompt, and the staff was quick to offer wine suggestions to pair with our delicious meals. 
As a contrast to the A330 regional business class service, we were surprised to receive a small amenities kit as we were welcomed onboard. This little kit included some thoughtful items from The Laundress, New York, such as Crease Release and Fabric Fresh.
We don't have photos, but we absolutely want to give a shout-out to the Singapore Airlines business class cabin crew. Boy were they wonderful! True to Singapore Airlines form, they were welcoming and friendly throughout, quick to serve yet not at all interfering, and overall right on point.
Final Thoughts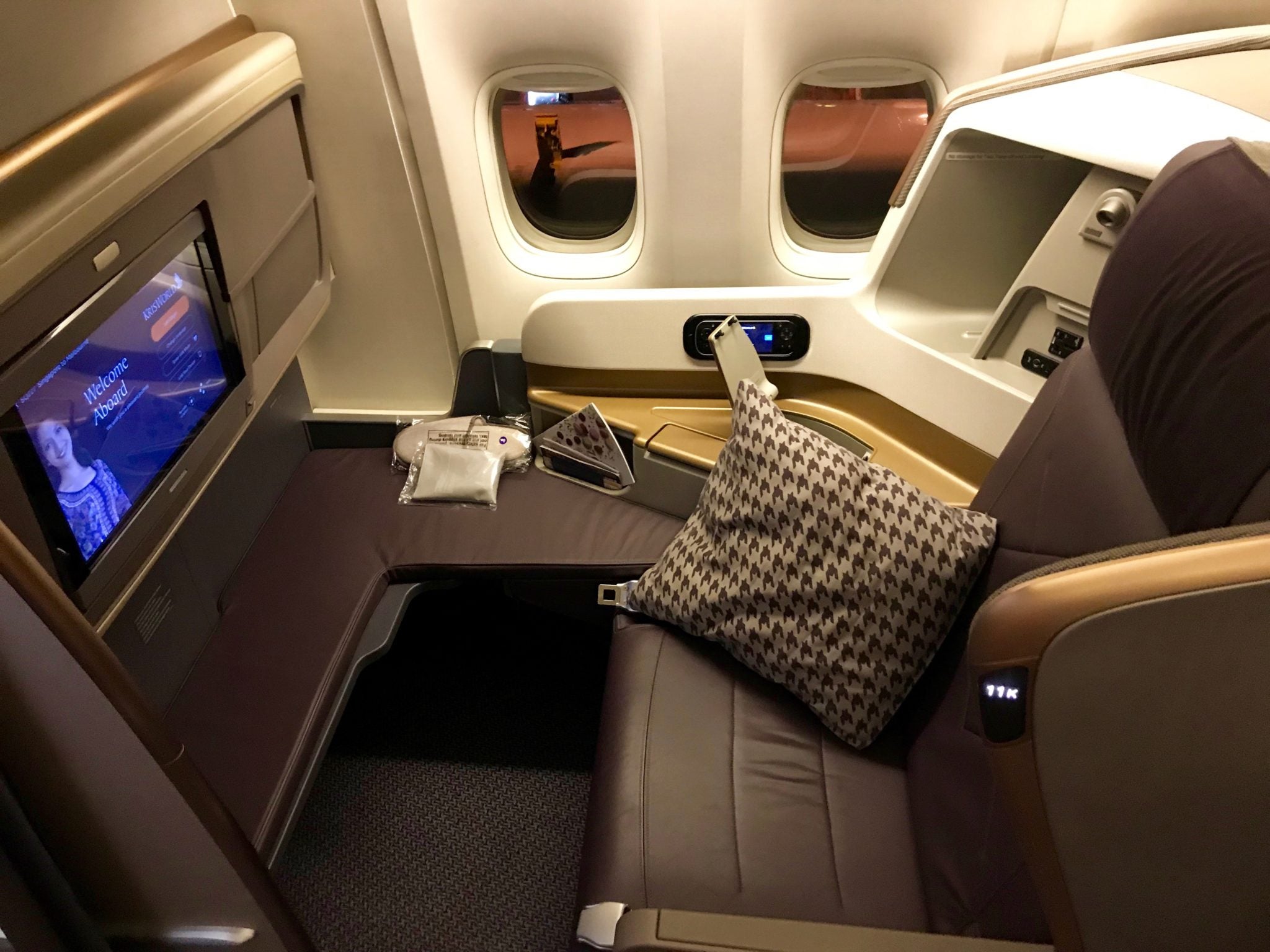 Singapore Airlines' "New Business" on the Boeing 777 is a tough seat to beat. The sheer amount of space allotted to 1 passenger is incredible! When you combine that with the stellar service of the Singapore business cabin crew, there's really not more you could want in a product.
We were certainly impressed — we'd fly it again any day!
These 2 Singapore business travel legs were right in the middle of our great big trip around the world. With some serious research and effort to maximize our points, we were able to fly in first and business class for over 52 hours total.
To make it even better, we got to experience some of the best products in the sky. If you're interested in reviews on those flights, you can find them here:
Want to know how Alex planned this massive trip? You're in luck — he's written an entire post on it!
Interested in which credit cards he used to book all the award flights above? He's got a post for that too…
And last but not least, if you want to see other redemption options for getting to Singapore we've got an article for that as well!
Interested in the pilot's perspective? Explore the Boeing 777 from a pilot's perspective.