Emirates A380 First Class Review – Dubai to Los Angeles
Basic Overview
Airline: Emirates
Aircraft: A380
Flight #: EK215
Route: DXB > LAX
Date: October 25, 2017
Duration: 16hr 15 min
Cabin & Layout: First Class, 14 seats, 1-2-1, lie-flat
Seats: 2E, 2F
Miles Used: 80,000 SPG Points per person (transferred to JAL, total of 200,000 JAL miles)
Taxes & Fees Paid: $78.20 USD per person (note: bookings from November 2017 are assessed much higher surcharges, up to $1,716 for first class from the US)
Typical Retail Cost: $8,618 USD per person (same route and dates)
Typical Economy Cost: ~$500 per person
Fun Fact: As of 1/1/2018, this flight makes the list of the top 10 longest flights in the world.
Booking This Ticket
There used to be several great value ways to book Emirates first class, such as using Alaska Mileage Plan miles — but now it's a lot more expensive after their 2016 devaluation.
For example, if you used Alaska miles to book this route (DXB>LAX), it would cost you a whopping 150,000 miles per person one-way! That's 300,000 total for 2 people…ouch.
Now, there's a much cheaper way in miles of flying Emirates first class: by transferring SPG Starpoints to Japan Airlines Mileage Bank. They only require 100,000 JAL miles per person for this particular route, meaning for 2 people we needed just 200,000 JAL miles. Unfortunately, since November 2017, Japan Airlines has added surcharges to these awards of up to $1,716.
Japan Airlines uses a distance-based award chart; the further you fly, the better the value! For example, you could fly New York > Milan > Dubai > Bangkok > Dubai > New York for 155,000 miles! (See our article to get more info on booking Emirates first class).
In our case, we were "just" flying from DXB > LAX, so the value wasn't quite as good as if we'd flown further. But those options didn't jive with us wanting to visit Singapore, Vietnam, Australia, etc….and besides, Alex badly wanted to try lots of first class products! 🙂
Hot Tip: For more information on routing, check out our deep dive into every Emirates' route to/from the U.S. including their plane types and seating options!
Back to the booking. Alex collected the necessary SPG points by signing up for (and regularly using) the Starwood Preferred Guest Credit Card from American Express as well as the Starwood Preferred Guest® Business Credit Card from American Express. Note: Starwood Preferred Guest (SPG) has since this trip been combined into with Marriott Bonvoy.
Update: you can now search for Emirates award space directly on the JAL site.
To find award space, he searched the Alaska Airlines website (check out our Emirates first class booking guide for all these details) and saw 2 seats pop up back in November 2016. The availability for Emirates first award space is actually really good; we think it's mostly because using Alaska miles is so expensive now that not many people are making the booking. Add to that this obscure method of booking (and the fact that not many people know about it)…more space for us!
The great thing about SPG is that for every 20,000 points you transfer to one of their partners, you get a 5,000-point bonus. Be aware that the maximum you can transfer in a 24-hour period is 79,999 SPG points. Given this limit (and to ensure we received the 5,000 bonus for every 20,000 transferred), he did the following:
(Remember, the goal was to get 200,000 JAL miles to book 2 one-way tickets in Emirates first class from DXB > LAX!)
Day 1: Transferred 60,000 SPG points (for 75,000 JAL miles)
Day 2: Transferred another 60,000 SPG points (75,000 more JAL miles, total 150,000 JAL)
Day 3: Transferred a final 40,000 SPG points (50,000 more JAL miles, total 200,000 JAL!)
It's a pain that you can't do this in one fell swoop, but rules are rules! Once the points had posted in Alex's JAL account (each transfer takes about 2 days to appear), he made the booking by calling up JAL. They were super helpful and Alex said this wasn't a difficult process at all — he was only on the phone for about 20 minutes in total, which isn't bad!
Words couldn't express how excited we were to board this plane! Just at thought of lapping up the luxury of Emirates first class on their A380 for over 16 hours in their super-blingy product (including on-board showers and a bar!!), we were smiling the entire time at the airport, waiting to board. 🙂
At the Airport
First, let me say that we were lucky enough to take this stellar Emirates first class adventure on Alex's birthday. This made the entire day all the more special — and I'm really not sure he'll ever have a better one!
Check-in for Emirates first at Dubai International was quick and efficient. Just seeing those distinguished flight attendant uniforms had us pumped! We arrived at the airport about 2.5 hours early (our flight was around 8:30 am), so the foot traffic at security was pretty light.
The main reason we arrived so early was to take advantage of the renowned Emirates First Class Lounge. Believe it or not, this was definitely worth waking up at the crack of dawn to get to DXB by 6:00 am!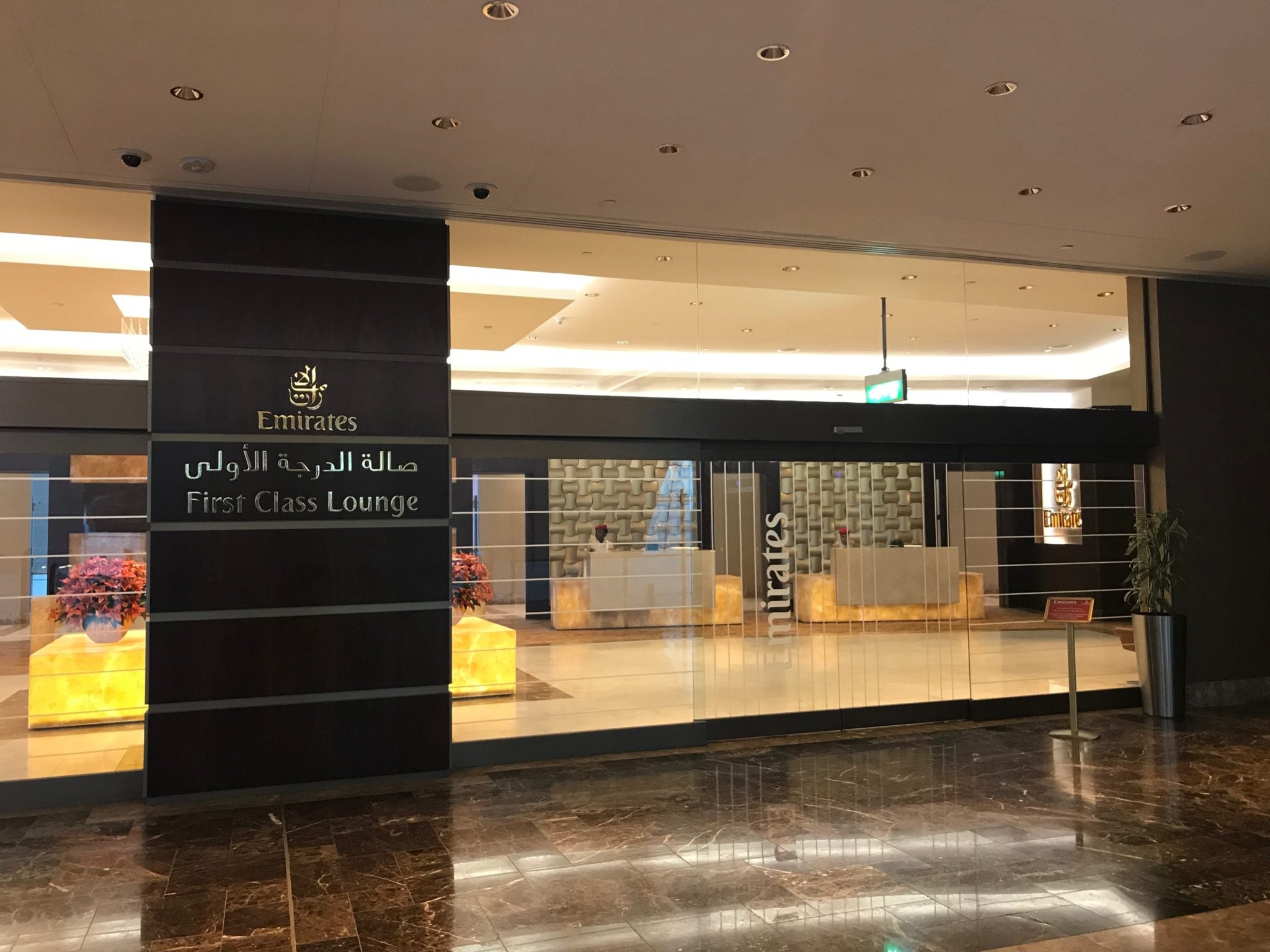 Let's be clear: this lounge might as well be its own terminal; it's absolutely that massive. So huge, in fact, that there are actually direction boards and maps to guide you. It's got its own duty free shopping, cigar bar, wine cellar, showers, gourmet dining areas, bar areas, business areas, children's play area, and quiet areas with chaise lounges, pillows, and blankets.
An extremely slick perk of this lounge is that passengers can board directly from the lounge instead of going to the basic gate. This means you can literally sit at the bar until the last possible second, and the lounge attendants will alert you/take you to the boarding area. You'll have your own gate attendants to scan your ticket; then you'll take the elevator down to the first class jetway.


After a light breakfast (we couldn't resist!), we headed over to the bar to relax. We weren't planning on ordering anything, but in honor of the birthday boy, we figured a glass of bubbly wouldn't hurt! As we guiltily ordered, we mentioned our excuse for champagne at 7:30 am…and apparently our bartender took note. Just 15 minutes later he brought out a delicious chocolate mousse cake with all the fancy touches! We thoroughly enjoyed it, reminding ourselves throughout that birthday calories don't count.
One last benefit we took advantage of was the complimentary spa treatment at the Timeless Spa. The spa is just outside the First Class Lounge since paid treatments are available to both first and business passengers. We made appointments a couple days before, just to be sure we'd be able to enjoy with plenty of time to spare. Alex was able to have a reflex therapy treatment for legs and feet, while I had the Indian head massage — both great little perks!

The Cabin & Seats
When we boarded the plane, we were blown away by the glitz and glamour that is Emirates first class. Pre-flight we were greeted with a hot towel, Arabic coffee, dates, and champagne! While we were busy exploring the ins and outs of our personal suites, we were also offered amenity kits, pajamas, and given our menus.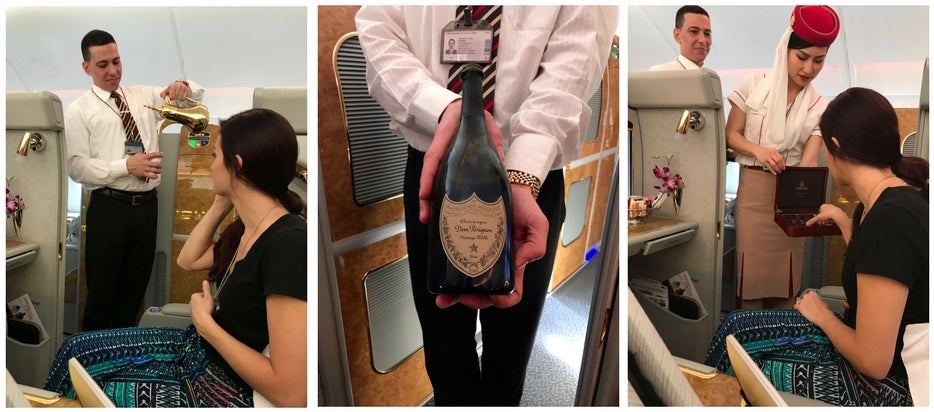 Emirates' first class cabin is consistently deemed one of the best products in the sky, and for good reason. Each passenger gets their own suite — yes, suite, not seat. With 14 suites in a 1-2-1 configuration, there's certainly a favorite spot for everyone. As you can see in the photo below, the middle seats have a partition that can be lowered, so you can chat throughout the flight if you're flying with a friend or partner.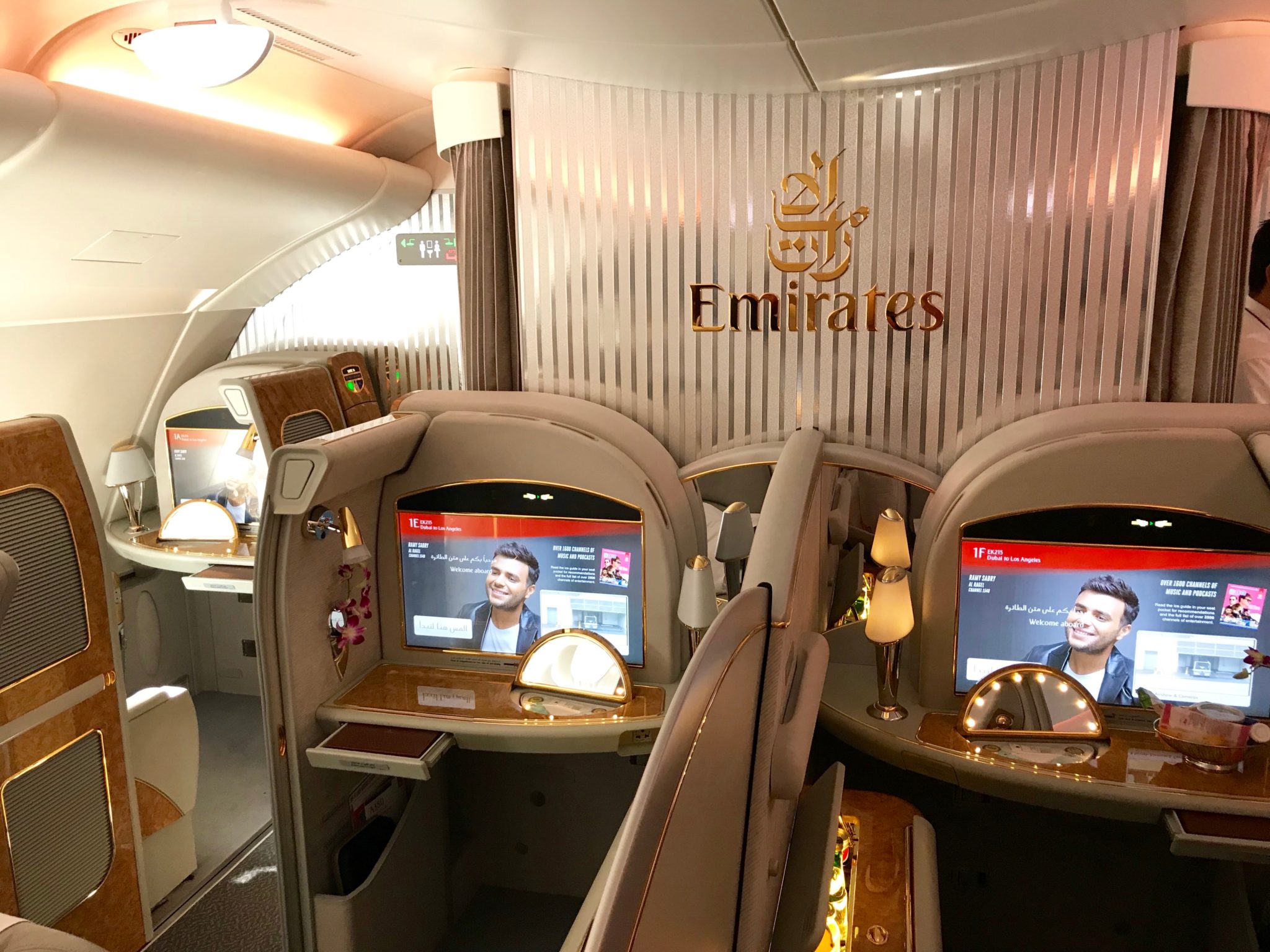 As we were shown to our suites, we immediately noticed the lighted vanity mirror with skincare and sleep products, a number of lamps/lighting options, and a personal mini bar that can be raised and lowered from the side console with the touch of a button!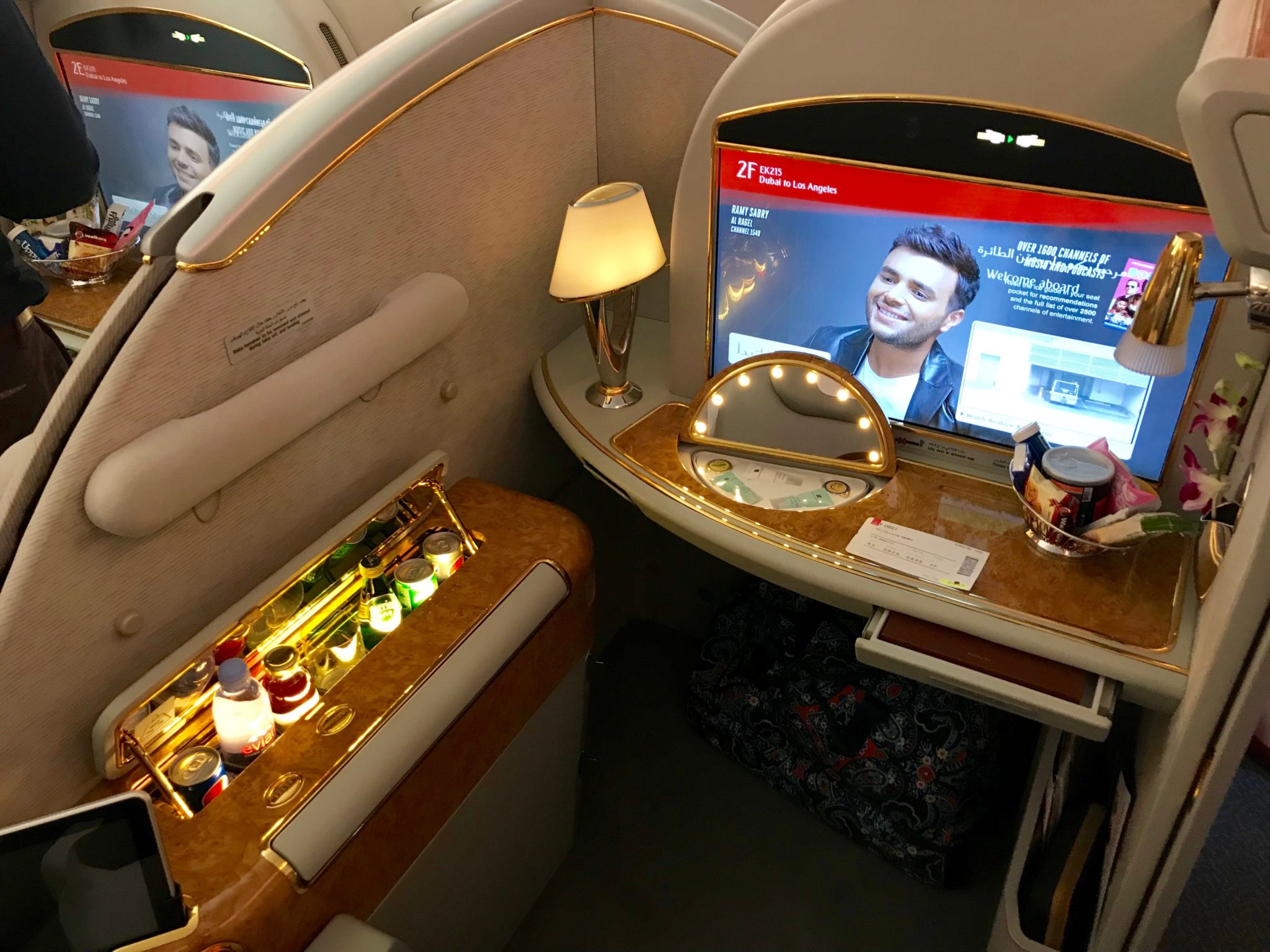 Without overhead baggage bins, the cabin feels extremely open and airy, but at the same time you're within the privacy of your own personal suite. You've also got a "do not disturb" option if you want to catch some solid shut-eye, but with all this excitement going on, we're not sure why you'd choose that option!
The first class seats have a 23″ width and 86″ pitch, which is more than enough room to relax for ~16 hours!
The seats can be configured into a 78″ fully lie-flat bed with added mattress/topper and faux sheepskin blanket for maximum comfort. Your cabin crew will skillfully provide turndown service for you — all you have to do is ask!
Another cool feature is that the suite doors can be closed (again with the touch of a button), and the blinds can be adjusted for privacy/lighting. If you have a window seat, you can also remotely close the window blinds. 
As for entertainment, each suite has a 27″ TV with a wireless tablet remote that's very iPad-esque. The tablet can also control your seat recline options. With the suite doors closed, it's basically your own personal cinema!
Now let's talk about THESE BATHROOMS. Or should I say shower spas? Yup, Emirates first class gives you the option to shower on the plane. Showers are scheduled (usually for a couple of hours before landing), so each passenger gets a chance to experience this perk. When we had the opportunity to take our scheduled showers, the attendants had everything freshly cleaned with towels set out, and they generously explained how everything worked.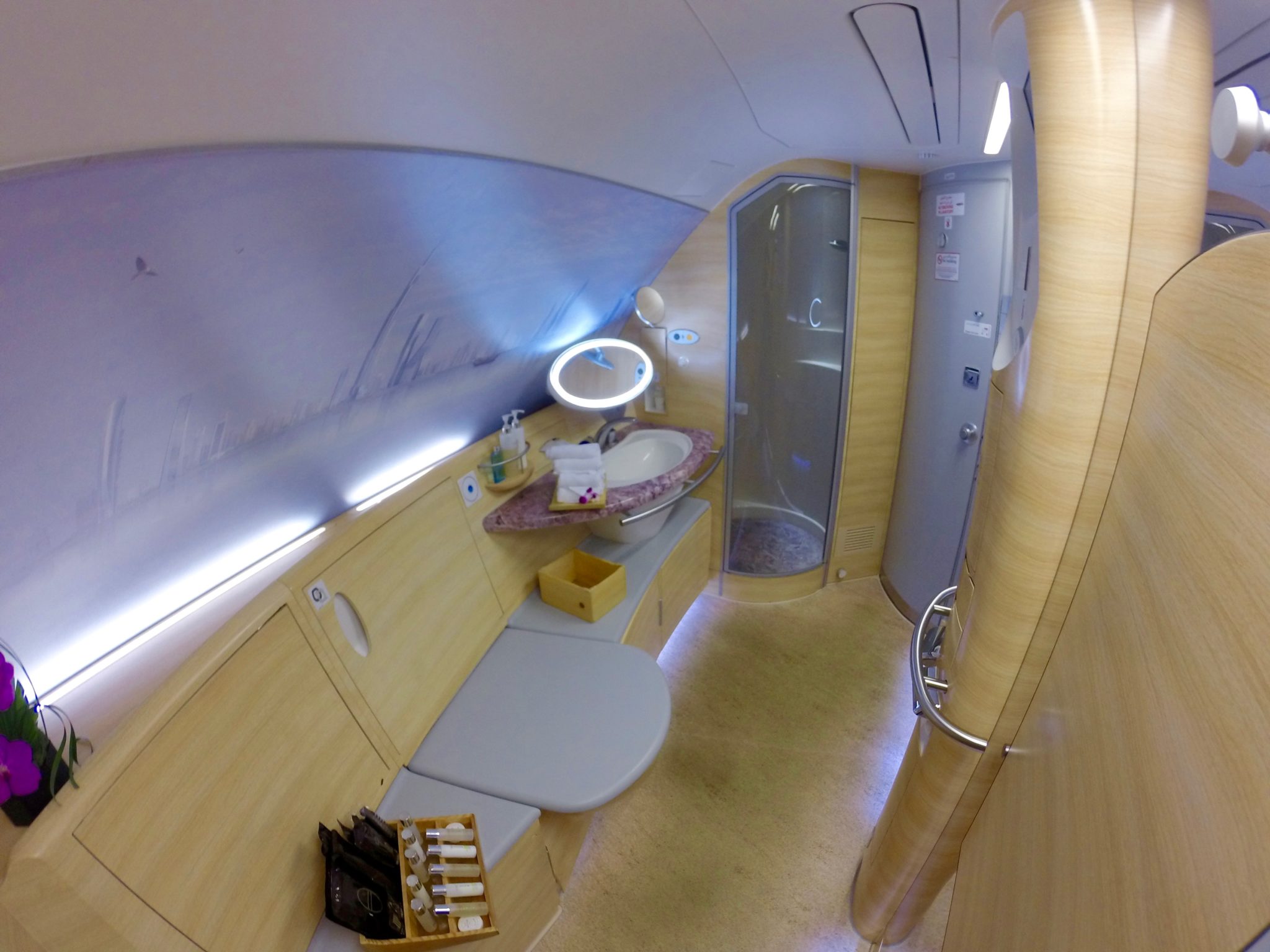 Showers are limited to 5 minutes so Emirates can ensure there is enough water for all passengers. This is still plenty of time to soap up and rinse off. Plus, you can stop/start the shower as you wish for a total of 5 minutes of flowing water, and you have the bathroom reserved for a generous amount of time so you don't feel rushed hopping in or drying off. The line of organic Voya shower products was simply icing on the cake at that point.
Another famous perk of this Emirates A380 plane is the Onboard Lounge — aka the bar. It was pretty surreal to head back for a few cocktails at 40,000 feet! The bartender was happy to oblige and made our drinks with a smile and lively conversation.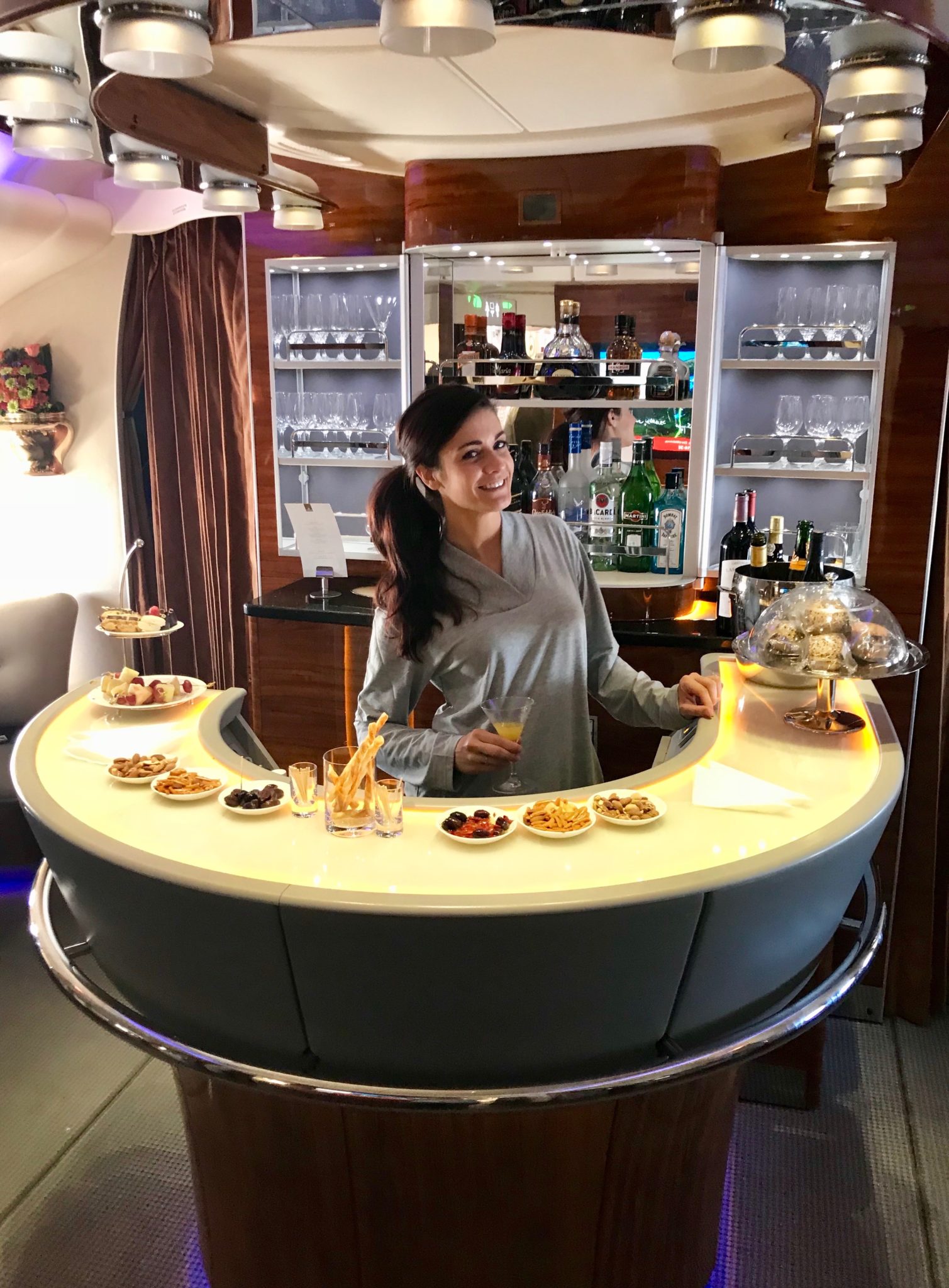 We were still at the bar when some turbulence became strong enough for the pilot to turn on the fasten seatbelt sign. Rather than returning to our seats, the bar attendant simply asked us to buckle in where we were, right there on the bench seat! We were even asked if we'd like a glass of champagne (or 2) while we were confined to our spots in this remarkable lounge area — definitely not a bad way to suffer through some light turbulence.
Let's head back and take one last look at the suites. You can see our middle seats below with the partition down. We flew this way the entire flight so we could share in the Emirates first excitement — after all, it's not something you get to experience every day! However, if you're flying solo and end up in a middle suite, you can have plenty of privacy by raising the divider.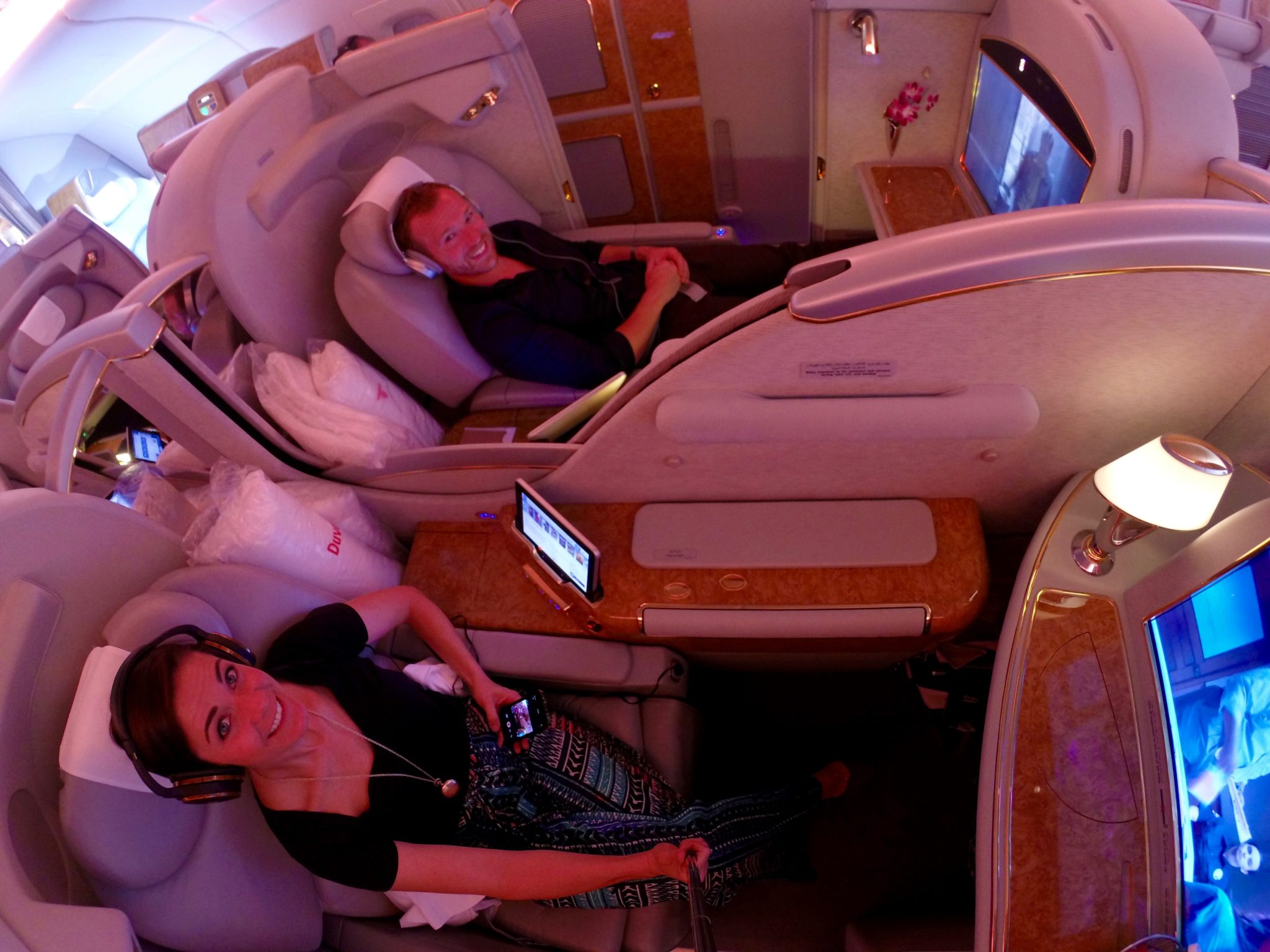 Dining, Amenities, & Service
The Emirates first class soft product is just as fantastic as the cabin itself. In terms of meals, Emirates is dine-on-demand…which basically means you can get whatever you want, whenever you want. You'll find a range of gourmet dishes, a la carte options, snacks, etc. Emirates also joins other carriers in offering caviar to start off your dining experience.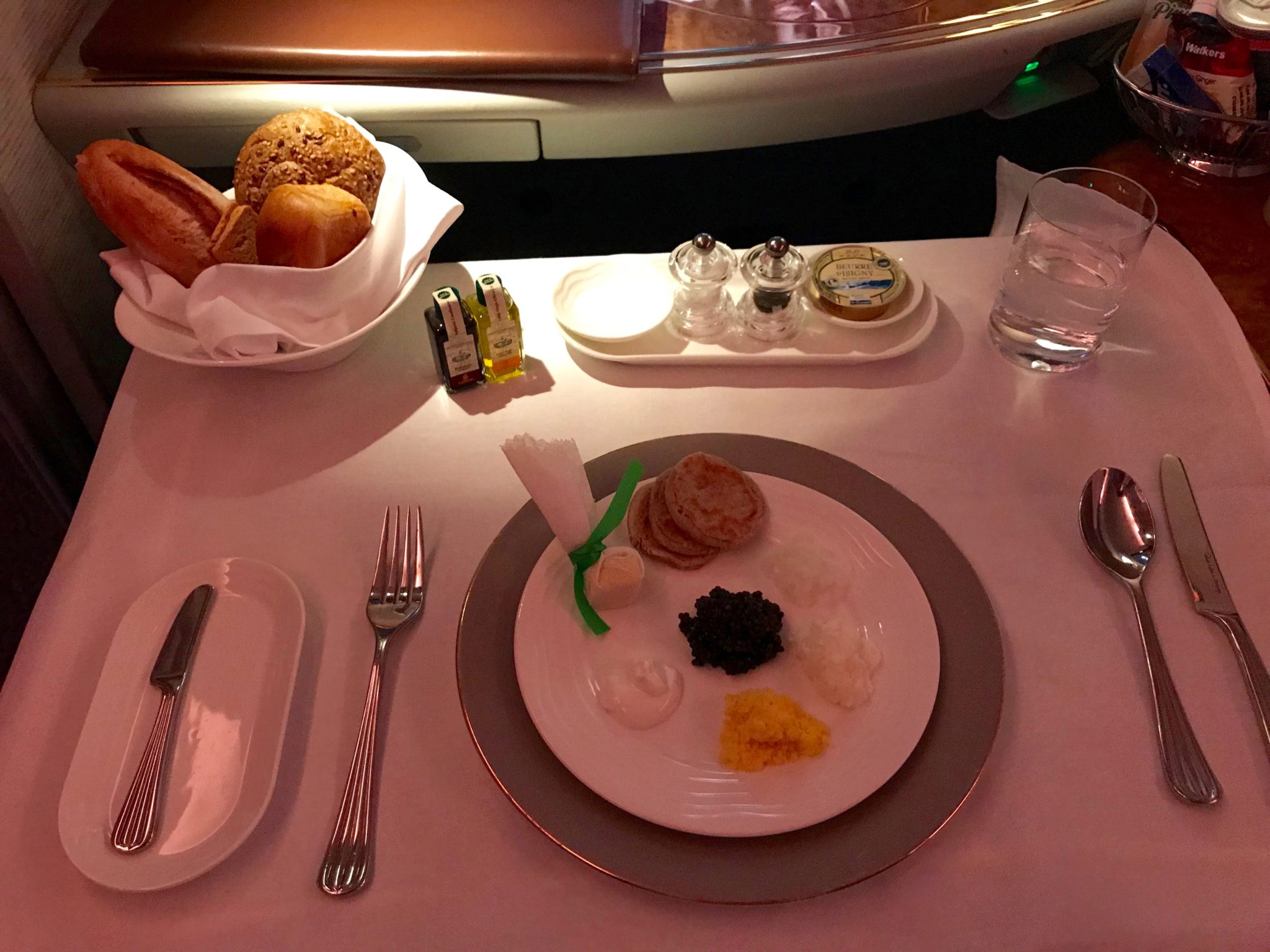 We had a hard time passing on the caviar, since we never order caviar in our everyday life. For our first meal (this flight was ~16 hours so yes, we had more than 1) Erin had the Traditional Arabic Mezze with a range of small plates, and Alex had the Roasted Beef Short Ribs. Later in the flight, we tried the Mughlai Chicken and the Chicken and Lemongrass Consommé. 
Since a little bird had dropped word to the Emirates cabin crew about Alex's birthday, dessert was none other than an Emirates birthday cake! Just another special touch to make the flight extra special!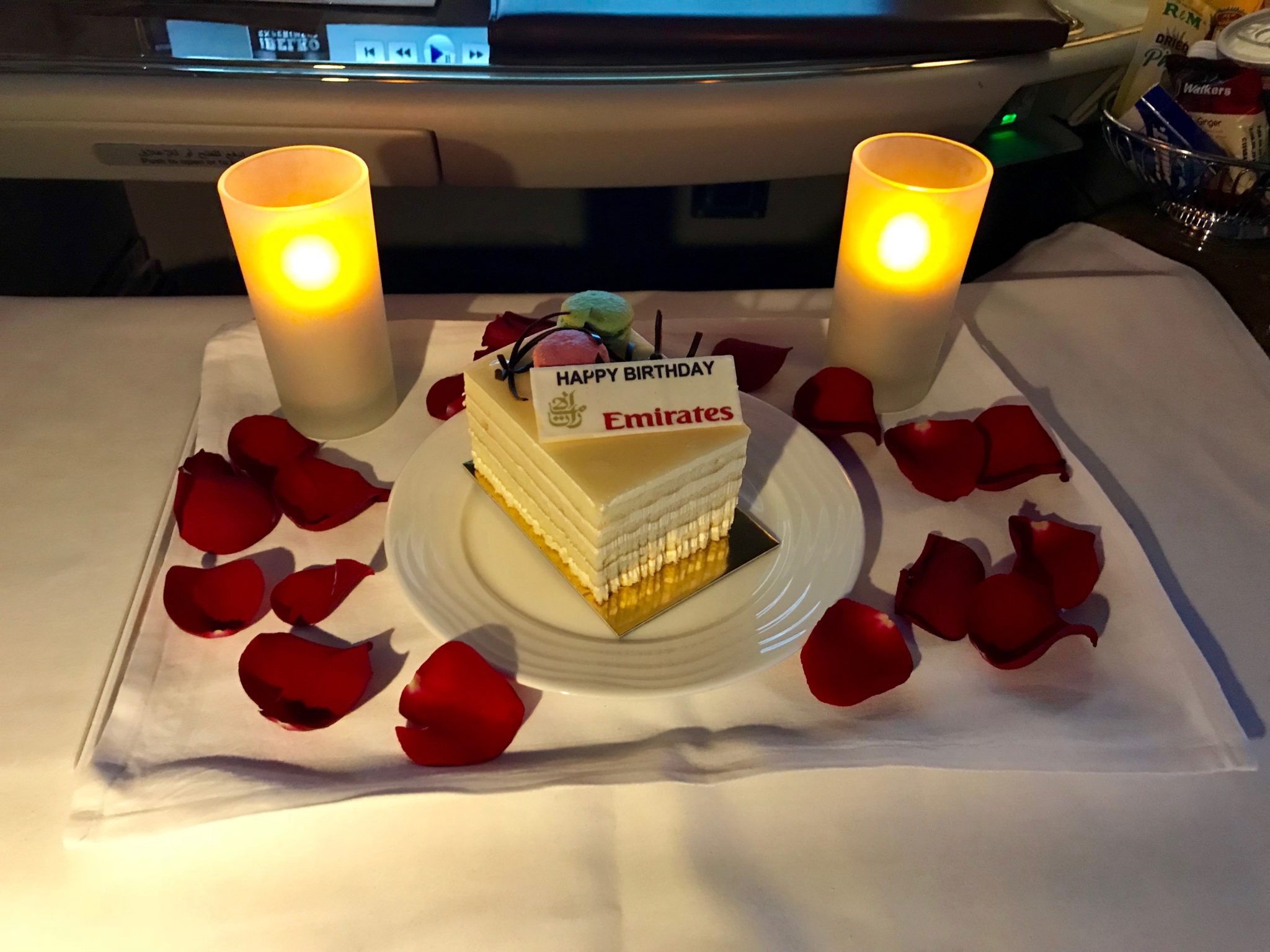 It turns out that Emirates won "Best First Class Comfort Amenities" at the Skytrax World Airline Awards earlier this year (2017). We can certainly see why!
When we arrived on the flight, we were given a large Emirates bag. Within the full-sized burlap tote, we found slippers, pajamas (more on that below), and a leather Bvlgari amenity kit.
These pajamas you guys! First off, they came in a felt buttoned folder (that could double perfectly as a laptop case). But the more ridiculous part? Emirates calls them "Hydra Active Microcapsule loungewear" that supposedly "gently releases naturally nutrient-rich sea kelp as you move around, preventing dehydration and stimulating circulation." SAY WHAT? Plus, they were pretty stylish for airline pajamas – you can see the women's top in action in our bar photo above.
The Bvlgari amenity kit was full of luxury skincare products, and even included a small bottle of the company's signature scent – eau parfumée au thé noir. Oh, and the slippers? So soft. Definitely kept those too.
Another thing you notice as you're shown your suite is a small basket of goodies waiting for you on your personal desk. This is full of tasty treats like shortbread cookies, chocolates, Pringles, granola bars, mints, and even Uppy (a specially made supplement to help you rehydrate while flying).
The vanity contained essential oil sniff boxes, which included one to relax (lavender) and one to focus (bergamot, lemon, & cinnamon), as well as a soothing balm/lotion and a refreshing "dry shower" lotion. Lastly, there is a small drawer built into the desk that houses an Emirates writing kit. You know…in case you need to keep up with your correspondence.

At the same Skytrax World Airlines Awards (2017) where Emirates won for amenities, they also won for World's Best Airline Inflight Entertainment. Emirates boasts over 2,500 channels of movies and must-see TV shows on demand. Additionally, they offer a wide variety of music and a range of games.
We certainly watched our share of movies on this flight — with ~16 hours, you've got a lot of options!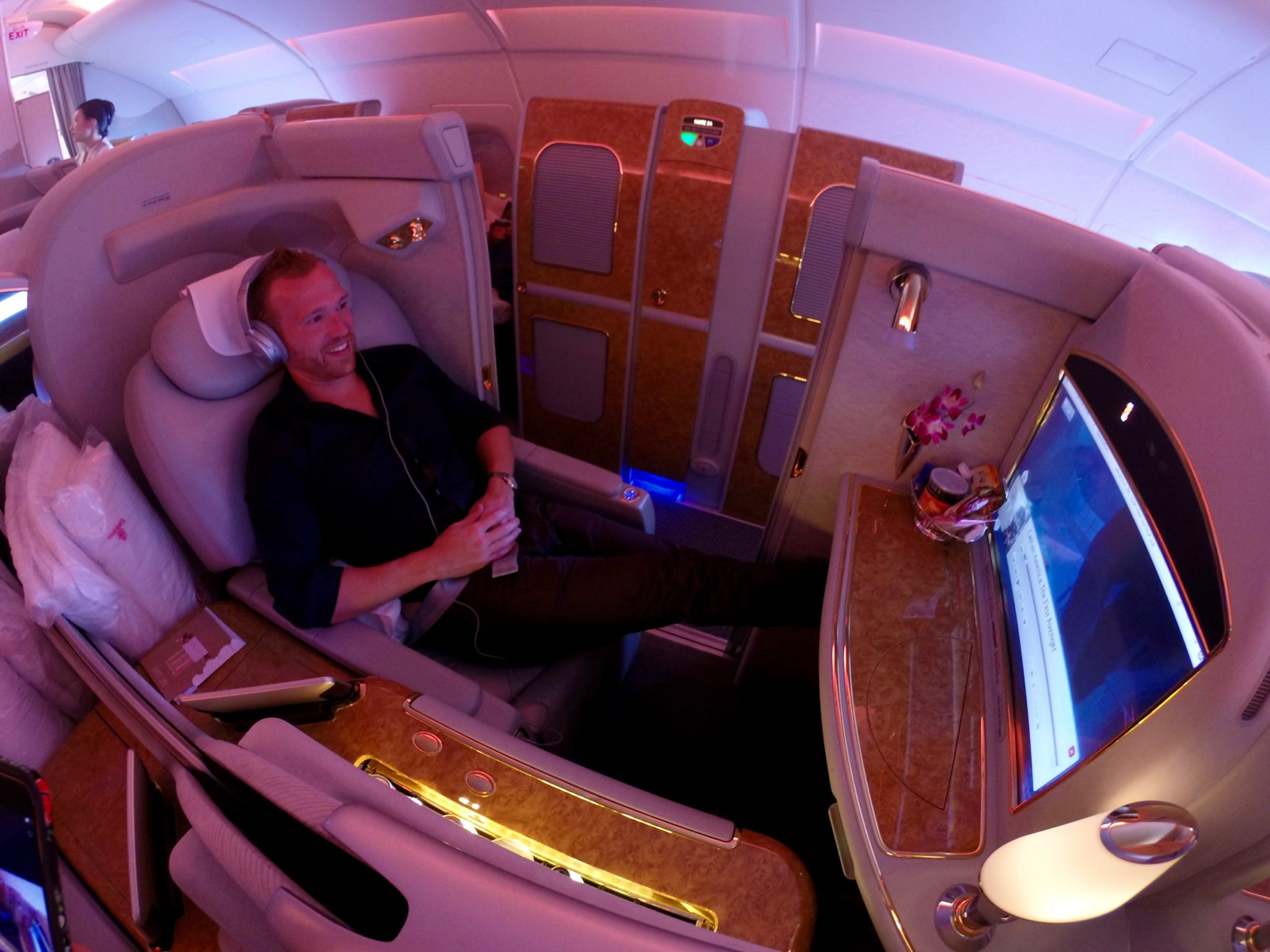 Last but certainly not least, let's talk about the impeccable service on this Emirates first class flight. The cabin crew seemed truly delighted to have us on board and took care of us like we were family. They were quick to serve, extremely friendly, and did a fantastic job of being attentive yet not at all intrusive.
The bathrooms were cleaned between every single use, the cabin stayed neat and tidy the entire time (no small feat on a ~16hr flight), and the community amenities like lavatory skincare products were topped up regularly.
These guys definitely know how to run a stellar first class service!
A Special Note
We wanted to include one more thing that made our Emirates flight stand out a bit from other trips we've taken. The cabin crew on this flight has a Fujifilm Instax camera (essentially, a Polaroid). They had taken a photo of us at the beginning of the flight and placed it in a nice Emirates paper photo frame as a keepsake.
However, while we were at the bar, the attendant there handed us the camera and gave us the go ahead to snap a couple photos for ourselves. This was definitely an awesome little addition to the already social lounge vibe — we felt a bit like we were being spotted by the paparazzi on such a glamorous flight!
Final Thoughts
If you couldn't tell from the photos and review, we were SO IMPRESSED with our Emirates first class experience! From the glamorous suite to the amenities and outstanding cabin service, we're pretty positive there's not a thing we would change!
We're working on piling up our points again, because this redemption is a total steal and so worth it!
This flight was the culmination of an incredible trip where we essentially traveled around the world, flying in style for over 52 hours in total. With some serious points and miles determination, Alex was able to book us some of the best products in the sky. If you're interested in reviews of our other flights, you can find them here:
If you're interested in how Alex planned this massive trip, don't worry — he's written an entire post on it!
Wondering what credit cards were used to book all of those award flights above? He's got a post for that too…