Singapore Airlines Suites A380 Review – JFK to Frankfurt to Singapore
Basic Overview
Airline: Singapore Airlines (SQ)
Aircraft: A380
Flight #: SQ025
Route: JFK>FRA>SIN
Date: October 2, 2017
Duration: 21hrs 35mins (7hrs 35mins, 1hr 50mins layover in FRA, 12hrs 10 mins)
Cabin & Layout: Singapore Suites, 12-seat capacity on the lower deck, 1-2-1
Seats: 3C, 3D
Miles Used: 93,500 Singapore KrisFlyer Miles per person
Taxes & Fees Paid: $296.73 USD per person
Typical Retail Cost: $8,415 USD per person (for the same route and dates)
Typical Economy Cost: ~$550 USD per person
Booking Singapore Suites
Since Alex's brother currently lives in Vietnam and we have friends in Singapore, this trip gave us the perfect "excuse" to fly Singapore Suites. While there are plenty of great ways to get to Asia in first class, you'll see later on why this specific redemption is so appealing — both for the product and for the value you get for your hard-earned points and miles.
Even though this route is actually 2 segments (there's a short stopover in Frankfurt), you can book it as a single flight at Singaporeair.com. There was no need to call for support since you can search for availability and actually book online.
To reserve the flight, Alex transferred 187,000 Ultimate Rewards points from his Chase account to his Singapore KrisFlyer account. Singapore Airlines is also a direct transfer partner of Amex, SPG, and Citi, so you have plenty of options. Chase points are easily earned and doubly great when there are 2 of you obtaining sign-up bonuses and leveraging everyday category bonuses. There are plenty of ways to boost your KrisFlyer reserves!
For example, we both have the Chase Sapphire Preferred® Card, which earned us the then offered 50,000-point sign-up bonus plus 2 points per $1 spent on all dining and travel purchases!
Now, it's not that hard to find availability for 1 person to fly Singapore Suites (first class), but finding 2 is certainly more challenging, especially from JFK all the way through to Singapore. The way to maximize your chances of experiencing this epic flight is to be very prepared, and aim to book as far in advance as you can.
Hot Tip: To explore all their U.S. based flights, check out our definitive guide to SQ's routes to/from the U.S. including plane types and seat options. 
Alex booked this ticket 11 months ahead of time as soon as the award space opened up. As it happened, our friends Cory and Kellie were planning their honeymoon within 2 weeks of our flights, and they managed to snag 2 seats as well (also booking 11 months ahead). So, it can definitely be done…don't let anyone tell you differently!
When Alex booked our flight (back in 2016), this award required fewer miles, but the taxes were higher. What's particularly awesome about this specific redemption is that we paid 93,500 miles each for ~21 hours of "butt-in-seat" luxurious flying. That made it one of the most valuable ways to use our points…many first class flights cost you the same amount for half or a third of the flight time and a lesser experience!
Plus, it got us to Singapore in a reasonable amount of time.
If you were to book this same flight today (in 2018), you'd pay 120,000 KrisFlyer miles each, but only $48.29 per person in taxes! That is a total steal. If you're thinking about attempting this redemption, we've written up an extensive guide for booking Singapore Suites with all the details you'll need!
At the Airport
To ensure there was no chance of missing our big Singapore Suites adventure, we planned to arrive at JFK extra early. In fact, we actually arrived a little too early to check-in…whoops! After 30 minutes of lovingly staring at the counters willing them to open, it was finally time.
Singapore Suites (first class) check-in was a breeze. With the added benefit of TSA pre-check, we were through and on our way to the lounge in no time!
A huge perk of flying out of JFK with Singapore Suites is having access to the Virgin Atlantic Clubhouse.
This lounge is fantastic! Since we had plenty of time to spare, we giddily sipped a couple pre-flight cocktails, nibbled on some tasty bar bites, and enjoyed some last-minute down time before our flight. This lounge is quite large with plenty of tables, some more private tucked away spots, and even a pool table.
The Virgin Atlantic Clubhouse at JFK also just happens to have a Clubhouse Spa with a menu full of great services. They've partnered with Bumble & Bumble and skincare specialist Dr Hauschka, so you know it's sure to please! While Virgin's Upper Class passengers receive the option of certain complimentary services, Singapore Suites passengers unfortunately do not.
That didn't stop us from a little indulgence — hey, we used points to save all that money on flights for a reason, right? It was definitely dreamy for each of us to have a hair wash and style while looking out at the planes and air traffic control tower at dusk.
In the last hour before our flight, it was all we could do to keep calm and try to get a little work done. Then finally, after quite a few hours worth of anticipation, it was time.
Singapore Suites Cabin & Seats
We couldn't believe we were finally sitting in Singapore Suites! These photos speak for themselves, but the combination of a tried and true hard product with the cabin crew's impeccable service made this one of the best flights we have ever taken.
In terms of pre-takeoff service, one thing that's apparent when flying out of JFK is their new rule banning the service of alcoholic beverages while still on the ground. Nothing to worry too much about — we sipped on sparkling water with fresh lemon while awaiting our first champagne cheers in the air.
That being said, pre-flight service on our second leg flight out of Frankfurt definitely included a glass of bubbly.
Before take off, the cabin crew were sure to make us feel extremely welcome on each flight by introducing themselves, delivering our menus, and issuing our pajamas and amenity kits.
While the Singapore Suites product is 10 years old, the innovative style of this cabin is still really exciting. Plenty of space, plenty of privacy, and plenty of smiles all around. Since our flight, Singapore has revealed their new Suites product, and wow…we can't wait to get our hands on another ticket!
If you're flying with a companion and prefer to interact throughout the flight, the middle suites are the best choice. The divider between them can be lowered, and as you'll see in the photos below, the beds can be made into a modified lie-flat double bed.
The single suites on either side of us are also impressive — certainly enough room to comfortably hitch a long-haul ride.
The seat itself has an 81″ pitch and a 35″ width. The seat also transforms into a lie-flat bed, which is especially useful on overnight flights. Some seat controls can be found on the inner armrest. A dinner table pulls up and out of the center console, and there is plenty of room for storage.
Alright people, let's talk about these beds. On both legs of our trip, the suites in front of ours were empty. When the cabin crew suggested they could have these front seats made down into our double bed, effectively allowing us to take advantage of 4 SUITES throughout both flights, we couldn't resist!
We watched some movies and had a nightcap while lounging, reclined in our assigned seats. Then when we were ready, we hopped on up to catch a few hours of sleep.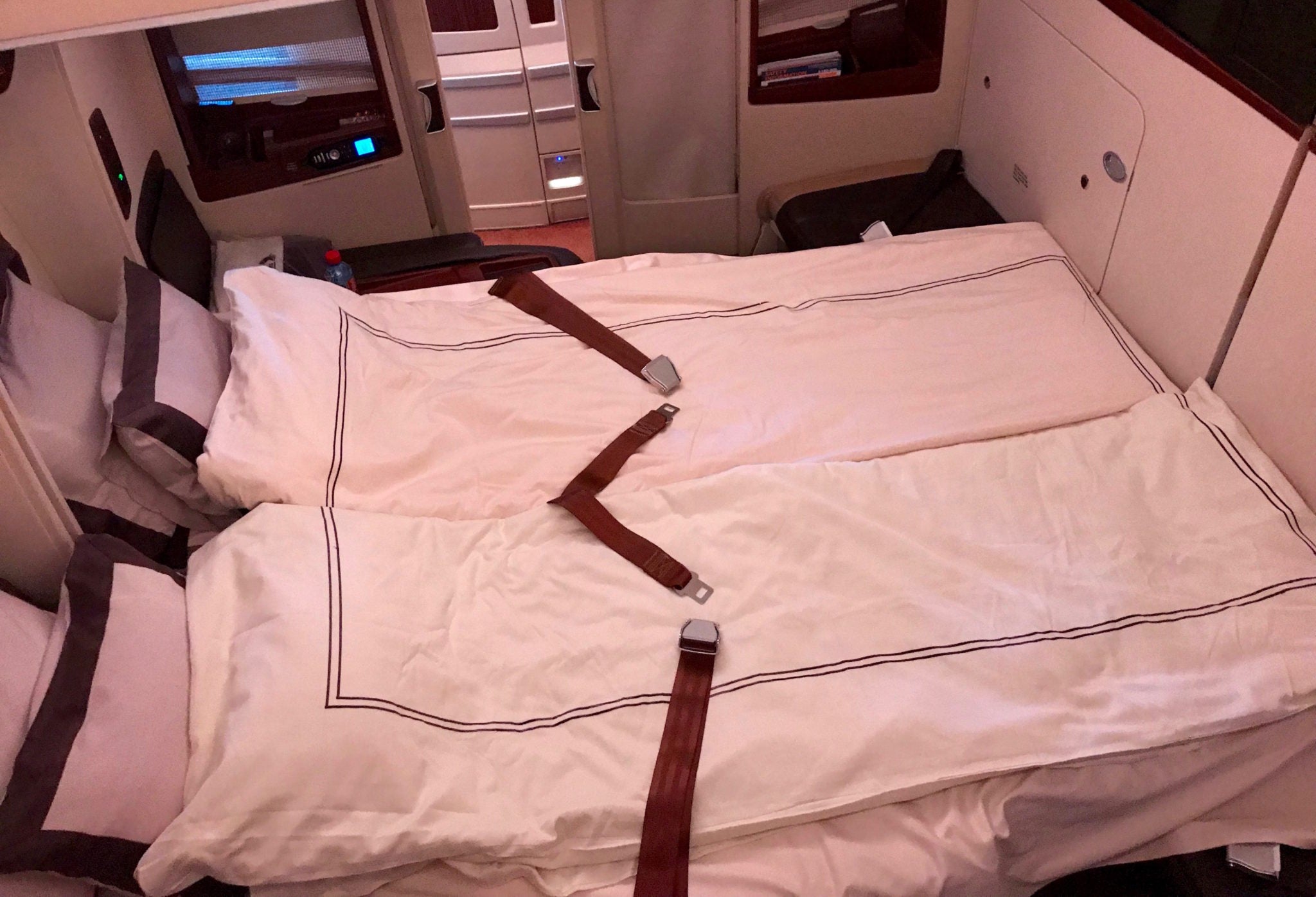 We can't stress how ridiculous it was to basically have 4 suites to ourselves on these flights! 🙂
Having the middle suites turned into a double bed was surreal – we couldn't believe we were on an airplane, 35,000 feet in the sky.
Singapore Suites Dining, Amenities, & Service
Moving on to dining! Singapore Suites provides a la carte dining and a lengthy menu of delicious options. They also offer an option called "Book The Cook" where passengers can choose their meal from a select menu before the flight.
The most popular Book the Cook option is the lobster thermidor, but if you're not a fan or want to branch out, we can tell you that a number of other options are also fantastic. You're not missing out no matter what you choose!
Luckily, since we flew 2 different Suites routes, we were able to partake in a smorgasbord of yummy dishes. Our favorite? The suckling pig.
Enjoying a mouth-watering meal on a plane is special enough, but the fact that the layout of the Suites gave us the option to dine together made our meal much more memorable.
Did we mention the caviar? Singapore Suites follows the first class airline trend of serving caviar prior to the meal. They even offer the traditional shot of vodka alongside the caviar if that's your kind of thing. If you've got room for dessert, Singapore doesn't skimp on those options either.
Since we were traveling near a birthday, Singapore came out with a luscious little cake after dinner on the first flight. Full of rich chocolate, smooth cream, macarons, chocolate tuiles, strawberries, and raspberries…we were in heaven!
When we couldn't finish the cake, the cabin crew thoughtfully put it in the galley refrigerator and kept it for us to snack on during our second flight. That definitely happened.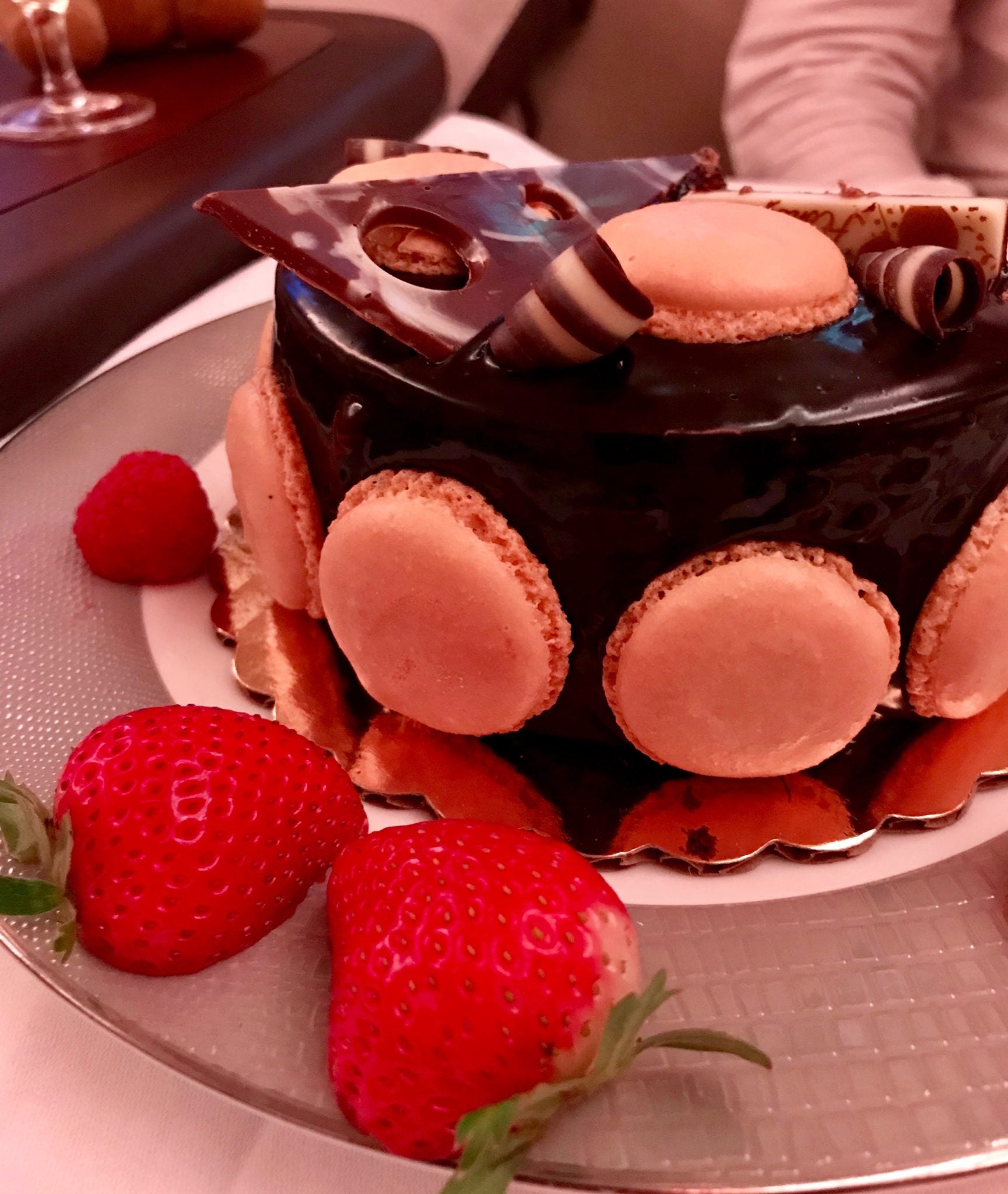 The beverage service, meanwhile, was out of this world. After the Dom was poured and enjoyed, they gladly offered the Krug. On our second leg (FRA>SIN), Singapore's very own inflight sommelier talked us through wine options for dinner.
While their cocktail menu provided a number of concoctions on the sweeter side (and therefore less to our liking), the crew was happy to mix us up something else on the fly. Oh, and if you're a coffee fan? Singapore Suites has quite an extensive Illy menu.
Most airlines issue personal amenity kits to first and business class passengers, and Singapore is no exception.
The amenity kits on Singapore Suites are designed exclusively for the airline by Salvatore Ferragamo. The woman's kit resembles a sleek black clutch and includes skin care products, plus a 1oz glass bottle of eau de toilette in the Signorina scent. The men's washbag also includes skin care products and a 1oz glass bottle of eau de toilette in the ACQUA Essenziale scent.
In terms of entertainment, Singapore Suites has over 1,000 options including movies, TV shows, music, games, and apps. The 23″ LCD TV plus our own personal Bose noise-canceling headphones made for some great movie watching! Wi-Fi is available on this flight, but since this was the beginning of our trip, we chose to switch off from work and enjoy everything else Singapore Suites had to offer.
The service provided by the cabin crews was incredible and virtually unparalleled. It's as if the staff know what you need before you even think of it yourself. Quick to attend, yet completely unobtrusive, they were on point for the entirety of both flights.
On our second leg specifically, our attendant Christine spent at least 30 minutes with us providing suggestions for what to see and do in Singapore. She was so enthusiastic about suggesting local spots and traditional cuisine we should try; this was a real treat for us.
Again, since it was a special occasion, the cabin crew swept in and handed us 2 little Singapore bears – a his and hers set. They'll certainly serve as a sweet little reminder of our fantastic experience!
As a Sidenote
We've discussed both of our segments in Singapore Suites together as if they were 1 flight, since they were so similar yet each incredible in their own way. However, since we flew JFK>FRA then FRA>SIN, we were required to hop off the plane in Frankfurt for a little while before moving on to Singapore. That means we got to check out yet another lounge.
No stop in Frankfurt is complete without experiencing a Lufthansa product. For our short layover, we spent about 90 minutes in the Senator Lounge. This lounge is large and offers a decent buffet, showers, luxe bar, warm pretzels, and German beer on tap — we couldn't ask for much more!
Final Thoughts
We'll just lay this out simply — our experience on Singapore Suites was unforgettable. From the lounges to the pre-flight welcome, the cabin service to the suite itself, the food, the drink, the lie-flat double bed…WOW.
It's safe to say we'll definitely be using points for another Suites flight in the future!
This was just the start of a very adventurous trip where we essentially traveled around the world in style for over 52 hours in total. We were lucky enough to fly on some of the best products in the sky! If you're interested in reviews on those flights, you can find them here:
What does it take to plan a trip like this? Alex has written an entire post on it here:
Not sure which credit cards might be used to book all those award flights? Alex has an entire post for that too:
And lastly, if you're interested in perusing other avenues for getting to Singapore on an award redemption, there's an article for that as well: