Singapore Airlines New Airbus A380 Business Class Review [LHR to SIN]
Airline: Singapore Airlines (SQ)
Aircraft: Airbus A380 (9V-SKU)
Flight #: SQ317
Route: London (LHR) > Singapore (SIN)
Date: February 4, 2019
Duration: 12hr 55min
Cabin & Layout: Business Class, 82-seats, 1-2-1
Seat(s): 11D, 11E, 11K
Miles Used: 105,000 KrisFlyer miles per person one-way including a connecting flight to Sydney
Taxes & Fees Paid: £446.42  ($590 USD) per person
Typical Retail Cost: £2,500 ($3,300 USD) per person one-way to Sydney
Introduction
Booking Singapore Business Class
Following an exceptional flight from Sydney to Geneva on Qatar Airways 777 Qsuites and connecting to a reverse herringbone configured A350, I wanted to fly back to Sydney via Asia.
I recover from jet lag quicker when flying from Australia to Europe via the Middle East with the long overnight flight first and a day flight to Europe returning to Australia via Asia, again with the longer overnight sector first, and a shorter day trip to Sydney.
I have been fortunate to experience Singapore Airlines new A380 Suites from Zurich, and the new business class on a day flight from Sydney last year, but I was keen to try their new Business Class product on a longer overnight flight.
I found availability departing London for a date which worked for our schedule, but before making the business class booking, I waitlisted three first-class flights as I had enough points and I've had great success with waitlists clearing in the past. Unfortunately, I was unsuccessful this time.
I used 105,000 KrisFlyer miles, per person, for the one-way London to Sydney via Singapore Business Class flights that I transferred from my Platinum Card® from American Express.
I booked this redemption before the point devaluation that has increased the required miles for a Saver Award ticket to 116,000 miles for business class and 163,000 for first class per person.
At London Heathrow Airport (LHR) – Star Alliance Lounges
All Singapore Airlines flights depart Heathrow from the new Queens Terminal 2. Premium passengers can use the Heathrow Airport Fast Track service that saw us through security and immigration within minutes.
Guests flying in business class have access to all the Star Alliance lounges in the satellite terminal; Lufthansa, United Airlines, Air Canada, and naturally, Singapore Airlines' own lounge.
The Lufthansa lounge is in the main terminal, whereas the rest are located within close proximity to each other in the satellite terminal.
The London Heathrow Terminal 2 Star Alliance lounges will be covered in more detail in a separate review soon. If you have time, I recommend you visit all three lounges in the satellite terminal. First, grab breakfast in the Singapore Airlines lounge.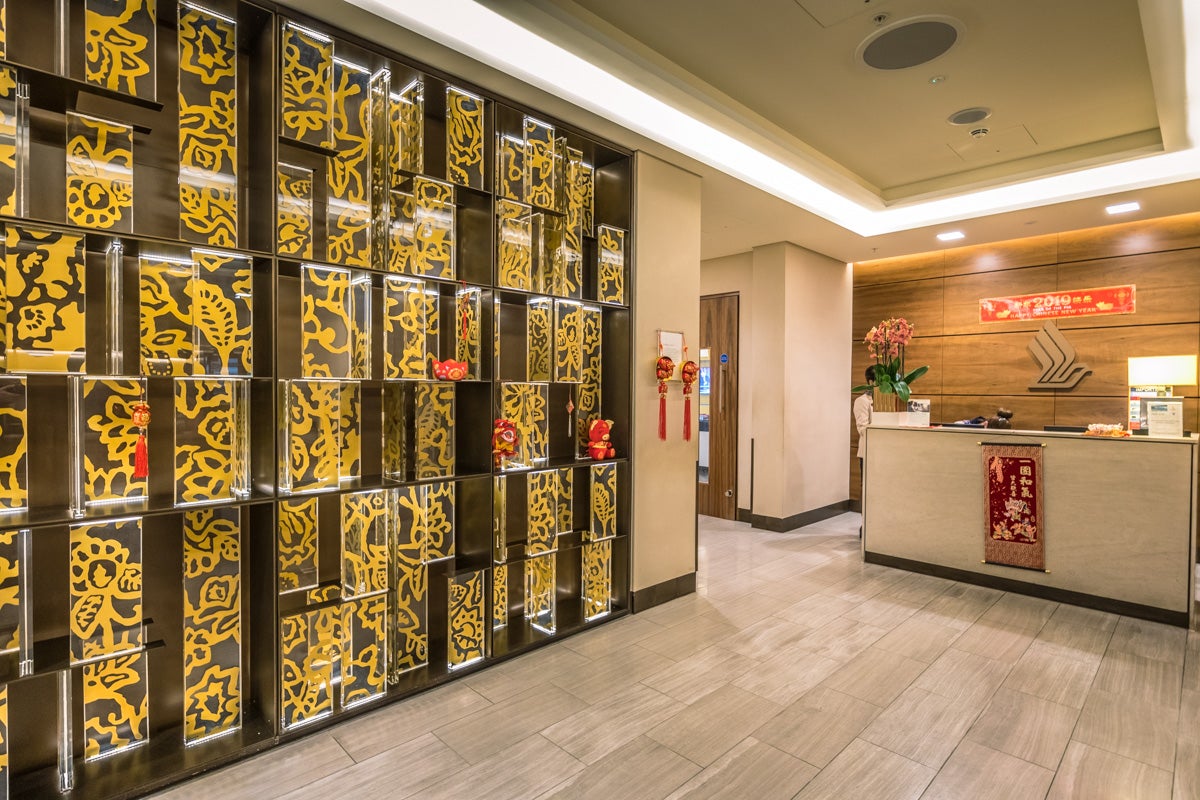 Once you've finished breakfast, head to the Air Canada lounge for a barrister-made coffee and made-to-order crepe and waffles.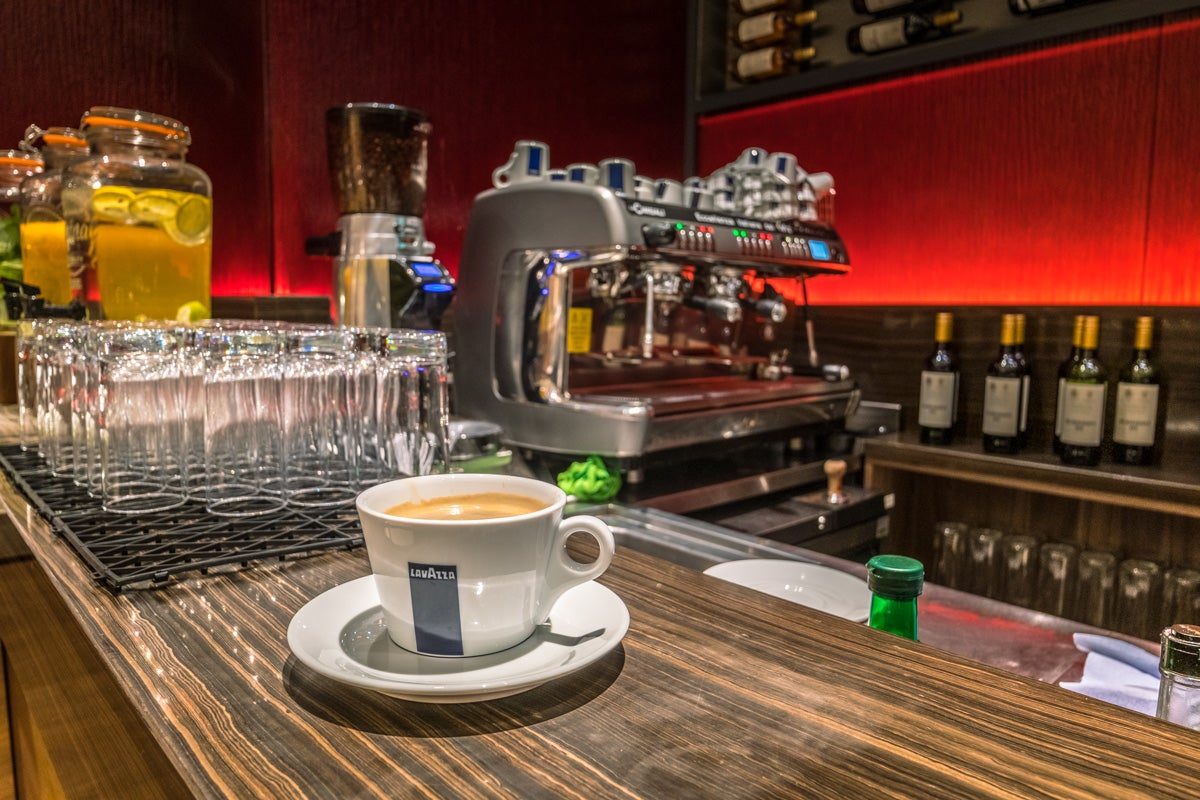 Lastly, finish off with a mimosa in the United lounge before boarding.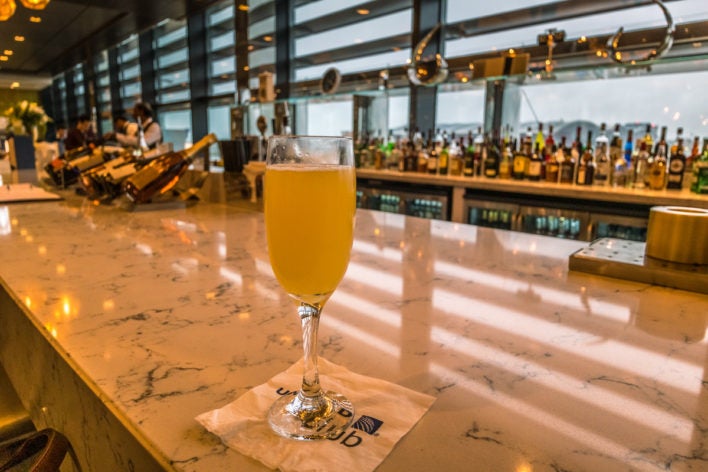 Due to the light load of passengers, boarding was called early and so we had to cut our stay in the United lounge short.
Flight
Aircraft
Singapore Airlines currently has 19 Airbus A380s in its fleet. The newest aircraft features 6 Suites, Singapore's first class equivalent, and 82 flatbed business class seats occupying the entire upper deck. With 44 premium economy class seats and 343 seats in economy on the lower deck.
Our aircraft, 9V-SKU, was the first to be delivered with the new cabin products in December 2017. It joins aircrafts SKV, SKW, SKY and SKZ which also have the new seats. These aircraft are currently flying between Singapore and London, Hong Kong, Shanghai, Sydney, and Zurich.
The older aircraft will be progressively refitted with the new product by 2020, yet there has been no announcement when this refit process will begin or what routes will receive the cabins next.
Business Class
The aircraft's interior has been designed by U.K.'s JPA Design and features a modern color palette of dark purple seats, light grey shells around the seats with copper accents. I think they have nailed the design, and it is a nice departure from the brown-on-cream of the previous generation cabins.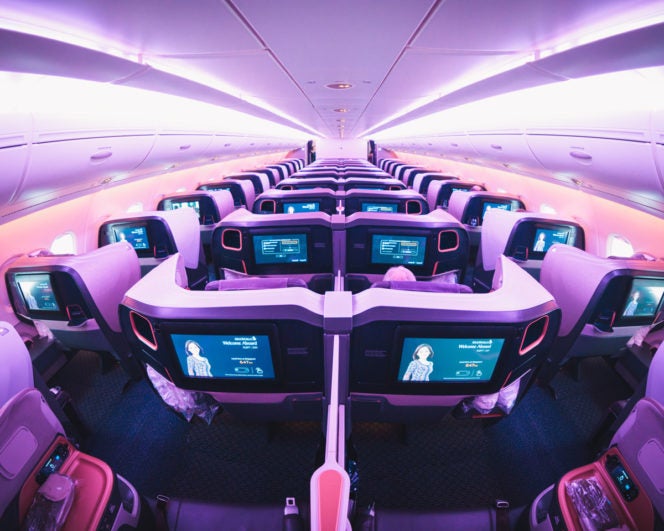 Singapore's Business Class cabin is configured in a 1-2-1 layout.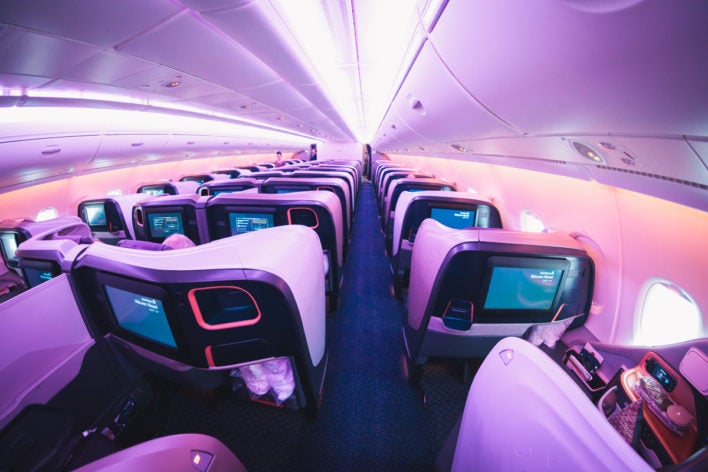 The seats by the window are positioned directly next to the aisle with a console by the window. The foot cubby is positioned at an angle that points towards the window.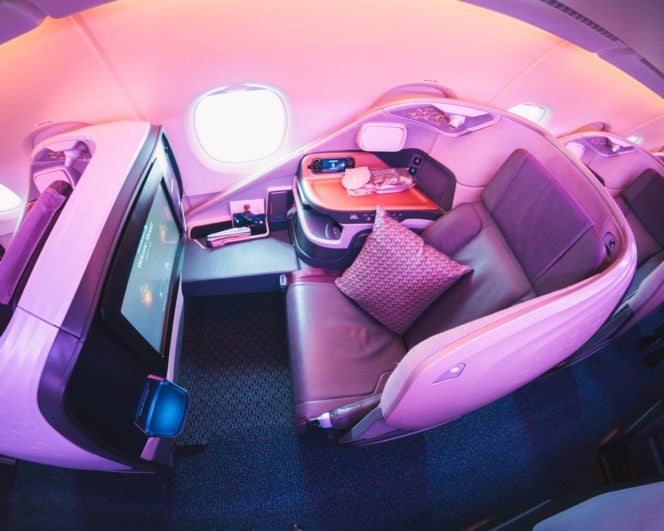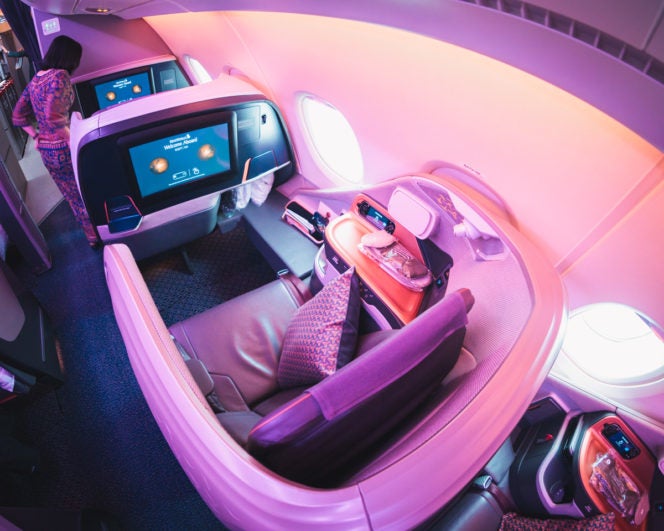 Whereas the seats in the middle have the console and the foot cubby by the aisle.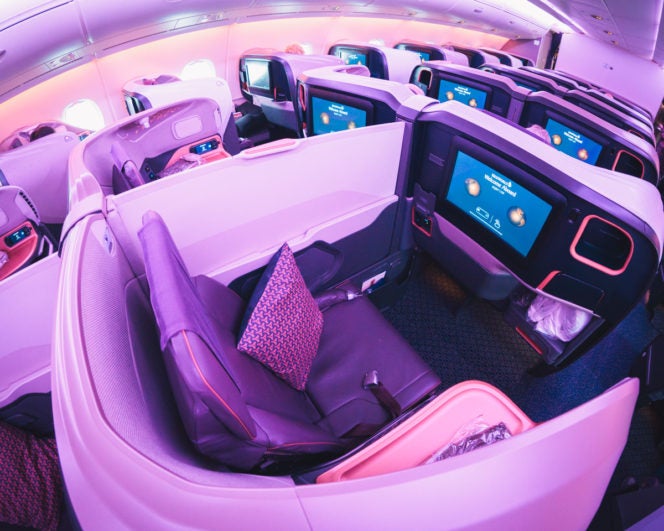 The middle seats have a 3-foot tall privacy screen depending on how well you know or want to know your seatmate. The privacy screen can be positioned fully up, half-way, or flush with the seat base.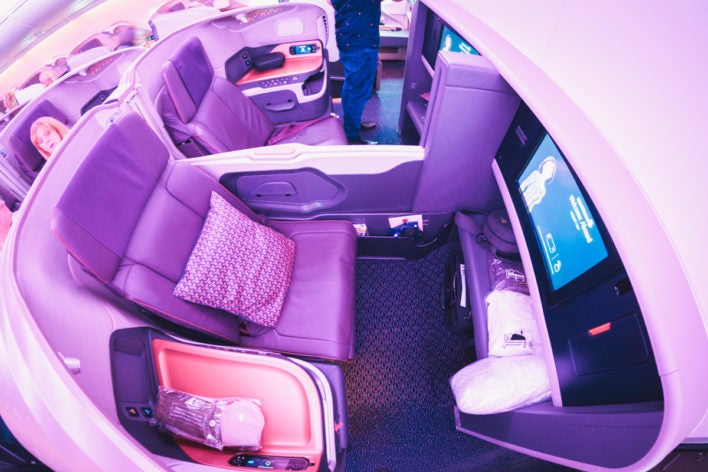 At the time of boarding, the dividers are positioned set the highest level; given that we were traveling together, the crew set our privacy dividers in the middle position. We soon pushed the divider all the way down. With the screen elevated, the middle-seat passengers can use a drop-down armrest.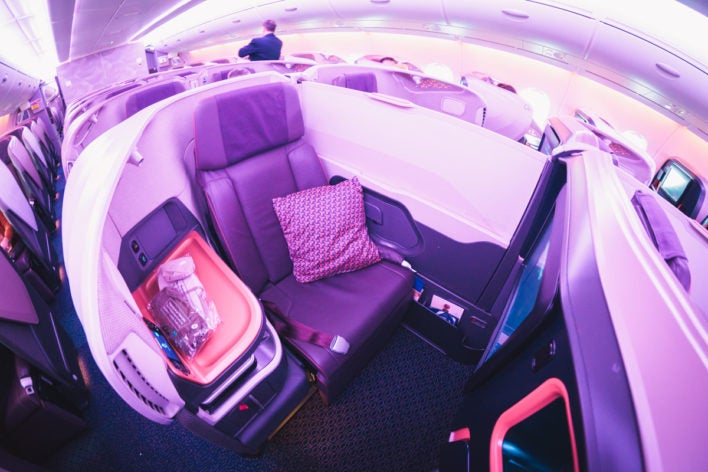 There are no overhead bins above the middle seats, which makes the cabin feel enormous. My cabin and camera bag easily fit in the storage space at my seat, and I didn't need to store anything in the overhead bin. It was great not to have to get up during the flight to fetch anything.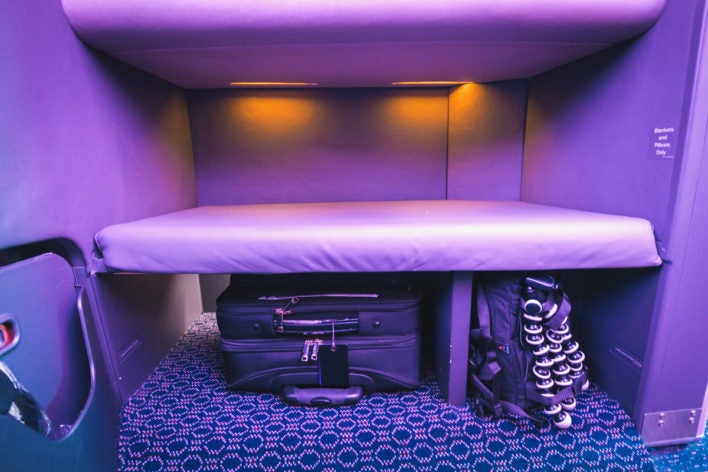 The non-bulkhead seats have similarly sized storage.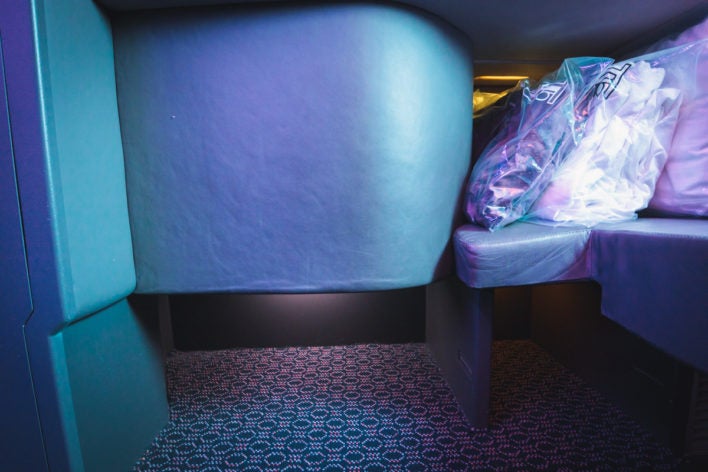 The 82 business class seats are split between two cabins; 54 in the main cabin, 28 in the rear cabin.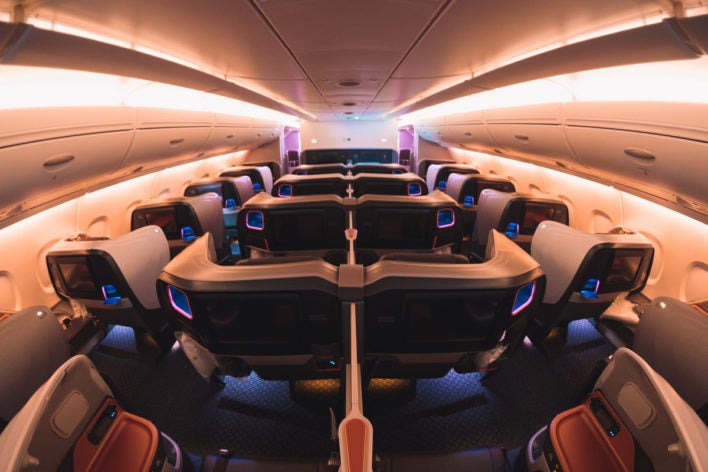 Of the 82 business class seats, I only counted 18 seats occupied in the main cabin and 1 seat occupied in the third cabin. I had never seen such an empty A380 before!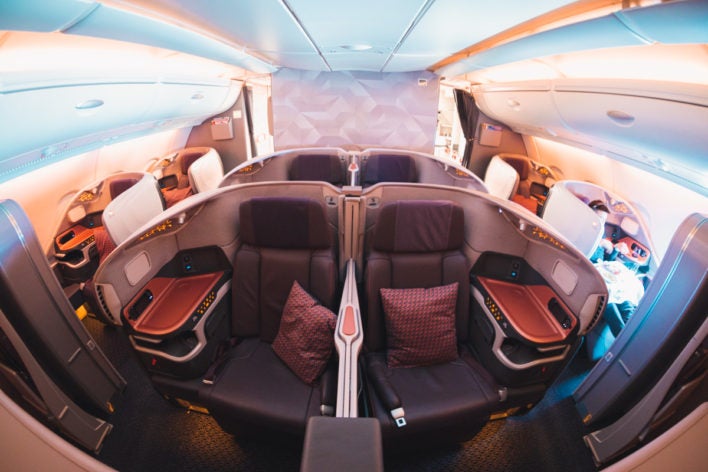 Since 5 of the 6 Suites were occupied, I figured that was the reason why our waitlist didn't clear.
The lavatories, a total of 4, are located between the cabins and 3 behind the rear cabin.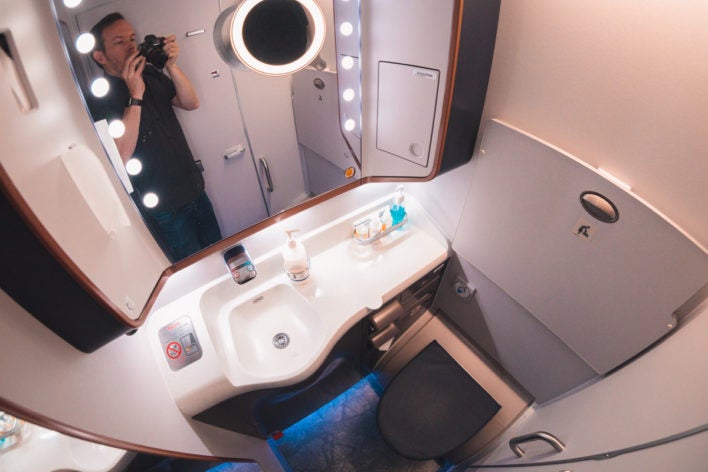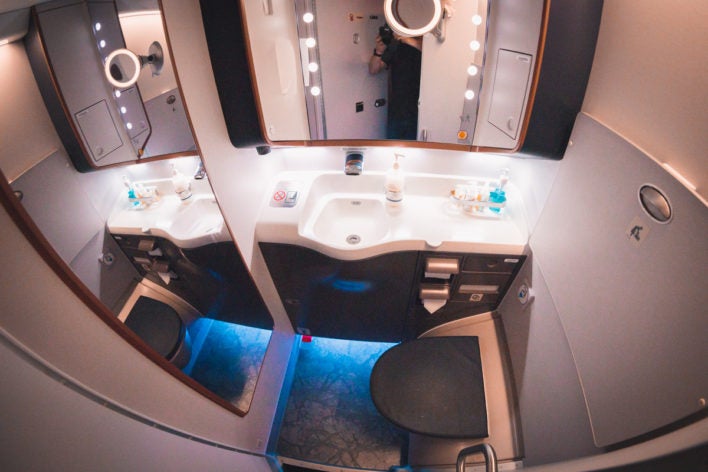 Seat
Although my partner and I both prefer window seats, as this was an overnight flight and knowing there is a huge difference in space between the window seats and bulkheads, we decided to select row 11 when Singapore unlocked seat selection 3 days before departure.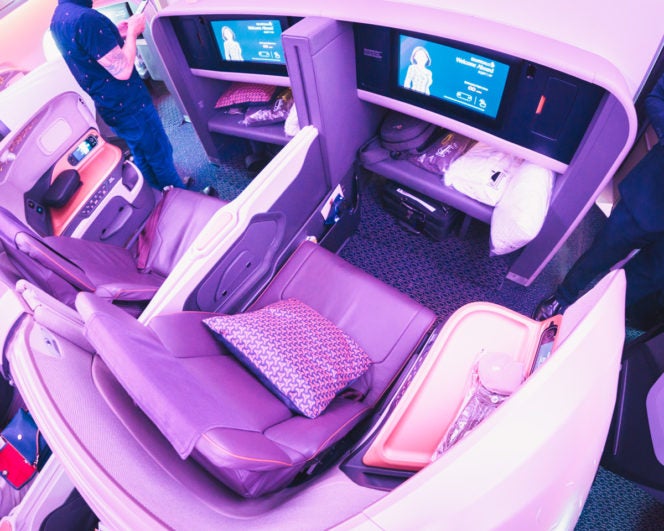 Due to the light passenger load, I claimed 11K as well.
Window seat lovers will be disappointed to find that the privacy shell completely obstructs the closest window. This means you will need to sit all the way forward if you want a view.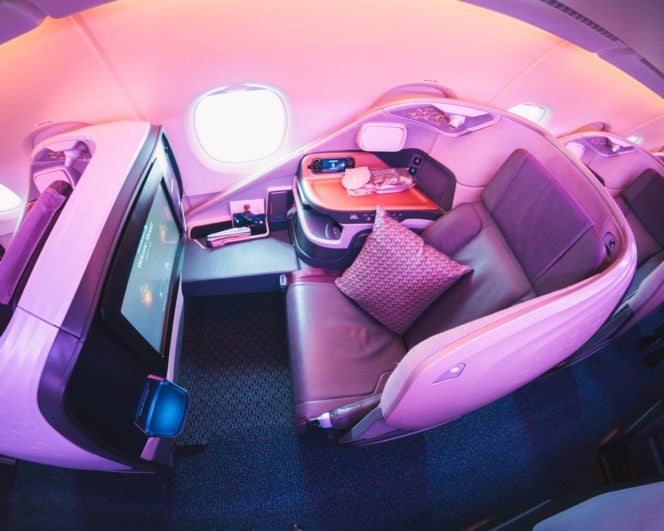 The seats are 5 inches narrower than the previous generation A380 seat, and personally, this made the seat far more comfortable. I would float around in the previous seat as it was too wide; I could only ever use one armrest at a time and had to wedge myself in with the two pillows. Just to be clear, I have a smaller frame and understand that larger passengers may find the new seat too narrow.
The console is large enough to store a tablet or laptop PC, plus a beverage. Above it is the In-flight Entertainment (IFE) touchscreen remote with touch-sensitive buttons on the front edge.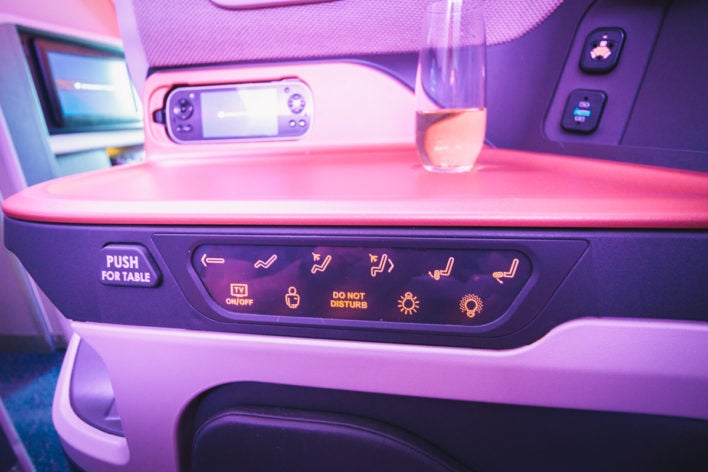 I found the proximity of the buttons to the armrest, especially considering the narrower seat width, made for unintentional crew calls and seat movements as my arm would bump them.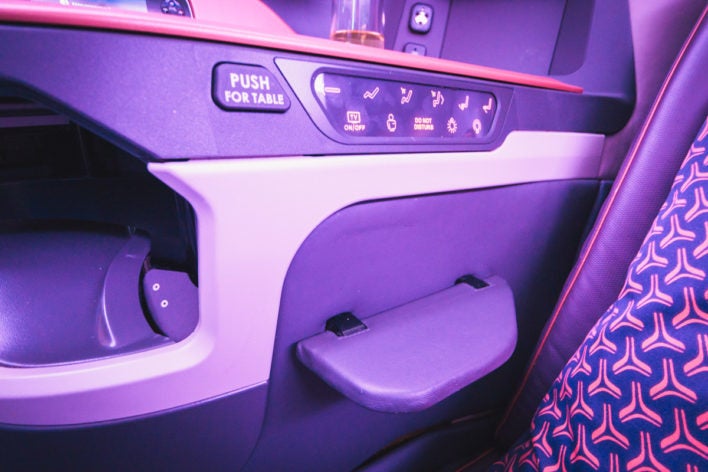 Directly above the console, I found a fast-charging USB port and the headphone socket.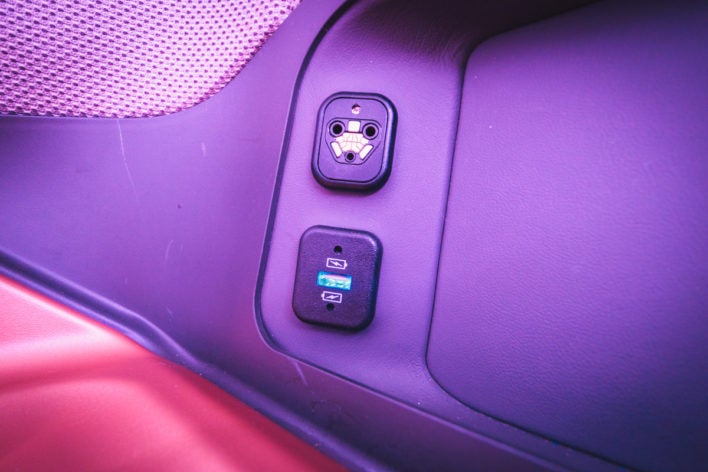 A compact mirror is also located on the seat shell.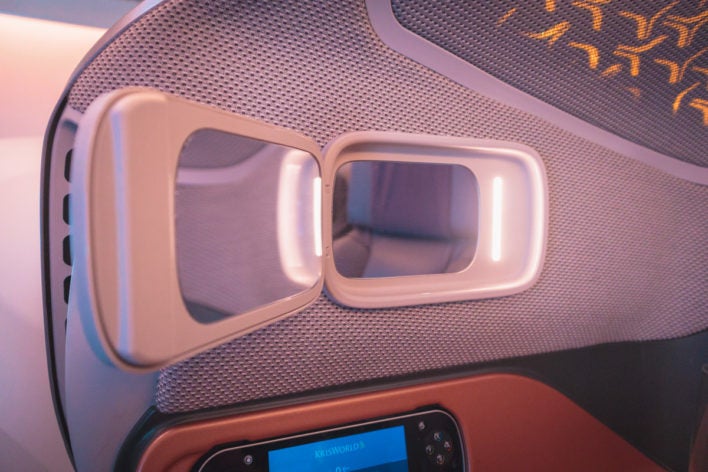 Directly next to the IFE screen is a coat hook, Near Field Communication (NFC) reader, power socket, and another USB port.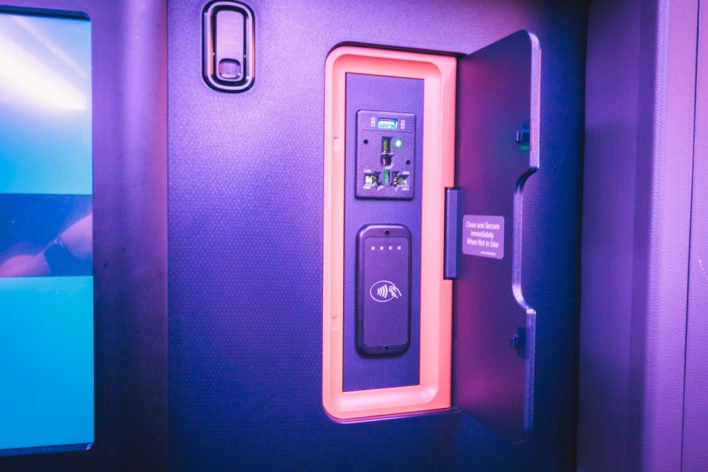 The tray table ejects from the console and flips over to expand.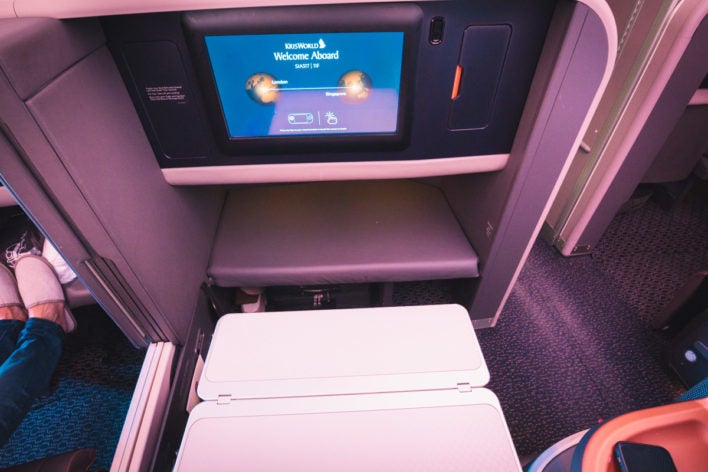 Bed
When it was time to rest, there were no crew members to be found, so I made my own bed with the linen that was on the seat upon boarding. I'll get to the crew a little later.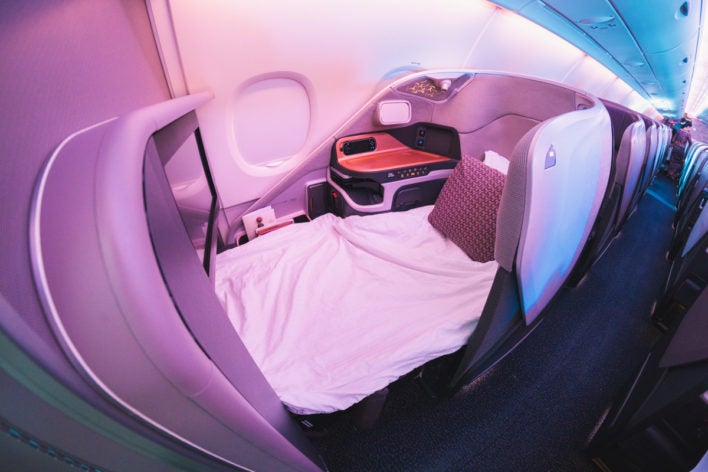 An extra sleeping pillow and duvet was also supplied. The duvet was just the right thickness.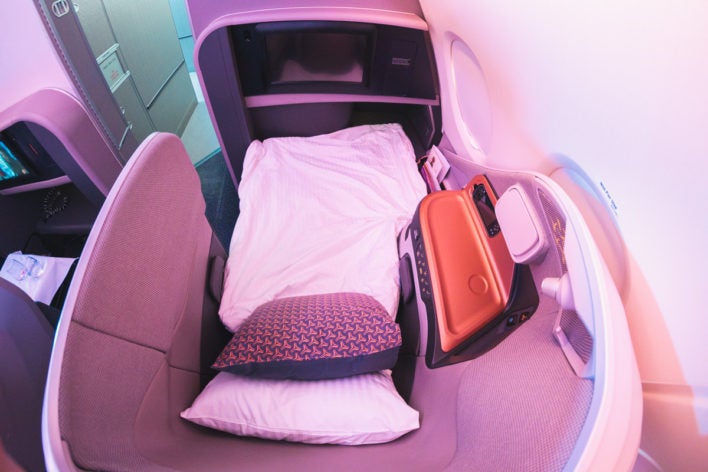 The new A380s have no adjustable air nozzles, and it got uncomfortably hot during the flight; so hot that I paged the crew to ask them to cool down the cabin. Thankfully, they listened to my feedback and the temperature started to drop.
Unlike the previous generation seat that you need to flip over to lay flat, the new seat simply reclines all the way flat. I found the old seat to be more comfortable to sleep on given it had a perfectly flat sleeping surface.
Here is a comparison of the legroom afforded to passengers in a bulkhead middle seats compared to the other seats.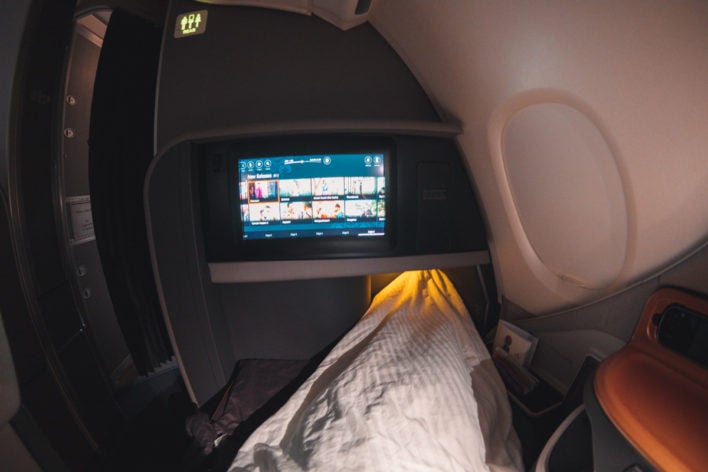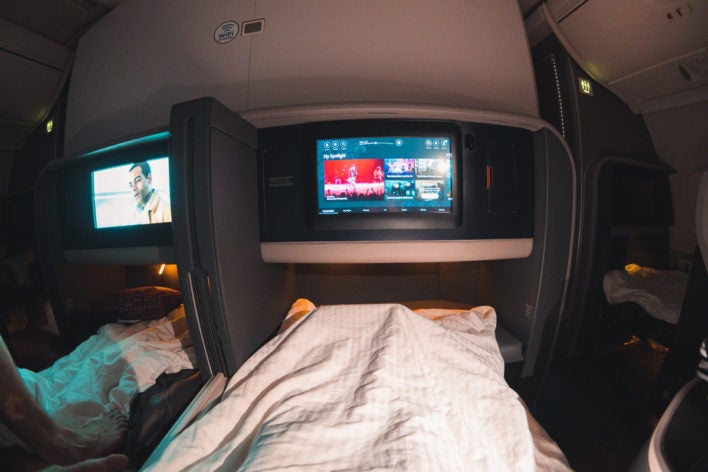 I found the mattress topper to be too thin and the new seat is fairly firm; luckily, I prefer a firm bed.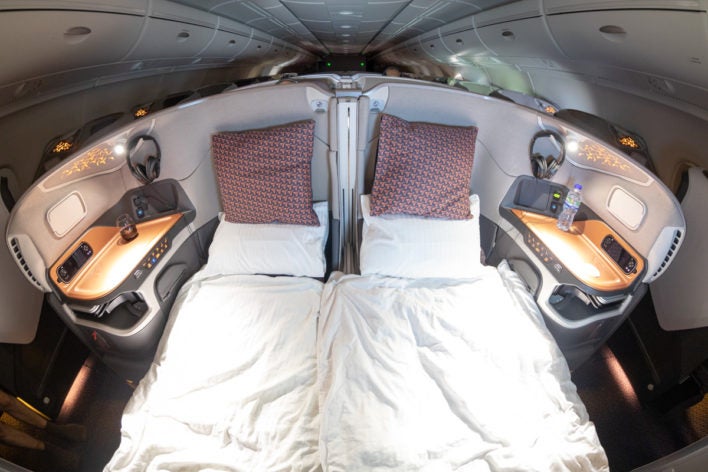 Unlike Qatar Airways Qsuites, there is no padding to place over the lowered privacy screen, so the seats do not sit flush together in the double bed configuration.
Flying east is always challenging on my body clock, but I still managed to get 5 hours of solid sleep.
Amenities
Singapore Airlines doesn't provide an amenity kit to business class passengers; only those in Suites. Instead, amenities such as toothbrushes and toothpaste are available in the bathrooms.
Singapore also doesn't provide pajamas so I brought along the ones I picked up on Qatar Airways from Sydney. A sleeping mask, pair of slippers, and socks are waiting on your seat upon boarding, along with all the bed linen.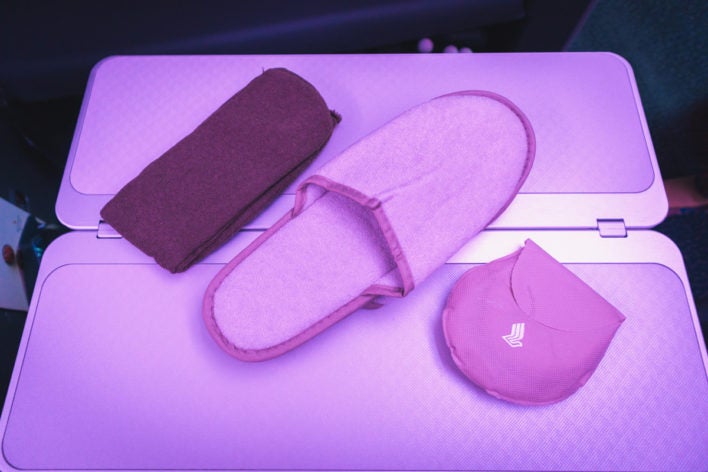 Meal
Before takeoff, I was offered a choice of Charles Heidsieck Brut Reserve Champagne, still water, or orange juice. I opted for the Champagne.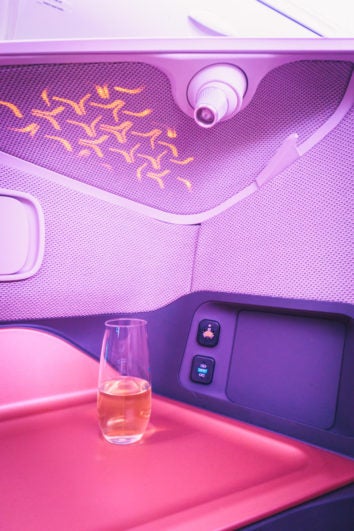 After takeoff, I selected a Singapore Sling; the classic Singapore cocktail.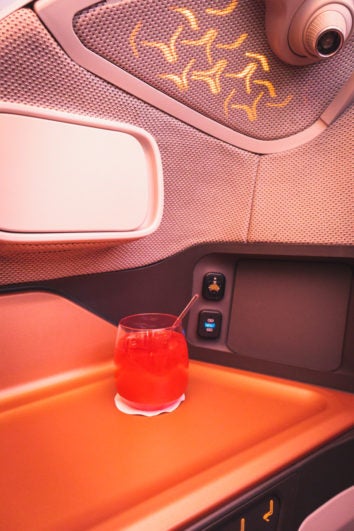 Around 30 minutes after takeoff, the crew served a delicious selection of Singapore chicken and lamb satay skewers with onion, cucumber, and a spicy peanut sauce to start the meal service. Singapore doesn't allow you to dine on demand, so you need to adhere to the crew's workflow.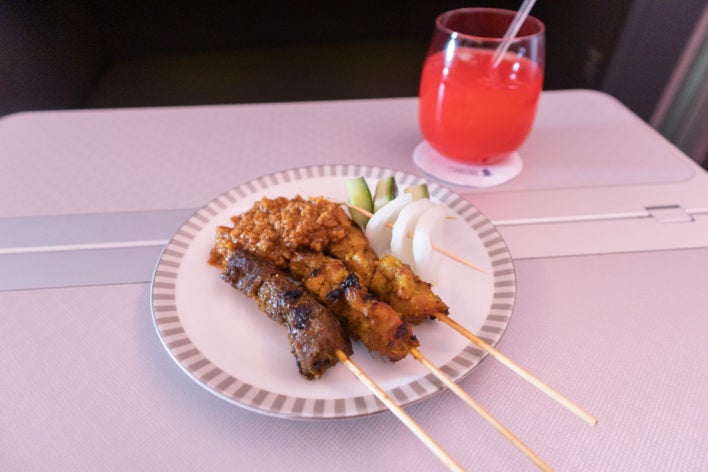 About 40 minutes after the skewer and canapé course, the appetizer arrived, which was seared sea scallops with pumpkin apricot puree with micro-cress and pickled vegetables. Passengers have no choice of appetizer so it's unfortunate if you don't like seafood like my partner.
I paired this with the 2017 Mount Riley Sauvignon Blanc from New Zealand; this bottle retails for $13. There is no choice of sparkling water.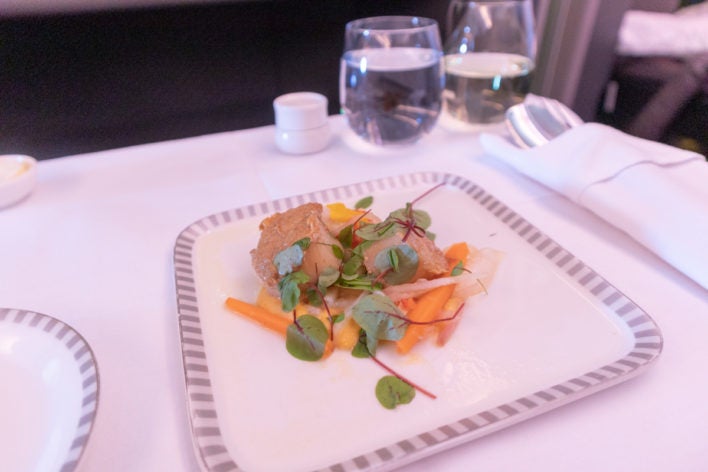 Singapore allows you to "Book the Cook" and select your meal prior to departure. Since I usually don't know what I will feel eating days in advance, I decided to select from the onboard menu.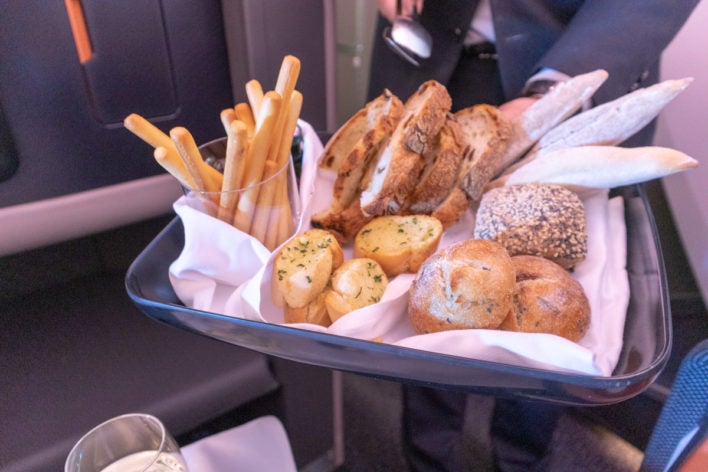 I'm glad I waited to select my meal choice as my seared lamb loin was so delicious and cooked to perfection. Created by Matt Moran of Aria Restaurant in Sydney, it was served with natural jus, roasted capsicum, feta cheese and braised puy lentil with pancetta. I paired this with the 2015 Chateau Rahoul Bordeaux, retailed at $26 a bottle.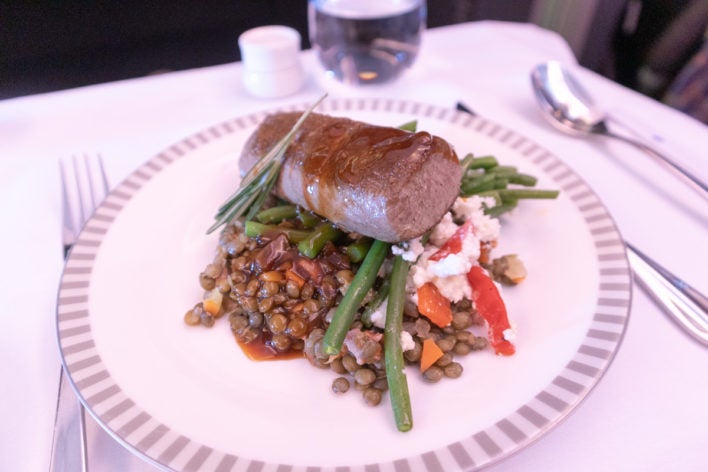 Other main options were:
Hainanese pork chops in a tomato based sauce service with fried rice
Seared ocean trout fillet with Pernod and orange sauce accompanied by sautéed broccolini, leek, carrot, and pea puree
Murgh Rogan Josh, sabzi jalfrezi, pulao chicken with spiced yogurt sauce, stir-fried vegetable, and basmati rice
For dessert, I couldn't go past my favorite of Tiramisu. It didn't disappoint. The other choice was Tartufo Limoncello, which was a lemon gelato filled with limoncello liqueur.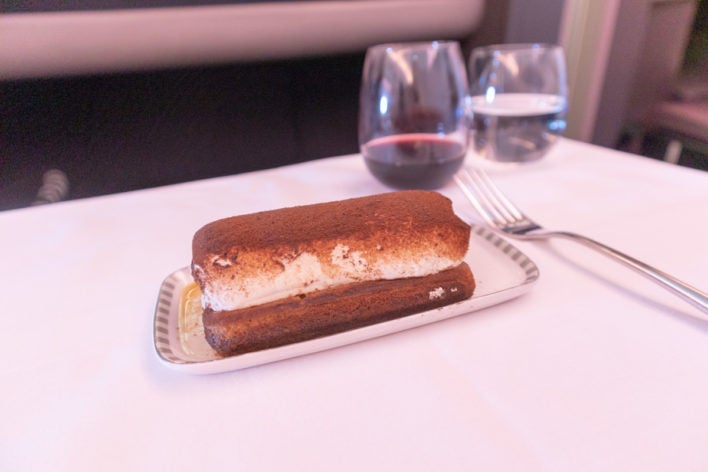 Around 2 hours after departure, the crew wheeled out the cheese and fruit trolley. By this stage, I was completely full. After the cheese and fruit trolley, the crew came around with individually boxed pralines from Lily O'Brien's.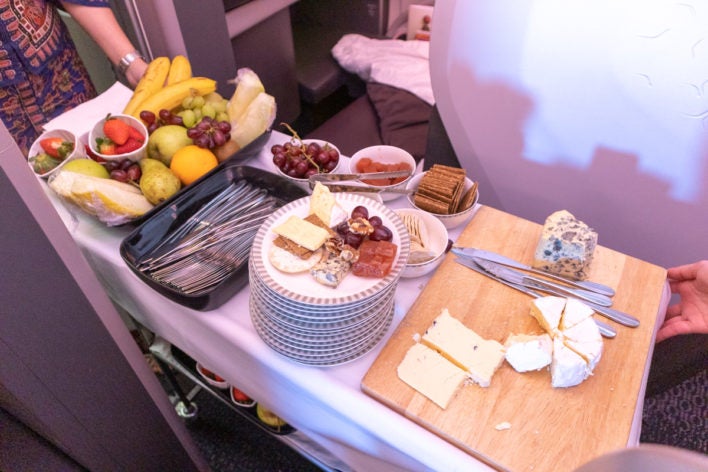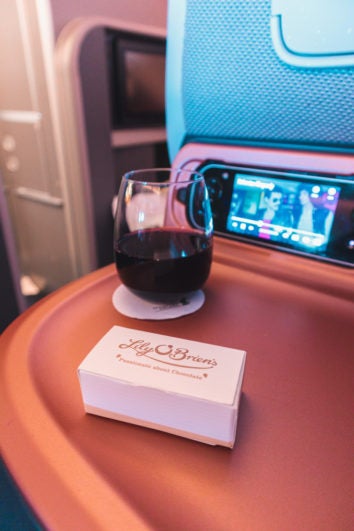 Breakfast was served 2.5 hours before landing in Singapore. It started off with a selection of pastries, fresh fruit, and yogurt.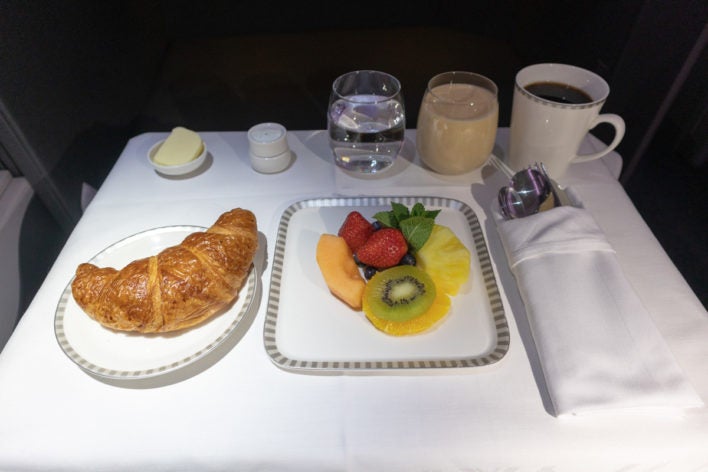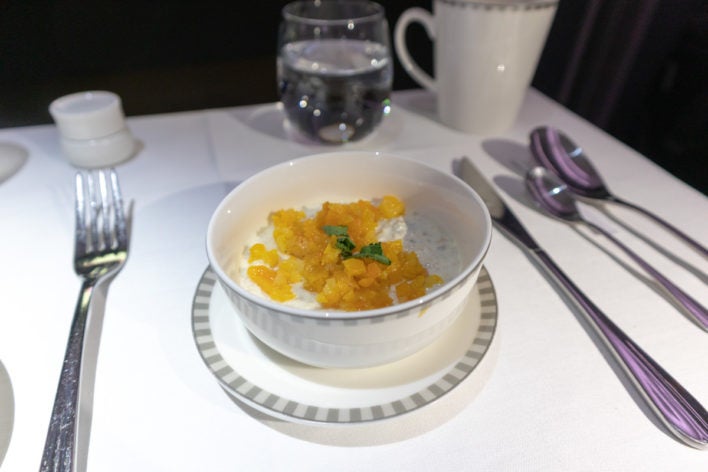 I usually order an egg option for breakfast. However, this time the apple cinnamon crown with mixed berries and maple syrup infused whipped cream sounded amazing, so I went with that instead. It was gloriously unhealthy!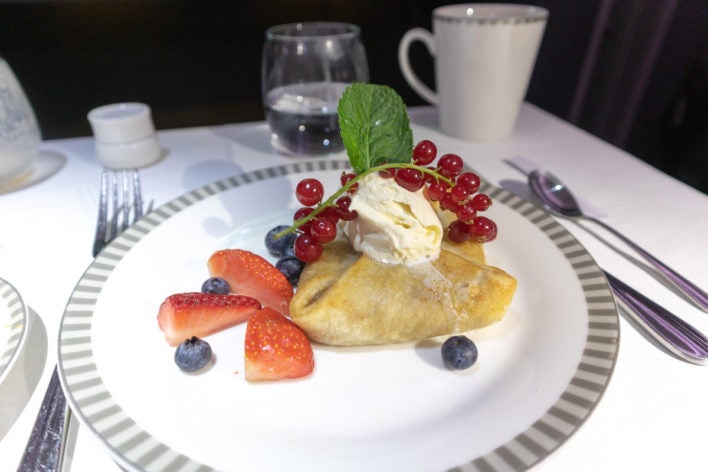 Breakfast options:
Poached eggs with Mornay sauce with pan friend Cumberland pork sausage, tomato, sautéed fine beans and potatoes
Braised egg noodles with abalone sauce, mushroom, chicken, and vegetables.
Continental breakfast for those who prefer to sleep more and can be served up to 1.5 hours before landing
There is a selection of "delectables" if you get hungry mid-flight including:
Tom Yam noodles
Noodles with chicken and black mushroom
Vegetarian noodles
Beetroot tortilla wrap
Surf and turf sandwich
Soup
Nuts, chocolates, chips, and fruit
Service
Unfortunately, the service was the biggest letdown on this flight.
I take a lot of photos on all my flights for the purpose of these reviews. In most cases, the crew is very supportive; they usually offer to take a photo of me or make sure the photo is staged correctly. On this flight, I was made to feel like an inconvenience.
After the meal service, I was setting up a photo in the adjacent window seat before the cabin lights went out. I was standing in the aisle, unpacking the linen; I was oblivious to the fact a crew member was trying to get past me. After I heard a huff, I turned around to see the crew member looking unimpressed, so I apologized and jumped out of the way. Instead of offering to assist me to make the bed, I caught an eye roll as they walked past me!
As the cabin lights were dimmed and I was enjoying a movie, I had finished my glass of wine. As a crew member walked by my seat, they collected my empty glass and kept walking. They didn't bother to ask if I was finished or if I wanted a refill. So, I had to buzz to ask for another drink. After this, the crew remained absent from the cabin; no additional refills were offered so again, I had to buzz the crew for top-ups.
For such an empty cabin, I just couldn't believe how inattentive the crew was on this flight.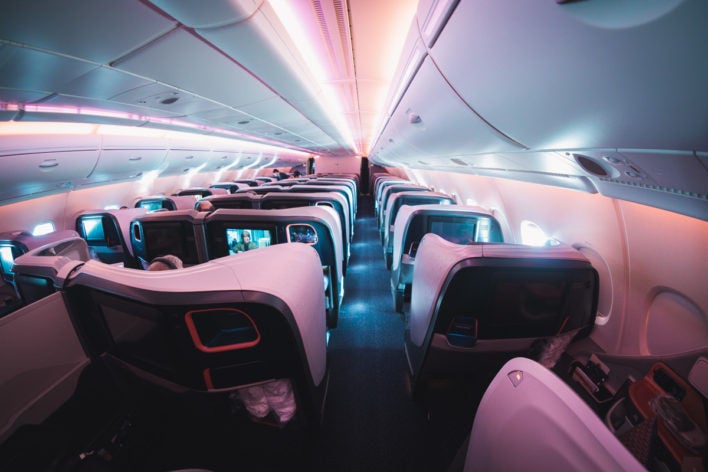 Entertainment
A large 18-inch HD touchscreen is fixed directly in front of each passenger and has an excellent selection of movies, TV shows, audiobooks, music tracks, and podcasts.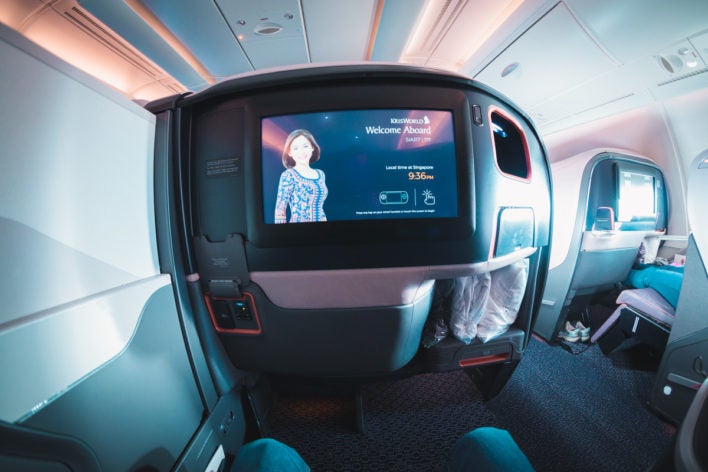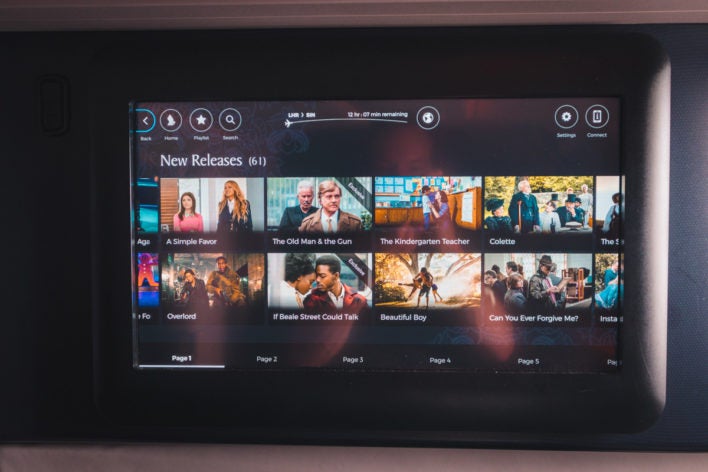 Noise-canceling headphones are supplied but didn't compare to my Bose headphones so I didn't use them.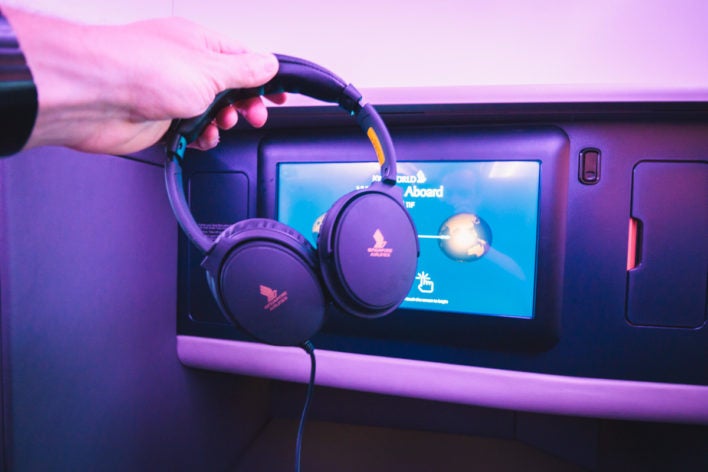 You can control the IFE using either the touchscreen, a touchscreen remote, or the latest Singapore's smartphone app that can be linked to your seat number. This is great for selecting movies you want to watch even days before your flight and play the list once you're onboard.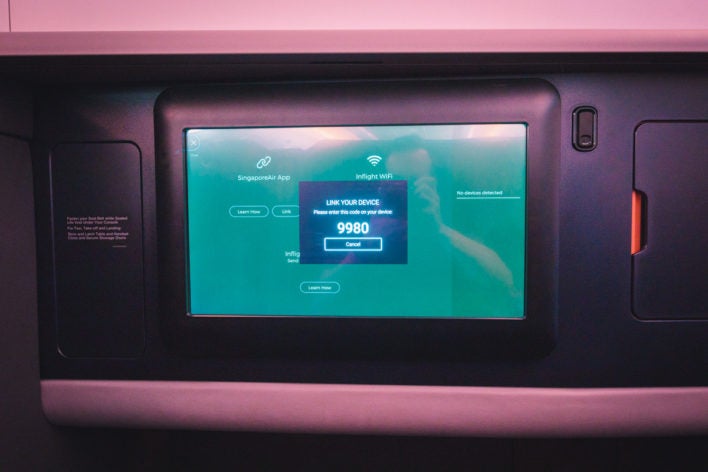 Singapore provides complimentary internet for Suites and business class passengers, but with only 100 MB for Suites and 50 MB for business class passengers, make sure you turn off all background data use or you'll use up your allowance very quickly. Downloads and uploads averaged 5 Mbps.
Singapore prices their Wi-Fi by data consumption, with plans that max out at 3 hours and are limited to 150 MB. I much prefer when airlines offer a full-flight internet pass with no data limits.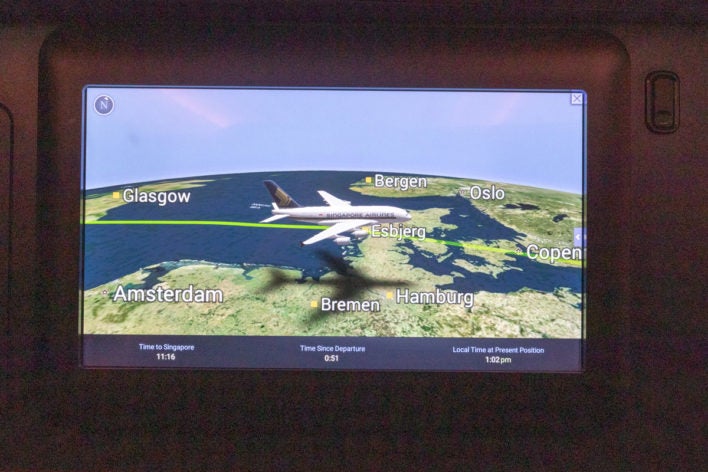 Final Thoughts
I am a fan of the new Singapore Business Class product; the cabin and seats look fantastic. The seats have great storage, are comfortable to sit and sleep in, and are an overall nice upgrade to the previous seats. But not all seats are created equal; the bulkhead seats are easily the best in the cabin but are in limited numbers. Some people may not like positioning their body on an angle to sleep either. Remember to bring your own pajamas too.
The perfectly cooks lamb loin was a standout and the cinnamon crown was a nice change from a standard egg omelet breakfast. Even though Singapore Airlines doesn't provide a dine-on-demand service, I was happy with the meal timings on this flight. Plus, the "Book the Cook" provides additional meal options providing you can decide what you feel like eating a few days ahead of time.
I've always found the Singapore Airlines crews to be either really good, or exceptional. Sadly, the crew on this flight didn't meet either other those expectations, and I was left very disappointed by the impersonal delivery and their lack of attentiveness, especially considering the empty cabin.
This goes to show that even a great product can be let down by the performance of the cabin crew.