Japan Airlines 777 First Class Review – Tokyo to Los Angeles
Airline: Japan Airlines (JL)
Aircraft: Boeing 777-300ER
Flight #: JL 62
Route: Tokyo-Narita (NRT) > Los Angeles (LAX)
Date: November 18, 2018
Duration: 10 hr 10 min
Cabin & Layout: Japan Airlines first class, 8-seat capacity across 2 rows, 1-2-1
Seats: 1G
Miles Used: 80,000 American Airlines AAdvantage miles
Taxes & Fees Paid: $40.01 USD
Typical Retail Cost: ~$10,265 USD
Typical Economy Cost: ~$691 USD
Booking Japan Airlines First Class
I was sitting on a solid pile of American Airlines miles after meeting the spending requirement for the Citi AAdvantage® Platinum Select® World Elite™ Mastercard®, so I used the AA miles I gained from regular spending along with the welcome bonus to book this flight.
Booking Japan Airlines First Class is one of the best ways to redeem AA miles, so I was thrilled to use AA miles for this redemption.
After a hugely satisfying trip to Japan with my dad, I was looking forward to trying Japan Airlines first class on my return home.
We were initially confirmed on Japan Airlines flight JL6 headed from Tokyo-Haneda (HND) to New York City (JFK) in first class, and I was totally prepared to have a layover in New York and fly back home later in the day.
As soon as I found award availability on BritishAirways.com (a oneworld partner), I called AA at 1-800-882-8880 and confirmed the flight!
But the night before our scheduled flight, I checked British Airways and saw 2 first class seats open on the flight from Tokyo-Narita (NRT) to Los Angeles (LAX) on Japan Airlines Flight JL62.
This wasn't terribly surprising — because in addition to checking on British Airways twice a day using my iPhone, I used ExpertFlyer and had seen 2 unoccupied seats in first class.
Knowing that Japan Airlines releases any and all first class award availability 1-2 days before departure, I also figured those 2 seats would be opening up.
The only question was whether or not my dad and I would get them.
I got the flight notification while coming back from Mt. Fuji via bullet train (or Shinkansen), called AA's Japan call center using my LINE credits, and changed my ticket there.
Oddly enough, I wasn't charged a change fee of $175 for the both of us, which was great! I was so happy to find out I could cancel my award flights from New York to Los Angeles and save a whole bunch of time in transit!
The day of our flight, we headed to Narita Airport Terminal 2, where we proceeded to the first class check-in area.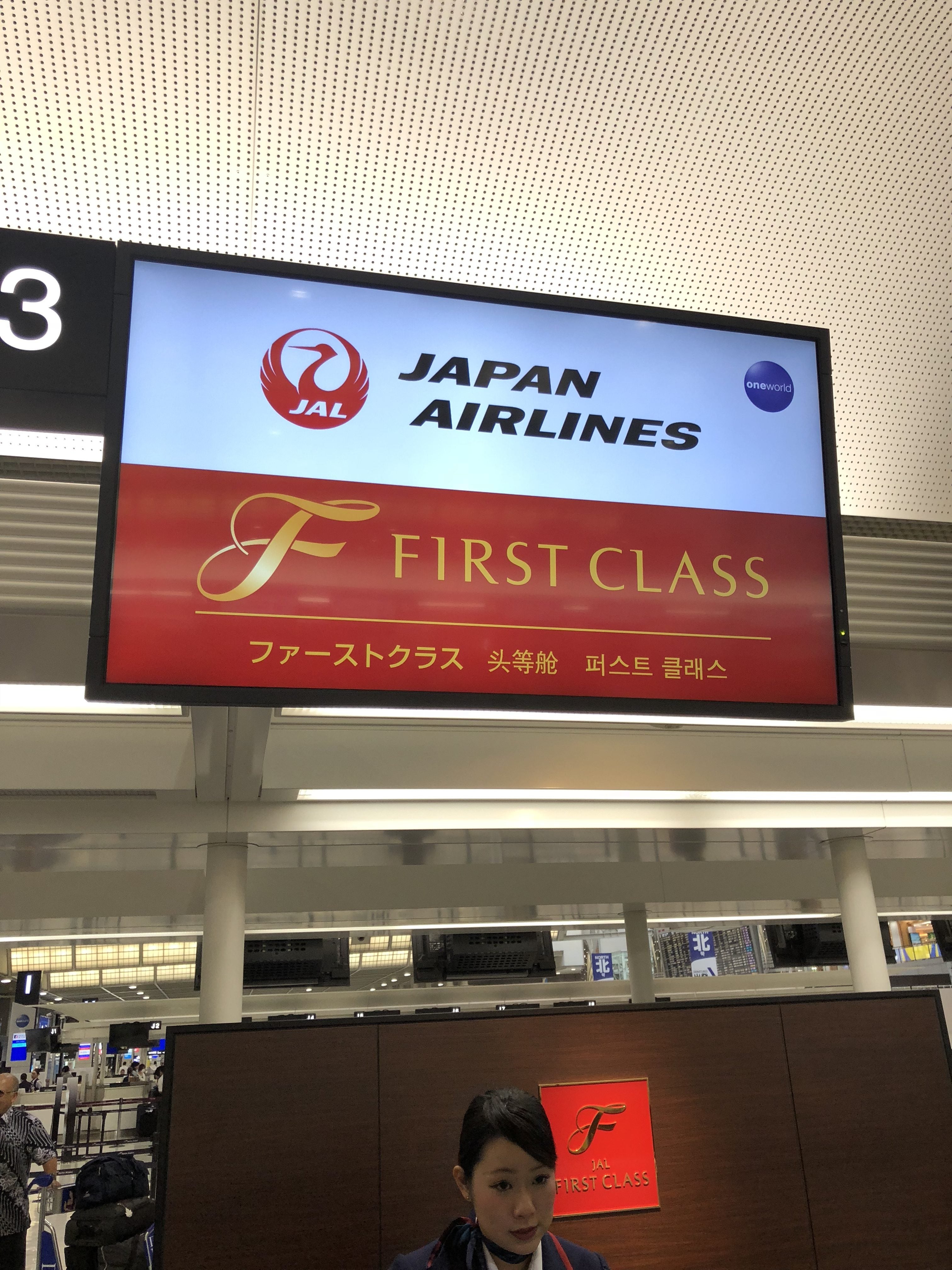 Our experience at the check-in counter set the tone for the rest of this flight — there were literally 4 or 5 people dedicated to greeting us and helping us make our way through security.
My dad and I received our seat assignments of 1D and 1G, respectively.
Then, we had luggage handlers whisk our bags away while another team led us 20 steps to the Japan Airlines Fast Security Lane, where we were warmly greeted yet again.
They even offered to take pictures of us standing next to the Fast Security Lane sign, which we didn't oblige (though it was still hugely appreciated).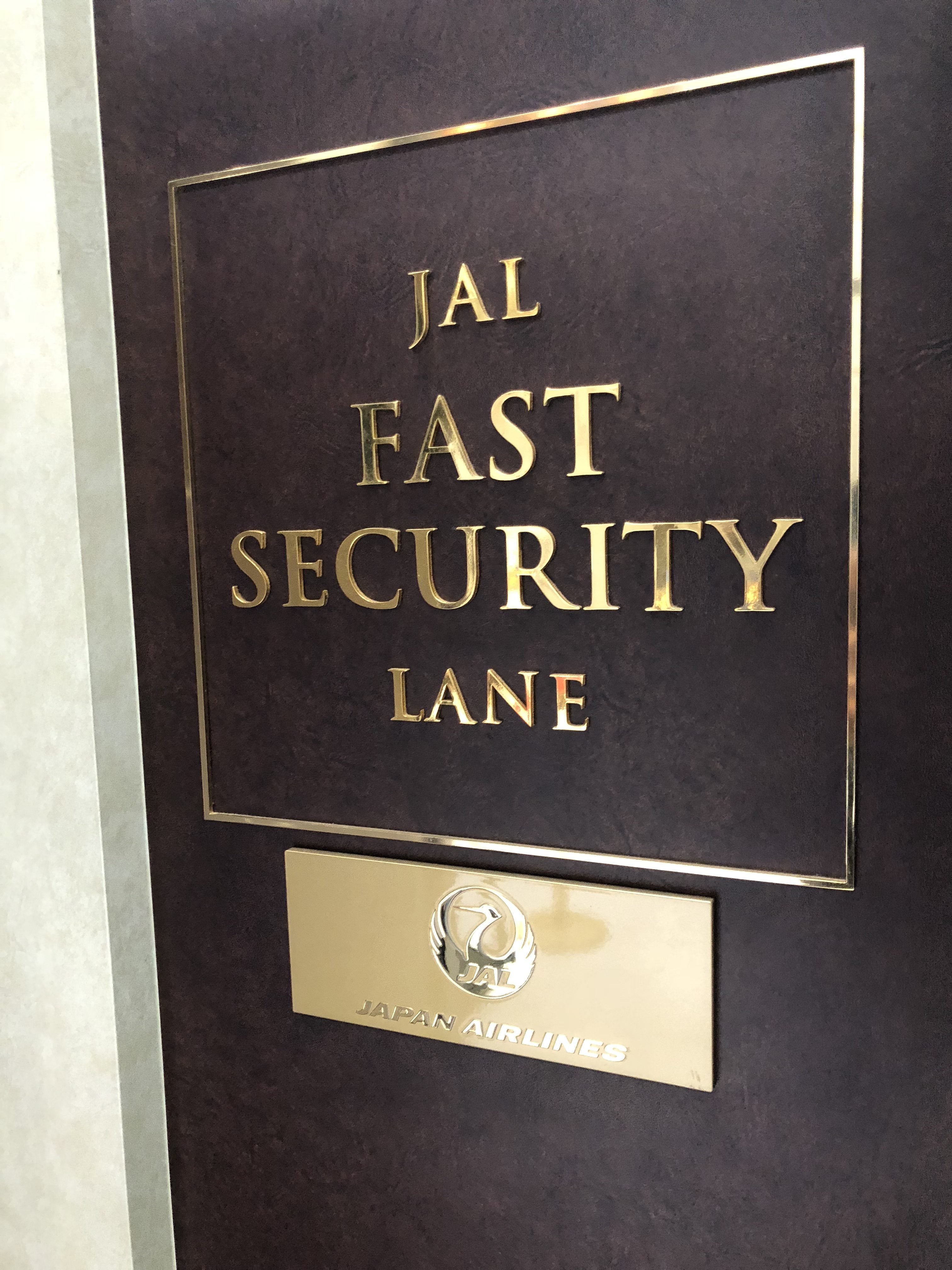 Clearing security took about 2 minutes, and then we headed to the First Class Lounge, which was right in front of the security exit.
The entire process was seamless, thanks to the unrivaled hospitality of Japan Airlines.
Japan Airlines First Class Lounge at Narita Airport (NRT)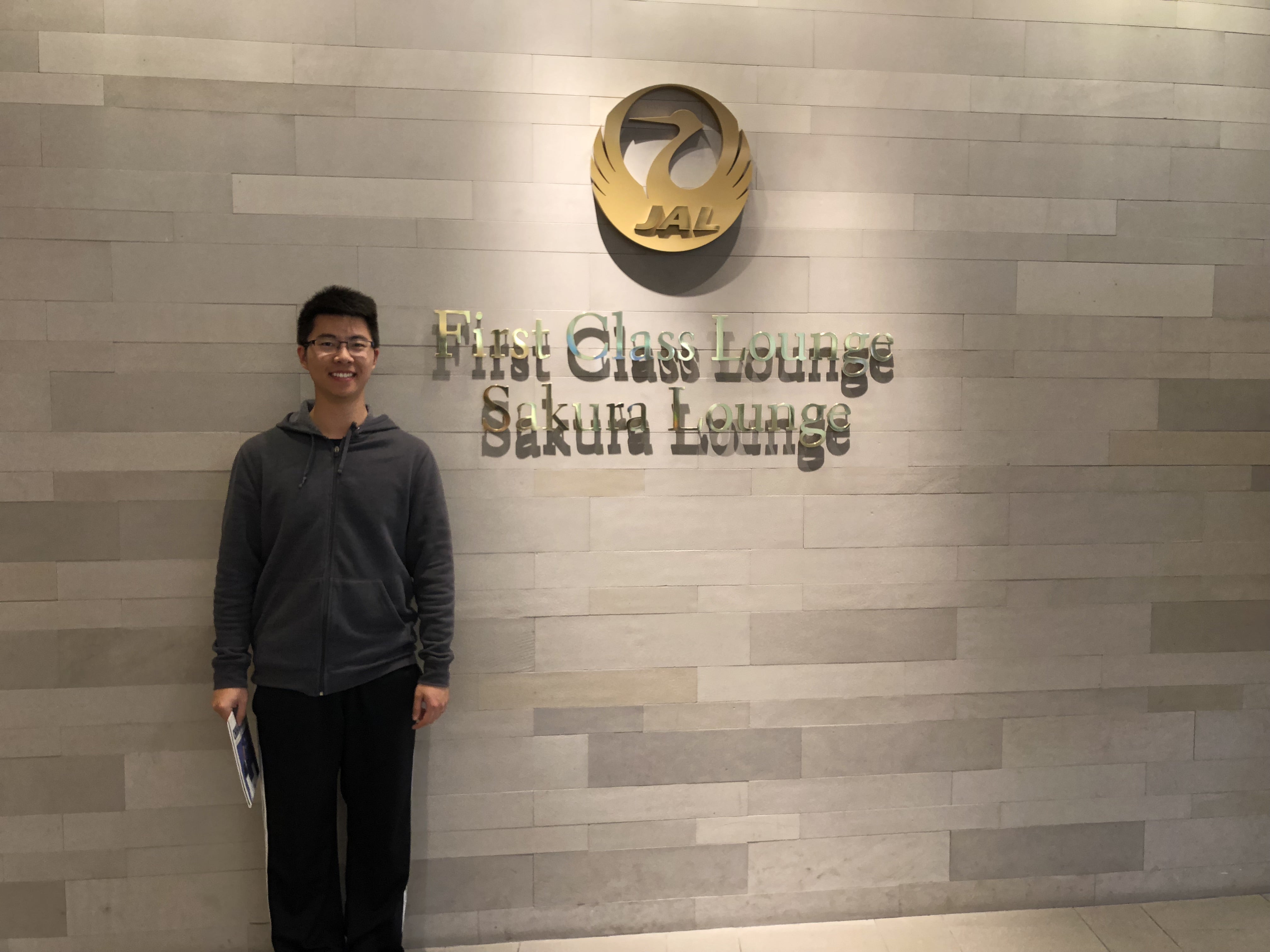 When we got to the lounge at around 2:30 pm, there weren't many people at all (though it became incredibly crowded right before we left for our flight).
Our flight was scheduled to depart at 5:05 pm, so we had a solid 2 hours in the lounge with plenty of space to relax.
The first thing you might see is a luggage room and closet, which you can use to store your belongings while you enjoy the lounge.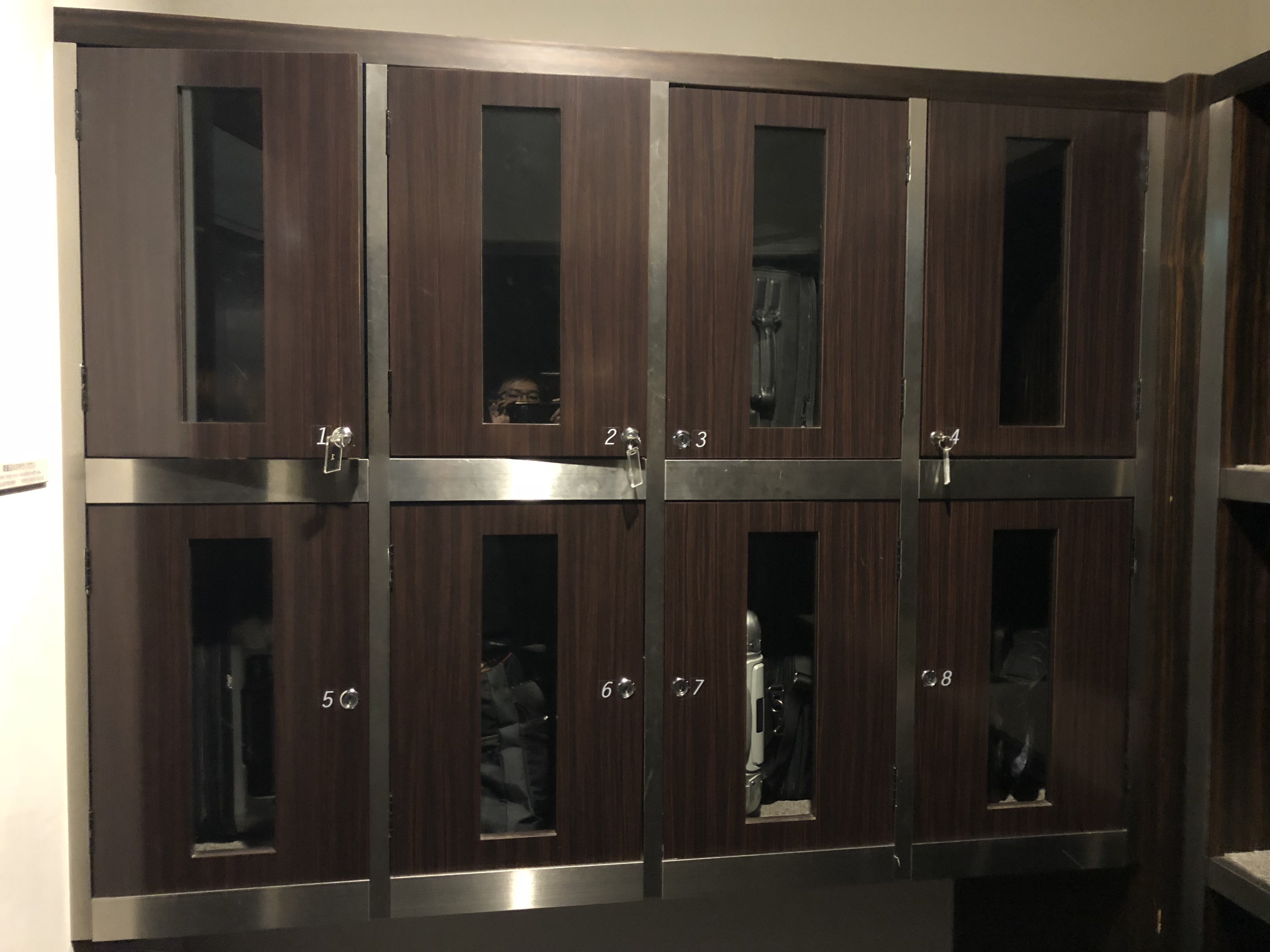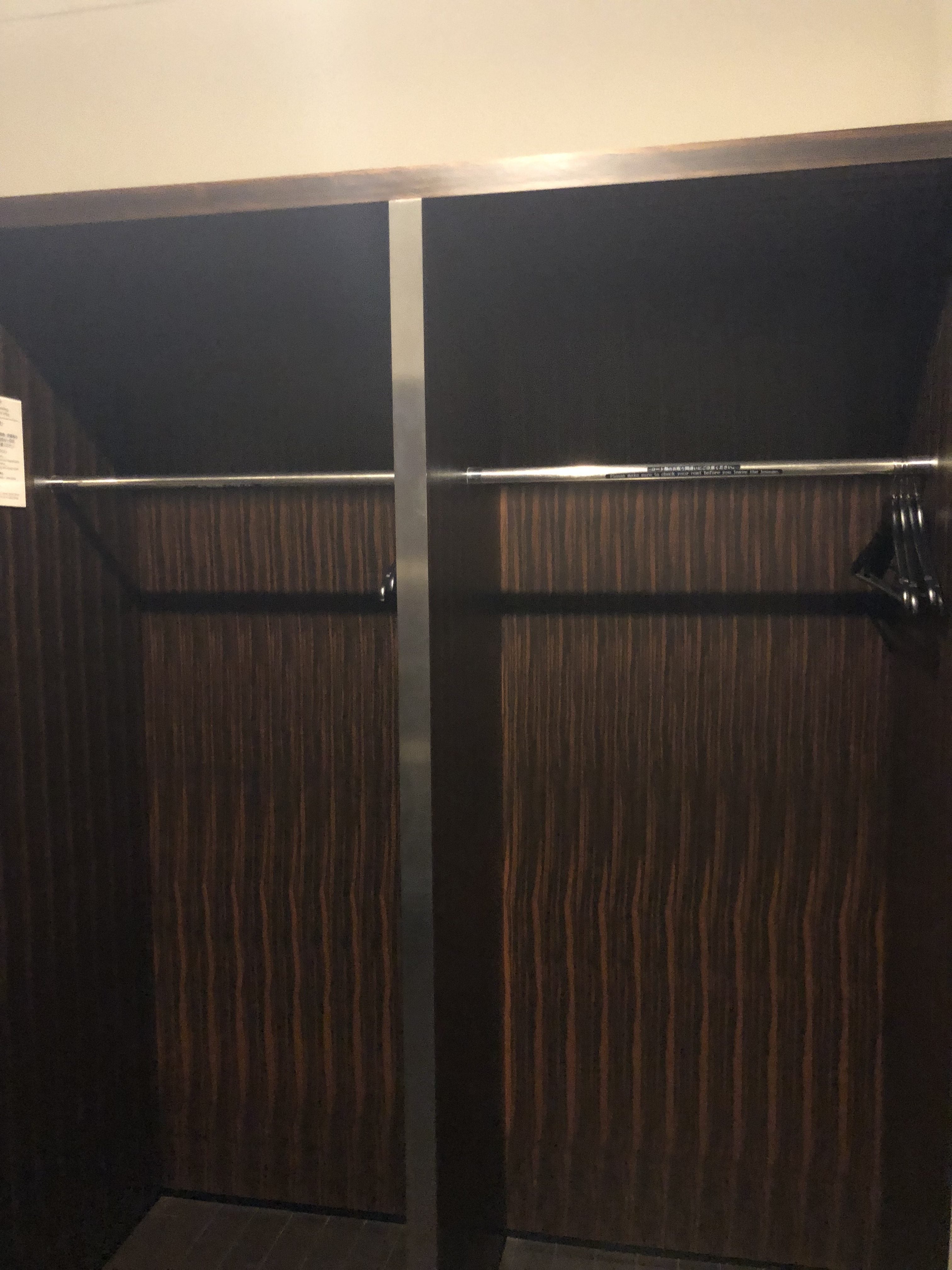 I like to keep my belongings with me, so I didn't utilize this. But for those who have lots of stuff or just prefer not to lug everything around you, this service is provided for your convenience.
Luckily, I immediately saw the vastness of the lounge — and was pleased to notice that it wasn't full at all.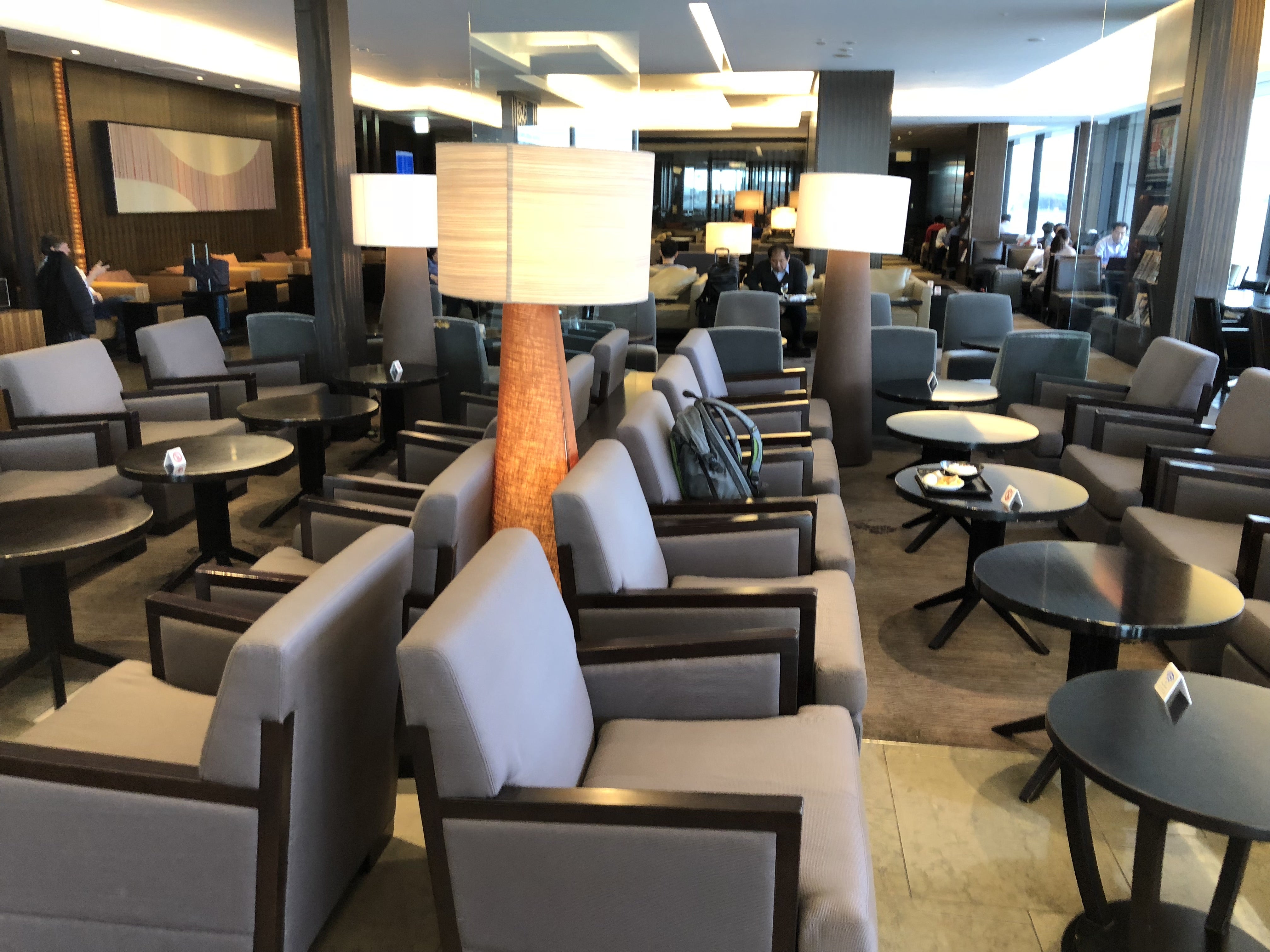 If you wanted to sit closer to the windows, you could bird watch as well!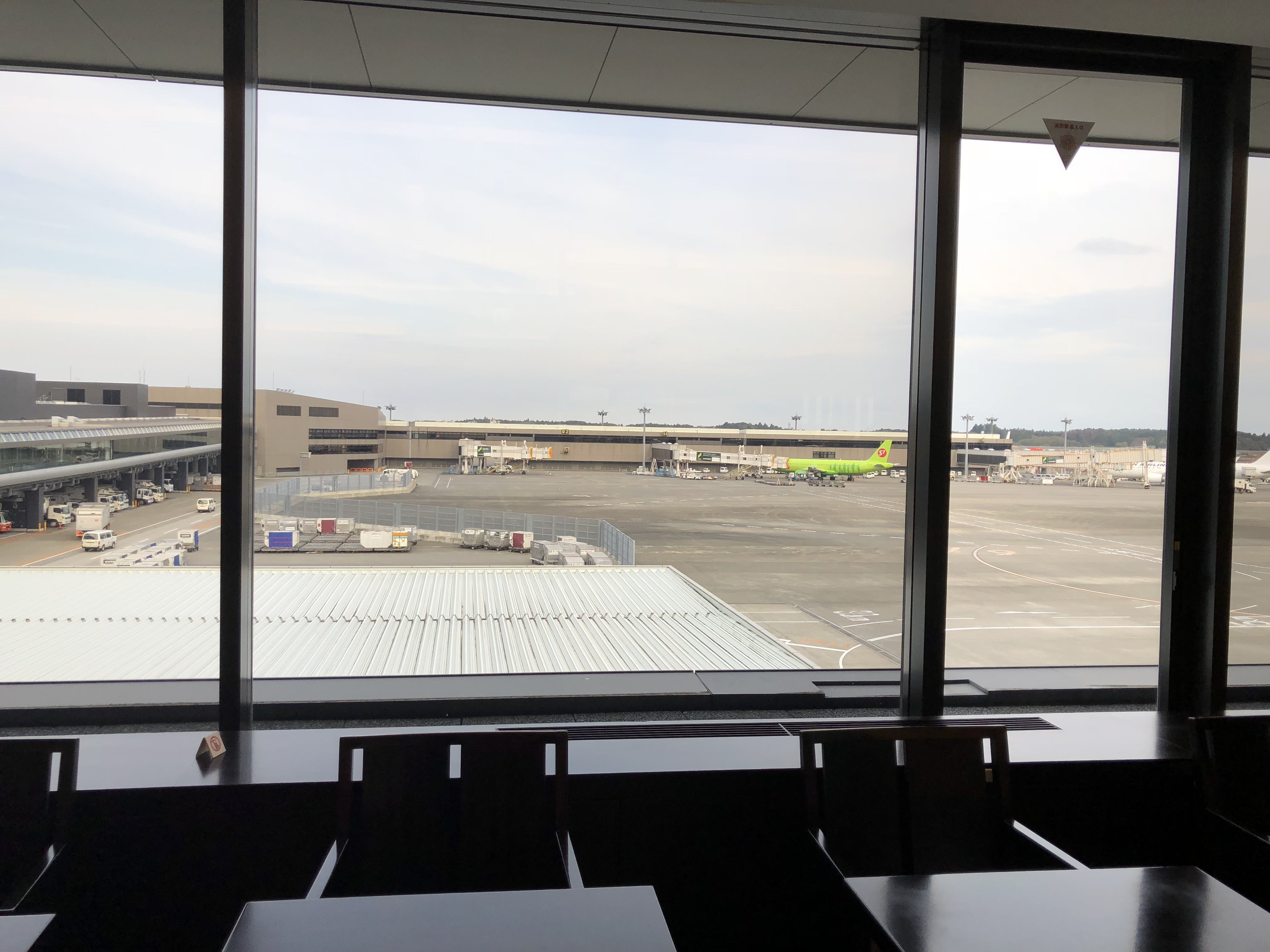 On a quick walkthrough of the lounge, we found a business center, massage chair lounge, sushi bar, sake bar, food section, seating areas, and series of shower suites.
The business center is pretty sleek, and it reminded me of an old-school office with dark brown decor and retro lighting.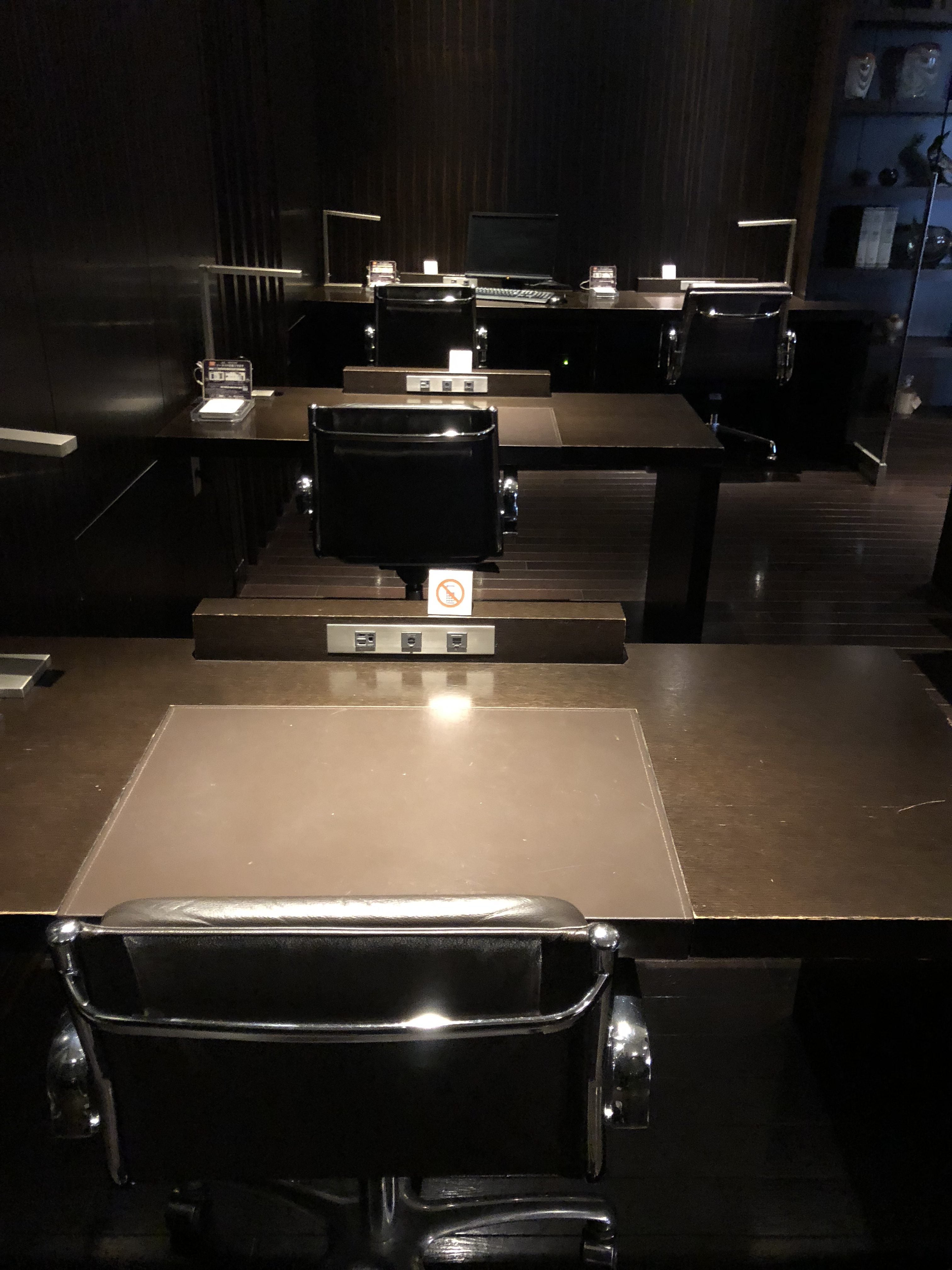 There are 6 seats in the business center: 2 longer tables with side-by-side seating and 2 stand-alone desks.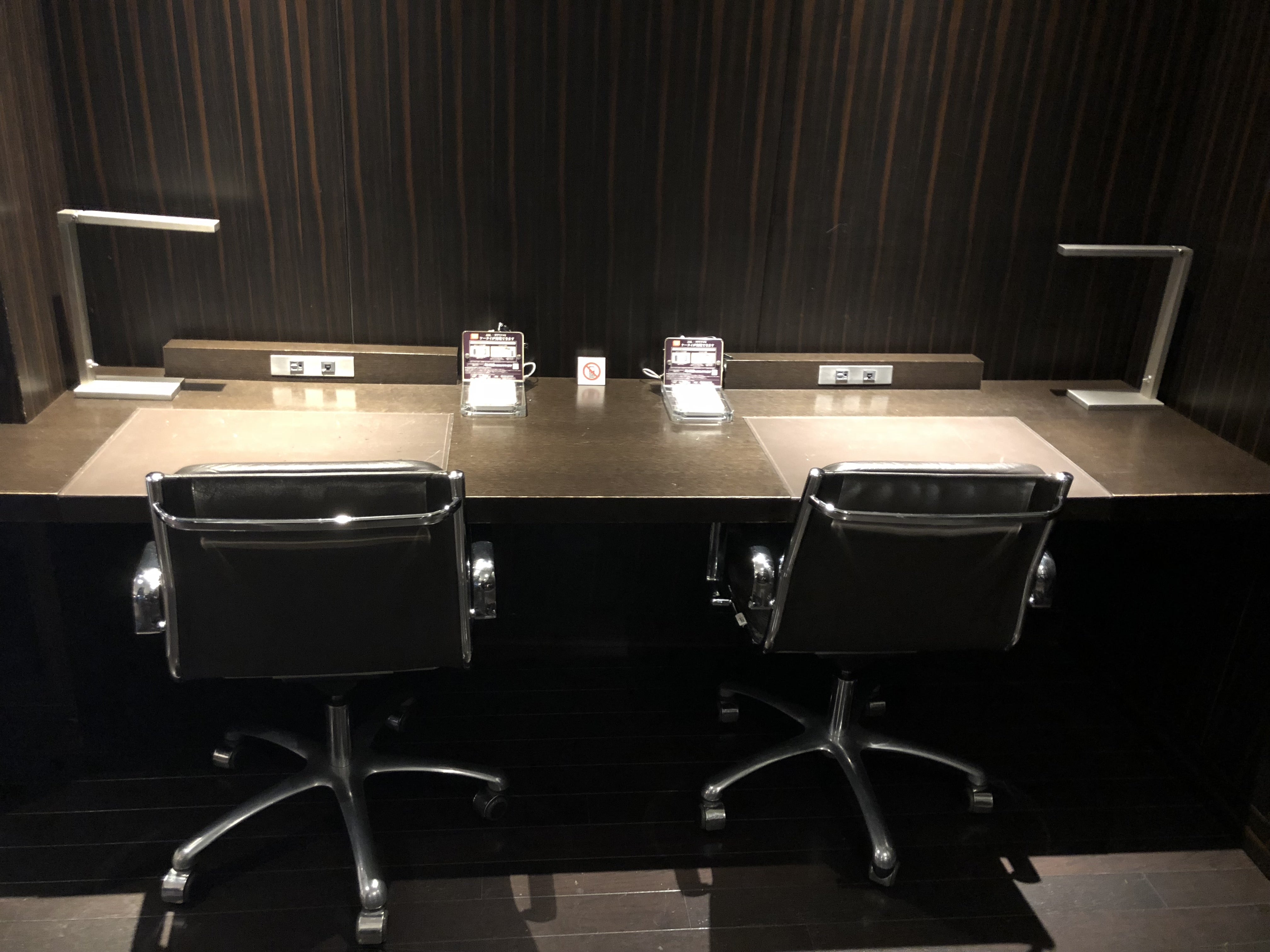 Additionally, there is a complimentary copy and fax machine available for use in the business center.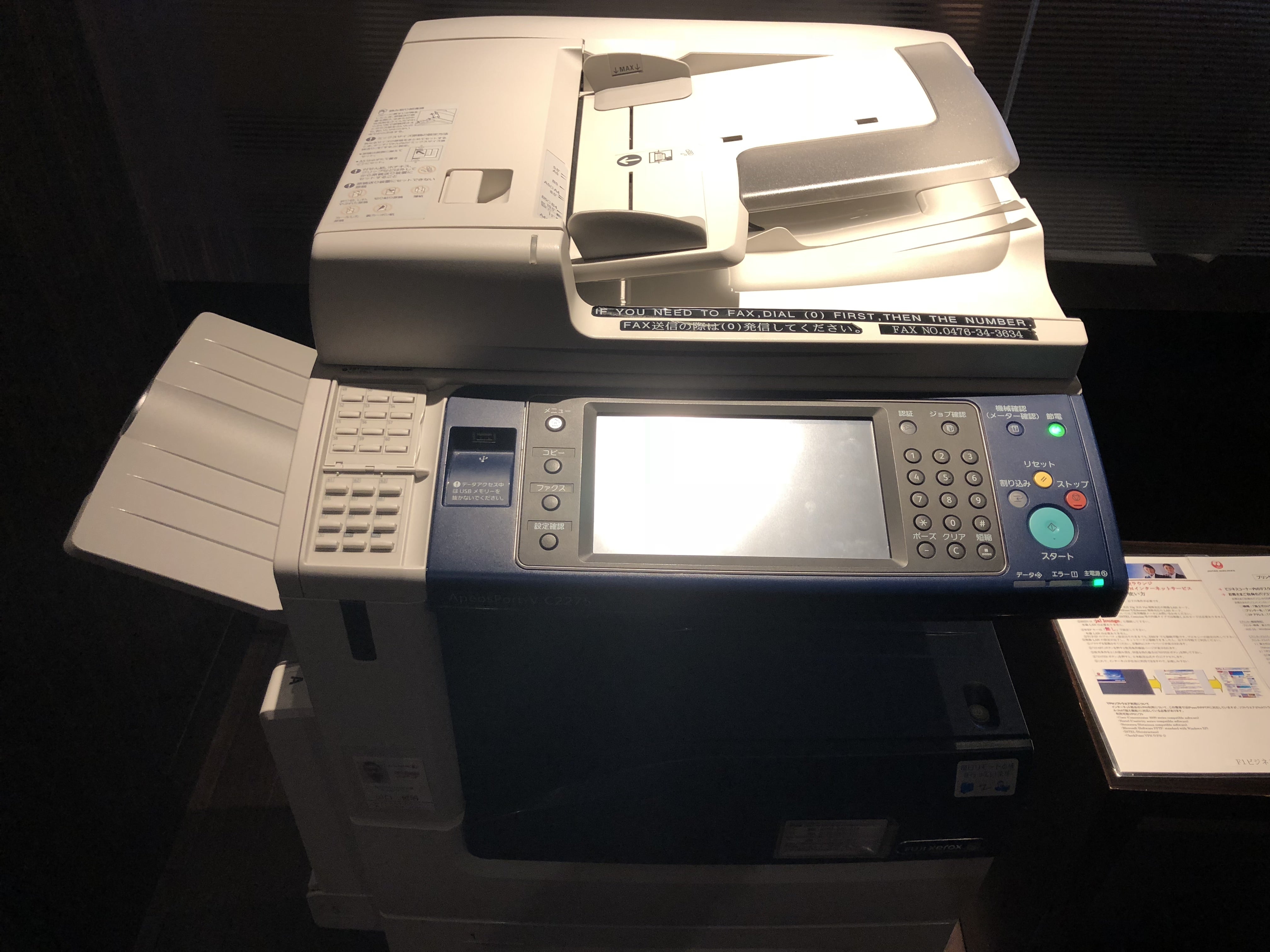 After that, I meandered my way to one of 2 massage chair lounges, which is just a corner space with partitions separating each massage chair. I tried these chairs out and found they offer a nice back rub.
Hot Tip: It's important to note that Japan Airlines doesn't offer complimentary massage treatments in their First Class Lounge anymore. Instead, they put a massage chair into each of the rooms in the old massage suites.
While they're not high-end OSIM uLove chairs, these are certainly good enough to relax and unwind in. It was comfortable enough that my dad took a power nap while being massaged.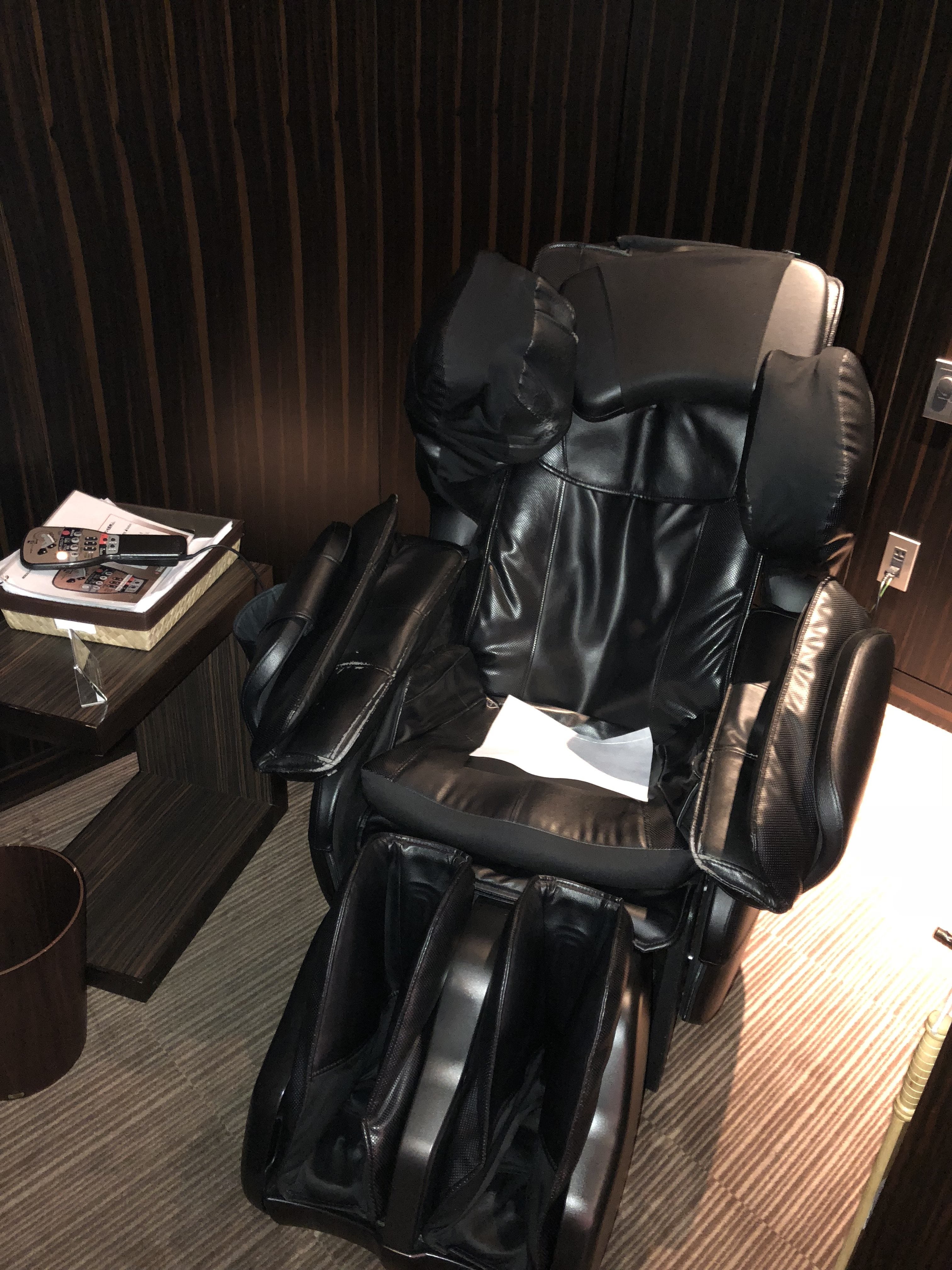 I then made my way to the massage suites, where the free massages used to be performed, and found more massage chairs in a deeper room with a sink.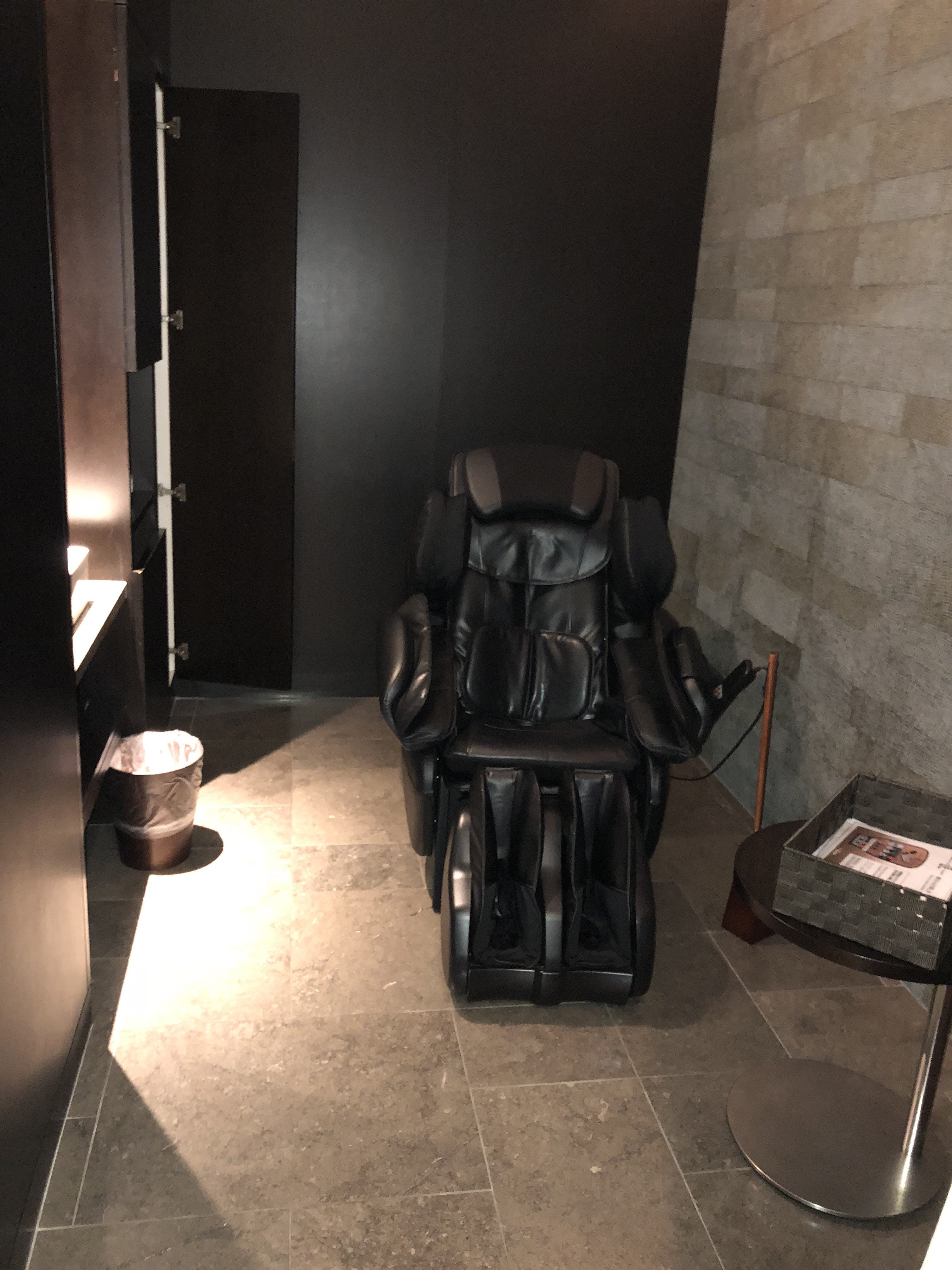 The total of 4 massage chair rooms are located just before the shower suites.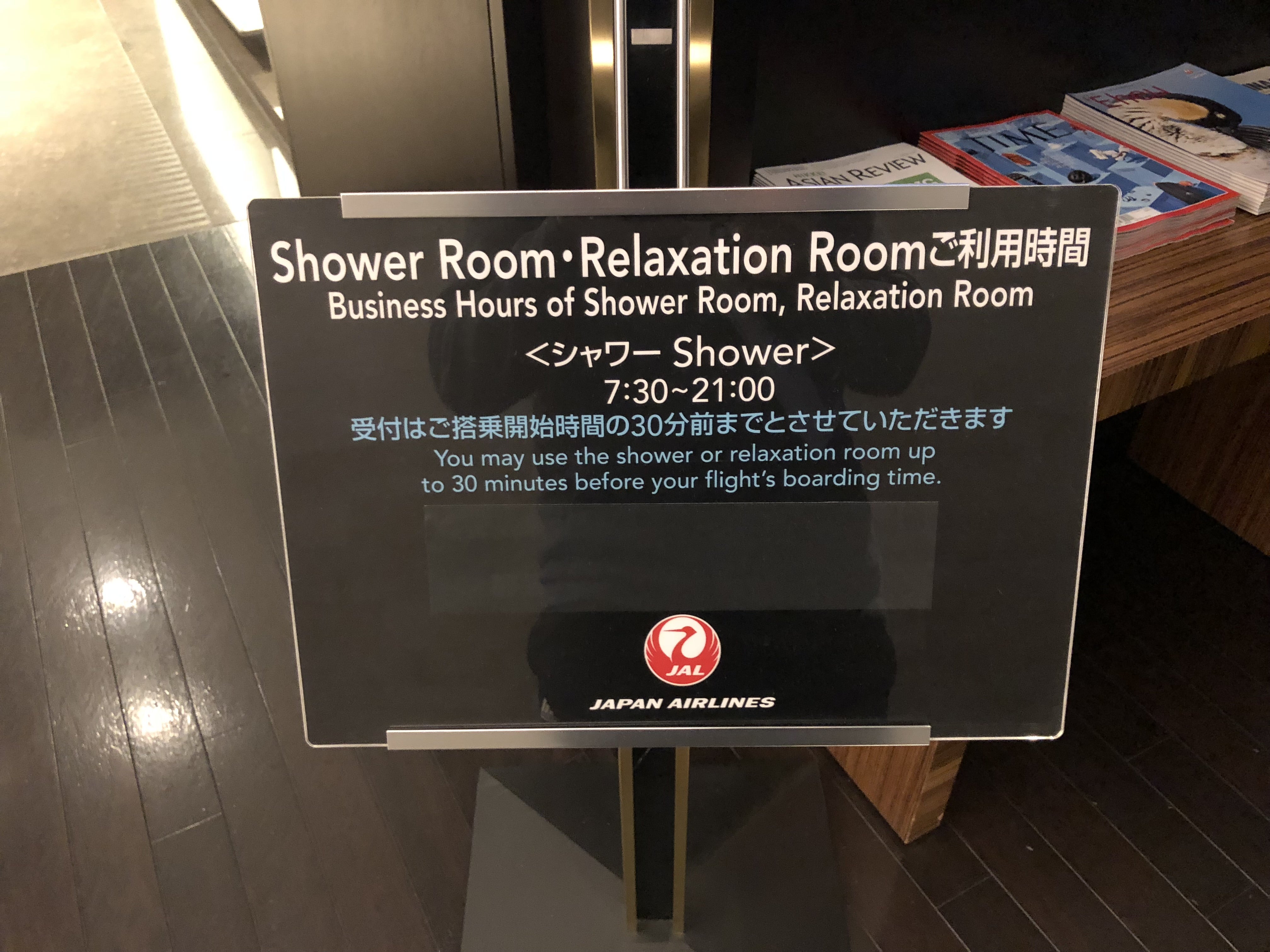 To use a shower suite, you simply show the attendant your boarding pass. They will either direct you to an open suite or give you a paging buzzer if the suites are all taken.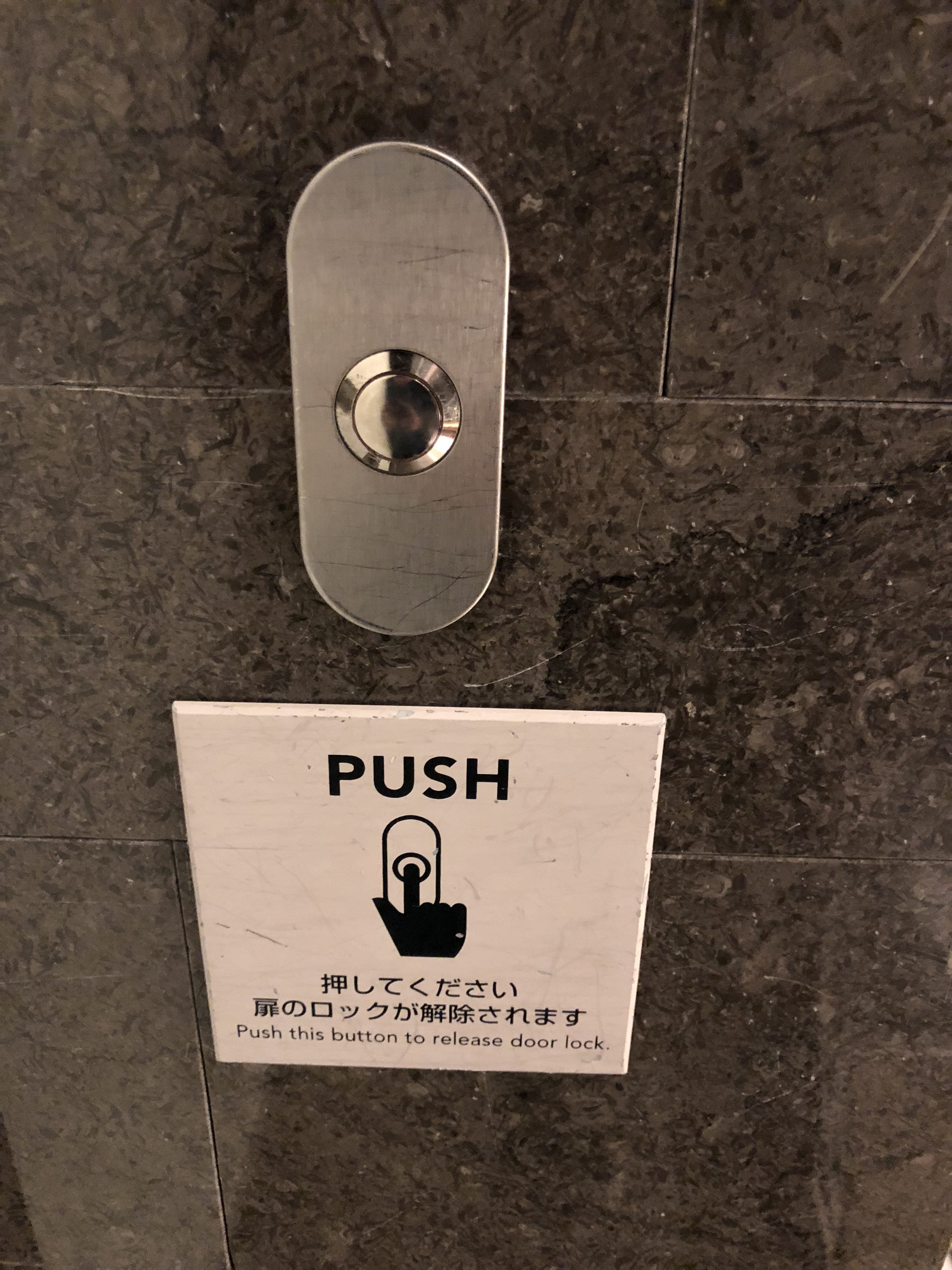 One cool piece of technology was the locking button, which locks your shower suite at the push of a button (instead of a latch that makes you wonder if the door's really locked!).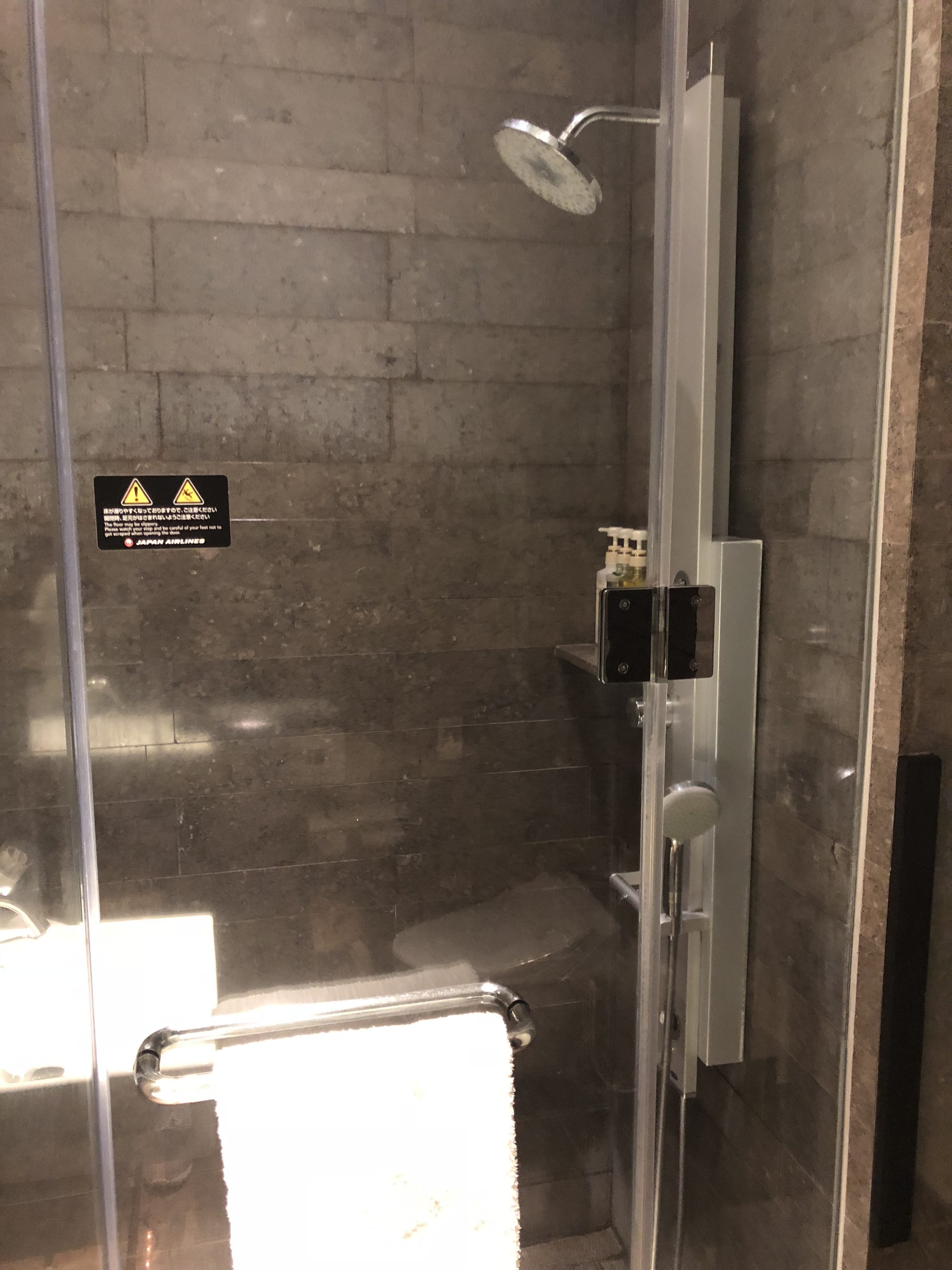 One of the most important things in a lounge is a shower with great amenities. I was in luck because these showers were super clean and featured Shiseido shampoo, conditioner, and body wash.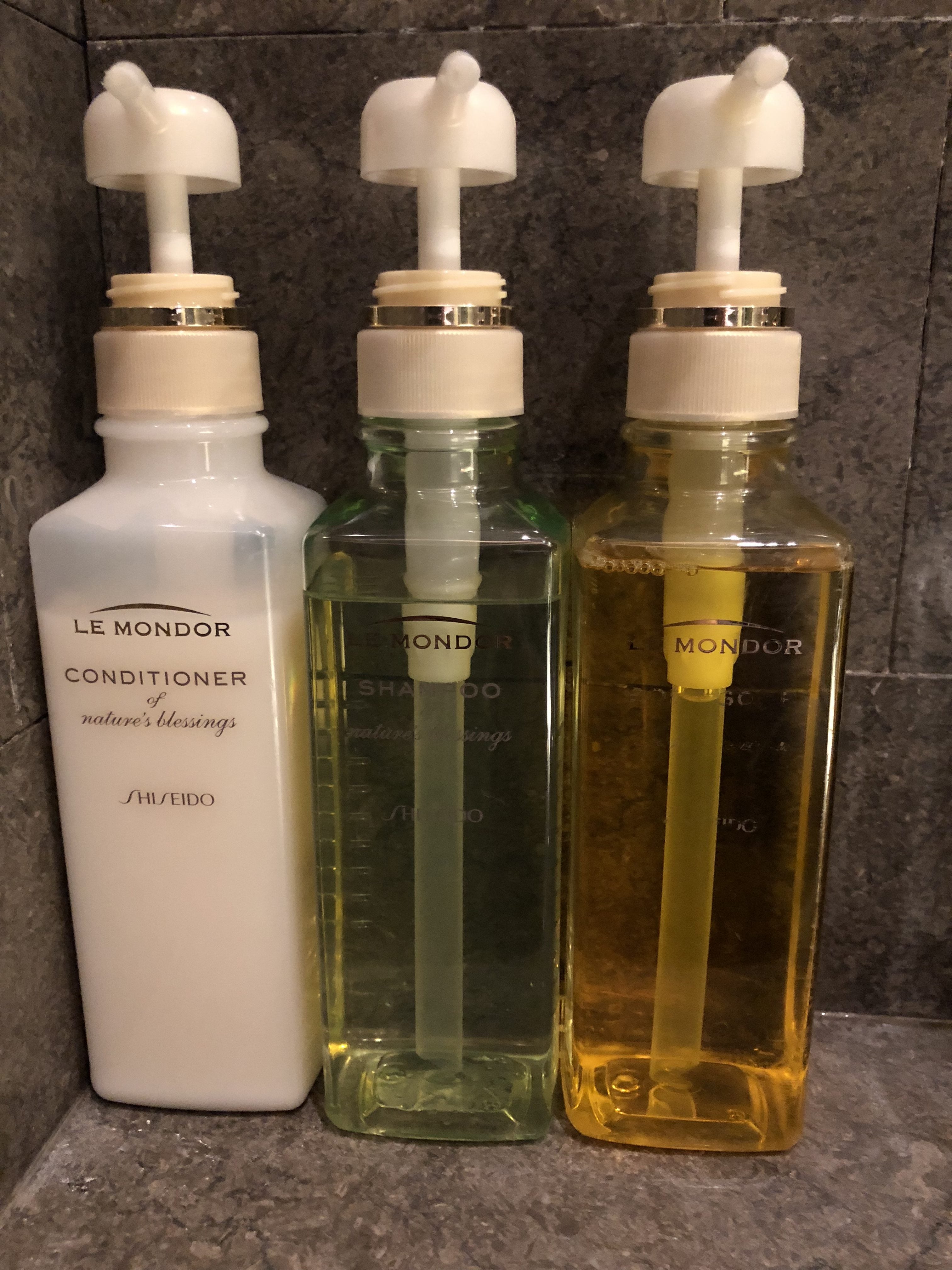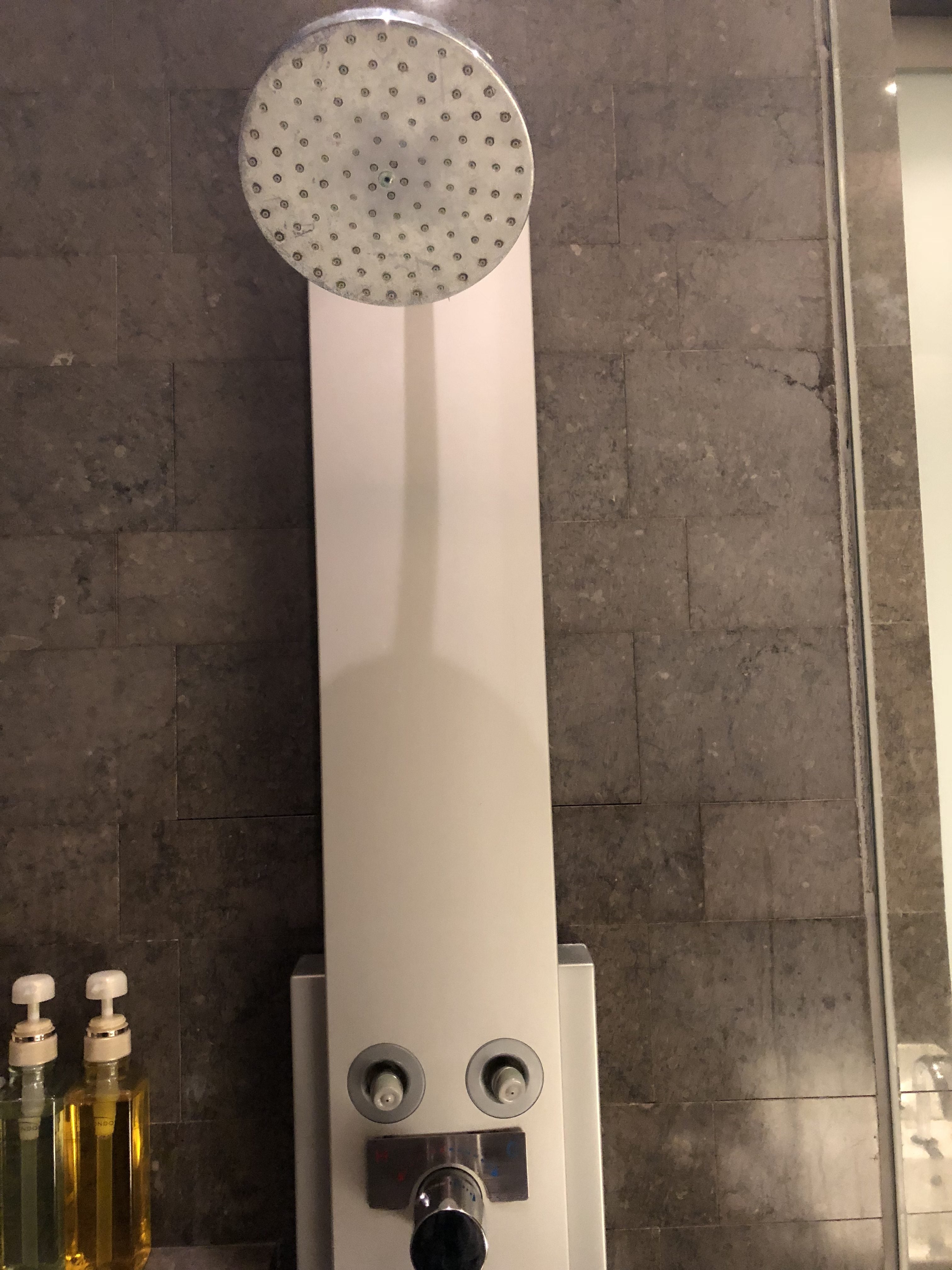 I'm also a huge fan of body jet nozzles, so I was pleasantly surprised to find them in this shower!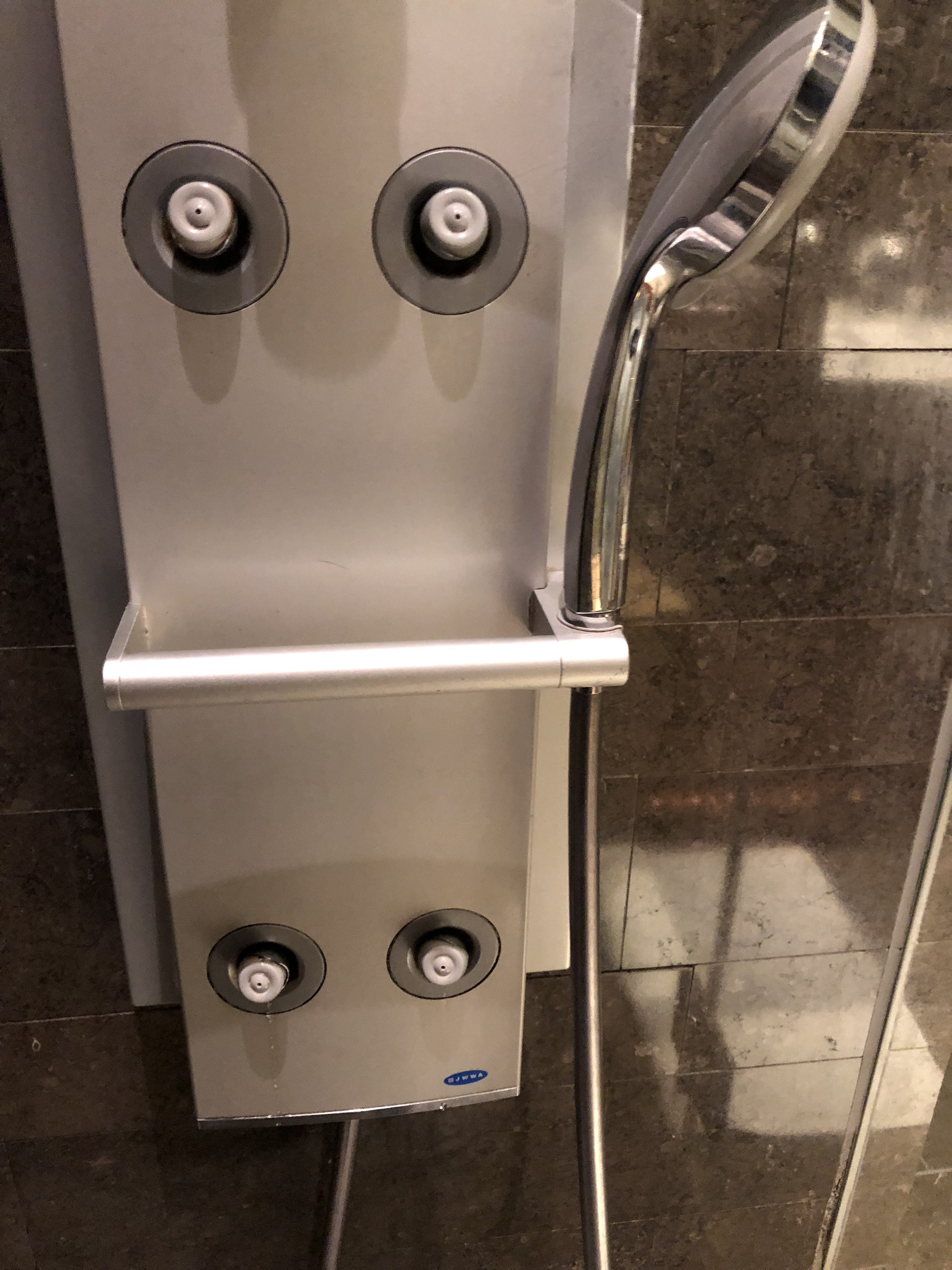 There was a temperature dial, shower head toggling dial, and a total of 6 body jet nozzles! 
As I was getting packed up, I noticed the gigantic steel shoehorn that I felt was excessively large. What do you think??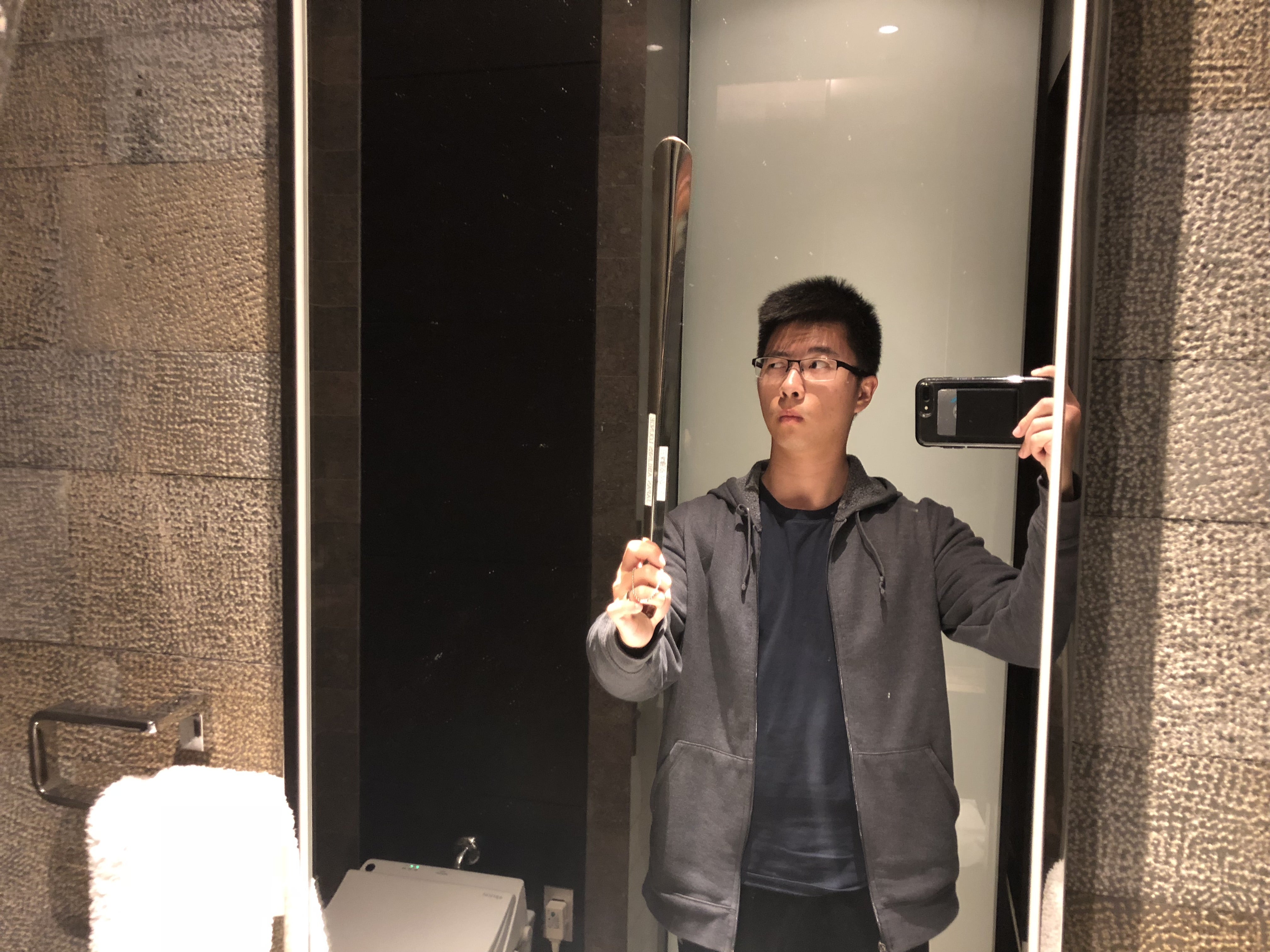 Additionally, there's a toilet located inside your shower suite so you don't need to walk to a separate restroom. This toilet had automatic sensors and a button console for bidet functions.
After my shower, I wanted to grab a snack, so I went over to check out the food selection. There was a huge variety of food to be had, ranging from Japanese curries to pasta to lobster bisque to sushi and even taiyaki!
Most of the food was self-serve, so you could help yourself to whatever portions you wanted. The cool thing here is that there's a sushi bar where you could get tuna, egg, and eel nigiri sets!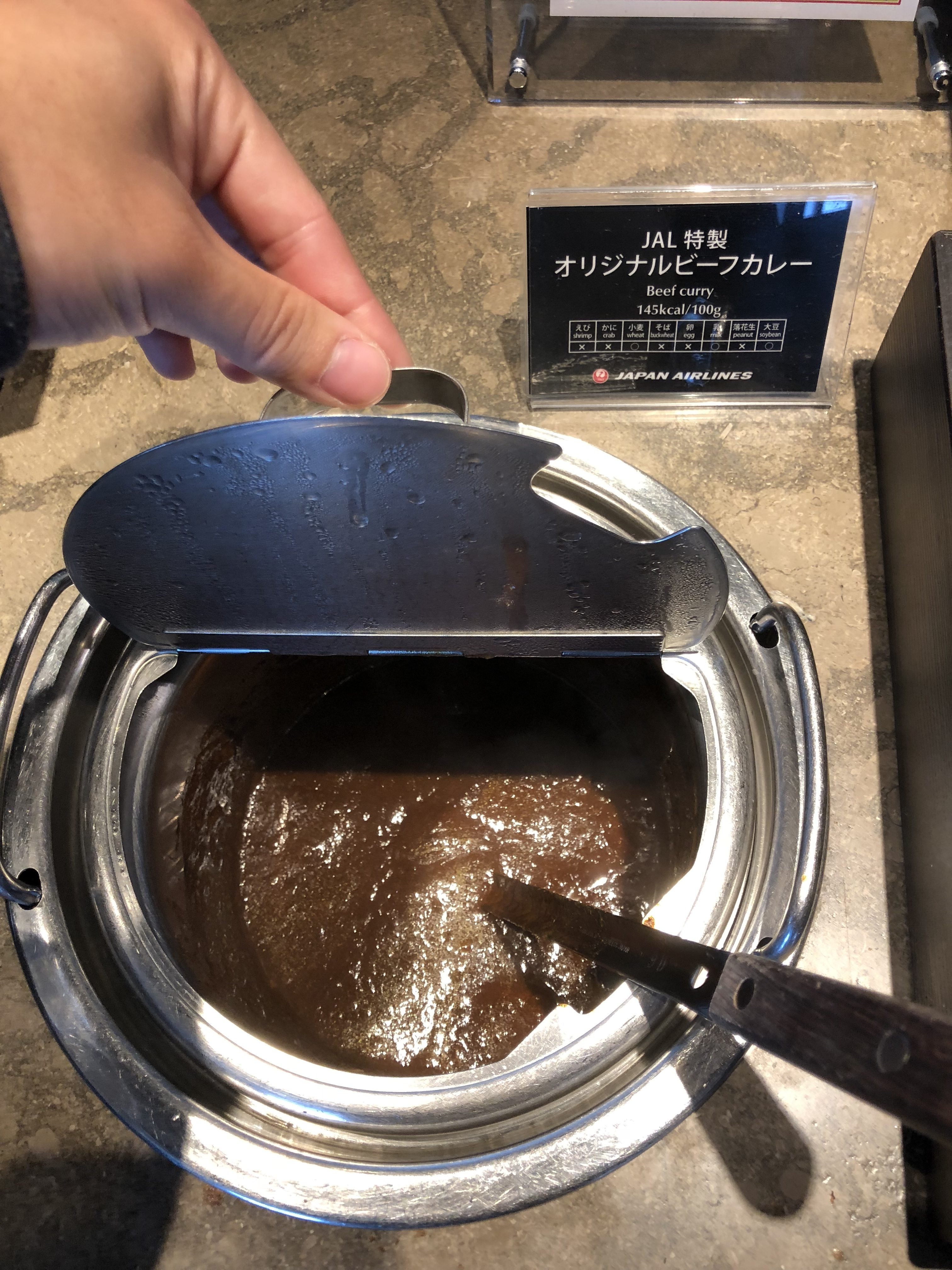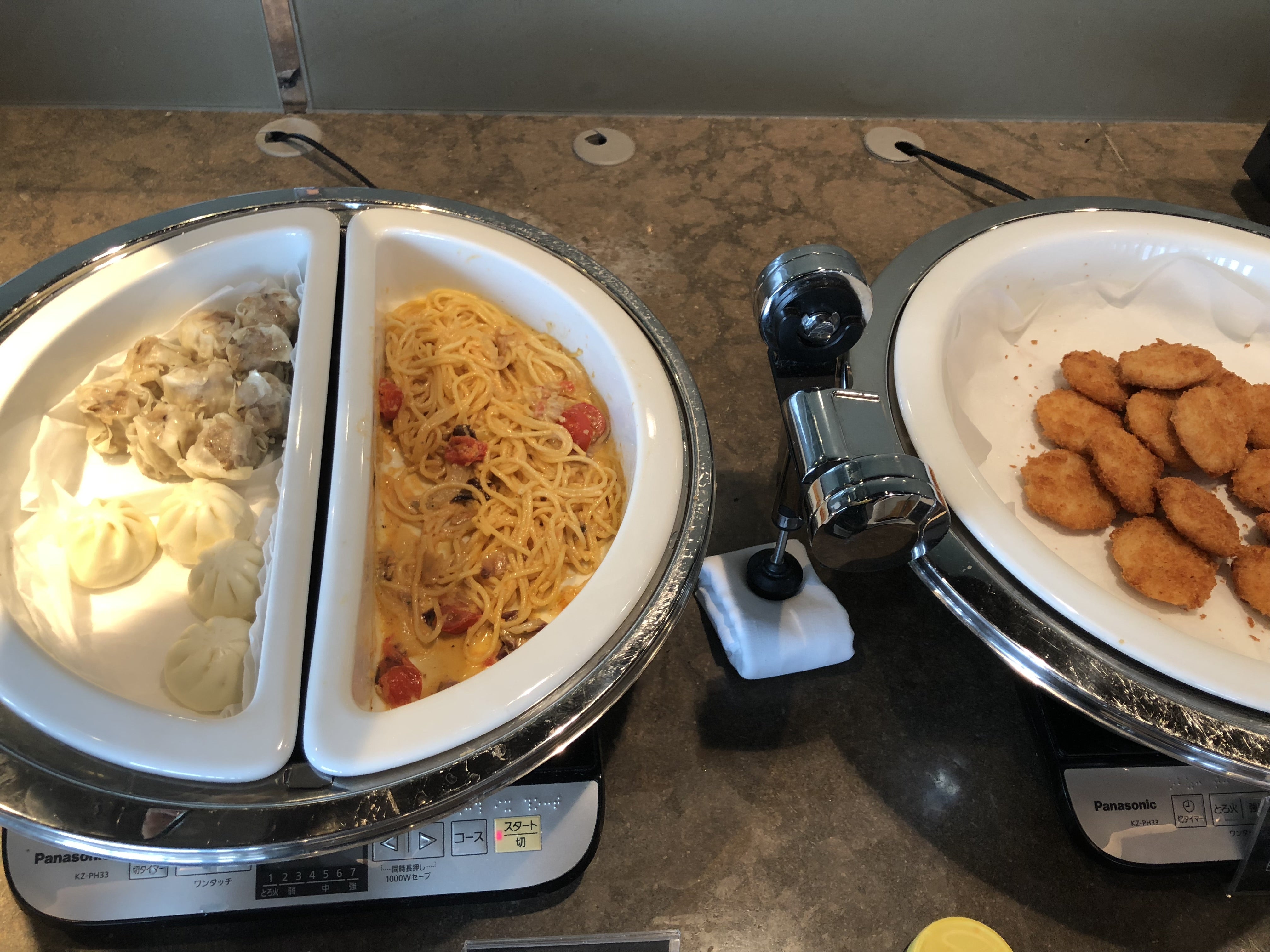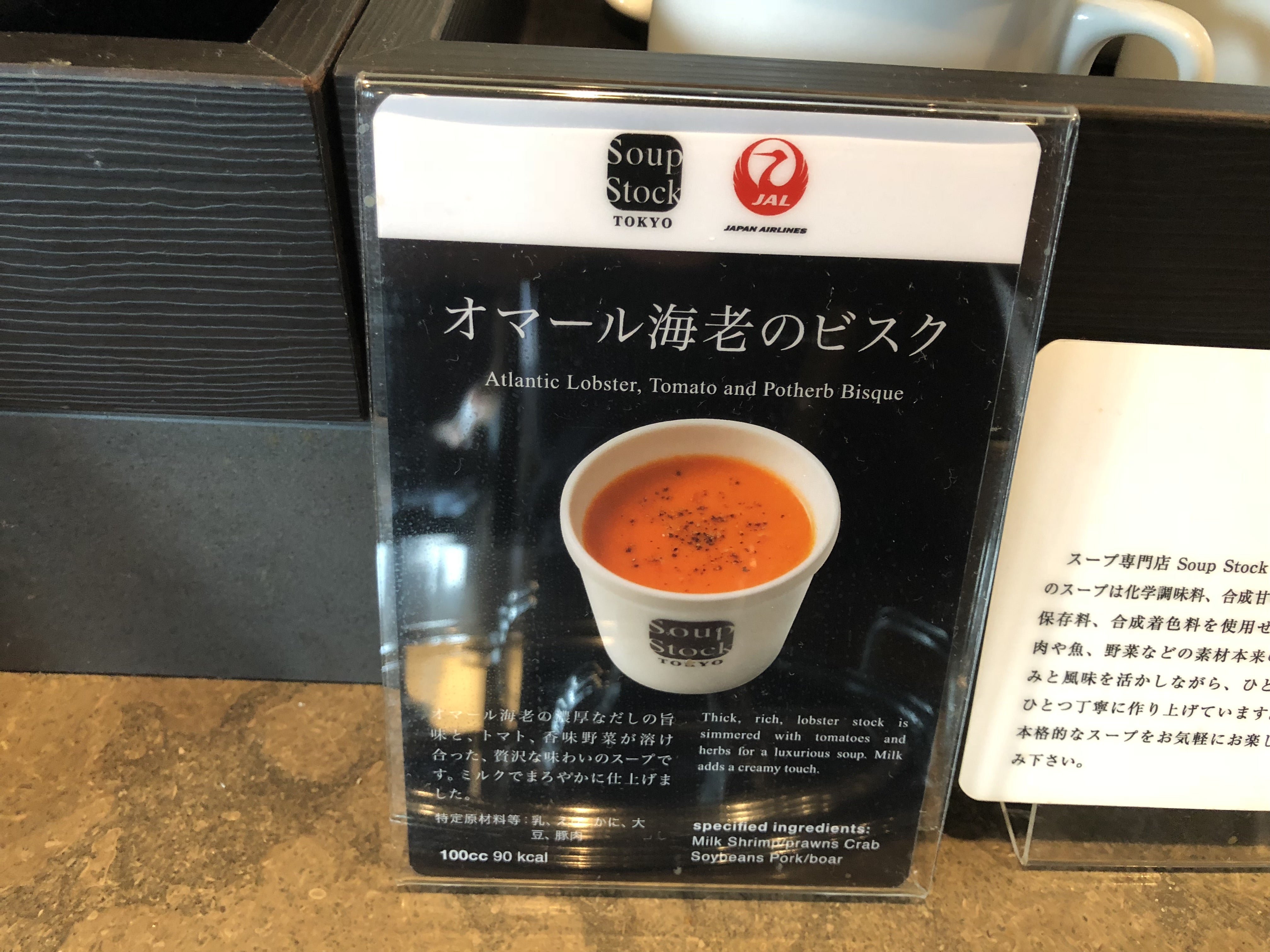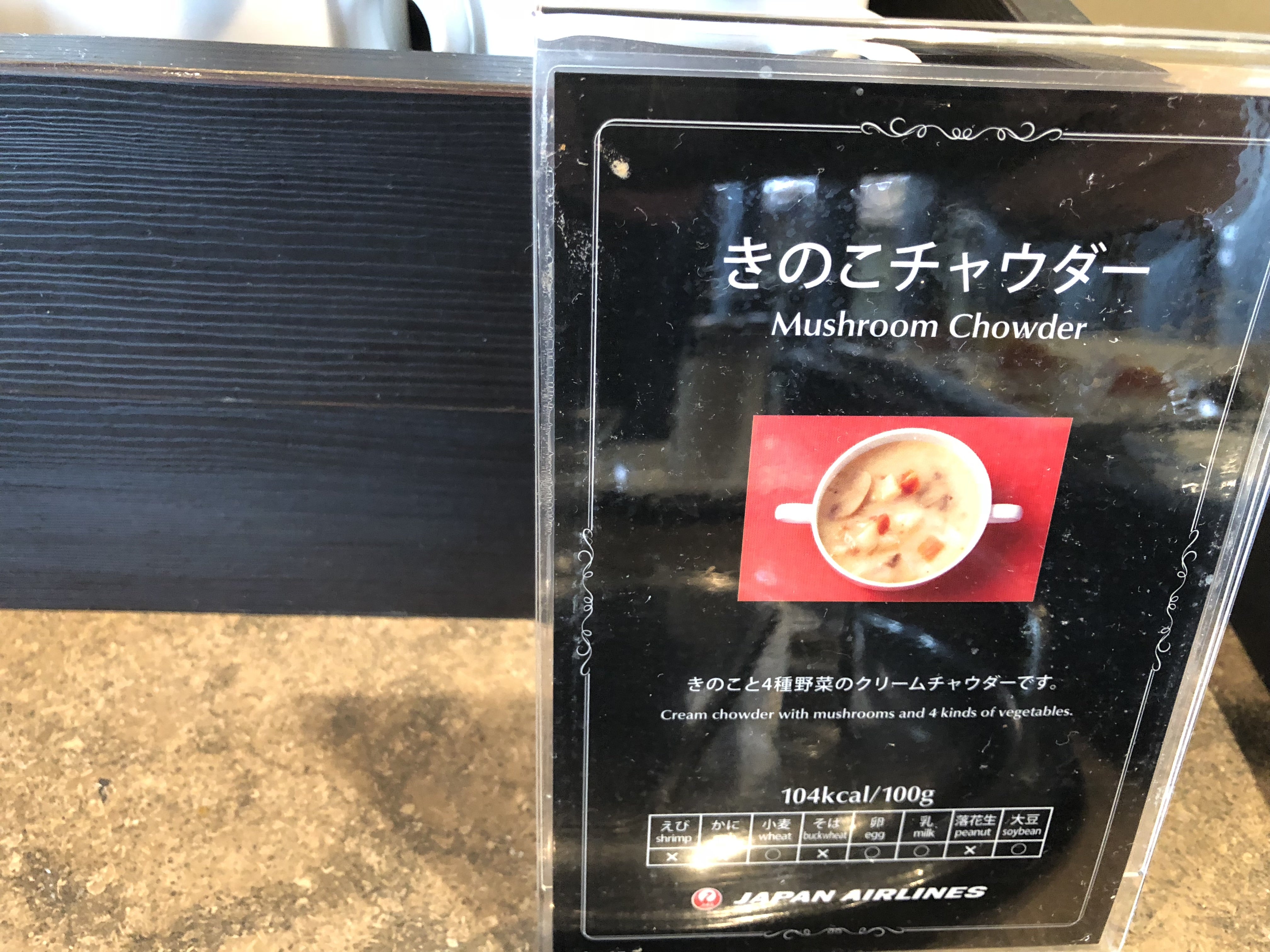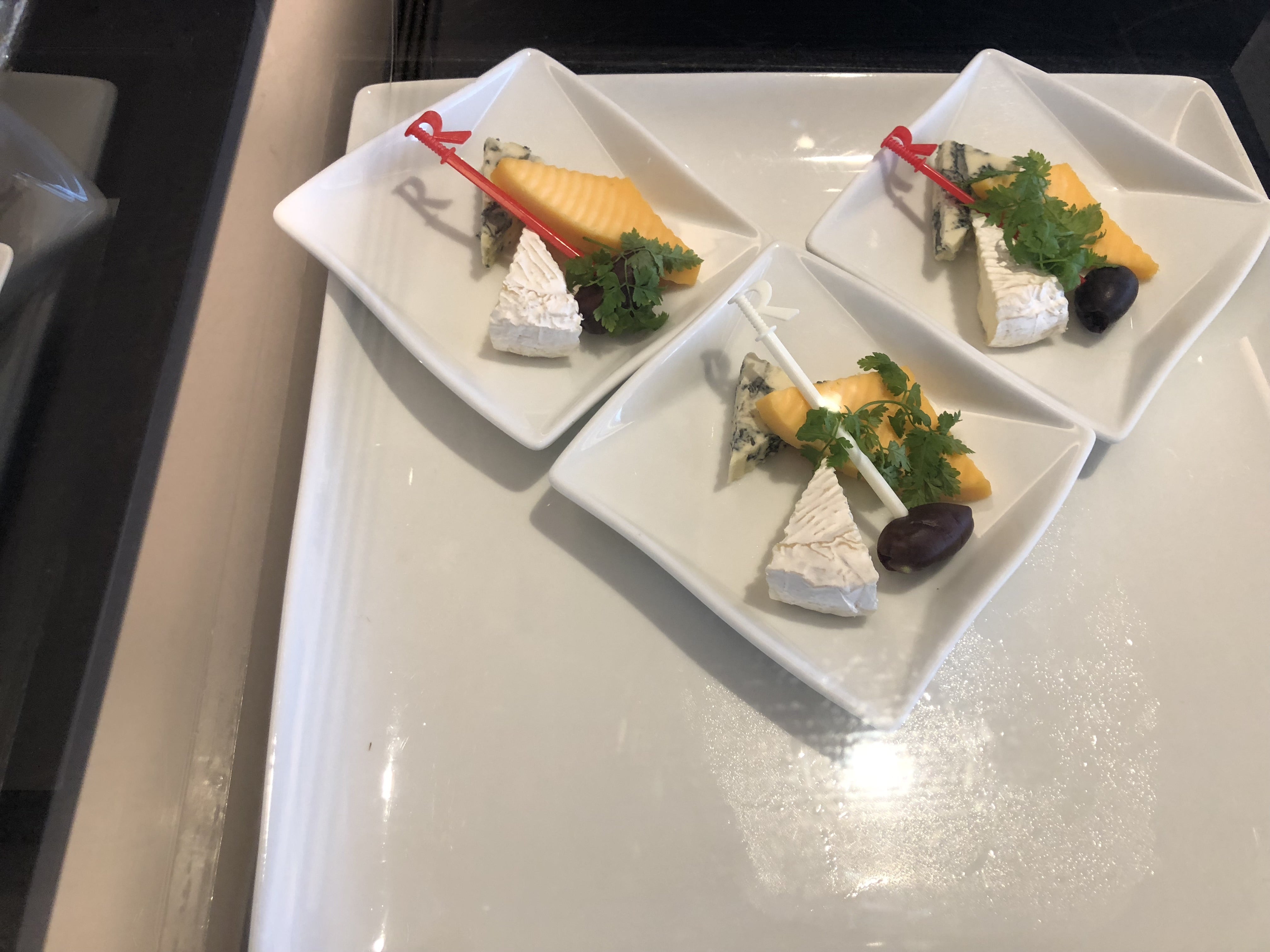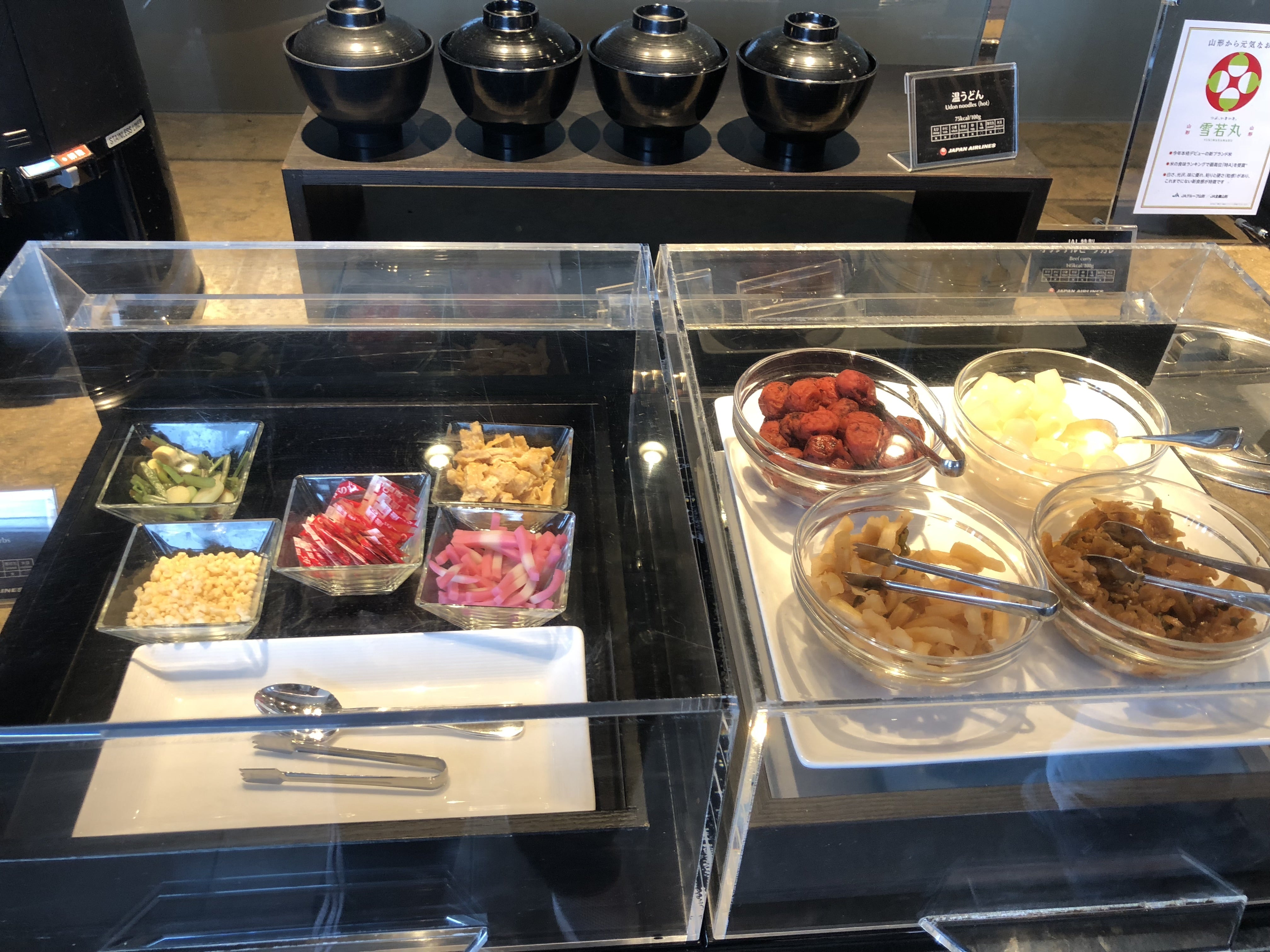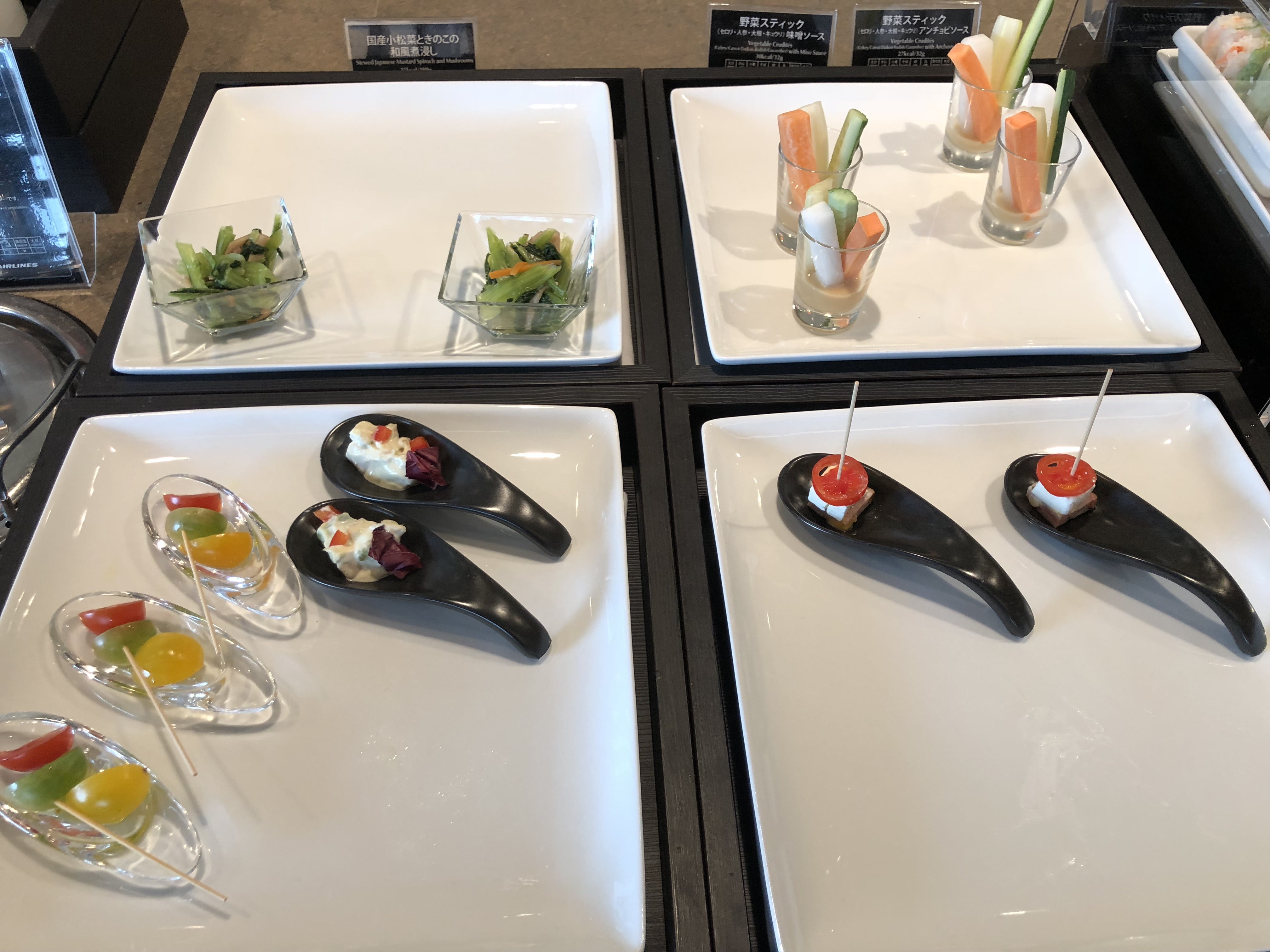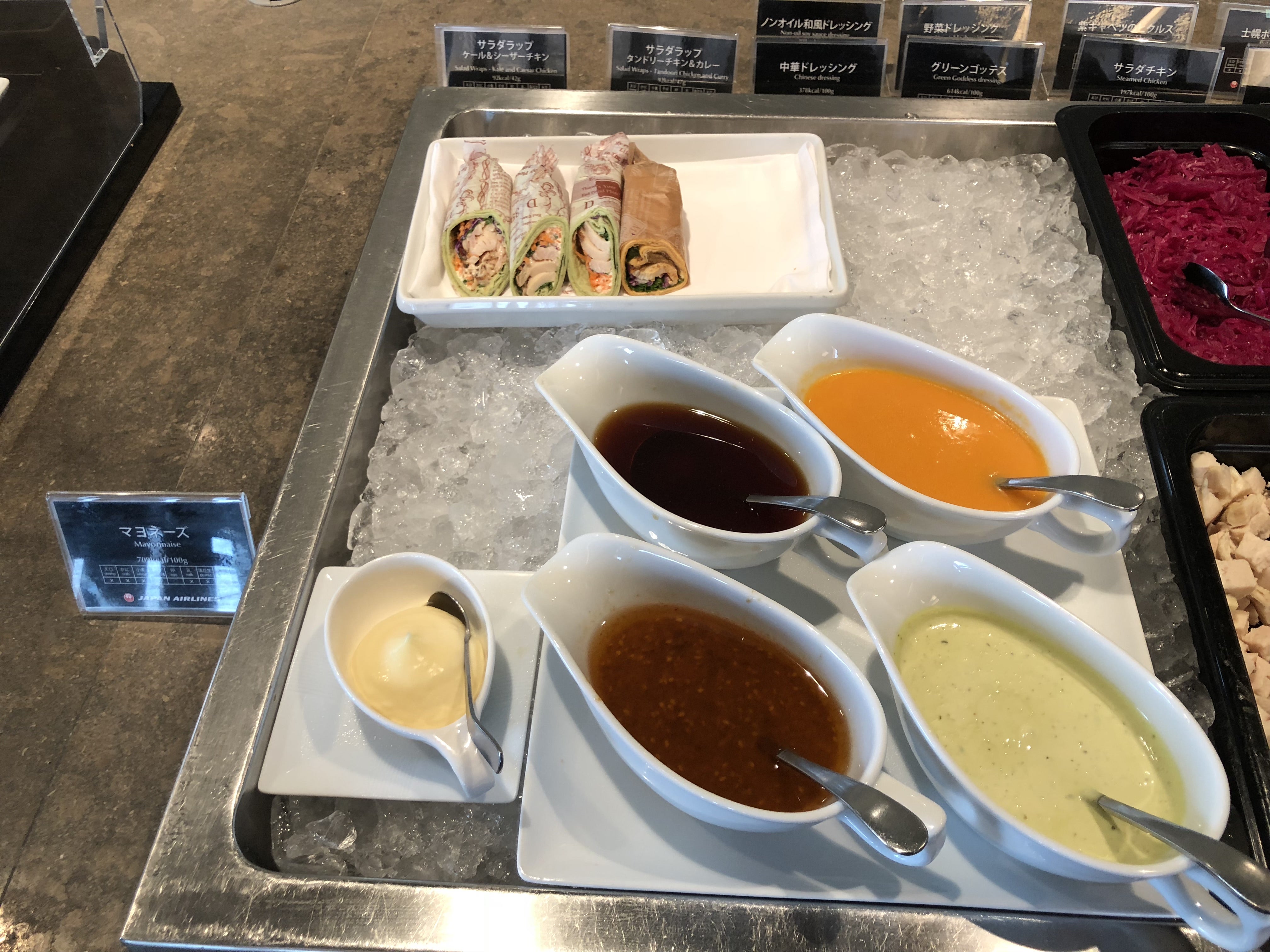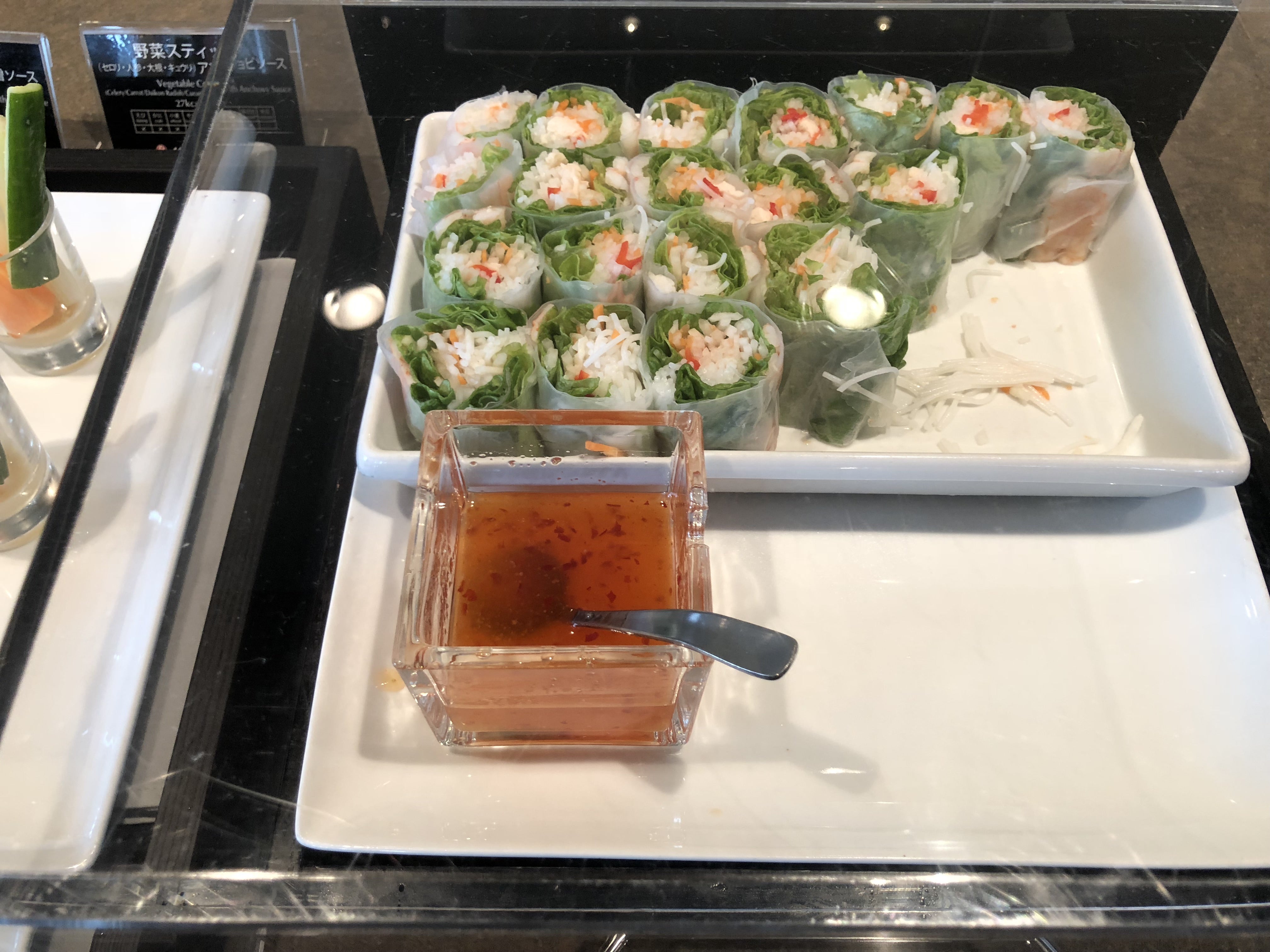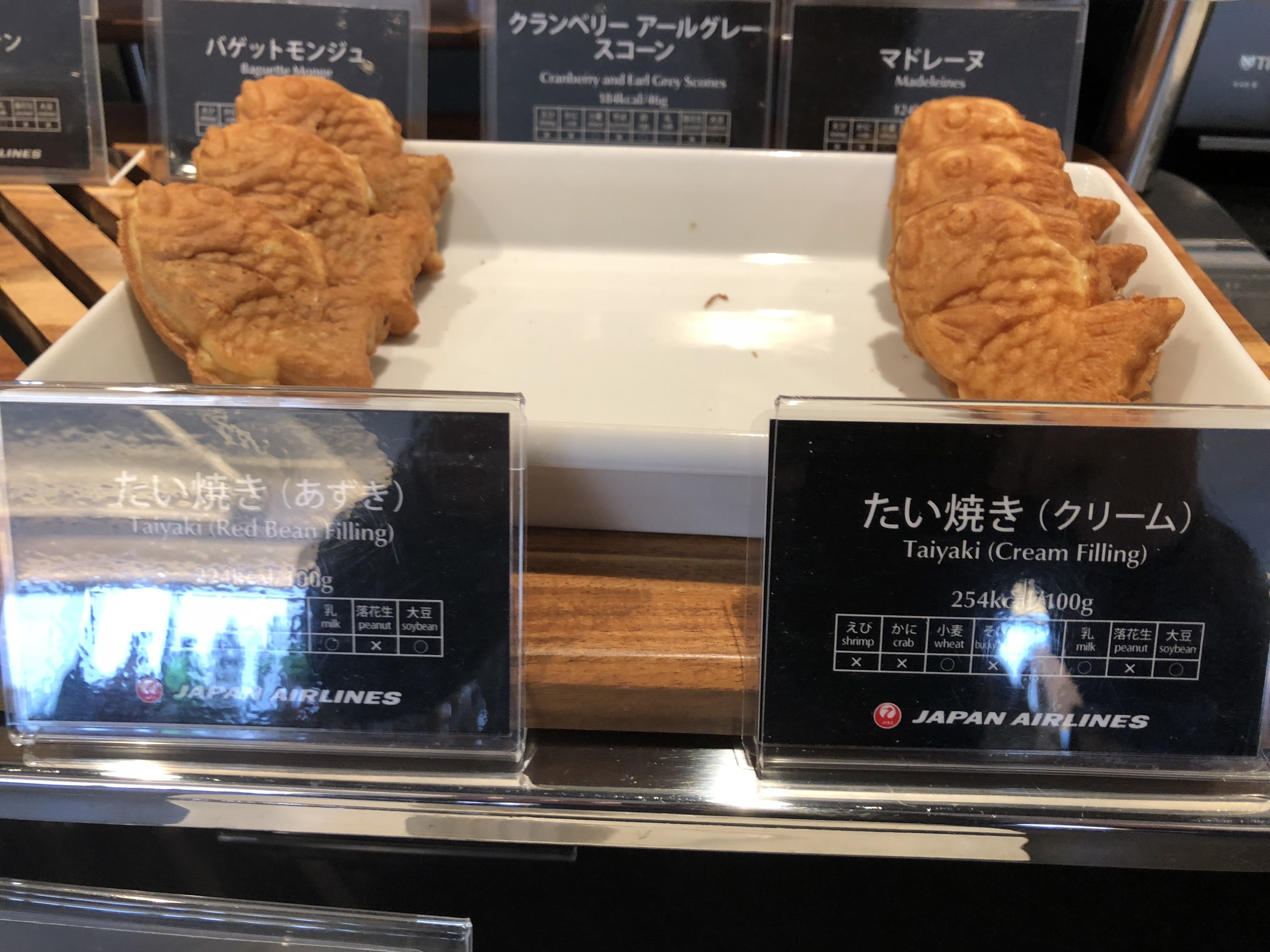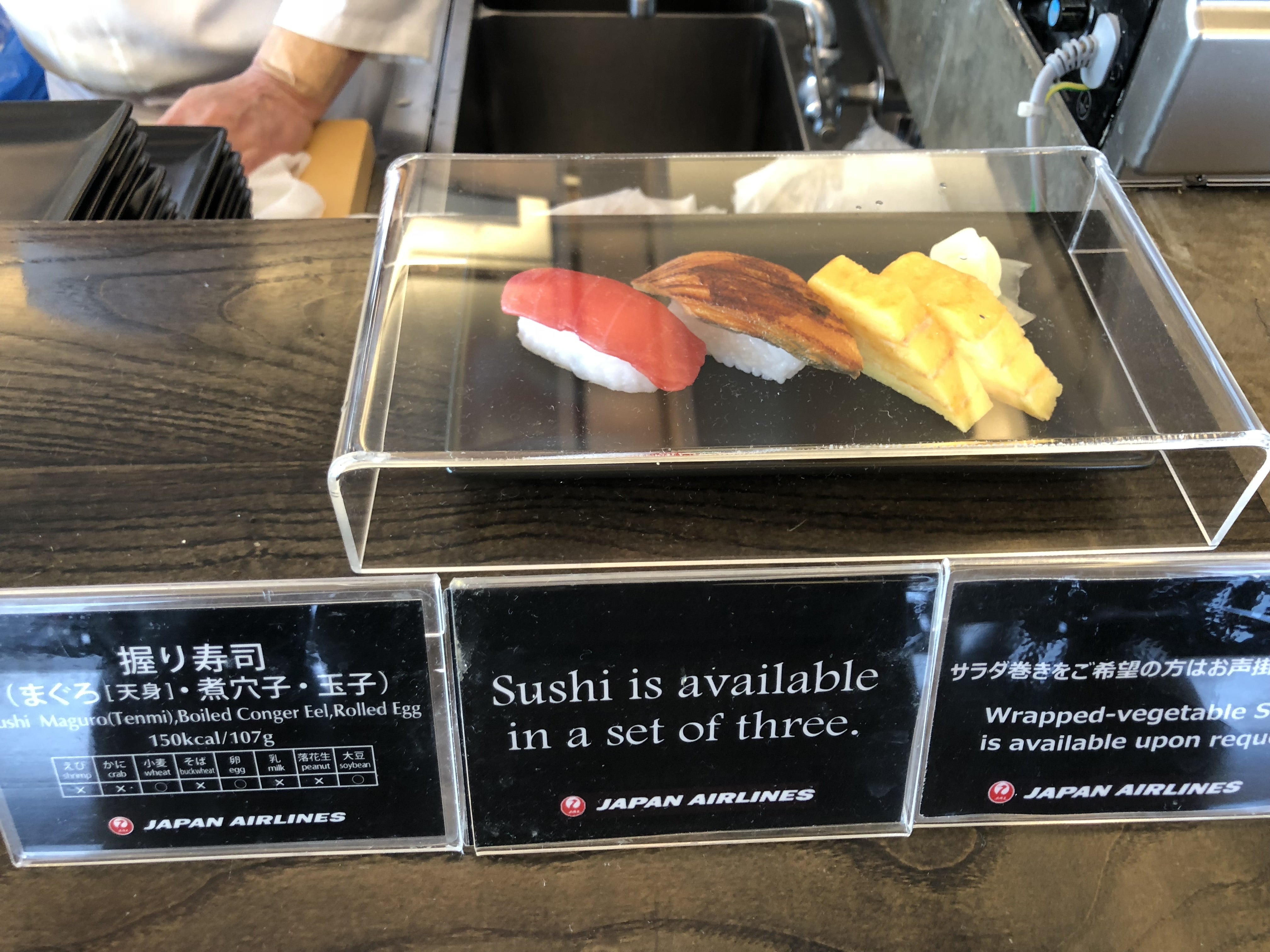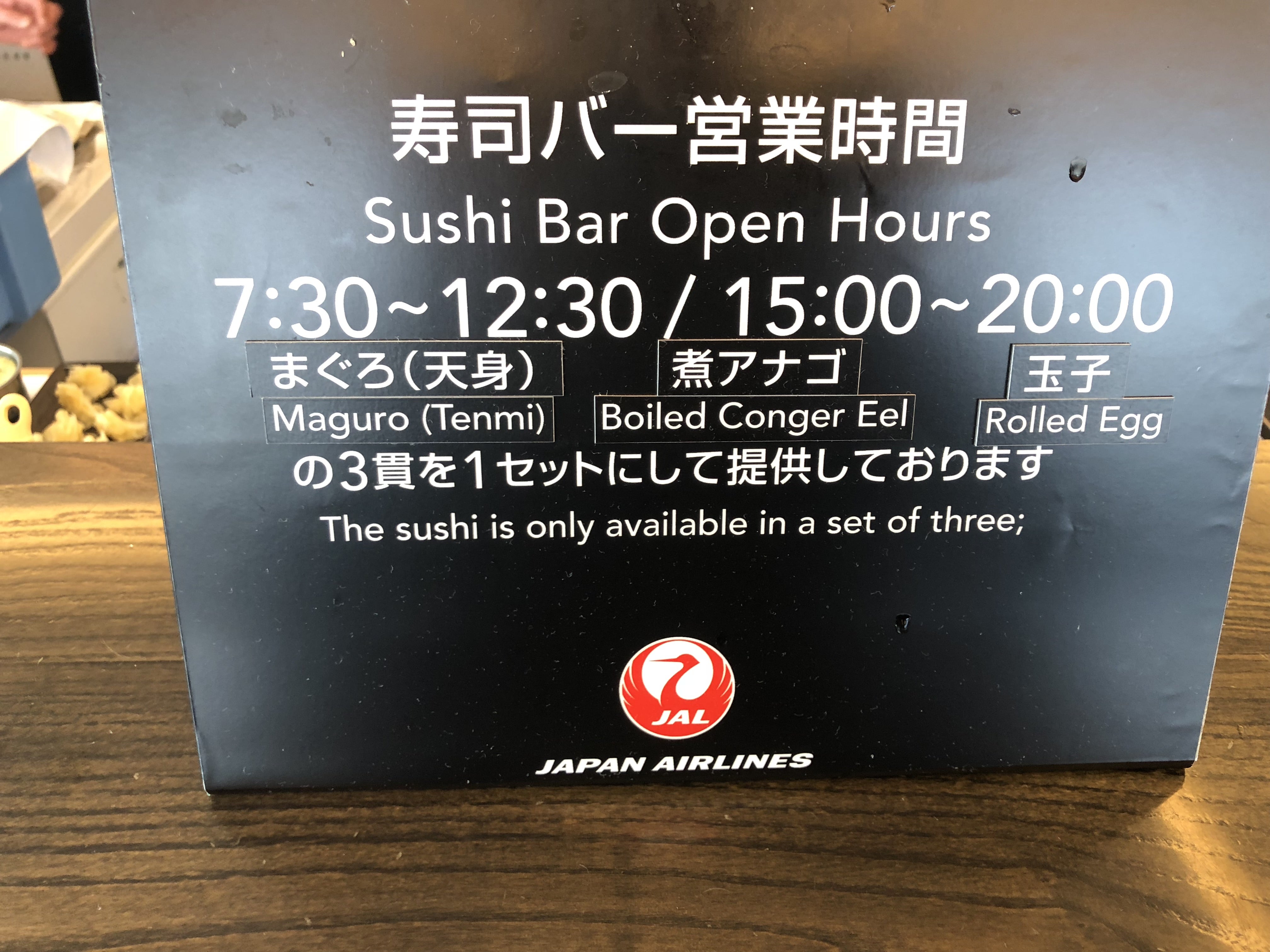 I sampled a little bit of everything and was impressed by all of the dishes.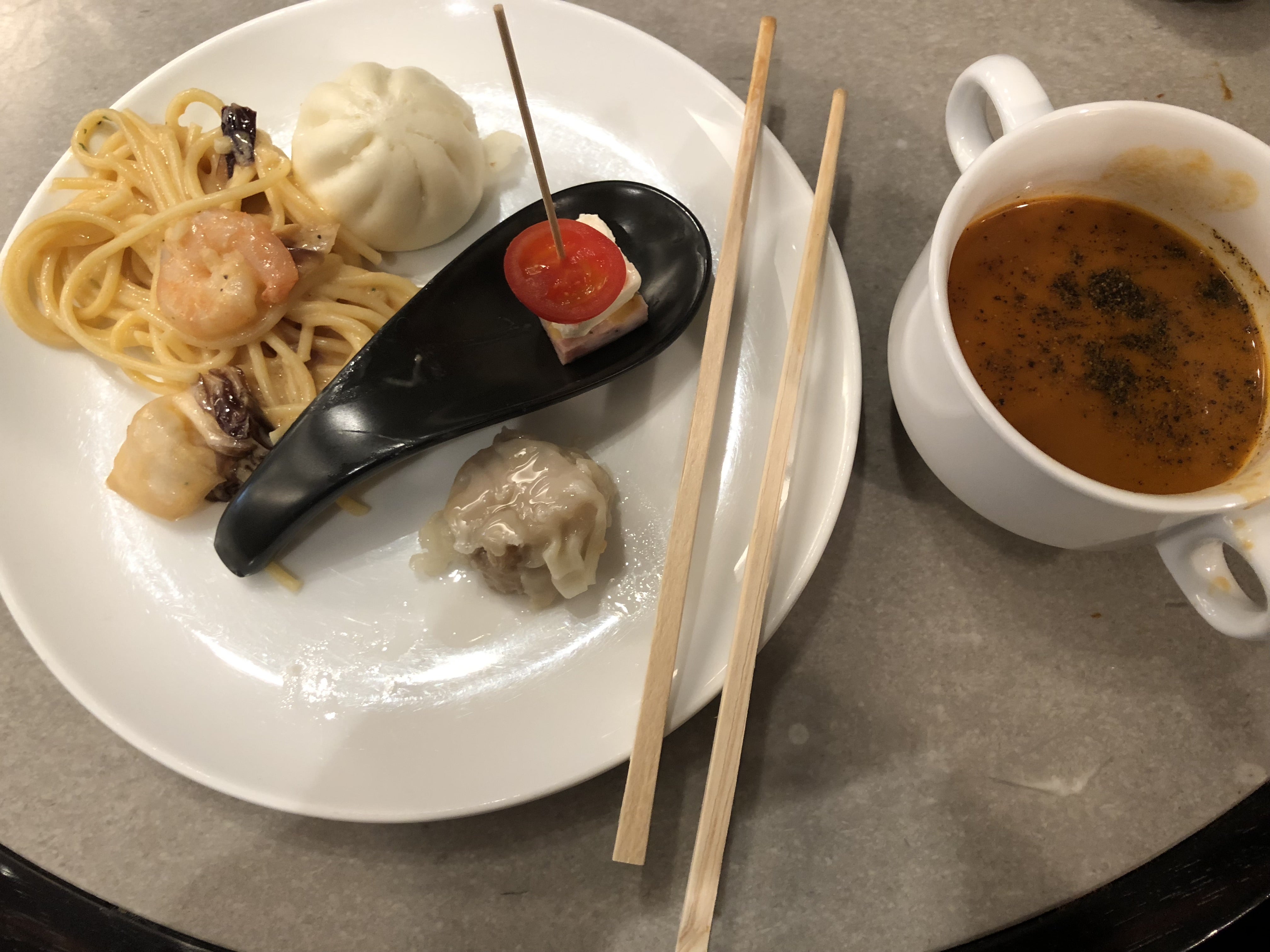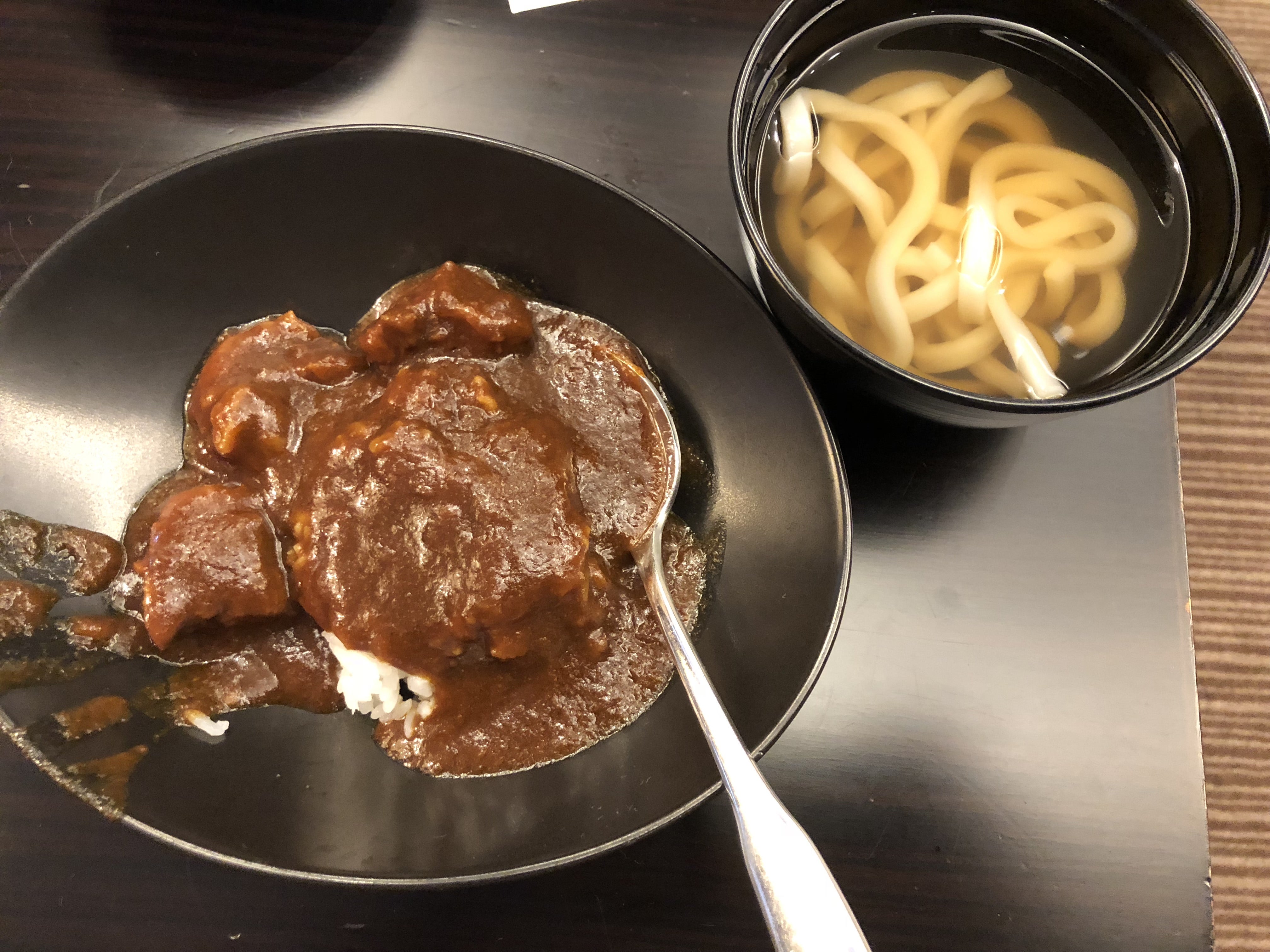 Moving onto the drinks…the selection was awesome! I first laid my eyes on a cappuccino/espresso machine, which made me a solid Americano.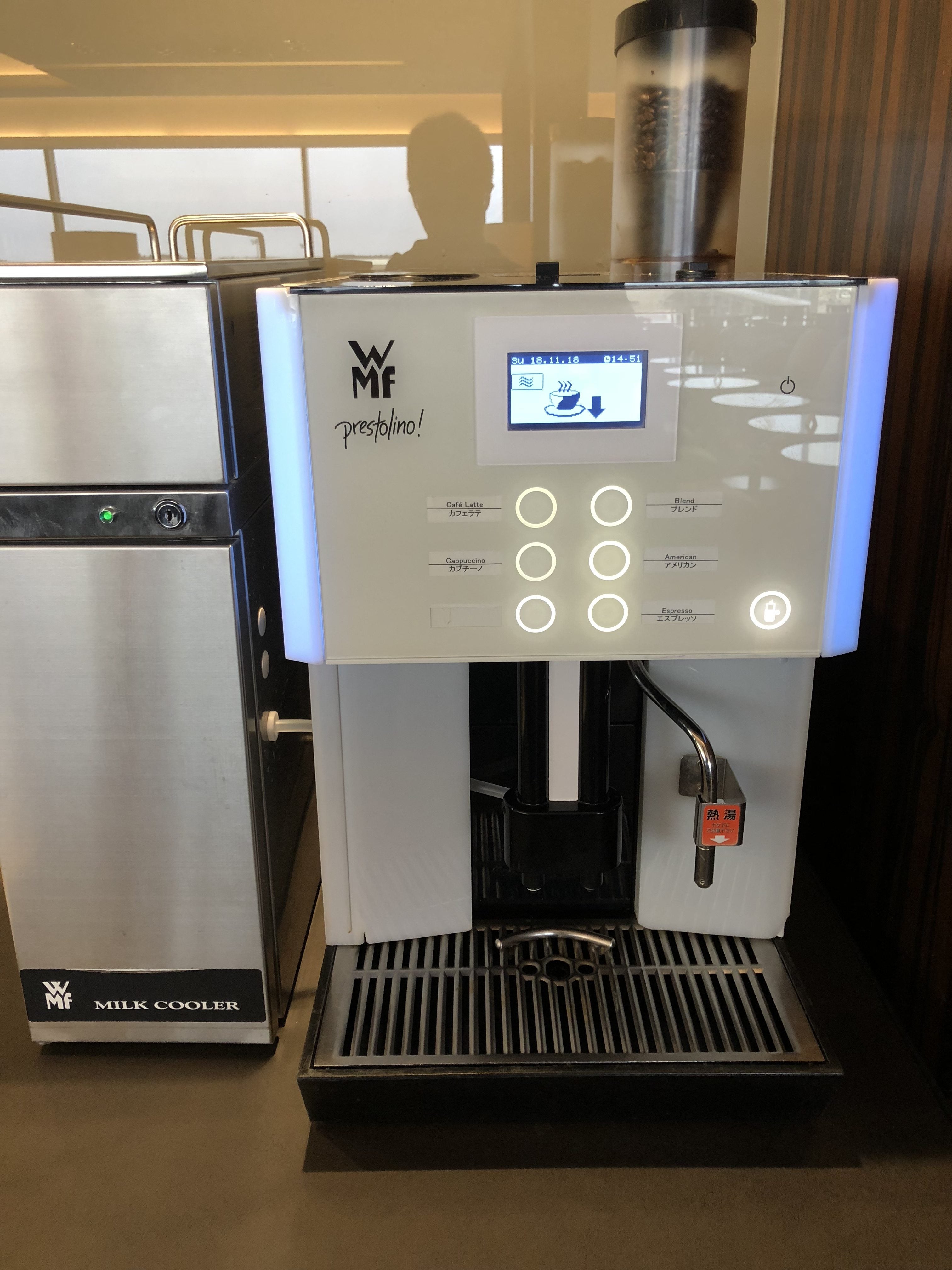 If you wanted tea, you could choose from an assortment of various options.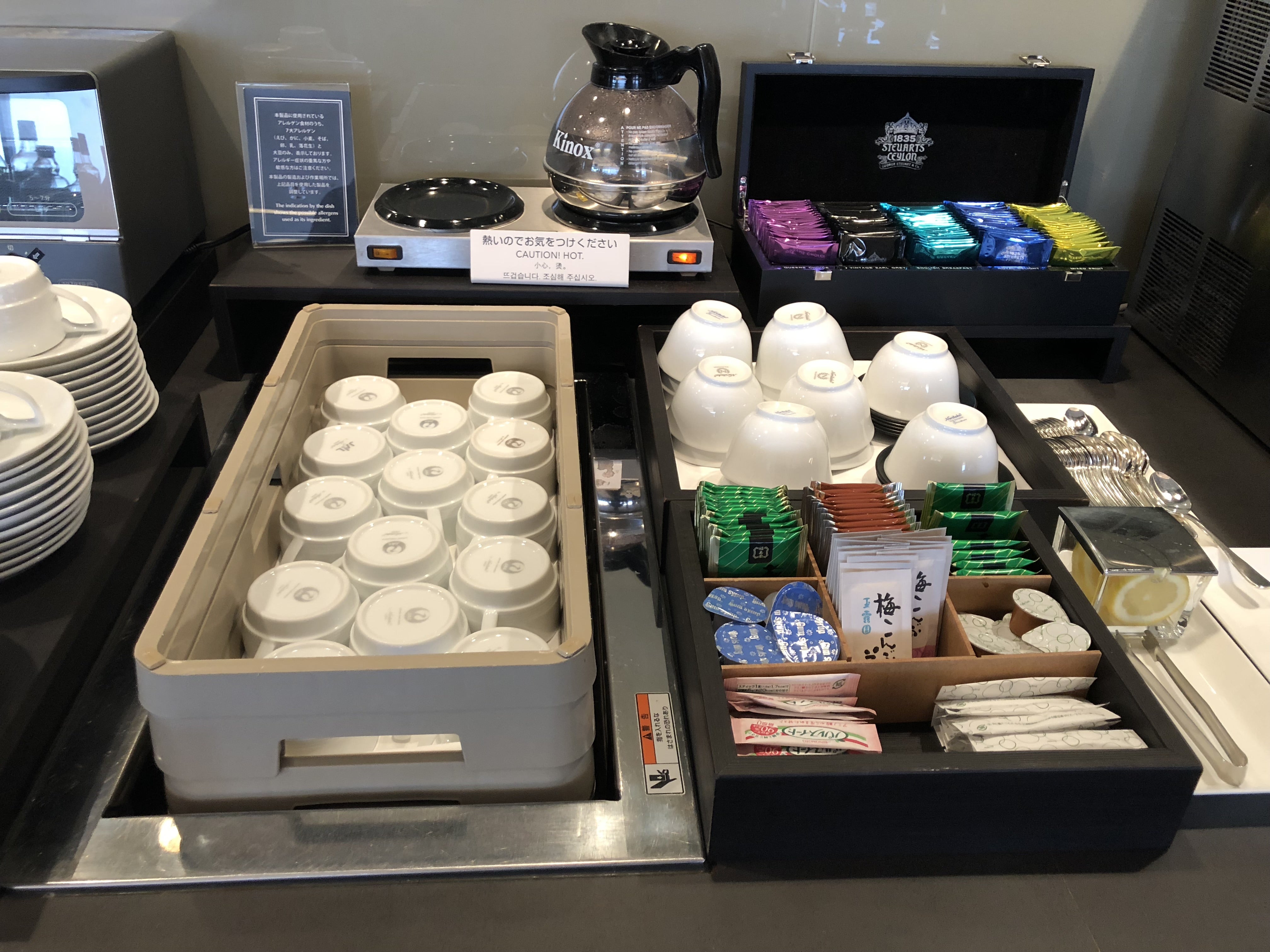 For those who wanted to sample some alcohol, I think you would be highly satisfied with the variety here.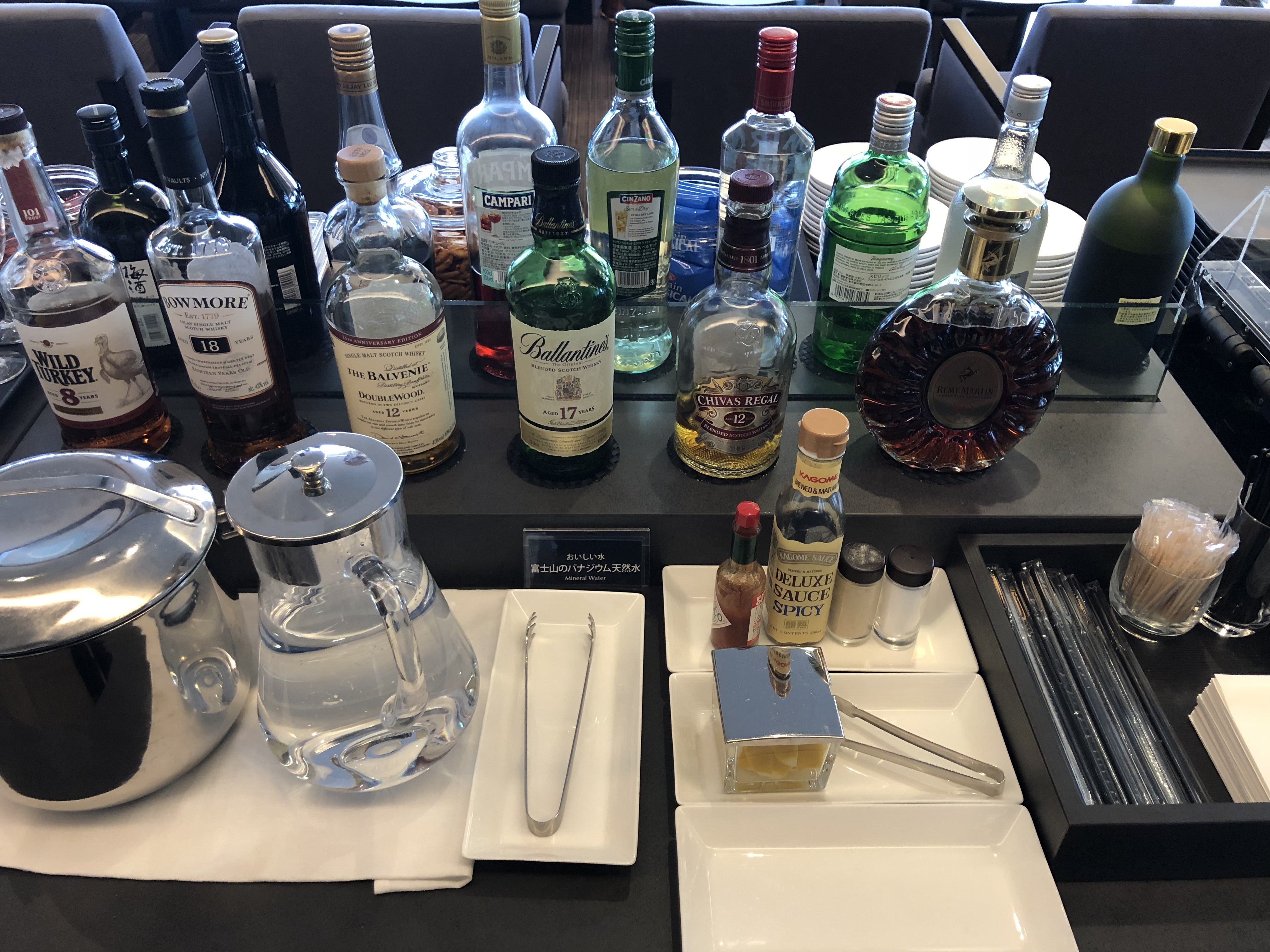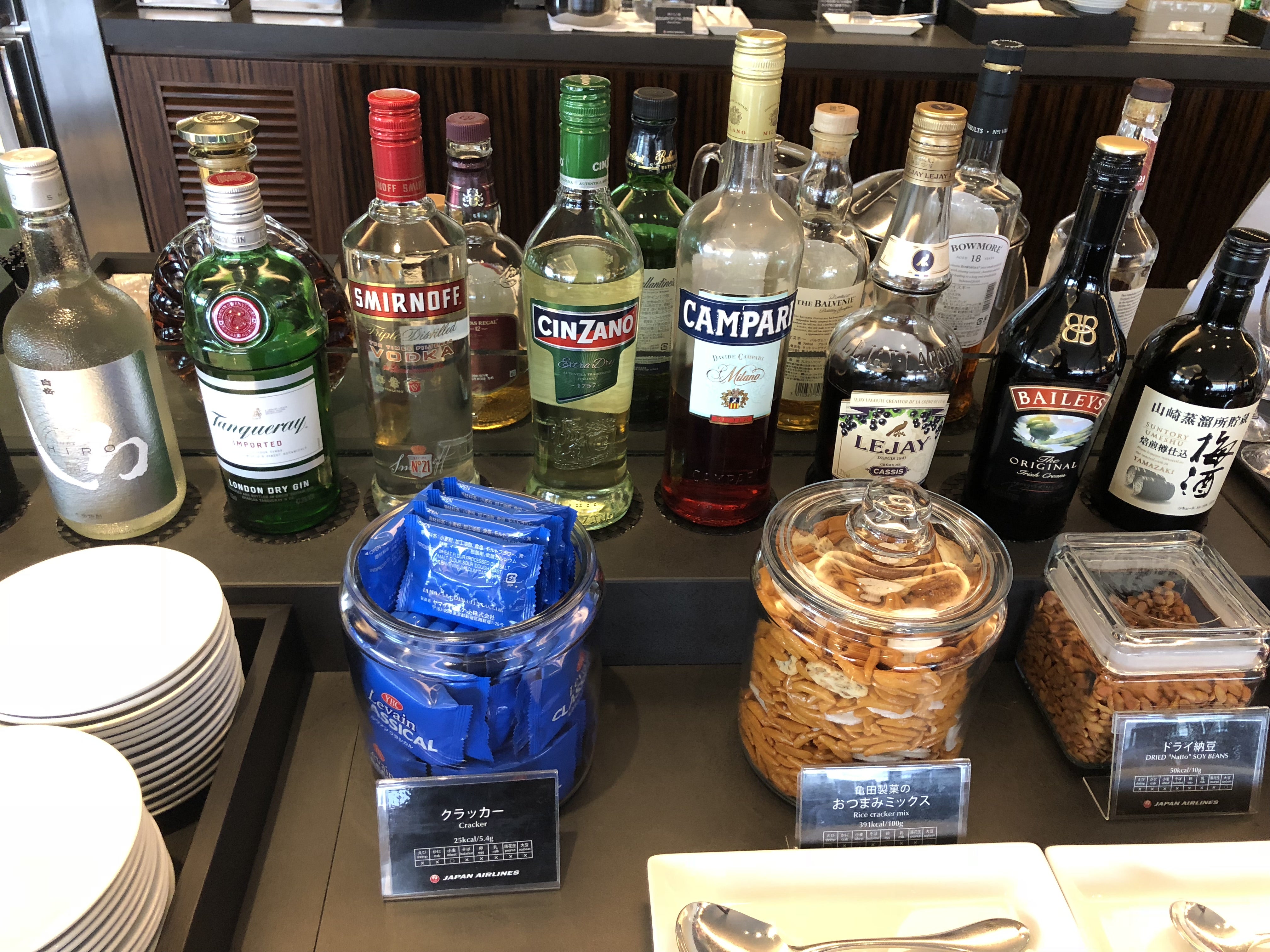 Additionally, those who have heard of automatic beer machines can look forward to that here too, because there are 2 of them!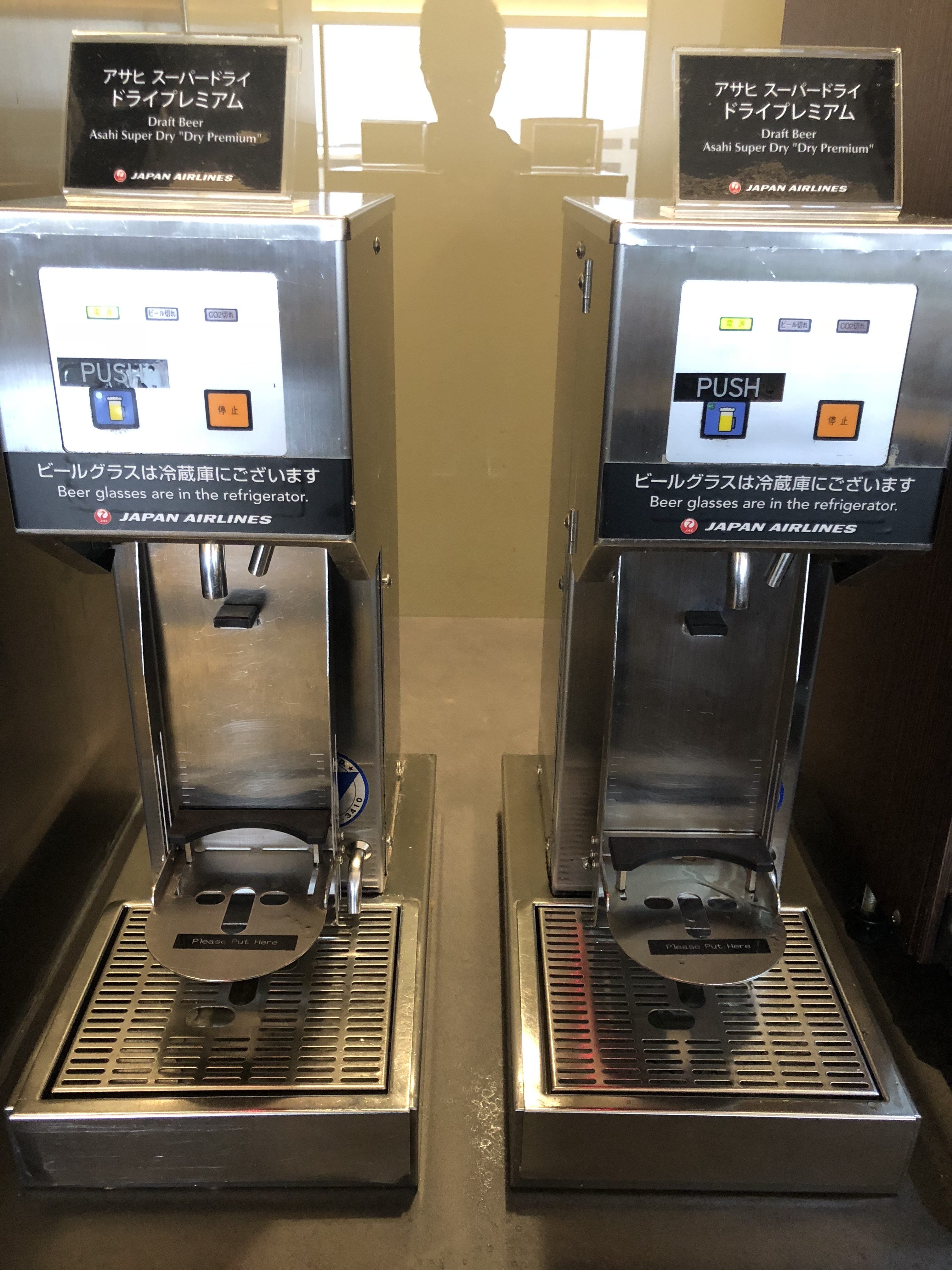 Want some bubbly? Japan Airlines has you covered here too.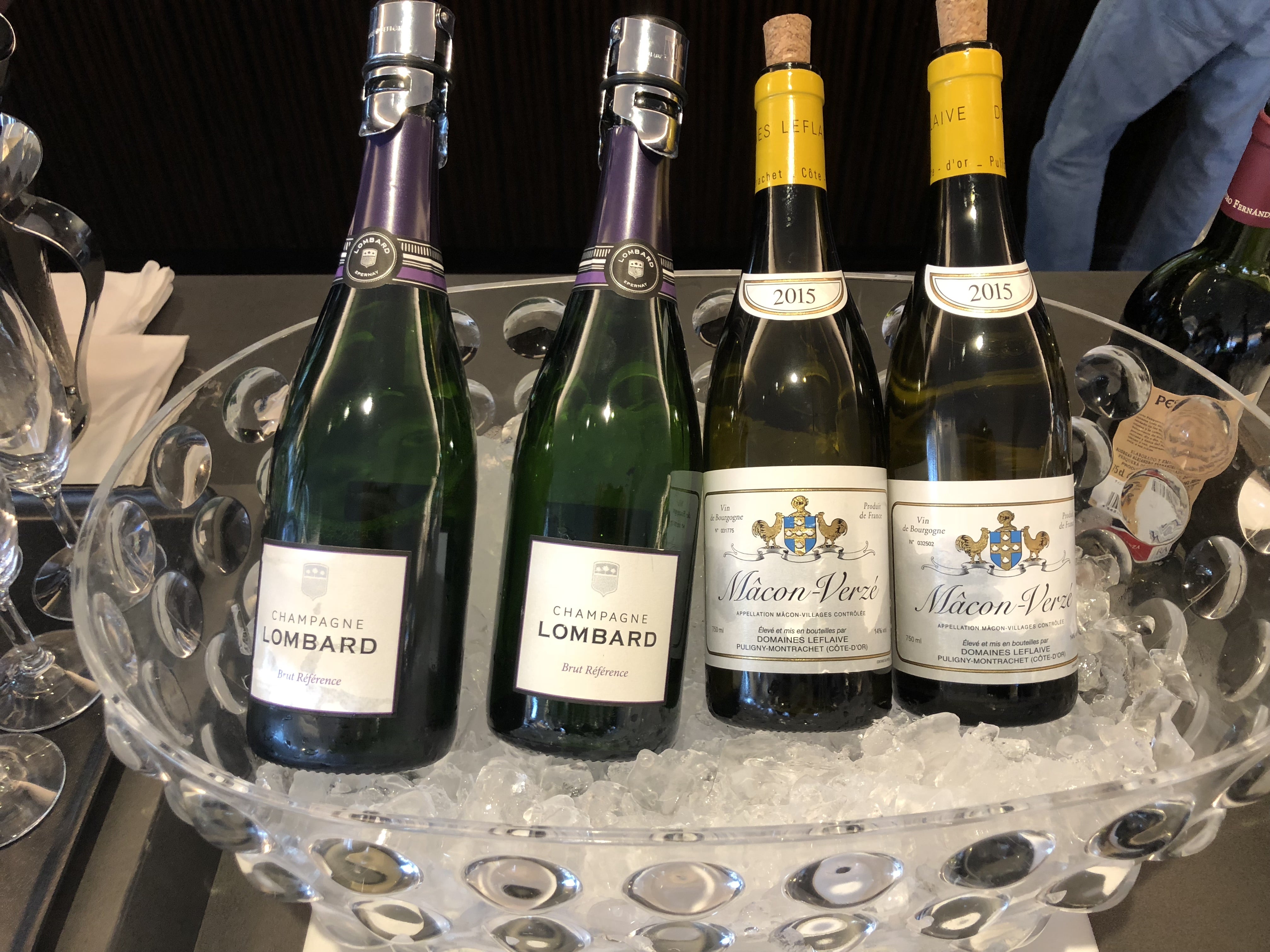 One quirky thing is that the lounge has OPIA sparkling Chardonnay, which happens to be alcohol-free! I didn't try any of it myself, but I'm fascinated by the concept. It's self-serve as well.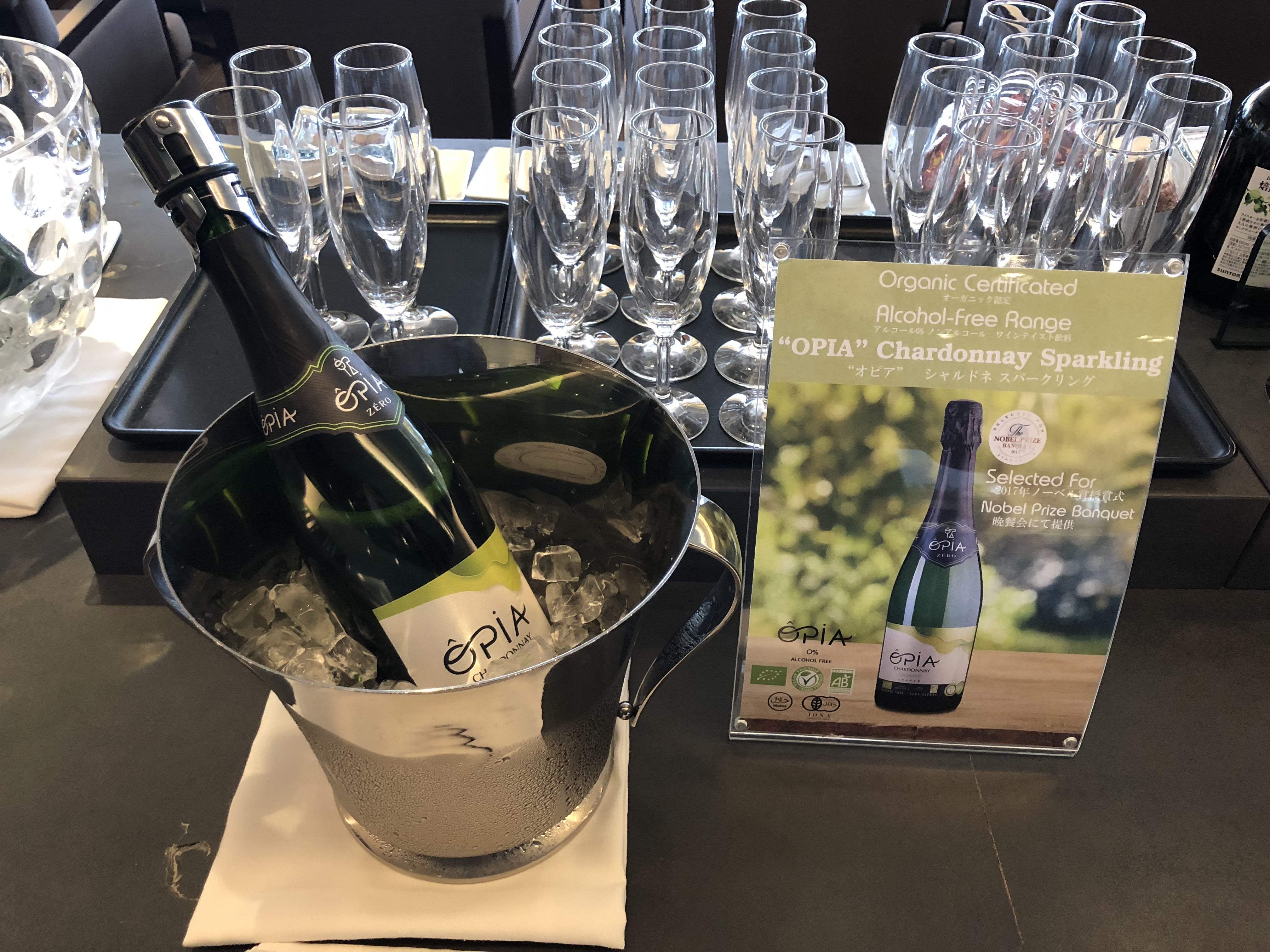 I also didn't try the sake bar this time, but it's still an option for sake connoisseurs (I know you're out there!).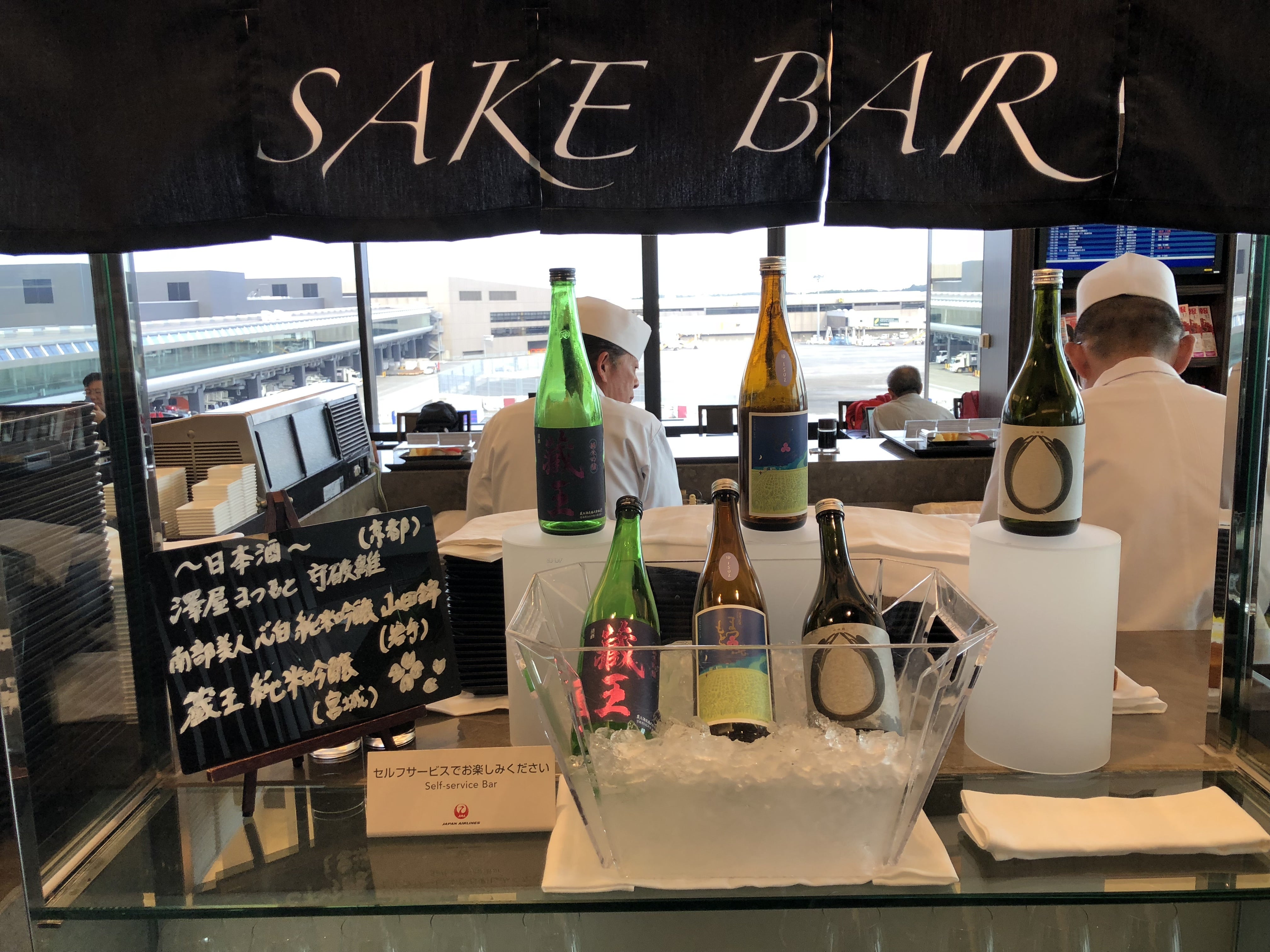 Lastly, there was a refrigerator that stored chilled juices, Perrier, Pocari Sweat, and other non-alcoholic beverages.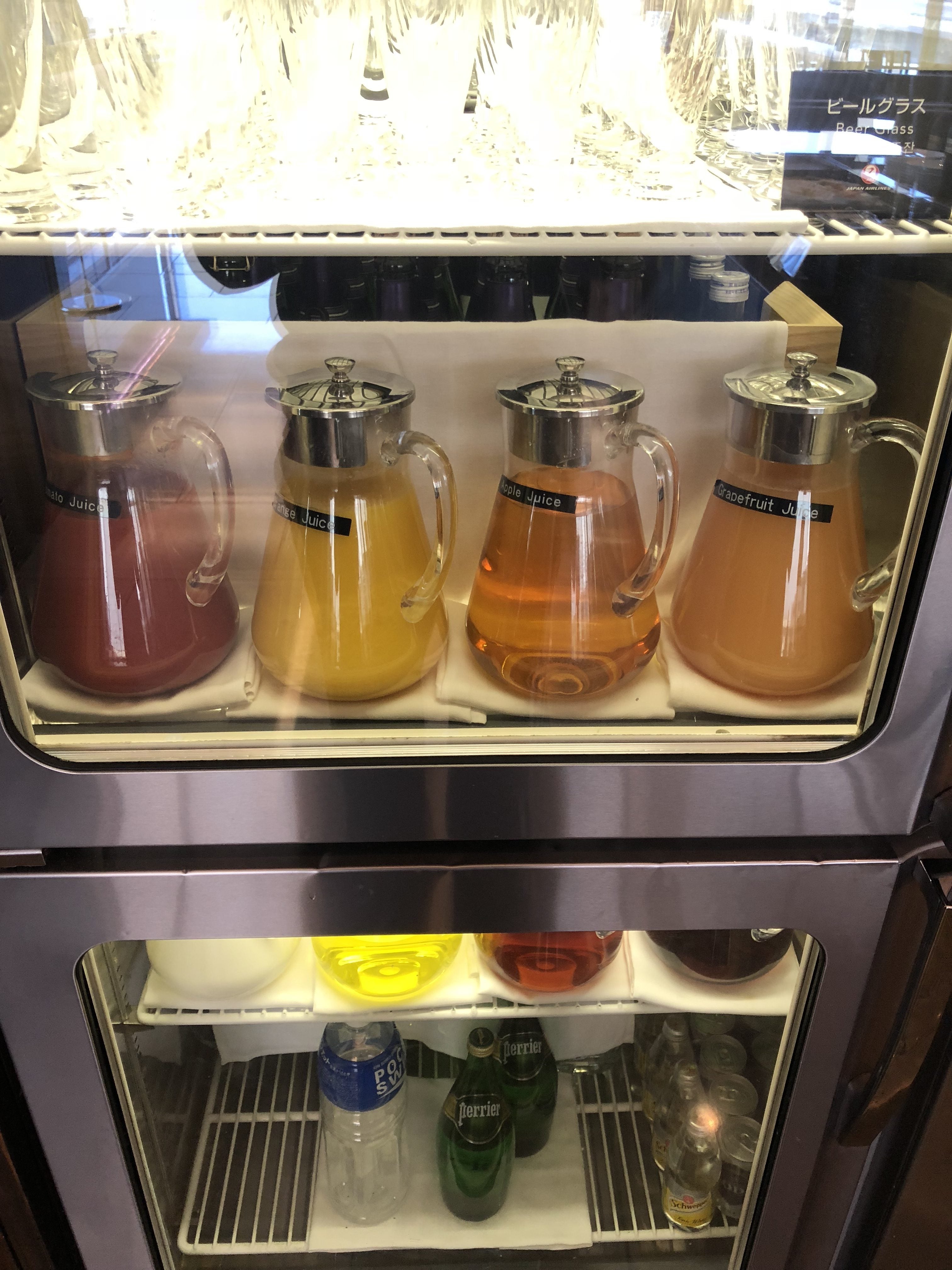 We relaxed in the lounge until it was time to leave for the flight. I had requested to be escorted to the gate, and to my surprise one of the wonderful lounge attendants obliged! We were ushered to our gate like VIPs!
Overall, I'd say the First Class Lounge was solid. Although the ground experience wasn't as refined as Lufthansa's, the Japan Airlines First Class Lounge at Narita has several things going for them:
Massage chairs
Great shower amenities
Excellent food and beverages
Sushi bar
Sake bar
Fantastic service (as usual)
Bottom Line: I'm glad we went, but I was honestly expecting a bit more here. But this expectation might be unreasonable, since this lounge is shared with regional travelers and not restricted to passengers on flagship routes.
Flight
Boarding went fine. It was organized, though it took a little longer than I had expected. I'm still a bit mind-blown that top-tier Japan Airlines elites can board at the same time as first class (even if they're flying economy).
That said, my dad and I were the first first class passengers to get to our seats.
Seat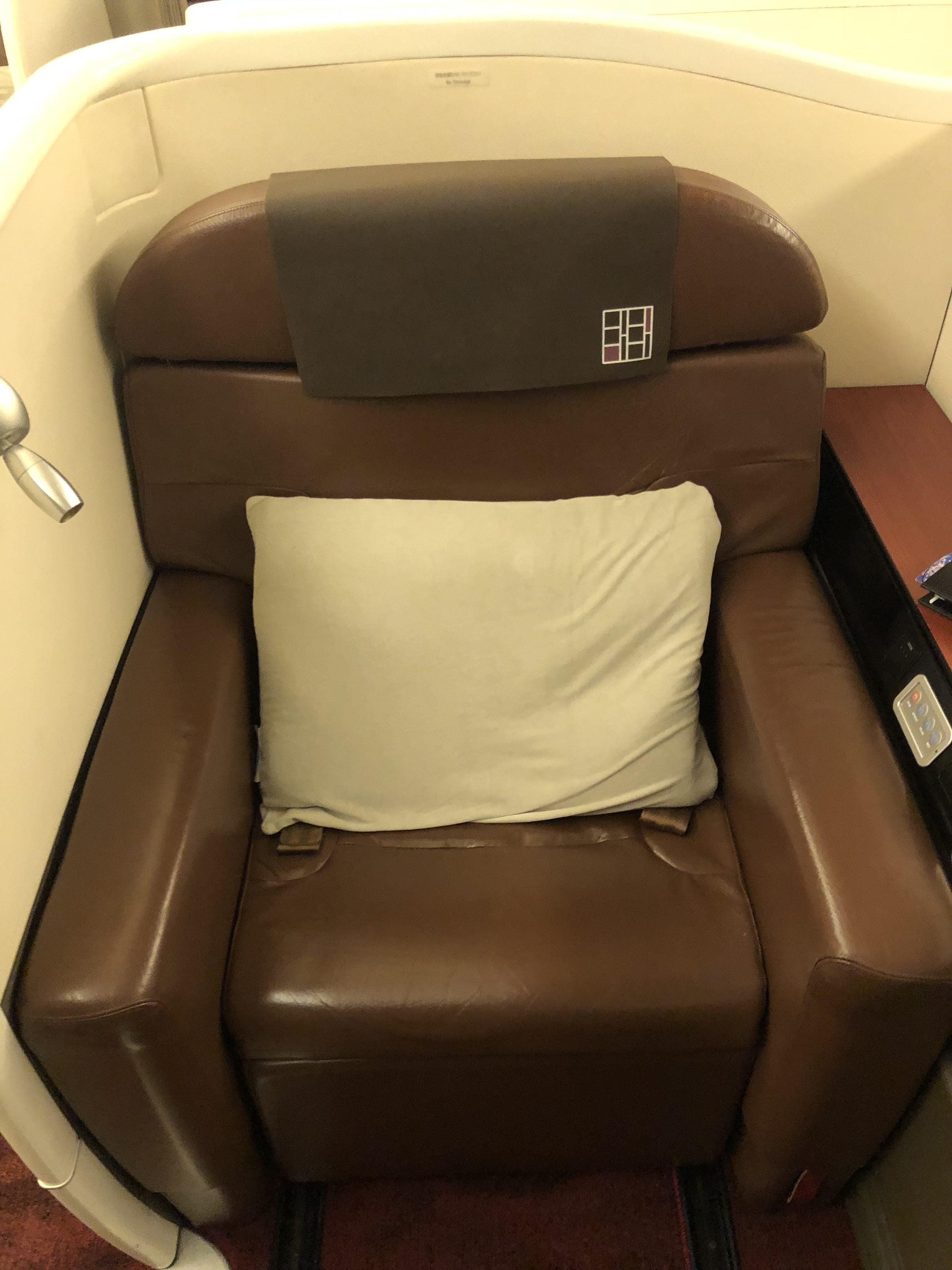 The first class cabin is composed of 2 rows in a 1-2-1 configuration. The open-suite arrangement is decently private (though with a small cabin of only 8 seats, that's pretty much a given).
Each seat measures 23 inches in width — but in bed mode the armrests are lowered, effectively turning the seat into a bed 33 inches wide and 78.5 inches long!
The first class cabin was completely full this time, and I spent a lot of time exploring the various parts of my suite.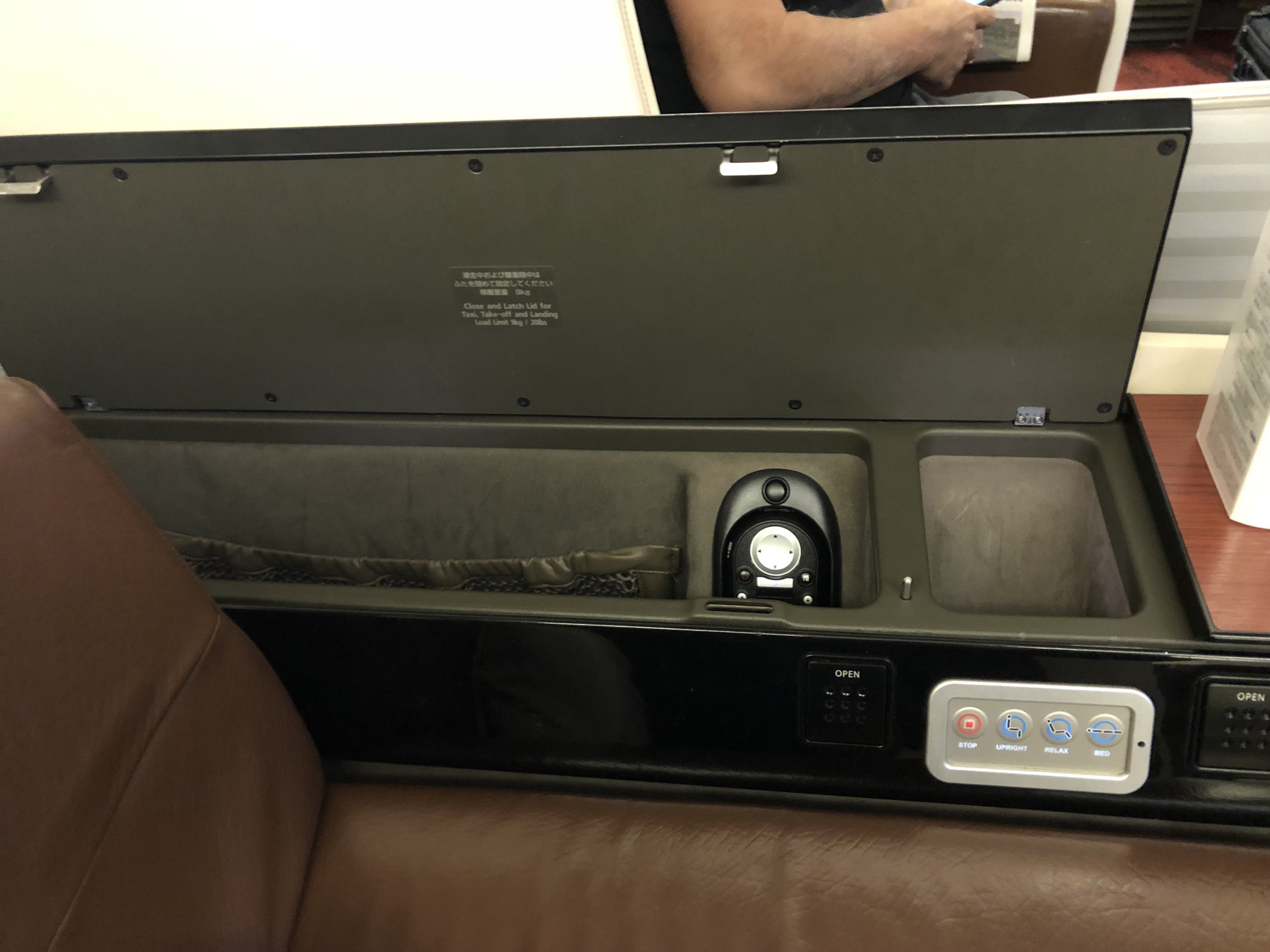 There was so much storage space that I could fit everything I needed within arm's reach of my seat.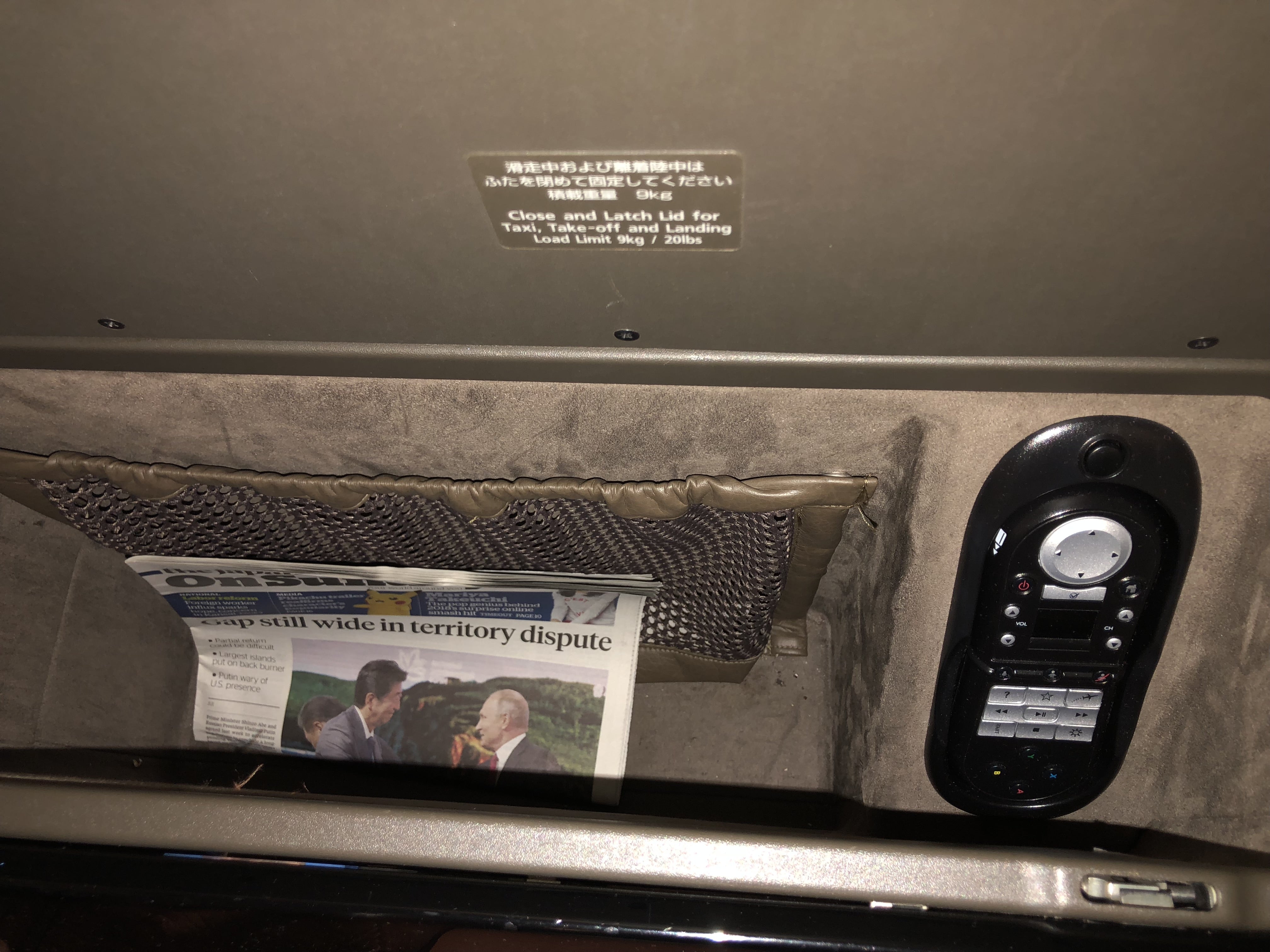 You'll notice that there's some sort of remote in the picture above. It's a phone, which can make calls to the ground!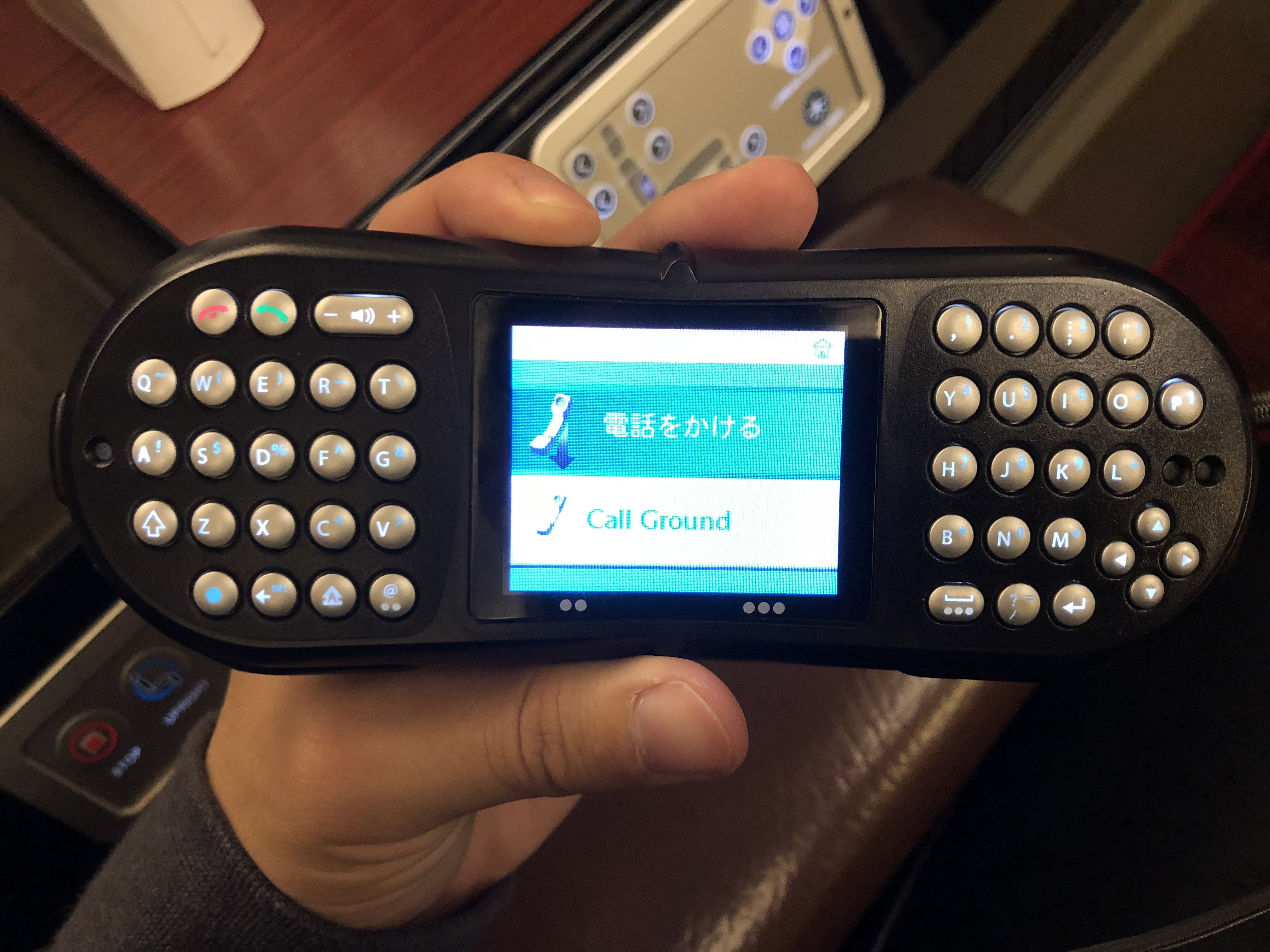 There was even more storage space in the compartment that stores the inflight remote. I loved the crevice right next to it, which can store eyeglasses!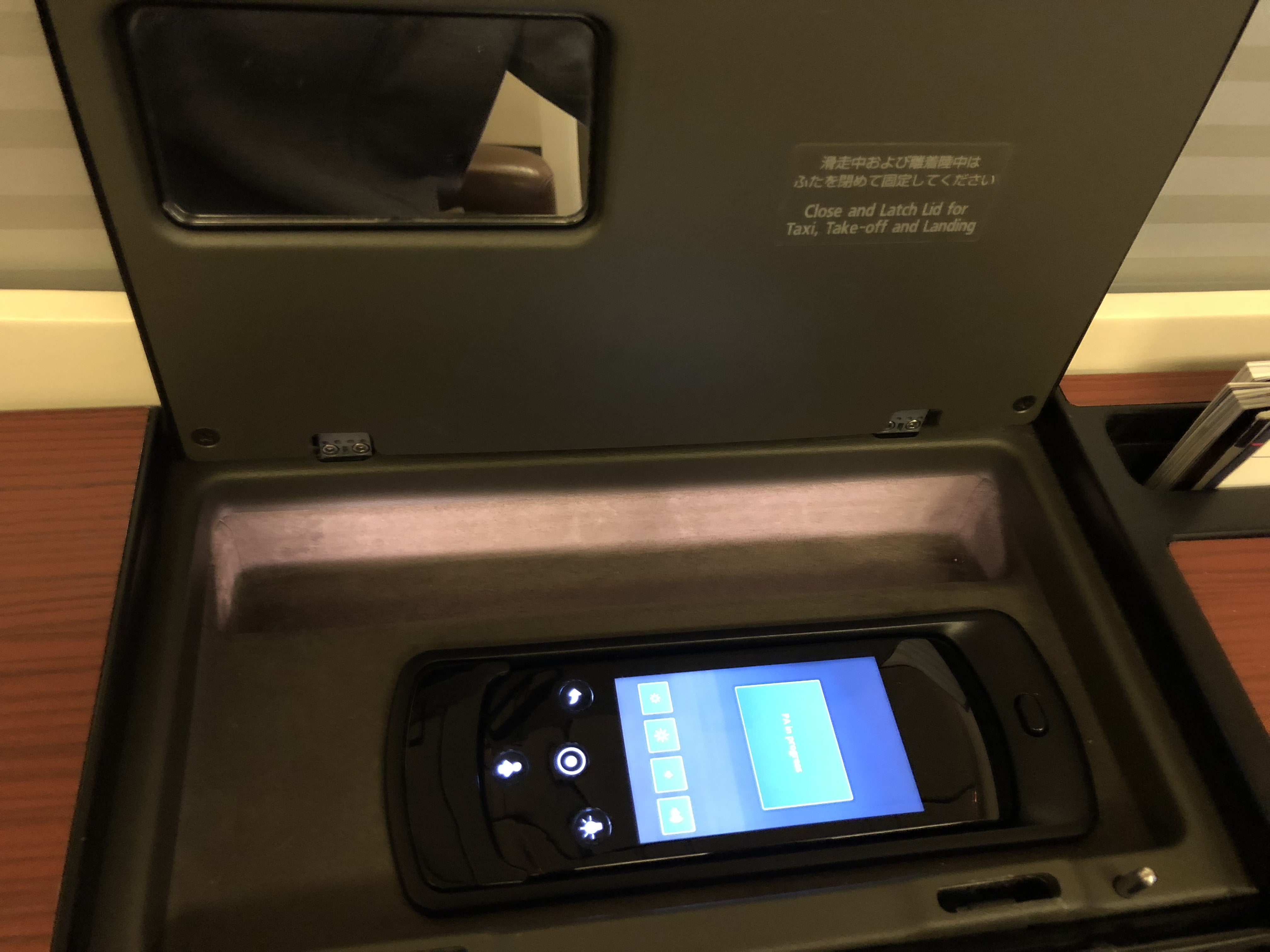 Moving further from my seat and closer to the inflight monitor, I was pleased to find a USB charging port and power outlet so I could stay recharged during my flight.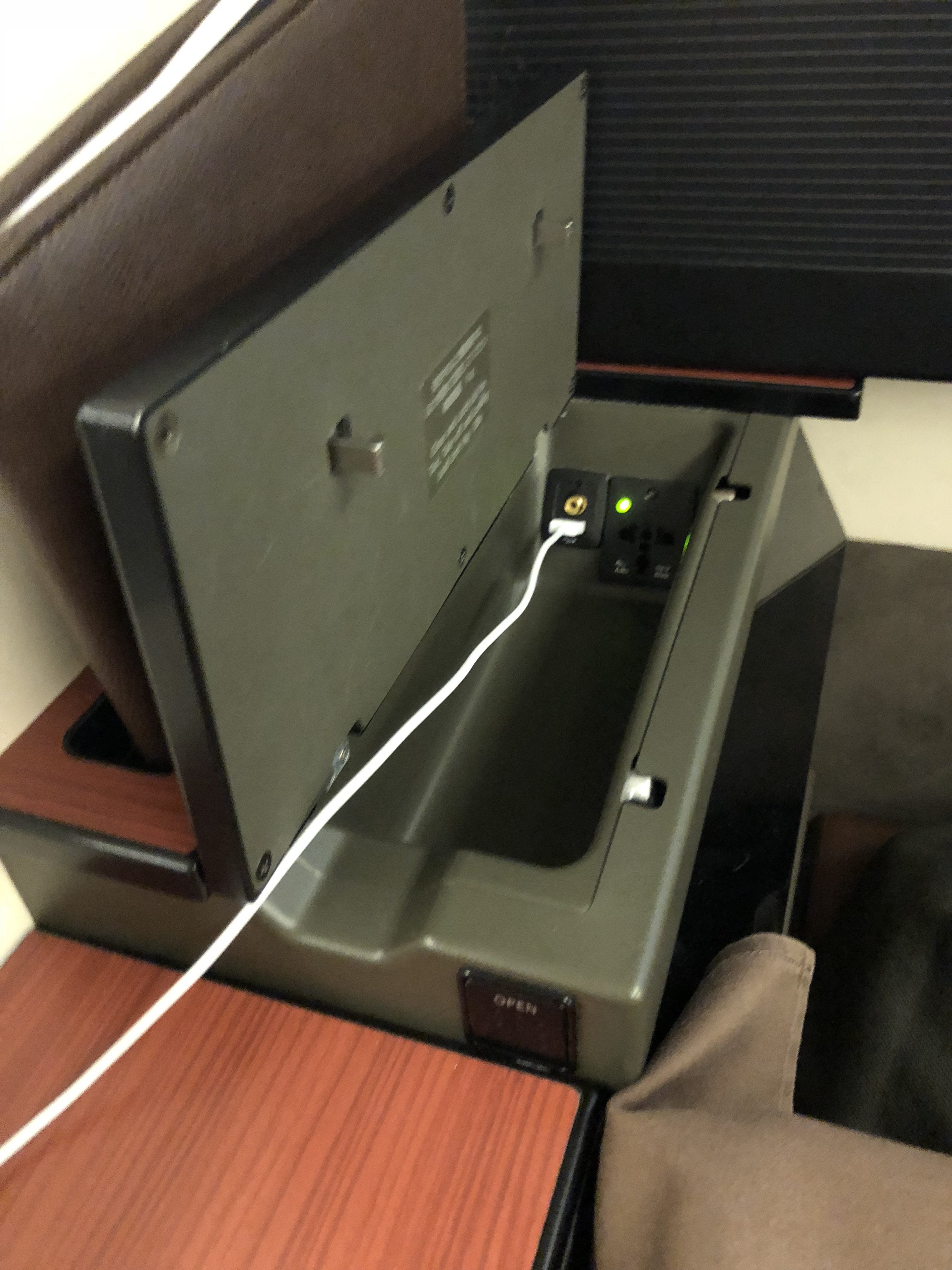 I'm glad I was able to put my backpack underneath my ottoman, because I actually needed it a couple of times during my flight. For me, having all my stuff within arm's reach is super convenient on a long flight.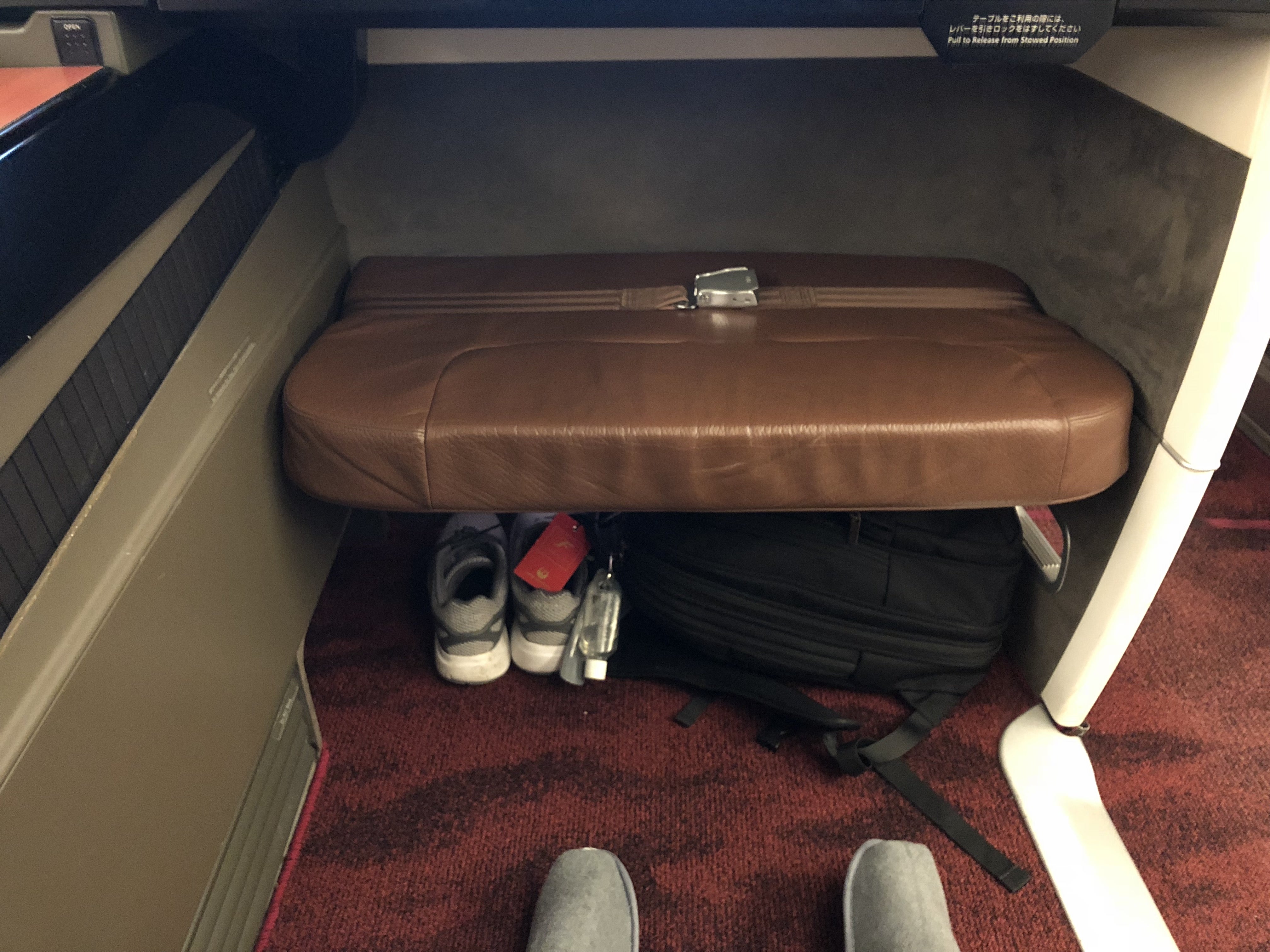 There were 2 reading lights, with 1 on each side of my seat.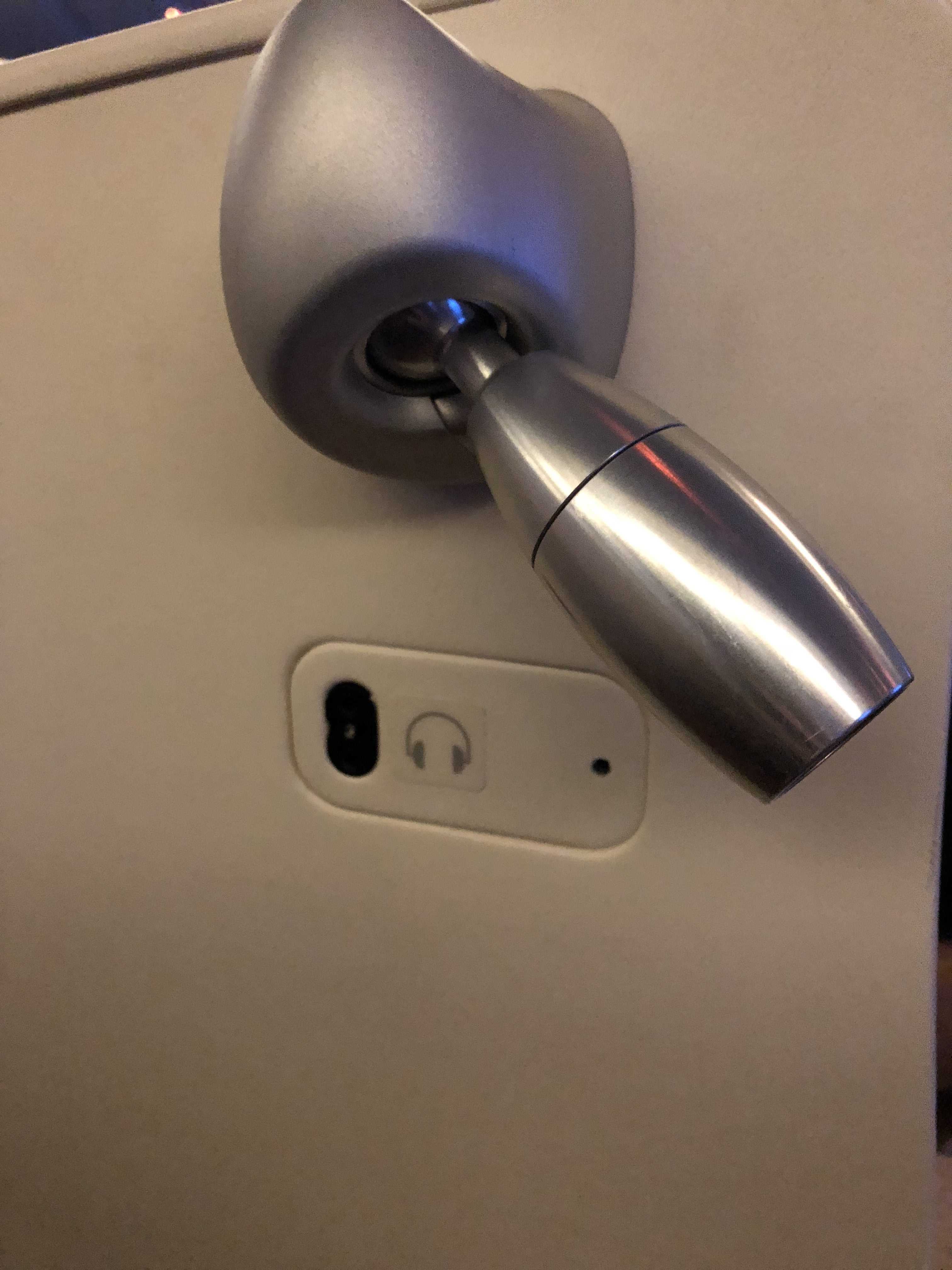 The touchscreen TV was simply too huge for me to wrap my head around. This felt like being in my own hotel room!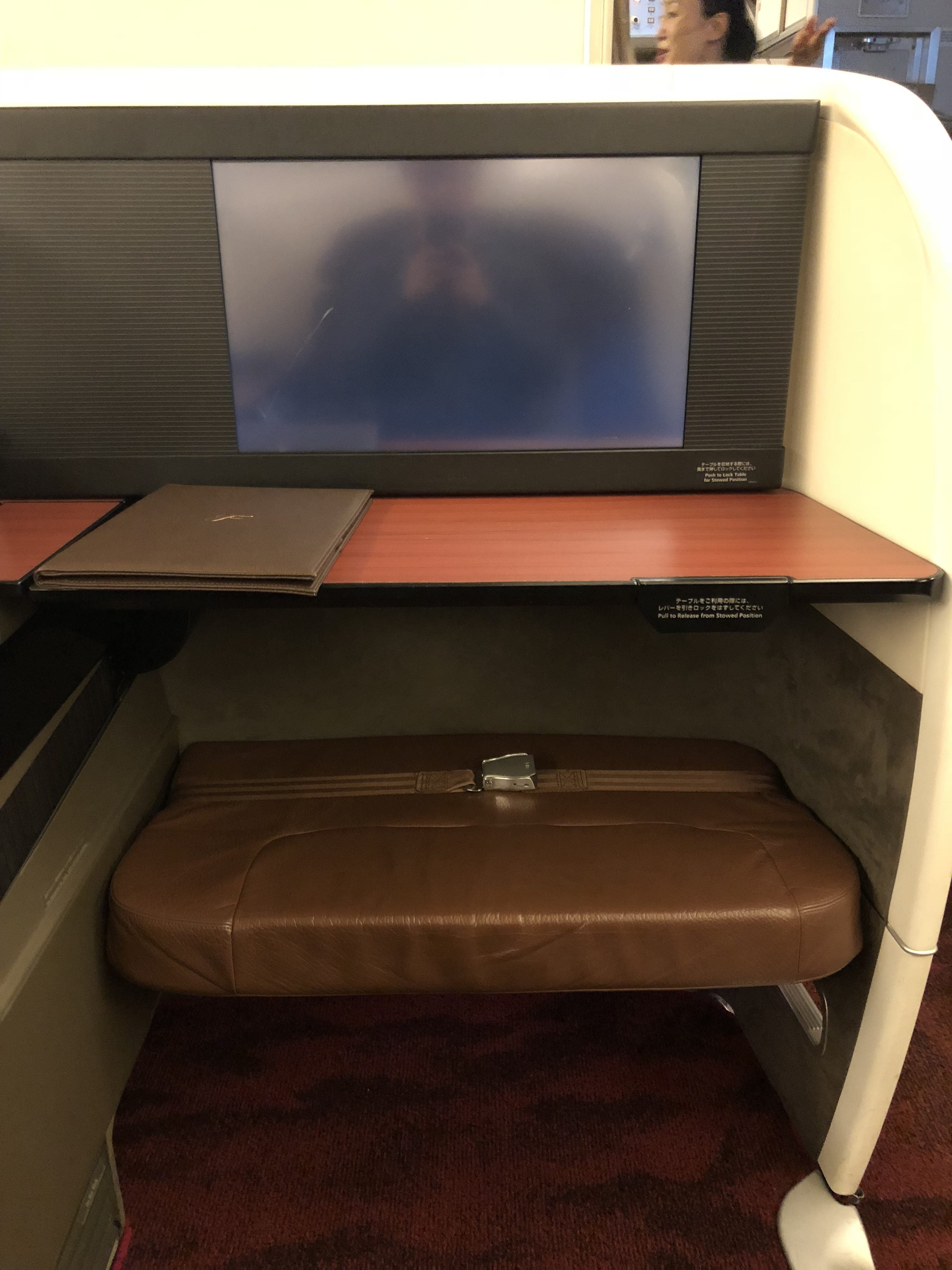 If you're wondering how you're going to move the tray table closer to you, there's a sweet belt system on the side of your seat that allows you to push and pull the tray table wherever you want!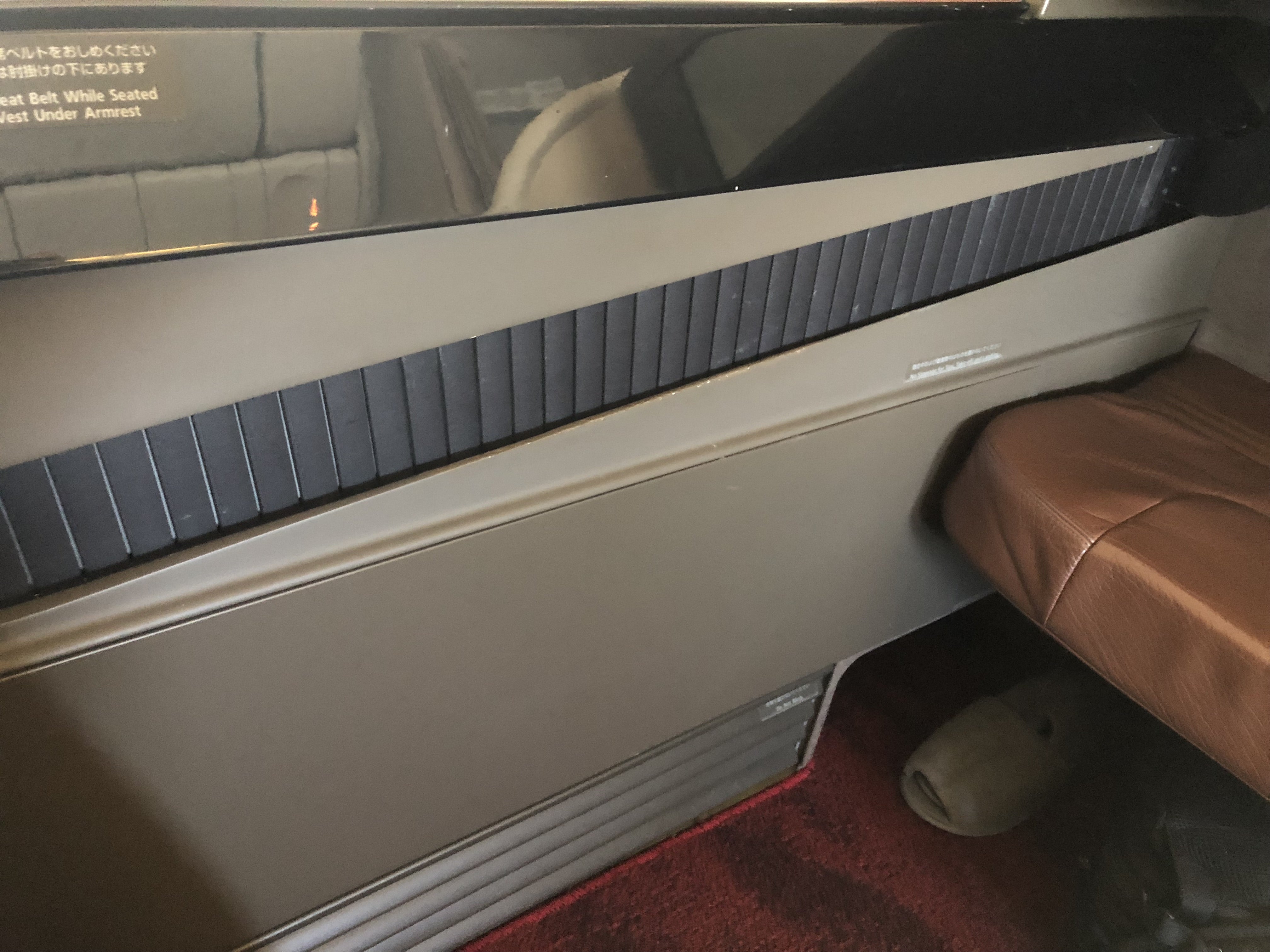 Let's get to the seat functions! There are 3 main buttons you can press and hold to change the position of your seat.
You can also customize your seat positioning and activate the massage functions, just like on Japan Airlines business class.
There's a foot light as well (which I didn't use), and you can adjust your lumbar support if you have back problems like me. 
When I was ready to have my bed made, I let the flight attendant know, and she asked me whether I would like my Airweave mattress firm or soft. I love that I get to customize my bed (especially because I consider sleep so important when traveling).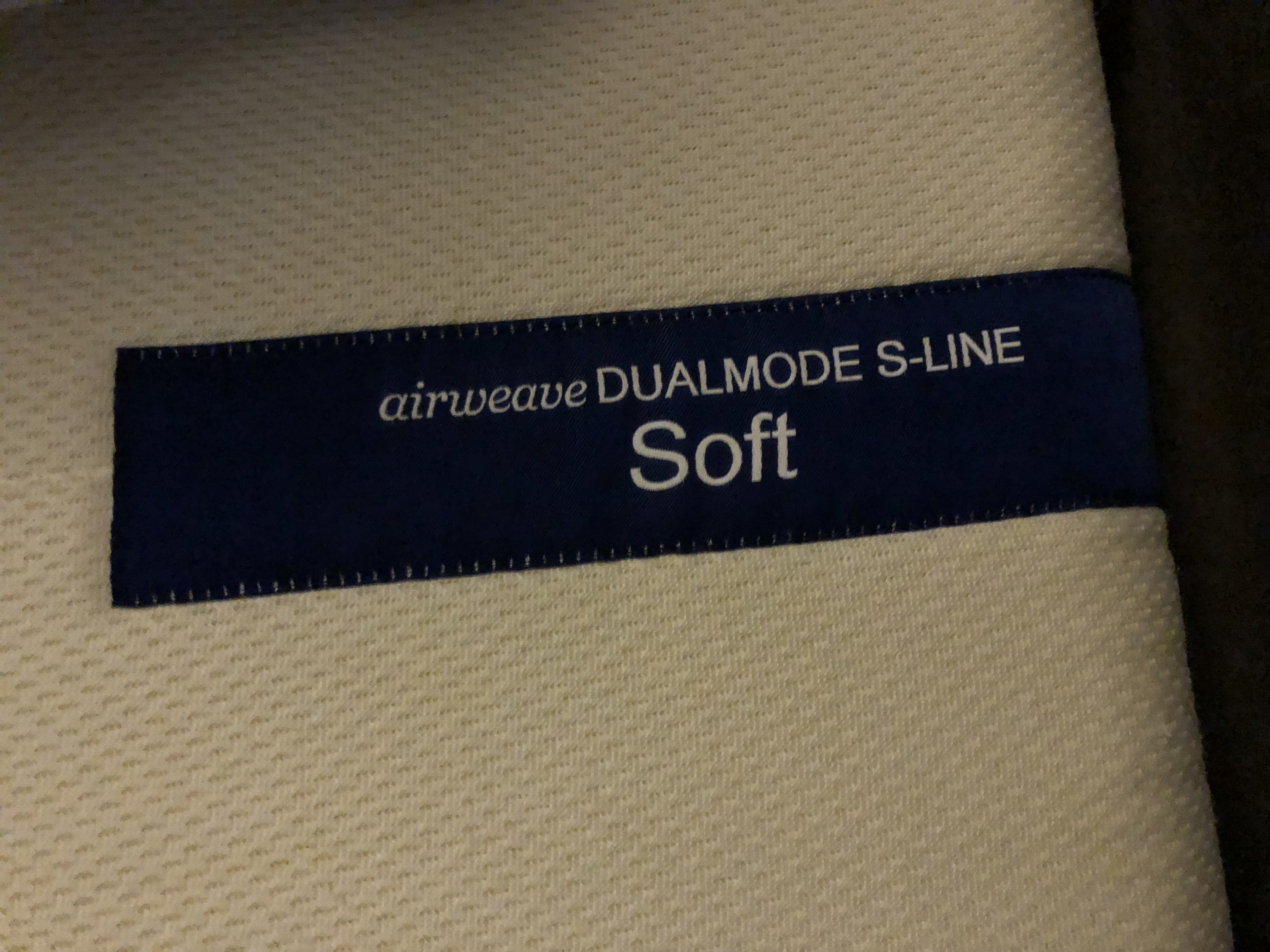 In addition to placing my mattress pad, my flight attendant added a cozy duvet and an extra pillow.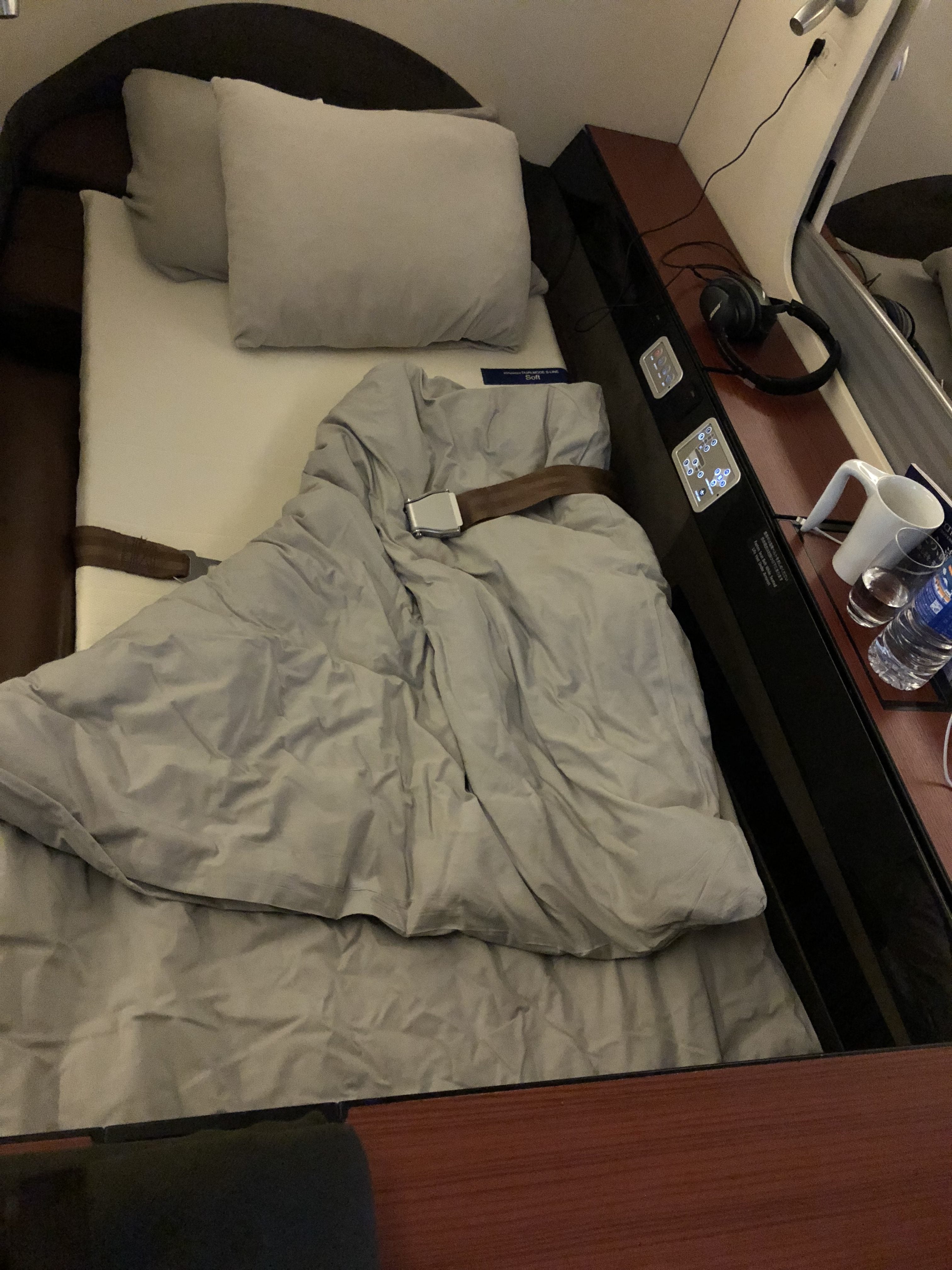 I got around 3-4 hours of shut-eye, which is fantastic considering that the flight was only 10 hours!
Amenities
The amenities on this flight were awesome — I feel like this was definitely one of the highlights. In addition to the stuff I got, the flight attendants gave me some goodies for my fiancée, which was much appreciated!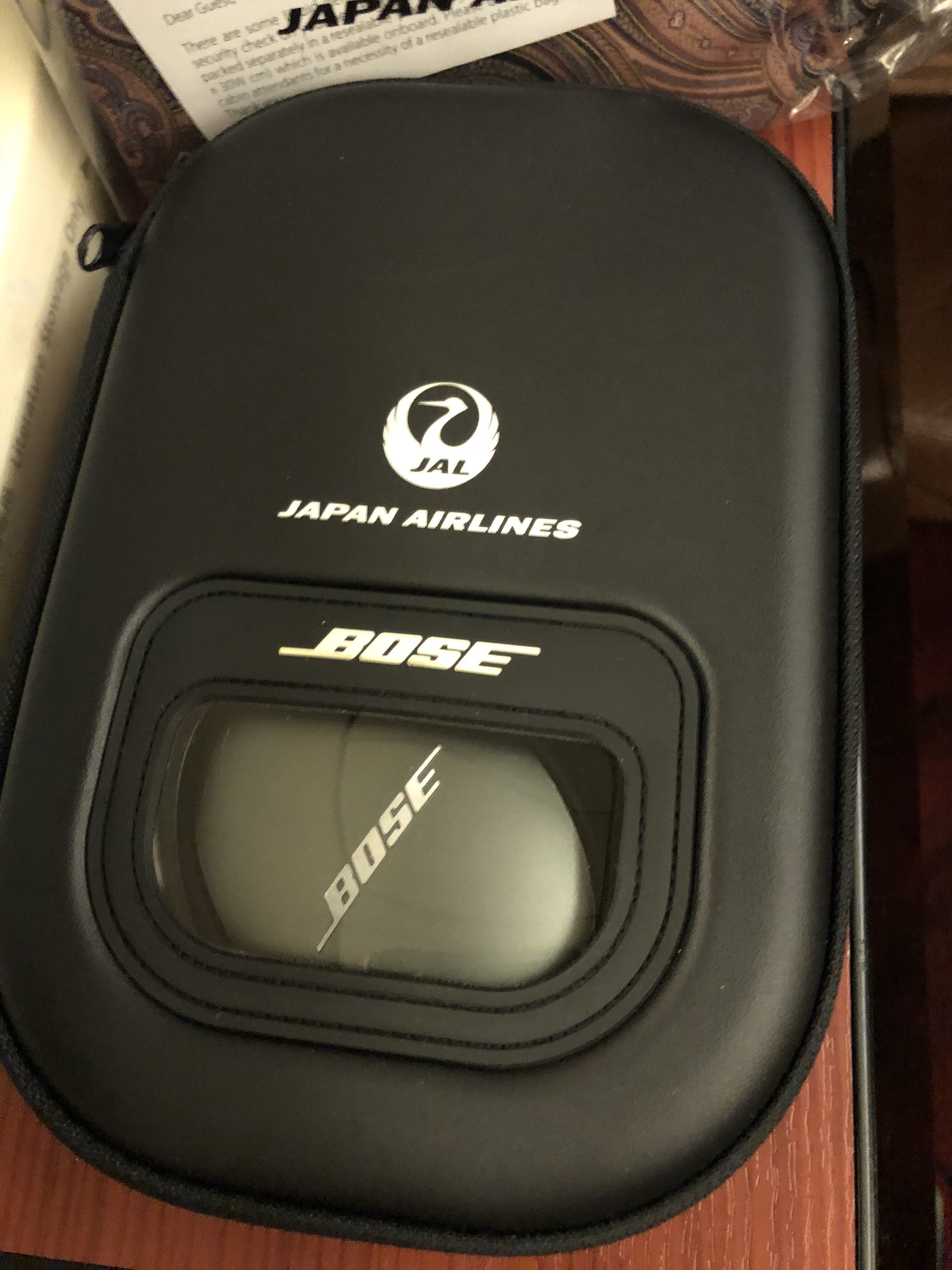 Although you can basically take everything with you, the Bose QC25 Headphones were unfortunately not available to keep.
I also got a free Wi-Fi voucher, which was nice. Even though the Wi-Fi wasn't capable of streaming videos, I enjoyed being able to stay on Facebook Messenger and text with my iPhone.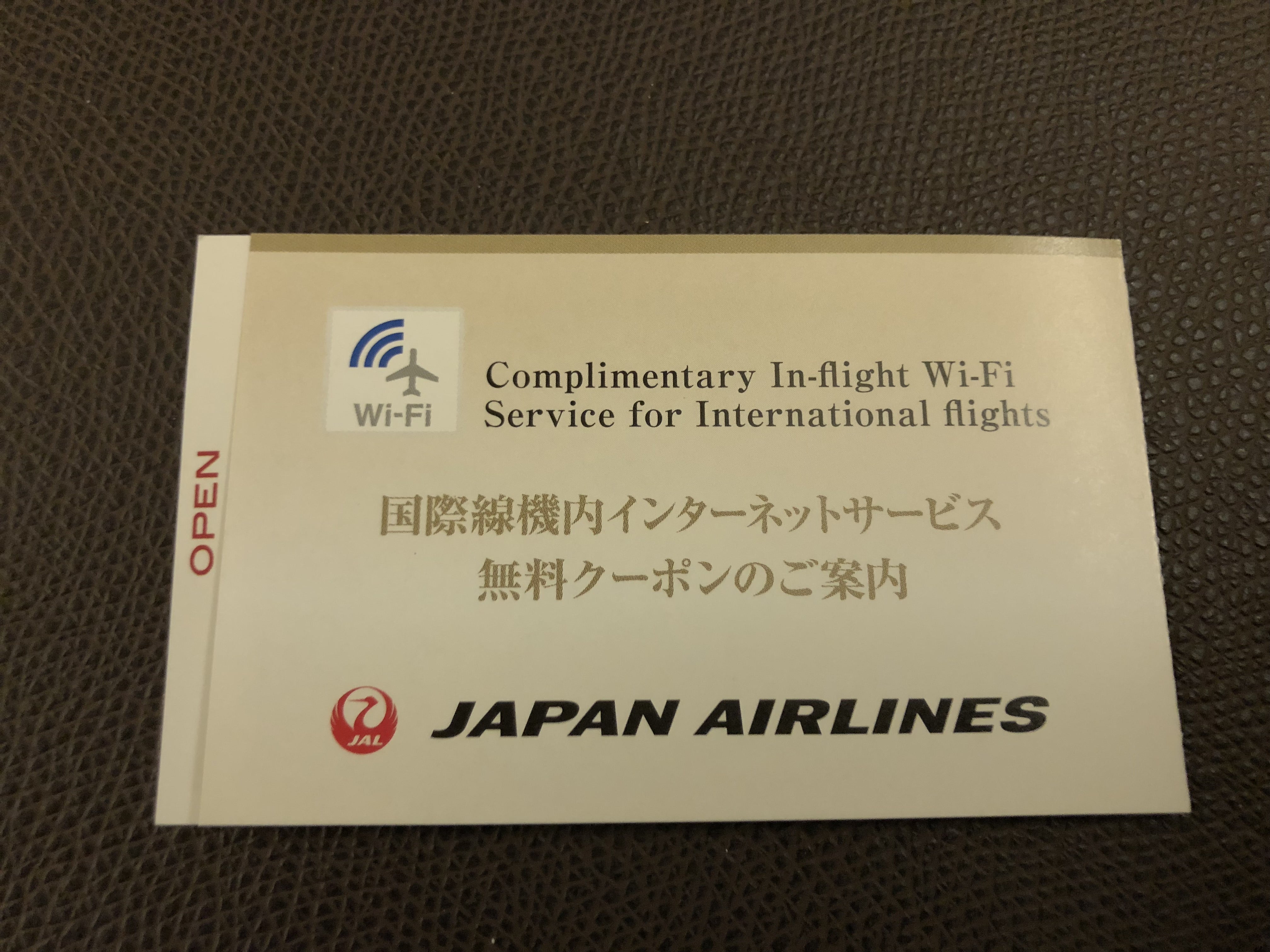 Japan Airlines partnered with Etro for its 50th anniversary to offer amenity kits; I thought the striking coloring scheme was really cool.
Although I personally thought these amenity kits were stylish, the current design may be a bit much for some people.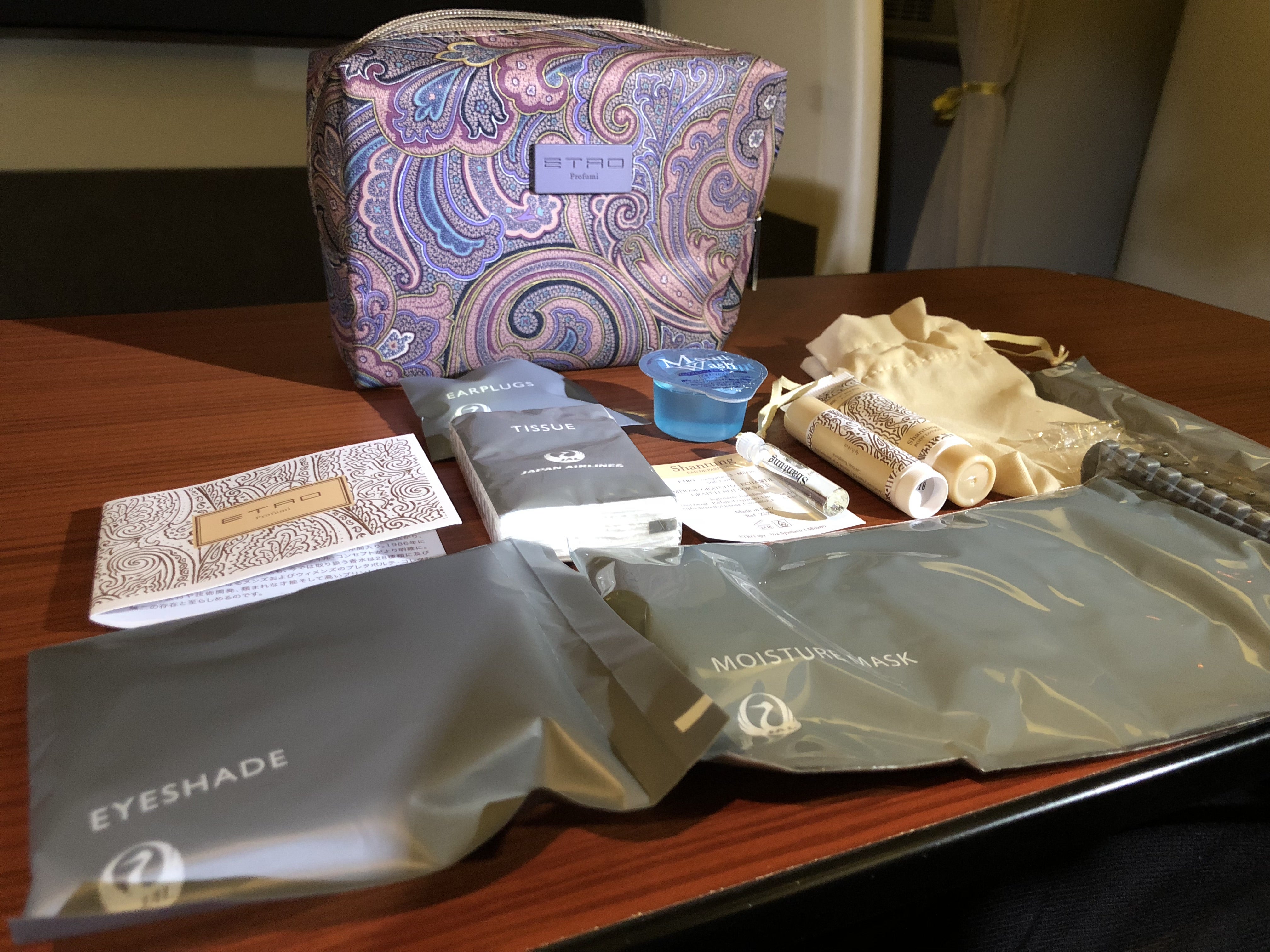 Etro makes some cool stuff! Among them was the Shantung body lotion and perfume.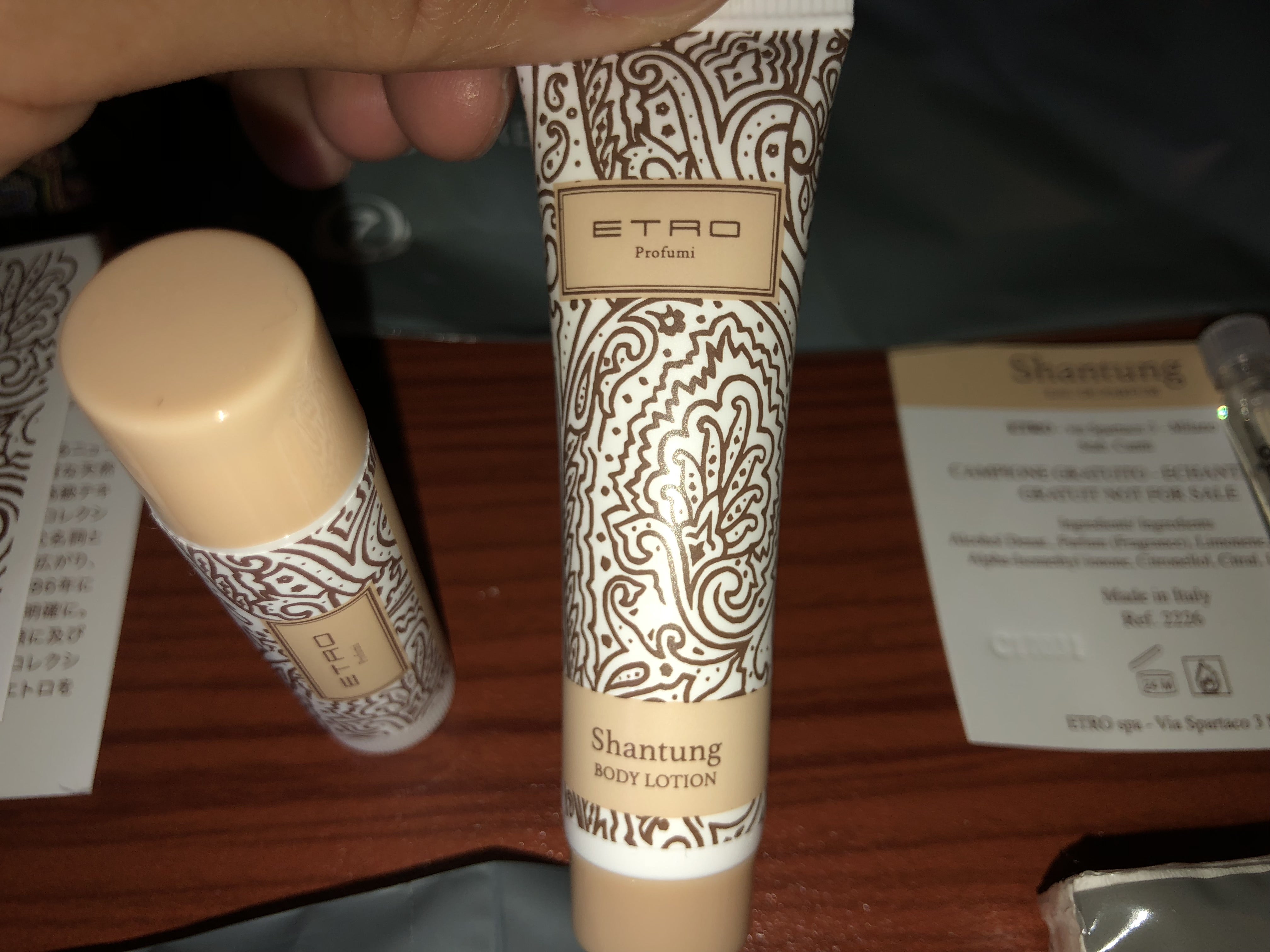 This tiny vial is perfect for light application of perfume. Nice touch.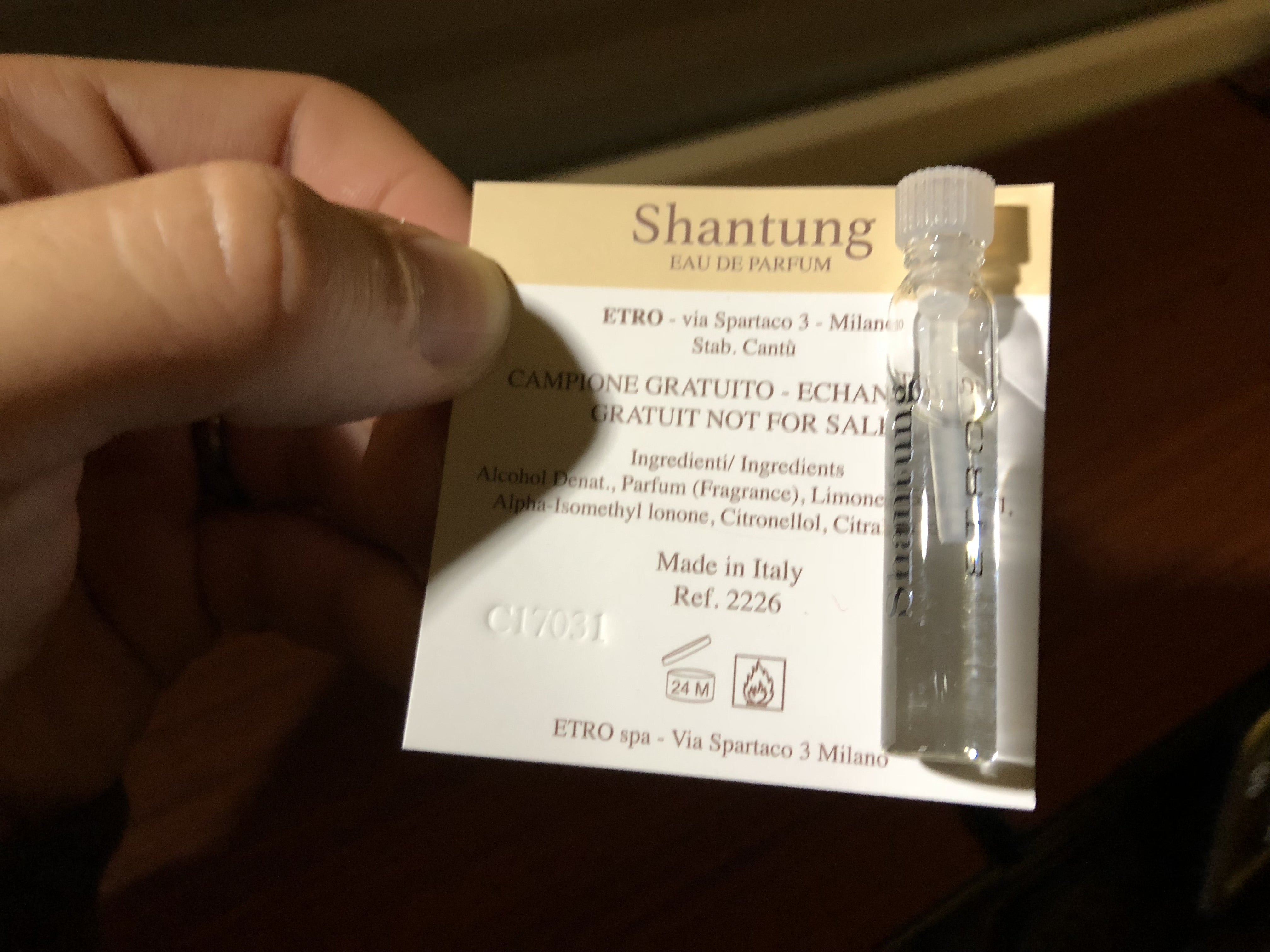 Also, I was given a Shiseido men's amenity kit. Since you already know how I feel about Shiseido products, you can imagine the delight on my face when I saw this waiting at my seat.
The kit itself contains cleansing foam, hydrating lotion, and total revitalizer (facial cream).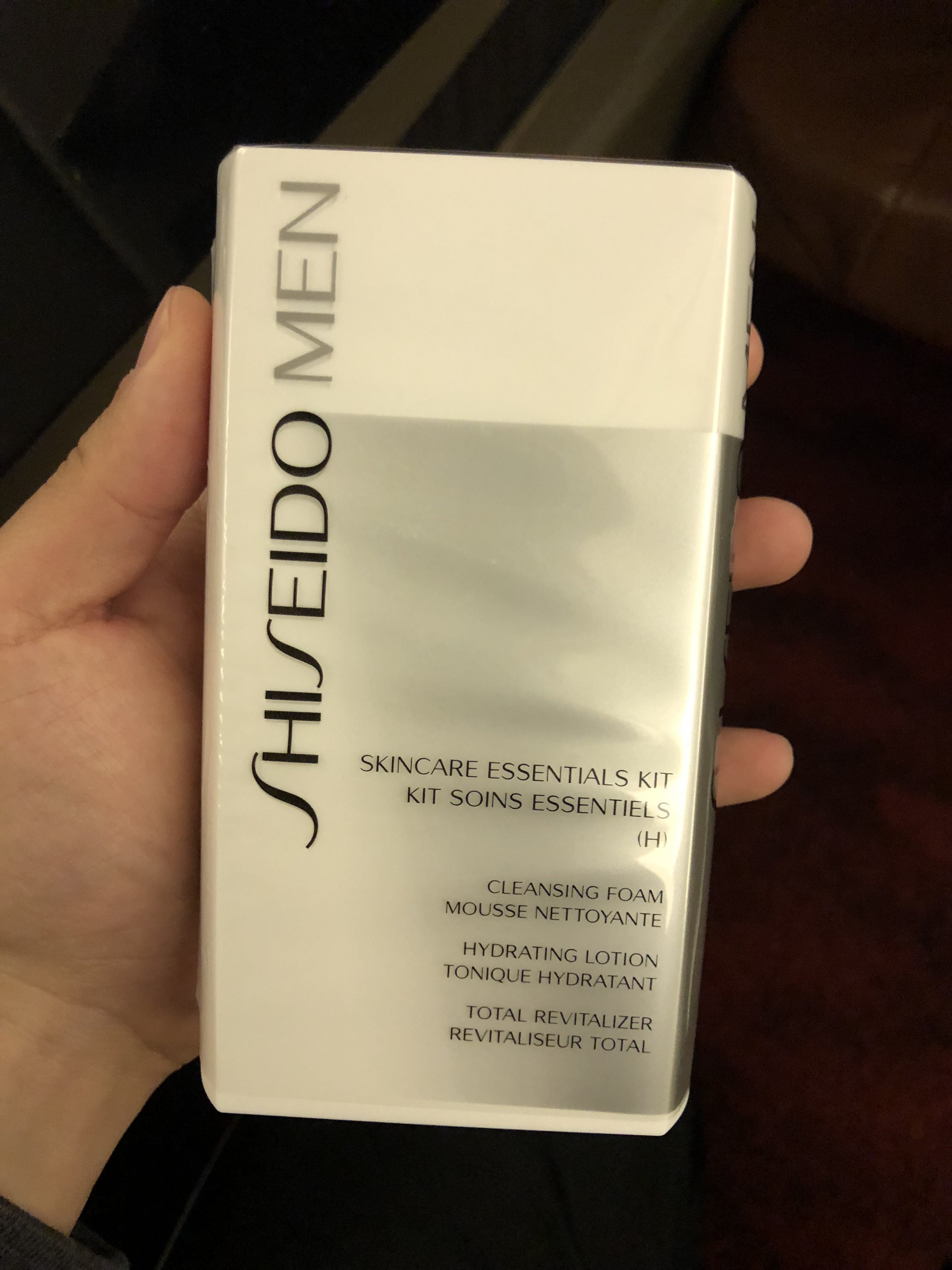 I was also given a set of pajamas, which were so heavy and warm. I tend to be really cold (especially my hands and feet), so these cozy pajamas were definitely appreciated.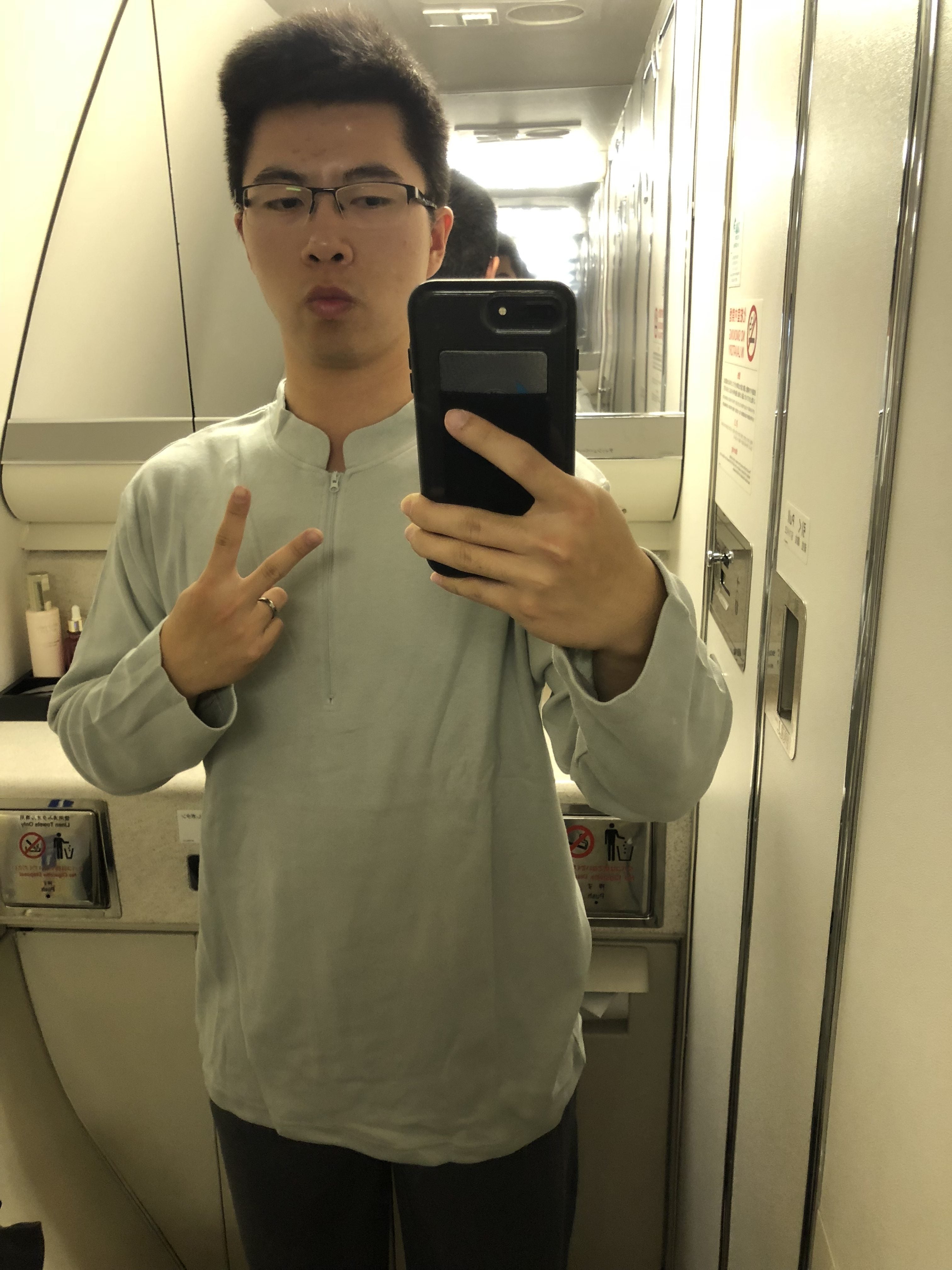 Ordinarily, the first class amenities would stop here, with pajamas, an amenity kit, Bose headphones, and a free Wi-Fi voucher being the norm. However, when I told my flight attendants that I was engaged, they pulled out all the stops to make me even happier!
For my fiancée (who unfortunately wasn't flying with me), they gave a Cle de Peau Beaute Illuminating Concentrate Sampler Kit and an extra set of pajamas!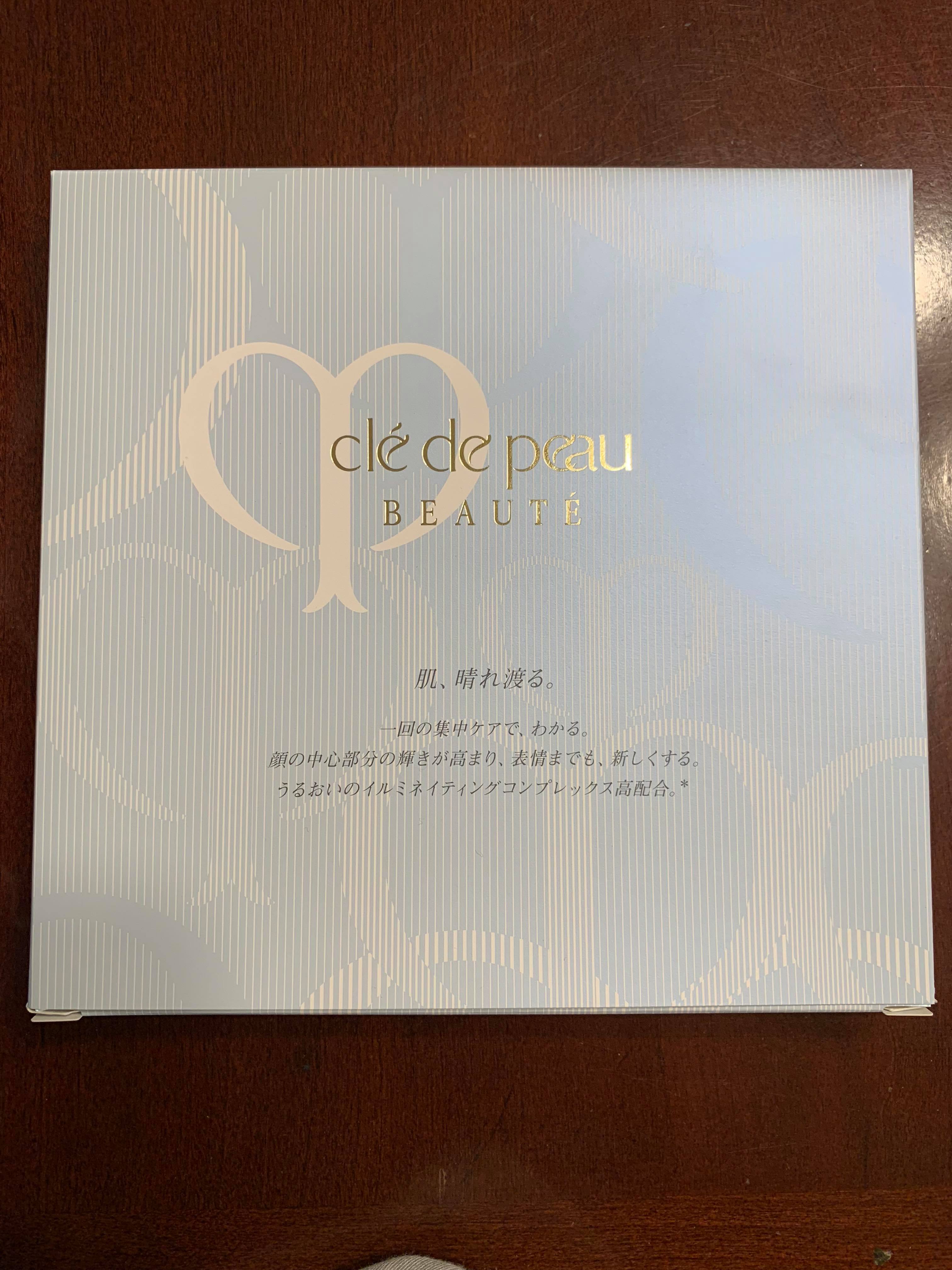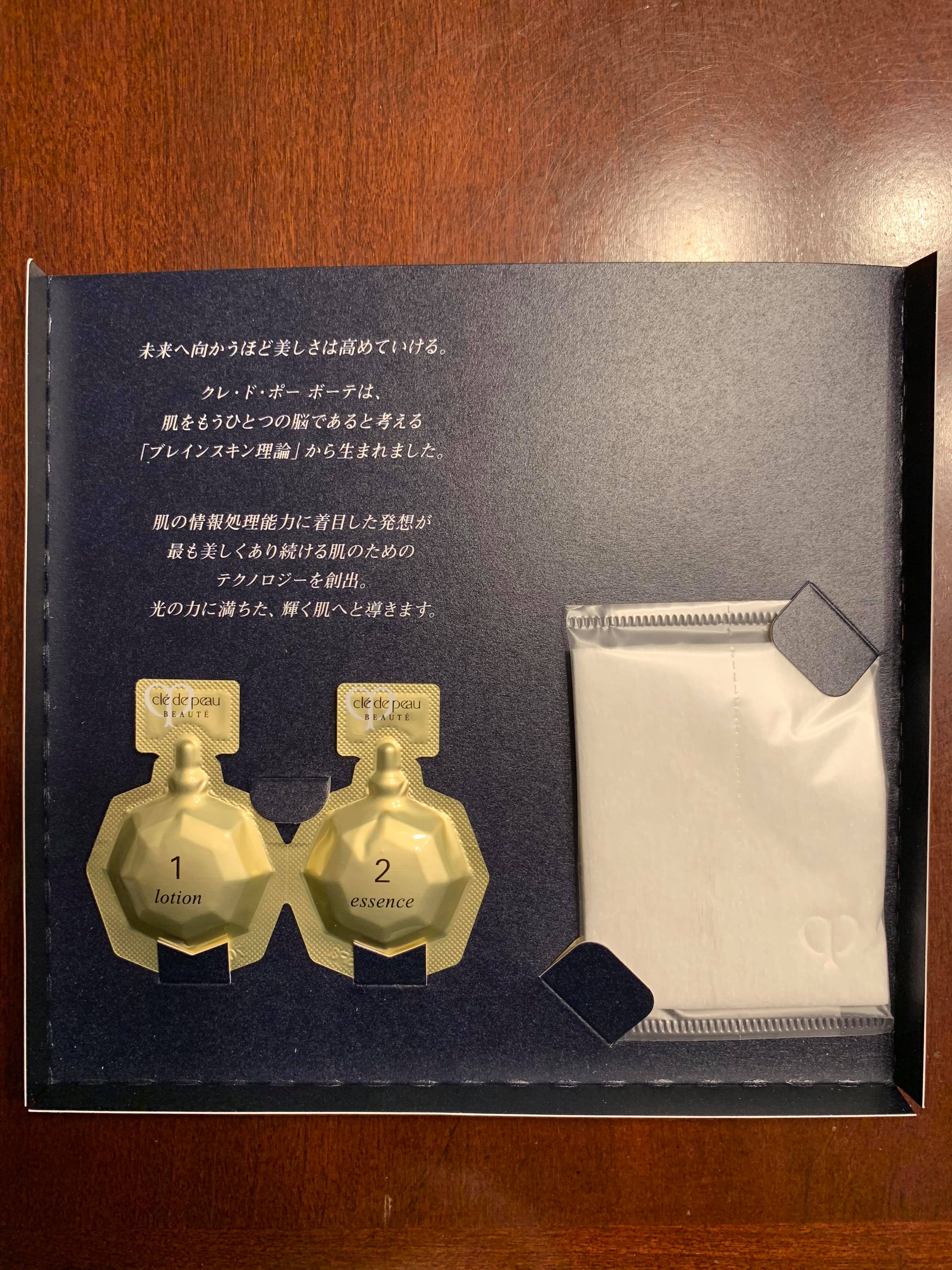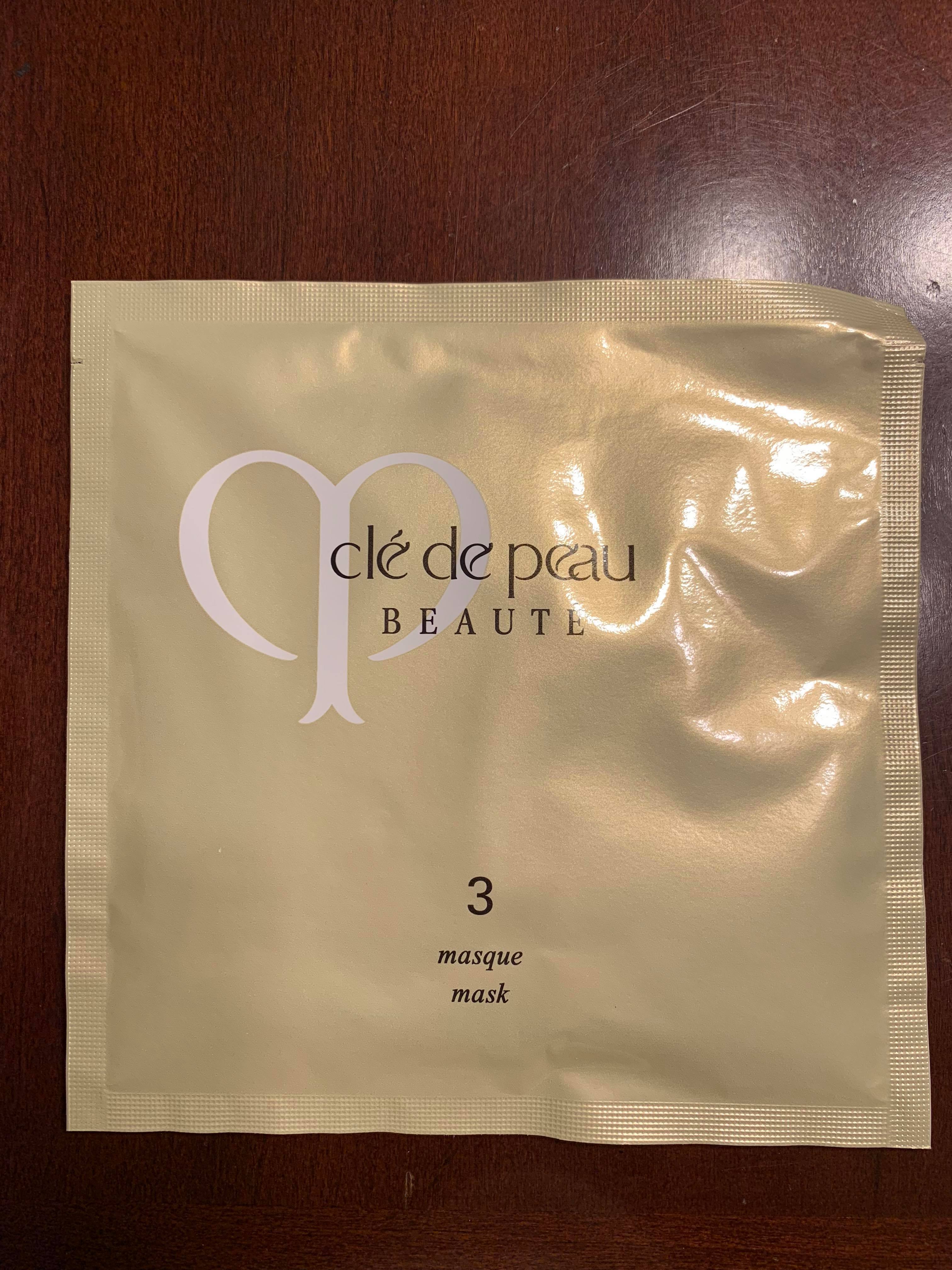 The starter kit came with essence, lotion, moisture pads, and facial masks! Needless to say, I was deeply satisfied with the amenities provided on this flight.
Just like in business class, the lavatories here weren't anything special (in fact, they were quite small).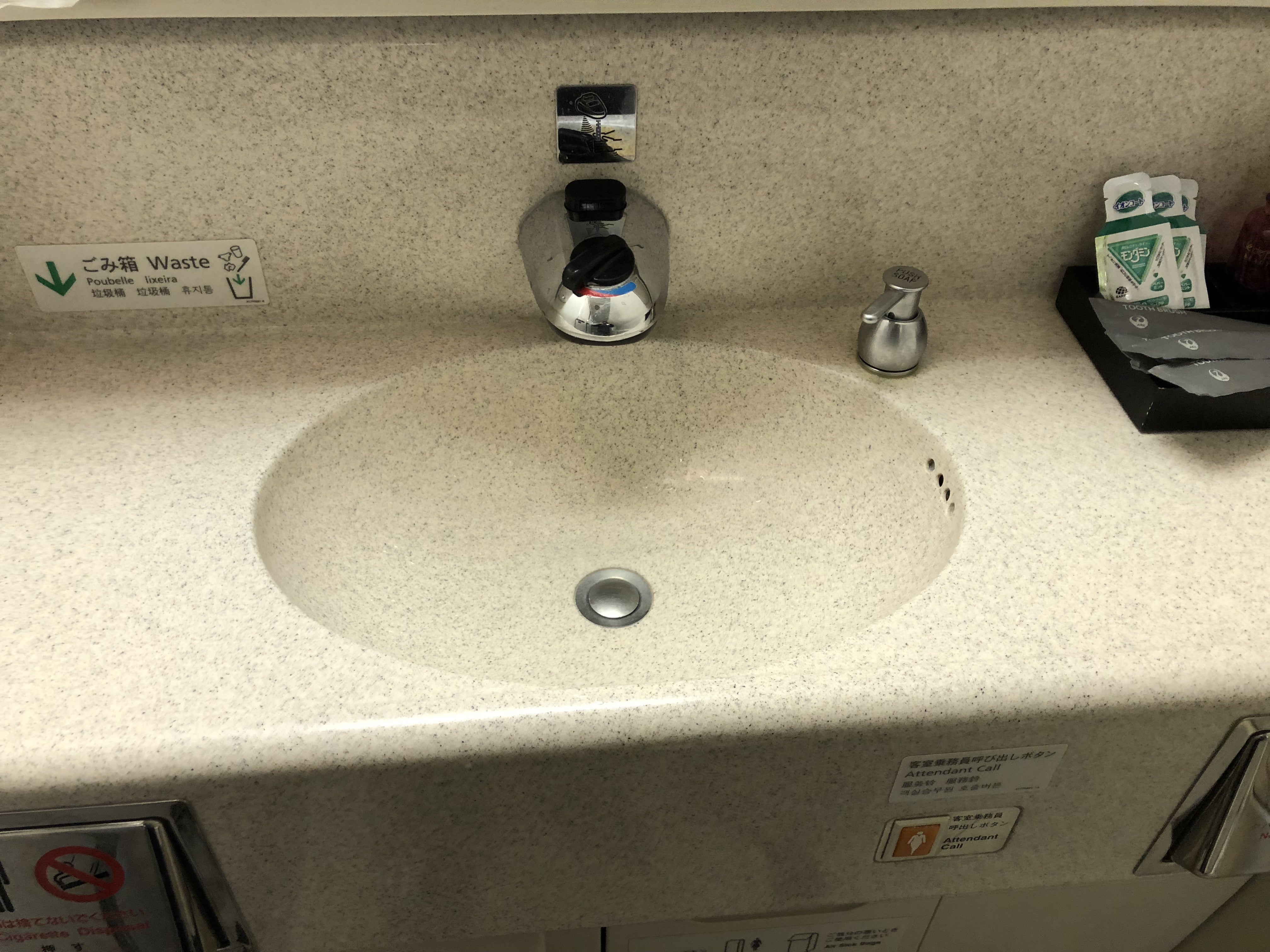 If you needed to be refreshed, there were serum and body emulsions in the first class lavatory — other than that, I didn't find anything to write home about.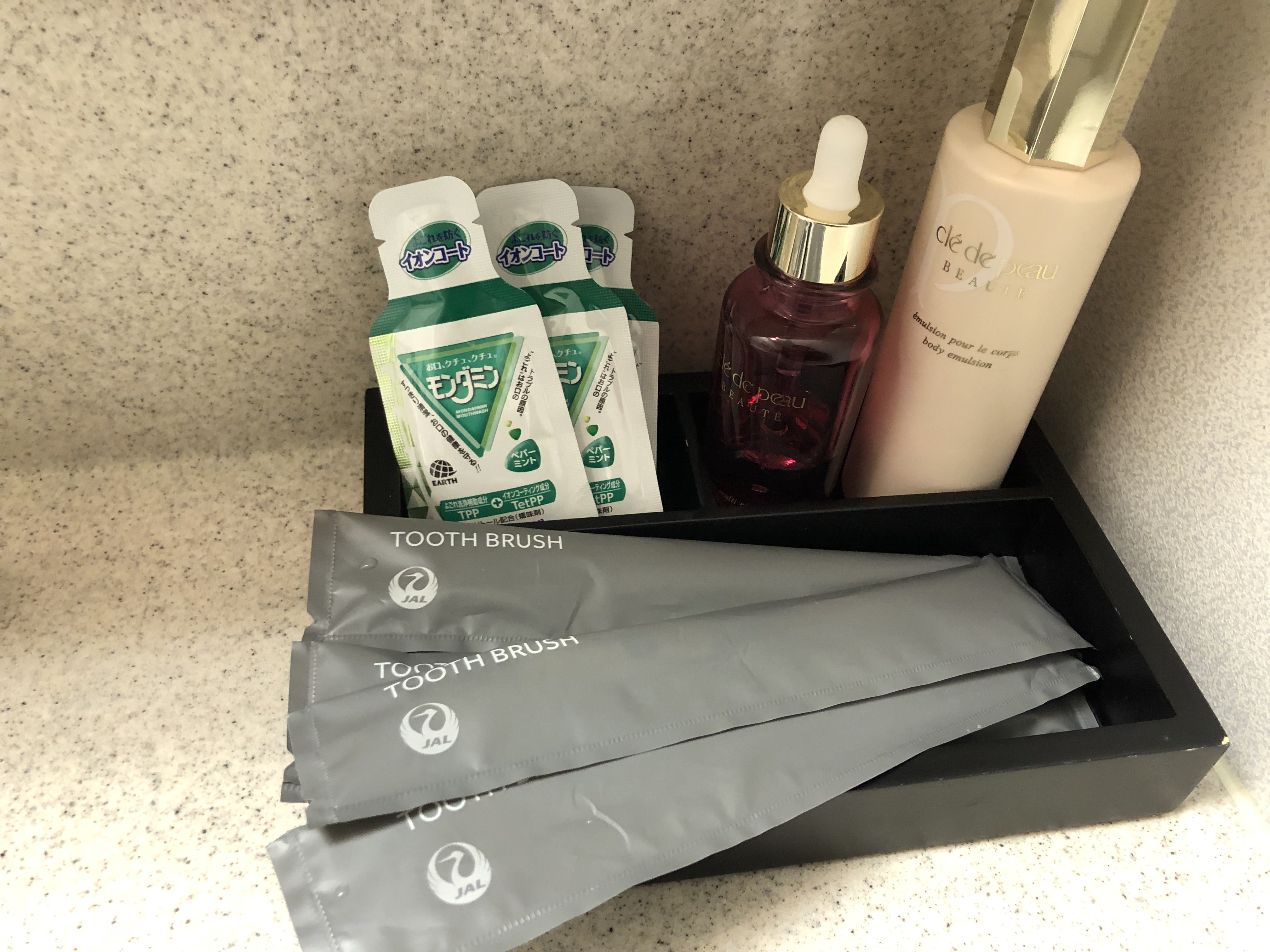 Here's the thing: I don't need a super nice bathroom. What I need is a clean lavatory and a bidet — and Japan Airlines delivered on both of these needs!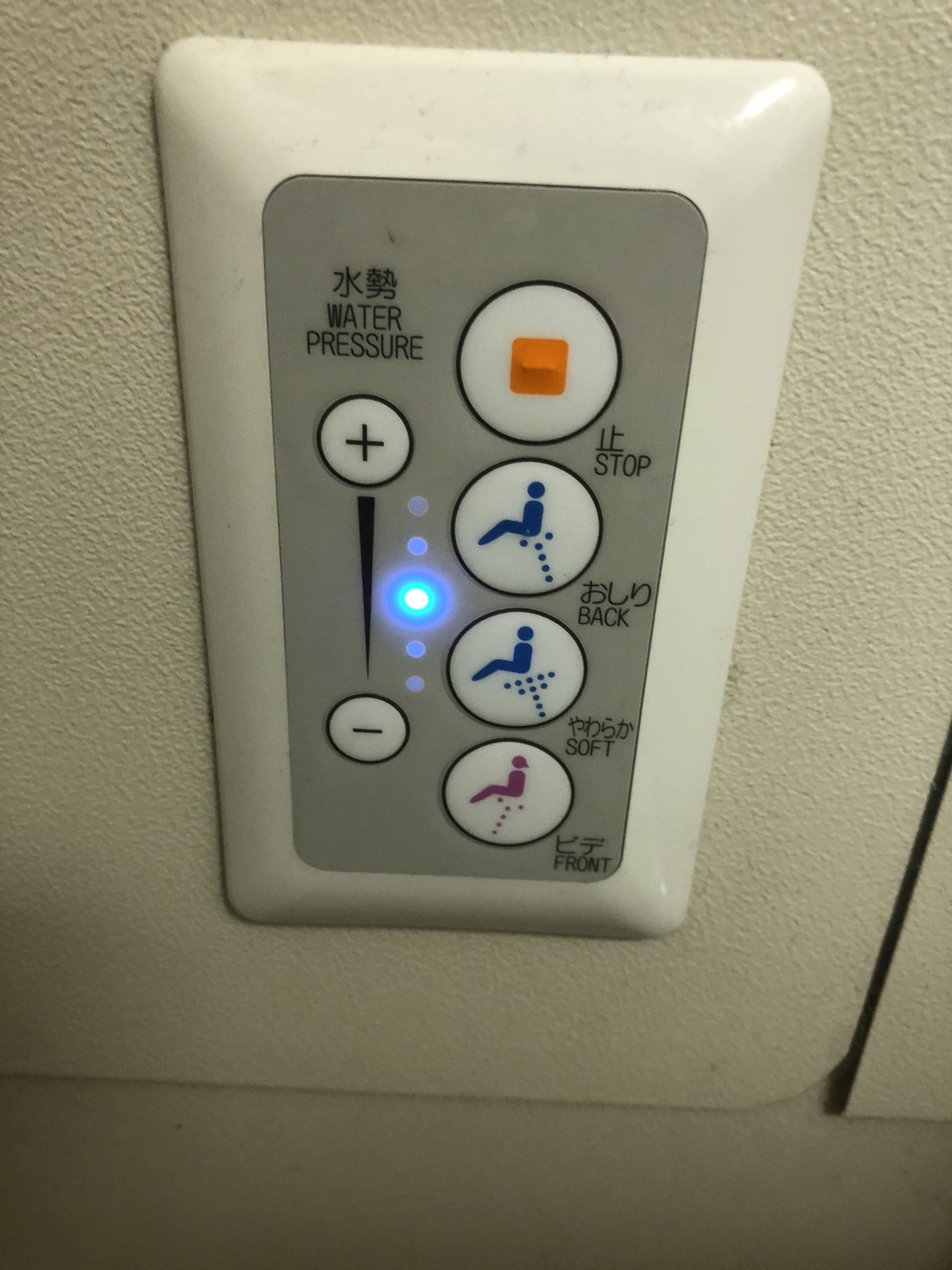 Bottom Line: The amenities provided on this flight were pretty fantastic. I loved the VIP treatment from the flight attendants — the extra stuff just impressed me even more and made it more likely for me to fly with them again!
Food and Beverage
When I took my seat, the flight attendant asked if she could bring me a pre-departure beverage. I just can't get over the quality of service we experienced on this flight.
To me, Japanese culture is best described as heartwarming kindness, and I experience it every time I go back to Japan. What a society!
I thanked her for her kindness and asked for a glass of champagne. She swiftly returned with a warm towel too.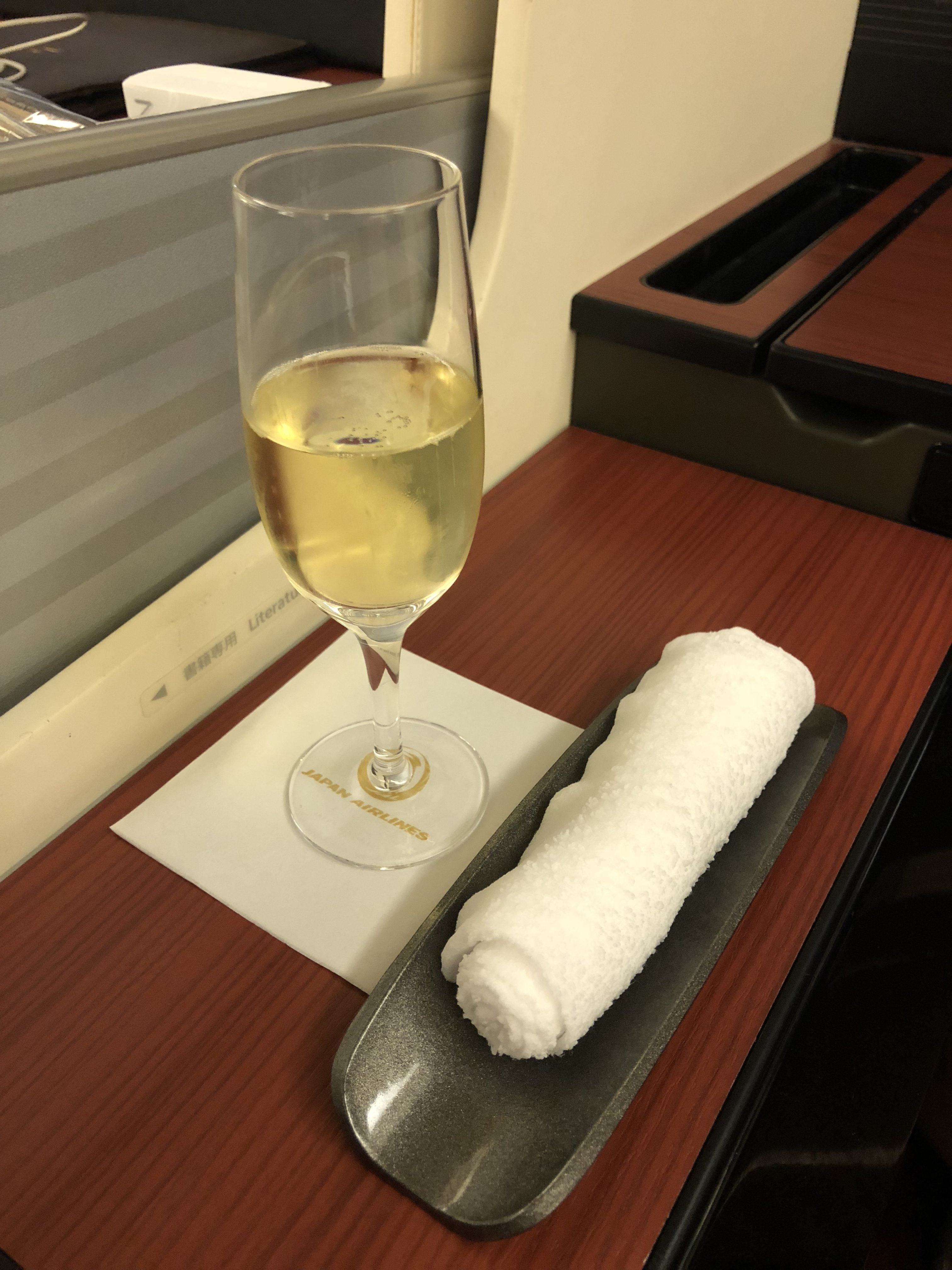 The champagne served on this flight is Louis Roederer Cristal 2009, which retails for around $250+ per bottle.
Japan Airlines used to serve the 2002 vintage of Salon Blanc de Blancs Champagne, which runs at around $400+ per bottle. But honestly? The champagne was fantastic, so I'm not going to be pretentious and obsess about how much the bottle costs.
Regardless of which class you fly in, the Japan Airlines food and beverage program is called BEDD. There are different executive chefs that contributed different dishes, and I can definitely attest to the quality of the food.
Before eating, I was presented a hefty portfolio that officially inducted me into Japan Airlines first class.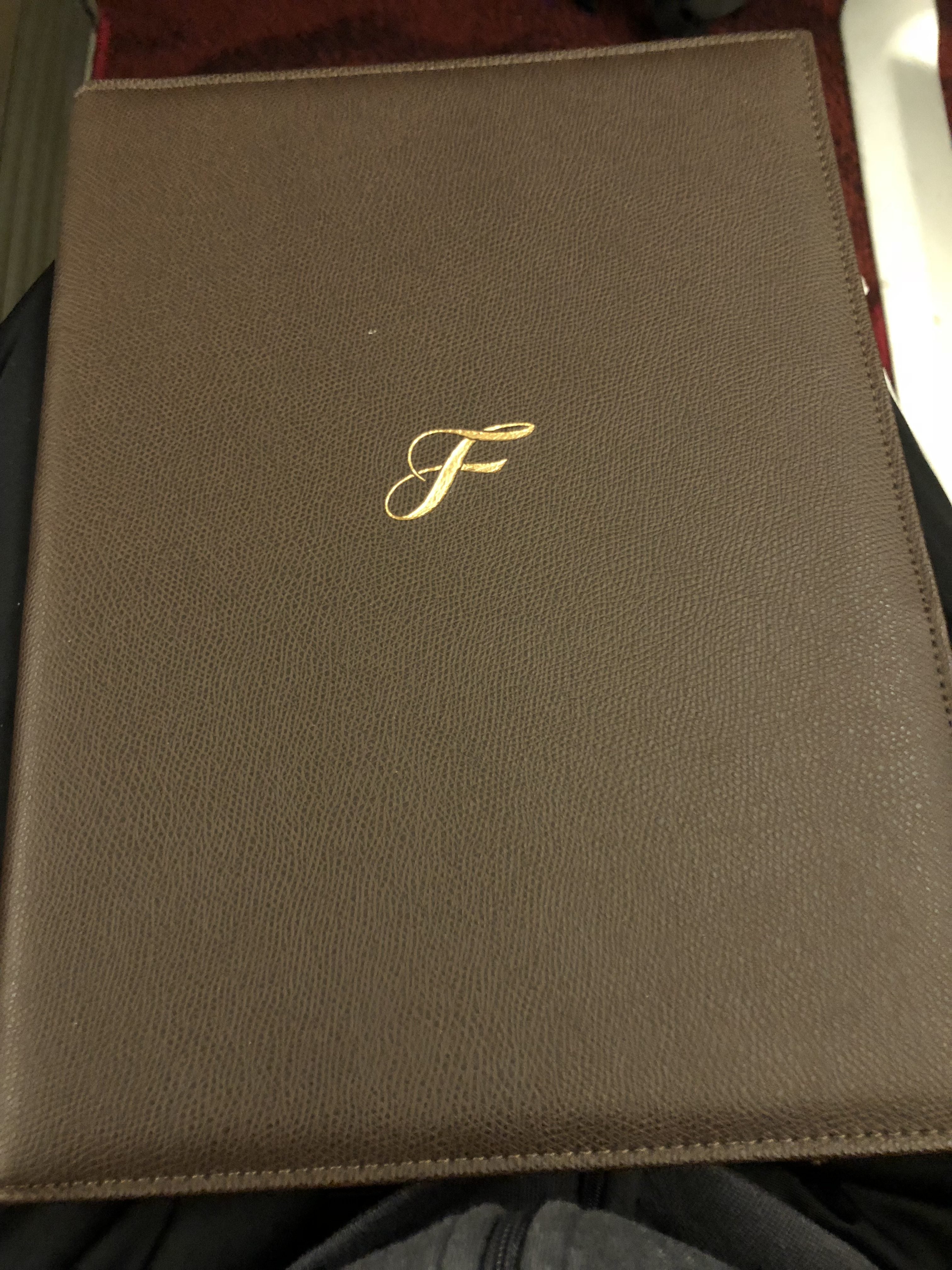 In addition to my food and beverage menus, the portfolio also included a U.S. Customs declaration form.
This was yet another classy move by Japan Airlines — and the culinary rampage ensued shortly after!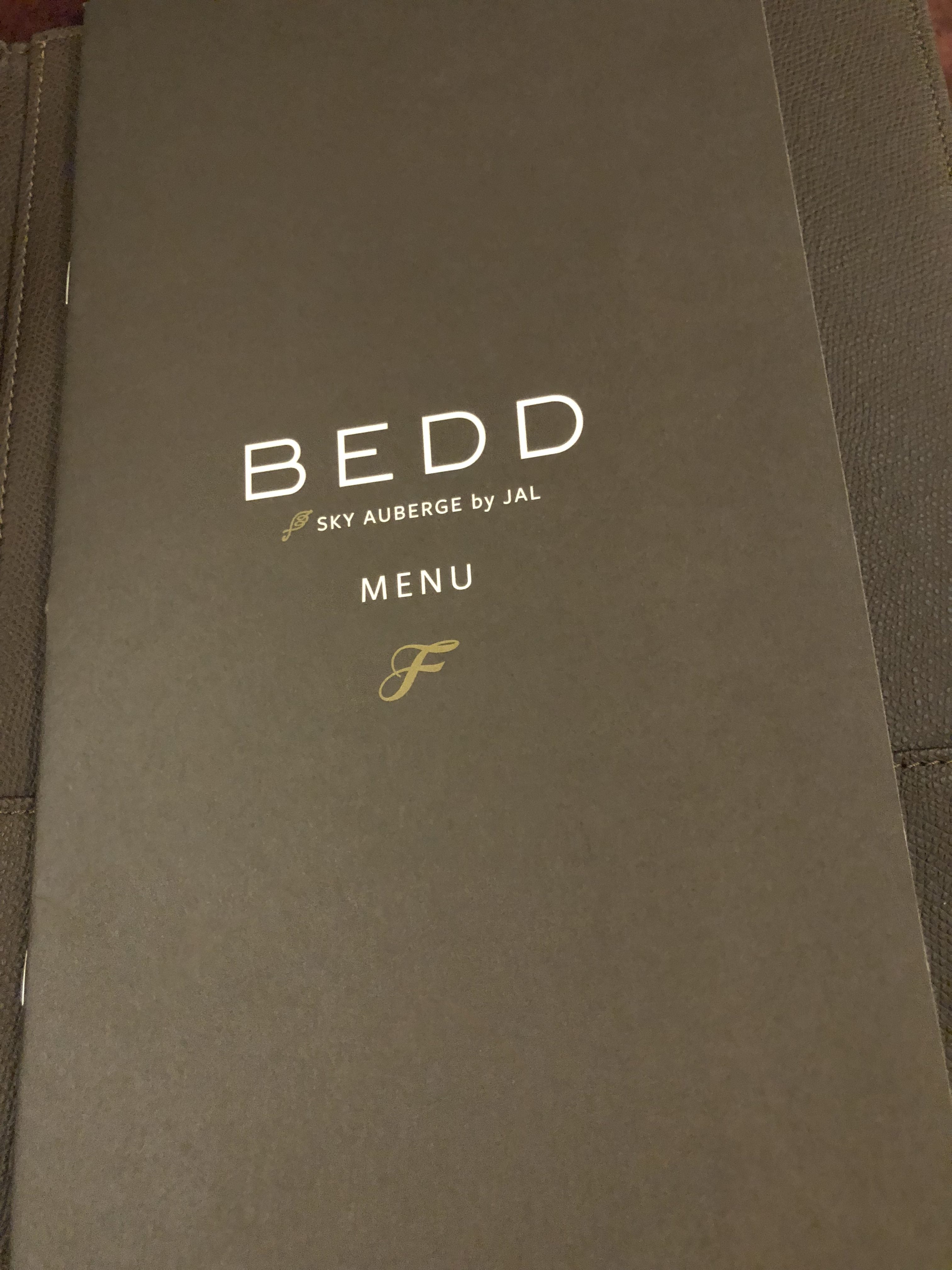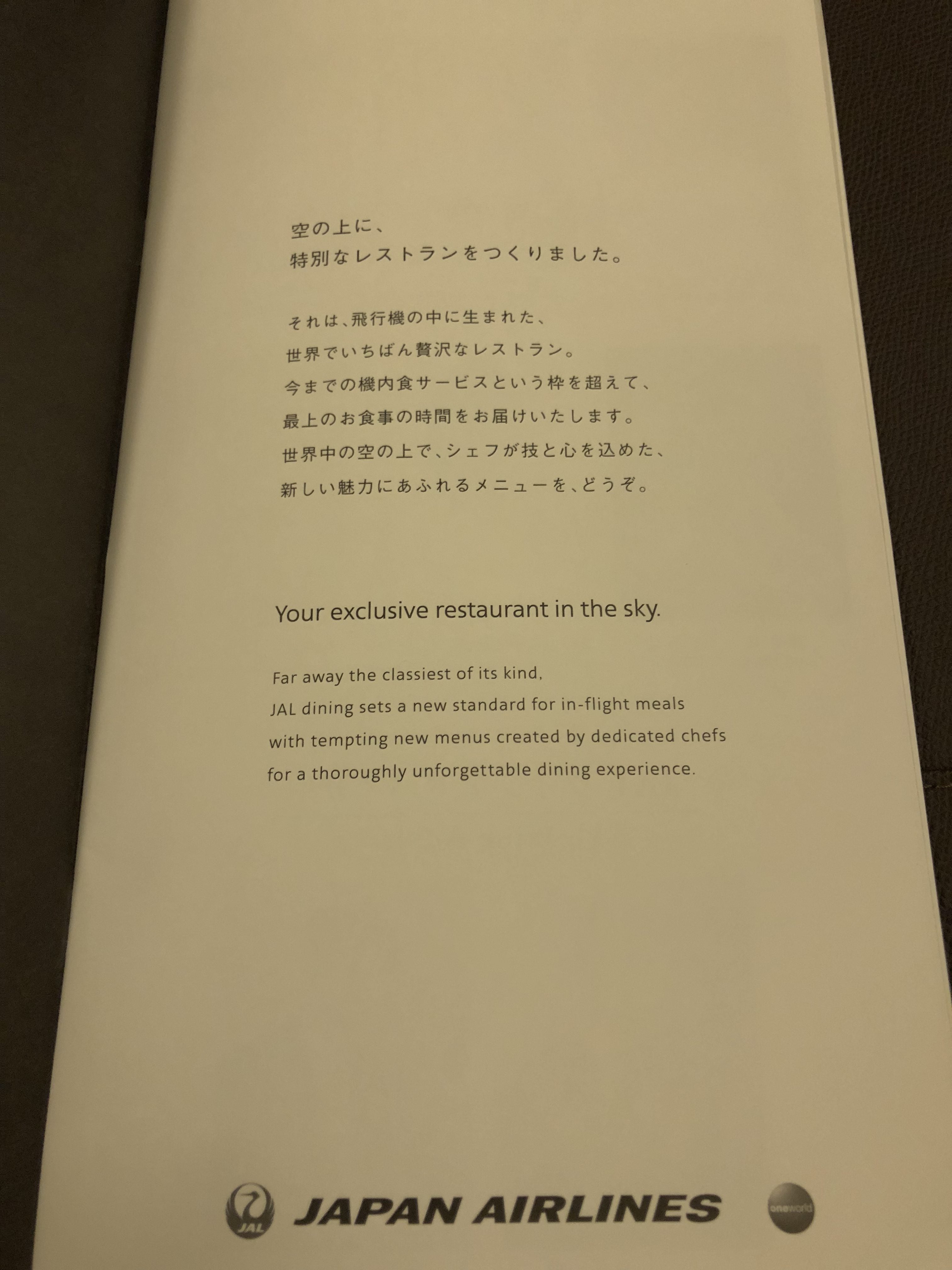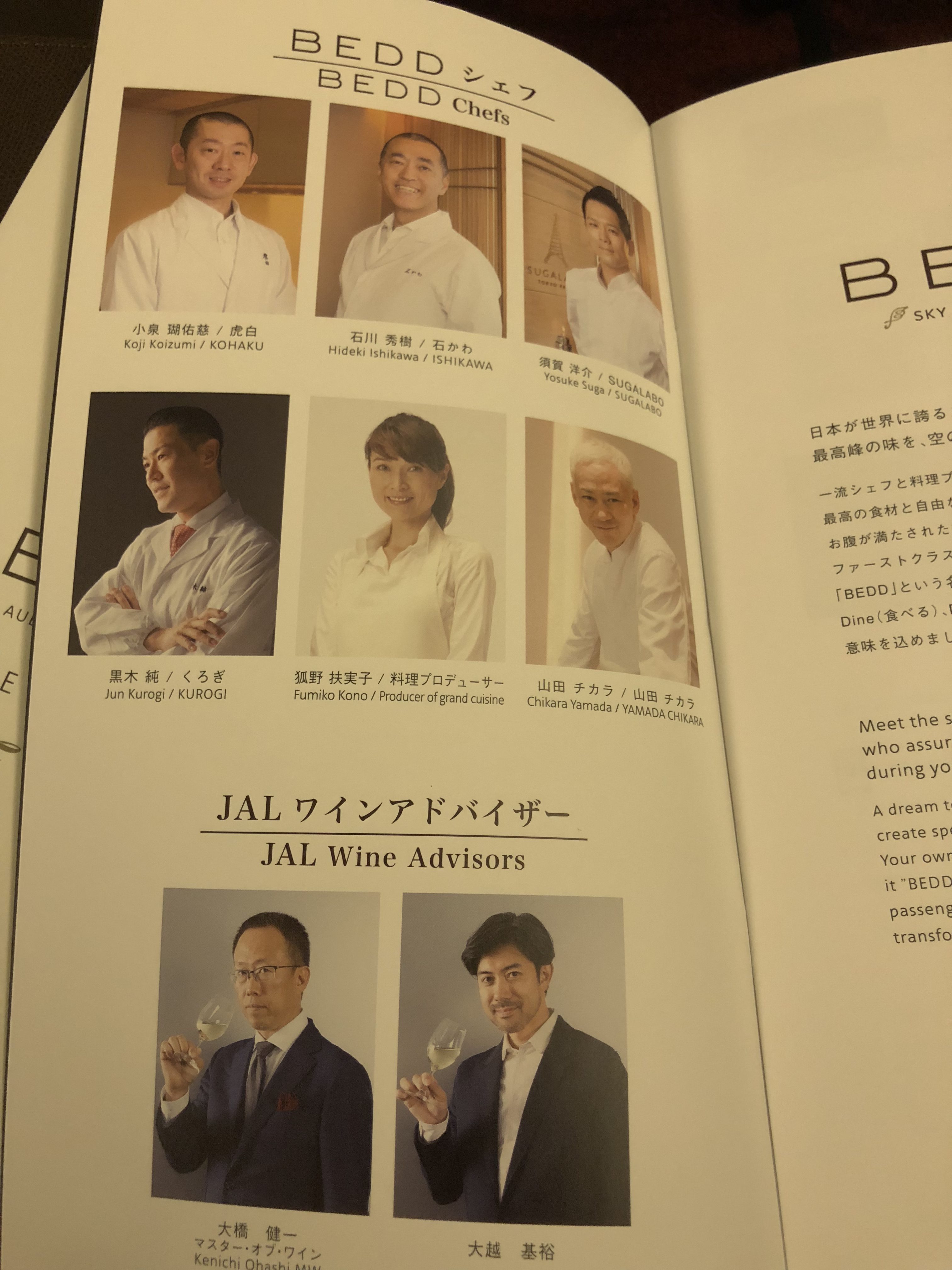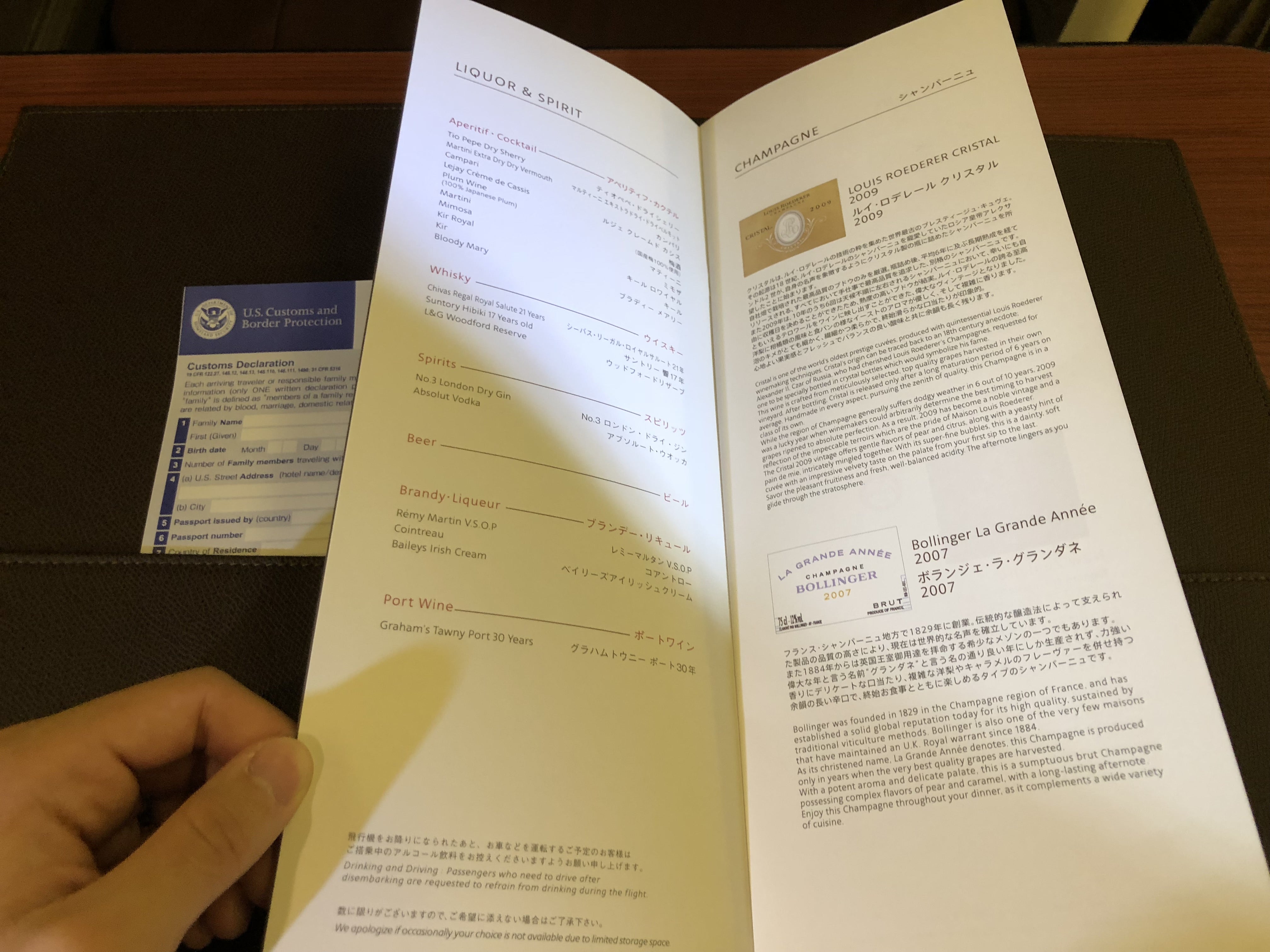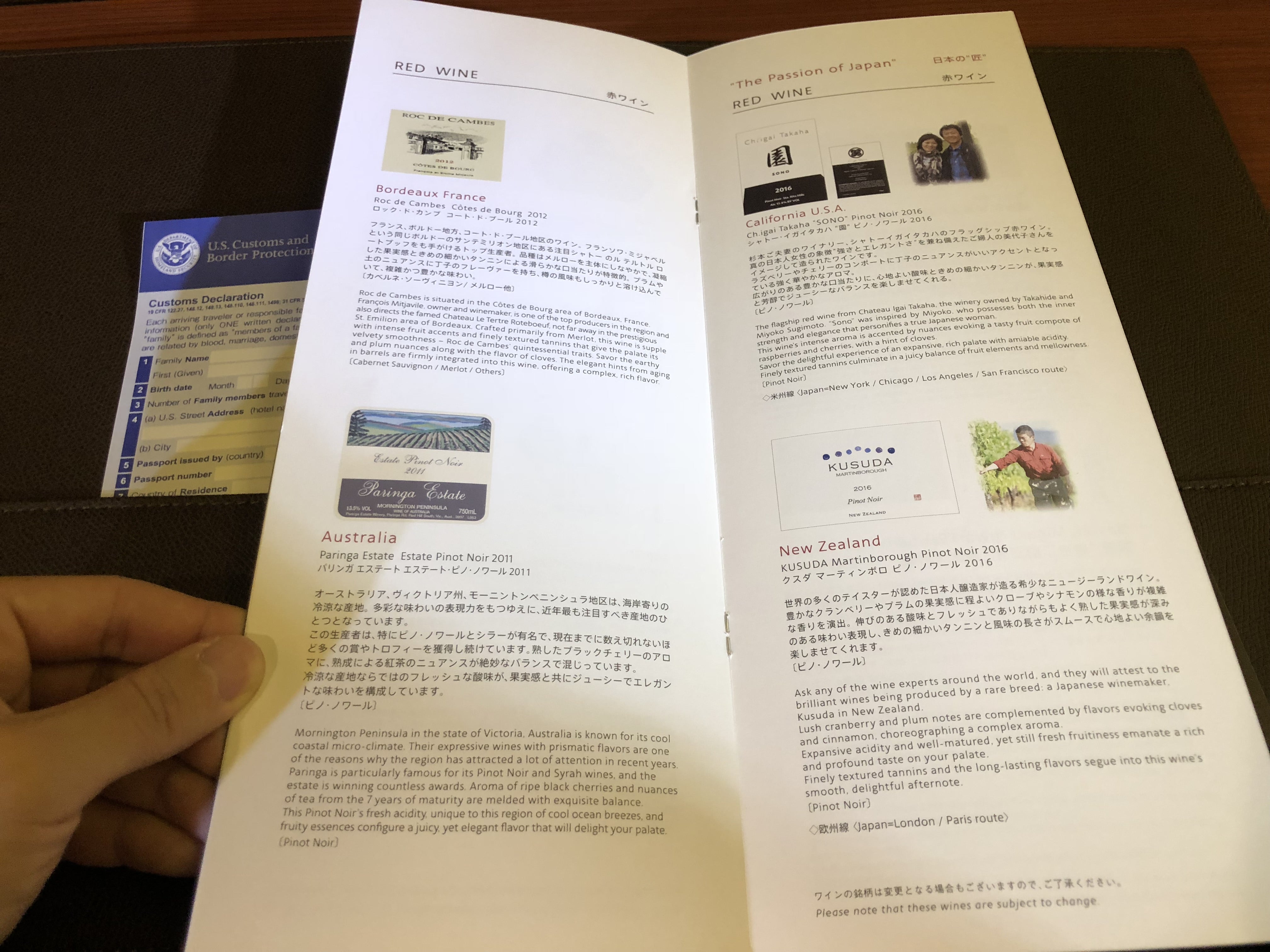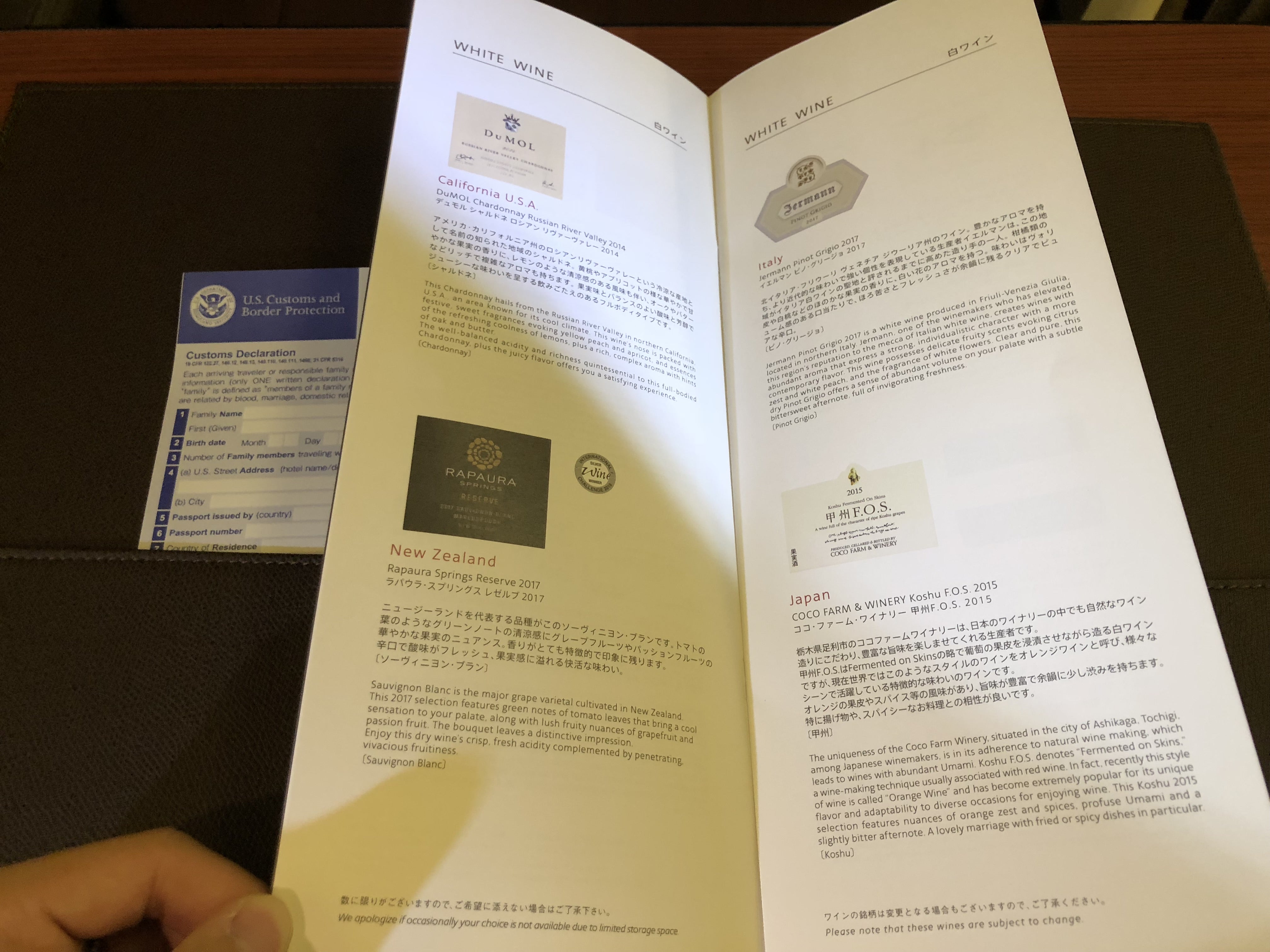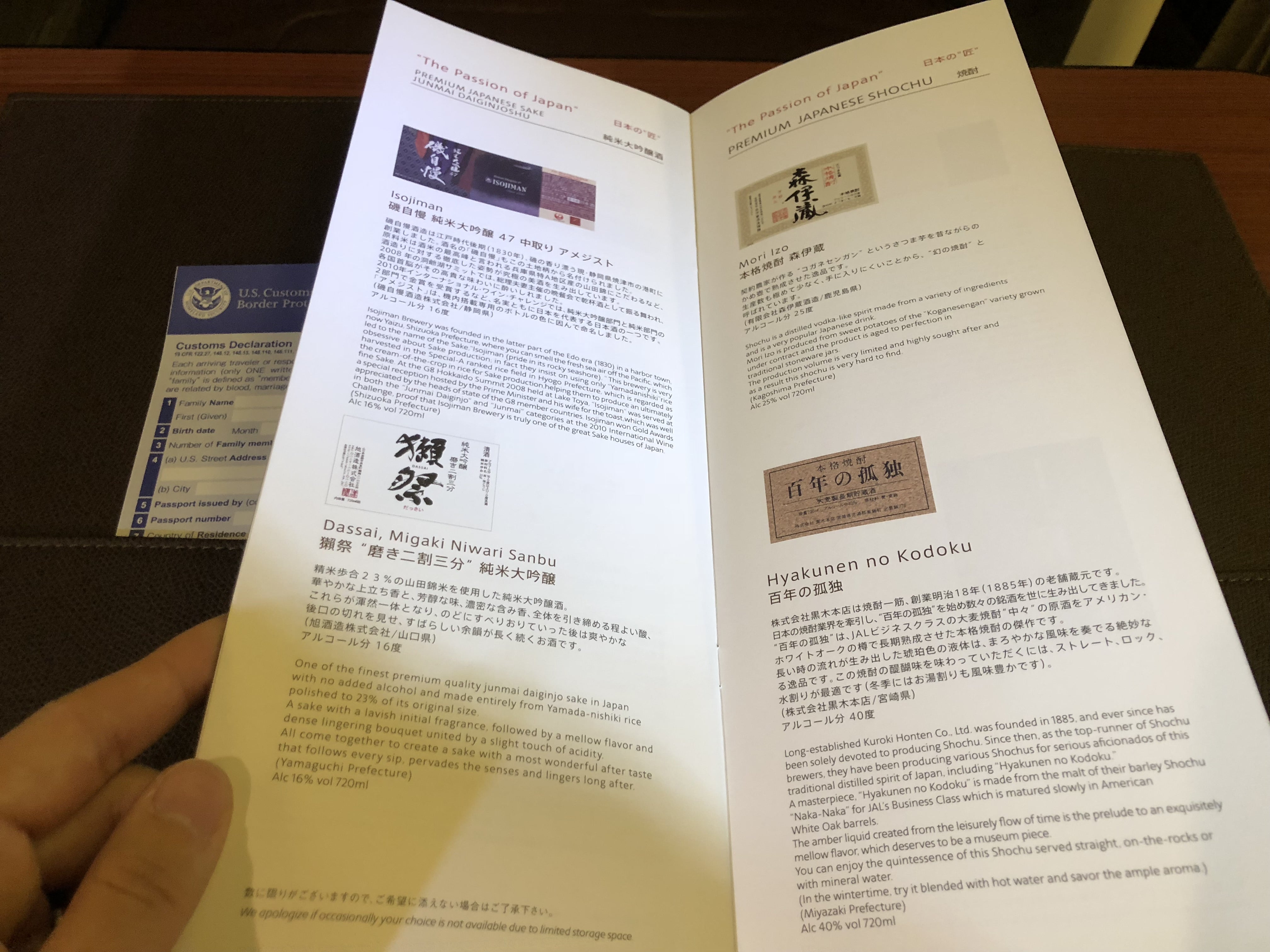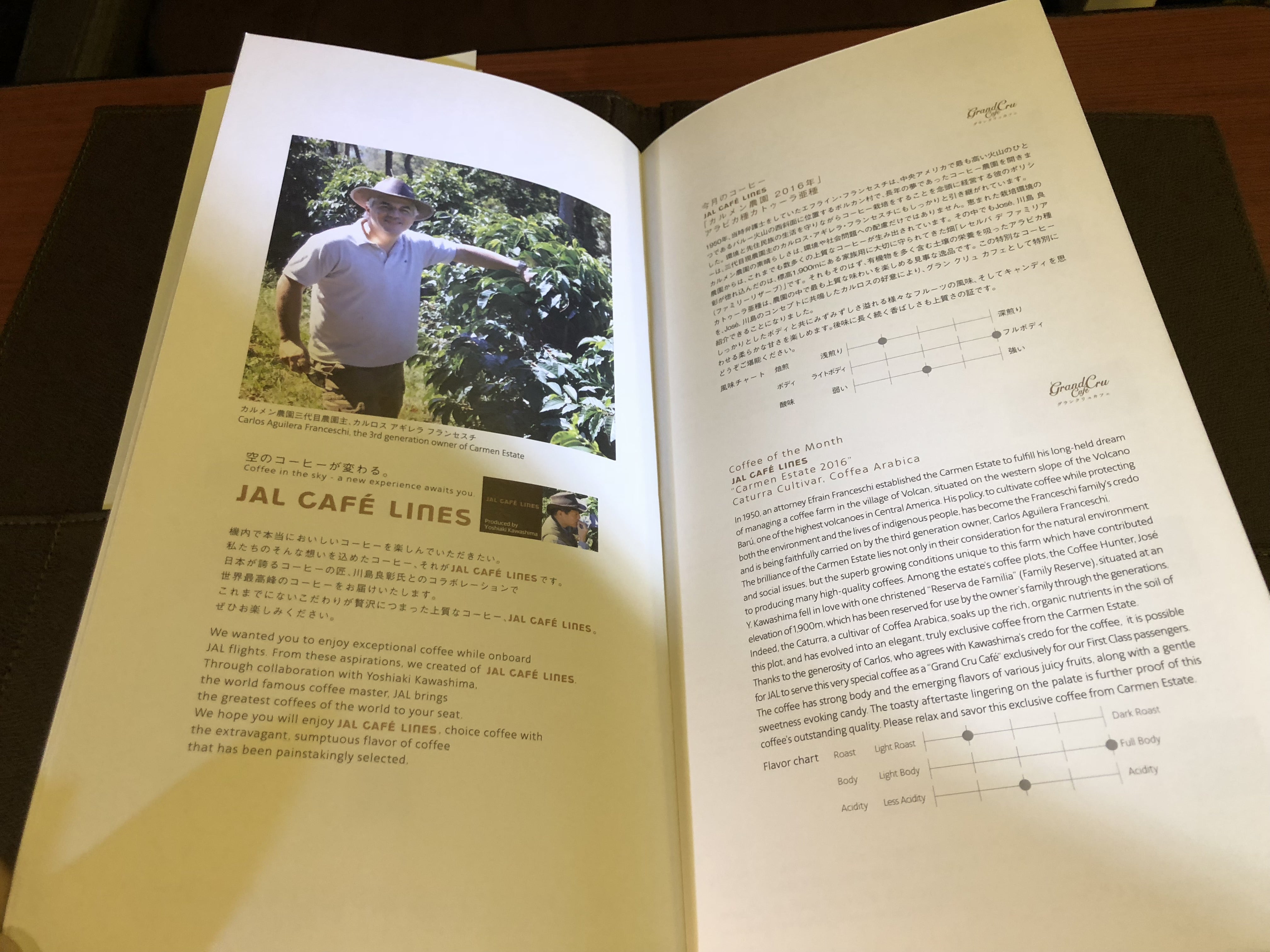 I actually regret that I didn't try the Royal Blue Tea, which is an ultra-premium Japanese tea.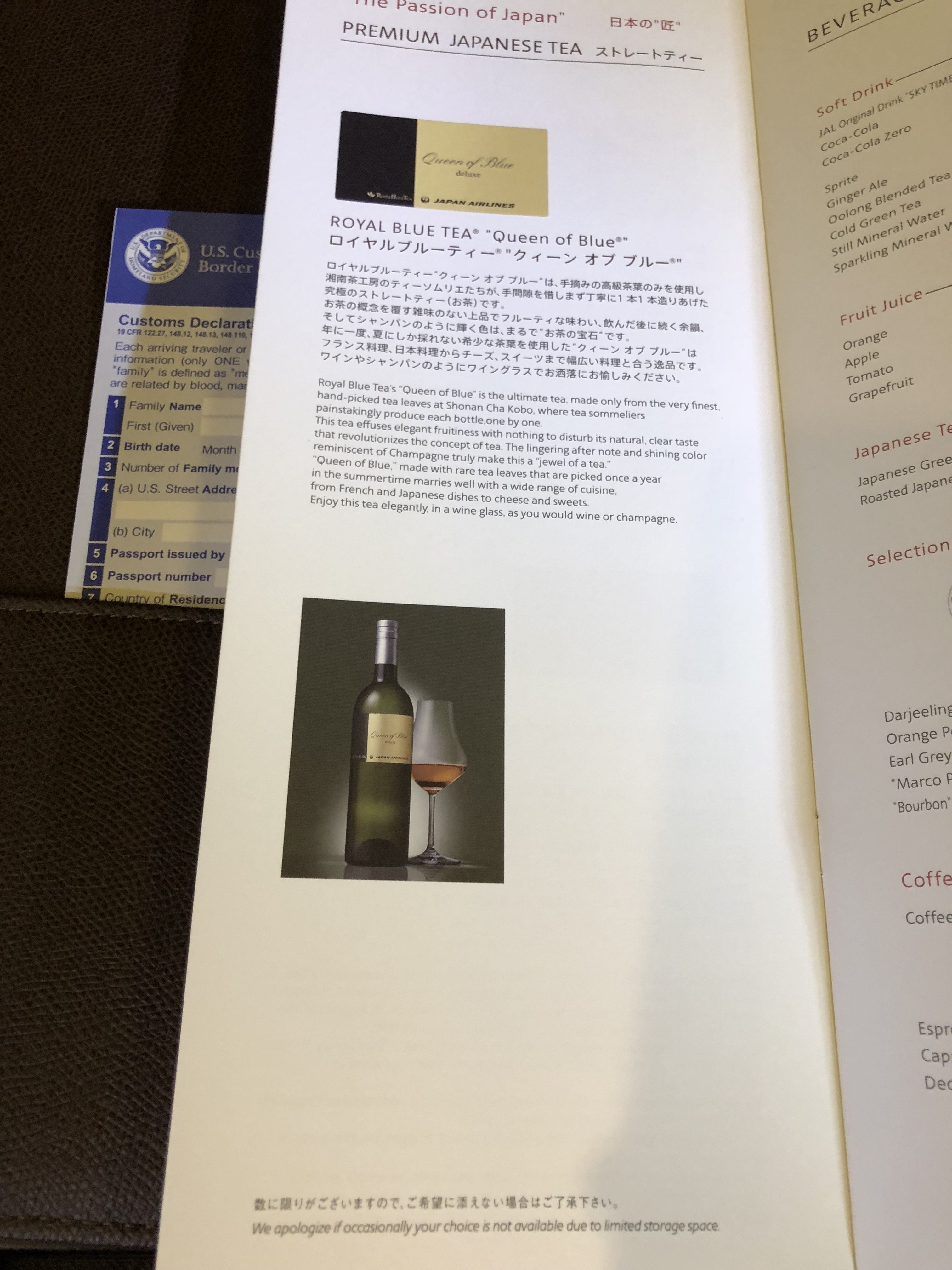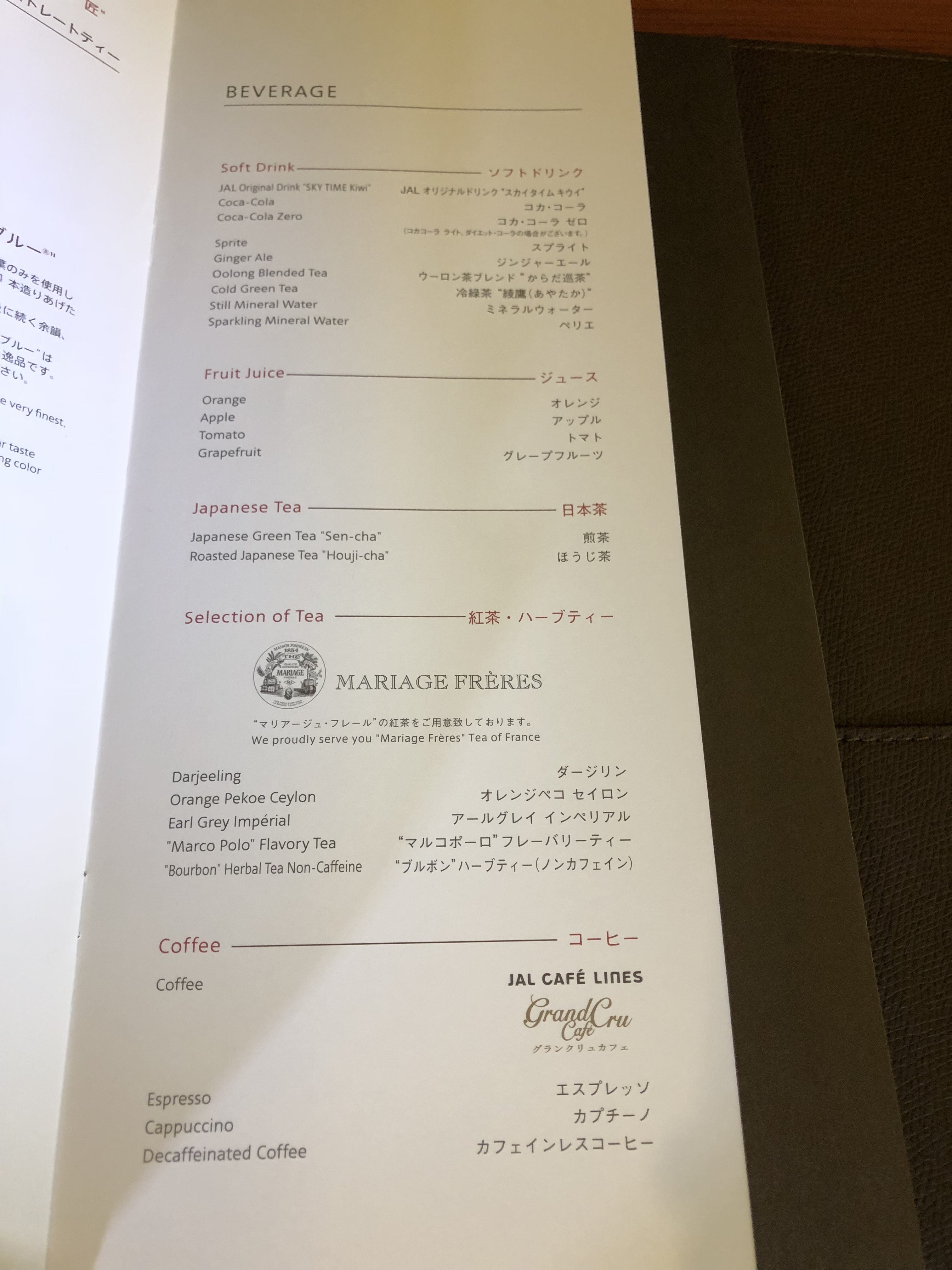 Now that you have an idea of what kind of drinks are offered, let's talk food.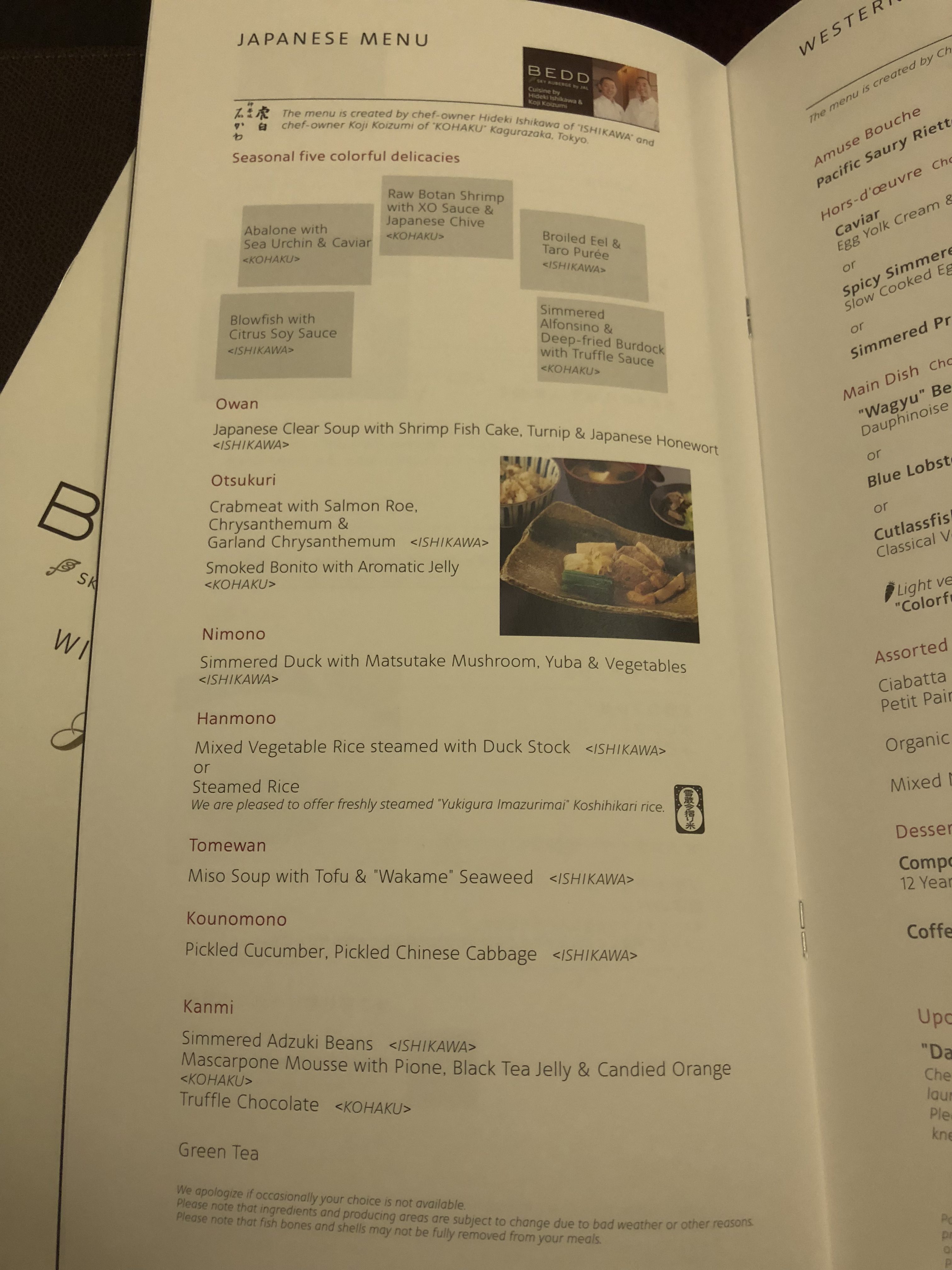 The Japanese menu was filled with fresh seafood delicacies, such as abalone, caviar, crab, and fugu (pufferfish). As a lifelong lover of Japanese food, I definitely opted to have the Japanese courses.
For those who would be interested in the Western menu, there's some amazing food here too, including wagyu steak or blue lobster!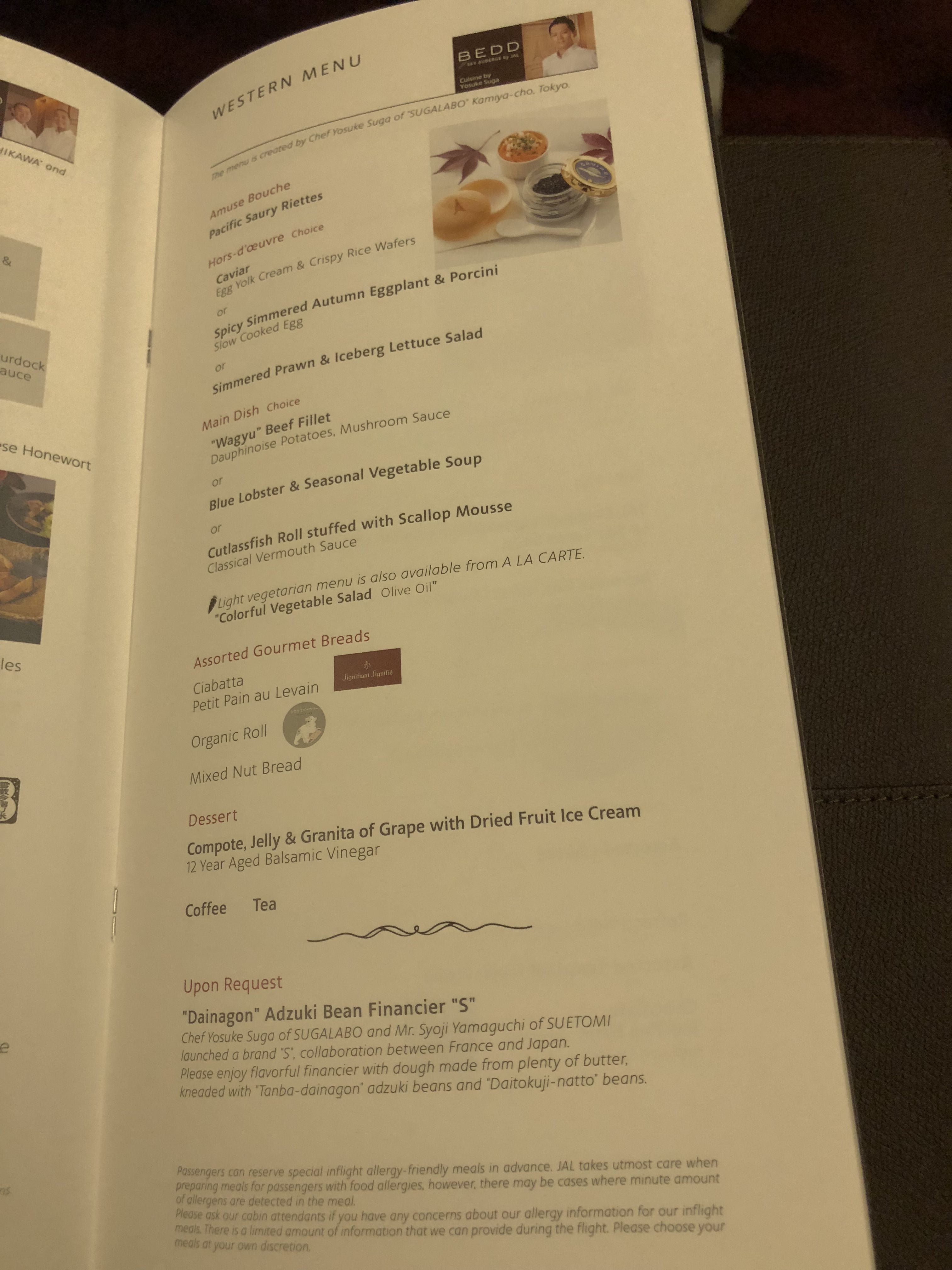 But first, I have to talk about one specific liquor that they had onboard. As you might know, there's a Japanese alcohol company called Suntory. In May 2018, they announced that they would be discontinuing the Hibiki 17 Whisky, which I have been a huge fan of for a while.
While my dad and I were prancing around Japan, I stayed on the lookout for this specific whisky, in addition to the Hibiki 21. We could not find it one single time. In all of Japan. Come to find out, these bottles now go for anywhere from $750-$1,000+ per bottle!
So, when I saw that Japan Airlines serves Hibiki 17 in first class, you can bet that I immediately requested it.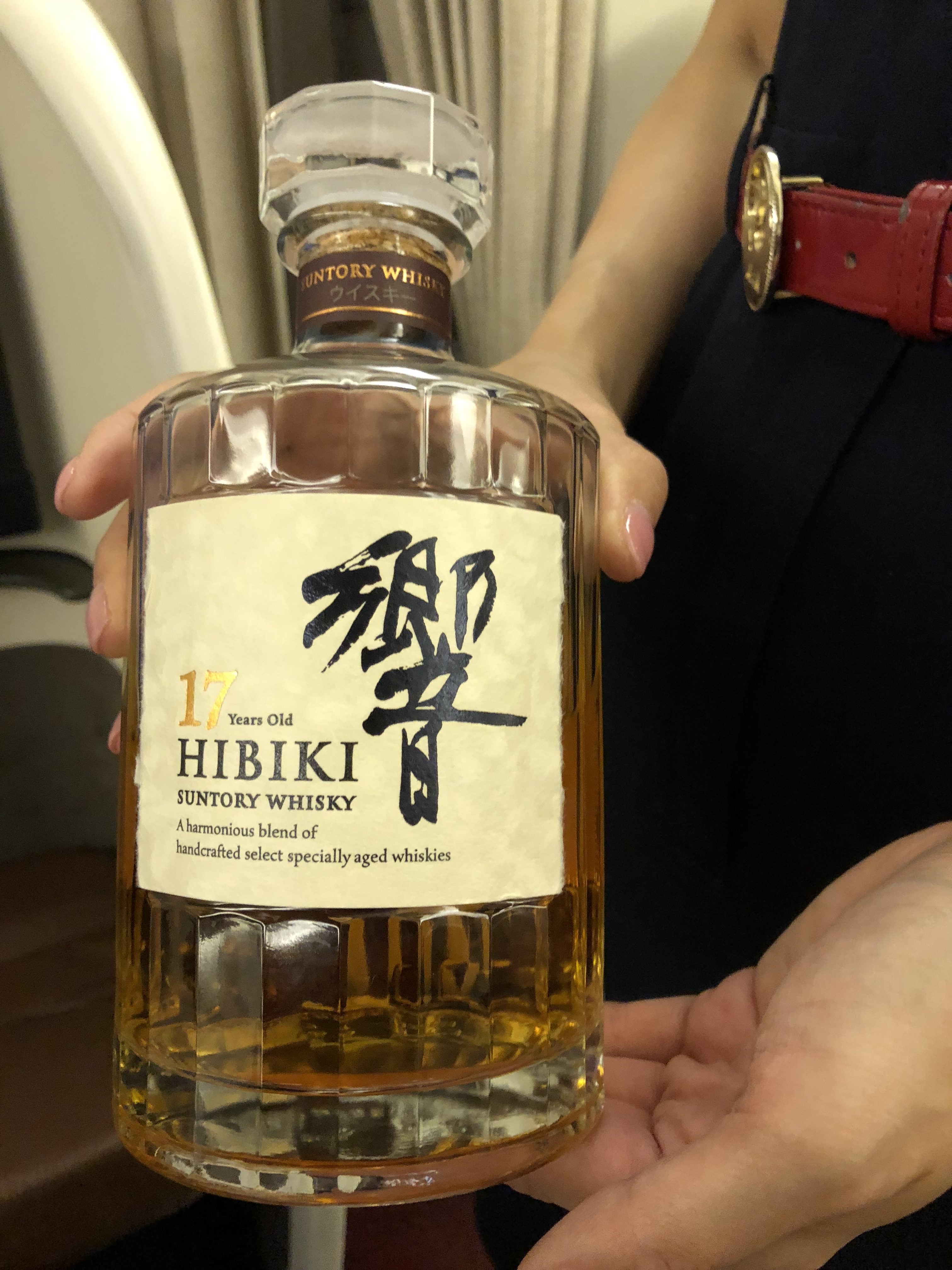 I needed to have a glass…or a couple.
We started with an appetizer — I don't remember what this was, but it was delicious!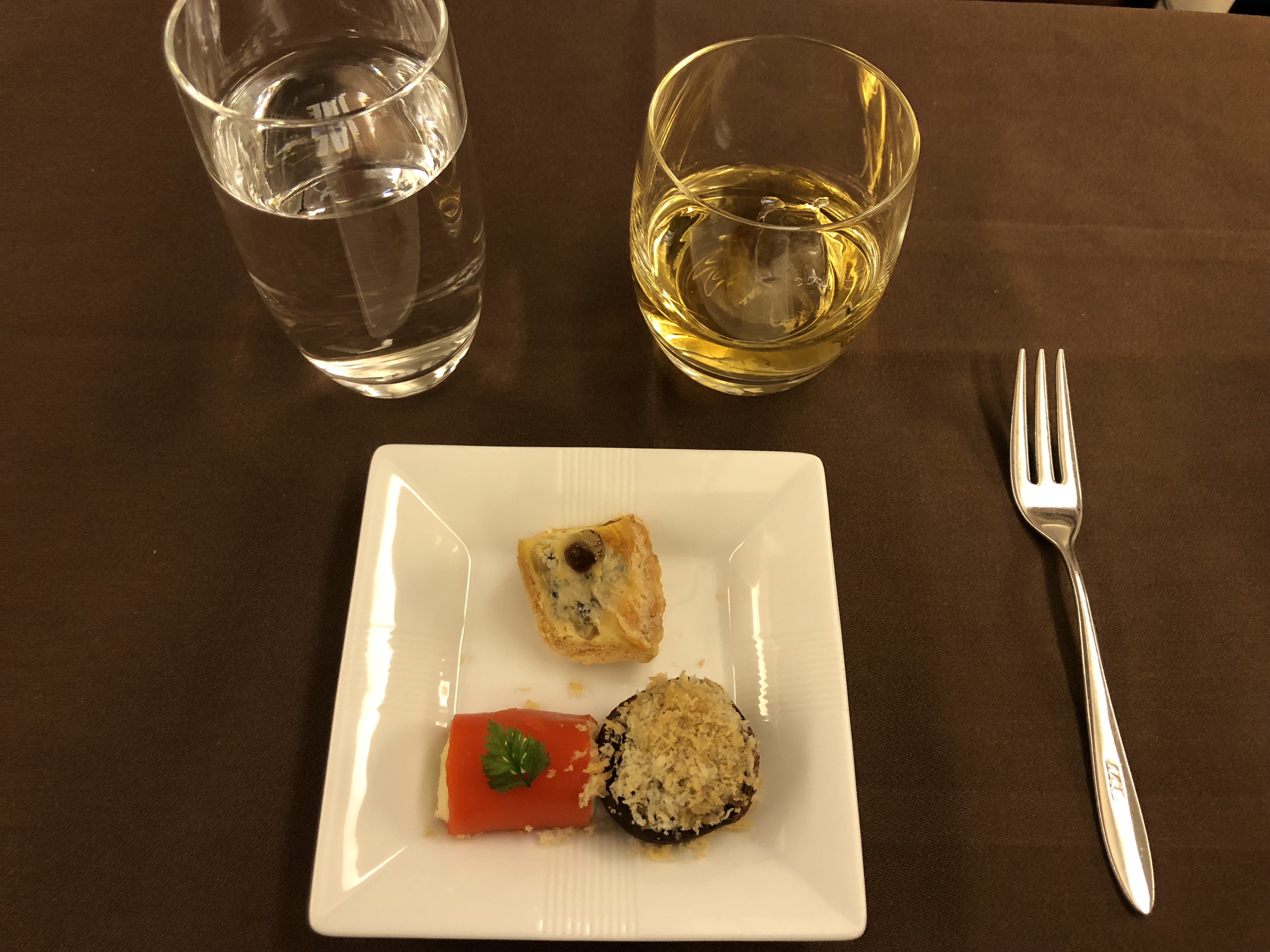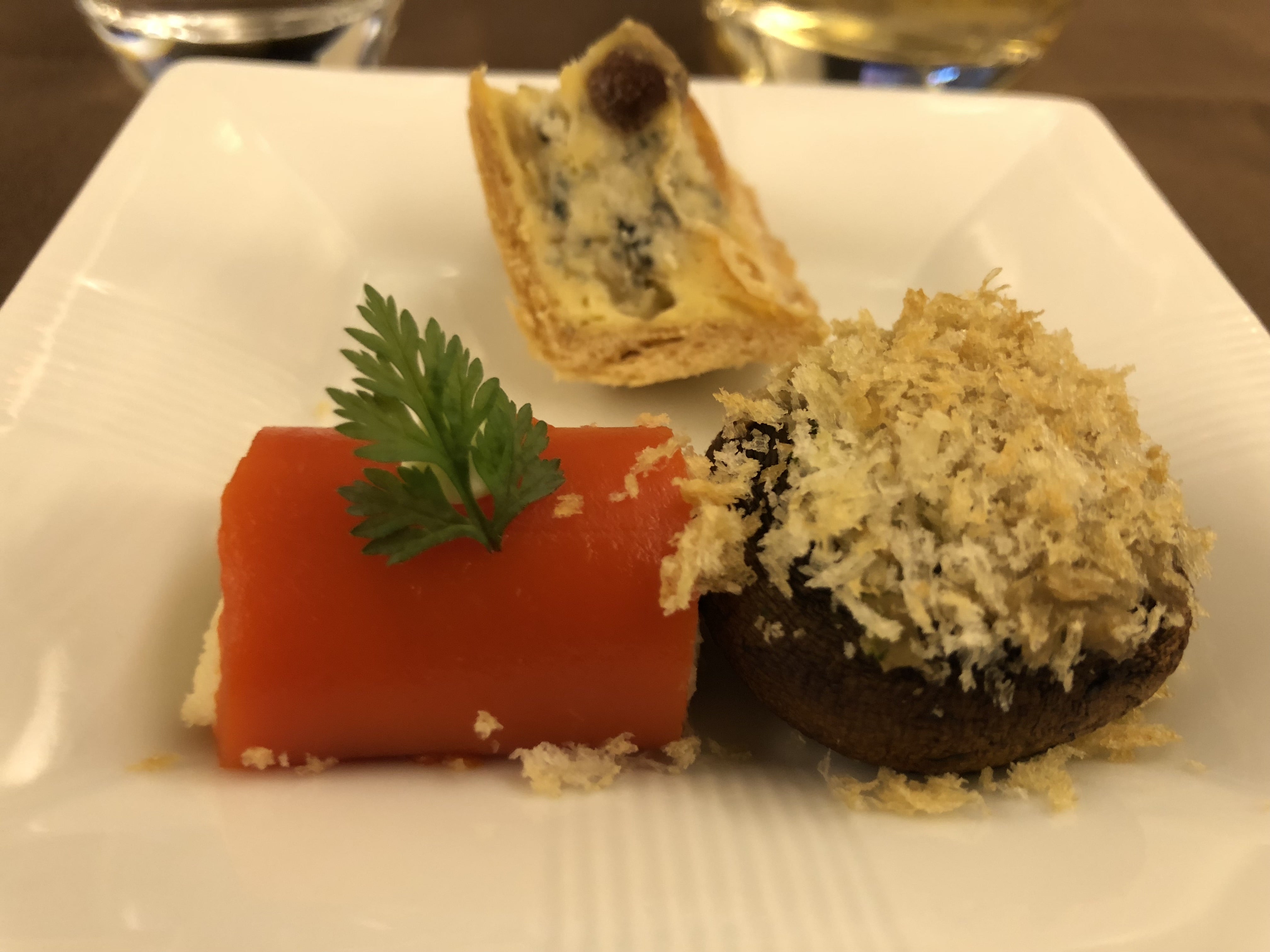 Then, we moved onto the seasonal delicacies. These 5 dishes consisted of the following (left to right):
Blowfish with citrus soy sauce
Abalone with sea urchin and caviar
Raw botan shrimp with XO sauce & Japanese chive
Broiled eel & taro purée
Simmered alfonsino & deep-fried burdock with truffle sauce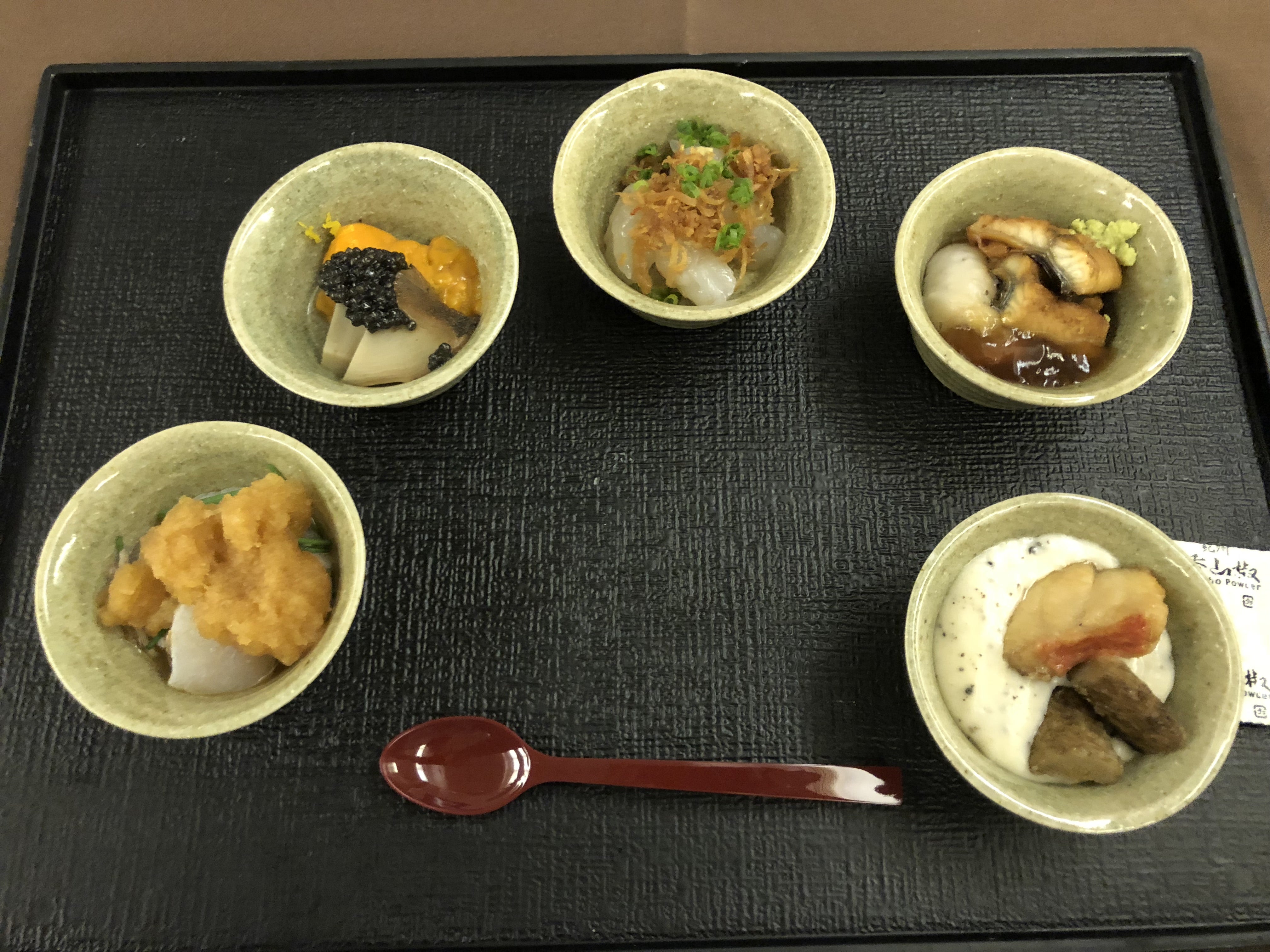 All of these dishes were wonderfully elegant. I have never been so darn impressed by airplane food in my life!
The next dishes were crabmeat with salmon roe and smoked bonito with aromatic jelly. My crab meat was moist, and the salmon roe added the perfect amount of saltiness and umami to the dish. I thought the smoked bonito was also very appetizing.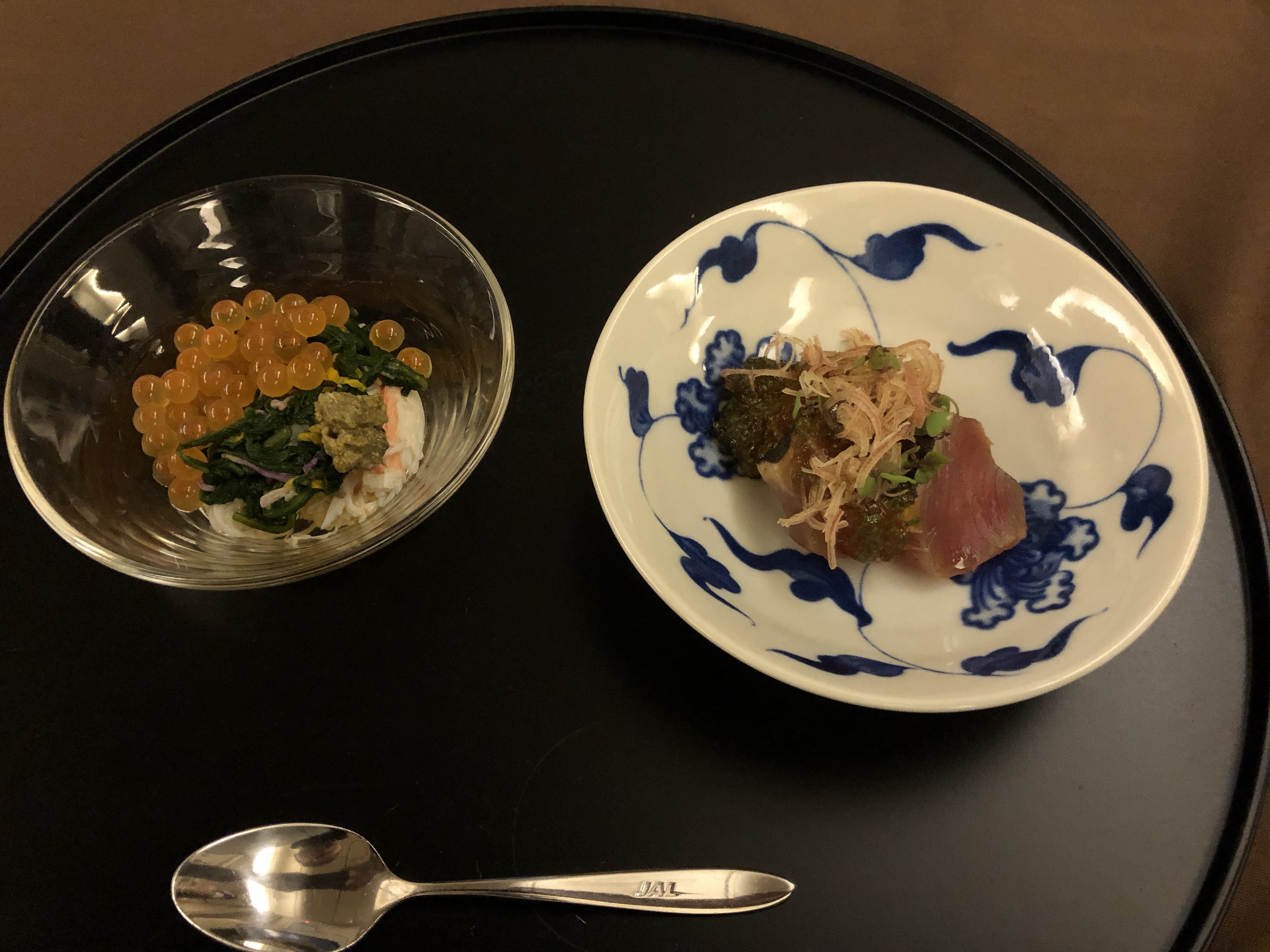 The last main course in this meal was a simmered duck with Matsutake mushroom, yuba, and vegetables. I hit the jackpot here, because I'm an eternal lover of duck!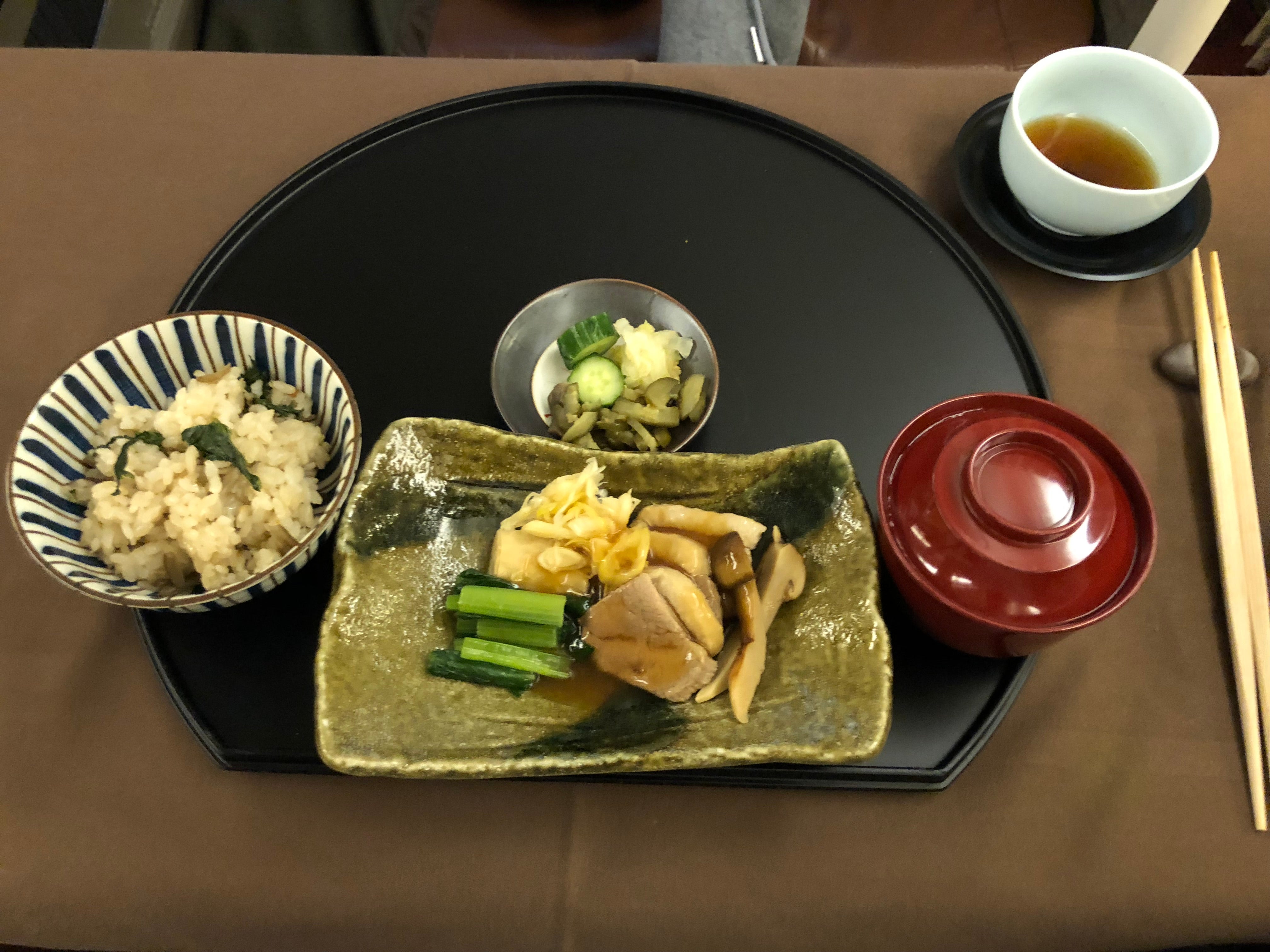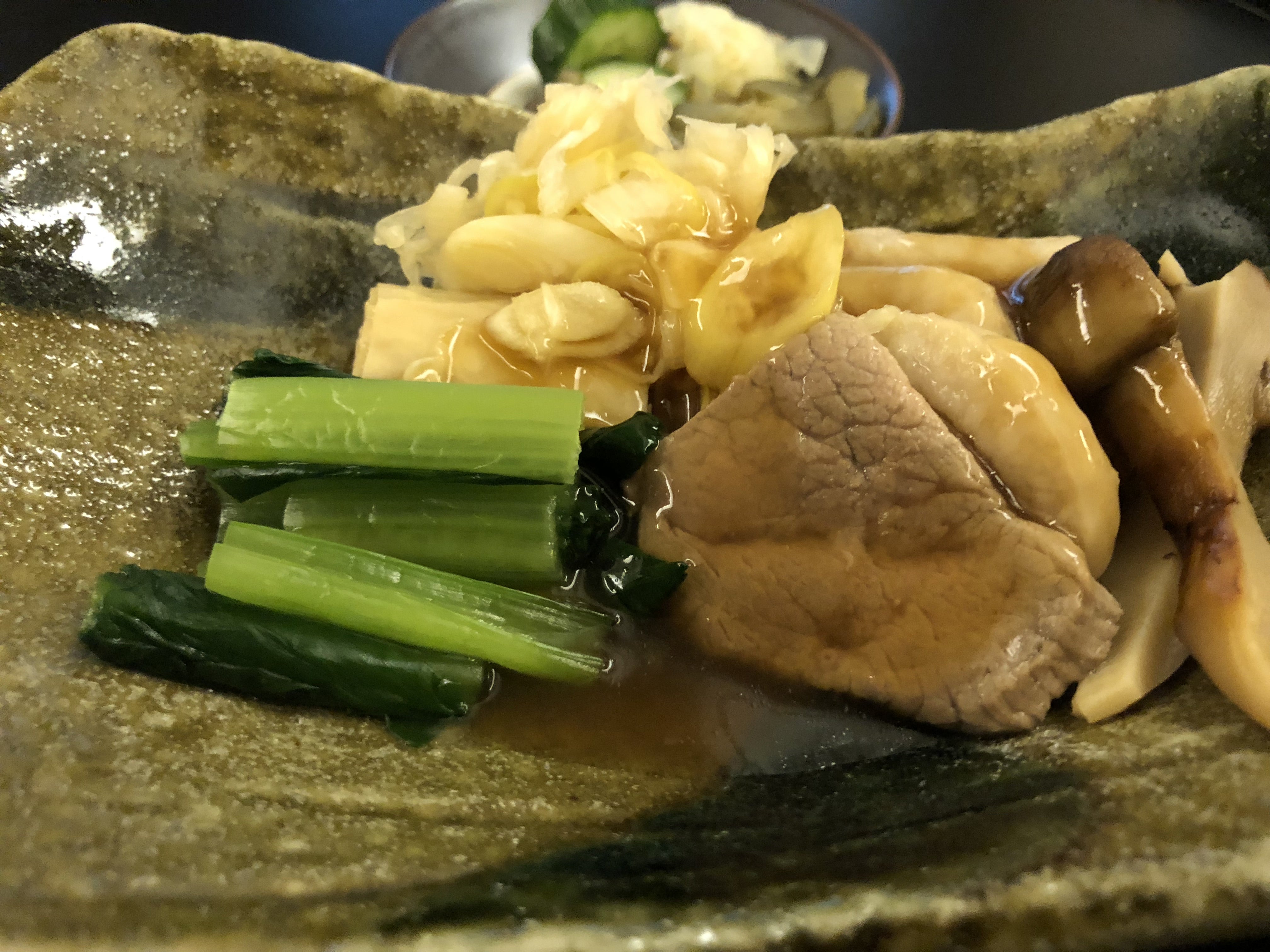 After the main courses were finished, we graciously received our desserts: simmered adzuki beans and mascarpone mousse with pione grapes, black tea jelly, and candied orange!
The mascarpone mousse had alcohol in it, and the grapes paired with the black tea jelly were exceedingly refreshing, while the adzuki beans were oh-so-rich and sweet.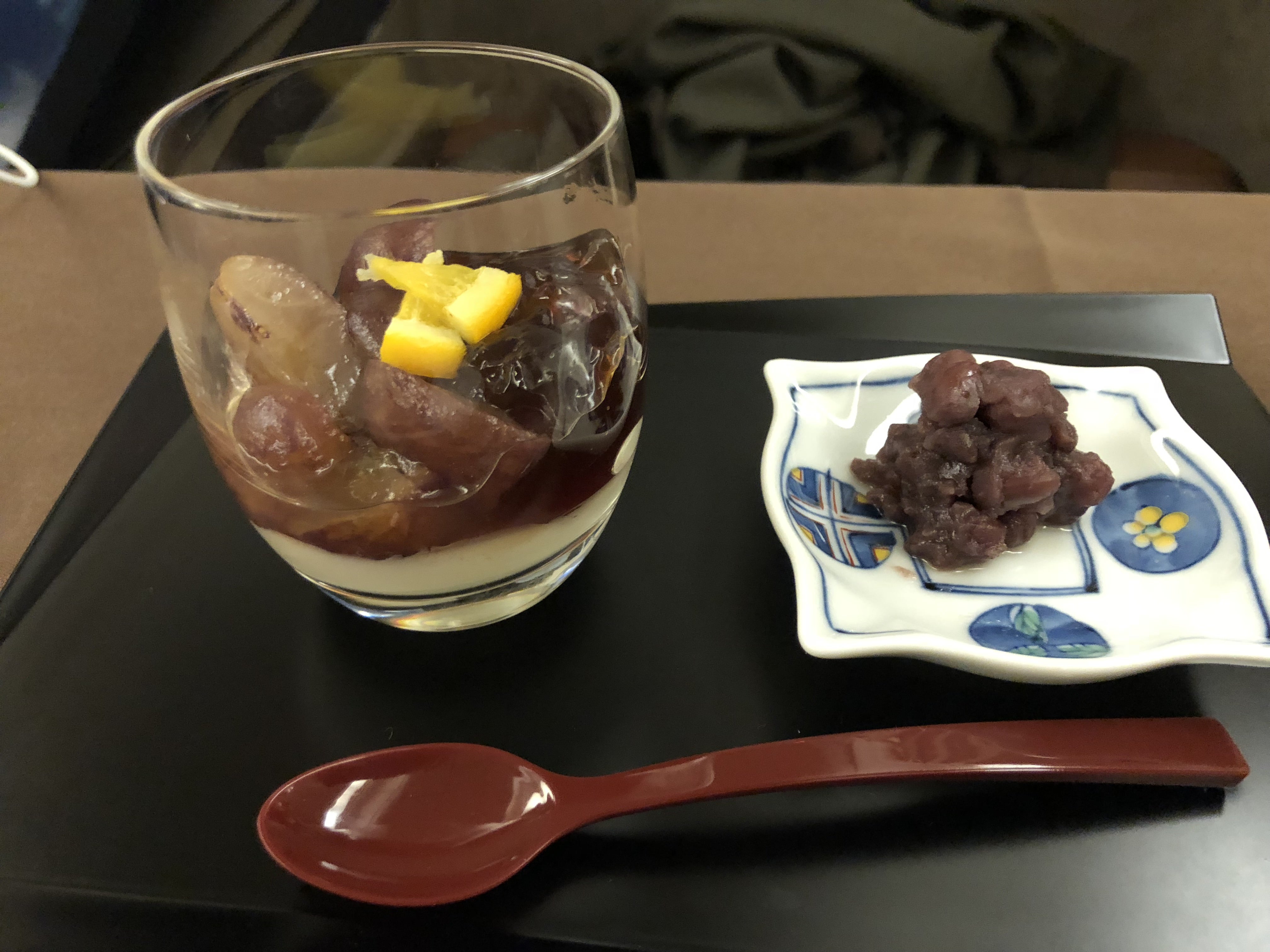 They also brought out a couple of truffle chocolates, which were interesting. My dad didn't care for them, but the truffle added an intriguing savoriness to the chocolates.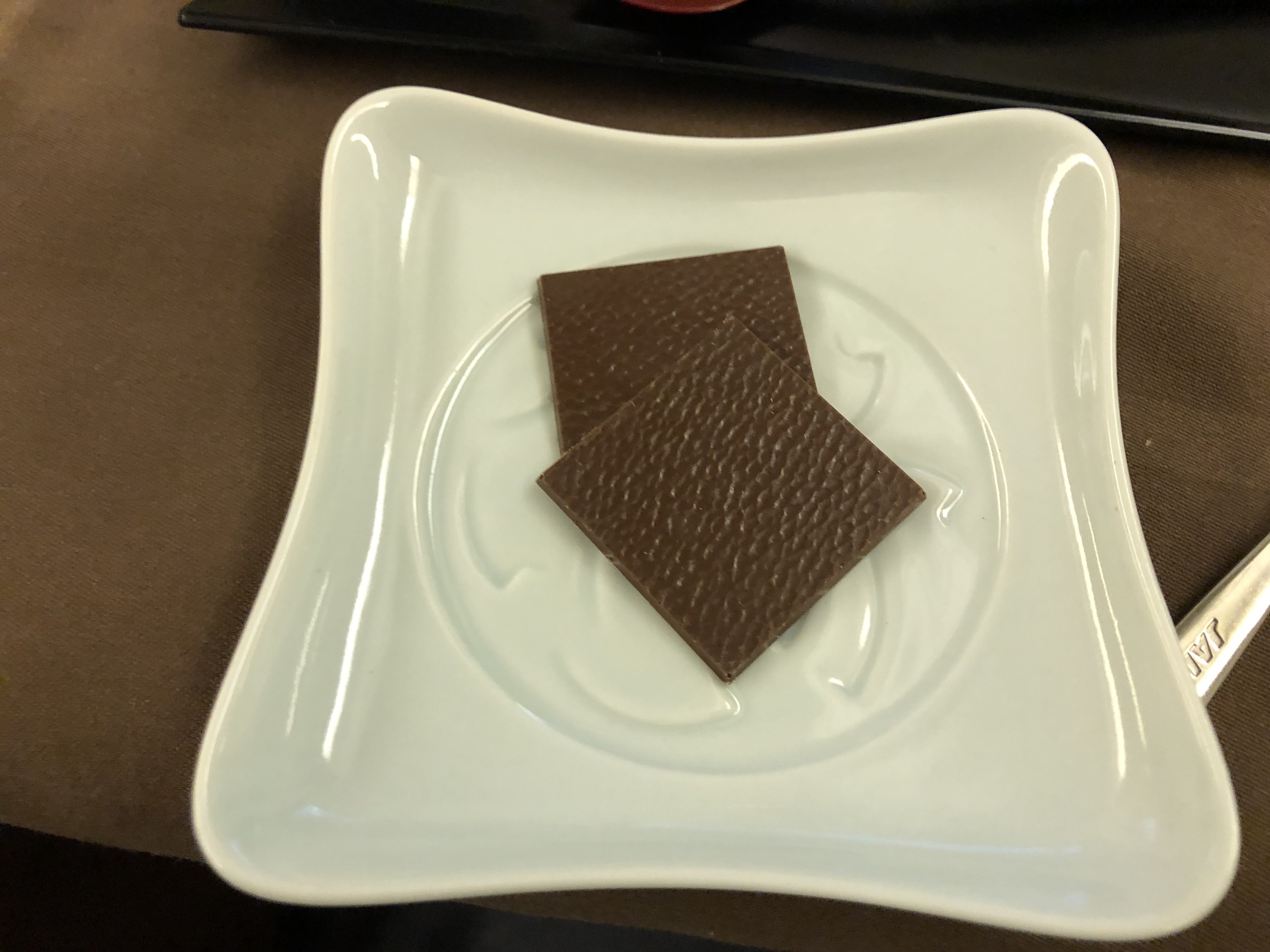 After all was said and done, I was about 5 pounds heavier and ready to slip into a food coma. I asked my flight attendant to make my bed and relaxed for a bit before falling into a comfy slumber.
I actually slept through the next meal, but no regrets there — I was plenty full and had to get some rest before flying to work the next day anyway.
Entertainment & Service
As I mentioned above, the inflight monitor was huge. The entertainment selection is the same as in business class, featuring Hollywood movies such as Deadpool 2, Ant-Man and the Wasp, and Guardians of the Galaxy Vol. 2.
But I needed to get some rest, so I slept for a majority of this flight.
What I loved about the service was just how friendly and pleasant they made the whole experience. My flight attendant was so enthusiastic, and it seemed like she was genuinely happy to be working at Japan Airlines.
I woke up around an hour before landing. Despite being offered another meal, I politely declined — I hadn't even begun digesting the first one!
Shortly before landing, we were given a last chocolate and a souvenir notecard, which was a nice touch. The chocolate was velvety and luscious.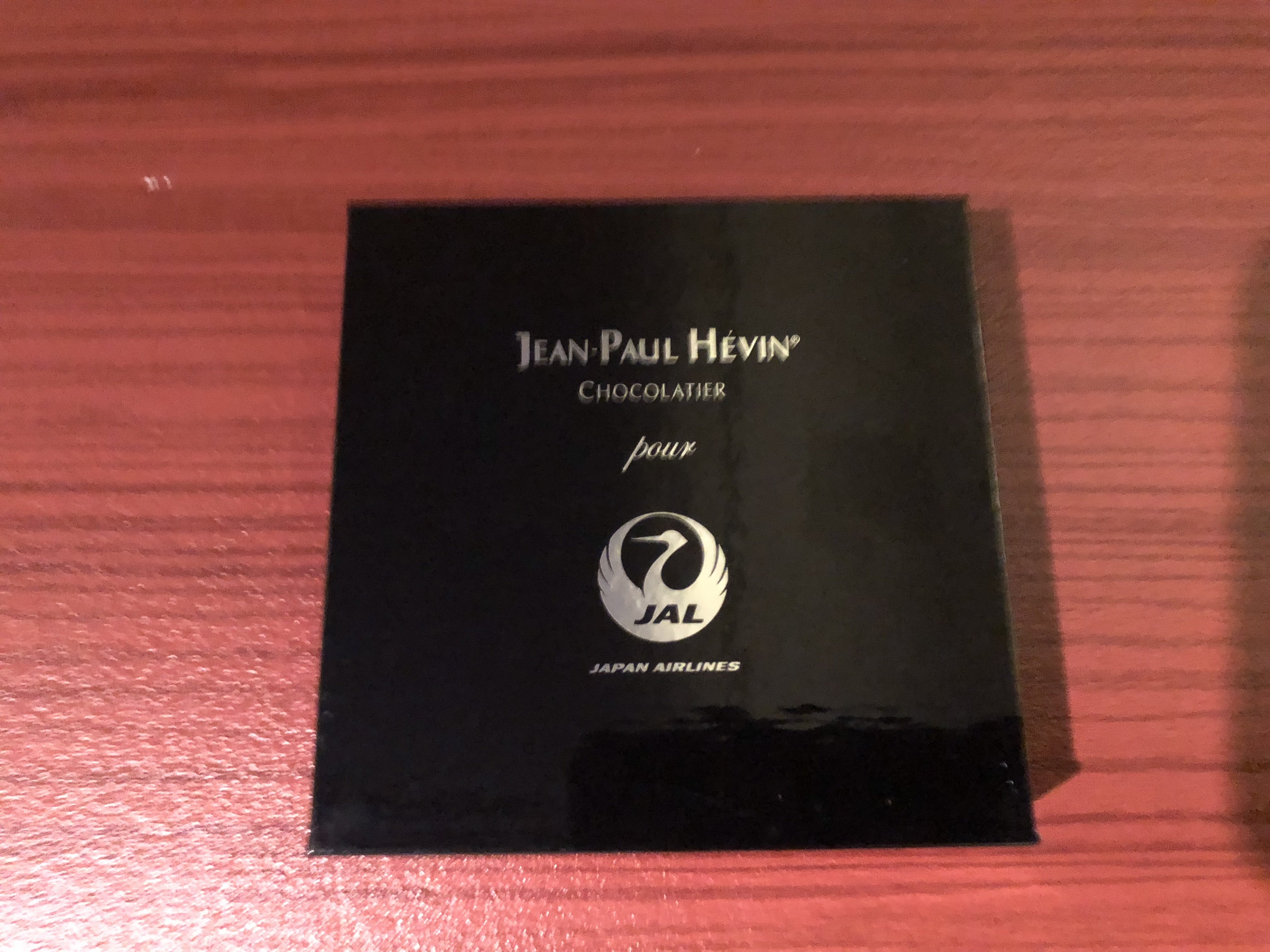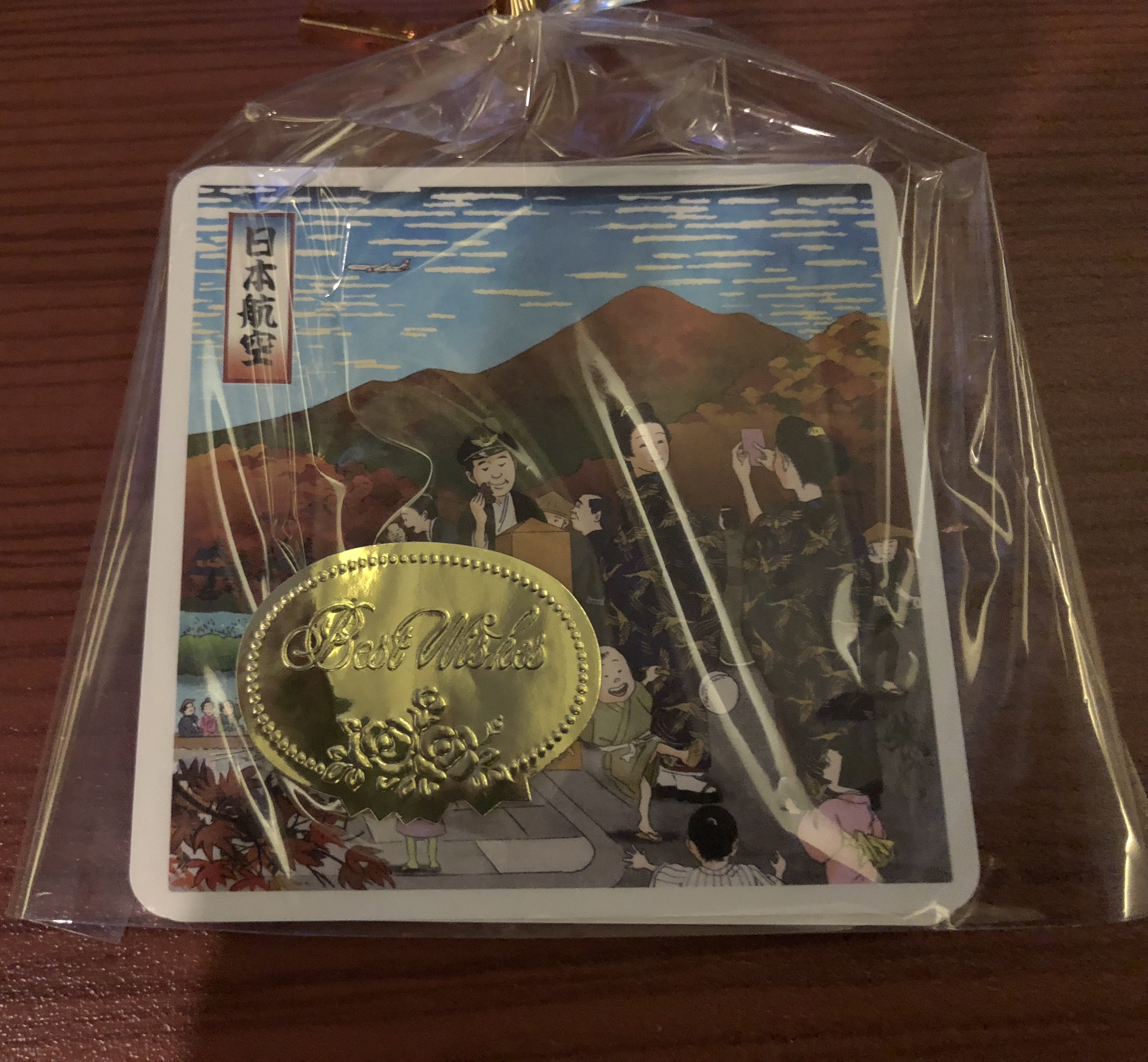 Bottom Line: I came out way ahead with some extra gifts for my fiancée, and that gesture (along with the flawless service) is what I will remember most.
Final Thoughts
I'm so glad I had the privilege of experiencing Japan Airlines 777 first class. This flagship product is truly astounding, and my experience was wonderful from start to finish.
The service was unmatched, and I found the overall product to be superb.
Their beds are ridiculously spacious and comfortable, the food was fresh and sophisticated, and the drink selection (particularly the Hibiki 17) hit the spot.
Onboard, the staff thoughtfully gave me some more souvenirs for my fiancée. Although she wasn't flying with me that day, they wanted to let her know they were thinking of her too — and we'll certainly remember this the next time we fly JAL first class!
Here's the thing: for the unpretentious, Japan Airlines first class has the makings of an ideal experience. Yes, you can say that the seats might look old and the lavatories are small, but really, who cares when you're being treated so kindly?
Everything about the experience was phenomenal, from the food to the comfort to the service to the amenities. I really don't have any complaints…except that the flight was too short! If you're interested in another writer's perspective, check out this review of Japan Airlines Boeing 777-300 ER first class.
Interested in the pilot's perspective? Explore the Boeing 777 from a pilot's perspective.