Japan Airlines Boeing 777-300ER First Class Review [HND > JFK]: Drinking my Ticket Price in Champagne
Airline: Japan Airlines (JAL)
Aircraft: Boeing 777-300ER (JA741J)
Flight #: JL 6
Route: Tokyo-Haneda Airport (HND) to John F. Kennedy International-New York (JFK)
Date: June 26, 2019
Duration: 13hrs 5mins
Cabin and Layout: 8 open first class suites in a 1-2-1 configuration across 2 rows
Seat: 2A
Miles Used: 70,000 Alaska Air Mileage Plan miles + $52.03 per person including taxes and fees
Fare Paid: N/A
Typical Retail Fare: $12,800 per person including taxes and fees for a one-way first class ticket
Introduction
I love everything about Japan — the history, the culture, the people, the food — and that naturally transcends into my love for Japanese airlines, including both Japan Airlines (JAL) and All Nippon Airways (ANA).
I worked for a Japanese shipping company for 6 years, and having spent considerable time in the country, I had the opportunity to fly both these airlines. However, having left Japan, I hadn't flown on them in some time.
Earlier in the year, I had the opportunity to fly first class on ANA's inaugural A380 from Honolulu to Tokyo and was excited to see how Japan Airlines would stack up against them.
Booking
Japan Airlines, a member of the Oneworld alliance may not have the latest first class hard product on its flagship Boeing 777-300ER aircraft, but it shines in terms of the soft product, outstanding catering, and the exceptional service. Of course, all this comes at a cost, and a one-way first class ticket for a trans-Pacific crossing between Japan and the U.S. mainland will set you back by ~$12,800.
However, if you are willing to be patient and flexible, there are cheaper ways to book this ticket at a fraction of the retail price through award redemption.
Japan Airlines first class award tickets can be booked through the airline's own frequent flyer program Mileage Bank, Alaska Airlines Mileage Plan, one of its Oneworld partners, and Marriott Bonvoy.
Usually, availability is best either 1 -2 days or 2 -3 weeks prior departure. Japan Airlines release all unoccupied seats available for partner award redemption 1-2 days before departure.
There are cases, as in mine, where you will find availability way ahead. I found availability through the Alaska Airlines Mileage Plan program 7 months in advance and snagged the ticket on November 20, 2018, for my travel on June 26, 2019.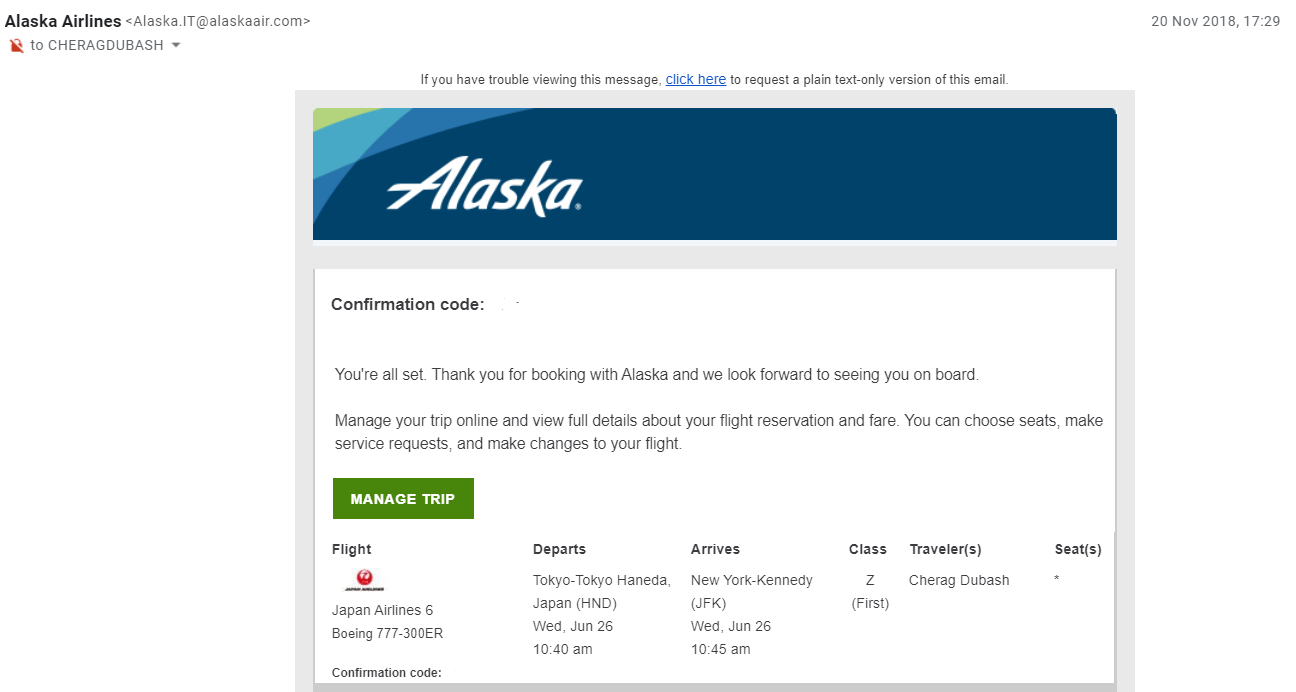 I had sufficient miles in both my Alaska Airlines Mileage Plan and  American Airlines AAdvantage accounts to book this first class award ticket. However, at the time of booking, you could not view and search Japan Airlines awards on AA.com, which has since changed as of June 11, 2019.
I proceeded to book the ticket through Alaska Airlines Mileage Plan that cost me 70,000 miles + $52.03 per person including taxes and fees, which is a pittance as compared to the listed retail price of ¥1,383,000 ($12,800).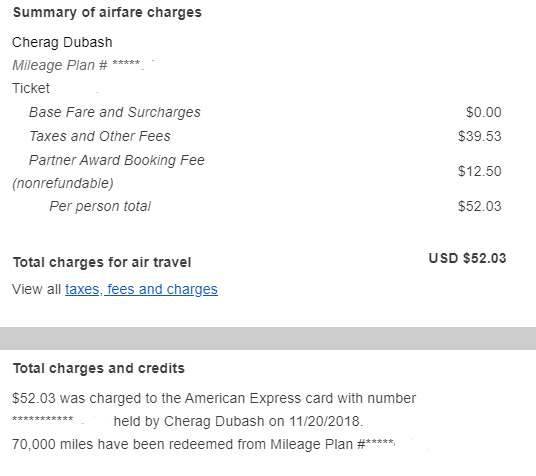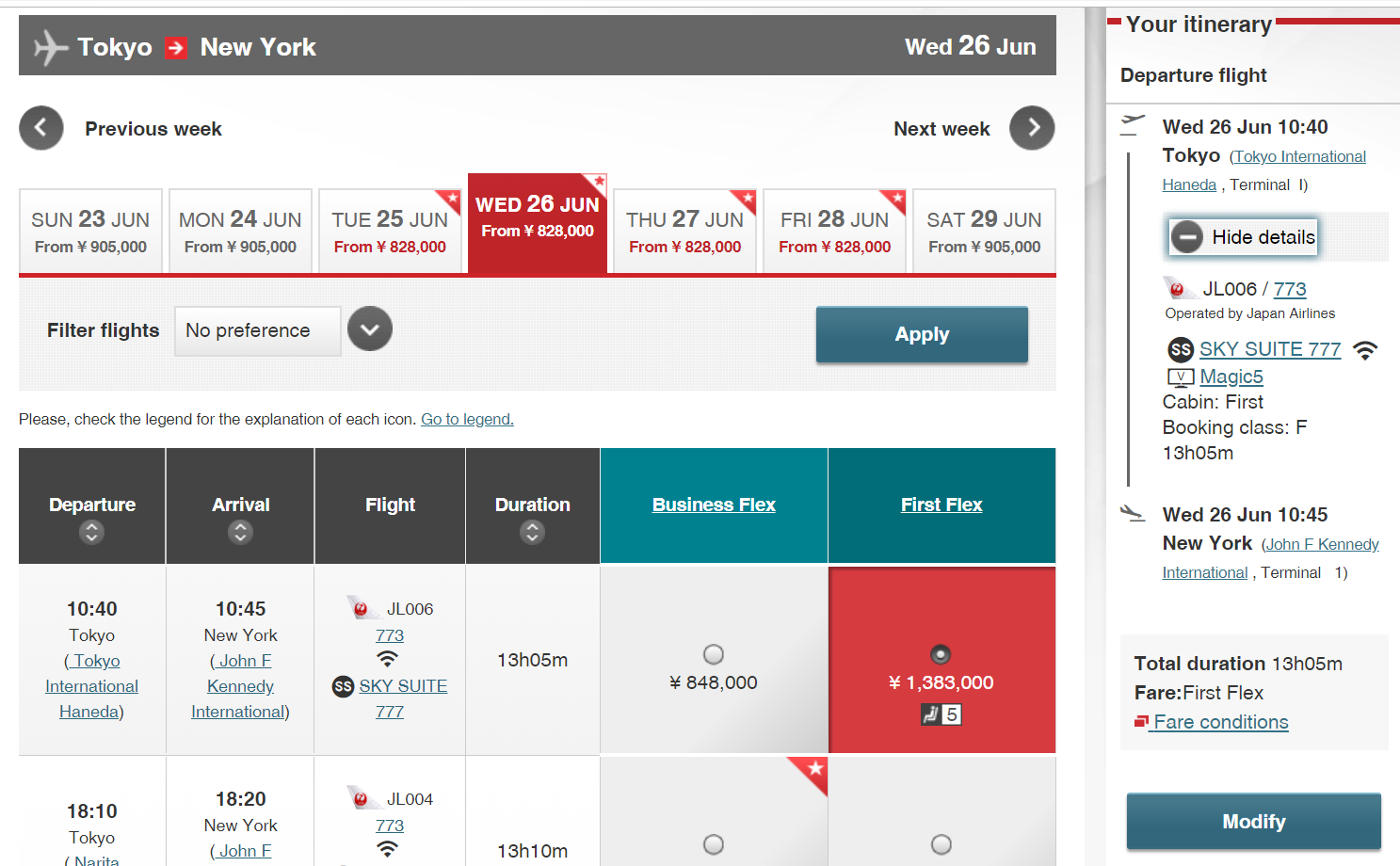 At Tokyo-Haneda Airport (HND)
Tokyo is serviced by 2 major airports — Narita International Airport (NRT) and Haneda International Airport (HND). Commute-wise, I prefer jetting in and out of Haneda International Airport, as it is only 15 kilometers from the city center compared to Narita International Airport, which is 60 kilometers east of central Tokyo. I was staying at the Conrad Tokyo and left the hotel at 7 a.m. for the 20-minute taxi ride to the airport.
Whilst departing Tokyo, if you have the option of flying out of Haneda instead of Narita, I would recommend Haneda not only in terms of commute but also for the stunning views of Tokyo's skyline you enjoy during takeoff.
Japan Airlines operates its international flights from the International Terminal, which opened in 2010. I arrived at the airport at 7:25 a.m. and was dropped at door 7.
Hot Tip: The International Terminal will be renamed Terminal 3 from March 29, 2020, onward. Terminal 2 will also begin handling international flights to cope with the anticipated increase in traffic during the 2020 Summer Olympics.
I headed to counter F that was handling the check in for status holders and first class passengers traveling on Japan Airlines and its Oneworld partners.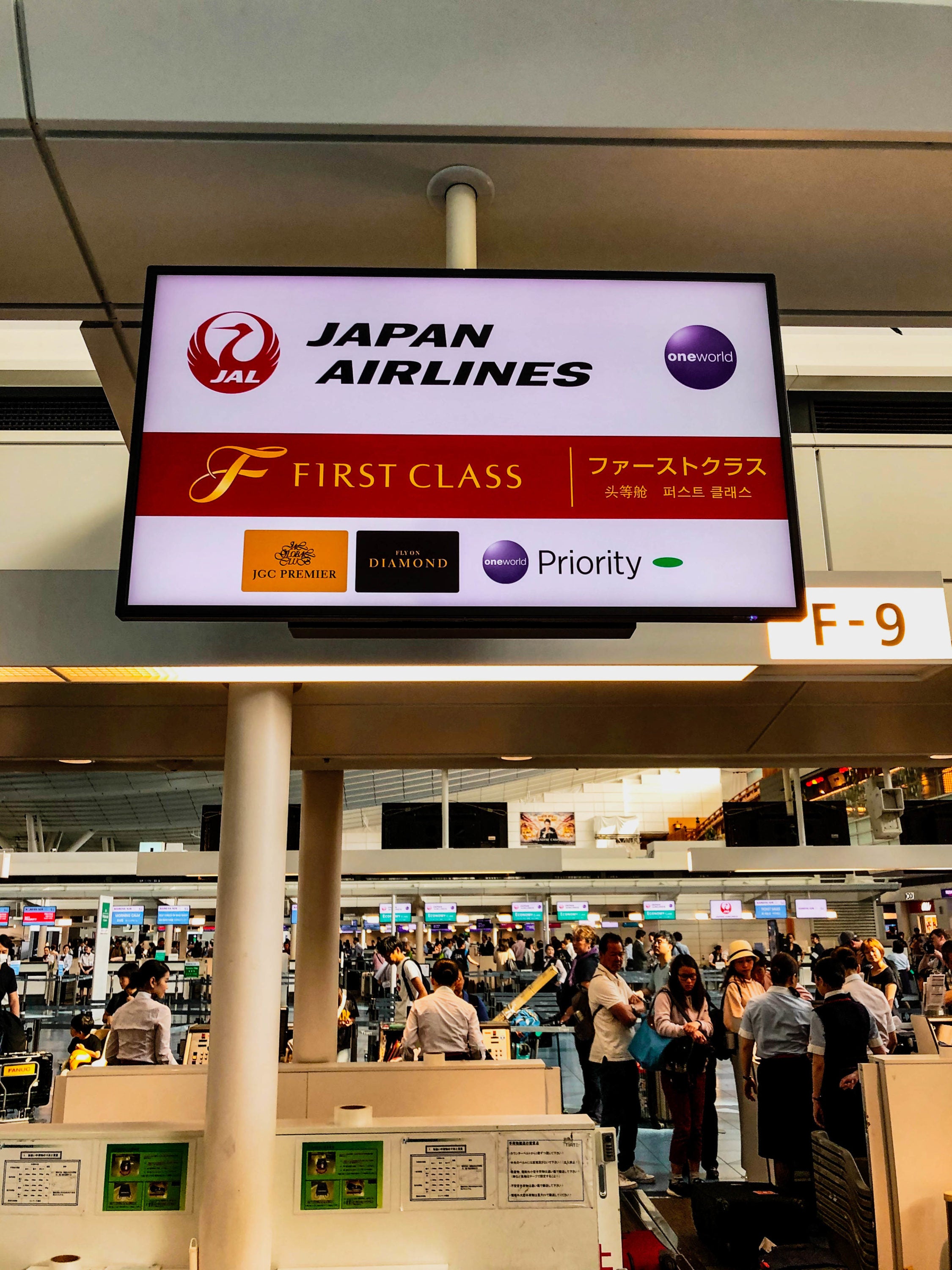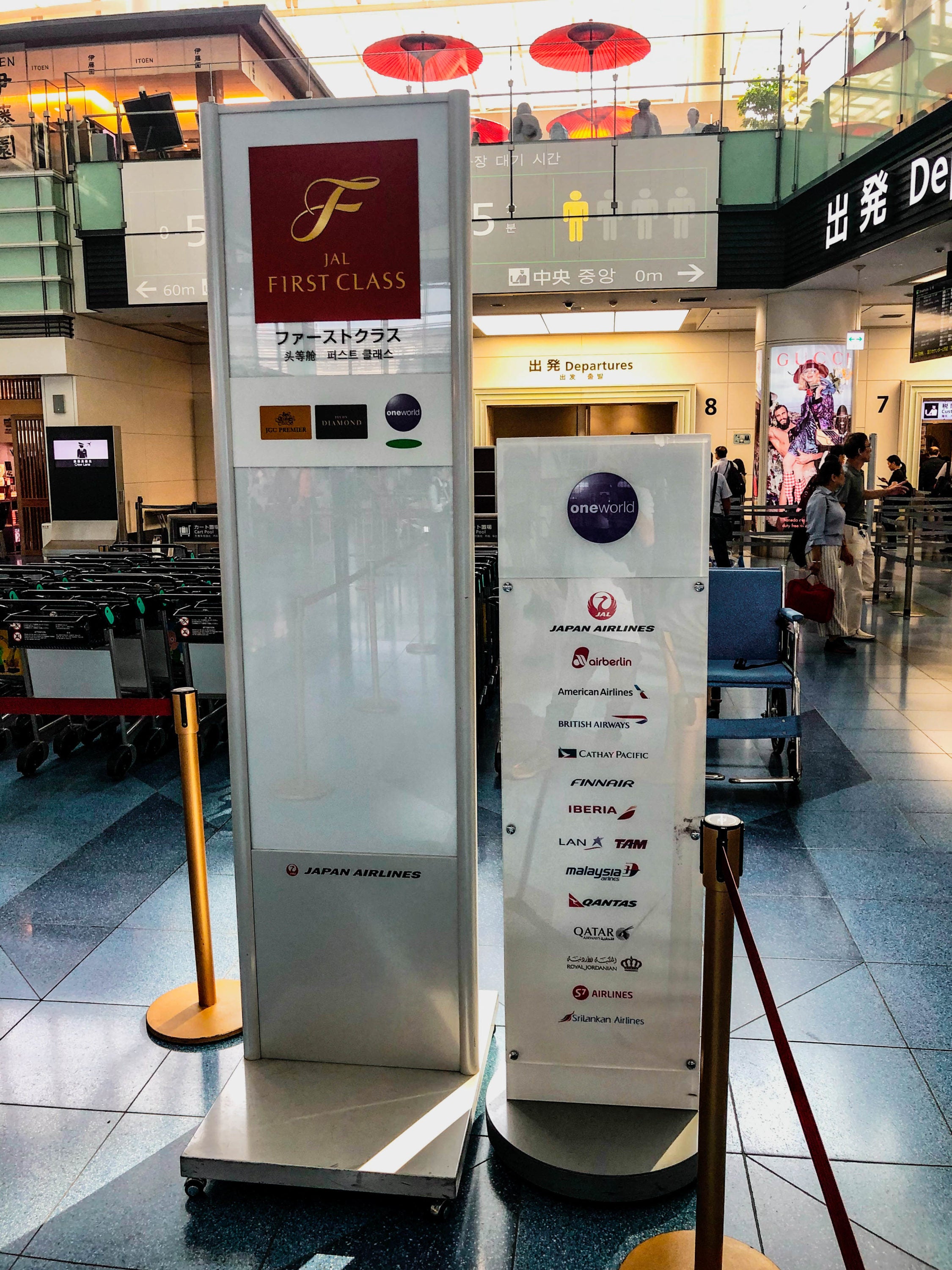 Check in was smooth, after which I was escorted through the priority security lane and immigration, which was fleeting.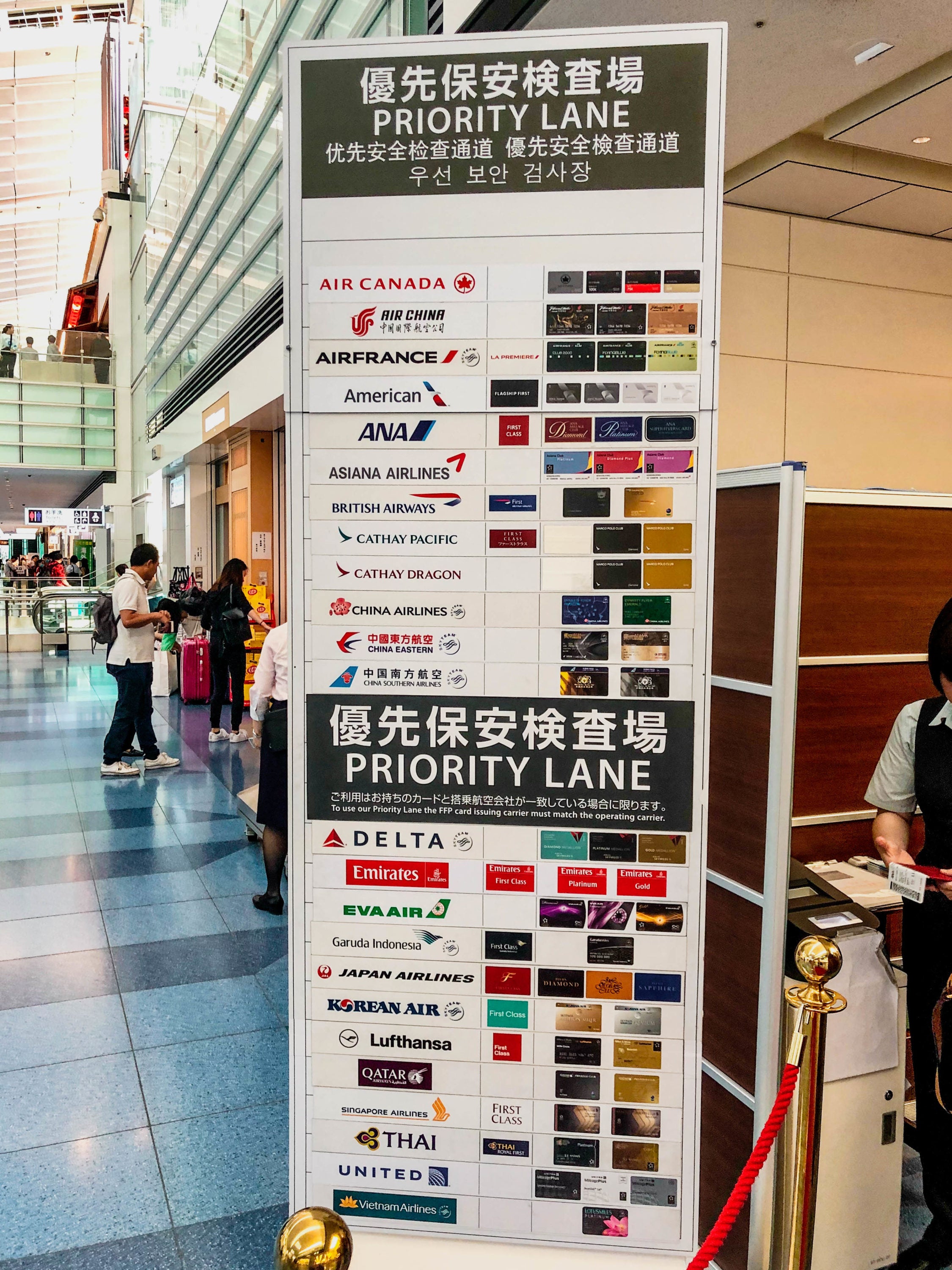 After immigration, I made my way up the escalator to the fourth floor to the Japan Airlines lounges which are located across from gate 112.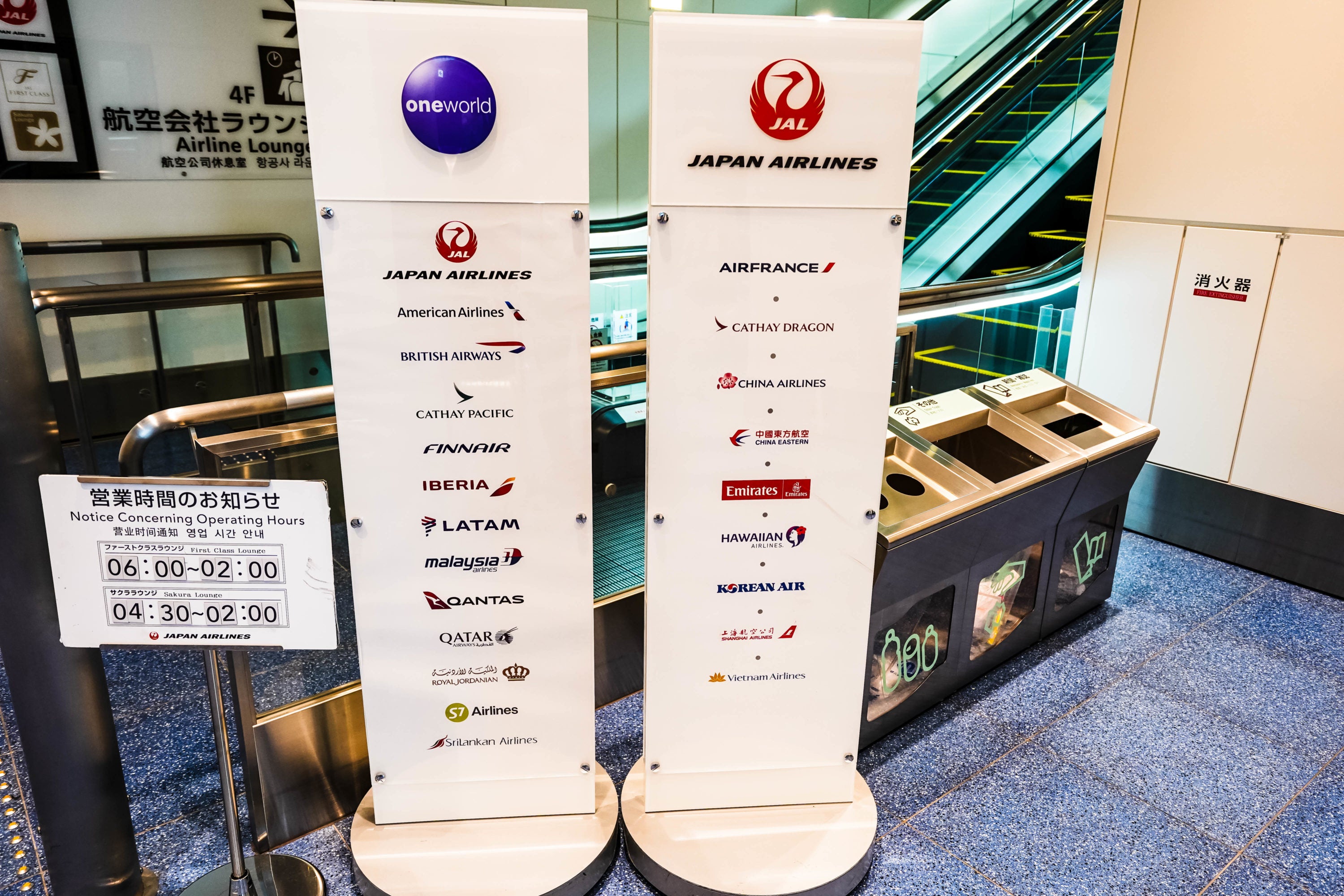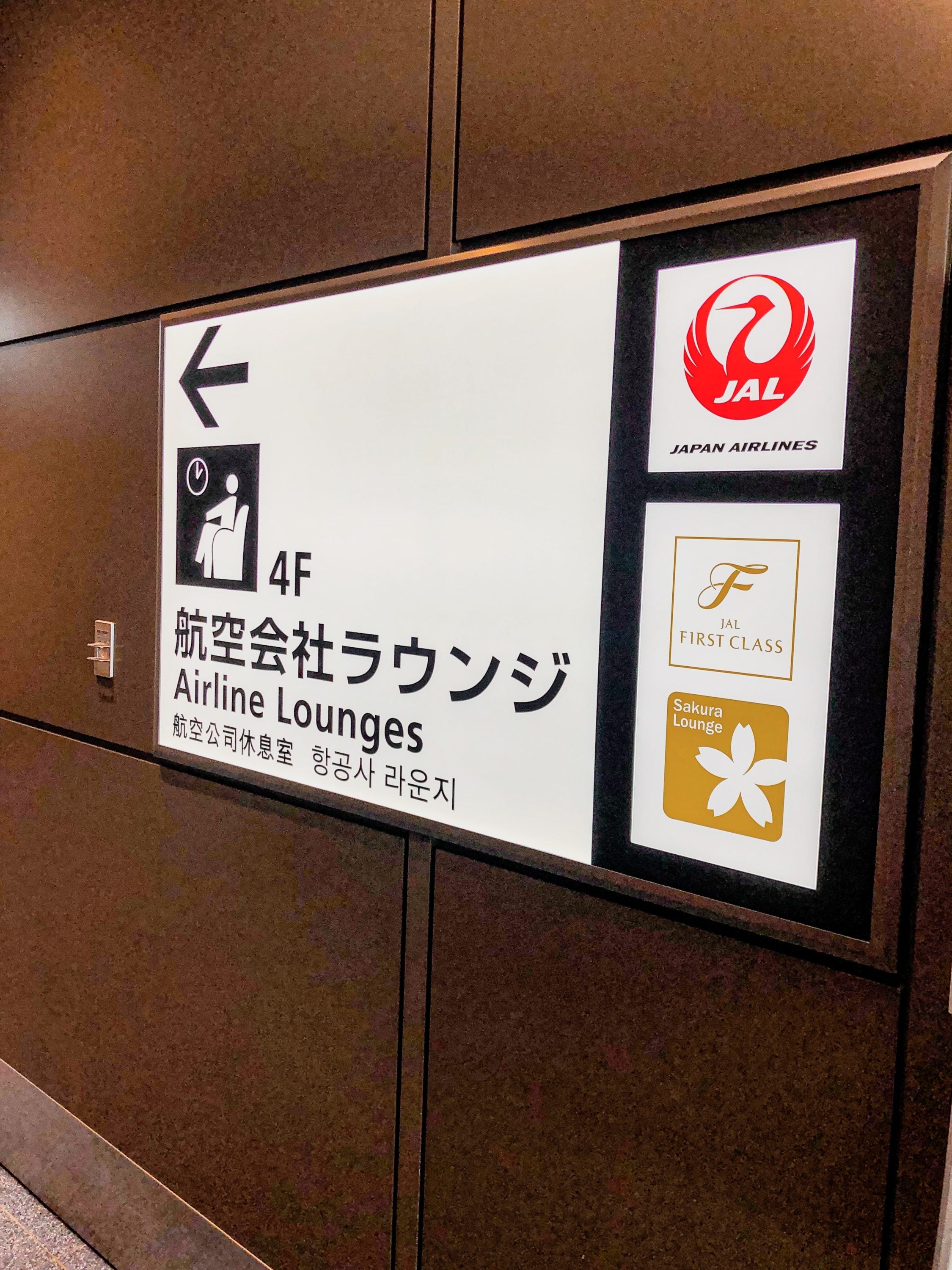 Japan Airlines First Class Lounge 
The Japan Airlines First Class Lounge, which operates daily from 6 a.m. to 2 a.m. the next day, can be accessed by first class passengers traveling on Japan Airlines, its Oneworld partners, SkyTeam airlines operating out of Haneda, Emirates, and Hawaiian, as well as JMB Diamond, JCG Premier, and Oneworld Emerald status holders.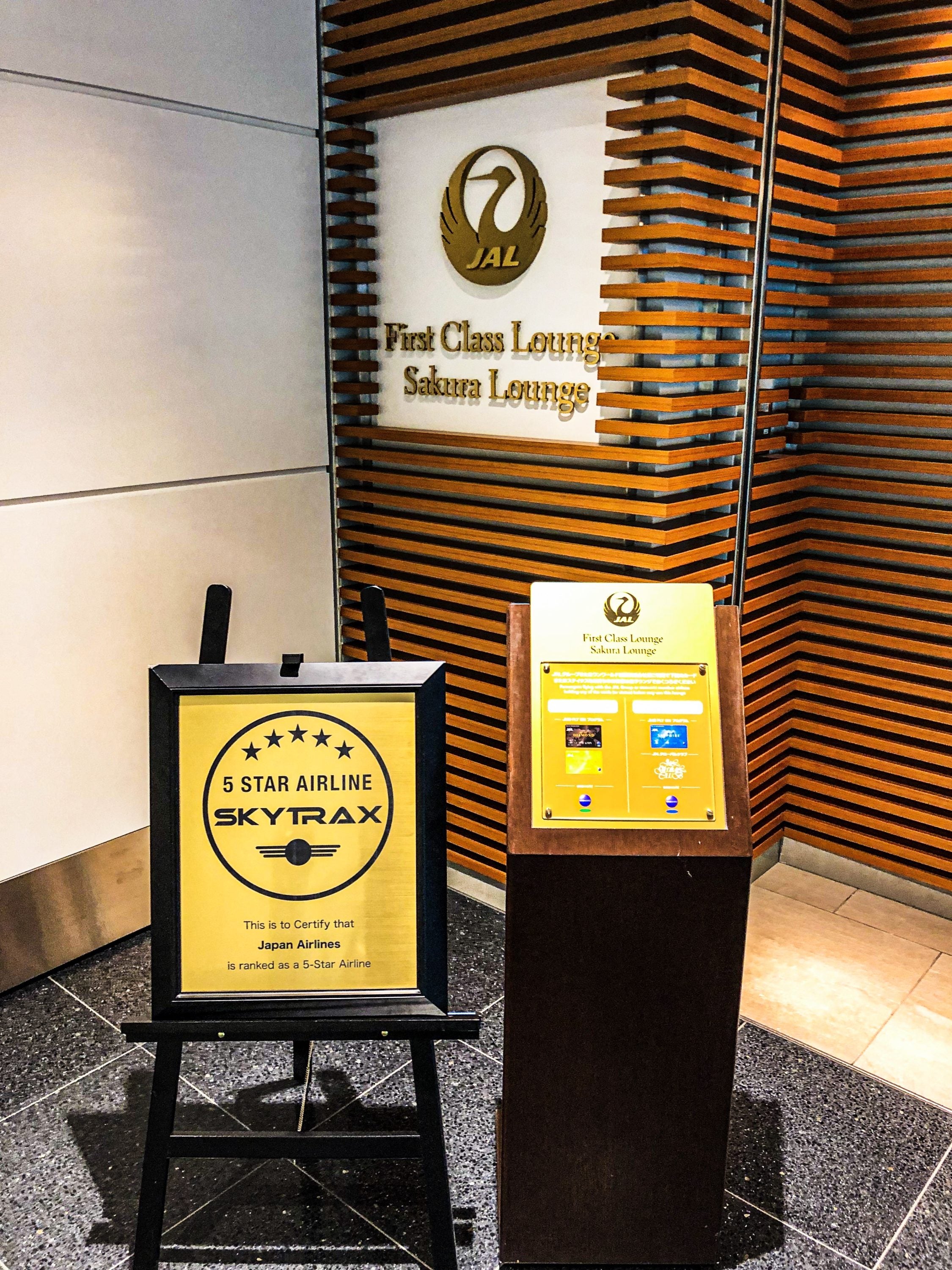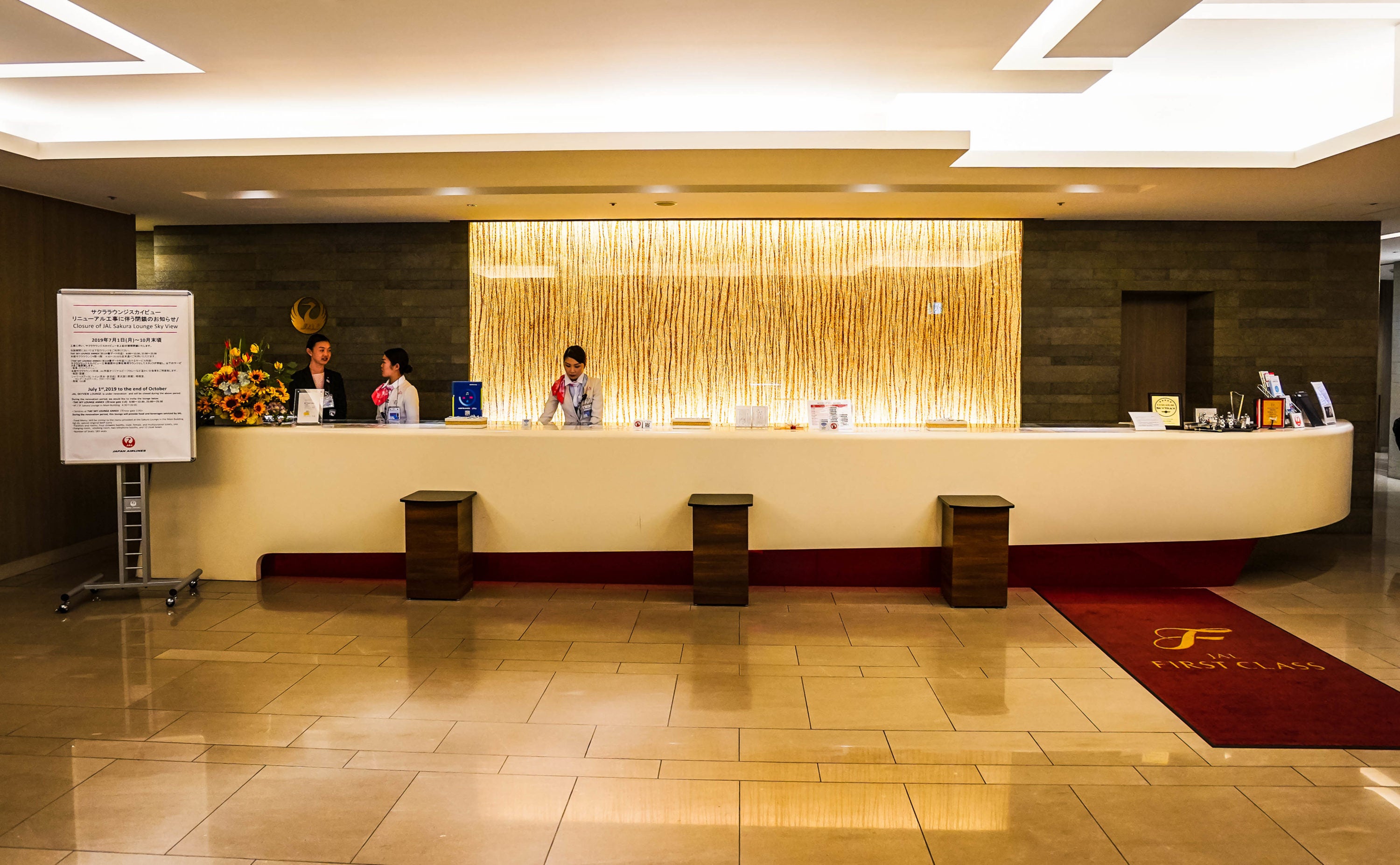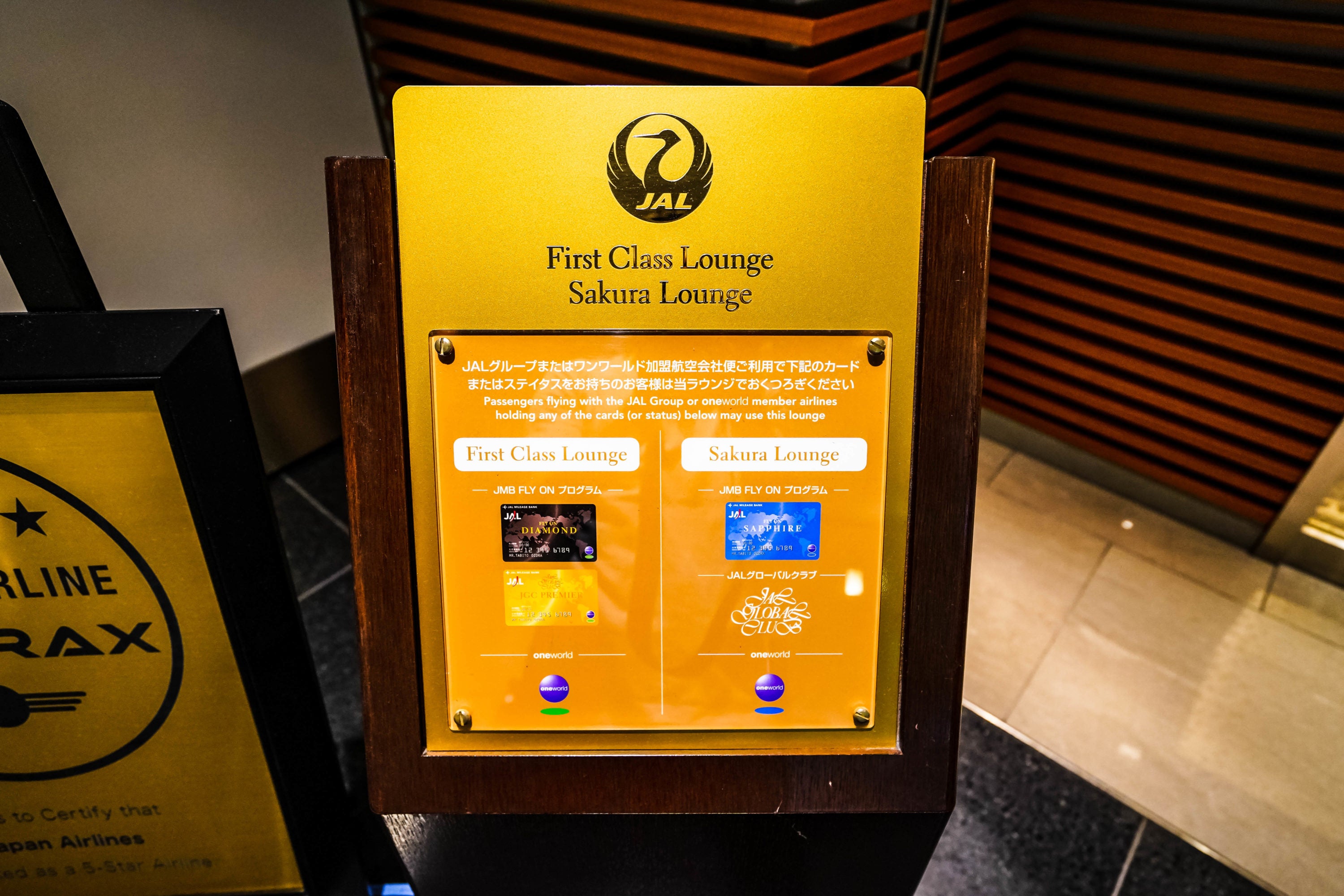 In keeping with the Japanese hospitality, I was welcomed at the common reception desk by the attendant with a slight bow. After checking and scanning my boarding pass, she led me towards the first class lounge, which is located to the right of the reception desk. The Sakura Lounge for business class passengers is located opposite and you take a left from the reception desk to get there.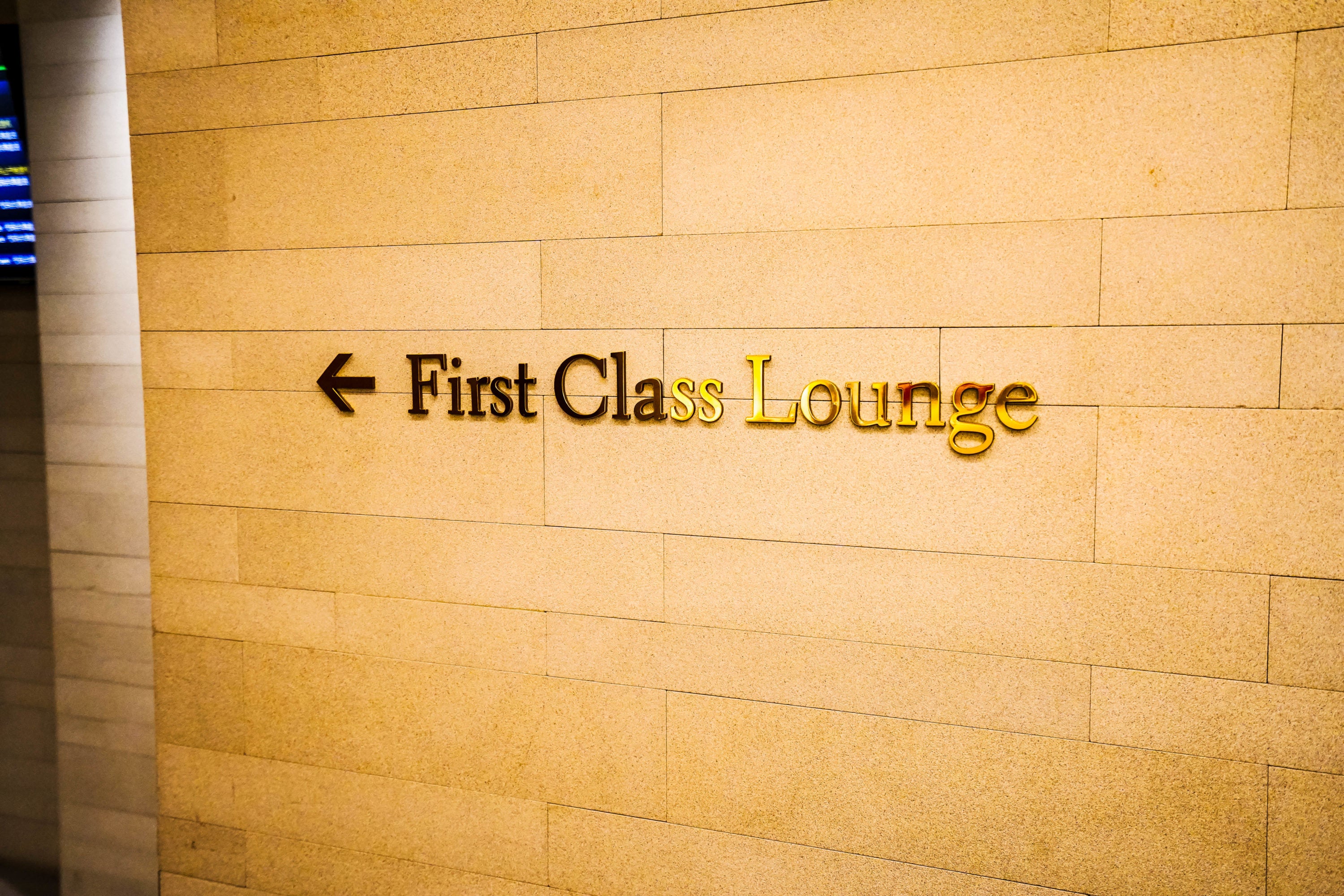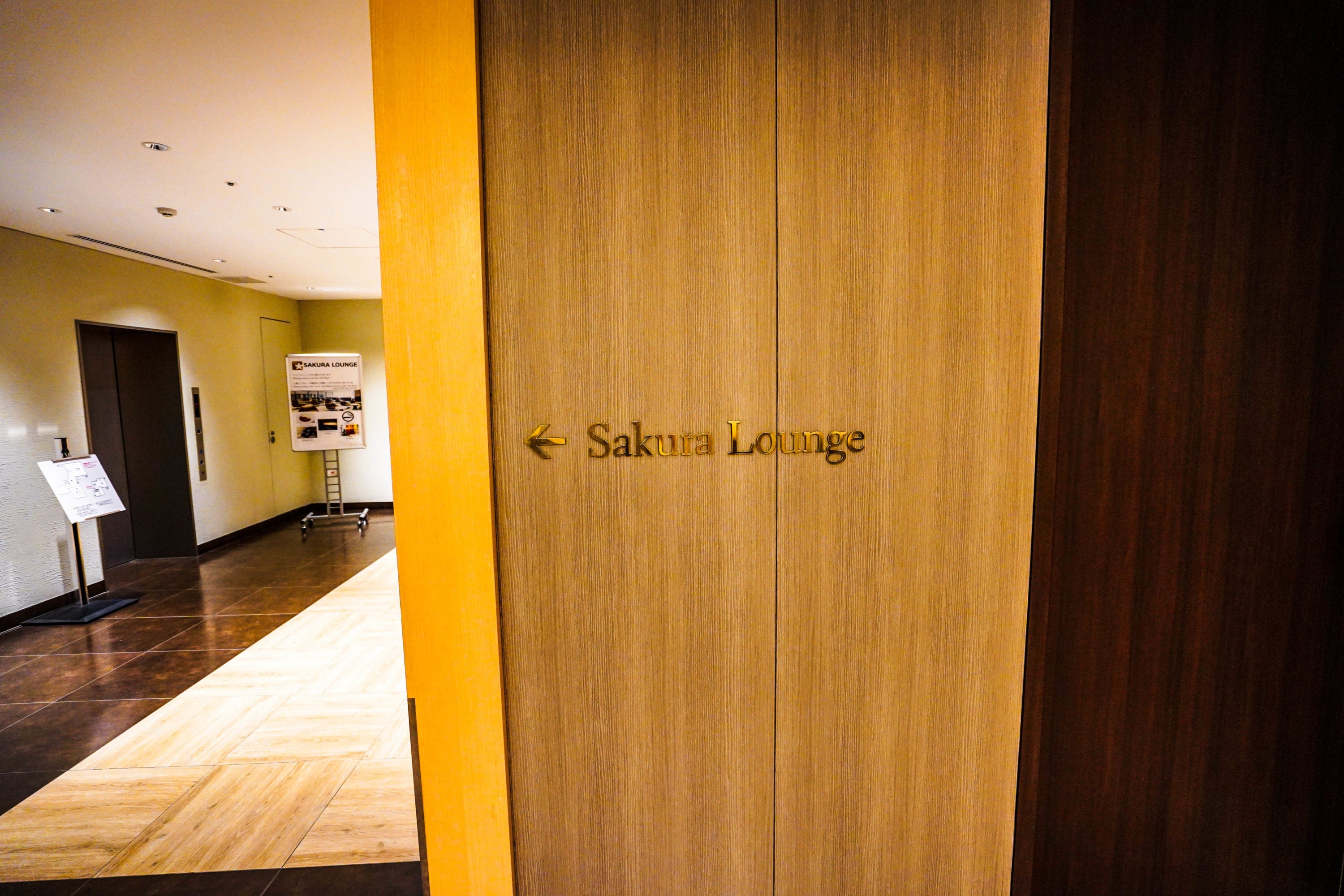 The lounge was refurbished in August 2014, and as you walk down the corridor towards the main seating area, you can't help but admire the sleek and modern interiors. The screens along the hallways are decorated with intricate "sakura" flower engravings.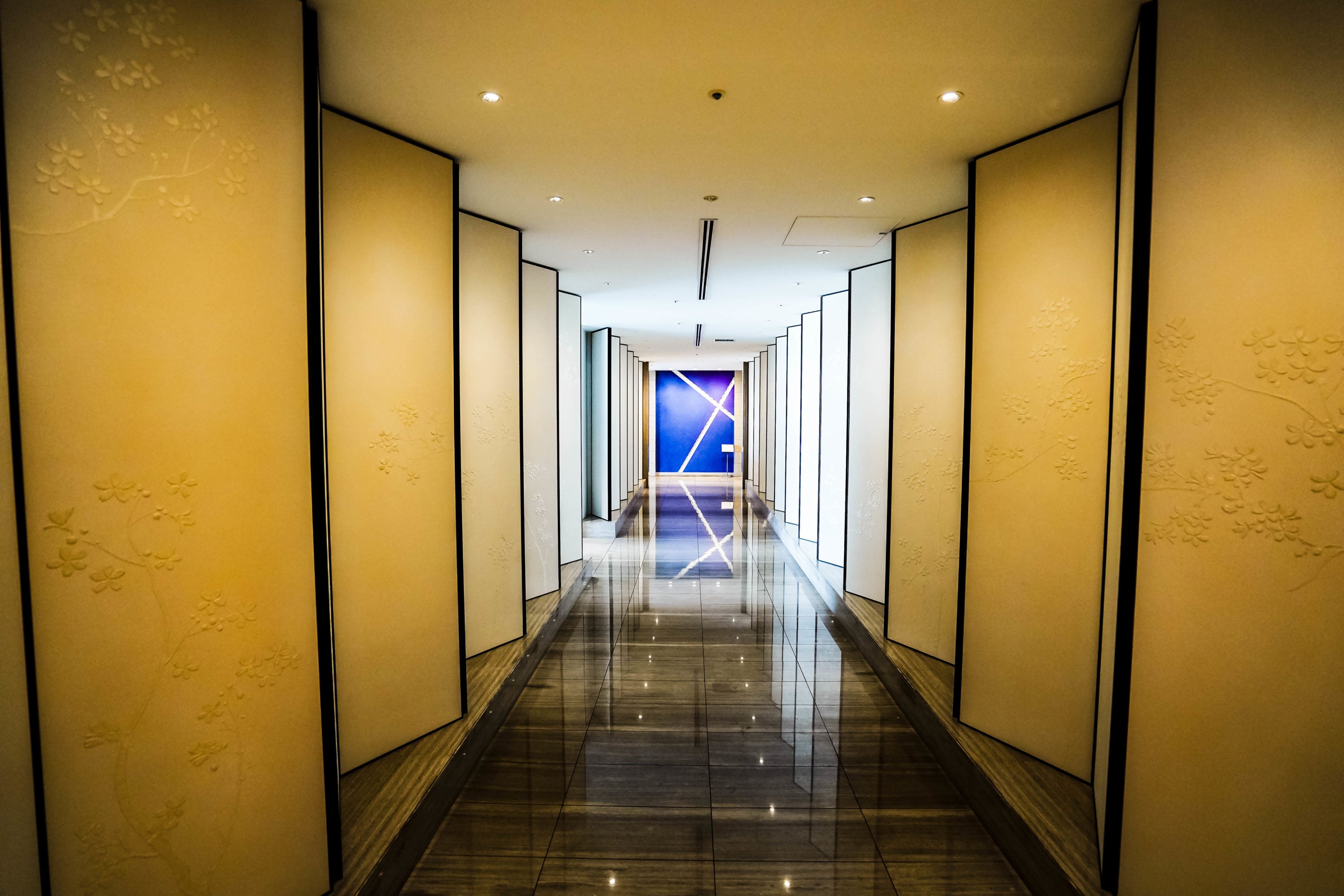 As you enter the corridor, there are 3 telephone booths on the right.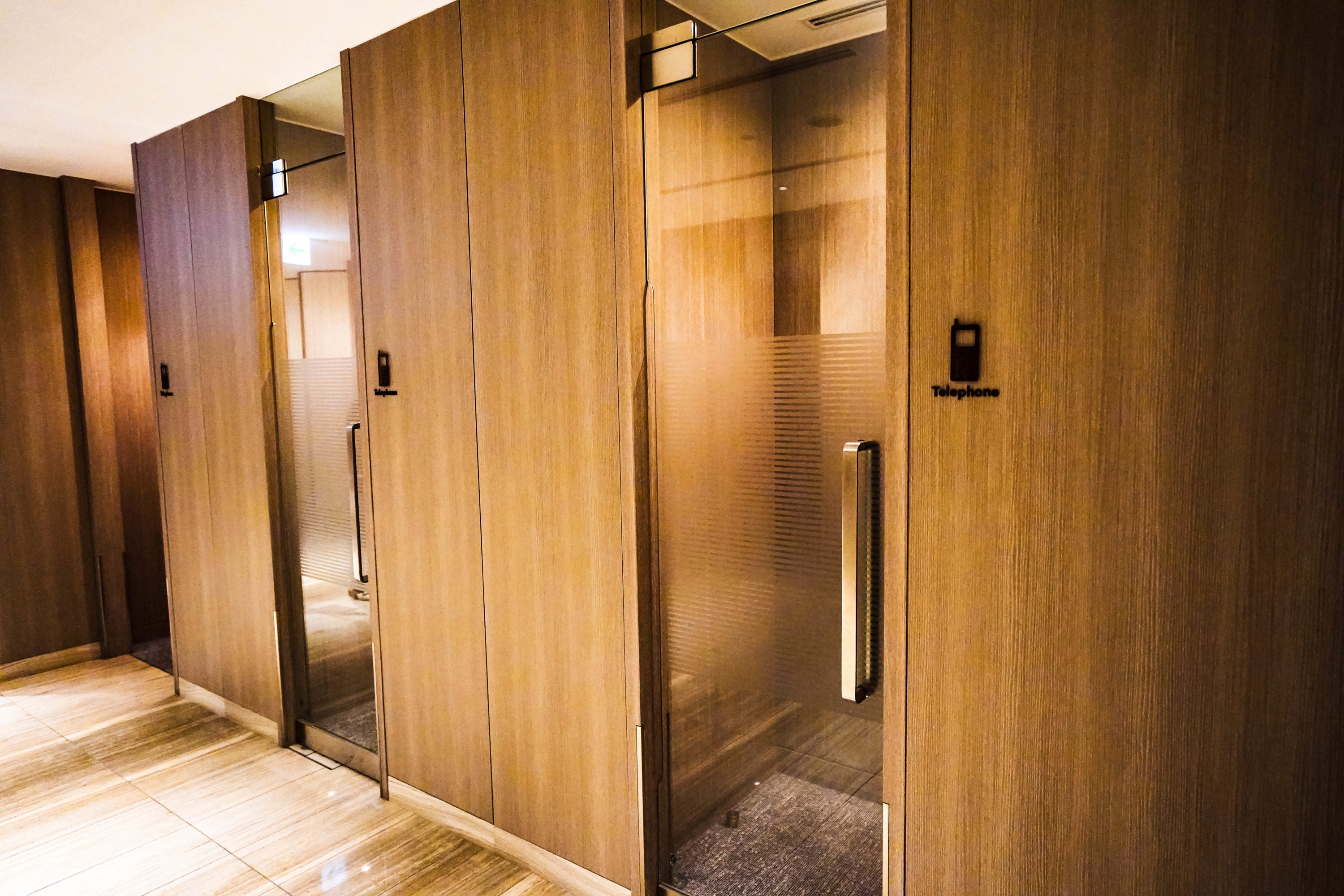 Further down the corridor, to the left, are 6 shower rooms along with a massage room and 3 massage chairs. Unfortunately, the showers and massages were all booked out, so I could not check out those facilities.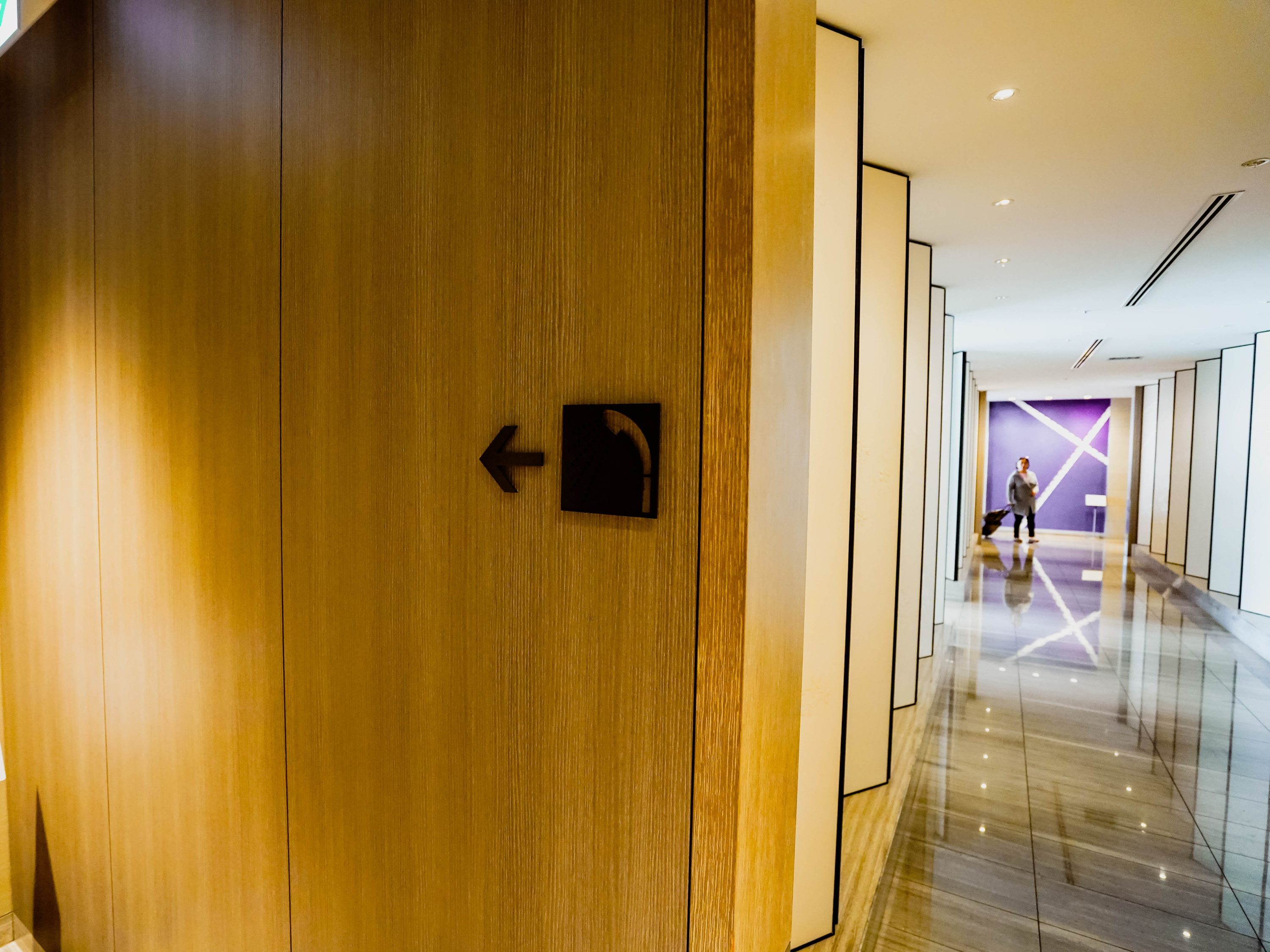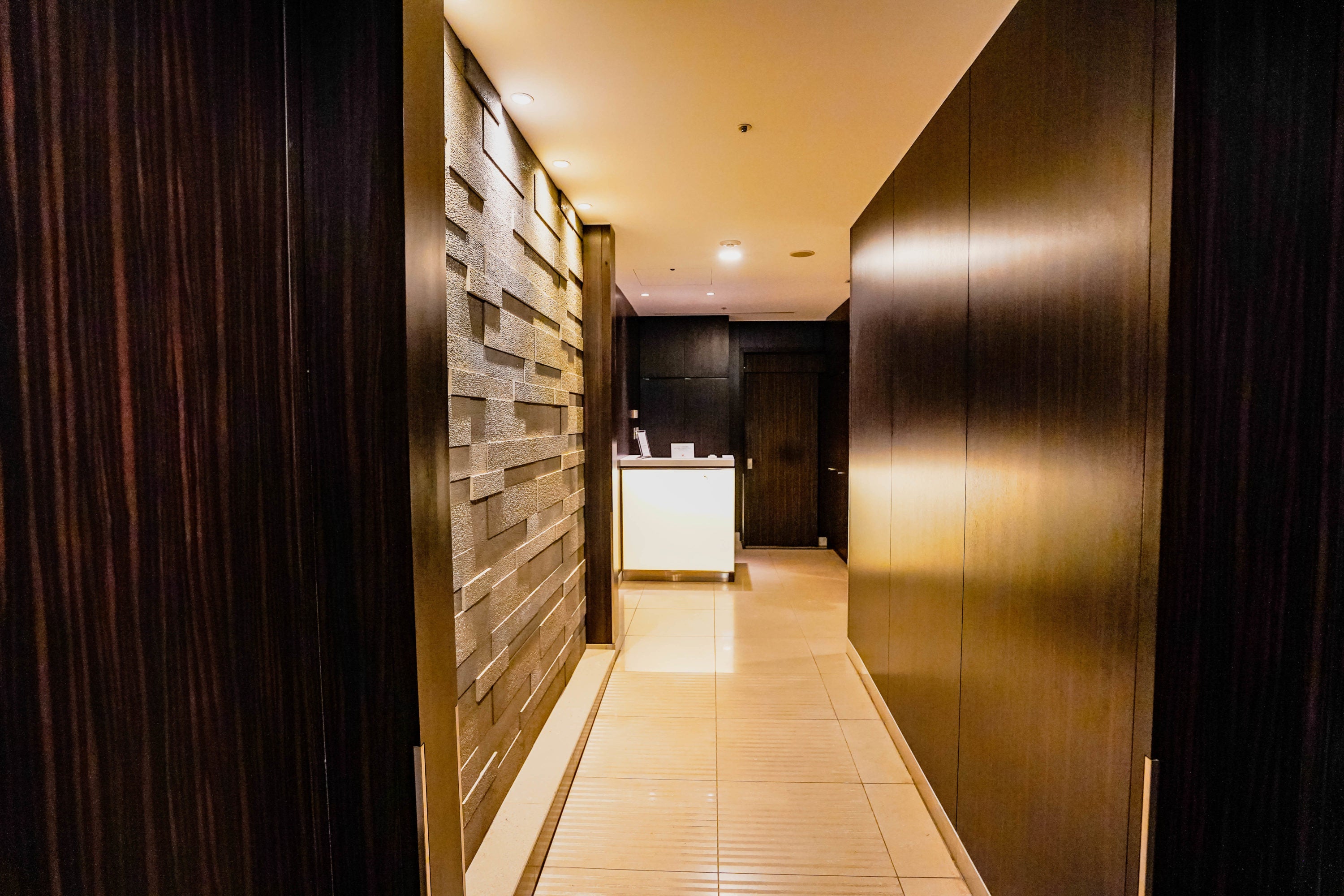 Midway down the corridor is a business center with work stations and semi-circular leather chairs.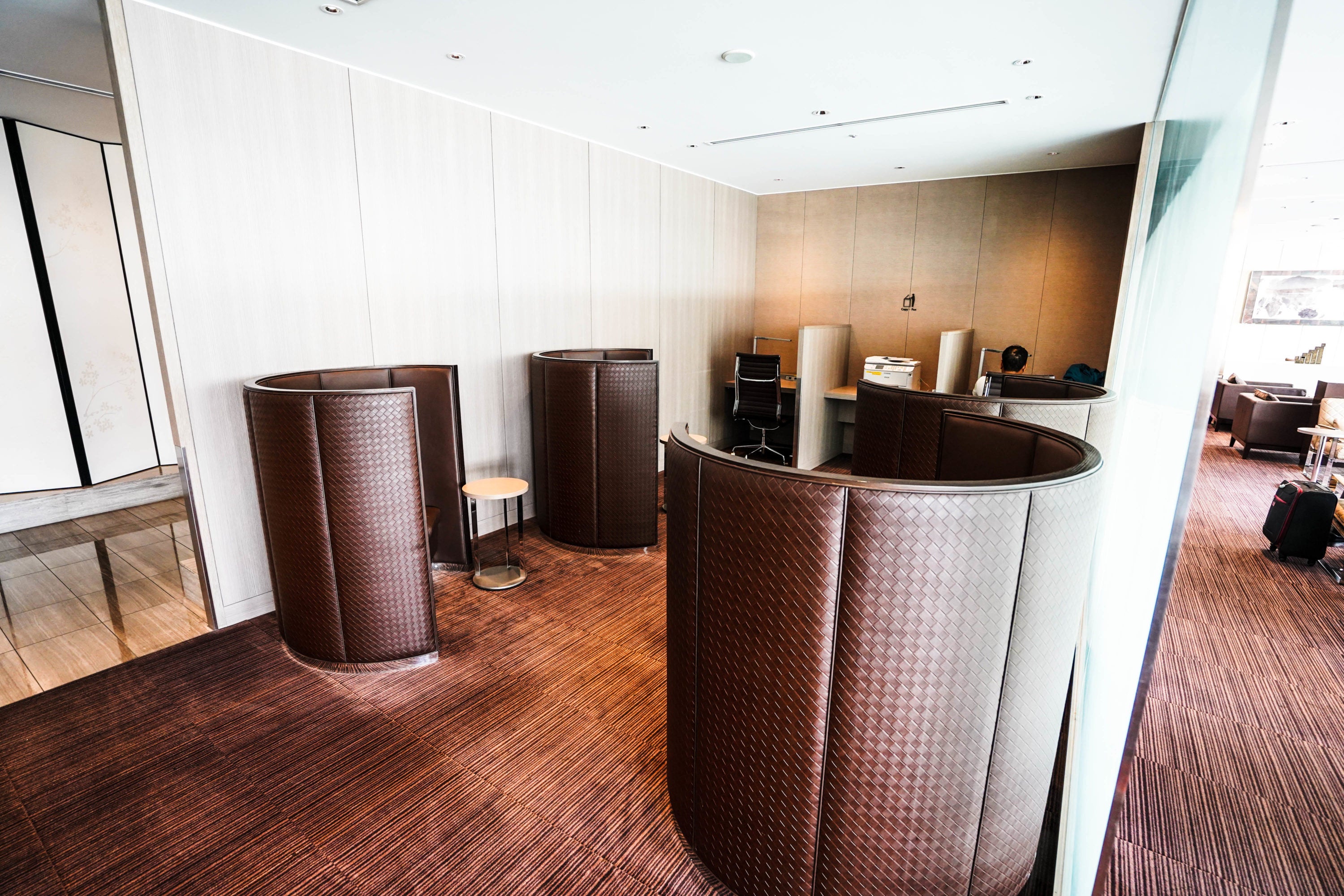 Finally, the end of the corridor will lead you into the main lounge area, which is divided into sections with various seating arrangements in the middle of the room and a long table facing the glass windows that offer expansive tarmac views.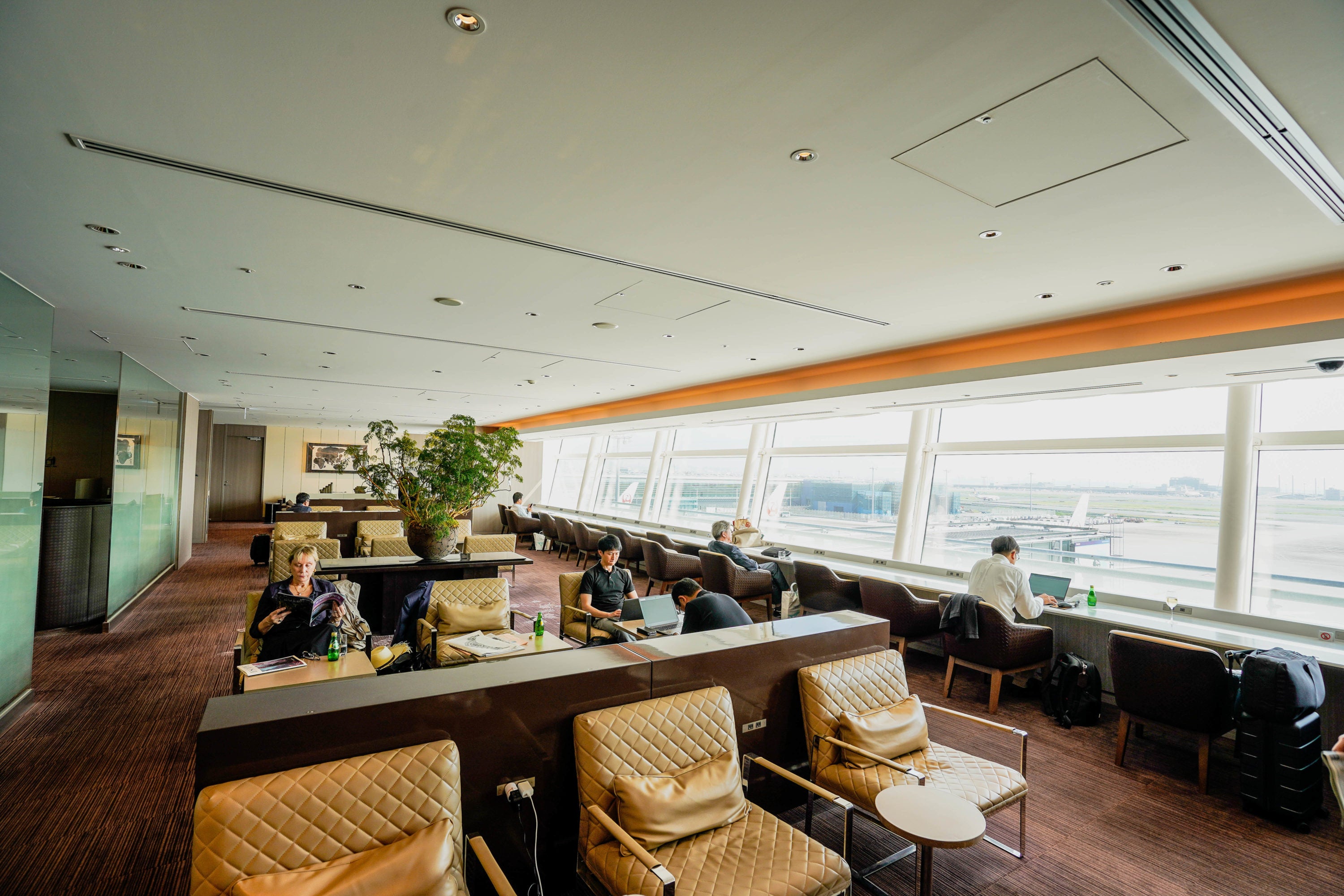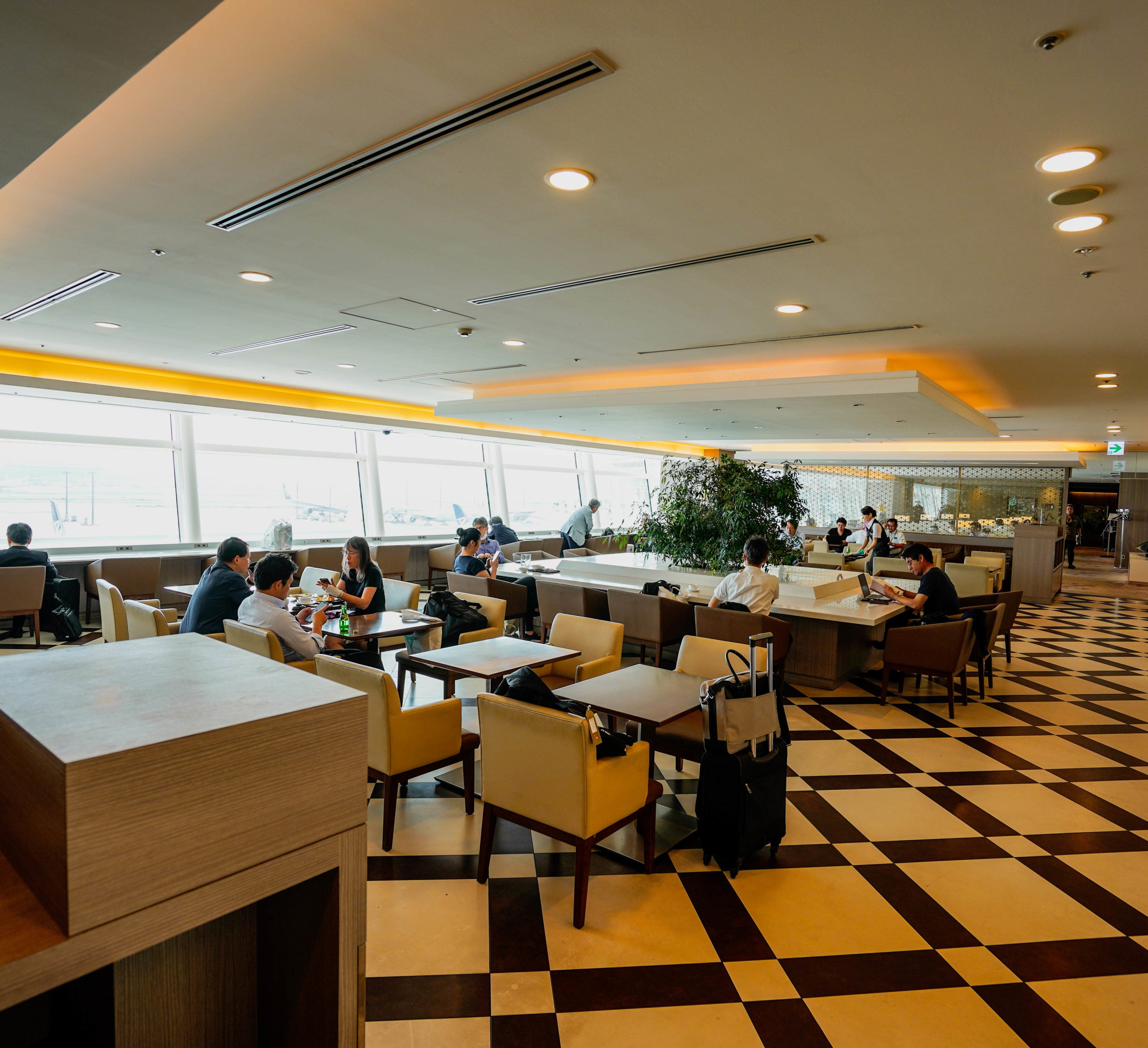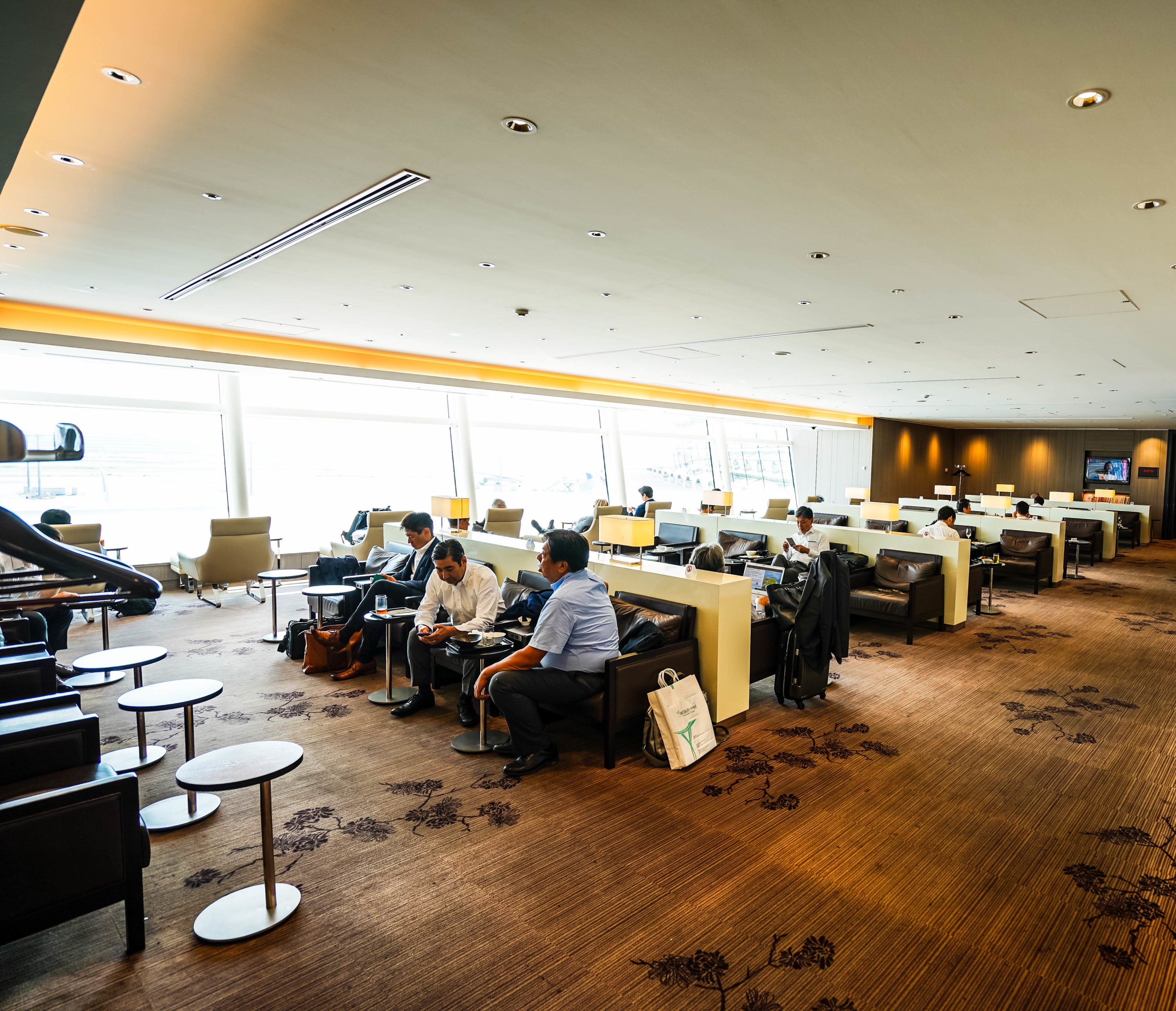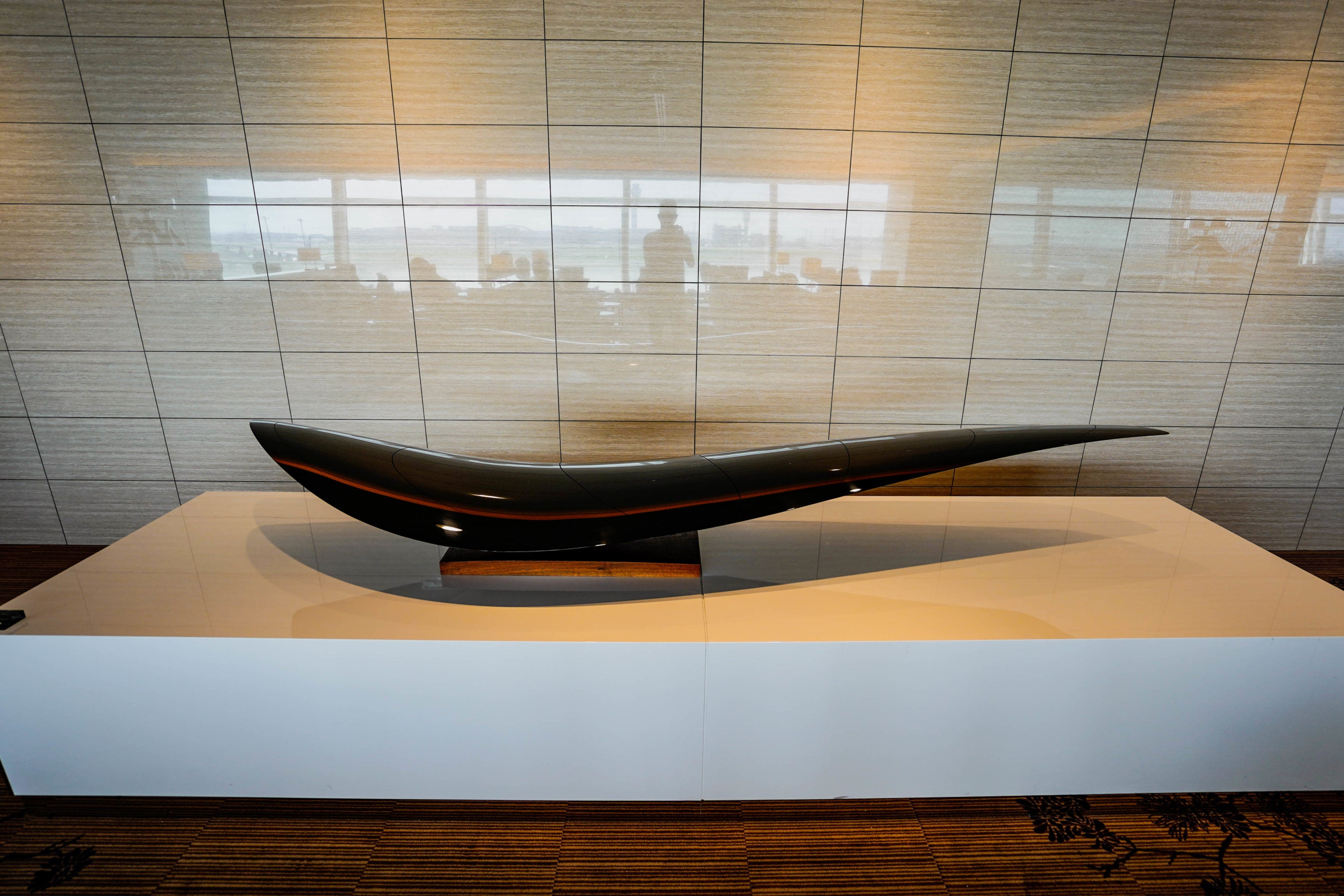 Opposite the seating area are the self-service food and drink bars. With the lounge being quite packed in the morning, I often found myself queuing up to get my fill of food and drink, which was a bit annoying, especially for a first class lounge.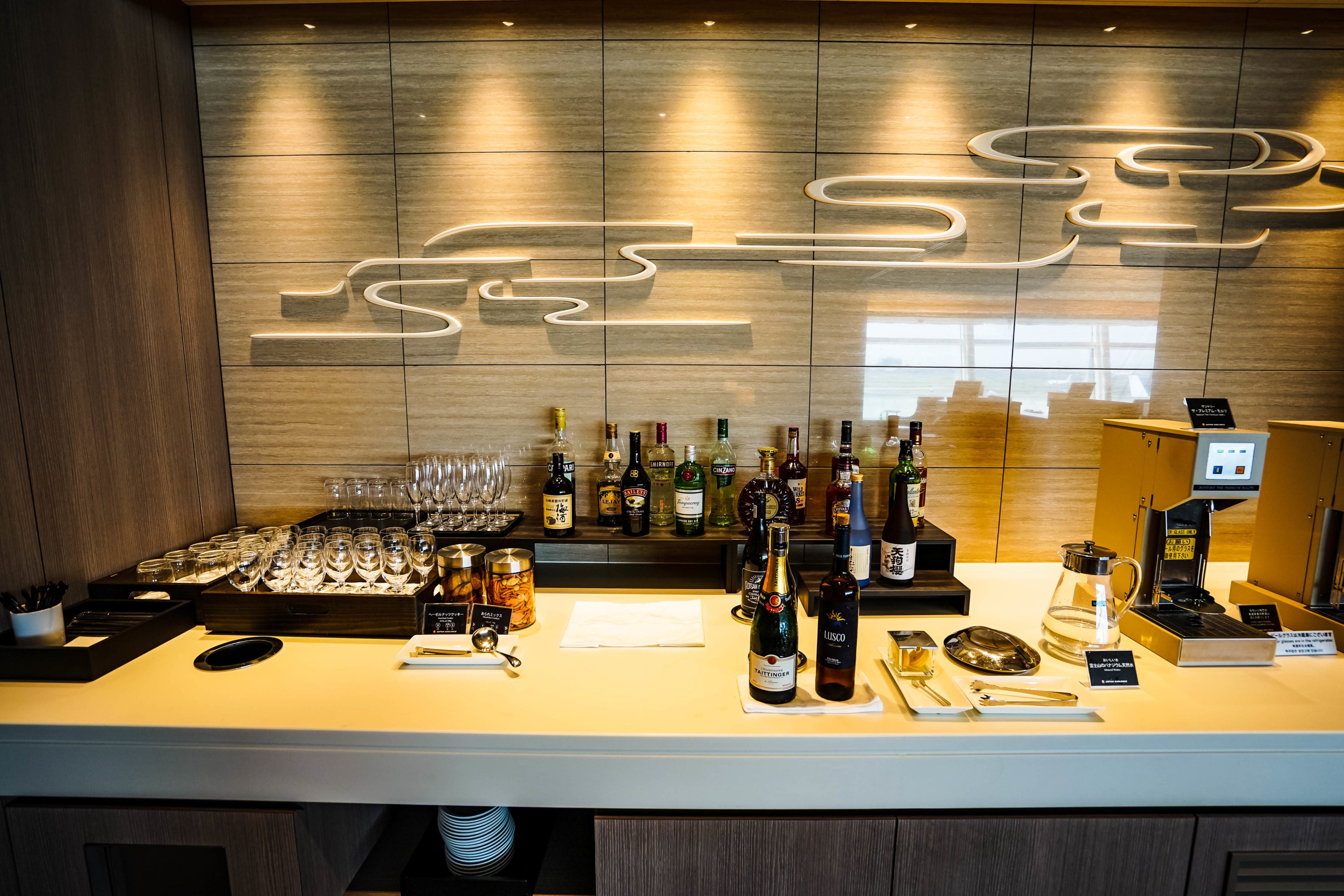 The drink selection was quite good with Taittinger Champagne, various sakes, wines, and spirits on offer along with Kirin beer machines.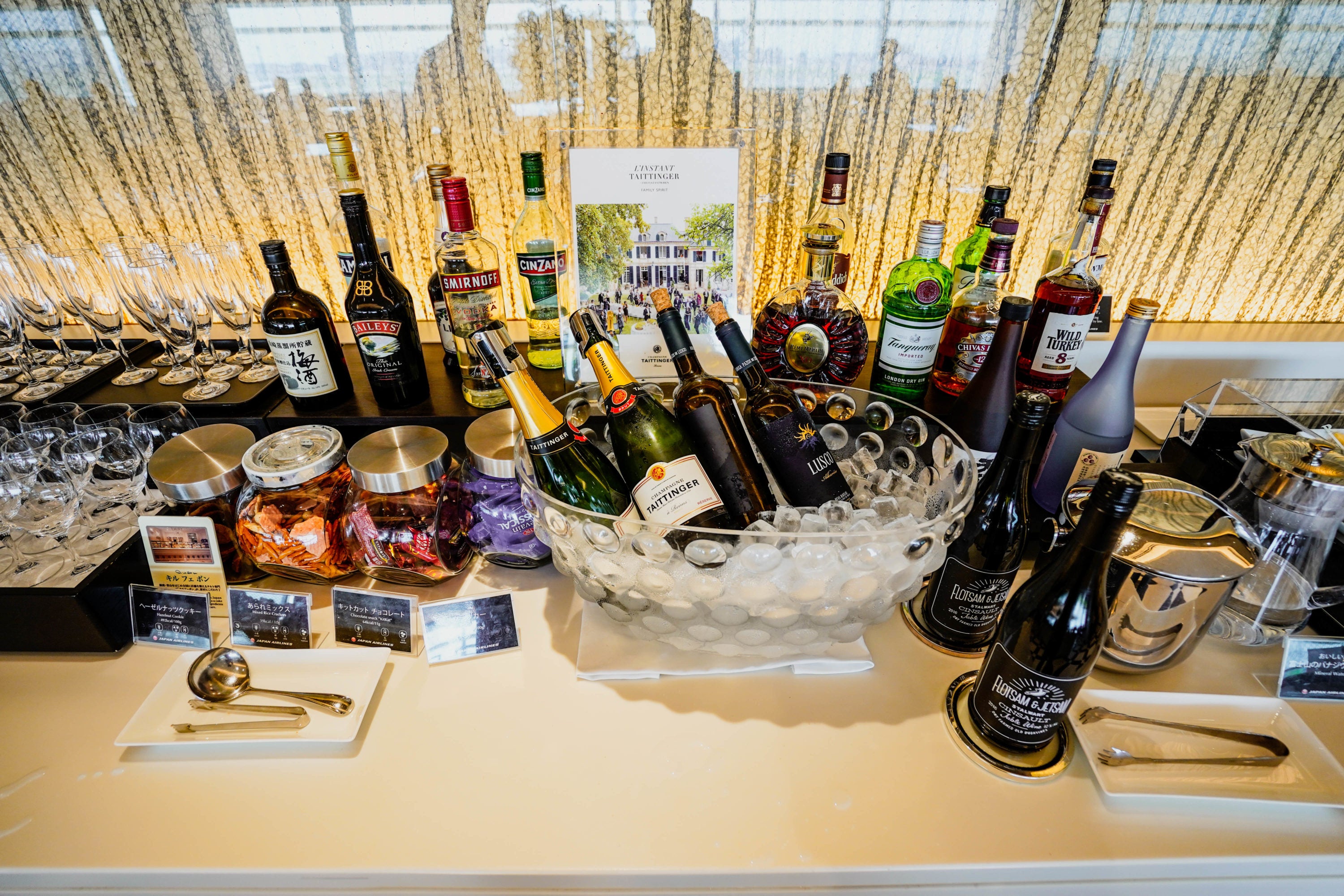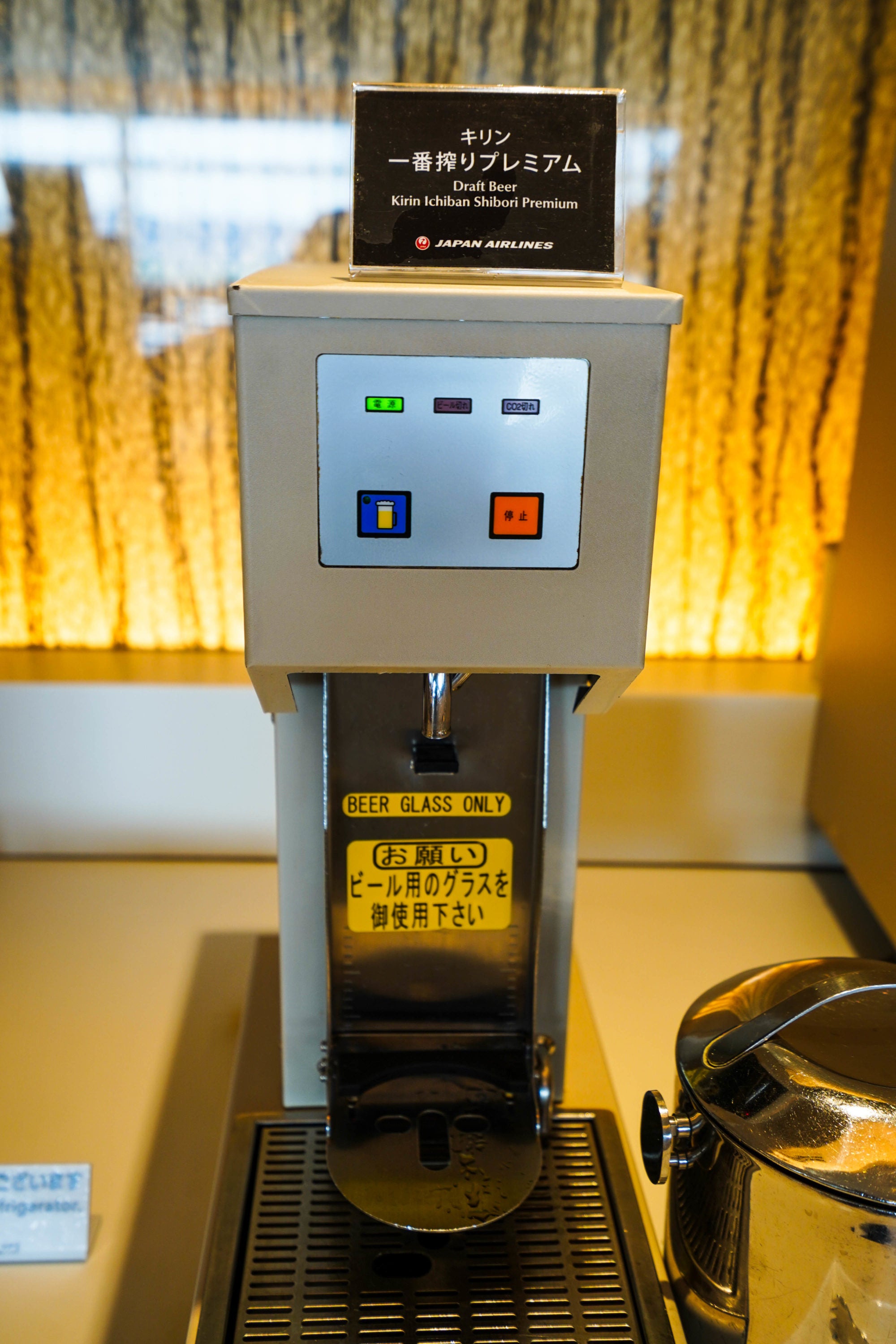 The breakfast buffet options of salads, sandwiches, eggs, pinchos, fresh fruits, and desserts were quite limited — not exactly first class.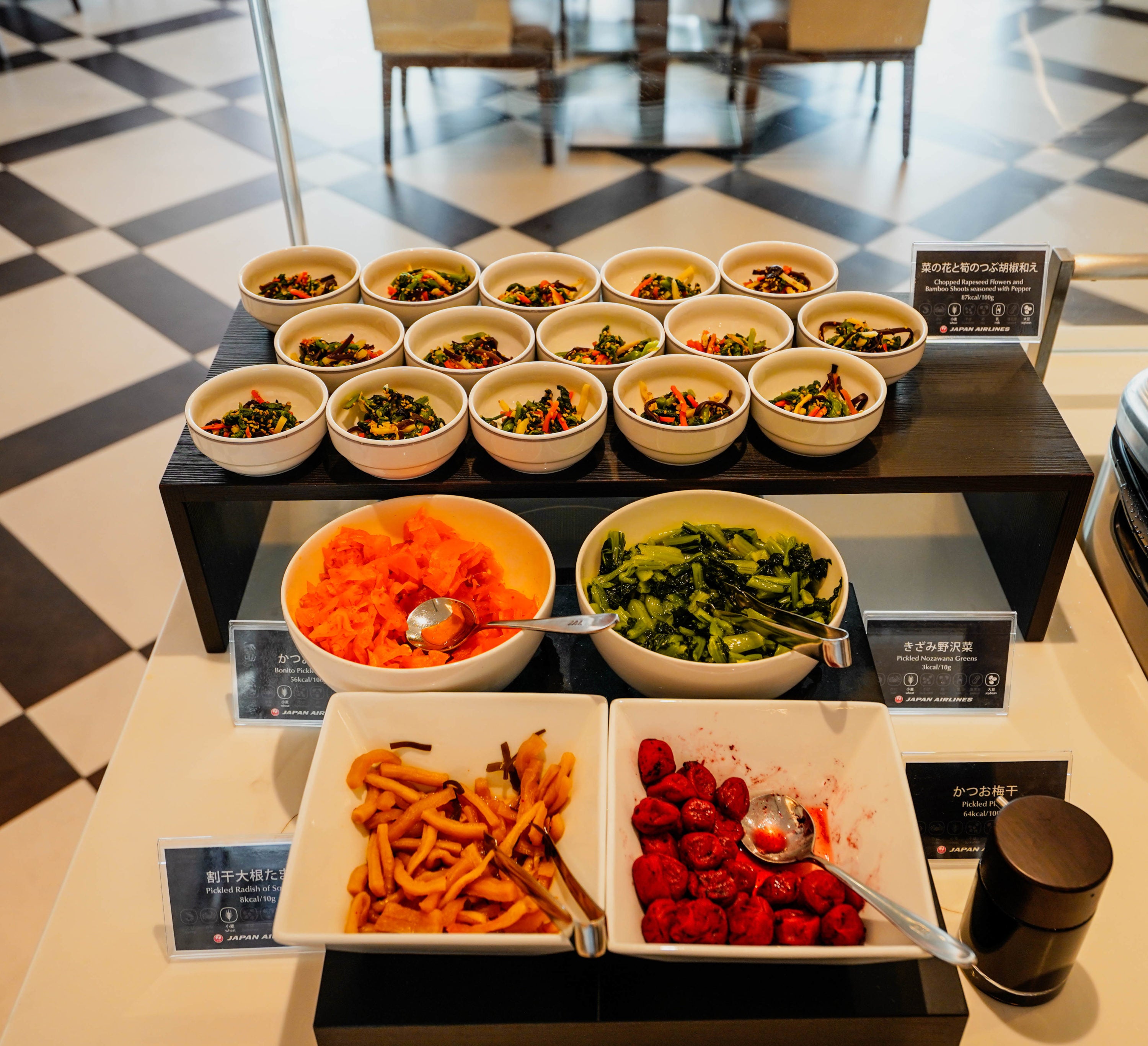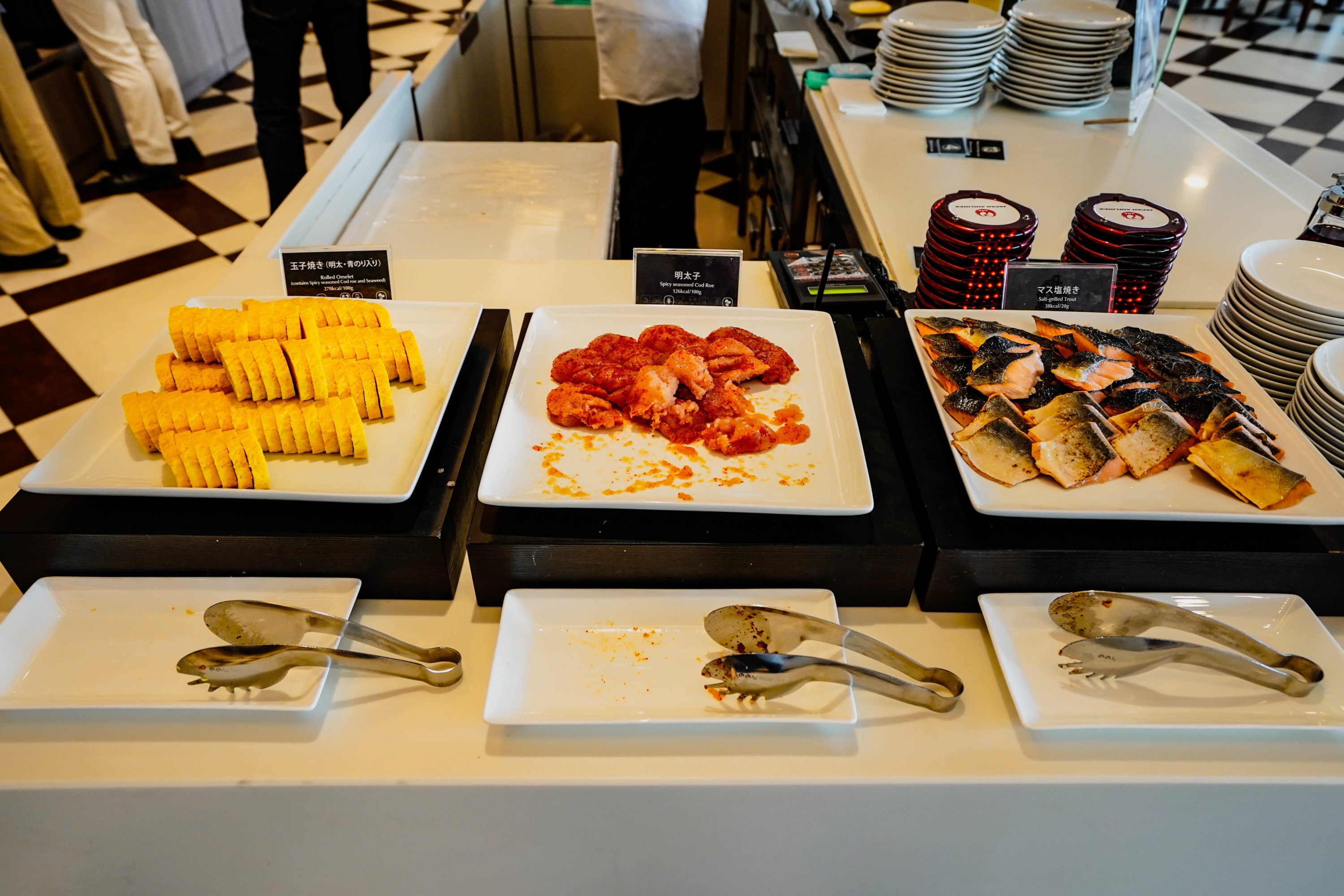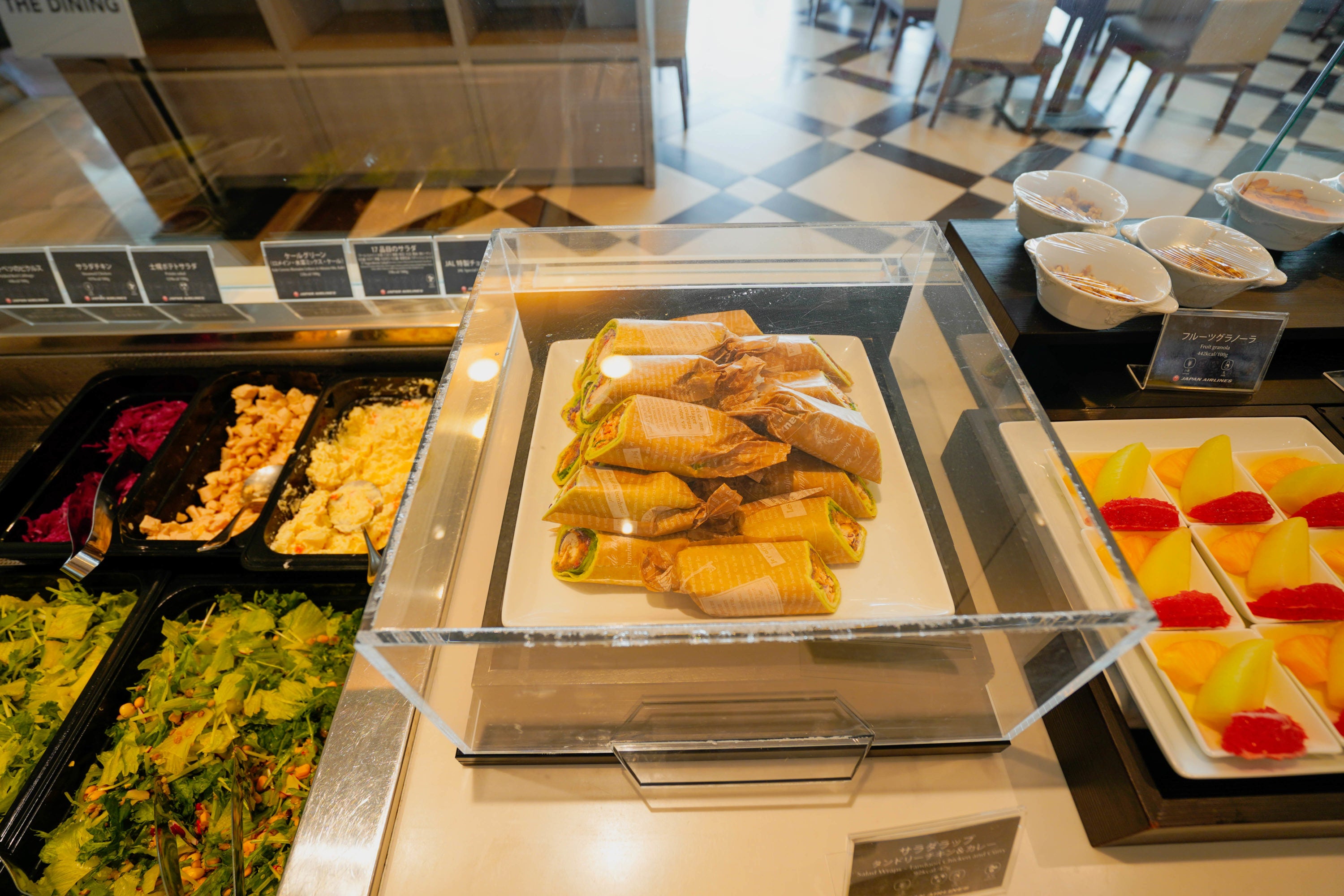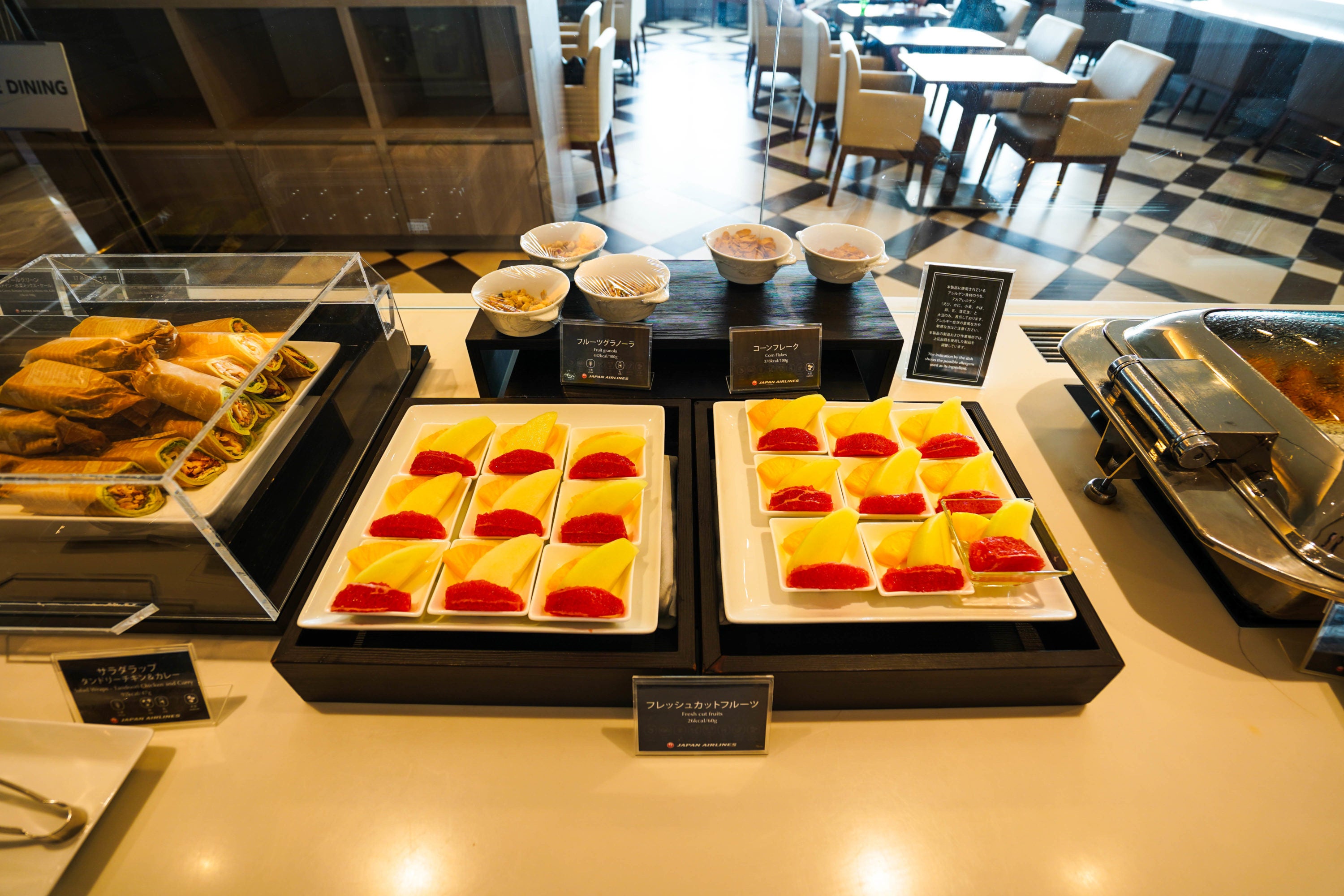 There is also a live teppanyaki grill where the chef whips up breakfast pancakes. You can place your order for the pancakes topped with either caramel ice-cream or mango sauce.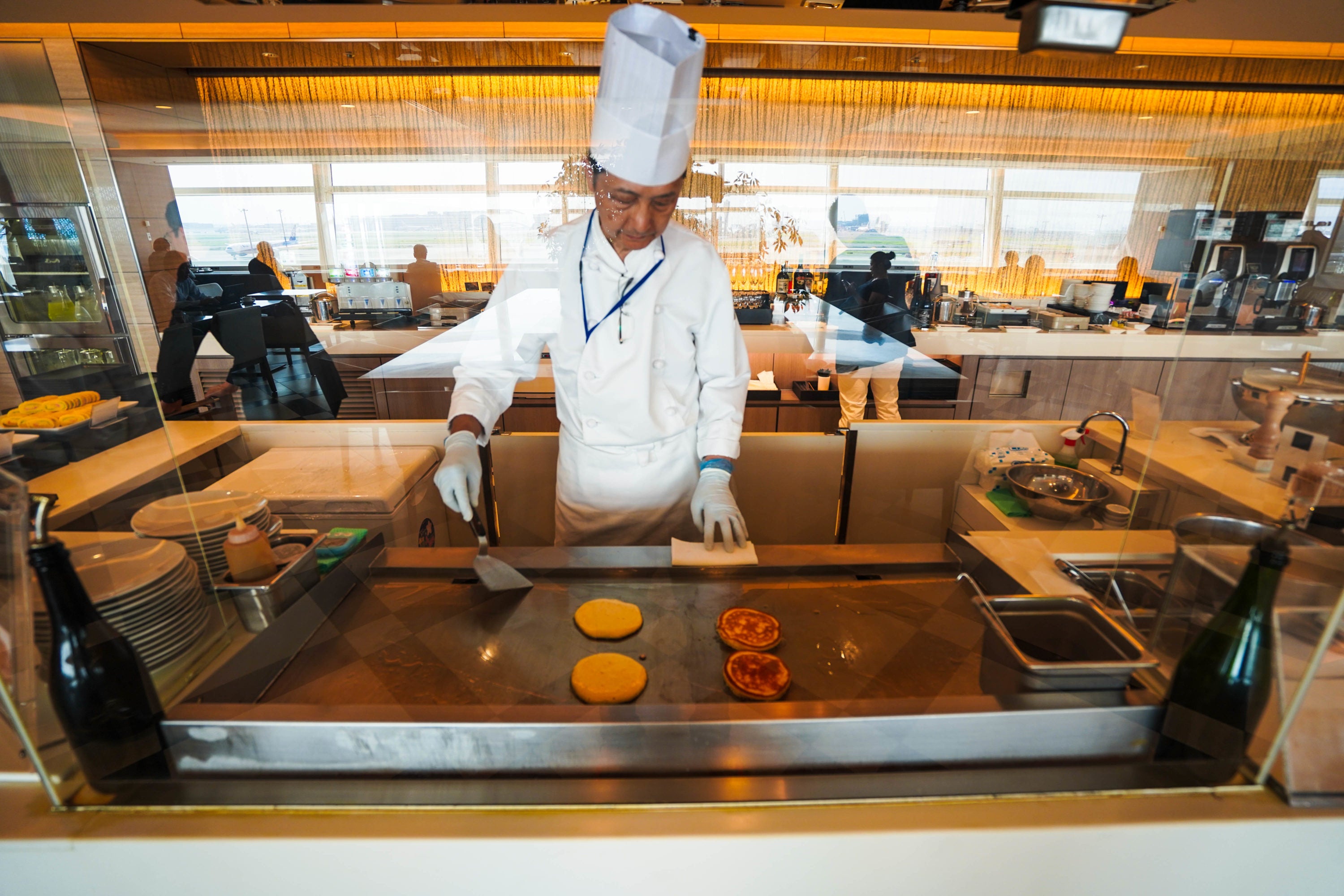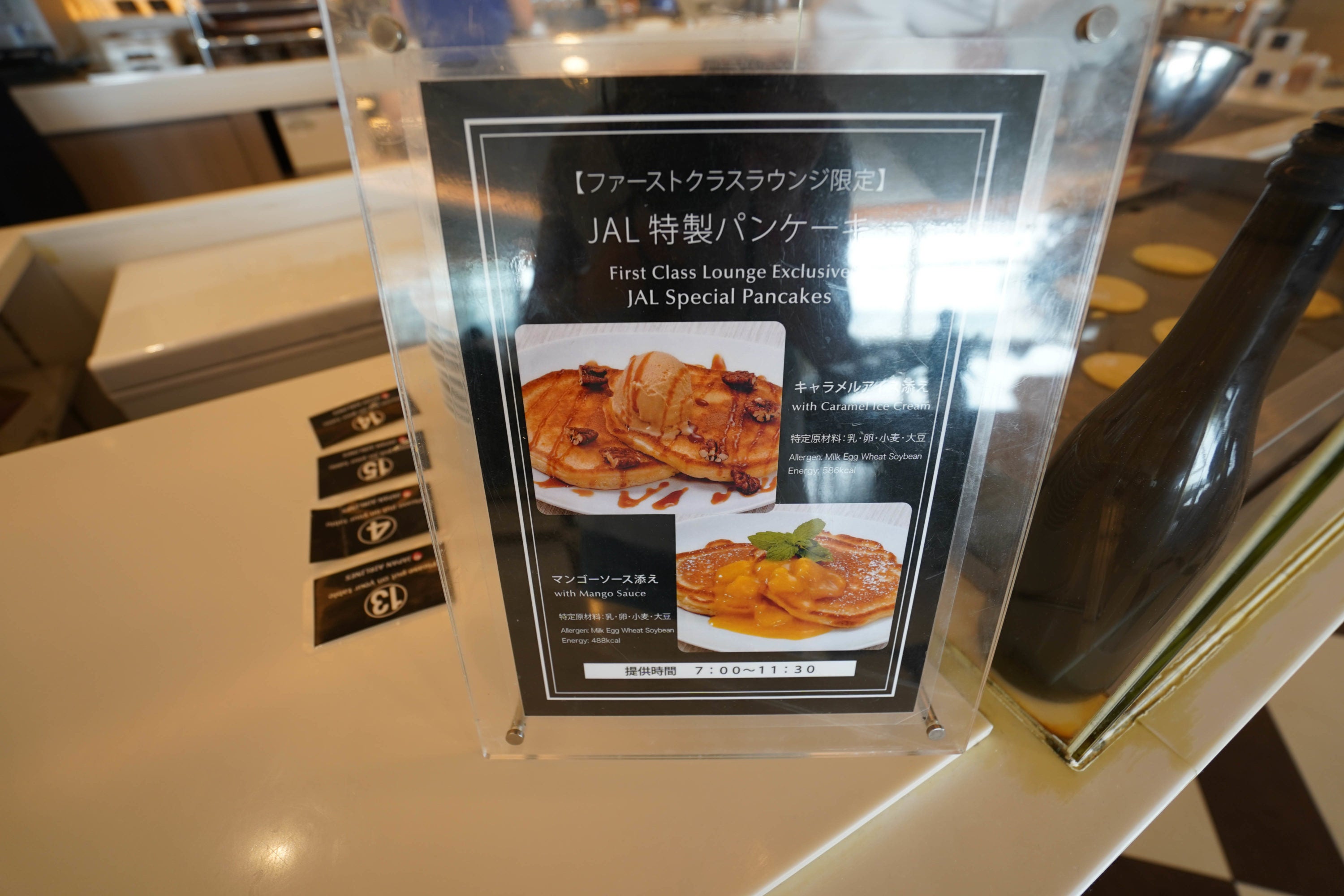 Since I had already had a hearty breakfast back at the Conrad Tokyo and was looking forward to my kaiseki meal on board, I opted not to stuff myself and settled for the Japanese beef curry, snow crab pinchos, and octopus and potato pinchos, along with a glass of bubbly.
As I mentioned, the lounge was pretty packed, so it wasn't easy to find a decent seat. After a bit of scurrying here and there, I managed to find myself a seat at the long table by the window to enjoy the tarmac views whilst savoring the delicious beef curry.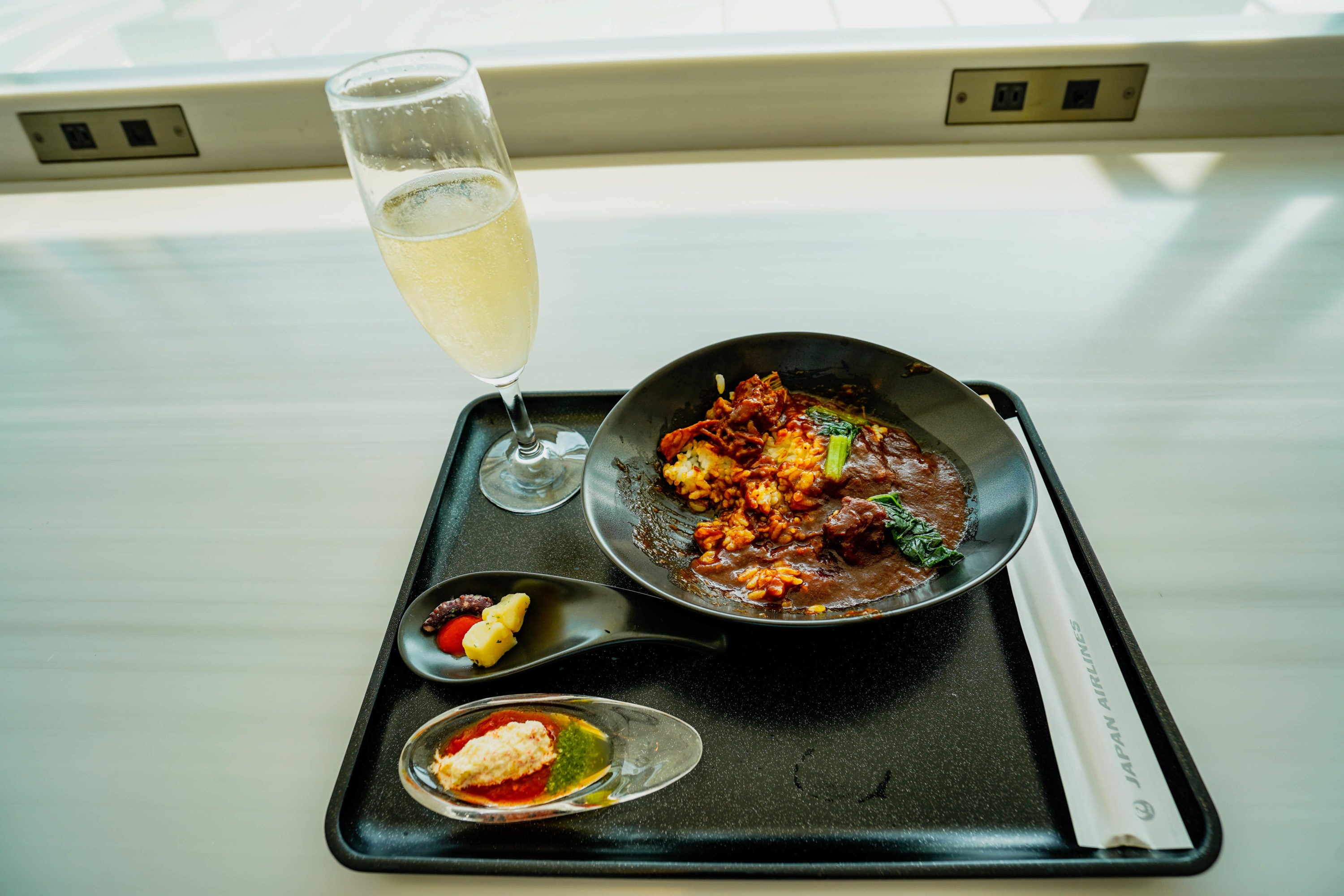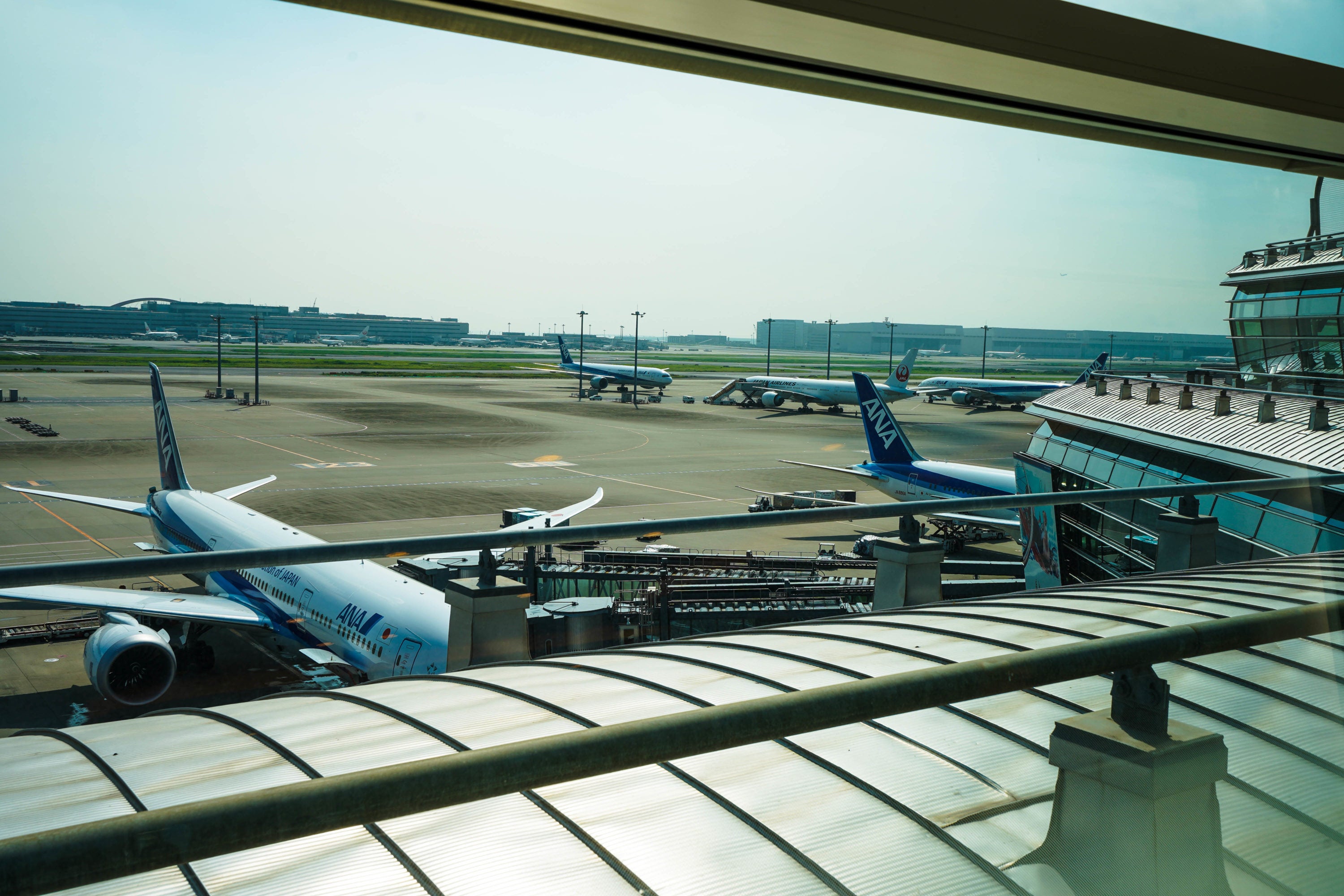 I had saved the best for the last and that is the Red Suite, which is located at the far end of the lounge.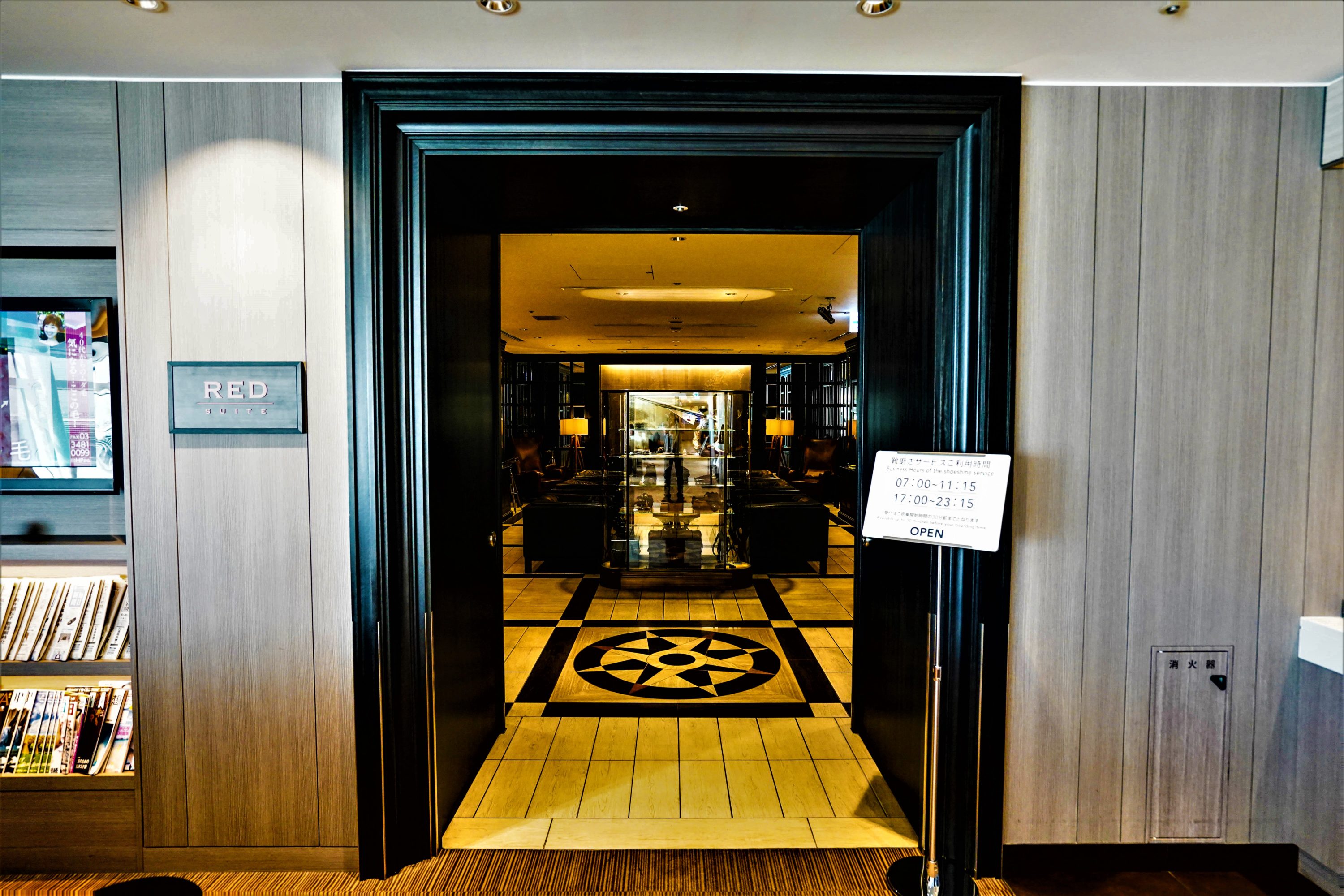 As described on Japan Airlines' website, the Red Suite is an "evocative playhouse" which is divided into 4 zones — the Library Room, the Gallery Room, the Play Room, and the Bar Room. The decor resonates that of a "Cigar Club."
The Library Room, which is the first room upon entering the Red Suite, houses books, plane models, and articles from Japan Airlines' days of yore.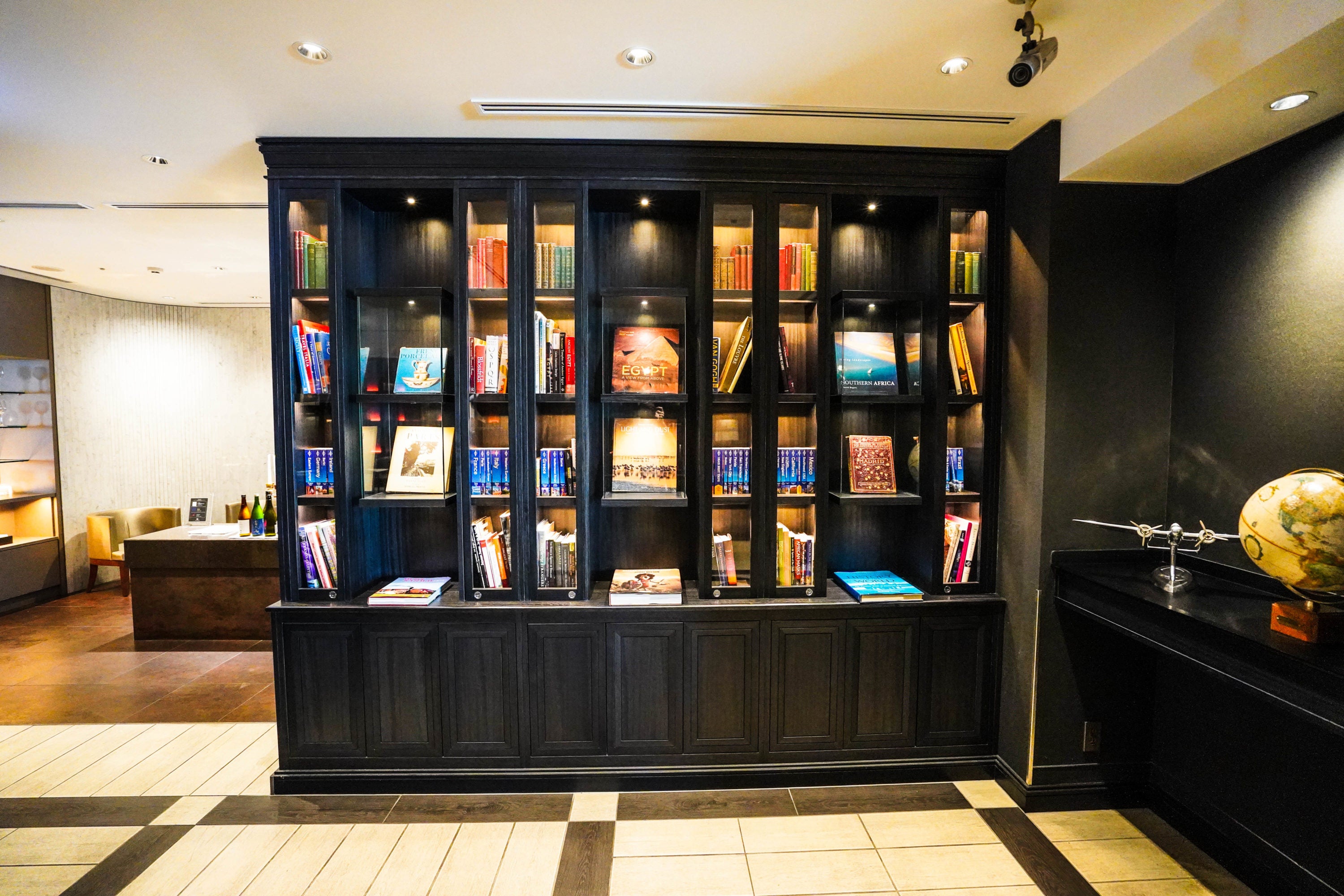 At the end of the Library Room is a shoeshine section where 2 attendants were hard at work.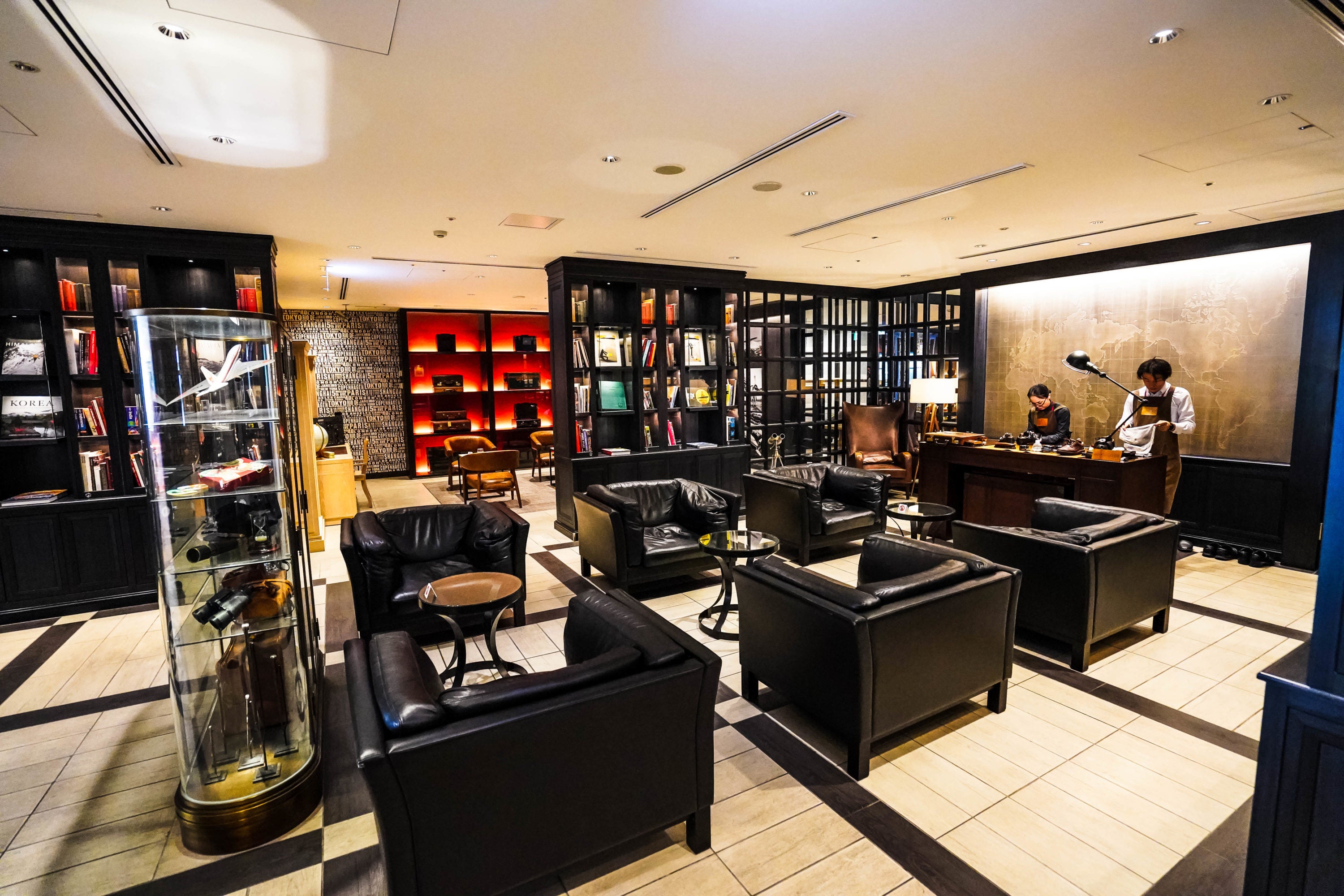 As you turn left from the Library Room, next up is the Gallery Room, which displays airplane models, vintage travel accessories, photographs, and even an actual Airbus A310 radio communication unit.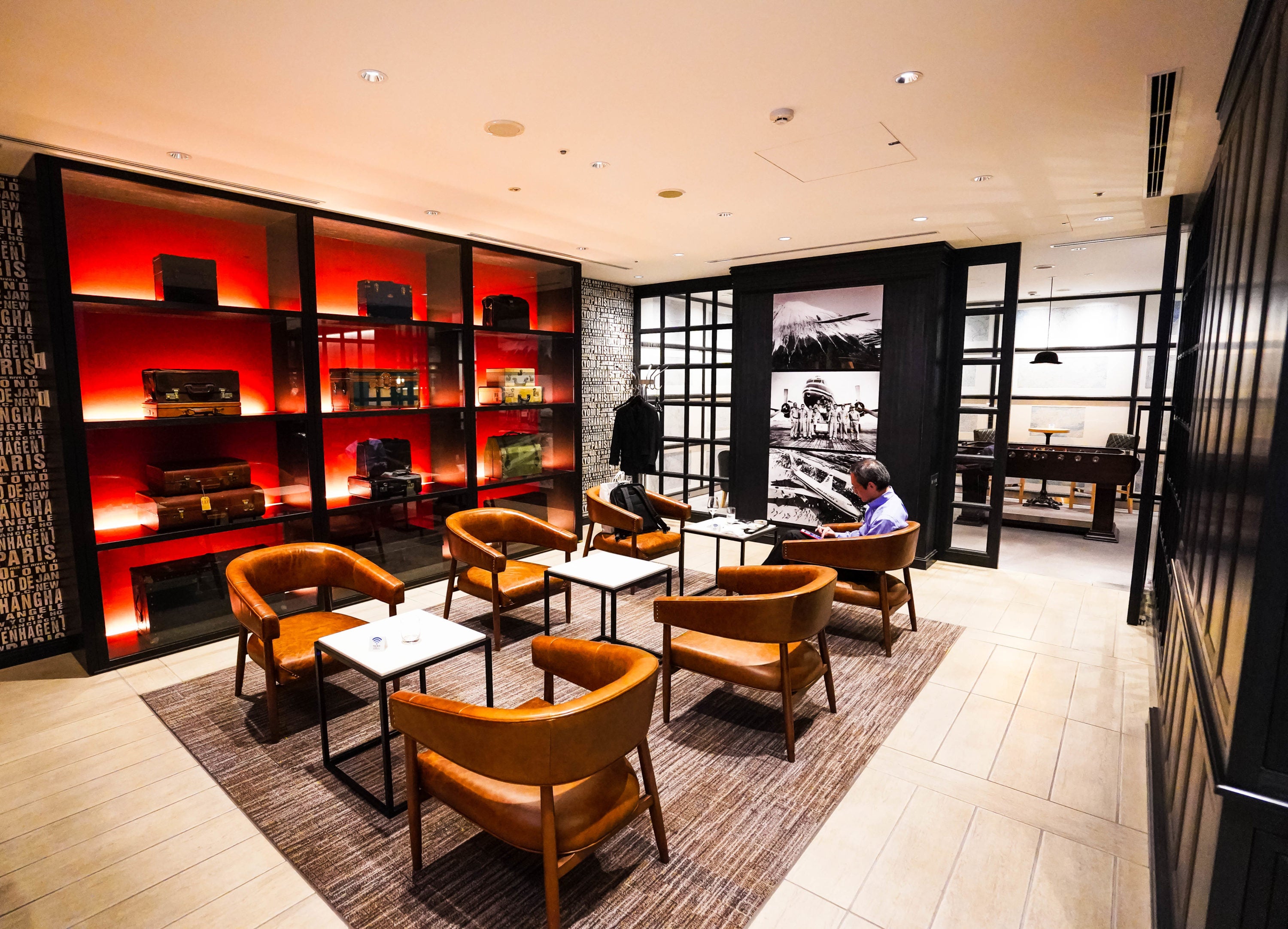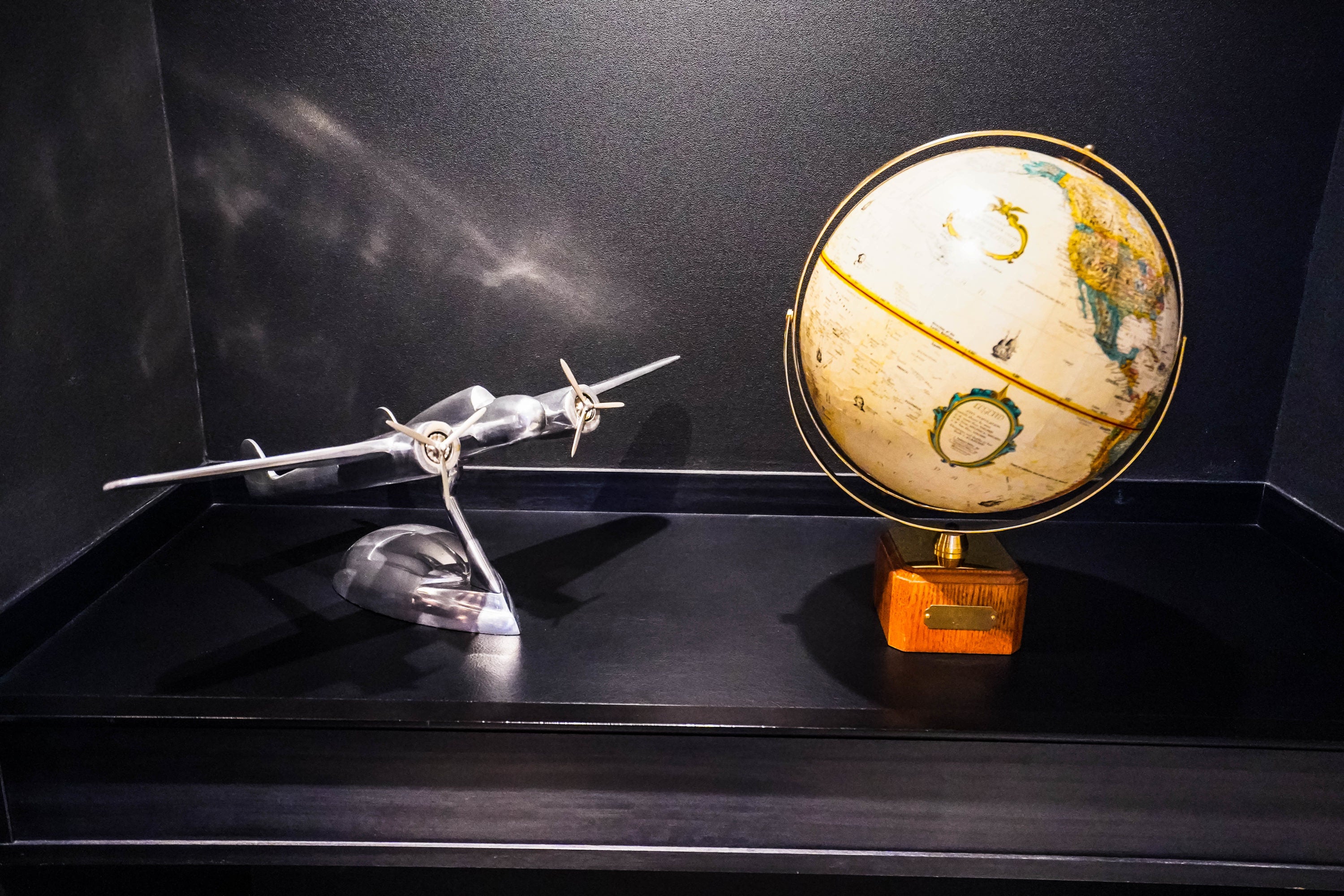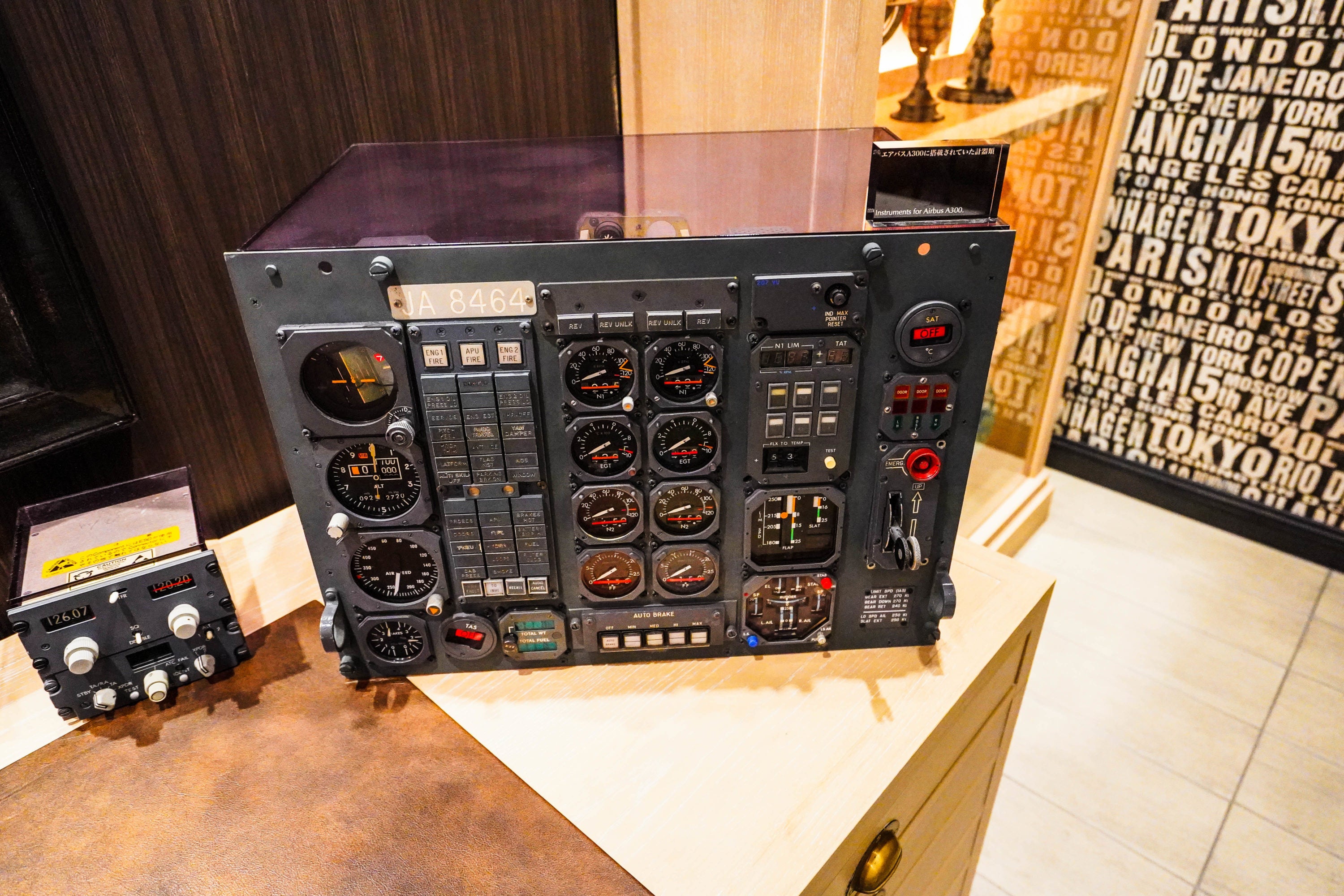 Further back is the Play Room, with a foosball table and a couple of chess boards.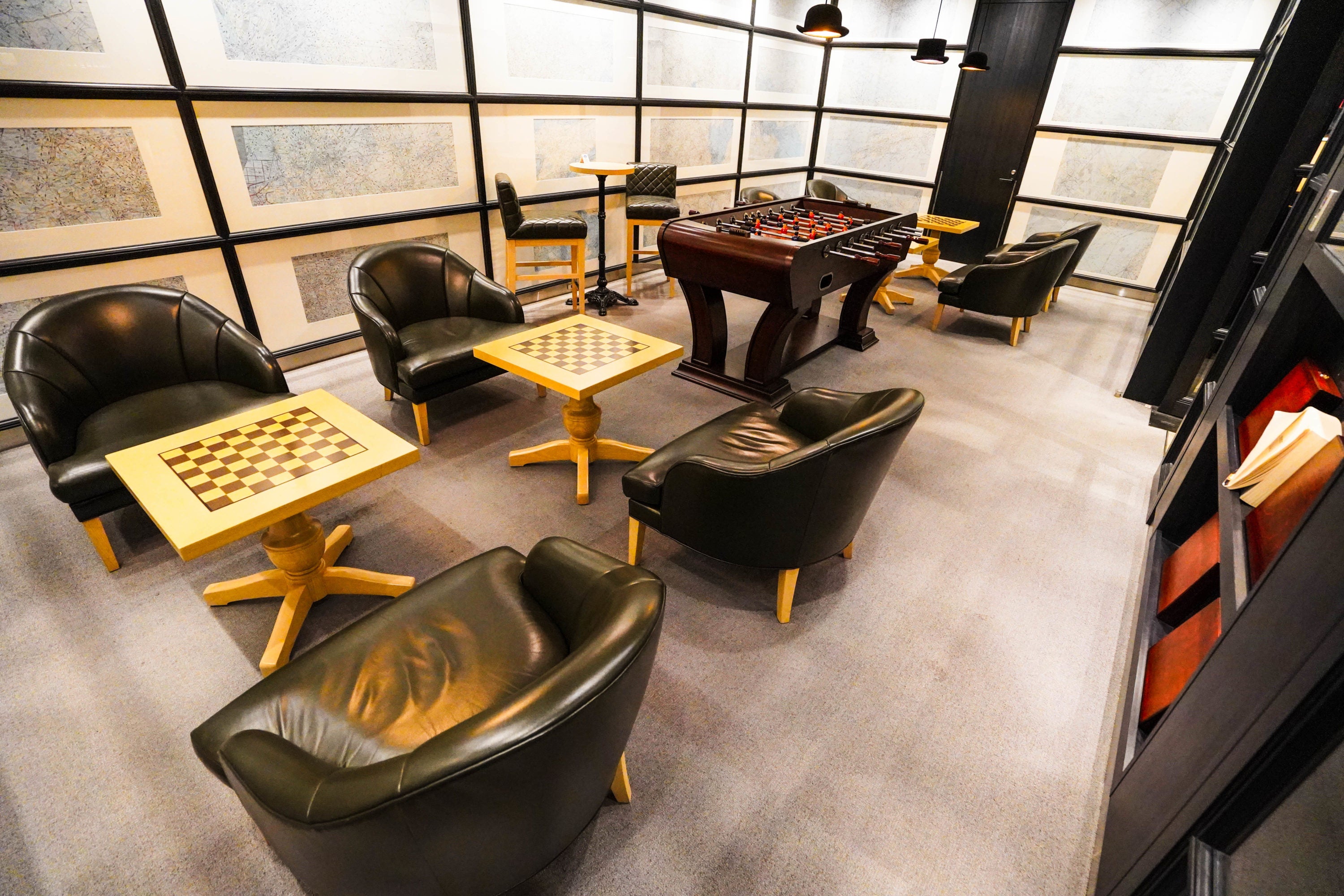 The bowler hat lampshades added a nice touch to the Play Room, whose walls are adorned with vintage flight maps.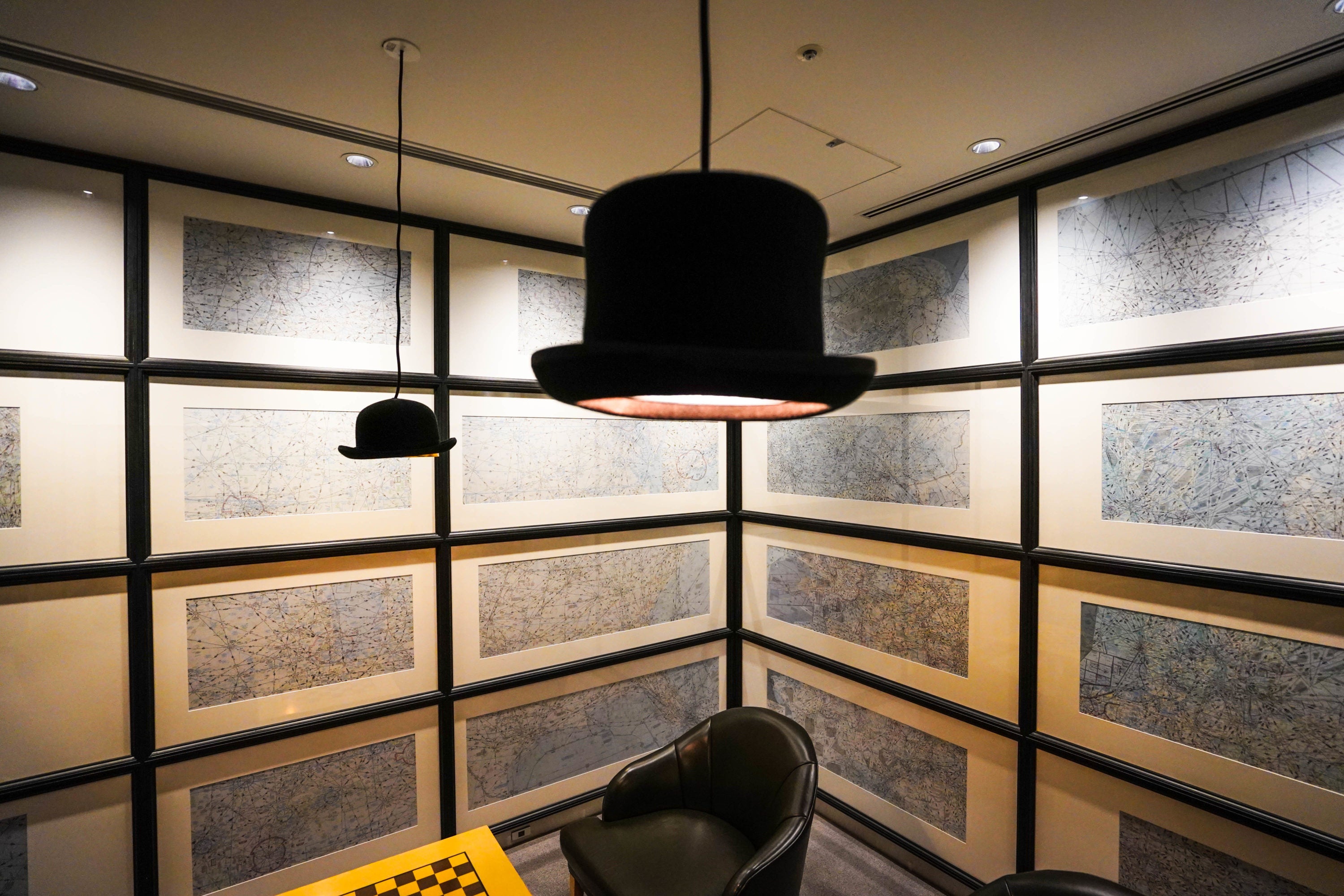 The last room is the Bar Room, which has a self-service Laurent Perrier Champagne bar and a sake bar.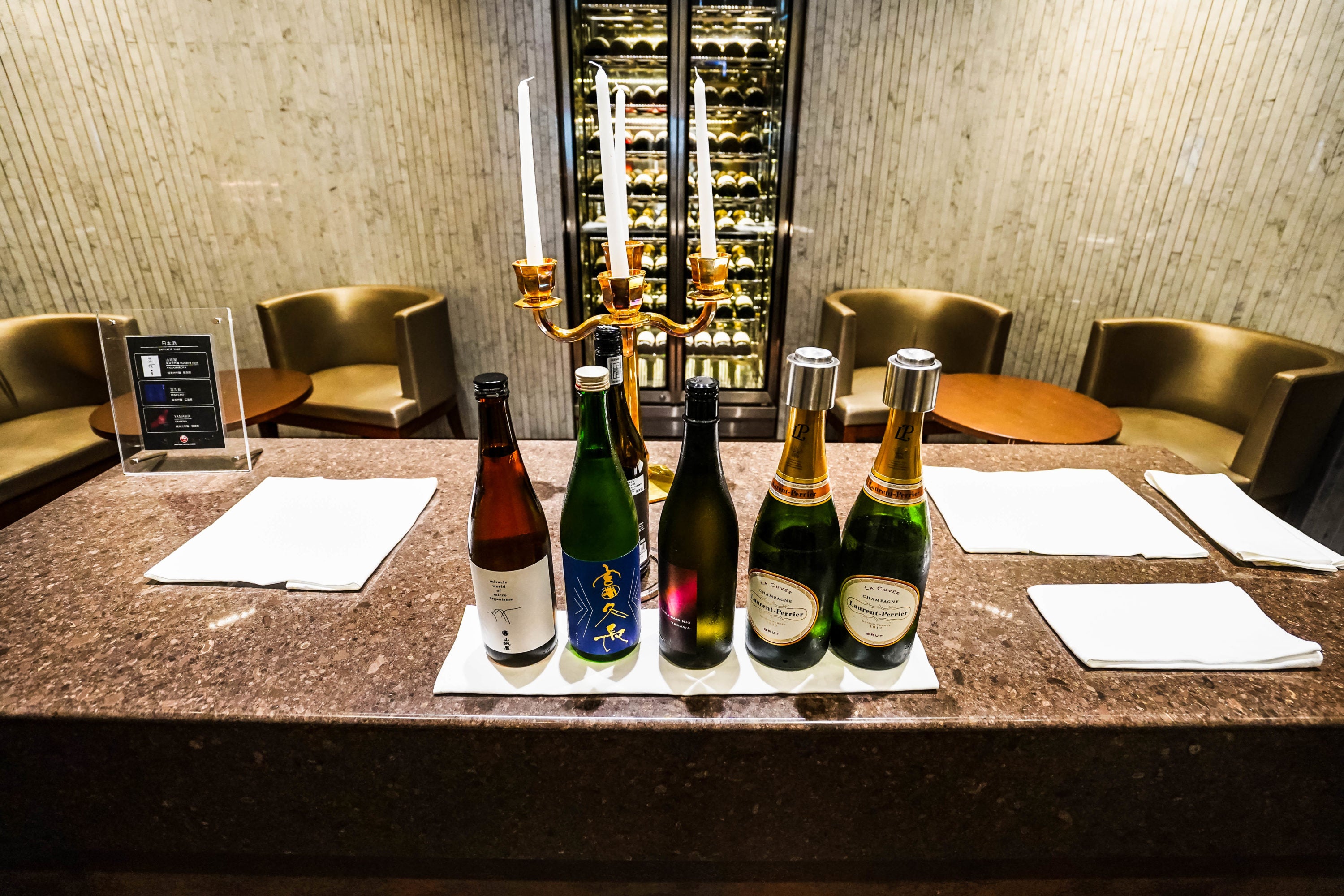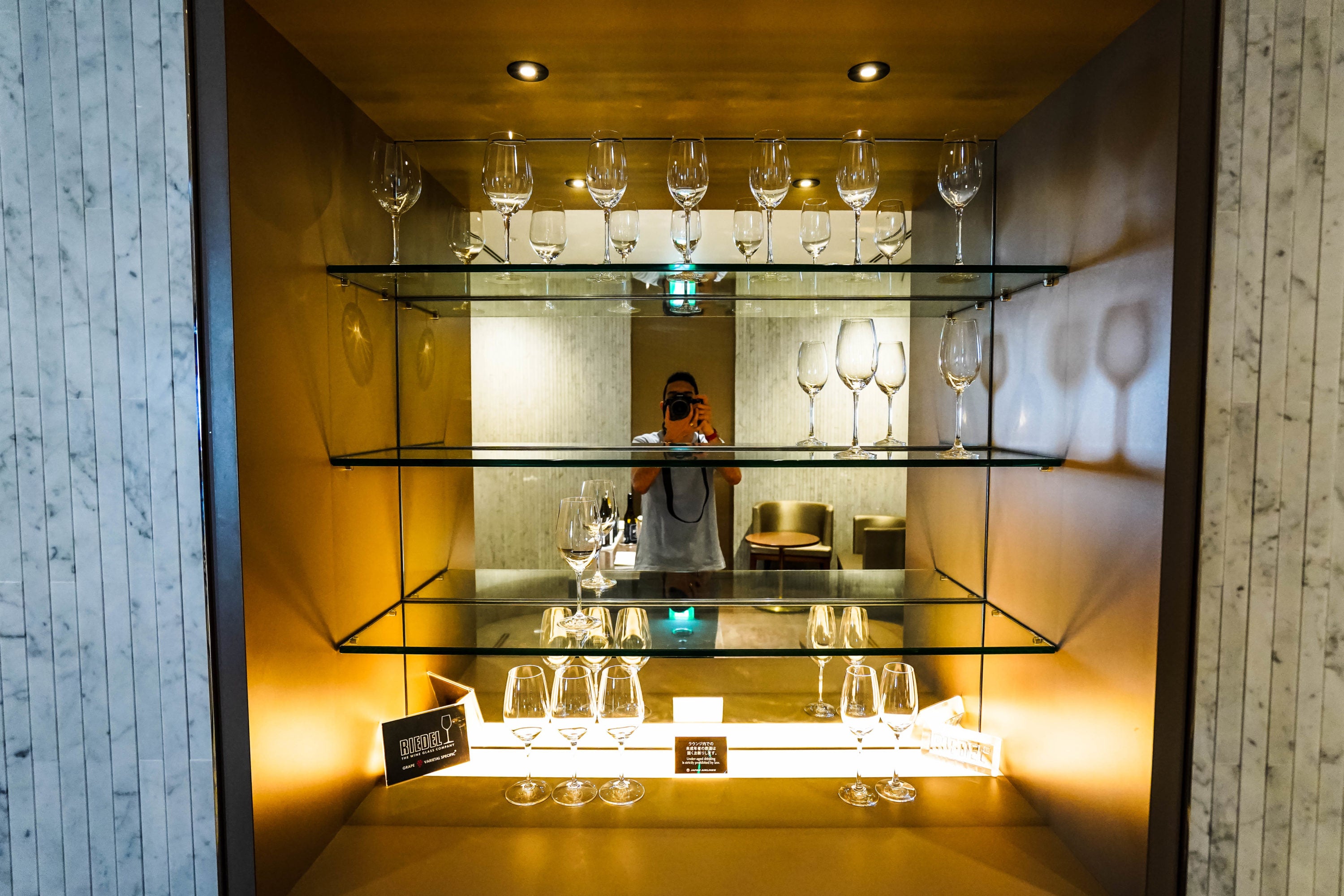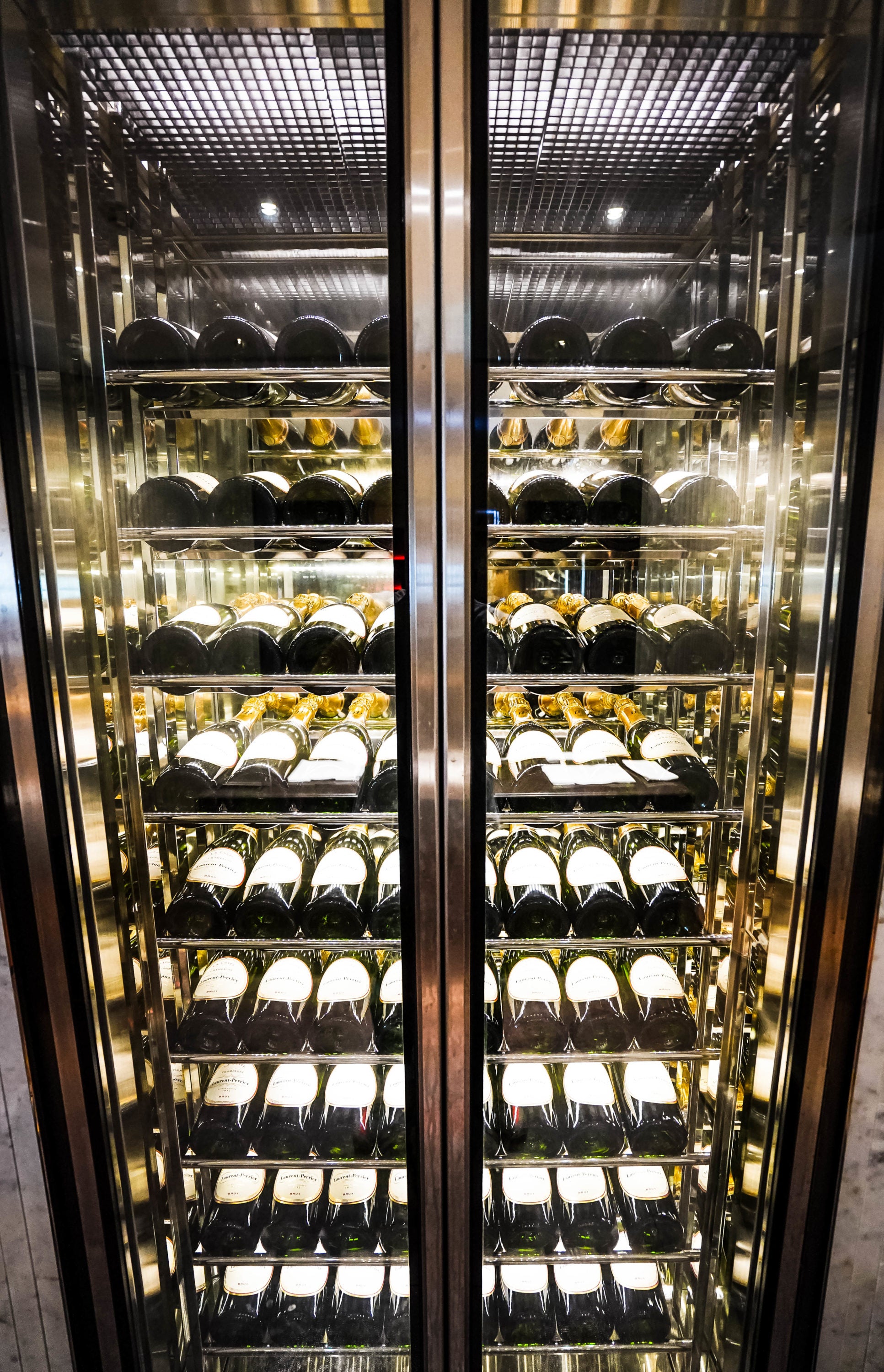 In stark contrast to the packed first class lounge, there were hardly 3 of us in the Red Suite. I poured myself a glass of the champers and sat down to browse through some of Japan Airlines' vintage literature.
I wasn't impressed by the main area of the first class lounge in terms of decor, the lack of à la carte dining options, and the fact that it didn't feel exclusive. I definitely missed the sushi bar, which is available at Japan Airlines' first class lounge at Narita. However, the Red Suite is a neatly put together sophisticated space offering a bit of everything — art, history, games, and bubbly — and I could have spent hours in there.
By now it was 10:15 a.m. and boarding had commenced. One of the boarding agents came in to inform me to proceed to the gate.
Boarding
The departure gate for the flight was 112, which was right opposite the lounge — a 2-minute walk. The boarding lanes were drawn up with 1 for first class passengers and Oneworld Emerald status holders and the other for business class passengers and Oneworld Sapphire status holders.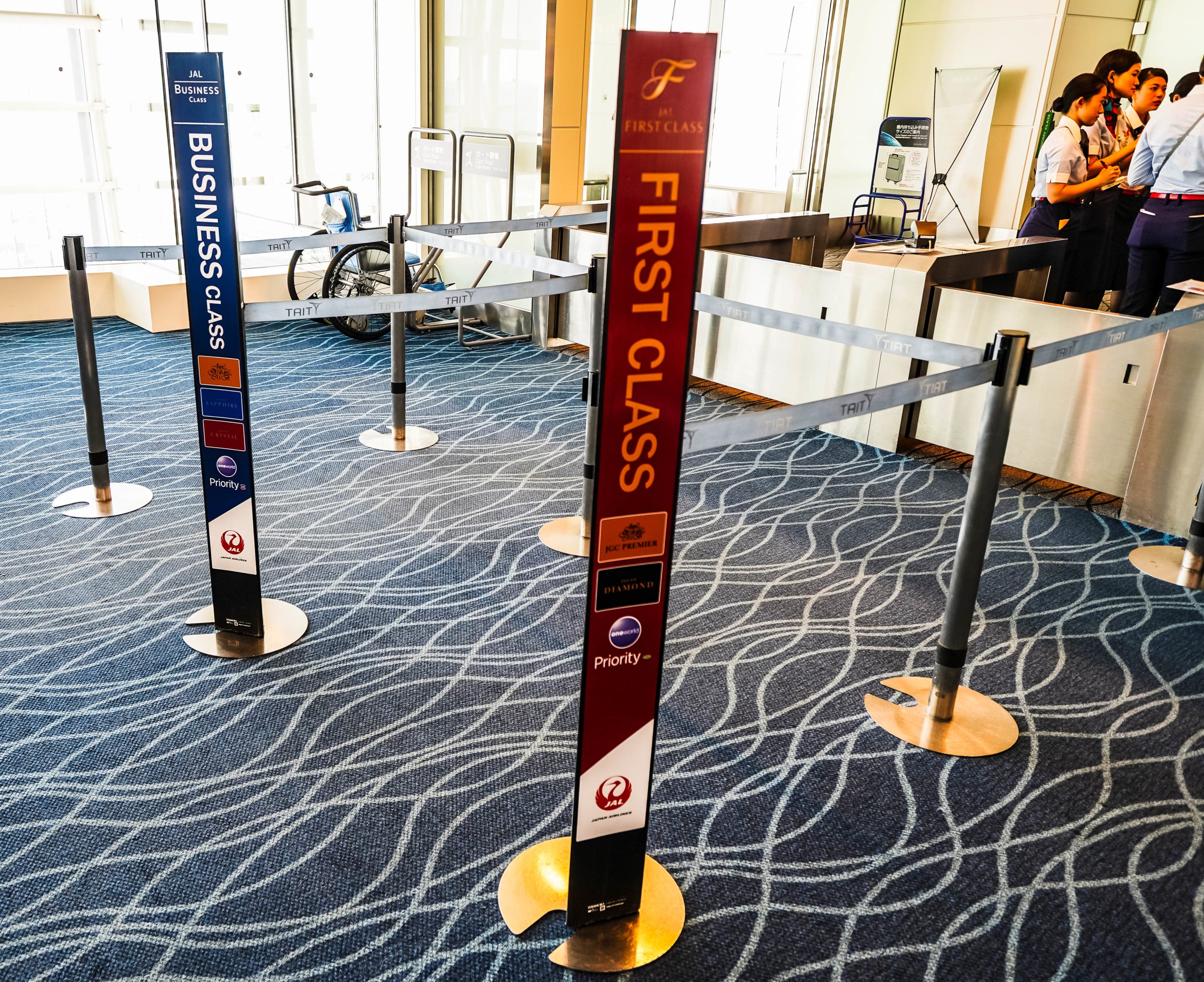 When I arrived at the gate, it was a bit of a melee. Boarding hadn't commenced yet, with people still queued up. We were then asked to take seats, as the aircraft wasn't ready yet to commence boarding. After about 10 minutes, boarding was announced. Boarding was through 2 jet bridges: 1 exclusively for first class passengers and the other for the rest.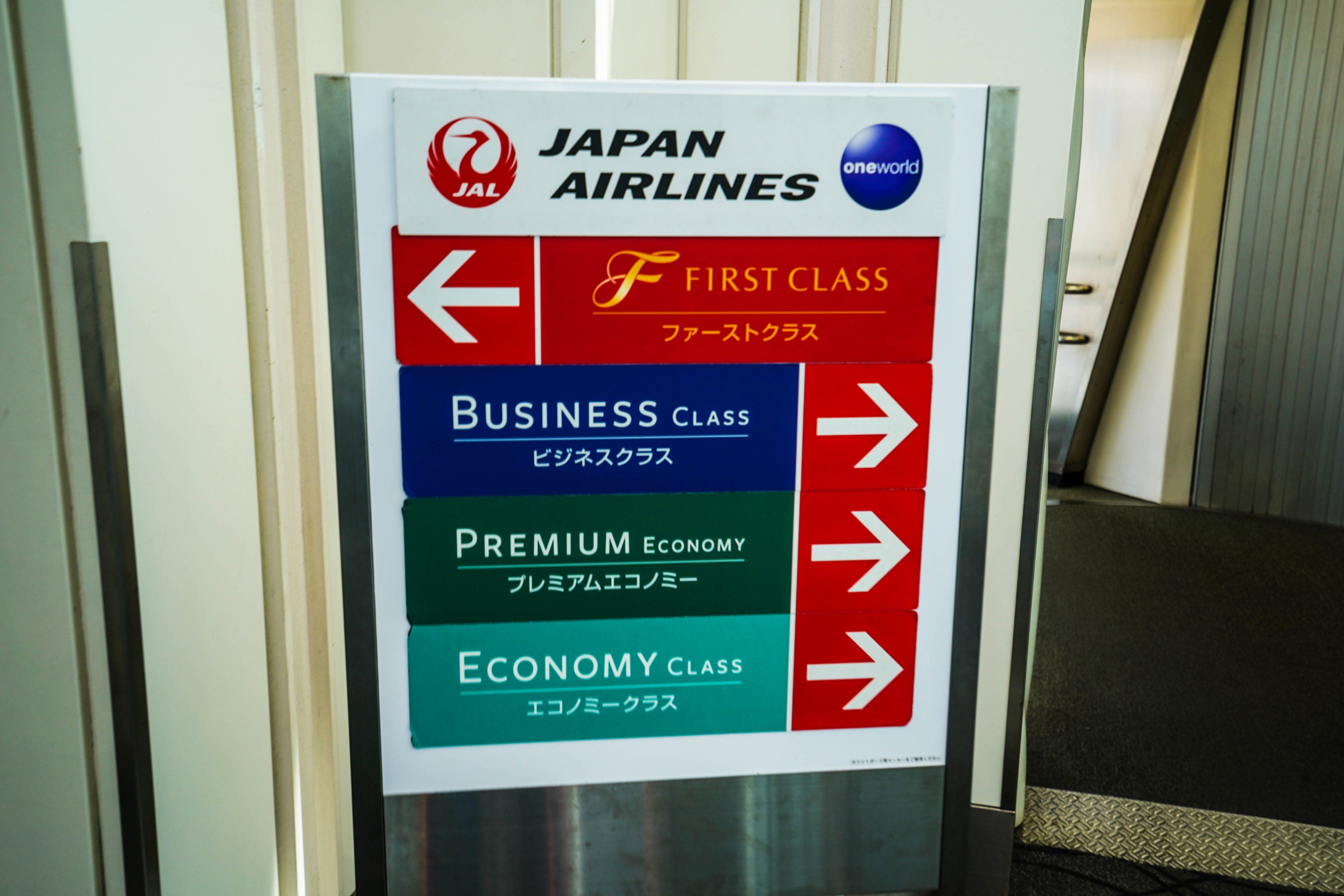 Flight
Aircraft 
Japan Airlines operates a fleet of 13 Boeing 777-300ER aircraft, offering its flagship first class service out of its Haneda and Narita hubs to Chicago O'Hare (ORD), London-Heathrow (LHR), Los Angeles International (LAX), John F. Kennedy-New York (JFK), Paris-Charles De Gaulle (CDG), and San Francisco International(SFO).
Today's flight was operated by a 10-year-old metal delivered in September 2009.
The 244-seater Boeing aircraft was configured as follows:
First — JAL Suite: 8 seats in a 1-2-1 configuration
Business — JAL Sky Suite: 49 seats in a 2-3-2 staggered configuration
Premium economy — JAL Sky Premium: 40 seats in a 2-4-2 configuration
Economy — JAL Sky Wider: 147 seats in a 3-3-3 configuration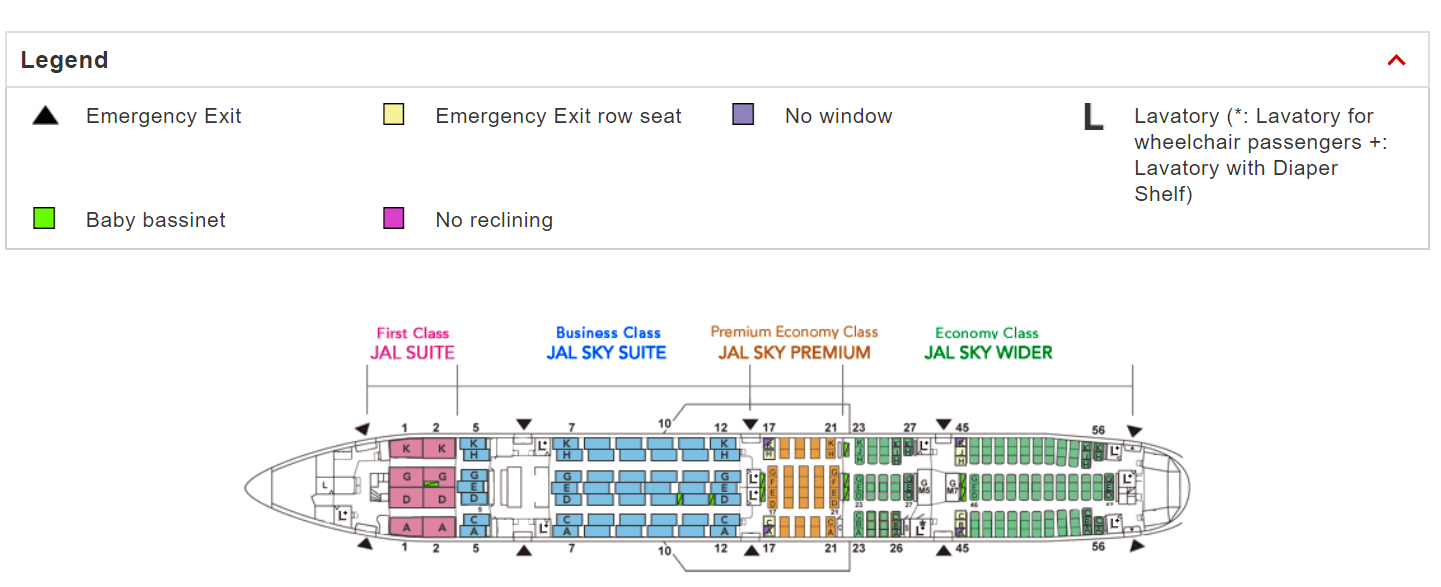 Cabin
The first class cabin consists of 8 open first class suites in a 1-2-1 configuration across 2 rows. The hard product isn't state of the art and the texture is dull with white bulkheads and dark brown leather upholstered seats.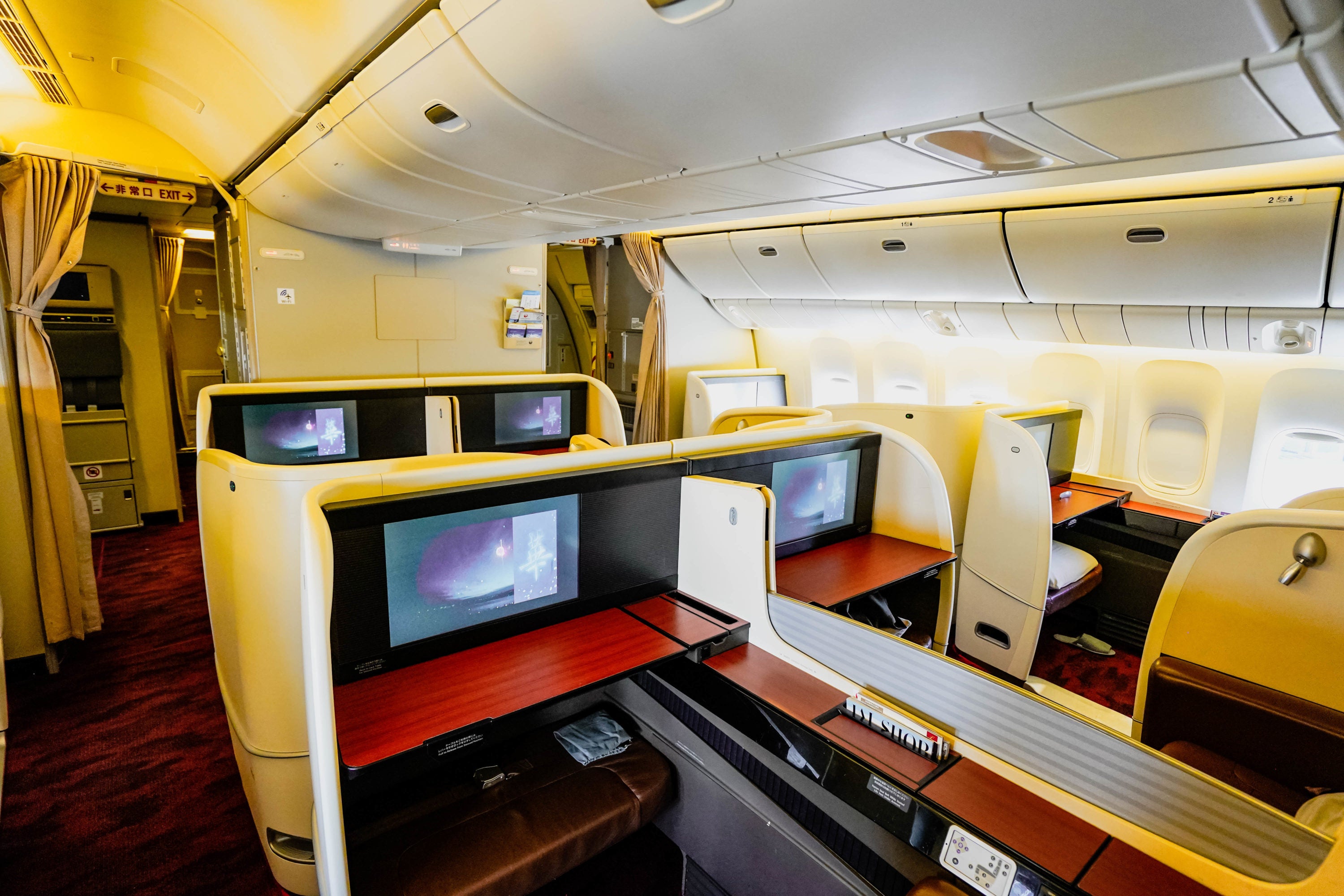 If you are traveling alone, the window seats in rows A and K are the ones to go for and if you are traveling with a companion, you would want to opt for the middle seats in rows D and G, which can be cordoned with a privacy divider.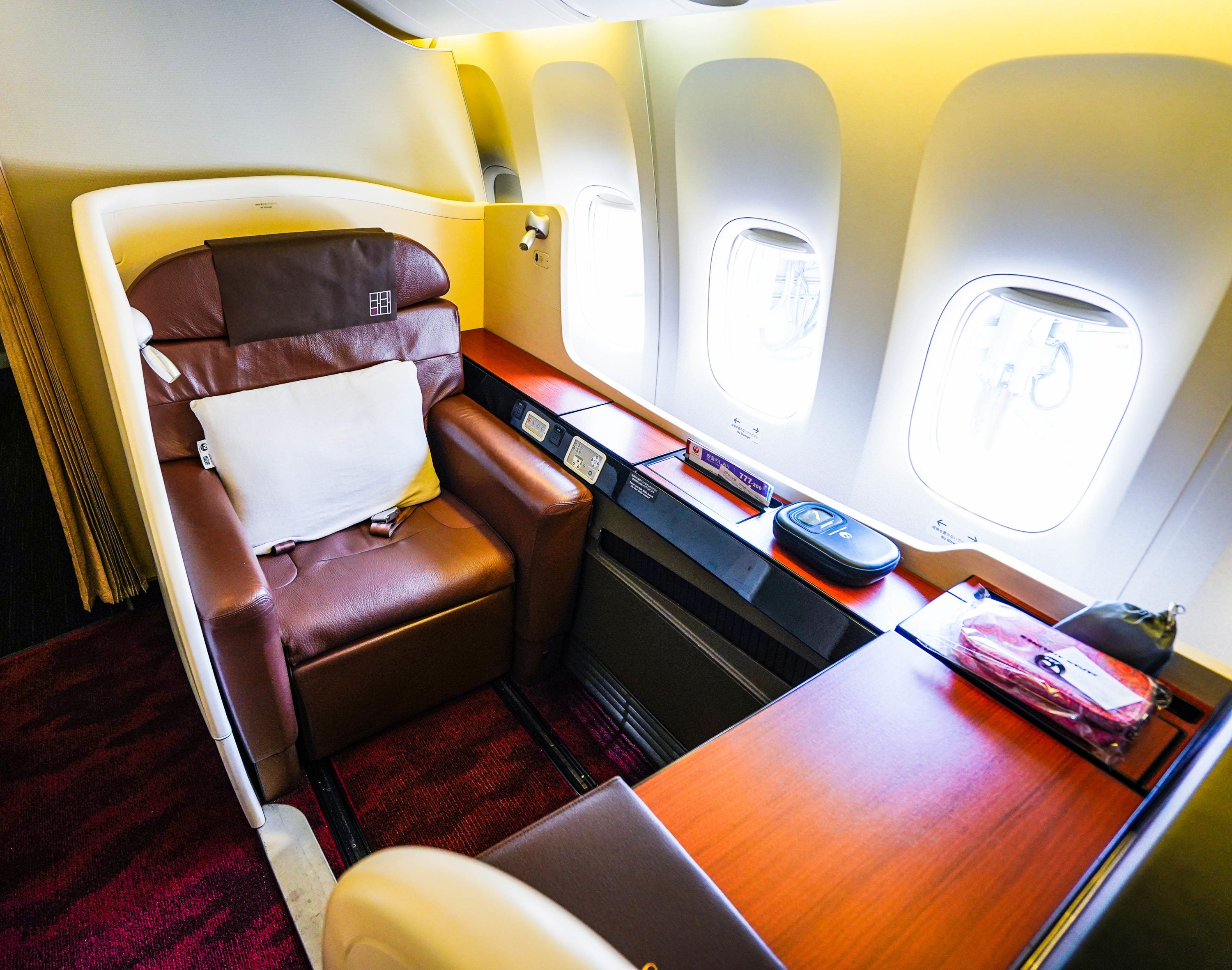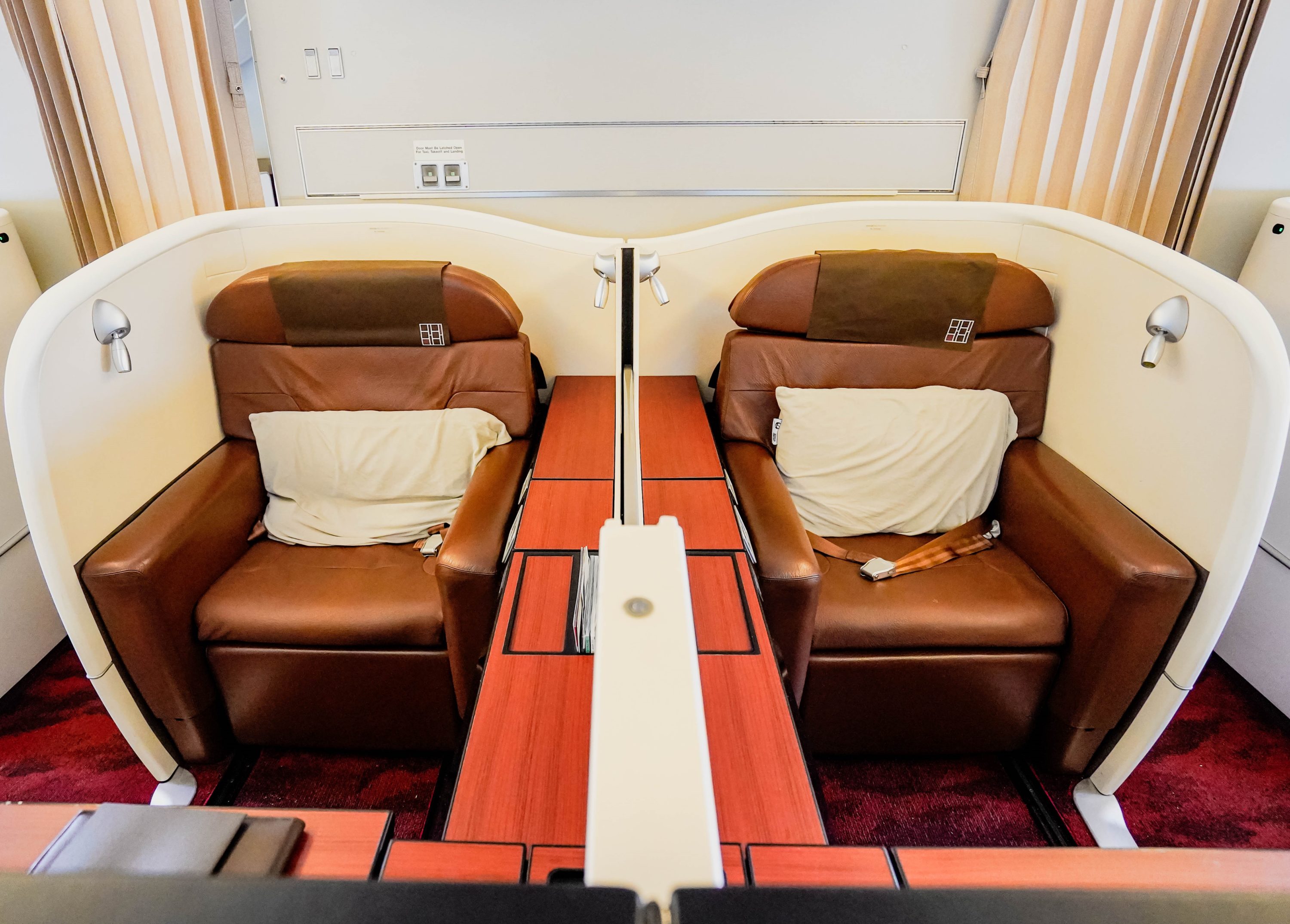 There are 2 lavatories in the front of the first class cabin — 1 on the port side and 1 in the center. Whilst both can be used by first class passengers, the 1 on the port is slightly larger than the 1 in the center, which is predominantly used by the crew. The washrooms were kept spotlessly clean by the crew throughout the flight.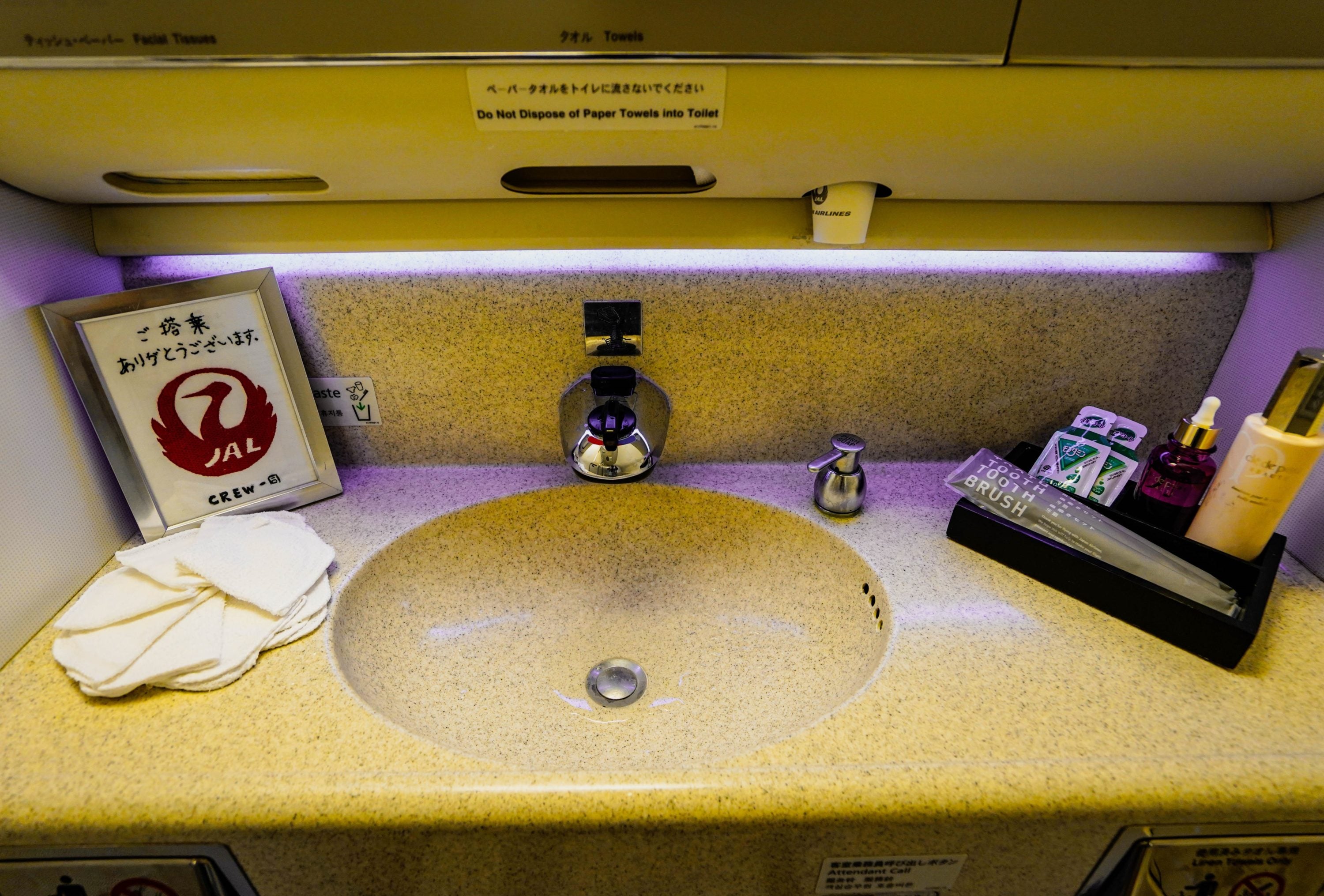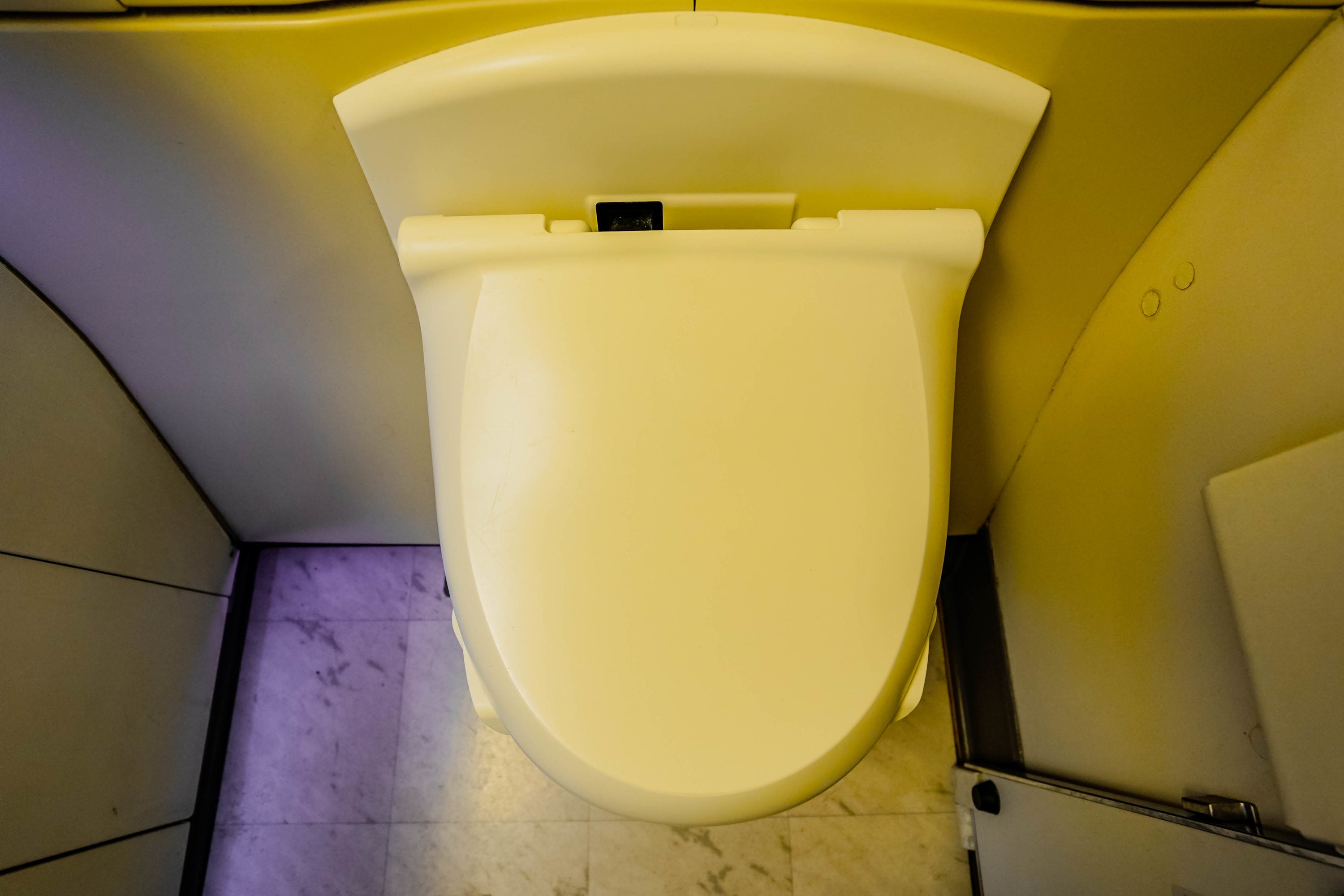 Both the washrooms were well stocked with Clé de Peau Beauté amenities.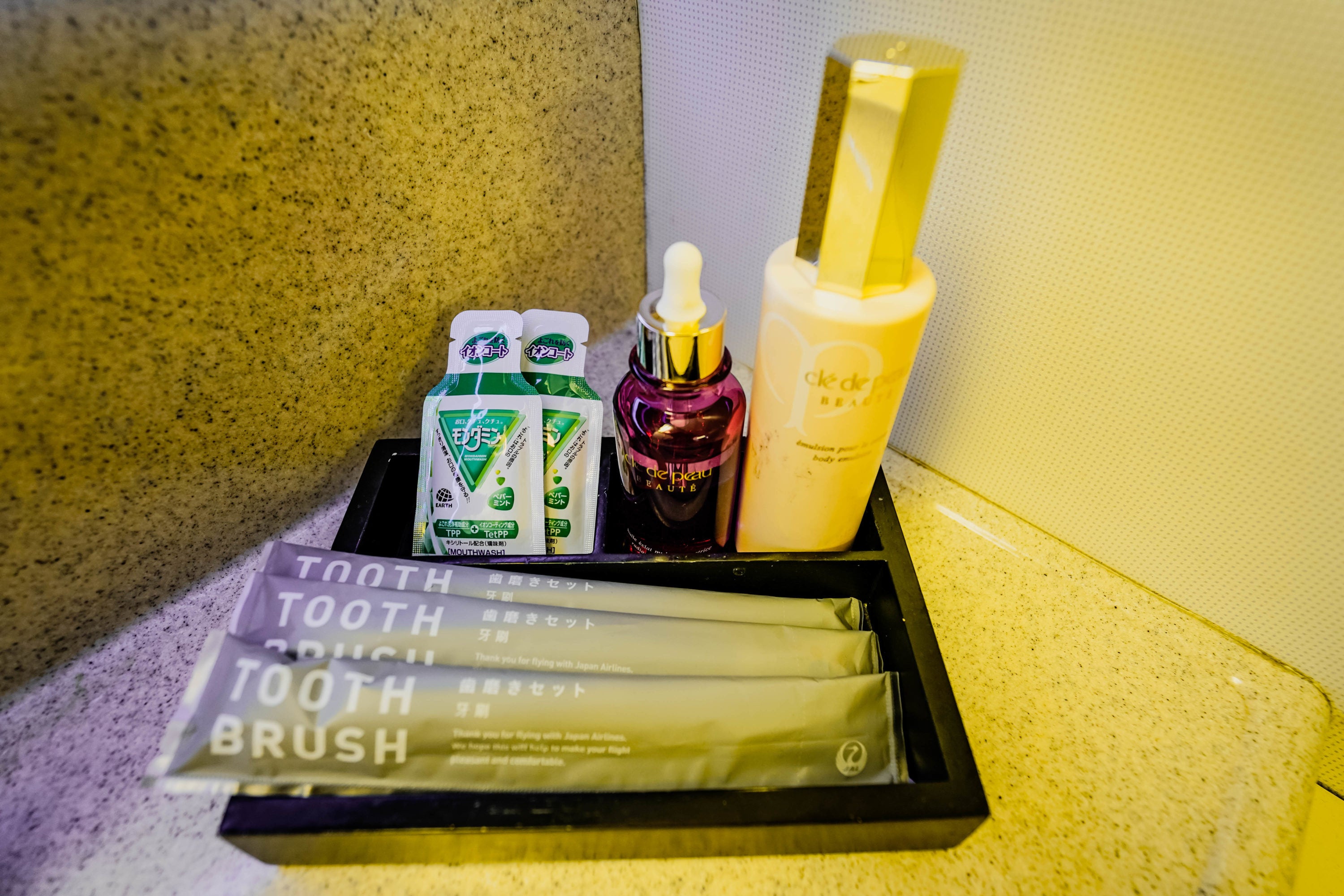 In keeping with all things all Japanese (and commonly found in Japanese hotels), the washrooms had bidets — one of my favorite features.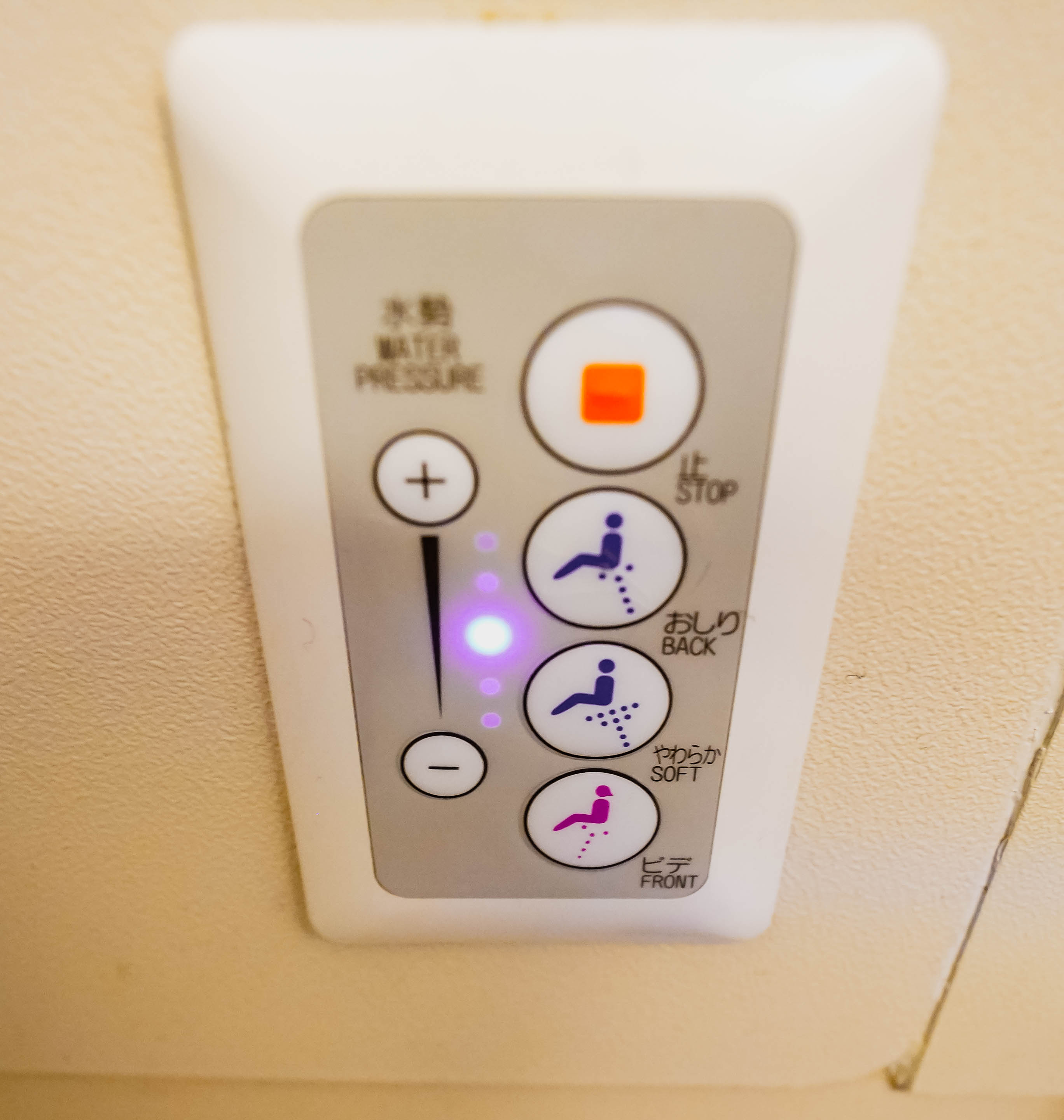 Seat
Japan Airlines' first class seats, known as the JAL SUITE, are not fully enclosed and do not offer a privacy door. That said, thanks to the shell design, they do offer good privacy.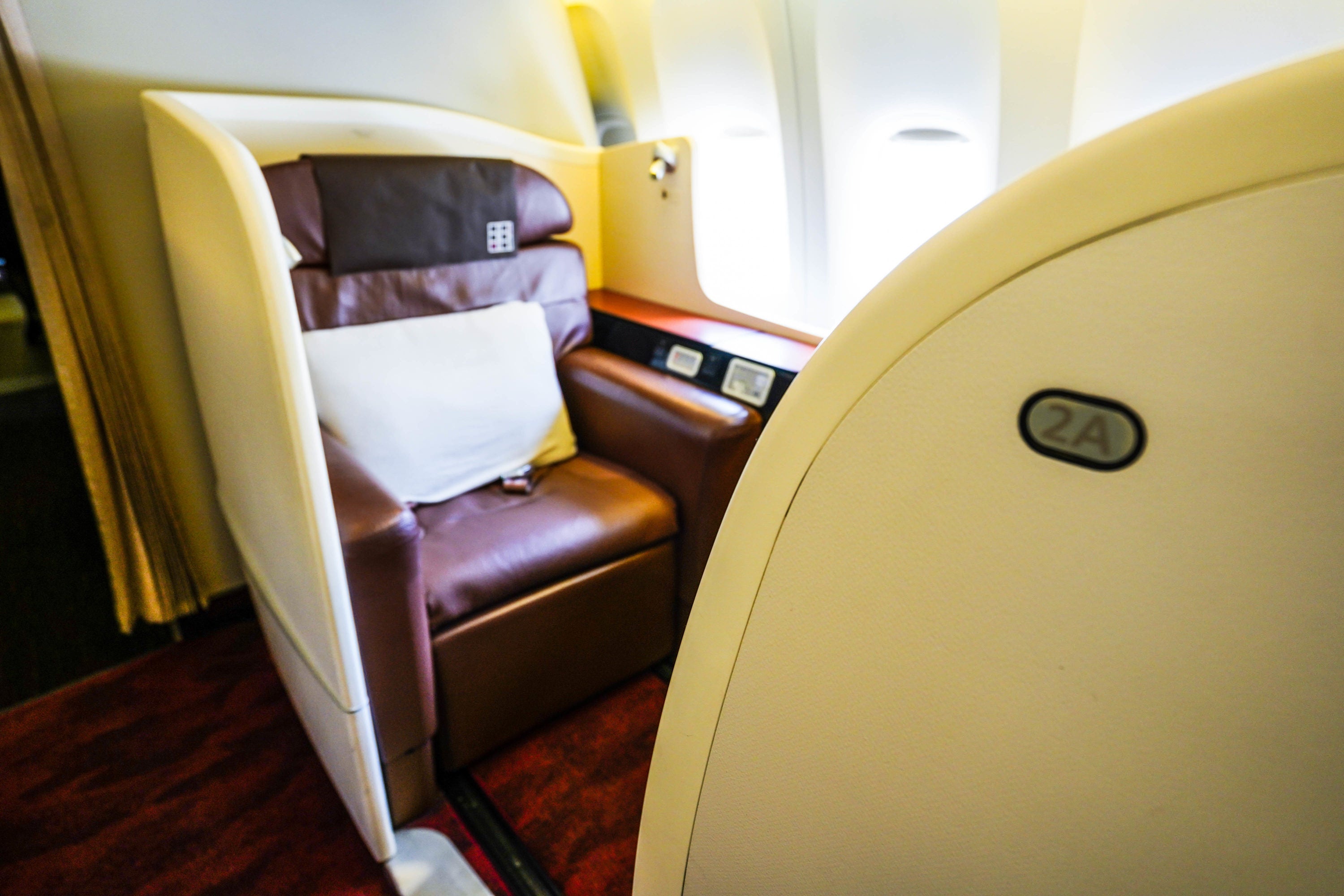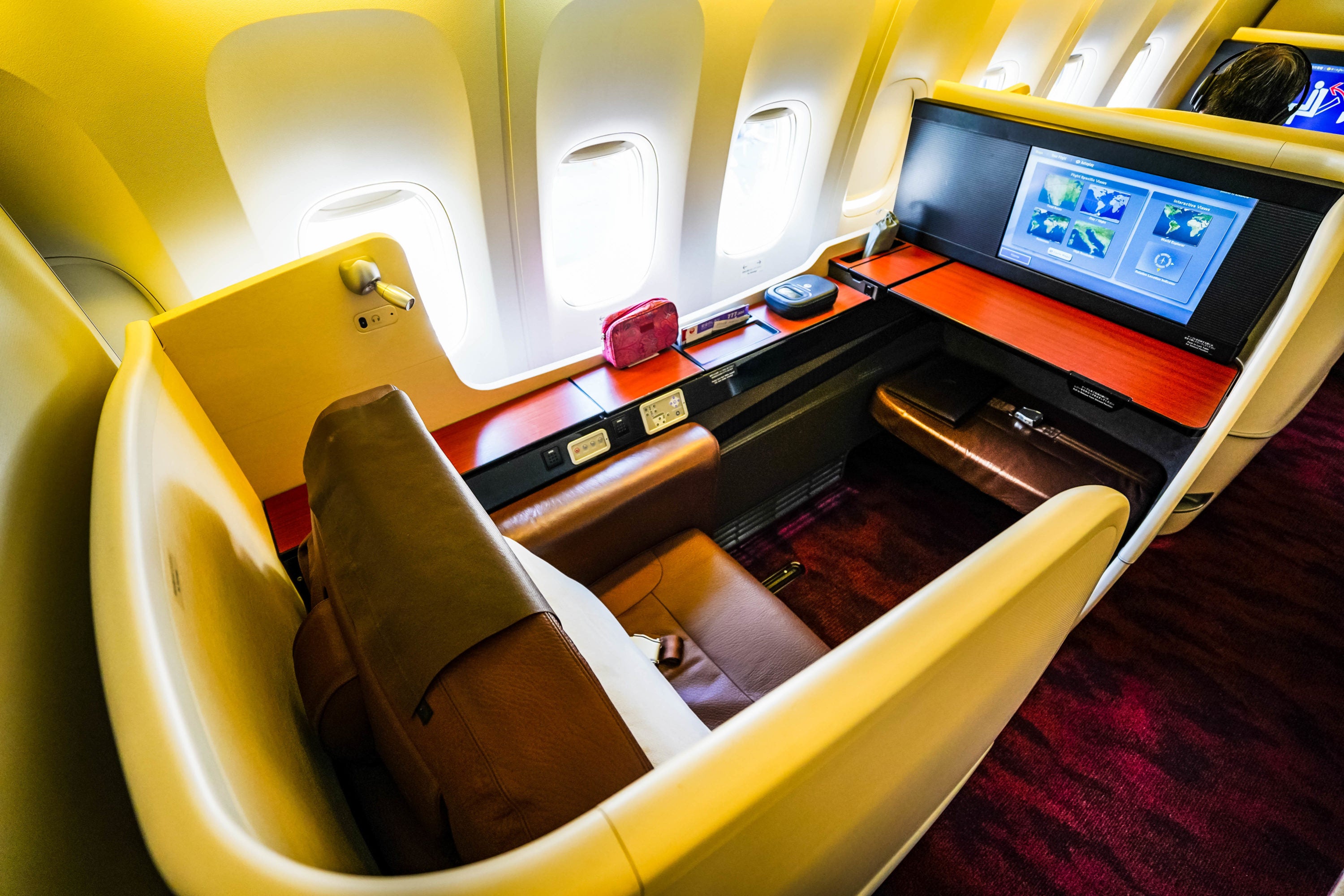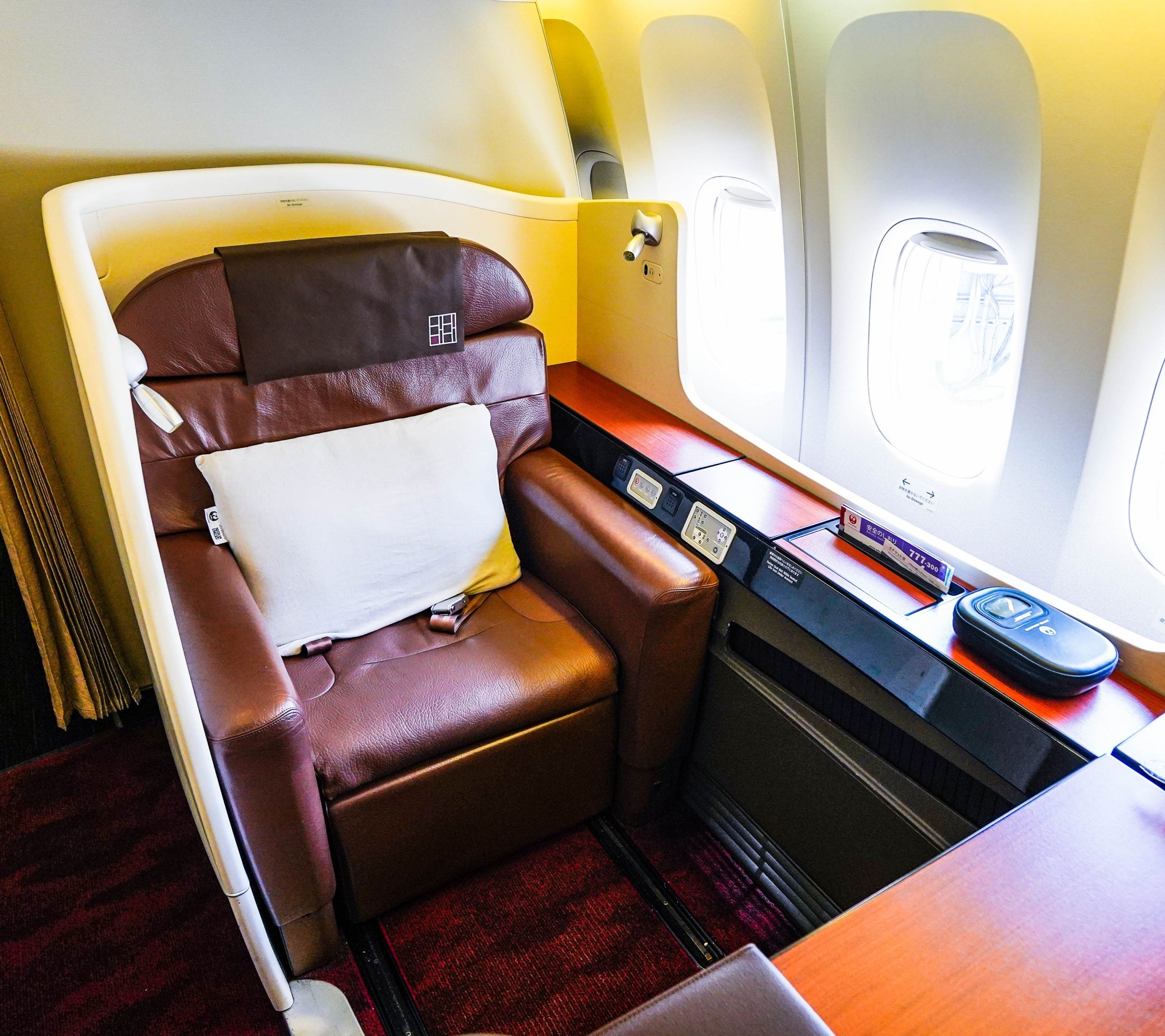 Each seat measures 23 inches in width between armrests and 33 inches wide by 78 inches long whilst in bed mode.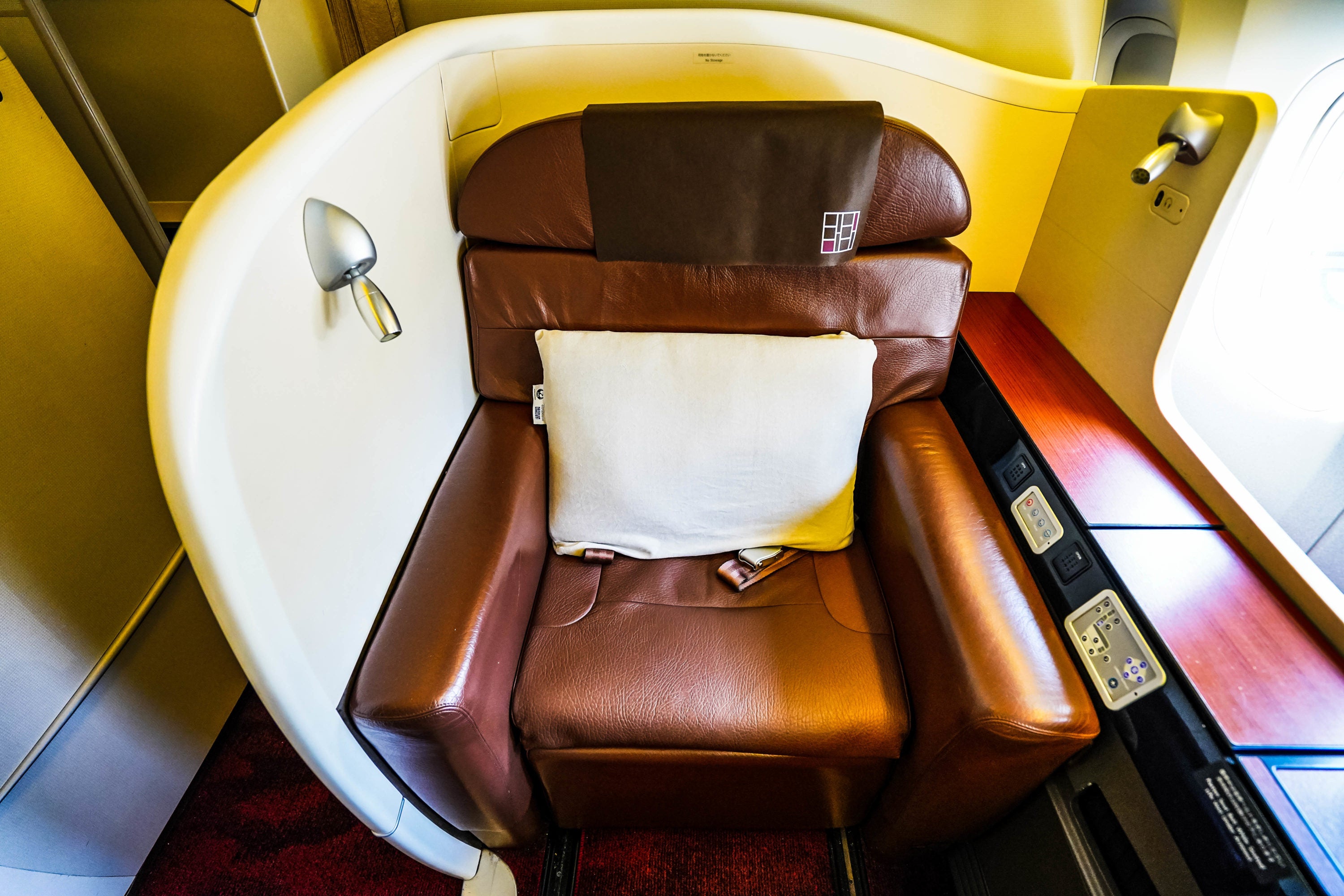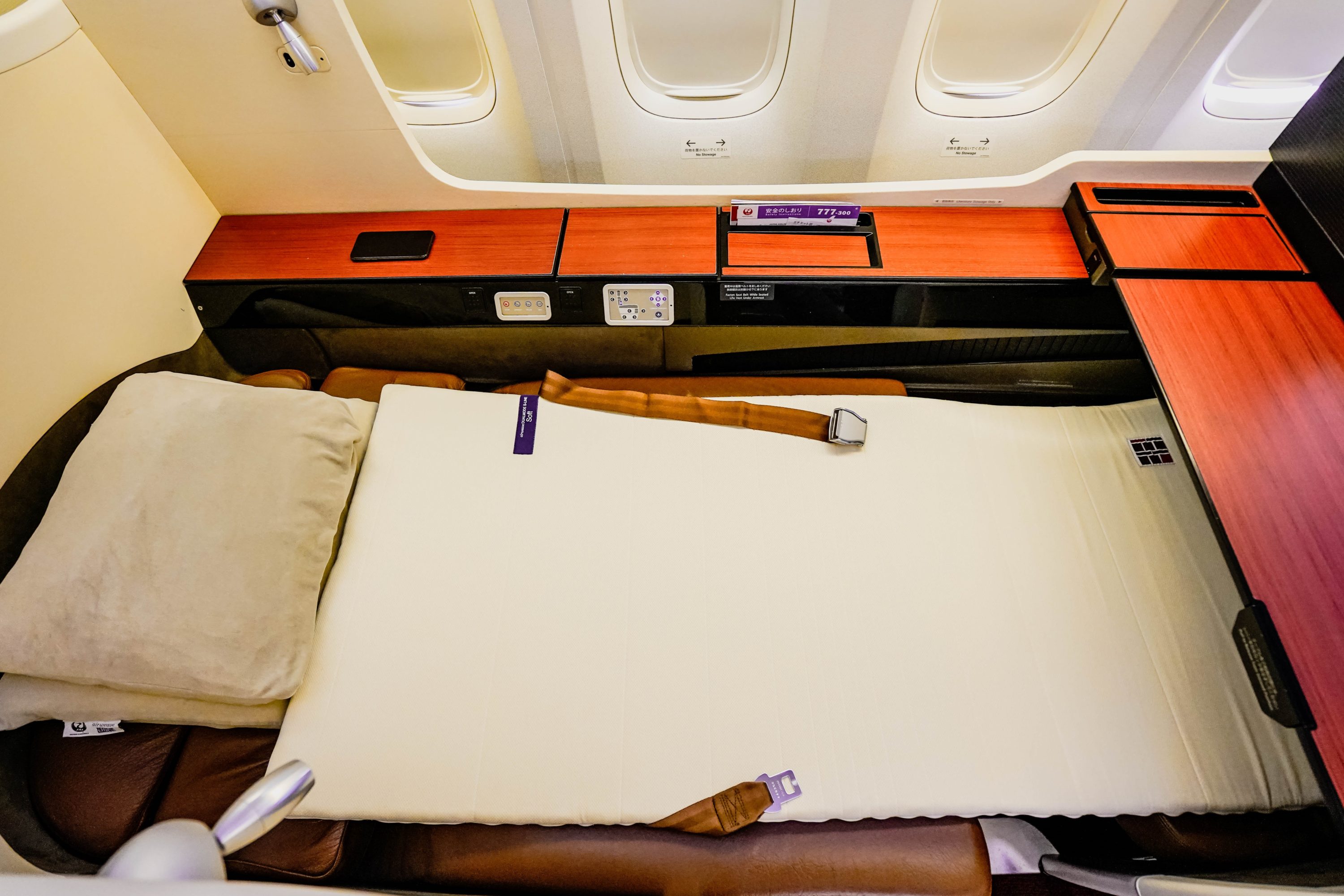 The suites are very spacious.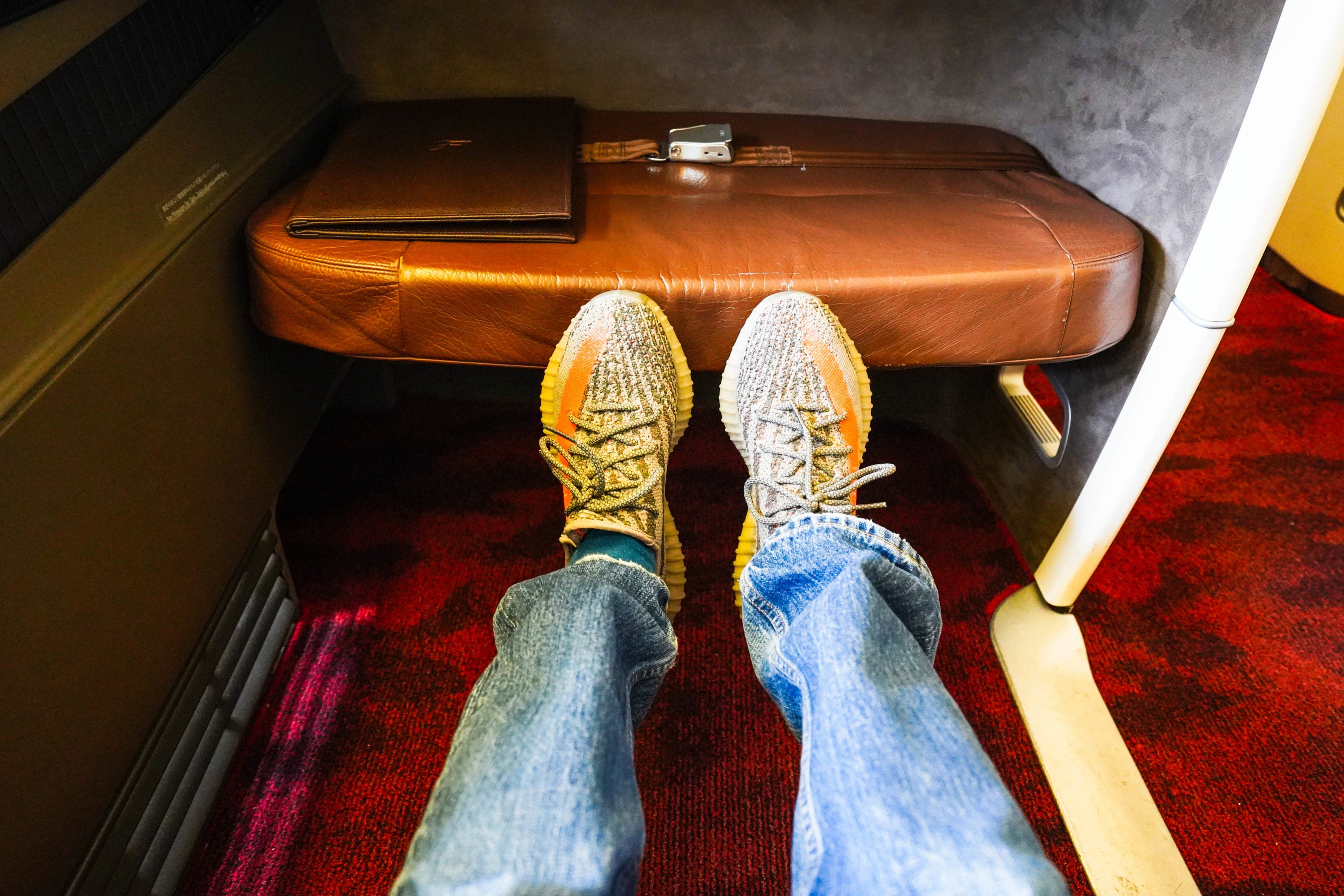 The seat is well-padded and upholstered with dark brown leather, giving the suite a subdued feel along with the wood grain finishing of the panels.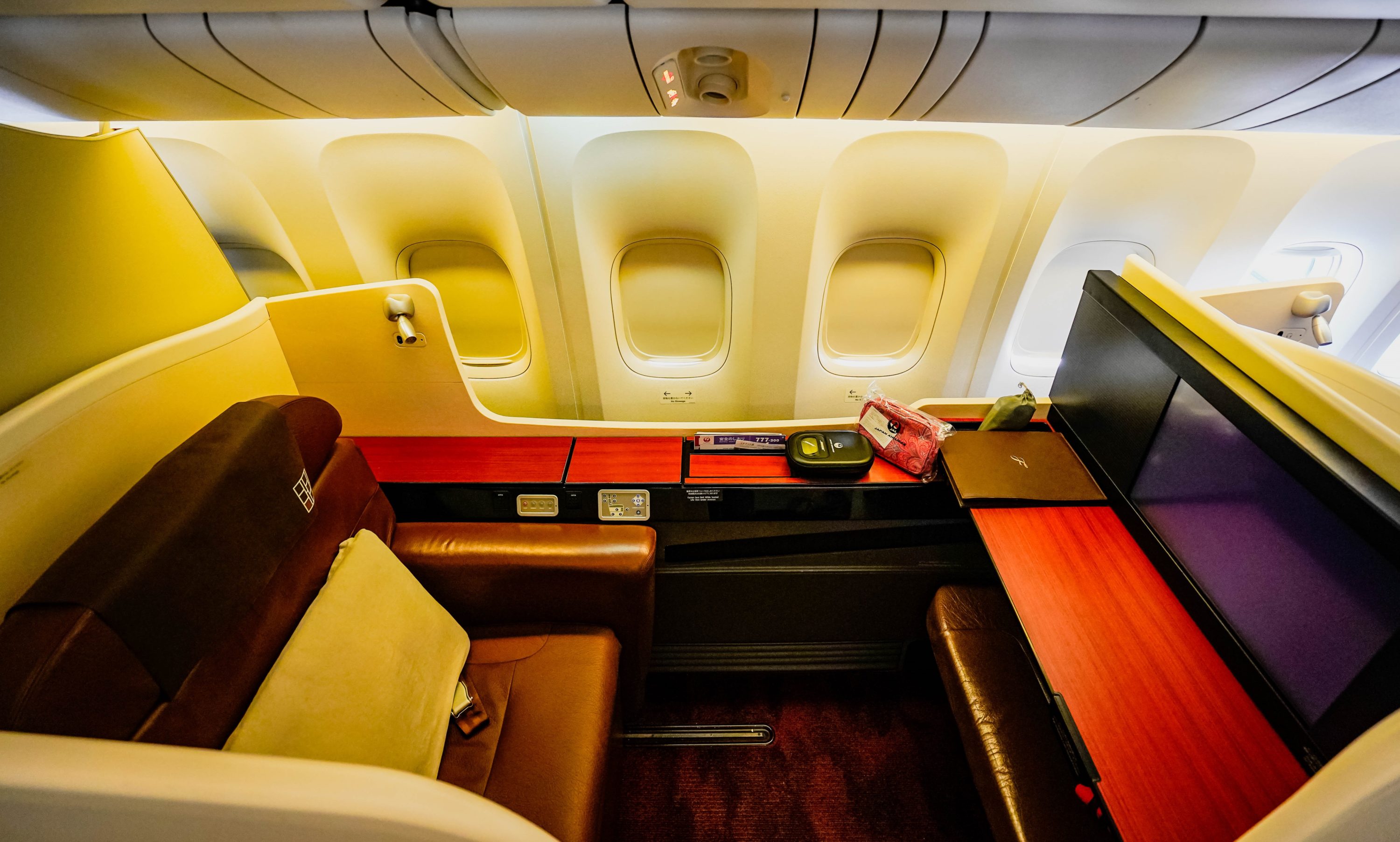 There is an ottoman fitted with a seat belt opposite the seat, should you wish to enjoy a meal with your companion.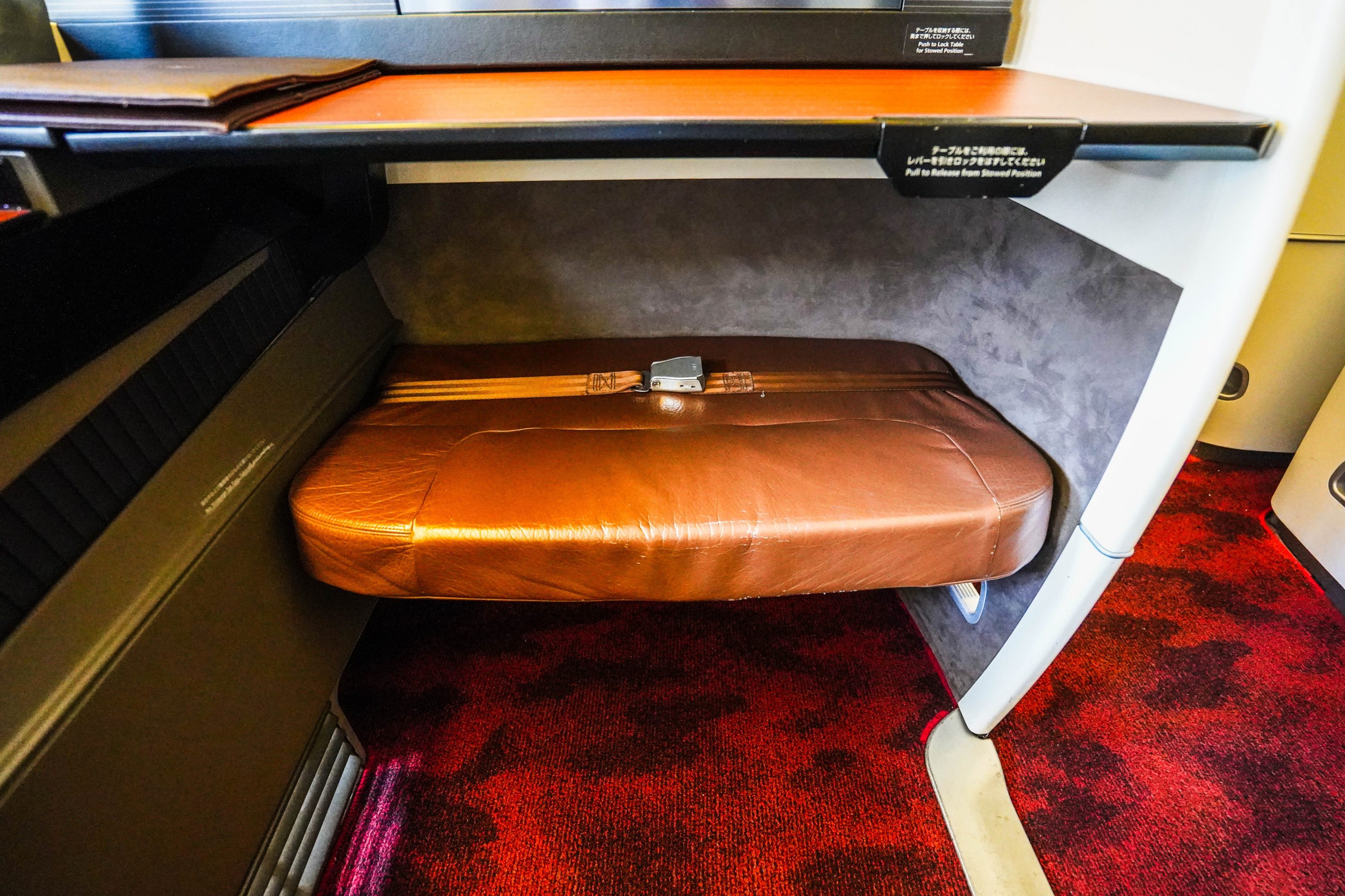 At the base of the storage compartment panel on the left-hand side, are the controls for the suite and seat features, which include seat presets, seat adjustments, and lighting controls. The seat can be adjusted using the pre-set buttons and or you can customize the position of the seat using the other controls.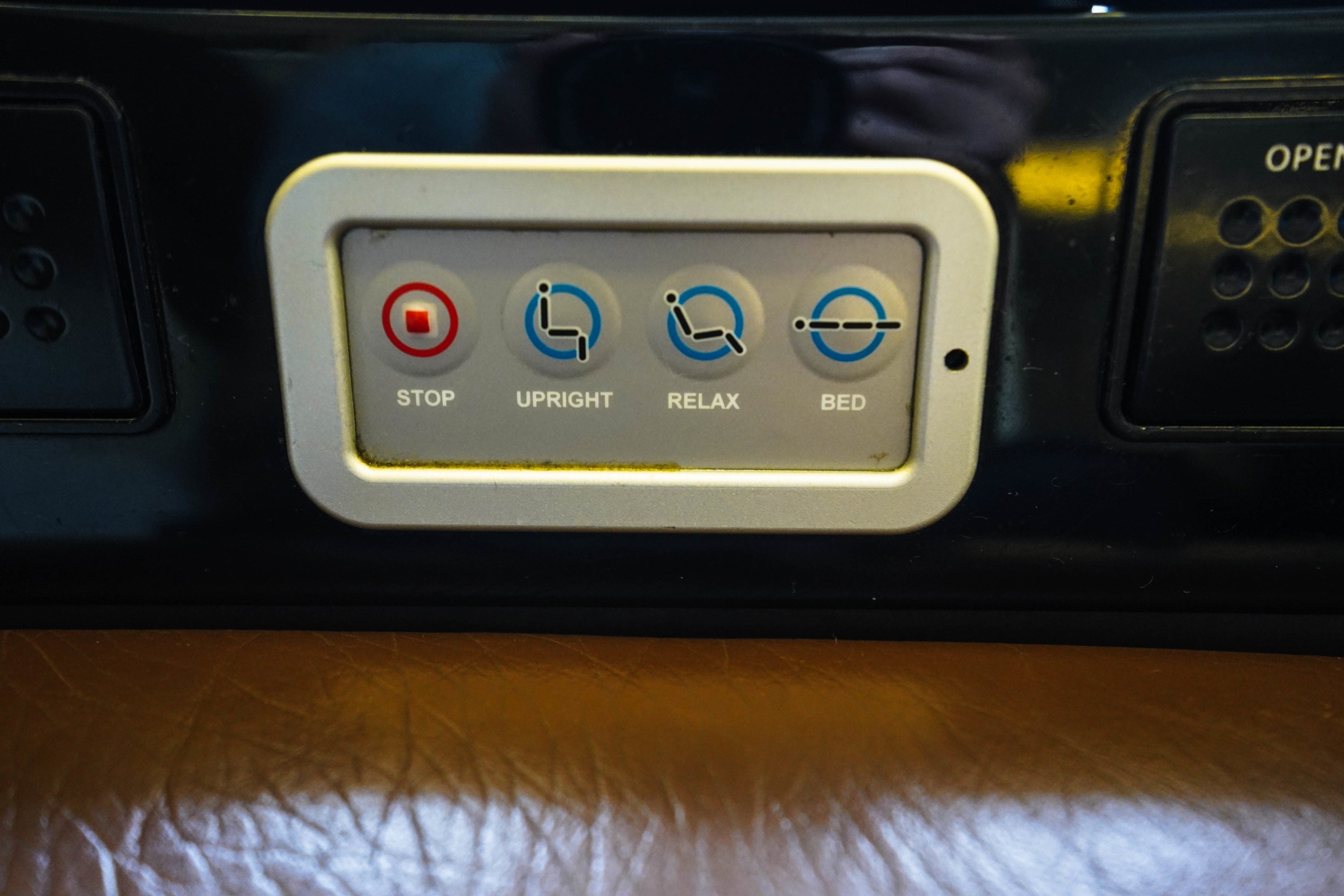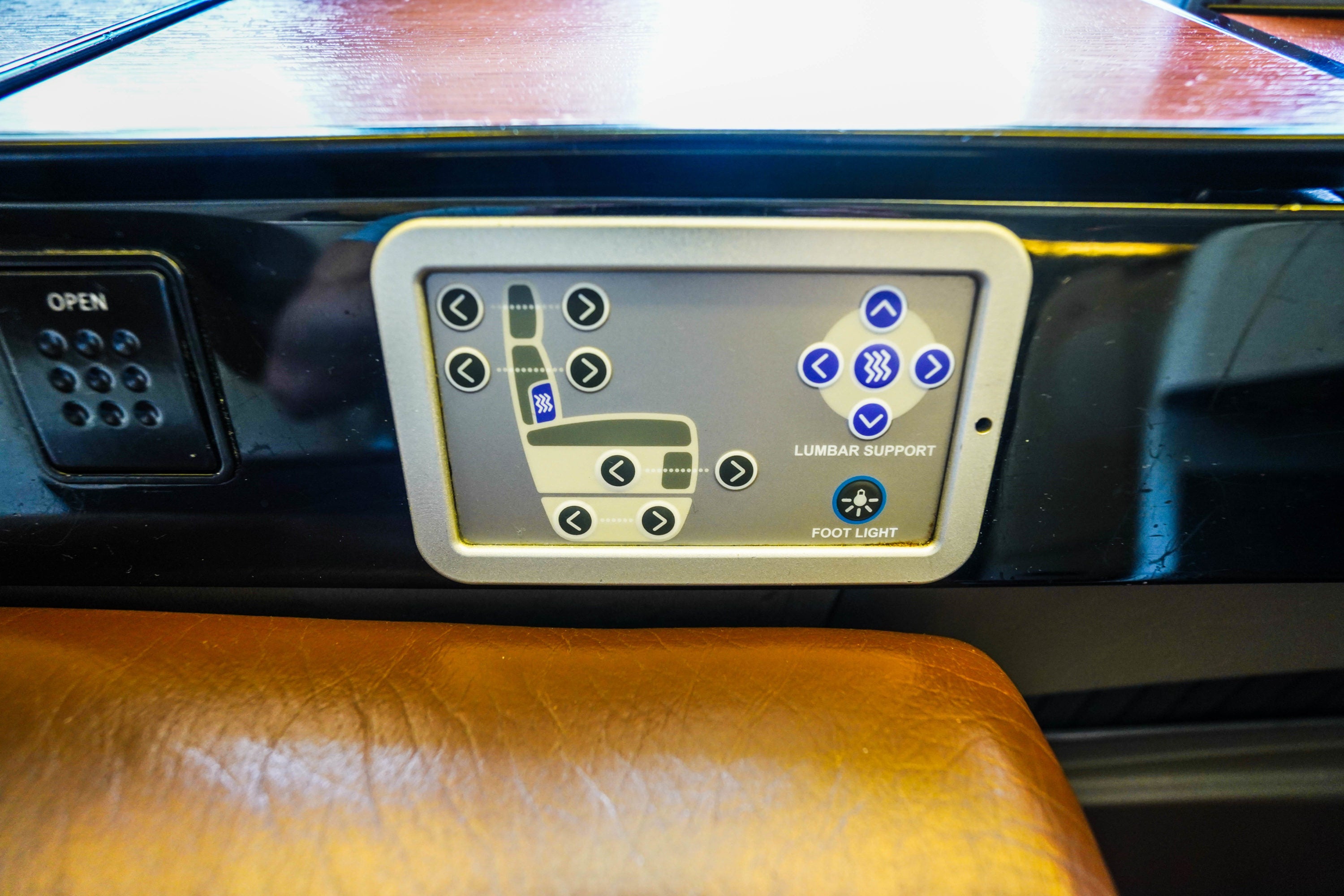 Storage Space
There is a decent amount of storage space in the suite, with 3 storage compartments provided under the wooden panel on the left-hand side of the seat. The compartments were deep and ideal to store loose items such as cables, phones, cameras, and anything else that you wish to keep handy.
The compartment directly adjacent to the seat also housed a phone that you could use to make ground calls.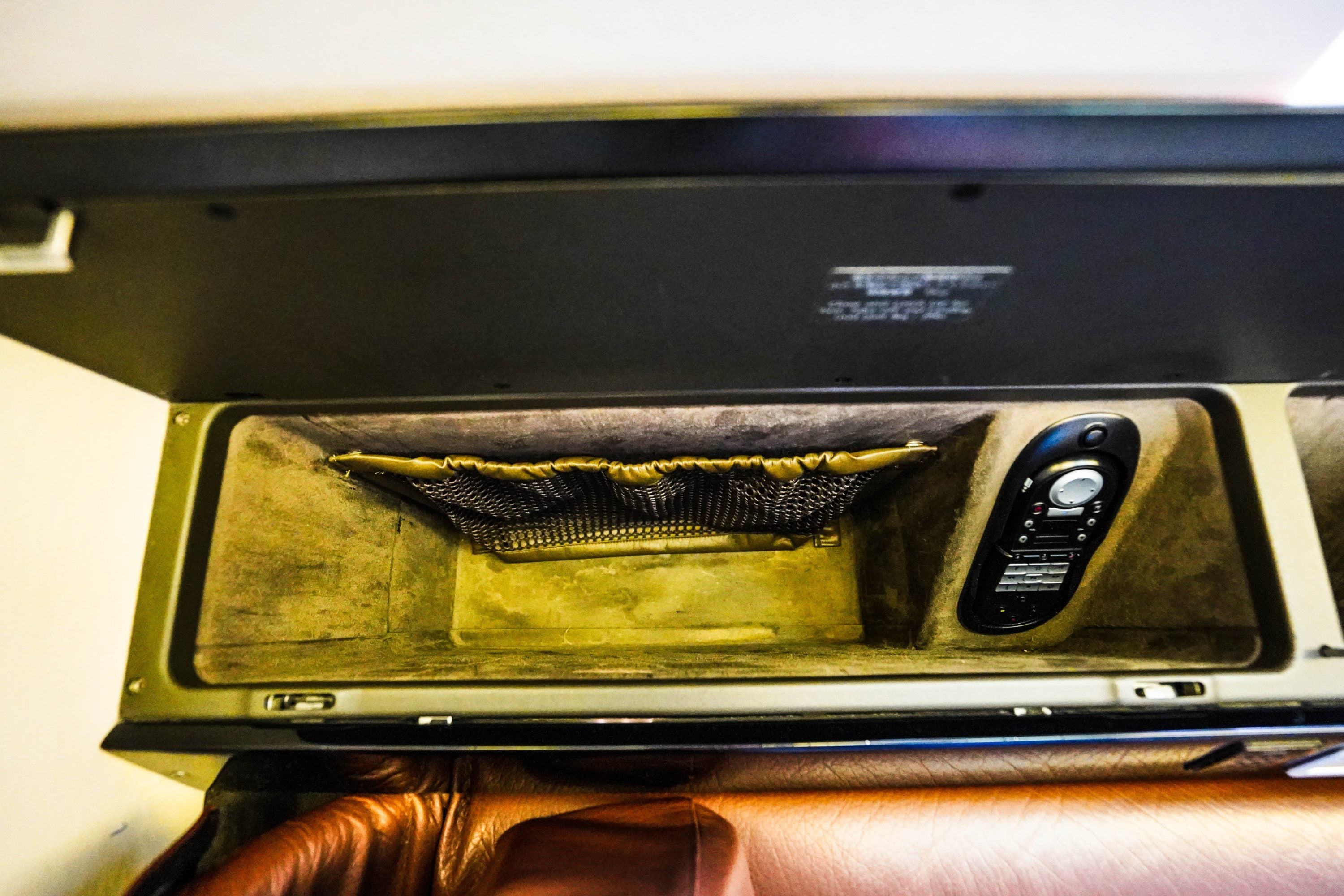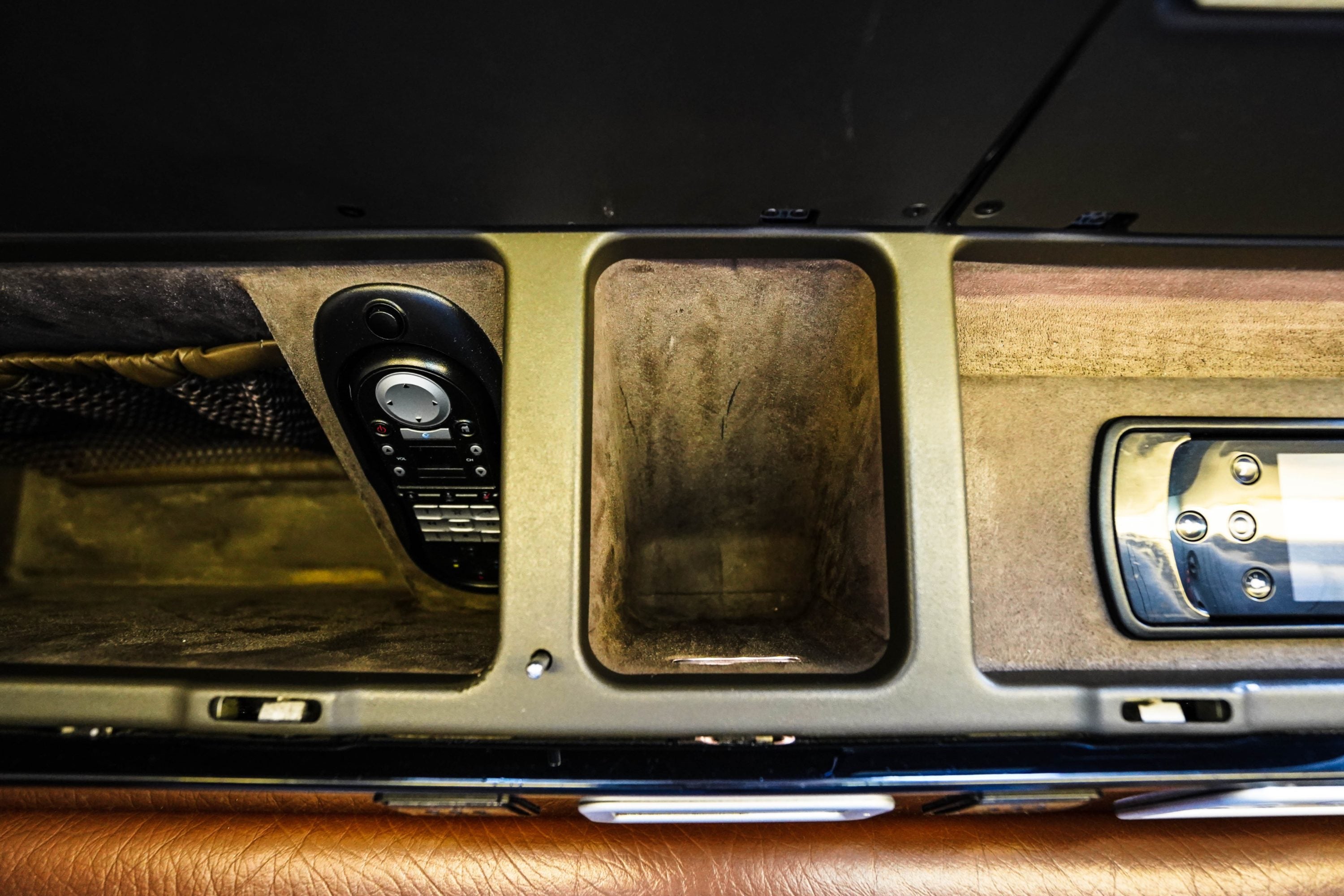 The first storage compartment also had a universal power outlet and USB port, which was a bit inconvenient if you had a short charging cable.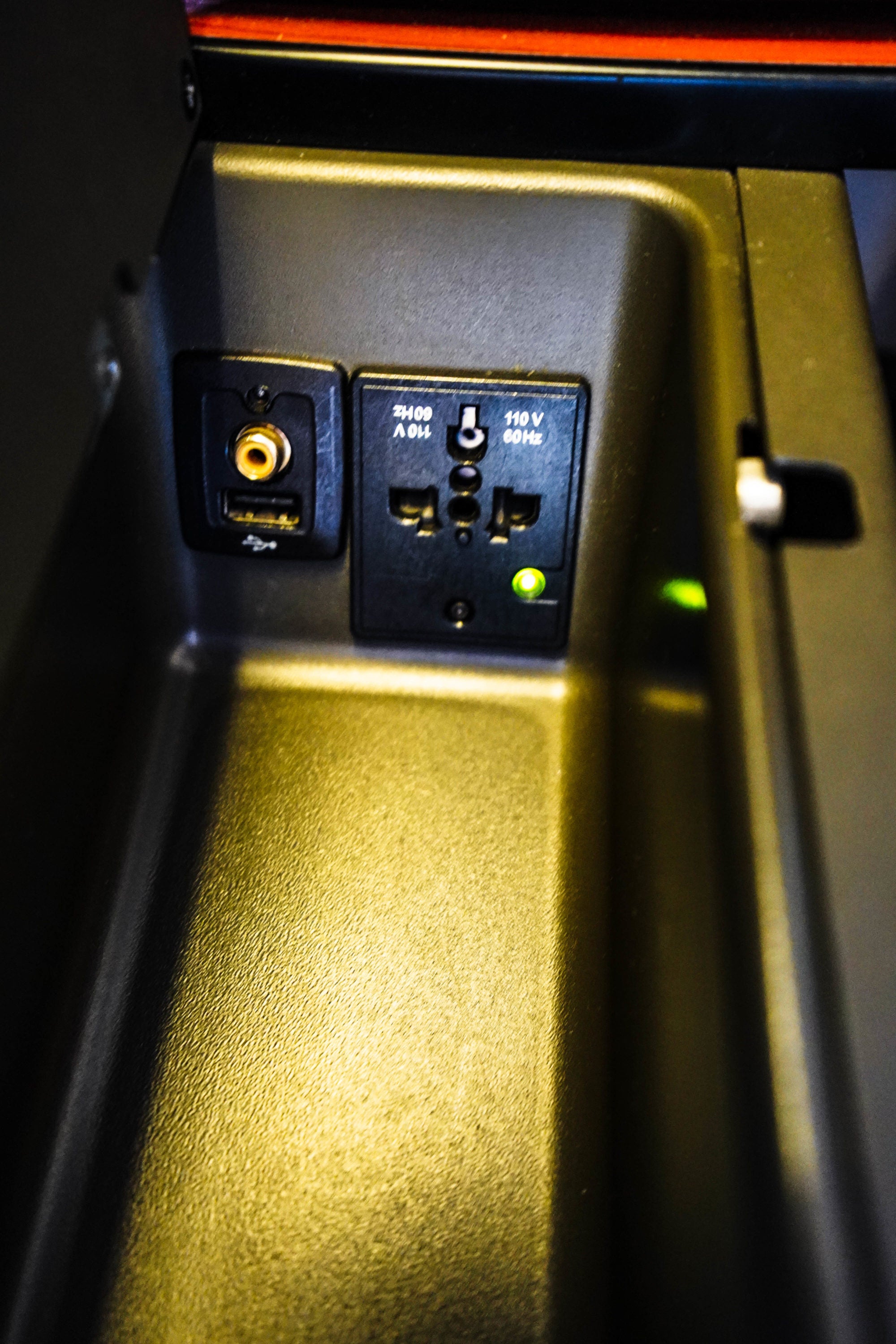 There is additional storage space also available below the ottoman.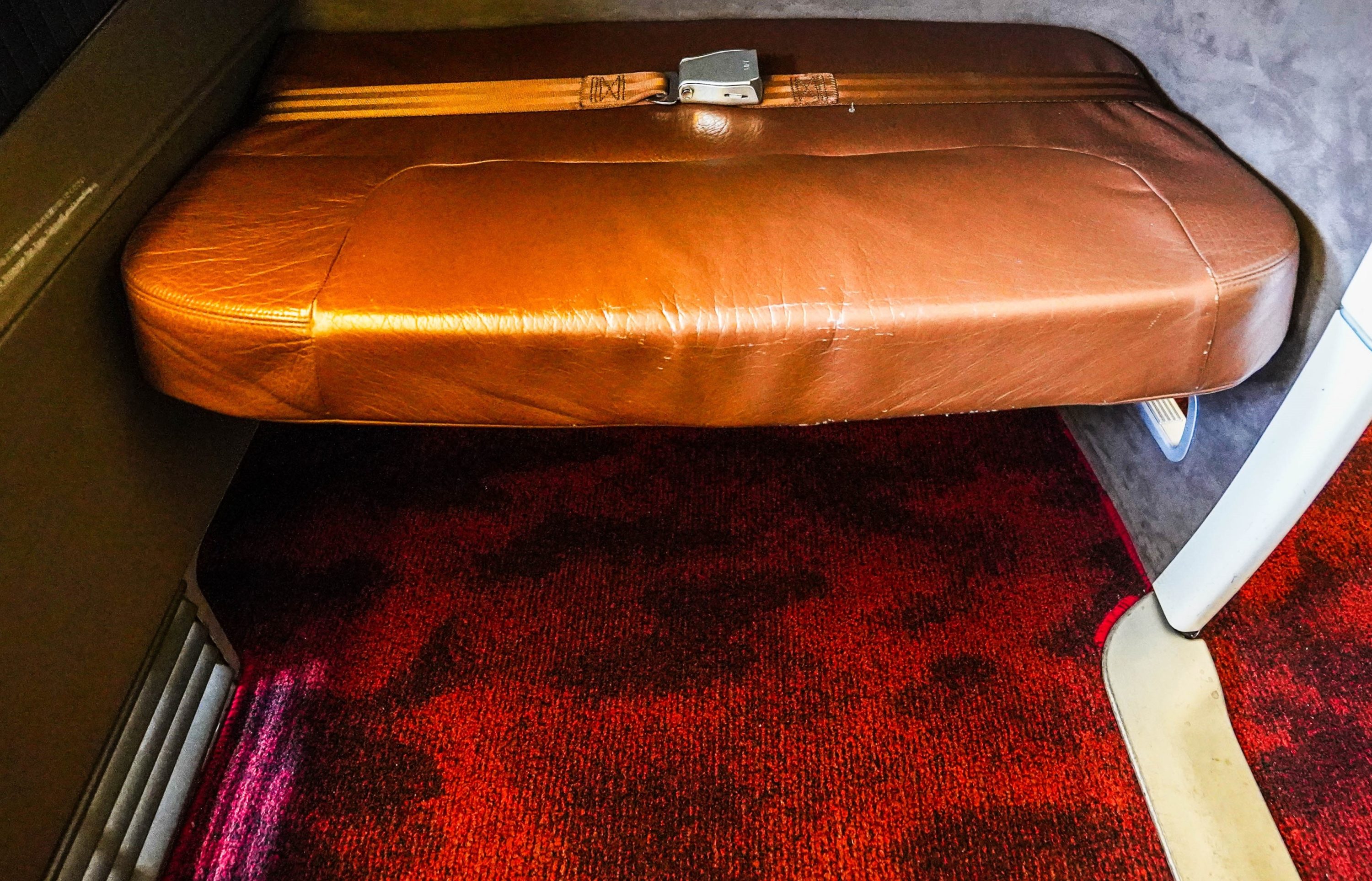 Inflight Entertainment and Wi-Fi
Japan Airlines offers a decent-sized 23-inch touchscreen monitor. Though the monitor is a touchscreen, it is too far from the seat to use the touchscreen function.
The MAGIC V inflight entertainment system had movie, TV, music, and game options, which can be browsed through using the wired remote control with an LCD touch display. The remote control is stored between the second and third storage compartments on the left-hand side of the seat.
Normally I try to get as much sleep as I can on a trans-Pacific flight, and since the movie and TV options were dated, I just left the screen on the flight map mode.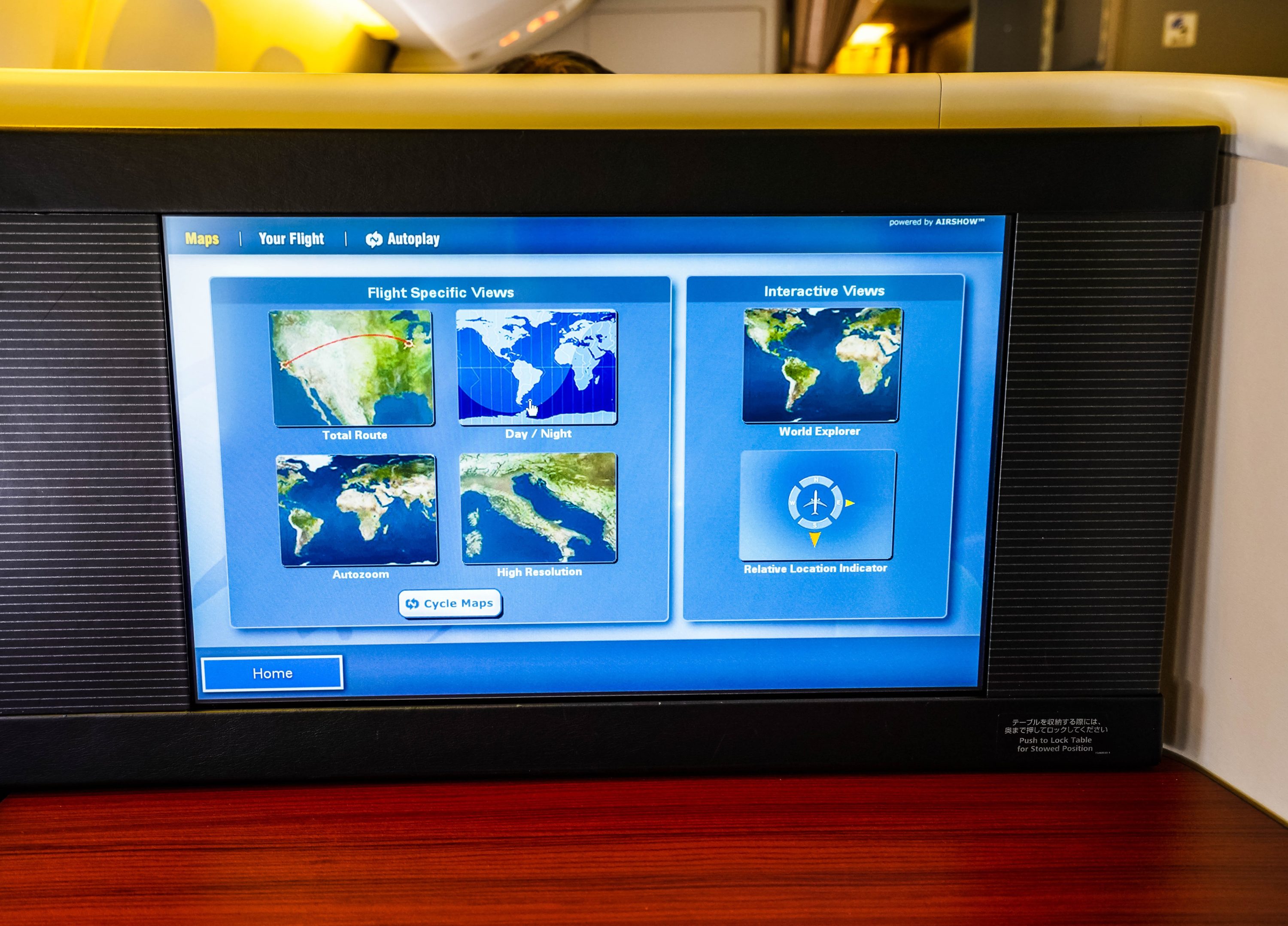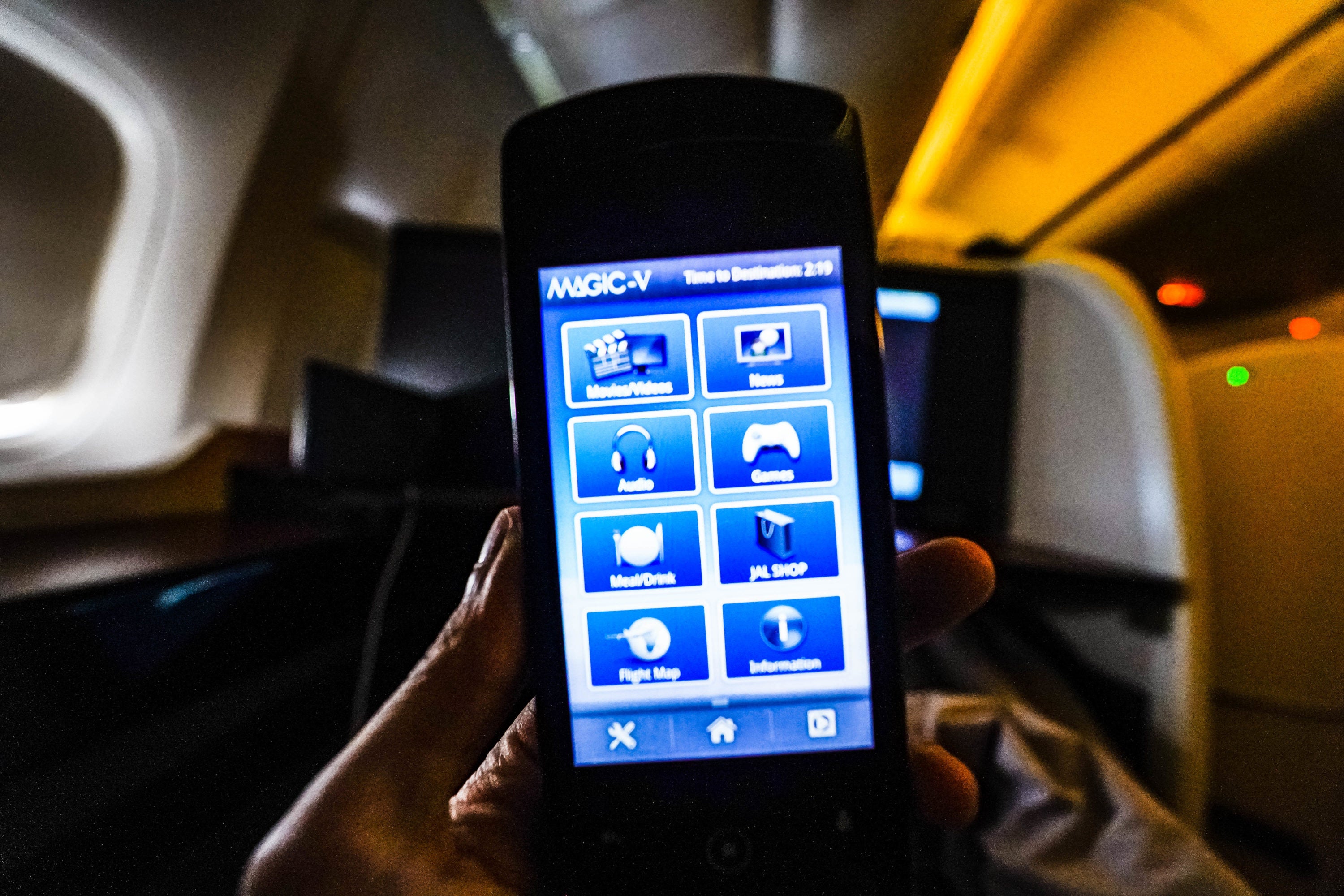 First Class passengers are provided with Bose QC25 noise-canceling headphones.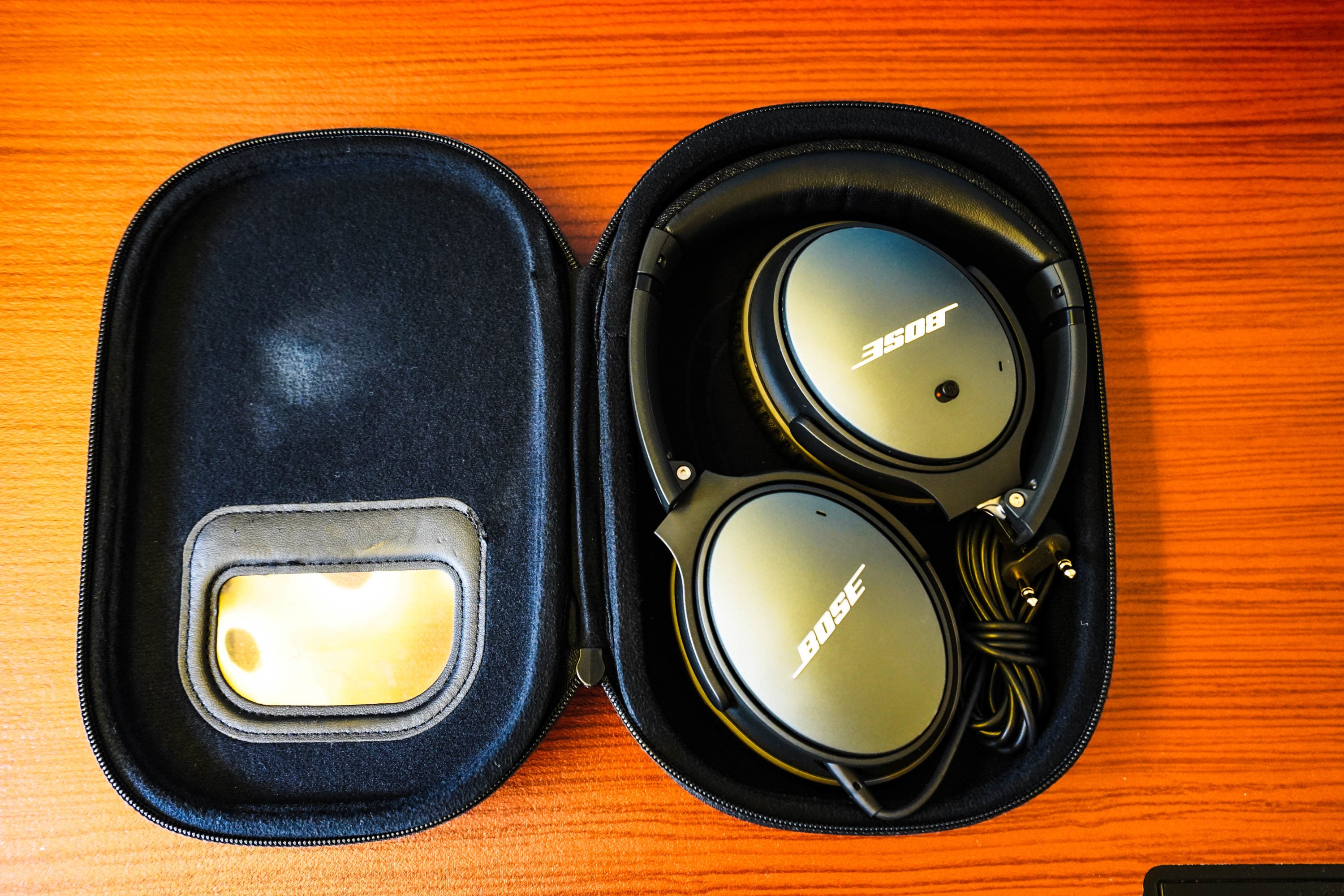 First Class passengers also receive a complimentary Wi-Fi voucher, which would otherwise cost $9.15 per hour or $18.80 for the entire flight. There is a 10% discount if you use a JAL credit card.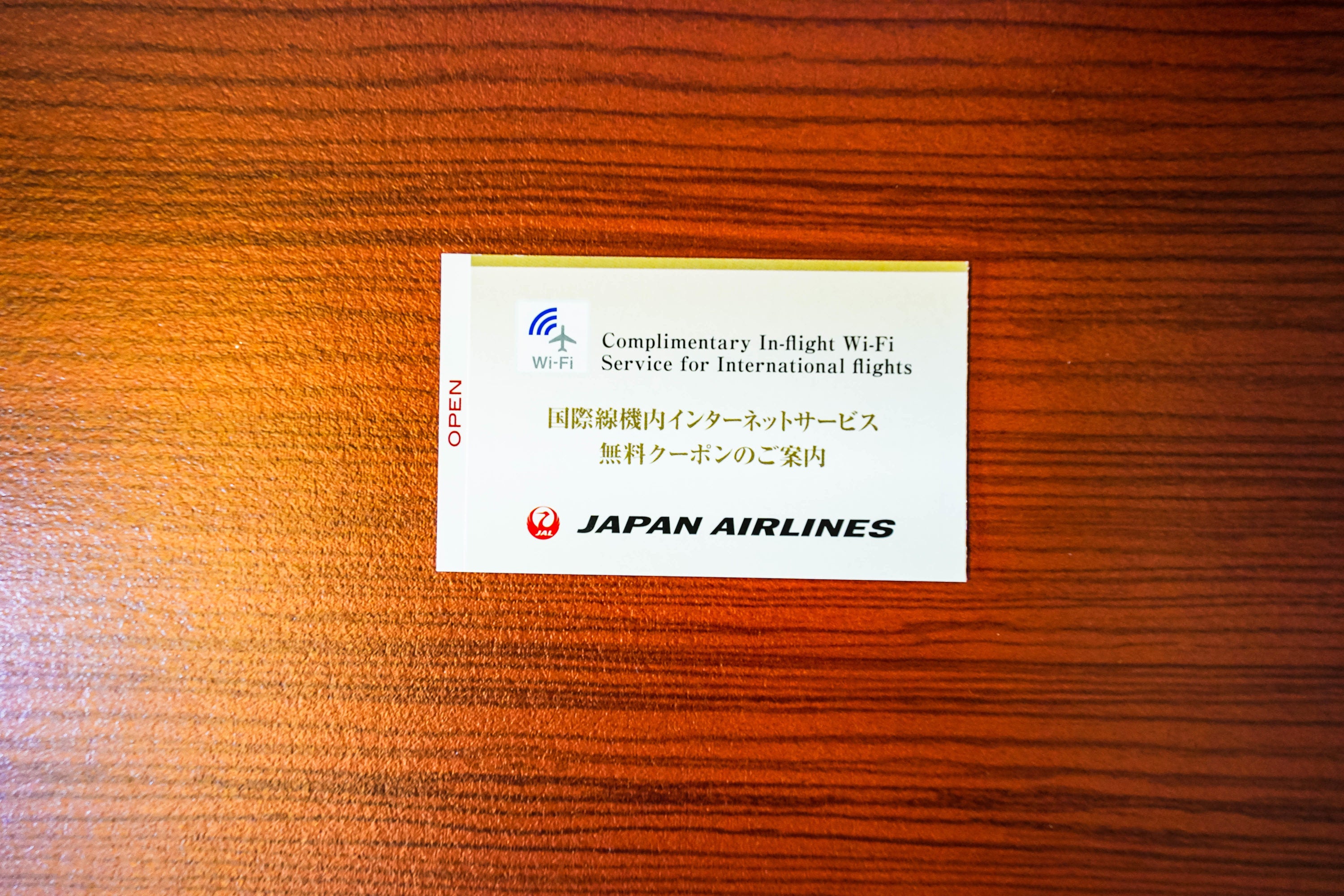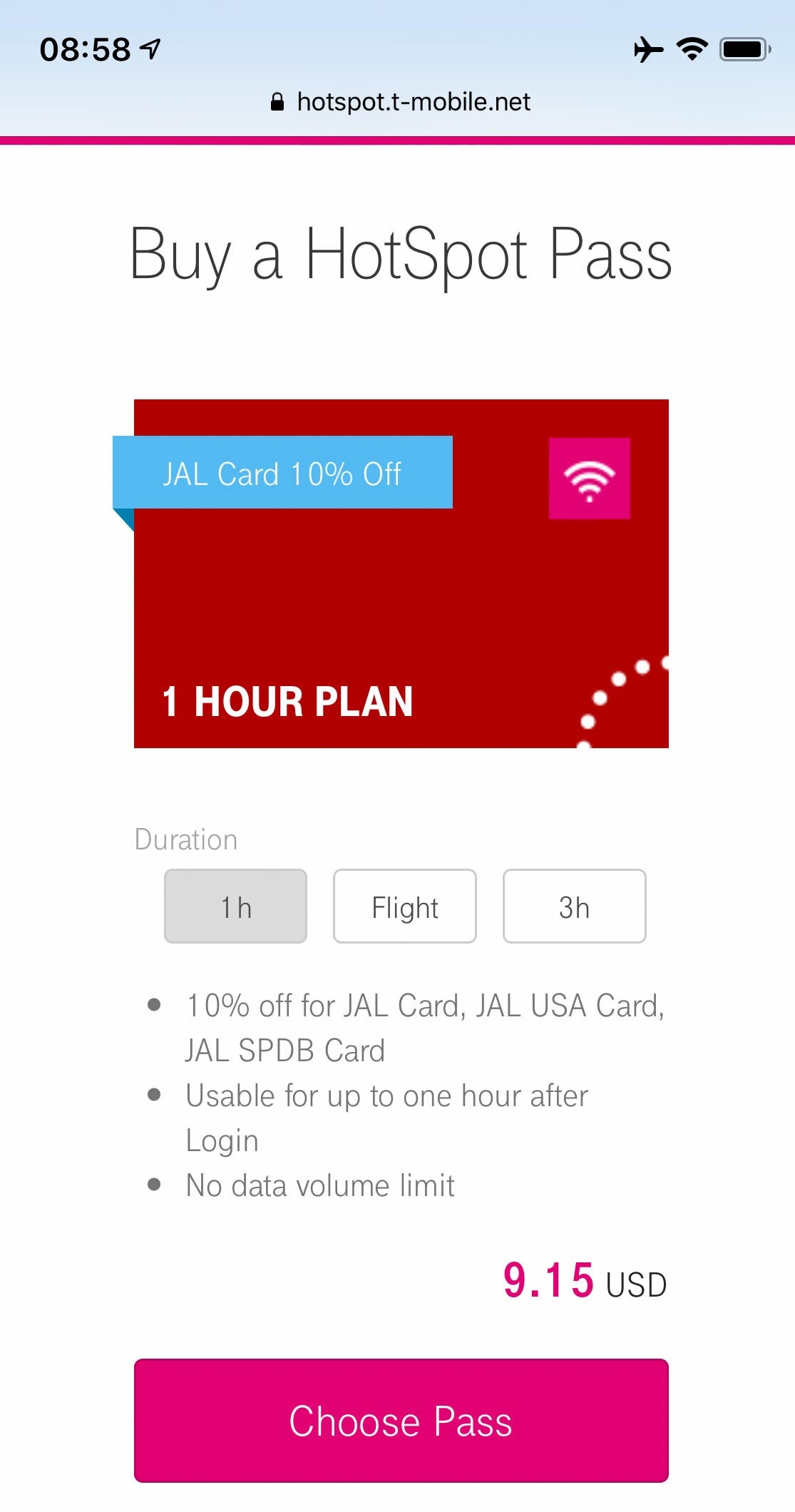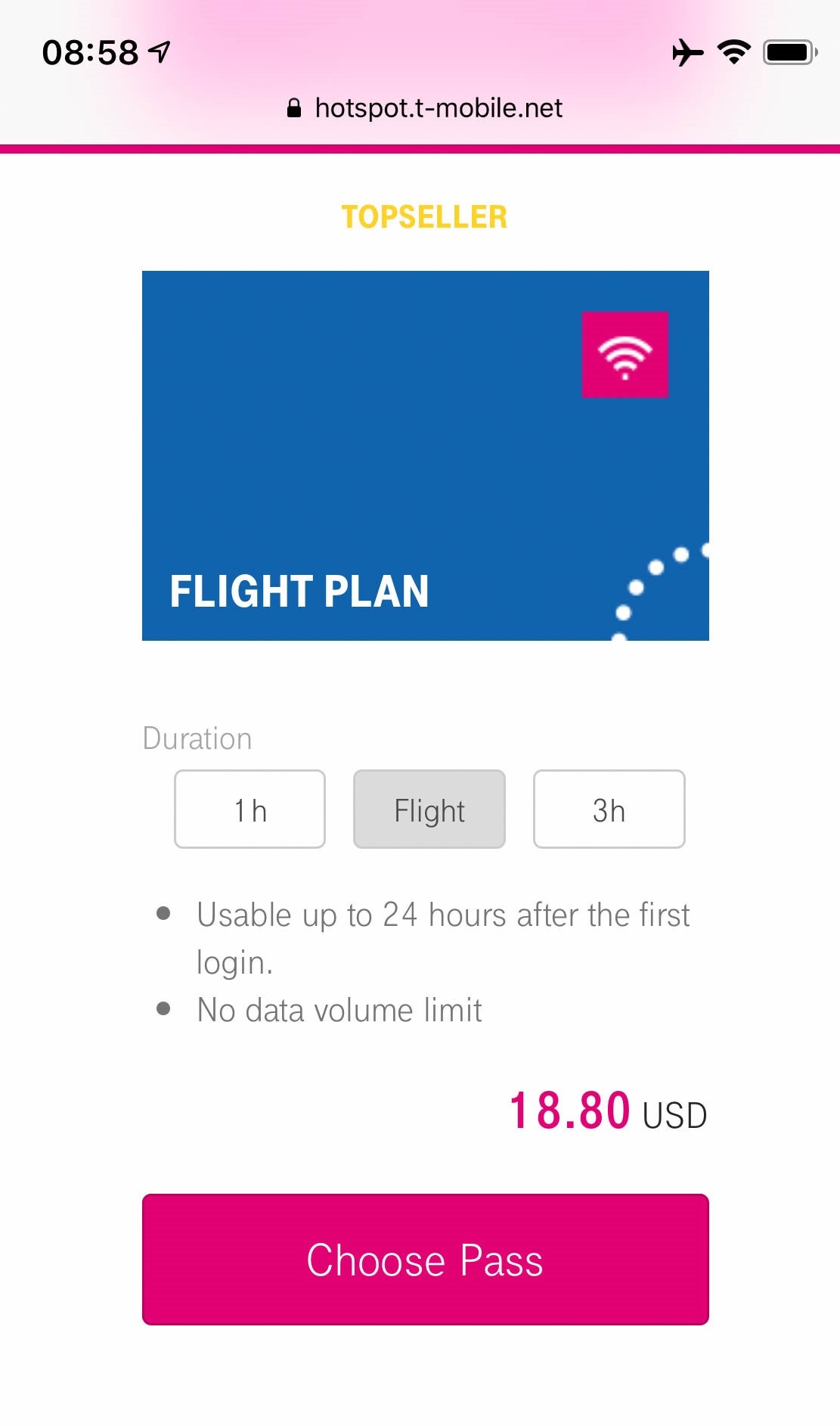 The internet speed was atrociously slow and then ended up crapping out in the satellite blackout zone as we headed near the North Pole flying great circle to New York.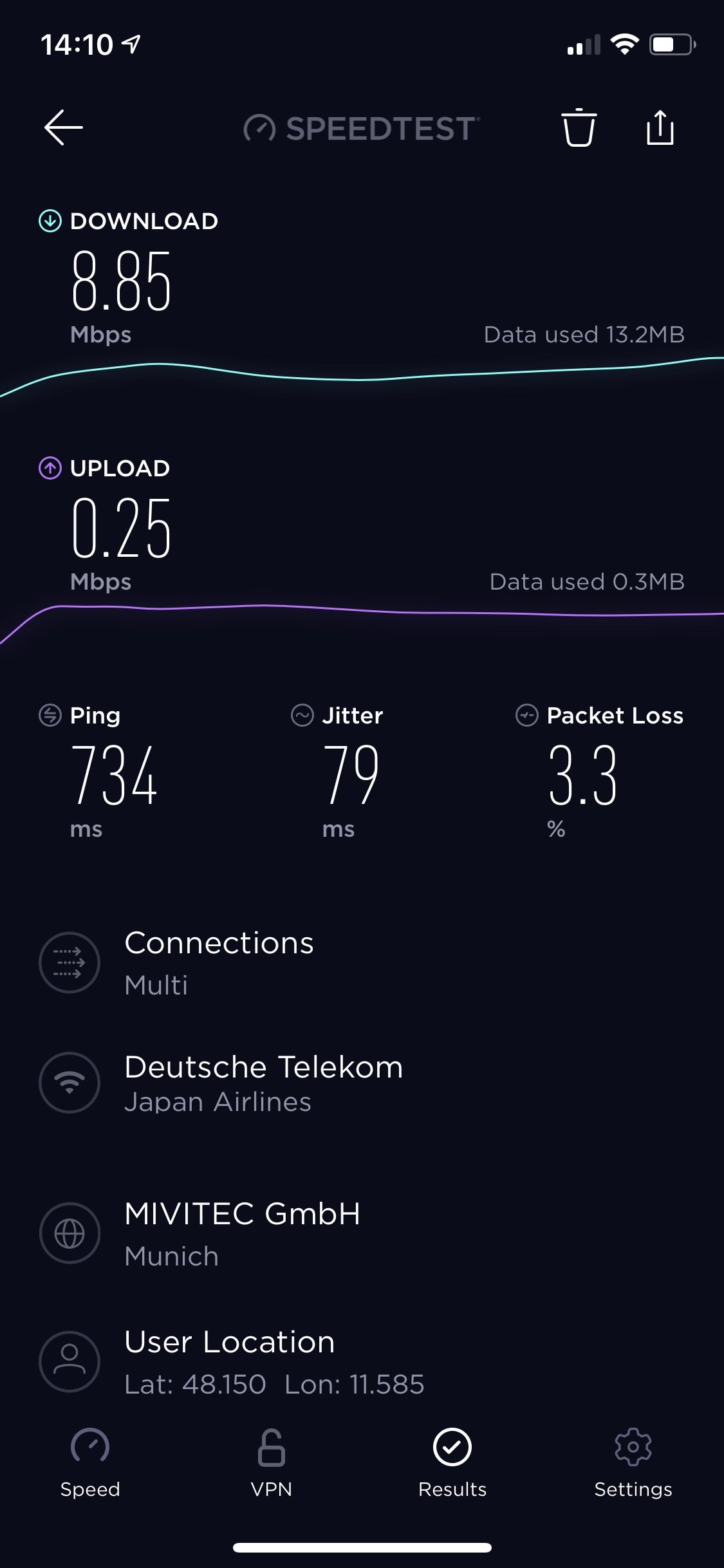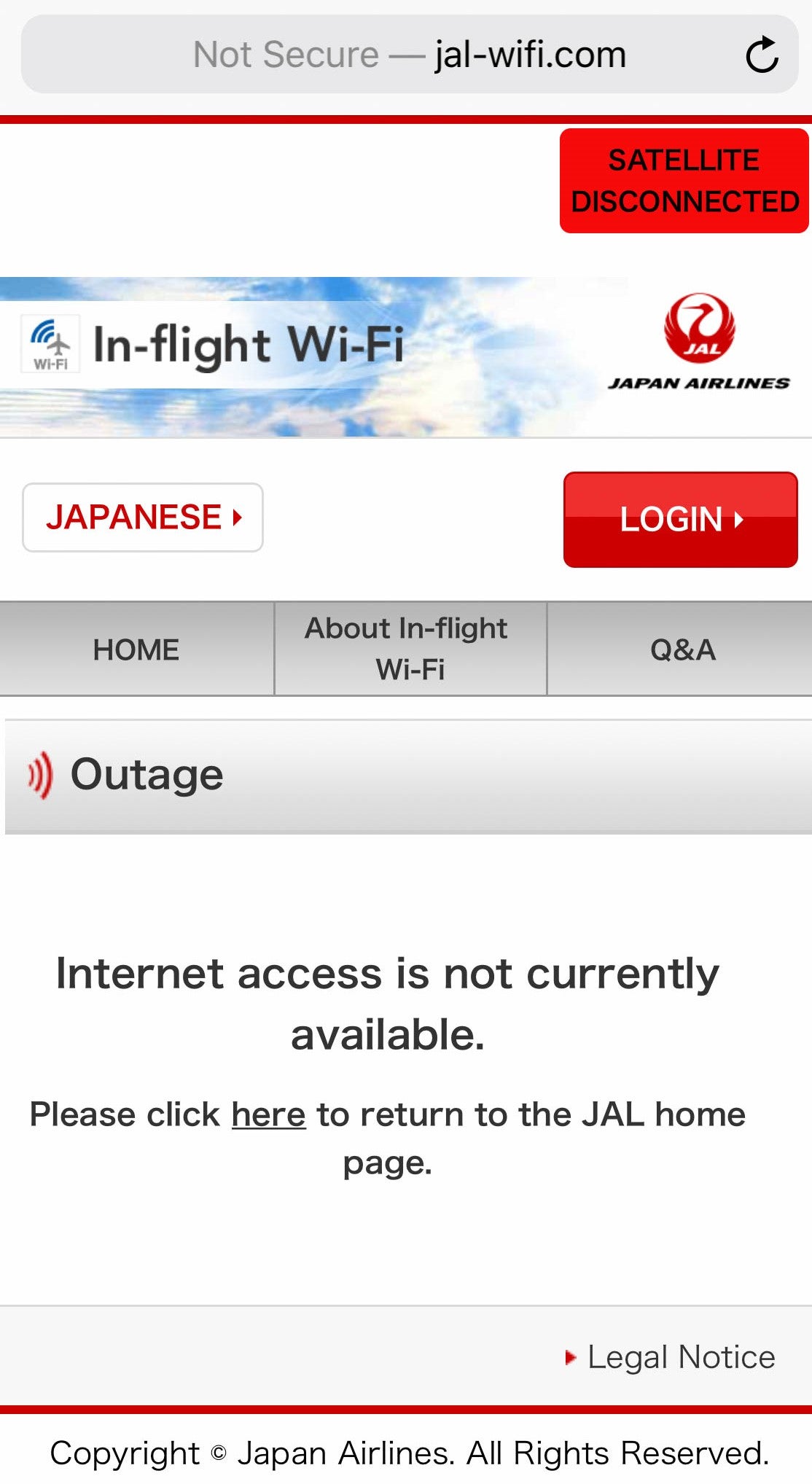 Food and Service
Onboard, I was warmly greeted by the cabin manager, a first class attendant, and a trainee with a bow. The cabin manager escorted me to my seat — 2A. After settling in, I was offered the pre-takeoff beverage choice of Champagne, orange juice, and water. I went with the Champagne, which was duly served by the trainee a couple of moments later along with a scented warm towel.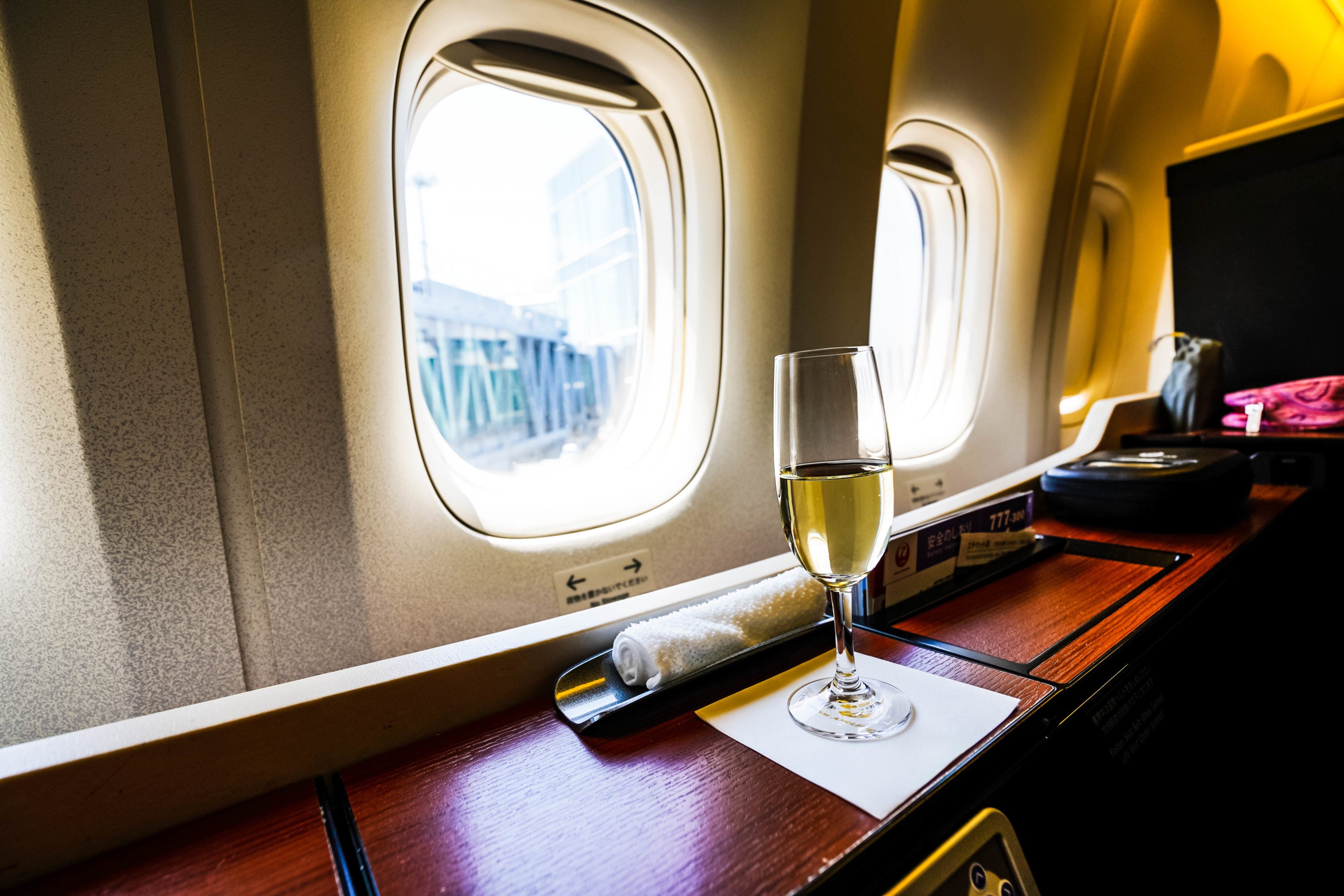 This was the trainee's second flight, and naturally, he was nervous but eager to serve in keeping with the highest standards of Japanese hospitality.
I was then handed the menu in a brown folio, which also included the complimentary Wi-Fi voucher and the duty-free shopping list.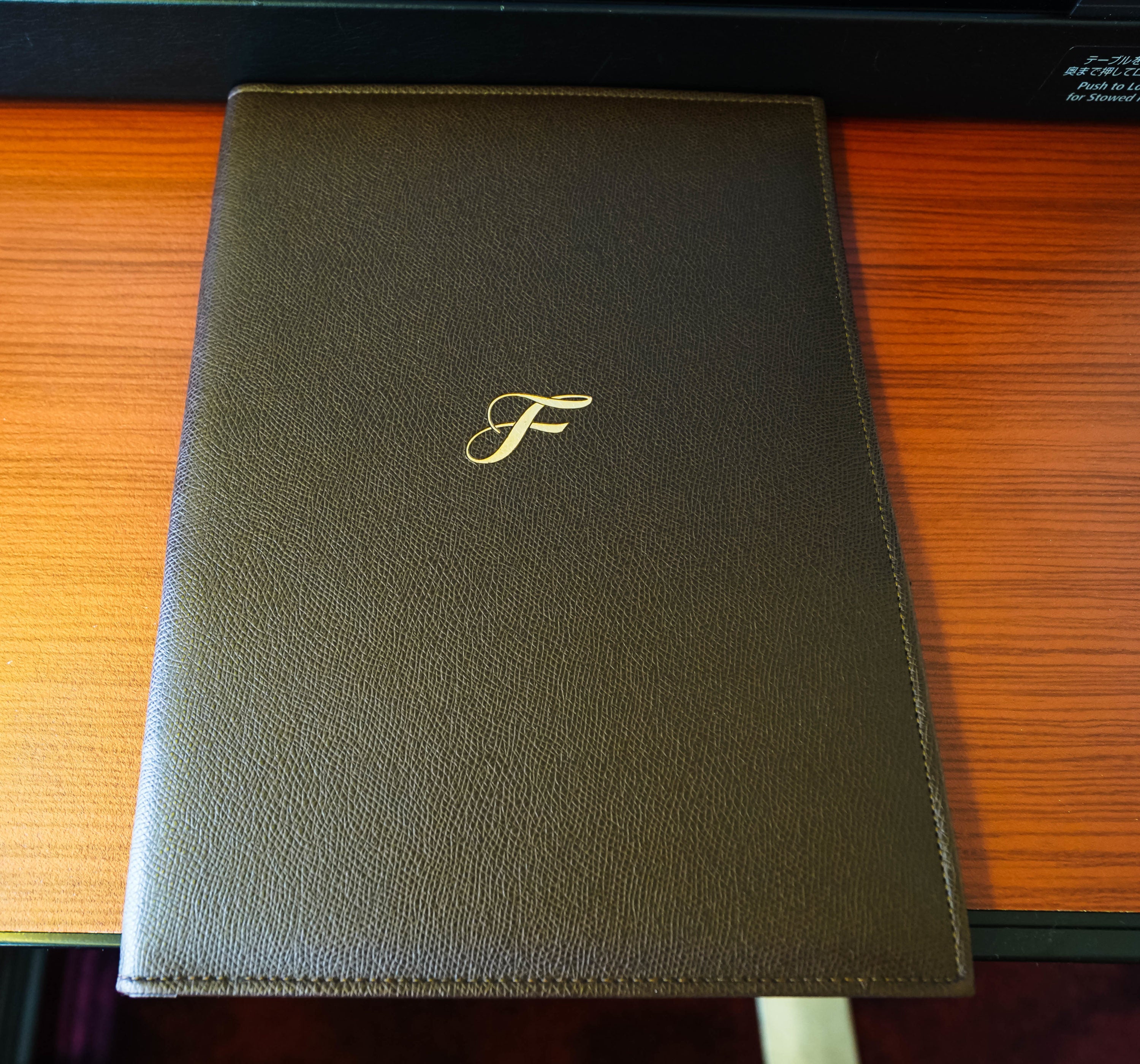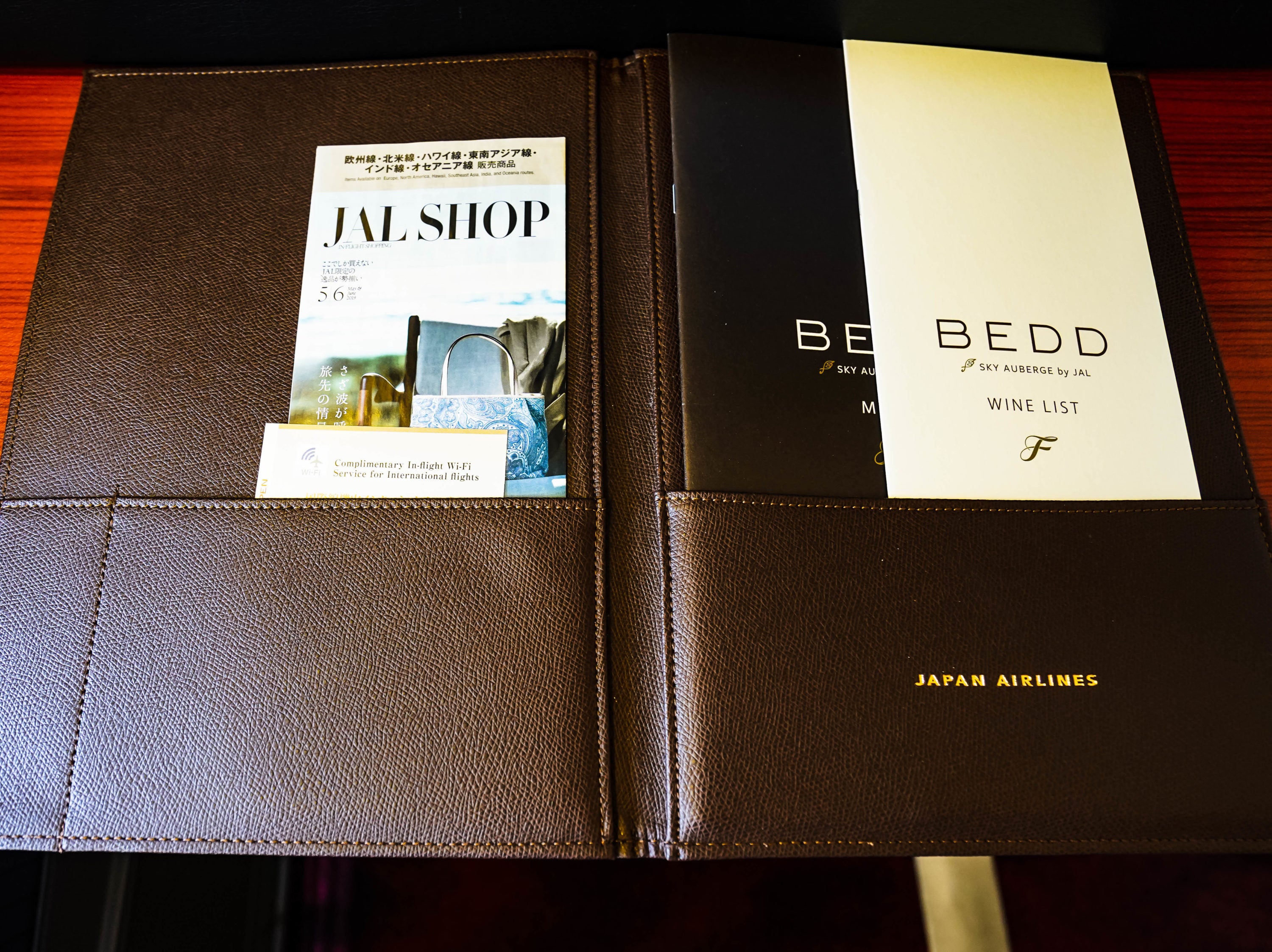 At 10:55 a.m., boarding was complete. All 8 first class suites were occupied, so this was going to be a busy flight for the crew.
We pushed back at 11:08 a.m., 28 minutes behind scheduled departure.
As soon as the seat belt sign was switched off, lunch was served. The Japan Airlines menu is called BEDD Sky Auberge. I wondered if it was a play on words, like hitting the bed after a sumptuous meal, but it was quirky.
Now what I was really looking forward to was consuming copious amounts of 3 mid- to high-end prestige Champagnes. Japan Airlines is the only airline that serves 3 different prestige Champagnes inflight to its first class passengers and the only airline to serve the waif and delicate Salon 2007 Blanc de Blancs Brut Le Mesnil, which made a comeback after brief hiatus in 2018.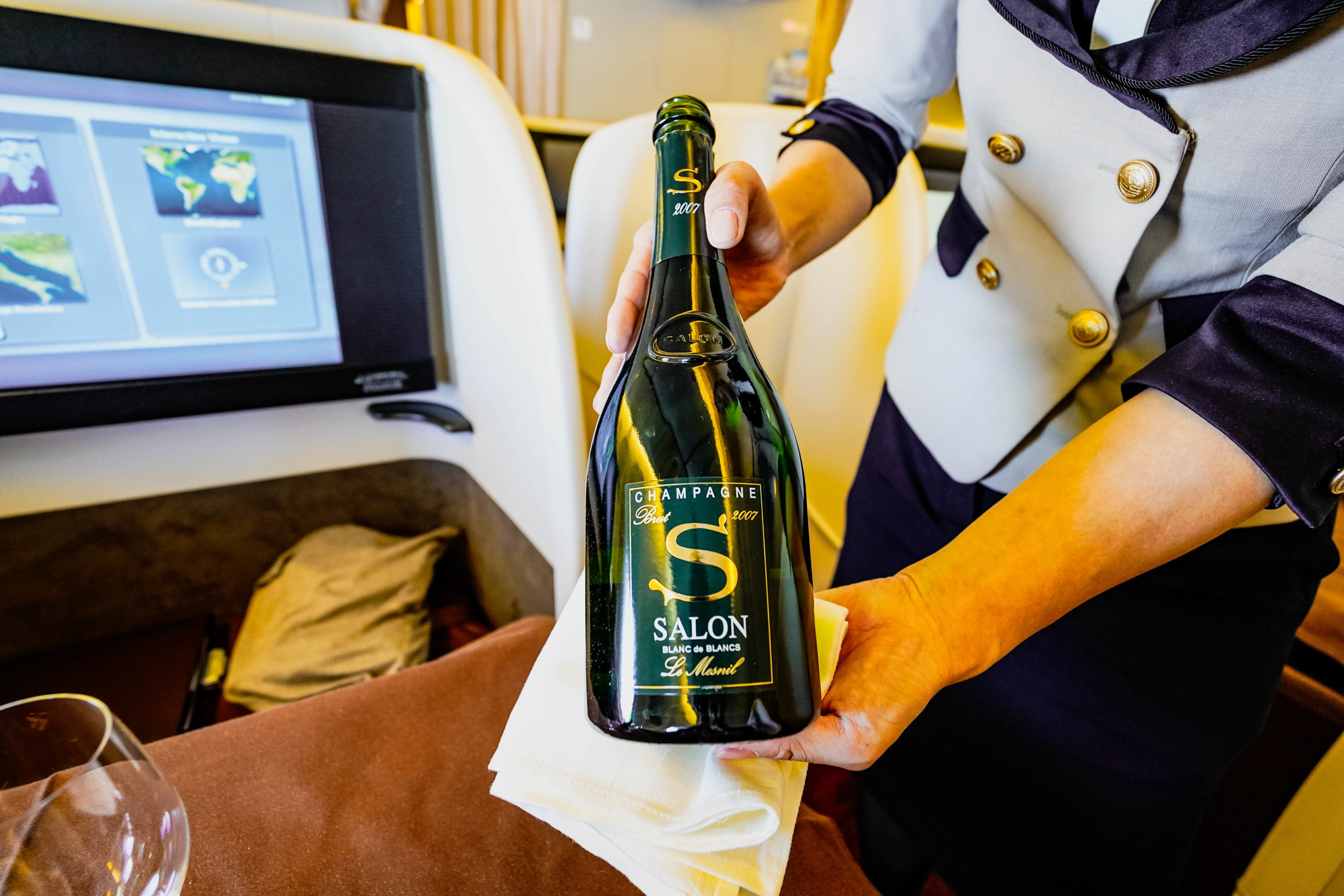 As of March 2019, in addition to the elusive Salon 2007 Blanc de Blancs Brut Le Mesnil (which retails for approximately $580), Japan Airlines was also serving the Louis Roederer Cristal 2009 (which retails at approximately $230) and the 2019 International Wine Challenge Gold winner, Comtes de Champagne Grands Crus Blanc des Blancs 2007 (which retails at approximately $200) as back up Champagnes, if I may say so.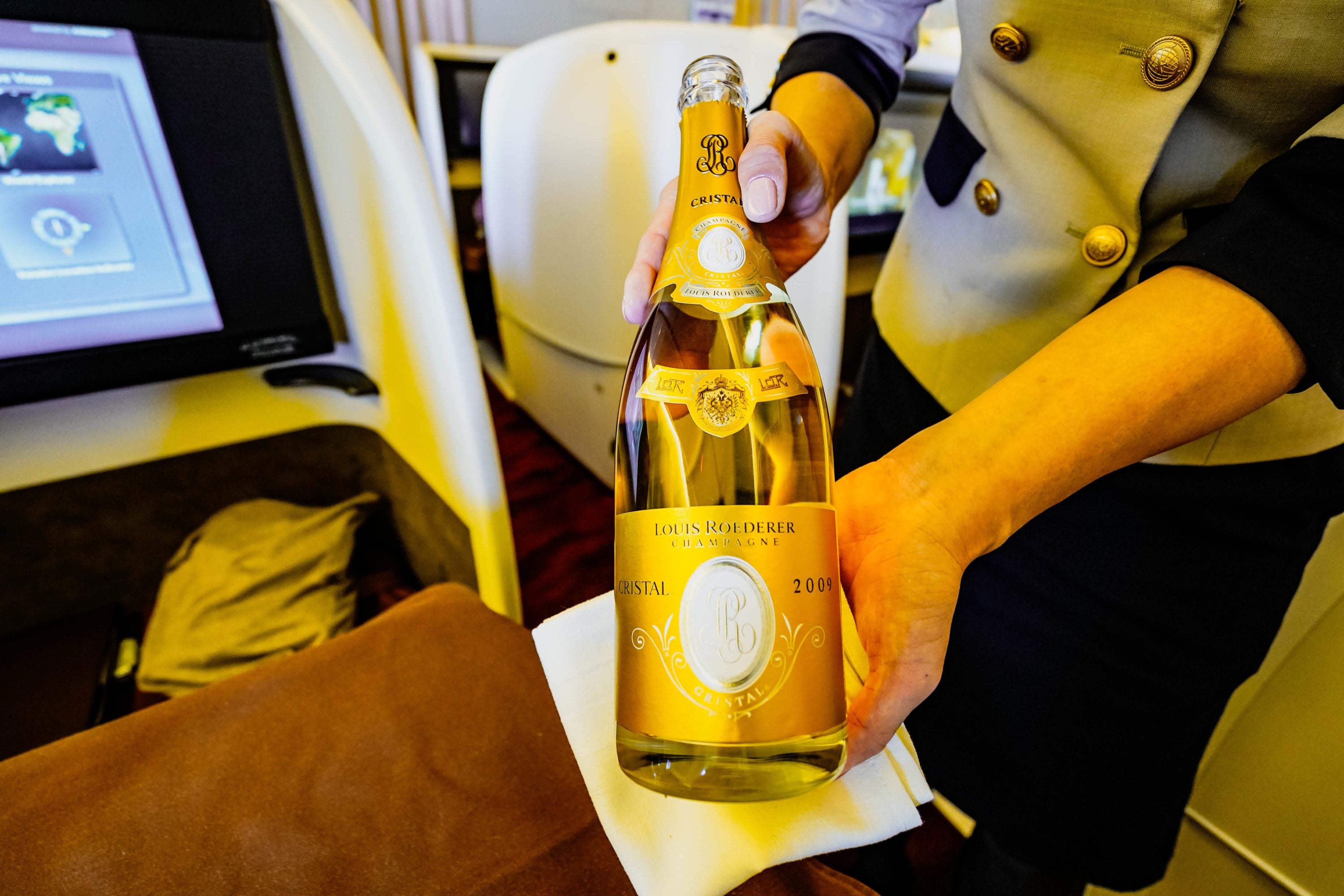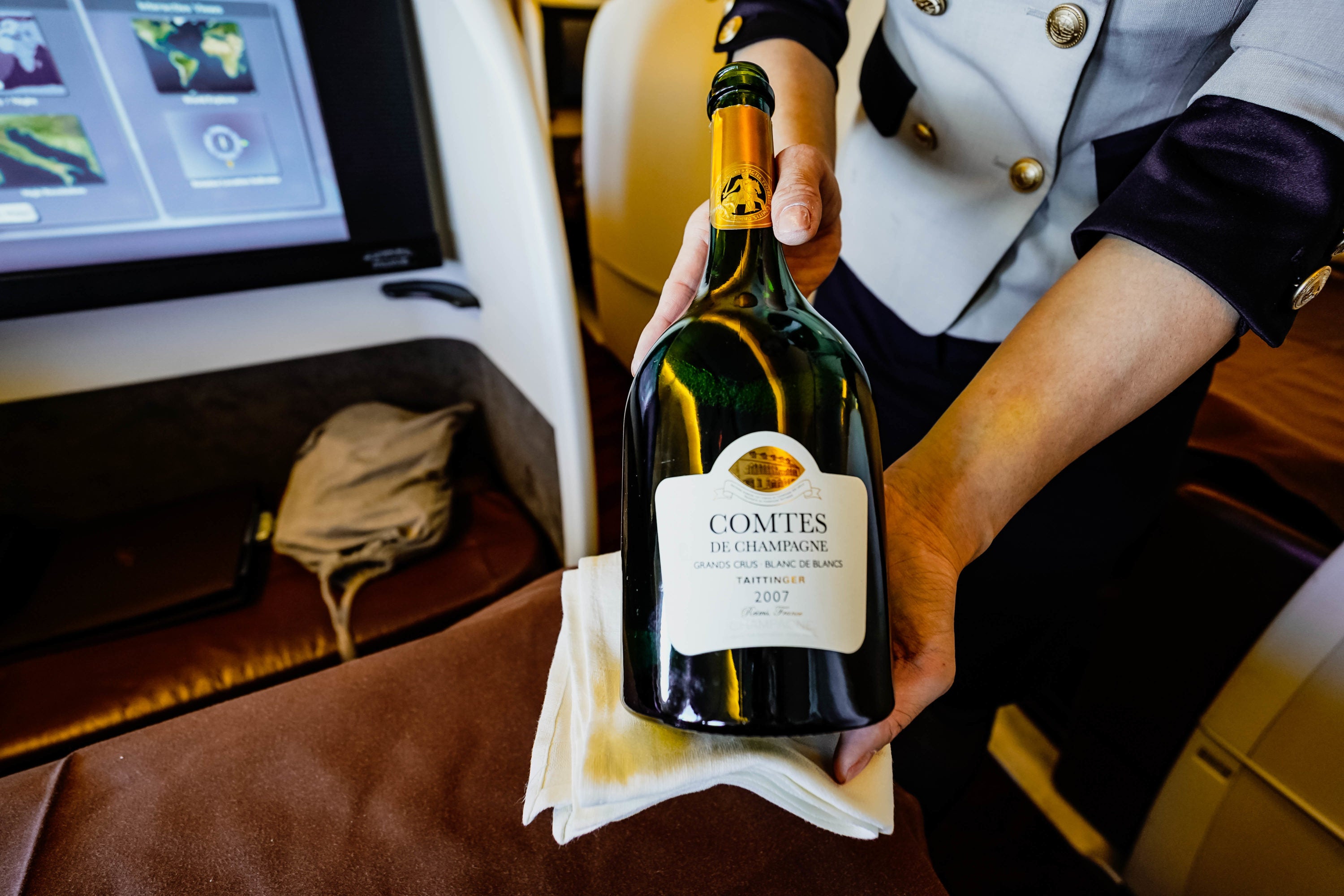 Obviously, out of the trio, the star was the impressive Salon 2007, which is made only from chardonnay grown in the Le Mesnil region.
I decided to have a party of my own — why not? — and ordered all 3. I had no reason to complain but would have preferred a different option to the Comtes, which is also a Blanc des Blancs, similar to the Salon 2007.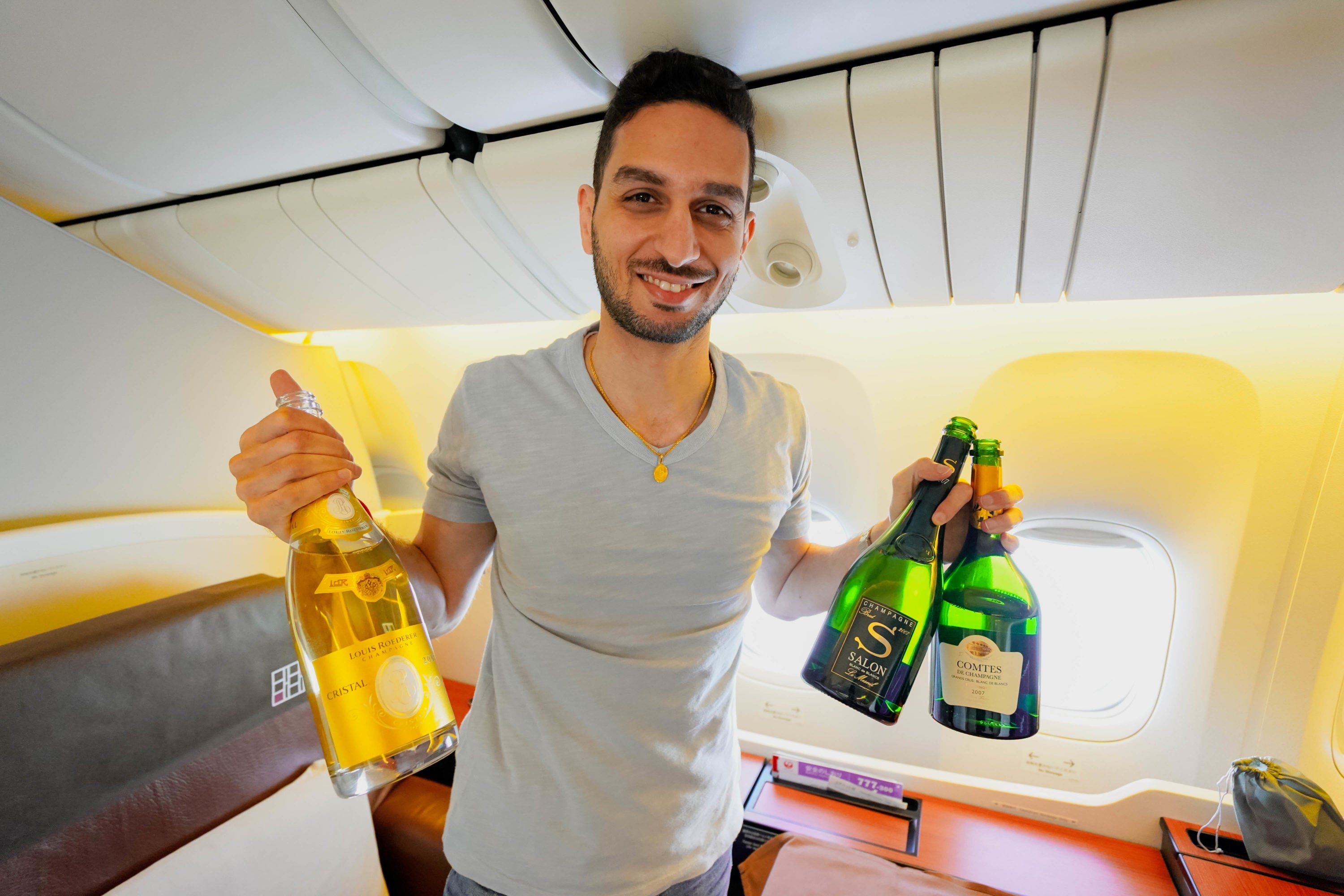 Oddly, Japan Airlines serves these high-end Champagnes in wine glasses and not proper Champagne flutes.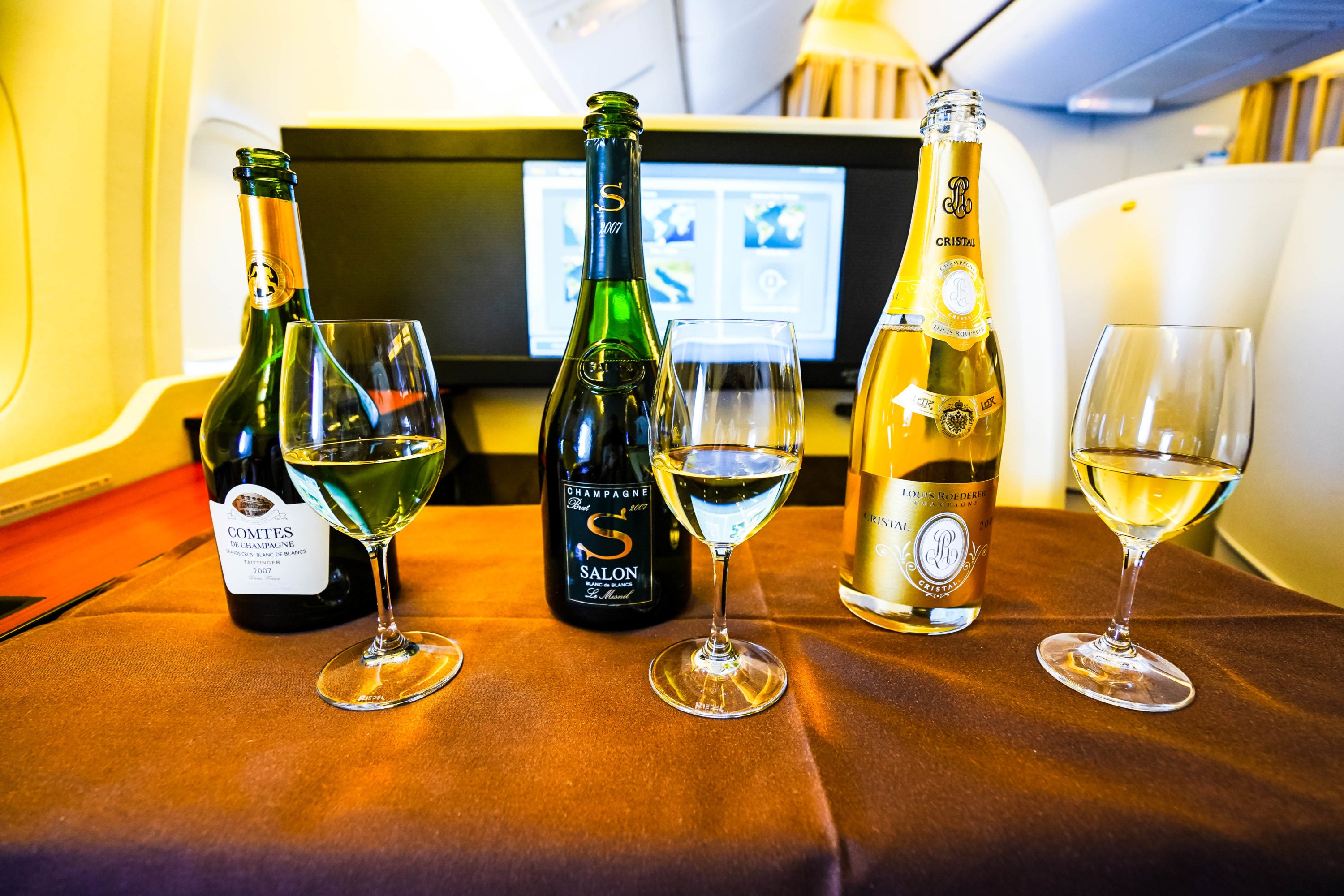 The beverage list didn't stop to amaze just at the Champagne offerings. The wine list was equally impressive with the Chateau Lagrange 2013 on offer. Japan Airlines really seem to be splurging on its inflight beverage program (click any image to enlarge).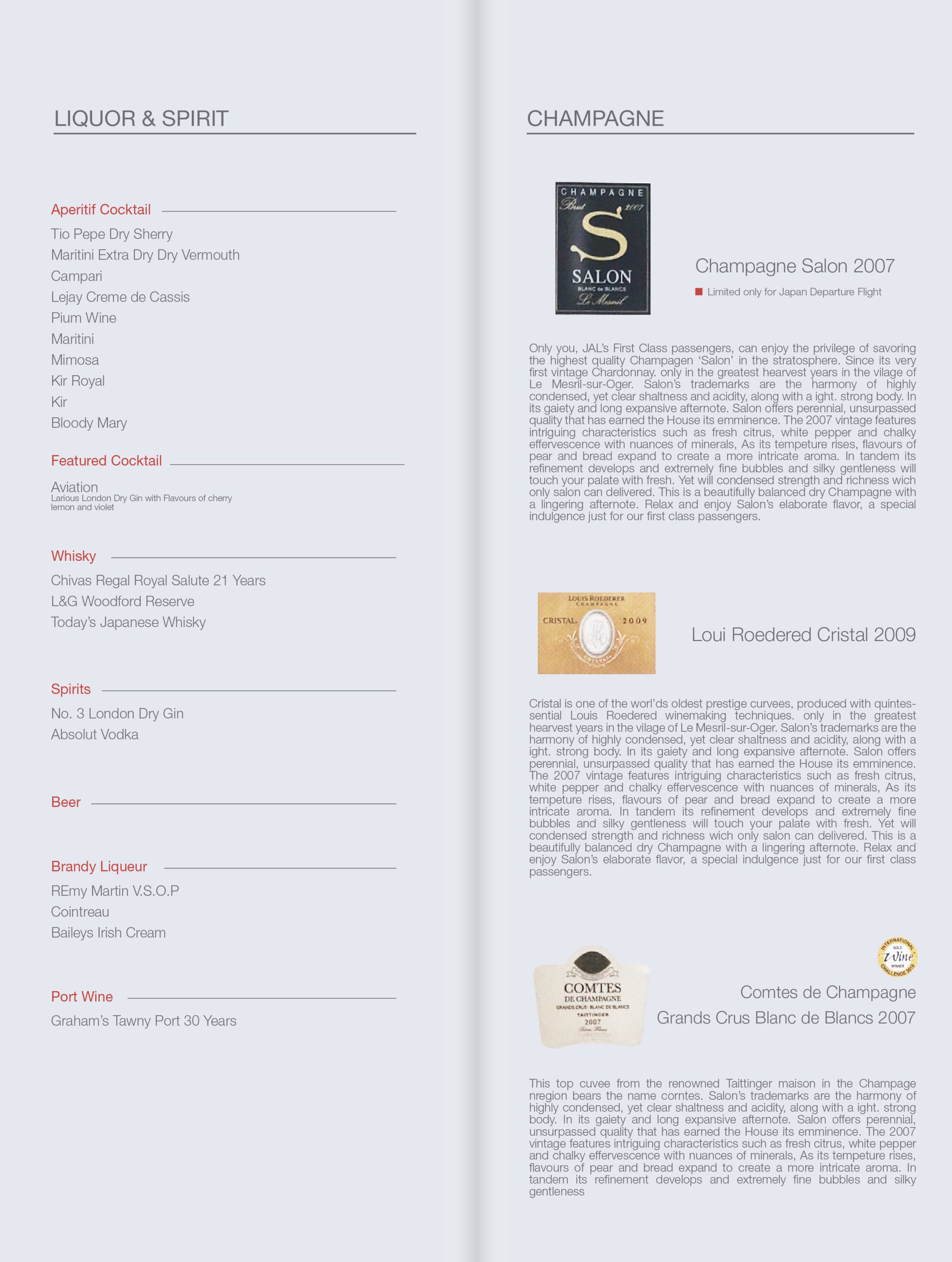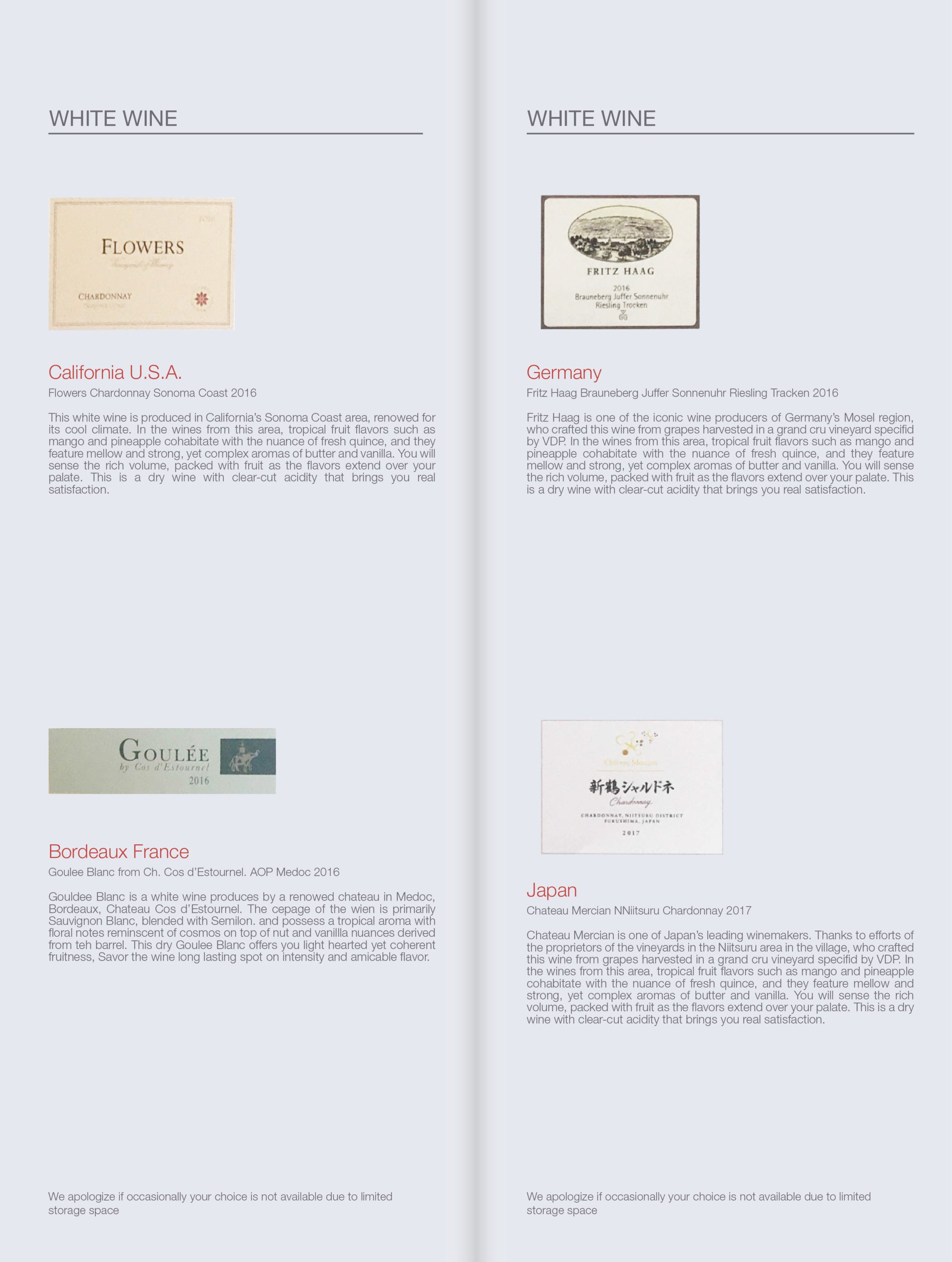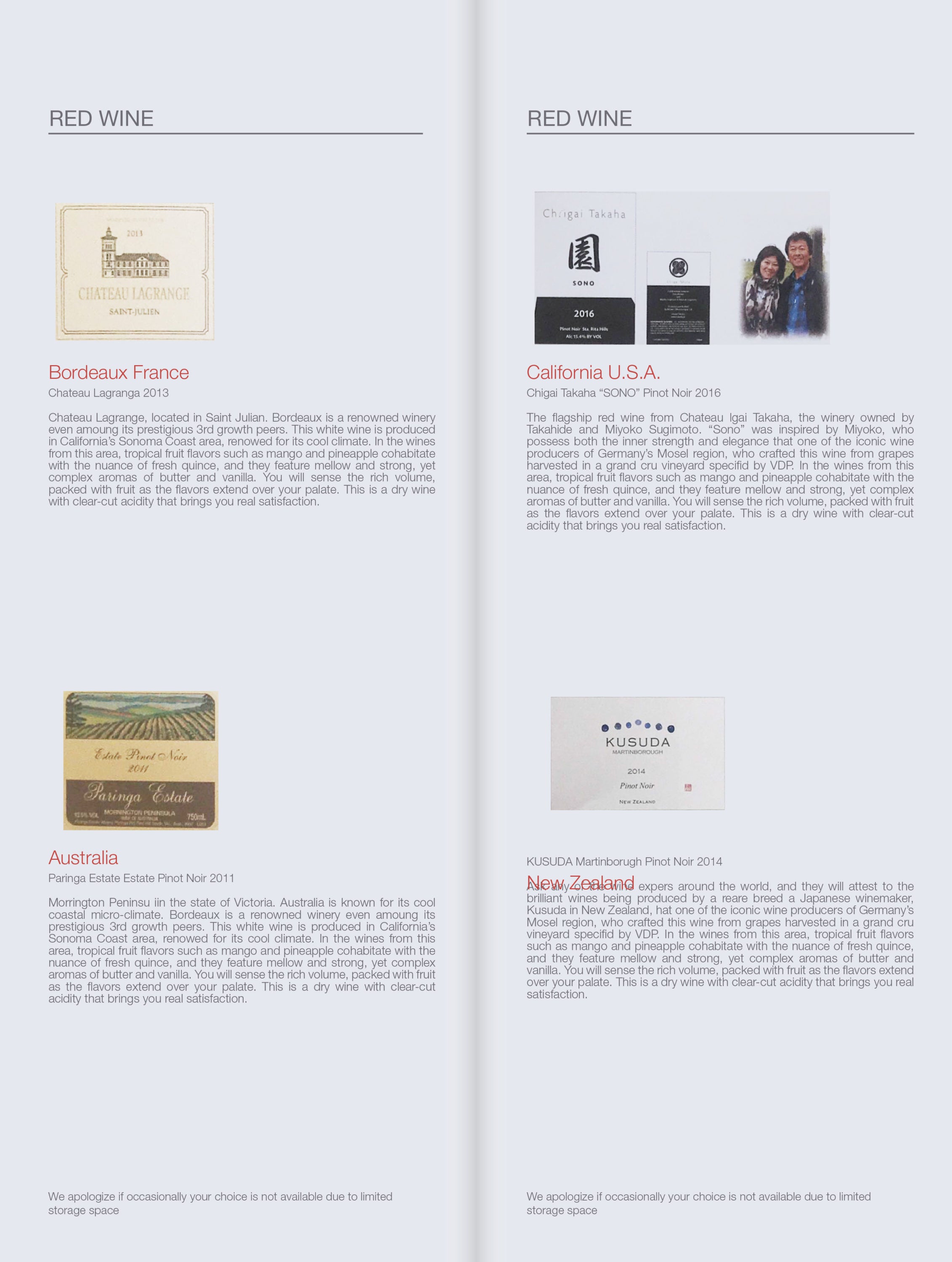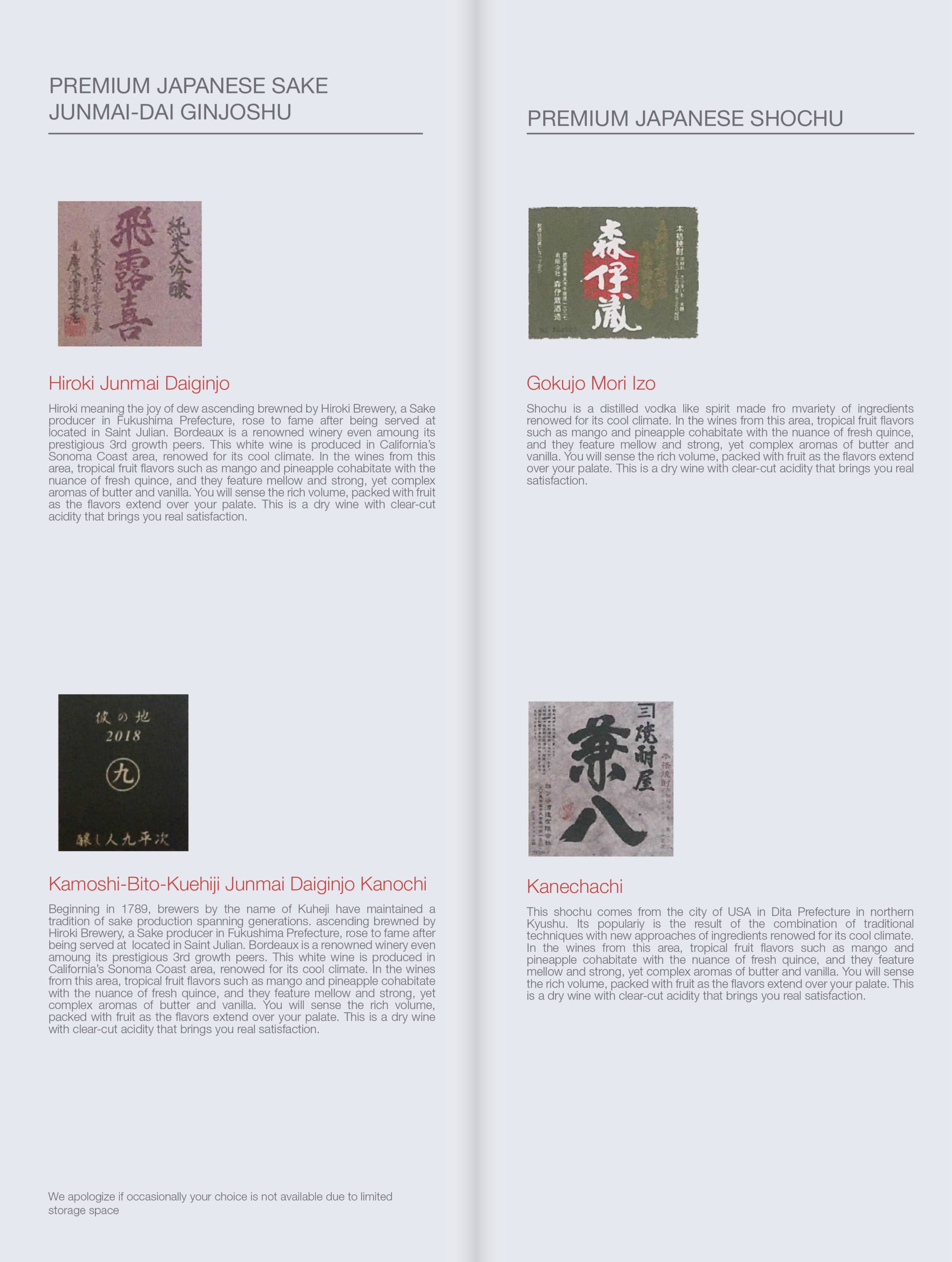 For the meal service, first class passengers are presented with 2 options: Japanese and Western.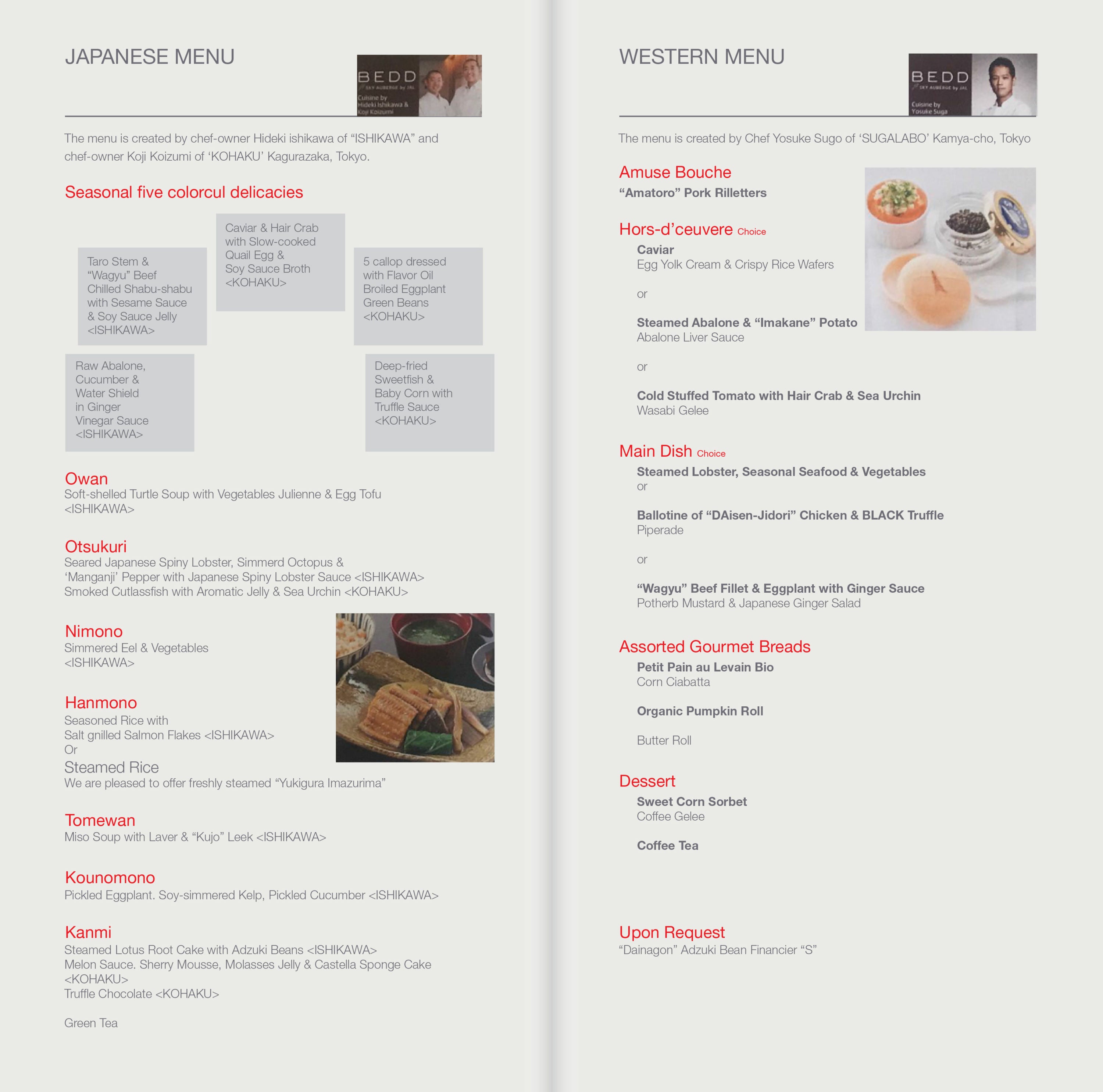 Being a fan of Japanese cuisine, it was a no-brainer that I opted for the Japanese kaiseki option, a traditional multi-course haute cuisine experience.
The Japanese menu is co-catered by the 3-Michelin-star teacher-student duo of Hideki Ishikawa and Koji Koizumi from the famed Ishikawa and Kohaku restaurants in Tokyo. I have had the good fortune to dine at both these restaurants for the most sublime of kaiseki experiences.
The multi-course kaiseki meal began with an amuse-bouche of Amatoro pork rillettes, which I paired with the Salon Champagne.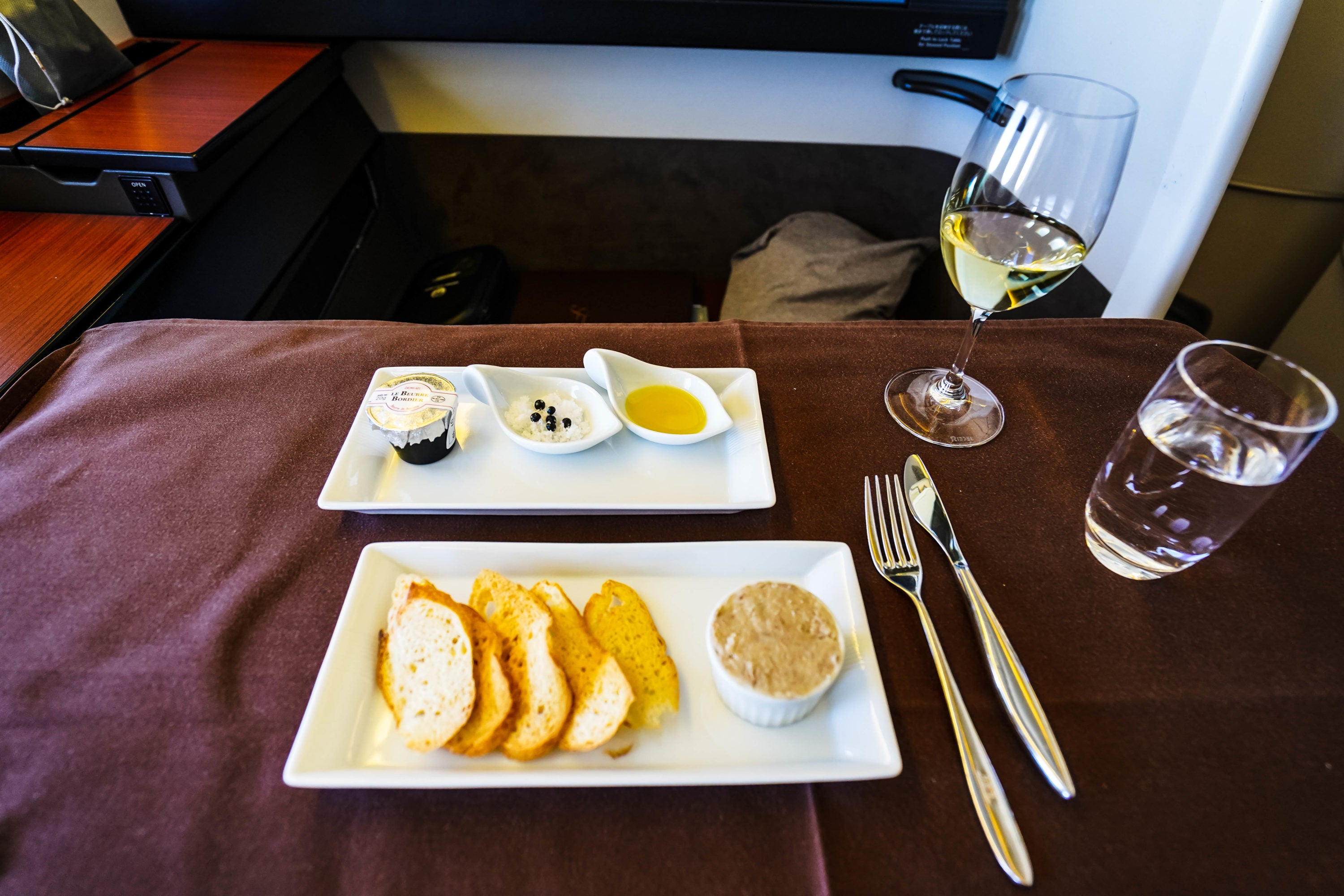 This was followed by the first course — hors d'oeuvres of caviar — which was elegantly presented with rice crackers, egg yolk cream, and a mother of pearl spoon.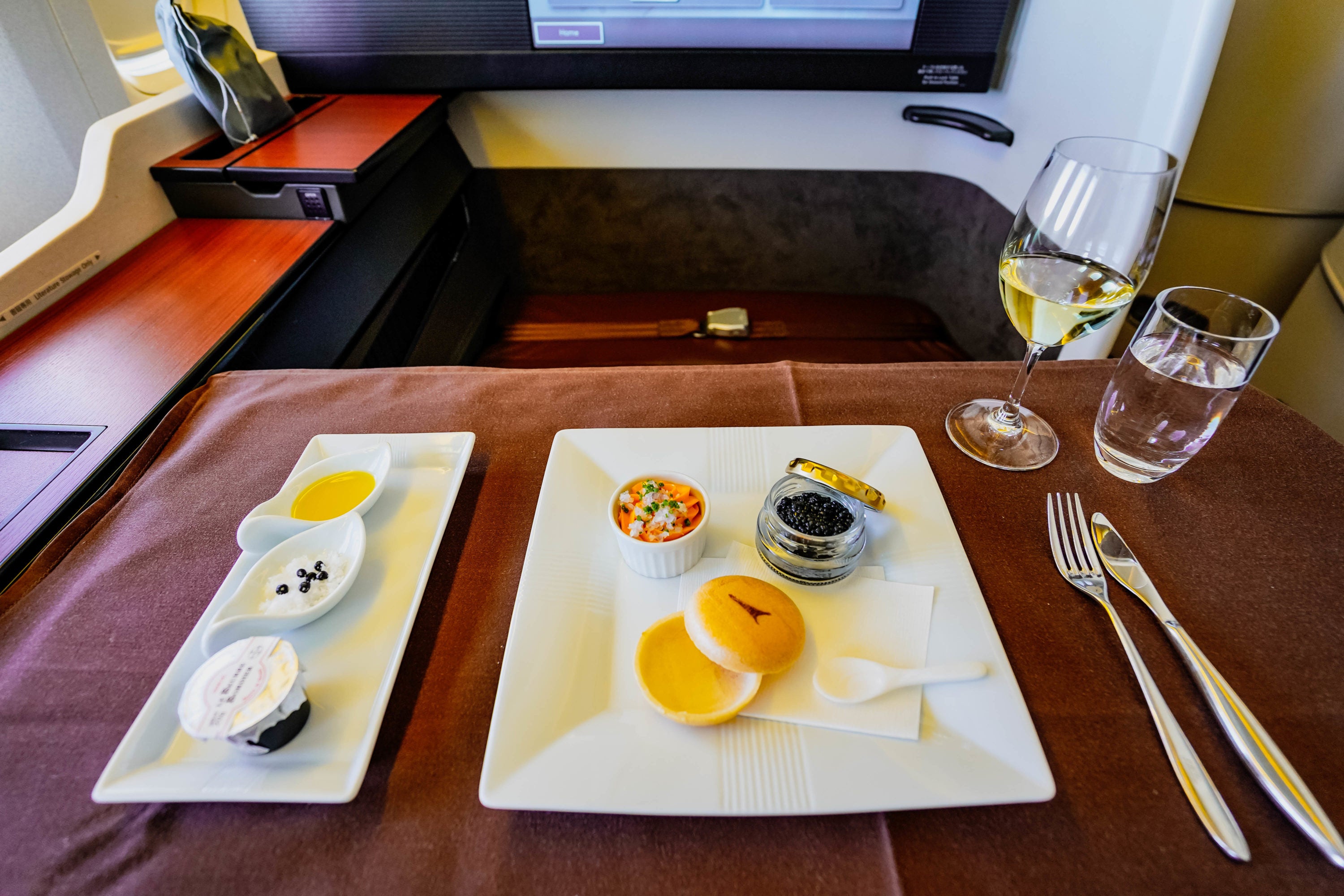 The second course was Zensai, a selection of 5 morsels.
From left to right:
Raw abalone, cucumber, and water shield in ginger vinegar sauce
Taro stem and wagyu beef, chilled shabu-shabu with sesame sauce, and soy sauce jelly
Caviar and hair crab with slow-cooked quail eggs and soy sauce broth
Scallop dressed in flavored oil, broiled eggplant, and green beans
Deep-fried sweet fish and baby corn with truffle sauce
Each dish was perfectly cooked and flavorful.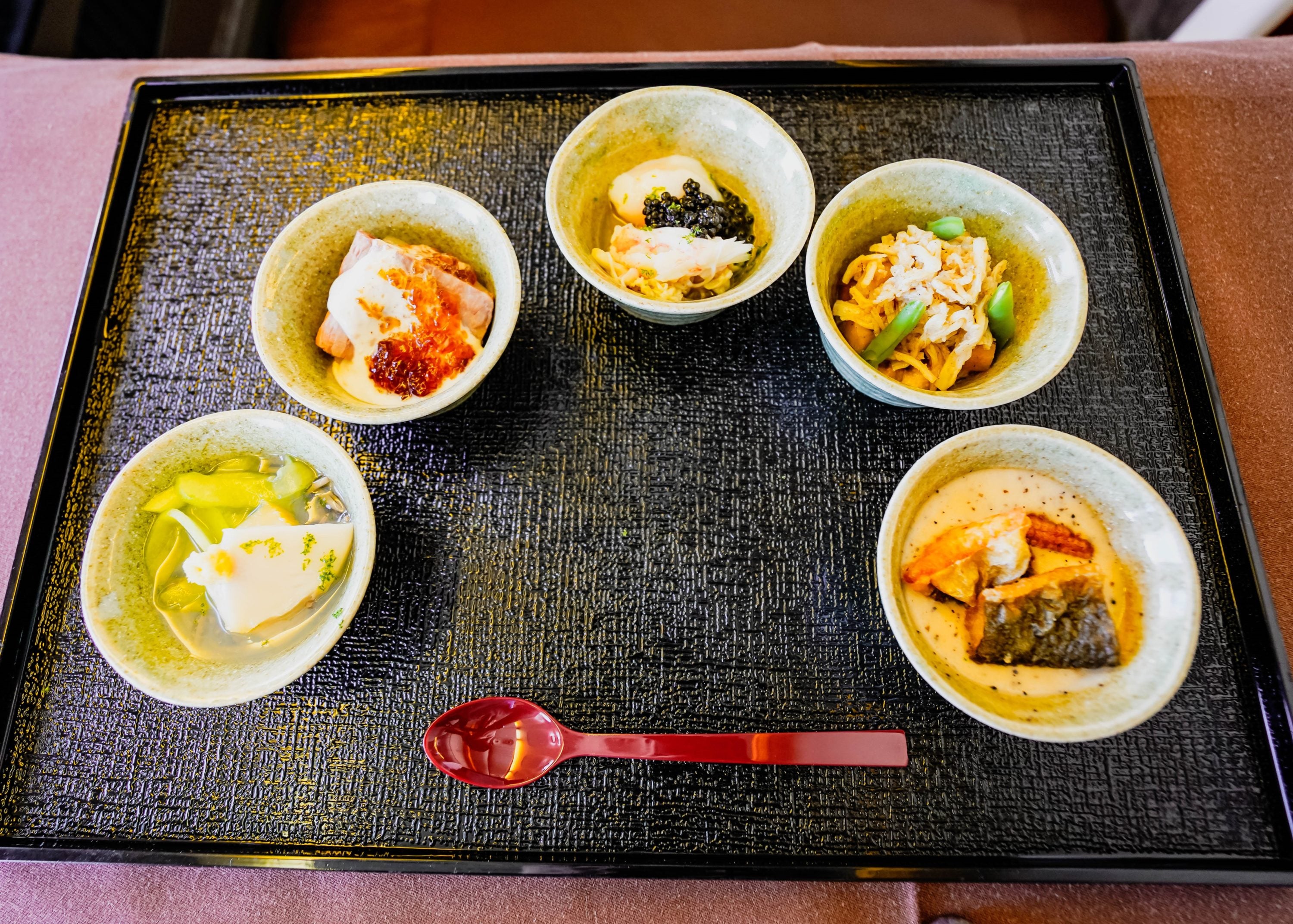 The third course on the list was Owan, a soft-shelled turtle soup with vegetable julienne and egg tofu — a bit bland, but it acts as a palette cleanser.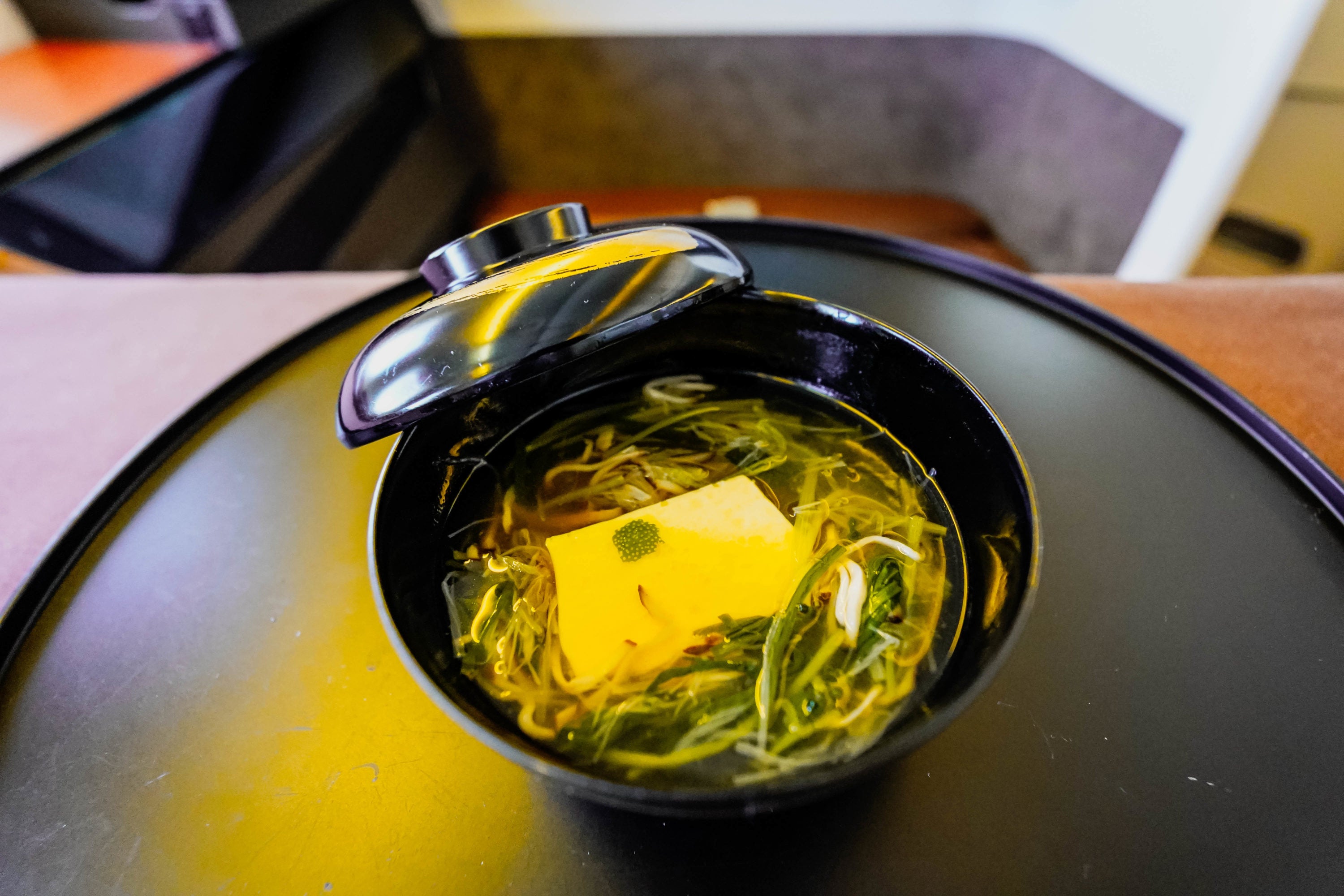 The soup was followed by the fourth course of Otsukuri — seared Japanese spiny lobster, simmered octopus and Manganji popper with lobster sauce, smoked cutlassfish with aromatic jelly, and sea urchin.
Both dishes were just spectacular. I've had these dishes at Ishikawa and Kohaku before and they tasted every bit good in the air.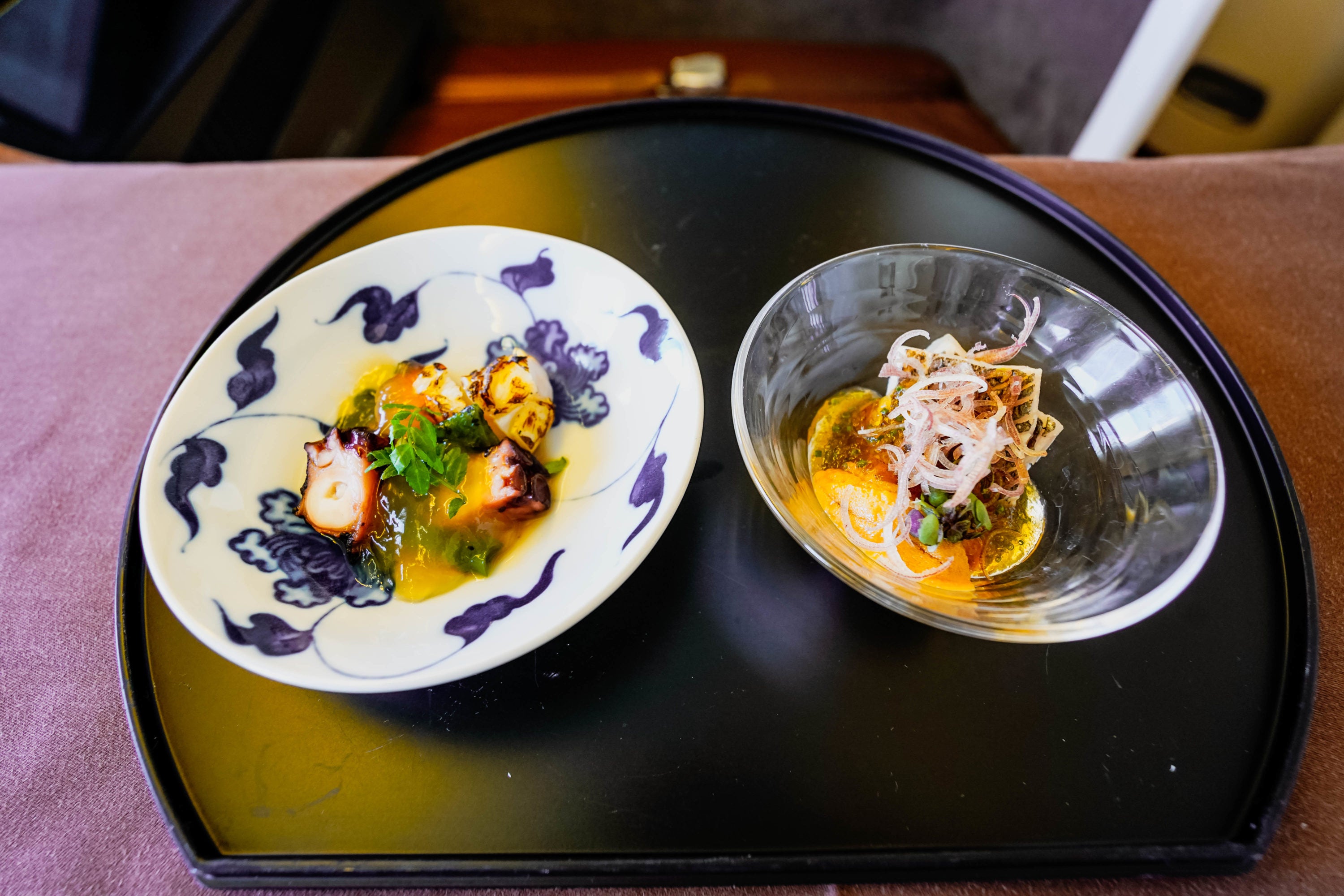 Next up was the fifth course of mains:
Hanmono — seasoned rice with salt grilled salmon flakes
Tomewan — miso soup with laver and Kujo leek
Kuonomono — poked eggplant, soy-simmered kelp, and pickled cucumber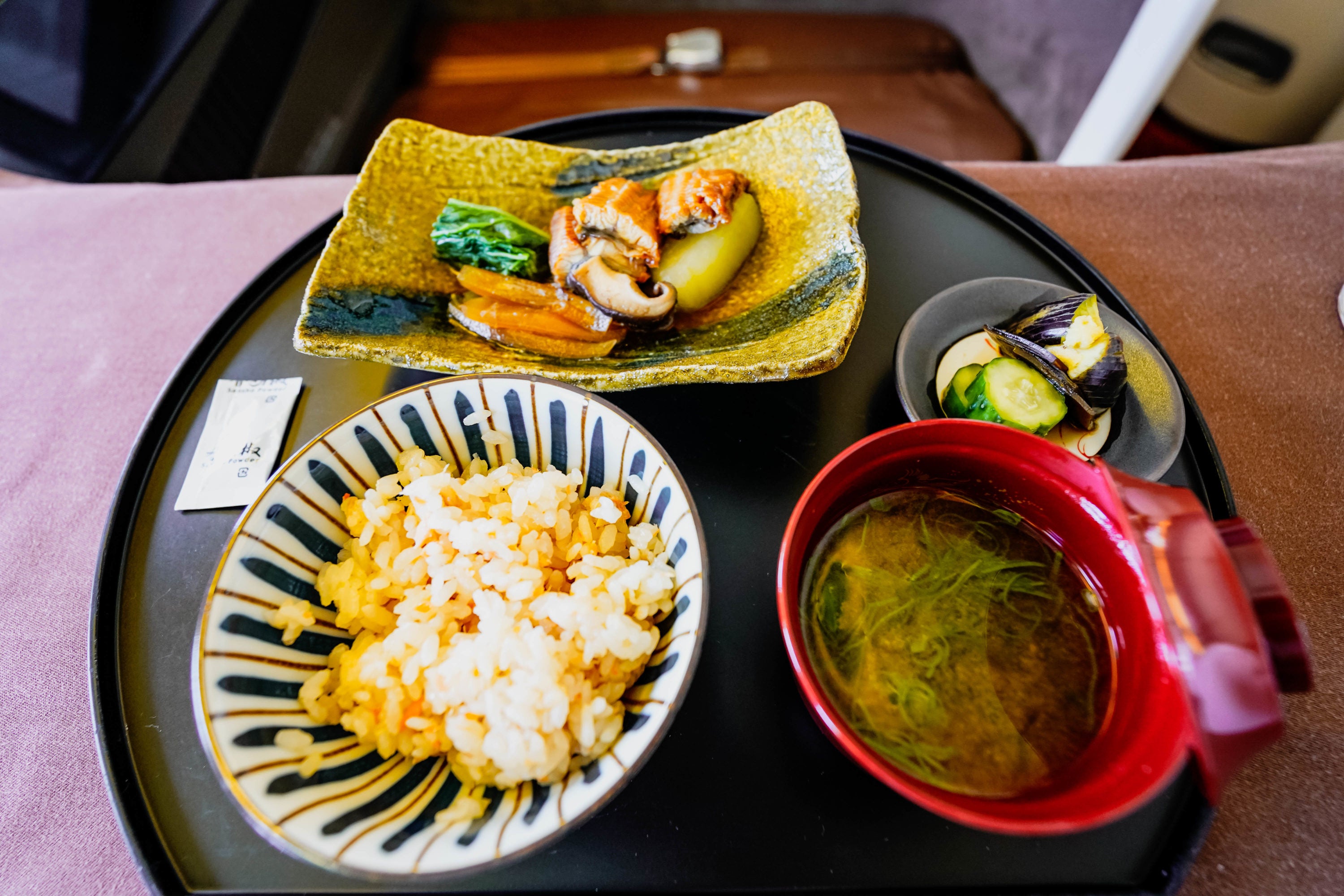 Each dish was perfectly cooked, curated, and presented and was every bit as good as what you would eat at a regular restaurant. Since I already had a bit of a buzz going on from all that Champagne, I decided to stick with it and did not try the sakes and shochus. By now I was absolutely bursting at the seams, but I was determined to go for the dessert to round it off.
The dessert course included:
Steamed lotus root cake with adzuki beans
Melon sauce, sherry mousse, molasses jelly, and castella sponge cake
Truffle chocolate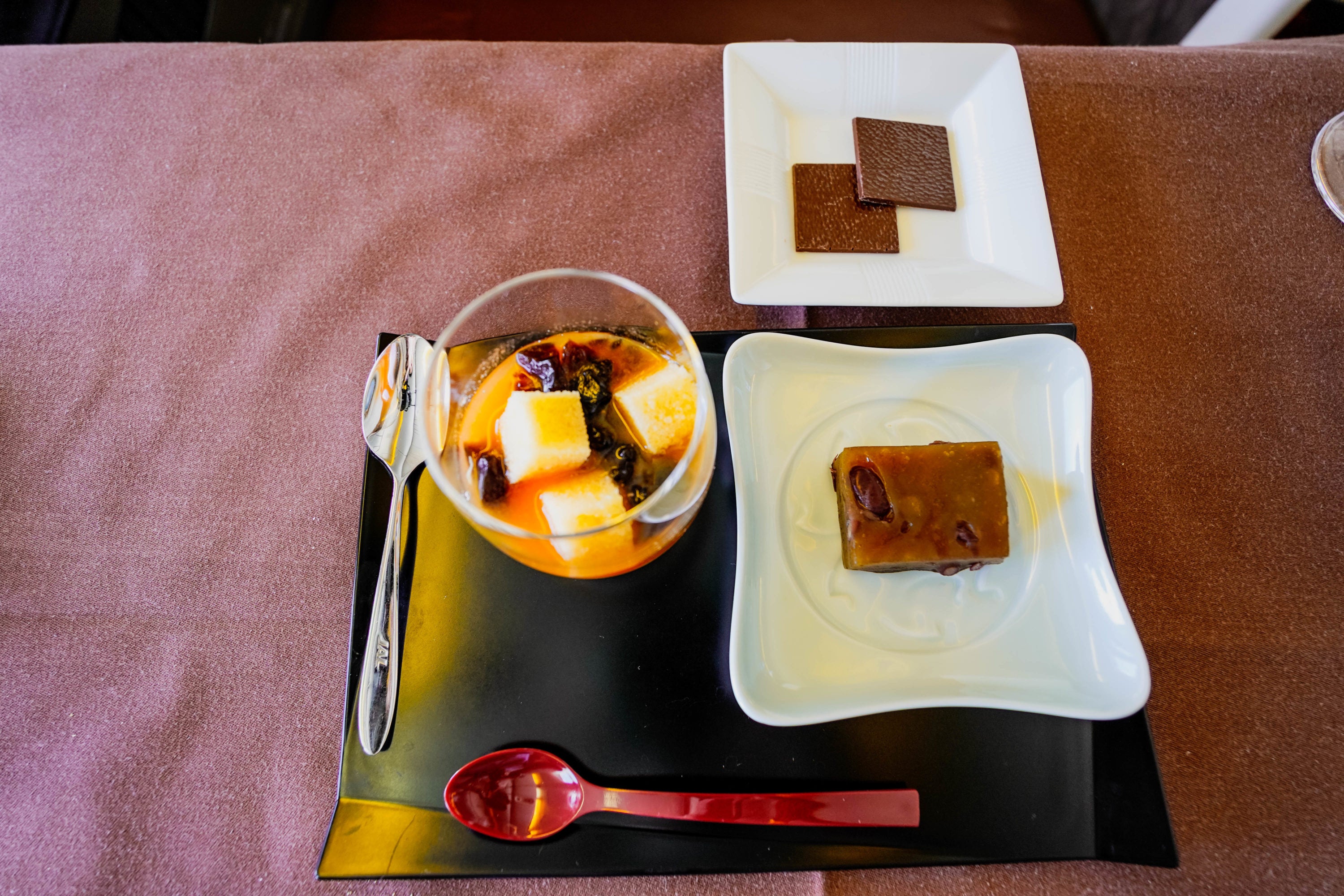 The entire meal service lasted over approximately 1.5 hours. We were now 2.5 hours into the flight and I requested the turndown service. The cabin attendant asked for my pick of the mattress — soft or hard? I went in with the soft Air Weave S-line.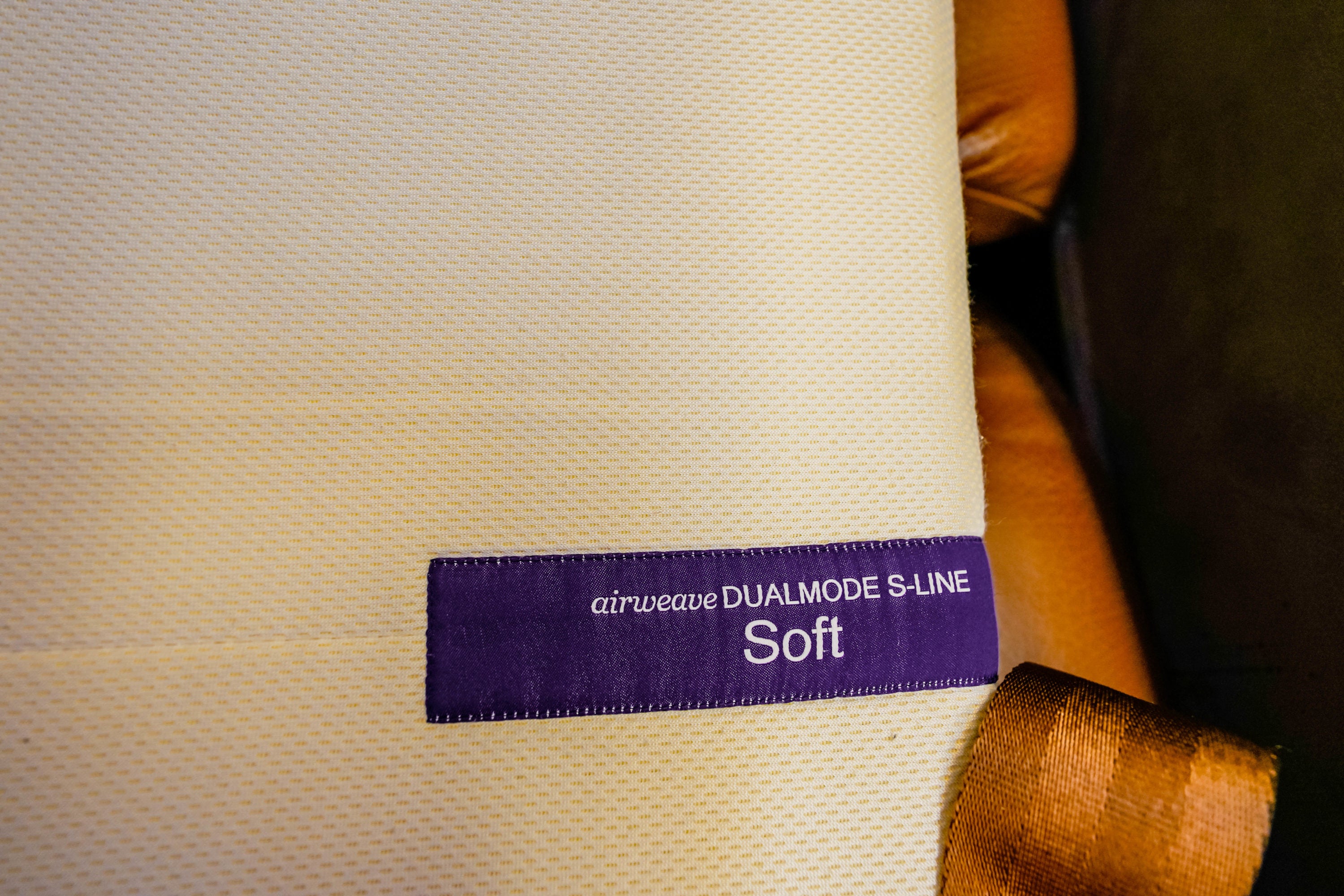 By the time I returned from the washroom refreshed, the bed was ready along with a duvet and an air-weave pillow. My only gripe is that the mattress does not have a cover, nor is it secured to the seat, so it does move around a bit if you toss and turn.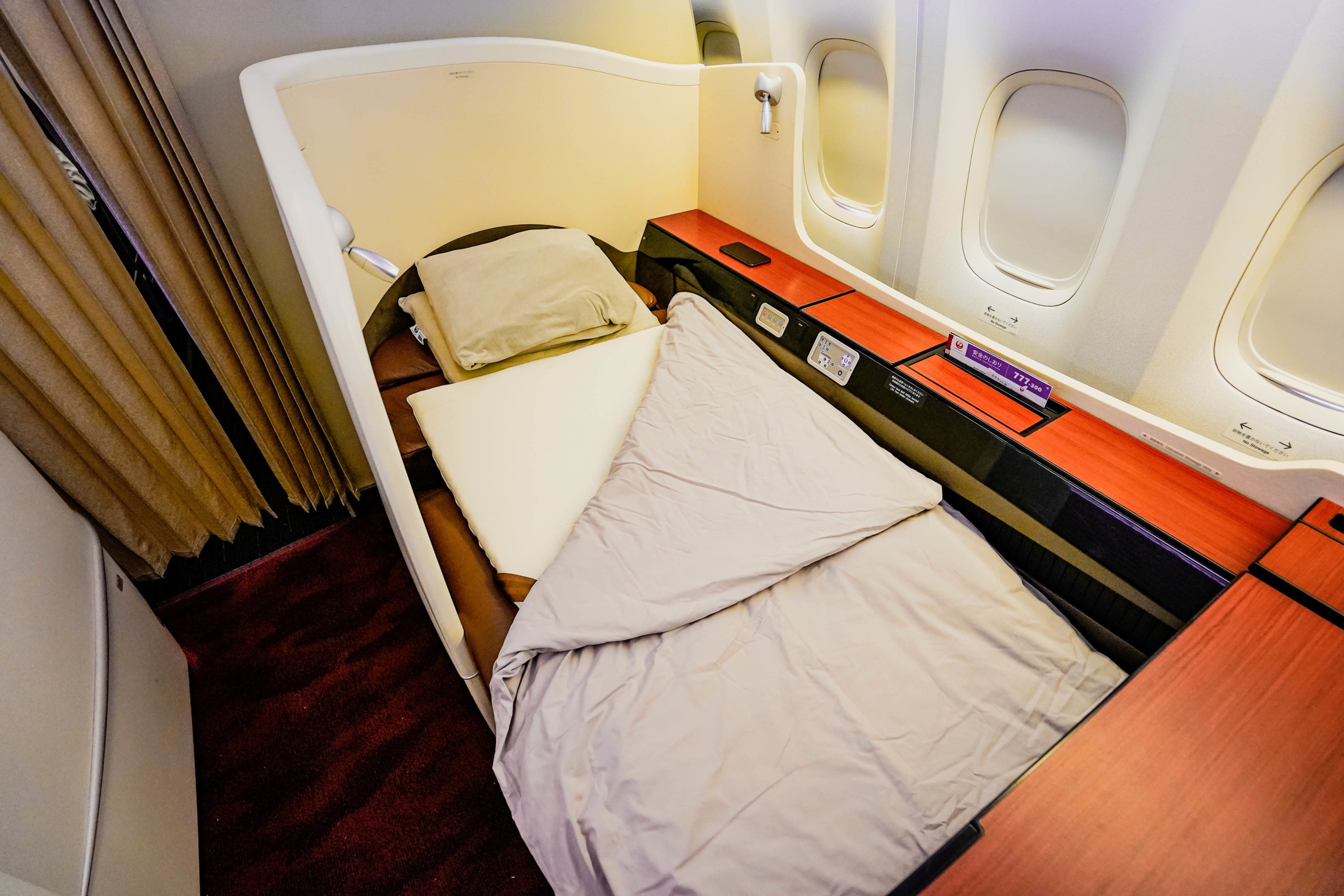 After a heavy meal and copious amounts of Champagne, I was out cold for the next 9 hours.
In front of the first class cabin, a small snack bar is set up in case you feel peckish.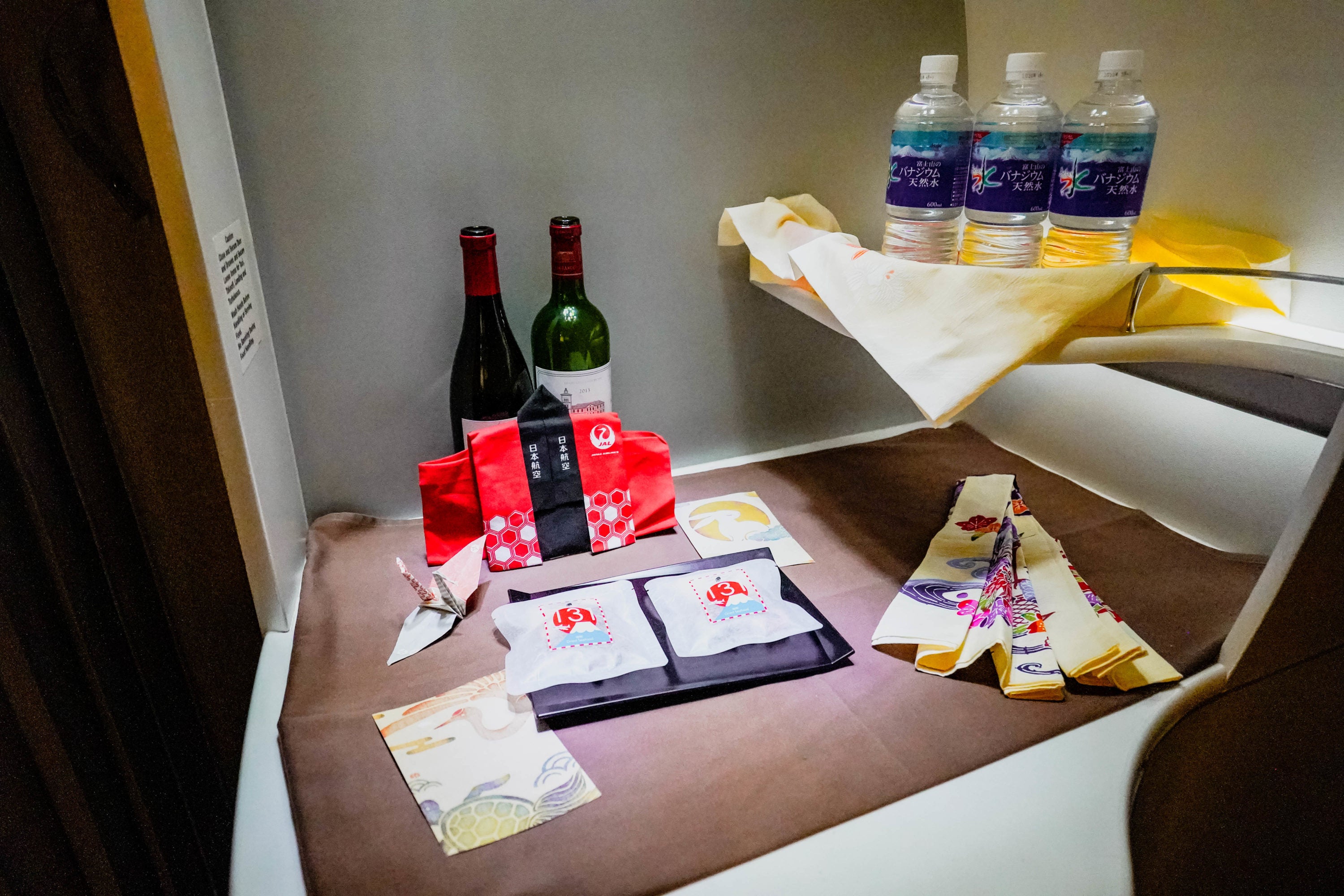 I woke up around 2.5 hours before arrival and was ready to snack, with a variety of options available from the extensive à la carte menu, available throughout the flight.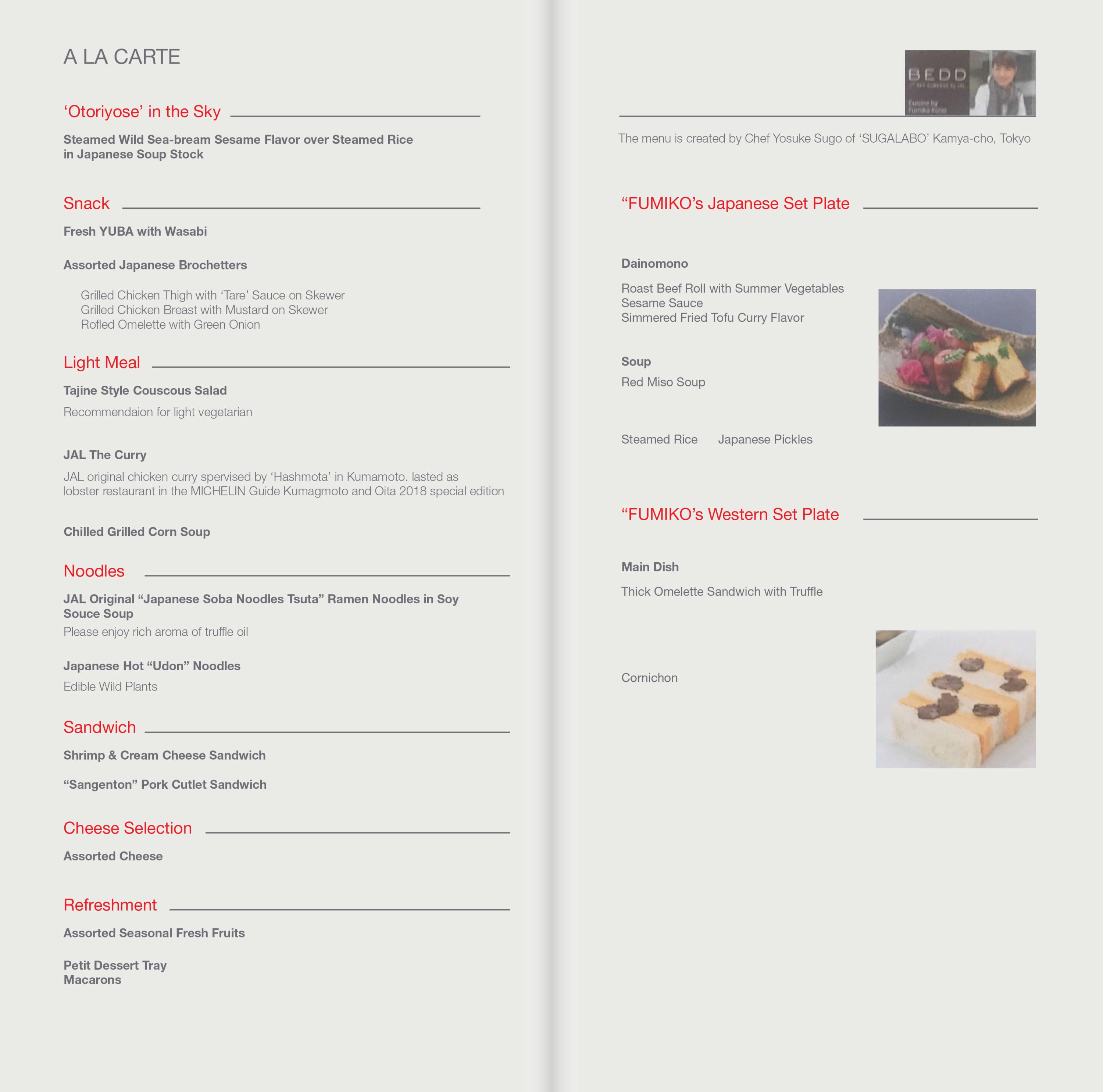 I ordered the famed Japanese chicken curry and the ramen noodles. Both the dishes were excellent — the perfect pick me up before landing into New York (JFK).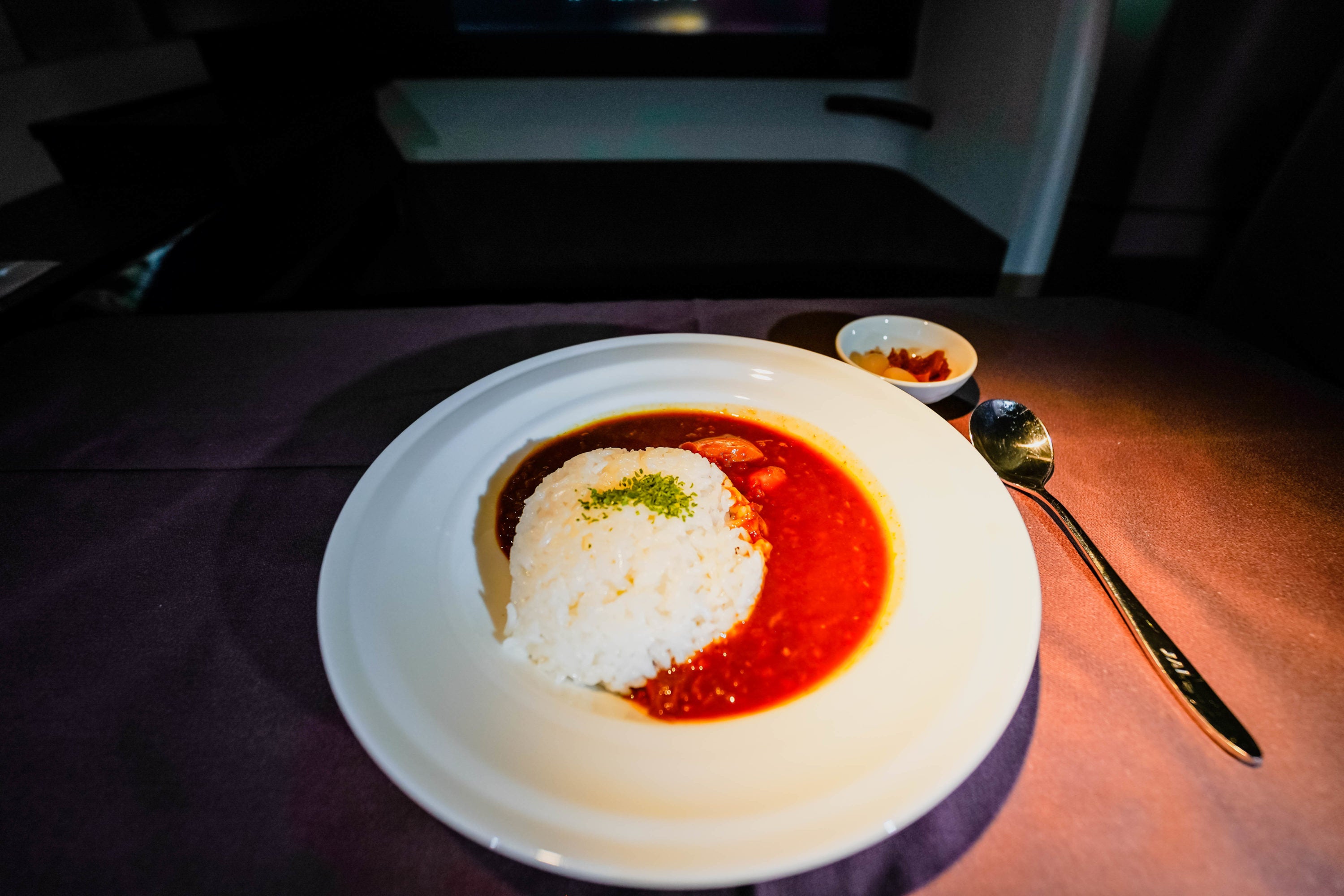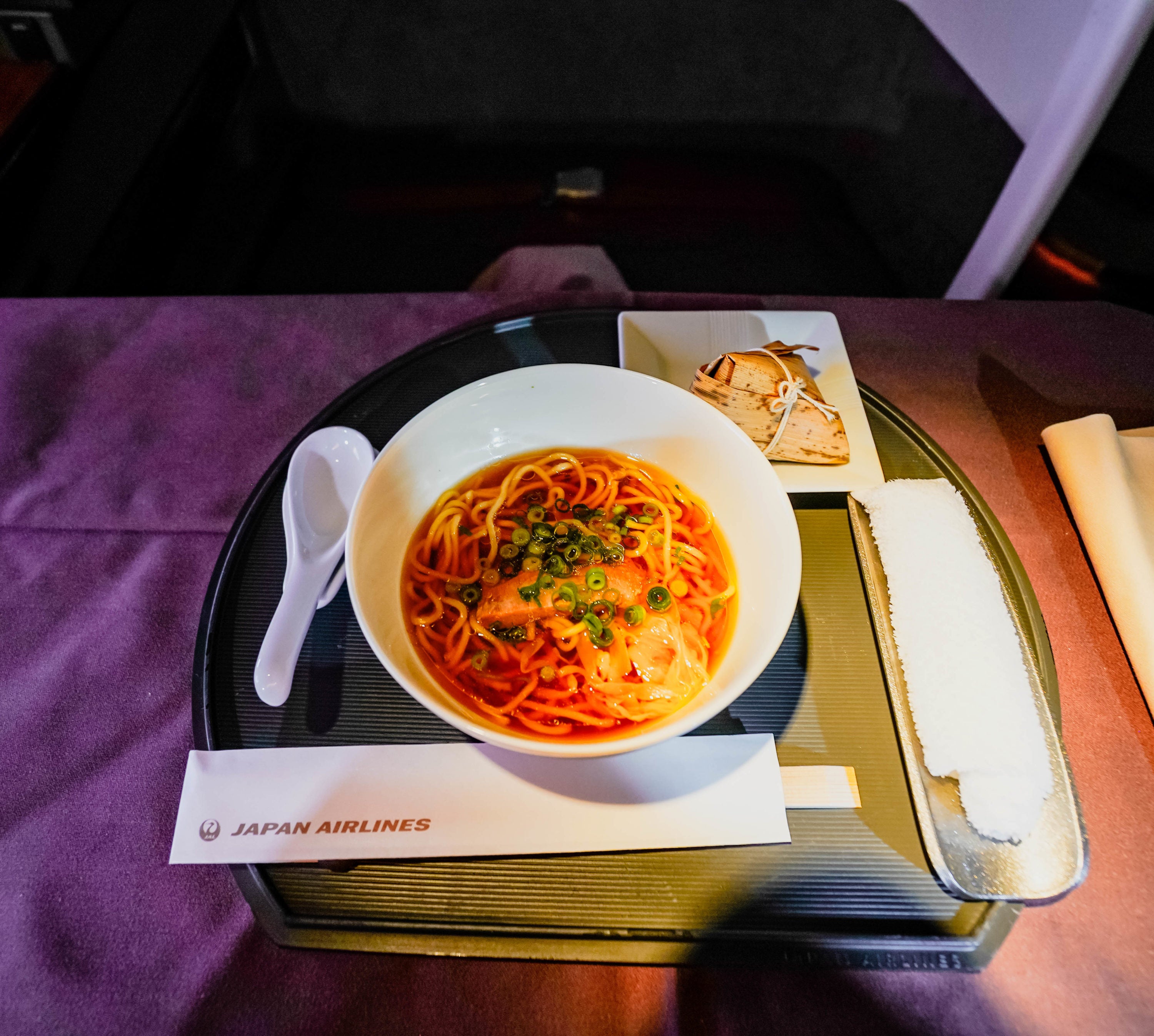 The snack was rounded off with a dessert of macarons from Jean-Paul Hévin.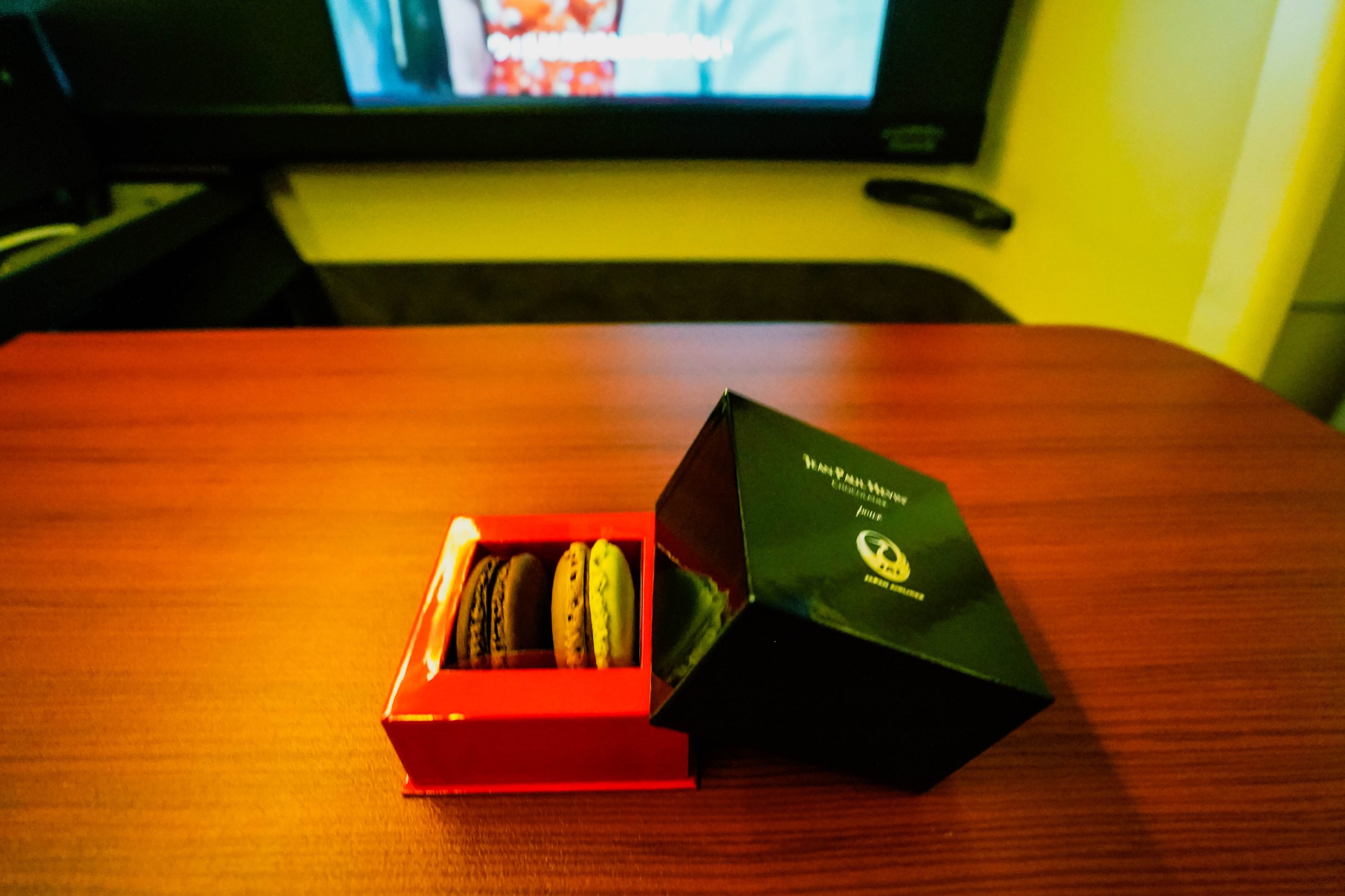 I have always enjoyed Japanese hospitality and this flight was no exception. The service was warm, genuine, and personable.
Around 45 minutes before the arrival, the captain announced, "top of descent," and the crew commenced securing the cabin. Just before landing, the Cabin Manager came to my seat to thank me for flying with them and apologized for the internet not working.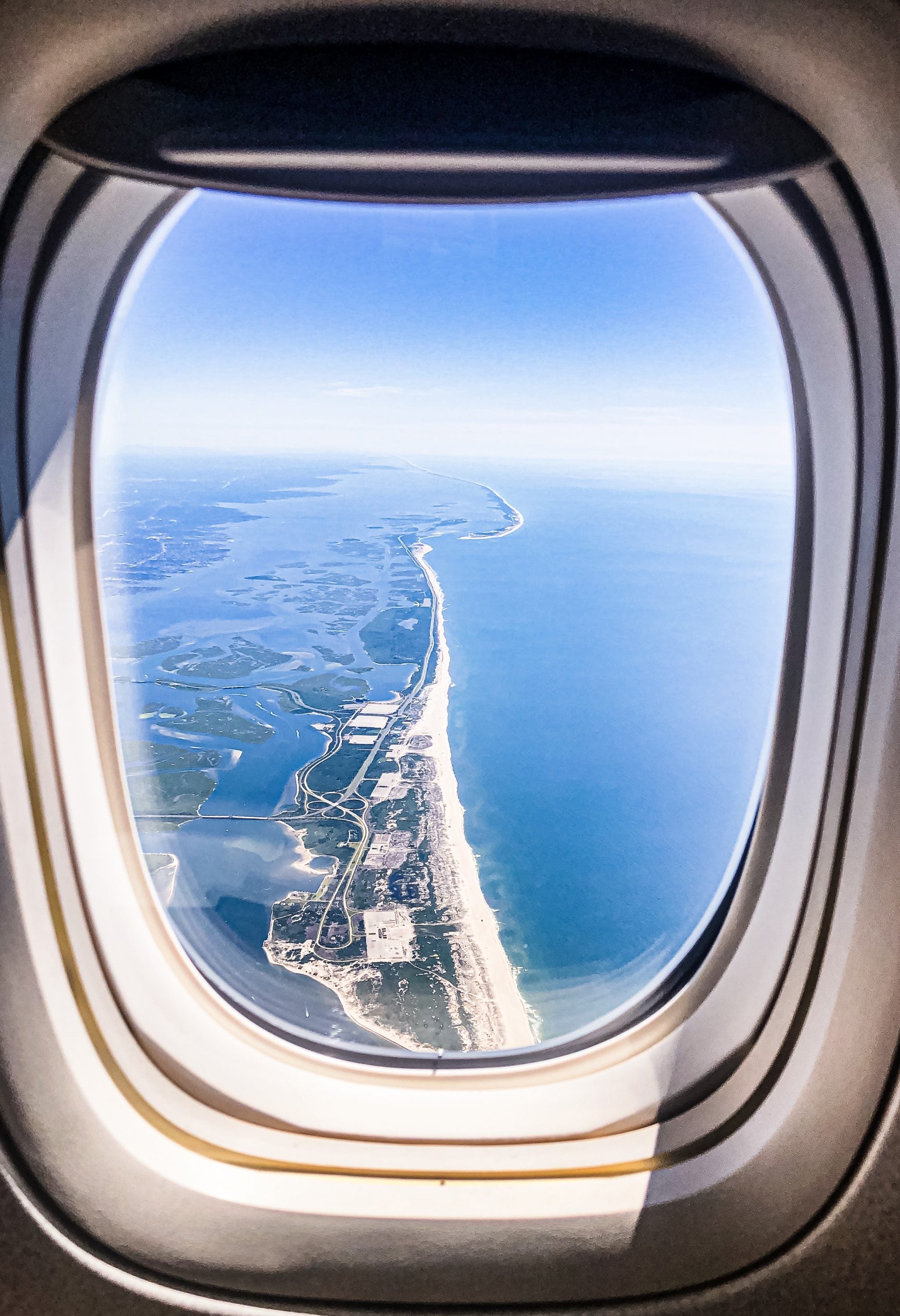 Amenities
Japan Airlines hands out Etro amenity kits in first class which include an eye mask, moisture mask, earplugs, socks, comb, shoehorn, dental kit, napkins, and Shantung-branded hand cream, body lotion, and lip balm.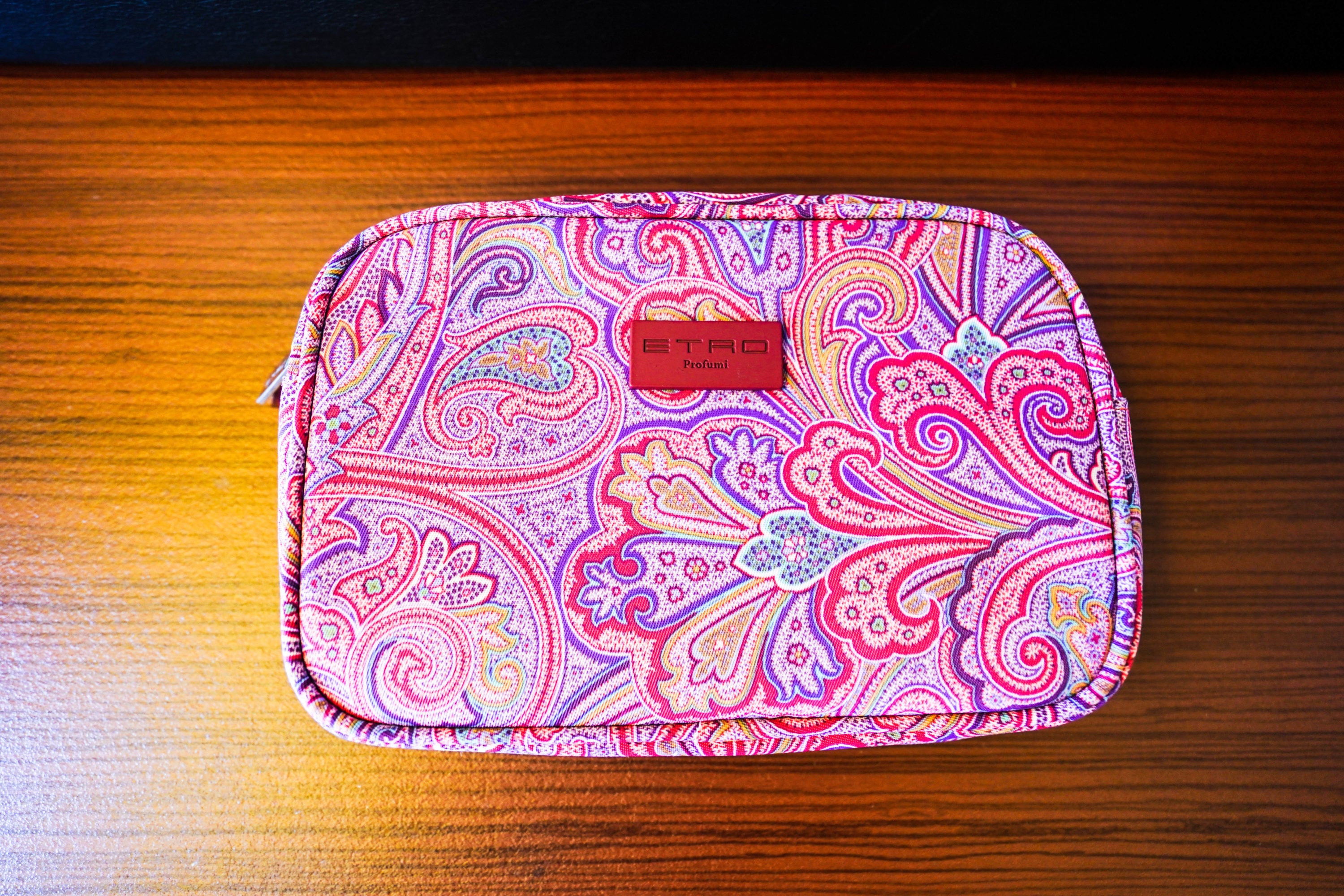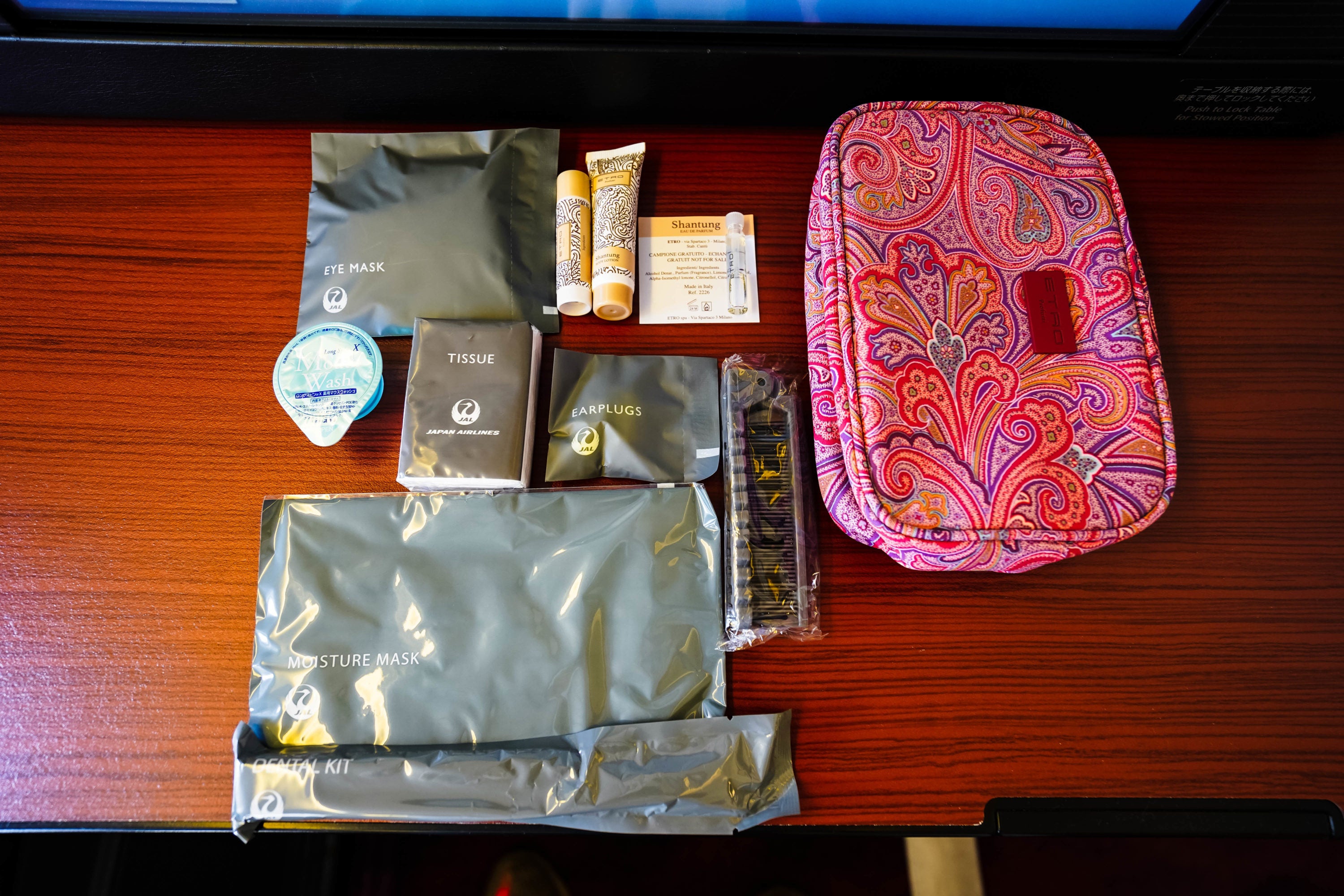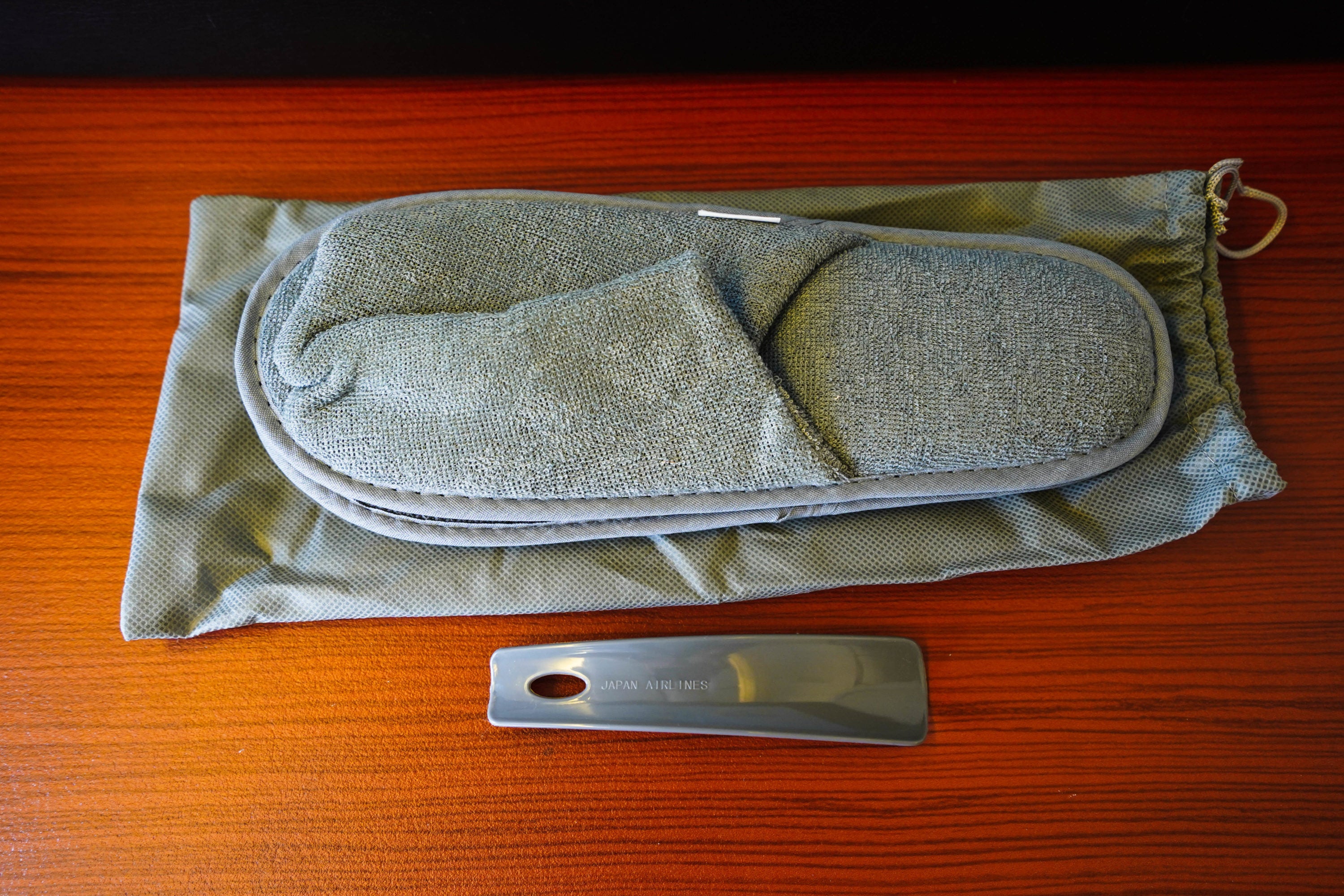 Additionally, Japan Airlines hands out Shiseido skincare kits, which contain cleansing foam, hydrating lotion, and a revitalizer face cream.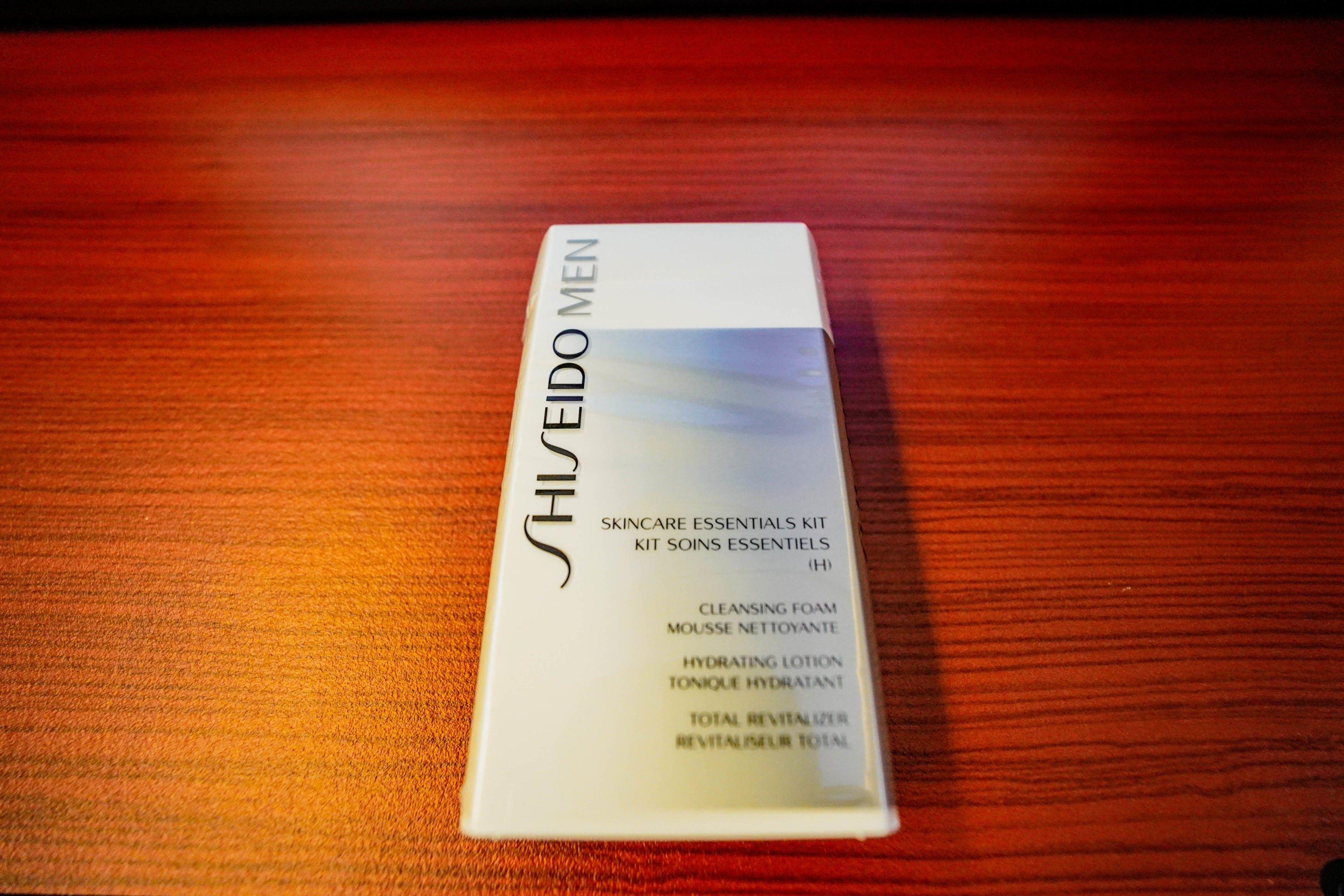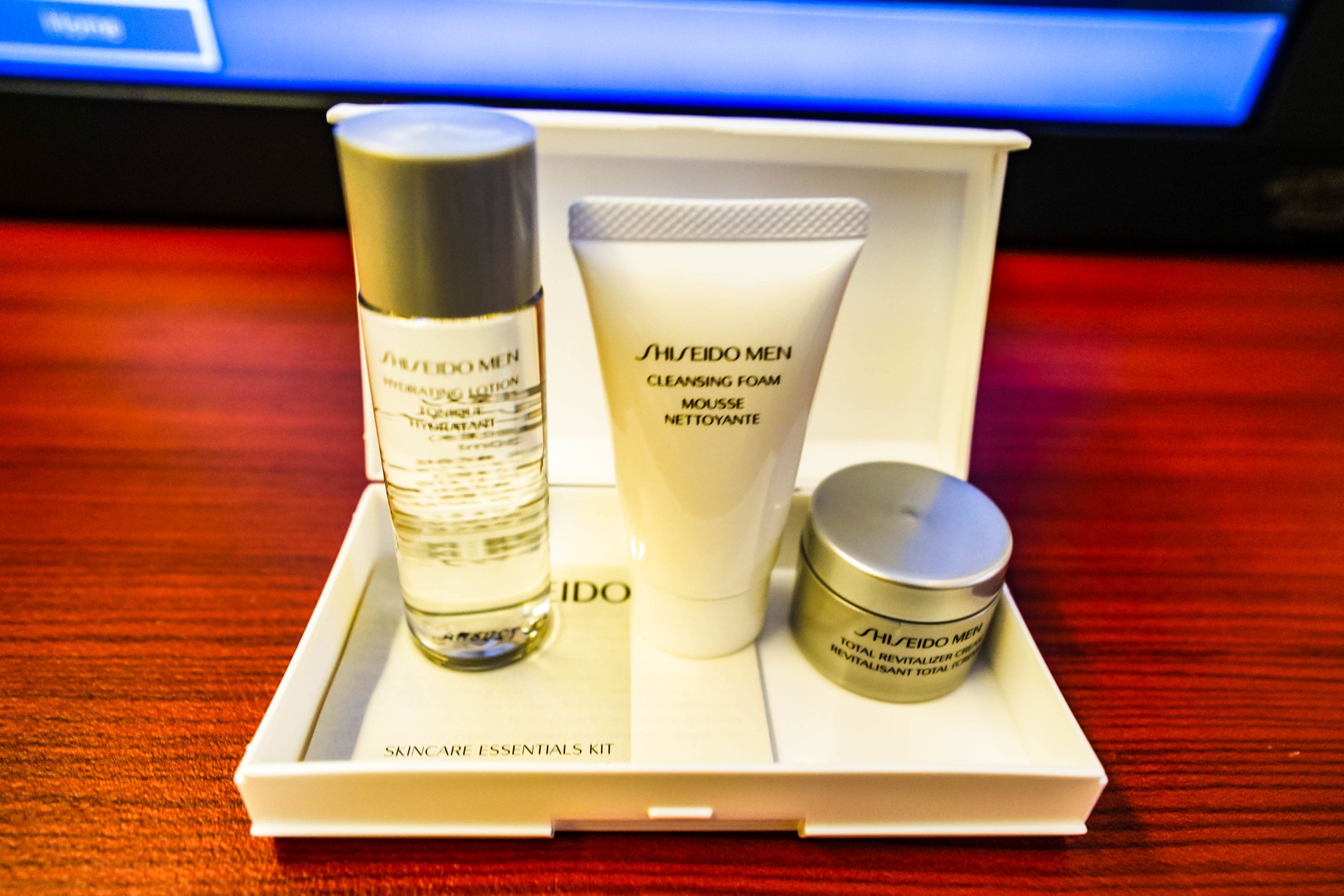 Passengers are provided with organic cotton pajamas which are high quality but thick. It does get uncomfortable sleeping in them, considering that Japan Airlines keeps the cabin pretty warm inflight.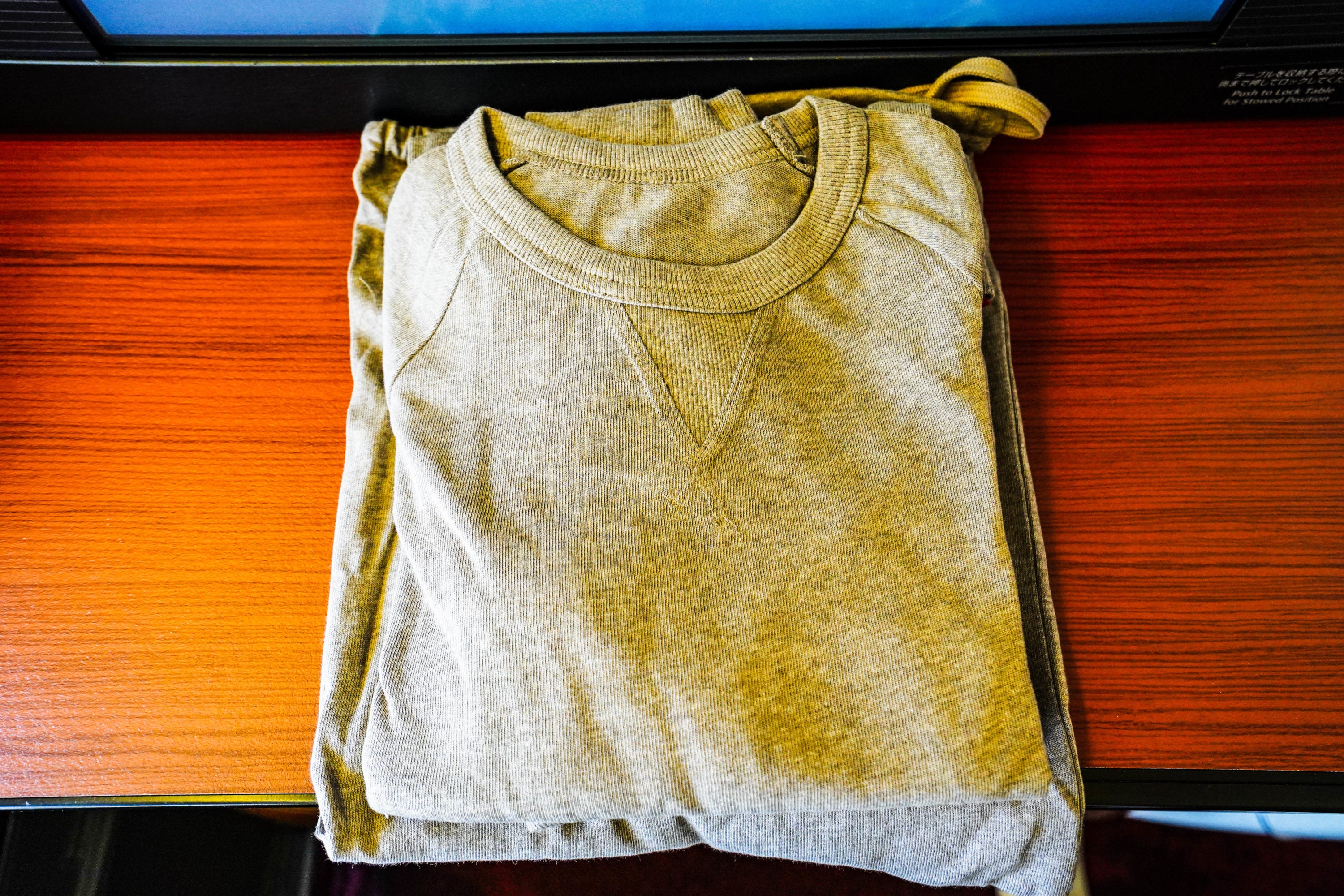 Final Thoughts
Though the hard product is dated and dull, the seats are massive and comfortable. The Wi-Fi did not work and the inflight entertainment was limited, but I was fine with that as I normally prefer sleeping on trans-Pacific flights.
What I was really looking forward to were the service and onboard catering and Japan Airlines did not disappoint. The service delivery — both on the ground and in the air — was impressive and the catering was excellent.
They say, "drink your ticket price in Champagne," and I certainly ended up doing that, in fact I went above and beyond, considering I only spent 70,000 Alaska Air Mileage Plan miles and $52.03 for a $12,800 ticket.
Kanpai!