Singapore Airlines Boeing 777 First Class Review [SIN to SYD]
Airline: Singapore Airlines (SQ)
Aircraft: Boeing 777-300ER (9V-SNC)
Flight #: SQ241
Route: Singapore (SIN) > Sydney (SYD)
Date: October 3, 2018
Duration: 7hr 40min
Cabin and Layout: First Class, 4-seats, 1-2-1 config
Seat(s): 1A
Miles Used: 148,000 KrisFlyer (including a flight from Zurich in the new Suites) per person (now 163,000 miles)
Taxes and Fees Paid: SG$89.70 per person ($65)
Typical Retail Cost: CHF 15,000 per person (~$15,500)
Introduction
Booking Singapore Airlines First Class
This flight between Singapore and Sydney was the second sector in a Zurich to Sydney booking made using KrisFlyer points.
You can read about the flight in Singapore Airlines' new Airbus A380 Suites which preceded this flight, and how fortunate we were to have the waitlist clear just 24 hours before departure, in this separate review.
Sadly, from August 14, 2019, Singapore Airlines will cancel any waitlists 14-days before departure if they have not already been confirmed.
Update: Due to reduced travel demand caused by the spread of Covid-19, Singapore is blocking first-class inventory on all of its flights through November 30 at the earliest on the 777-300s and A380s.
At Singapore Changi Airport – The Private Room
Our inbound flight from Zurich landed 9 minutes late at 6:04 a.m. which meant we had just 1 hour and 20 minutes before our connecting flight to Sydney.
We arrived at a gate close to the lounges at Changi Airport so we decided to drop by The Private Room to confirm when our boarding time would be and also because my partner hadn't visited this particular lounge before.
On arrival, the lounge team member said we would only have a few minutes in the lounge as boarding was about to commence but kindly said she would arrange a buggy to take us to the gate so we didn't have to rush.
As the team member said, we only had 5 minutes in the lounge for this visit but fortunately, I had already photographed it during a previous visit.
Entering the lounge complex, first class and suite class passengers are escorted to the Private Room by a staff member.
The Private Room is a lounge, within a lounge, within a lounge. You first enter the regular SilverKris lounge where a staff member will walk you into the First Class lounge. This lounge is open to Star Alliance first class passengers and Singapore Airlines' top-level Solitaire PPS Club passengers.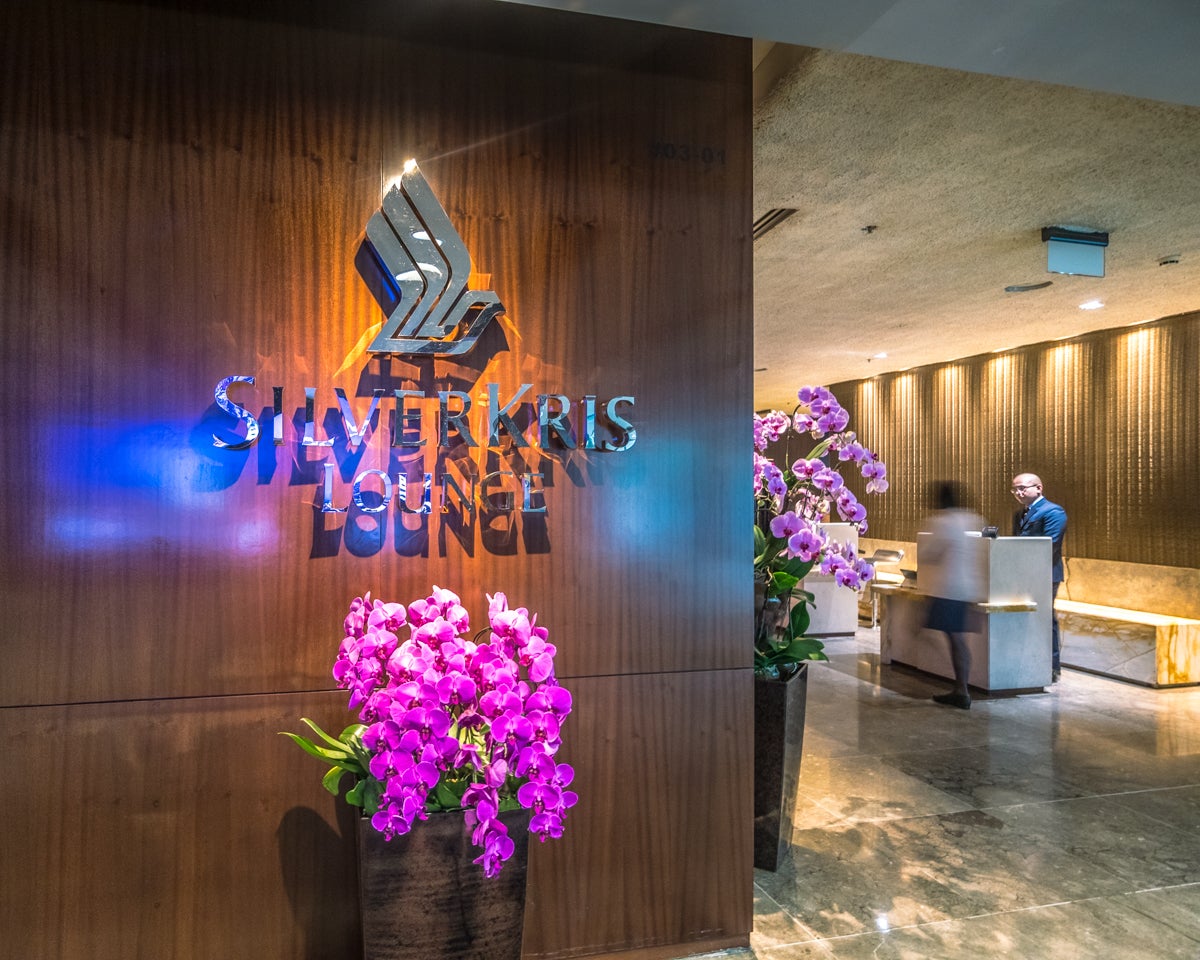 You then finally arrive at The Private Room.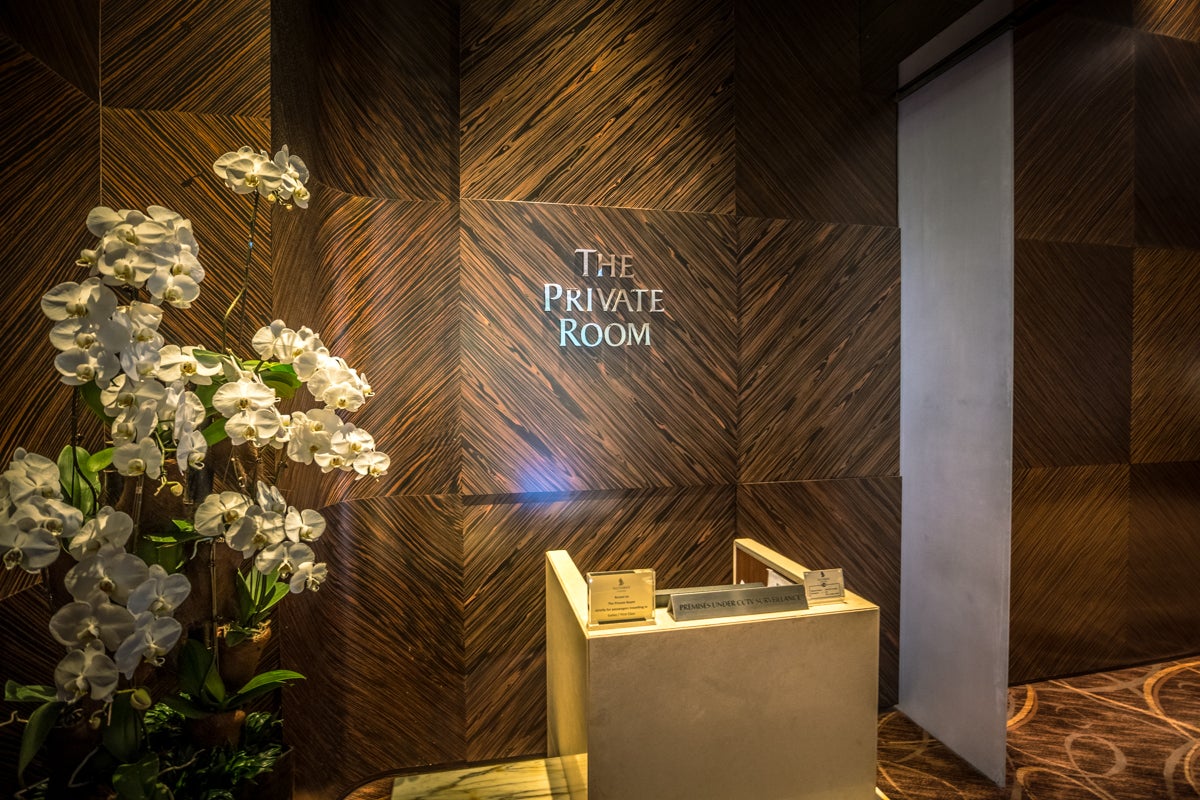 There is a customer service desk in front of departure monitors should you wish to discuss your upcoming flight with an airport agent.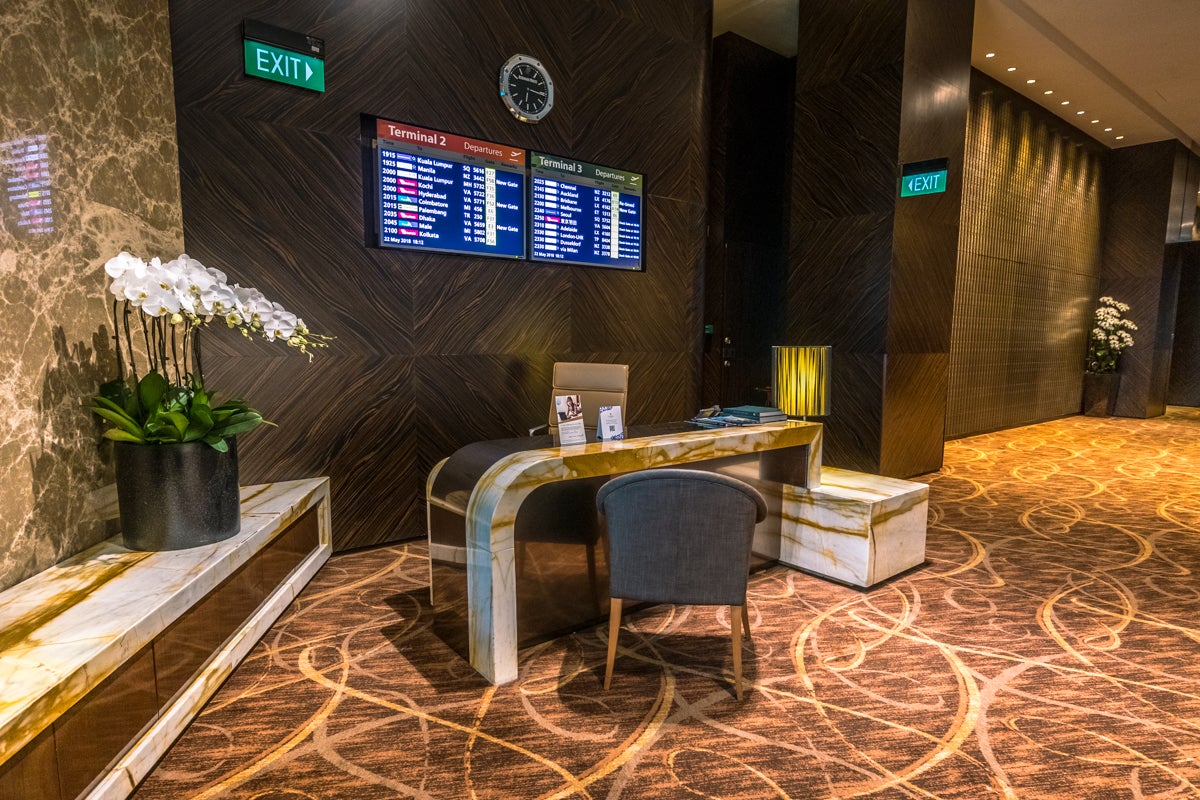 A magazine and newspaper stand is offered.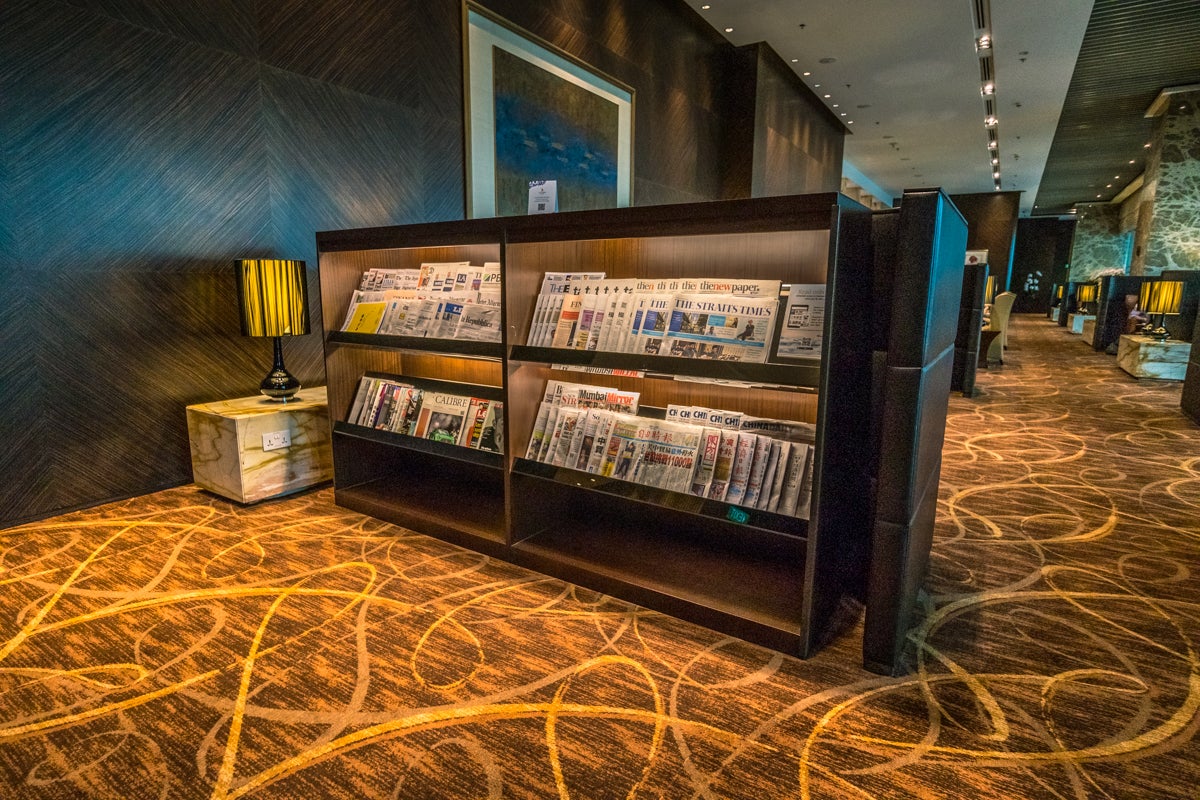 The lounge then opens into a double-height space filled with single armchairs in a zone that runs parallel to the windows.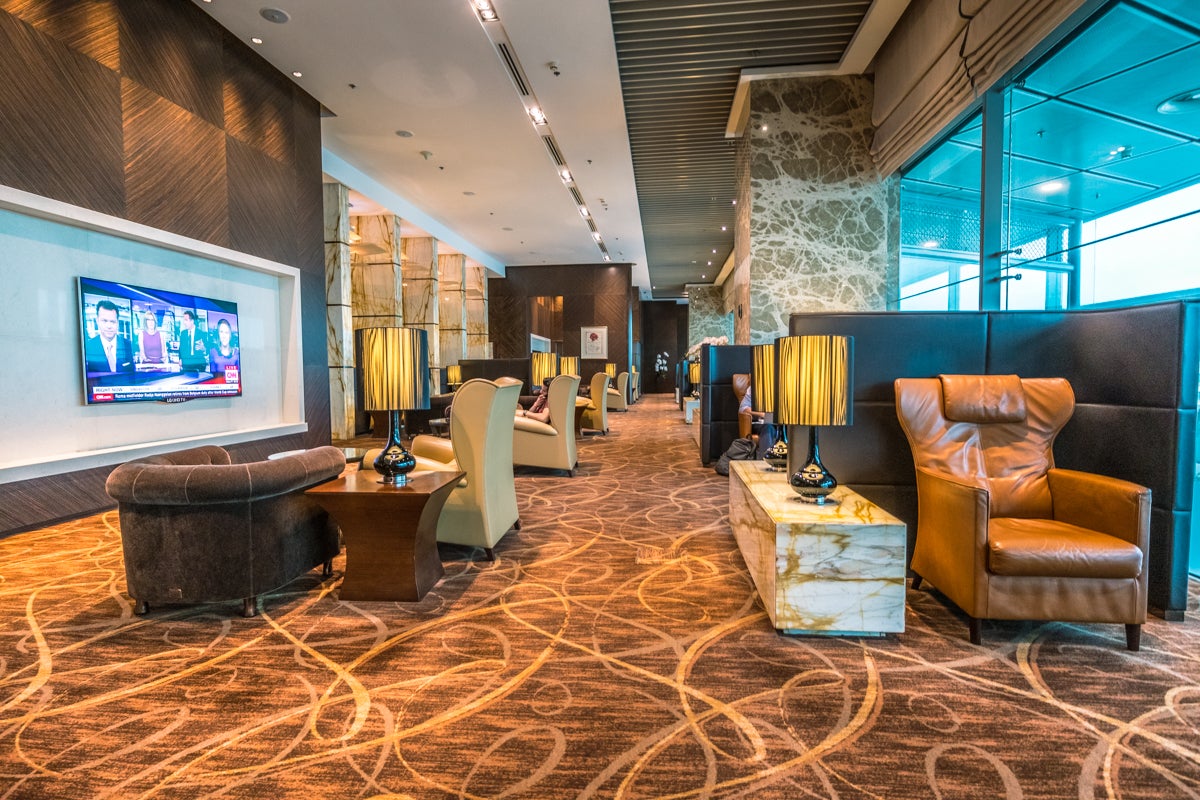 Sadly, the grates over the windows shield most of the view but it's better than not having a view at all like in the adjacent business lounge.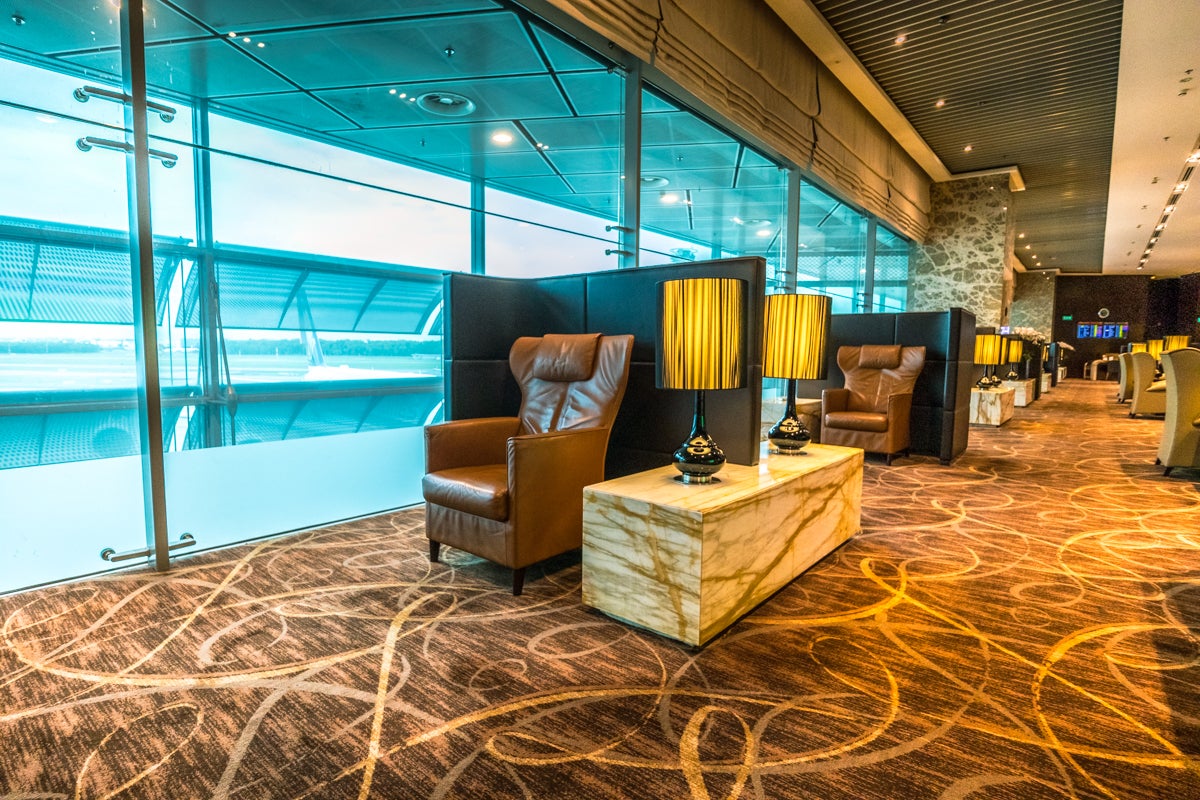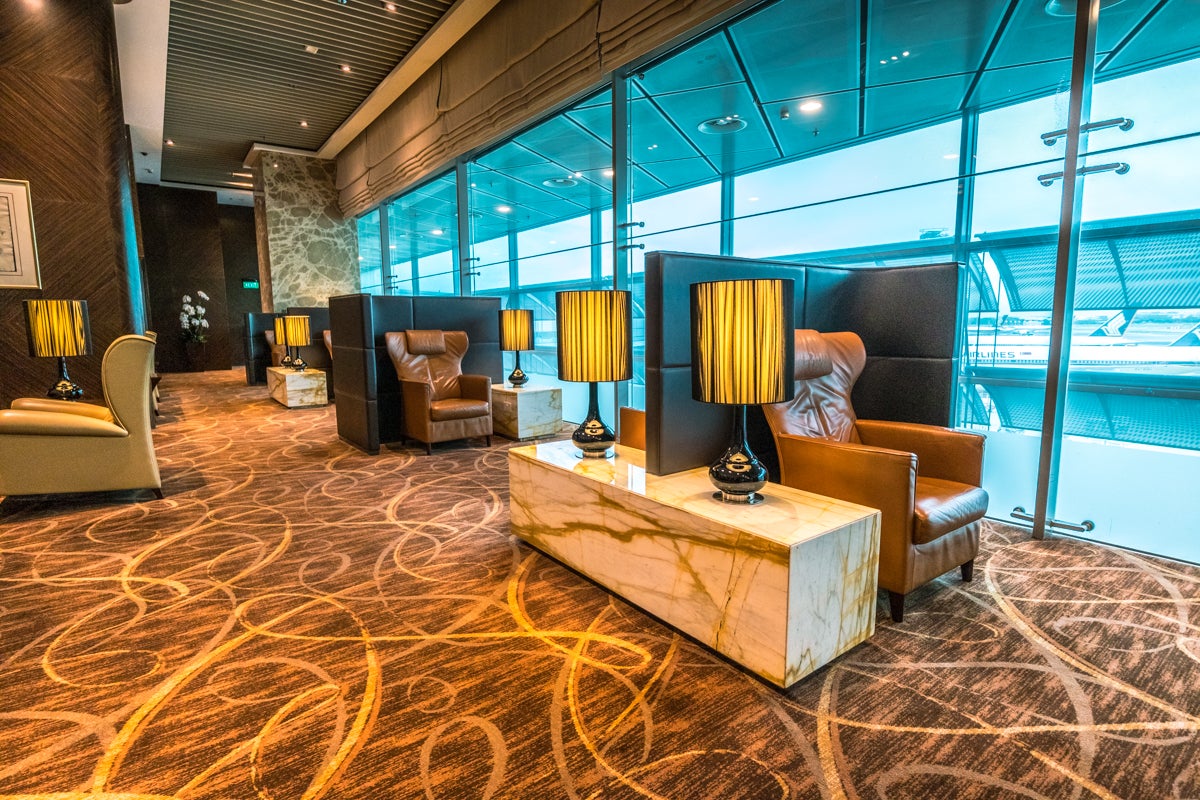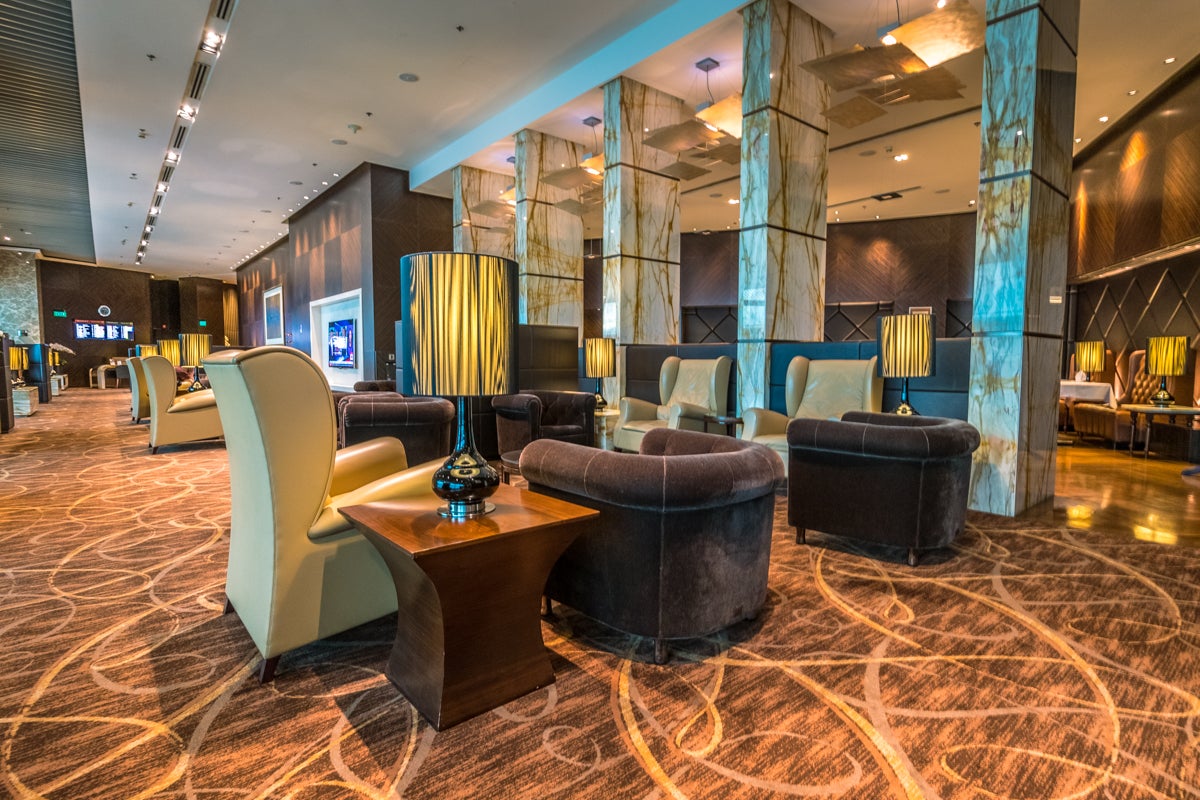 A large LCD TV is mounted on the wall.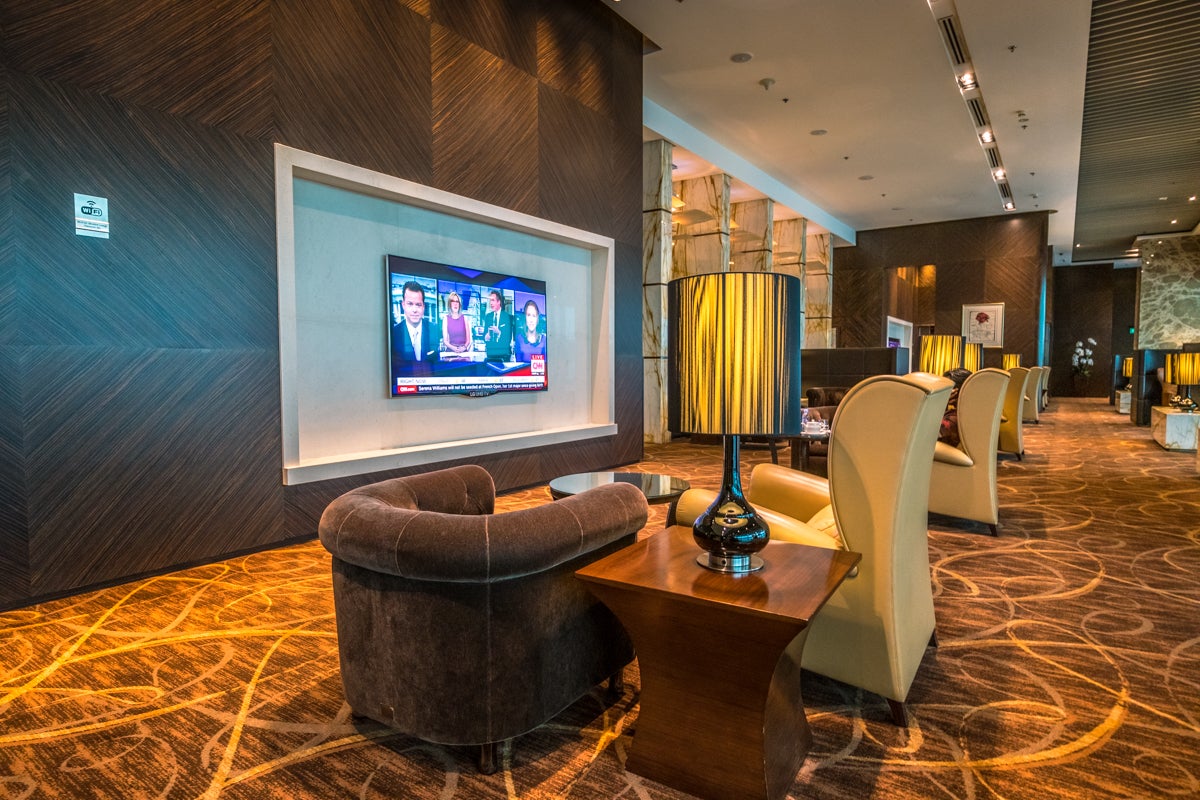 And if this Private Room isn't private enough, there are 2 extra Private Rooms which are fitted with a solo armchair, ottoman and coffee table.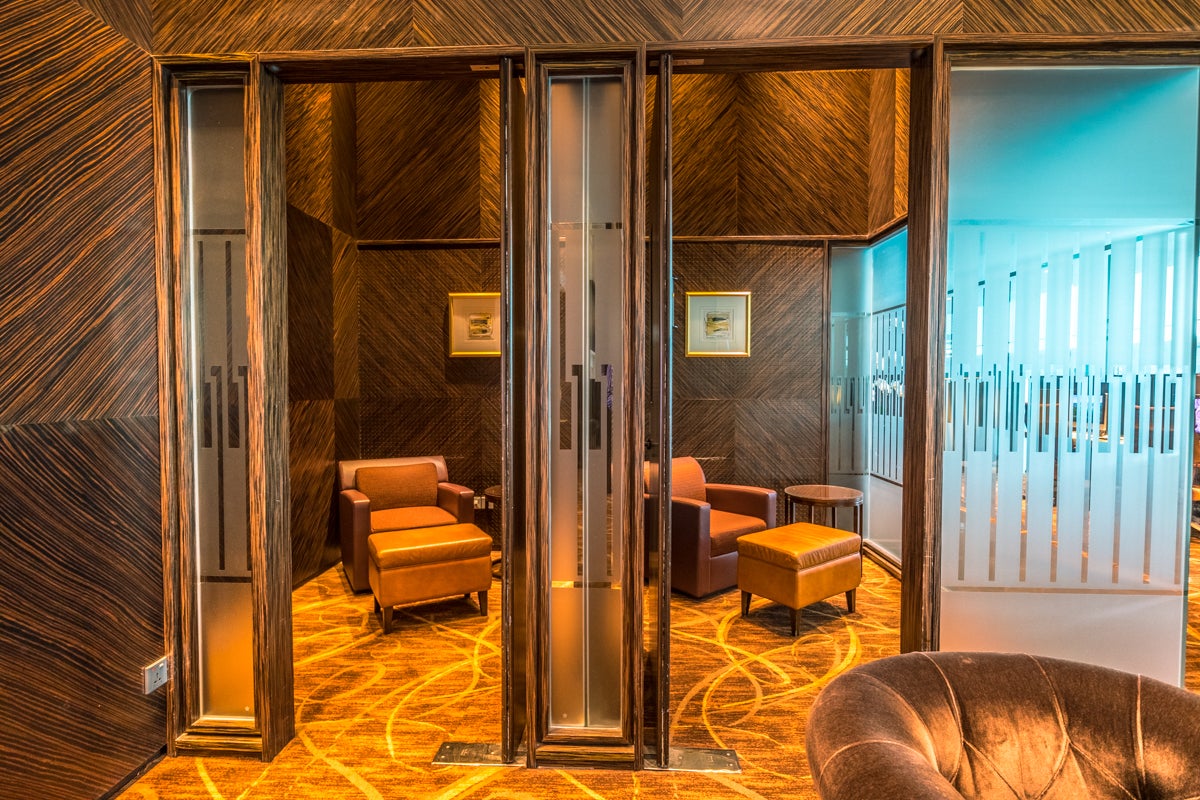 The dining room has a lower ceiling height, dim lighting, and textured wall padding to create a more intimate atmosphere.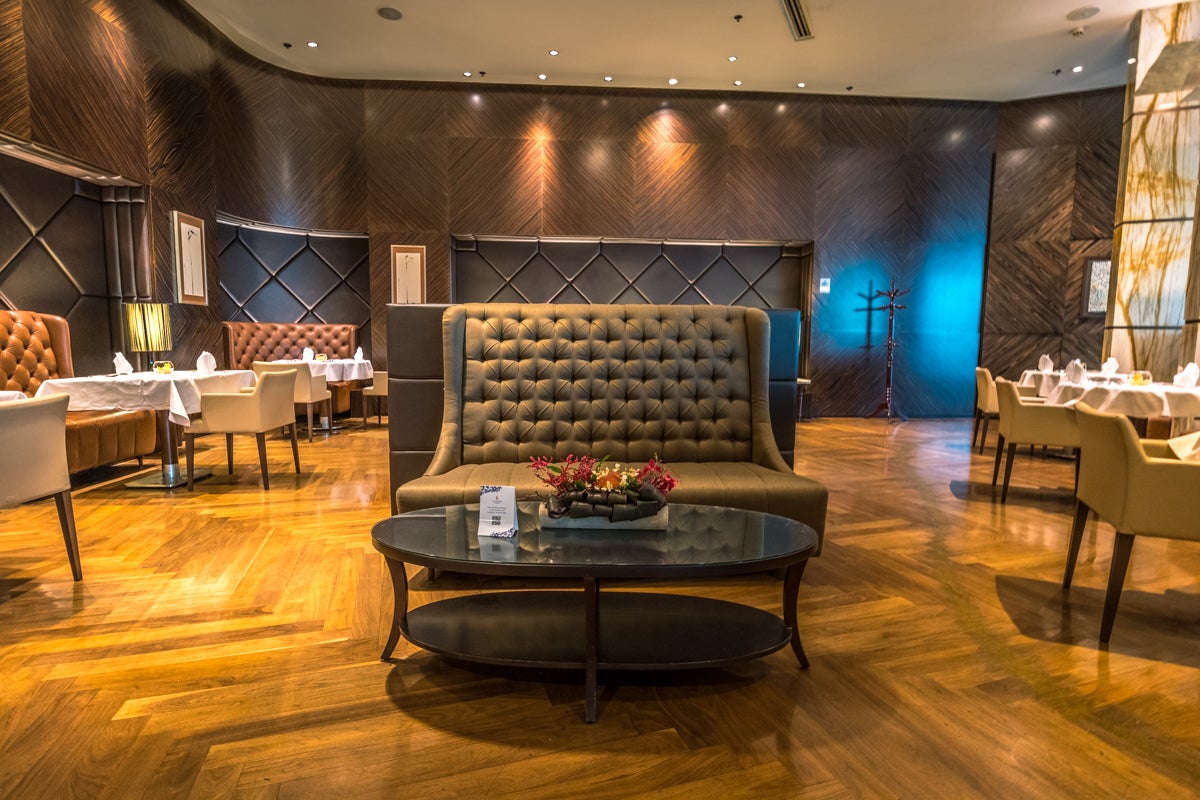 Table service and a la carte dining is available. A small buffet is located in the corner, however, I don't believe this is necessary considering the dining options on the menu.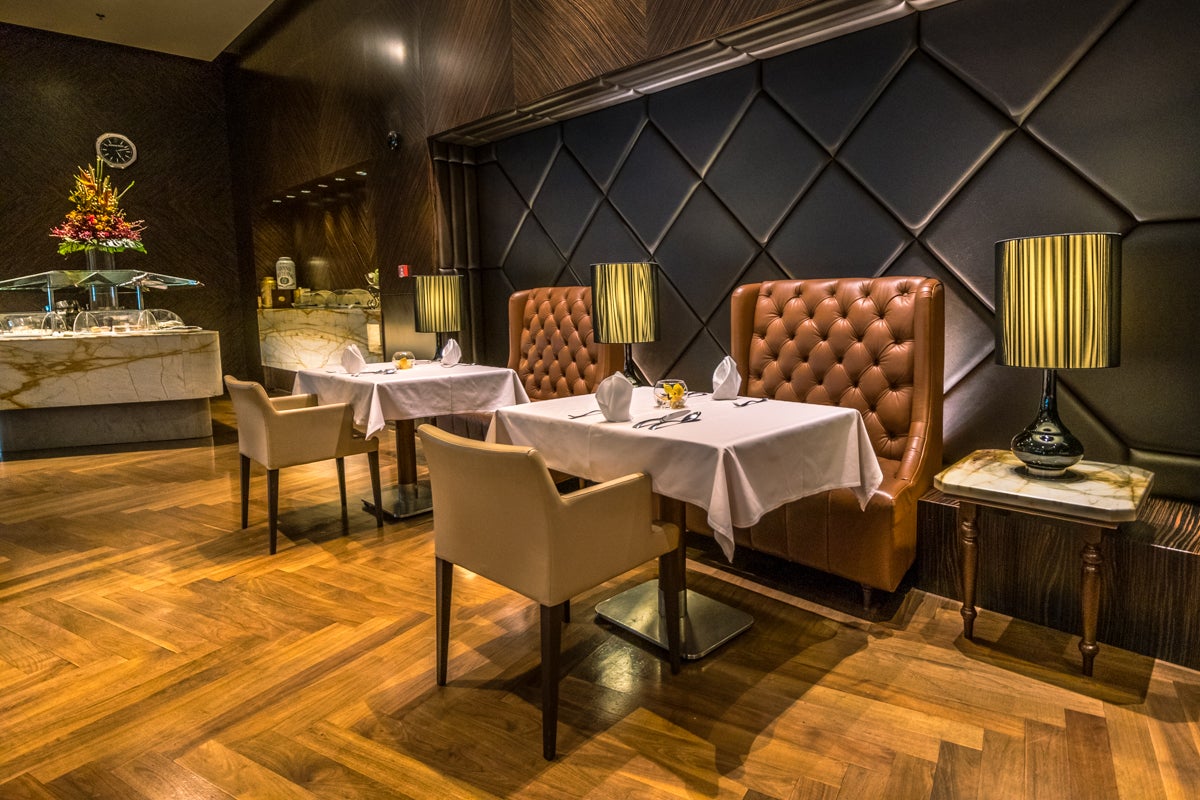 Dom Perignon is free-flowing.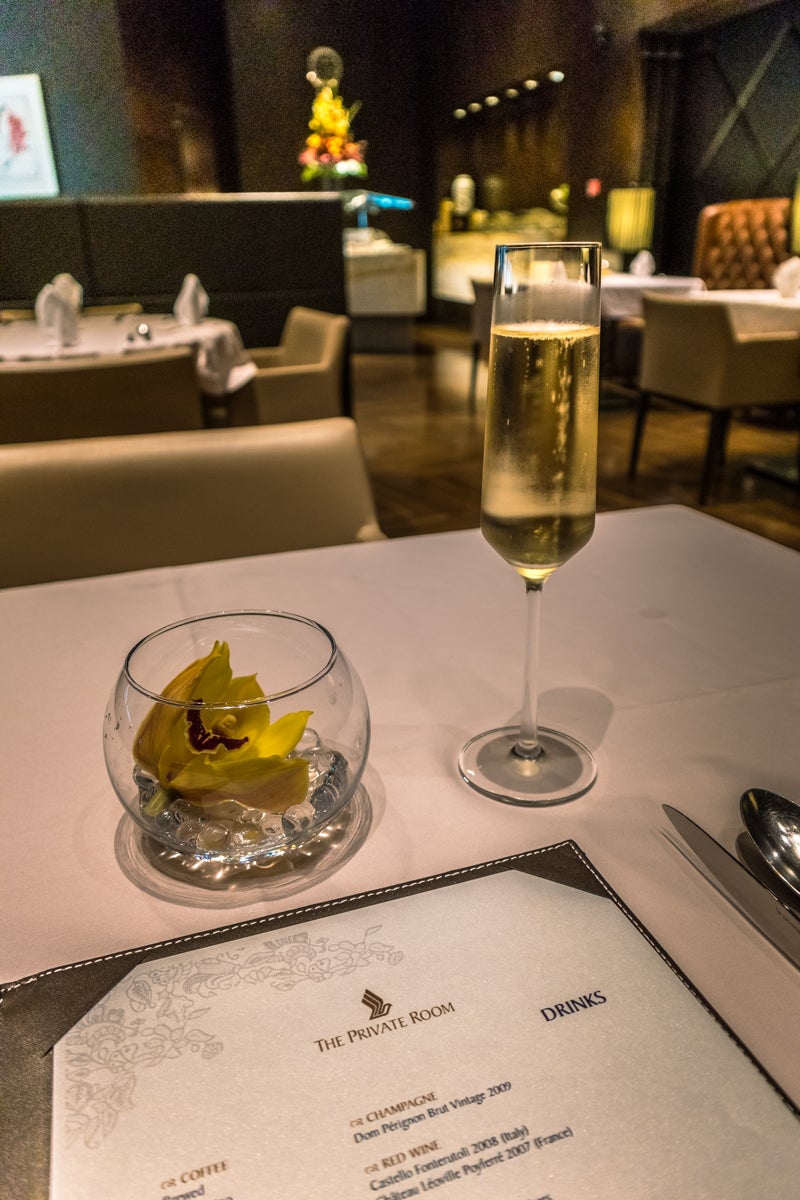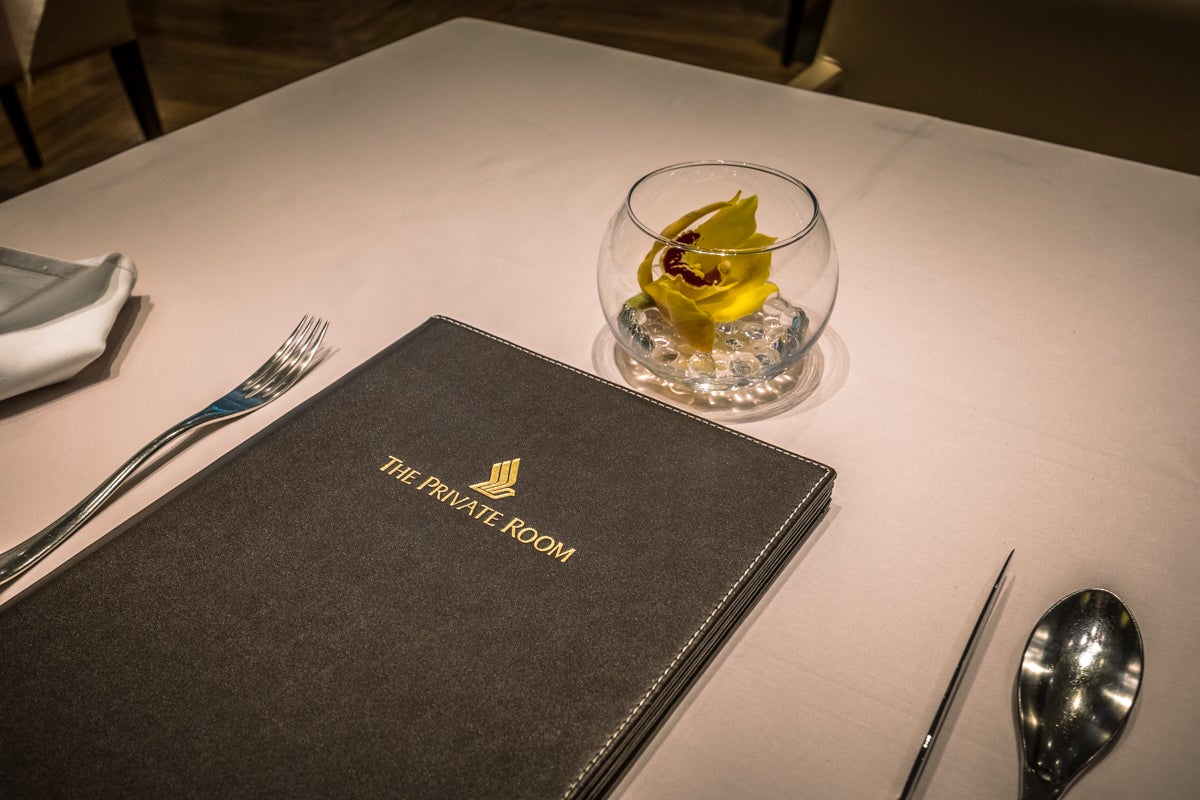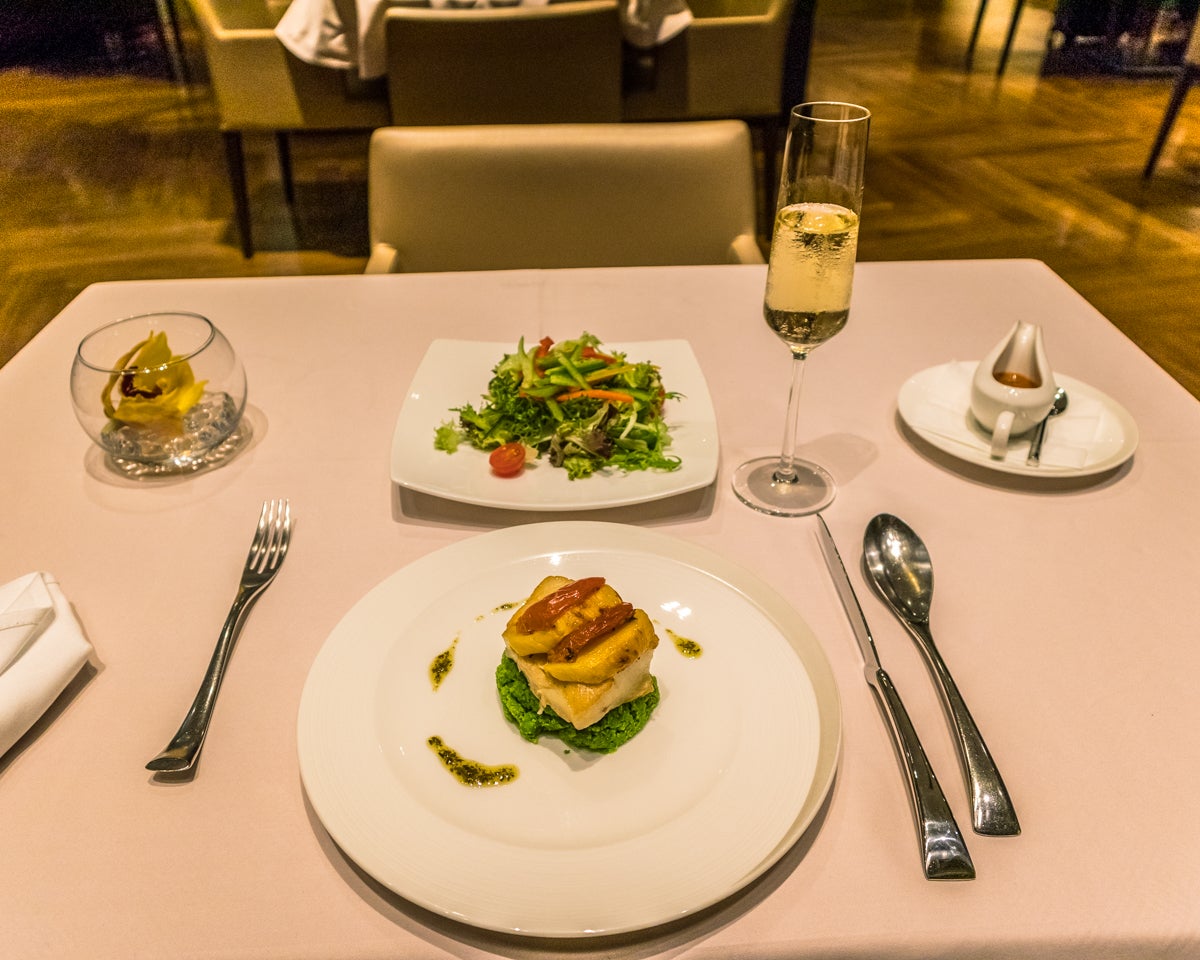 We didn't have time for another breakfast, however, the menu offered: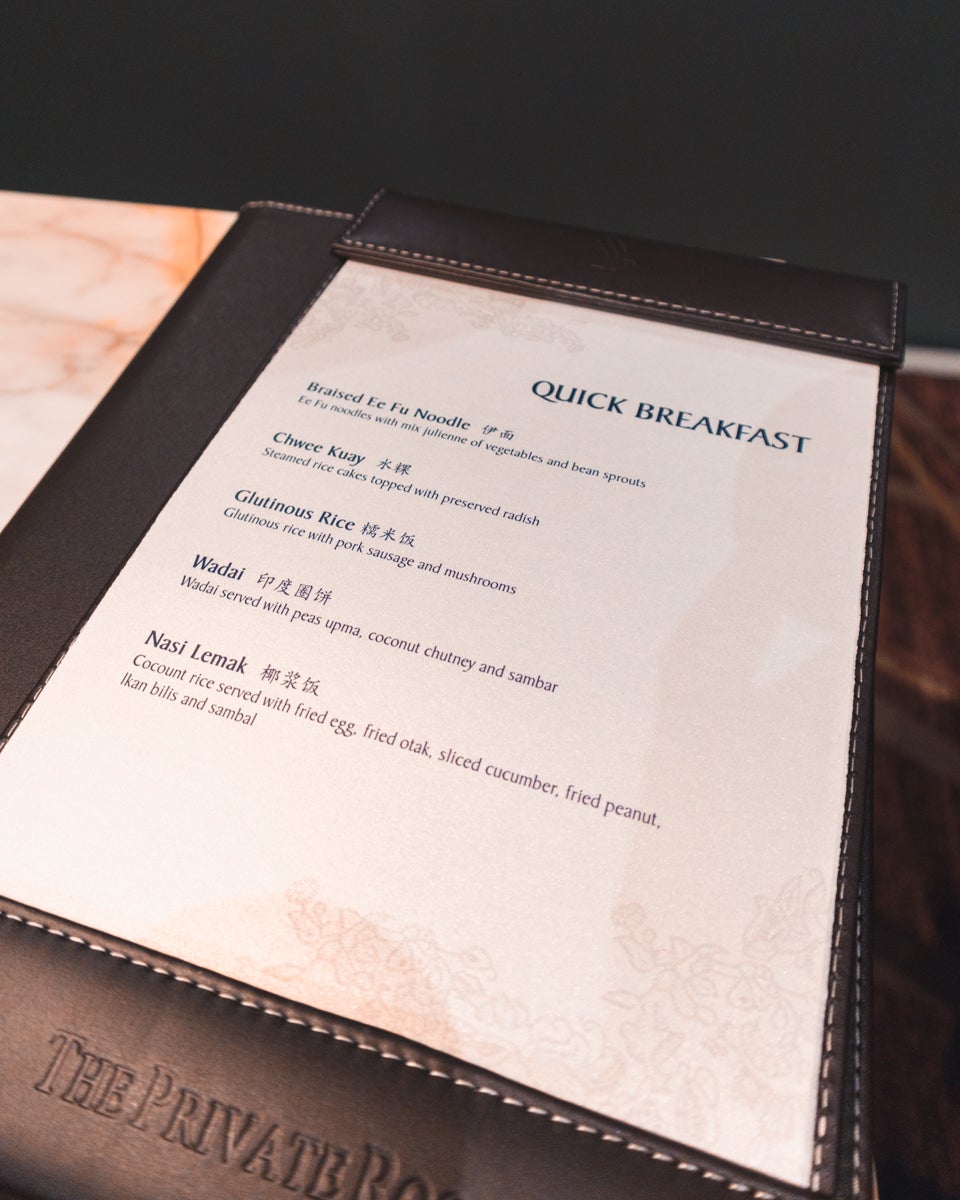 By limiting access to only Singapore Airlines suites and first class passengers, the lounge lives up its Private Room name as there were only a handful of other passengers present during my previous visits.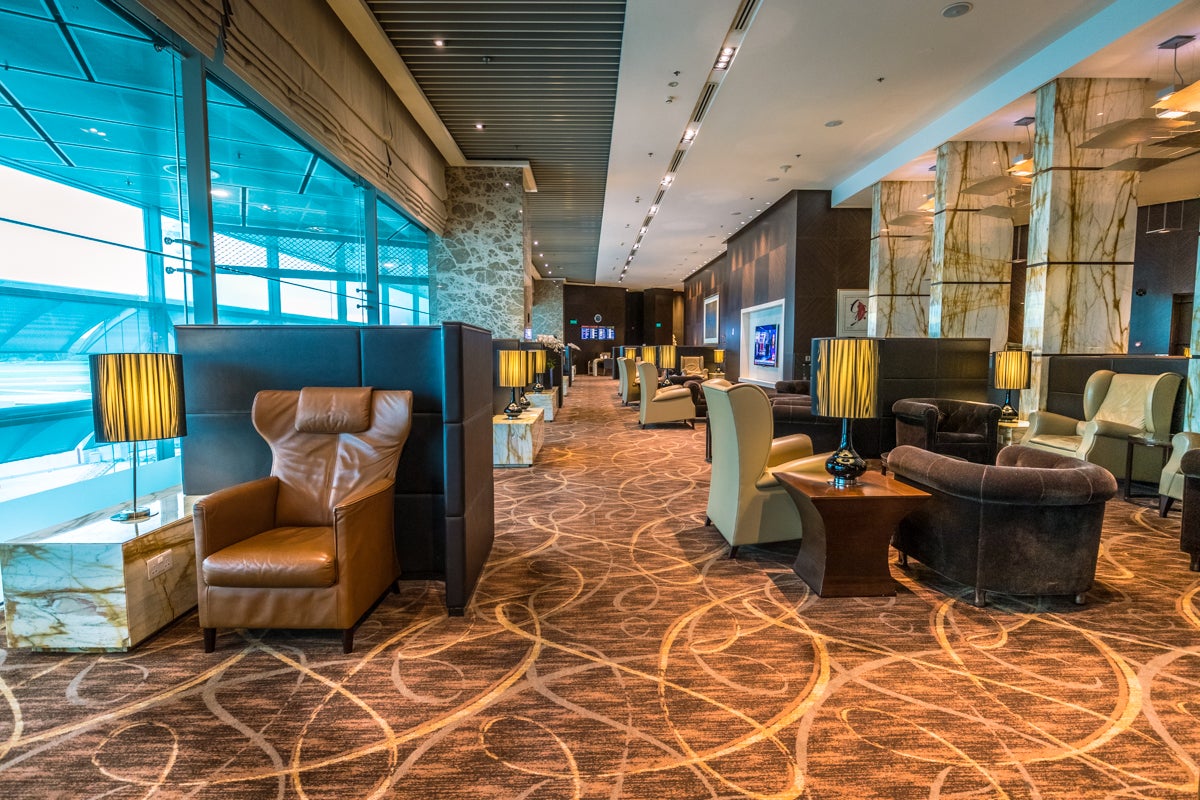 Compared to other first class lounges by other carriers, there are no spa facilities, tendered bar, baths, jacuzzi, or sleeping rooms. So, although the lounge is a nice place to spend a couple of hours before a flight and enjoy a nice meal, it isn't worth arriving too much earlier.
The buggy ride to the gate was very much appreciated and enjoyed!
Singapore Airlines just announced a $50 million renovation plan for all its lounges at Changi airport. These renovations are due to be completed by mid-2021, and I look forward to seeing how Singapore Airlines improves its first class experience.
Private Check-In
If your travel originates in Singapore instead of in transit, you can arrive at the exclusive first class check-in reception at Terminal 2 or 3.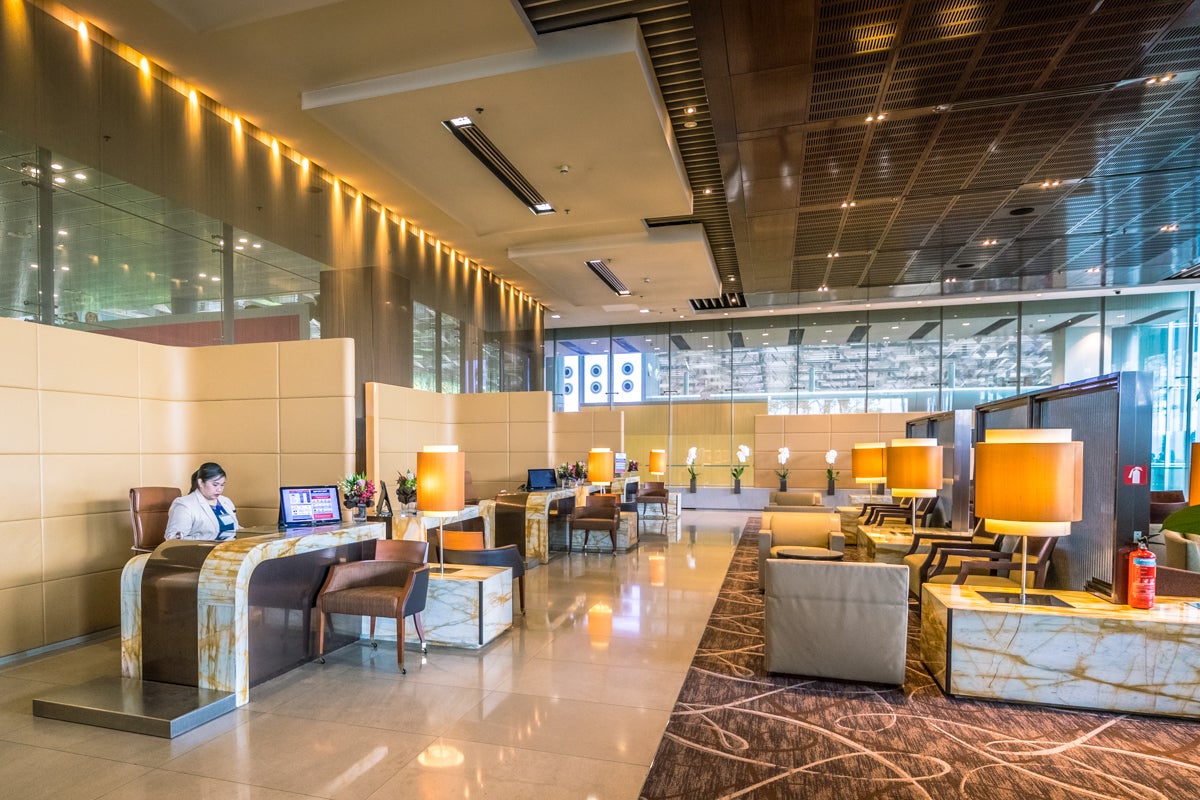 A porter will welcome you outside and assist you inside with your luggage.
During a previous visit, I was fortunate to be the only passenger passing through the exclusive zone.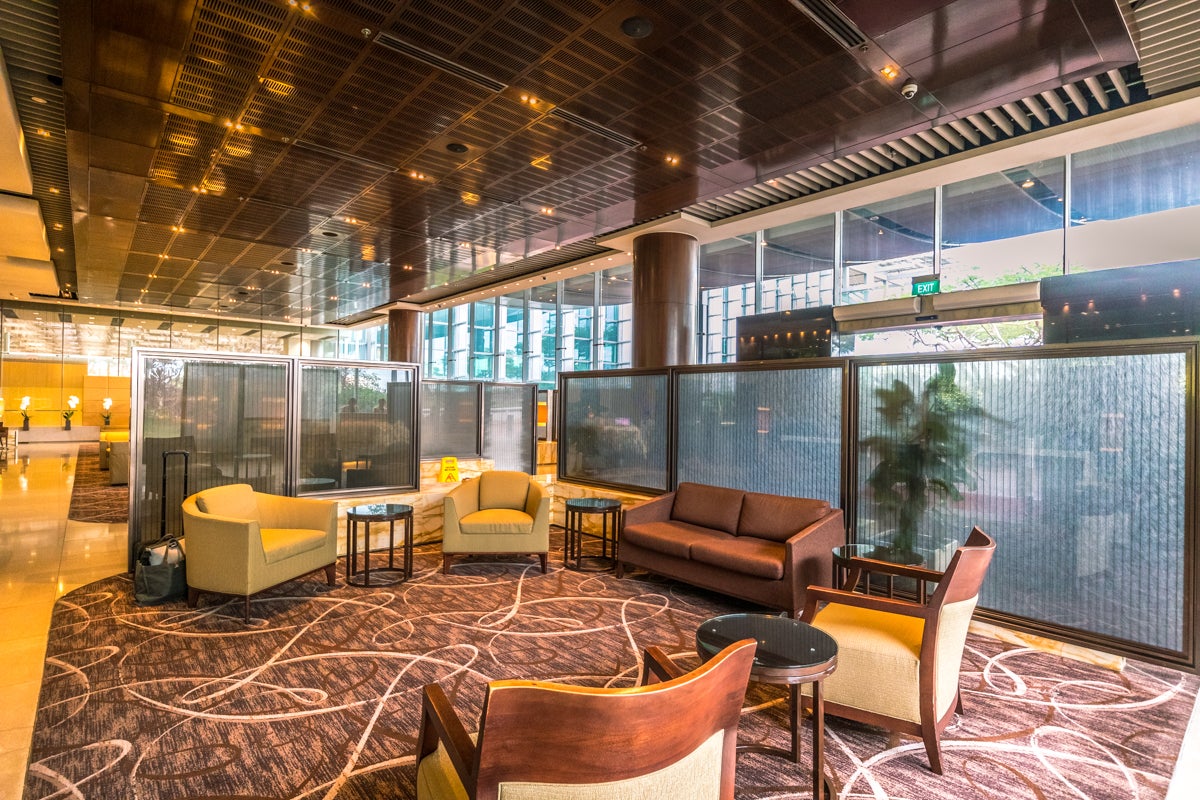 Following check-in, the lounge staff will escort you to the private immigration channel which drops you straight in front of the escalators to the lounge complex.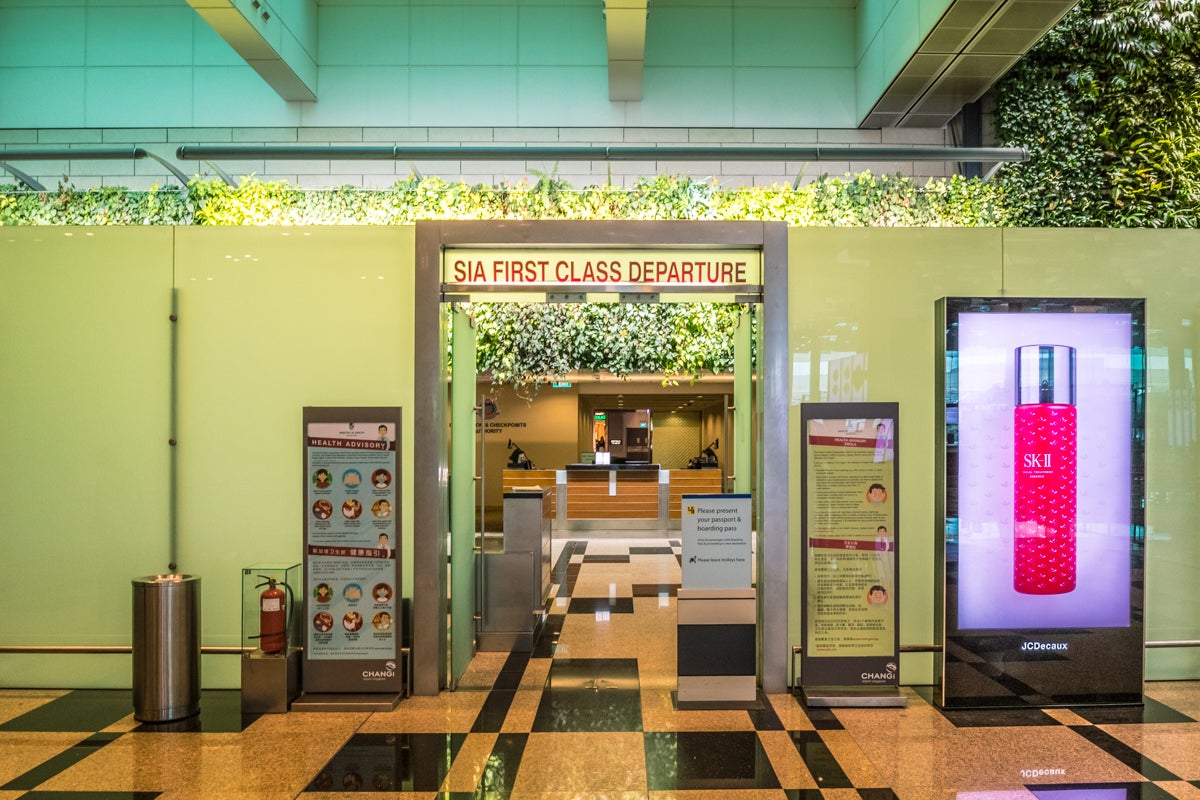 Flight
Aircraft
Singapore Airlines currently has a fleet of 45 Boeing 777-series aircraft including 27 777-300ER variants as flown on this flight.
Our aircraft was just over 3-years old.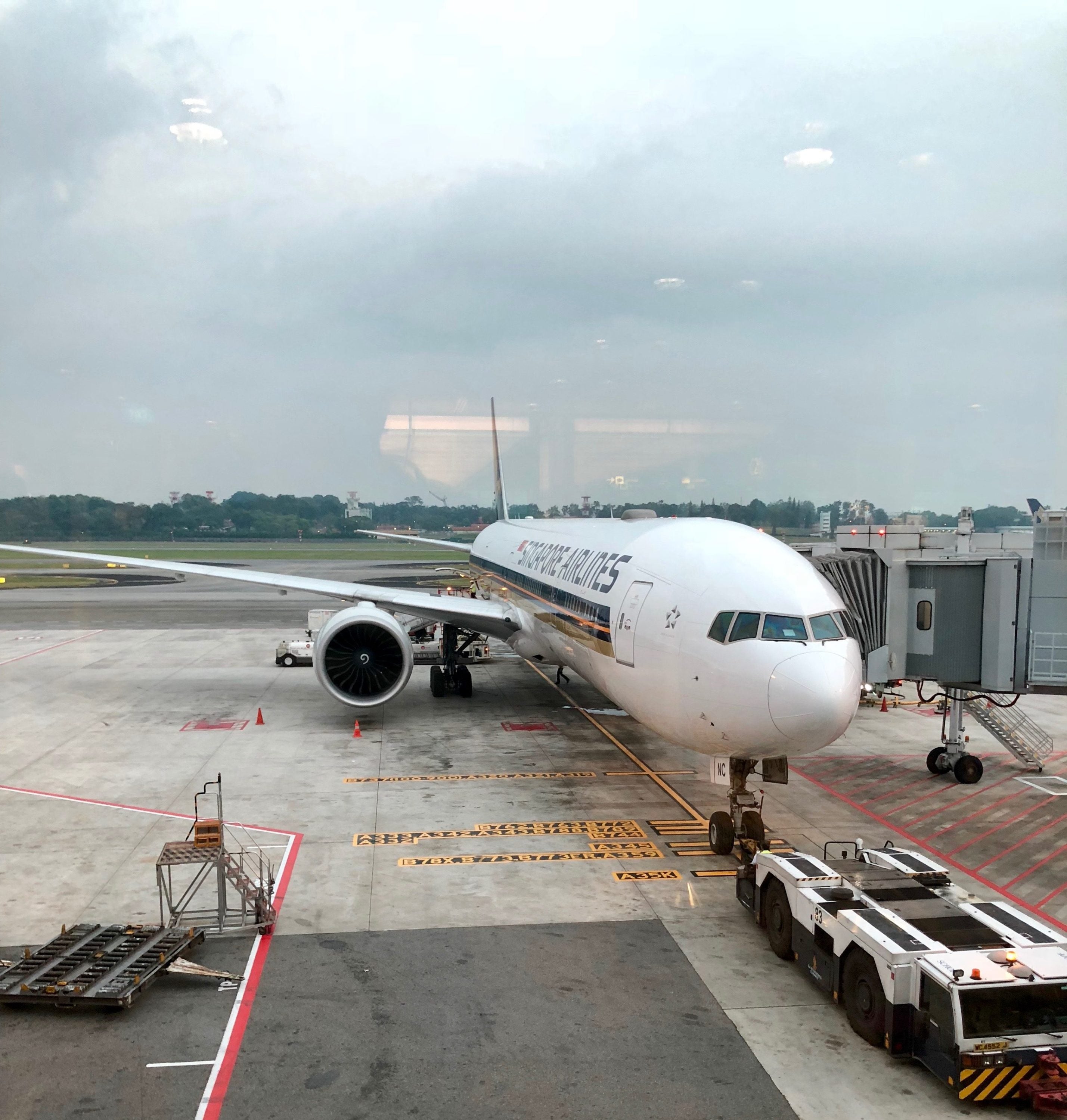 Singapore Airlines' 4 class 777-300ER aircraft are configured with just 4 open first class seats in a 1-2-1 configuration. These are followed by 48 business class seats, also in 1-2-1, with 12 in the first cabin before door 2, and the remaining 36 in the second cabin. In the rear are 28 premium economy seats in 2-4-2 and 184 economy in 3-3-3.
First Class
Boarding the aircraft, the cabin looks beautiful with the soft pink lighting on the luxurious, hand-stitched chocolate leather.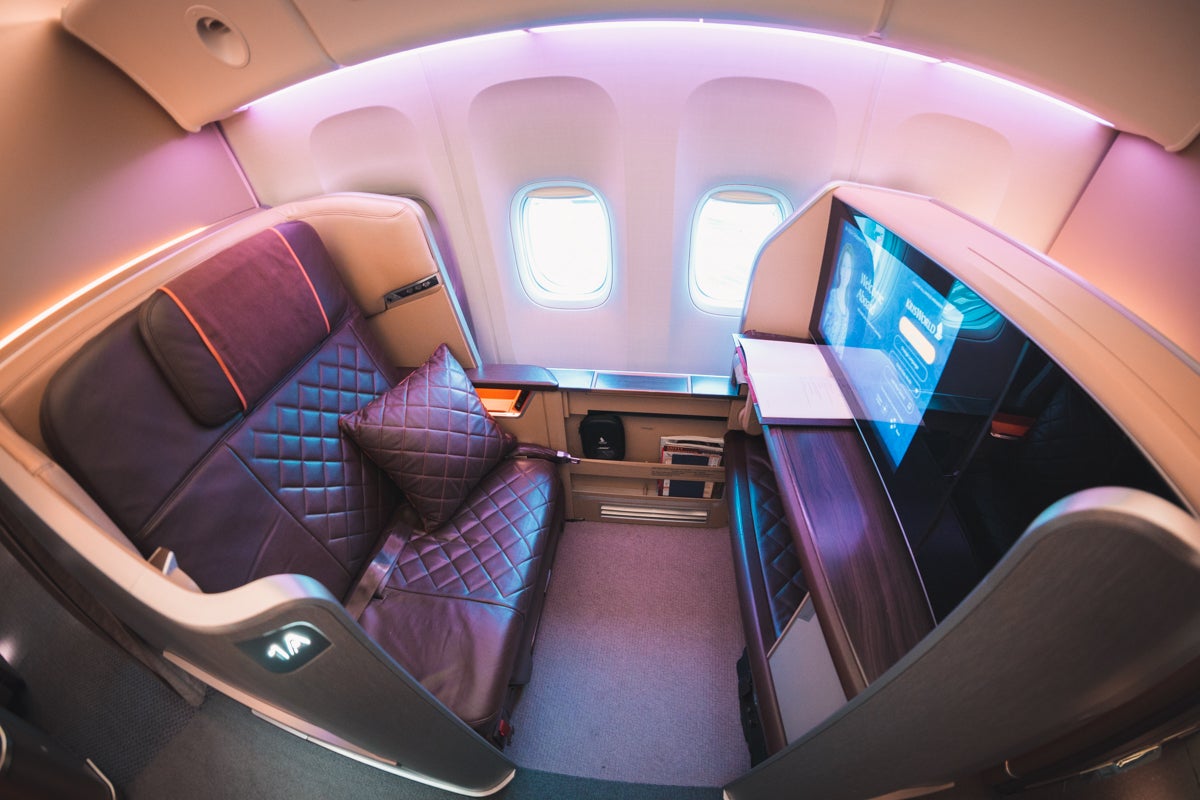 The cabin has been designed by BMW Designworks, though you won't find any signature design elements of the automotive brand in the cabin as the company crafted the interior to suit the Singapore Airlines brand.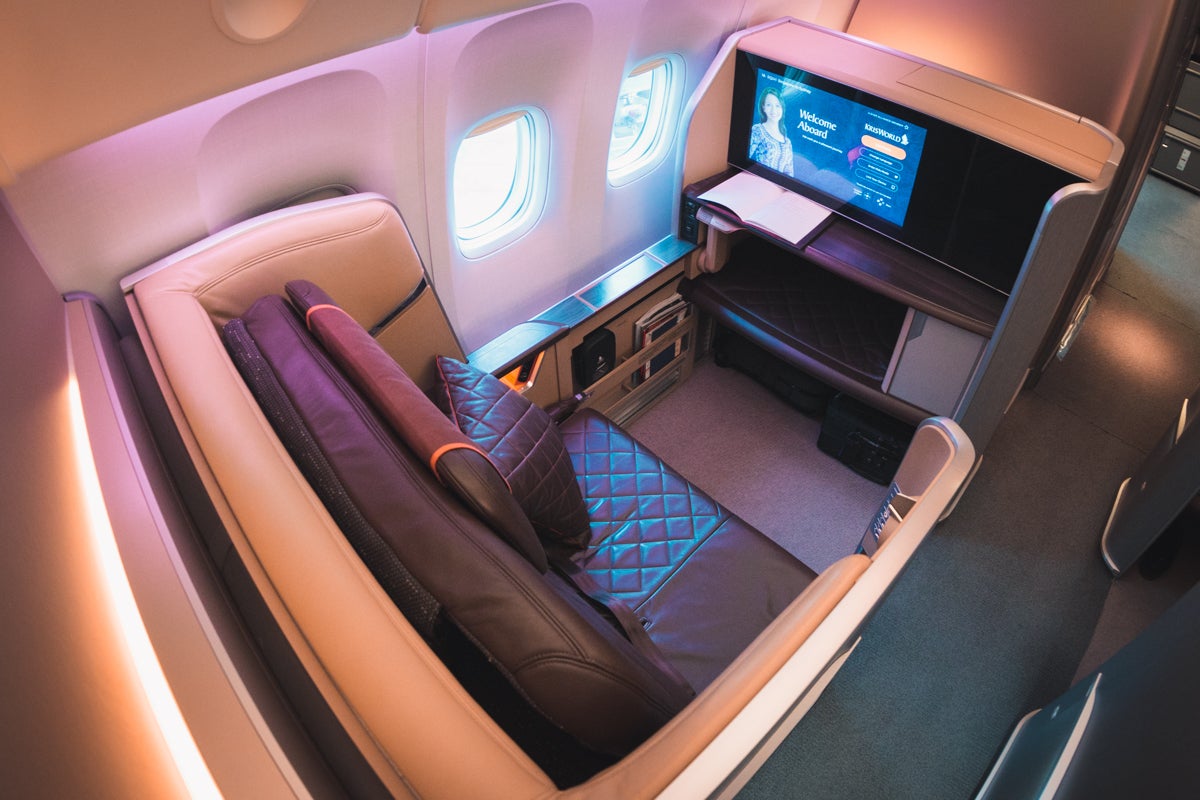 What you will find are soft-touch panels, no materials which are off-the-shelf, carpets that are custom made and custom tanned leather.
The seat is wide but thankfully there is a cushion to help wedge you in.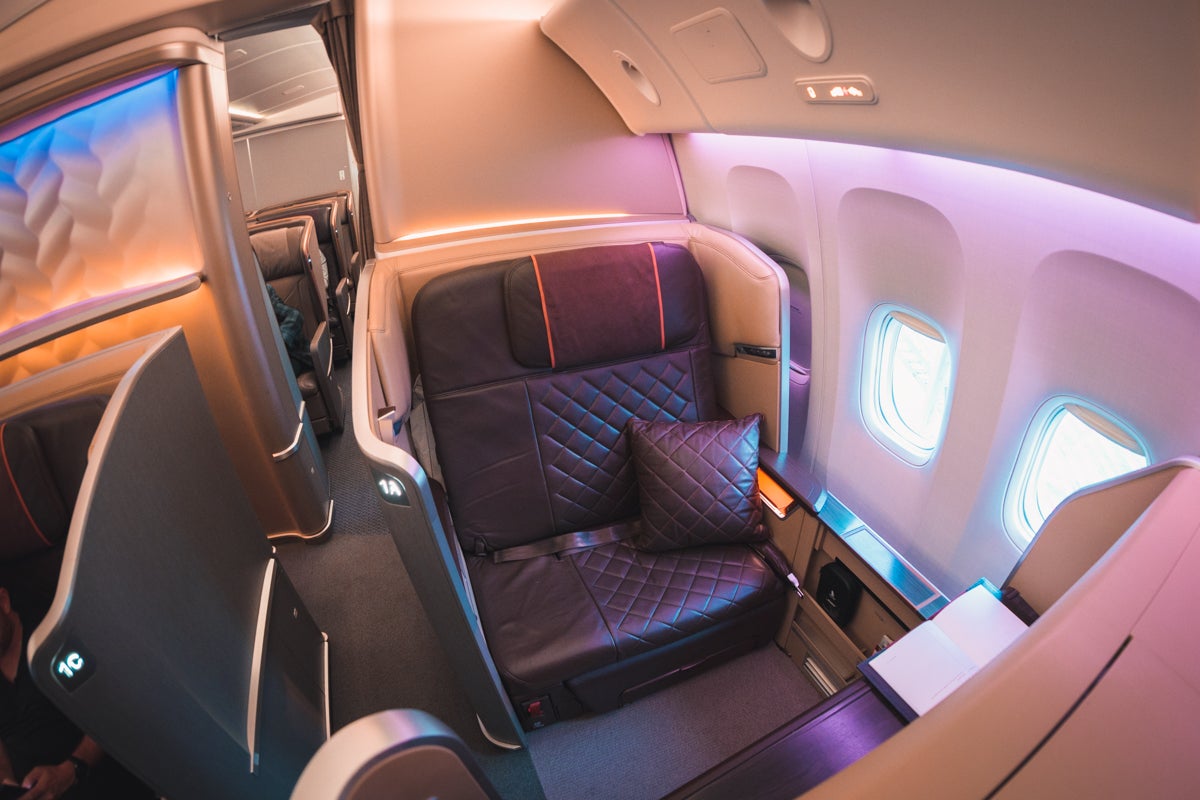 Singapore Airlines differentiates the marketing and branding of these first class open-seats to its enclosed door suites found on the Airbus A380.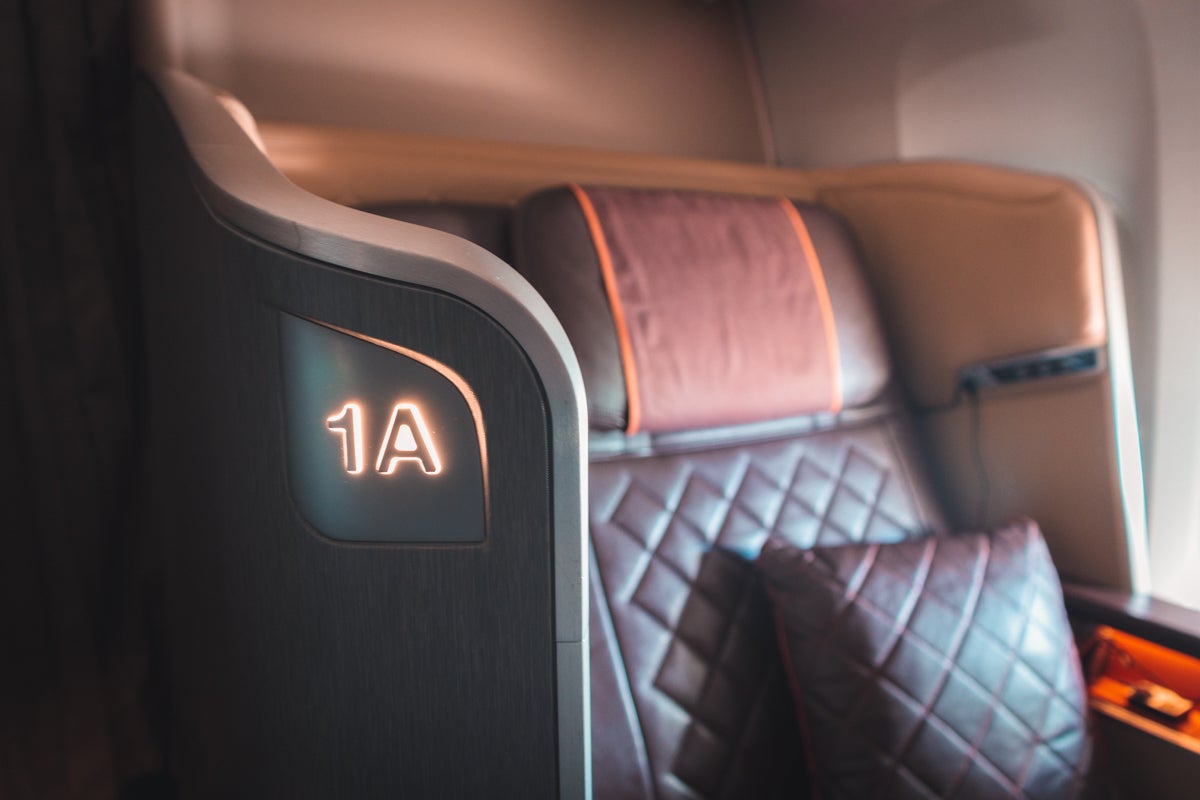 My partner and I both love window seats and for this day flight to Sydney, we decided to sit apart on opposite sides of the cabin. I selected 1A, my partner in 1F. The day before departure it was showing we were going to have the cabin to ourselves however upon boarding, another passenger was sitting in 1C.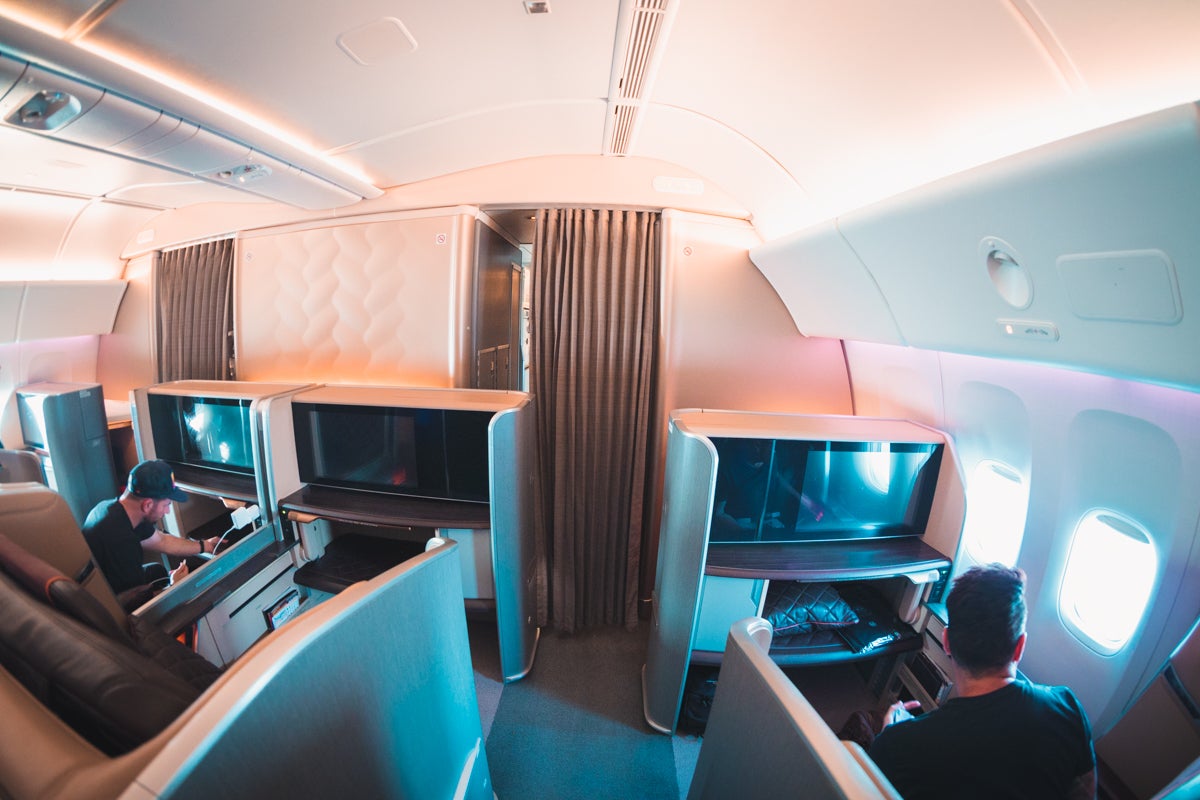 A small walkway behind the middle seats allowed us to easily walk across the cabin to chat during the flight. The bulkhead is textured and illuminated.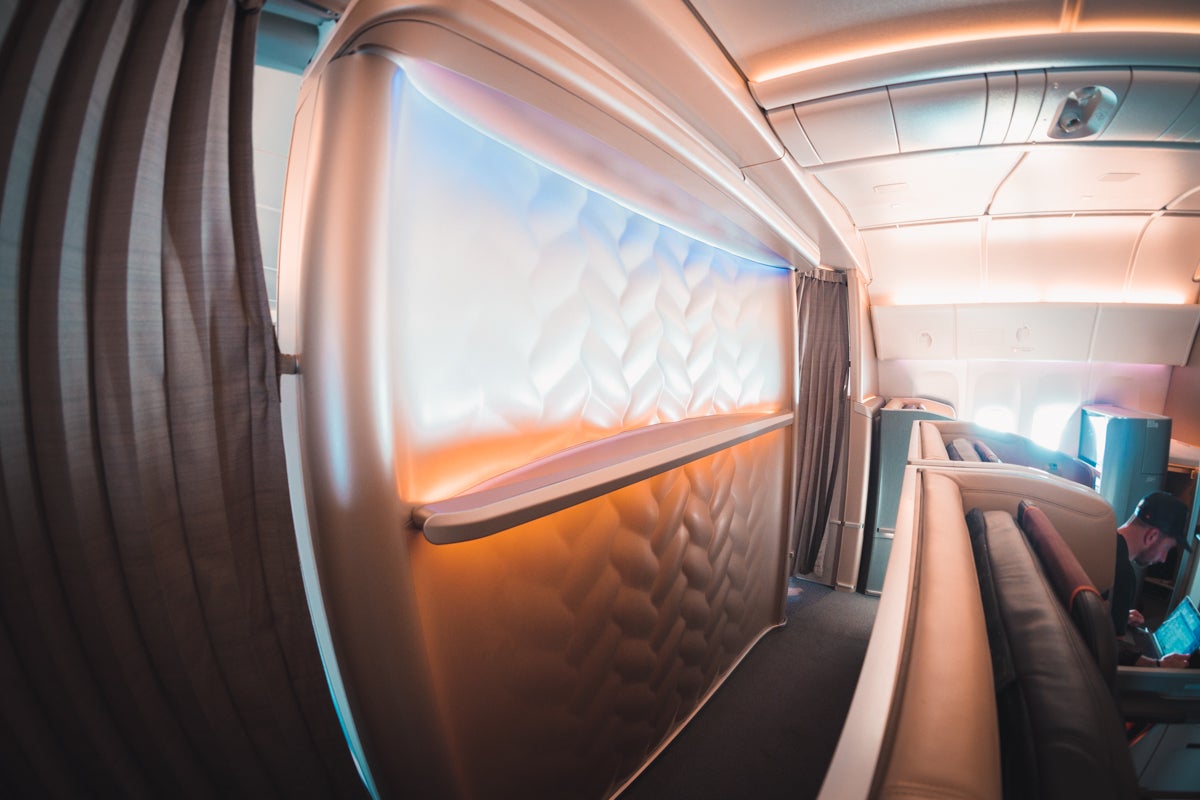 Taking your seat, you'll notice the seat stitching extends to the ottoman under the IFE screen. Under the ottoman, there is plenty of room to store multiple cabin bags, thankfully, as there are no overhead storage bins. A cupboard alongside the ottoman can also be used for storage.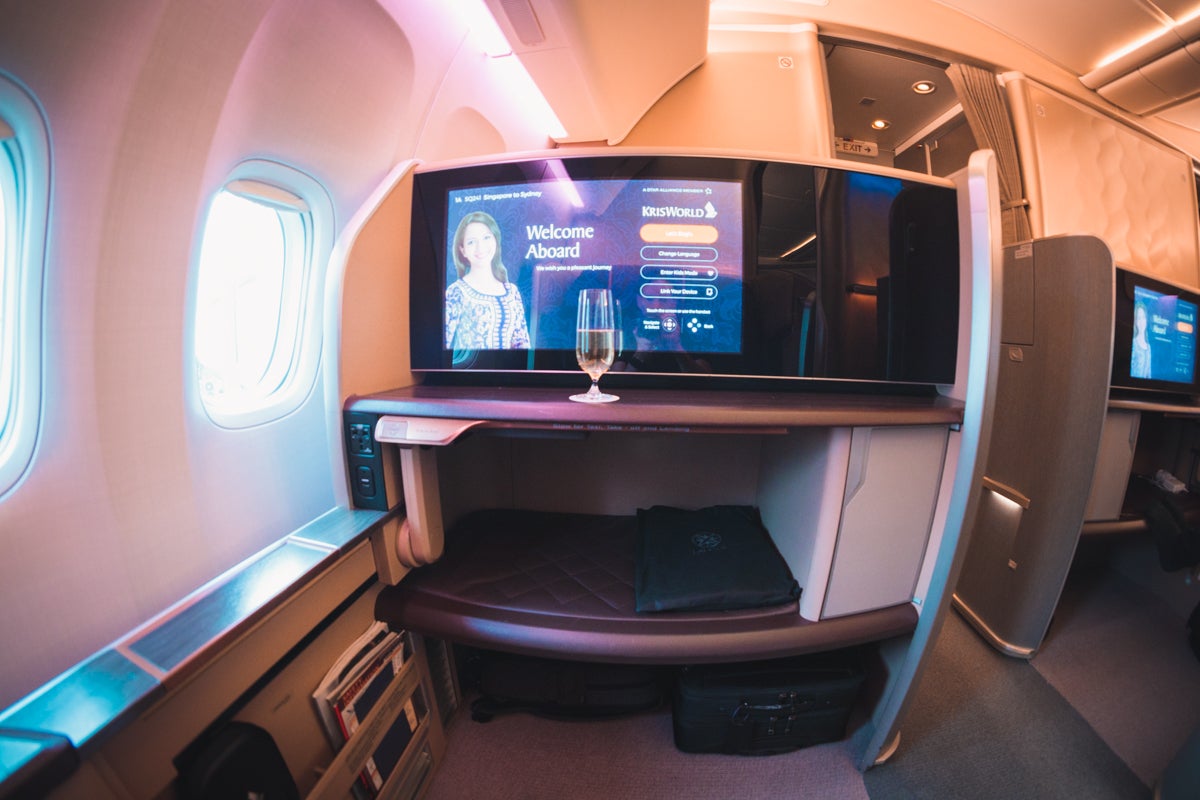 Although there are no closing doors, the seat shell provides sufficient privacy for a 4-passenger cabin.
Next to the IFE screen is a door that reveals a mirror when opened.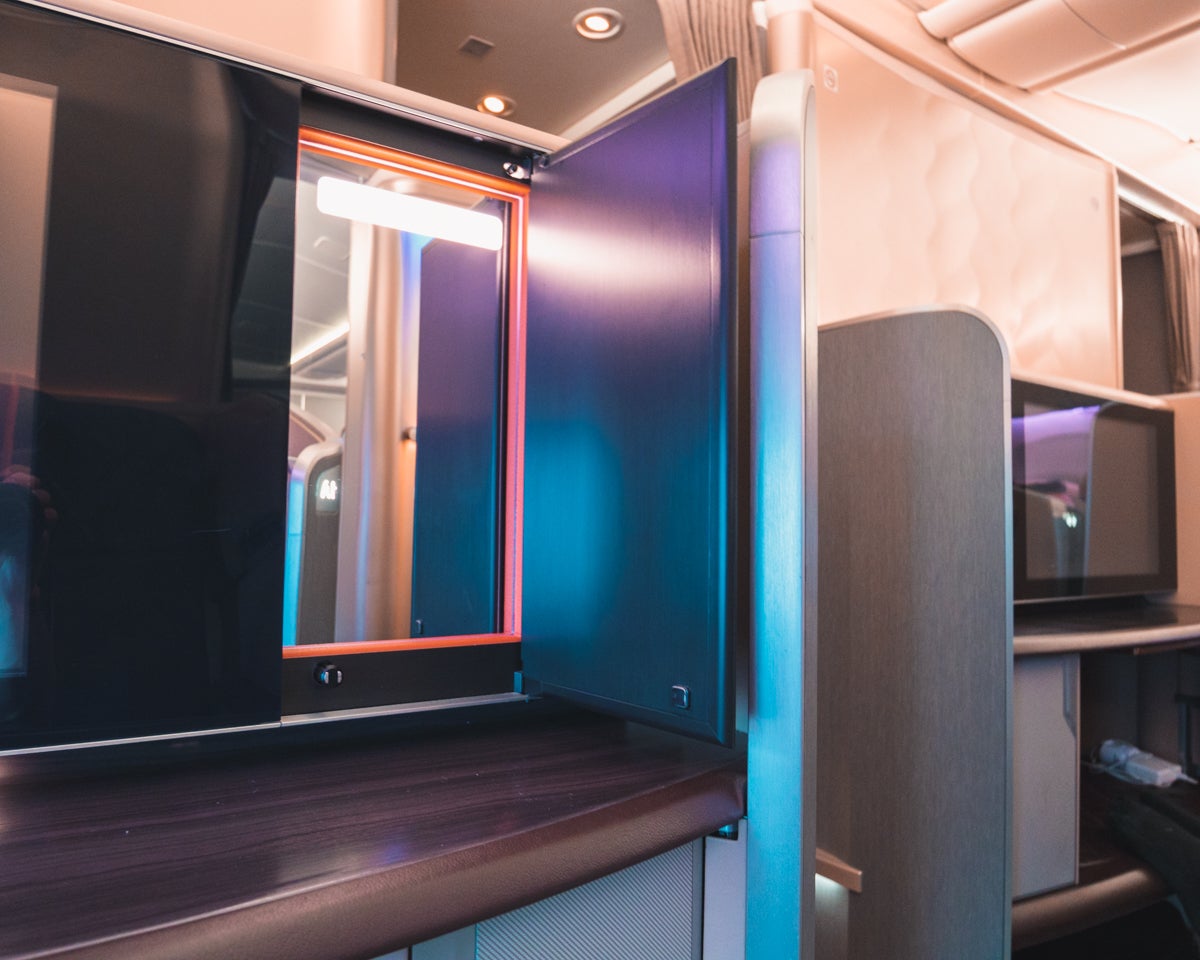 Alongside the window is a power and HDMI socket as well as the lever for the tray table which extends from under the IFE screen.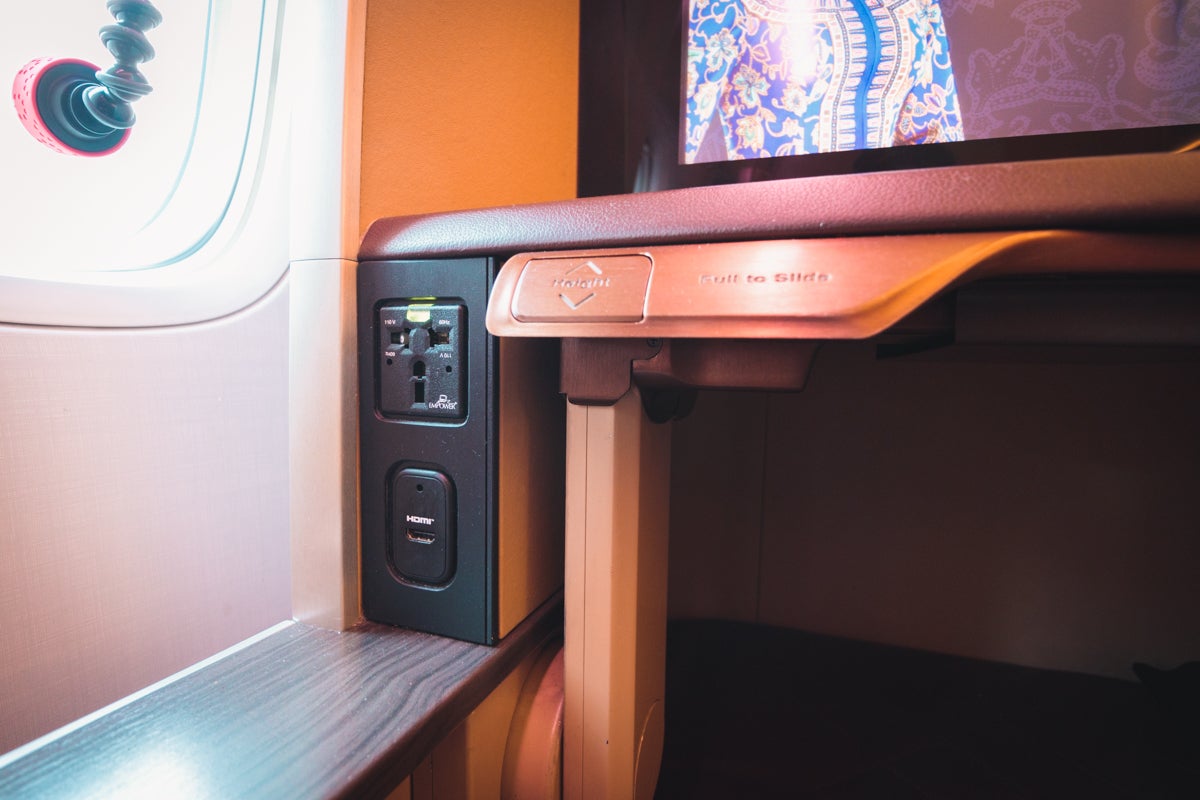 On the side of the seat shell are buttons to control the seat angle, footrest extension and angle, mood lighting, to call cabin crew, a do not disturb activation, and IFE screen power.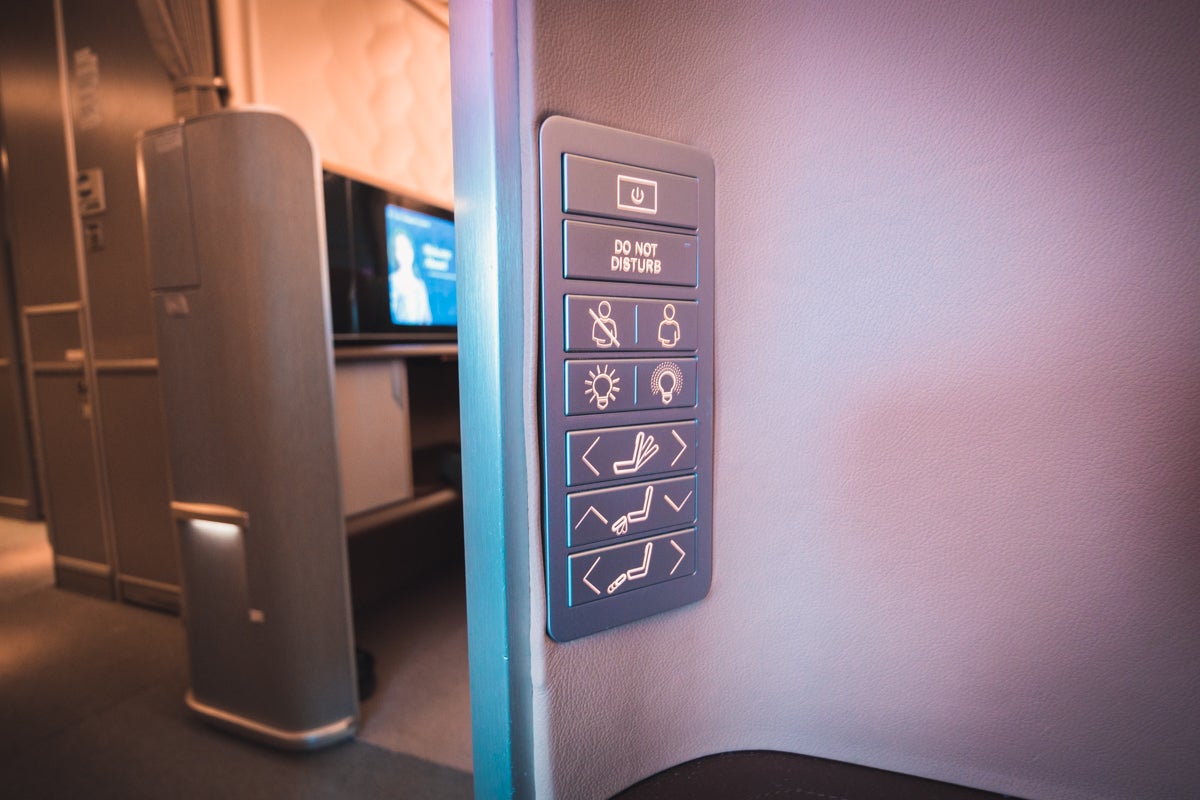 Also on both sides of the shell are adjustable reading lights with a headphone holder on the aisle-side.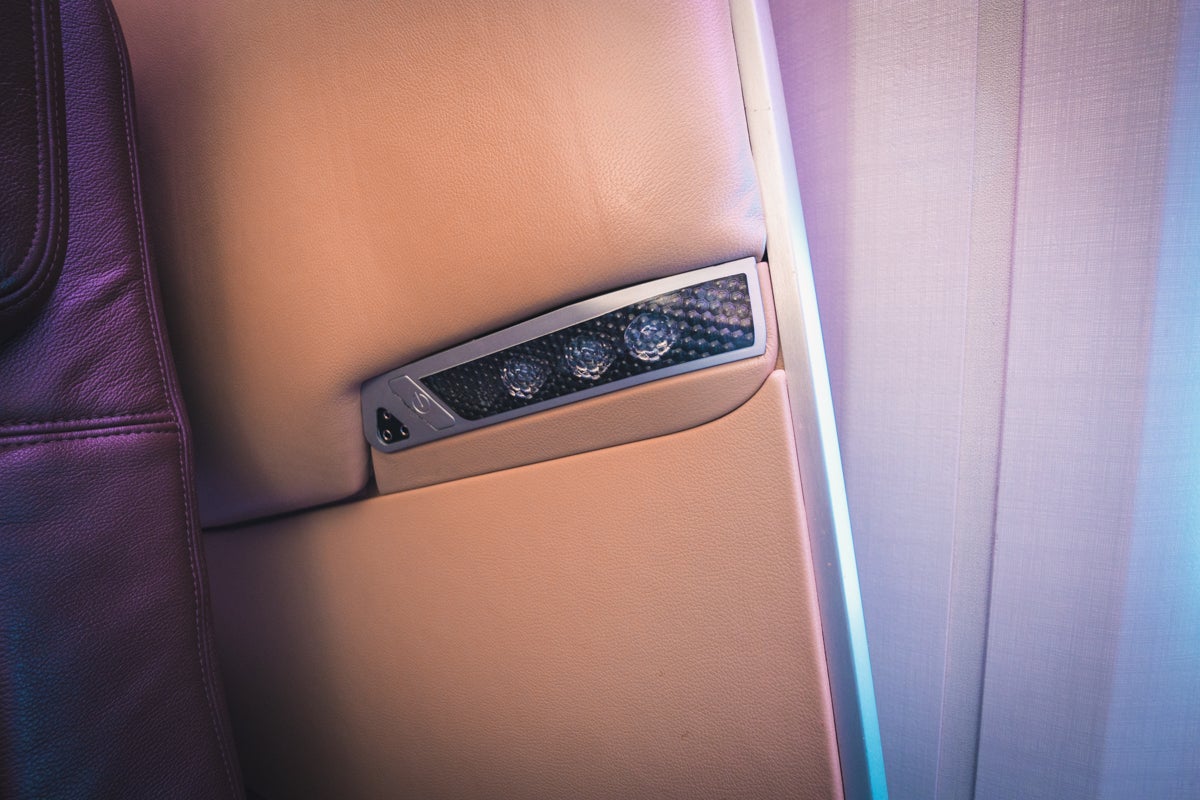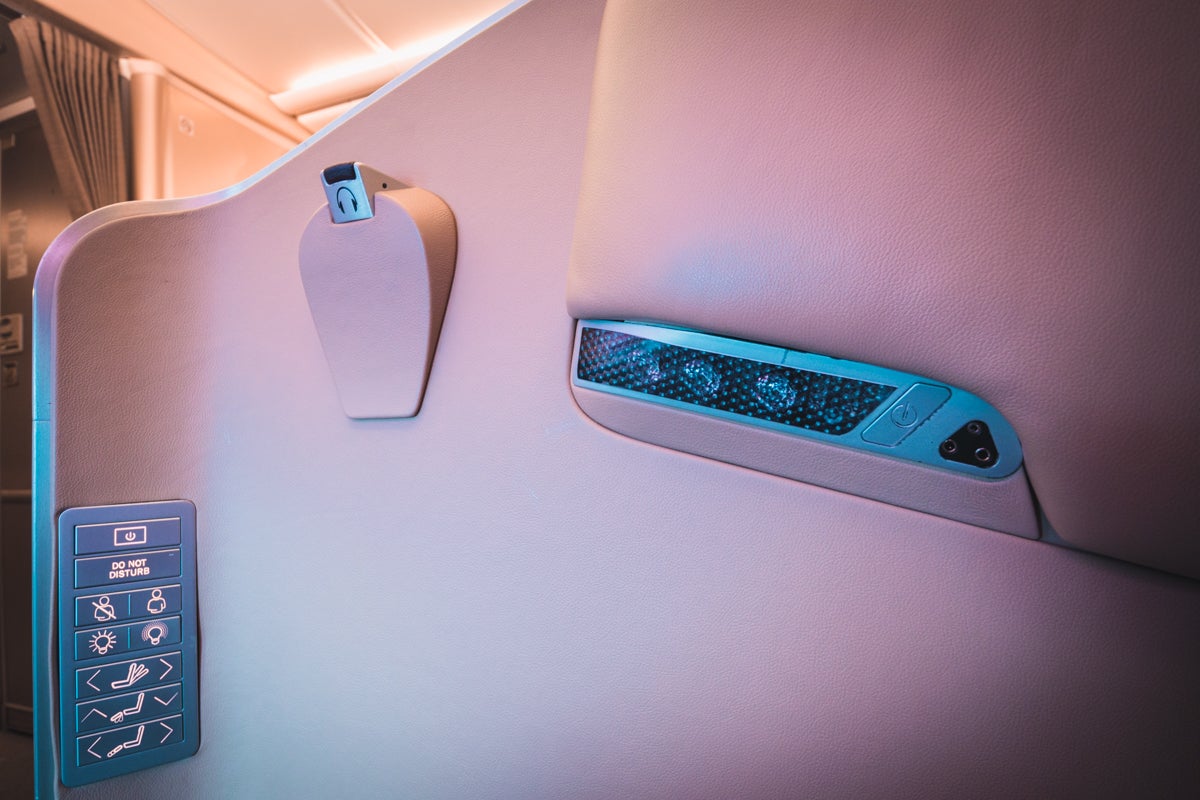 Continuing on the aisle-side is the IFE remote which is hidden behind a sliding panel under the armrest.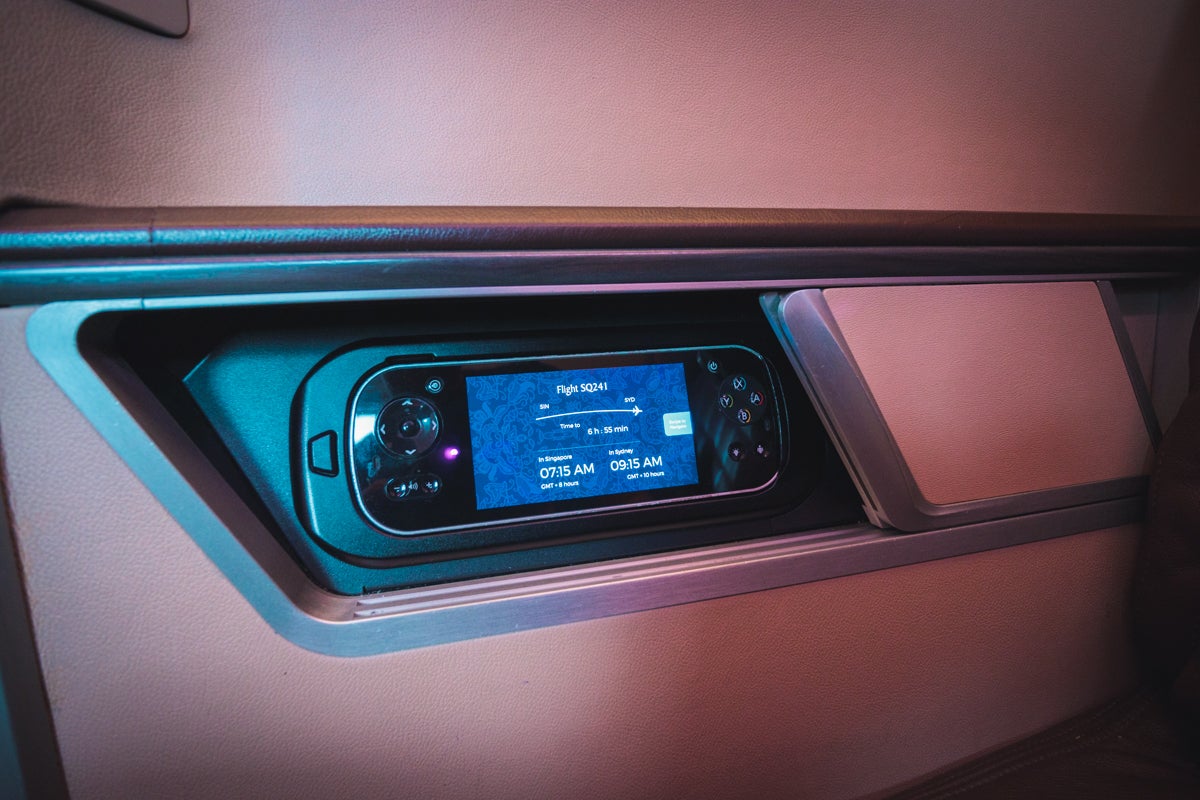 On the window-side is another sliding compartment which houses 2 USB ports and an iPod socket.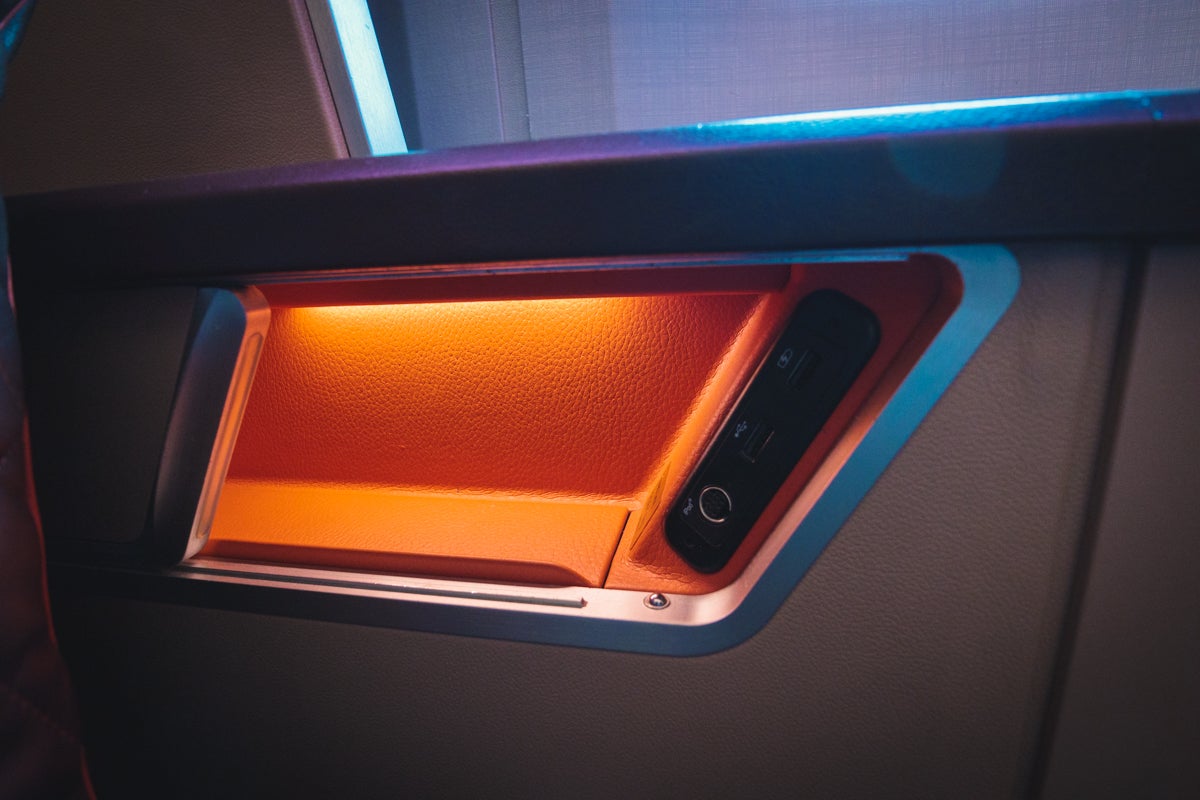 There are 2 lavatories in the front of the cabin for the 4 passengers, providing an amazing passenger to bathroom ratio of 2:1.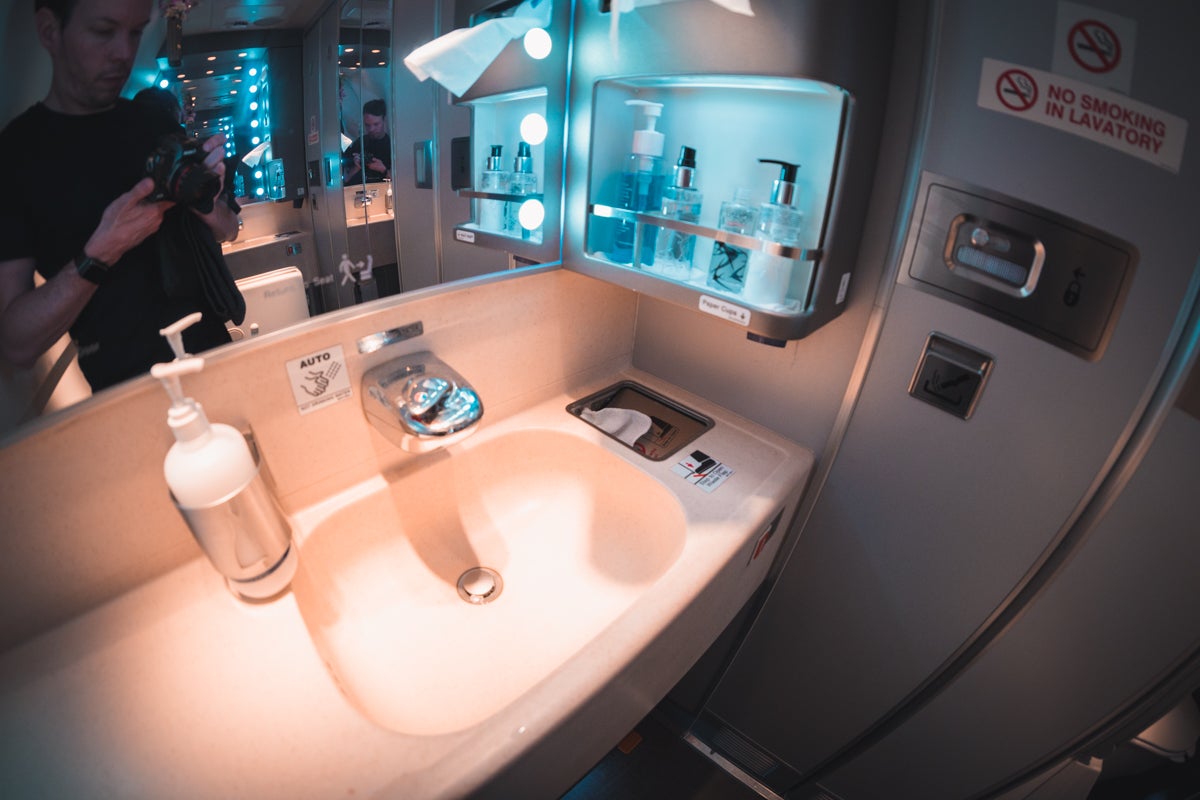 Although this was a day flight, I didn't get enough sleep on the inbound flight from Zurich due to the uncomfortable air conditioning temperature, so after the breakfast service, I slipped into the provided PJs and had the crew member turn my seat into a bed.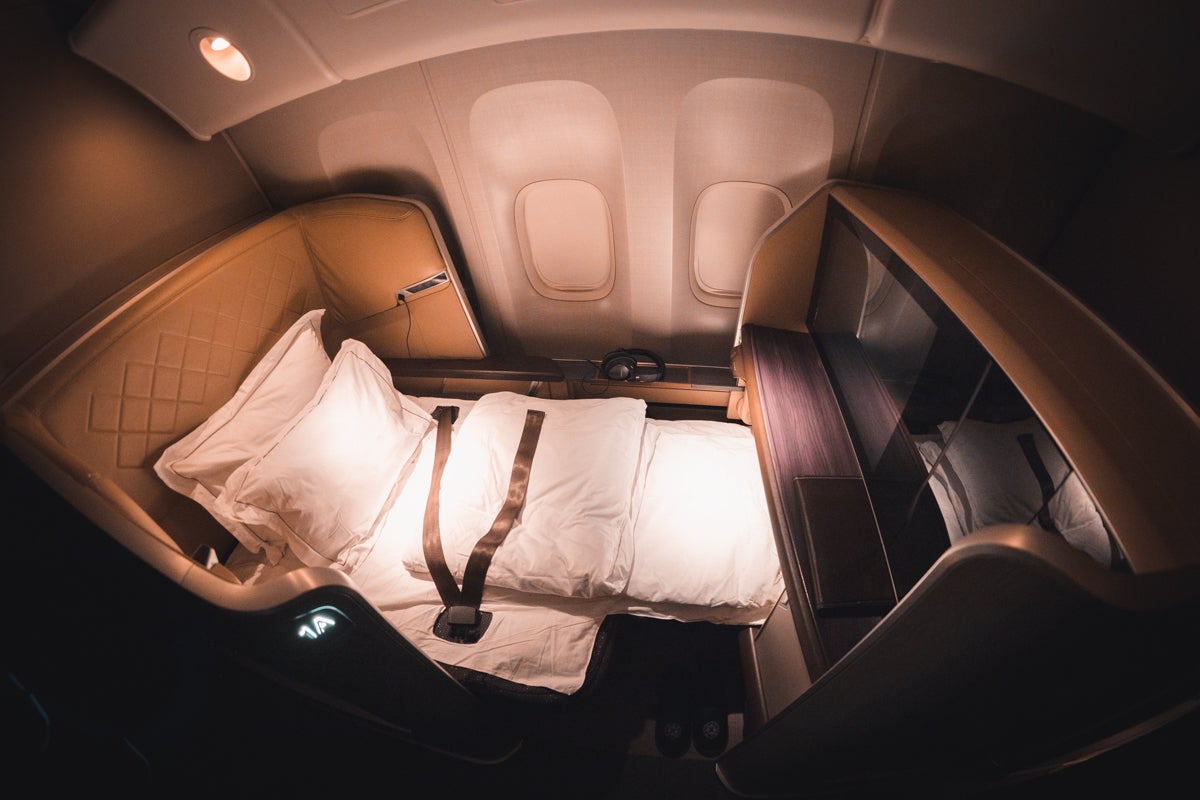 The seat flips completely forward and over creating a fully-flat bed without the lumps and bumps of a seat which simply slides flat.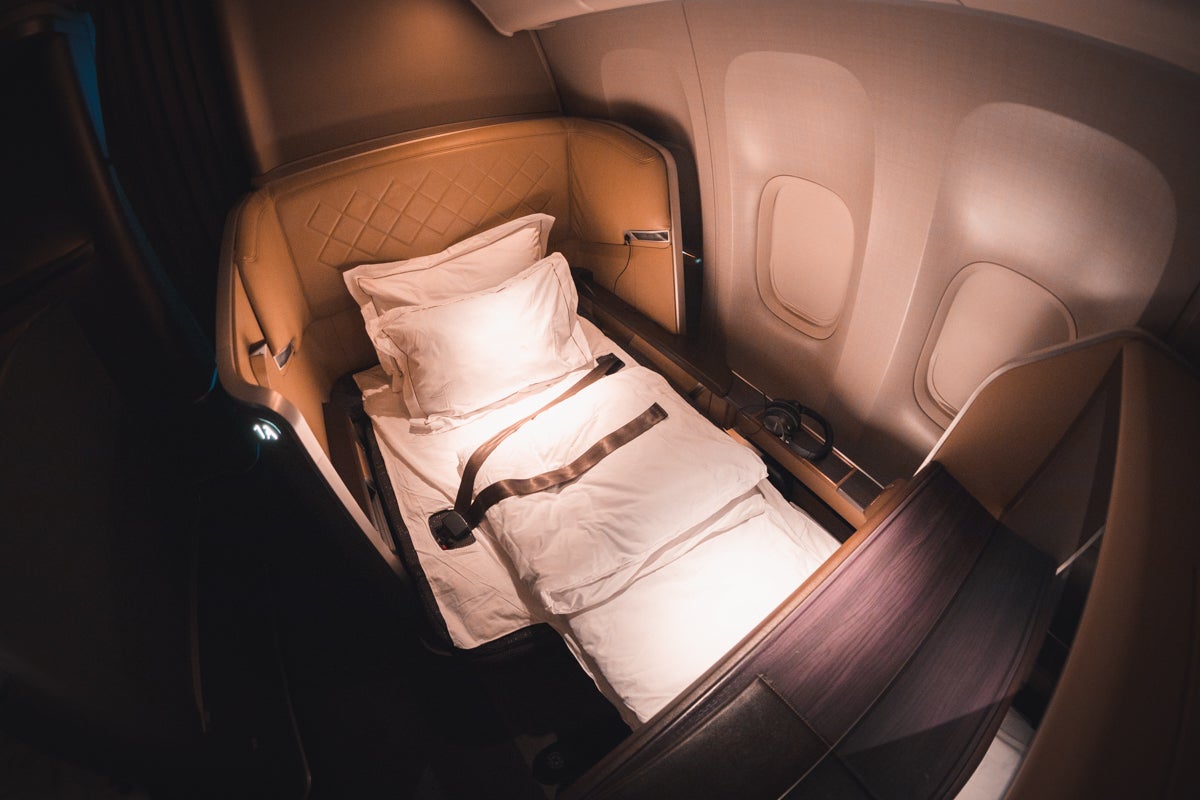 A plush Lalique-embroidered duvet sits atop the mattress pad with 2 pillows providing a luxurious environment to sleep. I had plenty of room whilst lying in bed, I had to point my toes as far as I could to get them to touch the end of the bed and I'm 5 feet 10 inches tall.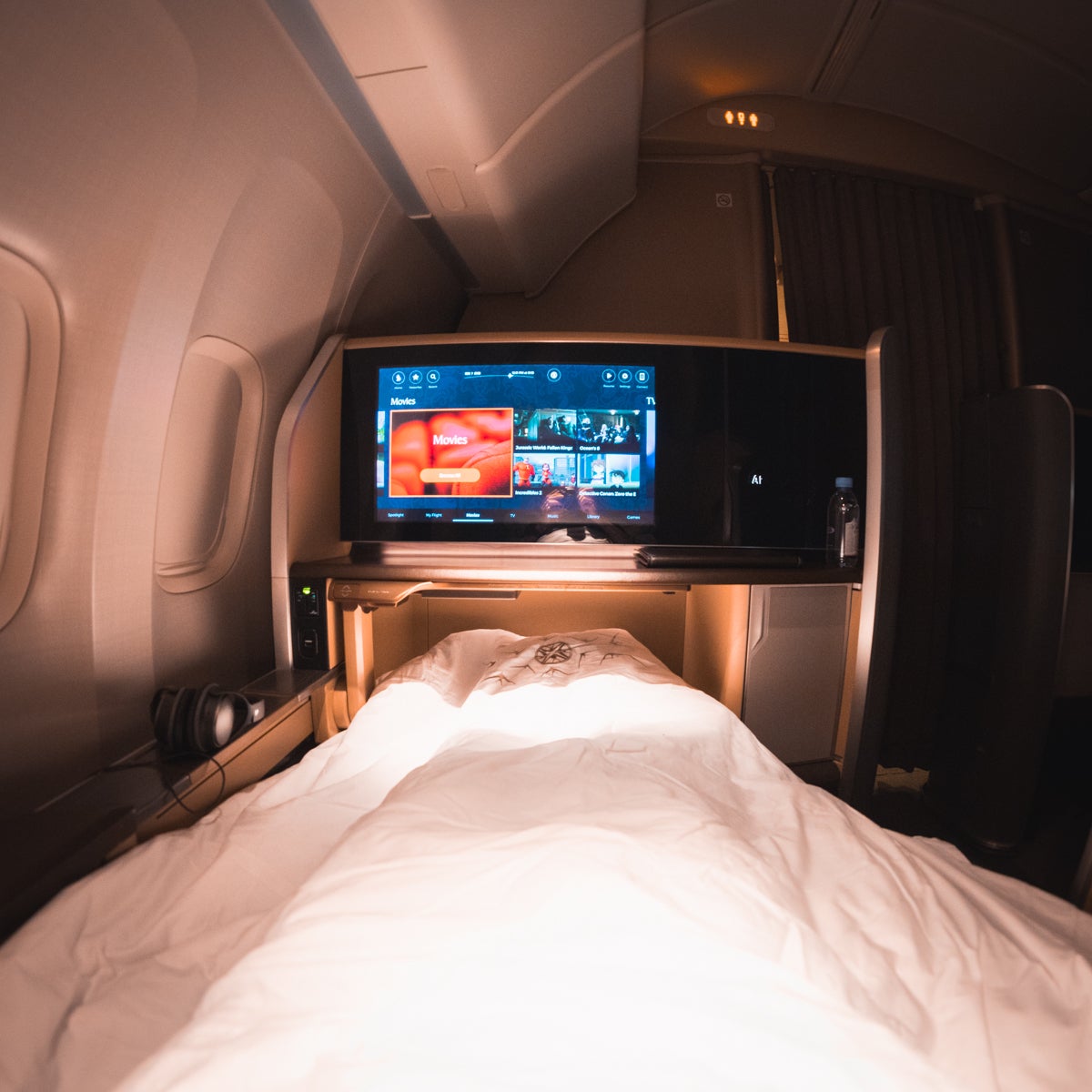 I managed to get 2.5 hours of sleep. Thankfully the cabin was kept a comfortable temperature this flight.
Amenities
Although Singapore Airlines does not provide business class passengers with amenity kits, they certainly deliver to first class guests. The men's Lalique-branded amenity kit features the standard offering of lip balm but also has an aftershave balm and an Eau de Toilette.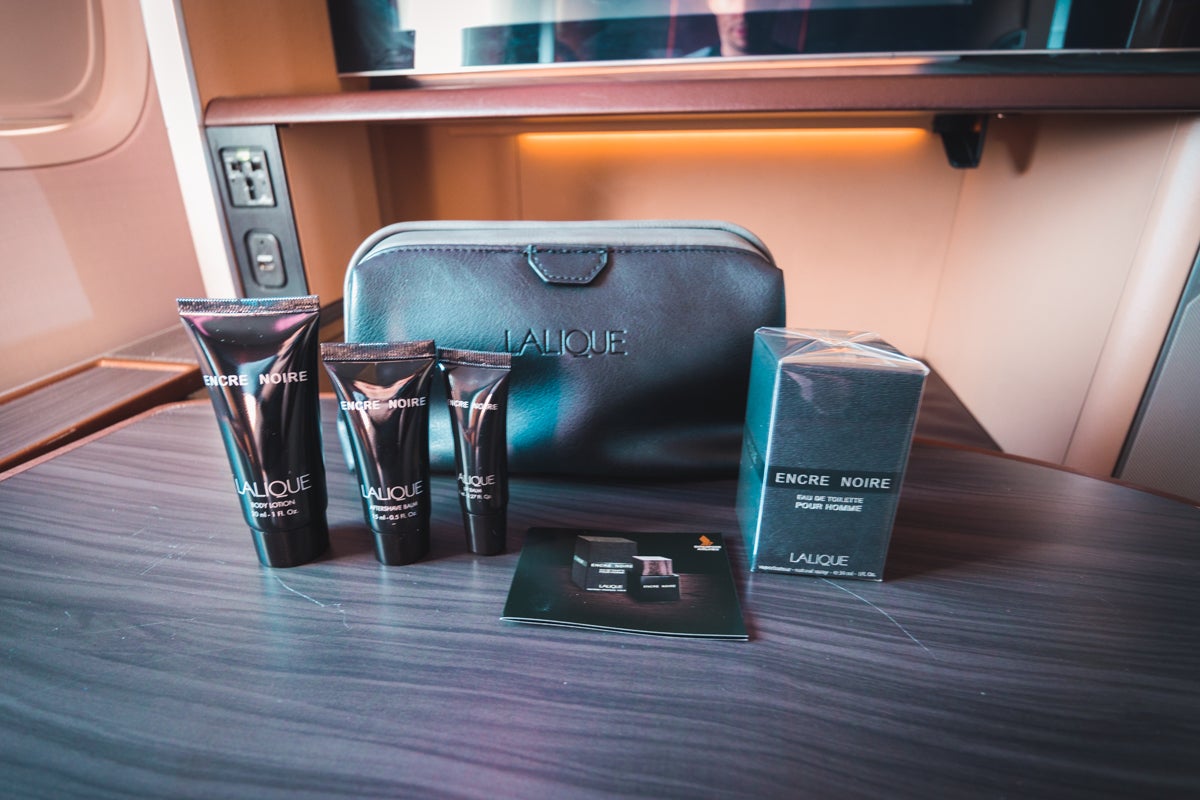 Lalique pajamas accompany socks, slippers, and an eye mask rounding out the amenity offering. Dental kits are available in the lavatories. The notable omission is earplugs.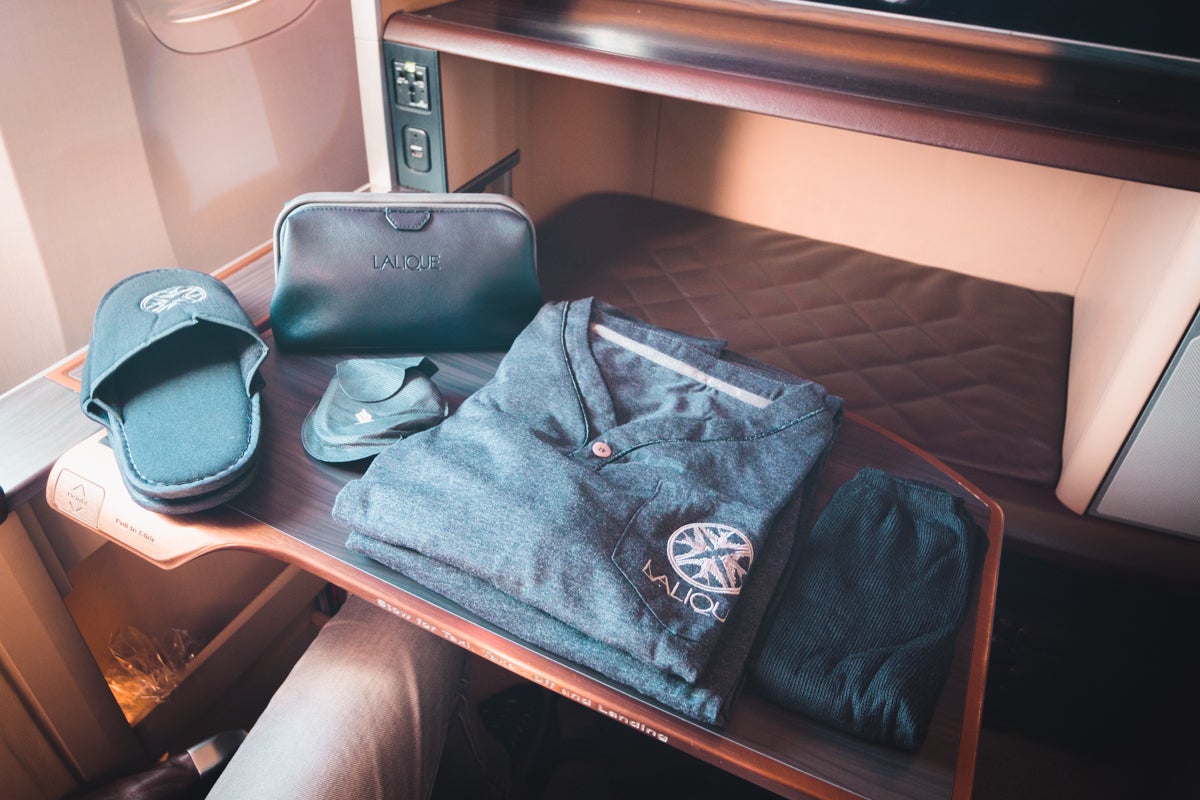 Entertainment
A large, 24-inch HD-enabled IFE allows you to pair your mobile device. Branded KrisWorld, it's packed full of new release movies, TV shows, and music.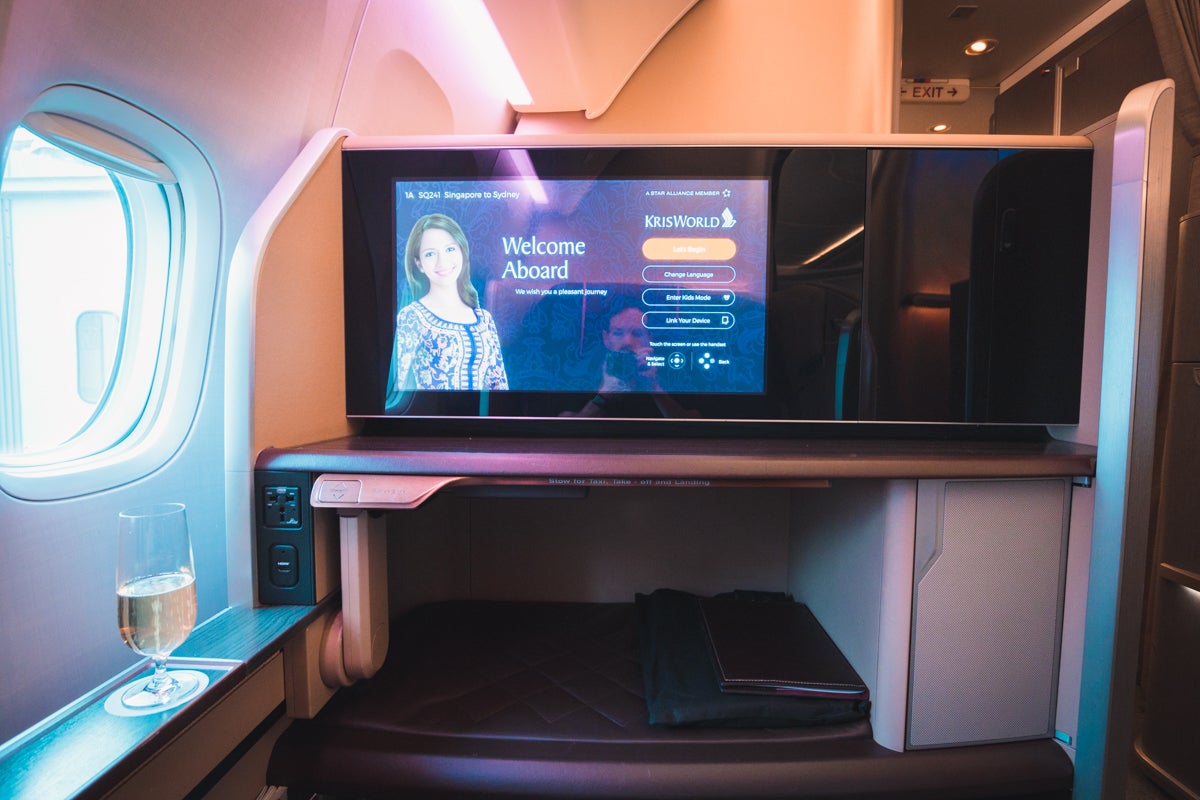 Unlike the A350 aircraft, the screen is fixed, so it cannot be positioned downwards when you want to watch it laying flat. My screen would also randomly dim then brighten every now and then.
Due to the distance of the seat from the screen, it isn't a touchscreen, so you'll need to use the remote to control it.
This aircraft hadn't received the new Bang and Olufsen headphones we had on the new A380 but the Bose noise-canceling set was still excellent and as a result, I didn't need to use my own Bose headphones.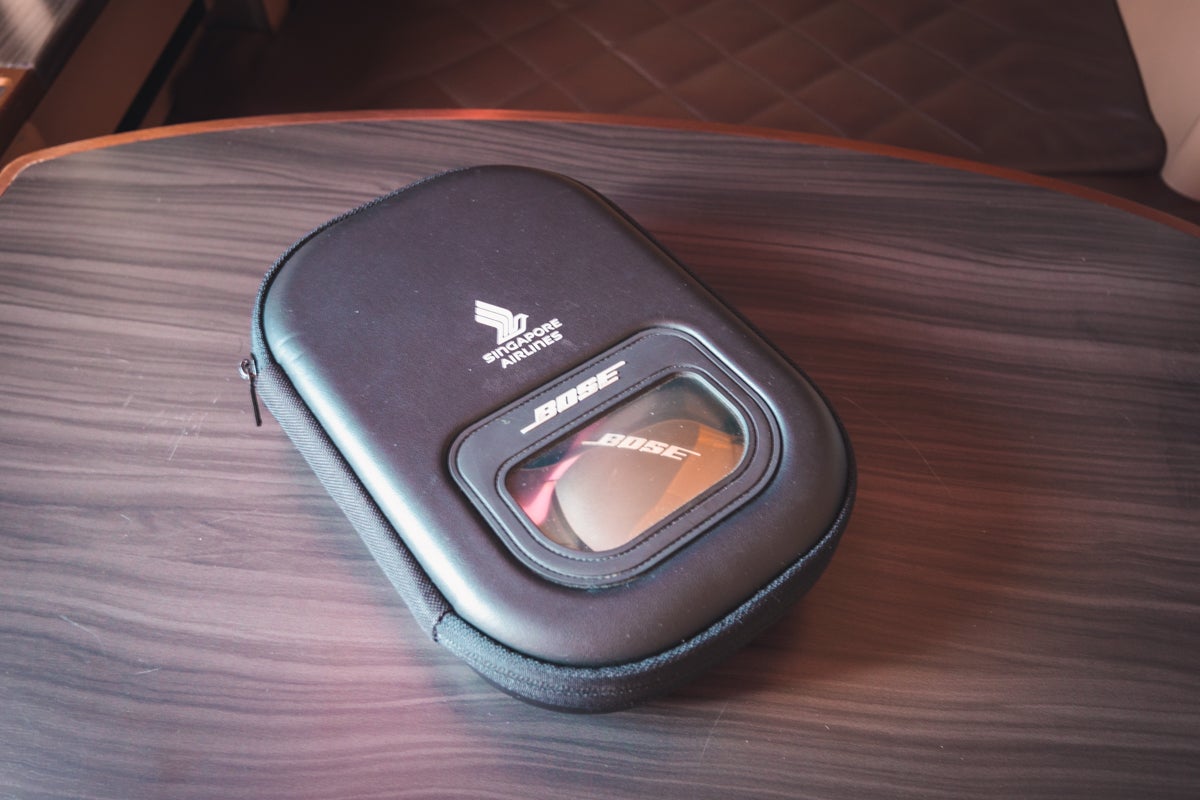 Singapore Airlines provides complimentary internet for first class and business class passengers, but with only 100 MB for first and 50 MB for business class passengers. Even when you turn off all background app data usage, you'll use up your allowance in no time.
However, in August 2018, the airline announced that all first class passengers will now receive unlimited inflight Wi-Fi across its fleet, and business class and elite PPS Club passengers complimentary data allowance will double to 100 MB.
Singapore Airlines price its Wi-Fi based on data consumption, and the plans only tops-out at 200 MB. I wanted to maximize my sleep so I didn't test out the Wi-Fi on this flight.
Rather than provide an insignificant free option, I would prefer the airline just provide timed options instead. I am not a fan of the data consumption options and would prefer to buy a "flight pass."
Meal and Service
Upon boarding, I was offered a glass of Dom Perignon or Krug Champagne, orange juice, or water. It was an easy decision — I decided to stick to the Krug that I started drinking in Zurich.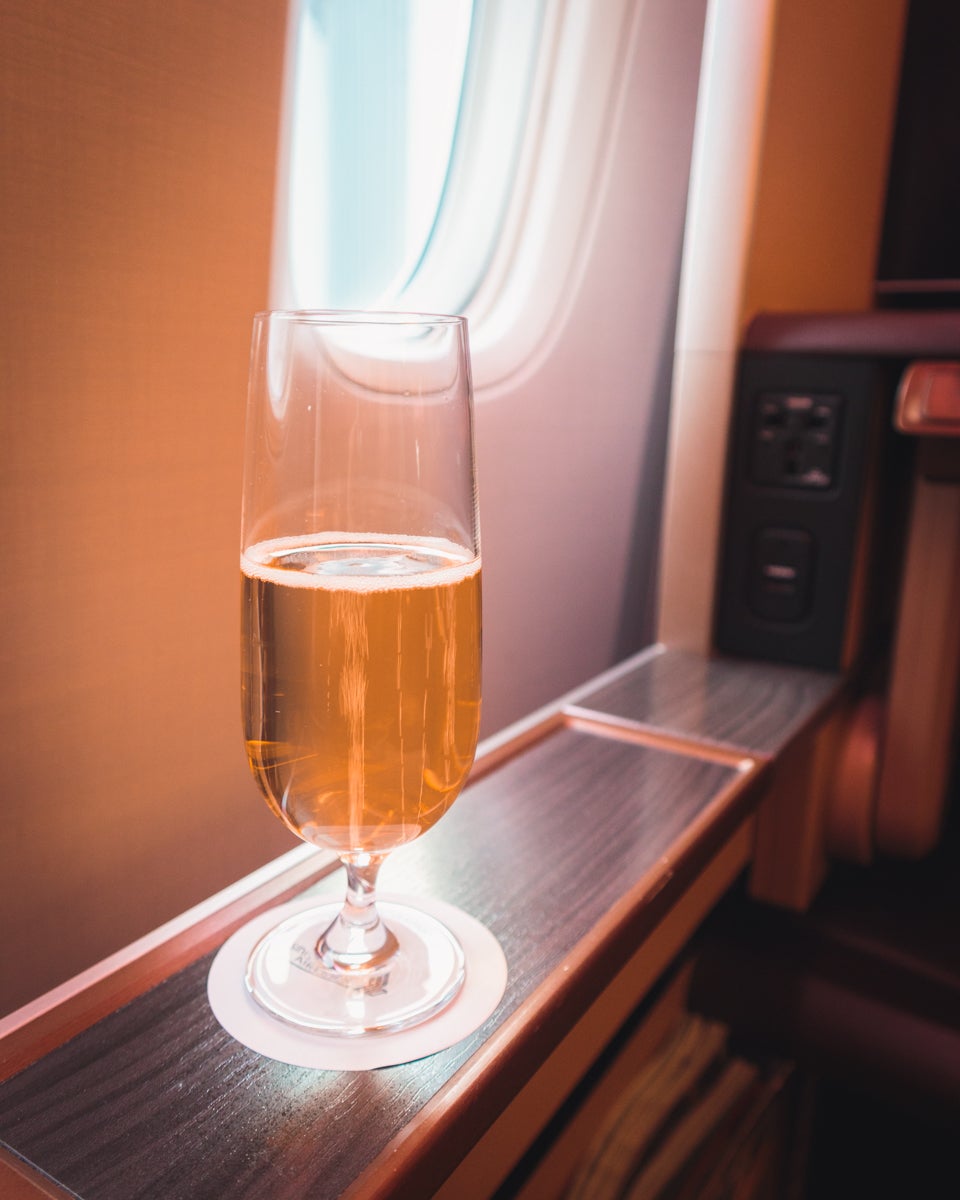 The flight was delayed departing Singapore for 15 minutes which allowed for another top-up of Krug.
Both crew members looking at the first class cabin introduced themselves, and I had a feeling it was going to be a great flight. Their introductions felt genuine and they seemed interested in how our flight on the new A380 was.
Due to the 7 a.m. departure, breakfast is served after takeoff. Although we just ate breakfast before landing into Singapore, that was 4 hours previous, so I decided it was time for a second breakfast.
I selected the Sunrise Parfait of granola with fruit yoghurt and pear compote-orange zest which was accompanied with freshly squeezed orange juice, chilled apple or tomato juice, as well as a pastry. I decided to skip the fruit course.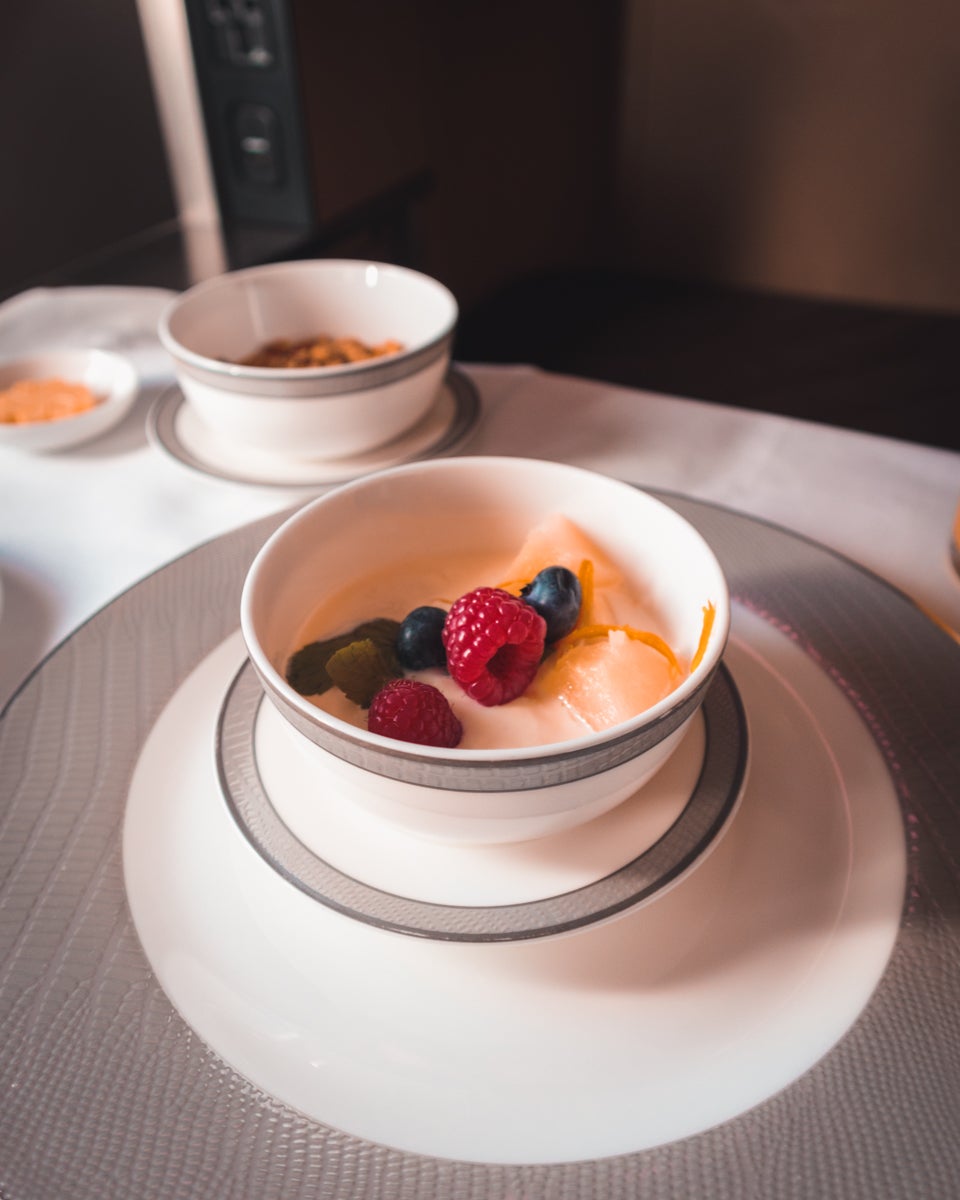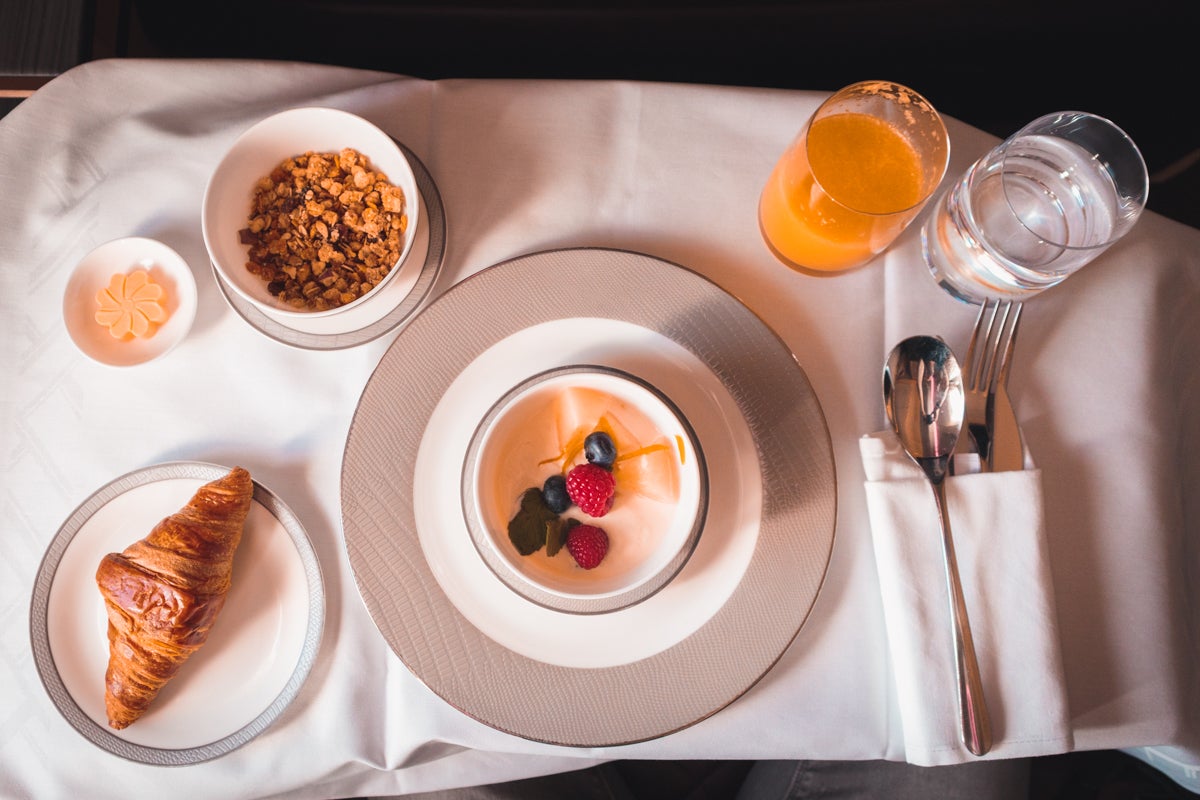 Other breakfast options were:
Cornflakes
Fruit yoghurt
Natural yoghurt
After breakfast, it was time for a nap.
A lunch service is available later during the flight. I couldn't go past the Singapore Airlines signature Malossol caviar service with Melba toast and condiments.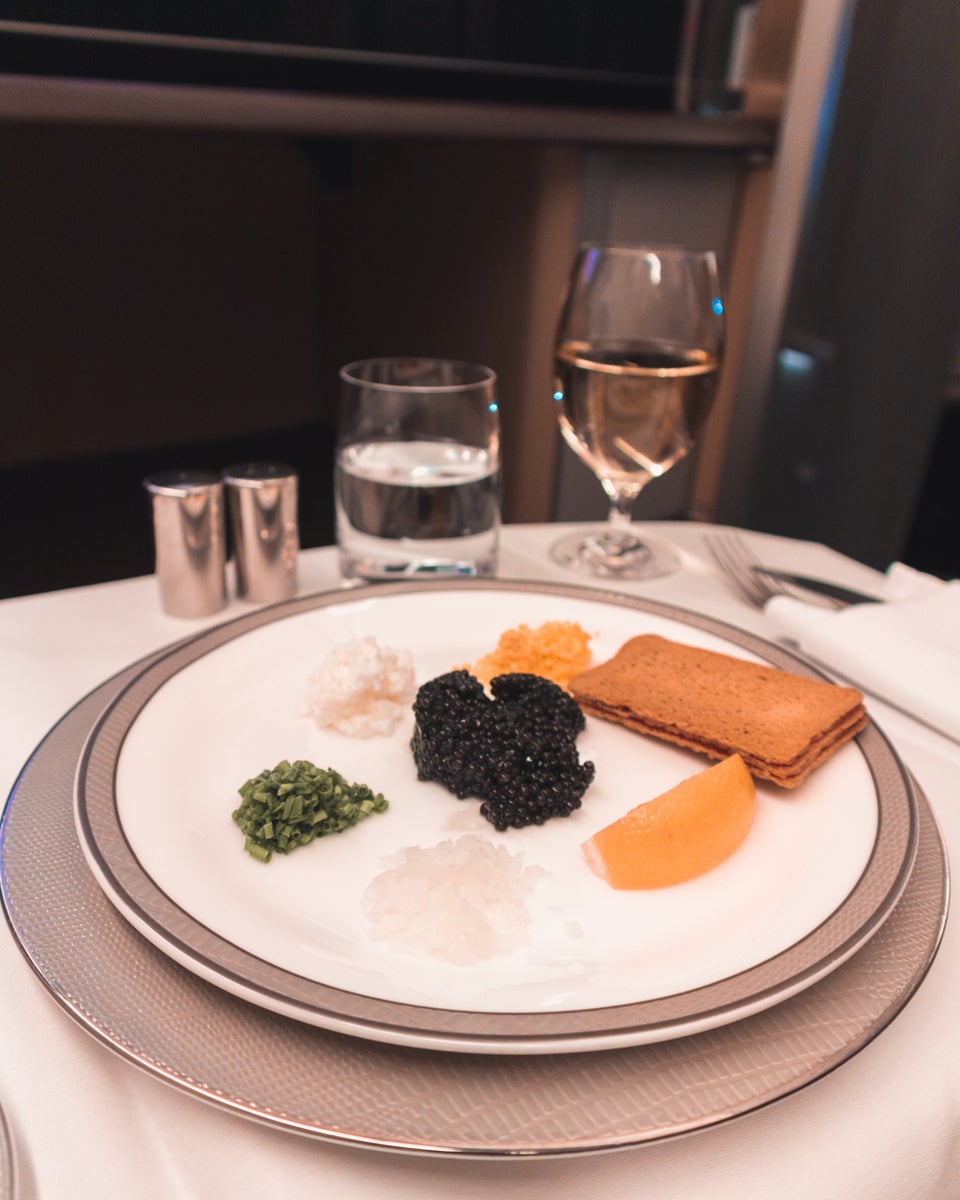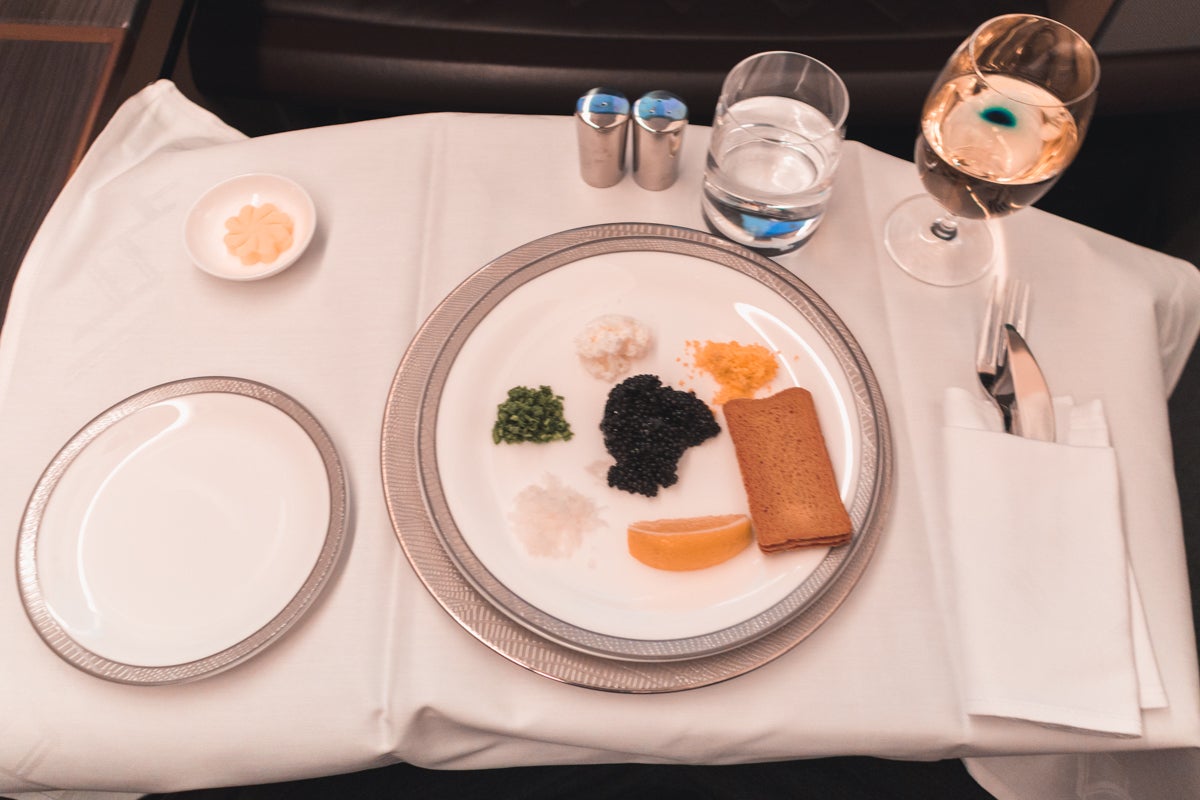 The only other appetizer option was:
Turbulence hit after this course so the crew advised me they couldn't serve the hot soup course until it smoothed out.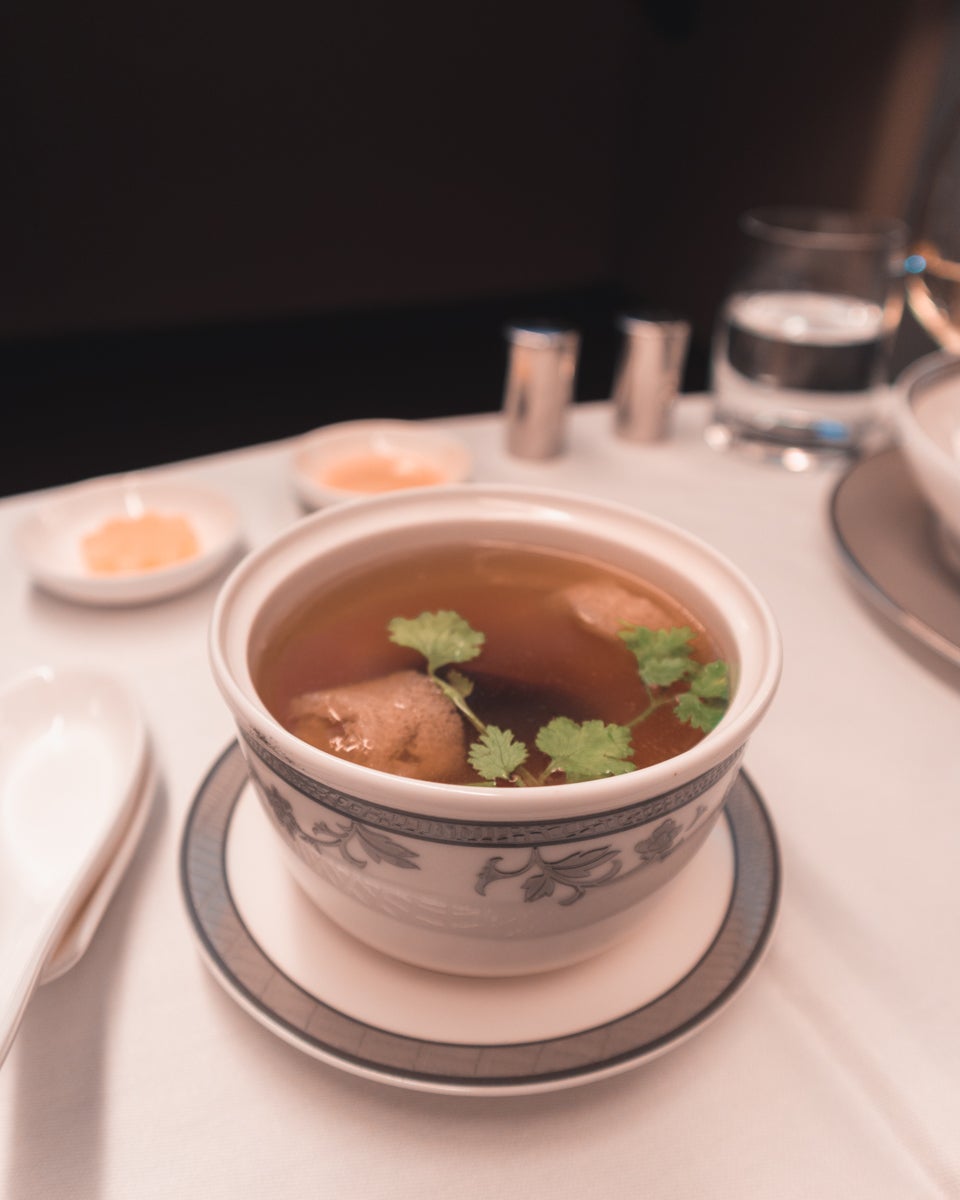 I also declined the salad course which was:
Salad of baby spinach, arugula, frisee, sundried tomato and kalamata olives and a choice of dressing
For main, I decided to "Book the Cook" after the waitlist cleared 24 hours before departure. After 2 weeks in Crete and Germany, I thought I should select something healthy, so I opted for the baked herb marinated salmon and arugula salad off the "Wholesome" range. I matched this with the 2014 Dalrymple Cave Block Chardonnay, Tasmania ($35 a bottle); the other white option was a German 2014 Dr Loosen Bernkasteler Lay Riesling ($16 a bottle).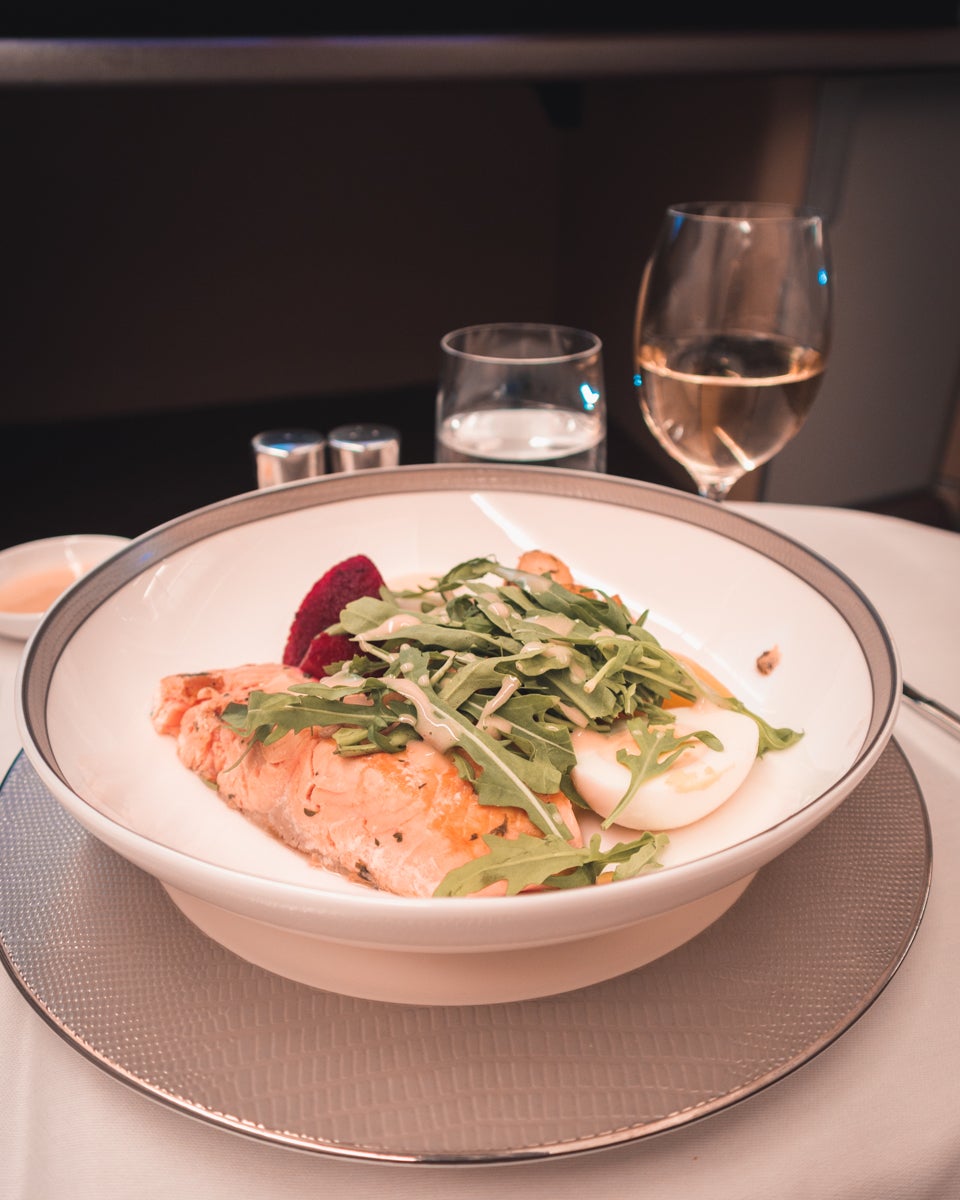 The salmon was cooked to perfection and was still moist. It thankfully wasn't too filling and I wasn't left feeling bloated afterward.
If I wanted to order off the menu, the options were:
Veal fillet with chanterelle and cep mushrooms
Famous Singapore chicken rice
Baked cheese-herb crusted halibut fillet
Gosht korma, sabzi jalfrezi, palak makkai
I finished off the lunch service with the chocolate and coffee moelleux cake with orange sorbet and butterscotch sauce which was absolutely delicious. I could have easily had another one but would have defeated the purpose of ordering a healthier main!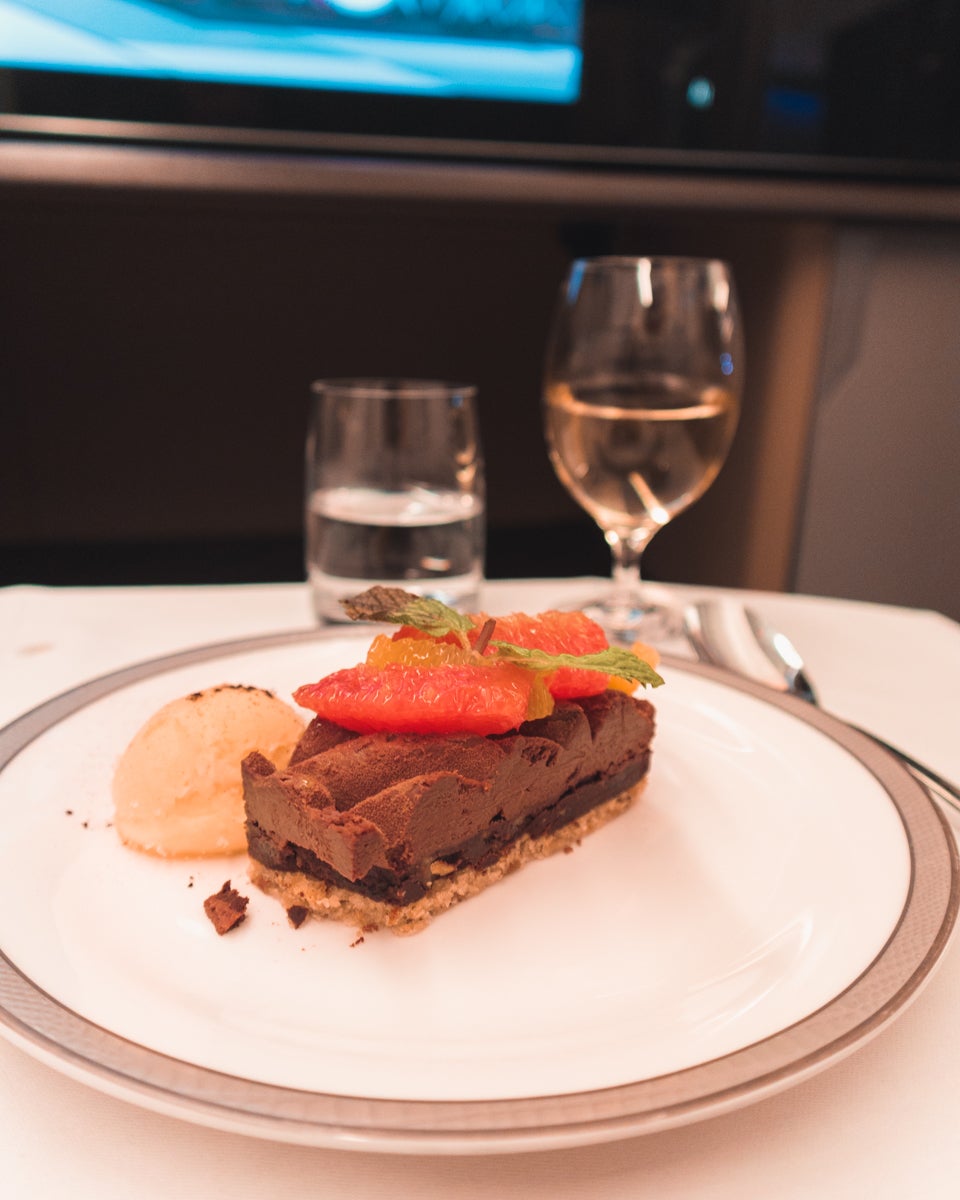 The other dessert options were:
Warmed brioche toast with kaya spread
Selection of cheese
Throughout the flight the crew were attentive and personable; they were happy to have a genuine chat with no fake pleasantries and at no time was my glass left empty. Before landing into Sydney, the crew brought me a 787-10 commemorative teddy bear as a souvenir of my flight.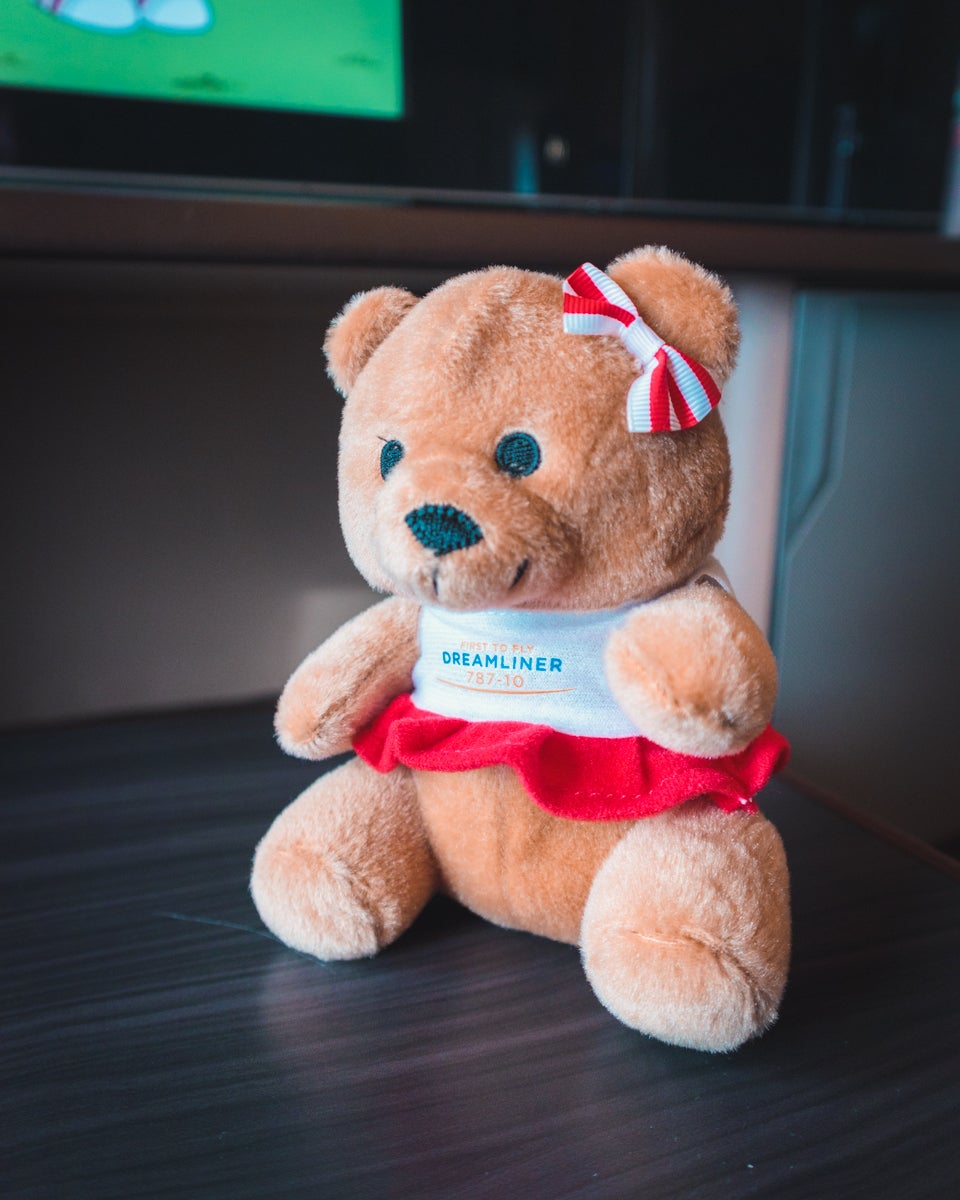 Final Thoughts
This flight was the icing on the Singapore Airlines return-home cake. Although the cabin and seat don't compare to the incredible new suites on the A380, the cabin with a maximum of just 4 passengers is even more intimate than the new suites cabin of 6. There may not be a sliding door, but the seat shell provides sufficient privacy. Plus, the long and perfectly flat bed is a comfortable place to sleep. You will just wish the flight was longer.
Add in the spectacular Singapore Airlines catering and friendly service from the cabin crew and you have a flight which simply can't be faulted.
The only room for improvement is the ground experience in Singapore which doesn't come close to the high standard set by Lufthansa's First Class Terminal Frankfurt.
If I looked at this sector in isolation, I would probably save the points and book a business class flight instead as Singapore Airlines business class is also an amazing place to spend 7 hours and 40 minutes. But combined with a long-haul sector, for example to/from Europe, I would have no hesitation spending 148,000 KrisFlyer (now 163,000 miles) and SG$90 ($65) in taxes on these flights again.
Interested in the pilot's perspective? Explore the Boeing 777 from a pilot's perspective.