Korean Air A380 First Class Review – Los Angeles to Seoul-Incheon [Detailed]
Airline: Korean Air (KE)
Aircraft: Airbus A380
Flight #: KE 12
Route: Los Angeles (LAX) > Seoul-Incheon (ICN)
Date: April 11, 2019
Duration: 13 hours, 20 minutes
Cabin & Layout: Korean Air first class, 12-seat capacity across 3 rows in a 1-2-1 configuration
Seats: 3D and 3E
Miles Used: 80,000 Korean Air miles (transferred from 195,000 Marriott points)
Taxes & Fees Paid: $154.80 USD
Typical Retail Cost: approximately $9,060 USD
Typical Economy Cost: approximately $821 USD
Booking Korean Air First Class
Korean Air makes plenty of business and first class awards available. The main catch is that most of the award space is reserved for Korean Air SKYPASS members.
Although you can use Alaska Airlines miles or Delta SkyMiles to book Korean Air business class, you'll need to be more flexible due to the fact that Korean Air doesn't release much business class availability to partners.
The booking process for Korean Air first class is completely different from business class. Whereas it may be possible to book business class with Korean Air's partners, it's nearly impossible to book first class with their partners.
The only show for Korean Air first class in town is using Korean Air SKYPASS miles. In fact, Korean Air is known for making 2 first class seats available for award redemption on almost all of their U.S. long-haul flights.
I found award availability by using ExpertFlyer. If you don't have ExpertFlyer, you could just as easily search for award availability via Korean Air's website.
Hot Tip: If you'd like to know what routes Korean Air operates nonstop to and from the United States, check out our guide to Korean Air's U.S. routes.
Korean Air SKYPASS's sole transfer partner is Marriott, which meant I had to dig into my precious pile of Marriott Bonvoy points to book this first class flight.
Marriott transfers to Korean Air typically take 7 business days, but transfers have been excruciatingly slow lately due to the integration of Marriott Bonvoy.
Hot Tip: Booking Korean Air first class can be costly, especially since Marriott is the only transfer partner. Luckily, we put together a guide on the best ways to earn lots of Korean Air miles.
One thing to note is that Korean Air SKYPASS offers award holds. When I called them on November 17, 2018, they were able to issue an award hold valid for a month. As long as I ticketed the reservation by December 17, 2018, I was safe.
In my case, I transferred 195,000 Marriott Bonvoy points on November 17, 2018 and 80,000 miles appeared in my Korean Air SKYPASS account on December 6, 2018. All in all, the transfer took 19 days.
I was a bit worried that the points wouldn't transfer in time. Thankfully, Korean Air is able to extend award holds, but this is dependent on the willingness of the customer representative.
In any case, I confirmed the award reservation successfully and paid $154.80 in taxes and fees for my first class ticket. South Korea was the next vacation destination for my fiancée and me, so the main criteria I was looking for was a nonstop flight.
With the two options being Asiana and Korean Air, I went with Korean Air because the exact award flights I wanted were available and Korean Air's reputation in first class is slightly better than Asiana's.
This particular flight was a red-eye flight. That, coupled with the fact that the Korean Air Lounge at LAX is mediocre, (and accessible for Priority Pass members) meant that I tempered my expectations for the ground experience.
We arrived at LAX and proceeded to the first class check-in area at Tom Bradley International Airport.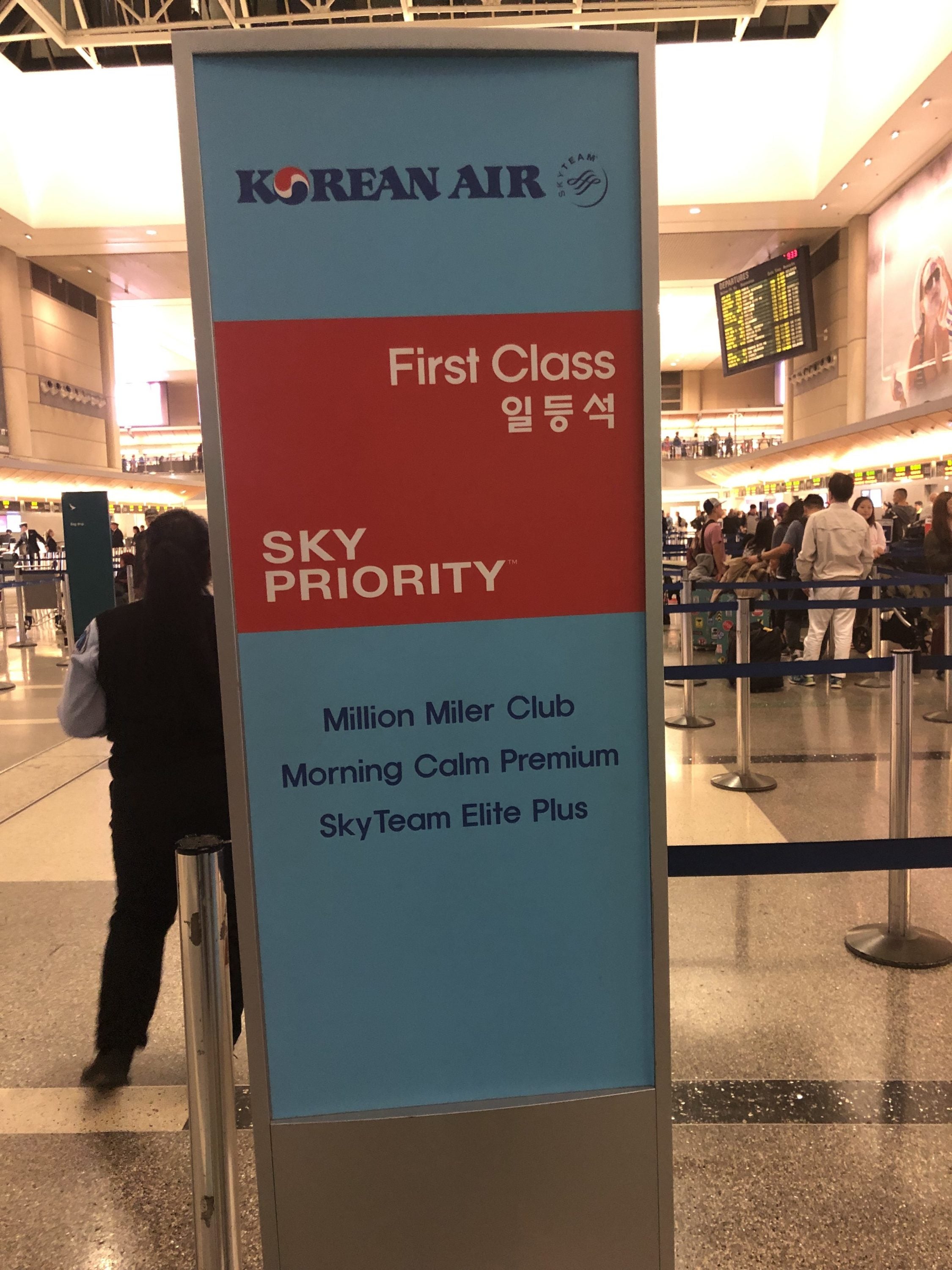 Check-in was a smooth operation. We received our boarding passes and cleared security in minutes using TSA Pre-Check.
After clearing security, we had a couple of hours before our flight, so we went to the Korean Air Lounge.
Korean Air Lounge at LAX
Priority Pass holders get access to the Korean Air Lounge at LAX, but if you're a first class passenger, you'll be directed to the first class section of the lounge. It's not very notable, but it's still a quieter, more private place to relax before your flight.
There were 2 main seating areas. One was a balcony-like area overlooking the shops below and the other was an indoor theater-style seating with 12- seats.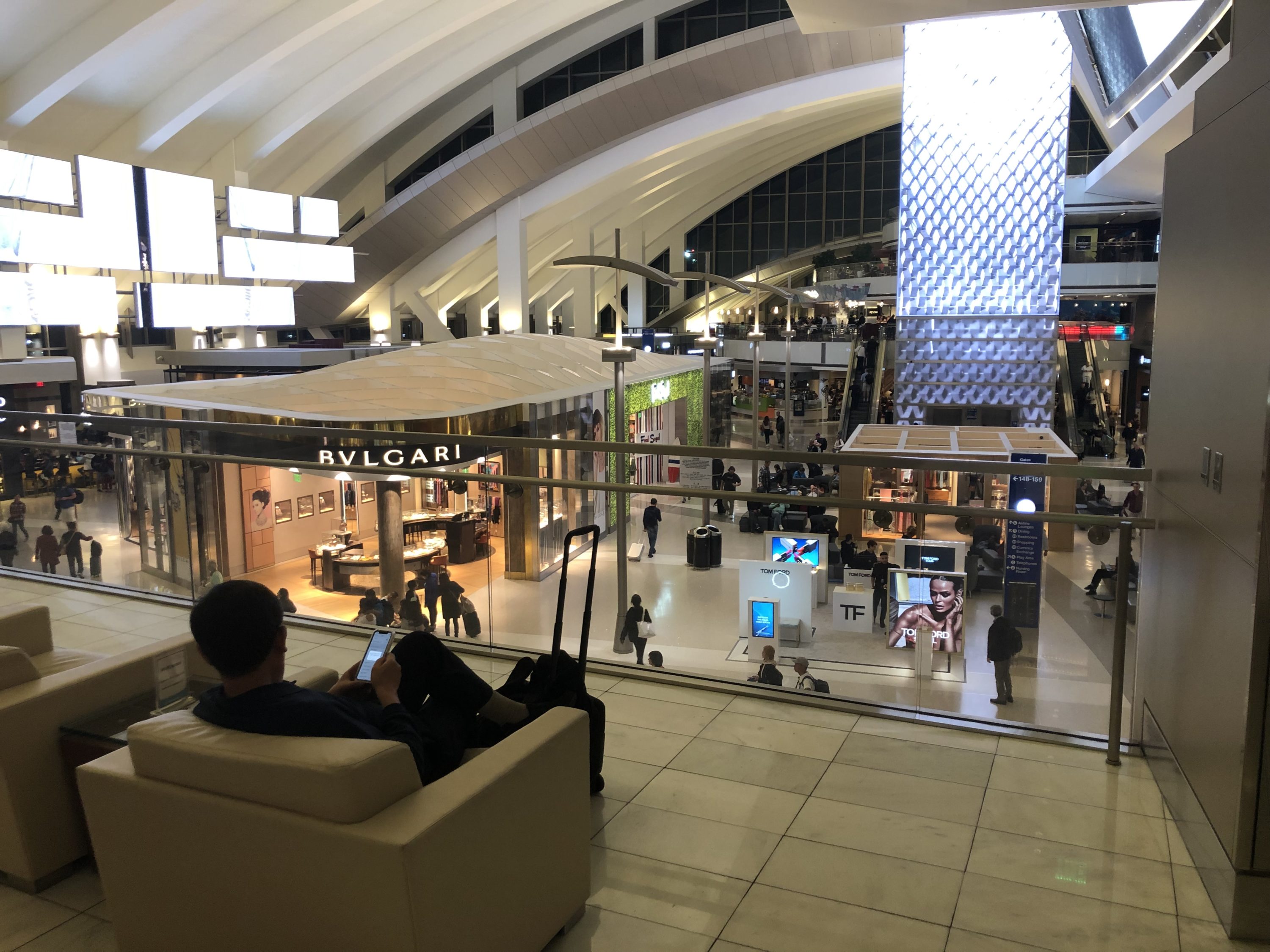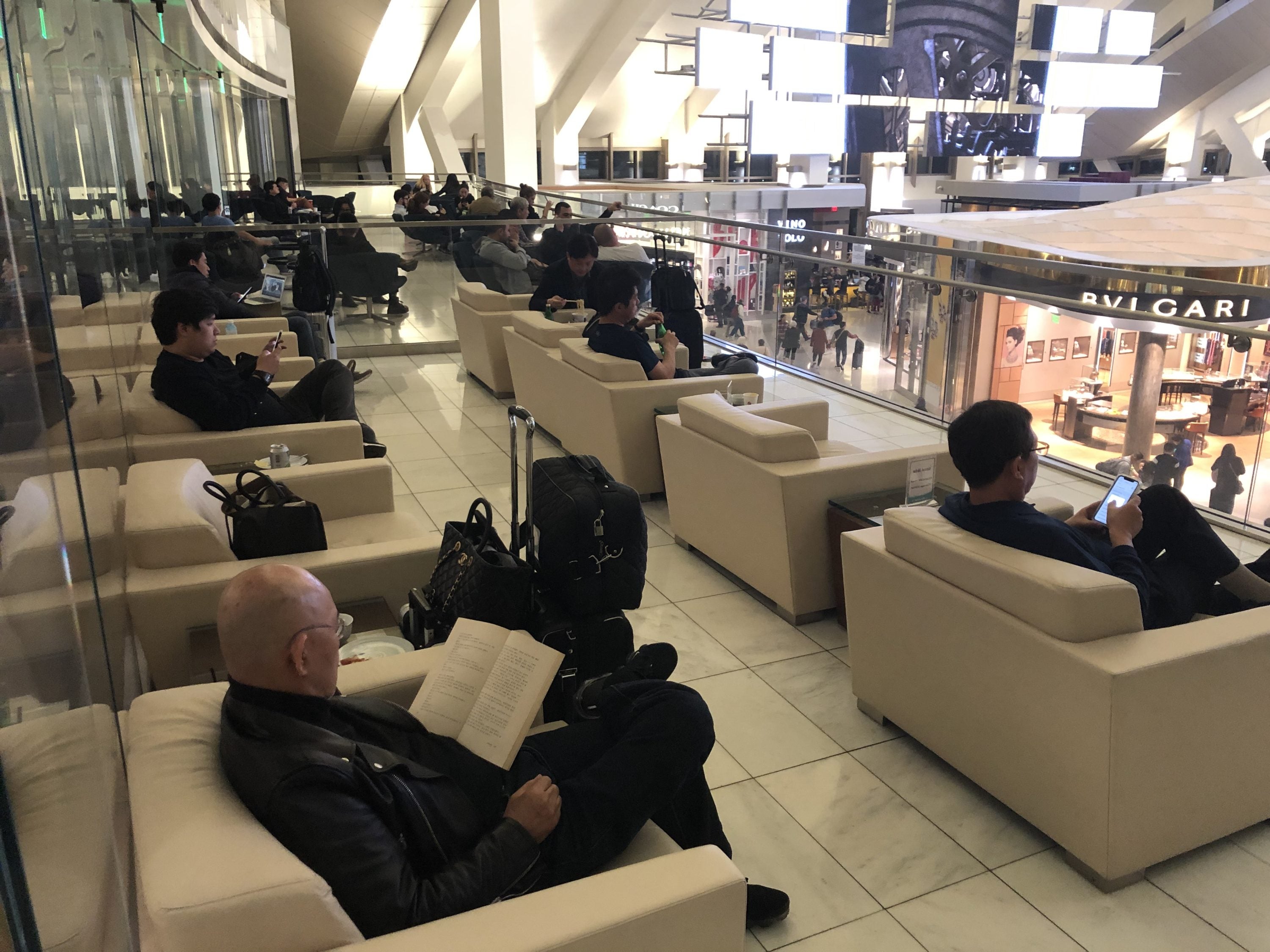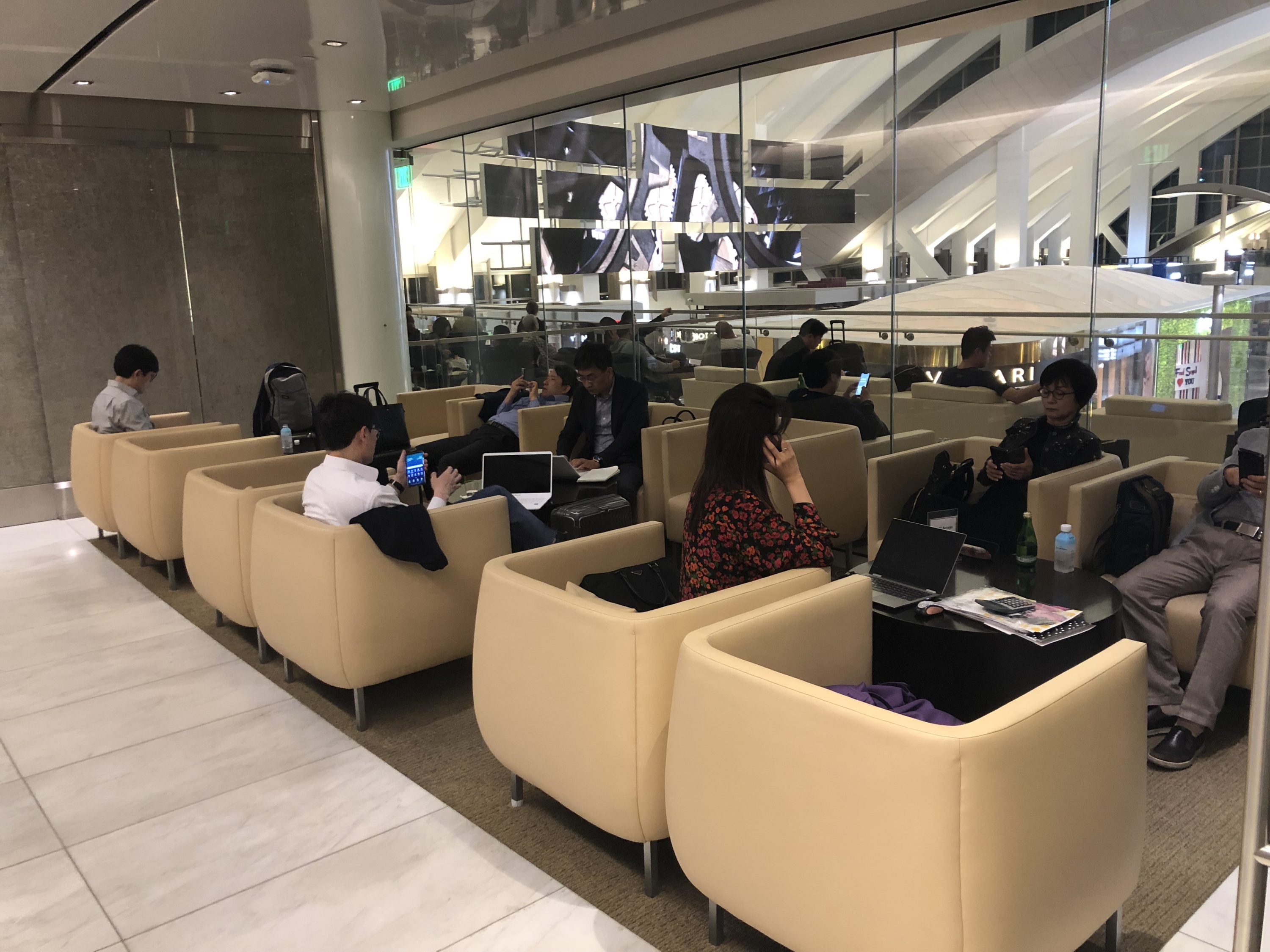 The first class lounge is quite intimate due to its small footprint.
There are also a handful of VIP rooms, which are completely closed off to the public, and I saw a certain individual walk into one with his personal team. At first, I had to do a double-take to be sure that I wasn't mistaking him for a doppelganger.
We'll get to that later.
As we settled in our seats, I took the opportunity to capture some of the food and beverage offerings. First, I saw a pot of corn soup.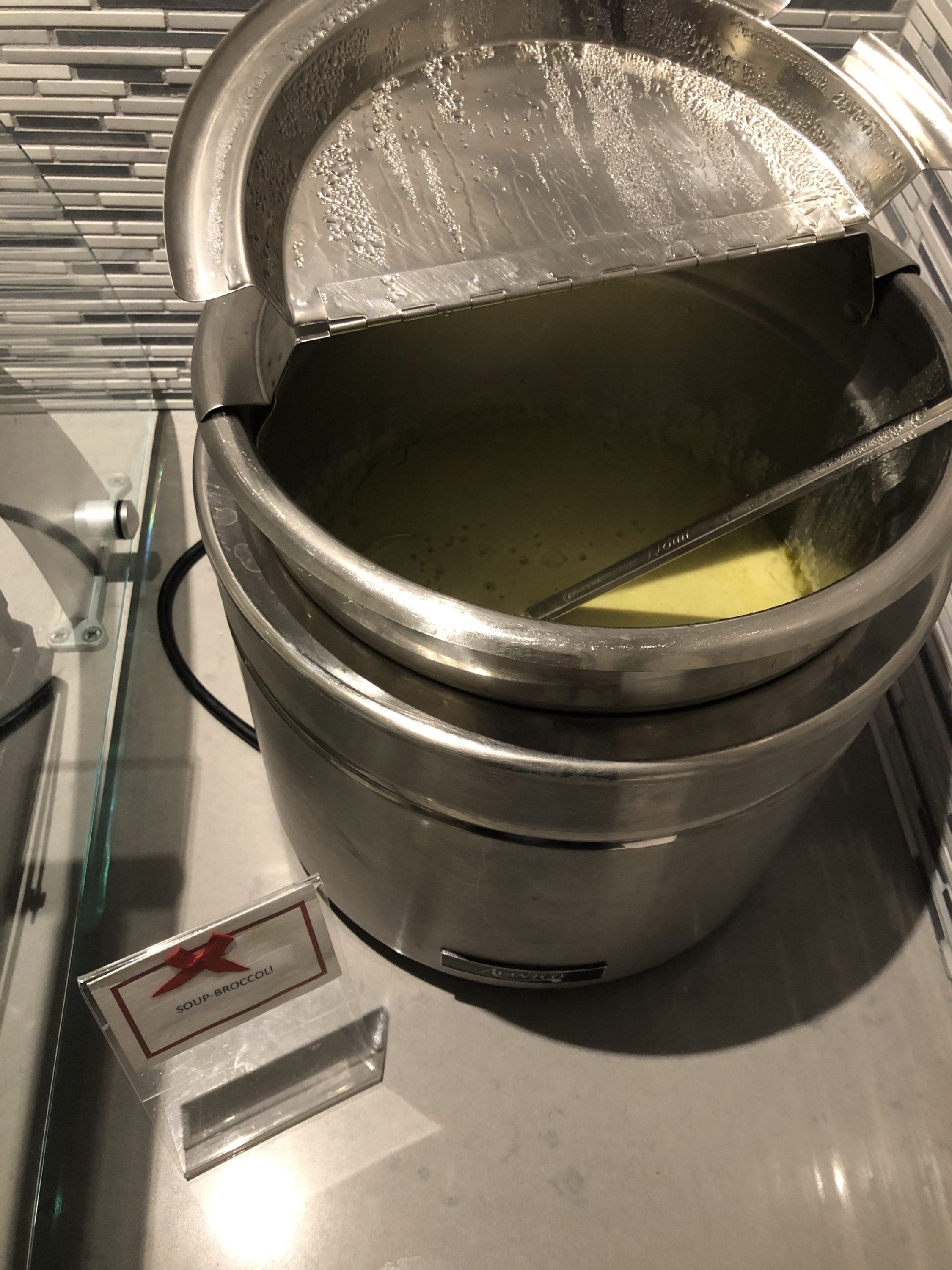 Then, I saw the wines and various alcoholic drinks offered in the lounge.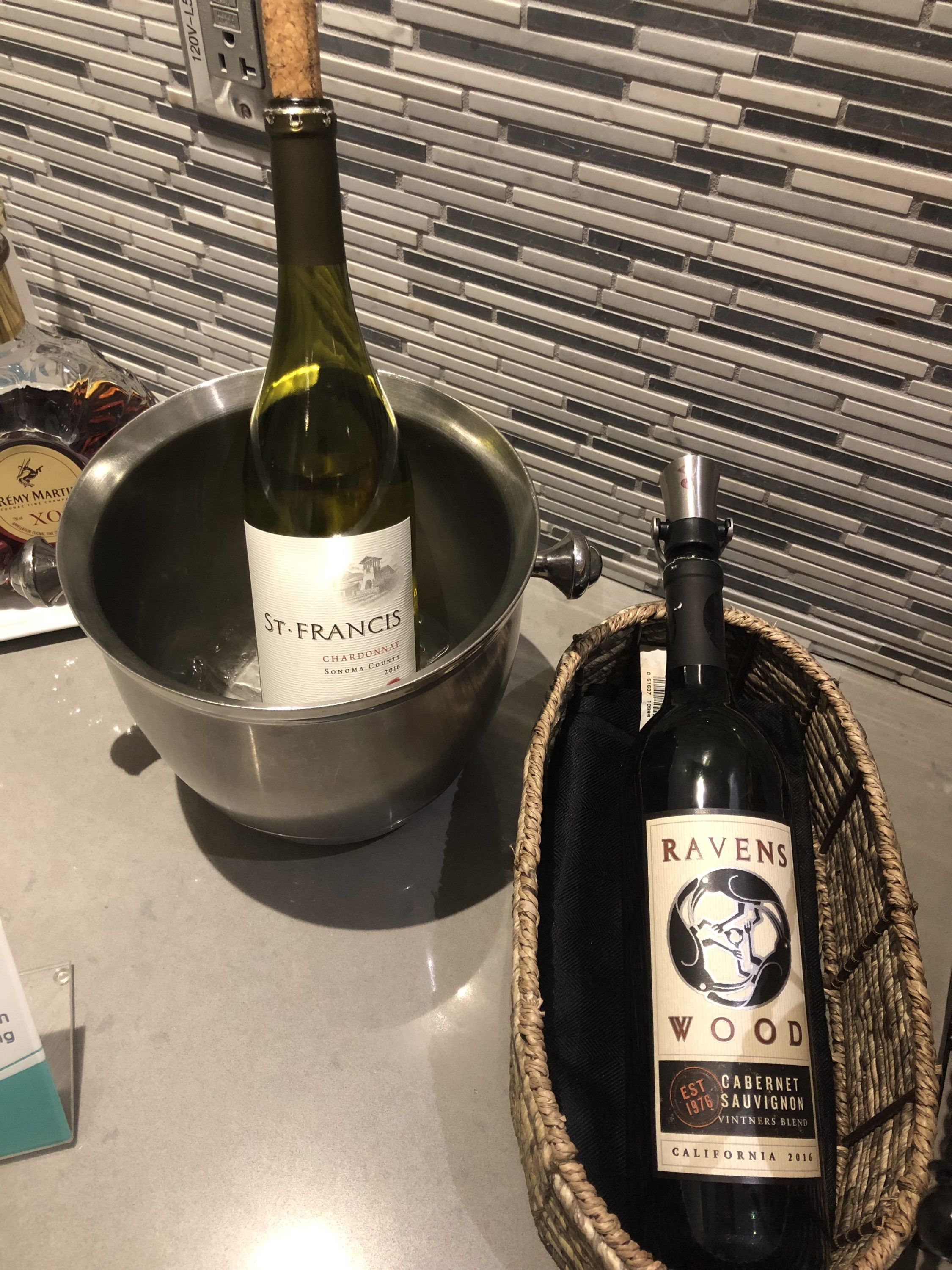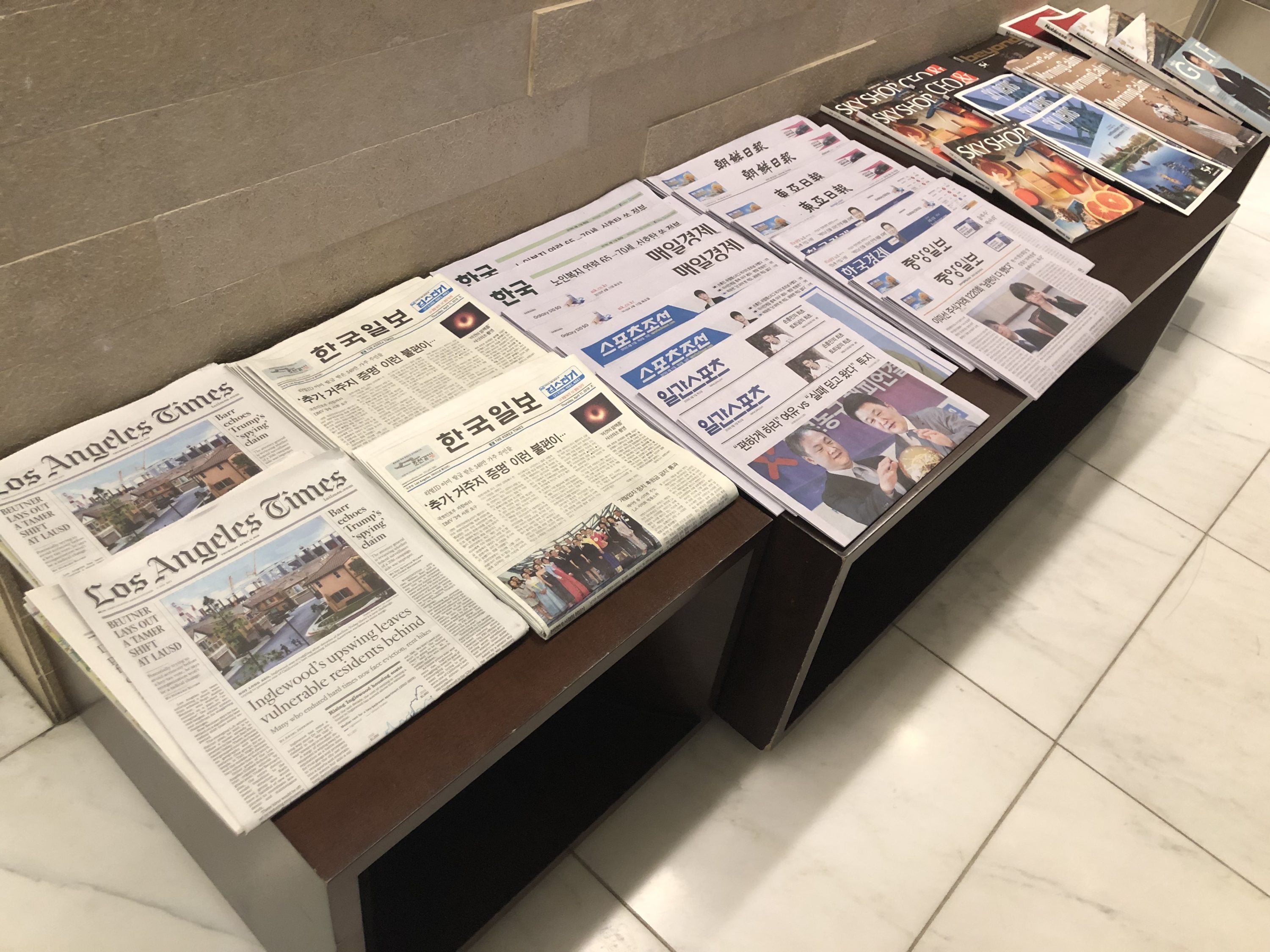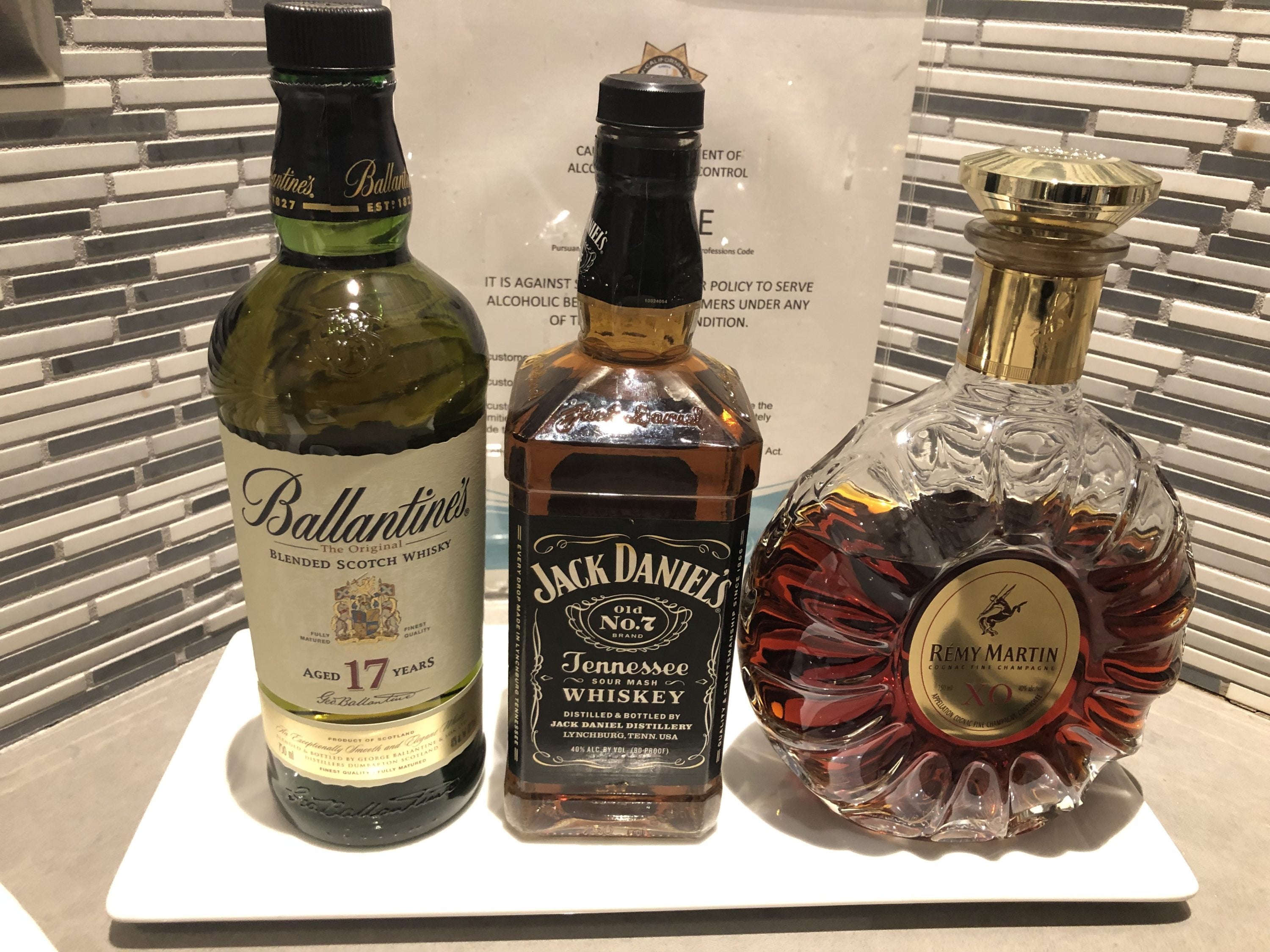 I checked out the refrigerator, which held soft drinks, various beers, sparkling water, and mineral water.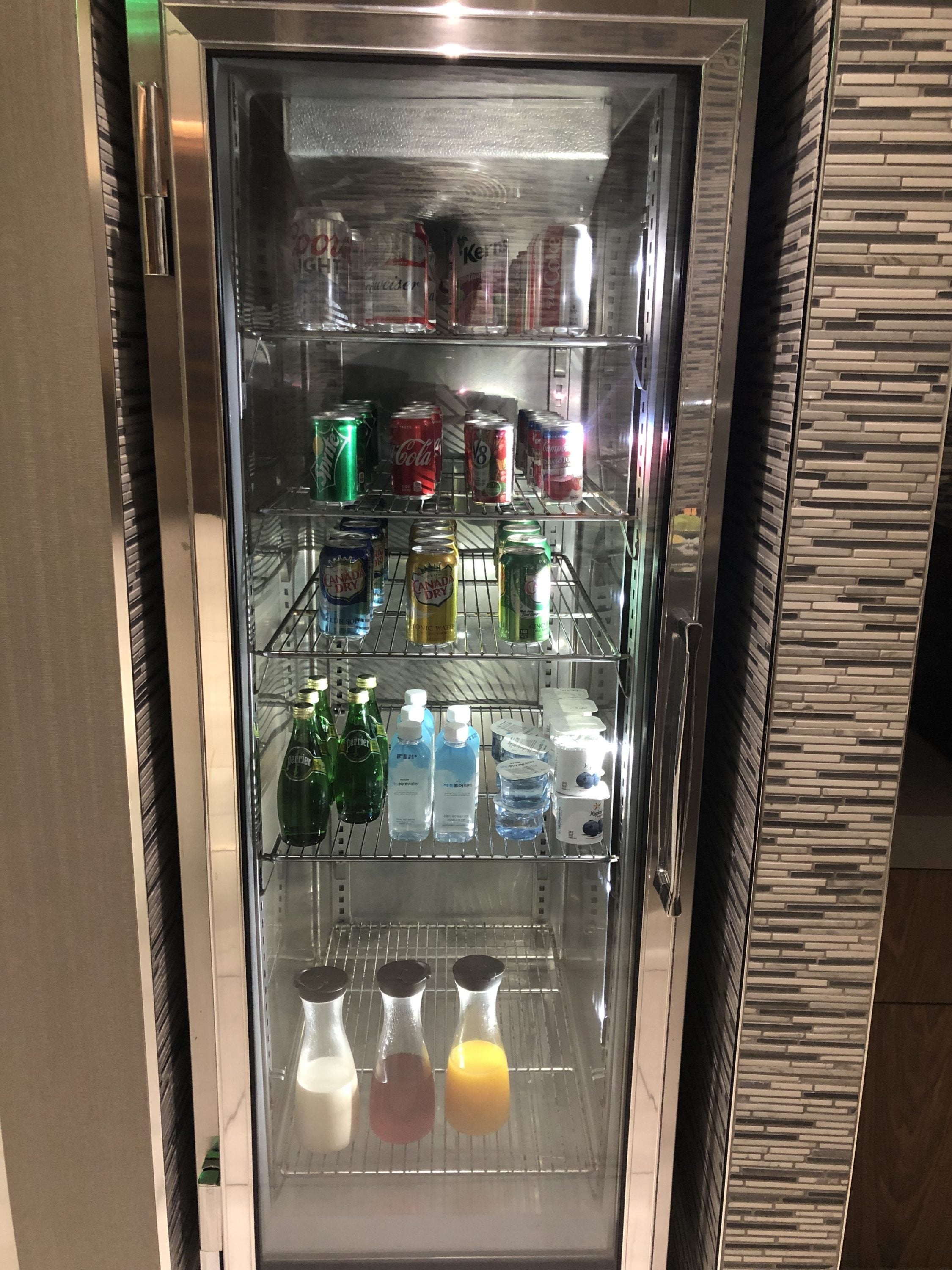 There were some instant tea options near the coffee area. There was a decent espresso machine that adds to your drink selection too.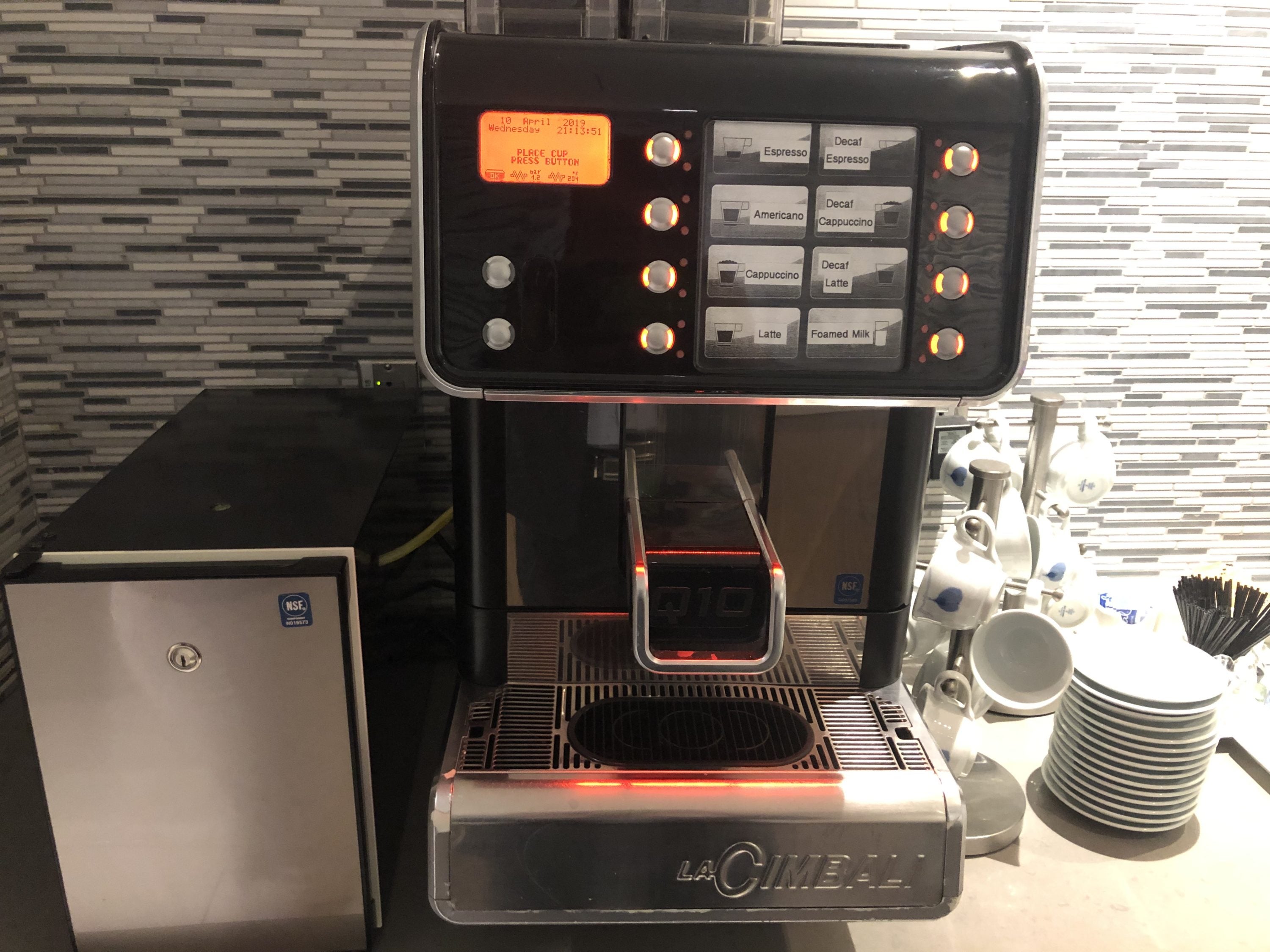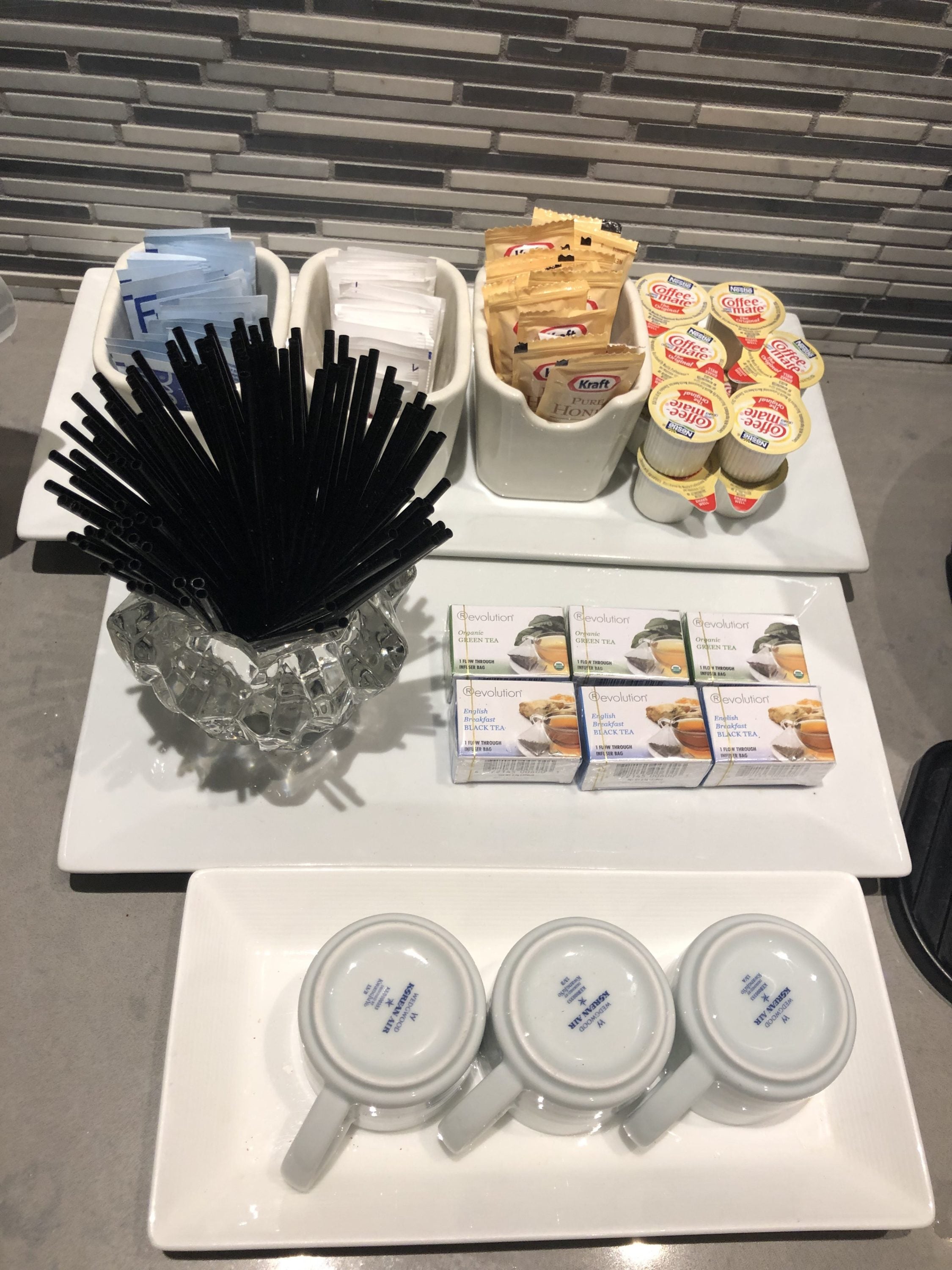 There were several hot food choices, which actually surprised me because the "Priority Pass section" of the lounge doesn't have hot food besides instant ramen. First, I noticed some fried rice.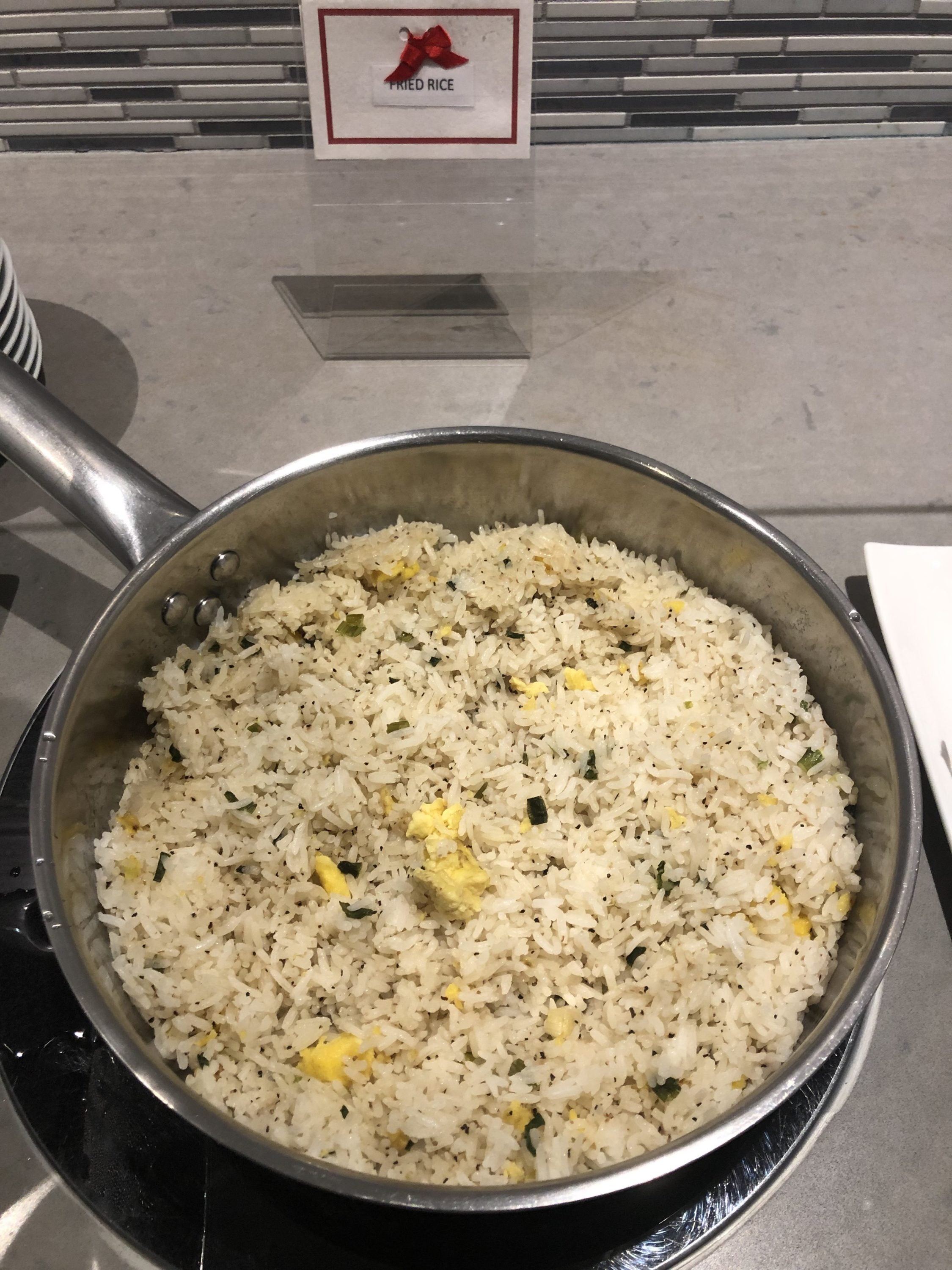 Then, there were chicken wings and galbi jjim, which is Korean braised short ribs.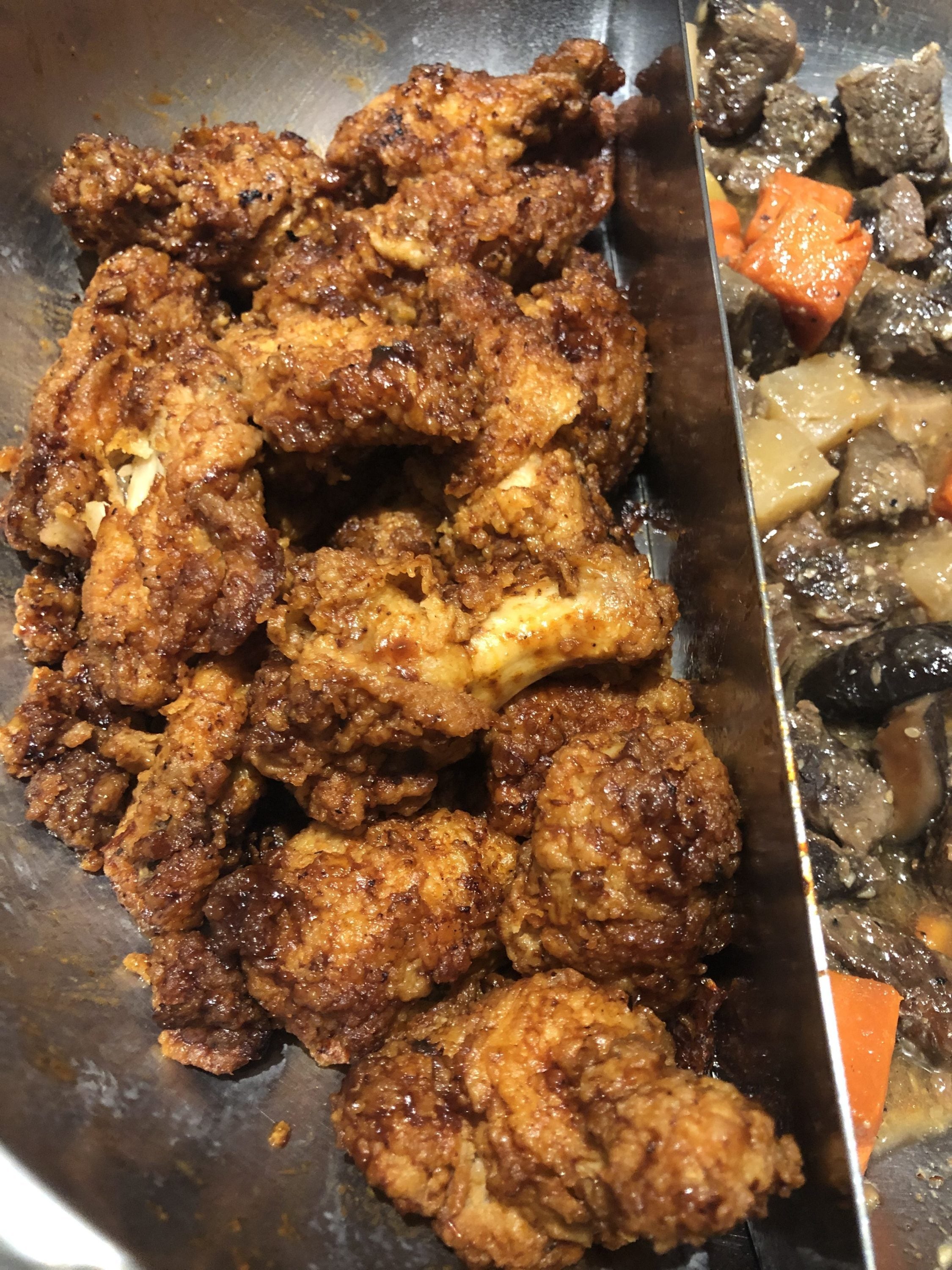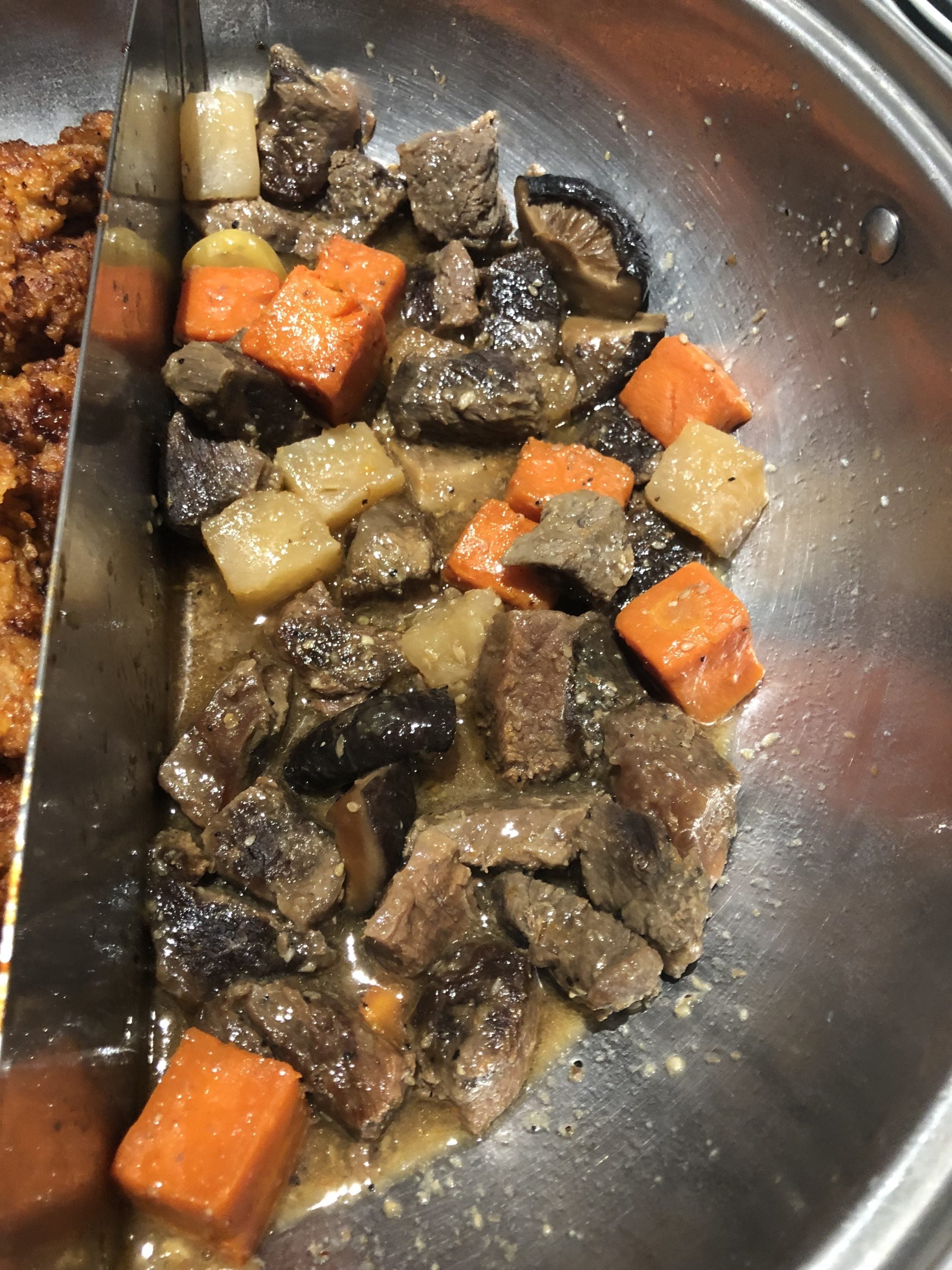 There were also some whole, fresh oranges for consumption.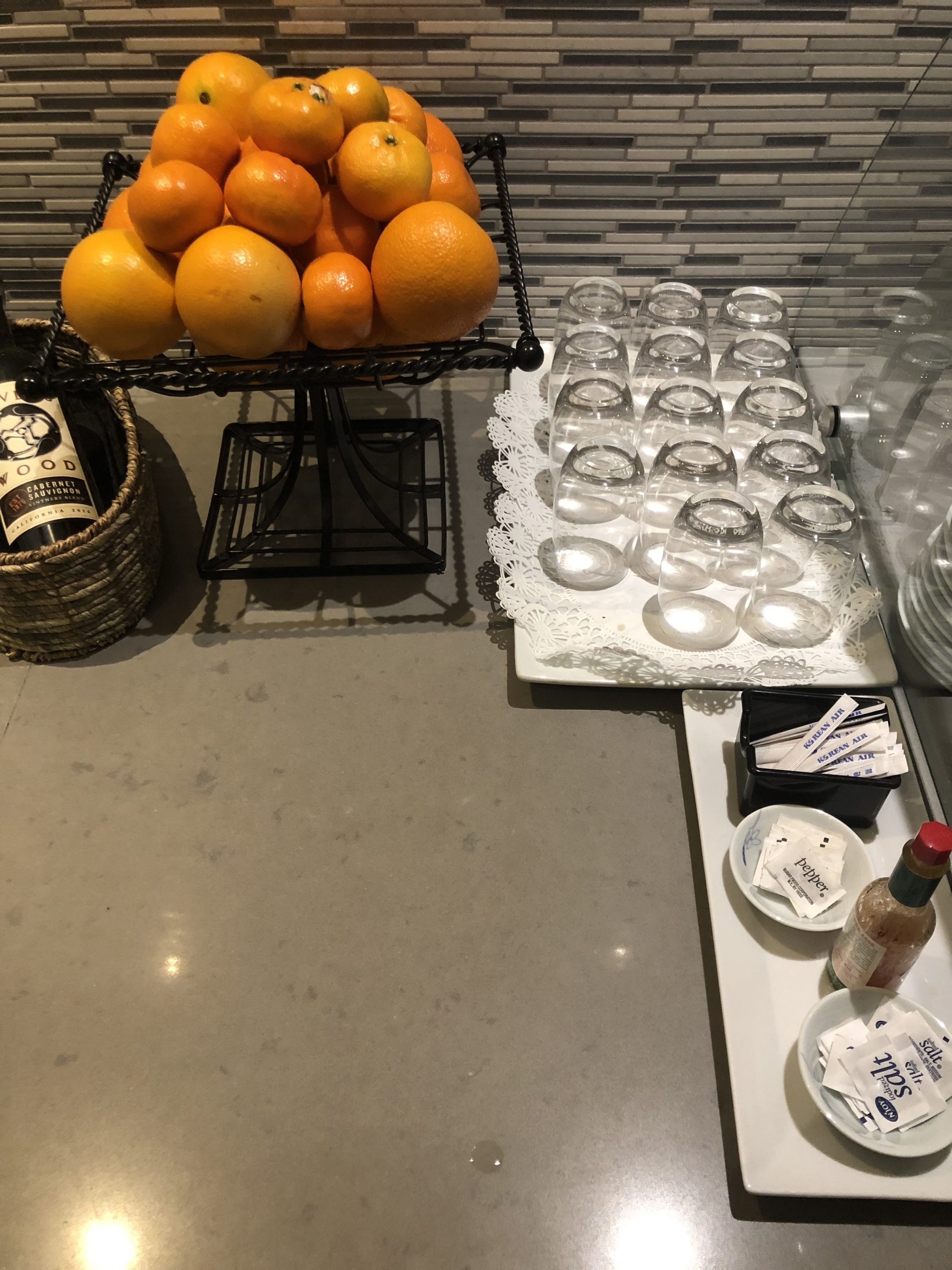 You could also enjoy various cereals and instant noodle selections, including the popular Shin Ramyun.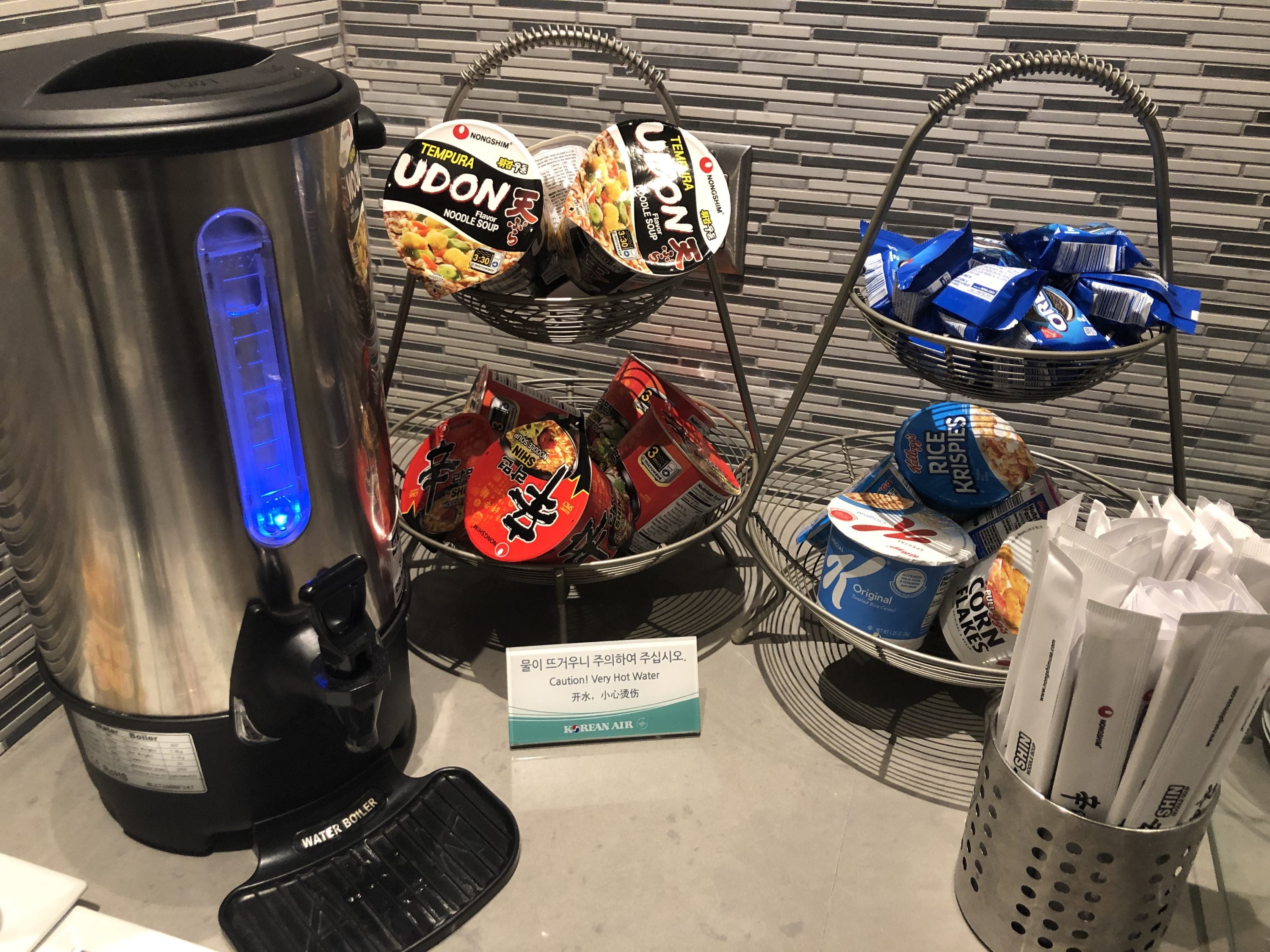 The food selection was topped off by finger sandwiches, rolled sushi, cheese and crackers, and vegetables.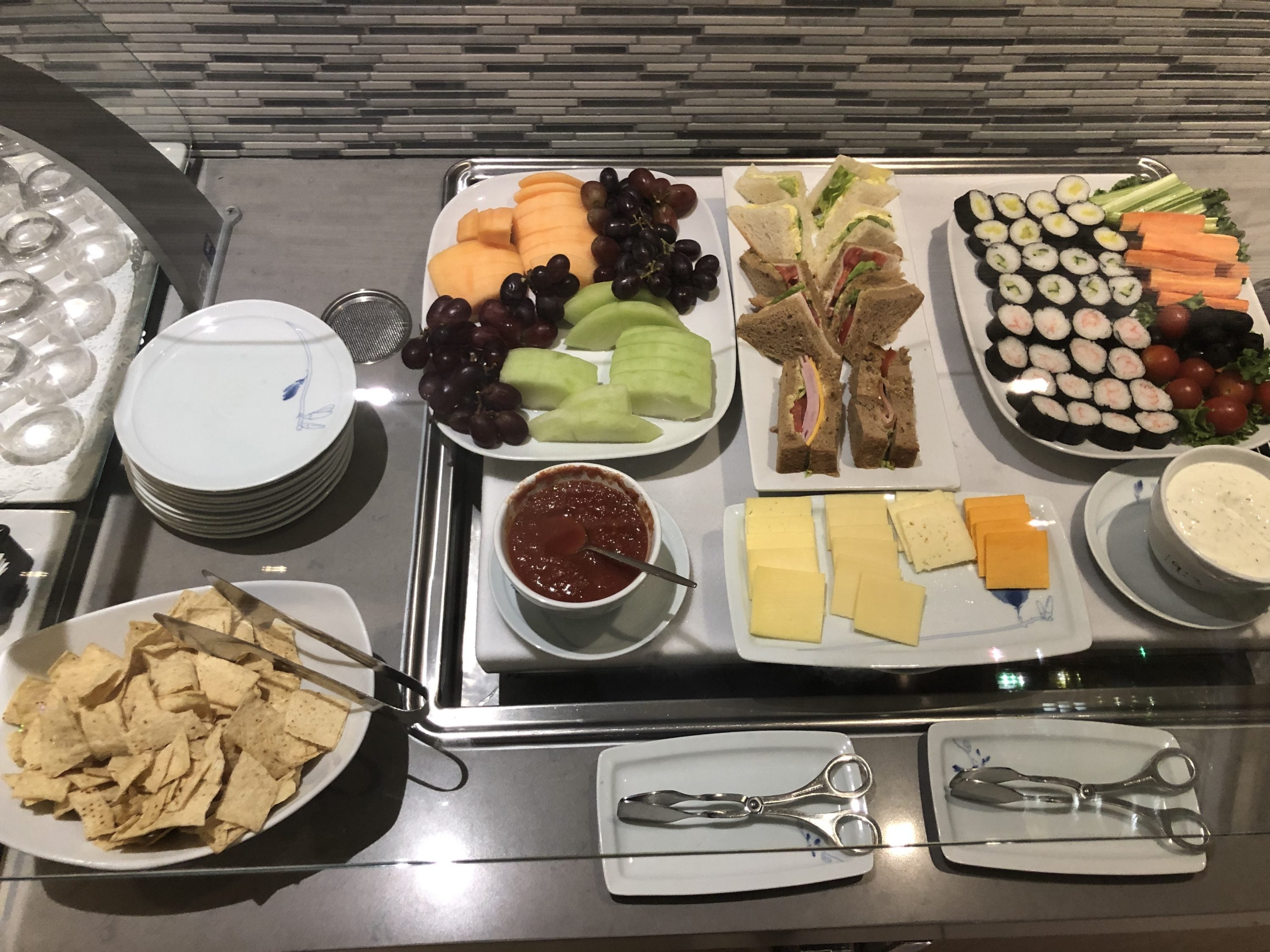 There was a single television, which was quite large.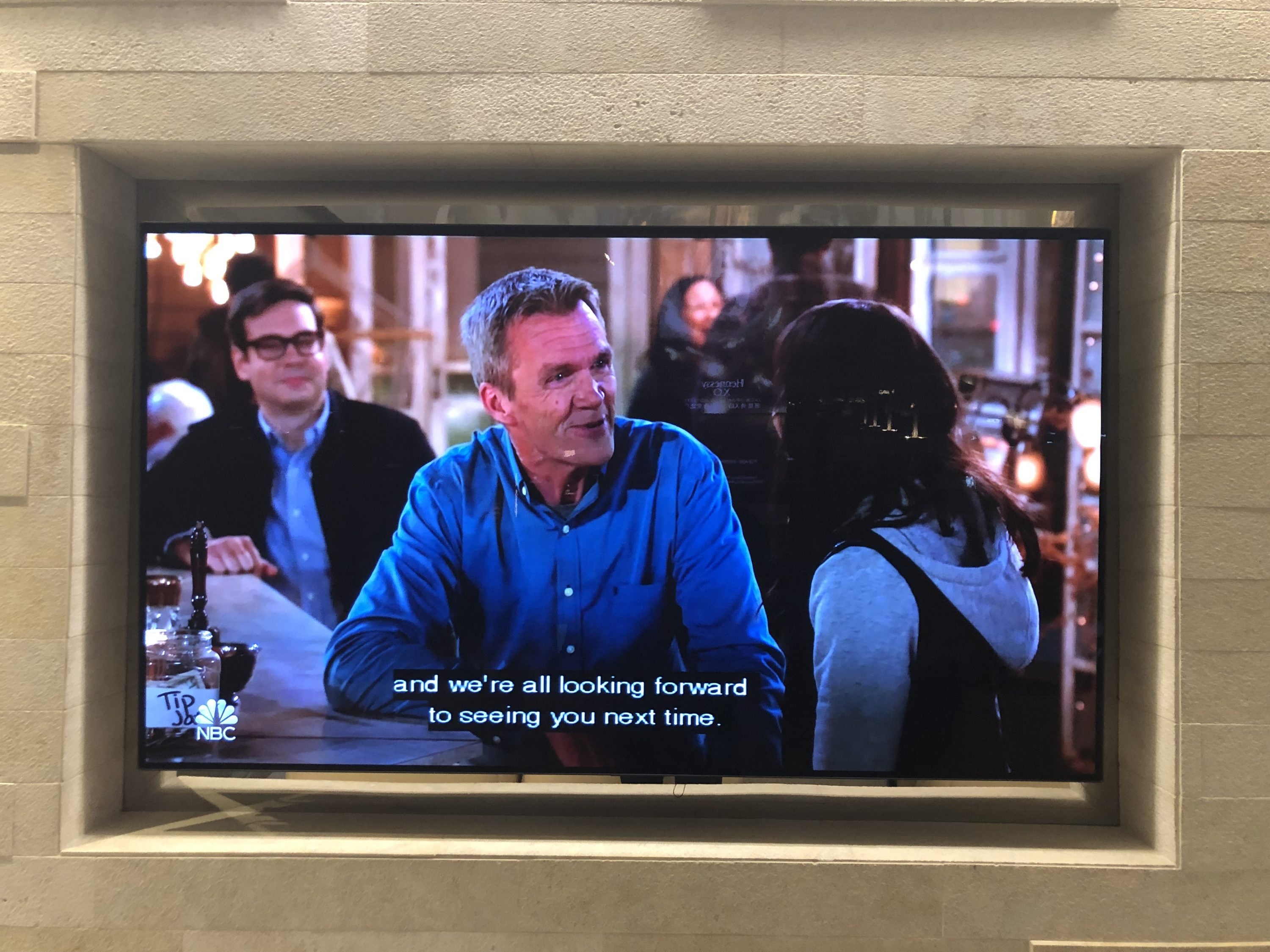 Bottom Line: Overall, this lounge basically met my expectations for a subpar lounge. It might be acceptable for Priority Pass, but it's definitely not worth going to the airport early for. The good news is that it's a relatively private area, so you can get away from the hectic atmosphere known as LAX. 
Flight
Boarding was somewhat disorganized. This was due to the fact that people didn't know where to line up. Nevertheless, boarding was completed in uneventful fashion. We entered through the first class boarding door of the A380.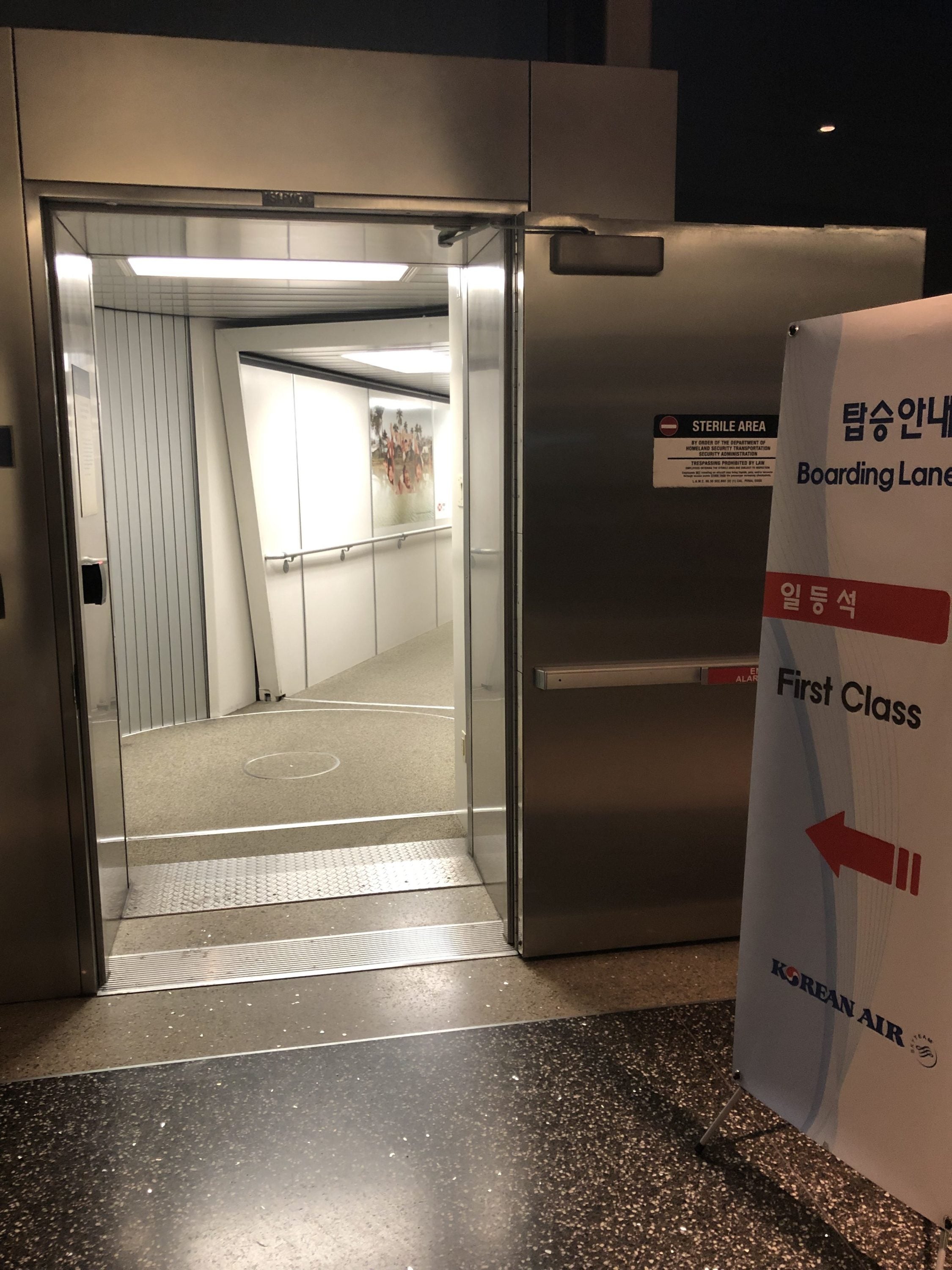 Seat
Since I was traveling with my fiancee, I decided to reserve seats 3D and 3E, the middle seats in the row furthest to the back. There are no overhead bins in the middle seats, which really gave the seats an open-air feel. At my seat, I found a large, fluffy pillow.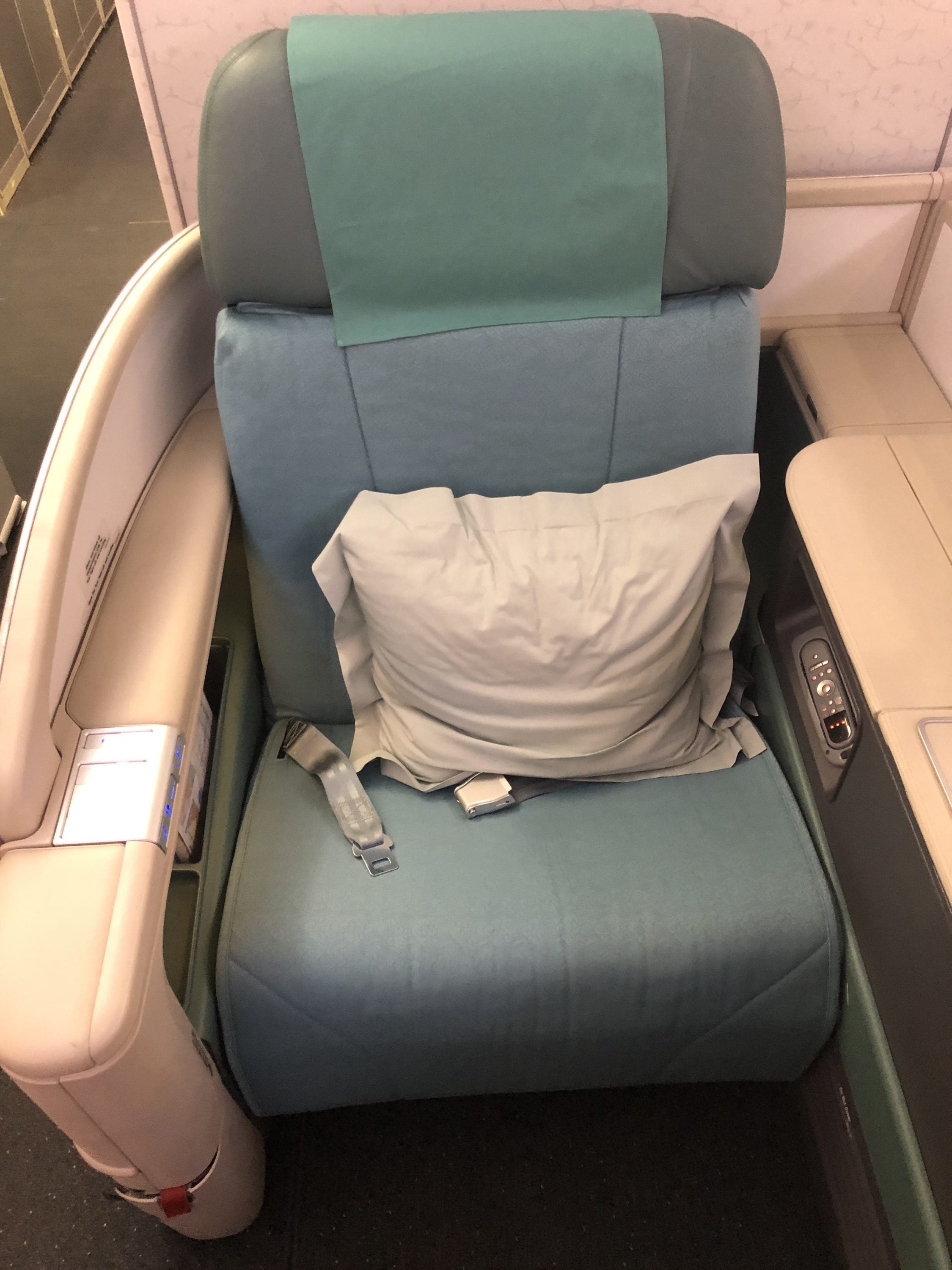 These seats are huge! Each seat is 26.5 inches wide and 83 inches in pitch — that's a lot of real estate per person. I spent the next few minutes exploring all that my first class seat had to offer.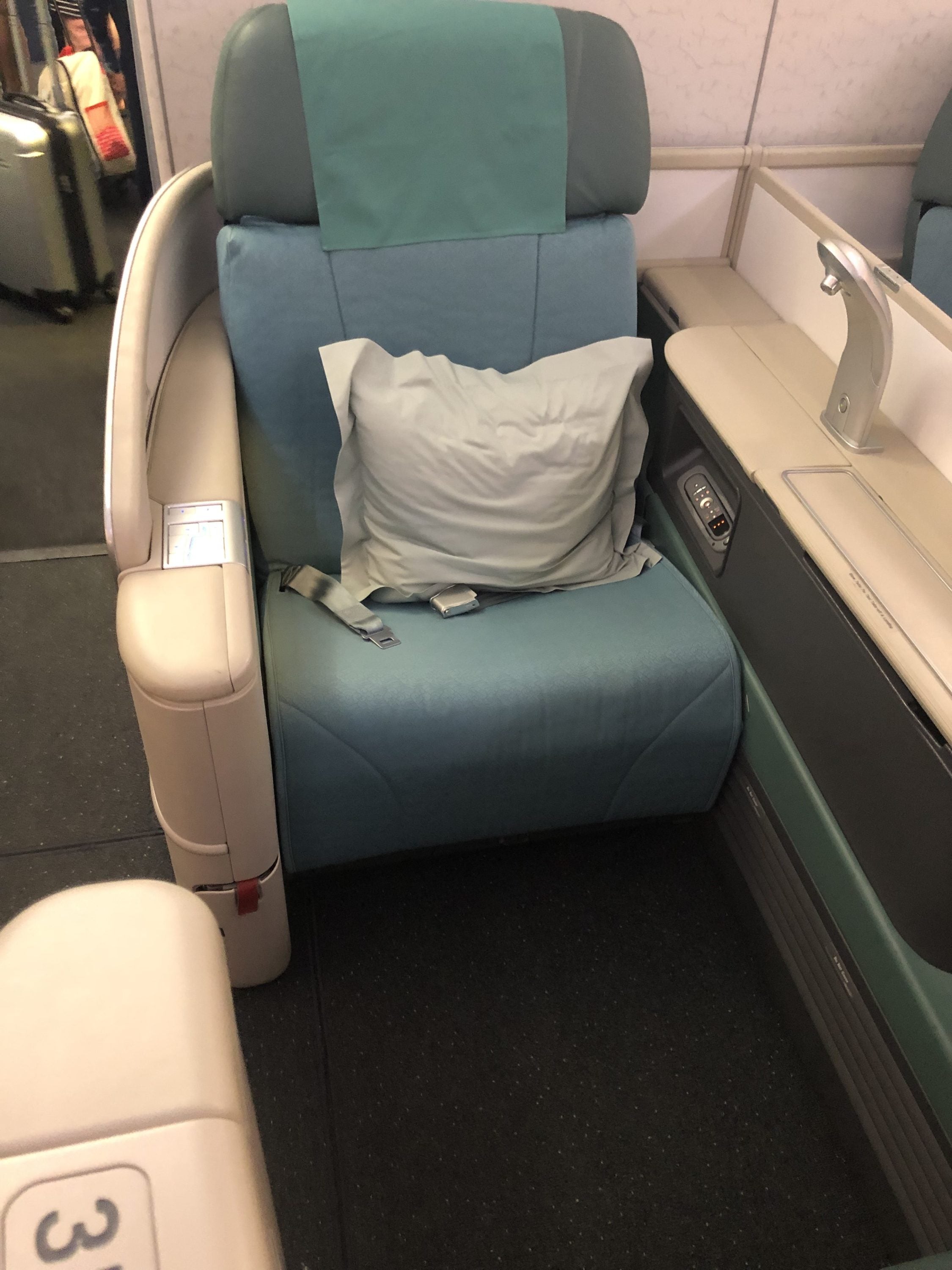 There were a total of 12 first class open suites, spread out in a 1-2-1 configuration across 3 rows at the aft section of the lower deck on the massive A380.
Needless to say, I was a happy camper and excited to see all that Korean Air first class has to offer.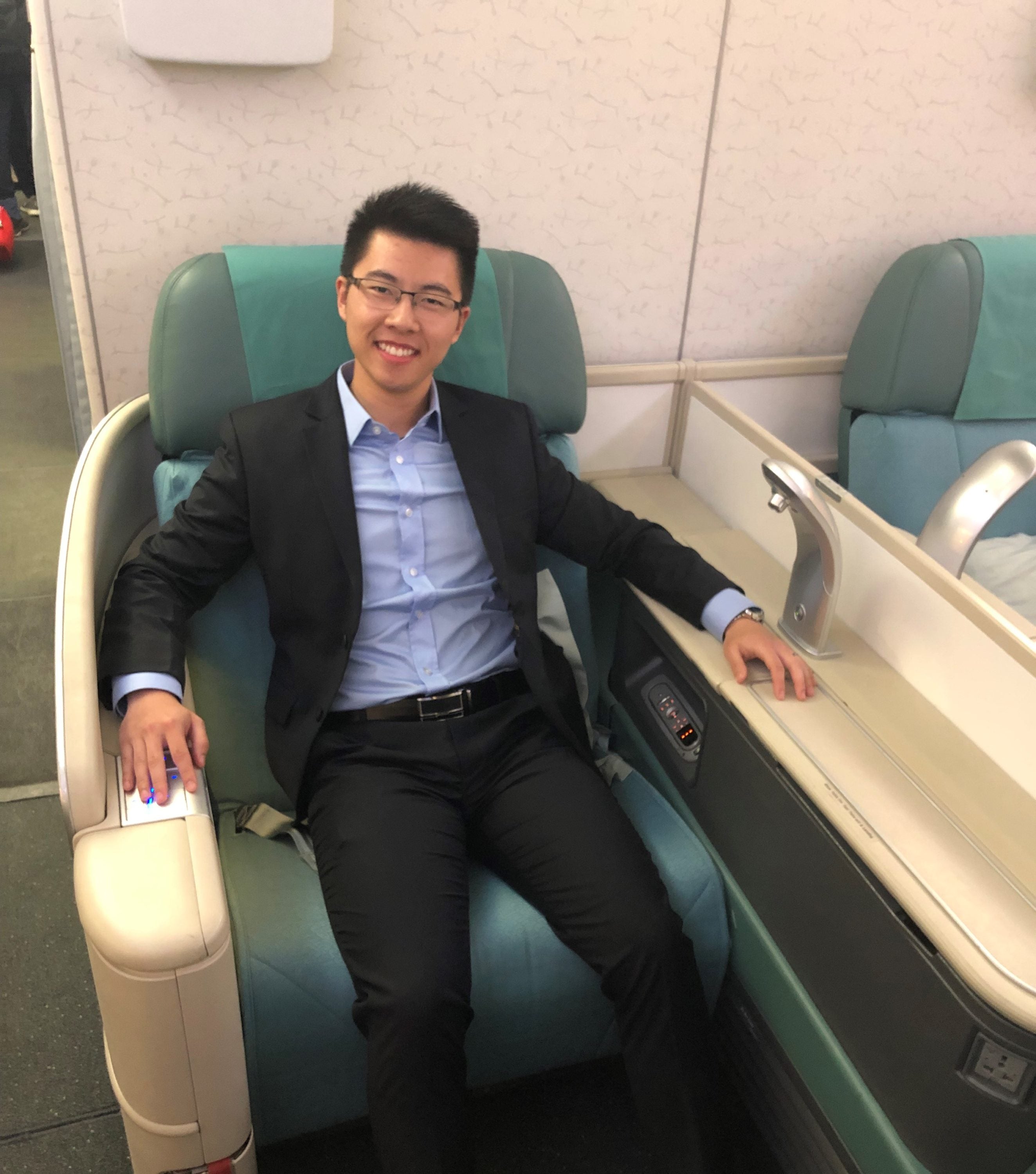 It was tough to get the entire seat in one picture, just because there was so much space allocated to each seat. But here's my best representation of how large each of the open-air suites is.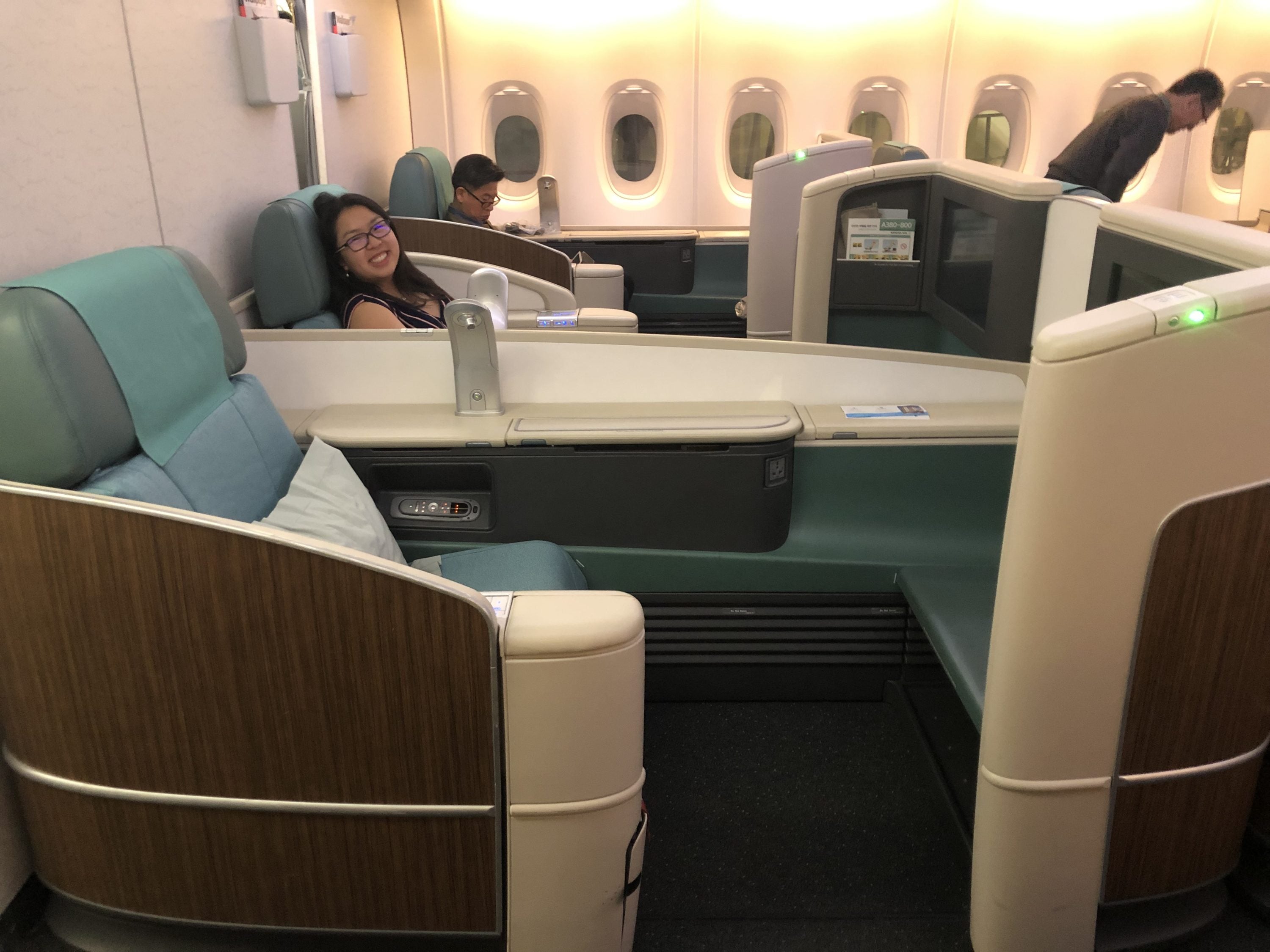 Let's take a quick tour of the features included in the Korean Air first class suites. First, there was the ottoman. The ottoman was huge, and I feel like another person could be seated just at the ottoman.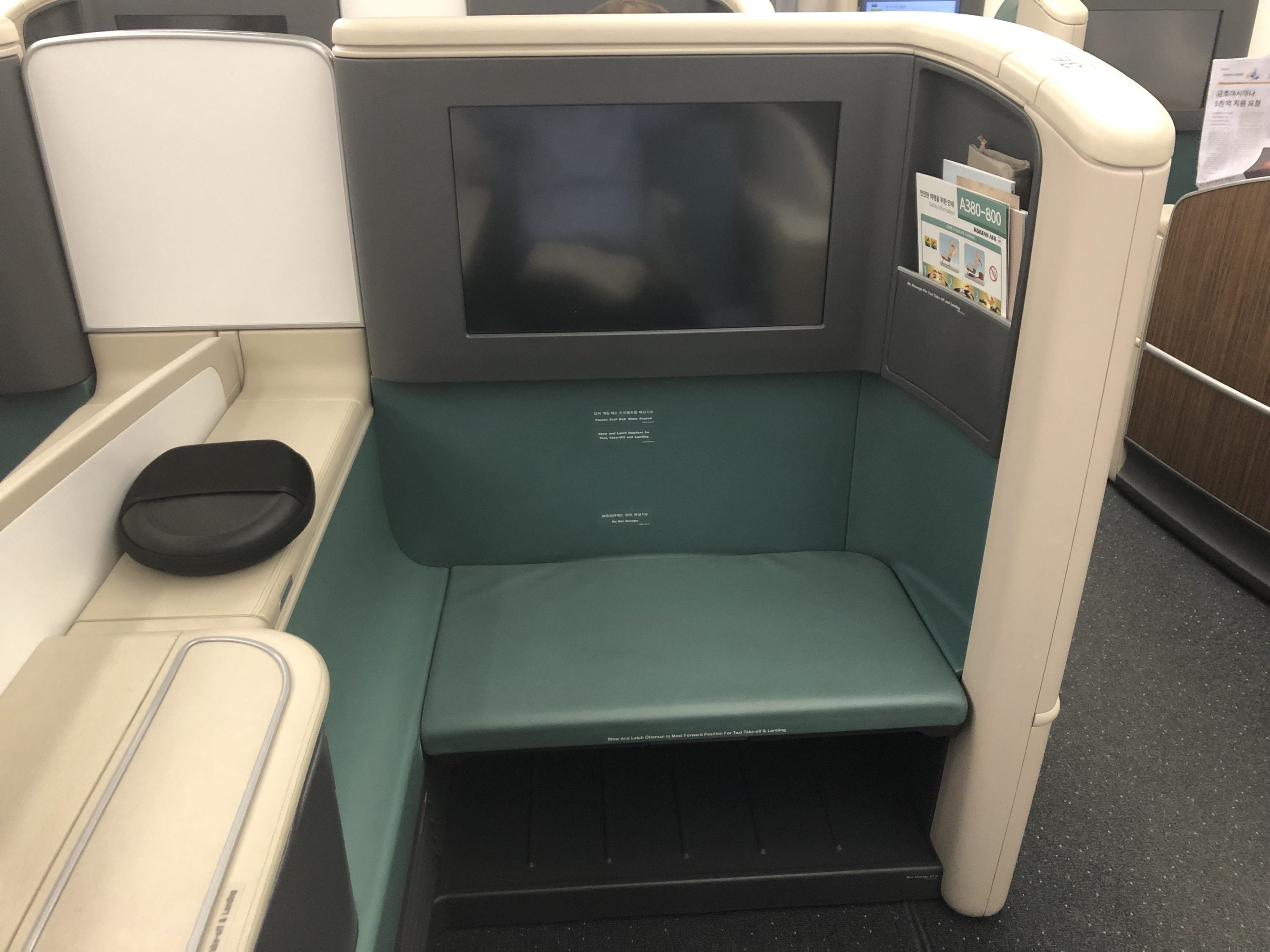 There was a lot of under-seat storage beneath the ottoman as well, which is nice.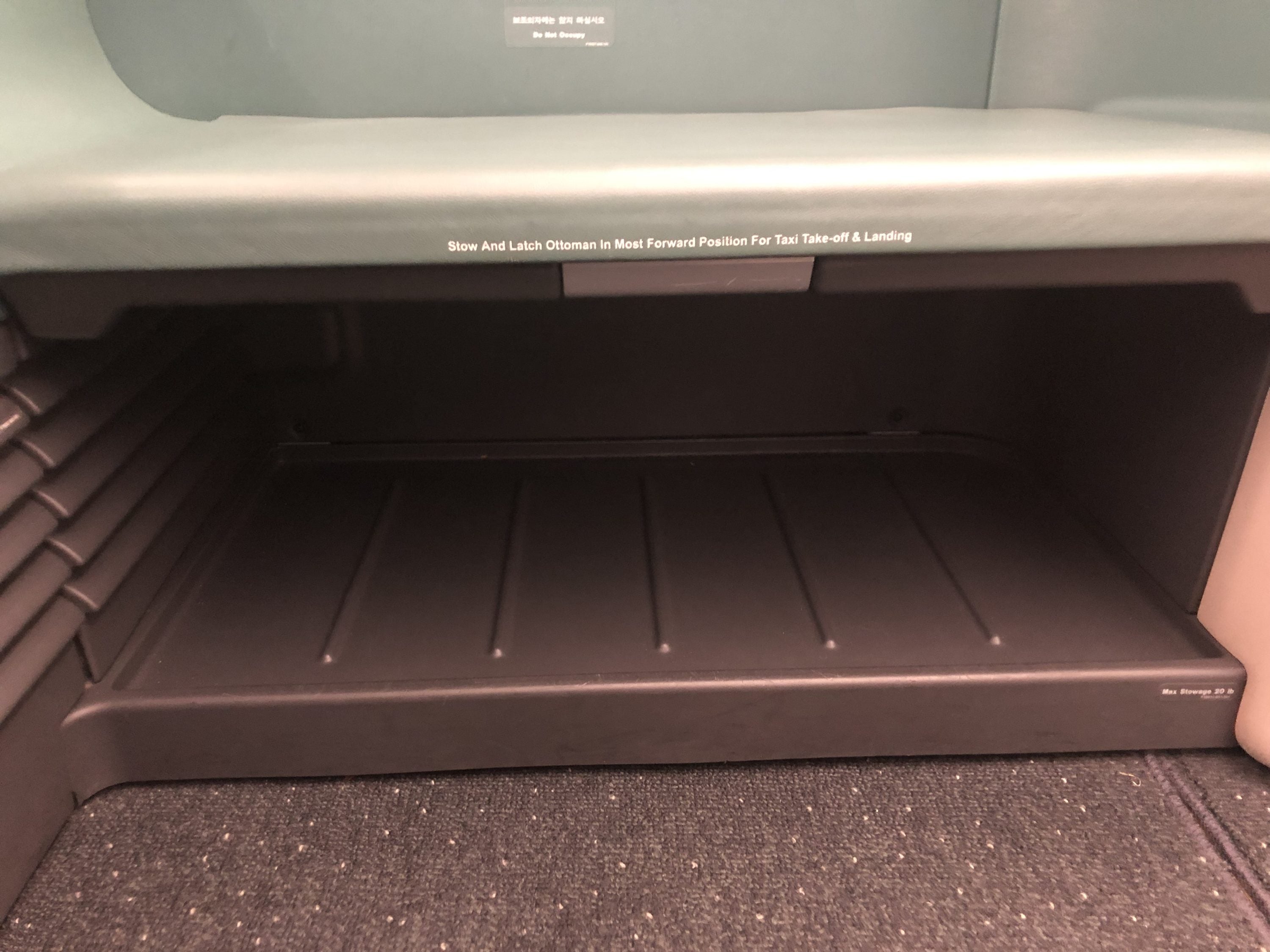 I opted to store my backpack in the overhead bin on the port side. As I turned to put my backpack in the overhead compartment, I saw the same guy who was whisked into one of the VIP rooms at the Korean Air lounge.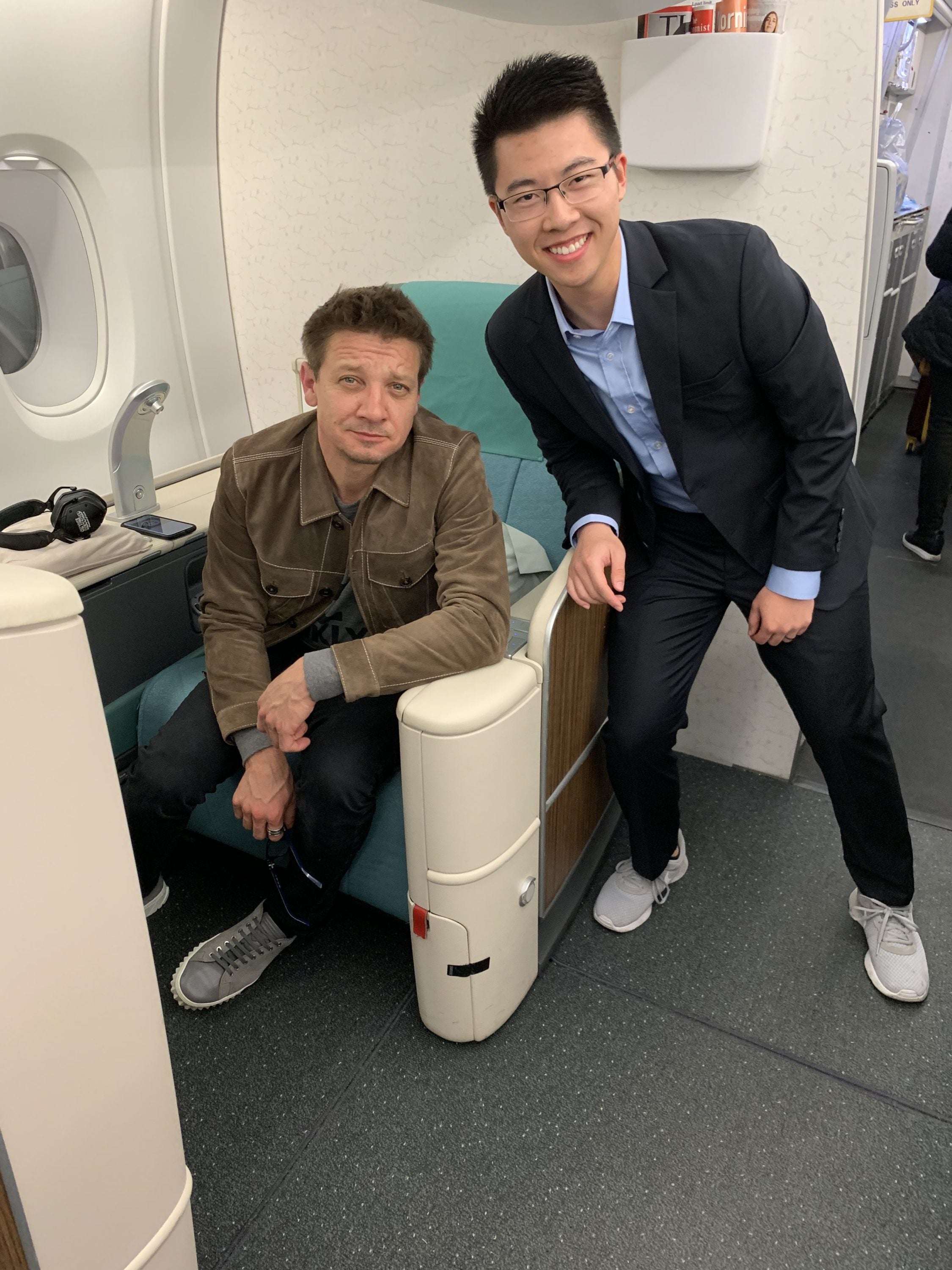 The person who was sitting next to me was none other than Jeremy Renner. You may know him as Hawkeye from the Marvel Cinematic Universe or even Sergeant First Class William James from The Hurt Locker.
This absolutely made my flight. I've been a huge fan of his eccentricity as a person and as a movie star that I was fangirling like crazy throughout the 13-hour ride to Korea.
What was he doing going to Korea, you might ask? He, Brie Larson, and Robert Downey Jr. were all headed to Seoul to begin their press tour for Avengers: Endgame, one of the biggest, most successful films in history.
Unfortunately, Brie Larson and Robert Downey Jr. weren't on this flight … perhaps they were in Asiana First Class? 😂
At any rate, I didn't want to bother him too much, so I continued with my business. He basically slept the whole flight anyway.
I put my shoes in the storage area under the ottoman. As you can tell, there's a ton of space.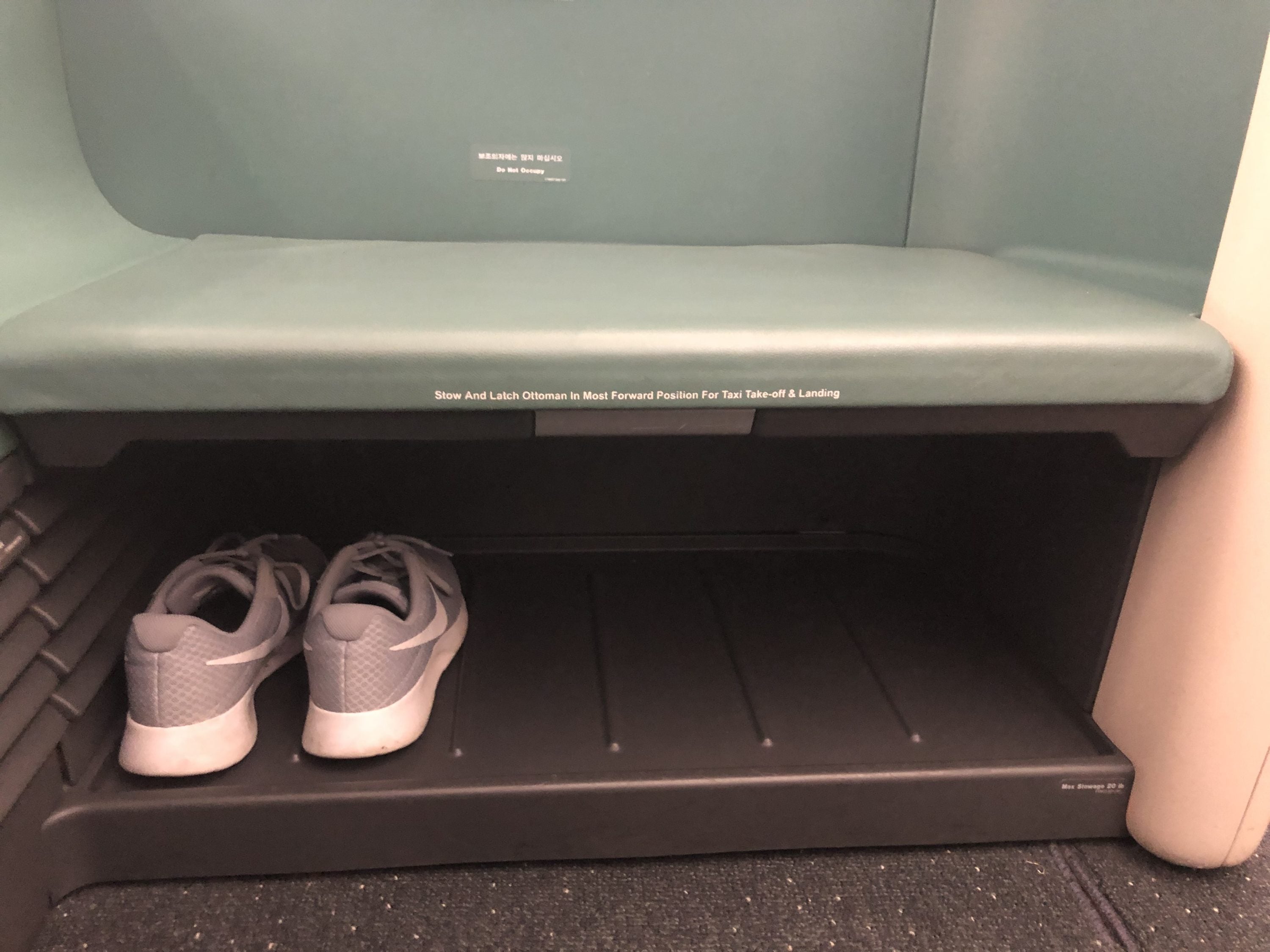 The armrest contains several storage compartments as shown below.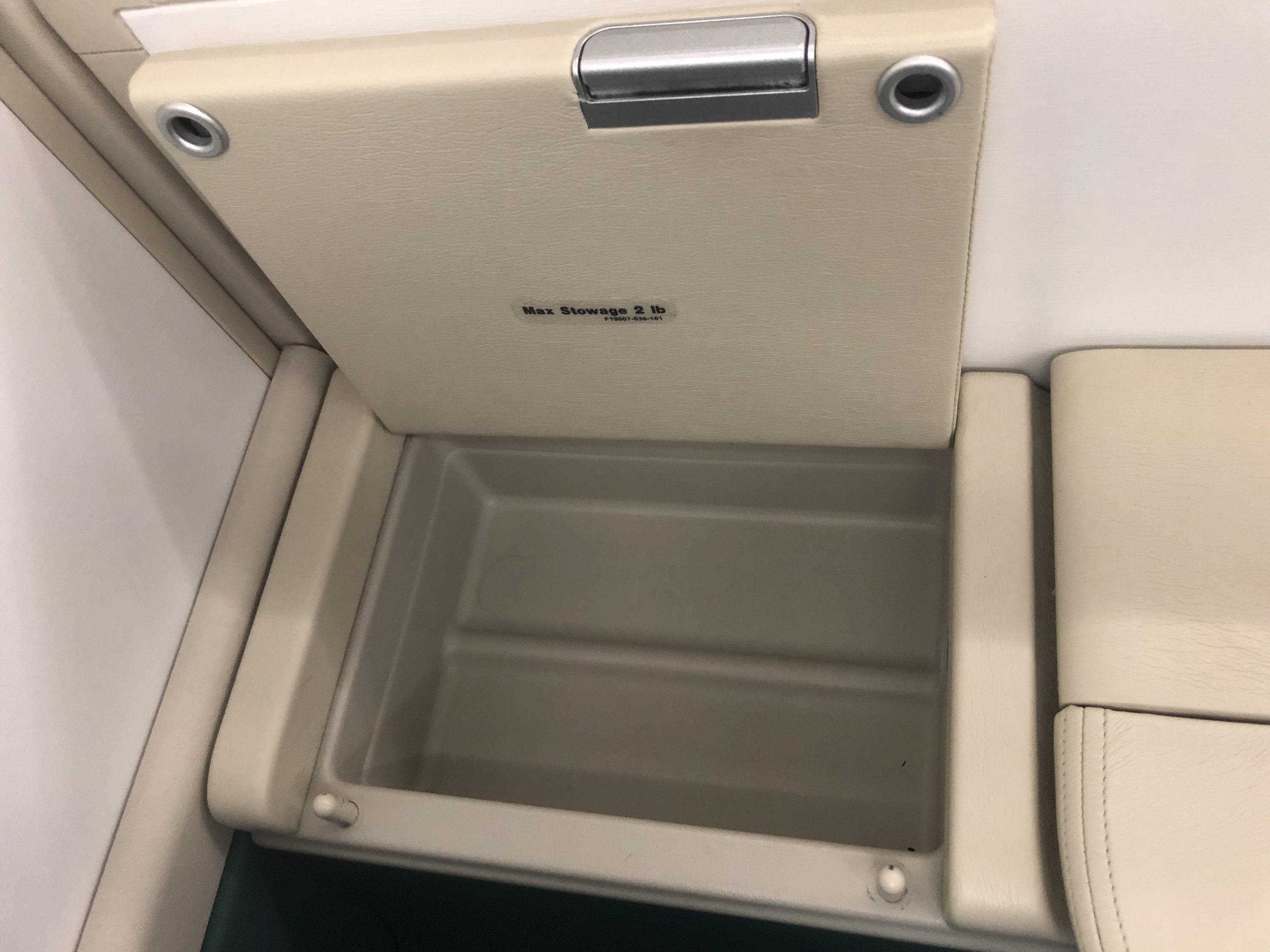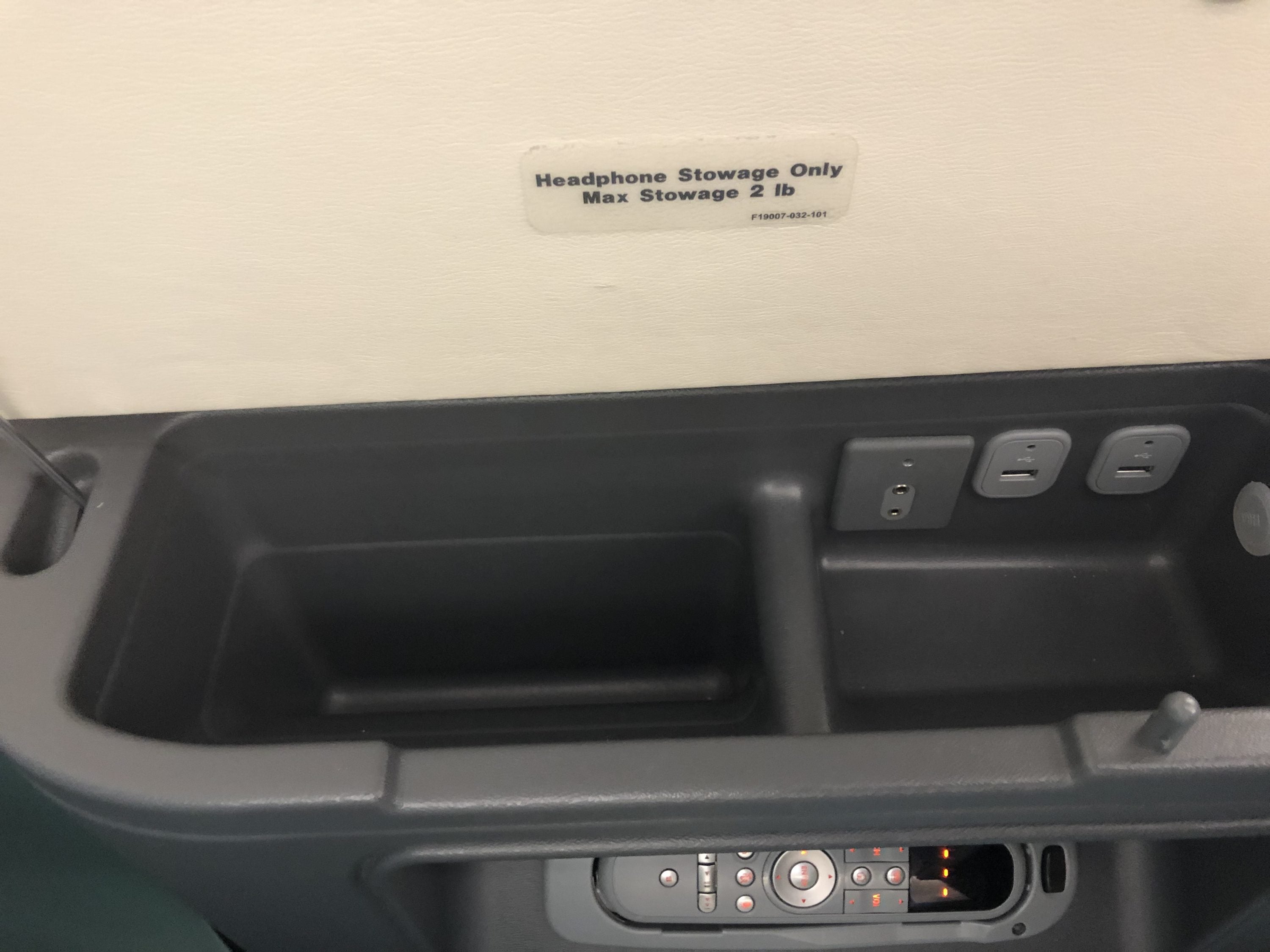 Inside one of the first class storage compartments were two USB charging stations and a headphone jack.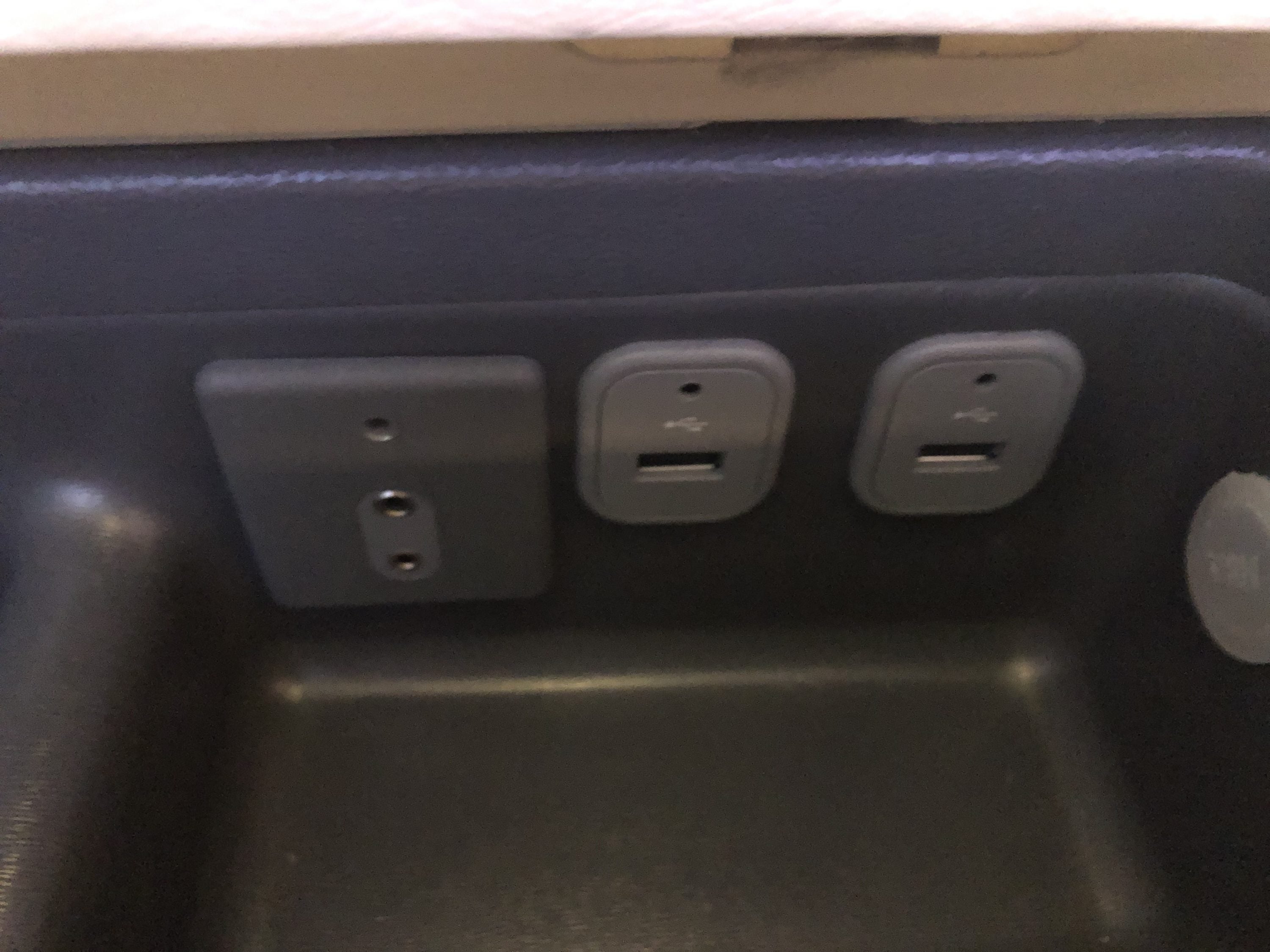 One quirky aspect of the seat is that there was a seat lamp protruding from the armrest, which was interesting.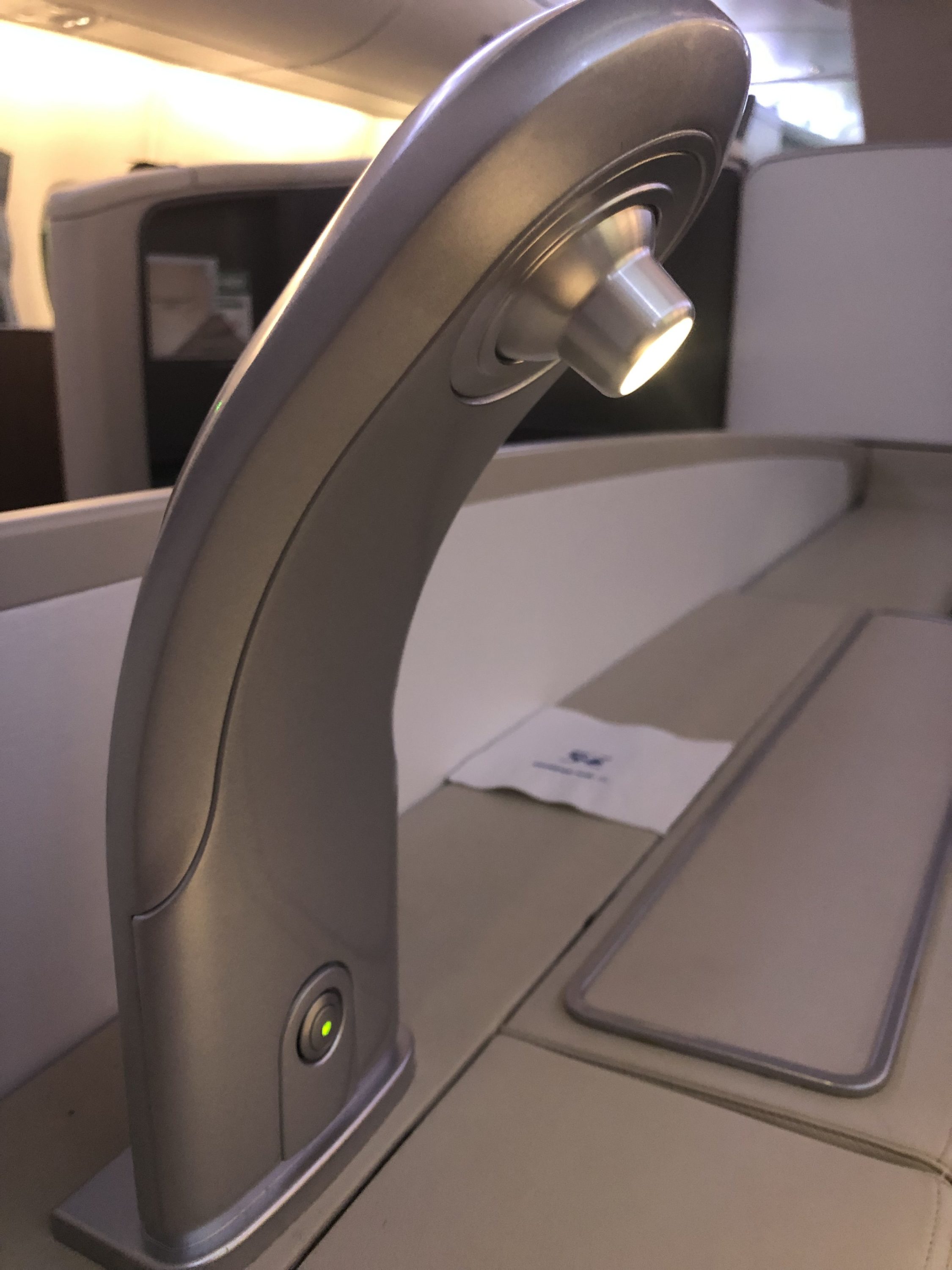 I couldn't help but feel that the lamp was getting in the way at times, but it's an idiosyncrasy of Korean Air first class, so we'll let that slide. There are also a bunch of seat controls. The first set of seat controls raises and lowers the height of the brown wooden seat dividers.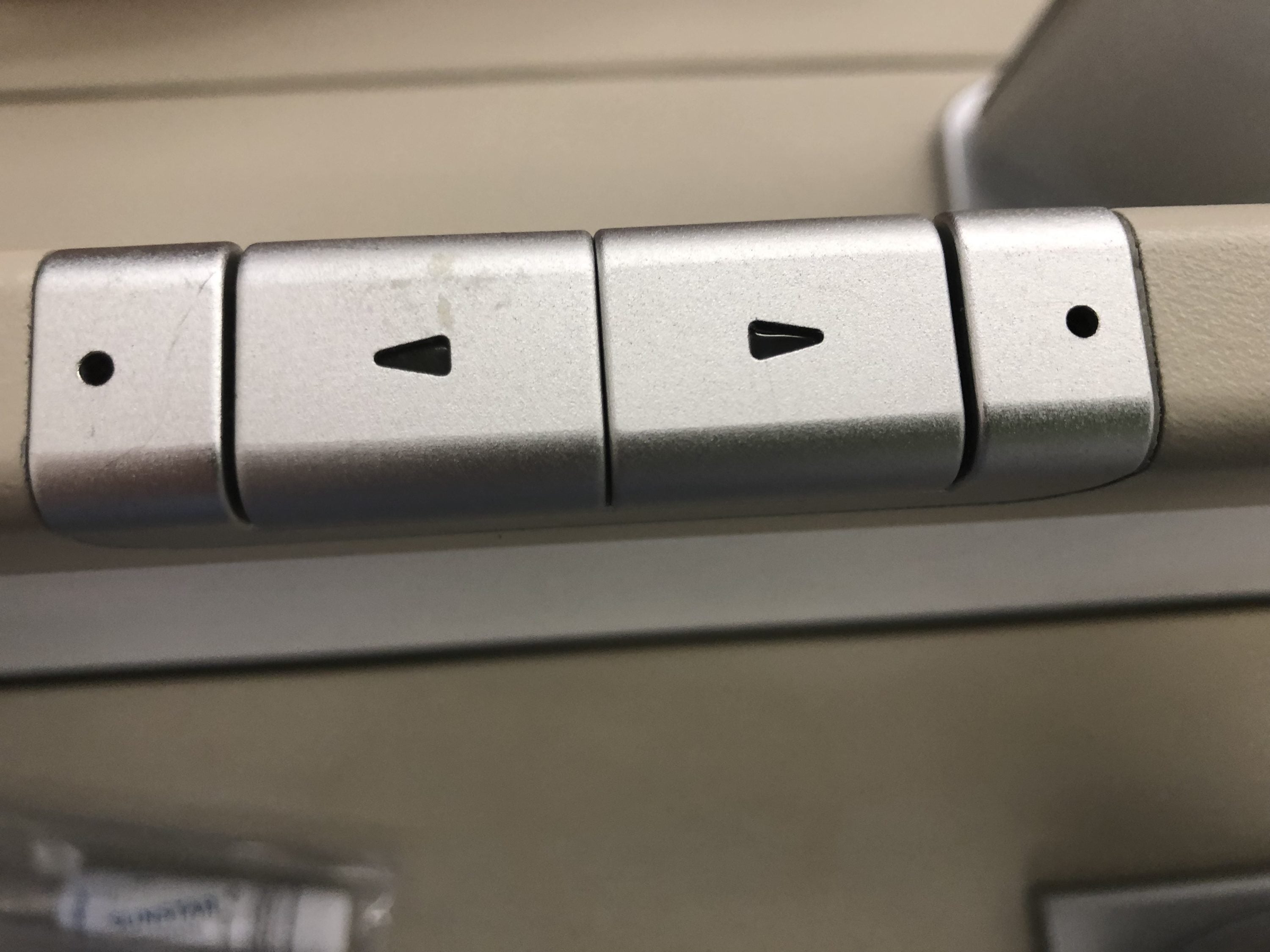 Simply put, these seat buttons make it harder to see passengers. Here's what a fully raised seat divider will appear like to an outsider.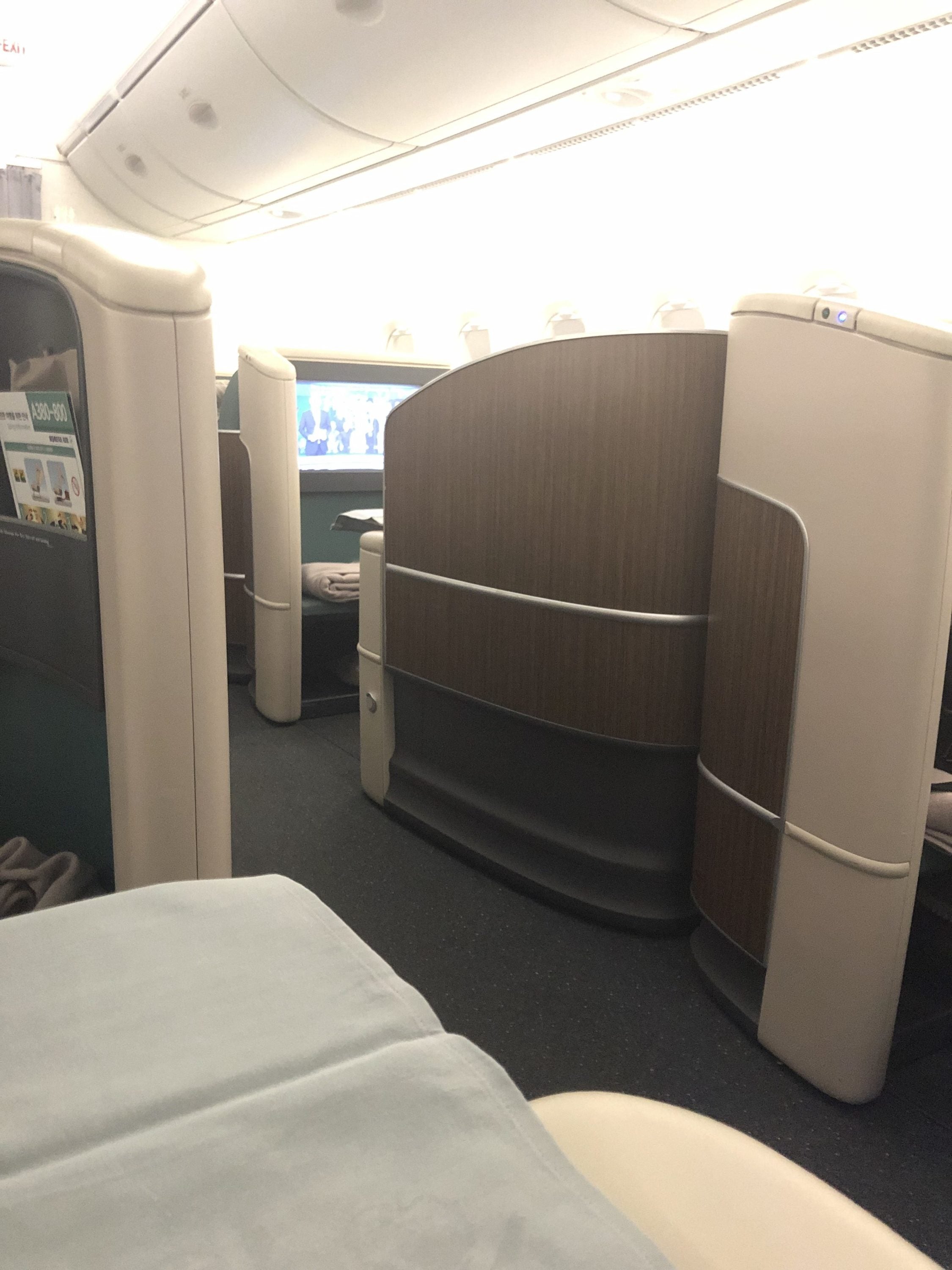 In addition, there are buttons that control the seat itself so you can customize your position.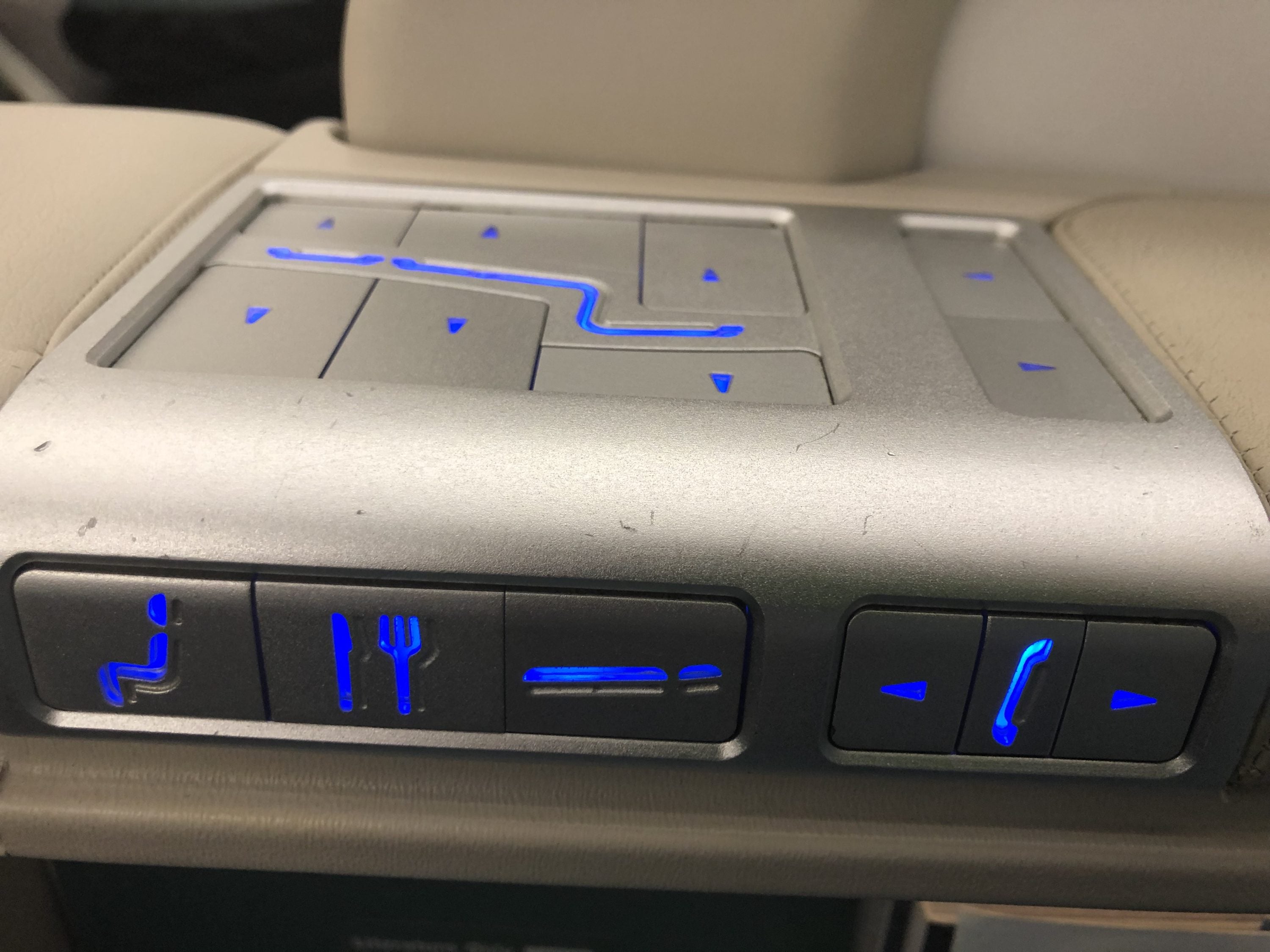 You can tailor your exact seat positioning based on your personal preferences with these buttons.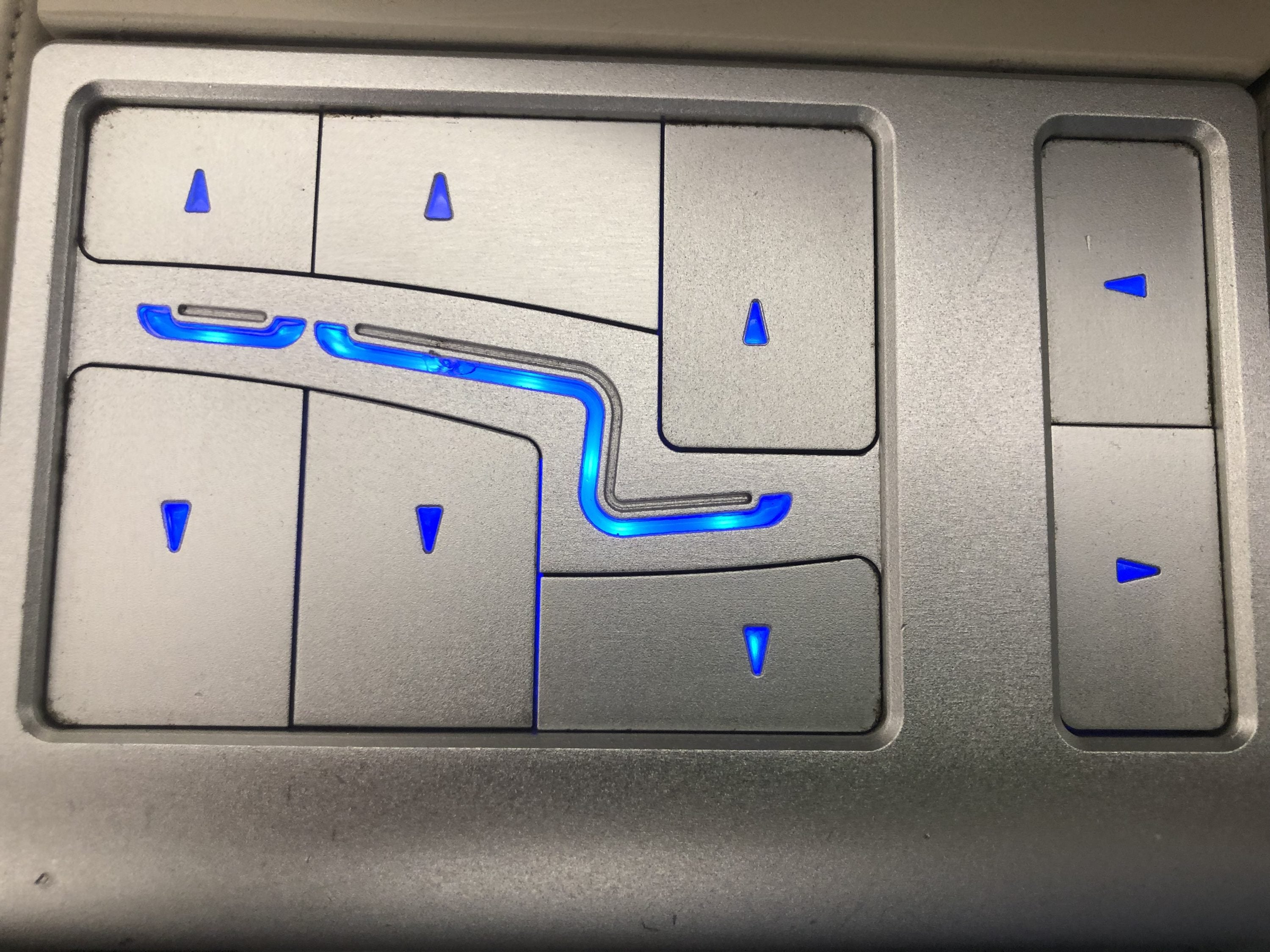 I located the literature compartment, which stored the safety brochure, duty-free catalog, and the Korean Air magazine.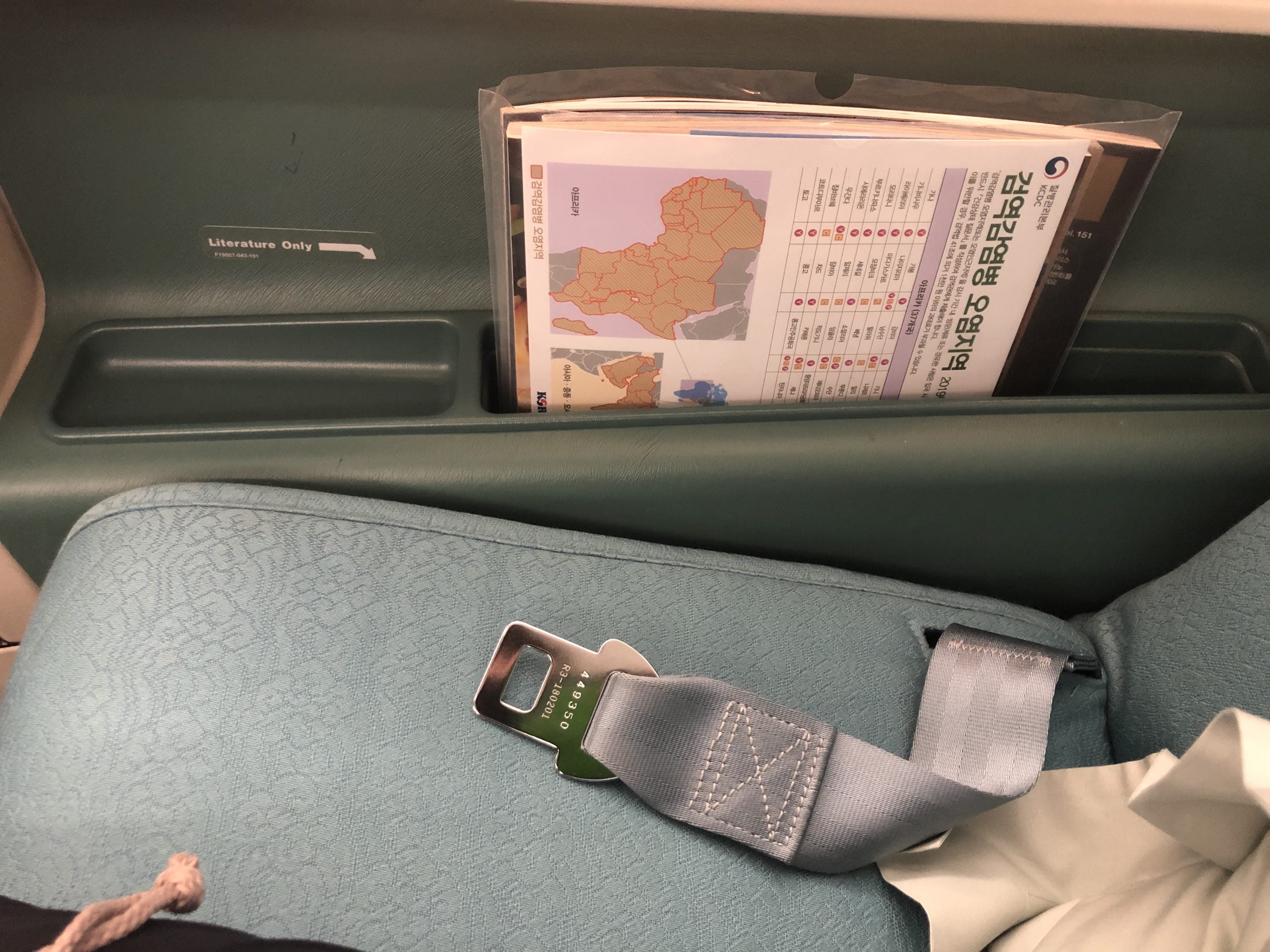 I found the seat remote, which was typical and not anything special.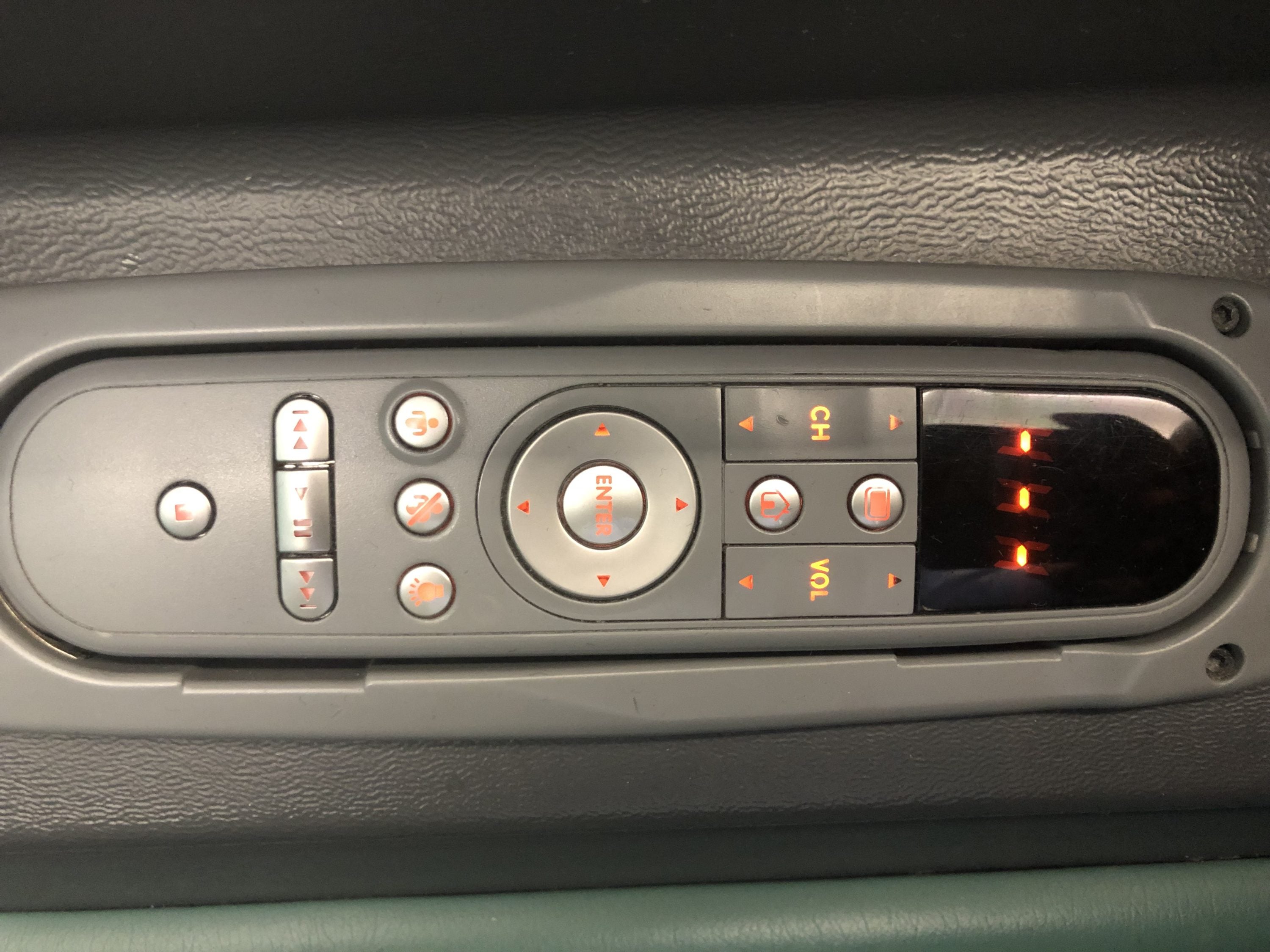 Lastly, the tray table was hefty and elegant. The wooden finishes in Korean Air first class provide a welcome contrast to the teal highlights.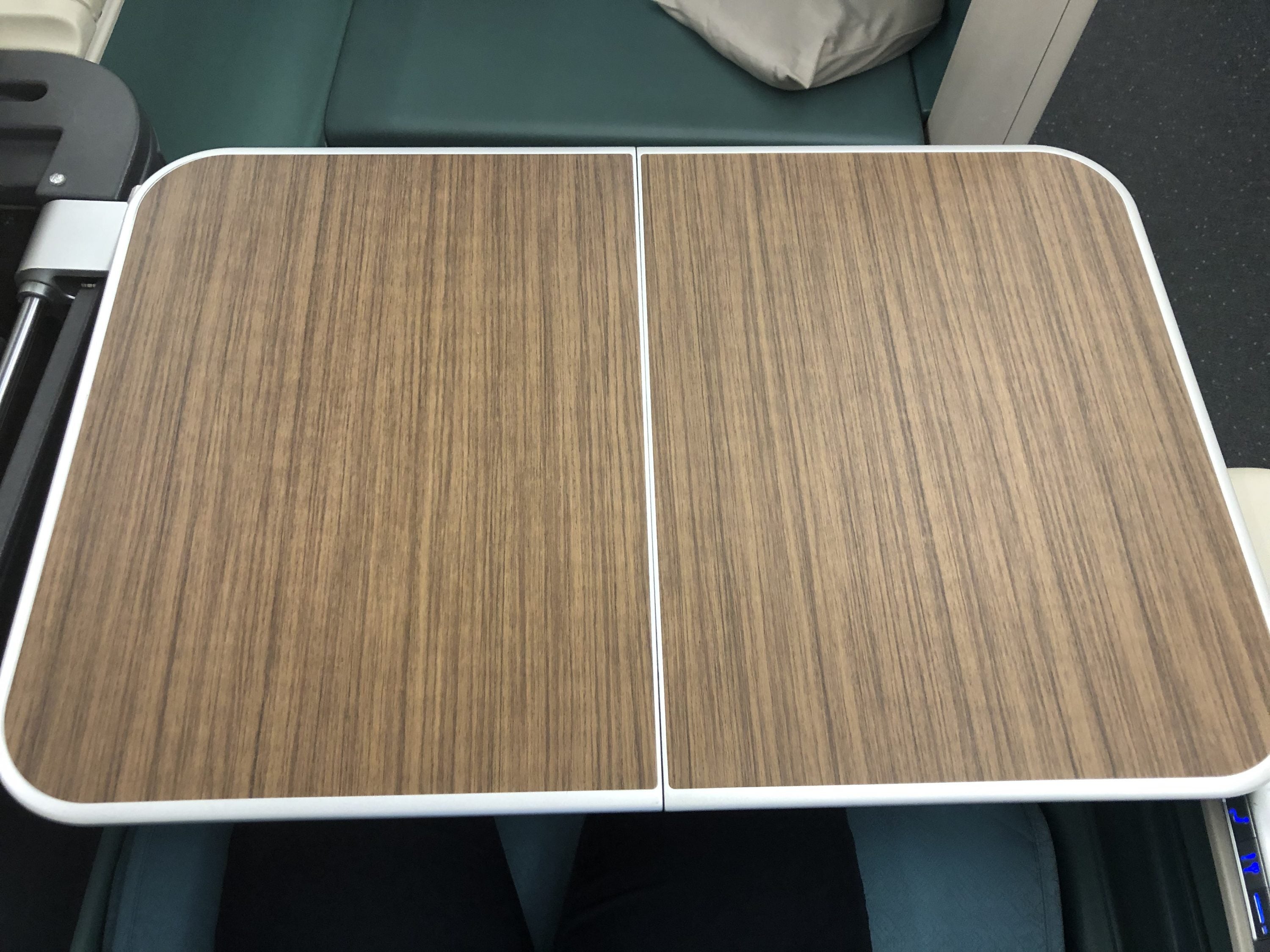 When the seat reclined into the fully lie-flat bed, the total length was around 79 inches. This suite is so huge that I didn't know what to do with all the space available.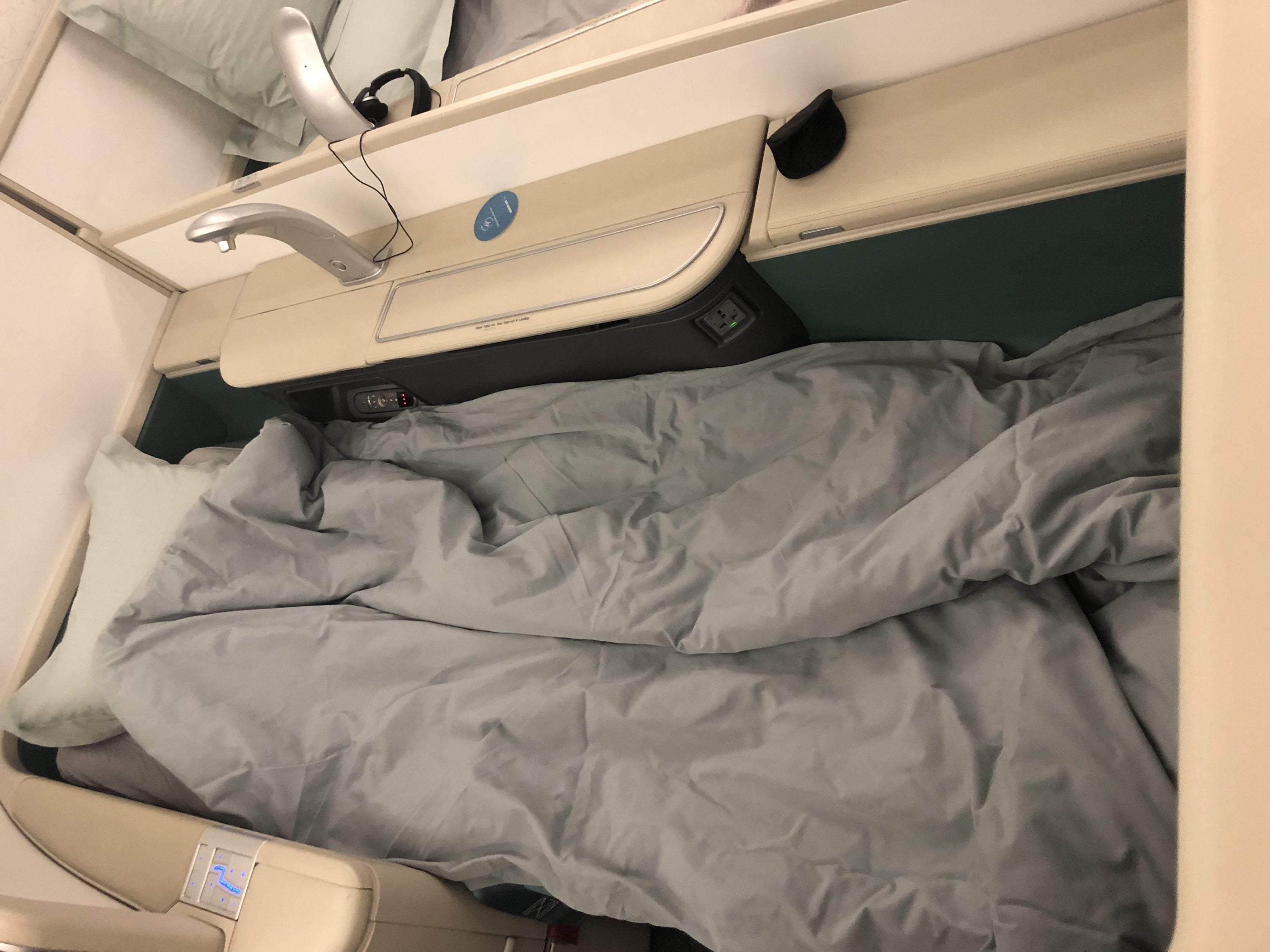 Because the suites were so ridiculously roomy, I got some of the best sleep I've ever gotten on a flight. I didn't need to restrict my feet into a narrow footwell, which made it feel like I was sleeping in a real bed.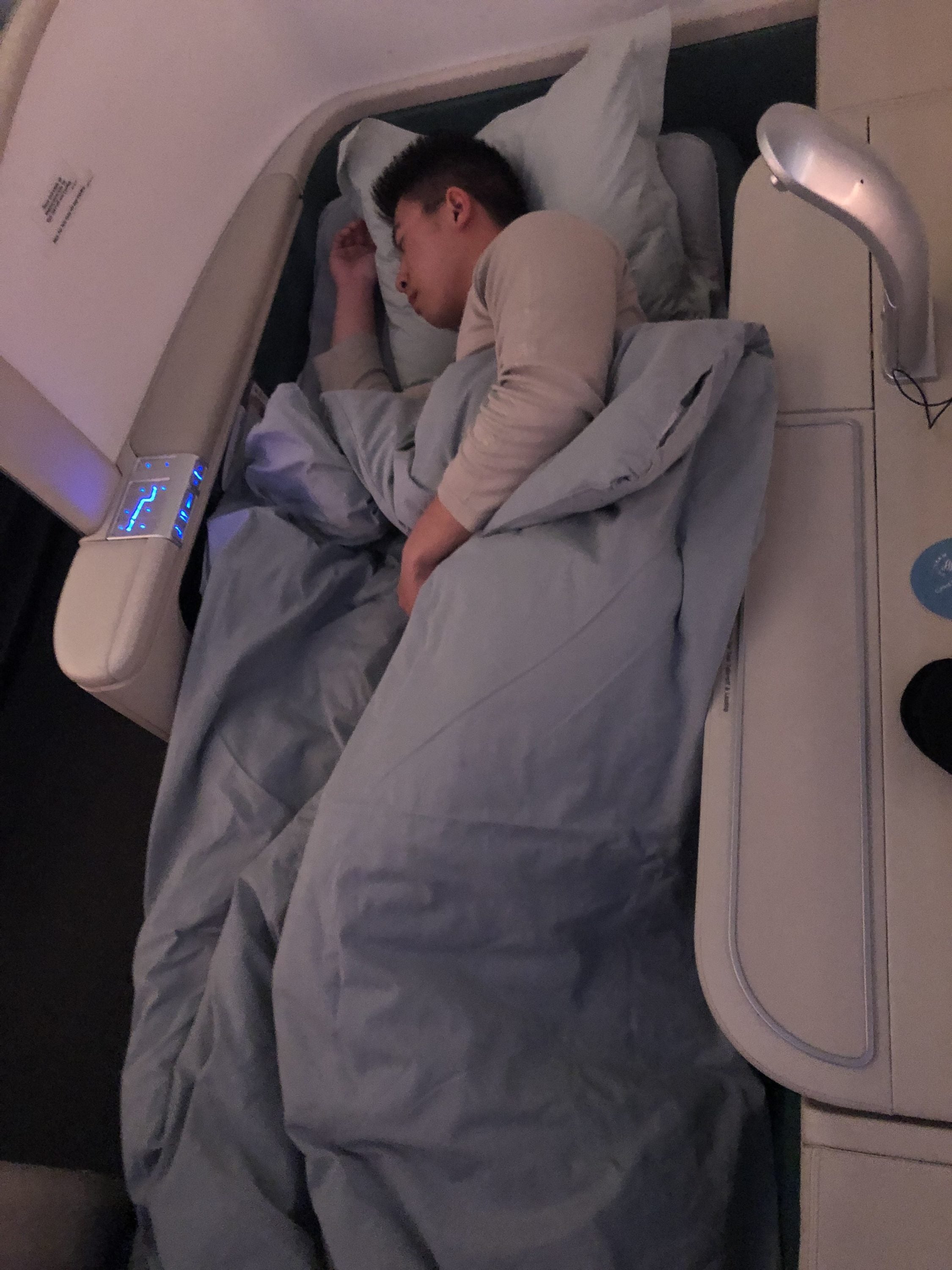 Needless to say, the hard product checked off all the boxes, and we were very pleased with the seat.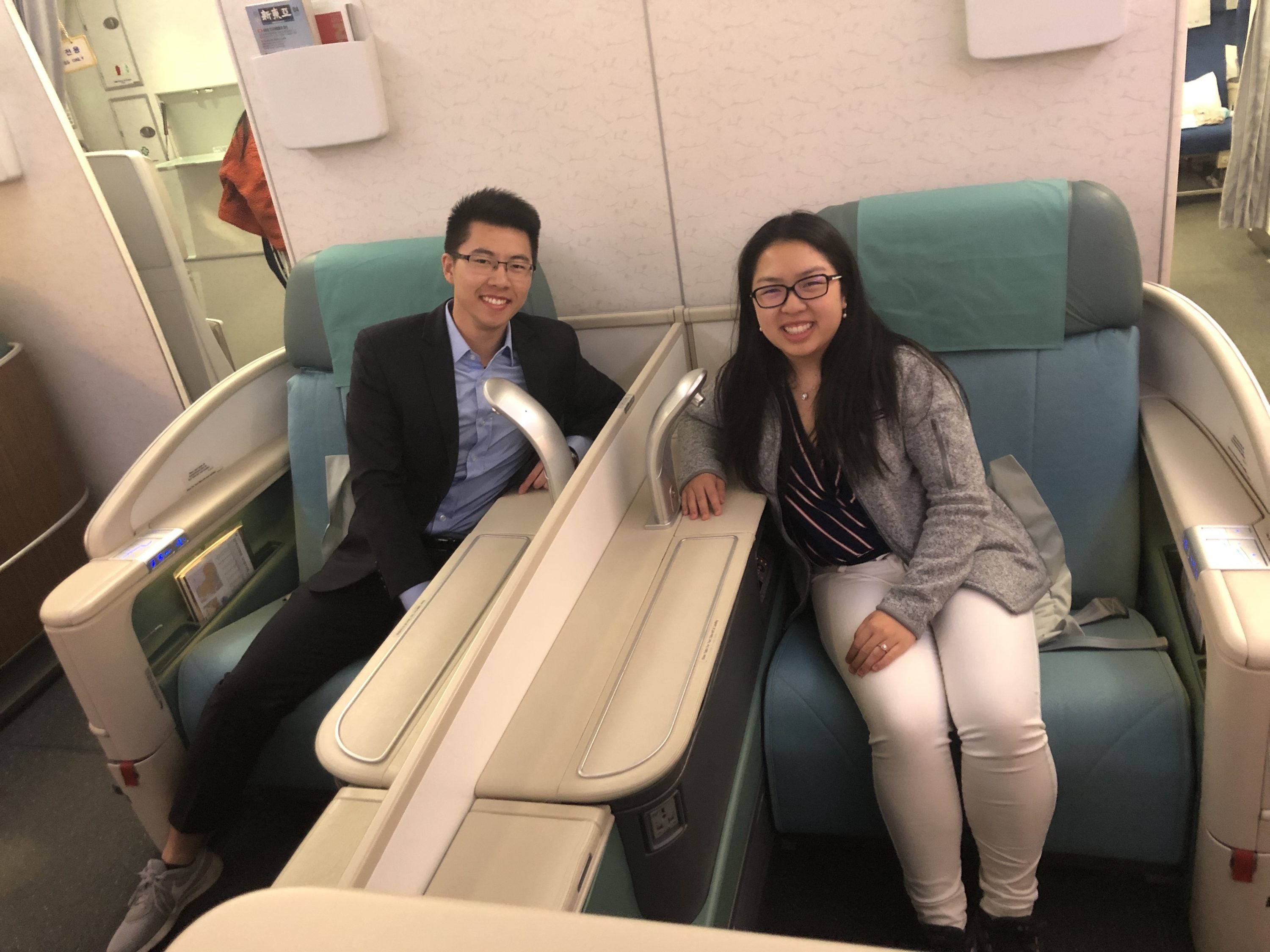 Now that we've explored all of the seat features, let's move on to the soft product. We'll begin by discussing the amenities.
Amenities
Korean Air is known to offer some fantastic amenities, and I was excited to see what goodies were waiting at my seat. First, I found a bag containing slippers in one of the many storage compartments at my seat.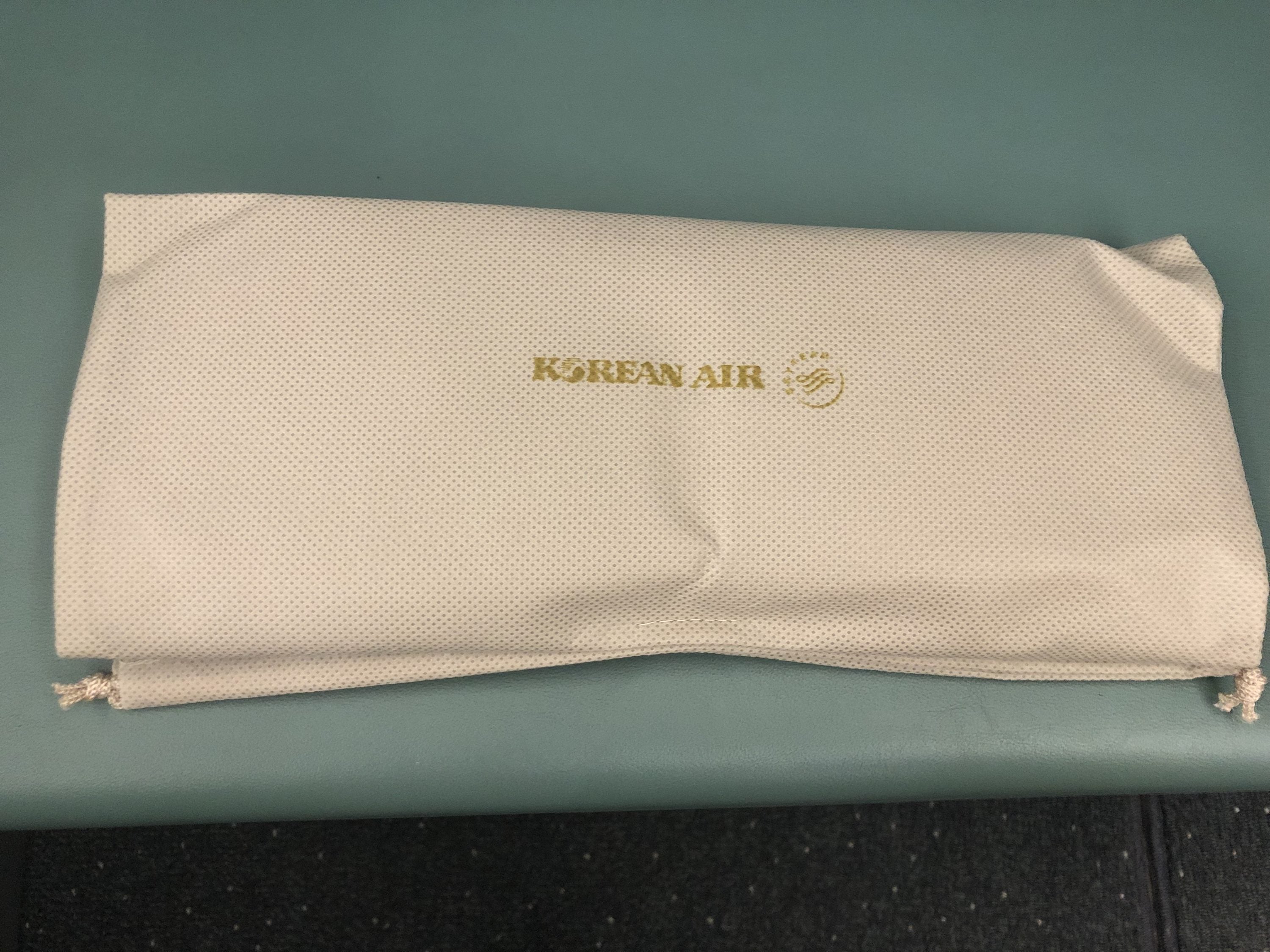 The slippers were plenty comfortable and had a decent amount of padding.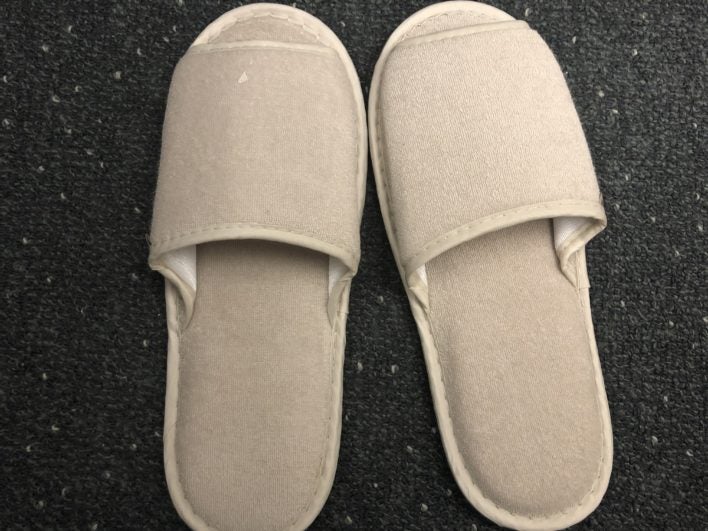 We were also given a light blanket for our lounging comfort during the flight.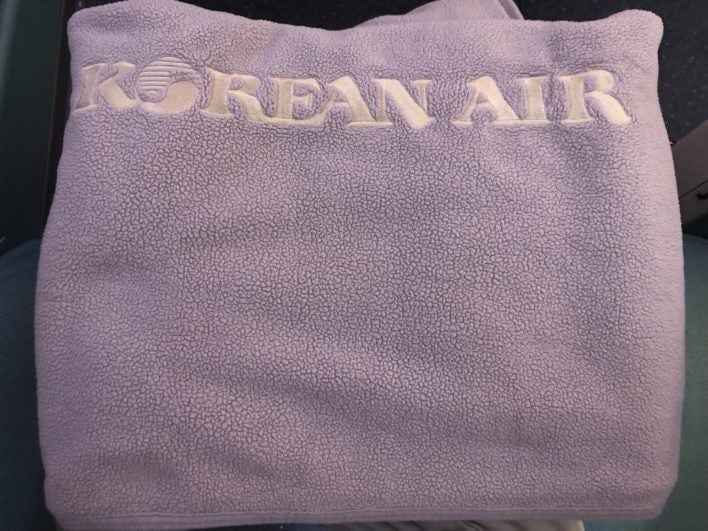 I was also offered Bose noise-canceling headphones, which is standard for first class on international flights.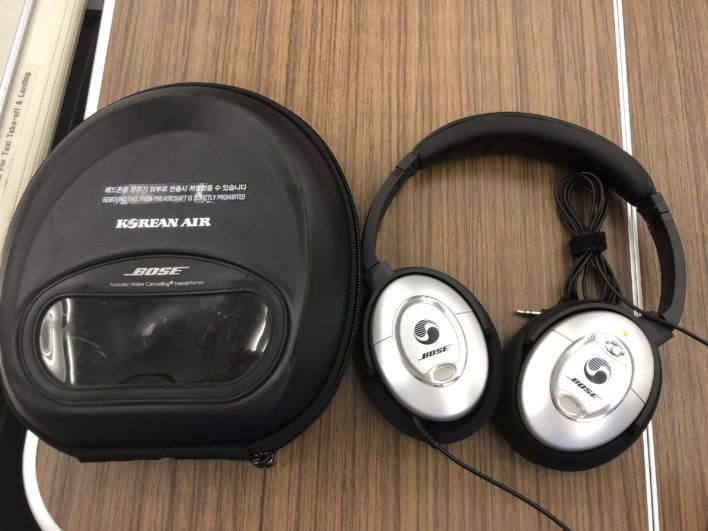 While the contents of the amenity kit were plentiful and well-varied, I thought the amenity kit felt cheap. Especially since they used to be Davi-branded. The amenity kit itself was made of some sort of thin plastic material, most likely nylon. Additionally, it wasn't a branded.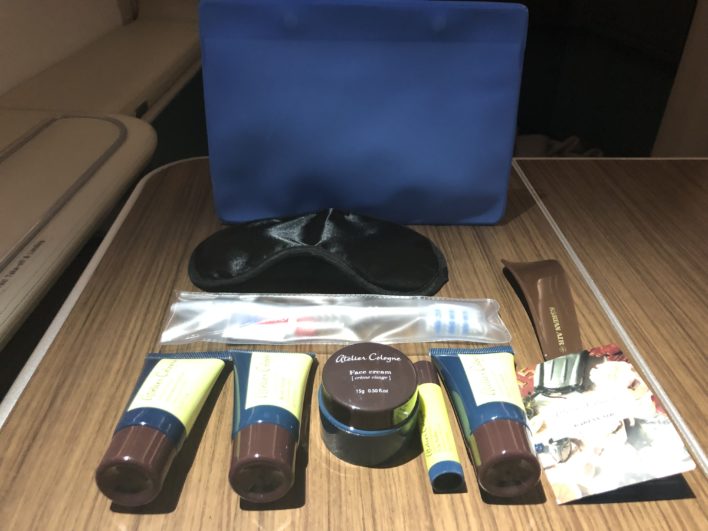 Inside the amenity kit was an eye mask, toothbrush set, shoe horn, Atelier Cologne-branded face cream, lip balm, hand cream, body lotion, and aftershave lotion, which I thought was a nice touch.
While the contents of the amenity kit were stellar, the actual kit that stored everything was somewhat disappointing.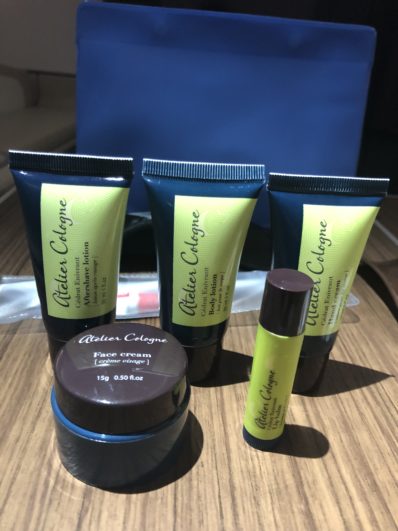 Korean Air does a great job of providing amenities upon amenities, and the flight attendant handed me a facial mist spray made from Jeju pure water, which was refreshing.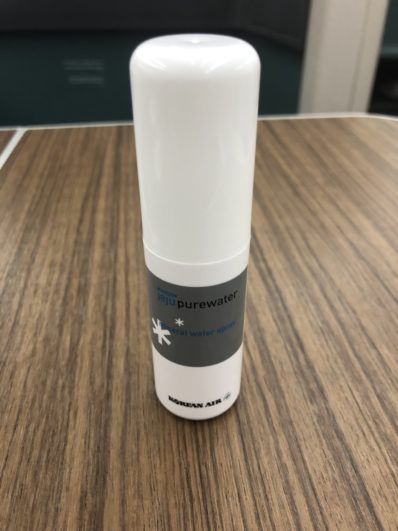 I was also provided with an extra toothbrush kit, a much-appreciated gesture.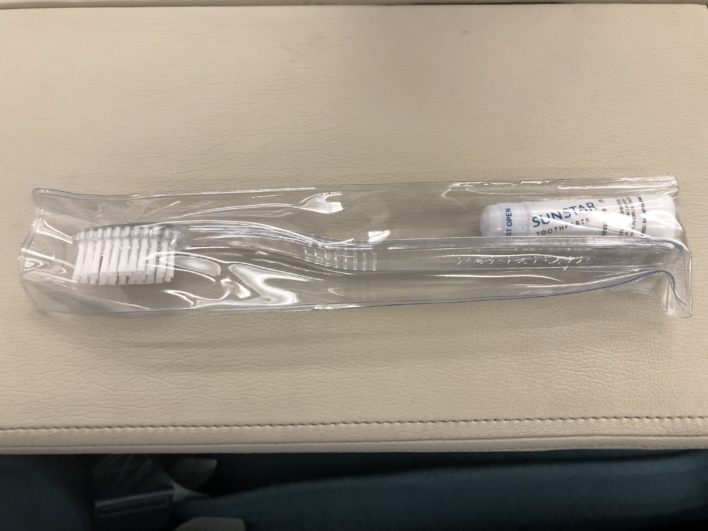 When gauging a pajama's quality, I look for softness and lightness. These pajamas, branded by Gianfranco Ferre, are among the softest pajamas I've ever felt.
These are definitely PJs I'll be keeping and using at home.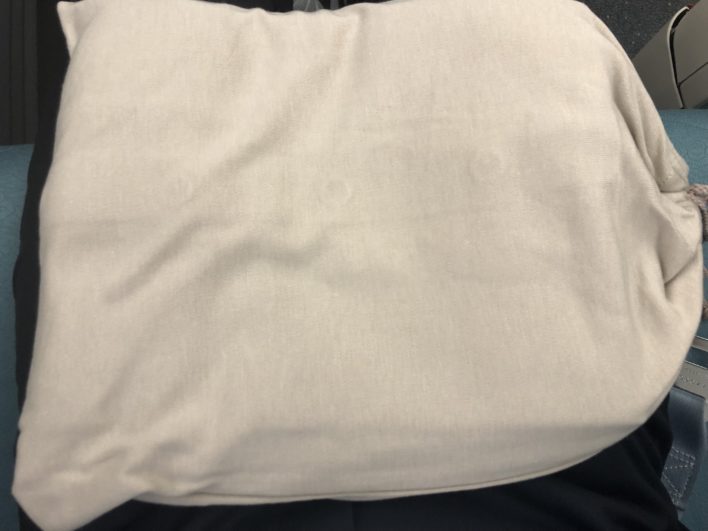 You can almost see how soft they were!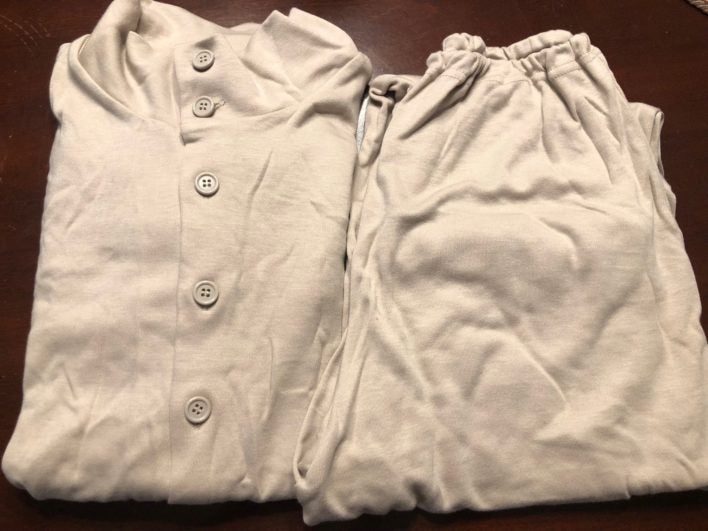 After I received what seemed to be endless amenities, I made my way to the first class lavatory and found even more amenities! There were combs, razors, travel-sized bottles of mouthwash, and even bottles of Jurlique body lotion.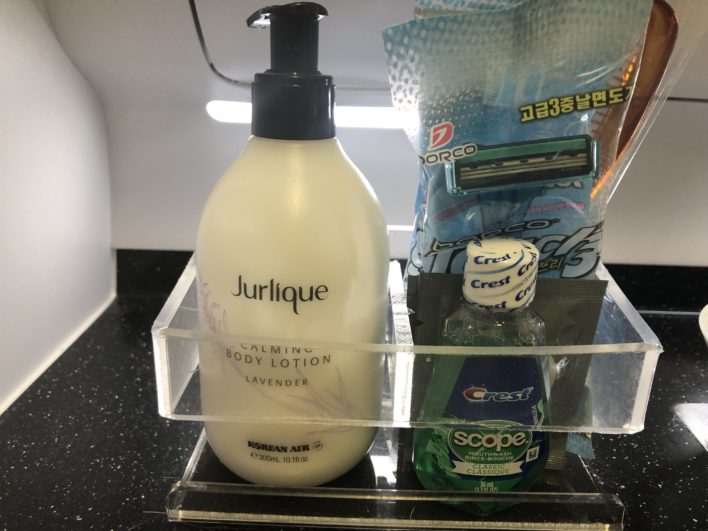 There's only 1 first class lavatory, which was on the smaller side. Additional lavatories in the business class cabin upstairs were available. Actually, one of the business class lavatories is significantly larger than the sole first class lavatory, which was interesting.
I was blown away by the amenities on this flight. From the ultra-soft pajamas to the amenity kit contents, Korean Air certainly takes care of your in-flight needs. We felt entirely pampered. The only area for improvement would be the actual amenity kit itself, as I found it to be underwhelming.
Food and Beverage
Korean Air doesn't serve alcoholic pre-departure beverages. This turned out to be a blessing in disguise because I found out they carry guava juice. As a life-long guava enthusiast, I was internally jumping for joy.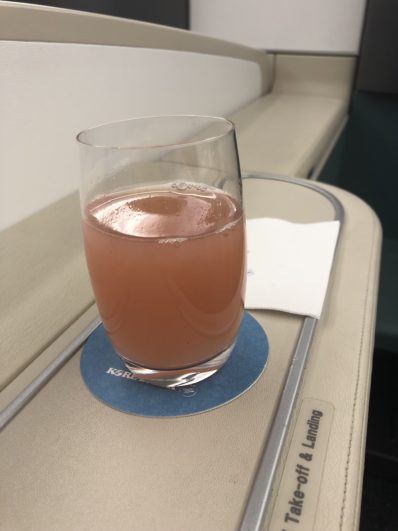 We were flying on a red-eye, so it's more important than ever to have a speedy meal service so passengers could get as much shut-eye as possible.
Meal service began quickly (like, 5 minutes after take-off). We were first handed hot towels.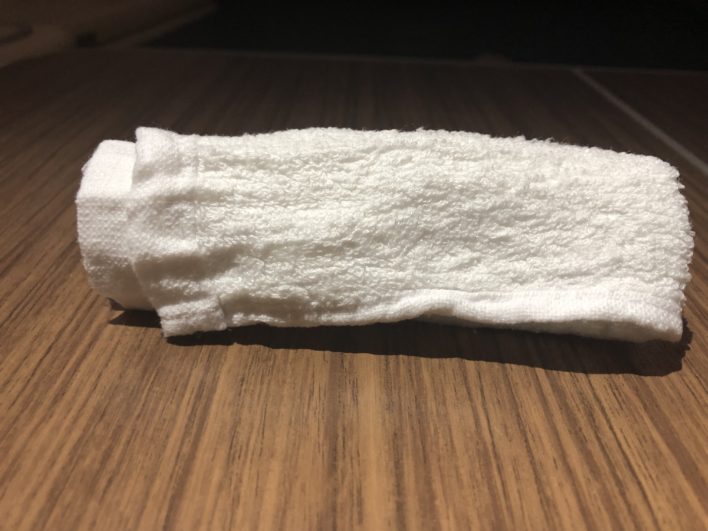 I found the food and beverage menu in one of the storage compartments, and I perused the contents.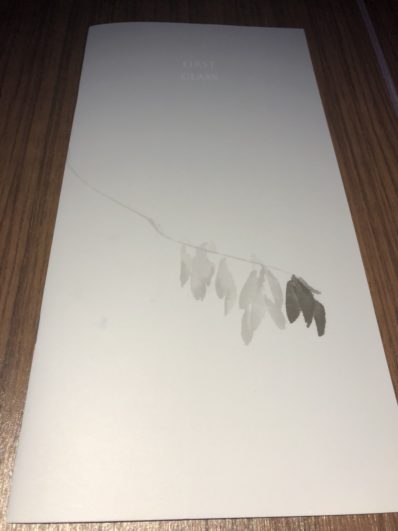 Korean Air offers an abbreviated meal service on their red-eye flights, which is probably for the best, simply because most people want to sleep after having a light meal.
Korean Air's meal service theme was called Obangsaek, which is intended to combine the traditional colors of the Five Elements: green (sour), white (spicy), red (bitter), black (salty), and yellow (sweet).
I knew I was in for a treat because I love Korean food. I mean, after all, a big part of why I was headed to Korea was because the inner foodie in me was begging to go.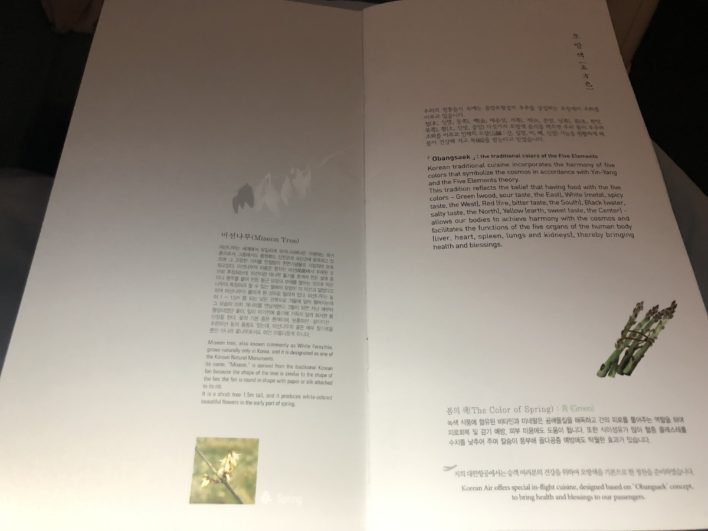 There were both Korean and Western meal choices, but I opted for the Korean set.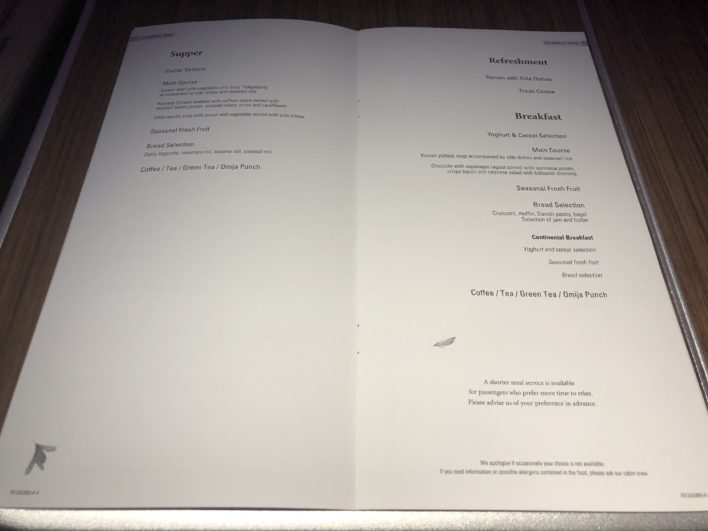 The cocktail and spirits list was substantial.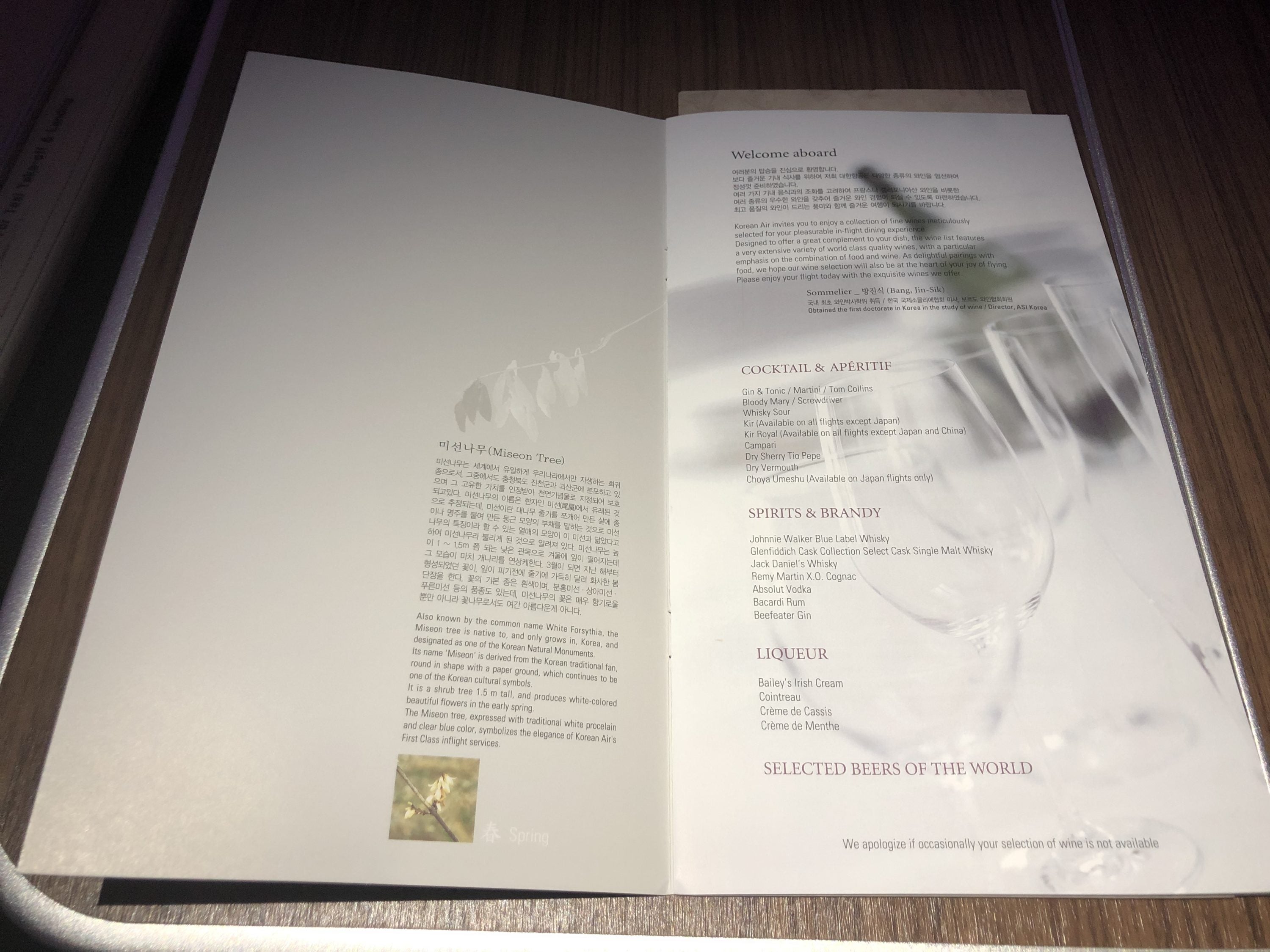 The drink that I was absolutely relishing was the champagne. As a huge fan of rose champagne, I could not wait to try was the 2010 vintage of Perrier-Jouët Belle Époque Rosé, which retails for $200 per bottle.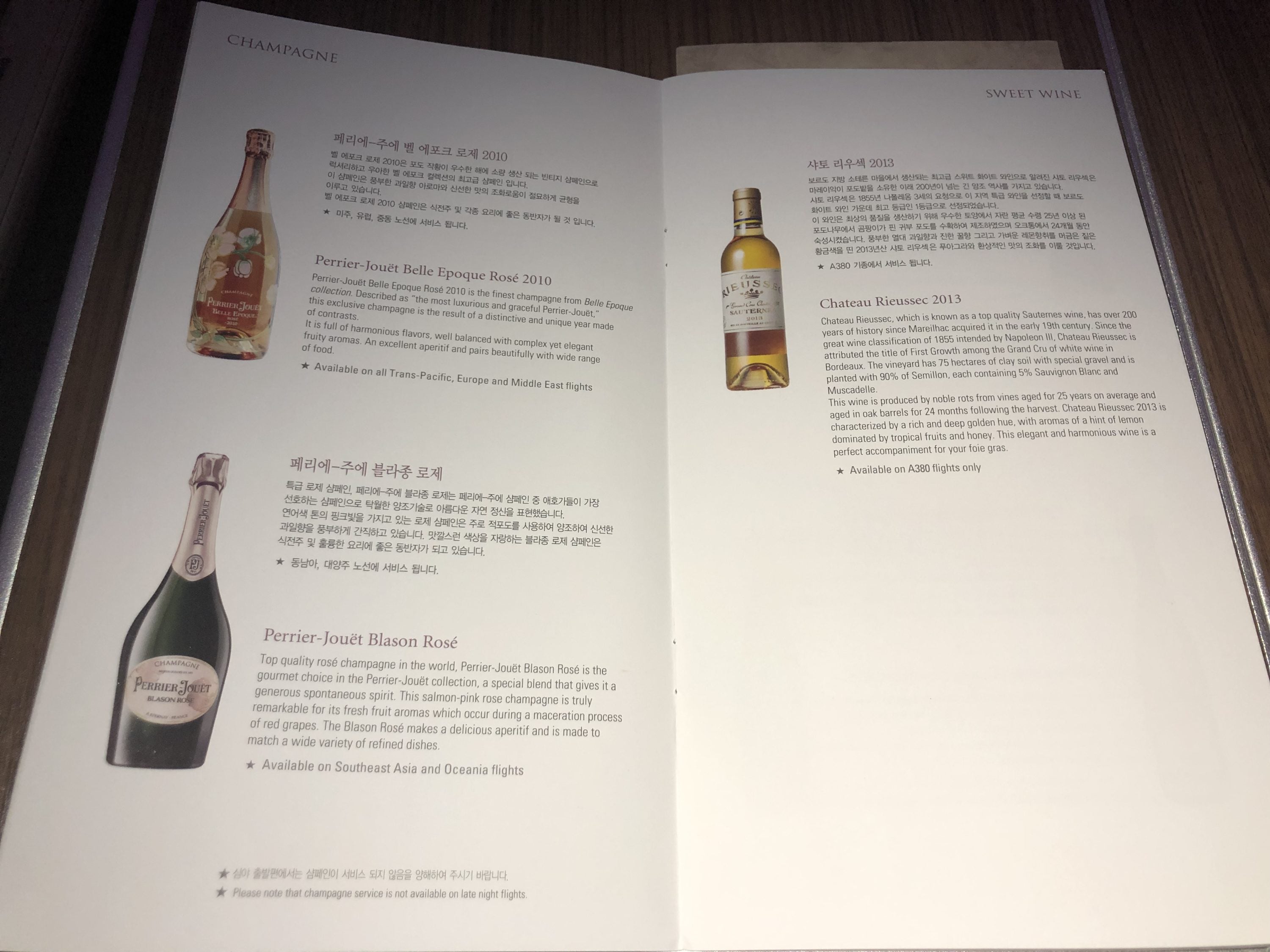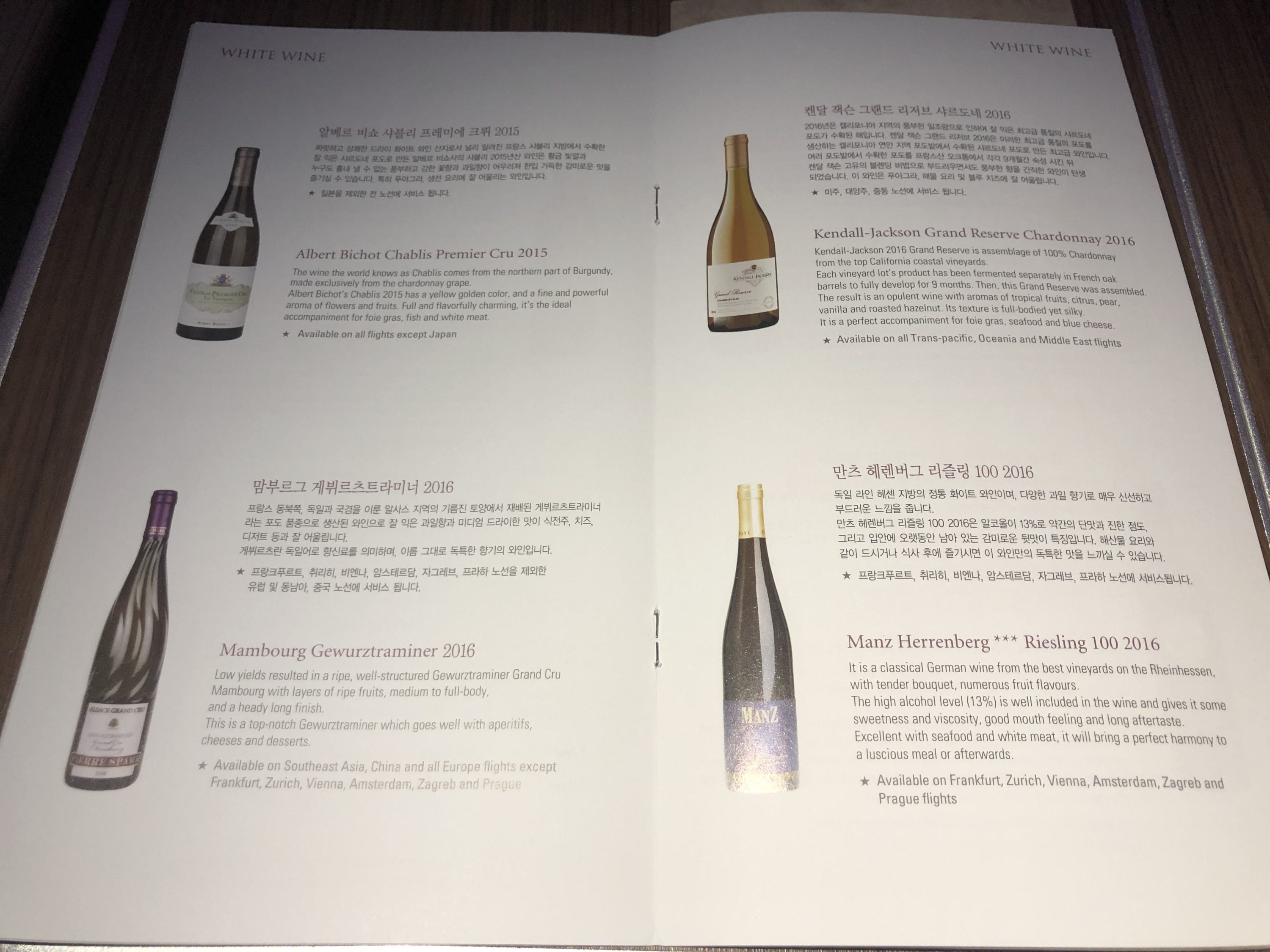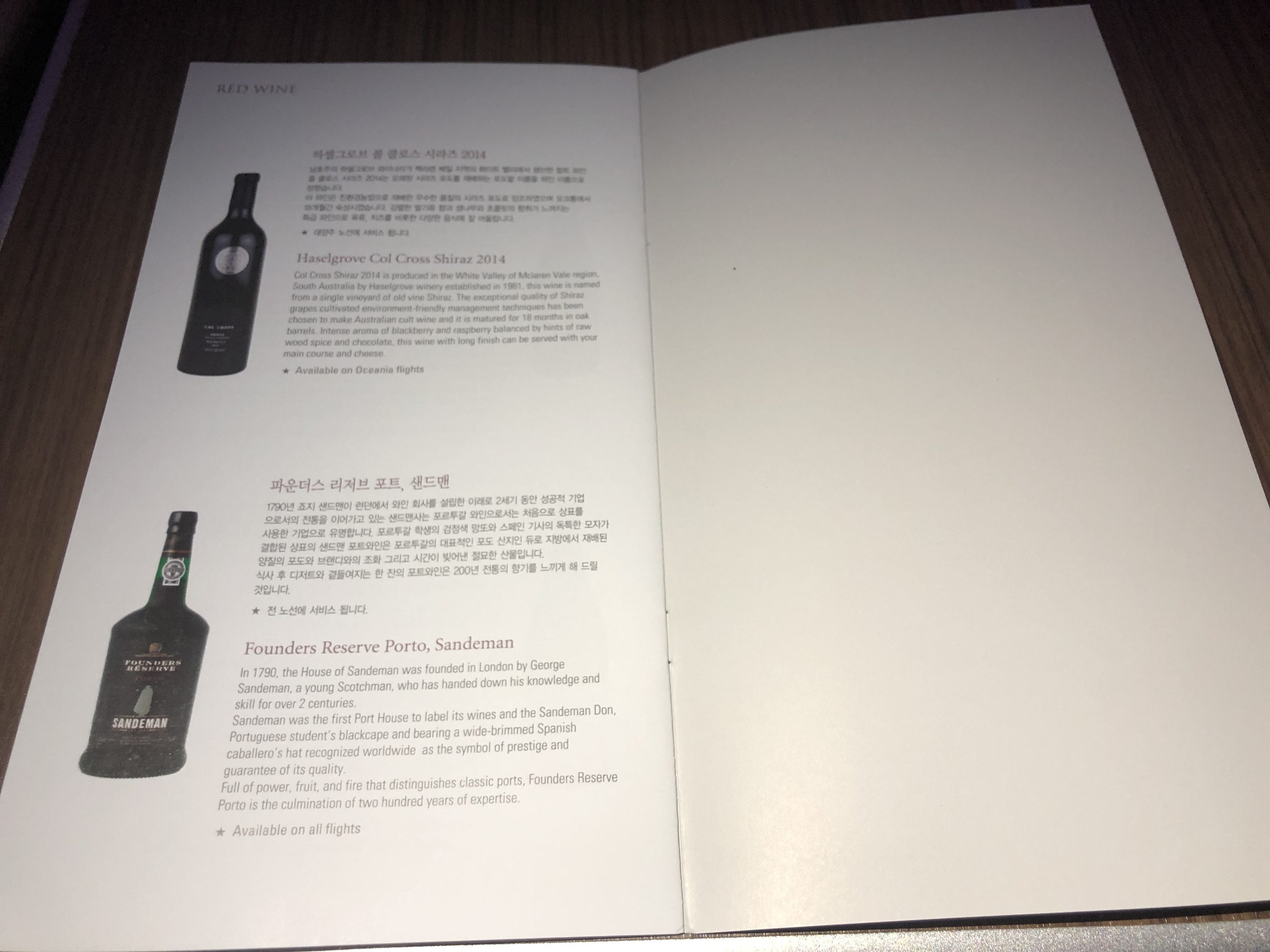 Additionally, there was an espresso menu, which is much appreciated for a caffeine lover such as myself.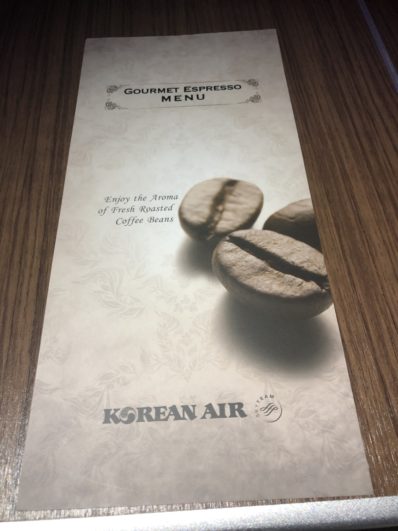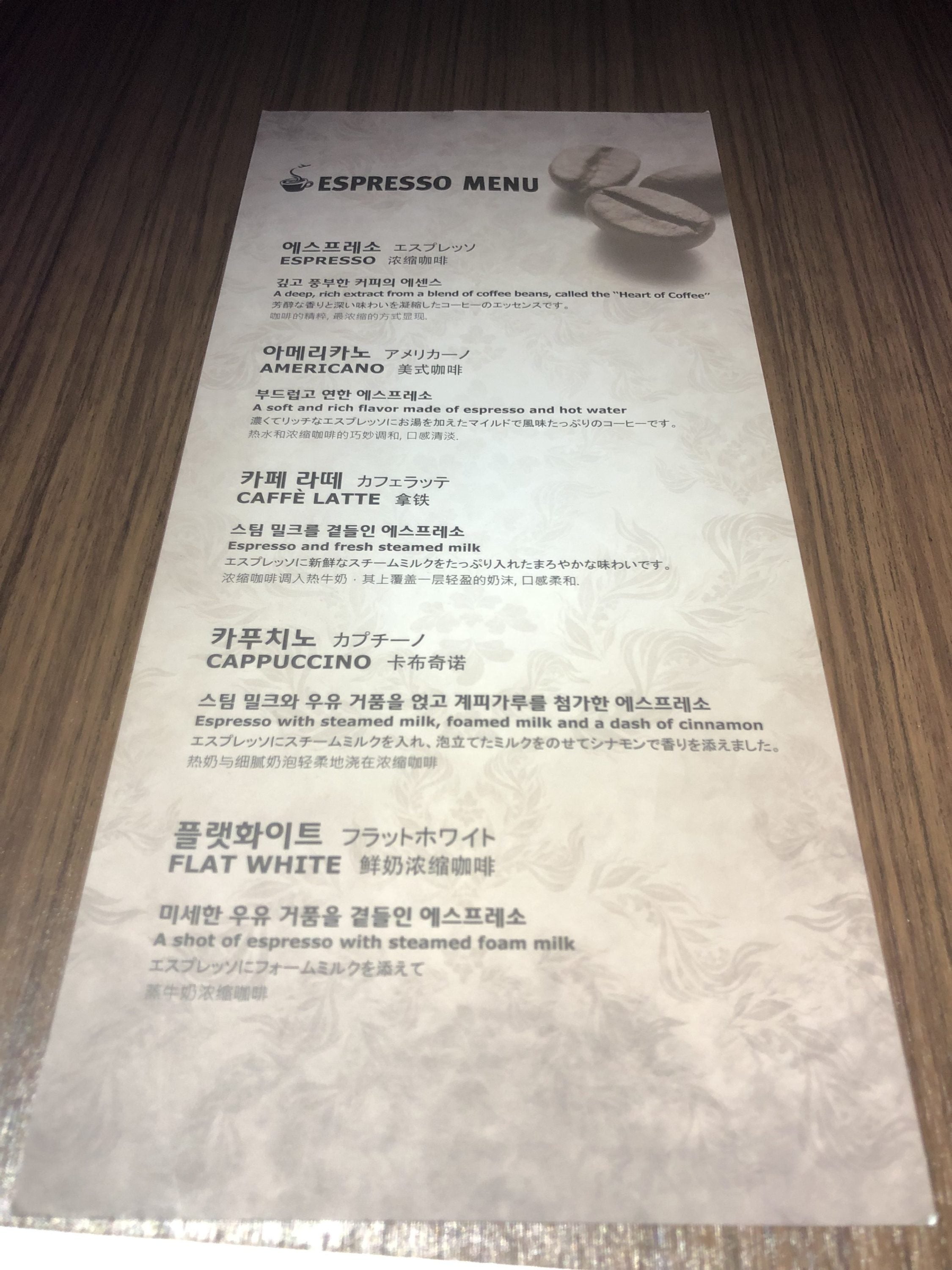 The flight attendant quickly set a tablecloth on my tray table, provided me with a lap napkin, and poured me a glass of rose champagne — it was phenomenal.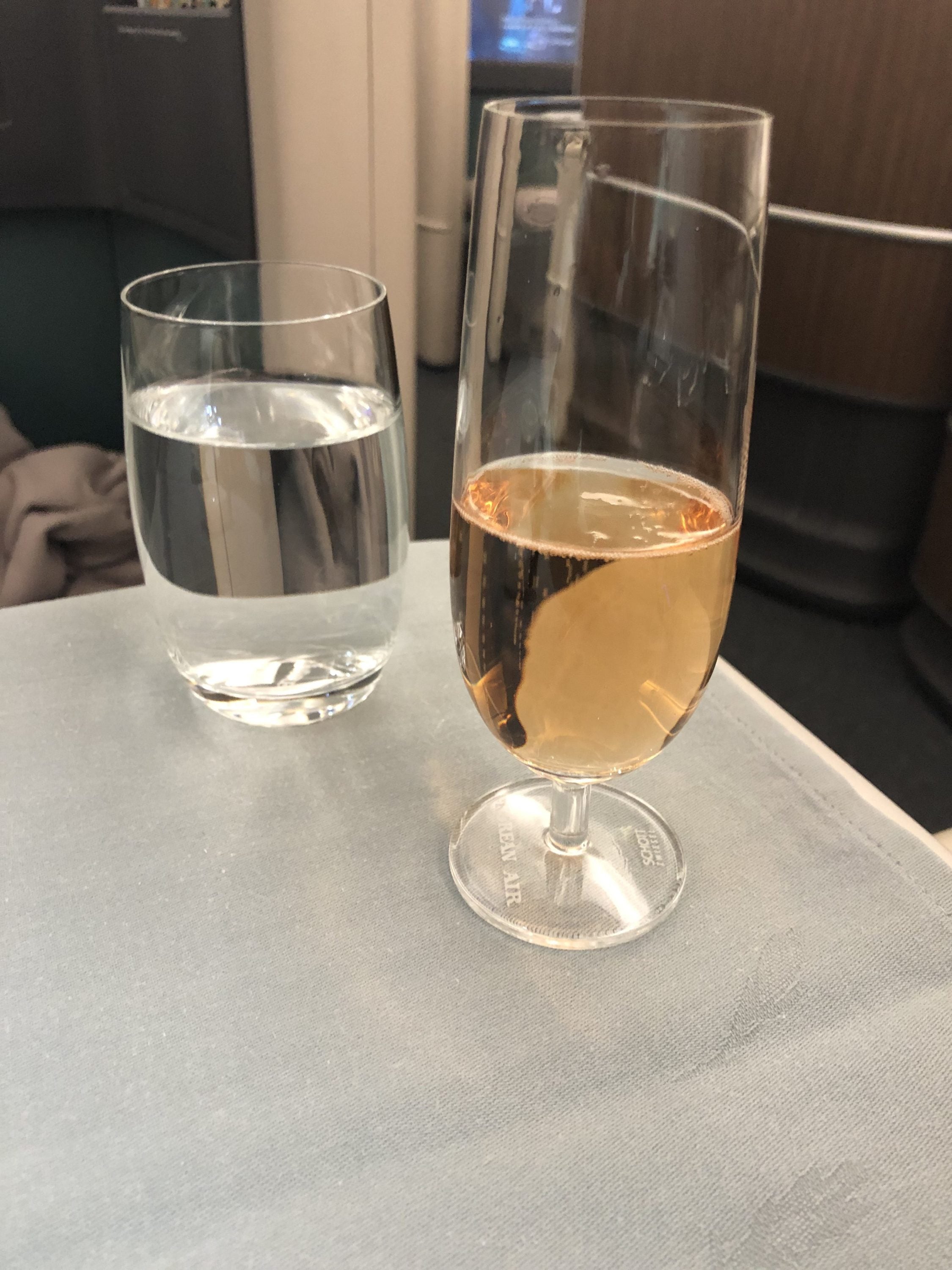 I enjoyed at least 3 glasses of this champagne, and my flight attendant made sure my glass was never empty. I also couldn't stop admiring how beautiful the bottle was.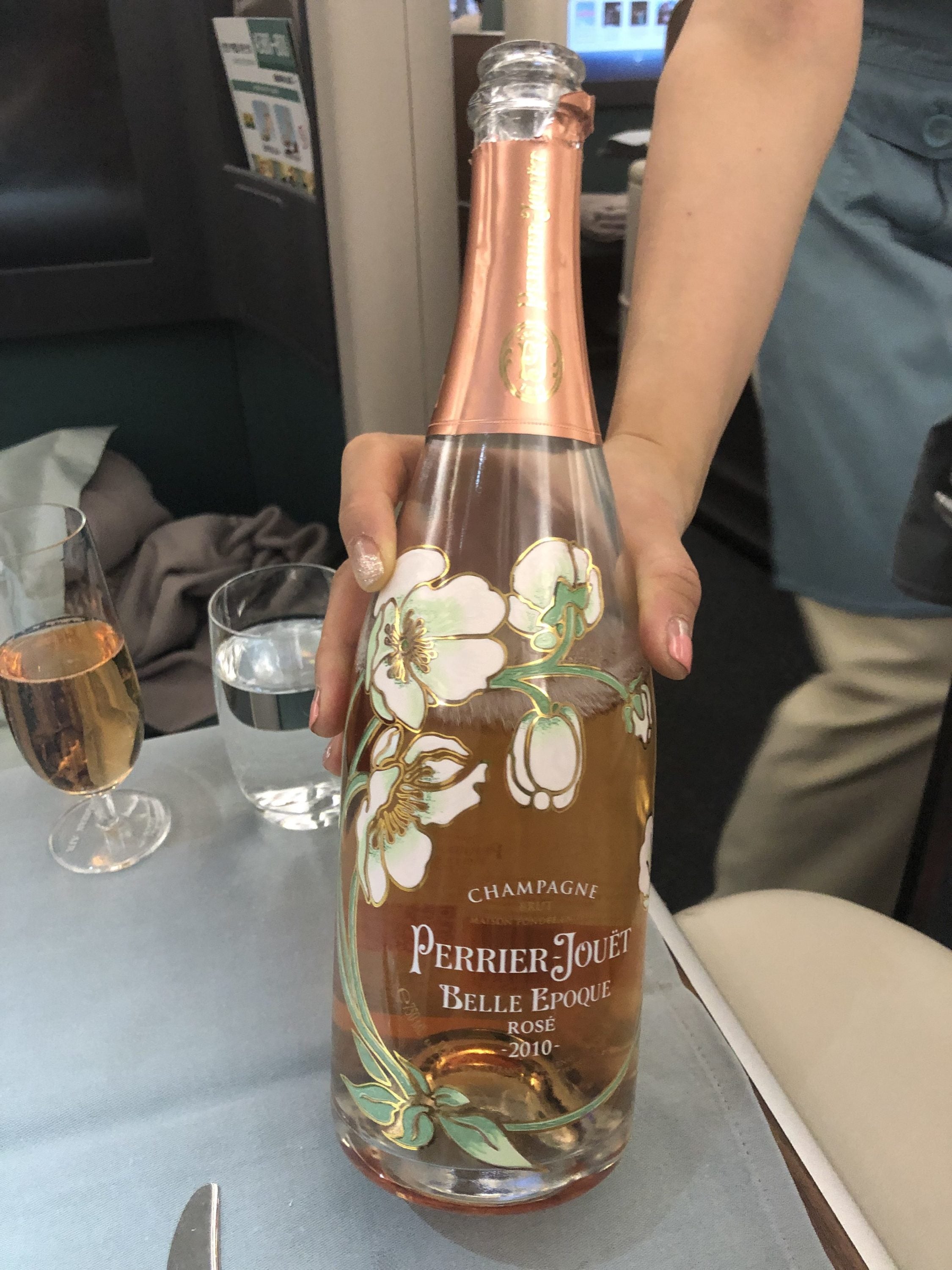 My flight attendant came around with a bread basket, which contained a garlic baguette, rosemary roll, sesame roll, and an oatmeal roll. I opted for the garlic baguette.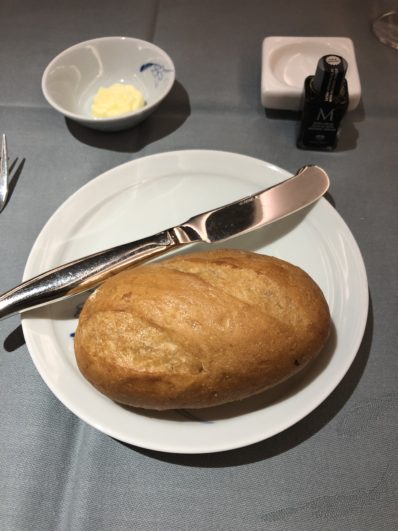 Next up was the caviar service.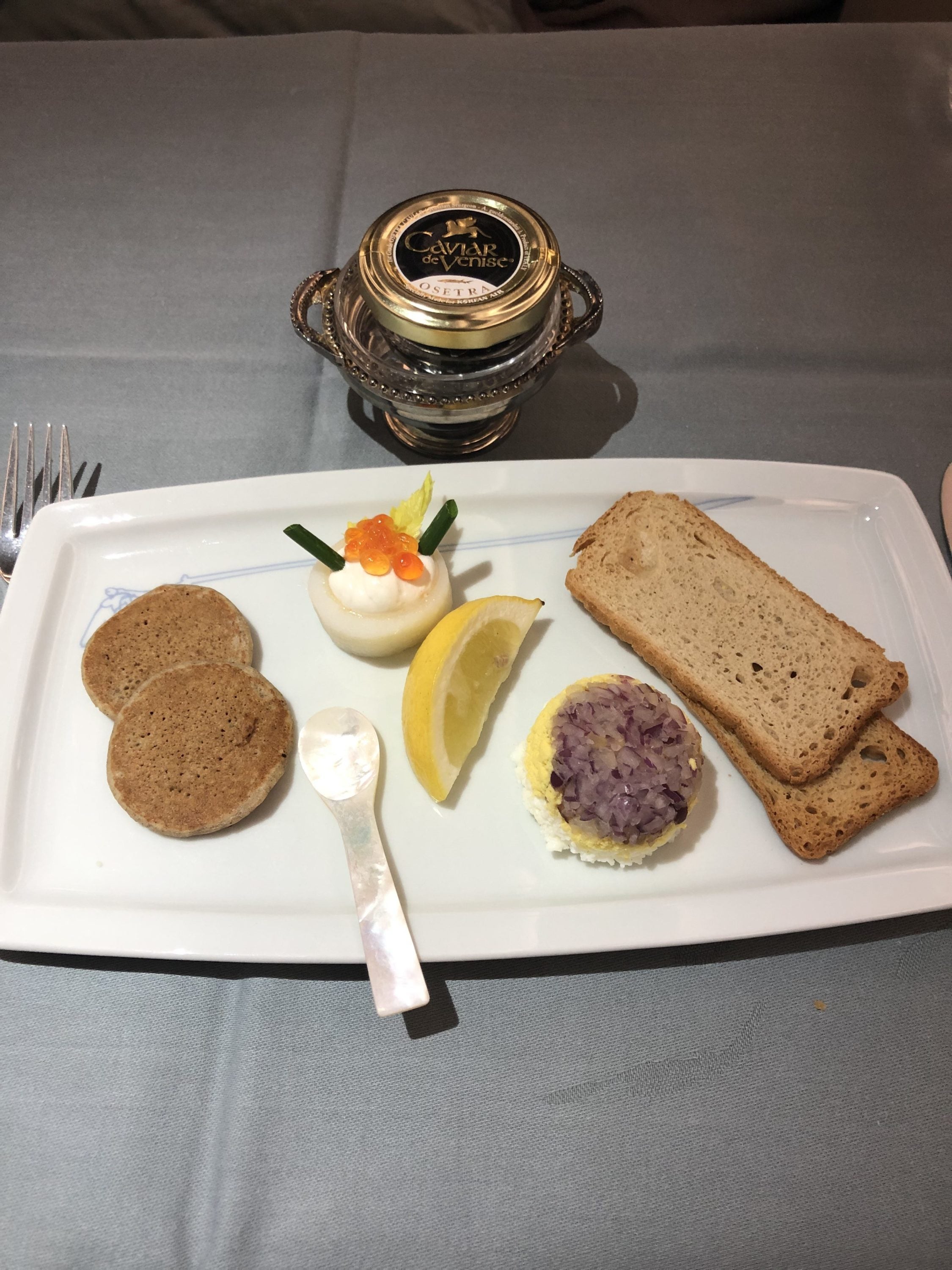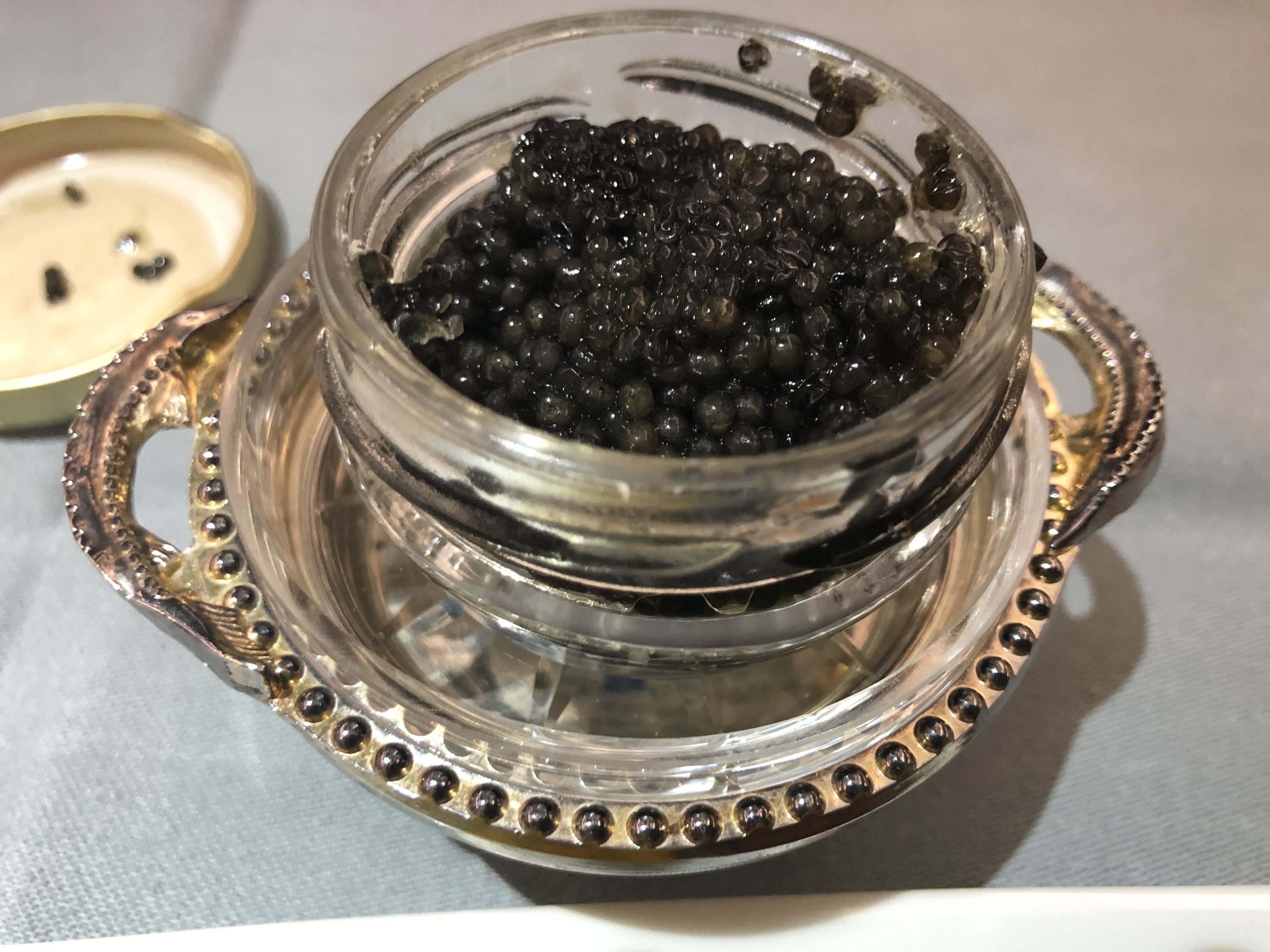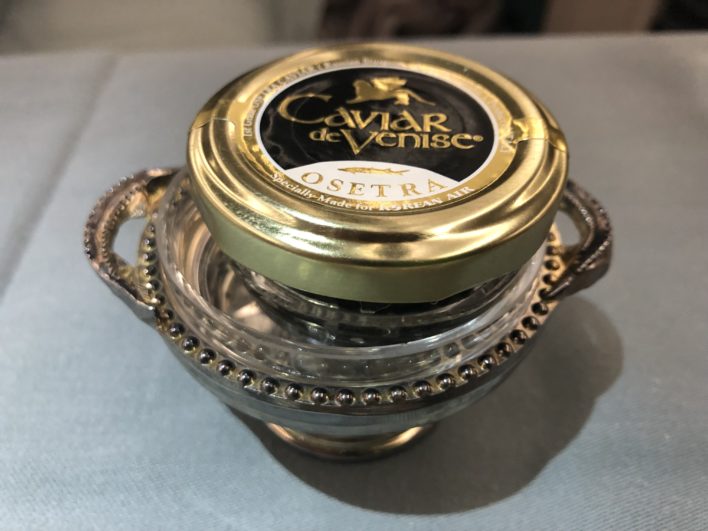 Needless to say, I ate every last piece of caviar. After that, we were presented with the main course, which was Korean Air's take on yukgaejang, a spicy beef and vegetable soup.
Typically, Korean food consists of a main dish accompanied with steamed rice and side dishes, also known as banchan.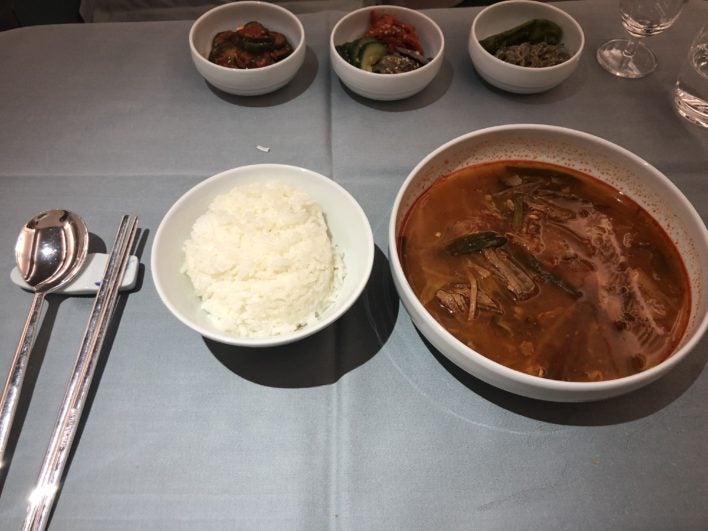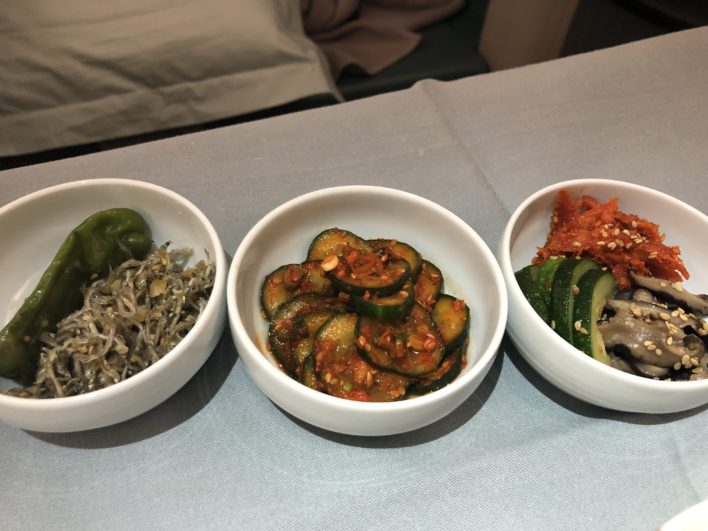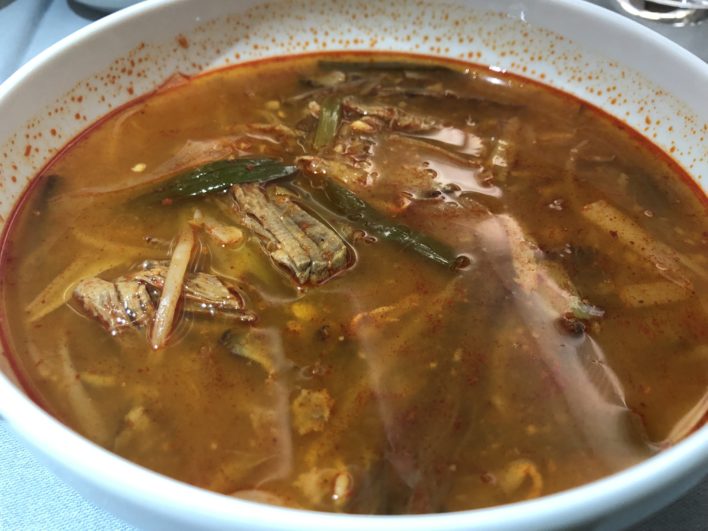 I am a huge fan of spicy soups with rice, and I was amazed by how flavorful the yukgaejang was. I honestly felt that I could eat this every day for the rest of my life. That's how good it was.
Well done, Korean Air!
The meal service concluded with a selection of delicious, fresh fruit.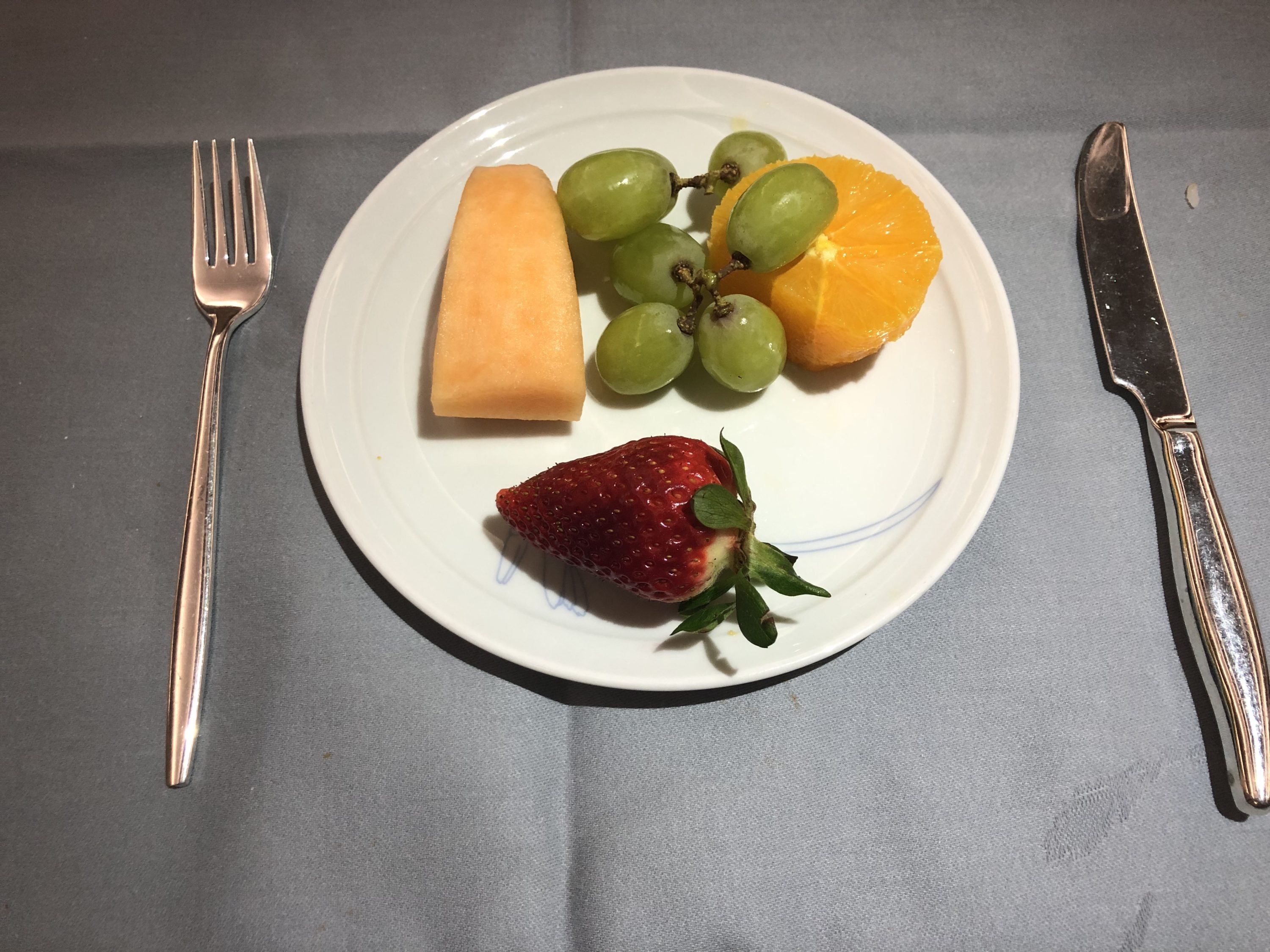 At the conclusion of my meal, I was given an interesting device, only to find out that it's a dental pick. This was a unique amenity that I'd never seen before, and it's much classier than a toothpick.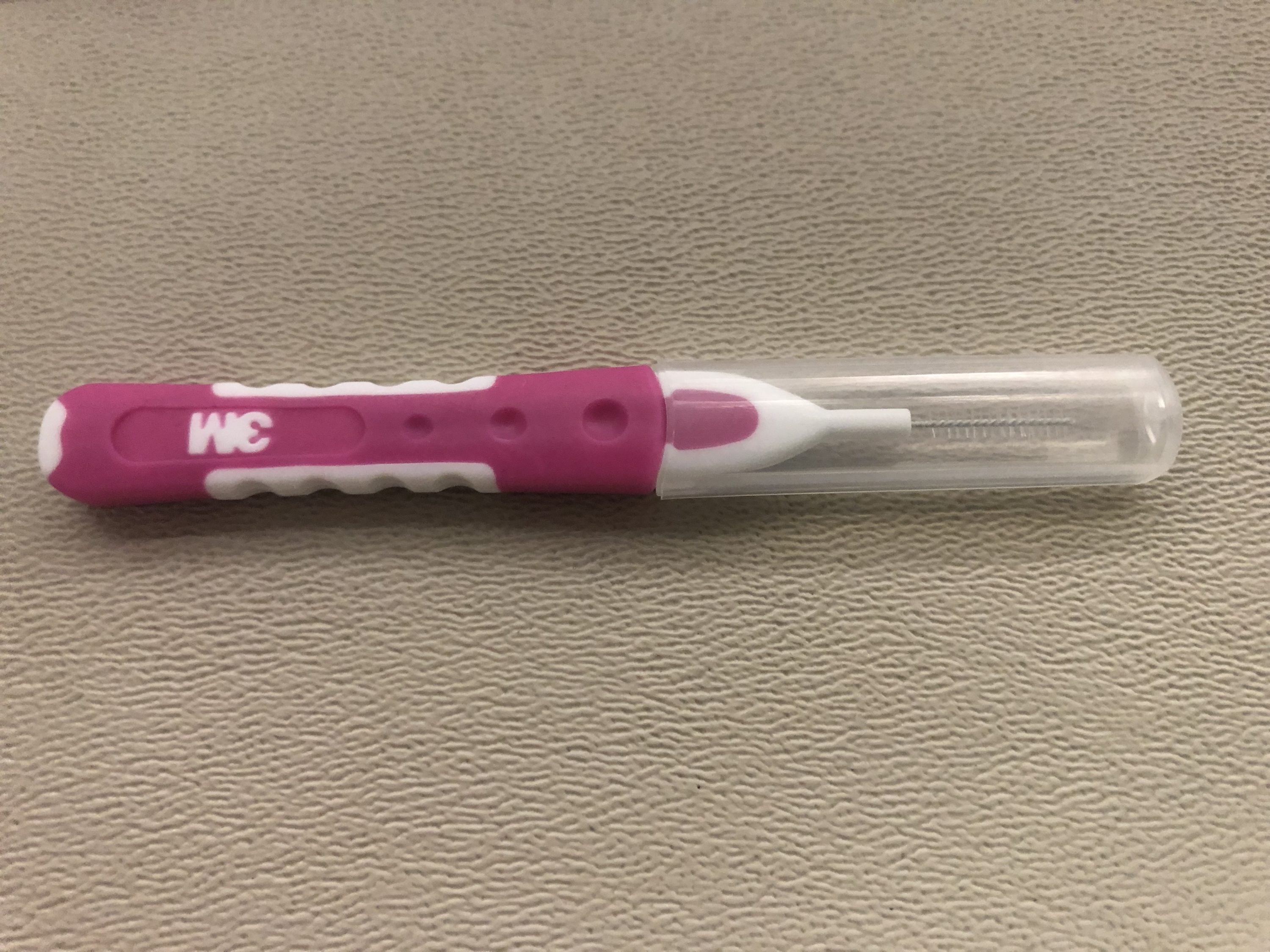 After an intensely satisfying meal, I was ready to sleep. The flight attendant took care of turndown service while I changed into my pajamas. I was able to catch 7 hours of sleep. This was one of the best sleep and dining experiences I've ever had, so I was very pleased.
When I woke up from my 7-hour food coma, I rang the flight attendant for a cappuccino.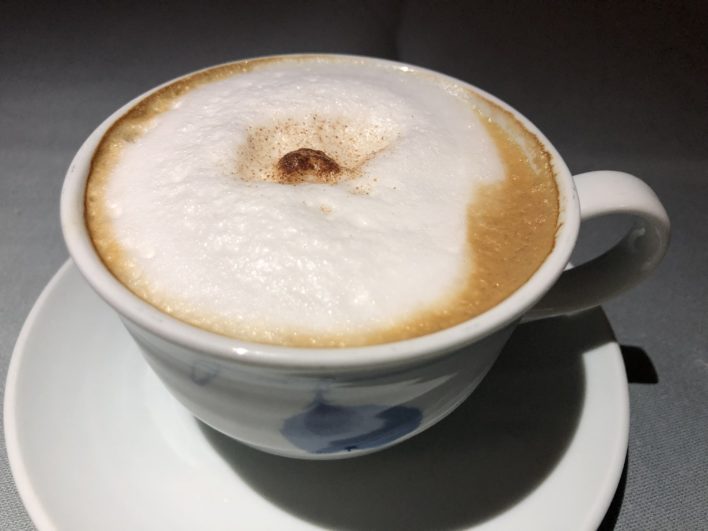 After my cappuccino was delivered, my flight attendant asked me if I was ready for breakfast. I immediately nodded in approval. I was initially offered to choose from a selection of yogurts and cereals, but I politely declined.
I was served yet another delicious meal. The main course was a Korean pollack soup accompanied by banchan and steamed rice.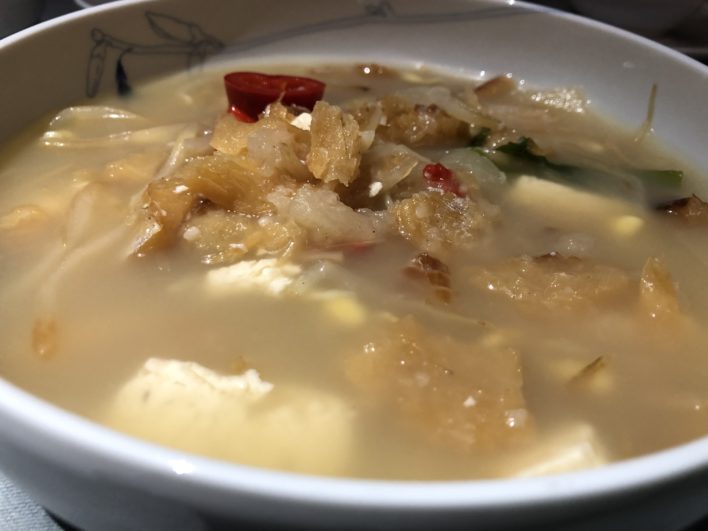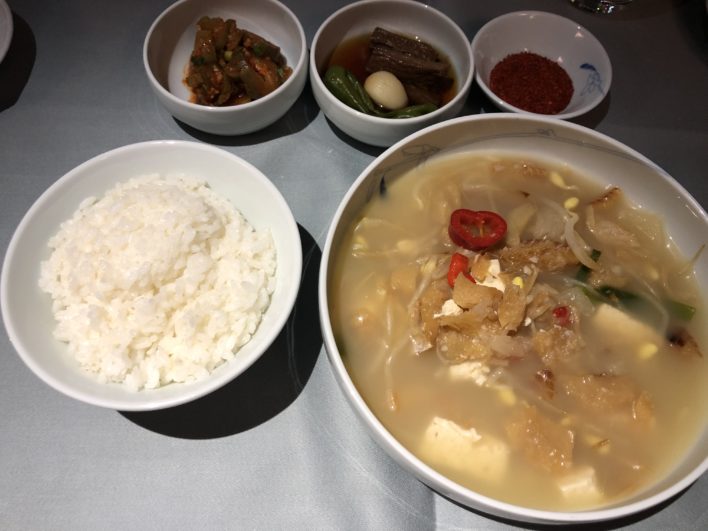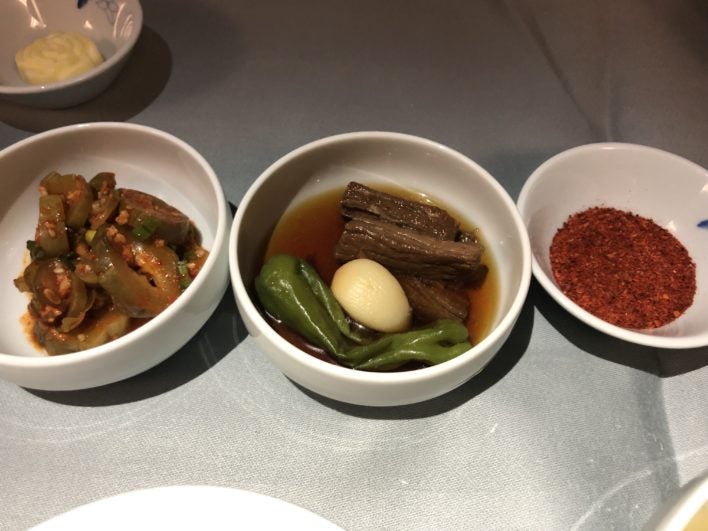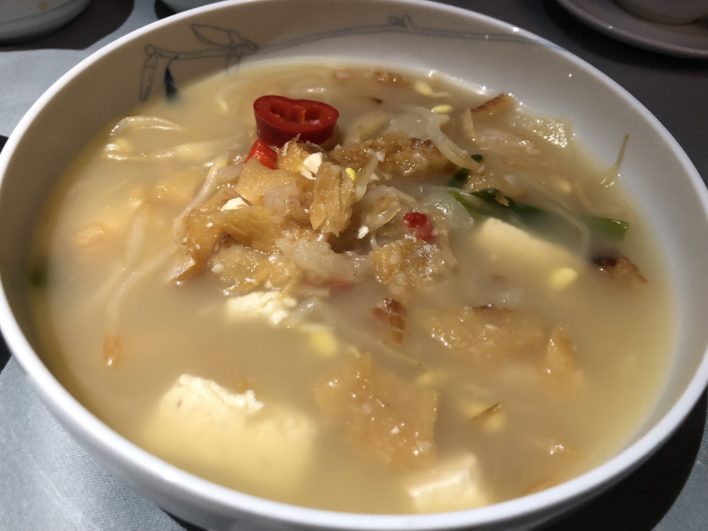 The highlight of the fresh fruits from the supper service was the sweetness of the oranges, so I requested those again.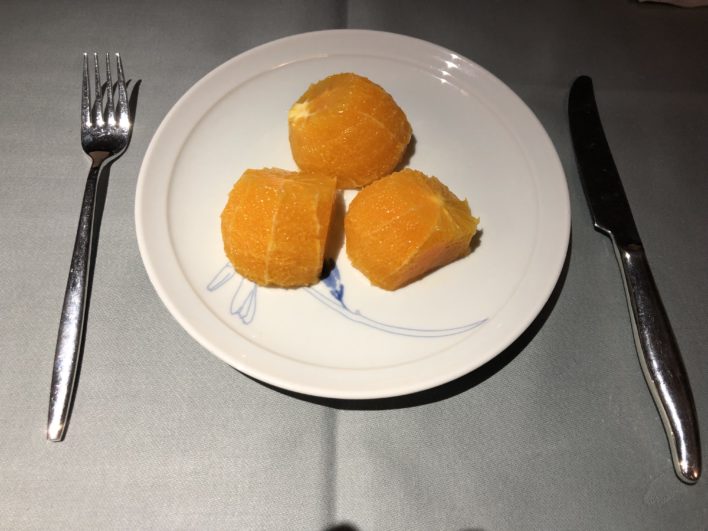 I closed out the breakfast service with an Americano, which was earthy and bold, but not bitter at all.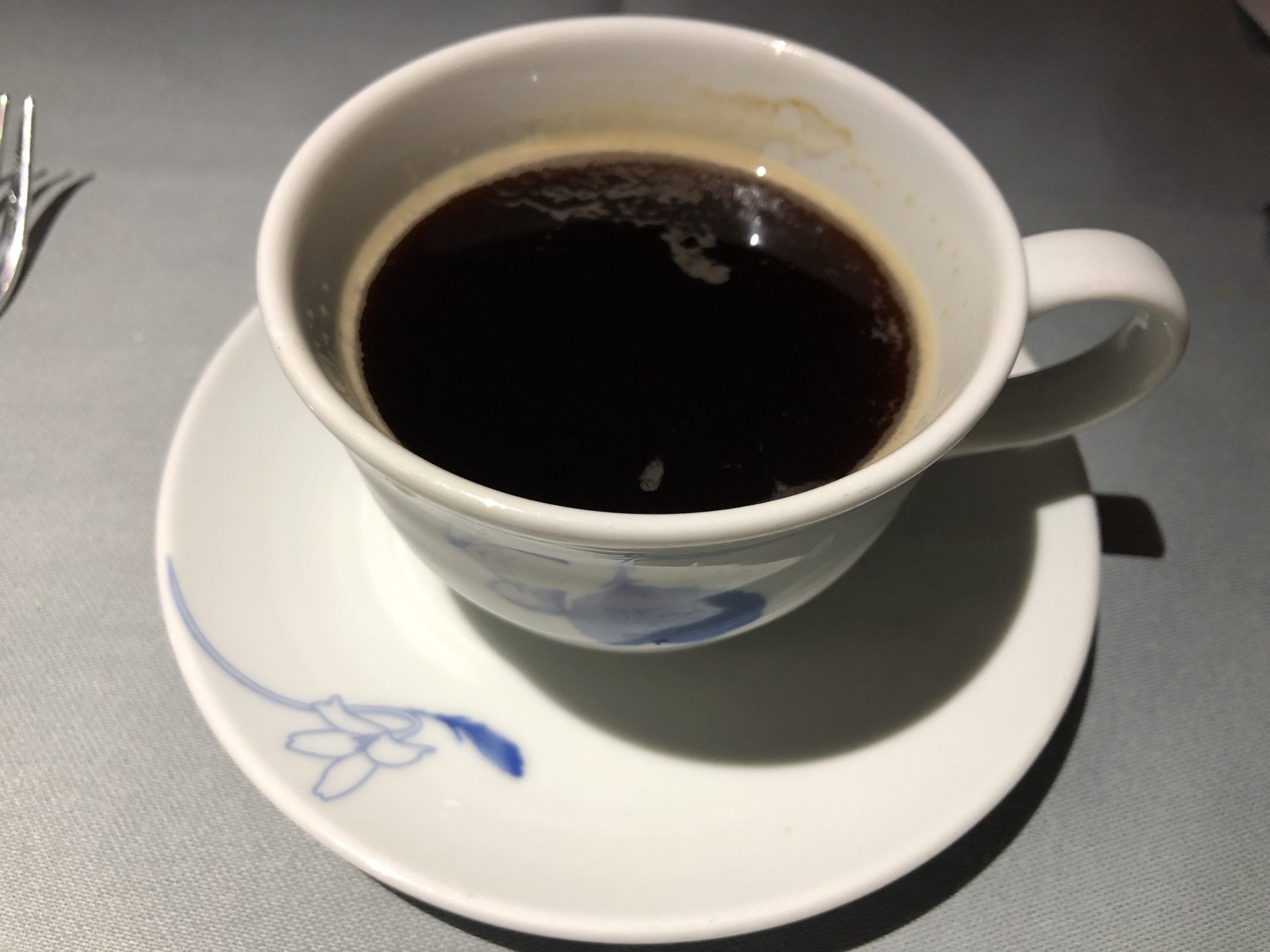 After I finished sipping my Americano, I took the chance to explore the bars and lounges onboard.
There were two bars and one lounge this flight. The lounge is shared by business and first class passengers, while there was a bar for each premium cabin section.
The first class bar was located at the front of the cabin, a mere couple of steps away. One quirky amenity Korean Air offers in the first class bar is whiskey ice. Considering they serve Johnnie Walker Blue Label here, it's a great idea.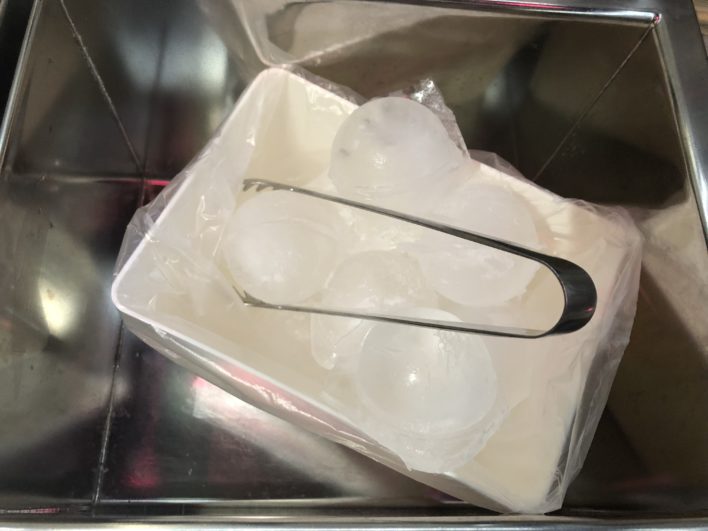 I also notice the display cabinets of various liquors, and that was pretty cool.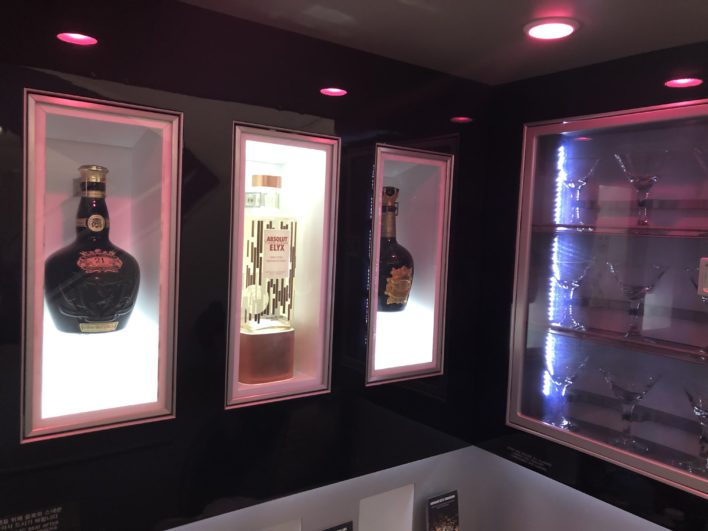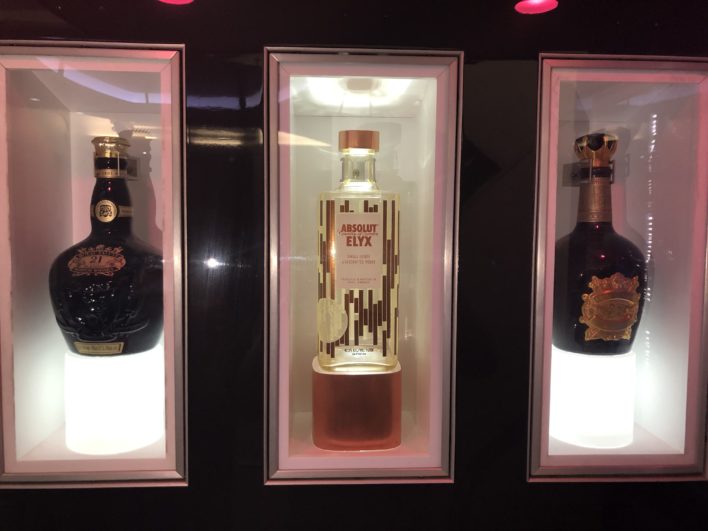 There were many options for self-serve drinks, ranging from orange juice to Johnnie Walker Blue Label. Additionally, there were a bunch of snacks for consumption, including some chocolate-covered nuts and crackers.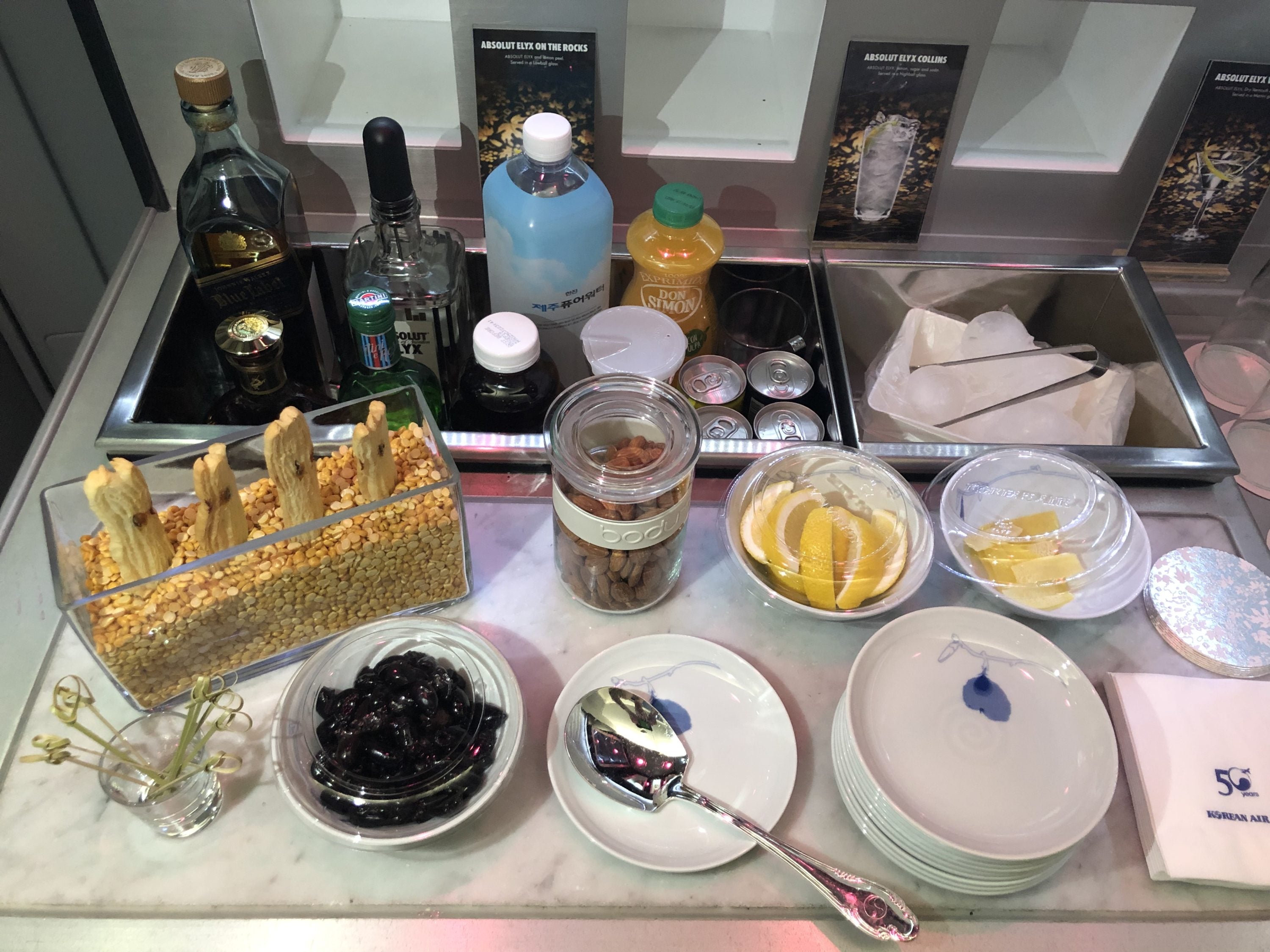 As the first class bar wasn't terribly eventful, I walked up the staircase to the upper deck, which is where the business class cabin is located.
There were 4 seats at the in-flight lounge, none of which were being used.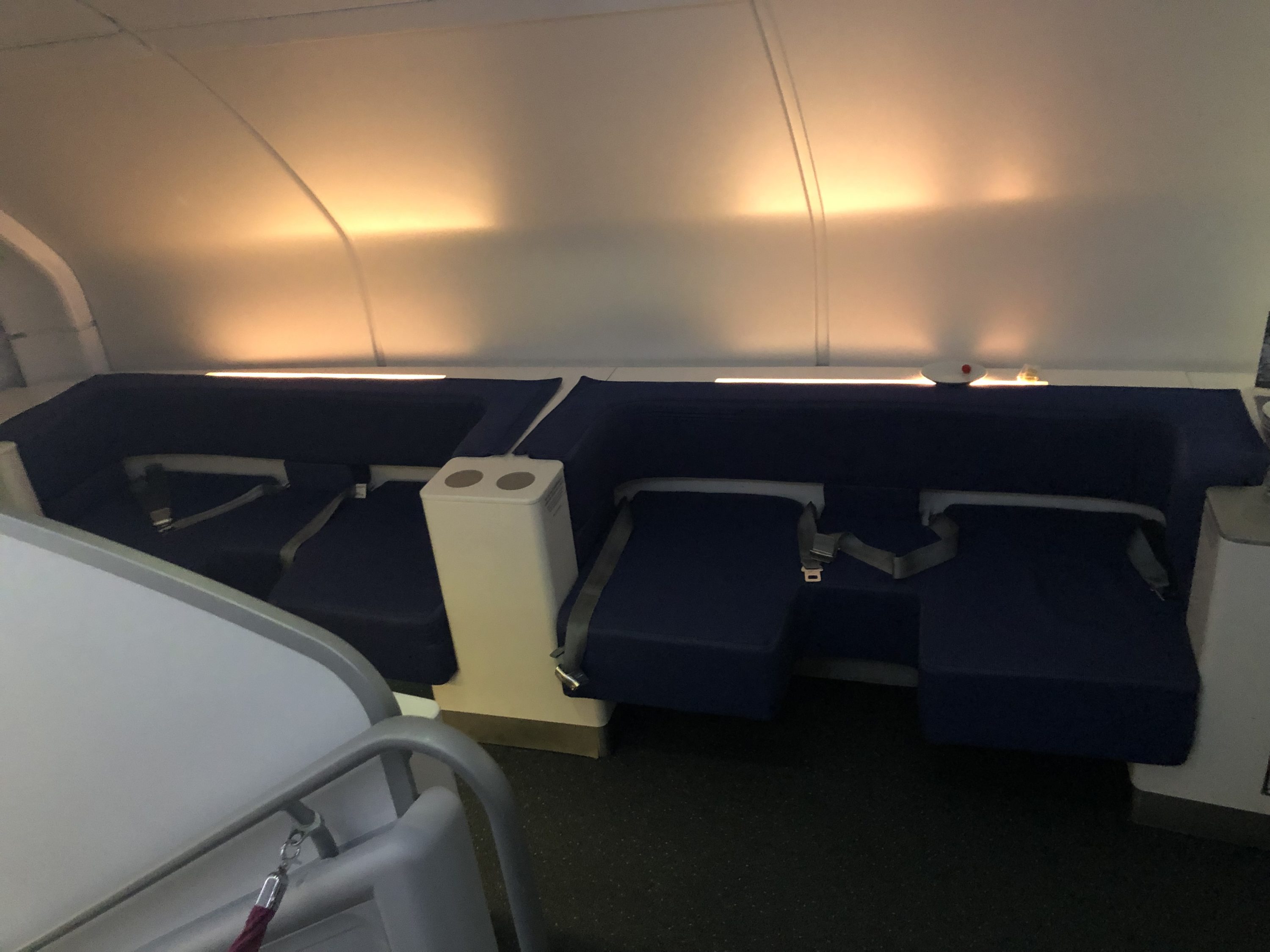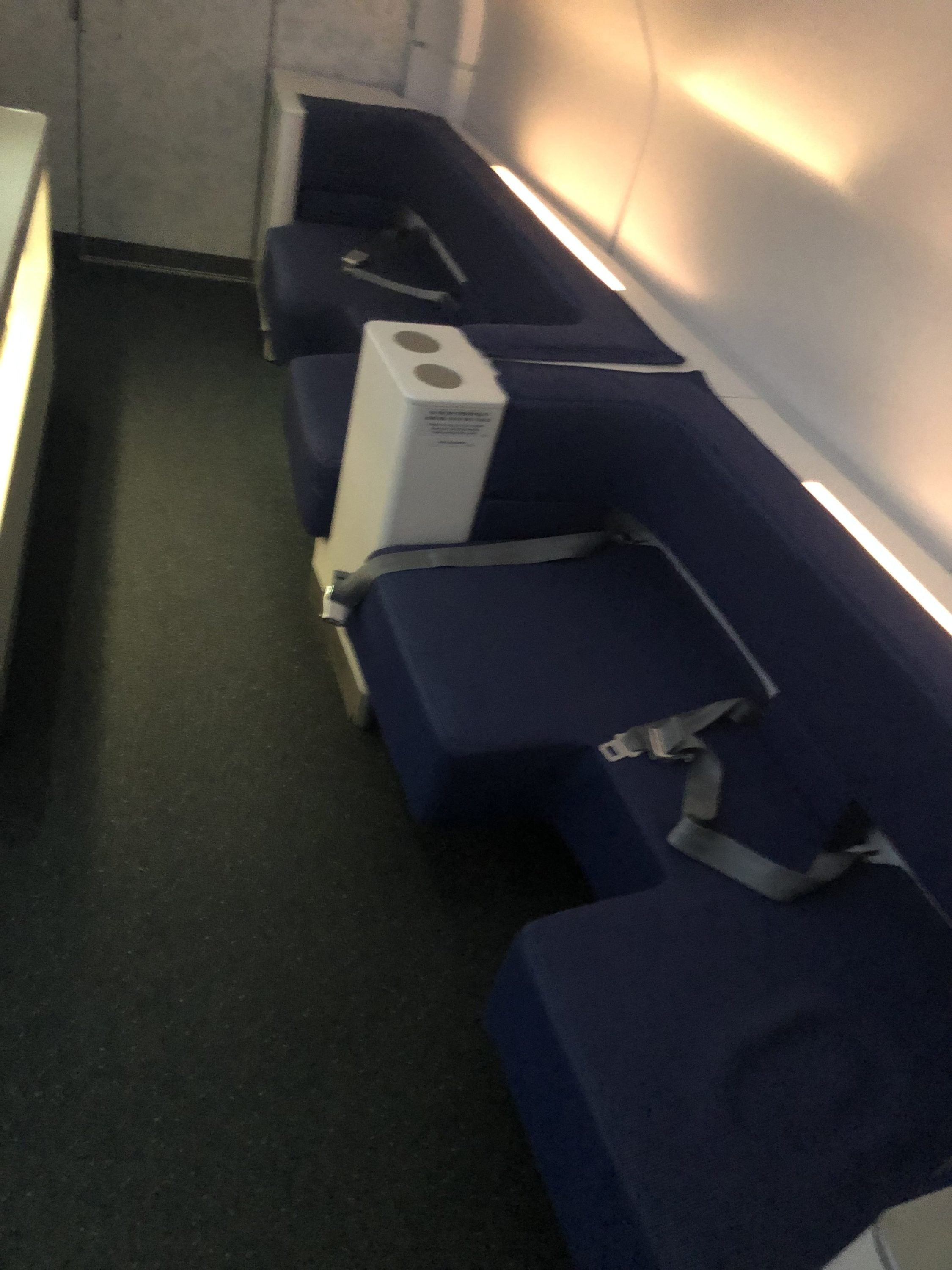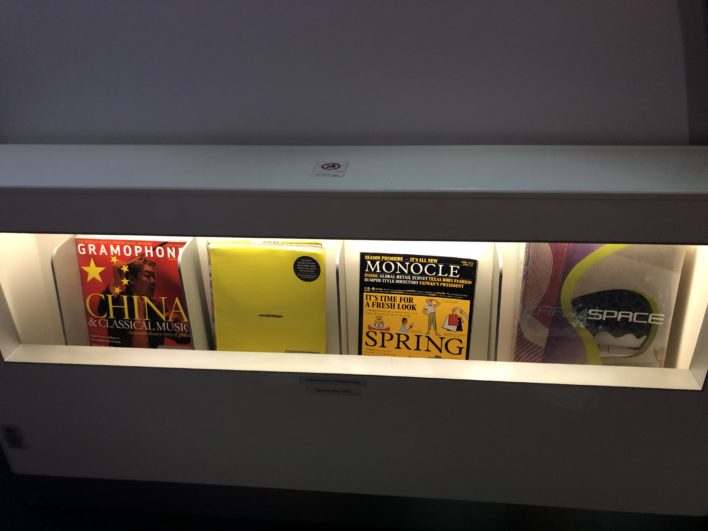 The business class bar also had a small display cabin for glasses and alcohol.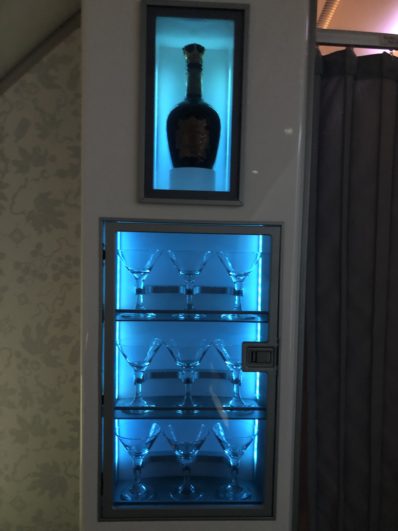 The bar spread for business class was decent.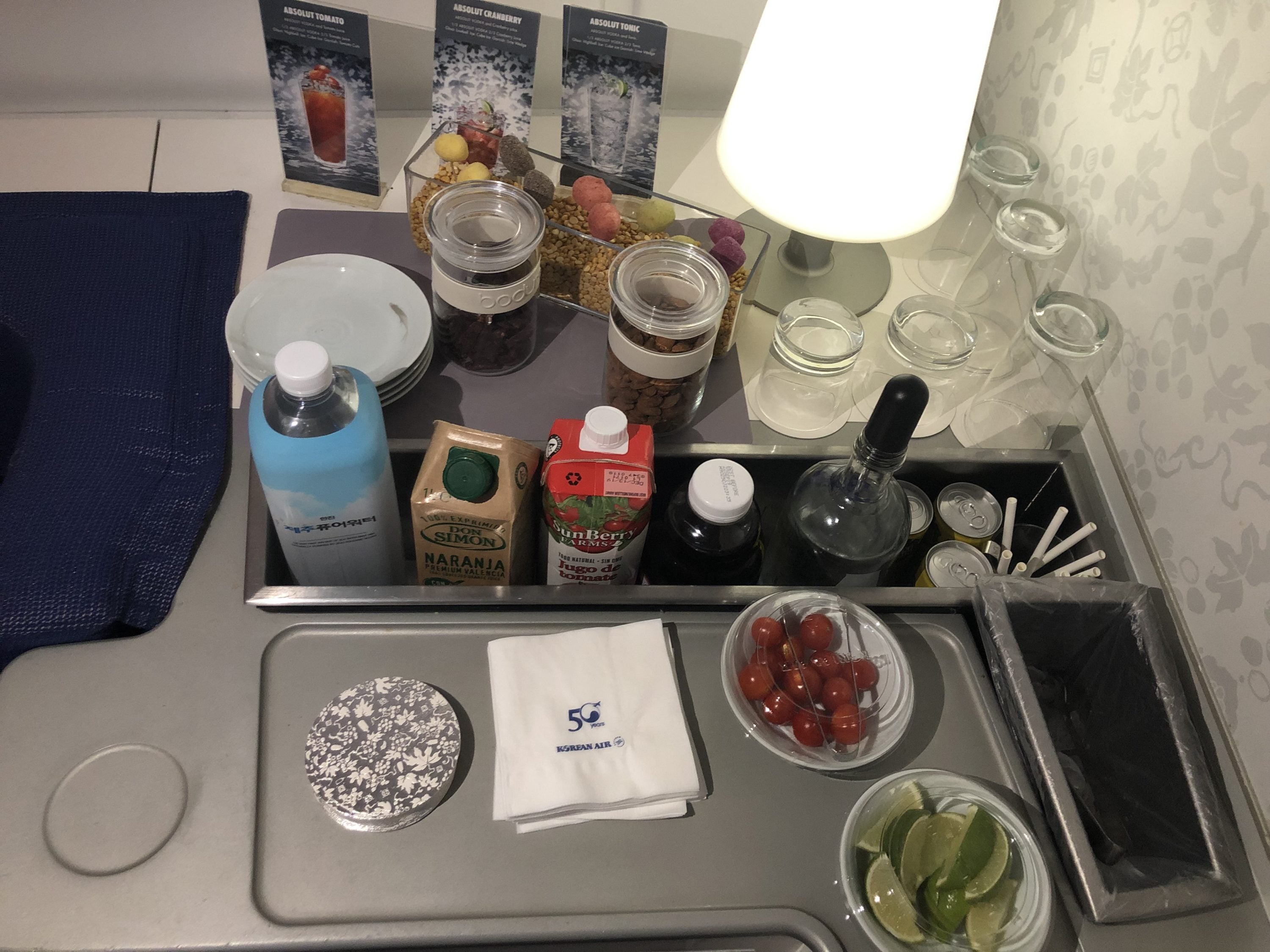 Notably, there were wafer pops, which were quite tasty!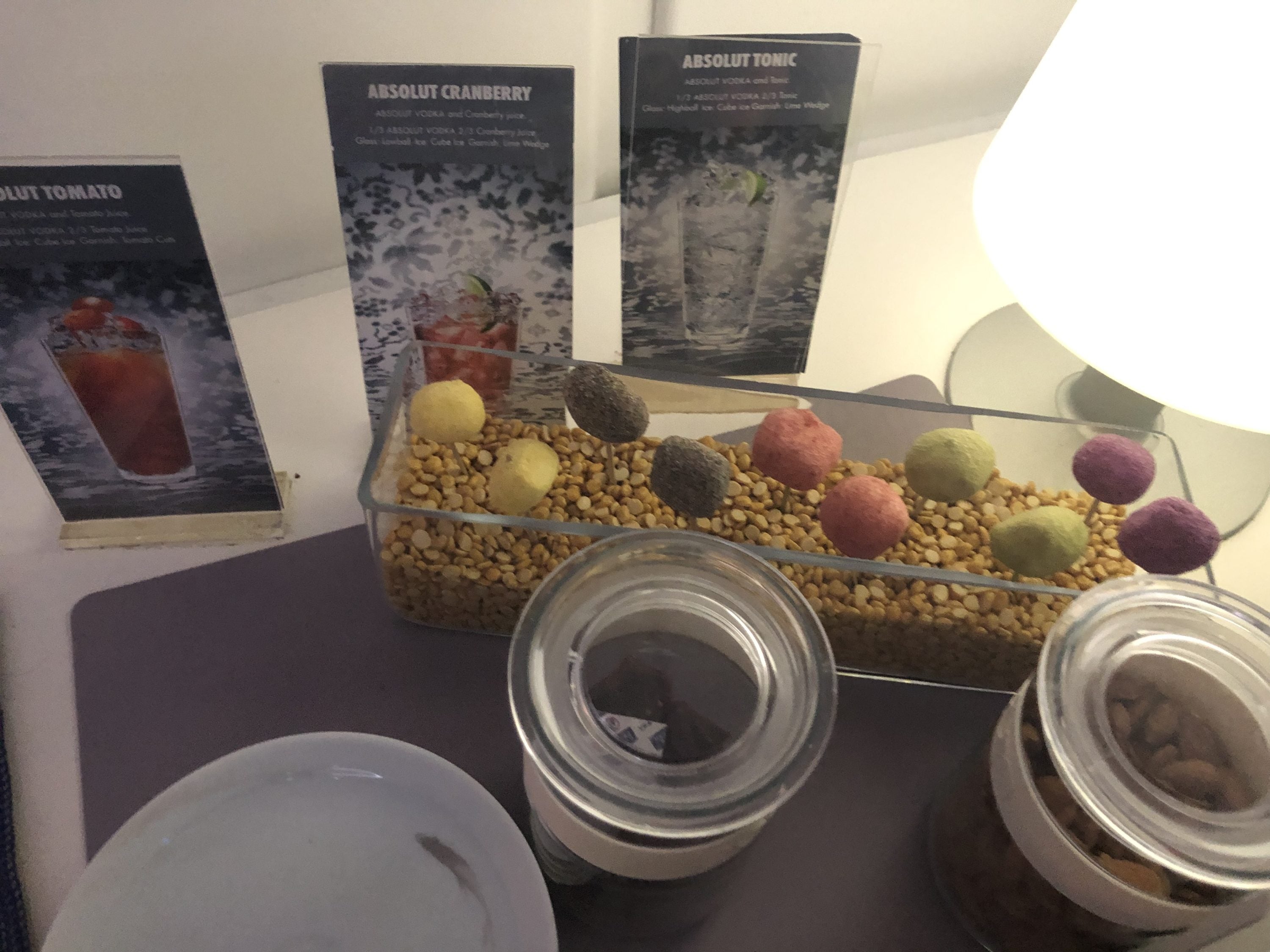 As much as I would like to see a shower in first class, it can be costly to install and maintain. Korean Air does a good job making use of the space and adding onto your experience, whether it's in business or first class.
Bottom Line: Korean Air's food and beverage program is nothing short of amazing. Even with a shortened meal service on this red-eye flight, I was left wanting nothing. The service was professional, efficient, and delicious.
Entertainment and Service
I didn't take much advantage of the in-flight entertainment services on this flight. Honestly, I slept most of the flight. Still, I was able to skim through the in-flight entertainment options. The catalog was typical.
There was a decent variety and selection, but not anywhere near what Emirates offers, for example.
The entertainment selection was strong enough, and I spent the supper service watching Vice, a movie about Dick Cheney.
I snapped a couple of pictures of the cabin with the lights off.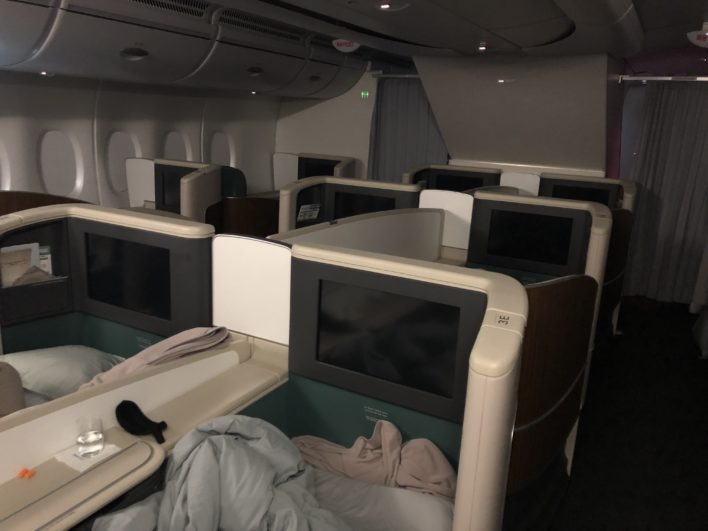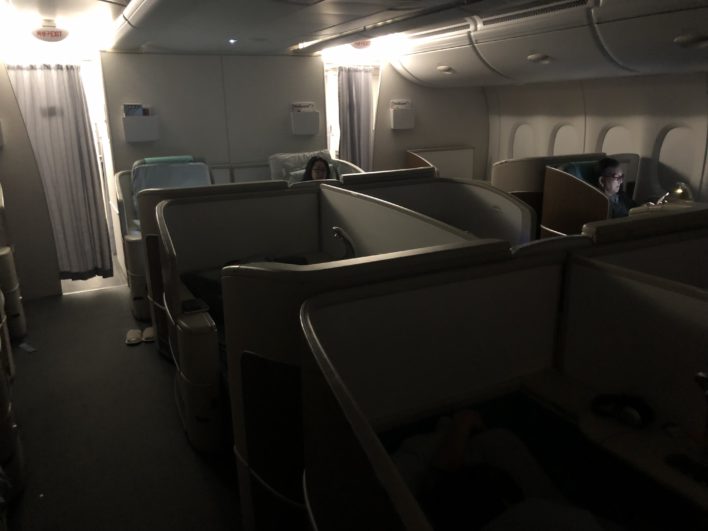 Final Thoughts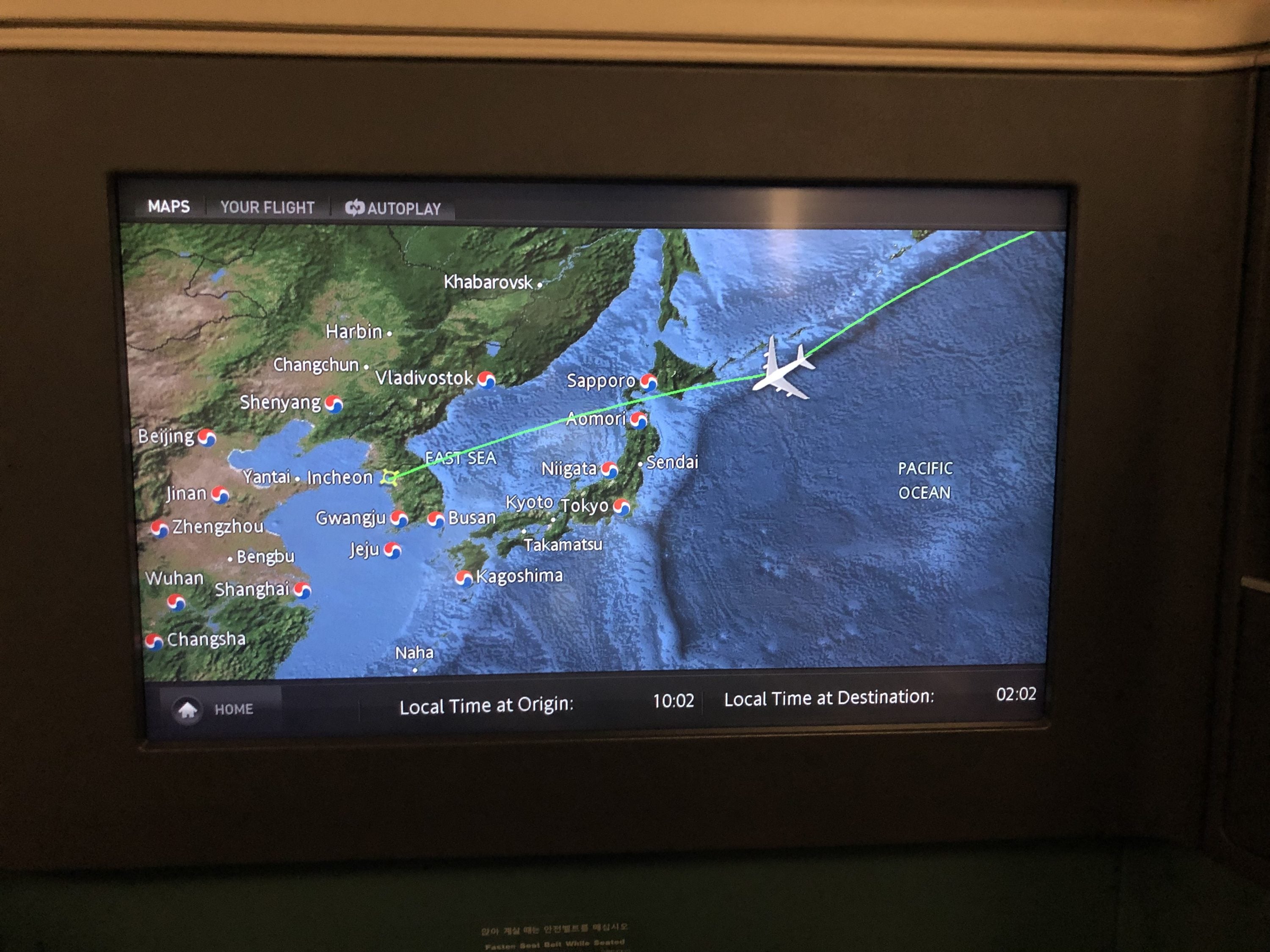 Overall, I had an extraordinary experience flying on Korean Air first class aboard the biggest plane carrying passengers today, the A380. The cabin was extremely spacious, and the open-air suites paired with the privacy shields afforded a ton of privacy.
Besides a couple of oddities such as the seat lamp, I had a nearly flawless experience on my flight. The service, which was artfully executed along with Korean Air's culinary excellence places Korean Air near the top of my list when it comes to first class products.
The only way I can think this experience could have been better is with a better ground experience, though that's truly a secondary consideration for most travelers.
As far as I'm concerned, this is an excellent choice for first class travelers. Award availability is plentiful, the redemption prices are competitive, and it's hard product simply can't be beat.