Cathay Pacific 777 First Class Review – Hong Kong to San Francisco [Detailed]
Airline: Cathay Pacific (CX)
Aircraft: Boeing 777-300ER
Flight #: CX 872
Route: Hong Kong International Airport (HKG) to San Francisco International Airport (SFO)
Date: April 23, 2019
Duration: 12 hours and 15 minutes
Cabin and Layout: Cathay Pacific first class, 6-seat capacity across 2 rows, 1-1-1 configuration
Seat: 2K
Miles Used: None, booked Cathay Pacific mistake fare (HAN-HKG-SFO) round-trip first class for $1,208.14
Taxes and Fees Paid: $135.74 in taxes and fees, and $183.40 in fuel surcharges
Typical Retail Cost: Approximately $16,990
Typical Economy Cost: Approximately $1,571
Booking Cathay Pacific First Class
Most points enthusiasts know that Cathay Pacific first class is one of the most aspirational flights you can take, alongside Emirates or Singapore Airlines first class.
Booking Cathay Pacific first class can be difficult, especially for 2 travelers. Cathay Pacific is generally pretty reliable when it comes to award availability, far in advance, for 1 person. Cathay is known to release 1 award seat when the schedule is released and 1 more award seat within 1-2 weeks of the departure date.
However, on January 1, 2019, Cathay Pacific did something extraordinary. A mistake fare between Noi Bai International Airport (HAN) in Vietnam and certain cities in the U.S., including SFO and John F. Kennedy International airport (JFK), were released. Round-trip flights in first class could be had for between $1,000 and $1,200 while business class tickets were sold for around $700. These flights were between Vietnam and the U.S., with a stop in Hong Kong.
This was honestly a phenomenal find, and I was very skeptical that Cathay Pacific would honor it, especially because they've had a loss in earnings recently. Nevertheless, I crossed my fingers, paid $1,208.14 for a round-trip flight (HAN-HKG in Vietnam Airlines business class and HKG-SFO in Cathay Pacific first class), and hoped for the best.
I was astonished/shocked/perplexed to see tweets from Cathay Pacific honoring the epic mistake fare. Now that I knew it was legit, I entered my Alaska Airlines frequent flyer information. I credited my first class flight on Alaska Airlines, which earns an amazing multiplier of 350% redeemable miles.
The 6,914-mile flight ended up netting me 24,199 Alaska Airlines miles, which is almost half of a one-way Cathay Pacific business class flight from the U.S. to Hong Kong!
Cathay Pacific Lounges at Hong Kong International Airport
We arrived from our connecting Vietnam Airlines A321 business class flight at 1:30 p.m. and our flight to San Francisco wasn't until 12:45 a.m., so we had a solid 13 hours to roam around the airport.
Importantly, we spent a ton of time at each of the 4 major lounges operated by Cathay Pacific. We're going to be writing a review for each of the 4 major lounges, excluding the Bridge, in separate articles.
For now, here's a few teaser pictures. The short of it is that Cathay Pacific operates some of the most sensational lounges in the world. On any given day, I would be happy visiting just one of the lounges.
To have gotten the chance to visit The Pier (First), The Pier (Business), The Wing (First), and The Wing (Business) was an absolute privilege, and I relish the opportunity to praise Cathay Pacific for creating the ultimate premium cabin experience.
As soon as our flight landed, we headed to The Pier, First. This lounge is located near Gate 63 in Terminal 1. The way Cathay Pacific plans their lounges in Terminal 1 is as follows:
The Pier (First) and The Pier (Business) on one side of the terminal
The Wing (First) and The Wing (Business) on the other side of the terminal
Each of the lounges features different amenities, which was interesting to observe.
When we checked into the lounge, we were efficiently whisked to the day suites, of which The Pier, First has eight. These are private areas separated with curtains and furnished with comfortable day beds. The coolest thing was the views over the runway.
Hot Tip: See how one of our writers spent a 9 hour layover lounge hopping at Hong Kong International Airport!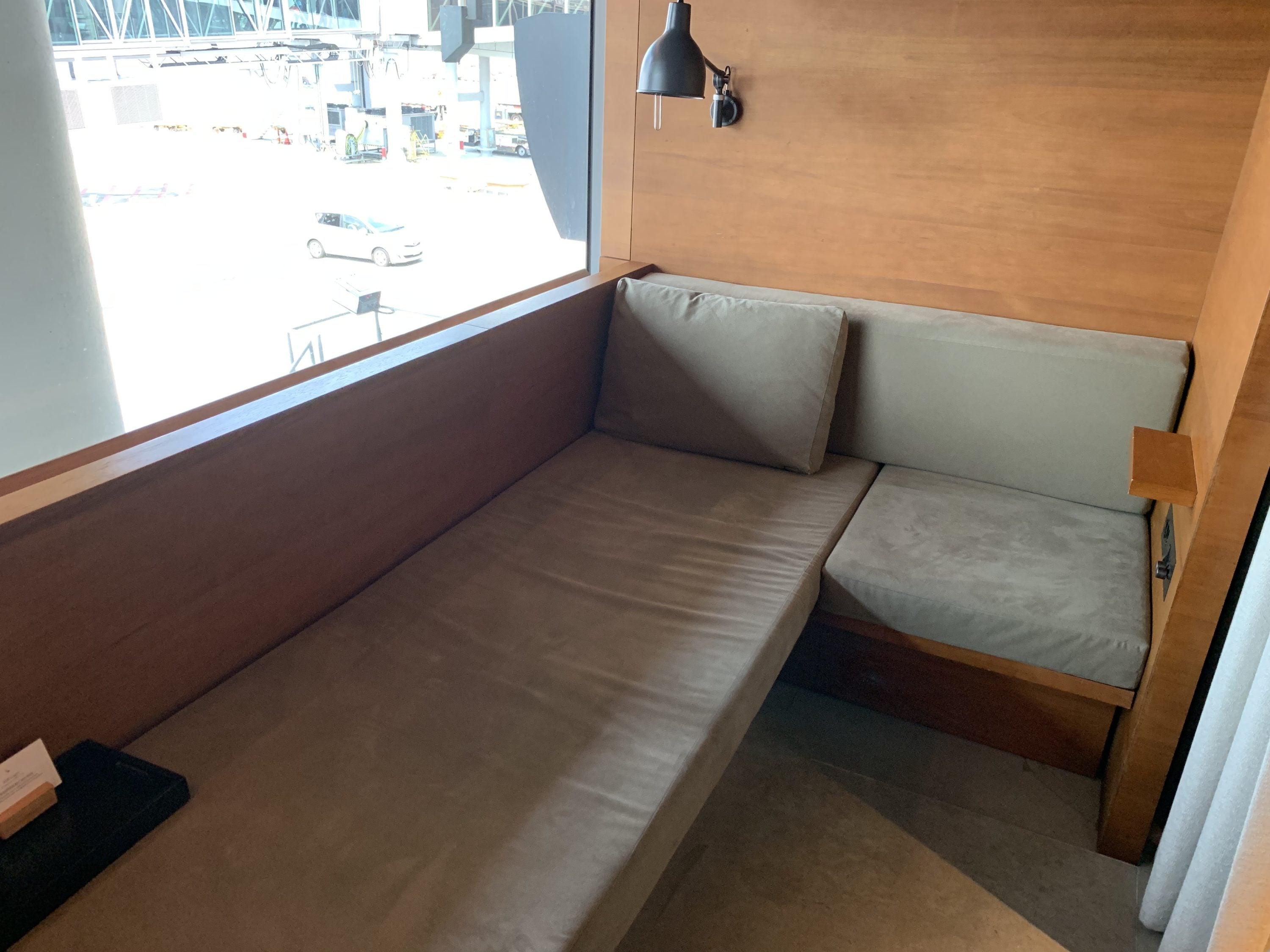 While we were relaxing in our day suite, we were lucky to be looking straight at a gate when a particular Emirates A380 was taxiing to that same gate. It was quite a sight to see. The pictures don't quite do it justice, but we were in awe of the sheer size and beauty of this bird.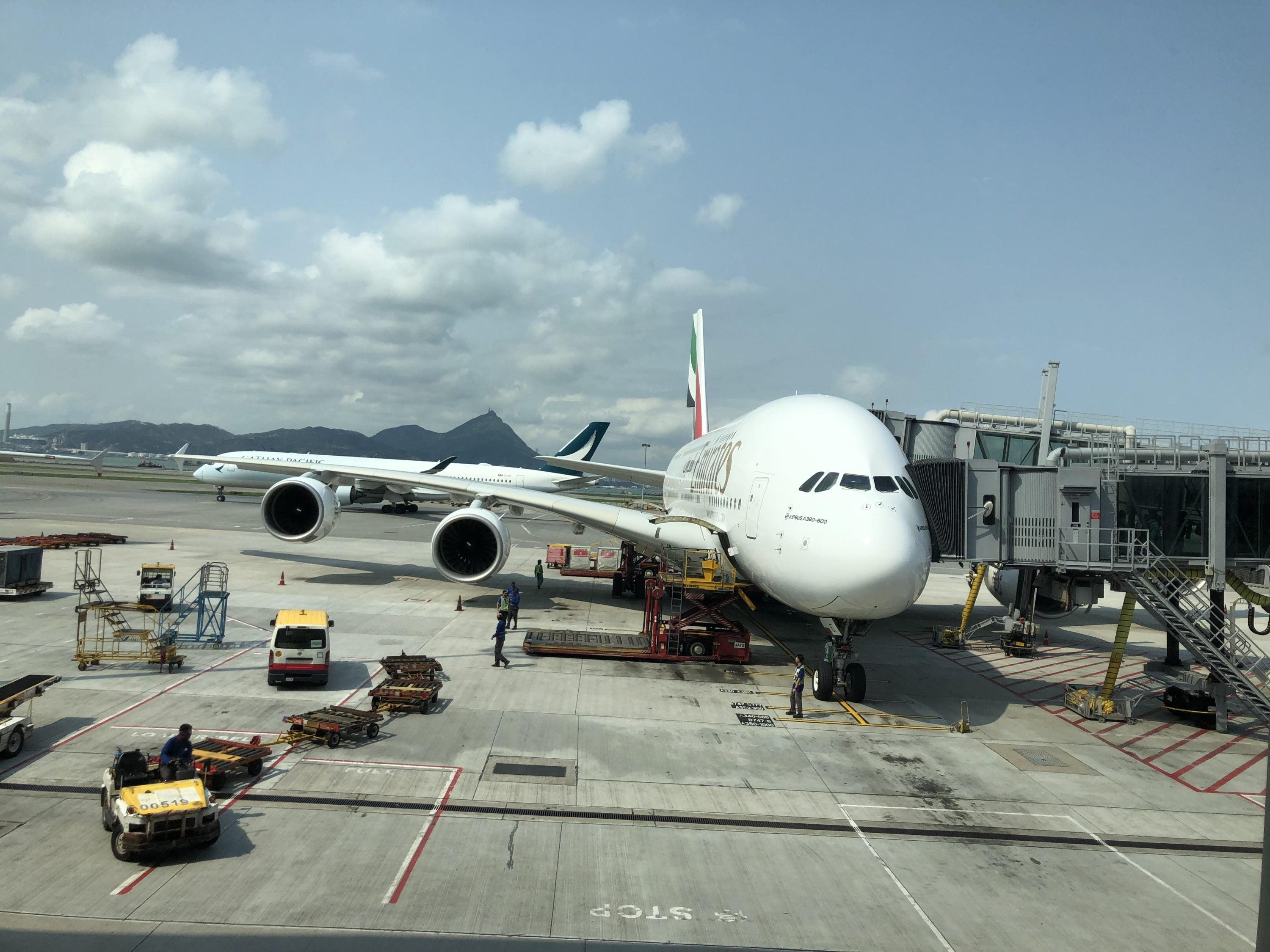 One of my weak spots is macarons, and The Pier, First offers a macaron buffet. Don't mind if I do!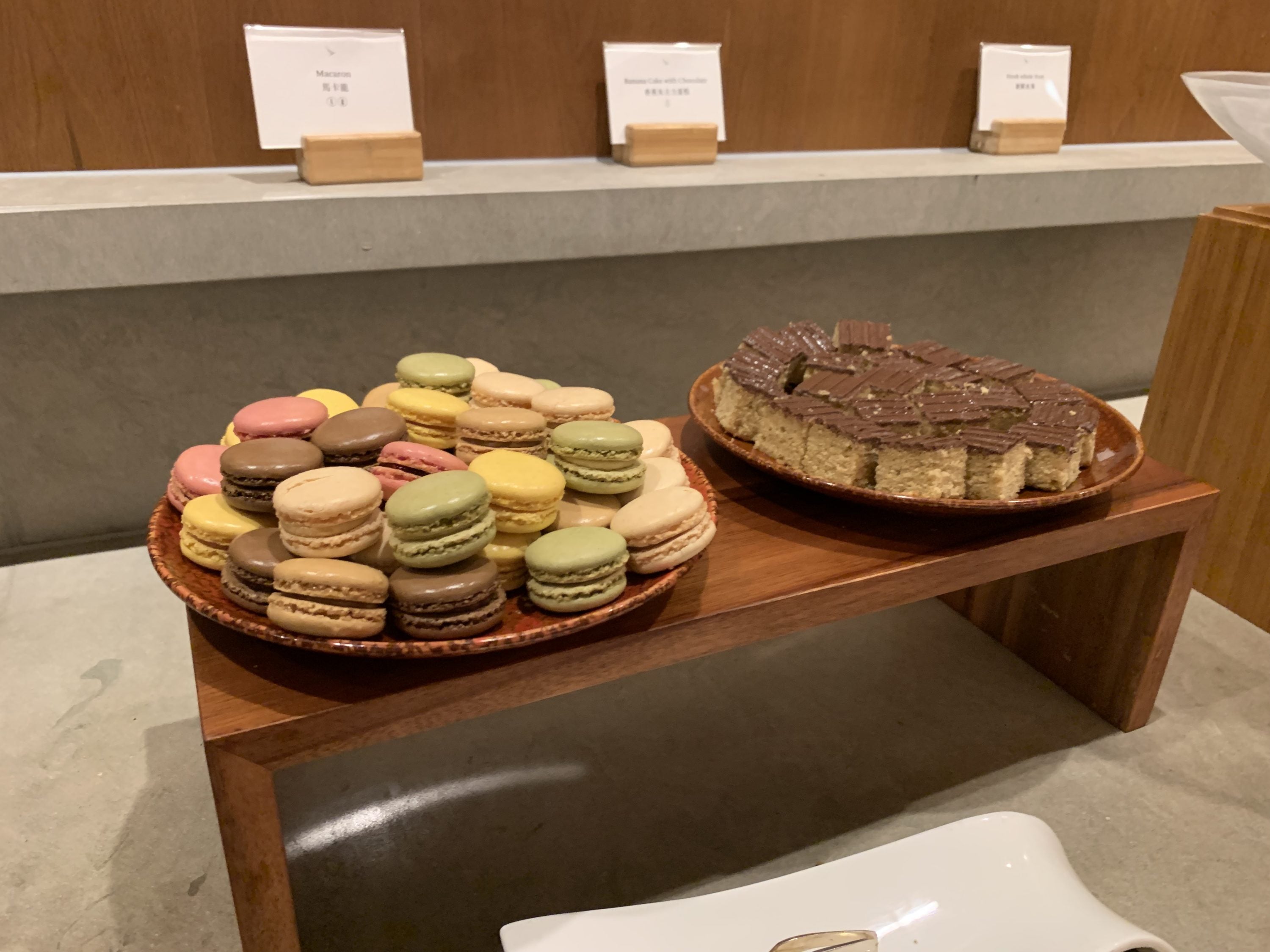 At The Pier, First, a complimentary massage service is provided. The service is 15 minutes long, and you can select from a list of services. I got a neck and shoulders massage, which was refreshing and much-needed.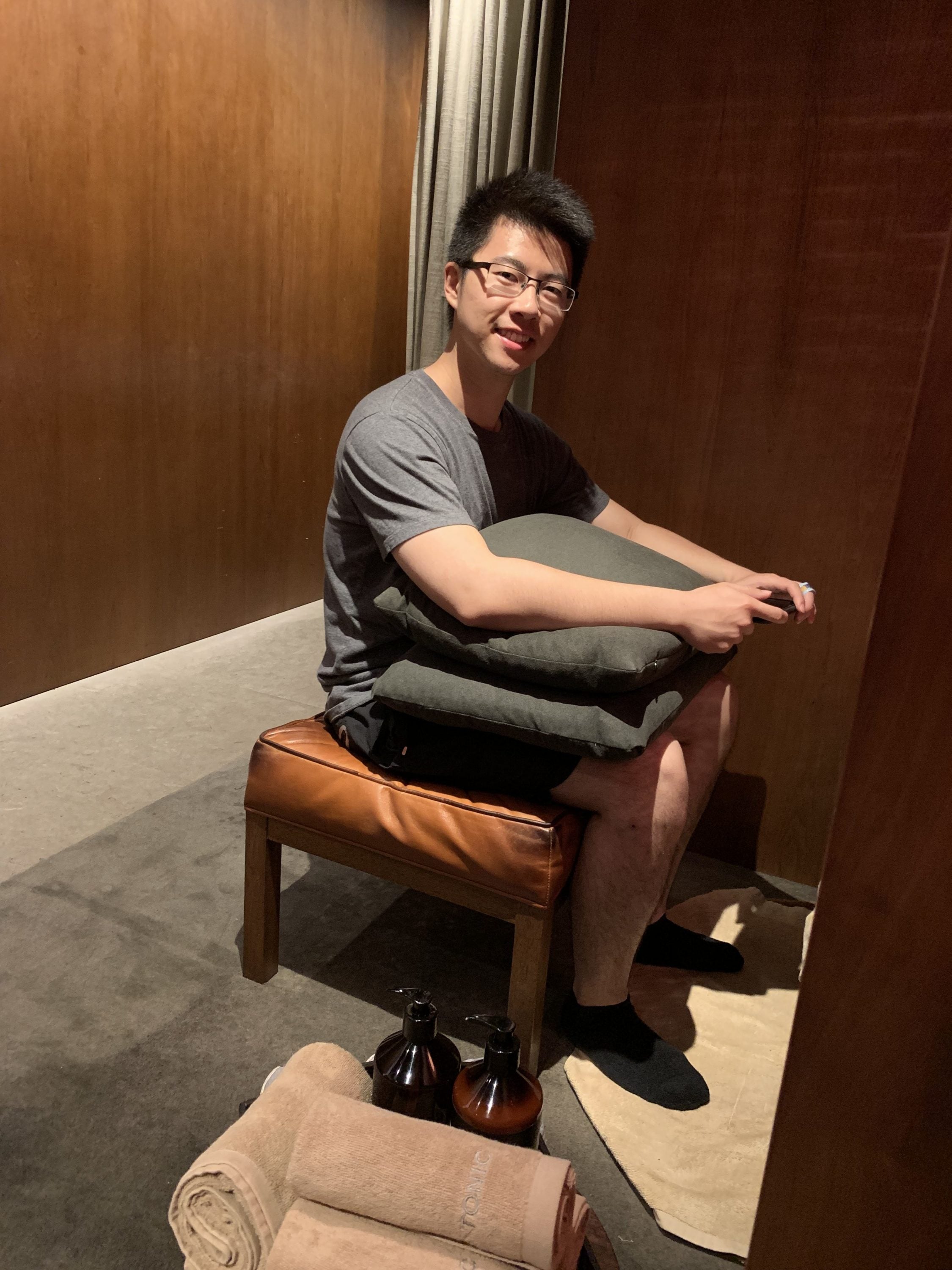 Another highlight of our visits to the different lounges was the noodle bar at The Wing, Business. This particular area reminded me of a Hong Kong cafeteria, where you have cooks making delicious wonton noodles right in front of your eyes.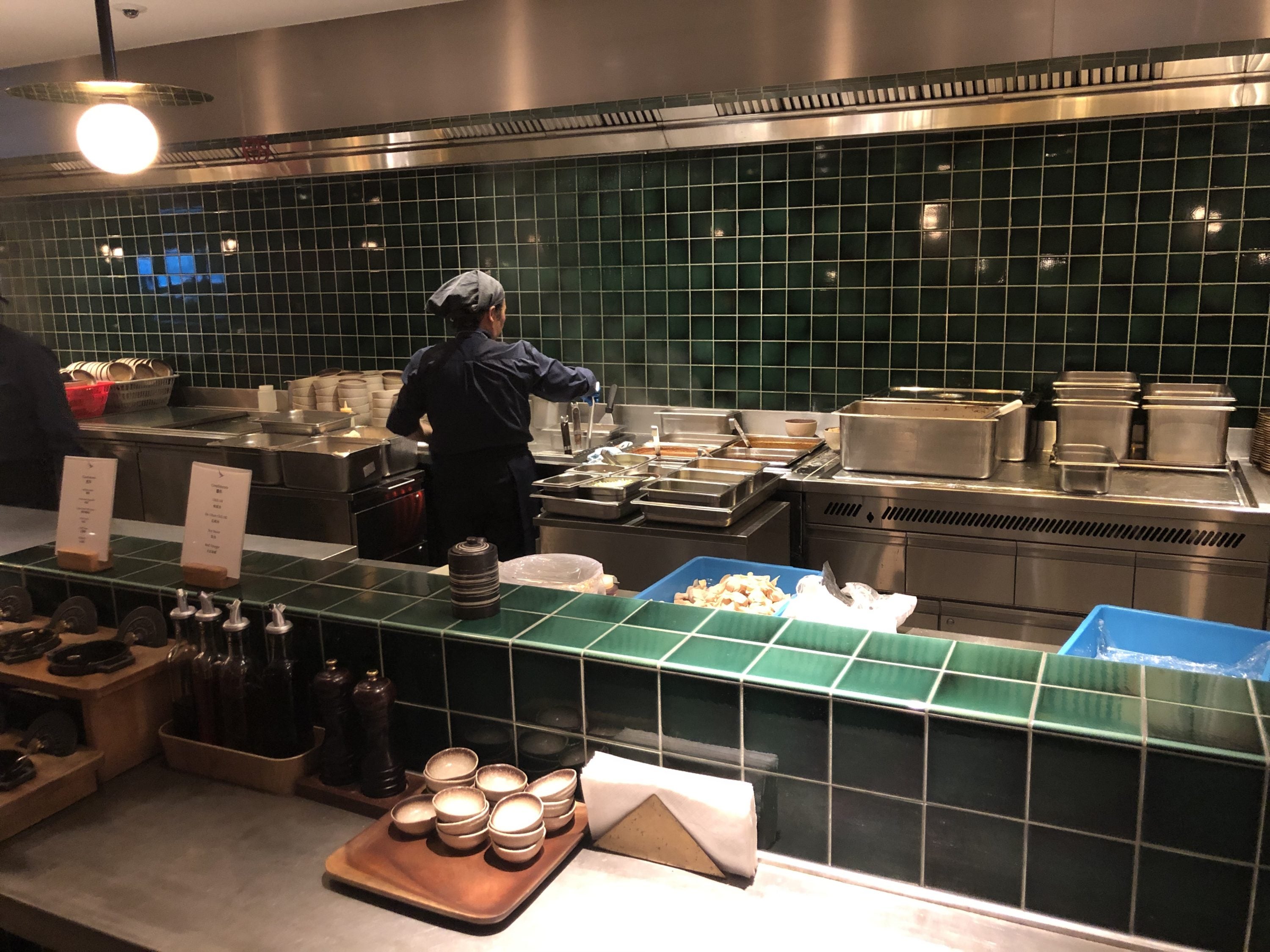 The Pier, Business is the only lounge of the 4 from Cathay Pacific with a dedicated yoga, meditation, and wellness space. It was opened in February 2019, and it was a much-appreciated treat. As a yoga enthusiast, I wanted to have the privilege of trying it.
This 700 square-foot area (which is just a tiny part of the overall lounge) is divided into these two zones:
The Body Sanctuary (yoga)
The Mind Sanctuary (meditation)
The Body Sanctuary contains a space to follow yoga videos from Pure Yoga and chairs for assisted stretching.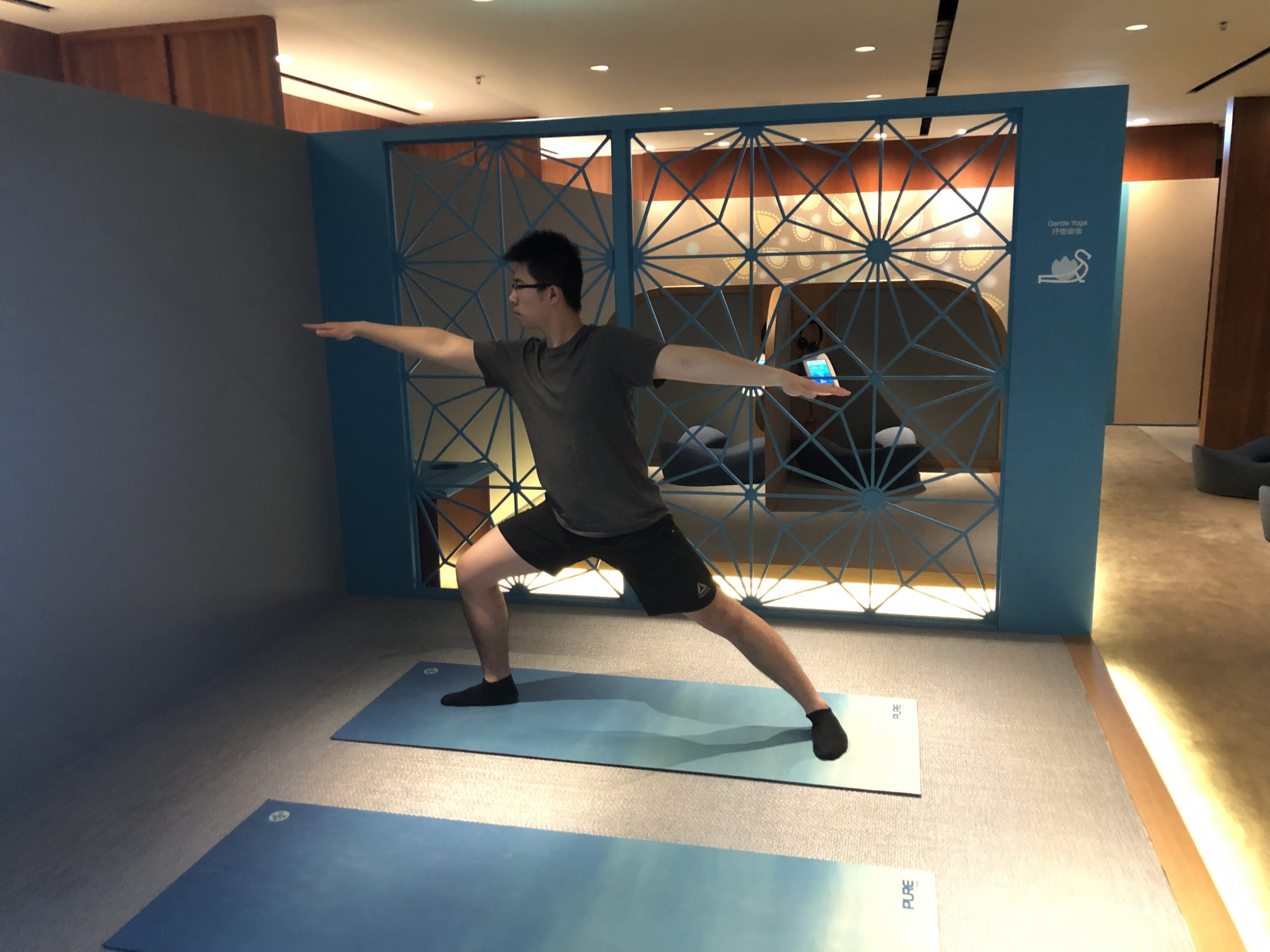 The Pier, Business was the last lounge that we visited before heading to our gate for our red-eye flight.
Flight
We unintentionally timed our arrival at the gate to coincide right after pre-boarding was finished, which meant that we could walk directly onto our plane and to our seats.
Seat
I knew that Cathay Pacific had the world's widest first class seat (measuring 36 inches wide), but I had no idea that a seat on a plane could be this huge. It looks gigantic in real life, and it exceeded my expectations of a spacious seat from the get-go.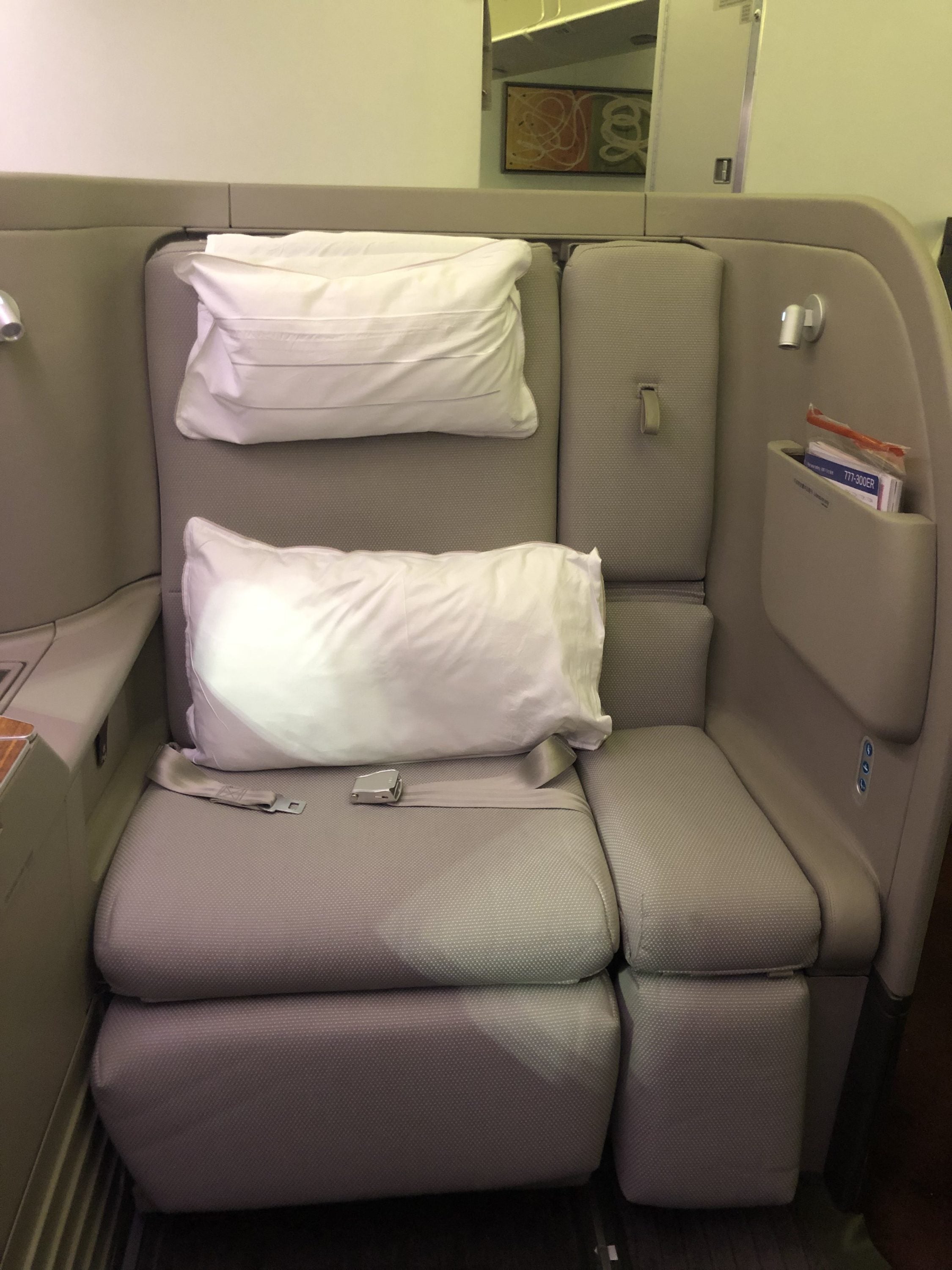 We were provided with a back pillow and a neck pillow, the latter of which is attached with hook-and-loop fasteners (a velcro strap). I couldn't get over how much space I was afforded. Keep in mind that I've experienced first class on Japan Airlines and ANA, among countless other first and business class products.
I don't say this to brag, but I'm just astonished at the quality of Cathay Pacific's seat.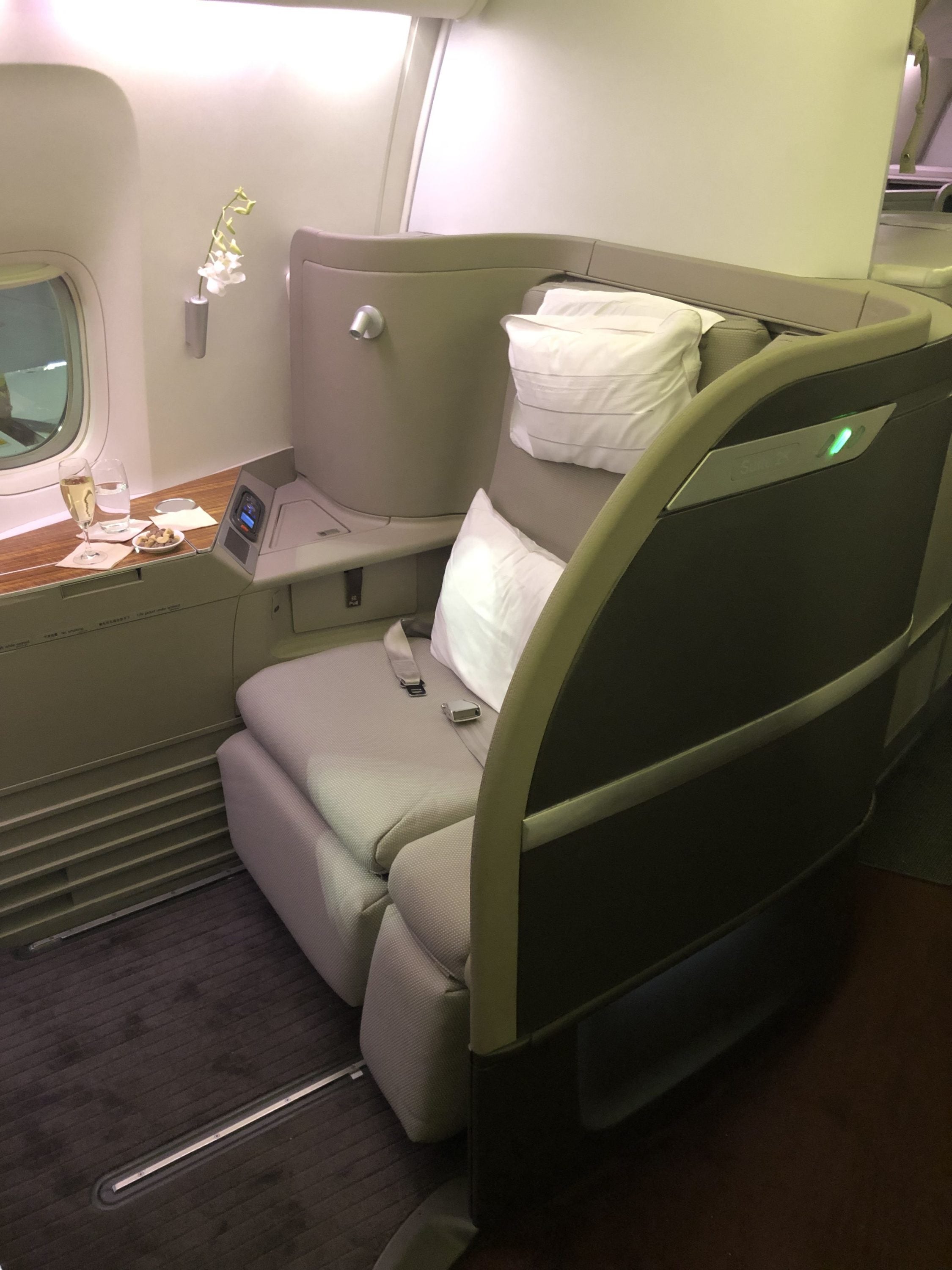 In fact, the ottoman in front of the seat is large enough to fit one passenger. Cathay Pacific is one of the only airlines to offer dining with a companion at your seat, and it's all thanks to this oversized ottoman.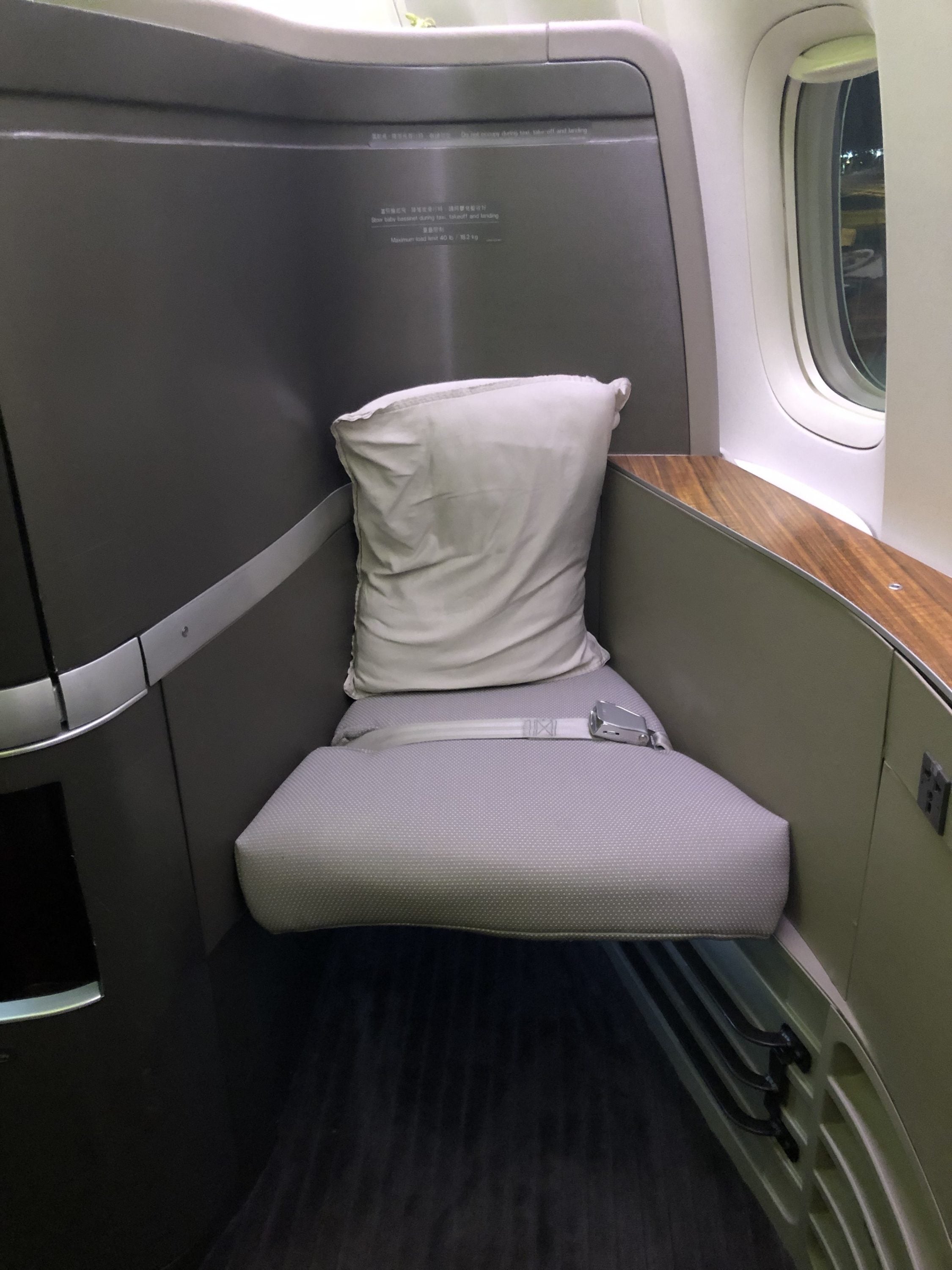 In addition, a back pillow was fastened to the ottoman for the back support of any dining companion.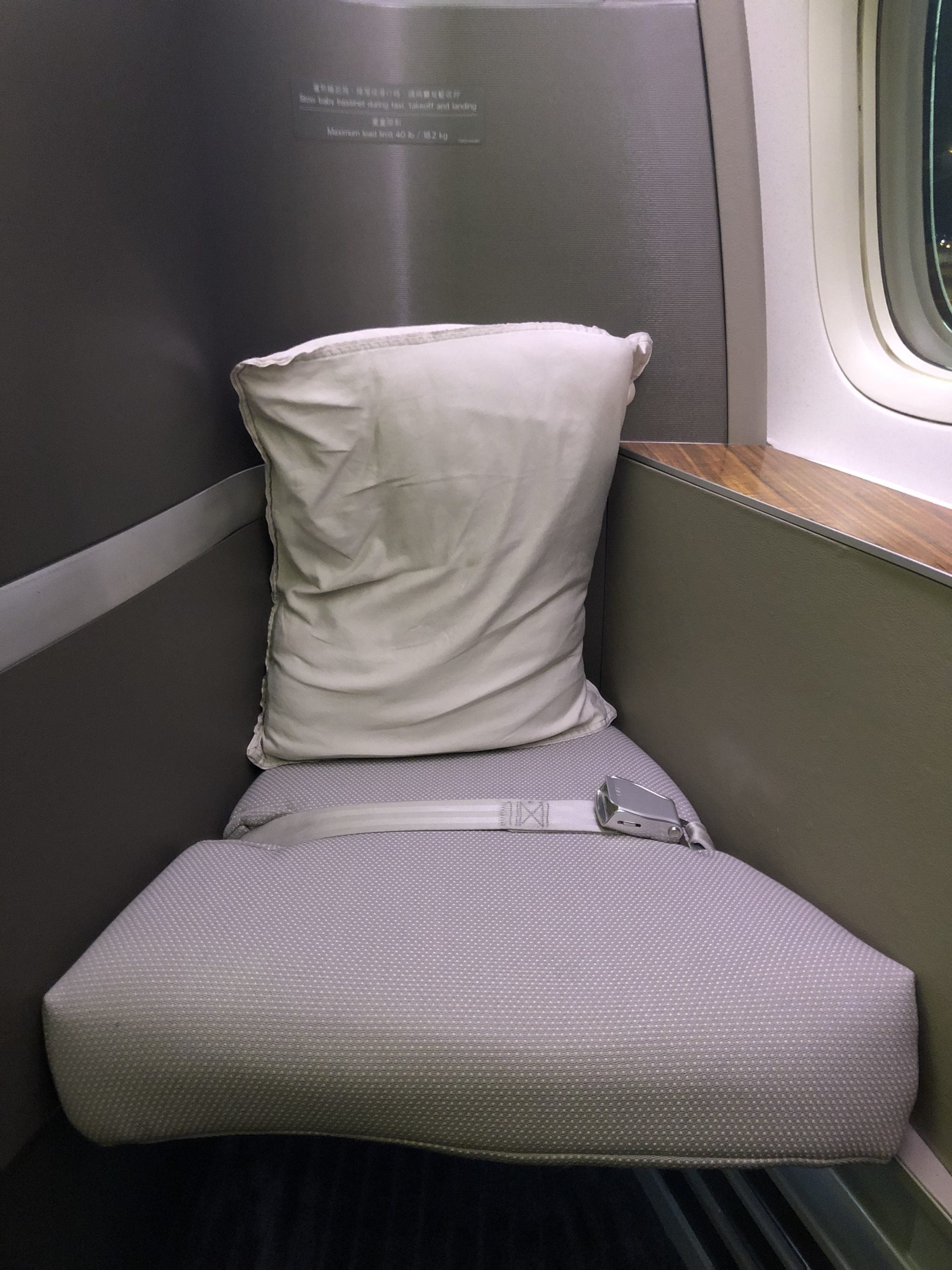 I was seated in 2K, and Vivian was seated in the best seat — 2A.
For those of you who don't already know, we've compiled the definitive guide of Cathay Pacific's routes to and from the U.S. This is an absolutely essential guide if your future travel involves Cathay Pacific.
We also talk about the best seats to select on each plane in each cabin class. In first class on their 777, couples will want to select 1A and 2A, and solo travelers will want to pick 2A. 2A is the most private and quiet seat.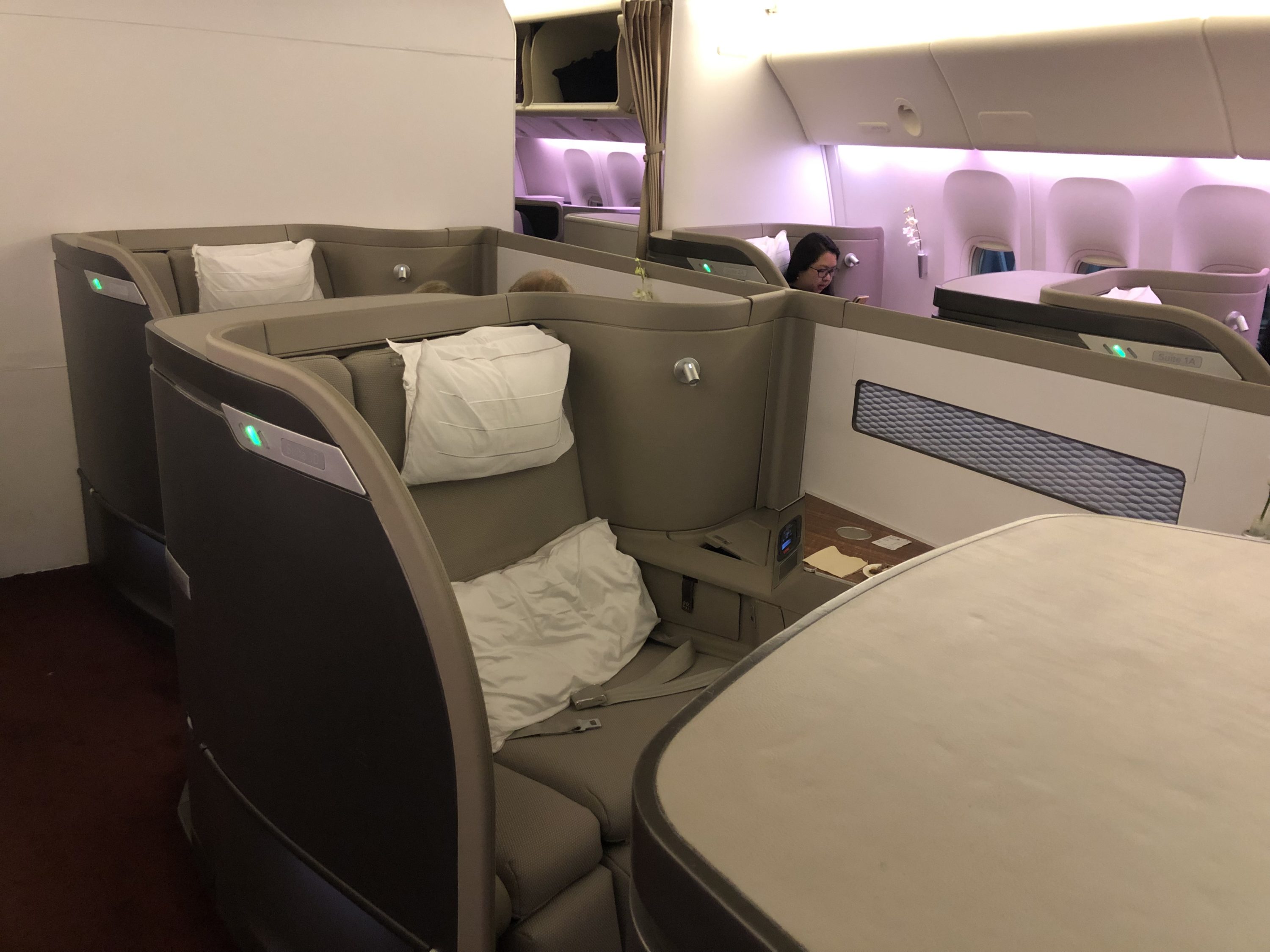 There are 6 seats in the entire first class cabin. These are arranged in a 1-1-1 configuration across 2 rows. The exclusivity of this seat is unparalleled, and we were treated as such throughout the whole flight.
Each of the first class seats is a jaw-dropping 36 inches wide and 81 inches in pitch.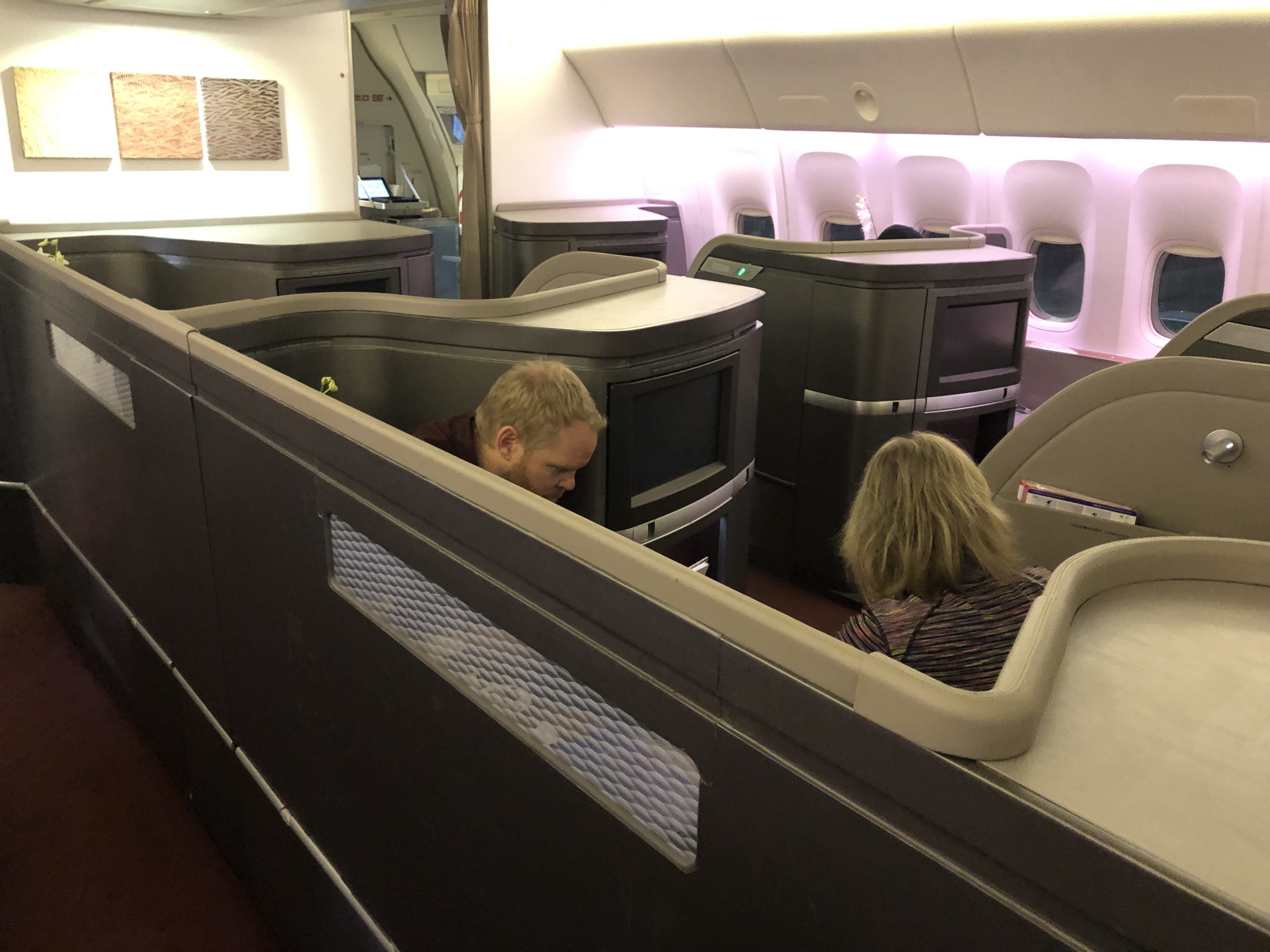 Since I was seated in window seat 2K, I could peer out of any of the three windows at my throne.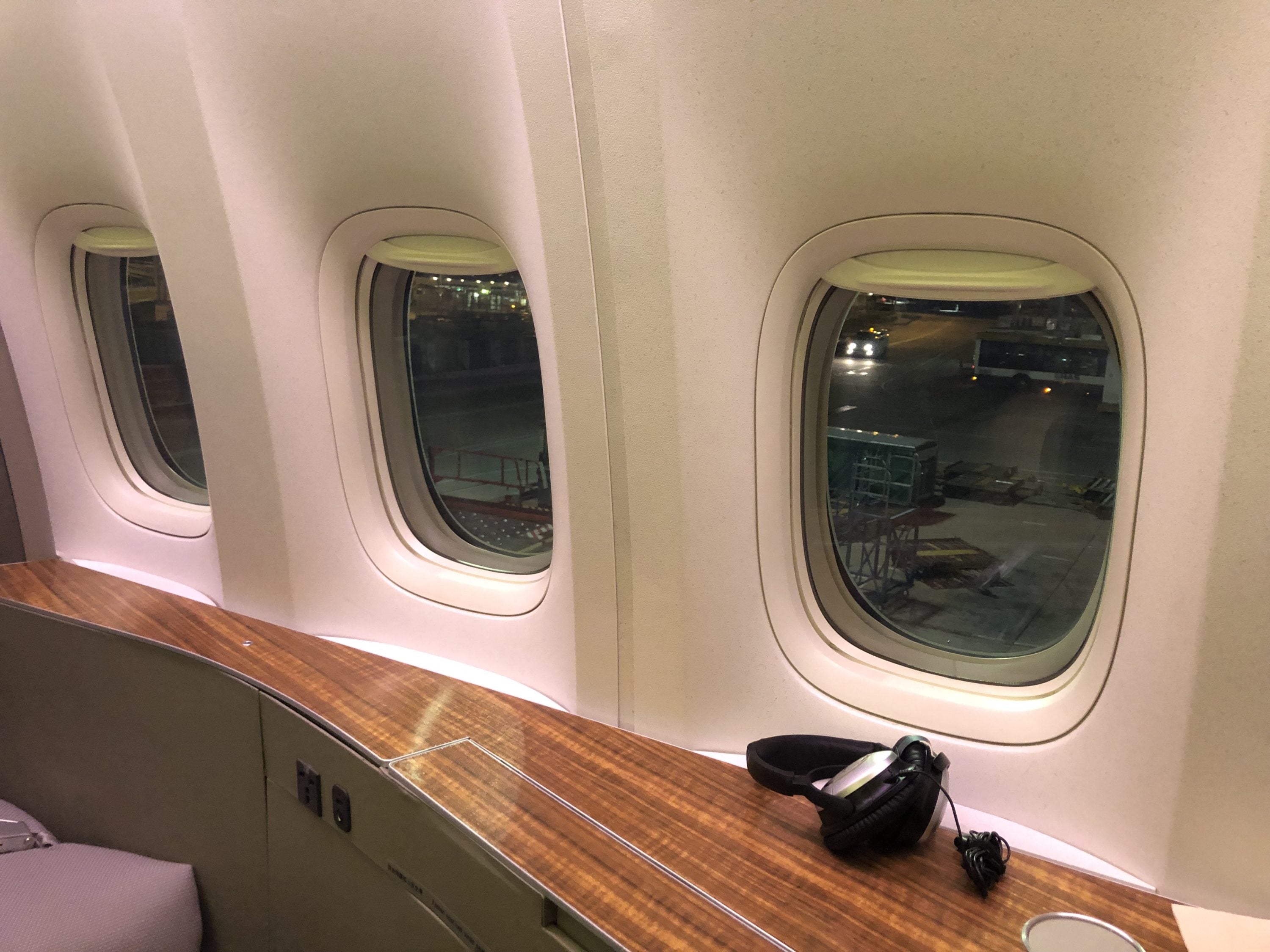 Although the first class product has pretty much been consistent over the last several years, I found it to be holding up quite well. To the right of my seat was a fresh flower, which was a classy touch.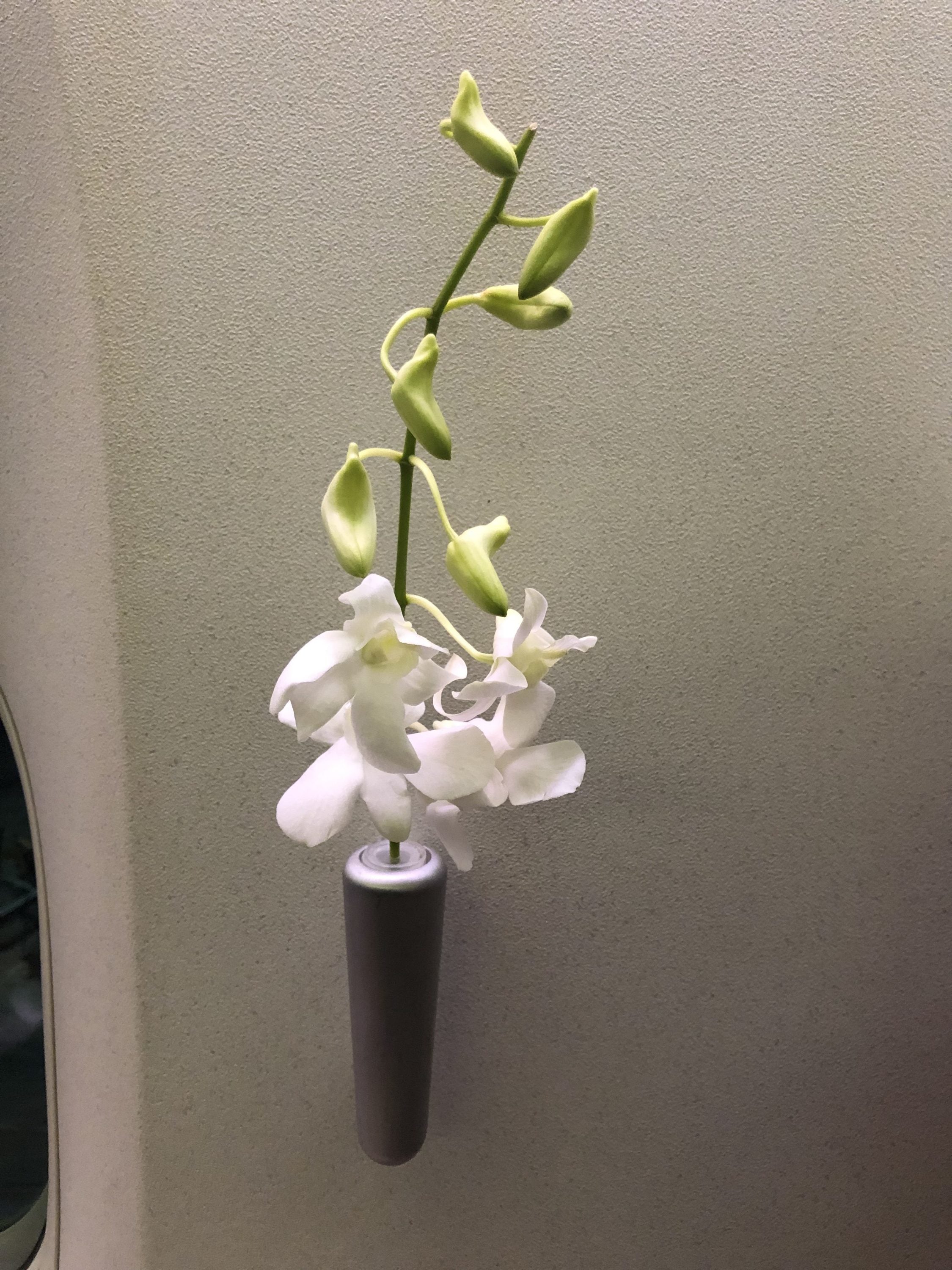 The in-flight monitor is located next to the ottoman. It measures 17 inches diagonally, which is petite for first class. There's a latch right underneath the in-flight monitor, which can be used to pull the screen closer and customize its height and positioning.
This is a big deal because a 17-inch monitor pulled out to near your face makes it look like a 50 inch HD TV screen.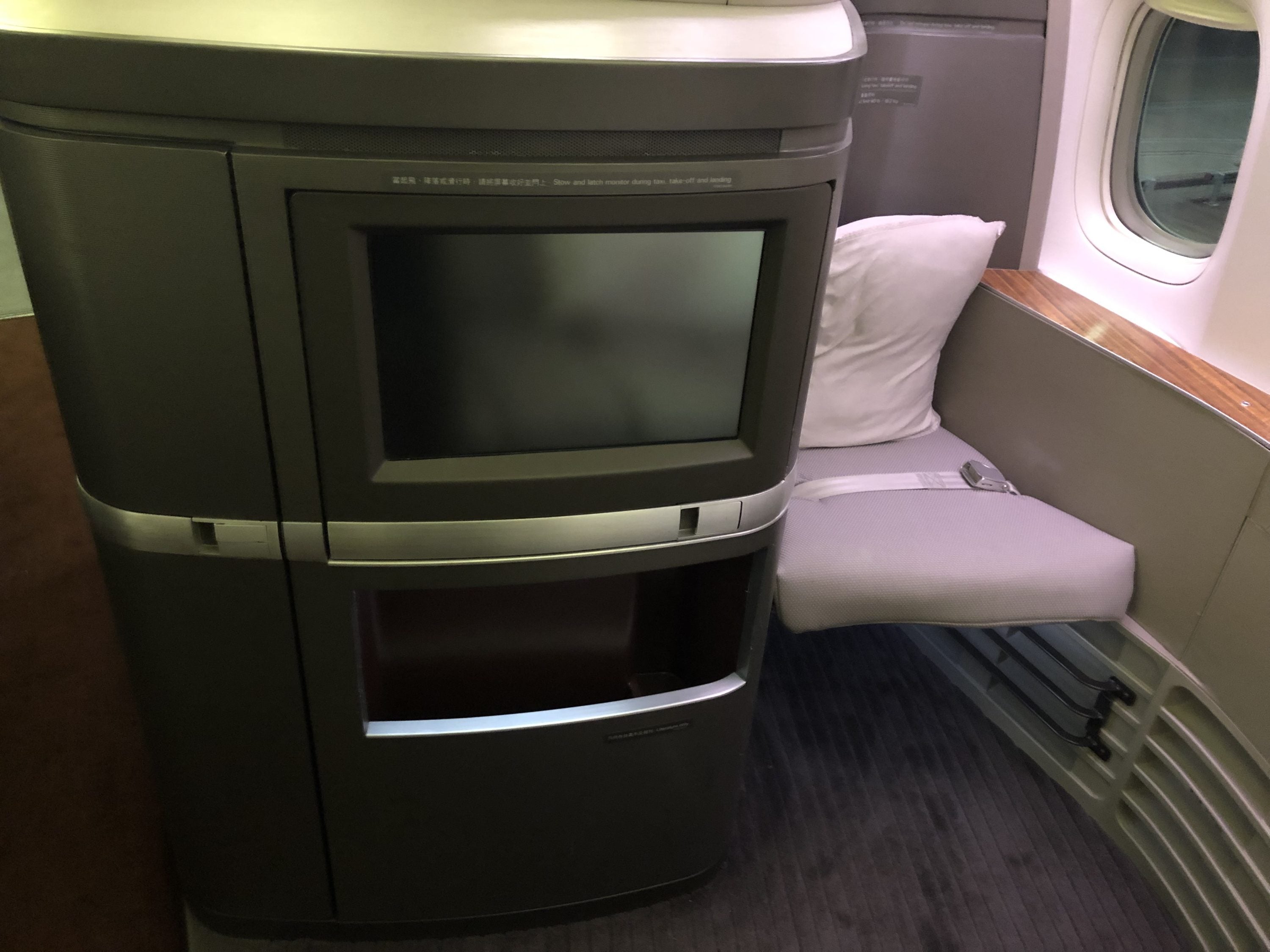 There was also a storage compartment right below the in-flight monitor.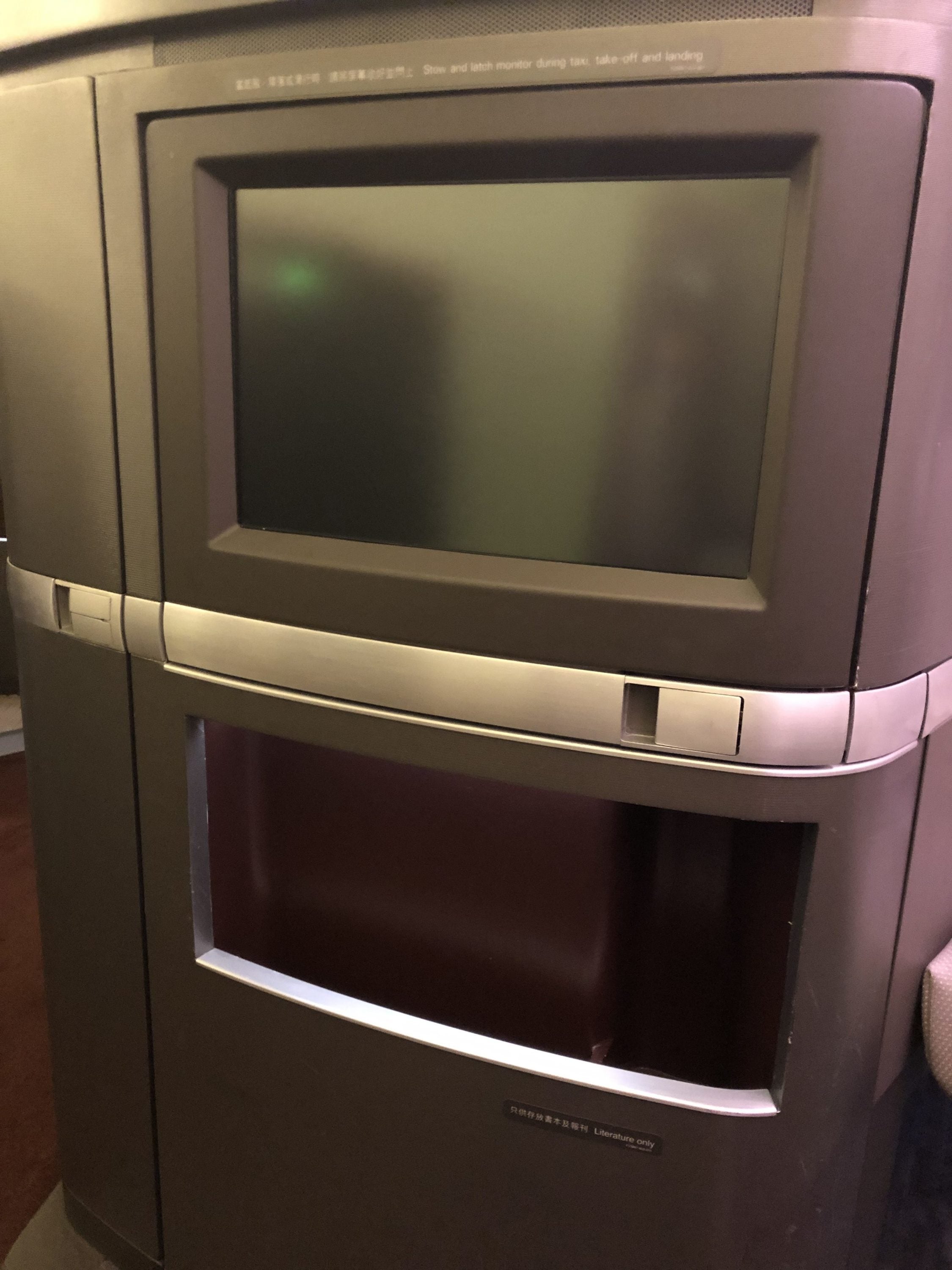 To the side of the seat was a large storage compartment. This was used to store my backpack and countless amenities (we'll talk about that later).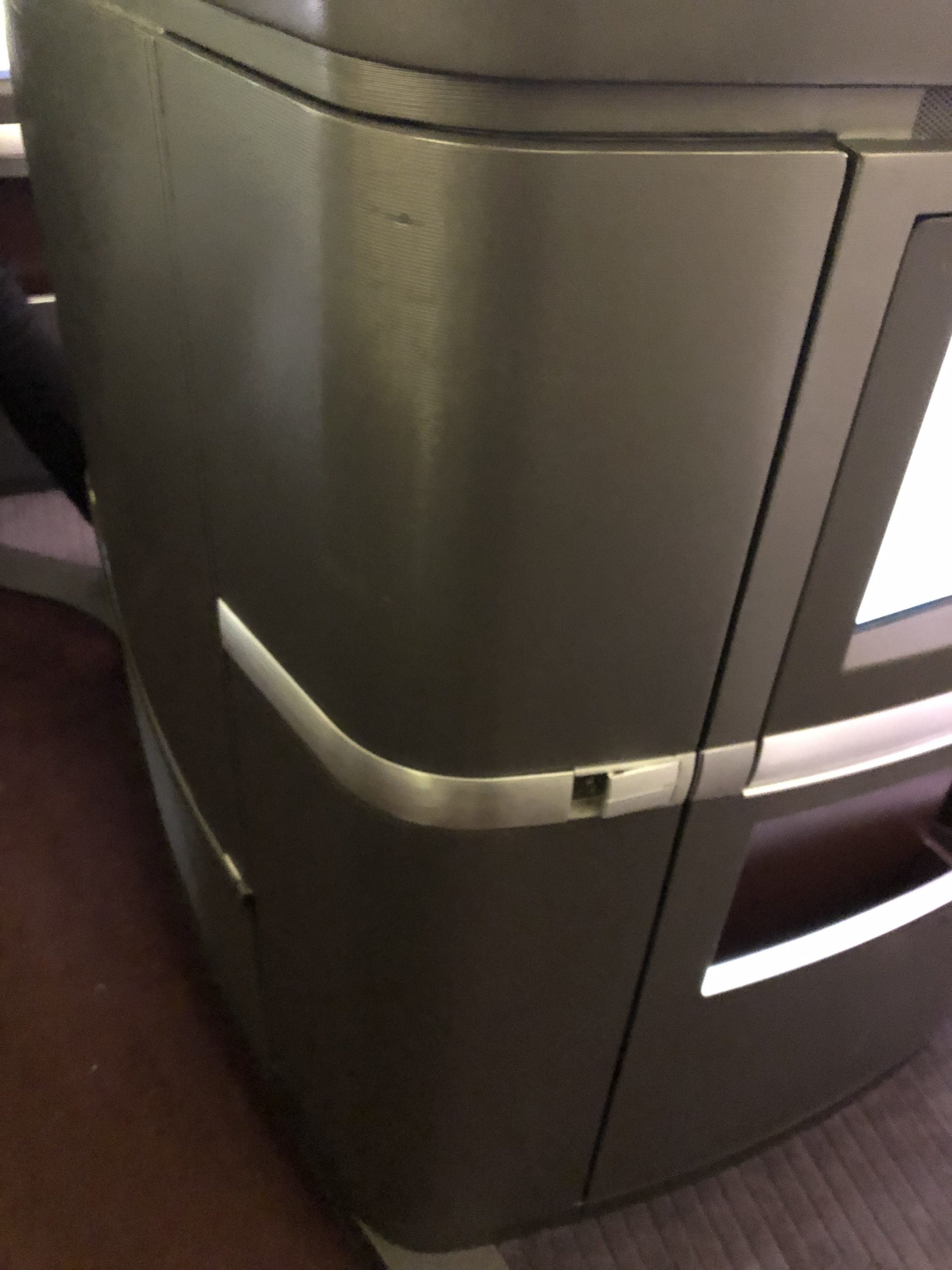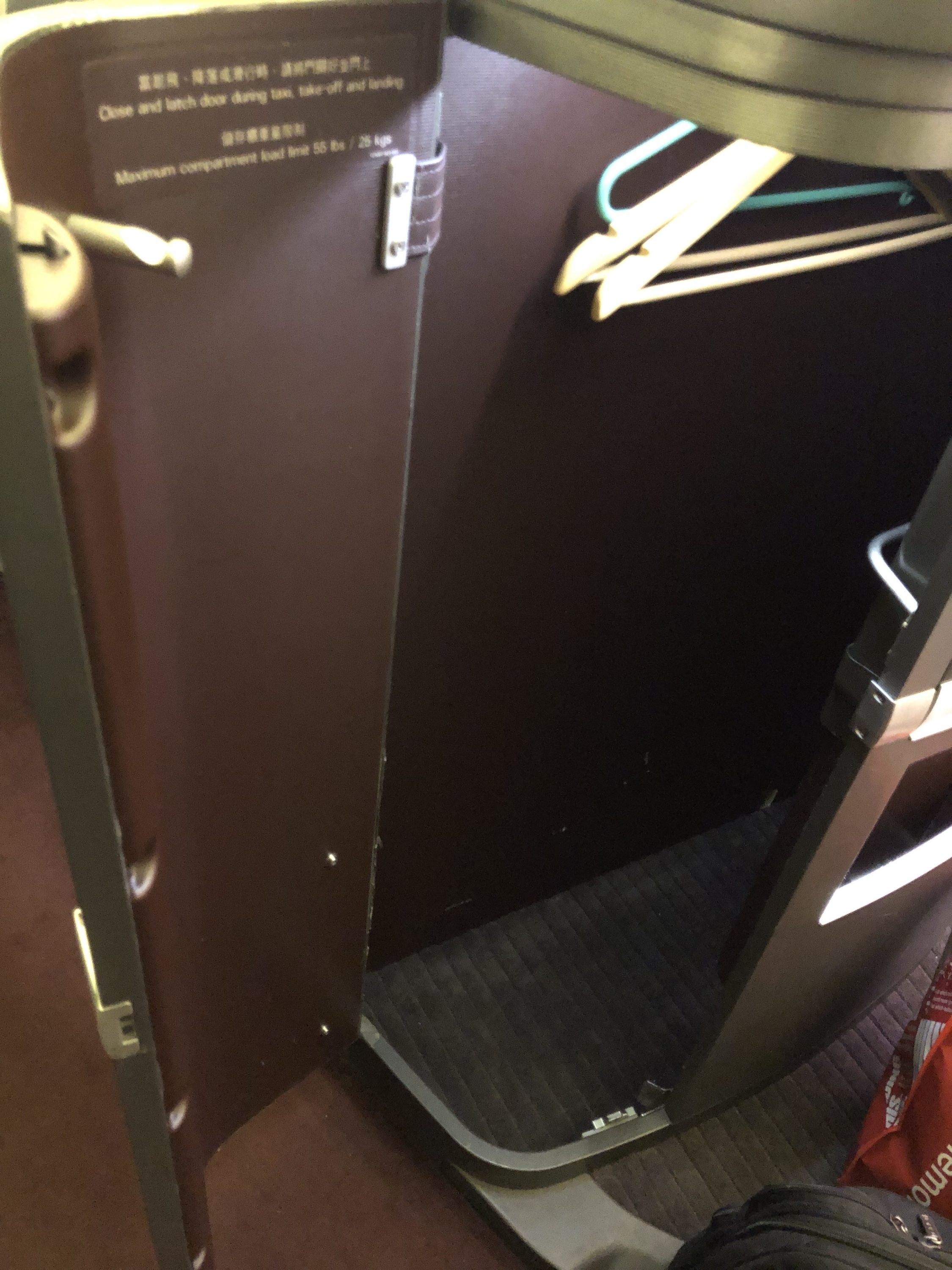 The coat hanger is also located inside, which I used to store my Lululemon Men's dark olive Switch Over Bomber jacket. The storage compartment depth was so vast that you could store a small carry-on upright in it.
The entertainment remote was pretty standard-looking, though the responsiveness was top-notch.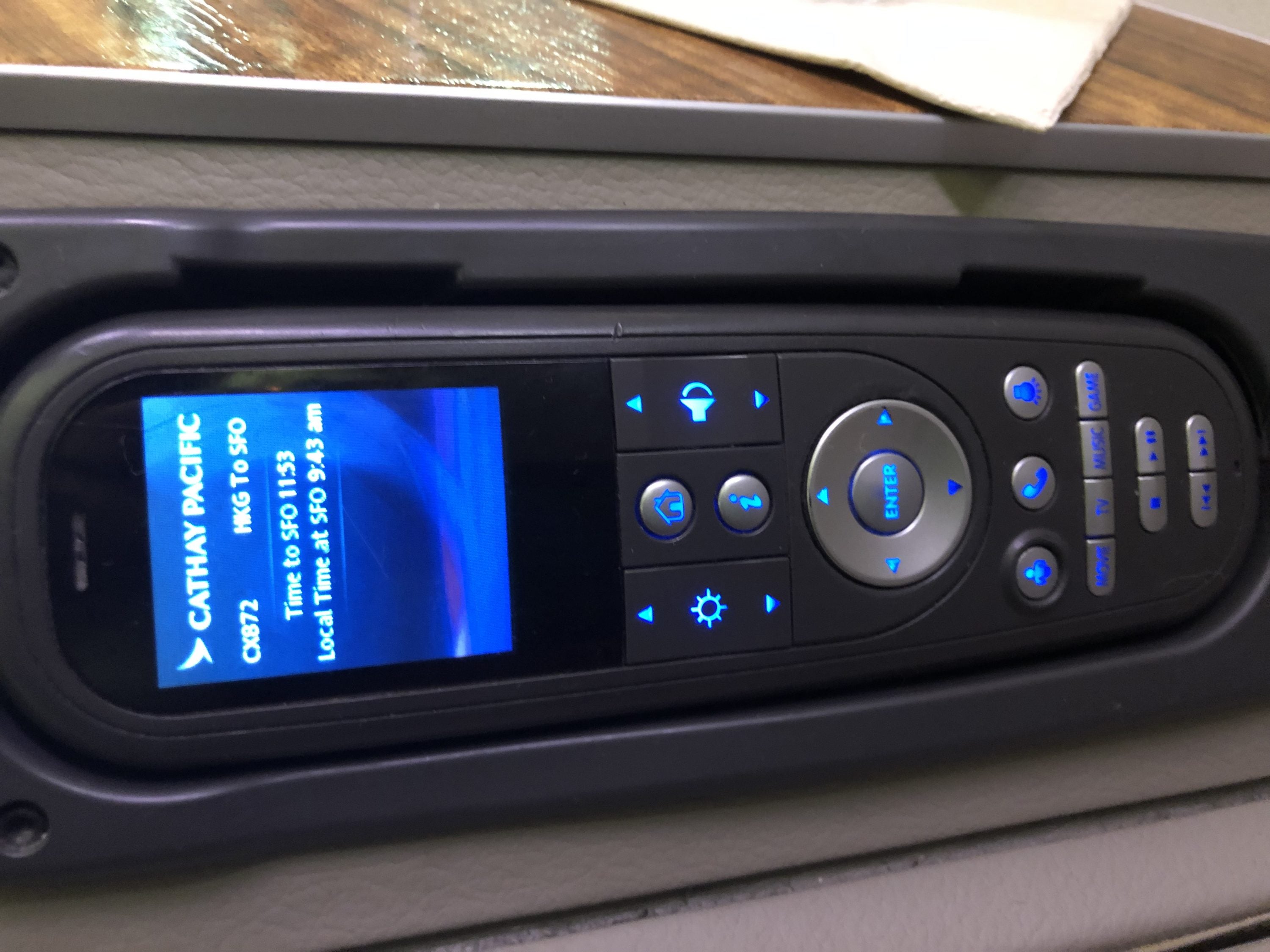 There were two seat lamps, with one positioned on each side.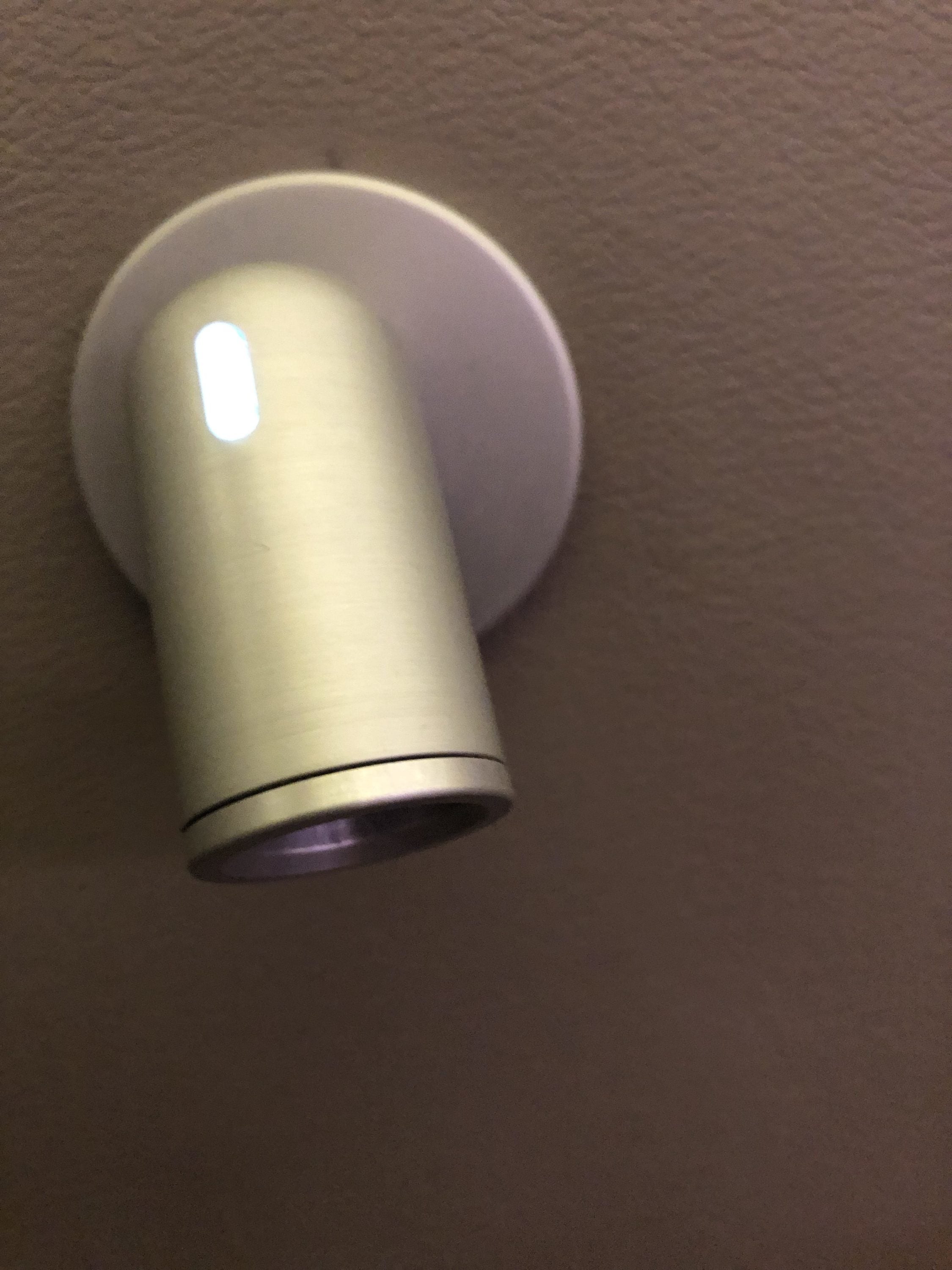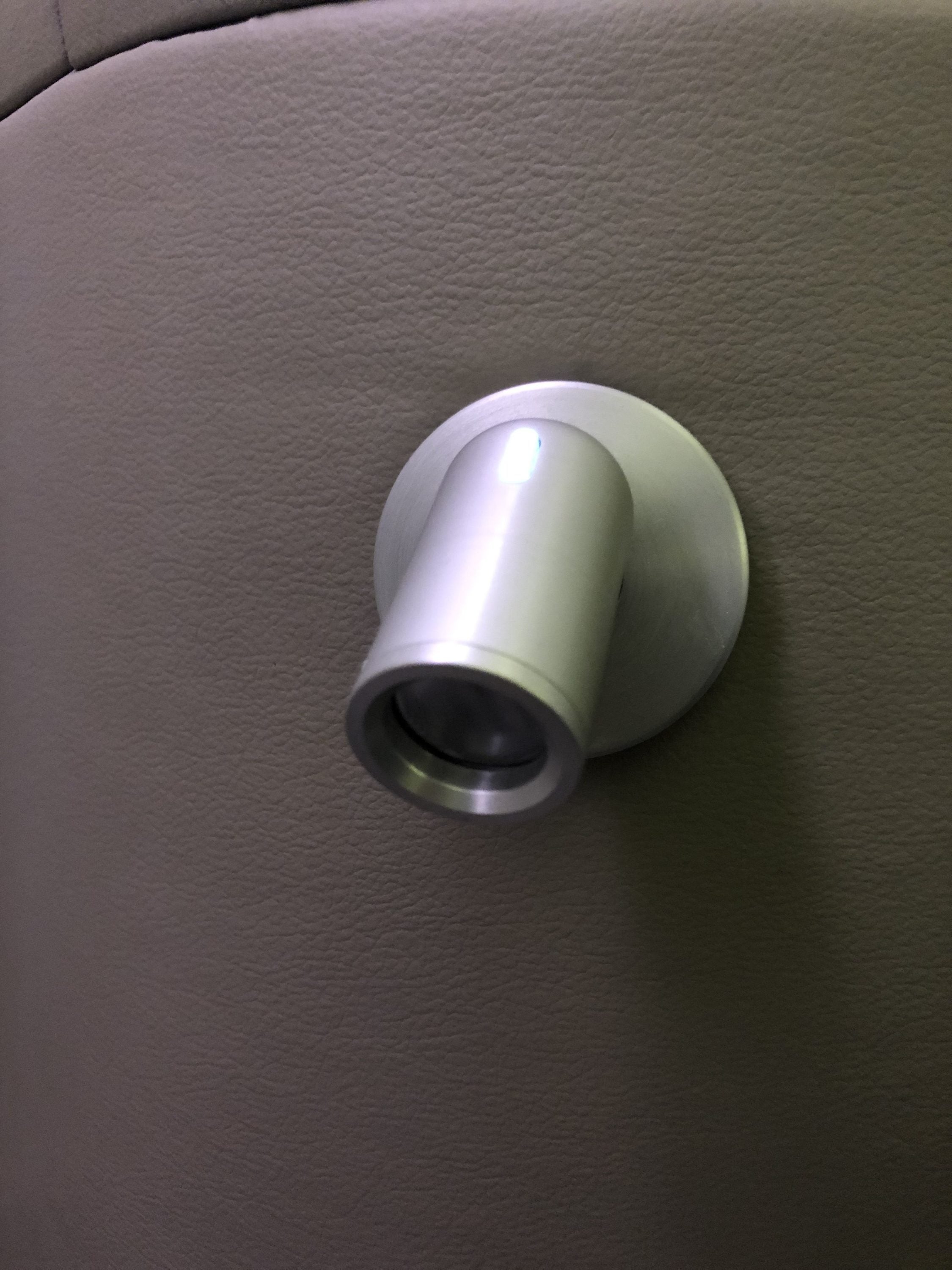 To my right was a storage compartment, which I used for my phone.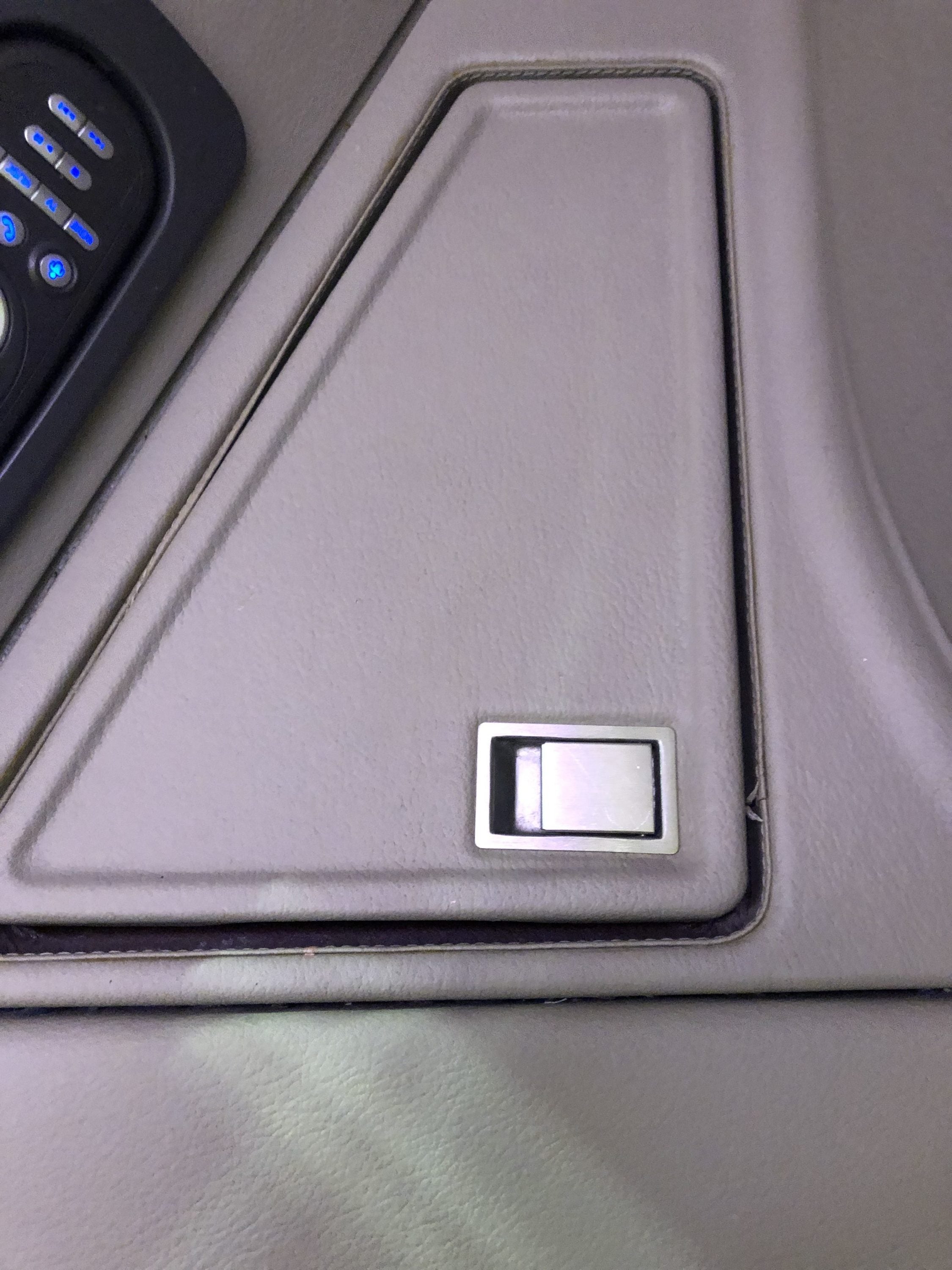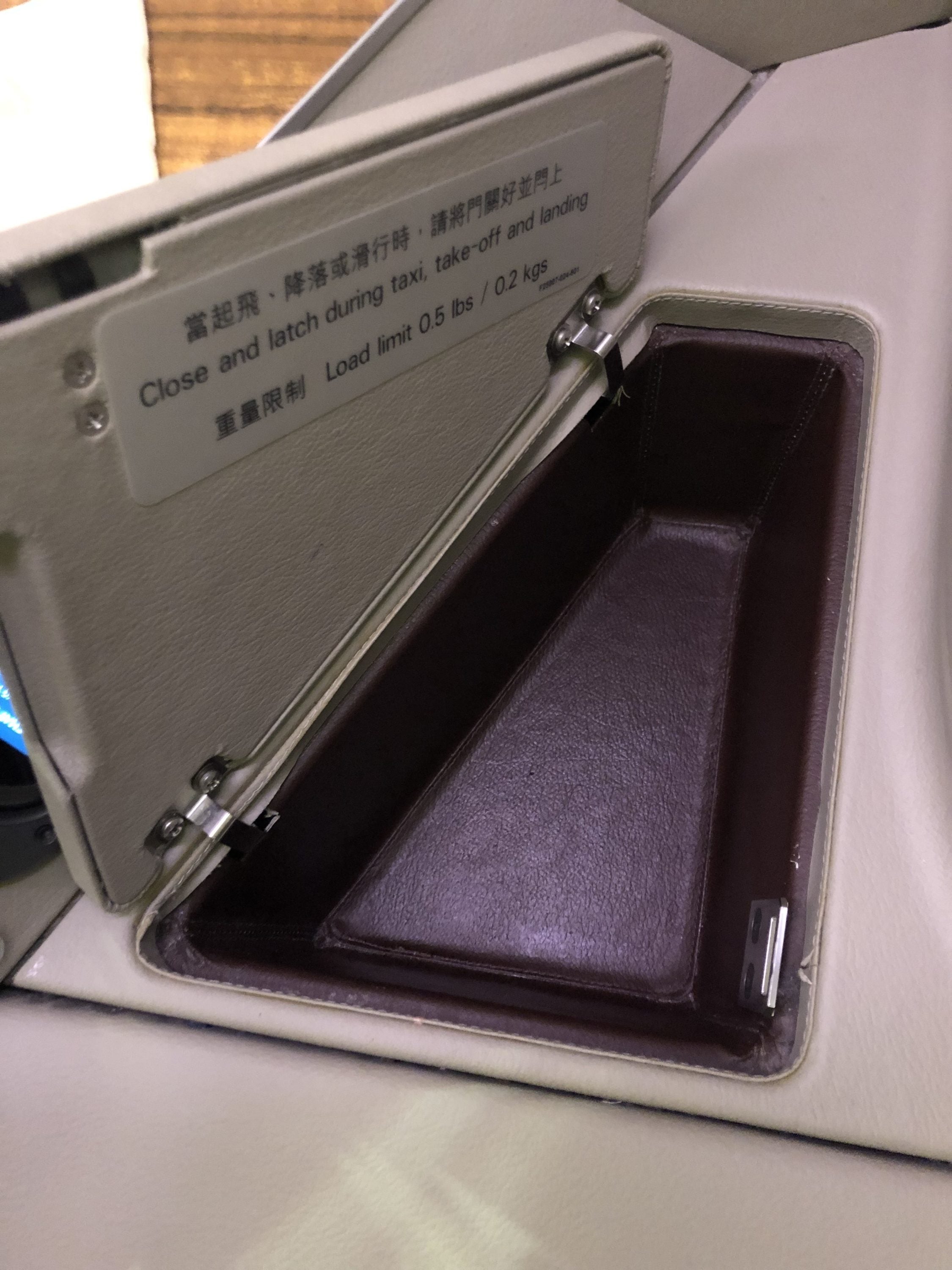 The headphone jack was located just underneath the phone storage compartment.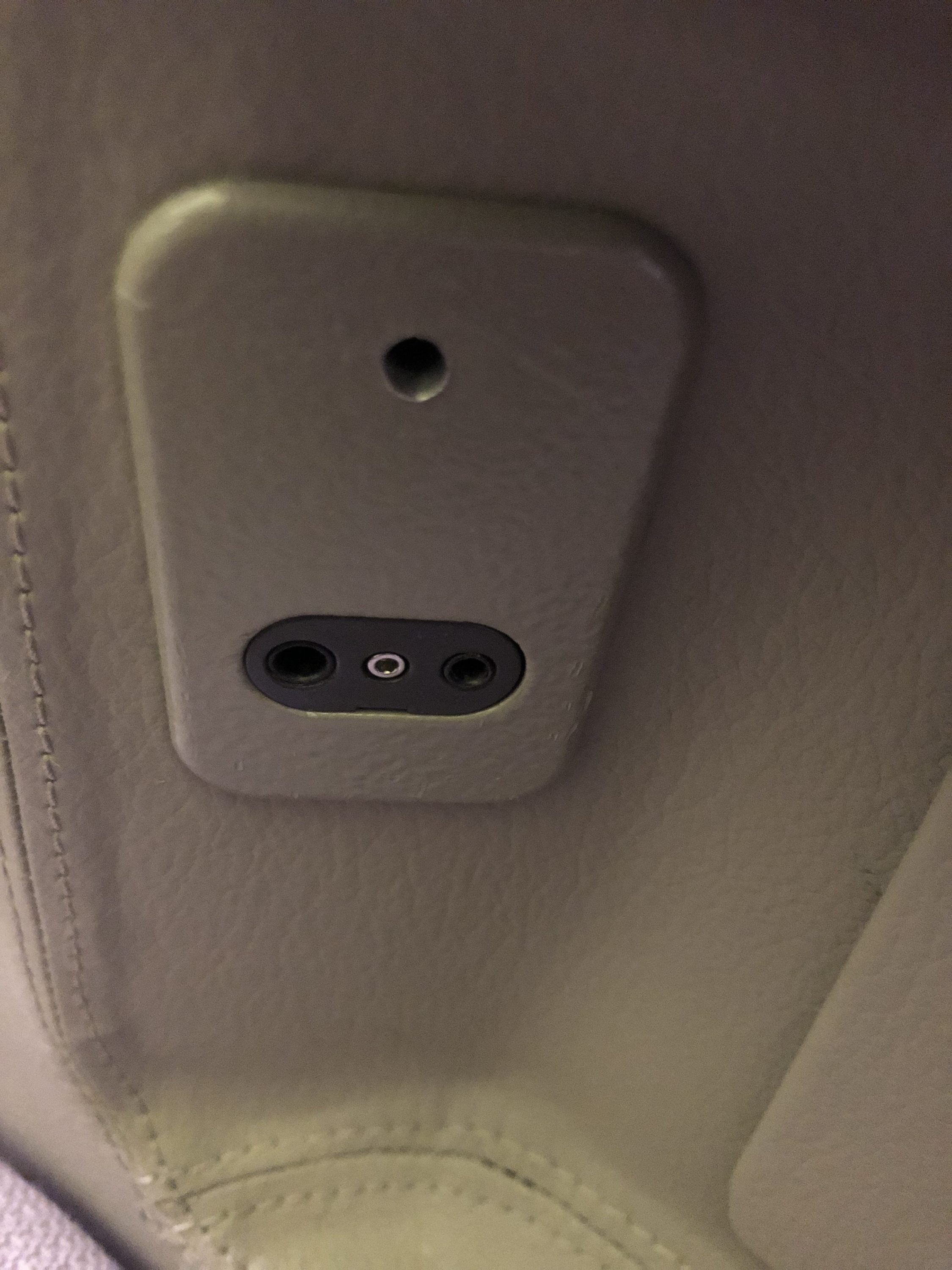 There was also an additional armrest, which you could lower for extra support by pulling the loop tether down.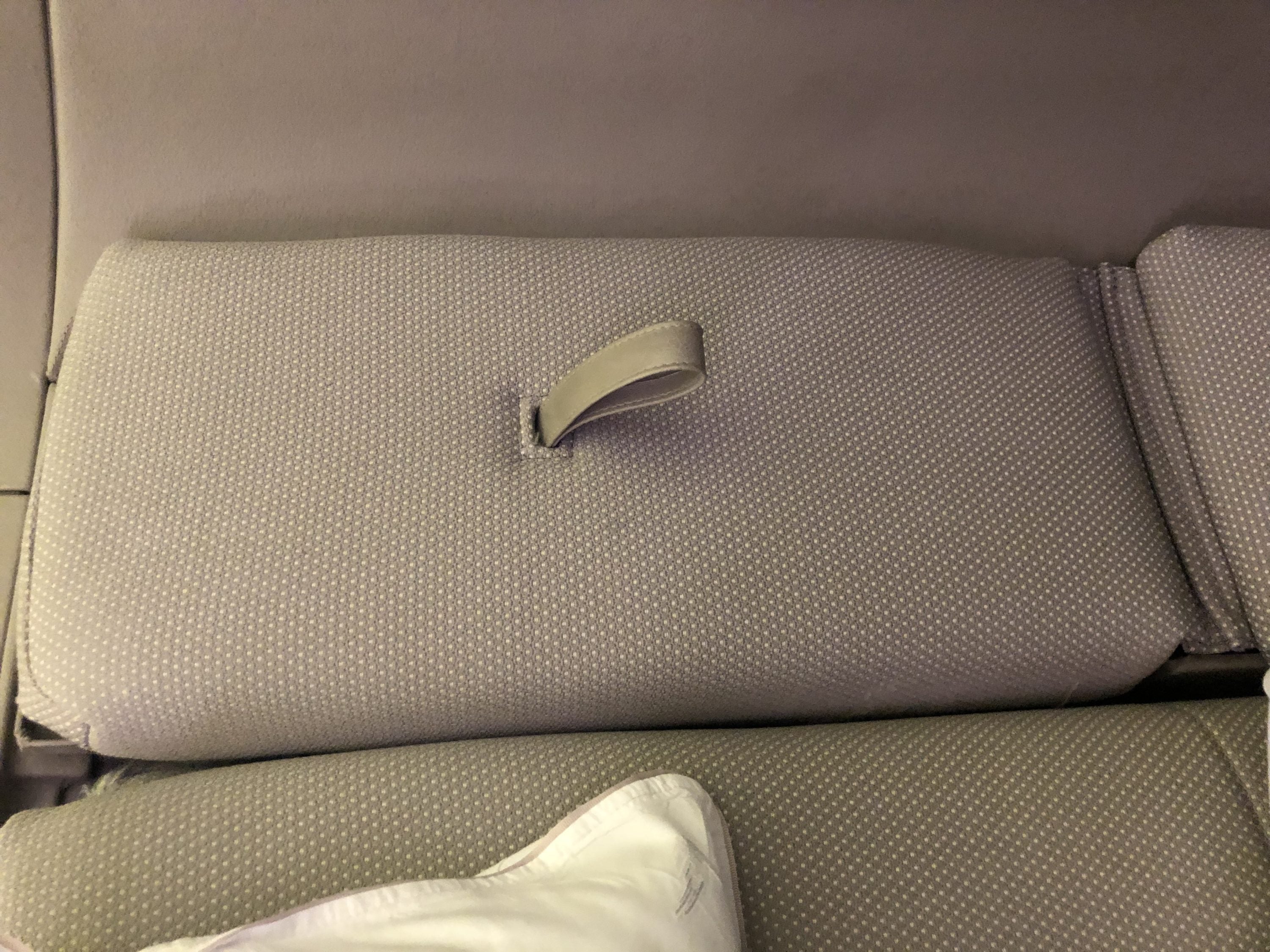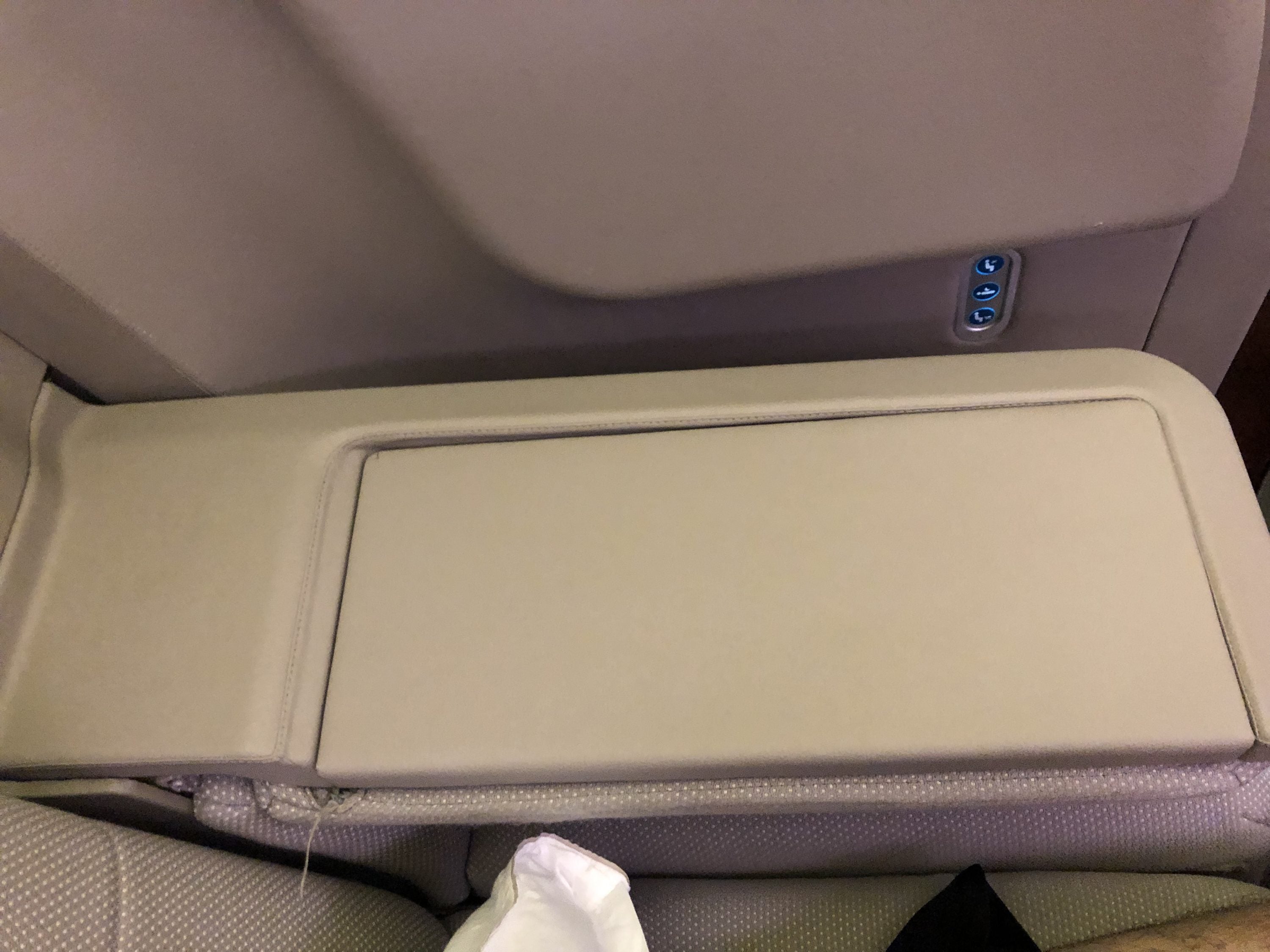 In addition to the countless storage compartments, you could also store belongings underneath the ottoman. I stored my shoes there and still had so much room left over.
I found a 110V power outlet, USB charging station, and iPod port, but it was located in somewhat of a strange place: on the window side around 2 feet in front of the seat. Luckily, I brought a long charging cable.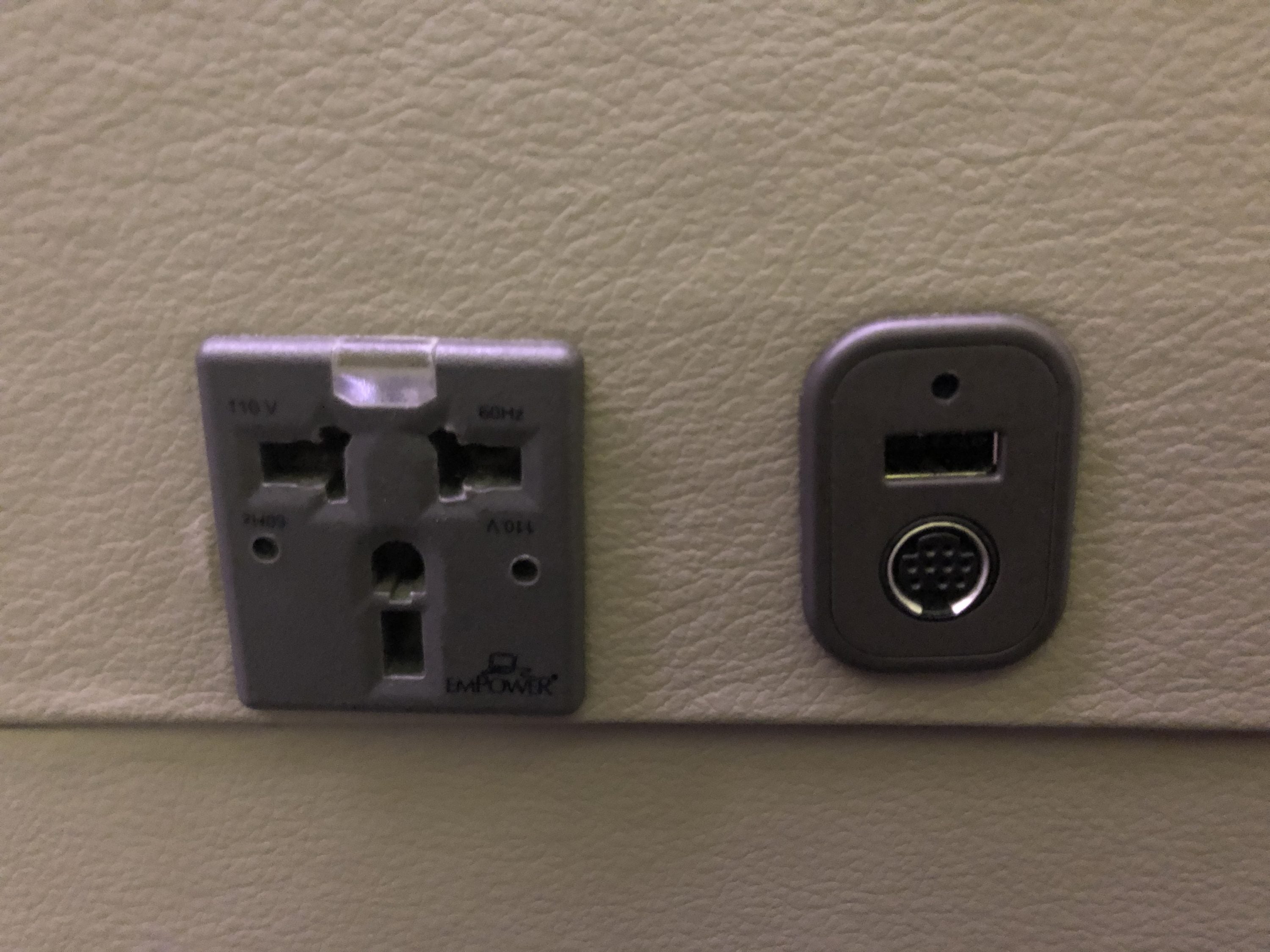 There are a few pre-programmed seat buttons for:
Take-off/landing
Sleeping
Footwell lights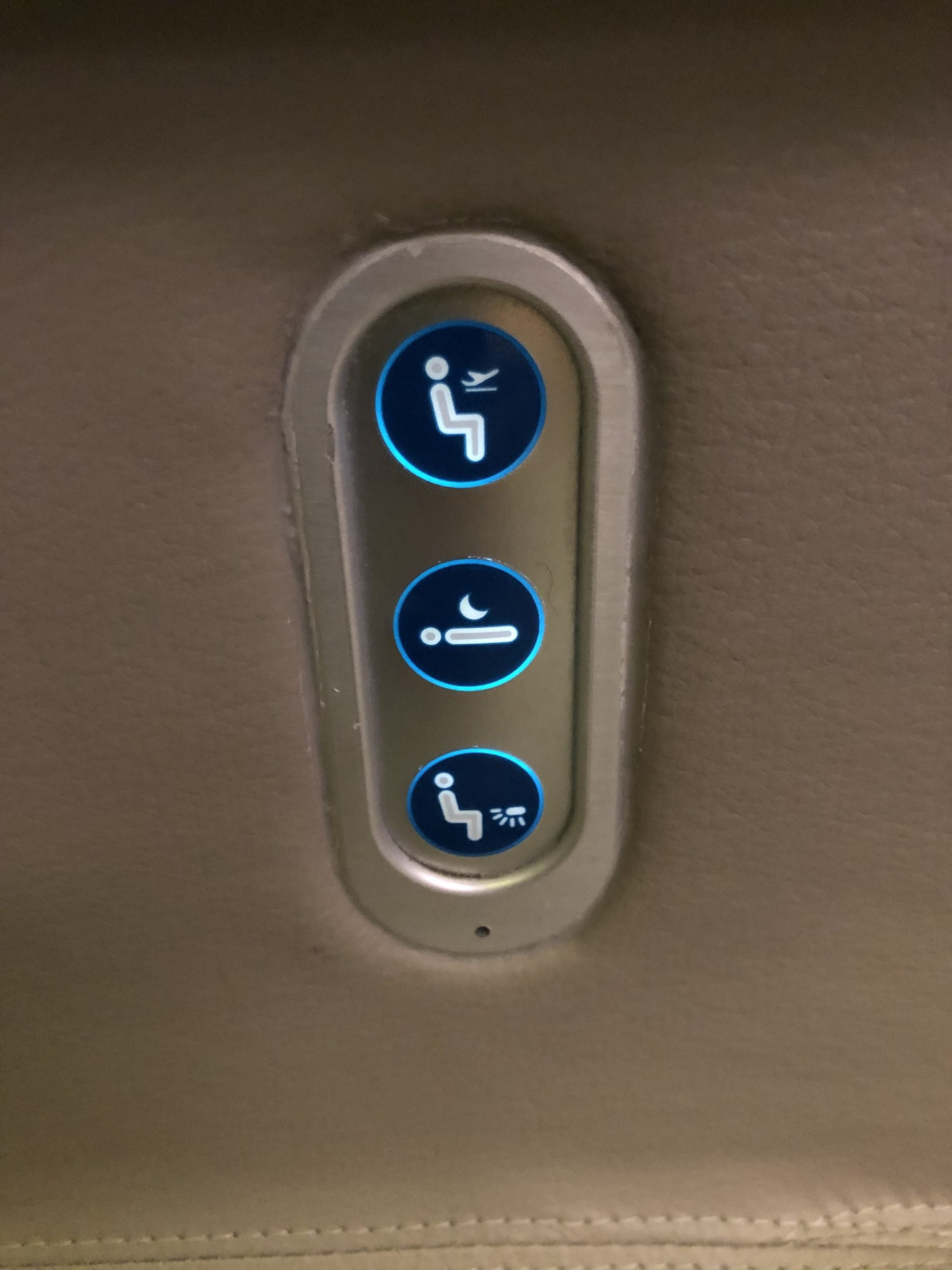 The literature storage compartment could be found on the left side of my seat just underneath a seat lamp.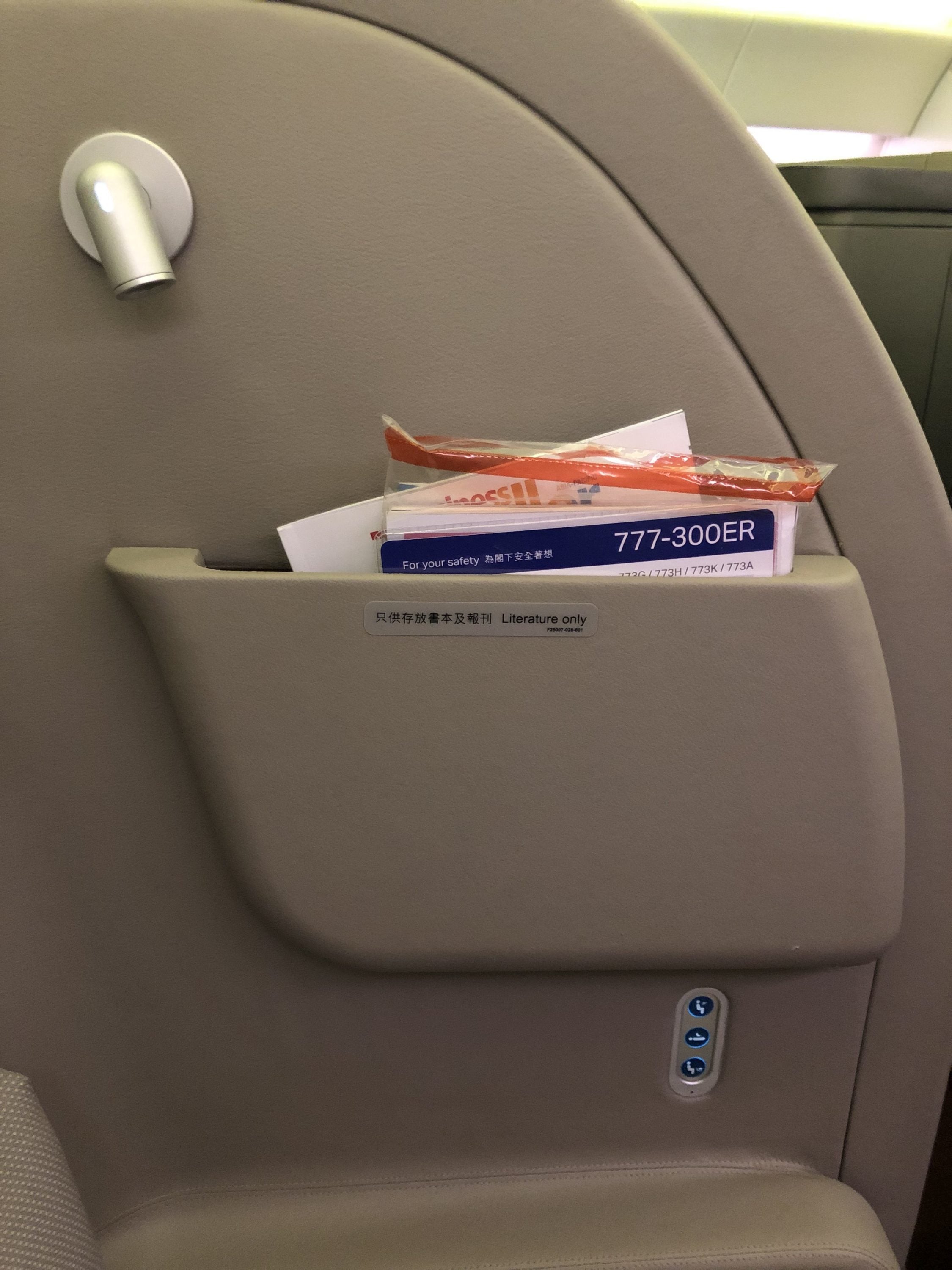 In addition, there was a digital control module, which I fiddled with for a while.
The buttons control the following (from left-to-right):
Seat lighting
Massage function
Seat recline/positioning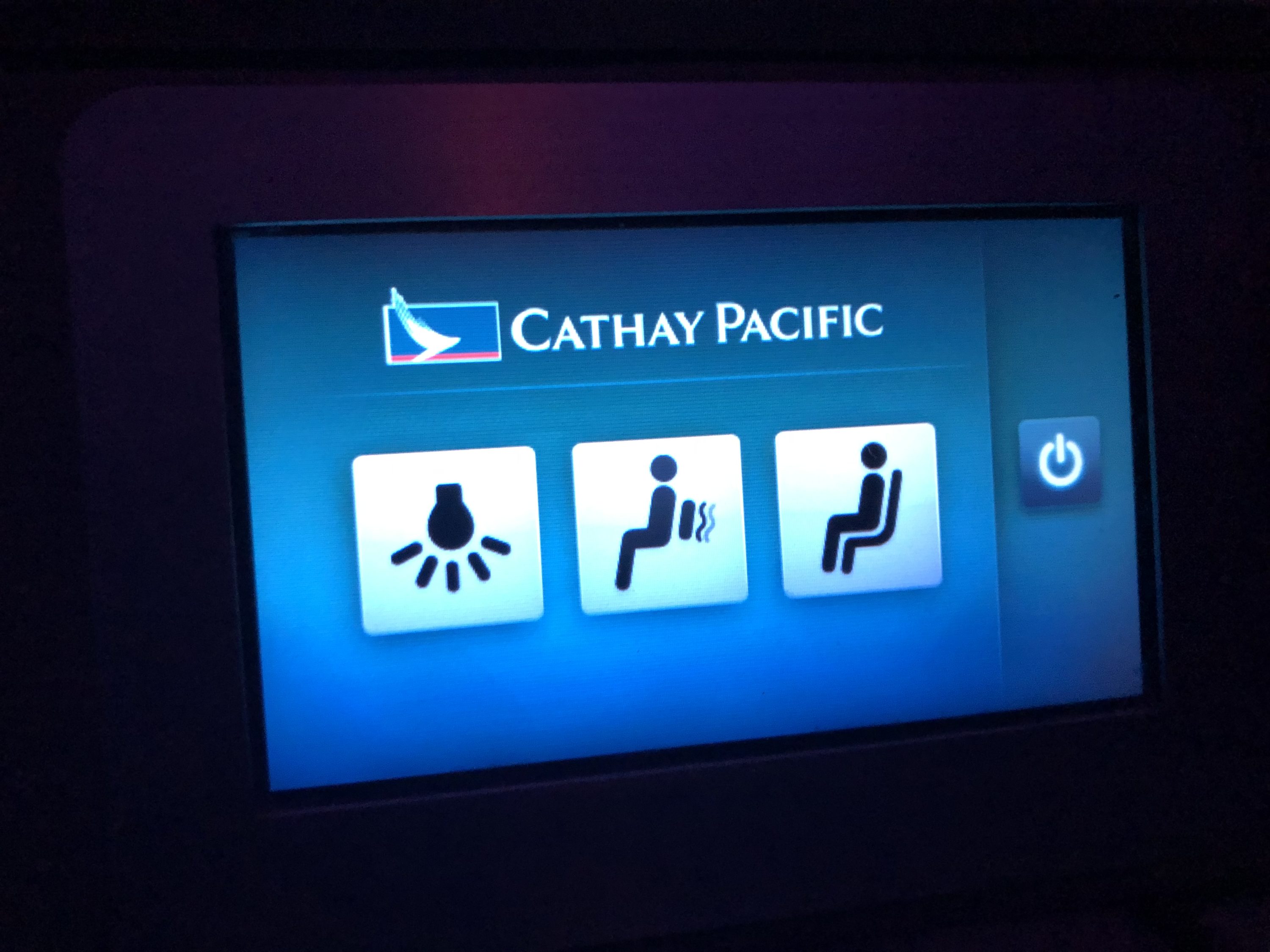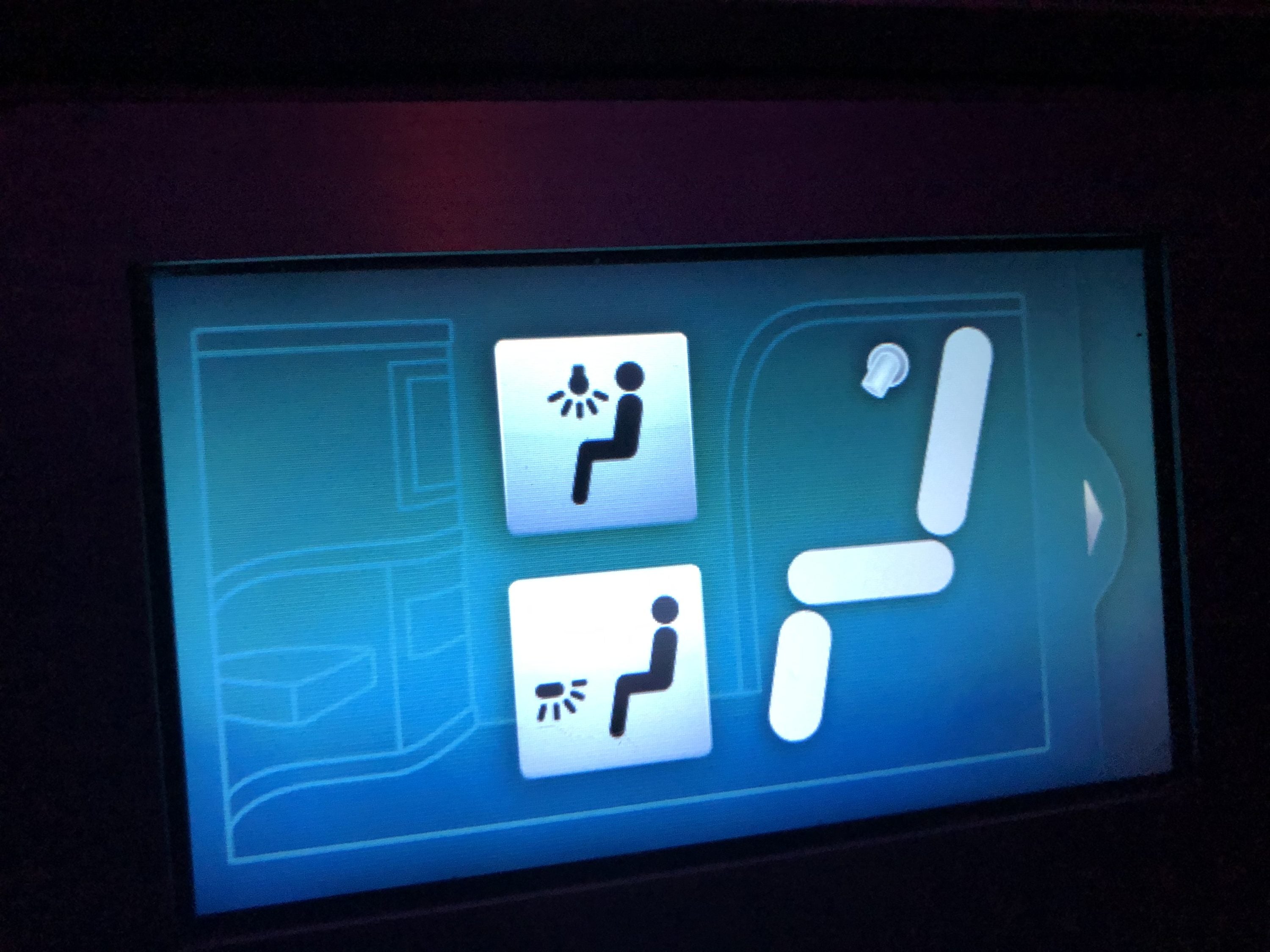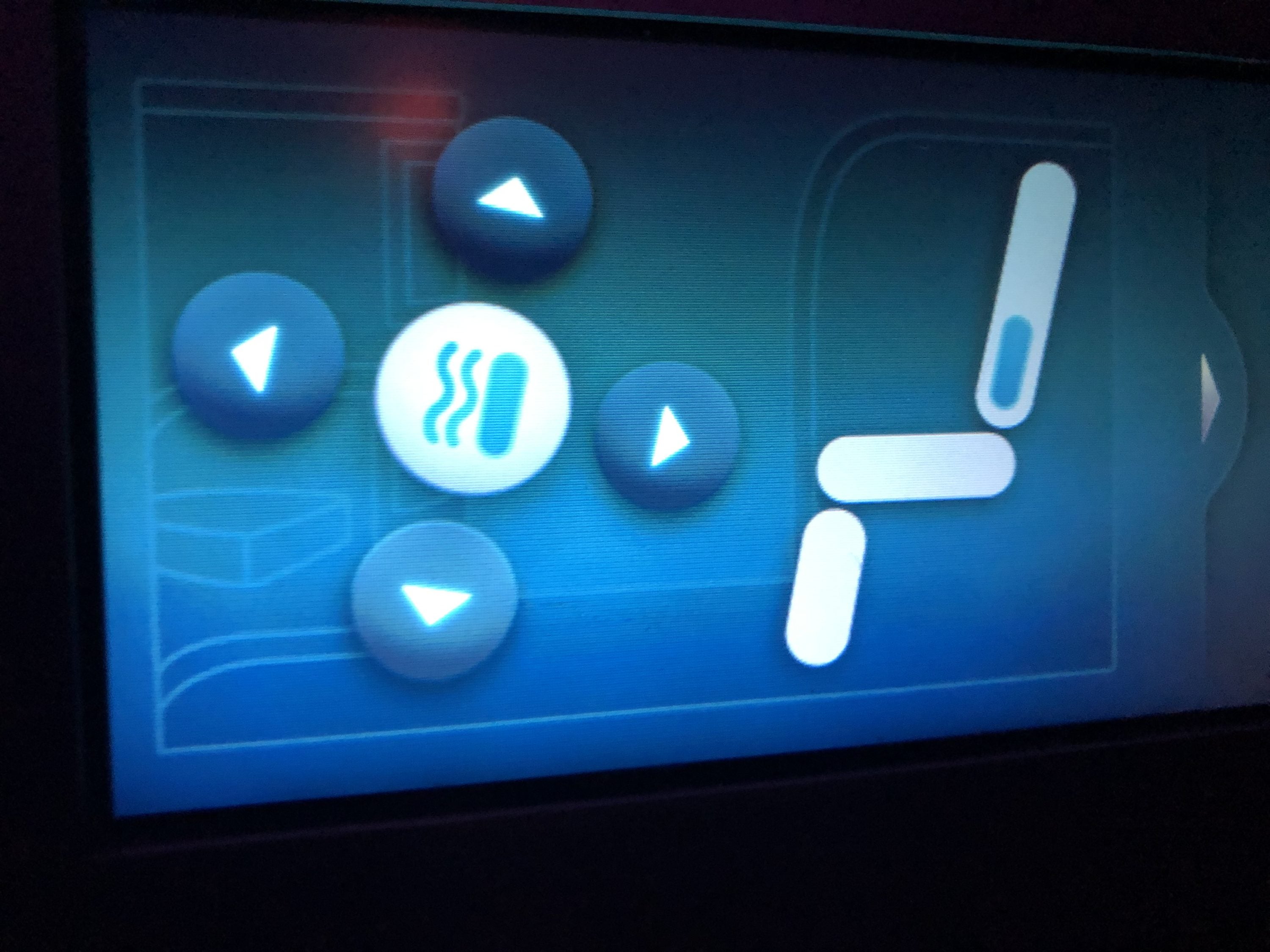 The massage function was somewhat weak due to the fact that there was a back pillow, and the entire seat cushioning my back.
The wooden finishes complement the somewhat muted colors in the seat perfectly.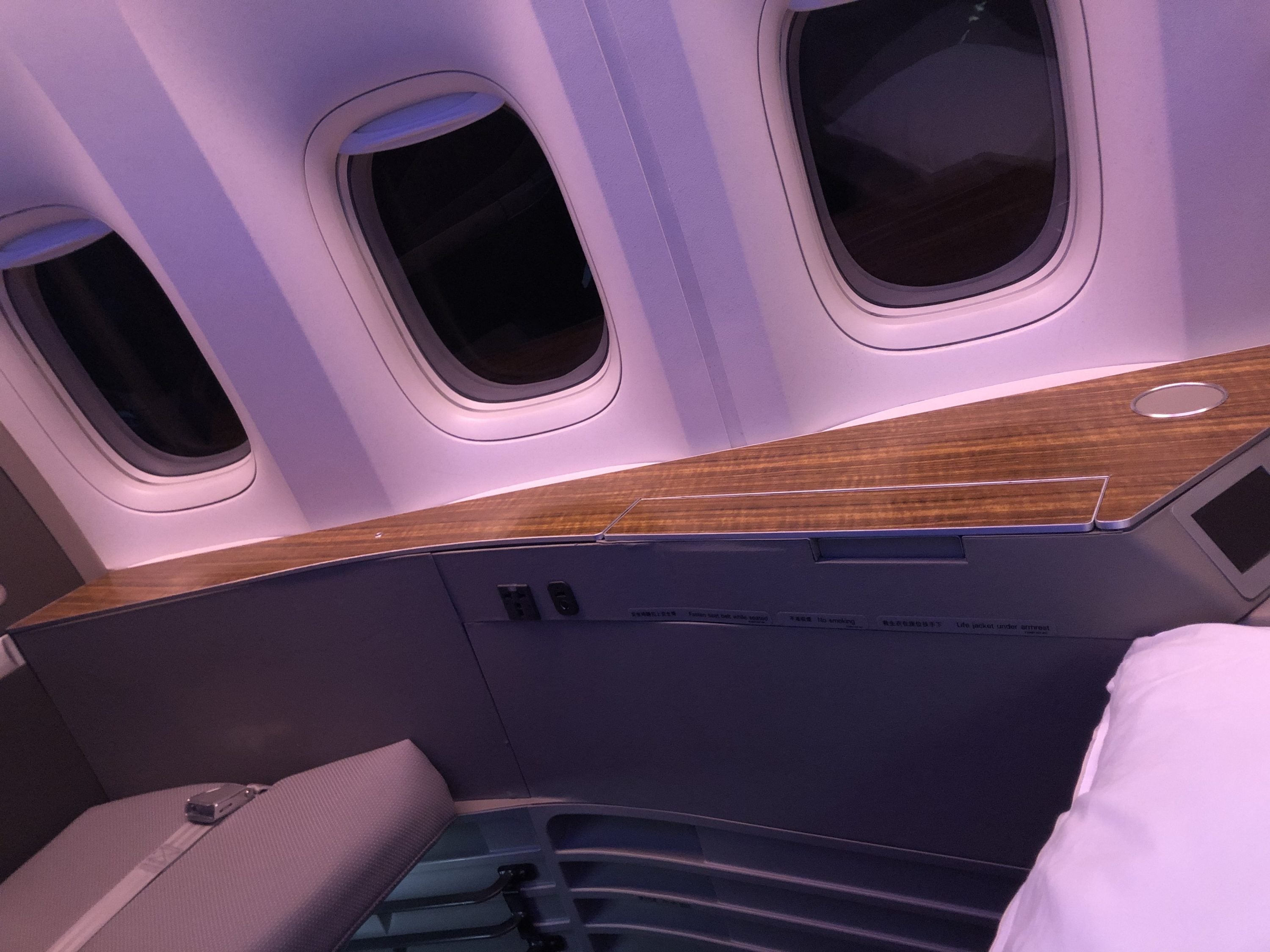 The seat tray table was located on the window-side.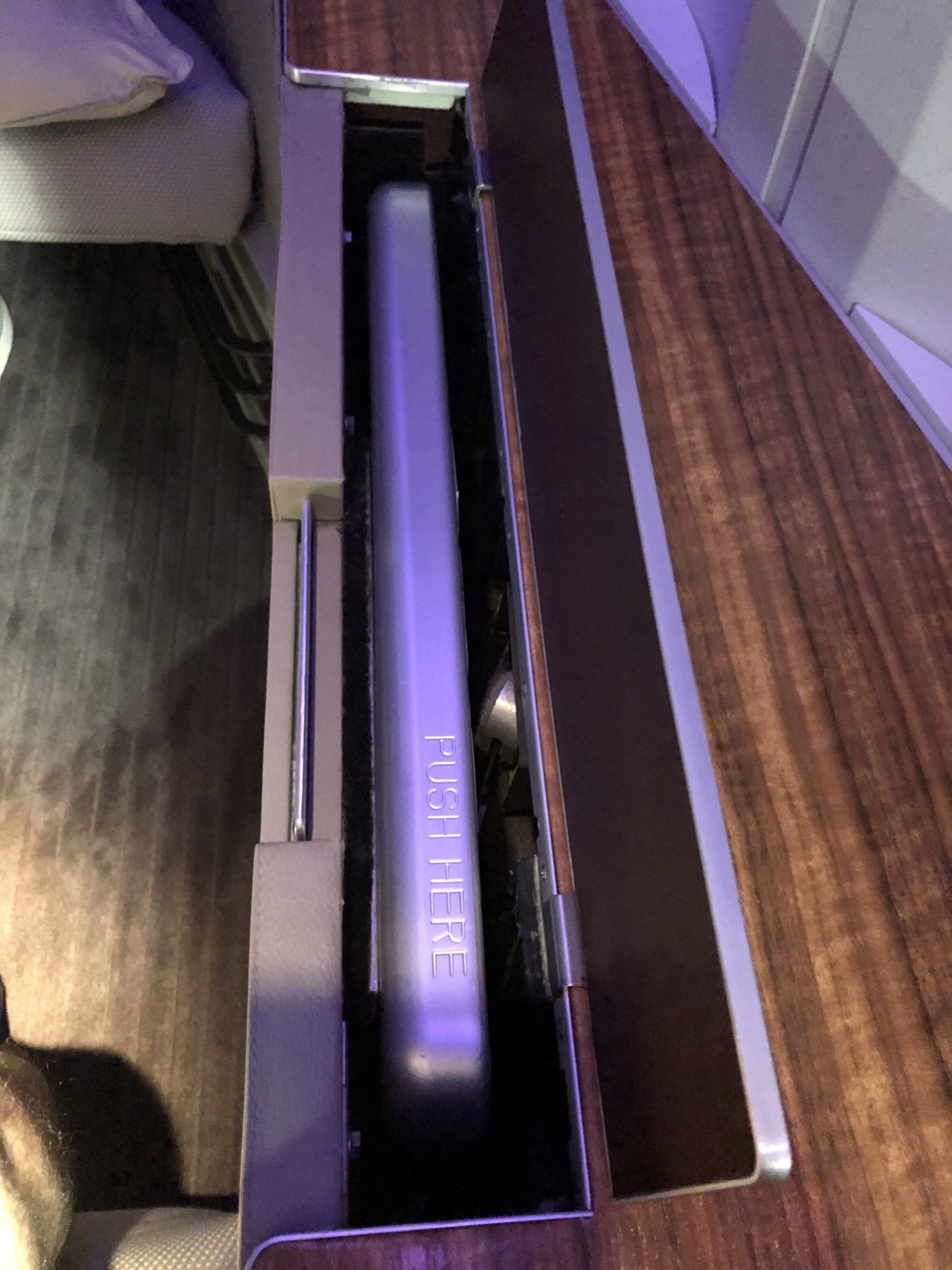 This particular tray table is extremely heavy. You'll have to push down with your entire hand to deploy it. There's a belt mechanism that automatically pushes the tray table up.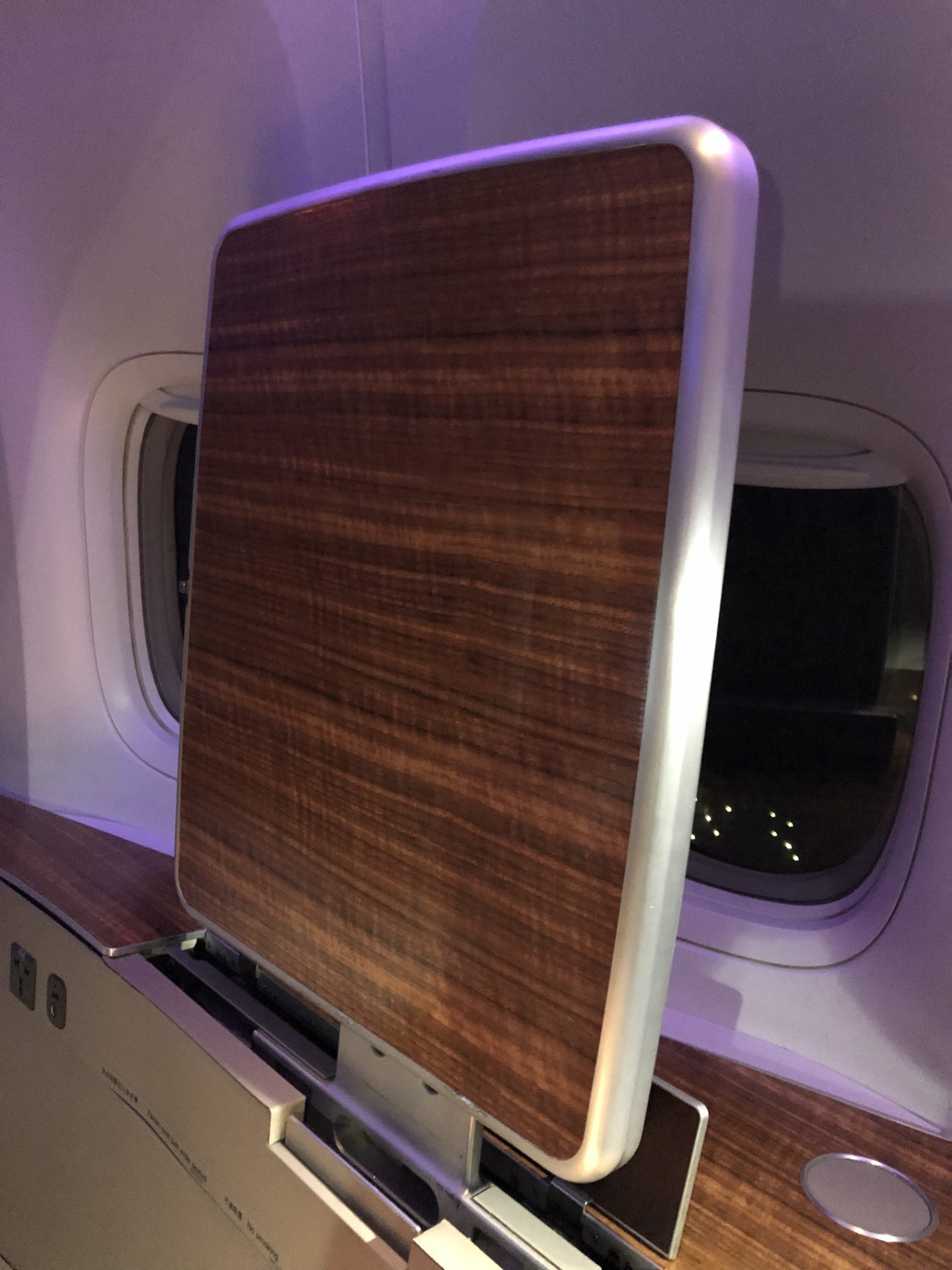 After it's standing up, simply push or pull it flat, and you're ready to eat.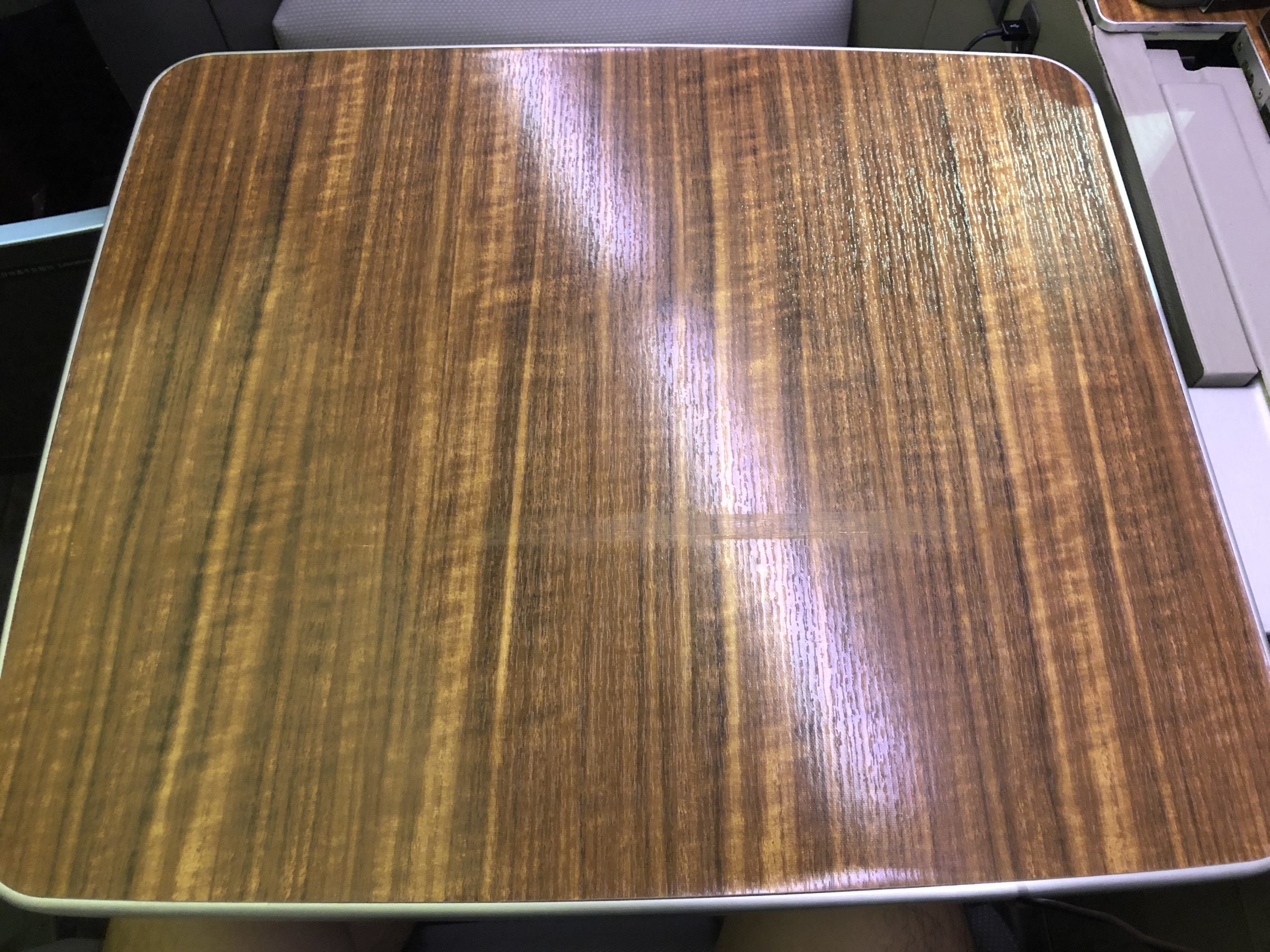 Bottom Line: The hard product on Cathay Pacific first class is spectacular. The designers of this seat put thought into each aspect, and it shows. The aesthetics and utility are balanced, resulting in unpretentious, luxurious bliss. Bravo, Cathay Pacific! 
Amenities
One thing that hasn't changed at all is the amenities on Cathay Pacific first class. This isn't necessarily good or bad, but it's instead just an observation. We were handed Bose noise-canceling headphones to kick off our flight. These headphones are standard for first class, and they're excellent.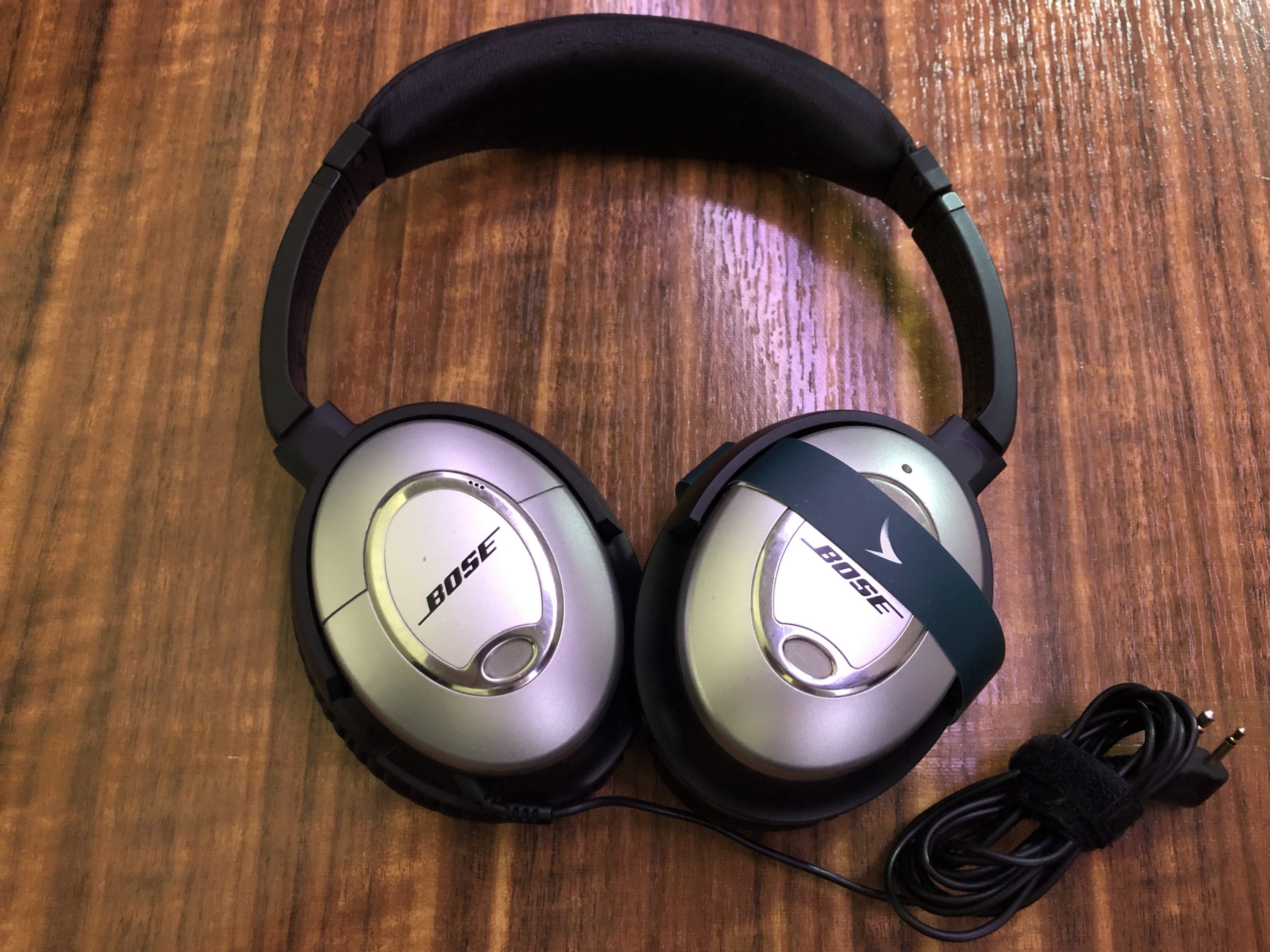 After that, the flight attendants passed out his-and-hers Aēsop-branded travel kits.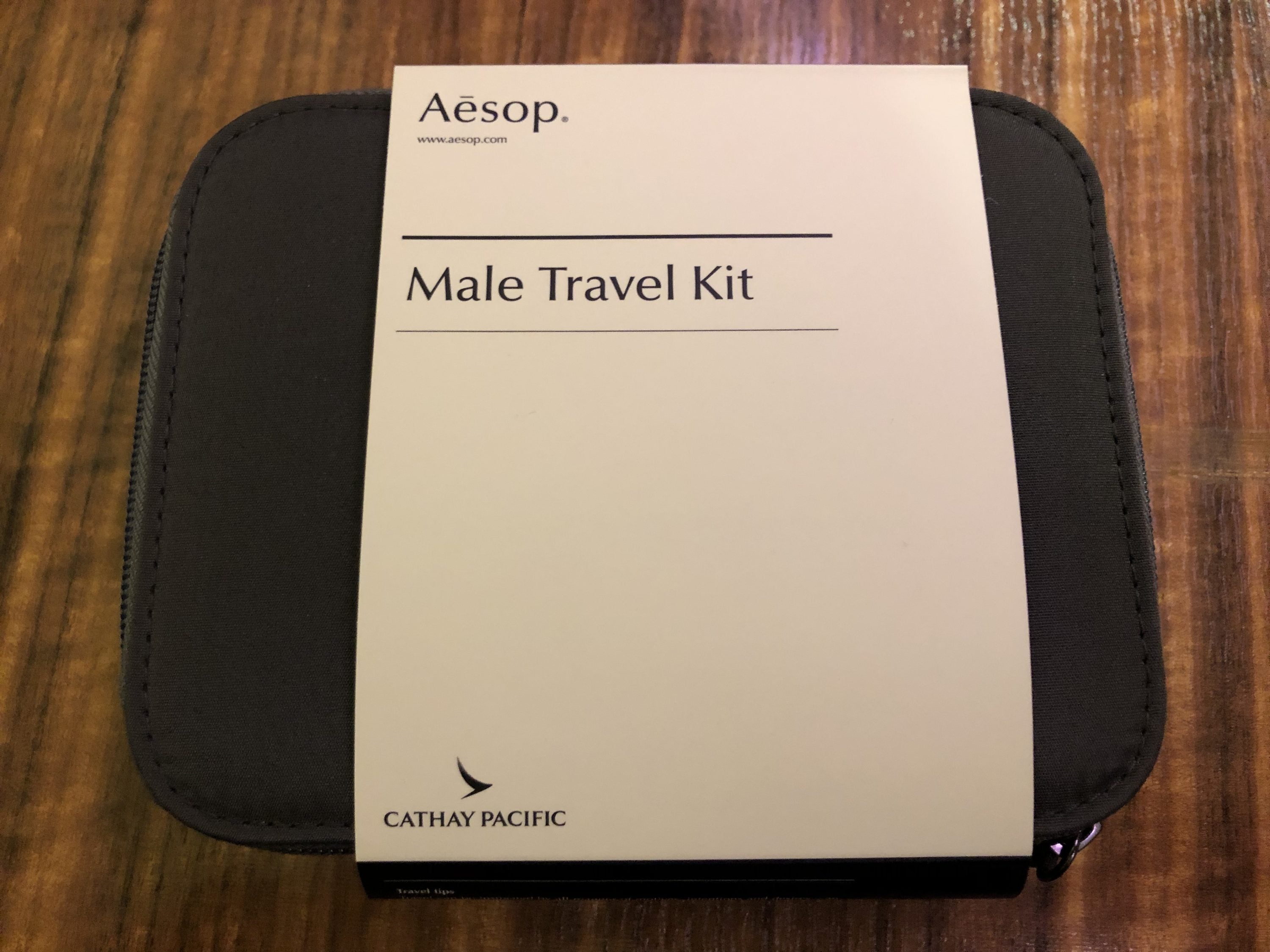 Aēsop is reputed to be a plant-focused, minimalist luxury skincare brand, and I love their vibe. The amenity kit was classic and simple.
Inside the amenity kit was a toothbrush, tube of toothpaste, comb, mouthwash, earplugs, microfiber cleaning cloth, and Aēsop-branded lip cream and serum.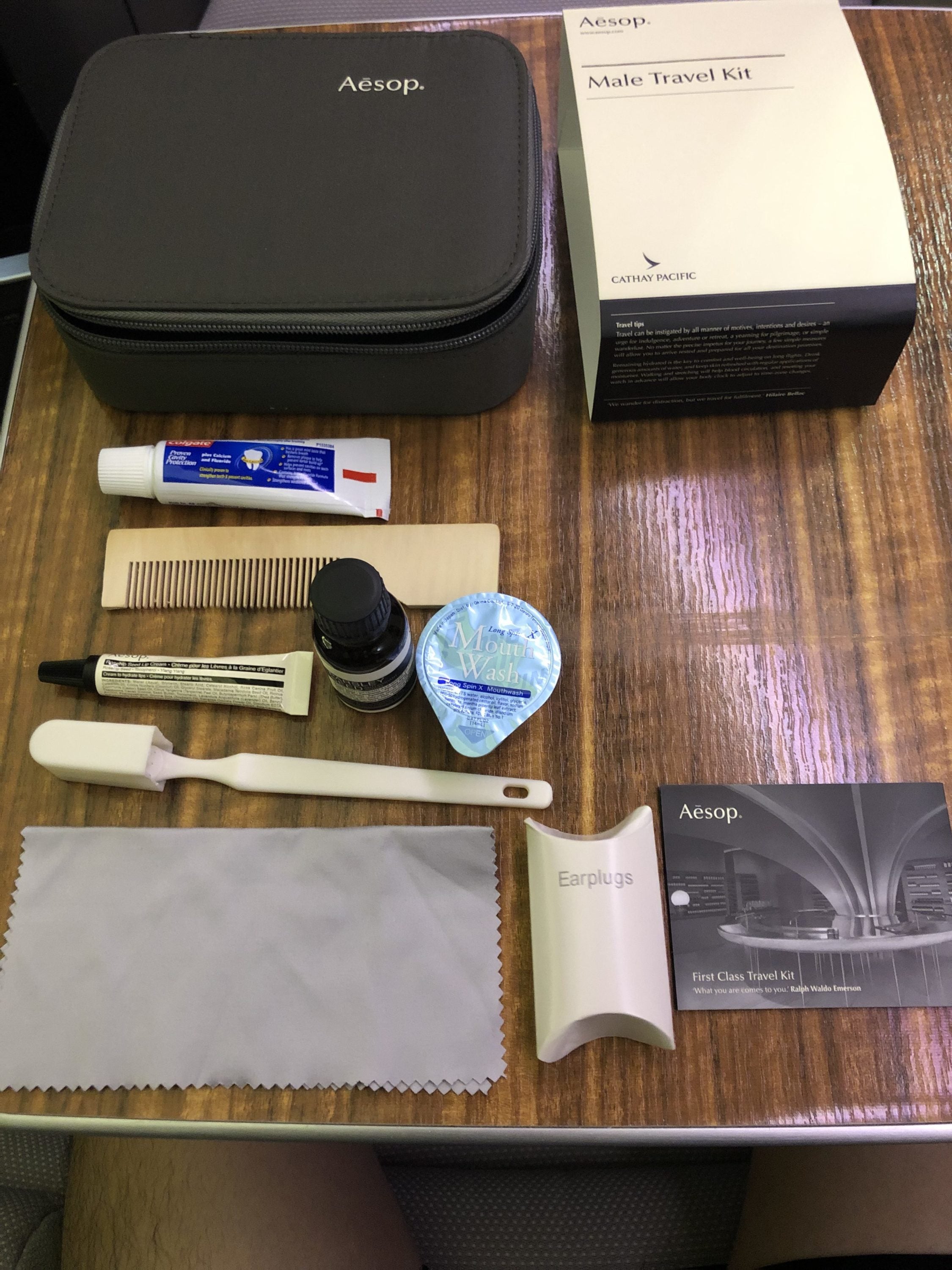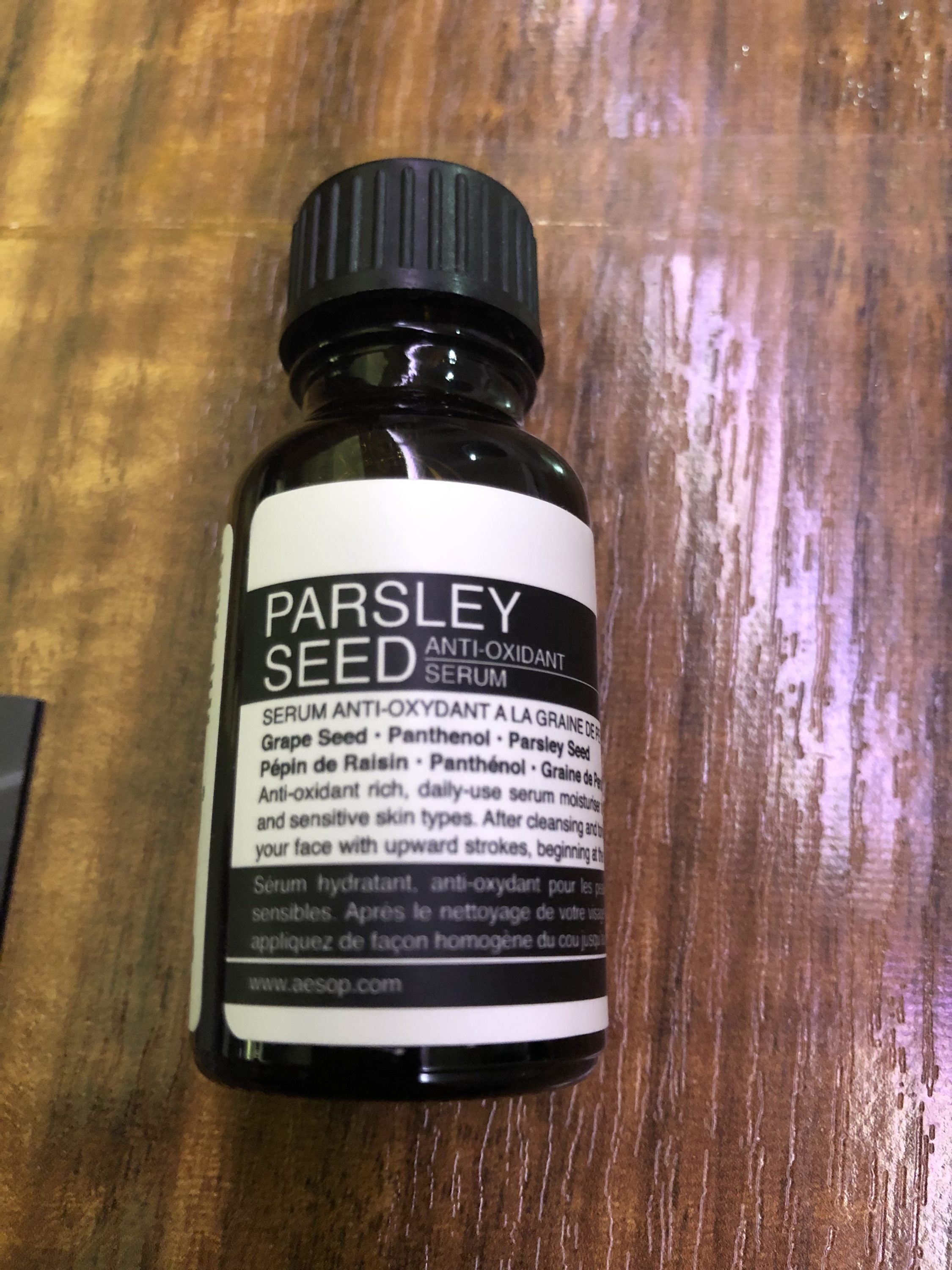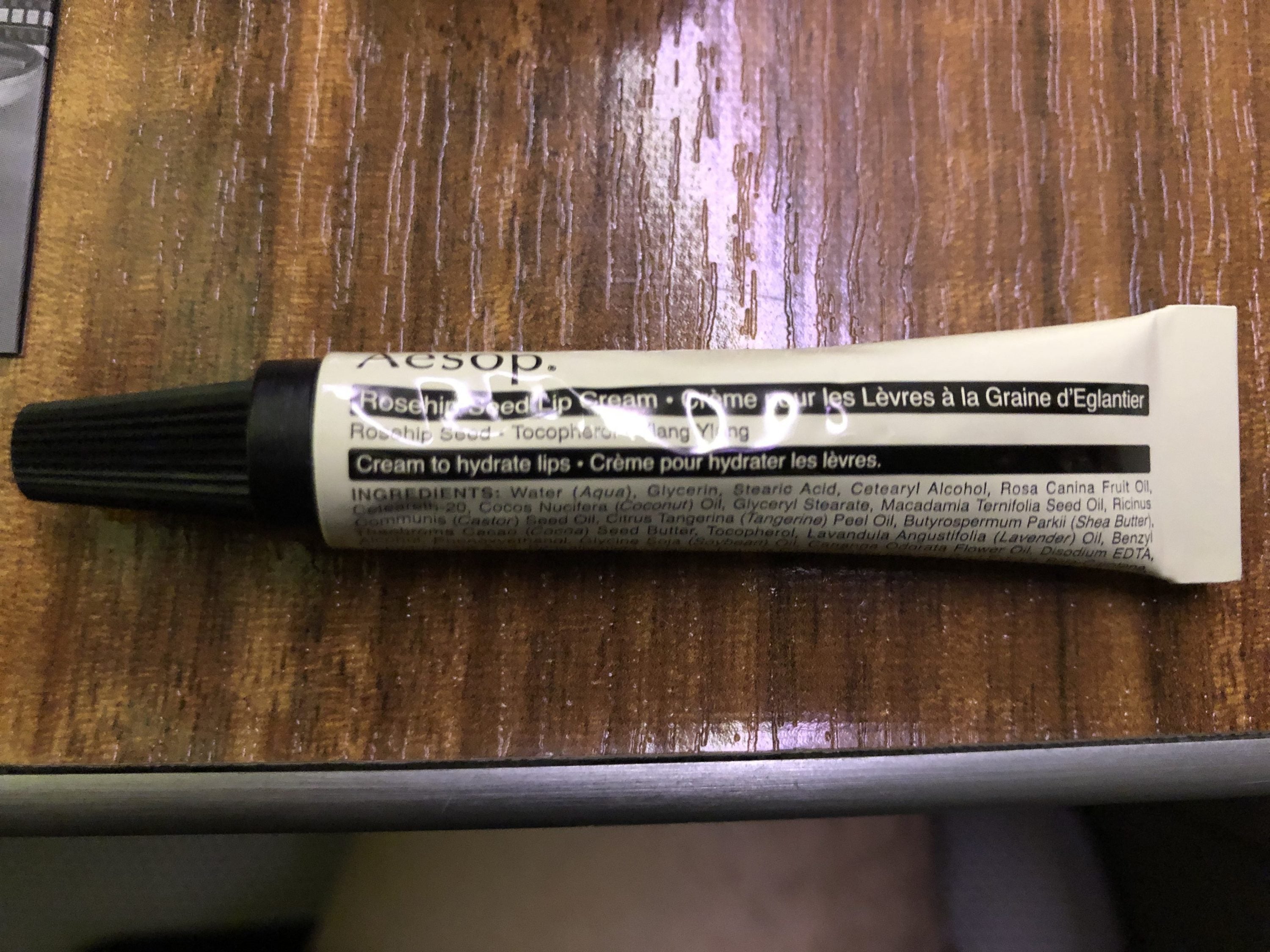 After the headphones and amenity kits, we were handed pajamas (which they sized up for us). I was handed the medium size, but I ended up asking for a small set, which they were happy to give to me!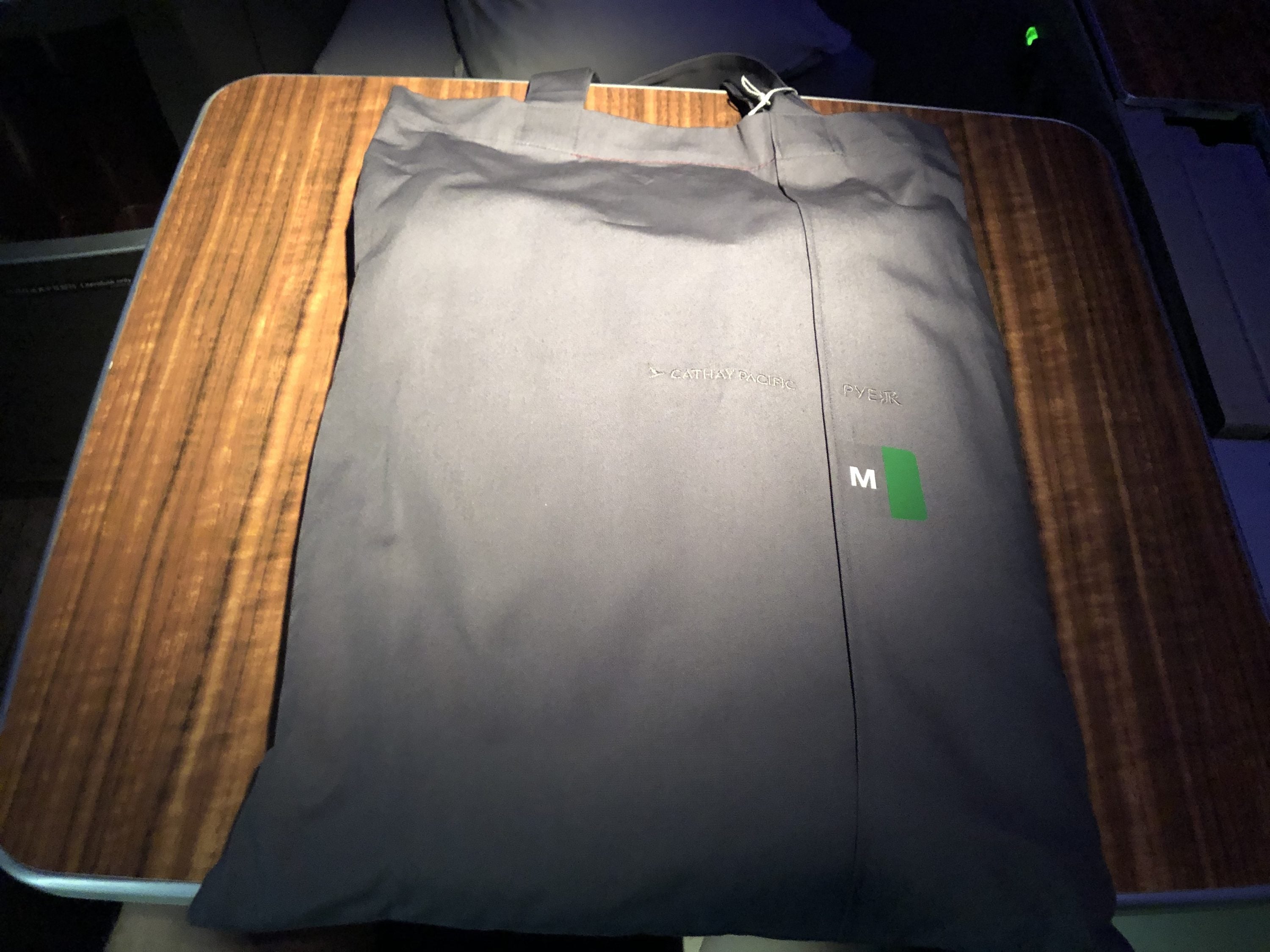 Cathay Pacific 777 first class pajama bag.
The pajamas were Pye-branded, which is a Hong Kong designer and premium cotton specialist. It definitely showed because these pajamas were remarkable. They were, dare I say, even better than Korean Air's Gianfranco Ferre pajamas.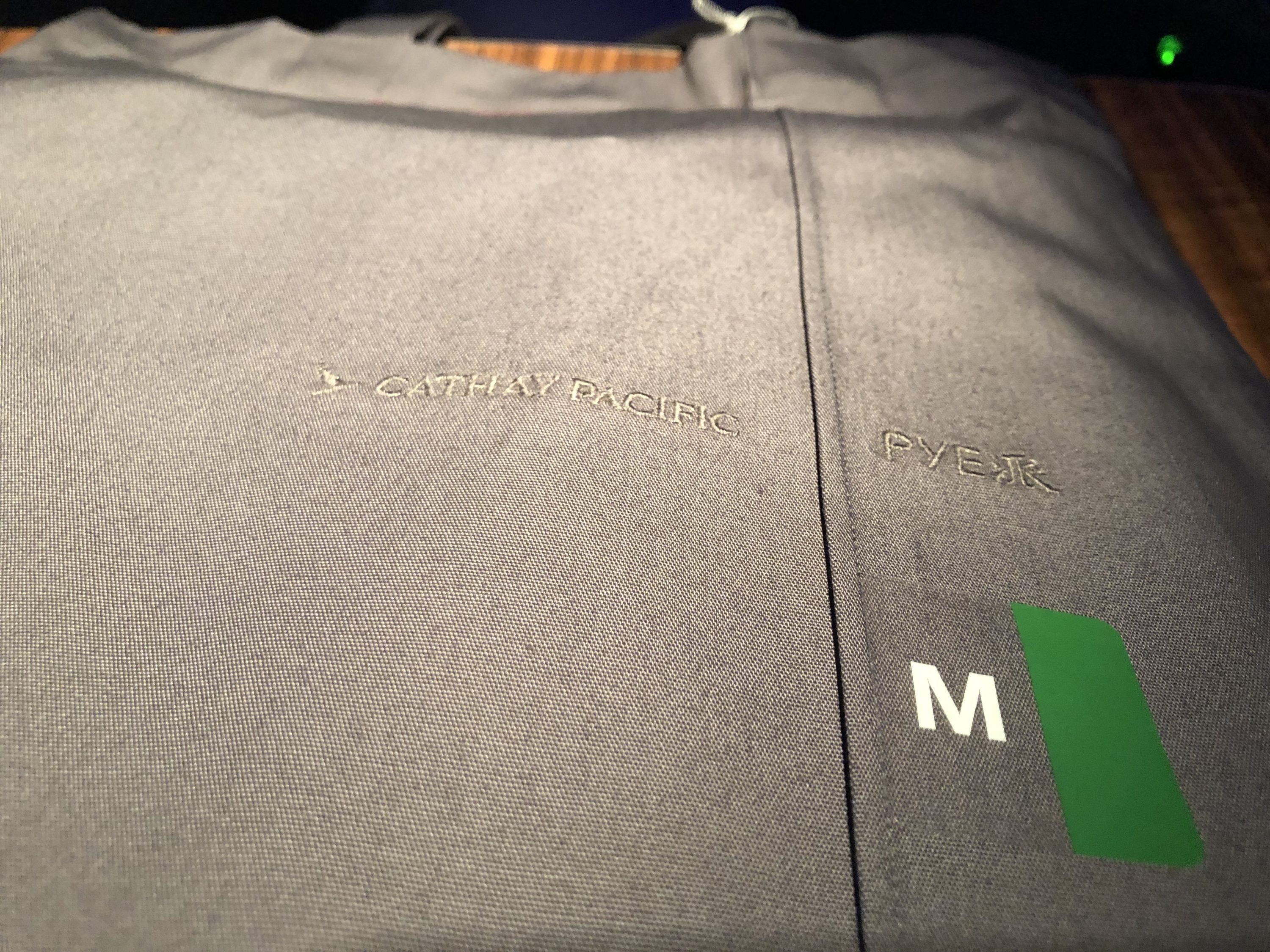 This pajama bag contained slippers, the pajamas, a super-soft eye mask, and a $HK500 voucher (or free gift) at one of Pye's locations.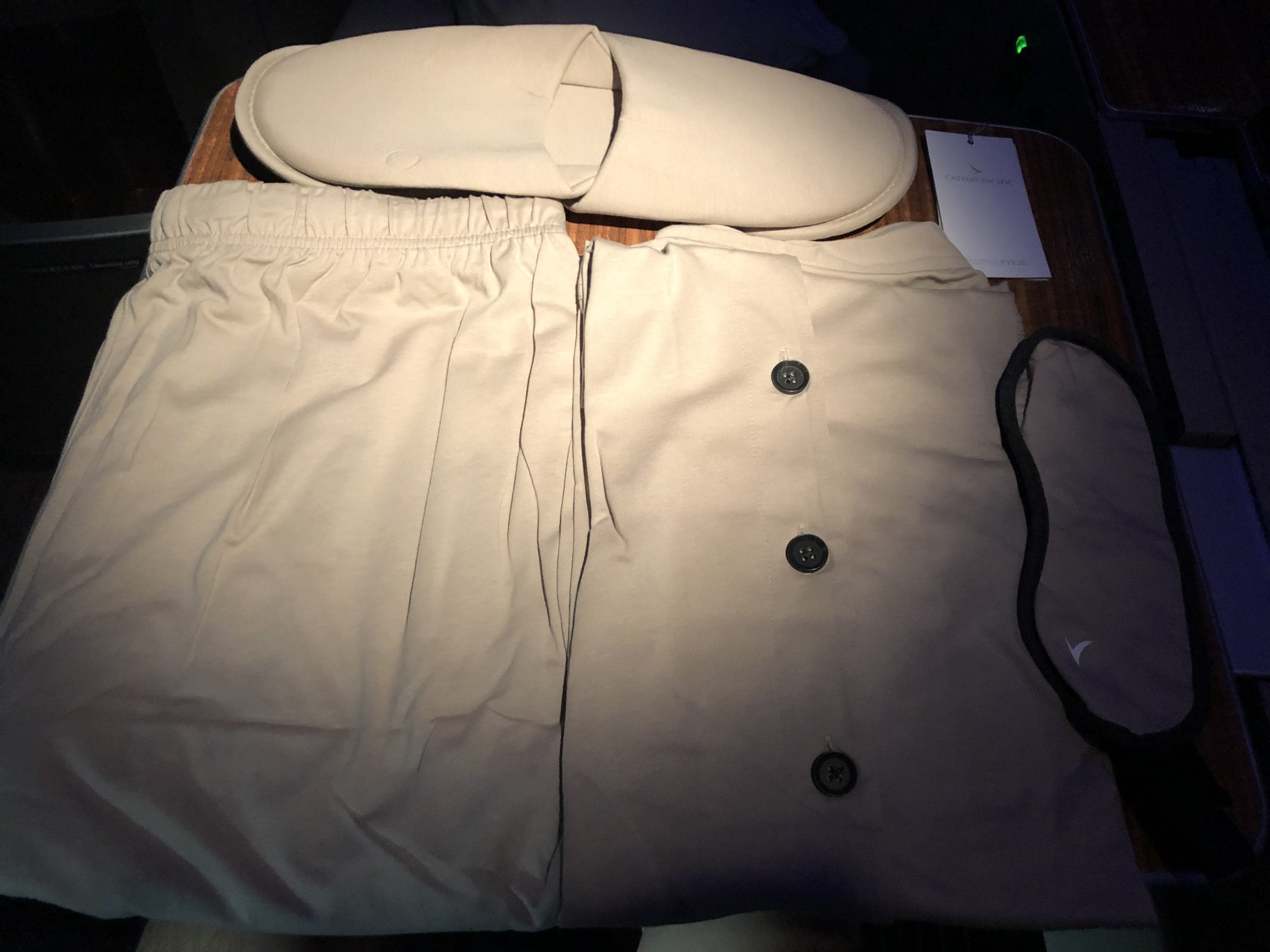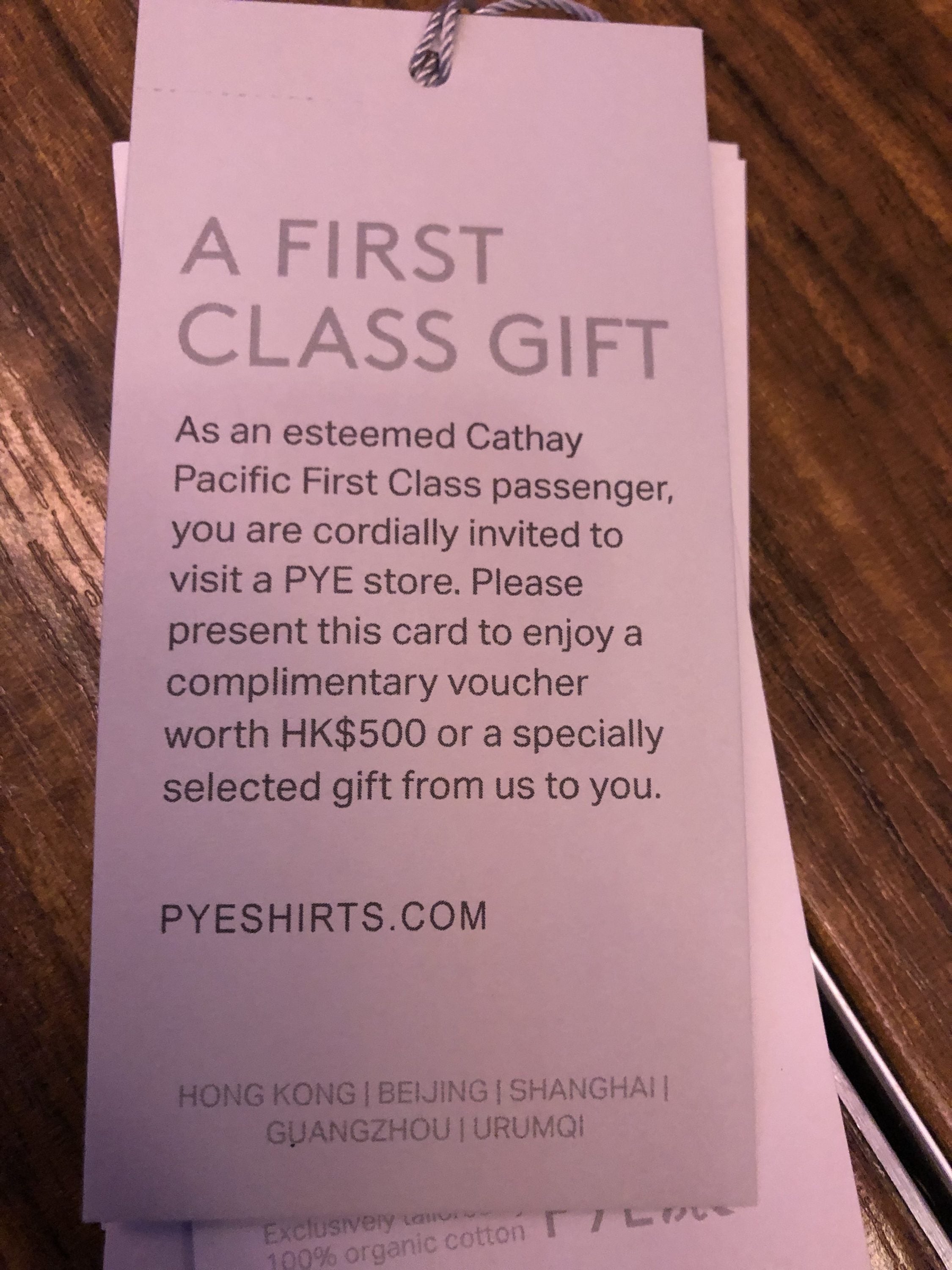 At this point, I walked to the lavatory to change into my pajamas and snap a few pictures of the facilities.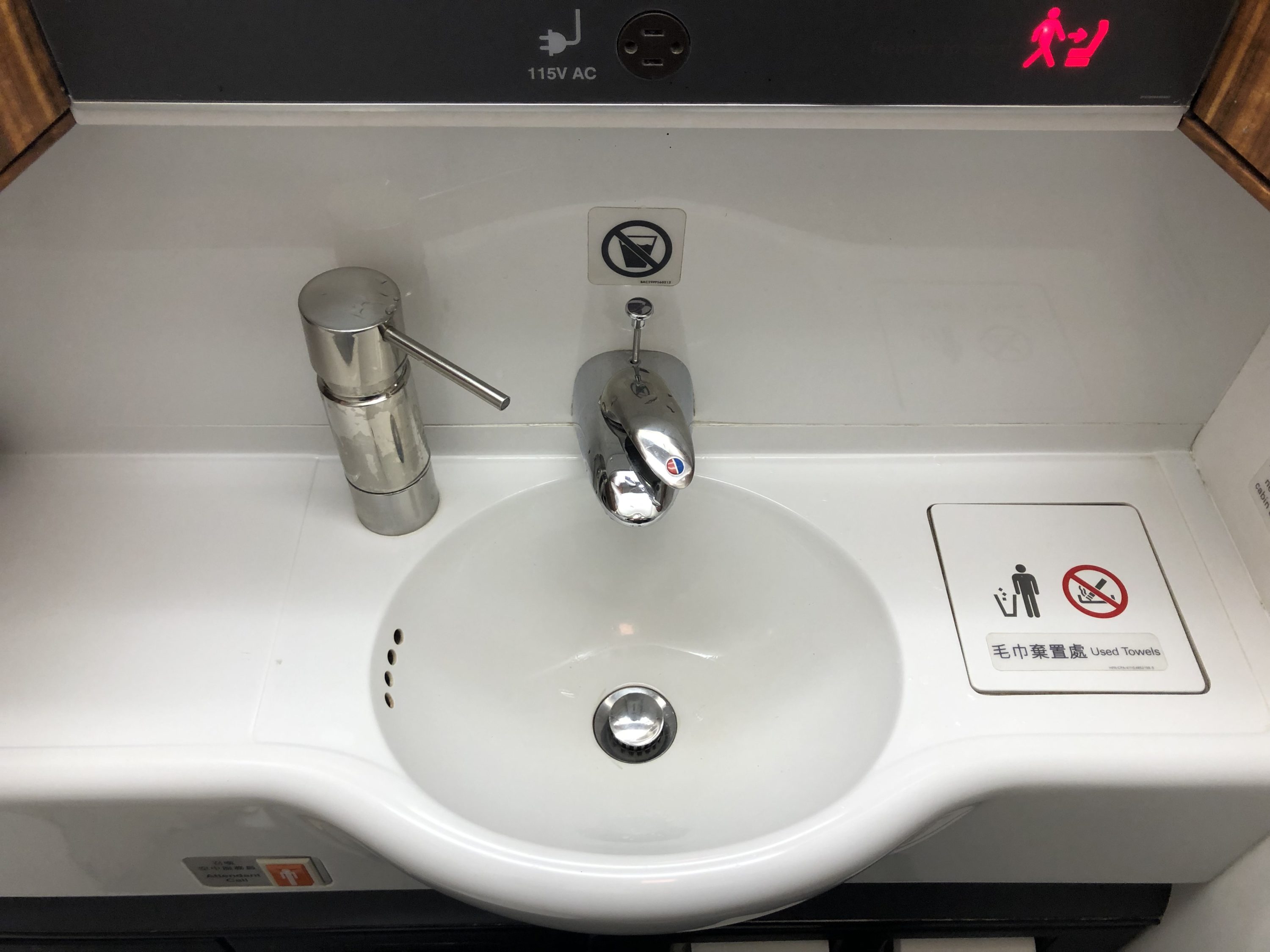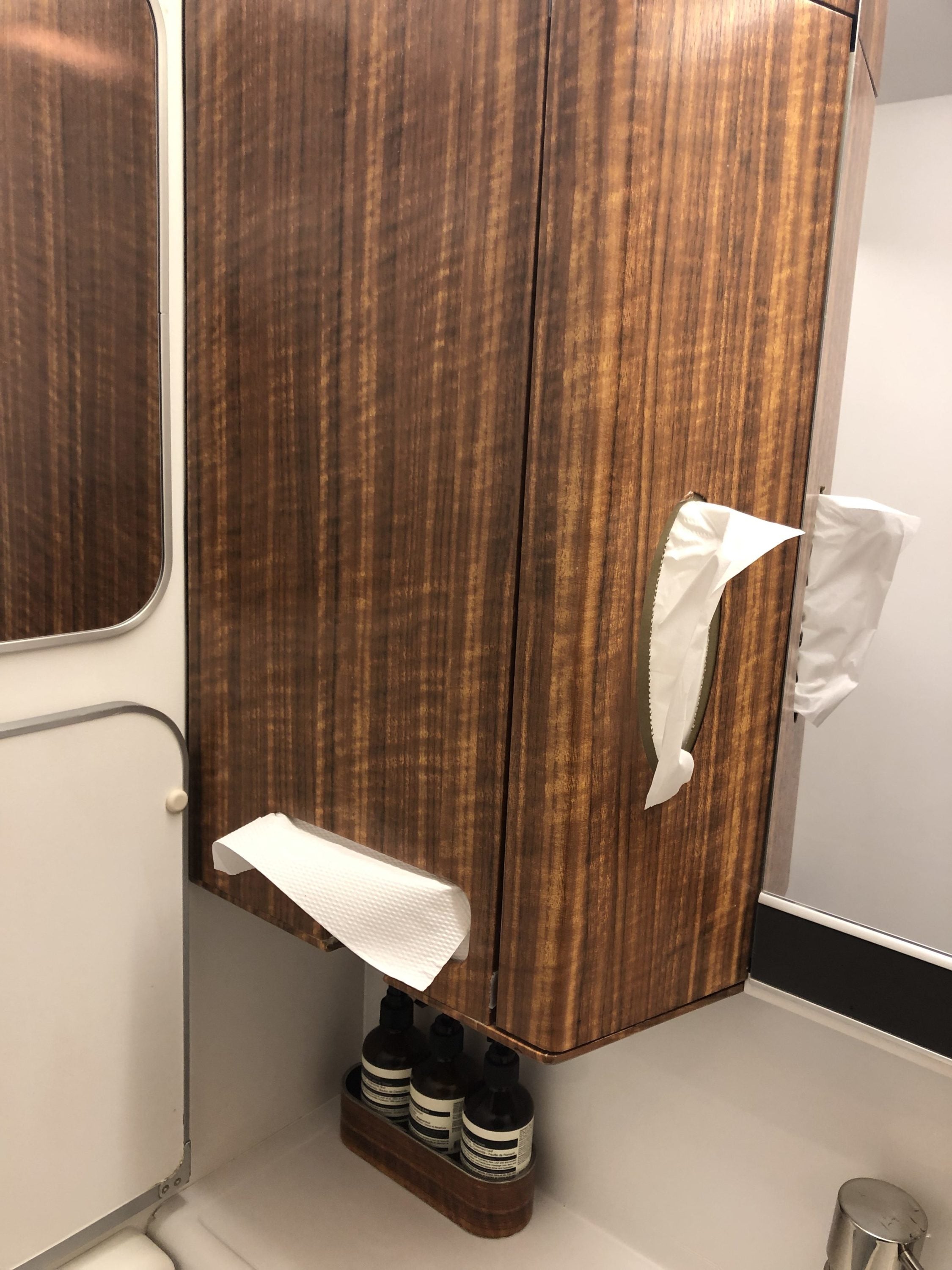 Aesop facial hydrosol, hand and body balm, and facial cleanser were all available for use here.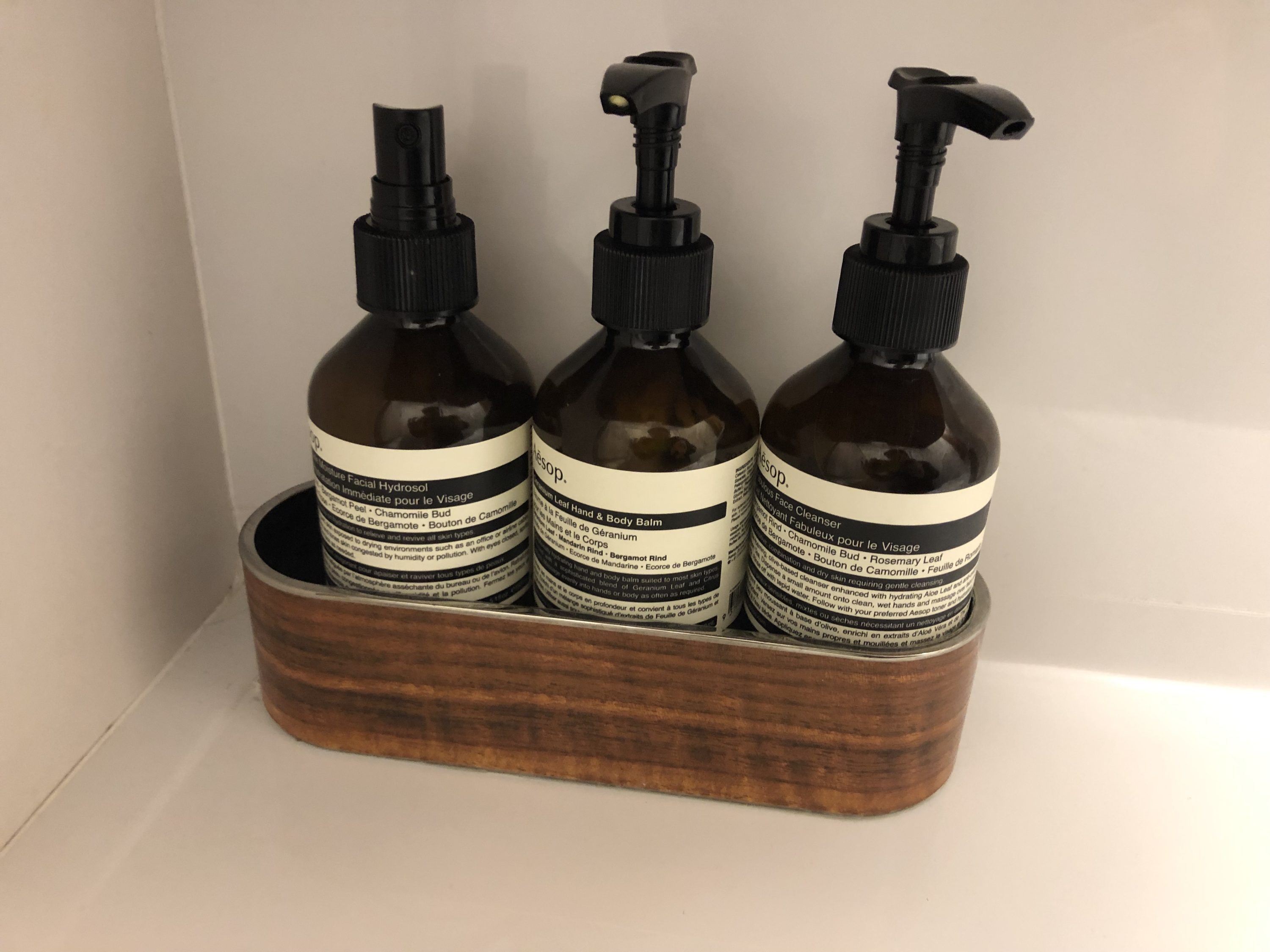 Bottom Line: I love Aēsop amenities, and I am absolutely mesmerized by the minimalist theme encapsulated by the skin care company. Unfortunately, I selfishly would have liked to have seen more Aēsop products in the amenity kit. Nonetheless, the amenities that were provided were awesome. The Pye pajamas were world-class, and the Bose noise-canceling headphones were sufficient. 
Food and Beverage
Before departure, we were offered a pre-departure beverage, and I chose champagne. This retails for around $150 per bottle. They used to serve Krug, but this was recently switched out. Nonetheless, the champagne was fruity, aromatic, and smooth.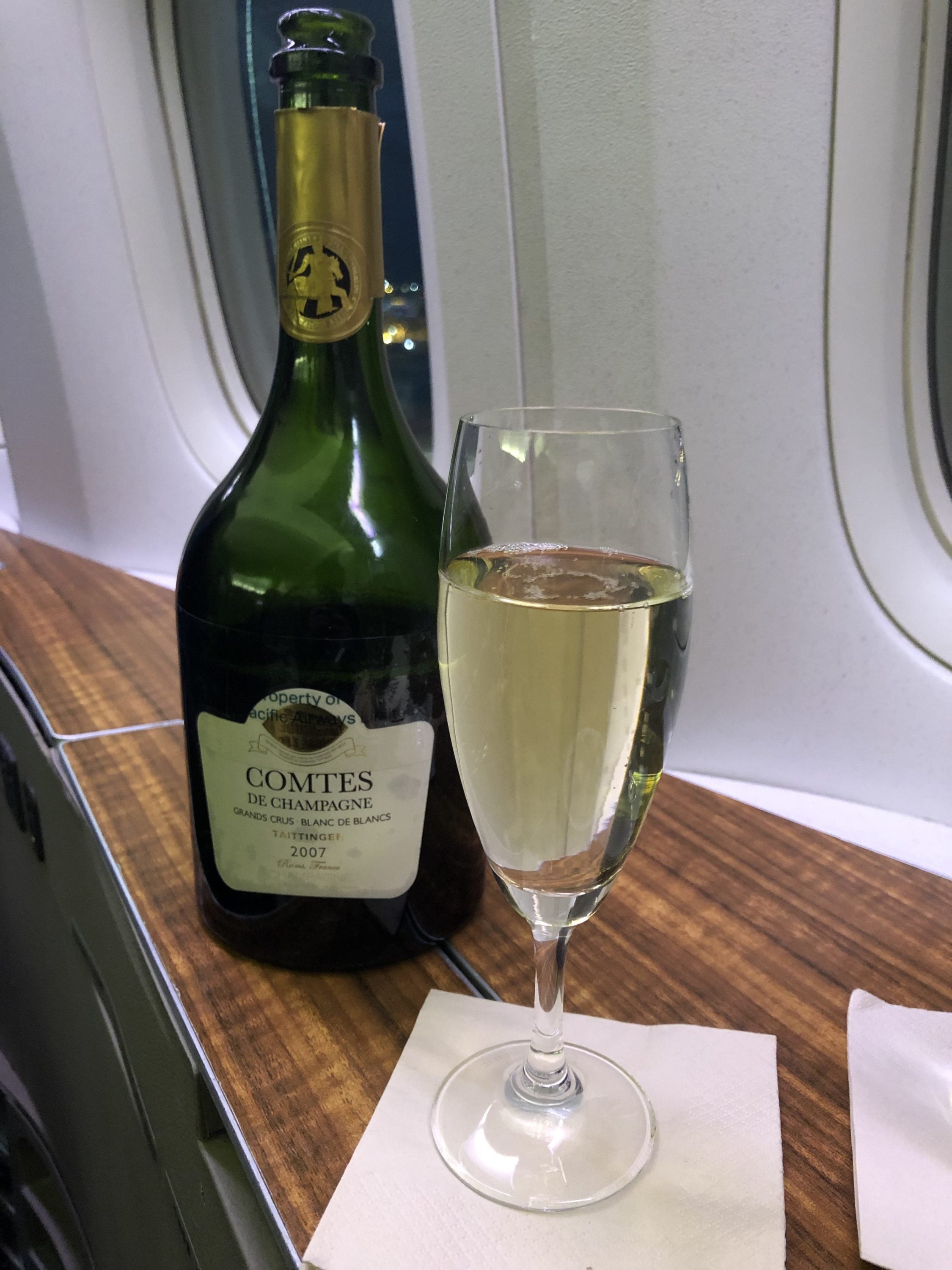 A warm towel was provided, and we were served some warm cashews and almonds.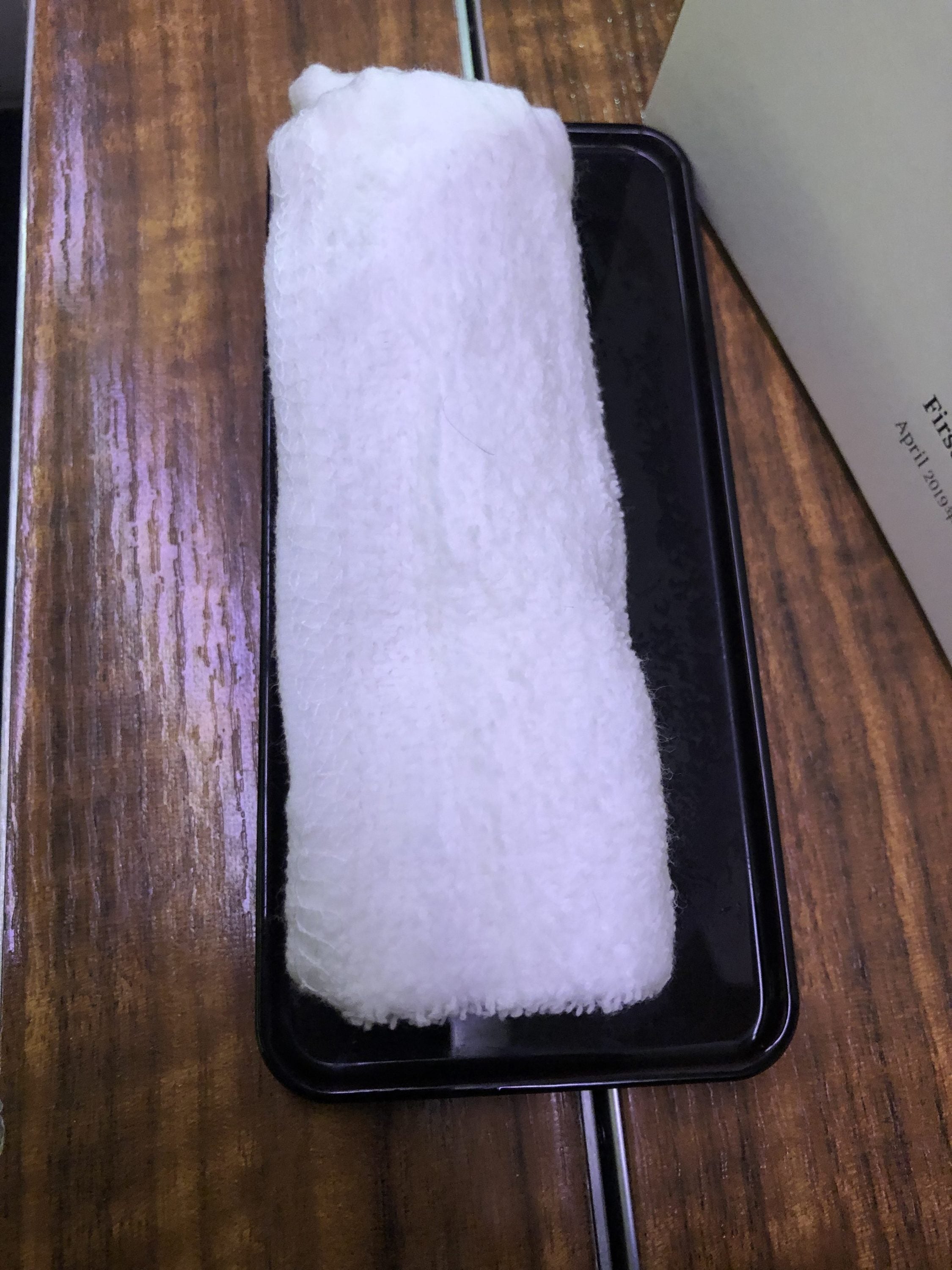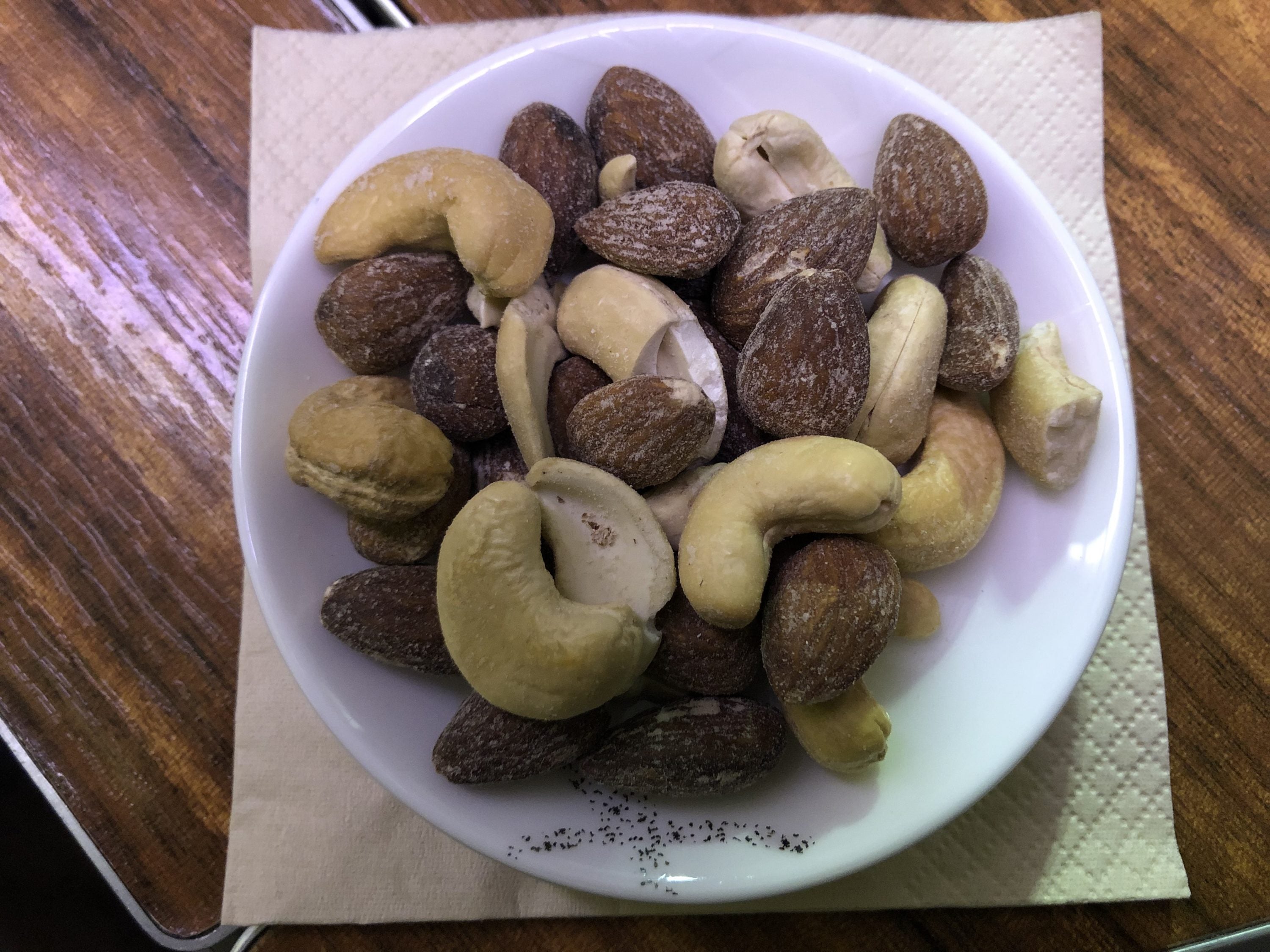 The seatbelt sign was turned off shortly after takeoff, and the cabin crew immediately started preparing the meal service. As this was a red-eye flight, they made a concerted effort to serve passengers quickly so we could fall into a food coma and sleep in paradise.
The meal service menus were distributed, and I took a few minutes to flip through all the pages.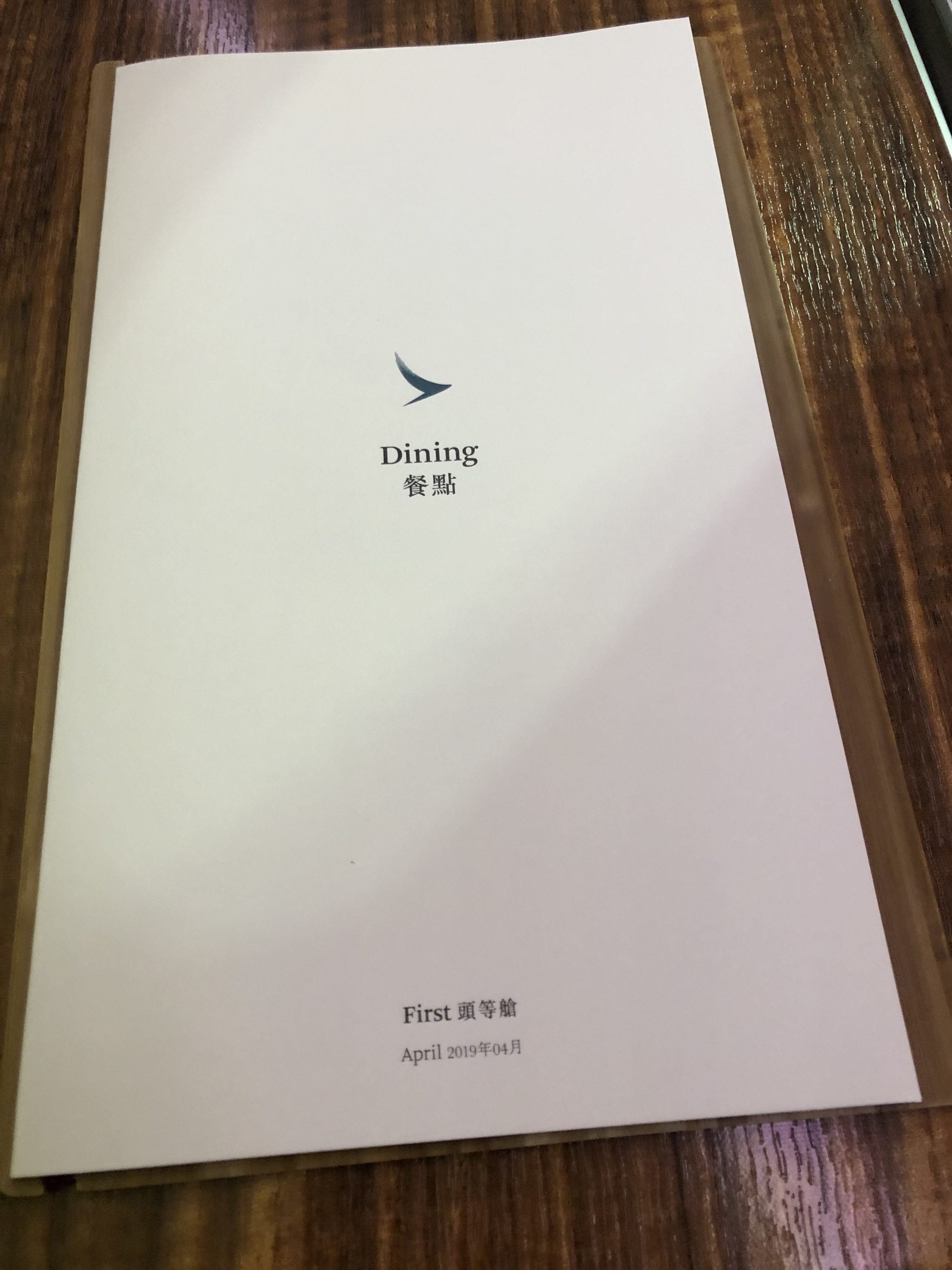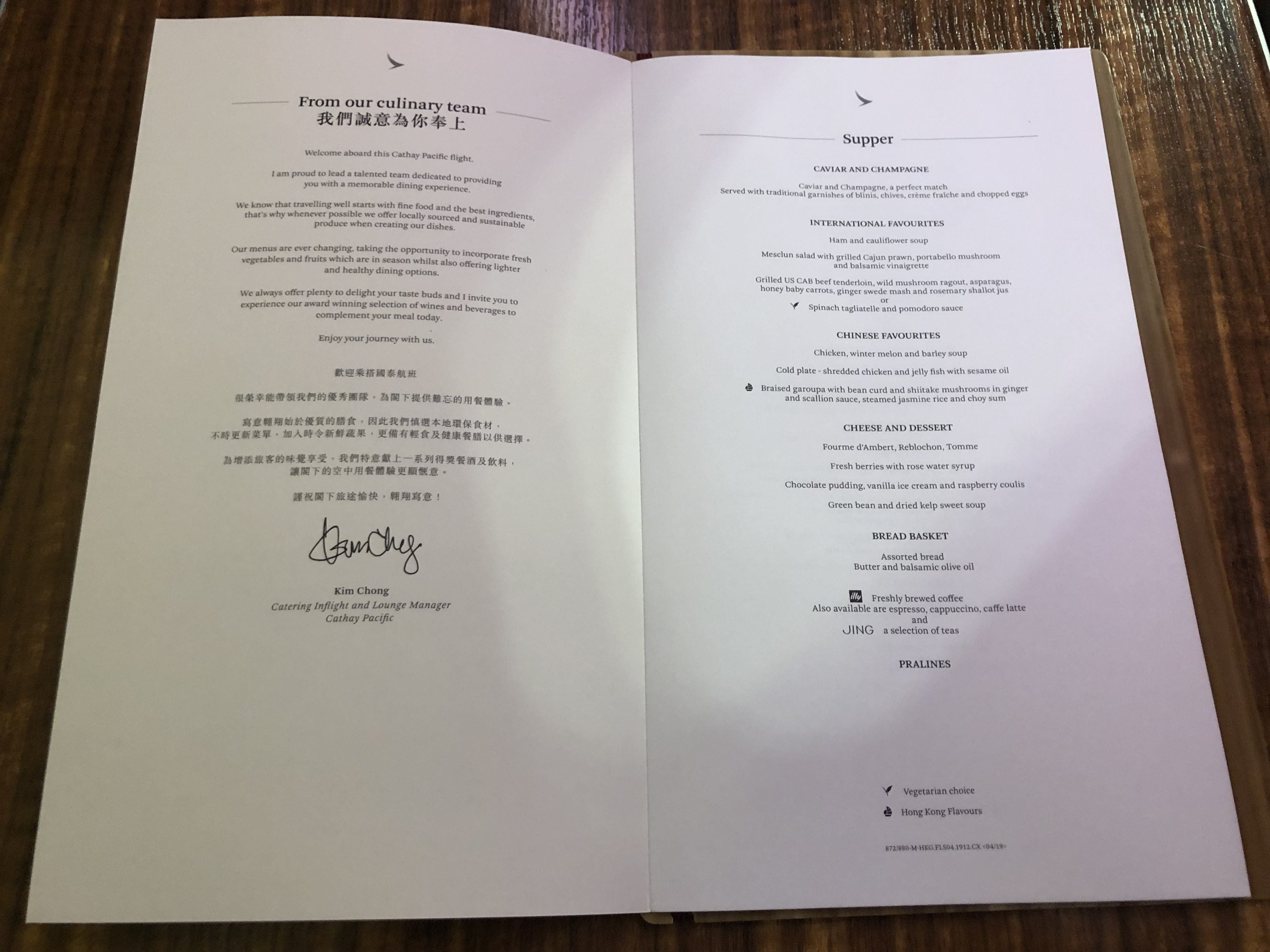 We opted to have the Chinese menu as opposed to the Western menu, staying true to my Hong Kong heritage.
Like clockwork, our orders were taken, and I informed our crew that I would like to dine with Vivian at her seat, and they happily obliged.
I made my way to her seat, and they installed a tray-table extension, which was awesome.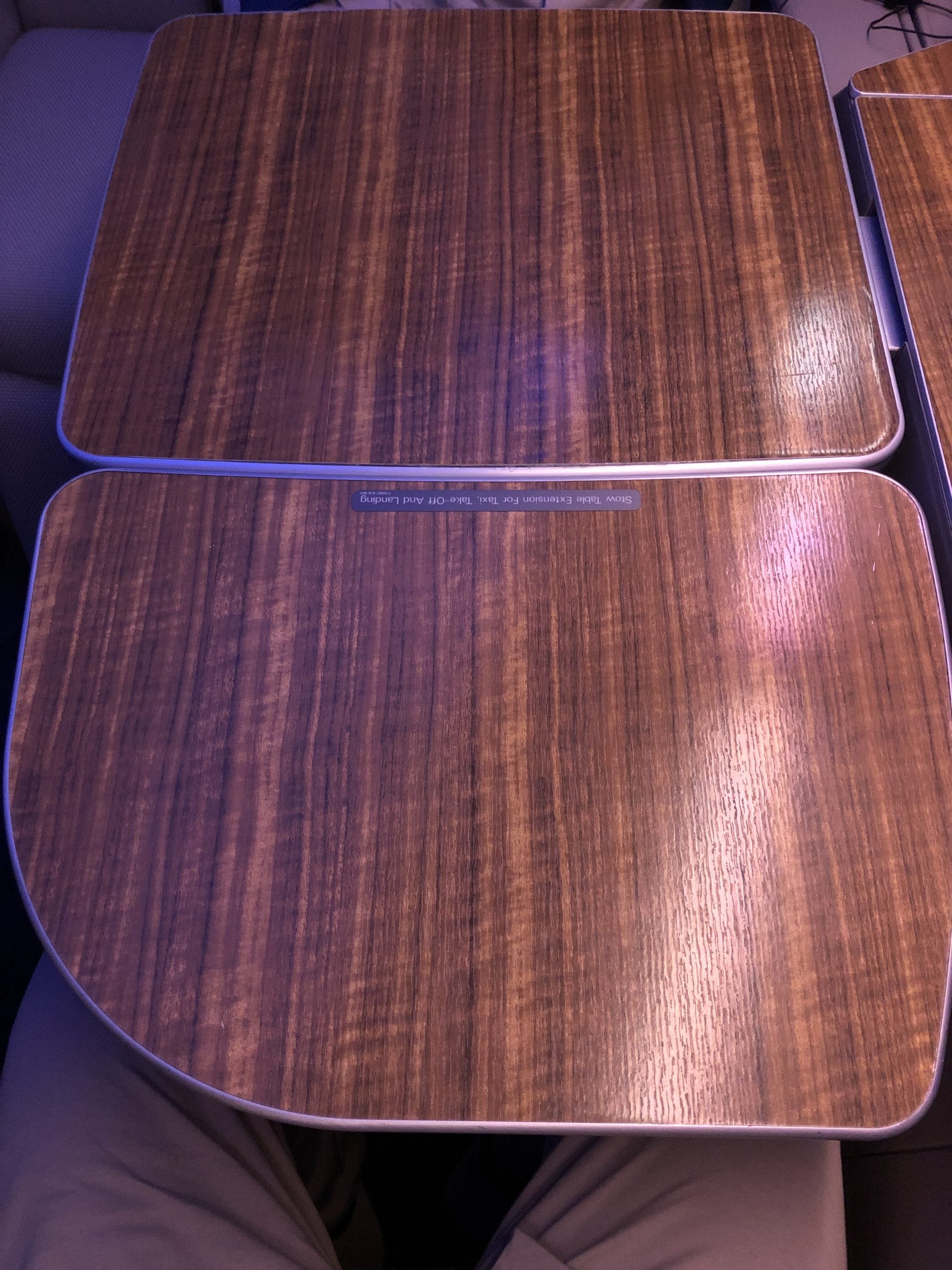 First, the quintessential caviar service. We had caviar and champagne served with traditional garnishes of blinis, chives, crème fraîche, and chopped eggs.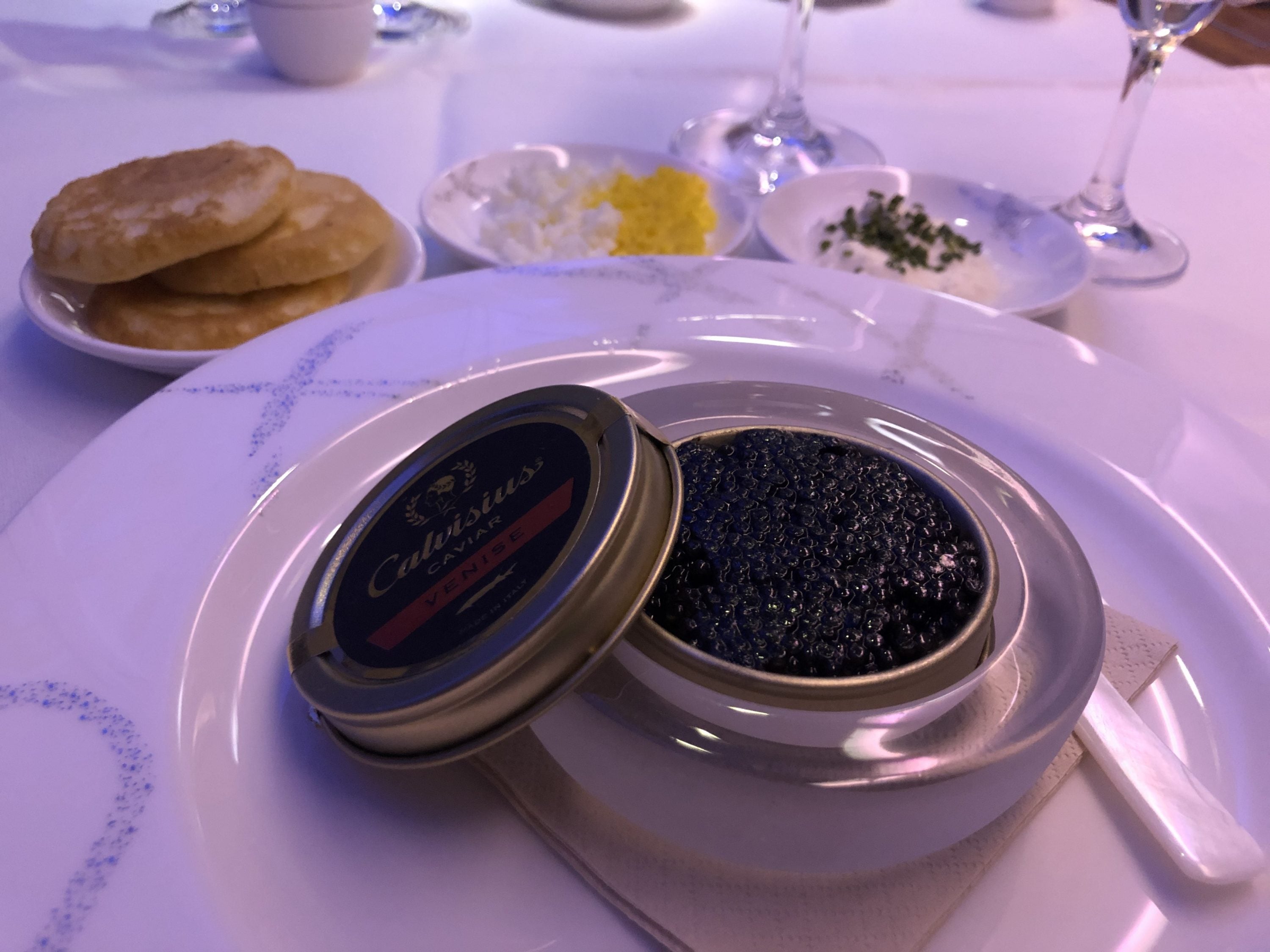 The caviar was sensational. The savoriness of the roe wasn't overwhelmingly salty at all. It was perfect.
Next up was a bowl of chicken, winter melon, and barley soup. This is a popular Cantonese favorite, and it was simply warm and comforting.
This was followed by a cold plate of shredded chicken and jellyfish with sesame oil. The shredded chicken and jellyfish were wonderful in texture. I felt that the sesame oil was poured with a bit of a heavy hand, but that's my personal preference. I'm accustomed to eating jellyfish with a light vinegar-y sauce.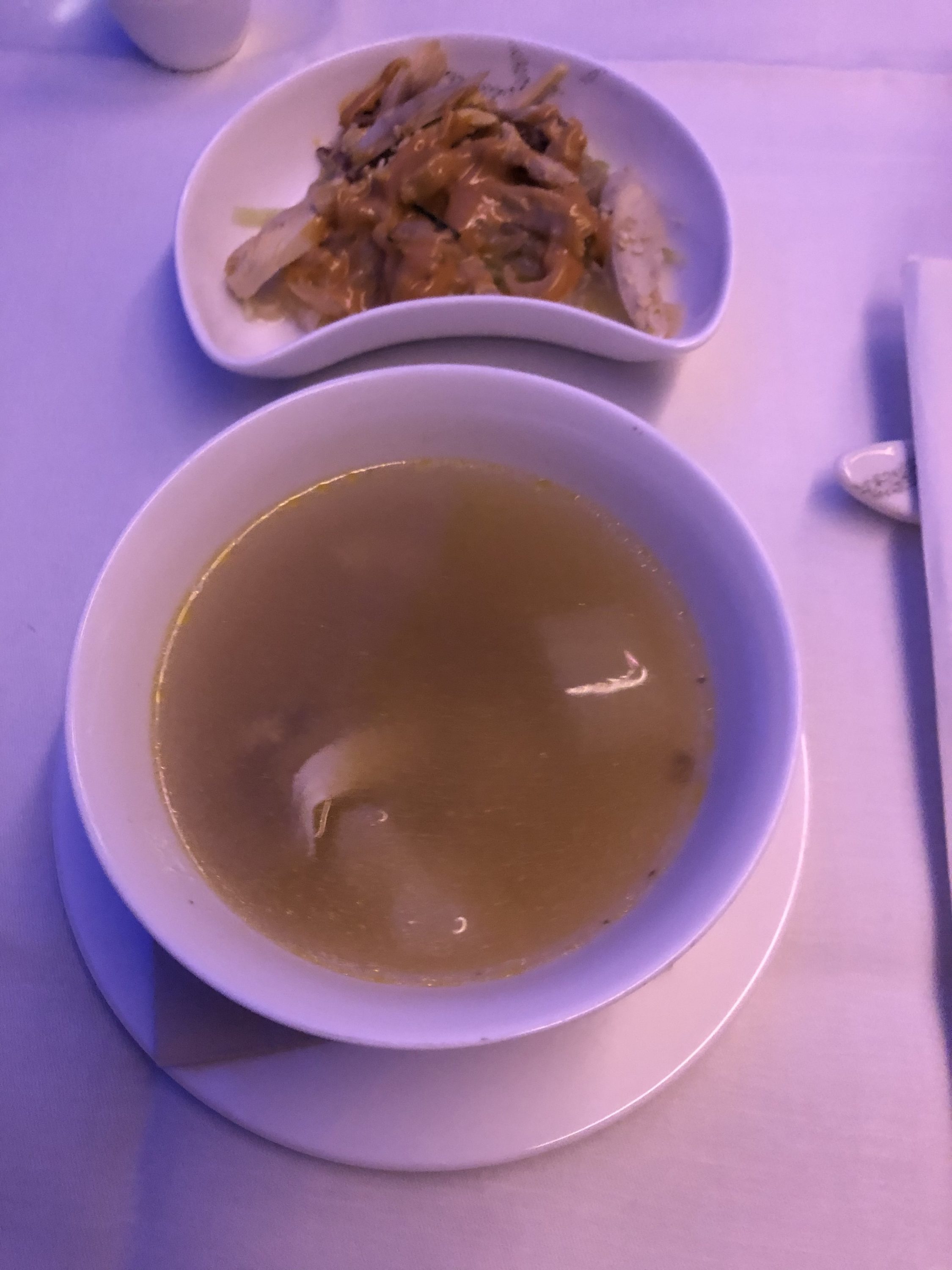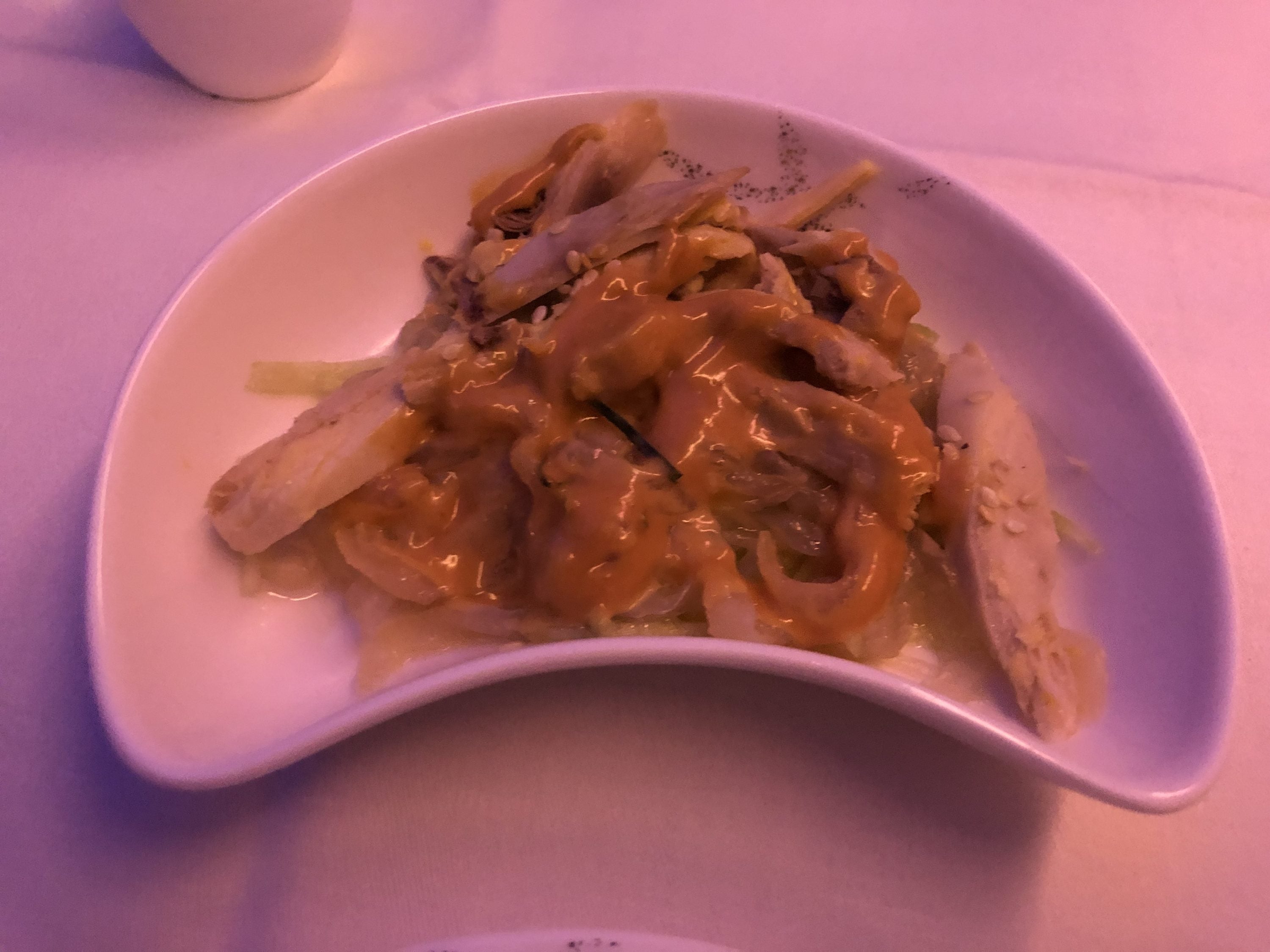 After we devoured the cold plate and inhaled the soup, the main course arrived.
Sauteed choy sum with garlic (left)
Braised garoupa with bean curd and shiitake mushrooms in ginger and scallion sauce (center)
Steamed jasmine rice (bottom)
This main course was solid. It didn't blow my mind, though I've been conditioned to 1-3 Michelin star Cantonese restaurants when in Hong Kong, so my bar might be a bit (unreasonably?) high.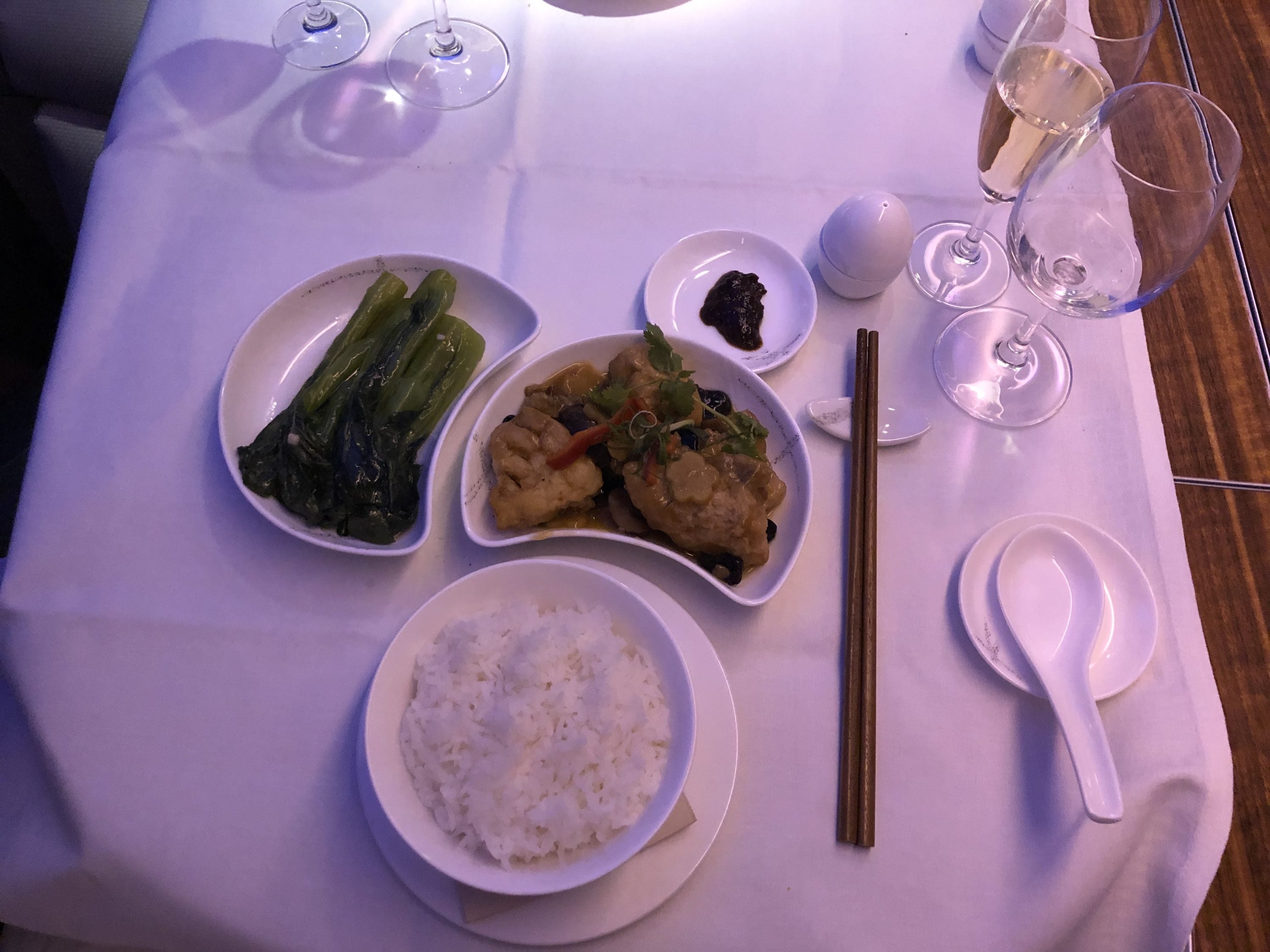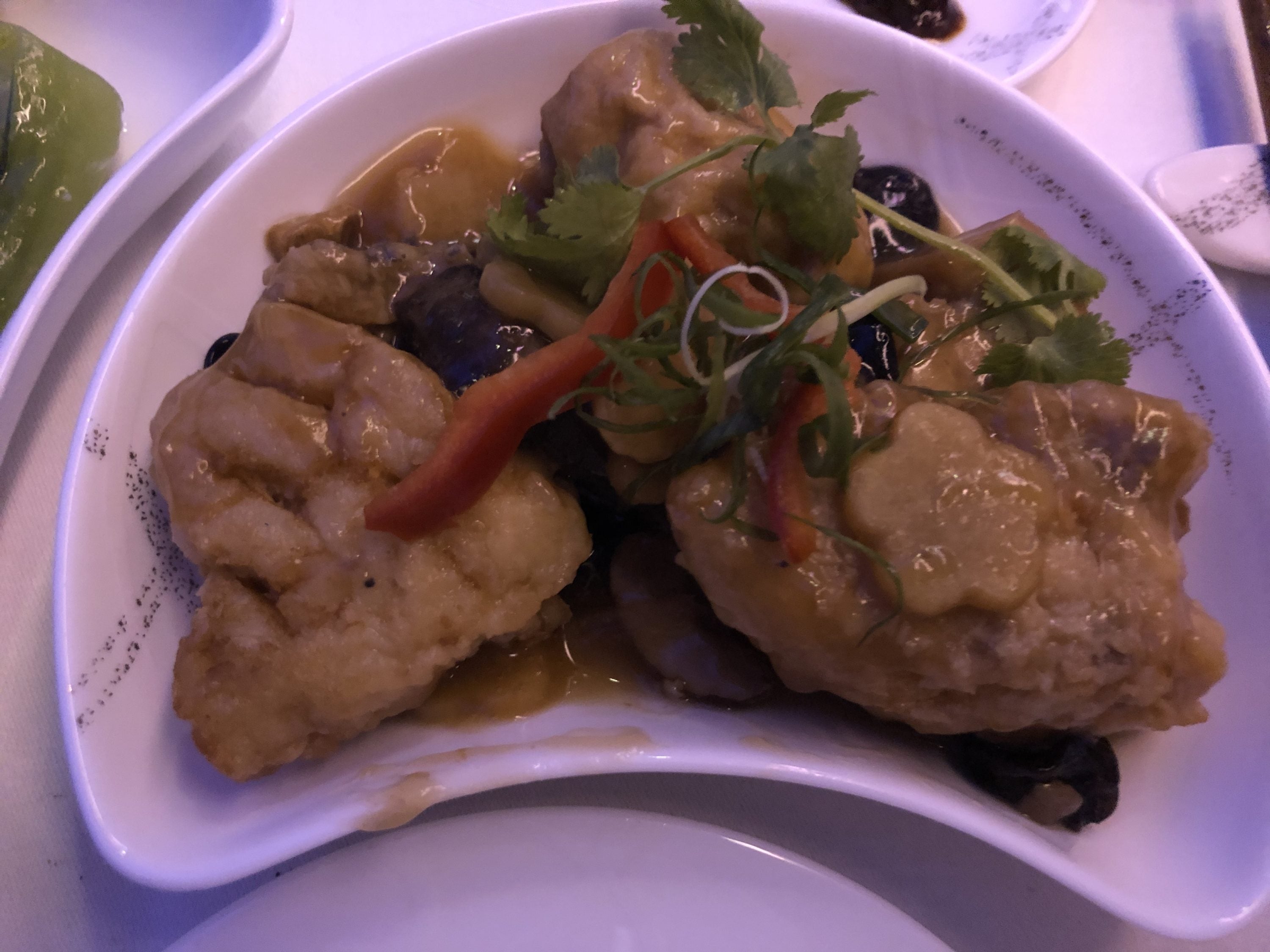 For dessert, I opted for the Cantonese favorite, a dessert soup. Specifically, it was a chilled green bean and dried kelp sweet soup.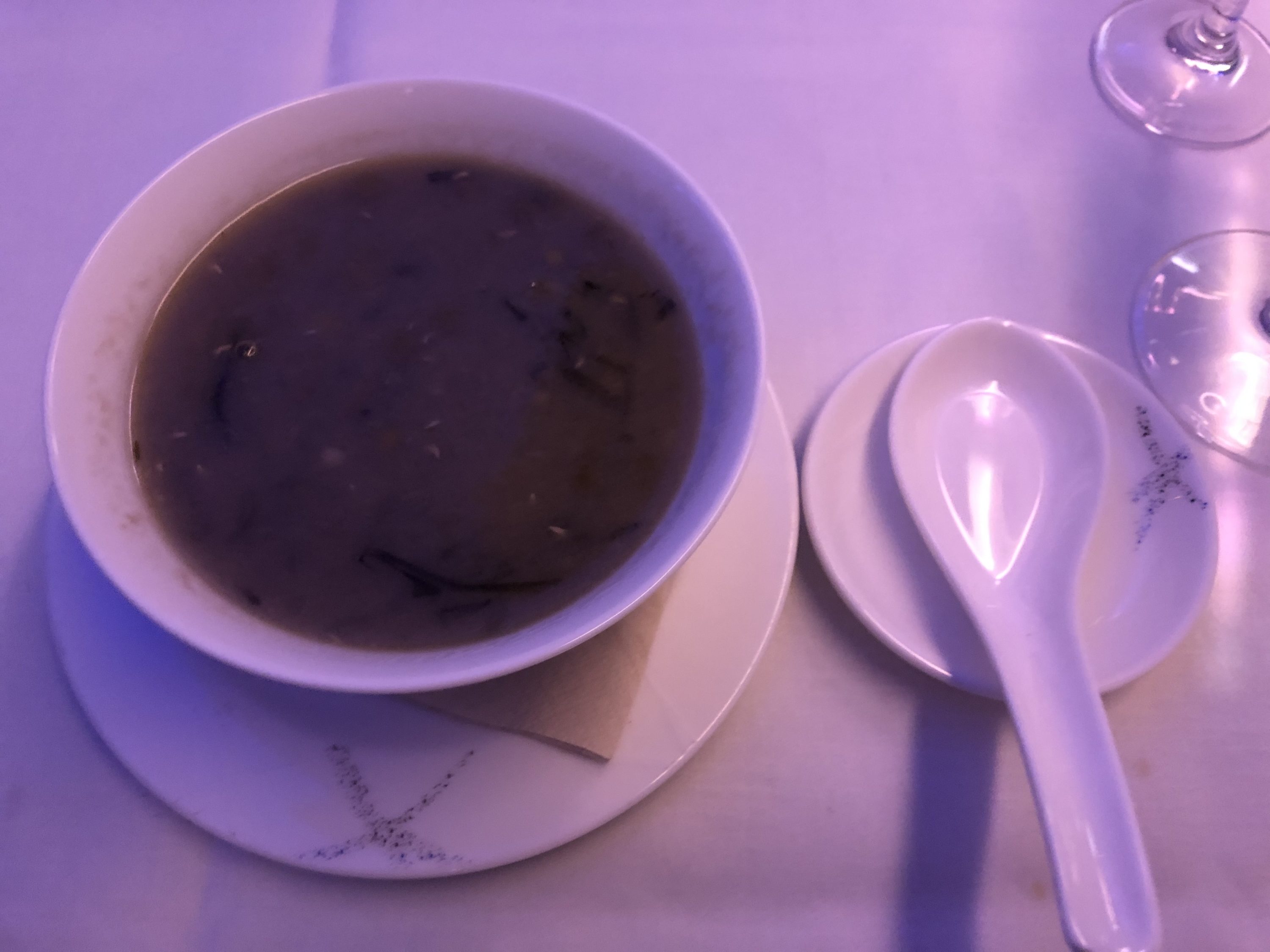 Vivian enjoyed the chocolate pudding, vanilla ice cream, and raspberry coulis. It was excellent.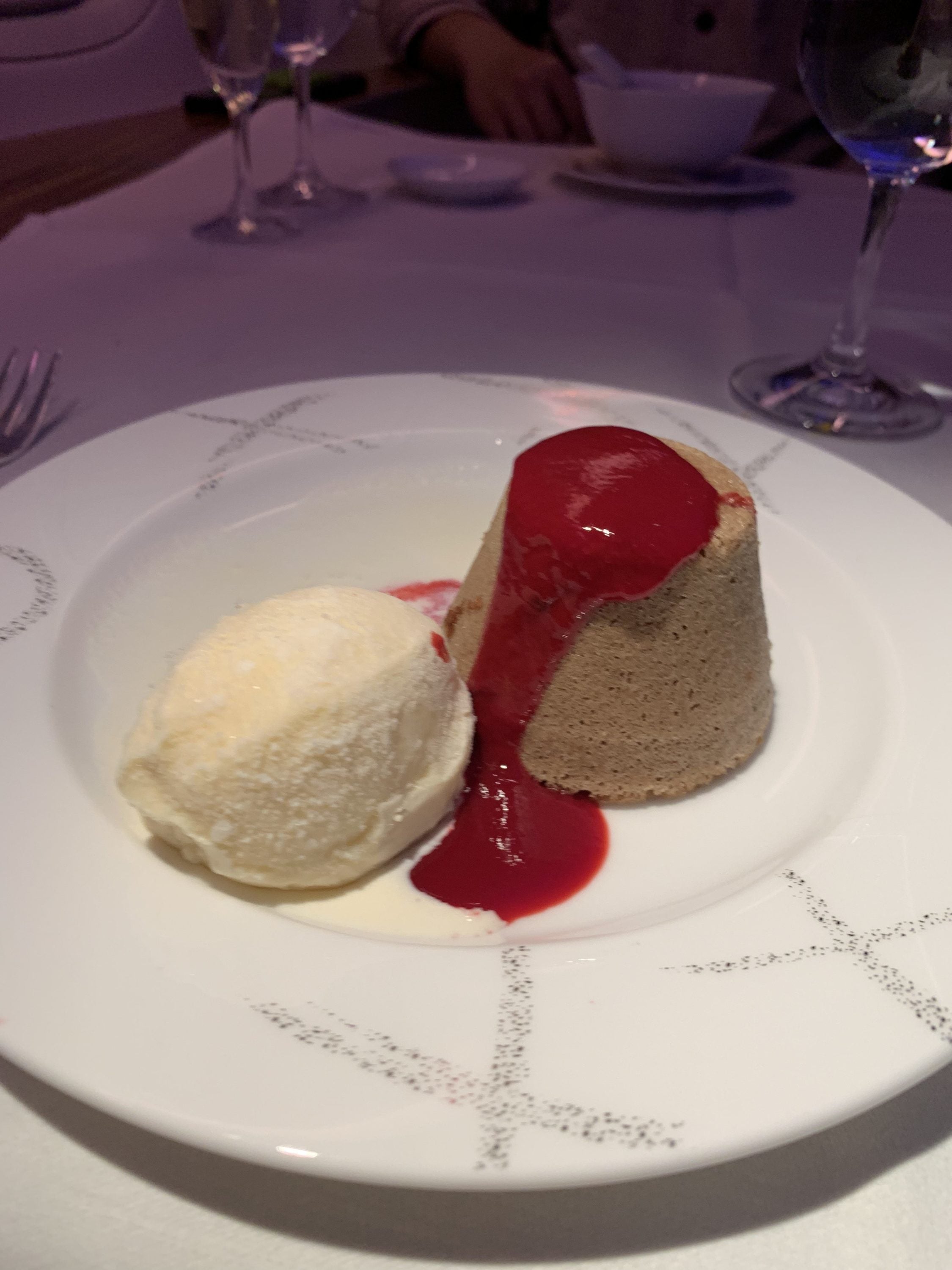 With our meal service wrapped up in around an hour and a half, we were given Evian water bottles, toothpicks, and turndown chocolates.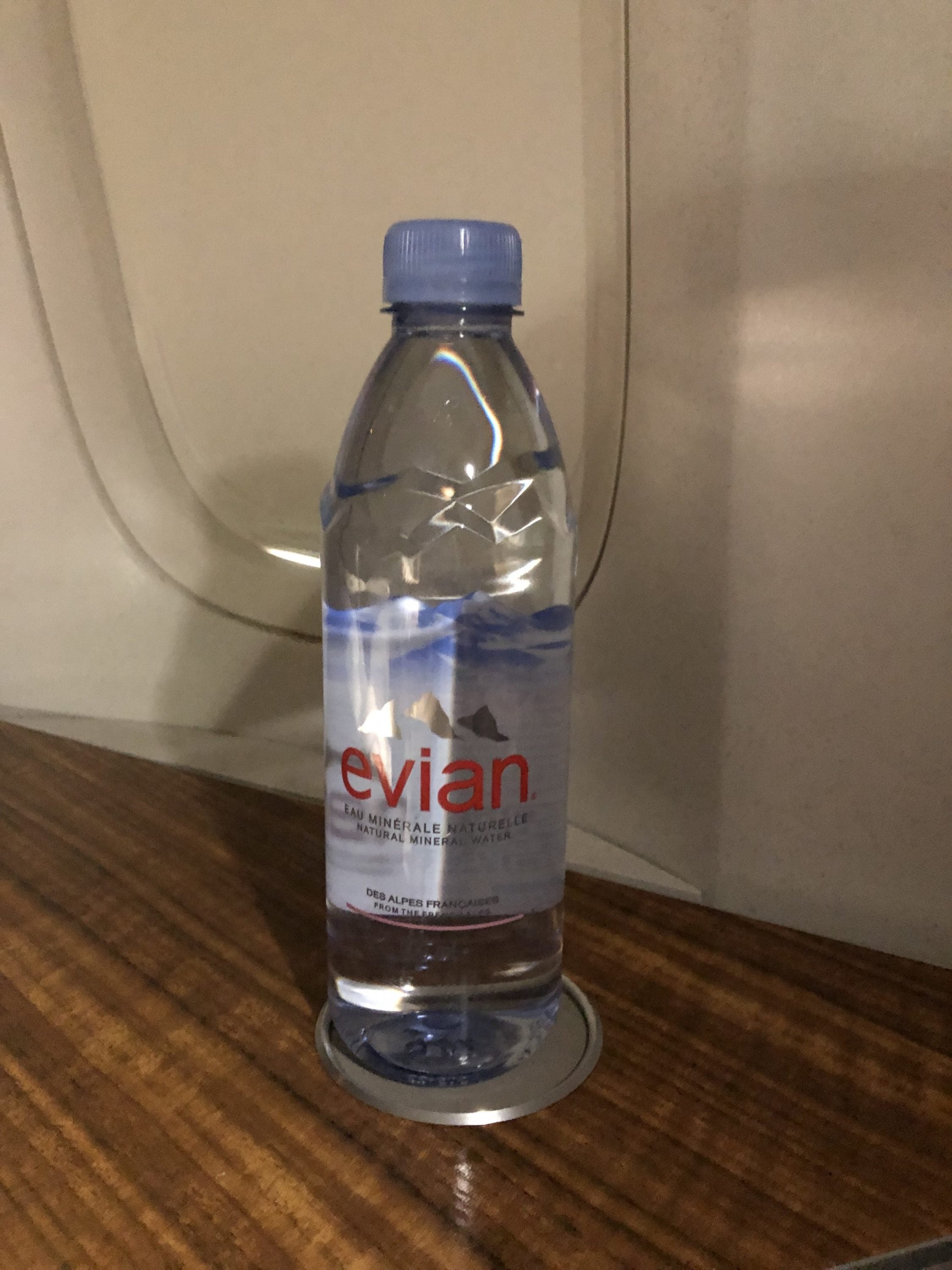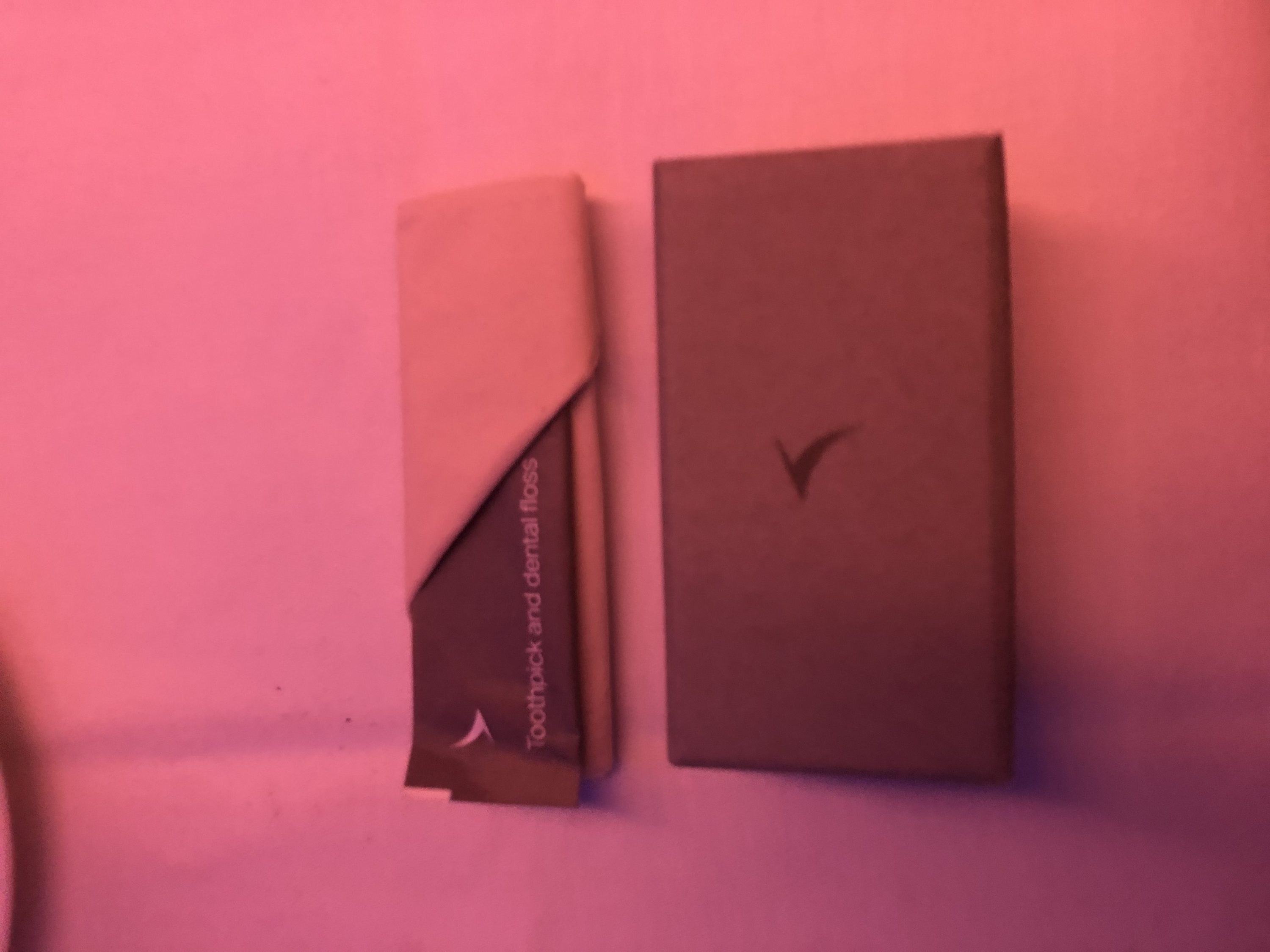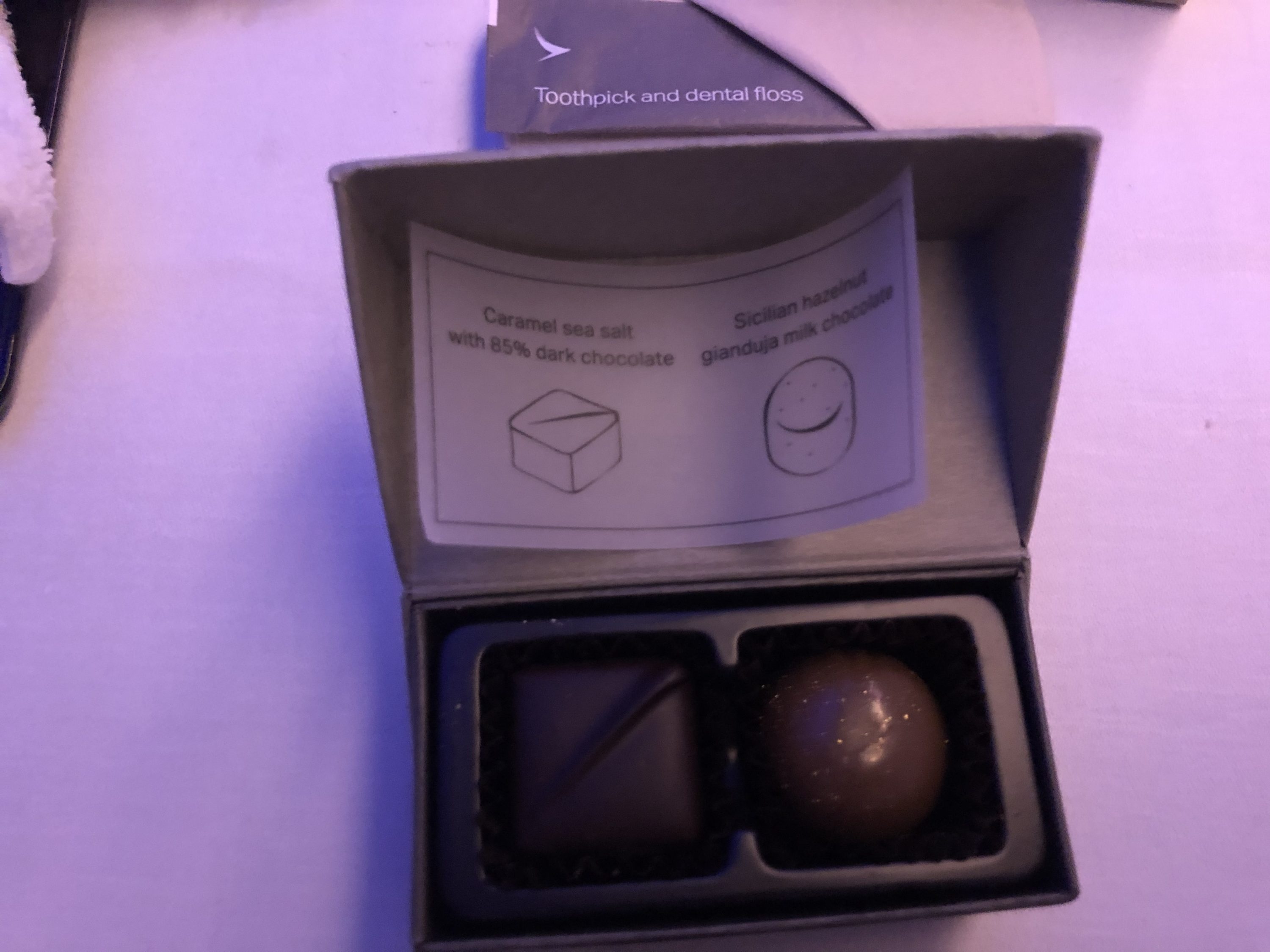 The turndown chocolates were wonderful, and it wrapped up the supper meal service. Our cabin crew proactively made our beds, and we slid into a deep slumber for around 7 hours.
Upon waking up, I requested a cup (and, like, 3 refills) of Hong Kong milk tea.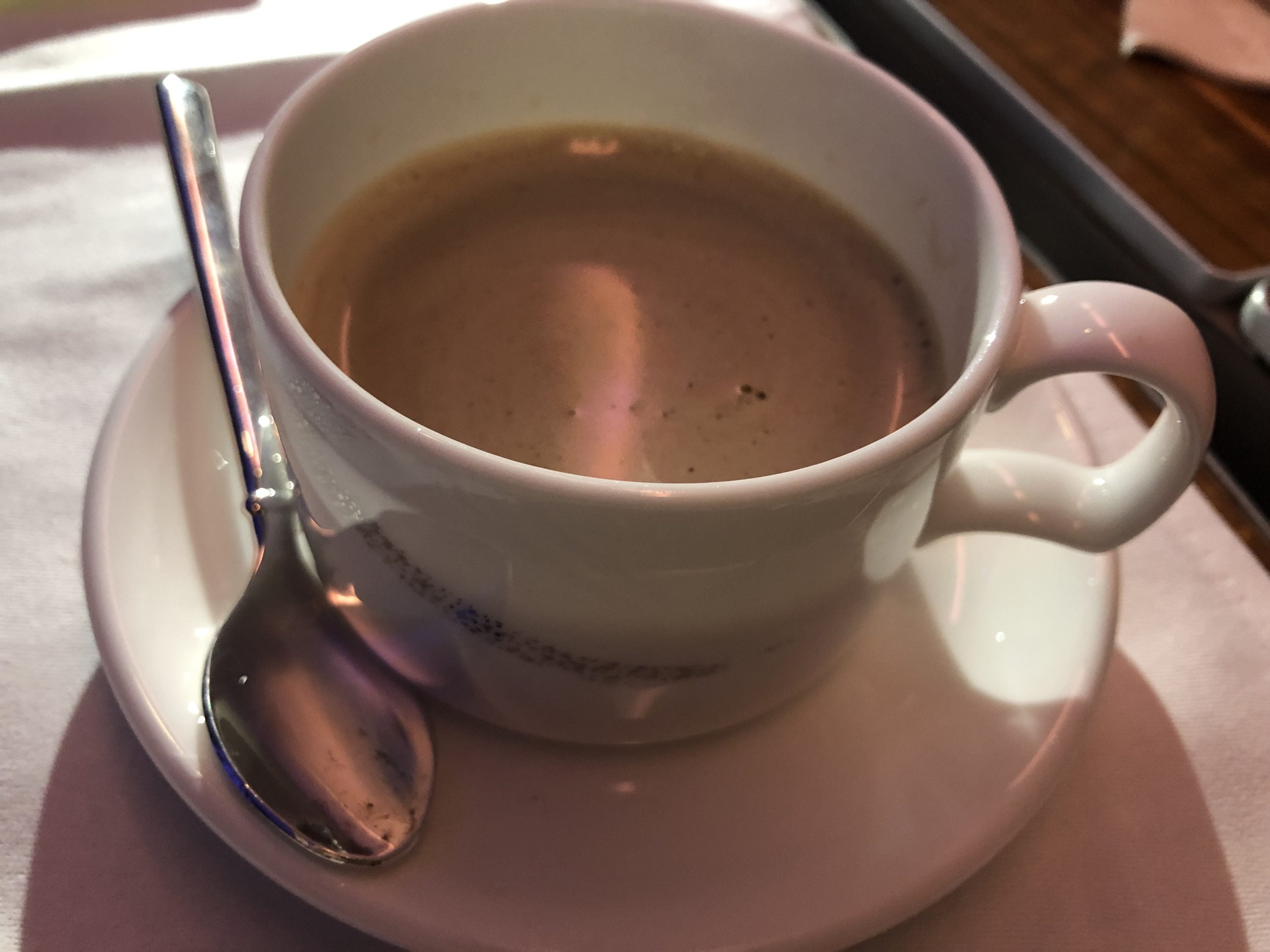 We also requested to have some snacks before our breakfast service. I ordered Hong Kong style egg tarts, and Vivian ordered braised preserved vegetable and roasted duck with rice vermicelli noodle in soup.
Both were awesome, but I just need to interject: How Cantonese is it to drink Hong Kong milk tea and eat egg tarts in Cathay Pacific first class?!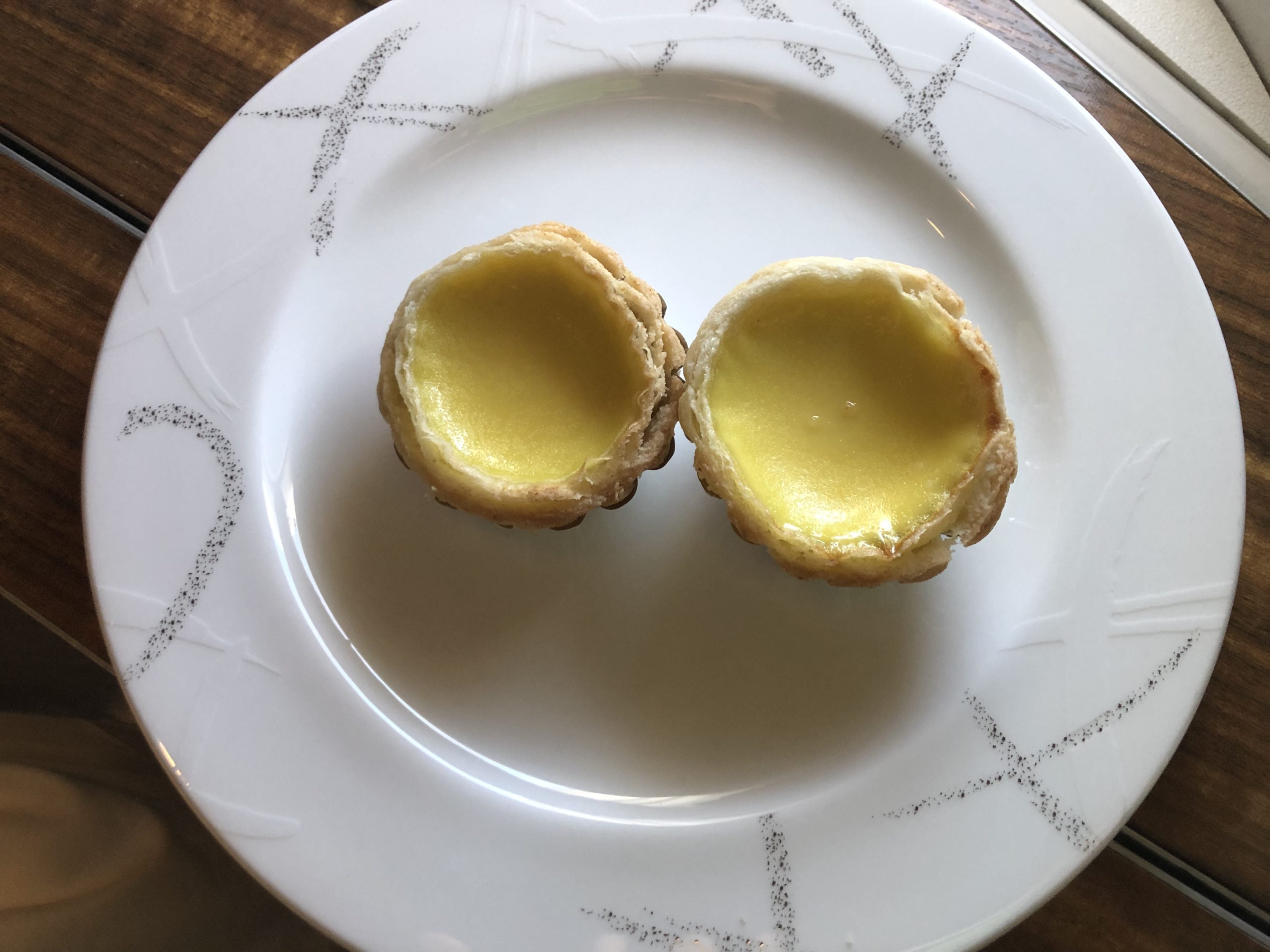 The egg tarts were warm and fluffy.
The roasted duck noodles were flavorful and heart-warming.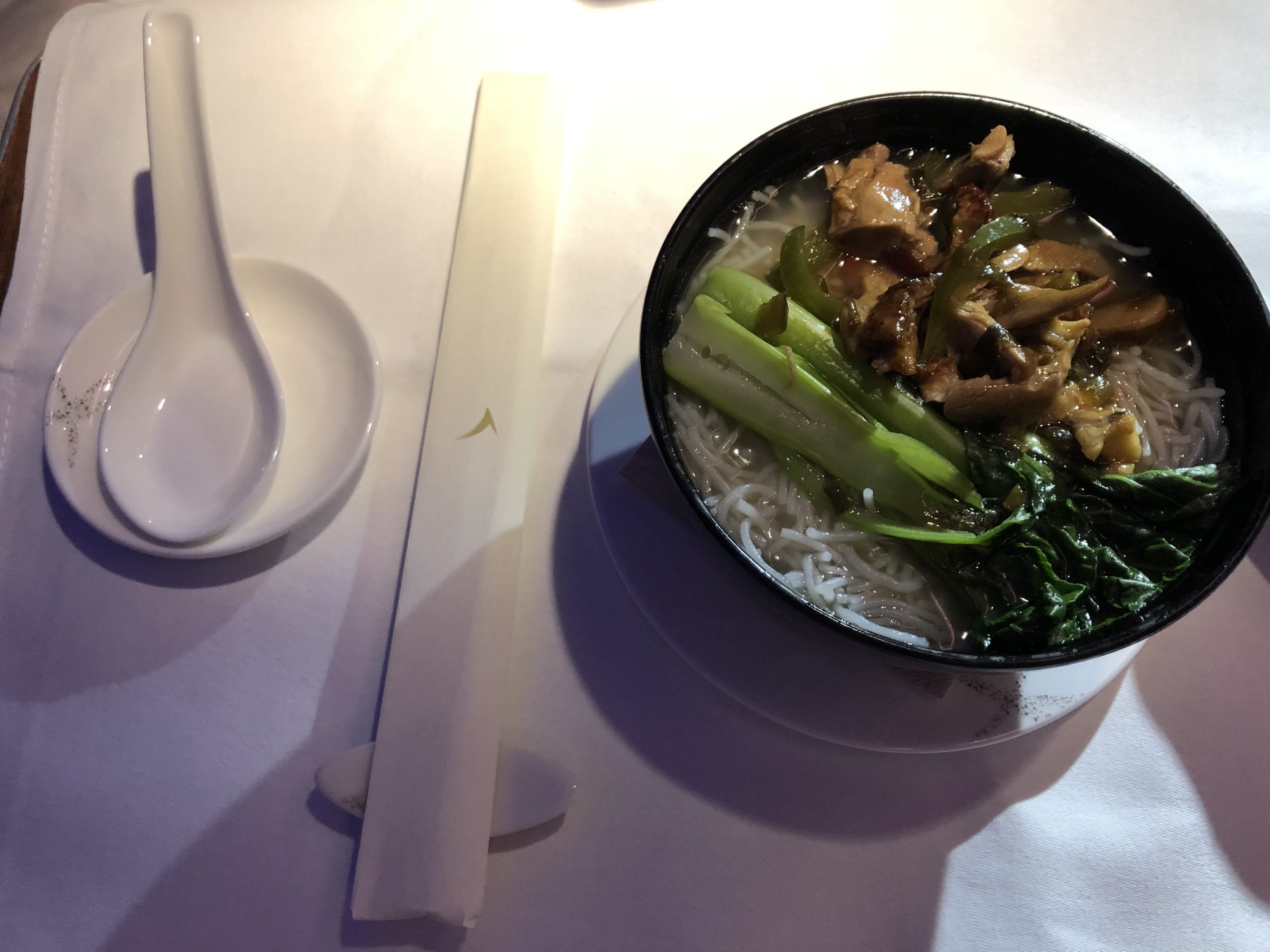 After we finished our "snacks," we officially began our meal service. We ordered a grapefruit juice and mango and passion fruit smoothie.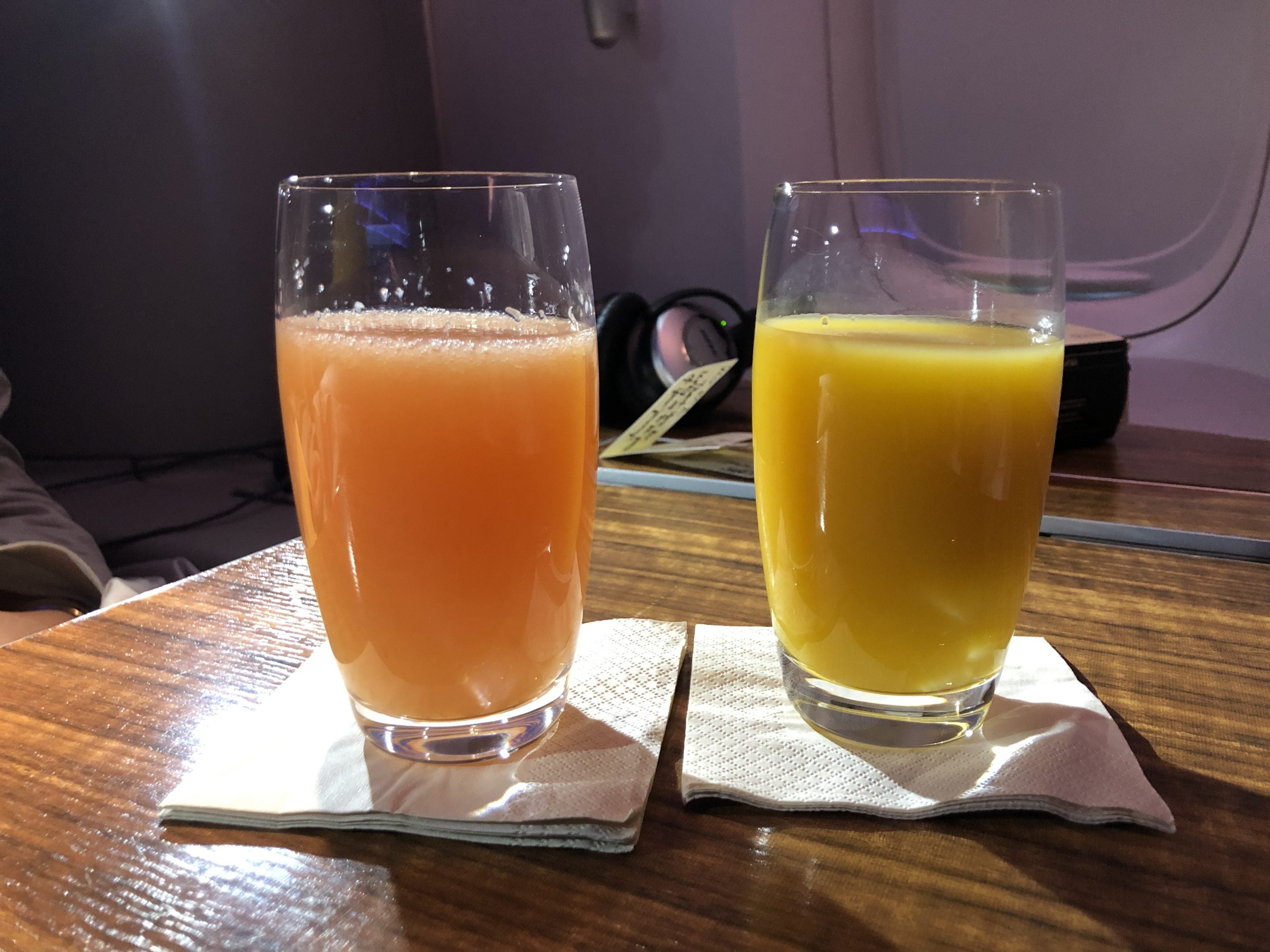 An entire basket of bread was distributed to each of us. All of these items were delicious, especially the croissant. Additionally, the Scottish strawberry preserves and Langnese pure bee honey were soooo good.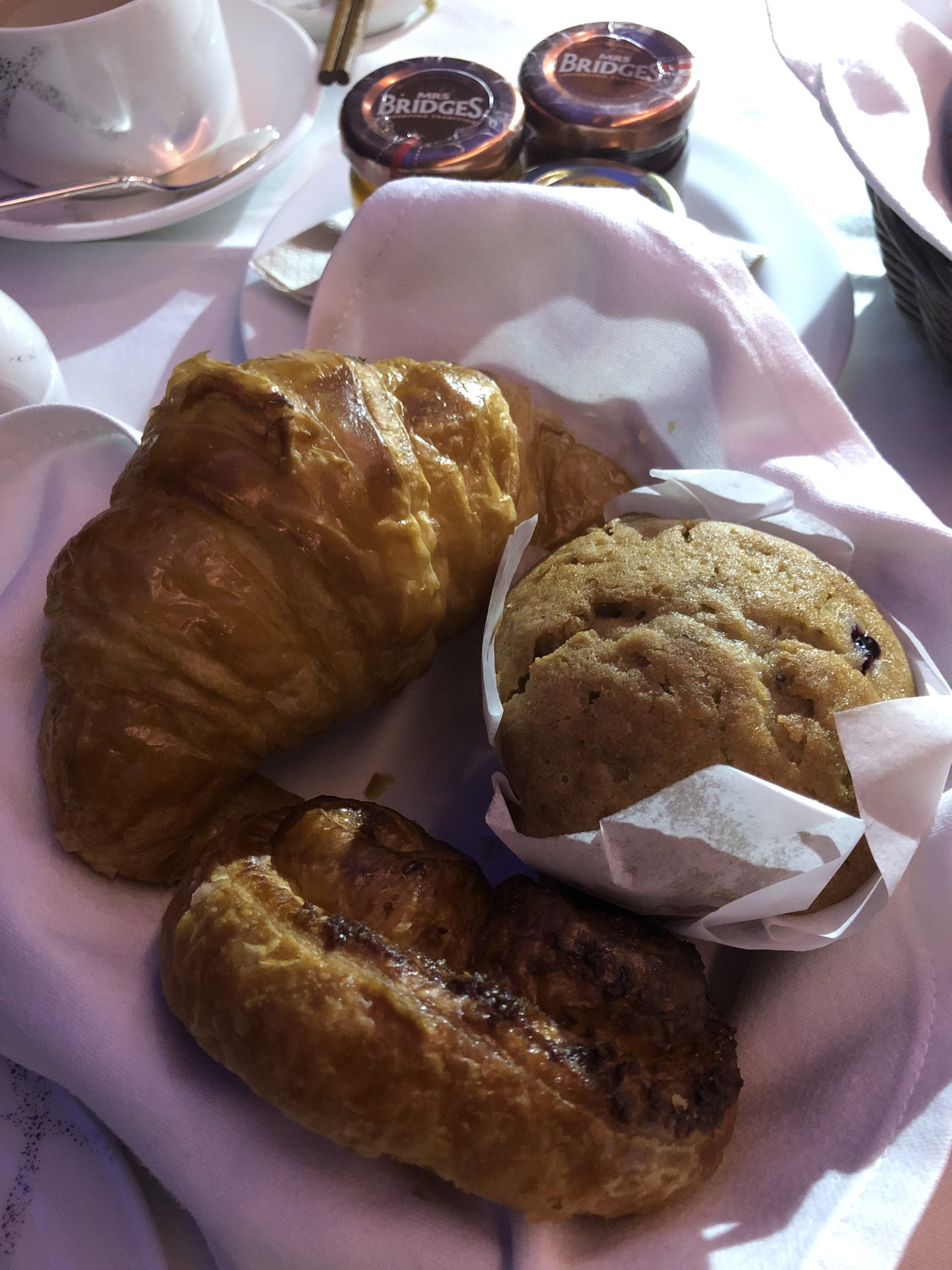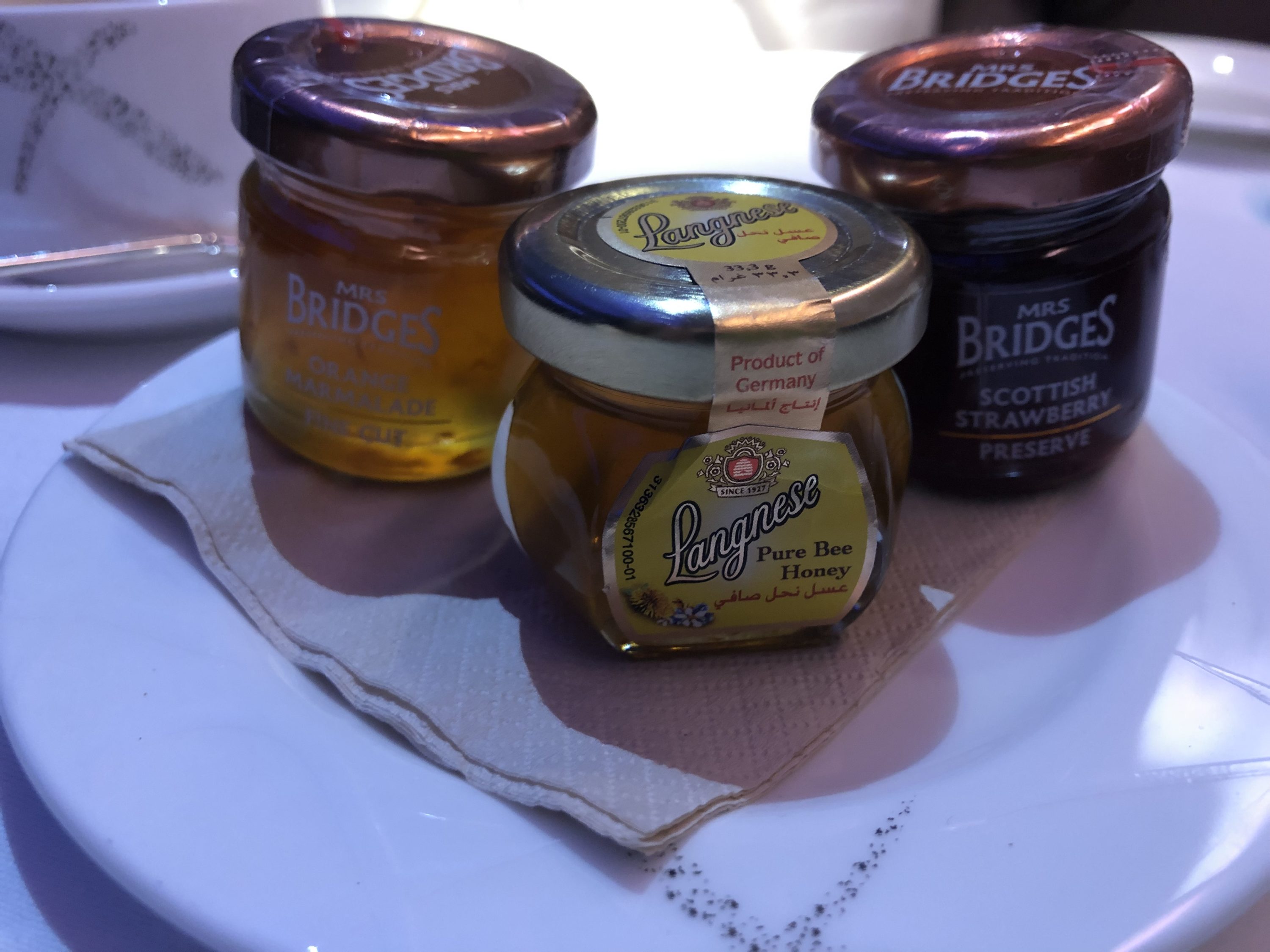 After we finished enjoying the bread assortment, we received the glorious main course. We both ordered the dim sum selection of:
Beef siu mai (

牛燒賣) [top right]

Yellow fungus and bamboo mushroom dumpling (黄耳竹笙餃) [top-left]
Har gow (蝦餃) [bottom-left]
Chicken glutinous rice wrapped in lotus leaves (珍珠雞) [bottom-right]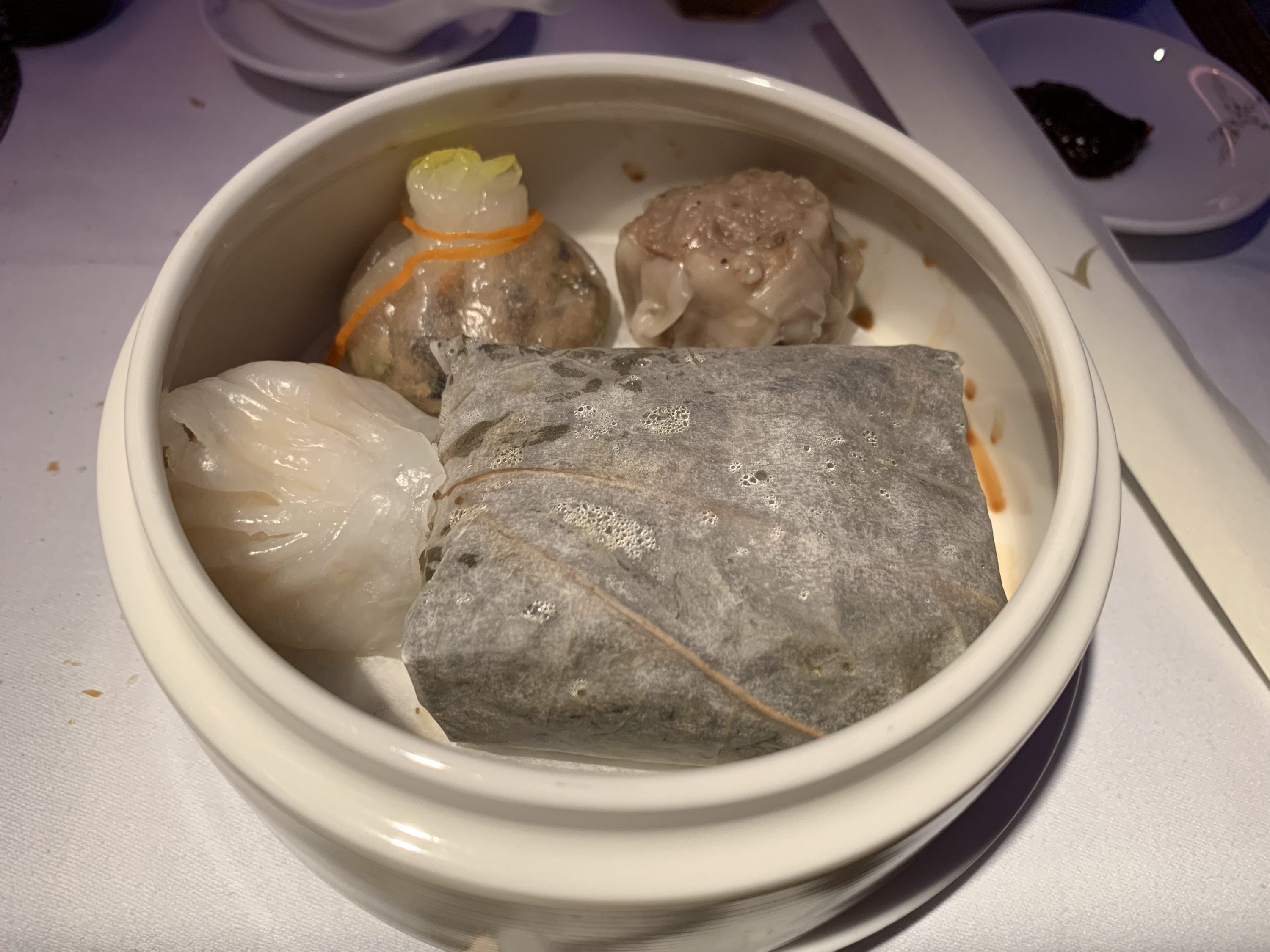 Bottom Line: All in all, I had a true Cantonese experience aboard Cathay Pacific first class. I had the honor of eating dim sum, egg tarts, Hong Kong milk tea, and other Cantonese delicacies in the sky. Though the food didn't wow me at every turn, I had a very consistent and pleasant experience. The ability to dine with my fiancée enhanced everything too. Oh, and the caviar was marvelous.
Entertainment & Service
Since this was a red-eye flight and I was in the company of my fiancée, I didn't really use the in-flight entertainment much. That said, let's touch on the service and entertainment.
Right after take-off, we found a handwritten note from the cabin crew aboard CX 872, which was a very nice touch. Ted was our purser, while Mike was the cabin manager.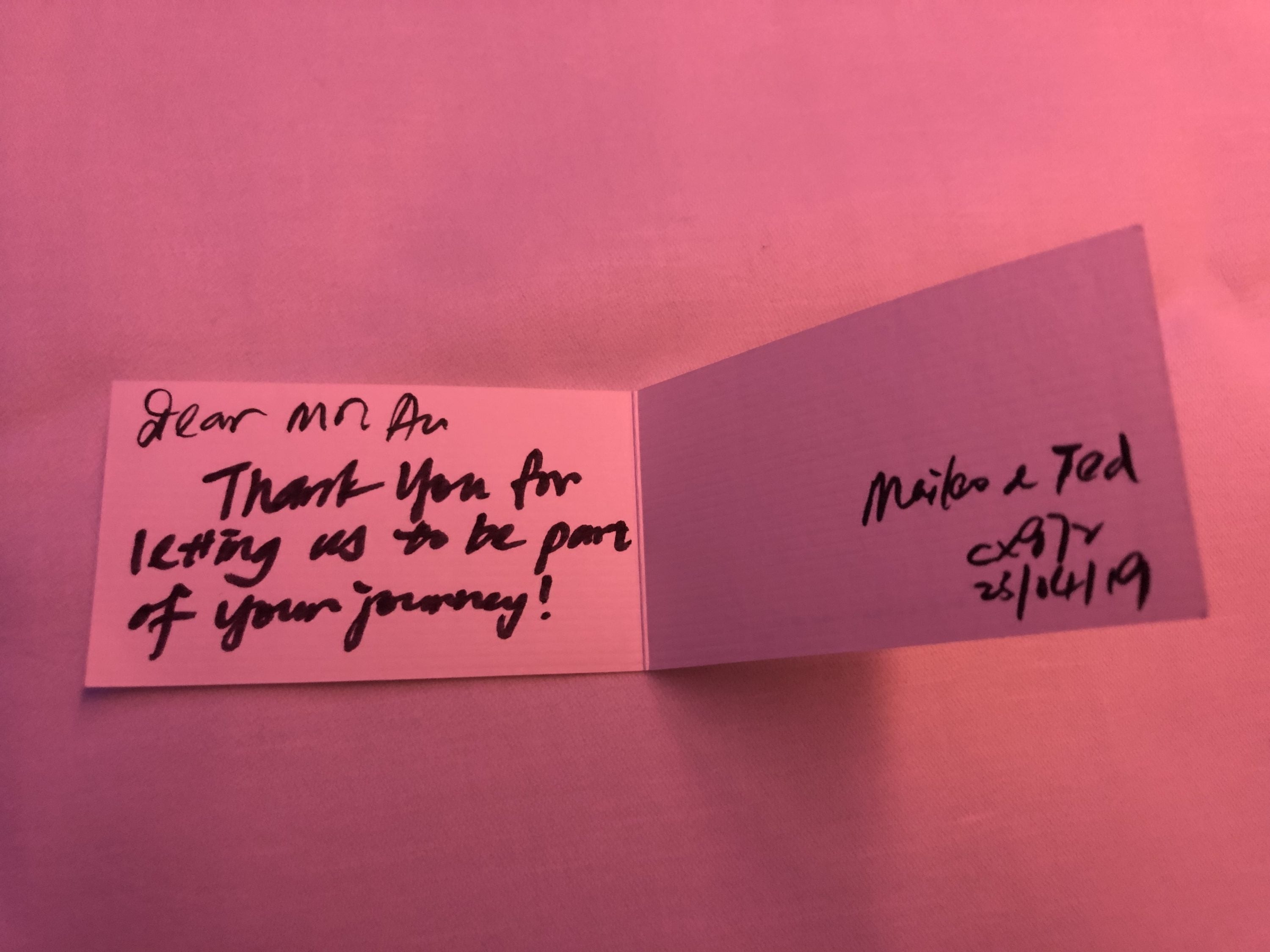 The 17-inch in-flight monitor was crisp in quality, but the major benefit of this set-up is that the monitor can be unlatched and pulled very close to you.
There was a huge selection of in-flight options, it included both new Hollywood releases and Hong Kong classics such as King of Comedy (a Stephen Chow classic).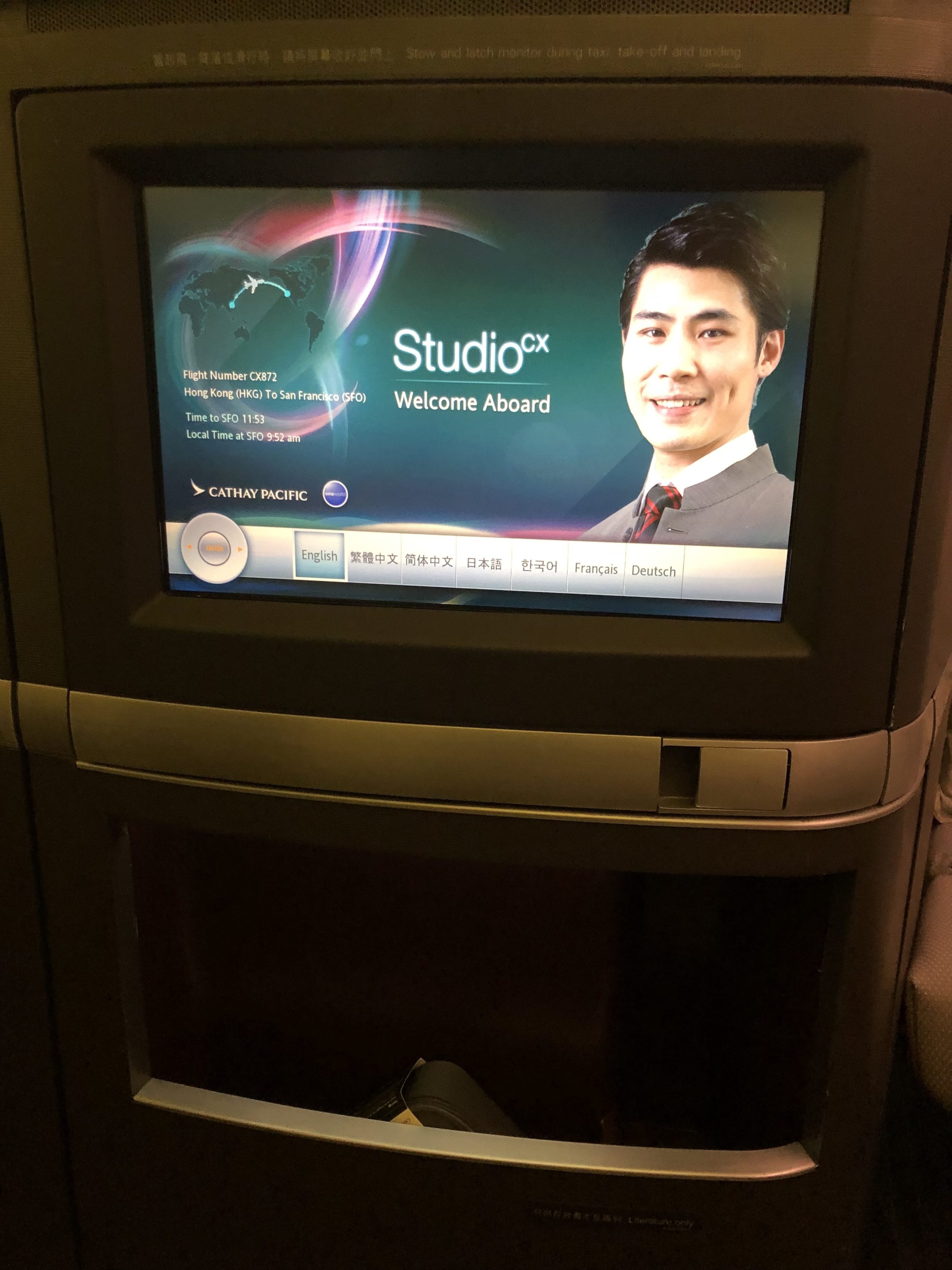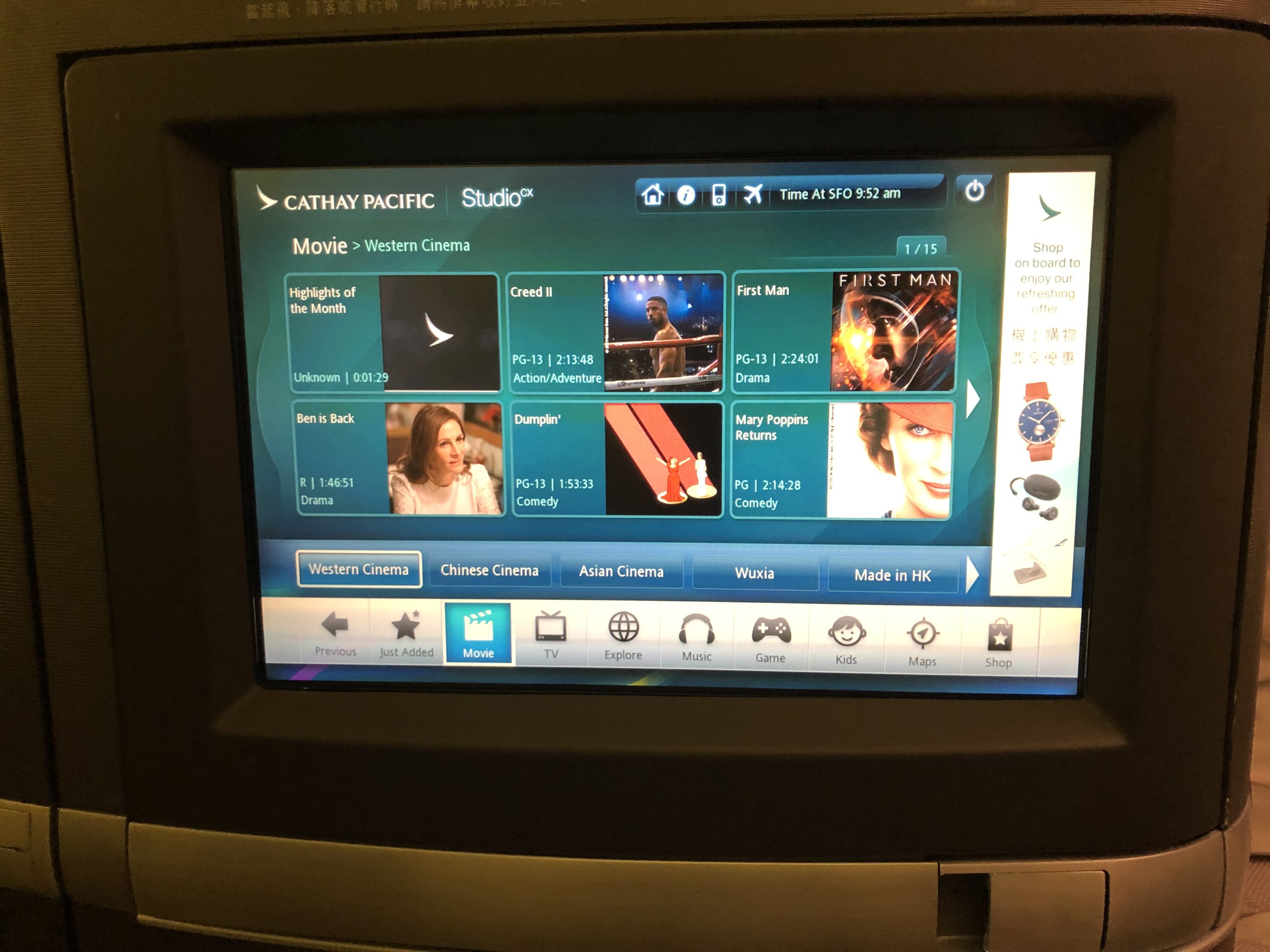 I watched the flight show for a couple of minutes.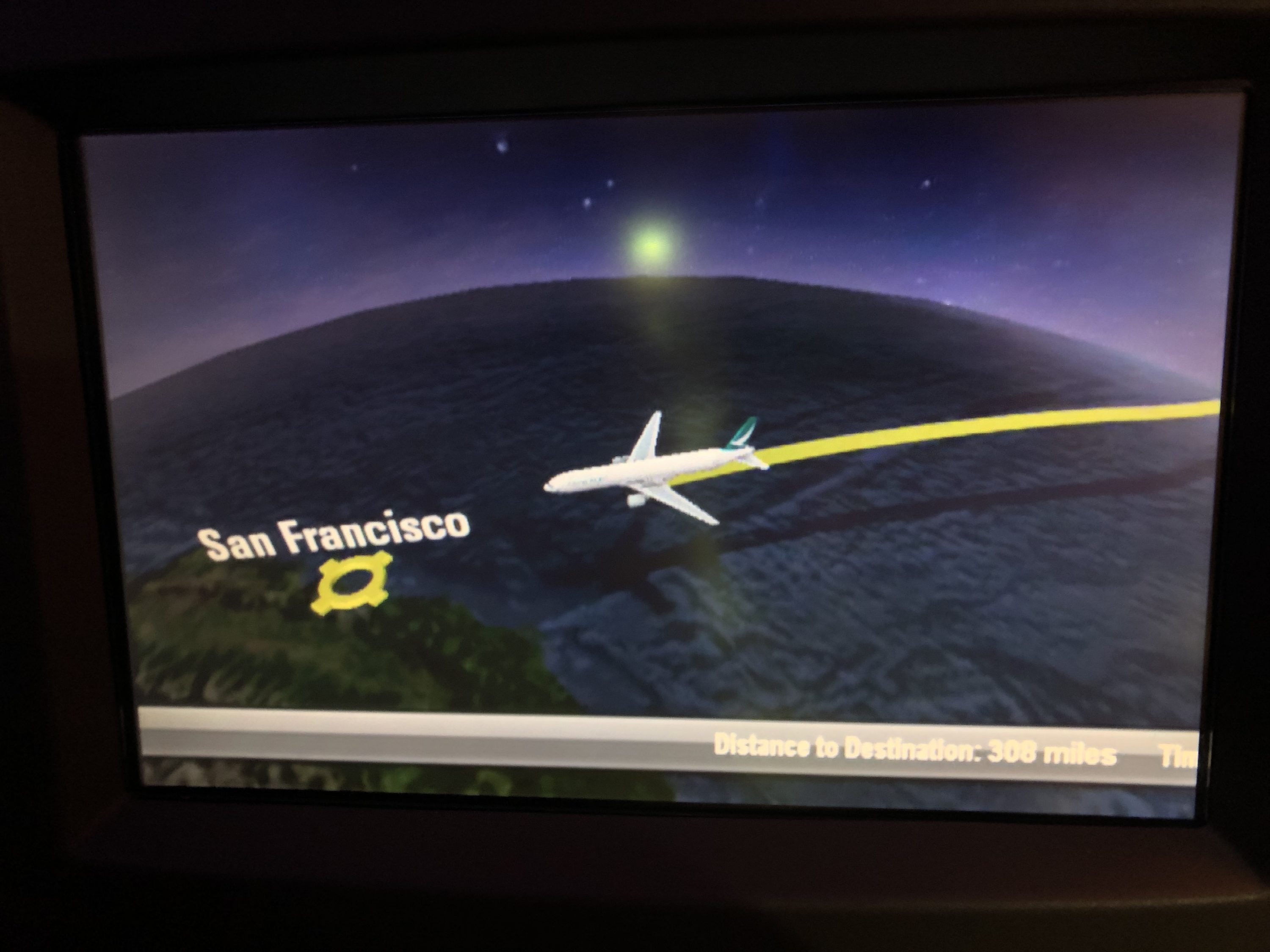 Also, I found that there are flight cameras which you could view.
The lights were dimmed, and I appreciated the use of mood lighting in order to aid sleep. I snapped pictures of the sprawling metropolis that is San Francisco prior to landing.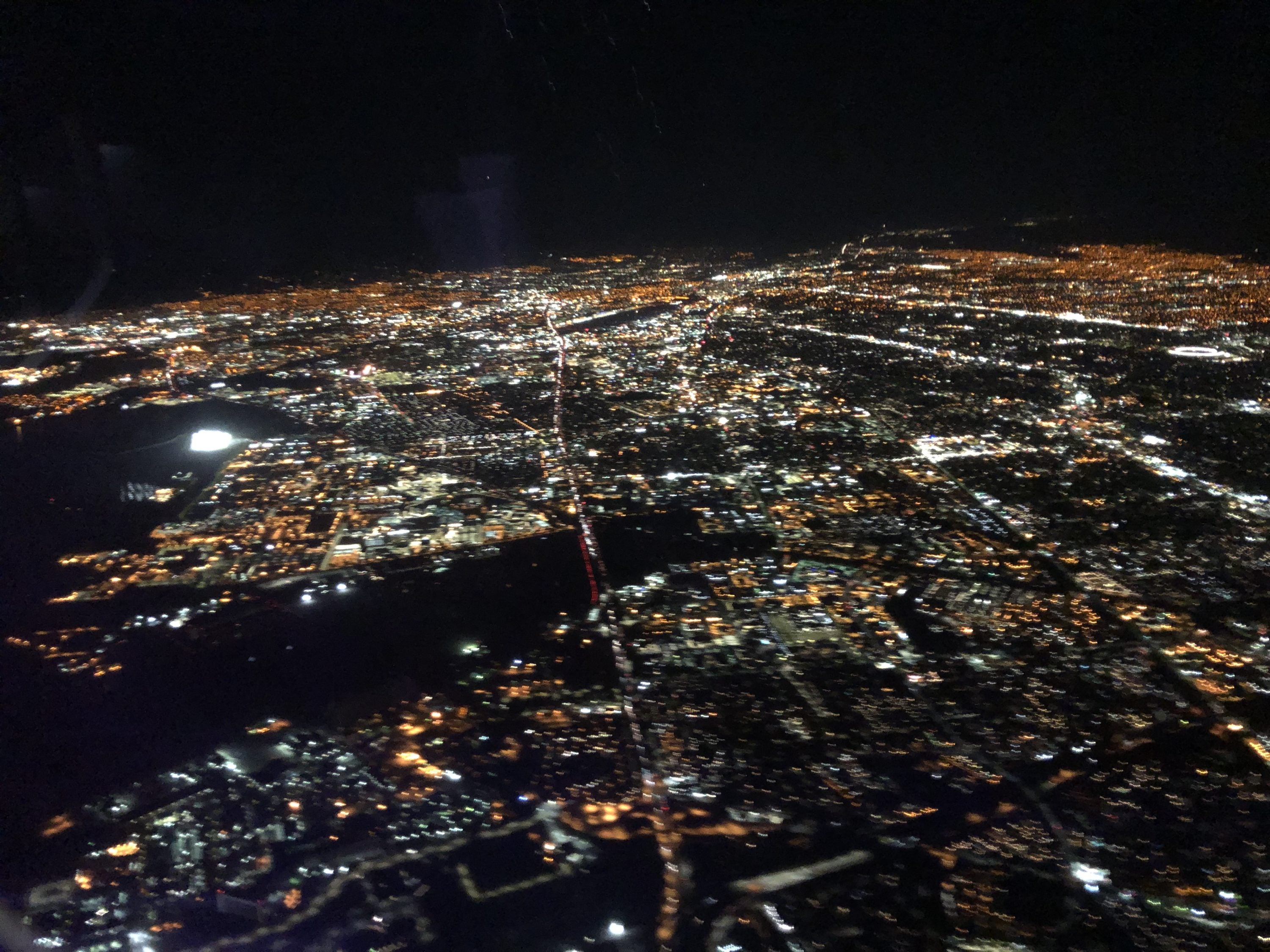 I found the service on Cathay Pacific to be the best I've ever experienced. Period. It might have been because of the quality of the cabin crew, but I did not leave the flight wanting anything else.
It almost seems like a perfect symphony that was executed during the flight. From the timely meal services to working around some unexpected turbulence to the friendliness of the crew to even proactively making my bed while I was dining with Vivian, I was truly impressed.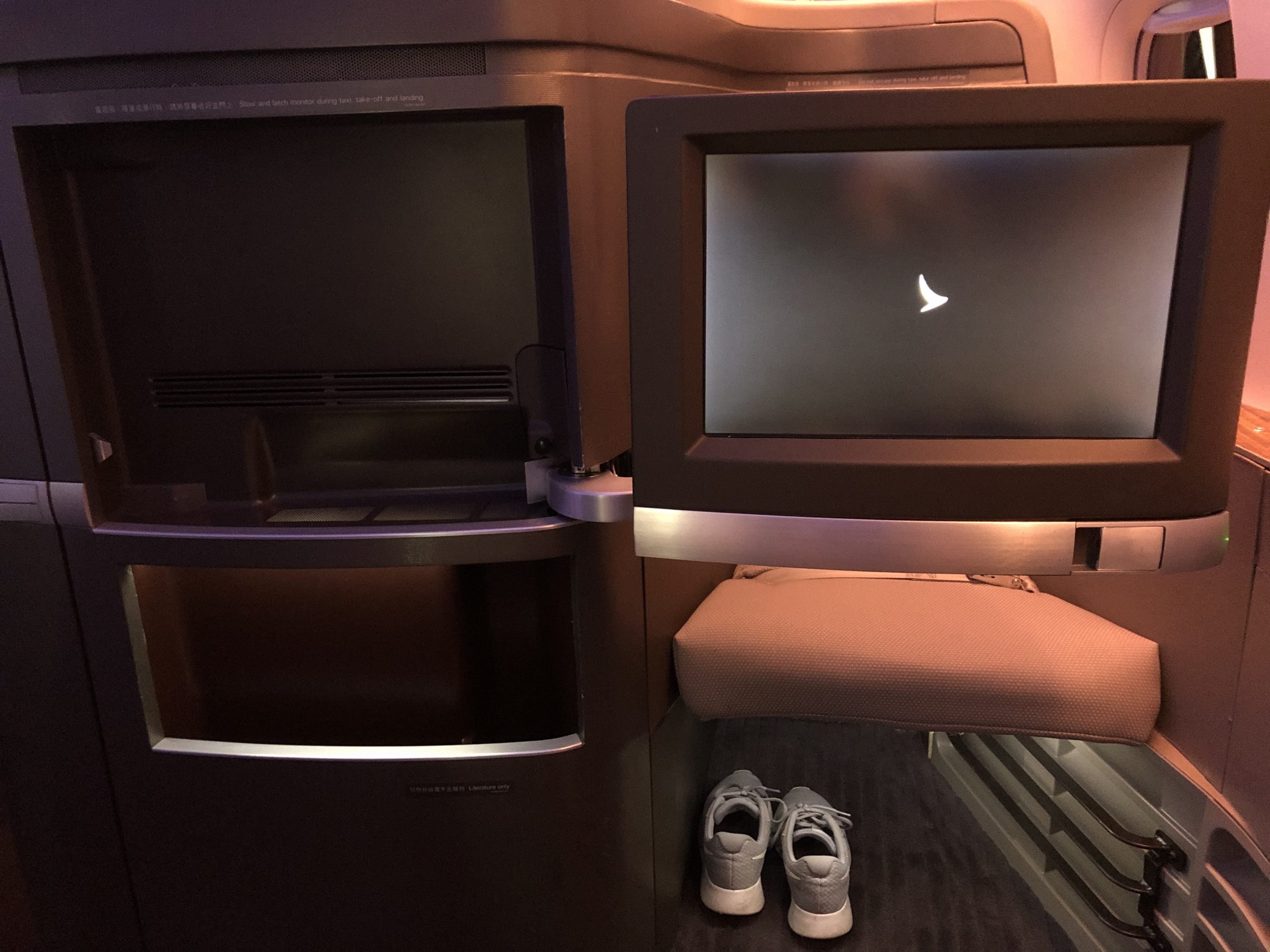 Final Thoughts
Cathay Pacific first class lived up to all of my expectations and more. To me, the hard product and service are the most memorable parts of the flight. I still can't believe the sheer size of the first class seat. It's astonishing to think that this seat could fit 2-3 people comfortably.
We were lucky to have a stellar and professional, yet modest, cabin crew. They were able to strike the right balance between helping us and giving us privacy.
I honestly wished the flight was longer (or that it was flying to my home airport of Los Angeles instead of San Francisco), but it was worth making adjustments for in order to take advantage of the mistake fare. It's a very classy move to be honoring what could be the best mistake fare of all time, despite the number of people who booked it.
Cathay Pacific recently started reporting profits after a long losing streak, and I hope that this company continues offering the products it does.
Interested in the pilot's perspective? Explore the Boeing 777 from a pilot's perspective.