Cathay Pacific Airbus A330 Business Class Review [SYD to HKG]
Airline: Cathay Pacific (CX)
Aircraft: Airbus A330-300 (B-HLQ)
Flight #: CX110
Route: Sydney (SYD) > Hong Kong (HKG)
Date: May 9, 2019
Duration: 9hr 45min
Cabin & Layout: Business Class, 39-seats, 1-2-1 config
Seat(s): 17A
Miles Used: 85,000 Asia Miles per person (transferred from American Express) one-way including a connecting flight to Amsterdam
Taxes & Fees Paid: $260 (HKD 2,051) per person
Typical Retail Cost: ~$3,500 (AUD 5,000) per person one-way
Introduction
Booking Cathay Pacific Business Class
Every year in either March or May, I travel to Europe for a work conference. This trip, I was eager to fly Cathay Pacific's new Airbus A350-1000. I hadn't flown Cathay in over two years and was interested to see if its new dining concept has improved the service.
I have always found Asia Miles to offer excellent value between Sydney and Europe. However, ever since the program devaluation in 2018, I've had little luck finding availability on Cathay Pacific metal. Thankfully, I was successful finding seats 9 months in advance so I transferred 85,000 Amex Membership Rewards points to Asia Miles.
I originally booked the 10:15 a.m. CX162 service out of Sydney but received a call on New Year's Eve to say this service had been canceled and I was bumped onto the hideously early 7:35 a.m. service instead. I asked the operator to move me to the midday service. However, as there were no redemption seats left on this midday service, she would not change my flight no matter how hard I tried to persuade her.
The alteration in flights meant a 4:30 a.m. alarm and a 9 hour layover in Hong Kong!
At Sydney Airport (SYD) – Qantas Business Lounge
One of the only benefits of arriving at Sydney Airport at 5:30 a.m. is it only took 13 minutes to get checked-in, through immigration and security, and into the lounge. All of this even with the 'Express Path' priority channel closed for renovations.
The entrance to the Qantas lounge is located after the duty-free shop and immediately after security.
There was no queue to enter the lounge this early in the morning.
Unlike my last visit to the Qantas Lounge, prior to my Qatar Airways flight to Doha, the lounge was quite empty.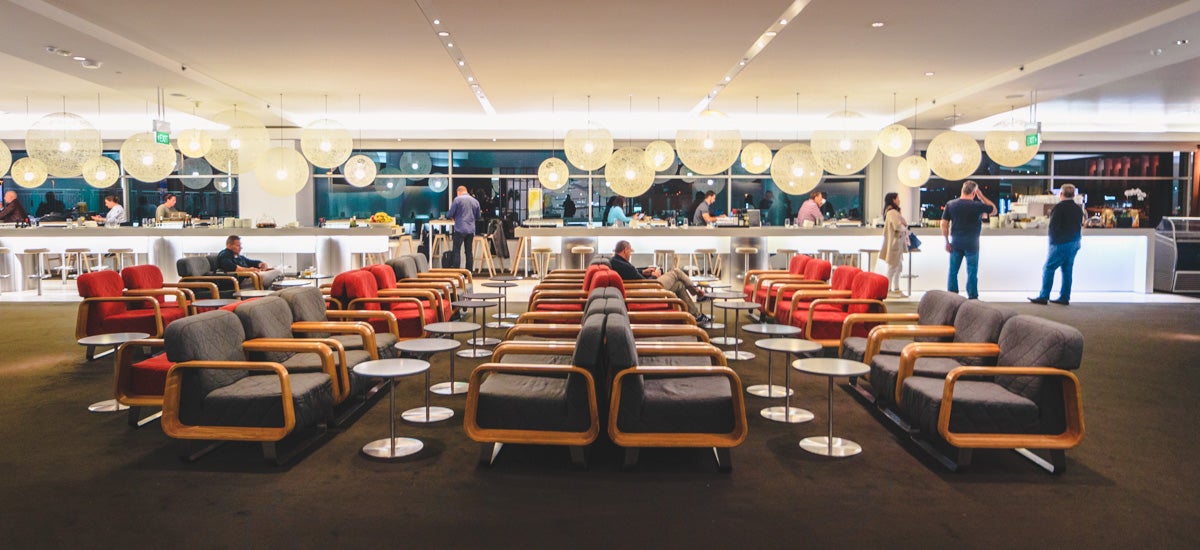 The lounge is organized in one long rectangle with windows running along one side. Sadly, the lounge is set back from the airport gate so you don't get much of a view.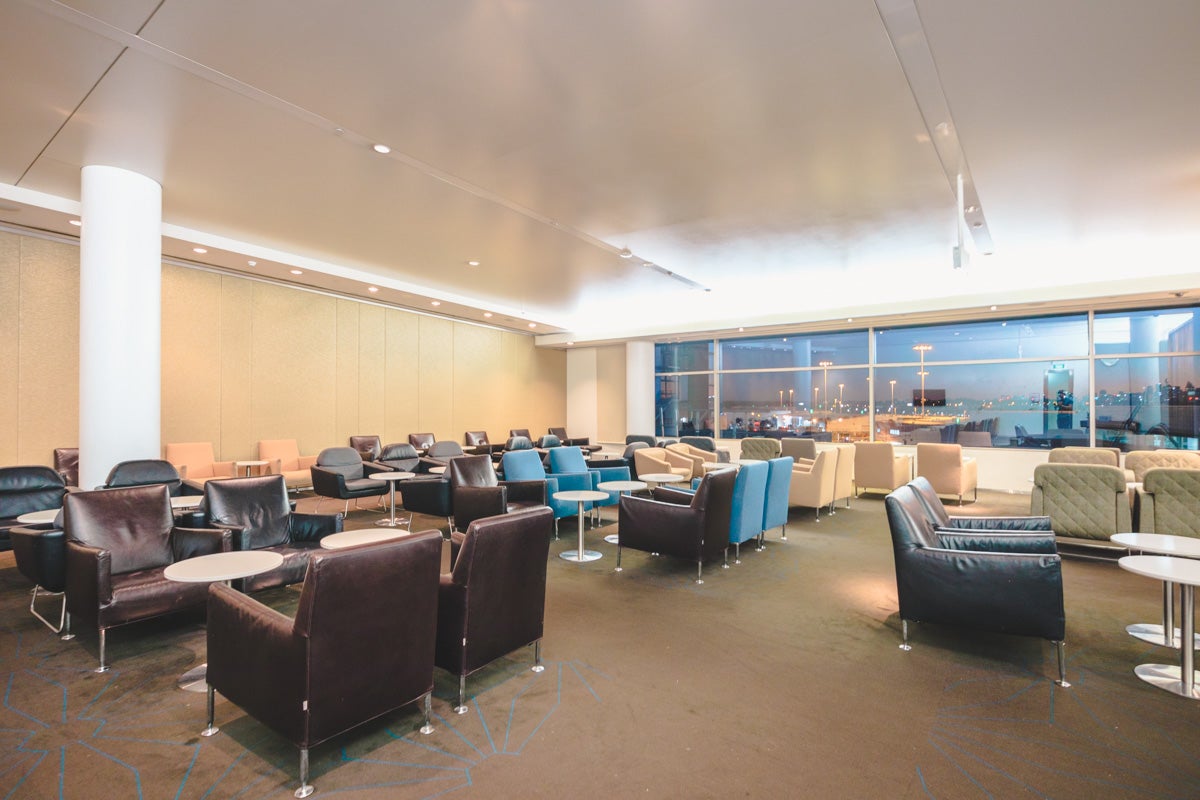 Dining
A large high table spans the length of the first lounge zone.
With self-service wines and fruit.
The complimentary sparkling wine is worth $11 a bottle.
It was now 5:50 a.m. so I headed straight to the barista station for a long black, an Australian favorite that is a stronger version of an Americano.
But not too long, I was back later for a mimosa.
There is also a fully automatic coffee machine at each of the 2 buffets.
The morning of my flights, the Qantas Business Lounge was offering free-range scrambled eggs, bacon, baked beans, hash browns as the hot options.
There was also a selection of mini croissants, pastries, and toast.
Unfortunately, the toast station looked like it was from a makeshift disaster recovery shelter instead of a business class lounge.
The lounge is long overdue for a refurbishment that hopefully kicks off later this year, but it was still a bearable place to spend an hour as it wasn't packed to the rafters at this hour.
Flight
Aircraft
Cathay Pacific currently has a fleet of 32 Airbus A330-300 aircrafts. There are 3 configurations of the A330, the one I flew had 39 flat-bed business class seats in 1-2-1 configuration, 21 in Premium Economy 2-3-2, and 191 in Economy arranged 2-4-2.
This specific aircraft, B-HLQ, is over 17 years old.
Business Class
Boarding commenced on schedule. However, since boarding was through one door, the entire business class cabin was busy as the crew was trying to serve pre-departure drinks around all the passengers trying to board the aircraft.
Thankfully boarding was prompt and we pushed back 5 minutes before schedule and at 7:31 a.m., we were airborne.
Cathay Pacific uses the Zodiac, now Safran, Cirrus reverse herringbone seats in 1-2-1 layout split across two cabins: 28 in the front cabin and 11 behind the second aircraft door.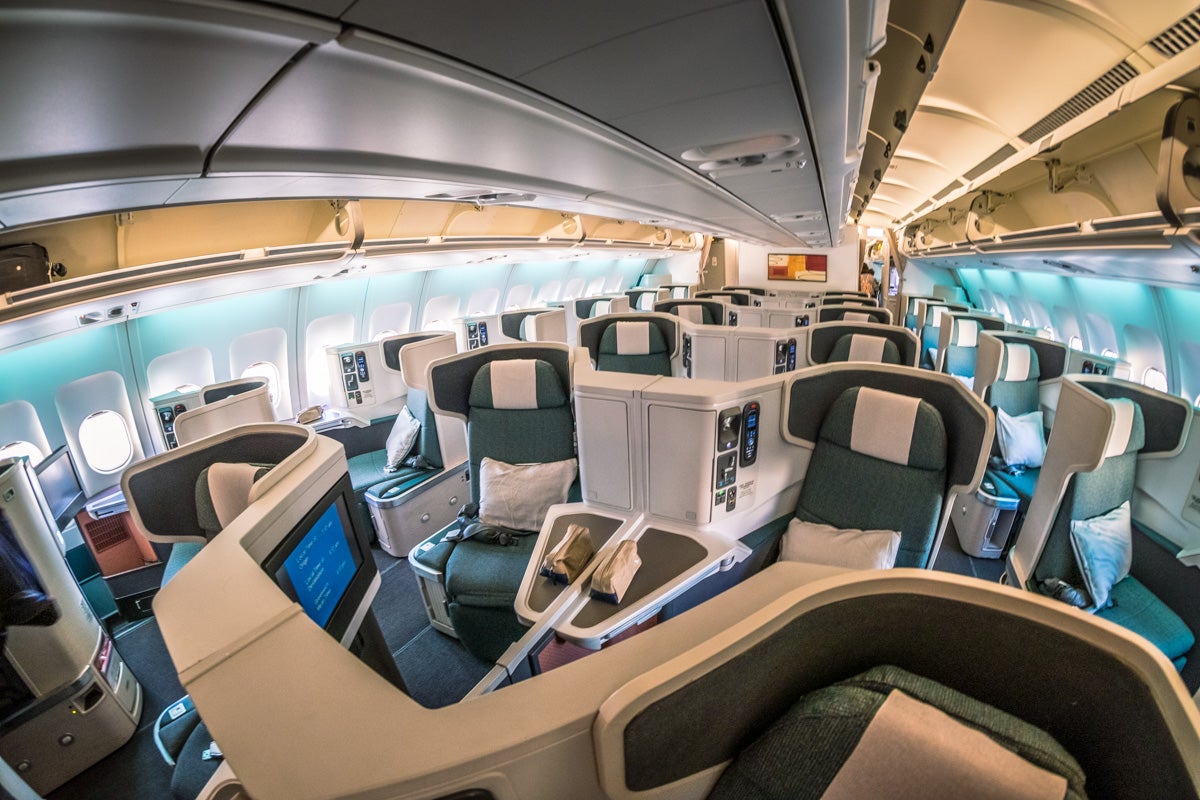 The middle seats angle towards each other and lack a privacy panel. However, the seats are positioned back far enough that you cannot see your neighbor unless you lean forward.
As a window seat and wing view fan, I picked seat 17A towards the back of the front cabin.
Window seats face towards the windows where you'll have 2 windows to look out.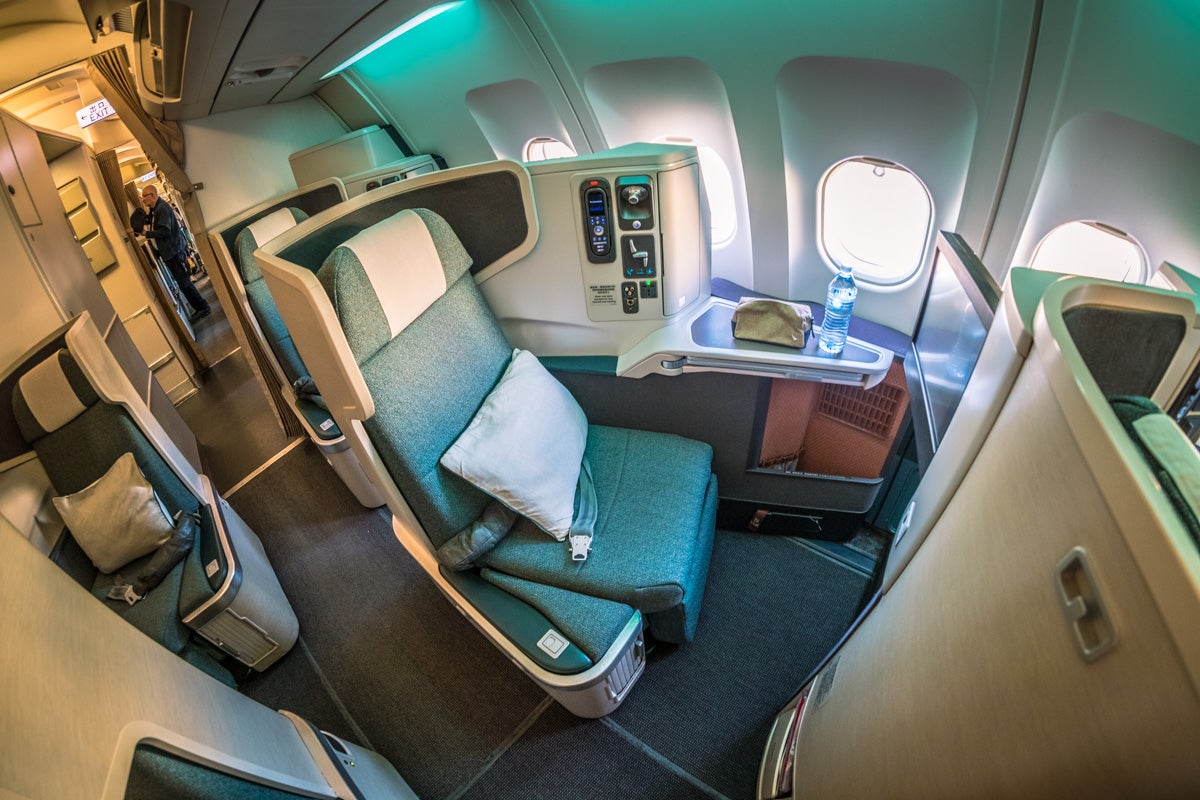 This meant I had a perfect view of the gate-to-gate wide-bodies on show at Sydney Airport during take-off:
Launched in March 2011, these seats are showing their age in terms of color scheme, materials, and scratches.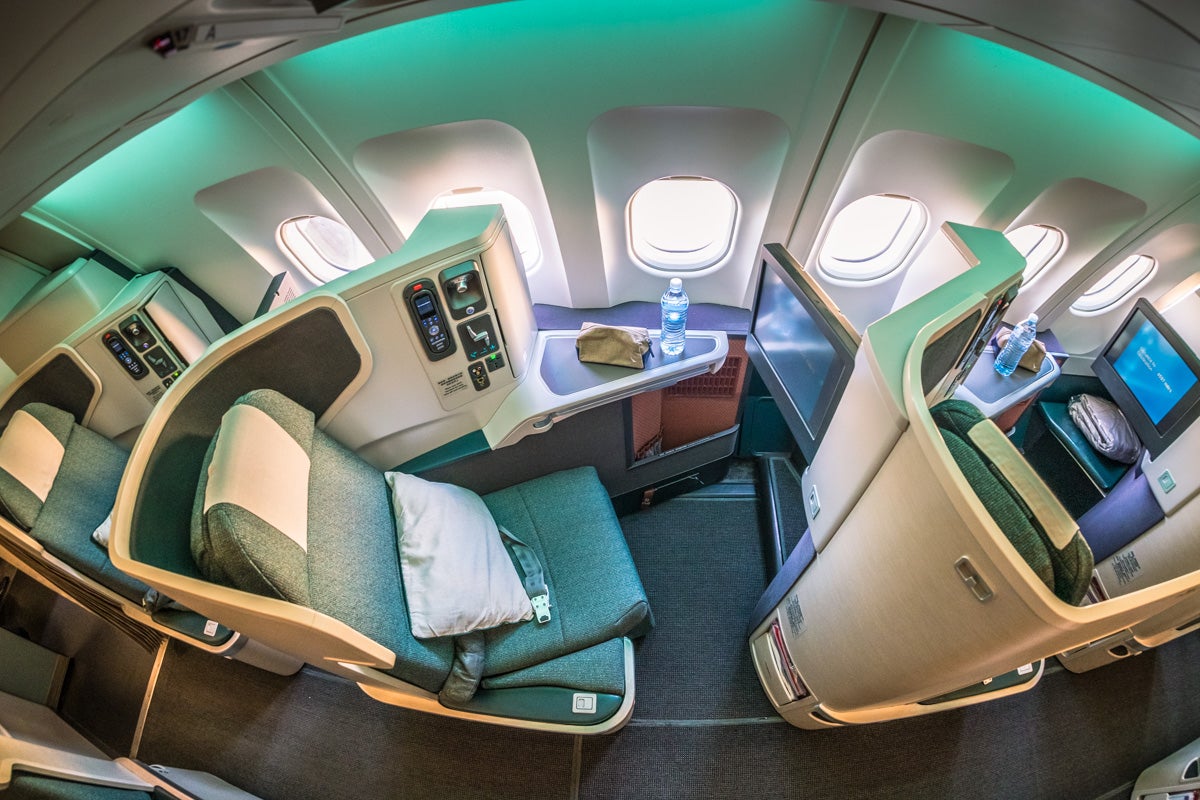 All the key lighting, inflight entertainment, seat controls, power sockets are positioned at eye level. Due to the age of the seat, there isn't a high-powered USB socket.
A small storage cupboard houses the noise canceling headphones, the headphone jack, and there is a mirror on the door.
The ottoman and footwell are quite large for a A330 business class seat and it has a footrest on the floor in front. It misses out on a storage space under the ottoman like you would find on a Super Diamond reverse herringbone seat.
An open storage bin alongside the window has a pocket to hold a water bottle.
A manual, height-adjustable armrest is stowed for take-off.
Under the armrest is a small doored storage compartment that the cleaners obviously miss, which I used to store my shoes.
The tray table pulls out from the side console. However, it doesn't have any reach adjustment.
There were no individual air nozzles were overhead, and the cabin was unfortunately kept very warm during the flight. I always pack in some shorts just in case and I needed to change into them.
Cathay only provides a single pillow and a blanket; no mattress topper or pajamas are provided, even on long-haul flights.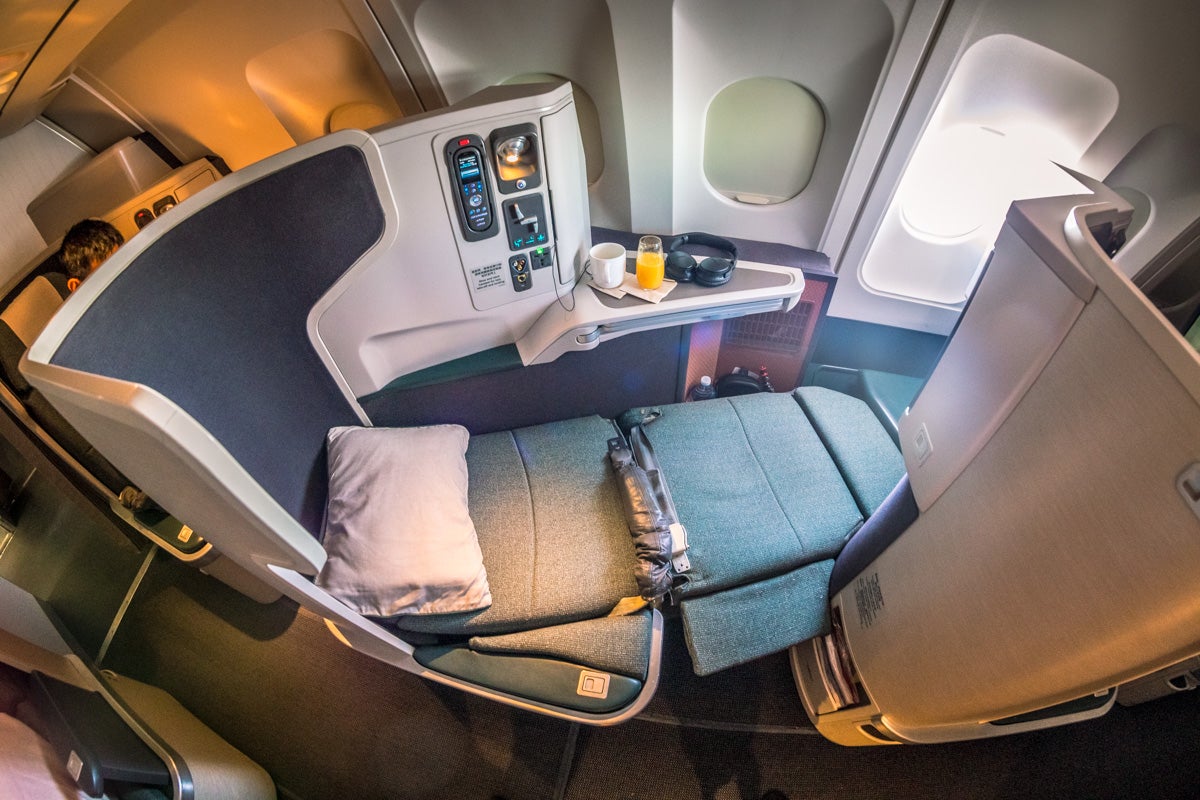 The wings on the seat provide decent privacy at eye level and I never caught a glimpse of a fellow passenger across the cabin.
There are 2 lavatories at the front of the aircraft and another between the 2 business class cabins.
Entertainment
This old cabin features a 15-inch touchscreen that isn't competitive compared to newer cabins.
A remote control is also available, but I found myself just using the touchscreen.
Despite the dated entertainment system, there was a huge selection of content that included 90 movies. But you will tire of the 3 minutes of advertisements before each movie starts.
Noise-canceling headphones are supplied but had poor audio quality, so I used my own.
The moving map really shows how old this plane is.
Unfortunately, there was no Wi-Fi.
Around 5.5 hours into the flight, my movie stopped and wouldn't restart. I paged a crew member, who was already rushing through the cabin, as the entire inflight entertainment system (IFE) had gone down. The crew had to reboot the system twice, and judging by the DOS loading screen, it said the system was from 2006. It took over 40-minutes for the system to function again.
Amenities
The amenity kit design and contents don't look like they've changed in the 2 years since I flew Cathay last. It includes non-slip socks, eye mask, dental kit, lip balm, ear plugs, and mouth wash.
Meal and Service
I have never been impressed by the meals on previous Cathay Pacific flights. From the way it is presented in the straight-from-oven dishes, to the way it was served from the trolley, or even the flavors. As such, I had been eager to try the new meal service that was announced October of 2018 that introduced a restaurant-style service and improved meal options. Thankfully, the new service was rolled out on my flight just days earlier.
Fiona, the cabin service manager, and Javvin, senior cabin crew, both introduced themselves on boarding but that is where the interaction ended.
Prior to taking off, I was offered an orange juice, apple juice, or water. Sparkling wine or Champagne wasn't an option, so a mimosa was also off the table.
Once we were airborne, around 8:15 a.m., a tray of drinks was brought around including orange juice, apple juice, or a strawberry oatmeal smoothie. I tried the smoothie which was nice.
Also absent was 'The Menu', in a newspaper style that has been widely promoted by Cathay. Instead, the crew member asked if I wanted a "Chinese, continental, or western breakfast."
The crew finally cracked open the sparkling/Champagne; I'm unsure of what it was as there was no menu and the crew served me 2 mimosas with breakfast. The crew member said they made a mistake, but I wasn't going to send one back.
Breakfast was served around 9 a.m., and the western option turned out to be an omelet–a bland and flavorless omelet—with a side of spinach, sausage, and awful beans. It looked as unappealing as it tasted, and I couldn't finish it. But it was served on a nice black tray straight from the galley instead of from a trolley, so I guess that's a positive.
I managed to find an electronic menu online and the options listed were:
Chinese: seasonal fresh fruit, prawn and ling congee, stir-fried rice vermicelli with mixed vegetables
Continental: seasonal fresh fruit server with warm pastry selection, Greek yogurt, apricot and raisin compote, granola
Western: seasonal fresh fruit served with warm pastry, omelet, Italian pork sausage, Boston braised beans, and spinach
Express: for a quicker breakfast, a warm pastry selection served with your choice of beverage
Straight after the meal service, the crew plunged the cabin into darkness, despite it being a day-time flight.
Around 10:15 a.m., the crew came around with some warm nuts.
Following the IFE failure and considering my early start, I decided to take a nap, yet the crew decided to turn all the cabin lights back on and start the second meal service 4 hours out from Hong Kong! On every flight I can remember, the second meal service is usually 2 hours before arrival to maximize your rest during the middle of the flight.
The crew asked if I wanted a beef burger or nasi goreng (fried rice). I opted for the burger as I have never had a burger on a plane before.
Even the full menu I found online read 'Light lunch served prior to landing.' It included:
To Start:
Mains:

Beef burger: emmental cheese, bacon, pickled onion, and zucchini on a toasted brioche bun with fries
Nasi goreng with chicken satay

To Finish:
I was impressed by the burger and thoroughly enjoyed it. I was also surprised by the fries that I knew wouldn't be deep-fried and crispy; they were a bit soggy but tasted great.
The cabin lights were turned off once again for the remaining 3 hours to Hong Kong.
Following the second meal, my empty wine and water glass sat on my console until the top of descent, I wasn't offered any refill and no cabin crew member was present in the cabin to even clear them if they thought I was finished.
Final Thoughts
Despite the age of the cabin, the Cathay Pacific A330 Business Class seat is still a good place to sit/sleep on the 9:45hr flight between Sydney and Hong Kong. It has one of the larger footwells and at over 6.5 feet (2 meters) in length, the bed-mode means lots of room to stretch out in bed-mode. If only the service flow allowed for rest!
Overall the crew did a fine job; they were pleasant, and the first meal was served promptly. But there was nothing memorable about the service delivery and the early second meal service made the flight feel longer than it was and prevented me from getting any rest.
The new restaurant-style meal service is an improvement over the previous offering, but when you consider the competition they could have benchmarked against, I believe they could have tried to raise the bar higher. Take for example, Virgin Australia and their tray-less restaurant-style meal service with Luke Mangan meals who operate the same route, Singapore Airlines with 'Book the Cook', or  the Middle Eastern carriers with dine-on-demand and extensive menu options.