Hong Kong Airport Lounges: Making the Most of 9 Hours [The Pier, Wing, Bridge & More]
I recently booked a Cathay Pacific award seat between Sydney to Amsterdam through Hong Kong.
On New Year's Eve, I received a call from Cathay saying it had canceled my original 10:15 a.m. service and bumped me forward to the 7:35 a.m. service which meant a 4:30 a.m. alarm and a 9-hour layover in Hong Kong before my 12:30 a.m. flight to Amsterdam.
Reviewing my options, I could either catch a train into the city to spend a few hours there or, alternatively, see how many lounges I could visit at the airport. I chose the latter, all for the purposes of this review, of course.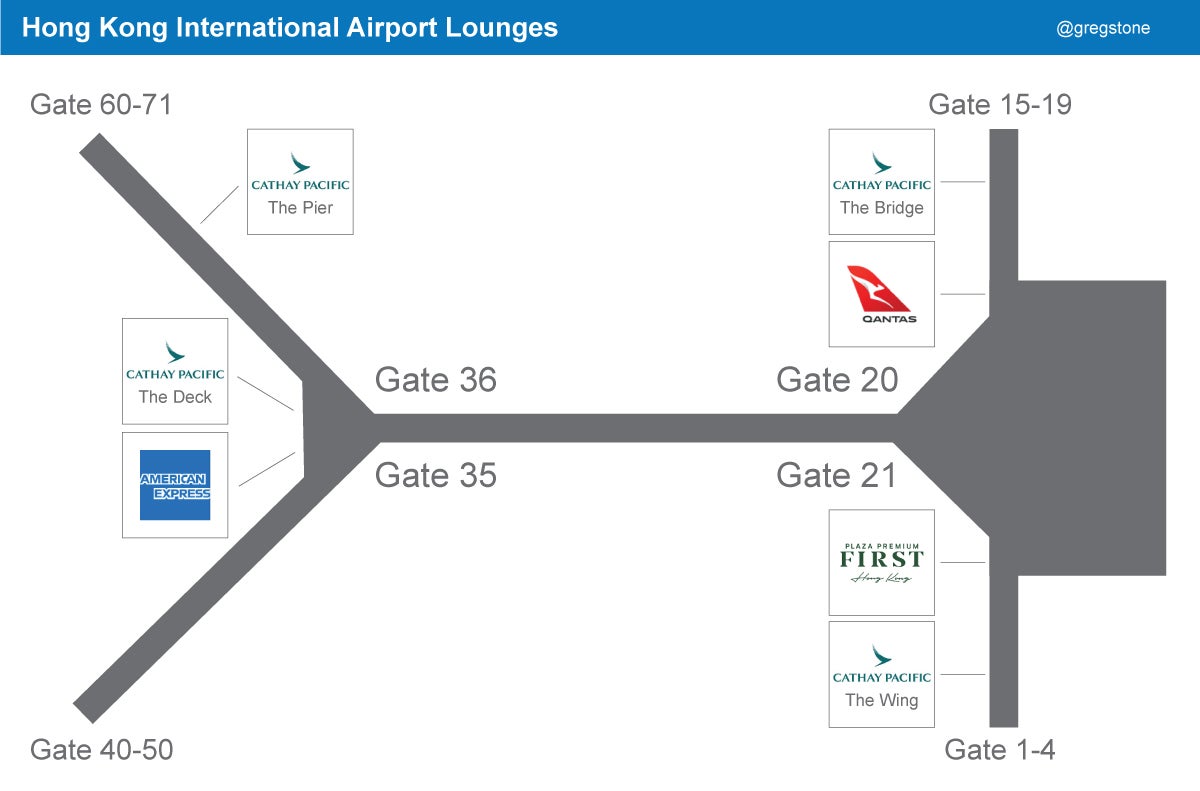 Hot Tip: If you are arriving at gates 25-36 and are in transit, you may prefer to head against the people traffic and head towards the western pier to transfer closer to The Pier, The Deck, or American Express Centurion Lounge.
Cathay Pacific – The Pier Business Class Lounge
Hours: Open daily from 5:30 a.m. – 12:30 a.m.
Closest Gate: 65
Arriving at 3:30 p.m. from Sydney, and considering I had been up since 4:30 a.m. Sydney time, I needed a caffeinated beverage ASAP. After clearing transit security, which was a breeze, I made a beeline to The Pier as I knew they had a tendered bar that made a great espresso martini.
3:52 p.m.
Located at the far end of the terminal, The Pier is the furthest lounge from check-in, yet thankfully close to the transit point near gates 35/36.
The lounge is located down a set of escalators from the main departures level and is easy to miss if you don't know where to look.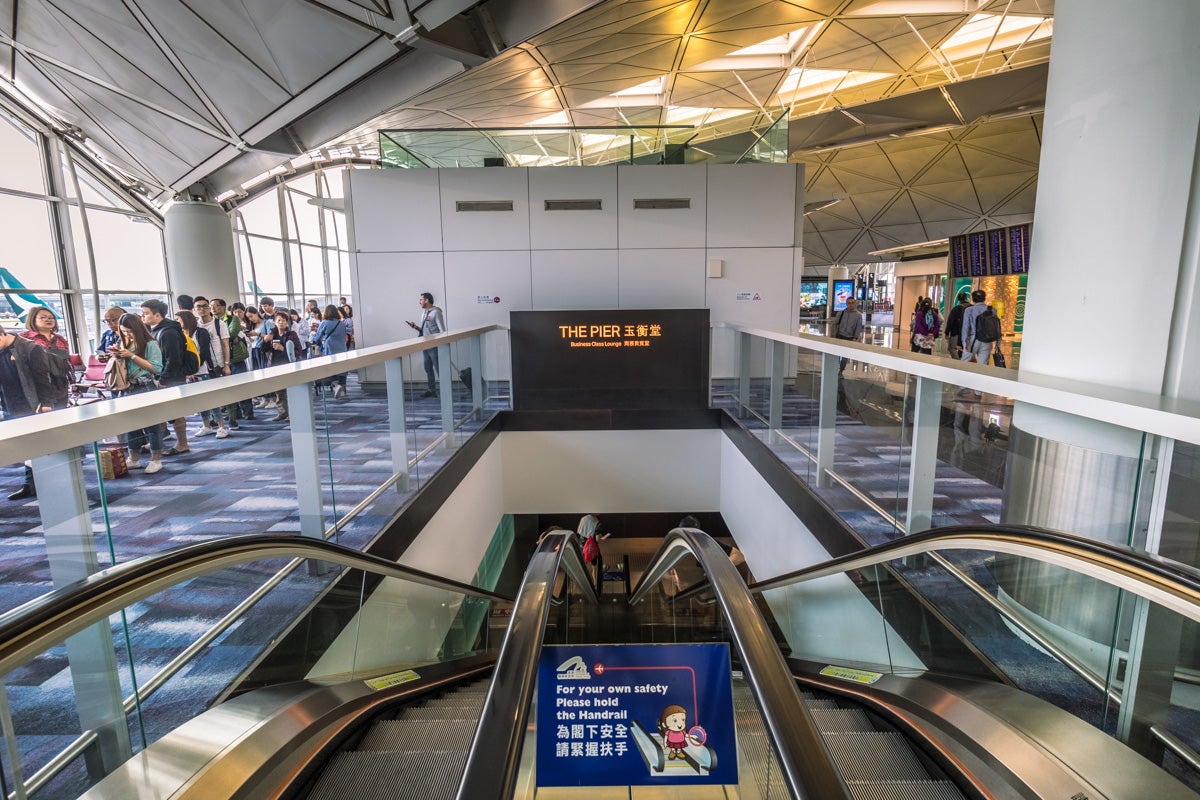 I showed my boarding pass to the reception staff who stamped it and allowed me to enter.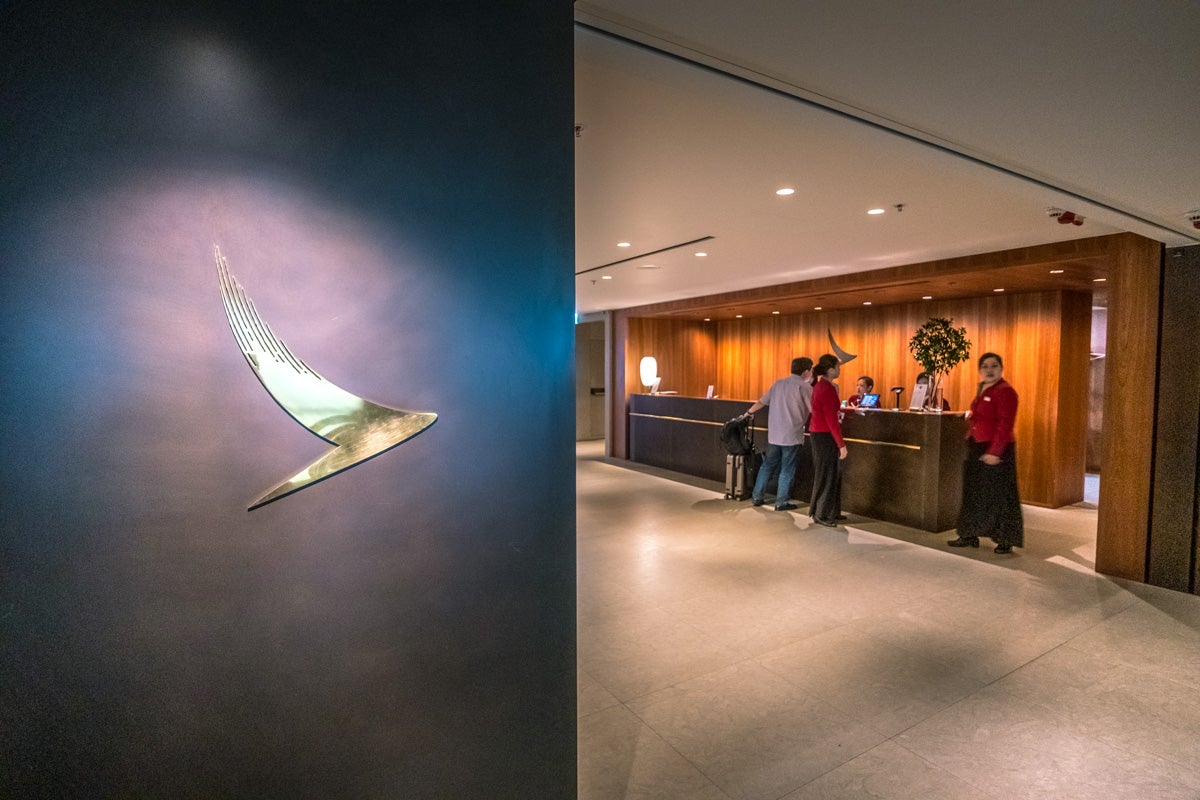 You'll immediately notice the change in ambiance from the terminal. Instead of expanses of metal, bright lights, crowds and noise, the lounge entrance sets the scene of what is to come; cherry-wood walls, plants, subdued lighting, and quietness.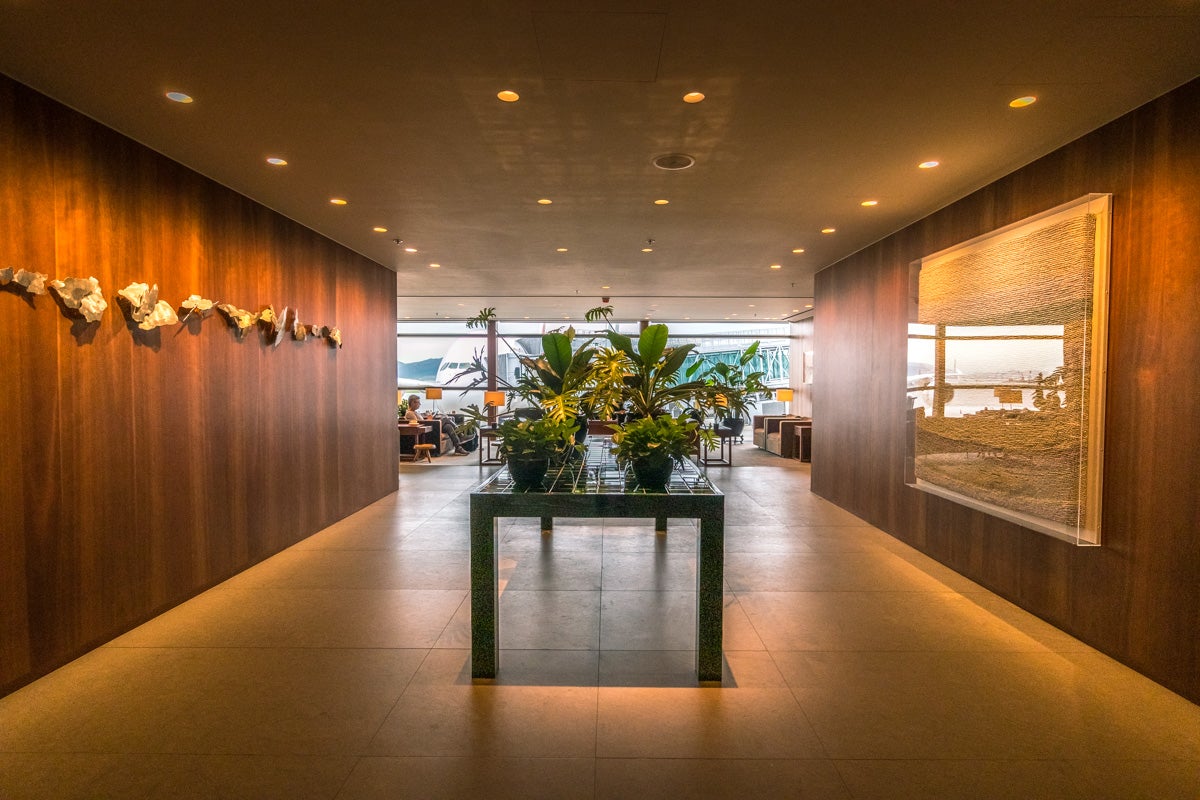 The lounge adopts Cathay Pacific's newest design theme created by Ilse Crawford and the team at StudioIlse which feels more like you're in a luxurious lounge room as opposed to an airport.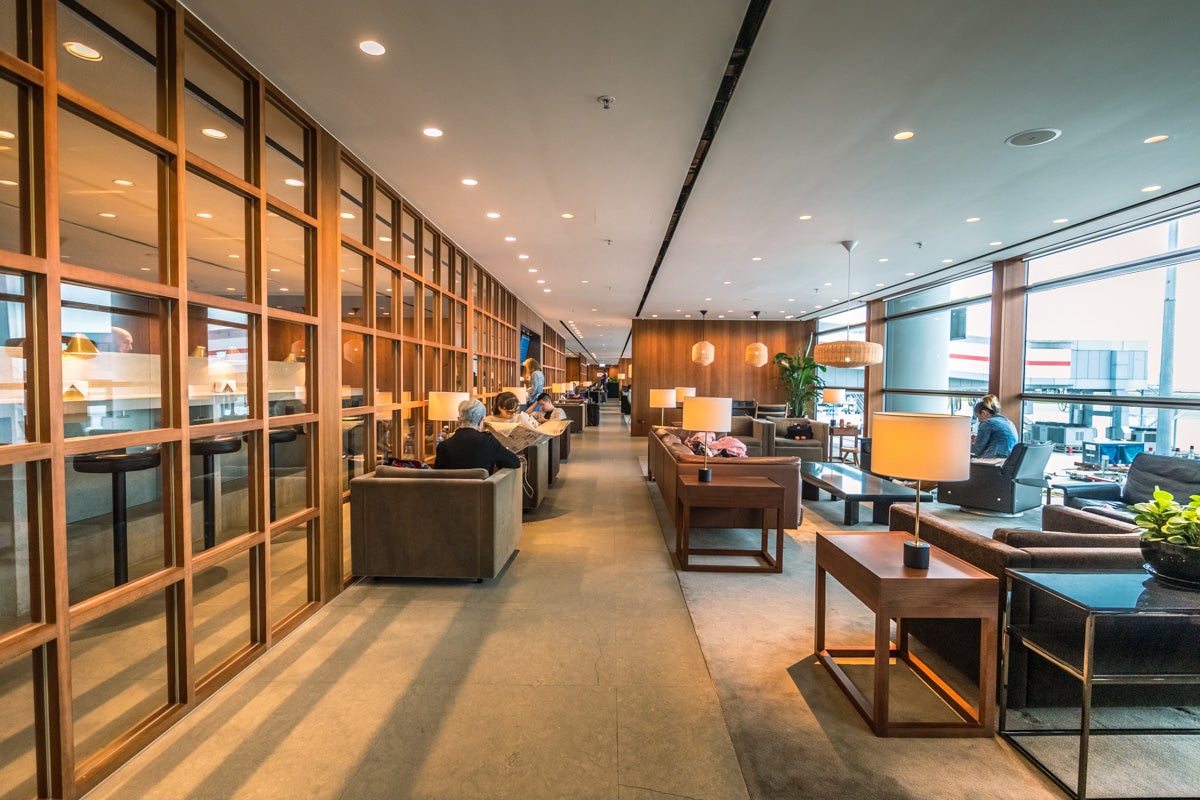 At this time of the afternoon, it wasn't busy and there were plenty of free places to sit.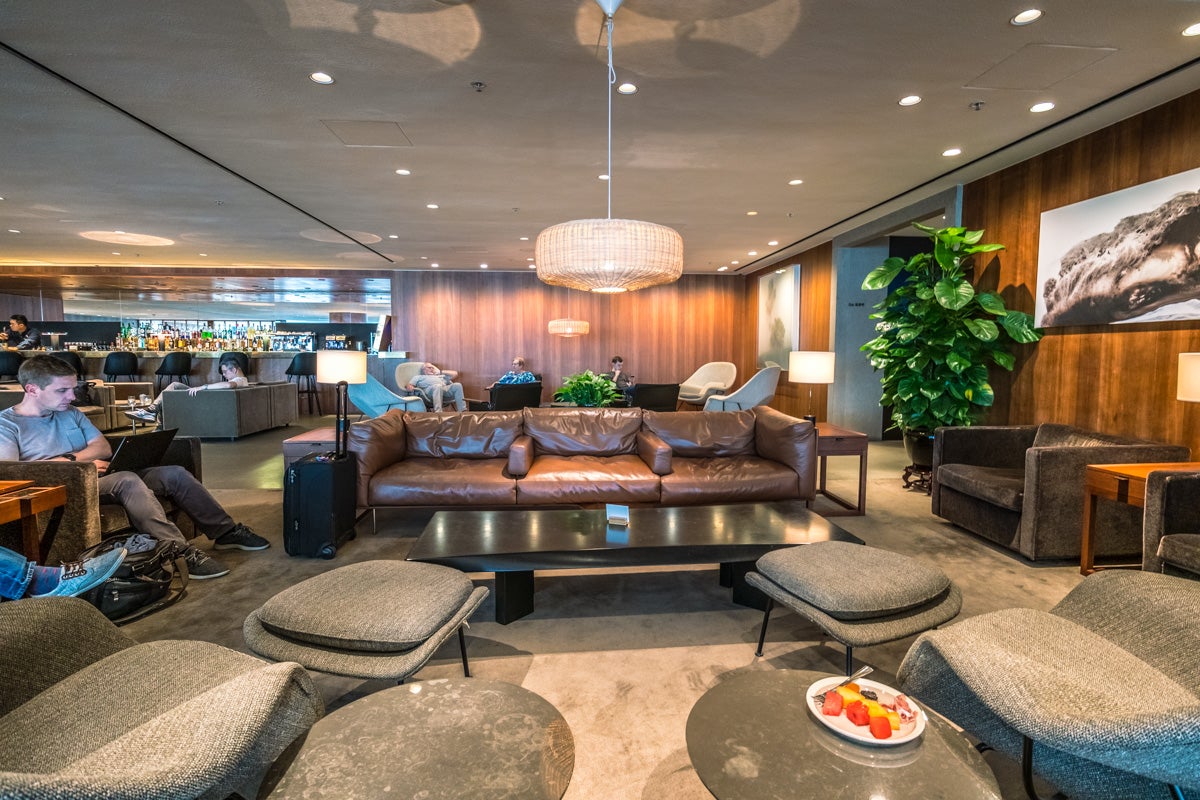 My first visit was to the tendered bar where I was met with a grunt from the bartender who didn't seem like he wanted to be at work that day.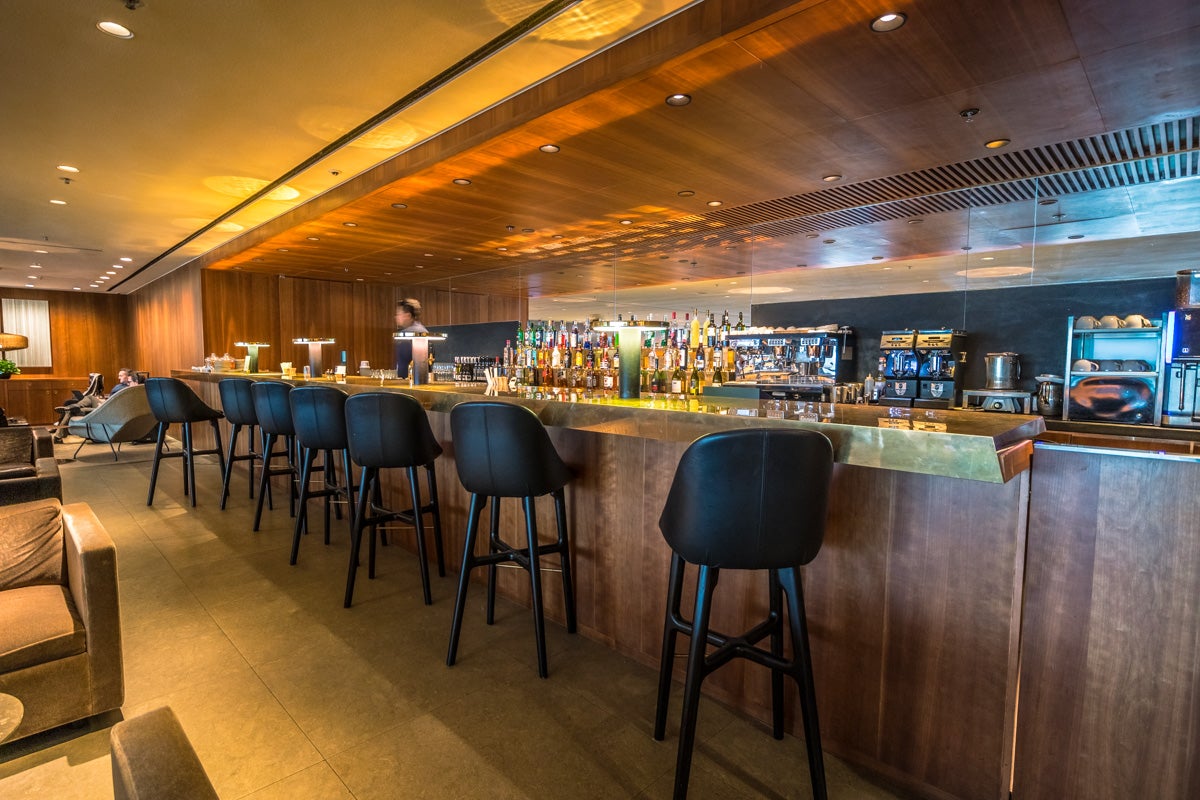 Thankfully, he made an excellent espresso martini.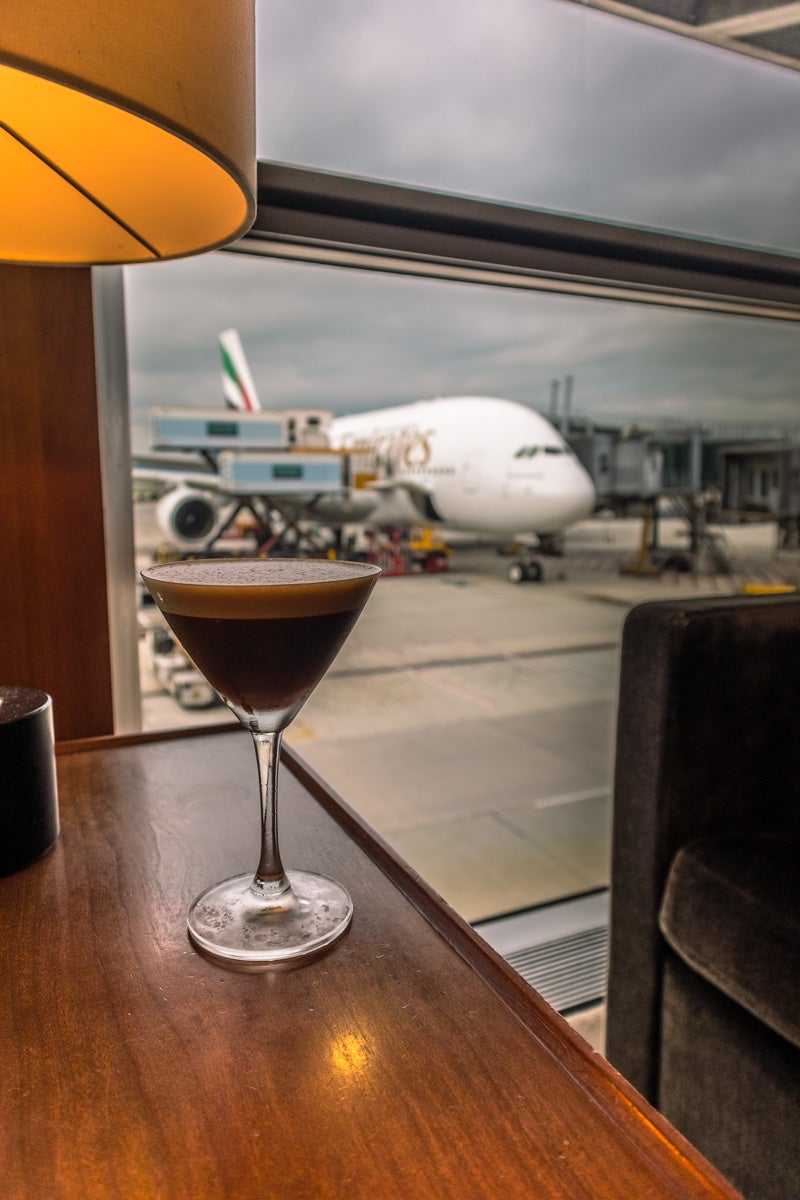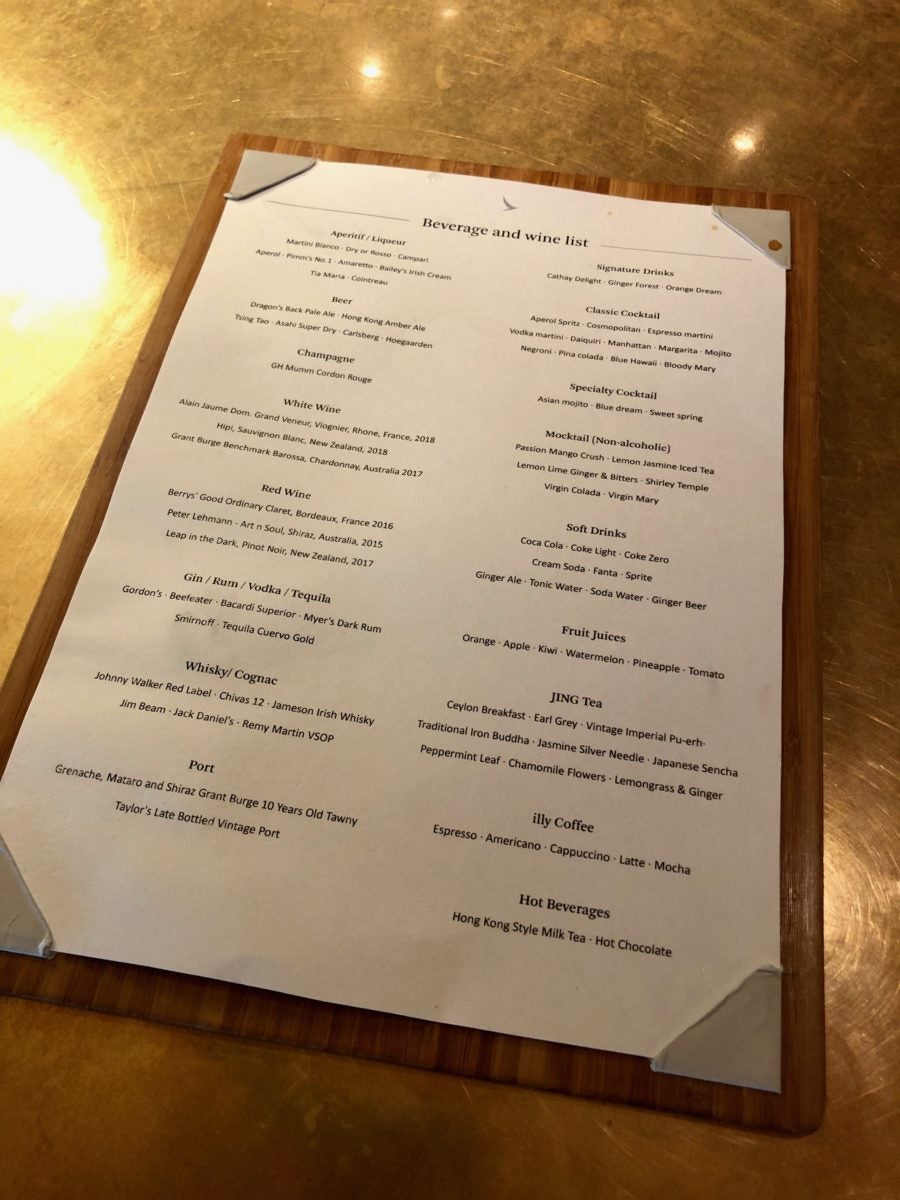 The lounge has excellent views across the tarmac and natural light floods the lounge in the afternoon.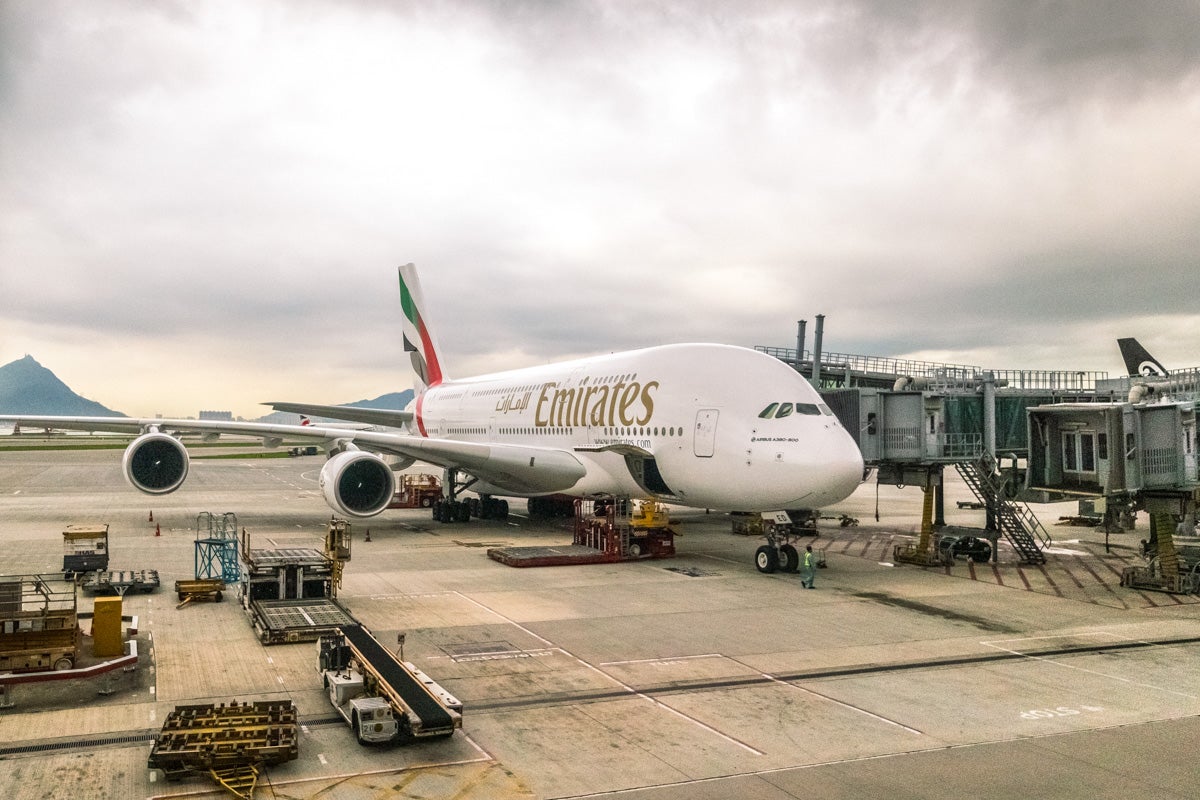 Throughout the lounge there are self-serve refreshment stations with automatic coffee machines, a selection of wines, and chilled beverages.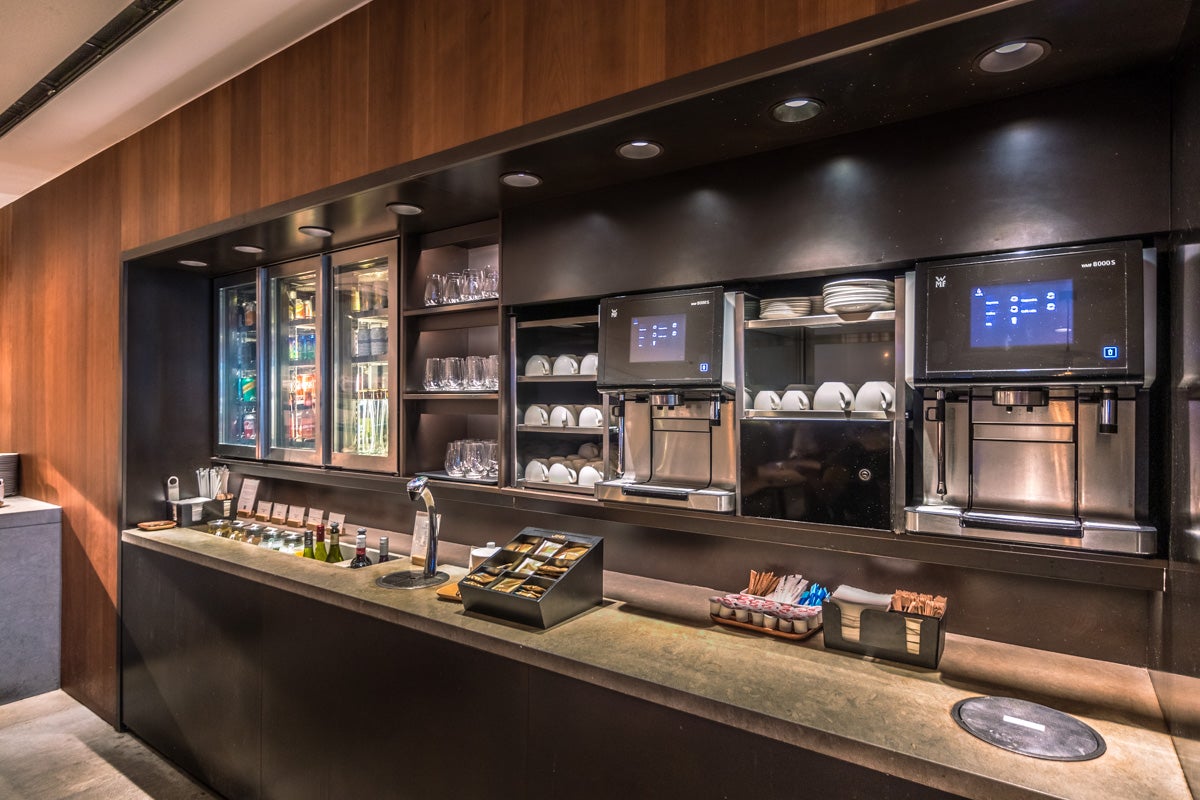 As all Cathay Lounges are silent lounges, there are no boarding announcements but there are plenty of flight display screens located in every zone.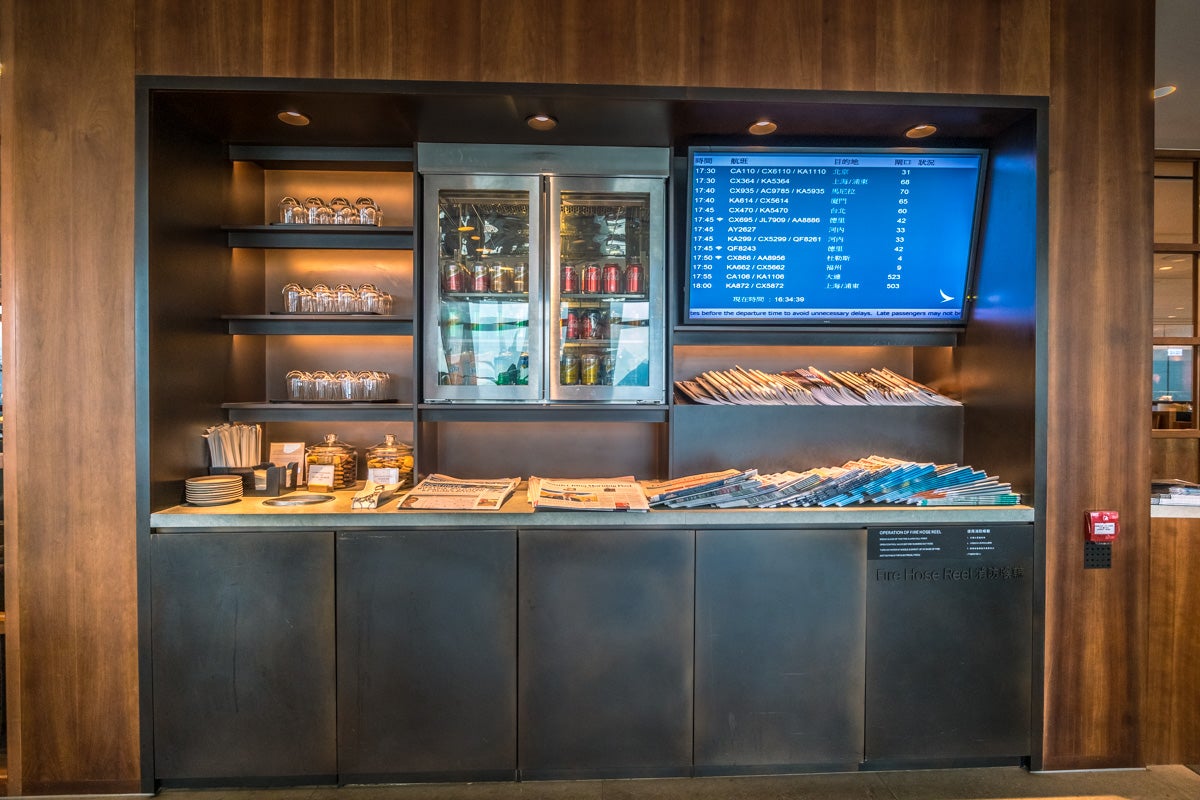 If you're looking for a bite to eat you can try the popular Noodle Bar which serves fresh, made-to-order dishes including dan dan, wonton noodles, dim sum, char siu buns, and dumplings.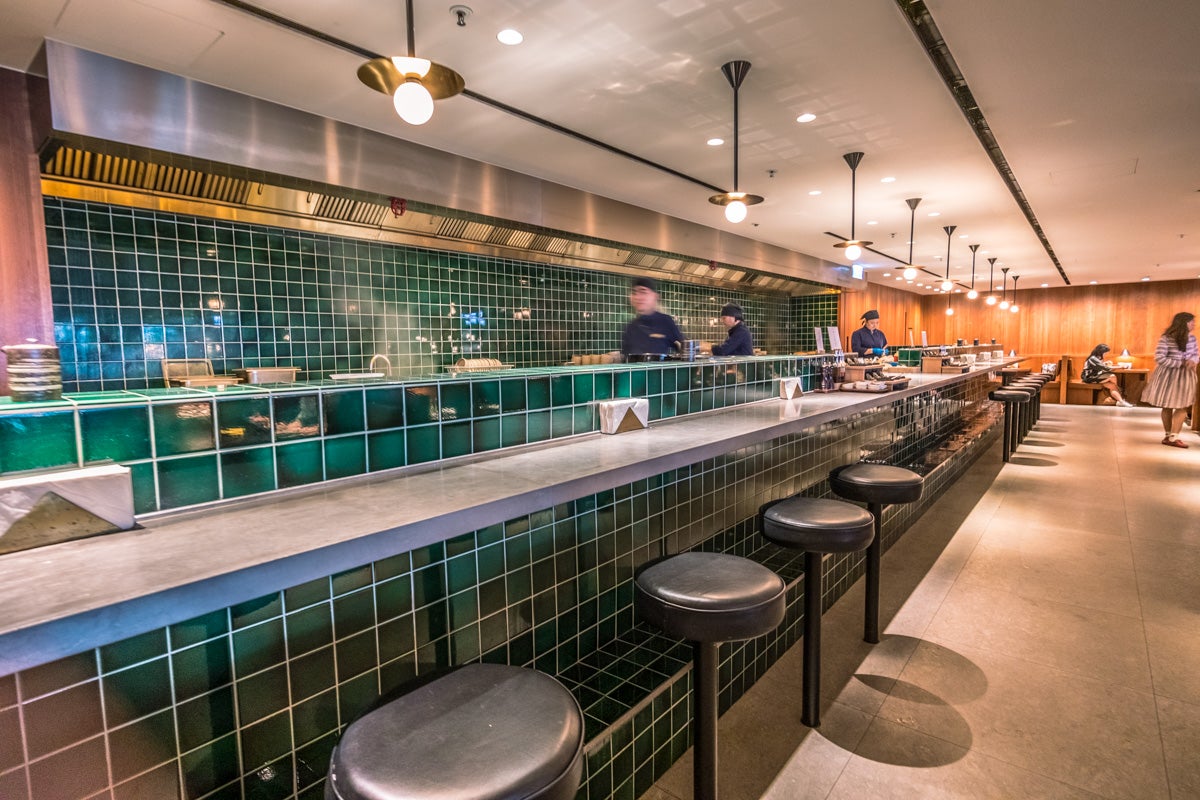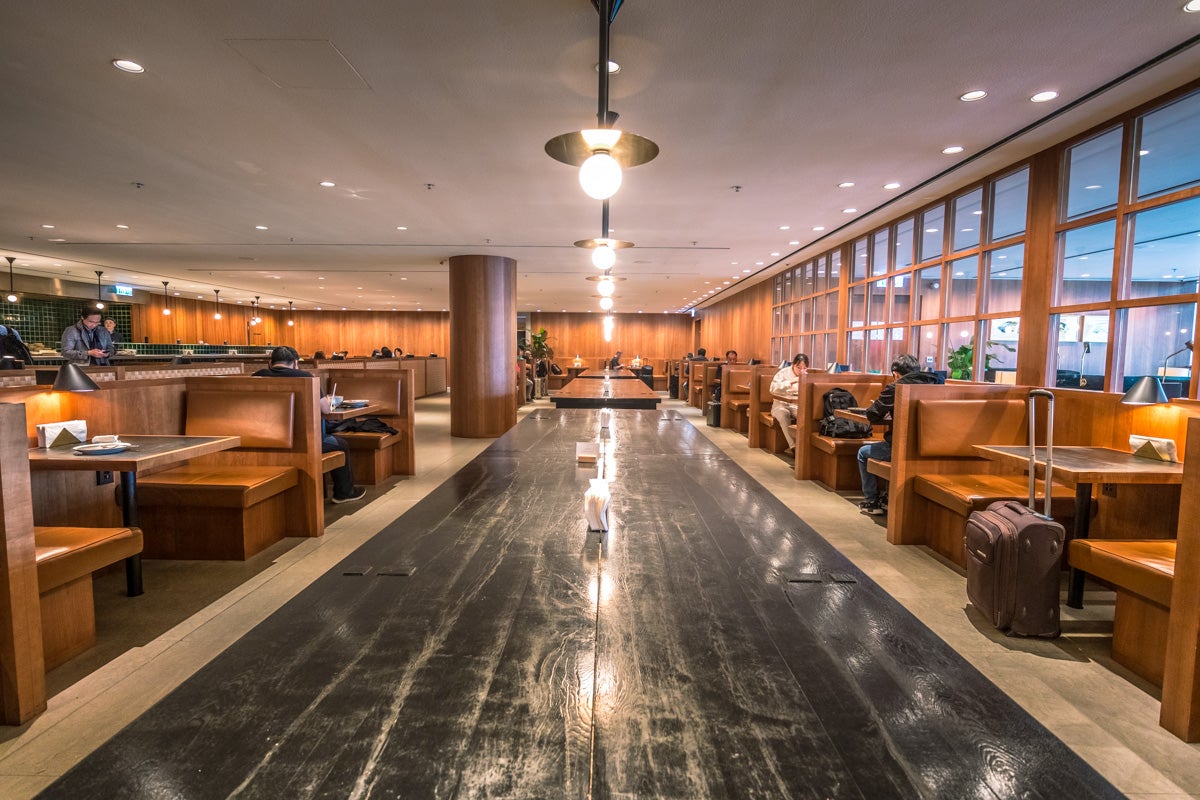 Other dining options include the deli-style Food Hall where you can select from a variety of hot dishes, sandwiches, desserts, fruit, and pastries. There is also barista-made coffee available from the Coffee Cart if you would prefer a better coffee to the automatic machines.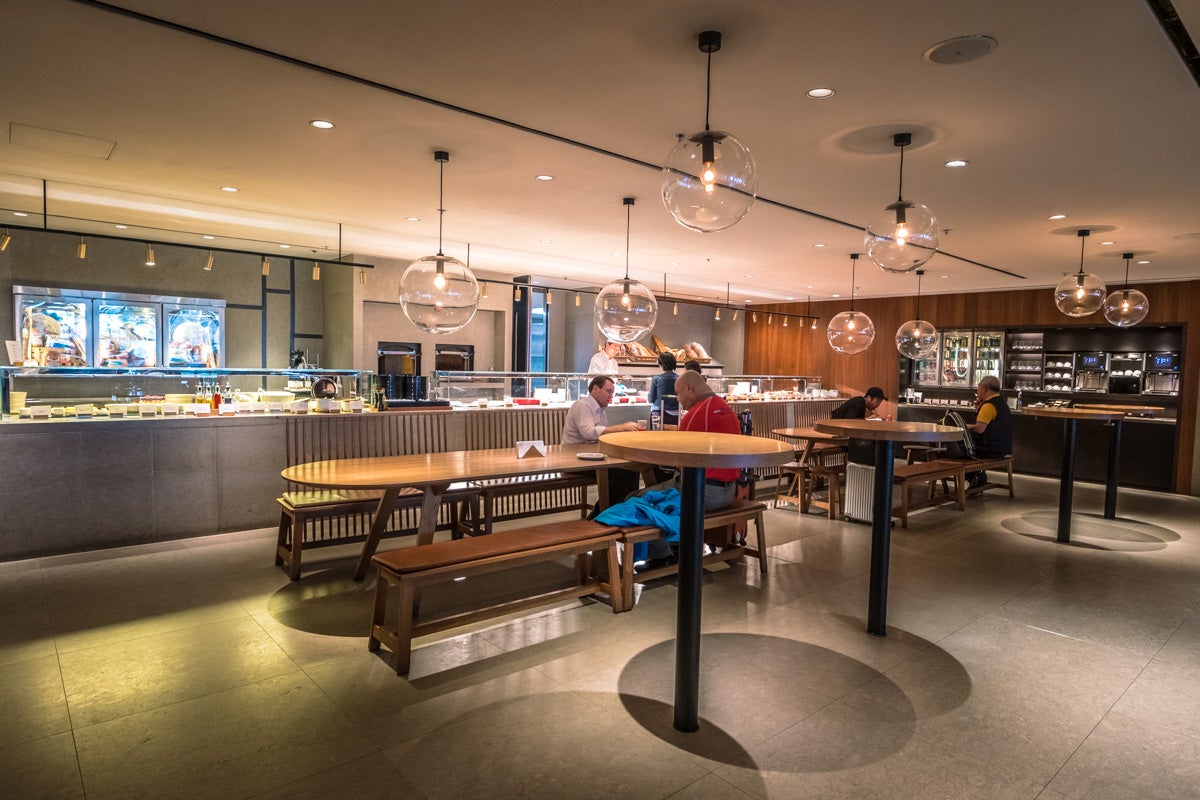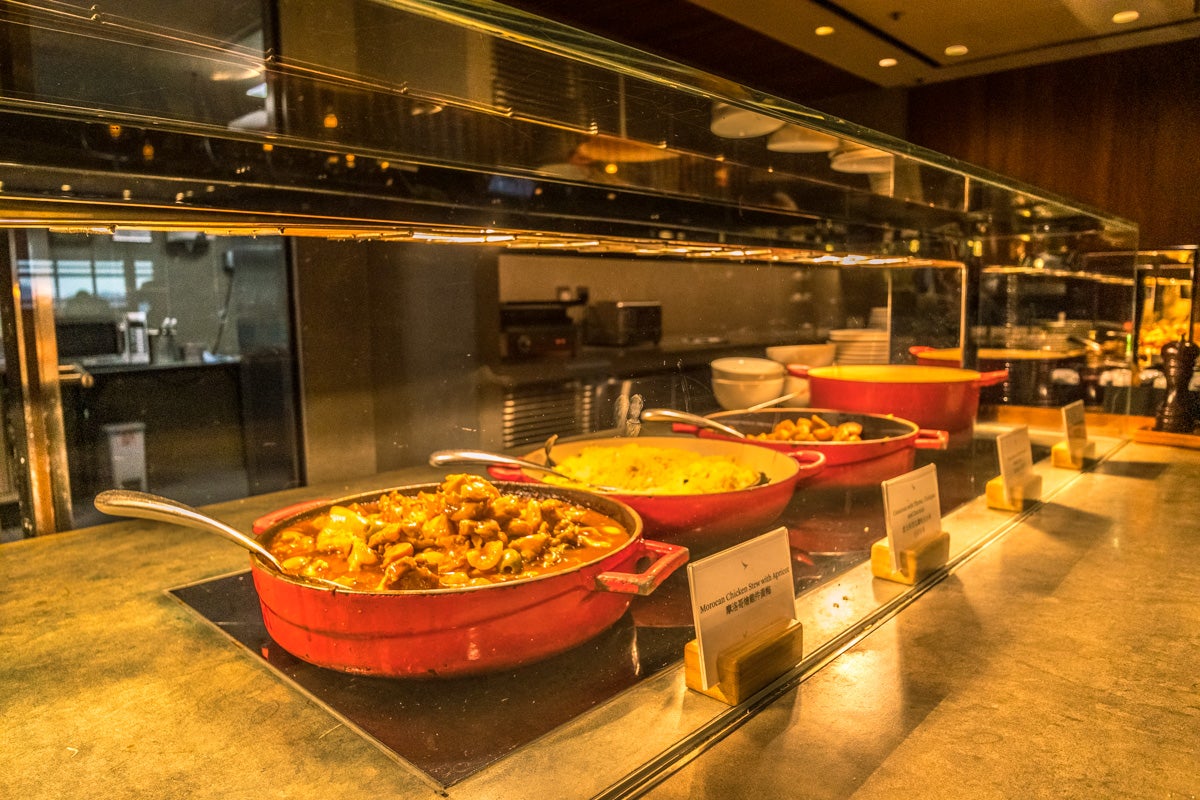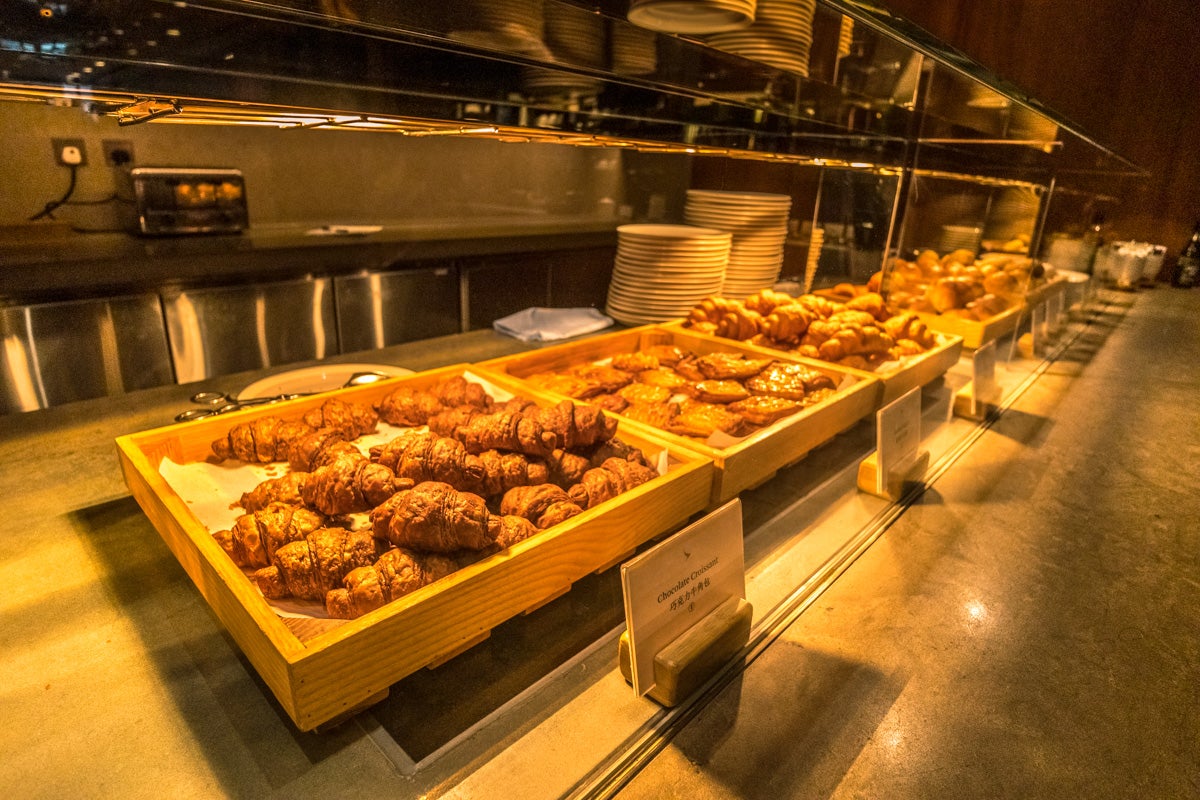 If tea is more your thing, then you can visit the Teahouse, where you'll find seasonal and artisanal tea varieties — a step up from the self-serve stations.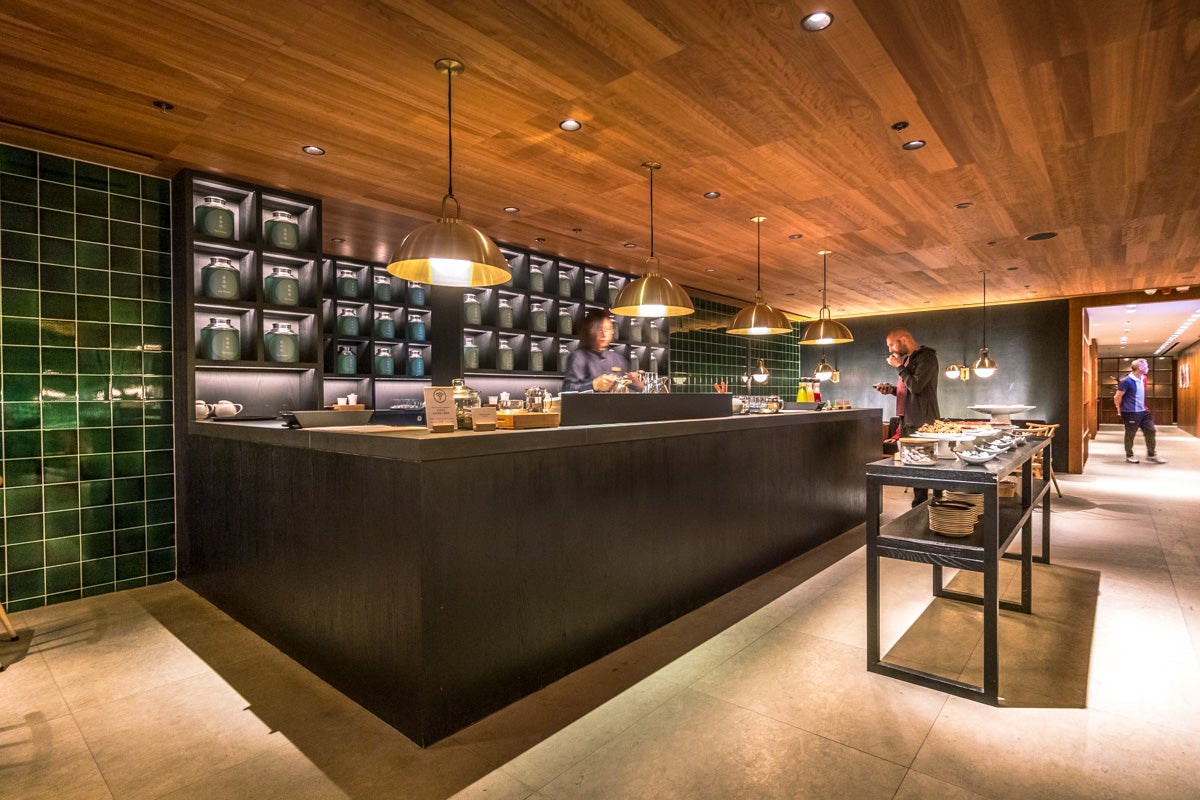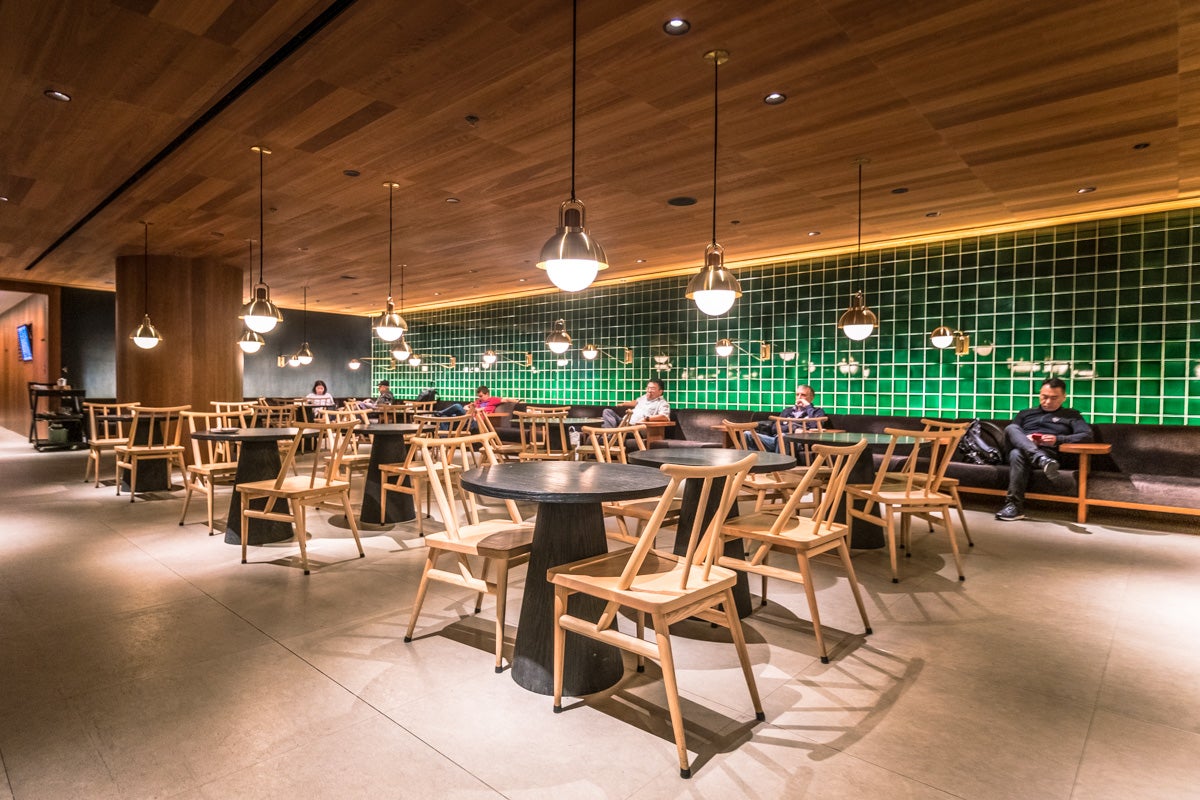 There are 14 shower suites available, however, I decided to shower later in the day before my connecting flight.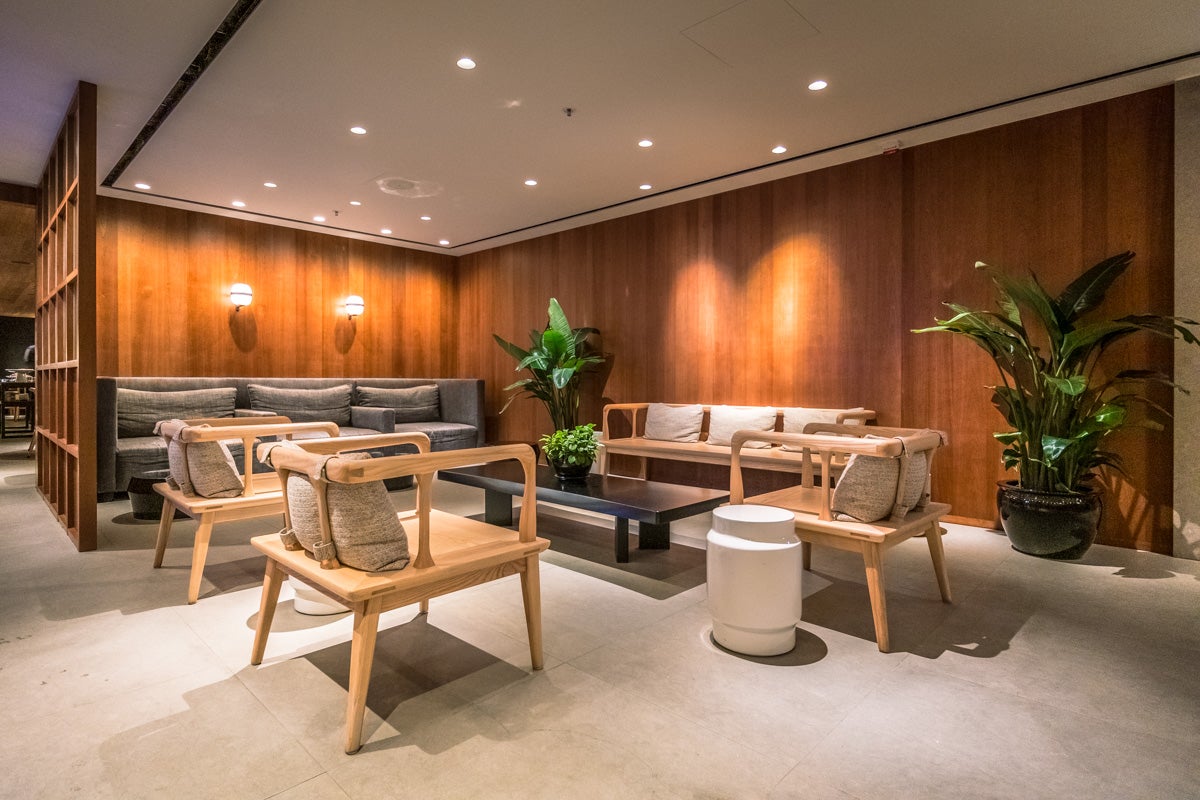 Resting pods are located at the far end of the lounge in the quietest corner, yet they don't provide much privacy.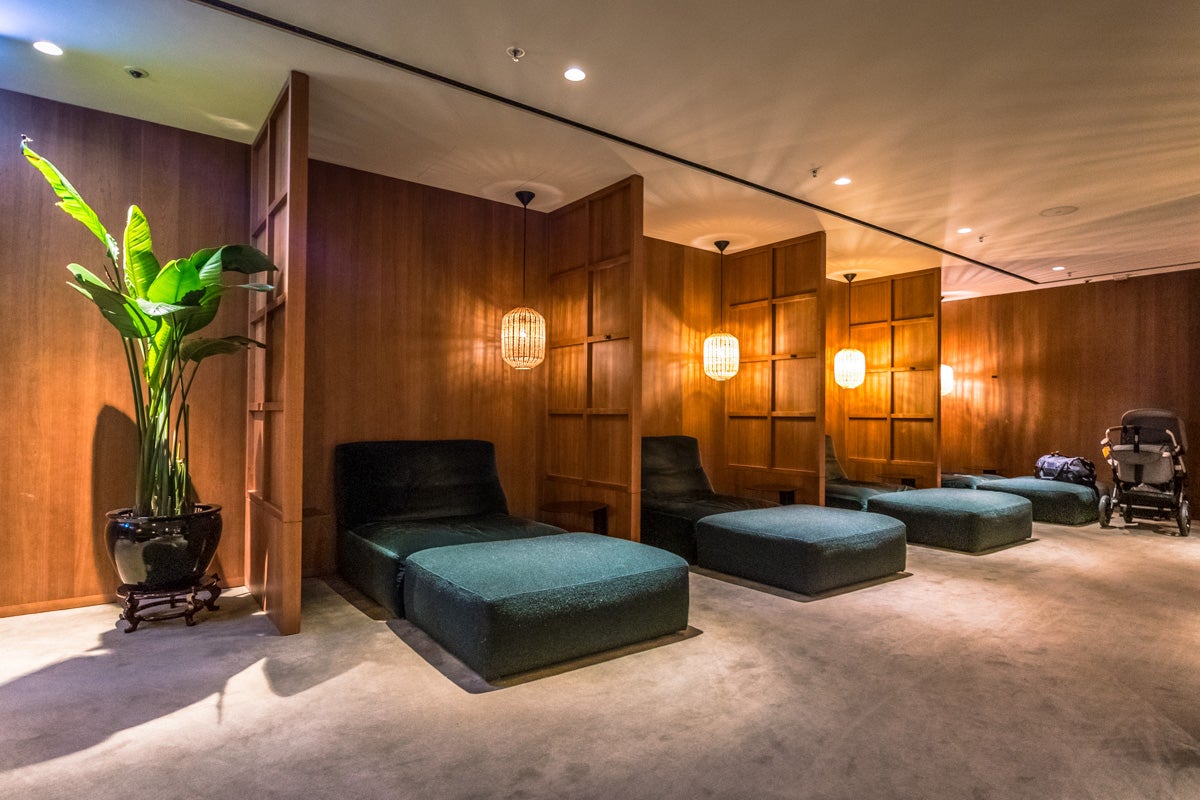 The newest edition to the lounge is the Sanctuary by Pure Yoga — a place to meditate, relax, stretch, or follow a TV-guided yoga class. There was a passenger using the space during my visit so I didn't what to photograph the rest of the zone for privacy reasons.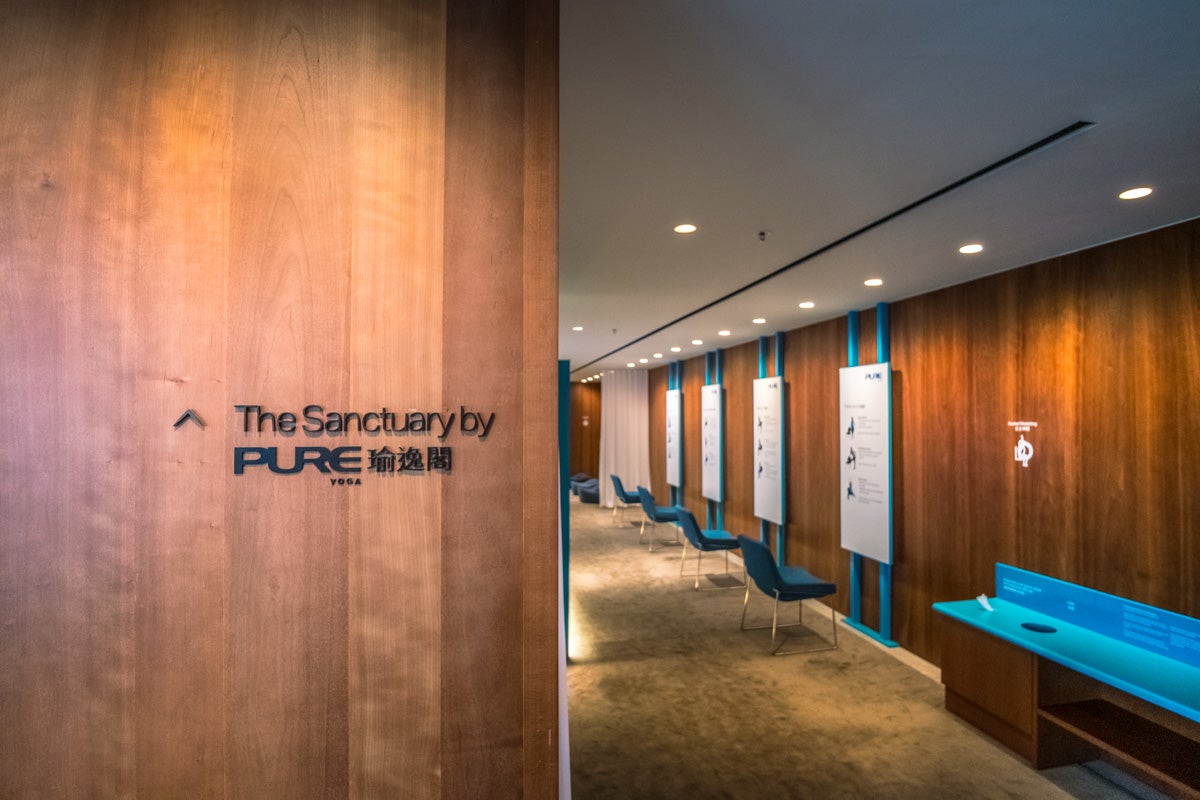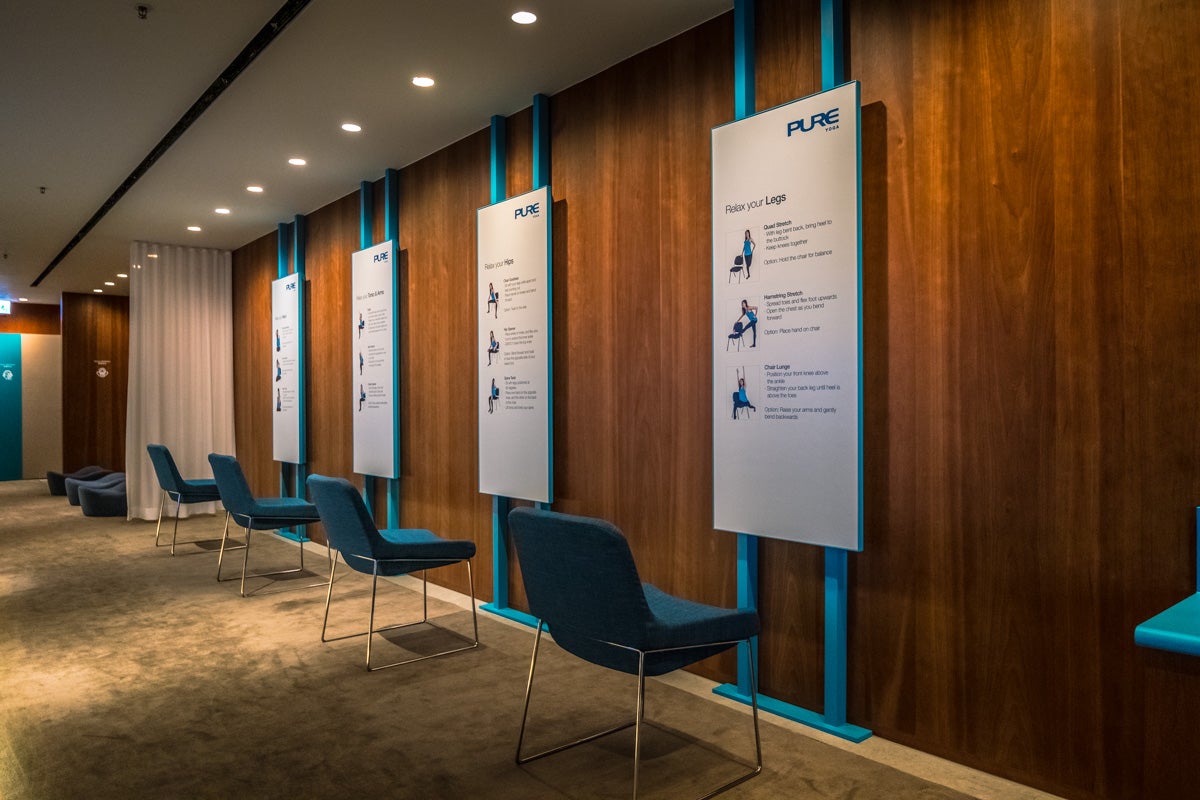 American Express Centurion Lounge
Hours: Open daily from 5:30 a.m. – 12:30 a.m.
Closest Gate: 60
Opened in October 2017, the American Express Centurion Lounge is located up the escalators before Gate 60 and is accessible with a Centurion, Platinum Card®, Business Platinum Card®, or Corporate Platinum card.
5:07 p.m.
On arrival there was a long queue which gave me time to get my boarding pass and Amex Platinum Card ready. Although the rules state they won't admit guests more than 3 hours before departure time, I was allowed in 7 hours before my scheduled departure time.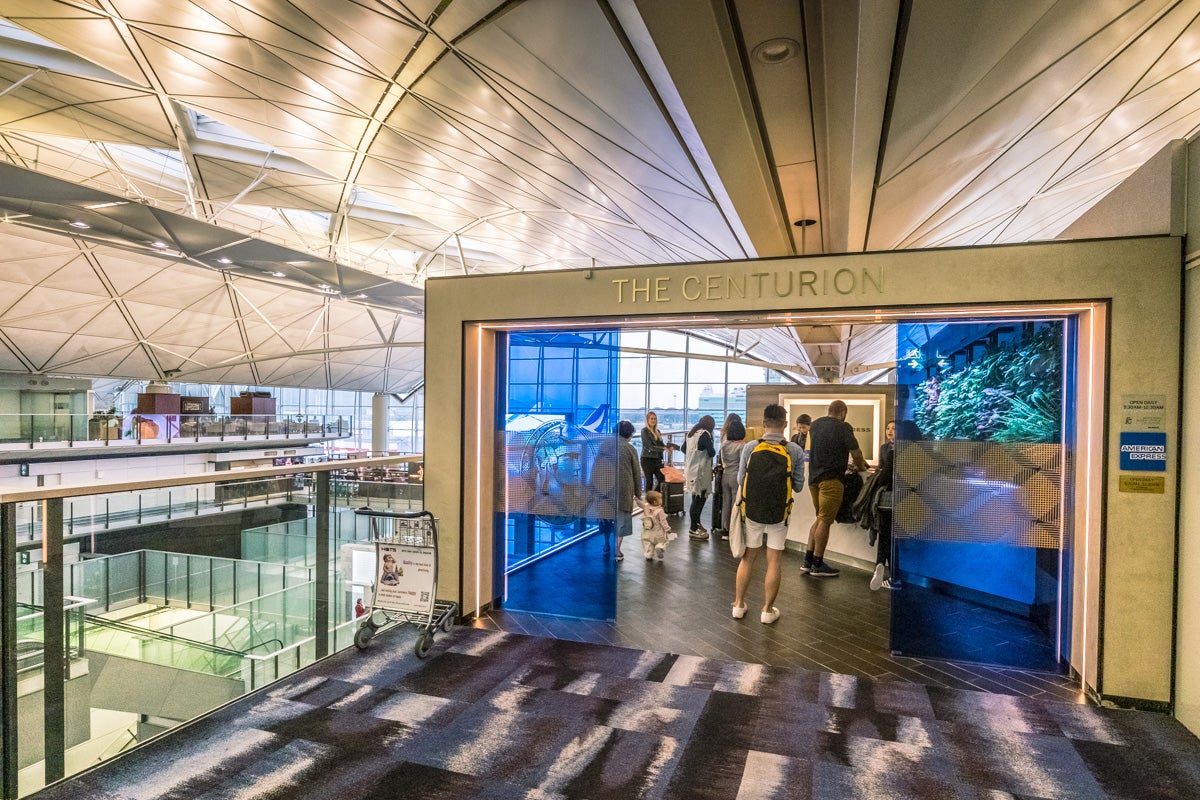 Oddly, if you're in transit you also must show your inbound boarding pass. When I asked why, the reception staff just said it was the process.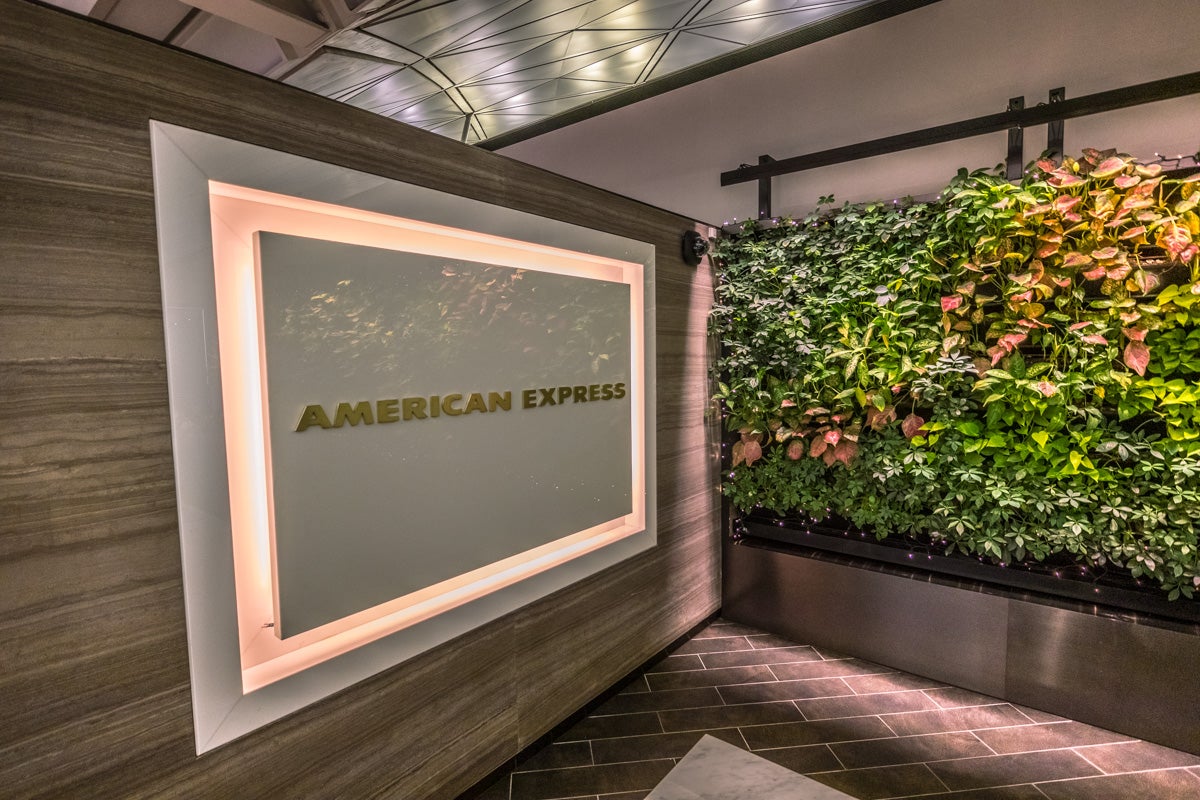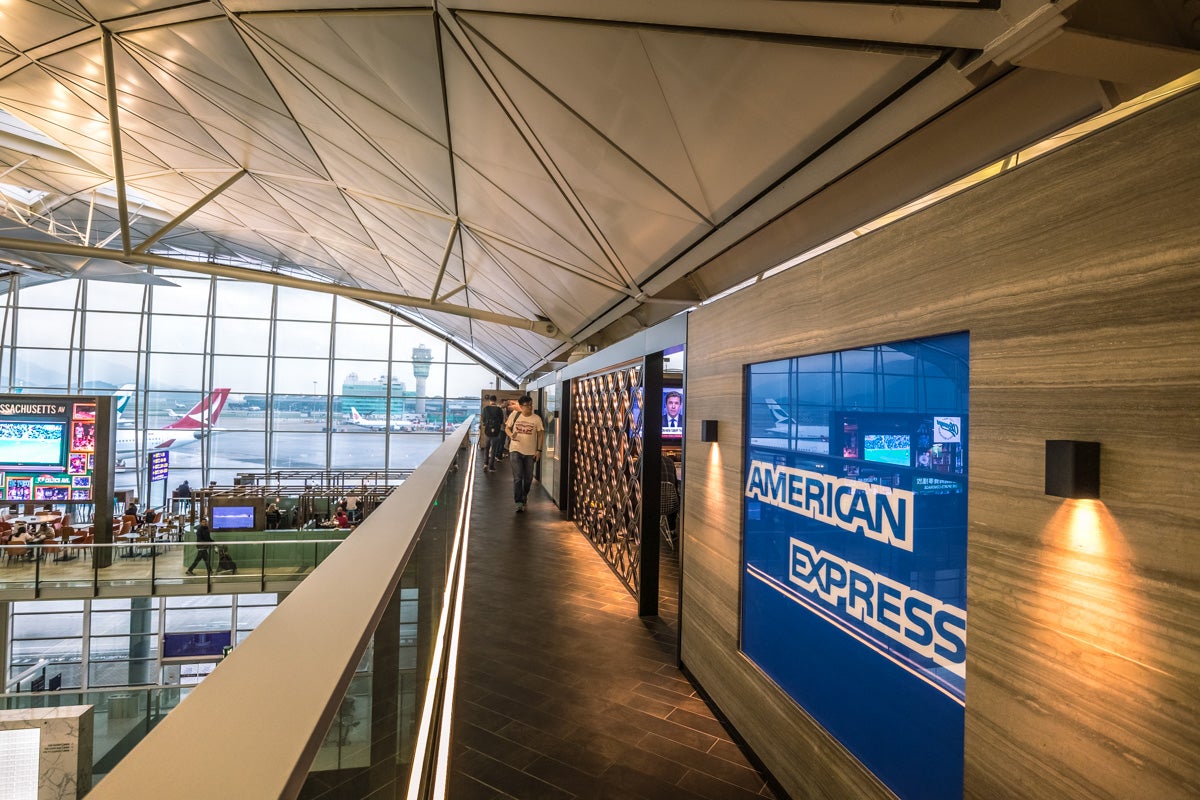 The lounge is positioned above the departure level so it is open to the entire terminal as opposed to the more cozy atmosphere of The Pier.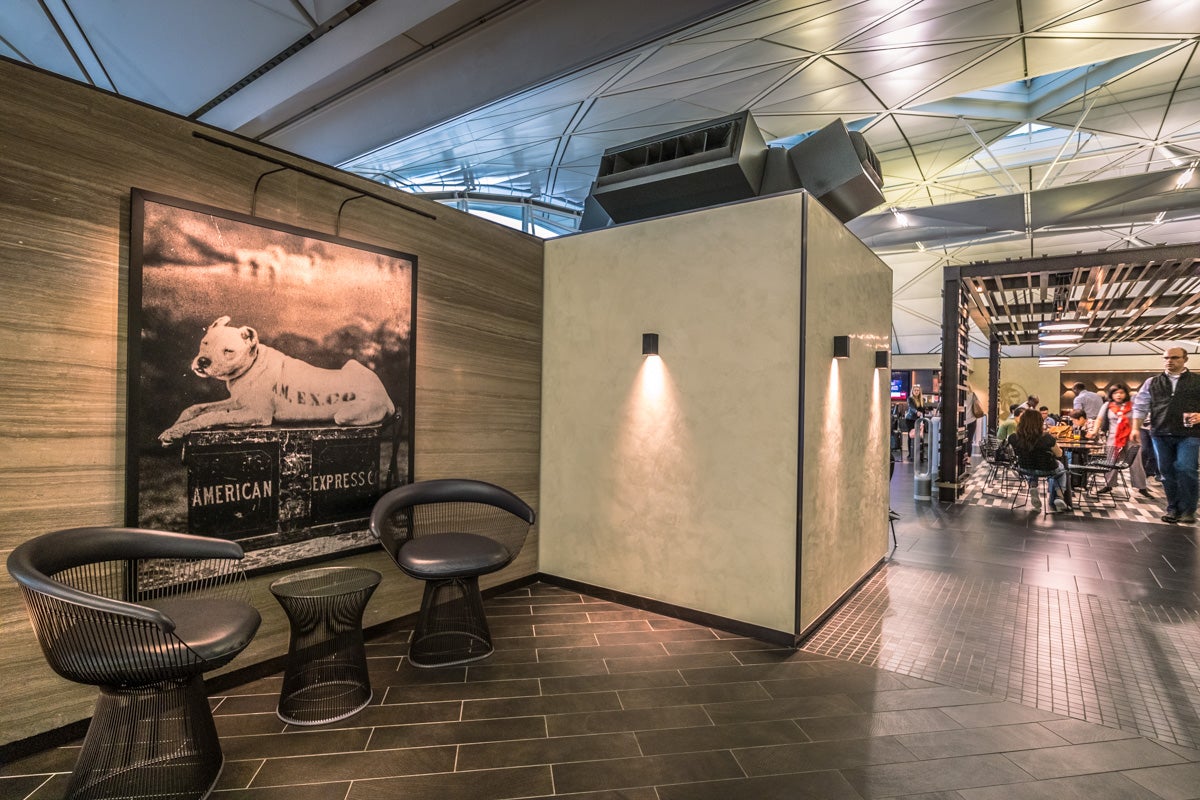 The lounge felt quite busy but thankfully I was able to grab one of the last unoccupied tables.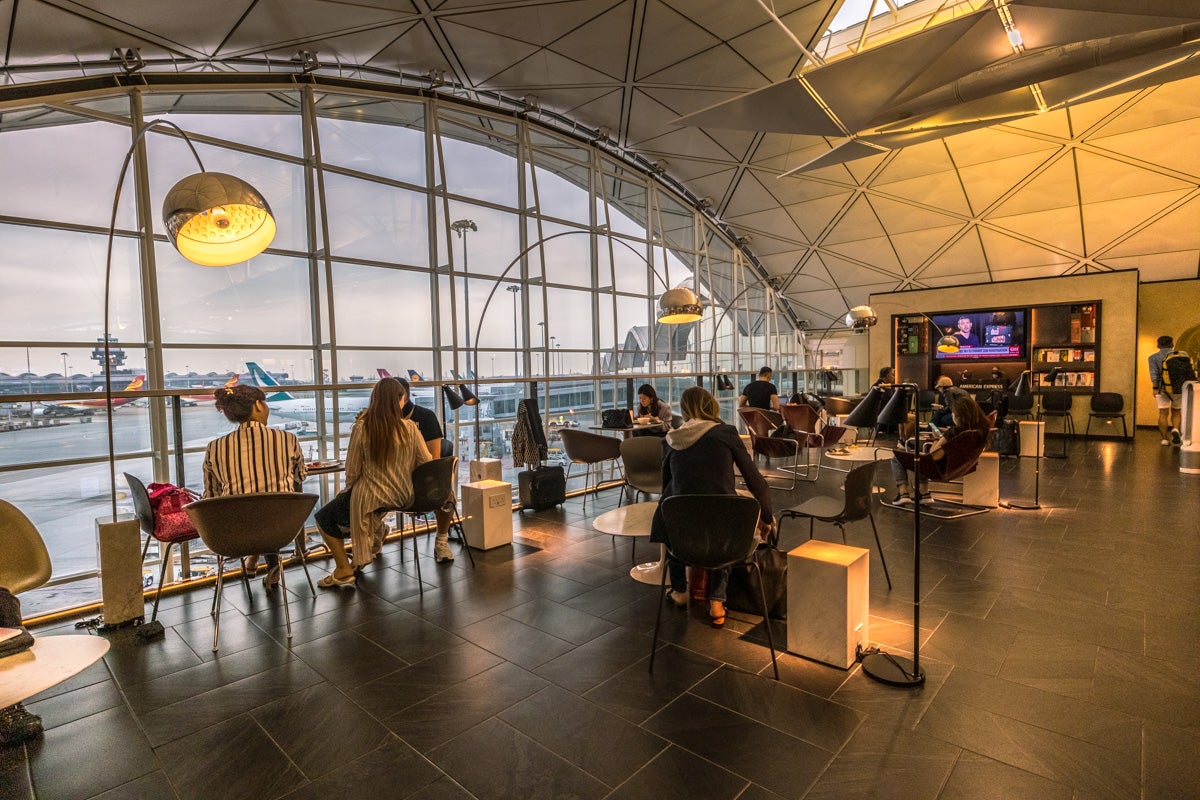 The tendered bar takes a place of pride in the center of this lounge. Amex partnered with New York mixologist Jim Meehan to craft the cocktail menu which features 9 exclusive cocktails for this lounge.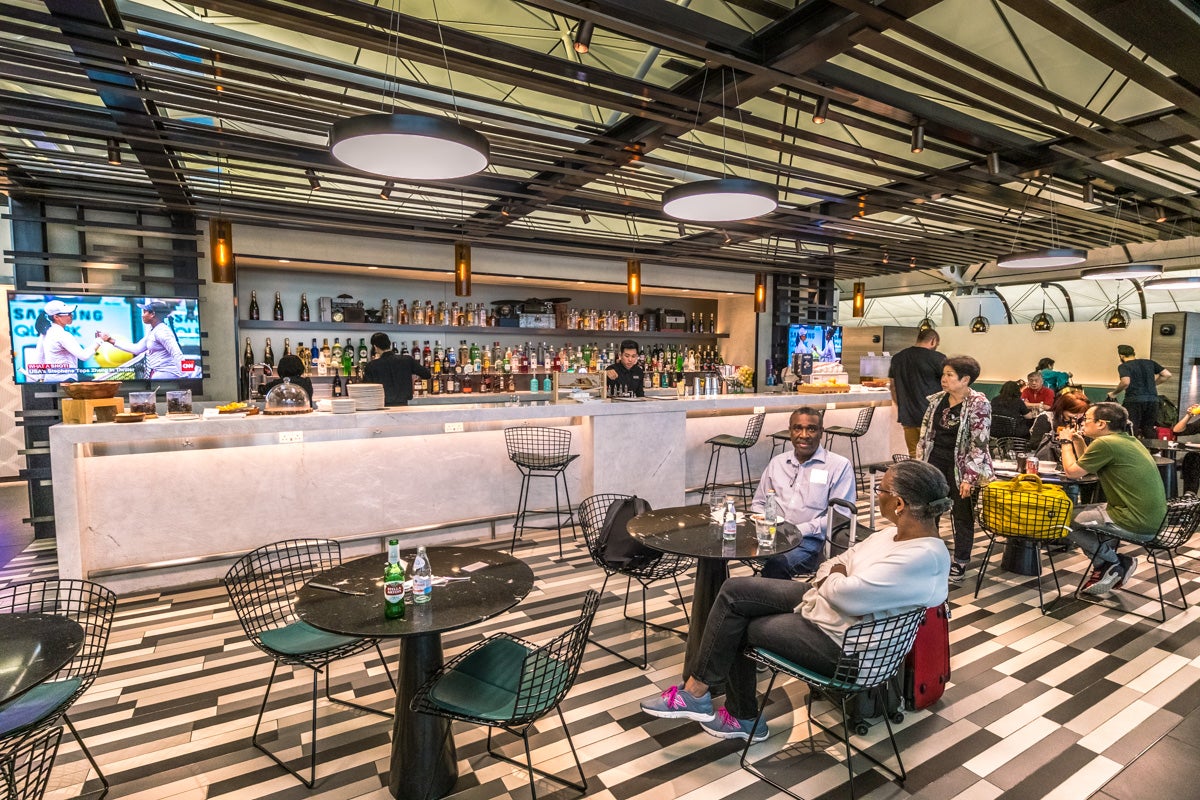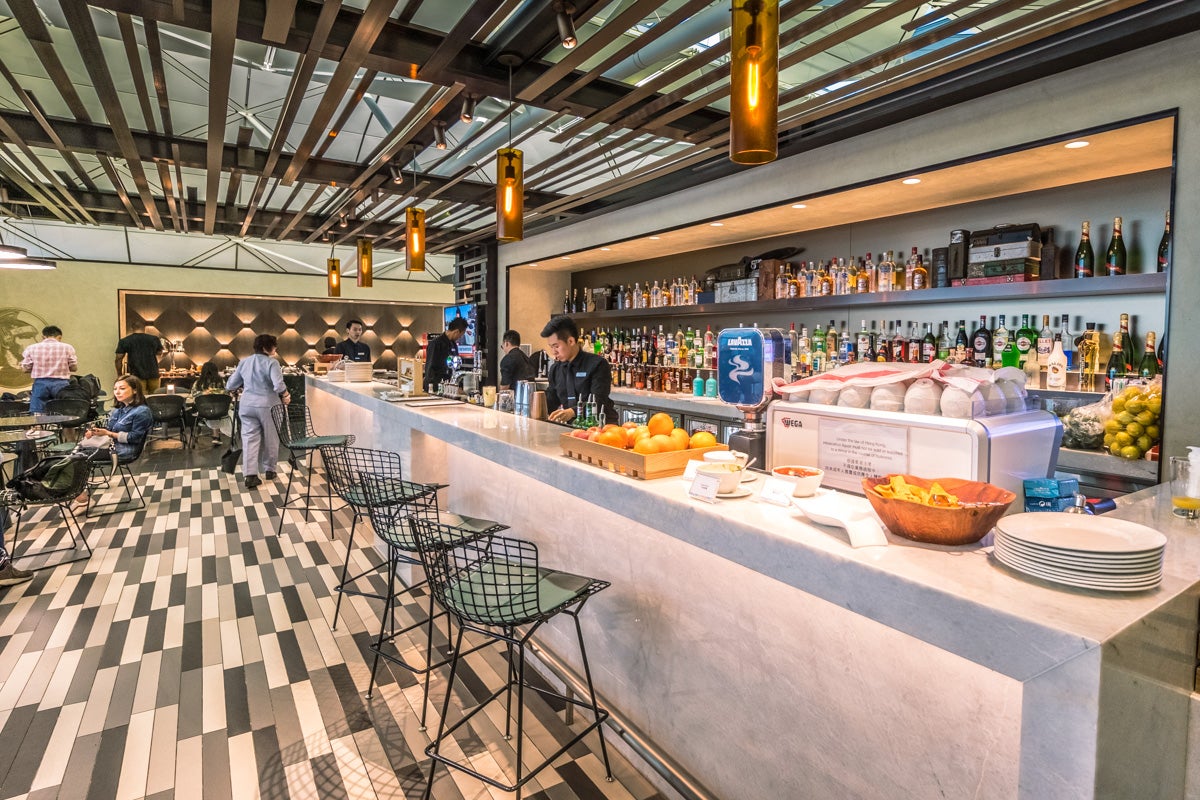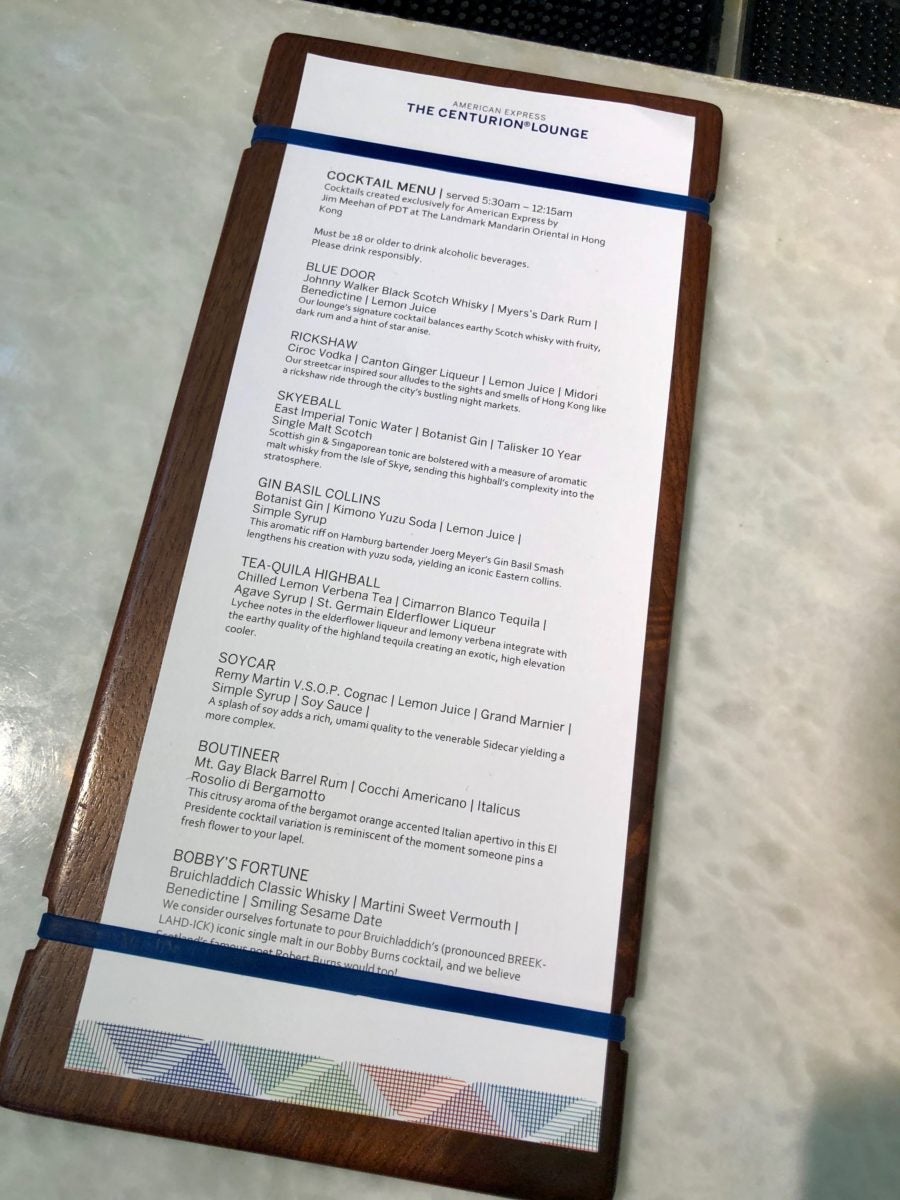 Considering I still had a staggering 7 hours to go before my flight and probably another 3 hours after the meal service before I could sleep, I decided more caffeine was in order. It would also be good to see how the Amex espresso martini compared with the version at The Pier — and I must say, it was better here!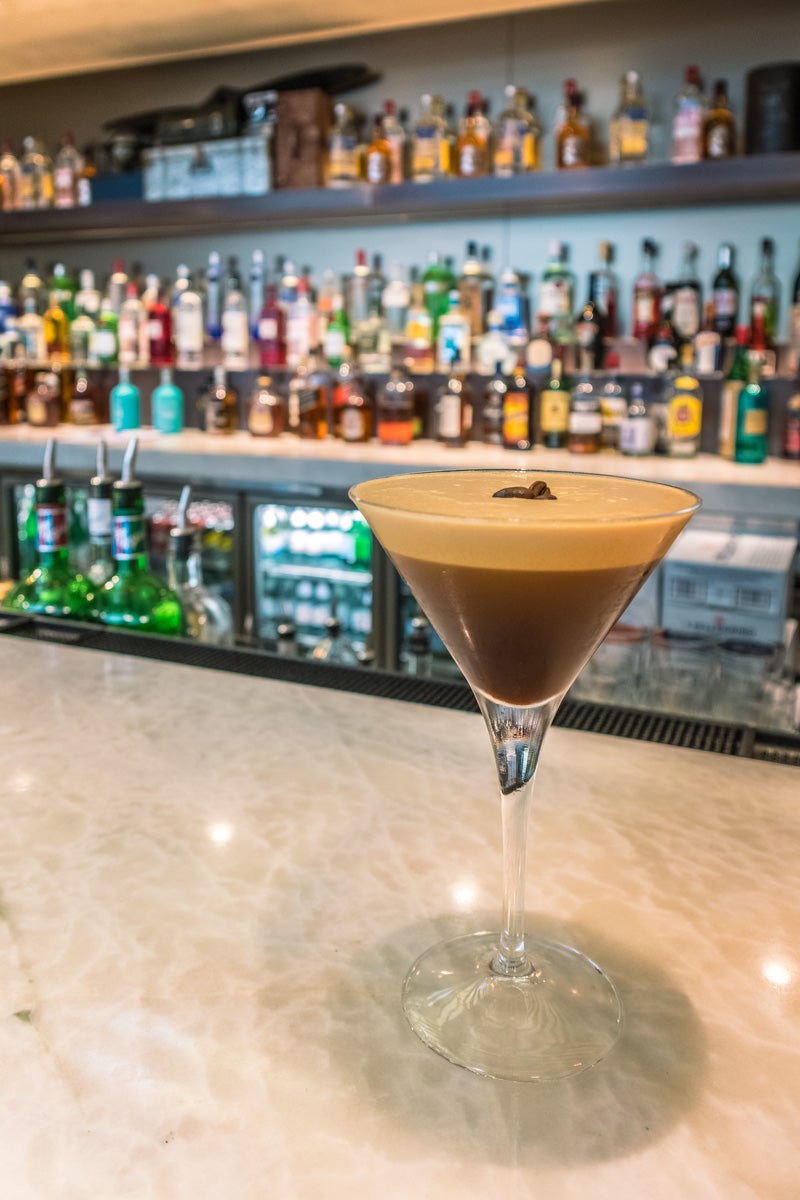 The buffet, adjacent to the bar, features a selection of hot and cold dishes.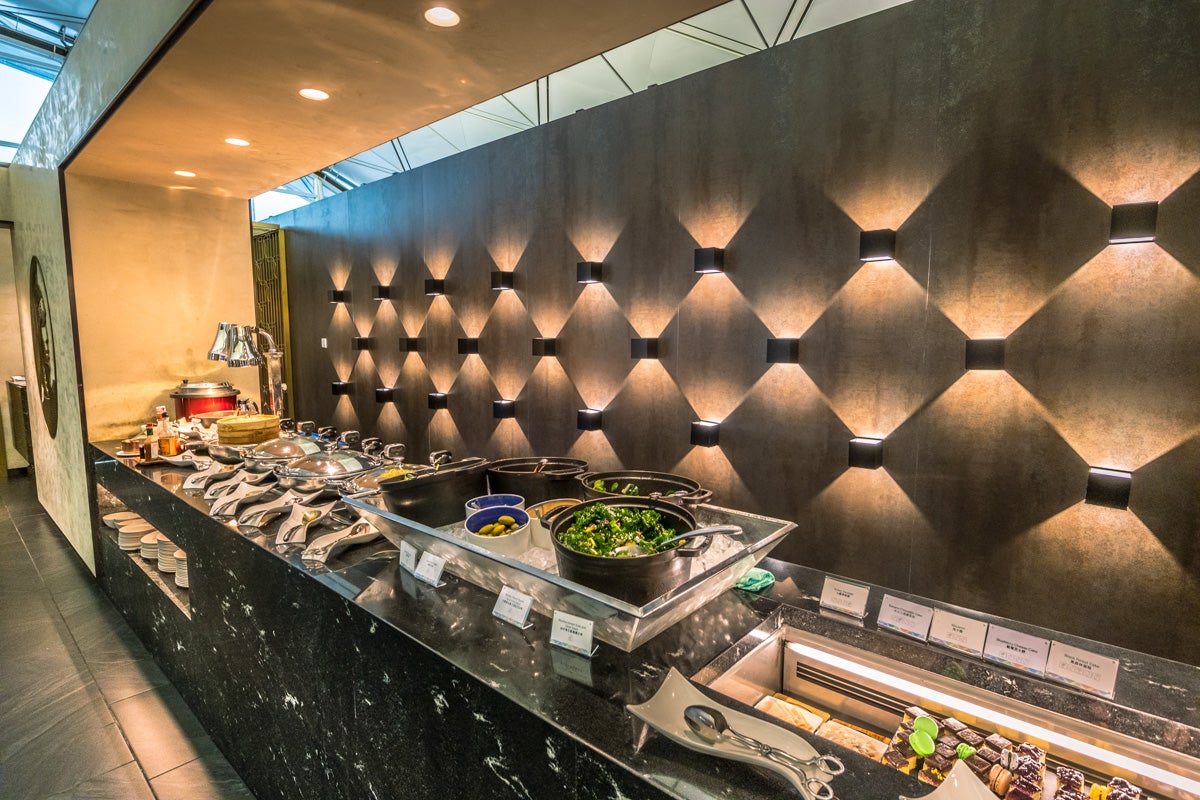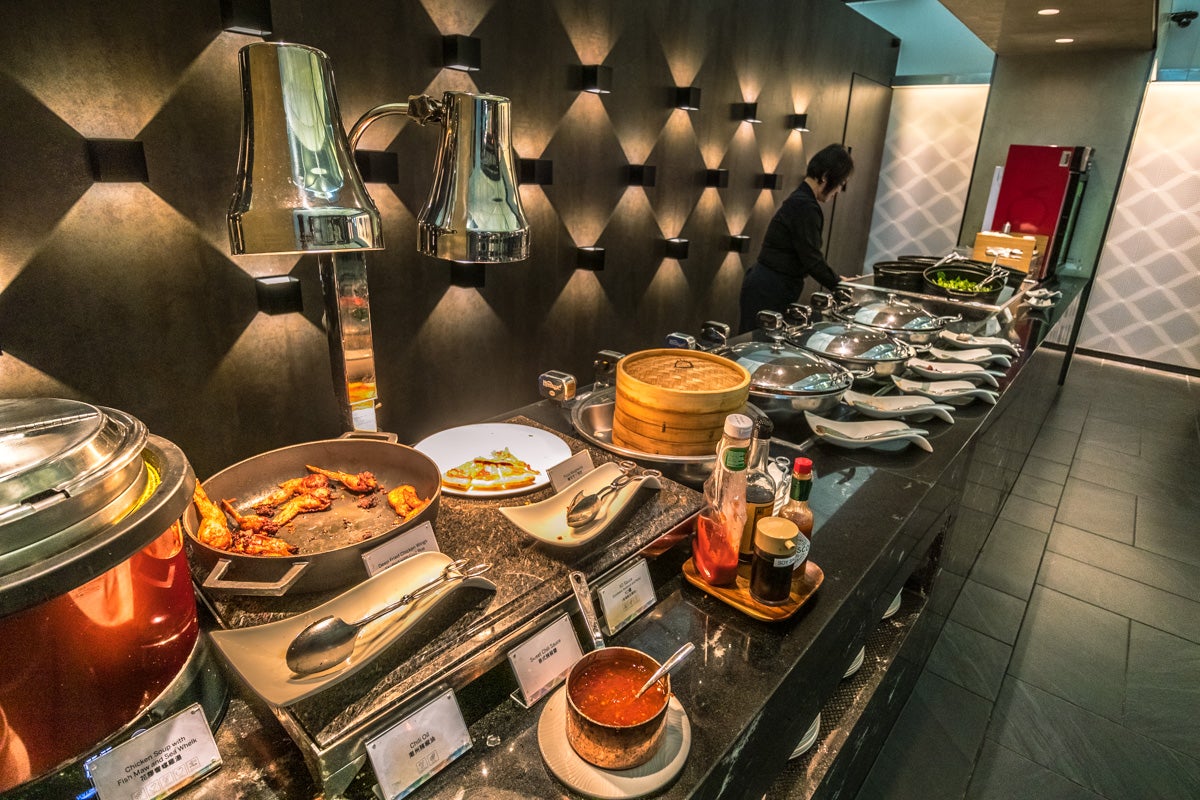 A tea and coffee making station is on the opposite side.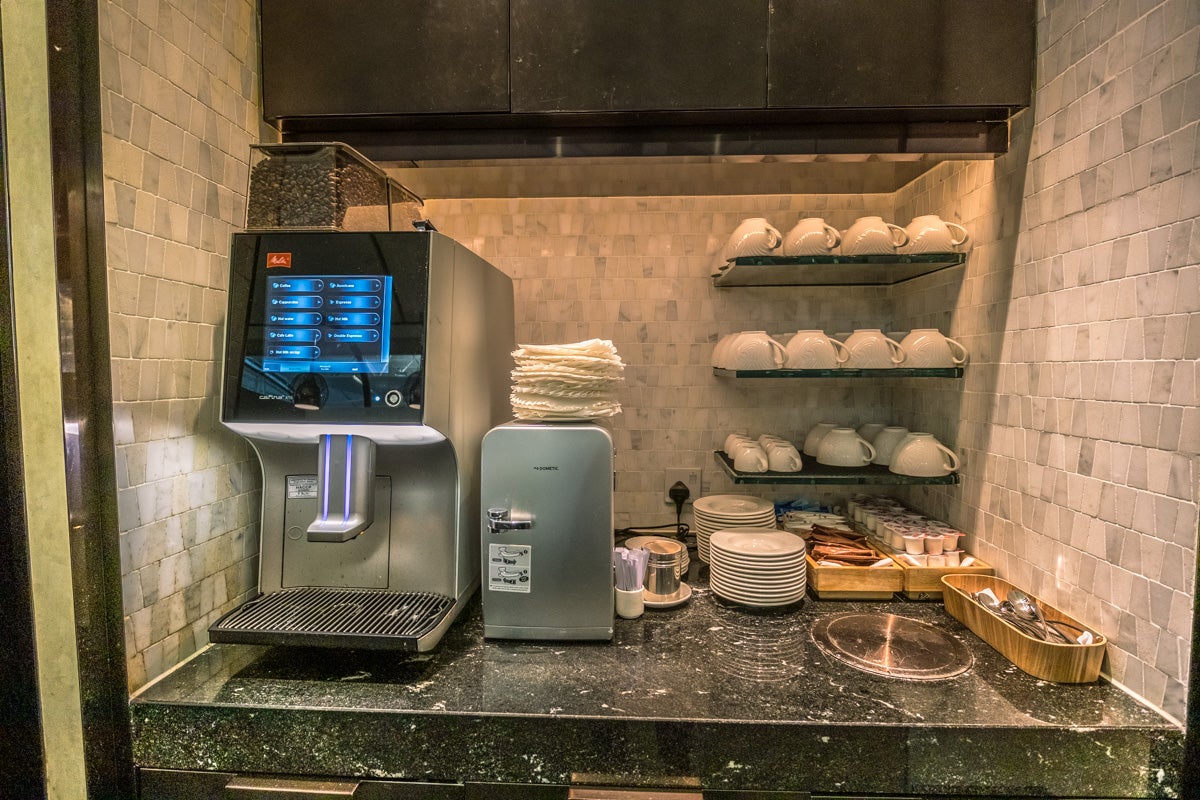 A separate Centurion zone for the highest-tier cardholders which features a la carte dining was off-limits for this "lowly" Platinum cardholder.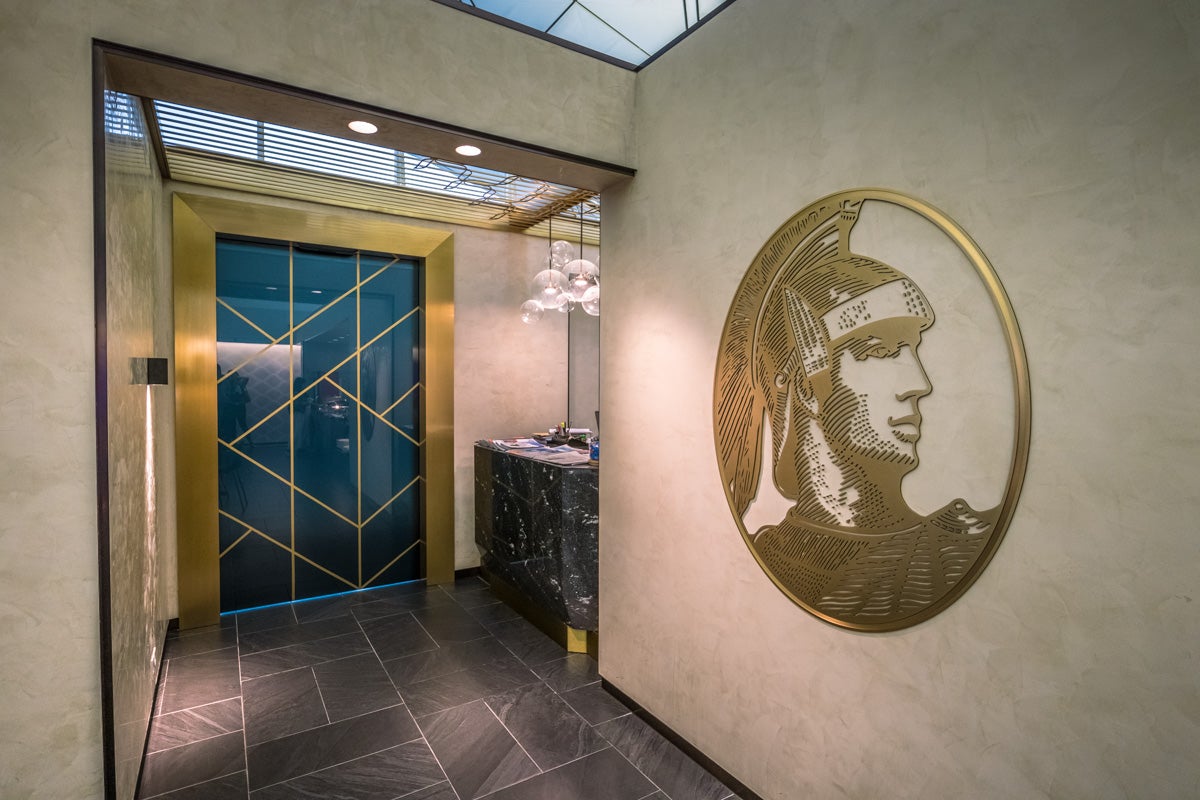 A high table overlooking the tarmac would be ideal for AvGeeks, solo guests or those needing to recharge devices.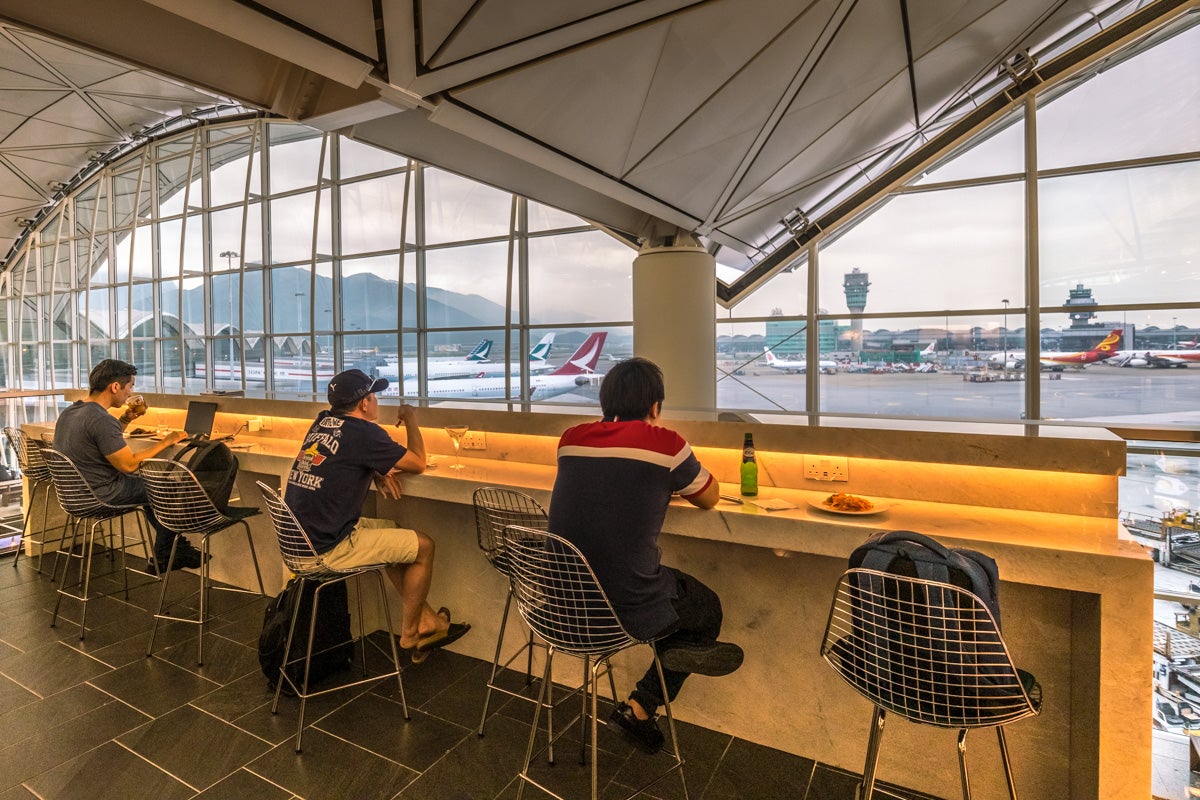 The lounge is let down by poor cooling and they have had to use floor standing oscillating fans as a temporary fix.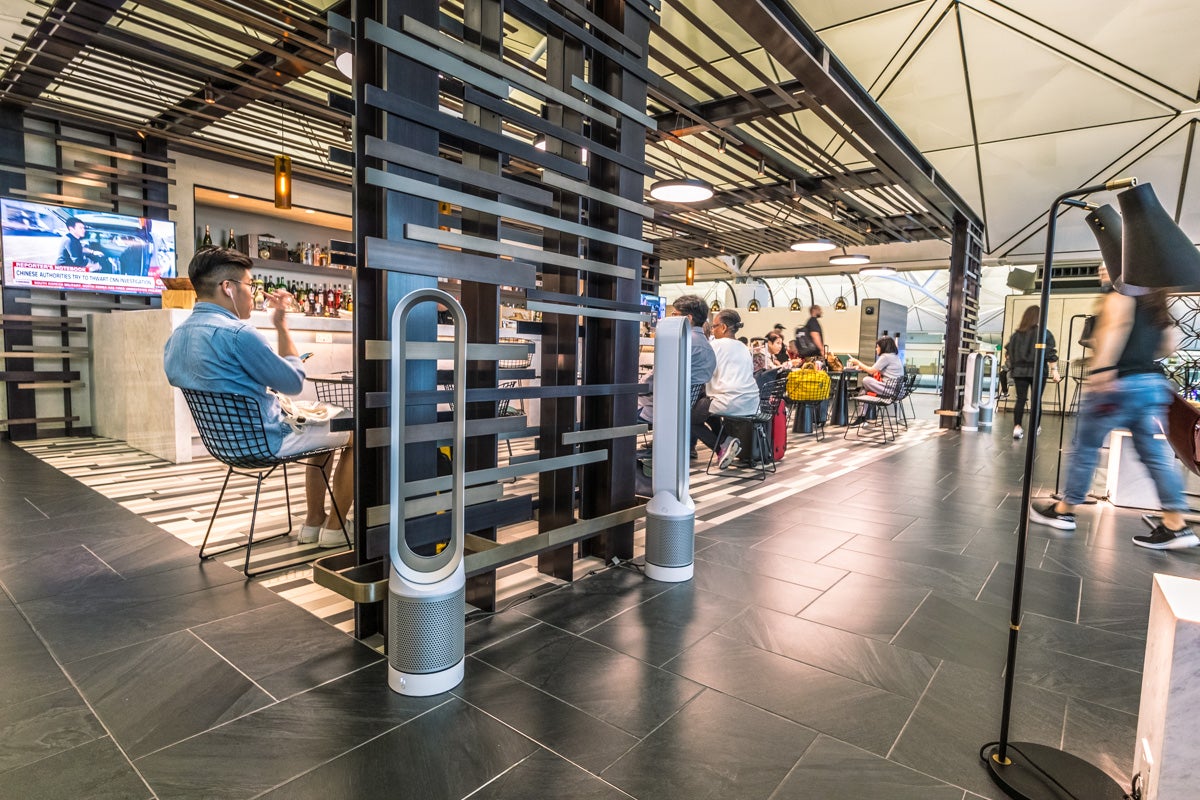 I clocked the Wi-Fi at an excellent 71.2 Mbps download and 46.2 Mbps upload.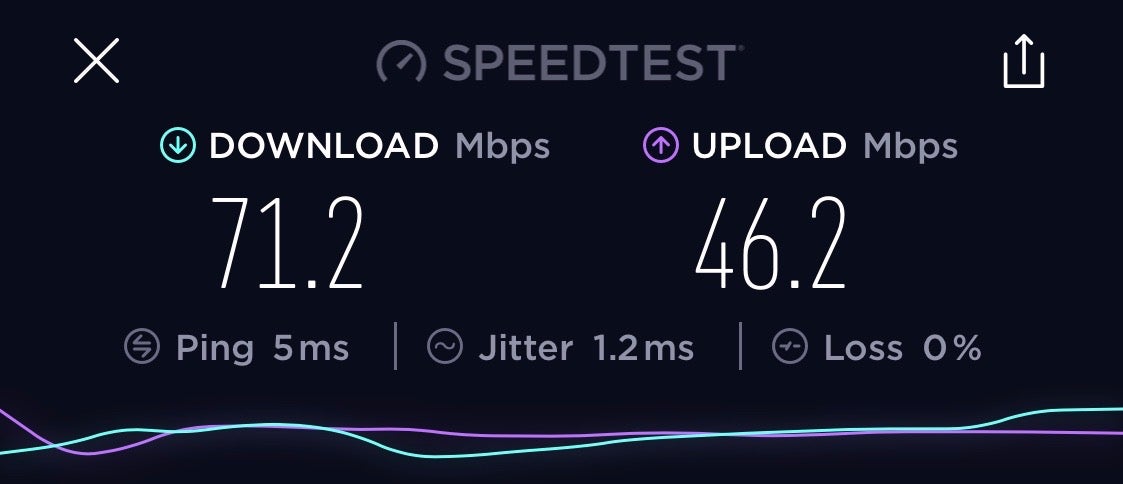 I think Amex has done an excellent job with this lounge and I would happily spend longer here if my class of travel or status didn't provide me lounge access with an airline.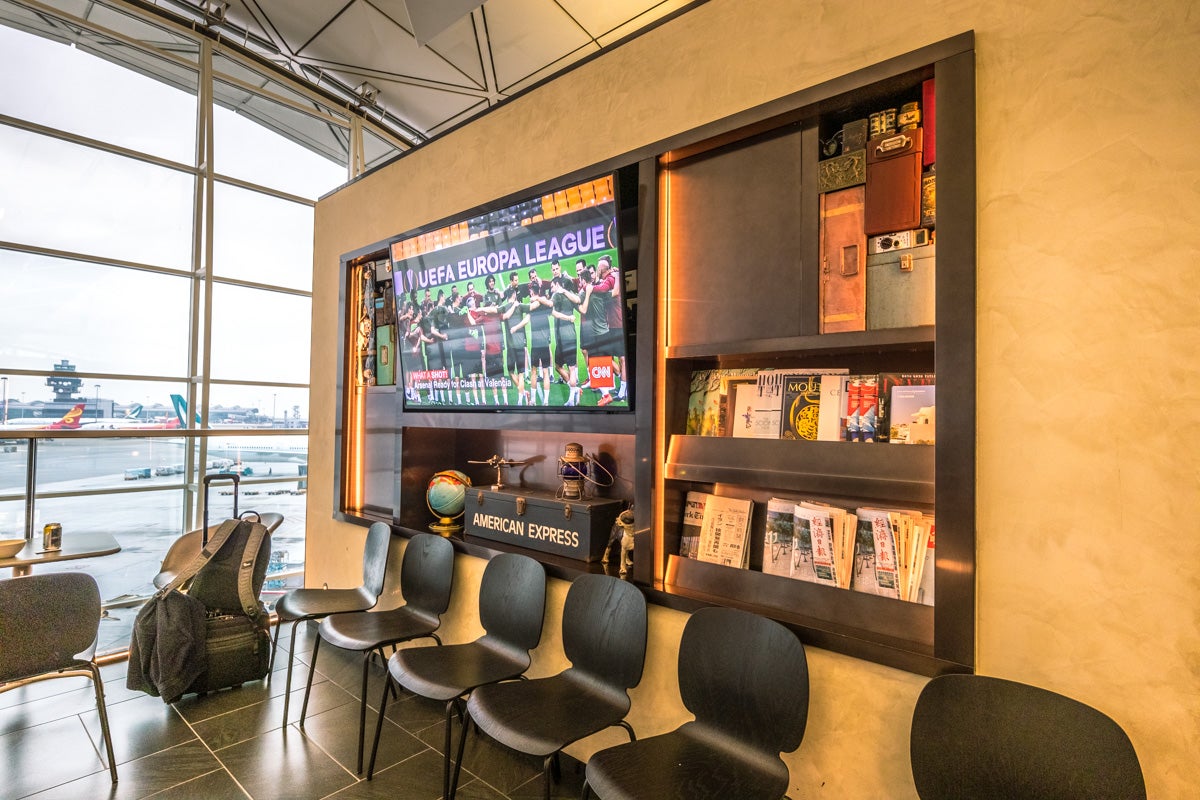 Cathay Pacific – The Bridge Business Class Lounge
Hours: Open daily from 5:30 a.m. – 12:30 a.m.
Closest Gate: 35
Directly below the Amex lounge and just a couple minutes' walk away is The Bridge.
6:24 p.m.
To enter this lounge you descend a set of escalators to the reception desk which highlights an illuminated feature wall — a traditional design feature of previous generation lounges. The lounge is effectively split into 2 wings: the north wing has the Bakery, Long Bar, and TV Lounge and the Bistro, Coffee Loft, and IT zone are in the south wing.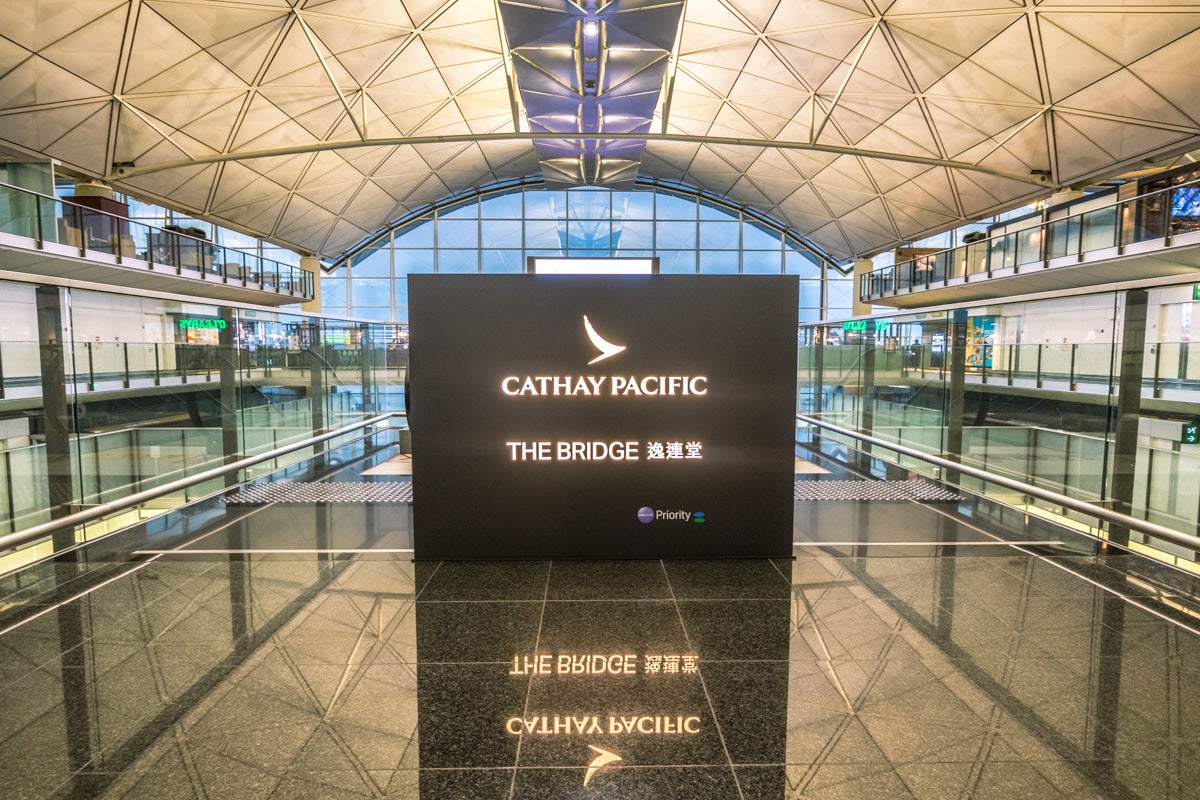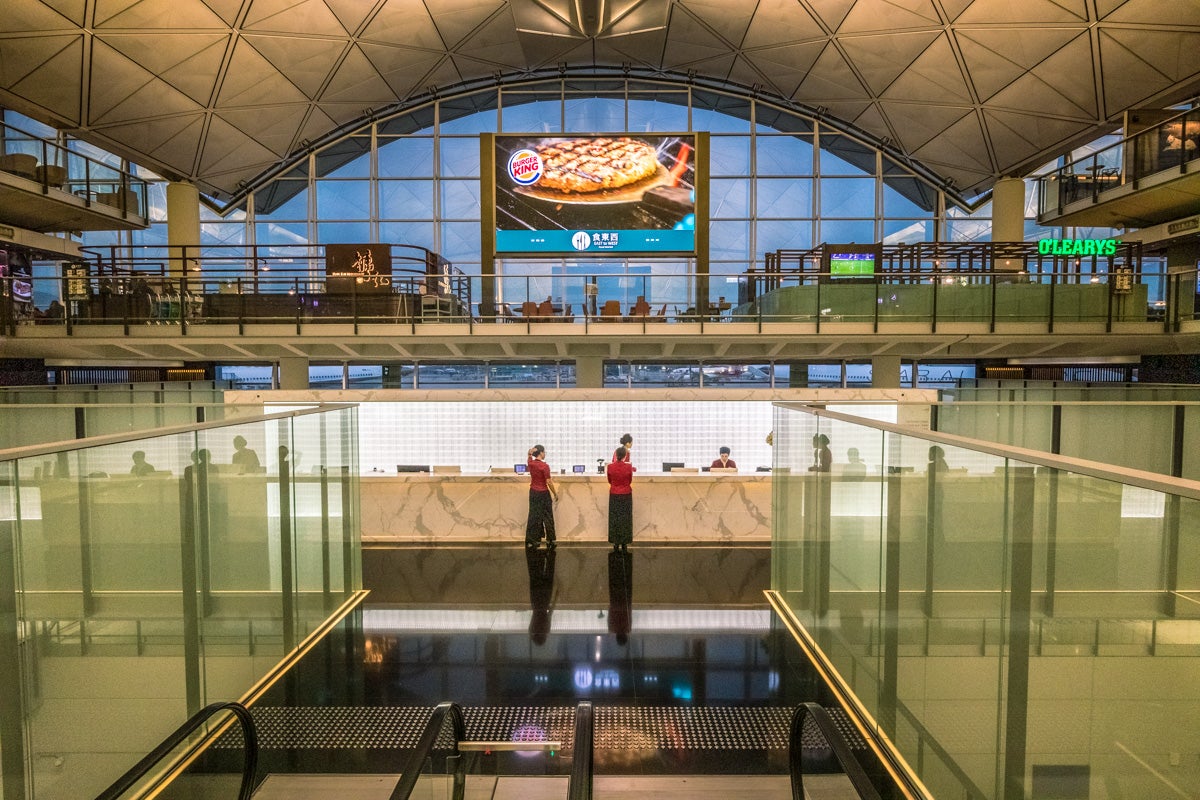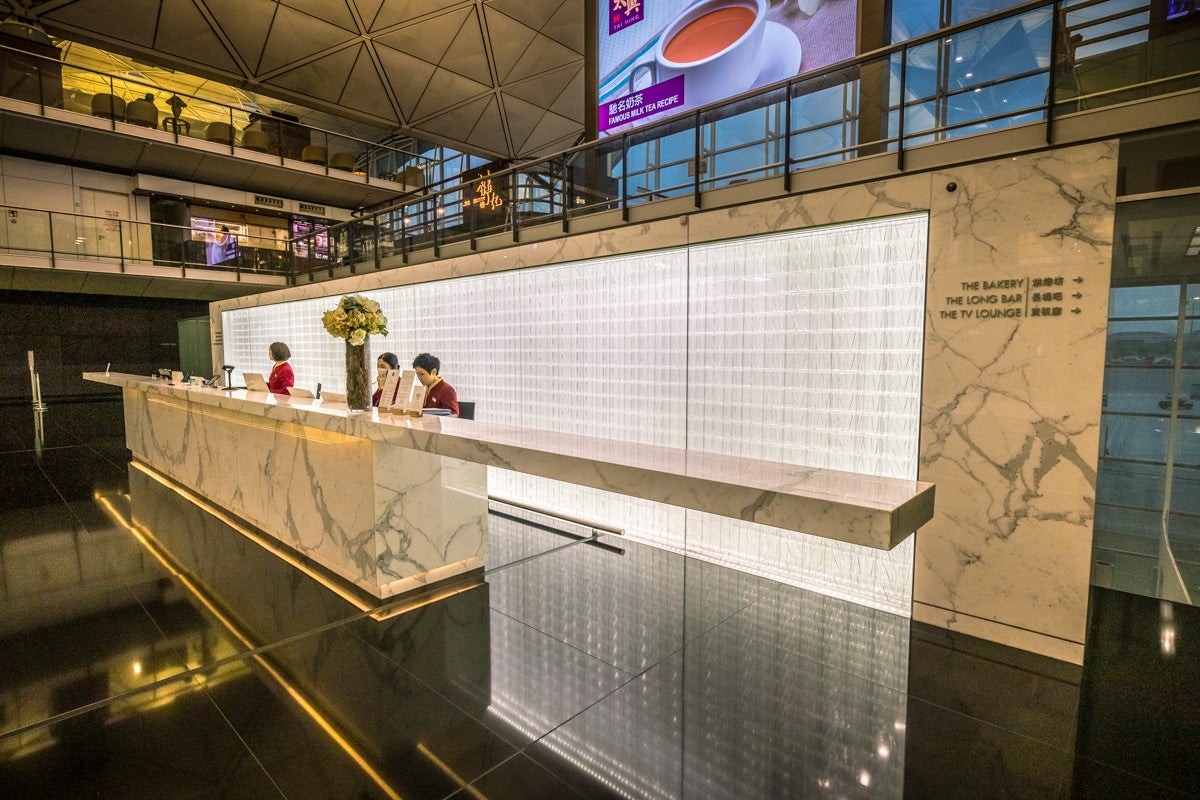 I headed right at reception to the north wing first.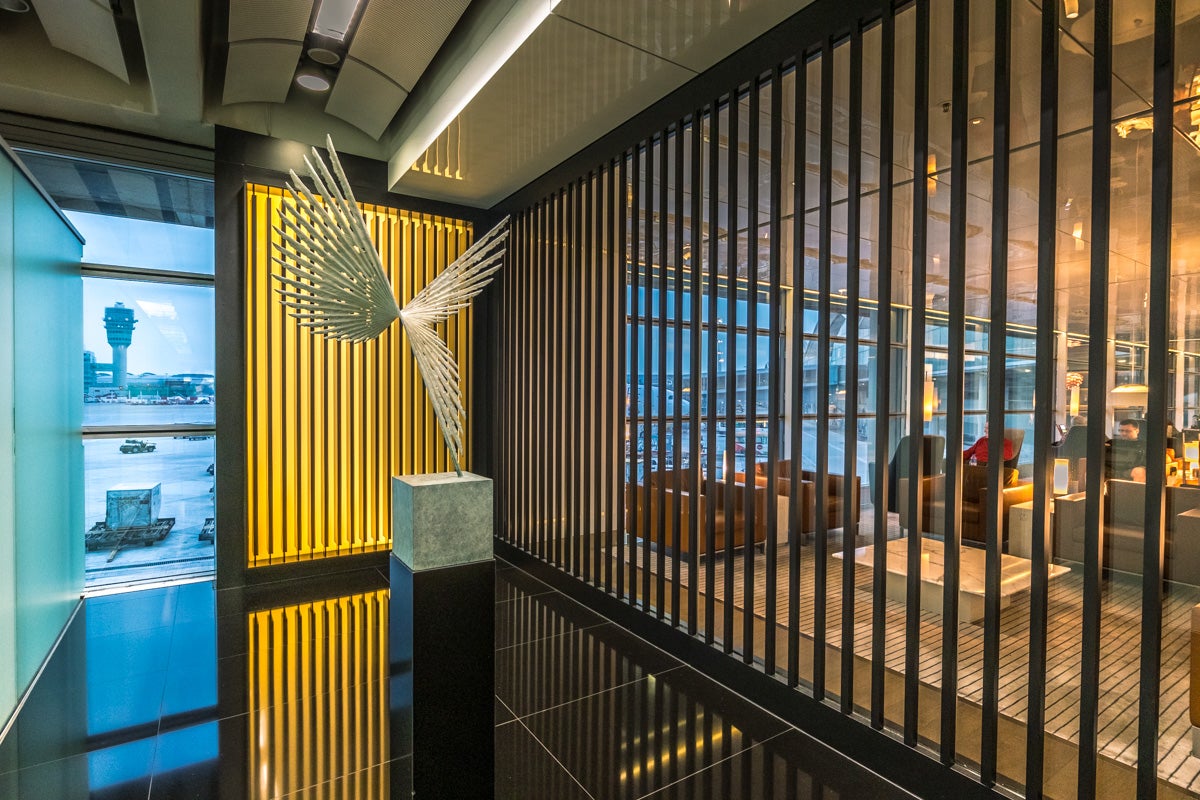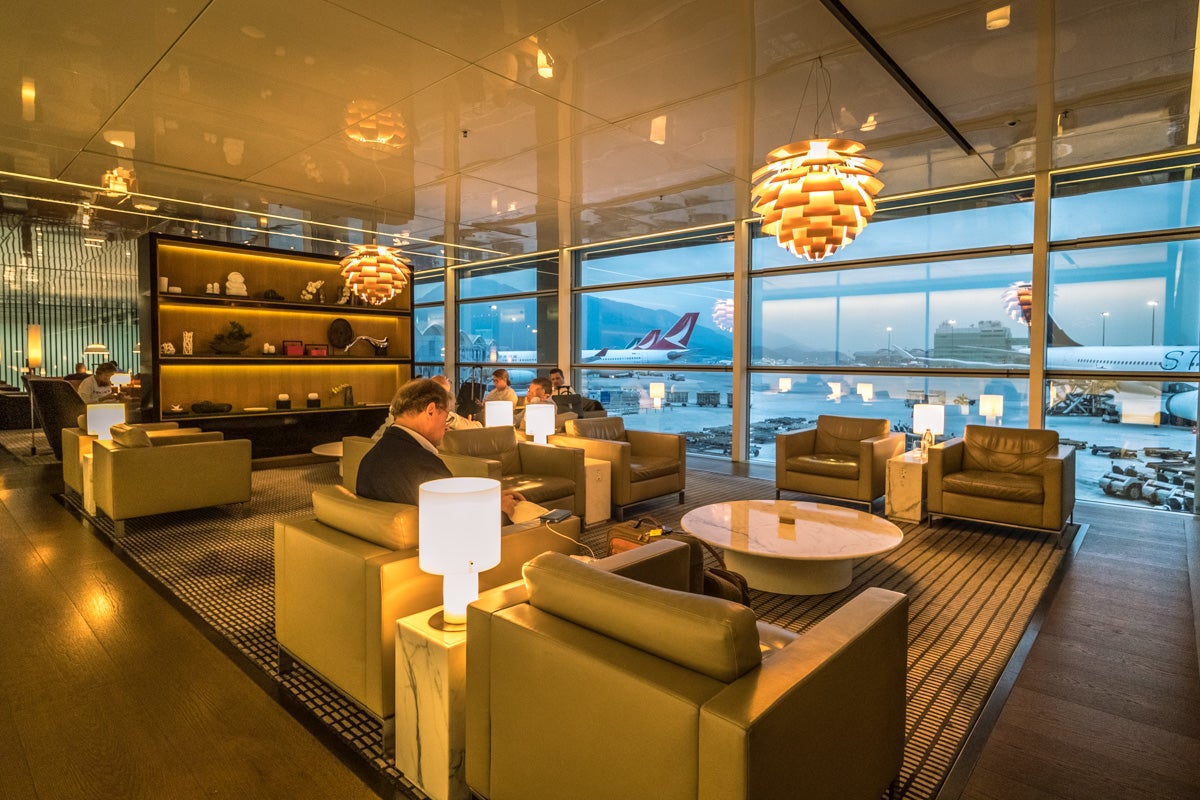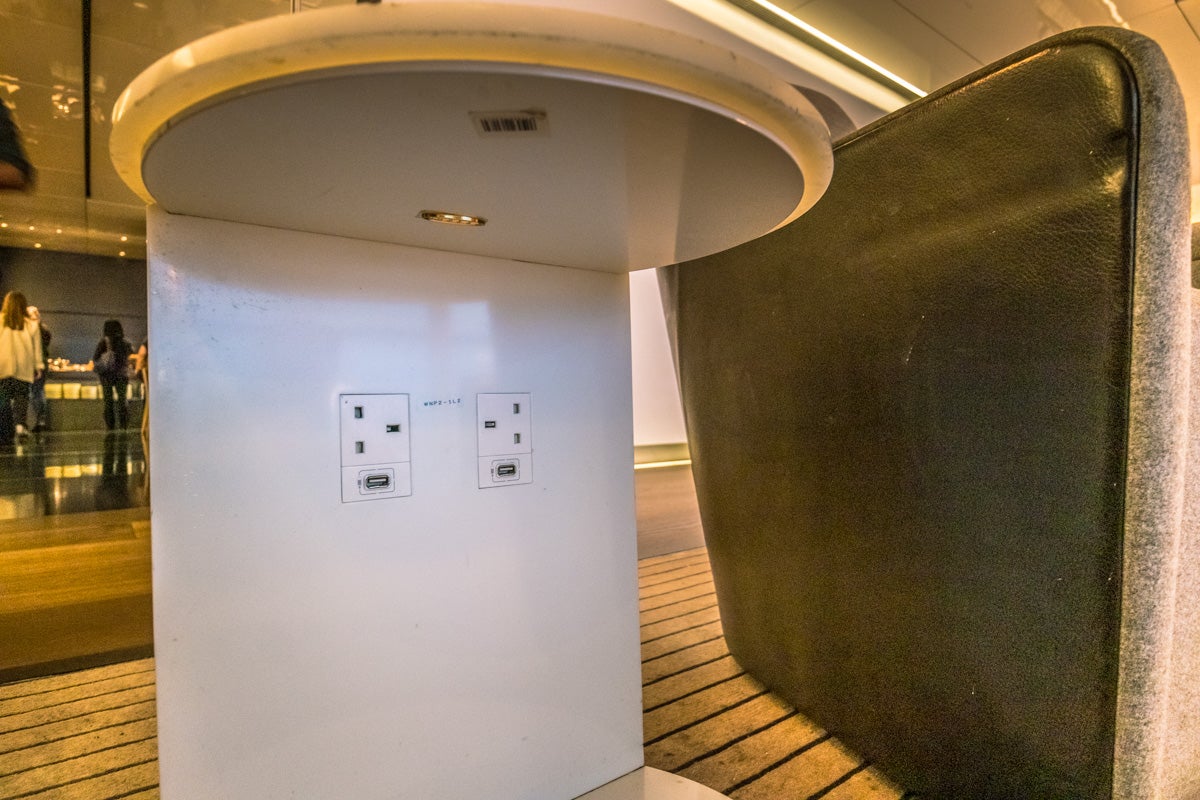 The Bakery serves bread straight from the oven. They also serve pizzas and pastries baked onsite, soups, and salads.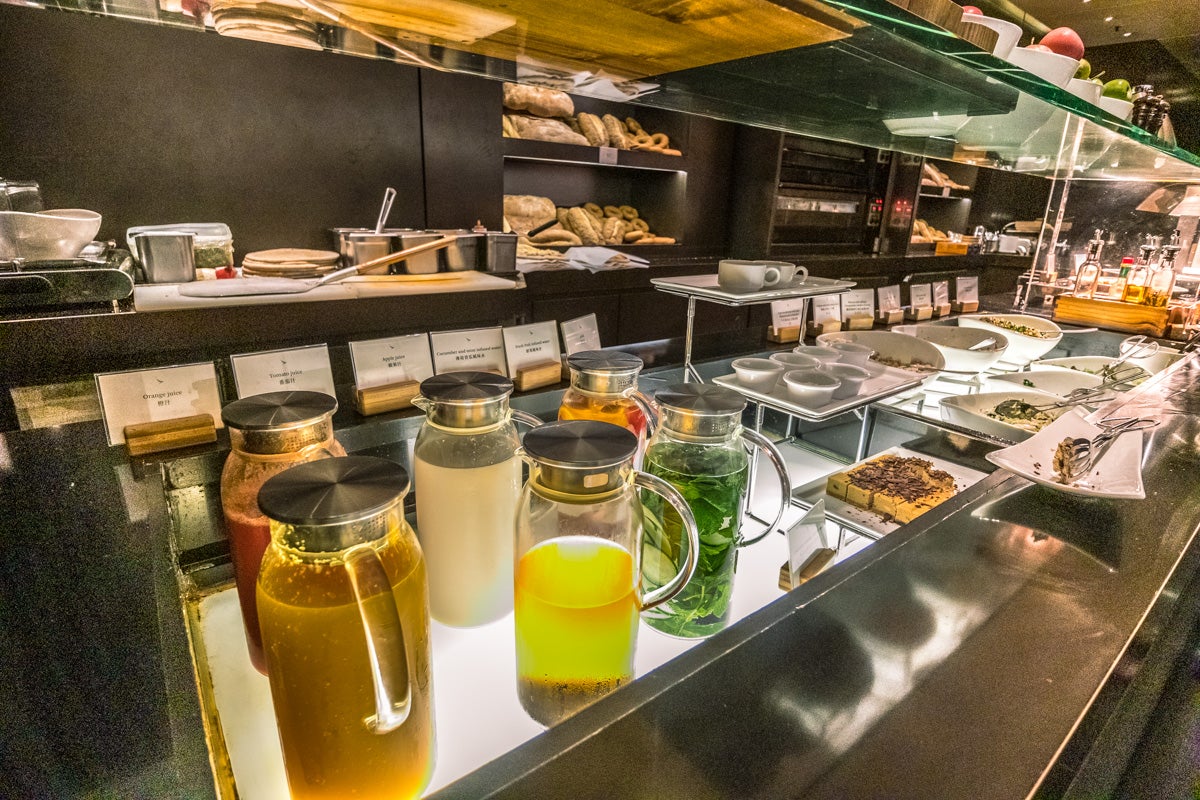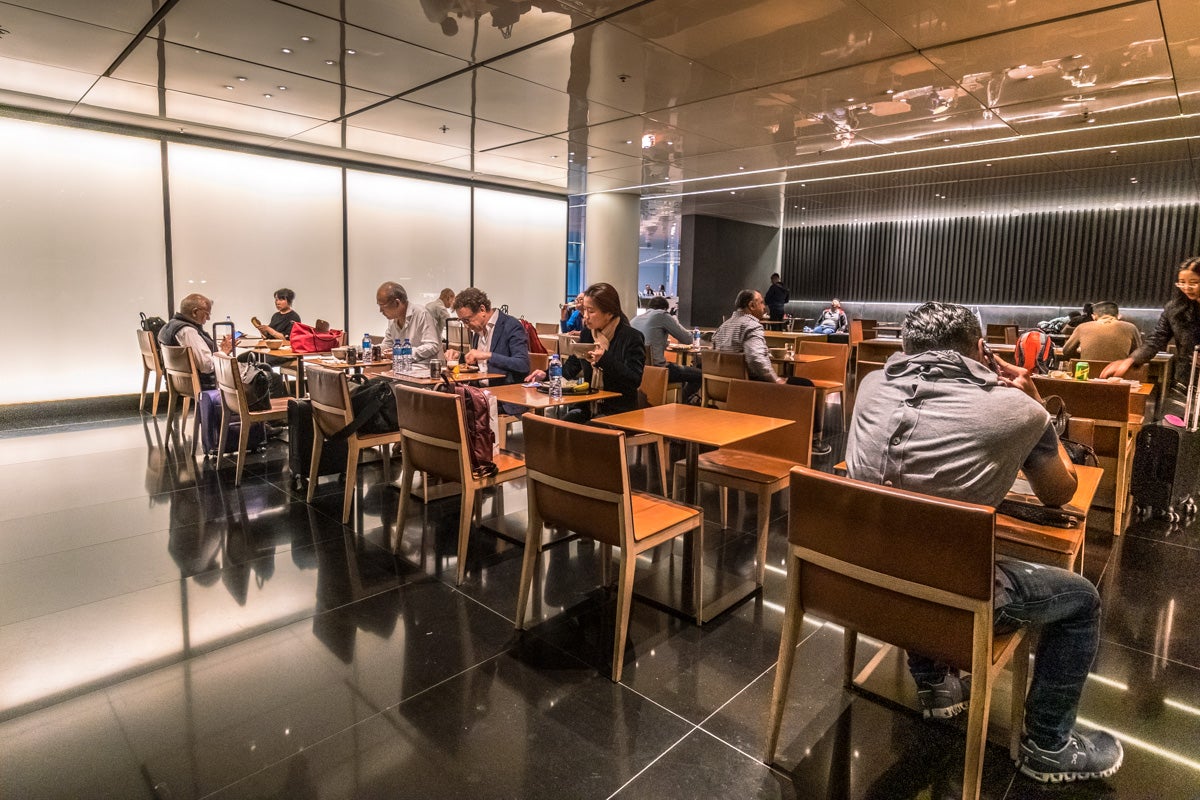 Next to the Bakery are the TV Lounges.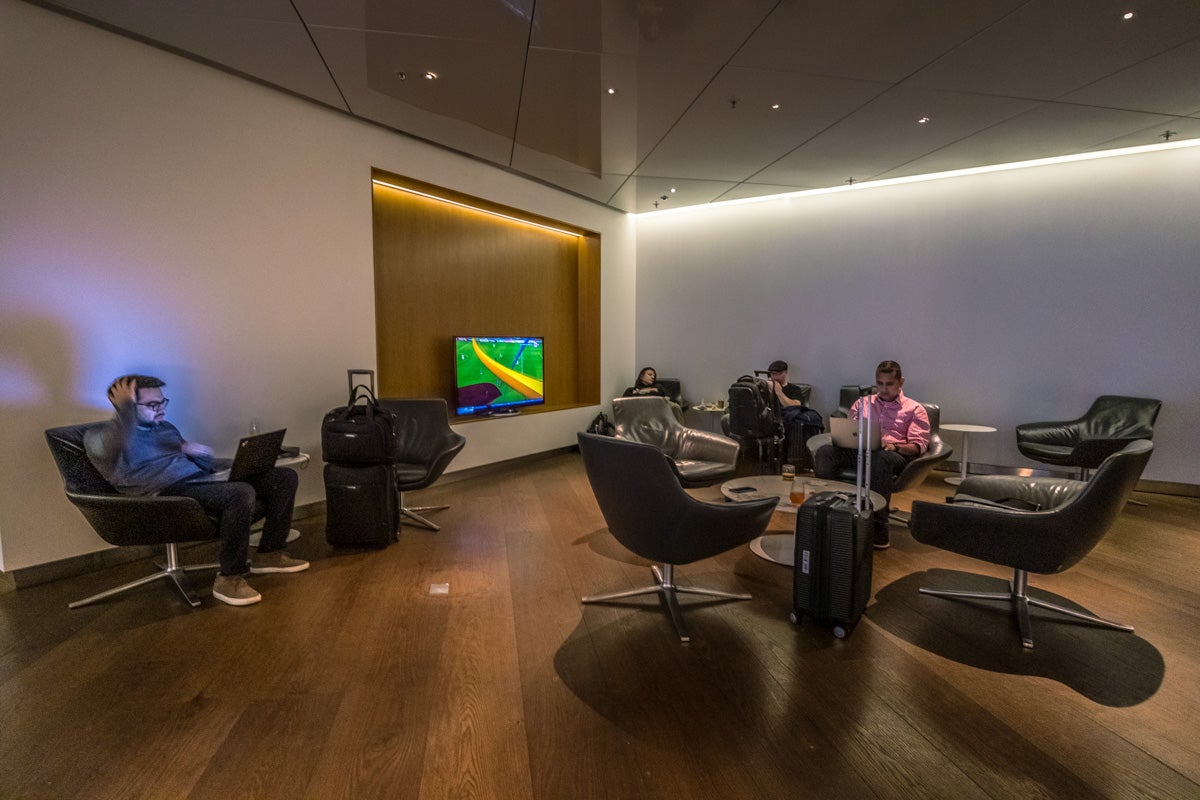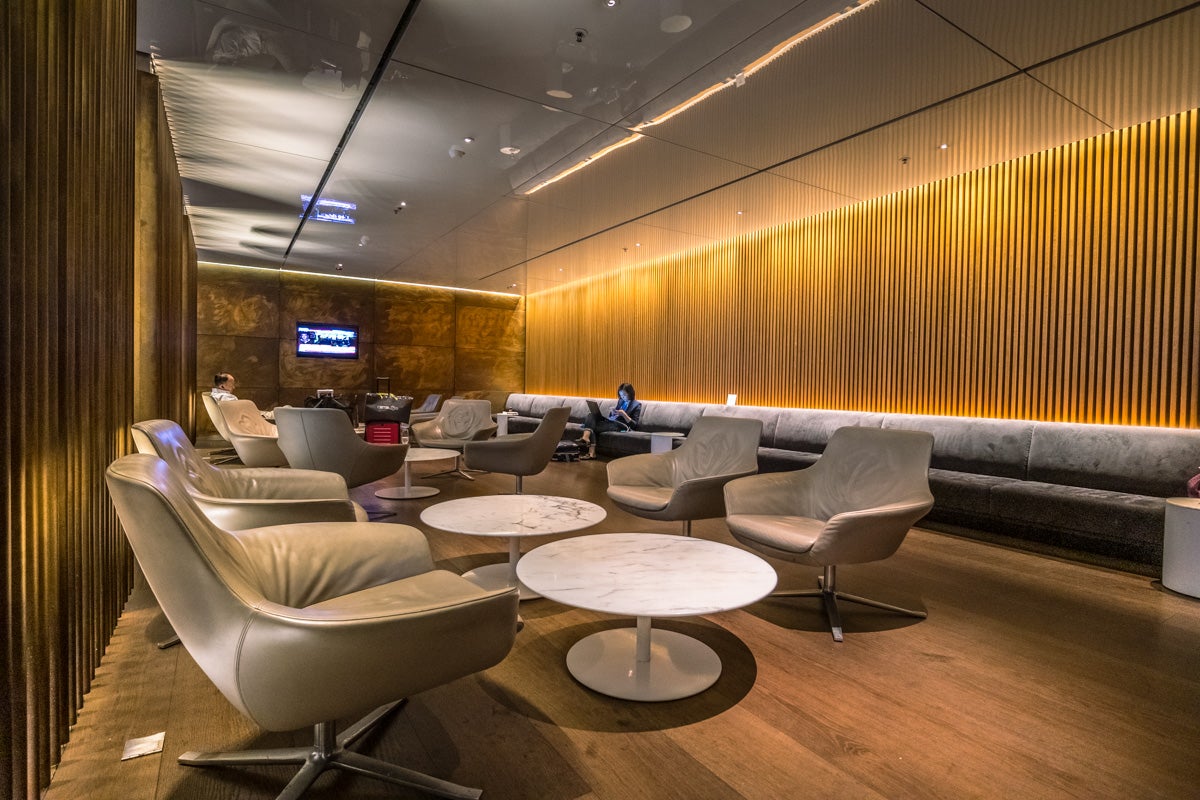 This lounge still has some of the previous generation Solus solo work pods which were phased out when the new lounge design theme launched.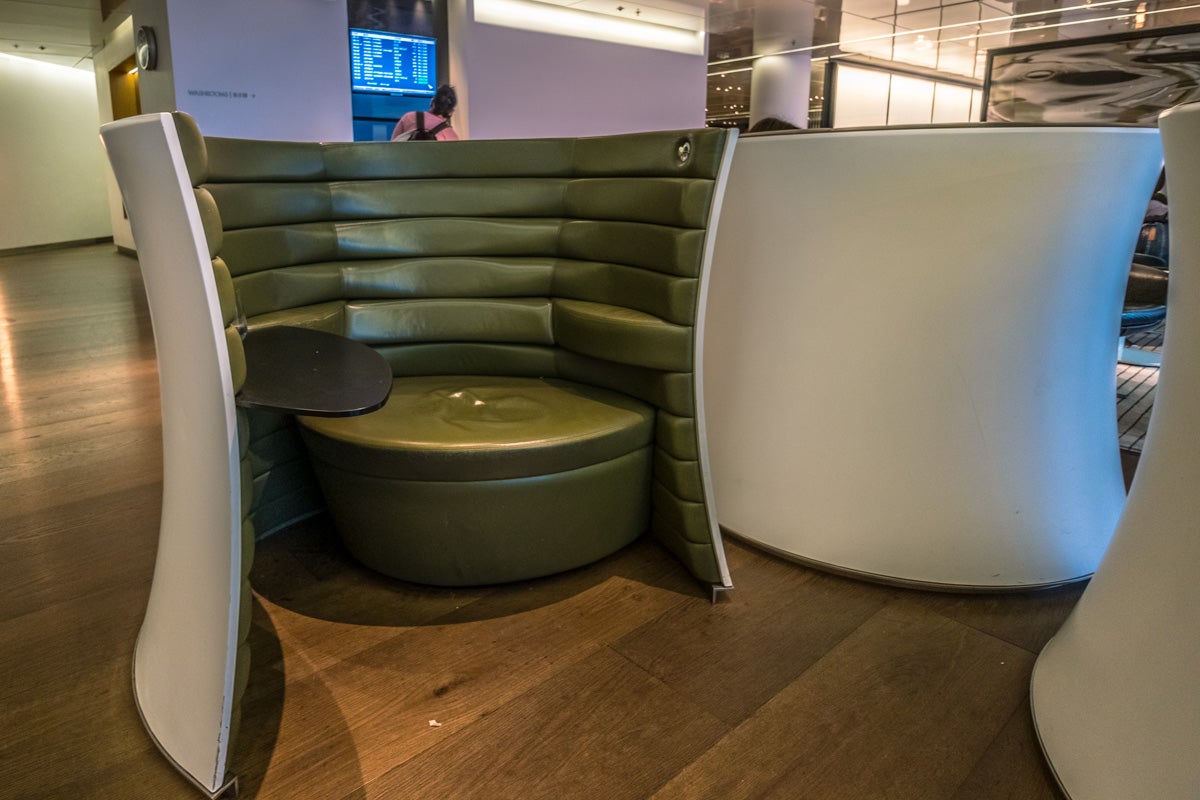 Right at the end of this long lounge is the Long Bar which affords you views out to the tarmac while you enjoy a cocktail… or 12.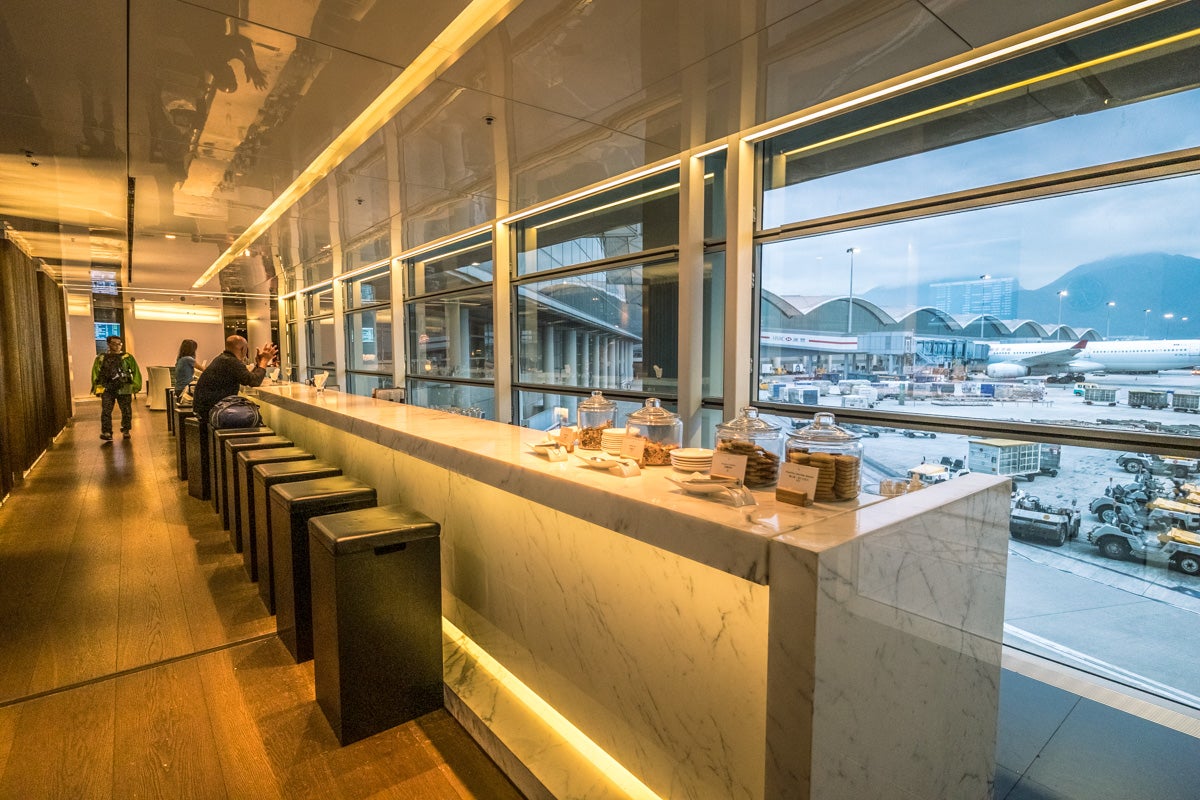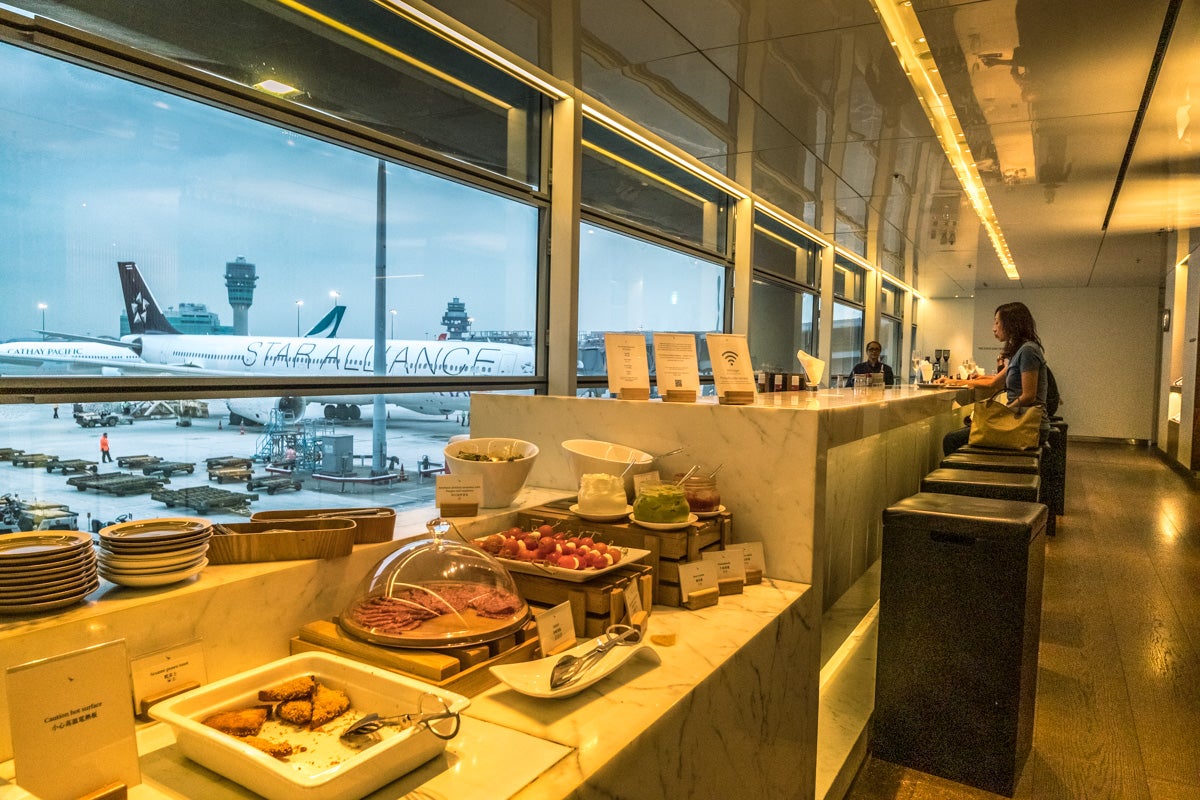 In the south wing, you'll find the Bistro dining area which features more standard lounge buffet food with both local and Western options.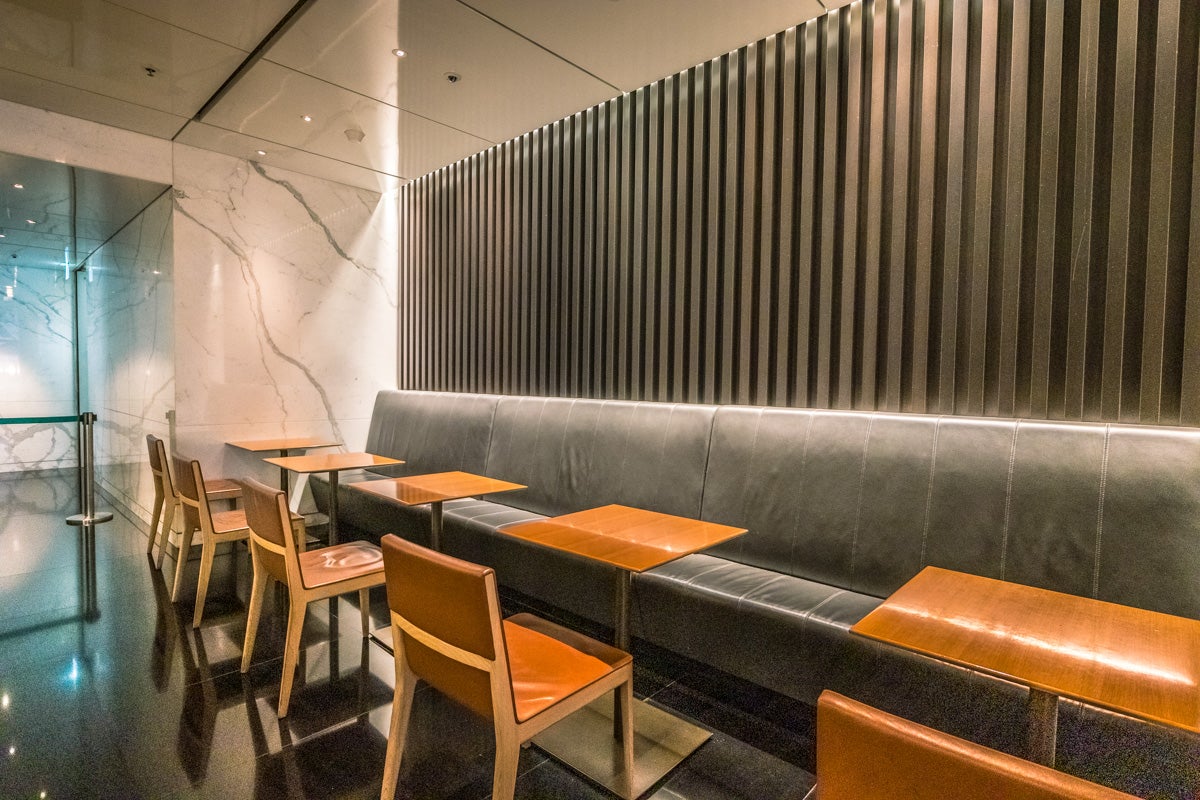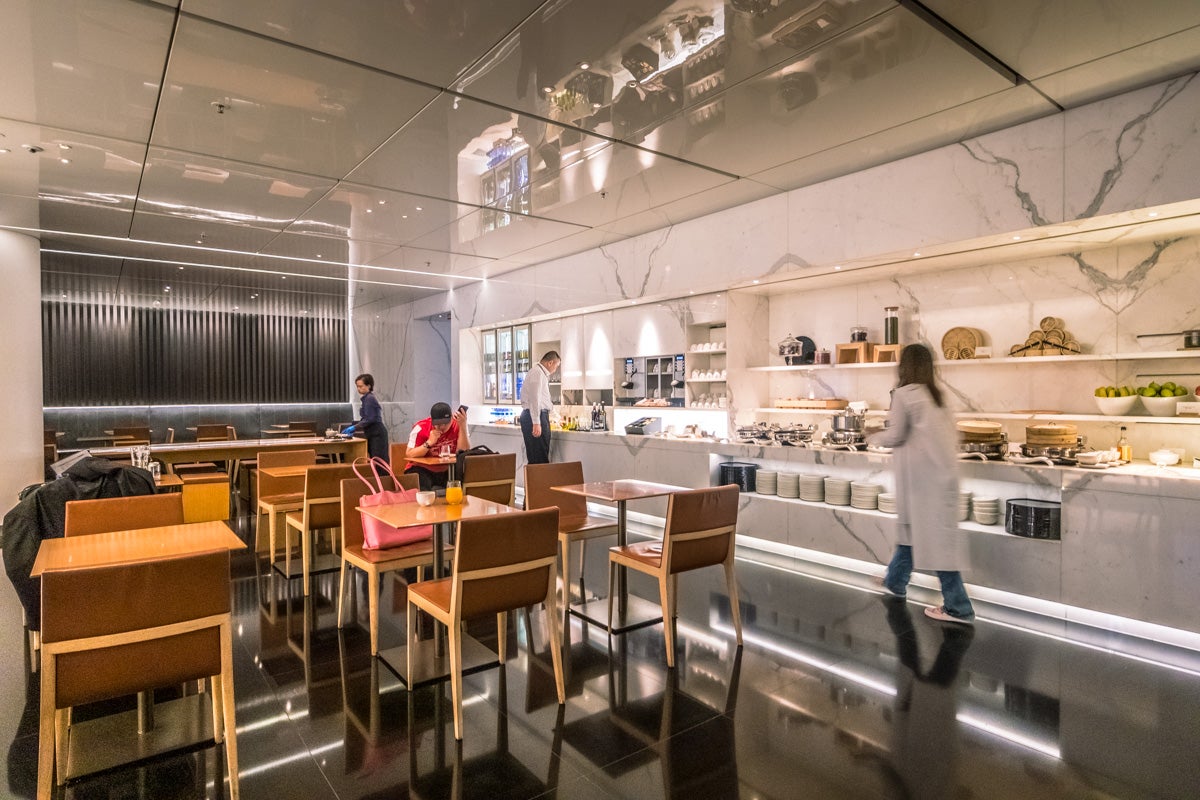 Additional lounge seating is available alongside the windows in this wing.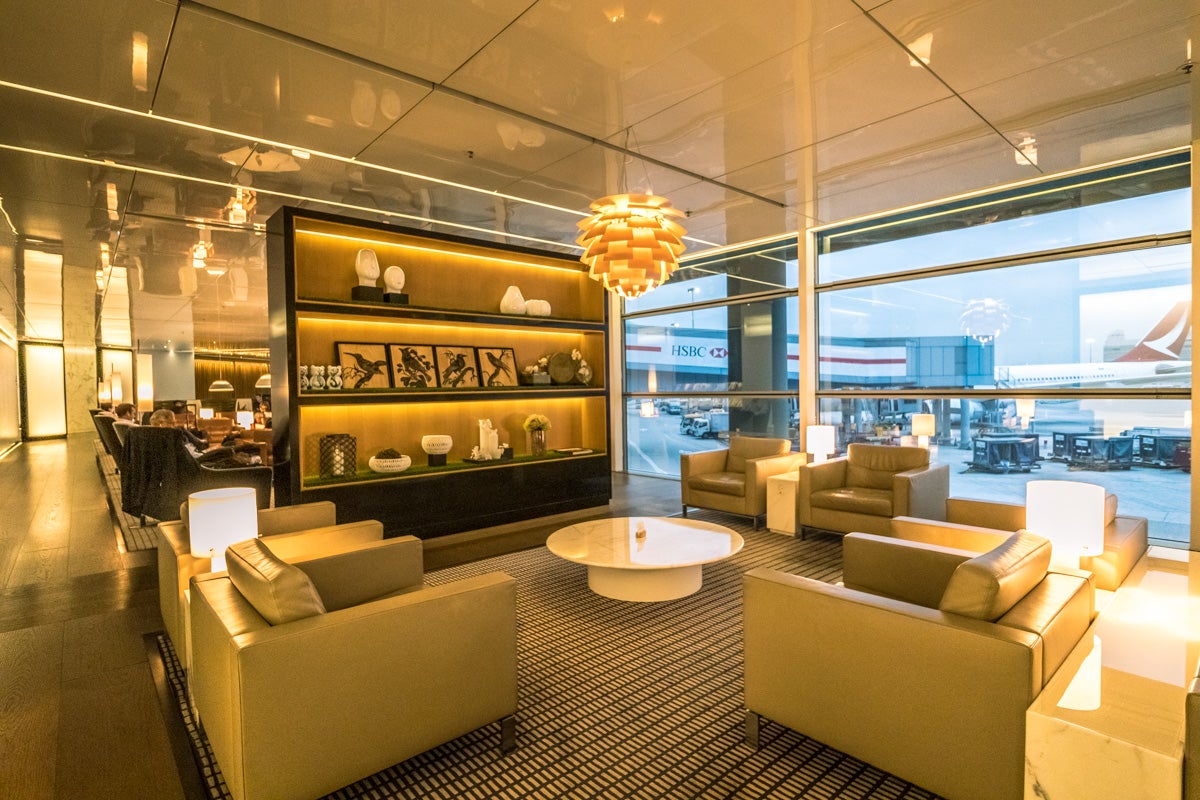 There are 4 Apple Mac computers with accompanying inkjet printers available to use in the IT Zone.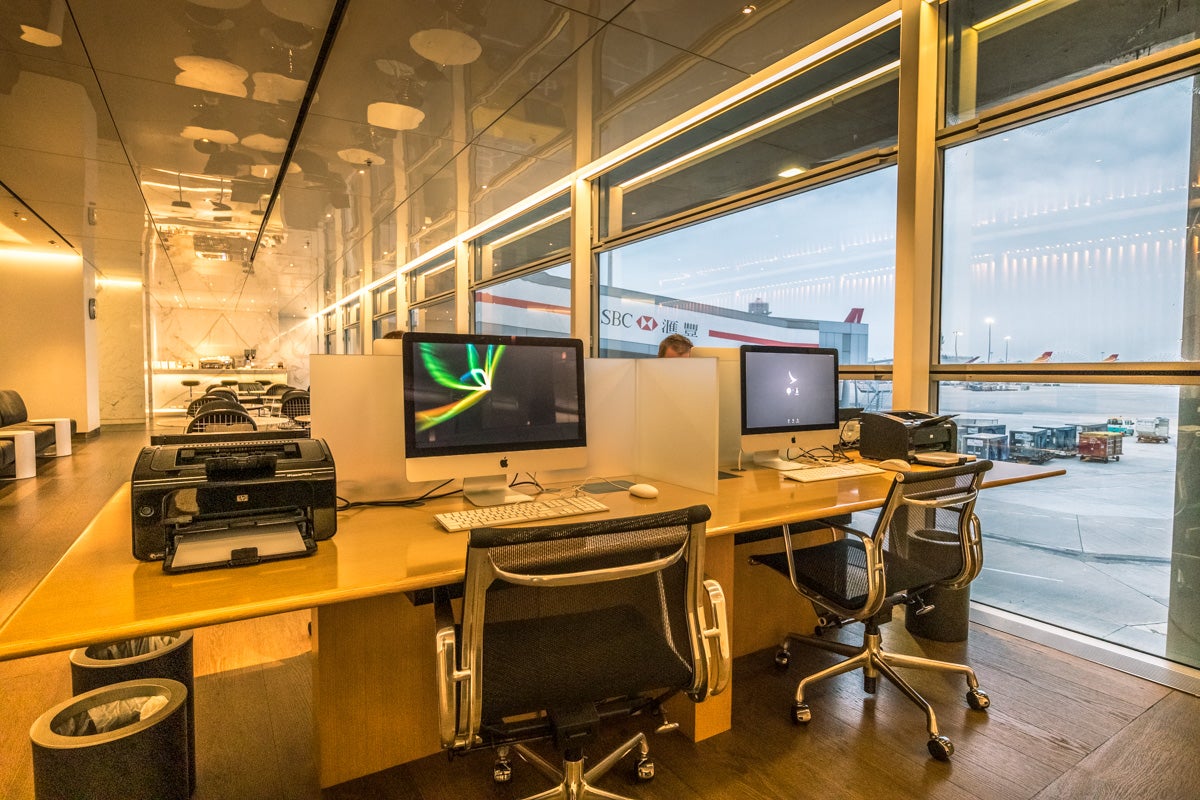 Seeing as it was now 6:30 p.m. local time, the Coffee Loft was empty. Here you will usually find barista-made coffee including freshly-baked muffins, pastries, and cookies.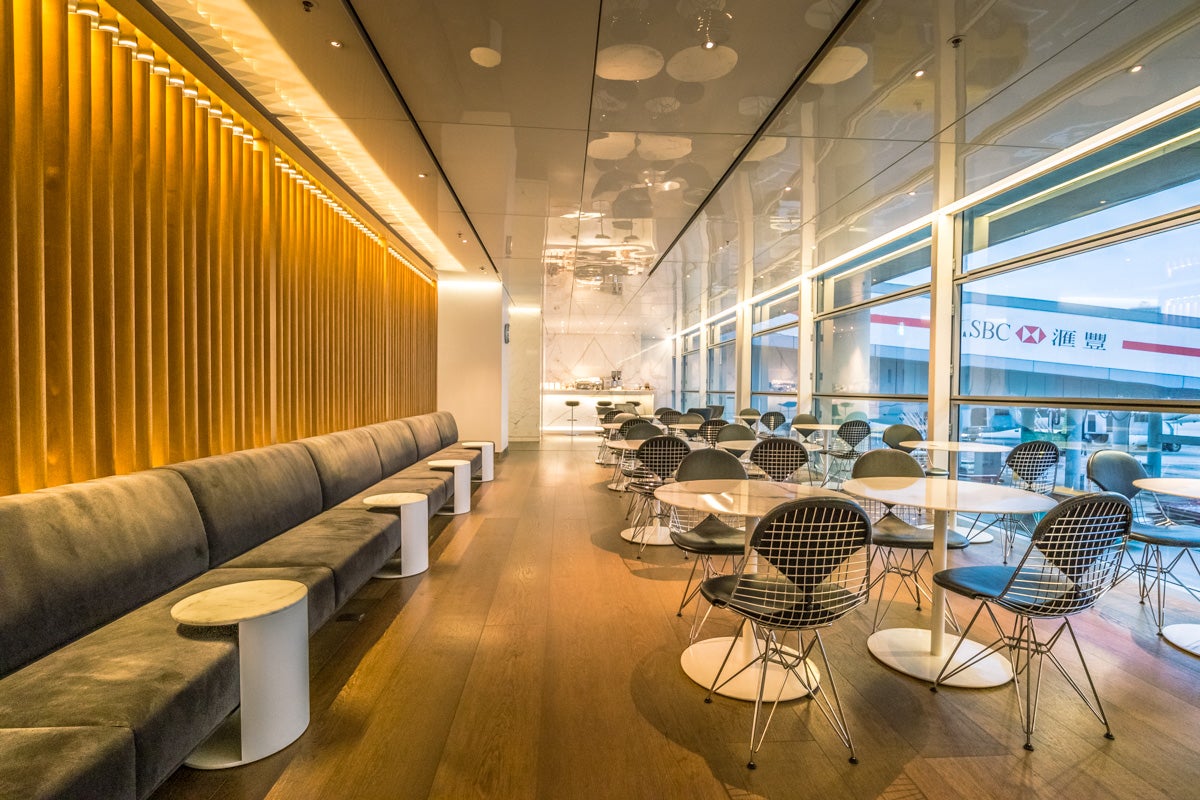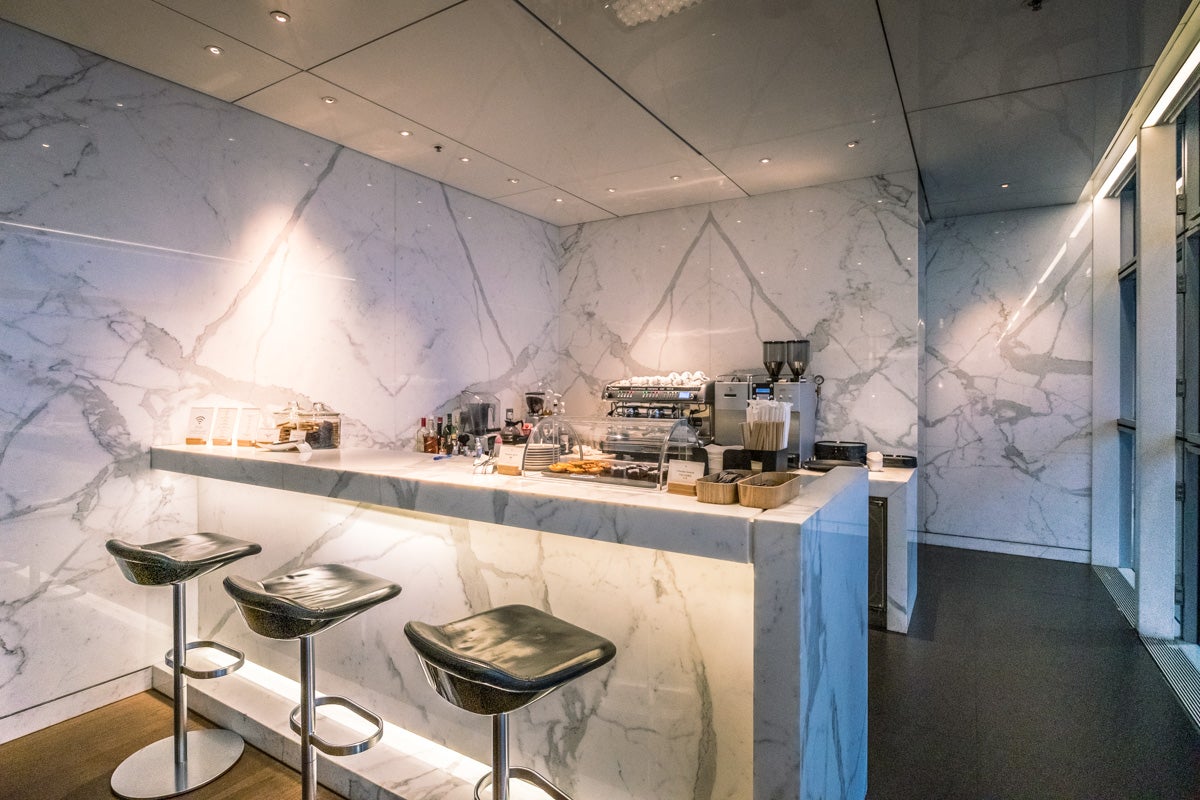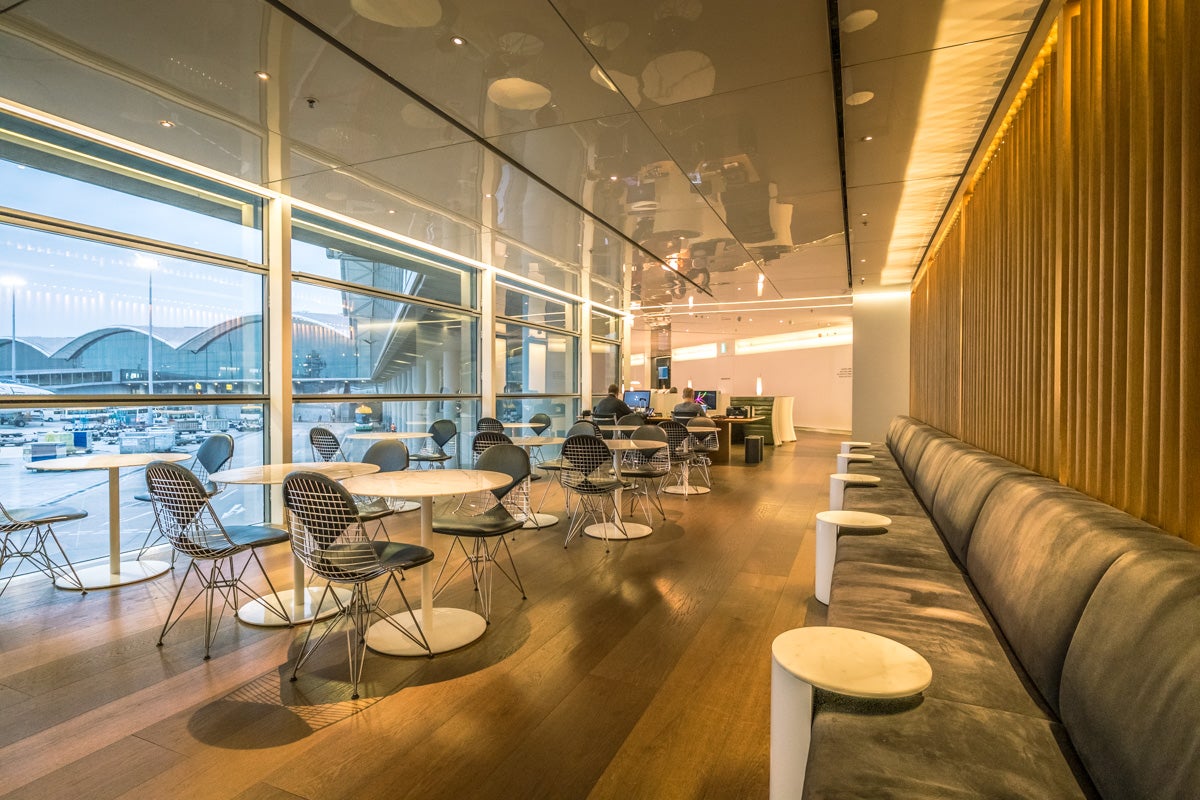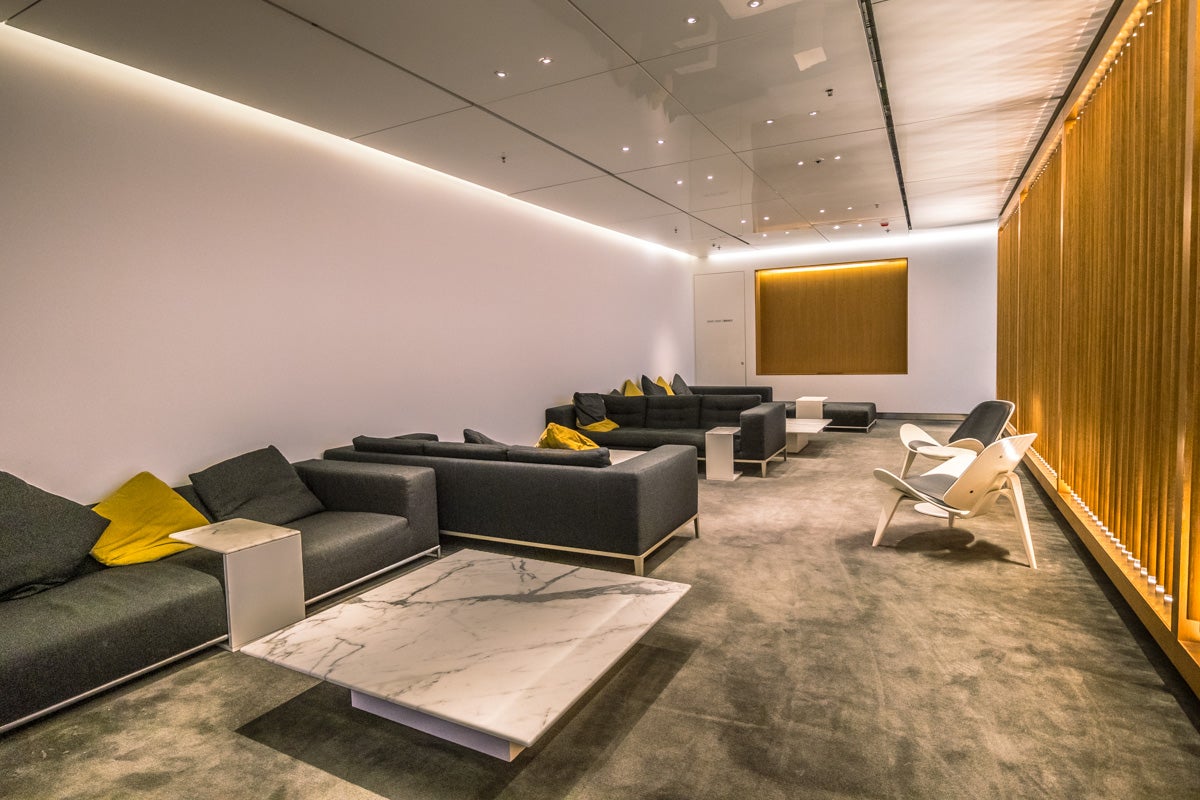 There are also 9 shower rooms available.
Cathay Pacific – The Wing Business Class Lounge
Hours: Open daily from 5:30 a.m. – 12:30 a.m.
Closest Gate: 1-4
I had seen all the lounges in the western end of the terminal and it was time to head towards check-in to visit the remaining lounges.
Just note that the automated people mover only works in 1 direction — departing passengers can use it to get from check-in to the western end and incoming passengers can use it to get from the western end to baggage claim. So, walking it was!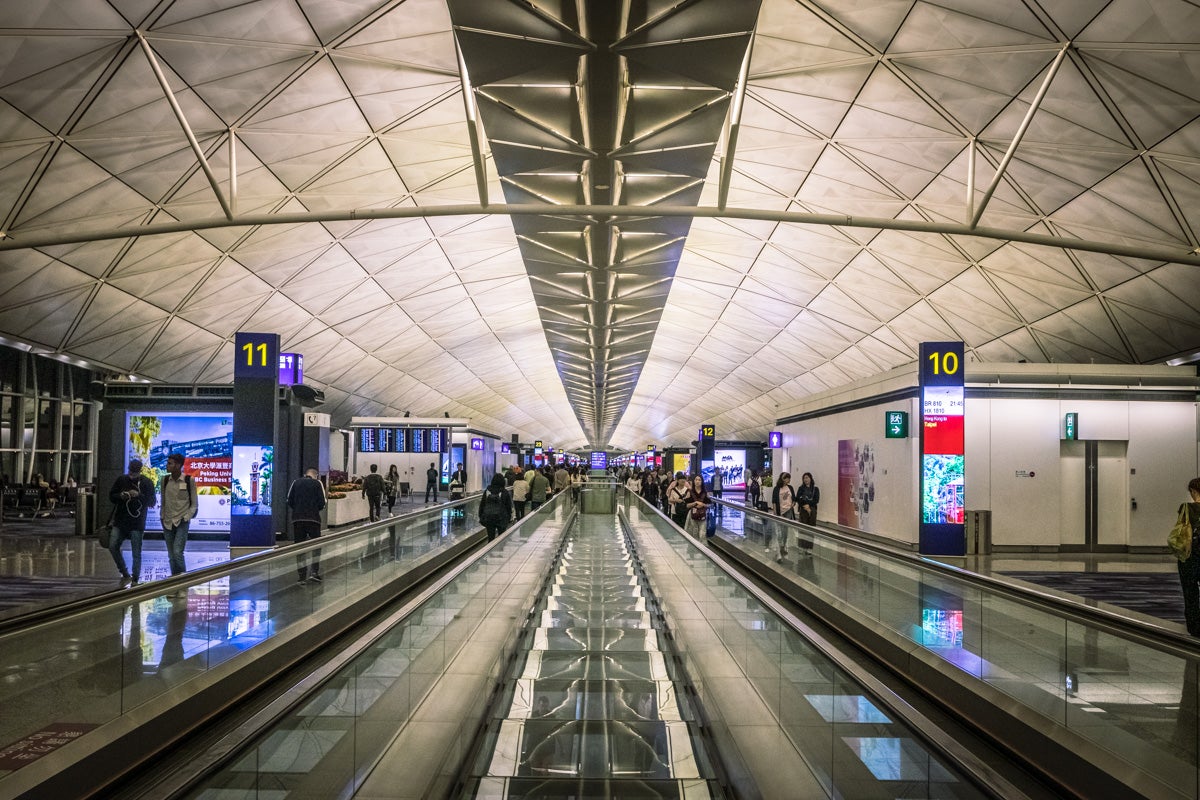 6:57 p.m.
From the escalators leaving The Bridge to sitting down at the bar at The Wing took me 16 minutes at a briskly paced walk.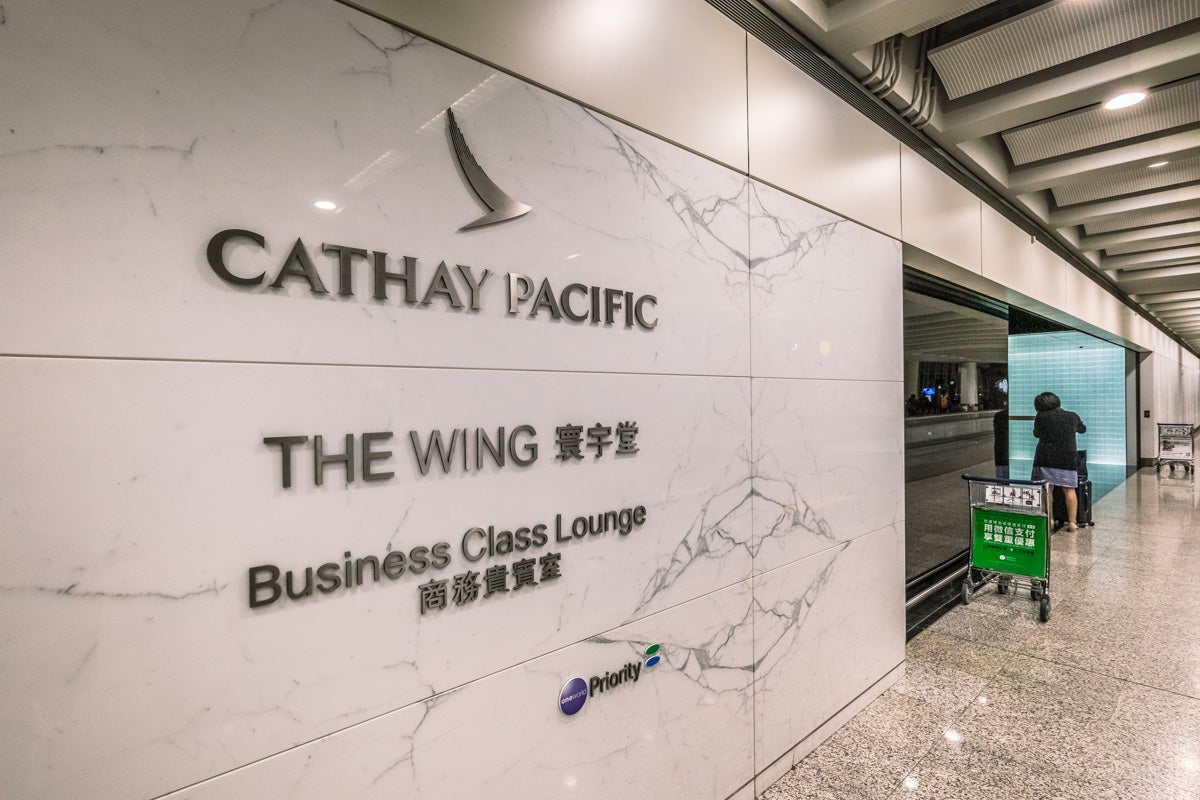 The Wing (First) uses the previous lounge design language, like The Bridge, so it also has the illuminated reception wall feature.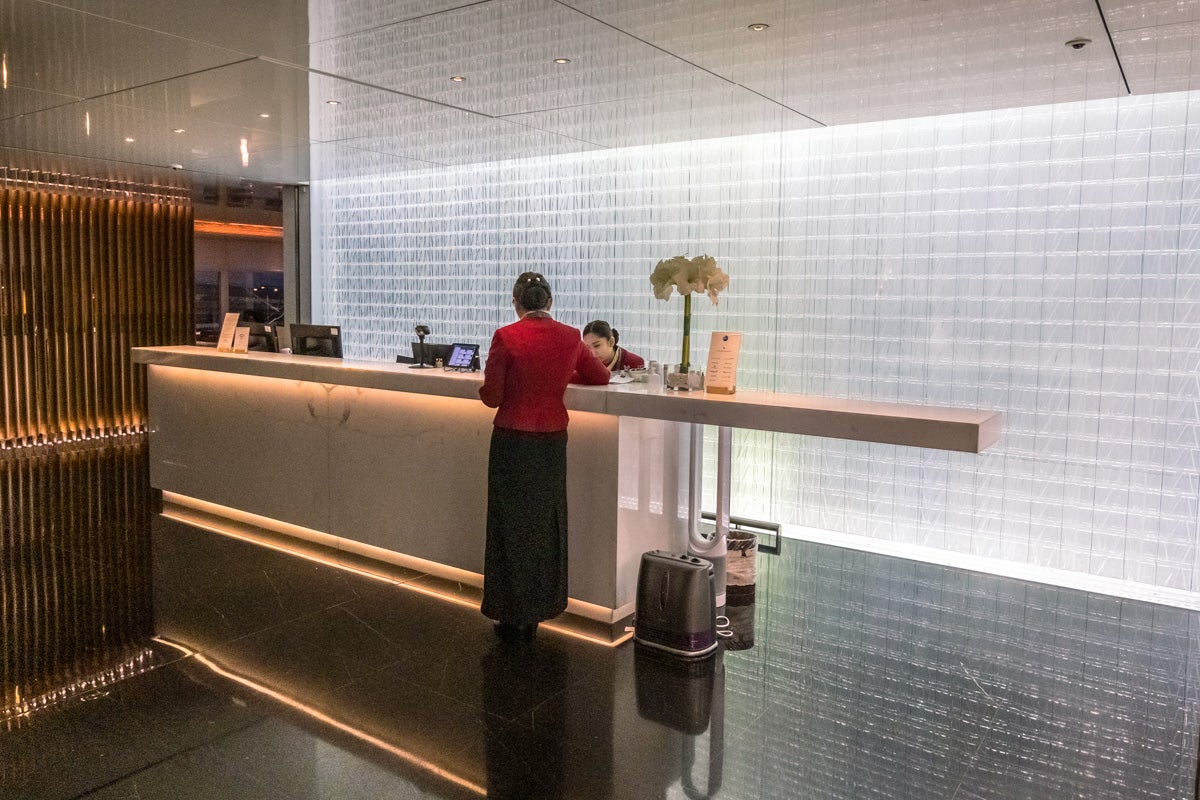 The lounge is split across 2 levels, and as I was thirsty after that walk, I headed upstairs to the iconic Long Bar for a beverage — a glass of Mum Cordon Rouge Brut NV.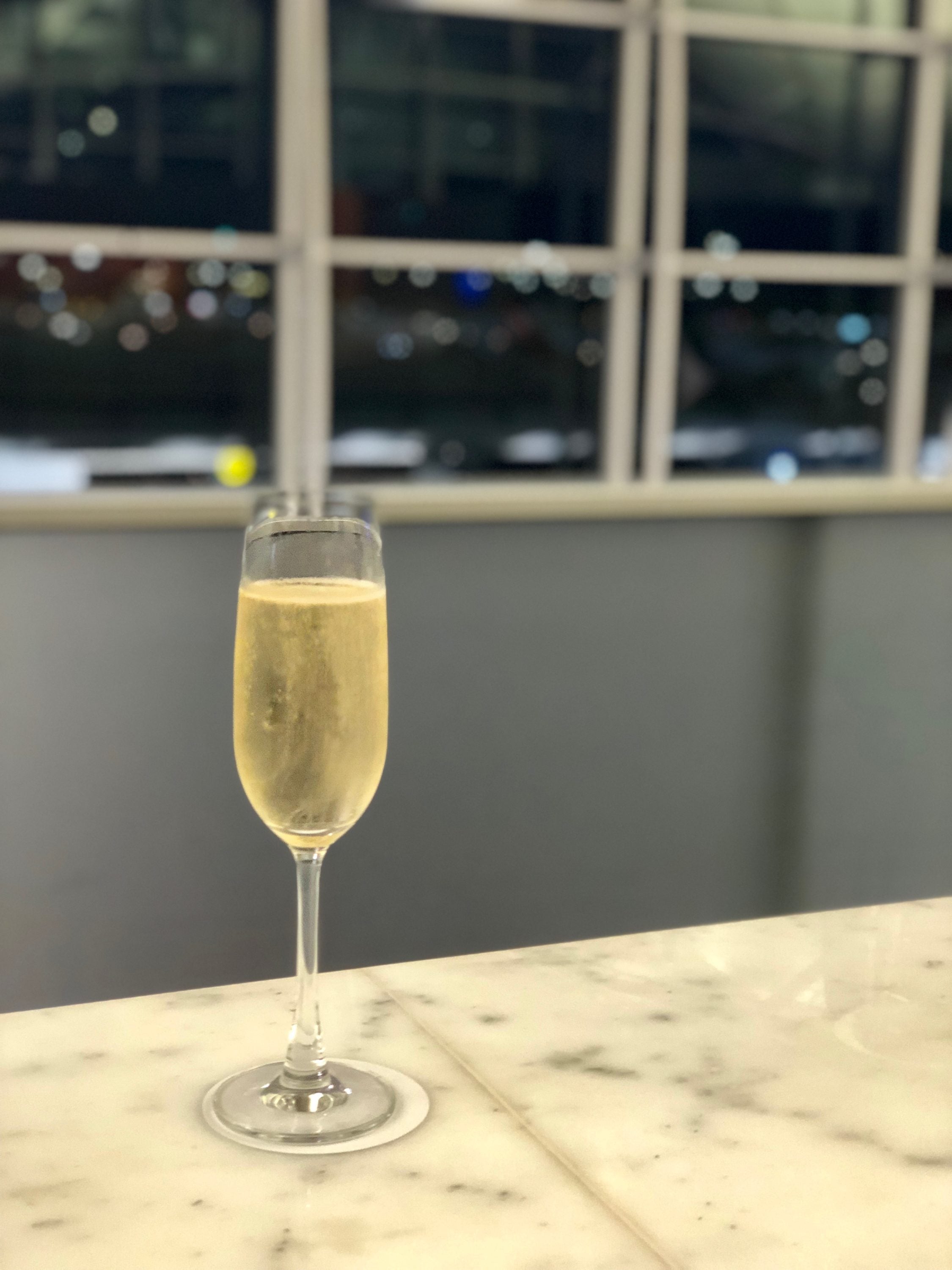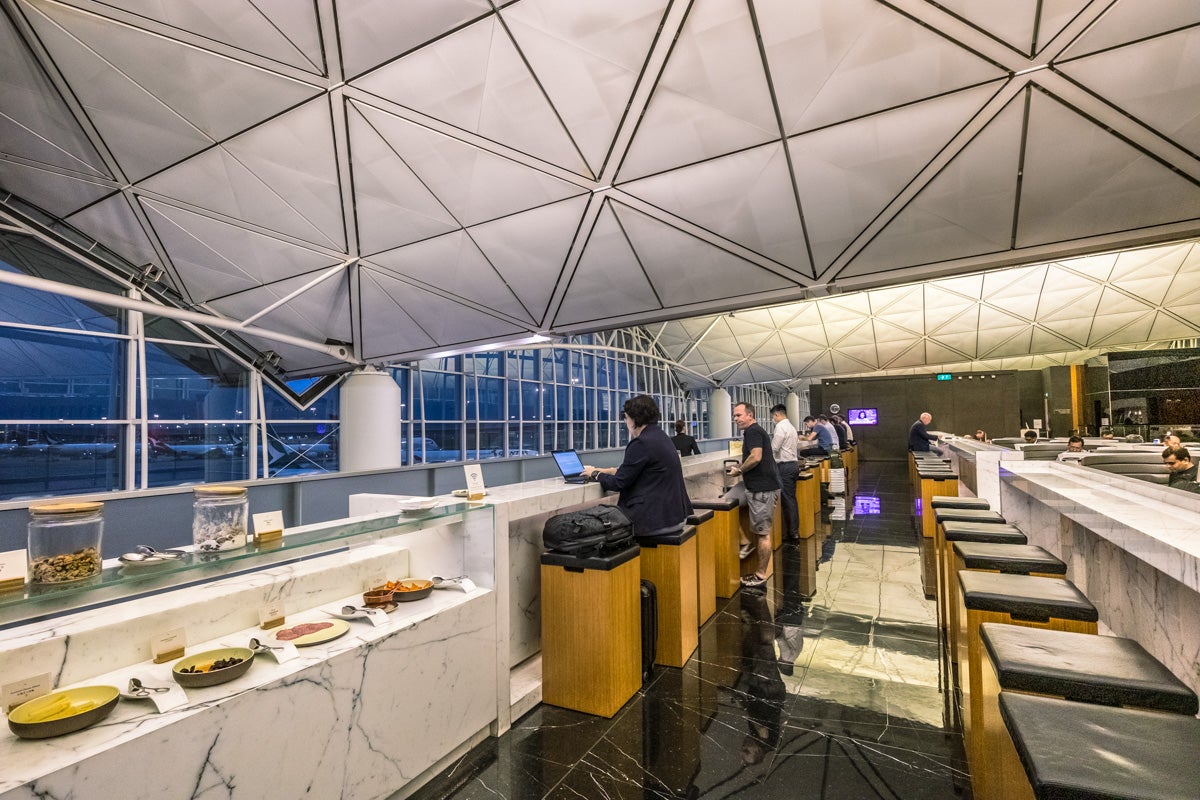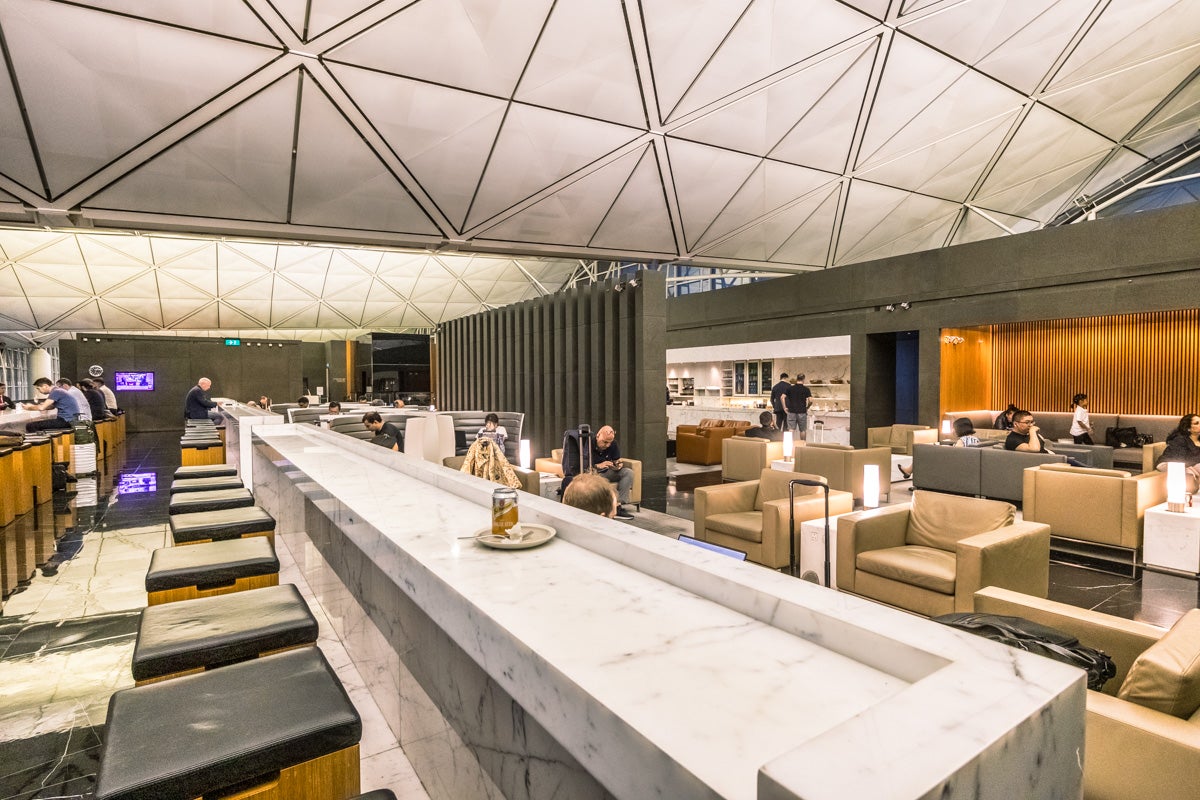 Around the corner from the Long Bar is the Coffee Loft if you would prefer something non-alcoholic.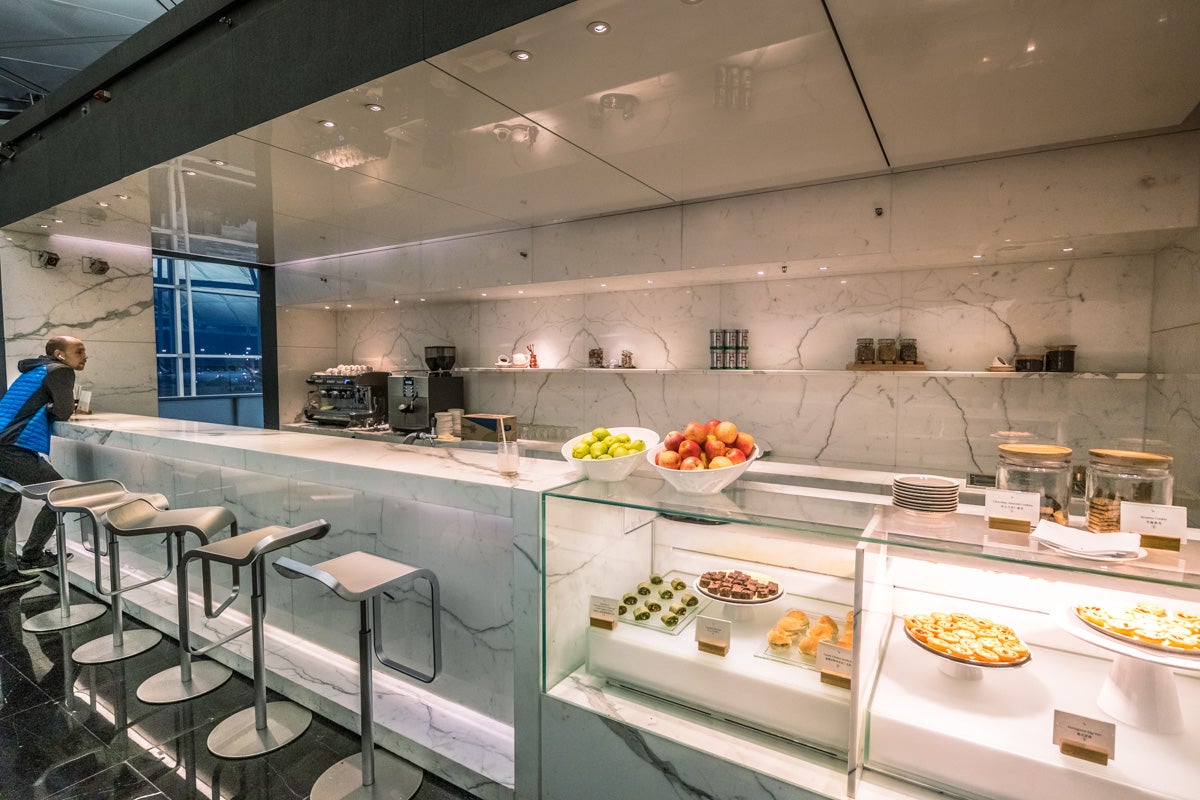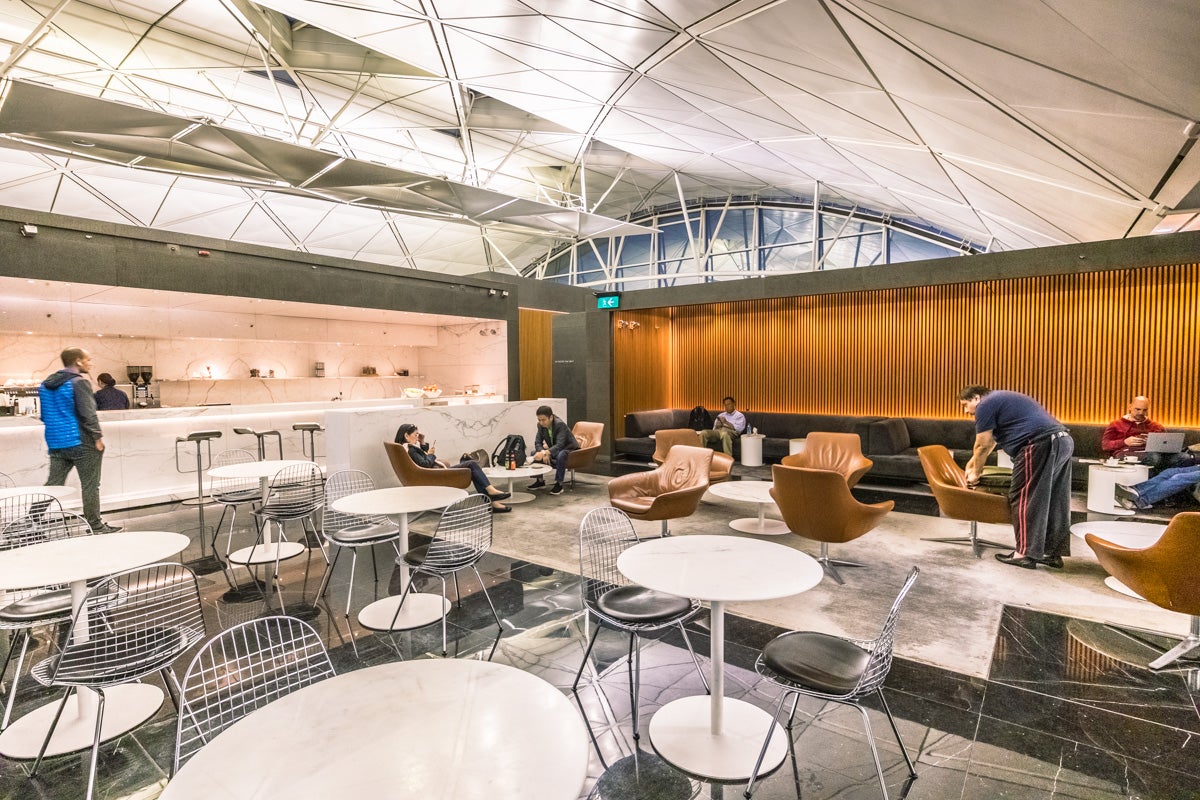 The popular Noodle Bar serves up freshly Asian dishes such as dan dan, char siu buns, and dumplings.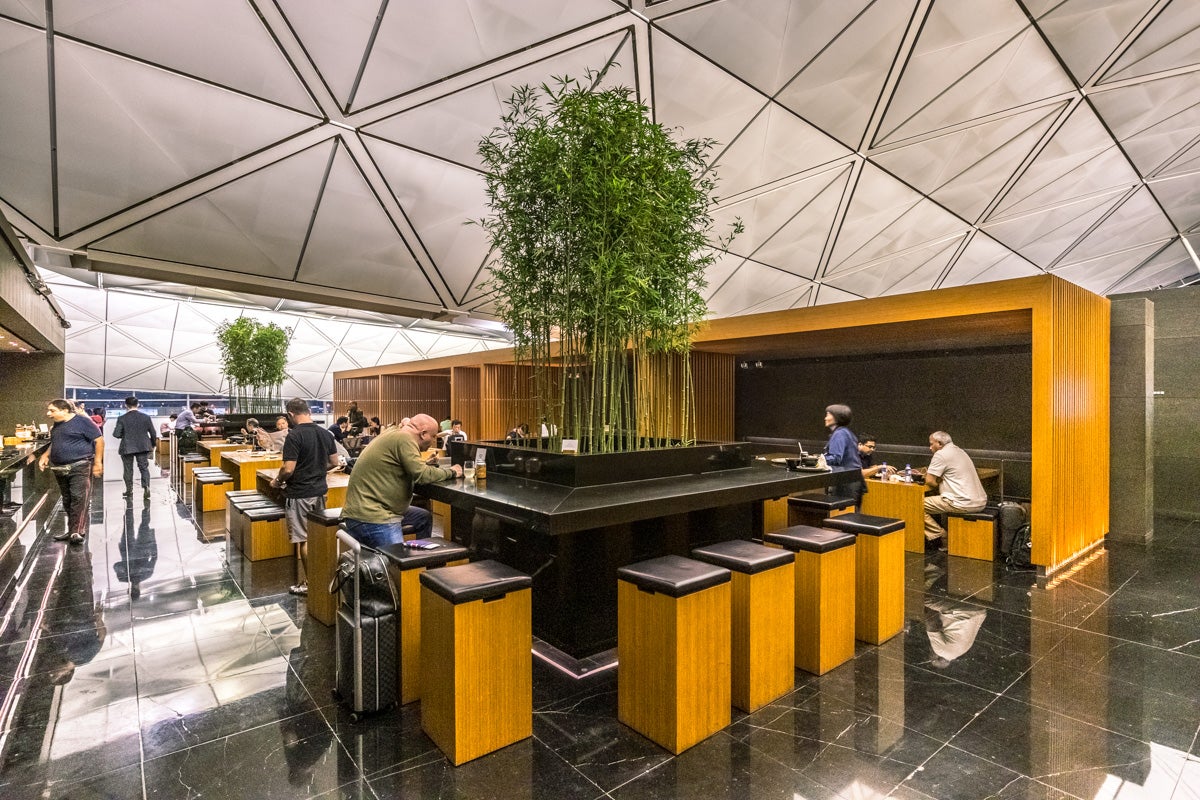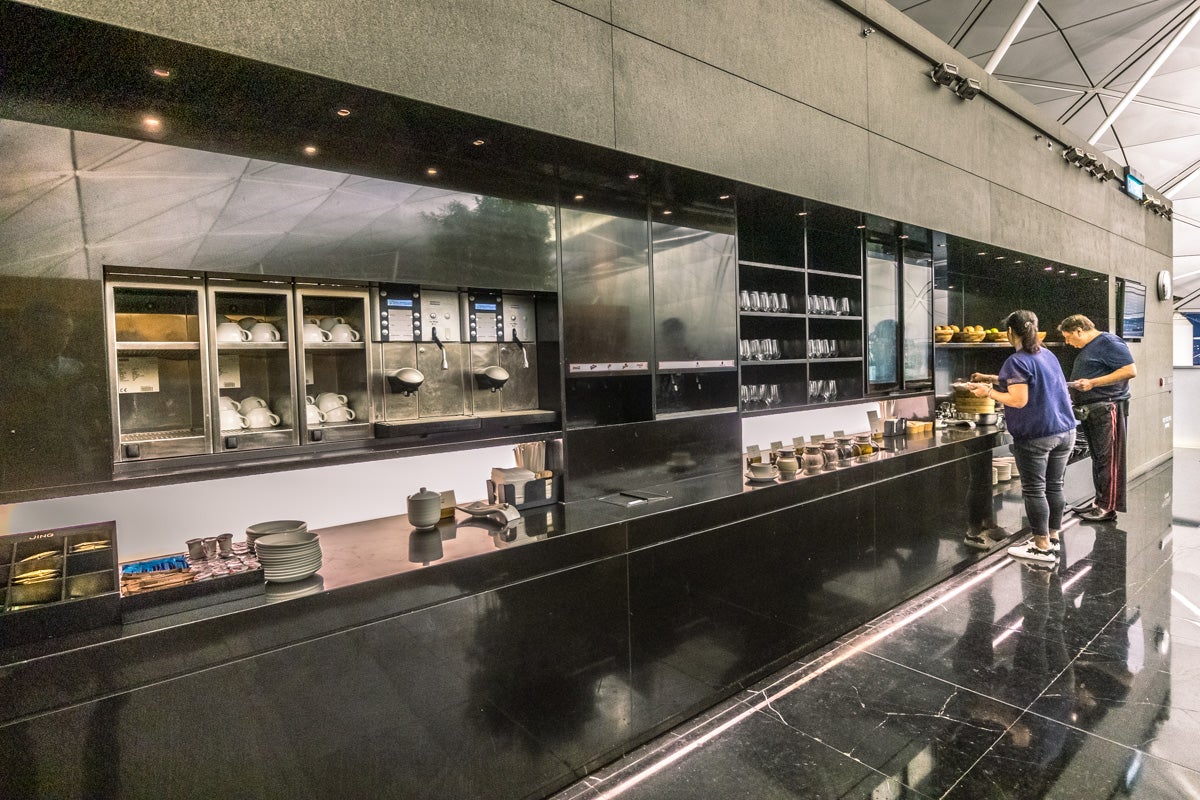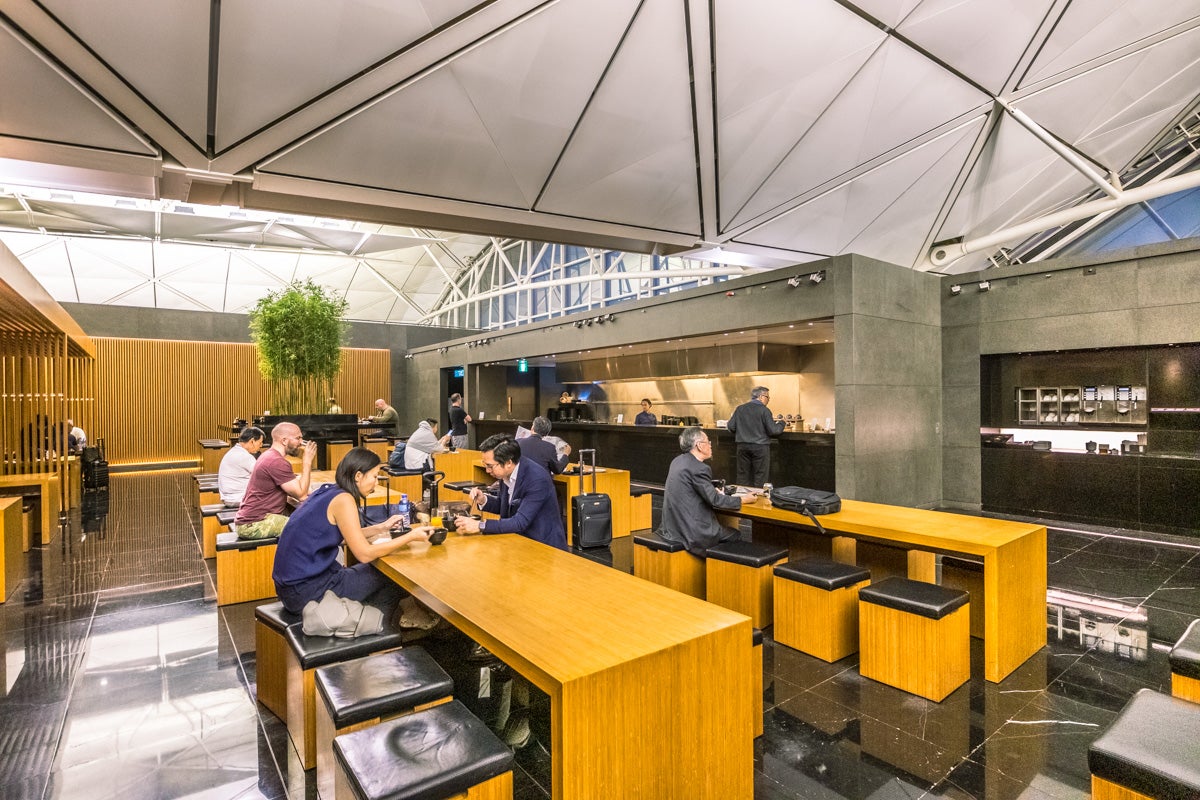 Western dishes are available from the buffet.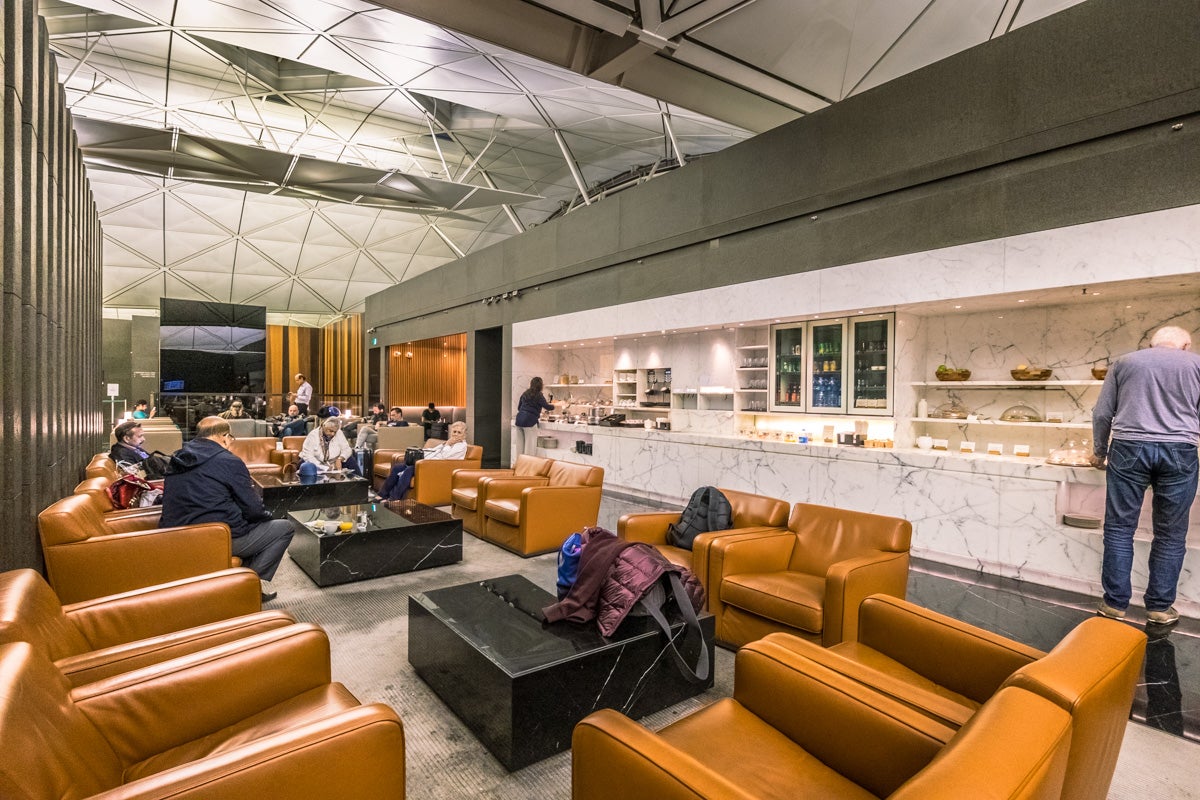 The lounge also features the Solus chairs as seen in The Bridge.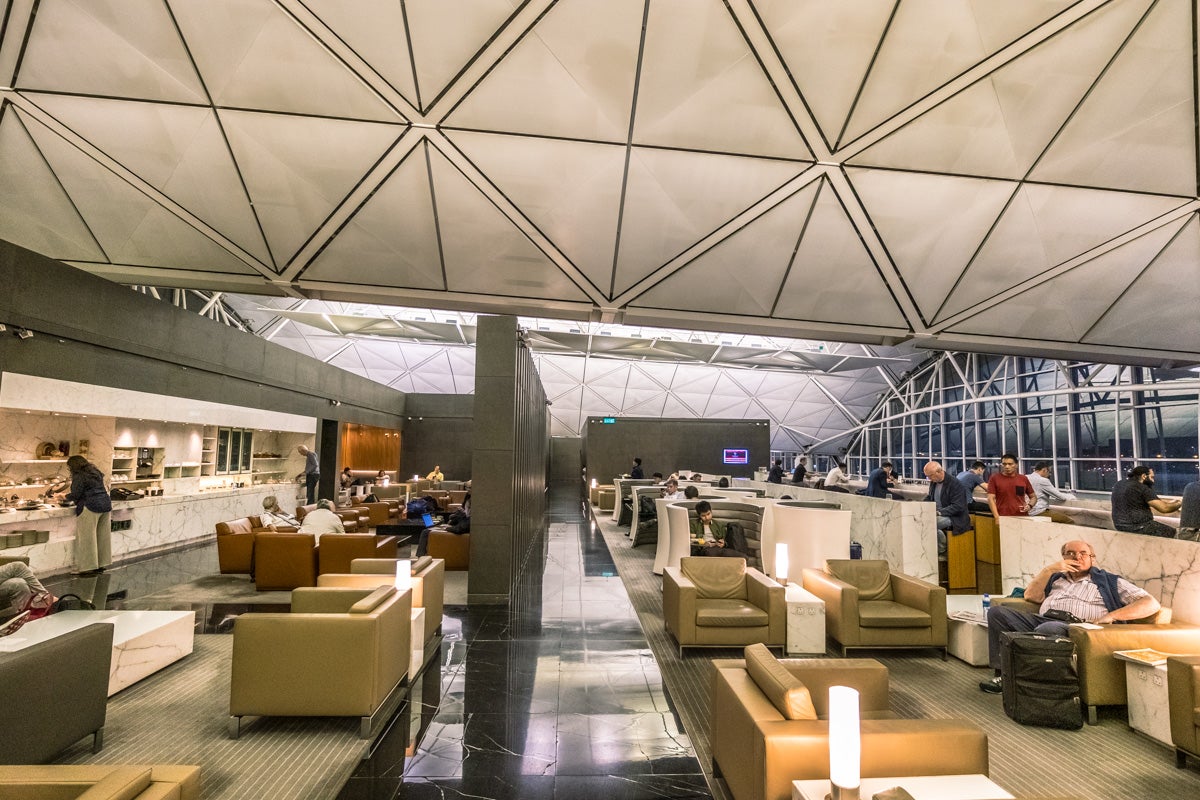 Hot Tip: The Wing and The Pier are considered 2 of the best business class lounges in the world.
Cathay Pacific – The Deck Business Class Lounge
Hours: Open daily from 5.30 a.m. – 12:30 a.m.
Closest Gate: 6
With 5 hours before departure, I headed for the north side of the terminal to check out the newest Cathay Pacific lounge.
7:41 p.m.
Aptly named The Deck, as The Terrace, with its open-air balcony, overlooks Gates 16-19.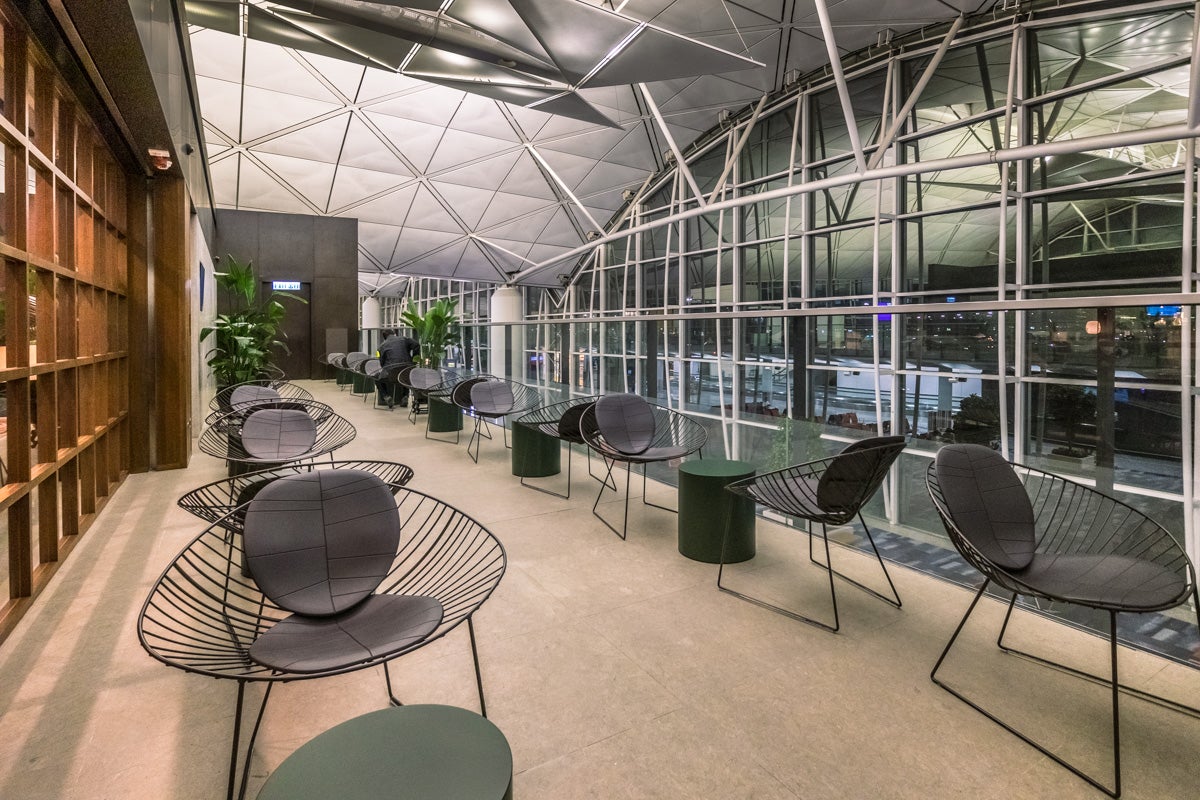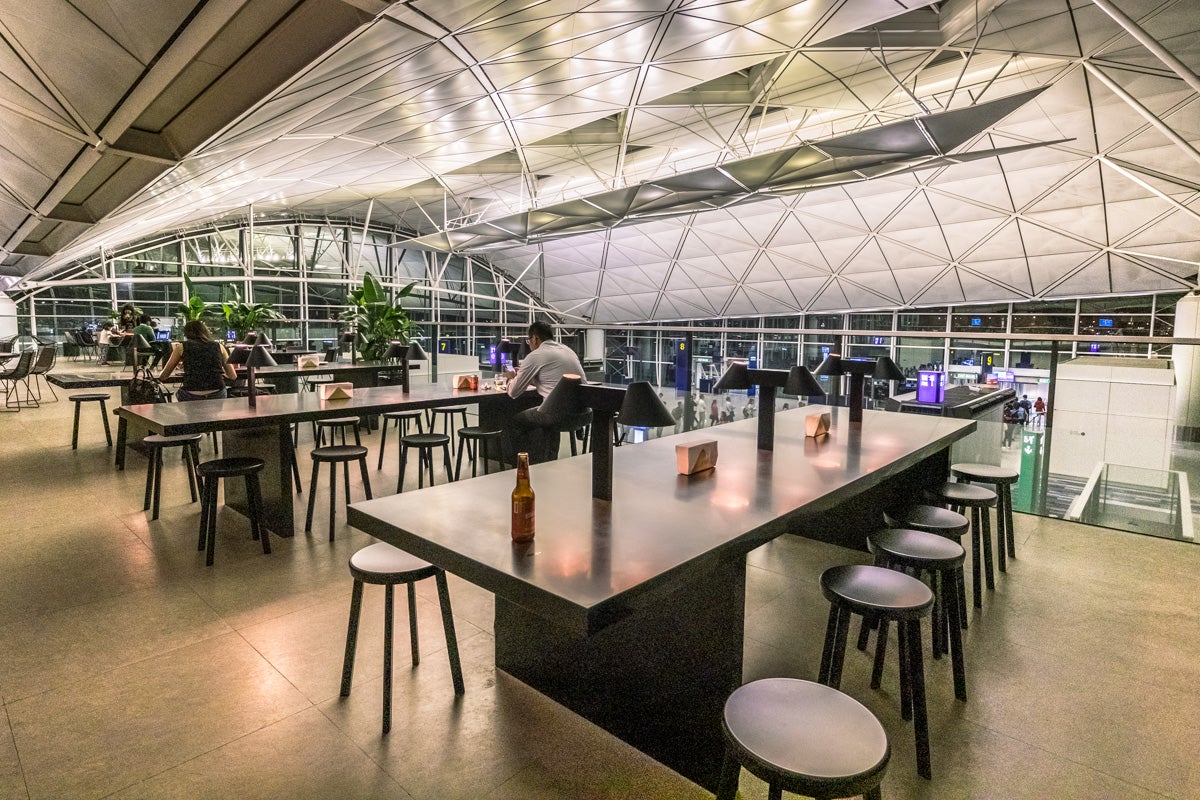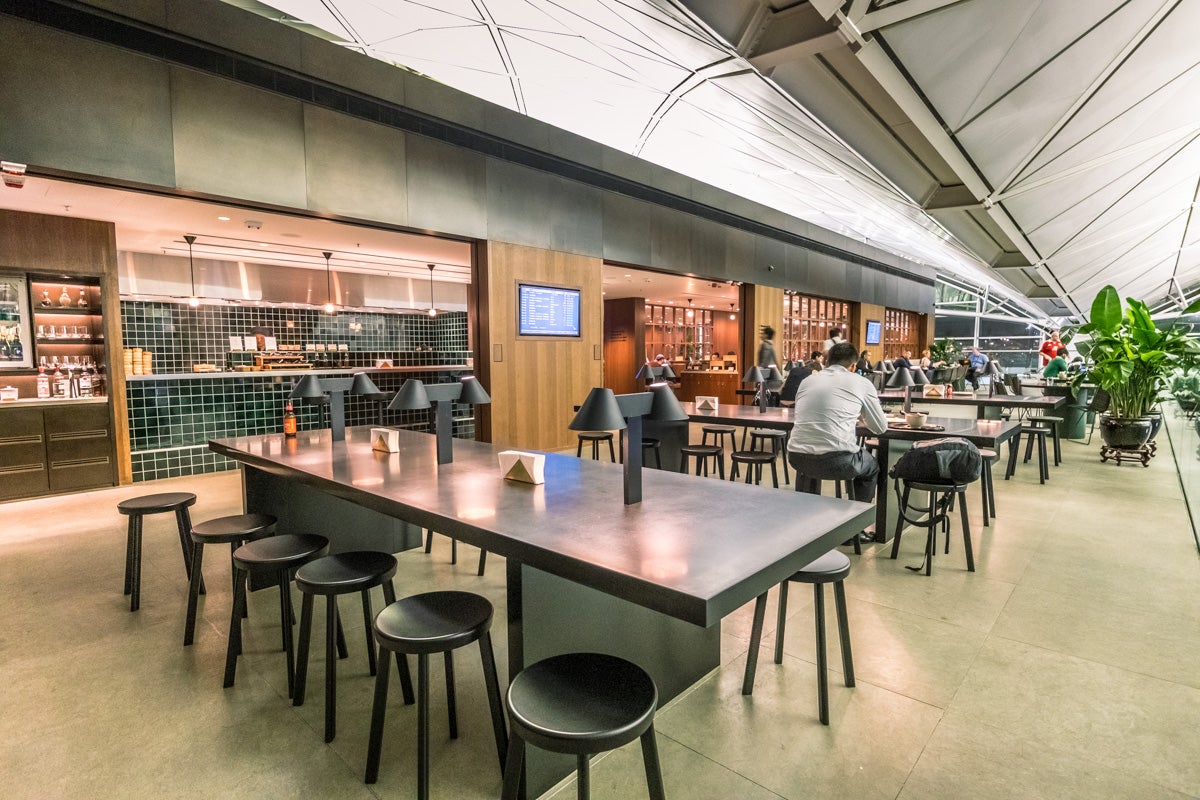 Yet if you prefer the more intimate feel of The Pier instead of the openness of The Wing, head "inside" and you'll find the same living room style ambiance.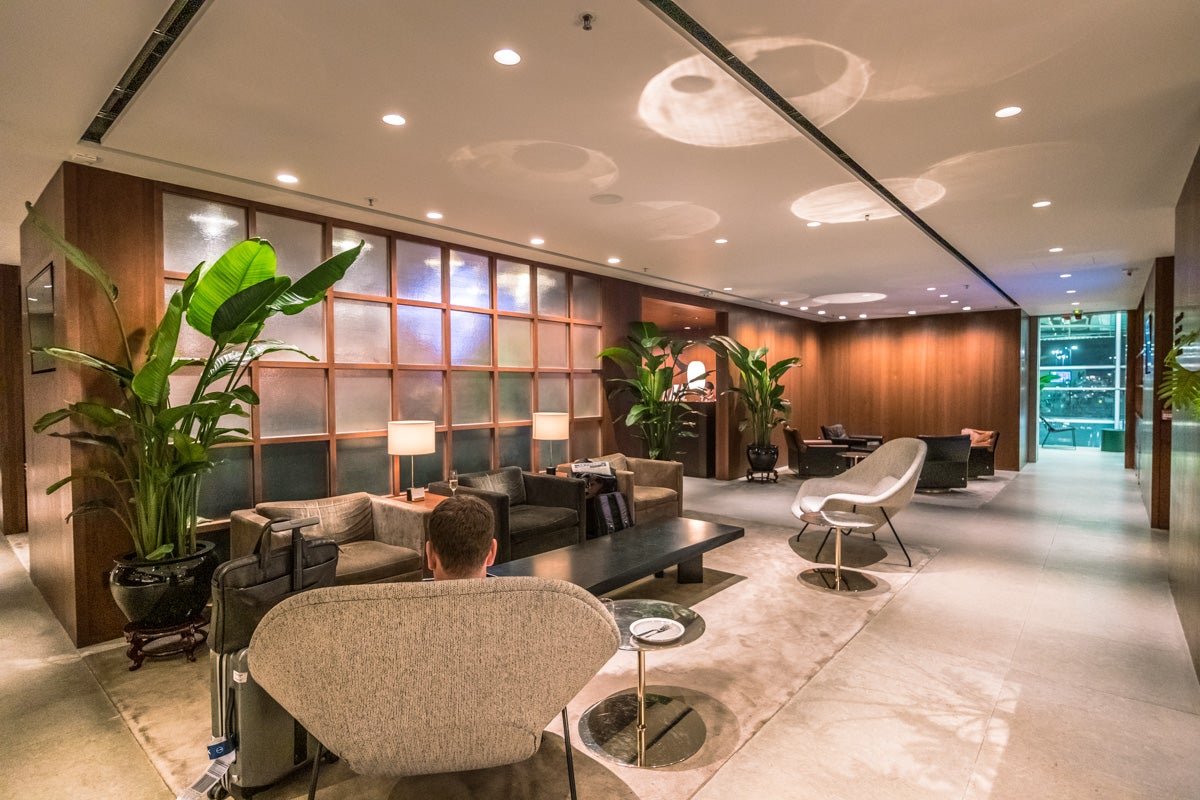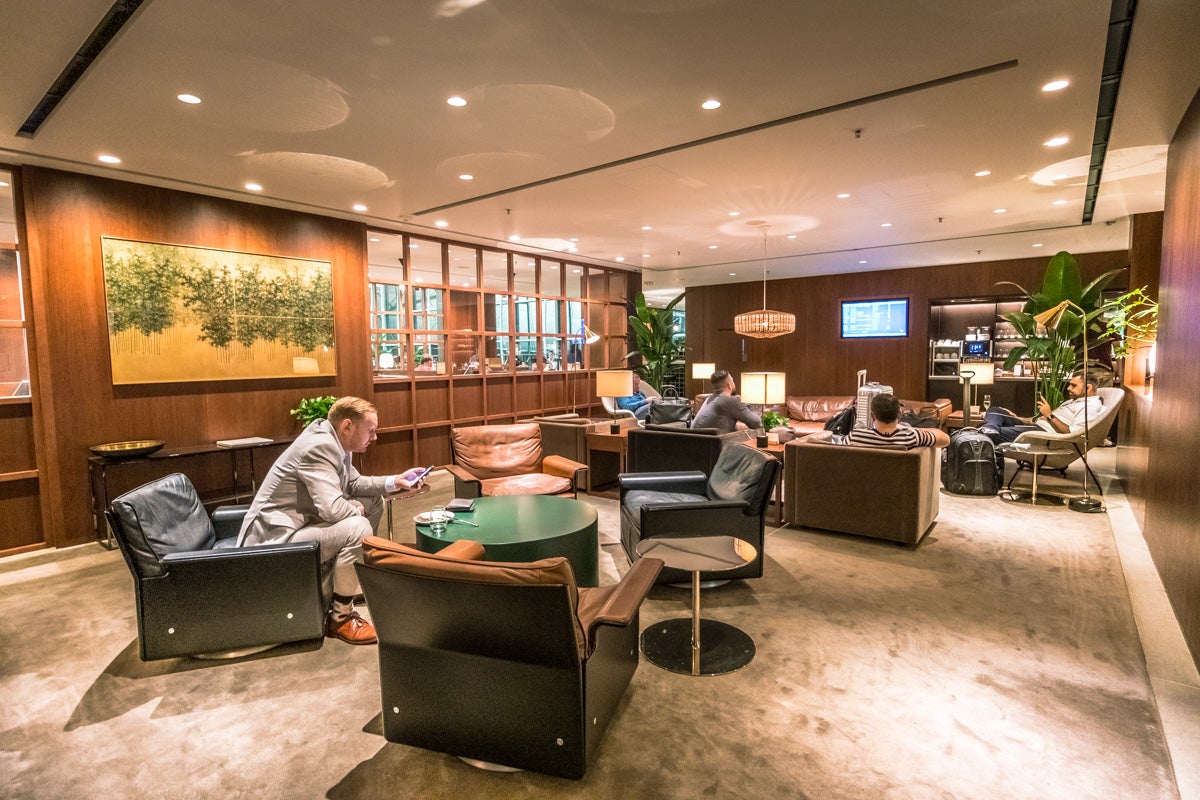 You'll also find the new Solo chairs, which replace the Solus chairs and match perfectly with the new relaxed residential lounge room design language.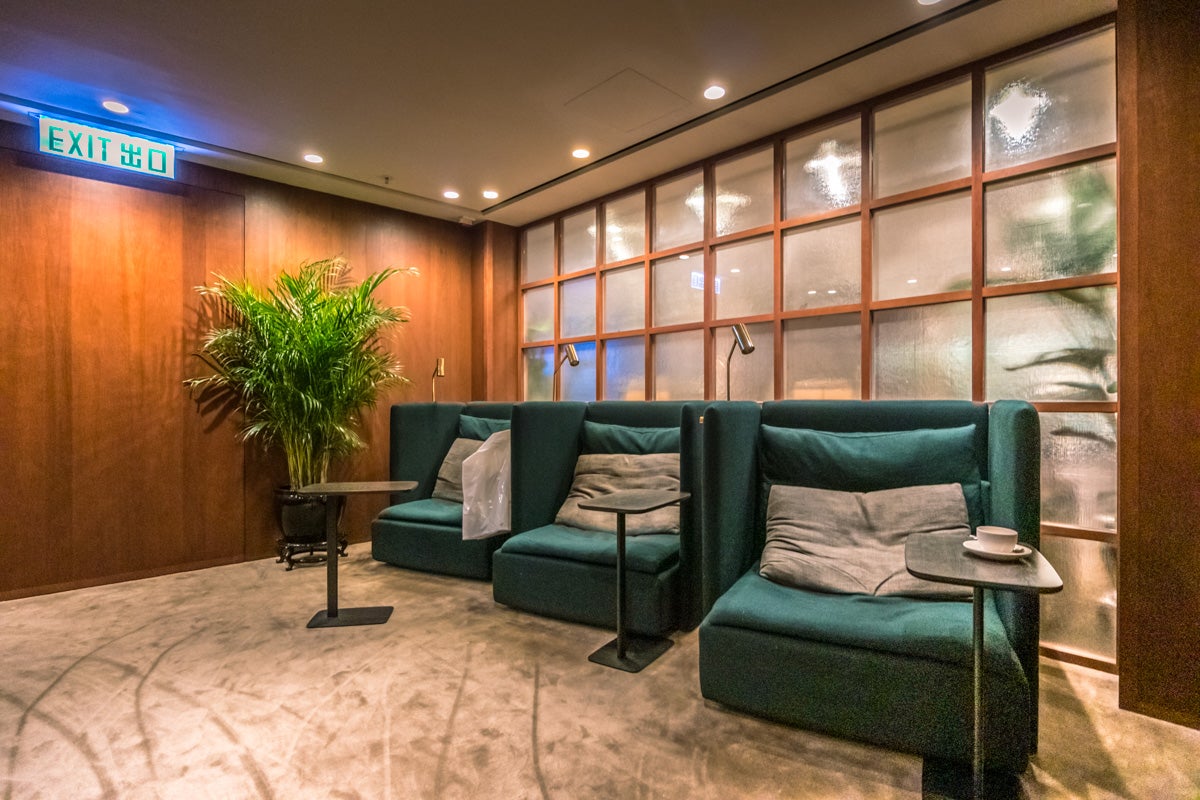 The iconic Noodle Bar serves made-to-order Asian dishes and there is also a smaller buffet providing select Western options.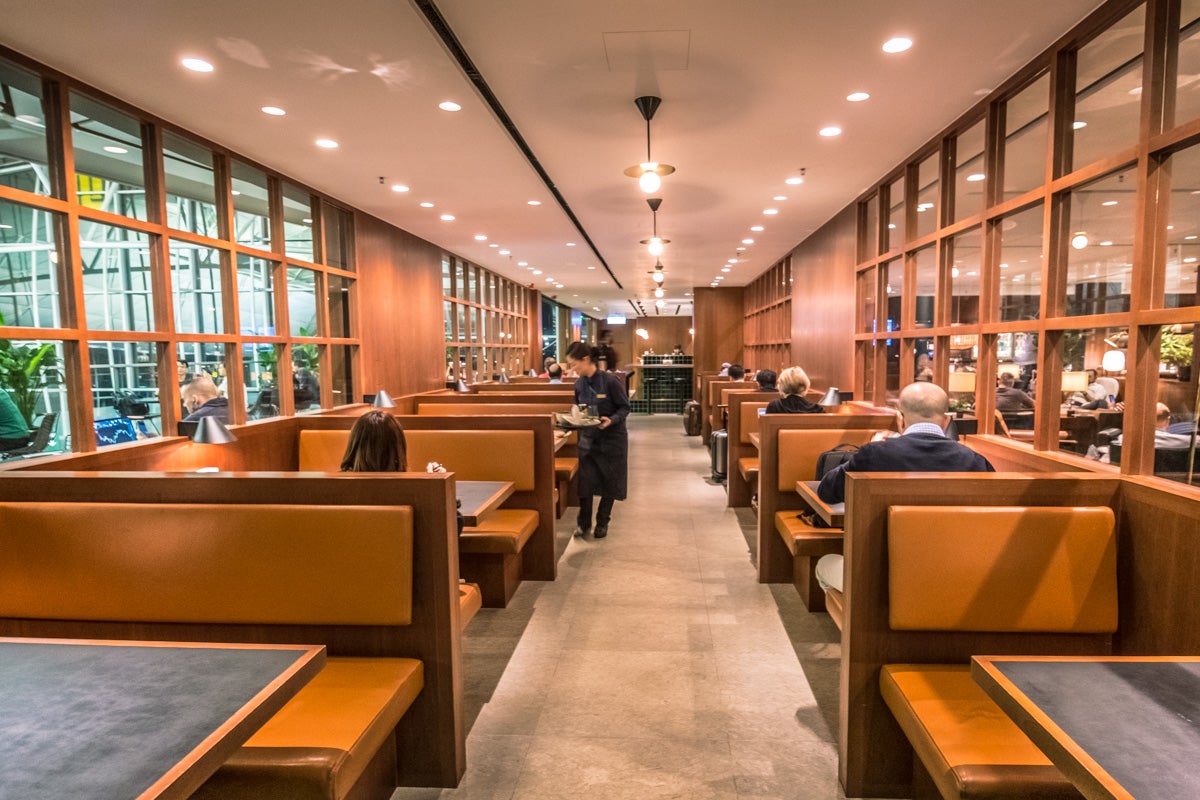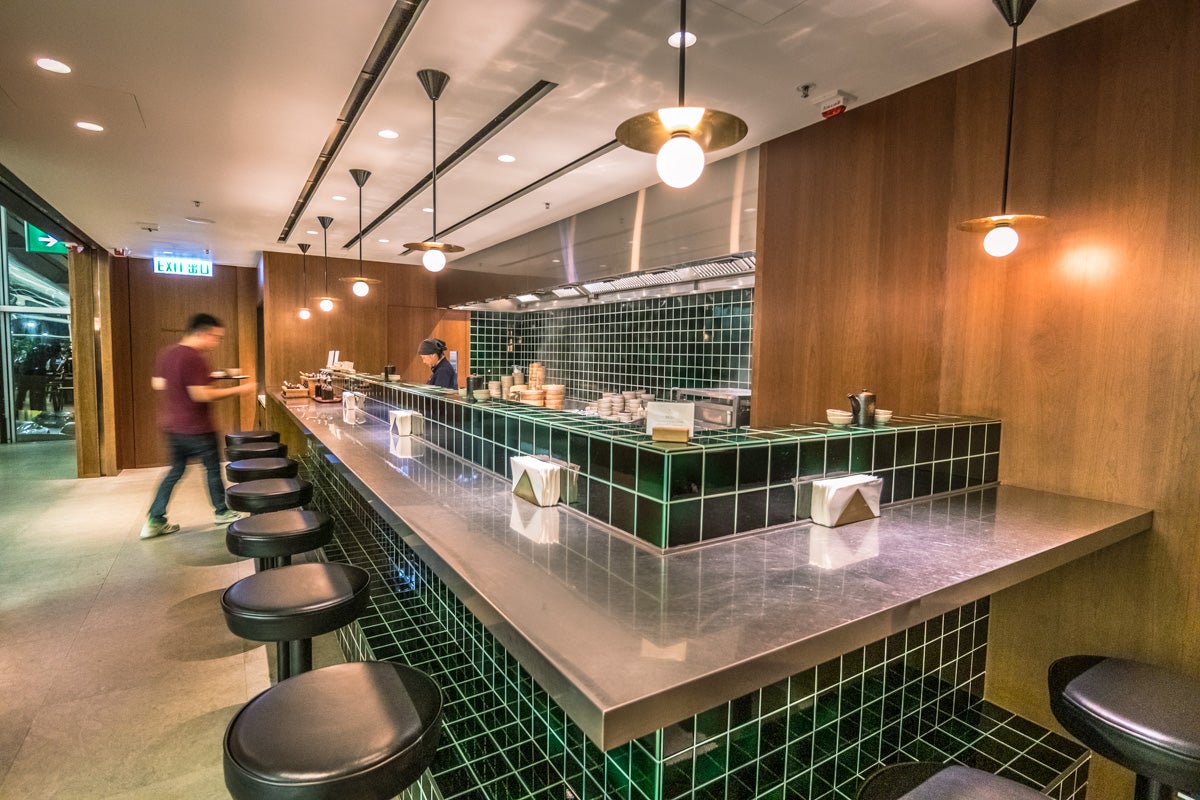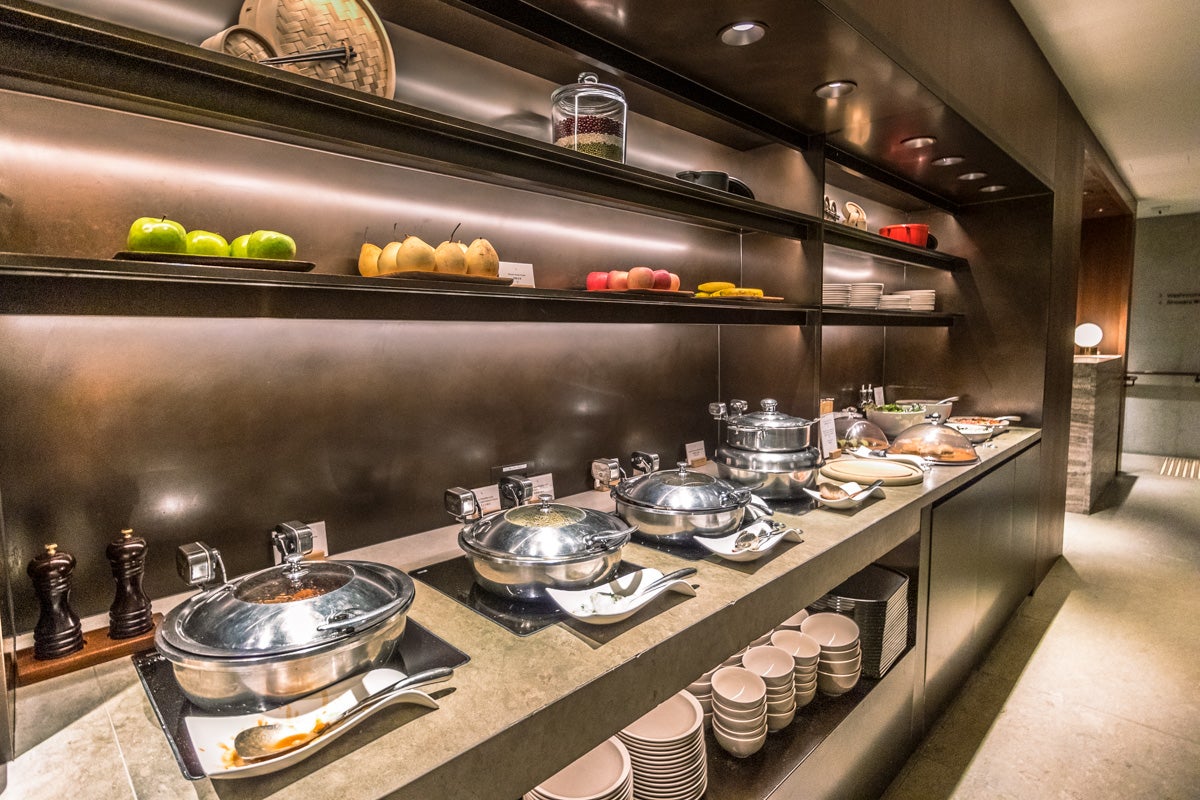 There are 8 shower rooms are available.
The Qantas Hong Kong Lounge
Hours: Open daily from 7:30 a.m. – 11:59 p.m.
Closest Gate: 5
With still 4.5 hours to go, I needed dinner and decided to head to the Qantas lounge.
8:08 p.m.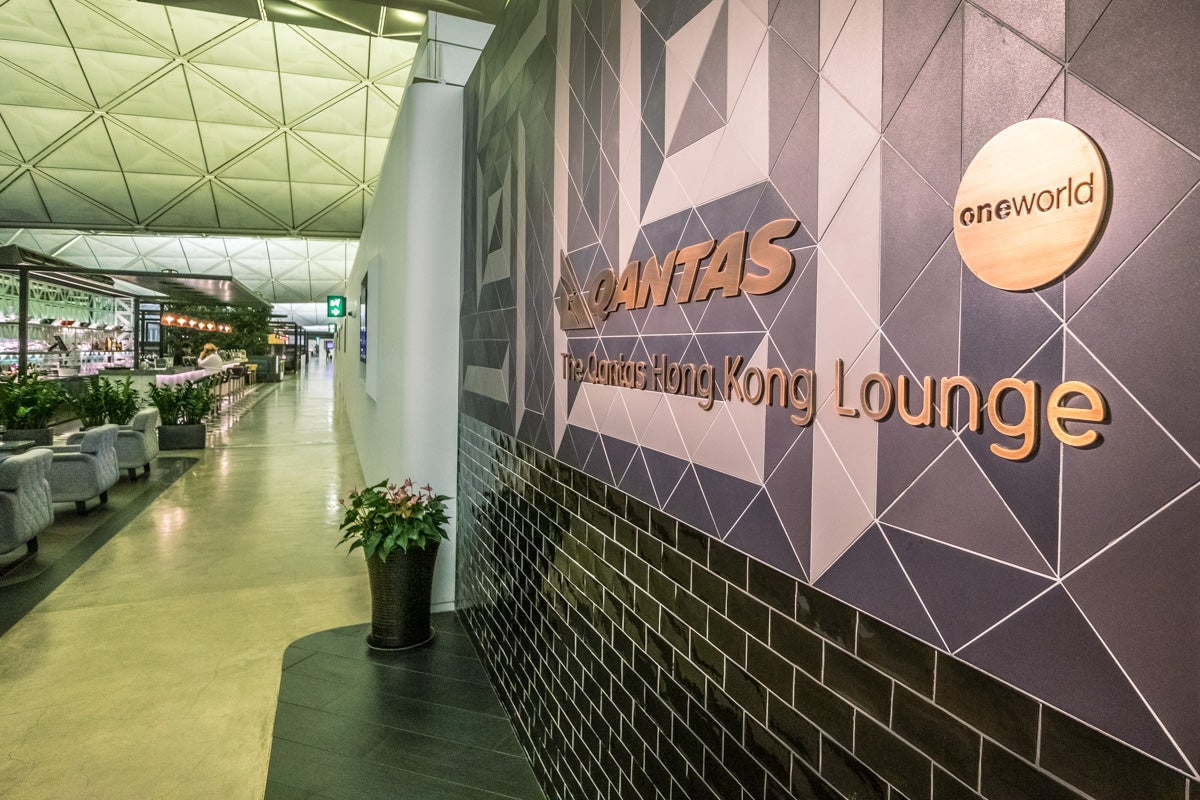 As all the Qantas flights to Sydney, Brisbane, and Melbourne had already boarded and were ready for departure, the lounge was relatively empty and only the buffet food options were left. There was no more "plate of the day," no dim sum trolley and the Spice Temple BBQ had literally just ended serving its char siu barbecued pork.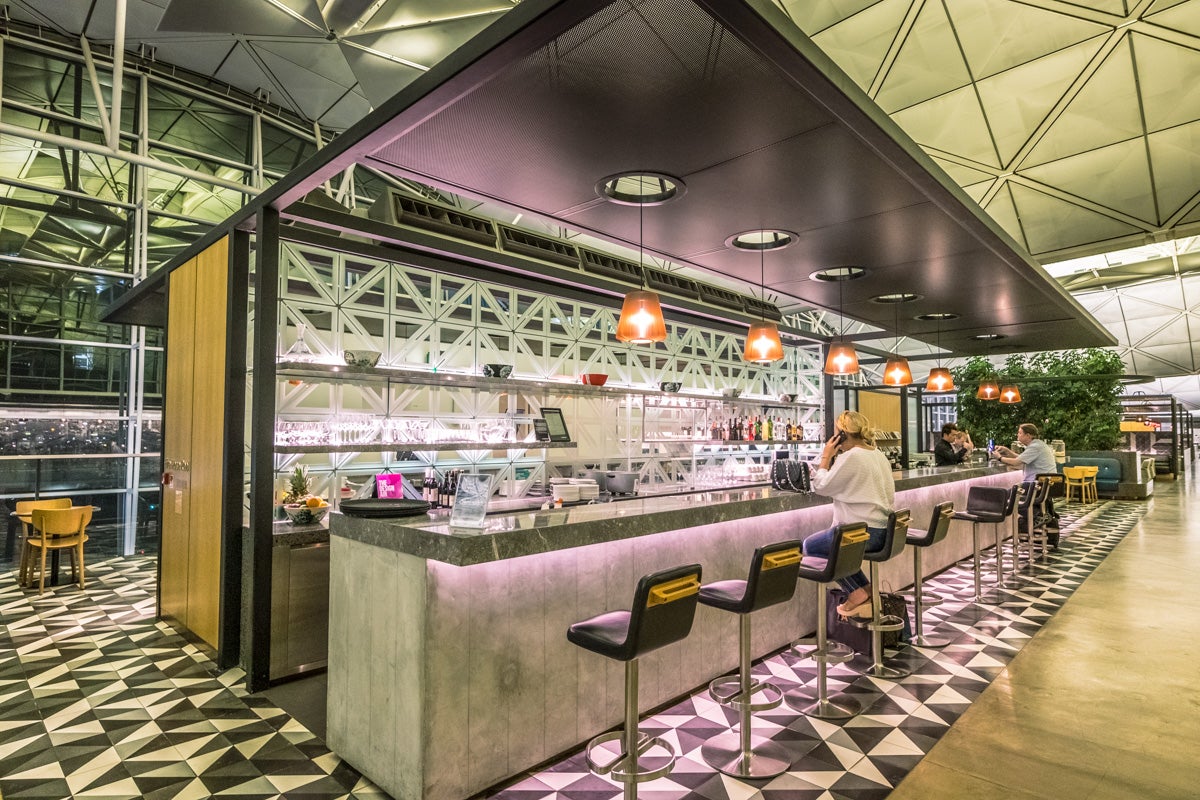 The buffet options for the evening were cream of cauliflower, braised lamb with tomato, chard, cannellini bean and herbs, afghan red kidney bean curry, fusilli pasta with ratatouille, couscous, and pork and cucumber dumpling.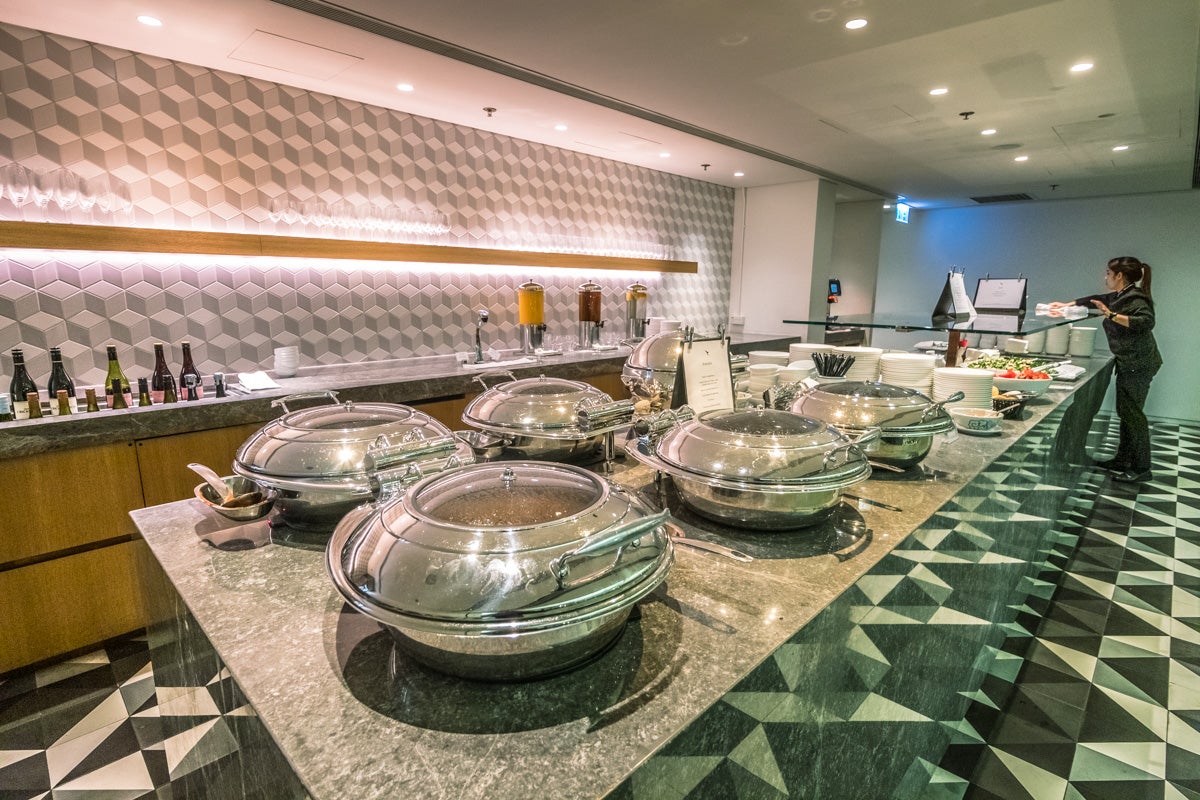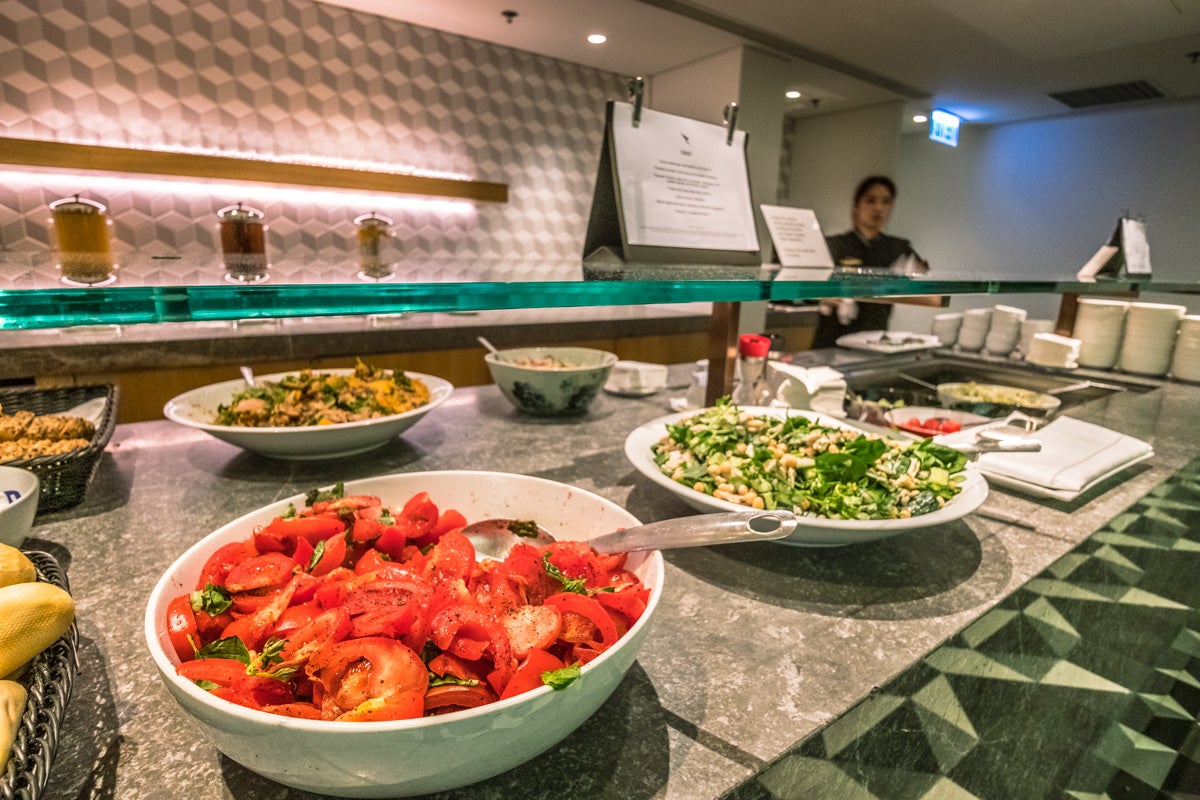 Even with the empty lounge, I only clocked the Wi-Fi at a dreadful 3.46 Mbps download and 1.95 Mbps upload, so I would hate to have experienced it when this place was full.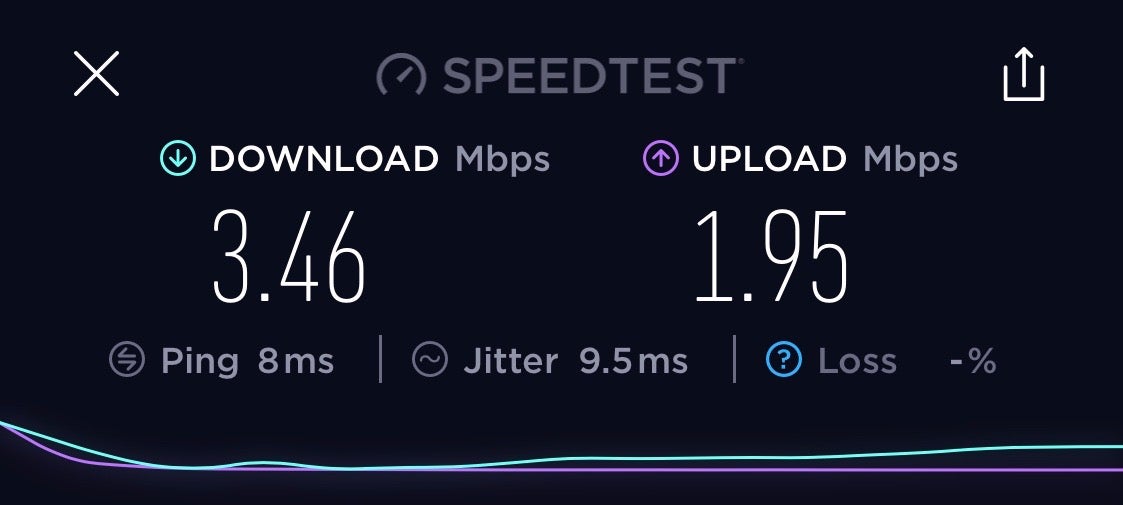 While I didn't get to experience the food options, the empty lounge did give me the opportunity to grab some pics of the entire lounge, which looks fantastic.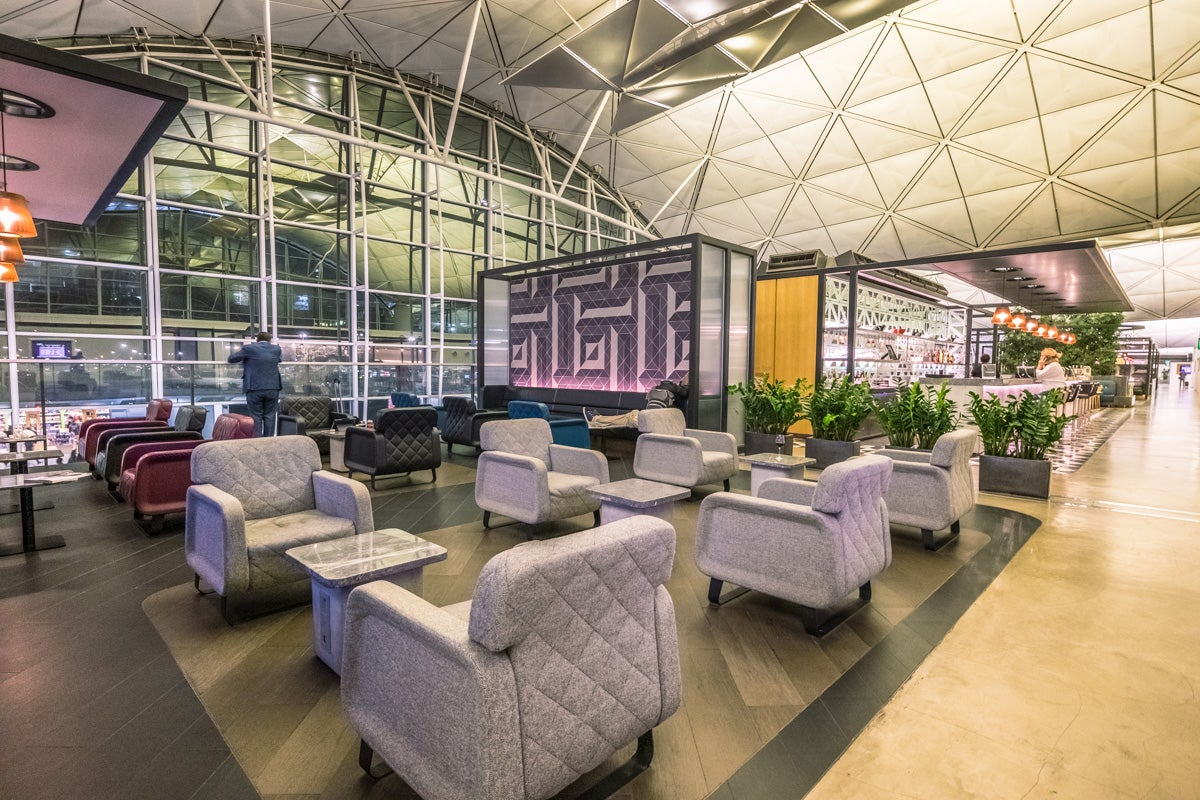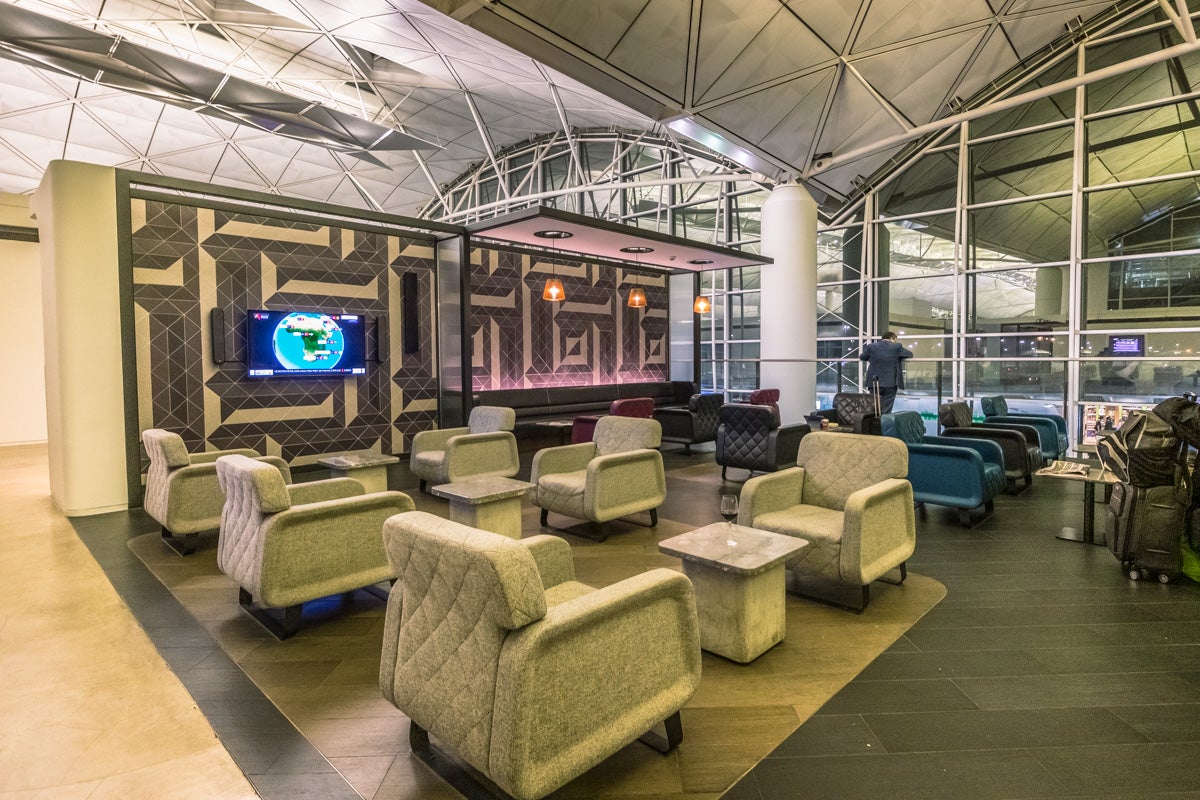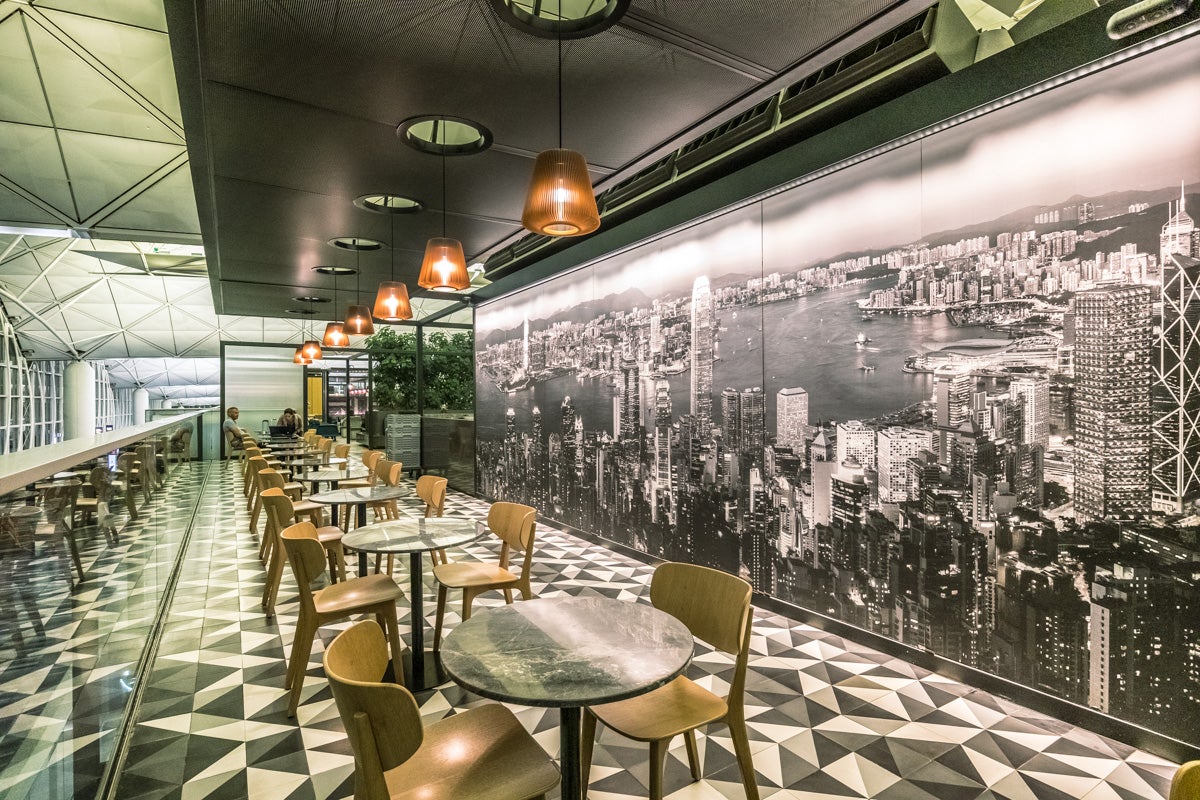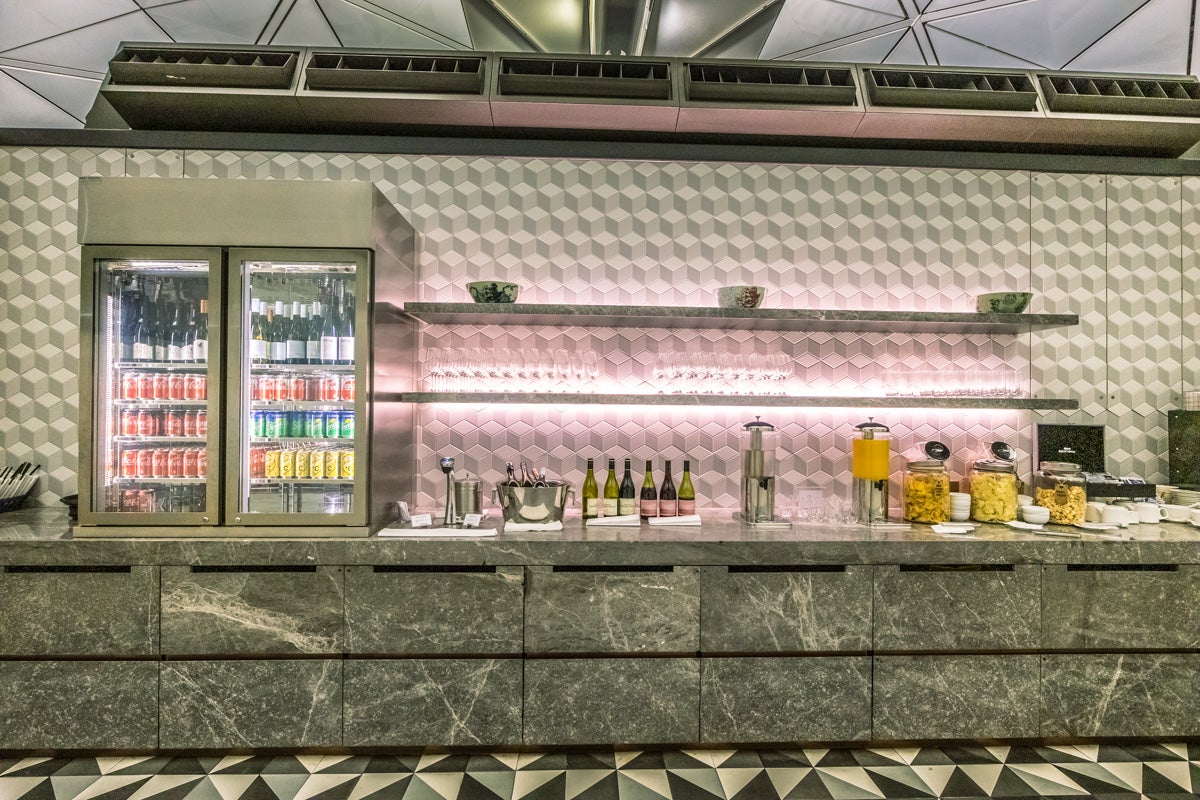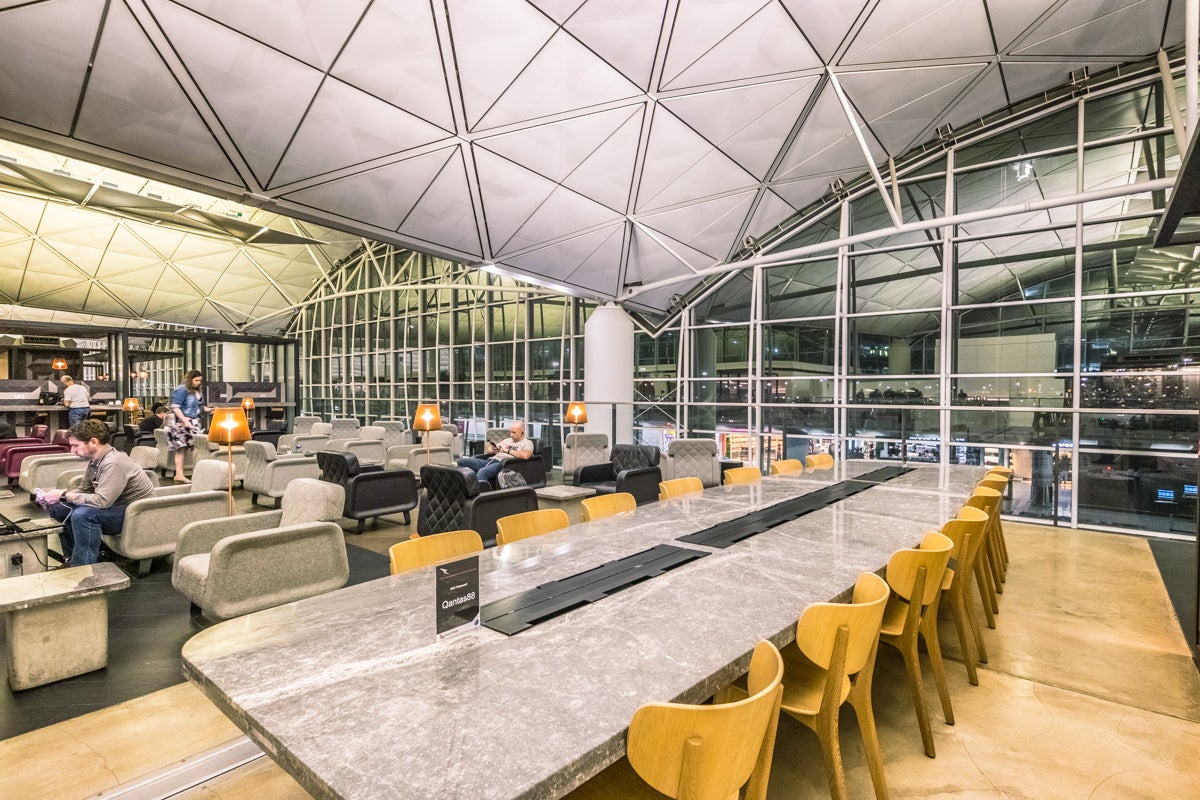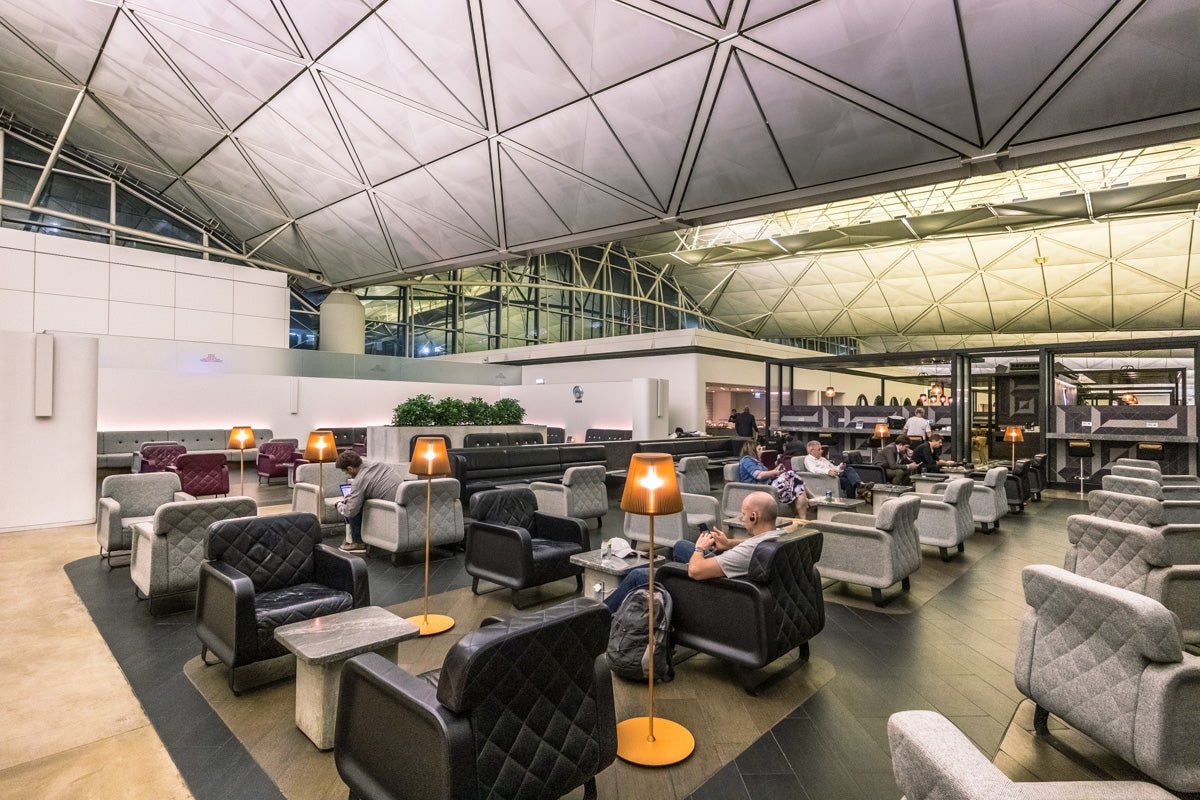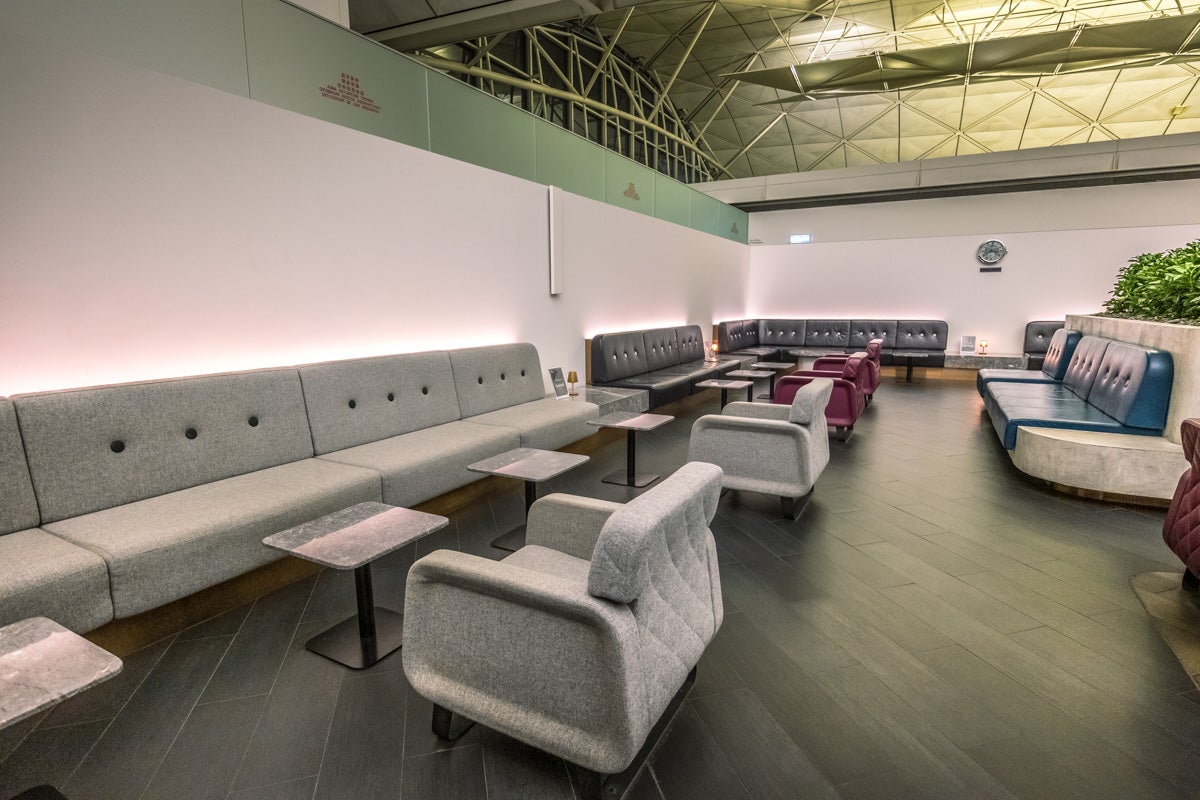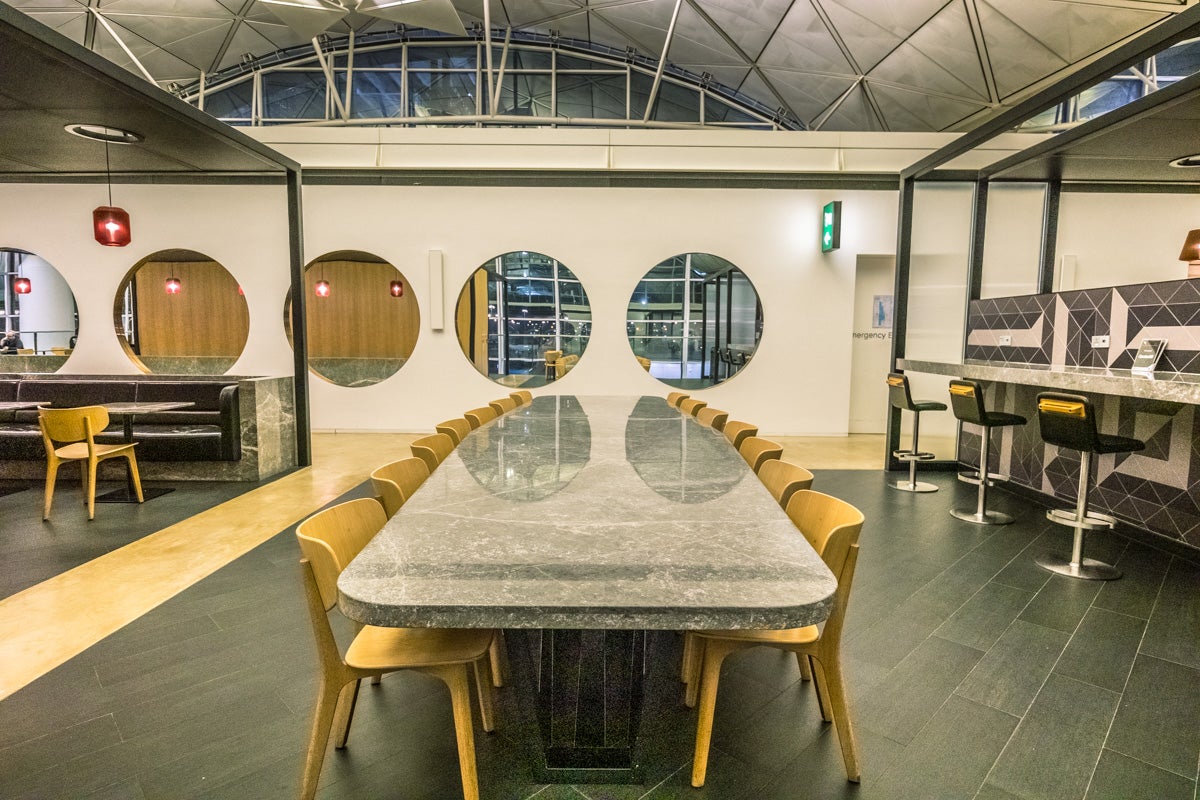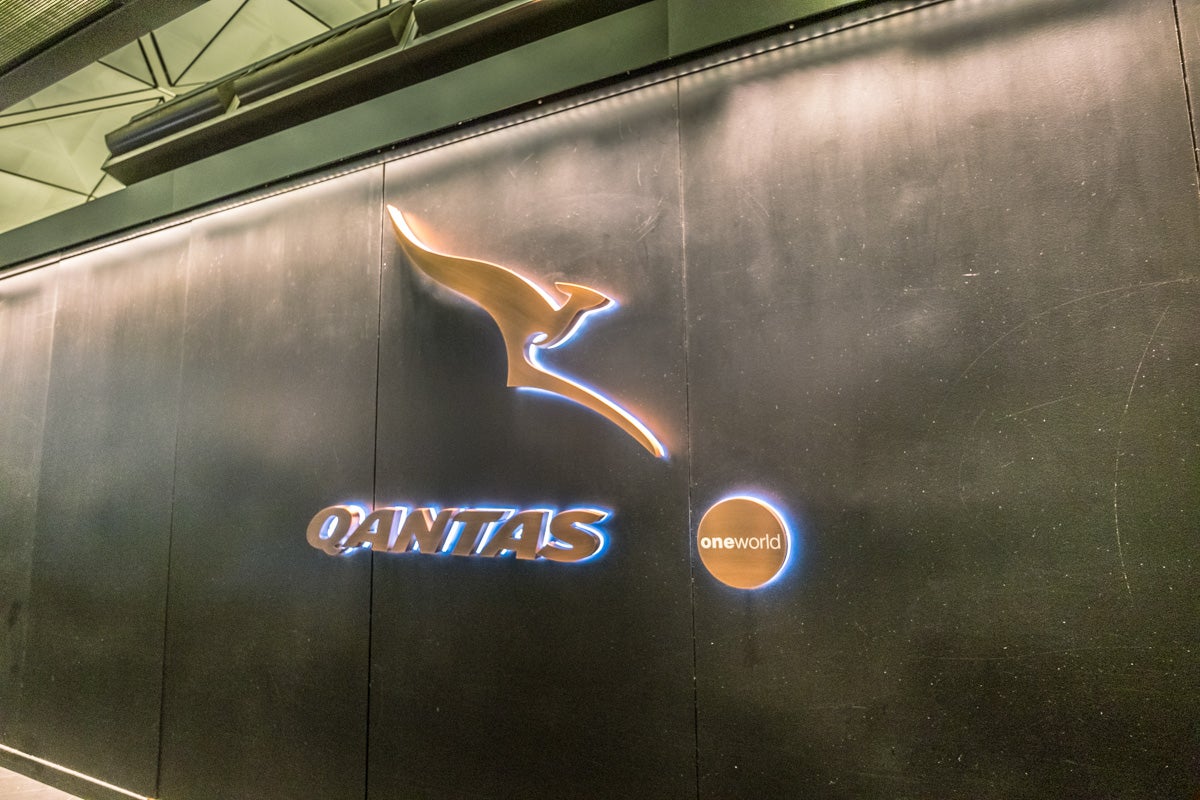 Plaza Premium First Lounge
Hours: Open daily 24 hours
Closest Gate: 1
8:37 p.m.
Opened in July 2018, the Plaza Premium First is a relatively new pay-for-access lounge concept where eligible Priority Pass guests can also pay a subsidy to access the lounge, which is of a higher standard to the regular Priority Pass lounges.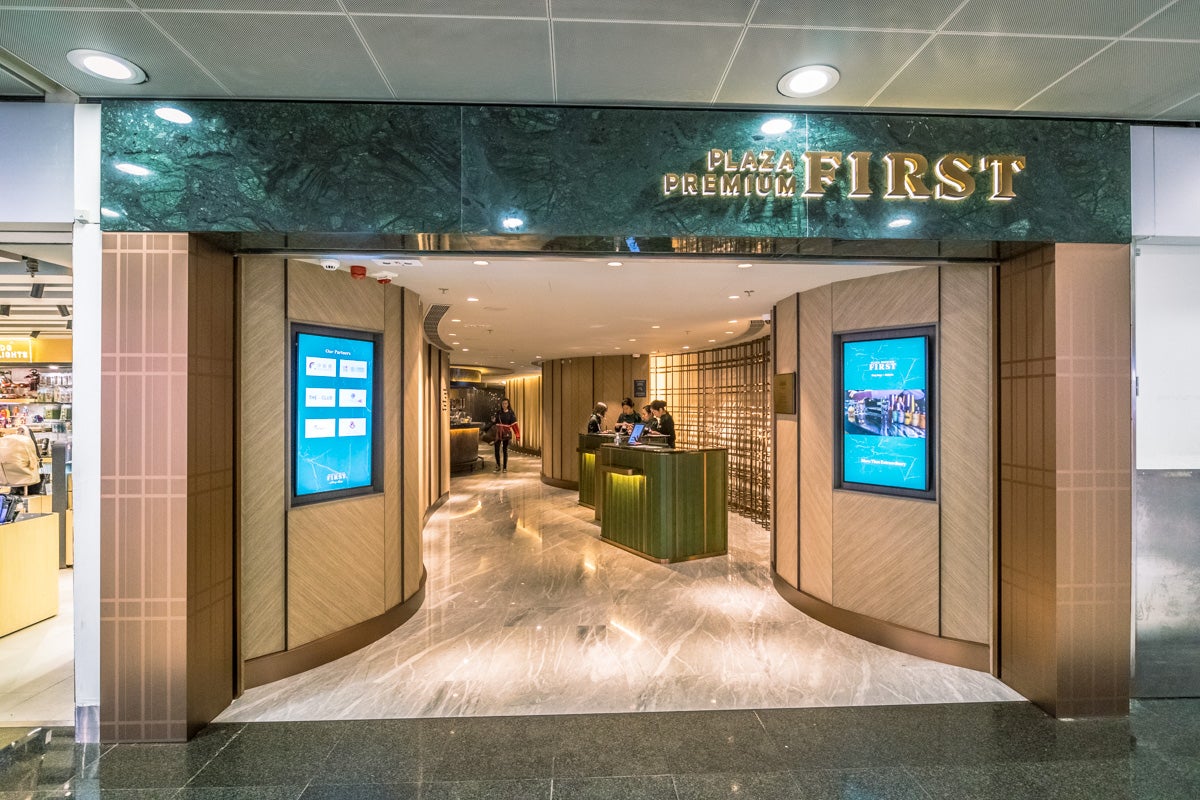 In my case, it was just HK$250 ($32) for 3 hours of access. For those who don't have a Priority Pass membership, you can pay your way in depending on how long you want to stay starting at HK$880 ($112) for 3 hours to HK$1,180 ($151) for 10 hours.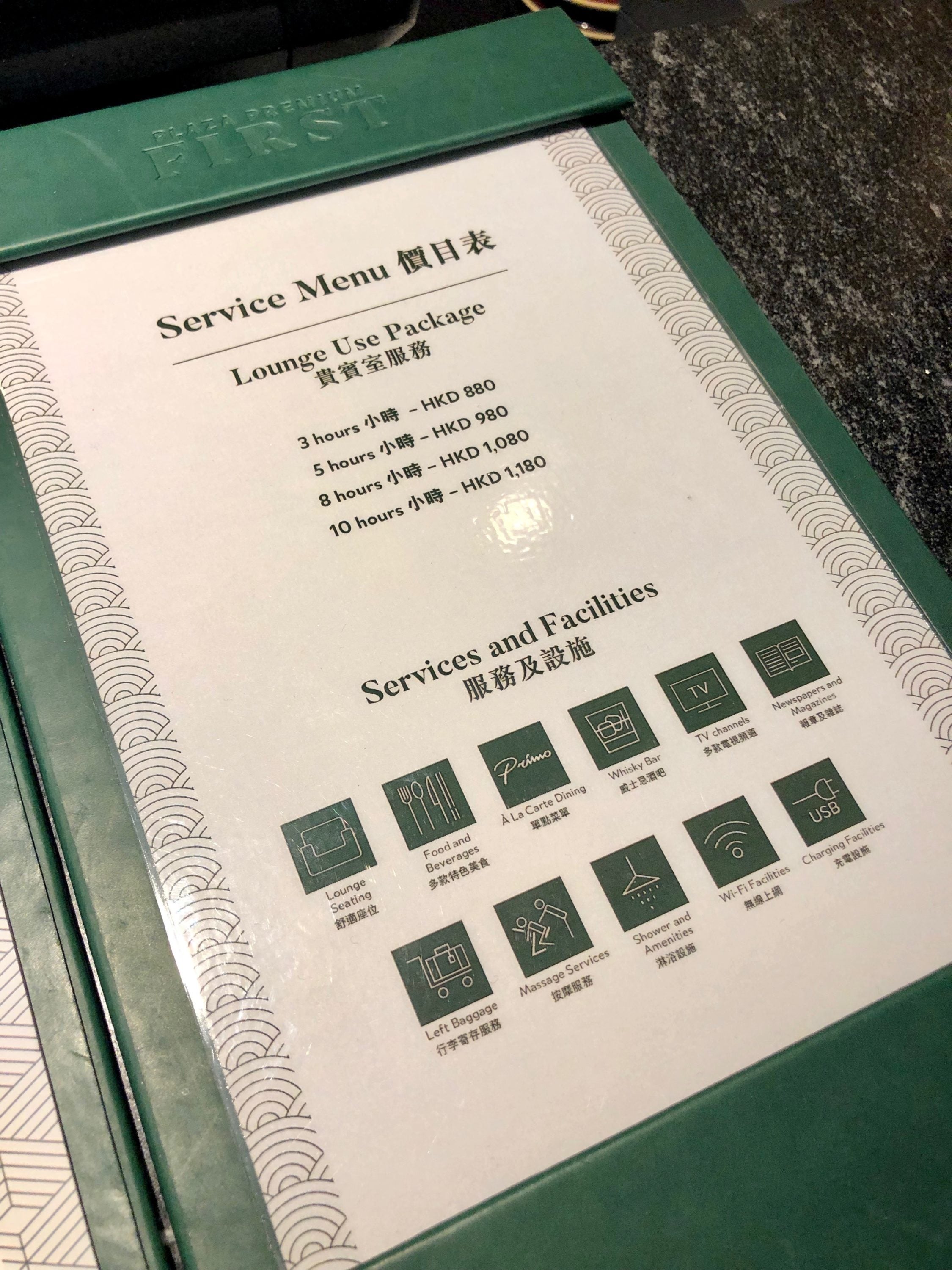 The staff member checking me in said the showers were fully reserved for my stay duration however I could reserve a complimentary 10-minute back massage which I didn't hesitate to book in. She handed me an electronic buzzer which would notify me when it's time for my massage.
It was now 8:30 p.m., so I headed straight to the a la carte restaurant, Primo. Each guest can order 1 meal off the menu and select side dishes from the buffet.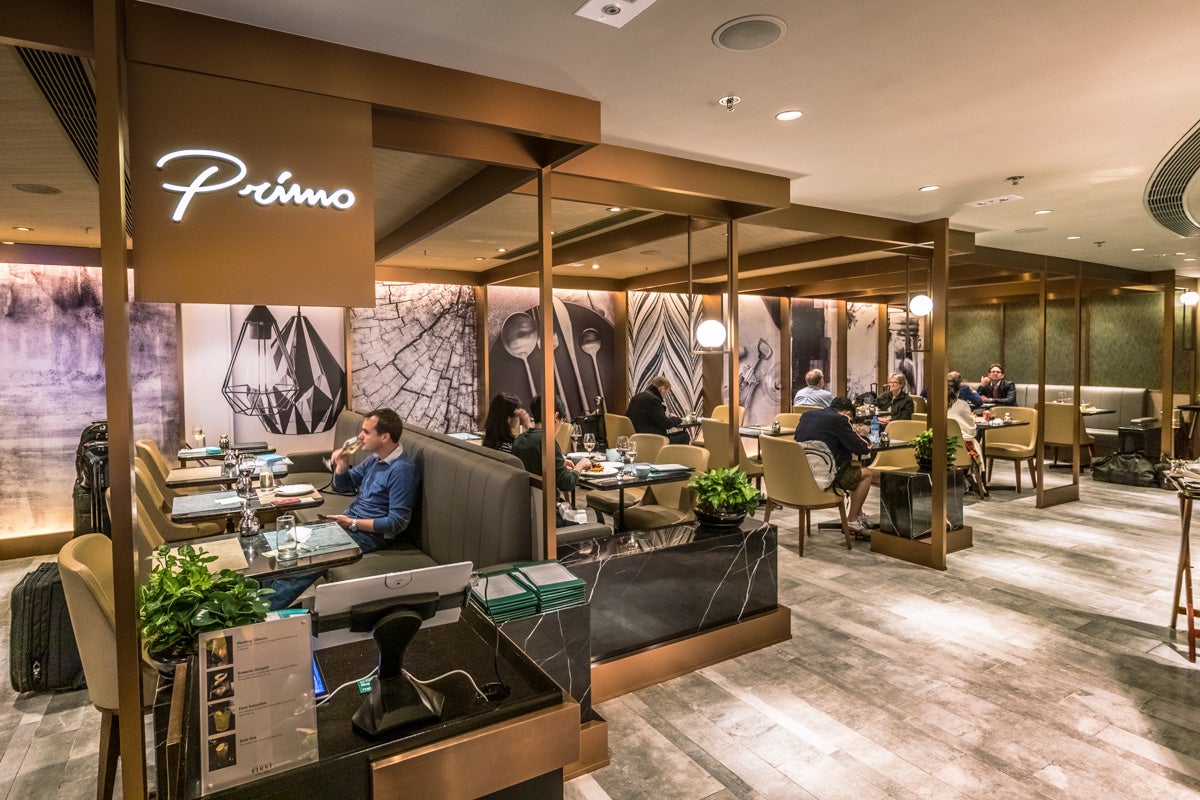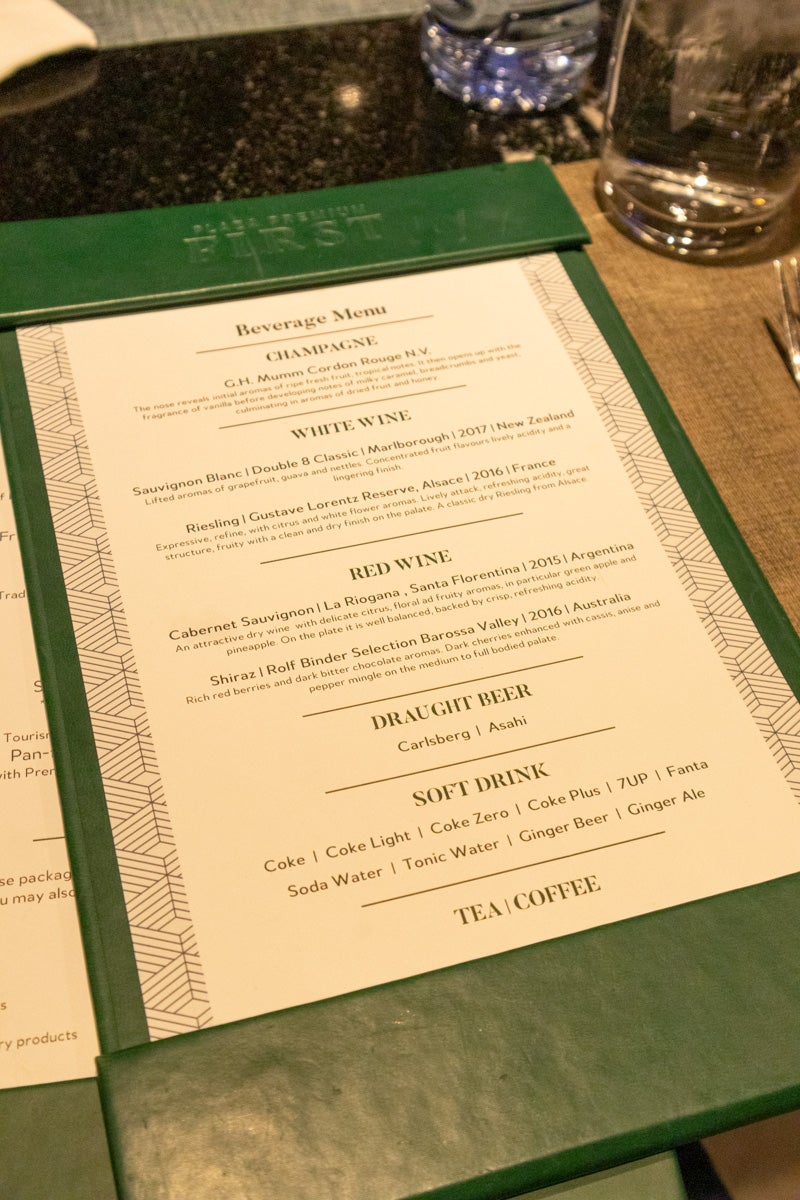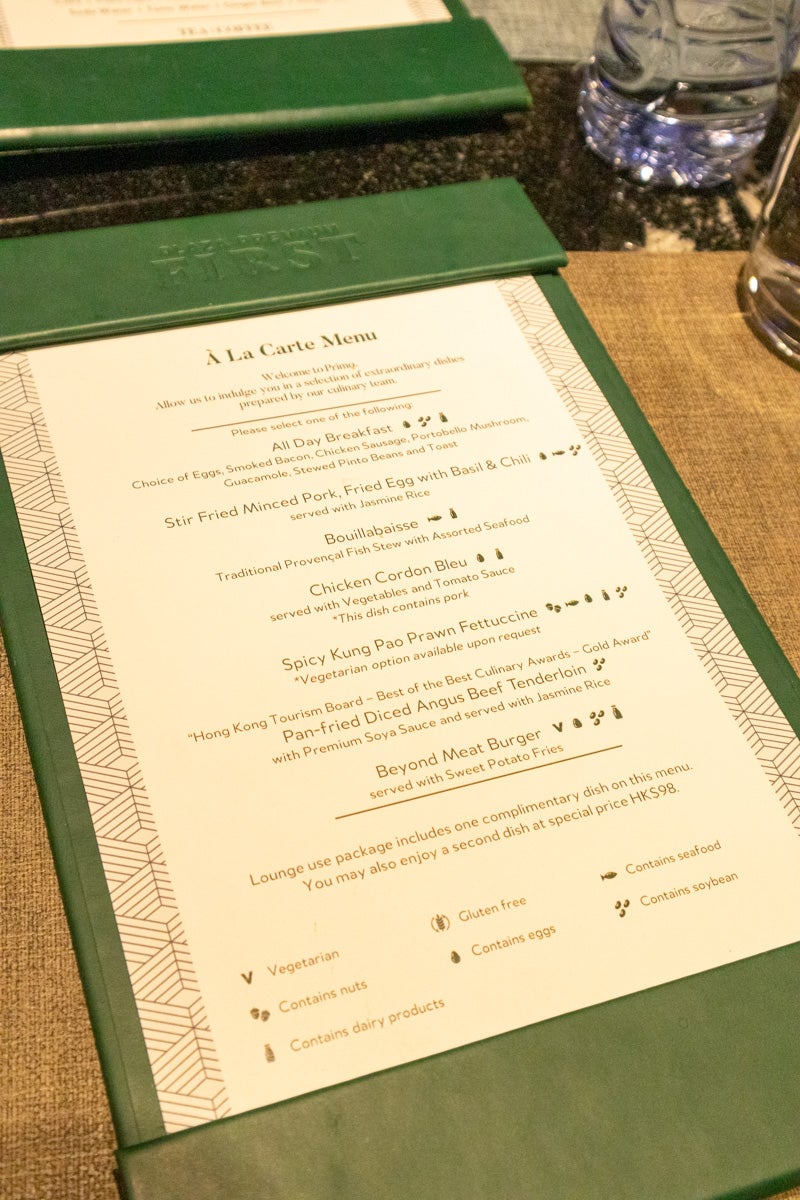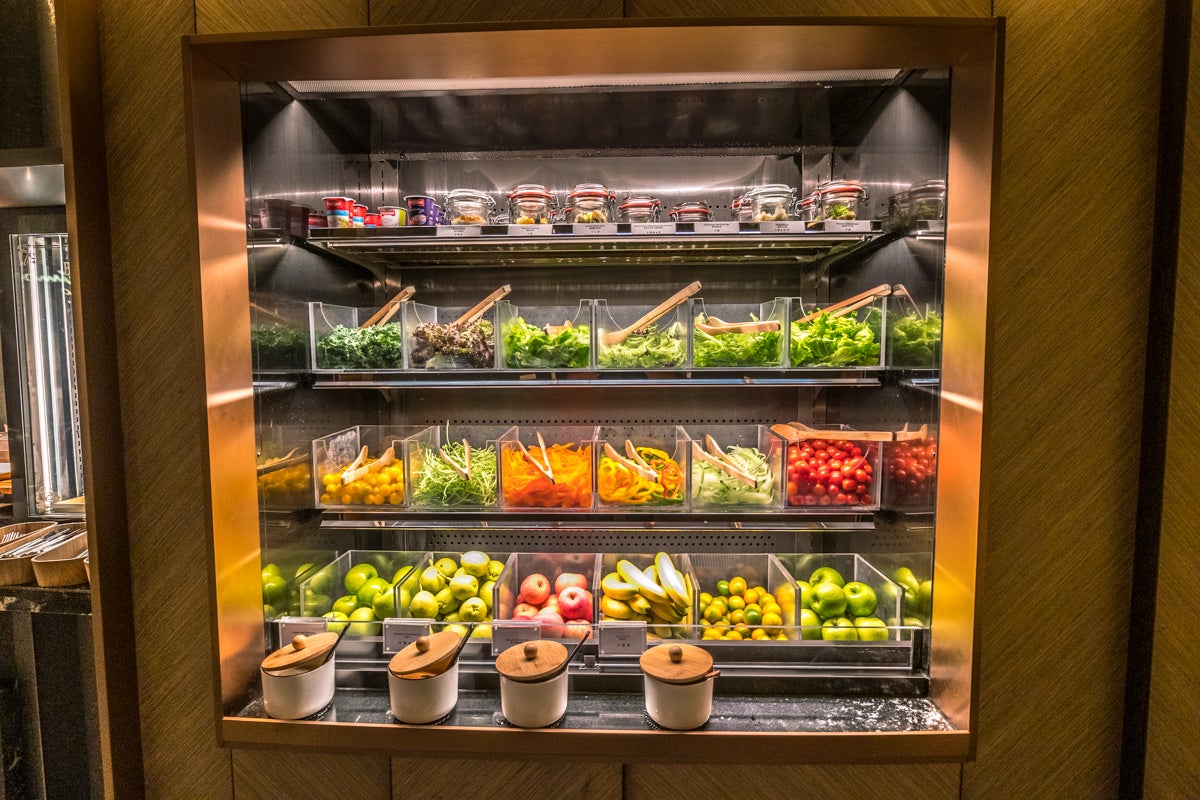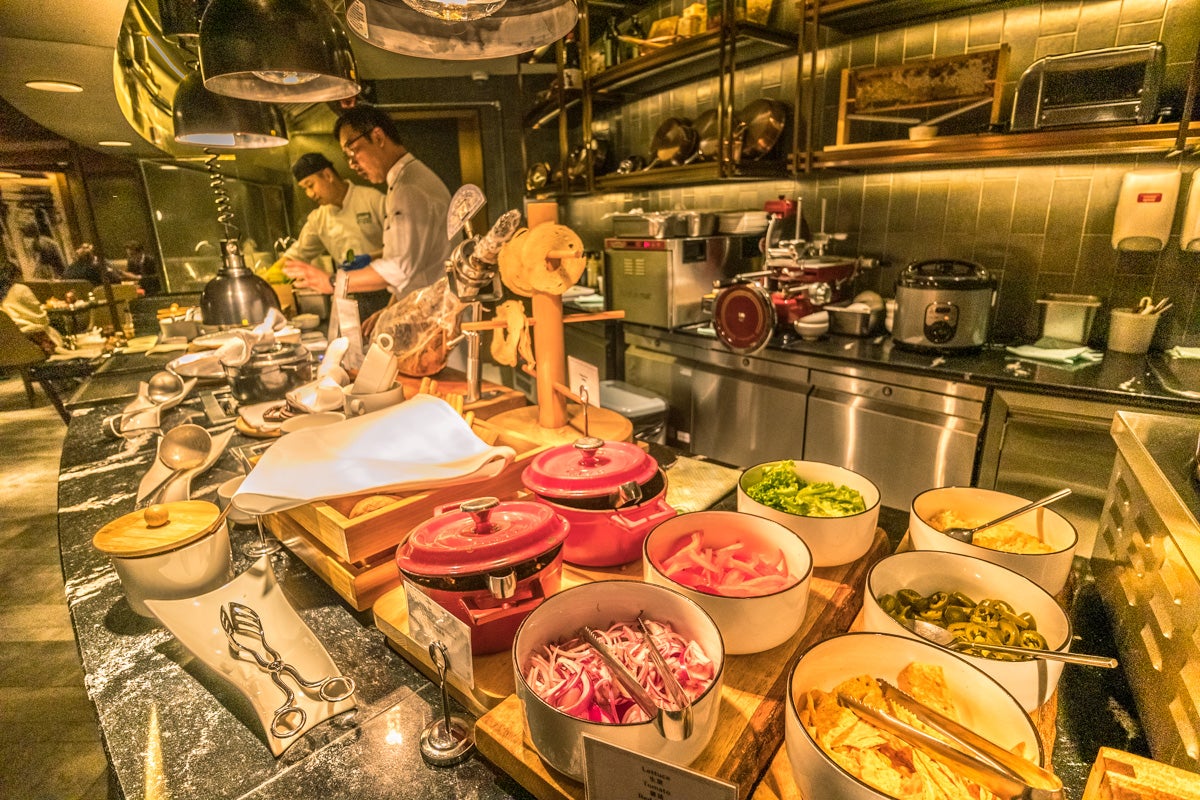 Mumm Champagne is free-flowing.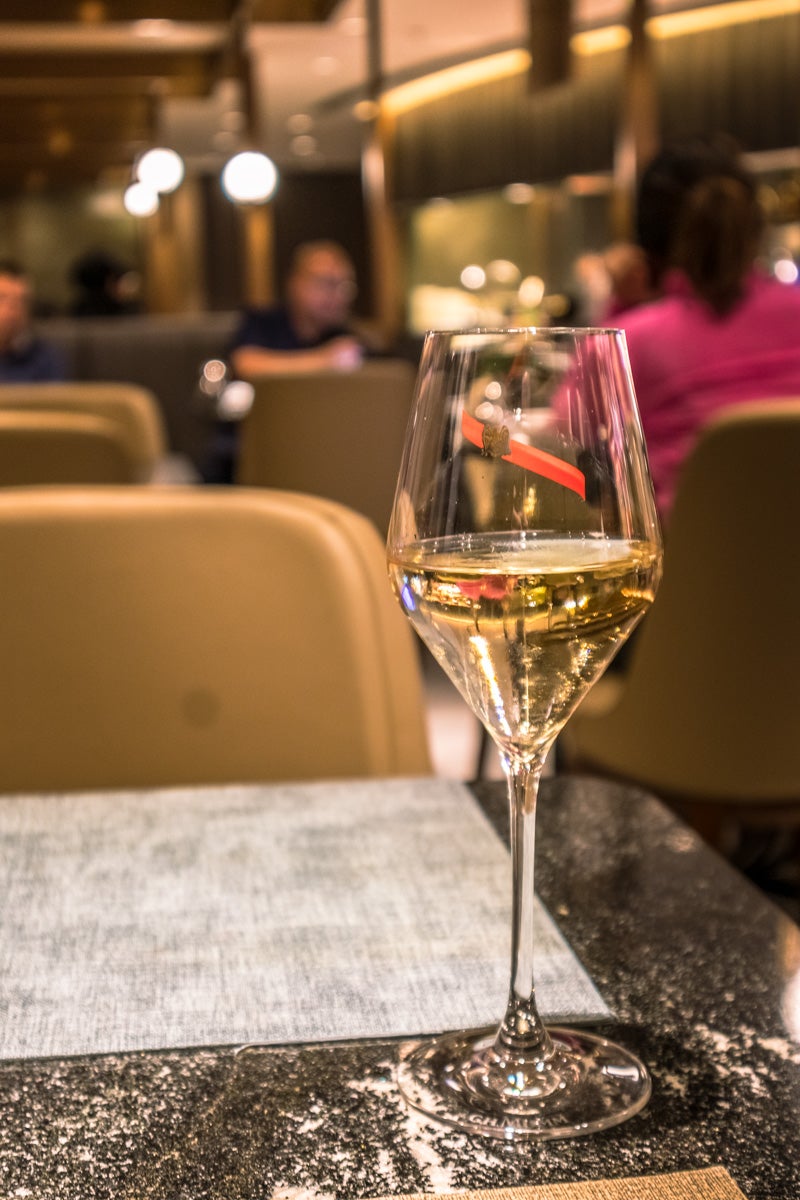 The waitress suggested that I order the pan-fried diced Angus beef tenderloin with premium soya sauce and rice, as the dish had won an award at the Hong Kong Tourism Board's Best of the Best Culinary Awards.
The portion was quite small, so if you're still hungry you can order a second meal for HK$98 ($12). I knew that supper would be served on the plane, so I headed for the dessert bar instead for a crème brûlée and tiramisu.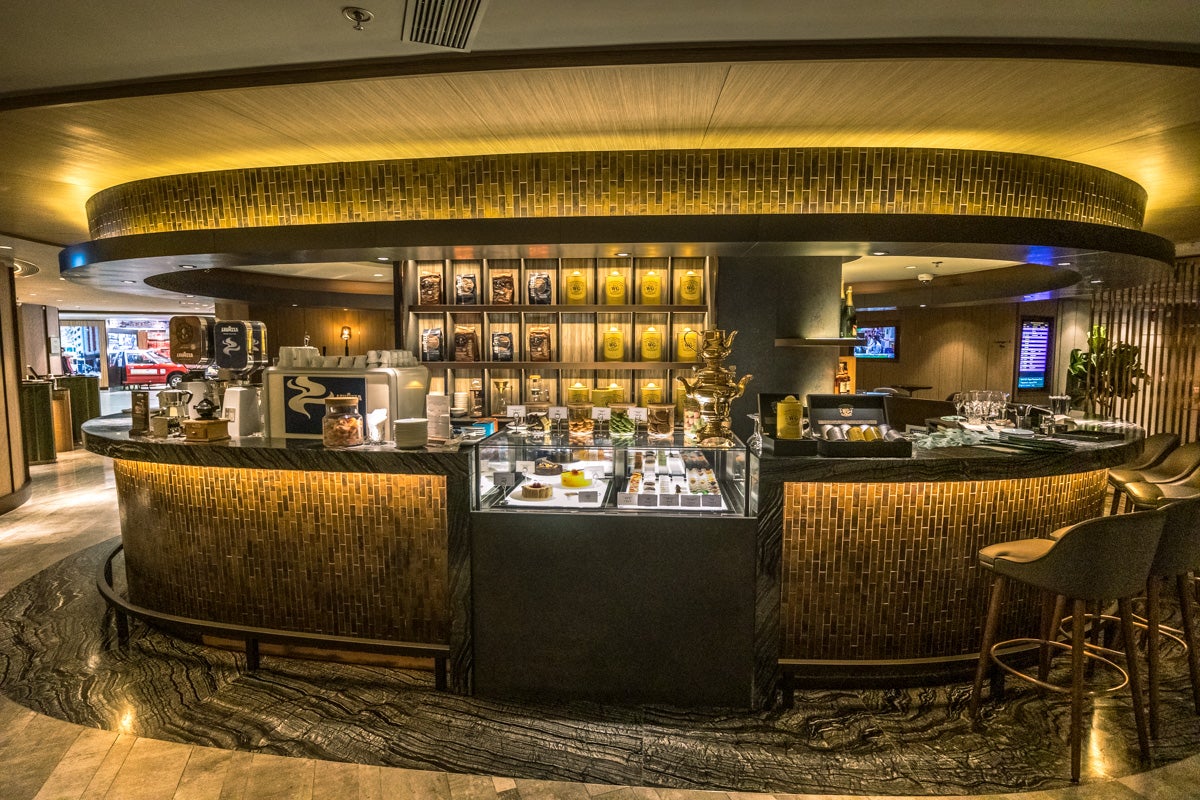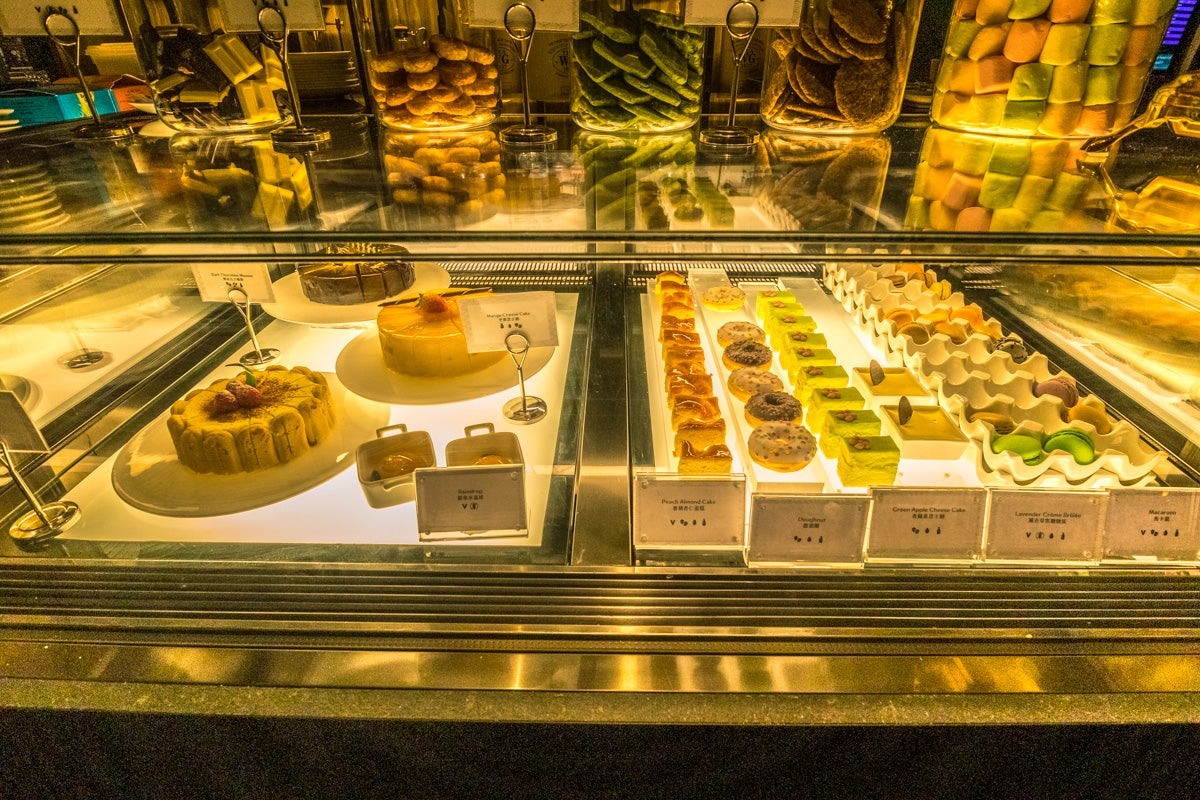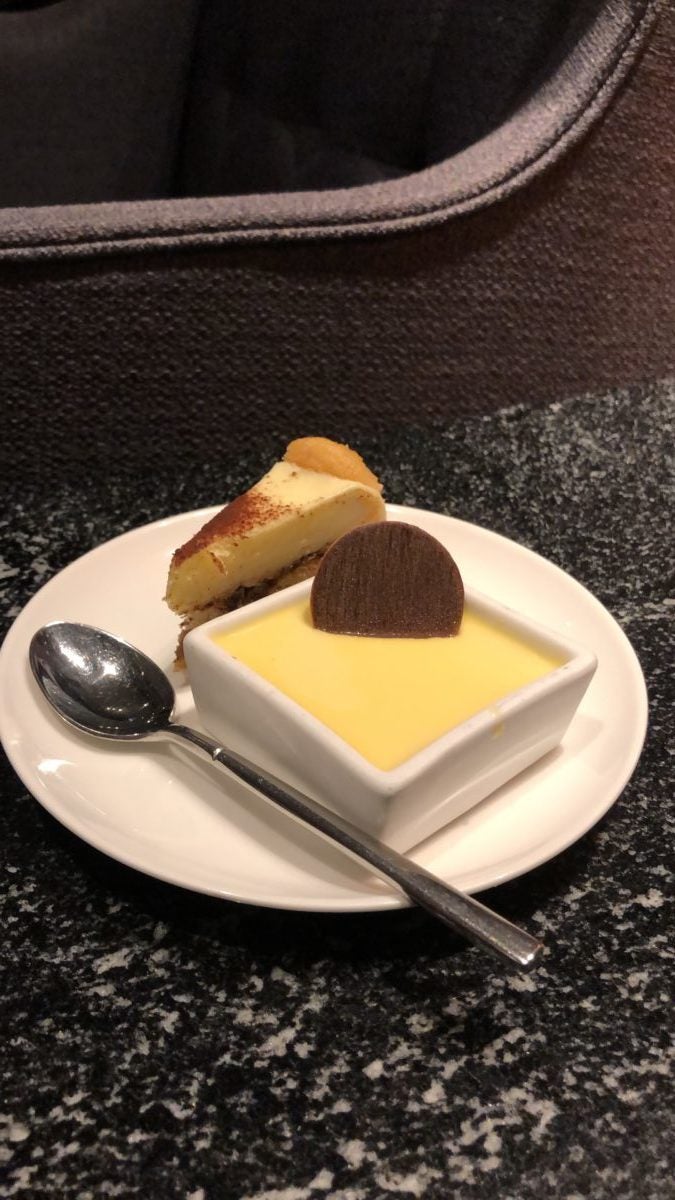 With dessert in hand, I headed to the lounge area to backup photos from my incoming flight and recharge devices.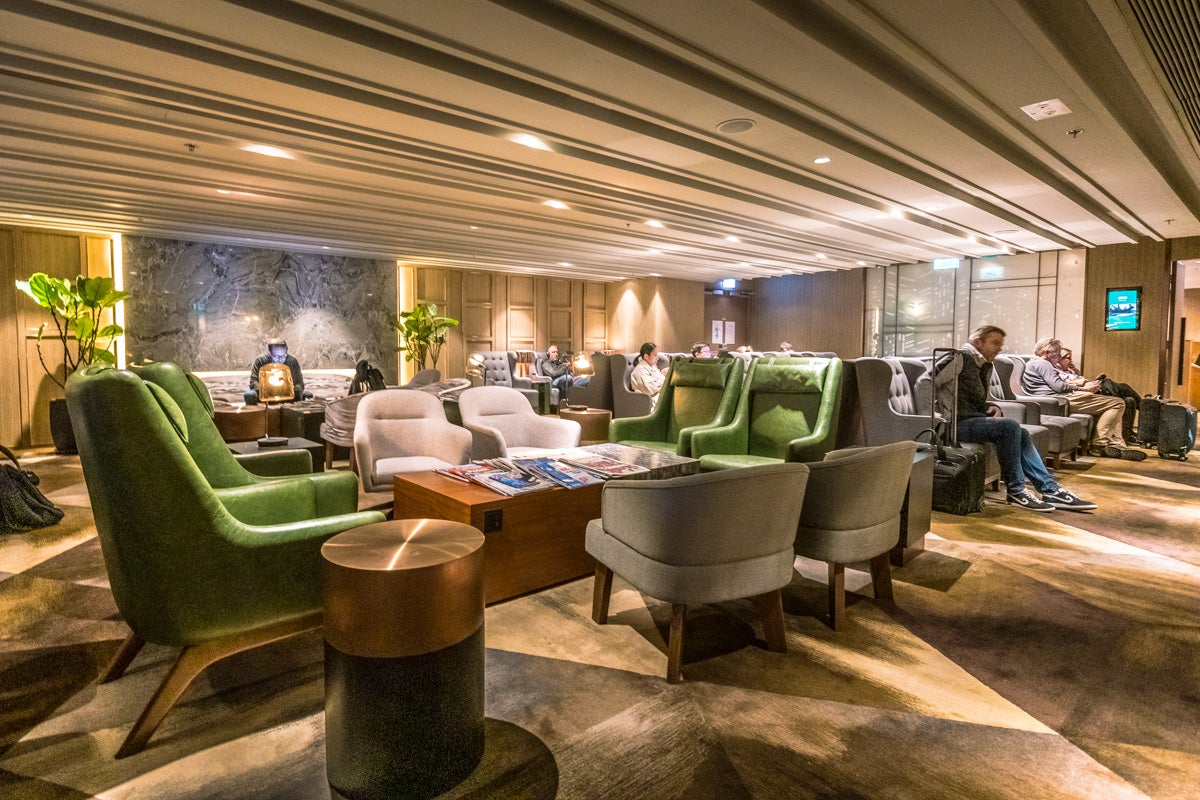 There is also a tendered AeroBar and Whisky Experience, however, I was mindful of my upcoming flight and didn't want to be carried onto it, so I refrained.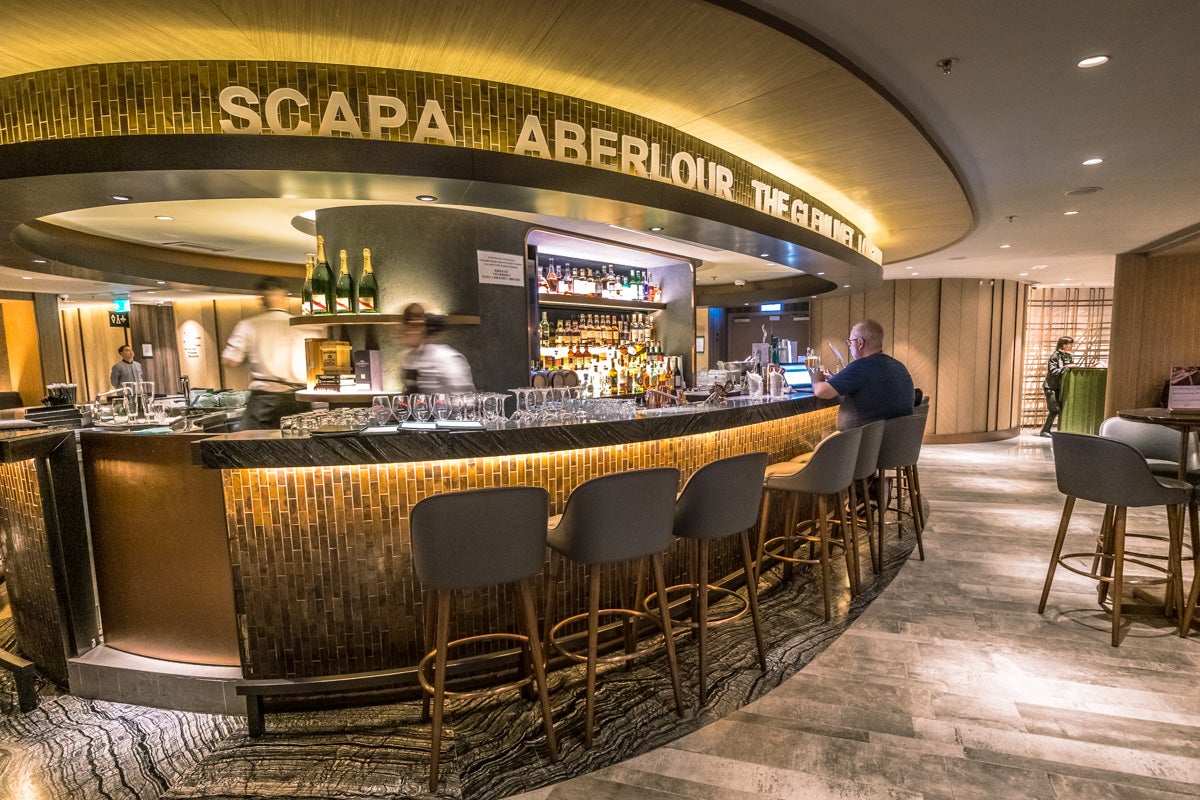 The Wi-Fi has to be the fastest I've experienced at an airport lounge before at a phenomenal 137 Mbps download and 204 Mbps upload. A stark contrast to the network at the Qantas lounge!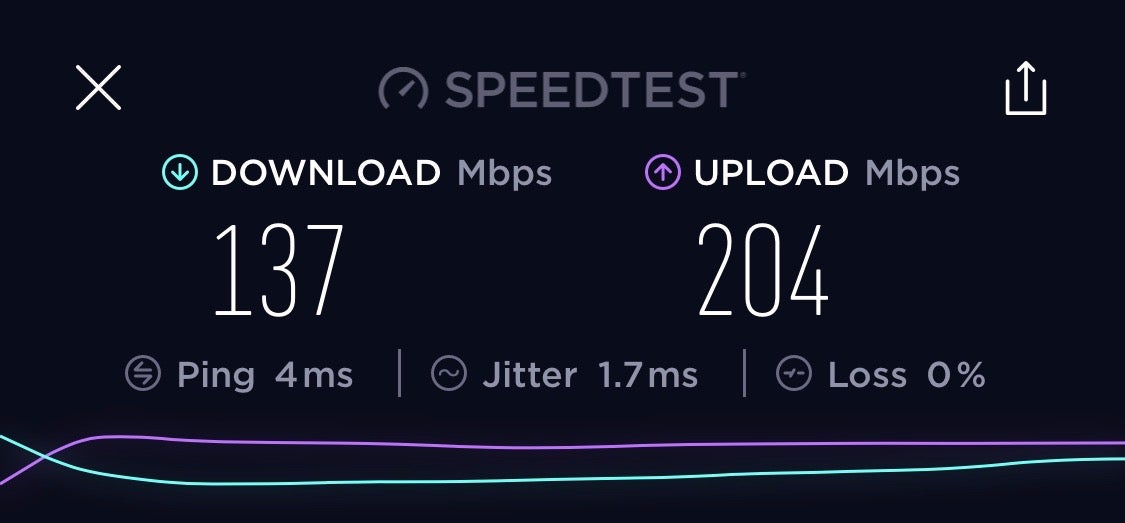 There is a relaxation zone at the back of the lounge if you want to take a nap.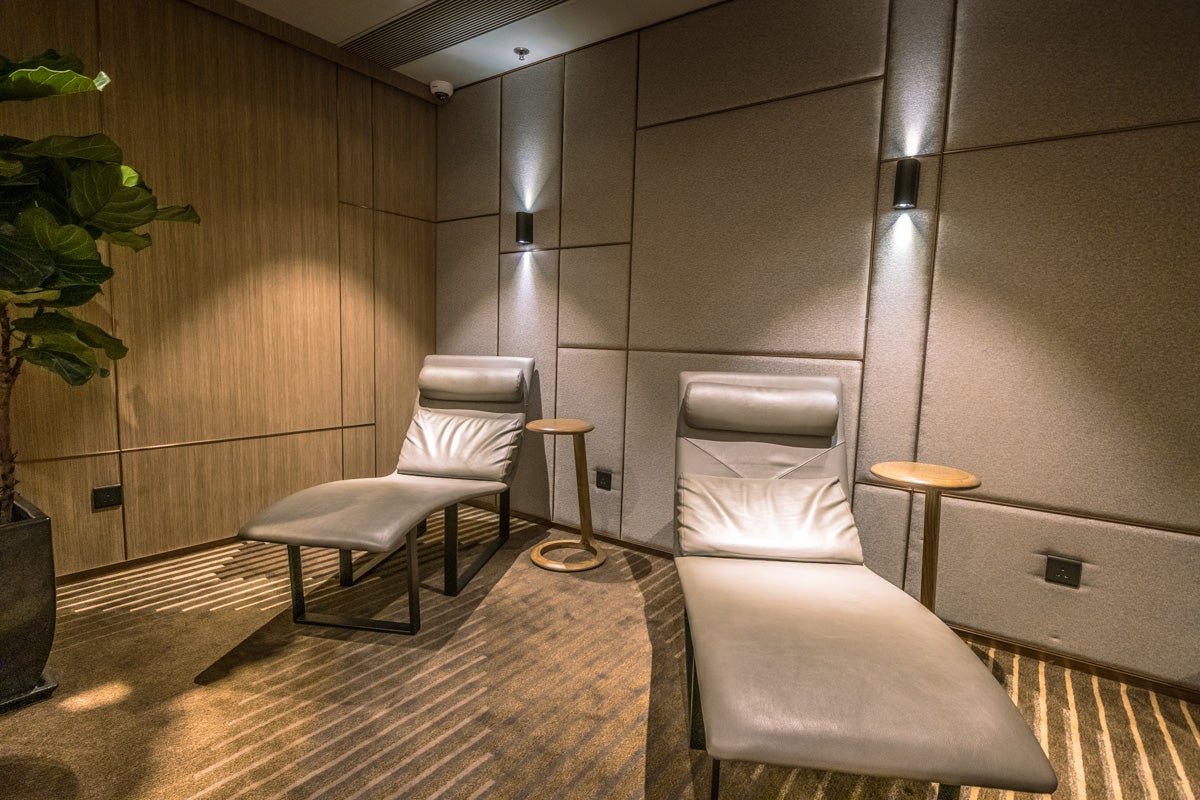 As a completely internal lounge without a single window, AvGeeks will miss tarmac views compared to the other lounges at Hong Kong.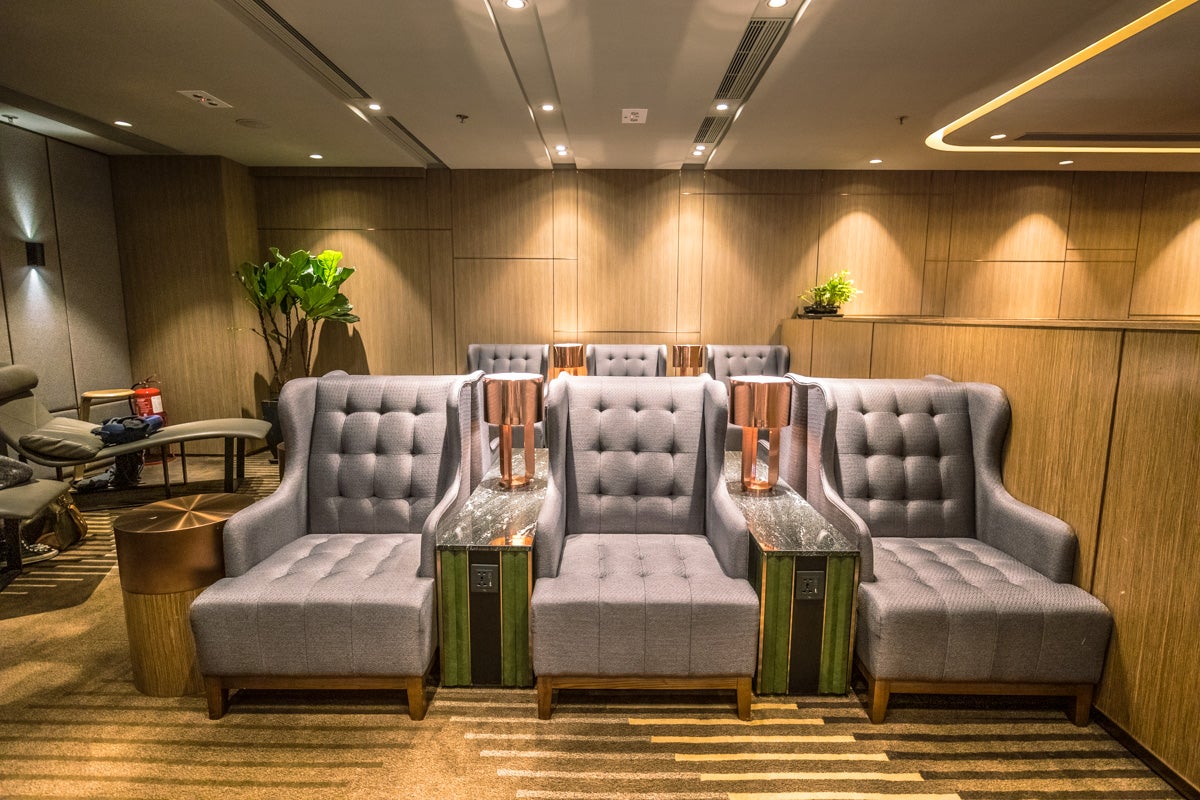 As soon as I finished my dessert, my massage buzzer alerted me it was my turn. Though 10 minutes isn't a huge amount of time for a back and neck massage, it was very much appreciated after the flight from Sydney and all the walking I had done at the airport.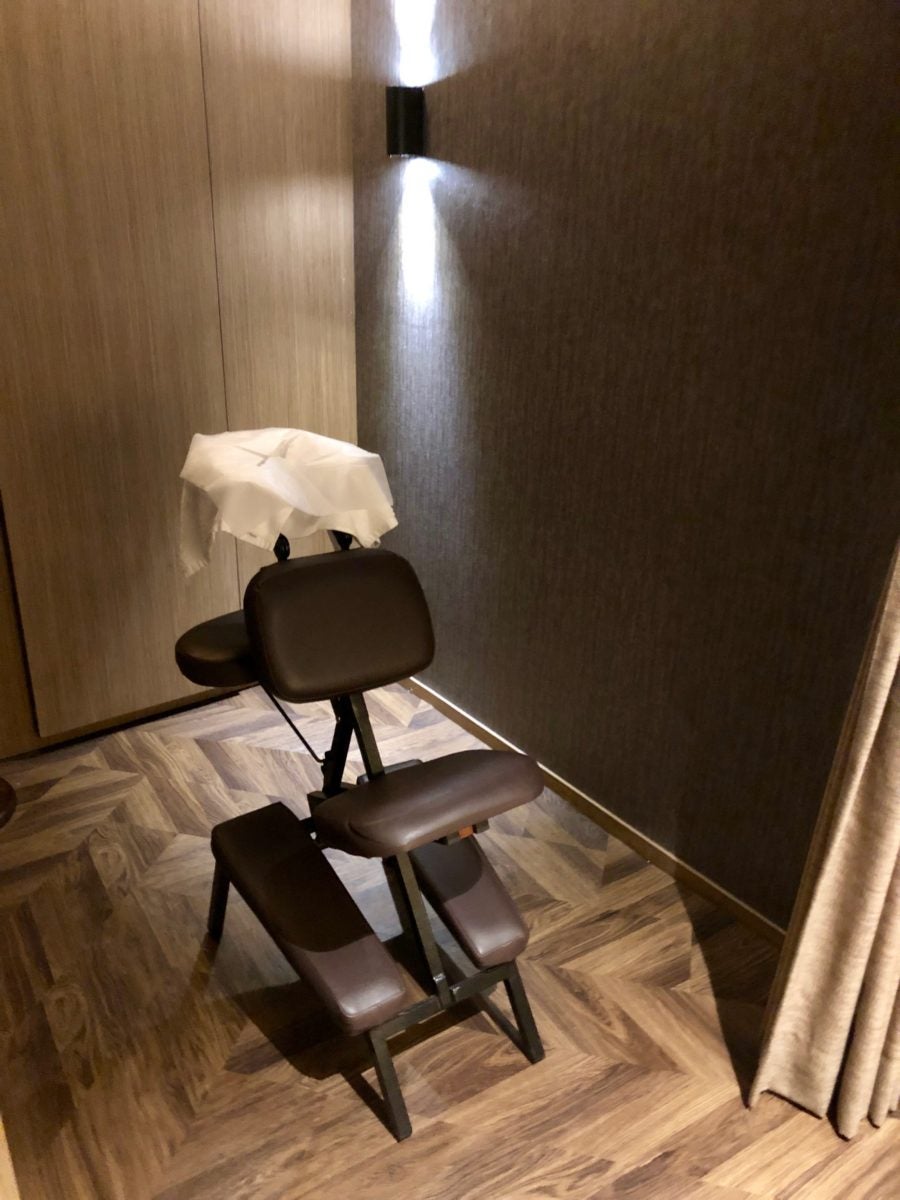 Again: Cathay Pacific – The Wing Business Class Lounge
Considering I couldn't get a reservation to shower in the Plaza Premium First Lounge, I decided to revisit The Wing (Business) nearby, knowing they had 23 spacious shower rooms available and the best chance of not having to wait.
10:40 p.m.
Thankfully, I was right, and was allocated a shower suite instantly.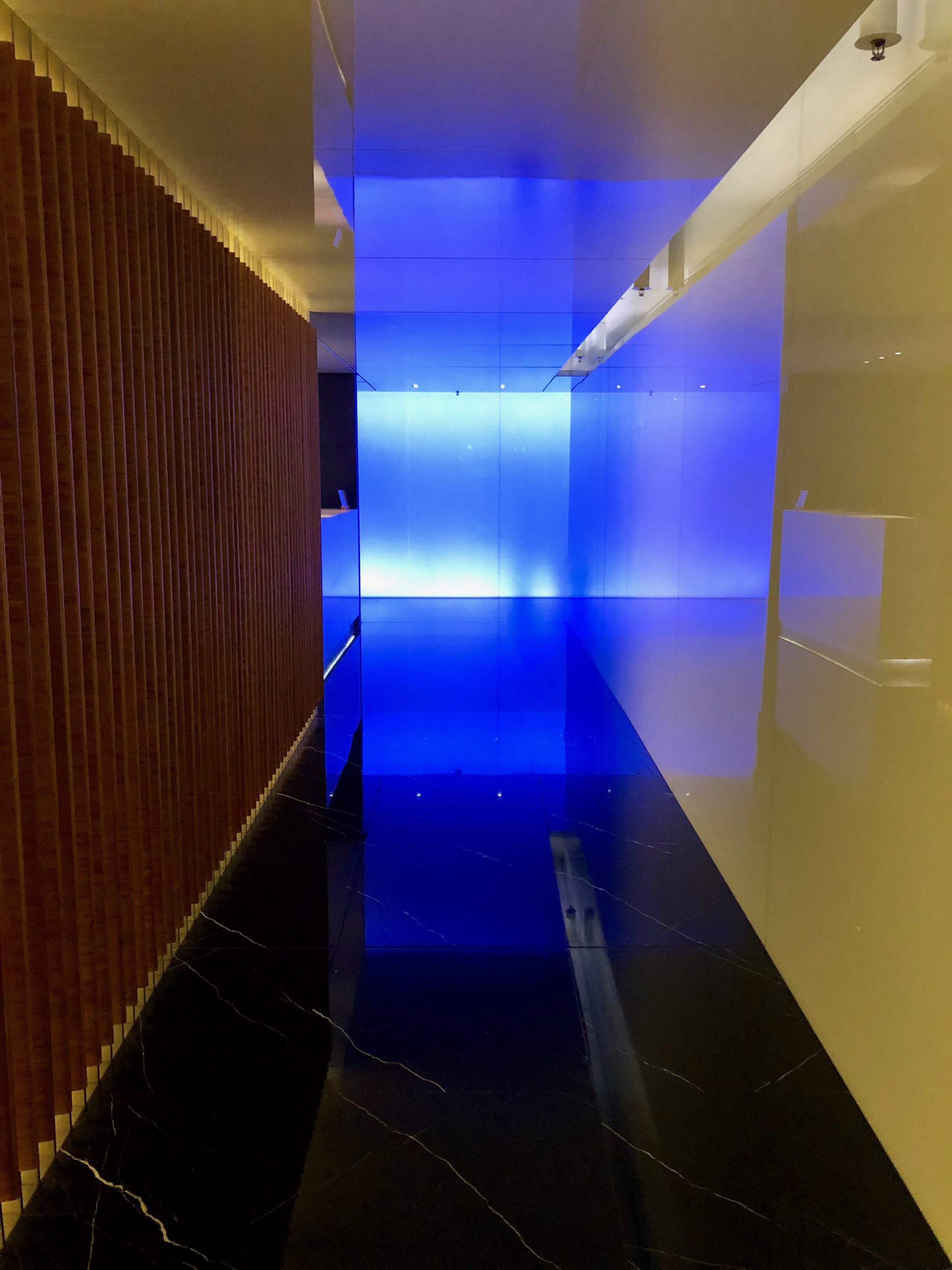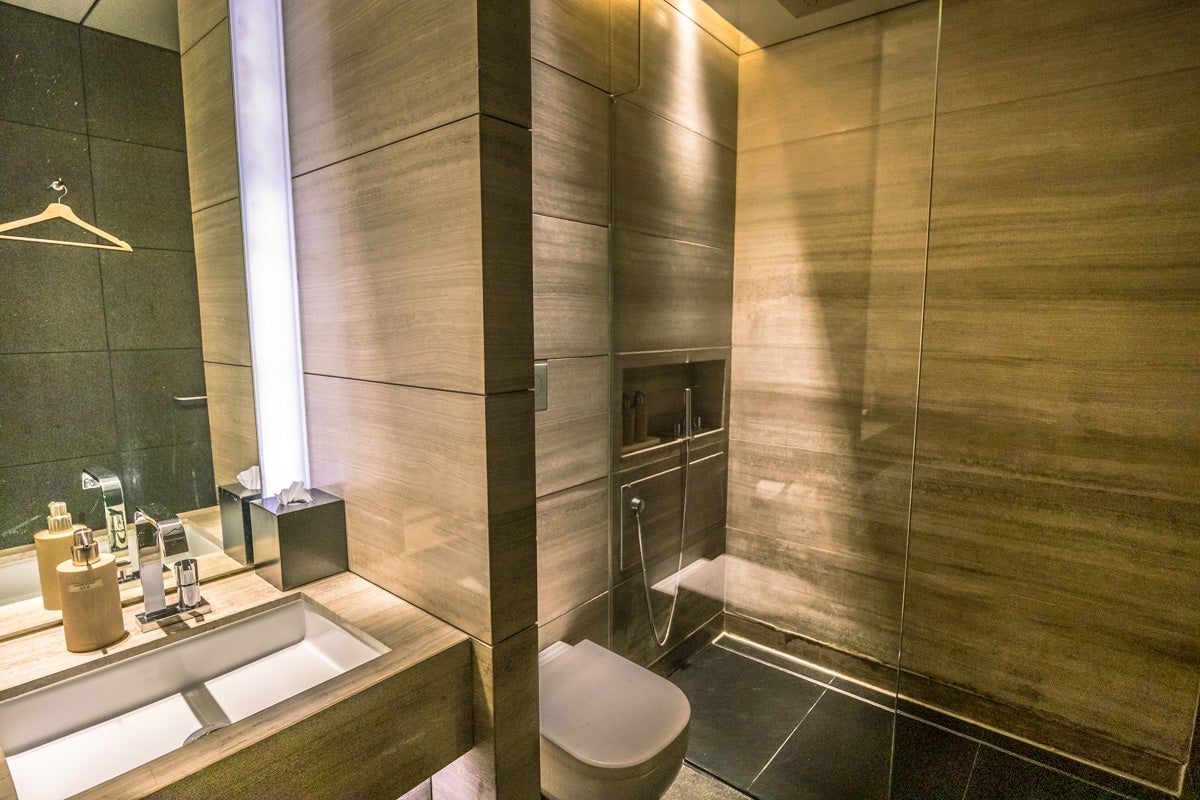 Again: Cathay Pacific – The Pier Business Class Lounge
My flight had just been allocated a gate and Murphy's Law would dictate that it was at the opposite side of the terminal, up at Gate 63 next to The Pier, so I jumped on the people mover.
11:15 p.m.
By the time I arrived at The Pier, I had just enough time for 1 last cocktail — a daiquiri.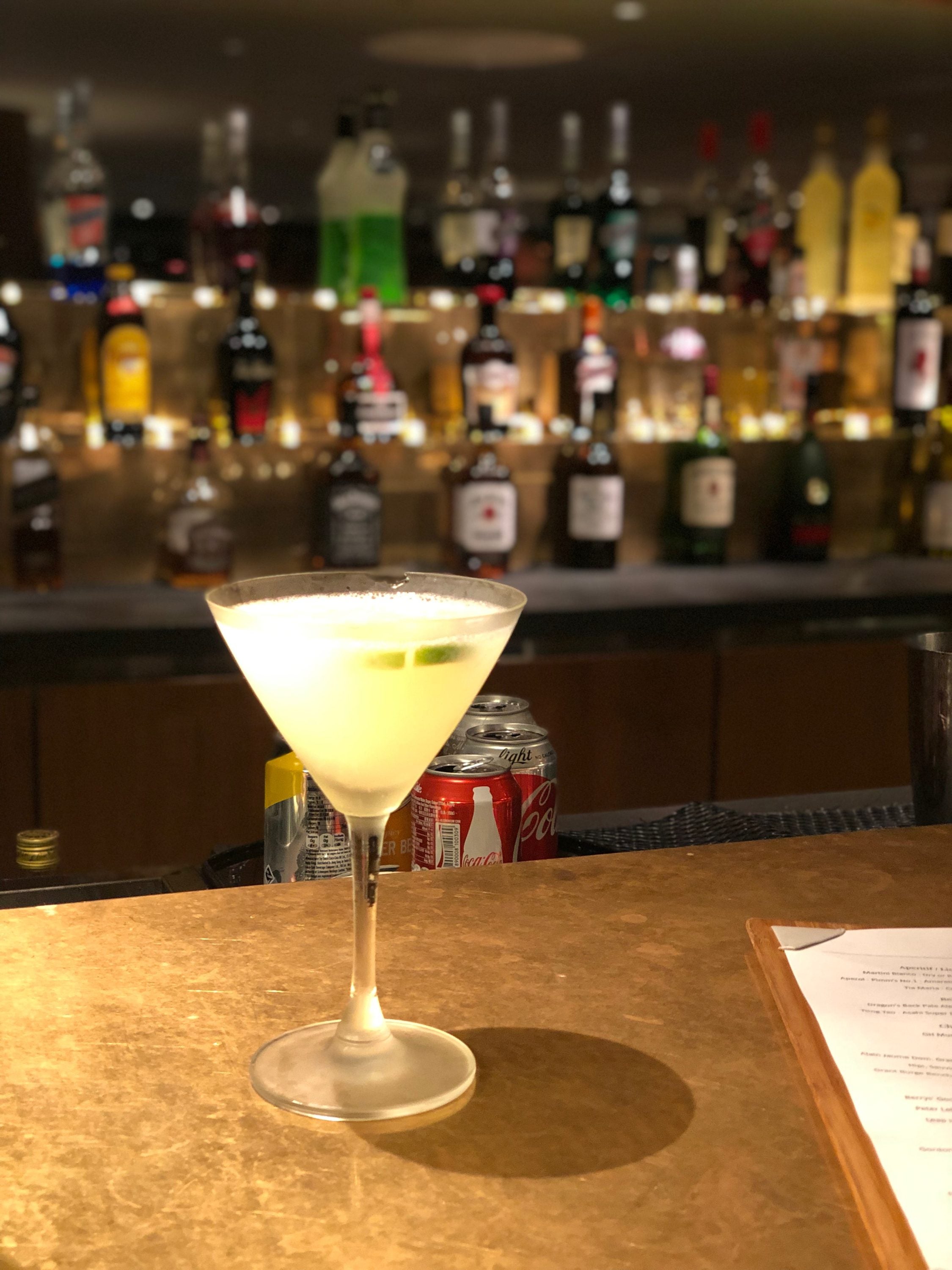 By this time of the evening, the lounge was packed unlike earlier and I was very lucky to score the last lounge chair.
I finished my last sip and my clock showed 11:30 p.m., just 5 minutes before boarding.
Final Thoughts
I had done it!! I had survived a 9-hour layover at Hong Kong airport. I was still awake and surprisingly sober enough to walk to the gate and not miss my flight!
Overall, 9 hours at an airport is about 6 hours too long, but the time passed surprisingly quickly thanks to the huge selection of lounges I had access to in Hong Kong.
My favorite Oneworld Business Class lounge has to be The Pier, which I ended up visiting first and last. Its beautiful décor, relaxed atmosphere, and warm tones with low roofline make you feel like you're just at home (if your home could seat 550 other travelers) instead of a vast terminal building. With the bar, noodle bar, teahouse, buffet, coffee cart, shower suites, and yoga sanctuary, it provides travelers with the widest array of facilities.
Though its location is at the far end of Terminal 1, it won't be convenient for all departures.
You really can't go wrong in any of the Oneworld lounges and most travelers will select the 1 most convenient to their departure gate.
I was also really impressed with the new Plaza Premium First lounge, with its a la carte dining, Mumm Champagne, massage, phenomenal internet, and the absence of crowds like those present at the standard Plaza Premium lounge last time I was here. It was definitely worth the HK$250 ($32) for 3 hours use. However, a "first class lounge" it is not. It's more of a "premium business class lounge" and a considerable step-up from the standard Plaza Premium lounges.
In the 9 hours I was in Hong Kong I visited 7 lounges (2 of them twice), consumed 3 cocktails and 3 glasses of Champagne, had 1 massage and 1 shower, took 13,829 steps across a distance of 9 km, and burnt 502 calories (1.5 of the cocktails I consumed!).
I've booked another flight on Cathay Pacific in March next year which has a 7-hour layover, so I look forward to hopping between some of these lounges again.