The Hong Kong (HKG) American Express Centurion Lounge – Location, Hours, Amenities, and More
American Express' lounge network covers both domestic U.S. locations and key international cities. Hong Kong is one of American Express' international flagship Centurion Lounge locations and features a well-equipped facility that provides complimentary food, drinks, areas to relax, tables to work and restrooms to freshen up.
While the lounge isn't as large as other locations, the Centurion Lounge Hong Kong plays host to several upgraded amenities that allow it to compete with many of the first class options in the airport, mainly those belonging to Cathay Pacific.
In this post, we'll look at:
How to access the Centurion Lounge Hong Kong
What amenities you can expect inside of the Centurion Lounge Hong Kong
Tips and tricks for making the most of your visit
Sample menus of the food and drink you'll be able to experience during your stay
How to Access the Centurion Lounge Hong Kong
As the name suggests, the Centurion Lounge Hong Kong belongs to the American Express Centurion Lounge network, where you'll need either the Platinum Card® from American Express, the Business Platinum Card® from American Express, or the Centurion® Card from American Express to enter.
Your credit card can be issued in any country (for example, you can use the Platinum Card from American Express® for those that live in Hong Kong), and can also be a co-branded version (one where Amex partners with another brand for additional benefits), such as the American Express Platinum Card for Schwab®.
There are a few rules you'll need to abide by, however, since this is a Centurion Lounge:
Guest policy — Amex Platinum cardholders can bring in 2 guests with them, and Centurion cardholders can either bring in their immediate family or 2 guests, whichever they prefer.

 

Day of departure flights only — You're only allowed to enter the Centurion Lounge on the day of your flight, and you won't receive access if you're arriving from a flight, except for connections.
No more than 3 hours before your flight — To prevent overcrowding, American Express has revised their lounge access policy to restrict entry on flights that are more than 3 hours before departure. You'll need to wait until it is 3 hours before departure to be let in unless you have a connecting flight, in which case you can come in as soon as you land.
Hot Tip: Interested in other card benefits? Explore all of the benefits of the Amex Platinum or the perks of the Amex Business Platinum.
Lounge Location
The lounge is located in Terminal 1, which is host to several airlines, including Hong Kong's own Cathay Pacific. There's an escalator by gate 60 you'll take up to level 7 where you're greeted by a wall with the blue American Express logo. On this level, there is also a United Club and a Plaza Premium Priority Pass lounge, for reference.
Lounge Hours
The lounge is open from 5:30 a.m. through 12:30 a.m., covering the vast majority of flight departures and connections. 
Entering the Lounge
As you walk through the blue glass, you'll see the familiar greenery wall present in most American Express lounges. Lounge attendants will greet you and ask for your Amex Platinum card or Centurion card, your boarding pass, and identification.
They'll check to be sure you're credentialed to enter, and if you are, you'll be given the Wi-Fi password and a brief overview of the facilities. All of the rooms and amenities are located down a long corridor once you pass the registration desk.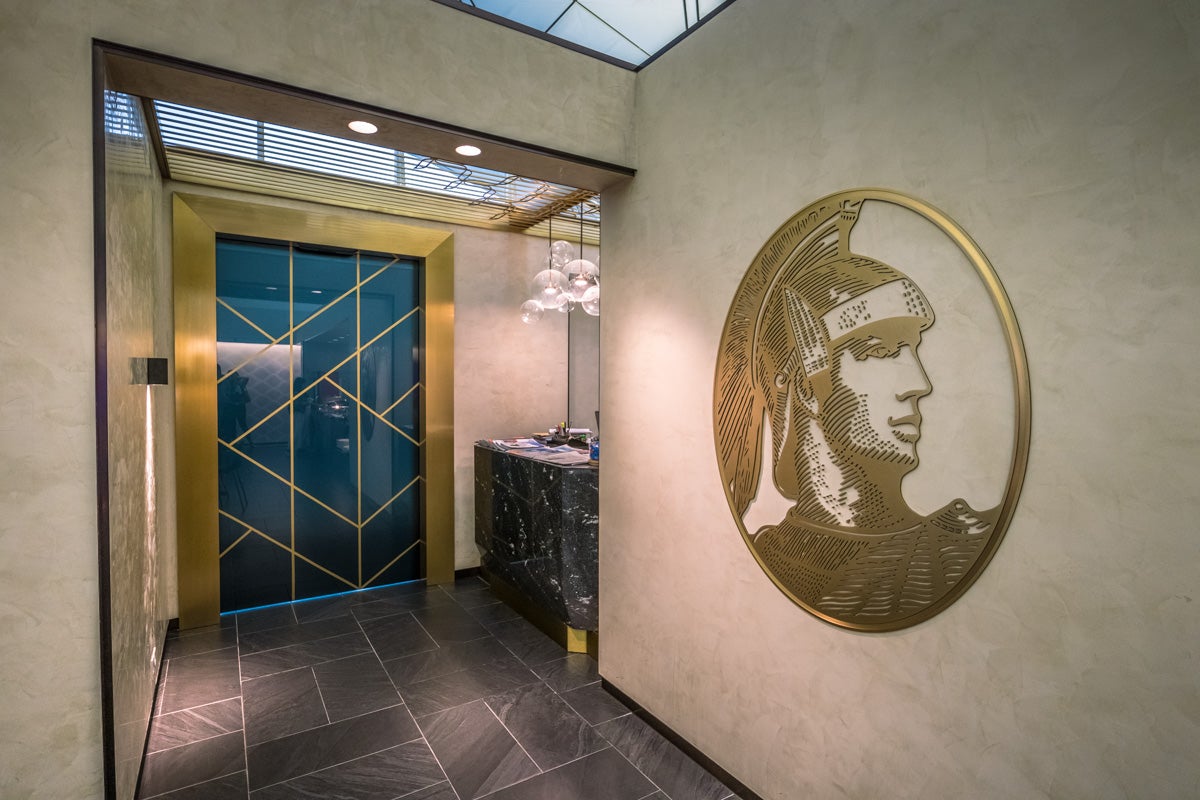 Lounge Amenities
According to American Express, the Centurion Lounge at Hong Kong airport features:
Phone room
Computer bar
Locally-inspired cuisine
High-speed Wi-Fi
Magazines and newspapers

 

Member service desk
Premium bar
Print, fax, and copy services

 

Shower suites
Dedicated work area
The lounge is approximately 8,000 feet in size, making it feel relatively small when compared to other Centurion Lounge locations. 
Meeting Space
The Centurion Lounge Hong Kong has 2 meeting rooms and 1 phone room. One of the meeting rooms is larger than the other, with seating for up to 10 around a conference table. The room is equipped with a flat-screen television on the wall where you can share presentations or watch television.
The smaller meeting room simply has a small conference table with seating up to 8, and the phone room is a quiet place where you can take a conference call or the like.
There is no charge to rent these rooms, and they're first-come-first-served (or first-reserved).
Hot Tip: To reserve these meeting rooms, speak to the guest services staff upon entering the lounge. Some cardmembers have had luck having American Express directly reserve the meeting rooms through such services as the American Express Platinum concierge, though your experience may differ. 
Bar Area
As you walk past the meeting rooms, there's a bar area featuring 6 seats around the bar and then 4 tables just off to the side, with additional seating available nearby. The bar hosts several complimentary cocktails and drinks, and there are also some self-serve options depending on the time of day.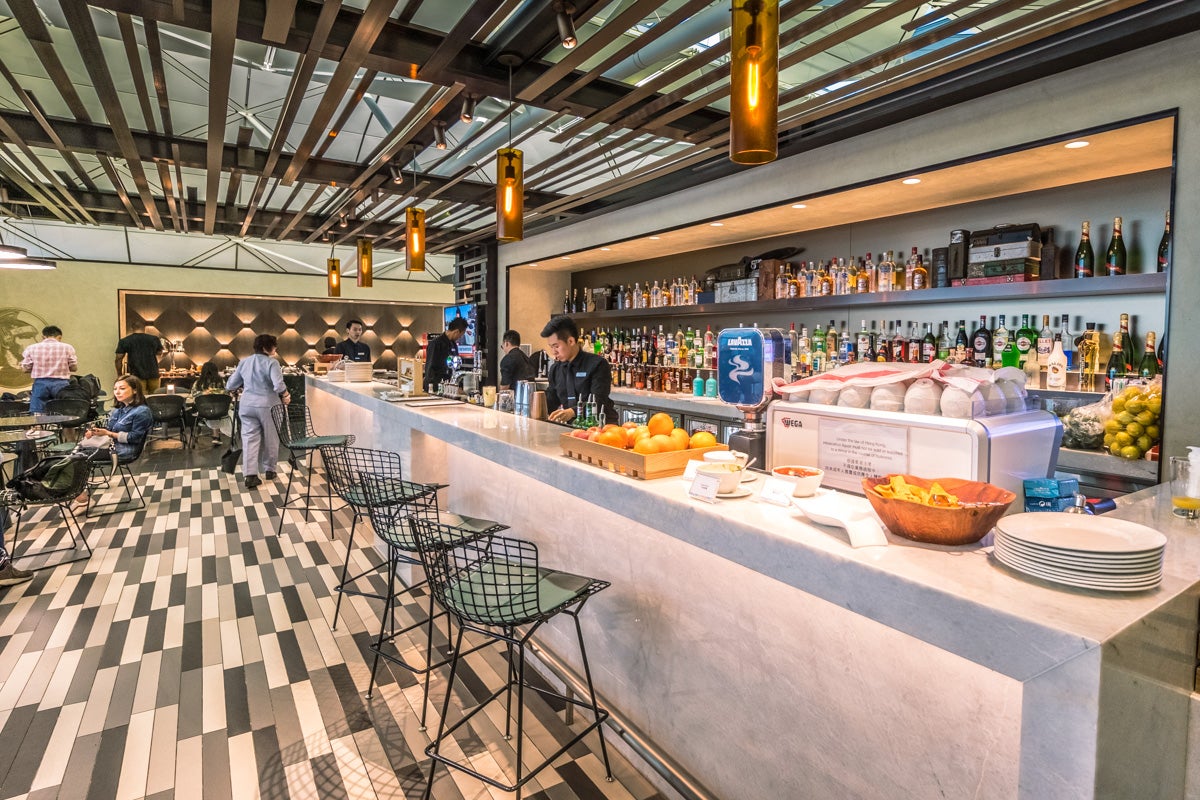 Seating
This lounge is on the smaller side, but it does have a fair amount of seating, mostly with clustered chairs around small coffee tables. There are some traditional dining tables, but most of what you'll find is grouped together.
If you want some fabulous views of the airport and runways, there is a bar-like seating area with stools facing a series of large window panes — a perfect view for any AvGeek!
Hot Tip: The lounge isn't great for those who are here on an extended stay who want a place to nap or sprawl out, so if you need a quiet place to catch some shut-eye, you may want to look at other lounge locations.
Food and Drink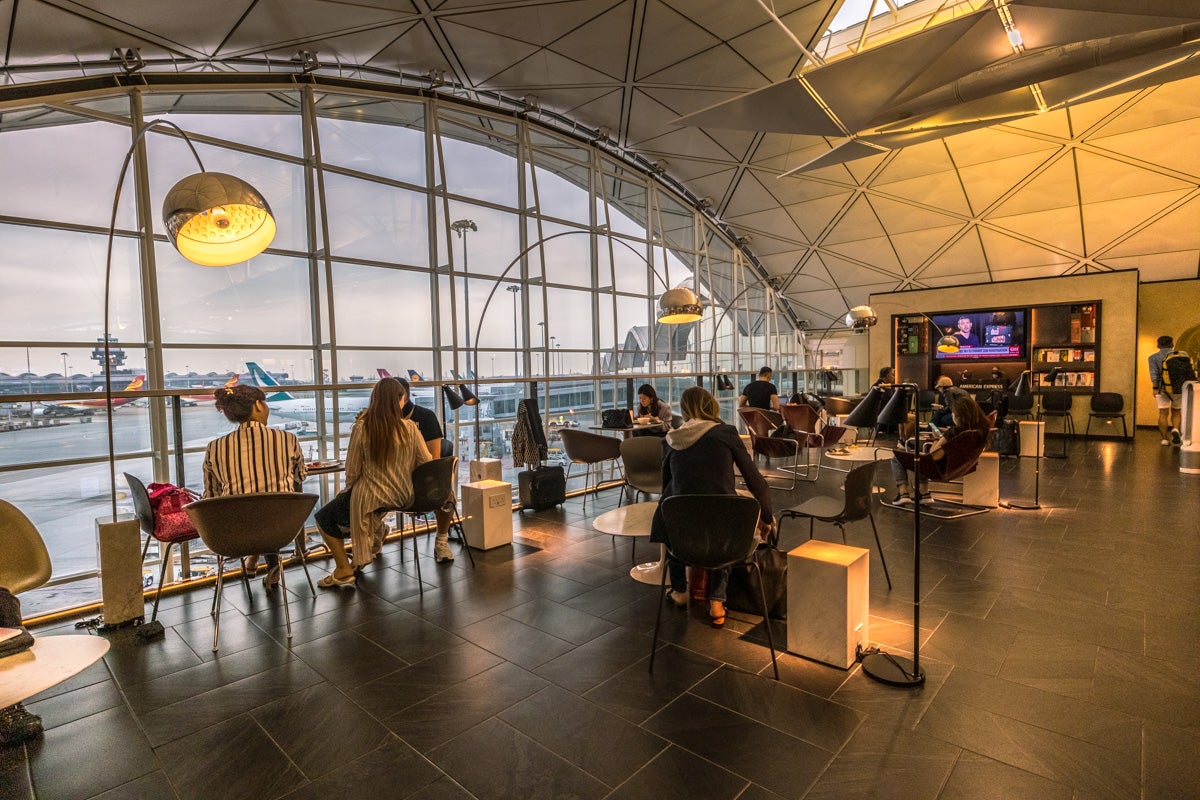 Food is available all day from 5:30 a.m. until 12:30 p.m., and everything is self-serve and free of charge.
For breakfast, you can anticipate dishes like:
Scrambled eggs
Chicken sausage, bacon, and sautéed vegetables
Yogurt and fruit bar
Dim sum basket
Pancakes, maple syrup, mixed berry compute, whipped cream, and butter
Chicken congee with condiments, shredded ginger, pickled turnips, and spring onion
For lunch and dinner you can expect dishes like:
Leek and potato soup
Pan-fried sole fillet with caper cream sauce
Gnocchi with Pomodoro sauce
Beef bourguignon with baby onion and mushrooms
Baked broccoli and cauliflower with a Mornay sauce
Kale Mediterranean and olive salad
Wild rice and barley salad with almond and dried apricots
For dessert:
Tiramisu
Baked caramel mousse cake
Cookies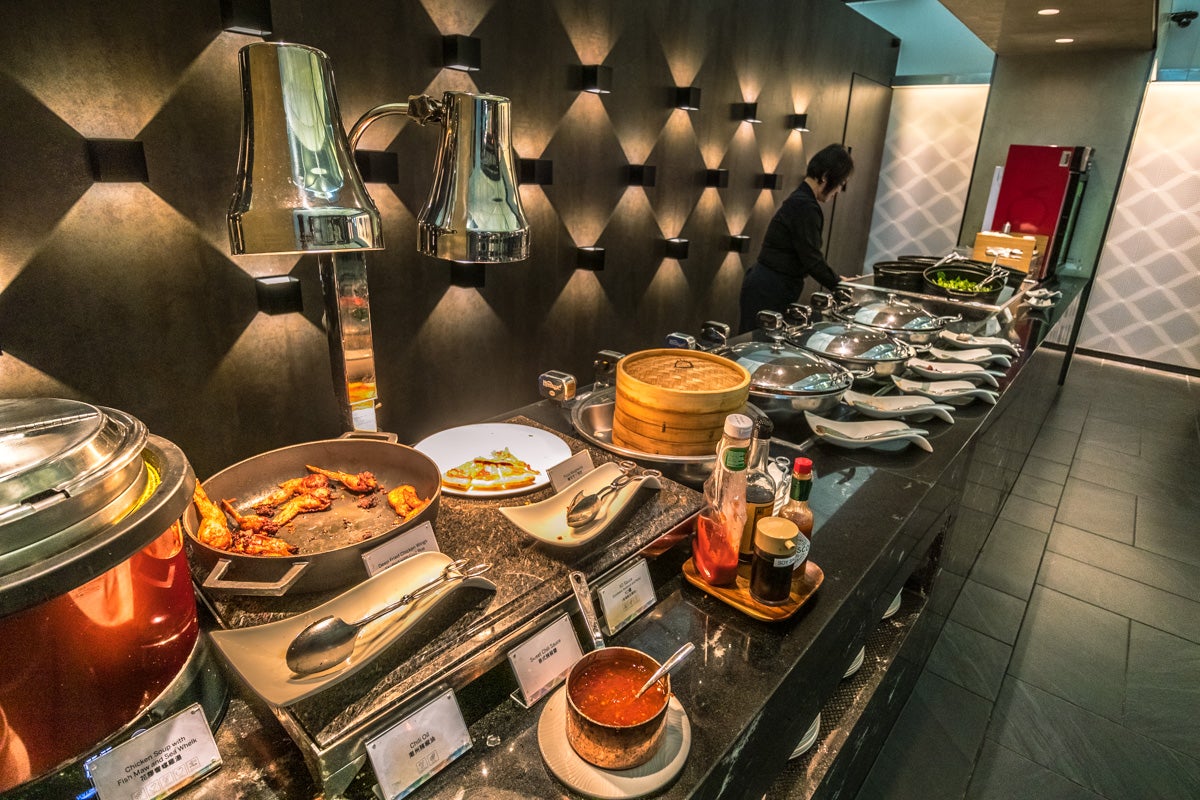 If you're checking out the bar, you're in for a treat. Jim Meehan is American Express' expert mixologist and has worked up some great cocktails. Jim has served as a bartender in some of the hottest restaurants and bars in New York City (like Gramercy Tavern and the Pegu Club) and opened PDT, a James Beard award-winning bar.
He's even got his own bar-inspired consulting firm, Mixography, Inc., so you know he's the man for the job to make you the perfect drink.
Here's what you can expect:
Blue Door which includes Johnny Walker Black Scotch Whisky, Myer's Dark Rum, Benedictine and lemon juice
Rickshaw which includes Ciroc Vodka, Canton Ginger Liqueur, lemon juice, Midori

 

Gin Basil Collins which includes Botanist Gin, Kimono Yuzu soda, lemon juice, simple syrup

 

Tea-quila Highball which includes chilled lemon verbena tea, Siete Leguas Blanco Tequila, agave syrup, St. Germain Elderflower Liqueur

 

Soycar which includes Remy Martin V.S.O.P Cogna, lemon juice, Mandarin Napoleon, simple syrup, soy sauce

 

Skyball, which includes East Imperial Tonic Water, Botanist Gin, and Talisker 10 Year Single Malt Scotch
Boutineer, which includes Mt. Gay Black Barrel Rum, Cocchi Americano, Italicus, Rosolio di Bergamotto
Bobby's Fortune, which includes Bruichladdich Classic Whisky, Martini Sweet Vermouth, Benedictine, and Smiling Sesame Date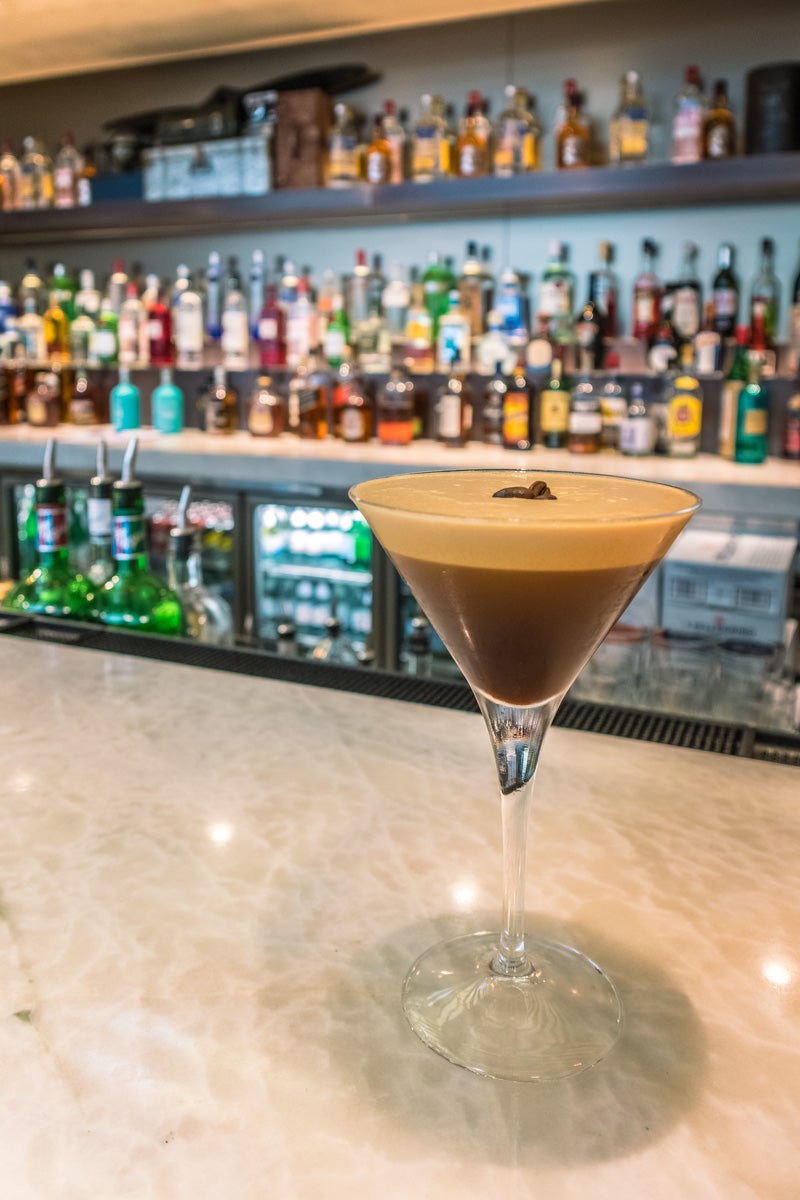 There are also several wines on offer, too, as of late 2019 (wine served 5:30 a.m. – 12:15 a.m.):
Brut, G.H. Mumm Cordon Rouge, NV, Champagne, France
Cabernet Sauvignon, The Federalist Lodi, 2015, Sonoma, California
Chardonnay, Terlato Family, 2014, Russian River, California
Merlot, Grace Vineyard Tasya's Reserve, 2011, Shanxi, China
Moscato, Seven Daughters, 2016, California
Pinot Grigio, Lunardi, 2016, Veneto, Italy
Pinot Noir, Flor de Campo, 2014, Santa Barbara, California
Prosecco, Riondo Spumante, NV, Veneto, Italy
Prosecco, Riondo Spunmantel, NV, Veneto, Italy
Rosé, Sanford Estate, 2016, Santa Rita Hills, California
Sauvignon Blanc, Markham, 2016, Napa Valley, California
If you're not an alcohol drinker, there's a fridge with Coke, Diet Coke, Coke Zero, Fanta, Sprite, Pellegrino, Acqua Panna, tonic water, and ginger beer. In the same area is a coffee machine, dispensing traditional coffees, lattes, cappuccinos, and more.
Bottom LineAll food and drink in the Centurion Lounge is complimentary.
Restrooms and Showers
The lounge features men's and women's restrooms, as well as 2 separate, private shower rooms. These shower rooms are equipped with a toilet, sink, and shower and feature complimentary soaps, shaving kits, and other accessories, as well as a bath mat, towel, and washcloth. These are replaced new after each visitor. 
The showers are first-come-first-served, and to gain access, you need to reserve them at the front desk. During peak flight departure times, you may notice a wait for the showers, so it's best to reserve early so you can guarantee yourself a spot.
Wi-Fi
The entire Centurion Lounge space features complimentary high-speed Wi-Fi throughout, perfect for you to work or download your favorite movie before leaving on a flight. You can get the password to the Wi-Fi at check-in or by visiting the guest services desk.
Computer Bar
The lounge features several Mac computers you can use to browse the internet on, check emails, or print small documents. These computers and printers are free of charge to access. 
Magazines and Newspapers
The lounge has several international magazines and newspapers on offer, including several in different languages. You can take any of these with you to read on your journey. 
Print, Fax, and Copy Services
If you need any document printed, faxed or copied, you can see one of the hosts at the entry desk and they'd be happy to assist you in getting that done, or you can visit the self-service computer bar for any minor tasks. This is perfect for printing that last document before an important business meeting or signing a time-sensitive contract.
Centurion Cardholder Section
There is a special mini-lounge located within the Centurion Lounge Hong Kong reserved for Centurion cardholders.
American Express shares some details about what you'll find in this private space:
"The private Centurion area will also feature an a la carte menu designed by Michelin star chef, Lau Yiu Fai of Yan Toh Heen at the InterContinental Hong Kong. Chef Lau's menu will offer Cantonese dishes such as baked pork in puff pastry, crispy spring rolls with kimchi and pork, crispy fresh prawns with black truffles, braised wagyu beef cheek and turnip, barbecued pork with honey and steamed rice, and baked egg tartlettes with bird's nest, among others."
Final Thoughts
The American Express Centurion Lounge Hong Kong is a great retreat in this otherwise busy airport. An airline-specific lounge, such as one of Cathay Pacific's, will generally have better food and amenities, but if those lounges are crowded or you don't have access, the American Express Centurion Lounge is certainly one of your best bets.