The Philadelphia (PHL) American Express Centurion Lounge – Location, Hours, Amenities, and More
All over the world, travelers are wowed by the offerings of the Amex Centurion Lounges. Why? They are comfortable, well thought out, and offer great amenities while you relax before your next flight.
In this article, here's all the information you need to know when visiting the Centurion Lounge at the Philadelphia International Airport (PHL) including hours, amenities, restrictions, access, and most importantly, how to make the most of your visit.
Location of the Amex Centurion Lounge at PHL
The Centurion Lounge at PHL is located on the second level of  Terminal A-West, near Gate A14. This is actually where the majority of international flights depart from, but the good news is that you can get to Terminal A from other terminals without leaving security. There's nothing worse than having to go through security more than necessary. From one end of the airport to the other, allow 20 minutes or more if you're departing from the regional gates.
Bottom Line: The Centurion Lounge in Philadelphia is located near Gate A14 in Terminal A-West.
As a reminder, here are the locations of all the American Express Centurion Lounges around the world:
If You're Coming From a Connecting Flight
If you're connecting in PHL, enter Terminal A-West, walk down a slight ramp into the massive terminal space. The Centurion Lounge at PHL will be your very first option on the right. It's directly across from the Airport's Exhibition Program. The lounge hallway entrance is adjacent to the British Airways Galleries Club Lounge.
For accessing the Centurion Lounge, walk past the bright blue artwork to the elevator and go up 1 floor. In the event that you're on your way from the Terminal A-West security, take a left at security, and walk past the British Airways Galleries Club Lounge, and then you'll be entering the Centurion Lounge on your left.
Hours of Operation
The Centurion Lounge at PHL opens at 5 a.m. and closes at 9 p.m. everyday. Most of the flights out of PHL leave before 9 p.m., with a few exceptions, so you shouldn't really experience a time when the lounge would be closed but you still have a flight departing after.
Guest and Check-In Requirements
Like all Centurion Lounges, in order to access the Centurion Lounge at PHL, you'll need to be a cardholder of one of the following American Express cards:
The Centurion Card® from American Express
As a cardholder, access to any Centurion Lounge is complimentary as well as 1,000+ other aiport lounges. In addition to one of the cards above, you'll also need to present the following to the agent upon entering the lounge:
A valid boarding pass showing confirmed same-day air travel reservations
A valid government-issued I.D.
Your boarding pass must include a confirmed seat assignment. Unfortunately, if you are flying non-rev or standby without a confirmed seat, you may be denied entrance.
Hot Tip: If you're standing by for another flight, use the boarding pass from the confirmed flight that shows a specific seat assigned.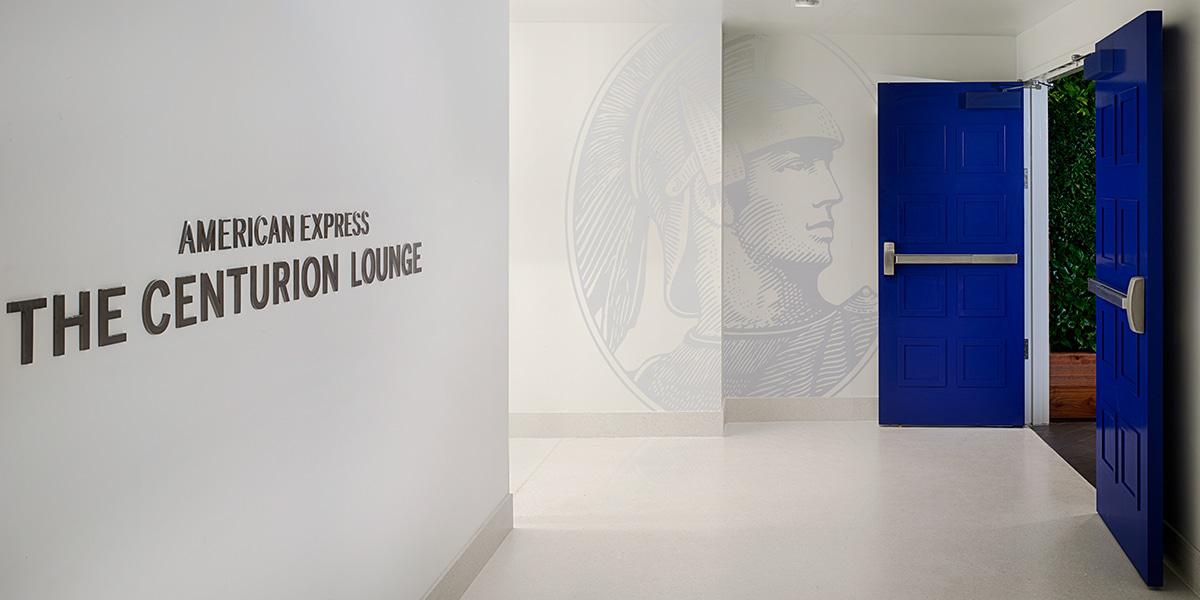 Lounge Guest Policy
All card-carrying guests are allowed to bring 2 additional guests into the lounge with them. This could be a cardholder's spouse and one child, or the cardholder and his or her two children. Children under 2 years-of-age are admitted for free when accompanied by the cardholder, as well as an additional guest who can show a "lap infant" boarding pass or a valid proof-of-age.
Bottom Line: You're allowed 2 guests with you into the lounge, whether that be children, family members, business colleagues, or other friends.
More Than 2 Guests
When you are accompanied by more than 2 guests to the Centurion Lounge at PHL, that's not a problem; just keep in mind that you'll need to buy a day pass for each additional guest.
A guest day pass costs $50 and is valid at all of the network lounges as well, provided a cardmember is with them. Any Centurion Lounge day pass will only be valid for the day it's issued.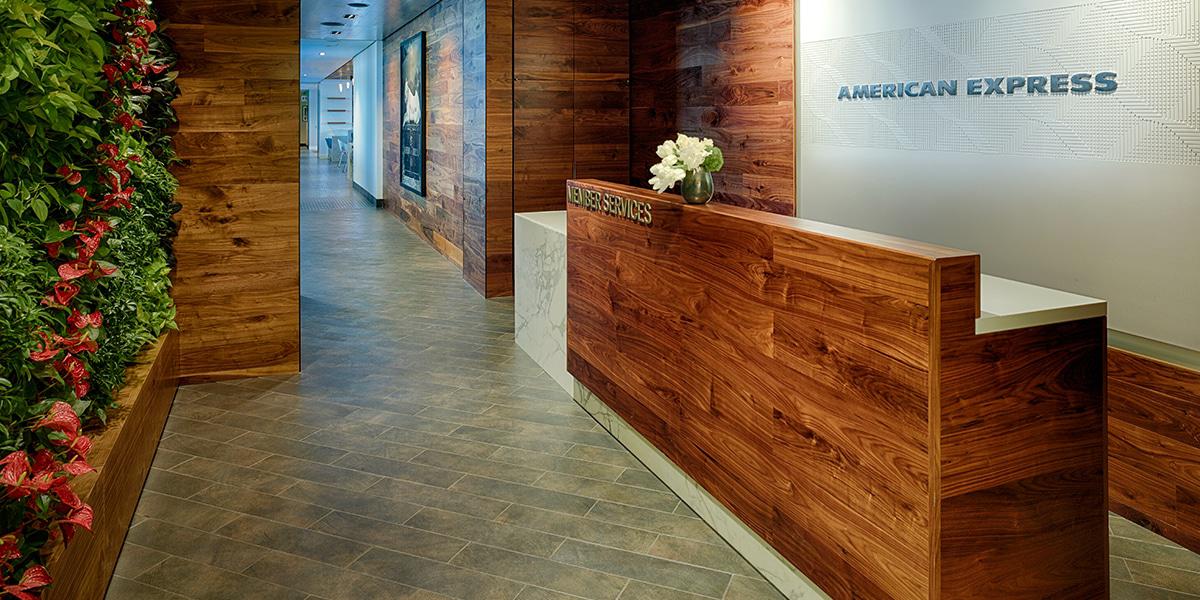 Rules at PHL Centurion Lounge
There are 2 rules to accessing the Centurion Lounge and they pertain to every guest, no matter what card you have:
Rule #1 – Three Hour Rule
American Express indicates that guests may be limited to entering the lounge, depending on capacity, to only 3 hours prior to their departure time. For example, when you flight departs at 8 p.m., you could be denied access if you try to enter the lounge prior to 5 p.m..
While the 3 hour rule seems to indicate that it's based on capacity, it tends to be enforced frequently. For this reason, don't plan on getting to the lounge more than 3 hours prior to your flight to be safe.
Rule #2 – Departure Flights Only
Cardholders, and their guests, will not be granted access if they do not have a departure flight out of PHL. The lounge is reserved for departures only or for using between connecting flights. So, if PHL is your final destination on a particular trip, unfortunately, the lounge is unavailable for you.
If you took a flight to PHL and have an onward connecting flight, you'll have no problem entering the lounge, provided you have proof of your onward flight.
Bottom Line: You will only be able to enter the lounge within 3 hours of your flight, and you cannot use the lounge if PHL is your final destination.
Food and Beverage
Food
The Centurion Lounge at PHL has some amazingly flavorful dining options for breakfast, lunch, and dinner. The cuisine comes from the mind of Chef Michael Solomonov, who is not just a chef but an accomplished restaurateur as well.
For starters, he has won 4 James Beard awards, one in 2017 for Outstanding Chef. He brings to the table a very fresh and unique view of Israeli food. Back in 2008, Philadelphians started enjoying the amazing dining experience at Zahav restaurant, which is located in Philadelphia's historic Old City.
With an intense focus on Israeli food, Chef Solomonov expanded to several other local restaurants, including the popular hummus bar called Dizengoff, which is located in Rittenhouse Square right next door to his other trendy restaurant, Able Fisher. Clearly Chef Solomonov was the perfect choice for bringing unique flavor concepts to the Centurion Lounge's menu.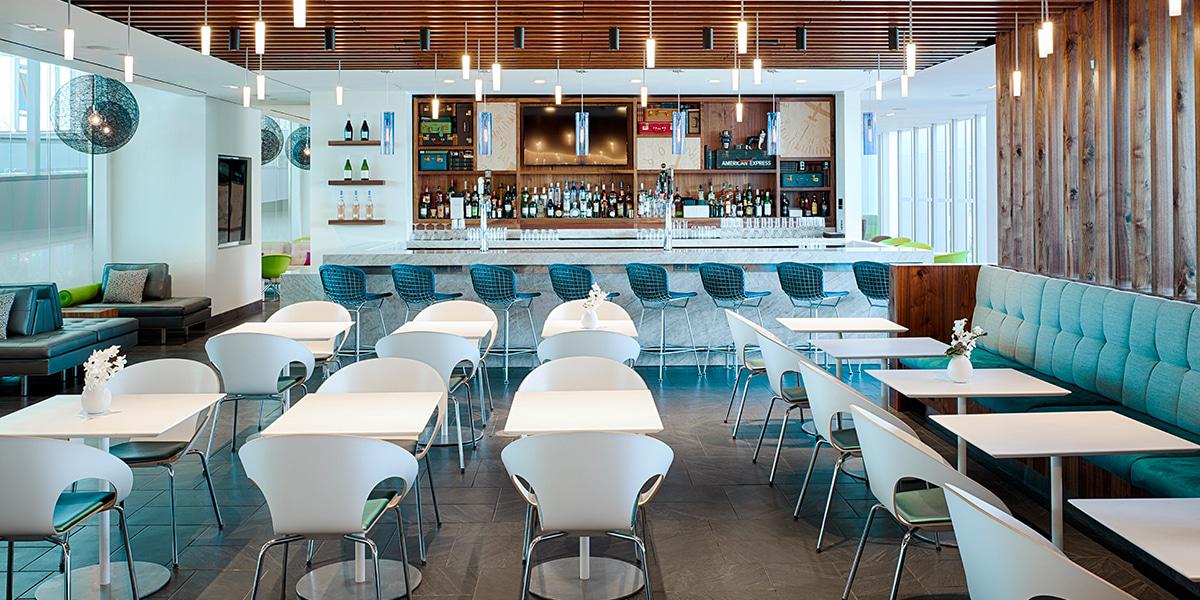 Even if you're only catching a connecting flight through PHL, just one taste of Chef Solomonov's food and you'll be following your taste buds right back to PHL to stay awhile and eat more. Every day, breakfast is served from 5 a.m. and the menu includes such tasty fare as:
Challah French toast
Shakshuka
Bourekas
Crispy potatoes
Fall fruit salad
If you're around for lunch or dinner, here's what you can expect:
Harira, a Moroccan vegetable soup
Israeli salad
Kale tabouleh
Bulgarian kababs
Rice pilaf
Stuffed peppers
Malabi
Drinks
Drink preparation in the lounge is a very special thing where cocktails, beer, and wine are served daily beginning at 5 a.m and offered as long as the lounge is open. It's 5 o'clock somewhere, right? With Philly's own local spirit, Art in the Age, and the Pennsylvanian favorite beer, Yuengling, you'll feel the nod to the City of Brotherly Love.
To further enhance that Philly theme, the lounge also serves 5 local specialty cocktails,:
The Liberty Bell Ringer – Botanist Gin, lemon juice, Bitter Truth Apricot Brandy, simple syrup, and Peychaud's Bitters
The Philadelphia Flyer Laird's – Apple Brandy, lime juice, maple syrup, and Gruet Brut Sparkling Wine
The Gateway – Mt. Gay Black Barrel Rum, grapefruit juice, lime juice, John D. Taylor's Velvet Falernum, simple syrup, and Angostura Bitters
The Red Eye – Yuengling Traditional Lager, Siete Leguas Reposado Tequila, Clamato juice, lemon juice, Campari, Worcestershire sauce, and Tapatio hot sauce
The Blue Door, named for the blue door at the Centurion Lounge at PHL entrance – Johnny Walker Black Scotch Whiskey, Myer's Dark Rum, Benedictine, and lemon juice.
On the other hand, perhaps your drink preference is a glass or two of fine wine . Well, during your visit to the Centurion Lounge at PHL, you'll find a complete wine selection menu posted right on the wall.
Amenities
What kind of amenities can you expect to discover at the Centurion Lounge at PHL? Great question and, there's a lot to keep you happy during your time there starting with the interior decor. It's exceptionally warm and welcoming, mixing modern comfort with more traditional wood touches, some warm colors sprinkled with pops of brighter colors, and lots of throw pillows.
Atmosphere and Decor
In the true spirit of honoring Philadelphia, the walls in the Centurion Lounge are covered with Philadelphia icons including the 1980 World Series Phillies team, Jazzy Jeff , Will Smith, and Grace Kelly, who later became Princess Grace of Monaco.
The Centurion Lounge at PHL even has its own signature scent called Modern Prestige. All in all, the place has everything to engage all of your senses from its comfortable design to the amazing drinks, food, and even smell.
The Centurion Lounge at PHL can elevate your lounge experience from that very first step inside their blue door. This gorgeous and roomy 6,300 sq. ft. lounge can give you the perfect escape from the loud and bustling terminal below.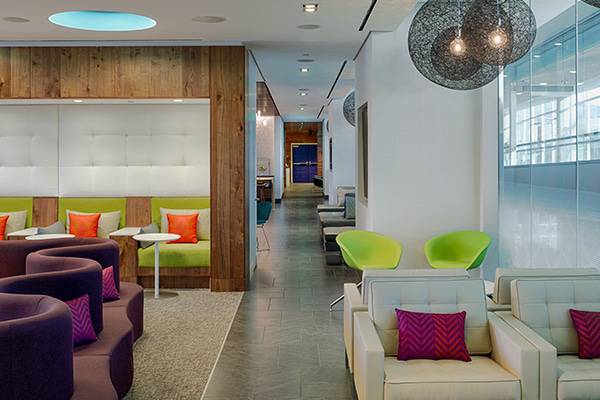 The floor-to-ceiling windows offer a panoramic view of the terminal. Upon entering the lounge, you'll see a lush greenery wall to your left and the member services desk to your right. The modern design of the lounge and its beautiful dark woods immediately let you know that this isn't your typical airport lounge.
Walking down the hallway, you'll catch a glimpse of countertop seating on your left, a welcoming bar straight ahead, and a mixture of comfortable booth seating and wood tables.
Here's a list of the amenities you'll find inside:
Phone room
Locally inspired cuisine in a buffet-style atmosphere
High-Speed Wi-Fi
Member Services desk
Premium bar
Printing, faxing, and copying services
Personal workspaces
Shower suite
Workspaces
Shower Suite
The Centurion Lounge at PHL also offers a refreshing shower suite for lounge guests. It's the perfect spa-like place for freshening up while you wait for your connecting flight. That second leg of your flight can be a lot more enjoyable when you feeling  refreshed.
The shower suite room includes a toilet, sink, and shower complete with soaps and towels, so there's nothing additional you need to bring inside. You can also ask for other amenities like razors or shaving cream from the front desk, and they'd be happy to provide that.
To access the shower suite, you must reserve it at the front desk of the lounge where a Member Services representative will write your name down if there's a wait. The suite is restricted to 30-minute showers, so keep in mind, it may only accommodate 2 people an hour, which could be quite a wait if folks are ahead of you.
Bottom Line: The shower is first come, first served so visit the front desk as soon as you arrive to set your shower time.
Business Amenities
The Centurion Lounge at PHL also offers everything you need to get some work done including semi-private workspaces and free high-speed Wi-Fi.
When you enter, you'll receive a business card with all the Wi-Fi information so you can connect quickly. It's complimentary, so you can use it for as long as you want to get your work done. Taking care of business in comfort is a way of life at all Centurion lounges.
There's also several tables available that are perfect for speaking with colleagues, or hold a small conference. Keep in mind the lounge can get busy and these seats can fill up, but depending on the time that you visit, it could be a great way to still be able to conduct business on the go.
Service Animals and Pets
Service Animals
The lounge welcomes guests traveling with service animals for emotional support needs and/or disabilities. However, certain restrictions do apply. Most importantly, animals are not allowed in any food service areas. Additionally, all animals must be leashed at all times and never left unattended. For more specific rules and regulations, please check the Centurion Lounge FAQ website.
Other Animals
Pets are also allowed in the lounge and, as with service animals, they must be under proper supervision at all times and have necessary documentation. Again, animals are not allowed in any food service areas. Further, pets are not permitted on the furniture and should remain in their carriers. American Express staff members reserve the right to ask owners to remove animals from the lounge at their discretion.
Hot Tip: Interested in bringing your pet along but nervous about the flight? Check out this study on the Best & Worst U.S. Airlines to Fly With Your Pet. 
Final Thoughts
Many travelers and Philadelphians alike feel that the Centurion Lounge at PHL was a long time coming. Now it's done and living up to the Centurion standards. With a dedicated team at American Express, chances are the list of Centurion Lounges will be growing soon.
Frequent travelers know the importance of comfortable airport lounges, whether at the beginning of a long arduous trip or during seemingly never-ending layovers. The Centurion Lounge at PHL is a haven that offers some of the finest food, cocktails, local craft beers, and wine available.