The New York (LGA) American Express Centurion Lounge – Location, Hours, Amenities, and More
The LaGuardia Centurion Lounge is part of the Centurion Lounge network from American Express, and it's one of the best airport lounges in the country.
Featuring a plentiful buffet, full bar, clean bathroom facilities, and other business-like amenities, it's a great place to stop before your flight to catch up on emails or grab a bite to eat.
In this post, we'll be talking about the lounge amenities, how to access the lounge, and what you can expect once inside.
LGA Lounge Location and Hours
The Centurion Lounge is located on the fourth floor in Terminal B of LaGuardia Airport, post-security, right between Concourses B and C.
The lounge is fairly easy to get to, and there are plenty of signs to guide you in the right direction — just keep an eye out for ongoing construction projects.
Operating hours are from 5:00am to 6:00pm Sunday through Saturday.
These airlines fly out of Terminal B at LaGuardia:
However, you don't need to be flying on one of these airlines to use the lounge — it's accessible to select American Express cardholders flying any airline any day of the week (see below).
Hot Tip: If your flight is leaving from another terminal, you can use the blue, red, or purple airport shuttles that are located on the departures level of the airport to get there. For more information on finding your way, see our piece: How to Get Between Terminals at LaGuardia Airport [LGA]
We recommend allowing at least a half hour prior to your flight's scheduled boarding if you depart from Terminal B, and at least an hour before boarding for all other terminals.
Keep in mind security lines can be long during peak rush hour times on weekdays, so leave more time than you think you'll need.
As a reminder, here are the locations of all the American Express Centurion Lounges around the world:
Entering the LGA Lounge
If you take the escalator or the elevator to the fourth floor, you should see signs leading to the Centurion Lounge. Turn left, and head down the hallway to find the lounge.
You'll see large signs with the American Express and Centurion logos right outside the entrance, and a courteous staff member at the front desk will greet you and ask for your identification.
All you need to use the lounge are your American Express card, ID, and boarding pass. Eligible cards for access include:
The Centurion Card® from American Express
Children aged 2 and under are admitted to the lounge free of charge, as long as an accompanying parent can provide their proof of age or a lap infant boarding pass. No pets are allowed.
You can also buy a one-day pass for additional guests at a cost of $50 each (Platinum Card members can bring 2 guests for free). These passes must be purchased on the day of your travel and are subject to capacity restrictions.
However, the passes are available for all Centurion Lounges in the network — so if you're transiting LaGuardia and Dallas on the same day, that guest pass will get you into both (though guests must always be with the sponsoring cardholder).
Centurion Lounge Restrictions
Members will not be allowed into the lounge more than 3 hours before the departure time on their same-day boarding pass. So, if you have a flight leaving at 2pm, the earliest you can arrive at the lounge is 11am.
If you're connecting, you have full use of the lounge if your connection is shorter than 3 hours. That said, if you have a connection, you'd need to leave security, use the lounge, and then re-clear security to proceed to your connection. This can be a bit of a hassle, especially at peak hours.
Keep in mind that this lounge is intended only for departures, not arriving flights. You won't be admitted if you're arriving to LaGuardia as your final destination, so make plans for your shower or a meal elsewhere.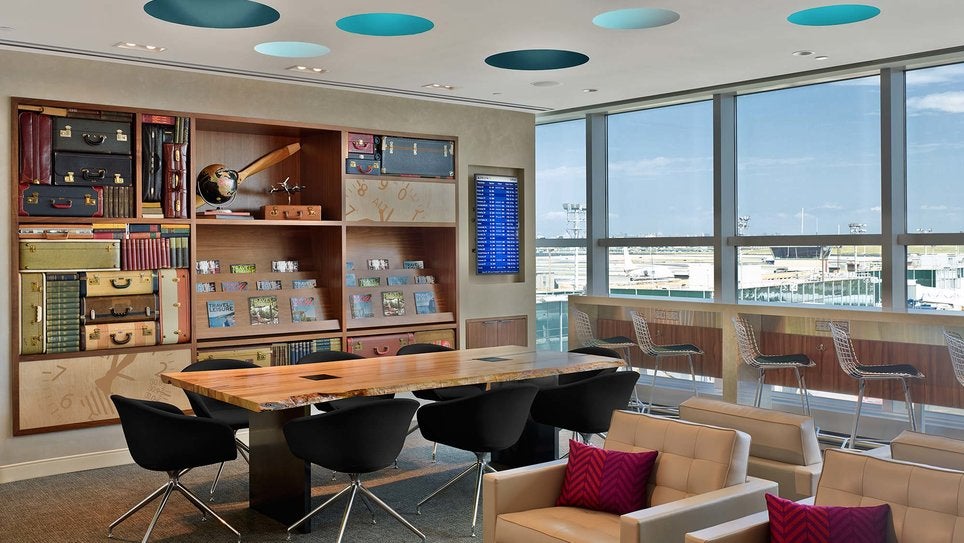 Lounge Amenities
The lounge includes many amenities:
Fresh seasonal buffet food (restaurant quality)
Premium bar with top-shelf wine, spirits, and liquor
Member services desk to assist with inquiries
Large flat-screen televisions
Magazines, newspapers, and other reading material
Semi-private workspaces
High-speed Wi-Fi throughout the lounge
Printing, faxing, and copying services
Computer bar
The lounge offers complimentary Wi-Fi to its guests; just ask for the Wi-Fi code when you check in. You're free to check on your travel arrangements, check emails, or just kill some time by playing your favorite game.
If you need other ways to stay occupied before your flight, the lounge offers a fine selection of books, magazines and newspapers to read.
Seating
The LaGuardia Centurion Lounge also offers several amenities for business travelers. You can find a quiet area to get some work done or relax just beyond the front desk. There are plenty of seats and chairs with a nice view of the tarmac, and you'll also find space to put your feet up or take a little catnap if you'd like.
In the hallway between the lounge and dining area, there are several plush couches facing big-screen TVs. There are also plenty of electrical outlets for you to charge up your phone or plug in your laptop. If you need to get some work done, you'll find computer terminals and a printer you can use free of charge.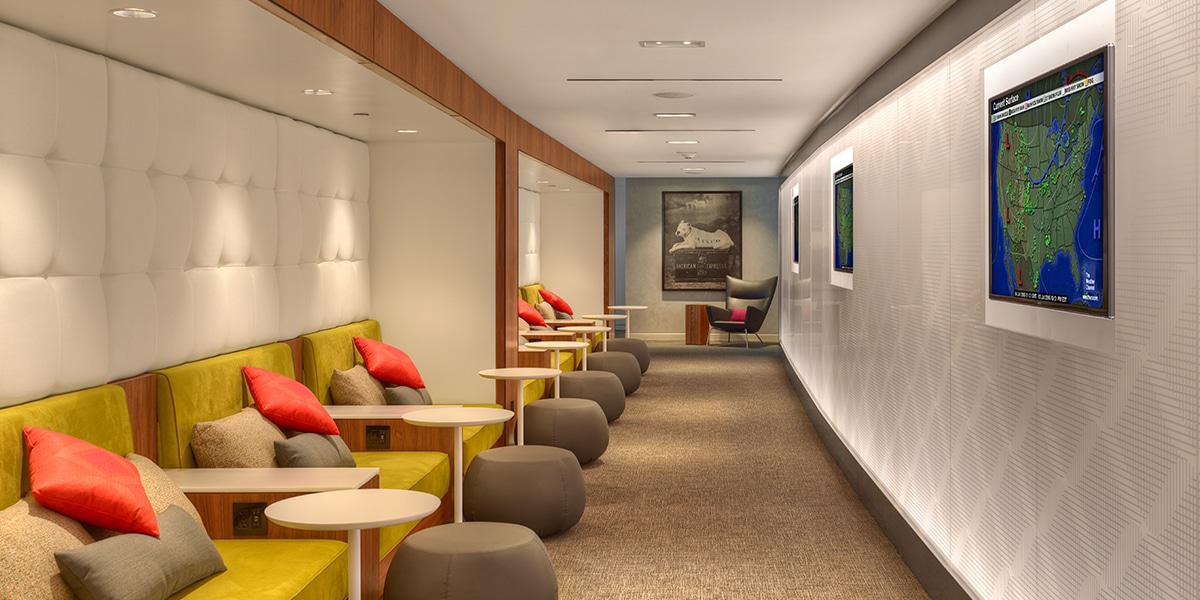 Food and Beverage
Food
For a good meal or refreshing beverage before your departure, the LaGuardia Centurion Lounge has plenty of options. Wait staff will greet you at the front desk and direct you to a seat at the bar or a comfortable chair at one of their many tables.
There are plenty of delicious breakfast options to choose from. Some sample items include pancakes, french toast, eggs frittata, citrus salad, and yogurt parfait (menu items may change daily).
Breakfast is served from 6:00 am to 11:00 am every day, and standard items such as cereal, bread, and fresh fruit will also be available.
For hungrier travelers, the LaGuardia Centurion Lounge has something for just about every palate. Fried chicken, ginger rice, roasted baby brussel sprouts, and Italian buratta are just some of the many items you may find on the menu during your next visit.
All main courses are served in a buffet style, so feel free to help yourself to as much as you want. Menu items are chosen by Cedric Vongerichten, who has been named as one of the Zagat Guide's top 30 chefs under 30.
Lunch and dinner servings are available from 11:00 am to 7:45 pm Sunday through Friday, and 11:00am to 6:15pm on Saturdays. Snacks such as popcorn, brownies, and cookies are also available in the lounge.
Beverage
In the LaGuardia Centurion Lounge, all beverages are free of charge. A selection of cocktails, wine, and domestic and imported beers are available from 5:30am to 10:00pm daily.
Patrons must be at least 21 years of age to consume any alcoholic beverages and are reminded to drink responsibly. In addition, there are water, coffee, tea, and cappuccino self-serve stations available.
All mixed drinks have been personally selected by expert mixologist Jim Meehan. Choose from a Tomcat Collins, Big Apple, Spanish Harlem, Blue Door, Manhattan Beach, or other popular options from their diverse menu.
Cocktails are available from 10:30am to 7:30pm Sunday through Friday, and from 10:30am to 6:00pm on Fridays. Here are details of a few sample drink offerings:
Manhattan Beach – Tuthilltown Manhattan Rye Whiskey, Greenhook Ginsmiths Beach Plum, Gin Liqueur, Grapefruit Juice.
Tomcat Collins – Barr Hill Reserve Tomcat Gin, Lemon Juice, Honey Syrup, Champagne
Big Apple – Zubrówka Bison Grass Vodka, Doc's Draft Hard Apple Cider, Yellow Chartreuse, Miracle Mile Celery Bitters
If mixed drinks aren't your thing, the lounge also has a wide variety of wines to choose from. Each offering has been personally selected by well-known wine expert Anthony Giglio.
You'll find a nice selection of red, white, rose, and sparkling wines available from 5:30am to 7:30pm Sundays through Fridays, and from 5:30am to 6:00pm on Saturdays.
Hot Tip: Not sure what to try? Ask for the wine list at the bar, or ask your server for a recommendation.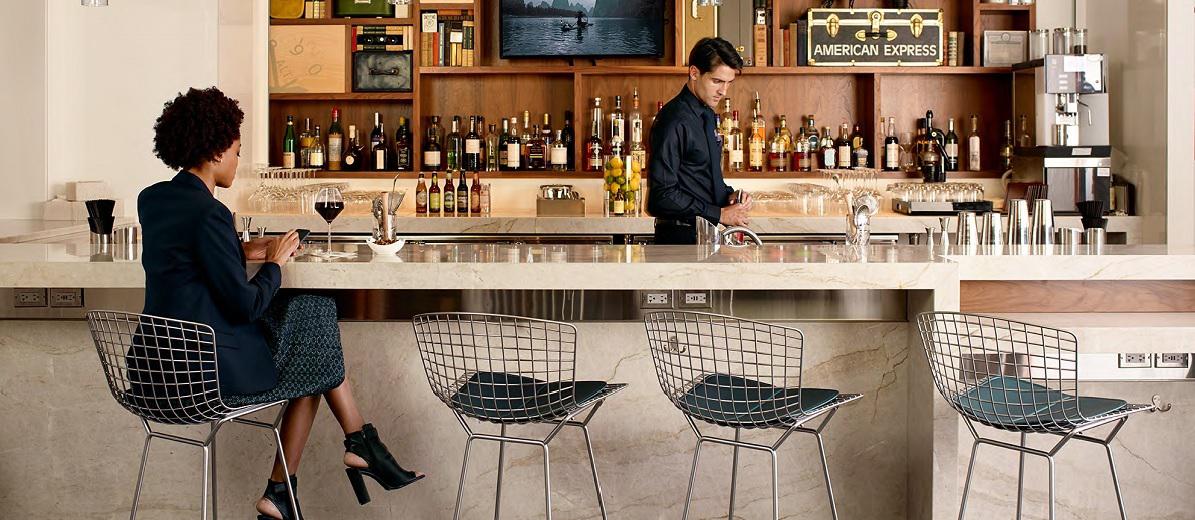 Restrooms
The restrooms here are comfortable and clean — they're stocked with L'Occitane hand wash and moisturizer, and are complete with a changing station and shoe shine machine.
There are no showers in this lounge, which is a big downside. That said, since LaGuardia is mostly a domestic airport with only has a handful of flights to Canada, taking a shower probably won't be on the top of the list for desired amenities.
While the bathrooms aren't as spacious as you'll find in other Centurion lounges, you can still spend a few moments freshening up.
Timing Your Lounge Visit
In the dining area, you'll find a screen that shows how long security lines are outside. Another screen has a list of flight departure times, which is updated to the minute. Use this as you plan your visit so you know when to leave and head through security.
The busiest time for this lounge is usually during the early morning hours on weekdays. Be prepared to wait for a seat or a table if you're visiting the lounge then — at any other time, you should be able to find plenty of room to sit and set your bags down.
The wait staff are very friendly and attentive at all hours. If a drink or food item is spilled, they're right there to clean it up immediately, and dirty plates and glasses are also cleared promptly. The lounge hosts are very customer focused at all times — even if the place gets a bit crowded, you should have no problem getting the service you want.
Final Thoughts
LaGuardia is one the busiest airports in the United States, serving over 20 million passengers every year (and growing). Whether you're running to catch a flight for an important business meeting or heading on a much-needed vacation, weary travelers sometimes just need a space to relax.
Luckily, LaGuardia's Centurion Lounge is a perfect place to do just that. You can sit back, have a tasty meal, enjoy a fine beverage, read the newspaper, or just watch the planes come and go. It's a great way to de-stress after a busy travel day.
Even though it's not as fancy or roomy as other similar airport lounges, the LaGuardia Centurion Lounge is one of the best-reviewed airport lounges in the country. Passengers have frequently complimented the friendly staff, wide array of exquisite food, top-shelf beverage choices, and the casual atmosphere.
A perfect place to get some work done or just sit back while you wait for your departure time, you'll find this lounge well worth the visit — and it's a wonderful perk for holders of The Platinum Card® from American Express, The Business Platinum Card® from American Express, or the Centurion Card® from American Express.