The Phoenix (PHX) American Express Centurion Lounge – Location, Hours, Amenities, and More
When it comes to airport lounges in the U.S., the Centurion Lounge from American Express tops the list as one of the best spaces to relax, grab a bit to eat, and get work done before your flight.
The somewhat recently opened Centurion Lounge at Phoenix Sky Harbor International Airport (PHX) is one of the latest Centurion Lounge offerings in the U.S., and is the nicest lounge within the airport complex.
We'll be taking a look at what makes this lounge special, how you can access it, and what you can expect once inside. 
Location of the Amex Centurion Lounge at PHX
The Centurion Lounge is located in Terminal 4, across from gate B22. Phoenix's airport is quite large, with multiple piers stemming off from a large central walkway on both sides. For a visual look at where the lounge is located, it is the farthest pier to the right once you come out of the Terminal 4 security, about midway down the pier on your right-hand side.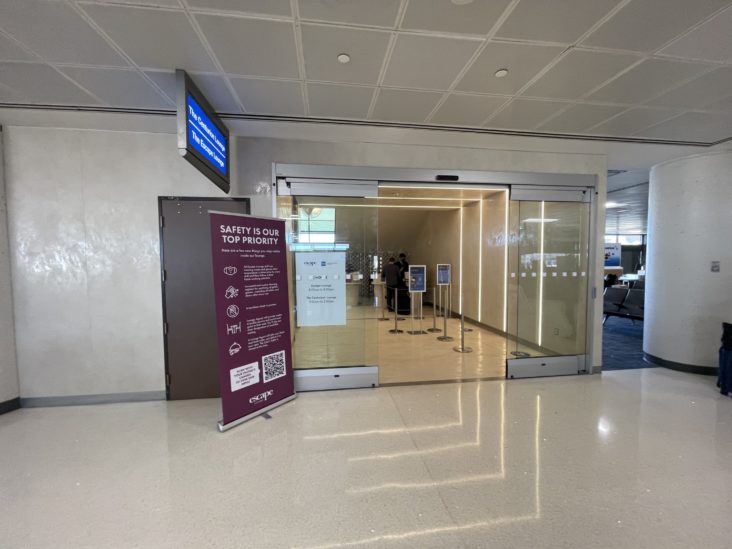 This pier specifically houses many of American Airlines' smaller regional jet flights, though there are a few gates down at the end that are equipped to handle wide-body and international flights, so you'll also see airlines like WestJet and British Airways departing from this area as well. If you're traveling on one of American's mainline (larger jet flights) or on Southwest, you may have a bit of a walk to get to your departing gate, so be sure to allow plenty of time (though you won't need to re-clear security).
If you're traveling on an airline out of Terminal 3 (such as Delta or United), this is in a separate part of the airport where you'll need to re-enter security. While you can access Terminal 4 with a boarding pass for a flight out of Terminal 3, it is a lengthy process to switch terminals, and probably isn't advised in most circumstances, unless you arrive very early for your flight.
If you find yourself in any of these other cities, you'll also be able to enjoy the Centurion Lounge experience:
Hours of Operation
This Centurion Lounge is open from 9 a.m. to 5 p.m. daily (these are adjusted hours due to COVID-19). Unfortunately, due to the limited hours, this lounge won't be open for early morning departures, or early to late evening flights. If you're flying out during any of these times, consider using the nearby American Airlines Admirals Club, or Escape Lounge, if you have access. For all of your other options, check out our full list of lounges at PHX.
Checking In
Like all Centurion Lounges, you must follow a series of requirements to get in.
Interestingly, this Centurion Lounge is hosted directly next to an Escape Lounge. This lounge, also accessible with your American Express card, has different entry requirements, though the check-in desks are next to each other. As you enter sliding doors, be sure to visit the desk marked with the Centurion Lounge logo if you're using the Centurion Lounge.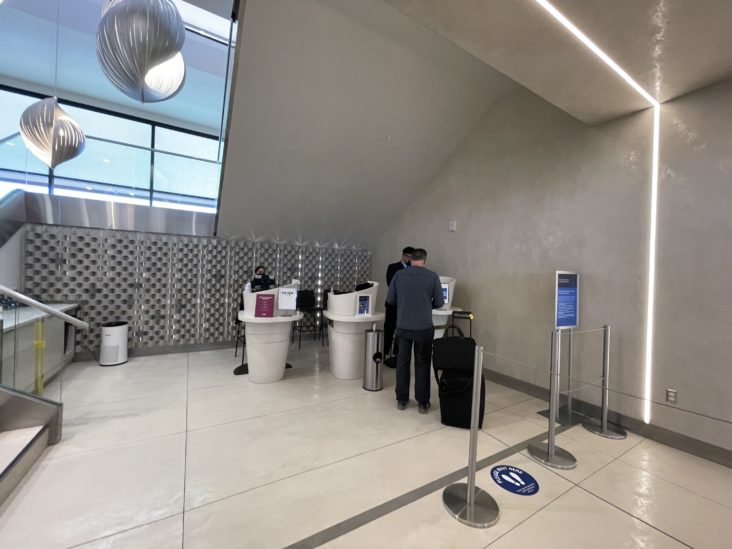 Access Policy
You'll need one of 3 types of American Express charge cards to enter the Centurion Lounge:
If you're traveling with guests, you're allowed to take 2 in with you during non-busy times. You'll need your American Express card in hand, as well as your boarding pass and a government-issued ID.
Unlike many lounges worldwide, the American Express Centurion Lounge has a few additional access requirements:
You need to be on a flight within 3 hours to use the lounge space. Don't arrive too early in the day, or you won't be allowed to visit, so be sure to time your arrival with the 3-hour mark.
You need to be on a departing flight, not an arriving flight. While some lounges allow you to visit before or after your flight, the Centurion Lounge will only let you visit before your flight.

 

Using the lounge on a connection is fine. If you're coming into Phoenix from another destination and then flying onward to another city, you're more than welcome to use the lounge space.
You need to have a confirmed seat on a flight and can't be flying standby. This is noteworthy for airline employees who tend to fly on space-available passes.
Amenities Available
You've got these amenities to enjoy:
High-speed Wi-Fi
Locally-inspired cuisine
Magazines and newspapers
Premium bar
Print, fax, and copy services
Workspaces
The Lounge Space
The Phoenix Centurion Lounge is one of the smallest Centurion Lounge spaces there is, so there's not a ton of room to walk around. As you pass the reception desk, you'll go left or right at the green plant wall familiar in most American Express lounges. Behind this wall is a large seating area featuring private seating, traditional couches, a conference table, and a mixed variety of tables and chairs.
Disappointingly, this lounge doesn't really have any private rooms to take a conference call or meet with colleagues.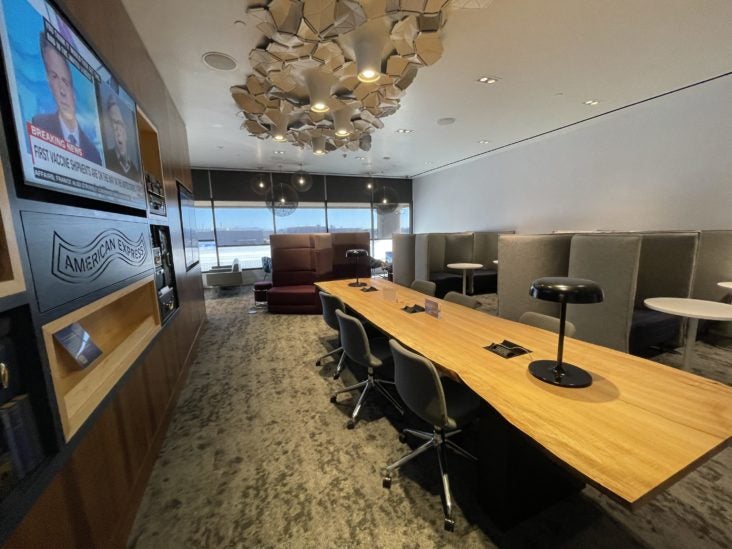 To the right of this seating area are the bathrooms, and you'll find separate facilities for both men and women.
Showers
Interestingly, this lounge shares a shower room with the nearby Escape Lounge, and the reservation process is first-come-first-served. The shower room is located in a shared space between both lounges, and because both lounges feature a variety of access privileges, it's likely there could be a wait for the use of this room at peak hours of the day. Like other Centurion Lounges, towels and toiletries are provided complimentary for your use.
Hot Tip: If you wish to use the shower, reserve it as soon as you enter the lounge — that way you can get yourself on the waiting list if there is one.
Wi-Fi
Wi-Fi is complimentary during your visit, and you can get the password from the Member Services desk as you check-in. Wi-Fi is fast throughout the lounge space, making this space a great place to get work done or download your favorite television episode before your flight.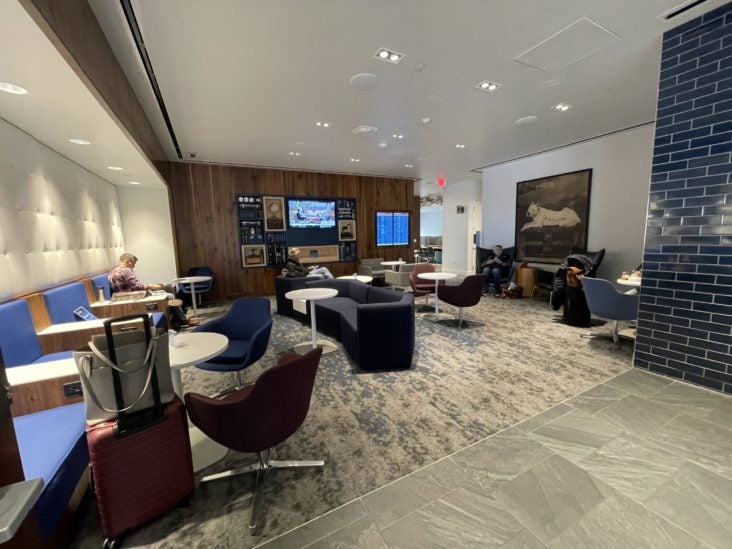 Food and Beverages
As you venture around the corner, you'll find a large room with the lounge's bar and food area, as well as a coffee/tea beverage station. This is the largest area of the lounge, featuring sweeping windows that look out onto the gorgeous Phoenix red-rock scenery and nearby planes.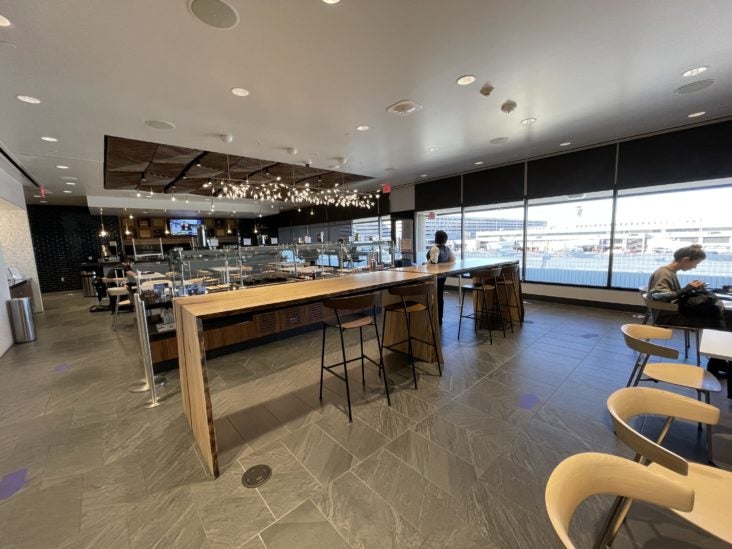 Food
Food is served in individual portions by an American Express staff member during the COVID-19 period, and there is a designated pathway to reach the buffet line to help with social distancing.
Hot Tip: Even though items are individually portioned, you can come back for as much as you'd like throughout your stay!
For breakfast, you can enjoy flapjacks, eggs and chorizo, muesli, smoothies, and breakfast potatoes — a hearty sampling that will certainly start your day off right. From experience, the flapjacks and smoothies are must-try items!
At the lunch and dinner hours, you can enjoy tortilla soup, marinated chicken, roasted cauliflower, spaghetti squash, and rice, among an array of salads, appetizers, and desserts.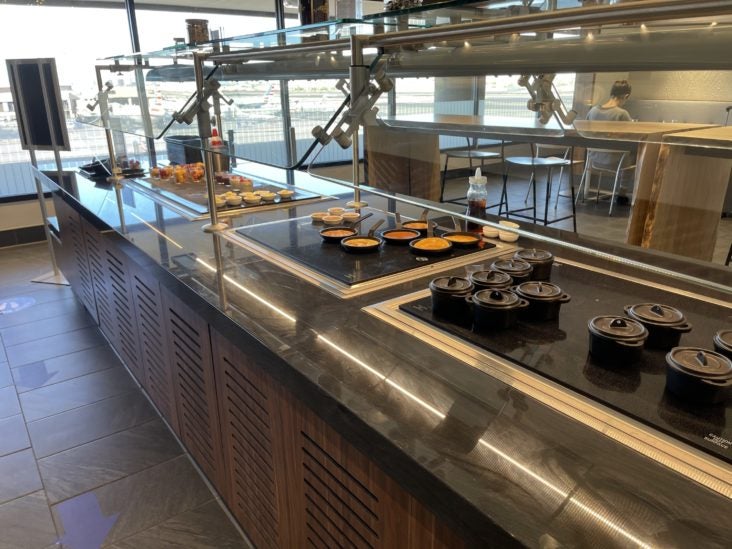 Beverages
The bar area is located directly across from the buffet line, and you can order pretty much any drink you fancy. If you're in the mood for something local, try these favorites:
Tito Pepe — Tito's Vodka, Tio Pepe Fino Sherry, Chareau Aloe Liqueur
Martini Bianco — gin, Bianco Vermouth, orange bitters, olives, rosemary
U.F.O. — rum, lime juice, cream soda
Dusk till Dawn — Blanco Tequila, grapefruit soda, lime juice, grenadine
Blue Door — Scotch whisky, dark rum, lemon juice, Benedictine, pastis
Diamondback — Arizona Distilling Park Rye Whiskey, Laird's Apple Brandy, Green Chartreuse
Hot Tip: The bar only serves a few preset breakfast cocktails during the morning hours, and the full selection doesn't begin until the lunch food is brought out.
Escape Lounge
While technically not part of the Centurion Lounge itself, it's important to highlight the fact that the Centurion Lounge shares a lounge complex with the nearby Escape Lounge. As you check-in downstairs, you'll see the option to enter 1 of the 2 lounges. This Escape Lounge is available to all users of the Centurion Lounge, though you're not allowed to switch after entry, so you'll need to decide which you want to enter prior to heading upstairs.
The Escape Lounge actually shares the same food as the Centurion Lounge, and also shares the same shower facilities, making it a very similar offering. While the Centurion Lounge certainly is nicer and offers a few more amenities, it's worth noting that this option exists and is easily accessible with your Amex Platinum card in case the Centurion Lounge is full or busy (which can easily happen during peak times of the day, since the Centurion Lounge is on the smaller side).
Bottom Line: If the American Express lounge is crowded, cardholders can use the nearby Escape Lounge without any additional entry fee. 
Final Thoughts
The Centurion Lounge in Phoenix Sky Harbor International Airport is certainly the nicest lounge within the airport, but it's only accessible to flyers on American Airlines, Southwest, and a few select international airlines due to its location.
If you hold an Amex Platinum card, Amex Business Platinum card, or Centurion card, and you transit Phoenix often, visiting this lounge is one of the best ways to take advantage of your cardmember benefits! The food and drink offerings are certainly better than the airline-specific lounges within the airport, and there's plenty of spaces to work or relax in before your flight.
---
The information regarding the Centurion Card® from American Express was independently collected by Upgraded Points and was not provided nor reviewed by the issuer.