How to Get Between Terminals at LaGuardia Airport [LGA]
LaGuardia Airport (LGA) has been heavily criticized for its outdated facilities and has even been referred to as a third-world airport by politicians.
Thankfully, an $8 billion development project is set to modernize Terminals B and C, improve transport links, and expand capacity, with a planned completion of 2021.
Proposals have also been made for an AirTrain connection from Manhattan to LGA with 2 airport stations, giving passengers an alternative to the shuttle bus currently required to get between terminals.
LaGuardia Airport Layout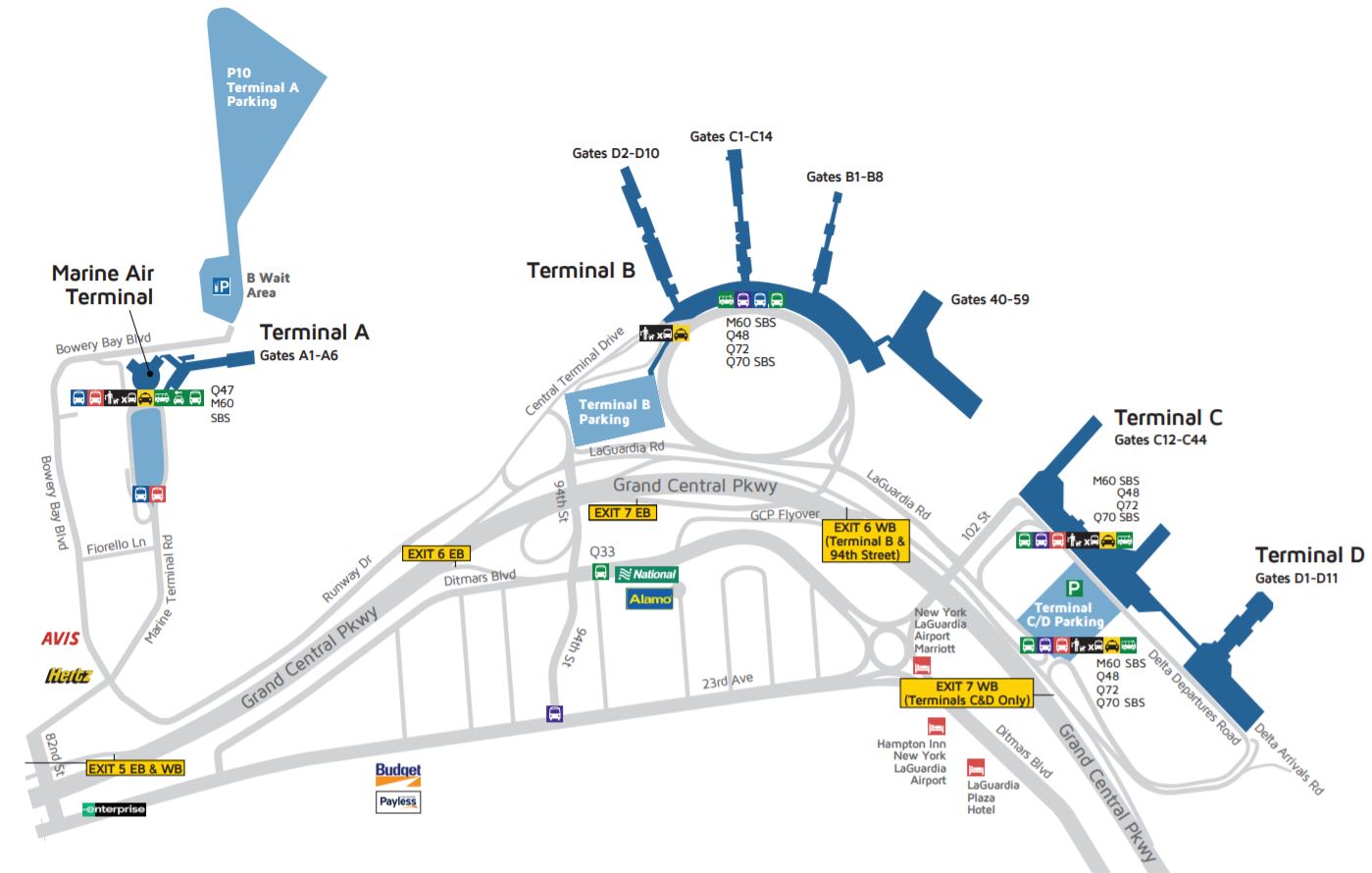 In the airport's current state, only Terminals C and D are directly connected to one another. The other terminals (A and B) are located quite far apart from each other, and with the busy road system in between, it's not possible to walk.
The terminal shuttle bus (covered later in this article) is the best way to get between terminals at LGA, also stopping at the parking lots and car rental transfer point.
LGA Ground Transportation Pre-Security or Landside
Terminal Shuttle Bus
Buses operate 24-hours a day, arriving every 8-10 minutes at peak times and every 15 minutes off-peak in off-peak times.
The shuttle buses are GPS monitored, so you can use LaGuardia handy tracker to see live bus arrival times. Select your route and stop point to check when your next available bus is scheduled to arrive.
LGA Ground Transportation Post-Security or Airside
Walkways
Terminals C and D are connected inside the secure area via a skybridge with moving walkways. It takes around 5 minutes to walk between these two terminals, and you don't have to re-clear security on arrival at the next terminal.
American Airlines Terminal B Shuttle Bus
Passengers can connect between Terminal B Concourses A, B, C, and D by riding the courtesy shuttle bus operated by American Airlines. This option connects passengers within the secure area, so there's no need to re-clear security on arrival at your next concourse.
Buses operate from:
Concourse A: Between Gates 50 and 51
Concourse B: Between Gates B4 and B6
Concourse C: Between Gates C2 and C4
Concourse D: Near Gate D2B
Hot Tip: Although American Airlines operates the shuttle service, word on the web is that passengers from other airlines have been permitted to ride the bus. It's worth a try to avoid having to re-clear security again. 
Layout of LGA Terminals
LGA Terminal A (Marine Air Terminal)
Terminal A, or the Marine Air Terminal as it's also referred to, was LGA's original terminal for seaplane flights during the 1930s and 1940s. The original building — including the Art Deco rotunda — still stands, now with a connecting concourse area for flight departures.
The terminal has 6 gates numbered A1 to A6 with arrivals and departures on the same level and just a few shops and restaurants. JetBlue is the only airline to operate flights from Terminal A.
Ground transportation services are located outside of the rotunda, along with the only pick-up and drop-off point for shuttle buses to the car rental lots.
LGA Terminal B
Terminal B is the largest of all terminals with Concourses A, B, C, and D. Facilities span 3 levels with arrivals on the ground level, departures on the first level, and airline lounges on the upper level.
As part of the first phase of the redevelopment project, Concourse A was recently expanded to include 18 gates, shops, and restaurants.
Concourse A has 18 gates numbered 42-59; Concourse B has 9 gates numbered B1, B3-B5, B5A, B6, B7, B7A, and B8; Concourse C has 13 gates numbered C1-C12, and C14; and Concourse D has 8 gates numbered D2-D8, and D10.
Air Canada, American Airlines, Southwest Airlines, and United Airlines operate from Terminal B's 4 concourses, with American Airlines offering a connecting shuttle bus between concourses.
There are several lounges in Terminal B. Some are located within the secured area, while others are outside security.
Outside of the secure area:
Inside the secure area on the upper level:
Ground transportation is located outside the terminal on the ground and first levels, and ride/shuttle services can pick-up and drop-off in the Terminal B parking garage on level 2, for access to all terminals.
Hot Tip:You don't have to fly in business or first class to get the luxury of relaxing in a lounge. Many credit cards offer you lounge access just for having the card. Here's a great guide on the best credit cards that give you complimentary airport lounge access.

LGA Terminal C
Terminal C has 25 gates numbered C12, C15-C18, C20, C21, C23, C24, C26, C28-C32, C34-C39, and C41-C44.
Changing flights between Terminal C and Terminal D is easy, as the 2 terminals are connected via a skybridge within the secure area. To reach terminal D, take the walkway that is next to gate C15 and walk for about 5 minutes.
Delta Air Lines, Frontier Airlines, and Spirit operate from Terminal C, and there are 2 Delta Sky Club® lounges — 1 near gate C28 and the other across from the food court.
As part of the major redevelopment, Delta will be replacing Terminals C and D with a state-of-the-art terminal and 37 departure gates.
LGA Terminal D
Terminal D is located on the east side of the airport and has 9 gates numbered D1, D2, D4-D8, D10, and D11.
It's easy to connect to Terminal C from Terminal D as a pedestrian bridge (with moving walkways) links the two terminals from near the entrance of the departure concourse in Terminal D.
Delta Air Lines and WestJet operate flights from Terminal D, and there is a Delta Sky Club® Lounge on the departures level. Arrivals are on the lower level where ground transportation is also situated outside of the terminal building.
Estimated Walking Times Between Terminals
It's only possible to walk between Terminals C and D at LGA. This takes around 5 minutes.
To reach Terminal D from Terminal C, take the connector bridge from near gate C15. To reach Terminal C from Terminal D, take the connector bridge from near the entrance to the departure concourse next to the Minnow food station.
Estimated Walking Times to Gates
Terminal A: 2 minutes to all gates
Terminal B:

Gates B1-B8, C1-C14, D1-D7: 3 minutes
Gates 40-59: 3-6 minutes
Gates D8-D10: 4-5 minutes

Terminal C:

Gates C12-C29, C42-C44: 2 minutes
Gates C30-C41: 3-4 minutes

Terminal D: 1-3 minutes to all gates
Flight Connections at LGA
As LaGuardia Airport doesn't operate any international flights, there are no customs and immigration facilities to clear on arrival, which can mean a reasonably swift exit.
For flight connections, passengers need to allow plenty of time to ride the terminal shuttle bus as traffic can be heavy at LGA due to the ongoing renovations.
Unless you're connecting between Terminals C and D, or between concourses at Terminal B, passengers will also need to allow time to re-clear security at the next terminal.
Regardless of the terminal, if checked luggage isn't tagged through to the final destination, then passengers would have to reclaim their bags, check-in, and re-clear security anyway.
Accessibility
LGA's terminals are all accessible to passengers with disabilities or mobility concerns. The terminal shuttle buses are accessible to wheelchair users and the airport parking lots have dedicated parking spaces close to the terminal entrances.
Final Thoughts
LaGuardia Airport doesn't have an excellent reputation, that's for sure. Transport connections are lacking, and traffic is tedious with the airport's daily operations in the midst of the redevelopment project.
Once completed, these developments should vastly improve the experience for some 30 million passengers that travel through LGA each year. Until then, passengers are advised to leave plenty of time to arrive and travel around the airport and utilize public transport where possible.